---
---
Lisbon Trams
The Lisbon Trams webpage has two parts.
Part One: Lisbon Trams of Today
Part Two: Lisbon Trams of the Past

Above left: "A good reason to take the tram" is the slogan for Tagus beer displayed on this Siemens tram, pictured at Praça da Figueira in 2003. Above, centre: Siemens articulated tram, no.505 at Belém, June, 2005. Above right, tram 576 pictured at Portas do Sol, Alfama in 2007. This "remodelado" tram was destroyed in a "runaway" accident whilst operating in the Lapa district on route 25 on 14 December 2018.
Lisbon Trams of Today
Current Fleet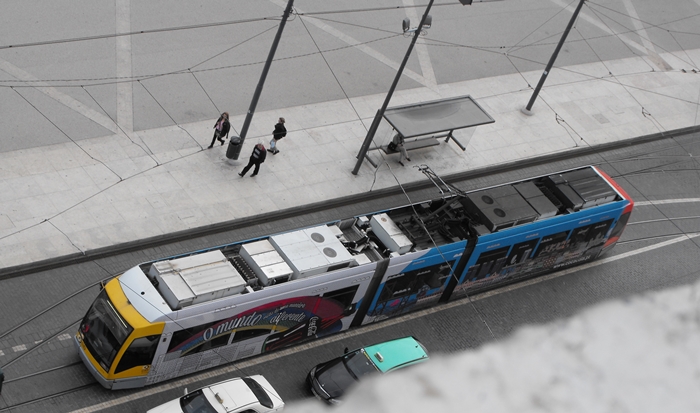 Above: From 2012 a good vantage point for watching tram (and river) activity around the Praça do Comércio nowadays is on the top of the arch over the Rua Augusta. Here we see one of the Siemens trams on route 15 (October 2013).
The diversity of Lisbon's tram fleet has declined markedly in recent years, with the withdrawal in the 1990s of various types, including the 1906 Brill bogie cars, and the abandonment of the use of trailers. Further withdrawals took place as recently as November, 2011. (See Part Two of this page for details of the historic tram fleet). Nevertheless, there is still plenty to see, with the fleet now effectively limited to the ten new (1995+) Siemens articulated trams and a fleet of 45 four-wheelers, known as the 'remodelados'. There is also a significant fleet of tourist trams and museum cars.
In late 1999 some retired 700 class trams had to return to service on route 28, as the 'remodelados' were suffering from a spate of compressor failures. In 2009 Carris listed the available 700 series trams as nine in total, numbered (720-713-717-732-733-735-741-742-744) and built between 1936 and 1947. However, in November 2011, all class 700s were withdrawn as an economy measure, apart from 722 and 745 which continued to operate as "Christmas trams".
Tram 720 is reserved for the museum and so is not used currently whilst in 2009, tram 742 was out of service.
Operational Fleet All service trams are operated by Carris, (Companhia Carris de Ferro de Lisboa), founded in 1872. Formerly. the articulated trams all carried all-over advertising which, in most cases, also covered the windows. Whilst passengers could see out through the advertising, awaiting passengers found it difficult to see whether the tram was crowded or not, or indeed where the doors were. But, by 2005, increasing numbers of the remodelados trams had been restored to the traditional yellow and white livery, without advertising on the exterior.
Fleet numbers 501-510 These comprise ten three-section trams built by Siemens and used exclusively on the coastal route #15 to Algés from Praça da Figueira. They entered public service in April, 1995. These trams are air-conditioned and hold 210 passengers, including those standing. Their overall length is 24.02 metres and they have 65 seats. They have two 105kw motors and can reach 70km/hr. All are single-ended, with four sets of 'plug-type' sliding doors and interior digital indicators indicating each tram-stop.
Fleet numbers 541-585
These are the new numbers for 45 remodelled trams drawn from 221-282 series and from 701-724, but also including 415 and 483. (See Part Two of the Lisbon Trams page for details). The remodelados were introduced in July 1995 but are actually all older Standard cars from the 1930s, rather than the more modern lightweight vehicles of the 736 series as the Standards were of stronger original construction and had not generally been worn-out by use on the more hilly routes. They have two Skoda motors and have been generally upgraded to give a smoother journey, whilst retaining traditional tourist appeal. They have only 20 seats but space for 38 standing. All are unidirectional and have both trolley poles (for the narrower streets) and pantographs fitted. Their size is 8.382m by 2.378m.
Above: Remodelados queue up in Praça do Comércio in summer 2005, awaiting an influx of tourists on an organised tour from a visiting cruise ship. Note the fitting of trolley poles as well as pantographs to each vehicle. Trolley poles are needed for the more restricted and steeper routes.
Tourist Trams
| | |
| --- | --- |
| Lisbon tourist tram as seen in 2002.. | Lisbon tourist tram or "Historical Premium Tramcar", no.8, as seen in 2016. . |
These were initially red, white and gold-liveried trams, fitted with Providence lifeguards which operated the tourist routes, the 'Circuito das Colinas' ('Hilly-route Circular') which passes through the steep and tortuous streets of the Alfama district from the Praça do Comércio, via Martim Moniz, to Estrela and back. Their interiors have been retro-converted to an approximation of early 20th-century fittings. One of these vehicles is seen in the accompanying photograph, in the Estrela turning loop. This journey can be duplicated by service vehicles on routes 28 and 25 for much less outlay but with the tourist trams you are guaranteed a seat and get a commentary. Also, service tram 28 is often very crowded.
The operating tourist trams are nos. 3 to 9 and 11, (ex 726, 723, 583, 585*, 584, 546, 570 and 569 respectively) and there was even a bogie tram (#10, formerly no.355) in the "tourist" livery which spent a few years parked in the Praça do Comércio as a booking office. Tourist trams no. 1 and 2 were formerly #435 and 437 respectively. *585 was previously 719.
Sadly the tourist trams (now run as part of the Carris "Yellow Bus" operation) have now (2016) been repainted in either a cardinal red or in green. Those in red are now badged in English as "Lisbon Historical Premium Tramcars" in what appears to be an appeal to the North American tourist market. This runs all year every half hour (2016). Starting at Praça do Comércio, it travels via Praça da Figueira, Martim Moniz, Graça, Portas do Sol, Sé, Conceição, Camões, Estrela and back to Praça do Comércio and takes approx. 90 minutes at a cost of 19 euros for adults, half-price for children.
An alternative (summer months only) is the green-liveried "Castle Tramcar Tour" which runs from Largo Camões to Alfama and last 75 minutes. It cost 12 euros in 2016, half-price for children.
Museum Trams
For details of the Carris museum fleet, housed at Santo Amaro, visit the Museum Page.
Track Developments
Tram track repairs are a constant feature of all networks. The images above show repairs/remodelling in the same stretch of the Rua do Arsenal in 1991 (left) and 2016 (right).
In October 2016 work was in progress to complete the diversion of tram tracks from their previous route between Pc. Comércio and Cais do Sodré. Trams on route 15 were already by this time using a new section of track which branches off the Rua do Arsenal, left, at Corpo Santo (as shown above) to join the Avenida da Ribeira. The track then runs along the front of Cais do Sodre station's historical frontage to join up with the pre-existing track along Avenida 24 de Julho.

In the image (left), Cais do Sodre lies behind the yellow building. The point of the work appears to be to simplify the route which formerly crawled around the busy Praca Duque de Terceira. In addition to the new section of track, the entire line back almost to the Pc do Comercio is being renewed. It is effectively a reinstatement of an old alignment as the 1947 map below shows.

Route 25 continues to terminate at Corpo Santo (2016).
Some earlier track works are shown below...
Right: David Gourlay's picture taken on 7 April 2010 clearly shows the new layout at P. Comércio at that time.

In 2010 track relaying took place in Comercio and in February 2012 David Gourlay indicated that work had started that day in Praça do Comércio "to realign the tram line running from Praça da Figueira/Rua Alfandega (westwards) towards Cais do Sodré. The line is going to be moved closer to the buildings on the north side of the square, with bus lanes being placed between the tram lines". This has now been completed.

David subsequently posted the following videos on You Tube which show the scene before and after the works were completed.
Left is an enlargeable map showing the tram track layout around P. Comércio and Cais do Sodré c.1947.

Below: Courtesy of David Gourlay are these pictures from March/April 2010 of the track works affecting the P. do Comércio. David writes: "A new loop is currently under construction at the western end of Praça do Comércio. The whole square has been a building site for the last year but the race is on to finish it before the Pope's visit in May. The west sidings have been completely removed and the east ones shortened, though they're still in use. The track with Tourist Tram 10 is now completely isolated and the neighbouring connected siding is long enough for one tram only (and isused by all tourist trams). The idea of the loop is to remove the need for the tourist trams to reverse. In high season this caused a lot of problems if a tram coming back from the tour arrived before the next one was due out, as it would then be blocking the line". Tram 10 is shown (far left) being moved to its new location.

Also pictured below, right, by David Gourlay, is museum tram 283 which in March made a photo stop at Corpo Santo on the curve normally used by route 25 - which may have made it the first bogie tram to go there since the route 19 closed in April, 1991. Pictured left is Tourist Tram 10 being moved to its new location.
---
Current Routes
Lisbon's tram network map has seen large cuts over the last 25 years. Having been reduced to five routes, from 2018 it has six remaining services, which are all operated by the Carris company. On 24 April 2018, after almost 22 years of closure, the route 24, was reopened, albeit in a shortened form from Praça Camões (near the Chiado exit of the Metro station of Baixa-Chiado) to Campolide. The six surviving routes are, therefore:
12: This is the shortest route on the system and is a circular route from Praça da Figueira via Martim Moniz to the hilly Alfama district. This includes one of the steepest sections in the city, at S.Tomé. Formerly route 12 operated an even shorter route, wholly within the Alfama. Services operate approximately four times an hour though, at times, only one car is used and timings can be erratic. Heavy loadings are frequent.
---

15: P. Figueira to Algés (Jardim), which is a distance of about 10km. The terminus moved temporarily from P. Figueira to Alfândega in 2009 due to works in P do Comércio but has reverted to P. Figueira now.

This section has the fastest section on the network as it runs along reserved tram track from outside Cais do Sodré railway station to Alcantara-Mar, where it moves inland, before regaining sight of the coast near Belém. With the coast on your left, on the right-hand sight there are good views of the Jerónimos monastery at Belém. The tram serves the Museu dos Coches (get off at Belém centre), the Mosteiro dos Jerónimos (alight at the stop so named) and the Museu Naval (get off at the Centro Cultural de Belém stop). At the Centro Cultural, the route is slightly inland from the sea but, soon afterwards, on the left can be glimpsed the Torre de Belém and the defunct station platforms at Pedrouços.

Before it reaches Belém it also stops at the Carris tram depot at santo Amaro where the Carris musuem is also located.

Beyond Belém, at Algés, shortly before the terminus there is a major bus station and a train station on the line to Estoril and Cascais, the latter being accessible via a subway from the bus station. Shortly beyond the bus station, the tram terminates at a turning loop in Algés Jardim (Algés Garden), which is a short walk from the interesting aquarium at Dafundo, which lies a little further to the west where the 15 use to have a terminus but which it no longer serves.

Formerly the route extended to the west beyond Dafundo to Cruz Quebrada, with a branch from there to the national football stadium (Jamor), where Glasgow Celtic famously won the European Cup. In the June 2018 issue of Today's Railways Europe magazine, it states that there are plans to re-open the 15 line beyond Algés to its old terminus at Cruz Quebrada.

The 15 route is the only service operated by the 1995 Siemens articulated trams which have capacity for 210 passengers. It has a useful interchange with the rail services on the Cascais Line, with city buses and with river ferries at Cais do Sodré.

As well as being operated by the Siemens articulated trams, route 15 is supplemented by services operated by smaller "remodelados" trams. Back in 2002, the 15 route was being half-heartedly marketed as the Linha dos Museus (Museums' Line) as it runs reasonably close to 18 museums between the Aquarium at Dafundo (Algés) and the Museu das Comunicações, near Cais do Sodré. Some short-workings to Belém operate and these turn in a loop just short of the Jerónimos monastery and these were formerly designated as route 15A. Into the 1990s the trams on route 15 often ran with trailers but this is no longer the case.

All other Lisbon tram routes nowadays are operated by the smaller "remodelados" trams.
---
18: This route ran from central Lisbon to Ajuda cemetery, north west of the city, until 3 March 2012, when it was cut back to run from Cais do Sodré, to the west of the city centre. It now has a much shorter route from the Mosteiro dos Jeronimos at Belém to Ajuda i.e instead of linking Ajuda, eastward to the city centre via Santo Amaro, it now runs in a westerly direction to Belém once it reaches Sto Amaro! It does not run on Saturday afternoons or at all on Sundays.

Ajuda cemetery is one of three burial grounds which formed termini for Lisbon trams. The cemetery terminus at Prazeres is still functioning, on route 25, but the route 17 to the Alto do São João cemetery has long since ceased to operate.

Before its rerouting from Belém, route 18 had been reported to be facing complete closure and was also threatened with curtailment at its former western end at Largo do Calvário (near Santo Amaro tram depot). Approval existed to construct a new turning loop at Calvário, near Santo Amaro depot, but that was never built. In 2009, the starting point for this route had been moved to P. Figueira from Rua da Alfândega but in 2012 its starting point was Cais do Sodre.

The route has interesting, long climbing sections once it departs from the level route at Santo Amaro. It passes very close by the Ajuda royal palace (open to the public) and it terminates at the Ajuda cemetery where there is a turning circle. It tends to be less used by tourists but has heavy local usage especially when the busy market at Ajuda is functioning.
---
24: Initially it was announced that this defunct route would be reopened in 2006 from Carmo to Campolide but, finally, on 24 April 2018, almost 22 years after its closure in August 1996, the line reopened from the Praça Camoes (near Baixa-Chiado metro station's Chiado exit) to Campolide. Initially, Carris is running a service every fifteen to twenty minutes for most of the day on a 19 minute journey with stops at Largo Trindade Coelho, Ascensor da Glória, Príncipe Real, Rua Escola Politécnica, Rato, Jardim Amoreiras, Rua Amoreiras, Avenida Conselheiro Fernando Sousa, and Campolide.

In the June 2018 issue of Today's Railways Europe magazine, in a piece on the revival of route 24, it also says that 30 new Lisbon trams are being ordered "in the medium term", 20 of them articulated, and that some of the current tourist trams are being redeployed onto normal fare-paying routes to give operating capacity to allow the route 24 to be extended to terminate at Cais do Sodré. Such an extension implies a reopening of the steep route on the Rua do Alecrim between Camões and Cais do Sodré.
| | |
| --- | --- |
| | |
Above, left, a "caixote" on the old route 24 near Pc do Chile. Right, a route diagram of the former route. The new terminus at Camões is the nearest practical turning point nowadays to the former starting point at Carmo. As can be seen, the run from Camões to Campolide is only a relatively short part of the old route which was virtually a circular, terminating at Alfândega near the Praça do Comércio. In 2018 work started to reopen the coastal route to Santa Apolónia railway station to serve a modern cruise-ship terminal there. It is then planned to extend tram services further up the Tagus estuary, to reach the Parque das Nações/Oriente area, replicating the former line which terminated at Poço do Bispo.
---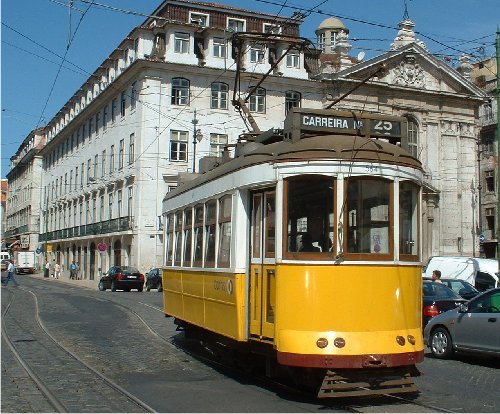 25: This route runs Rua da Alfândega, via Estrela basilica, to the Prazeres cemetery in western Lisbon. A 10-15 minute frequency of service is operated. In the evenings the service is replaced by mini-bus services. This is an interesting route via the hilly Buenos Aires district, past numerous embassies, an area which is otherwise off the tourist track. Line 25E has no service at all on Saturday, Sunday and Holidays (at the time of writing) and is replaced by a minibus service. As it terminates at Corpo Santo, a little way west from the tourist centre of the Praça do Comércio, it can be easier to get a seat on this route than on the 28 or 15.

This route runs close by the Museu de Arte Antiga, Lisbon's main art museum.

Above: A 25 service at Corpo Santo, July 2003.
---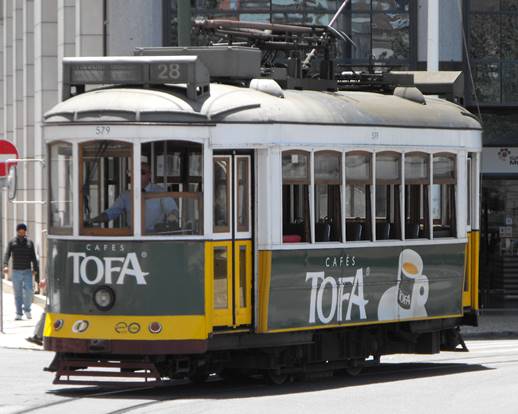 Above: Tram 579 leaves Martim Moniz in 2010.
28: Martim Moniz to Prazeres. This is the classic tram route of Lisbon with extensive hilly and narrow streets in the Alfama district. For this reason it is heavily used by tourists as well as locals.

Eastbound trams for the Alfama are invariably crowded by the time they reach the Rua da Conceição in central Lisbon, so it can be wise to board in the opposite direction (towards Estrela and Prazeres) and return to the Alfama from that end of the route. After leaving the city centre the route passes the cathedral (Sé) and the viewpoint over the Tagus at Santa Lúzia. It then climbs past the church of São Vicente de Fora up to Graça before descending back towards the city terminus at Martim Moniz.

Westbound towards Estrela and Prazeres, there is a very steep, twisting section as the route leaves Lisbon centre towards Prazeres, up the Calçada de S. Francisco. Services operate about every seven minutes, though short-workings to Estrela at one end and Graça at the other, are included in these timings.

Prazeres cemetery itself is itself an interesting spot and has good views across the Alcântara valley which include the Tagus bridge, the docks and Alcântara-Terra station of Portuguese Railways. The Estrela Park, opposite the Basilica, which is three-quarters of the way to Prazeres, is a pleasant spot,to break the journey, and has a good cafe.
---
Use of Trams
Stops
Tram stops are rectangular, the older ones being white and carrying the word 'Paragem' ('Stop'), whilst the newer ones are yellow and bear the route number. Sometimes this is prefixed by the letter E, (e.g. E15 = 'Eléctrico', i.e. tram, 15).
Getting On and Off
All trams are one-person operated. In the remodelados, the driver checks passes and issues tickets, whilst the Siemens articulated vehicles have coin operated ticket machines and also validating machines for pre-bought tickets. The remodelados should be entered at the front and exited by the rear doors. The articulated trams may be entered or left by any of the four sets of automatic doors. On the articulated trams, the name of each stop is displayed and announced as the tram approaches it and route maps are posted above the doors.
L to R: A 3$00 ticket (1971); a 1991 ticket; a 1$50 ticket (1971).

Sete Colinas rechargeable ticket

Tickets

Although there is an array of tickets and passes available to users of public transport in Lisbon, for the visitor, things were simplified by the Sete Colinas (7 Hills) proximity pass. (The title is an allusion to the belief that Lisbon is built on 7 hills, like Rome). This replaced the Tourist Pass (bilhete turístico) which could be acquired for either a four or seven-day period. The Sete Colinas pass itself is now largely but not toytally supplanted by the Viva Viagem card, which costs half a Euro and is then charged up for a selected number of days to allow unfettered transport on all of the Carris and Metro network.

For details of ticketing see the Carris & Ticketing page.

All vehicles and Metro turnstiles have card readers. The card need only be held over the sensor (like London's Oyster card) to register and, indeed, can even be left in a plastic wallet when doing this. The card can be purchased at any Metro station (from machines) and at Carris kiosks. (NB Much more widely publicised to tourists is the Lisboa/Lisbon card, which is much more expensive as its main benefit is to give discount admission to tourist attractions - see below).

Carris tickets bought from bus or tram drivers are charged at the 'Tarifa de bordo' ('On-board tariff') and are relatively expensive per journey.

All tickets should be cancelled on boarding trams and buses, using the on-board machines. On the articulated trams, tickets can be bought with coins only from on-board machines, as the driver does not sell tickets or check passes.

As of 2016 fares were:

Tickets bought on board for a single journey - buses € 1,80, trams € 2,85, funiculars (up & down return) € 3,60, elevator (up & down return) € 5,00

Tickets charged onto a Viva Viagem/7 Colinas pass for a single journey - for Carris/Metro € 1,40

Tickets charged onto a Viva Viagem/7 Colinas pass for a 24h pass on Carris/Metro € 6,00, on Carris/Metro/Transtejo (Cacilhas) € 9,00, Carris/Metro/CP € 10,00

VV cards can also be uploaded with cash.

An alternative for tourists who wish to visit Lisbon's museums is the Lisbon Card, which gives unlimited use of Carris services (except the Aerobus, tourist bus and tram-tour route, as well as free use of the Metro and of the Cascais railway line from C. Sodré to Belém. In addition it provides free entry to 26 Lisbon museums and monuments. Amongst the museums covered are the Maritime Museum, Coach Museum and Air Museum. The Card may be purchased in City Tourist Offices and other outlets.

Buying a ticket on the tourist trams is very expensive indeed. As route 28 largely mirrors the tourist tram's "Hilly" route, a Viva Viagem card is a much better bet.
Depots

The sole tram depot remaining is at Santo Amaro, between central Lisbon and Belém. Visitors to the Carris museum get a free tram ride within the depot complex as part of the admission price. The Bolaria café across the road affords a good vantage point for watching tram movements at Santo Amaro. This depot has been in existence since before the electric trams arrived in Lisbon in 1901.

Formerly other tram depots existed in Lisbon. One of these was the Arco de Cego depot, built in 1902 on a 29,176sq.m. site acquired in 1882, but this closed in the 1990s. By then it had lost 9,000sq. metres of land to the national mint. Arco do Cego then acquired a new lease of life as Lisbon's main long-distance coach station but this is now decommissioned and the site was converted in 2005 into a leisure facility. For details, see the Lisbon Suburban Bus and Coach page.

A third Carris depot at Amoreiras closed in 1981 and is now the site of a modernistic shopping centre. Carris bus depots operate at Pontinha (opened 1975), Musgueira (1981) and Miraflores (1983).


Above: Santo Amaro depot in July, 2000
Santo Amaro blog
---
Part 2 of the Lisbon Trams Page covers:

Lisbon Trams of the Past
Including:
Historic Fleet Details
Tram Trailers and Works Cars
Carris Museum of Transport
Old Tram Routes in Lisbon
Reading Matter: references to books and images relating to Lisbon trams Links to other related sites

---

Contact: the following is not a link; please transcribe the address into your email