Carris
Lisbon's city bus operator is Carris, the company which also operates its trams, funiculars and elevator. Its full name is Companhia Carris de Ferro de Lisboa (literally Lisbon Iron Railway Company) As with the trams, the variety of the Carris bus fleet has reduced in recent years, with many old favourites, such as the Daimler (Guy) Victory, the AEC Reliance, Regal and Regent having been withdrawn. A number of Daimler Fleetline double-deckers enjoyed a new lease of life as semi-open-top tourist buses, painted in an eye-catching yellow livery, but even these have now disappeared. They were replaced (from 2000) by new Volvo B10R open-top double-deckers. However, many of the withdrawn types can be seen in the Carris Museum. Nearer to home, an AEC Regal (#104) in orange Carris livery is displayed at the transport museum at Leyland in Lancashire, England.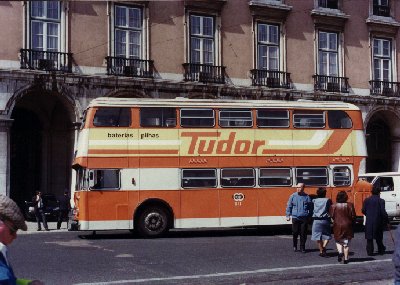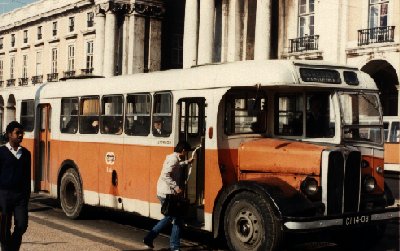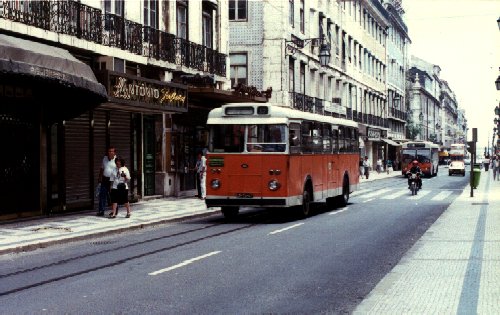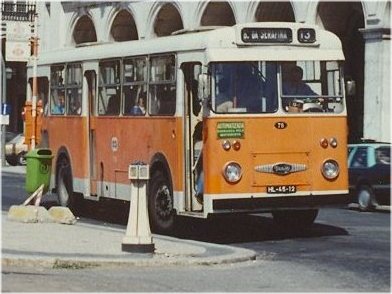 From left to right: The old orange and mushroom livery on a Daimler Fleetline #811, an AEC Regal of 1948 and two Leyland (Guy) Victories (#85 left and #78 right). Click on the images to view a larger version.
Bus Fleet Developments to 1974
The bible for Portuguese bus enthusiasts is Ian Manning's The bus fleets of Portuguese cities and municipalities published in 2007 by DTS Publishing (ISBN 9781-900515-22-1).

Service buses first appeared in Lisbon as follows:

1904-06: Two De Dion Bouton single-deck vehicles were briefly operated by the Nova Companhia dos Ascensores Mecanicos, who also opreated the city's funicular services.
1912: Carris acquired five Leyland vehicles to run on the Sete Rios route to Carnide, north of the city centre.
1914-15: Carris operated 2 Tilling Stevens vehicles and 3 Austins.
1940: To service the Exposição Mundial (World Exhibition) in Belém, 6 AEC Regent buses were acquired but they were left inactive until 1944 when they were introduced on a service to the airport in April of that year. By 1949 Carris had acquired a further 141 buses, all single-deckers, as follows: 111 AEC Regals, 7 Leyland OPS1 vehicles, 4 Albion Valkyries, 5 Maudslay Marathons, 4 second-hand German Henschels and 10 Isotta-Fraschini buses from Italy. By 1951 the Henschels and Isottas had been taken out of service.

In 1947 Carris purchased two double-deck Leyland Titan PD1A buses (#201-202). Next came 84 AEC Regent Mark III double deckers and 28 Mark Vs. These were followed by 232 front-entrance Mark V models. The Mark Vs were finally withdrawn in 1991.

In 1964/65 six UTIC-AEC U2006 coaches were acquired and in 1966 six more U2006s as well as 6 Guy Victory buses which arrived in 1967 and were operated as Daimlers. In addition, 6 AEC Reliance 2U2LA buses (fleet nos. 61-66) came in 1966 and 20 more Guy Victories (#67-86) arrived in 1967, the latter having only 18 seats. These (61-86) ran until the early 1990s. A programme of rebodying the single deck AEC Regal IIIs took place with some being converted to double deckers (#440-494). By 1968 the number of passengers using buses exceeded those using trams in Lisbon. the last Regal IIs were withdrawn in 1991.

Fifty 79-seater double deck Daimler Fleetlines were ordered and delivered as #801-850 between 1967 and 1969. Five more dual door vehicles came in 1971 (#851-855). The Fleetlines ran the Linha Verde airport service in the 1980s and the last Fleetline was withdrawn in 1995.
Bus Fleet Developments post-1974 Revolution
In 1974, 200 Volvo B59 buses were ordered comprising:
#1001-2000 which were bodied by Caetano (94 vehicles), CAMO (30) and UTIC Porto (76)

A further order for Volvo B59s, in the new orange and mushroom livery, came in 1978/79, as follows:
CAMO bodies, ##1201-1214 and 1351-1370
Cateano bodies, #1301-1350
UTIC bodies, #1371-1400.

At the same time (1978/79) Carris also acquired 100 MAN SL200 buses numbered 2001-2100, whose bodywork was provided equally by Caetano and UTIC. Next, in 1980, came 15 Magirus Deutz/Caetano coaches which were used on the airport service before being sold to RN in 1989.

In the early 1980s the following buses were purchased:
#1301 (reused) to 1498 which were 198 Volvo B10R with CAMO bodies
#2101-2198 which were 98 MAN SL200 vehicles bodied by Salvador Caetano
#3001-3110 which were Caetano-bodied Iveco vehicles..

No new buses were then acquired until late in 1990 when 40 MAN 10.150 midibuses, bodied by Caetano were purchased. Next, in 1991, came the first 20 of the fleet of Volvo B10M CAMO flexibuses. In late 1990 Carris received 39 MAN10150 HOCL midi buses (#2901-2940) which were being withdrawn by 2006. Renault (CAMO) minibuses were acquired in 1993 and, strangely, their routes included the wholly inappropriate airport service where their size made them impractical for laden air-travellers.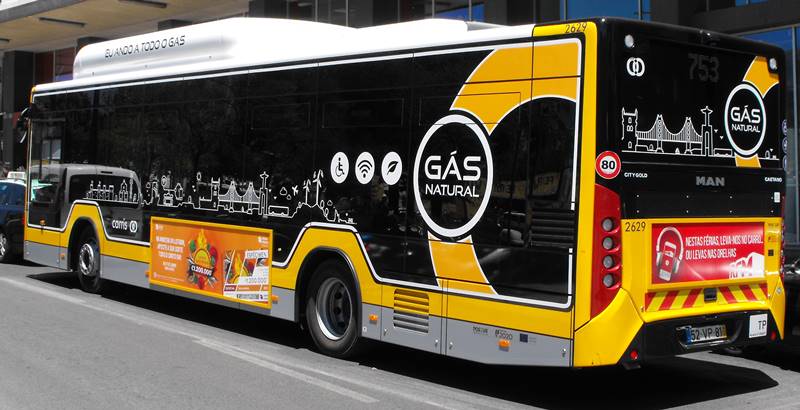 Right: MAN 14.250 HOCL bus at Rotunda (Pombal), June 2019.
By 2000, Carris had acquired:
Mercedes Benz O405 N2 low-floor buses, numbered 4101 to 4110, bodied by CAMO.
Mercedes Benz, as above, numbered 4111 to 4149, but constructed as Citaros.

Early in the 21st century, Carris bought:
#1601-1640 Volvo B7L (CAMO) buses.
#1801-1820 Volvo B10L (CAMO) natural gas-powered buses.

A huge fleet renewal, replacing the 1970s and 1980s vehicles, was signified by large orders in 2004, all of which had beendelivered by mid-2006 (see list below).
Bus Fleet Numbers since 1974
The modern fleet is now universally running in a predominantly yellow livery, which replaced the former orange and grey and a subsequent livery of yellow with green trim. However, some buses wear all-over advertising livery. By the end of 2006 the programme of bus replacement had brought the age of the fleet down to an average of 6 years. Non-tourist services are now totally run by single-deck vehicles. Buses used since 1975 include the following::
#201-240: Mercedes 616CDI Sprinter (Mota body, delivered 2004)
#1001-1200: Volvo B59 (Caetano, CAMO or UTIC bodies, 1975)
#1201-1214: Volvo B59 (CAMO 1978-79)
#1301-1498: Volvo B10R (comprising 1301-1350 bodies by Caetano; 1351-1370 by CAMO; 1371-1400 by UTIC, all 1978/79 deliveries)
#1500-1589: Volvo B10M flexibuses, of which those up to and incl. 1530 had straight fronts and those after that were curved. All bodied by CAMO. 1500-19 delivered 1991; 1520-29 delivered 1992; 1530-59 delivered 1995; 1560-89 delivered 1997)
#1601-1635: Volvo B7L (delivered 2000)
#1701-1735: Volvo B7RLE (Marcopolo, 2005)
#1741-1780: Volvo B7RLE (Caetano City Gold CC512, 2009)
#1801-1820: Volvo B10NL CNG (natural gas powered) (CAMO, 2001)
#1821-1840: Volvo B10NL CNG (natural gas powered) (CAMO, 2004-05)
#2001-2100: MAN SL200 (1979-80)
#2101-2198: MAN SL200 (Caetano -split screen, 1980-85)
#2201-2310: MAN 18.310 (Caetano City Gold 2KD, 2004-05)
#2311-2348: MAN 18.280 (Marcopolo, 2004-05)
#2401-2450: MAN 18.280 (Caetano, 2005-06)
#2451-2500: MAN 18.280 (Marcopolo 2006)
#2601-2725: MAN 18.310 HOCL-NL CNG (Caetano City Gold, 2018/19)
#2800-2819: MAN 18.310 HOCL-NL CNG (Caetano City Gold CC512, 2009)
#2901-2940: MAN 10.50 midibus (Caetano 1990-91)
#2961-2997: MAN 14.250 HOCL (2018)
#3001-3110: Iveco (Caetano, 1983-84, withdrawn by 2001)
#4001-4110: Mercedes-Benz O405N2 three-door (CAMO, 1997-98)
#4111-4149: Mercedes-Benz O530 (Citaro, 1999-2000)
#4201-4267: Mercedes-Benz OC500LE (Mota, 2005-06)
#4600-4619: Mercedes-Benz O530G (Mercedes Benz Citaro G, 2008)
#4620-4649: Mercedes-Benz O530G (Mercedes Benz Citaro G, 2010)
#4801-4840: Mercedes-Benz O530G NGT (Mercedes Benz Citaro C2-G-NGT, 2018-19)
Bus Fleet: 2019
The fleet as listed on the Carris website in summer 2019 comprised:
35 x Volvo B 7 L Camus V.L.2000 (Camo) delivered 2000-01
33 x Volvo B 7 R LE Viale (Marcopolo) delivered 2005-06
37 x Volvo B 10 L (GNC) City Bus LF (Camo) delivered 2001-05
100 x MAN 18.280 LOH 02 City Gold 2KD (Caetano Bus) delivered 2005-06
109 x Mercedes-Benz O405 N2 Camus 1997-98
29 x Mercedes-Benz O530 Citaro Citaro (EvoBus) delivered 2000
20 x MAN 18.310 HOCL-NL GNC City Gold CC512 GNC (CaetanoBus) delivered in 2009
67 Mercedes-Benz OC500 LE Atomic Urbis (Irmãos Mota) delivered 2005-2006
MAN 18.310 HOCL-NL being delivered 2019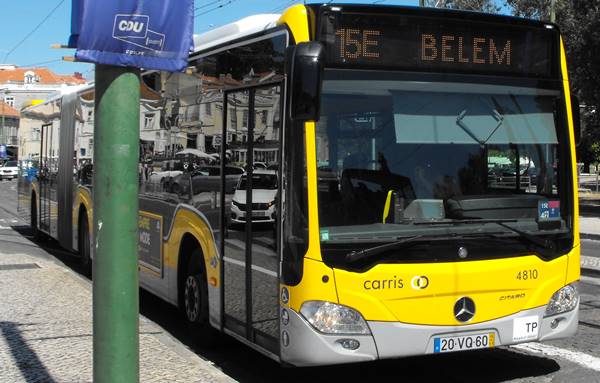 Right: Mercedes-Benz Citaro articulated bus no. 4810 at Belém on a 15E service, supplementing the tram service on route 15 (2019) .
The articulated fleet comprised:
40 x Volvo B10M Cronus (Camo) delivered 1991-95
50 X Mercedes-Benz O530 G Citaro Citaro G (EvoBus) delivered 2008-10
Mercedes-Benz Citaro G NGT being delivered 2019

The midi-bus fleet comprised:
20 x MAN 14.240 HOCL NL Polis Midi (Irmãos Mota) delivered 2008-09
MAN 14.250 HOCL being delivered 2019

The mini-bus fleet comprised:
34 x Mercedes-Benz Sprinter 616Cdi Atomium (Irmãos Mota) delivered 2004

The fleet for disabled users comprised:
4 x Mercedes-Benz 412 D Auto Ribeiro delivered 1997-99
2 x Iveco Daily 65C18CC Compa-PMR delivered 2009
---
LEFT : The late 1990s yellow and green livery of Carris is seen here on a Volvo B10M articulated bus at Calvário. The curved-frontbody versions of CAMO bodywork on these vehicles are numbered 1531-89.

RIGHT: MAN midibus 2914, bodied by Caetano. As can be seen (right), these vehicles are very rectangular in appearance and are numbered in the 2900 series. They are used on route 100 and on narrow-street routes such as the 37 to the castle. Carris has 39 MAN10150 HOCL midi buses (#2901-2940) but these are being withdrawn (2006).
---
| | | |
| --- | --- | --- |
| | LEFT : Mercedes low-floor buses, numbered in the 4101 series. These are comfortable, air-conditioned vehicles. RIGHT: Volvo B10R #1326 | |
---
LEFT: Renault-engined minibuses bearing the 100 series of fleet numbers were used for several years on the Aerobus route to the airport, for which they were not the most suitable for a service where passengers are often loaded with luggage. They have now been replaced on that service by larger vehicles whilst the standard minibus is now the Mercedes 616 CDI Super Sprinter (Mota bodies), of which 40 are in service and numbered 201-240.

RIGHT: Mercedes Citaro low-floor buses. These are air-conditioned vehicles and are used on routes such as 44 and 22. 39 of these O530 Mercedes-Benz Citario buses are currently used (#4111-4149).
---
LEFT: Natural gas powered Volvo B10L bus, #1824 at Cais do Sodré, 2007.

RIGHT: Mercedes 616 CDI Super Sprinter, #222 in Praça da Figueira (2007)
---
LEFT: Bus 2498, a MAN 18.280 (Marcopolo 2006)

RIGHT: 2009: the Aerobus
---
Carris Services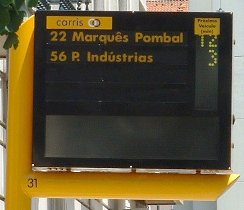 Route charts and timetables are also to be found at the Carris WWW site. Buses are well patronised and frequently filled to overflowing. However, the march of the private car, improvements to railed transport, and more recently the surge in segways, electric scooters and tuk-tuks has seen passengers carried by Carris decline from just over 300 million in 2002 to only 140.6 million by 2017, albeit the statistical methodology which changed in 2010 had some influence on these figures. Before that change in counting, the decline had witnessed 240.4 million passengers in 2009.

To help passengers, electronic timer displays are now common at bus and tram stops, as seen right in summer 2003 at Areeiro. Carris runs about ninety routes and most have a 15 minute frequency or better. Further information on the company and its transport museum may be found on the companion page to this dedicated to Carris.

Carristur: Tourist Bus Routes
Left: Carristur open-top Volvo, June 2002. Right: a 2010 view in P. do Comércio.
Open-top tourist buses have boomed since 2000 in Lisbon. As well as the Carristur services of the Lisbon transport operator Carris, services are also operated by CityLine and Cityrama amongst others. Carristur services - now branded as "Yellow Bus" include the Tagus Tour, the Belém Tour and the Olisipo Tour. The Tagus and Olisipo tours start from the Praça da Figueira. The cost (2016) is €16. The Tagus service goes via the north of the city and Estrela to Belém, before returning along the coast to Lisbon; the latter goes to the Parque das Nações, the former Expo 98 site, at Oriente, across the north and west of Lisbon and back to its starting point.
The Belém Tour runs from the Mosteiro dos Jeronimos at Belém and around Ajuda, taking 45 minutes and costing 9 euros.
CityLine services run from Pombal and go via the Pç. do Comércio to Belém and back, via Estrela.
Leyland Fleetline open-top double-deckers, converted from enclosed vehicles operated many of these sightseeing services until c.2002. They were painted a bright yellow with stylised images of the tourist sights of Lisbon. In 2000 a number of converted Volvo B10R singledeckers were converted to open-top buses, (numbered in the 1480/1490 series). These in turn have been supplemented by Volvo B&rLE vehicles (#154-164) delivered from 2003 to 2006.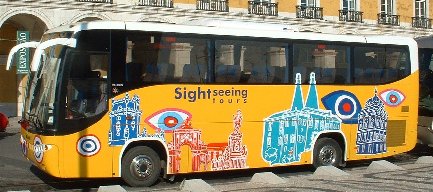 A MAN tourist midi-bus (July 2003).
Carris Staff
At the start of 2018, Carris employed 1,350 bus drivers and 138 tram drivers op[erating a fleet, at that time, comprising 603 buses, 48 trams, 3 funiculars and 1 elevator.
Carris Service Routes
In autumn 2006, Carris made a radical change to its routes and, also, after many years of stability, to its route numbers. The heart of the new arrangements is the Rede 7 (Network 7) concept. In many cases the new route number is simply an old route with a 7 pre-fix but in some cases there has also been a significant route alteration accompanying the change of number. At the above time, Carris withdrew pre-purchased paper tickets for single journeys (BUC) and replaced them with the already existing Sete Colinas (Seven Hills) proximity card (akin to London's Oyster card). The 7 Colinas card can be loaded with an hourly-valid ticket which allows passengers to change buses without having to pay twice, as they formerly had to.

The bus and tram services have also been classified according to colour-coded zones. These are denoted on the vehicle by a disk of the appropriate colour displayed in the windscreen or, on those vehicles with the latest type of digital destination display, by a coloured background to the route number. The colours denote the area of the city to which the bus travels.

The codes are:

Pink: Ajuda and Belém
Blue: Benfica and Carnide
Green: Lumiar and Alvalade.
Red: Marvila and Olivais.
Orange: City centre area
Grey: Circular routes traversing various zones.

The Rede 7 routes are:

701: Campo Grande to Campo Ourique (Prazeres)
702: M. Pombal to Serafina
703: Charneca-Bairro Sta Cruz
705: Oriente-Roma/Areeiro
706: Cais do Sodré to Sta Apolonia
708: Martim Moniz to Parque Nações Norte
709: Restuaradores to Campo Ourique
711: Praça do Comércio to Alto da Damaia
712: Sta Apolonia to Alcantara Mar
713: Alameda to Estação de Campolide
714: Praça da Figueira to Outurela
716: Alameda to Benfica
717: P. Chile to Fetais
718: ISEL to A. Afonso Henriques
720: Picheleira to Calvário
722: P. Londres to Portela
723: Desterro to Algés
724: Alcantara to Pontinha
725: Oriente to Prior Velho
726: Sapadores to Pontinha Centro
727: Estação Roma/Areeiro to Restelo
728: Restelo to Roma/Areeiro
729: Bairro Padre Cruz to Algés
730: Picheleira to Picoas
731: Av Jose Malhoa to Moscavide
732: M. Pombal to Caselas
734: Martim Moniz to Sta Apolonia
735: C Sodré to Hosp. Sta Maria
736: C Sodré to Odivelas
737: P. Figueira to Castelo
738: Quinta dos Barros to Alto Sto. Amaro
742: Bairo Madre de Deus to Ajuda/ Pólo Universitário
744: M. Pombal to Moscavide
746: M. Ponbal to Estação Damaia
747: Campo Grande to Pontinha
748: Pombal to Linda-a-Velha
749: ISEL to Entrecampos
750: Estação Oriente to Algés
751: Estação Campolide to Linda-a-Velha
753. Pc J Fontana to Centro Sul
754: Campo Pequeno to Alfragide
755: Poço do Bispo to Sete Rios
756: Olaias to R. Junqueira
757: Alto Chapeleiro circular
758: C Sodré to Portas Benfica
759: T. Paço to Oriente
760: Gomes Freire to Ajuda
764: Damaia Cima to Cidade Universitaria
765: Colégio Militar Metro to Rua Joao Ortigao Ramos
767: Campo Mártires da Pátria to Estação Reboleira
768: Cidade Universitária to Quinta Alcoutins
770: Sete Rios circular
773: Rato to Alcântara
774: Campo Ourique to Gomes Freire
776: Algés to Cruz Quebrada
778: Campo Grande Metro to Paco Lumiar
779: Olivais circular
781: C Sodré to Prior Velho
782: C Sodré to P Jose Queiros
783: Amoreiras circular
793: Marvila to Estação Roma/Areeiro
794: T. Paço to Estação Oriente
796: C Grande to Galinheiras
797: Sapadores circular
798: Galinheiras to Campo Grande
799: Colégio Militar Metro to Alfragide Norte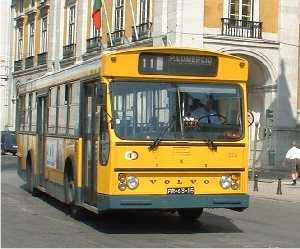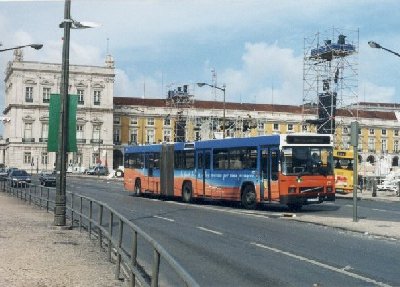 L to R: A Carris Volvo (#1326) in Pç. do Comércio, July 2003; a Carris Volvo flexibus also in Pç. do Comércio.
Tickets
Tarifa de Bordo (On-Board Fare) These are single-journey tickets bought from drivers which cost more than using the Viva Viagem re-chargeable card,
BUC (Pre-Bought Tickets) Pre-bought single-journey tickets - these were withdrawn in Autumn 2006.

Trolley Buses
In late 2009 the town councils of Lisbon suburbs Amadora and Odivelas were planning a trolleybus (or "Metro on Tyres") route to link the 7.5km between the Lisbon Metro station at Amadora Este and the Reboleira transport interchange on the Lisbon to Sintra line. Nothing has come of this.

The route will terminate at the Dolce Vita Tejo shopping centre. The shopping centre operators will contribute four million euros to the project whose costs are estimated at nearly nine million euros for the first phase and a further sixteen for phase two.
Other Lisbon Area Operators

Details of other operators in the Lisbon area are to be found at the Lisbon Suburban Buses page.
Link
Faixa Bus has a great array of Portuguese bus pictures.
---
Copyright: ©


Contact: the following is not a link; please transcribe the address into your email

---