SATUO
Above: The first three stations on the SATUO line, as depicted on publicity literature. SATUO (Sistema Automático de Transporte Urbano de Oeiras) was an automatic transport system. Sadly it proved economically unviable and after 11 years of operation it closed on 31 May 2015.
Its planned first phase was from Paço d'Arcos station, on the Cascais to Lisbon railway line, to Porto Salvo (Oeiras Parque shopping centre), and construction work began in June 2002. Though scheduled to open in December 2003, it actually first ran in service on 7 June 2004. Though generally termed a monorail, the SATUO was actually cable-operated, utilising two rails. The "initial" line was 1,150 metres long and climbed from Navegantes station, next to the Paco d'Arcos railway station, via Tapada do Mocho to Forum (Oeiras Parque).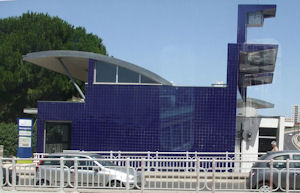 Left: Navegantes station, 2008.
Eventually it was intended to link to the Taguspark development. It was also projected that Quinta da Fonte, Oeiras railway station and Cacilhas (not the same Cacilhas as is located opposite Lisbon, across the Tagus) would be served, as would the former gunpowder factory at Barcarena. The initial 20 million Euros cost was entirely underwritten by the construction firm Teixeira Duarte, who own the Oeiras Parque development and who also owned 49% of the monorail company, with Oeiras Council holding 51%.
The SATUO vehicle could travel at almost 40Km/h. It carried 8 people seated and 71 standing. It was driverless and made of non-combustible materials. The fare for the initial four-minute journey of 1.15km was initially €1 single (1.50 return) or 0.63 Euros if a book of 20 tickets was bought, compared with little more in cost for the far longer rail journey from Lisbon to Paço d'Arcos. Nevertheless, SATUO expected to carry 4,000 people a day in its first year from its new Navegantes station, adjacent to Paço de Arcos CP station, to Oeiras Parque via the stop at Tapada do Mocho. The terminus was near Oeiras's new Parque dos Poetas (Poets' Park).
The line ran entirely on a purpose-built concrete viaduct and was cable operated with the construction was by Poma-Otis. Entry to the platforms was by automatic doors, which only allowed access when the vehicle had entered the station. The dwell time in each station was 30 seconds and frequency (in 2007) was every four minutes. Services ran from 0800 till 0030 hours.
The second phase of the project was planned to take the line from the terminus at the Estação do Fórum at Oeiras Parque via the Estação Multiusos to the Estação Lagoas. Phase two would have added another 1,370 metres to the line.
---
Copyright: ©


Contact: the following is not a link; please transcribe the address into your email

---