Restaurants in the Rua dos Correeiros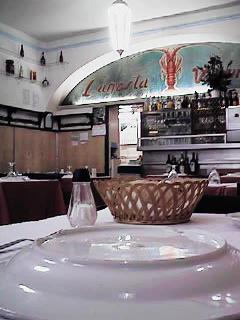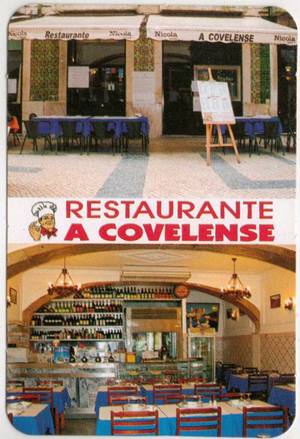 One of the best streets in central Lisbon to find a number of good, cheap Portuguese restaurants is the Rua dos Correeiros. Sadly, the number of such restaurants has declined in the last 20 years as the tourist market increases and the native Portuguese inexplicably fall for the fast-food charms of McDonalds, Burger King and other international fast-food operations.

The Rua dos Correeiros runs parallel and to the east of the main Rua Augusta, though at its southern end it terminates before reaching the Praça Comércio.

Nevertheless, a dozen or so traditional Portuguese establishments do remain in the street (2019) though these are now tending to clump towards the northern end of the street, near the Praça Figueira, where tourists are an ever increasing proportion of the clientele. Nevertheless, a number of the surviving restaurants are still frequented to varying degrees by local residents too. Pictured, left, is the interior of the Lagosta Vermelha restaurant, one of the best, but which sadly closed in 2007/08 to be replaced by an Indian-Italian set-up! However its sister restaurant the Marisqueira Popular does survive (2019).

Since the advent of the Euro, prices have escalated but are still good value in UK terms. In summer 2019, excellent three-course meals, including a bottle of house wine, could be had from the varied menus at most of the nearby restaurants at around 20 Euros a head. However, quite a few of the restaurants have now started to charge UK-type prices for wine e.g. 15 euros for bottles that retail at less than half the price in supermarkets.

Service is invariably quick and a wide variety of fresh fish and meat dishes is available, with a main course typically from 9 Euros upwards. Daily specials are also a feature of all the premises. Local fish to be recommended includes "cherne", "peixe-espada", "robalo" and "dourada". Amongst the remaining restaurants offering predominantly traditional Portuguese cuisine in 2019 were...
Ena Pai!, at the top (north) end of the street and well frequented by tourists.
Marisqueira Popular Despite its name, it also serves excellent meat dishes.
Adega Friagem Close to the Ena Pai restuarant
Irmãos Unidos do Minho, 215 Rua dos Correeiros, includes northern Portuguese specialities.
Joao do Grao Near the Pc Figueira end of the road
O Cadete Near junction with Rua S. Nicolau
O Cesteiro
Cafés in Lisbon
Cafés are numerous in Lisbon but a personal favourite is the:
Leitaria Campesina, Rua S. Nicolau 51
which has outdoor tables.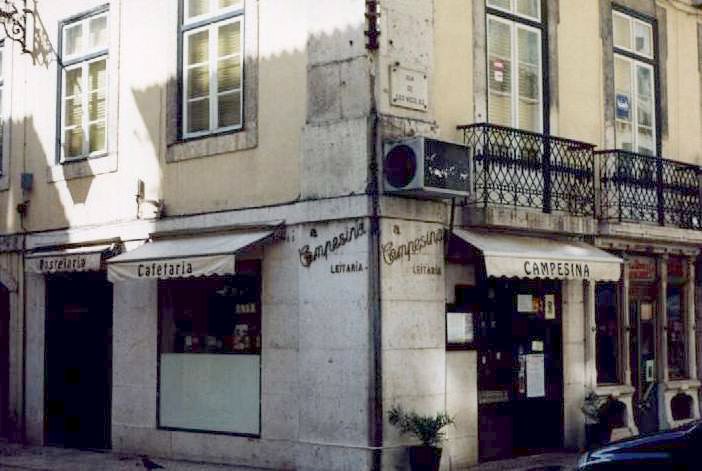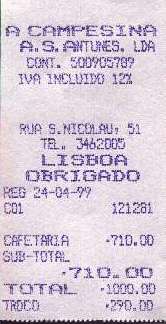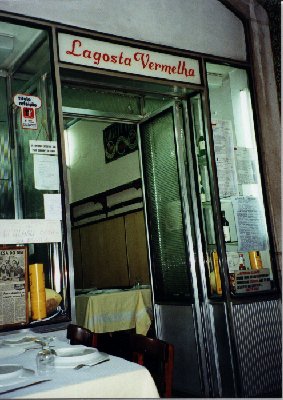 L to R: The Leitaria Campesina; a bill from the Leitaria Campesina; the Lagosta Vermelha restaurant.
This is a really excellent spot for a sandwich or light meal, only a short work from the Baixa-Chiado metro station. Prices are a little higher than some places but you pay for the location. It is a small snack-bar, owned by A.S. Antunes Lda, on the corner of the Rua S. Nicolau and the Rua dos Correiros and also has an indoor section adjoining to the original premises. Its interior is very small but it has numerous outside tables in the pedestrianised street. Particularly recommended are the range of cold/hot sandwiches, salads, fruit, soups and cakes. The "sande de leitão" (pork sandwich), melon (melão) and cakes are particular recommendations. A full range of drinks, including draught beer is available. Service is quick and extremely friendly. It may be e-mailed here.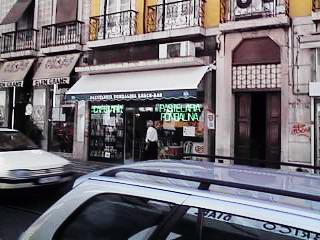 Café Pombalino, Rua dos Fanqueiros
This excellent and long-established café is situated on the eastern side of the Rua dos Fanqueiros, towards the Praça do Comércio end of this road which runs parallel to the Rua Augusta. It provides excellent service as well as a wide range of cakes and sandwiches. Drinks include beer, on tap, as well as the usual range of coffees and soft drinks. Trams pass immediataley in front of the cafe window. (Last sampled summer 2019).
Estrela
There is a very pleasant cafe with a pleasant open air section under the shade of trees in the Parque Guerra Junqueiro which is immediately opposite the Estrela basilica. The cafe is to the left after entering through the main gates facing the basilica.

There are also two good cafés at the bottom end of the Rua João de Deus, near the tram turning loop, facing the basilica. The trams on routes 25 and 28 can both be observed from here.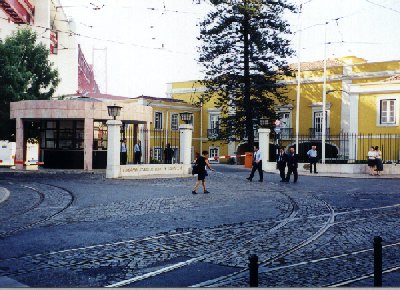 A Bolaria, Santo Amaro
This is an excellent, clean café which is conveniently situated directly across the road from the Santo Amaro tram depot, pictured above, and is used by many of its staff. It offers good views of the depot's comings and goings, as well as very good lunches, excellent sandwiches and cakes.
Centro Cultural de Belém (CCB)
If you prefer to avoid the many tourist cafés at Belém, the roof-mounted café at the Centro Cultural de Belém is a useful address. As well as a sizeable interior space, it has an outdoor terrace which has good views of the River Tagus as well as of the Padrão monument and the Cascais railway line. It serves meals as well as snacks. Just outside the CCB is the tram stop to/from Lisbon (route 15).
Café Tropical, Almada
Across the river, the Café Tropical, Almada, is an excellent café is at the bottom of the Avenida do Cristo Rei, the road leading up to the monument of that name. It is close to the Metro stop at Almada.

---
The Menu and a Few Important Words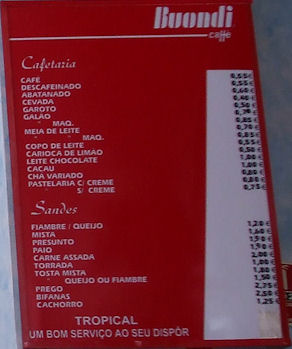 Right: the price list in the Café Tropical, Almada. Some of the terms listed below can be seen on the image.
Lisbon restaurants offer a wide range of both meat and fish dishes, which are well-suited to the historical British palate as they are not normally spiced. The Portuguese term "bife" (beef) can be misleading as it is applied to any type of meat. Thus you will find on menus "bife de peru" or "bife de porco", meaning a turkey or pork steak, respectively. A "bitoque" is beef with an egg on top. "Frango a piri-piri" is chicken served in a generally fairly mild chilli sauce. "Borrego" is lamb, "Vitela" is veal and "Leitão" is roast suckling pig, often described as Leitão de Negrais (from Negrais, near Sintra).
Amongst the excellent local fish dishes is "cherne" (bream), "robalo" (snook) and "dourada" (bream). Cod ("bacalhau") can be a bit of an experience, with "bacalhau à Brás" being popular- this is salt cod with potato, onion and egg. Soups are generally excellent, with the ubiquitous "sopa de legumes/ hortaliça" (vegetable soup), "canja" (chicken broth) and the northern speciality, "caldo verde" (a cabbage and potato soup with sausage) being recommended.
Unless you like a rawish egg in your soup, "sopa alentejana" is to be avoided. Sweets include "mousse de chocolate" (chocolate mousse), "arroz doce" (rice pudding) and "pudim flan" (crème caramel). Sadly home-made versions of swets are giving way to commercial products in many restaurants. House wines ("vinho de casa") are generally very satisfactory and cheap (prices have more than quadrupled in the new millennium and typically are around 15 Euros in 2019).
Coffee = "café" but there are numerous varieties... e.g. "café com leite"= small coffee with milk; "bica"= espresso; "galao" a large, milky coffee served often in a glass tumbler; "garoto" = a small coffee with milk; "carioca" an espresso with a small amount of added water.
Beer = "Uma cerveja". Most common brands are Sagres and Superbock. A draught beer is "uma imperial"; a larger glass of draught beer is "uma caneca" which is a litre, though there are even bigger measures e.g. "girafa".
The menu, please = "A ementa, se faz favor". Increasingly the word "menu" is used.
A ham sandwich = "Uma sande de fiambre".
A cheese sandwich = "Uma sande de queijo".
A hot beef sandwich = "Um prego".
A "bifana" is the pork equivalent of a "prego".
A cup of tea = "chá".
The bill, please = "A conta, se faz favor".
Thank you = "Obrigado" (if you are male), "obrigada" (if you are female).
Where are the toilets? "Os lavabos, se faz favor?"
---
Shopping for Food and Wines near Transport Facilities
The huge Corte Inglês department store, built on top of São Sebastião Metro station has a wide range of wine. This store actually has an entrance immediately off the southern underground atrium of S. Sebastião Metro station and the premises are open for long hours, typically to 10pm on weekday evenings.

The Pingo Doce supermarket chain has opened small to moderately sized food-based supermarkets at the Metro stations of Santa Apolónia and Cais do Sodré. These are modern and well stocked and particularly useful as they have long hours. The Santa Apolónia shop, for example, stays open till 2300 hours. In central Lisbon there is a useful but small supermarket at the southern end of the Rua dos Correeiros (open to 7.30pm), which is one of the roads parallel to the Rua Augusta in the Baixa district.

In Cascais, the Jumbo hypermarket lies just across the coast road (Estrada Marginal) from Cascais railway station and is open for long hours. It also stocks a good range of CDs and has an excellent newspaper shop. Even closer to the Cascais station is the new Cascais Villa complex which has fast-food outlets on its top floor and fashion, music and other shops on the lower floors. There is also a Jumbo at the Amoreiras shopping centre in north west Lisbon.

The Vasco da Gama shopping centre at Oriente also has a hypermarket (Continente) with an equally wide range of merchandise.

For a massive range of books, CDs, DVDS etc, visit FNAC whose entrance is at the foot of the Rua Garrett, where it meets the Rua do Carmo and the Rua Nova de Almada and it is open till late at night.



---
Copyright: ©


Contact: the following is not a link; please transcribe the address into your email

---