You are in the
LISBON RAILWAYS
page
Links to rest of site:
LISBON TRANSPORT
Air Museum
Azambuja Rail Line
Carris & Ticketing
Cascais Rail Line
Coach Museum & Other Museums
Eating & Drinking
Fertagus Rail Line
Lisbon Aviation
Lisbon Bridges
Lisbon Buses
Lisbon Cablecar
Lisbon Coach Trips
Lisbon Day Trip
Lisbon Ferries
Lisbon Funiculars
Lisbon Metro
Lisbon Railways
Lisbon Railway Trips
Lisbon Ships
Lisbon Suburban
Buses
Lisbon Taxis
Lisbon Trams
Maritime Museum
Metro do Sul do Tejo
Oeiras Monorail
Sintra Rail Line
Sintra Transport
OPORTO TRANSPORT
Oporto Airport
Oporto's Bridges
Oporto Buses
Oporto (Gaia) Cable Car
Oporto Coaches
Oporto Excursions: Régua, Lamego
Oporto Funicular
Oporto Metro
Oporto Railways
Oporto Railway Trip to Coimbra
Oporto River Vessels
Oporto Tram Museum
Oporto Trams & Trolleybuses
Oporto Tram Routes Now
Oporto Transport Museum
Eating & Drinking in Oporto
ANGLO-PORTUGUESE CULTURE
Cesário Verde
Manchester/Portugal
GERMANY
Stuttgart & district
Hamburg & district
Mainz & district
Munich & district
SPAIN
Valladolid & the Cities of Castile & León
LOCAL HISTORY
Sale, Cheshire
Altrincham, Cheshire
Altrincham F.C.

---
Lisbon's Railways, Part 1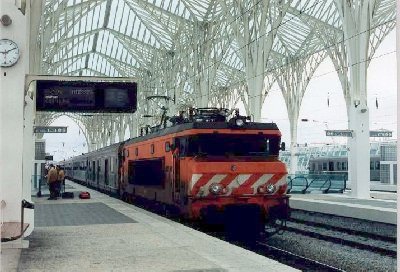 CP Class 2600 at Oriente Station

21 June 2015 (partly updated only)

---
Copyright: ©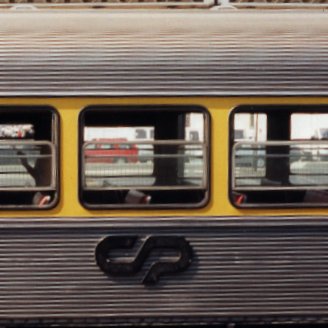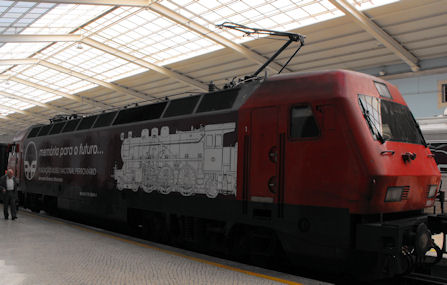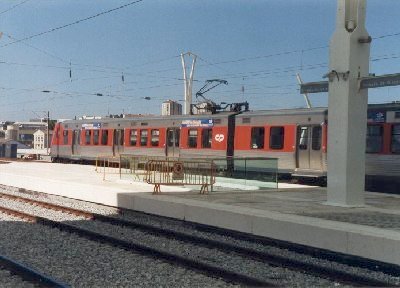 Left to right: The old CP logo on a Cascais line carriage: hauled by 76-5607-5, an Oporto-bound service from Lisboa Sta Apolónia passes Moscavide on the northern fringe of Lisbon; a suburban EMU at Oriente. Click on images for larger versions.
---
Above, click to enlarge, is a 2013 map of the Lisbon suburban network as displayed in trains.
---
---
The suburban services in Lisbon are operated by the Unidade de Suburbanos da Grande Lisboa (USGL). Three routes are operated on the Lisbon side of the Tagus; these are the

Linha de Azambuja. Details of each route are given by clicking on the above links. CP's Web Site also provides information on these services. A description of all of CP's motive power and diesel/electric units is also provided by CP. A newcomer to Lisbon is the private operator, Fertagus, whose services are described below.
---
Santa Apolónia

Situation a mile or so east from the centre of Lisbon, this is both the main international and national station of Lisbon but for many years it was not easily accessible. It had only a bus connection until December 2007 when the Metro finally reached, eight years later than scheduled. Sta Apolónia is the terminus for international services, as well as for national services to Oporto and Coimbra. Other services from this station include those to Covilhã in central Portugal and some services on the Azambuja line, (with a branch to Tomar), also start here. Portugal's first railway line linked Santa Apolónia with Carregado in 1856.
---
Gare do Oriente/ Oriente Station


Opened to service the Expo 98 exhibition on an adjacent site, some 5km north of Santa Apolónia, this is the modern architectural masterpiece of Lisbon's railways. Designed by the Spanish architect, Santiago Calatrava, its glass roof is supported by slender 25 metre high supports resembling trees. Built at a cost of 30 billion escudos (£100 million), it has four platforms and eight tracks. Sadly, its functionality is less impressive than its appearance, for the platforms have no timetables (they are on the lower-level concourse), although platform indicators do indicate each individual platform's departures as they occur. Also, the ticket offices are dispersed around a lower level and it is difficult to identify which are in service and which are not. As there are more than twenty of them, you should allow plenty of time for buying a ticket. All the refreshment facilities are also at a lower level. The height of the station roof affords little protection from cross-winds but, nevertheless, architecturally it is a very striking, airy structure. Physically linked to the station is the Parque das Nações, (the former Expo 98 site), and, adjacent to it, is the Vasco da Gama shopping centre, bus station and Metro station, ('Oriente'). Four pavilions, including the impressive Oceanarium, remain from the Expo but opposite the station there is now a new shopping centre, the Centro Comercial Vasco da Gama. The site is now the home of the Feira Internacional de Lisboa (Lisbon International Trade Fair), an exhibition centre, formerly located at Alcântara near the Ponte 25 de Abril.

L to R: suburban EMU at Oriente station, July 1998; Oriente station seen from the cablecar. Click pictures for larger versions.
---
Estação do Rossio/ Rossio Station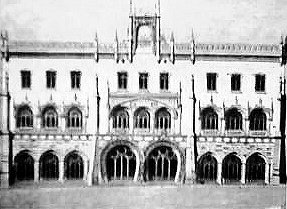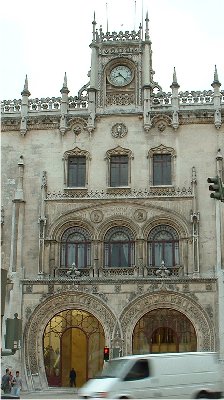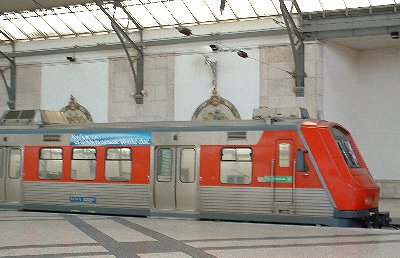 L to R: An engraving of Rossio station made soon after its opening; Rossio station, little changed, in 2003; inside Rossio Station, 2002.


Housed in a nineteenth-century imitation of the Manueline architectural style, Rossio station is a curiosity in that the platforms are some 30 metres above the main entrance. Most of the intervening space has now been filled in by a rather dingy shopping centre with flights of escalators, though the foyer has been beautifully upgraded (2003). At station level the feeling is pleasant with fine tilework decoration on each side wall. All the normal services from here are suburban trains to the tourist sights (and commuter suburbs) of Sintra via Queluz. These are operated by EMUs built by ADtranz Portugal and these connect with Northern Ring Line services at Cacém. Rossio CP has a Metro connection, though this is with the nearest Metro station at Restauradores, (not with Rossio Metro, though this is within walking distance).

During 2004 the tunnel which carries all lines out of Rossio station had to be closed due to structural problems; this effectively has closed the station and this remained the case until 16 February 2008 when it was reopened. Till then all Sintra services terminated at Entrecampos Poente after running via Sete Rios and Queluz services were diverted to Roma/Areeiro via Sete Rios and Entrecampos. The Alverca to Queluz service was diverted via Campolide to Alcântara Terra. On reopening of Rossio in February 2008, Sintra trains were diverted back to Rossio.
---
Cais do Sodré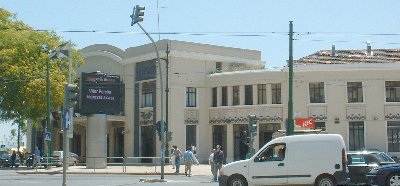 Situated a kilometre west of the Praça do Comércio, this is the terminus of the Cascais line. It has a Metro, bus and ferry interchange (estacao fluvial), as well as a taxi rank. The Cascais Line is a model of efficiency with fast and very frequent services along the estuary to the coast.
However, there have been some black moments in the past. Notably, on 28 May, 1963 Cais do Sodré station was the scene of a major disaster when, due to allegedly shoddy workmanship, a 60ft x 75ft section of the 210ft-long station roof built a year earlier, collapsed on passengers, with 52 fatalities. According to The Times of 29 May 1963, machinery was commandeered from the construction site of the nearby Salazar bridge (now Ponte 25 de Abril) over the Tagus to lift the collapsed masonry. In 1952 the Line suffered 8 fatalities when a lighthouse collapsed onto a passing train, whilst in 1961 a terrorist bomb exploded at Cais do Sodré station.
Sadly, the attracative main station booking offices are now disused as the station was remodelled in the late 1990s and the platforms moved about 200 yards further west with, initially, a temporary-looking replacement booking office provided alongside self-service machines. Adjacent to the old main station entrance is a major bus station, a quaint Carris ticket kiosk and the Transtejo ferry terminal for services to Cacilhas. There is now a direct link from the platforms to the ferry terminal.
---
Estação do Sul e Sueste/ South and South East Station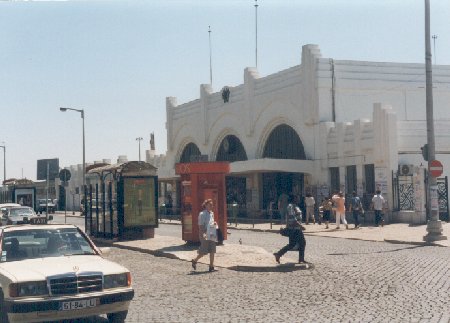 This was actually a ferry terminal, but train tickets for destinations in southern Portugal were available there as towns on the south bank of the Tagus were formerly only reachable by taking the adjoining SOFLUSA ferry service to Barreiro.

At Barreiro, a covered walk-way links the ferry terminal to the CP railway station, from where services leave to Setúbal, Évora, the Algarve and other points in southern and central Portugal, though these are now compromised by services across the Ponte 25 de Abril on the Fertagus line. After the opening of the cross-Tagus rail line, the Barreiro ferry faced a strong challenge to its survival and in response its ships have been replaced by speedier catamarans. Sailings to Barreiro are still relatively frequent.

The decline of the ferry operations at the Estação do Sul e Sueste, caused by the competition from the alternative rail-bridge services, was exacerbated by the removal of the adjacent Cacilhas ferries from the Cais da Alfândega to Cais do Sodré and by many years of construction blight caused by tunneling problems to create the Terreiro do Paço metro station, which finally opened in December 2007. During this period of upheaval, the once attractive and bustling white premises of the Estação do Sul e Sueste were hemmed in by works-site hoardings, with attendant noise and dirt from the tunneling works. Indeed, the casual observer was hard pressed even to see the ferry terminal from across the road at some stages of this work.

The terminal was closed c.2011 and is now looking fairly derelict.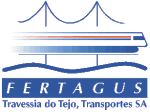 Ponte 25 de Abril/ 25th April Bridge
Opened in 1966 as a road bridge, this structure incorporated from the outset the potential for a deck below road-level for rail use. Cross-river rail services, using double-deck stock commenced in 1999. These service comprise suburban services to Setúbal operated by the concessionary company, Fertagus, and some CP inter-city services to the Algarve.
For full details of the cross-Tagus railway services operated by the concessionary, Fertagus, please go to the Fertagus page of this web-site.


---
Other Suburban Stations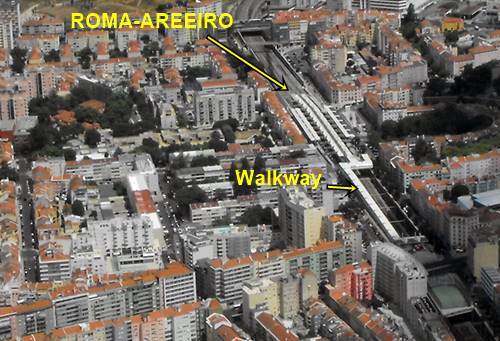 Above: Roma/Areeiro station. Below, right: The track shown in this April 1999 shot of a suburban EMU heading for Entrecampos from Areeiro is now covered by the approach walkway to the Roma/Areeiro station.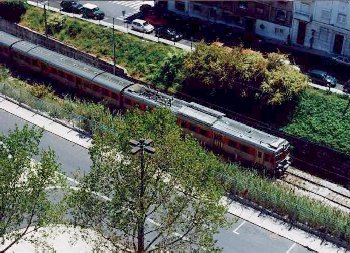 There are numerous suburban railway stations in Lisbon, including two major newly built ones at Roma/Areeiro and Entrecampos on the so-called Northern Ring Line. Entrecampos is an elevated station which straddles the Avenida da República whilst Roma/Areeiro is an imaginative expansion of the former small station of Areeiro. By adding extra tracks and extending the station to incorporate a covered walkway several hundred yards long to the Avenida da Roma, it allows the facility to be marked as an interchange with both the Roma and Areeiro Metro stations. Roma metro station is a few hundred yards away from the railway station. Both Entrecampos and Areeiro railway stations serve the CP Sintra Line and the Fertagus cross-river line to Setúbal.
Another suburban station which serves these same two routes, and was remodelled in the 1990s, is Campolide, which since the train deck on the Ponte 25 de Abril was opened to services has become a busy junction station.
Cacém, to the north west, is a busy suburban station on the line to Sintra.
Lisbon Area Railway Plans
It was announced in mid-December 1999 that a second rail crossing of the Tagus would be constructed to carry new lines between the northern Lisbon suburb of Chelas and the southern bank of the Tagus at Barreiro. This would be a further threat to the viability of the Lisbon ferry crossing from Sul e Sueste to Barreiro. This, as yet unenacted, plan gained added credence with a more recent decision to move Lisbon's main airport across the Tagus to the Alcochete area. However, that plan now seems to be shelved as well, so a second rail crossing seems a distant prospect now (2013).
CP Double-Decker and Trans-Tagus Services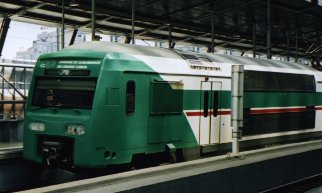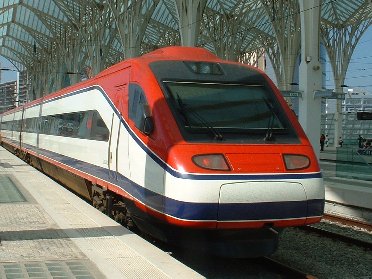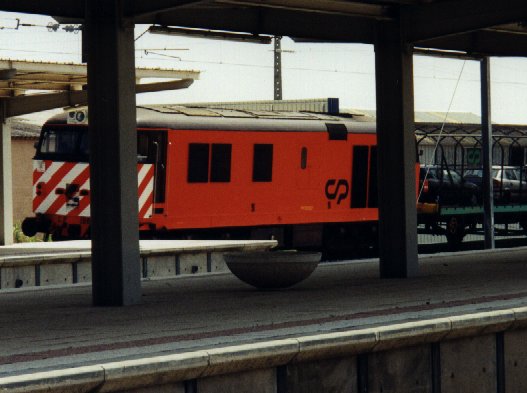 L to R:A Class 3500 unit; an Alfa Pendular service to Porto- at Oriente in July, 2003; the Class 1800, akin to BR's class 50, could still be seen in service in July, 2000. Here one of the class is seen at the tail of a class 5600 car-transporter train as it speeds through Azambuja.



CP itself has introduced similar double-deck stock (class 3500) to that of Fertagus, which run as 4-car EMUs. Class 3500s are also known as UQE2P (Unidades Quadrúpulas Elétricas de 2 Pisos; i.e. 4-car electric double-decker units). Tests were run on the Azambuja line from September, 1999 and double-deck sets are now in operation on Azambuja Line services. Twelve sets are on order from Alsthom/CAF in Spain, with the construction-finishing taking place at the ADtranz works at Amadora, near Lisbon. The CP double-deck stock has an attractive green front-end and an otherwise predominantly white livery and runs at up to 140km/hr.

Fiat Pendolino (tilting-train) sets were introduced across the Tagus from 16 August 1999, when the first Pragal to Oporto service operated. These services, branded as the 'Alfa Pendular' call at Entrecampos and Oriente. Eventually the 25 Abril bridge will carry direct services from the Algarve to Oporto. The Pendolino services, branded as Alfa Pendular, sport a red, white and blue livery. The first service ran from Lisbon to Oporto on 1 July, 1999; the advertised journey time is 3hrs 45 mins. Ten six-car sets have been ordered but delays in delivery meant that only seven of the consignment had been delivered by summer 2000. Eventually, if plans for a second rail-bridge line between Chelas and a point east of Barreiro come to fruition, there will be a circular rail loop across the Tagus. The southern connecting point will be Pinhal Novo from where the existing Barreiro line will branch off across the new bridge to Chelas, whilst the Fertagus line will be completed from Fogueteiro to Pinhal Novo to complete the circle. Fertagus will thus eventually run services between Oriente and Praias do Sado, at Setúbal. Since November 2000, Lisbon-Oporto-Lisbon services have been operated by Alfa Pendular sets.

News
A major review of Portuguese railway operation was included in Today's Railways magazine, nos.56/57, the July and August 2000 issues. The first part is a 'General overview' with details of depots and locomotives. Part two covered multiple units and high-speed plans in Portugal.
---
For details of Portuguese motive power and multiple units, and of the Portguese Railway Museum, please go to the Railways, Part 2 section of this site.

---
Copyright: ©


Compiled by John Laidlar
Contact: the following is not a link; please transcribe the address into your email

---