---
Aviation in Lisbon: the Airport and Airlines

8 October 2016

---
Location
Lisbon's international airport is situated at Portela de Sacavém, only 7km to the north east of the city centre. Indeed, the proximity of the airfield to the city is such that aircraft on final approach from the south-west inappropriately pass over a large hospital, several schools and the National Library's main reading room. It opened on 15 October, 1942, with four 1,000 metre runways. By 1954, 100,000 passengers a year were handled, 1,021,814 passed through by 1965 and 2,239,228 by 1970 when there were 34,392 movements. 1978 saw 3,168,595 passengers handled with 38,912 aircraft movements, whilst 1988 saw 4,283,545 passengers and 1990 witnessed 5,282,349.

It is just outside the top 20 largest airport in Europe as regards passenger numbers, handling more than twenty million passengers in 2015.

The first jet service was an Air France Caravelle in 1960 and new Jumbo facilities were installed in 1972. The airport, which lies at 114 metres above sea-level and occupies 320ha. It was expected to reach capacity by 2010 and to avoid displacing some 10,000 people there was a plan to create a new airport rather than further expand Portela, which handled almost 8,667,589 passengers in 1999, a rise of 8.8% on 1998. 9,395,761 were handled in 2000.

The favoured site for the proposed new airport was 50km north of Lisbon at Ota, near Abrantes, (see below). However, this remains a pipedream.

Portela airport has two main runways (03/21 of 3,802 metres, opened in 1962 at 3,130 metres in length, and 17/35 of 2,400 metres). Radio frequencies are 120.6 (approach), 118.1 (tower) and 121.75 (ground). ANA (Aeroportos e Navegação Aérea, founded in 1978, is the operator of the airport. Lisbon Airport has arrival/separture information on its website. The airport's postal address is Alameda das Comunidades Portuguesas, 1700-007, Lisboa, Portugal.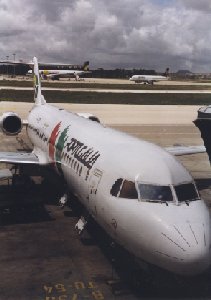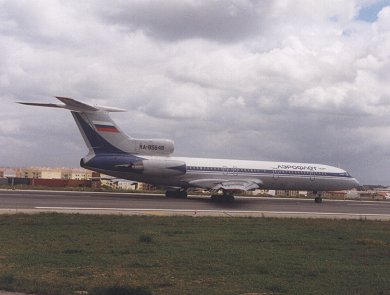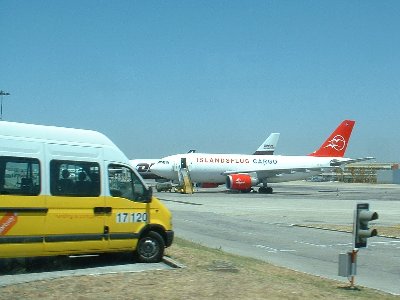 Left to right: Lisbon Airport: a Portugália Fokker 100; an Aeroflot Tupolev 154 at Lisbon Airport, 26 April 1999; Islandsflug Airbus, July 2003.
Getting to/from the Airport
Bus
An Aero Bus service is run by Carris. it has two routes:
1. City Centre Service: This runs from the airport (terminals 1 and 2) to Cais do Sodré where there is an interchange with the Lisbon Metro, the Cascais railway line, as well as Carris bus and tram services. It has a dozen or so stops en route including Saldanha, Pombal, Restauradores, Rossio and Comércio. Frequency in 2016 was every 20 minutes and a day fare was 3.15 euros if purchased online, otherwise 3.50 euros
2. Financial Centre Service. This runs every 40 minutes but terminates at the Avenida José Malhoa near Pç de Espanha. Frequency in 2016 was every 40 minutes and a day fare was 3.15 euros if purchased online, otherwise 3.50 euros.
Taxis
Lisbon taxis are plentiful and relatively cheap though charges are rising. There is railed taxi-rank immediately outside the arrivals hall; it is usually overseen by a police/ security man. Although queues can be lengthy, the taxis are so plentiful that the waiting time is generally short. A few taxis are painted black with a turquoise-green roof, whilst newer vehicles are all-over caramel. All bear a small white lozenge with the word TAXI in black capital letters. Extra is charged for luggage. For further fares information, see the Lisbon Taxis page.

This Zaire Air Force Boeing 707 was impounded at Lisbon airport and remained on the tarmac for several years but was moved c.2006.
Metro
A Red Line Metro connection to the airport was opened in July 2012 and provides the quickest and cheapest way to get to the city centre (2016 price 1.60 euros). In the city the Red Line terminates at São Sebastião. Services start at 0630 hours (2013) and the terminus at the airport is adjacent to terminal 1. A shuttle bus journey is needed to connect to the Metro from Terminal 2.

Car Parks
Car parks include the following numbered facilities:
"P1" - an underground carpark, adjacent to the terminals.
"P2" - a covered "silo" carpark.
"P3" - uncovered near Avenida de Berlim.
"P4" and "P5" - on the airport periphery.
There is also a tourist bus park for coaches near the terminal building.
Plans for a New Airport

As far back as 1969 plans were afoot to replace Portela airport with a new one at Rio Frio, which lies 42km from Lisbon, across the Tagus, only 15km from Setúbal. By 1972, however, it had been decided to divert resources into developing Portela to the detriment of Rio Frio. A 1982 study identified other possible sites for a new airport at Santa Cruz, Azambuja, Alverca, Granja (Sintra), Tires, Ota, Porto Alto and Marateca. By 1994 the choice had been narrowed down to Ota, 45km north of Lisbon, Rio Frio and the airforce base of Montijo, on the south-bank of the River Tagus, opposite Lisbon.

In 1998 NAER (Novo Aeroporto S.A.) was set up within the Portuguese Ministry of Equipment, Planning and Administration (MEPAT) to coordinate the planning of a new airport. NAER, which has its own web-site, employed Aéroports de Paris as consultants to report on the plans. Not altogether surprisingly, their report favoured a new airport rather than the option of developing Portela further.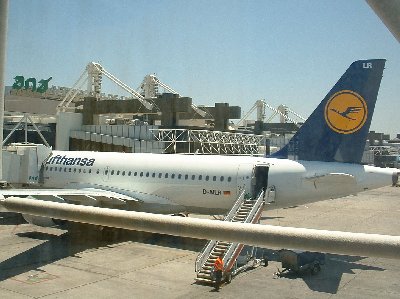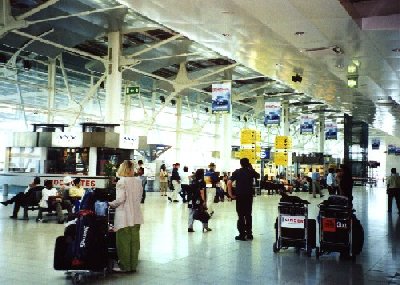 L to R: A Lufthansa Airbus at Portela airport, 2003; inside the airport terminal, July 2000.


To develop Portela further would entail closing one of the current runways and building a new one, parallel to the remaining runway. Parking space for aircraft would also have had to be increased, and a new terminal built. The costs of such a plan in financial, social and environmental terms would be enormous. The opposition movement to develop Portela was led by João Soares, President of Lisbon City Council.

Each of the three main rival sites for the new airport had its pros and cons. Montijo could build on an established airfield and regenerate the south bank of the Tagus, whilst Rio Frio shares the latter advantage but also is close to Pinhal Novo and would have good rail and road connections. However, both of these south-bank sites would place huge pressures on the fixed links, the 25th April and the Vasco da Gama bridges. Those in favour of Montijo argue that charter flights and cargo aircraft could be routed there, leaving scheduled passenger flights at Portela with increased spare capacity for growth of services.

Ota, which lies near the town of Abrantes, north-east of Lisbon, has the support of various local interests in towns such as Leiria and even Coimbra. Until 1992 there was an active airforce base at Ota but its runway could not be developed for a civil airport. As at Rio Frio, there would be significant forced movement of population to accommodate a new airport, and major road and rail infrastructural work would also be needed. Noise and environmental issues also loom large at the new sites. Portela was scheduled to handle its maximum capacity of 20 million passengers sometime before 2012; Ota was planned to open by 2008. But as early as January 2001, the bidding process was in a state of disarray, with accusations of changes in the criteria being levelled at NAER the new airport's coordinating body and Portela's future looks secure for years to come. Even in summer 2007 there was much debate with options even including a "Portela+2" scheme involving retaining the current Portela airport and developing two other sites such as Sintra and Alverca.

But then on 10 January 2008 following a further study the year before, Alcochete, currently a military base was selected as the new airport site, subject to public consultation. Alcochete lies on the south bank of the Tagus, 60km from Lisbon. A branch of the new Lisbon-Madrid rail link would be constructed to serve the new airport. It is planned the Oporto to Lisbon train services will eventually terminate at the new airport, using a proposed Chelas (Lisbon) to Barreiro bridge across the Tagus.

Whilst all this havering has been going on, ANA has continued to develop Portela airport to match current and future demand. A Terminal 2 (for low-cost and domestic flights) was opened in August 2007 whilst the the existing Terminal 1 (international) was upgraded and these developments were complete by 2011. The Metro is at Terminal 1 so a shuttle bus journey is needed to connect to it from Terminal 2.


A published timetable (Horário) is available from ANA and this has parallel Portuguese and English text. This useful booklet (published twice a year) comprises more than 100 pages and also provides information on how to get to the airport, the facilities to be found there and details of how to book a flight. As well as scheduled flights to major European destinations, which include London Heathrow (by British Airways and TAP-Air Portugal), London Luton (direct flights by EasyJet), London Gatwick (Monarch) and Manchester (Thomsonfly), there is a natural strength in the services to the Portuguese-speaking world. Telephone enquiries about arrivals and departures can be made by ringing 21-841-37-00.



Destinations from Lisbon in the Lusophone world include Rio de Janeiro, Recife, Natal, São Paulo (in Brazil), Maputo (in Mozambique), Luanda (in Angola), Ponta Delgada (Azores) and Funchal (Madeira). Internal destinations include Oporto (Porto) and Faro.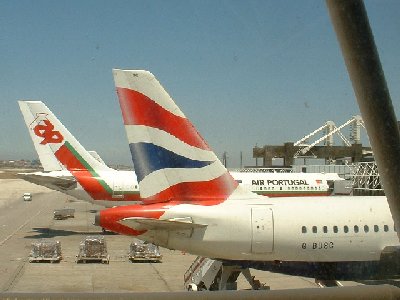 Left: Air Portugal Airbus behind a BA Airbus at Lisbon Airport, 2003. Right: A Brazilian Super Constellation at Lisbon Airport in the 1950s.
Airlines Using Lisbon Airport
Amongst the Portuguese operators to be seen at Portela Airport are TAP- Air Portugal, Portugália, Aerocondor, SATA and Euro-Atlantic Airways (formerly Air Zarco). Other airlines using the airport regularly include Air France, Air Malta, British Airways, easyJet, Iberia, KLM, Lufthansa, Royal Air Maroc, Ryanair and Tunis Air. TAP accounts for more than half of Portela's movements.
---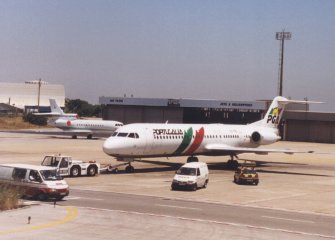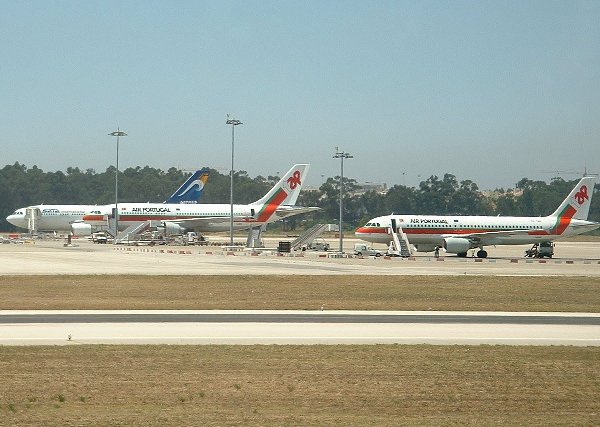 L to R: A PGA Fokker 100 at Lisbon Airport, 1999; Air Portugal and SATA (Azores) airbuses on the apron, 2003.
---
Further Reading
Aeroportos e Navegação Aérea, Lisbon Airport, 1942-1992. Lisboa: Inapa/ANA, 1992. 189p.
A celebration of Portela de Sacavém airport, Lisbon, on its 50th anniversary. This is a well-illustrated volume produced by ANA, the Airport's operator. ANA also produce a regular glossy newspaper in English and Portuguese, called Imagem and available free at the airport.

Airliner World May 2001 issue had an article on Lisbon Portela airport, pp.36-40.

N.C. Baldwin, The Lisbon story. Sutton Coldfield: The Aero Field, 1965. 10pp.
An account of aviation in Lisbon from 1922, when Sacadura Cabral and Gago Coutinho flew from Belém to Brazil, up to 1968 when flying-boat services from Madeira to Lisbon ceased.

General Aviation Links
Aerotransport is a superb site with updated fleet details for all airlines.
---

Contact: the following is not a link; please transcribe the address into your email