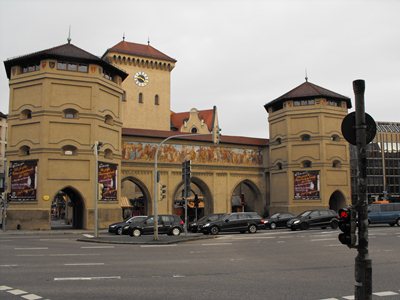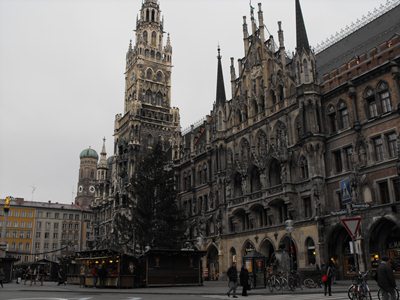 Top: MUNICH - Isartor, city gate
Above: MUNICH - Rathaus (town hall)
Below: AUGSBURG - Rathaus & Christmas market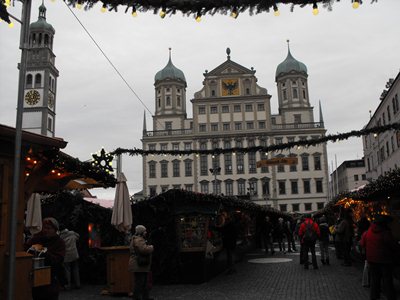 Munich (München) is the capital of Bavaria (Bayern), one of the states of Germany. Like other German cities damaged in World War II, the city today is an attractive place to visit, especially at the time of its Christmas market (end-November to just before Christmas). Munich has an excellent Tourist Office situated at the Town Hall (Rathaus) in Marienplatz. There is also a tourist information office at the main railway station (Hauptbahnhof), which is a mile or so to the west of Marienplatz.

The city is the hub of an excellent transport system, which includes the national
DB railways
, the suburban S-Bahn network and the more local U-Bahn system.. Some private rail operators are now also to be seen in Munich, include Arriva (trading as ALEX).The city also has a significant tram network. Services between each mode of transport are well integrated with each other and ticketing is also excellent, with many types of inter-modal fares available. Trains, trams and buses in German cities almost all have electronic indicators on each vehicle so you have little chance of getting lost as each stop is shown and also announced; often on trains these even tell you on which side to alight. The whole system of transport in Germany makes British public transport look totally second rate and overpriced.

The city centre of Munich is at Marienplatz, where the impressive Town Hall is located. This subterranean station is also one of around ten "trunk" stations on the core S-Bahn service which runs west to east across the city and includes the Hauptbahnhof (main station).

S-Bahn lines S8 and S1 link the city with the airport in around 40 minutes (S8 the quicker of the two). The S8 runs in a clockwise direction from the airport to the city whilst the S1 runs counter-clockwise to the city. Each provides a service every 20 minutes. (NB when travelling to the airport, the S1 train splits, so get in the correct carriages! They are clearly marked on indicators). As all the S-Bahn lines serve these trunk-route stations, the frequency of service in these is intense with, often, only a minute between one train and the next, making it very quick to get across the city.

Railway ticket machines, which are multilingual, offer a wide range of tickets. In 2011, it cost 10 euros for a single ticket, or 11 euros for a day-ticket from the airport to the city centre, which entitles the bearer to use public transport all day in Munich. If you are travelling beyond Munich and there are two of you (or up to five), a much better option is the "Bavaria ticket" (Länder-ticket) which is a ticket valid for the whole day (from 9am to 3am nect day) for travel throughout Bavaria (and some contiguous places) - it costs (2011) just 29 euros i.e. up to five people travelling in a group can use this one ticket and the price of 29 euros covers them all. It is also valid on virtually all public transport (buses, trams, U- and S-Bahn) in the whole of Bavaria. It even gets you to Salzburg in Austria! You can get on and off trains, trams, buses, etc as often as you like during the day with this ticket.

When using a Länder ticket, remember to write the lead-traveller's name in capitals on the ticket before using it. Also, it is two euros cheaper to buy the ticket from a machine than a staffed ticket office; choose the option on the machine headed "Offers" to find the Bavaria Ticket. You can buy the ticket on the day of travel or for the next day and it emerges from the machine with the relevant date on it. There are no ticket barriers but fines ar high if you are caught with an invalid ticket. Machines take coins or notes and are plentiful at every station in the city - again they make the UK look like the Third World. Information centres at major stations are well stocked with free timetables for most routes and generally have an automated queueing system.

Münich is famous for its beer and beer-halls. These also serve good food- the Augustiner, for example, is located only five minutes from Marienplatz, towards Karlstor. The city also has numerous museums to cater for every taste from art to aircraft. There is even a museum dedicated to the Oktoberfest beer festival.


Amongst the better- sited hotels in Munich are the Novotel and the Holiday Inn, both located in Hochstrasse in the city's Haidhausen district. The Novotel, at Hochstrasse 11, is the quieter and smaller of the two. Within yards of these hotels is a covered shopping precinct which leads directly to Rosenheimer Platz S-Bahn station. Alternatively, the no.16 tram runs from less than five minutes away at Ludwigsbrucke or Gasteig.

The Munich Christmas market is held from late November each year, with stalls running from the Marienplatz westwards to Karlsplatz. Surpridngly, given Bavaria's reputation for hearty eating, there are relatively few stalls selling food and drink compared with other German cities. However, as well as the traditional mulled wine (Gluhwein), beer, sausages, dumplings and a range of local dishes are available from stalls. Commemorative mugs and glasses are produced each year and these can be kept by customers if they forego the deposit (Pfand) which is charged on each drink when ordered. (In 2011 the Pfand was typically 3 euros).

Getting to Munich is easy from numerous UK airports. From Manchester, for example, both easyJet and Lufthansa offer a regular and efficient service, often at bargain prices.

Nearby places to visit by rail from Munich include the following, all of which have the additional attraction of hosting Christmas markets:

The DB website has full timetable and fare information.



BIBLIOGRAPHY:



Transport guides include two volumes in the same series, which have bilingual text in German and English:

General guidebooks include the excellent:

Munich & the Bavarian Alps

. DK Eyewitness Travel, 2010. 336pp. ISBN 978-1-4053-4744-0. Retail price £14.99 but available more cheaply.

Germany

. Lonely Planet, annual. 816pp. ISBN 978-1-74059-988-7
Rodney Bolt,

Bavaria

. Cadogan Guides, 2010. 244pp. ISBN 978-1-86011-428-1 £12.99

For the more out of the way locations, two guidebooks written for motorists which, nevertheless, contain useful information for those on public transport, are:

The AA Best Drives: Germany

. Automobile Association, 2006. 208pp. ISBN 0-7495-4773-1 £11.99

Back Roads Germany

. DK Eyewitness Travel, 2011. 264pp. ISBN 978-1-4053-5374-8. Retail price £14.99 but available more cheaply.