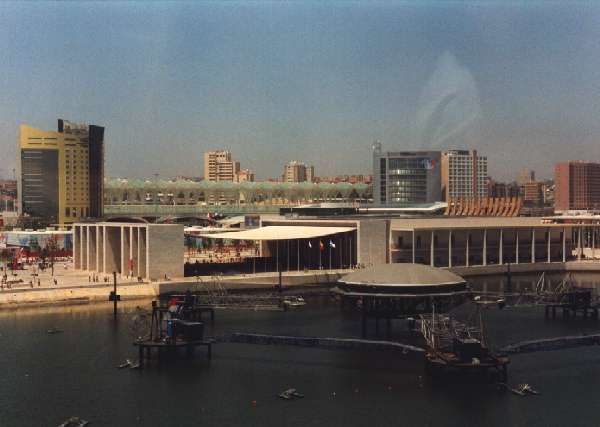 The Cablecar
The international exhibition, Expo 98, brought a new means of transport to Lisbon, the aerial cablecar, dubbed originally the Telecabina Lisboa. Operated by Doppelmayr Transportes por Cable S.A., the cablecar runs over the edge of the River Tagus (Rio Tejo) between the south and north ends of the former Expo site, at the Parque das Nações, which can be reached by Metro or CP train to Oriente station. At the northern end of the cablecar, it is only a few yards to walk to the Torre Vasco da Gama, a 140 metre tower, from which excellent views of the whole area, including the Ponte Vasco da Gama, may be had. The price of a one-way cablecar trip (summer 2007) is three Euros and the Torre lift costs a further small sum escudos for a return trip to the summit.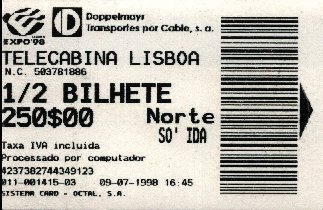 Left: A 1999 child's ticket for the Telecabina cablecar.
The cablecar gives excellent views of the former Expo 98 site, the new Vasco da Gama bridge, which reaches 11km across the Tagus, as well as of the Vasco da Gama tower, a revolving restaurant. Although the Expo 98 events ended in September 1998, the cablecar still operates. The site is now the home of the Feira Internacional de Lisboa, an exhibition space for industry and commerce. After Expo 98, it was renamed the Parque das Nações (Nations Park) and was the focal point for the 25th anniversary celebrations of the 1974 Portuguese Revolution. In the picture, right, which was taken from the cablecar, the buildings of the Parque das Nações can be seen, with the Oriente railway station sandwiched between the two structures in the middle distance.
As of summer 2007, the cablecar operated at weekends from 1000 to 2100 hours and on weekdays from 1100 till 2000 hours.
---
---
Copyright: ©


Contact: the following is not a link; please transcribe the address into your email

---