Carris is the main public transport undertaking of Lisbon, the Portuguese capital. The company has its own excellent Web site in both Portuguese and English. Carris was founded in 1872 in Rio de Janeiro, Brazil. Its first horse-drawn trams, known as 'americanos', ran on 17 November, 1873 between Sta Apolónia railway station, a mile east of the city centre and Santos, a similar distance to the west along the river front.
Its electric tram services were introduced on 31 August, 1901 on a route to Ribamar (Algés) from Cais do Sodré. Although five buses were acquired in 1912, these were withdrawn in 1915. Buses did not make a return to Carris's fleet until 9 April, 1944, although six vehicles had been acquired in 1940.
Recent indicators include..
In 1998, 383.5 million passengers were carried, compared with 385.7M the previous year and 376.18M in 1996, 379.2M (1995) and 381.2M (1994). However, 2000 saw an 8.1% drop in passengers to 326M and a loss of €75M. In 2004 256.6 million were carried and by 2008 this had declined to 234.4M. The losses were largely attributed to Metro extensions and increased car usage.
Carris's headquarters (above, left) are in the Rua 1 de Maio, no.101, at Santo Amaro which lies on tram route 15, about 15/20 minutes' ride from Praça da Figueira. At Santo Amaro, too, is its tram shed and museum, situated almost directly beneath the enormous Ponte 25 de Abril suspension bridge across the River Tagus. Its other tram depot, Arco do Cego, on the Avenida Duque de Ávila, was vacated and converted into Lisbon's main coach station but that facility has now moved to Sete Rios; for details, see the Lisbon Suburban Bus and Coach page.
At one time, Arco do Cego housed the entire fleet with Santo Amaro being chiefly a repair depot. Arco do Cego has now been turned into a covered car park with an adjacent garden. Another former depot, at Amoreiras, opened in 1937 and closed in 1981, is now the site of a major shopping centre. New Carris bus depots were opened at Pontinha (1975) and Musgueira (1981), whilst a large complex was opened by the President of Portugal at Miraflores in June 1983.
Carris Museum

Left to Right: The Carris tram shed at Santo Amaro; Open-sided tram 283; Bogie trams 348 and 904. Click on images for larger versions.


A museum of Lisbon trams and other forms of transport operated by Carris opened on 12 January, 1999 within the Santo Amaro depot, which is sited directly under the concrete pillars of the Ponte 25 de Abril. The opening times are 1000-1700 on weekdays and Saturdays, though there is a lunchtime closure on Saturdays from 1200-1300 hours. Last admission is at 1600. The museum can be reached easily from central Lisbon (P. Figueira, P. do Comércio or Cais do Sodré) in about 15 minutes by tram route 15, and tram route 18 goes very close by, as do several bus services (numbers 714,727,732,742,49,751,56).

The museum's fleet comprised the following trams at the time of opening: #260,283,329,330,506,508,535,549,741,777,802,904 and trailer #101. Since then tram #747 and works-car (zorra) #68 have been added. All of the trams are beautifully restored in period liveries and in running order. Indeed, numbers 283,330,508,535 and 802 were all put into service on 18 September 1999 to coincide with use of the museum for a function to celebrate the 126th anniversary of Carris services.

Also housed in the museum are AEC double-decker buses #217,301 and 486 and single-decker #76. Daimler double-deckers #837 and 851 are also displayed.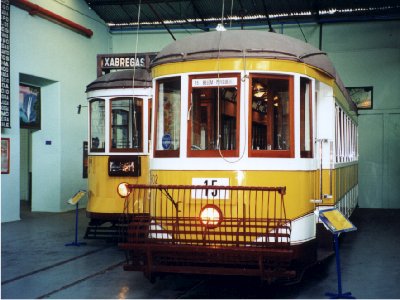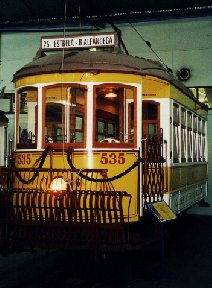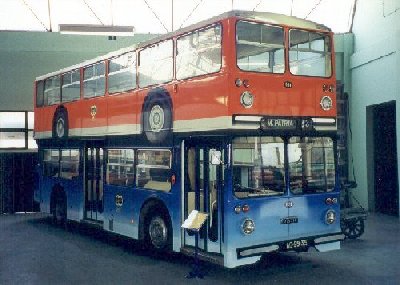 L to R: Bogie tram 802; tram 535; Daimler bus 851 - all in the Carris museum.


The museum is located in two 'núcleos' (buildings) which are linked by a short, free ride in an historic tram, one of the vehicles which provide the tourist tram services in Lisbon. Visitors purchase tickets for the museum (2.50 euros in 2010) in a building on the street which is physically separate from the museum itself and which also houses a shop with some interesting merchandise, including a DVD on Carris's first 100 years of electric tram operation.

Once inside the museum, you are able to wander freely in Núcleo 1, although Portuguese-speaking guides are sometimes on hand. Here there are interesting exhibits of tram tickets, photographs, uniforms, models, maps and other artefacts. All are accompanied by English as well as Portuguese labels. Once you have finished there, you are escorted through a door at the back of the room to the waiting tourist tram for the short ride through the depot yard to Núcleo 2 where the trams and buses are housed.

The second building comprises two adjoining sheds of historic trams and buses as well as an interesting display of the former print shop. A guided tour is sometimes given in Portuguese and photography is quite explicitly allowed but often you may be just left to wander round at will.

There are also some exhibits from the former Carris power station and of some track-laying equipment. Some interesting historic photos adorn the walls, including depictions of accidents.

During its first year of operation the Carris museum welcomed 15,473 visitors (to 31 December 1999).
Carristur
Carristur is the tourist-orientated wing of Carris and it operates both open-top bus tours and tourist trams. The fleets of both are expanding rapidly to tap this market. Bus trips are the "Circuito Tejo", which goes out to Belém as well as other parts of the city, or the (Expresso Oriente" which visits the Parque das Naç¦es. The tram does the "Circuito das Colinas" (Hill Circuit) which embraces the 28 route through Alfama. It also visits Estrela to the west of the city. Whilst costly, the advantage of the tourist tram is the audio guided tour and the fact that you will get a seat and not have to stand. Also, the historic trams are decked out in "historic" upholstery and fittings.

Carris's Fleet Statistics
A fleet renewal plan started in 2004 when 188 buses were acquired. These comprised 140 MAN 18.310 HOCL (2004-05) and 40 Mercedes Benz Sprinter minibuses.

In 2005, 220 new buses were acquired including 20 powered by natural gas. The vehicles were Volvo B10L series 2 (2005), Mercedes Benz OC 500 LE (2005-06), Volvo B7R LE (2005-06) and MAN 18.280 HOCL (2005-06).

These were followed in 2008 by 40 vehicles. These were MAN 14.240 HOCL (2008-09) and M. Benz Citaro G 1.ª serie (2008). Sixty standard vehicles arrived in 2009 comprising 40 diesel Euro 5 and 20 natural gas vehicles; Volvo B7R MK3 and MAN 18.310 HOCL GN.

2010 saw the arrival of 30 flexi-buses (M. Benz Citaro G ).

The average age of the fleet at the end of 2012 was 7.58 years.

The fleet as listed on the Carris website in 2010 comprised:

46 x Volvo B 10 R Camus (Camo) delivered 1982-84
35 x Volvo B 7 L Camus V.L.2000 (Camo) delivered 2000-01
33 x Volvo B 7 R LE Viale (Marcopolo) delivered 2005-06
37 x Volvo B 10 L (GNC) City Bus LF (Camo) delivered 2001-05
127 x MAN 18.310 HOLC-NL City Gold 2 KD (CaetanoBus) delivered 2004-05
100 x MAN 18280 LOH 02 City Gold 2KD (Caetano Bus) delivered 2005-06
109 x Mercedes-Benz O405 N2 Camus 1997-98
29 x Mercedes-Benz O530 Citaro Citaro (EvoBus) delivered 2000
20 x MAN 18.310 HOCL-NL GNC City Gold CC512 GNC (CaetanoBus) delivered in 2009
67 Mercedes-Benz OC500 LE Atomic Urbis (Irmãos Mota) delivered 2005 -2006

The articulated fleet comprised:

70 x Volvo B10M Cronus (Camo) delivered 1991-95
20 X Mercedes-Benz O530 G Citaro Citaro G (EvoBus) delivered 2008

The midi-bus fleet comprised:

20 x MAN 14.240 HOCL NL Polis Midi (Irmãos Mota) delivered 2008-09

The mini-bus fleet comprised:

36 x Mercedes-Benz Sprinter 616Cdi Atomium (Irmãos Mota) delivered 2004

The fleet for disabled users comprised:

4 x Mercedes-Benz 412 D Auto Ribeiro delivered 1997-99
2 x Iveco Daily 65C18CC Compa-PMR delivered 2009

The tram fleet comprises

10 x Siemens articulated trams (nos.501-10) delivered 1995-96,
45 x Remodelados trams (nos. 541 a 585) delivered between 1995 and 1996
9 x 700 series trams, numbered (720-713-717-732-733-735-741-742-744) built between 1936 and 1947
Carris's Staff Statistics
As of December 2008 (the latest date given on the Carris website), Carris employed 2766 staff of whom 1692 were bus drivers and 163 tram drivers whilst the fleet comprised 745 buses, 57 trams, 3 funiculars and 1 elevator (lift).

By comparison, at 31 December 2005, Carris employed 2,787 staff, comprising 1598 drivers and 165 tram drivers. Its fleet comprised 785 buses, 58 trams, 3 funiculars and 1 elevator.

Carris's Livery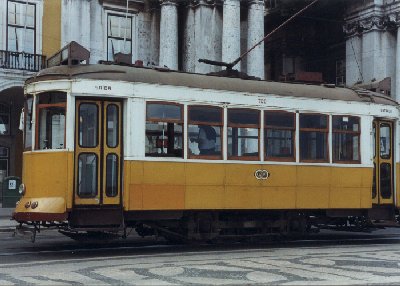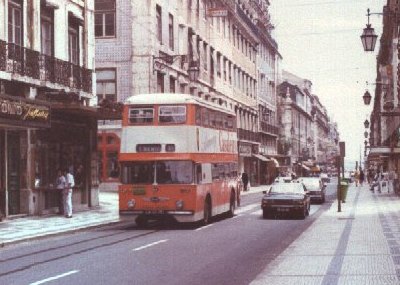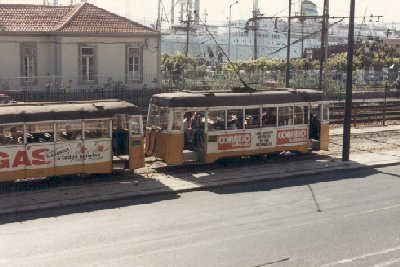 From left: A Carris tram (#720), running without advertising on its bodywork; Carris Daimler Fleetline bus, now withdrawn; trams and trailers can no longer be seen, other than in the Carris museum.
The Carris fleet of trams has traditionally been painted in yellow and white but advertising liveries which once made any plain yellow and white vehicles a rarity have now largely disappeared. The new articulated trams were all totally covered by advertising liveries which in most cases also covered the windows but many have now been restored to the plain yellow livery. Buses are now yellow with green trim, having been orange and mushroom coloured for some years previously. That livery replaced a dark green and ivory livery prevalent into the 1970s.
Tickets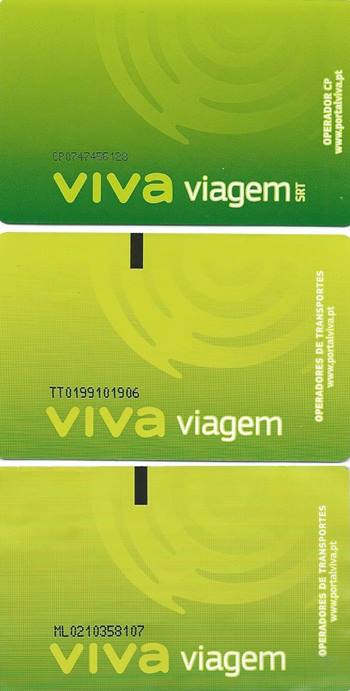 Adjacent: Viva Viagem tickets look identical at first glance but differ according to the alphabetical prefix on their front. The reverse of the same tickets generally indicates more clearly which transport system has issued them. For a fuller explanation, see below.
Lisbon has an excellent ticketing system employing "Viva Viagem" and "Sete Colinas" (7 Hills) electronic "proximity" passes, which are similar to London's Oyster Card. (The title of 7 Colinas is an allusion to the belief that Lisbon is built on 7 hills, like Rome).
The original electronic pass was the "7 Colinas - Bilhete 1 Zona", introduced on 9 September 2006 to replace the old BUC pre-purchased transport ticket. A one-zone ticket is valid for one hour after its first validation. A"2 Zonas" version allows travel in two city zones for up to 2 hours. The card is validated inside vehicles by holding it about 5cm from the validator. As of summer 2016 the cost of buying a single ticket on board a bus or tram was 2.80 euros, so the current daily charge of 6.00 euros for unlimited usage in the city area is good value. But there is no longer a multiple ticket for more than a day e.g. weekly.
Viva Viagem passes are the most common though the earlier Sete Colinas pass still seems to be interchangeable with it. Viva Viagem cards can be loaded with journeys or with passes for a full day by using any Metro station machine or by visiting any of the numerous outlets around the city. Tickets for one-day are valid for 24 hours i.e. you could buy one midday on day one and it remains valid till the same time on day two.
These electronic passes have replaced the old Tourist Pass (bilhete turístico) which could be acquired for either a four or seven-day period and were better value. The Viva Viagem/Sete Colinas passes cost half a euro and is valid for a year.
Although the VV tickets issued by all these operators look identical i.e. they are green and bear the Viva Viagem logo, they all have prefix in front of the pass's number, viz:
ML=Metro Lisboa and Carris (valid on metro, Carris buses, trams, funiculars, elevator), TT=Transtejo (valid on river ferries), FT=Fertagus (valid on Fertagus train services), MST=Metro Sul Tejo (valid on MST services) and CP=CP railways
ML is the most common types and can be charged either with a single or more journeys or with a full-day's validity. A recent (2016) innovation is the "Travelling All Lisboa" pass which can be loaded onto a VV pass and allows unfettered travel not only on the Metro, and Carris but also on the suburban CP rail network's as Cascais, Sintra, Azambuja and Sado lines. As of 2016 this cost ten euros, compared with six euros for the day pass on Metro and Carris only.
To recharge your card follow the simple instructions (in various languages) on the two-tone blue ticket machines at every Metro station. You can pay with notes as well as coins and credit/debit cards.
Because of the limited inter-operability of VV cards, you can end up with four or five seemingly identical Viva Viagem cards each only usable on one of Carris/Metro, TransTejo, Fertagus, MST or CP. If you look carefully at these you will see that the ticket number has the above prefix denoting the system for which it is valid.
All vehicles and Metro turnstiles have card readers. The card need only be held over the sensor to register and, indeed, can even be left in a wallet when doing this.
(NB Also publicised to tourists is the Lisboa/Lisbon card, which is much more expensive as its main benefit is to give discount admission to tourist attractions - see below).
There are also many combined passes available to locals; these permit travel on Carris services as well as those of suburban bus firms such as TST; other combined passes cover Carris routes and suburban railway services to Sintra, Azambuja, Cascais and the Sado area near Setúbal. There is also a combined ticket covering the river ferries and Carris services.
All tickets should be cancelled on boarding trams and buses, using the on-board machines. On the articulated trams, tickets can also be bought from on-board machines near the rear of the vehicle, as the driver does not sell tickets or check passes. Coins are required for the machines. Viva Viagem passes must be validated by the automatic readers on all bus and tram services. Fertagus/CP tickets should be validated on the platform before first use.
Transporlis is a useful portal covering all modes of Lisbon transport which contains timetable and fares information.
As of 2016 fares were:
Tickets bought on board for a single journey - buses € 1,80, trams € 2,85, funiculars (up & down return) € 3,60, elevator (up & down return) € 5,00
Tickets charged onto a Viva Viagem/7 Colinas pass for a single journey - for Carris/Metro € 1,40
Tickets charged onto a Viva Viagem/7 Colinas pass for a 24h pass on Carris/Metro € 6,00, on Carris/Metro/Transtejo (Cacilhas) € 9,00, Carris/Metro/CP € 10,00
VV cards can also be uploaded with cash.
An alternative for tourists who wish to Lisbon's museums is the Lisbon Card, which gives unlimited use of Carris services (except the Aerobus, tourist bus and tram-tour route, as well as free use of the Metro and of the Cascaisrailway line from C. Sodré to Belém. In addition it provides free entry to 26 Lisbon museums and monuments. Amongst the museums covered are the Maritime Museum, Coach Museum and Air Museum. The Card may be purchased in City Tourist Offices and other outlets.

Routes
A map of the Carris transport system may be found on their Web site. Further details of their bus, tram, funicular and elevator services may be found by clicking on the appropriate link below.
Other Lisbon Museums
Other museums (most of which are closed on Mondays) which are well worth a visit include:

The Air Museum- Museu do Ar next door to Alverca railway station on the Azambuja railway line from Oriente and with another branch at Sintra (Granja) airbase.
The Ancient Art Museum : Museu Nacional de Arte Antiga - Lisbon's major art gallery. Near to tram routes 15, 18 and to Alcântara-Terra railway station.
Benfica Football Club Museum. Lisbon's most famous club has its museum at the famous Estádio da Luz in north west Lisbon.
The Carris Transport Museum at Santo Amaro on tram route 15. Houses old trams and buses.
The Centro Cultural de Belém, includes the Berardo modern art collection.
The Ceramic Tile Museum: The Museu Nacional do Azulejo at Rua de Madre de Deus 4, on bus routes 18, 39A, 42, 104, 105. It is well worth the journey to this slightly out of town museum
The Communications Museum; Museu das Comunicações is at Rua do Instituto Industrial 16.
The Chiado Museum: Museu do Chiado, a fine museum of 19th- and 20th-century art, near Baixa-Chiado Metro station and tram route 28. Has an excellent small outdoor café
The Electricity Museum: Museu da Electricidade at Belém, near the railway station, housed in a former power-generating station.
The Gulbenkian Museum: Museu Calouste Gulbenkian near Palhavã and São Sebastião Metro stations. This has a world-famous collection of art and artefacts, including Egyptology and lalique-ware. Adjacent is the Museu da Arte Moderna.
The Lisbon City Museum: Museu de Lisboa in the Palácio Pimenta at Campo Grande.
The Maritime Museum: Museu de Marinha at Belém. An excellent traditional musueum highlighting Portugal's many maritime achievements.
The Military Museum: Museu Militar, which stands opposite the main entrance to Sta Apolónia railway station. Both the interior of the building and its collections are impressive.
The Modern Art Centre: Centro de Arte Moderna at the Gulbenkian, near Palhavã and São Sebastião Metro stations.
The Museu de Arte, Arquitetura e Tecnologia is a striking modern building which was opened on 5 October 2016 adjacent to the Museu da Eletricidade, a former central electric generating station, near Belém railway station.
Museum of Design and Fashion: MUDE. Only opened in 2009/10 in the Rua Augusta. It was temporarily closed for refurbishment in summer 2016.
Museum of the Oriente, Museu do Oriente. This is one of Lisbon's newest museums and is housed at Alcantara near the railway line and near tram route 15.
The Popular Art Museum: Museu de Arte Popular, opposite the Centro Cultural de Belém, a folklore museum.
Sporting Lisbon Museum. The impressive Alvalade stadium, home of Lisbon's second most famous club, is near Campo Grande metro station.

---
Copyright: ©


Contact: the following is not a link; please transcribe the address into your email

---