---
Museu do Ar (Portuguese Air Museum)
The Museu do Ar has bases at Alverca, Sintra and Ovar.

The Alverca site is by far the easiest of the three locations to visit by public transport as it lies immediately outside Alverca railway station, which is well served by Lisbon's suburban railways.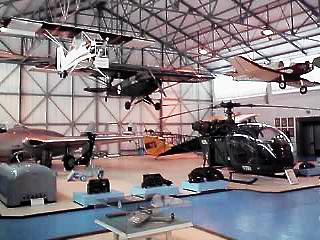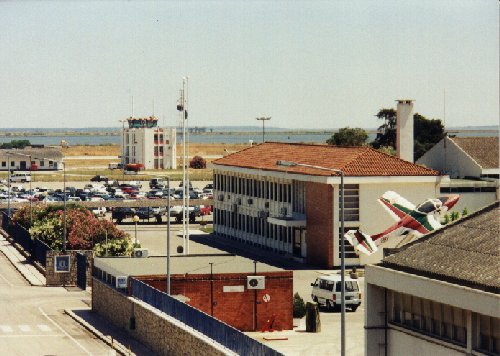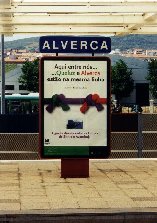 L to R: Inside the museum's main hall; the airfield entrance, as seen from Alverca station overbridge; Alverca station platform.
Alverca Railway Station
Alverca station is one of several modern facilities on the line north from Santa Apolónia and Oriente stations towards the town of Santarém. There are frequent services from Lisbon and the journey takes about half an hour along the Tagus estuary. Double-deck stock was introduced by Portuguese Railways on this route in 1999. Pillars in the station, near the escalators, bear railway artefacts including locomotive lamps and a manufacturer's plate from the Bayer-Peacock locomotive works of Gorton, Manchester. The station also has a bar, which has illustrations on the walls displaying the station in former days. There are also toilets and a newsagent's shop in the station, to the left of the ticket office.
Museu do Ar, Alverca
The Portuguese Air Museum (Museu do Ar) at Alverca is the most accessible part of the Museu do Ar, being open at advertised hours and without any prior appointment being necessary. It is housed in a modern hangar at the Portuguese Air Force's base at Alverca.


Right: An Alverca Air Museum entrance ticket.
Opening Hours and Contact Details
Portuguese Air Museum website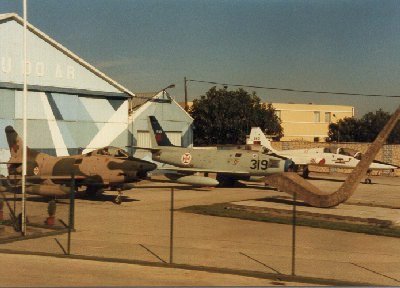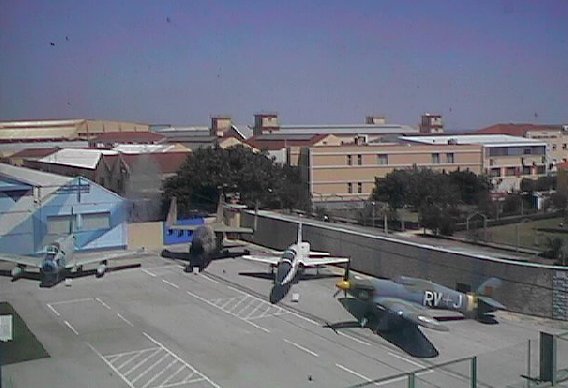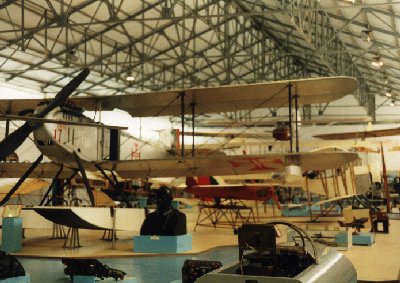 L to R: Views of the outdoor display at the Museu do Ar, as seen (left) from the railway line to Santarém and, next, from Alverca Station; far right, a replica of a Fairey aircraft used by Coutinho and Cabral in the first crossing of the South Atlantic, 1922.
Origins and Developments
The Alverca air museum (3000 sq. metres) opened on 1 July 1971 with exhibits which included a D.H. Vampire, donated by the South African Air Force and replicas which included the 'Santa Cruz' Fairey IIID aircraft of Gago Coutinho and Sacadura Cabral- the original of the last of the three Faireys used in this epic trip is displayed in the Lisbon Maritime Museum at Belém. Today, the Alverca museum occupies 3000 sq metres of indoor and outdoor display areas. Of 112 aircraft owned by the museum, some nineteen are on display, along with aero engines and other aircraft parts. There is also a wealth of model aircraft, uniforms and memorabilia. The display hangar comprises a modern installation of aircraft, some of which are suspended from the roof. Amongst the aircraft to be seen are replicas of a Blériot IX, the first aircraft to fly in Portugal, and a replica of the Demoiselle (1909), one of the pioneering Brazilian aviator, Santos Dumont's aeroplanes. Other exhibits include a Spitfire Mark V in Portuguese Air Force camouflage livery. The more modern era is represented by a mock-up of POSAT-1, the first Portuguese satellite (1993). There is a magnificent collection of painted model aircraft kits covering the history of aviation throughout the world. In two adjoining rooms are numerous display-cases showing artefacts of celebrated Portuguese aviators.

Outside the museum is a selection of Portuguese Air Force exhibits, which includes a Hawker Hurricane (apparently, a fibreglass replica), a Fiat G91 and a Northrop T-38A Talon. The adjacent Alverca military airfield is still active with C-130 Hercules amongst the types to be seen. The museum costs only 3 Euros to enter for adults (2012). Pensioners' tickets are cheaper. A small range of souvenirs may be purchased at the entrance desk in the foyer.

Museu do Ar, Sintra
This is now the main site of the museum but it is not easily accessible by punlic transport. Its address is Museu do Ar, Granja do Marquês - 2715-021 Pero Pinheiro, Sintra. GPS: 38º 50'12N 009º 20'19W

Admission is 3 Euros (2012). A list of displayed aircraft at all of the sites is here.
Above: Max Holste Broussard at Sintra. Picture , courtesy of Adrian Balch.
The main museum reopened on June 29, 2012. This was the site of Lisbon's commercial airport in the early part of World War II where, because of Portugal's neutrality, British and Nazi aircraft could be seen side by side. It is open from 1000-1700 at weekends but prior arrangements must be made. These can be made via the Tourist Office in Sintra. Entry is free.
Above: North American F-86F Sabre at Sintra. Picture, courtesy of Adrian Balch.
Sintra houses 22 aircraft of which 10 are in airworthy condition, including a 1935 Avro Cadet.Exhibits include a Cessna T-37, North American F86F Sabre, Lockheed T-33A, Lockheed RT-33A, Northrop T-38A Talon, two Fiat G.91R, an A-7P Corsair, a Lockheed Neptune, Douglas Dakota, Piper Cub, two Harvards, two Tiger Moths, a Hornet Moth, a Sikorsky UH-19, a Dragon Rapide, a Dornier Do-27, a Holste Broussard and an Auster.
*Thanks to Adrian Balch for this information, (Sept. 2004).
Above: Dornier Do-27 at Sintra. Picture, courtesy of Adrian Balch.
Museu do Ar, Ovar
South of Oporto, near Aveiro, this part of the museum is at Aeródromo de Manobra nº1, Rua da Base Aérea - 3885-718 Maceda. GPS: 40º55'08"N 08º38'21"W
Other Information
For a full list of the aircraft at the Museu do Ar at both Alverca and Sintra, see the excellent Cross of Christ Aviation Data Files - ?temporarily unavailable 2012.
For photos of more exhibits at the Museu do Ar, see the Warplane website.
Other Lisbon Museums
Other museums (most of which are closed on Mondays) which are well worth a visit include:

The Air Museum- Museu do Ar next door to Alverca railway station on the Azambuja railway line from Oriente and with another branch at Sintra (Granja) airbase.
The Ancient Art Museum : Museu Nacional de Arte Antiga - Lisbon's major art gallery. Near to tram routes 15, 18 and to Alcântara-Terra railway station.
Benfica Football Club Museum. Lisbon's most famous club has its museum at the famous Estádio da Luz in north west Lisbon.
The Carris Transport Museum at Santo Amaro on tram route 15. Houses old trams and buses.
The Centro Cultural de Belém, includes the Berardo modern art collection.
The Ceramic Tile Museum: The Museu Nacional do Azulejo at Rua de Madre de Deus 4, on bus routes 18, 39A, 42, 104, 105. It is well worth the journey to this slightly out of town museum
The Communications Museum; Museu das Comunicações is at Rua do Instituto Industrial 16.
The Chiado Museum: Museu do Chiado, a fine museum of 19th- and 20th-century art, near Baixa-Chiado Metro station and tram route 28. Has an excellent small outdoor café
The Electricity Museum: Museu da Electricidade at Belém, near the railway station, housed in a former power-generating station.
The Gulbenkian Museum: Museu Calouste Gulbenkian near Palhavã and São Sebastião Metro stations. This has a world-famous collection of art and artefacts, including Egyptology and lalique-ware. Adjacent is the Museu da Arte Moderna.
The Lisbon City Museum: Museu de Lisboa in the Palácio Pimenta at Campo Grande.
The Maritime Museum: Museu de Marinha at Belém. An excellent traditional musueum highlighting Portugal's many maritime achievements.
The Military Museum: Museu Militar, which stands opposite the main entrance to Sta Apolónia railway station. Both the interior of the building and its collections are impressive.
The Modern Art Centre: Centro de Arte Moderna at the Gulbenkian, near Palhavã and São Sebastião Metro stations.
The Museu de Arte, Arquitetura e Tecnologia is a striking modern building which was opened on 5 October 2016 adjacent to the Museu da Eletricidade, a former central electric generating station, near Belém railway station.
Museum of Design and Fashion: MUDE. Only opened in 2009/10 in the Rua Augusta. It was temporarily closed for refurbishment in summer 2016.
Museum of the Oriente, Museu do Oriente. This is one of Lisbon's newest museums and is housed at Alcantara near the railway line and near tram route 15.
The Popular Art Museum: Museu de Arte Popular, opposite the Centro Cultural de Belém, a folklore museum.
Sporting Lisbon Museum. The impressive Alvalade stadium, home of Lisbon's second most famous club, is near Campo Grande metro station.

---
Copyright: ©


Contact: the following is not a link; please transcribe the address into your email

---