Identification
Lisbon taxis used to be very cheap and plentiful. They remain easy to find but no longer are they the bargain they once used to be. A Taxi Voucher scheme has now been introduced to guarantee a price for journeys from the airport and also for many other tourist trips. For example a voucher to most parts of Lisbon cost 18.60 euros (in 2009) and can be obtained from a stand in the concourse of Lisbon airport. The taxi rank is immediately outside the front doors and even if the queue is big, you won't have to wait long. But you can still get unexpected bargains; the writer got a normal taxi, hailed at the Marques de Pombal roundabout, for a journey to Lisbon airport, for under nine euros, including surcharge for two suitcases, in 2016!

For a period, all new taxi vehicles were caramel coloured, as shown in the picture above, taken at the Cais do Sodré in May 2007. It shows a Cascais Line train and a Lisbon-bound tram as well as the taxi, which is using the reserved tram/bus lane. The vehicles carry a white lozenge-shape on the door bearing the word 'TÁXI', beneath which is the word 'LISBOA'. Older taxis also bear this identifier, but were painted black with a turquoise/green roof, a coolour scheme which has niow (2016) returned to pre-eminence.


Fares
Taxi fares are calculated on the basis of an initial flat charge (called the "bandeirada" or "flag-fall"), which applies for the first section of the journey. Fares thereafter are calculated per distance covered. In addition, if the taxi has been called out, rather than hailed in the street there is a small surcharge. If luggage is carried, a further modest sum is charged. Meters are displayed in all licensed taxis, along with the driver's identity card, so the fare should not come as too much of a shock. In 2016 taxi drivers were mounting a campaign against the rival Uber scheme.
Tariffs for journeys within the city limits vary depending whether the journey is on a working day or at another time. Tips are voluntary; 10% is the norm.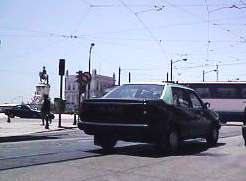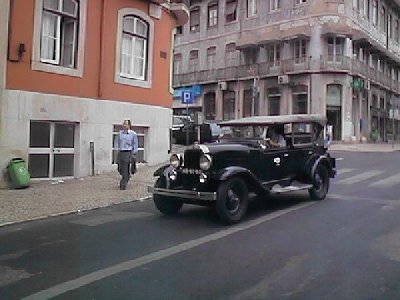 L to R: A black and green taxi in the Praça do Comércio and an even older taxi, pictured at Calvário, July, 2000..
Taxi Ranks
Taxi ranks abound in Lisbon; amongst the most busy is the one at Rossio (west side)..

Radio taxi centres are to be found on the following telephone numbers: (01) 815 50 61 or 812 50 60 or 793 27 56. Complaints should be addressed to the Associação dos Transportadores Rodoviários em Automóveis Ligeiros- ANTRAL - Rua Dr António Cândido 8, 1050 Lisboa (tel: (01) 356 38 35); ANTRAL also has a website.

---
Copyright: ©


Contact: the following is not a link; please transcribe the address into your email

---