Day Trips by Rail from Lisbon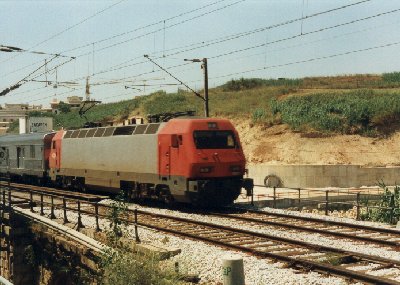 Left: An Oporto-bound class 5600 service passes Moscavide, on the outskirts of Lisbon, heading north.
Portuguese rail services are not renowned for their speed or regularity and therefore the range of places which can be reached comfortably on a day-return trip are relatively few. Below, are some suggestions.
The starting points for railway journeys in Lisbon are varied:
Cais do Sodré station; for the Cascais line. This station can be reached easily by Metro, bus or tram.
Roma/Areeiro or Entre Campos or Sete Rios or Campolide; for the Setúbal line. Roma/Areeiro lies between the Metro stations of those names. Metro services call at Entre Campos and Sete Rios (where the metro station is called Jardim Zoológico). Campolide is served by buses.
Santa Apolónia or Oriente; for CP main line services. Both stations are on the Metro system and served by buses.
Rossio; for the Sintra line. NB Rossio railway station is connected to Restauradores metro station and not to Rossio metro station which is a short walk away.
---
Cascais and Estoril
This is the easiest rail journey out of Lisbon as it takes only just over a half hour to cover the 26km from Lisbon's Cais do Sodré station and trains are frequent. Recently refurbished rolling stock features air-conditioning and "next station" displays. Cascais is a former fishing village which is now fairly commercialised yet retains its character, especially in the streets on the higher ground of its north-western quarter. Well-worth a visit is the former home of the Condes de Castro Guimarães, which is a few minutes walk along the coast to the west of Cascais, near the Museu do Mar (Sea Museum). Cascais has clean, but fairly small sandy beaches and plenty of restaurants to choose from. Bus services, from the seaward side of the railway station link the town to such places as Sintra, Cabo da Roca (the most westerly point on mainland Europe) and Estoril. Estoril has its famous casino and a bigger beach than Cascais. In front of the Casino is a stylish semi-circular arcade in which several reasonably-priced restaurants/cafes can be found. For full details of the Lisbon to Cascais rail journey, click here.
---
Óbidos and Caldas da Rainha
Óbidos is a picturesque 14th-century walled town of fewer than 900 inhabitants which lies 101km to the north of Lisbon, with a railway station which is finely decorated with tilework scenes which lies about 20 minutes walk away, beneath it. The town also has a twelfth-century castle, which is now a pousada (luxury, state-run hotel). Rail services from Sta Apólonia station in Lisbon are sparse, but there are a few alternatives which involve getting to the suburban station of Cacém and proceeding from there.

The next stop beyond here is the spa town of Caldas da Rainha (pictured right), which is also worth a visit. That town is also famous for its ceramics. Its Museu José Malhoa is an art gallery which is well worth a visit and is located in a pleasant park. The train services to Caldas are a little erratic but there is also a coach service from Sete Rios in Lisbon.

---
Oporto / Porto
The rail journey to Portugal's second city, Oporto (Porto in Portuguese) takes about three hours each way with some services being operated by Alfa Pendular stock and others by InterCity stock. A typical single fare in 2010 was 40 euros return for what is around a 400-mile round trip. Oporto has a host of attractions for the transport-minded visitor - a new Metro system, historic trams both running and in a museum, gas and hydrogen-powered buses, river transport and a funicular, to name but a few. For full details, visit this site's Oporto Transport section.
---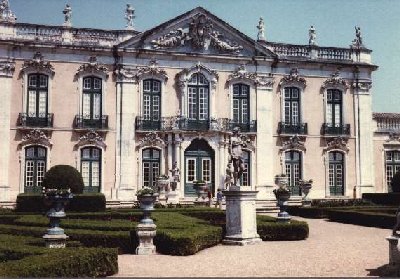 Queluz
Queluz-Belas is about ten minutes' walk from the pink roccoco, royal palace of Queluz, used by Portuguese royalty from the mid eighteenth-century. The palace stands in fine gardens. Up to 12 trains an hour connect Queluz, now a major commuter residential area, with Lisbon. Most services run from Rossio with others from Oriente, via Sete Rios. The journey from Rossio takes c.23 minutes for the 14km journey.
---
Santarém
This is a substantial and attractive town of more than 20,000 people, 75km up the Tagus estuary from Lisbon. Julius Caesar administered the surrounding area from here, when it was known as Praesidium Julium. Express services can cover the route in 45 minutes, but the stopping services take over an hour. Amongst the sights are the Jesuit seminary and the panorama over the Tagus from Portas do Sol, the site of a Moorish castle. In June, there is an excellent Agricultural Fair (though now on the city outskirts and ill-served by public transport), whilst in October there is a Gastronomy Fair.
---
Setúbal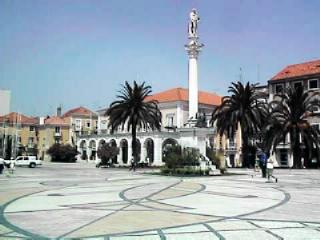 Left: Praça Bocage in Setúbal. The statue of the poet Bocage is by Pedro Carlos dos Reis (1871). Right: Setúbal's main station is a mix of old and new.
With 80,000 citizens, Setúbal is one of Portugal's larger cities. Across the River Tagus from Lisbon, Setúbal lies on the estuary of the River Sado. The town has a beautiful central square (Praça Bocage) with good cafes, an interesting port and a fine Manueline church, the Igreja de Jesus. It is now easy to reach using the Fertagus line across the Ponte 25 de Abril; details here. But until 2004, the only way to get there by rail was to take the 10km ferry ride from Lisbon's Sul e Sueste terminal to Barreiro. There, the train leaves from the adjoining station at Barreiro for a 29km journey to Setúbal station (which is also the Fertagus terminus). However, the most central station in the town is 1km beyond, and is called Praça do Quebedo, which is served by CP services. To reach the town from the main station, exit out of the front of the station, tunr left and walk for five minutes or so parallel to the railway line. When you reache Praça do Quebedo, follow the road to the right. Walk a further few minutes, pasing the main coach station on your right, before turning left into the Praça Bocage. From there, carry straight on to the river front, a further five minutes or so beyond.
From Setúbal river front you can take a short and cheap ferry or catamaran ride to the Troia peninsula which has lengthy stretches of sandy beach and some high-rise development. There is also a car ferry operating on this route.
As mentioned above, the main railway station at Setúbal lies a five to ten-minute walk from the town centre; its attractive building has recently (2010) been largely concealed by a modern extension built in front of it, as shown in the above photo.
---
Sintra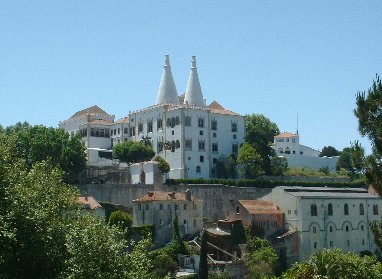 Left: The Royal Palace at Sintra.


Sintra lies at 207 metres above sea level and is famous for its royal palaces and Moorish castle ruins. Train services are regular (4 per hour) and normally run from Lisbon's Rossio station and take about 45 minutes. Rossio is closed 2004-06 due to structural problems in the tunnel leading to its platforms. The line, which is one of the busiest suburban lines in Europe, has recently undergone major enhancement works which included the amalgamation and renaming of various stations,
Sintra's main royal palace lies about ten minutes walk, or a short bus journey from the station. A ScottURB minibus (#435) or a long, tortuous, uphill walk, link the town and station to the Moorish Castle and the Pena Palace, both of which are high up on the hills which overlook the town. Also worth visiting is the newly created Berardo collection of modern art, located in the former Casino. Turn right outside the station building and walk for five minutes or so to the Sintra Modern Art Museum. Next door is the terminus of the historic electric tram to Praia das Maças, on the Atlantic coast. You can also hire a horse-drawn carriage for a tour of the historic town and surroundings. For fuller information on the all the above services, please see the Sintra Transport page of this site. A Portuguese-language web site is maintained by the Sintra town council.
---
Tomar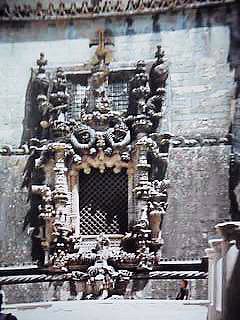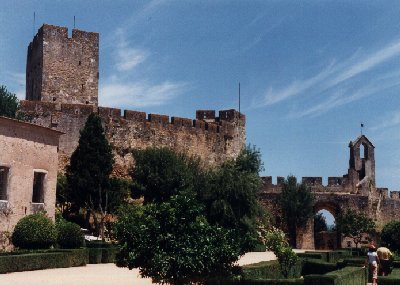 Right: The Convento do Cristo at Tomar and its famous Manueline window..
The Convento do Cristo of the Order of the Templars, which originated in the twelfth century, sits on top of the hill overlooking the attractive small town of Tomar. It can be reached from Oriente or Santa Apolónia stations, though trains are infrequent (roughly every hour) as Tomar is at the end of a branch off the main line north, lying some 130km from Lisbon. There are nearly 30 stops between Santa Apolónia and Tomar, so the trip takes over two hours each way. The line passes through the major junction of Entroncamento, where the CP Portuguese Railway Museum is sited. It is also the service base for class 2500, 2550 and 5600 locomotives. Also based here are class 1550 diesels and 1930s, as well as some class 1200s. EMUs are stabled at Entroncamento too. There is an open-air display of some of the museum's holdings on the left as you leave Entroncamento station, heading towards Tomar. The Convento do Cristo is approximately fifteen minutes walk from Tomar station, of which the latter part is quite steep.
---
A parallel page to this, describing coach trips from Lisbon is under development.
---
Copyright: ©



Contact: the following is not a link; please transcribe the address into your email

---