You are in the
SALE, Cheshire
page

Links to rest of the:
SALE & ALTRINCHAM PAGES

Altrincham
Altrincham F.C.
Sale, Pt.2

Link to:
Luso Pages Home Page

---

Sale, Cheshire, England
including Ashton on Mersey
Part One - Location, History, Famous Residents
& Further Reading

---

Above: Sale Town Hall in 2002.
---
On the next page, Sale, Cheshire, Part II are details of Sale's Landmarks and Sights, as well as information on Local Transport.
---
Above: Left: Sale Town Hall, November 2018. Right: JP Joule's House, 12 Wardle Road (Nov. 2018). Although a modern plaque on the gate proclaims this to be "Joules House", there is sadly no official blue plaque to Sale's most famous ex-resident.
The town of Sale is part of Trafford Metropolitan Borough and lies about five miles south west of the city of Manchester on the main A56 route to Chester. Historically it was part of the English county of Cheshire and, in fact, its postal address is still 'Sale, Cheshire'. Although it is nowadays essentially a dormitory suburb of the city of Manchester, it boasts a number of important geographical and historical features.
Firstly, it lies on the south bank of the River Mersey, which flows westwards towards its outlet into the Irish Sea near Liverpool. Secondly, the world-famous Bridgewater Canal reached Sale in 1765 on its route to Manchester from the Duke of Bridgewater's mines at Worsley. Thirdly, Sale is bisected in a roughly north to south direction by the Roman Watling Street, which, today, as Cross Street and Washway Road, forms the A56 trunk route between Manchester and Chester. Fourthly, and most importantly for the town's growth, Sale lies on the former Manchester, South Junction and Altrincham railway line whichreached the town as early as 1849, linking it to Manchester. The A56 runs in a straight line for over two miles through Sale. In Roman times Watling Street was a part of the route from Mamucium (Manchester) to Deva (Chester). Until the 1930s, the area to the west of this road was known as Ashton-on-Mersey, whilst that to the east constituted Sale and Sale Moor. Today the name Sale is applied to the whole area, including Sale Moor and Ashton, although both those names continue in use for specific parts of Sale.
The M60 motorway clips the northern part of Sale on its way to Stockport from the west. Both Ashton and Sale Moor have their own 'village' centres, in addition to the shopping and other commercial facilities of Sale's own centre, which lies near the A56 around School Road. The northern boundary of Sale is with Stretford, which lies on the north bank of the Mersey in what was formerly Lancashire. Sale is bounded to the south by Altrincham.
Sale lies on glacial sands and gravels which overlay Bunter sandstone (mostly in Ashton-on-Mersey) and Keuper waterstone (mostly in the eastern part of Sale).
Sale's growth is largely due to the arrival of the railway (Manchester South Junction and Altrincham Railway) in 1849. Until its arrival, the heart of Sale had been Sale Green, the area at the junctions of Broad Road and Dane Road, with Old Hall Road, to the east of the current town centre. The railway made Sale a convenient place for residents to commute to their work in the city of Manchester and also moved the centre of the town towards the Sale Station area. As well as Manchester, other later, local sources of employment were the Broadheath engineering factories in Altrincham and the Trafford Park industrial estate, where Ford and Metrovick were amongst the major employers.
Despite the construction of a small shopping centre, from the 1960s Sale suffered in relation to Altrincham as a shopping centre, both because Altrincham had a long-established regular market and it attracted such commercial magnets as Marks and Spencer and C&A (then Littlewoods). However, the balance has been redressed to some extent by the arrival of Tesco, Aldi and Sainsbury in Sale, whilst Altrincham has one of the higheste percentages of empty shops in the country (2011). But both Sale and Altrincham live in the shadow of the massive Trafford Centre, a huge out-of-town shopping development at Dumplington, about five miles away to the north-east.
In the latter 1960s a large Manchester overspill estate was build on agricultural land adjacent to Manor Avenue and this is now known as Sale West or The Racecourse Estate, as its roads bear the names of UK horse racecourses e.g. Ascot, Catterick.
Sale forms part of two parliamentary constituencies: Altrincham and Sale West, which includes the wards of Mersey St Mary's and St Martin's, and Wythenshawe and Sale East which encompasses Priory, Sale Moor and Brooklands wards. The former parliamentary seat is held by the Conservatives (Graham Brady MP) and the latter is Labour-held (Paul Goggins MP).
---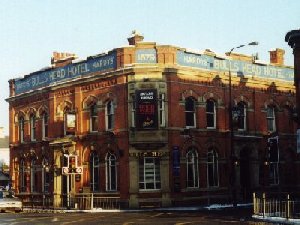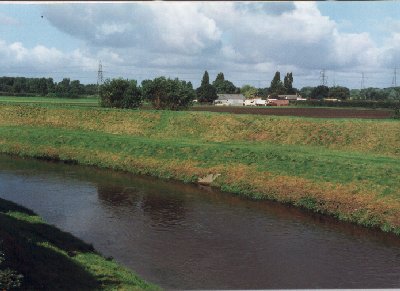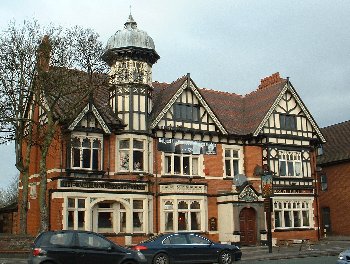 From l. to r.: The Bull's Head pub at School Road; The River Mersey, looking west, at Crossford Bridge on the Sale/ Stretford border; The Volunteer pub on Cross Street
---
The name Sale is thought to derive from an Anglo-Saxon word to denote a place by willow trees. Sale, in fact, is an amalgamation of the previously separate townships of Sale and Ashton-on-Mersey. Until the 1930s, Sale was that part of the town which lay to the east of the A56 (Washway Road/Cross Street), whilst Ashton lay to the west. Neolithic flints, Roman coin hoards and evidence of Saxon habitation have all been found in the vicinity of Sale, although the town is not mentioned in the Domesday Book of 1086.

Twelfth-century documentary evidence does, however, survive of the existence of a manor of Sale. St Martin's Church at Ashton-on-Mersey dates from 1304, although storm damage in 1703 means that the present structure originated in the eighteenth-century, with a clock tower being added in 1887. Sale Old Hall is documented in 1557 but an earlier structure is likely to have been on the same site from the thirteenth century, whilst a bridge existed on the Crossford Bridge site as early as 1538. In the eighteenth century Sale was an agricultural settlement, growing flax, and its main industry at this time was the production of garthweb, the material used for horses' girth straps.

In 1803 Captain John Moore raised a troop of 3,000 volunteers to fight Napoléon. In 1804, he mustered his men on Sale Moor which at that time was further west than it is today. The troops were reviewed on the site of what is today Hope Road on 12 April, by Prince William of Gloucester. Later, Moore was to be involved in the famous Peterloo massacre, in which he commanded a troop of yeomanry.

The recent history of Sale can be traced from the creation of the Sale Board of Health in 1867, of Sale Urban District Council in 1894, and of Ashton-on-Mersey UDC the following year. Nineteenth-century developments included street lighting, which came to Sale in 1875, and a new township school, which was opened in 1879 to replace one opened in 1800. The Free Library was opened in 1887, but was replaced by a more permanent structure in 1891. The existing Library, which is now also the Trafford Local Studies library, opened in Tatton Road in 1938. In the twentieth century Sale School Board was established in 1902, the last such Board to be established in England. The Springfield Road School (primary) was opened in 1997 and still functions. Trafford has been one of the last bastions of the grammar school system. However, the 1930s' Boys' Grammar School in Moss Lane has now been demolished and amalgamated with the Girls' School, on Marsland Road.

Administratively, Sale and Ashton UDCs merged as Sale UDC in 1930 which, in turn, became Sale Borough Council five years later. Sale Town Hall, built in 1914, was extended in 1939/40 but in December, 1940, it was badly damaged by a German incendiary bomb. It was not fully rebuilt until 1952. In January, 2001 plans were announced for a £24M scheme to refurbish Sale Town Hall, Library and Civic Theatre and to create a new arts and leisure area on the adjacent canal-side. Work began in 2001 and what has been named the Sale Waterside opened in 2003, forming an impressive improvement to the canal side in the town. (See part 2 of this page for more details of this). In 2006/7, the opposite bank of the canal, (Broad Road car park), was developed with a huge multi-storey car park and adjacent apartments being built. The c anal towpath has been upgraded as part of the Bridgewater Way and now forms an attractive walkway through the length of Sale. It runs parallel to the former railway line, now Metrolink.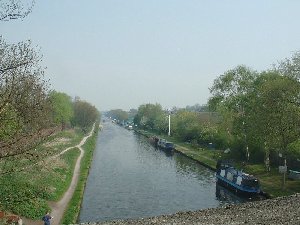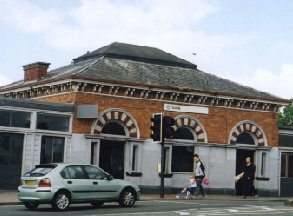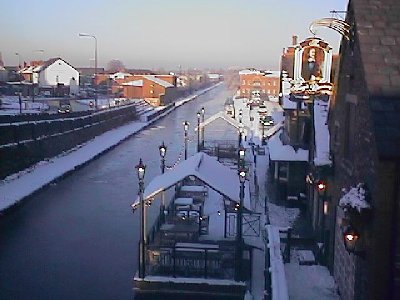 From l. to r. The Bridgewater Canal, looking north from Brooklands Station Bridge; Sale Metrolink Station; The Bridgewater Canal looking north from Sale Station bridge on a snowy 30 December, 2000.
Population
Year
Ashton-on-Mersey
Sale
Total
1801
779
819
1598
1811
918
901
1819
1821
875
1049
1924
1831
974
1104
2078
1841
1105
1309
2414
1851
1174
1720
2894
1861
1476
3031
4507
1871
2359
5573
7932
1881
3326
7916
11242
1891
4234
9644
13878
1901
5563
12088
17651
1911
7324
15044
22368
1921
7773
16337
24110
1931
-
-
28071
1951
-
-
43168
1961
-
-
51336
1971
-
-
55390
1981
-
-
57824
2001
-
-
55234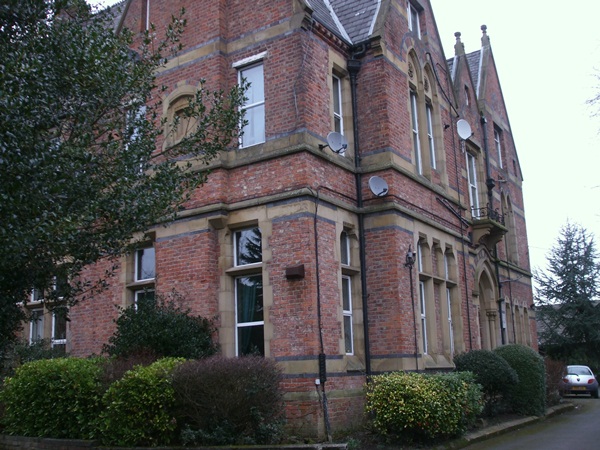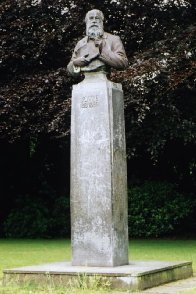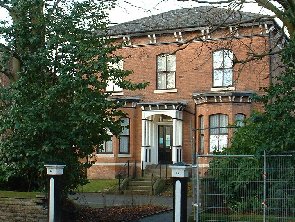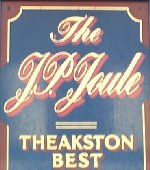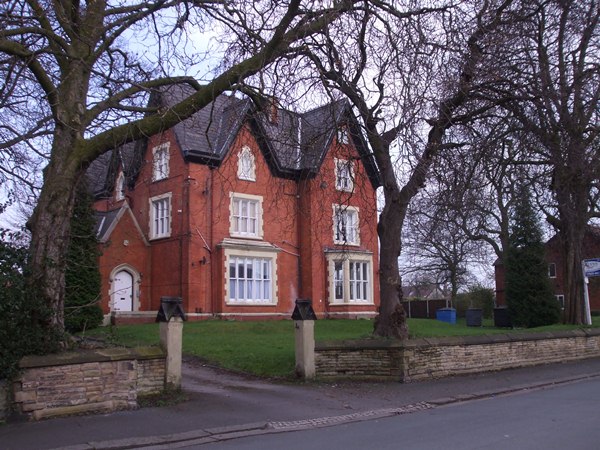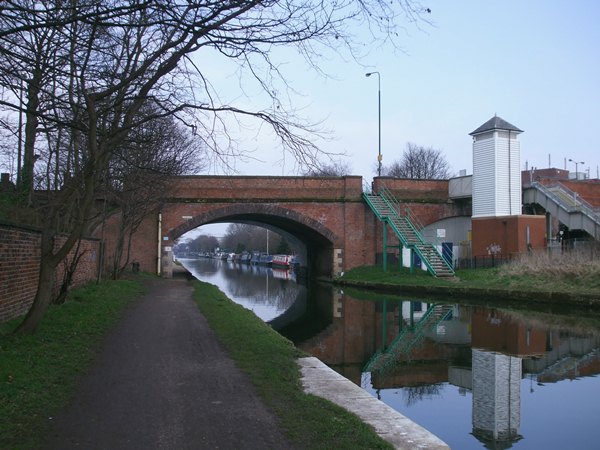 Left to right: Oakleigh on The Avenue; Monument to Joule in Worthington Park (1905); Joule's house for the last seventeen years of his life, 12 Wardle Road; Joule's most recent memorial, the J.P. Joule pub in Northenden Road; Brogden's house in Raglan Road; Bridgewater Canal bridge at Brooklands
James Prescott Joule (1818-89)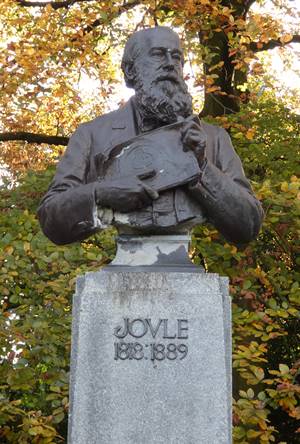 The internationally known scientist, J.P. Joule, is Sale's most famous ex-resident. He was born in 1818 and died in 1869. He is also buried in the town. An amateur scientist, he established by experiment, in 1843, that different forms of energy are equivalent and can be converted into one another. The SI unit of energy, the Joule, is named after him. There is a bust of Joule on a tall plinth in Sale (Worthington) Park, which was erected in 1905 (shown, right). His house for the last seventeen years of his life, 12 Wardle Road, still survives. Joule was honoured in his lifetime when he was made a Fellow of the Royal Society. A plaque in his honour was also placed in Sale Town Hall in the early twentieth century. However, he may not have approved of a more recent memorial to his name, a Wetherspoon's pub on Northenden Road called the J.P. Joule. There is, however, a more sober national memorial to Joule in London's Westminster Abbey, which occupies a place next to that for Charles Darwin.
Edward Hulton (1869-1925)
Edward George Hulton lived in Oakfield, which connects Washway Road with Ashton Lane. His father, also called Edward, had risen from being a compositor on the Manchester Guardian to founding a string of his own newspapers. In 1871 the elder Hulton created the daily newspaper The Sporting Chronicle and followed this with a weekly, Athletic News. His Sunday Chronicle followed in 1885. Edward the younger had early ideas to become a Roman Catholic priest but he joined his father in the printing trade. Edward the elder's sizeable fortune and publishing interests passed to Edward, the younger, who went on to found the Manchester Evening Chronicle (1897) and the national newspapers, the Daily Dispatch (1900) and the Daily Sketch (1909).

Hulton the younger also acquired the London Evening Standard but ill-health obliged him to sell his business in the 1920s to Lord Northcliffe's Allied Newspapers for £6,000,000, though his own son, also called Edward, went on to have his own publishing empire. Edward, the Elder, is buried in Sale's Brooklands Cemetery.

Less well-known figures with Sale connections include:
Lascelles Abercrombie (1881-1938) & Sir Patrick Abercrombie (1879-1957)
These brothers were born in Ashton-on-Mersey, Lascelles Abercrombie became Professor of English at Leeds (1922) and at London University (1929) before moving to Oxford University in 1935. He was one of the Dymock Poets, base in Gloucestershire, who produced Georgian-style poetry. His brother Patrick was an accomplished architect whilst his son, Michael, was a celebrated cell biologist.

Sir Leslie Patrick Abercrombie became a celebrated town planner, having qualified as an architect. He became a professor at Liverpool University School and, later, at University College London. His town planning work is to be seen in Plymouth and Hull as well as in Edinburgh and Dublin but it was his "Abercrombie Plan" for post-War London for which he is best known.Out of this came the New Towns movement which gave rase to such developments as Crawley in Sussex. Abroad he did important planning work in Hong Kong and Ethiopia.
Thomas Edward Allibone (1903-2003)
Born in 1903, and educated in Sheffield and at Cambridge, Prof T E Allibone lived in Sale in the 1930s and 1940s. He was a distinguished scientist and the last surviving person to have worked closely with the famous scientist, Sir Ernest Rutherford. Allibone also worked on the Manhattan project in the USA during the war years and was a key figure at Metro Vickers in Trafford Park, Manchester. In Sale he had a house built at 81, The Avenue, which is believed to have a nuclear shelter built by Allibone deep under its garden. Allibone was also a Fellow of the Royal Society as well as being sometime Chief Scientific Officer of the Central Electricity Generating Board. He first worked with Ernest Rutherford in 1926 at the Cavendish Laboratory at Cambridge.
George Best (1946-2005)
The famous Manchester United player George Best was not a resident of Sale but, in 1969, he opened his first clothes boutique, on Cross Street. Other Manchester footballers to have actually lived in Sale include United goalkeeper Harry Gregg, a hero of the Munich Air Disaster in 1958.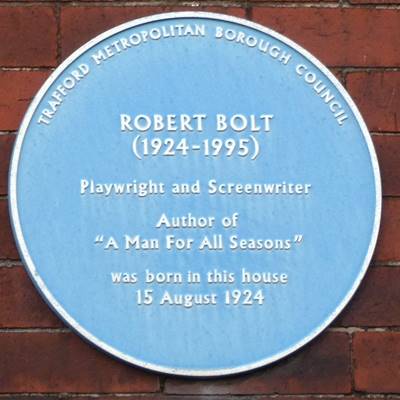 Robert Bolt (1924-95)
Robert Bolt was the dramatist who wrote "A Man for All Seasons". He was born at 13 Northenden Road, Sale and lived there, above his father's furnisher's shop, till he was four. He then moved to 68, School Road. Bolt also wrote the screenplays for "Lawrence of Arabia", "Dr Zhivago" and "Ryan's Daughter". A commemorative plaque was placed on the premises on 7 June, 2000.
George Bradshaw (1801-59)
Born in Pendleton, George Bradshaw's name is synonymous with the railway timetable of which he was the greatest popularizer. He became associated with 19th-century radical politics in Manchester. Although he died of cholera in Sweden in 1853, and was originally buried in that country, near Christiana Cathedral, his grave is now to be found in the Quaker burial ground in Park Road, Sale, having been moved there with many others from Manchester. He launched his Railway Timetable in 1839 having come to railway publications via map-making. The last issue of "Bradshaw" was in June 1961.
John Brogden (-1869)
Brogden lived in Raglan Road and isburied in Brookland Cemetery. He was a leading figure in the contruction of the railway line from Manchester to Altrincham.
Samuel Brooks (1792-1864)
Samuel Brooks owned 628 acres of Sale by 1846, almost a third of the town's area. He had made his fortune as a banker in Manchester and astutely foresaw the need for suburban residential land for the burgeoning class of Manchester industrialists. In 1859 he agreed terms with the Manchester, South Junction, and Altrincham Railway Company for land on which the MSJAR could build a new station to serve his select development on Brooklands Road. Brooks's name was also given to the station, which remains today the Brooklands Metrolink Station on Marsland Road.
William Cunliffe Brooks (1819-1900)
William Cunliffe Brooks was the son of Samuel Brooks. He became MP for Altrincham and Sale (1886-92). His many benefactions to Sale include the fountain on Ashton Lane, and Brooks's Institute on Carrington Lane.
Darren Campbell (1973-)
Darren Campbell, gold-medallist at the European Championships in Budapest, 1998 and silver-medallist at the 2000 Olympics in Sydney, is a member of Sale Harriers; another famous Sale athlete is Diane Modahl. A number of other famous sportsmen have lived in Sale, including the hero of the Munich air crash in 1958, Manchester United's goalkeeper, Harry Gregg who lived on Briarlands Avenue. And George Best opened his first boutique, on Cross Street, Sale.
George Carman (1931-2001)
George Carman Q.C., the famous barrister, lived in Brooklands Road during the 1950s.
John Benjamin Dancer (1812-87)
Dancer is bried in Brooklands Cemetery in Sale. He was a scientist and instrument maker who is famous for discovering ozone. His other claim to fame is in the field of photography where he is credited with inventing microdot technology in 1839.
William Stanley Houghton (1881-1913)
Houghton was one of the "Manchester School" of dramatists; he was born in Ashton-on-Mersey. "Hindle Wakes" (1912) made his name and was put on at the Aldwych in London. He died of meningitis on 11 December 1913. There is a plaque to him in the Central Reference Library in Manchester.
Anne Howells
Anne lived in Sale from 1950 – 1968 in Craddock Road with her family. She was educated at the Girls' Grammar School in Marsland Road and had singing lessons with Alfred Higson of Sale and District Musical Society fame. Anne went on to study singing at the Royal Manchester College of Music. She became a professional opera singer at international level and went under contract to the Royal Opera House at the age of 26. She retired in 2006 and became a professor at the Royal Academy of Music in London.
Nicholas Kilvert
'Kilvert's Lard' was a famous British brand of cooking fat for many years. Peter Kilvert advises the website that "The founder of N Kilvert and Sons, Lard Refiners of Trafford Park, was Nicholas Kilvert. He lived at Ashton Lodge on Ashton Lane (near the present Kilvert Drive). He had been a Master Pork Butcher on Deansgate, Manchester, before moving to bigger premises in Mark Lane, Withy Grove (where the current "Printworks" is). Then in 1900 the company moved to Trafford Park (close to MUFC). The business was bought out in 1968 and the Lard Refinery was demolished. Nicholas had three sons in the business. George lived at Harboro House on Harboro Lane, then moved out to live in Southport. Nicholas (junior) lived at the Woodcourt on Brooklands, Baguley, Manchester and was a major supporter of the Brooklands Amateur Thespian Society and St John's church, Brooklands. He was also a Manchester Councillor for Baguley Ward.

The third son was Harry Vernon Kilvert. He lived at the gatehouse to Ashton Lodge, but moved into Ashton Lodge on the death of his father in 1883. He was chairman of Altrincham Conservative Association and involved in many good works in the area, especially during the First World War when he and his wife Annie (nee Pemberton) were involved in the Red Cross and Ingestre Auxilliary Military Hospital. Harry Vernon Kilvert also played an active part in the formation of the Voluntary School Committee in 1902 and as result St. Mary's and All Saints Schools were built and St Martin's School was extended. He was also a benefactor of St. Mary's and St. Martin's Churches. He was knighted in the 1921 New Year's Honours for his services to the community. He died in 1924".
Alfred Knowles
A cotton spinner, Alfred Knowles, lived in Northenden Road from 1869. Prior to that he had shared accommodation in Chorlton on Medlock with the political theorist Friedrich Engels and was a friend of Karl Marx whom he assisted with background infomation for his seminal work, "Das Kapital".
Samuel Lord (1803-89)
Charlie Hulme's superb web page about The Avenue and the sculptor John Cassidy has information about Lord, who became a millionaire in the USA. Born in Saddleworth, he had emigrated to America around 1821 where he set up what was to become a chain of Lord and Taylor department stores across the USA, which is still in existence. He returned to England in 1866 and lived at 'Oakleigh' on The Avenue in Ashton on Mersey. His daughter, Kate, married Ernest Soares a Manchester based solicitor who later became Liberal MP for Barnstaple. Soares lived at the time at Woodheys, which survives today as Woodheys social club on Washway Road. On his death, Samuel Lord left nine million dollars.
Hedley Lucas
Hedley Lucas, the 'Cheshire Poet' of the 1930s and 1940s, was born in Joynson Street, Sale. His published works include "Homage to Cheshire" and "Collected Poems, 1933-1953". He became House Governor of the Queen's Hospital, Birmingham, which later became the Birmingham Accident Hospital. Oxford University still has a Hedley Lucas scholarship for "undergraduates reading for the Honour School of Theology or for the Honour School of Philosophy and Theology...Preference will be given to candidates preparing to enter the Christian Ministry".
Diane Modahl (1966-)
Diane was an England international 880 metres runner, who lived on Grosvenor Road, Sale. She won the 800 metres title at the 1990 Commonwealth Games and in 1996 she gained the bronze medal at the same distance in the Commonwealth Games.
Richard Pankhurst (1834-98)
Richard Pankhurst is buried in Brooklands Cemetery, Sale. A lawyer, he is now best known as the husband (from 1879) of Mrs Emmeline Pankhurst the famous suffragette leader.
Charles Peace (1832-79)
Charlie Peace, the infamous murderer of a policeman, P.C. Cox, in Seymour Grove, Old Trafford, was briefly in Sale where he gave classes in the local Springfield Road School. He combined his life as a teacher and skilled musician with burglary. The son of a one-legged Sheffield lion-tamer, Peace was excecuted in 1879 for the murder of A. Dyson.
Peter Tinniswood (1936-2003)
The writer of Tales from the Long Room and the Uncle Mort stories, Peter Tinniswood, was brought up over a shop on Eastway, in the southern part of Sale. He died in January 2003.
Sir William Henry Veno (1866-1933)
Veno is famous as the inventor of Veno's Cough Syrup. He was born as William Reynard Varney in 1866 and in 1894 he emigrated to Canada where he set up his company and invented his famous cough cure and Germolene, antiseptic cream. He returned to England and his company's premises were on Chester Road in Old Trafford, Manchester; indeed, the Veno name remained on the building many years after the company had vacated them. He was knighted in June 1920 and became the Mayor of Altrincham. In 1925 he sold out to Beechams, the pharmaceutical company. Veno lived at Woodlands, Bowdon and in 1933, he shot himself dead at his home, having feared for a number of years that he was suffering from cancer.
Dr Charles White
Dr White lived at Sale Priory on Dane Road. with Joseph Bancroft, he founded Manchester Royal Infirmary. When Bancroft died, he turned to one Hannah Beswick for finance for this hospital and she lent him £30,000 in 1756. She died in 1758 and White kept her body, preserved by tar, in a clock-case in his house. He was allegedly acting on her fear of being buried alive. However, another consequence of not burying her was that her will could not be read and her debts (including that of Dr White) could not be called in. A future Czar of Russia is even alleged to have visited her remains before her eventual burial, 110 years after her death. White also held the remains of Thomas Higgins, a notorious highwayman from Knutsford. White's Bridge, named after Charles, crosses the Bridgewater Canal, near Dane Road.
---


Those interested in local history will find much useful material and help at the Trafford Local Studies Centre, located in Sale Library in the Weterside development. Their stock includes census returns, local directories, photographs and maps. Listed below is a selection of published works on Sale and Ashton-on-Mersey.

Ashton on Mersey Village Trail. Trafford Leisure Services, 1987. 16pp. map.
Bayliss, D., Historical atlas of Trafford. Altrincham: The Author, 1996. 87pp. bibliog. (ISBN 0-9529300-0-5)
Byron, F. and Partington, M., Sale in times past. Chorley: Countryside Publications, 1983. 56pp. (ISBN 0-86157-098-7) (A book primarily of photographs).
Dixon, Frank, The Manchester South Junction and Altrincham Railway. Second, enlarged edition. Headington, Oxford: The Oakwood Press, 1994. 165pp. maps. bibliog.
Hainsworth, Vivien, Looking back at Sale. Altrincham: Willow Publishing, 1983. (ISBN 0-946361-02-9) A book primarily of photographs.
Hayes, Cliff, Bygone Sale and Ashton-on-Mersey. Manchester: Beaver Publishing, [c1995]. 48pp. (ISBN 1-85692-060-4) (A book primarily of photographs).
Ingham, A, Altrincham & Bowdon, with historical reminiscences of Ashton-on-Mersey, Sale and surrounding townships. Warrington: Prism Books, 1983. (This is a reprint of a work originally published in 1879 and reissued in 1897).
Nevell, Michael, The archaeology of Trafford. [Stretford:] Trafford Metropolitan Borough Council, 1997. 154pp. (ISBN 1-870695-25-9)
Newhill, John, Sale, Cheshire, in 1841: its people and their lives.. Sale: Ashton and Sale History Society, 1994. 88pp. (ISBN 0-9523513-0-7)
Newhill, John, The story of Sale from 1806 to 1876: a "house detective" book. Sale: The Author, 2000. 165pp. (ISBN 0-9537862-0-X)
Newhill, John, Surname index of the 1841 census for Ashton-on-Mersey & Sale. Sale: Ashton and Sale History Society, [c.1995].
Renshaw, C.J., Memorials of the ancient parish of Ashton-upon-Mersey. Manchester: Armstrong, 1889.
Renshaw, C.J., Some of the bye-paths in the history of the Church of St Martin's, Ashton-on-Mersey, and of the Rectory. Sale: Phoenix Press, 1950. (Reprint of a work of 1914).
Sale Guardian Yearbooks. The Sale Guardian was the local newspaper of the town until it was supplanted by the free Sale and Altrincham Messenger.
Sale Town Trail. Trafford Leisure Services, 1987. 16pp.
Swain, N.V., A history of Sale: from the earliest times to the present day. Wilmslow: Sigma Press, 1987, reprinted 1994.

Trafford Metropolitan Borough. Street atlas. Macclesfield: McMillan Group, 1995. 80pp. The Ashton and Sale History Society organizes regular talks on topics related to Sale and Ashton-on-Mersey. Monthly meetings in 2007 are held on Wednesdays at St Mary Magdalen, Ashton on Mersey at 7.30pm. From February 2008 meetings will be held at the Conservative Club, Dane Raod, Sale.

The Society also publishes a Newsletter.



General
ManchesterLocal - "Your local Manchester area directory". A large directory of resources for the Manchester area, residents and visitors
Sale Community Web.
Ashton on Mersey
Ashton 0n Mersey
Bridgewater Canal
Friends of the Bridgewater Canal.
Churches
St Paul's Church
Leisure/Entertainment
The Imperial War Museum North in nearby Trafford Park has an informative website.
David W. Solomons, a local composer, runs an interesting site and he also has a Java music site.
Newspaper
The local free newspaper, the Sale and Altrincham Messenger maintains its own Web site. This newspaper originally competed with the Sale and Stretford Guardian which was founded in the nineteenth century, but is now defunct.

Pictures
Webb Aviation aerial photographs.
Sport
Brooklands Manchester University Hockey Club.
Lions Softball Club based at Trafford Metrovicks RUFC in Sale
Sale Harriers Manchester.
General
Manchester A/Z has many very useful links to Sale and Altrincham sites.
Sale Community Web includes a lot of local information including a photo gallery.
---
---
Copyright: ©


Contact: the following is not a link; please transcribe the address into your email

---