---
31 July 2020
The
National League
tells us that "It was November when Altrincham fans were starting to believe they may not be playing National League North football next season. Not because of why you think, mind you. They hadn't sensed this could be their year. Quite the opposite, in fact, writes Tom Scott.
At the start of the season's fourth month, Alty were sitting on 13 points. They were 18th in the table, just four points above the drop zone. A few weeks earlier they had just been hammered 5-0 at Boston United.
Phil Parkinson takes his team back there this weekend, incredibly, to compete in the National League North Promotion Final. A return to the scene of many of his nightmares comes after play-off wins over Chester and, impressively, York City...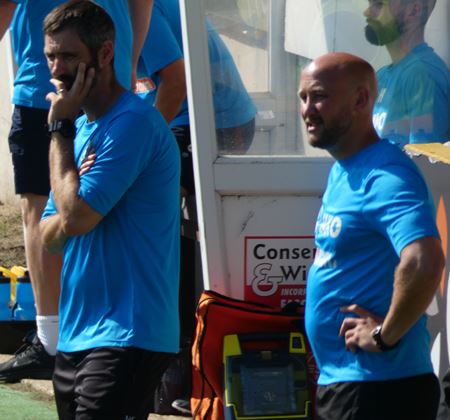 Right: Neil Sorvel and Phil Parkinson ponder Alty's performance at Boston back in August 2019.
'I truly believe if we had a better start to the season, we would've won the league this season,' he told us ahead of the shoot-out on Saturday. 'People will think I'm crazy saying that and now we've got to go away to Boston and win. If we do that, it validates what I said, if not, we know we've still got a bit of work to do.
'The 5-0 loss came at a point when we were at our weakest and they exploited that, they were very good. Boston are the most improved team in the league this year, Craig [Elliott] has done a great job again'...
He's not done a bad job, either. The club have progressed fantastically under his stewardship. Promotion from the NPL in 2018, they returned to this level with a fifth place finish. But, after another play-off finish, that won't make it any less gutting if the club come away from York Street this weekend defeated. Only two sides have scored more league goals this season and for Alty this is a chance to regain their Step 1 place they lost in 2016.
'We've had a couple of good seasons but the players know an opportunity like this doesn't come around every season,' he said. 'The biggest thing for me was the lads' application during that 17-week period. We can't ask them to do things because they were furloughed but they got on with their own individual fitness work and maintained themselves. They've come back in unbelievable shape and that reassures you that you're doing the right thing because it costs a lot of money going into this.
'We're a very attacking minded team,' he adds. 'We've always had teams that score plenty of goals and that's something we take great pride in. We get a lot of compliments about our style of play and that makes lads want to come and play for us.
'It's going to be a long old 90 minutes. Both teams are worthy of their spot in the final and whoever comes out on top will be worth their place in the National League next season.'"
Brian Flynn interviewed Alty left-back Connor Hampson [right] for
Alty TV
.
Connor recently made his one hundreth appeareance for Altrincham.
From the
Boston Standard
we read that "Craig Elliott has told his Boston United players 'We're all in this together'... with the manager again having to make some tough selection calls.
Nicky Walker, Tyrell Warren and Ashley Jackson didn't make the 17-man matchday squad as Boston beat Gateshead 5-3 at the weekend...
'I tried to get across to all the players it's a 20-man squad and we've come together to win two games of football,' he said. 'Everyone is needed in different ways. It was pleasing to see the players who weren't playing being so supportive.
'They've all contributed, everybody's contributed at different points of the season and there'll be disappointment for those not involved personally and it was a difficult job for me as they've all trained so well. But that shows the togetherness in the squad that we've had this year, everybody buys into it. We're all in this together'...
Two-goal hero Jake Wright and Matt Challoner missed training on Tuesday night, but United are confident they will have a fully fit squad for the arrival of Altrincham.
'Jake had a bit of a sore hamstring and Matty Challoner had a little kick so, as a precaution, they didn't train (on Tuesday)... 'But we're fairly confident everyone will be fit for Saturday.'" concluded the manager.
And the Boston Standard also reports that "Boston United must want it more than Altrincham if they are to win Saturday's play-off final, according to Scott Garner.
The influential defender played in two National League North semi-final defeats with the Pilgrims before tasting success with FC Halifax Town... He believes the team that fights hardest will be celebrating promotion.
'I like to think I turn up for these big games, the adrenaline and buzz drives you on,' said Garner... 'In extra-time with Halifax, people were getting tired but I was just thinking "keep pushing, keep pushing, make the other team fold before you".
'They crumbled in the end. We kept working and overpowered them to get over the line. Play-off games become a battle and a fight and we have to find a way to win'.
Following 2016's 3-2 aggregate defeat at North Ferriby, Dennis Greene's exciting squad was dismantled, with Zak Mills, Dayle Southwell and Kaine Felix moving to higher-level clubs, Garner stepping sideways to win promotion with Halifax and Carl Piergianni taking a year out to travel before returning to England to help Salford City progress...
Garner believes this current crop of Pilgrims, which has Jordan Thewlis, Tom Platt, Peter Crook, Luke Shiels and Garner under contract next season and other deals with existing squad members agreed, still have plenty of growing together. 'The one before, we had such a good group there was interest from everywhere for players,' Garner added. 'You knew that group was coming to an end. Whether this group gets promoted or it doesn't, it won't disintegrate.
'There's a good quality group of players growing together. Let's hope we get over the line this year and give it a great go in the new stadium in the National League. If we don't get over the line, the group will be up there next season'".
Altrincham
announce that "We are now taking orders on the official Promotion Final programmes, exclusively produced by The National League. They are priced at £3 with a £1.75 delivery postage fee.
Buy your copy here here
We are due delivery of this stock by midday [Friday]. For that reason, we unfortunately cannot guarantee that programmes will reach fans before kick off on Saturday. Orders placed before 14:00 (31/07/2020) will be sent out first-class, same-day, giving them the best possible chance we can of reaching you in time. Fingers crossed."
The
National League
provides its "betting partner LV Bet's bumper preview...
The National League North promotion final takes place this weekend with Boston United having home advantage... The sides met way back in August 2019 and it was a convincing 5-0 win for Boston that day - and they will be looking to top scorer Jordan Thewlis to add to his 14 goals this season to send them up! With a good home record of 11 wins out of 16 matches played this season, Boston are favourites for promotion.
Altrincham come into the Promotion Final in fine form winning their last three matches before the League stopped. Alty then followed this up with two impressive play-off wins at home to Chester and then an even better performance away at York City.
This weekend will be a shootout between Jordan Thewlis of Boston and Altrincham's Josh Hancock who has 16 goals to his name this season, including a goal in each of the play-offs matches.
Boston last 5 results – 2 wins, 2 draw, 1 defeat
Boston Top Scorer: Jordan Thewlis with 14 goals
Boston home record: 11 wins from 16 matches
Altrincham last 5 results – 5 wins
Altrincham Top Scorer: Josh Hancock with 16 Goals
Altrincham away record: 6 wins from 18 matches
The late Mike Garnett's data, updated since his untimely death, reveals the record in previous matches between Altrincham and Boston United, the club who stand between Altrincham and promotion. The Pilgrims finished third in the PPG table whereas Alty were fifth. Boston overcame Gateshead 5-3 last week to earn the right to host Alty who have beaten Chester FC and York City to get this far.
Home: P36-W16-D12-L8-F71-A35
Away: P38-W12-D10-L16-F60-A70
All: P74-W28-D22-L31-F131-A105
When Altrincham last visited Boston, on August Bank Holiday earlier this season, both teams were languishing at the foot of the table. Alty went into this game in seventeenth position, one place above Boston on the basis of goals scored.
Alty arrived with an unsettled squad. They were without Josh Hancock (calf problem) and Tom Hannigan (concussion), and Jake Moult was surprisingly named in the squad for the first time since his summer operation, despite not having had any warm-up game. Manager Parkinson named Shaun Densmore for his first competitive game-time of the season, at right-back in place of White, whilst new signing Conor Branson likewise replaced Simon Richman in midfield. Toby Mullarkey made his first start of the season in place of the injured Tom Hannigan. So Alty had four players in their squad who had yet to start this season; Thompson, Densmore, Mullarkey and Moult. For Boston, Rollins and Thewlis were suspended.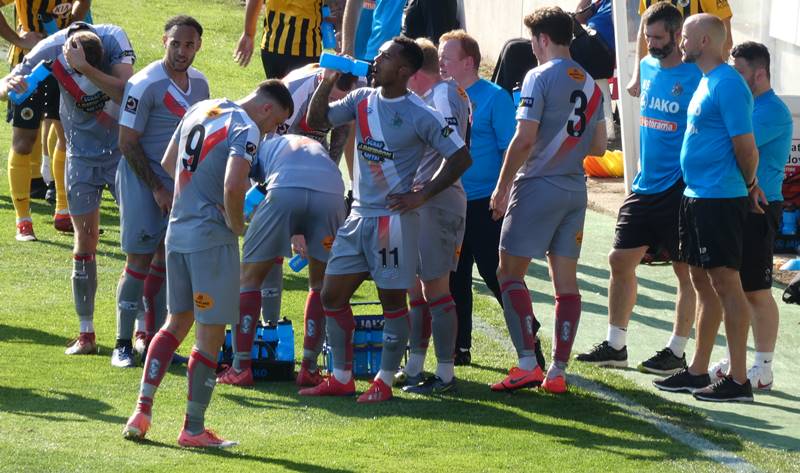 Above: Phil Parkinson and Neil Sorvel oversee a second-half drinks' break at a sweltering Boston on Monday.
No one emerged with any credit from a poor team performance by Altrincham who allowed a far from world-beating Boston side to thrash them with five goals which could all have been prevented. On a sweltering afternoon, Alty only created one serious shot on goal and failed to play with sufficient tempo or passing accuracy to trouble the hosts.
Returning to the starting eleven, goalkeeper Tony Thompson had twice made important blocks before he was beaten in the 40th minute. The goal arose when Boston won a corner after Harrop had lost the ball and poor defending allowed Platt an unchallenged headed goal from the back post area.
And, with literally the last kick of the first half, Knowles tapped home a second goal after a low Adebayo-Smith cross evaded Thompson (45+3 mins).
Sent out early for the second half, Alty started the second half a little better but conceded a third goal from Platt's low shot from the edge of the box (63 mins).
Substitute Jake Moult was dispossessed and Knowles made it 4-0 in the 83rd minute. Alty's humiliation was completed when a wild back-pass from Jones conceded a corner and more poor marking allowed a back post header to find Shields who swept home a fifth goal (87 mins).
BOSTON UNITED : 1. Peter CROOK, 2. Carl BYRNE, 3. Alex WHITTLE, 4. Andi THANOJ, 5. Simon AINGE, 6. Luke SHIELS, 7. Tom PLATT, 8. Brad ABBOTT, 9. Jordan ADEBAYO-SMITH, 10. Dominoc KNOWLES, 11. Nicky WALKER. Subs: 12. Tom CLARE, 14. George GREEN, 15. Ashley JACKSON, 16. Shaun TUTON, GK. WILLS
ALTRINCHAM: 1. Tony THOMPSON, 2. Shaun DENSMORE, 3. Connor HAMPSON (c), 4. James JONES, 5. Toby MULLARKEY, 6. Sean WILLIAMS, 7. John JOHNSTON, 8. Conor BRANSON, 9. Jordan HULME, 10. Max HARROP, 11. Ashley HEMMINGS. Subs: 12. Lewis WALTERS, 14. Andy WHITE, 15. Tom PEERS, 16. Simon RICHMAN, 17. Jake MOULT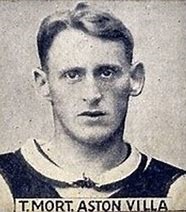 Terry Rowley's latest Alty Legends profile concerns the only Altrincham player who progressed to play for England yet he was never to pull on a first team shirt in his entire two and half years at Moss Lane! Read all about Tommy Mort's career
here
. Tommy is pictured, right.
It was eight years ago today, on 31 July 2012 that Altrincham played their last game on today's calendar date.
They travelled to Tameside where they drew 1-1 at Mossley in a pre-season friendly.
In a game which, no doubt, assisted both managers in their pre-season planning but which rarely set the pulse racing, EvoStik Premier club Mossley caught Alty cold at a freekick to earn a draw. Altrincham had taken the lead in the 71st minute when a thumping finish from Ryan Brooke from a lay-off by Damian Reeves gave goalkeeper Pearson no chance. But, eight minutes later, after a foul by Carl Rodgers, just outside the box, former Trafford winger Kayde Coppin drove the ball into the unguarded net as Adam Reid and his defence were occupied in building the defensive wall.
Altrincham used a 19-man squad. Goalkeeper Stuart Coburn remained unavailable (on holiday) whilst defenders Danny Hall and Matt Doughty sat out this game, but watched it from the stand. In addition to the fifteen other members of the 18-strong first-team league squad, three of last season's youth team were included here. They were strikers Denico Walters and Derryn Ofori, who had appeared in earlier pre-season games, and central defender Alex Weatherby, who was making his first appearance. The substitute goalkeeper tonight was the ever reliable Steve Downs, who had appeared before in Altrincham reserve and friendly games.

Above: Mossley's Seel Park had an impressive backdrop as Alty faced Mossley in 2012.
Mossley included some players with Alty connections in the shape of former Youth team striker Sam Madeley and former player (2007-08), Cavell Coo (2005), trialists Gavin Salmon (from a few years back) and Ashley Young (from this summer).
In Alty's Northern Premier League days, the picturesquely situated Seel Park had been a regular venue for The Robins but because Mossley, then champions of the NPL, had opted not to join the Alliance (now Conference) in 1979, the sides had met rarely since.
Back in 2012, Mossley's assistant manager was former Altrincham captain Peter Band, who would have liked to have turned out in this match but was prevented by injury. The Lilywhites' manager was former Droylsden defender Steve Halford.
ALTRINCHAM (Yellow shirts and socks, blue shorts): 1. Adam REID, 2. Shaun DENSMORE (capt), 5. Gianluca HAVERN, 6. Scott LEATHER, 3. Nicky CLEE; 7. Duncan WATMORE, 8. Simon RICHMAN, 4. Carl RODGERS, 11. James LAWRIE; 9. Danny MITCHLEY, 10. Damian REEVES. Subs: 12. Sam GRIMSHAW, [13]. Derryn OFORI, 14. Scott PHELAN, 15. Patrick LACEY, 16. Ryan BROOKE, 17. Denico WALTERS, 18. Steve DOWNS (gk), 19. Alex WEATHERBY
Altrincham FC
press and media officer, John Edwards, writes that Altrincham's GoFundMe appeal to support the costs of the play-off campaign has closed with more than £15,000 in additional funds having been raised "courtesy of literally hundreds of pledges from unbelievably generous fans.
Not just fans, either. We all saw those online videos of Alty players asking supporters to back the appeal, but the lads didn't just give their time to help make it such a success. They parted with hard cash as well, as did members of the backroom staff, in a spontaneous gesture that says everything about the spirit and unity that has flourished under Phil and Neil Sorvel.
'I can't speak highly enough of our fans and the way they get behind the team and the club,' said the Alty boss. 'But the players and staff have all wanted to contribute as well to show the fans we are all in this together, as is the Altrincham way. 'Most have contributed 25 per cent of their wages to help support the club through this fantastic but financially difficult period".
York City
"confirm the retained list... Three players are currently under contract and eight players have been offered new terms and are in discussions with the club. 13 players are set to depart Bootham Crescent with the best wishes of everyone at the club.
Players under contract: Pete Jameson, Paddy McLaughlin, Ryan Whitley
Players not offered a new contract: Tom Allan, Andy Bond, Jordan Burrow, Nathan Dyer, Kallum Griffiths, Joe Tait, Macaulay Langstaff, Dan Maguire, Steve McNulty, Adriano Moke, Jake Watson, Jake Wright*, Wes York *Currently on loan with Boston United
Players in discussions with the club: David Ferguson, Kieran Green, Reiss Harrison, Charlie Jebson-King, Alex Kempster, Josh King, Sean Newton, Harry Spratt
Adam Buxton has left the club upon the end of his loan spell.
The NL Paper adds that "York City boss Steve Watson is getting ready to go again after signing a new deal and launching a major overhaul of his squad.
The Ministermen boss and his number two Micky Cummins extended their current deals at Bootham Crescent this week before releasing 13 players in the wake of their National League North play-off heartbreak.
After missing out to King's Lynn Town for the title after leading the table for much of the season, Watson's side lost 2-0 to Altrincham in Saturday's semi-finals, ending their hopes of returning to the National League.
And Cheshire Live observes that York's decision includes "letting go defender Steve McNulty, striker Jordan Burrow and midfielders Adriano Moke and former Chester man Andy Bond, a target of Blues bosses Bernard Morley and Anthony Johnson last summer.
McNulty has often been a thorn in Chester's side, as has Burrow, but the two will now be searching for new clubs, although likely wage demands should put them out of the kind of bracket the Blues will need to be operating in this coming season with a reduced budget.
McNulty, Burrow, Bond and ex-Wrexham man Moke were joined on the list of those leaving York by ex-Blyth Spartans striker Dan Maguire and regulars Joe Tait and Kallum Griffiths in a surprise clear out".
According to the Shropshire Star "AFC Telford United are considering more initiatives to drum up crucial funds after the unexpected delay to the start of the 2020/21 campaign.
The club were hoping and planning towards an early September start, with suggestions of a reduced supporter presence inside the New Buck's Head. But the National League's out-of-the-blue announcement this week that their leagues will not begin until October 3 has put more pressure on the club's strained bank balance, says chairman Andy Pryce.
'It does put a lot more pressure on the football club now cash-flow-wise and financially,' Pryce said. 'We hope the fans do get behind us when we try some initiatives over the coming months as it'll be another nine or 10 weeks before we start. In the meantime we will have a think in the next few days about how to bring income in. We're OK. Finances are tight. We are a hand-to-mouth football club'".
According to the Telegraph & Argus, "Bradford (Park Avenue) know their season is due to get underway, subject to FA ratification, on October 3 with an FA Cup Second Qualifying Round tie, but fans will be wanting to know about how and whether they can attend.
The club have moved to update fans and have admitted that home games down at Horsfall are very likely to be all-ticket affairs for the foreseeable future, with priority given to season ticket holders. They also confirmed what they would do if the number of games in the season is reduced from 42 to 40.
In a statement, they said 'The number of fans will be determined by each individual ground. That is what we are lead [sic] to believe and it will not be a simple percentage of the total maximum gate. We are currently reviewing the guidance and estimating what our safe maximum would be under these conditions.
'Currently we believe (and this is subject to change) that the games will require track and trace on all fans (which the new season tickets will help with) and that in all likelihood we will be all-ticket at every home game, with preference being given to home season ticket holders. The National League North and South will be made up of either 42 or 40 rounds of fixtures depending on how many teams will be in each league.
'If the National League North is the lower number, we will refund anyone who has already purchased a season ticket the admission for the that one less game and adjust season ticket prices as soon as we know the exact number of games.'
The club added 'The current guidance means that all pre-season friendlies will be behind closed doors, so we are preparing to live stream all of these games.'"
---
30 July 2020
If you want to follow the Boston United v Altrincham game on Saturday live (3pm), you have two options...
How to Watch the Game: You can live-stream the game on a pay-per-view basis via the SportRadar service.
How to Listen: The Radio Robins website is not functioning so you will need to follow an alternative link here to listen to the match commentary.
Highlights from Altrincham's win at York, last Saturday, are available via the
Altrincham FC
website.
All eight of his games for Altrincham were defeats, which must be some kind of a record, but Bill Sowden had had an illustrious career before arriving at Moss Lane. Read more in Terry Rowley's latest Alty Legends profile,
here
.
We are still in the 2019-20 season but a year ago today Altrincham were competing their pre-season campaign with a 2-0 win at neighbours Trafford FC.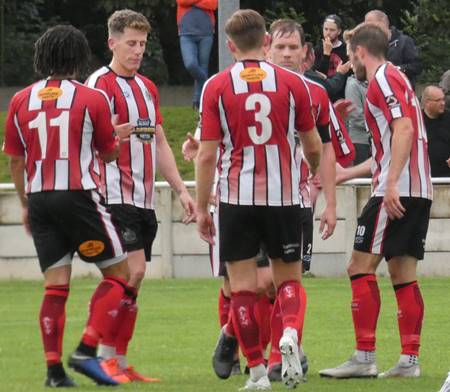 Right: Tom Peers is congratulated on his goal.
As has become an annual custom, Altrincham travelled across the Borough to Trafford and completed their 2019-20 pre-season with a 2-0 win over their neighbours, Trafford.
In an entertaining match, played at a decent pace throughout, Altrincham took the lead just before half-time when Josh Hancock set up Tom Peers, who scored from six yards.
Hancock himself netted the second goal nine minutes after the interval following a defensive error by Trafford.
Alty made six second-half substitutions, five of them en masse after 73 minutes.
Only Andy White, James Jones and Sean Williams started this game from the eleven who had kicked off against AFC Fylde on the previous Saturday.
Into the squad at Shawe View came youth and reserve-team graduates Jack Ryan and Dontai Gabidon. Missing, however, was Simon Richman following his injury in the game on Saturday. Nathan Arnold was also absent tonight but Max Harrop returned after sitting out last Saturday with a hamstring twinge. It was good to see Jake Moult on the pitch during the warm-up as he recovered from his close-season operation.
Trafford included several players with Alty connections. Right-back Harry Sheridan was on dual forms with both clubs, whilst midfielder Laurence Taylor and left-winger Darius Palma both had first-team appearances to their credit with the visitors. For Trafford, striker Lewis Salmon had trialled for Alty this summer whilst Tom Schofield had done so a few years back.
ALTRINCHAM: 1. Tony THOMPSON, 2. Shaun DENSMORE (c), 3. Andy WHITE, 4. James JONES, 5. Toby MULLARKEY, 6. Sean WILLIAMS, 7. Matt CHADWICK, 8. Max HARROP, 9. Tom PEERS, 10. Josh HANCOCK, 11. Lewis WALTERS. Subs: 12. Jordan HULME, 14. John JOHNSTON, 15. Conor BRANSON, 16.Tom HANNIGAN, 17. Connor HAMPSON, 18. Dontai GABIDON, 19. Jack RYAN, 20. Steven DRENCH.
Despite defeat by Altrincham last week,
York City
"announce that Manager Steve Watson's contract has been extended.
Following a successful 2019/2020 campaign, which was thwarted by the global Covid-19 pandemic, Watson remains positive and optimistic about the forthcoming season... Watson said 'I'm thrilled to be staying at York City FC, there is so much to be excited about at the club both on and off the pitch.
'Before the pandemic the team were going in the right direction and we certainly felt that we had a chance to win the league. Now, Micky and I are determined to finish the job next season.'
Chairman Jason McGill added... 'The club had a great 2019/2020 campaign, we finished top of the league and were primed for promotion, which is testimony to Steve, his staff and players. We have been impressed with his approach, both on and off the pitch, and look forward to seeing what Steve can do this coming season.'
Assistant Manager Micky Cummins will also remain at York City FC, he added... 'It's a great club with great support. The fans are especially important and will play a key role in supporting us as we move forward into next season and transition to the new stadium.'"
Alfreton Town "confirm that defender Dom Smith has signed with the club ahead of the 2020/21 season.
Dom, an integral and ever-present figure in the Reds' defence last season, joined us on an initial month loan from Telford United in January 2019. After making five appearances and impressing for the Reds, the loan was extended until the end of the 2018/19 season.
However Dom was recalled by Telford in March before leaving the Bucks in May 2019.
Smith would then re-join The Reds in the summer of 2019 ahead of the 2019/20 campaign. Dom made 35 appearances for us, scoring twice, before the season came to an early end in March due to Covid-19.
Billy Heath said,'I'm really pleased to get Dom back aboard for the new season. He was a player who wanted to stay with us. He has been committed since he first came here and he has shown his commitment by signing a new deal with us...
'Dom always stressed that he wanted to stay when the season came to an end. He has been absolutely fantastic for us, a brilliant defender and a great lad. We can't wait to work with him again ahead of the new season.'"
At AFC Telford United, "Due to a delayed start to the National League North season, AFC Telford United can confirm we have cancelled all our pre-season friendlies during the month of August.
The Bucks were due to kick off the campaign at Market Drayton Town this Saturday. However, with the new season scheduled to start on Saturday, 3rd October we have therefore delayed our return. We are now planning a new set of fixtures for September which will be announced in due course."
Spennymoor Town's "Managing Director Tony Wilson has reaffirmed the club's stance on 2020/21 season ticket availability. The club has previously announced that it will not be revealing season ticket pricing or making tickets available for purchase until two criteria have been met.
These are:
A definite start date for the 2020/21 season has been announced
Concrete guidance on whether supporters will be able to attend matches, when this will start, and how many will be allowed to attend at The Brewery Field at once.
A start date of 3rd October 2020 has been confirmed by the National League to member clubs. However, there is not yet any guidance on what percentage of capacity they will be able to use. Talks are ongoing with the league and the best route to a return to football is being formulated now.
Wilson said 'We want to get this right. There are still so many variables around how non-League football could return and the last thing we want to do is dive in head-first before we know what will be required.
'We do not want to be taking money out of our loyal supporters' pockets at a difficult time. Nor do we want a time-consuming refund process to have to be carried out if the sport re-starts with no supporters. I can reassure everyone that season tickets at Spennymoor Town will be affordable. Our commitment to affordable football for all this season is robust, across the club's whole pricing structure.
'We have prepared various pricing scenarios based on however the government or the league might direct us and will be in a position to make prices available quickly when we have certainty. Things are beginning to pick up pace now. We are underway on even more exciting improvements to The Brewery Field and our match day, which we will reveal in coming weeks.
'We understand the clamour for tickets, but we could very easily end up in the undesirable situation where we have to limit the quantity we can sell due to government direction, or that we may have to refund a proportion of the funds to supporters. Or even that the league could change shape altogether and our pricing would not be fit for purpose.
'Nobody is itching for real football to return more than those of us who work at the club. Hopefully the wait is almost over.'"
Leamington advise us that "All National League clubs will be attending a Zoom Conference call with the National League Board representative on Tuesday 11 August and, hopefully, we will have further information to impart to you all post that meeting".
At Kidderminster Harriers, "Russ Penn is relishing the chance to kick off the season with an FA Cup tie following the news that the world's most famous Cup competition will commence our term...The scheduled beginning of the 2020/21 season for National League North and South teams will be with the Third Qualifying Round...
Ties will be played on Saturday, 3 October 2020 with news on the draw due in the coming weeks. The gaffer... said 'It's something to look forward to! The FA Cup is massive for us and teams at our level. This year it's going to be our first game, so we'll be right back at it....
We won't get the draw until probably a couple of weeks before, but the lads will be back in for pre-season at the end of August. A league game would've been just as exciting after six months off so, like I've said, the players are itching to get out there. I think the first pre-season game will be like a Cup final to some of them as they haven't touched a ball in that long!'".
---
29 July 2020
As Altrincham prepare for their play-off final at Boston on Saturday, the
Boston Standard
reports that "Boston United defender Matt Challoner is used to battles at York Street, but now he's hoping it will be the scene of a promotion party.
Right back Challoner made his Boston United debut in Saturday's National League North play-off semi-final victory over Gateshead....
'It's quite a trek from where I live,' said north-west-based Challoner, who won the play-off final with Chorley last season. 'I used to hate coming here as a player. Everyone used to get on top of you, it's a nasty game here, they're in your faces. Next week we'll be doing the same this end. We'll be fully confident going into the next game'.
United will meet Altrincham in the final... which will be Challoner's second and final game with the club. He has committed to Southport next season and wants to end his fleeting Pilgrims career with silverware, which would also mean not having to come back again next year.
'I'm fully committed, there's no better feeling than getting promoted,' he said. 'I want to do it again with Boston. It's a brilliant buzz.'"
Challoner is not the only Boston loanee to stand in Alty's path next Saturday as The Pilgrims' striker Jake Wright is on loan from York City and he will be looking to get some retribution for his parent club against an Alty side which ended the Minstermen's season in three competitions this season.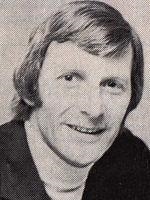 Number 100 in Terry Rowley's series of Alty Legends is Brian Geoffrey Green [right], who went on to manage two countries' national teams.
Three years ago today, 29 July 2017, Altrincham overcame higher-placed opposition at the Horsfall Stadium, defeating Bradford (Park Avenue) 4-2. Normally Alty have played higher-ranked opposition in pre-season at Moss Lane but this game was an exception in being away from home.
BPA manager Mark Bower stated after the match, that "the whole performance was woeful from start to finish".
Despite again ringing the changes with the starting eleven and utilizing a squad of 19 players, Altrincham were well deserved winners over a Bradford side which had finished last season with more than double Altrincham's points tally in the Vanarama North division. Since that relegation season, Nicky Clee and Luca Havern (via Telford) had joined the Yorkshiremen and both played on this match against their former club.
Indeed, but for two absolute defensive howlers by Altrincham, the visitors would have won even more comfortably.
The afternoon started disastrously for Tom Hannigan, making his first appearance of pre-season after missing much of last season with injury. His underhit back pass to ex-BPA keeper Tim Deasy allowed Brooksby to nip in and score with barely a minute on the clock.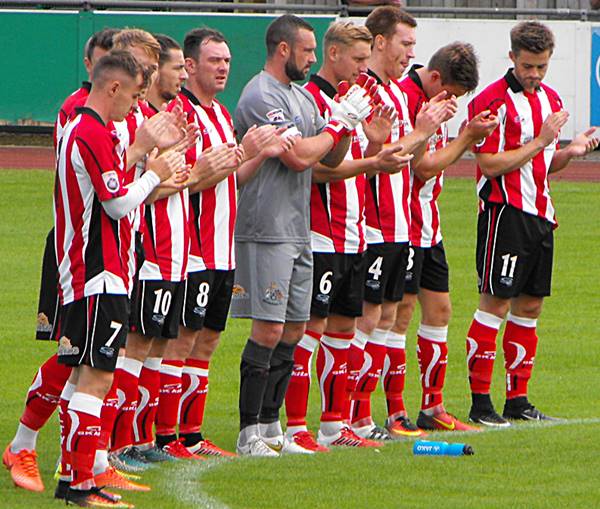 Above: Altrincham joined in the minute's applause (in memory of BPA supporter David Helliwell) before kick off at Bradford in 2017.
Altrincham deservedly equalised in the 44th minute when Jake Moult hammered home a penalty after Jordan Hulme had turned past a defender and been upended.
But, seven minutes after the interval, another disastrous piece of Alty defending saw sub keeper Tony Thompson come out for a harmless aerial ball, only to collide with left-back Lewis Short, and drop the ball at the feet of a grateful Oli Johnson. He couldn't miss the vacant goal to make it 2-1 to Avenue. However, within a minute, John Johnston, who had a very good game, hammered in a loose ball from close range after good work from Hulme to level the scores again.
And, within five more minutes, Alty had taken a 3-2 lead as John Disney netted after a Poole shot had been blocked. Altrincham made it 4-2 in the 65th minute when sub striker Josh Amis netted his fourth goal of pre-season from a cross from the left by Omotola.
Altrincham were again without Simon Richman who was working abroad, whilst Sam Heathcote, Jerome Wright and Kyle Brownhill had left the club since last Tuesday's game. With other tactical changes being made by Phil Parkinson, just five players who had started last Tuesday also began this match. Tom Hannigan made a welcome return to start the game after missing much of last season through injury.
ALTRINCHAM: 1. Tim DEASY, 2. John DISNEY, 3. Lewis SHORT, 4. Tom HANNIGAN, 5. Chris LYNCH, 6. Jake MOULT (c), 7. John JOHNSTON, 8. Sam SHERIDAN, 9. Jordan HULME, 10. James POOLE, 11. Josh HANCOCK. Subs: 12. James JONES, 14. Laurence TAYLOR, 15. Josh AMIS, 16. Tom PEERS, 17. Tolani OTOMOLA, 18. Shaun DENSMORE, 19. Ben HARRISON, 20. Tony THOMPSON.
York Press
conveys the news that "Steve Watson has insisted that [he] wants to finish the job of seeing York City promoted to 'where they should be'...
Despite admitting to being devastated by the result [against Altrincham], Watson put the defeat in some perspective having had back-to-back relegations and two mid-table finishes prior to his arrival.
'Let's get it right, when I came here, we'd had four terrible years as a club,' he said. 'My aim was to be in and around the right end of the league at the end of the season and pushing for promotion and we've done that. For many reasons, we haven't finished the job but that (goal) is still exactly what I have got in my head. I want to take the club back to where it should be.
'I think, because of today's result and the fact that we didn't go up on points-per-game, I don't think that we can lose the fact that we've had a really good season; the best season that we've had for a long time. We're going in right way and people have to got to get along with that.
'There are a lot of mentality changes that I'd like to try and do, not just from the players and staff but from the crowd side of things (too). I think there needs to be a little bit of a shift in terms of positivity and really getting behind each other...
'I came here to do a job and it's going to take another season unfortunately. Do I think that we'd have won the league if we'd have finished the season off? Yeah definitely. But we're not going to get anything for that now. We are where we are. I'm absolutely devastated but I want to finish the job definitely.'
At present, York have just three players under contract for next season, though Watson said that he is not the type of manager that wants to have an overhaul in his squad every season.
On his recruitment plans, he said 'It will have changed a little bit because for there are going to be lot of players, because of the situation, who would probably have become available, will have decided to stay at their club because they wanted a bit of security over this spell. I've certainly got an idea of a squad that I know can get us out of this league next season and can keep us going as well.
'I don't want to be someone that overhauls their squad every year. We've got good young players here who we'll try and keep hold of. The likes of Greeny (Kieran Green), Kempy (Alex Kempster), Harry Spratt and Josh King are all going to become very good footballers alongside the lads who had done great this season...
'I'm confident that I'll be able to keep the ones that I can.' On his budget for next term, Watson added 'That's not been discussed yet. It's going to be a shorter season but I don't know how that will affect the budget'". "They're all conversations that we haven't had yet but they'll have to happen very quickly."
"The
BBC
reports that"The National League has informed its clubs that their 2020-21 season is scheduled to start on 3 October.
The campaign will run until 29 May, 2021 with play-offs in June, subject to Football Association approval... It is hoped that the new season will begin with reduced numbers of supporters allowed into grounds.
Prime Minister Boris Johnson said earlier this month that spectators could be able to return to stadiums from October...
Teams in the sixth tier [e.g. National League North] will start their 2020-21 season with a tie in the FA Cup second qualifying round...
Boston United will play Altrincham in the National League North promotion final on 1 August, while Weymouth will host Dartford in the South division.
The Northern Premier League adds that "Up to four NPL Premier Division clubs will play in the FA Cup preliminary round on Saturday September 12.
The FA has released information on their competitions for the new season, with full details on the format, round dates and the prize fund to be confirmed on Monday. In the FA Cup, the intention is to retain the 736 participating clubs in the competition as per previous seasons.
Due to the current format, a number of clubs at step 3 and 4 will be required to enter the competition at a different stage to other clubs competing at the same level.
For the 2020-21 season there will be 15 Clubs at Step 3 required to enter the Competition in the Preliminary Round instead of receiving exemption to the First Round Qualifying. This shall comprise four Clubs from three of the four Step 3 Leagues, plus a further three Clubs from the other Step 3 League.
There will be 18 Clubs at Step 4 required to enter the Competition in the Extra Preliminary Round instead of receiving exemption to the Preliminary Round. This shall comprise three Clubs from four of the Step 4 Leagues, plus two Clubs from each of the remaining Step 4 Leagues. Draws shall be conducted for each Step 3 and 4 League to determine which Clubs shall enter the Competition from the Extra Preliminary Round to the First Round Qualifying.
The date for when the draws for the first two rounds and the Rules of each Competition will be available will be confirmed in the notification on Monday 3 August.
FA Cup Extra Preliminary Round: Tuesday, 1st September 2020
FA Cup Preliminary Round: Saturday, 12th September 2020
FA Cup 1st Qualifying Round: Tuesday, 22nd September 2020
FA Trophy 1st Qualifying Round: Saturday, 26th September 2020
FA Trophy 2nd Qualifying Round: Saturday, 17th October 2020
The Yorkshire Post adds some detail, stating that "Some supporters will be allowed to attend games but stadium capacities will be 'significantly reduced from normal levels' and will depend on the design and layout of each ground.
In a letter to clubs, National League chief executive, Mike Tattersall, said 'In terms of crowd numbers, it is likely that ground capacities will be significantly reduced from normal levels. The "socially distanced" capacity for each stadium will vary according to the design, layout and configuration of each ground, and will need to be assessed by each club in compliance with government guidance and in conjunction with their local authority'".
And the Northern Echo adds that "Teams in National League North...will start their season with the FA Cup Second Qualifying Round on October 3. They will play 42 matches over the course of the season, which is due to end on Saturday, May 29, 2021.
As regards Chester FC Cheshire Live reports that "Pre-season friendlies will take place behind closed doors as it stands, with Chester having arranged their schedule with non-league sides away from the Deva Stadium but now likely to have to revise their plans owing to the later start date".
Alfreton Town
"announce the signing of central defender Dwayne Wiley, most previously [recently] at neighbours Matlock Town.
Dwayne, 29, started his playing days at Buxton before playing for Heanor Town and then Mickleover Sports.
Wiley then made the switch to Matlock Town from Mickleover in the summer of the 2016/17 season where Dwayne has made 185 appearances for the Gladiators, scoring eight times.
Dwayne featured 36 times for Matlock last season in all competitions...
Manager Billy Heath said, 'Every time we have played against Matlock, whether it was pre-season or in the Derbyshire Senior Cup, Dwayne [has] always stood out in the games...d I was close to bringing him in last season, he has been on my radar for a while. It's the right timing to bring Dwayne to the club, he has a fantastic left foot, he's good aerially.
It's always good to have a left footed centre half; he'll bring balance to the back-line. He's a strong character and has plenty of experience and quality that he will bring to the team'".
And NL Daily adds that "Alfreton Town have brought Dan Bradley to the Impact Arena.
The midfielder, who played for the Reds for four seasons from the 2011/12 campaign, re-joins following spells at AFC Fylde and Kidderminster Harriers. Bradley scored 18 league goals as Fylde claimed the National League North title in the 2016/17 campaign.
Manager Billy Heath said 'It is such a great signing for us to get Dan back at the Impact Arena. I tried to sign him before when I was at Halifax. He is an experienced player and will be a big part of the squad. Dan is a top, top player at National League level and we are hoping for big things.
'The main thing for us was that he wanted to come back and he returns to us for all the right reasons.'"
At Guiseley, the Lions "announce that our captain Hamza Bencherif has signed a new contract with the club and will lead the re-vamped side in the new season."
At Brackley Town "There is obviously disappointment at not progressing to the next round of play-offs following last weekend's game against Gateshead. The game could not have been closer, Shane Byrne's wonder goal levelling before only a penalty shoot-out of 16 shots could separate the sides on the day.
The planning and organisation of the game was enormous with weekly testing for players and coaching/medical staff and elaborate protocol to ensure that the behind-closed-doors match ran smoothly...
Missing out in the play-offs for a third successive season and twice in consecutive seasons on penalties here at St James Park is hard. But we must remember the great consistency over those three seasons in achieving top four finishes to get into the play-offs. The players gave their all in straitened circumstances and, again, were one penalty kick away from the win...
It has been announced that... pre-season friendly games can begin from 1 August...
After the mini-pre-season Kevin put together ahead of the Gateshead Eliminator, he will weigh up how to schedule further pre-season training".
---
28 July 2020
Boston United
are producing a matchday programme for the play-off final clash with Altrincham on Saturday. The Pilgrims state "Fresh from the success of play-off semi-final programmes, Boston United have confirmed their intentions for Saturday's promotion final.
The official matchday programme for the match will be produced by the National League but the Pilgrims will also be producing a commemorative brochure to say farewell to York Street, with Saturday's match now certain to be the last-ever played at the iconic venue.
To order a bundle including official matchday programme, commemorative brochure and postage, please click here, (priced £10)".
On Saturday Alty face Boston United at York Street in what is being described as the stadium's last-ever match. This, presumably, means that Boston expect that their new stadium will be certificated shortly, though that normally requires test events attended by sizable numbers of spectators, which could be problematic in the present climate.
The Daily Mail reports that "Away from the cash-rich Premier League, play-off football is back in the LOWEST [sic] tier of English football to restart the season.
Boston United beat Gateshead 5-3 on Saturday to reach the play-off final in National League North - the sixth tier of English football. But even getting the game on at all was an achievement for clubs at this level. With no matchday income since March, Boston faced a bill approaching £70k. All their players were furloughed and their regular training base out of action.
Their York Street ground had been stripped bare ahead of a stadium move, yet with help from fan fundraising, they returned to action and could yet go up.
It was when the 68-page booklet bulging with rules and regulations dropped that the Covid challenge really hit home at Boston United. It wasn't just the twice-weekly swabbing of throats and nostrils for players and staff, but the constant sterilisation of balls and goalposts, the stadium red zones and the vice-chairman adding Covid Officer to his job title. And so much more besides...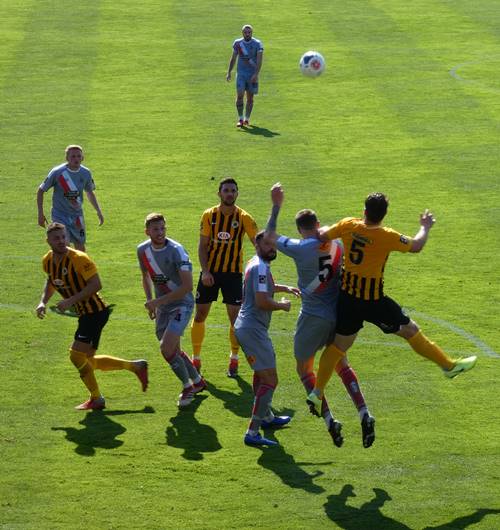 Right, we see action from Altrincham's visit to York Street in August, which ended in a 5-0 trouncing. However, the previous season, Alty had won 2-1 at Boston.
The stadium had been made Covid-secure to allow these sixth-tier play-off games to go ahead. The goalposts had to be disinfected before the game and at half-time to comply with the rules. But in English football's sixth tier, where financial situations are perilous at the best of times, it really did present one hell of a logistical challenge.
Boston estimate it will cost them somewhere between £30,000 and £70,000 to complete their season and no matchday revenue has been coming in since February...
It was all the more poignant for the Pilgrims because they had been due to bid farewell to their York Street home, a glorious throwback of a non-league ground with plenty of idiosyncrasies. Football in this sleepy Lincolnshire market town has always been played on this rectangle of grass, ever since the late 19th-century, but the time had come to move on to a gleaming new stadium of glass and steel on the outskirts of town...
The site is already listed as up for sale to developers on Rightmove and quite a few of the fixtures, fittings and furniture had already been auctioned off to souvenir-seeking fans for an eBay fundraiser.
When the play-off schedule was finally announced, the club even had to extend their lease to avoid ceding home advantage. 'The only thing that has been left is the CCTV and the PA system,' said Boston chairman David Newton. 'Everything else is gone and we're running a match. It is bizarre, absolutely bizarre. I was actually down at the new stadium this morning checking some dimensions for something'...
In the end, manager Craig Elliott and his staff assembled a squad of 20 to try and win the two games required to get Boston back into the National League. There was then the issue of the club's usual training base, the Keepmoat Stadium at Doncaster, being very much locked down and, well, locked up. This somewhat left-field training base is explained by Boston's isolated location...
With few homegrown heroes nowadays, this ex-League outfit... has a squad of players based in locations dotted around Yorkshire and beyond. So Doncaster is the most convenient meeting point for twice-weekly training and a new base was found seven miles from the Keepmoat..
The Deputy Chief Medical Officer for England who played a key role in sport's safe return, is a Boston fan...
'I'm proud of the other teams in the league because we didn't roll over and accept that we couldn't play the play-offs and one team [King's Lynn] went up,' added Newton...
Manager Elliott said: 'It's tough, horrendous at times in terms of the training programmes and what you have to do. It's difficult for everyone involved but the players have been fantastic'...
Altrincham won 2-0 at York in the other semi-final and will come to York Street on Saturday for what really will be the ground's final hurrah".
And the Boston Standard adds that "Craig Elliott has praised the battling qualities of Jake Wright after the striker helped Boston United book their place in the National League North play-off final.
'I had to play him, he's been the best trainer by a mile,' Elliott said of the energetic forward, who has missed large chunks of the campaign due to injury. 'He knows he's had a disappointing season but I've never lost faith in him. I know what he can do. I talked to him about unsettling Williamson as much as he could do, and I thought he did that.
'He (Williamson) [is] an ex-Premier league player who's been doing very well, and he didn't want to mark Jake because Jake is just a handful'...
Elliott added 'Gateshead are a good team, a full-time team, and they pass the ball really well. Our lads are training, going to work full time. I've absolutely hammered them at training this month, like a full-time outfit... At the end you couldn't tell who the full-time team was.'"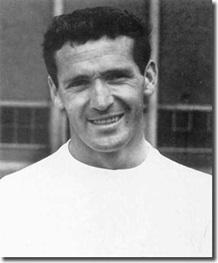 Number 99 in Terry Rowley's
Alty Legends
series is now online. It profiles Don Weston [right], who played in the Football League as well as for Altrincham.
I am grateful to Keith Jones for news of two former Altrincham Youth and Reserve players; Callum Jones (centre-midfield) and Matty Cooke (right-back) have recently signed for Northwich Victoria from West Didsbury and Chorlton.
Following on from yesterday's chronicle of the ups and downs on and off the field experienced by Altrincham in no fewer than 19 of the last 24 seasons, Terry Rowley has pointed out that although before 1997, as stated, Altrincham were never relegated in more than a century, there were two occasions when Altrincham had to apply for re-election in that period, though they were never actually relegated before 1997, "because there was nowhere to relegate them to".
Terry explains that in the club's "debut season, (1893/94), playing as Broadheath before their name change to Altrincham, they ended in bottom place but were re-elected and, again, in 1929-30 Altrincham finished bottom and had to apply once more for re-election.
The whole existence of this club has been up and down, from the heights of trophy winning sides, to the near abyss of bankruptcy, (pre-WW1, late 1930s, early 1960s) before further financial problems in more recent times following John Maunders's departure and following the 2000 relegation under the Gerry Berman period of chairmanship.
Altrincham's four periods of relative success were 1904-1908, 1934-1937, 1965-1971 and 1978-1986 since when the club has been up and down, with the occasional highlight like 1990/91 when promotion to the Football League was almost achieved.
Up until relegation at the end of 1996/97, Altrincham had always played at the highest level available to them".
Two years ago, today, on 28 July 2018, Altrincham hosted Salford City in a pre-season friendly match which The Ammies won 2-1.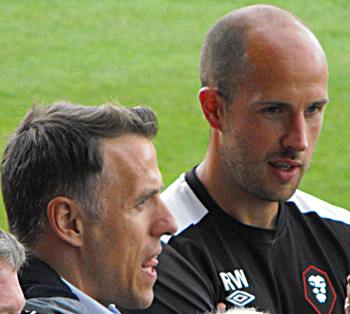 Right: As well as joint-owner Phil Neville, Salford City were also represented by former Alty defender Robbie Williams who had joined The Ammies' coaching staff.
Altrincham were the better side for substantial periods of the game but succumbed to a headed own goal by James Jones 12 minutes from time. The Ammies had taken the lead just before the interval when Alty allowed their concentration to lapse immediately after a long injury stoppage; who scored was, at the time, a mystery to any non-City fans as the visitors had fielded all their players in unnumbered shirts. The scorer was later identified as Rory Gaffney.
Alty levelled the score a couple of minutes after the break. Josh Hancock's excellent shot was pushed onto the post by the keeper who was challenged by Jordan Hulme as he went to re-gather the ball and the Alty striker netted against his former team.
Both sides had omitted several of their established players from their squads, with the injured Densmore, Poole, Peers and Hannigan the most notable home absentees. New loan signing Brendon Daniels made his debut and trialists Downing, Bannister and Wynne all came on during the second half. With neither Carl Piergianni nor Jack Redshaw in the Salford squad, Alty supporters were unable to watch two men who had previously played for their club.
ALTRINCHAM: 1. Tony Thompson, 2. Andy White, 3. Connor Hampson, 4. James Jones, 5. Liam Goulding, 6. Jake Moult (c), 7. John Johnston, 8. Max Harrop, 9. Jordan Hulme, 10. Josh Hancock, 11. Brendon Daniels. Subs: 12. Sean Williams, 14. Simon Richman, 15. Ben Harrison, 16. Bay Downing, 17. Lloyd Bannister, 20. Elliot Wynne.
In the
Northants Telegraph
, "Paul Cox has confirmed Kettering Town have spoken to experienced striker Craig Mackail-Smith about a potential move to Latimer Park.
Fans who went to watch the new-look Poppies squad take part in an open training session on Saturday may well have seen former Peterborough United and Brighton & Hove Albion frontman at the ground along with his father-in-law, Peterborough Director of Football, Barry Fry. Since then, there has been speculation as to whether the Poppies may be trying to sign the 36-year-old who was released by Wycombe Wanderers at the end of last season...
'I prefer being up front and honest and people aren't daft, they will have seen Barry and Craig there on Saturday,' the Poppies' manager said. 'We have spoken to Craig but he is speaking to a number of teams still. On the flip side, we are speaking to a lot of other good players as well. For us to be successful, it's not about signing every player who is coming out of the Football League.
'I don't believe in that because... it doesn't mean they have the desire and application to be successful at a club at our level... And, more importantly, it has to come in our wage bill. I am not going to break the bank for anybody. We have done really good business so far and we have tried to utilise the money that has been freed up by players leaving.
'I think we have got excellent value money so far and I have just tried to be shrewd and, in turn, it has given us a bit of leeway in the budget moving forward from now.'"
Indeed, as previously reported here, the NL Daily confirms that "Kettering Town have announced seven new signings for next season. Paul Cox has secured the services of Shaun Rowley, Lorne Bickley, Ryan Fryatt, Adam Collin, Ryan Holland, Dan Holman and Josh Oyinsan".
In the Shropshire Star we read that Gavin Cown, "believes the Bucks' reputation has been enhanced under his management with the factor of the New Buck's Head stadium, with a now state-of-the-art pitch, and top-level training facilities at Lilleshall, a big pull.
Telford are not believed to be operating in the top bracket of National North budgets... Cowan still believes the security offered to part-time players has allowed the Bucks to swoop for additions who have enjoyed careers at higher levels.
'There's going to be a lot of players out there who are maybe biding their time and I wouldn't advise it,' Cowan explained. 'There's going to be so many players available in the current climate and they'll probably be chasing things they're not going to get. We've capitalised on that with the signings we've made. These lads have got their heads screwed on.
'They want to be at a club that's secure in what we do, since I've taken charge we've got a good reputation of looking after people and looking after the percentages. We've got a brilliant environment, great training facilities with a beautiful ground, if you can get it jumping then we can start to fill it.'
Cowan is running the rule over trialists as pre-season training steps up in the next week or so. The Bucks boss still wants to add to his six summer recruits so far, with particular focus on the forward line. Forward Jack Storer and midfielder Henry Cowans are likely to pen deals.
But having completed the majority of his business over a month ago, Cowan insists he is relaxed about getting his final moves over the line".
The Eastern Daily Press reports that "Ian Culverhouse turned the clock back six months to illustrate just what life in the National League is going to be like for King's Lynn Town.
'It is like playing York every week,' was the manager's way of describing the challenges ahead. York were beaten at The Walks in front of more than 4,000 fans. The season ended with York two points ahead of Lynn who had two games in hand but, on points per game, finished top, and champions. A simple extrapolation is if York had won in Norfolk, the story might have been very different.
Culverhouse is still looking for two more outfield players to complete his squad: a central defender and a midfielder. But the addition of Jamar Loza suggests a nod to the tinkering in formations and tactics on which this manager thrives...
'I think we will handle the ball still, I really do,' he said. 'We are going to add a lot of pace to the team. We have a very good player coming to us with Jamar, Browny (Alex Brown) as well will add something different; he is a really hungry player who wants to develop his career, and young Tai (Fleming) coming in as well, looking at the development side as well'....
One of the most intriguing moves was to bring in young Norwich City goalkeeper Archie Mair, who will provide Alex Street with a rival for the first time in a while...
Said Culverhouse 'We need competition in all areas and they will push each other and that is what we need. We can't have anyone being complacent... At the moment we have 17 outfielders so we are on the lookout for a few more. We have got our targets and we are in dialogue with them... I think we are still a defender short so we will look to that area there and obviously another midfielder as well'...
Culverhouse has asked his players to add a third contact training session a week to their workload to close the gap between part- and full-time, but the odds against Lynn will probably be much the same as they were when Culverhouse was putting his squad through their pre-season paces a year ago...
'We are going into a professional league, and being a part-time team we are really up against it, but we are really looking forward to the challenge,' added Culverhouse... 'It's exactly the same [as last summer]; you might as well rewind it. It is going to be tough. It is like playing York every week. It is a professional league, League Three, it is going to be really, really hard. We are behind the curve ball already because we are staying part time.
'It is something that if we can survive, we can look into, about growing this football club again, but we have to take one step at a time and the main thing is to just stay in this league and grow. I know (owner) Stephen (Cleeve) has big plans for this football club but you have to take small steps at times and I think we have surpassed everyone's expectations. Now we have to take stock a little bit.
'We are not going to be frightened of it... we are going to attack it. We will play our way, we will get beaten along the way, but if everyone stays together we will give this a right good shot.'"
BBC Sport
states that "Bury are likely to find out later this week whether they will be allowed into the National League system next season.
Representatives from the club have been in discussions with the Football Association (FA) for a number of weeks. Bury were expelled by the English Football League (EFL) in August 2019 following ongoing financial problems. Information has been requested so the FA can be certain the Shakers meet the criteria required for entry into the competition.
Only when that has been received will a decision be taken about where Bury should be placed.
Although the National League is still to confirm a start date for the 2020-21 season, it is now less than seven weeks until 12 September, when the Premier League and EFL being their new campaigns... There is a vacancy within the system because two teams, Barrow and either Harrogate or Notts County, will be promoted, with only one, Stevenage or Macclesfield, dependent on the EFL appeal into the latter club's most recent points deduction, coming down...
However, with two northern clubs, Chorley and Fylde, definitely going down, plus Ebbsfleet, the vacancy is likely to be in National League South, unless either Gloucester City or Brackley Town are moved from the Northern Division to the South. There is an issue over whether it would be fair to move teams into different leagues at such short notice.
The situation around Bury is unusual in that the senior club are [sic] still in operation at the same time as a phoenix club launched around their expulsion has been granted entry into the North West Counties League next season.".
According to the
Derbyshire Times
, "Discussions are being held about introducing a salary cap in the National League, it is understood.
A figure of £900,000 for the National League and £700,000 for the National League North/South divisions has been suggested, but the final totals are yet to be confirmed. It is hoped these figures are high enough to tempt clubs to vote in favour and representatives from around a dozen teams are looking at ways at how it might work. Chesterfield had a seven-figure wage bill last season but it will be considerably reduced for the upcoming campaign. John Pemberton will have to work with a smaller budget at the Spireites this season...
The proposal will be submitted to the National League board this week. The group is considering how parachute payments for clubs relegated from the Football League would fit into the salary cap...
The group believe this is the right time to introduce a salary cap with Championship, League One and League Two clubs also discussing options... PFA chairman Gordon Taylor, said 'Clearly, we don't want to see clubs go bust and we don't want to see another Bury happen. Wages need to be at a sustainable level, we know what can be sustained and what can't be and there are lessons to be learned from Bury and other cases.
'But when we're talking about caps for each division, it moves matters to the lowest common denominator and that's not fair on those innovative, well-managed clubs who are prepared to have a go within their means.' Taylor also warned that restrictions would serve as a deterrent to future investors, adding 'There are potential owners out there who want to invest in clubs because football still has that attraction. That needs to remain an option. You don't want to find people who have been successful in business feeling deterred by such restrictions.'"
---
27 July 2020
John Edwards, press and media officer at
Altrincham FC
interviewed manager Phil Parkinson after the victory at York. Amongst much else, Phil said "It's a great result, and it was a great performance to achieve it. You always need an element of luck, and York should have scored in the opening couple of minutes and also in the opening minutes of the second half.
Equally, you could say we should have scored lots more than we did, but it certainly wasn't an Alty-dominated game. It was an end-to-end game in which our counter-attacking football was outstanding and our front three were superb.
On top of that, we defended resolutely, and when you look at someone like Toby Mullarkey [right], that reflects so well on him. He has come into the team and done exactly what we expected of him. Everyone has been looking at me and asking me what I'm going to do, now James Jones has left. Well, we believed in Toby, and he has paid us back today, because he was up against some top forwards and has come through with flying colours. He really stepped up to the plate.
I'd also say Tony Thompson was an absolute colossus in goal today. Some of the hits he took were incredible but he just kept bouncing back up and performing brilliantly. He took hits from their players and even ours, but it didn't make any difference. I thought he was actually knocked out at one point, but he just got up and got on with it.
They call him the silverback, and he has just shown why. He is built so well, and he does everything for us, in terms of his distribution and everything else. I can't speak highly enough of Tommo. I can't sing his praises highly enough today...
Competition is so important. At the end of the day, Drenchy comes in, and Tommo can either shrink or step up to the plate, and he has stepped up to the plate. He has done exceptionally well. The biggest thing for me is Tony wants to be here. He wants to play for Altrincham. He absolutely adores the place. Every now and then, he's had a bit of stick, unjustifiably in my view. But I'll tell you what, he has rammed it down everyone's throat with what he has done this season, and last season as well, because he has shown what a top keeper he is at this level.
Dan Mooney has been a breath of fresh air after lockdown, and some of the stuff he has done shows exactly why we brought him to the club. We went the extra mile to do that, and I think he is going to be a massive player for Alty...
Connor [Hampson, left] looked really fresh, didn't he? Even at the end of the game, he was surging past their wing-back. He made him look like he was treading water at times...
[Tom Peers] does like scoring goals here. His last finish here was outstanding, a great touch and unstoppable shot into the top corner...
'In terms of their ability to cross the ball into the box, David Ferguson, on the left, is absolutely brilliant at that. He was the reason they beat us at our place, and I thought he was going to do it again with some of his delivery in the first half. We were even contemplating changing our shape. We don't normally do that, but he was that good... I thought Andy White ate him up in the second half.
'I thought Jordan [Hulme]... made three top centre-halves, in McNulty, Newton and Joe Tait, look ordinary at times...
'Boston are the most improved team this year. Compared to last year, the recruitment they have done, particularly lads coming in from Harrogate, has improved them no end, and of course we owe them one after they gave us a roasting at their place earlier this season. I think that is when we were at our weakest; in fact, that game was probably the turning point for our season...
'We have now got a fantastic opportunity next Saturday that we want to exploit. We will be giving it our best'".
In the
Yorkshire Post
"Not being sharp enough in front of goal was, according to York City manager Steve Watson, the reason his team even had to go through the Conference North play-offs, never mind why they lost their semi-final at home to Altrincham, but he was keen to spread the blame around.
The Minstermen scored fewer goals in the regular season than points-per-game champions King's Lynn Town and Saturday's visitors Altrincham, as well as having the poorest goal difference of the top three despite winning most points before the coronavirus brought matters to a halt.
They outplayed [sic] their visitors at Bootham Crescent on Saturday, but wayward finishing condemned them to a 2-0 semi-final defeat.
'We did a lot right today,' commented former Sheffield Wednesday full-back Watson at full-time. 'But that kind of sums up the reason why we didn't win the league... we simply haven't scored enough goals...
'It's a bitter pill to swallow and there wasn't a great deal between the teams'....
Altrincham conceded very few clear-cut chances, but took two, Josh Hancock capitalising on some defensive indecision to open the scoring inside ten minutes, and substitute Thomas Peers putting the result beyond doubt when Jordan Hulme's effort bounced off the crossbar to him.
At the other end, Alex Kempster missed an early chance, 15-goal top-scorer Jordan Burrow missed four decent opportunities, Adam Buxton dragged a shot wide, Paddy McLaughlin hit one against a defender, Griffiths had a half-volley saved, substitute Dan Maguire was off target with a header and Sean Newton hit the crossbar, although it looked more like a mishit cross than a shot .
'There were many chances, many balls across the goal, but not many clean shots taken,' reflected Watson. 'I thought they had one entry into our box in first half and they scored the goal. That sounds simplistic. It was certainly nothing to do with effort, fitness or anything like that, we just needed to be more clinical and it just didn't happen.
'Scoring goals is why people win leagues. We've been strong enough and played a good shape throughout the season, taking away the odd game like Hereford at home and Boston away our defensive record as a team will stand up to anything in the country, probably, but that's the reason why we haven't gone up automatically. We just haven't scored enough goals from all areas'...
'We weren't pulled apart, it was just the bobbles went their way and it was good feet from Hulme at the end but it came off the bar straight to somebody and that just didn't happen for us,' he said. 'But I'm not somebody who makes a lot of excuses, we weren't good enough in front of goal and that's why we didn't win the game.'"
If you are a current Altrincham supporter, you have rarely experienced a mundane season of mid-table mediocrity and the current campaign is no exception. But it wasn't always like this. For more than a century of its existence, Altrincham FC suffered no relegation and their only "promotions" arose when leagues were reorganised, such as when the Northern Premier League and Football Alliance (Conference) were set up.
But, including the club's first-ever relegation in 1997, from the Football Conference to the Northern Premier League, (from what is now Step One to Step Two of the Pyramid) and the following 23 seasons, a remarkable nineteen campaigns out of 24 have involved Altrincham having either...
Been promoted - 4 occasions (1999, 2005, 2014, 2018)
Qualified for a newly restructured league - 1 occasion (2004)
Been relegated - 5 occasions (1997, 2000, 2011, 2016, 2017)
Been reprieved from Relegation - 3 occasions (2006, 2007, 2008)
Reached play-offs but not promoted - 2 occasions(2013, 2019)
None of above but experienced a manager departing or being sacked - 3 occasions (2001, 2002, 2010)
Been involved in incomplete play-offs - 1 occasion (2020)
If this current season is included, that is nineteen seasons out of twenty-four league campaigns which have experienced major uncertainty about the conclusion of a campaign or/and about the prospects for the following season.
Alty travel to Boston United next Saturday for the promotion play-off final.
From the Boston Standard we learn that "Boston United chairman David Newton wasn't running short on superlatives after his side booked their place in the National League North play-off final with a 5-3 win over Gateshead yesterday...
The very last Pilgrims match in the stadium they've called home since 1933 with be Saturday's final against Altrincham....
'We all wanted to leave this stadium on a high and we've got an opportunity now,' he said... 'They're a really, really good bunch of guys, honest guys. They were asked to give everything and that's what they did. We'll do the same next week and we see where that takes us. It all comes back to siting down with the players and explaining what the club means to everybody and the history and that we've got to make history ourselves this season.
'You don't need the best strikers or best defenders, you need the best team. We've got the best team and the best squad, I think.'
Having seen his side beaten in play-off semis by Guiseley, Chorley and North Ferriby, Newton admitted he wasn't fully relaxed until the final whistle...
'I thought the lads were outstanding to come back from a goal behind... But I just thought the character they showed, they worked themselves into the ground, I'm just so proud of them... There was a little bit of luck but I just think it's what they deserved, they've been outstanding all season'".
Also from the Boston Standard we learn that manager "Craig Elliott had told his Boston United squad to enjoy the moment... The Pilgrims delivered when it truly mattered to set up a mouthwatering final against Altrincham next Saturday, the final ever game at York Street.
'I'm not going to play it down. Embrace it,' Elliott told his squad... 'That last game's probably the biggest game in a long while'...
The game [v Gateshead] was flipped on its head with two Thewlis penalties... 'The first one was a definite penalty for me,' Elliott added. 'I'm not sure about the second one as I thought it was for pulling Jay Rollins. You need refereeing decisions to go for you in big games and it's nice to be on the right end of them'".
And, again from the Boston Standard we learn that "Matt Challoner is gunning for back-to-back play-off promotions, after finally making his Boston United debut. The defender signed for the Pilgrims in March after leaving National League Chorley but after one training session the season was suspended due to the COVID-19 pandemic.
' 'Everything literally stopped. I thought that was that, my shortest ever spell at a club,' said Challoner. 'It was crazy, I thought it was finished and then I got the call off the gaffer asking if I wanted to play. You don't turn down playing in the play-offs and I was delighted'.
After helping the Magpies defeat Spennymoor in last season's National League North play-off final the right back is hoping for a repeat the following season... The defender was so convinced the season was over he has already been unveiled as a Southport player for next season.
But he says his focus is currently on the Pilgrims... 'I'm fully committed, there's no better feeling than getting promoted'".
According to the
Boston Standard
"Gateshead manager Mike Williamson described his side's play-off semi-final defeat at Boston United as 'a bitter pill to swallow'.
In a measured interview, the Heed player-manager, who conceded two first-half penalties, questioned referee Robert Massey-Ellis's performance but vowed his side would come back stronger next season.
'I don't think words can describe [it] really, we're gutted, deflated, frustrated, angry. And that's the nature of the industry,' the former Newcastle United defender told Gateshead FC's official YouTube channel... 'It feels like the best footballing team lost today... I feel as though the referee didn't really have a handle on the game from minute one. I thought we were the better footballing team and it changed the game,' he added.
'The second penalty, I was getting my shirt pulled so I reacted to it. The most experienced person on the pitch he lost his cool... We feel as though we've been hard done by but instantly it fuels a fire to make sure that we do everything we can next season to get this football club back to where it belongs...For me it's about making sure my energy and focus in on picking the lads up'".
According to the National League "Ten goals flew in between the two National League North semi-finals this afternoon...
Boston just about toppled Gateshead after a goal fest on the Lincolnshire coast. Greg Olley's whipped free kick was glanced in by the head of JJ O'Donnell after 19 minutes to give the Heed the lead.
Boston were level when Jake White was adjudged to have been tripped in the box and Jordan Thewlis put away the resulting penalty, his 17th goal of the season. Thewlis then had the Pilgrims ahead three minutes before the break when he tucked home another penalty despite Brad James going the right way.
Heed's Alex Nicholson sparked a goal glut after the break, converting a penalty within six minutes of the restart.
But Jay Rollins edged the home side ahead once more, his low curling effort just after the hour mark doing the job. A brace from [York loanee] Jake Wright then had the Pilgrims flying...
There was just enough time for Gateshead to reduce the deficit, Ruari Keating nodding home with six minutes left but it was Boston who held on and will face Altrincham in the final in a week's time.
Not many sides have consistently had the better of York City this season but Altrincham certainly have.
Alty have now won three out of three meetings between the pair at Bootham Crescent this season alone, with Tom Peers netting in every game. Josh Hancock opening the scoring inside ten minutes when he pounced on Adam Buxton's missed interception, sliding the ball home over Peter Jameson.
Peers then did what he's used to doing against the Minstermen now and wrapped things up on 77 minutes, nodding home [er, no he didn't, he used his foot] the rebound off the bar; cue a semi-acrobatic celebration from the substitute."
Should Altrincham not win promotion back to the top flight of non-League football next week, they will face AFC Fylde once again, as the Coasters were relegated this summer from the National League.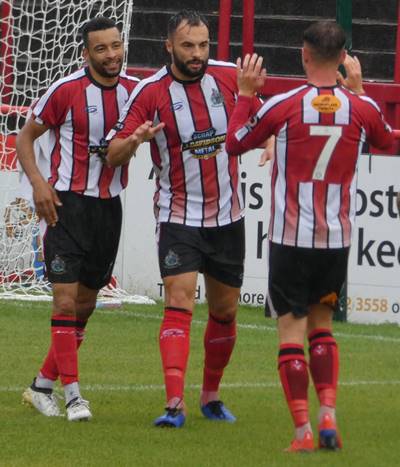 Left: Three players no longer at the club celebrate Nathan Arnold's goal against Fylde; (l. to r.) Nathan Arnold, Conor Branson and John Johnston
A year ago today, in a pre-season game, Alty hosted AFC Fylde, which The Robins won 3-1.
One goal in 74 competitive appearances was midfielder Sean Williams's tally in an Alty shirt but he struck home two superb freekicks against AFC Fylde in this friendly, played at a sodden J. Davidson Stadium.
Before his goals, Sean's tenth-minute tackle had brought him a booking and prompted a melee. But the game settled down and a finely worked goal saw Altrincham take the lead in the 27th minute, when Nathan Arnold's well-placed shot beat Fylde's new keeper Montgomery.
The goal came after ex-Coaster Tom Hannigan had started a move which, via Conor Branson and John Johnston, was completed impressively by the former Grimsby and Lincoln winger.
A foul on Simon Richman, who was having a fine game till injury was to curtail his game in the second half, gave Alty a freekick six minutes before the interval. From the "D" of the Fylde box, Williams's low freekick found the corner of the net to double the home side's lead.
AFC Fylde had the better of the second half, winning no fewer than eleven corners. But they only managed to convert one of the flag-kicks. That came when the ball came out to an unmarked Danny Rowe whose low shot beat Drench in the 53rd minute.
Fifteen minutes from time, a foul on James Jones, again in the Fylde "D", saw Williams smite another fine freekick into the net, this time off the keeper's left-hand post to make it 3-1.
Alty included ex-Coasters' players Hannigan, Thompson and Walters in their squad. And Fylde's Ashley Hemmings, not in today's squad, was greeted by many of his former team-mates from Alty, where he had enjoyed a loan spell the previous season.
Hemmings and a number of other Fylde players were not used today, having apparently played in an unpublicised friendly the previous day.
Alty were without Max Harrop (hamstring problem), so Sean Williams moved from his customary midfield position to play at no.10. Trialist Lewis Walters returned after missing last Tuesday's game whilst trialing at Brentford.
ALTRINCHAM 1. Steven DRENCH, 2. Andy WHITE, 3. Connor HAMPSON (c), 4. James JONES, 5. Tom HANNIGAN, 6. Conor BRANSON, 7. John JOHNSTON, 8. Simon RICHMAN, 9. Jordan HULME, 10. Sean WILLIAMS, 11. Nathan ARNOLD. Subs: 12. Shaun DENSMORE, 14. Josh HANCOCK, 15. Matt CHADWICK, 16. Toby MULLARKEY, 17. Tom PEERS, 18. Lewis WALTERS, 20. Tony THOMPSON.
AFC Fylde had thumped Alty 6-0 on their previous visit to Moss Lane and, since then, had gone on to reach the play-off final for a place in League Two. They arrived as holders of the FA Trophy.
Terry Rowley's latest profile in the
Alty Legends
series is 1960s' winger Frank Twist.
The
Northern Premier League
reports "Player movements registered with the Northern Premier League from Tuesday 21st July to 11am on Friday 24th July", which include Theo Bailey-Jones from Stafford Rangers to Hyde United.
Chorley
"have signed 18-year-old Leo Roberts. Left-back Roberts has moved to Victory Park from National League North rivals AFC Fylde.
He spent 2019/20 on a dual-registration deal with Witton Albion and will head straight into first-team training ahead of the anticipated start of pre-season games next month.
He told Chorley's website 'I'm impressed with the set-up, the manager and the squad that's being assembled'".
From the Hereford Times we learn that "Hereford FC manager Josh Gowling says that his retained list from last season has now been finalised with seven of last season's squad re-signed; Brandon Hall, Lenell John-Lewis, Tom Owen-Evans, Jared Hodgkiss, Ben Pollock, Kyle Finn and Demetri Brown have all been retained by the Bulls.
Added to the list are new signings Dan Jones, Paul White and Yan Klukowski. The rest of the players have been released.
Those released include Jordan Cullinane-Liburd, Kieran Thomas, Jason Pope, Tommy O'Sullivan, Rowan Liburd, Brad Ash, Martin Riley and Rhys Davies.
Gowling said... 'We wanted Kelsey (Mooney) to stay here and develop, I think someone of his age if he goes into a Football League club now and it doesn't work where does he go from there? From my point of view he would have been better off staying with us until possibly January scoring loads of goals and then it might have been different. I'm disappointed he has gone, but at the end of the day everybody has got aspirations of getting into the league and hats off to him, he's had an offer and couldn't turn that down.
'Jagger-Cane, we had agreed something and then it took too long to get done, so I decided to move on from that. For me the lads I sign need to want to be at the football club, they want to be here. Jagger-Cane is a fantastic character, the lads loved him. An offer was made, it was accepted and then took too long to get done. That's enough for me, I've moved on from it. The rest of the lads [?released, it was] through the training times and where we're training, that sort of stuff, it just didn't fit.
'We're looking to bring in some fresh faces, young and hungry. Also some experience to push us forward and kick on from last year.'"
According to Gloucestershire Live "Driving down Sudmeadow Road and turning left into Meadow Park I felt a bit confused, everything was there but not where I remembered it.
The clubhouse has sunk, the pitch is much higher and everything is much bigger and taller than before but it is still Meadow Park, albeit a different one.
In the 13 years since Gloucester City have been in exile the club has survived through the year[s] at Forest Green Rovers, the fond memories of Cirencester Town where the club won promotion to what was then the Blue Square North, the years at Cheltenham Town, a groundshare nobody thought would ever happen, and the final period out of the county in Evesham.
From the depths of despair when it looked like the club might not continue, a new future has risen. In Co-chairman Alex Petheram, City have a man who not only knows a building site like the back of his hand (he runs and owns Soldi) but has the drive to make the dream of a new ground reality.
I was lucky enough to get a tour of the site earlier this week and left feeling almost emotional. 13 years to the day that the famous picture of the flood waters lapping the crossbar was taken, Mr Petheram showed me the new ground. The pitch almost down, the stands ready for fans and the whole site a hive of activity.
In just a few weeks it will be done...
Like many I am a lapsed fan, the travel time to Evesham put me off going for a while. From September (or October depending on when fans are allowed back) the club will be within walking distance... The return of Gloucester's football club to its rightful home feels like order is about to be restored".
At Kettering Town "Young goalkeeper Shaun Rowley has joined the Poppies from Solihull Moors. He has also played for Shrewsbury Town, Chorley, FC Halifax and Tamworth."
Meanwhile, the Telegraph & Argus reports that "Mark Bower is pleased by the impact Avenue director of football Martin Knight has made since arriving at Horsfall. The 50-year-old, who has more than 25 years of experience in optimising the commercial performance of retail businesses, joined in April.
Since then, he has helped bring players in, reformed the academy and outlined lofty ambitions for the future...
Bower believes... 'He has been really good. He has come in an[d] shaken a few things up. It is what it needed, an overhaul and someone controlling things on a consistent basis... As a manager, we all want more money, but to know where you stand and to be left to get on with your job is exactly what you want. That is what Martin's arrival has given us'...
After recruiting well, Bower thinks relegation will not be on the cards come the end of the 2020/21 campaign. He added 'It is difficult, we don't know what we are going to come up against. We need to get some points on the board and look solid. Last season, we finished bottom of the league, we have got to make sure our first aim is to stay up as it has been in every season that I have been at the club...
The target is to build a base and do better than last season.'"
---
26 July, 2020
Following yesterday's game at York, Phil Parkinson told the
Non-League Paper
, "To come here and get the result is colossal. In terms of the size of the town, the budget we have and our part-time status, we're probably the smallest team in the play-offs.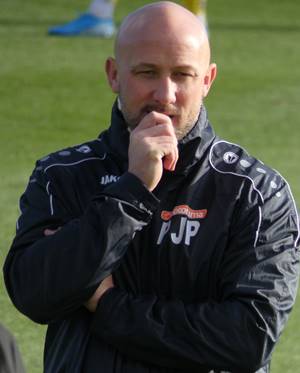 Right: When Phil Parkinson visited York in November in the FA Cup he looked thoughtful. Yesterday he could relax after a third win at Bootham Crescent this season.
"So, to be able to do what we've done against Chester and York is a great achievement. Now we've got to exploit this opportunity in one final game".
The Altrincham boss added, "As well as we play the brand of football we do, these lads die for each other on the pitch and that's what fans want to see.
"They showed that again here and they can go home today and be very proud"
Meanwhile, opposite number Steve Watson said, "It's a bitter pill but I'm not going to make excuses. We didn't take our chances and that sums up why we didn't win the league, even before PPG came into play...
"As a group, we haven't made enough of the balls fizzed across by Kallum Griffiths and Shane Ferguson. We haven't capitalised on quality set-pieces.
"We haven't scored enough from midfield. We haven't scored enough goals from wing-back. We've scored from the strikers but could they have got more? Probably. Ultimately, that's why we were in a play off.
"Written on the wall of the dressing room is 'You must score'. You can't win a cup final, which is basically what this was, without scoring a goal".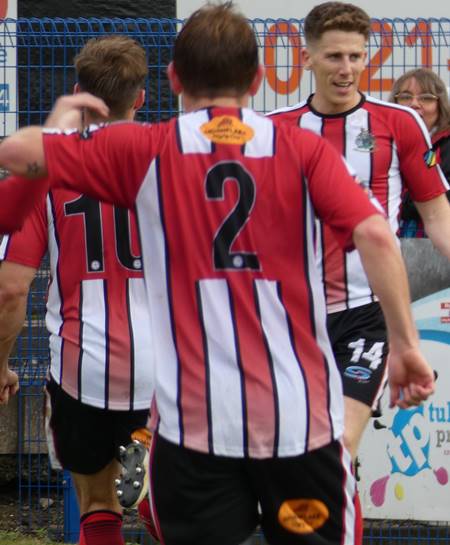 Altrincham advanced into next Saturday's Vanarama National League North play-off final with a deserved 2-0 win at York. In that final, they will travel to Boston United where The Pilgrims defeated Gateshead 5-3 partly thanks to two contentious penalties awarded to them when Gateshead were leading 1-0.
Right: Tom Peers, pictured earlier this season, after scoring at Halesowen.
At York, The Robins took an eighth-minute lead when Josh Hancock's shot looped off keeper Jameson and trickled into the net after good work from Mooney on the right wing. The referee then failed to clamp down on the home side's physicality, allowing the booked McLaughlin to escape a second yellow for felling Lundstram.
But Alty finished the half confidently and led 1-0 at the interval.
York started the second half well, without creating any clear chances.
Despite losing Mooney and White to injuries during the second half, Alty made the game safe with a second goal in the 77th minute. After good work by Connor Hampson, Jordan Hulme headed against the bar and substitute Tom Peers swept in the rebound (77 mins). It was Peers's third goal in three matches at Bootham Crescent this season.
Alty have now ended York City's FA Cup, FA Trophy and promotion runs this season, in each case at Bootham Crescent and in each case without conceding a goal.
Match report here.
The
Yorkshire Post
reports that "For all their romanticism, play-offs can be unforgivably cruel, and the team which was top of Conference North when the coronavirus pandemic brought the season to a halt were denied promotion when they lost their first game back.
Altrincham, not the Minstermen, will get the chance to play for promotion into English football's fifth tier. Steve Watson's men will have to play another season at a level a club of their stature should not.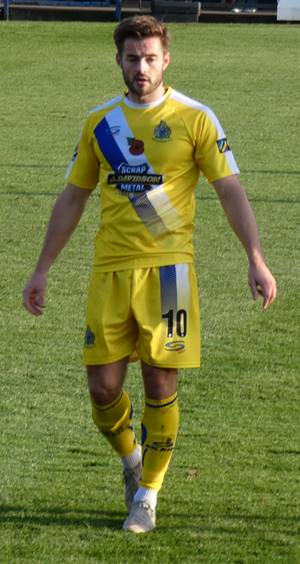 Left: The scorer of the first goal on Saturday, Josh Hancock, pictured here at York in November 2019 during Alty's FA Cup win over The Minstermen
York only have themselves to blame. They created more than enough chances to win the behind-closed-door game, but lost it 2-0.
Unlike Altrincham, who had to come through a quarter-final win over Chester City, York were playing their first football for 20 weeks but they still started well, Alex Kempster heading over after four minutes following a good move down the left started by a cute sideways header by centre-back Steve McNulty.
Despite that, it was the visitors who took the lead, Josh Hancock capitalising on the confusion between Adam Buxton and his goalkeeper Pete Jameson to find the net with a shot which dribbled over the line after taking a touch off the midfielder with nine minutes played.
It did not seem to unduly upset the Minstermen, in special throwback maroon Y-front shirts, who continued to take the initiative, with left wing-back David Ferguson a good outlet for them. Found by a brilliant Paddy McLaughlin pass in the tenth minute, it took a good diving header to cut his cross out. Three times Jordan Burrow got his head on the end of his deliveries, putting one over, seeing a second blocked, then wide at a free-kick early in the second half.
It looked like a cross when Sean Newton clipped the crossbar, but for the man on the left of York's back three to be in that position showed their confidence.
Not that Altrincham just sat back and took it. They played themselves beautifully out of trouble midway through the first half and, although the move broke down around halfway, they quickly won the ball back for Elliott Durrell to cut in fron the left and shoot wide.
Initially referee Scott Tallis was understanding of the fact this was York's return as a couple of hefty challenges went in to noisy complaints from the pitch and the bench. Kallum Griffiths was fortunate not to be cautioned for a high boot. As the game became more niggly, Tallis's patience snapped.
McLaughlin was booked for a late tackle on Daniel Mooney, who was pushing the boundaries with his challenge on Ferguson, often on the wrong end of the rough stuff. Mooney's yellow card just before the break was followed by one seconds after [the break] for Durrell's foul on Griffiths. McNulty was booked for pulling Jordan Hulme's shirt after getting dragged out wide and beaten on the touchline by the centre-forward...
They had a spell where they threatened to add to their lead as the hour-mark approached, Josh Lundstram putting a good chance wide and Hancock ballooning an effort. Generally, though, the play was more towards the empty David Longhurst Stand, which the hosts were attacking... You felt it was not going to be their day.
Thomas Peers, another who had come off the bench, confirmed as much in the 77th minute, sweeping the ball home when Hulme's header fell to him via the crossbar. The game was up for York, who needed Griffiths to clear off the line. The timing of the pandemic has not been kind on them, but it was their fault they did not win their semi-final".
Vanarama National League North Play-Offs: Semi-Finals
Saturday, 25 July
York City (2nd) 0-2 Altrincham (5th)
Boston United (3rd) 5-3 Gateshead (7th)
Vanarama National League South Semi-Finals
Havant & Waterlooville 1-2 Dartford
Weymouth 3-2 Dorking Wanderers
Vanarama National League Semi-Finals
Harrogate Town 1-0 Boreham Wood
Notts County 2-0 Barnet
Vanarama National League North Play-Offs: Final
Saturday, 1 August
Boston United v Altrincham 3pm
Vanarama National League South Play-Offs: Final
Saturday, 1 August
Alty's opponents next Saturday, Boston United were trailing at home to Gateshead before two controversial penalties upended the tie and the Pilgrims went on to win 5-3.
The Boston Standard opined "Very harsh on Gateshead who looked quite the part, but Boston won't care. The two penalties pulled them back into the game and from there the confidence grew. Stunning goals from Jake Wright and Jay Rollins the icing on the cake...
Madness! An eight goal thriller and Boston are into the final, where they will host Altrincham! Jake Wright and Jordan Thewlis grabbed braces and Jay Rollins got a screamer. York Street will have its final game next week".
Four years ago today, on 26 July 2016, a Tuesday night, Altrincham met Crewe Alexandra in a pre-season friendly. As both teams were sponsored by Cheshire company Mornflake, this game was designated as The Mornflake Cup, although there was no actual trophy at stake and the contest did not become a serial fixture!

Above: Alty line up before the game.
Altrincham secured a well-deserved draw, their fourth in five pre-season games that year, against a strong Crewe Alexandra side at the J. Davidson Stadium. The visitors had enjoyed a dominant spell midway through the first half when only a couple of fine stops by goalkeeper Andrew Dawber kept them out. But Alex got the breakthrough in the 32nd minute when Cooper nodded home a Jones ball played into the box.
Having rarely threatened, Alty nevertheless equalised less than four minutes later when James Lawrie's well-taken freekick from 25 yards was firmly headed home by centre-back John Cyrus who arrived, unmarked, towards the back post.
Altrincham boss Neil Young made three changes at the interval and went on to make eight substitutions, in all, during the second half. And it was they who had the better of the latter stages of the game but the score remained 1-1. Alty had originally made just two changes to their starting eleven for this game as Moult and Hattersley came in for Goodall and Joyce. Damian Reeves again captained the side, though Alan Goodall was to assume the armband during the second half.
ALTRINCHAM: 17. Andrew DAWBER, 6. Sam PATTERSON, 15. John CYRUS, 4. Tom HANNIGAN, 3. Callum CHARLTON, 8. Jake MOULT, 11. David LYNCH, 12. Billy HASLER-CREGG, 14. James LAWRIE, 10. Damian REEVES (capt), 28. Danny HATTERSLEY. Subs: 19. Charlie JOYCE, 20. Jamie MENAGH, 21. Craig HOBSON, 22. Sam HEATHCOTE, 24. Simon RICHMAN, 25. Alan GOODALL. 25. Danny HATTERSLEY, 26. Harry CAIN, 28. Simon GARNER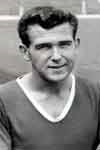 On a weekend dominated by Altrincham's meeting with York City it is appropriate that today's new
Alty Legend
profile from Terry Rowley is of a footballer who played for both clubs and, indeed, became a favourite at Bootham Crescent. The player in question is former Manchester United player, Tommy Heron (right), signed by The Reds in the wake of the Munich Air Disaster in 1958.
Players who have appeared for both York City and Altrincham in more recent times include Steve Bushell, Joe O'Neill and Greg Young.
From the
Halifax Courier
we learn that "FC Halifax Town [have]... announced their retained list...
Among those released by the club... [are] goalkeeper Will Appleyard, defender Jerome Binnom-Williams, midfielder Liam Nolan and striker Jack Redshaw.
Players already under contract or to whom offers of a new deal have been made ... [include] midfielder Jeff King...
Town boss Pete Wild told the club's website... 'Next year I need all my team to "go the extra mile". Therefore an extra day of training is necessary and will be compulsory for all players. It's imperative that I have the whole squad buying into the required changes to ensure we are giving everything we can to the success of the Football Club and to you the supporters. Unfortunately, due to these essential changes, some players are unable to commit fully to the new 20/21 training schedule."
Cheshire Live
reports that "For Simon Grand, heading back into the changing rooms after the final whistle last weekend brought on a wave of emotions.
The 36-year-old Chester FC defender couldn't hold back the tears at Moss Lane on Sunday, defeat in the National League North play-off eliminator against Altrincham ending the Blues' hopes of promotion for another season.
It was a gallant effort by a Chester side reduced to 10 men early in the second half and on the wrong end of some highly questionable decisions from match referee David McNamara, Anthony Johnson and Bernard Morley's men rallying from 3-0 down and a man light to almost pull off the most remarkable of comebacks before falling just short at 3-2... Grand does not know if he will have another go on the merry-go-round just yet.
'There were a lot of tears on Sunday, I'm not ashamed to admit that,' Grand said. 'I couldn't keep my emotion in and just sat there and cried. It wasn't just about the game itself, it was about everything. It was about all we'd been through as a group, it was about lockdown and me and my Mrs having a new baby during that time, it was about whether I'd ever do that ever again. Was that the last time? Is that how it ends for me?
'I was crushed. The result absolutely crushed us as we didn't deserve that, we'd been had over and anyone who saw that game would know that. All that hard work and sacrifice comes down to that and it's really hard to take. You put your heart and soul into it, you really do, you live every second of it.
'The best way I can describe it is like breaking up with your Mrs. I know it sounds mad but you go through all these emotions. You're angry, then you start thinking what you should have done differently, then you feel sorry for yourself and then you question yourself and your own self worth. It's a really hard process to go through as a footballer and it's not a case of us just going 'oh well, maybe next time'. It hurts for a long time and takes time to get over. I know because I've played this game for long enough now'...
The red card, handed to Johnston despite what the replay showed to be a seemingly clean challenge to win the ball when last man, changed the game completely, Durrell adding a third soon after. Goodnight Vienna, or so it seemed.
But Chester, playing for free, summoned the courage to make a fist of it...
'If ever you wanted to watch a team who were all in for their managers then Sunday was it,' said Grand. 'We could have folded at 3-0 and just taken it on the chin but that performance and desire epitomised what a Bern and Jonno side are all about. There was so much character shown, nobody hid and everybody fought with everything that they had. People don't see all that stuff that goes into making their teams like that. Team spirit is enormous when you are trying to succeed and nobody can get a squad more determined to fight for each other than Bern and Jonno'...
Next season will be season number 19 for the centre back whose career has taken in Football League spells with Carlisle United, Rochdale, Grimsby Town and Morecambe as well as stints with the likes of Southport, Barrow, Fleetwood Town, AFC Fylde, AFC Telford United and Salford City...
'I'll have to give myself some time to think about it', said Grand. 'Can I do it physically? Absolutely. I've always been fit, never had many injuries and the way I live my life away from football means that I always look after myself. It's whether I can do it emotionally. Can I take the mental battering of another season? I don't know yet. I've lost in the play-offs in three of the last four seasons and it becomes harder to bounce back from that each time.
'I'm a winner, I like to succeed and dealing with defeat I find very challenging... We own a salon which has stuff like a masseuse room, hairdressers, nail technicians, the lot. We haven't been able to open for obvious reasons but we're moving towards opening up now which is fantastic, although a lot of hard work with everything we have to get in place...
'Pre-season will be back in the next couple of weeks so I might feel a bit different then... It's all amount the mental side, as I said. If you had a crystal ball and told me that Chester would win promotion next season then I would say "where do I sign?". I could think of nothing better to end a career on that promotion with these boys and these managers'".
At
Kettering Town
, there is an announcement of new signings.
Lorne Bickley – a highly rated young striker whose previous clubs include Grouville, Jersey Wanderers and Jersey Bulls. Born in the Channel Islands (Jersey) Lorne signed a short-term contract with Hartlepool United just prior to the Covid-19 pandemic, after a spectacular goalscoring record with the Wilmington University, (Delaware, USA) football club.
Ryan Fryatt is a highly experienced central defender who prior to joining Kettering Town had a long-term career with King's Lynn Town, (facing the Poppies on many occasions) before being released at the end of the unfinished 2019-20 season. Ryan's career started with the Norwich City and Cambridge United Academies, where he played for the Norwich City U18 side, he has also played for Dereham Town and Wisbech Town.
Adam Collin – goalkeeper. Adam's experienced career began at Newcastle United, before playing on loan at Doncaster Rovers and Oldham Athletic. He then went onto Workington making over 200 appearances and the same for Carlisle United in two spells. Adam has also played for Notts County, Aberdeen and Rotherham United.
Ryan Holland – Central defender. Towering 6'4" defender, who has played in the USA for Feather River College (California), Marymount University and Penn State University. Ryan has also had a spell at Grantham Town.
Dan Holman – Forward. Dan returns to the Poppies from Brackley Town, after being part of Kettering's successful promotion side of 2018-19. Originally signed from Aldershot Town, the prolific striker has also played for Cogenhoe United, Oxford City, Long Buckby, Histon, Braintree Town, Colchester United, Cheltenham Town, Wrexham, Dover Athletic, Woking, Boreham Wood and Leyton Orient. In his first spell with the club Dan scored 14 goals which included some absolute classic finishes.
Josh Oyinsan – Forward. Previous clubs: Royston Town, Braintree Town, St Albans City, Welling United, Cambridge City. As a teenager the towering 6'4" striker played for Bromley, Potters Bar Town, Dunstable Town, Ware and Potters Bar Town.
---
25 July 2020
For today's play-off clash at Bootham Crescent, York City have produced a matchday programme. This forms a unique pairing with the programme produced by The Minstermen for the planned league clash between the sides, planned for 7 March 2020. That fixture was called off at a late stage due to Covid-19 affecting club members of both clubs. So there is now a programme for a York City v Altrincham match that was never played and one for a game between the clubs which will go ahead with no spectators.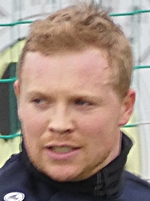 The new publication informs us that the referee assigned to the match today is Mr Scott Tallis. Altrincham's last encounter with Mr Tallis was also for a knockout game. On 24 March 2018 he refereed Alty's 2-0 win at Halesowen Town in the FA Cup.
Altrincham FC has an interview with former York man, Elliott Durrell [right], who has netted six times in five appearances for Altrincham in a career that has yet to see him play a full ninety minutes for The Robins.
Other players who have appeared for both York City and Altrincham include 2005 play-off hero for The Robins, Steve Bushell, striker Joe O'Neill, defender Greg Young and left-sided player Tommy Heron, who played more than a hundred times for the Minstermen and who, coincidentally, is the subject of Terry Rowley's latest Alty Legends profile, which will appear on this site tomorrow.
Before today's encounter at York, Altrincham had played in ten league promotion play-off ties, over four separate campaigns, starting with the 2004-05 season when three away wins brought promotion back to the national Conference.
In those ten matches, Altrincham have only ever lost once inside ninety minutes, a 3-0 reverse at Brackley Town in 2013 in the second leg of a semi-final, after Altrincham had clinched the first leg 2-1. Their only other play-off defeat was last year in a penalty shoot-out at Chorley after Alty had played throughout extra-time with ten men.
Overall then, in ten play-offs, Altrincham have won seven, drawn one and lost two matches. They have won all four play-off matches played at Moss Lane and also won three of their six away ties but they were all back in the 2004-05 campaign.
2004-05: P3 W3 D0 L0 F6 A4 -promoted
2012-13: P2 W1 D0 L1 F2 A4 -unsuccessful
2013-14: P3 W2 D1 L0 F6 A4 -promoted
2018-19: P2 W1 D0 L1 F3 A3 -unsuccessful
ALL: P10 W7 D1 L2 F17 A15 -promoted 2 unsuccessful 2
The
Eastern Daily Press
says that "King's Lynn Town's closest rivals, York City, will be looking to join the Linnets in the National League when they take on Altrincham in today's play-off semi-finals...
York boss Steve Watson tasted Champions League football with Newcastle and appeared in an FA Cup final during his playing days, which also took him to Aston Villa, Everton, West Brom and Sheffield Wednesday. However, he insists today's semi-final showdown is as important as anything he has experienced in the past as he makes his way as a manager.
Watson said 'This is my most important game, absolutely, I've said that to the players. The next chapter in my life and career is to be the most successful manager possible for me, and this is without a doubt the biggest day of my career as well'...
Watson added 'I've said to the players, even the players who have been promoted, it has to be the same for you because to have a promotion on your CV, your futures, your next contract, everything depends on it. I know it's not life and death compared to some things that have gone on... Thousands have lost lives, thousands have lost jobs, thousands have lost businesses.
'But in football terms, my career terms and the players', this is huge, absolutely huge, and for the fans and the club... When I came to the club, my goal was to immediately try to turn it around. To all intents and purposes, we still consider ourselves to have finished at the top of the league. Obviously points-per-game has made us finish second but still, from where we have been for four years to where we are now, whatever happens the club is certainly going back in the right direction and where a club like York and the fans deserve it to be.
'We just want to finish the job off, we desperately want to finish the job off.'"
Twitter has an interview with York manager Steve Watson.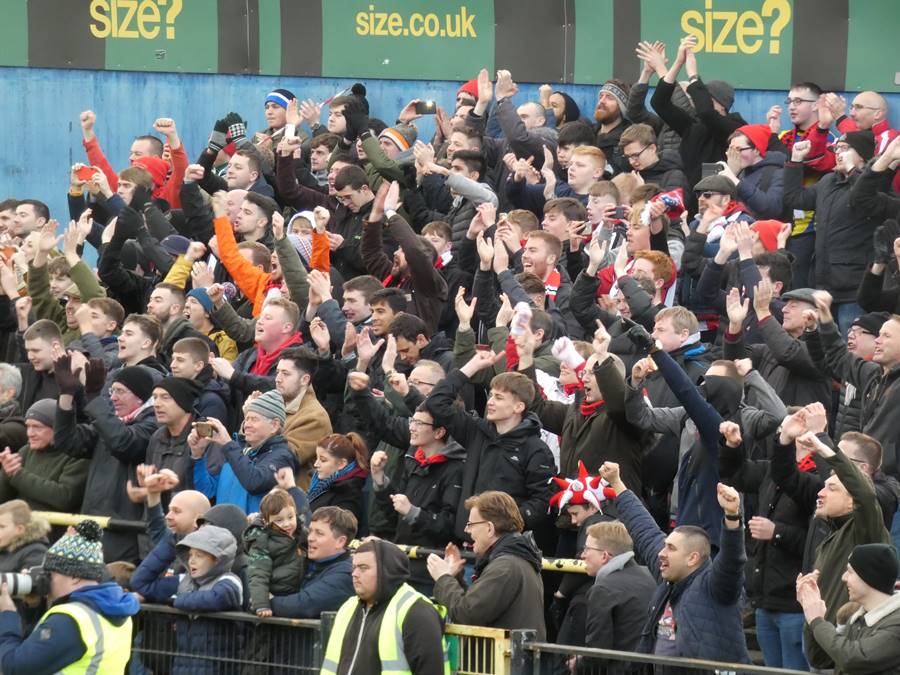 Sadly there can be no repeat, today, of the terrace behind the goal at Bootham Crescent being well populated by Altrincham supporters, as it was back in November for the FA Cup tie between the clubs.
However, the Yorkshire Post reports that "York City have picked up "four or five" injuries this week trying to get ready for tomorrow's Conference North play-off semi-final at home to Altrincham after 20 weeks in mothballs...
'The chairman (Jason McGill) has allowed us to keep a number together that would allow us to match-train knowing we were not going to get much chance to even play friendlies,' says Watson, whose players have been training in groups of five since late June, but only working together for around a week because of the covid-19 protocols.
'We had a hybrid friendly against Halifax at the training ground, not quite for 90 minutes because it was the week of their game (the Conference play-off quarter-final they lost at Boreham Wood), but there have been other clubs, Harrogate who I've spoken to, who haven't played one. It's impossible to completely replicate a match in training but you try and get as close as you can.
'We've had two or three injuries which have been a pain, a bit niggly. It's been trying to find a happy medium between getting them back and not making it worse. I think you'll know by the team selection on Saturday who's fit and who's not. If you pick up two, three, four injuries you have to take the foot off the gas because you physically can't afford any more. At the start of this week, we had four or five not training because of injury.'
It makes team selection even more challenging for Watson, who at least has the luxury of a 24-man squad. 'The lads' fitness levels have been very good. Some tested better than in pre-season. Teams at our level haven't got the personnel and the staff to write individual training programmes so we set the lads out on just a basic fitness programme and kept in touch with them regularly as a group with things like group quizzes.
'In the middle of the season you pick the players that are in form, but when you've had 20 weeks off, a lot of the thought process is about who me, Micky (Cummins, his assistant) and Buster (physio Ian Gallagher) consider the most ready. Other clubs have asked and forced managers to make decisions but, from day one, I asked if we could keep our squad together until we knew what was happening'...
'There were so many important things going on in the world it seemed very trivial to get overly upset about football decisions but it went through a spell where we thought it was going to be over, just one promoted, and now we are days away from a second chance.'"
Three years ago today, on 25 July 2017, Altrincham hosted Wrexham in a pre-season game, which the Welsh side won 2-0. The clubs had been in the same division two seasons earlier, but in 2017 Wrexham were two rungs higher than Alty on the Non-League ladder.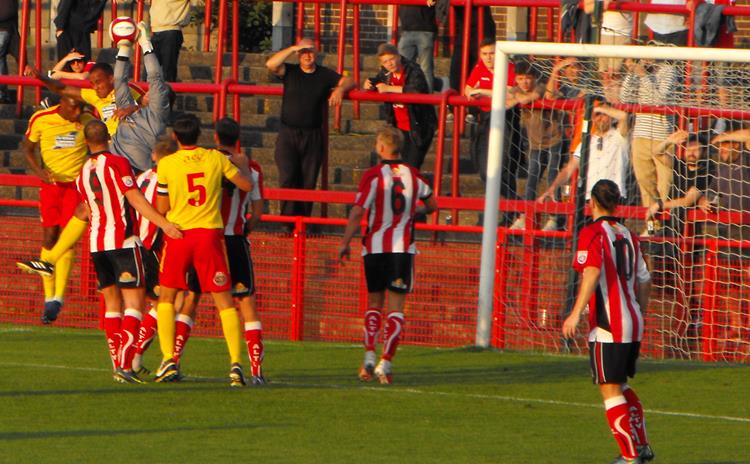 Above: Tony Thompson catches a cross in the 2017 game against Wrexham.
And a strong Wrexham side proved too good for Altrincham who, nevertheless, gave a decent account of themselves. The home side won several corners in the opening stages but, at the other end, former Southport winger Rutherford was proving a threat. As the half-hour mark approached Wrexham began to assert themselves but when they took a 33rd minute lead their goal was a disappointing one for Altrincham to concede. Former Forest Green Rovers man Marcus Kelly was allowed to advance up the inside-left channel and his low shot seemed to go through keeper Thompson into the net.
In the build-up to the goal, Alty suffered a further blow when John Johnston was seemingly fouled and afterwards had to hobble out of the game.
The second half was ten minutes old when Holroyd was allowed to head home a Kelly corner from the right to make it 2-0. Despite their deficit, Altrincham kept going but got few clear sights of goal. Jake Moult's 25-yarder which narrowly cleared the bar was probably their best effort.
Following their reverse at Nantwich in their previous friendly, Wrexham fielded a strong starting eleven against Altrincham, although Massanka and Mackreth were both sidelined by injury.
Altrincham were without Sheridan and Lynch, who were on holiday, Richman who was working abroad, Heathcote who had been released and the recovering Hannigan.
ALTRINCHAM : 1. Tony THOMPSON, 2. John DISNEY 3. Kyle BROWNHILL, 4. Ben HARRISON, 5. James JONES, 6. Jake MOULT (capt), 7. John JOHNSTON, 8. Laurence TAYLOR, 9. Josh AMIS,10. James POOLE, 11. Jordan HULME. Subs: 12. Lewis SHORT, 14. Shaun DENSMORE, 15. Josh HANCOCK, 16. Jerome WRIGHT, 17. Tom PEERS, 18. Tolani OMOTOLA, 20. Tim DEASY
WREXHAM: 1. Chris Dunn, 2. James Hurst, 3. Kevin Roberts, 4. Manny Smith, 5. Shaun Pearson, 6. Sam Wedgbury, 7. Paul Rutherford, 8. Mark Carrington, 9. Scott Boden, 10. Chris Holroyd, 11. Marcus Kelly. Subs: 17. Christian Dibble, 21. Akil Wright, 15. Olly Marx, 18. Leo Smith, 13. James Jennings, 16. Nial Freeman.
Terry Rowley's latest profile in the
Alty Legends
series is former player and player-manager at Altrincham, Felix Reilly.
Guiseley
"announce the signing of defender Dan Cowan from Stockport County, who can play either at centre-back or right-back.
The Chesterfield-born 24 year-old said he was lured to Nethermoor by Joint Manager Russ O'Neill's presentation of his plan for the player and the specific role he had for him.
Dan, said 'Russ impressed me as he gave me confidence as he outlined the role I would play for Guiseley and the clear plans he has for the team going forward. A few players who are close to me, such as Ash Palmer and Andy Halls, also told me what a good club Guiseley is. It seems a good club to be at. I played in defence alongside Ash and he was good to play alongside. I like to play on the right side of a back three, a role I believe I can excel in'...
He said 'Guiseley seems to be a positive environment and I have kept myself fit during lockdown'...
Cowan started his career playing for Buxton Juniors and New Mills before joining the Macclesfield Town youth set up. He broke into the Macclesfield first team by the end of the 2013/14 season, resulting in Macclesfield offering him his first professional deal that summer. He gained vital experience out on loan at Ashton United and Chorley and went on to make 50 appearances for the Silkmen.
At the end of the 2016/17 season he left Macclesfield in search of a new challenge signing for Stockport County, managed by Jim Gannon... In his first season with Stockport Dan featured in the majority of games in the National League North, proving to be an assured presence in the defence. In the curtailed 2019/20 season he made 31 appearances. We would like to place on record our thanks to Bianchi Kirk Management for their efforts in securing the services of Dan for the 2020/21 season, and look forward to potentially dealing with them in the future."
Yorkshire's Telegraph & Argus conforms that "Preparation for the new season at Bradford (Park Avenue) is well underway... The 3G pitch is starting to be laid, while the club have also announced their on-the-gate tickets prices for the 2020/21 National League North campaign.
After the club secured a 35-year lease on the Horsfall Stadium, over a month's work has gone into replacing the old turf, fitting drainage and levelling the new surface out. The long awaited perimeter fence is also ready for instillation and work on renovating the changing rooms is about to commence. In recent weeks, volunteers have helped to clean and replace broken seats in the main stand, and clear the area behind the clubhouse to make way for a newly refurbished beer garden.
With Mark Bower and his backroom staff creating a strong squad, there will be 21 opportunities to come down to Horsfall to experience the rollercoaster ride that is non league football... Avenue have decided to adjust their on the day matchday prices.
They are now as follows: Adults - £14, Concession - £10, Student - £5, Youth (12-17) - £3, Junior (under 11, must be accompanied by an adult) - £1. Family tickets and special pricing for students, youths and juniors will also be on offer... In light of the pandemic, if the league games are to be played behind closed doors then the season ticket will provide customers with free viewing of a pay-per-view stream of the match.
If the season is curtailed and the full 21 games are not played, then a pro rata refund will be made for any balance of outstanding games."
We learn from the Boston Standard that "Boston United host Gateshead in their National League North play-off semi-final on Saturday. The Heed have had the better of recent meetings but there is all to play for with a place in the final at stake...
The Pilgrims qualified for the semi-finals by finishing third in the National League North. This season Gateshead won both matches comfortably. They defeated the Pilgrims 3-0 in the north east in September thanks to goals from Nicky Deverdics, JJ O'Donnell and Dom Tear. The Heed repeated the scoreline at York Street in February, Deverdics, Tear and Jordan Preston on target.
The Pilgrims have scored 46 goals from 32 National League North matches, 23 home and 23 on the road. Gateshead have scored one goal more despite playing one match fewer. However, just 19 of those have come away from home, including those three at Boston.
At the back, again, it's a similar story. Boston have shipped 32 goals and Gateshead 31. Only Brackley (25) and York City (28) had conceded fewer when the season was halted.
Gateshead's counter-attacking style has seen the goals shared out this season. Joshua Kayode, who was on loan from Rotherham, JJ O'Donnell and Jordan Preston each have six league goals to their name. For Boston, Jordan Thewlis and Dominic Knowles have both scored 12 league goals apiece.
The Heed have [had] the better of the recent meetings, but United still have the better overall record. From 20 meetings Boston have won 10 and Gateshead six, with four draws. Of the 10 previous meetings at York Street, United have won five and drawn two. The Pilgrims have also faced former Gateshead sides AFC and United prior to 1977."
---
24 July 2020
As with the game against Chester FC last Sunday, you can watch this Saturday's play-off semi-final between York City and Altrincham (3pm) via a pay-per-view live streaming service on the
SportsRadar
website.
The late Mike Garnett's data, updated since his untimely death, reveals the record in previous matches between Altrincham and York City, the club who stand between Altrincham and a promotion play-off final.
Home: P9-2-4-3-11-16
Away: P11-4-2-5-8-16
All: P20-6-6-8-19-32
Saturday's match will be the third meeting of the clubs at Bootham Crescent this season, following two 1-0 wins there in the FA Cup and FA Trophy in November 2019. On both occasions, Tom Peers was the Alty marksman. However, City did beat Alty 3-1 at Moss Lane on the opening day of the season, some 50 weeks or so ago, on 3 August.
Hopefully Shaun Densmore and Sean Williams will be available on Saturday, after missing last Sunday's match but the departing James Jones will not be involved.
Last Sunday's squad included returning goalkeeper Elliott Wynne and James Hooper, who is yet to make his debut.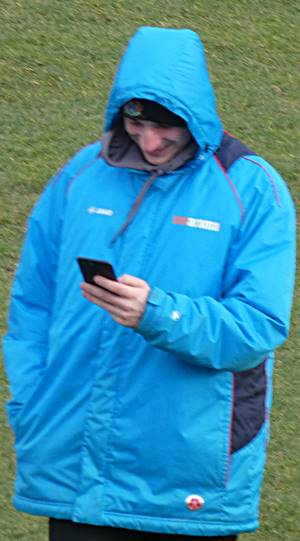 Right: He's not yet been seen in an Altrincham shirt but the club's recent signing, James Hooper, was the muffled player pictured (right), checking his mobile phone, during the half-time warm-up at Edgar Street on Saturday when Altrincham visited Hereford FC in February.
23 year-old James's arrival at Alty was announced on 8 February. A Timperley resident James was recovering from a broken collar-bone, so was not immediately available to play. Initially, therefore, he stayed at his former club, West Didsbury & Chorlton on dual registration with Altrincham. However, some ten days later, he signed dual registration forms for Witton Albion in the NPL.
James started out as a professional with Rochdale (2015), where he was their youth team Player of the Season (2014-15). He progressed to play twice for Rochdale in the EFL before loan spells with FC United and Stockport County.
From Rochdale he joined Carlisle United on a short-term deal, making one League Two appearance for the Cumbrians, before moving on to FC United od Manchester and then Radcliffe Borough (2017) where he became the club's leading scorer that season (2017-18). In summer 2018 he rejoined the professional ranks at Salford City. Later that year he moved on to Chorley, where his games included a late substitute appearance against Alty in January 2019. Early in 2019-20 season he rejoined Radcliffe.
He was first named in an Altrincham first-team squad in the Play-Off Eliminator against Chester FC on 19 July 2020 but he did not manage to get off the subs' bench in that game.
Courtesy of the industrious Terry Rowley we have the latest player profile in the
Alty Legends
series.
The subject is forward Herbert Worsley who started out at Moss Lane and went on to play for the likes of Bolton Wanderers, Leeds United, Fulham, Stockport County and Wrexham in a career curtailed by World War Two.
The
National League
's "official betting partner LV BET provides the lowdown on all the... Vanarama National League North and South Play-Off Semi-Finals.
York City vs Altrincham – Saturday 25th July -3pm
This promises to be an intriguing encounter. York City finished in second place, but have lost to Altrincham both times they have played them at home this year in cup competitions.
York City also had the eighth best home record which will give the visitors hope in this semi-final. Away from home had been York City's strength this season, so they are going to have to call on all their fire power up front to send them into the Promotion Final.
For the visitors, they came through a tough Vanarama Eliminator against Chester to win 3-2 and will fancy their chances of a third victory at York City this season.
Key Stats
League meeting 3rd August 2019 Altrincham 1 v 3 York City
A Cup meeting 10th November 2019 York City 0 v 1 Altrincham
FA Trophy 23rd November 2019 York City 0 v 1 Altrincham
York City last 5 results - 2 wins, 1 draw, 2 defeats
York City Top Scorer: Jordan Burrow with 15 goals
Altrincham last 5 results –4 wins, 1 defeat
Altrincham Top Scorer: Josh Hancock & Jordan Hulme with 14 Goals
Boston United v Gateshead – Saturday 25th July – kick-off 5.30pm
Gateshead will fancy their chances of causing an upset in this Semi-Final, having beaten Boston United 3-0 in both league matches during the regular season. Gateshead just came through a penalty shootout in their Vanarama Eliminator and maybe the stars are shining for them to make a return to National League.
Boston United have a solid home record with 10 wins from 15 matches and will be hoping to make that count.
Key Stats
League Meeting: 14th September 2019 Gateshead 3 v 0 Boston United
League Meeting: 25th February 2020 Boston United 0 v 3 Gateshead
Boston United last 5 results – 2 wins, 2 draw, 1 defeat
Boston United Top Scorer: Dominic Knowles & Jordan Thewlis with 12 goals
Gateshead last 5 results – 2 wins, 2 draws, 1 defeat
Gateshead Top Scorer: Joshua Kayode & Jonathan O'Donnell with 6 goals
It was ten years ago today, on Saturday, 24 July 2010, that Altrincham played a pre-season friendly match billed as the Jack Crompton Trophy and lost 2-1 at Curzon Ashton's Tameside Stadium.
Jack Crompton, the former Manchester United goalkeeper, had close connections with both of the clubs involved in this match and he and his wife Sheila had produced a handsome trophy and medals, for which the teams were playing. Indeed, Jack was the current President of the Tameside club in what was planned to be an annual match against Curzon for the Jack Crompton Trophy.
Right: Damian Reeves, pictured during the match against The Nash.
It was Altrincham's first visit to the Tameside Stadium (opened in 2005) but it was the fourth time in the 2010 pre-season that they had met an EvoStik First Division side, after trips to Woodley, Nantwich and Trafford. The pitch at the Tameside Stadium was in superb condition whilst the match featured a clash between two of non-League's longer-serving managers at the time in The Nash's Gary Lowe (appointed 2000) and Alty's Graham Heathcote (appointed 2002).
Curzon had missed out on promotion last season in the play-offs but had lost regular scorer Mike Norton since then.
After a promising display at Trafford the preceding Tuesday, where Altrincham had won 5-0, this was a very disappointing showing against EvoStik League One opposition. Four trialists were in Alty's starting eleven and a further three were on the bench but all seven had figured in earlier games that summer.
Altrincham had gone the closer of the two sides to breaking the deadlock in the first half but, after 43 minutes, a mis-header backwards by Shaun Densmore conceded an unnecessary corner to Curzon. From this, two initial efforts were kept out by a save and a clearance off the line but the third chance was smashed into the net by Mack (44 mins).
Eight minutes after the break it was 2-0 when Robbie Williams was penalised for hand ball and McDonagh drove the resulting penalty past Stuart Coburn. On the hour mark, frustration got to James Smith who, having lost possession just outside his own box, took a hack at a Curzon player's shins. The referee leniently showed a yellow but the management immediately withdrew the defender.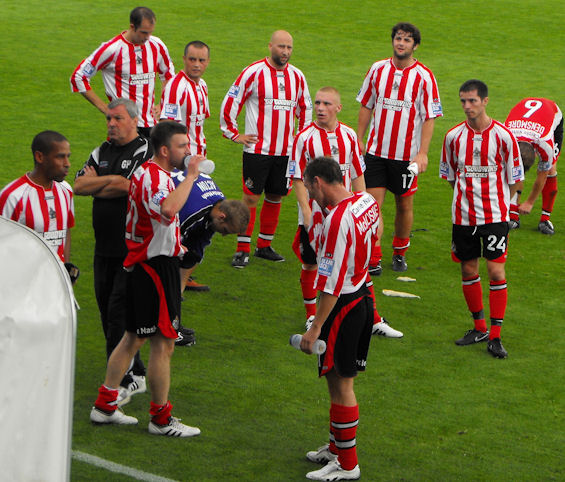 With substitutions every few minutes, the second half was nevertheless an improvement on the dismal first half, especially after Damian Reeves made it 2-1 with a well taken goal after McLachlan's initial effort had been brilliantly saved by former Alty reserves' keeper, Craig Ellison (67 mins). One of few positives for Altrincham was a promising second-half appearance from Dale Johnson as he continued his rehabilitation from injury.
Left: Alty's finishing eleven wait to collect their Jack Crompton medals. Only Robbie Williams and Shaun Densmore of those eleven were regular starters at the end of last season. Background, left to right, Williams, McLachlan, Saunders (bending) Adams, Gamble, Johnson, Carden, Densmore. Front, Joseph, manager Graham Heathcote, Reeves and Nowland.
Altrincham's Anthony Danylyk was on holiday and Nicky Clee, who missed the preceding game with a slight strain, was also absent but, otherwise, all the fit first-team squad was present, though four trialists were included in the initial starting eleven. They comprised ex-Rotherham left-back Marc Joseph, giant former Grimsby defender Matt Heywood and midfielders Adam Nowland (ex-Blackpool) and Danny Holmes (ex-Burton). Matt Doughty was fit enough to do some running in the warm-up, following his cruciate operation.
Curzon included former Alty defender Cavell Coo and, on the bench, ex-Alty Reserves' keeper, Craig Ellison.
ALTRINCHAM: 1. Stuart COBURN, 2. James SMITH, 3. Chris DENHAM, 4. Mark JOSEPH, 5. Matt HEYWOOD, 6. Shaun DENSMORE, 7. Robbie LAWTON (capt), 8. Danny HOLMES, 17. Adam NOWLAND, 18. Michael TWISS, 27. Ryan BROWN. Subs: 16. Fraser McLACHLAN, 17. Dale JOHNSON, 19. Andy GAMBLE, 20. Robbie WILLIAMS, 22. Damian REEVES, 23. Russell SAUNDERS (gk), 24. Adam CARDEN, 28. Danny ADAMS.
Altrincham's Premier League referee Anthony Taylor has been named as the referee for the upcoming FA Cup Final.
He will be the first referee to officiate at two FA Cup Finals since 1901. And it will be a case of deja vu as on each occasion the finalists have been Arsenal and Chelsea!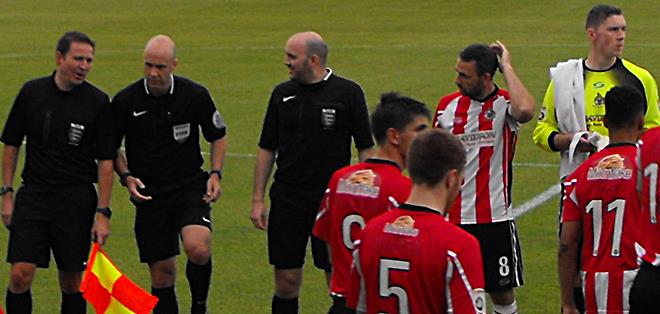 Anthony has been a regular match official at Altrincham FC friendly games over the years. Indeed, back in 2017 we reported that "Probably the first match that Altrincham supporter and Premiership referee, Anthony Taylor, refereed this season [2016-17] was the Altrincham v Manchester United XI friendly at the J. Davidson Stadium, Moss Lane on 22 July, 2016 (pictured above). And the last of his season may well be the Emirates FA Cup Final between Arsenal and Chelsea, on 27 May, which the Altrincham-based referee has been selected to referee".
The FA stated "Altrincham-based Taylor, who is regarded as one of Europe's and England's top officials, will next month referee in the UEFA Champions League or Europa League with the same team of assistants, Nunn, Beswick and Attwell (VAR).
And he spoke of his honour at being able to take charge of this year's Final, ironically featuring the same clubs from his last Final appearance in 2017.
'Of course, any Final is obviously a huge honour and privilege for the whole team to be doing and I sincerely mean that about the team because I'm in the fortunate position where I get to work with the same two assistants on every game both at home and abroad,' he said.
'It's just an iconic occasion at the best of times, but this year is a unique one with no spectators. We know there are different circumstances this year and the 2020 Final will always be remembered because of this. But it was a little bit unexpected to get the call, having already refereed the FA Cup Final a couple of years ago, so I'm very humbled and equally honoured to have been asked to take charge of the Final again.
'It's ironic that it's the same clubs, but it's now two different teams. Clubs who reach the Final don't get there by fluke, and whichever teams end up in the FA Cup Final, it's always going to be an intense occasion to officiate.
'However, any official who has refereed the FA Cup Final will say that when you're appointed to the game, it's not just recognition for you as an individual, it's a recognition for all of the people who've supported you over the years and helped you to reach the elite level.
'That's what makes the occasion so special, not just the match but that you get to share it with your close friends and family who will be there supporting you. Obviously, that's not going to be possible this time, but there's other ways and means that friends and family can be supporting us on the day.'"
The
Shropshire Star
says that "Gavin Cowan wants two more new signings to wrap up his AFC Telford United summer transfer business.
The Telford chief is working on a couple more deals... but Cowan has already brought six new faces into the New Buck's Head, while also running the rule over another handful on trial in training at Lilleshall.
'We're looking to get another couple through the door if possible,' Cowan said. 'That might be from the trialists or it might be externally. We were close to getting something done recently but unfortunately missed out. It was a little bit of a long shot.'
Lee Vaughan, Jack Byrne, Russ Griffiths, Ash Rawlins, Courtney Meppen-Walter and Jason Oswell are the new names in at Telford.
'We're looking to try to bring in the best we possibly can, but our finances are where they are,' he added. 'They have been cut a little, not as much as what I expected but, for whatever financial struggles we have and where our budget won't be as good as many, it's credit to the players.
'The rumours are we have got money because of the players we've brought in and there's no bigger compliment. The players deserve the credit for coming in and not for extortionate amounts. That means there's no excuse. It's the players we wanted in. If we can add one or two I'll be very happy.'
The Bucks are aiming towards a National North 2020/21 restart date of September 5, a timeframe ratified by Football Association guidelines issued last weekend. Though there has yet to be official confirmation from the National League as to when next season will get under way.
AFC Telford believe they are likely to have a date rubber-stamped by the time current play-off fixtures come to an end, at the beginning of next month."
The Northants Telegraph reports that "Paul Cox is hoping his timing will be spot on as he plots Kettering Town's pre-season schedule.
Last weekend it was confirmed the new National League North season would be starting no earlier than September 5. That has led people to believe the new campaign could be set to begin on either Saturday, September 12 or the following weekend on September 19. It's that latter date that the Poppies boss has had in his mind since attention started to turn towards next season following the early finish to the previous campaign due to the Covid-19 pandemic.
Cox had his players in for fitness testing last weekend and they will be working in an open training session again on Saturday before their pre-season programme really clicks into gear on August 1...
Cox said 'There are some teams who have started back early and there are some who haven't come back yet. We had September 19 planned in but sometimes you can start pre-season too early and by the time you get to the real thing, players can be mentally or physically tired believe it or not.
'I think we are starting back in a timeframe where we feel the players will be peaking for those first league games, that's always the aim'...
The Poppies, meanwhile, have confirmed four pre-season friendlies, which at the present time, will be played behind closed doors.
All four are away from home at Eastwood CFC on Saturday, August 15, at Stamford on Tuesday, August 25, at St Ives Town on Saturday, August 29 and at Coalville Town on Saturday, September 5."
At Kidderminster Harriers "Russ Penn says Harriers will make good use of loans this season but insists his squad must be driven and competitive.
Penn has the vast majority of his squad nailed down thanks to summer arrivals like Lewis Montrose, Koby Arthur, Luke Maxwell and Amari Morgan-Smith.
There are still additions to come between now and whenever we start, though, with the boss admitting he wants a tight group that are ready to fly from the off...
He laid down a marker to his players, saying 'I want a tight-knit squad but I am also wary of the amount of games [we'll have] in a congested period. Of course, we're going to dip into the loan market, as we always have...
'I don't want any outcasts going on loan early on in the season, otherwise they're not doing their job. I want everyone pushing for a starting eleven spot'...
The likes of Will Mannion and Rhys Williams were excellent examples of how the [loan] system can [could] work well during 2019/20, and the gaffer wants more of the same.
He said 'Hopefully, this year, the top clubs will look after us so-called "little clubs" a lot more. It's doing your research, knowing the right people, having a good network and picking a player that can not just be a squad player, but a starting player.'"
---
23 July 2020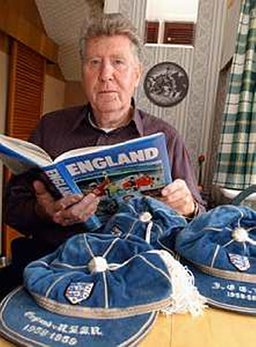 Not many Alty players have been Player of the Tournament in their position at a World Cup but one of them was; Terry Rowley's profile of goalkeeper Colin McDonald [right] is the latest addition to the
Alty Legends
Cheshire Live
has a report headed "Anthony Johnson on 'disgrace' of a penalty decision that cost Chester FC dearly in play-off clash at Altrincham. The Blues joint-manager ended up in the stands as his side were beaten at Moss Lane...
It's hard not to feel aggrieved if you are a Blues fan. Chester were trailing to a Josh Hancock goal early in the second half of their National League North play-off eliminator at Moss Lane before the game's flashpoint arrived on 53 minutes, referee David McNamara pointing to the spot and sending off John Johnston for what he deemed to be a blatant foul when Dan Mooney was clean through on goal.
Elliott Durrell stepped up to net the penalty, one of a brace in a 3-2 victory, to make it 2-0 to Altrincham and leave Chester chasing the game and a man down.
But replays showed that the decision to award the penalty and send off Johnston was incredibly harsh, Mooney seemingly taking a tumble under no contact from the Chester winger. The rule of double jeopardy was also not enforced, where a player is shown a yellow if it was a genuine attempt to play the ball and a penalty is awarded instead of handing a side a double whammy. There was no such break for the Blues. [JJ seemingly pushed Mooney in the back whilst not attempting to play the ball].
'It is cruel, it is a cruel game but it seems to be cruel all the time for us at this football club,' said Johnson, sent to the stands in injury time for kicking a drinks bottle onto the pitch in frustration at McNamara waving away a shout for a penalty after a challenge on Jamie Morgan. 'At the time I thought it was a disgrace and I think it even more so now that I've seen it back. Anybody that disagrees with me they've got to be blind, that's how I see it...
'But it wasn't just that... It's clear that decision changed the game.'"
The winners of Saturday's clash between Altrincham and York City will face the winers of the game between Boston United and Gateshead to determine who contests the promotion final.
Gateshead report that "Agnew [is] keen to defy Gateshead's play-off underdog status at Boston.
The on-loan midfielder is out to prove the bookmakers wrong once again ahead of Saturday's play-off semi-final.
Liam Agnew says the mentality in the squad is 'brilliant' ahead of Saturday's play-off semi-final at Boston United.
Bookmakers have made the Heed outsiders to earn promotion through the play-offs, having finished in the final play-off place due to the points-per-game resolution".
From the Boston Standard we learn that "Craig Elliott says his Boston United squad have to 'give everything we've got' to book their place in the National League North play-off final...
The Pilgrims host Gateshead in Saturday's semi (5.30pm), following the Heed's 6-5 penalty shoot-out win at Brackley Town... 'They've got a slight advantage. I'm not playing games, but having that extra match will help [Gateshead], they'll me a bit more battle hardened and have miles in the legs,' he told The Standard.
'But it's a one-off game and we've got to give it everything. We've got to get through the tie. On paper our squad is a strong squad. There's a lot of play-off experience in there, some successful, some not. They've been there and done it and that's the main thing as there will be fine margins.'
Gateshead have beaten Boston 3-0 twice this season, in the north east back in September and in Lincolnshire in February, the previous game to be staged at York Street...
'Away at their place the scoreline flattered them, there wasn't much in the game,' he said. 'At home we let ourselves down and had a really bad, off night. They capitalised and played really well. I think at the time they were on a good run and full of confidence. We've got to learn from our mistakes from when we played them last. It's about how players have come back...
'I had a feeling it would be Gateshead, they're a full-time outfit and a good team. It's going to be a tough game as we all know. We have to turn up and be at our best to win it...
'My main thing has been to fine tune the basics, not do anything too complicated. Coming out of lockdown it was important to get clear, concise messages and make sure we get that right first. We don't want to concede soft goals because we're getting too complicated. People forget we finished third in this league so we must be doing something right. It's about doing that again now.'"
One year ago today, in 2019, Altrincham hosted neighbours Stockport County in a pre-season game.
The previous season The Hatters had beaten Alty four times without Alty scoring and Stockport won again in this game. Although the score was 2-1, Alty again registered a blank as their goal was diverted into his own net by Ben Jackson, putting the hosts ahead just before the half-hour mark.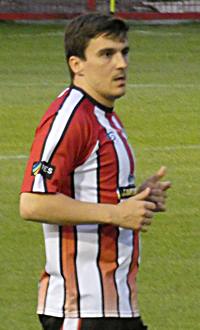 Right: Trialist Adam Morgan during the game.
In fact, Alty's goal had arrived before the hosts had managed to land a shot on target. The goal was made by some trickery from Nathan Arnold as he advanced into the box but, although Hulme subsequently claimed the goal, and Branson was also in the vicinity, the shot from Arnold clearly rebounded off Minihan and then Jackson and into the net.
The equalizer arrived eight minutes later and was the result of a needless foul, wide on the Stockport right, by Jordan Hulme. The freekick was initially cleared by a decent Sean Williams header but his team-mates failed to complete the clearance and Dimaio cleverly made space before firing a low shot past Drench from the edge of the box.
And Stockport's winner also came from Altrincham's failure to complete a clearance after Densmore had lost possession in midfield. The ball came out to Osborne who hit a fine, low shot from 18 yards past Thompson's right-hand and into the net off the far upright.
Altrincham had started with a strong starting eleven and there were just two loanees among their nine named substitutes. These were Lewis Salmon, the young forward from Hanley Town who had played earlier in the summer, and who it was reported subsequently had signed for Trafford, and Adam Morgan, a former Liverpool striker, most recently with Curzon Ashton.
County also fielded a strong starting eleven.
ALTRINCHAM: 1. Steven DRENCH, 2. Andy WHITE, 3. Connor HAMPSON (c), 4. Toby MULLARKEY, 5. Tom HANNIGAN, 6. Sean WILLIAMS, 7. John JOHNSTON, 8. Conor BRANSON, 9. Jordan HULME, 10. Max HARROP, 11. Nathan ARNOLD. Subs: 12. Shaun DENSMORE, 14. Josh HANCOCK, 15. Matthew CHADWICK, 16. James JONES, 17. Simon RICHMAN, 18. Tom PEERS, 19. Lewis SALMON, 20. Anthony THOMPSON, 21. Adam MORGAN
STOCKPORT COUNTY: 1. Ben Hinchliffe, 2. Sam Minihan, 4. Paul Turnbull (c), 5. Ash Palmer, 6. Jordan Keane, 7. Adam Thomas, 8. Sam Walker, 9. Frank Mulhern, 11.Jake Kirby, 17. Connor Dimaio, 21. Ben Jackson. Subs: 3. Dan Cowan, 10. Elliot Osborne, 13. Ian Ormson, 14. Alex Curran, 15. Darren Stephenson, 18. Fergus Arthur, 19. Szymon Czubik, 20. Jordan Downing.
After defeat by Altrincham,
Chester FC
write that "Due to the unique circumstances of an extended 2019/20 campaign and our participation in the play-offs, the club will now enter discussions with the first-team squad regarding their futures following the expiry of their existing contracts.
However we can confirm several players have now left the football club...
Chairman Andrew Morris said... 'We would like to place on record our gratitude to those players leaving us for their effort and commitment...
Players already under contract for 2020/21
Brad Jackson
George Glendon
Joel Taylor
John Johnston
Kevin Roberts
Lloyd Marsh-Hughes
Will Goodwin
Players departing Chester Football Club
Akwasi Asante
Cain Noble
Elton Ngwatala
George Macready
Harry Molyneux
Iwan Murray
James Cottrell
Matthew Thomson
Russ Griffiths
Theo Roberts
As the Club prepare for the 2020/21 Season we will be engaging with the remaining 2019/20 squad and announcements will be made in due course."
In the Shropshire Star "Gavin Cowan has praised the way his 'focused' AFC Telford United squad have returned to light training.
The Bucks boss admits he has already picked up an 'exceptional' vibe in the Telford ranks, including six new signings and a handful of trialists, in training. Telford are training twice weekly at their training base at Lilleshall National Sports Centre. They are expected to step up training in a couple of weeks, after the FA confirmed it is permitted to do so from the beginning of August.
'It's been really good. First and foremost everyone is very focused and enjoying it,' said Cowan. 'Everything's very light at the moment, making sure people are just ticking over because we're waiting on what is the unknown. We're keeping them ticking over, trying to get ahead of the game slightly...
'Already you can see the vibe between the group is exceptional... They are a great group of lads, I'm fortunate to say I've always had that since being the manager... I think the quality of players we've brought in this season poses [?] for what is hopefully a good season and the hard work starts now.'
Cowan has so far added full-back Lee Vaughan, defender Courtney Meppen-Walter, goalkeeper duo Ash Rawlins and Russ Griffiths, midfielder Jack Byrne and forward Jason Oswell to his squad for next season. The Bucks boss is working towards a National North restart date of September 5, though that is yet to be confirmed.
AFC Telford have been in talks with other clubs about pre-season friendlies, which are also permitted to take place next month...
'We've got various games (lined up),' Cowan added... Meanwhile, Telford will kick off their pre-season schedule with a trip to neighbours Market Drayton Town... on Saturday, August 1... The match will be played behind closed doors,".
At Leamington>, "Defender Josh Martin is the latest member of Paul Holleran's squad that finished the aborted 2019/20 campaign to put pen to paper and commit to the club by signing a contract for the new season.
Having started his career at Birmingham City, where he progressed through the ranks to the fringes of the first team, Josh then spent time with Redditch United and Hungerford Town before linking up with Leamington in December last year...
And though he initially found it difficult to get game time he was rewarded for his patience and impressed, starting in what turned out to be our final four games of the season.
'We're delighted to tie Josh down,' said the manager. 'He bedded himself in well at the back end of last season. He had to wait for his chance but was patient. He's a good professional, he's versatile, adaptable and resilient and I personally feel he could have a good future in the game, so we're really looking forward to working with him this year'".
At Kidderminster Harriers manager "Russ Penn says he's desperate for Harriers fans to be back at Aggborough as the club awaits news on the start of the new season...
When football does return for Harriers, it's also not yet a given that the Aggborough faithful will be allowed to return to the ground to witness it...
'It's got to be; it needs to happen,' Penn told the club's YouTube channel, when asked about wanting fans back in the ground. 'I think we'll understand if it's a week or two [without them] but anything longer than that, the league will have to take note. They understand that teams at our level, Step One and Step Two, that we need fans in the ground, so we're all on the same wavelength.
'The one thing I will say to the fans, as we've said before, when it comes, the announcement that you are allowed fans back in, it's gonna be "wallop, bang, let's go!" It's all gonna happen really quick.'
National League North action has returned in a fashion over the last few days, with the 2019/20 play-offs now underway... 'It feels a little bit more normal now,' he said. 'It's a bit surreal when you see them and there's no noise around as it seems like a park game'".
Acccording to the Lytham St Anne's Express, "AFC Fylde have identified a new assistant manager who will take the reins while Jim Bentley recuperates after heart surgery.
Jim Bentley will have a new assistant for the first time in his [Fylde] managerial career when he returns to work at AFC Fylde after heart surgery. And the club has confirmed that Bentley will be back in charge as soon as he has fully recovered from a heart bypass.
Chief executive Jonty Castle confirmed that agreement had been reached on a new second-in-command for Bentley, whose longserving deputy Kenny McKenna has parted company with the club; McKenna had assisted Bentley ever since his managerial career began at Morecambe nine years ago.
The club revealed last month that Bentley, 44, requires a bypass because of a blocked artery...
Speaking to BBC Radio Lancashire last week, Castle said that the club hoped to announce "a brilliant appointment" as assistant manager this week.
The Fylde chief said of Bentley 'He went into hospital last week to have some tests done and we're just waiting for that operation date to come though. I speak to him daily and he's just keen to get it sorted now, get back to 100 per cent and get going. Jim will be with us next season, and we're 100 per cent committed to getting him fit and back on the touchline as soon as possible.'
However, it may well be that Fylde start the campaign... with a new temporary boss... Castle added 'We are at the latter stages of appointing a number two who is more than capable of standing in for Jim in Jim's absence... We have every confidence in the person we have identified and Jim has too. It is somebody Jim has chosen in agreement with myself and David (Haythornthwaite, chairman)'...
Fylde are resigned to the fact that Bentley will be taking charge of a relegated club, who will be viewed as a real scalp by other ambitious rivals in National League North.
Castle added 'Our facilities are second to none; they are Football League facilities. Teams will want to come and will see us as one of the teams to beat. But we are looking at it as an opportunity. We've accepted our circumstances. Last season was one no one wants to see again. We've put changes in place and there's more to be done, but we're confident that next season we'll come out fighting'".
The
NW Counties' Football League
says that "The make up of our league for the 2020/21 season can be revealed as the FA have announced the League Constitutions for the season.
The make up of the Premier Division will remain unchanged, however we welcome two new clubs to the league, with Bury AFC and the FC Isle of Man being placed in our First Divisions. We do though say goodbye to one club as Emley AFC have been laterally moved back to the Northern Counties East Football League after putting in a request.
Bury AFC are a new club who have been set up by supporters of the former Football League side after they were expelled from EFL League Two last season. They will play in the First Division North.
FC Isle of Man are also a newly formed team, who follow Guernsey and Jersey bringing island football into the Non-League game. It is also the first time that we have had an offshore team in our league. They will play in the First Division South.
FC Oswestry Town's resignation created a gap in our league, and the two were admitted after the FA approved Emley's request to move back to the NCEFL after one season in our league. They were well on target for promotion last season to Step 5, sitting in fourth place when the league was ruled null and void, ten points clear of fifth... The North West Counties League will make a statement on the placement of Bury AFC and FC Isle of Man shortly".
And the NW Counties' Football League adds that "The NWCFL could have competitive games being played as early as the start of September under plans released by the Football Assocation...
The FA have confirmed that the UK Government has approved its plan for the return of outdoor grassroots football... The FA and the Leagues are aiming for a September start of competitive matches in the NLS, however, this is subject to change in accordance with Government guidance and approval for paying spectators...
In addition, the FA have always committed to do whatever possible to ensure all FA Competitions...Key dates are as follows:
FA Cup Extra Preliminary Round: Tuesday, 1st September 2020;
FA Cup Preliminary Round: Saturday, 12th September 2020;
FA Vase 1st Qualifying Round: Saturday, 19th September 2020
FA Vase 2nd Qualifying Round: Saturday, 10th October 2020;
All Clubs will need to appoint a COVID-19 Officer from their Board or Trustees. This person will have responsibility to ensure that Club Risk Assessments are completed and actions undertaken... All Clubs must publish their Risk Assessment and/or their COVID-19 Action Plans on their Club Website by Saturday, August 15th...
The roadmap that the FA have recommended for the phased return to competitive football activity [is] as follows:
Until 31 July – Competitive training, with the overall group size (inclusive of coaches) being limited to 30 people; This is what most clubs have been doing at present.
From August – Competitive matches to begin, for example pre-season fixtures, festivals and small sided football competitions;
From September – Grassroots leagues, men's National League System, Women's Football Pyramid tiers 3 to 6, and FA Competitions can commence.
.
---
22 July 2020
Altrincham FC
has highlights from Sunday's victory over Chester FC in the play-off elimination game.
The Sale & Altrincham Messenger reports that "Phil Parkinson singled out resilience as the defining factor behind a dramatic Altrincham victory in a nerve-shredding Vanarama National League North play-off eliminator...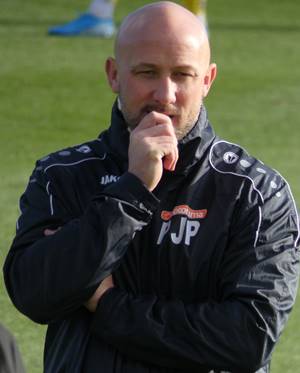 The behind-closed-doors tie looked like being a formality for the Robins after they went 3-0 up midway through the second-half, with Chester already reduced to 10 men.
But Chester made light of their numerical disadvantage and hit back with two goals in a remarkable transformation that left Alty hanging on for a 3-2 win that sets up a semi-final at York City on Saturday.
'It looks really poor being 3-0 up against 10 men and allowing them back in it, but we are playing against the best teams in the league,' said Alty boss Parkinson. 'That's why we are in the play-offs, so we will take the positives from the day.
'I thought the resilience we showed was exactly what you need to go up from this league. I've been really pleased with the way we have developed defensively, and that came to the fore when they bombarded us near the end. It could have swung the other way, but we showed an abundance of character to make sure it didn't.
'You need that, but there was also real quality from us to get ourselves in cruise control. To score three goals in a tight game after four months out was a big achievement for our players.'
Referee David McNamara came in for scathing criticism from Chester joint-manager Anthony Johnson, but Parkinson backed the penalty decision and straight red card for former Alty winger John Johnston for a push on Dan Mooney, who was clean through on goal.
'I never like to see anyone sent off, particularly a lad who used to play for us,' he said. 'But he was the last man and he pushed Dan in the back, so it was a penalty and red card. It was 100 per cent right. I didn't even give it a second thought.
'It was tough for the ref. It was a physical game that got heated, and there were niggles, but I felt he was strong. He was the right man for the job, and he did a good job for both teams. You needed someone strong out there, and he was. Alty went ahead with a fierce drive from Josh Hancock that flew under keeper Louis Gray's dive and looked home and dry when Elliott Durrell made it six goals in five appearances for the Robins with a quickfire double early in the second half'...
'Mistakes cost us for those two goals. I don't know whether it was a bit of ring rust or fatigue, but it was disappointing', he said.
'We've got a good record at York, and we are looking forward to the game. If we had been offered this position at the start of the season, needing to win three games to go up, we would have taken it'".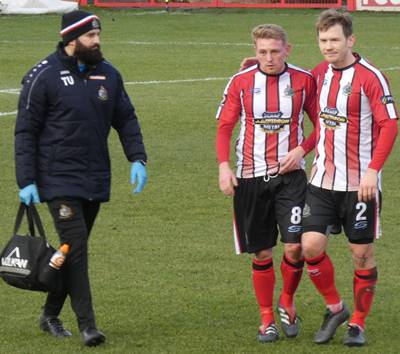 In addition to defender James Jones and midfielder Sean Williams, Alty's squad last Sunday lacked right-back Shaun Densmore.
Right: Both Sean Williams and Shaun Densmore missed last Sunday's match.
Altrincham FC's John Edwards announces that "Shaun Densmore [has] proudly announced the birth of a baby son, Henry.
What price, we hear you ask, another generation being added to the Densmore dynasty and young Henry impressing Academy bosses with those familiar foraging runs before going on to add yet more first-team appearances to the family collection?
You wouldn't bet against it after the massive contribution proud dad Shaun and his father Peter have made to the Alty cause... We send our heartiest congratulations to Shaun and his wife Sian".
As reported here on Sunday, centre-back James Jones has elected to reject a contrract for next season and is set to move to a Football League club.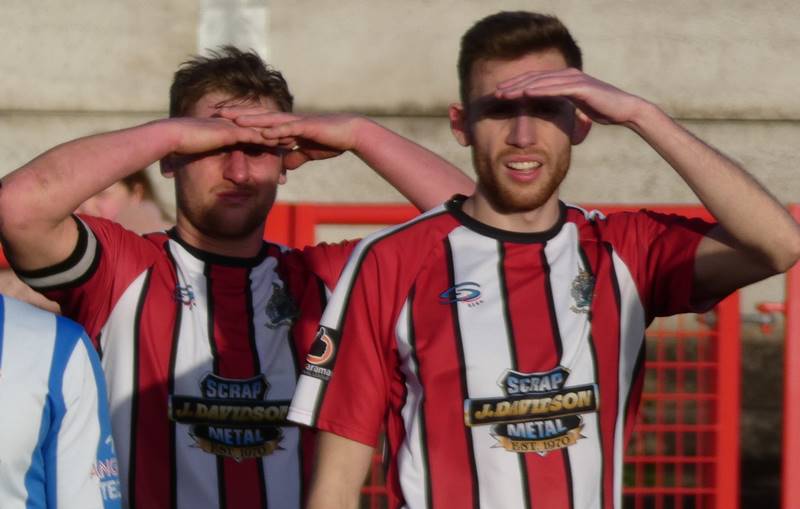 Above: James Jones (right) with captain Jake Moult, February 2020.
As previously announced Alty centre-back James Jones has opted to leave the club and, consequently, took no part in last Sunday's play-off victory over Chester.
Jones has proved a reliable defensive partner to Tom Hannigan and the young Welshman made 27 starts and two sub appearances in the 33 games of the truncated 2019-20 season. In addition he started seven cup ties. He will leave Alty having made 108(+7) appearances and scored a useful 13 goals of which six arrived in 2019-20.
The 23 year-old arrived at Moss Lane as a trialist in July 2017 but, in August, decided to try his luck elsewhere. However, he returned to Altrincham in time to make his league debut on 23 August 2017. He had previously been with The New Saints in Welsh Premier football, where he had spent three seasons.
His first season at Alty was slightly curtailed by a hamstring injury shortly before the end of the campaign but 2018-19 saw him as regular partner for Tom Hannigan at the heart of the defence being a virtual ever-present after reclaiming his position from Liam Goulding.
He started 2019-20, once more, as first choice in the right-sided centre-back role until illness cost him his place in New Year 2020. Howver, an excellent 2019-20 season culminated in his decision to leave Altrincham for the Football League, a decision announced on 19 July 2020.
On Sunday, Elliott Durrell made it six goals in the only five games he has ever played for Altrincham. He has scored in each of those appearances, two of which were from the bench and none of which have seen him complete ninety minutes.
Terry Rowley informs us that Elliott's next target is to emulate the legendary Jack Swindells who scored seven goals in the first seven games of 1969/70, having also scored in the final game of the 1968/69 season, making it eight straight games in which he netted.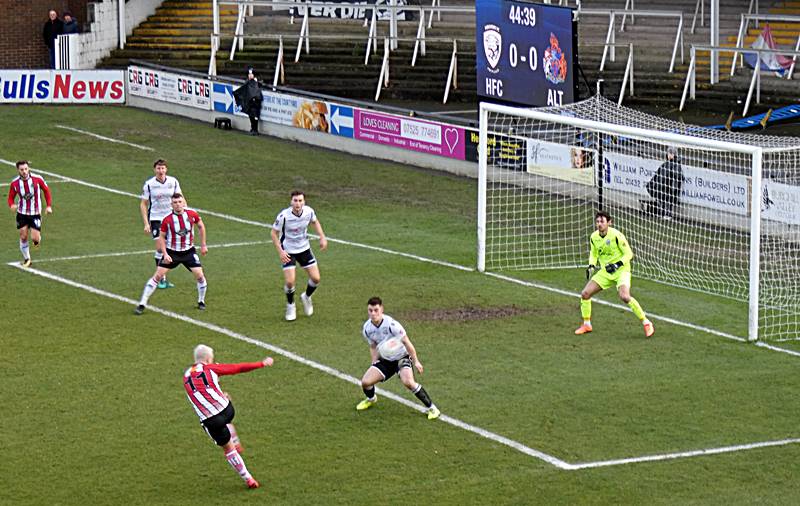 Above: Elliott scores at Edgar Street, Hereford, 29 February 2020.
Elliott's record to date is:
Tue.11.2.20 away at Spennymoor Town - Durrell came on in 68th minute, scored a penalty in 83rd minute. Time on pitch 22 minutes plus added time.
Sat.15.2.20 away at Blyth Spartans - Durrell came on in 56th minute, netted in 57th minute. Time on pitch 34 minutes plus added time.
Sat.29.2.20 away at Hereford FC - Durrell started for the first time and scored in the 45th minute. He was subbed in the 75th minute. Time on pitch 75 minutes.
Sat.7.3.20 home v SPENNYMOOR TOWN - Durrell started and scored in the third minute, withdrawn in 66th minute. Time on pitch 66 minutes.
Sun.19.7.20 home v CHESTER FC - Durrell started and scored from the spot in the 53rd minute and from open play in the 59th minute before being subbed in the 67th minute.
I am reliably informed that this record equates to a goal in approximately every 44 minutes spent on the pitch!
Number 93 in Terry Rowley's series of Alty Legends is 1960s' Altrincham player Dave Carrick, who returned to the club in the following decade too.
Altrincham travel to York City on Saturday for a play-off semi-final but they have twice before fallen at the same hurdle of the National League North play-offs. In 2019 they lost a penalty shootout at Chorley, after leading, before Josh Hancock was sent off and the tide turned.
Back in 2013, the semi-finals were two-legged. Alty won the first leg against Brackley Town at Moss Lane, 2-1, but then travelled to Northamptonshire and lost 3-0 in the second leg.
Now in 2020, they are again away from home in a one-off semi-final which, this time, will be settled without extra time, the game going stright to penalties if the scores are level at the 90-minute mark.
Their opponents this time are York City where Alty have already won this season in both the FA Cup and FA Trophy. SHould Alty defeat the Minstermen they will have played in a unique treble; the last ever FA Cup, FA Trophy and League matches at the historic Bootham Crescent stadium.
Before Sunday's Eliminator Round, York report that "Steve Watson's 24-man strong squad has been back training in preparation for the upcoming Vanarama National League North play-offs... It's been over four months without a competitive fixture, and the manager spoke of his delight at getting back to business.
He said 'We are all delighted to be back, it was a long lay-off for everybody and we also went through a spell of not knowing whether promotion would be automatic, points-per-game or even if the play-offs would go ahead.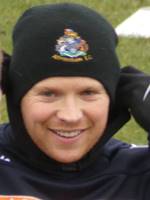 Right: Saturday brings former Minsterman Elliott Durrell back to York City
'It's been a long time coming but we are back in training now and amongst each other, even though for a long period of time we were training in smaller groups as the protocol would dictate.
'We've had a mini pre-season and strangely enough the first game we are looking forward to might end up being the same first game we had at the start of this season'...
He added, 'Everybody has different bodies; everyone has different ways of getting back into things. Some of the players who started the season really well last year after a lay-off looked really good again and some players who ended the season really strongly will come into the equation.
'As well as managing everybody's fitness and not going too hard too early I explained to the lads it's not necessarily the side that who finished highest at the end of the season it's about who looks the most ready now, who looks the hungriest and who looks raring to go.
'In that respect, they've all got an equally good chance of getting in that first team which has made training and competition for places really high.'
Adam Buxton has been retained for the play-offs, along with the likes of Tom Allan, Harry Spratt, Josh King, and Wes York; all of whom were on loan elsewhere when the season ended but now available for selection. And Watson has been impressed so far in training.
Commenting on the squad size he said 'Of course, that will keep the standard really good and the fact that we probably won't get another friendly between now and then, there are very few teams who have big squads in, certainly Premier League and Championship clubs haven't got their U23s in.
'The clubs that are back at our level are going into their games now so we will have to get our competitive football out of training. The great thing about what we've been able to do this season is the Chairman has allowed us to retain a good-sized squad so if everyone stays fit over the next 8 days, we can have competitive training sessions amongst ourselves.'
City will play the winner of Altrincham vs Chester this weekend in the play-off eliminator. A game in which the management has a keen eye on.
Watson added 'We will certainly be watching it. We still have to find out if it's feasible to get somebody there but the strange situation is, we will be looking at both teams; it might be easier for me and Micky to sit and watch it together and take a team each and do it that way'.
But whoever awaits City in the semi-final will face a York side with a point to prove after missing out on automatic promotion despite ending the season in top spot. The added addition of five substitutions during the play-offs will also be a tool at Steve Watson's disposal...
Watson concluded 'Everyone has got their own agendas as has been proved with the voting system. We certainly won't use it as an excuse but we do feel slightly aggrieved that we were two points ahead at the top of the table with eight games to go on a decent bit of form*...
[*York City were tenth in the form guide when the season ended; Altrincham were third].
'But that's the way they have decided to do it and it's something that we have to put behind us now but it does give us that little bit extra point to prove that we placed where we did because we were one of the best teams in the league and we want to see that through desperately. However, every other team will say the same thing. The team we face will deserve to be there and will have got through the preliminary game.
'It's a one-off tournament situation and certainly not the way we normally set up to start the game but with substitutions and penalties a possibility there is a lot of thought in which way to do things and it's exciting.'"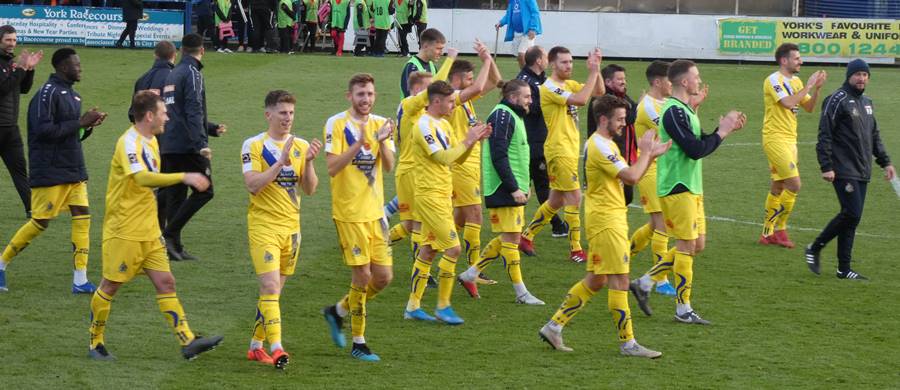 Above: Alty salute their supporters after their FA Cup win at Bootham Crescent on 10 November2019.
Later, York City added that "City will host Altrincham on Saturday...
Steve Watson's men will grace the pitch for the first time since the four-month lay-off... The game will be played in different circumstances however, with drinks breaks scheduled mid-way through each half, five substitutions, and up to six substitutes named on the teamsheet.
Should the scoreline be level after 90 minutes, a penalty shootout will determine the winners...
We have been granted permission from the National League to wear our maroon commemorative kit for our semi-final game. The maroon shirt features the famous white 'Y-Front' design of the mid-Seventies along with the club's original coat of arms and current club crest."
Amd York City "confirm our 24 players that are available for selection in the National League North Play-Offs.
Adam Buxton is registered and is eligible to play. Tom Allan, Harry Spratt, Josh King, and Wes York are all back with the club after their loan spells away and are available. Jake Wright will remain at loan club Boston United, however, [he] is ineligible to play should we meet in the final.
See the full squad list below.
Goalkeepers: Pete Jameson, Ryan Whitley
Defenders: Tom Allan, Adam Buxton, Nathan Dyer, David Ferguson, Kallum Griffiths, Charlie Jebson-King, Josh King, Steve McNulty (club captain), Sean Newton, Harry Spratt, Joe Tait, Jake Watson
Midfielders: Andy Bond, Kieran Green, Reiss Harrison, Paddy McLaughlin, Adriano Moké, Wes York
Forwards: Jordan Burrow, Alex Kempster, Macaulay Langstaff, Dan Maguire
Meanwhile, York City also report that "Adriano Moke is relishing the chance of a fourth trophy with the Minstermen as the club starts their play-off journey against Altrincham on Saturday.
The midfield mainstay has been back in training with his teammates at Wigginton Road... He said...'It feels good to be back and doing what we love. Everyone has come back fit and come Saturday we are dying to go and are going to give it all we've got.'
With the cup defeats still fresh in his mind from earlier in the season, Moke is looking to make amends and restart the season the way they opened it, with a 3-1 win in Altrincham's back yard.
He added, 'Altrincham are a good side, have always been a good side and gave us problems this year. Now it's time to give them problems and we've got to be on our A-game. It's a case of revenge and we are going to play our game how we have been all season. On our day no one can stand in the way of us...
Moke has featured heavily in Steve Watson's side this season, appearing 37 times throughout the campaign and starting every game of the 18-match unbeaten run at the start of the season. But he... added 'Competition is always good, and you've got good players you are competing with and if you don't do your job then those players are there. That's in every position; defence, midfield, strikers'...
Another promotion would be a fitting way to end Moke's fifth season in York colours... He said 'Play-offs are nerve-racking... We have just got to work hard and we will get the reward at the end... I've got three trophies but to win this one would mean everything to me and show I've done all right for myself. I want to win it. I want another medal and play-off promotion on my CV...
'It could be everyone's last game for York City and that's how we will have to think going into it'">
This summer could see four northern clubs exit the National League, with Barrow promoted to League Two, AFC Fylde and Chorley both relegated and the possibility that Harrogate Town are promoted out of the division, too, via the play-offs.
So, if Altrincham manage to beat York City in the semi-final on Saturday and go on to beat Boston United or Gateshead in the promotion final, they would be the north-western outpost of the national division, with only Hartlepool United and, by a relatively short distance, FC Halifax Town, lying further north(-east) than the J. Davidson Stadium.
The southern slant of the national division is further exacerbated by the already promoted champions of National North being King's Lynn Town, who are hardly located in the northern heartlands of England.
And the four clubs involved in the promotion semi-finals for National South are located to the south of London being Hampshire's Havant & Waterlooville, Kent's Dartford, Surrey's Dorking and Dorset's Weymouth. Already promoted automatically are Wealdstone in north London.
"New signing Panos Katsamagkas says joining
Blyth Spartans
is a big opportunity...
Greek forward Panos put pen to paper at Croft Park after weeks of training with what are now his new teammates.
Panos's arrival at Blyth will allow him to get a full season of National League North football under his belt having spent most of his time at Harrogate Town in their under-23s set up...
Panos said 'Playing for Blyth is a big opportunity for me to play at this level for the first time in my career and test my abilities against players that play in this division. I know that the club has a big history...
'I have seen that there is a Greek supporters' fan page on Facebook and Twitter, so I'm very happy to be Greek and play for Blyth Spartans! I want to prove that I can compete at this level and hopefully through playing my role and helping the team, I can go higher in the football pyramid.'
He added 'A big part of my decision to sign here was Michael Nelson. From the first time we spoke he explained to me the plan of the team going forward and showed me that I can trust him on and off the pitch'...
'I would describe myself as a versatile player. I can do a lot of things on the pitch, like scoring goals and help the team build the game. I like to work hard defensively by putting pressure on the defenders'".
---
21 July 2020
Arrangements for George Heslop's funeral have been announced
Altrincham FC announces that "The funeral will pass The J Davidson Stadium at 12.45pm on Monday 3rd August and it would be really appreciated if as many people as possible, maintaining social distancing, could be there to pay their respects.
The funeral service itself can be followed by a webcast at 1.30pm for anyone who would like to follow the service. The login order ID is 41005 and password is snmequjz".
Sunday's play-off eliminator marked left-back Connor Hampson's 100th appearanmce for Altrincham, of which 87 of his games have been from the start. He has scored five goals in that time.
Twenty-seven year-old Connor (right) joined Altrincham, initially on a month's loan, from Stockport County on 2 November 2017. He had been at Edgeley Park since February 2017, a club he had joined from Curzon Ashton, but injury sidelined him before the end of the 2016-17 season at County.
Connor had previously been at the Tameside Stadium since 2011. His impressive performances for Alty prompted an extension of his loan period into 2018. He missed several games in the Spring of 2018 through injury before returning for the run-in where he played well at centre-back.
A broken hand kept him out of the side during August and September 2018 before he returned to be a regular starter at left-back. At the start of 2019-20 he acted as captain in the injury absence of Jake Moult.
Connor joins eight team-mates (Densmore, Hancock, Hannigan, Hulme, Moult, Richman, Thompson and Williams) in having made 100 or more appearances for Altrincham. Two others to have reached that landmark have left the club in 2020, namely John Johnston who moved to Chester FC and James Jones, whose departure was announced on Sunday.
Number 92 in Terry Rowley's series of
Alty Legends
is 1960s' Altrincham player Ron Phoenix.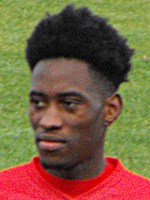 The
Northern Premier League
says that "Radcliffe have signed former Leeds midfielder Simon Lenighan from Buxton.
Lenighan, 26, has played in the National League for Halifax Town, and also turned out for Rotherham United, Harrogate Town, Frickley Athletic, Warrington Town, Altrincham and Guiseley.
A Boro statement said 'He is another exciting addition to Fowls' youthful side... The midfielder's experience of the league will be a great asset to the youthful squad being built at the Neuven Stadium."
Simon joined Altrincham on 4 November 2016 from Warrington Town. He started out with Leeds United (2012-15). From Elland Road he had loan spells with FC Halifax Town (February -June 2014) and Alfreton Town (February to April 2015). He then joined Rotherham United on a free transfer. Simon made his Alty debut on 5 November in the FA Cup at Lincoln City but was released on 8 December 2016 after three starts for the club.
Chester FC
report that Sunday's "defeat was a tough one to take for us all, for so many reasons.
But, at 3-0 down and a man short following a red card, the boys in Blue and White, playing for free,– scrapped and battled and very nearly pulled off an incredible comeback. Anyone that saw the game yesterday saw how much the club means to the players. They've worked so hard to get to this point, and so have you, our incredible supporters...
Attentions now turn to the 2020/21 season. You've been playing your part in style in the Boost the Budget campaign, with over £110,000 raised so far... but it is critical we keep pushing the number up ahead of the deadline... Friday 31st July".
Five years ago today, Tuesday 21 July 2015, Altrincham lost 1-0 at Witton Albion; their first pre-season loss that year, following draws at Abbey Hey and at home to Wigan and 1-0 wins at Bamber Bridge and Stalybridge Celtic.

Above: Damian Reeves heads clear as Alty defend their goal in the first half.
The Robins fell behind in the 14th minute to a fine header by Lee Cropper, which went in off the underside of the crossbar, after Alex Titchener had got behind Adam Griffin on the Albion right. Lee Sinnott made four half-time changes, with Richman, Moult, Rankine and Lawrie coming on to replace Griffith, O'Keefe, Clee and Crowther. The changes prompted an improved second half from Alty but few clear scoring chances for the visitors.
With just three goals scored in five pre-season games, one area that had been particularly disappointing has been up front. But several players elsewhere in the formation displayed a lack of sharpness, with mis-control and passes going astray with frequency.
Alty started with seven players who had figured regularly towards the end of last season, plus three new signings (Deasy, Griffith and O'Keefe), plus an unnamed trialist.
Jordan Deacey was not in this matchday squad, having been released and also absent were Luca Havern and Jordan Sinnott. The same unnamed trialist who had played against Wigan, once more was involved tonight. Reserves Joel Swift and Sam Heathcote, as well as youth team graduate Rhain Davies were also in the squad.
Witton included on their bench ex-Alty reserve Ashley Stott, former Alty trialist Tom Schofield and ex-youth teamer Joel Brownhill.
ALTRINCHAM: 1. Tim DEASY, 2. Shaun DENSMORE, 3. Adam GRIFFIN, 4. Anthony GRIFFITH, 5. Scott LEATHER, 16. Tom MARSHALL, 6. Josh O'KEEFE, 7. Nicky CLEE, 8. A. TRIALIST, 10. Damian REEVES, 11. Ryan CROWTHER. Subs: 12 Sam HEATHCOTE, 14. Jake MOULT, 15.James LAWRIE, 9. Michael RANKINE, Joel SWIFT, 17.Simon RICHMAN, David BROWN, 18. Stuart COBURN, Rhain DAVIES.
Brackley Town
report that "Saints fell at the play-off hurdle for the third successive season losing out to Gateshead in a dramatic penalty shoot-out at an eerily deserted St James Park.
'It is disappointing,' Kevin Wilkin said. 'The players have given a fantastic effort again today and through the course of the season and we are frustrated again. It probably makes it worse that we had a shot to win it again and we've not taken it.'
A closely contested game produced few clear-cut chances but burst into life at the end of the first half. Gateshead failed to convert a 35th minute penalty, Danny Lewis saving to his left from Jordan Preston but the visitors finally profited from mounting pressure to take the lead deep into added time. Greg Olley's free-kick was not well defended leaving Jake Cooper the simplest of tasks to head the ball over the line.
Within seconds Brackley were level, and in remarkable fashion, as directly from the re-start Shane Byrne conjured an outrageous equaliser. The midfielder somehow beating keeper Brad James from inside his own half, the ball dipping beneath the crossbar.
Goal threats were rare in a lacklustre second half as the prospect of a penalty shoot-out loomed...
Gateshead keeper Brad James was the hero of the hour pulling off three saves to send his side through to meet Boston United in the semi-final.
'Two teams have come out and gone toe to toe and unfortunately it's not quite happened for us,' Wilkin added. 'There were some good performances out there and I think there were some where I would expect a bit more. We always knew that Gateshead would be difficult to break down and that proved to be the case. To come here and do what they've done they deserve a lot of credit. We wish them well in the semi-final.'"
And the local Banbury Guardian adds that "Kevin Wilkin admitted he and the Brackley Town players were left feeling emotionally drained after they suffered more National League North play-off heartbreak... For the second time in the space of a year [and a bit], Brackley's hopes were ended in a penalty shoot-out..
In a marathon shoot-out, Brackley had a kick to win it but Lorrel Smith saw his effort saved by Bradley James who went on to be Gateshead's hero as his decisive stop from Ellis Myles earned a 6-5 success and a semi-final trip to Boston United next weekend.
And it simply left Wilkin deflated...
'You are always wary about the lottery of penalties but we also have to look at it and give Gateshead great credit because they moved the ball better in the second half and asked more questions of us... We started the game very well but when you don't crystalise that with a goal, it can come back...
'I look at us as a group and over the course of the season our discipline and goals against record has been very good. This is the third season we have made the play-offs and to keep doing it and showing that desire, emotionally it's quite draining and it's tough for the players. We have some tremendous characters in the group and we will get together again and dust ourselves down from this and hopefully we will resume next season.'
Wilkin reserved a word of praise for Byrne's spectacular strike, which came after Lee Ndlovu had rolled the ball back to the midfielder from the kick-off after Gateshead had opened the scoring.
'It was just a fantastic goal, especially in that moment,' Wilkin added. 'You just have to take your hat off to a moment like that. It was quick thinking and great execution and to level it up as quickly as we did, it was perfect.'"
From the other side, Gateshead tell us that their "player-manager spoke following Sunday's tense play-off eliminator at Brackley Town.
Mike Williamson admitted Sunday's game was 'quite surreal' after reaching the Vanarama National League North play-off semi-final with a penalty shootout win over Brackley...
Also from Gateshead comes confirmation that "We will travel to York Street to face Boston United in the Vanarama National League North play-off finals on Saturday, July 25 (5:30pm kick-off).
The Pilgrims finished the season in third place, earning a bye to the semi-final in the process... Our virtual ticket for the fixture is once again on sale, including a digital issue of our matchday programme, HeedLines, and a physical ticket signed by a member of the first-team squad.
You can also secure your seat at York Street with your own personalised cut-out for £25, which will be placed in the away end alongside the Heed Army".
---
20 July 2020
After a bright start by Alty, Chester grew into the first half. But Josh Hancock fired Alty ahead from 20 yards in the 34th minute with a low shot with which keeper Gray could have done better.
Chester were the better side for most of the second half but early in that period referee McNamara controversially awarded Alty a penalty when Hulme played in Mooney. Mooney hesitated and John Johnston, tracking back, was judged to have brought him down. Ex-Alty man Johnston was sent off as Chester, with some reason, felt aggrieved. Former Chester man Durrell sent Gray the wrong way from the spot for his fifth goal in five games for Alty to make it 2-0.
When Durrell cleverly converted a Hulme feed in the 56th minute to make it 3-0 it looked all over for ten-man Chester.
But the visitors continued to have the better of the game and dreadful defending at a freekick allowed Glendon to reduce the arrears (63 mins). Chester then made it 3-2 with a fine cross from Waters being headed home by Hughes (79 mins).
Alty continued to labour, despite their extra man on the pitch, but they held out through some eight added minutes to progress to an away semi-final at York City next Saturday, their third trip to Bootham Crescent this season.
Match report here.
ALTRINCHAM (Red and white striped shirts, black shorts, red socks): 1. Tony THOMPSON, 2. Andy WHITE, 3. Connor HAMPSON, 4. Toby MULLARKEY, 5. Tom HANNIGAN, 6. Jake MOULT (c), 7. Daniel MOONEY, 8. Josh LUNDSTRAM, 9. Jordan HULME, 10. Josh HANCOCK, 11. Elliott DURRELL. Subs: 12. Craig MAHON, 14. Max HARROP, 15. Tom PEERS, 16. Simon RICHMAN, 17. James HOOPER, 20. Elliot WYNNE
CHESTER FC (All blue): 1. Louis Gray, 2. Kevin Roberts, 3. Joel Taylor, 4. Scott Burton, 5. Danny Livesey, 6. Simon Grand, 7. Brad Jackson, 8. George Glendon, 9. George Waring, 10. Danny Elliott, 11. John Johnston. Subs: 12. Jamie Morgan, 13. Jon Worsnop 14. Matty Waters, 15. Gary Stopforth, 16. Matty Hughes, 17. Anthony Dudley
The Chester Standard claims that "referee David McNamara played a starring role in ending Chester's play-off dreams.
McNamara, famous for being suspended after using rock, paper, scissors in place of a coin toss in a Women's Super League fixture back in November 2018, was again in the spotlight early into the second-half at Moss Lane.
The man in black adjudged that John Johnston had fouled Dan Mooney, who was closing in on Louis Gray's goal, and showed the former Altrincham winger a straight red card.
It was a double blow for the Blues, who were not only forced to watch Elliott Durrell convert the resulting penalty to add to Josh Hancock's first-half opener, but play the remaining 38 minutes a man down.
The replay shows minimal contact was made by Johnston on Mooney [left], who spent time on loan with the Blues last season, and joint-boss Johnson was outraged by the decision, not only to award the penalty, but to also send Johnston off given the double jeopardy law.
'At the time I thought it was a disgrace and I think it even more so now I've seen it back,' declared Johnson. 'If there is anybody that disagrees with me they've got to be blind. That's how I see it. I'll be honest, I put a tweet out when I saw who was refereeing the game a couple of weeks back and it was one of those (emojis of someone) being sick, because there's always that element of decision-making that seems to be in games he plays a part.
'It wasn't just that (the penalty and red card) I watched one of their players back-heel the ball out for a goal-kick and he gives a corner, I watched one of their players kick one of ours on the floor, a straight red card, and I think he gave them a free-kick. It's not like I'm just going on about the goal that's changed our season.
'I don't want to sound bitter because they are a good side, we've got a lot of respect for Altrincham and the management team and they are a good team, but it's clear that decision has changed the game.'
Up until then there wasn't much between the two sides as Hancock's effort squirmed under the body of Gray, who had earlier made two fantastic saves to keep the scores level, to put Altrincham in-front.
Right: Josh Hancock
But once Durrell had doubled the Altrincham advantage the Robins quickly added a a third, the former Blue grabbing his second of the game, via a deflection that took the ball beyond the grasp of Gray.
'What an awful, horrible way to go out of the play-offs; through a sending off, because it looked like it was set up for a brilliant game,' continued Johnson... 'Two good sides and there was plenty in the game after the obvious decision was made. I was going to say it killed the game for us, but actually we ended up finishing the game so strongly in the last 20 minutes'...
Joint-boss Johnson, sent-off for kicking a drink onto the pitch after his side's penalty appeals were dismissed, summed up life for the Blues when he said 'It is cruel, it's a cruel game that always seems to be cruel for us at this football club.
'We feel like we've got it going in the direction it needed to and hopefully everyone else has seen it the way we've seen it and the players have put in a performance that everyone can go away and be proud of'".
And Chester FC report that they "came unbelievably close to pulling off a remarkable upset in their first game in over four months but the ten men were eliminated from the Play-Offs.
Altrincham took the lead through Josh Hancock before doubling their advantage after an Elliott Durrell penalty and dubious red card for John Johnston.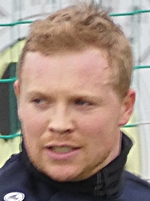 Durrell (left) added his second and Altrincham's third shortly after before a late fightback saw Chester get two goals back through George Glendon and Matty Hughes but just didn't have enough to get the equaliser.
It was the hosts that asserted the early pressure though, taking the game to the Blues from kick off and almost took the lead after seven minutes as Josh Hancock's 25 yard free kick was brilliantly tipped onto the crossbar by Louis Gray in the Chester goal...
Chester started to grow into the game though and forged their first chance of the afternoon after ten minutes... It was the hosts that took the lead with just over ten minutes to go until half time as Josh Hancock found himself with space twenty-five yards out and fired a low drive beyond the outstretched arm of Louis Gray...
Chester started the second half brightly forcing a succession of corners and pressing Altrincham deep in their own half before disaster struck as the hosts countered Jordan Hulme setting free Dan Mooney, John Johnston chased Mooney down as he bore on goal and was adjudged to have brought him down and was shown a straight red card as Altrincham were awarded a penalty. Up stepped Elliott Durrell, who send Louis Gray the wrong way and doubled the Robins' advantage.
The Blues changed shape and looked for a way back into the game but again came unstuck on the counter attack as Durrell was played in and beat Gray from a tight angle.
There was a lifeline for the Blues as they pulled one back six minutes later, winning the ball high up the pitch and Anthony Dudley squared for George Glendon, who beat Thompson in the Altrincham goal...
Chester, despite being a man down, were very much in the ascendancy... Waters managed to get Chester back within striking distance as his cross picked out Matty Hughes who beat Thompson from close range leaving the Blues with eleven minutes to find an equaliser".
Two years ago today, 20 July 2018, Alty played a home friendly against Crewe Alexandra, which they lost to three first-half goals. Two future Alty loanees were in the Alex squad, Billy Sass-Davies and Josh Lundstram.
The match saw Altrincham surrender a previously unbeaten pre-season run to a Crewe Alexandra side which started the game impressively. Disappointing defending led to Alty conceding twice in the opening ten minutes. The first goal came after an unnecessarily conceded corner which was not cleared and Ng netted. The second Crewe goal arrived from a Pickering cross and a Bowery header, which Thompson could only parry back towards his own goal where Harrison was unable to hook the ball clear, despite his best efforts.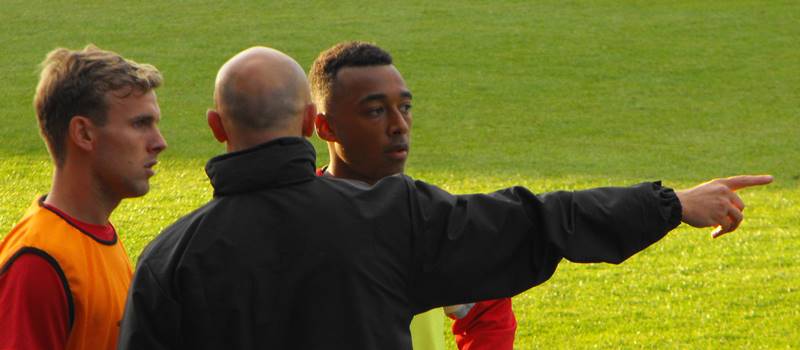 Above: Phil Parkinson gives instructions to Alty's two trialist substitutes, Bay Downing and Lloyd Bannister, before they joined the game during the second half against Crewe.
Crewe went 3-0 up in the 16th minute when a Kirk cross was converted by Wintle.
Altrincham gradually got into the game and, despite the disruption of making eight second-half substitutes, they threatened the visitors' goal on several occasions, not least when a Peers header smacked against the bar.
There were no trialists in Alty's starting eleven but five of last season's regular squad members were on the bench (Moult, Jones, Hannigan, Harrop and Peers). New signings Sean Williams and Liam Goulding both started, whilst on the bench were trialists Lloyd Bannister and Bay Downing who had played in Tuesday's match against Macclesfield.
ALTRINCHAM (Red & white striped shirts, black shorts and red socks): 1. Anthony THOMPSON, 2. Andy WHITE, 3. Connor HAMPSON (capt), 4. Ben HARRISON, 5. Liam GOULDING, 6. Sean WILLIAMS, 7. John JOHNSTON, 8. Simon RICHMAN, 9. Jordan HULME, 10. Josh HANCOCK, 11. Sean MILLER,. Subs: 12 Elliot ROKKA, 14. Jake MOULT, 15. James JONES, 16. Tom HANNIGAN, 17. Max HARROP, 18. Tom PEERS, 19. Lloyd BANNISTER, 20. Andrew JONES, 21. Bay DOWNING.
CREWE ALEXANDRA (Blue) 1. Dave RICHARDS, 2. Nicky HUNT, 3. Harry PICKERING, 4. Paul GREEN, 6. Perry NG, 7. Charlie KIRK, 8. Ryan WINTLE, 9. Alex NICHOLS, 10. Jordan BOWERY, 11. Tommy LOWERY, 12. Eddie NOLAN. Subs: Ben GARRETT, Billy SASS-DAVIS, Chris PORTER, Finney DAVIES, Calum AINLEY, Brad WALKER, Josh LUNDSTRAM.
In Sunday's second play-off eliminator
Gateshead
"defeated Brackley Town 6-5 on penalties to set up an away tie at Boston United in the Vanarama National League North play-off semi-final.
Late first-half drama set the tone as Jake Cooper put the Heed ahead before Shane Byrne scored straight from kick-off to level things up.
A goalless second-half led to a tense penalty shoot-out, where Brad James saved three spot-kicks to send the Heed through to the semi-finals... It was Brackley who started things the brighter... With around ten minutes left [in the first half], everything was turned on its head.
Alex Nicholson was sent in by Greg Olley and then brought down in the box by Carl Baker, handing Gateshead the chance to take the lead from the penalty spot. It proved to be too soon however, as Danny Lewis's outstretched leg proved enough to keep out Jordan Preston's spot-kick and keep things goalless.
That all changed on the stroke of half-time.
A free-kick deep into the Brackley half was sent into the back post by Olley, with Cooper prodding in right on time from a few yards away to hand the Heed the lead.
That lead was to last only seconds, as Byrne took aim from kick-off and fired over James's head and into the top corner to net a ridiculous equaliser and haul the hosts level at the break... Chances were at a premium for much of the second half with both 'keepers fairly untroubled for the most part...
Both sides were locked perfectly evenly in the penalty shootout, before Brad James came in clutch[?]to beat away Ellis Myles's penalty and send the Heed through to the semi-finals...
Brackley Town XI: Lewis, Myles, Franklin (Daire, 88'), Byrne, Walker, Dean (c), Lowe, Murombedzi, Ndlovu (Maye, 90+4'), Armson, Baker (Fairlamb, 75'). Unused subs: Langmead, Worby.
Gateshead XI: James, Forbes, Cooper, Williamson, O'Donnell, Nicholson, Deverdics, Agnew (Pattison, 90'), Preston, Olley, Keating (Blackett, 72'). Unused subs: Greenfield, Guthrie, Hunter".
Meanwhile, the Banbury Guardian observes that "Brackley Town suffered penalty shoot-out heartbreak in the National League North play-offs for the second year in a row as their hopes were ended by Gateshead behind closed doors at St James Park.
Things were all-square at 1-1 after 90 minutes, during which Shane Byrne scored one of the best goals you will ever see, but the Saints were left rueing spot-kicks once again at the end of the day.
The game burst into life towards the end of the first half when Gateshead were awarded a penalty after Carl Baker was adjudged to have fouled Alex Nicholson in the area. However, Danny Lewis was equal to Jordan Preston's spot-kick although that did spark a good spell for the visitors who took the lead deep into stoppage-time.
A free-kick was whipped in from the left, it was flicked on and Jake Cooper was left unmarked to nod home at the far post. But no one could have seen what would happen next.
Lee Ndolvu rolled the ball back to Byrne from the kick-off and the Irish midfielder uncorked a sensational strike from more than 50 yards, which sailed over Bradley James's head and into the top corner.
The second half was fairly low-key with chances few and far between as the heat began to take its toll... But neither side could find a winner, which meant it was straight to spot-kicks.
And it proved to be a marathon effort that went to sudden death with Lewis and James both making saves but the key moment arrived when Elliot Forbes scored to put Gateshead 6-5 up and Ellis Myles then saw his effort saved by James to spark wild celebrations from the visitors".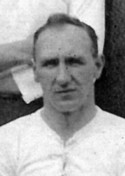 Terry Rowley has been busy during lockdown and his latest profile in the
Alty Legends
series is of John Jepson who, like Elliott Durrell, scored on his first five appearances for Altrincham. Indeed John scored again in his sixth game, so Elliott has a target when he plays at York next week!
Slough 0-3 Dartford, winners away at Havant & Waterlooville
Bath City 1-2 Dorking, winners away at Weymouth
---
19 July, 2020
h3>
SCORES
Vanarama National League North play offs are:
Sunday 19th July 2020- 1.30pm: Elimination Round- Match A - Altrincham 3-2 Chester FC
Sunday 19th July 2020- 4pm Elimination Round- Match B – Brackley Town 1-1 Gateshead. Gateshead won 6-5 on penalties.
Saturday 25th July 2020- 3pm Semi Final – York City vs Altrincham
Saturday 25th July 2020- 5.30pm Semi Final – Boston United vs Gateshead
Saturday 1st August 2020- 3pm Promotion Final – Stadium of higher-ranked finalist
Altrincham FC's limited edition matchday programme for today's game confirms that centre-back "James Jones has decided to end his time as an Altrincham player and seek a fresh start" despite the "offer of an improved contract on better terms". However, Director of Football, Rob Esteva adds that "We are fortunate to have a player of the calibre of Toby Mullarkey ready to step in and fill the breach".
Jones is, nevertheless, listed in the Altrincham squad for today's game, where there is a suprise in the inclusion of goalkeeper Elliot Wynne [left]. Elliot (22) originally joined Altrincham in late July 2018, having previously impressed when playing against Altrincham for Abbey Hey in the Emirates FA Cup in 2017. He was also Lancaster City's keeper when Alty won 2-1 at The Giant Axe in April 2018. As a teenager (2012), Elliot was with Oldham Athletic before moving on to Rochdale.
At Alty, Elliot won his place as first-choice keeper in late August 2018 but gave way to Tony Thompson in October. On 4 January 2019, it was announced that Elliot had gone on a month's loan to Trafford FC and this was extended in early February. He returned to Moss Lane in early March 2019 but was released in late May 2019 having played ten times for the club. On 31 May 2019 Farsley Celtic announced that Elliot had signed for them. In early 2020 he went on loan to Droylsden.
The 19-man squad listed for today's game therefore includes three goalkeepers in Wynne, Tony Thompson and Steven Drench.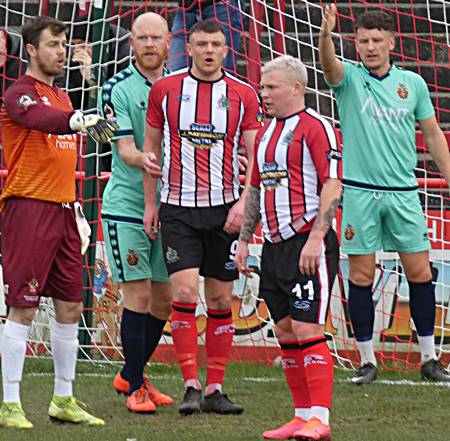 And the Non-League Paper has a pre-match interview with Jordan Hulme.
He reveals that Phil Pakrison has "got us on a strict regime of training four times a week... I actually feel fit for once!"
Speaking of opponents Chester FC, Jordan added, "People say there's no friends in football but I think that's a lie. There's five or six in their team who are very good friends but there won't be any friends on Sunday...
Right: Jordan Hulme pictured with Elliott Durrell in the last match played at the J. Davidson Stadium, against Spennymoor Town.
"Jonno (Anthony Johnson, joit manager of Chester FC) rang me the other day and I didn't answer his call. I just thought I'm better off leaving it.
"Recently, a bit of rivalry has built up between Alty and Chestrer for numerous reasons...
"I'm used to playing in front of a man and a dog in the Manchester leagues so [without spectators on Sunday] it might benefit me!"
Referring to arriving at Alty, Jordan said, "When I first joined, my head was all over the place. I went training with them in pre-season and the gaffer got the chairman to bring a contract after one session. I said I'm not signing it. He was stunned.
"It took me a few months to understand how good the club was in the community and how big it was. Honestly, it's the best club I've ever been at.
"If I can repay them by helping win these play-offs then I'll be over the moon".
The match officials for today's game with Chester FC are David McNamara (referee), Dane McCarrick and Jamie O'Connor (assistant refereees) and Jake Topp (fourth official).
Mr McNamara actully refereed one of Alty's last games before the 2020 lockdown, the 3-0 win at Croft Park against Blyth Spartans in February.
Other games in which he has officiated include another 3-0 win against North-East opposition, when Alty beat Morpeth Town in an Emirates FA Cup 3QR match on 10 October 2016 and a 3-2 dfeat at Alfreton Town on 19 November 2016,.
Today (Sunday) sees football action return to Altrincham as The Robins entertain Chester FC behind closed doors at the J Davidson Stadium in a Vanarama National League North promotion play-off "eliminator".
By coincidence, the first home fixture to be postponed, on 21 March, due to Covid-19 was a scheduled league match at the J Davidson Stadium against today's visitors, Chester FC. And, now, that very same fixture will become the first match played since the loosening of the lockdown restrictions.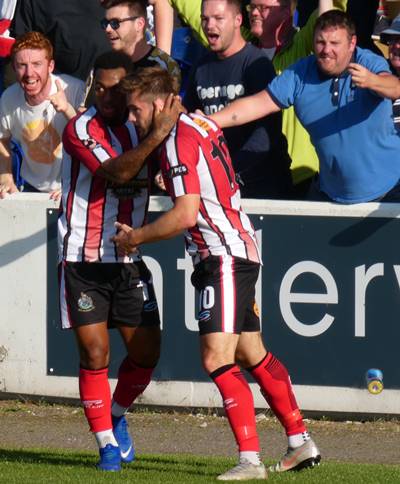 However, the contest has now assumed even greater importance as, after the National League finalised the table with both clubs deemed to have qualified for the play-offs through the PPG "Points Per Game" formula, it has become a knock-out tie, to be completed if necessary by a penalty shootout if the scores are level after ninety minutes. By the PPG methodology, Altrincham finished fifth and Chester sixth.
Right: In the drawn FA Cup tie at Chester in September 2019, Ashley Hemmings congratulates Josh Hancock on his goal.
Whereas, under normal circumstances, a bumper crowd could have been expected for this Cheshire derby, the ground is today restricted to accommodating just the playing squad, backroom staff, some media and others deemed essential to the process.
The sides have actually already met three times previously in this protracted 2019-20 campaign. A last-gasp own-goal gave Chester a 1-1 draw at their ground in the league back in August 2019 and the same score was achieved there the following month, in the FA Cup, when Josh Hancock's goal was the Alty equalizer after Chester had taken a second-minute lead. By coincidence it was James Jones's second-minute goal for Alty that had won the replay for The Robins.
The late Mike Garnett's records, updated, uncover the historical record between the clubs...
Home: P7-W4-D1-L2-F14-A10
Away: P5-W2-D2-L1-F6-A5
All: P12-W6-D3-L3-F20-A15
Somewhat belatedly the National League has announced how to watch the National League promotion play-offs, which start on Sunday, via a
Sportsradar
streaming service.
The cost is £5.99 per match or £14.99 for all games. Further details are on the Altrincham FC website.
So, this is Altrincham's first competitive fixture since 7 March when they beat Spennymoor Town 4-1 at the J. Davidson Stadium. It will be, therefore, 134 days of competitive inaction that are terminated by this match. It is the second successive appearance in the play-offs for Phil Parkinson's team, having fallen at the semi-final hurdle at Chorley in 2019.
Above: The most recent goal scored at the JDS before today; Jordan Hulme (9) watches as his superb shot dips into the top corner of Spennymoor keeper Gould's net to make it 4-1 on 7 March 2020.
The most striking change in line-up from when these clubs met three times earlier in the season is that former Alty wingman John Johnston is now in the Chester FC camp, having moved there in late January 2020. However, Alty have retained the services of loanee midfielder Josh Lundstram from Crewe Alexandra and Chester FC have likewise been permitted to included Carlisle United loanee goalkeeper Louis Gray in their squad as well as new goalkeeper/coach Jon Worsnop.
Alty's Elliott Durrell, who counts Chester FC as one of his former clubs, is looking to extend his remarkable record of scoring in all four of his appearances for Altrincham before lockdown had started.
By way of a reminder, this was Altrincham's line-up against Spennymoor Town: 1. Tony THOMPSON, 2. Shaun DENSMORE, 3. Connor HAMPSON, 4. James JONES, 5. Tom HANNIGAN, 6. Jake MOULT (c), 7. Daniel MOONEY, 8. Josh LUNDSTRAM, 9. Jordan HULME, 10. Josh HANCOCK, 11. Elliott DURRELL. Subs: 12. Craig MAHON, 14. Andy WHITE, 15. Tom PEERS, 16. Toby MULLARKEY, 17. Simon RICHMAN
On the eve of the match today Chester FC stated "Come 1.30pm tomorrow, it will have been 134 days since last our match, an away defeat at Bradford PA. A lot has happened since then...
It'll be a tricky path to success for the Blues, with the winner of this tie visiting York City next Saturday before the Promotion Final on the first day of August...
The Blues have lost Russ Griffiths, Elton Ngwatala and top scorer Akwasi Asante in the period without match action, but will have Louis Gray and Jon Worsnop to call on between the sticks.
There's still plenty of firepower to choose from up top, with Danny Elliott hitting top form during a loan spell at Alfreton Town at the start of the year."
Altrincham FC Press & Media Officer Brian Flynn has recorded an interview with Crewe Alexandra loanee midfielder Josh Lundstram [right] after he rejoined the squad in advance of today's play-off against Chester FC. The interview can be heard on the
Altrincham FC
website.
On the eve of the clash at Altrincham,
Chester FC
confirmed "that we have received our second and third round of results back for COVID-19 testing.
The rounds took place on Tuesday 14th and Thursday 16th July respectively, with 26 players and Club staff being tested on both occasions.
We are pleased to confirm that zero individuals tested positive in both rounds.
Our full playing squad has been registered for the National League North Play-Offs, including goalkeepers Louis Gray and Jon Worsnop."
Vanarama National League North Play-Offs: Elimination Round:
1.30pm ALTRINCHAM v Chester FC, winners away at York City
4pm Brackley Town v Gateshead, winners away at Boston United
Jack Mandley is the latest addition to Terry Rowley's
Alty Legends
profiles.
Six years ago, today, 19 July 2014, Altrincham played a pre-season friendly at Shawe View and defeated our neighbours Trafford 5-1. Altrincham gave Steven Gillespie a debut, just hours after he had signed for the club. Of the first-team squad, Ryan Crowther, Adam Griffin, Kyle Perry and Rob Gilroy were not involved but trialist Wade Joyce was again in the squad.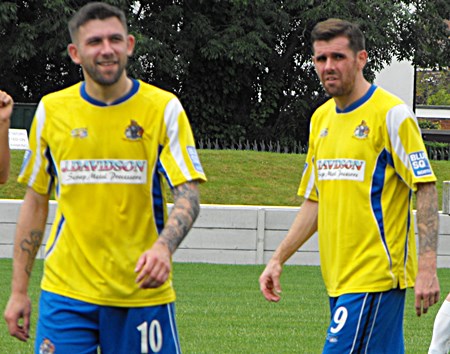 Right: Damian Reeves and Steven Gillespie were Alty's strike duo in the first half at Trafford.
It was a comfortable win on a ground on which they had exited the FA Cup in disappointing fashion the previous season. Four crosses produced four first-half goals for the visitors before a second-half penalty completed Altrincham's scoring.
Shaun Densmore headed the first at the back post from a Gillespie cross from the left in just the third minute. Two goals in two minutes by Damian Reeves made it 3-0 by the sixteenth minute. Both goals were very well taken; the first a stretching finish from a Densmore cross from the right and the second a neat volley from a Richman cross from the left.
Trafford scored from a rare attack in the 23rd minute when Mark Darbyshire was allowed to head home a left-wing cross, unchallenged by Alty's back three. Thereafter, the game was more of a contest but, just before the interval, Gillespie scored with a well-placed header from trialist Wade Joyce's cross.
Substitute James Lawrie won a penalty, which Greg Wilkinson converted in the 69th minute to complete the scoring.
ALTRINCHAM: 1. Dave Parton, 2. Shaun Densmore (capt), 3. Mike Williams, 4. Jake Moult, 5. Gianluca Havern, 6. Tom Marshall, 7. Simon Richman, 8. Greg Wilkinson, 9. Steven Gillespie, 10. Damian Reeves, 11. Nicky Clee. Subs: 12. Scott Leather, 14. Sean Williams, 15. David Brown, 16. James Lawrie, 18. Stuart Coburn. Unnumbered were Wade Joyce and Jeff King.
Gateshead
report that they "visit Brackley Town in the National League North play-off eliminators on Sunday...
The Heed's last competitive fixture dates all the way back to March 7, as eventual champions King's Lynn snatched all three points at the International Stadium...
Kevin Wilkin's side meanwhile secured a 4-2 victory away to Alfreton Town on March 14, with danger man Lee Ndlovu, James Armson, Matt Lowe and ex-Gateshead winger Wes York, who will not be eligible for the Saints during the play-offs, all scoring.
Both teams would've regained some of the sharpness lost over the last few months however, as Brackley hosted Slough Town on Saturday in a friendly, whereas Gateshead faced a diverse Huddersfield Town side.
Mike Williamson's men visit St. James' Park having lost only three league games on the road this season, the joint least in the National League North.
On the other hand, the hosts have only tasted defeat once on their own turf - coming at the start of February against Farsley Celtic. A trip to Boston United is the reward for Sunday's winners, with a game against either York, Altrincham or Chester [in] the final faced by the potential winner.
All Gateshead FC players and staff undertook another round of COVID-19 testing on Thursday, with no positive results returned.
As a result, the full eligible list of players for the play-offs is; Brad James, Sam Guthrie, Alex Nicholson, Mike Williamson, Jake Cooper, Elliot Forbes, JJ O'Donnell, Dom Tear, Danny Greenfield, Jack Hunter, Liam Agnew, Nicky Deverdics, Matty Pattison, Greg Olley, Paul Blackett, Ruairi Keating, Jordan Preston.
'The lads have come in and been brilliant with their attitude and mindset, it's been easy,' player-manager Mike Williamson told gateshead-fc.com... 'That's all we can ask for, that their enthusiasm, discipline and professionalism is up to scratch, and it has been'...
Opposition boss Kevin Wilkin spoke highly of the Heed, saying 'They are a good side. They played really well when we went up there earlier in the season.
'There's a lot of ability there and we are under no illusion it will be an incredibly tough game, but we want to be competing at the sharp end of things in games like these... It is new territory for me to play under these circumstances but it is also for 99% of players and managers alike'...
Gateshead ran out 2-0 victors against the Saints on Tyneside at the end of August...
Both teams have had their memories of the National League North play-offs over the past few years.
Ian Bogie's Gateshead outfit were promoted from the sixth tier at the first time of asking back in the 2008/09 campaign...
For former FA Trophy winners Brackley, after beating Altrincham 4-2 on aggregate in 2013, they fell a goal short against Halifax Town in the play-off final.
They then were denied a place in the fifth tier again, this time in the 2017/18 season due to a ruthless Harrogate Town performance in the final.
Again finishing in third spot, the Saints welcomed Spennymoor Town in the semis the following year. A tight affair went down to penalties, and misfortune went Brackley's way as Lee Ndlovu and Luke Fairlamb blazed over the bar...
Brackley have lost just one of their 16 home games of the regular league season. Brackley have the lowest amount of goals conceded in the top six tiers, with a figure currently standing at 25...
Gateshead have only lost one game in 2020, whereas Brackley have been on the losing side twice".
From the Hartlepool Mail we learn that 'Middlesbrough youngster Brad James is determined to help loan club Gateshead secure an immediate return to the National League.
The young goalkeeper has spent the season on loan at the International Stadium... He told The Mail, 'I was delighted to get the call to come back to Gateshead. It was a surprise; I thought the season was done when we all went into lockdown'...
The youngster has impressed and has kept 17 clean sheets in the 34 appearances he has made for a Heed side managed by former Newcastle defender Mike Williamson
James has...stated his belief that his stint on Tyneside will add his long-term development... 'I have had positive feedback on what I have done at Gateshead and it was a no-brainer to come back and play in the play-offs.
For myself, the experience I have had here, is unbelievable, it's really helped me develop as a goalkeeper and I think Middlesbrough appreciate that.'"
Meanwhile, the Boston Standard asks "Brackley Town or Gateshead?...
Dominic Knowles doesn't care who Boston United face in the National League North play-off semi-finals, he just wants to win...
Knowles has fond memories of facing Brackley, scoring the late winner as the Pilgrims earned their first-ever home win against the Saints earlier this season and netting twice at their expense in the 2018 play-off final final as Harrogate Town earned promotion.
Gateshead, meanwhile, thrashed United 3-0 home and away this campaign.
However, the former Burton Albion attacker [added]... 'We've only had two weeks of training so nobody's going in with any form... so it's almost like the start of the season where nobody knows what will happen'...
Defender Alex Whittle... told The Standard... 'Gateshead have beaten us twice. I don't think the first game (in the north east) had much in it really, a few mistakes. The second game they were better than us'".
The News Post Leader reports that "Blyth Spartans manager Michael Nelson wants his side to follow the lead set by Premier League champions Liverpool when they return to action.
The former Hartlepool United and Norwich City defender is currently working hard to put together a Spartans squad capable of moving on from a disappointing performance in the National League North last season.
The Croft Park club looked set to end their three-year stay in non-league's second tier but were handed an unlikely reprieve when the FA Council ratified a move to not relegate any clubs into the Northern Premier League this season...
And the Spartans boss... told The NPL 'Everyone wants to play nice, attacking football and play out from the back. But at the end of the day, you just have to win games. It doesn't [?matter] how you do it, if you want to be a manager and be successful, stay in the job, you have to win games...
'There has to be a real understanding of what I want, what we do with the ball and without. I think you have seen that with Liverpool this year and I don't want people to think I am comparing us to them. Mane, Salah, Firmino tackling on their own line, that's the work ethic you need in a team.
'Give them a shape and a philosophy and develop a work ethic within every player from one to eleven with no prima donnas, or people having a free role to cheat'...
South Shields youngsters Kieran Charlton and Callum Guy became his first signings of the summer last month and former Barrow centre-back Matthew Elsdon completed a move to Croft Park last week.
A number of last season's squad will remain at the club after the likes of Spartans legend Robbie Dale, defensive duo Rhys Evans and Kris Thackray and young forward Corey McKeown all committing [commited] to the cause.
Nelson's budget has been supplemented by a supporter-led future fund that will come to a close on Saturday evening. The total surpassed £10,000 on Saturday morning...
'I've been busy in terms of phone calls and texts from agents and players,' he explained... 'It's a first for me going into a club as a manager and going in with these circumstances is something I just have to deal with'".
The
FA
"confirm that the UK Government approved our plan for the return of outdoor competitive grassroots football late last night, Friday 17 July 2020.
As a result, the grassroots football community now has the opportunity to return to football and prepare for the start of the new season...
Football activity can take place with necessary modifications in place to mitigate the transmission risk of COVID-19. We would strongly recommend a phased return to competitive football activity as follows:
Until 31 July – When ready, you can begin competitive training, with the overall group size (inclusive of coaches) being limited to 30 people;
From August – Competitive matches to begin, for example pre-season fixtures, festivals and small-sided football competitions;
From September – Grassroots leagues, men's National League System, Women's Football Pyramid tiers 3 to 6, and FA Competitions can commence.
Clubs, players, coaches, match officials, league officials, volunteers, parents/carers, spectators and football facility providers should read our full guidelines... in addition to the latest Government guidance on COVID-19.
A return to competitive football should only happen once clubs and facility providers have completed the necessary risk assessments and comprehensive plans are in place.
A summary of key points to consider from our guidelines are listed for ease below:
Everyone should self-assess for COVID-19 symptoms before every training session or match. If you are symptomatic or living in a household with possible or actual COVID-19 infection you must not participate or attend;
Clubs and facility providers should ensure that their facility is compliant with current Government legislation and guidance related to COVID-19;
Competitive training is now permitted, with groups limited to a maximum of 30 people, including coaches;
Competitive match play is permitted, with social distancing in place before and after the match, and in any breaks in play;
Players and officials should sanitise hands before and after a game as well as scheduled breaks throughout a game or training session;
Ball handling should be kept to a minimum with most contact via a boot and the ball disinfected in breaks of play;
Youth football coaches are encouraged to limit persistent close proximity of participants during match play and training;
Goal celebrations should be avoided;
Equipment should not be shared, and goalkeepers should ensure they disinfect their gloves regularly in breaks in training or matches and thoroughly afterwards. Where possible, coaches should only handle equipment in training;
Where possible, players, coaches and officials should arrive changed and shower at home. Use of changing and shower facilities must follow government advice on the use of indoor facilities;
Participants should follow best practice for travel including minimising use of public transport and walking or cycling if possible. People from a household or support bubble can travel together in a vehicle
Clubs should keep a record of attendees at a match or training session, including contact details, to support NHS Test and Trace;
Clubs should ensure they are affiliated with their County Football Association.
Separate guidance has been developed for clubs with teams competing in the men's National League System (NLS) and the Women's Football Pyramid tiers 3 to 6. This will support these clubs on the safe return of paying spectators and also the applicability of the guidance to facilities under Ground Grading conditions, to ensure the safe return of competitive matches.
Please note that at this stage, indoor football and Futsal is not permitted. We will look to work with indoor facility providers to develop appropriate guidance for indoor formats as soon as possible".
---
18 July 2020
We learn from the
Chester Standard
that "Danny Elliott is grateful that football has given him something to focus his energy on during an emotional time. Chester striker Elliott was confronted with the tragic news that close friend Derrick Otim had passed away at just 24 earlier this month in South Carolina.
The two had been close friends ever since they... [spent] four years in Nottingham Forest's youth ranks.
'We were very good mates,' said Elliott, preparing for Sunday's National League North play-off eliminator at Altrincham... 'I'm looking forward to the game on Sunday because it's given me something to focus on and I am determined to do my best."'
And Elliott is one of four Chester strikers, alongside Matty Hughes, George Waring and Anthony Dudley, looking to fill the gap left by top scorer Akwasi Asante, who has signed for Gloucester City. The 24 year-old returned from a loan spell at Alfreton to feature in Chester's two games before the season was ended, the striker netting from the spot to sink Tranmere Rovers in the Cheshire Senior Cup and playing a part in a surprise league defeat to Bradford PA...
'I know it's been a few months since we last played, but I've still got that confidence that came with scoring goals for Alfreton and Chester. I'm very excited for Sunday. Akwasi has gone, and he did a great job for Chester and the fans loved him, but I have always believed in my own ability. When Akwasi was scoring goals I was sat thinking "I can do that", and I am raring to go and ready to show the fans exactly what I can do'...
Chester go into Sunday's clash with Altrincham as underdogs. The Blues are priced 19/10 to secure a semi-final trip to York City, with Altrincham 11/10 favourites for victory.
Elliott isn't fazed, however, saying 'All what has happened in the season goes out of the window because no-one has played for so long. It will probably come down to who is fitter on Sunday and we've got a young, hungry squad in good shape.'
During lockdown, Elliott raised over £5,000 for Show Racism the Red Card by cycling 200 miles. Taking a knee has been widespread since the restart of sport as part of the Black Lives Matter movement, and Elliott expects a discussion to take place over whether Chester and Altrincham will follow suit".
Scotland's Daily Record reports that "The likeness of Rangers striker Alfredo Morelos has turned up in an unlikely place; in the stands of English club Chester FC.
The Cheshire club are one of many in the UK and abroad to generate much needed cash during the coronavirus crisis with the sale of personalised cardboard cut-outs.
And for some reason, Ibrox frontman Morelos has been placed in the front row to watch their closed-doors play-off bid.
Of course, Morelos is currently overseas, taking part in Rangers' Veolia Trophy pre-season campaign. He played the majority of Thursday night's clash against Lyon, which Steven Gerrard 's side won 2-0...
Now, it's possible that the Colombian striker is a surprise fan of the National League North side. But, more likely, someone is on the wind-up.
And in addition to the Rangers goal hero, a mock-up of singer Lionel Richie crossed with a popular biscuit, Lionel Richtea, can be seen sitting two rows behind. Chester also have a number of canine fans dotted around their Gary Talbot stand."
And the Chester Standard informs us that "It was no wonder Kevin Roberts took the the club's COVID-19 testing programme in his stride. The Chester defender, in the second year of a four-year physiotherapy course, has seen for himself the implications of the coronavirus pandemic as he has been on work placement at Warrington Hospital.
'It's been an eye opener,' said Roberts... 'It's just been a case of me helping out where I could'...
Said Roberts 'The fans have been class; you only have to look at the incredible first few weeks of Boost the Budget. The lads got involved in that too by doing their bit...
'It's 13 years ago since I made my debut'... said Roberts, whose versatility made him a key member of the squad... 'It was great that the club carried on and has enjoyed some great times since reforming 10 years ago. The grounds were empty and it wasn't easy. It will be weird playing on Sunday with no fans too, especially knowing how many Chester fans would have made the trip...
'I was lucky enough to sign for Cambridge, which was a great move for me... I enjoyed five good seasons down there and was playing at right back which is where I wanted to play... 'Then at Halifax were relegated to National League North and won the FA Trophy in the same season. Not the kind of double you want on your CV. Although we did bounce straight back and won promotion'...
'If we're going to do it [win promotion in 2020], it's going to be the hard way with three away games,' he continued. 'But the fact that there will be no fans in the grounds may just help us. I know the Chester fans would have turned out in big numbers but the likes of Altrincham and York won't have home fans there so it's up to the players really to create their own atmosphere..
'We have two great managers in Johnno and Bernard... They've had enough promotions over the years to know what to do to get through these play-offs but it's all about going there and putting in a performance'".
On Friday, the
National League
reported that "After a 124-day absence, Vanarama National League action returns this evening with Boreham Wood hosting FC Halifax Town in the first of six Eliminators.
Yeovil Town welcome Barnet to Huish Park tomorrow before eight North and South division play-off hopefuls kick-off their campaigns the following day.
Six sides with a bye into the Semi-Final stage will face the winners of the Vanarama Eliminators in a bumper day of National League play-off football on July 25th.
The three Promotion Finals will take place over the first two days of August...
For the first time in The National League's history, every play-off match from across the competition will be broadcast live... BT Sport will be covering all five of the season-defining Vanarama National League games. Each of the ten North and South division play-off matches can be watched on a brand new streaming platform.
There will be a drinks break in all matches midway through each half, which will last no longer than one minute.
In all play-off matches the number of substitutions permitted for use by each team has increased to five. Up to six substitutes can be named on the team sheet.
Each team has a maximum of three substitution opportunities during the match. An additional opportunity is in place at the end of half-time before the second-half starts.
In the event of the scores being level at the end of 90 minutes play, the winners will be determined by a penalty shootout. Extra-time will not be played.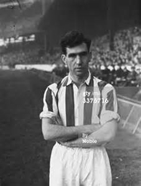 He only played once for Alty but he brought in a transfer fee from West Bromwich Albion; Joe Kennedy [right] is the latest subject of Terry Rowley's investigations in the
Alty Legends
collection.
Coincidentally, three years ago today, on 18 July 2017, Alty and Chester FC met at Moss Lane, just as they will do tomorrow in more important circumstances. In 2018 the match was a pre-season friendly, which Alty won 3-2 with Tom Peers again getting the opening goal against his former club. The clubs had been in the same division two seasons previously, but Chester FC arrived in 2017 two rungs higher than Alty on the Non-League ladder.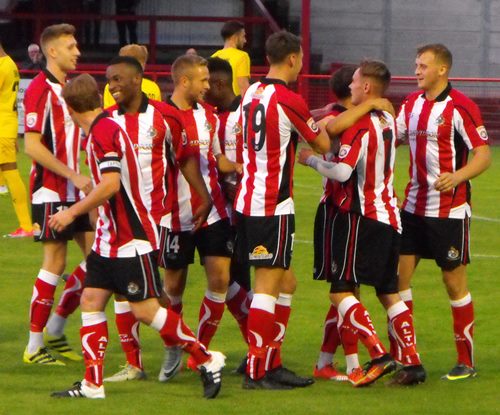 Left: Jerome Wright is congratulated on his goal against Chester FC in 2017.
The 2018 game was a very encouraging performance which was rewarded by a narrow margin of victory that did them scant justice in a game they dominated for almost the entire ninety minutes. Chester, now two levels above Alty in football's pecking order, used a different eleven in each half whilst Alty employed nine substitutes.
Altrincham took a deserved 33rd minute lead when Poole found Hancock on the left. His shot was diverted into the net by Tom Peers, who was playing in the central striker's role in the first half. But, just four minutes later, Chester, who had scarcely threatened the Alty goal, netted an equalizer which arose from a mix-up between Sheridan and Moult. This allowed Davies to fire home impressively from outside the box.
Chester improved in the early stages of the second half before Alty again reasserted their dominance. A brilliant goal by Jerome Wright made it 2-1 after 69 minutes. He made space in the box before curling the ball into the far top corner, to the keeper's right.
Seven minutes later, Johnston found trialist Josh Amis whose low shot went through the trialist substitute keeper's hands to make it 3-1. With Alty well on top, Chester were given a way back when the referee judged Alty trialist James Jones to have fouled Bell as he got the ball off the former Alty loanee inside the box. Dawson netted the penalty to make it 3-2 with seven minutes remaining.
Alty saw out the match comfortably and moved towards the new league season with increasing confidence in what was proving to be an effective and attractive style of football.
ALTRINCHAM: 1. Tony THOMPSON, 2. John DISNEY 3. Lewis SHORT, 4. Chris LYNCH, 5. Ben HARRISON, 6. Jake MOULT, 7. John JOHNSTON, 8. Sam SHERIDAN, 9. Tom PEERS, 10. James POOLE, 11. Josh HANCOCK. Subs 12. Shaun DENSMORE, 14. Kyle BROWNHILL, 15. James JONES, 16. Laurence TAYLOR, 17. Jerome WRIGHT, 18. Josh AMIS, 19, Sam HEATHCOTE, 20. Tim DEASY, 21. Tolani OMOTOLA
CHESTER FC: 1. Alex Lynch, 2. Andy Halls, 3. Trialist, 4. Kingsley James 5. John McCombe, 6. Ryan Astles, 8. Paul Turnbull, 9. Harry White, 12. Liam Davies, 19. Matty Waters, 20. James Akintunde. Subs: 13 Trialist A, Trialist B, 18. James Jones, Trialist C, Alex Downes, 11. Jordan Chapell, 17. Lucas Dawson, 14. Wade Joyce, Rhain Hellawell, 15. Nyal Bell, Trialist D
According to the
Banbury Guardian
, "Kevin Wilkin is hoping fortune will favour the brave when Brackley Town get their promotion bid under way on Sunday... as they take on Gateshead in the National League North play-off eliminator... to decide who travels to Boston United in the semi-finals on July 25...
It is the third season in a row that Wilkin's team will have competed in the play-offs. They were beaten by Harrogate Town in the final in 2018, the same season Brackley won the FA Trophy, and they were on the wrong end of penalty heartbreak last year when they were edged out by Spennymoor Town in the semi-finals...
'You need that bit of fortune on the day,' the Saints boss said. 'We played Spennymoor last year and ended up losing on penalties, which was disappointing... but first and foremost you have to turn up. And if we turn up and give a good account of ourselves and play to the level we are capable of, then we believe we give ourselves a tremendous chance.
'But I have seen Gateshead play, they beat us earlier in the season and they have their style of play. They play a lot on the counter... It's 90 minutes and then penalties which, if I am being honest, is a bit of a concern. You want as much pitch time as possible to resolve anything... We have to try to find a way without the lottery of penalties.'
Brackley managed to get some match action in with a friendly against National League South play-off hopefuls Slough Town last weekend... 'We had a couple who were injured who didn't take part,' he added. 'Jimmy Armson has got a bit of an issue with his calf, a bit of tendonitis, which he should get over and Simeon Maye was the other one but we are hopeful he will be involved in the session tomorrow (Friday) so he can be ready.'"
Relegated AFC Fylde tell us that the club can "confirm it chose not to contest the decision of the Vanarama National League and will accept that the club is to be relegated to the National League North, should play-offs complete. This decision today has been ratified by the FA Council with the following statement provided by the National League...
Whilst the club remains disappointed on a number of areas, such as the miscommunication provided by the National League at already uncertain times, we wholeheartedly accept as a club that overall it has been a disappointing campaign at Mill Farm and we wish to move forward now and plan ahead for a successful 2020/2021 league season.
We as a club do firmly believe that had the season played out and we had completed our games in hand over close competitors, we would have avoided relegation and our recent form before the lockdown commenced did look this way. However, this is nothing more than our opinion and we accept that over the course of the 37 games we have not had the season we desired, which will ultimately result in relegation on a points-per-game basis, should play-offs complete.
The club can confirm it did explore the potential of legal action in tandem with Ebbsfleet United. The reason we are not pursuing any legal action is because it would adversely affect the continuation of the game we love. Teams are looking to be promoted, so with that comes relegation and we reluctantly accept our fate on this. If we were to challenge this decision, football as we know it within our respected divisions could be delayed pending a decision being made, which we as a club and a footballing community would not want to see happen...
AFC Fylde now looks forward to building both on and off the field ahead of a new campaign, as we aim to secure promotion at the first attempt back to the National League in order for the club to achieve its ultimate goal of reaching the English Football League."
Meanwhile, Lynn News informs us that "There has been a mixed response among football fans to this week's announcement of King's Lynn Town FC's season ticket prices following promotion to the National League.
Some supporters have bemoaned the expensive prices, while others have stated they are prepared to pay extra to watch the Linnets at a higher standard following successive promotions on the pitch.
The club has revised its prices in the premier seating areas which have now been reduced to £500 as opposed to the originally announced price of £575 for both adults and concessions."
Gate prices are believed to be £20 standing and £25 seated per match.
The Boston Standard reports that "Scott Garner wants to give York Street the 'perfect send-off'. The defender has tasted defeat in two National League North play-off semi-finals with the Pilgrims in the past...
He can't share the moment with the fans due to the game being played behind closed doors, in the club's final season in their famous ground. 'It's not a proper send off, but at least it's a proper game to finish at York Street,' said Garner... We've got a semi-final and, hopefully, a final at York Street. That could be the perfect send off. It won't be the same without the fans. Maybe if I score late on I can run outside and hope there's some in the street?'"
According to the
Telegraph & Argus
, "Crowds could be able to return to sports stadiums in October, Prime Minister Boris Johnson has said...
'We will pilot larger gatherings in venues such as sports stadia with a view to a wider reopening in the autumn,' he said at a Downing Street briefing... 'From October, we intend to bring back audiences in stadia and allow conferences and other business events to recommence, again these changes must be done in a Covid-secure way subject to the successful outcome of pilots'...
Depending on how many fans are allowed back, it could be a major boost to the finances of clubs in the English Football League, who rely heavily on matchday revenue...
A statement from the Department for Digital, Culture, Media and Sport (DCMS) said the test events were taking place in order 'to build up to and prepare for the full, socially distanced return of sporting events from October 1, 2020'.
Sports minister Nigel Huddleston said... 'Although it will remain some time before venues are full to capacity, this is a major step in the right direction for the resumption of live spectator sport across the country'.
Attendance at sporting events for the foreseeable future will be subject to a number of strict conditions".
---
17 July 2020
In the
Sale & Altrincham Messenger
press and media officer John Edwards tells us that "Phil Parkinson has described his Altrincham squad's lockdown fitness levels as 'inspiring' but issued a stark message about the play-offs by warning 'There are no second chances'...
Initial non-contact training gradually gave way to flat-out sessions, and as he considered his line-up for this Sunday's National League North play-off eliminator against derby rivals Chester at The J.Davidson Stadium, the Alty manager said 'It's all been really positive. It's inspiring to see the levels they are already managing to hit... All we can do is look at the short-term goals, which are tackling these play-offs and hopefully gaining promotion.
'We are in a shoot-out, where it's lose and you're out. There are no second chances. We need to be as ready as we can be but, if preparation has anything to do with it, we will go into it full of confidence'...
Kick-off for Sunday's behind-closed-doors game has been brought forward from 3pm to 1.30pm for live streaming, while it will go straight to penalties if the scores are level after 90 minutes, following the league's decision to dispense with extra-time.
'The lads haven't had much game time, so it is probably common sense to guard against the risk of injuries being picked up in extra time,' said Parkinson. 'If we go out on penalties, we'll probably be wishing there was extra-time, but it's sensible and I hope we benefit from it.
'Games at our level don't come much bigger than Altrincham v Chester. There is history to the fixture, both sets of players know each other inside out and both management teams know everything about each other, so it's a great game to go into. It should be a fantastic occasion, and everyone is looking forward to it. We are relishing the opportunity and can't wait to get back into some kind of competitive action again.'"
At this time of lockdown it is is fitting that Terry Rowley's latest "
Alty Legends
" biography concerns George Vose, a player like members of the current squad, whose career was affected by the closing down of regular football. In his case, that was during WW2. As well as playing for The Robins, Vose also played for Manchester United.
In
Cheshire Live
"The financial help Chester FC are entitled to through play-off participation [is] revealed by chairman. Chairman Andrew Morris explained what funds would be made available to the Blues...
Were it not for the remarkable gesture of players in donating their contractual entitlements back to the club for the duration then the call on whether or not to take part may well have gone the other way. Since their decision to enter, the Blues faithful have, on top of their £110,000 pledged for next season's budget, donated over £17,000 to the 'In It Together' play-off fund.
Chester travel to Altrincham on Sunday (1.30pm) for their behind-closed-doors play-off eliminator, a game that fans will be able to watch via a pay per view online stream.
The costs for taking part are still significant despite all the above, especially at a time of such uncertainty and no assurances over when the new season will return and when fans can be welcomed back into the club. Forecasting income has never been so challenging.
Chester chairman Andrew Morris has revealed that there has been some extra financial help. The National League received a solidarity payment of £200,000 to help the clubs competing in the play-offs across the three divisions with costs. Chester have received a slice of that which equates to £4,000.
Morris said, 'Financial support from the National League and wider footballing family has been limited to support Non League clubs to conclude our season, the only support of note is that Premier League have donated £200,000 which is appreciated, however following the deduction of costs and a split between the play-off clubs this comes in at around £4,000 per club."
There had been some question over what benefit, if any, clubs would be entitled to financially from the streaming of the games, which will be done in partnership between BT Sport and Sportradar via an online platform, with a price point revealed yesterday.
Morris added 'The club has been advised that, as the away club, we will receive £1,000 from this streaming as well as a profit share of revenue received from subscribers following the deduction of costs.'"
Two years ago today, in 2018, Alty beat Macclesfield Town at the JDS in a pre-season friendly.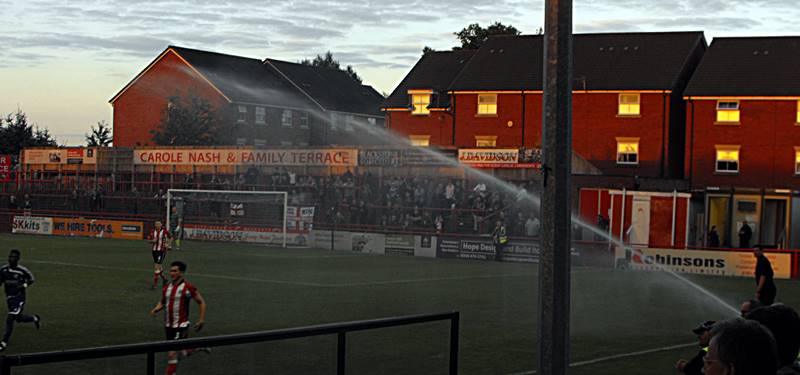 Above: During the second half as evening fell, there was a bizarre incident in the game as, with play in progress, a sprinkler came on in the corner at the away end and, no sooner had that been turned off than another sprinkler doused the players before it, too, was staunched!
An early goal by Tom Peers, who scored after a Jordan Hulme effort had been blocked, gave Altrincham a deserved 1-0 win over their Cheshire opponents in Altrincham's first home friendly of the summer, which followed three successive away wins at Rhyl, Kidsgrove and on the Isle of Man.
Alty almost doubled their lead, late in the game, when a Sean Miller strike smacked against the crossbar after Jordan Hulme had earlier also gone close to scoring, with an effort which had to be headed off the goal-line by Pearson.
Altrincham included Elliot Rokka as their only trialist in the starting eleven but, on the bench, were three other trialists. This trio comprised a forward Bay Downing, a defender Lloyd Bannister and a goalkeeper, Sean Thomas. Downing was a 22 year-old Liverpudlian who had been playing in United States college football. Pacy right-back Bannister (21) had played in Belgian football.
ALTRINCHAM : 1. Anthony THOMPSON, 2. Andy WHITE, 3. Connor HAMPSON, 4. Tom HANNIGAN, 5. Liam GOULDING, 6. Jake MOULT (capt), 7. John JOHNSTON, 8. Max HARROP, 9. Tom PEERS, 10. Jordan HULME, 11.Elliot ROKKA. Subs: 12 Sean MILLER, 14. Simon RICHMAN, 15. Ben HARRISON, 16. James JONES, 17. Sean WILLIAMS, 18. Bay DOWNING, 19. Lloyd BANNISTER, 20. Sean THOMAS (gk)
Both teams had been promoted as champions of their respective leagues in the previous season, with the Silkmen moving up to League Two and Alty to the National League North.
According to the
Northern Premier League
"Nantwich Town have confirmed their player retention list for the 2020/21 season...
The list of players committed and signed [includes ex-Alty players]... Aaron Burns, Ben Harrison, Josh Langley, Jimmy Lawrie, Clayton McDonald, Joe Mwasile.
Blyth Spartans
"confirm Adam Wrightson has left the club.
Wrightson, last month, was offered fresh terms to stay at Croft Park for the upcoming season but turned down the club's original offer. And due to lack of contact with the player since, the club has reluctantly withdrawn its offer.
Wrightson departs Spartans having made 131 appearances in total and scoring 13 goals since joining from Gateshead in the 2016-17 season.
During his time in Northumberland, Wrightson helped Blyth to the Northern Premier title and netted some memorable goals".
Alty fans may remember that Wrightson, as a substitute, was the unfortunate player who missed the only penalty during the 2019 play-off match shoot-out at Altrincham which earned Altrincham a semi-final tie at Chorley.
The Shropshire Star reports that "Chairman Andy Pryce says AFC Telford United's vital pitch renovation will have a positive impact on the entire community.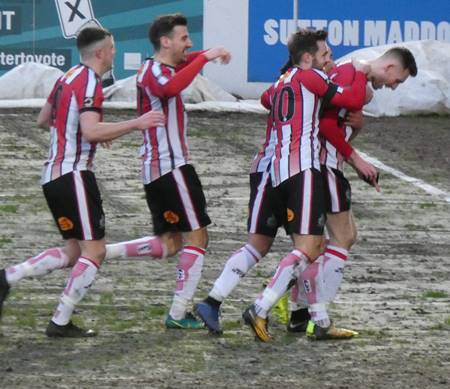 Left: The pitch at Telford as seen when Alty visited on 1 February 2020
The Bucks this week confirmed a grant of £99,000 from the Football Foundation that helped them completely revamp the New Buck's Head surface and drainage, which had almost totally rotted and clogged after two decades.
The club are excited at, for the first time in recent memory, having a 'brilliant' pitch and the benefits it will bring to the town and community as a whole.
'A lot of hard work has gone behind the scenes over the last six months'... said Pryce. 'The pitch was nearly 20 years old, we were panicking over the smallest bit of rain that we'd have to call off games. We can't be like that... Now it should be just as good in April and May as it is at the start of the season."
Pryce continued 'If we hadn't got the grant we'd have spent some money on the pitch but it would just be putting a plaster over the cracks. Hopefully that's now been resolved. We've patched it up from the bottom upwards. We're still a few weeks from being able to play on it. It's great the Football Foundation are able to do this....
'We're very grateful, especially in these times, we were a little bit panicky at one point when the FA said it might cut costs, but we were able to get our funding over the line... Me and Gav [Cowan, the manager] always talk about the little one per cents we can do in what we try to implement. It's giving the players no excuses, so to speak, a good platform to do what they need to do. This is another one of those one per cents.
'Hopefully you won't see players getting the ball trapped under their feet because they are in two inches of mud. Hopefully they will enjoy playing on the pitch in front of a packed stadium soon enough.'"
The Boston Standard tells us that "Boston United have officially finished third in the National League North this season.
The FA Council has announced it has ratified the National League's proposal to end the season via points per game.
This means the Pilgrims have officially been handed a third-place finish ahead of their play-off semi-final on July 25, which will be streamed online. This also confirms that Barrow (National League), King's Lynn (North) and Wealdstone (South) are champions and have earned promotion while Chorley, AFC Fylde and Ebbsfleet have been relegated from the National League...
An FA statement read 'The ratification follows a recommendation from our Alliance Leagues Committee and allows the National League to: rank clubs on a points per game basis; apply the automatic promotion and relegation based on the position of clubs on that basis; and proceed with play-off matches in accordance with the Government's return to domestic competition guidance.'"
Meanwhile as Guiseley's chairman tells us "I believe that the squad and management team performed excellently last season, ultimately finishing 9th on a Points Per Game basis, and I was confident of finishing higher, considering the form we were in and the improvement seen in the side over the season.
With a derby game and bank holiday fixture still to play our average home gate stood at 799 which is testament to the style of football produced by the team and also the unwavering loyal backing of you, our supporters... Our volunteers are the true lifeblood of this club and we would not be able to function without them...
I would also like to pay tribute to the excellent work our Community Foundation has done in the lockdown delivering food and newspapers to the sick and elderly and even doing some gardening for those in need...
The FA are aiming for and are hopeful that non-league football will return in September with some form of crowd. Hopefully this decision will be made very soon as we wait to see what restrictions will be put in place.
We all completely agree that football at our level should not and cannot be played behind closed doors. This is not only because of the financial ruin it will cause clubs across the country but also because without your support and encouragement, football is just not the same.
Thankfully our main benefactors have very generously agreed to continue with their backing of the club. This, alongside the support of our sponsors and the tremendous amounts raised via the Pay It Forward CrowdFunder campaigns, has allowed us to retain the majority of last season's squad and make some additions.
We will announce these additions in the near future and I believe that we have strengthened wisely; only time will tell!"
At
Stockport County
, "manager Jim Gannon has provided the following Squad Update...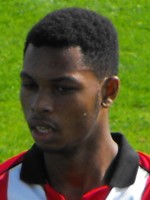 'On a personal level I was delighted to come out of Furlough last week, and it was very welcome with the amount of work building up and needing to be done.
During my last statement I referred to the Club having a "holding position with relation to all contracts. This was necessary, due to so many uncertainties regarding the culmination of last season, current income expectations, and unknown timescales on the new playing season of 2020/2021. As a Club we have now worked through many of the issues, and we seem to now have greater clarity regarding how we move forward.
What has always been very clear, is that under the ownership of Mark Stott and directorship of Simon Wilson, the football side of the Club would look very different from last season. The overall football ambition has been clearly stated, and the work to bring in full-time training to the Club and the supporting professional infra-structure has continued unabated...
Current professional players Liam Hogan, Lois Maynard and Richie Bennett provide a vanguard of the new type of professionals that the Club is looking to recruit and place its trust in. As a consequence, this off-season will see our greatest transition and turnover of players since my appointment in January 2016...
The Club is delighted to announce that Ben Hinchliffe, Ash Palmer, Sam Minihan, Jordan Keane, Adam Thomas and [ex-Alty loanee] Nyal Bell [right] have all agreed, signed, or set to sign new full-time contracts, securing their futures at Edgeley Park for the forthcoming season...
Unfortunately, we cannot take all our players forward. [Another ex-Alty loanee] Paul Turnbull [left] and Sam Walker will leave the Club following the expiration of their contracts... It has been a desperately difficult decision to let such good people and players go.
Paul was County's youngest ever player, and the only County player to play in all three different periods of my management of County. He was Captain in our National North Championship season, and last season he led the team in 31 games on our return to the National...
The First Team, despite its recent losses, has a very strong backbone with Ben Hinchliffe, Liam Hogan, Ash Palmer, Lois Maynard, Jordan Keane, Richie Bennett and Nyal Bell. Sam Minihan and Adam Thomas also add to this core group... Developing professionals Alex Curran and Jordan Downing will also provide further depth to the squad. As with the start of last season we need to recruit well on the left hand-side of the team in both defence and attack...
The club is also seeking to add creative attacking midfielders and additional types of attacking players to bring added pace, penetration and goals to the group... The club is looking to build an ideal squad of 20 first team players for the coming campaign. We expect to have 15/16 players at the first pre-season training session on Monday 20th July 2020 and then plan to be at full strength before the start of the season."
---
16 July 2020
Altricham FC
has announced that Assistant Manager, "Neil Sorvel has been appointed as Head Coach of our Academy, with Paul Fay appointed as his number two.
For Neil, this is in addition to his role as first team assistant-manager to Phil Parkinson. Consequently, Neil has become a full-time employee of the club, a major step in the evolution of Altrincham FC".
Paul is manager of the Altrincham FC Youth team.
The Club added that "The Altrincham FC Academy is building on the foundations laid down by the late George Heslop, the driving force behind the youth team for many years. We dedicate our first season in the National League Youth Alliance to his memory, and we will build a legacy he would be proud of".
As Altrincham gear up to face Chester FC on Sunday in the elimination round of the National League North play-offs, we reflect on a friendly match between the two clubs exactly four years ago today on 16 July 2016.
Alty had just been relegated to the National League North whilst Chester remained in the tier above. This was Altrincham's first home game under Neil Young's managership and it followed a 2-2 away draw on the previous Sunday at Widnes. Neil, of course, had secured cult status at Chester having led them to three promotions after their financial meltdown.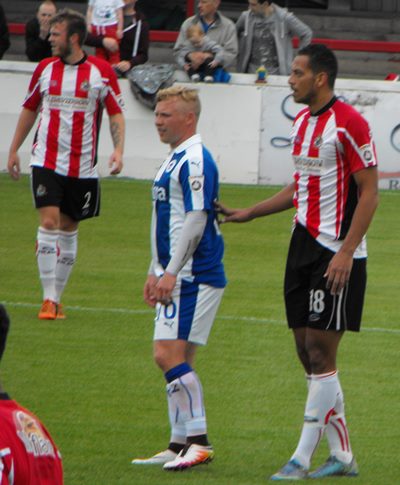 Right: Current Altrincham player Elliott Durrell wore Chester's colours in the 2016 clash. Here he is seen during the match, policed by Jon Cyrus, with Sam Patterson in the background.
This entertaining pre-season friendly match ended in a 2-2 draw at the J. Davidson Stadium. Altrincham fell behind in the 24th minute when they defended a corner poorly and the unmarked Kane Richards sidefooted home. But, just before the hour mark, Damian Reeves scored a superbly taken goal, from a Sam Patterson pass, to level the scores.
Substitute Danny Hattersley headed home a James Lawrie corner to give Altrincham a 79th minute lead but Chester substitute James Alabi equalised four minutes later.
Unlike in their opening pre-season game last Sunday at Widnes, also a 2-2 draw, when two almost completely differing Altrincham elevens had played each half of the match, here Altrincham included no trialists in their starting eleven.
Centre-back John Cyrus, signed over the summer, made his first appearance in an Alty shirt, at centre-back, and holding midfielder Alan Goodall from Morecambe, made his first start, too, and was given the captain's armband.
However, Shaun Densmore and new signings Craig Hobson and Sean Miller were all sidelined by injury. Also out of the game was Simon Richman who had a back problem but he was fit enough to lap the pitch before kick off.
Just one of the Alty starting eleven that day is still at the club in 2020 and that is Tom Hannigan, although another current player was on the substitutes' bench in the shape of Jake Moult. However, Chester FC also featured a current Alty player, Elliott Durrell, as well as having a former Alty trialist, Wade Joyce, on their bench.
Coincidentally, the Chester keeper that day was Jon Worsnop, who in 2020 has just returned to the club as a goalkeeper/coach.
ALTRINCHAM: 1. Andy DAWBER, 2. Sam PATTERSON, 5. Tom HANNIGAN, 18. John CYRUS, 11. Callum CHARLTON, 8. Alan GOODALL (capt), 9. Jamie MENAGH, 12. David LYNCH, 14. Charlie JOYCE, 7. James LAWRIE, 10. Damian REEVES. Subs: 17. Ciaran O'LOUGHLIN (gk), 20. Danny HATTERSLEY, 21. Jake MOULT, 22. Sam HEATHCOTE, 25. Billy HASLER-CREGG.
CHESTER FC: 1. Jon WORSNOP, 19. Matty WATERS, 5. Blaine HUDSON, 17. Theo VASSELL, 3. Evan HORWOOD, 11. Jordan CHAPPELL, 12. Sam HUGHES, 8. Tom SHAW, 16. Jonny HUNT, 10. Elliot DURRELL, 15. Kane RICHARDS. Subs: 13. Keighan JONES (gk), 18. Kieran EVANS, 6. Ryan ASTLES, 4. Luke GEORGE, 9. James ALABI, No numbers - Joe HEATH, Wade JOYCE, Kevin EXCELL, Rakim NEWTON
"Player movements registered with the
Northern Premier League
from Saturday 11th July to 11am on Tuesday 14th July" include two former Alty strikers...
James Walshaw [right] from Scarborough Athletic to Buxton
Damian Reeves from Tadcaster Albion to Pontefract Collieries
The NPL adds that "Buxton have signed Scarborough Athletic goalkeeper Tommy Taylor, midfielder Chris Dawson and striker James Walshaw. Walshaw, 36, has been the Seadogs' top scorer in both full seasons since his arrival from Farsley Celtic and had initially pledged his future to the club, while Taylor recently went on trial with a club in the Scottish Premiership.
Dawson became the third player to make the move on Wednesday afternoon.
Manager Darren Kelly said 'I got a message from Wally this afternoon and he told me that he was leaving for personal reasons'".
Cheshire Live
reports that "The pricing structure for watching the National League play-offs [has] emerged on an industry website.
Chester FC take on Altrincham at the J.Davidson Stadium on Sunday in the National League North play-off eliminator, with all play-off games across the three leagues being made available to watch for fans, owing to the matches taking place behind closed doors.
Earlier this week the National League confirmed that games in the North and South would be streamed via a pay per view online platform, in partnership with Sportradar and BT Sport. The National League play-offs will be broadcast via BT Sport's TV channels.
And according to industry website sportspromedia.com... 'The new subscription streaming platform will provide live and exclusive coverage from all ten matches being played in the semi-professional National League North and South regional sixth tier, between 19th July and 1st August.
'The National League's existing UK pay-TV broadcast partner BT Sport, which retains exclusive rights to the National League's top division, will also support on the production of matches available on the service. Sportradar will also provide transcoding and content storage solutions for the platform's video player.
'With fans currently unable to attend matches, the service offers supporters options to access games at various price points and the ability to view on connected TVs via Chromecast. Single matches prior to the North and South playoff finals will be priced at £5.99, while each final will cost £6.99 to purchase.
'Furthermore, the service will also allow fans to purchase match bundles, including all ten games for £14.99, while a package including the two play-off finals, which are both due to take place on 1st August, have been priced at UK£9.99.'
It is yet to be confirmed just how any revenue split would work between clubs, although the introduction of the streaming service does at least offer the chance of some financial reward at a time when fans through the turnstiles just isn't possible. Patrick Mostboeck, Sportradar's OTT commercial director [said]... 'If you compare the subscription cost to what people typically pay when they go to the venue to watch a game, it is a marginal cost to them.'"
The
National League
tells us that "It's November 2018, and King's Lynn Town fans are taking an anxious look over their shoulders. The few teams below them in the Southern League Central are starting to pick up points. Months after reaching the play-off final, their team are certainly not.
They have the players, too good surely to be playing Step 4 football next season... Just a season-and-a-half later, we were handed conclusive proof of the game's fluctuation levels and erratic abilities...
Ian Culverhouse's decision to suck it up, sit down and sort out his differences with chairman Stephen Cleeve was the best decision either of them have ever made. It took a team going nowhere to a double promotion. It's handed them dates with clubs who probably didn't know they even existed just a few Christmases ago.
King's Lynn, by hook or by crook, are the National League North winners, remarkable for a club officially only in existence for a decade, formed when the original Linnets went to the wall in 2010.
For Culverhouse, who returned after six months away having left under a cloud when his relationship with the board broke down, it was good to be back.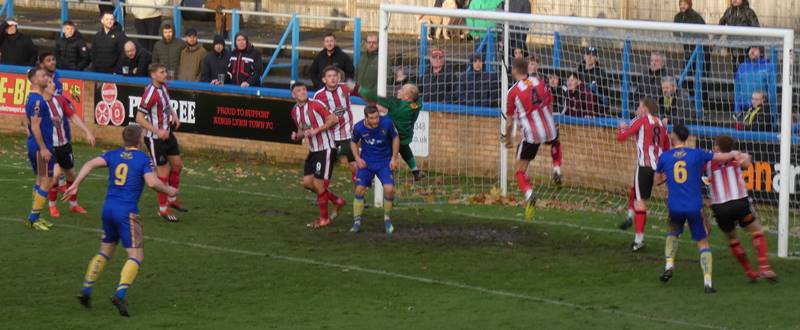 Above: Alty drew 2-2 at The Walks back in November.
'Steve and I had a disagreement, that's why I left originally,' the open former Norwich City defender told the National League's Oli Osborn... 'We were both probably a little pig-headed and stubborn that we didn't build those bridges again sooner. We had just lost in the play-off final to Slough. I went to Grantham and, three months into the season, Robbie Back got in touch and asked if I would consider returning.
'I said I would meet with Steve, so we sat down and talked for a few hours. In the end, it was a no brainer... I looked at the squad and knew that if we had a plan this could really take off,' he added. 'Luckily enough it did, they have been a pleasure to work with. After the first game, which was Alvechurch away, I knew we could do something.
'Baz (Paul Bastock, coach) came to me half way through the second half and said "I have never seen a team play like this, it's unbelievable". I told him there was more to come, I knew that if they bought into it they would kick on. Kettering were running away with the league but I told them we're going for them. We nicked runners-up spot, and won the Super Play-Off having been losing in the last few minutes. It was a hell of an achievement from where we were, 16th to promotion.'
Culverhouse's team didn't lose at home from September 2018 through to February 2020... 'We're two hours from anywhere, we're an hour from the nearest road!' joked the 55 year-old, who spent over a decade at Carrow Road. 'Our record before we finally lost to Kidderminster was fantastic... To go 17 months without losing at The Walks was a credit to the town. Yes, the players win the points, but the people of King's Lynn are central to what we do. The fans buy into it all. They come out and support us, which really drives us on; they help make it a tough place to come to.
'It's going to be a culture shock for some of these big clubs to come to our ground! We can't wait for the fixture list to come out, that is the moment when it will all become real.'
But will they have to tackle the step up without free-scoring Adam Marriott, who managed 28 goals before the season was curtailed; that's one every 98 minutes? 'It's not just his goalscoring, his all-round game is fantastic,' the manager said. 'We've had him for two years now, he is always first to mention the big man [Michael Gash] next to him who puts his body on the line. Maz has pulled the goals out and yes there are whispers of him moving on and back into pro football. If he does, he goes with our blessing, he has been fantastic for us.

'Don't get me wrong, we would be a better side with him in it but, if he gets his dream move, then great for him. He's been fantastic for this club...

'I always believed that if you keep your core group together then you always have a chance,' he adds. 'They know how you work, and they set the standards. They know the demands and they know what's required. We'll do that again. We have a couple of other targets and, hopefully, we can get them over the line. We have seven or eight players who have been with us for a while now.

'But it's going to be very, very hard. We are going to be a part-time club in pretty much a professional league. We've earned the right to have a crack at it, so we're going to give it our best efforts... and hopefully we won't be lambs to the slaughter. I know this group will give it their best shot. What an adventure we are going to have!'".

And NL Daily says that "Following King's Lynn Town's promotion to the National League, the club have confirmed the departure of defender Tom Ward.

Ward has had his contract cancelled by mutual consent, as he opts to commit to teaching and coaching. He played 71 times for the Linnets across two spells, also contributing six goals from the back.

Midfielder Jordan Richards, however, has agreed a new one-year deal with Ian Culverhouse's team."
Guiseley "confirm that Reiss McNally has opted against signing a new contract and re-joined his former club Solihull Moors.

The 19 year-old right back was crowned the Players' Player of the Season and Young Player of the Season after making 35 appearances during the 19/20 campaign.

He was brought to the club in the summer by the Management Team whilst continuing to work with Marcus Bignot at Solihull College and University Centre.

Despite us offering Reiss a new deal the lure of full-time football in the Vanarama National League, close to home, has seen him depart the club".

However, Guiseley also report that "Kaine Felix has signed a new contract with the club after picking up three end of season awards.

The Peterborough-based 24 year-old won the Managers' Player of the Season, Supporters' Club Player-of-the-Year and the Sponsors' Player of the Season awards.

The forward played a key role in the campaign and really found his best form just before the season ended, scoring our final goal in a 1-0 away win to complete the double over champions King's Lynn Town.

In one of the most memorable days of the campaign at York Felix struck the winning goal in the dying minutes at Bootham Crescent and it kick-started a consistent run of form as Guiseley charged for a play-off place before the outbreak of Covid-19 brought an early end to the season.

Felix was happy to sign a new contract giving praise to Joint Managers Marcus Bignot and Russ O'Neill... Felix said 'This is hands down the best management team I have ever worked with. They make playing football fun and enjoyable but don't miss out the serious element of when it's time to work it's time to work.

'I have never before worked with someone so tactically advanced and equipped as Marcus. He is simply the Pep Guardiola of the National League. As for Russ he has helped me in so many ways on and off the field giving me the confidence to push on, always reinforcing the importance of working hard to get to your potential on and off the ball. Russ can turn an average player into a player a team can rely on week in week out. Between these two great managers I've played my best football of my career without a shadow of a doubt and I have enjoyed every minute of working with them.

'We must not forget Paul Clayton either as he compliments them in everything they do. Paul has brought experience to my game and taught me how to focus when the tide is against you and he's always been there as a big brother to talk to when my form is off.'

Russ O'Neill was happy... saying 'Kaine has seen the benefits of a second season with us massively. When he first came to the club he was a bit flaky, if he had a couple of good touches early on he could have a real good performance but if his first couple of touches didn't quite come off he would go into his shell and go missing. The transformation from that player to his last performance away at King's Lynn is there for all to see, not just in spells but consistently all throughout the season.

'He changed position from winger to striker and ended up with ten goals but it is not only his goals that have impressed but his tireless work rate up front has really set the tone for us as a team. He was a thorn in the side of many a defender this past season and he scored some great individual goals that really he had no right to score. He is a totally different animal now.'
The Hereford Times informs us that "Goalkeeper Paul White has joined the Bulls for the 2020/21 National League campaign.

The 25 year old Irish stopper joins after turning down a new deal with Kettering Town, where he had made over 200 appearances since joining the club. White told Matt Healey... 'I had the chance to come here on loan when I was at Forest Green and turned it down. I've seen all the success and promotions the club has had since then and regretted it. I said to myself if I ever get the chance to come to Hereford again I'd never turn it down.

'I've been speaking to Josh for a four and a half months, a project. Moving back into full-time effectively and pushing towards League Two. I'm excited.'

Gowling added 'Paul is a big character, he commands his box well, he's good with his feet and he's hungry to do well at this Football Club'".
The News Post Leader informs us that "Blyth Spartans manager Michael Nelson has issued a rallying call for the club to pull together to safely navigate through the financial impact of Covid-19.

Former Hartlepool United defender Michael Nelson was appointed Blyth Spartans manager in May... Spartans were one of the clubs to benefit from the Football Association's decision to void the campaign as they were saved from a near-certain relegation into the Northern Premier League...

Spartans supporters have met the club's call for help with the launch of a 'Future Fund' that will help boost Nelson's budget...

He said 'There could be clubs worse off than us in the leagues, every club could be better off than us, we don't know until we get going. We just have to recruit what we can within our budget, spend it as wisely as we can. There will be a few young lads in there that will be very susceptible to taking stuff on board and developing. Hopefully we can develop them, bring them on, guide them and make them better players...

'We can try and develop them, move them on and get some money for the club to help it survive. We need to work with the resources we have, work with myself, the rest of the staff, the chairman and the fantastic supporters that are putting the money in. It has to be everyone coming together as one, it can't just be the squad going out there'...

The 'Future Fund', which ends on Saturday evening, (July 18), surpassed the £8,500 mark earlier this week...

Former South Shields pair Callum Guy and Kieran Charlton became the first new signings of the summer last month and Nelson wrapped up the impressive addition of former Barrow centre-back Matthew Elsdon over the weekend. The former Middlesbrough youngster joined the current National League champions in 2018 and spent time on loan at Northern Premier League clubs FC United of Manchester and Whitby Town... and the Spartans boss has challenged the former England Under-17 international to prove himself in front of the Croft Park faithful."

'Hopefully, if he doesn't work out, they (the supporters) can take the blame instead of me,' joked Nelson.... 'To be fair to Matty, we have spoken to him for a while, he's a local lad, a North East lad, which is pretty much where our budget lies. We have to recruit locally with the budget we have, although that is pretty much guesswork at the moment. But bringing him in has gone down well on social media and I even had a couple of agents texting me saying it was a good signing'".
---
15 July 2020
Altrincham's play-off opponents, Chester FC report that ex-Alty man and current "Blues winger John Johnston is our feature interview...

The 25-year-old will face a first round showdown at his former club, Altrincham.

With JJ and the Blues players all playing for free... our explosive winger promises the team will leave everything out on the pitch.

Speaking to the Cestrian, he said 'We will give it everything we've got. This club is very special to us all, and that is exactly why we chose to play for free. Name me another club who would do that. We're doing it for the fans, they've been fantastic all season, and fingers crossed we can reward them with a bit of success.

'I know the Chester record against Alty in recent years isn't great, but fingers crossed I can be the one to end that run.'"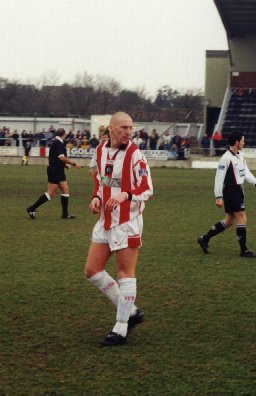 Cheshire Live reports that "It's been the most bizarre of summers for football... It is the time of year when players learn their fate as to whether they will be kept on at their clubs or whether they will have to seek pastures new for the coming season.

We've taken a look at some of the former Chester players who are currently in that very same boat, some of whom could even pique the interest of the Blues once more.

Kevin Ellison: The evergreen left winger [pictured, right, in 2000 playing for Alty] is showing no signs of stopping at 41 and has already made it clear he wants to keep on playing.

Two spells at Chester City in League Two between 2004 and 2009 saw him become a popular figure, and he moved on to Rotherham United and then Morecambe afterwards, making 388 appearances in all competitions for the Shrimps during a nine-year stay.

Was a target for Chester at the back end of last season although the lack of being able to forward plan for next season means that interest in him has cooled for the time being."

Three years ago, today, on Saturday, 15 July 2017, Altrincham gave their best performance of pre-season, to date, to overcome a Kidsgrove Athletic side 4-1, despite the hosts giving a good account of themselves.

In the first half, Altrincham played some excellent passing football, with Sheridan and Taylor impressing and Shaun Densmore back to his old self after his injury troubles of the past two seasons. Alty took a 12th minute lead when trialist Josh Amis did well and slid the ball forward for Hancock to poke past the exposed Kidsgrove keeper. Densmore made it 0-2 after 32 minutes with an excellent goal which he netted calmly after advancing into the box and exchanging passes with a team-mate.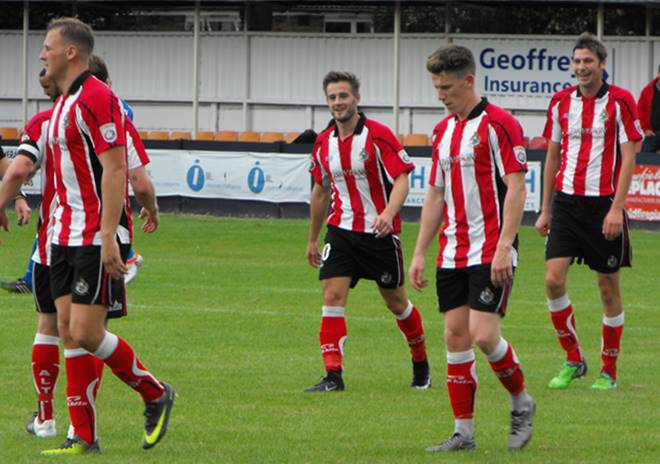 Above: Josh Hancock (centre) and Ben Harrison (far right) show their delight after combining to score Alty's third goal. Also seen are Josh Amis (left) and Tom Peers.

Houghton, who was Kidsgrove's most threatening player, won his side a spot kick which Diskin netted confidently in the 38th minute to make it 1-2. But Alty responded with a third goal just a minute later. An impressive run into the box by Harrison led to Amis scoring with a fine rising shot from 15 yards.

Alty made two changes at the break and a further seven after 60 minutes. James Poole was the pick of the substitutes but there was to be just a single further goal in the match, netted by Tolani Omotola following a Johnston cross in the 68th minute.

Tom Peers made his first appearance since joining Altrincham earlier that summer whilst Tolani Omotola likewise was to make his debut in the second half of this game, as was new signing Jordan Hulme. Trialist James Jones started at centre-back with Tony Thompson in goal.

ALTRINCHAM: 1. Tony THOMPSON, 2. Shaun DENSMORE (capt), 3. Kyle BROWNHILL, 4. James JONES, 5. Ben HARRISON, 6. Laurence TAYLOR, 7. Tom PEERS, 8. Sam SHERIDAN, 9. Josh AMIS, 10. Josh HANCOCK, 11. Jerome WRIGHT. Subs: 12. Josh DISNEY, 14. Lewis SHORT, 14. James JONES, 15. Chris LYNCH, 16. Jake MOULT, 17. James POOLE, 18. John JOHNSTON, 19. Jordan HULME, GK Tim DEASY, Tolani OMOTOLA.
According to NL Daily, "Kyle Finn is the latest member of the Hereford squad to commit for the 2020/21 campaign.

The 21-year-old former Coventry City winger became an increasingly prominent member of Josh Gowling's squad, playing in the majority of Gowling's matches in charge after impressing the rookie boss in training.

Gowling told Hereford FC 'Kyle is a good addition to the squad. When I first came to the club, Kyle was one of those players that could make an impact on a game.'

And Hereford FC also report that "Full-back Dan Jones is the first new arrival for the 2020/21 National League season.

The experienced defender is Josh Gowling's first new signing, coming to Edgar Street after a career in the EFL spanning more than 300 games. Gowling was pleased with the addition, 'Dan is a player I'm very excited about. He fits into the system and the type of attacking footballer I want to play next season. He's an athlete, very quick, and is a very offensive fullback as well as being able to play left side centre back if needed.'

Jones told us 'Got a call from Josh and was delighted to come. Nice and local for me and I'm excited at the opportunity. He spoke to me about how he wants to play, what his ambitions are for the Club, and it suits everything that I'm about'".
At Darlington, "Quakers have signed striker Luke Charman from Newcastle United.

Luke, 22, has been a regular in Newcastle's Under 23 side in recent years, and has scored 30 goals in 81 games for them during that period, but never broke into the first team. He also had a brief spell with Accrington Stanley in 2018, and played three times for Newcastle Under-21s in the Football League Trophy last season.

Darlington manager Alun Armstrong has been tracking Luke for a year, and said 'Luke has shown plenty of promise at Newcastle, but his chances of progressing there were very limited. He will give us extra options up front, and I believe that we will realise his potential, making him an excellent striker in this league.

'He was someone I tried to get on loan twice last season but Newcastle wouldn't let him out. He did have other clubs higher up talking to him but I managed to convince him to join us. He is good friends with Jamie Holmes which I'm sure helped with his decision.

'He's different to what we've got, being 6'1" and athletic. Now it's up to us to help him get him back on track as he's still young.'

Luke, who signed for the Magpies when he was 14 years old, said 'I was really impressed by what Alun told me about the club, I'm really looking forward to playing and scoring a few goals.'"
One of the wosst playing surfaces this season was at The New Buck's Head where AFC Telford United announce that "pitch sponsorship is on offer once again in 2020/21 season...

United fans can associate themselves with one of 200 squares of turf on the playing surface at The New Bucks Head, with season-long recognition in the matchday programme and on the official website. For the first time, one supporter will win a signed shirt from the new squad by simply pledging a minimum £20 to sponsor a square of the brand-new pitch.

With having the grant from the football Foundation and help getting the grant from the Shropshire FA it still left the club in a position where we had the [?to] contribute to the pitch renovations. Club staff came up with the idea to sell sections for the pitch to help fund these renovations and to help with the continuing maintenance programme we have to follow to ensure the continued high standard of the pitch. All help with funding this would be welcomed."
According to the Boston Standard, "Boston United's squad will take part in a behind-closed-doors friendly this week.

The Pilgrims will use the occasion to get some much-needed match action under their belts ahead of July 25's National League North play-off semi-final.

The date, venue and opposition are currently being kept under wraps, but manager Craig Elliott wants to give all of his 20-man squad a run-out, although captain Luke Shiels may be the exception to the rule as he looks to shrug off a groin strain.

'We've got a behind-closed-doors game and we're trying to get 45 minutes into everybody, at least,' Elliott said. 'It's important to get a game, but think it's more to get the protocol in place so lads know what's needed on match day and how we go about things (due to new COVID-19 guidance)'.

United will host the winners of Brackley Town and Gateshead on July 25".
York Press confirms that "City will kick off their promotion bid to the Vanarama National League in the National League North play-offs next weekend...

The Minstermen will host the winner of Altrincham vs Chester, who face off on Sunday, July 19, on Saturday, July 25 (3pm) at Bootham Crescent. Should they progress to the final, they would host either Boston United, Brackley Town or Gateshead on Saturday, August 1...

Here's a reminder of how York have previously fared against the five clubs whom they may come up against.

Boston United: Boston finished third after the National League's points-per-game (PPG) Ordinary Resolution. The two sides faced one another twice before the regular season was suspended amid the coronavirus pandemic, with York coming out on top at Bootham Crescent while Boston won at York Street... Early February saw York arrive at Boston behind leaders King's Lynn and they missed the chance to return to top spot in a 3-1 defeat.

It was the first time that City had been beaten by two or more goals in a competitive game since January last year".

Brackley Town: York have only faced Brackley once this season, triumphing in a 1-0 win at Bootham Crescent. A stunning long-range strike from Andy Bond was enough to secure City their first home win of the season in round three of the season.

Brackley were one of the in-form sides when the season was suspended having gone unbeaten in their previous seven games. The Minstermen though may take some confidence from a strong recent record against Brackley, with four wins recorded from the two clubs' last six meetings.

Altrincham: Altrincham are the only club to have twice beaten York this season, knocking Steve Watson's side out of both the FA Cup and the FA Trophy.

In the space of less than two weeks, Alty scored two 1-0 wins at York at Bootham Crescent in November.

In the first meeting, a late Tom Peers goal ended York's 19-match unbeaten run while in the latter Peers was again the sole goal-scorer.

City did have joy when the sides met in the league though, easing to 3-1 win on the opening day of the season thanks to goals from Jordan Burrow, Joe Tait and a James Jones own goal.

York were set to face the Manchester-club for a fourth time at Bootham Crescent in their next scheduled match prior the season's suspension.

Chester: Finishing ahead of Spennymoor into the final play-off spot after PPG were Chester, the only side out of the five that York have completed the double over.

In October, striker Dan Maguire sealed a 1-0 victory for York at the Deva Stadium with his first goal for the club following his summer move from Blyth Spartans. City then backed that up with a 4-2 win on home soil with new loan signing Kurt Willoughby bagging a double and Sean Newton and Kieran Green also on the scoresheet.

Chester have not beaten York since a 2-0 defeat in 2000 in the then known Football League Third Division.

Gateshead: The North East club are the only club in the five that York have not beaten this season.

The clubs met back in late August at Bootham Crescent and Gateshead managed to hold City a 1-1 draw and prevent a fifth straight win. Jordan Burrow's strike in the fourth minute put York ahead only for Connor Oliver to equalise before half-time. Prior to that August clash, Gateshead had won all four of their meetings with York, including a 6-1 thrashing on the opening day of the 2016/17 season, in which York would be relegated to the National League North.

Gateshead were eighth when the season was suspended but leapfrogged Spennymoor Town into the play-offs after PPG."
---
14 July 2020
Altrincham's play-off opponents, Chester FC report that ex-Alty man and current "Blues winger John Johnston is our feature interview...

The 25-year-old will face a first [elimination] round showdown at his former club, Altrincham.

With JJ and the Blues players all playing for free... our explosive winger promises the team will leave everything out on the pitch.

Speaking to the Cestrian, he said 'We will give it everything we've got. This club is very special to us all, and that is exactly why we chose to play for free. Name me another club who would do that. We're doing it for the fans, they've been fantastic all season, and fingers crossed we can reward them with a bit of success.

'I know the Chester record against Alty in recent years isn't great, but fingers crossed I can be the one to end that run.'"

The National League has issued a press release in which it confirms that "a streaming service will be in place to broadcast all play-off matches from the Vanarama National League North and South.

In partnership with BT Sport and Sportradar, each of the ten season-defining games will be shown exclusively live on a brand new platform, available to an audience across the world.

The action starts on Sunday with four Vanarama Eliminators, with amended start times of 1.30pm and 4pm...

National League Chief Executive Michael Tattersall said... 'To ensure a safe environment for National League play-off matches to be played in, we urge supporters to not congregate at the grounds'.

Details of how supporters can gain access to the matches will be released shortly"

NB Kick off times have been changed for the elimination round as follows.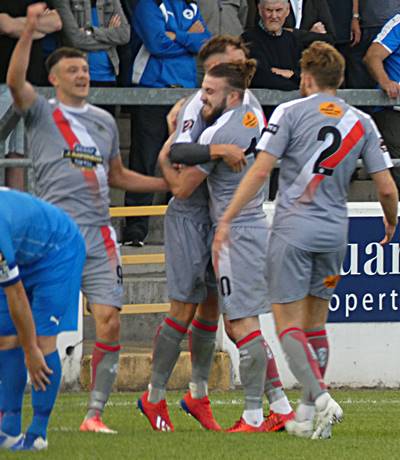 Right: Alty's Hulme, Johnston, Harrop and White celebrate their team's goal in the 1-1 draw at Chester back in August. The return league fixture did not take place before the pandemic struck but Chester will now visit the JDS this Sunday in the play-off elimination round.

Vanarama National League North

Sunday 19th July 2020
1.30pm Elimination Round- Match A - Altrincham vs Chester FC
4pm Elimination Round- Match B – Brackley Town vs Gateshead
Saturday 25th July 2020- 3pm
Semi Final – York City vs Winner of Match A
Semi Final – Boston United vs Winner of Match B
Saturday 1st August 2020- 3pm
Promotion Final – Stadium of higher ranked finalist
Cheshire Live reports that "Chester FC's goalkeeping dilemma for the National League North play-offs looks to have been resolved after Louis Gray and Jon Worsnop received clearance, verbally, to play from the League.
The Blues were left without a senior goalkeeper on the books for Sunday's play-off eliminator clash at Altrincham following the departure of Russ Griffiths to AFC Telford United and Theo Roberts, leaving this summer, unable to commit.

Bernard Morley and Anthony Johnson moved to bring register Louis Gray, who had been on loan at Chester from Carlisle United at the time the season was halted due to the Covid-19 pandemic, and Jon Worsnop, now back at the club in the dual role of back-up keeper and goalkeeping coach.

There was some question over whether Gray, who could well make the move to the Deva a permanent one for next season, was registered at the National League's specified cut off point. Another issue was that he was now a free agent after he was released at the expiry of his deal with the Cumbrian side.

For Worsnop, 37, he played in the step below last season for Grantham Town but was now a free agent. The Blues sought to register him in case clearance wasn't forthcoming for Gray.

But now the Blues can at least plan for Sunday's behind-closed-doors showdown with some assurance that they have two experienced options between the posts for what is a game of enormous significance. The pair are due in to sign registration forms on Tuesday and written confirmation is expected well in advance of the weekend.

A total of 19 players have come back into training for the game against Altrincham and, after being handed a clean bill of health from their first round of Covid testing last week, the Blues squad and staff were back in for round two on Saturday and currently awaiting the results.

In line with the gesture of the rest of the squad, both Gray and Worsnop have agreed to donate any contractual entitlements back to the football club for the play-offs, effectively playing for free."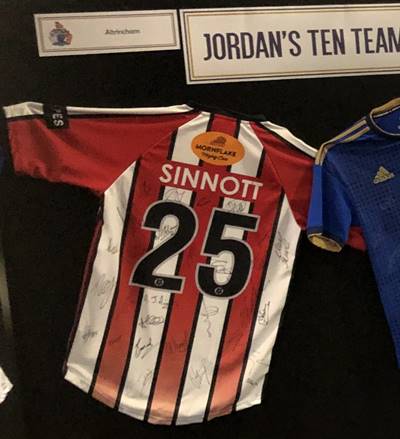 In last Sunday's Non-League Paper, we read that "Cardiff City goalkeeper Alex Smithies is aiming for promotion as a fitting tribute to his former Huddersfield team-mate, Jordan Sinnott.

Sinnott, who was also close friends with Cardiff striker Danny Ward, died after being attacked on a night out in Retford, Nottinghamshire, in January.

Ward revealed a shirt bearing the former Matlock Town midfielder's name and number following his late winner at Bristol City last weekend... And Smithies admits winning promotion would be a fitting gesture to the man nicknamed Sinbad...

'It's been tough for Dan; me and Jordan were both best men at Danny's wedding last summer. He was such a thoughtful person and he would have wanted us to continue and go on to have successful careers', said Smithies.

Smithies and Ward had been involved in collating shirts with Sinnott's name on, from clubs from all corners of football.

Added Smithies, 'It started off when the family asked us to get hold of shirts from all of his previous teams and, before you knew it, we had around a thousand shirts. They were all on show at his funeral; it was astonishing to see them all together'" said Smithies.

On this day, 14 July, in 2015 Altrincham entertained old foes Wigan Athletic in a pre-season friendly match at Moss Lane, which ended in a 1-1 draw. After two games against lower league opposition this was Altrincham's first encounter with higher graded opposition; it was also the first home match of pre-season and groundsman Neil Brown had again produced a superb playing surface.

Altrincham gave an excellent performance against a Wigan Athletic team which deployed 24 players during the match. As well as playing some good football, Alty also matched the fitness of their opponents despite only using 16 players and one of those only played for two minutes.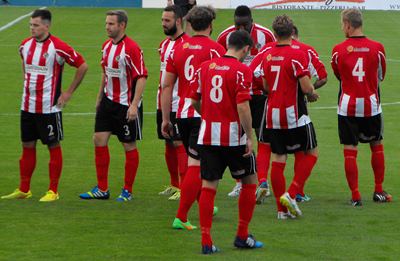 Left: Alty's players emerge for the pre-match handshakes.

Wigan took a 27th minute lead when McKay turned and drove an unstoppable shot past Tim Deasy from 25 yards. But Alty levelled ten minutes later when Michael Rankine dispossessed a defender in the Wigan box and held off a challenge to drive home the equalizer.

Alty had the better of the first period of the second half but Wigan finished more strongly. Eleven minutes from time, Wigan were awarded a dubious penalty against Deasy but the keeper saved Tavernier's spot kick to keep the scores level.

Alty's squad for this evening kick-off included only two trialists; Jordan Deacey and an unnamed striker, plus reserves Sam Heathcote, David Brown and Joel Swift, though the last two named did not get onto the pitch.

Altrincham started with nine of the previous season's squad but were without first-choice full-backs Shaun Densmore and Adam Griffin. So Alty deployed Jordan Sinnott at right-back and Nicky Clee on the left of the back four. The two new players were striker Michael Rankine and goalkeeper Tim Deasy. Alty named eight subs, of whom only four made more than a minute's appearance. In contrast, Wigan, named 24 players and used them all.

Altrincham: 1. Tim DEASY, 2. Jordan SINNOTT, 3. Nicky CLEE, 4. Jake MOULT, 5. Luca HAVERN, 6. Tom MARSHALL, 7. James LAWRIE, 8. Simon RICHMAN, 9. Michael RANKINE, 10. Damian REEVES, 11. Ryan CROWTHER. Subs: 14. Scott LEATHER, 15. Josh O'KEEFE, 16. Jordan DEACEY, 17. Sam HEATHCOTE, 18. Stuart COBURN, 19. A Trialist, 21. Joel SWIFT, 22. David BROWN.
According to the Shropshire Star "AFC Telford manager Gavin Cowan insists 'hungry' midfielder Henry Cowans is not ready to give up on his football dream.

Cowans, 24, has been with the Bucks since 2017 and was a key player in the push for promotion two seasons ago. But injuries restricted him to just two league starts last season, where he spent time out on loan at Stratford and Stourbridge. But boss Cowan has offered the schemer an opportunity to prove his fitness and mental fortitude by training with the Bucks in pre-season.

'It's important to reiterate Henry is not coming on trial,' said Cowan of the former Villa youngster. 'He's had injury and off-field problems that have thankfully run their course and he's overcome. It's a credit to him he's come out stronger but injuries can define a player. Henry's not ready to give up on that footballer's dream. When you've got someone of his athleticism and ability, if you can put the hunger with that you've got a real player on your hands.'"
The Boston Standard explains "why Jonathan Wafula, Martyn Woolford and Ben Middleton aren't in Boston United's play-off squad...

Martyn Woolford, Jonathan Wafula and Ben Middleton are not involved in Boston United's play-off campaign, manager Craig Elliott has confirmed. Defender Middleton has linked up with Grantham Town and winger Woolford is expected to be officially unveiled as a Gainsborough Trinity player. Wafula has also agreed a deal with a new club as he prepares for a fresh challenge.

'They're not in the 20-man squad,' Elliott said of Middleton and Woolford. 'They knew about that, they were free to go and good luck to them. They've done well for us this season. I had to think about worst-case scenarios, losing players through illness and who who can cover certain positions, trying to get a more rounded squad. I'm happy with the 20-man squad. We've got good options.'

Elliott admitted he would have liked Wafula to have been part of the promotion push, but the utility man had already expressed his wishes to move on after finding starts hard to come by, beginning just four matches this term.

'Jonno let me know very early, literally as we went into lockdown, that he wanted a new challenge and he'd agreed something with somebody else,' Elliott confirmed. 'He's someone I've worked with a number of years, going back to Shaw Lane and he's a great lad. I would have liked to have him involved in the play-offs but I respect his decision to move on. He let me know early so it wasn't fair to convince him to stay when other lads wanted to be part of it.

'Sometimes it's a good thing for players and manager to move on. Me and Jonno have worked together for a number of years and he's never let me down once. He's been fantastic and we've got some good memories at Shaw Lane and he did well at Boston. His biggest thing is he can play so many positions that sometimes goes against him but he's a good lad and I've got nothing bad to say about him.'"
Meanwhile at Hereford FC, "Midfielder Ben Pollock is the latest player to commit to the Bulls for the 2020/21 National League campaign.

The 22 year-old joined up with the Bulls in October, with his versatility proving useful to Josh Gowling as the North East native became a regular starter under the then caretaker boss.

Gowling was pleased to add him for the coming campaign 'I'm delighted that Ben is with us next season. He is a versatile player that can play in a few positions. Ben has shown his commitment to the Football Club by playing for free all last season, players with this kind of drive and commitment to this Club are the players I want here.'"
---
13 July 2020 With the deaths of ex-player Mick Farrelly, former youth team manager and matchday secretary George Heslop and supporter Ivan Curtis, it had already been a sad week for Altrincham FC and now we learn of the death of supporter Peter Rogers.

As the Altrincham FC official site notes, Peter was not only a loyal supporter of the club but he was also responsible for introducing longstanding club sponsorship supremo and club director Barry Pond to the club. Barry was his brother-in-law.

Seven years ago, 13 July 2013 witnessed the first match played in the newly sponsored J Davidson Stadium. It was a pre-season friendly, which Accrington Stanley won 3-2.

A combination of the hot weather and the much more extensive use of substitutes by Accrington led to Alty fading in the closing stages as Stanley came back from 2-1 down to snatch an 89th minute winner. Before that Altrincham had been good value for their lead in an open and surprisingly active game, given the sweltering heat.

Miller fired the visitors ahead in the 17th minute after controlling the ball well. After 35 minutes a foul on Perry gave Alty a freekick which Shaun Densmore curled home impressively from just outside the box, right of goal.

Just three minutes into the second half Jamie Walshaw was upended and he converted the resulting penalty, awarded by Premiership referee Anthony Taylor.

Above: James Walshaw converts his penalty against Accrington Stanley

After 62 minutes Stanley made no fewer than eight substitutions whilst Alty made much more sparing use of their bench. The visitors gradually got on top and, following a move up their left, Naismith sidefooted home an equalizer after 77 minutes. With under two minutes left the visitors snatched a win when, following a corner, a cross was headed home by Murphy (89 mins).

But Altrincham had given a good account of themselves, without several of their regular first team squad (Coburn, Leather, Rodgers, Richman).

Altrincham were without Simon Richman, due to his involvement in the World University Games in Russia, whilst Stuart Coburn, Scott Leather and Carl Rodgers were other absentees, today, from last year's squad. However, Alty included their summer signings in the shape of Kyle Perry, Jamie Walshaw, Mike Williams and Danny Boshell, as well as a few trialists, all of whom were on the bench.

The trialists included a goalkeeper Matt Lord, Scott Byrom (ex-Nelson), left-back Christopher Bailey (Colne to Nantwich Town in February 2013), Pat Crilly (Alty Youth) and goalkeeper Daniel Lloyd (previously with Runcorn Linnets and Barrow).

Stanley had a number of trialists, too, many of whom were assigned a forename on the teamsheet beginning with A, which in most cases was not correct!

Altrincham: 1. Adam REID, 2. Shaun DENSMORE, 5. Gianluca HAVERN, 6. Mike WILLIAMS, 3. Matt DOUGHTY, 7. Kyle PERRY, 4. Jake MOULT, 8. Danny BOSHELL, 11. Nicky CLEE, 9. James LAWRIE, 10. James WALSHAW. Subs: 12. Sam FREAKES, 14. Rob GILROY, 15. Damian REEVES, 16. Matt LORD, 17. Scott BYROM, 19. Chris BAILEY, GK. Dan LLOYD, David BROWN, Pat CRILLY.

As well as being the first game played at the newly named J. Davidson Stadium at Moss Lane, Mike Garnett advised us that this was also the first-ever friendly meeting between the two clubs. The last time the clubs had played a league match was in 2005-06, when Stanley won both matches 1-0 in the Football Conference. They also knocked Altrincham out of the FA Trophy that season, which ended with the Lancastrians promoted to League Two as champions.

The Derbyshire Times reports that "Midfielder Mark Lees takes Matlock boss Paul Phillips's tally of new recruits into double figures.

Phillips, who was Wild's assistant at the time, has managed Lees at Ashton United when the Robins qualified for the NPL Premier Division play-offs and Stalybridge Celtic and he says he has signed a winner.

'He's another lad who's been there and done it and can play in a number of positions', he said. 'He's as fit as a fiddle and knows the standards I set on the pitch. He's looked after himself and has that winning mentality'".

Meanwhile Salisbury have been running a series of player photos and this week they feature former Alty winger Bay Downing.

"In the last of these picture book player profiles we feature two players, one of whom is still with us and one who isn't! The latter [Bay Downing] appears, and I make no apology for that, because he was very popular with fans, and that was enhanced by his success from the penalty spot...
Bay Downing often found himself in advance of the midfield and liked nothing better than to get forward. He had made a good recovery after a nasty injury and there seemed to be no obvious after effects when he returned to match fitness".

The article adds "No matter how many times some people are put on the spot, there are some who don't feel the pressure, and Bay didn't disappoint. Looking at the images the style is very consistent, and there may be some keepers who wish they had done some homework to get a foretaste of the kick! However, most finishes were hit with sufficient venom and good direction to give keepers little chance, and a success rate of 5 from 5 says it all".

In March Downing joined Hayes & Yeading United.

Altrincham signed Bay Downing in late July, 2018 after he had played in three pre-season games, operating primarily on the right wing. He went to Millfield School before spending time in the USA where he played for Tampa Spartans (2015-17). After making his debut as a substitute against FC United of Manchester, and one further appearance from the bench at Darlington, he signed dual registration forms with Wiltshire side Salisbury during August 2018 and scored for them several times in his opening games for the Step Three club.

His Altrincham appearances were limited to two substitute appearances.
The Hereford Times reports that "Hereford FC manager Josh Gowling says that the club are hoping to move training into a more northerly location to reduce travelling costs.

Last season the side trained at Hartpury College, but Gowling said that this would be changing.

'We will be moving north and the theory behind that is that we're in the north (National League North) but we're training in the south,' said Gowling while talking to Radio Hereford FC this afternoon.

'I know a lot of our fans won't like it as we're not in Hereford but currently last year we were training in Gloucester, so not in Hereford anyway.

'We were training at night when nobody saw the players anyway so that's one thing. For me I've got to look at the club's sustainability and the simple fact is we paid a lot of money for players last year because of our location, as simple as that.

'We had to pay travel expenses and so many other outgoings because of where we trained. So from my point of view, as a financial point of view from a football club, it makes us more sense to be training more centrally. Moving the club into a more central location in the long term will make the club more sustainable.

'For that we can get a better quality player in a better catchment area for less money, that's what it boils down to'...

Gowling added 'The long term vision is to get us into a position where we've got successive promotions and then we can bring it back when the budget is better for Hereford because we can then pay players location money and pay them enough to not work and relocate, live and work in the community.

'That's the long term goal to get players back at Hereford. It's great to see the players shopping in town or in coffee shops or whatever. In the short term we don't have the budget to be able to get players to relocate it's as simple as that.'

Despite training being moved further up north Gowling said that players would be working in the Hereford community and going into schools and hospitals."
The Boston Standard reports that "Winning the National League North play-off final was Scott Garner's greatest achievement in football. Now he wants to do it all again with Boston United.

The Pilgrims defender netted the winning goal in extra-time as FC Halifax Town beat Chorley 2-1 at the Shay in 2017. But reliving that high is not the only motivation Garner will take with him to York Street on July 25 when Boston host the winners of Brackley Town and Gateshead in the final four.

After being knocked out at the semi-final stage twice before with the Pilgrims, he wants to make sure it's third-time lucky...

'When I left Boston I always said I had unfinished business,' Garner told The Standard... Garner is gunning for his third promotion from this division with as many clubs.

But despite being part of the Alfreton Town squad which won the title in 2011, he refuses to claim it. 'I came back from injury at Grimsby Town and went to Alfreton for a couple of months on loan,' he said. 'I wasn't there at the end of the year, so I don't really count that one'".
Leamington report that "A hallmark of Paul Holleran's Brakes teams over the years has been continuity, with the backbone of the side remaining consistent, and skipper Jack Edwards will continue to be a key part of that going forward, having agreed a deal until the end of the 2020/2021 season.

Since taking the armband from the departed Jamie Hood, Jack has become the focal point of the team. Aside from his brief spell at Solihull Moors he is the longest serving player in the Brakes squad behind James Mace...

'Jack has been an important part of the team for a number of years now, and since taking the captain's armband he has raised his game to another level,' said Paul Holleran.

'He's heading towards 300 games for the football club. Every week his performances are wholehearted, fully committed and he has been great for us on and off the pitch. He is a massive ingredient of what we do and we are delighted that we have been able to get Jack tied down to the end of next season...

Jack said, 'The club strives for consistent improvement, is a great environment to play in and has given me the opportunity to captain a group who motivate and lead themselves. Leamington are a good fit for me and me for them, we are ambitious, so I look forward to what the future holds!'"
Gateshead are "offering fans the opportunity to purchase a virtual ticket for our Vanarama National League North play-off eliminator fixture away to Brackley Town...

Competing in the play-offs comes at a significant cost for each club, and the absence of supporters in these fixtures, though understandable, is a huge loss nonetheless with ourselves receiving no matchday income since March 7...

For £10 per ticket, the funds from which will go towards costs involved in competing in the play-offs, fans will receive a one-off ticket which will be printed and delivered via post to keep as a souvenir. The virtual ticket also includes a digital copy of our matchday programme, HeedLines, produced as a special edition for the play-offs.

All tickets will arrive signed by a member of the first-team squad, making this an ideal addition to the collection for members of the Heed Army who wish to be a part of our first play-off fixture since the 2014 National League play-off final at Wembley Stadium."
Meanwhile, at Brackley Town where there is "the upcoming play-off eliminator match with plenty going on behind the scenes so that the game behind closed doors can go ahead...

As the home side we are responsible for hosting the game and putting in place all of the necessary measures to ensure the welfare and safety of the players, officials and everybody else involved.

Attendance is tightly controlled. Only accredited players, coaches and medical staff from each team, safety and security staff, a handful of press/media people and a small number of officials from each club will be allowed into the ground.

Our training and match protocols and stadium plan set out in detail the arrangements leading up to the game and on the match-day itself. This includes the Covid-19 testing regime for anybody who will be in the Red Zone inside the ground.

Arrival and ground entry are strictly controlled and every step in the process towards getting the game started is carefully laid down from procedures for players changing (the away team will be using both the normal home team changing rooms) to how they enter the field of play, how the coin toss is conducted to the new rules around substitutions.

The game will be played over 90 minutes with no extra time were it to be level at full time. In those circumstances the game will be settled by a penalty shoot-out for the right to meet Boston United in the play-off semi-final.

We wish to emphasise to all Brackley Town supporters that there will be no entry to the match and all supporters are asked to stay away from St James Park on the day of the match.

The circumstances surrounding this game are unique in the history of our club. To add some fun to this unique occasion we have teamed up with The Football Company to provide an opportunity for supporters to be at the game in cardboard cut-out form as you might have seen at recent Premier League games. We hope that you will want to get involved in this way and we will tweet out and publish pictures of the cardboard cut-out crowd at the game...

A further opportunity to show your support for Kevin and the team is to have your flag or banner displayed on the terraces. This costs nothing but you will need to follow the instructions and to deliver your flag or banner to the ground on Friday 17 July and it will be put up for you and later taken down and made available for collection...

It now seems unlikely that BT Sport will be televising the game. It may still be possible that the club will stream live pictures of the action so look out for further details about this. Live radio commentary will be provided by a combined BBC local radio team including BBC Oxford and BBC Northampton."
Blyth Spartans "manager Michael Nelson has hailed the impact of the Future Fund and the 1899 Club following the signing of Matthew Elsdon from Barrow...

The former Norwich City defender believes... 'Without the Future Fund and the continued support of everyone in the 1899 Club, I don't think we would have been able to get Matthew signed up so quickly... There will have been a huge risk of losing out on him to someone else.

'He is a local lad and there has been interest from other clubs in the area, so the success of those two areas has been a massive help in allowing us to get it done so quickly after Matty left Barrow.'

Nelson also revealed... 'It is still ongoing in terms of leagues still being active because of the play-offs, right down from League Two, National League and National League North and South,' he added. 'There are a lot of players who are still tied up but once the play-offs end, some of those players could be available.

'You've then got other players who are available currently but are possibly waiting to see what happens with those teams in the play-offs. Some players don't want to commit at the moment. There is no mad rush at the minute but there probably will be a fallout of players coming out of higher leagues and falling down with the way the coronavirus has hit'".
---
12 July, 2020 2008 was the last time that Altrincham played a game on today's date, 12 July. And that game, at Abbey Hey, witnessed a remarkable feat as Chris Senior hit five goals for Altrincham in a 5-0 win.

Even more remarkable, he scored all the goals in the first half. And another notable feature was the debut of Jake Moult.

After that, the second half was something of an anti-climax with the half-time score of 5-1 remaining unaltered at the end of the full 90 minutes. It was a curious match insofar as Abbey Hey included seven starters who had played for Altrincham Reserves in the past whereas Altrincham themselves had only five players in their starting eleven who had ever worn an Altrincham shirt before! The home side's manager and nowadays the Alty groundsman, was Neil Brown which explained why there were so many players in his side from the disbanded Altrincham Reserves' side.
Above: Ben McHugh, one of Alty's trialists, warms up before the game at Abbey Hey. In the background, left to right, are Anthony Danylyk, Luke Horrocks, Robbie Lawton, Greg Young, Dale Johnson and Jake Moult.

They were Battersby, Young, Peyton, Lawton and Senior. Alty's other six starters were new signings Anthony Danylyk and Dale Johnson, along with trialists James Coates (goalkeeper), Luke Horrocks (winger) and Natt Kerr (central defender), together with last season's youth team midfielder Danny Browne. On the bench, to be used as second-half subs, were goalkeeper Stuart Coburn, trialist defender Ben McHugh (ex-Crewe), trialist left-back/midfielder António dos Santos, a Portuguese who has been at Guiseley, trialist Jake Moult who was a Stoke-born former Plymouth Argyle midfielder and ex-Alty youth teamers striker Tom Bailey and winger Charlie Weir.

It was eleven weeks to the day since Altrincham had apparently been relegated at Weymouth on the last day of the 2007-08 season. But just three players who started at the Wessex Stadium also started today as manager Graham Heathcote used this game against the Vodkat League Division One side to blood seven debutants, (two of them signed and five trialists).

ABBEY HEY: 1. COOPER, 2. Keith WEDGE, 3. Ashley BROWN, 4. John BENNETT, 5. JEFFRIES, 6. John MALONEY, 7. Aaron EDWARDS, 8.James MARSDEN, 9. Daniel DOHERTY, 10. Daniel HEFFERNAN, 11. Astley MULHOLLAND. Subs: 12. SCOTT, Adam FROST, 15. EME, 16. Paul LEWIS, 17. Steve COOKE.

ALTRINCHAM: 13. James COATES; 2. Richard BATTERSBY, 4. Natt KERR, 5. Greg YOUNG, 11. Warren PEYTON; 17. Robbie LAWTON (capt), 16. Anthony DANYLYK, 6. Danny BROWNE, 14. Luke HORROCKS; 8. Chris SENIOR, 10. Dale JOHNSON. Subs: 1. Stuart COBURN, 3. Ben McHUGH, 7. António dos SANTOS, 9. Jake MOULT, 12. Tom BAILEY, 18. Charlie WEIR

Altrincham took the lead when Lawton fed Senior from the right and the striker converted comfortably. Lawton was involved again as Alty doubled their lead in the eleventh minute, the goal arriving after good work from Dale Johnson had led to Lawton having a shot blocked but Senior was on hand to score.

Senior forced a save from Horrocks's feed (26 mins) but a minute later Senior completed his hat-trick with a far post volley from a well taken corner on the left by Danylyk (27 mins). But then an uncharacteristic error by Young just outside the Alty box allowed Heffernan to score a well-taken driven goal, low past the keeper, despite Kerr's valiant atempt to cover. It was now 3-1 (30 mins).

As Kerr berated Coates for not claiming a ball, the keeper responded perfectly by planting a long kick upfield which Senior neatly lobbed over the keeper for his and Altrincham's fourth goal (38 mins). And with the statisticians reaching for their record books, Senior made it 5-1 with his fifth goal in the 41st minute, following good work from Dale Johnson.
ABBEY HEY 1
ALTRINCHAM 5

Above: Natt Kerr


Warren Peyton &
James Coates


Jake Moult,Chris Senior
& Graham Barrow


Danny Browne &
Anthony Danylyk


Luke Horrocks &
Jake Moult


Dale Johnson


Antonio dos Santos


Anthony Danylyk


On Sunday, Alty played cricket
against Timperley CC, where
Matt Doughty kept wicket
Nantwich Town "announce that Josh Langley [right] has signed a new 1-year deal with a 1-year option with Nantwich Town. This would take the contract up until May 2021, the 1-year option clause would take the deal up until May 2022. "

Menahwile the Northern Premier League confirms that Mark Lees has moved from Mossley to Matlock Town and Ryan Brooke from Mossley to Runcorn Linnets.
The Shropshire Star reports that "AFC Telford United's headline signings have come to the club for success and not a holiday, insists boss Gavin Cowan.

Cowan's four outfield captures during the close season all boast significant playing experience above Telford's current National League North level. And the boss moved to confirm that defenders Lee Vaughan and Courtney Meppen-Walter, midfielder Jack Byrne and striker Jason Oswell, players the Bucks have been 'fortunate' to bring in, still have it all to prove and are aiming high.

'I'm very big on being proactive and being at the front of every queue for players beneficial to the club. That is my job,' Cowan said. 'If a player turns us down then that's fair enough, but our job is to be at the front to try to persuade them. Fortunately enough I've been lucky to be able to capitalise on a few players who, ordinarily, we wouldn't be able to sign.

'But they've certainly got to prove themselves at this level again and want to prove to people that they're not dropping down to this level for a jolly-up. They're coming here to be successful. We're fortunate that their own personal path has led to us signing them. You like to think you get one a season but to get three or four has set us up nice[ly] and we're very pleased with what we've done.'

The Bucks have trained twice last weekend and on Wednesday evening, since regrouping after the coronavirus lockdown. They continued their 2020/21 preparation at Lilleshall today."
At Hereford FC, "Bulls' captain Jared Hodgkiss is the second player to commit to the Bulls for the 2020/21 National League season.

The full-back stays at Edgar Street for a second season with Josh Gowling confirming he will remain as captain for the coming campaign:

'Jared is the captain of the football club, he is a leader and a person that players look up to. He is a model professional on and off the pitch and throughtout my time at the club Jared has wanted what was best for the team.

'He puts the team first before anything else and that shows what the football club means to him.'"
From the Kidderminster Shuttle we learn that "Kidderminster Harriers have signed Luke Maxwell back to the club on a contract for the new season.

Maxwell is a familiar face at Aggborough, he is graduate of the club's academy and made his first team debut in 2014 before his performances alerted the attention of Birmingham City who swooped for his signature. He flourished in midfield at Harriers before further honing his skills in defence while at St Andrew's during three years on the books with Blues. During that time, he picked up further first-team experience with Grimsby Town, Gateshead and Solihull Moors before joining the latter on a permanent basis in 2019.

Maxwell spent part of last season on loan with Gloucester City...

Luke Maxwell said 'It's my hometown club and where I've played my most enjoyable football. This is perfect for me. I've lived here all my life and I've played with the gaffer at Gateshead. I know what he's all about, and I'm looking forward to enjoying my football again; there isn't a better place for me to be doing it.'

He has joined the club on a one-year deal."
Boston United "chairman David Newton said it has been 'humbling' to see the generosity of fans during the coronavirus pandemic. The Pilgrims' play-off donations campaign has raised an impressive £8,000-plus within a week of being set up, while more than £10,000 was spent as memorabilia from the club's York Street home went up for auction.

On top of that, supporters continue to purchase goods for United's new stadium via the Building Together fund and supported the Pilgrim Pixels campaign to aid the club on and off the pitch...

'It goes beyond (what we expected) really... It's been a difficult old year for everybody, and when you take the season as a whole, the amount of away games we had, where everyone was travelling everywhere, it must have cost everybody such a lot of money. To then support us now in such difficult times is quite humbling. We're really, really grateful.

'Obviously, we're ploughing away, building a new stadium. So to know that all that is still there in the background is reassuring that we're doing the right thing'...

Competing in the play-offs will cost United somewhere between £30,000 and £70,000 as they pay staff wages and cover the costs of hosting matches, training facilities and weekly COVID-19 tests without any match day revenue.

'We're trying to keep the cost in the middle of that amount at the moment,' Mr Newton added. 'The cost is irrelevant as we've taken the decision to play them'".
---
11 July 2020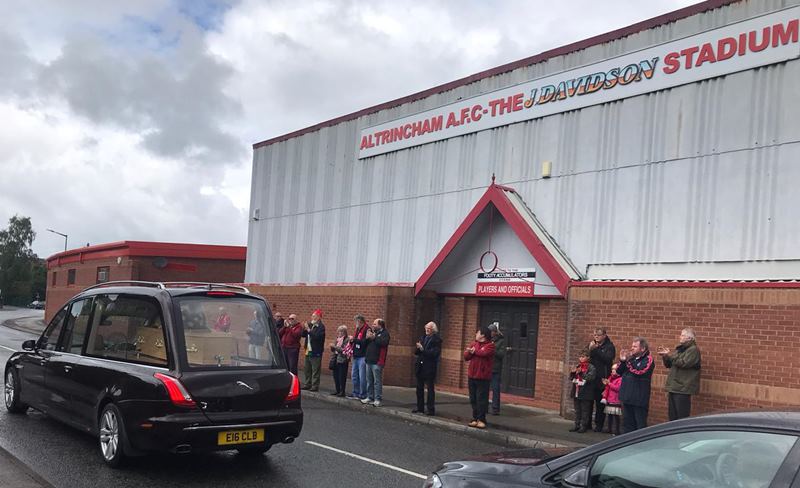 Above, in an image courtesy of Bill Morris, we see fellow supporters of Altrincham FC applauding as Ivan Curtis's funeral cortege paused briefly outside the J. Davidson Stadium on Friday morning. This allowed a good number of his friends from the Football Club to pay their respects in this time of limited permitted attendances at funerals owing to the Cov-19 pandemic.

The hearse and mourners were on their way to the commital service, which was conducted by Altrincham FC supporter, David Slack.

It has been a sad week for the Football Club with the deaths in the past few days not only of Ivan but also of former Youth Team manager and First-Team Matchday Secretary, George Heslop, and the passing of former player Mick Farrelly, who scored the winning goal for the club in the 1986 FA Trophy final at Wembley.
Chester FC announce that "Four weeks ago, Chester Football Club launched Boost the Budget, the most ambitious fundraiser in the club's history which aimed to raise £100,000 for next season's first team budget over a seven-week period".

To date (10 July pm) the sum of £109578 has been raised, with three weeks of the appeal period to go.

Also from Chester FC we learn that "Chester Football Club can confirm that we have now received our testing results back ahead of the National League North Play-Offs.

Our first round of COVID-19 testing took place on Tuesday 7th July, with 26 players and Club staff being tested.

We are pleased to confirm that zero individuals tested positive.

Because of this, preparations in training are now underway ahead of our First Round Play-Off clash at Altrincham on Sunday 19th July".

Above: The less than animated Alty bench at Bamber Bridge, 11 July 2015!

Five years ago today, on 11 July 2015, Altrincham played a pre-season game at Bamber Bridge and won 1-0, thanks to a goal eleven minutes from time by Damian Reeves. Bamber Bridge played in 2015 in the First Division North of the EvoStik (Northern Premier) League, three tiers below Alty at that time in the non-League pyramid. Brig had last been league opponents of Altrincham in 2000-01 and, before that, in 1998-99, they had fought closely with Altrincham for the then UniBond League title, which Altrincham eventually clinched, allowing them to return to the Football Conference.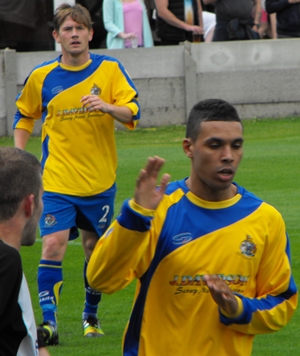 Pictured, right at Bamber Bridge are trialist Jayden Hall, who was on loan at Chester FC from Burnley in 2014-15, and Alty captain, Shaun Densmore.

It was Alty's second pre-season game, and they again kept a clean sheet following a goalless draw at Abbey Hey a few days earlier. But, once more, Alty lacked much threat up front. However, they secured a late win against their EvoStik Division One opposition with an expertly taken goal from Damian Reeves.

Brig created the better chances in a first half which saw Simon Richman suffer a head wound which needed hospital attention. He was replaced by Josh O'Keefe midway through the half. The winner finally came when James Lawrie's good, low through-ball set Reeves free and he stroked the ball past the advancing Josh Samberg [ex-Alty himself] in the Brig goal, the ball going into the net off the foot of the keeper's right upright.

Compared with the game at Gorton the previous Tuesday, Alty fielded a stronger starting eleven at Bamber Bridge, with all the starters having featured for the club last season except for trialist Jordan Deacey and new signing Michael Rankine.

At the interval, a further six changes were made by Alty, as regulars Lawrie and Reeves came on, alongside new goalkeeper Tim Deasy and trialists Josh Green, Jayden Hall and ex-Youth teamer, Jeff King. Ryan Crowther was away on holiday.

For Bamber Bridge, former Premier League striker, Brett Ormerod, was making his debut.

ALTRINCHAM: First Half: 1. Stuart COBURN, 2. Shaun DENSMORE (capt), 4. Scott LEATHER, 5. Luca HAVERN, 3. Adam GRIFFIN, 12. Jake MOULT, 7. Simon RICHMAN, 8. Jordan SINNOTT, 14. Nicky CLEE, 16. Jordan DEACEY, 6. Michael RANKINE. Second Half subs: 18. Tim DEASY, 6. Josh GREEN, 7. Jayden HALL, 8. Josh O'KEEFE (also wore #7 as a first half sub), 9. James LAWRIE, 10. Damian REEVES, 11. Jeff KING
Guiseley "announce versatile young player George Cantrill has signed a new contract to play for the club for a second season.

The 20 year-old was released by Sheffield United in the summer of 2019 and, despite interest from other Football League clubs, he decided to join The Lions, where he had had a loan spell from The Blades in the 2018-19 season. The Sheffield-based player made a positive impact in his first full season with The Lions figuring in midfield as well as at full-back.

George was a consistent performer in any role he was been asked to play and made 32 starts in the past season...

He said 'I couldn't wait to sign a new contract with Guiseley and now I can't wait for a new season to start. It is a pity the season ended early as I feel we could have got into the play-offs the way we were performing, especially with the way we played in the last game we played at King's Lynn.

'We look as if we will have a similar squad to last season so I think we can push on and aim for promotion. I believe we are capable of that and we will have as much of a chance as anyone else.'

In the lockdown George has been keeping fit by running and by helping out in his family's livery yard. With an eye to a future career in coaching, since some restrictions were lifted, the Level 3 coach has been doing some coaching with youngsters in Sheffield and is hoping to complete his UEFA B Licence."
The Boston Standard advises us that "Alex Whittle is determined to end the season with two firsts; a Liverpool-Boston United double. The Pilgrims defender has already celebrated his former club winning a league title for the first time in his life this season.

Now he wants to claim his first promotion at the fourth time of asking.

'I was hoping for the Liverpool-Boston double and there's still a chance of that,' said 27-year-old Whittle, who came through the same Reds youth team as Raheem Sterling, Conor Coady and Jon Flanagan. 'I was always Liverpool, getting tickets for the games. When I was 18 I got released and, obviously, I lived away for many years so it was hard to get to the games, but I'm a big fan. Most of my family are Reds'...

As United prepare to host the winners of Brackley Town and Gateshead on July 25 in the National League North play-off semi-finals, the left back has his sights set on securing promotion after missing out with Dunfermline and Warrington.

'I've lost three play-off finals,' he continued. 'I lost two in Scotland and one last year with Warrington against King's Lynn. They always say third time lucky, but hopefully it's fourth for me... It was a frustrating time, the league above's play-offs were happening and what I was seeing on Twitter, ours wasn't happening. I was buzzing to get back...

'When you start getting the feel of the ball it all comes back to you. The lads have kept in decent shape as well and they're a fairly fit team as well. Everyone' s close as well. There's no divide or cliques. Everyone encourages everyone to do well... We've got that 20-man squad that can do it at this level, definitely.'"

Off the pitch the Boston Standard also reports that "Memorabilia from Boston United's York Street stadium has raised more than £10,000 at auction.

The Pilgrims put items from their ground on ebay, allowing fans to bid for their own pieces of club history as the Pilgrims prepare to move to the under-construction Jakemans Community Stadium.

The item receiving the highest bid was the Jakemans Stadium sign which welcomed fans to the ground, fetching £637. The club crest which was the centrepoint of the Town End display was bought for £560, while the most eyecatching deal was arguably a toilet sign featuring two club badges, which cost one punter £295.

Other items up for sale included the boardroom table (£266), programme kiosk (£360.53), the manager's chair (£245) and a raffle drum (£165).

In total, more than £10,200 was raised from more than 70 lots. More items are expected to go up for auction after the play-offs have concluded."
At Bradford (Park Avenue) "Versatile Mark Ross has agreed to re-join the Avenue after a year away at Chorley, making up 19 appearances in the National League for the Magpies. No stranger to the fans of Bradford (Park Avenue), Ross was a key member of both squads that made consecutive appearances in the play-offs.

Super fit Ross can play either in central defence or at right back and will add extra experience and solidity to the Avenue back line next season. During his previous two-year spell with at the Horsfall Mark started 80 games contributing to 24 clean sheets and scoring a solitary goal.

Manager Mark Bower added, 'When we began to identify players for the new season, Mark Ross was one of the names at the top of the list, so I am delighted that he has agreed to join us. When speaking to him, it was clear his main objective was to enjoy his football in a team able to compete. Having worked with us and several of the players before, it is great that he feels we fit the bill. Rossy is another who we will be able to count on to perform at a consistent level and help our younger players with his experience.

He will also set a first class example to them in the way he conducts himself off the pitch.'"

And the Telegraph & Argus adds that "Mark Bower has once again dipped back into the squad that helped him reach successive playoff finishes as Mark Ross has rejoined Bradford (Park Avenue).

Last Friday, Bradford announced the signing of ex-player Luca Havern and a week later they have brought back his former defensive partner. Ross left at the same time as the manager at the end of the 2018/19 season and spent last term in the National League with Chorley, making 19 appearances.

Originally, the defender, who can either play at centre half or right back, started out at the Magpies in 2010. He played a great part in the club's rise through the divisions, up to the National League North.

After six years of service, he moved onto Stockport for one season before linking up with Bower. During his two years at Horsfall, he starred 80 times, keeping 24 clean sheets and scoring just the one goal.

The 31-year-old... could prove a crucial cog to a defence, which is starting to shape up nicely with the likes of Mitch Lund, Havern and Matt Downing already amongst its ranks."
York City announce that "We're giving fans a chance to get back in the ground, with the launch of Fans At The Game.

Bringing our fans on our Play-Off journey is incredibly important to us, so we've teamed up with The Football Company, to give you an opportunity to have your own personalised, recyclable, waterproof cut-out displayed proudly in the stands. We want our supporters to be represented, at Bootham Crescent even if they can't be there in person.

Cut-outs are now on sale...

All you need to do is use your smart phone device to visit our Fans At The Game website, allow your smart phone device camera to take a picture, make sure you fit in the silhouette, approve your picture – done! Make your secure online payment; it costs £25 per cut out. After that your cut-out is produced, delivered here to Bootham Crescent and installed. Before you know it, you'll get back in the ground, and be a fan at the game once more...

When crowds are allowed back into football matches, and we no longer have to use cut-outs as our fan representation, those who have purchased a cut out will then have the chance to collect it...

Why is the cost of a cut out more than the price of a ticket? Cut outs will be situated in the stadium for as long as crowd restrictions are in place, so your presence in the stadium will last longer than one game. You'll also be able to keep the cut out after. The cut-outs are priced by Fans at the Game and in line with fan engagements like this across the country and indeed Europe.

Will the cut outs be in the stadium if York City reach the final? We really hope so! However we are discussing this with the National League, who's [whose] decision this would be...

Can I buy an AWAY cut-out? Yes, if you add the word 'AWAY', in capital letters after your name during the booking process we will work with the club to ensure away fans are grouped together in the stadium".
---
10 July 2020
In Cheshire Live "Jon Worsnop has described the decision to return to Chester FC as a 'no brainer'.

The 37-year-old returned to the Deva Stadium last month in a player/goalkeeping coach capacity having spent two years at Chester between 2014 and 2016 where he played a significant role in the run to the FA Cup second round... Worsnop also played one game for the Blues during the 2002/03 Conference season under Mark Wright and was most recently at Grantham Town after a spell with Marcus Bignot's Guiseley.

The Bradford-born keeper is busy with two successful businesses outside of football, owning a manufacturing company in Halifax and a specialist meal-preparation firm, Gymology, which supplies athletes from the likes of Manchester United to GB Taekwondo with their nutrition...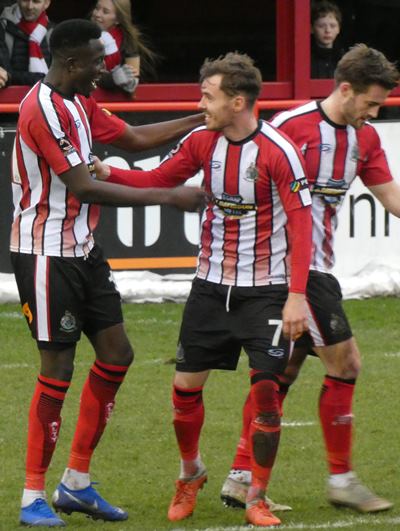 Right: When Alty meet Chester FC on 19 July, John Johnston will be on the visitors' side. But back in March 2019 when Chester lost 4-0 at the J. Davidson Stadium, John Johnston was playing for Altrincham and here he receives congratulations from Yusifu Ceesay for his part in one of the goals. Later in the match JJ went on to score the fourth goal for his side.

When the chance to keep his hand in playing and also coach came up at Chester he was quick to jump at the chance. 'I'm chuffed to be home,' said Worsnop... 'I've always had dialogue with Bernard and Jonno and respected what they've done and I've made it known that I'd love to work with them in some capacity, as a player or a coach... When I was there in a playing capacity we didn't have a goalkeeping coach and it is an important capacity. As a goalkeeper you end up joining in possession or joining in the running sessions. You don't need to be the fittest at running or good in possession, you need to be a goalkeeper...

'Jonno was asking what I was doing and said I'd make a good coach. I said I wanted to be a coach and become a back up somewhere as well, in case the number one keeper got injured. For a lot of clubs it kills two birds with one stone. I said if an opportunity came up at Chester then give me a call and the phone rang... and I bit Jonno's hand off'...

Worsnop... could find himself playing a part sooner than he expected as Chester wait on whether Louis Gray will be able to play. He said 'Chester is a great club to me. It is 25 minutes away from where I live in Hale, I have lots of fond memories and have friends there'".

And in the Chester Standard he added that... 'I would class myself as an avid Chester supporter. I check all of the club's results and give a little fist pump when they've had a good one,,,

'I had other options, but I was holding out in the hope something might happen and when Jonno asked... I bit his hand off'...

He's a huge fan of Johnson and Morley... 'I've always wanted to work with them' said Worsnop... 'I truly believe that they are the best management duo down in non-league football and given their mentality and desire, they are destined to go further in the game. They've blown me away with what they've done and it would be great it we could form a team and if I could stick close to them, because I believe in what they do...

'We are just waiting for clarification,' said Worsnop... 'Touch wood myself and Louis are cleared to play.'"

Meanwhile Cheshire Live reports that "Danny Livesey says he and his Chester FC teammates owe it to themselves and Blues fans to see the season through.

The 35-year-old centre back, who has been dependable at the back for Anthony Johnson and Bernard Morley's side for the last two seasons, was one of the senior players behind the decision to compete in the play-offs and donate their contractual entitlements back to the club, effectively playing for free...

'I can only speak for myself but it was an easy decision for me personally, and I think a few lads probably feel that way,' said the former Carlisle United, Bolton Wanderers and Barrow centre back. 'To go through a season and not to see it through seemed wrong and I was more than happy to come back. It wasn't a big debate or anything, we all wanted to come back and finish what we started. If it lasts a game then it lasts a game, at least we gave it a go and saw out the job. It wouldn't have been right not to. We owe it to ourselves, the club and the fans...

'Usually in pre-season we have a few weeks of training and preparation then some lower key friendlies and you build things up. We are going to be playing a competitive play-off game with about 10 days preparation as a team.

'Altrincham have had a bit more time to prepare but it will all be about fitness and who comes out on top on the day. We're all fit and come back in good shape so we'll give it our best shot and see where it takes us... I definitely want to carry on and play again next season,' said Livesey...

'I think I've done alright since I've been at Chester. I've had the odd injury and probably tried to come back too soon before now but I feel I still have a lot to offer, whether at this level or above... I'd like to stay at Chester. I've enjoyed my time here, it's a great club and I think that it is close to something really positive'".

As previously mentioned, the funeral cortege for supporter Ivan Curtis, who died last week, will be passing the J. Davidson Stadium at around 11.20am today (Friday). All who knew Ivan are invited to pay their respects, within the bounds of social distancing of course.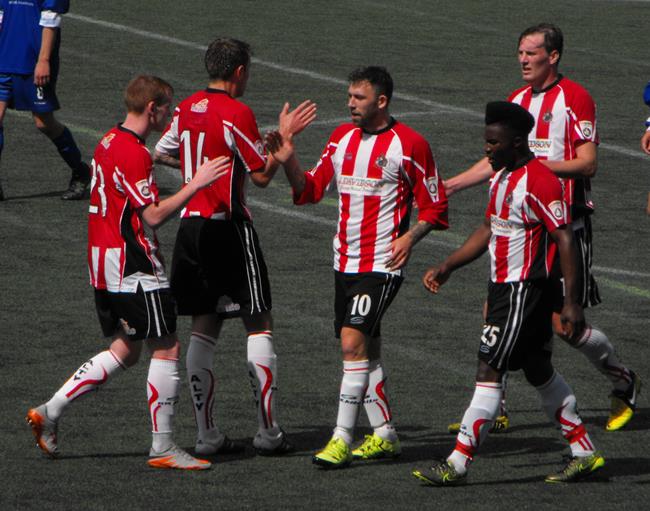 Four years ago today witnessed Altrincham's first game under Neil Young's managership, a 2-2 draw away to Widnes. Since Alty's last visit to the Halton Stadium, when playing against Runcorn FC Halton, the playing surface had been made artificial, providing an introduction similar to what Alty would find in the stadiums of several league opponents in the coming season.

Above: Damian Reeves receives congratulations after equalizing.

After falling behind 2-0, two late goals secured a draw for Altrincham. With different line-ups playing in each half and with each of them comprising a mix of last year's squad, new signings and trialists it was not surprising that the visitors were unable to impose themselves on the NW Counties side. It was not until the last fifteen minutes that Alty began to assert themselves.

They had fallen behind after 35 minutes when a long ball reared up and allowed Jack White to score past trialist keeper Ciaran O'Loughlin who, earlier, had made two fine saves. When Simon Richman lost possession and then fouled Owalabi, he conceded a penalty. Owolabi scored from the spot in the 64th minute.

Alty got back into the game when Boris Melingui's fine pass gave Damian Reeves a shot which was half-stopped but, as Danny Hattersley went to finish it off, he was brought down. Hattersley took the spot kick to make it 2-1 after 77 minutes.

Reeves got the equalizer with six minutes remaining, steering home a low shot, just inside the post.

The Altrincham second half players were not numbered on the team sheet and several of them wore differing numbers on their shorts from their shirts!

ALTRINCHAM: 17. Ciaran O'Loughlin, 18. Sam Patterson, 12. Keenan Quansah, 5. Tom Hannigan, 2. Harry Cain, 14. Joe Cuff, 9. Jake Moult, 20. David Lynch, 11. Billy Hasler Cregg, 7. James Lawrie (capt), 21. Craig Hobson. Second half subs: 1. Andrew Dawber, 14. Charlie Joyce, 20. Callum Charlton, 22. Sam Heathcote, 25. Boris Melingui, 26. Liam Haynes, 8. Simon Richman, 28. Jamie Menagh (capt), 10. Damian Reeves, 23. Danny Hattersley.
The Telegraph & Argus tells us that "Being a non-league footballer is a totally different ball game to that of one in the Football League. The majority are forced to have another job to pay the bills, meaning competing in the sport they adore is often put on the back burner.

Ex-Bradford (Park Avenue) and Guiseley striker Adam Boyes is no different, with his football career stalling due to work commitments.

Last month, after a difficult couple of years at Spennymoor Town, the primary school sports coach dropped down two divisions to sign for Northern Premier League Division One North West side Marske United. It is a remarkable fall from grace when you consider he was banging in 20 league goals at Horsfall just two seasons previously.

The mindset of a striker has to be different from any other position in the team. You know if you go a few games without finding the back of the net, that your name in the starting 11 is at risk. This has played a part throughout the ex-York City and Scunthorpe United forward's career and especially at his last club Town, where he only scored seven times altogether in the league.

He said 'If you go to a new club and don't score for five or six games, you start thinking that they don't think you're any good and you start missing chances. It is very important to get off to a good start wherever you are.

'I have had spells when I haven't scored but that isn't down to the pressure, it's over trying... When I first joined (Spennymoor), he (manager Jason Ainsley) was saying it was going to be 4-4-2 and I thought that would be great, but he never played that formation. He only did when Glen Taylor was injured and he played me up top with another lad, which worked really well. We won three out of three and were scoring goals. Taylor is a good player so he came back from injury and he was straight back in.

'It was frustrating because I knew I should have been playing. It wasn't great getting the odd 10-15 minutes every week. That is why I had to get out of there. I have hardly played for a year and half so I need to be playing 90 minutes week in, week out. 50 games a season and getting back to where I want to be.'

It was his relationship with ex-Lions and current Avenue boss Mark Bower and assistant Danny Boshell that helped the striker produce his best form. Boyes scored a combined 64 goals in the 147 league matches he spent with the pair at both West Yorkshire clubs. With Bradford on the lookout for a frontman after deciding not to keep Tom Clare, you would think Boyes would be the perfect replacement. After receiving interest from fellow Vanarama National League North outfits Darlington and Blyth Spartans, the 29-year-old is far from done at this level...

'I loved my time at Bradford,' he said. 'If it wasn't for the travelling, I would have never left. I still speak to Mark and Danny, and if they ever need advice on players I try to help them out. We still have a good friendship. I didn't leave on bad terms. I left because I was working up here (in the North East) and it was taking me an hour and a half to get to training on a Tuesday and Thursday.

'I always said to Mark I wished he'd got a job up this way. He was up for the Darlington job, which would've been great for me. He used to play for them... I have played at clubs like Spennymoor and you make one mistake and the staff are on your case straight away so you start panicking.

'Danny was still playing so he was basically one of the lads and Mark had just stopped playing, so they knew how to get the players going'...

It is a shame that Boyes cannot be part of the club's attempt to bounce back from last term's bottom-placed finish, but he certainly serves as an example of the type of player Avenue will be targeting to headline their attack next season".

And the Northern Premier League also tells us that "Gainsborough Trinity have signed... winger Rod Orlando-Young... [who is] joining the club for a third spell [and] arrives from Buxton. The former Norwich City, Exeter City and Ilkeston Town flier had a trial with the Holy Blues under Lee Sinnott, and signed under Liam King and Ross Hannah last summer before leaving to join Bradford Park Avenue".
From the Banbury Guardian we learn that "Glenn Walker sees no reason why Brackley Town can't break their National League North play-off duck this season... when they take on Gateshead in the first stage of the play-offs at St James Park on Sunday, July 19...

The matches will be played behind closed doors... Either Brackley or Gateshead will then travel to Boston United in the semi-finals on July 25 with the final due to take place at the home ground of the highest ranked team on Saturday, August 1.

For Brackley, it is the third season in a row they have finished in the play-off places. They were beaten by Harrogate Town in the final in 2018, shortly after they had won the FA Trophy at Wembley, and were then beaten on penalties by Spennymoor Town in the semi-finals last season. And, despite the circumstances being completely different this time around, Walker insists there is a real belief within the Saints squad...

Said Walker, who has made over 300 appearances for Brackley... 'All the boys have come back in good condition... We aren't really strangers to the play-offs over the past couple of seasons so the atmosphere within the camp is quite vibrant at the moment... and there is a belief that maybe this could be our year...

'It's 90 minutes with no extra-time and straight to penalties if it's a draw so I think that will make it more of an attacking game, both teams will be going for it'...

Asked what the testing process has been like, Walker replied 'It's not the most pleasant thing to be honest!... We are all doing the right things and keeping ourselves safe when we are away from the club'".
The Northern Premier League confirms that at Colne, "Connor Hughes has left the club...

Midfielder Hughes has called time on his spell at Harrison Drive after two seasons with the club.

He is expected to link up with former Colne manager Steve Cunningham at Curzon Ashton"

And more news of a former National League North player is recorded by the Northern Premier League that "Craig King will be like another new signing for Matlock Town when he finally puts his injury nightmare behind him.

King, 29, was an eye-catching for the Gladiators from Alfreton Town in October 2018, but just days after signing an extended contract with the club, he ruptured his ACL in a home game against Farsley Celtic in February 2019...

There have been two management changes at Matlock while King has been on the sidelines, with Dave Frecklington departing at the end of the 2018/19 season, and then his successor Steve Kittrick was replaced midway through last season with ex-Buxton boss Paul Phillips...

Phillips has made eight signings in the off-season so far, including strikers Sefton Gonzales and Liam Hughes, as he looks to put his own stamp on the squad".
According to the Shropshire Star, "New signing Jason Oswell insists he has joined AFC Telford United to win trophies and rediscover his love for the game.

Jason Oswell became AFC Telford boss Gavin Cowan's sixth new signing of the summer at the start of July. The 27-year-old Bucks hot-shot completed his move to the New Buck's Head from National League side Wrexham at the beginning of this month.

Oswell, who has been prolific with Newtown and Stockport County and played in the Football League with Morecambe, believes boss Cowan has stolen a march on rivals with his off-season business.

'I want to get my love back for the game. I've achieved some personal goals in the last few years but now I want to win titles and trophies, and experience what we did at Newtown,' Oswell told AFC Telford's website.

'Everything is in place for Telford to be very strong this year, they've made some good signings and Gavin Cowan has been ahead of the game in his preparation and it has given me a real buzz back that I've not had for a while.'

Oswell's one full season at National North level saw him fire Stockport County to the play-offs, with 28 goals along the way, enough for the player of the year gong.

That was after a prolific three seasons with Cymru Premier side Newtown, where Oswell helped the Robins qualify for the Europa League, where he netted twice against Malta champions Valletta, as Newtown won their first ever game in the competition.

Oswell, a target of Cowan's for three years, added 'Gavin Cowan was on to me very quickly after the season finished. Telford came in and I told the Wrexham gaffer I couldn't take any chances, as I knew there was only a slim chance of a deal there.'"
---
9 July 2020 Nine years ago, in 2011, on today's date, 9 July, Altrincham entertained a strong Burnley side in a pre-season friendly Match which the Clarets won 4-2.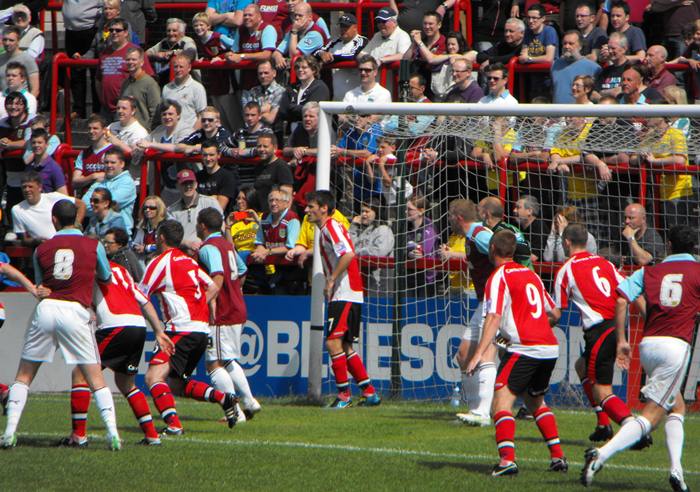 Action from the match.

This was both clubs' first pre-season game and the Clarets had promised to bring their first-team squad for Alty boss Lee Sinnott's first match in charge, which helped to generate a good crowd. The match referee was Premiership official, Anthony Taylor.

Both sides and the 1,253 spectators were probably happy at the outcome; Alty's experimental squad of new and old players was far from embarrassed by a club four rungs higher than them in the footballing world, whilst The Clarets, particularly in the first half, showed some slick build-up play and gave almost all of their squad 45 minutes of football.

After starting brightly, Altrincham were put behind in the 9th minute when Alex Macdonald sidefooted home at the end of a good move. Eagles then sidefooted a second after good work by Wallace (19 mins). When Paterson rounded Coburn to make it 3-0 (33 mins), it seemed that there might be a repeat of the 6-1 mauling suffered by Alty in the 1980s FA Cup clash between these sides. But with the Clarets changing all eleven players at the break and Alty making four substitutions, the Robins rocked their visitors with two goals from Nick Chadwick in the first four minutes of the second half. Chadwick had already hit the post, late in the first half.

Chadwick's first goal stemmed from Robbie Lawton's fine ball forward from right-back, where he was positioned for the second half. Chadwick's second stemmed from the alertness of new signing Simon Richman who anticipated Jensen's throw-out and got the ball before putting in an accurate cross for Alty's trialist striker to head home.

Chris Iwelumo settled things with a thumping header, making it 4-2 in the 67th minute.

Altrincham's team included just six starters who had been at the Club in the previous season. The remaining five places were taken by four new signings; Simon Richman, on the right flank, Adam Flynn and Mark Lees at centre-back and Chris Lynch at right-back, and a trialist, in the shape of striker Nick Chadwick, who had been released by Barrow in May.

The trialists and youth teamers involved were...
Paul Jones - an experienced 33 year-old ex-Barrow centre-back. His pedigree includes Tranmere Rovers, Blackpool, Leigh RMI, Oldham Athletic, Hyde Utd, Droylsden.
James Coates - former Alty keeper who has returned for pre-season. Stuart Coburn will play today but misses the next games as he will be on holiday.
Matt Fearon - Youth team defender
Sam Langford - Youth team winger
Jake Barnabas - Youth team defender
Michael Jukes (dob 11 July 1992) a 6ft 2inch Bangor City striker who comes from Warrington and was at Wigan Athletic as a youngster.
Kevin Gall, a winger who left Wrexham in January 2011; his previous clubs include York City, Yeovil, Bristol Rovers, Lincoln, Carlisle, Darlington and Port Vale. A Welshman, he started as a trainee at Newcastle United.
Nick Chadwick, an ex-Barrow forward released in May, 2011. His previous clubs include Everton, Derby County, Millwall, Plymouth Argyle, Hereford Utd, Shrewsbury Town, Chester City. He made his first team debut for Everton in 2001-02 season and had a spell on loan at Millwall. He left Everton in 2004-05 season after 14 first team appearances, and then joined Plymouth Argyle where he made 77 appearances, leaving in 2008-09 season. He joined Hereford United then Shrewsbury Town. In 2009 he joined Chester City, then Barrow.
Steve Hall - a centre-back, who was not used today.
ALTRINCHAM: 1. Stuart COBURN, 2. Chris LYNCH, 6. Mark LEES, 5. Adam FLYNN, 3. Ryan BROWN; 7. Simon RICHMAN, 4. Robbie LAWTON (capt), 8. Shaun DENSMORE, 11. Nicky CLEE; 9. Nick CHADWICK, 10. Damian REEVES. Subs: 12. Paul JONES, 13. James COATES, 14. Anthony DANYLYK, 15. Brian SUMMERSKILL, 17. Kevin GALL, 18. Michael JUKES, 19. Steve HALL, 20. Matt FEARON, 21. Jake BARNABAS. Also present but not on the teamsheet was Sam LANGFORD.

Runcorn Town's "defensive line for the 2020/21 season will have one less thing to worry about with goalkeeper Adam Reid committing himself to the club for his fourth season.

Adam won the NWCFL Premier Division in 2016/17 with Atherton Collieries before making the switch to us in February 2018. He quickly established himself as the club's number one and as a firm favourite with Runcorn fans. His consistency is remarkable, making 106 appearances in his two and a bit seasons, and his clean sheet record is also up there with the best of them with 31 shut outs in that time.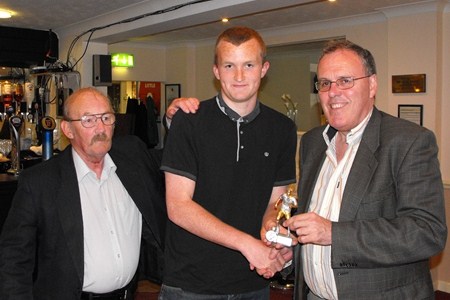 Right: Adam receives an end of 2011-12 season award from deputy chairman Andrew Shaw and (left) George Heslop, whose death was sadly reported yesterday.

Speaking of his re-signing, Reidy said 'I am delighted to commit to the club for another season and feel that there is unfinished business yet to be done. There was a few great high points last season such as the FA Cup run and Macron Cup run, but we also dropped quite a number of points that cost us a chance at the top three. The season coming to an end was therefore a good thing really because although we didn't have the chance to play in the Macron Cup Semi Finals, we do have another chance at three promotion spots and that's what we must achieve.'

So does Reidy have any aims for the new season? He says "I don't really set personal goals to be honest such as number of games I want to play or number of clean sheets I want to keep. I just aim to always try and play every game I possibly can and get as many clean sheets as possible. From a club perspective, the league and all the cups are on offer so the aim should be to win every game possible."

Since we last played at home to Burscough, Reidy has been keeping himself busy, saying "Away from Runcorn I do some goalkeeping coaching, and I have had to unfortunately stop that due to Covid. However I started doing full time hours in my part time job to keep me going and I'm looking forward to starting it up again when we can. I've been keeping my fitness up since the season stopped just to stop the boredom, so I can't wait to get going again'...

Last season was competitive and we sat 7th when the season was finally concluded. Reidy thinks it will be the same again saying 'I think it will be the usual suspects of 1874 [Northwich] and Bootle, and then you have your Rylands, Longridge, Charnock, Vics who can all quite easily challenge'...

'I think the club is heading in the right direction, and hopefully the ground situation will get sorted soon which could help the club push on'".
At relegated Chorley "midfield options have been strengthened by the signing of Mike Calveley from National League North rivals Curzon Ashton.

No stranger to the division having spent the last couple of years with the Nash and Nuneaton Borough, the 21-year-old is the eighth new face through the doors at Victory Park ahead of the 2020/21 season...

'I know the National League North really well from the last two seasons and I'm looking forward to hitting the ground running when football returns', said Mike Calveley.

A product of Port Vale's youth system, Chester-born Mike turned out four times for the League Two outfit as well as enjoying loan spells with Leek Town and Nuneaton. Despite his fledgling career, the central midfielder has already amassed 79 senior appearances.

'Mike fits the profile of player we've been looking at this summer; young, hungry and offering both plenty of potential and a fair bit of experience too. He'll bring strength and energy to the midfield' added Jamie Vermiglio".
News of another club relegated to National North comes from the Lytham St Anne's Express which informs us that "AFC Fylde are parting company with their assistant manager [and former Alty player and manager] Kenny McKenna, the longstanding number two of team boss Jim Bentley.

His departure is set to leave nobody in charge of the club's football side temporarily, with Bentley facing a heart bypass operation which is expected to sideline him for a while. McKenna has been Bentley's second-in-command throughout his managerial career, which began at Morecambe in 2011. The Liverpudlian pair moved to Mill Farm last October.

Fylde chairman David Haythornthwaite says the search for a new number two is designed to freshen up the management structure, action he believes should have been taken during Dave Challinor's eight years at the helm...

Haythornthwaite explained, 'Maybe it's time for a change and sometimes it's good to have a new number two. It can get stale. I very much felt that with Dave Challinor. With all respect to Colin Woodthorpe (who assisted Challinor throughout his time at Fylde), I felt that Dave should have changed earlier. It keeps you fresh. If you look at Old Trafford, Ferguson always changed his right-hand guy every couple of years and he did it for a reason to keep himself fresh, keep the players fresh, keep everybody on their toes.

'We had a chat about it and felt that was right for the club, so Kenny will be departing. It's always sad in football when you have to let people go. It's a tough business. But anyone who knows Kenny knows he is a real character, with a wicked sense of humour and a razor-sharp brain. You'll never get one over on him. I hope we have as amicable a parting as you can have in a divorce...

'It's sad if he's leaving with a relegation on his CV that certainly wasn't his fault. He was a hard-working guy.'

McKenna, who turned 60 last week, had managerial experience with TNS, Cammell Laird and Altrincham before linking up with Bentley nine years ago."

Also from Fylde we learn from the Lytham St Anne's Express that "AFC Fylde may have to take legal action to resolve the issue with its Mill Farm pitch.

The surface has been described as a 'disgrace' by the club's chairman David Haythornthwaite, with drainage issues the key concern...

'We had a terrible time with the pitch last year,' he said, 'I was always proud of my pitch and I was embarrassed with my pitch this year. It was a disgrace. We investigated and dug the whole thing up, and found a lot of faults with the drainage and with the way things were originally put in three years ago. We are in the middle of finding out whose responsibility it is.

'The builders subcontracted to another company, who subcontracted to somebody else and when these things happen everyone blames everybody else. We are trying to get this resolved without going legal, that's my preference, but it looks like we may not be able to do that...

'I don't want to spend a penny until the last minute but if we are going to have a September-ish start, we are probably going to have to dig up the pitch in the not too distant future. I just want to get the legal part sorted out first'...

Fylde's relegation from the National League appears to have been sealed following the announcement of play-off dates for National League North and South. The finals of these six-team competitions are scheduled for August 1, with the winners set to replace Fylde and Ebbsfleet."
Ebullient Bradford (Park Avenue) report that "Bradford (Park Avenue) are excited to confirm that next season, we will be offering fans not one, but two ways to enjoy our newly revamped match day programme.

Following consultation with our fans, and internal discussions, we are excited to announce that alongside our traditional offering of a physical copy, we are making a move towards the future and will be offering fans the option to download our programme via an app on your phone or tablet.

Football Operations Manager Calum Cullen said; 'We have been looking at ways to make sure we can cater for all our fans, not just those who attend the games, but fans who might not be able to get down, or live away from the Horsfall, and this solution allows us to do this. With just a few clicks on your device, you can download our programme and have it with you forever...

At the same time we were appreciative that there are fans out there who would still like to be able to have a physical copy, and we want to delight them as well'...

The newly designed program [programme] will be 36 pages crammed full of news, stats and views from those within the club and community."
According to the Boston Standard "Fitness levels will play a big part in Craig Elliott's selection process ahead of the National League North play-offs.

The Boston United squad reported back for training last week following a three-month break due to the coronavirus pandemic, with the manager praising the attitude and physical condition of his players. Beginning again with a blank canvas, the Pilgrims manager told The Standard...

'We've got a 20-man squad. On paper I like the look of it, we've got good options,' he said, before addressing the issue of match fitness. 'That's my only concern now. It's important to understand there's no form as such.

'I'll be looking to see who's maybe a touch fitter than others. That maybe goes some way to deciding minutes on pitch as we need to be ready. There's no hiding place'...

The Pilgrims looked to have lost Andi Thanoj for the remainder of the campaign due to a knee ligament injury, while striker Jake Wright was looking at two weeks on the sidelines due to concussion. But both are now back in contention for selection".
In the Shropshire Star "Gavin Cowan predicts AFC Telford United could have a feared strike partnership on their hands in Aaron Williams and Jason Oswell.

Former Wrexham and Stockport County hitman Oswell last week became Cowan's sixth new signing of the summer at the New Bucks Head.

The 27-year-old joins Williams, 26, as Telford's recognised centre-forwards. The pair struck 24 and 25 goals respectively in the National League North in 2017/18.

'A lot of people won't realise Aaron Williams's personal situation last year,' Cowan said... 'He's been doing a lot of work over the summer. It's like signing a new player.

'He's another 30-goal striker. If we can get them both signing the same tune, working well and doing what they do best then we have a serious strike force on our hands.'

Cowan first tried to bring Oswell to the club while first-team coach to Rob Smith and Larry Chambers, when he suggested the duo bring in Oswell's Newtown team-mate Shane Sutton. The boss revealed the Bucks have capitalised on the striker's decision to go part-time, balancing playing with his work as a physiotherapist.

Cowan added 'It's another player we've seen the benefits from that he wants to go part-time. He's a qualified physiotherapist and in the current climate he feels it is better off in part-time than full-time football... You've got a Conference player there who ordinarily we wouldn't be signing but we've got him.'"
York Press reports that "The National League are looking to stream the play-offs matches in their North and South divisions, though no firm decision has yet been made...

York City have confirmed that... 'no positive tests have been returned, following the latest round of COVID-19 testing.

'The club is now operating within Stage Two of the government's Elite Sport Return to Training guidance'"
We learn from the Hereford Times that "Former Bulls' defender Jordan Cullinane-Liburd says that he couldn't accept a deal to stay at Edgar Street due to the change in training programme.

Manager Josh Gowling has announced his side plan to change their training schedule ahead of the new season with the squad training in the daytime instead of the evenings.

Cullinane-Liburd, who joined the Bulls in the title winning Evo-Stik Southern Premier 2017/18 season, said that it wasn't viable for him to stay with Hereford because of his day job in insurance.

'I knew what the intentions were straight away with training so I was waiting to see what the budget was and whether I could justify staying as my contract was up already,' said Cullinane-Liburd. 'I had offers (from elsewhere) given to me so I was just waiting as I would have loved to stay...

'After the league stopped and our contracts ran out we didn't hear much and other clubs were making signings. With Gowling taking over I said when he took over that he [I?] was happy to stay if he wanted me. Gowling was happy [for] me to stay and on the season finishing I had the understanding I was going to be there next season.

'Unfortunately a change of training, my job and what I was offered I had to turn it down. I've got a job and a career at the end of the day and I'm not going to be able to get that wage from football. It's not the end of the world and I'm not going to be playing (paid) football until the end of my life.

'Training in the morning is more specific. People have to realise I'm working in a job where I'm paid more than playing football so I would have to be compensated in terms of going full-time. Some of the lads if they are still part-time will probably still stay but some people will have to look for somewhere else to stay'...

'There was uncertainty about next season's contracts and some lads left previously because of that,' added Cullinane-Liburd".
---
S 8 July 2020 Cheshire Live says that "Anthony Johnson insists that he [his] and Bernard Morley's Chester FC side won't be taking the play-off eliminator clash with Altrincham as a 'free hit'.

The Blues returned to training this week in preparation for the clash at the J. Davidson Stadium a week on Sunday (July 19, 3pm), with players and staff undergoing their first round of Covid-19 testing on Tuesday night.

Phil Parkinson's Robins side have been back in training for the best part of a fortnight and have a head start on the Blues, boosted further by being allowed to keep key midfielder Josh Lundstram on loan from Crewe Alexandra.

But while Chester may be playing catch up in terms of preparation, Johnson has no doubt that come July 19 his side will be there to win and to book a semi-final showdown at York City.

'The lads are absolutely buzzing for it now and we won't be taking part and thinking it's a free hit,' said Johnson. 'We want to win promotion and we know how good we are and how good we can be.

'Altrincham have been in for longer than us and will have that little bit of extra preparation time but when it comes to the game it will just be about that 90 minutes. We know our lads and we know what they are capable of.'

Altrincham have a friendly lined up this weekend with FC Halifax Town, but sorting something along the same lines for Chester won't be possible due to the short turnaround time and costs involved.

But despite all the perceived disadvantages Chester have, Johnson says the mood of the players, who are effectively playing for free for the play-offs after agreeing to donate their contractual entitlements back to the football club, was buoyant.

'The lads look in phenomenal shape, and I mean that,' he said. 'They've been working on their own individual programs [programmes] but they have come back and look really fit and really strong. We've said it loads of times about our mentality here, they are all mates and that was what it felt like when they all came back in for testing. They hadn't seen each other and it was great to see the carmeraderie [camaraderie] again.

'The spirit was fantastic and the lads are champing at the bit to get out there again and we can't wait for it.'"

Alty last met FC Halifax Town in a Vanarama National League North match which was played at Moss Lane on 4 February 2017. The Shaymen wpn 1-0 and went on to be promoted via the play-offs whereas Alty were relegated to the Northern Premier League.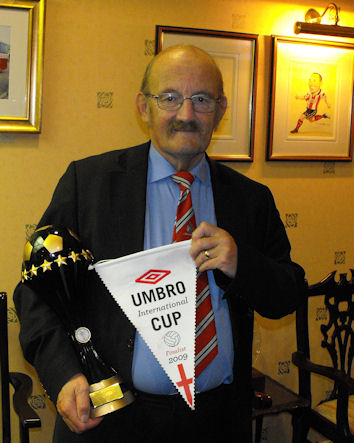 Altrincham FC's press and media officer Brian Flynn has reported "with great sadness that we have learned of the passing of George Heslop late yesterday afternoon.

George was one of the greats of Altrincham Football Club having been a lifelong supporter and is probably best known for his role for many years as the hugely successful manager of the Altrincham FC Youth team until 2016.

Our deepest condolences to Jenny, Sally, Nikki & all of George's family".

Right: George in 2009 after his Altrincham FC Youth side won their group in the annual Umbro International Tournament.

The AltyFiles adds that...

George was so much a part of Altrincham FC for many years that he even had his name over the door; he was the club's nominated licensee for the club bar which was run by his wife Jenny, herself also a stalwart of the football club, to whom our condolences are extended.

On a personal level, for many years George conscientiously supplied the club website with match reports and news of the Altrincham FC Youth team which enjoyed great success under his management.

As well as winning titles and trophies, George was also instrumental in developing players. When Duncan Watmore started to rebuild his career after leaving Manchester United it was through the club's junior section and then George's youth set-up that he developed. Another notable product of the youth team was Lewis Chalmers, who went on to play professionally in the Football League.

Many other Altrincham FC youth players graduated to the club's first team or to other non-League clubs.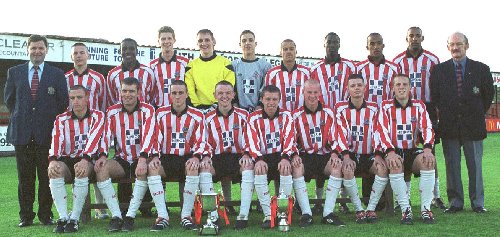 Above: The double-winning side of 2000-01, which won the NWYA Premier Division and Cup competition with George, far right, and his assistant Neil Thomason, far left.
Above the double-winning side of 2003-04. Back row: Stevie Taylor, Sam Cawthra, Andy Thorpe, Joe Connor, Paul Lewis, Barry George, Chris Rowley, Matt Tooth, Josh Collins, Kieran Lugsden, Tom Read, Neil Thomason (coach), George Heslop (manager). Middle: Adam Ball, Steve Lunt. Front: Danny Grimshaw, Stuart Cook, Lewis Chalmers, Alex Frost (capt.), Kelvin Lugsden, Adam Douthwaite.
Above: April 2004, Altrincham Youth win the NWYA Premier Cup by beating Morecambe 3-2 at Bamber Bridge.
But it was not all glamour and lifting trophies. In addition to countless nights of training, many were the wet and windy days that George stood on the touchline at youth fixtures which, years ago, were often played on muddy fields in remote parts of Greater Manchester and beyond. He believed in experiencing the same conditions as his players and was certainly "No Wally with a brolly" as the adjacent image shows.

Altrincham FC report that "Altrincham's promotion hopes have received a significant boost after Crewe Alexandra gave the go-ahead for Josh Lundstram to be included in the Robins' play-off campaign...

Acceptance of the loan by the FA has also been received, though it came with a caveat that read 'We can accept the loan documentation as it stands. However currently discussions are ongoing with the National League whether loan registrations such as this would be classed as new loans or continuations. We will issue the confirmation once this has been ascertained how it's being registered.'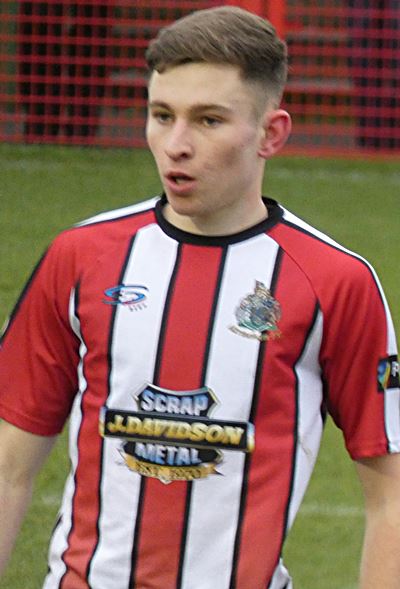 Left: Josh Lundstram in action against Bradford (Park Avenue) in January 2020.

Though the statement leaves some room for interpretation, Alty are quietly confident it will not prevent the influential Lundstram from bolstering manager Phil Parkinson's options against their Cheshire rivals".

In an article submitted to the Sale and Altrincham Messenger, Press and Media Officer John Edwards added that "manager Phil Parkinson made it clear he would be closely monitoring the central midfielder's form in training before deciding on his starting line-up.

'Josh was a stand-out performer for us during his initial spell here,' said the Alty boss. 'There's no getting away from that, and it was a no-brainer to bring him back. We're not going to put ourselves in a weaker position by not fielding, or not having the opportunity to field, what was our strongest team when the season was halted.

'But if Josh thinks he's coming back in and it will be easy for him, it won't be. Sean Williams looks in the best condition I have ever seen him in, Simon Richman looks great and there's Jake Moult as well, so we have some really good options in there.

'It's by no means a given that Josh coming back here will mean a starting berth, but when you look at how he finished the season, if he can recapture that form, then he has a very good chance.'"

Uniquely in recent years for an Altrincham loanee, Josh started all ten games for which he was at the club, starting at Gateshead in January 2020.

His arrival at Alty was announced on 17 January. He turned 21 during February and played the full 90 minutes on his debut the next day, at Gateshead, where he played in central midfield. Josh had had previous experience of National League North football during a loan spell from January 2019 with Nuneaton Town, during which he played against Altrincham in April, 2019.

Prior to his fifteen games for Nuneaton, Josh also had a loan spell at Kidsgrove Athletic and a second spell at the club from November 2019. After eight full 90-minute games for Alty, Josh's original loan was extended to 24 March 2020.

In Sunday's Non-League Paper Chester joint boss Bernard Morley said of impending play-off opponents Altrincham, "We haven't beaten them in five games since myself and Jonno have been here; three league games and two cup-ties.
In one game they beat us 4-0. It was 0-0 at half-time but we then had our captain, Scott Burton, sent off and they took advantage against ten men.

The other four games have been really tight and I think this one is going to be the same. I don't expect Parky and his players to take their foot off the gas. The side that wants it more and is fitter and stronger will win through".

Chester would have to win three away games to earn promotion and Johnson observed "I don't think any team in our league has won three away games on the spin all season, so we'll have to be at our best, but it is doable and I believe we can do it".

Referring to the departure of top scorer Akwasi Asante, he stated "Let's be honest, he would be in our strongest team but we have to accept he's not here and we are going to have to find a way".

Chester FC add that "Further to a number of media reports, the Club have received several enquires regarding the streaming of our Play Off game away against Altrincham on 19th July.

To date, the Club have received no confirmation regards the streaming of the match and, in light of the media reports, have sought clarity from the National League.

They confirmed that, whilst they desire to enable streaming of the matches, given the unique nature of them being played behind closed doors, no final decision has been made regards streaming of the games or associated arrangements".

Also from Cheshire Live we read that "The Robins have received confirmation that one of their key men before the season was halted, Josh Lundstram, will be allowed to remain on loan with the club from Crewe Alexandra for as long as Altrincham's interest in the play-offs remain... The National League have allowed the midfielder to return to Alty on loan for the play-offs, which begin for Phil Parkinson's side on Sunday, July 19 with a home encounter against Anthony Johnson and Bernard Morley's side...

Lundstram is highly rated at Crewe having progressed through their academy set up and is tipped to make an impression for David Artell's side next season. Allowing Lundstram to play does give hope that Chester will be able to register goalkeeper Louis Gray, given he was on loan for the month before the season was suspended from Carlisle United.

The Blues have sought clarification on registering both him and Jon Worsnop after the Blues were left with no senior keepers on the books with Russ Griffiths leaving for AFC Telford United and Theo Roberts unable to commit."

According to the Conference Forum "Clubs are now allowed to play friendlies against other play-off teams e.g. Notts county play Dorking this Saturday.

So all clubs have a field of 12 they can play that aren't in the same play-offs as them
Altrincham, Barnet, Bath City, Boston United, Brackley Town, Borehamwood, Chester FC, Dartford, Dorking, Gateshead, FC Halifax Tow, Harrogate Town, Havant & Waterlooville, Notts County, Slough, Weymouth, Yeovil Town and York City".
Sunday's Non-League Paper quotes former player and manager Lee Fowler saying of ex-Alty striker, Kyle Perry, that he is "one of Non-League's great characters. People judged him before they see [sic} him play. They think he's a bad egg or, because he's a big lad, he's unfit.
But I can assure you he's very good. It's not just how he plays, but his game management and how he helps people around him.

He's umnbelievable for morale in the changing room too... These characters, they seem to be a dying breeed.

Away fans hate Pez [Perry] but the home fans love him. He's not afraid to embrace it all.

He joined me at Ilkeston and helped us.. win the Midland League title.

I wish I'd had him at Nuneaton two years earlier! I told my players to get round Pex because something always seems to happen.

If I was fast I'd be on the shoulder, running in behind him. If I was a no.10, I'd be waiting for the ball to drop down. If I was a winger, I'd be getting out side. He gives loads of options.

Kyle's Altrincham appearances comprised 38 starts and 53 substitute appearances, a total of 93 in which he scored 22 goals.

On this day, 8 July, back in 2014, Altrincham won a pre-season friendly 1-0 at Buxton's Silverlands ground.

An excellent 68th minute headed goal by Damian Reeves from a fine James Lawrie cross settled a well-contested game. James Lawrie had just come on, with Sean Williams, as a substitute at a time when the home side were enjoying a good spell and the Alty duo's introduction to the game prompted the visitors towards a bright finish.

Four of the seven members of the 2013/14 season's squad who had not played at Abbey Hey in an earlier friendly made their first appearances of pre-season here. They were Clee, Richman, Moult and Wilkinson, leaving three regulars from last season who were yet to play in pre-season (Coburn, Marshall, Havern), though one of these, Stuart Coburn, was present at Buxton. This game gave an Alty debut to goalkeeper Dave Parton, signed from Newcastle Town and ex-youth team defender David Brown was given a starting place, too. The only other addition to the squad for this game was ex-youth striker Max Pouncey on the subs' bench.

For Jake Moult, the game came just three days after his wedding.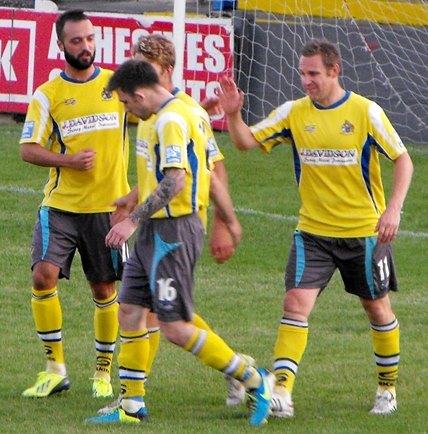 Right: In an unusual yellow and grey strip, Damian Reeves and James Lawrie take the plaudits from team-mates Ryan Crowther and Nicky Clee after Altrincham's goal.

Buxton included two well-known ex-Altrincham faces. Goalkeeper Adam Reid is on trial at Buxton whilst defender Greg Young had recently joined the club from Gainsborough Trinity. At the time, Buxton held their training sessions at Doncaster, which was where Greg lived.

Altrincham's squad comprised 1. Dave PARTON, 2. David BROWN, 3. Adam GRIFFIN, 4. Jake MOULT, 5. Scott LEATHER, 6. Mike WILLIAMS (capt), 7. Simon RICHMAN, 8. Greg WILKINSON, 9. Kyle PERRY, 10. Ryan CROWTHER, 11. Nicky CLEE. Subs: 12. Shaun DENSMORE, 14. Sean WILLIAMS, 15. James LAWRIE, 16. Damian REEVES, 17. Tom CLARKE, 18. Josh SAMBERG, 19. Max POUNCEY.

At the break, Reeves replaced Perry for Altrincham. Almost immediately, Reeves made an impact as he saw a shot blocked and then put his follow up narrowly over the bar (47 mins). Later Lawrie and Sean Williams replaced Moult and Wilkinson. At this stage it was Buxton who looked the more likely to score but, out of nothing, Lawrie advanced on the right and executed a superb cross which Reeves cleverly headed downwards into the net to give Altrincham the lead (68 mins).

After this Densmore, who had taken over the armband from Mike Williams at the interval, advanced impressively but his left-footed sidefooted shot just cleared the bar (72 mins). Next, Tom Clarke came on for Alty's Crowther, the ex-youth man slotting in at right back (82 mins) before Richman was replaced by Pouncey and the game soon reached its conclusion.
At Bradford (Park Avenue) there is a "Horsfall Pitch Update, Days 13 – 16. Curbing edge now finished off with concrete and, you guessed it, more leveling. Further leveling and rolling to take place over next few days with the first testing phase to start on Thursday. Hopefully the next set of contractors can then move on site to start work on the crash pad[!] and 3G pitch next week.

Also a massive thank you to the army of volunteers from BPA and West Bowling for their efforts this past week. West Bowling made light work of the stand which has been swept and weeded top to bottom, every chair washed and all the broken seats have been replaced. All while BPA cleared the area behind the club house to make way for a newly refurbished beer garden. Work was also started pressure washing down the running track".
The Boston Standard says that "Boston United aim to be spot on as they begin practising penalties ahead of National League North play-offs...

Two of the Pilgrims' three play-off semi-final defeats have come from spot kicks this decade, losing out to Guiseley in 2011 and Chorley in 2015. And United manager Craig Elliott, who suffered a County Cup shoot-out defeat against Gainsborough Trinity in just his second match in charge of the Pilgrims, isn't taking any chances.

'We started practising penalties on Saturday,' he told The Standard.

'We'll do that every session as we all know they're important in the play-offs.'

Jordan Thewlis is Boston's go-to guy from 12 yards, having netted seven penalties this season with a 100 per cent conversion rate. Dominic Knowles's penalty secured the 1-0 victory over AFC Telford United in February, the last goal scored by a Boston player at York Street but also saw a penalty saved in the FA Cup win at Sutton Coldfield.

United defender Simon Ainge, who was part of the Guiseley side which pipped the Pilgrims in 2011, is no stranger to spot kicks either and once took three in the final 10 minutes to earn former club Harrogate Town a 3-3 draw with Salford City, slotting home two and finishing the other from the rebound.

Boston's last shoot-out success was a 5-3 victory at Stamford in the county cup in 2012."

Hebburn Town report that "The FA has been in touch with Hebburn Town FC and other semi-finalists in recent days with regard to its plans to complete the 2019-20 FA Vase competition... The game's governing body is determined to finish the Vase, as well as the FA Trophy and FA Cup.

The Hornets are due to face Southern League side Corinthian FC in one semi-final with our fellow Northern League club Consett set to face Western League side Bitton AFC in the other semi-final.

This week, the FA has re-iterated its intention to play the final at Wembley, and said it is in close touch with the Government about when playing games with spectators present might be possible, though this obviously depends on further lifting of restrictions necessary to stem the pandemic.

It is understood the FA Vase and FA Trophy finals will still be played on the same day, and Wembley has been approached about available dates.

Once agreement has been reached over the finals, dates for the semi-finals will be arranged, and these are likely to be before the start of any new 2020/21 season".
---
7 July 2020 Altrincham's most recent game on today's date, 7 July, was in 2018 when they travelled for the second summer running to Rhyl for a pre-season friendly. Because of a clash with England's World Cup quarter-final match in Russia, this fixture was brought forward to a 1pm kick-off.

Alty won 3-0 in a low-key match played on a hot afternoon. It was a comfortable victory, despite the visitors fielding three under-17s and a trialist in the starting eleven and another three from the Alty Youth under-17s on the bench.
Right: Ben Elliott netted twice at Rhyl.

Phil Parkinson included the youngsters, with Shaun Densmore, Ben Harrison (recovering from injury), Tom Peers (playing for New Orleans Jesters in the USA), James Poole, Tony Thompson, Simon Richman and James Jones all unavailable.

Also included for the Robins was trialist Elliot Rokka (22), a Warrington-born winger, who had joined Tranmere Rovers last summer after three years at Radcliffe Borough, where he won the Evo-Stik League Young Player of the Season award. He started out at Manchester United. After a season playing for Rio Maior in Portugal, he joined Macclesfield Town.

Another trialist, in goal, was Callum Roberts.

Altrincham's squad comprised: 1. Callum ROBERTS, 2. Billy MATTHEWS, 3. Pat SAVAGE, 4. Tom HANNIGAN, 5. Liam GOULDING, 6. Jake MOULT (c), 7. John JOHNSTON, 8. Sean WILLIAMS, 9. Jordan HULME, 10. Josh HANCOCK, 11. Elliot ROKKA. Subs: 12. Max HARROP, 14. Dontai GABIDON, 15. Ben ELLIOTT, 16. Cayde PRESTON, 17. Andy WHITE, 18. Connor HAMPSON, 20. Matthew JOHNSON.

On a hot afternoon, punctuated by drinks breaks, the pace of the game was relatively slow after a bright start. In the first half, apart from the planned double substitution of under-17 defenders Matthews and Savage by the experienced White and Hampson, around the half-hour mark, there was little to get excited about.

Altrincham also introduced Harrop and Gabidon at the interval in place of Moult and Hancock and they took the lead in the 57th minute with a twenty-yarder from Harrop which he struck, left-footed, across the keeper into the far corner.

Soon after the hour, teenagers Elliott and Preston replaced Hulme and Goulding for Altrincham. Within seconds Elliott had scored, firing home off the upright from the edge of the box to make it 2-0 (62 mins).

After 65 minutes Savage returned to the match in place of Williams and this was soon followed by a water-break for the players. After 83 minutes Elliott netted his second, and Alty's third goal, after the lively Gabidon had won the ball. With time ticking away towards England's World Cup kick-off time the referee now curtailed the match, some six minutes early, leaving Alty comfortable winners.

Cheshire Live reports that "Altrincham manager Phil Parkinson knows there won't be any secrets when his side do battle with Chester FC later this month.

The two sides meet behind closed doors on Sunday, July 19 in the National League North play-off eliminator game, both sides gunning for promotion to the National League next season.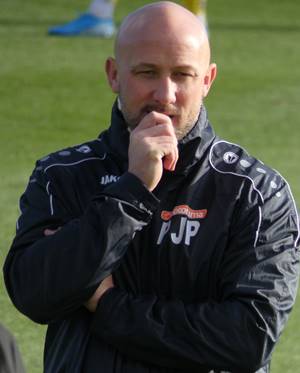 Altrincham and Chester are two sides who are well acquainted with each other having met numerous times in recent seasons in the National League, National League North and FA Cup.

It has been the Robins who have fared better in recent times, winning three and drawing two of the last five meetings with Chester's last win coming back in February of 2016.

Parkinson told Alty TV 'They don't come much bigger than Altrincham against Chester in terms of a game to go into.

'I'm sure if BT were going to look at a game then Altrincham against Chester would have been one of the ones right at the top of the list for our history, what Chester have done in the League in the past and the size of the clubs.

'Both sets of players know each other inside out, both sets of management teams know each other inside out so it makes for a fantastic occasion and one that everyone is looking forward to.'

With clubs returning to action for the first time since the Covid-19 pandemic halted the season back in March all form goes out of the window, although Parkinson hopes the planning that has been done by his side, already on their second round of Covid testing and back in training for over a week, will pay dividends.

'We know that we are in that shootout where you lose and you're out, there are no second chances,' said Parkinson. 'We need to be as prepared as we can be, and if preparations anything to do with it then we know we can go into the game with confidence and knowing that we can get the result.

'Hopefully it will be very rewarding. If preparation and dedication are anything to do with it then we have given ourselves a great chance. The players have shown the dedication and everybody at the club has shown the appetite for it.'"
Bradford (Park Avenue) "announce that we have agreed a three-year supplier agreement with Italian manufacturer Macron. It has been a thorough and lengthy process beginning with defining our needs as a club financially, traditionally and from a technical quality perspective.

After speaking directly with Andrea Palilla in Italy it became immediately obvious that Macron strongly believes in the values of hard work and constant improvement. Sporting excellence in their eyes requires effort, sweat and a strong will, and we feel exactly the same way. This hard work and desire to supply the best technical products they can, has led to their rapid growth that has seen them become suppliers to several major European club sides (Lazio, Sporting, Club Brugge, Real Sociedad and Hibs to name but a few) as well as the Scottish and Italian National Rugby Union sides. We can now add Bradford (Park Avenue) to this illustrious list.

We subsequently spoke with their trading team in the UK and after a little back and forth, found some commercial common ground, that will enable the club to improve its mercantile position, whilst meeting all of our customer service requirements.

This new deal will see the club return to its green and white colours, right from our under 5s, all the way through the whole academy, to the men's and ladies' 1st teams, all wearing exactly the same kit, everyone feeling that we are all part of one big family.

Neil Holroyd, Macron Wakefield owner, said 'Having met Martin and visited the ground, there is a lot of hard work going on behind the scenes and with the facilities. A club with a lot of history and loyal fans'...

Martin Knight added, 'This has been a tricky process, trying to balance the financial needs of the business, the traditions of the club and the desires of the fans. After speaking with three major brands during the process it became clear that Macron offered us the best solution to try and meet the majority of those key drivers'...

If you are interested in sponsoring the kit this season that will give you access to over 100,000 [sic] visitors to the Horsfall, all of our academy games, all of the ladies' and men's 1st team games, home and away, then please contact our Operations Manager".
The Boston Standard tells us that "Boston United's loanees have reported back for training as the Pilgrims prepare for their promotion push.

Jake Wright, Simon Ainge, Frank Mulhern and Jordan Nicholson have all been given the green light to feature for the club in the National League North play-offs. The quartet were part of Craig Elliott's squad when the campaign was postponed and later ended on a points per game basis.

After early questions about their eligibility, all four will be able to line up as United host the winners of Brackley Town versus Gateshead on July 25.

'Frank, Jordan Nicholson and Jake have all trained well with us,' Elliott said. 'I don't really see Aingey as a loan player as he's been with us all season, but he's back in really good shape. I've no complaints at all.'

Nicholson and Matt Challoner, who signed for the club from Chorley, are yet to feature in match action for Boston as they arrived days before the postponement of the campaign. However, both will be involved in the play-off push.

Nicholson, who arrived on loan from Hereford, caught the manager's eye as he won the Yo-Yo Test, an aerobic endurance challenge, at training on Saturday.

Challoner will be a Southport player next season, but will compete for United in the play-offs.

He will link up with his teammates for training tomorrow evening (Tuesday) after carrying out stage one of his fitness regime at Premier League Burnley, where he works with the club on strength and conditioning...

'We had a really positive week to be fair, with aching legs and things like that. But it's great to see everybody getting back to what we enjoy' said the manager. 'They're a fit bunch and they've come back fit as well, the attitude's been great'".
At Kidderminster Harriers "Manager Russ Penn has said players will need to buy into the club's positive mentality ahead of the start of the new campaign...

The 34-year-old spoke of the 'healthy vibes' at all levels of the club.

Empowered by the club's owners to build a squad to compete next season, Penn admitted there is an eagerness and enthusiasm to press ahead, from the Boardroom all the way down...

'We're all in new positions, new owners and new managers, and we're all very enthusiastic, which can only be a good thing. It feels as though there are some healthy vibes around the place... We're all in the same boat and we have to use that enthusiasm to attract the players.

'Budgets have been cut all over the country in any line of work, and we are no different, but what we have got is a fantastic stadium with a fantastic pitch, with our fantastic training ground.

'It is run like a League club, and if players can dip into our mentality, then fantastic.'

'Don't get me wrong, to go with that, we'll need results,' he went on to say. 'We've got to build a competitive squad that's going to be up there all year round.'"
In the Shropshire Star "Lee Vaughan has called on his new AFC Telford United team-mates to thrive under the pressure of the Bucks fanbase.

The passionate full-back, back at the club after leaving 10 years ago, knows all about playing in front of big New Bucks Head crowds. Vaughan, 33, helped win promotion to step two and the Setanta Shield in his four years with Telford previously.

'I was about 18 when I made my Telford debut. We had big crowds and it was about playing under pressure,' said Vaughan. 'That's exactly what I thrive on and what some of the young lads we'll have in [?will] need to thrive on.

'We've got absolutely fantastic fans and that can't hinder them, it's got to push them on like it did with myself, it got me going. It's got to get our young lads going as well. It gave me something to build on when I went to other clubs playing in front of big crowds.'

Vaughan adds to experienced campaigners Shane Sutton and Theo Streete in Gavin Cowan's ranks. Fellow new additions Jack Byrne and Jason Oswell have also clocked up hundreds of career appearances...

'From the conversations I've had with the manager, manager he's just tweaking it up with a big more know-how in the final third of games and you never know what we can achieve.' Defender Arlen Birch, who left Telford this summer, has joined league rivals Chorley."
---
6 July 2020 Altrincham FC has confirmed that "The Vanarama National League North Play-off Eliminator against Chester on Sunday, July 19th at 3pm will be streamed live by The National League.

The game will be available to view via a Pay Per View (PPV) platform meaning that fans of both clubs will be able to watch the action live".

One year ago today, on 6 July 2019, Altrincham travelled to Shropshire to face Whitchurch Alport. This was the first pre-season game of the summer for Altrincham although they had staged a game seven days earlier with the club's youth team as opposition.

In this match Altrincham secured a single-goal victory against Alport, who compete in the Hallmark Security League (NW Counties) Premier (Step 5). Starting with three trialists in their line-up, Altrincham took the lead in the 15th minute when summer signing Nathan Arnold's low ball from the left was met at the back post by the incoming Conor Branson and trialist Lewis Salmon. It was unclear which of the two got the final touch, though Branson appeared to be credited with the goal ahead of the youngster from Hanley Town.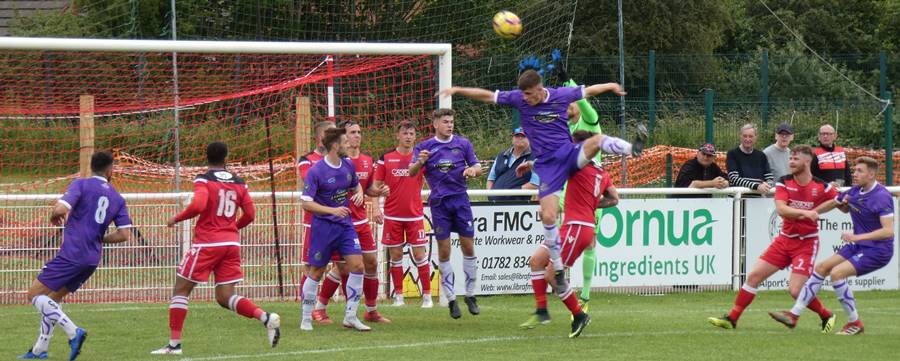 Above: Trialist centre-back Zac Corbett threatens the Alport goal.

Just before the hour mark, Altrincham introduced seven substitutes, who included trialist Matt Chadwick and reserves' striker Ben Elliott. For their part Alport made several changes, too, and were more in the game in the second-half and at one stage earned four corners in as many minutes. Tom Whelan (ex-Bury) was the only Alty trialist not to have appeared in last Saturday's game against the Youth team and he looked impressive in midfield.

Absentees for Altrincham included injured captain Jake Moult and Jordan Hulme, who was apparently at a funeral. Likewise, Andy White and Steven Drench had yet to appear this summer but both were at the game. First-teamers who did appear in last week's friendly against the Alty Youth team included John Johnston (getting married) Toby Mullarkey and Max Harrop. Among the trialists involved today were goalkeeper Dan Gyollai (Honved Budapest and Stoke City), Zac Corbett (ex-Southport), Jamal Crawford (ex-FCUM, Chester FC) Lewis Salmon (Hanley Town) and Tom Whelan (ex-Bury).

The Altrincham squad comprised: 1. Tony THOMPSON, 2. Shaun DENSMORE (capt), 3. Connor HAMPSON, 4. James JONES, 5. Zac CORBETT, 6. Sean WILLIAMS, 7. Jamal CRAWFORD, 8. Conor BRANSON, 9. Lewis SALMON, 10. Josh HANCOCK, 11. Nathan ARNOLD. Subs: 20. Dan GYOLLAI (gk), 12. Matt CHADWICK, 14. Ben HARRISON, 15. Simon RICHMAN, 16. Tom HANNIGAN, 17. Ben ELLIOTT, 18. Tom WHELAN
Chorley report that "Former AFC Telford United full-back Arlen Birch has been added to the ranks at Victory Park ahead of the 2020/21 campaign.

The 23-year-old appeared in 19 games for the Bucks last season after joining the Shropshire side at the beginning of October.

'The manager sold the club to me and the ambitions to gain promotion match my own' said Arlen Birch. A former Everton and Burnley trainee, Arlen played 26 times for AFC Fylde in the National League during 2018/19, ending the season with an FA Trophy winner's medal.

'Arlen's another young player joining us with a lot of experience at a good level of the game. He's an athletic, quick and versatile defender and like the rest of the new lads who've joined over the last few weeks, he's hungry for success'" added manager Jamie Vermiglio. Birch is the seventh new signing at Victory Park as they restructure following relegation.
News of various Yorkshire clubs is found in the Yorkshire Post, which tells us that "York City will get the chance to play in next season's Conference. The play-offs are more convoluted than their Football League counterparts, with the teams in fifth and sixth [actually fourth to seventh] playing an eliminator to reach the semi-finals...

York were top of Conference North when games came to a halt because of the coronavirus pandemic, but the final table was decided on points-per-game, demoting them to second place and the play-offs.

They will host the winners of Altrincham and Chester City on July 25 at Bootham Crescent, which they are due to leave this year with a new stadium built at Monk's Cross. With the final being played on FA Cup final day – August 1 – Wembley is unavailable [it was never going to be at Wembley], so the final will be played on the ground of the highest-ranked team. If York reach it, that will be them.

The Minstermen hope to kick off next season in their new home, but cannot get a safety certificate for it while mass gatherings are banned, because test events cannot take place.

Harrogate also have logistical problems to consider. They will have to rip up their artificial surface if they win promotion to the Football League, where clubs have to play on grass, but will keep it otherwise."
Leamington "have completed their second transfer of the extended close season by snapping up prolific striker Lance Smith from rivals Hereford.

The frontman started his career at Littleton and Badsey Rangers in the Midland Combination before joining his home town club Evesham United where he spent three successful seasons, hitting the back of the net 74 times in 154 games.

He then joined Hereford ahead of the 2017/18 campaign as they continued their rapid rise back up the Pyramid, and Lance was well among the goals as they won the Southern League Premier Division at the first attempt. Last season was a frustrating one for the 28 year old as he missed a large part of it while recovering from an ankle injury, but he was still able to return and play his part in keeping the Bulls away from the relegation spots.

On signing for Brakes, Lance had this to say 'After a long journey with a niggling injury I finally feel like it's fixed and I'm ready for a new challenge. Paul Holleran has been in contact with me ever since it happened and he has shown constant support, which has made my decision to join Leamington easy.

'I believe the club is the perfect fit for me at this stage in my career and I am looking forward to meeting everyone there, and to hitting the ground running when it is safe and possible to do so.'

The manager was pleased to have finally been able to tie up a deal for a player he has been tracking for some years now. 'It's third time lucky really! We've tried before with Lance. He had to go under the knife at the back end of the previous season to sort out an ankle problem but it's fixed now and he's in great condition.

'He's the type of number nine that I think the fans will enjoy watching; he's a very hard working, honest player and will weigh in with his fair share of goals, so we're delighted to get him on board and we look forward to working with him.'"
At Gateshead "Tear is back. The midfielder has re-joined on non-contract terms ahead of the upcoming play-off fixtures.

Gateshead Football Club are pleased to announce the signing of Dom Tear on non-contract terms, subject to FA ratification. Tear's addition to the now 16-man squad allows him to take part in the upcoming Vanarama National League North play-off eliminator fixture against Brackley Town, as well as any further play-off fixtures.

The midfielder originally joined on a one-month loan deal from Huddersfield Town in August 2019 and extended his stay until the end of the 2019/20 season in October.

The 20-year-old made 30 appearances over the course of the season, scoring five goals and recording four assists."
---
5 July, 2020 The National League has confirmed the dates for The National League play-offs, saying that "In all three leagues, the remaining six fight it out for one final slot with two Eliminator matches taking place before the semi-finals.

The one-off match format has added even more excitement and kept more clubs involved in the shake-up for longer. All five of the Vanarama National League play-off matches, including the Promotion Final held at Wembley Stadium, will be broadcast live on BT Sport. Due to the current Government sporting guidelines during the COVID-19 pandemic, all play-off matches will be played behind closed doors...

Vanarama National League North, Sunday 19th July 2020- 3pm
Elimination Round- Match A - Altrincham vs Chester
Elimination Round- Match B – Brackley Town vs Gateshead
Saturday 25th July 2020- 3pm
Semi Final – York City vs Winner of Match A
Semi Final – Boston United vs Winner of Match B
Saturday 1st August 2020- 3pm
Promotion Final – Stadium of highest ranked finalist
Cheshire Live adds that "The play-off standings, which are still subject to ratification from the FA, were decided via the points per game method after the season was curtailed due to the pandemic, with Chester finishing sixth.

In the National League the play-off games will be screened live by BT Sport but no official statement has been made on what happens at North and South level, although streaming games online has been mooted as a possible solution."

Altrincham FC has an audio interview with Alty boss Phil Parkinson, conducted by Press and Media Officer, Brian Flynn.

As well as discussing the play-off preparations, Phil confirmed that there would be no extra time played in the play-offs. Also, he indicated that the games were unlikely to be covered by BT Sport but that he was hopeful that they might be live-streamed.

Cheshire Live reports that "Chester FC joint-manager Anthony Johnson hopes that the National League will 'see sense' and allow them to register either Louis Gray or Jon Worsnop for the National League North play-offs.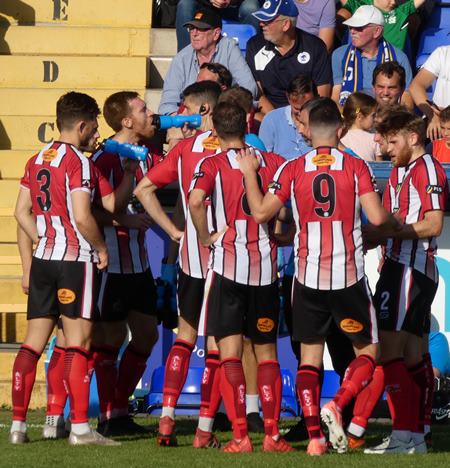 The Blues are set to face Altrincham at Moss Lane in a fortnight but currently have no senior goalkeeper on the books after Russ Griffiths opted to switch to AFC Telford United and Theo Roberts [is] unable to commit.

Right: September 2019 and Altrincham take an enforced ten-minute break at Chester as spectators look towards the touchline where Chester keeper Griffiths is receiving prolonged treatment.

Chester bosses Johnson and Bernard Morley want Louis Gray, who joined the club on loan from Carlisle United at the end of February to feature but some question remains over whether he was registered at the appropriate time to do so, and also [as regards] the fact he is now technically a free agent after being released by the League Two side.

Worsnop, 37, returned to the Blues as a goalkeeping coach earlier this week and could register but the same issue remains with him not having been with the club before the pandemic ground football to a halt in March.

But while it still remains unclear who will don the gloves, Johnson hopes that common sense will prevail.

Johnson told Dee Radio's Friday Night Football Show 'We've not had clarification on that yet but what I have seen is that Gateshead confirmed they have brought three of their loan players back that they had last season. You look at that and think 'Right, ok, if that works for them then it will work for us.

'I am hearing that the player had to be registered prior to what the normal deadline would be which I think was the last Thursday in March. Obviously Louis only came in for a month...

'Now his loan ended but whether his registration was still in place with the league, we are hoping that will allow us to be able to use him. The Jon Worsnop situation is quite similar as he wasn't registered with us last season.

'The fact of the matter is that if the league don't allow us to use one of them two then I'm going in goal I think!

'I would imagine there is some contingency from the league to allow us to do that, we're not trying to cheat the system or anything like that'".

Alty fans will recall that this is the second time this season that Chester have found themselves in a goalkeeping pickle when facing Altrincham in a knockout match. Back in September 2019, when Alty met Chester at the Swansway Stadium in the FA Cup, there was also some controversy surrounding their goalkeeper.

First of all, with Chester's Livesey off the pitch receiving treatment, home goalkeeper Griffiths sat down for protracted treatment. Many of the Alty fans suspected this had the whiff of a tactical injury designed to buy time for the ongoing patching up, off the pitch, of his team-mate.

Then, early in the second half, keeper Griffiths repeated his first-half sit-down. This time, after a couple of minutes treatment on the field to an apparent cut, he was led off, seemingly to be subbed (55 mins). But, this was not to be the case. Chester had not named a substitute keeper and referee Westgate allowed Griffiths's treatment off the pitch to continue for a further lengthy period rather than insisting on a substitution. What amounted, in the end, to some ten minutes of stoppage time was totally unfathomable to the supporters.

Altrincham may not have played a competitive match in the month of July but as recently as 2014 on today's date, 5 July, they travelled to Gorton for a pre-season game against Abbey Hey. This was Altrincham's first pre-season game. Abbey Hey had featured as Alty's opposition in just such a fixture several times over the preceding 15 years.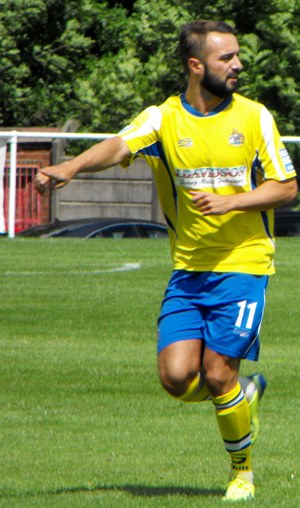 Pictured, right, is Ryan Crowther, who played on the left flank on his debut for Alty.

Alty won the match 6-1. "In their first pre-season friendly, on a warm and sunny afternoon in Gorton, an Altrincham squad including only six of last season's regular starters secured a comfortable win against a young but spirited Abbey Hey side. There were impressive debuts for Alty's summer signings Sean Williams and Ryan Crowther, whilst trialist midfielder Wade Joyce (ex-Barnsley and St Johnstone and son of Warren Joyce) was another new face.

It took Altrincham 26 minutes to open the scoring, through Sean Williams, but four goals from Damian Reeves and one from Kyle Perry ensured an encouraging start to the new season. For the second half Altrincham deployed five substitutes, all, like keeper Josh Samberg, Alty youth graduates.

With a number of last season's regulars unavailable (Coburn, Clee, Richman, Marshall, Moult, Wilkinson, Havern), Alty gave debuts to their two summer outfield signings, Ryan Crowther and Sean Williams but, though named on the bench, new keeper Dave Parton had picked up a knock in training. Wade Joyce, a trialist, was included in the starting line-up.

Altrincham's squad comprised 1. Josh SAMBERG, 2. Shaun DENSMORE (capt), 3. Adam GRIFFIN, 4. Sean WILLIAMS, 5. Scott LEATHER, 6. Mike WILLIAMS, 7. Wade JOYCE, 8. James LAWRIE, 9. Kyle PERRY, 10. Damian REEVES, 11. Ryan CROWTHER. Subs: 12. David BROWN, 14. Connor HANCOCK, 15. Sam HEATHCOTE, 16. Tom CLARKE, 17. James CAMPION, 18. Dave PARTON (gk).

Altrincham kicked off in front of a gate of perhaps 100 people. Although Altrincham were on the front foot from the start there were no clear chances in the early stages.

Altrincham finally made the breakthrough in the 26th minute when Sean Williams again advanced well and, after an interchange of passes to his left he curled his shot into the net to make it 1-0.

A superb ball from the left touchline by Crowther located Reeves, who, undeterred by McIlwain's earlier saves, this time firmly beat the Abbey Hey keeper to make it 2-0 (34 mins). But, four minutes later, McIlwain again came out on top as Reeves tried a chip over him after being put clear. However, a minute later, Reeves did make it 3-0 with a tap-in after good work from Perry.

Altrincham made a change at the interval as Sam Heathcote came on at centre-back for Mike Williams, whilst Abbey Hey brought on four subs. Along with Shaun Densmore there were now two sons of famous Alty players in the pitch.

The Abbey keeper then came out of goal and lost the ball to Perry who smartly lobbed the ball into the net from far right of goal, making it 4-0 after 55 minutes.

Just after the hour, David Brown, James Campion and Connor Hancock came on to make up the rest of a now very youthful back line. In midfield, Tom Clarke also joined the game. The players who went off were Griffin, Joyce, Leather and Crowther. Immediately from the restart of the game after these changes, the impressive Sutcliffe got through the middle to score (63 mins).

Damian Reeves completed his hat-trick after 69 minutes from a Densmore feed. Reeves made it six-one with his fourth goal after 77 minutes when he converted a good feed from James Lawrie."
The Hereford Times reports that "Defender Jordan Cullinane-Liburd has confirmed that he will not be playing for Hereford FC next season.

The 25-year-old was the only player left in the Bulls' squad that won the Evo-Stik Southern Premier in the 2017/18 season. He made 34 appearances last season scoring one goal.

Before he joined the Bulls his former clubs were Rushall Olympic, Solihull Moors, Redditch United, Alvechurch and Stratford Town.

Cullinane-Liburd confirmed his departure... stating, 'New season, new opportunities, wish the boys all the best.'

Cullinane-Liburd is the fourth of last year's squad to confirm they will not be playing for Hereford FC next season".
According to Chronicle Live "Mark Gillespie became United's first signing of the summer with the former Motherwell, Carlisle and Spartans keeper a free agent...

Two of Mark Gillespie's former team-mates have backed the goalkeeper to be an asset to Newcastle United squad during his time at the club. The newly-signed Magpies shot-stopper made a number of appearances during a loan spell at Blyth Spartans during the 2010/11 season.

Gillespie joined on loan from Carlisle United... He went on to make 12 appearances for Mick Tait's side and kept six clean sheets as Spartans lost just twice during his temporary stint in the second tier of the non-league system...

He will now return to Tyneside after Magpies manager Steve Bruce confirmed that the 28-year-old keeper has agreed a deal to return to Tyneside... Former Spartans' duo Stephen Turnbull and Chris Swailes appeared alongside Gillespie during his time with the famous FA Cup giantkillers and both agreed that he will not let the Magpies down if he is called upon.

Turnbull, who has recently been appointed as manager of Morpeth Town, told Chronicle Live 'He was excellent, he kept clean sheets and the lads applauded him in the changing room after his last game.

'He was a good lad, he impressed everyone with his attitude, and he showed up well as a young lad in a tough league'...

Former Spartans player-assistant manager Swailes played in front of Gillespie during his Croft Park stint and he has kept tabs on the keeper throughout his career. Although there has been a suggestion that Gillespie will be viewed as a third-choice keeper for the Magpies, Swailes believes that he has all of the attributes to become 'more than that' during his second spell with the club."
---
4 July 2020 Altrincham FC quotes co-chairman Bill Waterson (below, left) who discusses the play-offs. He writes "It's an expensive decision to buy a ticket to the lottery that is the Vanarama National League North play-offs with still no matchday revenue coming in... We now find ourselves less than three weeks away from the sorely-missed spectacle of an Altrincham team taking to the field again.

And who will be alongside them when they emerge from the tunnel at The J.Davidson Stadium? Yes, our old rivals Chester but this time in the National League North play-offs.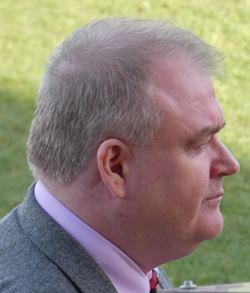 The play-off eliminator will be our first-ever competitive fixture in July, and the first one behind closed doors. We don't know yet whether it will be on Saturday 18th July or Sunday 19th July, nor whether BT Sport will televise it. We can't even be sure if the game will be played at The J. Davidson, as we await clarification from Trafford Council.
But we are now deep into the planning process; we've started the testing regime, taken the players off furlough and returned to training, and, as a consequence, we've started incurring costs. Each individual test costs £70, and, as well as every player, we are required to test every staff member every week between now and the end of July.

We expect to spend over £50,000 should we get to the final of the play-offs. We think this is a price worth paying.

We've launched a Crowdfunder and there are rewards in return for donations!...

You can donate any amount you choose but pledging to cover half a player test, a whole player test or more leads to rewards. The site includes unique content, a video of the testing process and a vignette from Tony Thompson, and it will be updated regularly with new content and news as we move through the process...

You can donate any amount you choose but pledging to cover half a player test, a whole player test or more leads to rewards. The site includes unique content, a video of the testing process and a vignette from Tony Thompson (above, right), and it will be updated regularly with new content and news as we move through the process.

We are setting an initial target to help us get to the first game against Chester and hopefully we will be revising our targets as we move through the competition. Thank you all in advance for your support".
Chester FC are preparing to visit Altrincham for their play-off eliminator on 18/19 July.

According to the Chester Standard "Louis Gray hopes to get green light for Chester FC's National League North play-off bid.

The Wrexham-born goalkeeper and former Racecourse youngster is waiting for clearance from National League chiefs to get the green light to play in the Blues' play-off clash at Altrincham in two week's time. Gray, who played only two games before the coronavirus ended the campaign, was on loan from Carlisle United at the time. His contract at Brunton Park has since ended but Chester are hopeful Gray, who could be offered a deal to stay on at The Deva for next season, will be given the all-clear.

'I hope I get the green light,' said Gray. 'It was just my luck to come to Chester, play one game and then see the season ended. I just want to play my part, as the rest of the lads do. And what they've done, playing for free, shows what great team spirit there is here. There are no big-time Charlies in the team and I'm more than happy I've made the move here'...

Scott Burton said 'As a team we want to finish something we have started. If that means to play for free we're willing to do that for the gaffers, the club and most importantly the fans. With what they, the fans, are doing boosting the budget donating so much money it is the very least we can do.'

Danny Elliott said 'From the moment I arrived at Chester, I could feel that it is was different to most other clubs. It has a unique environment, being fan owned, and that sense of togetherness throughout the group of players, managers and fans, all desperate for success, has been so apparent on so many occasions this season'...

But young defender Matty Thomson won't be playing a part in the play-offs after he left the club. The 20-year-old full-back made 19 appearances for the Blues but, with the return of Kevin Roberts, his path to the first has been blocked".

The Northern Premier League reports that "Stafford Rangers manager [and ex-Alty striker] Jody Banim has revealed the first four players in his squad for 2020/21.

Highly-rated midfielder Tom Thorley, goalkeeper Lewis King and defender Jon Moran [an ex-Alty loanee] have all committed for another season.

Re-joining the club following a spell at Chasetown is striker Ryan Wynter."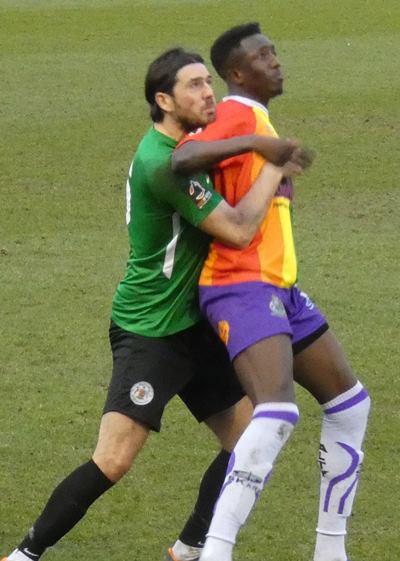 Bradford (Park Avenue) reports that a "6' 1" Defensive Colossus returns to the Horsfall with the hope of bringing the good times back.

[Ex-Alty defender] Luca Havern [pictured right getting to grips with Yusifu Ceesay during the defender's previous spell with BPA] is the latest piece of the jigsaw of Mark Bower's squad for next season.

The experienced 31 year-old defender re-joins the Avenue after just a season away at Ashton United. This type of high profile signing demonstrates the club's intent and the pulling power of Mark and Danny. Havern's towering performances in our two recent play-off seasons are still fresh in the memory and this type of leadership and quality were at times missing last season.

With well over 200 games experience at National League level, natural leader Havern is the ideal fit for the new squads blend of youth and experience...

'I'm delighted to return to Bradford (Park Avenue) for the coming season and to be able to work with Bowes [Bower], Bosh [Boshell] and Tully [Toulson] again. Over the 2 seasons I played at the Horsfall, we had some good times and I'd love to emulate that again next season. The new pitch will be great for the club and the community and I'm looking forward to getting started and seeing everyone', said Havern.

Mark Bower added, 'It's great to have Luca back at the club. He was a highly respected member of the squad in his previous spell and has a wealth of playing experience at National League level. Central defence is a key position, so having a player like Luca, who I know we can rely on to put in consistent performances, gives us a good foundation to build a competitive team.'"
Relegated Chorley will be in National League North again next season. The Magpies report that "As preparations continue at pace towards the 2020/21 season we're now in a position to give a final update on the remaining senior players from last season's squad.

Yesterday, Scott Leather became the final member of our 2019/20 team to re-sign with the Club, joining Matt Urwin, Elliot Newby and Lewis Baines. This means Alex Newby, Danny Eccles, Mark Ross, Nortei Nortey and Antony Kay will be playing their football elsewhere next season.

.. Alex Newby joined us from Clitheroe in February 2018 and was an influential figure during our promotion-winning season in 2018/19. He'll be remembered for winning the goal-of-the-season award in all three campaigns he played for the Magpies and leaves Victory Park having played 94 games, matched with 22 goals.

'Alex has progressed magnificently during his time with us and scored some very important goals. He now feels in a position with his contract expired to find a League club where he can continue his progress' said Jamie Vermiglio.

Mark Ross returned for a second stint with the Club last summer, adding 31 appearances to an already sizeable record from his first spell at Victory Park. In all, the right-back/centre half played a massive 283 games for the Club...

'Despite offering him a deal for next season his dedication to a very successful career in health and fitness is a big factor in him reluctantly declining. I respect his decision' aid the manager.

Danny Eccles departs after acting as understudy to Matt Urwin for the last two seasons. The imposing shot stopper appeared in seven matches during his time at Victory Park...

Nortei Nortey made the move from London in September before making 27 appearances in the black and white stripes... Antony Kay signed on midway through last season, playing four games before 2019/20 was brought to an abrupt halt".
NL Daily confirms that "Gateshead have agreed loan extensions for Brad James, Jake Cooper and Liam Agnew, subject to FA ratification.

It means that Heed player-boss Mike Williamson currently has a 15-man squad available for the upcoming National League North play-offs.

The club say that all players and staff underwent COVID-19 testing both last week and at the beginning of this week, with no positive tests returning.

Training has been able to go ahead as a result at Hebburn Town's Energy Check Sports Ground 'under strict guidelines laid out by the government and the National League.'"

In the Harrogate Advertiser we learn that "Liam Agnew will play no part in Harrogate Town's bid for promotion to the Football League after he rejoined Gateshead on loan.

Liam Agnew has not played a competitive game for Harrogate Town since 2018/19. The ex-Sunderland midfielder spent 2019/20 at the International Stadium and helped the Heed qualify for the National League North play-offs.

He returned to training with parent club Harrogate on June 16... but it has now been confirmed that Agnew has headed back up north.

'Harrogate made the decision to begin training again so I came in for the first week and was happy to try and fight for my place, which was brilliant,' the 25-year-old said. 'But, once the decision was made about play-offs taking place in National League North I thought it was right to go and try and help Gateshead. I've not even played one single game for Harrogate Town this season, so to then play in a play-off game might not have been fair.

'I thought that having been one of the players who helped get Gateshead into a play-off position that I'd be given the chance to finish the job, so I'm pleased to have that opportunity.'

Agnew returns to Tyneside in good shape having benefited from some gruelling fitness work during his brief spell back training with Town...

'I really had to push myself to the maximum just to keep up... I certainly felt some aches in my muscles after those first few sessions, but I'm feeling good now... I've got another year left on my contract at Harrogate, but we'll see what happens,' he said...

'I would love to go back to Town and fight for my place, hopefully in League Two, but for me, it's all about getting game-time. I want to play. I don't want to be sat on the bench, or in the stands, which is why this season has been so good for me at Gateshead. I've stayed fit all year and been involved in pretty much every game.'"
From the Hereford Times we learn that "Hereford FC have this morning been linked with the permanent signing of striker Lenell John-Lewis.

John-Lewis signed for the Bulls in February on a short-term deal season and made an immediate impact under manager Josh Gowling.

The 31-year-old striker scored three goals in six games, including two in a 4-1 victory at York City. John-Lewis arrived at the Bulls following a two-and-a-half years spell at Shrewsbury Town, making 51 appearances.

Previous clubs include Lincoln City, Bury, Grimsby Town (23 goals in 92 appearances) and Newport County."
Guiseley "announce young left-back Brad Nicholson [has] sign[ed] for a second season with the club after impressing last season when he played in 37 of the 38 games the club played at all levels.

Brad, who trialled in pre-season last year, impressed throughout the season with his athleticism, strength and willingness to join in the attack.

The 21 year-old, who became a popular player at Nethermoor, can play at left-back or centre-back. A natural left-footer he is also strong on his right.

Brad broke into men's football at the oldest football club in the world, Sheffield FC. He left Sheffield to join Handworth Parramore in the Northern Counties East League Premier Division. The youngster's form attracted the attention of Chesterfield FC and he signed a six month contract with them in August 2017."
King's Lynn FM reports that "Bosses at King's Lynn Town FC have today announced a new signing for the team. Jamaican international Jamar Loza will join the Linnets from Chelmsford City. The 26 year-old forward spent much of last season on loan at fellow National League team, Woking.

Loza will need little introduction to Norfolk football fans having begun his career at Norwich City, where he made his first team debut in 2014... Jamar's international career goes back to 2014 when he made four appearances for the Jamaican national team...

Linnets' boss Ian Culverhouse said 'I'm really pleased to get Jamar to the football club. He's a big strong lad and direct with it. He has bags of experience at this level of football, has a good temperament and will add another dimension to the group of players I already have here'".
From the Northants Telegraph comes news that "Kettering Town will open the gates of Latimer Park up to their fans for the first time since March this weekend. And when the Poppies supporters take a look around, they will see a different picture to what they have been used to over the past few years.

While the Covid-19 pandemic spelled the end of action on the pitch, work has continued off it to ensure Kettering meet the ground grading to keep them in the National League North. Over £160,000 has been spent on new turnstiles, a new 250-seater stand and tiered terracing.

And chairman David Mahoney believes the club now find themselves in a position they could 'only have dreamed of' four or five years ago. 'There's certainly been a lot going on at Latimer Park, with improvements to the look of the ground, its facilities and ultimately the capacity,' Mahoney said.

'From the moment people arrive they will see the changes with a cleaner, more structured entrance, giving the ground an immediate identity. The most noticeable introduction on the boundary is the introduction of a six-turnstile container, accessed via new steps with an incorporated ramp. And, inside, we now have the new 250-seater stand, almost 100 meters of new tiered terracing, along with a new KidsZone terrace.

'Add to that two new away turnstiles, a medical room, enhancements within the hospitality areas, including a major redecoration of the clubhouse, and yes it's fair to say a lot happened. If we think back four or five years, this is a position we could only have dreamed of. There has certainly been considerable investment at the ground and, at the last review, we're talking of an amount in excess of £160,000'...

The main target for the Poppies has been to get the ground up to the appropriate standard. The grading looks set to take place shortly but even after then, there will be further improvements with another covered terrace currently being constructed after a Kettering Town (Poppies) Supporters' Trust-led campaign helped raise £25,000 to purchase it.

'The grading has to be officially completed by the end of July, so we expect it to be scheduled for the first part of the month,' Mahoney added...

This Saturday, the Poppies will be opening their clubhouse for the first time since the campaign ended... They will be offering small group tours of the ground from 11am so fans can see the improvements for themselves while manager Paul Cox, assistant-boss John Ramshaw and first-team coach Ben Marvin will also be in attendance to answer questions...

'Things are good at the club and there's a growing excitement that football will be back soon,' the Kettering chairman said."
Boston United "may be preparing to complete the season as they focus on the National League North play-offs, but some members of last season's squad have already found new clubs for the 2020-21 campaign.

Defender Ben Middleton's move to Northern Premier League Premier Division outfit Grantham Town was announced this week. The former North Ferriby United player joined Craig Elliott's Pilgrims on loan from Harrogate Town in December 2017... Injury saw him sidelined for three months of the 2018-19 season, while this term he has struggled to make the right back position his own following competition from the likes of Karl Byrne, Demeaco Duhaney, Tyrell Warren and Alex Penny. In total, Middleton has made 52 appearances for the club, scoring once.

George Green. The former Everton youngster Green raised a few eyebrows when his summer move to York Street was announced. The club had high hopes for the playmaking midfielder, who had previously played for Kilmarnock, Tranmere Rovers, Chester and Nuneaton Town. The form of Tom Platt, Andi Thanoj and Brad Abbott limited Green's chances and, with the likes of Jonathan Wafula, Martyn Woolford and Simon Heslop at the club, he hasn't featured for Boston since November's FA Trophy defeat at Atherton Collieries. He made a total of eight appearances, five off the bench, and scored once.

Last month it was announced Green will link up with Ossett United...

Towering striker Clare was something of a revelation when he joined Boston on loan from Bradford City at the end of the 2018-19 season, scoring three times in two starts and five appearances off the bench... and he netted twice in eight appearances this season.

However, Jordan Thewlis, Jake Wright, Shaun Tuton and Dominic Knowles soon found themselves favoured to the target man. Loan spells at Frickley and Ossett followed before Clare made the switch to National League North rivals Bradford Park Avenue. This summer Clare has joined Northern Premier League Premier Division Buxton...

Defender Matt Challoner won the National League North play-offs with Chorley last season, but joined Boston in March after being released by the Magpies. Challoner is yet to play for Boston as the season was postponed and then settled on points per game before he got the chance to pull on a shirt. He is still involved with the squad's play-off campaign but has agreed to join National League North side Southport next season.
The Shropshire Star tells us that "Fans' favourite Lee Vaughan insists he is not using AFC Telford United as a retirement home... Dynamic full-back Vaughan, 33, became Gavin Cowan's first new signing of the close season, returning to the club 10 years after departing...

'It doesn't seem like 10 years ago! It seems like yesterday to be honest,' Vaughan said... 'Half the fans probably won't remember me so it's best we make new memories anyway... I've been flattered from the amount of calls I've had over the summer in the league I was playing in. But when I had a think about it, it was always Telford that got me excited and Gav that got me excited.

'At this time in my career that was what I needed, something that gets me going and gets me excited and that's the reason I've come back. I know the club well. I know the way the fans work and what they demand and it ticks all my boxes. They won't let people come and use it as a retirement home because they demand and deserve better'".
---
3 July 2020 Altrincham have emailed supporters, informing them that "The Covid-19 testing for the playing squad and management to compete in the Play-offs will come at a great expense to the club. With the first set of tests having successfully taken place, we have started incurring costs for the exercise, which we now believe will total just over £50,000, should we go all the way to the final.

Therefore we are looking for your help with a Crowdfunder project we have launched. The aim of our project is to raise funds which will support the costs we will incur for taking part in the National League North play-offs. We would welcome donations of any amount, but we've also created a rewards programme for donations of specific amounts, for those who are able to help at different levels...

In normal circumstances we would be busy producing a Match Day Programme for the home tie versus Chester and, despite having no supporters present on the day of the game, the plan is to push on with a special edition of Robins Review.

We will be printing a Limited Edition 'Behind Closed Doors' Special Matchday Magazine. There will be 250 copies printed, and these will be available for Pre-order in the week leading up to the game".

For more on this and other initiatives, keep an eye on the Altrincham FC website.

Luke Wall made 5(+6) appearances for Altrincham last season.

Now, Y Clwb Pel Droed reports that "Former Bangor City attacker Luke Wall has moved to Gibraltarian side Boca Gibraltar.

Wall has moved the move to Gibraltar where former Citizens chief Stephen Vaughan is club manager.

The 23-year-old has played for Altrincham, Curzon Ashton, Stalybridge Celtic and Witton Albion since leaving Nantporth.
He also had a trial at English Football League Two outfit Bradford City.

During his one and only season in North Wales, Wall made 30 appearances in the league, scoring five goals. His contribution for Bangor saw him named in the 2017/18 Cymru Premier Team of the Season.

'I'm looking forward to getting going,' said Wall after making the move to Gibraltar... 'I've always wanted to play abroad and feel the style of football suits my game'...

Vaughan also revealed that during Wall's time at Bangor, The New Saints had tried to acquire his services. 'He is a very talented winger with an eye for goal,' said the former Bangor chairman and manager. 'He is someone I have worked with before at Bangor City in the Welsh Premier League... Since then, he's been at a few clubs and hasn't really settled, but he's still only 23 and this is a big chance for him to settle down and get playing consistently again at the level I know he is capable of'".
News of an ex-Alty player comes from Chorley where "It's a big welcome back to central defender Scott Leather, who's signed on for a fifth season at Victory Park.

The 27-year-old originally joined us from Altrincham in 2016 and has gone on to make 140 appearances in the black and white stripes, despite an injury hit 2019/20 campaign.

'I'm delighted to return for another season, one that is sure to be exciting for everyone involved with the football club. After my comeback was stopped by the lockdown in March I'm more eager than ever to get back onto the pitch and help push the club forward again' [he said].

A product of Preston North End's youth system, Scott played twice for the Lilywhites in the Championship before enjoying a four-year spell at Moss Lane split across the National League North and National League.

'I'm delighted Scotty is coming back for a fifth season. He was unfortunate with injuries last year and I believe he's one of the best all round defenders we've had at the club. He's a natural leader, respected by everyone at Victory Park and is an integral part of our future plans'" added manager Jamie Vermiglio.
The Northern Premier League confirms that "Grantham Town have signed defender Ben Middleton from Boston United. Middleton, 25, re-unites with Gingerbreads boss Martin McIntosh, who he had a loan spell under at Buxton.

He said, 'I've played against Grantham a couple times before in pre-season friendlies and have worked under the manager and [ex-Alty loanee] Tim Ryan during my time on loan at Buxton and to work with them again was a no-brainer'...

'I didn't have the best of years [at Boston] last season personally, as I didn't play as much as I would have liked to'"
Alty's play-off opponents, Chester FC "confirm that young defender Matty Thomson has departed the Deva Stadium.

The 20-year-old full back is a product of the Chester FC Youth Academy, but made his senior debut prior to his first pro deal back in April 2018....

He had an impressive run in the first team, voted Man of the Match for his performance in an FA Trophy tie in November 2018 at Southport. Matty would go on to make 19 appearances for the first team...

Joint Manager Anthony Johnson said 'Matty has been a model professional in spite of his young age from day one at Chester FC. He had a decent run in the first team but injuries hampered him in the first season, and then the arrivals of Kev Roberts and Jamie Morgan blocked his pathway this season'".
Kidderminster Harriers "confirm that Ed Williams will be playing his football away from Aggborough next season. Ed has enjoyed a great couple of seasons with us here, after joining in the summer of 2018.

He's made over 50 starts for the club and netted 15 goals, with some memorable performances along the way.

Boss Russ Penn has confirmed that while he and the player have continued amicable discussions since the end of last season, it's now clear Ed will be heading for a fresh start.

'Ed has been great for us in the past two seasons', said Russ. 'He'll be going on to a new challenge now and that's probably the best thing for everyone'".
Blyth Spartans- not dated at all "Blyth Spartans AFC want to thank Damen Mullen for his service to the club after it was announced today he has left Croft Park.

Mullen, 31, first joined the club in 2013 and has since gone on to make 243 appearances across seven years in Northumberland.

Excluding a brief spell at Morpeth Town in 2016, 'Damo' has been an ever-present face around Croft Park and a larger than life character in the dressing room...

Tony Platten said, 'With a new manager and a new season, compounded by the extraordinary financial circumstances created by Covid-19, it is always a difficult decision as to which players will be retained and which will be released.

'The case of Damen Mullen is a classic case. He is a player who has given exceptional service to the club over many years with over 200+ appearances'".
---
2 July 2020 Altrincham FC co-chairman Bill Waterson has issued a message to Altrincham FC season ticket holders.

The club is offering holders of 2019-20 season tickets the opportunity to claim a partial refund on their season tickets or to have a reduced priced season ticket for 2020-21.

Bill writes that "If you require a refund now, or would prefer a discount for next season, please contact us. If, on the other hand, you feel able to forego either a refund or discount, and would like to help the club in this way, we thank you for your kind gesture".

For full details, please follow the above link.

As recently reported, Altrincham supporter Ivan Curtis sadly died last week. As there are severe limits on attendance at funerals during the current pandemic, his widow, Audrey, has arranged for Ivan's funeral cortege to pass the J. Davidson Stadium to give the opportunity to all of his friends at Moss Lane to pay their respects as the hearse passes by. Those who attend will be asked to maintain social distancing in the process, of course.

The funeral will take place on Friday, 10 July, and it will be conducted by Ivan's fellow Altrincham supporter, David Slack. The cortege should reach the stadium at around 11.20am on that day.
Cheshire Live reports that "Anthony Johnson took to Twitter to quash a rumour that Chester FC had been rejected by Stockport County midfielder Connor Dimaio.

The Blues' boss was responding to a tweet from 'Non-League Guy', an account which has had a high success rate in predicting a number of moves involving northern non-league clubs in recent weeks. The account suggested that Dimaio had spurned offers from National League North sides Chester and Curzon Ashton and would leave Stockport to pen a deal with FC Halifax Town.

But Johnson was swift to offer a rebuttal, posting 'I can assure you he didn't pal. He's a very good player but we haven't spoke[n] to him'...

Blues' bosses Johnson and Bernard Morley have not been able to plan for next season given they don't know what league they will be playing in. They brought about a return for former goalkeeper Jon Worsnop on Tuesday after he agreed to join as goalkeeper coach, although he will also register as a player and serve as a number two next season.

But while Johnson and Morley have a list of players that they are keeping tabs on it is understood no approaches have been made for any player as they are still unable to make their retained list for next season known".

Meanwhile, Cheshire Live also says that "Chester FC are looking for clarity over goalkeeper Louis Gray after confirming their participation in the National League North play-offs later this month.

Gray arrived on loan at Chester at the end of February from Carlisle United after Russ Griffiths was taken out of the firing line after a costly blunder against Brackley Town, and featured in the Cheshire Senior Cup win over Tranmere Rovers and league encounter at Bradford (Park Avenue).

The 24-year-old, who lives near Chester, saw his stay with League Two Carlisle end yesterday when his contract expired and wasn't to be renewed, making him now a free agent. The National League have indicated to clubs that players who were on loan prior to the halting of the season in the face of the Covid-19 pandemic in March could be registered for the play-offs but new additions from higher leagues would be ruled out.

Chester bosses Anthony Johnson and Bernard Morley are keen to keep Gray for the play-offs and potentially longer but his contract expiring at Carlisle creates an issue that the National League need to provide some clarity on."

According to York Press "The National League have received £200,000 from the Premier League which will aid them in holding the play-offs throughout their three divisions...

Clubs in non-league have been out of action since March, with York City estimating in May that they have lost more than £250,000 while chairman Jason McGill has said that the play-offs may cost the club between £120,000 and £150,000.

The National League chief executive Michael Tattersall said 'We are pleased to receive the generous donation by the Premier League towards our end-of-season play-offs'.

Premier League chief executive Richard Masters added 'The Premier League is a big supporter of the wider game and we will continue our commitments in this area despite our significant financial losses and ongoing uncertainty. We will provide £200,000 to The National League to help them to conclude their season.'

The National League North play-off campaign are [sic] reportedly due to kick off in just over a fortnight, with the eliminators beginning on the weekend of July 18/19, the semi-finals (at which stage York would enter) starting on July 25/26 and the final staged on August 1/2... The National League said in their statement on the Premier League's financial support that 'the schedule for the play-offs is to be confirmed.'

Elsewhere, York have received a further boost through a £20,000 donation from the York City Vice-Presidents' Association (VPA)."
The Shropshire Star tells us that "AFC Telford boss Gavin Cowan expects his two new goalkeeping captures to push each other for the No.1 shirt next season.

The Bucks have brought in local lad Ash Rawlins from Market Drayton Town and Russ Griffiths, who was briefly on loan last season, from Chester.

Rawlins, from Arleston, has shone as an ever-present between the sticks for step four outfit Drayton for five seasons. Cowan believes the 24-year-old keeper has been playing 'below himself'.

And Kent-born Griffiths, also 24, was a regular for National North rivals Chester before falling out of favour and joining the Bucks on loan in March, where he played twice before Covid-19 halted action on the pitch.

Cowan would give nothing away over who will be first choice for Telford next season. 'I'm happy with the quality,' Cowan said of his two new keepers. 'Ashley Rawlins is a local lad and' with the greatest respect to Market Drayton' he's probably been playing below himself. Having spoken to (Market Drayton chairman) Mick Murphy, he's been their stand-out player for a number of seasons. We wanted to give him an opportunity to challenge for No.1.

Russ Griffiths played 35 times for Chester last year but came out the side, for one reason or another, and we've managed to capitalise on that. He's a very good goalkeeper for this level and someone who wants to go higher again.'

Cowan has made another summer capture in the goalkeeping department, securing the services of keeper coach Darren Acton for a third stint."

In addition, AFC Telford United "announce the signing of striker Jason Oswell. The Nantwich-Born forward joins the club on a two-year deal with the Bucks securing his services at the New Buck's Head until May 2022.

Oswell began his career as a trainee with Crewe Alexandra before signing professional terms aged 18 in 2011. Before signing his new deal, Jason was loaned out to Market Drayton... Having scored six goals, he moved up a step towards the end of the season with Nantwich Town where he scored three goals in eight games for the Dabbers.

Once he signed pro terms he dipped his toe into Welsh football for the first time joining Rhyl on loan in the Cymru Alliance until January 2012... Upon his return to Crewe he was signed up by former England international Terry Butcher who, at the time, was in charge of Inverness Caledonian Thistle in the Scottish Premier League. He made his debut in a 1-1 draw with Kilmarnock before making just one further appearance. He left the club by mutual consent in January 2013 and moved back into non-league re-joining Nantwich Town. After just a month with Nantwich he joined Witton Albion helping them to the play-offs. In May 2013 Oswell opted to sign for National Premier League of New South Wales side APIA Leichhardt Tigers in Australia...

Oswell returned to Wales in September 2013 signing for Rhyl for a second spell. After three goals in 15 games he ended the season with WPL runners-up Airbus UK Broughton.

In June 2014 he made one of the most significant moves of his career by joining Newtown. Oswell's goal scoring prowess of 20 goals... in 37 appearances took the Robins to 6th in the Welsh Premier League... Goals in the Europa League followed whilst in his final year for the Robins he netted 25 goals in 37 games earning both the WPL golden boot and player of the season award.

In June 2017 Oswell was snapped up by National League North side Stockport County where he would spent a year... The forward netted 28 goals in 47 games firing County to the play-offs and earned the player of the season award with his club... Eventually he opted to join Morecambe... but after 23 games Oswell was allowed to leave the club.

In January 2019 Oswell was snapped up by Wrexham signing an 18-month deal at the Racecourse Ground....

'I've been trying to get Jason into the club since his Newtown days and I'm happy to say we have finally got our man. He is a proven striker at this level and one who I know can live up to the expectations of our club', said Cowan".
---
1 July 2020 In the Sale & Altrincham Messenger, John Edwards reports that "Chester have finally been confirmed as Altrincham's first opponents in the Vanarama National League North play-offs, and the Robins will prepare for the tie with a clean bill of health after achieving a 100 per cent success rate in Covid-19 testing...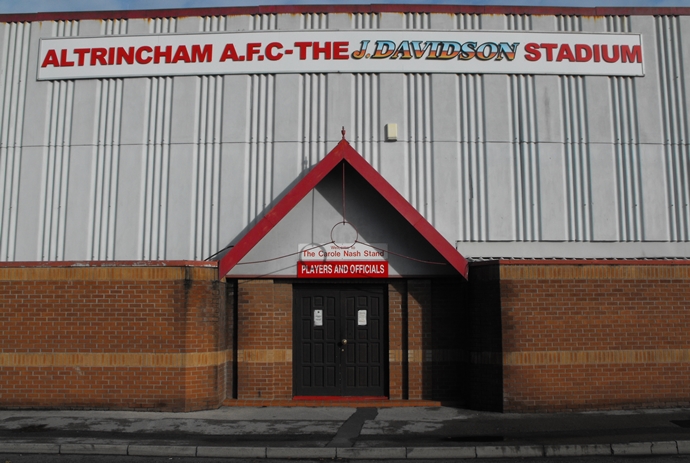 Alty will now take on their Cheshire rivals in an eliminator at The J.Davidson Stadium on either Saturday July 18 or the following day, with the winners facing York City away in the semi-finals a week later.

As all the promotion hopefuls in the North and South Divisions wait for official FA approval for the play-offs to proceed, which is widely seen as a formality, Alty can claim to have stolen a march on their opening opponents.

While Chester have yet to arrange initial medical checks for their staff, Alty's players have already cleared that hurdle and are resuming training... Last Thursday evening, at the ground, the entire playing squad and management team underwent Covid-19 testing, and everyone involved was declared free of the virus...

The testing regime was supervised by club Safety Officer, Nigel Bunce, recently appointed as Alty's Covid-19 Officer, in line with National League instructions, and the club's Chief Medical Officer, Dr Rob Jackson, who implemented strict access controls and a mandatory 'one-way' system in the stadium to manage the process..

Co-chairman Bill Waterson said 'There is a huge amount of work to be carried out to meet the criteria laid down by the National League, and the club are responding accordingly, including a board call every couple of days to review progress. Director Rob Esteva and manager Phil Parkinson are talking every single day to ensure that everything on the playing side, from training venues to player availability and even potential friendlies ahead of the play-offs, is under control'".
News of Altrincham's play-off opponents comes from Cheshire Live, which reports that managers "Anthony Johnson and Bernard Morley have always built their teams on spirit, togetherness and siege mentality... Now that solidarity comes to the fore once again as Chester look towards the National League North play-offs, something that seemed totally unworkable a few short weeks ago due to the financial implications involved.

But after a board meeting on Monday night a decision was reached, a decision made all the more easy by the fact that the Blues squad and staff had agreed to donate their contractual earnings back to the club to enable them to compete.

'I know me and Bernard say we build teams on spirit but we don't say it just to curry favour or create some nice headlines for you, we say it because it's true,' said Chester joint-manager Johnson. 'We never forced these lads to make this kind of decision. It was something that they decided as a group and we were very clear that we are only doing it if we are all in, if one person said no then it wasn't happening, there'd be no black sheep here.

'Within two minutes everyone was on board because what matters to these boys is success and seeing something through. They are proud to wear the shirt and they want to finish what they started. When we look at signing players one of the biggest things we focus on is character and what they are like as people. I think you can see what type of people we have here now and whatever happens I couldn't be prouder of them.'

Chester's play-off route won't be easy. Next month they will head to Altrincham to take on Phil Parkinson's side in a one-off eliminator game at Moss Lane, a game that will take place behind closed doors due to the Covid-19 pandemic. But this isn't a 'free hit' for Johnson, it is a game that they fully intend to go out and win.

Johnson said 'It will be hard but why should we be scared? We'll prepare as best we can and I know how good we can be and one thing me and Bernard don't have to worry about is the players being focused and on board with it all.

'What they have done is remarkable. There are lads in there who may have come in for some stick in the past but I can guarantee you they were the first ones in there saying "let's do this". The feel good factor it has brought has been amazing. I genuinely feel there is a bit of a monster here with this club and it just needs a shove in the right direction...

'I was close to welling up seeing some of the comments on Monday night from fans, it was class. Me and Bernard are proud to be managers of this football club and we'll be doing all we can to make sure we give it a good go. We're not there just to take a free hit, we want to win promotion.'"

And Chester Football Club "are pleased to welcome back Jon Worsnop to the club as a goalkeeper coach.

Bradford-born Worsnop arrives in time for the Play-Offs as a Goalkeeper Coach and [will] also [be] registered as a player subject to National League ratification. The 37-year-old returns for a second spell since our 2010 reformation. Jon spent more than two seasons with the club, initially arriving back in 2014 from Alfreton Town. Technically [it is] his third spell across both clubs, Worsnop made one appearance for Chester City back in 2002...

He left the club in the first few months of the 2016/17 season... Blues Joint Manager Anthony Johnson had this to say 'Myself and Bern [Morley] are really pleased to announce the return of a former fans favourite as a player/coach. Jon will be tasked with working with our first team goalkeepers, as well as the youth keepers Josh Schofield and Alex Atton.

'His desire to want to return to the club was first class'".

The BBC adds that "Chester FC's players have agreed to forgo their wages in order to take part in the National League North play-offs..

'The harsh part about football is this offer from them is without any guarantees of any further contracts,' said chairman Andy Morris. 'The players have taken the absolutely wonderful gesture to donate the cost of their wages and bonuses back to the club, so they are playing effectively at zero cost,' he told BBC Radio 5 Live. 'The word deferral's used quite often in football, where it's just kicking it down the line that the money will be paid, but the players have said they were willing to take part and donate the money back to the club'...

'The National League have taken the decision, and rightly so in my eyes, that football at our level cannot continue [next season] unless there are paying spectators there to watch the games,' he said. 'We don't have a sugar daddy, we don't have any external individual pumping in significant funds beyond normal sponsorship so, without supporters, there's no revenue streams so non-league football cannot continue.

'I would go as far as to say that a number of EFL clubs wouldn't be able to continue without paying supporters in the long term.'"
Atherton Collieries "announce the latest addition to our ranks as our pre-season preparations continue. We would like to welcome goalkeeper Elliott Wynne to the Black & Whites, who joins from Farsley Celtic.

Joining to provide competition between the sticks for Danny Taberner, Elliott joins following two seasons in the Conference North, playing for Altrincham before his move to Farsley's Throstle Nest.

Colls' manager Bradley Cooke said 'Elliott fits the bill in terms of what we want at this football club. He is young, he has a great pedigree and he is hungry to succeed in the game. Elliott has spent the last two seasons in the league above, so it's a coup for the club that he has chosen to sign for us. We have been looking for an additional goalkeeper following the departure of Paddy Wharton'".

22 year-old Elliott joined Altrincham in late July 2018, after impressing when playing against Altrincham for Abbey Hey in the Emirates FA Cup in 2017. He was also Lancaster City's keeper when Alty won 2-1 at The Giant Axe in April 2018. As a teenager (2012), Elliott was with Oldham Athletic before moving on to Rochdale.

From Spotland, he joined AFC Fylde and later he gained a junior scholarship at Fleetwood Town, from where he went on loan to Lancaster City and Glossop North End. Next he joined Gorton club, Abbey Hey, where he played in 2017-18 season. Elliot won his place as first-choice keeper in late August 2018 but gave way to Tony Thompson in October. On 4 January 2019, it was announced that Elliott had gone on a month's loan to Trafford FC and this was extended in early February.

He returned to Moss Lane in early March 2019. But later moved on to Farsley Celtic, having made ten starts for The Robins.

The Northern Premier League conforms that at our neighbours, "Trafford FC, captain Sam Egerton is leaving the club to join NPL Premier Division side Matlock Town. Egerton, 29, joined the club in March 2019 and previously played for Ashton United, Nantwich Town, Stalybridge Celtic and Lancaster City.

He said 'Trafford is a special club and I leave with some great memories, the cup final win certainly being the best of them'...

Egerton is not the only North/West Division player stepping up to join Matlock, the Gladiators have also signed [ex-Alty defender] Mark Lees from Trafford's league rivals Mossley."
Gloucester City chairman Alex Pethoram writes "I think it's fair we extend the season ticket 'early bird' offer for a month, so I can confirm this is something we will do. We've sold over 200 now and we should get to 250 this week...

Buy a Brick has been a great success, we are up to 200, but it ends today and will not be extended...

Easty [Mark East] has today completed his runs from Meadow Park to every ground we've called 'home' over the past 13 years… Cirencester, Forest Green, Cheltenham and Evesham, if you want to donate to the cause please do so

Now, this really excites me; we've managed to become a BTEC training provider. As you all know, I wasn't great at school, in fact I wasn't at school very often but, when I was, I struggled, boy did I struggle. The teachers used to single me out for reading and spelling out loud, I think for their own enjoyment and to have a giggle. I couldn't ever get past the first word! So I skipped school a bit and my GCSE results, well, let's just say I turned up, I didn't get a single pass, left school not being able to write a sentence and reading was a struggle, but I didn't need all that; 'Roy of the Rovers' and 'Match' had lots of pictures!

I've now a son that's also very dyslexic and I really feel for him.I fight his school a lot, trying to fly the flag for him and others, telling them he'll be just fine… I battled though, so watch him fly! Anyway, I digress. I wish a football education programme existed when I was 16 and left school. This will help kids coming out of school not only get fit, play football and learn social skills that aren't on an iPhone… but undertake English and Maths lessons to prepare them for the world. On completion you'll gain a 'BTEC Level 3 Extended Diploma in Sports'...

I've seen a number of comments over the past couple of days about the ground; odd isn't it. 13 years without one and some people still can't say anything positive. I'm not overly sure what people recall about the old ground that was so heart felt... So I'm sorry if the T-End isn't big enough, or we've no stand on one side and no, we won't have plush carpets in the boardroom, or fine wall paper in the bar but we will have a ground we can call home, a place where we will be able to leave footballs and bibs at for the first time in 13 years, rather than carrying them around, leaving all our worldly possessions in the boots of staff and players' cars!

Please never forget that only two people are paying for the ground, so when you're moaning that the old T-End must be about 1/3 of the height of the new T-End blah blah blah, just remember that if the new ground wasn't built now and ready for the start of the new season, or at least underway with an end date in sight, we'd have a very high risk of being removed from the league, a very high risk. As due to the new ground grading rules, Evesham didn't meet the grading requirements and being blunt, the grounds that do, didn't want us!

Also, remember that we're building a new ground in 2020, so the safe standing and green guide rules are now very robust, night and day different from what you could do back in day.

Yes, there's a 3.6m concrete area behind the pitch barrier and yes there's a 3m run off from the white line on the pitch to the pitch barrier, so yes, if you're on the T-End first step you're 6.6m away from the action, but I didn't create these rules. The 3m run off is for player safety, so they can take corners and throw in etc and hopefully not slide off the pitch and hit a barrier. The 3.6m rule from the pitch barrier to the bottom step is to allow 4 people deep to stand and still have room for wheelchairs and buggies to get around the ground, we're trying to be fully inclusive to all.

Anyway, sadly you can't please everyone it seems but we won't stop, and we'll keep pushing on, the floodlights are well underway... Hopefully people can see the direction the club is trying to head towards, there's been some big changes at the club since I've been here I fully accept that, sorry if they upset some, but we are finally moving forward, please get on board, support the club and try to smile on the way".
The NPL has news of a player leaving a club who will be playing National League North football next season. "Ashton United have signed midfielder Jake Cottrell from Chorley.

Cottrell, 32, was part of the Chorley side that made it to the National League, before their relegation at the end of the season. He was previously with FC United, joining Chorley in 2013".

Also at Chorley "Seasoned campaigner Andy Halls has signed a pre-contract agreement with the Magpies, setting up a switch from fellow National League North outfit Curzon Ashton ahead of the new campaign.

The 28-year-old versatile defender played over 30 times for the Nash during the curtailed 2019/20 season, where he passed the 400 career game landmark.

'I'm really happy to have joined Chorley... I'm good friends with [ex-Alty defender] Scott Leather, who's told me how good the club is to be a part of and, once I'd talked to the manager it was an easy decision to make' said Andy Halls

Andy began his career at Stockport County and appeared in the Football League 34 times between 2008-2011, before making his mark in the National League with Macclesfield Town. One-year stints at Chester and Guiseley preceded his season on Tameside.

'Andy brings us experience, has very high standards and is extremely fit. He's a player I've wanted to sign for a while so, when he became available, I didn't hesitate. His leadership qualities will be invaluable as we look to develop our younger players' [opined manager] Jamie Vermiglio".
In the Shropshire Star we read that "New signing Courtney Meppen-Walter will hammer home the message that every point counts when AFC Telford United restart league action...

'My experience helps massively, I've been there and done it [promotion] and know what it takes,' said Manchester-based Meppen-Walter, 25. 'It's hard. With Chorley we were flying 16 points ahead and we ended up coming second and had to go up through the play-offs. I know that every game matters, every point matters come the end of the season. You could be one point off at the end, so every game matters.'

Highly-rated stopper Meppen-Walter, who came through the youth ranks at Manchester City, earned himself an impressive reputation with 83 appearances at Chorley, managed by former Buck Jamie Vermiglio.

The fifth of Cowan's five new summer additions to date added 'It's good to have fresh faces around the club and you want to show the lads how good you are. When you've been around at a club you get comfortable, so this new start will be good and hopefully we can get a good start to the season'.

Meanwhile, former academy hotshot Jack Downing, 19, has left Telford to join Alvechurch. Downing enjoyed prolific campaigns in the Bucks youth ranks as well as promising loan stints away from the club but has left to join Alvechurch".
The Boston Standard reports that "United's love affair with York Street is not yet over, after the club were given permission to extend their lease in order to compete in the National League North play-offs.

The Pilgrims were due to officially leave the town centre stadium, their home since the club's inception in 1933, today as they prepare to move to their under-construction Jakemans Community Stadium...

Chairman David Newton has confirmed that an agreement has been struck with the Malkinson family to stage the home play-off fixture(s) at York Street.

'I am delighted that our game(s) will be held at York Street,' Mr Newton told bufc.co.uk... 'The fixtures at York Street are still subject to making sure that the stadium can be made Covid-secure and we will now work on those processes, which will then need to be approved by the National League, so there is still a lot of work to be done.

'We are still hopeful that BT Sport will cover the games, either live or via their streaming service but, again, we await confirmation from the National League'...

United will host the winners of Brackley Town versus Gateshead on ‪July 25‬ or 26. If they win that contest they will face either York City, Chester or Altrincham. United would travel to York, who finished above the Pilgrims, or host either of the other two sides."
---