ALTY LEGENDS SECTION 33
by Terry Rowley
These pages chronicle the playing legends of Altrincham Football Club. The texts have been kindly supplied by Terry Rowley, joint editor of the Robins' Review matchday programme. The profiles have previously appeared in the Robins' Review.
---
97. Thomas ("Tommy") Russell Ferrie HERON
98. Franklin Twist
99. Donald ("Don") Patrick WESTON
---
97 - Tommy HERON
By Terry Rowley, Joint Editor of The Robins' Review.
Born: Irvine, Scotland, 31st March 1936
Position: Left back/ Left wing
Tommy Heron was born in Irvine on 31st March 1936 and began his footballing career as a left winger, playing for the Royal Academy School and Ayreshire Boys before joining the army for two years to serve his National Service.
After which he signed up for the famous Scottish amateur club, Queen's Park, where he scored once in five games and also played a few games with Kilmarnock. He then joined Irish club Portadown but, after only a handful of games, was recommended to Manchester United by their Irish scout and was signed in March 1958.
Whilst at United he spent most of his time in the reserves, playing only three first team games. His debut game was as a left-winger in a 0-0 draw at Old Trafford against Preston North End on 5th April 1958, with his next game coming nearly two years later when he played his only game of the season in a 4-2 defeat at Sheffield Wednesday on March 30th 1960. His final first team game followed in October 1960 in a 2-1 defeat at Arsenal.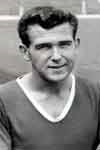 But, more importantly for his future career, he was taught defence and gradually converted from a left-winger to an attacking left-back. Unfortunately unable to break into the first team at Old Trafford on a permanent basis, he was transferred to York City in May 1961 making his league debut on the 19th August 1961 away at Bradford City. Tommy's rampaging left wing runs soon made him a firm favourite with the fans, being very much an attacking full-back, a point not lost on the York management who at times played him as an out and out winger.
He was a virtual ever-present during his first four seasons and played a large part in York's 1964/65 season promotion to the Third Division. The following season he only played a further 19 games and dropped out of the first team picture. In all Tommy played a total of 216 games for York and scored 6 goals, (192 League, 8 FA Cup & 16 League Cup). Fittingly his final game for York was on the left wing after a long spell out of the side; unfortunately, it was in a 7-2 away defeat at Swansea Town in March 1966.
In June 1966 he was allowed to join Altrincham, to replace the recently departed George Forrester, making his debut, at left-back in the season's opener at Moss Lane, a 3-0 win against Witton Albion. But it wasn't long till manager Freddie Pye saw his attacking capabilities and shifted him back out on to the left-wing, where his crossing proved extremely effective for the Altrincham forwards and this was where he remained for most of the rest of the season.
Tommy played a full part in Altrincham's double winning campaign appearing in a total of 47 games, scoring once, (in a 3-3 draw at Rhyl), as Altrincham took both the Cheshire County League title and won the Cheshire Senior Cup, beating Witton 3-2 over two legs.
Typical of Freddie Pye, at the end of the season Tommy was allowed to move on to Hyde United and later to Droylsden, (1969/70) and finally to Radcliffe Borough, where he wound down his playing career.
Tommy later worked as a driver for former United team-mate Alan Wardle's stationer's business until he retired to live in Greater Manchester.
Tommy Heron's career
Queen's Park: 1956/57 5 apps 1 goal in League, 2 apps in Cup; debut 16/04/1957, last game 29/04 1957
Kilmarnock
Portadown
Manchester United (signed 03/1958): 1957/58-1960/61 3 apps 0 goals in League, (1 game each season 1957/58, 1959/60, 1960/61).
York City (signed 05/1961): 1961/62-1965/66, 192 apps 6 goals in League, 8 pps 0 goals in FA Cup, 16 apps 0 goals in League Cup
Altrincham (signed 06/1966): 1966-67, 40 games 1 goal in League, 1 app. 0 goals in FA Cup, 1 app. 0 gaols in League Cup, 4 apps 0 goals in CSC, 1 app. 0 gaols in NWFL
Hyde United: 1967/68 12 apps 1 goal in League, 4 apps 0 goals in cup. (Debut 19th August 1967, last game 24/02/1968).
Droylsden
Radcliffe Borough
---
98 - Franklin TWIST
By Terry Rowley, Joint Editor of The Robins' Review.
Born: Liverpool, 2 November 1940
Position: Winger
Frank Twist started as a promising right winger who won the English Schools shield, playing with Liverpool schoolboys and went on to sign as a junior with Liverpool FC in August 1958.
Although receiving international honours at youth level for two seasons, as a 17 and 18 year old, under the captaincy of Bobby Moore, Frank failed to make the grade at Anfield. So, whilst pursuing his apprenticeship as an electrician, he played for local side Prescot Cables until, on qualification, he signed terms with then Second Division Bury in October 1961.
Frank made his first-team debut in the 2-1 home win over Walsall and then played and scored the following week in Johnny Robinson's testimonial match and was in the side the following week for the 3-0 defeat at Derby County before being relegated to the reserves for the rest of the season.
He made a further six league appearances and one League Cup game during the following season, (a broken leg hampering his progress), before being released and joining up with recently relegated, Fourth Division, Halifax Town in July 1963. Frank helped Halifax finish the season in 10th place, scoring 5 goals in 40 league appearances, in addition to 4 League cup and 1 FA cup games.
The following season was a difficult one as Frank was in and out of the side as Halifax struggled, finishing in 23rd place with Frank playing a further 24 league games and scoring a further 5 league goals in addition to a sole FA Cup appearance.
Being released at the end of the season, he joined Tranmere Rovers in July 1965 and, after initially playing two games and scoring the winner in the match against Port Vale in the League, Frank then had to wait till the end of the season to complete his Tranmere career on the left wing, in total scoring 3 goals in just seven league appearances, coupled with a single League cup appearance and that was his Football league career over.
He moved down the Wirral coast to New Brighton for a brief spell before Altrincham manager Freddie Pye lured him to Moss Lane in January 1967, making a low-key debut in the 3-0 away win at Chester on 14th January, but showing enough potential to see him remaining a near ever-present till the end of the season, a season that saw Altrincham take the 'double 'of both the Cheshire County League title and the Cheshire Senior Cup.
The following season (1967/68), Frank started as a first-team regular but, by the turn of the year, he found himself replaced, first, by Mel Flannagan and, latterly, by Dave Carrick, which meant that his appearances became more sporadic.
He left Altrincham at the end of the season to return to New Brighton, having added a Northwest Floodlit League finalist's medal and a Cheshire County League runners-up medal to the previous seasons medal haul. In all he played 60 games for Altrincham and scored 5 goals. After a spell back at New Brighton he later played for Radcliffe Borough.
Frank Twist's career:
Liverpool (juniors 08/58),
Prescot Cables,
Bury (10/61) 1961/62-62/63,8 apps in League
Halifax Town (07/63) 1963/64-64/65 (64+2 apps 10 goals in League, 2 apps in FA Cip, 4 apps in League Cup
Tranmere Rovers (02/07/65) 1965/66 7 apps 3 goals in League, 1 app. in League Cup
New Brighton 1966/67.
Altrincham (01/1967)

1966-67 16 apps 3 goals in League, 5 apps 1 goal in CSC
1967-68, 24+1 apps 1 goal in League, 3 apps in FA Cup, 2-0LC, 2 apps in CSC, 7 apps in NWFL

New Brighton
Radcliffe Borough
---
99 - Donald ("Don") Patrick WESTON
By Terry Rowley, Joint Editor of The Robins' Review.
Born: New Houghton, Derbyshire, 6th March 1935
Position: Centre-Forward
Donald Patrick Weston was born in New Houghton, Derbyshire on 6th March 1935 but grew up in Pleasley, Mansfield.
He represented East Derbyshire Schoolboys and, on leaving school, worked briefly as a coalminer near his hometown of Mansfield. He played for local side Pleasley Imperials, where he was spotted by Leeds United as a sixteen year-old amateur, but he refused to sign as a professional.
Called up for National Service, Don served with the 31st Training Regiment, Royal Artillery (North Wales), based near Rhyl at Kimnel Bay. Whilst playing for the army he was scouted by Third Division Wrexham and signed on as an amateur in May 1958, turning professional in January 1959. For a centre forward Don was small but he was very quick, (he was timed running 100 yards in 10.1 seconds), and direct, with a powerful shot. His skills suited Wrexham's style of play.
Scoring regularly, he came to the attention of sides higher in the League, as he averaged a goal every two games at Wrexham, netting 21 goals in 42 league games for Wrexham.
First Division Birmingham City took the plunge and paid £15,000 in January 1960, (about £240,000 at today's value). Don made a scoring debut in a 3-1 away win at Leicester City on the 6th February and scored twice more as Birmingham finished in 19th place and sacked manager Pat Beasley in May, replacing him with Gil Merrick.
The highlight of Don's season was playing in both legs of the Fairs Cup Final against Barcelona drawing 0-0 at home losing 4-1 away. In addition, by the end of the season, he had played 16 league games and scored 3 goals. The change of manager in the close season saw Don make only another 7 appearances in the early part of the season, without scoring and he was sold to Second Division Rotherham United in December 1960 for a fee of £10,000.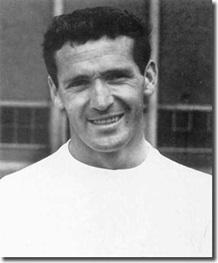 At Rotherham, Weston flourished immediately, celebrating his Millmoor debut with the only goal against Liverpool in the League Cup. Two Weston goals were crucial as Rotherham beat QPR 3-0 in the quarter finals and he scored the extra time winner against Shrewsbury in the semi-final taking United to the two-legged final of the 1960/61 League Cup, which was held over to the start of the following season 1961/62 season.
After a 2-0 first leg home victory over Aston Villa, Rotherham seemed set to lift the trophy in its inaugural season. But Villa prevailed 3-0 on the night, 3-2 on aggregate. Don finished the season with 12 goals from 25 games.
Starting the next season, Don scored twice in an impressive display, as Rotherham beat Leeds United 4-3 on 22 August 1962. Don then put in a transfer request and Wrexham made an enquiry but were quoted a fee of £15,000. After Rotherham beat Newcastle United 4-1 Don joined Leeds United in December 1962 for a fee of £18,000 having scored 21 goals in 76 League games for Rotherham.
Slotting straight into the Leeds United line-up he scored a hat trick on debut in a 3-1 defeat of Stoke City on 15 December and finished the 1962/63 season with seven goals from 17 appearances.
During 1963/64 Don was a fixture in attack. He finished joint top scorer with Johanneson with a total of 13 goals in the League from 35 appearances, including seven in the first 14 games. He picked up an ankle injury in the spring, but even when his goals became scarcer over the later months of the campaign, Leeds secured vital points from tight games and took the 2nd Division title.
Now in the First Division, Leeds won their opening three games of the 1964/65 season and Don scored in the 4-2 victory over league Champions, Liverpool.
Unfortunately, he picked up an ankle injury in the following game against Wolves, and, though he recovered to play in the return with Liverpool at Anfield on 2 September, he missed the following three matches with strained stomach muscles. The muscle problems persisted, along with the recurrence of a groin strain, so Don didn't appear at all between the end of September and the end of January 1965. When he was restored to the team, for the FA Cup fourth round clash with Everton it was Don who scored the winner in a 2-1 victory on 2nd February, in the Elland Road replay, picking up a loose ball 30 yards out and beating two defenders before slipping the ball past the advancing keeper.
A goal from Don also won the League game at Arsenal on 13 February and a brace saw off Stoke in a 3-1 victory at the beginning of April. Despite returning for the final few weeks of the League campaign, Weston was overlooked for the FA Cup Final against Liverpool and ended the campaign with five goals from 18 appearances.
During the summer, in an attempt to get fully fit, Don frequently visited the "curative baths at the Harrogate Royal Hospital" and he was back in the starting line-up for the opening three games of 1965/66 season, though now on the right wing but he failed to score. He was dropped after the 2-1 defeat at West Ham on 28 August, in preference to a young Scot named, Peter Lorimer. Disheartened by the course of events and, now approaching 30 and desperate for regular first team football, Don asked for a transfer and on 15 October 1965 he signed for Second Division Huddersfield Town.
His time at Huddersfield was patchy, scoring seven goals in twenty League starts and two appearances as substitute.
Don now re-joined Wrexham, now of Division Four, in December 1966. Scoring 19 goals in 42 games for the Welsh club.
He then signed for Chester City in the summer of 1968/69. Despite scoring in a pre-season fixture against Dumbarton, he was named as a substitute for the first game against York but, as the goals flowed freely for the Chester forwards, Don found it impossible to break into the side. He finally made his debut, as a substitute, at Bradford City. Don made a further appearance from the bench before his only start came at Grimsby, in October.
Realising his chances were limited, in January 1969 he moved into the Northern Premier League and joined Altrincham.
His debut at Moss Lane came on the 25th January, which brought him a 'hat-trick', in the 8-1 thrashing of Northwich Victoria. He then scored in the 2-0 second leg win over Macclesfield Town in the final of the North West floodlit League. His next goal came against Bangor City in the League Cup.
He then scored against Chorley before scoring three in consecutive games against Ashington, both home and away and then finally Netherfield. Don finished his Altrincham career in the last game of the season a 1-3 defeat at Morecambe on 29th April. In total, he had scored nine goals in 16 games.
He then moved on to Bethesda Athletic in July 1969, spending three seasons in the Welsh League, till end of the 1971/72 season, before final retiring. Returning to Mansfield, he worked initially as a car salesman, before setting up and running a car dealership, Don Weston Cars, in Pleasley Hill. A good cricketer he turned out for New Houghton CC and also enjoyed a game of bowls.
He passed away on 30 January 2007, aged 70.
---
Go to ALTRINCHAM FC LEGENDS INDEX
---