ALTY LEGENDS SECTION 34
by Terry Rowley
These pages chronicle the playing legends of Altrincham Football Club. The texts have been kindly supplied by Terry Rowley, joint editor of the Robins' Review matchday programme. The profiles have previously appeared in the Robins' Review.
---
100. Brian Geoffrey GREEN
101. William "Bill" SOWDEN
102. Thomas "Tommy" MORT
---
100 - Brian Geoffrey GREEN
By Terry Rowley, Joint Editor of The Robins' Review.
Born: Droylsden, 5 June 1935
Died: Rochdale, 14 August 2012
Brian Geoffrey Green was born in Droylsden and raised in Rochdale. Like many of his generation he excelled at both football and cricket, he played for Roch Valley schoolboys and then Haggate Lads at football and Lancashire at schoolboy level at cricket.
Brian chose football and, after trials at Sheffield Wednesday, joined Rochdale as a 17-year-old amateur on the 23rd August 1952, making his senior debut at 18, whilst still an amateur. It was at Rochdale where he came under the management of future Everton manager, Harry Catterick who brought in future Liverpool legend, Joe Fagan as coach. Brian cited Fagan as one of his greatest influences in football.
After his National Service, in the army, Brian signed professional for Rochdale in October 1955 and spent nearly four seasons on the fringes of the first team, playing a total of 54 games, (46 in the league) and scoring 8 goals. At one point in his Rochdale career Everton made a £3,000 offer for Brian, which Catterick turned down.
Instead he was transferred to Southport on the 14th March 1959 and, over the remainder of the 1958/59 season and the following 1959/60 season, scored 7 goals in 20 games for the 'Sandgrounders', although, to be fair, he missed a large part of the 1959/60 season due to a cartilage injury.
Released at the end of the season, he had a trial at Bury at the end of July 1960, which came to nothing and briefly joined Colwyn Bay before signing for Barrow, (then a Football League club), on the 20th September 1960. Brian wasn't at Barrow long, as finances were tight, and after three games he was released. He went on to sign for Runcorn in October, where he remained for the rest of the season.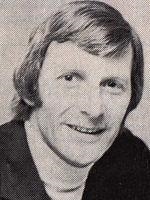 In the close season he joined New Brighton.
Altrincham player/manager, Paddy Fagan, persuaded Brian to move to Altrincham. He made his debut in an uninspiring 1-0 defeat at home to Congleton Town on the 2nd December 1961 but scored his debut goal in the following match, a 3-1 away win at Bangor City. He next scored in a 3-1 home win against Tranmere Rovers Reserves and then followed this up with goals against Rhyl in a 3-1 Home win and in a 5-1 home win against Sandbach Ramblers in the 1st Round of the Cheshire Senior Cup on the 31st January 1962.
Brian then did not score for two months, until 31st of March, when he scored twice in an important 4-3 win away at Tranmere Rovers and then scored his final goal in the season's final fixture, a 2-0 win over Stafford Rangers at Moss Lane.
In the close season, Brian like many others on the staff was released from an underachieving side. Brian had scored 7 goals in 22 league and cup games.
He then signed for Exeter City on 2nd August 1962, scoring 1 goal in 9 appearances before moving to Chesterfield on the 4th February 1962 but he played onlytwo first team games and, in addition, scored 5 goals in 14 games for the reserves before the end of the season.
Brian briefly joined Wisbech in June 1963 but soon moved to Mossley where he scored 6 goals in 12 games and, after a brief loan spell at Boston Town, led to a move to Australia to join Sydney Prague FC. The offer was a three-year contract to act as player-coach for the then First Division side but, after only three months, Brian received a telegram that his father, a former policeman, had died.
Returning to England he joined Stalybridge Celtic in 1964/65, Ashton United in 1965/66 and then becoming player/coach at Glossop in 1966/67. Retiring from playing he then moved on to coach Barrow in 1968, Halifax Town in 1970, leaving in March 1971 to coach the Kuwaiti National team.
Returning home, he joined up as coach/trainer to Jimmy Meadows at Southport in 1972, overseeing Southport's Fourth Division title win in 1972/73. He then moved on to Chester in 1973 before returning to Australia, rather controversially to coach the Australian National Football team, in addition to taking the role as Director of New South Wales Coaching.
He went on to coach Australia in a series of six internationals against the USSR between November and December1975. In February and March 1976 Australia played home and away internationals against New Zealand. But 20 days after the second game Brian resigned suddenly and left Australia under something of a black cloud, having been accused and found guilty of stealing two L.Ps from a record shop, a charge he strongly refuted and denied.
In June, back in the UK, Brian took on the manager's role back at his home-town of Rochdale and, at one time, had them top of the table but not for long! Brian left in September 1977 to take the role of first team coach under Jimmy Armfield at Leeds United.
His final role in the UK was a spell as assistant manager at Stockport County in 1979.
He then moved to Norway and managed Bryne FK for three seasons between 1980 and 1982, winning runners-up spot in the first division in both 1980 and 1982, thus qualifying for the EUFA Cup in 1981, (losing to Belgian side KFC Winterslag in the 1st round) and 1983, (losing to Anderlecht in the first round).
Brian then went on to manage IK Start in 1986 and 1987, finishing off with manging Norwegian fourth division side, Egersunds IK between 1989 and 1991. He left Norway with fond memories and returned to Smithy Bridge, Rochdale, Brian worked as a sales manager for a hotel near Oldham and, in 2007, was still coaching youth soccer schools in the USA.
Brian died in Rochdale on 14th August 2012.,
---
101 - William 'Bill' SOWDEN
By Terry Rowley, Joint Editor of The Robins' Review.
Born: Gorton, 8 December 1930
Died: Stockport 13 November 2010
Bill was born in the Gorton area of Manchester on December 18th, 1930. He played for Greenwood Victoria as a junior and, although a Manchester United fan, he signed for Manchester City as an eighteen-year old, in April 1949.
Fast and direct, Bill made his way through the City junior sides, finally making his debut in the Manchester "derby," on 30th August 1952. He followed up three days later scoring twice, (the only goals he would score for City) in a 3-3 draw away at Spurs. He then played the next seven games without scoring in a run that saw City draw 2 and lose 5 games. Bill didn't play again that season. He was recalled to the first team on 17th October 1953 in 4-1 hammering at home by Preston North End. The following week was Bill's last game for City, a 3-0 defeat at Spurs.
Bill only played 11 games but, whilst at Maine Road, he had two claims to fame. The first was that he was one of the first players to own a car, often picking up spectators on the way to home games and, allegedly, even the referee on one occasion. The second was that he scored the first City goal under the Maine Road floodlights, Bill scoring a hat-trick in a 6-3, win in a friendly against Hearts on October 14th, 1953.
After five and a half years at Maine Road Bill, his career going nowhere fast, was sold by newly installed, City manager, Don Revie, to Division Three (North) side Chesterfield for a fee of £,500 in November 1954. At Chesterfield, Bill came alive. He finished his first season as second-highest scorer behind fellow Mancunian, George Smith, having notched 14 goals in 24 games, including 4 goals against Accrington Stanley in a 4-1 home win.
In 1955/56 Bill played in all but one of the games and scored 32 league goals, including two hat-tricks against Bradford Park Avenue and Crewe Alexandra, in addition he scored 1 goal in 2 FA cup appearances. His 32 league goals in a season remains a post-war record for a Chesterfield player and only one other player had ever scored more goals in one season, (pre-war). Incredibly, the one game he missed during the 1955/56 season came through his being dropped; obviously the club's selectors had little patience if Bill went a few games without scoring.
Although starting the 1956/57 season well, Bill lost his place when Gwyn Lewis was signed in February 1957. He still scored 13 goals in 28 League appearances in addition to 2 further goals in 4 FA Cup games. His last Chesterfield goals were scored for the reserves against Manchester United on April 27th 1957. Perversely, Bill was then allowed to move to Stockport in May 1957 in a player exchange deal for Ivor Seemley, a full-back, (Chesterfield had released their regular full backs).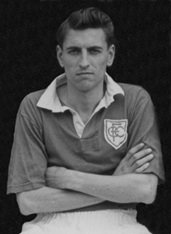 Bill [left] had scored 59 goals in only 97 League games and a total of 62 goals in 103 games in both cup and league and was still only 27. As a point of interest, Bill was being paid £11 a week during the season, £9 in the summer and on a bonus of £3. The maximum footballers wage in 1957 was £17
It was not a good move for Bill, he played only 17 games, scoring 8 goals in all competitions. At the end of the season Bill then moved into non-league football with Macclesfield Town for the 1958/59 season.
He finished the season, not surprisingly, as top scorer with 19 goals in 29 league games for the 1958-59 season. In 1959/60 he followed up with a further 17 goals in 33 league games and scored 4 more goals in 8 cup games, including a hat trick in an 8-0 win against Tranmere Rovers Reserves. His final season for Macclesfield, in 1960/61, Bill, started well, scoring twice in the opening day fixture and then scored a hat trick against Mossley.
Bill played his last match for Macclesfield on 5 November 1960 in a 7-2 FA Cup 1st Round hammering by Southport. He had scored 7 goals in 9 league games and a further 4 goals in 5 FA Cup games. In total Bill had scored three hat-tricks during his time at the Moss Rose, with his best performance coming in the 6-1 home friendly match against Wigan Athletic when he scored four goals. In total he had played 89 league and cup games and scored an impressive 51 goals.
Over at Altrincham, Noel White and Peter Swales had officially taken over at Altrincham on the 5th April, Jimmy Morris having resigned the previous day and they looked for an influential leader in an attempt to stabilize the situation and the person they turned to was Bill Sowden.
Bill made his debut in a chastening 7-0 defeat at Bangor City, on the 3rd April 1961, (Altrincham's fifth consecutive defeat, they then lost 2-1 to Stafford Rangers, Congleton and Macclesfield 3-1 all at home). Bill wasn't eligible for the Cheshire League Cup defeat, again at Moss Lane to Mossley, 3-2 but was back for the season's sorry final rights, playing the last 4 games, all defeats, 4-0 away to Hyde, 1-0 away to Frickley and 4-0 away to Rhyl and a final 4-1 home defeat to round off the season, against Ellesmere Port.
Altrincham had lost 13 consecutive games, their last win having been against Stafford Rangers, 2-1 at home in the Cheshire League Cup, in March and their last League win having been against Sankey, 3-2 away, the previous year, on Christmas Eve! Altrincham had finished second from bottom, (just ahead of Wigan Rovers), had lost 28 of their 42 league fixtures and conceded 125 goals!
Bill had obviously seen enough and hung up his boots and retired, having played eight games for Altrincham, all of them defeats, (some sort of record?).
After retiring from full-time football Sowden ran the family's bakery business in Heaton Chapel, where he worked until his retirement. He passed on the 13 November 2010 at Stepping Hill Hospital, Stockport, at the age of 79, after sadly suffering from dementia for the final eight years of his life.
---
102 - Thomas "Tommy" MORT
By Terry Rowley, Joint Editor of The Robins' Review.
Born: Kearsley, near Farnworth, 1 December 1897
Died: Wigan, 6 June 1967
Amazingly, the one Altrincham player, who progressed the furthest in the professional game was never to pull on a first team shirt in his entire two and half years at Moss Lane.
Born in Kearsley, near Bolton on the 1st December 1897 Tommy Mort had a understated introduction to football, playing at centre forward for Farnworth Council School, Kearsley St. Stephen's FC (Bolton) and Newton Lads' club, before signing up with the Lancashire Fusiliers during World War One. Considered short for a centre-forward, at 5' 8" he was converted to left-back.
On demob Tommy joined up with Altrincham in December 1918. Whilst at Moss Lane, he also turned out for Oldham Athletic's Central League side but neither Altrincham, nor Oldham, saw his potential and he played for neither side's first team.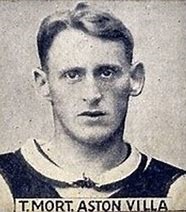 Third Division North side, Rochdale however did and signed him in June 1921. It did not take Tommy long to make an impression and he made his Rochdale debut as a 23 year-old against Accrington Stanley on the 3rd September 1921 and, despite a 0-4 defeat, retained his place and remained first choice left-back until First Division Aston Villa bid £1,300 for Tommy's services, (this in a season when the first £5,000 transfer had taken place).
Tommy had played 28 League games, 1 FA Cup tie and 1 Manchester Cup game, playing his final match for Rochdale in a 1-1 draw with Wrexham on the 8th April. He signed on the 8th and was plunged straight into first-team action, making his debut in the First Division against his home town club, Bolton Wanderers, Villa winning 2-1.
He finished the season having played 4 games and seamlessly made the transition from Third Division North to First Division.
Tommy was a quick, strong player with a famed sliding tackle and soon became known for his competitiveness, his striking of the ball and the general quality of his tackling and he soon formed a great full-back partnership with right-back Tommy Smart, and they became collectively known as 'Death & Glory', a partnership that would last the best part of a decade.
Major honours sadly escaped him; although he did play in a losing FA Cup Final team against Newcastle in 1924, and went on to win three full caps for England, his three caps coming against Wales (3/3/24), France (17/5/24) and Scotland (17/4/26), making him Rochdale's first player and Altrincham's only player to progress to full England colours.
He played his final game for Villa at the age of 37 in a 5-0 win over Leicester City on January 19th 1935, retiring at the end of the season having played 368 League and cup games, scoring twice, both of them special, the first a volley from the centre circle against Bury in March 1926 and the second on Christmas Day 1926 when, after injury, he was switched to the right-wing and scored the last goal in a 7-1 romp against Middlesbrough. He is currently in 16th place in Villa's all-time appearance records.
Upon his retirement in May 1935 he returned to Lancashire and went into business in Wigan. Tommy sadly passed away in Wigan on June 6th 1967 at the age of 69.
Tommy Mort's Career
Rochdale
1921-22: 28 League and 1 FA Cup app., plus 1 other game
Aston Villa
1921-22: 4 League apps
1922-23: 34 League and 1 FA Cup app.
1923-24: 36 League and 6 FA Cup apps
1924-25: 19 League apps
1925-26: 30 League apps & 1 goal and 4 FA Cup apps
1926-27: 24 League apps and 1 FA Cup app.
1927-28: 14 League apps and 1 FA Cup app.
1928-29: 12 League apps and 3 FA Cup apps
1929-30: 37 League apps and 4 FA Cup apps
1930-31: 35 League apps and 2 FA Cup apps
1931-32: 33 League apps and 1 FA Cup app.
1932-33: 33 League apps and 3 FA Cup apps
1933-34: 13 League apps and 3 FA Cup apps
1934-35: 5 League apps
---
Go to ALTRINCHAM FC LEGENDS INDEX
---