ALTY LEGENDS SECTION 30
by Terry Rowley
These pages chronicle the playing legends of Altrincham Football Club. The texts have been kindly supplied by Terry Rowley, joint editor of the Robins' Review matchday programme. The profiles have previously appeared in the Robins' Review.
---
88. George VOSE
89. Joseph Peter KENNEDY
90. John (Jack) MANDLEY
---
88 - George VOSE
By Terry Rowley, Joint Editor of The Robins' Review.
Born: St Helens, 4th October 1911
Died: Wigan 20th June 1981
Height 5'10", Weight 10st 6lbs
Position Centre-Half
Most of the record books show that George Vose moved from Manchester United to Runcorn, omitting his time spent at Altrincham during the 1946/47 season.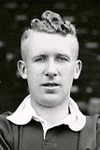 Not surprisingly considering he was born and raised in St Helens, George worked in his early days in the glass industry, as a glass blower and combined that with playing for local St Helens side Peasley Cross Athletic. He had trials with Everton which came to nothing before signing for Manchester United in September 1932. He spent his first season with the reserves as he acclimatised to full time football and made his first team debut in the Second Division on the opening day of the 1933/34 season on 26th August, an inauspicious 4-0 defeat away to Plymouth Argyle.
He was in and out of the side during the season, playing in seventeen League matches with an additional two appearances in the FA Cup. He also scored the only senior goal of his career in a 3-1 defeat at home to Grimsby. United finished 20th in the table but George had shown enough ability to be retained. In 1934/35 George was a near ever-present, playing thirty-nine League games and all three FA Cup games as United finished 5th in the table.
The 1935/36 season was successful as United took the Second Division title and George missed only one match, playing forty-one of forty-two league games and, once again, he played in all three FA Cup ties. In addition, George was called up for England trials.
United found their first season back in the First Division tough going and, although George started the season at centre half, results were not going United's way and after the sacking of manager Scott Duncan, George featured less often under his successor, Walter Crickmer.
George managed twenty-six league appearances and one in the FA Cup, where he was tried at right back, as United were relegated after just one season back in the top flight. Back in the second division for 1937/38 George played thirty-three league games and in all four FA Cup matches, as United gained promotion again, finishing second in Division two.
In 1938/39 United performed better than their previous visit to the top flight and finished a creditable 14th in the table. George also was more consistent, playing in thirty-nine league games and one FA Cup tie.
In 1939/40 George had played in two of the first three matches in Division One when football was cancelled but was available for the commencement of the Wartime Regional League (Western Division), when it commenced in October and scored a rare goal against Crewe Alexandra.
After December he was unavailable, having enlisted. In 1940/41 he made only three appearances for United but also 'guested' in one match for Manchester City in addition to three matches for Chester.
In 1941/42 he played no football but re-appeared in 1942/43 playing eight games for United in addition to five 'guest' appearances for Derby County and seven games for Stockport County. His made only one appearance for United in 1943/44.
After the war, George surprisingly re-signed for Manchester United, after de-mob in January 1946, playing one solitary game in Football League North, a 1-0 defeat away to Grimsby and was released at the end of the season.
Down at Moss Lane the Altrincham side was coming out of moth balls, ready to re-claim their place in the Cheshire County League, after having missed the inaugural post war 1945/46 season.
Players were sought and George's release from neighbours United was opportune and George was signed up. Although approaching thirty-five years of age George made his Altrincham debut in the season's opening game a 3-0 defeat away to Crewe Alexandra's reserves and, in all, played twenty-one games for Altrincham, his last being a home 2-1 defeat by Wrexham Reserves in late January 1947.
He then moved closer to home, joining Runcorn and served them well, playing into the 1949/50 season and featuring in Runcorn's famous FA Cup runs. He later took over as manager in 1951/52 and held the post until 1956/57.
George Vose Playing Career
Peasley Cross Athletic,
Manchester United (09/32) 32/33-45/46 195 appearances 1 goal in League; 14 apps 0 goals in FA Cup
Stalybridge
Altrincham 46/47, August 1946 to January 1947
Runcorn, 46-47-49/50
Manager Runcorn 1951/52,-1952/53 then 53/54-56/57.
War-time Manchester United: 1939/40 7 apps 1 goal, 40/41 3 apps, 42/43 8 apps, 43/44 app.
Wartime Guest: Chester 40/41 3 apps, Derby 42/43 5apps, Manchester City 40/41 1app, Stockport County 42/43 7 apps.
---
89 - Joseph Peter KENNEDY
By Terry Rowley, Joint Editor of The Robins' Review.
Born: Cleator Moor 15th November 1925
Died: West Bromwich 12th September 1986
Height 6' 1" Centre-Half
Born in Cleator Moor, Cumberland, Joe like his Altrincham predecessor, Tommy Mort, had only the most fleeting association with the club but is another player that Altrincham can be proud of as he made his way to the top in football.
As a youngster he played for St Patrick's School in Whitehaven and represented Whitehaven and District Boys. As a teenager he joined local club Cleator Moor in 1941 and then Workington in 1942. War work took him south and he had trials for both Brentford and Millwall before joining Gravesend United, (then playing in the Kent League) for the 1944/45 season. He then moved to Freeland FC, (in Oxfordshire) in August 1945.
Moving back north he was persuaded to join Altrincham by second-team coach, Arthur Gale. Perversely Joe only featured in the reserves at Altrincham and it wasn't until the 20th November 1948, that Joe finally made his debut for Altrincham, having just past his 23rd birthday. The match was inauspicious, a 4-2 defeat at Winsford United. His progress had however been brought to the attention of Arthur Gale's old team, Second Division, West Bromwich Albion, who came in with a £750 offer, which was gratefully accepted by the Altrincham Committee and Joe signed in December 1948.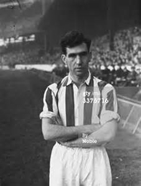 He made his debut, (at right half), towards the end of the season on 9th April 1949 in an away 1-0 win at Luton Town, less than two months after his debut for the reserves. He then held his place until the end of the season, being switched to inside-right for the last three games of the season, which was partially successful as he scored his debut goal in a 3-0 win at Leicester City. West Brom finished the season in second place and gained promotion to the First Division.
Joe was still learning the game and during the 1949/50 season he switched between playing right-half and inside-right playing thirty-four league games in addition to two FA Cup ties. For most of the following 1950/51 season Joe played at right half but he was tried in one match against Derby County in the position for which he would make his name, centre half.
Once again he played in the majority of matches, playing thirty five league games and two FA Cup fixtures. 1951/52 proved to be the defining season for Joe for, although starting the season at right half, he finished it as the established first-choice centre-half. He scored once in a 5-0 win over Portsmouth and played in thirty-six league and three FA Cup ties.
In 1952/53 Joe was again the first-choice centre half and was a near ever-present until February 1953 when a leg injury finished his season, having played twenty-six league games in addition to two games in the FA Cup.
For 1953/54 season Joe was still not fully fit and didn't make it back into the first team until November but he was now second choice behind Jimmy Dugdale. Although he played in only thirteen league matches and only one FA Cup tie, that one cup tie was the FA Cup Final, where Joe replaced the injured Stan Rickaby and picked up a winner's medal as West Bromwich Albion, beat Preston North End, 3-2.
In 1954/55 Joe regained the centre-back position, playing in thirty-two league games and, once Dugdale was on his way, was not seriously challenged for his position again during his time at the Hawthorns.
In all he made 397 first team appearances for WBA and scored 4 goals. At his peak regarded as the best un-capped centre half in the country, a constant England reserve, he played three times for the England 'B' side and played in FA representative sides.
Winding down his career he joined Chester City on a free transfer in June 1961 and made his debut on the 19th August in a 1-0 home win over Oldham Athletic. In all he played thirty-five League games and one league cup game for Chester, who finished bottom of the league. Joe then retired from professional football having played 399 football league games for WBA and Chester, it would have been 401 but the two games he played against Accrington Stanley were struck from the records.
Joe then joined Stourbridge in August 1962 as player-manager and later turned out for his works' team, Brockhouse Works FC, until finally retiring from playing in 1966.
Joe Kennedy's playing career:
St Patrick's School, Whitehaven
Whitehaven & District Boys,
Cleator Moor Celtic (1941)
Workington (1942),
Brentford (trialist 1943),
Millwall (trialist 1944),
Gravesend (1944/45)
Freelands FC (08/45)
Army (National Service)
Altrincham 48-49, 1 game
WBA, (12/48 £750), 1948/49-60/61 364 games 3 goals in League; 32 games 1 goal in FA Cup; 1 game in the Charity Shield
Chester (06/61) 1961/62 35 games, no goals in League; 1 game, no goals in League Cup
Stourbridge (player/manager 08/62)
Brockhouse Works FC.
---
90 - John (Jack) MANDLEY
By Terry Rowley, Joint Editor of The Robins' Review.
Born: Hanley 12 February 1909
Died: Hanley 18 December 1988
Position: Winger
An outstanding winger, enigmatic, talented, with only a tragically brief career in the Football League, Jack Mandley played his final football with Altrincham in the Cheshire County League before packing the game in for good. A tricky, elusive winger, with a good shot, Jack was very highly rated by many that saw him, tipped by many for future England honours. It is obvious that he could have progressed to the very top of the game but at 26 he had retired back to Hanley.
Born in Hanley, Stoke-on-Trent, close to Port Vale's Old Recreation Ground, (now the Potteries Centre Multi-Storey Car Park), he played his early soccer in the local Sunday Schools League and worked as a haulage hand at the Cobridge coal pit.
Jack was spotted playing football close to the ground and signed by Port Vale, initially as an amateur in August 1926 and immediately began making an impression playing for the reserve side. He eventually signed professional terms in February 1928, making his League debut in a 2-0 defeat at Hull City in September 1928.
Also at Port Vale at this time with Jack was future Altrincham teammate Stewart Littlewood.
Port Vale were a struggling team, dogged with poor form and numerous injuries and they were eventually relegated to Division 3 North but Jack was a near ever-present. The following season, (1929/30), saw Port Vale pushing for immediate promotion but this improvement in form naturally led to interest from other clubs in the key players in the side, including Jack.
With gates not improving, despite better results, the Port Vale board were under pressure to sell their best players and, when they received an offer of £7,000 for Jack from First Division Aston Villa, it was too much to resist and Jack moved to Villa Park in March 1930. (Remember that the then record transfer fee was only the £10,890 that Arsenal had paid for David Jack).
But this move did not go down well with the Port Vale supporters who protested and held demonstrations believing that the board had jeopardised Vale's 'chances of promotion, (which it didn't, as Port Vale still took the title).
Considered by many to be the outstanding right-winger of his day, he was a few years older than Stanley Matthews, who came from the other side of Hanley.
Jack had joined an Aston Villa side that were one of the top sides in the country and slotted straight into the First Division, playing 11 League games and scoring once in what was left of the 1929/30 season.
For the following three seasons Jack was a regular in the Villa first team as they took second place in the First Division in both 1930/31 and 1932/33 before it all started to go wrong, Jack, like his Father, liked a drink and a bet ... And it was these pastimes, which became increasingly a problem at Villa Park, that were fundamentally the cause for his very early retirement.
His brief association with Altrincham took place during the 1935/36 season, making his Altrincham debut away in a 2-0 win over Nantwich Town on the 7th September, 1935 and he then played in the 4-3 FA Cup Preliminary Round win over Macclesfield, at Moss Lane. His one and only goal came in a 2-2 draw at Crewe and he played his final game in a 4-2 defeat at Congleton Town on 14th December, 1935
Career
Hanley Roman Catholic School,
Cross Street Mission (North Staffs Sunday League football),
Boothen Vics
Port Vale (Amateur 08/26, Professional 02/28)

1928/29: 35 games 5 goals in League; 1 game, 0 goals in FA Cup
1929/30: 12 games 1 goal in League

Aston Villa (03/30 £7000)

1929/30 11 games 1 goal in League
1930/31 32 games 8 goals in League, 2 games 0 goals in FA Cup
1931/32 32 games 6 goals in League, 1 game 0 goals in FA Cup
1932/33 25 games 8 goals in League, 3 games 1 goal in FA Cup
1933/34 6 games 2 goals in League
1934/35 No games

Altrincham 1935/36 6 games in League 1 goal 2 games 0 goals in FA Cup
---
Go to ALTRINCHAM FC LEGENDS INDEX
---