ALTY LEGENDS SECTION 32
by Terry Rowley
These pages chronicle the playing legends of Altrincham Football Club. The texts have been kindly supplied by Terry Rowley, joint editor of the Robins' Review matchday programme. The profiles have previously appeared in the Robins' Review.
---
94. Colin Agnew McDONALD
95. Herbert WORSLEY
96. Felix McCairney REILLY
---
94 - Colin Agnew McDONALD
By Terry Rowley, Joint Editor of The Robins' Review.
Born: Summerseat, Bury 15th October 1930
Position: Goalkeeper
Colin Agnew McDonald was born on on 15th October 1930, one of six children, (5 boys and 1 girl), to Scottish parents in the village of Summerseat, Bury. (Some sources quote Tottington but both are close to each other and both are North of Bury).
Colin was destined for great things in football but it was probably in the genes;, his father Tom, born in 1887 had been a notable goalkeeper himself playing for Motherwell, (1907/08) in the Scottish First Division, Portsmouth, then in the Southern League, (1908/09-1910/11) and Bury (1st and 2nd Division and an was an ever-present for Bury between 1911/12 and 1913/14 and missed only one game in Bury's final pre-war 1914/15 season). Unfortunately Tom died in 1947 whilst Colin was still a teenager.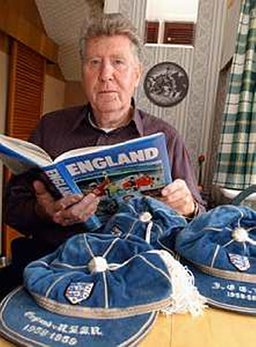 Colin's Start in football was inauspicious, initially playing for Hawshaw St Mary's Sunday school side, but not as a goalkeeper, playing as a left winger(!) and only moving to goalkeeper by accident when nobody else was available or willing to take the role.
He was obviously a natural as neighbour Johnny Marshall, a former Burnley full-back, recommended him to Burnley boss Cliff Britton. Colin was brought in for trials and in the summer of 1948 was signed as an amateur for Burnley. Two months later, on his 18th birthday he was offered terms as a part-time professional as he continued his training at Bury Technical College as a plumber.
The next two years Colin learned his trade but was making no progress and at one time it looked like Bury might be interested in offering him a deal but he stayed put and finally made his reserve team debut in May 1950. Colin's career at Burnley was then put on hold as he went to serve his National Service, with the RAF, where incidentally he met his future wife.
Stationed near Oxford during this period he turned out when available for Southern League side Headington United, (later re-named, Oxford United), and caused considerable controversy in 1951 when Headington were expelled from the FA Cup having played Colin in the FA Cup qualifying tie against Wycombe Wanderers. The FA ruled that Colin was ineligible and expelled Headington from the competition.
National Service completed, Colin moved back to Burnley at the end of the 1951/52 season and immediately signed as a full time professional. He quickly became a regular in the reserves.
But breaking into the first team proved frustrating and Johnny Marshall, (now manager at Rochdale) tried to get him to move and, additionally, an offer to move to Bristol Rovers was also turned down, Colin stayed put.
Finally in April 1954, at the age of 23, he got his chance to make his first team debut at Aston Villa, not an auspicious occasion as he conceded five goals! Nevertheless Des Thompson never regained the first team jersey, Colin then played the remaining four games of the season. Burnley then went on an end of season tour to Madagascar and Mauritius. Colin was included so had to give up his batting no.4 for Tottington St John's cricket team, his usual summer passtime.
For the 1954/55 season Colin started the season as first-choice keeper and the accolades soon started to come flooding in. In season 1955/56 he was an ever present and that run continued into the following 1956/57 season until he broke his ankle at Chelsea in December, missing 11 weeks of the season, a gap which allowed his eventual successor, Adam Blacklaw, his first team chance.
Once fit McDonald was back in goal by March 1957 and finished the season with 34 appearances. In 1957/58 he missed only three games and such was his form that it was only a matter of time before he was called up for England. Many experts reckoned he was the best English keeper since the war and had the potential to be England's keeper for years to come.
His first representative call up was for the Football League side came against the Scottish League in March 1958, when Eddie Hopkinson was rested. In May, as England prepared for the World Cup Internationals against Scotland, Portugal and Yugoslavia, the selectors remained faithful to the shorter, agile Hopkinson, though Colin was selected for the squad for both Portugal (7th May) and Yugoslavia (11th May).
The five goals scored by the Yugoslavs in Belgrade probably helped bring about Colin's selection because, for the next tour match against Russia on the 18th May 1958, Colin lined up for England for the first time in the Lenin Stadium in Moscow in front of 104,000 spectators. By all accounts he played well in a 1-1 draw against USSR, becoming England's 79th goalkeeper and 768th capped player.
Having won his first cap Colin was selected for England's World Cup squad in Sweden and played in all four games during the tournament. The opening group game was on 8th June, a 2-2 draw with Russia, this was followed by a 0-0 draw against Brazil on the 11th and then a 2-2 draw with Austria on the 15th, resulting in a group play-off match against Russia on the 17th which England lost, 1-0. Colin's best performance was reported to be against the eventual winners Brazil in the 0-0 draw, and such was his form he was voted best goalkeeper in the tournament.
He returned for the 1958/59 season to a Burnley side as England's number 1. Colin had the world at his feet; current England goalkeeper and playing for one of the best teams in England. He was selected for England's first International of the season on October 4th, a 3-3 draw with Northern Ireland, this was followed on the 22nd October with a 5-0 win over Russia at Wembley and on the 22nd November with a 2-2 draw at Villa Park, against Wales on 22nd November. He was now undeniably established in the England side, at the age of 28. The 1958/59 season was going well for Colin. On Saturday 14th March 1959 he played for Burnley in a tight 1-0 over West Ham, with a late goal from John Connelly. But little did anyone know that as the final whistle blew Colin had played his final game Burnley.
On the 17th Colin was back on duty for the Football League in an inter-league game against the League of Ireland at Dalymount Park in Dublin. Sadly Colin was badly injured when Ireland's Liam Tuohy left him with a double fracture of the left shin although, at the time, no one thought it serious enough to end of his career. Complications set in and, according to Colin, the plaster was applied too tightly and he got a blood clot, which travelled up to his lungs, which led to severe pneumonia.
Colin eventually recovered and returned to Turf Moor for the 1959/60 season, playing for the junior sides and trying to regain full fitness. In 1960/61 he moved up from playing for the A team and started to play more reserve team football. But as Colin was trying to regain fitness, Burnley were winning the 1959/60 League Championship and a place in the European Cup.
Colin never regained the same levels of fitness required to regain his place in the side so, at the end of the 1960/61 season, he accepted the inevitable and retired from the game in May 1961 at the age of 30, having played 201 League and cup games for Burnley
On November 6th 1962 Burnley hosted a testimonial match at Turf Moor for Colin against an All Stars XI, watched by 16,826 spectators, All Stars winning 6-4
In August 1961, after retiring, Colin took up the role as manager at Wycombe Wanders but remained in the job a mere 23 days before resigning for what were termed, "domestic reasons". In October 1961 he became Chief Scout at Bury. As Chief Scout he was responsible for unearthing 'gems' like future England stars Colin Bell, Alec Lindsay and Terry McDermott but one that slipped through his net was Kenny Dalglish.
Whilst still scouting, Colin was persuaded to pull on the gloves once more for Altrincham making his debut at Moss Lane on the 6th February 1965 in a 0-0 draw with Frickley Athletic. Colin then went on to play all but one game to the end of the season, including the Cheshire Senior Cup semi-final defeat to Runcorn. The following 1965/66 season Colin was reserve to Mick Smyth and played only 6 further games, his last a 5-1 home win over Buxton on 26th February 1966. In all Colin played 22 games and kept 7 clean sheets.
In October 1968 he became chief scout at Bolton Wanderers, (discovering Paul Jones), returning to Bury a year later becoming their Administrative Manager and then General Manager from May 1970. He also had a spell as caretaker manager from 17th September to 10th November 1970. He then held coaching posts at Oldham Athletic, where he brought on goalkeeper Andy Goram and finally to Tranmere Rovers, continuing to coach until February 1987.
On 20th November 2008 it was announced that Colin was generously donating the first of his eight England caps to Burnley FC.
Today Colin still lives in Summerseat and has little time for watching football, preferring to be occupied instead by his 10 grandchildren.
---
95 - Herbert WORSLEY
By Terry Rowley, Joint Editor of The Robins' Review.
Born: Reddish, Stockport, 20 September 1911
Died: Denton, 25 June 1971
Position: Forward
Height 5'7" Weight 10st 7lbs
Reddish-born Herbert Worsley started his senior football career at Moss Lane, Altrincham, making his debut at inside-right at the tail end of the of the 1929/30 season against Congleton Town.
Herbert then scored in his next game against Norwich Victoria and held his place for the remaining two games of the season. The opening game of the 1930/31 season saw Herbert playing at outside right before surprisingly signing for Manchester North End for the rest of the season.
In October 1931 he was signed as an amateur by Bolton Wanders but was not offered professional terms and so signed as an amateur for fellow First Division side, Leeds United in August 1932. Herbert made progress at Elland Road and was offered professional terms in January 1934 and finally made his first team debut, at outside right, in less than auspicious circumstances in the second fixture of the 1934/35 season, an 8-1 hammering at Stoke City.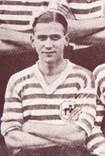 Herbert managed to hold his place for the next game before dropping back to the reserves. He was to play only one further game by the end of the season, in March 1935. He was then sold to Division two side Fulham in June where he quickly established himself after breaking into the side in October and was part of the side that went all the way to the semi-finals of the FA Cup.
Herbert was a regular scorer, finishing the season with nine league and one FA cup goal in thirty-three league and cup games. The 1936/37 season was disappointing as Herbert started the season well but injury kept him out of the side from mid-December, not reappearing until March and finishing the season with two goals in twenty-three games.
It was more of the same for 1937/38, with Herbert in and out of the side due to injury, not form for, when fit, he was certain starter. The season finished with just a single goal in nineteen appearances.
Season 1938/39 was to be Herbert's last and for this season he was moved to inside right, a move that seemed to work as he played thirty-five league games, scoring three goals, in addition to two appearances in the FA Cup. When War intervened Bert had scored sixteen goals in a hundred and twelve league and cup games.
He turned out for Fulham six times in the 1939/40 wartime league. He also turned out once for Altrincham in 1940 scoring one of the goals in a 5-2 win over Wigan Athletic. Herbert didn't play in 1941 but played the 1942/43 season for Stockport County, scoring fifteen goals in thirty-five games. He followed this up with twenty-five games in 1943/44 but scored only twice.
Thereafter, Herbert's representative appearances became sporadic, scoring once in five games in 1944/45 for Stockport in addition to making fifteen appearances for Bury without scoring. His final appearances game in 1945/46 when he turned out twice for Wrexham and then, surprisingly, returned to play one final game for Fulham during the same season and that completed Herbert's professional playing career and, before peace-time football resumed, Herbert retired.
Herbert Worsley's playing career:
Altrincham: 1929/30 4 apps 1 goal in League; 1930/31, 1 app. 0 goals in League
Manchester North End, 1930/31-1931/2
Bolton Wanderers (amateur 10/31) 1931/32
Manchester North End: 1932/33-1933/34,
Leeds United (amateur 08/32, professional 01/34) 1934/35 3 apps
Fulham (06/35)

1935/36-1939/40 (106 apps 15 goals in League, 6 apps 1 goal in FA Cup
Wartime 1939/40 6 apps + 1945/46 1 app.

Altrincham: Wartime 1940 season 1 app., 1 goal
Stockport County:

Wartime 1942/43-1943/44 60 apps 17 goals
191942/43 35 apps 15 goals
43/44 25 apps 2 goals
44/45 5 apps 1 goal

Bury Wartime 1944/45 15 apps 0 goals
Wrexham Wartime 45/46 2 apps 0 goals
---
96 - Felix McCairney REILLY
By Terry Rowley, Joint Editor of The Robins' Review.
Born: Musselburgh, East Lothian, 12 September 1933
Died: Comrie, Perthshire, 2 January 2018
Position: Midfield/Forward
Felix Reilly was an underrated but extremely effective goal-scoring inside forward who had an almost identical and successful career with both Altrincham and Northwich Victoria in the 1960s as player, manager, trainer and coach. In fact, he played 101 games for each club, scoring 31 goals for Altrincham and 35 for Northwich.
He started his career initially with junior side Cardowan United and then with Rosyth, finally joining Shotts Bon Accord in North Lanarkshire. He spent three and half seasons at Shotts, scoring 15 goals in 64 games, before joining his first senior club Dunfermline as an amateur, whilst still working at Bedley Colliery.
Accrington Stanley had shown interest but his mother believed he was too young to move south and so he signed for Dunfermline, where he gained international recognition when he was selected for the Scottish Under-23 side against England in February 1957, (result 1-1), notable because he was the first Dunfermline player to be selected for any Scottish National side since 1920 and because the match was televised on the BBC, he was also the first Dunfermline player to appear on television.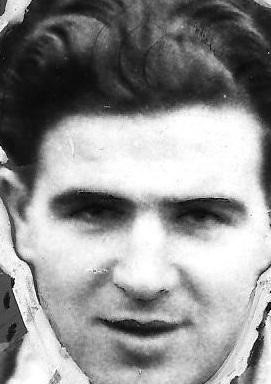 At the end of the 1956/57 season Dunfermline were relegated and Felix then moved to Dundee, where he found it difficult to break into the first team, mainly due to injury, registering just 5 games before dropping into Scottish League Two with East Fife where, once more, he found it difficult to break into the first team making just nine appearances and scoring twice.
Now 26, he decided to move south and try his luck in England. A trial with Portsmouth in February 1960 came to nothing but he was signed by Bradford Park Avenue in March 1960 and went on to play 32 games (31 league and 1 F.A. Cup game) and score 12 goals in his time at the Avenue, helping them to promotion from Division Four. Felix then briefly joining Crewe Alexandra in December 1961 and made a further six appearances, scoring one goal and that was the end of his Football League career.
On leaving Crewe, he joined Winsford United for the remainder of the season and the whole of the 1962/63 season before finally being signed up by Freddie Pye in November 1963 as Pye set about dismantling and re-building the Altrincham side.
Felix made his debut at inside-left in a 3-0 home defeat to Tranmere Rovers Reserves at the end of November but must have done well enough to retain his place throughout the rest of the season. Unfortunately, he was not able to share in Altrincham's Cheshire County League Cup success, as he was cup-tied, but he had certainly done enough to be in the starting line-up for the following season. The 12 goals in 25 games might have had something to do with it?
However, as was Freddie Pye's wont, Felix found himself lining up at left-half the following season, as the manager still continued to tinker with the side and, although playing in a more withdrawn role, Reilly still managed 10 goals in his 45 appearances.
In the close season Northwich made an approach for Reilly's services as player-manager but these were rebuffed and the following season (Altrincham's championship winning season), Felix started once again at left-half. That is until 10 minutes from the end of the game at Stafford Rangers on the 23rd October, when he was substituted after tearing his groin muscles.
He missed the FA Cup ties with Scarborough and Rochdale and next reappeared as stand-in centre-forward against Runcorn on December 11th and scored in the 4-2 win. His final game came on January 8th when he played left-back. Aware now that he was considered a fringe player, he accepted Northwich's offer of player-manager on 25th January 1966 and, in the remaining half-season, scored 9 goals in 22 matches and took Northwich to 7th place in the table. He finished up losing finalist in the Cheshire Senior Cup, (losing 2-0, to Stockport County) but Northwich won the Northwich Senior Cup.
The following season Felix did even better, leading Northwich to third place in the table and winning the Northwest Floodlit Cup. Felix played a full part, appearing in 46 games and scoring 13 goals.
The 1967/68 season was going fine, with players and fans alike taking well to Felix, and all could sense he was building a good side when he was surprisingly sacked on 15th February, after adding a further 33 games and 13 goals. No one was more stunned than the Northwich players, who actually wrote to the Northwich board requesting his re-instatement.
Northwich's loss, was Altrincham's gain as ten days later he was appointed Player/Assistant Manager at Altrincham and went straight back into the team, at left-back initially, and finished the season (and his playing career) with a further 12 appearances and 3 goals for Altrincham and a NWFL finalist's medal. He remained coach and trainer for a couple of seasons, even taking over as caretaker manager in December 1971 after John Davis departed prior to the appointment of Roy Rees.
After this, he quit football to open a greengrocer's and off-licence in Winsford, until he retired and moved back to Scotland, living in Comrie until his passing in 2018.
His elder brother Terry was also a professional footballer with Chesterfield, Southport and Bradford Park Avenue.
Felix Reilly's Career
Cardowan
Rosyth
Shotts Bon Accord 64 apps 15 goals
Dunfermline

1953/54: 7 apps Division B, 1 app. Penman cup-
1954/55 24 apps 7 goals Division B, 6 apps 1 goal in League Cup, 1 app.in Penman cup, 2 apps 1 goal in Scottish Cup
1955/56 28 apps 5 goals Division A, 6 apps 2 goals in League Cup, 1 app. in Scottish Cup
1956/57 29 apps in League, 5 apps 2 goals in League Cup, 2 apps 1 goal in Scottish Cup

Dundee 1956/57-57/58 5 apps
East Fife 1957-58-1959/60 9 apps 2 goals in Scottish League Two
Portsmouth (02/1960) one-month trial
Bradford PA (03/1960) 1959/60-1961/62 31 apps 12 goals
Crewe Alexandra (12/1961) 1961/62 6 apps 1 goal
Winsford United 1962/63
Altrincham

1963-64,21 apps 11 goals in League, 4 apps 1 goal in CSC
1964-65 38 apps 9 goals in League, 3 apps 0 goals in FA Cup, 3 apps 1 goal in League Cup, 1 app. 0 goals in CSC
1965-66 13 apps 4 goals in League, 5 apps 2 goals in FA Cup, 1 app 0 goals in League Cup,
1967-68 8+2 apps 0 gaols in League, 1+1 apps in NWFL

Northwich Victoria (25/1/1966 Player/Manager)

1965/66 22 apps 9 goals (CSC finalists losing, 0-2 to Stockport County, Northwich SC winners)
1966/67 46 apps 13 goals (3rd in League NWFL Cup winners)
1967/68 33 apps 13 goals (sacked 15th February, 1967)

Altrincham (Player/Assistant Manager 25/2/1968): 1967/68 8+2 apps 2 goals in League, 1+1 apps 1 goal in NWFL
---
Go to ALTRINCHAM FC LEGENDS INDEX
---