ALTY LEGENDS SECTION 31
by Terry Rowley
These pages chronicle the playing legends of Altrincham Football Club. The texts have been kindly supplied by Terry Rowley, joint editor of the Robins' Review matchday programme. The profiles have previously appeared in the Robins' Review.
---
91. John James JEPSON
92. Ron PHOENIX
93. Dave CARRICK
---
91 -John James JEPSON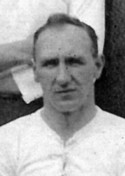 By Terry Rowley, Joint Editor of The Robins' Review.
Born: Heaton Norris Stockport 19th August 1899,
Died: Heaton Norris February 1987
Height 5' 10", Weight 11st 2lbs
Position Centre-Forward
Born in Stockport, John started his senior career just after the Great War with New Mills in the newly reformed Manchester League before moving for a spell at Atherton in the Lancashire Combination in 1921/22.
He returned to New Mills the following season and began to attract attention by scoring eighty-one goals over the next two seasons. He signed for Notts County in May 1924 but failed to break into the first team and in August 1925 he was signed by Accrington Stanley. Accrington were struggling and had dismissed almost all their playing staff at the end of the previous season and John was part of the new 'Draft' of players brought in wholesale.
John looked anything other than a footballer, tallish, rounded shoulders and prematurely balding, he looked gawky and his all-round play reflected this but he did possess an excellent left foot and knew where the goal was.
Initially excluded from the first team he made an inauspicious debut in a 0-1 defeat at Nelson on the 10th October and his appearance, it is reported brought howls of derision from the Accrington faithful.
A week later these same fans were hailing John as a hero as he bagged a hat trick in a 3-1 win over Coventry City at Peel Park. The rest of the season was more of the same with another hat-trick the following week in an exciting 6-5 win over Wrexham. In fact, John scored seven hat tricks that season (five in the league and two in the FA Cup). Accrington could only finish in 18th place but John finished with thirty goals in thirty league appearances in addition to six goals from three appearances in the FA Cup.
Great things were expected in 1926/27 with more players being drafted in but the team leaked goals and John lost his scoring touch finishing the season with eleven goals in twenty six games. Accrington finished next to bottom and had to apply for re-election, they also put John Jepson on the transfer list for a fee of £250, which the Football League subsequently reduced to £150. To make matters worse, in July John signed for Carlisle United, then outside the football League and therefore no fee was forthcoming. (Altrincham obtained Billy Felton's services from Tottenham Hotspur on this basis).
Whilst John was at Carlisle for the 1927/28 season, Accrington were assembling a reasonable side and had plugged the defensive gaps. Meanwhile at the end of the season Carlisle had been elected to the Football League, (replacing Durham City), meaning that if they wished to retain Jepson's services they would have to pay the transfer fee.
Obviously, Carlisle didn't pay the fee and to some surprise John returned to Peel Park. He took time to settle and it was the middle of November before his name began to appear regularly on the team sheet. Still he finished the season with twenty-one league goals in just thirty appearances, in addition to a further four goals in four FA Cup appearances. 1929/30 saw more of the same with John scoring a further twenty league goals in thirty-one league appearances, with two further goals in two FA Cup games, in addition to five goals in a Lancashire Senior cup win over Wigan Borough.
Surprisingly in the summer John was allowed to move to Wigan Borough, surprising in that he had scored eighty-two league goals in just one hundred and seventeen matches in addition to twelve goals in just ten FA Cup games, seventeen goals in just fourteen Lancashire Senior Cup matches and six goals in four East Lancashire Charity Cup games, giving a grand total of one hundred and seventeen goals in just one hundred and forty five matches!
Still Accrington's loss was Wigan's gain and John opened the 1930/31 season with a debut goal in a 3-2 defeat at Darlington. In thirty-five league matches he scored twenty-eight goals, including two hat-tricks. Once again, surprisingly John was released in the summer and in July 1931 signed for Mansfield Town. His spell at Mansfield was disastrous being picked for the first team only once before being released and joining Macclesfield Town in January 1932.
Naturally, John scored on debut for Macclesfield and, indeed, scored in each of his first thirteen matches! John finished the season as Macclesfield's top scorer, despite playing only half the season, scoring twenty-one Cheshire League goals in just twenty games, (including two hat tricks), six goals in four Cheshire League Cup games and three goals in two Cheshire Senior Cup games, giving him a total of thirty goals in just twenty-six games. He scored the winning goal against Sandbach Rovers for the 'Silkmen' to win the Cheshire League Championship and also gained a winners' medal in the Challenge Cup.
Obviously, these exploits were well known over at Moss Lane and strenuous, (and indeed successful), efforts were made to sign John to lead the line for Altrincham in the 1932/33 season. He duly signed in June and just eight days after his thirty third birthday lined up for Altrincham in the season's opening fixture against Whitchurch.
As if following a script, John scored twice on debut, as indeed he did for the next three games. In fact he scored in each of his first six games. With just sixteen games into the season it looked like John Jepson was going to set a new goal-scoring record for Altrincham having already scored twenty-three goals. But disaster struck in November during a FA Cup 4th qualifying round tie against Stalybridge Celtic, when John picked up a serious injury.
He didn't return to the side until mid-February, ironically on the same ground and against the same opposition! John however was off the pace, he had been replaced up front by Dick Iddon and was now slotted in at inside right, a position not best suited to John's particular skills. He saw out the season at Moss Lane in and out of the side, (more out than in) only scoring two more goals for Altrincham.
His record, although it is impressive (25 goals in 25 games) was more about what could have been. Unperturbed, John moved on, got fit and joined Nelson in July 1933 and showed he had lost none of his scoring ability, finishing the season with thirty-two goals.
Even at the age of thirty-five he was having trials with New Brighton, (then in the Football League), in 1934 before a brief spell at Hurst, (Ashton United) was followed by a spell in North Wales with Rhyl in January 1936
John Jepson's career
New Mills
Atherton (1921), 1921/22
New Mills (1922) 1922/24,
Stalybridge Celtic amateur
Notts County (05/24) 1924/25,
Accrington Stanley (08/25)

25/26 30 games, 30 goals in League (inc 5 hat tricks); 3 games 6 goals in FA Cup (2 hat tricks)
26/27 26 games 11 goals in League, 1 game 0 goals in FA Cup

Carlisle United (06/27), (Non-League)
Accrington (06/28)

28/29 30 games 21 goals in League, 4 games 4 goals in FA Cup (1 hat trick)
29/30 31 games 20 goals in League (1 hat trick), 2 games 2 goals in FA Cup

Wigan Borough (06/30) 30/31, 35 games 28 goals (2 hat tricks), 1 game 0 goals in FACup
Mansfield Town (07/31) 31/32 1-0 game,
Macclesfield 31/32 (01/32) 20 games 21 goals in League, 4 games 6 goals in CLC, 2 ganes 3 goals in CSC = total 26 games 30 goals.
Altrincham (06/32) 18 games 18 goals in CL, 5 games 6 goals in FA Cup, 2 games 1 goal in CLC (total 25 games 25 goals)
Nelson (07/33) 32 goals
Rossendale 01/1934
New Brighton 34/35 Trial
Hurst 08/1934 3 games, left in September 1934
Rhyl 01/1936.
---
92 -Ron PHOENIX
By Terry Rowley, Joint Editor of The Robins' Review.
Born: Stretford 30th June 1929
Passed: 9th March 2021
Position: Midfield
Above: Ron Phoenix (back row, third on the left)
Ron was born in Stretford and played as a junior for Humphrey Park in Urmston as a Junior, he was invited to United but it was Manchester City that stepped in and signed him, initially as an amateur, making his debut for the reserves on Boxing Day 1949. He spent the next few years playing for City's junior sides.
A hard-working player, what would be termed today as a holding midfield player, Ron was highly regarded by supporters and team mates, who included, Don Revie, Ken Barnes, Johnny Hart and Bert Trautmann. With such names in the team, Ron's chances for first team action were limited but he finally made his Manchester City Division 1 debut at inside-right in a 2-2 draw away at Arsenal on the 26th January 1952 and, to make his day complete, Ron scored on debut, (one of only two goals he was to score for City!).
He obviously impressed as he held onto his place to the end of the season, playing fourteen games in total. The following season he had to wait till October to get a run in the side playing six games on the run but only playing one further game that season, in February 1953 when he scored in a 2-1 win at home to Newcastle United, unfortunately breaking his leg.
On recovering Ron did not feature in the first team over the next two seasons, with his next first team appearance being against Huddersfield Town in September 1955, (thirty-one months since his previous run out with the first team!).
In total Ron played 6 games that season as City finished fourth in Division 1. In 1956/57 he did not feature until March 1957, coming in to the side for the 4-1 win at home over Cardiff City and holding his place for the remainder of the season, playing 8 games in total. In 1957/58 he played only 2 games. For 1958/59 he had his longest run of games, coming into the team on December 27th in a 4-1 win over Birmingham City and retaining his place till almost the end of the season, playing 16 consecutive matches.
1959/60 was to be Ron's final season at Maine Road and he played only once, in a 2-1 home defeat to Tottenham Hotspur on October 31st 1959. Released at the end of the season, Rochdale manager Jack Marshall brought Ron to Spotland for the 1960/61 season.
Ron had a relatively successful two years with the perennial Fourth Division strugglers with the 1961/62 season being memorable for Rochdale's run in the League Cup, going all the way to the final, still the only instance of a Fourth Division side reaching a national final.
The run began drawing away at Second Division Southampton before winning the second leg 2-1. In the Third Round they met another Second Division side, Charlton Athletic, winning 1-0. Given a bye in the Fourth round they met fellow Fourth Division side York City, who were dispatched 2-0.
Ron was the unluckiest man at Rochdale because, having played so well in the semi-final defeat of Blackburn Rovers, he was not selected for either leg of the final.
At the end of the season Ron was persuaded by Altrincham's new manager, Charlie Mitten to sign up for the following season.
Ron lined up for the opening game of the 1962/63 season at Chester alongside the likes of Tommy Banks, Charlie Mitten, Lennie Dickinson and George Greenhall and Altrincham took the game 2-1 in front of 2400 spectators.
Ron marked his home debut in the following match by scoring in a 4-2 home win over Winsford United. Things were looking good for new manager Mitten, as Altrincham won the first six league matches, the only blip being a 1-0 defeat in the new Interleague cup to Ashton United, where Fred Morris was sent off.
Altrincham progressed in the FA Cup, beating Marine in the 1st Qualifying Round and gaining revenge over Ashton United in the 2nd Qualifying Round by beating them 4-2.
St Helen's Town were then despatched 3-1 in the third Qualifying Round. In the League, Altrincham remained unbeaten after ten games with eight wins and two draws. But then things started to go wrong, a 2-0 home defeat by Buxton, (Ron was named man of the match), was quickly followed by an FA Cup exit at home to Rhyl.
Although still hovering around the top two places, results became erratic, a 4-1 beating of Macclesfield was then followed by three draws and then three defeats. Throughout this period, Ron still got rave reviews with his tireless work rate. After a poor home defeat in January to Northwich Victoria, Tommy Banks was released and Ron was then made Altrincham captain but things went from bad to worse, as Altrincham were knocked out of the Cheshire Senior Cup by Hyde United.
Freddie Pye was appointed manager in April but results did not improve despite bringing in new players, like Ian Greaves and goalkeeper Gordon Clayton. Ron finished the season having played 42 games of a possible 48 and finished the season playing left-back in a 3-1 defeat at Runcorn.
Altrincham finished a disappointing 8th in the table. It was a totally revamped side that started for Altrincham the following seas. Although Ron had played and led admirably, he was not part of Freddie Pye's plans and so moved on to Hyde United for the following two seasons before retiring to run a hardware shop in Davyhulme.
He was an active member of the Manchester City former players' association. As of May 2019, Ron was living in a care home in Davyhulme. He sadly died from Vascular Dementia on 9th March 2021
Career:
Manchester City

51/52 14 games 1 goal
52/53 6 games 1 goal
53/54 –
54/55 –
55/56 6 games 0 goals
56/57 8 games 0 goals
57/58 2 games 0 goals
58/59 16 games 0 goals and 2 games 0 goals in the FA Cup
59/60 1 games 0 goals

Rochdale

60/61 41 games 0 goals in the League, 2 games 0 goals in the FA Cup, 4 games 0 goals in the League Cup, 1 game 0 goals in the Lancashire Cup
61/62 23 games 0 goals in the League, 2 games 0 goals in the FA Cup, 4 games 0 goals in the League Cup, 2 games 0 goals in the Lancashire Cup, 1 game 0 goals Rose Bowl.

Altrincham

62/63 36 games 2 goals in the League, 3 games 0 goals in the FA Cup, 1 game 0 goals in the ILC, 2 games 0 goals in the CSC

Hyde United
---
93 - Mathew David (Dave) 'Corky' CARRICK
By Terry Rowley, Joint Editor of The Robins' Review.
Born: Evenwood, County Durham, 5th December 1946
Died: Manchester, 1st July 1989
Position: Midfield
Height & weight: 5'7", 10st 12lbs
Above: Dave Carrick at Altrincham FC, 1975-76, far right back row
It is not often a player like Dave Carrick comes along but when they do they should be cherished and Dave Carrick was certainly one to cherish.
One of the most skilful and flamboyant players in non-league football of his day, Dave was a player who could and often did win matches. A real character, full of life and skill to match. It's doubtful we will see the likes of Dave Carrick for a long time to come. Liked and respected by those that watched him or met him it was a tragedy that he was struck down so young with Motor Neurone Disease.
Raised in Durham he received county youth honours before heading south and signed for Wolverhampton Wanderers, as a teenager, in December 1964 and, although impressing with the reserves ,failed to make the first team.
A change of management saw Dave sign for Wrexham, along with Mickey Evans, for a small fee on 1st July 1966. He made his debut, playing left wing on the opening day of the 1966/67 season in a 0-0 draw with Exeter City. Defeat in the following game saw him dropped until November when he returned in the FA Cup against Chesterfield, with Dave scoring the opener in a 3-2 win.
By March he was back in the reserves and missed out on a Welsh Cup final place against Cardiff City, having played in all the previous rounds.
The following season Dave again found first team chances limited and so he left before the end of the season and joined Altrincham in March 1968.
Manager Fred Pye said of him 'a terrific ball player, oozing with skill on the right wing.' He made his Altrincham debut on the right wing in a 3-0 win away at Wigan Athletic, scoring his first goal on his home debut the following game, a 5-2 win over Runcorn. Dave finished the season by playing in the two legs of the North West Floodlit League final which saw Altrincham defeated 3-2 on aggregate by Macclesfield.
The following season, (68/69), Altrincham joined the newly formed Northern Premier League and Dave played right across the forward line and featured in both the FA Cup games against Wigan Athletic and Crewe Alexandra. Playing well obviously brought its down side as league scouts started to gather and Port Vale finally took the plunge in January 1969 but Carrick never settled and by March he was plying his trade with Stalybridge Celtic.
He then went on to a successful four and a half-season spell at Witton Albion, probably the happiest and most settled period in his career. The fans loved him and he was settled but, unfortunately, a player as talented as Dave was always going to be coveted by Football League sides and his performances for Witton Albion led to Preston North End taking a chance on him in November 1973, a move that didn't work out with just two substitute appearances, Preston relegated to division 3 and deducted a point because the FA classed Dave as ineligible when he made his debut (his registration having not been endorsed at the time of his signing).
Dave saw out the end of the season at already relegated Rochdale (03/1974), with him scoring twice in a 3-3 draw at Cambridge, the only Rochdale player to score two goals in a game during the season. After a further season at Spotland Dave turned his back on the Football League preferring instead to return to Altrincham for the 1975/76 season. Back at Moss lane, Dave started the season on the bench and throughout the season his appearances were spasmodic but he still showed flashes of genius.
Signed by Droylsden in October 1976, having recovered from a fractured skull, an event that showed his popularity when Witton Albion fans took up a collection on his behalf. Transfer listed by Droylsden in March 1977 Dave signed for Middlewich Athletic and finished the season there before spending two seasons at Macclesfield Town, before moving to Oswestry Town in July 1979. His final club was New Mills.
Tragically, Dave was soon after diagnosed with Motor Neurone disease and died on 1st July 1989, aged just 42.
Dave Carrick's career:
Evanwood Juniors,
Wolverhampton Wanderers (12/64)
Wrexham (01/07/66)

1966/67 18+1 apps 3 goals in League, 2 games 1 goal in FA Cup, 1 game in League Cup, 4 games 1 goal in Welsh Cup
1967/68 2+3 apps in League, 1 app. in FAC, 1 app. in League Cup, 1 app. in Welsh Cup

Altrincham (03/68)

1967-68, 11 apps 3 goals in League, 2 apps in NWFL
1968-69, 15+1 apps 1 goal in League, 2 apps in FA Cup, 3-1 LC, 1 app. in CSC, 5 apps in NWFL

Port Vale (01/69) 1968-69 14+2 apps 1 goal in League
Stalybridge Celtic (04/69) 68/69
Witton Albion (08/69)

1969-70 57 apps 20 goals
1970-71 63apps 31 goals
1971-72 61 apps 29 goals
1972-73 52 apps 14 goals. Total 233 games 94 goals

Preston North End (11/73) 1973/74 0+2 apps
Rochdale (03/74)

1973/74 10-3 L
1974/75 16-1L 4-1FAC, 1-0 LC

Altrincham 1975/76, 10+1 apps 1 goal in League, 0+1 apps in FA Cup, 1 app in FA Trophy, 2 apps in NWFL
Droylsden (10/76) 76/77
Middlewich Athletic (03/77) 76/77 and 77/78
Macclesfield (late 1977/78 to 78/79) 26+1 apps 4 goals in League, 1+1 app in cup
Oswestry (07/79) 79/80
---
Go to ALTRINCHAM FC LEGENDS INDEX
---