---
31 March 2010
MIDWEEK GAMES
Wednesday 31 March
Forest Green R. 1 Barrow 0

Tuesday 30 March
AFC Wimbledon 2 Wrexham 2 - Wrexham's Frank Sinclair sent off for professional foul, conceding penalty for equaliser in added time. It was the third red card for Sinclair this season who had just returned, after being sent off for the challenge that broke Tom Kearney's leg..
Eastbourne Borough 2 Gateshead 1
Grays Athletic 0 York City 4 - Gate 323
Kettering Town 0 Rushden & Diamonds 3
Kidderminster Harriers 1 Cambridge United 0
Luton Town 4 Salisbury City 0
Stevenage Borough 1 Oxford United 0
GET WELL, SOON
Best wishes go to two Altrincham FC employees who had operations yesterday. Left-back Matt Doughty (right) was operated on for his cruciate ligament injury whilst groundsman and former Alty reserves' manager, Neil Brown, underwent a hernia operation. Altrincham FC wishes both men a full and speedy recovery - the first of the two to be fit can mow the pitch!

Actually, Peter Barry will be looking after the playing surface at Moss Lane in Neil's absence, for which the Club is very grateful.
OLD BOYS
In Tuesday's 3-2 win by Droylsden over Stalybridge Celtic, two ex-Alty boys scored a brace apiece. Alex Meechan notched two for the Bloods whilst Jody Banim emulated him for Celtic. Also playing for Celtic were Alty old boys Danny Adams, Warren Peyton and Tim Ryan.
BSP NEWS
The Football Conference reports that "The appeal lodged by a number of member clubs of the Football Conference against the decision of the Board to expunge the record of Chester City has been declared by the Football Association to be 'out of time'.

In respect of the appeal lodged originally, it was the claim by the solicitors acting on behalf of the said clubs, that the decision to expunge had not been made until the 8th March 2010 when the record was actually expunged. This was countered by the Football Conference Board stating that they had made and published the decision on 26th February 2010, the very day that Chester City were expelled by the member clubs and the decision to expunge their playing record was (a) subject of a press release circulated at 4.45pm that same day and (b) subject of a email circulation to all member clubs at 4.49pm that day and also published on the official Football Conference web-site at the same time.

The letter from the FA sent today (30th March 2010) to the solicitors acting for those clubs lodging the appeal concludes: 'The FA is satisfied that the decision of the Board of the Football Conference was first announced by the League on 26th February 2010 and, consequently, the Appeal is out of time'".

The Football Conference confirms that "Crawley Borough Council have agreed to lease the Broadfield Stadium to Crawley Town. The Reds now have total control of their pitch maintenance, cleaning and utilities contracts. Co-owner Susan Carter said: 'It will give us a lot more opportunities and freedom to progress the club,

Today (Wednesday) Rushden and Diamonds F.C. Limited face a winding-up order in the High Court.
LOCAL NEWS
Leigh Genesis announce that "Our current home at Leigh Sports Village has been patchy to say the least and it has become evident over recent meetings that an offer would not be on the cards for next season; we will not go into deep explanations about exactly why; however finance and supporter numbers were presented as issues. We, as a board responsible for the survival and progression of this precious club have agonised over the best course of action; most importantly we have listened to the general consensus of the supporters and Crilly Park [home of Atherton LR] therefore became a strong alternative. Talks have taken place with the League and the management at Crilly Park and there is now every reason to expect a firm agreement to be concluded this week in time to meet the deadlines as set out by the Unibond League, The FA and Atherton LR.

Assessments have been made by the League and their recommendations for improvements to bring the ground up to minimum Unibond League standards are not excessive".

Leigh Genesis, formerly Leigh RMi and before that Horwich RMI, left their former home at Hilton Park, when the ground was sold for development and moved to the brand new Sports Village a few hundred yards away less than two years ago.
---
30 March 2010
MONDAY GAME
Monday 29 March
Barrow 0 Histon 0
HIGHLIGHTS
There are extensive video highlights of FGR v Altrincham here.
YOUTH REPORT
On Sunday, Altrincham won through to the semi-finals of the NWYA Open Cup, with a 6-5 penalty shoot-out win over Formby. There is now a match report in the Youth section.
REFS
Mr B. Khatib will referee Saturday's game at Moss Lane against Kidderminster Harriers. He oversaw the Alty 2 FGR 2 game in November 2009. On Monday, for the trip to York, the referee is Mr A. Madley, who also reffed Alty earlier this season when we lost 0-1 at home to AFC Wimbledon in August 2009.
FRIENDS
Steve Foster of TASC reports that the winners of the March monthly draw of the Friends of Altrincham FC are:
1st: 64 Ian Rosendaal £100
2nd: 75 John Searle £35
3rd: 82 John Gothard £15
NEXT GAME
One player who won't face Alty this Saturday is revealed by the Scunthorpe MAD site, which reports that "United have recalled forward Adam Boyes from his loan spell at Kidderminster Harriers".
OLD BOYS
NL Daily tells us that "John Flanagan has made his first signings since his January appointment as manager of UniBond League Division One North club Mossley. Experienced midfield play-maker Andy McDonald, 29, names Ashton United, Altrincham, Chorley, Woodley Sports and more recently Cheadle Town amongst his previous clubs".
BSP NEWS
Blue Square Football says that "Cambridge United have extended the loan of Bradford City winger Scott Neilson until the end of the season. The 22-year-old joined Martin Ling's side on a one-month loan deal in March... Ling told the club's official website: 'He's been a major factor in our turnaround of form'". Meanwhile, "Cambridge United striker Danny Crow has targeted 25 goals for the season after his hat-trick against Grays on Saturday lifted his tally to twenty".

"Danny Wright is set to resume his role as one of Histon's key players after failing to secure a move away from the Glass World Stadium.The striker was included in the first-team for Saturday's 3-0 defeat at Wrexham after being left out of the squad for five consecutive Blue Square Premier games due to the breakdown in contract negotiations with the Stutes. However, after declining several offers before the transfer deadline, the hitman will now spend the rest of the season with Histon. Manager Alan Lewer explained to Cambridge News: 'Up until the deadline, he (Wright) has had seven or eight offers and he didn't want to go. We've got to pay him from now until the end of the season, so we'll use him - simple as that", he told Blue Square Football

News of a recently relegated BSP side comes from the Dorset Echo. "Weymouth will begin next season on minus ten points, but it remains unclear as to whether they will be relegated by one or two leagues. Dennis Strudwick, general manager of the Football Conference, confirmed that Weymouth had missed the deadline to receive a deduction this campaign so would receive one next term instead, but could not guarantee they would only drop to the Zamaretto League Premier Division. Fans could be faced with the reality of their team playing in Zamaretto League Division One South & West, step four of the non-League Pyramid system, eighteen months after holding a place in the top half of the Conference...

'The future of the club hasn't been secure recently but now there definitely will be one next season', said caretaker boss Andy Harris'".
---
29 March 2010
CRUMBLING PRINCIPLES
Last week, ten BSP clubs were reported to have signed up to an appeal to have Chester City's record instated and for three points to be awarded to the opposition for every fixture not fulfilled by the Deva Stadium outfit. (That number, ten, is confirmed below by the Conference). And each fictitious victory would be treated as a goalless draw for purposes of goal difference under this proposal. Purely coincidentally, all ten clubs were set to gain six points from such an appeal. They claimed to be fighting for the principle of "fairness for all clubs" but their resolve has not proved to be very resilient.

Firstly, Barrow disassociated themselves from the other nine making the appeal, saying that had queried the original text but had not received a reply from the anonymous organizers, so were not supporting the appeal. Next, Kidderminster Harriers withdrew, citing their belated realisation that the Conference would have to lay out money to contest the case and that that would mean less money for them (and all other BSP clubs) next season. And now, the latest withdrawal comes in a statement relayed by Colin Peake, PR & Media Board Director of the Foootball Conference which says:

"In respect of the appeal lodged by member clubs against the decision of the Board of the Football Conference to expunge the record of Chester City, it is now announced that Crawley Town has officially withdrawn from the original 10 clubs who submitted this appeal. This now leaves 7 clubs to pursue the matter with the Football Association".

Footnote: Last Monday, to his credit, Steve Evans, the manager of Crawley, told Radio London that he was not in favour of the appeal. On Saturday, he announced that "our play-off hopes are over for this season" after defeat by Stevenage. Today, his club's board have withdrawn their appeal.
GRAHAM'S PHILOSOPHY
Sunday's NL Paper has an article by Graham Heathcote to mark the newspaper's ten years of publication. Graham recalls that in 1999-2000, Altrincham "were on our way to relegation from the Conference... and financially on the merry road to rack and ruin, despite my regular warnings during board meetings. Our wage bill at the time was something ridiculous, like £300,000 a year - more than we have now. The club was going under but, in 2002, we managed to get a three-man board, headed by Geoff Goodwin, who operated along simple mathematical lines. I took over as manager in the UniBond Premier on a budget of £1,800 a week, gross. Bit by bit we paid off 700 grands worth of debt".

He recalls the Blue Square play-off with Eastbourne in 2005, before which he told opposing Eastbourne Borough manager Garry Wilson, "Christ, whichever one of us wins today has got problems!"....

We have recorded a profit for the last seven years. To repay 100p in the pound, as several clubs are now finding they've got to do, to stay in the Conference, you have to be prepared to go backwards financially...

The stats will probably put me down as one of the most unsuccessful managers in terms of games played and won. I can live with that because I know what we are achieving is the survival and progression of the football club, slowly but surely...You've got to be able to put personal ambition aside for the greater need of the football club and the community. That's certainly what's happened at Altrincham over the last decade!
MESSAGE FROM FGR
We are pleased to relay the following message from Forest Green Rovers vice-chairman Colin Peake: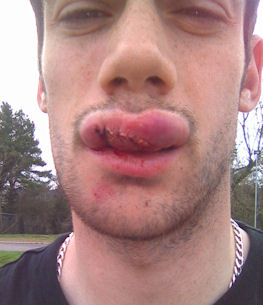 "Believe it or not I am sending this email to Altrincham FC to say how sporting your fans were at the end of our match yesterday (Saturday 27th March). Despite the fact that the fans behind the goal thought they had equalised in injury time, we have to recognise and place on record the sporting reaction which then followed in their generous reception given to our goalkeeper - Danny Ireland having to be helped off the field with a facial injury.By the way we know it was actually one of our own players who caused the injury in the melee in the goalmouth. Highlights of the match are available on our club forum link from our official web-site.
There were real concerns at the time he had been seriously injured and he was taken to Gloucestershire Royal Hospital before being patched up with a large number of internal stitches by a facial specialist called to repair the injury. On release at 9pm he then stayed overnight in a local hotel before he was able to travel home to Leamington Spa. The 21 yr old Australian 'keeper - on loan from Coventry City - will see his own club medical team before he knows about the prospect of playing again this season. However we all know the mental sporting attitude of the Oz although sucking your dinner through a straw does not go with that image of tough men from down under!
The photo may be a bit squeamish but Mick Jagger move over - you have competition. Once again thanks to you Alty fans".
All at Altrincham wish Danny a full and speedy recovery from this nasty injury.
On the FGR Forum Colin Peake adds that Gloucestershire Royal Hospital... released Danny Ireland at 9pm. "having had a a facial specialist stitch up the inside of his mouth... I think he will be drinking through a straw for a while. Because he had travelled down from Coventry [he is on loan from Coventry City] on his own he was unable to drive home, so I put him up in an hotel in Gloucester overnight... I can confirm the injury was actually caused by [team-mate] Jared Hodgkiss's knee".
HELP FOR HEROES
Altrincham FC Chief Steward Darren Gregory writes about Sunday's "Help for Heroes" game at Moss Lane :

"Over £7000 was raised for this match which was watched by 885 people which including families of soldiers still serving in Afghanistan. The All-Star celebrities' team beat an Army team made up of people from the Yorkshire Regiment and Royal Signals 5-0. The event had been organised by a group of students from Manchester Metropolitan University, called Inspired Events, who were on their second year of an Events Management degree course. Altrincham FC gave them the venue free for this game.

It was a number of fantastic auction items which boosted the coffers, including a signed Wayne Rooney England shirt which went for £400, two signed music sheets from Oasis and one from Take That amongst many more items".
NEXT GAME
Altrincham's next game is at home to Kidderminster Harriers on Saturday. The NL Paper says that "Kidderminster Harriers have joined Barrow in pulling out of the group of BSP clubs appealing against the Conference board's decision to expunge Chester's results. An appeal was lodged with the FA on March 18, with Harriers and the Bluebirds named along with Stevenage, Oxford, York, Rushden, Cambridge, Mansfield, Crawley and Tamworth". It adds that "The appellants have already shared the £4,000 cost of the solicitors".

Harriers' chairman withdrew his club's appeal "with finances in mind" because he has belatedly realised that it will cost the Conference to defend this appeal and that means all BSP clubs will get less from the Conference next season as a result. Norgrove said, "I hope the other [8] clubs see sense... I think it'll do more damage than good in the end".

There are some interesting similes on the Harriers unofficial website to describe their current management and team...

The unofficial site at Kidderminster Harriers says that "Since Steve Burr arrived at Aggborough we had been turning in some very good performances and that culminated in him winning the Manager of the Month award for February... The very evening that he was handed his trophy the rot set in and we could only manage draws against lowly Ebbsfleet Utd at Aggborough and away at Eastbourne a few days later. Then came that terrible, terrible 5-1 defeat at home to Stevenage and since then it has got worse. Our last three League games have all ended in defeat.. On today's showing, and the poor quality players that he has bought in, it looks like the honeymoon period is well and truly over. It could be likened to a long, intense romance between a couple that ends in marriage but on the wedding night the groom finds out that his bride farts in bed and realises she's not really as good as he thought she was. He now has the remaining nine games to convince us that he really is the man for the job".

The Harriers' site also reports on Saturday's defeat "at home to a poor Salisbury side... Kidderminster started with an untried striking partnership of winger Brian Smikle and the team captain Chris McPhee. Lloyd Kerry and Luke Prosser also made their debuts for the Harriers with Prosser taking Tom Sharpe's centre back slot as the latter moved to replace Lee Baker who was out through injury...

Following a complete lapse in defence Salisbury took the lead in the twenty fourth minute. A ball was played over the top of the defence onto the dangerous Tubbs who was running neck and neck with Prosser...Out of the goal came Ross Atkins but instead of communicating with his defender, and visa versa, Prosser headed the ball back towards the on-rushing goalie who missed the ball completely and collided with the new guy leaving Matt Tubbs to race onto the ball. A rash challenge in the area from Riley took Tubbs legs from under and the ball trickled into the bottom left hand corner of the goal.

A silence fell around the ground and even the City followers didn't celebrate the goal because they couldn't believe it either. Riley was unlucky not to get booked for the challenge which was from behind and if the ball hadn't gone over the line then the former Wolverhampton Wanderers trainee would've certainly been heading for an early bath...

Burr decided to bring David McDermott on in place of the ineffective Goodfellow who just previously had showed the work rate of a sloth after having a through ball played onto him. He stood there complaining about being his shirt being pulled instead of running to the ball... It was perhaps this attitude that caused some sections of the North Stand to cheer the announcement that the right midfielder would be leaving the field to be replaced by McDermott..

The Official Harriers website points out that "The 1-0 defeat takes Harriers run without a win to seven games - and with just four goals from those previous game... Three consecutive shut-outs are a far cry from the free-flowing, free-scoring style that saw Harriers go on a storming run just last month".
BSP NEWS
On Blue Square Football "Crawley Town manager Steve Evans has admitted that his side's hopes of making the play-offs are over following their defeat to league leaders Stevenage Borough... Evans told the club's official website: 'Boro were excellent from start to finish. They don't just have a few big players, they have a squad full including around seven or eight of them sitting in the West Stand with tracksuits on. The second and third goals are poor from our point of view, simply Simon Rayner must do better with both... Boro have shown us the blueprint to be successful in The Blue Square Premier and we do not have the resources to compete with that. It's not excuses, it is a fact. Today they arrived with twenty-four players, a manager, an assistant, a first team coach, a goalkeeping coach, two physios, a masseur and two kit men, absolutely miles away from where we are.

To be fair to them that is not any different to what a number of clubs have in this league but that is what we are competing with. For us to be ninth in the league table with under four weeks of the season left is remarkable. Bruce Winfield calls it a miracle but he like me knows its just a lot of hard work that has delivered that, we have no luxuries.

I look at the likes of Ebbsfleet United in the drop zone a team with a greater team budget than ourselves and that tells me how well the lads have done here, they have been brilliant over the season. I accept our playoff hopes are over for this season but the players have a lot to play for. First they have contracts to play for, not all will get one offered here as we have a few external targets in mind for next season.

It is also important if we cannot finish in the top five then we finish as high as we can, that means sixth to me.We must also ensure we give everything we have in the remaining matches as we will still have a say in who makes the play-offs and who gets relegated".

Meanwhile, "Kidderminster Harriers' manager Steve Burr believes his side's lack of confidence is affecting their ability to score goals... They have now gone seven straight matches without a victory. Burr told The Shuttle: 'We've got to start scoring goals. We look a bit shaky at the back and without goals we're not going to give ourselves much of a chance. Salisbury played five across the middle to stifle us... My mindset has changed a lot since after my first month, because I didn't think there was too much wrong. But when you look at squad there's not a lot of experience, they're a quiet bunch and we're lacking a couple of leaders'".

"Kettering Town's development director Ken Samuel says the dip in home attendances are a 'major worry', and has appealed to the club's stay-away supporters to return" reports NL News 24. "He confirmed the club will know shortly whether they would be allowed to compete in the Blue Square Premier play-offs should they achieve a top-five finish.

Samuel, who has been running the club with a team of directors since Imraan Ladak stepped down, tells Jon Dunham at northantset.co.uk: 'No doubt the economic climate and maybe the pricing or ticketing structure has contributed – it is something that we will be reviewing in the next few weeks. The fact remains that we are having another good season and looking to achieve a league position in the non-League structure which will could be our best position in many years... We will be looking at attendances at the last five home games this season to form a base for our planning and budgets for next season'".

NL News 24 also says that "Bobby Hopkinson will almost certainly remain with Havant & Waterlooville until the end of the season after his move to AFC Wimbledon hit a technical snag. Hopkinson, released three weeks ago by Aldershot Town, was expected to complete a move to Wimbledon before arriving at the Hawks last week... But having allowed him to play for the Hawks, Wimbledon's attempts to reclaim the much fancied midfielder in the week were halted because of an FA ruling that prevents loan signings returning to their parent club inside a fortnight of their initial move. With the window for player transfers set to close this week, Wimbledon will now be unable to fully secure Hopkinson's services until the close season".
---
28 March 2010
YOUTHS REACH SEMIS

Altrincham Youth finally overcame Formby Youth in a penalty shoot-out, after extra time, in Sunday's NWYA Open Cup quarter-finals at Wythenshawe Town on Sunday. After a goalless 90 minutes, much of which both sides played with ten men following a first-half double sending off, it took Alty's Glodi Kuba-Kuba just 29 seconds of extra time to put Alty ahead, with a defender turning the Alty striker's effort over his own goal line. But the visitors equalised and the score still remained 1-1 after extra time. Alty won the penalty shoot-out 6-5, with Dominic Bates scoring the sixth (above), before Formby had their seventh spot kick saved by goalkeeper James Thorn. Report to follow.
FOREST GREEN ROVERS 4 ALTRINCHAM 3

Above: Shaun Densmore nets Alty's penalty to make it 3-1.
OLD BOYS
Two Alty old boys, Darren Tinson and Jake Sedgemore scored as Nantwich Town won 2-0 at Durham City on Saturday. Meanwile Ged Murphy has moved from The Dabbers to Ashton United. Former Alty Reserves' captain Keith Wedge scored for Rossendale United in their defeat by Woodley Sports.
PARKING THE BUS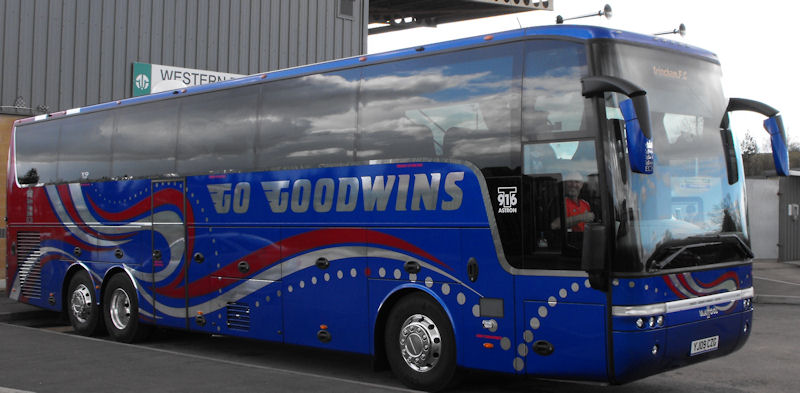 Above: Geoff Goodwin must be the only national football club chairman to drive his team personally to some of their matches. Here he parks the team coach at Forest Green on Saturday. Given that Alty conceded four goals for the first time this season, perhaps Geoff should have parked the bus in the Alty goalmouth! The vehicle pictured is used by Geoff's "Go Goodwins" company to ferry touring national cricket teams on behalf of the England & Wales Cricket Board.
---
28 March 2010
FOREST GREEN ROVERS 4 ALTRINCHAM 3

Above: Shaun Densmore nets Alty's penalty to make it 3-1.
OLD BOYS
Two Alty old boys, Darren Tinson and Jake Sedgemore scored as Nantwich Town won 2-0 at Durham City on Saturday. Meanwile Ged Murphy has moved from The Dabbers to Ashton United. Former Alty Reserves' captain Keith Wedge scored for Rossendale United in their defeat by Woodley Sports.
PARKING THE BUS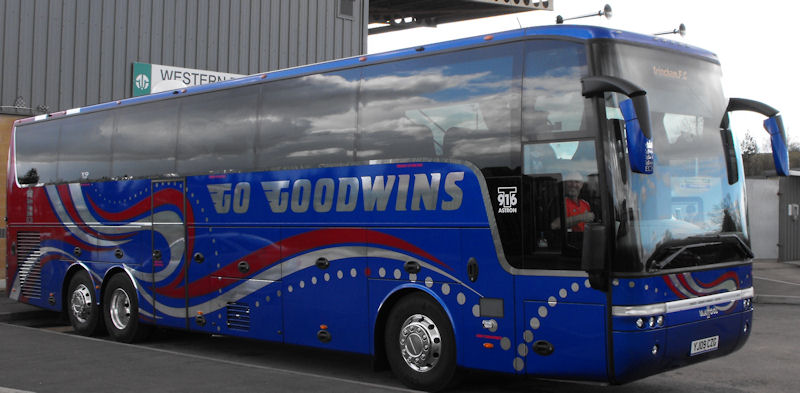 Above: Geoff Goodwin must be the only national football club chairman to drive his team personally to some of their matches. Here he parks the team coach at Forest Green on Saturday. Given that Alty conceded four goals for the first time this season, perhaps Geoff should have parked the bus in the Alty goalmouth! The vehicle pictured is used by Geoff's "Go Goodwins" company to ferry touring national cricket teams on behalf of the England & Wales Cricket Board.
---
27 March 2010
SATURDAY'S GAME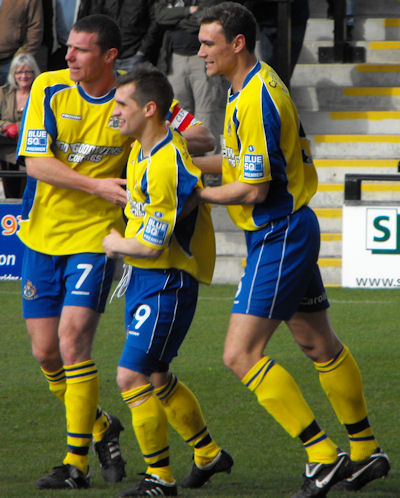 Right: Chris Senior is congratulated by Robbie Lawton and Greg Young after his goal at The New Lawn.
Leading 3-1 after more than an hour of this game, Altrincham went to pieces and conceded three times in eight minutes. Match report here.
Alty Line-Ups
Saturday 27 March
Through the Years by Howard Watts.
AFC Wimbledon 0-1 Rushden & Diamonds
Barrow 3-2 Eastbourne Borough
Cambridge United 3-0 Grays Athletic
Crawley Town 0-3 Stevenage Borough
Forest Green 4-3 Altrincham
Kettering Town 2-2 Mansfield Town
Kidderminster Harriers 0-1 Salisbury City
Luton Town 8-0 Hayes & Yeading Utd
Oxford United 2-1 Gateshead
Wrexham 3-0 Histon
York City 1-1 Tamworth
HELP FOR HEROES
On Sunday (28th), kick off 1pm, there is a Help for Heroes fundraising football match at Moss Lane. This match features stars from many popular TV programmes, playing to raise funds for the Help For Heroes campaign. Kick off is at 1pm, with entrance prices being £5 for adults and £3 for under-12s.
BEFORE THE GAME AT FGR
The Football Conference reports that "Forest Green Rovers Football Club Limited has reached an agreement with the Inland Revenue over an historic tax liability amounting to £45,000. Although this removes the immediate threat of any legal winding up action, their chairman - Trevor Horsley states: 'The club is a long way from being safe, although it is "business as usual". With Horsley back in the Middle East pursuing his business interests, he has maintained contact on a daily basis with the board of directors and his vice-chairman Colin Peake, who has not only been directly liaising with the Revenue but management, staff, the Supporters' Trust and Supporters' Club oficials.

Horsley announced: 'The agreement arranged only gives us some breathing space. We must get behind the launch of our campaign to "KEEP THE GREEN ALIVE". Not only will this raise the money required by the Revenue but it will assist to raise other streams of income to ensure Rovers play at the highest level possible within ongoing financial prudence. Although the club is a long way from being safe, it is important to recognise and let everyone know, that apart from the overdue historic tax debt, we have met all our other taxation payments during the past financial year involving VAT and PAYE.

I am also pleased to confirm and allay any suggestion that players and staff could suffer from our current position. During my tenure in office which is now almost 20 years they always have been paid on time and they will be again this weekend. I am also pleased to guarantee the club has not defaulted on any of the commercial loans we took on as a consequence of building our new stadium'...

'Let me place on record if we had not moved, then the old stadium would not even qualify us to play in the Southern League in a couple of years' time, let alone now in the Conference... We collectively after public consultation took the decision to move four years ago and quite rightly at the time we had to take the advantage of the window of opportunity which was open to us... It is vital that people also note we own and control the stadium and the land on which it stands, unlike many other clubs who are or may face a similar crisis in the months to come.

Yes there is no doubt with hindsight, it would have been helpful to know the world, let alone this country, was going to face the biggest recession to hit us'... Horsley confirmed the campaign being launched would target £250,000 to be raised in the next three months'...

He made a final plea to each and everyone who had ever attended a match at the club to respond to his personal call to come to either the match against Altrincham (Saturday 27th March) or Barrow (Wednesday 31st March). By so doing the club would be in a pivotal position to meet its first deadline with the Revenue of 7th April when 40% of the outstanding tax debt is due under the agreement reached'."

Good luck to them; FGR are not going down the easy route of reneging on their debts like certain other clubs. The latest such example comes from the Dorset Echo which reports that "Weymouth FC is to go into a Company Voluntary Arrangement (CVA) after 80.9 per cent of creditors agreed to accepting nine per cent of monies owed over the next five years. That will reduce the Terras' debt from around £900,000 to in the region of £80,000. Twelve people were in attendance including chairman George Rolls, vice-chairman Pranas Preidzius and Steve Beasant". Yes, that really is a magnificent nine pence in the pound repaid to creditors over five years!

Meanwhile, FGR report that "The Rovers' match against Altrincham has the potential to see a resurgence in Forest Green's fortunes, both on and off the field.... The game itself sees manager Dave Hockaday's side looking for their third win on the bounce after fine displays away to Kettering (2-0) and Salisbury City (3-1). Midfielder Danny Powell is on target for a return to the squad following a back injury. The team performances in recent weeks have been much improved and the results are starting to reflect the effort put in. Three more points tomorrow will keep the wheels rolling and there is the possibility that Rovers could pull out of the the relegation zone if results elsewhere go their way.

Altrincham however will prove a tough nut to crack. Currently lying in 10th position with 50 points to their name, Manager Graham Heathcote's side have performed well this season and their away record is impressive. From their eighteen matches on the road, they have lost only five. They are however the draw specialists, with six in their last seven... outings. It is worth pointing out that they have not lost on their travels for over a month... The fixture has draw written all over it but hopefully the anticipated larger than average gate can drive the Stripes on to three more points on the road to survival".

Alty won the corresponding match last season, 3-1, with all the goals coming in the first half. Alty's side that day was: 13. Andy RALPH; 22. James SMITH, 4. Mark McGREGOR, 5. Greg YOUNG; 21. Shaun DENSMORE, 7. Robbie LAWTON, 16. Anthony DANYLYK, 3. Matt DOUGHTY; 14. Dale JOHNSON, 9. Colin LITTLE, 19. Chris SENIOR. Subs: 1. Stuart COBURN (gk), 8. Val OWEN, 11. Warren PEYTON, 15. Alex MEECHAN, 18. Lee ELAM. Only four of the starting eleven that day (Young, Densmore, Lawton, Senior), also started Alty's match at Mansfield last Tuesday.

And Blue Square Football says that "Dave Hockaday is expected to field an unchanged side when relegation-threatened Forest Green host Altrincham... Midfielder Danny Powell (back) and defender Ollie Thorne (broken nose) could return... Club vice-chairman Colin Peake has been impressed by Rovers' spirit during a challenging campaign. 'The manager and players are definitely up for the fight, as they showed by their performance, so Saturday could be a huge day for the club', he told thisisgloucestershire.co.uk. Meanwhile, the 10th-placed Robins could be without James Smith (hamstring) as the defender faces a late fitness test. Winger Nicky Clee (groin) is also a doubt, while midfielder Anthony Danylyk will definitely miss out as he continues his rehabilitation from a groin injury". With Johnson, Doughty and Kearney all out till next season, that leaves Alty with 14 fit established first-team players plus youth-teamer John Bennett. Of those 15, no fewer than 9 have started 13 or fewer BSP games this season.

This is Glos says that "An above-average attendance is expected as supporters answer the call to arms, and Hockaday feels that can only benefit his squad after a gruelling run of four straight away games... Rovers produced a scintillating first-half display at Salisbury City on Tuesday night, racing into a 3-0 lead inside 43 minutes... 'I was absolutely delighted with the first 45 minutes, when we outran them (Salisbury), out-tackled them and out-passed them', said Hockaday. 'It was 3-0 and it could have been more, and yet we came away with a 3-1 win. That was nowhere near good enough playing against 10 men for more than half the game... I can understand it but I can't accept it, and if they don't learn after that then they never will'. Altrincham are likely to pose a much sterner test, with Tuesday's 1-1 draw at Mansfield extending their unbeaten league run to seven matches. But Rovers should be boosted by the return of on-loan MK Dons winger Danny Powell".

The Stroud News and Journal says that "MP and die-hard Forest Green fan David Drew has urged the community to rally to the aid of the cash-strapped club... Drew said: 'It is beyond comprehension that we could lose this wonderful institution but unless we act quickly and decisively that could happen'".
BSP NEWS
The Football Conference confirms that "Rushden & Diamonds have signed Shane Huke until the end of the season. Midfielder Huke actually signed on Thursday's registration deadline day, with all the paperwork going through before the 5pm deadline. However, due to the fact his last side were Australian A-League side Central Coast Mariners, Diamonds have been waiting on the relevant international paperwork to come through... The 23-year-old started his career at Peterborough United – during which time he had loan spells at King`s Lynn, Bedford Town, Cambridge City and AFC Hornchurch. He later signed for Dagenham & Redbridge and most recently for Central Coast Mariners in Australia". A former team mate at Central Coast Mariners was ex-Alty man Matty Crowell.

"Salisbury City have taken Exeter City midfielder Chris Shepherd on loan until the end of the season. The 21-year-old has made two first-team appearances for the Grecians – both as substitute. Shepherd has had loan spells with Weymouth and Weston-super-Mare,... Manager Tommy Widdrington said: 'He's a very attack-minded player, in some ways very similar to Robbie Sinclair'. Widdrington also confirmed that two members of his squad – Patrick Cox and Toby Osman – have now left the club".

Elsewhere, Wrexham have reacted to a por result with another signing as "Dean Saunders... swooped for young Blackpool striker Danny Mitchley on a month's loan until the end of the season. The Liverpool-born forward was involved in a rapid exchange of faxes, having been approved to play by the Football Conference and also received his international clearance in what must be some sort of record - under 3 minutes! Mitchley played at Skelmersdale United until he was 15 years old. He then spent one season with the Oldham Athletic Centre of Excellence followed by a short spell with Wigan Athletic's Centre of Excellence, before joining Blackpool, where he became a regular starter for the youth team... Mitchley started this season with Blackpool and was twice an unused substitute... He was then loaned out to Burscough".

The Conference also reports that "Having allowed goalkeeper Danny Naisbitt and striker Michael Frew to leave the Glassworld Stadium on loan, Histon have signed 23-year-old Aman Verma on loan from Leicester City. A midfielder or striker, Verma has made eight first-team appearances for the Foxes since joining them in December 2008 from Redditch United".

And "Kidderminster Harriers finished the loan window with a flurry by bringing in two young players on loan... Port Vale defender Luke Prosser joins team mate James Lawrie who is already at Aggborough, on loan until the end of the season; and Chesterfield's Lloyd Kerry also climbs aboard for the final games of this term".

In West London, "Nomadic striker Charlie Ide has signed for Hayes & Yeading United. Ide, still only 22, started his career with Brentford and made forty-six senior appearances for the Bees, also having loan spells with Slough Town, Sutton United and Lewes whilst at Griffin Park. Ide earned the nickname of 'The Squirrel', when at a Brentford in a game against Leyton Orient, a squirrel turned up on the pitch and ran the length of the stand, play was delayed, and when restarted Ide scored from the resulting corner! In May 2008 Ide joined Grays Athletic but he departed the Essex side in September 2008, after just seven appearances and dropped four divisions to sign for Wivenhoe Town the following day".

A move out of Church Road is confirmed by NL Daily. which says that "Lewes have signed defender Sami el-Abd on loan from Hayes & Yeading United".

The Chronicle says that "Ian Bogie admits he would 'love' to become full-time manager of Gateshead – but insists his immediate focus remains squarely on Blue Square Premier survival. The 42-year-old – who also coaches at TyneMet College – continues to operate without a contract... The Tynesiders seem likely to go full-time next season come what may but, while Bogie wants to stay at the helm, he is determined to ensure it is in the Conference National.

'I've worked here for three seasons without a contract', Bogie said. 'I would love nothing more than to be the full-time manager of Gateshead Football Club... I'm doing the best I possibly can to keep the club afloat in this league. It would be a great achievement, not just from my point of view but from the players' as well. They've come a long way, and people have got to understand, take a real hard look and a reality check to see how far we've come in two or three seasons. No disrespect to the Frickley Athletics and Prescot Cables, now we're coming up against the Wrexhams of the world – teams who were competing in Europe not so long ago, a big club, and we beat them. This is how far we've come and we'll see what the summer brings'".
---
26 March 2010
NEXT GAME
From This is Glos we learn that "Club vice-chairman Colin Peake is hoping the well documented financial problems at the New Lawn will prompt supporters to rally round and boost the attendance at this Saturday's Blue Square Premier clash with Altrincham.

He said: 'I can't stress enough how much difference it could make if we could double or even triple our average gate on Saturday, which comes after a run of four away games on the trot. We would normally hope for about 800 for Altrincham but I know there are a lot of people planning to bring friends and family. I'm hopeful we'll see a lot more than that. If we could double the normal gate the club would be happy. If we could triple it both the club and the Inland Revenue would be happy. It's no exaggeration to say a crowd of 2,400 would go a long way to solving our problems in the short term'...

The club remain in severe peril and the Keep The Green Alive campaign has a daunting overall fundraising target of £250,000... Peake paid tribute to Hockaday, the players and the fans who made the trip to Salisbury on Tuesday to witness an impressive 3-1 win. 'I made a point of speaking to every single supporter down there and I was very encouraged by their attitude – they won't let The Green die', he said. 'The manager and players are definitely up for the fight, as they showed by their performance, so Saturday could be a huge day for the club'".
OLD BOY
The UniBond League says that "Nantwich Town Football Club and Head Coach Peter Hall have parted company by mutual consent... Assistant Head Coach Kevin Street has been asked to take charge of the team for this weekend's match at Durham City".
BSP NEWS
"Lee Harper has admitted the uncertainty surrounding Kettering Town isn't helpful as they reach the pivotal point in their Blue Square Premier campaign" according to the Northants Evening Telegraph. "Back-to-back defeats to Altrincham and Forest Green Rovers have left the Poppies' play-off hopes hanging by a thread as they now trail both York City and Rushden & Diamonds by five points...

The stadium problems at Kettering have been well-documented with doubts over whether they could be promoted even if they finished in the top five. But manager Harper believes the uncertainty surrounding his and the players' futures isn't helping their cause with only two players – Damian Spencer and Darren Wrack – being under contract for next season...

Harper said, 'I know what it's like as a player. They have mortgages and bills to pay and at the moment they are probably wondering where they are going to be next season. I would like to be offering people new contracts and I have said to the club that even if I am not going to be here, they need to be thinking about it. I have had no details about a budget for next season and all I am doing to concentrating on the football... The fans were entitled to boo us off the pitch last week. We deserved it... We still believe we can finish in the play-offs and we will keep going right to the very end and we will try everything we can in our power to try to make it happen'".

Likewis, from This is Nottingham we learn that "David Holdsworth has already insisted Mansfield Town's play-off bid is not over until the fat lady sings. But with the woman in question now clearing her throat, the manager has to contemplate the prospect of another season of non-league football. There is no doubt Mansfield looked genuine promotion contenders in the early stages of the season... But the Stags have struggled to match that consistency ever since...

They have not achieved consecutive victories since October. As a born fighter, Holdsworth will never throw in the towel. A defeatist attitude is not his way. Yet he does now recognise this campaign may have to be put down as one of transition, for gaining experience, ahead of a more sustained assault next season. 'The pragmatic approach since we had the points taken off us from the Chester victories is to not worry about other teams and concentrate on ourselves', said Holdsworth. 'It was always going to be difficult from then... Anyone who knows me knows that I want to win every game whatever the situation...

I think we have learned a lot of lessons about this league and the players in it. Some of our players have been playing at this level for the first time and it can be an eye-opener. You might not fancy going to places like Hayes and Yeading, but you have to cope and get results at such places if you want to be successful... It's wonderful that we have scored more away goals than any other team – it's shows we don't shut up shop like other teams do when they play at our place'".

The ever-informative 200% reports that "The annual Football Conference summer crisis seems likely to loom large on the horizon with the confirmation that ten Blue Square Premier clubs are appealing the decision to expunge the record of Chester City to the Football Association following the club's expulsion from the league last month. It might seem odd that these ten clubs are appealing what seems to be the only sensible way to deal with the fall-out from the club's collapse, but the truth of the matter is that any sense of 'justice' that may be emanating from these ten clubs has, in all honesty, many of the hallmarks of being about their own interests rather than being fair in any way.

There is, it has to be said, some degree of obfuscation regarding the rules concerning what happens to a league should a club go to the wall in the middle of this season. This, thankfully, is because such circumstances are so very rare. On the overwhelming majority of cases that this has happened before, however, the offending club's record has been wiped from the record. It's what happened when Accrington Stanley folded in February 1962, when Newport County folded (whilst in what is now known as the Blue Square Premier) in February 1989 and when Aldershot left the Football League in March 1992. There is pretty clear precedent for the Football Conference's decision to follow suit in the case of Chester City.

The only decision which contradicts this was the decision taken in 2005, after Spennymoor United were expelled from the Unibond League Premier Division for failing to complete fixtures. The club were expelled from the league on the 24th of April 2005, but five clubs appealed the decision (again all clubs that benefitted from the decision being altered), stating that the meeting didn't have quorum. The Football Association stepped in and found in favour of the five clubs, awarding three points to all clubs that still had matches to play against Spennymoor. Two clubs that had objected to the decision, Farsley Celtic and Burscough, threatened legal action over it, but the FA's decision stood. Unsurprisingly, it met with enormous criticism, the biggest being that clubs were awarded points for matches that they hadn't even played. This is presumably the outcome that these ten clubs are hoping for now.

The Blue Square Premier in 2010 is an idiosyncratic beast. It is dotted by a number of clubs of [the belief] that they are 'too big' for their league and that, more often that not in tandem with their supporters, seem to talk about it with little more than contempt. And in this spirit of contempt, ten clubs have signed a statement appealing the decision to expunge Chester's record, preferring instead to award three points to everyone that has yet to play them this season and citing Spennymoor as precedent. Let's have a look at the statement that has been released...

The doublespeak at play here is staggering. It seems inconceivable that these nine clubs (and that's not a misprint – more on that shortly) seriously believe that it is 'fair or reasonable when the Conference as a whole is considered' that teams should be awarded points for matches that they didn't play or that these bonus points shouldn't make any difference in terms of goal difference. Is it fair to Gateshead, who played both of their matches against Chester before the middle of October, when Chester still had a full squad, whilst fellow strugglers Barrow would, under this proposal, pick up six points without even kicking a ball because they hadn't played Chester at the time that Chester were expelled?

Actually, Barrow make an interesting example of the doublespeak at play here. Quite asides from the fact that they were, as many of you will be aware, the first club to get their fingers burnt by Stephen Vaughan, who left them in liquidation and tried to sign over the ownership of their Holker Street ground into his own name without even getting the approval of his fellow board members (something that was only resolved when a court ordered that ownership of the ground be returned to the club), they were listed as being amongst the ten clubs that were supporting the proposal, but the truth of the matter is that they had done nothing of the sort. In fact, their chairman Brian Keen – to the enormous credit of both him and his club – put out a public statement on the subject, which may raise eyebrows over whether there are even as many as ten clubs supporting this proposal...

In addition to this, those appealing also seem to have got their sums somewhat mixed up. They claim in their statement that, "80 per cent of the playing season had passed", but this is patently untrue. At the time of Chester's expulsion, the club had played twenty-eight of its scheduled forty-six matches, which is just short of 61% of its matches. It wouldn't suit the argument of those supporting the appeal to have to point out that eighteen of Chester's matches – almost 40% – would go unplayed but with points being awarded to teams that hadn't even kicked a football if the proposal somehow did sneak through. This statement, however, is at best misleading and at worst an outright lie.

There is no "perfect" solution over this matter. The fact of the matter is that Chester City should not have been allowed to start the season. However, the Blue Square Premier season will finish with twenty-three clubs having played forty-four matches against each other. It is not "fair" that twenty-eight unnecessary matches were played in that league this season, but it is now in the past and this cannot be undone. For every club that will benefit under this absurd proposal, another will lose out. It is to be hoped that common sense will prevail but, this being non-league football, there are no guarantees that this will happen. At worst, the promotion and relegation issues surrounding this season's Blue Square Premier could even drag into the summer.

It has been mentioned in some quarters that clubs are concerned over win bonuses that were paid out to players for matches that will now have their results scrubbed from the records, but the clubs that hosted Chester City this season will not, we assume, be giving the gate receipts for these matches back to those supporters that turned out for them, and seeking to exploit the situation for their own ends only really strips those concerned of any moral high ground when it comes to whatever strange decisions that the Football Conference may make in the future. Looking in from the outside, it can only be concluded that only a 'tinpot' club would seek to gain an advantage from such a set of circumstances.

The BBC says that "Fans working to reform Chester City in time for the start of next season have decided on a new name for the club. Following a vote organised by City Fans United the revived club will revert to the name 'Chester Football Club'. The decision revives the name that the original club carried until adding the word 'City' to their title in 1983... The fans group hope to enter the reformed club in a lower league and still play their home games at the Deva Stadium".

And NL News 24 adds that "After recovering the lease on the Deva Stadium, Cheshire West and Chester Council last night gave groups interested in using it to run a football club 25 days to come forward. Council leader Mike Jones... tells the Chester Chronicle: 'We will obviously have to examine the business case of anyone interested in running a club at the Deva Stadium before making a decision on a new tenant, and we are running out of time to undertake this process'... An FA spokesperson last night said they have received "several expressions of interest" in reforming the club."

Bullsnews at Hereford report that "Darlington have interviewed Mark Cooper about their vacant managerial job. The former Kettering and Peterboro man has expressed an interest in the vacancy at Edgar Street but, with Graham Turner preferring to take his time on an appointment, Cooper has met Darlington chairman Raj Singh".

According to the Football Conference "Two players have departed Histon on loan – with one of them stepping up into the Coca-Cola League One. Goalkeeper Naisbitt, who has been left out of manager Alan Lewer's squad since rejecting a new contract, has joined Brighton, who are managed by former Spurs and Chelsea star Gus Poyet.

Meanwhile, striker Michael Frew has been looking to secure a loan move away from the Glassworld Stadium for some time and will spend the rest of the campaign at Zamaretto League Premier Division promotion-chasers Brackley Town".

"Play-off chasers Rushden & Diamonds have signed Wes Thomas on loan from Dagenham & Redbridge. The 23-year-old striker started his career at Waltham Forest, later signing for Thurrock, Fisher Athletic and Dagenham & Redbridge – with a loan spell at Grays Athletic".

The Conference adds that "Kidderminster Harriers have confirmed that central defender Gavin Caines is on his way to Luton Town on loan until the end of the season. A summer signing from Cheltenham Town, 26-year-old Caines has racked up thirty-eight appearances in a Harriers shirt this campaign, scoring five goals in all competitions. Having not featured for the last couple of matches, however, he is to finish up the term at Kenilworth Road before his contract at Aggborough expires in the summer".

But there is also an arrival at Aggborough as Blue Square Football says that "Luke Prosser [has] left Port Vale on loan until the end of the season having been told [he] will not be offered new contracts in the summer. Defender Prosser has joined Kidderminster, where team-mate James Lawrie is also currently on loan, for the remaining 10 games of their season".

Oxford United "will be without midfielder Adam Murray for the rest of the season after a recurrence of his back problem. The United skipper had been back in training for two weeks after suffering the injury at the turn of the year. However he had found his movement restricted at times and after a training game today took the brave decision to rule himself out and have an operation".

From the Cambridge News we learn that "A police investigation has been launched into alleged financial irregularities at Histon Football Club. The probe focuses on "certain possible irregularities" about Gareth Baldwin's time in control of Histon, according to the football club's officials.

Mr Baldwin dramatically quit as chairman in November and brought his 17-year reign at the helm to an end, citing illness and work commitments. His wife Lisa left her role as club secretary a few days later. Now Histon's chief executive Allen Soraff has said that police are to investigate matters arising from the couple's time at the club.

In a statement, Mr Soraff said: 'Having carried out a full financial investigation of the club's affairs, certain possible irregularities have come to light concerning Lisa and Gareth Baldwin's time in control of the club. Following a meeting between three board members and the police, they (the police) have confirmed they will investigate the matters raised. All documents have been passed to them to see whether they wish to proceed further'.

Tony Roach took over as Histon chairman on Mr Baldwin's departure from the role. He believed Mr Baldwin would stay on as vice-chairman but when the latter quit the board via a text message to the News, Mr Roach branded his behaviour as 'disgraceful' for not informing him... Mr Baldwin, who still holds shares in Histon and is a consultant to Cambridge United, where his wife is now the club secretary, has not been available for comment".

The BBC says that "Wrexham boss Dean Saunders hopes to complete the signing of former Lincoln City and Gillingham defender Arron Brown for the rest of the season. While Senegalese striker Lamine Sakho's contract has been terminated and is set to return to France to find a new club. But 30-year-old Brown... has agreed to play for Saunders's men for the remaining eight games... Brown appeared just three times for League Two side Burton Albion this season... Sakho, meanwhile, has left after scoring just once in 18 games for Wrexham. But the former Leeds United and Marseille striker was the subject of internal disciplinary [action] in his nine-month stay at the Racecourse".
LOCAL NEWS
Alty Youth graduate Ben Deegan of FC United scored on Tuesday but unfortunately it was at the wrong end as Bradford PA won 5-1. He was later sent off to round off a bad night for him. Meanshwile FCUM announce that they have "plans to develop a football ground in Newton Heath, Manchester - the birthplace of Manchester United. The supporter-owned club... is proposing to include new and renovated community sports facilities and a multi-function community space at the 5,000-capacity stadium... FC United is working to secure the finance for the £3.5m development, which will include a public appeal for donations, a Community Shares issue and grant funding... FC United hopes the development will be completed in the next two to three years, subject to consultation, funding and planning".

Northwich Victoria are approaching another deadline on 31 March by which d ate they need to pay all of their football creditors; until then they are under a transfer embargo. One of the creditors is BSP club Mansfield Town for Jon D'Laryea. In all they are believed to owe these creditors £16K. If Vics fail to pay up the Conference has warned taht they will "be fined an additional £7,500 and be deducted ten points" - that is ina diition to a fine of £2,500 for misleading the Conference aboiut these debts.
---
25 March 2010
WEDNESDAY GAMES
Wednesday 24 March
Cambridge United 2 Tamworth 0
Rushden & Diamonds 1 Oxford United 1
League table
Cheshire Senior Cup Final
At Moss Lane: Northwich Vics 1 Woodley Sports 1 a.e.t., (Vics won 5-4 on penalties). Gate 281.
GRAHAM WINS THE TACTICAL BATTLE
Below, you can read Mansfield manager David Holdsworth's criticism of Altrincham's display at Field Mill on Tuesday. Alty boss Graham Heathcote here gives his robust response to this, in an interview with John Edwards (joint Alty press officer) in the Sale and Altrincham Messenger...

"Graham Heathcote launched an impassioned defence of Altrincham's approach on the road after it came under fire from Mansfield counterpart David Holdsworth.

After seeing his side scrape a 1-1 draw with an injury-time equaliser, Holdsworth complained that Alty had 'shut up shop from the first minute.'

It was given short shrift by Heathcote, who saluted the way form team Alty made it seven League games without defeat, and said: 'The lack of tactical nous some people display astonishes me at times. There are a lot of so-called up and coming managers around who think they know it all, but you soon realise they don't. 'I'm 56 this year and not exactly naive, and going into an away game with the philosophy that it's up to your opponents to try and break you down is one that has caused an awful lot of problems for a lot of sides. It doesn't just happen in the Conference, either.

'Some of the top sides in the country take the same approach into European games, and when it comes off, it is a triumph for tactical thinking. There are many ways to play a game of football, and you work out which is best for your side. It is called tactics, and while a lot of people think they understand that, it is clear many don't.'

Heathcote was particularly scathing about Holdsworth's claim that Alty were arguing among themselves at half-time. 'I can tell you 100 per cent there were no arguments in our dressing room,' he said. 'All I told the players was: "Well done, carry on the same way and they will get even more frustrated." Mansfield need to understand they were the ones who nicked a draw in added time, not us.

'We are a very thin, exhausted squad, and because of that, we haven't done a minute's training for the past three weeks. That gives all the full-time clubs an enormous advantage, yet we went to Mansfield and ensured the game was played exactly the way we wanted.

'They were up against a bunch of kids at Histon on Saturday, but it was men last night - and they were found wanting.' The fourth minute of added time brought mixed fortunes for Alty, as they extended their unbeaten run. Chris Denham scored in the 94th minute, to salvage a 2-2 draw against Rushden and Diamonds on Saturday and spark scenes of wild celebrations at Moss Lane, before Mansfield substitute Jake Speight levelled at the same late stage to deny Alty a win on Tuesday night. 'It was still a fantastic effort by the players at Mansfield, because we had six out injured,' added Heathcote. 'There were the three long-term absentees (Tom Kearney, Matt Doughty and Dale Johnson) and James Smith, Nicky Clee and Anthony Danylyk. It tells you how stretched we were that I included James, who could not have gone on, and a youth team player (John Bennett) on the bench.

'The effort the players put in was absolutely terrific. The way the game unfolded was exactly how we intended it doing - up until injury time, anyway - and that was the greatest possible credit to them. Mansfield were supposed to be battering us, according to some people, but I can't quite understand how that could be the case, when you consider our keeper's first save came in the 84th minute and they only equalised in the 94th. 'We have done ever so well away, and the same can be said about how we dragged a result out of the home game with Rushden. You have to take your hat off to Rushden. I thought they were probably the best of all the play-off sides we have faced lately, and Lee Tomlin, in particular, caused us a lot of problems. But it was another point gained with another spirited performance.'

Clee is rated 'touch and go' for Saturday's game at Forest Green Rovers after the recent tightness in his groin had an adverse effect on his hip. Danylyk has already been ruled out, but Smith has a chance of returning".
MANSFIELD'S VIEW
Below, David Holdsworth criticises Alty's approach on Tuesday night.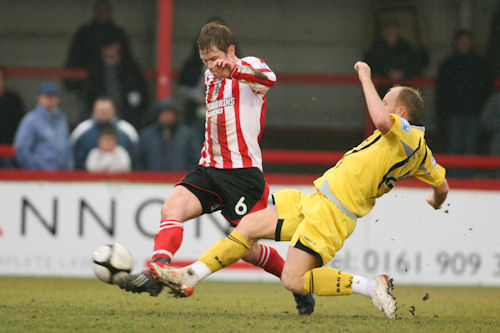 Right: Gavin Rathbone of GR Photography captures Shaun Densmore in action, last Saturday, against Rushden.
The BBC says of Tuesday's game with Altrincham that "The Stags dominated before the break, playing some good football despite the driving rain and howling wind. But Jon Challinor, Scott Garner and Gary Silk all failed to test away keeper Stuart Coburn. Greg Young's close-range second-half header seemed to have secured the win but Speight deservedly levelled with an acrobatic 93rd-minute bicycle kick".
The BBC also reports that "Mansfield Town manager David Holdsworth says he does not expect to add to his squad before the end of the season... He told BBC Radio Nottingham: 'I doubt it unless the chairman comes to me and says there's an opportunity. I speak to the chairman all the time about finances and we must be prudent and we must be careful. I've got a great respect for this football club and I wouldn't ask it to get in a position where we're chasing things for the wrong reasons'".
This is Mansfield says that "David Holdsworth was left lamenting Mansfield Town's inability to post back-to-back victories following a frustrating home draw with Altrincham last night. The Stags' play-off hopes were all but ended as the visitors claimed a 1-1 draw... It means Mansfield have still not won consecutive games since October, after Chester City's record has been expunged.
'We spoke about it before the game. We have got a habit of not losing games and have lost only one of our last seven', said Holdsworth... 'We have to have the ability to break teams down but we haven't always had the killer pass, as in this game. It would have been an injustice and robbery if we hadn't got something out of the game, but football is like that sometimes. We dominated possession from the first minute. I asked the players to play the ball on the ground and they did. The ethics [sic] were right. But they have come to put men behind the ball, slow the game down and get a point and they almost got three... We have got an 18 or 19 man squad [yet 30 names were listed on the Mansfield team sheet in their programme last night] with a good balance and some versatile players'".
"There was no doubt that Mansfield once again brought a passing game to the table rather than taking the direct route. They were patient rather than panicky... The trouble was that opponents Altrincham did not prove as easy to crack as Histon had – meaning all those backing the Stags were ultimately left frustrated by a lack of an end product on the whole.
Graham Heathcote's side rarely showed any ambition to win the game. They were well-organised and effective at blunting Mansfield's threat – and took their opportunity to strike when it came, which saw them claim a point... The gap to the top five, it would now appear, is too great with only seven games left to play...
Altrincham started the second period brightly... With Altrincham systematically trying to run down the clock when the ball went out of play, the home supporters were becoming increasingly annoyed... It was a real bolt from the blue when Altrincham went in front with what was the first shot on target from either side. Williams played the ball back in from the right following a half-cleared corner and giant stopper Greg Young rose highest to head just inside the right-hand post.
Almost immediately, Alty made their intentions clear when they pulled off former Stag John McAliskey and put on another defender in Michael Welch... But Mansfield were huffing and puffing".
Meanwhile, David "Holdsworth is backing the club's appeal – along with nine other teams – to reinstate the six points they lost following the expulsion of Chester City... [If successful,] it would leave the Stags still five points off the play-offs but better placed against rivals AFC Wimbledon and Luton. Holdsworth said: 'If something is worth fighting for, you should fight for it'.
[Ex-Farsley man] Jake Speight snatched a stoppage time leveller for Mansfield Town against Altrincham then insisted: 'That was the least we deserved... I thought the boys grafted well throughout the game. We are a little bit disappointed because we know we should have done better against a side like that but the conditions didn't help. They played a big part. I can't remember them going forward many times in the second half apart from their goal. They did defend well and kept us out, but sometimes you need that little bit of luck, for something to drop for you, and we didn't get it until right at the end. I think we deserved something'".
The official Mansfield Town site says that "Altrincham mustered little in the final third and scored with their only real attack of the game. Mansfield had a host of chances to take all three points in a game they dominated from start to finish... Alty came to us looking to extend a six match unbeaten run and with two ex-Stags among their ranks with forward Jon McAliskey starting and veteran striker Colin Little taking a space on the bench...
Altrincham snatched the lead in the 69th minute. Rob Williams attempted to volley a corner that came in from the left for the visitors but collided with an Amber and Blue shirt. The ball ran as far as Adam Carden [actually Chris Senior] who headed it back into the six yard box where Greg Young rose highest and unmarked to nod it into the top right corner of Marriott's net...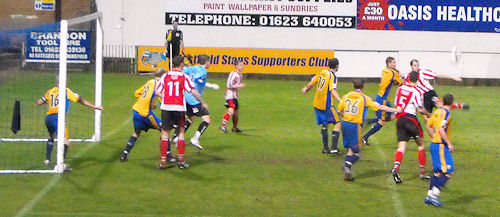 Left: The scene seconds before Alty scored their goal as Robbie Williams (being held by Scott Garner who did not let go for several seconds) gets in a shot. The ball then came to Senior, who found Young (also being held by a defender), who headed the ball past Marriott. The Mansfield manager said of the goal "Scott Garner got pulled around, but we will have to see if he was fouled on the video".
The visitors altered their shape for the final quarter of an hour by leaving Chris Senior as their sole attacker and packing their defence to shut Mansfield out. It was a tactic that worked well as all of Stags' forays forward were repelled and came to nothing.
Shaw ran into a crowded area and narrowly avoided colliding with Andy Nicholas as he shot from 10 yards out. It ricocheted off a red and white shirt and ballooned up in front of Jake Speight who had his back to goal but hit the back of the net with a superb overhead kick".
Mansfield's Chad quotes Holdsworth as saying, "It would have been an injustice if Altrincham had won – it would have been robbery. They just shut up shop. It was a frustrating night the way they came here to just slow the game down... They kept kicking it out and the ball was out more than it was in. The other team came here to nick a point tonight and nearly got all three... The old saying is that it takes two teams to make a game of football and Altrincham got 11 behind the ball, sat off, made it deep, and it was not very nice to watch, let alone play in, and the pitch was cutting up too. Conditions were awful. Fair play to them, for once they brought a bigger team than I did and you have to have the ability to break them down. But we didn't have the killer pass...
The unambitious visitors snatched an unlikely 70th minute lead from a Greg Young header and Holdsworth said: 'Altrincham competed in the box and Scott Garner got pulled around, but we will have to see if he was fouled on the video. Then they took advantage of the loose ball. We switched off for a split second'".
NEXT OPPONENTS
Alty's next game is at Forest Green Rovers where This is Glos reports that "Forest Green chairman Trevor Horsley faces a crunch meeting with bankers in Dubai tomorrow after effectively putting the club up for sale, writes Peter Orchard. With fans still reeling from Horsley's weekend revelations at Kettering, where he revealed the club were on the brink of financial ruin and a potential winding-up order, the Yorkshireman is in negotiations to earn his beloved club a stay of execution.

Rovers have not yet been served with an order by HM Revenue and Customs but will do so should they fail to come up with £42,000 immediately... And with Horsley also confirming that the club need to find between £200,000 to £300,000 to safeguard their long-term future, work is being undertaken to stave off the winding-up order.

Horsley said: 'I had a meeting with a big banking corporation last Wednesday, trying to amalgamate the two loans we've got, and they're going to give me an answer on Thursday'... While Horsley is prepared to transfer his personal loans in Rovers into share capital, his company Western Thermal Limited are owed around £90,000 from the stadium build...

Horsley, who is based in Dubai, has been using his business contacts to try and secure a financial injection into the club".

FGR also report that "Short of cash but suddenly brimful of belief, Forest Green produced a first-half blitz to make a mockery of their position in the relegation zone.. The paupers from Nailsworth served up champagne football on a filthy night [Tuesday v Salisbury] and were rewarded with goals from Tomi Ameobi, Jonathan Smith and Reece Styche inside 43 minutes... Forest Green: D. Ireland; J. Hodgkiss, M. Preece, C. Armstrong, P. Stonehouse; C. Platt, J. Smith, D. Brown, I. Rankin; T. Ameobi, R. Styche (L. Morris 68); Subs not used: J. O'Cearuill, J. Else, S. Davies, T. Burton".

The Stroud News and Journal adds that FGR's win on Tuesday increases "their hopes of pulling off the great escape. A second win in four days leaves Dave Hockaday's side just two points adrift of safety with eight games to play".
EASTER OPPONENTS
Alty's opponents on Easter Saturday, Kidderminster Harriers say that "Boss Steve Burr bemoaned Harriers' lack of ruthlessness in the final third as Harriers slipped to a defeat at the hands of York City at Aggborough. One second half goal was enough to continue Harriers poor form during March".
OLD BOYS
Former Alty centre-back Luke Waterfall headed the only goal as Ilkeston Town beat Eastwood on Tuesday. Meanwhile Tom Cahill scored for Harrogate Town in their loss to Workington. Ex-Alty youth and reserve Lee Shillito scored for Chorley against his former club Mossley.
BSP NEWS
Wrexham report that "The Dragons extended their winless run to eight games by slipping to a 1-0 defeat at Gateshead and manager Dean Saunders reflected on the display. 'We had Christian Smith, Mani, Frank Sinclair [suspended after his foul on Tom Kearney] and Gareth Taylor all missing', he said. 'They are all six footers and it's half our team. I gave Maxi a game tonight and he made several good saves, but the goal was [his] mistake...

I'm determined not to let the season fizzle out, but we have to go back to the drawing board... If you go into a season with players who are 5'10" or 5'9", then you get knocked aside. We did get brushed aside and there wasn't a great deal of experience out there tonight, they were lacking a little bit of football knowledge... We were lightweight up front, Mangy is not a target man, nor are Wes, Wolfy or Sakho...

It's a disppointing result, which might not cost us promotion... It has just confirmed what I was thinking about, what I'm going to do to improve the team for next season. Some of our players are just not suited to this league. With those four players missing, who are all presences on a pitch, we looked desperately short and I have learnt that we can't go into the season with a team full of midgets!'"

"Dave Matthew-Jones has hit out at Cambridge United's 'policy of confrontation' with Bideawhile after supporters' bid to buy the R Costings Abbey fell through last night" reports the Cambridge News. "Cambridge Fans United had until 2pm today [Wednesday] to find a £350,000 deposit and prove they had the funds to meet the £3.5million Grosvenor Developments had agreed to pay Bideawhile for the ground. But the supporters' trust's final attempt to ask for extra time to find the cash was rejected by Bideawhile yesterday. CFU chairman Matthew-Jones felt the landlords, who bought the Abbey for £1.92m in 2004, may have been more sympathetic had they been on friendlier terms with United.

He said: 'There's no working relationship between the club and Bideawhile, so why would they do us any favours. There has been a policy of confrontation over the years and although you might not like something, you never know if in the future you're going to need to work with someone, and it has been to the detriment of the club'.

Matthew-Jones also felt previous decisions by the United board to gamble financially on promotion had worked against them in the current situation. He pointed to the fee received from Reading following Dave Kitson's £5.2m sale to Stoke two years ago as an example. 'If we'd kept the Kitson money for a rainy day that could have paid almost all this deposit', said Matthew-Jones... 'Instead, it's money that's gone down the drain'".

Luton Town confirm that "Hatters' boss Richard Money has strengthened his squad... with the signing of Kenyan international striker Taiwo Atieno on a permanent contract until the end of the campaign. The Brixton-born 24-year-old arrives at Kenilworth Road until the end of the season after a three-year spell playing in the American leagues. After starting his career as a youngster with Walsall, the 6ft 2in forward enjoyed experience at a host of Football League clubs. He joined Tamworth in 2006/07 [playing against Alty] but in his first full season in the Conference his 12 goals were not enough to save the Lambs from relegation...

The strong, quick and powerful front man made his debut for Kenya as a substitute in their World Cup qualifier against Mozambique and has gone onto to win three further caps".
---
24 March 2010
MANSFIELD TOWN 1 ALTRINCHAM 1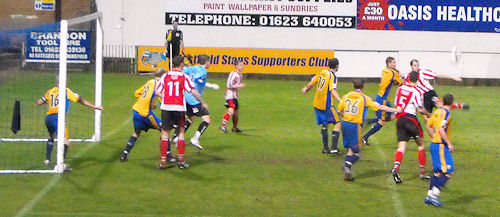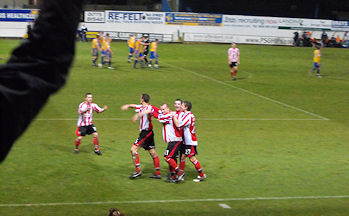 Above left: The scene seconds before Alty scored their goal as Robbie Williams (being held by a defender) gets in a shot. The ball then came to Senior, who found Young (also being held by a defender in this picture), who headed the ball past Marriott. Above, right, Alty celebrate the goal.
Altrincham, without Nicky Clee and Anthony Danylyk who joined the injured list last Saturday, were only deprived of a win by an equalizer from sub Jake Speight in the fourth added minute... Alty's excellent performance with a much weakened team (nine of the 16-man squad had a dozen or fewer league games this season), extends their unbeaten run to seven games - six of them draws!
Alty line-ups and bookings
FIXTURES
Tuesday 23 March
AFC Wimbledon 0 Barrow 2
Gateshead 1 Wrexham 0
Grays Athletic 1 Stevenage Borough 2
Kidderminster Harriers 0 York City 1
Mansfield Town 1 Altrincham 1
Salisbury City 1 Forest Green 3
OLD BOYS
On Monday in the Tameside derby Hyde United completed a double over Stalybridge Celtic at Ewen Fields. Warren Peyton scored a penalty for Celtic. Meanwhile, Ally Pickering is the new caretaker manager at New Mills.
WOULD DUBAI FOREST GREEN?
Altrincham face FGR next Saturday. The BBC report that "Forest Green chairman Trevor Horsley says Rovers are working on several short-term solutions to clear arrears owed to HMRC. The club missed a deadline to pay £42,000 last Friday. Horsley told BBC Gloucestershire: 'We have managed to advance a payment from a sponsor for next season. We're working behind the scenes to come up with a deal with the revenue. We've got the arrears down from £90,000 but there is still £42,000 left. We've actually sent a cheque for February's PAYE but we didn't sent £5,000 towards the arrears. We want to look at a different schedule for the summer where we don't have any wages to pay. I've also had a meeting with regard to trying to put two loans from Stroud and Swindon Building Society and Marstons' Brewery under one umbrella, but we do need help from the public'.

Supporters' Trust chairman Tim Barnard echoed Horsley's sentiments, but also criticised the club's commercial activities... 'Marketing is the one thing they've been poor at, especially over the last five years. We do lots of advertising on behalf of the club because people don't seem to know what's going on... If we could double our normal crowd against Altrincham on Saturday it would go a long to helping our cause'.

Horsley, who has business interests abroad, confirmed he had been using contacts in the Middle East to try and bring new money into the club... He added 'I've been talking to a couple of parties in Dubai. That didn't come to anything but there is someone in Dubai who may be looking at investing'.

Meanwhile, vice chairman Colin Peake, on the FGR website, relays a "Message from the Vice-Chairman" which starts in Churchillian tones...

"People, Be Patient".

It continues, "Our first priority is to have detailed discussions with HMRC and I am charged with that in the absence of the Chairman who has returned to the Middle East. Whatever the outcome and looking at other issues, bearing in mind that the Ltd. Company is operated by shareholders it is the Board that have to approve anything which goes out. It is difficult for anything to be published until we know precisely what we seek off those who support the football side of the club...

We need to engage with all sections of the community. The stadium is not about just football but for those on this forum we appreciate it is what they look to but of course it is only about 30 days of the year that the stadium is used for that purpose at 1st team level. It's what happens on the other 300+ which we have to really focus on and that will improve the finance able to be spent on the football side... We will set out with a target of £250k to achieve...

All our commercial loans and current year financial PAYE & VAT are up to date... The amount referred to by the Chiarman in his interview with the BBC relates solely to an historical debt".

From This is Glos comes news that "Dave Hockaday is hoping Forest Green's financial plight will unite the club's supporters behind his team... Hockaday and the players had been fiercely criticised by fans in the build-up to the Kettering game, hardly surprising after a meek surrender to fellow strugglers Gateshead four days earlier...

Hockaday said: 'I was disappointed with the reaction of everybody with regards to Gateshead, because that was a blip and not like us. I've got an honest bunch of lads who work incredibly hard. We are young, we are naive and we make mistakes, but we are good enough... We came to Kettering and dominated for 95 minutes'...

Hockaday is reluctant to comment on the seriousness of Rovers' off-field plight, as revealed by chairman Trevor Horsley at the weekend... 'If people aren't aware of the financial problems at the club, and the fact that we are struggling and have got a low budget, then they are in cuckoo land', he said... The Rovers boss added: 'I know that by the end of the season I won't have been able to pick from a full squad, because of what I inherited
BSP NEWS
From the Express & Star we learn that our Easter Saturday opponents "Kidderminster Harriers have decided on the future of five 'loan rangers' for the rest of the season as the team aim to breathe new life into their fading play-off challenge. Boss Steve Burr has extended the loan terms of striker James Lawrie and goalkeeper Ross Atkins from Port Vale and Derby County, while allowing midfield duo Nathan Hayward and Kyle Hadley to join Blue Square North side Redditch.

All four deals have been struck for another month, which will see out the non-league campaign for 2009/10, barring any play-off involvement for Harriers. That quest will continue tonight against York at Aggborough, with winger David McDermott set to rejoin the squad after returning from a month's loan at Halesowen.

Assistant boss John Finnigan has also started training this week after a calf injury but is unlikely to be risked after four games out, while central defenders Gavin Caines and Martin Riley are playing through the pain barrier with an Achilles injury and a badly bruised toe respectively...

Burr said: 'While there is a chance, and it's an outside chance, of us making the play-offs that is what we will go for. It's not beyond us, we need a big effort and a bit of luck on the way'... A dual loan move for Hayward, who was interesting Wolves as a youth team player last season, and Hadley will take them up until their contracts expire in the summer"

According to the Daily Telegraph "Darlington might not be mathematically condemned to relegation yet but Raj Singh is already resigned to being the chairman of a non-League club next season... The Teesside businessman justified sacking Steve Staunton on Sunday by admitting he is looking for a new manager to mastermind an assault on the Blue Square Premier title.

'The hope is that we can bring in a new manager and he will have the last 10 games or so to assess the current squad so he can prepare properly during the pre-season and we can hit the ground running next season and hopefully bounce back up at the first attempt', Singh said... Singh is hoping to hire a manager who will enable Darlington to emulate Brian Little's exploits with the Quakers. After relegation to the Conference, Little inspired Darlington to three promotions before heading off to Leicester. Now in charge of Gainsborough Trinity, Little is being linked with a return to Darlington...

The seven-year-old Darlington Arena, that former chairman George Reynolds left as his legacy, [is] destined to go down in history as one of football's great follies...Singh, who made his fortune through the care homes business, is keen to emphasise sensible house-keeping... The stadium and the surrounding land are jointly owned by Singh and former chairman George Houghton, and now Singh is trying to work out a way to unlock their money-spinning potential 'to generate extra cash to support the manager during pre-season'".

According to NL News 24 "Supporters of Mansfield Town have launched a fund which will raise money and increase the manager's playing budget. The fund, named 'The 12th Stag,' will produce extra cash for David Holdsworth's transfer kitty, with all donations exclusively heading towards transfer fees or player salaries.

Chairman Andrew Perry said of this exciting enterprise: 'People can give money to the Town's Football Club, as with the rest of the club, with full transparency, knowing where that money will be spent'".
---
23 March 2010
MANSFIELD, TUESDAY NIGHT
It is hoped to provide the usual live Matchday Updates during the Mansfield Town v Altrincham game.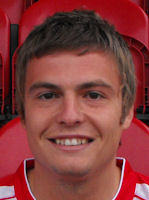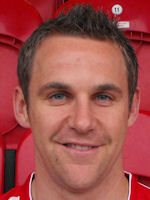 According to the BBC "Mansfield manager David Holdsworth is likely to name the same eleven who beat Histon 5-0 on Saturday... Centre-half Luke Foster serves the last off his three-match ban while Luke Jones and Oliver Hotchkiss are both out with ankle injuries.
Altrincham will be without Anthony Danylyk (calf), with Adam Carden likely to take his place. Midfielder Nicky Clee is doubtful with a hip injury". Pictured left is Anthony and, right, Nicky.
For the match at Mansfield Town tonight, the referee is Mr A. Halliday who oversaw the Alty v Mansfield home match earlier this season, during which he sent off both Chris Senior and Matt Doughty.
Yesterday Mansfield Town said that "David Holdsworth has no fresh injury worries ahead of tomorrow night's clash with Altrincham, and insists we can beat anyone in this league. Three players are set to miss out with Luke Jones and Oliver Hotchkiss both ruled out with respective ankle injuries and Luke Foster who will serve the second game of his two match suspension. Our 5-0 victory at Histon on Saturday was our biggest away win in the league for 81 years. Speaking to the press this morning, the Gaffer was understandably thrilled and full of praise for his players who demolished the Stutes in impressive fashion.
'I'm very proud of the result. We have worked hard this season and on Saturday the performance was exemplary', he said... Offering his thoughts ahead of tomorrow's game against Alty, Holdsworth said that although he expected a tough encounter, we would have what it takes to come out on top...
He added: 'They have players that can get about teams and they proved on Saturday that they have fighting capabilities. But, I believe my side can beat anybody in this league. I always ask the players to express themselves and that has not changed... We played them (Alty) twice in October and were successful on both occasions. I want the boys to be focused and go out there and play with the same spirit they showed at Histon. If they do that then I think the result will be favourable'".
This is Mansfield adds that "Holdsworth admitted the pressure of playing in front of partisan home crowds has got to his Mansfield Town players, after watching the Stags record their biggest away victory for 79 years. The Stags had won just one of four consecutive home games – failing to score in three of them – going into their clash away to Histon on Saturday.
But they did a 5-0 demolition job on the Stutes and boss Holdsworth is hoping his charges can now go out and reproduce that kind of form when Altrincham visit Field Mill tomorrow. 'There has been a lot of pressure on the side with the four home games on the trot', he said. 'Sometimes things have not always gone well for us at home and in front of the bigger crowd we have got nervous... Field Mill can be a wonderful place to play and I want to the players to relax when we play there'".
Holdsworth "hinted he would like to play the same Mansfield Town side against Altrincham that notched their best win of the season against Histon on Saturday – injuries permitting... But he may be forced to change his line-up if one or two knocks sustained by his charges do not clear up. Gary Mills had to come off in the second half with a thigh problem while Louis Briscoe has a slight hamstring strain... 'I would like to keep a settled side and I aim to do that given the opportunity'...
FINAL AT MOSS LANE
On Wednesday evening (7.45pm), the Cheshire Senior Cup Final will be staged at Moss Lane, between Woodley Sports and Northwich Victoria.
THANK YOU
Altrincham FC thanks all those who contributed towards the £49.70 raised in Saturday's bucket collection.
SATURDAY'S GAME
This is Glos says that "Forest Green hope to stave off the threat of a winding-up order today after chairman Trevor Horsley lifted the lid on their dire financial situation. Contrary to reports elsewhere, Rovers have not yet been served with an order by HM Revenue and Customs but will do so [be served with a winding-up order??] should they fail to come up with £42,000 immediately".

Horsley said: "We don't want to go into administration and we don't want them (HMRC) to serve a winding-up petition on us, but we do need help... It's a historical debt".

Meanwhile "A loyal Rovers supporter has called upon the sports fans of Gloucestershire to rally behind Rovers and swell the gate for Saturday's home clash with Altricham. Richard Burge, 45, from Kingscourt in Stroud has been a Rovers fans since the late 1970s... He said, 'A lot of the supporters have been critical of the team for results and performances, but this is the worst news possible... Over the years we have taken large numbers of supporters to Wembley and to Villa Park for cup finals, not just Rovers fans but fans from around the country. We need those people now to rally behind us and come to Saturday's game [v Altrincham] and swell the gates. Cheltenham Town are away at Macclesfield and Gloucester are at Blyth and if their fans don't go to their games, come along to the New Lawn. It would be great to see four or five thousand in the ground".

For Saturday's win over Kettering, "With Danny Powell suffering a back spasm during the warm-up, Isaiah Rankin was summoned from the bench and lined up in an unfamiliar role on the left of midfield. Platt occupied the opposite flank... The Irishman can wreak havoc when cutting inside on his left foot...

Defending set pieces has been a huge problem for Rovers all season... [but] reward for their dominance finally arrived on 68 minutes, as Brown conjured up a superb dinked pass for Ameobi to fire into the net. Former Derby County and Leicester City forward Morris – signed on emergency loan from Hereford United - had entered the fray five minutes earlier. Diminutive of stature, he immediately added a creative spark and could become a major player in Rovers' run-in when he regains full match sharpness.

Forest Green: D. Ireland; J. Hodgkiss, M. Preece, C. Armstrong, P. Stonehouse; C. Platt, J. Smith, D. Brown, I. Rankin; T. Ameobi, R. Styche (L. Morris 63); Subs not used: J. O'Cearuill, J. Else, S. Davies, D. Wilkinson".
LAST GAME
Rushden and Diamonds has a Q&A with manager Justin Edinburgh after the draw at Moss Lane. Asked by the interviewer whether it was "very disappointing to drop two points here", the former Spurs defender claimed, "I think we had enough chances to win about three games here but hey, we conceded late, we've got a point, we'll have to take that on the chin and move forward, there's no good dwelling on it, it could be a valuable point or two points dropped.. On another day we could have, no disrespect to Altrincham, five or six again today. We haven't finished it, we haven't been ruthless, clinical enough, whatever you want to call it... From start to finish, we bossed the game, we've been caught on a mistake at the end, but we've got to accept that... we played well today and deserve more". The Rushden site also has some good photos of the game.

The Northants Evening Telegraph adds that "Before this game Diamonds probably would have settled for a draw at Moss Lane where only one away team have gained maximum reward since the start of December. The Robins had beaten Kettering Town in midweek and they won at Nene Park last October. Yet this is one of those matches where you would expect to collect three points in the push for a promotion play-off place. Diamonds wasted chances to equal last season's four-goal margin of victory in Cheshire and maybe even get close to the record-breaking tally against Gateshead. Too often they failed to hit the target as keeper Stuart Coburn was not really tested apart from a superb save to deny Lee Tomlin...

Altrincham went ahead with their first attempt on target... That was the first time Diamonds had conceded before the break in a league game since mid-October. It also ended a run of eight-and-a-half games without a goal past Roberts in open play. Initially it was announced as Greg Young's own-goal and then John McAliskey got the blame. In between Terry cheekily claimed it but the ball had floated in without anyone else touching it... [It was an own goal by McAliskey]

"Paul Terry insists Rushden & Diamonds must stay positive... 'People make mistakes and you have to learn from them. We can do something about it next time but if you stop learning that's when you are in trouble. Altrincham is a tough place to go because they are a good side at home and they make it hard for you'... Terry confessed that he cheekily claimed Diamonds' equaliser which was initially given as an own-goal. But he insisted the credit should go to Porter and assistant-manager Michael Stone backed that up after watching the DVD footage yesterday".
F.A. NEWS
"Football Association chief executive Ian Watmore [who has been known to watch Alty from the terraces] has resigned after less than a year in the post. Watmore, 51, who came to the FA from the Department for Innovation, Universities and Skills, was appointed in February 2009 but joined in June. 'Ian Watmore tendered his resignation to me on Friday', the FA chairman Lord Triesman said in a statement. 'I asked him to reconsider but he has confirmed that his position remains unchanged and I've accepted it'. The FA statement gave no explanation for the resignation. Watmore succeeded Brian Barwick, who left the FA at the end of 2008, and with the 51-year-old's departure the FA has now has lost six chief executives in just over a decade" reports the BBC.
BSP NEWS
When a number of BSP clubs announced that they were part of a group of ten appealing against the expunging of Chester City's record and their own clubs' actual and/or potential loss of points, Barrow were one of the clubs included in the participants. However, Barrow now confirm that although they had responded to a clandestine approach from another club, they had asked for changes to the appeal, which were not forthcoming. "Chairman, Brian Keen, said 'I was contacted confidentially in midweek by an unnamed Chairman, asking us to join nine other clubs in appealing the Conference's decision to expunge Chester's results. I replied 'We at Barrow, want what's fairest for everyone not just a few clubs.' and I asked for the alternative proposal to be put to me in writing so we could decide if there was merit to appeal. I have still not received this and have hence never agreed to part of the appeal'". At the time of writing [Monday night] one of the signatories, Crawley Town, still lists Barrow as one of the participants.

On Monday night's Non-League Show on Radio London, it was claimed that Crawley Town had not applied for promotion to the Football League but had not told manager Steve Evans of this fact. Interviewed on the programme, Evans was non-committal indicating he had yet to discuss this with his board.

From Chronicle Live we read that "Gateshead, preparing for their important Blue Square Premier game against mid-table Wrexham at the International Stadium tomorrow, have rallied together with the club's fans. The players and management have decided to donate money from their pay packets to refund the 31 fans who made the recent trip to Rushden & Diamonds. Manager Ian Bogie and his players were so embarrassed by the 8-0 defeat in Northamptonshire that they have offered to reimburse the travelling fans...

Assistant manager Jeff Wrightson said: 'We are all in this together. Everyone was upset at what happened at Rushden & Diamonds and we felt this was the right course of action... It is incredible that we haven't put back-to-back wins together," he said, 'and I don't believe we will go through the full season without doing that... It is only a matter of time before Daryl Clare starts knocking in the goals again after a lean spell'".

Histon manager "Alan Lewer criticised his players for lacking desire following Saturday's crushing 5-0 defeat at home to Mansfield on Saturday" states Cambridge News. "We haven't played well, we haven't shown desire and we haven't shown any desire to close the ball down", he said. "All those things add up to a disaster and that's what we got. Sometimes you've got be brave enough to say that and accept it... I can accept people passing the ball wrongly, not doing right things in right areas but I can't accept it when people don't work twice as hard to get the ball back... I'll taking nothing away from Mansfield. Once they got us under the cosh they never let us off", he said.
VICS' WOES
NL Daily say that "Andy Preece fears he will not have enough players to pick from if the Football Conference does not end Northwich Victoria's signings ban this week. The Vics' boss said the situation had reached crisis point after captain Ian Herring suffered a suspected fracture to his ankle in their 1-1 draw at Solihull Moors on Saturday. 'It's desperate', he said. 'We're down to twelve players for the next few games and that's just not sustainable so I hope the league can do something. That way we might be able to bring in two or three fresh faces to help us get through to the end of the season. If they do not, then it's not fair on the other teams'.

The Conference put a transfer embargo on the club last month because it still owed money to rival teams. Vics, who owed around £16,000, were fined and threatened with a second ten-points deduction if they failed to come up with the cash by a March 31st deadline. Owner Jim Rushe has vowed to pay up before then".

For last Saturday's game Preece told the Northwich Guardian, "We were down to the bare bones as we only had three substitutes and one of those was a goalkeeper".

The Northwich Guardian adds that "Northwich Victoria say they support rivals Fleetwood Town in their campaign to force the Football Conference to restore Farsley Celtic's record to the league table. The title favourites are expected to lodge an appeal this week against a decision to strike out the Yorkshire outfit's results following their enforced exit from the competition earlier this month. It cost three teams – Fleetwood, Alfreton Town and Vics – six points.

'I think they're right', said Northwich manager Andy Preece. 'I just can't see how certain teams now have an advantage because they lost their games against Farsley. How can that possibly be fair?' The Guardian can reveal that Fleetwood chairman Andy Pilley called his opposite number Jim Rushe on Monday to ask for his backing...

Preece added: 'If you look at the table as it should be then we're still in the mix, especially with two games to come against Stalybridge. If it means giving three points to those teams who had yet to play Farsley a second time then for me that's better because if they had survived they may well have had to put out a weaker team made up of teenagers'...

'The implications are huge', Pilley told the Fishermen's official website. 'Farsley should have been encouraged and helped to play on... The results should count'. He estimates that the Highbury club could miss out on up to half a million pounds if they do not make it to non-league's top tier next season...

Meanwhile the Blue Square North leaders' lawyers, Clarke Willmott, have agreed to represent ten Blue Square Premier clubs in a separate – but not unrelated – case against the Conference. The affected clubs plan to accuse the league of failing to offer them a vote on different options of how to handle Chester's case".
---
22 March 2010
CHRIS'S SECRET
The NL Paper has a long interview with Chris Senior who says of the loss from the official records of one of his goals, scored against Chester, "I'll be including it in my personal stats, I can assure you". He adds that "I've had a more relaxed attitude to playing this year, partly due to missing the later part of 2008-099 through injury. I made a conscious decision to try to enjoy the game more. I also made sure I looked after myself off the pitch during this year's enforced lay-off. My job as a sports massage therapist at Sheffield United helps. I've been doing a lot of work in the afternoons with the strength and conditioning guys and it seems to be paying dividends... I've seen how the older pros at Bramall Lane go about their business and if it's good enough for players towards the top of English football, it's got to be good for me".
NEXT OPPONENTS
Alty travel to Mansfield on Tuesday. According to The Chad Mansfield "boss David Holdsworth paid tribute to the character of his players after today's 5-0 rout of Histon away from home – the club's biggest away win since 1929! After the misery of one win from four home games on the trot had seen their play-off hopes fade, Stags were simply superb at the Glassworld Stadium...Holdsworth said: 'I was pleased with the mentality they showed and there was a tremendous team spirit on the field... But I am not here to gloat and I don't wish to be rude to Histon and their manager. It was a fantastic performance from my team... They have had a very grumpy manager this week but the texture of our team spirit has never been in doubt...

I changed the formation a bit like I did at Crawley and Gateshead which you sometimes have to do and we were excellent... Sometimes I have slaughtered the players for not doing things right – but today they did it right... There has been a bit of pressure on us with four successive home games and we have looked a little nervous. Field Mill can be a wonderful place to play and I want them to relax'...

Star man Blair Sturrock added: 'Everything we did came off, everything was flowing and we were showing for each other'".
UNBELIEVABLE
The majority of Wrexham fans are decent and honest supporters but one of them has written a remarkable letter to the NL Paper about the jeering which accompanied Tom Kearney being stretchered off at Wrexham recently. He writes "Last season Altrincham were one of the worst visitors to the Cae Ras (Racecourse) in regards to feigning injury and wasting time... This year, after Frank Sinclair's challenge, nearly every Wrexham supporter in the ground expected Tom to be up and running around minutes later! Not one would have jeered had they known the severity of the injury". Perhaps the fact he was on a stretcher with a brace on his leg might have been a clue to this gentleman and his friends that Tom had a double leg-fracture - not to mention the fact that Sinclair had been shown a red card by the referee for his "challenge". On the subject of sportsmanship, Altrincham currently lie ninth from the top of the list of clubs with the least cautions this season whereas Wrexham are 22nd.
YOUTH TEAM WINS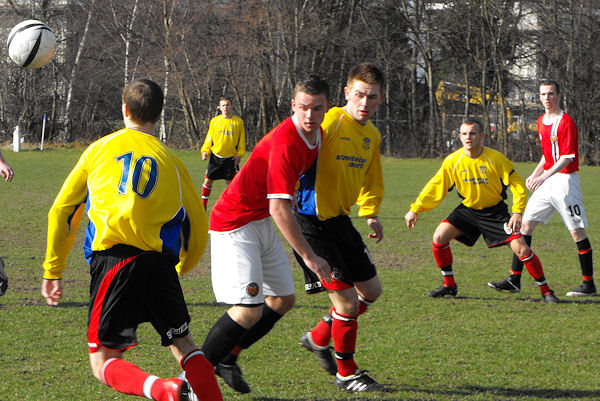 Altrincham FC Youth beat FC United Youth 3-0 on Sunday, with first-half goals from Rory Bradbury (2) and Michael Linney.

There is a match report in the Youth section.

Right- Alty (in yellow) in action against FCUM Youth. Here Michael Linney (10), Niall Sheridan and John Bennett are involved.
BSP NEWS
The ten BSP clubs, named on the Crawley Town site, who are appealing to the Conference to have the record of Chester City reinstated and to have all the games not played by City to be treated as wins for the opposition (albeit apparently without any change to goal difference), are the subject of an article in the NL Paper. "One of the club chairmen, who did not want to be named, told the NLP the Conference had the option to award points rather than take them away, but chose the latter. He said, [at the EGM] they could have put the two options to us... The clubs weren't told of the two options and, if we had been, we believe the first [option, of keeping the points and awarding three points for all unplayed fixtures] would have been viewed as being fairer to the majority of clubs". Did it really not occur to any of the 23 chairmen to ask at the EGM whether there was an alternative to expunging Chester's record? And, surely, fairness is not about being 'fairer to the majority of clubs' it is about being fair to all of the clubs. Giving six points to clubs who have not kicked a ball against Chester is plainly and simply, unfair.

One chairman who is not hiding behind anonymity is Gateshead's Graham Wood who hits the nail on the head when he says of the appeal, "It's all about self-interest... I think the decision that has been taken to expunge Chester's results is the right one. It takes it back to a level playing field".

The NL Paper reports that "Kettering have had their final instalment of this season's central funding withheld by the Conference to cover ex-chairman Imraan Ladak's unpaid £5,000 fine". The fine related to comments by Ladak which were critical of the Conference and he then issued a sarcastic apology. A Kettering spokesman said "What the Conference have done is within the rules... We have no right of appeal".
---
21 March 2010
INJURIES - CORRECTION
Apologies but I misreported the dates given by Shaun Riley in the earlier version of the following update, which has now been corrected.

Alty physio Shaun Riley reports that he will be joining Tom Kearney on Tuesday at a Liverpool hospital to assess his recovery from his broken leg. Tom has had a pin inserted in his shin which means that he does not need a plaster cast. This should also help to speed up his recovery. Meanwhile, Matt Doughty, who watched the game against Rushden, has an operation on his cruciate ligament injury a week on Tuesday. All at Moss Lane wish both players well. It was good to see Dale Johnson, Alty's other long-term injury victim at Moss Lane also at the game on Saturday.
SUNDAY GAME
Tamworth 0 Oxford U. 0
League table
GREG NOT GUILTY
Though the BBC originally assigned yesterday's own goal by Altrincham to Greg Young, Alty captain Robbie Lawton has confirmed that it was actually John McAliskey's head which diverted the Rushden cross past Stuart Coburn in the 40th minute.
SUNDAY AT MOSS LANE: WORLD CUP COMPETITION
Grahame & Karen Rowley write:

"A great start has been made to the World Cup Competition with 142 tickets being sold on Saturday.

All proceeds from the competition will go towards helping Tom Kearney and Matt Doughty through the close season. There are 736 players, in all, so just 594 to go.

Tickets will be available today (Sunday) at the club when the Manchester United v Liverpool game will be shown in the Noel White Suite.

They will also be available during the week in the offices. If you cannot get in, we can draw numbers for you if you forward your stake (£2 per player), marked for the attention of Karen or Grahame Rowley.

Many thanks for your support

Grahame & Karen Rowley".
EASTER FUN WEEK & OTHER INITIATIVES
Please visit the Altrincham FC Social Events & Fundraising page for details of the Easter Fun Week and upcoming televised matches on HD in the Moss Lane bar. There are also numerous ways listed on that page for you to help your club - the initiatives range from contributing a £1 a week, upwards, and can bring you rewards of up to £5,000.

Also, details of advertising and sponsorship packages are on the Sponsors' Page. So if you can help the club in any way, please come forward!

The Easter Fun Week comprises four-day football course from Monday 29th March to Thursday 1st April at Moss Lane for all abilities from age 5 to 12 (school years 1 to 7). At just £48 for all four days, (discounts apply for brothers and sisters), it is a bargain. Attractions include:
Skill awards for each age group at 3pm daily
Meet the manager - Graham Heathcote
Group photo for each player
Presentation, with awards, on Thursday for each player - parents welcome
The scheme is run by the experienced Altrincham FC Community Coaching Team including, it is hoped, Colin Little

For an application form or further details, please contact Altrincham FC on 0161 928-1045.
FIXTURE
Sunday 21 March
Tamworth v Oxford Utd.
WHEN ALTY WERE KINGS
Parts 13 and 14 of When Alty Were Kings by Barry Pikesley is now on the website. As ever, Barry's articles will fascinate both those who witnessed the events and those who are interested in the club's historical characters.
AFTER THE GAME
After the game, Alty captain Robbie Lawton told Dave Stringer of the NL Paper, "We made changes to our side to try and deal with Tomlin, who was always going to be a threat. But that seemed to create space for others to move into with [Jefferson] Louis also giving us a hard time. So we were happy to go in at the break at 1-1 realising that Tomlin's crosses haven't really hurt us. The boss told us not to pay as much respect in the second half and I think we went out and showed our character. Rushden might be disappointed but we've been hit by conceding late goals in the past so this time we are happy to take the point and run!"

Meanwhile the Northants Evening Telegraph says that Rushden "came within a minute of another away win to boost their play-off bid".

The BBC has an audio interview with Rushden boss Justin Edinburgh.

The Rushden & Diamonds website says that the match at Moss Lane was "a game they should have won comfortably... The Diamonds allowed a late equaliser as Curtis Osano failed to deal with a bouncing ball, and Chris Denham chipped the stranded Dale Roberts.
OLD BOY
Former Alty Youth striker Tom Bailey has joined Trafford from Glossop North End.
BSP NEWS
As reported on Friday (below), the BSP is split between clubs seeking to gain extra points by appealing against the decision to expunge the results of Chester City and those who are more interested in fairness. The BBC confirms that "Ten Blue Square Premier clubs are demanding the points won from matches played against expelled Chester City should be restored... The clubs are citing a precedent set in 2005 when the Northern League were forced to re-instate Spennymoor's record after the club went out of business.

But Luton manager Richard Money questioned the motive behind the appeal, which if successful, would mean the Hatters fall four points back [in relation to some clubs] in the title race. Money told BBC Three Counties Radio: 'I think it is a farcical situation'. Money, whose side drew twice with Chester, and therefore had only two points removed, said: 'The League have made their decision, and as far as I'm concerned, that should be binding. I'd have a little wager that it is partly because we have won the last four games and people are suddenly flapping a little bit. When the decision was originally taken we were a little bit further behind. Now we are a little bit closer and suddenly one or two are beginning to mess their pants a bit and trying to overturn it. Everyone in this league has done everything they possibly can this year when they play us, and when they don't play us, to keep us in the Conference next season'.

However a spokesperson for the 10 clubs [whose names are confirmed on the Crawley Town website], believed to include league leaders Stevenage and second-placed Oxford United, said: 'It would have been fairer to all to have awarded teams three points for the un-played games'". Actually, no, it wouldn't have been fairer.

The BBC adds that "Earlier this month Blue Square North side Fleetwood launched a similar appeal after Farsley Celtic's results were expunged when they went out of business".
---
20 March 2010
ALTRINCHAM 2 RUSHDEN & DIAMONDS 2
From an eventful match, Altrincham emerged with a point thanks to an equalizer from Chris Denham in the fourth minute of added time. The Robins have now taken 5 points from their three matches this week, all against top six opposition.
Match report here.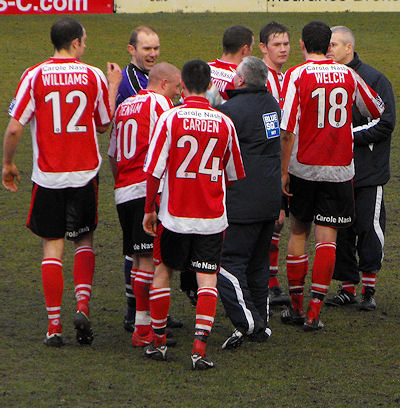 Right: Goalkeeper Stuart Coburn shows his delight at the end of the game with Rushden.
Alty line-ups
Through the Years by Howard Watts.
Altrincham 2 Rushden & Diamonds 2
Eastbourne Borough 2 Grays Athletic 2
Ebbsfleet United 1 Luton Town 6
Histon 0 Mansfield Town 5
Kettering Town 0 Forest Green 2
Wrexham 2 Cambridge United 2
York City v AFC Wimbledon. Postponed; waterlogged pitch.

FAT SF

Stevenage B. 0 Kidderminster H. 0 - Boro win 5-1 on agg.
Barrow 2 Salisbury C. 1 - Barrow win 3-1 on agg.
NEXT SATURDAY'S OPPONENTS IN "DIRE STRAITS"
Altrincham are set to travel to the New Lawn next Saturday but This is Glos reports that "Forest Green are on the brink of financial meltdown and could face a winding up order this Monday, according to chairman Trevor Horsley. Horsley has revealed the sheer scale of the off-field crisis at the New Lawn, with the Inland Revenue demanding £42,000 in inpaid debt.

He chose to speak out ahead of this afternoon's Blue Square Premier match at Kettering Town, making a desperate plea to the local and wider community for immediate help. 'We are in dire straits - we've had one or two hiccups over the last couple of years and things have come to a head now. We're struggling to meet the debts we've incurred on the new stadium... The Inland Revenue want answers by Monday. It's a historical debt - we've made some mistakes on players' expenses and managerial expenses and didn't pay VAT on the gym when it first opened because we didn't think we had to. We've got it down to £42,000... The best option for me is to sell the club to a majority shareholder'.

Horsley said going into administration, which would incur a 10-point penalty and seal Rovers' relegation, was not a route the club wanted to go down. He said: 'The problem with administration is that we've got four key directors who've put in loans of over £80,000 and I don't think it's fair on them. It's always a possibility but it's not the shareholders' wishes. Sometimes in life you have to take a step backwards to go forward again, and if that happens through results on the pitch then we'll have to look at going back to where we came from and try to get some stability back'".

BBC adds that "The club have been given a winding-up order from HM Revenue and Customs... The deadline for that was last Friday and the club are now expecting to be petitioned in the coming week... Horsley told BBC Gloucestershire. 'We've had two of these orders [from HMRC] in the past three months but have managed to fight them off. We need to find £200,000 to £300,000. We need about £100,000 immediately for the Revenue and wages and the other £200,000 by the middle of the summer for the other creditors. Things are looking very grim for the club'...

Business expert Mike Warburton, from accountants Grant Thornton, said Horsley had been 'very straight and honest' in his appraisal of the situation. 'There are an awful lot of sports clubs up and down the county where they have put a lot of money into the clubs when times were good', he said. 'It could be curtains. They've fought it off before - but that's a lot of money to find'" .
SATURDAY FIXTURES
It is hoped to provide the usual live MATCHDAY UPDATES on Saturday afternoon from Moss Lane for Alty v Rushden & Diamonds here, starting with the confirmed team line-ups before kick off.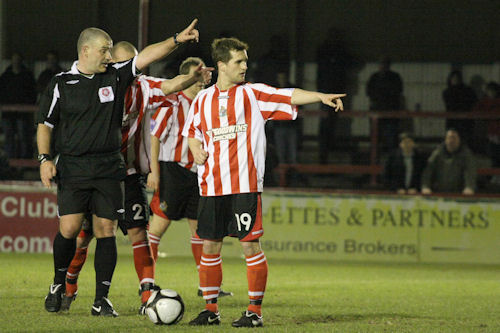 Right: Chris Senior, Peter Doran and the referee are in unison as Gavin Rathbone's image shows from Tuesday's game against Kettering.
HELPING TOM AND MATT
Alty FC vice-chairman Grahame Rowley writes:

"Following the long term injuries to Tom Kearney and matt Doughty, with the subsequent loss of earnings especially during the summer break, the Club is launching a new World Cup Fundraising Competition which will be priced so that everyone can join in. All proceeds for this will be going towards helping Tom Kearney and Matt Doughty so please join in and get the chance to win a 1st prize of £500. All 32 teams in the World Cup will have a squad of 23 players making 736 players. For a £2 stake you can randomly pick a player. Top goalscorer in the competition wins £500, 1st red-carded player wins £50 and the 1st penalty save wins £50. There's a chance for everyone to win and don't forget it's your chance to help Tom and Matt who have done a great job for us this season. Please see Karen, Sarah or myself or call into the office during the week with your £2 or multiples thereof. It's a big challenge to sell 736 tickets but I'm sure we can do it with your help".
"FAIR PLAY", 2010 STYLE
A quite remarkable story of self-interest comes from the Cambridge United website, where the club has "confirmed they are one of ten clubs that have registered an appeal with the FA and Football Conference concerning the expunging of points, following the recent demise of Chester City".

The ten clubs supporting the appeal, allegedly based on a matter of principle, would all quite coincidentally gain six points from the proposals. The clubs are as follows - with the points they would gain or recover noted in brackets; Barrow (6 for not kicking a ball against Chester), Kidderminster Harriers (6, i.e. 3 won and 3 for nothing), Cambridge United (6), Crawley Town (6 for not kicking a ball against Chester), Mansfield Town (6), Oxford United (6, i.e. 3 won and 3 for nothing), Rushden & Diamonds (6, i.e. 3 won and 3 for nothing), Stevenage Borough (6), Tamworth (6) and York City (6, i.e. 3 won and 3 for nothing).

CUFC continue "On 8 March, the Football Conference announced the board decision to expunge all points gained by any teams in matches against Chester City. A CUFC club spokesperson said 'The strength of feeling within the clubs that have appealed is that the decision to expunge points so late in the season was not the right way of dealing with this situation. We don't think that it was fair or reasonable when the Conference as a whole is considered. By the time Chester were expelled, 80% of the playing season had passed and we believe it would have been fairer to all to have awarded teams 3 points for the unplayed games, a solution the FA has previously implemented.

This way all events that happened on the field of play, whether they be points gained or lost, bookings, injuries, bonus payments, goals scored etc all count, which is as it should be. We do not believe it fair that points and the record of goals scored are expunged, yet bookings incurred in those games remain in force and count towards match bans".

CUFC add that "The Football Conference has until 8 April (21 days) to serve a reply, after which the FA will announce a date for a hearing".

The following is a personal comment not attributable to Altrincham FC: "Presumably these 10 clubs view it is as being 'fairer to all' to give those teams who have not played Chester this season up to six points for sitting on their backsides and not risking injuries or bookings in games that were never played - yet they consider it unfair to wipe out Chester's record by which means everyone gets treated equally and gains no points?

Putting aside Altrincham, who would recover four points from this proposal, Ebbsfleet and Forest Green are even more to be applauded for not sinking to these depths of self-interest as they are nearer the wrong end of the table and have "lost" 3 points they had won, which would be restored under this plan and would also be given three "free" points from their unplayed reverse fixtures with Chester. Likewise, Kettering have commendably not involved themselves in this appeal even though they, too, would gain six points from this proposal.

Similarily, Hayes & Yeading Utd, Salisbury, Eastbourne Borough and Wrexham would acquire four points but have also risen above these sanctimonious calls for 'fairness'. It should also not be forgotten that the BSP clubs collectively voted to expel Chester from the BSP earlier this season, knowing that the results would be expunged".
"TOUGHER TESTS" THAN ALTY
Our opponents Rushden & Diamonds quote their assistant manager Michael Stone on the subject of Altrincham. "We've had reports on them, we've also got DVD footage of a couple of their games which we've managed to get... They're a very solid team, can probably beat anyone on their day and are one of those teams who are difficult to beat and they've of course beaten us on our own home turf. They've also had a couple of good results going into this game, they've drawn against York and beaten Kettering so it's not an easy place to travel to. We'll be well prepared, the team will be briefed tomorrow on exactly what to expect and any areas or weaknesses that we can see to expose...

They're in a reasonably comfortable position, they're probably not going to end up at the other end of the table. So they'll go into the game confident with the knowledge that they can enjoy themselves".

As for R&D he added that his players are "thinking about the Altrincham match as we've always said that the most important match is the next one... They've trained well today and look sharp, they're bubbly, full of confidence, which should mean they go into the game with a positive frame of mind... Defensively with the back five, and you can include the whole team,we have been tremendous of late and gives us the chance to win a game 1-0 and that'll be the same on Saturday...

So if we restrict Altrincham to a few chances... hopefully we'll give ourselves a platform to turn the point into three".

The BBC reports that "Altrincham welcome back midfielder Robbie Lawton who has recovered from an ankle ligament injury. James Smith (hamstring) is sidelined along with Matt Doughty, Dale Johnson (both cruciate knee ligaments) and Tom Kearney (double leg fracture). Rushden & Diamonds manager Justin Edinburgh is unlikely to make changes to the side who put eight goals past Gateshead last weekend. Rob Wolleaston is nearing fitness after an ankle problem and may feature.

The BBC quotes Rushden assistant manager Michael Stone: 'They're a difficult team to break down and quite a resilient side. We may have to grind out a result and make sure the three points are with us. There are going to be tougher tests to come, we know that, but we've performed well away from home. It's important we use the confidence from the result against Gateshead and we need to keep our foot firmly on the peddle'. We presume the BBC really means "pedal" as in bicycle rather than "peddle" as in drugs.
NEXT TUESDAY'S GAME
Alty travel to the New Lawn next Saturday where Forest Green Rovers say that "29 yr old midfielder/striker Lee Morris, who was part of the Burton Albion promotion winning team last season, has moved on an emergency loan from Hereford United to Forest Green Rovers... Manager David Hockaday received another set back this week with the news that Mike Fowler's comeback had been threatened due to the ligaments in his damaged ankle being too flexible at the moment to stand up to the rigours of 1st team football... The good news is that Lee Ayres is back in training and Mark Preece is back in contention to replace Ollie Thorne who had his nose broken during the match at Gateshead".

Hockaday added "After our performances against York City and Luton Town when the lads were excellent the attitude all over from the players on Tuesday was not acceptable. Losing with dignity and passion is the least any player can be grateful for but it was missing in abundance at Gateshead. We all must apologise to our supporters for a woeful display and go out with a strong mental attitude tomorrow. The supporters will expect nothing less and I demand it from them".
BAGS2THE FUTURE
Darren Gregory writes about the Bags2the future scheme at Altrincham FC, "If you are bringing your bags to the game on Saturday please drop them by the bar door area before entering the turnstiles. There will be people on hand to take them off you".
BSP NEWS
Blue Square Football reports that "Halesowen Town midfielder Lee Fowler believes his former club Forest Green Rovers have struggled this season because they allowed their tough players to leave the club" - because they could not afford them.

Fowler, who left the club last season, told This Is Gloucestershire: 'I'm not going to say everything was great last season, because even then we had a bad spell and left it quite late to get out of trouble. But the difference was we had players like Darren Jones, Alex Lawless and myself who could put our foot in as well as play football. We had a small squad but some strong characters, and maybe that's what's been lacking with my brother (Mike) and Lee Ayres injured for most of the season. They have been really unlucky with injuries, and obviously any team would miss a 30-goal striker like Andy Mangan last year".

At another team at the wrong end of the table, Ebbsfleet United say that they "and existing club sponsors Eurostar have agreed in principle to extend the contract for another season until April 2011. Fleet chairman Duncan Holt and director Phil Sonsara met Eurostar officials on Thursday to present a community brief on behalf of the club and plans beyond 2010... The financial deal is confidential though the Fleet chairman confirmed that the amount will be 'less than the current deal but hopefully not substantially so'... Said Mr Holt, 'Eurostar are committed to supporting this club and community around it and once we have done this I will work to get a longer deal to cover past 2012 and the London Olympic Games'. Eurostar have been club sponsors since the beginning of the 2007-08 season when a three-year deal was then reported as one of the most lucrative in non-league football".

On the Ebbsfield Forum, Duncan Holt, EUFC Chairman, adds that "I have some work to do around changing the contract to focus more around the community focus of the club. The amount will be less than current deal but hopefully not sustantially",

At Gateshead "Ian Bogie believes keeping Gateshead in the Blue Square Premier will be his greatest achievement at the club so far... with Gateshead one of a minority of clubs in the Conference Premier still part-time...

Bogie said: 'Keeping Gateshead in the Blue Square Premier this season will be a bigger achievement than the two promotion campaigns... It was always going to be difficult facing full-time outfits, but survival is in our own hands and I am very confident we will avoid relegation'. Gateshead expect to turn full-time next season, certainly if they are in the Conference Premier, but there has been no confirmation Bogie will remain at the helm. He added: 'I have done a good job at Gateshead and would like to have had the situation sorted out, but the focus is on winning enough points to preserve our top-flight status'.
---
19 March 2010
CLIVE LEAVES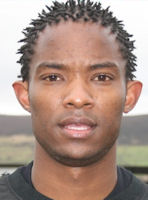 Clive Moyo-Modise (right) has asked to be released from Altrincham FC to seek regular first-team football elsewhere and the Club has agreed to this. Clive joined Alty on 12 February 2010, having started his English career at Rochdale in 2005, for whom he made 2 + 26 first-team appearances. In his five weeks at Moss Lane, he made just four appearances for Altrincham, all as a substitute. The Club wishes him well in his future career. Picture courtesy of John Cawthorne.
SATURDAY'S GAME
Altrincham entertain Rushden and Diamonds this Saturday; Alty won the reverse fixture 1-0 earlier this season, thanks to a Tom Kearney goal. Sadly Tom will miss the return fixture owing to his broken leg, but Robbie Lawton hopes to be fit.

The Northants Evening Telegraph says that "Justin Edinburgh expects another tough test away from home for Rushden & Diamonds this weekend. They head to Altrincham on Saturday in search of a third successive win on the road following 1-0 victories at Histon and Tamworth. Edinburgh will make the trip to Moss Lane tonight [Friday] for Altrincham's game against Kettering Town.

The Diamonds' boss said: 'We know it's a difficult place to get a good result – as York City found out on Saturday. It's another tough game where we will have to roll our sleeves up and show the other side where you have to grind something out. But if we can't take confidence after Saturday's game then we never will! We're looking forward to it'.

Diamonds have [had] another blank midweek and the squad were rewarded with extra time off yesterday following the eight-goal demolition of Gateshead... and on-loan forward Jefferson Louis – who struck twice with a couple of assists – earned plenty of praise from Edinburgh. He added: 'Jefferson is an important part of how we play. If we can get him into the game quickly then he brings in other players. If he doesn't do that at times we can struggle'... Craig Farrell came on against Gateshead to maintain his ever-present record".

Rushden & Diamonds have a lengthy preview of Alty's game with Rushden.
NEXT TUESDAY
Next Tuesday Alty travel to Field Mill, where This is Mansfield reports that "Mansfield Town chairman Andy Perry today dismissed rumours League Two Macclesfield have made an approach for manager David Holdsworth, insisting: 'He is going nowhere'...

'We have had no approach from Macclesfield about David, either officially or as an informal word between chairmen' said Perry. 'In fact I will go as far to say that we have had no approaches for David at all since the time he was appointed'...

Perry is pleased with the way the relationship between Holdsworth and the board is working out. Perry said: 'We are all pushing in the same direction and want to move the club forward. But at the same time there is still a gap there that we can be strong enough as a board to say 'yes' or 'no' in certain situations to requests. That is the way it should be'.

Skipper Luke Foster has been banned for two games for his sending off against York City on Tuesday. The central defender, who was shown two yellow cards, will miss Saturday's trip to Histon and Tuesday night's home clash with Altrincham. With Luke Jones still out injured, that could mean Scott Garner is recalled alongside Michael Brough".
TASC
Ateve Foster and Gareth Thomas of The Altrincham Supporters' Club (TASC) remind supporters of a number of initiatives...

TASC Football Predictions Competition 2010

Don't forget to enter this competition, the deadline for entries passes at kick off TODAY. Please hand your sheets in to Anthony Wright in the club shop before then.

"My Square" pitch sponsorship

The time has come for the auction of the second 'extra special square' on the hallowed turf, and who will ever forget Michael Welch's 70 yard free kick against Crawley Town last year. The auction for the Michael Welch square will start today (Tuesday), and continue on the Fans' Forum. Anyone wishing to bid off line can contact the club and these bids will be added to the internet bidding thread.

Bag2 The Future

Details of this scheme appeared in the news for 16 March, lower down this page...

Please return your bag with articles to Altrincham Football Club TOMORROW (Wednesday) between 11am - 1pm. Please look for the signs and somebody will be there to take it from you.

Race Night and Player of The Season awards

Voting forms for Player of the season will be handed out at the turnstiles today. On the form there is also a section to fill in if you want to buy a horse or sponsor a race for the race night (costing £10 and £20 respectively). Please fill these forms in and hand them in to the TASC section of the shop at your earliest convenience".
OLD BOY
FCUM report that former Alty goalkeeper Joe Paladino has left to become assistant to John Hughes [not the ex-Alty man] at Rossendale.
YANKEE
The Altrincham FC Saturday Yankee jackpot stands at £5,000, which you can win for a £1 stake - details of how to join are here. Smaller prizes are also available; this week one entrant won £200 for a Winning Treble.
BSP NEWS
According to NL News 24 "A bold scheme by fans of Cambridge United to buy back The Abbey Stadium from Bideawhile for the benefit of the club, fans and the wider community has received a huge boost with news of a single confirmed pledge of £250,000. Cambridge Fans United now has over 600 individual pledges – bringing the total to approx £1.1Million.

A pre-exemption clause attaching to the lease between current owners Bideawhile and Cambridge United FC gives the Club a chance to facilitate its own buy back of the ground in preference to the agreed sale to major property developer, Grosvenor Developments. This clause effectively gives only another seven days for the Club and Trust to raise an initial deposit of £350K and secure guaranteed funding to pay the remaining sum of £3.15 million pounds.

The proposal is to set up a company to buy back the stadium. This company would be formed by the sale of its 3,700 shares. Each share would cost £1,000 to buy. The sale of these shares would raise the sum required to buy back the ground from Bideawhile (including stamp duty and other set-up costs).

The company would lease the ground to Cambridge United FC at a much reduced rent. Potentially saving the club a six-figure sum each and every season. The company's annual profits would be distributed amongst its shareholders. Even with a reduced rent there is an opportunity to provide an attractive return to investors, especially as many deposit accounts at banks/building societies are paying 1 per cent or less to their savers...

Paul Barry, Chairman of CUFC issued a statement supporting the initiative: 'This football club is blessed with some of the most loyal and imaginative fans in the country. With time being short on the option, I hope for a positive outcome that will put the club on a stronger financial footing'".

More on this comes from the Cambridge News, which quotes CFU spokesman Kevin Robson on the need for a major investor. Robson said: 'We're calling the person we're looking for "The Amber Knight"... Robson said CFU chairman Dave Matthew-Jones and Cambridge United fans' director Colin Proctor were in talks with potential major investors and also in the process of setting up a meeting with Bideawhile and Grosvenor to see if extra time to find the money could be granted".
---
18 March 2010
CHRIS'S AWARD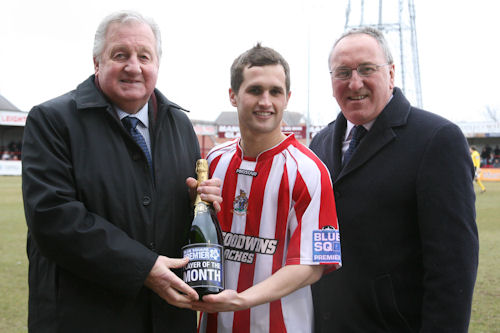 Above, we see Chris Senior receiving his Blue Square Player of the Month award for February before the game with York City last Saturday. Making the award are Bill King (left) and Dennis Strudwick of the Conference. Picture courtesy of Gavin Rathbone of GR Photography.
DVD AVAILABLE FOR JUST £5
Whether you missed Tuesday's great performance against Kettering Town or simply want to re-live it, you can now buy a DVD of the full match for just £5 from Altrincham FC. Orders placed now should be delivered by Saturday for you to collect from the club. Alternatively, you can have a copy sent to you (p&p extra). To order please contact Grahame Rowley -
by phone - 07720 606897
by e-mail.
WORLD CUP DRAW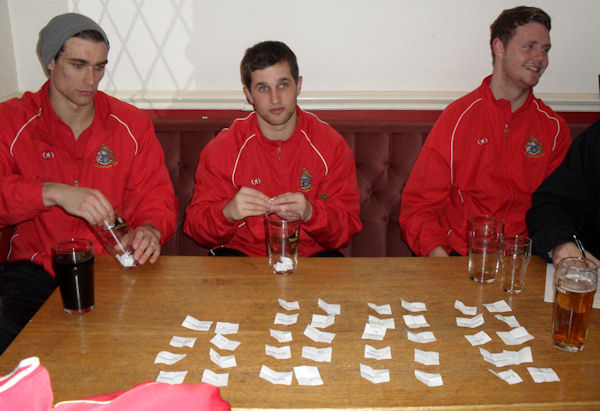 Right, courtesy of Sarah Rowley, we see the Yorkshire-based trio of Greg Young, Chris Senior and John McAliskey making the draw for the Altrincham FC World Cup competition. The full draw is below.
Denmark - Derek Wilshaw
Serbia - Karen Rowley
North Korea - Phil Taylor
Honduras - Campbell McLay
USA - Peter Foster
Australia - Jo & Glynn Vayro
Nigeria - Mike Ainsworth
Japan - Claire Brennan
Cameroon - Paul Salt
South Korea - John Skelhorn
England - James Surridge
Chile - Bryan Ford
Argentina - Mark Griffin
Greece - Brian Flynn
France - Dave Johnson
Uruguay - Anthony Wright
Paraguay - Grahame Rowley
Slovenia - Paul Daine
Portugal - Paul Brady
Ivory Coast - Peter Foster
Mexico - George Heslop
Ghana - Steve Foster
Algeria - Julie Brady
Italy - Heather Brady
Germany - Darren Gregory
Holland - Mike Ford
South Africa - Terry Surridge
Slovakia- Peter Warburton
Switzerland - Jim Hankinson
Brazil - Mick Taylor
Spain- Colin Mitchell
New Zealand - Luke Vayro
AWAY TRAVEL
TASC is arranging supporters' transport to both Mansfield (Tuesday, 23rd) and Forest Green Rovers (Saturday, 27th). For details please see the Away Travel page and ring the club (928-1045) to book your place.
GRAHAM APPEALS FOR SUPPORT
According to the Sale & Altrincham Messenger, "Graham Heathcote saluted Altrincham's continuing success story, after another notable Blue Square Conference triumph, and revealed how supporters can play an integral part in ensuring it is maintained next season...

Heathcote marvelled at his players' enduring spirit and resolve... 'It is so important the fans keep coming through the turnstiles', said the Alty manager. 'What we get in gate money over the remaining month or so is very much going to determine what we can do next season. The last thing I want is to go to a board meeting and be told we have to reduce the wage bill, but we need sufficient income to avoid that scenario. So many people work incredibly hard for this club, and we all appreciate the support we get, but we are entering a critical phase in that respect.

The £30,000 hand-out from the Premier League won't be there, for one thing. That was a one-off to compensate for the loss of Setanta TV revenue, so we have to bridge that gap somehow. Thankfully, we have some very attractive games coming up, starting with Rushden and Diamonds on Saturday, so I hope people will come along in numbers'"

Against Kettering, "It could easily have been four," said Heathcote. "I take my hat off to the players. They keep being tested, with all the injury setbacks we've had, but they keep responding. Their attitude against Kettering was fantastic".

Meanwhile "Skipper Robbie Lawton hopes to be fit for Saturday's home game with fourth-placed Rushden".
TUESDAY'S GAME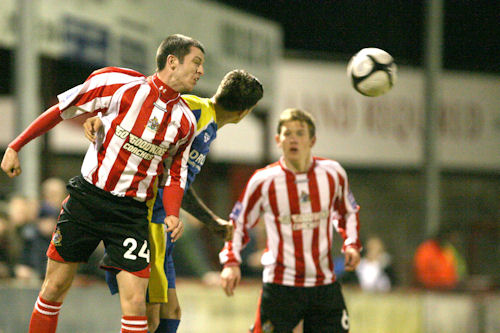 From Tuesday's game we see Adam Carden, who made his first start for Altrincham, in action, with Shaun Densmore looking on. Picture courtesy of Gavin Rathbone of GR Photography.

Kettering Town report that "in one of the Poppies worst performances of the season they succumbed to a 2-0 defeat... Both teams had key players missing tonight, with both squads stretched. Surprisingly also Altrincham rested both Chris Denham and Colin Little. Kettering were without their Captain, Ian Roper, and had several players carrying knocks... Nicky Clee was sent clear on the left. His low cross was stabbed home at the near post by giant striker, John McAliskey, low to Nathan Abbey's right and just inside the left upright.

This signalled a nightmare last 10 minutes of the half for Kettering and in particular Alton Thelwell, who was deputising for the injured Roper".

And the Northants Evening Telegraph adds that "Kettering Town's play-off hopes suffered potentially a fatal blow as they hit the self-destruct button at Moss Lane. A calamitous first-half display handed Altrincham the points... They certainly didn't look like a side with the best away record in the country.

The game was done and dusted by half-time as the Poppies gifted their hosts a 2-0 lead, the only positive to come out of the opening period was that they weren't five down because they easily could have been".

The Popies'Fans site has a commentary on the game at Moss Lane. "Kettering are all at sea and it's the home side who finish the first half strong and sitting on a 2-0 advantage at the break" is one of its comments. And it adds that "Even with 5 minutes of injury time it's just prolonging the disappointing experience for the Poppies travelling faithful as they see their side outfought for most of the match and eventually well-beaten 2-0 at mid-table Altrincham".
CAPTAIN'S LOG
Robbie Lawton's "Captain's Log" from Tuesday night is below..

"With games coming thick and fast, Graham Heathcote is understandably concerned about fatigue taking its toll and is doing his best to guard against it by cutting back on training sessions. If we are playing on a Tuesday and Saturday, sometimes travelling long distances into the bargain, the boss feels it makes sense to rest in between, rather than subject weary limbs to any further punishment.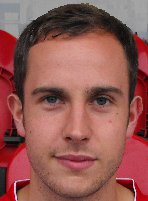 At least he doesn't have to worry about Robbie Williams (left) on that score, though. They don't come any more dedicated than Willo, in every respect. He's footy through and through and is also a firm believer in taking care of himself off the pitch and making sure he stays in tip-top condition. Lots of players have little routines they like to stick to before a game, but Willo's matchday ritual comes after the final whistle. The minute he gets back in the dressing room, he takes the top off a powdered protein shake, spoons some into a glass of water and gulps it down.

It doesn't matter that the entire process is usually accompanied by all sorts of banter from the rest of the lads, it's something he swears by as part of his fitness programme. Apparently, the powder is full of the sort of protein you get in chicken and eggs and is supposed to help with rebuilding muscle tears. Fair play to him, he has been a tower of strength in the centre of defence and has grown in confidence after arriving at the club probably thinking he was going to be a bit of a squad player.

He has taken his chance really well and formed a partnership with Greg Young that takes some beating, particularly in the air. AFC Wimbledon certainly struggled to get past them, though I still had to laugh at their manager Terry Brown's assessment of the 1-1 draw.

There were a few sour grapes flying around when he accused us of being negative, and even the accolades for Willo and Youngy struck me as a deliberate ploy to try and mask his own side's shortcomings. He did not want to damage any egos among his strike force, so he blamed external factors, when maybe he should have been looking a little closer to home. That's not to take anything away from the shift our two centre-backs put in. They were outstanding again, and it would be remiss not to acknowledge a well-deserved call-up to the Wales under-23 semi-professional side for Willo against Portugal the other week.

The boys had their work cut out again on Saturday, when York came here absolutely desperate for the points to try and climb back into the play-off places. They really needed to win and might well have fancied their chances, given the threat of Richard Brodie and Michael Gash up front. But it was credit to the big lads at the back again that we denied them the room they needed, even if Brodie left his shooting boots at home by missing a couple of chances he would normally stick away. To be fair, one of them was more down to Stuart Coburn than any waywardness on his part. Brodie must have thought he'd broken the deadlock with a firm low left-foot drive in the second half, but Stuart again showed that, when he's called into action, there are few better. It really was an exceptional save.

There were a few tired legs at the end, not least because the plan to play into the wind in the first half went out of the window and meant York had the elements behind them when they were pressing near the end, but it was another good point against another team challenging at the top end of the table. We could do with a win to consolidate our position, but let's be fair - coming off the pitch on equal terms with AFC Wimbledon, Wrexham and now York is not a bad effort.

Now it's a Northamptonshire double, against Kettering Town tonight and Rushden and Diamonds on Saturday, and I'm eager to play in at least one of those games, if not both. It has been incredibly frustrating for me this season, and I couldn't believe it when I went over on my ankle at Wrexham and picked up yet another injury. As I write these notes, it will be touch and go for the Kettering game, but I should be OK for Saturday. I can't wait.

Robbie".
OLD BOYS
One of the Histon subs for their game on Tuesday night was former Alty loan keeper Lance Key, now aged 41 and the goalkeeping coach at the club.

Stalybridge Celtic crashed to a 4-2 home defeat by Hyde United on Tuesday. Though Danny Adams played, other ex-Alty men were dropped - Richard Battersby, Joe O'Neill and Warren Peyton. However, the Football Conference adds that another ex-Robin has arrived at the Bower Fold as "Jim Harvey... has been reunited with experienced former England semi-professional international defender Tim Ryan after the demise of Chester City".
BSP NEWS
This is Mansfield reports that "David Holdsworth has refused to throw in the towel on Mansfield Town's hopes of reaching the Blue Square Premier play-offs...after last night's 1-0 defeat to York City...

'We know that the one thing we have got in the dressing room is team spirit and we will keep going', said Holdsworth... 'We showed a lot of nerves in the first half and at half-time I told them to go out there and take an extra touch... I am not going to chastise the players after the effort they showed. The fans, in the main, showed their appreciation at the end. We are all hurting and I'm sure the fans are hurting'...

Holdsworth believed Mansfield did not get the rub of the green with some of the refereeing decisions. He felt York could have had Djoumin Sangare sent off in the second period and felt the Stags should have had a penalty for a foul on Jake Speight. Holdsworth said: 'Sangare could have been sent off and the fact Martin Foyle (York's manager) took him off straight away said something. Jake should have had a penalty when they were tugging at him but he has almost been too honest in not going down'".

From the Cambridge News we learn that "Martin Ling believes Cambridge United could be close to safety after clinching their fourth successive victory with a 3-1 win at home to Salisbury...

He said: 'We're not out of the woods yet because 42 points isn't enough to stay up. I think 44 points might be enough, but I don't think we should settle for that. I think we should be pushing on and trying to finish the season in some sort of style and start to build for next season... They played a diamond against our flat 4-4-2 and picked up an awful lot of ball in the middle of the pitch... We got both Antonio Murray and Scott Neilson on the ball and brought the full-backs joining in as well, and it looked better once we worked out the areas where there was space was out wide'.

Meanwhile, Mark Beesley has joined Telford on loan until the end of the season".

From another ex-League club facing a further season in the Conference, Wrexham say that "Dean Saunders emerged from the dressing room at Holker Street to bemoan his team's luck this season, having conceded yet another lead. 'Some of my staff are saying the referee has killed us tonight,, but from my point of view their first goal has killed us - it was a joke!' he said... 'We scored our goal, a great goal, and that that we could go on and win two or three nil. Then minutes later we concede a goal which will be on DVDs for years to come. It was just a ball rolling across the box, Sam has managed to drop it and Ashley has somehow managed to kick it in his own net. I can't believe it! You couldn't make it up, but you have to keep trying'".

From the BBC comes news that "Fleetwood Town will appeal against the decision to expunge Farsley Celtic's results for the season. The Football Conference's move saw Fleetwood lose six points, which reduced their lead at the top of Blue Square North to one point. Chief executive Steve Curwood said: 'We are absolutely furious. Not only is this unjust but there has been very serious and fundamental flaws in the whole process which has led to this decision'.

Fleetwood enjoyed two 2-0 wins against Farsley this season before the Yorkshire club were wound up. Curwood said: 'Advice has been taken from a firm of solicitors who have considerable experience in football regulation and they believe we have a very strong case to put to the Conference over having our points reinstated. Like many of our fellow clubs in the Conference North, Fleetwood Town have suffered bookings, injuries, and have paid bonuses for the games against Farsley. To have the whole fabric of the league altered at the stroke of a pen with just a few games remaining is unfair. The club intend to contest the decision as far as we need to go'. Fleetwood have until Friday, 26 March to lodge an appeal with the Conference".
---
17 March 2010
ALTRINCHAM 2 KETTERING TOWN 0
Out of adversity - once again Alty had only 16 fit players available - came an excellent performance from Altrincham who thoroughly deserved the points against fifth-placed Kettering.

Match report here.

BSP

Tuesday 16 March

Through the Years by Howard Watts

Altrincham 2 Kettering Town 0
Barrow 2 Wrexham 1
Cambridge United 3 Salisbury City 1
Gateshead 3 Forest Green R. 1
Luton Town 3 Kidderminster H. 1
Mansfield Town 0 York City 1
Stevenage Borough 1 Histon 0
GROUND GRADING
Altrincham FC recently underwent a ground grading visit from the footballing authorities which gives us some indications of the amount of work that would be needed should the Robins ever reach the Football League.

The full report is here.
GROUND GRADING
Brian Flynn's latest "Flynnzine" appeared in Tuesday's "Robins' Review"... The Cheshire Comet

"For tonight's programme, I am reviewing an edition of The Cheshire Comet, which was a newspaper that appeared in the mid-sixties and had a Sale and Altrincham edition. My brother-in-law, Max, worked as a photographer for this paper and was regularly despatched to Moss Lane to take photographs of Altrincham's matches. The Comet utilised ground breaking technology and was the first newspaper outside London to feature colour photographs and you can sense the formative roots of tabloid journalism with front page headlines often focusing on celebrities or sports stars and the odd picture of a local scantily clad attractive young lady ......artistically posed of course!
| | | |
| --- | --- | --- |
| | Images from the Cheshire Comet, 1966 | |
In this particular edition, published on February 9th 1966, there is a story about the imminent opening of the Red Robin Club at the 'allotment' end of the pitch and adjacent to this article is an advert for a town centre store called Elvidge with the killer line of copy 'You are invited to see our full range of slumber and underwear'.......marvellous!!

These were clearly fast moving times at Moss Lane as there is also an article speculating on Altrincham's potential opponents for the official opening of the club's first set of floodlights. To my knowledge, neither Wolves nor Newport County did in fact visit Moss Lane and no doubt one of our three historical musketeers (Terry Surridge, Barry Pikesley or Thomas George Boyd Heslop) will provide the answer to that one!

I'll be back with more nostalgic ramblings based on The Cheshire Comet for Saturday's match against Rushden and Diamonds.

Brian"
GRAHAM'S VIEW
In the matchday programme on Tuesday night, Graham Heathcote wrote:

Sometimes One Point is a Good Result

Welcome to everyone for tonight's game against Kettering Town, who had an excellent result at Oxford on Saturday and will be a really tough test for us tonight as the games come thick and fast. Our lads are going to have to be really strong mentally and dig deep when the going gets tough.

I believe that is what they did in all three games last week – AFC Wimbledon and Wrexham away and then again on Saturday when, having played with a strong wind behind us first half, we didn't really do enough, which meant with the score-line 0-0 at half time we were going to be under the cosh a bit second half and we defended really well throughout the whole game with the injuries really stretching us.

Everyone in the squad is going to have to play their part and that's not going to be easy for the lads who have come in and have not played a lot of football lately. They all did well on Saturday and its going to be really important we get our tactics right as it is not going to be possible to be playing a high tempo game for 90 minutes. We know the teams we are playing have to go for the wins to carry on their fight for the league or a play-off spot or indeed to avoid relegation. We can use these situations to our advantage but we must be more precise with our passing – the last thing we want to be doing is chasing around after the ball.

So the players need to use their brains and think their way through the game.

Your support so far this season has been superb but you will have to be patient with our approach to games some time. The players know how important it is to us all to finish the season in good form and I honestly believe the better the teams we play football wise, the better we will play but some of the teams at the top end of the league are ruthlessly strong and away from home, no frills. This has got them at the top end of this league so they are not going to change now. We must be prepared and sometimes to draw and win a good point. I believe Saturday against York was a good point. The other results proved it.

Graham
SPONSORS
The Altrincham FC Matchday Sponsors list has been updated. If you or your company would like to sponsor a match, matchball or a player, please contact the club on 928-1045 during normal office hours or speak to any club official on match days.
RYAN BROWN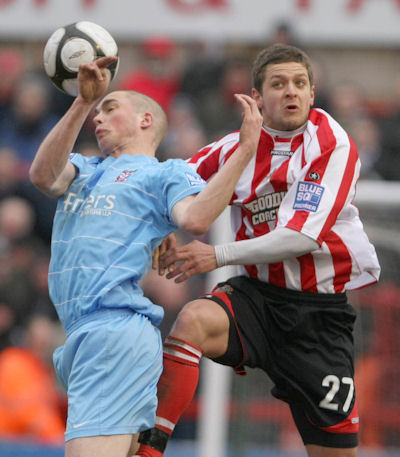 Right: Ryan Brown arrived at Moss Lane on loan from Northwich Victoria on 16 February. Before the game with Kettering, he had appeared seven times for the Robins, including starts in the last three games. Photo courtesy of Gavin Rathbone.
BSP NEWS
The Football Conference says that "Gateshead have brought in Tamworth midfielder Gavin Hurren on an emergency loan... Hurren made ninety-three appearances during a three-year spell at Kidderminster Harriers following his release from Nottingham Forest. A brief spell at Mansfield Town then saw the defensive midfielder join Crawley Town on loan and then Tamworth during the close season.

Opportunities at The Lamb have been limited and Hurren was offered a contract at AFC Telford United until the end of the season after a successful loan spell with the Bucks at the end of 2009... Looking for a longer deal, and hoping to stay in the Blue Square Premier, Hurren... returned to Tamworth. Lambs' manager Gary Mills, however, has told the midfielder he does not figure in his plans".

"In the form Newport County have been in for so long this season, it was difficult to expect Havant & Waterlooville to spoil the Blue Square South promotion party at Spytty Park on Monday night" reports the Football Conference. "A record crowd of 4,221 saw County take the league title and become one of the earliest champions in recent times... Manager Dean Holdsworth, who took a fair amount of stick early in his tenure, deserves huge credit for guiding the Exiles to an extemely impressive home record of fifteen wins and three draws from eighteen games".

Kettering Town, our opponents on Tuesday night have only got until the end of March to ensure that they have a 10-year lease or ownership of their groundsatisfy football league requirement which is having ownership of a stadium or a ten year lease. Currently their lease has three years leftand if the Poppies cannot meet the criteria, they would not be allowed to participate in the play-offs. In that case, the club finishing second would get a bye to the play-off final. There is an interview with Colin Peake (of the conference and FGR) on the BBC iPlayer.
---
16 March 2010
HELP NEEDED TODAY!
Alty matchday secretary George Heslop is urgently in need of some volunteers for Tuesday night's match against Kettering to staff some of the turnstiles. Payment of £5 will be given; please ring the club on 928-1045 after 9.30am tomorrow if you can help. Many thanks!
TONIGHT
The referee tonight for Alty v Kettering is Mr P. Curry, who officiated at Burton 1 Alty 1 on January 24 2009. Saturday's ref for the visit of Rushden is Mr R. Wigglesworth who reffed Alty 0 Crawley 0 on 12 September 2009, the game in which Robbie Lawton was sent off. He also handled Alty 4 Weymouth 0 on 14 March 2009.

From the Oxford Mail we read that "Kettering player-manager Lee Harper says he thinks Stevenage now have the edge in the race for the title... Last week, Crawley boss Steve Evans suggested Stevenage were not good enough to take top spot. Harper disagreed, though, saying: 'I believe it will be Stevenage. That's nothing against Oxford. But from what I've seen, they've got a little bit more. They're a little tighter at the back and I think they have the edge. But it will be a great race".

And the Northants Evening Telegraph says that "Lee Harper insists Kettering Town will 'keep going' as they look to secure a top-five finish. The Poppies picked up a valuable point in a 1-1 draw at second-placed Oxford United at the weekend as their superb away form continued...

Harper added "I have said all along I won't moan about the budget and what players we have got... We know we need to pick up our home form but we will continue to go for it and see if we can finish the season well". However, "Harper, meanwhile, felt that comments made towards him by Oxford assistant-manager Micky Lewis were 'uncalled for' after the Poppies boss contested a decision with the referee during the second half. The two sets of coaching staff had to be separated".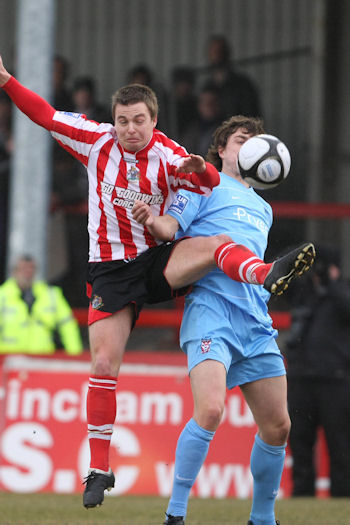 Right: An unsung hero for Alty is midfielder Anthony Danylyk, seen here showing his customary application against York last Saturday. This and more photos are on Gavin Rathbone's GR Photography website.
INNOVATIONS ON THE MENU
Altrincham FC official caterer Richie Bentley is putting his heart into the job with some innovative offerings...

Richie writes "The next few weeks are going to be exceptionally busy here at Moss Lane. From a catering point of view I am hoping to impress the old League clubs with what we are offering here at Altrincham - whilst satisfying the hungry scouts and Board at the Man. Utd reserve fixtures.

We still have some exclusive sponsor opportunities over the next few games; all against great teams as well.

Rather than do the usual Dish of The Day, I am going to give you the low down on the forthcoming half-time treats available for the next few games.

The Kettering game is one for chocolate lovers with loads of home-made ganache and drop chocolates...

The Rushden match will feature Bentley's famous beef and Budweiser pies...

And if that was not enough, our friends at Bollington Brewery have made up some Alty Legend real ale and Bentley Bitter, which will be fermented in time for the Kidderminster Harriers game. I will be bringing along my hand pumps so we can dispense it in true pub style!

Get your table booked now!

Cheers, Richie.
GATES HOLDING UP
There are some interesting attendance figures on Mike Avery's site. Altrincham are keeping up to last season's level but some BSP clubs have been suffering major drops, e.g. Histon are down 21%. However, promoted Gateshead are actually up 32% from last year from 478 to 633, and Hayes are up 60% to 549 from 344. But our neighbours Northwich Vics are down 37% from 787 to 493.
LAST GAME
Many thanks to all the collectors and donors at Saturday's game; the half-time bucket collection raised £55.17.

York City has "Reports, photos and reaction to York's 0-0 draw [at Altrincham]. City failed to take their chances... Martin Foyle's post-match interview with Radio York is available here. "York City manager Martin Foyle tells BBC Radio York he is astonished that they failed to score at Altrincham".

The Press adds that "Nicknamed the Robins, red-breasted Altrincham should have been blushing a similar shade of rouge by the end of Saturday's home clash with York City. Embarrassment would, after all, have been the natural reaction for a team extremely fortunate to share the spoils during a one-sided goalless draw.

Graham Heathcote's men failed to force a single save from Michael Ingham during a shot-shy 90 minutes with James Meredith's headed backpass the nearest Altrincham came to threatening a goal. At the other end, City created a glut of chances... Brodie moved to within three cautions of a three-game ban following yet another booking for simulation in the penalty box. The City striker might have failed to net now in eight matches but his movement and persistence continues to unsettle Blue Square defences... Cutting out the gesticulating and appealing to referees would, no doubt, enhance his chances of staying on the right side of the officials".

Action shots of the game are here.

Elsewhere the Press says that "Suspended midfielder Levi Mackin has been told to 'grow up' by annoyed York City manager Martin Foyle. Mackin picked up his tenth booking of the season during Saturday's 0-0 draw at Altrincham after shoving Chris Denham to the ground.... Top scorer Richard Brodie was also cautioned for a 12th time at Moss Lane, moving him to within three bookings of a three-match suspension. Foyle said: 'Levi Mackin's last four or five bookings have been silly and Saturday's was as well. I wasn't going to play him (at Altrincham) because I wanted to make sure he would be available for Mansfield and Wimbledon, but the decision he made has cost us and we need to grow up very quickly'...

"We created enough chances to win a game, as we did against Salisbury and Forest Green, but couldn't get the ball in the net although their 'keeper made a fantastic save from Richard Brodie. Michael Ingham didn't even get his gloves dirty" said Foyle. ""About Saturday's tactics, the Minstermen boss, who made four changes to his starting line up, said: 'The pitch was very good and I'm trying to find a winning formula. That's my job and that's why we keep chopping and changing. I want to play with wingers, but you can't do that at our place'".
TASC NEWS
The Altrincham Supporters' Club (TASC) column from tonight's programme is below, courtesy of Steve Foster.

"Good Afternoon, and welcome to Kettering town for this evening's game. Like York on Saturday, Kettering are having a good season, and will be coming looking for valuable points to keep them in the play off race.

TASC Football Predictions Competition 2010

Don't forget to enter this competition, the deadline for entries passes at kick off against Rushden and Diamonds on SATURDAY MARCH 20th. Please hand your sheets in to Anthony in the club shop before then.

"My Square" pitch sponsorship

The time has come for the auction of the second 'extra special square' on the hallowed turf, and who will ever forget Michael Welch's 70 yard free kick against Crawley Town last year. The auction for the Michael Welch square will start today, and continue on the internet on www.altyfans.co.uk. Anyone wishing to bid off line can contact the club and these bids will be added to the internet bidding thread.

BAG2 THE FUTURE IS BACK

Who are Bag2TheFuture? They are a business which specialises in collecting second-hand clothes in their original condition, these are then sold to developing countries in Africa, the Indian sub-continent and parts of Eastern Europe.

What is it? If you have any good quality secondhand clothing, bedding, curtains, soft toys, shoes (tied together please), belts and handbags you could donate, (NO Bric a Brac), please start saving these items now.

How do I do this? Bags will be available at tonight's game and on Saturday. If extra bags are required you can just use a ordinary bin bag.

What do I do with my bag then? Please return your bag with articles to Altrincham Football Club on Sunday 21 March 2010 between 11am - 1pm. Please look for the signs and somebody will be there to take it from you.

What happens next? The bags will be collected by the organisers, Bag2TheFuture, on Tuesday 23rd March and taken away to be weighed. The club will receive £200 per ton. Basically, the more we collect, the more money will be made. If we don't make the ton, we still get paid for as much as the items weigh.

How much does this cost? The cost to you is nothing, apart from a bit of time filling your bag and bringing it to Altrincham Football Club on the above date. All bags are supplied by organisers. Please note all bags are checked before weighing.

Can I bring my bag to the game on the 20th March? Yes, there will be signs and a place allocated. Please do your best to support the above scheme.

Race Night and Player of The Season awards

Voting forms for Player of the season will be handed out at the turnstiles tonight, On the form there is also a section to fill in if you want to buy a horse or sponsor a race for the race night (costing £10 and £20 respectively). Please fill these forms in and hand them in to the TASC section of the shop at your earliest convenience"

Gareth Thomas and Steve Foster (TASC Committee members)
NEXT UP
Next Sunday (20th), Altrincham host FC United of Manchester at Wythenshawe Town (2.30pm) in a NWYA Premier Division match.
BSP NEWS
The Chronicle Live says that "Gateshead manager Ian Bogie faces the monumental task of lifting his side for tomorrow's crunch six-pointer at home to Forest Green Rovers after a humiliating 8-0 defeat at Rushden & Diamonds... Gateshead – without four key players – capitulated to the second heaviest defeat since the club reformed in 1977...

Gateshead were spineless at Nene Park... Beleaguered boss Bogie is hoping to sign a Swedish Under-21 international midfielder and an unattached Conference schemer today... Bogie said: 'Saturday was one of my darkest days in football and an embarrassment for Gateshead Football Club... We will be eight points above Forest Green if we beat them and will go ahead of Eastbourne and Ebbsfleet with games in hand on both if we get the win we need... Rushden looked as if they could score in every attack. We failed miserably and let everyone down... There was no belief and we were devoid of character and spirit. We got rolled big style and our pride has been massively dented. The players are shell-shocked but have only themselves to blame. If we'd played 10 more minutes it would have been double figures. I have never felt so despondent in a long career in the game".

Gillingham confirm that "Promising youngster Luke Rooney today joined Eastbourne Borough on loan for the remainder of the season".
---
15 March 2010
SALUTE THE STEWARDS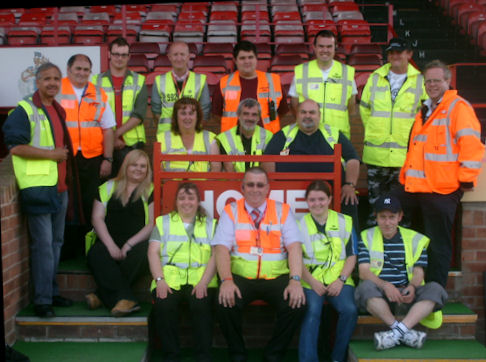 The Altrincham FC stewards are a greatly appreciated group of volunteers, expertly managed by Altrincham FC Security Officer, Darren Gregory, who writes on the Alty Fans' Forum in response to a query about the additional stewards at Moss Lane on Saturday... "They were not from York but from an outside agency called Showsec and there were eight of them. They were brought in to assist after problems at earlier games in the season. We have to make sure we have the right stewarding levels when a large away following is expected because if we have a problem and keep calling the police in they will insist on attending every match and they are more expensive.

Before you say what a waste of efffffing money just think and remember that, out of a squad of 31 stewards, only 20 could make yesterday's game due to other commitments and they don't get anything but still turn up each week. The club and the fans have to realise that times are changing ,with more and more large away followings coming to Moss Lane with yesterday being the sixth plus-350 away attendance. Hence the extra 8 from Showsec, which is only the second time this season we have had extra stewards. The attendance was 200 up on last year's game so the club will have still made a profit.

Details of large away followings this season - not including those in the seated areas- and the number of stewards per game in brackets:

York 417 (28) including 8 from Showsec
AFC Wimbledon 440 (21)
Chester 455 (22)
Mansfield 389 (18)
Luton 640 (21)
Wrexham 592 (35) including 10 stewards from Wrexham

In 22 matches at Moss Lane, so far this season, involving Altrincham FC, 435 stewards have been on duty and the club have only paid for 18. I bet there are 22 clubs in this league who would like our stewarding bill".
ALTY 0 YORK CITY 0
Match report.

There is an unofficial Video of the Alty v York game on Harry's site.
YOUTHS DRAW
There is a report on Alty Youth's 1-1 draw with Morecambe in the Youth section
FLYNNZINE
The latest "Flynnzine" from Brian Flynn is reproduced, below, from the Robins' Review...

Fandabidozi Day Out by The Thames!

Of all of our away trips this season, I enjoyed last Saturday's foray to Kingston Upon Thames the most. A beautiful bright and sunny day and a remarkably good drive down, particularly compared with our recent trip in the FA Trophy to the same destination, meant that a decent number of Altrincham folk had arrived at Kingsmeadow by 1.00pm.

Although there were still a couple of hours to kick off, there was already a good buzz around the ground, with both the Car Park and bar filling nicely. I was a little pre-occupied at this stage as I was waiting to greet Dan Martell and my son, Niall, who were in the process of cycling the last leg of their 235 mile ride from Moss Lane to Kingsmeadow. The lads rode into town at 1.20pm and thanks must go to Graham Heathcote for taking them into the dressing room to see the players.

We adjourned to the bar as Dan and Niall voraciously set about a couple of burgers and a friend of mine, who lives in Hove, commented on how friendly he always found non-league games, whereas he was often on his guard at league matches.

I like Kingsmeadow and AFC Wimbledon seem to be a very well-run club. The experience for Press is probably the best in the league and as I took my seat in the Press area, I was delighted to see such a strong presence of Alty fans, who did a great job encouraging the team throughout the game.

At 2.55pm it was all down to the players and I thought the team played ever so well and thoroughly deserved a point. I do not subscribe to the general view that Terry Brown was critical of Alty's tactics. That was purely the spin that journalists put on his words but, if you listen to what was said by the AFC Wimbledon manager, he was actually quite complimentary about Graham Heathcote and the players.

Chris Senior received a positive mention, whilst Robbie Williams and Greg Young were singled out as giving outstanding performances at the heart of the defence. This viewpoint was echoed during the presentations in the bar after the game as Ben Judge, the AFC Wimbledon Man of The Match, stated that 'their centre halves dominated Danny Kedwell and Nathan Elder in a way that no other team has achieved this season'.

Interestingly enough, the chap compering the presentations was also very complimentary about us saying that 'We have had three good games of football against Altrincham this season and the welcome received at Moss Lane at the game in August was possibly the warmest received anywhere since the formation of the club'.

Everything considered....a top banana day!

Brian".
BSP NEWS
Metaphor of the season comes from the Uxbridge Gazette which says that "Pony-tailed Amy Fearn made a horse's ass of herself, according to Garry Haylock in the 0-0 draw between Hayes and Yeading and Grays on Saturday. The United boss was fuming at the 31-year-old's handing of the game at the New Rec, blaming her for the drab draw that did neither side much good...

'She was surely the worst referee we've ever had', Haylock fumed. 'If you're not good enough - don't come and do the job. She was truly awful. It didn't help that we came to a place like this where the bounce on the pitch made it difficult, and the small ground made it hard to make use of our wingers... In the circumstances, we did well to keep a clean sheet', claimed Haylock. 'However, if the referee had got on top of the game from the off it would have been different - but she was weak all the way through'". And Grays' bost Julian Dicks told the NLP, "I don't think women should referee men's football, that's my opinion".

From This is Sussex we learnt that "Lewis Killeen says the Crawley squad are fully behind the club's decision to cut costs this season - insisting he and his fellow professionals are happy to make financial sacrifices for the Reds. The Crawley players have been driving to games in their own cars in recent weeks without claiming petrol, but the former Halifax Town star insists there have been no complaints.

He said: 'Everyone is digging in, we have a small squad but that makes us close knit and we like being the underdogs. Our run of form has been against the odds, a little bit, so we'll stick together and keep our enthusiasm. We've got an amazing spirit, we are driving to the games and things like that but everyone is happy to do that as it's what we need to do... We need to keep getting positive results if we are to have any chance of making the play-offs', he said. 'Hopefully the teams above us will start making mistakes and we can slip in there at the end'...

Like the majority of the Crawley squad Killeen is out of contract at the end of the season but says he wants to stay at the Broadfield after his current deal expires. 'I'd like to be here next season as it is a fantastic set up', he added. 'It all depends on what the gaffer's plans are for next season'".

According to the Cambridge News, "Fans' plans to buy the R Costings Abbey have been given a massive boost with around £750,000 being pledged to the scheme in just four days. Cambridge Fans United need to prove by March 24 they can find £3.5million to purchase the ground from Bideawhile to match the amount Grosvenor Developments are set to pay.

The supporters' trust aims to set up a Community Investment Company (CIC) which would own the Abbey, lease it to Cambridge United and use the club's rent to pay interest to investors... CFU member Kevin Robson, who helped dream up the scheme, said he was thrilled with the response, with more than 500 parties making pledges - some offering to buy stakes of up to £10,000".
---
14 March 2010
YOUTH TEAM HELD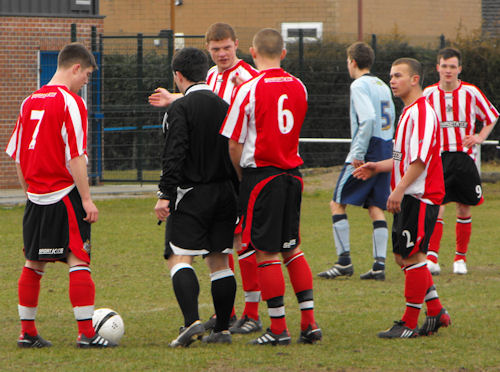 Altrincham Youth were held to a 1-1 draw on Sunday afternoon in their NW Youth Alliance Premier Division league match. Their opponents, Morecambe, went ahead in the 31st minute, against the run of play, when they broke away following an Altrincham corner. Kieran Madden equalised with a well-taken goal three minutes later. But in a game played on a bumpy pitch in gusty winds, there was to be no further goal for either side. Report to follow.

Right: Alty Youth prepare to take a first-half freekick.
ALTRINCHAM 0 YORK CITY 0
Giving the Alty v York game a rather harsh two points out of five for entertainment, the NL Paper's report quotes York boss Martin Foyle as saying 'We didn't get the three points we thoroughly deserved. We played some excellent football in the second half... We created enough chances to win comfortably'

Match report.

After Saturday's game York City site said that "York have signed defensive midfielder Paul Harsley until the end of the season. The 31 year old is on loan from Chesterfield and made his debut at Altrincham this afternoon. Paul is a product of Grimsby Town's youth system but got his first-team break at Scunthorpe United. Since then he has played for Halifax, Northampton and Macclesfield in addition to a spell at Port Vale under Martin Foyle... He spent December on loan at League Two struggles Darlington".

It continues "Despite controlling possession and creating a host of chances, the Minstermen had to settle for a point and a clean sheet at Moss Lane... Additional width brought by Courtney Pitt and the impressive Adam Smith was, at times, a breath of fresh air even if it ultimately went unrewarded...

It was far from gripping before the interval but James Meredith did inadvertently cause a minor drama with a back-header that nearly lobbed Michael Ingham, who scurried back well to spare his team mate's blushes. City always looked the more likely, though... Play was almost entirely in the Altrincham half but Brodie's claims for a penalty after 75 minutes fell on deaf ears as the big Geordie was instead booked for diving by referee Jeremy Simpson".
TOM KEARNEY
Stuart Hammonds writes in the NLP that Tom Kearney "said he had received calls in hospital from Wrexham personnel apologising for the fans' reaction". They booed Kearney as he was stretchered off with a double leg fracture whilst cheering the perpetrator, Frank Sinclair, who was sent off for his foul challenge. Kearney has also reportedly received a "voicemail from Sinclair".

Alty boss Graham Heathcote added, "If you are a full-time player you get looked after and the contract runs through" when you are injured. But "There are far more implications with part-time lads on year-long contracts. We will support him in the best way we can and get him back as soon as it's right.

We've built this club on honesty, integrity and looking after the players. I've had players with me who have played for years without contracts. You can only do that with the backing of your chairman, directors and the players' trust in the people who run the club".

Wrexham manager Dean Saunders was "critical of referee Steve Martin's decision to send off Sinclair but added, "Tom has broken his leg and that's more important than anything'". Sinclair said of Kearney, "He's ended up in a really bad situation and I'm disappointed with that".

For Alty captain Robbie Lawton's view on the affair, see the Captain's Log, below, in Saturday's news...
OLD BOYS
The Manchester Evening News reports on two ex-Alty men as "A woeful performance from FC United saw them slip to a shock 2-1 defeat to Durham on Saturday. Durham had previously lost all 28 of their league games this season... FC took the lead against the run of play after seven minutes when Carlos Roca headed home... Durham then took the lead just after half time through an Elliot Cutts penalty after Ludovic Quistin handled the ball in the area. The Rebels should have equalised soon after through a spot-kick of their own, but Ben Deegan's powerful effort was tipped over the bar".

Ben Muirhead has left Harrogate Town and joined Buxton. Cavell Coo is now at Curzon Ashton, whilst Andrew Pearson scored for Rhyl at the weekend. Former loan players Greg Tansey and Paul Turnbull both played for Stockport County on Saturday.

News of an ex-Alty Reserve comes from NL Daily, which informs us that "Warrington Town`s striker Richard Chetcuti played in the UEFA Championship for Malta under-21s last week. Chetcuti played against Belgium at Lockeren`s stadium in Belgium. The score was one-nil to Belgium, but in the 93rd minute Chetcuti broke through the full-time professional defence to score, only to be given offside".

Ashton Town have signed Mike Garside.

Former youth player Osebi Abadaki "made a promising debut for Ashton United on Saturday as a substitute at Whitby, after signing that morning from Stalybridge Celtic. His powerful run and cross set up the opening for Iain Howard to score Ashton's equalising goal in a 1-1 draw". (Information courtesy of Jeremy Sayle).
COMING SOON
Next Saturday, Alty host Rushden and Diamonds, whom they beat at Nene Park earlier this season. But on Saturday the score was Rushden & Diamonds 8 Gateshead 0. "The 8-0 victory is the record home victory in league games" for the club... It means that Justin Edinburgh has been in charge for both the Diamonds record away victory (9-0 at Weymouth), and the record home league victory. The team now have a free week to prepare for the trip to Altrincham next weekend, with their hosts playing at Kettering in midweek giving the Diamonds management team a chance to plot an approach to what will be the first of a tough run-in for the team, with all their remaining opponents in the top 12 in the table apart from Ebbsfleet".

Meanwhile Tuesday's visitors, Kettering Town, "took their excellent away record in the league to the Kassam Stadium, the home of Oxford United... It wasn't pretty as the honours were shared in a 1-1 draw". Kettering Town's line up was 31 Nathan Abbey, 3 James Jennings, 4 Darren Wrack, 5 Ian Roper (Captain), 6 John Dempster, 8 Jordan Hadfield, 11 Kwesi Appiah (16 Elliott Charles 54), 12 Greg Taylor(2 Alton Thelwell 85), 14 James Dance (10 Jean-Paul Marna 71), 17 André Boucaud, 22 Marcus Kelly. Unused Substitutes: 15 Patrick Noubissie, 20 Danny Thomas.

For the Poppies, Manager Lee Harper decided to start with James Dance and Kwesi Appiah in attack... For Oxford, Lewis Chalmers launched a couple of long throws into the six yard box which were well dealt with by the visiting defenders... The game remained a very poor affair with neither side able to make a real impression. Grant did, however, make an impression on... Roper with what looked like a bad challenge, which saw the burly defender have to leave the field... The 10 men of Kettering played the game out".
BSP NEWS
In Sunday's NL Paper there is an interesting insight into the finances at Histon where the new chairman is attempting to reverse a previous regime's extravagance, a trend seen previously at other clubs such as Salisbury, FGR and Crawley this season. Chairman Tony Roach "who replaced Gareth Baldwin [who is now on the Cambridge Utd board] stresses he is purely on a damage limitation exercise". He said wages had "spiralled out of control"... and "things were bad, really bad. Some members of staff had not been paid for 8 months. The club had massive debts". As for the six first-teamers dropped after refusing to agree new terms, Roach said, "Someone who actually plays for Histon was suddenly renegotiating these deals. We were being strangled by one of our own players who is acting, if you like, as an unofficial agent... I simply have to get the playing budget down from £750,000 to just over a quarter of a million...

Next season I'm not doing bonuses. I'm not paying £100 an appearance any more, I'm not paying £100 for a clean sheet... and so on. I worked it out. If we win a game 1-0 many of them take home £1,000 a week - from a part-time club!...

The weekly basic we put forward was not too dissimilar to what they are geting now; it was the bonuses. I told them we couldn't afford it, they said they would sign... It is their decision not to sign, it's ours to ask them to stay away".

Manager Alan Lewer "wants only three new players in the summer... The League is still achievable. OK, it may take four years but that is our target", added the chairman.

At FGR chairman Trevor Horsley, according to the NLP, "estimated he has invested more than £2million in Rovers and said 'This could not carry on indefinitely and now the company needs to search for new investment'. Vice-chairman Colin Peake added, 'We need new investment now, wherever that may come from'". The NL Paper adds that "the club's delicate finances are not likely to be helped by an employment tribunal with former manager Jim Harvey, who claims he was unfairly sacked... The NLP understands Rovers have tried, so far unsuccessfully, to settle out of court with the current Stalybridge boss. The case was due to be heard last week but has been put back".

16 points off the play-of places, Wrexham boss Dean Saunders told the NL Paper after defeat yesterday that you wouldn't have a bet now on the Dragons getting promoted; "I've got to build a team to get us out of here and it's going to take a bit longer than I thought", he stated.

Blue Square Football tells us that "Barrow AFC have bolstered their squad with the capture of midfielder Kayleden Brown and full-back Paul Edwards. 17-year-old Brown has joined the Bluebirds on a work experience deal and the Baggies will the option to recall the youngster after Thursday, April 8. 30 year-old Edwards has been training with Barrow recently after spending much of the season on the sidelines because of injury. Edwards was released by Port-Vale at the end of the 2008/09 season and linked up with Wrexham AFC for a trial spell at the end of last year".

According to the Cambridge News "Michael Frew's drawn-out departure from Histon could finally be completed next week as he weighs up offers from three Blue Square North sides. The striker...has been seeking a loan move away from the Glassworld Stadium for some time... [and] was expected to sign for Corby Town at the start of last month. That deal fell through...

However, goalkeeper Joe Welch, who is also not currently involved with the first-team after failing to agree a new contract, is not attracting interest. 'Michael Frew has had offers from Ilkeston Town, Hinckley United and AFC Telford United... But nobody's come in for Joe Welch'", said the club.

Jack Werndly, the West Ham United youngster who joined Histon on loan at the turn of the year, is nearing a return to action following a bout of blood poisoning. But Craig Hammond's future remains unclear... Said manager Alan Lewer "He had offers to go to Braintree Town and AFC Sudbury, but he didn't want to go there".
---
13 March 2010
ALTRINCHAM 0 YORK CITY 0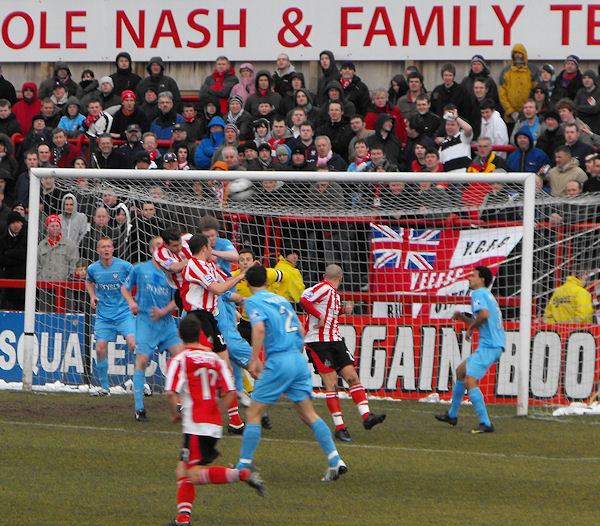 Alty's self-selecting squad - they only have 16 fit players - worked hard to secure their fourth successive draw and further hinder York's promotion push. With James Smith still out with a hamstring injury, Robbie Lawton also sidelined and Tom Kearney missing after having had his leg broken at Wrexham, manager Graham Heathcote had little room for manoeuvre. York had the better of the second half after a more even first 45 minutes but, led by Man of the Match and captain Greg Young, Alty kept the visitors at bay. York's Richard Brodie, the league's leading scorer, had a wretched afternoon - missing two sitters and being booked for a blatant dive.

Match report.

Right: Alty attack the York goal in the first half. It's not snow behind the goal but rolls of paper, thrown onto the pitch by York supporters.

Saturday 13 March

Through the Years by Howard Watts.

BSP fixtures

AFC Wimbledon 2 Eastbourne Borough 0
Altrincham 0 York City 0
Cambridge United 2 Histon 1
Crawley Town 2 Ebbsfleet United 1
Grays Athletic 0 Hayes & Yeading Utd 0
Luton Town 1 Wrexham 0
Mansfield Town 0 Tamworth 0
Oxford United 1 Kettering Town 1
Rushden & Diamonds 8 Gateshead 0

FAT Trophy SF 1st Leg

Kidderminster Harriers 1 Stevenage B. 5
Salisbury City 0 Barrow 1
YOUTH GAME
Tomorrow (Sunday) Alty Youth are at home to Morecambe Youth at Wythenshawe Town, k.o. 2.30pm.
WREXHAM DISGRACE
In his "Captain's Log" column in today's Robins' Review programme, Alty captain Robbie Lawton wrote:

Response to Tom's injury was a disgrace!

"One of Graham Heathcote's favourite sayings is 'It's only a game of Football' and I could certainly relate to this as I drove to work on Wednesday morning. It's easy to get down after a bad result or poor personal performance but the events of Tuesday night really do put all that into perspective.

At that moment, Tom Kearney, was lying in hospital, awaiting an operation to repair his broken leg and whilst the injury is the most important thing, I still can't believe the reaction of the crowd to what happened just before half time at The Racecourse Ground. I can understand the Wrexham fans clapping Frank Sinclair as that shows support for their own player, but to boo an opposition player, who was clearly in serious trouble, as he was stretchered from the pitch is incredible.......particularly a player who they used to cheer for and had been captain of their club!

We're obviously all thinking about Tom and I told him that when I spoke to him on Wednesday morning. He couldn't remember very much about the tackle, but he knew he had suffered a break immediately as he saw his leg wobbling. Initially, he was not in pain as his body went into shock, but that all changed by the time the ambulance came. From what I could see of Frank Sinclair's tackle he tried to get the ball but went in with two feet.

The incident sparked a very lively contest in the second half and the lads deserve credit for getting something out of the game because at half time we were all feeling gutted about Tom's injury and the atmosphere in the dressing room was very sombre.

During the game, one or two of the lads had been getting some stick from the welsh fans with comments such as 'You'll be back stacking shelves in the morning' and this sparked the latest addition to the ridiculous goal scoring celebrations that our Yorkshire lads have been doing in recent games as Chris Senior went through an impromptu routine mimicking a supermarket shelf stacker.........every little helps!!

The pitch on Tuesday night was awful....very dry and bobbly and I went over on my ankle...which is still sore and may keep me out of contention today. After ten years of being injury free, it is amazing to think that in the last eighteen months I have had six cortisone injections, three back spasms, a bone fracture and tendonitis. Team wise, things are no better as we now have had two ruptured cruciate ligament injuries to Dale Johnson and Matt Doughty (there was Kevin Street as well last season) and Tom's broken leg........sadly his girlfriend was there watching on Tuesday night and witnessed those distressing and disgraceful events.

Hopefully, Tom will be out of hospital by today and we can all look forward to concentrating on the match with York, who we have had some good games with during the last few seasons. Enjoy the game!

Robbie".
TODAY'S GAME
It is hoped to provide the usual live Matchday Updates during Saturday's game against York. These should start with confirmation of the starting line-ups before kick-off.
CONGRATULATIONS
Altrincham FC gateman Colin Mitchell and his wife, Jill, have just become parents for the second time with the birth of a baby, Martha. Congratulations and best wishes from all at Moss Lane go to the Mitchell family. Colin is already measuring up the new arrival for an Altrincham FC bib!
BEFORE THE MATCH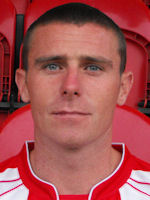 According to the BBC "Altrincham manager Graham Heathcote is short of options after midfielder Tom Kearney suffered a double leg break against Wrexham in midweek. With midfielder Robbie Lawton (right) out with an ankle injury, Heathcote has only 16 fit players to choose from. York will be without defender Chris Carruthers, who limped off during the midweek defeat by Salisbury. Manager Martin Foyle may rotate his strikers after a run of five matches without a win".

Meanwhile, York Press reports that "Robbie Lawton, who replaced Kearney at the Racecourse Ground, is rated very doubtful after twisting his ankle in North Wales. As a result, Robins boss Graham Heathcote is likely to recall 37-year-old former Crewe striker Colin Little and switch from a 4-5-1 formation to 4-4-2. Little would then play alongside Chris Senior, whose recent goalscoring feats saw him clinch the February Blue Square Premier Player of the Month award.

The one-time Scarborough frontman, now 28, has netted nine times in his last 11 matches although he squandered an opportunity to take his season's tally to 16 at Wrexham when his first-half penalty was saved. Alty, currently sitting in 11th place, have failed to win any of their last five matches but have shared the spoils in four of those fixtures, including consecutive 1-1 draws against Wrexham, Wimbledon and Grays. Despite a record of just five home victories in the league, though, the Robins' recent results at Moss Rose have been encouraging, winning four and drawing one of their last six encounters on their own soil.

Team (probable): Coburn, Densmore, Williams, Young, Brown, Denham, Doran, Danylyk, Clee, Little, Senior.

York City are unbeaten in their four previous league trips to Moss Lane. In 2005/6, they won 3-0 and the following campaign triumphed 4-0, with Richard Brodie scoring on his debut. In 2007/8, Martyn Woolford scored twice in a 2-2 draw while, in the corresponding fixture last term, Brodie netted the equaliser in a 1-1 encounter...

York City manager Martin Foyle has reminded "doom and gloom" merchants that the club are still in control of their own destiny in this season's play-off race. A run of four successive defeats has seen Foyle's side surrender a significant advantage in the battle for top-five places and drop to sixth...

Foyle said: 'There's a lot of doom and gloom at the moment but the play-offs are still very much within our grasp. We have got to keep fighting and the players know that. There have been some individual mistakes but we've got to get on with it because we are all in it together. We're expecting a difficult game at Altrincham – there are no easy ones in the Conference and people need to understand that – but we will be able to get the ball down and play on their pitch. We are looking forward to that and then we've got two crackers against Mansfield and AFC Wimbledon and I would prefer to play those teams up there with us at the moment'.

David McGurk is fit again following the knee injury that saw him miss Tuesday night's 2-1 home defeat against Salisbury and is expected to return to the starting line-up. Skipper Daniel Parslow and midfielder Levi Mackin have also shrugged off knocks... but Alex Lawless (hamstring) and Chris Carruthers (ankle) are still sidelined.

Foyle [added]... 'I've tried to bring a couple of players in but we haven't been able to get them here... It would be good to freshen things up because we need better at the moment'. Having started with a 4-3-3 formation before losing Carruthers against Salisbury, Foyle also stressed that he would not rule out adopting similar tactics between now and the end of the season. He said: 'It's the only formation we seem to come up against at the moment. You look at the top five and they are all playing it. None of them are playing expansive football and I don't think you can during the final third of the season in this league, when teams are getting nervy and we're seeing a string of funny results'".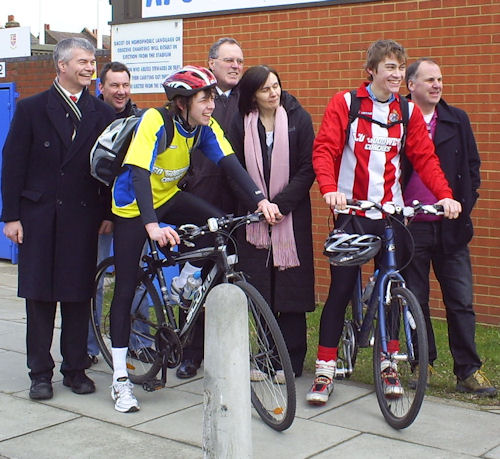 NO PLANES, TRAINS OR AUTOMOBILES!
Brian Flynn writes:

"Dan Martell and Niall Flynn cycled into Jack Goodchild Way, Kingston Upon Thames at 1.20pm on Saturday to complete a 235 mile cycling trip that had started at Moss Lane on Thursday morning. The lads were met by fans and club officials who were amongst the early arrivals for the game against AFC Wimbledon and Altrincham manager Graham Heathcote took Dan and Niall into the away dressing room, where they were given a round of applause by the players who were told by Graham Heathcote that 'We want you to give your all for ninety minutes this afternoon....these lads have bust their guts on their bikes for three days to get here'.

Niall (left) and Dan (right) are pictured at Wimbledon with Grahame Rowley, Paul Flynn, Andrew Shaw and Karen Rowley.

The journey took a massive toll on Dan and Niall's limbs as they mastered terrain of widely varying difficulty and managed to call in at a number of Football Grounds on the way (Kettering Town, Rushden and Diamonds, Hitchin Town, Potters Bar United, Barnet, Wingate and Finchley and Arsenal).

The sponsorship money raised is being split 50/50 between Altrincham F.C. and The Childrens' Adventure Farm Trust and the final amount raised should be over £1500.

Dan and Niall would like to thank everyone at Altrincham F.C. and A.F.C. Wimbledon for their help and support in this venture.

You can still donate online or by contacting one of the following:-

Altrincham FC

Or, you can ring Altrincham Football Club on 0161 928 1045.

You can also donate online at:- Just Giving

Online donations are eligible for Gift Aid and will be paid directly to The Children's Adventure Farm Trust by Just Giving".
OLD BOYS
Three players with Alty connections are the subject of a report from the Vodkat League that "New Mills manager Tony Hancock has freshened up his squad with three new signings 'We have signed the Baguley brothers (Chris and Jamie), who I attempted to sign in the summer... They both offer us different options and they are very good footballers indeed. We have also signed Kane Berkeley who at just 17 is a real prospect with a lot to learn. Kane knows he has to knuckle down here if he wants to succeed and listen to the advice from both myself and Kirky (assistant manager Paul Kirkham)'".
SATURDAY GAMES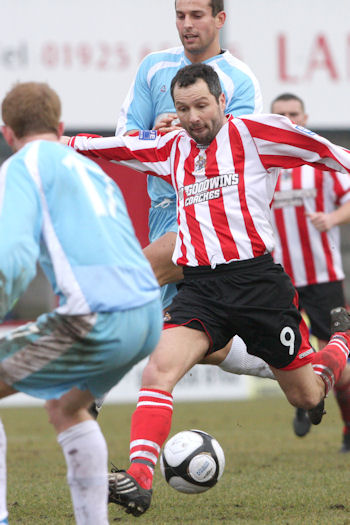 Right: Colin Little could get a recall today against York City. He has started just ten league games this season. Sadly the Conference has erased two of his four league goals from the records as they were netted against Chester City. He is seen here in action in Alty's last home game against Grays Athletic, by Gavin Rathbone of GR Photography.
BSP NEWS
"After receiving the necessary permission from the relevant authorities, Tamworth have registered 20-year-old defender Aaron Mitchell" reports the Football Conference. "Mitchell, who stands 6`5" tall and was nicknamed 'Crouchy', began the season on the books of Nottingham Forest and has been on the bench with the first-team around ten times prior to Christmas. His contract was cancelled in January and he had a brief spell with League Two side Burton Albion but only made a reserve team appearance".

Blue Square Football says that "Play-off hopefuls Luton Town have secured the services of midfielder Simon Heslop on a 28-day emergency loan from Barnsley. The York-born midfielder kinked up with Kettering Town earlier this season, making eight first-team appearances during a two-month loan stay. The 22 year-old has also spent time on loan with Kidderminster, Tamworth, Northwich, Halifax and Grimsby Town".

From NL News24 we learn that "Rushden and Diamonds have deferred contract talks with their players until they know which league they will compete in next season. Most of Justin Edinburgh's squad will be looking for new deals this summer, but the manager says the priority now must be pushing for a promotion play-off place. Edinburgh has held preliminary discussions with key players while on-loan Nottingham Forest midfielder Mark Byrne has expressed a desire to stay.

Edinburgh tells northantset.co.uk: 'There are no ongoing contract talks. It's more important at the moment to prioritise the team over any individuals... I don't want anyone to lose concentration from what we are trying to achieve. We need to know which league we are going to be playing in and the lads understand that'".

"Barrow have signed West Bromwich Albion midfielder Kayleden Brown on 'work experience' until the end of the season" reports the Football Conference. "Brown, 17, will miss the Bluebirds' FA Trophy Semi Final as he was not registered in time but can feature in the league. The Wales under-19 international was an unused substitute in February's FA Cup Fifth Round tie against Reading but is yet to make his full Albion debut".

NL Daily reports that "Gainsborough Trinity boss Brian Little has added to his squad... with defenders Darren Williams and Mark Robinson joining his Blues recovery. Williams, 31, and Robinson, 28, both from Blue Square Premier side Gateshead, will join Little's side for the remainder of the season".
---
12 March 2010
UPDATE ON TOM KEARNEY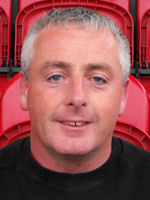 Altrincham FC physio Sean Riley (left) has kindly provided an update on the injury to Tom Kearney, sustained on Tuesday night.

"Following the challenge on Tom at Wrexham I quickly established on the pitch that he had sustained fractures to both his tibia and fibula, Tom also knew he had suffered a serious injury. An X-ray on Tuesday evening confirmed the initial diagnosis and Tom had to undergo a one and a half hour operation on Wednesday afternoon where a titanium nail was inserted down the centre of his tibia and screws inserted at the top and bottom of his shin bone. I can confirm that the surgery was very successful and the surgeon was pleased with the surgery. Tom was obviously in some pain after the operation but that should soon settle with the pain relief. He was discharged from hospital this afternoon and his treatment will be continued at a hospital closer to home.

Everyone at the club sends their best wishes to Tom and wishes him a speedy recovery.

The assistance I received from the medical staff at Wrexham was first class. I would like to thank everyone from the stretcher bearers to the Club Doctor for a very professional job in dealing with such a serious injury. Special thanks go to physio Ritson Lloyd, who made sure I had everything I needed while dealing with Tom, even providing me with phone numbers for the hospital and direct to the ward.

He was in regular contact with me late into Tuesday evening and even met me at the hospital on Wednesday morning to come in and see how Tom was. The club and myself appreciate all your efforts. Thank you".

Blue Square Football reports that the man whose challenge put Tom Kearney in hospital, "Wrexham defender Frank Sinclair, feels that Dean Saunders is the right manager to take the club forward. The former Jamaica international is confident the Wales assistant boss will still be at the Racecourse Ground next term and is backing him to build on what he has achieved this term. 'I think the manager has learned a lot this season about different players', the 38-year-old told the Daily Post. 'I think he'll make some changes in the summer, but he's said he'd like me to be involved next season and we're trying to sort out a contract. I'm quite happy to stay - I believe in the manager's ideas in the game and his ambitions to get Wrexham back to where they should be, and that's what we all believe', Sinclair concluded".

The BBC confirms that "Wrexham will not appeal against Frank Sinclair's four-match suspension following his red card in Tuesday's 1-1 draw with Altrincham at the Racecourse. The veteran defender saw a straight red for a first-half challenge on Tom Kearney that left the Altrincham man with a double break of the leg.

Immediately after the game, Wrexham manager Dean Saunders said that the club would appeal against the card. 'It was a block tackle but [Sinclair] got the ball', said Saunders. 'I seriously think that something has to be done about the standard of refereeing... I know Frank has not meant any harm to him. Frank slid in and he's said that Tom kicked the bottom of his foot and it's just connected on that spot. I think because [the referee] has been watching Match of the Day he's jumped on it straight away and sent Frank off. [I thought two Altrincham players] were going to get red cards but they never'".
YORK COMING IN NUMBERS
York City report that "City are determined to support the manager and the players in the final games of the season as we push for a play off place. Thanks to a generous sponsorship offer by our Travel Partners, York Pullman, the Club are offering a special travel price to Altrincham this weekend. The Minstermen need to maximise support on the terraces for the re-arranged fixture and fans will be able to travel for just £7.50 per person. Bookings are going well and City Fans have snapped up tickets with two coaches almost fully booked".

After eight successive wins in the BSP between November and January, York City have recently had a reversal of fortunes with just one draw from their last six league and cup games. Alty's game on Saturday is the first of three successive home games for the Robins, all against top-six opposition (York, Kettering and Rushden).

For their part Alty have drawn their last three games and have won one league game in their last seven outings.
SPECIAL OFFER
For the Altrincham v York City game this Saturday admission will be just £5 for spectators bearing valid Football League club season-tickets (and also for Chester City season ticket holders). Spectators taking advantage of this offer should also bring photo ID with them. Entrance will be through turnstile numbers 5 and 6 (on Moss Lane) only.
TASC MINUTES
Minutes from the latest meeting of The Altrincham Supporters' Club (TASC) committee are here.
YANKEE
This week's Altrincham FC Saturday Yankee saw the jackpot remain unclaimed at £5,000. SO why not join in and, for just a £1 stake, you could win that sum. The unissued winning code was 1664, but there were five winning "trebles", each winning £40.
WHEN ALTY WERE KINGS
When Alty Were Kings, parts 11 and 12 by Barry Pikesley, have been added to the website. This entertaining review of the 1979-80 season, when Altrincham won the Alliance Premier league, forerunner of The Football Conference, is reproduced courtesy of the Robins' Review.
WHEN MOSSLEY WERE KINGS
John Cawthorne of Mossley web writes "Mossley AFC are planning a celebration dinner on Saturday 22nd May to commemorate 30 years since the club's famous Wembley appearance and are hoping to contact all the members of that fantastic Mossley team to attend.

We have already managed to contact several members of the 1980 Mossley squad but are still trying to contact others.

If you know of the current whereabouts of any of the players from that season please contact mossleyweb@hotmail.com or phone Steve Tague on 01457 83 4324.

The Mossley squad in the Wembley season: John Fitton, Mike Lacey, Colin D'Arcy, Alan Brown, Dave Vaughan, Harry Pollitt, John Salter, Dave Mobley, Kevin Gorman, Jimmy O'Connor, Phil Wilson, Peter McQuade, Chris Edwards, Ian Smith, Kevan Keelan, Leo Skeete, Steve Skeete, Dave Moore".

There are a few ex-Alty names in the above list so perhaps some Robins' fans can assist.
BSP NEWS
The Chester Chronicle reports that "Danish consortium Chester Projekt resurfaced yesterday afternoon, with a new name, to claim that Chester City would be theirs within three weeks...

Palle Rasmussen spoke to The Chronicle to say that the group, now known as Fodboldselskabet af 06-03-2010 Holding A/S (The Football Company), intended to apply for the Blues' FA licence within 21 days of the club being wound up and that they had support from consortium backers who were local to Chester...

Said Rasmussen, 'The Vaughans are not involved in our plans now at all. They have had no contact with us for some time. We asked them to show us documents proving the £485,000 loan had been made and where the money had been spent before we would make an official bid, but they stalled and never came up with it. This is Plan B coming to life. We still want to involve CFU deeply in the club. The good news is that the bankruptcy means once we start up a new club, it will be debt free".

In contrast, Wrexham confirm that "Forward Simon Brown has agreed to have his contract with the club terminated with immediate effect. The former Mansfield Town man has not featured under Dean Saunders this season, although has had on a two-month loan spell with Tamworth".

According to the BBC "Forest Green vice-chairman Colin Peake says they have to become more community focused to attract new investment. Rovers have become a company limited by shareholding and will elect a new board of directors in May. Peake told BBC Radio Gloucestershire: 'Our stadium provides facilities which a lot of people use, who have no interest in football. The other arms of the football club must be attractive to the rest of the local community'.

He added: 'At a recent function 75% of the people had never been to the stadium, and that is something we have to address'. The inaugural shareholders meeting was held in February and an action group, with representatives from many factions of the club, will be meeting on Thursday. The current board of directors will remain in place until the first AGM of the Limited Company on 20 May.

The recent restructuring attracted close to £100,000 in new money but Peake says there is no reason to be complacent. 'We need to put some new structures in place on the finance side. If we don't do something now it could cause us dramatic problems in the near future'.

On the field, Rovers have confirmed that goalkeeper Danny Ireland is to stay on loan at the New Lawn from Coventry City for the rest of the
---
11 March 2010
HELP NEEDED URGENTLY
George Heslop urgently requires 4 extra gatespeople for tonight's (Thursday) Manchester derby match at Moss Lane. Duties start at 5.45pm and a payment of £5 will be given. Please ring the club a.s.a.p. on 928-1045 if you can help.
WREXHAM'S VIEW
Wrexham report that "The sight of former Dragon Tom Kearney wheeling through the air and then being carried from the pitch will have left all true Reds sickened for the Altrincham captain. Following a collision [??] with defender Frank Sinclair, Tom was taken to the Wrexham Maelor Hospital for treatment and word back to the Altrincham officials was that he had broken both the fibula and tibula.

'Tom's a great lad and no one wants to see anything like that', said Dean Saunders. 'I'll be trying to speak to him tomorrow, because it's a bad injury. Frank has not meant any harm, he's slid in and Tom has come off the worse. We may have done well with 10-men for so long and the lads have battled, but the worst bit is Tom's broken [his] leg and that's more important than anything'. All Wrexham players, officials and supporters will join together in wishing him a speedy recovery."

Less sympathetic is the Daily Post which states that "Ten-man Wrexham mounted a brave second-half rearguard action at the Racecourse last night but finally had to settle for a point against Altrincham after conceding an equaliser eight minutes from the end.

In a feisty encounter, the Dragons had veteran defender Frank Sinclair dismissed – harshly it seemed – on the stroke of half-time for a challenge on former Racecourse skipper Tom Kearney who was quickly taken to hospital with a suspected broken leg. The incident simmered throughout the second half, with the visitors collecting five bookings, and two Wrexham players were also cautioned as referee Steve Martin struggled to maintain control of proceedings...

The loss of Sinclair was too much of a handicap, although the match official might have evened up the numbers after the break when several nasty fouls were punished only by cautions...

The visitors, who were accused by AFC Wimbledon boss Terry Brown of being negative in their 1-1 draw at Kingsmeadow at the weekend, again deployed a five-man midfield, leaving Chris Senior to forage up front on his own... Altrincham, who to that point had rarely threatened, won a 22nd-minute penalty for a clumsy challenge by Spann on Senior, but the striker's spot-kick was well saved by Sam Russell diving low to his right...

Controversy erupted... as Sinclair was shown a straight red card for a challenge on Kearney... Altrincham, who introduced striker Colin Little to reinforce their striking power, began to take control as the game went into the final quarter, but they could not push forward in numbers while Mangan was poised to pounce on the slightest error. The home crowd, who felt Sinclair had been harshly done by, reacted furiously to a scything foul by Robbie Williams on Holden just outside the penalty area when the defender was merely cautioned.

The visitors finally got on terms in the 82nd minute when Greg Young met a cross with a powerful header, and Wrexham felt cheated in the final minute when the referee waved away appeals after the big defender impeded Fleming in the penalty area in the last action of the match".

The Red Passion site has "some footage of [the] draw against Alty."
GRAHAM SPEAKING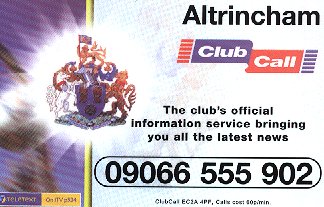 Brian Flynn has an interview with Graham Heathcote on the Alty Clubcall service, details of which are given, right.

Brian also has an article in the Sale and Altrincham Messenger which was quoted below (yesterday) from the Blue Square Football site.
OLD BOY
NL News 24 says that "Ashton United will attempt to appeal against the recent court ruling in favour of Marcus Hallows. The former Altrincham player successfully sued the club and player Danny White over a tackle that left him with a broken leg.

A lengthy statement issued by David Aspinall, Ashton United's chairman, says: 'Ashton United have been heartened by the messages of support that have arrived in person, via the club's website and various other internet forums – it shows what a truly special bunch the non-league 'family' are… and illustrates why so many people get so much pleasure out of being involved at this level of the game. One 'rival' supporter was moved to create an on-line petition in support of Ashton and White, which had over 500 signatures in its first few days and is now closing in on 700 supporters. Anyone wishing to read more can do so here.

Ashton United's legal advisors have indicated that there are legitimate grounds to launch an appeal and the club have chosen to pursue this option. The club feels that to get this verdict overturned will not only benefit Ashton United but also former player Danny White and, quite possibly, all of non-league football – as other clubs are starting to realise that they could, at some stage in the future, be in the same situation as this club unless this precedent is removed from the records.

The costs of the appeal have not yet been finalised but are likely to be in the region of around £9,000. The club also still has its day-to-day running costs to consider and, with this in mind, are asking for input from any interested parties who have ideas on how to raise money on behalf of the appeal fund... "Anyone wishing to pledge money directly in support of the cause can do so ... addressed to; Jackie Tierney, Financial Director, Ashton United FC, Hurst Cross Stadium, Surrey Street, Ashton-under-Lyne, OL6 8DY".
YOUTH TABLE
The latest table for Altrincham FC Youth team is here.
BSP NEWS
Blue Square Football say that "Histon manager Alan Lewer has revealed that striker Danny Wright recently turned down the chance to speak with local rivals Cambridge United over a possible transfer. 25-year-old Wright is one of five key Histon players who recently turned down a new contract offer from the club... Lewer told Cambridge News: 'Cambridge United wanted to speak to Danny Wright, but Danny Wright doesn't want to leave the football club to stay in the Conference. Danny's got the option to stay here, and he knows that. Fair play to the boy, he wants to play Football League and he understands we've got to build a side here for the future of this football club. He's been fantastic all the way through it'".

BS Football also reports that "Mansfield Town manager David Holdsworth has informed his players that they will be fighting for the futures at Field Mill over the next few weeks. A number of Stags players will be out-of-contract at the end of the Blue Square Premier campaign... Holdsworth told This is Nottingham: 'We are not in a position where we can open talks right now, although I have spoken to the chairman (Andy Perry) about such matters and he has been tremendous... At the moment, it is all to play for and even those players who are under contract are fighting for their futures - because they're fighting for a place in the side'.

And Holdsworth has admitted that Chester City's recent expulsion from the Blue Square Premier has left him with a bitter taste in his mouth. He added: 'A look at the (revised) table didn't make me feel good... No one here wanted it and it has probably cost us more than the other teams, but nothing is going to change it, so you have to be pragmatic'".

According to This is Sussex "Crawley Town will not be appearing in court next week after Her Majesty's Revenue & Customs admitted their mistake. The Reds were due in the High Court on March 17th over an alleged unpaid bill but the Inland Revenue have now confirmed to the club that the debt has been settled. Co-owner Susan Carter said the club had received confirmation from the HMRC that the matter would not be taken further, but said she had not received an apology. She said: 'It seems that they are allowed to make a mistake but we are not'.

Carter herself has announced she is stepping down as a director of the Reds... She said: 'I will remain a shareholder for the time being and I will continue to do what I do for the club on a day to day basis'".

"Duncan Holt says he would not swap Ebbsfleet's unique fan ownership system for a wealthy benefactor because it would give supporters less say" reports the News Shopper. "Fans of top teams such as Manchester United have become increasingly frustrated about the way their clubs are run, but few have suggested an alternative like the one in place at Fleet. The Stonebridge Road side is the only outfit in the world which is owned by members of a website who pay a yearly £50 fee to influence key decisions like squad selection, transfer policy and club budgets...

Website MyFootballClub currently has a 75 per cent stake and has owned Fleet since 2008... Ebbsfleet chairman Holt told the News Shopper: 'What we have is stronger than Chelsea, which is owned by an individual with very deep pockets. I wouldn't change what we have. I would much rather 4,500 passionate fans are having a say in the way the club is run than a couple of businessmen making decisions behind the scenes'.

However, not everything is rosy in the Fleet garden, as it recently emerged just 800 members have so far renewed their subscriptions out of 4,000. This has left Ebbsfleet scrabbling for cash, requiring between £250,000 and £200,000 to stay afloat... The chairman also considers Ebbsfleet to be within touching distance of Conference survival after Liam Daish's side recently picked up a vital win against York City, as well as points at Wrexham and Kidderminster".
---
10 March 2010
GRAHAM'S VIEW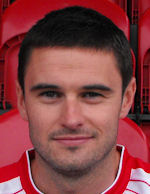 Blue Square Football report that "Altrincham emerged from two very difficult travelling assignments with fully deserved points at AFC Wimbledon on Saturday and Wrexham on Tuesday night, but it was a serious injury to Tom Kearney (right) that was the focus of manager Graham Heathcote's attention in the aftermath of a feisty encounter in North Wales.

With Wrexham leading 1-0, former Chelsea defender, Frank Sinclair, was shown a red card for his challenge on the Altrincham captain just before the interval and that lit the touch paper both on and off the field as emotions ran exceptionally high for the remainder of the game.

Heathcote said: "People will have their own views on the challenge, but the reaction to applaud Frank Sinclair who has just been sent off and boo Tom Kearney as he is carried off on a stretcher is, at best, unacceptable and a lot of people couldn't believe what was happening. Our players were gone at half time and knowing that Tom had broken his leg meant that there was no enthusiasm for the second half. It is to their great credit that they performed so well and we were well worth a point."
TWO CLUBS GO
The BBC report that "Chester City have been wound up at a High Court hearing in London. The 126-year-old club, who were kicked out of the Football Conference on 26 February, owed HM Revenue & Customs £26,125 in unpaid taxes. After twice failing to fulfil their last two Blue Square Premier fixtures and were initially suspended, then kicked out of the league last month. Chester supporters group City Fans United now intend to start a new 'phoenix' club in a lower league. Chester City have been wound up at a High Court hearing in London. The 126-year-old club, who were kicked out of the Football Conference on 26 February, owed HM Revenue & Customs £26,125 in unpaid taxes. After twice failing to fulfil their last two Blue Square Premier fixtures and were initially suspended, then kicked out of the league last month. Chester supporters group City Fans United now intend to start a new 'phoenix' club in a lower league."

The other club is Farsley Celtic who "have been disbanded after the club's administrators rejected numerous improved offers from the Palmer-Farrell consortium. Their expulsion from the Football Conference was expected to occur later this week after they failed to fulfil their last three fixtures. The Blue Square North side entered administration at the start of the season with reported debts of £750,000. The club are expected to reform next season in the Unibond First Division."
TOM KEARNEY
After last night's match, Tom Kearney immediately underwent surgery for a double break (tibia and fibula) of his right leg. All at Altrincham FC wish him the best for a speedy and full recovery.
WREXHAM 1 ALTRINCHAM 1
This match was overshadowed by a dreadful tackle by Frank Sinclair which put Alty's Tom Kearney in hospital with a suspected broken leg, just before half time. This came after Chris Senior had missed a 20th minute penalty awarded for a foul on him by Spann. Baynes put Wrexham ahead after 33 minutes and ten-man Wrexham looked like frustrating Alty as the visitors's card count rose to four before Greg Young headed home a Doran corner, ten minutes from time. Alty picked up a fifth card later but emerged with a deserved point against Dean Saunders's serially underachieving full-timers.

League table showing Chester's record deleted
Alty player stats

Before the game Richard Williams wrote in "The Leader" that "Andy Mangan is fit to face Altrincham at The Racecourse tonight... 'I trained yesterday and I feel fine', said Mangan. '"I thought it was serious at the time, and it does not look nice on the video. But the pitch being in the condition it was probably saved me. Even though my knee gave way my foot has gone into the ground so that helped. I did a lot of squats with the Forest Green physio when I was banned so maybe that helped'". As for the draw with Ebbsfleet at the weekend, Mangan said "I thought we played well, the first half was really good. We should have put them to bed and then if it is 3-0 or 4-0 and you concede, it doesn't matter. The attacking players need to take responsibility for that... We have just got to go again and try and score goals against Altrincham... If I can get ten or more in the 24 games I think I can play this season, I think it will be a success personally".

Also before Tuesday's game, the Daily Post said that Dean Saunders "reckons everyone knows what to expect from visiting boss Graham Heathcote and his players. 'They are a good team who stick five men across the back and are hard to play against', he said. 'They will try and catch us on the break so we might have to be patient, but if we play like we did at Altrincham recently I'll settle for that every day of the week because I thought we were excellent... We have to go out now and beat Altrincham. They have some good players that a lot of teams would take, but from my point of view we played well on Saturday, we looked dangerous and we had our chances... I'm already having thoughts about what is going to happen next season and I have earmarked a couple of players I would like to sign. The fans here have seen another year of this league and will have formed their opinions of what is needed and I think we have to bring in players who will do us a job in this league... The teams above us have to lose games, but that's not impossible', he said. 'And although it hasn't happened this season there is no reason why, with a bit of luck, we couldn't win 10 on the trot'".
BSP NEWS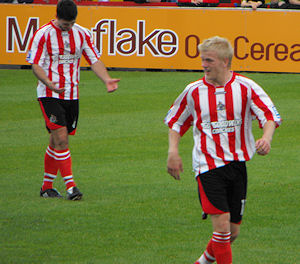 Right: the Man who Never Was; Danny Edwards, seen here with Tom Kearney, played for Altrincham this season - or did he? Read on....

According to the Football Conference "Chester City (2004) FC, having not lodged any appeal in respect of their removal from the competition, their playing record has been expunged with immediate effect. A new calculated table is being circulated via the Press Association this afternoon as the official record to be used by all the media and member clubs from this date.

Due to the fact that ALL goals involved in those matches played to date are also expunged, it means that those players having scored goals in matches against Chester City in the Blue Square Premier also see them expunged from the record books.

This is to maintain fairness and consistency in relation to the player winning the "Golden Boot" award at the end of the season in the Blue Square Premier. Goals scored in FA Cup or FA Trophy ties are not so affected and will remain in those competitions."

This website's amended table is here. Colin Little loses two of his four goals this season courtesy of the Conference ruling, whilst Robbie Williams and Chris Senior also lose a goal apiece. However, this site's appearance and goalscoring statistics have not been changed.

A quirk of the Conference ruling is that Danny Edwards (right) now officially never played a game for Alty. His only Altrincham appearance, on loan from Port Vale, was the home game against Chester.

NL Daily reports that "After their expulsion from the Blue Square Premier, Chester City are understood to have enquired about joining the Principality Welsh Premier. A spokesman for the League confirmed there had been interest from owner Stephen Vaughan, although it is highly unlikely that Chester could even comply with the deadlines for the FA of Wales domestic licence.

City are due back in the High Court on Wednesday to face a winding-up order over £26,125 owed to HM Revenue & Customs. Meanwhile, The New Saints will not be ground-sharing with Chester next season after failing to supply a draft agreement before the FAW`s March 1st deadline".

"Crawley Town can confirm that Matthew Langston has joined on an emergency loan from rivals Histon... at least until Sunday, 18th April 2010. Sussex-born Langston, 28, has been outstanding for Histon and can be regarded as a major scoop for manager Steve Evans, especially given the current injury crisis at the Broadfield Stadium. Evans said: 'I am grateful to Bruce Winfield and Susan Carter sanctioning the loan signing but they could see we were down to the bare bones. I would like to add one other but that will be a decision for later in the week'".
---
9 March 2010
TUESDAY GAMES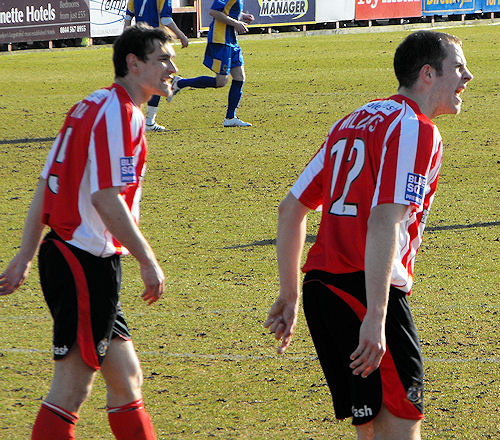 Right: Greg Young and Robbie Williams show their commitment in the game at AFC Wimbledon on Saturday.

Through the Years.

BSP fixtures

Crawley Town 2 AFC Wimbledon 1
Histon 1 Tamworth 0
Kettering Town 0 Cambridge United 1
Luton Town 2 Forest Green 1 - last minute winner
Oxford United 1 Hayes & Yeading Utd 2 - Hayes played almost entire second half with ten men .
Stevenage Borough 4 Barrow 0 - Odubade hat trick
Wrexham 1 Altrincham 1
York City 1 Salisbury City 2
WREXHAM GAME
It is hoped to provide some updates on the Matchday Update page during the game tonight.
OLD BOYS
Former Alty left-back Danny Adams, and striker Michael Twiss, once an Alty trialist, have joined Stalybridge Celtic - having both been released by Morecambe recently.
TUESDAY'S GAME
Alty are at Wrexham tonight (Tuesday). Wrexham report that "Most supporters could be forgiven that striker Andy Mangan's season was all but over as he was carried from the pitch at the end of Saturday's 1-1 draw with Ebbsfleet United... He caught his boot in the turf and went down awkwardly. Happily, our fears have not been realised and the former Forest Green man was able to train normally today and goes back into the squad to face Altrincham at the Racecourse.

'I wanted to walk off the pitch on Saturday, but the medical people were concerned that I didn't do any more damage, so that's why I was taken off on a stretcher', said Andy. 'It was certainly sore, but by the time I had woken up on Sunday morning, it felt so much better. I have been able to join in training as normal today and haven't felt any adverse reaction, so I'm looking forward to facing Altrincham'".

Ahead of the game, the Daily Post says that "For the second successive match they contrived to be the authors of their own misfortune. They squandered the fruits of a hard-earned superiority against visitors Ebbsfleet United due to a combination of missed opportunities to put the outcome beyond doubt and a collective attack of nerves that allowed their stubborn opponents to believe they might actually depart the Racecourse having purloined more than the point that was pretty much handed to them on a plate". This was also "a Dragons team that the previous weekend had absolutely battered Salisbury City for virtually 90 minutes before dropping two points to a dubious penalty...

In the last 10 games alone since the turn of the year, they have lost only twice, but the eight points dropped in four draws might have put a very different complexion on the final few weeks of their campaign...

Andy Fleming, the midfield player – whose consistent level of performance has been one of the few positives this season – kept on probing and pushing... The final whistle was greeted with resignation by the home fans who tend to be a cynical bunch at the best of times, but have seen it all before".
REFEREE
The referee for Alty v York on Saturday is Mr J. Simpson who is presumably the same Mr J Simpson who handled Gateshead v Alty recently.
BUSTING THEIR GUTS
The Football Conference has picked up on Niall Flynn and Dan Martell's charity ride... "Two Altrincham supporters cycled 235 miles over three days to attend their team's Blue Square Premier match with AFC Wimbledon on Saturday. The duo raised over £1,500 for The Children's Adventure Farm Trust & Altrincham Football Club. Dan Martell, 21, and Niall Flynn, 18, completed the ride over three days and arrived in South London a couple of hours before kick-off.

Altrincham manager Graham Heathcote invited Dan and Niall into the team dressing room before the match and told his players: 'We want you to give your all for 90 minutes this afternoon - these lads have bust their guts on their bikes for three days to get here to support you'. The players produced an excellent performance to come away with a 1-1 draw against an AFC Wimbledon team that are pushing hard for promotion to the Football League via the play-offs".
PREDICTIONS
Anthony Wright, Membership Secretary, TASC writes:

TASC Football Predictions Competition 2010 - Update

Following on from the rearrangement of our home game with York City, this game has now been removed from the TASC Football Predictions Competition and replaced by Wigan v Arsenal. Updated entry forms are available to download from the forum, or can be collected from the TASC stand of the club shop at the upcoming home games against York City and Kettering. Please note that the closing date for all entries is Friday, March 19th. Through-out the competition, weekly updates will appear both on the website and on the forum

Details of the scheme are below...

Think that you are Altrincham's top tipster? Want the chance to win some money for your predictions?

TASC is launching its first ever football prediction competition.

The rules are simple:
Simply predict the outcomes of 60 football matches
Earn points based on your predictions as follows:
1 point for the correct number of goals scored by the home team
1 point for the correct number of golals scored by the away team
1 bonus point for getting the result 100% correct.

A league table will be updated on the website and forum each week. Entry into the competition costs £5. The winner will receive 20% of the income, the runner up will recieve 15% of the income, 3rd place will recieve 10% of the income and, one selected place will win their £5 stake back. The remainder of the income will go to TASC. Please note that where entrants finish level on points, the number of 100% correct results will be used as the tie-breaker.

How do you enter?

Simply either download a entry form, or pick up an entry form from the TASC stand of the club shop at the home against Kettering on March 16th. Completed entries should be returned to me no later than FRIDAY MARCH 19th. The first matches take place on Saturday March 20th.
BSP NEWS
The Oxford Mail reports that "Kelvin Thomas believes the arrival of promotion-winner Lewis Chalmers can give Oxford United's squad another lift. The U's chairman was delighted to complete the signing of the Aldershot man on loan for the rest of the season.... As predicted in Saturday's Oxford Mail, fellow midfielder Lee Fowler has left the club...

Thomas told United's website, 'We have kept a very tight squad all season, and while others have squads of 25-30 plus, we have always been in and around the 20-21 mark... To be able to add a player like Lewis at this stage of the season to our squad is great, as Lewis has been there and seen what we expect to see in this last set of games'...

Chalmers, a former Manchester City youth team player, started his [semi-]professional career at Altrincham and went on to make 73 appearances for the Cheshire outfit, scoring six times... He became an important figure in the Shots' Conference and FA Trophy-winning squad, making 99 appearances scoring four goals...

Chalmers admitted 'I have been really impressed with what Chris Wilder is building here. I know six or seven of the lads already and they have all told me the same thing: that the manager will get the best out of you here, and you will want to run through walls for him'".

The Cambridge News says that "Matt Langston has agreed to go out on loan to Crawley Town until April 18. Langston, along with four other senior players currently negotiating new deals at the Glass World Stadium, were dropped for Saturday 0-0 draw with Gateshead and the Histon skipper's departure was confirmed by the club today. A statement from Histon said: 'All parties concerned are pleased with the outcome'.

"The five key players sensationally dropped from Histon's clash with Gateshead on Saturday will not feature in tomorrow night's match at Tamworth, and may have played their last games for the club. Manager Alan Lewer made that clear after his shock decision to axe skipper Matt Langston, Danny Wright, Nathaniel Knight-Percival, Lanre Oyebanjo and Bradley Hudson-Odoi because of the contracts stalemate. 'It's come to a point now when we had to take a stand and tell people that nobody is bigger than the club', said Lewer. 'We had a meeting on Friday and decided to leave these players out and let them have a week to consider their futures. The contracts they've been offered are decent contracts, some are as good as in League Two, but they are asking for more and more and we can't give it... I've spoken to other managers at full-time clubs and they can't afford these players. The players have to consider that because at the end of the season there are going to be about 3,000 players in the stew looking for new clubs'.

It shows you the sort of money that's been paid out at Histon over the last few years. And if we don't address it now we'll be in trouble... 'The supporters were magnificent, they really got behind the lads, and these players deserved their chance. They are young, they are learning the game and I couldn't fault their effort'... As well as the five players dropped on Saturday, reserve goalkeeper Joe Welch has also been told he will not be selected while he is in dispute with the club about his contract".

NL News 24 says that "Elliott Charles is looking to repay the faith shown in him by manager Lee Harper and help fire the poppies into League Two. Charles has joined Kettering on a short term loan until the end of the season having impressed Harper during a trial at the club.

The 6ft 2in striker was released by Barnet earlier in the season, and while the 20-year-old is ready to do the job his boss wants, Charles is hoping to deliver a bit more. 'I am very pleased to get a deal here', he tells northantset.co.uk. 'I have been training with the squad for just over a month now so I know the lads and I feel I had done well enough to get something... The gaffer told me he was looking for a big target man who could get up there and hold the ball up. But that's not all I am. I will give him what he wants and hopefully give him even more'".

The Salisbury Journal says that "Salisbury City skipper Darrell Clarke has agreed a new deal on the eve of a return to his hometown club Mansfield Town. Clarke will stay with the Whites for at least another season, and his new deal includes extra responsibilities. The 32-year-old will develop his Football in the Community role, and also assist the club's new commercial manager Ken Wilde...

And Mikey Thomas "still registered as a player, but [a] qualified coach will now take on a more hands-on role with the reserve team as well as continuing to assist Tommy Widdrington in training and on matchdays... 'I'm going to look to raise the standards of nutrition, hydration and things like that among the players – just trying to help make the club as professional as possible', he said...

Said Widdrington, 'He deserves a huge amount of credit for helping with pre-season training, hydration strategies and individual fitness and strengthening programmes'. Highly-regarded sports therapist James Grigg has [also] been added to the backroom staff. The 25-year-old will head a restructured physio department, leading Kev Bushby and Conrad Parrott. .. 'The restructuring of our medical staff will undoubtedly improve performance on the pitch', said Widdrington".

Also "Work has also begun on installing the club's new floodlights".
---
8 March 2010
WIMBLEDON GAME
Alty drew 1-1 with AFC Wimbledon on Saturday...

Match report here.

Blue Square Football says that "AFC Wimbledon boss Terry Brown blamed Altrincham's negative approach as well as a weak penalty for the Dons dropping two points on Saturday. 'We know what Altrincham are all about. I've managed against Graham Heathcote's side for over ten years!' Brown told the Croydon Guardian...

'They came with a game plan with Senior on his own up top and everyone else behind the ball. They're extremely tough to break down and make it impossible to create space in the midfield'. While criticising Altrincham's defensive approach, Brown did have praise for the Robins' two men at the back: 'To be fair their two central defenders [Young and Williams] did what you rarely see, and that's get the better of Danny (Kedwell) and Nathan Elder... I haven't seen the stats but I guess they had one or two shots on target at best', added the AFC Wimbledon boss. '"I couldn't see them scoring in a million years but we gave them an awful penalty'".

AFC Wimbledon report that "The Dons suffered a blow to their play off hopes when they were comfortably held to a 1-1 draw by Altrincham in a dour game of few chances. Wimbledon started with Derek Duncan at left back and he was one of the few bright lights in a dull first half, only to mar his performance with a needless foul on Chris Denham to give Altrincham a penalty and the lead on 51 minutes.

Altrincham started brightly and it took the Dons some time to get into their stride. Nathan Elder and Danny Kedwell struggled to make an impact on Altrincham's towering centre half combination... The Dons' best chance of a breakthrough needed to come from through balls between the rather immobile centre backs...

February player of the month Chris Senior converted Altrincham's penalty but it was the only time he threatened all afternoon as Ben Judge kept him tightly under control. Indeed, the Dons defence was rarely threatened as Altrincham got men behind the ball quickly and closed down the Wimbledon midfield, stifling hopes of an equaliser... For all their efforts, Wimbledon rarely looked like scoring the winner and Altrincham went away with a hard fought draw, which seemed to match their ambition.

Terry Brown said 'Altrincham came with a clear game plan, with Senior up front, and made it hard for us to break them down. We knew that Graham Heathcote's sides are hard to beat and, to be fair, they did what other teams have struggled to do, getting the better of Danny Kedwell and Nathan Elder. We lacked a cutting edge today'".
OLD BOYS
There is an Alty v Chester FA Cup video on You Tube.

Former Alty striker Steve Lunt was back at Moss Lane yesterday, as physio to the Altrincham and District FA side.

From the Bury Times we learn of an ex-Alty player who has ended up behind bars, following David Anane, Ashley Timms and Mark Ward. "A former semi-professional footballer has been jailed for two years after admitting working as a loan shark. Tony Cullen, aged 36, of Myrtle Grove, Whitefield, was sentenced at Manchester Crown Court, alongside five other family members involved in a complex and long-running swindle.

The catalogue of fraud was exposed after Tony Cullen's brother David, aged 30, from Salford, was jailed for 10 years for robbing a bank in 2006. A probe into his luxury lifestyle revealed he bought a house in Scott Road, Prestwich, for £100,000 with a cash deposit of £40,000. He also bought a Harley Davison pick-up truck for about £23,000 and an £8,000 Fiat Stylo for his girlfriend...

The court heard David Cullen ran money through the accounts of Tony and his brother, Arron... Tony Cullen was once on the books of Premier League sides Aston Villa and Blackburn Rovers and also played for Radcliffe Borough. He joined semi-professional team FC United of Manchester... The player became the club's first reserve team manager in 2006, but left United before these charges were brought.

Tony Cullen admitted earning £8,000 a month on the interest from unlicensed loans. He drove a £30,000 Range Rover Vogue previously owned by Manchester United player Ryan Giggs. Tony Cullen's girlfriend, Christina Williamson, drove a £26,000 Volkswagen Toureg. Police found jewellery at their home worth £50,000. Tony Cullen admitted money laundering, running an illegal money lending business and conspiracy to commit benefit fraud".

Cullen made a three-minute appearance for Alty at Accrington in 2003.
YOUTH REPORT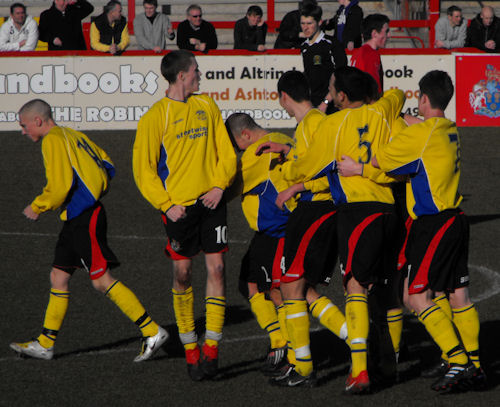 In a very eventful Cheshire County FA District Youth Cup Final at Moss Lane on Saturday, Alty played 30 minutes of extra time with a defender in goal. There is a match report in the Youth section.

Right, Alty celebrate their second goal.
NEXT GAME
Alty travel to The Racecourse on Tuesday for their fourth away game in their last five fixtures. Wrexham report that "Supporters who watched at the final whistle as striker Andy Mangan collapsed in a heap after catching his boot in the surface, will have been concerned as the new signing from Forest Green Rovers was carried back into the dressing rooms. Manager Dean Saunders was unsure as to the extent of the player's injury: 'It looks like a twisted knee, but we are not certain how bad it is. He did manage to come walking back into the dressing room after being looked at by the doctor'...

The player himself was able to walk unaided from the Racecourse after getting showered and was trying to make light of the situation".

Also, "Having watched his team surrender more valuable play-off points at home Ebbsfleet United, manager Dean Saunders was at a loss to explain why we are not able to kill teams off. I feel like I'm saying the same things every week - as this game should have all been over by half time', he said... 'I think I counted 14 chances today... Anyone who comes to watch us, will see that it's incredible how we're coming away from games without the points, after playing well'".

"Wrexham boss Dean Saunders was left angry at his team's wastefulness as they failed to find a winner against Ebbsfleet" reports Blue Square Football. "Speaking to the BBC after the game it was all too familiar for Saunders: 'Déjà vu again - balls going in, chances missed... I think we had 15 chances, seven of them on target, seven of them off target'".
BSP NEWS
"Histon have been hit by the news that six first-team players have rejected new deals with the club, making a summer squad overhaul very likely" reports Blue Square Football. "Club skipper Matt Langston, Danny Wright, Nathaniel Knight-Percival, Joe Welch, Lanre Oyebanjo and Bradley Hudson-Odoiwere were all omitted for the 0-0 draw with Gateshead on Saturday.

Goalkeeper Danny Naisbitt was the first player to reject a new deal and the club's financial constraints are starting to become more apparent with this latest setback. Stutes boss Alan Lewer has also revealed... 'We've got a situation now where we can't continue to pay the wages we have done'".

From NL News 24 we learn that "Gary Mills and Darron Gee are urging fans to turn out in their droves to support Tamworth's Blue Square Premier campaign. A crowd of just 483 watched last week's match and manager Mills and No.2 Gee admitted they were desperately disappointed with the attendance, the Birmingham Mail is reporting. The cash-strapped Lambs are operating with the lowest budget in the league but they need fans through the gate to build.

'We were just flabbergasted by the gate against Gateshead, considering what we have done this season', said Gee. 'We are champions of the Blue Square North, we have played some unbelievable football and got some fantastic results, but it seems unless you win 4-0 every week there are some fans who just aren't bothered... How can you plan your budget for next year when you are getting gates of 483? If the club is only getting that sort of figure, then it really is in trouble. It's not good enough'".
POMPEY AND CIRCUMSTANCE
The Guardian reports that "Next month it is a big day out at Wembley for potless Portsmouth – and next season they could be playing at Westleigh Park, Havant. A "Plan B" has been drawn up whereby, if Pompey go into liquidation, they will drop down to non-League football in a groundshare with near neighbours Havant & Waterlooville...

'Of course we want to stay at Fratton Park but nobody knows who owns it and whether that would be viable', said Brendon Bone of the Pompey Supporters Trust... If the club cease to exist, the Trust would start a new one. They could still call themselves Portsmouth FC as... the Premier League club trade under the name of Portsmouth City Football Club... ...

Havant & Waterlooville are keen on sharing – Portsmouth play reserve matches at Westleigh Park – and Pompey are confident of being admitted into the Conference next season.... Bone said: 'There is no precedent for a club of our size going out of business, and we think we would be admitted into the Conference... clubs in lower leagues wouldn't be able to cope'".
---
7 March 2010
YOUTHS LOSE CUP FINAL IN DRAMATIC CIRCUMSTANCES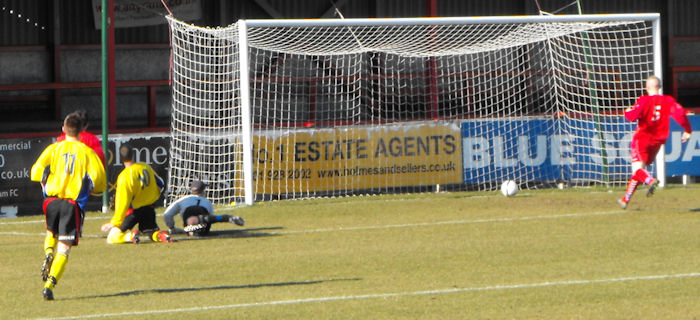 Above: Michael Linney (no.10 in yellow) puts Altrincham 1-0 up.

At Moss Lane today, Altrincham & District FA Youth (comprising Altrincham FC's youth team) led Stockport & District FA 2-1 with the Cheshire County FA District Youth Cup Final into its 90th minute. Then, Alty failed to deal with a long ball up the middle which left Stockport's Needham running at goal. Altrincham goalkeeper Thorn brought the Stockport man down and was sent off, leaving centre-back Rory Bradbury to face a penalty. He almost stopped Hodgetts's spot-kick but the ball squirmed out of his grasp and over the line to send the game into extra time.

Earlier, a below-par Altrincham should have taken advantage of Stockport having their left-back Manning sent off as early as the fifth minute, especially after Michael Linney had put Altrincham ahead in the 13th minute. But Michael Martin deservedly equalised for ten-man Stockport after 72 minutes before Dan Shaw seemed to have scored the winner for Altrincham, seven minutes later.

Then came the last-minute drama to send the game into ten-a-side for 30 extra minutes, with Alty having no specialist goalkeeper on the field. Nevertheless, Alty had the better of added time but a penalty shoot-out was needed to settle the game. Alty's Sheridan saw his spot kicked saved and Dominic Bates's penalty hit the post, leaving Stockport 4-3 winners.
WIMBLEDON GAME
After the 1-1 draw at Kingsmeadow, Ken McKenna, the Alty assistant manager said, "In football, you work with what you are given. You can't come here and chuck man after man forward; [if we did] we'd get beat. Wimbledon are a very good side and we came to keep it tight and try to nick one. To have any chance of a result, we had to play in a certain way. There are no apologies from us". Considering the BBC and NLP stats give Alty 53% of the possession and counted the visitors as having seven shots against AFC's eight, the performance was not as negative as the NLP report suggests.

Match report here.
CHARITY BIKE RIDE SUCCESS
Congratulations to Niall Flynn and Dan Martell who successfully completed their 227-mile charity bike ride from Altrincham to Kingsmeadow yesterday - and were still able to stand up for two hours to watch the match. However, they confirmed that they were not cycling back to Altrincham but taking four-wheeled transport instead!

Yesterday, Brian Flynn wrote of their exploits:

Wimbledon Bike Ride-185 Down......42 To Go!!!!

"Another very tough day of cycling for Dan and Niall as they completed a further 98 miles on Friday.The lads called in at Kettering Town, Rushden and Diamonds and Hitchin Town before reaching their overnight destination at Stevenage. Kettering Town gave the boys a club flag with the proviso that they must email a picture of them with it outside Rushden and Diamonds' Nene Park ground and this was duly actioned for publication in the Kettering programme!!

The boys are very tired.....particularly Niall, who was struggling to stand up on Friday night!!

There are 42 miles left and they are hoping to arrive at Kingsmeadow around 1.00pm this afternoon".

The ride raised funds for The Children's Adventure Farm Trust which is based at Millington, near Altrincham, within ten acres of beautiful Cheshire countryside. It is a haven for hundreds of disabled and disadvantaged children. The Trust's aim is to provide special holidays for special children. Groups of children, average age 4 - 14, and their carers, visit The Farm for a free weeklong holiday. For further information go to their website.

If you wish to support Dan and Niall's Fundraising efforts then please e-mail one of the following:-

Altrincham FC

Or, you can ring Altrincham Football Club on 0161 928 1045.

You can also donate online at:- Just Giving

Online donations are eligible for Gift Aid and will be paid directly to The Children's Adventure Farm Trust by Just Giving.
CLIVE
Clive Moyo-Modise has signed UniBond forms with Ashton United, presumably as a means of maintaining match fitness. He was present at AFC Wimbledon yesterday, though he was not named in the 16-man squad.
OLD BOYS
In the UniBond League, Peter Wright has left Bamber Bridge for Kendal Town and, yesterday, Kieran Lugsden scored the first goal as his Buxton side beat FCUM 3-1.
BSP NEWS
According to The Holker Street Newsletter, the Barrow Evening Mail is reporting that "Barrow joint manager Dave Bayliss has admitted a Football Association charge of improper conduct during the Kettering Town game back in February. Bayliss has already been fined an unspecified amount by Barrow AFC and has started a support course 'to help funnel his passions'.

The Mail adds that 'both Barrow and Kettering Town were also charged by the FA under Rule E20 (a) - failure to ensure its players and/or officials conducted themselves in an orderly fashion and/or refrained from provocative behaviour. The Bluebirds yesterday confirmed that, after studying DVD evidence of the incident, they have denied the charge and requested a personal hearing. An FA spokesman said Kettering have admitted the charge and requested a non-personal hearing. It is understood that the FA are likely to consider the cases of Bayliss and Barrow at the same hearing, which the Holker Street club expect to be held within the next seven days".
---
6 March 2010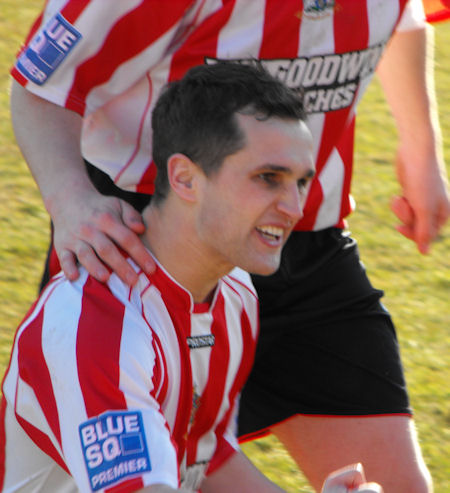 AFC WIMBLEDON 1 ALTRINCHAM 1
Alty had the better of the first half and took the lead early in the second half with a penalty by Chris Senior following a foul on Denham. Alty lost Doran to injury as the hosts dominated much of the second half. They equalised after 75 minutes when Judge headed home a loose ball after Coburn had beaten out a shot. Match report here.

Right: Chris Senior receives congratulations after netting his 15th goal of the season at Kingsmeadow.

Saturday 6 March

BSP

AFC Wimbledon 1-1 Altrincham
Barrow 0-1 Cambridge United
Eastbourne Borough 0-0 Kidderminster Harriers
Forest Green 2-1 York City
Hayes & Yeading Utd 2-3 Luton Town
Histon 0-0 Gateshead
Kettering 2 Grays 0
Mansfield Town 4-2 Salisbury City
Stevenage Borough 2-0 Crawley Town
Tamworth 0-1 Rushden & Diamonds
Wrexham 1-1 Ebbsfleet United
Through the Years from Howard Watts.
FIXTURES
It is hoped to provide live updates from Kingsmeadow on Saturday on the Matchday Update page.

The Surrey Herald claims that "AFC Wimbledon could face a defensive crisis for Saturday's visit of Altrincham. The Dons were without all four centre-halves for Tuesday's Surrey Senior Cup win at Chipstead, with Brett Johnson (injured) and Jay Conroy (suspended) already out of the Kingsmeadow clash against the Robins.

However, boss Terry Brown is sweating on the availability of Paul Lorraine (groin) and Ben Judge (ill). He said: 'Brett's damaged his patella on the front of his knee and is at least a week or two away. He's a big miss because he makes us stronger in the middle or at left-back... Hopefully Lorro should be okay... Ben Judge has got the flu, so I sent him home from the game on Tuesday so the other players wouldn't catch it'.

If the pair fail to recover in time, the Dons chief faces the prospect of playing full-backs Sam Hatton and Danny Blanchett in the heart of defence. Brown slammed the duo's display as AFC edged past minnows Chipstead, conceding all three goals from long balls over the top. He added: 'Our rearranged defence was pretty disastrous, and we were exposed on a number of occasions by the long ball over the heads of the replacement centre-backs'".

Elsewhere, the Surrey Herald adds that "Terry Brown could be without 10 players for the visit of Altrincham on Saturday. The AFC Wimbledon boss is without Brett Johnson, Kennedy Adjei and long-term crocks Alan Inns and Ross Montague, while Jay Conroy is suspended and Jack Turner and Peter Rapson are out on loan. Brown is also sweating on the fitness of defenders Paul Lorraine (groin) and Ben Judge (ill), as well as striker Jon Main (shin). However, the Kingsmeadow chief can welcome back Luke Moore into the squad after he made a return from injury in the Surrey Senior Cup win at Chipstead on Tuesday night. Our prediction: The Dons to continue their formidable home form".

South London Today says that "Nathan Elder will have to take a hefty pay cut if he wants to stay at Kingsmeadow next season. The striker, on loan at AFC Wimbledon from Shrewsbury since January, is due to return to the League Two club in the summer. The South London Press has learned that the Dons are only paying a proportion of the player's wages and will not match his current salary".
HOSPITALITY OFFER
For the home games against York City (Sat. 13th March) and Kettering Town (Tue. 16th March), Altrincham FC is offering meals in the Manchester Glass Sponsors' Lounge at just £20 for season ticket holders and £29 for all other fans. To book your place - which brings with it a hot meal and drink pre-match and half-time coffee/tea and refreshments - please ring the club on 0161 928-1045.
BAD NEWS FOR MATT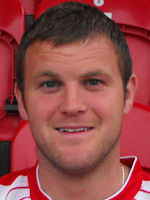 It's sad news for Matt Doughty (right) , as physio Sean Riley confirms, "I received the scan report last night (Thursday) which confirmed my initial diagnosis that Matt has ruptured the anterior cruciate ligament in his left knee. In addition to this he has also sustained tears to both the cartilages on the inside and outside of his knee. Matt will undergo a cruciate ligament reconstruction on Tuesday, 30th March in Preston. This is a massive blow for Matt and indeed all of us at the club,it means that he will be out of action until mid October. We now have 2 players (Matt and Dale Johnson) who will be undergoing rehabilitation at the same time following a cruciate ligament repair".

All at Altrincham FC wish Matt, as well as Dale, a full recovery from this nasty injury. Dale returned to light training last week when he took part in the pre-match period before the game against Grays.
YOUTH HONOURS
Three Altrincham FC Youth players, Rory Bradbury, Kieran Madden and Ben Shawcross, helped Ashton-on-Mersey School in Sale to reach the semi-finals of the English Schools Cup this week. Kieran scored one of the goals in a 4-2 win over Bedford.

All three should be in action at Moss Lane this Sunday (2pm) when Altrincham & District FA Youth (comprising Altrincham FC's youth team) meet Stockport & District FA in the Cheshire County FA District Youth Cup Final at Moss Lane (2pm). Please come along and support the lads. Entry is just £2 (£1 for concessionaries).
REFEREE
The referee on Tuesday for Wrexham v Altrincham is Mr S J Martin. He last reffed Altrincham when they beat Gateshead 3-2 on 29 September, 2009.
OLD BOYS
An Altrincham old boy is on the move, according to the BBC. "Aldershot midfielder Lewis Chalmers is set to sign for Oxford United on an emergency loan this weekend... [He] had a loan spell with Crawley last season. Chalmers follows Aldershot striker John Grant - who also left the League Two side for a temporary move to the Kassam Stadium last month. Chalmers has made 99 appearances for Aldershot and helped them to win the Blue Square Premier title in 2008".

The Northwich Guardian says that "Lee Elam is the latest player to leave Northwich Victoria as the club continues to cut its weekly wage bill. He has joined Bradford Park Avenue, currently on course to join Andy Preece's men next season as UniBond League Premier Division champions. Vics will not receive a fee for the 33-year-old wide man.

Elam's exit ends a fifteen-months spell at the Victoria Stadium, during which he has made fifty-one appearances and scored five times. But the former Altrincham winger has struggled to find space in the starting line since the start of the year... Elam was one of five contracted players transfer-listed at the start of last month after owner Jim Rushe revealed that the club was not making enough money to pay its highest earners. Mat Bailey [ex-Alty], Ryan Brown [to Alty] and Jonathan D'Laryea have left since then too. The latest departure leaves the Northwich manager with just sixteen players to pick from".

FC United report that they "go into Saturday's game at Buxton still unbeaten in 2010 following eight games without defeat but the Reds must now continue their run without on-loan striker Kyle Wilson as he has been recalled by Macclesfield Town".
BSP NEWS
The joint owner of Crawley Town has apparently resigned, onlin, on the Crawley Town forum. Her resignationis reproduced on the Conference Forum. Susan Carter writes, "I know some have been supportive, however it is not enough. Personally I am thoroughly sick and tired with not only the lack of support, but also the constant negativity. I have given everything and more over the last 2 years, neglecting my own business, home and family in the process, why? Because I thought Crawley Town FC and the fans were worth it. Yet people who do not know me think they have the right to call me lazy and negative. Ask anyone who does know and they will tell you, you are talking absolutely crap...

I work hard for the club, more hours than a full time job some weeks, for no financial reward. I work hard in at my own full time job and help support the club financially, which without it would not have survived... I have had enough. So I say to all you smart @!)@! If you think you can do a better job, be my guest... In future I will be using my time and hard earned money wisely, elsewhere, where it is appreciated, it will not be for the benefit of a football club and 7 to 800 supporters.

I wish all our true supporters and Crawley Town FC the very best of luck in the future. I can honestly say it has been an experience, but one I do not have to continue".

Earlier, This is Sussex reported that "Crawley Town co-owner Susan Carter says she wants Steve Evans to stay on as the club's manager - but cannot promise him more money to spend on players next season. The Reds' boss has gone on record as saying he will only remain at the Broadfield for the final year of his contract if he is given a budget big enough to seriously challenge for promotion.

But Carter, who highly rates the 47-year-old, says she will not risk Town's financial future to keep her manager happy. She said: 'Of course we want to keep him. There are not many managers out there who would have been able to cope with what we have gone through this year - let alone have the team in the top half of the table. A lot of it will depend on if there is a tv deal in place and on how our season ticket sales are going'.

Evans's stock has risen significantly this season as he has guided Crawley to the verge of the play-offs despite having one of the smallest squads in the division. Last week Notts County offered him the chance to return to the Football League with the League Two promotion hopefuls. Former Burnley boss Steve Cotterill eventually got the job on a short term basis but the Crawley News understands the Magpies may return in the summer to get their man...

However, Carter is philosophical about the approach, 'The reality is though, we will always be unable to compete with the likes of Luton... Their budget is more in a month than ours is for the whole season. We don't want to be a selling club but we have to be a selling club... I'd rather us have to sell the odd player than being in the situation of other clubs. The club will be announcing it's season ticket prices next week, with Carter insisting that the majority of tickets would not go up in price... We're looking to launch a family ticket that will give better value'".

Deva Chat says that "The story of football in Chester is reaching further heights, and on Saturday, Football Focus on BBC1 will be featuring a section about clubs in crisis and the current state of finances in English football... Saturday afternoon, BBC1, 12.15pm".

The Football Conference says that "Kettering Town have signed Nigerian under-23 international striker Chijioke Pascal Ebigbo on non-contract terms. The 22-year-old, who has been playing in Sweden with Bodens BK, had to wait for both international clearance and confirmation of a work permit... The striker is the second Poppies signing in a week, after ex-Barnet forward Elliot Charles".

Going part-time does not seem to be an option at Ebbsfleet United who "will aim to avoid a repeat of last summer's squad decimation by asking supporters to help them sign key players on new contracts" says Kent Online. "Ebbsfleet's entire squad will be out of contract after April 24, but chairman Duncan Holt revealed he will meet manager Liam Daish on Friday to prepare a list of personnel they want to keep. Mr Holt said he hoped "a supporters' initiative" could generate enough cash to keep seven or eight of Fleet's best players.

Fleet's financial woes worsened as it emerged that just 800 of more than 4,000 MyFC members whose membership was up for renewal last month chose to continue their support. The number of members has fallen to around 4,500, with the club planning to launch a share issue to raise enough money to see them out of this campaign and into the next one.

Mr Holt said: 'We had somewhere in the region of 20 per cent renewing. We were obviously hoping for a lot more, but it gives us something to work with. We are waiting to see how it affects our cash flow... Nobody wants a repeat of last year. I'll sit down with Liam and talk about who to keep and get some numbers so we can put them to the supporters as soon as possible. Hopefully at the end of April when the 43-week contacts are up there will be seven or eight contracts covered by a fans' initiative'.

Mr Holt said the share issue was a 'completely separate thing', but added: 'To sustain where we are and take care of the deficit we need between £200,000 and £250,000'".

The Chroncile Live says that "Ian Bogie has issued a rallying call to Gateshead fans to show their support via bums on seats – because the club can not depend exclusively on chairman Graham Wood. The Tynesiders...average just under 600 at the International Stadium...

Wood continues to finance his hometown club in the pursuit of a 'dream' move back into League football... 'The supporters, the hard-core support, have been fantastic but if we're honest attendances have been poor [even] for a Conference North club', Bogie said. 'We can't just continue to rely on Graham Wood to put his hand in his pocket. Yes, we're struggling but we need the general public to back us... We have a big catchment area and if we can pick up those who don't watch the area's bigger clubs, or who can't afford to, then that's a help. We're looking to progress to the Football League'".

According to the Cambridge News "The comings and goings at the Glass World Stadium look set to continue as Histon aim to reduce their wage bill for next season. Danny Naisbitt is the first big name not to agree a new contract for the 2010/11 season and boss Alan Lewer believes he may not be the last.

'We've got a situation now where we can't continue to pay the wages we have done', he said. 'I believe you'll see that come to the fore over the next few weeks. We've got to restructure the club so people have got a club to support. It's important the work starts now to bring in people for less money'.

Gareth Gwillim, Nathaniel Knight-Percival, Lanre Oyebanjo, Danny Wright and Matt Langston are the only players remaining from the core squad that helped Histon reach the Blue Square Premier play-offs last year. Gwillim is the only one so far to have agreed a new deal for next year. Lewer continued: 'The backbone that took Histon over the past 10 years... has now got to turn around because if we started to pay the wages we were paying, there wouldn't be a football club... We've got to start gelling another squad together'".

From the Daily Echo we learn that "Aaron Martin has joined Salisbury City on a month's loan from Southampton. The former England Schools centre-back signed for Saints from BS South side Eastleigh in November".

The Northants Evening Telegraph says that "Lee Harper is ready to make some changes when Kettering Town take on Grays Athletic... 'There are a few tired legs in the squad', Harper said. 'We had a player come to us at the start of the week and he told us he felt he was playing at 60 per cent at the moment. He held his hand up and said he would rather not play than be in the side and let the team down... This guy has played 35 games and that's not something he has done in the last four years. He needs a break so there will be at least one change'...

Harper will have a new face available to him as Nigerian striker Pascal Ebigbo looks set to seal his move to Rockingham Road on non-contract terms. Harper also confirmed he missed out on Ashford Town hotshot Byron Harrison..."because he felt he couldn't take the offer we put out there', the Poppies boss added".

From the Chester Chronicle we read that "As Chester City's devastated fans face up to the realisation that they no longer have a team to support after 125 years of proud history, the question every heartbroken supporter wants answering is simple: What happens next?...

The Vaughan family have until the end of play tomorrow to launch an appeal against the decision which led to the Blues being expelled from the Football Conference last Friday... Conference general manager Dennis Strudwick last night confirmed to The Chronicle that no-one from the club had been in touch with the league, and given the fact that not a single City official bothered to show up to the meeting that sealed the club's fate, an appeal would appear unlikely.

Less clear is the outcome of City's appearance in the High Court next week. The debt-ridden company behind the club, Chester City FC 2004 Ltd, face a winding up order on Wednesday over an unpaid tax bill of £26,125... Stephen Vaughan Jnr [said he] would be doing everything he could to keep the club in business – which would mean settling the debt to the taxman. That would somewhat muddy the waters for City Fans United (CFU), the official supporters' group who want to reform the club...

CFU have this week put their business plan in place, unveiled plans for a loan scheme to boost their 'war chest', while continuing negotiations with Cheshire West and Chester Council in a bid to convince them they are the right people to take over the lease at the Deva Stadium. It has become patently clear that the authority, who are the landlords of the Deva, have lost patience with Chester City 2004 Ltd, who are understood to be behind in rent payments to the tune of £18,000...

The Chronicle understands two other parties, one being Welsh Premier League outfit The New Saints, have inquired about using the Deva next season...Chester Fans United's membership has nearly doubled to 1,000 since the start of the year".
---
5 March 2010
CHANGE OF DATE
Altrincham's Blue Square Premier match away at Salisbury City has been brought forward from Thursday, April 22 to Tuesday, April 20, kick off 7.45pm. This has been made possible by the change of date for the York game originally scheduled for that Tuesday.
GETTING THE RECORD STRAIGHT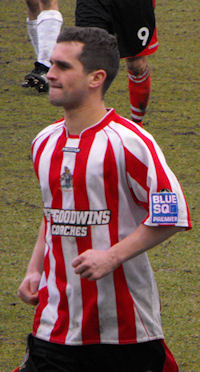 Yesterday the Conference announced Chris Senior's Player of the Month award for the Blue Square Premier and it stated that "the former Halifax Town player has had a stop-start career at Moss Lane and this season has been no different as he has battled against injuries and the odd suspension". That statement, as Chris himself points out, is actually something of an exaggeration by the Conference as Alty's leading scorer has missed only five games this season - three due to a single suspension and two due to one injury. For the record, Chris has made 28 league starts and 4 cup starts this season, with an excellent strike rate - scoring a total of 14 goals, 13 in the BSP.

Chris is seen, right, in last Saturday's game against Grays Athletic, in which he was again on the mark.

Meanwhile the Sale & Altrincham Messenger adds that "Chris Senior has officially been recognised as non-League football's most lethal finisher on current form after being named Blue Square Conference player-of-the-month for February...

[It] earned him glowing praise from manager Graham Heathcote, who said: 'Colin Little has always been our goalscoring mainstay but has had a difficult time of it this season, so we needed someone to step up to the mantle. Chris has done it superbly and grown in confidence from playing on a regular basis. We are a better side all-round these days, with more creativity from the likes of Tom Kearney, and Chris has benefited from that. You can't help wondering where we might be if Colin had been fit all season and able to develop a partnership with Chris. That could have made a significant difference.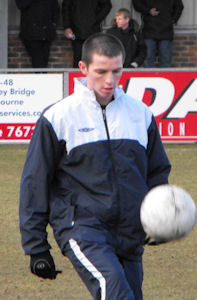 I know there was an expectation that we would beat Grays, because they are down near the bottom, but you have to remember they are full-time and have made a few recent signings, not least the keeper Glyn Garner, who had an excellent debut. It shows how far we have come that, as part-timers who have just been on the road to Eastbourne and Gateshead, there is a sense of frustration at not beating a full-time outfit'.

Alty are reeling from the loss of key defender James Smith but have Peter Doran available after suspension for Saturday's game at AFC Wimbledon and have solved the mystery of Adam Carden's recent illness. 'James will be out for two or three weeks with a hamstring strain, which is a real blow, because he has been exceptional this season', said Heathcote. 'It turns out Adam (left) had a food allergy which left him feeling weak. He is allergic to wheat but at least knows now what he can and can't eat. He is fit and available again'".
NEXT GAME
Our opponents on Saturday, AFC Wimbledon write, "Altrincham visit the Cherry Red Records Fans' Stadium for the second time this season on Saturday, hoping to avenge the two defeats they have already suffered against the Dons. Danny Kedwell's late winner at Moss Lane early in the season was the only goal in a tight league encounter, while a home FA Trophy win was decided by some great finishing although there was a controversial refereeing decision which went in Wimbledon's favour.

The Robins' recent form has been a little inconsistent, with high scoring wins against Eastbourne Borough and Salisbury City, followed by them failing to beat Eastbourne in the return fixture along with frustrating results against Gateshead and Grays Athletic.

Altrincham have been impressive on the road all season, losing just five of 16 away league matches, and they currently boast February's Blue Square Player of the Month in Chris Senior, who has scored five goals in his last six games".

Manager Terry Brown said, "Having played against Graham Heathcote's sides over the past ten years [he used to be manager of Hayes], I can assure everyone coming to Saturday's game it will be a very difficult encounter. Graham sets his sides up in a very professional manner and I will be highly delighted to come away with three points at the end of the game... We may see some of the injured players such as Paul Lorraine, Ben Judge, Luke Taylor, Kennedy Adjei and Luke Moore being able to participate... Jay Conroy's suspension following his dismissal at Oxford United means he will not be available".
WIMBLEDON BIKE RIDE, DAY ONE & ALTRINCHAM'S 'CYKELFOND'!!!
Brian Flynn provides an update on the marathon fundraising ride being undertaken by his son Niall and fellow Alty fan, Dan Martell. From Altrincham they aim to reach AFC Wimbledon's Kingsmeadow ground for Saturday's match with the Robins. Brian writes that "Dan Martell and Niall Flynn reached their Nottingham base camp at 5.15pm today having cycled 87 miles from the Moss Lane departure point. The lads were blessed with lovely weather throughout the day, but the Derbyshire hills have certainly taken their toll on their limbs.......it has been a very tough day of cycling!!

Tomorrow's route is scheduled to take them to Stevenage and the boys are planning to ride past both Rockingham Road, home of Kettering Town and Rushden and Diamonds' Nene Park.

Meanwhile news of this fundraiser has popped up in one or two unlikely places!!!!!!

Make sure you rest those tired limbs tonight boys!!!

Thanks to those people who have already sponsored and see yesterday's news below for details of how you can support Dan and Niall's excellent fundraising effort".
TASC FOOTBALL PREDICTIONS 2010
Tony Wright, Membership Secretary of TASC (The Altrincham Supporters' Club) announces the:

TASC Football Predictions Competition 2010

Think that you are Altrincham's top tipster? Want the chance to win some money for your predictions?

TASC is launching its first ever football prediction competition.

The rules are simple:
Simply predict the outcomes of 60 football matches
Earn points based on your predictions as follows:
1 point for the correct number of goals scored by the home team
1 point for the correct number of golals scored by the away team
1 bonus point for getting the result 100% correct.

A league table will be updated on the website and forum each week. Entry into the competition costs £5. The winner will receive 20% of the income, the runner up will recieve 15% of the income, 3rd place will recieve 10% of the income and, one selected place will win their £5 stake back. The remainder of the income will go to TASC. Please note that where entrants finish level on points, the number of 100% correct results will be used as the tie-breaker.

How do you enter?

Simply either download a entry form, or pick up an entry form from the TASC stand of the club shop at the home against Kettering on March 16th. Completed entries should be returned to me no later than FRIDAY MARCH 19th. The first matches take place on Saturday March 20th.
CONGRATULATIONS
Congratulations to Sarah Rowley, who had her 21st birthday recently. Sarah, along with the rest of the Rowley family and boyfriend Dan Jones are tireless workers for the Alty cause, with Sarah being particularly involved on the commercial side at Moss Lane when she is not weighed down by her University studies.
BSP NEWS
Blue Square Football reports on Saturday's opponents; "AFC Wimbledon have revealed that young striker Peter Rapson has joined Walton Casuals on a one-month loan deal. The 17 year-old has already made two substitute appearances for the Dons in the Blue Square Premier this season. However, he has seen his first-team chances further limited recently".

The Football Conference says that "Former Cambridge City winger Scott Neilson has joined their neighbours Cambridge United on a month's loan from League Two side Bradford City. Former Ware favourite Neilson, 22, joined the Bantams in August from the Zamaretto League Premier Division outfit for a £7,500 fee. Neilson has played twenty-seven times for Bradford this season but has been left out in the cold since Peter Taylor took over as manager".

According to Blue Square Football "Mansfield Town's Luke Jones is set to miss the rest of the season after rupturing ankle ligaments. The defender was forced to leave the field in during the Stags' goalless draw against Luton Town on Tuesday".
---
4 March 2010
YORK GAME CHANGED
Due to York City's exit from the FA Trophy, their match against Altrincham at Moss Lane has now been brought forward from Tuesday 20 April to Saturday 13 March at 3pm.
CHRIS'S AWARD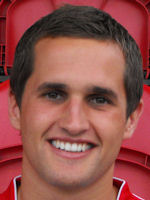 The Football Conference has confirmed that "Scoring Form Scoops Player Award for Altrincham's Senior.

Altrincham forward Chris Senior (right) has won the Blue Square Premier 'Player of the Month' award for February. The former Halifax Town player has had a stop-start career at Moss Lane and this season has been no different as he has battled against injuries and the odd suspension. It's remarkable then that he has scored thirteen league goals already this season, including five during February. That fine monthly total started with a brace in the 5-0 victory over Salisbury City as Alty kept up their slim hopes of a play-off place".
RESULT
Wednesday 3 March

BSP

Histon 0 Rushden & Diamonds 1
League table showing Chester's record expunged and projected totals based on average points gained to date.
ROBBIE'S INTERNATIONAL GOAL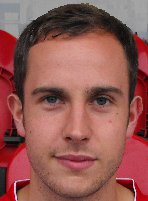 Alty's Robbie Williams (left) came on as a sub and scored as Wales were beaten 7-2 in the Under-23 international match against Portugal in Fátima on Wednesday afternoon. [video highlights].

The League of Wales reports on how the Wales Under 23 Semi Professional side "battled hard, but were beaten comfortably by a classy Portuguese side, 7-2 in Fátima on Wednesday afternoon. The professional Portuguese side, who boasted two full internationals and players from Benfica, Porto and Sporting Lisbon were simply too good for their semi-professional opponents, made up largely from the Principality Welsh Premier League... TNS's Craig Jones continually threatened down the right and he ran Porto's highly rated left-back Fabio Coentrão ragged, until the full international was replaced on 27 minutes.

The change broke down Wales's momentum". With the score 5-1 "Wales enjoyed some consolation, when an out-swinging Craig Jones corner found debutant sub Rob Williams of Altrincham who headed into the top corner. Further goals from the edge of the box from Bruno Gama and Saleiro made it 7-2, as the gulf in class, fitness and experience paid dividends".
HELP FOR HEROES CELEBRITY FOOTBALL MATCH
A celebrity football match featuring stars from many popular TV programmes, playing to raise funds for the Help For Heroes campaign, will take place at Moss Lane on Sunday 28 March. Kick off is at 1pm, with entrance prices being £5 for adults and £3 for under-12s.
ON TV
Shown right, is a proof for the latest poster advertising live, televised games in the bar at Moss Lane. Everyone is welcome, so please tell your friends about these dates.
ON YER BIKES, BOYS
Brian Flynn writes, "Dan Martell and Niall Flynn set off on Thursday morning on their 200 mile plus cycling trip to Kingsmeadow, home of AFC Wimbledon. They will depart from Moss Lane at 8.00am and hope to reach Kingsmeadow around lunchtime on Saturday. They are cycling to raise funds for Altrincham Football Club and The Children's Adventure Farm Trust.

There will be progress updates posted on Thursday and Friday.
STATUE FOR GRAHAM!
There is an excellent piece in the Manchester Evening News from a good friend of Altrincham FC and editor of the United We Stand fanzine, Andy Mitten. Andy's brother, Jonathan, was an Alty player in the season we won promotion back to the Conference (2004-05). Andy writes about "Football's real heroes" and starts off by saying "I have gone from interviewing Socrates in sunny Brazil to Altrincham's manager Graham Heathcote at a murky Moss Lane.

Debt-free Alty punch well above their weight in football's fifth tier. They are 11th in the Blue Square Premier, a fine achievement given they are one of just four part-time teams in a league which includes two previous League Cup winners - Oxford United and Luton Town. Such rivals enjoy crowds up to six times the Robins' average gate of 1,152 and pay players up to £1,000 a week, while Alty's mixture of taxi-drivers, teachers and accountants take home between £100 and £500. Those players recently travelled over 1,000 miles in one week for games against Ebbsfleet and AFC Wimbledon while keeping up the day jobs.

My grandfather, Sam, played for Altrincham after the war and he reckoned games against rivals Northwich were more tense than Normandy battles. My brother Joz also enjoyed a mixed five months at Moss Lane in 2005 which started with a ban for 'smacking a Scouse' opponent and finished with him scoring the penalty at Nuneaton which helped propel Altrincham back into non-League's top division.

Heathcote is the central character at Altrincham. He joined the Robins as a player at 16 and earned £5.25 a week working at the Port of Manchester when one Altrincham director offered every player £1,000 if they could beat Everton in a 1975 FA Cup tie. With a history of hard-working and wealthy directors like Peter Swales and Noel White (later chairman at Liverpool), Alty were known as the Manchester United of non-League football. They forced a draw at Goodison and 35,530 were at the replay at Old Trafford.

'Driving up the Chester Road to Old Trafford was like Wembley Way for us,' recalls Heathcote. 'City played the next night and had a smaller crowd'. Everton won, but Heathcote later scored a penalty in front of the Kop in a cup tie against Liverpool, despite Alan Kennedy saying: 'Bet you a fiver you don't score'.

'He paid up', said Heathcote. 'And he sent me a card years later asking for his fiver back!'

The glory days were well over when Heathcote took charge in 2002, with Altrincham fourth from bottom in the UniBond Premier. Gates of 450 and debts of £700,000 pushed the club to the brink of going under. Their most recent turnover was £625,000.

'We don't owe a bean now,' Heathcote says proudly. 'We live within our means, we've worked hard and are stable in this division. We're a hard-to-beat team who haven't spent a penny on transfer or signing on fees, but we've thrown ourselves into the local community. We pay for football coaching in 14 local schools and I take kids on ground tours. We now see Alty shirts around the town and we have a lot of kids at games'.

Staging United's reserve games helps while chairman Geoff Goodwin is integral to the success. He owns a coach company and drives the Australian cricket team when they tour here, the likes of Ricky Ponting and Glenn McGrath have become friends, been to games and are happy to help out at fundraising dinners.

Bar Heathcote and one employee, everyone at the club is a volunteer. Still, there's no pleasing some. 'A fan came up to me during a recent game and said: "Heathcote, you're useless, clueless. You don't know what you are doing and never have", he explains.

Criticise him? The people of Altrincham should erect a statue of him outside the Cresta Court Hotel.

Andy Mitten's latest book `Glory, Glory, Man United in the 90's - the Players' Stories' was the best selling football book on Amazon last month.
CONDOLENCES
Condolences of all at Altrincham FC go to the family of Keith Alexander, manager of our Cheshire neighbours, Macclesfield Town, who died suddenly on Tuesday.
BSP NEWS
"Barrow have agreed terms with former Chester City midfielder James Owen, 19, until the end of the season. The former Wales Under-17 international is a central midfielder who left the Deva Stadium last month. 'He's been training with us for two weeks now and has done really well', Barrow manager Dave Bayliss told BBC Radio Cumbria. 'It might be a little too soon to throw him straight in but he is definitely one for the future'".

"Dean Saunders is still the man to lead Wrexham back into the football league, according to new Dragon's chairman Ian Roberts", reports Blue square Football. "Roberts recently took over from Geoff Moss and has revealed that he will be offering the Wrexham boss, whose tenure began in October 2008, an extension on his contract which expires at the end of this season...

'As far as I am concerned, I still think Dean is the man for the job', the Wrexham chairman told The Leader. 'Dean has had a full year and he deserves another chance to get it right for the hours he puts in. Dean is extremely passionate about Wrexham, he works tirelessly'. Roberts said, 'Dean will probably admit he has made mistakes with some players which have not worked out, and he has learnt a lot about this league. I don't think we are in a position to issue a change... But I still think Dean is the man to get us of this league... I am not putting a time line on it, Dean will be given another year to see where it goes', he said. 'I would just like to see an improvement made in our league position next year if we are still in this division. I personally have not written off this season'".
---
3 March 2010
CHRIS'S AWARD
Congratulations to Altrincham FC striker, Chris Senior, who is the Blue Square premier Player of the Month for February. Chris has netted 14 goals this season, 13 in the BSP. He scored five goals in six games during the month.
FIXTURES
Tuesday 2 March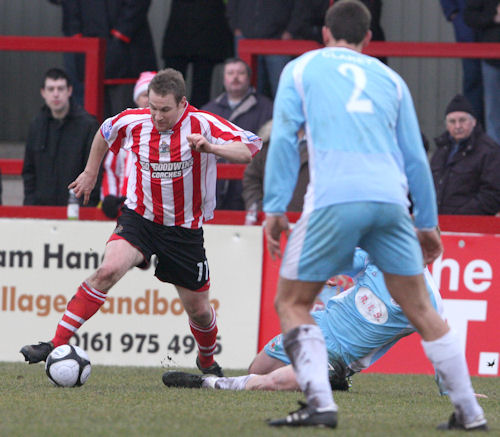 Right: Nicky Clee was in impressive form last Saturday against Grays. Here, Gavin Rathbone, shows Nicky in action. There are more excellent photos on Gavin's GR Photography website.

FAT 4

Barrow 2 York C. 1

BSP

Cambridge U. 1 Oxford U. 1
Eastbourne B. 0 Stevenage B. 6
Kidderminster H. 2 Ebbsfleet U. 2
Mansfield T. 0 Luton T. 0
Salisbury C. 2 Crawley T. 2
Tamworth 1 Gateshead 0

The League of Wales reports that "The Wales semi-professional side face a tough test in their second International Challenge Trophy match when they play the crack Portuguese Under 23 outfit in Fátima. An eighteen-player squad was released today by the Portuguese Football Federation following the weekend's matches, and it includes one English Premier League player, as well as stars from giant clubs Porto, Sporting Lisbon and Benfica.

Reports in the local media said that; 'Surprisingly, Fabio Coentrão and Ruben Micael were included in this squad, not the Senior squad list. Carlos Queiroz (Portuguese National Manager) stated today that he intends today to call-up a number of these players on Monday. He hinted that the likes of Rui Patrício, Yannick, Ruben Micael, and Fábio Coentrão could get the nod, depending on their fatigue.

Left-sided striker Yannick starred for Sporting Lisbon in the Europa League last Thursday against Everton and also scored in his team's 3-0 win over Porto last night, so the speed merchant will be a real threat to the Welsh defence, who will be marshalled by captain Lee Surman of Port Talbot.

The match will be played at 3:00pm on Wednesday in the Municpal Stadium of Fátima. The Welsh squad arrived at their base in Fátima last night and will be training twice today and on Tuesday in preparation for the tough test. Wales Semi-Professioal Manager Terry Boyle was delighted that a full squad reported fit after the weekend... There are fourteen Principality Welsh Premier League players in the squad, so Wednesday's match will be a real challenge but a tremendous experience for the players selected by Boyle.

Portugal: Emídio Rafael, João Ribeiro, Nuno Coelho (Académica), Fábio Coentão (Benfica), Ricardo Vaz Té (Bolton Wanderers), Vasco Fernandes (Celta de Vigo), Ruben Micael, Miguel Lopes, Nuno André Coelho (all FC Porto), Vieirinha (PAOK), Bruno Gama, Vítor Gomes (both Rio Ave), Rui Patrício, Saleiro, Yannick (all Sporting Lisbon), Paulo Machado (Toulouse), Pelé (Real Valladolid), Mário Felgueiras (Vitória de Setúbal)".

So Robbie (right) won't be the only player who has played at Moss Lane to feature in this game as Ricardo Vaz Té has played for Bolton Wanderers Reserves at Altrincham.
YANKEE
The Altrincham FC Saturday Yankee for 20th February left the £5,000 jackpot unclaimed, but three entrants did win £66.67 each with winning "Trebles".
BUCKETS
Altrincham FC thanks all those who collected and/or donated to the half-time bucket collection on Saturday. It raised £61.26.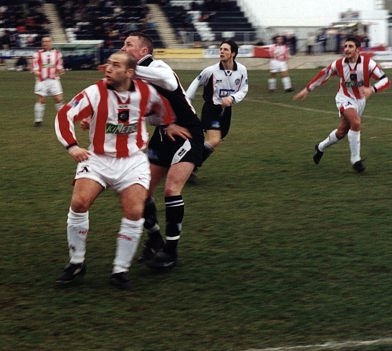 OLD BOY
Former Alty left-back, Danny Adams (34, left), is reported to have been released by Morecambe. He was the longest serving member of the normal first team squad when he left the Club in 2000. He was sold to Macclesfield Town for £25,000 before moving on to Stockport County and in March 2005 to Huddersfield Town, before he followed Sammy McIlroy to the Shrimps.
NEXT GAME
News of Alty's next opponents comes from Your Local Guardian. "After winning his battle against injury, AFC Wimbledon's Luke Moore accepts he has another fight on his hands if he is to force his way back into Terry Brown's starting line-up. Moore...is hoping to get a call to the bench for this weekend's clash with Altrincham. And having stunned doctors with his recovery from December's hip surgery, Moore is in no mood to write this season off.

He said: 'When I had the surgery all the talk was that I was out for the season, but the recovery has gone much smoother than that... I have been running for about three weeks and in full training for a week or so... It is a case of proving myself to everybody all over again'...

The 21-year-old added: 'The most frustrating thing when you are out is you cannot help the team, but as they have been going so well I have not felt the need to force myself in any way'... And the forward feels the impending erasure of Chester City's records, set to go ahead after a 14-day appeal period, will give the Dons an even bigger boost. He added: 'We are already in a good position as far as the play-offs go and it could get even better. We will go up a couple of places and close in on other teams, and it is all in our hands'".
FREE FOOTBALL
NL Daily tells us that "Droylsden have announced that their crucial game against fellow play-off chasers Eastwood Town will be free to watch! The admission to the game on March 13th is free for both home and away supporters at the Butcher`s Arms". Altrincham have no game that day, due to Salisbury City's FA Trophy involvement.
BSP NEWS
"Kettering Town have signed former Barnet striker Elliott Charles, who was a free agent, until the end of the season. The 20-year-old was released last month after loan spells at Hemel Hempstead Town, Lewes, Ebbsfleet United and Havant & Waterlooville. Poppies manager Lee Harper said: 'There will be opportunities for him. He's a big man – 6`2". We've missed that a little bit, to give us a target. We don't want to play long all time but there's times when you've got to'", reports NL Daily.

NL News 24 reports that "Mansfield Town are announcing that a new 10 year lease of Field Mill has been secured following a successful period of negotiation with the current landlord Keith Haslam. Blue Square Premier clubs must have a minimum ten year lease on their ground in order to compete for a place in the Football League".

From the BBC we learn that "Kidderminster Harriers boss Steve Burr has won the February manager of the month award after his unbeaten start. Harriers have not lost since Burr joined from Stalybridge in January".

Kent side, Gilingham report that "Young striker Andy Pugh has joined Histon on an initial one-month loan move. Pugh... signed off from a three-month loan spell at Welling United recently with a hat-trick... His return of eight goals from 15 appearances for the Kent side attracted the attention of several clubs and Histon today won the race for his signature. The Stutes, whose squad includes former Gills loanee Adam Bygrave,... will be hoping that Pughy can display the form that saw him spearhead Grays's successful survival bid, this time last year".

Meanwhile, Histon announce that as the club "looks forward to next season operating on a sustainable playing budget, the Club has failed to agree terms with 'keeper Danny Naisbitt. Danny was made an offer 3 weeks ago but, as he looks to develop his career in his wider role in football alongside playing, the Club and Danny have not been able to agree terms. The Club has therefore today circulated his availability for a move or a loan.

Chairman Tony Roach commented 'Alan Lewer, Ian Hart and I met up on Sunday and, as we plan ahead, it is clear a pruned, sustainable playing budget is fundamental to our progress. We face some difficult decisions in the process'... One player also on the look out for another club is Michael Frew who is in discussion with Hinckley United and Corby Town".
---
2 March 2010
FANS' FORUM
At Monday's Fans' Forum at Moss Lane, manager Graham Heathcote, vice-chairman Grahame Rowley and director and club secretary, Derek Wilshaw comprised the panel. During the evening Graham observed with some justification that had we been in financial trouble, like some other clubs, a bigger audience than the forty or so attendees would have been present. In fact, it was reported that the club is once again on budget this season, though Grahame Rowley underlined that no one should be complacent and that we should all support club events and fundraisers.

Alan Brotherton prompted a round of applause for the panel when he opened the questioning by praising the Board and the officials for their sensible running of the club, in comparison to what has been going on at some near neighbours.

Graham Heathcote pointed out that the big challenge next season would be simply to match this season's budget rather than increase it. The £30K for BSP clubs from the Premier League had helped this season but that could not be relied upon for next season. There was some hope that a Conference television deal might be done, but this, too, could not be relied upon.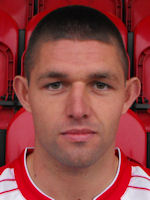 There was plenty of footballing discussion which included Graham Heathcote explaining why he had been wary of playing 3-5-2 at home as well as away. He confirmed that a key member of the back three, James Smith (right), would be out for two to three weeks with a strained hamstring. However, the results of Matt Doughty's scan on a suspected cruciate ligament injury were still unknown.

The manager looked forward to Peter Doran's return after suspension as he felt that the pace of the new midfielder would allow the team to get forward quicker from midfield to support the attack. Graham also expressed continuing disappointment at our set pieces and corners this season.

The Marcus Hallows compensation case was raised and Derek explained how the Conference players' insurance scheme worked.

Ian Wilkinson asked about the supporters' travel scheme. Reduced numbers had travelled this season so Ian enquired whether the club would ever entertain the idea of supporters travelling on the team coach. Graham gave a categorical "no" to this on the grounds that it interfered with team preparation and that it could lead to matters which should be private becoming public.

Appreciation was expressed by Grahame Rowley to the minibus drivers this season, Mike Ainsworth, Brian Flynn and Mark Murray, with Mike explaining some of the economics of hiring transport.

On the financial front, Graham paid tribute to the squad, who were all at the club for the right reasons - one recent acquisition had even joined for less than half the wages he was on at another club [from a lower division]. He also pointed out that the playing budget this season at Altrincham was actually less than we had spent in 2000.

Graham hoped to get the four points or so that he thought would guarantee survival at this level and then use the remaining weeks to try and finish as high as possible whilst assessing the prospects for next season. As we have some potential big gates coming up at home matches against title or promotion contenders, Grahame explained that we might have to assign parts of the ground traditionally used by home fans to away supporters.

Barry Pond spoke to the gathering about the commercial activites of the club and urged everyone to try and help fill the sponsors' lounge on match days or help to get advertising boards placed round the ground. Asked about the Sky TV venture in the bar, Grahame and Derek felt that it was just about breaking even.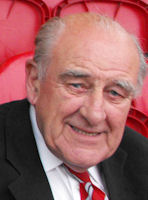 Derek (left) also spoke of the Football League ground assessment of Moss Lane which had been useful in indicating the standards now required for League football. Though we might never achieve it, it was sensible to make sure any new ground developments met the League's criteria. Derek explained that a major requirement of League status was to install a computerised turnstile system. But more mundane work, like an extra shower for the match officials, would be required.

The relationship with Manchester United was discussed, as their Reserves play at Moss Lane. Thanks to United, the pitch will be "earthquaked"; the undersoil will be shattered to aid drainage.

Graham explained that he could never see Altrincham going full time on the crowds we get. He expressed concern that certain lower league clubs operating on massive budgets could poach our players should they reach the Conference. As well as being on modest wages - "good for part-time players" - Altrincham's squad do not receive win or draw bonuses. They do receive cup bonuses but our early exits from cup competitions suggested these were not much of an incentive!!

There was also discussion of the loan system and the definiton of "emergency loans", which Graham thought was ridiculous.

Much more was also discussed, so if you didn't come along this time, please come along to the next one and get the full story!
REFEREE
The referee this Saturday is Mr A. P. Bennett who oversaw FGR 3 Alty 1 in 2007, Salisbury 3 Alty 3 in 2007, as well as Salisbury 1 Alty 3 in 2008.
NO ACTION
It has been confirmed that Altrincham manager Graham Heathcote will not face any further action from the FA for his sending off in the recent home match with Eastbourne Borough.
LAST GAME
According to the Thurrock Gazette "Despite fact that his side are 14 points from safety, defiant Grays boss Julian Dicks still rates Grays as having a chance of beating the drop. The New Rec side ended a long losing run by picking up a priceless point with a 1-1 draw at Altrincham on Saturday... A dream debut from new goalkeeper Glyn Garner, signed on a free transfer from Shrewsbury during the week, played a major part in Grays' success.

The hosts dominated the opening half and Garner saved well from Chris Denham before pushing a Colin Little chip over the bar. He then displayed real class by twice denying Nicky Clee — firstly from a 25-yard volley and then with a one-handed effort to keep out a thunderbolt header".

Grays Athletic have a report on their draw at Altrincham... "In a spirited, sometimes feisty, performance at Altrincham's Moss Lane Stadium, Grays came away with a deserved point to halt their recent losing streak. Much credit must go to man-of-the-match Blues keeper, Glyn Garner, who pulled off two or three magnificent saves to deny the homesters....

The first half saw Altrincham in the ascendant, with Nicky Clee particularly troubling the Blues' defence with huge Rory Delap-style throw-ins... Dean, already cautioned, was lucky to escape a second booking when he kicked the ball away after a free-kick award. In the 73rd minute, perhaps against the run of play, Clee released Senior in the box and he beat Garner with a low shot into the corner of the net to equalise for the home side.

After a few alarums in both penalty areas, the game finished all square although the Blues joy was tempered by Dean being sent off in the last minute for a routine foul that earned a second yellow from referee Mr Handley. Although Altrincham had more shots and corners than the Blues, the stats show that the game was 50/50 in possession gained, so it was by no means an 'Alamo' type performance".
BSP NEWS
According to the Football Conference, "Kidderminster Harriers have confirmed that a deal has been agreed to sign Scunthorpe United striker Adam Boyes on loan for the remainder of the Blue Square Premier season. Nineteen-year-old hot-shot Boyes is one of the finest recent graduates of the youth set-up at York City - whilst a trainee at KitKat Crescent, the player spent more than one trial spell with Manchester United as he etched out a reputation as one of the game's brightest potential stars... Boyes went on to feature almost thirty times last season [for York] and finished with their showpiece FA Trophy Final at Wembley as City lost out to Stevenage Borough... The Iron stumped up an undisclosed fee to take him to Glanford Park this past summer".

Another new face at Aggborough is the subject of the Birmingham Mail which says that "Gary Whild will be faced with a familiar problem in trying to rebuild his Redditch United team after losing another star-in-the-making. Midfielder Jack Byrne, who joined just over a year ago from Stratford Town, will next week join Kidderminster Harriers after impressing on a two-week trial".

Kent News says that "Ebbsfleet United have reached a crossroads in their history as bosses decide whether to persist with the MyFootballClub ownership strategy or look for new ways to take the club forward. Following last Friday's renewal cut off date for subscriptions to the MyFC website, membership levels have dropped significantly and the £300,000 needed to secure Liam Daish's playing squad for next season is unlikely to be raised by renewals alone.

The Fleet manager was shorn of almost his entire squad at the end of last season, with Lance Cronin and Darius Charles the only senior players to remain at the club. However, the financial picture is even bleaker now and with no players under contract beyond April, Daish's minute budget would result in every player departing Stonebridge Road.

He said: 'Good players are at a premium and when you have them, you have to make sure you keep them. You can't just keep producing football teams to keep this team in a national division, a division which is getting stronger – it's a great league. I've built two or three teams during my time here but it gets harder and harder. We have got to learn from what happened last year but if something doesn't change it will happen again'...

Vice-chairman Roly Edwards admitted the MyFC story may have run its course, having seen membership levels drop from an initial 30,000 in 2008 to less than a sixth of that figure... He said, 'These numbers can only take us so far. I want the club to maintain its status at this level, but not everybody sees it the same way... I don't think MyFC ever quite got it right. The excitement has waned and we seem to have been found wanting'".

The Liverpool Daily Post says that "A total of 125 years of proud history came to an end in a small lounge in Northamptonshire on Friday when the Football Conference clubs voted to expel Chester City from their league...

Instead the assembled gathering heard that they had received a personal guarantee from Stephen Vaughan Senior that he would be personally responsible for the debts. Mr Vaughan is serving a ban from the DTI which precludes him from serving as a company director, and the gathering apparently were extremely cautious about the guarantee...

Friday's decision will now place question marks over the ability of the Conference to gain a third promotion place to the Football League. Following their summer entry into administration, the Conference were less than happy about City's entry into their fold, however lobbying from the senior league meant that Chester were belatedly admitted... Chester City (2004) Limited are due in the High Court on March 10 to answer why they haven't paid outstanding monies to HM Revenue and Customs, [but] the likelihood is that the club will be liquidated on or before that date".

"Lee Harper is set to bring in a new striker either today or tomorrow. The Kettering Town boss conceded his team lacked physicality in the final third during the 0-0 draw at local rivals Rushden & Diamonds at the weekend" states the Northants Evening Telegraph. "Damian Spencer was due to return to the club on Friday but has now joined Aldershot Town on loan for the rest of the season. That has opened up the opportunity for Harper to bring in a target man and he conceded it would be someone from a lower level...

'There will be at least one coming in today or tomorrow' [said Harper], 'Damian going to Aldershot has given us an opportunity. There still isn't a lot of money there but that is the sort of player we need to bring in and the board have backed me to do that. It won't be a well-known name but it will be someone with potential who has scored goals at a lower level'...

The Poppies were forced to play John Dempster in attack in the latter stages of Saturday's derby deadlock as he was suffering from an injury... Harper added 'Even though he was injured, he did make a difference up front and we know we are lacking a big man up there'".

Oxford United report that "Our away game at Hayes and Yeading has been brought forward by 24 hours to Good Friday, 2nd April. The two clubs have agreed to move the game forward from the Saturday to allow extra recovery time ahead of the Bank Holiday Monday games when United play at home to Salisbury City".
---
1 March 2010
YOUTHS' CUP FINAL
This Sunday (7th), Altrincham & District FA Youth (comprising Altrincham FC's youth team) meet Stockport & District FA in the Cheshire County FA District Youth Cup Final at Moss Lane (2pm). Please come along and support the lads.

But Alty Youth lost their first league game of the season last Sunday, when they went down 2-0 at Marine (Crosby). The updated league table is here and it shows Alty still in a strong position, with games in hand.
NEW BALLS, PLEASE
Alty's joint press officer, Brian Flynn (the author of the above title!), writes...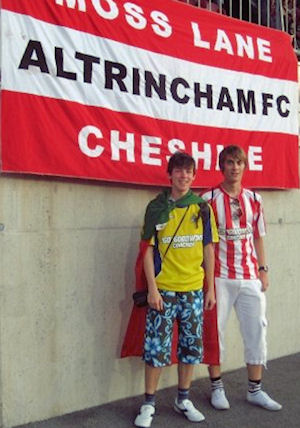 "Two young Altrincham supporters are raising funds for Altrincham Football Club and The Children's Adventure Farm Trust by cycling to the Robins' Blue Square Premier game at AFC Wimbledon on Saturday March 6th.

Dan Martell and Niall Flynn (pictured right, flying the flag in Vaduz at a Liechtenstein v Portugal match) will cycle in excess of 200 miles over a three day period and the Altrincham Football Club Board have got the ball rolling superbly on the fundraising front by pledging £500 to this cause.

You can donate online or by contacting one of the following:-

E-mail Dan Martell or ring him on 07817 477736
E-mail Niall Flynn or ring him on 07806 093769.
E-mail Altrincham Football Club or ring Moss Lane on 0161 928 1045.

The Children's Adventure Farm Trust is based at Millington, near Altrincham, within ten acres of beautiful Cheshire countryside, It is a haven for hundreds of disabled and disadvantaged children. Its aim is to provide special holidays for special children. Groups of children, average age 4 - 14, and their carers, visit The Farm for a free weeklong holiday. The cycle ride replaces the sponsored walk that has taken place during the last couple of years to Droylsden and Wrexham. Please support Dan and Niall in their efforts to raise as much money as possible for this cause".
ON THE ROAD
Altrincham's next two matches are away from home and TASC is, as usual, arranging transport for supporters. Details of this are on the Away Travel page. There is a flat rate charge of just £10 for the trip to Wrexham.
NEXT GAME
News of our next opponents comes from South London Today. "Danny Kedwell is ready to commit his long-term future to Wimbledon and says he wants to finish his career at the club. The 26-year-old is the Blue Square Premier's third-highest scorer this season with 17 goals and was described by Luton boss Richard Money as 'as good as any striker' in the division at the weekend. His contract is up in the summer and the striker has held informal talks with Dons' chiefs about extending his stay at Kingsmeadow... 'I'm 26 now and I would stay here for the rest of my career if I could', said Kedwell".

But NL24 adds that "Terry Brown has confessed he's got no chance of keeping on-loan star Nathan Elder at AFC Wimbledon. The Shrewsbury Town striker, who has scored four goals since joining the Dons last month, is due to return to the League Two outfit at the end of the campaign. 'We could not afford Nathan next year', Brown tells the Surrey Herald.

'This year we have funded a push for the play-offs with the money from our FA Cup run and the match against Millwall, along with the six-figure sum we received for Chris Hussey from Coventry'".
GRAYS GAME
Match report here.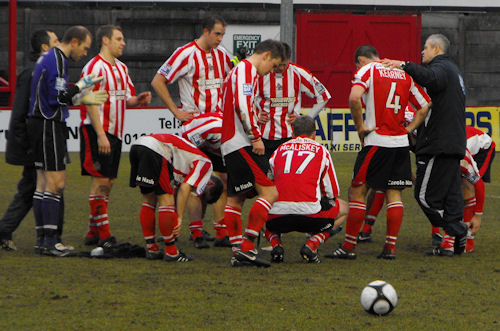 Right: Assistant manager Ken McKenna with the players at the end of the match against Grays.

Grays Athletic report that on Saturday, at Moss Lane, "We looked like ending our barren run when Alsseny Cissoko converted Wayne Gray's left-wing cross; Duran Reynolds had already gone close when his header struck the cossbar and Alex Rhodes had a wonderful chance to double our lead

But Altrincham top scorer Chris Senior rescued them against the run of play, linking up with Nicky Clee to tuck away his 14th goal of the season. Grays keeper Glyn Garner making his debut was in superb form pulling off 2 world class saves to earn him the man of the match award".

On the eve of the match on the Grays Forum Andy Swallow the CEO of Grays Athletic issued an "Urgent call to fans. Please show your support and get emailing the Conference League on Grays Athletic's behalf. Like Chester City fans have, we are being forced into administration by bad management of the Conference league.

How can we survive? We have no [home] games in March...our next home game after this is on April 3rd. There is a possibility of 13 games in April. This is through no fault of our own; it is just the way the league runs itself. It's hard getting funds from people these days and after saving the club in January, we had a very poor February, especially our game against Salisbury when only 232 fans turned up to support us.

We have had to raise £25K, which I have managed, and thanks to R.I.S and others. To ask everyone again for the whole of March's wages is trying it, so please help... If you can send the Conference an email that would all help... We need help now not just next season... Drag them to our games, do what you have to do, because this club MUST survive. There is too much history. Please help. Thanks, Andy".

At the time of writing, Grays had "No scheduled game on 6th March. We were due to play Stevenage on 13th March and they are in the FA Trophy. Away to Eastbourne on 20 March. Away to Cambridge on 27th March. No home midweek games in March on the fixture list. A lot of this has been caused by the Chester situation with Clubs waiting to find out if they are staying in the League before they can re-arrange other games".
GATES
The BSP average attendances chart for this season has been updated.
COMING UP
A week on Tuesday, Altrincham travel to Wrexham, where "Dean Saunders will not be joining up with Wales this week, despite John Toshack's men having a friendly with Sweden on Wednesday evening in Swansea. 'After a discussion with Tosh and with us being as intense as we are at the minute, trying to get a run going towards the play-offs, I'm looking at putting all my concentration into Wrexham. Just for this game against Sweden, and as it's a friendly, I'm going to stay and put all my efforts into Wrexham... I just felt I should be in Wrexham this week... With two months left of the season, I'll get them out of the way and then starting thinking about Wales again", he said.
BSP NEWS
"Skipper Matt Langston, defender Adam Tann and midfielders Nathaniel Knight-Percival and Lee Smith are all considering their options after meeting with Histon manager Alan Lewer about new deals at the club" reports NL24. "Speaking to Cambridge-news.co.uk, the manager says: 'We should have a yes or a no from them by Tuesday. I'd say it's 90-10 in favour of them signing, so that's a real plus point. "Matt Langston, Adam Tann, Lee Smith and Nathaniel Knight-Percival are all out of contract at the end of the season, which is why we've started talking to them early... I think, come next week, we'll see three or even four of them signed... If we can get three-quarters of the squad signed up now and bring in a couple on loan then we can hopefully have the squad ready for next year".

As at Grays there is concern over fixture congestion, as the NW Evening Mail claims that "The Football Conference do not want to know about Barrow AFC's fixtures plight. The Bluebirds still have 18 Blue Square Premier games to play. [They actually now have only 15 to play in the BSP, having played 29 of what is now a 44-game season].

And if they can beat York City in the delayed quarter-final at Holker Street on Tuesday (kick-off 7.45pm), they would also have two FA Trophy semi-finals (on March 13 and 20) and possibly a visit to Wembley on May 8. They now have a minimum of 19 [16] matches to play – and just eight weeks to fit them in.

Dennis Strudwick, the Conference general manager, gives blunt 'Yes', or 'No' answers to queries. As for extending the season, he said: 'No. We set a season start date and a finish date'. The final date for league games to be played is Saturday, April 24... Bluebirds joint-manager Dave Bayliss said: 'We have a lot of games in hand. If win them it's an advantage, lose them it's a disadvantage. We're going to have a points targets now. We'll sit the players down and tell them what the targets are but we'll keep it in-house. It's no good waiting till the last 10 games of the season, we need to get points on the board now. Ebbsfleet have taken 15 points from the last available 18 and have dragged themselves out of it. We can do something like that, I know we have the capabilities and players to do similar'...

Bayliss added: 'We know we will be playing Saturday, Tuesday, Thursday, Saturday some weeks. We just haven't got a squad big enough to cope with that. That's why we must bring in more lads. We served seven days notice on Marine over Lee McEvilly and will talk to him as soon as that has elapsed. I know he didn't produce what we hoped from him last season but it was only after he went back to Rochdale that he had an x-ray and discovered he had been playing with a broken bone in his leg. In the circumstances I suppose he did all right for us - and he was never on a losing Barrow side... He will be signed non contract and has a point to prove to both management and supporters'. Bayliss was also awaiting a call today from a winger the Bluebirds hope to sign".

In the NL Paper, York boss Martin Foyle also discusses the fixture pile-up saying "I'm sure the hardest hit clubs are those who aren't full-time yet. I can't imagine the impact of playing and travelling Saturday, Tuesday, Saturday is having on their finances and the lives of those guys who have to work during the day".

From the NW Counties (Vodkat) League we learn that "Following confirmation of Chester City's expulsion from the Football Conference on Friday, the League has received a number of enquiries from media organisations regarding the possibility of a new club from Chester playing in the Vodkat League next season.

A group of supporters known as City Fans United have vowed to 'continue to fight for the future of football in Chester', but League Secretary John Deal says: 'We were contacted by an individual representing a club called FC Chester on 11th January, asking if we as a League would accept a new Club and asking for the League's point of view. We confirmed that this would not be a problem, as FC United of Manchester, AFC Liverpool and Runcorn Linnets have followed this route in recent years, but informed him of the initial steps they would need to taken if a newly formed club that was aiming to play in our Division One next season.

These are that they need to be affiliated to a County FA, produce a business plan, seek approval from the FA Leagues Committee to bypass the normal entry level at Step 7 and obtain a ground up to the minimum standard of Grade G. Once these criteria have been met, the new club could be presented to the League's member clubs at the AGM in June to seek election to our League, subject to there being vacancies and after promotion issues with the Step 7 Leagues has been satisfied. As there are 5 vacancies at present and only 3 applications from Step 7 clubs this should not present a problem...

Since then, we have had no contact from them at all... If there is an intention that a new club is formed ... we would urge them to get in contact as soon as possible".

Meanwhile the Chester Chronicle says that the "decision by member clubs to expel Chester City from the Football Conference is 'unparalleled in the history of our national sport' says the league's press officer Colin Peake. He also warned that the club's dire plight should act as 'a wake-up call' to all clubs tempted to live beyond their means...

'Chester City can appeal, but they cannot appeal against the decision made this morning', added Peake. 'The only thing they can appeal against is the decision originally of the Conference board to recommend to its members that Chester be erased from membership... Today's events are unparalleled in the history of our national sport... The Football Conference are very sad that any club should go such a way... It should come as a wake-up call to all clubs that they must live within their means'...

Peake also said that Chester City officials were invited to attend today's crunch meeting held at Rushden and Diamonds' Nene Park ground but chose not to. 'This is a sad day in the history of the football club', said City Fans United spokesman Jeff Banks...

Barrie Hipkiss, once a player at the club and a fan for more than 60 years, said he was devastated... He said 'I feel for the players, the youngsters, the groundstaff, Tony Allan the secretary, because this is a bad day for them... I have also lost a lot of respect for Stephen Vaughan. I volunteered at the club and gave a lot to it and he then comes out and calls the fans idiots. That didn't go down very well and if he's calling me an idiot, well, he's lost my respect'.

Blues' director of football Morell Maison said the decision could be good for football. 'This has been coming for a long time', he said. 'My first reaction was shock, but when you think, there are probably six or seven clubs operating at the moment in a similar position... We have been in talks overnight to look at the options because there is still a business there, it still has a ground. I do not know what the Vaughan family are planning but I do know that the club could continue, get on an even keel, pay off its debts and apply for re-entry further down football's feeder leagues'".
---
FOR EARLIER NEWS, CLICK HERE
---