WHEN WE WERE KINGS: ALTY IN THE APL 1979/80
by Barry Pikesley
The following articles appeared in the Robins' Review, during season 2009-10 and are reproduced here by kind permission of the author.
PART 13: MALCOLM IN THE MIDDLE
In addition to completing the 1979/80 Alliance Premier League (APL) season as the competition's top goalscorers, the Robins also registered the best defensive record in the division. In a total of 38 APL fixtures, 35 goals were conceded and only nine of these occurred at Moss Lane.
The Robins' first choice and customarily parsimonious back four in those halcyon days comprised such Alty stalwarts as Stan Allan and John Davison in the respective full back roles and a truly complementary central defensive pairing of the cultured and perceptive John Owens in juxtaposition with the more rugged and no-nonsense approach of Mal Bailey, an integral member of that outstanding team who was much more in the mould of the traditional centre half of that era.
Malcolm Roy Bailey (left) was born in Biddulph, Staffordshire on 14th April 1950. After being spotted whilst playing for Staffordshire Youth, he graduated through the Port Vale youth side and signed as a professional for that Potteries club in May 1967. His debut arrived on Monday, 21st April 1969, when Port Vale recorded a 1-0 home victory over Grimsby Town in the old English Fourth Division. However, he would only make one additional league appearance for the Valiants prior to being given a free transfer in May 1970.
Mal's next port of call was The Drill Field for the start of the 1970/71 Northern Premier League (NPL) season, where he made his debut in Northwich Victoria's opening day 2-0 home defeat against Scarborough on 15th August 1970, curiously whilst wearing the No. 9 shirt. During three seasons with the Vics, Mal clocked up a total of 144 appearances and scored nine goals.
In the Summer of 1973, Mal moved to Runcorn, where he was to spend four seasons playing alongside the likes of Barry Howard; Barry Whitbread and Phil Wilson in Stan Storton's successful team that won the Cheshire Senior Cup in 1973/74 and 1974/75 (the latter via a 3-2 triumph over the Robins at Gresty Road, Crewe); the NPL Challenge Cup in 1974/75 and then the NPL title itself in 1975/76.
On 9th August 1977, Tony Sanders paid Runcorn a fee of £1,500 to secure Mal's services, whereupon he duly replaced that enigmatic and bearded character, Steve Hardwick, in the centre of the Robins' defence. Two days later, he made his first appearance in Alty colours at Moss Lane in a pre-season friendly versus a Liverpool XI including such familiar names as Tommy Smith and Alec Lindsey, together with the then-emerging youngsters Sammy Lee and a certain Alan Hansen, who had only been signed in May that year from Partick Thistle for a fee of £100,000. Mal scored the Robins' sixth minute opening goal in a 3-2 defeat.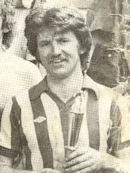 When Alty played out a goalless home draw against Wigan Athletic in the inaugural fixture of the 1977/78 NPL season on Saturday, 20th August 1977, two players who would both ascend to the status of genuine Moss Lane legends were each making their league debut for the Robins: Mal Bailey and John Rogers (right).
Mal Bailey scored a total of 21 goals (and not 20, as stated in his Alty Legends profile on the club's official website) throughout his playing career with the Robins, the first of which transpired against his former club Runcorn during a particularly disappointing 2-1 loss in an FA Cup Fourth Qualifying Round tie at Canal Street on Saturday, 5th November 1977. However, indubitably the paramount goal of his stint with Alty would ensue on that very same ground just over five months later.
Incidentally, I am grateful to Alty supporter Bill Waterson for his eagle-eyed observation that in the 21 matches in which Mal Bailey scored a goal for the Robins, Alty achieved 19 wins; drew once and incurred just a single defeat (as referred to in the previous paragraph).
On Saturday, 8th April 1978, the Robins faced the daunting prospect of travelling to the hostile environment (both on and off the pitch) of Canal Street in order to confront Runcorn in the FA Trophy Semi-Final Second Leg, merely seven days after the two clubs had engaged in a goalless war of attrition in the First Leg at Moss Lane.
In the 57th minute of that tense second meeting, a Graham Heathcote corner taken from the left wing was met at the near post in majestic fashion by the unchallenged Mal Bailey, whose header duly flashed into the net past the helpless Runcorn goalkeeper Graham Lloyd. It would prove to be the only goal of the game and, therefore, it secured the Robins' first ever appearance at Wembley.
The intimidating atmosphere at Canal Street that afternoon meant that many Alty supporters (including myself and my father) adopted the shrewd tactic of stifling any of their post match celebrations until they reached the comparative safety of their respective vehicles, at which time screams of unbridled elation were unleashed!
In fact, Mal had himself been a member of the Runcorn team which had suffered a narrow and controversial defeat at the hands of Stafford Rangers in the 1975/76 FA Trophy Semi-Final and, thus, somewhat inevitably, he experienced mixed feelings about being the Linnets' Nemesis on this particular occasion. He commented: "If I'd scored against them in the Final, I wouldn't have minded a bit. But I felt sorry for the lads. They've come so close."
The nature of Bailey's pivotal winning goal rather astonished him (not to mention his crestfallen former manager, Stan Storton!), as it was exactly the type of header that he had executed with success on quite a few previous occasions during his tenure at Canal Street. As Mal explained: "We have practised the move in training. I was surprised no-one picked me up, as Runcorn know so much about me. I am over the moon about it. We will take care of Leatherhead in the Final." And, indeed, they did.
The 1978/79 season saw Mal record 43 (+1 as sub) appearances as the Robins finished as runners-up to Mossley in the NPL title race. The highlights of that particular campaign related to the club's FA Cup run: from that engrossing and ultimately exhilarating eleventh hour 4-3 First Round victory over Southport at Moss Lane (in which Mal scored the second goal) to the two epic encounters with Spurs in the Third Round. Unfortunately for Mal, he sustained a dislocated collar bone in the opening minutes of the initial tie at White Hart Lane (where he was replaced by Ivan Crossley after only 20 minutes) and was forced to sit out the replay at Maine Road.
That same season also witnessed the irrefutable nadir of Mal's career at Moss Lane, namely the alarming tonsorial faux pas he committed by adopting the type of heinous footballers' perm then sported by such fashion victims as Kevin Keegan; Terry McDermott; Phil Thompson and Peter Shilton. Oh, and not forgetting our very own Barry Howard, too.
The photograph of Mal in the profile of him printed in the Robins Review issue of 4th September 1978 invoked shock waves via the revelation that he had dispensed with his previous straggly, lank hippy/hobo look (well, he was a self-proclaimed fan of The Eagles, after all…) in favour of that dreaded tight curly perm monstrosity. We also learnt that he was a toolsetter by trade; drove a Ford Capri and had a penchant for eating fish with lashings of parsley sauce.
During the early stages of the inaugural APL season (and, thankfully, with that permed hairstyle now reduced to a distant but nonetheless still traumatic memory), Mal's No. 4 shirt looked to be under threat from the presence of the promising Graham Tobin. However, he duly overcame this challenge and played in 32 of Alty's 38 league fixtures (allied to 16 appearances in cup competitions), as the Robins became the APL Champions. His four goals in that campaign included him claiming the honour of scoring the club's first ever goal in the APL (against Telford United at Moss Lane on 20th August 1979) and a priceless strike at Rotherham United in an FA Cup Second Round tie (of which, more details will follow in a forthcoming article in this series).
During the momentous 1980/81 season, in which the Robins achieved the league and cup double and also enjoyed an FA Cup Third Round tie at Anfield, Mal registered a further 39 (+3 as sub) appearances and chipped in with two vital goals in consecutive matches.
On Monday, 20th April 1981, the Robins entertained Bath City at Moss Lane, having surprisingly lost their previous two home matches against Telford United and Weymouth respectively. In the 14th minute, Jimmy Jenkins put the visitors ahead and Alty's title aspirations were looking to be in severe jeopardy. However, a trademark free kick courtesy of Graham Heathcote and second half headers from Graham Barrow and Mal Bailey duly resurrected the Robins' title bid.
Just two days later, Mal scored the first goal in a 2-0 victory over Kettering Town (the Robins' principal rivals for honours that season) at Moss Lane in the APL Cup Final First Leg, reacting rapidly to flick a reflex header that promptly looped the ball into the net following Heathcote's volley.
Mal's 1981/82 season was largely blighted by injuries and these setbacks, allied to the emergence of a promising young centre half by the name of Derek Goulding, served to curtail the number of his appearances to 27 (+4 as sub). However, he did chalk up his second FA Trophy Final appearance at Wembley, where the Robins lost 1-0 to Enfield after extra time, in addition to collecting another Cheshire Senior Cup Winners' medal when Alty defeated Runcorn at Gresty Road by virtue of Phil Gardner's delightful first minute header.
Alty's 1982/83 season was chiefly one of transition and flux, as Tony Sanders sought to rebuild his team following the departures of players of the calibre of John Connaughton; John King; John Owens; Barry Whitbread and (briefly) John Rogers. Mal attained another 34 (+1 as sub) appearances for the club, whilst contributing another four goals (three in the APL and one in a 3-0 FA Trophy Second Round Replay win over Tow Law Town at Moss Lane).
Mal Bailey's final appearance in an Altrincham shirt (the No.5 on this occasion) arose in a 3-1 APL home defeat versus Enfield on 1st October 1983. He scored his last goal for the club in a 3-1 success against Frickley Athletic in the APL Cup First Round First Leg tie played at Moss Lane on Monday, 5th September 1983.
Mal then moved to Telford United, where he was reunited with Stan Storton, his former boss at Runcorn. In his solitary season at The Buck's Head, Mal gained 20 (+1 as sub) appearances in the APL and became a key member of the team that reached the FA Cup Fourth Round. Moreover, he notched a goal at Spotland in the Third Round 4-1 humbling of Rochdale and followed up that feat at the next stage of the competition by scoring at The Baseball Ground on 1st February 1984 during a 3-2 reverse against a Derby County side managed by Peter Taylor.
After parting from Telford United, Mal's playing career eventually wound down with spells at Hyde United and Caernarfon Town.
I believe that Mal still lives locally and note that one of his sons, Michael, played at centre half for George Heslop's Altrincham FC Youth Team from 2001 to 2004.
So, to a synopsis of Mal Bailey. A wholehearted, consistent, efficient and totally committed defender who amassed 250 (+10 as sub) appearances in his Altrincham career (of which 101 (+5 as sub) took place in the APL); headed away myriad clearances (usually accompanied by the backdrop of Kingy's familiar cry of "Mally!") and scored 21 goals, the first of which simply has to be recognised as being one of the most significant in the club's history. I can only conclude by saying that the sum of £1,500 spent by Tony Sanders to recruit Mal back in August 1977 proved to be an absolute bargain.
---
PART 14: NOVEMBER SPAWNED A MONSTER
When Altrincham faced Boston United in an Alliance Premier League (APL) fixture at Moss Lane back on Saturday, 17th November 1979, the acclaimed American film director Martin Scorsese was celebrating his 37th birthday.
The unearthing of this snippet of cinematic trivia duly prompted me to speculate on just how different some of his movies would have been if he had actually been an ardent supporter of the Robins over the last thirty-odd years or so.
For example, in the case of his renowned sports biopic Raging Bull, just imagine that rather than selecting the boxer Jake LaMotta as his subject, he had opted instead to depict the life and times of our very own John King. Or, indeed, what if Taxi Driver had actually become Coach Driver and Robert De Niro had in fact immortalised our current Chairman Geoff Goodwin instead of portraying Travis Bickle? And don't get me started on an alternative version of Goodfellas, based on some of the, ahem, 'characters' who have lurked in various clubs' Boardrooms in recent times….!
That game just over thirty years ago also happened to coincide with my own birthday and what better way was there to celebrate such an occasion than by watching your beloved team chalk up their seventh consecutive league victory and increase their lead at the top of the APL table?
Since the inception of the Northern Premier League in August 1968, Boston United had gradually emerged as the pre-eminent team, having finished in the top five positions in the league table on no less than eight occasions during eleven seasons; with four of those seeing them crowned as league champions. Their York Street stadium had also been substantially developed and was regarded as being one of the best Non League grounds around. The previous three seasons had witnessed them win the league title in the 1976/77 and 1977/78 seasons respectively, followed by concluding the 1978/79 campaign in sixth spot and, thereby, being invited to become a member of the inaugural APL.
Notwithstanding their levels of consistency and success in the division, Boston United's record in NPL fixtures at Moss Lane was not too impressive. In eleven league matches on the Robins' home turf, the Pilgrims had suffered six defeats; drawn four games and attained merely the one away win. This solitary victory transpired on Sunday, 19th March 1972, when a team managed by Jim Smith (and including a certain Howard Wilkinson in the No. 11 shirt) won 3-1 in front of a gate of 745.
However, the Pilgrims' two visits to Moss Lane in order to fulfil NPL Cup fixtures had resulted in rapture for them and bitter anguish for the Robins.
The 1973/74 Altrincham team, which was expertly managed by Roy Rees with the assistance of Tony Sanders, should really have won the NPL championship that season. Alas, an onerous fixture backlog, which amounted to having to play 12 games during the month of April 1974, effectively served to sabotage the club's title bid, sentencing the Robins to a third place finish, just two points behind the eventual champions, Boston United.
Amongst that glut of matches, the Robins were scheduled to meet Boston United in the Watney NPL Cup Final over two legs. The first leg at York Street on Wednesday, 10th April 1974 had concluded in a 2-2 draw in front of a crowd of 2,055. Mickey Brooke had twice given the Robins the lead only for the hosts to reply via respective equalisers from Matt Tees and John Froggatt.
Seven days later, 2,296 spectators gathered at Moss Lane to watch the two sides resume combat. Alty took command by means of a Mickey Brooke goal after only six minutes but subsequent chances to increase their advantage were squandered and the visitors duly made them pay by drawing level in the 80th minute, when John Froggatt slipped a shot beyond Peter Eales. Even worse was to follow, as substitute John Croy popped up to score for the Pilgrims with virtually the last kick of the match and duly clinch the trophy for the Lincolnshire side. Even now, I can still recall the heartbreak I felt when the referee blew the final whistle on that traumatic night.
Two seasons later, the two sides locked horns again in the same competition but this time in a one-off Semi-Final at Moss Lane on Monday, 15th March 1976. In the wake of the recent resignation of the unpopular Alty boss, Les Rigby, team affairs at Moss Lane were now under the supervision of caretaker manager Tommy Spratt (the former Stockport County player and Northwich Victoria manager), aided by the popular club captain Lennie Dickinson.
With almost an hour of the tie having elapsed and the visitors 2-0 up courtesy of goals from player-manager Howard Wilkinson and Dave Adamson, the Robins were looking doomed to defeat. However, the home side suddenly launched an unexpected comeback, which incorporated three goals in an incredible 10 minute spell. In the 59th minute, diminutive midfielder Paul Clements scored with a header and then parity was restored via a spectacular 35-yard piledriver from full back Ivan Crossley, which rocketed into the top corner of the net. Sensationally, midfielder Les Wain then added a third goal for the Robins.
The Pilgrims responded swiftly and Jim Kabia headed home an equaliser from close range. Just as a replay seemed inevitable, referee R F Thomas from Helsby awarded the visitors an 89th minute penalty, after spotting an infringement as a Boston United corner entered the Robins' penalty area. That man Kabia promptly hammered the spot kick past Tommy Cavanagh and secured the Pilgrims' progress to the Final, which they subsequently won by overcoming Mossley 5-2 on aggregate over two legs.
The Robins had achieved the league double over Boston United in the preceding 1978/79 NPL season, winning by a three goal margin on both occasions. On Saturday, 11th November 1978, Alty triumphed 4-1 over the reigning league champions at York Street courtesy of goals from John Rogers; Jeff Johnson and Graham Heathcote (2, including one penalty). In the return fixture at Moss Lane on 3rd March 1979, 1,370 spectators observed the Robins cruise to a comfortable 3-0 conquest by virtue of a spectacular 15th minute Barry Howard drive from the edge of the penalty box, together with headers either side of the interval by Jeff Johnson and John Rogers respectively. The Manchester Evening News report on this encounter asserted that: "Boston's Player-Manager, Albert Phelan, needed an introduction to Barry Howard after the match. He never got near the winger, who set the ball rolling with a goal of tremendous class."
The Pilgrims arrived at Moss Lane lying in seventh position in the APL table; six places and eight points adrift of Alty. However, Albert Phelan's side did possess four games in hand and their record from their opening 11 league matches read as follows: four wins; six draws and only a single defeat (a 2-0 reverse at AP Leamington in their fourth APL fixture back on 28th August 1979).
The Boston United line-up that afternoon contained some familiar foes from numerous NPL battles between the two clubs, such as the towering figure of Dave Poplar at centre half and that aforementioned prolific goalscorer, Jim Kabia. The Pilgrims could also boast two England Non League Internationals in their ranks: full back Gordon Simmonite (who won five caps and was sold to Blackpool for a fee of £15,000 in 1980) and defender Dave Adamson (who was also awarded a total of five caps and held the distinction of having scored a hat-trick, including two penalties, on his debut for the England Non League XI in a 5-1 drubbing of Scotland at Stafford Rangers' Marston Road ground on 31st May 1979, whilst playing alongside John Davison and Barry Whitbread).

For the Robins, Tony Sanders (left) made three changes to the squad that had accomplished a 3-1 win at Barrow on the previous Saturday. After serving his automatic one match ban, captain John King was restored to central midfield; Graham Barrow reverted to the bench, where he replaced Ivan Crossley, and Mal Bailey returned to central defence at the expense of Graham Tobin. Following the victory at Barrow, in which he had scored Alty's third goal, it had emerged that the unfortunate Tobin had played the majority of that match with a broken hand, which now threatened to sideline him for up to five weeks.
Boston United gave the home supporters an early scare, when striker Bobby Brown's shot sailed just over the crossbar in the first minute, and the game was largely a rather scrappy affair until the Robins eventually took the lead in the 27th minute. John King's pass released John Rogers down the left flank and his cross was met by John Davison, who glanced a sweetly-timed diving header into the net at the Chequers End, thereby claiming his fourth goal of the season.
Alty now proceeded to pen the visitors back into their own half and this pressure was rewarded with a second goal on the stroke of half-time. The Robins were awarded an indirect free kick on the periphery of the Pilgrims' penalty box, whereupon King tapped the ball to Graham Heathcote, who curled an exquisite shot around the visitors' defensive wall and into the bottom right hand corner of the net, rendering goalkeeper Gerry Stewart utterly helpless in the process.
Alex Stepney was virtually an extra spectator to be added to an attendance of 1,851, as the home side continued to dominate proceedings during the second half. After Rogers had been fouled on the edge of the penalty area, the resulting free kick engendered a goalmouth scramble, which in turn led to King receiving a caution for dissent. This booking signified that the Alty skipper's disciplinary points tally had now exceeded 20 points and left him facing the prospect of a three match suspension.
As the frustrated Boston United players began to assume an overly physical approach, tempers on the pitch were starting to fray and an explosive incident duly ensued after 63 minutes. As Jim Kabia fouled Stan Allan, the visiting striker further infuriated the Robins' full back by kicking him, provoking the never-especially-imperturbable Scouser to endeavour to retaliate.
In the ensuing brawl, the two old adversaries had to be restrained by some of their colleagues, presenting referee Gwyn Pierce Owen (a diminutive headmaster from Anglesey, who would later become a member of the Board of Directors at Bangor City) with no other option than to dismiss both parties. Allan was then duly led off the pitch by his captain.
The Robins then achieved their third consecutive 3-0 league victory over Boston United at Moss Lane by notching another goal in the 89th minute. Barry Howard steered a cross into the Pilgrims' goalmouth and John Rogers calmly guided the ball into the net for his 11th goal of the campaign.
So, Alty's sixth successive APL home victory had maintained their 100% record at Moss Lane and the Robins' title hopes received a further boost when the news unfolded that second-placed Worcester City had suffered a 3-2 loss at Gravesend & Northfleet, thereby allowing the Robins to increase their lead at the top of the table to six points.
Oh, and just to put the icing on the (birthday) cake for me, Northwich Victoria had obligingly slumped to their second successive APL defeat by losing 2-1 at Scarborough.
The post match summary from Tony Sanders was one of measured contentment: "Our performance was very satisfying but obviously the edge went off it with the sending off of Stan Allan. Some of the football played was of the highest calibre."
Stan Allan's penalty for receiving his marching orders would be an automatic one match suspension that ruled him out of the following Saturday's FA Cup First Round tie versus Crewe Alexandra at Moss Lane. However, there was more encouraging news pertaining to John King, when it transpired that, despite his booking in the Boston United encounter, he would still be available to play in the impending cup match because his disciplinary case could not be heard until the week after the scheduled date of the fixture against the Football League's basement club.
---