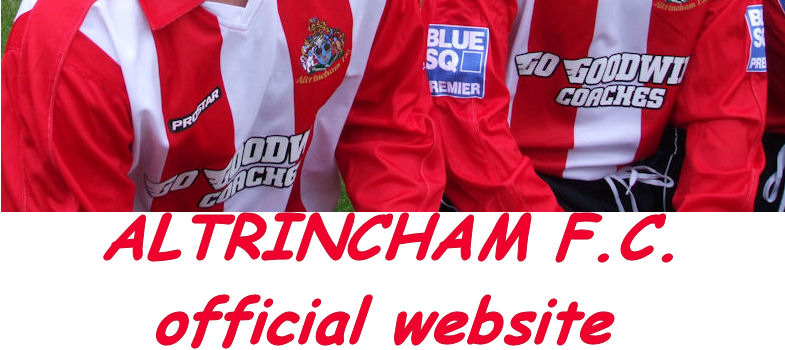 The Altrincham FC Supporters' Club - TASC
By kind permission of Brian Flynn, the minutes of the Altrincham F.C. Supporters' Club Committee are reproduced below. In due course, the Committee will launch its own website.
Minutes of The Altrincham Supporters' Club (TASC) Committee Meeting,
Saturday, 27 February 2010
Attendees
Dawn Abbott, Brian Flynn, Steve Foster, Peter Foster, Grahame Rowley, Anthony Wright
Apologies from Gareth Thomas, Graham Jackett, Steven Raftery, Ian Jones, Mike Garnett
Minutes from January, 2010 Meeting
Minutes of the last minuted meeting were proposed by Steve Foster and seconded by Grahame Rowley.
Wallpaper Stickers
Brian Flynn Confirmed that he was waiting on a price for the stickers. Looking to start selling these start of next season. .
Busking
Peter Baldwin at the time of the meeting hadnít confirmed a date.
Calendare
6 or 7 left
Golf Day
To go ahead on the 19th March.
Brian Flynn to speak with the Messenger to run a piece on this.
Football Prediction Competition
Anthony Wright to launch & manage this competition.
My Square
The total at the moment stands at £337
New Year Draw
Amount raised £1321.00
In order to prevent a reoccurrence of the issues relating to postponing the draw, from next year we will state that the draw will be made by January 31st.
Race Night
Booked and confirmed for the 24th April after the last home game of the season.
£10 a Horse, £20 a Race
Copy of races to be left in the office (club shop during home games). Any horses not sold will be auctioned on the night. The Triple-Forecast will also be going ahead this year.
Membership Update
We currently have 139 members. Membership fees received: £980.00 Donations from members received: £75.00
Treasurer's Report
Pensionersí Lunch £333.50
Harbingers £250.00
New Year's Draw Prizes £1,321.00
Membership £130.00 (+910 from the year to 31/10/2009)
Cult Zero £5.60 (+£30.78 from the year to 31/10/09)
My Square £270.00
Calendars £200.40

Any Other Business (AOB)
Reunion of Former Players
Sarah Rowley has come up with an idea of getting previous Altrincham FC players together for a reunion event. Grahame Rowley to look into this.
Altrincham Festival
Dawn Abbott confirmed that the paperwork for this year's Altrincham Festival has arrived. It was confirmed by the committee that TASC would be attending . Dawn will fill in the paperwork and also speak with Graham Houghton regarding getting the Altrincham Juniors involved.
---
---
---