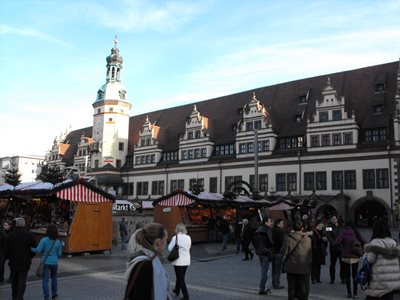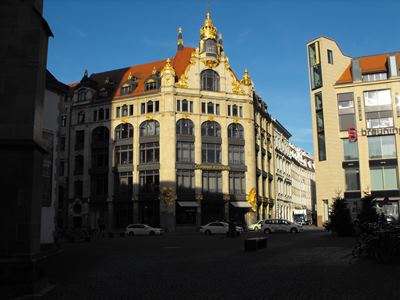 Top: LEIPZIG Altes Rathaus
Above: LEIPZIG Commerz Bank
Below: HALLE Unser Lieben Frauen Kirche
Bottom:
ERFURT near Kramerbrucke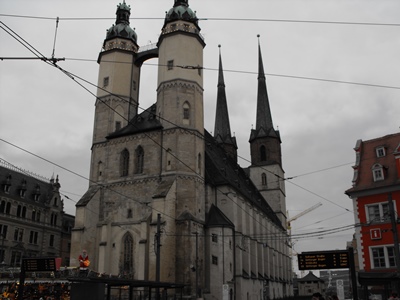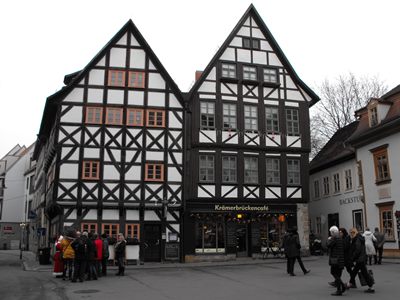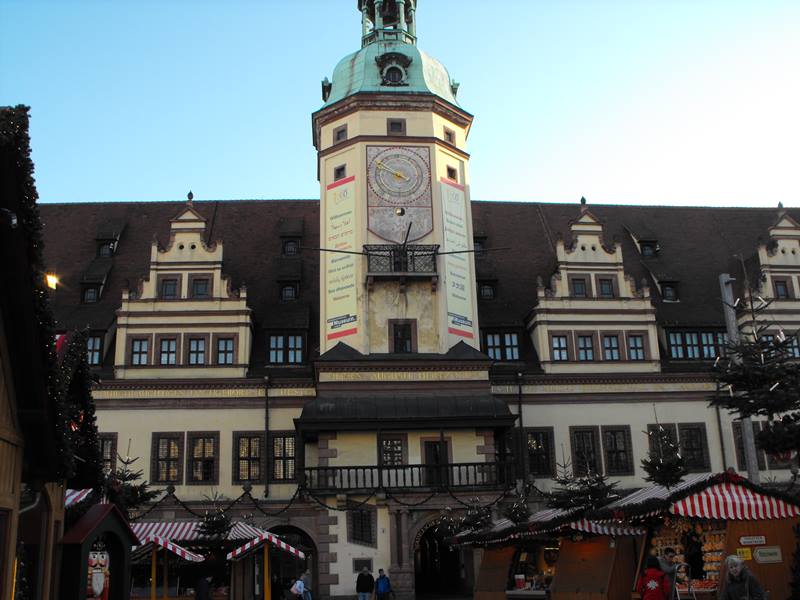 Above: The Altes Rathaus in Leipzig.


Leipzig is located in Saxony. Following serious bombing damage in WW2, the city lay in the eastern sector of the country until reunification in 1989, a development which had its impetus from peaceful protests in Leipzig. The city was rebuillt after 1945 and includes both some excellent recreations of historical structures and examples of Communist architecture.

Its Tourist Office provides plentiful information and its offices may be found at Augustusplatz 9 and Katharinenstrasse 8.

The main station (Hauptbahnhof) is arguably the largest in Western Europe and has been enhanced by the addition of well over 100 shops on the lower levels. Services to the station are provided by the national
DB railways
,and the suburban S-Bahn network and the more local extensive tram system provided by LVB. Ticket machines for both DB and LVB are widely available. The DB machines have an English language option which makes them easy to use. You can also use the DB Reisezentrum but tickets are slightly more expensive from there.

The city has some excellent beerhouses including the iconic Auerbachs Keller in the historic Madler Pasage. Also well worth a visit is the branch of the Czech brewhouse Wenzel Prager Bierstuben in Kleine Fleischergasse 8 and the nearby Zigarre restaurant, at
Barfussgaesschen 10

which, despite its Italian name, offers good German fare, too.

City landmarks include the magnificent Alte Rathaus which also houses the city's museum. The new town hall is also worth a look. There are also magnificent churches, notably those of St Nikolai and St Thomas.


A well sited hotel is the Marriott Leipzig, which is just a few hundred yards from the main railway station.

The Leipzig Christmas market is one of the biggest in Germany and is held from late November each year, with stalls around the Altes Rathaus area as well as Augustusplatz and the streets between these locations such as Grimmaischestrasse. Commemorative mugs and glasses are produced each year and these can be kept by customers if they forego the deposit (Pfand) which is charged on each drink when ordered. (Typically the Pfand was two Euros in 2016).

The city is also well provided for in terms of shops and its numerous historic arcades must not be missed.

Getting to Leipzig from the UK is often involves a change of plane, e.g. at Dusseldorf. Eurowings/Germanwings serve Leipzig-Halle airport, which is located west of the city and is connected by a twice-hourly S-Bahn service as well as by other DB services. It is a long but enclosed walk from the air terminal to the railway station and it is not brilliantly signposted at the railway end. There are excaltors/lifts down to the platforms - make sure you are on the right one! There is (2015) just one ticket machine on each platform which is not very useful when there is a queue of foreign toursits who do not know how to use it!

Nearby places to visit include:

Halle

- easily reached on the S-Bahn line S5/S5X. Catch the tram (nos. 2,5,7,9) to the left of the station forecourt to the historic Markt area which has the superb Red Tower and User Lieben Frauen church. The town has musical connections; Handel lived here - but there is also a Beatles Museum! For eating and drinking, as well as numerous German establishments, there is a branch of the excellent Czech brewhouse Wenzel Prager Bierstuben in Grosse Nikolaistrasse near the Handel-Haus.


Erfurt -

This city in Thuringia is reached by changing trains from Leipzig at Weissenfels. Erfurt's impressive Rathaus at the Fischmarkt and medieval Kramerbrucke bridge are local landmarks. The latter is totally built upon and can only be seen as a bridge by going behind the buildings built upon it. It claims to be the longest inhabited bridge in Europe. Also not to be missed is the Domplatz which is an extensive area that can be viewed from above by climbing the steps up to the Dom (cathedral) itself.

Dresden - Well served by trains from Leipzig, this city will have its own page on this site in due course. Despite its destruction by bombing in World War II it has re-established itself as a vibrant centre of culture.

Weimar - This is an attractive town with numerous historical and musical associations, as well as an imposing Opera House.

Naumburg - If you exit the main station entrance to the left, you can catch the vintage tram (service no.4) which runs every half hour, all year, on a 2.5km route around the edge of town. Get off at Marientor or at Theaterplatz for a short stroll to the main square. Alternatively, you can catch a bus from the station or walk (1.5km) to the town centre, via the massive Dom (cathedral).

Jena: Although badly damaged in the War it has an attractive main square

All of the above places can be reached using the excellent-value Landkarte of DB railways which allows up to five passengers to travel for a joint bargain price. The ticket for Saxony also includes Saxony-Anhalt and Thuringia regions so is excellent value; (in 2016 the basic cost was 28 Euros for two etc). These tickets not only grant unlimited mileage in their region (though not on IC or ICE trains) for a day (after 9am), they also confer free bus, tram and S-Bahn travel in cities and towns within the region. So, for example, you could go by train from Leipzig to Erfurt with this ticket and use it freely on the local transport when you arrive. They can be bought from DB automatic ticket machines (instructions available in English) and can also be bought for a day in advance. Remember to write your name on the ticket before you use it; it does not need to be validated as its date of validity is printed on it.
(This ticket is even valid on the Naumburg vintage tram).


The DB website has full timetable and fare information.