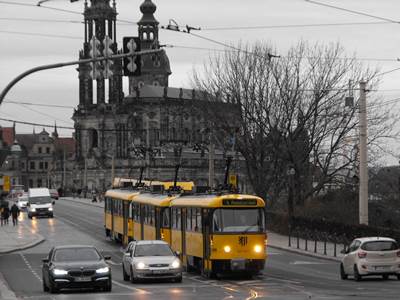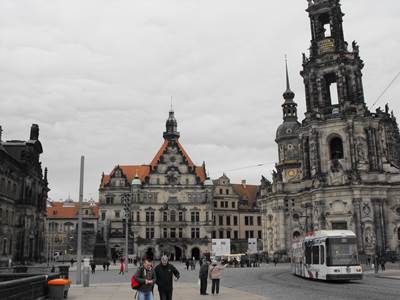 Top: DRESDEN Augustusbrucke
Above: DRESDEN Frauenkirche
Below: DRESDEN View from Neustadt
Bottom:
ERFURT near Kramerbrucke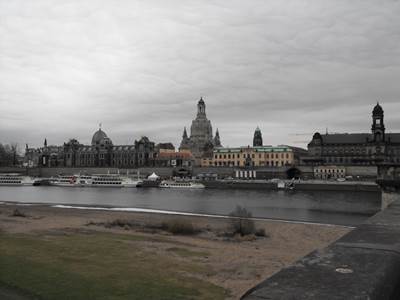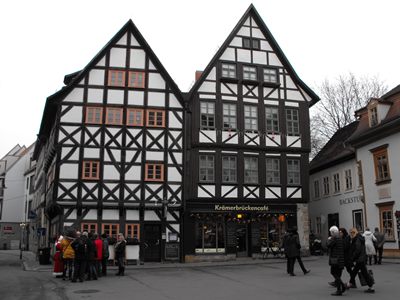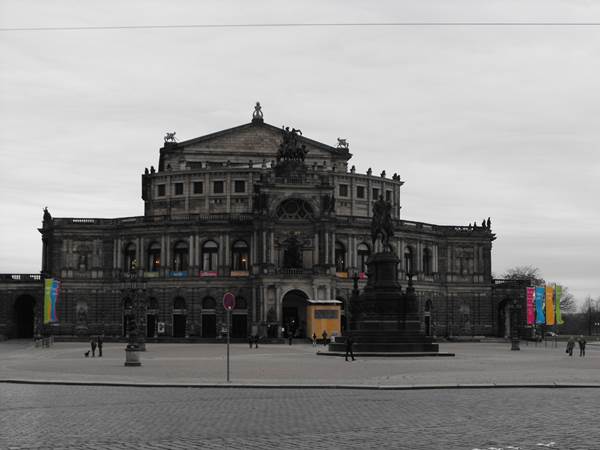 Above: The Opera House in Dresden


Dresden suffered enormous bombing damage in WW2. After 1945 the city lay in the eastern sector of the country until reunification in 1989. However, many of its most famous buildings have been restored or rebuilt and there are plenty of museums as well.

Its Tourist Office provides plentiful information.

Dresden has one of the best and most extensive Christmas markets in Germany. In addition to the one held in the central Altmarkt, there are many more stalls across the river in Neustadt, which is reached across the Augustysbrucke. From the Neustadt side of the Elbe river there is a superb view back towards Dresden city centre


Getting to Dresden f
rom the UK is often involves a change of plane, e.g. at Dusseldorf. Eurowings/Germanwings offer a good range of flights from the UK to various German cities.

Nearby places to visit include:
Erfurt -

This city in Thuringia is reached by changing trains from Leipzig at Weissenfels. Erfurt's impressive Rathaus at the Fischmarkt and medieval Kramerbrucke bridge are local landmarks. The latter is totally built upon and can only be seen as a bridge by going behind the buildings built upon it. It claims to be the longest inhabited bridge in Europe. Also not to be missed is the Domplatz which is an extensive area that can be viewed from above by climbing the steps up to the Dom (cathedral) itself.

Meissen -The famous porcelain town is reached by train via achnage at Coswig, north west of Dresden.

Weimar - This is an attractive town with numerous historical and musical associations, as well as an imposing Opera House.

Naumburg - If you exit the main station entrance to the left, you can catch the vintage tram (service no.4) which runs every half hour, all year, on a 2.5km route around the edge of town. Get off at Marientor or at Theaterplatz for a short stroll to the main square. Alternatively, you can catch a bus from the station or walk (1.5km) to the town centre, via the massive Dom (cathedral).

Jena: Although badly damaged in the War it has an attractive main square

All of the above places can be reached using the excellent-value Landkarte of DB railways which allows up to five passengers to travel for a joint bargain price after 9am. A single ticket covers Saxony, Saxony-Anhalt and Thuringia so is excellent value; (in 2016 the basic cost was 28 Euros for two people etc). These tickets not only grant unlimited mileage in their region (though not on IC or ICE trains) for a day (after 9am), they also confer free bus, tram and S-Bahn travel in cities and towns within the region. So, for example, you could go by train from Dresden to Erfurt with this ticket and use it freely on the local transport when you arrive. They can be bought from DB automatic ticket machines (instructions available in English) and can also be dated for a day in advance. Remember to write your name(s) on the ticket before you use it; it does not need to be validated as its date of validity is printed on it.
(This ticket is even valid on the Naumburg vintage tram).


The DB website has full timetable and fare information.