30 April 2010
RACE NIGHT SUCCESS
TASC chairman Brian Flynn writes:
"Whilst there is still some money to be collected, TASC is delighted to announce that the profit on last Saturday's Race Night was around £1400. This represents a superb effort and TASC Chairman, Brian Flynn, would like to thank everyone who worked so hard to make the evening such a success.
This amount represents one of the most successful Race Nights ever and the vast majority of the money raised has already been banked by Altrincham Football Club".
YOUTHS REACH FINAL
Thanks to a 2-1 win on Thursday night at home to Bootle, Altrincham FC Youth have reached the final of the NWYA Open Cup, to be played against Salford City on Tuesday 18 May at City's ground. Glodi Kuba-Kuba scored both goals for Alty after they had fallen behind to a seventh-minute freekick.
BLUE SQUARE AND UNIBOND PLAY-OFFS
BSP SF Play offs 1st leg
Thursday 29 April
York City 1 Luton Town 0 (att. 6204)
Rushden & Diamonds 1 Oxford United 1 (att. 4535)

BSP SF Play offs 2nd leg
Monday 3 May
Luton Town v York City
Oxford United v Rushden & Diamonds
Play Off Promotion Final - Sunday 16th May 2010 - Wembley National Stadium - 5pm kick-off (live on Sky Sports HD)

BSN SF play offs 1st leg
Wednesday 28 April
Droylsden 2 Fleetwood Town 0
Workington 0 Alfreton Town 1

BSN SF play offs 2nd leg
Sunday 2 May
Fleetwood Town V Droylsden (4pm)
Alfreton Town v Workington (3pm)
Play Off Promotion Final - 9th May 2010

BSS SF play offs 1st leg
Tuesday 27 April
Woking 2 Dover Athletic 1
Bath City 2 Chelmsford City 0

BSS SF play offs 2nd leg
Saturday 1 May 3pm
Dover Athletic v Woking
Chelmsford City v Bath City
Play Off Promotion Final - 6th May 2010 * subject to review

Unibond (Northern Premier)League Premier Division Play Off SF
Monday 26 April
Bradford PA 2 Kendal Town 1

Tuesday 27 April
Boston U. 2 North Ferriby U. 1

Unibond (Northern Premier)League Premier Division Play Off Final
Saturday 1st May, 3pm
Bradford PA v Boston U.

Unibond (Northern Premier)League First Division North Play Off SF
Tuesday 27 April
Curzon Ashton 1 Colwyn Bay 2
Lancaster C. 2 Skelmersdale U. 0

Unibond (Northern Premier)League First North Play Off Final

Lancaster C. v Colwyn Bay


Unibond (Northern Premier)League First Division South Play Off SF
Tuesday 27 April
Chasetown 3 Sheffield FC 2
Glapwell 1 Kidsgrove A. 0

Unibond (Northern Premier)League First South Play Off Final

Chasetown v Glapwell
OLD BOYS
Woodley Sports announced recently that "Dan Browne has decided to leave Woodley due lack of first team opportunities. Dan signed from Altrincham Youth and immediately impressed former manager McFarlane. He has played in several vital 1st team games this season & was highly rated".
BSP NEWS
< ahref="http://www.southlondon-today.co.uk/tn/Sport.cfm">SOuth London Today reports that "Jay Conroy has thanked Terry Brown for rescuing his career but concedes he would love to have extended his AFC Wimbledon stay. Conroy arrived at Kingsmeadow towards the end of the 2008-09 season, and helped the Dons to the Blue Square South title. Finances dictated that he and Brown could not agree a contract extension, as Conroy says he couldn't have gone full-time on the wages the club were able to offer. 'It's been a fantastic season and I couldn't have asked to play for a better club', said Conroy.

'I had a difficult spell at Havant and there was a bad atmosphere there with people not getting on, then I went to Northwich and was having a great time living in Liverpool and playing in the Blue Square Premier. But then the chairman pulled the money out and I was left a bit high and dry. So Terry came in and rescued me which was great and he offered me the chance to help the club get promoted and then try to earn a deal playing pretty much full-time. That's more or less what happened and I've loved every minute of it'".

According to the Northern Echo says that "Simon Davey has told five Darlington players that they will not be retained for life in the Blue Square Premier next season. Davey... has released more of his squad... Centre-back Richie Byrne, left-back Stuart Giddings, defender Ricky Bains, midfielder Dan Riley and striker Mor Diop will all be moving on... less than two weeks after he confirmed that Patrick Deane and Ross Chisholm have already left".

From the BBC we learn that "Cambridge United defender Brian Saah says he needs time to weigh up a new contract offer from the club. But the 23-year-old ... told BBC Radio Cambridgeshire: 'I think the offer is a very respectable one. The club and the gaffer have done well for me. It's just a case of having a week off to clear my head and then making a decision as soon as possible'. It is a welcome situation for the former Leyton Orient player after struggling to find a club 12 months ago...

'To have a contract in front of me and a place where it feels good to come and play football are all positives', he said. 'It's a case of sitting down with the family, seeing if I want to continue at Cambridge and be part of what is looking like a very big year next season'. Striker Danny Crow and defenders Dan Gleeson and Josh Coulson have also been offered two-year deals, while utility man Kevin Roberts and goalkeeper Simon Brown have one-year contracts on the table".

The Leader Live says that at Wrexham, "There are [is] no room for passengers next season. That was manager Dean Saunders' message as the overhaul of Wrexham began with the announcement that 11 players have been released to enable him to bring in the kind of personnel he feels will help turn the Reds into genuine promotion contenders.

Defenders Mike Williams and Sam Williamson, midfielders Mark Jones, Hedi Taboubi, Nathan Fairhurst, Silvio Spann, Jamie McCluskey, Luke Holden and Steve Abbott, and strikers Wes Baynes and Matty Wolfenden, have all been told they will not be offered new contracts.

Saunders has decided to offer new one year deals to defenders Aaron Brown and Ashley Westwood, midfielders Christian Smith and Kristian O'Leary, and striker Gareth Taylor. Another frontman Marc Williams, recovering from a broken foot injury, will be given a six-month contract to prove his fitness and although centre-back Mansour Assoumani has been offered a new deal, Saunders is confident the Frenchman will turn it down...

'We have not done well enough. We have not finished high enough up the league so I have got to do something about it. I said I would... A league up we would be all right. But unfortunately this is a ruthless, really aggressive, tough league and I feel like I have got to get players in who can get us out of this league... I know I have had to be ruthless but I don't feel we can afford to carry anybody going into the new season. I have got a chance now to bring fresh faces in now, to push on and try and win promotion'.

Saunders admitted there are some players he has released that he would liked to have retained... 'I think some of them might be better off playing in a different league', said Saunders. 'It is a horrible part of the job and I would like to thank all of them for the effort they have given under me. I have had to make some really difficult decisions, and I lost sleep over it. There are quite a few I really don't want to let go. But the only way I can do the job with the budget I have got is by having less players so I can get the players I want it, a bit more quality... We have got to be able to get some quality players in at the top end of the pitch, and we have got to make sacrifices in other areas'.

Saunders admitted 'I have not released Mani Assoumani, I have offered him contract for less money than he was earning last year and don't know whether he will accept it or not', said Saunders... But Saunders has handed out an love [olive] branch so some of the players who have been released. 'I have not ruled out going back to a few of them when I know how much money I have got left', said Saunders. 'Wes Baynes has not completely been shown the door. He has been released and I won't be offering him a contract at the moment but in the future I won't rule it out'.

Only keeper Chris Maxwell, defender Curtis Obeng and striker Andy Mangan have deals that run until next summer while winger Adrian Cieslewicz is contracted until January. Although defender Frank Sinclair has agreed to extend his stay at The Racecourse for another 12 months, Wales under 21 international Neil Taylor and newly crowned Player of the Year Andy Fleming have rejected new deals. And Saunders is waiting to see if goalkeeper Sam Russell will accept his contract offer... Left-back Johnny Hunt, defender Kai Edwards and striker Obi Anoruo have been offered one-year deals while right-back Declan Walker has been offered his first professional contract".

At Mansfield Town "Eight players whose contracts are set to expire will not be offered new deals, David Holdsworth has revealed. Veterans Craig Armstrong and Paul Heckingbottom are amongst the eight and are joined by fellow defenders Luke Jones and right back Scott Gardner. Jon Challinor, Oliver Hotchkiss and Blair Sturrock will also leave Field Mill. They all join strikers Grant Ryan and Jason Bradley who were let go last week. Meanwhile, Michael Brough, on loan from Torquay United, has returned to Plainmoor."

According to the Stroud News, "Striker Lee Morris has had his contract with Hereford United cancelled by mutual consent. The 29-year-old had been on loan to Forest Green Rovers, where he had scored twice in nine games. Morris started his career at Sheffield United before a £3m move to Derby County in 1999. Meanwhile , former Forest Green striker Mark Beesley is interested in a move to Telford United after his release from Cambridge United".
---
29 April 2010
BSN PLAY-OFFS
BSN SF play offs 1st leg
Wednesday 28 April
Droylsden 2 Fleetwood Town 0 - Alex Meechan got the first goal.
Workington 0 Alfreton Town 1
IN THE DRIVING SEAT
Left: Alty chairman Geoff Goodwin's son Jay challenged the leaders in his latest national outing in the Super 1 karting series at Rowrah in Cumbria, where he is pictured. Photo courtesy of Chris Manison.
BSP NEWS
Crawley Town announce that "The management team met with a number of the players on Tuesday and www.crawleytownfc.com can reveal the following; -
No contract offered: Simon Rayner & Karl Broadhurst
Terms offered: Nick Jordan, Simon Rusk, Sam Rents, Danny Forrest, Glenn Wilson, Thomas Pinault (but he is moving back to France immediately)
Under Contract: Eddie Hutchinson, Adam Quinn

Manager Steve Evans will be making no comment on individual players until all the player meetings have been completed, it is expected this will be concluded by Thursday".

The BBC says that "Darlington have signed Sunderland midfielder Jamie Chandler and left-sided player Dominik Werling for the 2010/11 season. Chandler, 21, who made 14 appearances during a loan spell before returning to Sunderland in November, will join on a two-year deal on 1 July. Werling, 27, played under boss Simon Davey at former club Barnsley, and has signed a one-year deal at the Arena....

Davey told BBC Tees, 'Hopefully there'll be one or two [more] between now and the end of the week... [Werling] is a German left-sided player, very powerful and very quick, played in the Championship for me for Barnsley, and he'll give us balance down the left-hand side'. Chandler and Werling join Gary Smith, Chris Moore, Ian Miller, Chris Lumsdon, Curtis Main and Josh Gray for the forthcoming season". Werling made 19 appearances for Barnsley during the 2007/2008 season.
Right: George Mitchell, son of Alty gateman Colin, was one of the young mascots at the Alty game last Saturday. He is seen here with Greg Young, Alty's Players' Player of the Season.
According to the Football Conference "Gateshead have confirmed that Ian Bogie will become the club's first full-time professional manager for half a century ahead of the 2010/11 campaign. Bogie, who has masterminded consecutive promotions and kept Gateshead in the Blue Square Premier this season, has accepted a two-year contract. The club has also confirmed it will be switching to a full-time squad for the 2010/11 season but Bogie will have to bring in a new right hand man. Neither Jeff Wrightson nor Paul Thompson - both Gateshead stalwarts - have been able to switch from a part-time to full-time role.
Around fourteen of the twenty-six-man squad that finished the season will be offered professional contracts and chairman Graham Wood is delighted... 'The board of directors have ratified the decision to make the club full-time next season... Our quest is to take Gateshead back into the Football League and hopefully Ian will be the man to take us there. Mid-table respectability is the minimum target next season and the aim is to finish in the top half'...
Bogie, who has worked without a contract in each of his three years as manager at Gateshead, having spent his first year as coach under Tony Lee [said] 'I have been in football all my life, so to become a full time manager is a natural progression, and for it to be at Gateshead is an added bonus', said Bogie. 'I am looking forward to as it is the opportunity to compete on an even keel with the majority of the other clubs in the Blue Square Premier. Training every day means we will be fitter and stronger. It should also be easier to attract players to a full-time club though the budget will be realistic'".
Mansfield Town announce that "Unibond Premier hopefuls Glapwell will play their home games at Field Mill next season. A deal has been struck for the Derbyshire club to play their home fixtures at our home ground for one year. It is likely that Glapwell will play their home matches on a Sunday after we have played away in the Blue Square Premier a day prior".
From the Cambridge News we learn that "Glen Southam has left Histon and predicted another difficult season as the club struggle to regain financial stability. The 29-year-old midfielder joined the Stutes on an 18-month contract when he signed in February, but agreed to tear up his contract when he heard of the club's ongoing financial difficulties. 'I spoke to (director) Angelo Dama after the game on Saturday and asked if the club was going to struggle next season', said Southam. 'He said we would, so I asked if it would help the club if we mutually agreed to end my contract. I've been paid my wages to the end of the season just gone, and that's it. Until the club finds investors they aren't going to be able to pay the wages some of the players are on. I don't think there's going to be an increase in spending or an influx of players next season'.
'Everyone knows the club has been through a difficult time', he said. 'We never really knew what was going on and it was tough on the pitch as well with inexperienced players having to come in... What's clear to everyone is that money is very tight and it seems that's going to continue next year'...
Histon chief executive Allen Soraff admitted 'We've made it clear a lot of the higher-paid players who haven't gone will not be getting contracts at the level they're on at the moment'".
Across the City, "Danny Potter believes being part of 'the old regime' thwarted any chance of a new deal with Cambridge United. The 31-year-old keeper was released by manager Martin Ling on Monday after three seasons... But Potter felt he was a victim of Ling wishing to bring in his own players and put his stamp on the squad. He said: 'I spoke to the manager in January about trying to sort something out, which is what I do whenever my contract is due to run out, just to see where I stand just for the sake of my family more than anything. We were struggling at the time and he said he couldn't say anything because he didn't know what league we were going to be in. From what I can work out, it was due to the fact I was part of the old regime and he wanted to get in his own players, but I've got no gripes with the manager. I'm my own worst critic and my performances weren't up to the standard that I set myself this season... I know I'm still good enough to play at this level or even higher'... Potter hopes to find a new club quickly, having already received calls from several League and Conference sides"
According to South London Today "Danny Kedwell and Jon Main have both agreed deals to keep them at the club next season... The paperwork has yet to be signed but that is expected to happen before the end of the week".
Meanwhile the Surrey Comet adds that "Terry Brown has given his personal thanks to the dozen players released in this week's Kingsmeadow cull... He said: 'The simple fact is we have to get even younger as a squad, both for on the field and financial reasons'". Last night's game in the London Senior Cup Final was AFC Wimbledon 4 Metropolitan Police 4, the Met Police won 4-3 on penalties.
According to the Express & Star "Kidderminster Harriers' manager Steve Burr will not be rushed into decisions about the futures on the soon to be out-of-contract players at Aggborough. The club are expected to announce a retained list early next month... Just four already have deals for next season – captain Chris McPhee, Jack Byrne, Robbie Matthews and assistant boss John Finnigan – while 13-goal top scorer Brian Smikle is the only player confirmed as having been made a new contract offer...
Burr said: 'The players contracts don't run out for at least a week or so yet – some are May, some are June, so it does give me a bit of space... I always find the summer a bit of an annoying part of the game because you spend it dealing with contracts and agents – some are okay, others are not so good'".
From the SOuth Wales Argus we learn that "Midfielder Nathan Davies is the key casualty of Newport County's promotion to Conference National after the club informed him last night that he will not be retained for next season... Defender Martyn Giles is also heading for the exit door – though he's set for a switch to the Welsh Premier League... At the time of going to press, defender Paul Cochlin and striker Dave Gilroy's futures were also uncertain for next term...
However, a trio of key players – Paul Bignot, Chris Todd and Scott Rogers – have been offered new deals and agreed to stay at Spytty Park after talks with manager Dean Holdsworth. The London contingent of Charlie Henry and Jamie Collins are also set to be offered terms and the club are hopeful they will follow the likes of Craig Reid, Sam Foley, Danny Rose, Wayne Turk, Glyn Thompson and Gary Warren in signing on the dotted line... Holdsworth is expecting to hold talks with both players later this week before the club's end of season trip to Las Vegas, though neither was present last night.
Winger Takumi Ake, ruled out for most of the season with a cruciate knee ligament injury, will not be offered a new deal yet. However, he will be invited for pre-season and there is every chance he could be retained by the club, the same situation applying to on-loan Bristol Rovers striker Ben Hunt. Academy graduate Ricky Manship remains part of the manager's long-term plans and will take part in pre-season before heading out on loan.
Holdsworth has asked to be kept informed in regards to Swansea City's plans for winger Kerry Morgan, such a big hit for County in a loan spell this season... It's the departure of Davies that will attract the most debate. The Pontypool-born midfield lynchpin has been with the club for more than a decade... Nicknamed Mr Newport County, Davies has played almost 400 games for the Exiles...
Holdsworth admitted it has been a miserable few days. 'This is the worst part of my job without a doubt and of course, people will rightly focus on Nathan going, because he's been part of the furniture here and a fantastic servant to the club'".
Elsewhere in the Principality, the Daily Post confirms that "Former Premiership defender Frank Sinclair has agreed the terms of a new 12-month contract at Wrexham FC and another veteran, striker Gareth Taylor, has been invited to stay on by manager Dean Saunders. The Dragons boss made it clear that the deal offered to Taylor, who turns 38 next February, would 'reflect the fact he is not going to play in every game', but claimed his experience and the respect he commands in the dressing room was needed...
It promises to be a busy few days... with a significant number of the current squad likely to be released so that Saunders can recruit five or six seasoned players more suited to the demands of Conference football... Youth team player Declan Walker, who made his first team debut in the 1-0 win at Hayes & Yeading last Saturday, has been offered his first professional contract and the club is exploring options with three other scholars, Nick Rushton, Leon Clowes and Rob Pearson.
The Racecourse boss is also trying to sort out pre-season arrangements but can confirm nothing until the Blue Square Premier League announces the starting date of the new season. 'It might be August 1 or August 8 and we are still waiting for the official announcement', he said".
"The extent to which supporters have lost faith will be reflected in summer season ticket sales, a period in which Saunders will have to work hard to reshape a squad he maintains is but three or four players short of transforming Wrexham's fortunes for the better... It also remains to be seen whether those current players that Saunders wants to keep will agree to new contracts that won't be any better than they were in the previous 12 months and might, in some cases, involve a cut in wages. Considered by a minority of supporters fortunate not to have been sacked after the club's worst-ever finish in the football pyramid and with eight points fewer than last season, the Dragons boss has little margin for error this time round."
---
28 April 2010
HONOURS LIST
The full list of awards at Saturday night's Player of the Season event was:
Supporters' Player of the Season: 1. Chris Senior, 2. James Smith, 3. Greg Young
Players' Player of the Season: 1. Greg Young, 2. James Smith
Young Player of the Season: James Smith
Supporter of the Year: 1. Andrew Nash. Andrew's other identity is as the club mascot, Rocky Robin, and he is also at virtually every away game as well as the home matches. "Nasha" is identified, right, by a white dot, in this picture of Alty fans at Grays this season.
Supporter of the Year: 2. Jack Thorpe. Jack, aged 96, is a former Altrincham groundsman. With his son, Dave, who helps to staff the Robins' Shop, Jack still attends most home games and a good number of away games too.
Supporter of the Year: 3. Campbell McLay. With Dave Thorpe, Ian Boardman and Louise Gregory, Campbell staffs the Robins' Shop where he runs the programme section. According to his wife, Jackie, their house contains almost as big a stock of programmes as the shop!. Campbell also attends virtually every away game as well as the home matches.
Special Award: Mike Ainsworth, who covered many miles driving supporters to Alty's away games this season. Mike also assists the club with its merchandising, running the internet shop.
STAFF v SUPPORTERS
There is a match report on Monday night's Altrincham FC Staff v Supporters' game at Moss Lane here. Right, the Staff's manager John Skelhorn advises Ken MCkenna on tactics on Monday night whilst Charles Heathcote precedes them off the pitch after the warm up.
BSP NEWS
Earlier this week at AFC Wimbledon "Terry Brown spent the day talking to the members of his squad and has announced that the following 12 players are being released: Jay Conroy, Derek Duncan, Elliott Godfrey, Will Hendry, Alan Inns, Ben Judge, Paul Lorraine, Ross Montague, Glenn Poole, James Pullen, Peter Rapson and Lewis Taylor. In addition, Danny Blanchett and Nathan Elder have completed their loan periods with the club and will now be returning to Peterborough and Shrewsbury Town respectively.

Terry explained "When I released a number of my playing squad at the end of last season the decision was based on the desire to move to a younger squad who would be able to train three to four times a week, so that it would in part assist in the transition to a full-time squad, as and when it was financially viable to do so. That decision has now been taken and with the desire to continue with a young squad very much in mind I have had to make the difficult decision on who to release.

This is the worst part of the season and a part of my job that I really don't enjoy... There is a terrific team spirit at the club, so much so that some of the players who are leaving have asked to be considered for the cup final on Wednesday night. I hope to accommodate them so that our fans can give them a proper send off".

Blue Square Football reports that "Mansfield Town have moved quickly to end the uncertainty over the future of striker Jake Speight by activating [an] extension clause in his contract... The Sheffield-born frontman's contract expired after Saturday's clash but Stags boss David Holdsworth has moved quickly to ensure that Speight sticks around for another 12 months... 'The 24 year-old signed from Droylsden a year ago, and has since scored 17 goals in 17 starts, appearing 19 times off the subs' bench'" says the Club.

from Cambridge News we learn that "Allen Soraff believes Histon could go full-time next season as the Stutes look to rebuild ahead of next season's campaign. The chief executive said discussions had already taken place at board level to investigate the possibility and that the move might reduce the club's costs.

'Our problem has been finding training grounds in the evening and it might be cheaper for us to go full-time', he said. 'We'll probably have more full-time players next year and do more day-time training. It's difficult to find training facilities at the Glass World Stadium. At the moment we train on the pitch sometimes and we use several college pitches. More facilities are available during the day because we don't need them to be floodlit. During the evening we need lights, which makes it more expensive and harder to find the right ones'.

But Soraff said the club would have to consider the implications for players who have been used to a part-time set-up.'The amount of money we pay them means they have to have further income'... First-team manager Alan Lewer is backing the idea of going full-time... 'I would like the club to go full-time because if you've got young, enthusiastic lads and you're organised you've '. He added that the move could also help with getting a new squad to gel together. 'It's easier. They eat together, work together and, to be honest, that is what builds spirit in the club'".

In the Daily Post "Dean Saunders acknowledged that his team fell a long way short of expectations this season, but reminded fans that two consolation prizes are still up for grabs. The Dragons reserves take on Accrington Stanley at the Racecourse tomorrow (7pm) seeking the victory that would confirm them champions of the Totesport.com league, while the club's youth team are through to the Welsh FA Youth Cup final where they will meet either Swansea City or Llandudno...

Speaking at an end-of-season fans' forum that was also attended by Wrexham chairman Ian Roberts and chief executive Paul Retout, Saunders said: 'I hold my hands up and admit it's not been good enough this season. I wanted to get into the play-offs, but I don't think we are million miles away of getting there, despite where we finished in the league this year. We haven't scored enough goals and I have to admit some of the players I brought in last summer have not done as well as I thought they would.

I know there is a tradition here of playing football and I'm trying to do that, but when we put footballers in the side they tend to get bullied in certain games. We have to bring in some stronger players and maybe I brought in too many younger ones or too many foreign players who sometimes are not suited to this league. I knew I was taking a risk with my reputation in accepting this job, so I have got to get it right. We all agree that Wrexham should not be in this league and that we need to get back to where we were as quickly as possible.

But I don't care who the manager is, anyone coming in would have the same problems as I have encountered. We are involved in a battle to get out of this league, so we need to have players who will roll their sleeves up and put their heads in where it hurts. There will be a lot leaving in the next couple of days so that we can make some changes because we have not done well enough this season.

But I'm not here to finish halfway up the table, I want success and I want to win things. We may have five fewer players next year because of the financial cuts but I can live with that, provided we get the right people in and we have relatively good luck with injuries. If necessary we will have to go into the loan market and hopefully I'll be able to bring in players who will either cost us nothing or not too much'".

The BBC says that "Vice-chairman Colin Peake has revealed Forest Green will offer Dave Hockaday a new contract to stay as manager. Rovers were relegated from Blue Square Premier on Saturday and his contract has now expired. Peake told BBC Radio Gloucestershire: 'All the board is behind him, we think he has done, under the circumstances, a tremendous job. It will be Dave Hockaday's decision whether he stays with us or goes somewhere else'...

Hockaday has already said he wants to stay and take the club back up, but Peake explained that is a task that will have to be done without full time players: 'We will be approaching him now with budgets, what we can afford as a part-time club'," he said. 'We've had to be honest with the manager and say what he's had available since he's been with us won't be any longer available and we have to face that reality. Every player, the manager - everybody - their contract ended last Saturday, they can look for new jobs as well as we may be able to offer them some employment for next season".
---
27 April 2010
STAFF TRIUMPH
Above: The two teams pose for a post-match photo.

In an entertaining game at Moss Lane the Altrincham FC staff held on to win the annual game against the Supporters by four goals to three. It was the third year in succession that the Staff had won, after three wins in a row by the Supporters. Chris Rowley put the Staff ahead after 33 minutes before Ken McKenna rolled back the years with a powerful and well placed header from Chris Rowley's excellent cross (45+1 mins). When Ken dribbled round the keeper but then saw his shot cleared by a defender, the ball came out to Charles Heathcote who scored a fine goal from the left of goal. Five minutes later the Supporters, who had the majority of second half possession got back into the game when Glyn Dutton headed an excellent goal (67 mins).

A well struck curling freekick from outside the box by Charles Heathcote made it 4-1 to the staff but a second fine header from Dutton made it 4-2 after 83 minutes. The Supporters' third good header, this time by Ollie Needham, set up a close finish , with three minutes left. But the staff, expertly managed by John Skelhorn held on to take the honours. Report and more pictures to follow.

Below: The victorious Staff side and, right, the Supporters.

The Staff's Gareth Thomas points out that he has been on the winning side, with Brian Flynn, in all six encounters - having played for both sides over the years!

Having asked one or two of the Supporters' team for names, it became clear that not everyone knew who all their team mates were! So I have a few gaps to fill in.
BUCKET COLLECTION
Saturday's bucket collection at the game against Cambridge United raised £92.20. The club would like to thank the collectors and anyone who contributed to the buckets alike.
A GOOD CAUSE
Brian Flynn writes, "Altrincham F.C. Supporters, Neil Faulkner, Dan Martell Alan Ainsley and Anthony Faulkner are running the BUPA Great Manchester Run on Sunday May 16th on behalf of The Children's Adventure Farm Trust, which is based at Millington in Cheshire. The Farm is a haven for hundreds of disabled and disadvantaged children and its aim is to provide special holidays for special children. Groups of Children, between 4-14, and their carers, visit the Farm for a free weeklong holiday.

You can sponsor 'The Alty 4' here. For fur ther information about The Children's Adventure Farm Trust go to their website.
YOUTH TABLE
The latest NWYA Premier table, showing Altrincham at the top, is here.
BSP NEWS
"Cambridge United manager Martin Ling has confirmed which players from the current squad are being released... Dan Gleeson, Josh Coulson, Brian Saah, Danny Crow, Kevin Roberts and Simon Brown have all been offered new contracts with the Club. Danny Potter, Aiden Palmer, Antonio Murray, Jai Reason, Lee Phillips, Calum Willock, Courtney Pitt, Ben Farrell and Mark Beesley have all been released.

Martin spoke exclusively to cambridgeunited.com, commenting, 'There will be some fans who will lose players they have admired over recent times.... [The others], I'd like them to sign those contracts and be part of the exciting future that we're building here at the Club'.

Midfielder Simon Russell returns to being a York player today following his loan spell with the U's, but Martin has spoken to Simon declaring he would be interested in making him a U's player as of 1st July 2010. Scott Neilson has returned to Bradford... A decision will be made on Laurie Walker following CRC's final match of the season this weekend.

On potential new signings Martin commented, 'The wheels are already in motion to replace the players that have left the building. There will be some positive announcements... on the 10 May'".

And also "U's young striker Adam Marriott, who signed a new two year contract with the Club in the week, celebrated in style by scoring both goals in the 2-0 win at Altrincham... He beamed 'I was itching to get on the pitch to be honest... The first half wasn't the best; it had the end of a season feel about it out there and couple that with the heat it stifled both sides to be fair. I was warming up when the penalty was given so missed it but the lads said it was harsh, still with the form Simon Brown has been in of late it wasn't a surprise he made the save.

We stepped things up after the break and looked like the only side likely to win it. We were pressing them back the longer the game went on and when Jai (Reason) played that great ball through to me I always felt I was going to finish it. To be honest I scuffed it a bit but it went in and that's all the records showed at the end of the day. The second was pleasing as I hit it with my left foot and I don't get too many with my left'".

Cambridge United also have an interview with Colin Little. He commented, 'We started fairly well, I snatched at a chance in the opening minutes but we just didn't get enough support to Chris Senior up front and you took control of the game the more it went on. Apart from the spot kick we didn't really put enough pressure on your keeper. You bossed the midfield far too much for our liking, Paul Carden is a great player and it showed the way he went and controlled things out there, doing all the dirty work of breaking up play and stopping us playing.

The penalty was really the story of my season, I've had chances but it just hasn't come off but your lad pulled of a good save and over the ninety minutes deserved the win today. I'll admit that I was amazed when the ref pointed to the spot a couple of the lads at half time thought it was but I've been around long enough to know when the right decision was made. It would have been nice to finish with the goal and the win for our fans who have been fantastic to me throughout all my time here.

I'm finishing my career as a player today but I've been around long enough to know talent when I see it and the lad who got your two goals has it. You can take his goals out of the performances and still look at the way he pulled our backline all over the place with good running and intelligent positioning. That's something you can coach but you have to have the ability to go with it and that lad has it. From what I've seen whilst I was on the bench he has a great future ahead of him'". NL Daily says that "Dean Saunders has warned Wrexham's players of a pay-cut or face leaving the club as the Racecourse boss bids for Football League promotion. The Wrexham chief insists he is to sign 'five or six players' this summer as he tries to get the club out of the Conference... 'I need people who can score'", he said.

"Wrexham beat Hayes & Yeading United 1-0 to seal their twenty-second clean sheet this season, breaking a 73-year-old club record for goals conceded. But no player reached a double-figure goal tally so Saunders... is targeting hitmen to fire them out of non-league.... If we had a half decent team and not this tosh, which we have had to arduously put up with this season, and if we are not competitive like this season, next season is going to be another waste of time'.

Ex-Liverpool and Aston Villa forward Saunders has already made an incredible fifty signings since replacing Brian Little in the Wrexham hot-seat in October 2008 but has warned of more ins and outs at the Racecourse this summer. 'I'm going to have to lose a few players', admits Saunders. 'That is the ruthless world of football. I'm not going to sleep very [well] until I tell the players what their futures are but it is something I have to do. Probably nearly all of them that want to stay will have to take less money to stay - then some might turn those contracts down and also leave...

'To do well in this league you have to be able defend set plays, head the ball out of your own box and be able to score from set plays - and we haven't done that very well'... Saunders, who is in his first managerial job, admits signing so many young yet promising players from Premier League or Championship clubs to play in the bruising Blue Square Premier was a failure. He insists he had 'learned' from his misjudgement and will bid to sign some experienced 'big fellas' like Arron Brown and Kris O'Leary to battle Wrexham back into the Football League".

From This is Glos we learn that "Forest Green Rovers' manager Dave Hockaday faces an uncertain future following their relegation... A section of the travelling fans turned their anger on Hockaday after the final whistle [on Saturday]....

Hockaday said: 'I'm devastated and gutted for my players, the fans, the board and the chairman. I have no idea what the immediate future holds for me'...

Rovers vice-chairman Colin Peake admitted the cash-strapped club may now revert to part-time status following demotion, a scenario which makes Hockaday's departure more likely.... 'If you analyse his record over the season – the wins that he's achieved – he's done better than some of the managers we've had in the Conference', said Peake... 'I thought he showed a lot of bottle at the end of the game to go and take the applause and abuse from 300 fans... It may be that we find sufficient investment that allows us to carry on full-time, but we had already made the decision that we were going to review that... If we must take that one step back to come back stronger, then so be it'".

The BBC reports that "Histon boss Alan Lewer has hinted that he is close to agreeing a deal to stay at the club for next season... Lewer is out of contract in the summer and the club have been in contact with former boss Steve Fallon. But he told BBC Radio Cambridgeshire: 'The board have asked me to go and look for a house, but we will have to wait and see'. Lewer has won just three of 22 league matches since succeeding Steve Fallon in December, but has seen his budget slashed with several key players leaving...

Some fans were disappointed with the way in which he handled some of the cuts with five players being suspended from first team duty while still on full pay after failing to agree new contacts. However the former Weymouth boss has enjoyed success in the transfer market with midfielder Glen Southam and goalkeeper David Knight proving strong acquisitions.

'It's been hard because we have cut the budget massively and we may have to do the same next year', he said. 'If we hadn't cut the budget than we would [not] have a football club. In football you don't get jobs when life is easy'".

Likewise, "Ebbsfleet United manager Liam Daish will discuss his future with chairman Duncan Holt this week... Holt told BBC Radio Kent: 'It is not his fault that this club has been relegated. Now we have a lot of stuff to sort out and we're not going to waste time'. Daish, who took charge in February 2005 [and so was the longest serving Conference Premier manager- a mantle now assumed by Graham Heathcote]... declined to discuss his future.

He said 'Had we been able to keep the points we won at Chester then I believe we would have survived. If we could have started the season with this squad, then I believe we would have stayed up. We had eight points in December and ended with 44. The biggest problem was starting with a very small budget. Too many wrong decisions were made at the start of the season... Even in the best case scenario, had we had stayed up, I don't believe I would have been able to keep them together'".
---
26 April 2010
COLIN'S FAREWELL
Altrincham FC joint Press Officer interviewed Colin Little after Saturday's game...

"Colin Little bade an emotional farewell to Moss Lane on Saturday and admitted he was going to struggle to come to terms with no longer being an Altrincham player.

Hopes of a fairytale ending may have been dashed by Cambridge United keeper Simon Brown's first-half penalty save, but it did nothing to diminish Colin's standing in the eyes of Alty supporters, who chanted his name throughout a 2-0 defeat. After obliging any number of requests for autographs and photographs, the prolific Alty marksman stopped off on his way down the tunnel to outline his feelings to the club's joint press officer John Edwards.

While bitterly disappointed at failing to convert the 29th-minute spot-kick, he was 'overwhelmed' by the show of warmth and affection from fans and surprised and touched by the sight of his team-mates appearing in the stand afterwards wearing red T-shirts with Little and 9 on the back and Alty Legend on the front. Typically modest, he also declined the opportunity to be skipper for the day.

Here is the interview in full.

John Edwards: You've worked your way through a few autographs, haven't you?

Colin Little: I've lost count, honestly I have. I'm just overwhelmed by the response of the fans and how many have come over and made a point of wishing me well. It would have been even better, if only I'd scored the penalty and we'd got the right result. It's a shame the season has petered out a bit, but it has still been a great campaign with lots of highlights. I'm just a bit sad I'll never be playing here again. It hasn't really sunk in yet.

JE: What were your thoughts going into the game? Were you at all apprehensive about how it might go, after all the build-up?

CL: I just wanted it to be a proper game of football, really. One that we won, of course, but not necessarily with all the hullabaloo that tends to go with occasions like this. If it was to be my last game, I wanted it to be competitive and a proper game, which, thankfully, it was. We just couldn't quite manage the result, which was a shame. Maybe if the penalty had gone in, it might have been different.

JE: You're not one for a lot of fuss, are you?
CL: No, never have been. I just wanted a normal game, without too much attention on me. I'm most comfortable when I'm just playing, just concentrating on trying to score goals and help us win.
JE: A lot of people expected to see you leading the team out.
CL: I was offered the captaincy but said no. Don't get me wrong - it would have been a real honour to be Alty captain, but it just didn't seem right. I didn't want anything changing, just for my sake. Graham (Heathcote) asked me if I wanted to be captain, but I just said: 'Thanks for the thought but let's just keep things as they normally are.' I was grateful, but I was determined it should all pass off as a normal game. I'm just sorry I couldn't sign off with a goal, but the point is, you have to earn things like that. You hear talk about trying to give someone a goal on these occasions, but to my mind, that just turns it into a farce. I didn't want that.
JE: You certainly seemed determined to try and get on the scoresheet.
CL: You know what they say. You can try a bit too hard, and I think I was guilty of that. There was an early volley that I caught well enough but the keeper saved. After that, I probably let my eagerness to finish with a goal get the better of me, instead of playing my normal game. It's a shame, but there you go.
JE: So, what about the penalty?
CL: The lads all wanted me to take any penalty we got, so when the ref pointed to the spot, I was ready. I had already made my mind up beforehand what I was going to do. When we were out on the pitch doing our warm-up, I noticed there was a bit of wear and tear next to the spot, just where you would plant your left foot down, if you were taking the kick with your right. It was a bit of a hollow, really, and I didn't want to risk embarrassing myself by slipping over. So it was going to be my left foot, and I also decided where I was going to put it. I like to change from foot to foot and vary it a bit to keep goalkeepers guessing, but this one guessed right and kept it out, even though I struck it well enough. I wish I'd driven it down the middle now! I actually saw the keeper go early and perhaps could have changed my mind. It was a bit too late, though. I was committed by then. It didn't work out as I hoped, but you can't turn the clock back.
JE: You kept going, though, and tried your luck at every opportunity.
CL: Yeah, but I just ran out of steam a bit towards the end. Really, the harder I tried, the more it seemed to go against me in the second half.
JE: What about being substituted near the end? What were your feelings as you came off?
CL: The idea was to leave it late, then give me the chance to take a bow, and I appreciated it. The funny thing is, it happened to me once before, but I had never heard of it then. I was playing for Hyde United and had scored five goals. All I was thinking was whether I could make it a double hat-trick, when the manager suddenly brought me off 10 minutes from the end. I couldn't believe it and said to him: 'I thought I was doing all right. I've scored five - what do you expect?' He explained how I'd had such a great day, he wanted to make sure I got a special round of applause from the crowd, and it suddenly all made sense. Graham had that in mind, too - though the way I'd been playing, it might just have been tactical!
JE: The T-shirts were a nice gesture, weren't they?
CL: Yeah, that was a great touch. I didn't know anything about it, either. It was a complete surprise but the sort of gesture that is typical of this club. I think Ian Senior probably got them done. It's the sort of thing I'm going to miss. I'm feeling all right at the moment, with everyone still around me, but I think I'll be quite sad when I'm on my own later tonight. When I leave the ground and head home, that's when it might hit me.
JE: So, what's next? You said you would be interested in joining a club at a lower level, where you could combine playing with your new coaching duties at Manchester United.
CL: I'm going to wait a while and see what happens. It may be I have to hang my boots up, because there haven't been any approaches so far. People know I'm available, but I haven't heard anything. I suppose clubs are concentrating on finishing their games before planning for next season, so we'll see if anyone does get in touch.
JE: There has been a lot of debate about your best Alty goal? Which one would get your vote?
CL: Phew, that's a tough one. My dad always used to tell me every goal was special, and, certainly, I remember most of them. You never forget. There have been some good 'uns. Two that spring to mind are Dagenham and Stevenage, in the same season, I think, a couple of years ago. The Dagenham one was a left-footer than bent right in, and Stevenage was a left-foot volley from a corner. There have been some good strikes, and a few clever finishes as well - a bit of a mixture, really. To be honest, I really would struggle to single one out.
JE: What would your message be to the fans?
CL: I can't thank them enough for the way they have treated me. They never stopped chanting my name this afternoon, but they have been like that with me from day one. You hear of old pros just seeing out their days with a non-League club, but that was never my intention. It has been absolutely excellent. The fans, the people behind the scenes, everyone has been outstanding. You sometimes get an idea of what it means to people when you travel away. Even Salisbury the other night. It was a midweek game and a long haul, yet there were flags and all sorts waiting to greet us. It's amazing, and it touches you, it really does. It's just a shame it's coming to an end. There have been times when I have wished I'd joined the club in my 20s.
JE: It's well known you turned down lucrative offers from other clubs.
CL: I made a decision that this was the club for me. I actually approached Graham to come here. He might have wondered whether he could afford me, I don't know, but it was the case that I could have gone to another club at a higher level and for much more money. That offer was on the table, but I wanted to come back to this area, and I could not see beyond playing for Altrincham. I'm so glad I came here when I was still fit and strong enough to make a contribution. The fans and everyone connected with the club have certainly had an effect on me. They have really affected my life in a positive way, and, judging by the number of people who have come up to me this afternoon, I hope I might have affected them, as well.
JE: We haven't seen the last of you, have we?
CL: No chance. I'll be popping back whenever I can. I have made friends for life here, and I intend coming back to see them whenever the opportunity arises".
YOUTHS TOP
Altrincham FC Youth defeated FC United of Manchester Youth 2-1, away, on Sunday, to go top of the NW Youth Alliance Premier Division, with a game in hand. Rory Bradbury and Ryan Marsden scored the Alty goals. FCUM Youth are managed by former Alty player, Darren Lyons.
SUMMING UP THE SEASON
In the NL Paper, after Saturday's game, Alty's Robbie Lawton says of Cambridge's 2-0 win at Moss Lane, "The two goals summed up our season and show we can be among the best one week and also-ran the next. One thing we have to try and do next year is to make sure that we pick up more points against sides lower in the table. We tend to do well against the better sides but then let ourselves down. I am just glad that our safety was ensured eight games ago. Today's result means what could have been a very good season has turned into one where we have just hit our target".

Actually, Robbie has reason to feel a bit better about things as, despite only winning twice in the last seventeen BSP games, Alty's 14th place finish in the top level of non-league football is their highest league placing since 1996 when they finished 12th. Other reasons to be cheerful about 2009-10 are:
Altrincham were top of the fair play league in terms of fouls commited. The Robins were penalised just 446 times, with second place Barrow commiting 485 fouls. Top foulers were Rushden and Diamonds (655) and Stevenage (651). In terms of cautions, Alty were the fourth best behaved side in the BSP.
The Altrincham FC home league attendance figures (as in the matchday programme) give a total of 25,194 spectators for the season's league games, at an average gate of 1,095, which is up on 1,081 last season. If the match with defunct Chester City is expunged the totals are 23,457, and the average drops to 1,019. However, the Football 365 attendance charts show Altrincham with an average of 1,066.
CAPTAIN'S LOG
Before Saturday's game, Robbie Lawton wrote in his "Captain's Log"...

Find me and Follow Me from Luton to Salisbury (Nottingham and Alty)

"It's been a bit of a rollercoaster week with a good result at Luton followed by a disastrous second half at Salisbury on Tuesday night. Last Saturday's encounter at Kenilworth Road was a great game to play in and, with almost seven and a half thousand people there, the atmosphere was good, although we gradually stifled the noise of the crowd with an excellent display that fully merited a point.

We were OK at Salisbury in the first-half without really getting going and at half-time, Graham told us that there was an end of season feeling about the game and that we needed to up the ante. Within ten minutes of the restart we had conceded four goals and the whole experience was a bit of a blur.

Perhaps for the second time in a few weeks, complacency, lethargy and switching off has cost us and Salisbury made us pay in the same way that Forest Green had done at the end of March.

I felt very sorry for the fans who must have made a massive effort to get down to Wiltshire for a midweek game.......we let you down with an uncharacteristically poor performance. It was three o'clock when I got home and the alarm was ringing at twenty to seven and I had to fire myself up for an important day at school as we had examiners visiting and the last thing they wanted to see was a bleary eyed Robbie!

The life of a semi-professional footballer means that there are times when your footballing and non-footballing life collide and this weekend is one of them. The Year Eight basketball team that I coach has made it to the National Schools Finals in Nottingham and I will be with them on Friday and today as they battle it out with seven other schools to be the National Champions. I will not be arriving at Moss Lane until just after two o'clock and will miss the final if we get there!

For the first time ever, I really hope that I am not leading the side out as we come out of the tunnel at five to three......that honour should go to Colin Little on his farewell appearance. I am not sure Colin will want to do that though as strangely enough he is a very quiet and reserved character in terms of being the focus of attention. Deep down, I am sure that he is going to be very touched by the efforts that everyone has gone to in order to make his final game a memorable occasion. I believe that his family will be here and wouldn't it be fantastic if we could erase the memory of that ten minutes of madness at Salisbury by beating Cambridge.......with Colin scoring and providing everyone with a fantastic moment to treasure!

We can still achieve a top ten finish and it has been a great season. The team have performed very well on the pitch and Graham and Kenny have done an excellent job. You have supported us superbly as always and we all really appreciate that. I'll sign off for the season now.....so here's to three points.....a fantastic send off to a legendary striker and further improvement next season. Have a great summer!!!!

Robbie".
OLD BOYS
Sean Clancy scored two for Fleetwood on Saturday as did Kieran Lugsden for Buxton. Two Alty Youth graduates scored at Shawe View, where Tom Bailey scored for Trafford and Lee Shillito for Chorley in a 3-1 home win. Former Alty defender Marc McGregor's Connah's Quay Nomads are one of six teams relegated from the Welsh Premier as it restructures for next season.
FLYNNZINE
Brian Flynn's latest "Flynnzine" pays tribute to Colin Little...

The Final Curtain Falls on an Altrincham Goalscoring Legend

"In July 2004, I remember Danny Murphy (the former Alty player.....not the one that has travelled half way across Europe to play in a Europa League Semi-Final this week) asking me 'What do you think of Colin?', referring to our new signing Colin Little. I told him that I thought he was a great signing....based upon what I had heard about him and a couple of pre-season friendlies that he had played in. Danny was clearly very excited by the arrival of the former Crewe Alexandra man and during that season, we would all learn exactly why.

As with many players joining the club since the turn of the millennium, Colin's first appearance was in a friendly at Abbey Hey on July 17th 2004.........on the day England's Number 1 got married! Whether Stuart [Coburn] got on the scoresheet that day is not documented!!!....but Colin notched two first half goals in an 8-0 rout......the second from the penalty spot is pictured below.
Oddly enough I have to make a brief visit to the Confessional now as I have to admit that I wasn't immediately that impressed with his initial performances in Blue Square North. A calm finish sealed a 4-1 victory over Gainsborough Trinity on his debut and, two days later, a last-minute goal nicked all three points at Ashton United.
The maestro didn't score in a 1-1 draw at Stalybridge or a scoreless draw at home to Bradford Park Avenue, but made it three goals in five games in a 2-1 reverse at Hinckley. That was an excellent start...on the goal front... but I wasn't a convert at that point.
Colin was playing on the left hand side of midfield and this exposed the fact that he wasn't exactly the bravest of players physically. I remember having a conversation on the way back from Leicestershire with my brother, where I stated my concerns, and he told me that I was talking through my rear orifice and that Colin was a class act at this level and would score tons of goals for us!
How right he was......and it was the next game when my own view changed. Having been second best to Harrogate for an hour, Colin broke the deadlock (picture below) before producing one of his best ever Alty goals with an overhead kick.
We won the game 3-0 and I was a Colin Little fan!
I am sure that today's programme will be full of eulogies and examples of what Colin has achieved and, whilst the current rude state of health of the club is not down to any individual, Colin Little has done as much as anyone in this millennium to get Altrincham Football Club to where it is today.
Of his 114 goals my personal favourites are:-
November 2005: The second half equaliser in a 1-1 draw with Exeter City.
January 2006: The second half equaliser in a 1-1 draw with Stevenage Borough.
August 2006: A left foot volley is the first goal of the season in a 2-1 win over Stevenage Borough
April 2007: A glorious 30-yard strike to equalise at Dagenham and Redbridge, (final Score 1-4).
August 2007: The deftest of finishes to start a comeback at Halifax in a 2-2 draw.
February 2008....sneaking around the back of an unwitting Droylsden defence to finish a superbly executed free kick routine at The Butcher's Arms.
August 2008: The sublime last minute winner at Woking.
October 2008: the only goal to beat Oxford United.

What a legend!!!!!!!!!!"
TOM'S CHOICE
At Moss Lane on Saturday it was good to see Alty's three long-term injured players. Dale Johnson was looking pretty mobile as he joined in the warm-up before Alty's game with Cambridge United, whilst Tom Kearney (on crutches) and Matt Doughty were spectators. In the NL Paper, Tom picks his Dream Team which includes three Alty men - Shaun Densmore, Matt Doughty and Chris Senior, as well as former Alty midfielder Steve Bushell and winger Steve Torpey. Of Shaun he says, he is "A quality fullback and absolutely loves a tackle". Matt has "got a top left peg for such a chunky, little guy, but he's a decent defender. When anyone tries to get the better of him, he just bites straight back by telling them he's played more than 250 Football League games". As for Chris, he is "nippy, lively and... he really knows where the goal is. If he stops playing he could always become a gymnast as he's built like a vaulter".
IAN'S BUSINESS ACUMEN
Alty goalkeeping coach and owner of football kit suppliers, Sensport Kits, Ian Senior is featured in the NL Paper's business section. "Senior, 49, felt non-League keepers were hard done by, paying so much for their equipment so he decided to supply them himself, setting up Sensport Kits. After selling his first batch of gloves in just six weeks and agreeing to supply the Robins' kit next year, Senior is delighted with how things are going... After the career I've had in non-League football, I know every man and his dog, so it wasn't too hard to show my products around and people obviously like them'...

Senior, who incredibly played for more than 30 clubs ... has no intention of turning his back on his coaching duties at Moss Lane. 'I've been here for four years, I've worked really hard and I'd like to think I've played a part in our success, so I'm not going anywhere' he said. 'I miss not playing but I love being back in the dressing room'".

Ian's range of Alty merchandise can be viewed on the Robins' Shop page.
RUMOURS
In the NL Paper, Alty chairman Geoff Goodwin speaks about rumours of an approach by AFC Telford for Alty assistant manager Ken McKenna. Geoff said, "It's the first I've heard of it. There certainly hasn't been any kind of approach. It's something the club know nothing about. Ken's a legend here".
BSP NEWS
Congratulations to Southport on their promotion back to the national level of the Conference. After the game yesterday, Port manager Liam Watson launched a tirade against runners-up Fleetwood Town, who had tried to reverse the league positions by appealing to the FA to get all the results against Farsley Celtic reinstated following the Yorkshire club's financial collapse. As with those clubs in the BSP who likewise tried to get Chester City's results reinstated, Fleetwood's appeal was unsuccessful. Fleetwood won both games against Celtic, whereas Southport won one and lost one. Souhtport then won the BSN by one point.

After describing Alfreton Town as "the best side in this league", Watson said, that when Alfreton meet Fleetwood in the play-offs, "I am praying they absolutely destroy Fleetwood, totally smash them. I'll send over a photo of us celebrating with the trophy and the medals!".

The Fleetwood chairman Andy Pilley, believes his club's appeal was "morally correct" adding that, "If we don't win the play-offs, this [decision] has cost us £500,000 in turnover... Everybody will know that we have won more points than Southport have... We feel we have been the best side. Southport play long ball and throw-ins".
---
25 April 2010
AWARDS
The Altrincham FC annual awards ceremony, organised by The Altrincham Supporters' Club, TASC, took place on Saturday at a Race Night, held after the game with Cambridge United. Before that, in the Carole Nash Stand immediately after the game, there had been the presentations of the "Tom Earley Clubman of the Year" and "Jimmy McKiernan Goal of the Season" awards, as well as the annual Ball Boy and Girl awards.

The Race Night itself, compered in inimitable fashion by George Heslop, was an enjoyable and successful event which helped to raise important funds for the club as well as providing an opportunity for everyone to show the players and management their appreciation of a successful season.
| | |
| --- | --- |
| Physio Sean Riley was a deserved recipient of the Tom Earley Clubman of the Season award. He received his award from the Earley family. | Chris Senior's volley in the home win over Salisbury City won him the Jimmy McKiernan Goal of the Season trophy. |
| Despite the club's achievements, manager Graham Heathcote was disappointed at the dip in form towards the end of the season, as he told the spectators after the game. | Jack Bowyer won the Ballboys award. He is seen here proudly showing his award to his mother, Louise, who is a steward at Moss Lane. |
| James Smith received his Young Player of the Season award from Dave Johnson. | Mike Ainsworth (left) received a special award from TASC Travel Coordinator, Tom Jacobs. Mike had driven minibuses of supporters to numerous long-distance away games this season. |
| Andrew Nash, a.k.a. "Nasha" and "Rocky Robin", received his Supporter of the Season award from Nicky Clee. | Club captain Robbie Lawton (left) gave Greg Young his Players' Player of the Season award. |
| Chris Senior won the Supporters' Player of the Season award, which he received from TASC chairman, Brian Flynn. | Chris is not the tallest striker in the league but, egged on by his team-mates, he stood on a stool to deliver his acceptance speech! |
ALTRINCHAM 0 CAMBRIDGE UNITED 2
Right: Colin Little (right) is seen with Greg Young, sitting in the stand, at the post-match awards ceremony.
In his final game after six successful years at Altrincham, Colin Little had the chance to end his Moss Lane career with a goal and a win. But his 29th minute penalty was saved by Brown. Saah had pushed over Greg Young on the by-line to concede the spot kick. Alty went on to have the better of the second half until a defensive mix up saw a clearance cannon off an Alty player to substitute Marriott, who took his chance well (75 mins). After that, despite sending Williams and, later, Young, forward, Alty could not get a goal. Earlier Doran had sliced a couple of decent chances wide but Marriott showed the hosts how to finish when he made it 2-0 in the second added minute. Despite just two wins in the last seventeen games, it has been a successful season for Alty with the management and players all deserving of the applause they received at the post-match award ceremony on the pitch side.
Physio Sean Riley was named Tom Earley Clubman of the Year, Chris Senior's volley at home to Salisbury won the Jimmy McKiernan goal of the season and the Ballboy of the Year was Jack Bowyer. Report to follow.
FGR were relegated by an injury time own goal by Barrow which gave Histon a draw. Eastbourne scored a late penalty to climb out of trouble and an early Gateshead goal kept them up, too. Though they won at Tamworth, Ebbsfleet went down to Conference South.
Alty Player Stats
---
24 April 2010
SEASON ENDS
Saturday 24 April
Altrincham 0 Cambridge United 2
Eastbourne Borough 1 Oxford United 0
Gateshead 1 AFC Wimbledon 0
Grays Athletic 2 Forest Green R. 1
Hayes & Yeading Utd 0 Wrexham 1
Histon 2 Barrow 2
Mansfield Town 3 Kidderminster Harriers 3
Rushden & Diamonds 1 Luton Town 1
Salisbury City 2 Kettering Town 0
Stevenage Borough 1 York City 0
Tamworth 3 Ebbsfleet United 4
SATURDAY
There will be the usual live Matchday Updates from the Alty v Cambridge United match this Saturday. Don't forget it is Colin Little's final game for the club and is also a day on which you are encouraged to wear Alty "retro" shirts of any season.
SIX OF THE BEST
| | | | | | |
| --- | --- | --- | --- | --- | --- |
| 2004-05 | 2005-06 | 2006-07 | 2007-08 | 2008-09 | 2009-10 |
Above: The six ages of Colin Little - Alty's star striker is pictured at the start of each of his six seasons at Moss Lane.
Today sees Colin Little's final appearance for Altrincham after six highly successful years. Colin (d.o.b. 4 November 1972), joined Altrincham on 5 July 2004, his previous club being Halifax Town. As completely two-footed a player as you will see at any level, Colin is a local lad, born in Wythenshawe, Manchester. He signed for Hyde United in August 1995 but moved to Crewe Alexandra for £50,000 on 6 February 1996.
He made 220 appearances for Alex and scored 45 goals before going on loan to Mansfield in October 2002, where he played 5 games. Colin then went on loan to Macclesfield in December 2002, for whom he signed on a free transfer in May 2003. He made 26+8 appearances and scored 7 goals for Macc. before joining Halifax Town in March 2004, for whom he played 8 games and scored twice.
Alty fans may wish to forget that Colin scored two of Crewe's three goals in their Cheshire Senior Cup Final win, 3-0 over Alty at the Drill Field, Northwich in 2002 and that he also got the winner as Alex won 3-2 against Alty in the CSC 1st Round in September, 2002. Colin was previously at Alty as a junior as well as being at Wythenshawe Town, Rossendale United and Hyde United before joining Crewe. He had also had a brief spell at Bury.
His Alty career started impressively with 38 goals in the 2004-05 season in Conference North, from which Alty gained promotion via the play-off final against Eastbourne Borough, at Stoke. His early games for Alty were on the left flank, but he soon became a regular as a central striker.
Having been leading scorer for Alty in his inaugural season, he repeated the feat in 2005-06 and 2006-07 with 17 and 12 Conference goals respectively in a struggling Robins' side. After a slow start to 2007-08 he recorded a superb tally of 21 BSP goals from just 34(+5) starts to finish the season third in the national scoring charts.
Whilst at Moss Lane, Colin turned down numerous offers to play at a higher level but remained dedicated to his local club. He started the 09-10 season on the bench as he was suffering a back problem and made just one start (in August) before being sidelined with a knee problem. Since then Colin's appearances have been a mixture of starts and substitute appearances.
Colin's statistical record, to date, at Moss Lane is here. Colin's four league goals this season came, curiously, against only two clubs - home and away against Chester City and Hayes & Yeading United. Sadly the Chester goals were expunged by the League but are included in the statistics above.
Whilst playing part-time at Moss Lane, Colin has been employed as a coach at Crewe Alexandra. But he now leaves Moss Lane and Crewe to join Manchester United as a coach to their under-13s - an ironic move for an ardent Manchester City supporter! All at Altrincham FC thank Colin for his devoted service to the Club and wish him well in this new stage in his career.
RACE NIGHT & AWARDS NIGHT
The Race Night and Player of the Season Awards will take place at Moss Lane after today's game.

Also, Brian Flynn writes about the "Supporter of The Year 2009/10"...

"We will be awarding a trophy for 'Supporter of The Year 2009/10' during The Race Night on Saturday. Forms will be available at the ground before the match AND you will be able to submit your vote until 7.00pm. You can vote for anyone who you feel deserves this award, however the following are on the Unofficial Shortlist.
Andrew Nash
Campbell McLay
Chris Ainsworth
Dan Eadie
Dan Martell
Dave Thorpe
Ian Boardman
Ian Wilkinson
Jack Thorpe
John & Dana Laidlar
Julie Cowan
Keith Davey
Mike Ainsworth
Rob Bate
Stan & Isabel Riley
Steve Murray
Tim Ainsworth
"WE'D EXPECT TO FINISH ABOVE ALTY"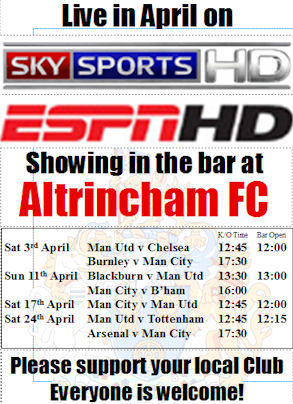 Before today's game, Cambridge United confirm that "Robbie Willmott will return to the United squad that travels to Altrincham,,, who are without a win in five games. Manager Martin Ling has almost a fully fit squad to choose from, and said: 'It's an interesting scenario, we've had 24 people training with us this week, and everyone is available apart from Dave Partridge and Jordan Patrick, who has thigh problem. Robbie [Willmott]... will be in the 16... he'll hopefully play a part against Altrincham...

The match will give United's diminutive front pairing of Adam Marriott and Danny Crow another chance to show they can form an effective partnership. The duo tore the Hayes and Yeading defence to shreds last week, and Ling said: 'They proved they can play together when we have good possession but... can they play together in a more difficult game?...

Altrincham have probably superseded where they'd expect to finish, and once they got safe have probably taken their foot off the gas', said Ling. 'I've tried to keep our season going, and having so many players out-of-contract has probably helped that. We're in semi-decent form now and it'd be nice to finish on a positive note. Altrincham are a team we'd expect to finish above and we'll hopefully get the result which will enable us to do it."

It will be Carden versus Carden in the centre of the park on Saturday, with U's assistant boss Paul coming up against his younger brother Adam, who plays for Graham Heathcote's men. Ling said: 'Paul watched Altrincham last week, and knows everything about them because he talks to his brother about how they're getting on.... Knowing Paul he'd kick his own granny so I'm sure he won't hold back and he'll want the family bragging rights'...

'I want to win the game on Saturday and get a top ten finish... In the last 14 games we've taken 27 points... We've been a play-off side for the last third of the season, and we can be one over the whole season next term if we get the right personnel in'.

Monday is D-Day for United's current squad, who will find out then which of them will be offered new contracts. Ling said, 'It would be stupid to believe that the likes of Danny Crow or Brian Saah, for example, won't have other offers, but you've got to prove to the players you want to keep that the club is moving forward and make them want to be in and around that... I know what we've got to spend, and our budget is competitive, but it depends what other options are open to him... We need a Danny Wright-type [Histon] player in terms of physique, but we have Lee Phillips and Callum Willock doing that at the moment...

This year I've had to work with situations I was left with by the previous manager... I'd rather have kept both Holroyd and Tonkin, but financially it was right for the club... I'm a chirpy cockney and [assistant player-manager Paul Carden]'s a sad scouser!... But we've got a good understanding and a good friendship', he said".

In advance of Saturday's game, the Cambridge News says that "Robbie Willmott will make his comeback in Cambridge United's finale at Altrincham tomorrow. The winger has trained for the last week and will get a run-out from the bench. Willmott had been expected to miss the rest of the season after undergoing an operation on a knee cartilage problem... Manager Martin Ling is likely to stick with an unchanged line-up from last Saturday's 4-1 win at home to Hayes & Yeading, but said Willmott would get a chance... Lee Phillips may also be added to the squad after missing the Hayes game with a groin problem...

Ling said: 'We're 10th at the moment and that's the highest we can finish, so I hope we stay there. If you look at the stats, we've got 27 points from the last 14 games and I want 30 from 15'".

The Cambridge United preview says that United "travel north to face a faltering Altrincham side... A poor run of just two wins in the past sixteen games has swiftly extinguished their [playoff] dreams...

Alty visited the Abbey last September, and once more they proved a handful as another frustrating 0-0 draw will testify... In each of the [last] three campaigns Heathcote's men were relegated but, remarkably, on each occasion they were reinstated due to the misfortune [i.e. mismanagement] of rival clubs".
SATURDAY'S GAMES
Howards Watts's Through the Years reveals that six years ago today Alty were taking their first step back up to the national level of non-League football, after four seasons back in the UniBond (Northern Premier) League. On 24 April 2004 Alty beat Runcorn FC Halton 1-0, thanks to a first minute goal from Barry Shuttleworth to qualify by the skin of their teeth for entry into the new Conference North division in 2004-05. Alty's team that day was 1. Stuart COBURN, 2. Stephen ROSE, 3. Barry SHUTTLEWORTH, 4. Mark MADDOX, 5. Gary TALBOT, 6. Ged KIELTY, 7. Gary SCOTT, 8. Ian CRANEY (capt.), 9. Marcus HALLOWS, 10. Peter BAND, 11. Stuart WRIGHT. Subs: 12. Matt BAILEY, 14. Stephen LUNT, 15. Jamie BAGULEY.
After that game, the Player of the Year Awards were made as follows:
STAR Player of the Season - Ian Craney; runners-up Peter Band and Stuart Coburn.
Alty Fans' Forum Internet Player of the Season - Ian Craney.
Players' Player of the Season - Peter Band; runners up Gary Talbot and Ian Craney.

Earlier, Stuart Coburn won the Young Supporters' Player of the Season award.

And exactly 22 years earlier, Altrincham had also met Runcorn and won 1-0 in the Cheshire Senior Cup Final.

After Saturday's match at Moss Lane there will be the presentation at pitchside, in front of the main stand, of the Altrincham FC Clubman of the Year award as selected by Graham Heathcote, so please wait after the final whistle to show your appreciation.
OLD BOY
Andrew Pearson scored for Rhyl this week but they lost 3-1 to Llanelli.
BSP NEWS
"Hayes & Yeading United's successful preservation of their Blue Square Premier status should entice better players to Church Road next season" reports the Uxbridge Gazette. "That is the view of manager Garry Haylock, who has admitted it was a struggle to sell the club to prospective targets on occasions amid a roller-coaster season...

'We have a lot of decisions to make in the next few weeks', said Haylock, 'I now understand the league a bit better and the player recruitment will be better. We have started the process since Christmas whereas last year it did not start until after the play-off final. I remember I was trying to sign a player while I was in Dublin airport but I did not get him because he had already signed for someone else. It is not going to be easier in terms of player recruitment this year, but it will be more manageable. Players in this division will see we have beaten Oxford United twice and think "they are not a bad side, I might take a look at them". We will have more players available to us'".

In the seeming absence of any formal announcement from the FA, the Football Conference announces tersely that "On Friday (April 23rd) the Football Association has confirmed its decision to dismiss an appeal by Fleetwood Town. This [appeal] is against the decision of the Board of the Football Conference to expunge the playing record of Farsley Celtic from this season's Blue Square North Table. The Football Conference does not intend to publish any further details of the Football Association's decision".

The Southport Visiter adds that "Fleetwood Town's points appeal has been dismissed by the Football Association handing Southport the title initiative. The Sandgrounders now maintain their one point lead at the top of the Blue Square North table... After a three hour hearing at FA headquarters on Wednesday the Appeal Board were unable to reach a decision, reportedly inundated with the level of 'evidence' the Fishermen's legal team brought...

An FA spokesman told the Visiter: 'An FA Appeal Board has dismissed an appeal by Fleetwood Town FC against a decision of the Football Conference Limited to expunge the full playing record of Farsley Celtic FC in Conference Division North for the current 2009-10 season'... Today's ruling now means Port only have to match Fleetwood's result tomorrow afternoon when the league leaders go to Eastwood Town. Fleetwood host Stalybridge Celtic".

"Forest Green Rovers Football Club has today received written confirmation from the Gambling Commission that they have concluded their investigations into 'what might amount to the offence of "cheat" as set out in Section 42 of the Gambling Act 2005, relating to the Blue Square Premier fixture played on Sunday 26th April 2009 between Grays Athletic and Forest Green Rovers. The Commission having considered the information gathered concludes that there is insufficient evidence to prosecute an offence under the Act".

Rovers Vice Chairman - Colin Peake told the club web-site 'At long last after rightly keeping our counsel we can now speak out. This whole investigation, starting from how it was first made public to the media by betting companies and the innuendoes which followed, has in my opinion been totally mishandled, firstly by the Football Association and subsequently by the Gambling Commission. Both clubs and their players have been smeared for a whole year, with apparently no substance of fact behind some of the lurid tabloid headlines. It has been nothing less than a total disgrace'.

He added "The Football Association needs to urgently address the whole subject of what constitutes such reports being made by betting companies when they believe they see irregular betting patterns emerging on football matches. For instance, in the case of this specific match, why was it that this was the only match referred for investigation when we learned that a number of other matches also had betting suspended that same weekend? Being cynical, could it just be that this match was the only one which actually was the subject of a 'payout'? Also some of the odds being offered seem out of all proportion to the teams playing'...

Peake concluded by stating 'We are pleased that the club has been exonerated but more importantly we are pleased for those players who played in the match. They have had to shoulder many snide and uncalled comments and so it is ironic therefore that tomorrow we visit Grays Athletic for this season's fixture. If I were a betting man I wonder what odds you would have got on us being informed today of the outcome'".

Darlington manager "Simon Davey insists he'll be doing everything he can to drag Grimsby down to the Blue Square Premier with Darlington tomorrow...

'My job is to win football matches and we need to get a home win on Saturday. If that sends Grimsby down then it sends them down, we need to look after our own business... I've been saying for quite a while now that you have to make sure when you're going into a new league we want to bounce straight back... When you only have three or four players who are in contract it's a great opportunity to assess what we have in the club to see if we can take a few of them forward, maybe 10 or 12 of them... I've got lots of contacts within the Conference system and I've already spoken to a lot of people... I can't see it being that much of a difference between the two leagues. It's going to be physical, it's going to be tough, the teams in there are full-time [not all of them!], so we just have to make sure that we're fully-equipped'".
NW NEWS
NL Daily says that "The UniBond (Northern Premier) League has announced a three-year deal with Lotto UK to become the league's new kit partner, in a deal worth up to £200,000. Under the terms of the deal, Lotto benchwear will be worn by every manager and assistant manager in the three divisions... The decision to appoint Lotto came following a tender process in which nine kit suppliers were considered.

Announcing the new deal, UniBond League chairman Mark Harris revealed that the new deal offered significantly better terms to the previous deal with Adidas".
---
23 April 2010
SATURDAY
Right: Robbie Williams receives close attention from the Stevenage defence in last week's game at Moss Lane. Photo, courtesy of Gavin Rathbone, who has many more on his GR Photography website.
There will be the usual live Matchday Updates from the Alty v Cambridge United match this Saturday. Don't forget it is Colin Little's final game for the club and is also a day on which you are encouraged to wear Alty "retro" shirts of any season.
YOUTH TEAM
Altrincham FC Youth team's fixtures till the end of the season have now been confirmed and can be found via the Youth Page. This Sunday, Alty are away at F.C.United of Manchester at 2.30 p.m. at St.Bride's Fields, Shrewsbury Street, Old Trafford, M16 9AX.
OLD BOY
Altrincham FC Youth graduate Ben Deegan scored for FC United of Manchester in their 2-3 home defeat by Ashton United on Wednesday.
TASC NEWS
The latest TASC (The Altrincham Supporters' Club) newsletter is reproduced below, courtesy of Steve Foster and Gareth Thomas...

"As always at the end of the season, it is a time to thank everyone who has helped over the season, and in TASC's case the list is too long to go through everyone individually. Therefore, I would like to thank all the people who have helped TASC over the season, and also all of you, the fans, who have contributed to any of the TASC projects over the year. Your help is appreciated!

Last season Altrincham finished 15th in the league, and I believe that this season's target of improving on that, barring a mathematical miracle from Barrow, looks likely to have been achieved, so I think we should also be extending a big thank you and well done to the players, and management of the club.

Race Night and Player of The Season awards

As I hope you are all aware, Saturday (24th) is the TASC annual race night. Please come along and support the event, it is a valuable fund raiser for TASC and the club!

Race Night Treble: The Race night treble will be available at Saturday's game, in the bar after the game and at the Race Night itself. In this scheme, you get the chance to predict the winners of the 4th, 5th and 6th races, each combination of winners costs only a pound, and the person who predicts the winning combination will win £100. If the winning combination has not been sold, a draw will be held to determine a different combination for the winner.

Altrincham Festival

Altrincham Festival is at the start of July, This is also a really important event for TASC and the club. Not only is it a good fund raiser for the club, but it is also a great opportunity to increase the awareness of the club in the local area. TASC will be running a stall at the festival and participating in the parade. We would like to hear from anyone who feels that they can help at the festival on the day. Secondly, any donations of raffle or tombola prizes would be greatly received.

Mobile Phones

TASC are still collecting any mobile 'phones that you have which are not being used. If you have any spare mobile phones or perhaps are getting a new phone over the summer, please can you bring the old ones along to the club! This scheme will continue right through the summer and into the new season, so whether you can bring them along over the summer or even to a game in pre–season please keep hold of them. Phones can be handed in to any of the TASC committee, any programme seller, or to the club shop.

Thanks to everyone for their support over this season, have a good summer and enjoy Saturday's game!

Gareth Thomas and Steve Foster (TASC Committee members)".
BSP NEWS
"Eastbourne Borough are gearing up on Saturday for the biggest game in their 46-year history knowing a win at Priory Lane over promotion-seeking Oxford United will guarantee another season in the Blue Square Premier" reports the Football Conference. "The final 90 minutes of the season will seal Boro's destiny. After forty-three matches over eight months Boro go into 'Survival Saturday' one point above the relegation trap-door in twentieth position and with forty-three points.

Gateshead forty-two points and Ebbsfleet United forty-one will start the day in the drop zone. Mathematically Boro could lose to Oxford and still stay up BUT this would necessitate Gateshead losing at the International Stadium to AFC Wimbledon, while a draw for the Heed would put them on forty-three points and condemn Boro by virtue of superior goal-difference. Provided Boro match Gateshead`s result on Saturday they will be safe.

Anything but a win for Ebbsfleet at Tamworth would not be good enough for them to overtake Eastbourne. Histon and Forest Green Rovers, both on forty-five points, are still not safe should they fail to pick up points and Boro finish with a win. Goal difference could well decide the relegation places and Boro have the worst, apart from Ebbsfleet with minus thirty-one".

It should not be forgotten that Gateshead were docked a point, which could decide their fate, for failing to complete their game against Hayes & yeading, following a bad injury to Martin Brittain.

"AFC Wimbledon have revealed that promising young defender Ryan Jackson has signed a full-time contract at Kingsmeadow" according to Blue Square Football. "The 19-year-old right-back [stood] out in a man-of-the-match performance against Tamworth and Dons boss Terry Brown has moved quickly to offer Jackson the first professional contract of his AFC Wimbledon career...

Brown told the club's official website: 'It is always a real pleasure to sign a player where the club has played a major part in his development. Ryan has worked under Marcus (Gayle) this year and comes highly recommended into the first team squad. "Ryan is our first signing for the 2010-11 season. It is nice to have another example of the club's youth policy bearing fruit. As I stated earlier we are looking to strengthen the squad with young, hungry and ambitious players and Ryan is a perfect example of this'".

Meanwhile "Mansfield Town have revealed that defenders Ben Turner and Tom Naylor and goalkeeper Neil Collett have signed new contracts... Turner, 18, has penned a new deal that will keep him at Field Mill until May 2011, while Naylor, also 18, has put pen-to-paper on a new two-year contract. Turner has spent time on loan at North Ferriby this season, while Naylor has been representing Belper Town".

NL Daily confirms that "Charlie Ademeno says he has made no decision on whether he will stay with Crawley Town next season. Reds' top scorer, who has eleven goals this season, was heavily linked with a move back into the Football League during the January transfer window. A deadline-day move to Torquay could not be completed in time while Swindon, Southampton, Walsall and Millwall all monitored the 21-year-old after he scored a hat trick in 4 minutes against Grays on December 28th.

Crawley boss Steve Evans has already offered Ademeno terms for next season but the former Southend striker is weighing up his options. He said: 'My future? That's a big question but we'll have to see what happens. I haven't made any decisions yet and I don't think the gaffer has made any either. We'll just sit down later this week and see how it goes'" he told The Argus.

The Football Conference says that "Fleetwood Town chairman Andy Pilley and chief executive Steve Curwood attended... the Blue Square North club's appeal hearing on Wednesday over the Football Conference expunging Farsley Celtic's league record...

Due to the large amount of evidence the FA panel feels it is prudent to spend time considering the facts before making a decision. It is hopeful a decision will be reached by Friday".

"A leading shareholder is set to hand over his stake to supporters to boost their efforts for a bigger say in Cambridge United" confirms the Cambridge News. "The shareholder, who wished to remain anonymous, told the News he wanted to donate his 1.5million shares in the club to Cambridge Fans United to help their bid to gain a 26 per cent holding, which would give them a bargaining tool in the running of United. His shares equate to a seven per cent stake in United, with CFU already having just under 10 per cent of the club's shares.

The shareholder said he felt compelled to act after discovering in Tuesday's News that the supporters' trust was prepared to buy the 220,000 shares being sold by former chairman Gary Harwood and ex-vice-chairman John Howard for £2,200. He said: 'I'm going to assign my shares to CFU and I hope it shames them into giving their shares to them as well. They've lined up someone to buy their shares off them, but I don't see why anyone should put any money back into their pockets. I want to help CFU get to the point where they get 26 per cent, and my 1.5 million shares represent about seven per cent.

I've put over £120,000 into the club and I've never expected to get anything back because I love the club. I don't want my name in the News because I don't want to be seen as someone who has got more money than sense or any ulterior motive, I just want to help get the club controlled by its fans'. CFU chairman Dave Matthew-Jones was "absolutely gobsmacked" when the News told him of the shareholder's proposal. He said: 'He doesn't really have to do that, but it's a fantastic gesture and very kind of him to make this offer'".

According to the Daily Post, "Wrexham FC boss Dean Saunders wants more players with determination... Dedication – according to the TV show theme tune – is all you need, Which is why Wrexham failed to beat their best ever clean sheets total for a season at Oxford on Tuesday night, says manager Dean Saunders, and why they have continually fallen short during this miserable season.

One glance at the Blue Square Premier table is enough to reveal where the chief problem has been in a term that has seen the club collect a record-equalling number of shutouts. Goals, or rather a lack of, with only 44 arriving in the league have been their biggest Achilles heel.

Of equal to concern to Saunders, however, has been the absence of the character trait Roy Castle sang of. Determination and a killer instinct in front of goal will be the two qualities the Racecourse boss will be hunting most in the transfer market this summer.

And with the signing of Nathaniel Knight-Percival, the former Liverpool and Wales striker hopes he has begun to address at least one of these shortcoming. 'I'll be looking to get some (more) determined characters in', said Saunders. 'There is not enough determination right through the club and I'm looking forward to knuckling down in the summer and getting some players on the pitch who have got a goal instinct. You can coach them as much as you like and tell them where to run, but if they can't smell a chance themselves then they are never going to score and that's why you have to pay so much for goal-scorers.

We've signed a pre-contract with Nathan Knight-Percival from Histon. He'll be joining us for next season and I'll be looking to get a few more in the bag in the next couple of weeks. "Obviously at the top end of the pitch we need to get people who can score goals but we were eight minutes away from breaking a club record for clean sheets and I thought it was going to happen. At the back we are all right and I've just got to get more people who can score goals and some more determined characters'.

The 1-0 loss at the Kassam Stadium was Wrexham's 16th in the league. Tellingly, though, in 13 of those defeats, the Dragons lost by only one goal, with 2-0 reverses to Kidderminster, Hayes and Cambridge being the exception... He said: 'I don't think we've been beaten by more than one goal in any game, except for Cambridge away'".

A possible new signing is mentioned by Wrexham who reported that on Wednesday "The Reserves head to Christie Park this evening... One new face will be trialist Neil Ashton, the former Chester City and Shrewsbury Town midfielder... We have received international clearance for him to play two games as a trialist at non-first team level".

From BUllsnews we learn that "Grimsby's supporters' trust has warned fans to act with grace and dignity if they are relegated at the weekend, after 200 fans invaded the Blundell Park pitch to protest against the board last weekend. They will be relegated if they lose at Darlington".

The BBC reports that "Histon chief executive Allen Soraff has moved to reassure fans that the club is financially secure. Soraff has reiterated that the Stutes will be able afford another season in the Blue Square Premier should they beat the drop on Saturday. 'There is absolutely no doubt at all that we will have enough money', Soraff told BBC Radio Cambridgeshire.

'The budget is yet to be fixed but that is because we don't know what league we're going to be playing in'... The Stutes have just seven players over the age of 20 contracted for next season and club legend Neil Kennedy believes... 'The crowds aren't good enough to sustain Conference football unless someone is ploughing in cash at boardroom level'...

Boss Alan Lewer has confirmed striker Danny Wright will quit the Glass World over the summer, while midfielder Nat Knight-Percival has signed a pre-contract agreement with Wrexham. Danny Naisbitt, Adam Tann, Matt Langston, Michael Frew, Bradley Hudson-Odoi, Lanre Oyebanjo and Joe Welch are all out of contract at the end of the season".

From the Uxbridge Gazette we read that "Garry Haylock admits his immediate future may lie away from Hayes & Yeading United after revealing he has received approaches from rival Blue Square Premier clubs this season... On a miniscule budget Haylock has assembled a young squad who, despite suffering their fair share of thrashings this season, have shown they can hold their own in a division packed with former league sides...

'If somebody offers me a job I would certainly talk to them because I am not under contract', said the Bradford-born manager. 'I could walk away tomorrow or they could sack me tomorrow. Yes, there have been approaches but you take each situation as it comes... "There have been conversations with (teams in) this division but it is so hard to judge because there are so many agents trying to drum up business for themselves... I am ambitious, I want to be full time and manage as high as possible'".
---
22 April 2010
SATURDAY CELEBRATION
The Sale & Altrincham Messenger says that "There will be a double celebration at Moss Lane on Saturday afternoon as Altrincham Football Club bring down the curtain on a very successful season and bid farewell to a star player.

Colin Little pulls on a red and white striped shirt for the final time and Altrincham residents will be able to hear the cheers for miles around if the Altrincham goalscoring legend can add one final goal to his tally of 114 goals in 244 appearances.

The club are doing everything they can to give to Colin a fitting send off.

Vice-chairman Grahame Rowley, said: 'There will be a special Colin Little commemorative matchday programme on sale with a double-page montage of Colin's career at Altrincham as well as an autograph space on the back page to make your programme all that more special'.

The Robins are guaranteed to finish in their highest position in the league since 1996 and victory over Cambridge United could mean a top 10 finish. Manager Graham Heathcote reflected contrasting experiences leading up to Saturday's finale as his fatigued charges held a Luton side that had scored 24 goals in their past four home games to a goalless draw at Kenilworth Road, before conceding four goals in eight mad second half minutes at Salisbury on Tuesday night...eventually going down 4-1.

'The lads were superbly disciplined and organised at Luton, yet 10 minutes of total apathy at Salisbury showed the frailties that we have'.

One of the biggest conundrums facing the Robins' supremo is how to replace his leading goalscorer in five of the past six seasons. 'What Colin Little has done for this football club in the past six years is phenomenal and I am not sure where I can find a replacement for nothing....which is what we got Colin for!'

Saturday's match kicks off at 3pm and fans are being encouraged to wear 'retro' Alty shirts as part of an 'Altrincham through the ages theme'. All children under 12 years of age will be admitted free".
COLIN'S RECORD
In advance of Saturday's farewell appearance by Colin Little, a look at his career statistics for Altrincham is timely.

Gary Warrington writes, "I thought it would be good if we could put all the messages for Colin Little in one place and hopefully he could be directed to the forum (if he doesn't look already) or someone can print them off for him. Also it will be interesting to see what people's favourite 'Colin Little' memory is ... Or maybe he will create a new one on Saturday.. I really hope so.. He deserves to go out with a bang and, if it wasn't for him, then I am pretty sure we would not be in the Conference now ... You can post your comment here.
LAST MATCH
After Tuesday's game at Salisbury, Sport4Salisbury reports that "Four goals in a breathtaking eight-minute spell at the start of the second half of Tuesday night's match with Altrincham ensured Salisbury City extended their winning run to four games... Although Alty scored a late consolation goal in time added on, Whites were in rampant mood and might have enjoyed an even bigger winning margin.

Tommy Widdrington was forced to name himself on the bench as injuries, illness and suspensions left the City boss with just 12 fit players to choose from for the match. 'I can't praise my players enough', said the Salisbury manager... City boss Tommy Widdrington made a rare appearance, coming off the bench for the last few minutes".
OLD BOYS
Alex Meechan netted both goals as Droylsden beat Trafford 2-0 on Tuesday in the Manchester Senior Cup final at Hyde.

Huddersfield Town report that "Midfielder Ian Craney has today left Huddersfield Town after a settlement was reached over the remainder of his contract. The 27-year old joined the Terriers under former manager Stan Ternent for an undisclosed fee in August 2008 and made 35 appearances in his debut season, scoring six goals.

Under the management of Lee Clark, Craney made five appearances in the final 20 games of last season and was on the bench on a separate 12 occasions. Craney has spent the entire 2009/10 season on loan at League Two Morecambe but whilst with the Shrimpers his availability has been severely hampered by an ankle injury and more recently surgery on a double hernia; despite this, he has played 19 games, scoring two goals.

Ian was contracted to the Club until the summer of 2011, but having been recalled from his loan spell at Christie Park following his recent injury an agreement has been reached with the player to mutually terminate the rest of his contract. Huddersfield Town Manager Lee Clark commented on Ian's departure:

'Ian was here when I joined the Club in December 2008 and he has been a consummate professional throughout my time as manager.... Hopefully he can make a fresh start next season and get fixed up with a Club quickly'".
BSP NEWS
On the Grays Athletic forum, a supporter summarises the Essex's club's new direction as outlined at a meeting of supporters. There will be "a new team of 9 to cover all matters on and off the field.... We have three years to find a new permanent home with up to £700K being put into a Trust from the developer who has bought the Rec (if we can't come up with permission in that time the money will be used for other sporting projects in the area).

We have been relegated to Blue Square South, but will opt for Ryman Premier. This was fully supported by those present (about 50 supporters)". There is "a deal on the table with East Thurrock, but Tilbury was preferred with talks ongoing".

The Cambridge News reports that "Cambridge Fans United are aiming to buy Gary Harwood and John Howard's stakes in Cambridge United. Former chairman Harwood and Howard, the ex-vice-chairman, are selling their shares – 150,000 and 70,000 respectively – for 1p each. That means the whole lot could be snapped up for £2,200. They have an anonymous buyer lined up, but under the club's articles of association, shareholders have to be given the chance to purchase for the same price.

Harwood had offered to sell his shares to CFU for 2.5p apiece – £3,750 – earlier this year, only for the supporters' trust to turn it down. CFU chairman Dave Matthew-Jones said they rejected his original offer as... 'We felt we'd probably have received criticism for using that money to buy shares from outside the club because the club needs money more'...

But Matthew-Jones said CFU would now think again as they continue their attempts to reach a 26% stake in United... Harwood said he hoped CFU would be successful in their efforts to buy his stake".

Across the city, "David Knight is set to be fit for Histon's crucial last-day showdown with Barrow... The goalkeeper missed the Stutes' 2-0 defeat at Forest Green... after suffering a thigh injury... Goalkeeping coach [ex-Alty] Lance Key believes the shot-stopper's return would be a welcome boost for Histon, who must end their 10-game winless run in order to preserve their status, without having to rely on other results. 'All David's struggling with now is kicking the ball', said Key... 'I don't think he's far off... Hopefully, as long as we don't lose, we'll be okay'. Key feels manager Alan Lewer's side are up for the challenge of recording their first victory since March 9".

Meanwhile "Nathaniel Knight-Percival is set to leave Histon and sign for Wrexham. The midfielder, who is out of contract at the end of the season, has agreed terms with Dean Saunders's side and will join the Welsh club, pending international clearance, for an undisclosed fee".

In <Your Local Guardian, "Stuart Cash admits AFC Wimbledon's horrendous end-of-season form will see a number of the squad shown the Kingsmeadow exit door over the summer. Mere weeks after Terry Brown told the Wimbledon Guardian the Dons stars were playing for their futures, the club has responded with six defeats in nine games and just one goal in their past five encounters.

And Cash reveals that will signal the end of the road for a number of fan favourites. He said: 'It has been very disappointing... Far too many of the players have simply not responded... The way the season has ended it will be a lot easier now to sit down with people in the next two or three weeks and say thanks but no thanks'...

He added: 'Ever since we missed out on the play-offs we have slipped off the pace, but that should not be an excuse. It is a lack of mental strength and a lack of pride in your performance and that is frustrating'...

Danny Kedwell was announced as both Player of the Year and Player's Player of the Year. And the Dons' assistant boss... added: 'Danny has been the catalyst for our season. He has played up front with four different partners and performed week in, week out'" .
---
21 April 2010
SALISBURY CITY 4 ALTRINCHAM 1
Alty fell to their heaviest defeat of the season thanks to eight minutes of second-half madness...

Alty line-ups
ALTY ON TV
Alty turnstile operator Colin Mitchell advises us that "Moss Lane was on the TV today on BBC1 on the "To Buy Or Not To Buy" programme about a couple looking for a property in the Manchester area. Simon O'Brien (Damon of soap 'Brookside', a few years ago) was one of the presenters. They sat in the main stand and talked about properties in the area. The couple were United and City fans - suppose the BBC couldn't afford Eastlands or Old Trafford!"
BSP NEWS
The Cambridge News reports that "Matt Langston is ready to play his part in keeping Histon in the Blue Square Premier after returning to the club from Crawley. The defender's loan spell with the Red Devils has ended and he is set to be back in training at the Glass World Stadium this week. Langston was Stutes captain before being axed from the side following a breakdown in contract negotiations at the start of last month and his subsequent move to the Broadfield Stadium.

But the centre-half could be in manager Alan Lewer's starting line-up for Saturday's visit of Barrow... Said Langston 'I won't know more about whether I'm up for selection until I've spoken with him [manager Alan Lewer] further. It's down to what he and the club want to do. I've got a lot of pride and views on what happened last month, but I'll see where it goes from here. I'm still contracted to the club for Saturday's game... I played every game at Crawley and it went well down there', said Langston. 'It was a nice change of scenery. They're a good bunch of lads and it's a nice set-up. My options are still open as I've not signed anywhere for next season yet'... Lewer's charges have taken six points from the 36 available since Langston's last appearance in the 1-0 home defeat on March 3".
---
20 April 2010
TUESDAY RESULTS
Tuesday 20 April
Through the Years by Howard Watts
AFC Wimbledon 0 Tamworth 1
Gateshead 0 Stevenage Borough 1
Kettering Town 1 Crawley Town 1
Kidderminster Harriers 1 Barrow 2
Oxford United 1 Wrexham 0
Salisbury City 4 Altrincham 1
SALISBURY CITY v ALTRINCHAM
It is hoped to provide some updates on the Matchday Update page on Tuesday night.
COLIN'S SEND-OFF
Altrincham FC vice-chairman and Robins' Review editor, Grahame Rowley writes:

"There will be a special Colin Little commerative matchday programme on sale on Saturday with a double-page montage of Colin's career at AFC as well as an autograph space on the back page to make your programme all that more special - and still just £2!

We are trying to encourage as many people as possible to wear 'retro' shirts for this game as an 'Altrincham through the ages' theme. Be good to see as many as possible around the ground

Although Colin Little's shirt has been sponsored and will be given to the sponsors after the game, Colin (right, in the Alty centenary kit) will change his shirt at half-time and we are planning to offer this shirt in an auction starting today and which will finish at the 'End of Season Ball' on May 8th at the Cresta Court. Bids can be lodged at the club's offices (928-1045) or via email to me. The shirt will be personalised by Colin, if required, once the auction is complete. This is your chance to own Colin's last Alty shirt!

Can we please appeal to supporters to come forward and offer their services for 15 minutes after the presentations following the game in order to litter-pick around the ground? We have a local cup final at the ground on Sunday and need the ground in a presentable state for it. A pint in the bar is on offer to any volunteers - please meet by the home tunnel to collect brushes, bags etc".

The "End of Season Dinner and Ball" will be held on Saturday 8th May at The Cresta Court Hotel. The club encourages as many fans as possible to join the players and management for this celebratory evening. Tickets are just £30 per person which includes a four-course dinner. The evening consists of presentations, a raffle and a disco till late. Please see Grahame, Karen or Sarah Rowley for more information and tickets or send an email.
TUESDAY
The BBC confirms that "Salisbury defenders Jamie Turley and Sean Clohessy suffered serious injuries on Saturday at Barrow and are doubts [against Altrincham]. Winger Bradley Gray and midfielder Ben Adlesbury are banned following red cards during the 1-0 loss in Cumbria".
REFS
The referee for Salisbury v Altrincham on Tuesday night is M. J. Thompson who officiated when Crawley beat Alty 4-0 on December 6, 2008. For Alty v Cambridge Utd on Saturday, the man in black is R. M. Clark.
OLD BOYS
At Stalybridge "The Celtic Centenary Player of the Year Awards took place... The Golden Boot with 21 goals (and counting) was Joe O'Neill. For the Player of the Year as voted for by the Supporters...the winner this year was Joe O'Neill". Congratulations to Joe, from all at Altrincham.
YOUTH TEAM
The Altrincham FC Youth team are still top of the NWYA Table after having no game this weekend. Alty are still to play in the Open Cup semi-final; the other semi ended Nantwich Town 4 Salford City 5!
BSP NEWS
News of our last-day opponents next Saturday comes from Bradford City who say that "Scott Neilson played just under an hour of Cambridge's final home match of the season as the U's defeated Hayes & Yeading 4-1 this Saturday...The 22 year old will now feature for the U's once more next week at Atrincham Town [sic] before the Blue Square Premier season and Neilson's long deal comes to a [sic] end".

Hayes United were tired out before their game last Saturday as the Uxbridge Gazette reports that "Garry Haylock blamed Hayes & Yeading United's 4-1 defeat at Cambridge United on a combination of fatigue and their luckless pre-match preparation. The squad missed their pre-match lunch and were restricted to a shortened warm-up at at the Abbey Stadium after the team coach suffered a puncture on the M6 en route to the game. Several players and members of the back-room staff were picked up by the supporters' coach while the others arrived via the cars of club directors.

However, it was clear from the first whistle which side had played two Blue Square Premier fixtures in midweek as the U's swept into a two goal half time lead... Admitted United manager Haylock, 'As a part-time team we only train twice a week and have not been able to do that this week as we have played games. You do not get the fitness in and on top of that we have had a blow out on the motorway on the way here. We never had a proper warm up and people were all over the place. We try and prepare professionally and we had a restaurant booked for 12pm but could not make it. It is a bad day but in the bigger picture with other results (going our way) we are now mathematically safe. To be safe with a week of the season to go is fantastic. Nobody outside of the club expected that to happen, nobody gave us a chance. I have still got four or five articles from different experts saying we were certainties to go down'".

Haylock spoke to Cambridge United - 'I thought the first half we were awful, feeling sorry for ourselves and didn't get anywhere near close enough to the Cambridge players. Cambridge should have had three or four before the break... Today was our fourth game in eight days; we haven't been able to train properly all week and haven't kicked a ball outside of match play. The tiredness showed, I've said to the players take the last fifteen minutes off the second half and we put in a decent performance. We can take heart from that Cambridge are a good team and Martin has some very good players at his disposal.

'Having a player like Danny Crow up front will make a difference. You can look at Salisbury and see the same thing. If Salisbury didn't have Matt Tubbs they wouldn't be as high as they are in the league. Players like him and Danny Crow are the difference between failure and success at this level.

My lads showed character in the second half despite having put in 360 minutes of football in this week. Which is something you should not ask any footballer to do. You wouldn't ask anybody in sport to do that. Other teams are playing this Tuesday and we now have a free week, it's embarrassing. It's a good job Cambridge weren't going for the league because that would have made a mockery of the whole competition'".

Alty play Cambridge after a long trip to Salisbury tonight, whilst United have a free midweek.

The Cambridge News reports that "'This is the benchmark we aim to hit consistently next season' - that was Martin Ling's message to supporters after Cambridge United's final home match of the season... a 4-1 triumph over Hayes & Yeading...

And Ling said: 'The performance was like the weather - excellent... If you look at the last third of the season, we've been a top-five side and we need to put that into practice over 46 games. I won't be happy until we've finished the job completely on Saturday at Altrincham and then we can start to relax and plan for next season'".

Cambridge have no midweek game before they visit Moss Lane. Ling added: 'We'd given them a lifeline with the goal... It gave us a little bit of a kick up the backside that we were still in a game of football, not on a beach in the sun'... Ling also hailed the fledgling partnership between Crow and Marriott as further cause for optimism".

At Cambridge United, "The Internet Player of the Season Awards were presented ahead of Saturday's 4-1 victory over Hayes & Yeading... Danny Crow scooped the Internet Player of the Year trophy, while Josh Coulson collected the Young Player of the Year award. Paul Carden's last-gasp winner against Histon at the Abbey won the award for Goal of the Season".

"FC Telford boss Rob Smith believes defender Lee Vaughan has played his final game at the Bucks Head... Smith told BBC Radio Shropshire: 'Lee was emotional after the game. It was probably his last game at home'... Smith has revealed there are several Blue Square Premier clubs interested in signing the former Walsall defender, 23, including Kidderminster Harriers. 'I know he wants to go on and play Conference football, so I'd be very surprised if he's here and he deserves the chance any way', Smith added".

The South Wales Argus tells us that "Craig Reid has expressed his delight at signing a new two-year deal with Blue Square South champions Newport County... The division`s top goalscorer is among the frontrunners to be named player of the year... Reid admits he's ignored interest from a host of other clubs to sign on the dotted line at Spytty Park, one of six players to do so in the past week or so.

He explained: 'I had food for thought, but I am more than delighted to have secured my future here. More than money, more than what league I will be playing in, the most important thing is to be happy and I am very happy here.... The boys in the dressing room are my best mates as well. To be one of six signing, it's a great feeling, because I hope everyone stays for next season... Obviously Grays Athletic didn't think I was good enough for that level, they signed me and then didn't really give me any chance', he said. 'But they are a badly run club, and I don't feel I have any point to prove. All my motivation comes from wanting Newport to do well'".

Eastbourne Borough report that "The club have received word from Danny Knowles's family today following his injury in the defeat versus Kettering Town. Dan broke both his tibia and fibula in a 1-on-1 challenge late in the 1st half. He received assistance on the pitch from Ray Tuppen and also the Kettering Town physio. He was further helped by the home club's doctor before transfer to Kettering Hospital after attendance by paramedics. Danny returned home to Essex in the early hours of Sunday morning after his leg was reset and a plaster cast applied. He will report to his local hospital later in the week". Sadly the keeper was also sent off for the challenge which caused the injury.
---
19 April 2010
PLAYER OF THE SEASON
TASC chairman Brian Flynn writes:

"In order to have the Player of The Season Trophy engraved by Saturday, we need to have all votes in by close of play on Tuesday. You can still get your vote in by:-
Handing your form to Mike Ainsworth or Brian Flynn at Salisbury tomorrow
Dropping your form in at the Club before 2.00pm on Tuesday
E-mailing me, Brian Flynn. Please remember to vote for your 1st, 2nd & 3rd choice".
MAKE A DAY OF IT!
You can make a day of it at Moss Lane this Saturday as from 12 noon the bar will be open for the HD broadcast of Manchester United's game with Tottenham Hotspur and after the match you can see Arsenal v Man City at 5.30pm. Then there is the TASC Race Night and Altrincham FC Player of the Season awards - all in the bar at Moss Lane. Everyone is welcome.

And on the pitch at 3pm, the last match of the season takes place, against Cambridge United. As well as determining where Alty will finish this season, the game is also the last chance to see Altrincham's favourite striker, Colin Little in action for The Robins before he leaves to take up a coaching role at Manchester United.

All under-12s will be admitted free to this game.
MONDAY MATCH AT MOSS LANE
On Monday, 26th April is the annual Staff v Supporters' match at Moss Lane (NB 7.30 pm). If you want to take part please contact the club (928-1045). Again, everyone is welcome to attend this annual event, which this year features Alty assistant manager Ken McKenna in action for the Staff side.
PATRONS NEEDED!
The Altrincham FC Patrons scheme helps the club over the summer months. For the cost of £50, your name will appear throughout the coming season in the matchday programme and every member will be entered into a prize draw, with the winner being match sponsor for an appointed game along with nine guests. Second prize will be hospitality for five people and third prize will be hospitality for 3 people in the Sponsors' Lounge. Please ring the club to join (928-1045)
ALL CHANGE FOR ALTY
The club has available for collection 'All Change for Alty' money boxes. Fans are asked to collect small change and donate it to the club. You can collect your money box from the club offices.
NEXT GAME
Alty's next game is away at Salisbury City. Barrow's NW Evening Mail reports on last Saturday's game with Salisbury at Holker Street which the Whites won 1-0. After confirming that "Barrow AFC are mathematically safe from the threat of Blue Square Premier relegation... [Salisbury's] goal came just four minutes after Barrow substitute Jason Walker had missed a penalty... Salisbury finished the game with just nine men. Substitute Bradley Gray was shown two yellow cards, both seemingly for dissent, in the space of 20 seconds in the 86th minute and in injury-time Ben Adelsbury, who was born in Barrow, was sent off after also seeing a second yellow card...

Salisbury saw defender Jamie Turley stretchered off on 34 minutes. That resulted in seven minutes of injury-time, during which the visitors managed their first shot of the game... The Wiltshire side enjoyed better of the second half... Salisbury traveled with the bare 16 and named 38-year-old [manager] Tommy Widdrington on the bench.

Salisbury City: James Bittner, Sean Clohessy (Bradley Gray 76), Ronnie Bull, Aaron Martin, Chris Giles, Jamie Turley (Luke Ruddick 38), Darrell Clarke (Chris Flood 60), Ben Adelsbury, Chris Shephard, Matt Tubbs, Jake Reid. Subs not used: Ryan Price, Tommy Widdrington".

Salisbury also lost two players, injured, at Barrow as Jamie Turley was stretchered off, and Sean Clohessy limped off.

Salisbury City add that "City guaranteed they would finish their third Blue Square Premier season no lower than 18th place by picking up a maximum six points from the week's two games. On Saturday they were 2-1 victors against Cambridge United at the Ray Mac - City striker Matt Tubbs was on target twice in an entertaining contest in which James Bittner eventually emerged the hero, saving a penalty in the sixth minute of time added on...

Hayes & Yeading were next up on Tuesday evening in a game that saw the return of Ronnie Bull and Bradley Gray from injury. Matt Tubbs was again on the scoresheet... the 3-1 scoreline was a comfortable one. Manager Tommy Widdrington was delighted... and said he still wanted his charges to finish as high in the table as possible".
LUTON GAME
There are some video highlights (not brilliant quality) put on You Tube by a Luton supporter, which show the game from the Hatters' perspective.

The BBC has a six-minute interview with Luton manager, Richard Money.
FINAL GAME
For the second successive season, Alty complete their fixtures against Cambridge United. Last year Cambridge needed a heavy win over Alty and results to go their way elsewhere. Neither happened, as Alty drew 0-0 at the Abbey Stadium. This year all that is at stake is the clubs' releative positions in mid-table.

According to NL24 News "Cambridge United "manager Martin Ling says he would consider bringing Scott Neilson to the club permanently. Neilson has scored three goals in 12 appearances since joining on loan from Bradford City last month. Ling sais: 'It would be wrong for me to say I'm going to make a move when they've (Bradford City) done us a favour letting us have him on loan and spoil what we've got there. But there could be a scenario that he comes and plays for Cambridge next season... If they don't want him, they may want to sell him and it's whether they want the money back on the £20,000 they paid Cambridge City and if we'd want to pay the money they're asking because it all comes off the figure in the bottom right corner of my spreadsheet. That number isn't massive, so I wouldn't be wasting a lot of it on transfer fees'...
BSP NEWS
"Elliott Godfrey could return to Staines Town in the summer, as he looks set to be the first casualty of AFC Wimbledon's decision to go full-time" reports NL24 News. "The former Hampton & Richmond Borough striker juggles playing part-time for the Dons with running his own business. He has spent the last month on loan at Staines Town before returning to Kingsmeadow this week, the Surrey Herald is reporting. But the Blue Square South side are keen to bring him back to Wheatsheaf Park, which would allow him to continue his business interests. Swans boss Steve Cordery said: 'We could well go back for Elliott in the summer, because with AFC Wimbledon going full-time, he will not be able to do so as he runs his own business'".

Wrexham lost at home to Rushden on Saturday. "'This was not the way I wanted to finish the season, especially at home in front of a large crowd', said Dean Saunders... 'It was disappointing, as we had the big crowd here and I was egging the players on to put in a good performance, so that those leaving at the end would want to come back again. We wanted to see them coming back to buy season tickets and the like! Without wanting to make excuses, it was difficult to make first time passes on the pitch and I don't think they hardly played either'.

Asked about the absence of several players from the side, the manager threw some light on the situation. 'We offered Neil Taylor, Andy Fleming and Chris Maxwell new contracts back at Christmas', he said. 'Unfortunately. we have not be able to agree with two of them and I have been nudging them and nudging them along, but we have got to the point where I need to know for next season where we stand. I have got players lined-up to come in and I need to know, but we don't seem to be able to agree on the financial side of things. There are no hard feelings, as both Andy and Neil have done well, and if they want to see if they can go higher up, then good luck and all the best. But I have to think of the club and the players who will be here, so today I left the two of them out. The budget will be tight next year, so I have do the right thing for the club'".
---
---
18 April 2010
ANOTHER SEASON OF IMPROVEMENT
Yesterday's draw means that Altrincham are now more or less guaranteed to finish higher than last season's 15th-place. The lowest Alty can finish this campaign is 14th (unless Barrow win their final two games by a shed-load of goals) and/or we lose both of ours heavily. The highest we can finish is tenth.

Last season, from 46 games, Alty got 56 points, scored 49 and conceded 66. From 42 games so far this season we have got 54 points scored 52 and conceded 45.

So, despite a small squad and losing three important players to season-ending injuries, Altrincham have taken further steps forward in 2009-10. The last 15 games of the season have, however, seen just two league wins achieved as the injuries and the difficult run-in have taken their toll. But the eight draws in this 15-game period, after just seven draws in the first 27 games, show how the side has dug in to achieve results in recent weeks.
LUTON VERDICTS
Match report here.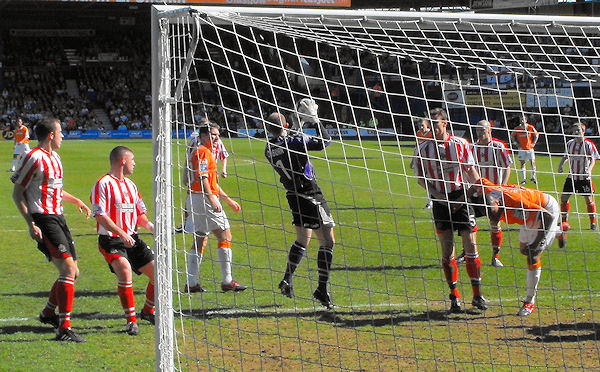 Above: Stuart Coburn beats Luton's Shane Blackett to a cross. After the draw at Luton, Chris Senior told the NL Paper, "We've seen their recent results at home and really didn't want to be on the wrong end of one of their thrashings. So, to keep a clean sheet and play well is very pleasing, as they are on fire". Hatters' boss Richard Money declared that "When a team plays as defensively as they did today, you need to be able to pass the ball quickly and move it quickly and we couldn't on that pitch... The pitch was very bumpy".the BBC match stats confirm that Alty were so defensive that they won four first-half corners to Luton's two.

Luton Town confirm that ""The Hatters will have to win promotion from the Blue Square Premier the hard way after a frustrating goalless draw at Kenilworth Road was coupled by news that leaders Stevenage had won at Kidderminster. A victory over a resilient Altrincham side still wouldn't have been enough but manager Richard Money's pre-match prediction for a tight-game was spot on as the Town's run of seven successive home wins was brought to an end.

It wasn't for the want of trying as the Hatters dominated much of the 90 minutes. Alty goalkeeper Stuart Coburn was the Town's main tormentor as he pulled off two fantastic saves to thwart the hosts... The Town continued to huff and puff but could not find a winner despite having four strikers on the field for the final 27 minutes...

After the recent goal gluts at Kenilworth Road, it was a strange end to the regular home campaign and meant that it was the first time Luton had failed to score at home since December 2".

The Luton website had the following before the game:

"Press box predictions: Andrew Barringer: 5-0 Luton. Carl Field: 7-0 Luton. Thomas Leech: 3-1 Luton. Euan Duncan: 5-0 Luton. Ian Peace: 3-0 Luton. Bill Cole: 2-0 Luton". Interestingly it also states: "25 years ago, Saturday 21st April 1985, Luton Town 2-1 Manchester United. Two goals from Mick Harford at Kenilworth Road. Believe it or not the crowd that day was only 10,320. Five levels below today, they'll be around 3,000 less inside the famous old ground".

The Luton website adds that "Richard Money cut a frustrated figure after seeing Altrincham hold his free-scoring side to a goalless draw at Kenilworth Road that ended the Hatters' chances of lifting the Blue Square Premier title... 'It was frustrating to be honest', the manager said afterwards. 'It was a tight game, like a knew it would be, and we just couldn't make the breakthrough. I'd like to see what the possession count and number of shots, corners and crossed we had but we just couldn't do it. I suppose when you score 24 in your past four home games you're always going to have one of those days when one doesn't go in. I think Altrincham came off the pitch thinking "mission accomplished", they came to frustrate us and make life difficult and they certainly did that'...

With three ex-League sides joining the Hatters in the end-of-season lottery, Money is just hoping his players' form and confidence can continue... 'We're not disappointed, we've had a huddle and I don't think we could have done any more... We'd won seven home games on a row before today - and we haven't lost'".

On the Luton Forum the verdict is that the game as "A 0-0 possession fest, with little product... Given the stat that [there had been] only one goal in the previous three games against Altrincham, that a penalty by Tom Craddock in October, [it] always looked like our crazy goaltastic antics would be put on hold.

The Cheshire team did defend superbly ably assisted by their best player, the referee... He never got to grips with their niggly tactics always looking to time waste and break up the game at every opportunity. They were very negative, despite having a Robbie Williams in their line up, never threatened to entertain you. It's awful to watch, but they got what they came for. We huff[ed] and puffed, nowhere near our best...

Altrincham played 4-5-1, with a dwarf up front, and were only threatening at long throw-ins by Clee. In open play, apart from the odd long-range effort, they weren't an attacking threat whatsoever... The likes of Doran and Danylyk got through an enormous amount of running and pressing... The visitors almost opened the scoring. Clee's long throw, Doran beat Murray in the air, dropping invitingly for Williams to whack a volley, which Tyler flicked over the bar. Altrincham were tidy enough on the ball, but apart from Clee a couple of times, having the beating of Edward, Tyler had nothing else to do except top up his tan... Six minutes of injury time played, it could have been six hundred".

According to the Luton & Dunstable Express, "A bore draw with Altrincham added to Hatters' frustrations on Saturday afternoon... Defensive Altrincham made it hard work for Hatters in the April sun and Money wouldn't be drawn on the Cheshire side's boring tactics.

'I'll leave you to make your own comments', Richard Money said. 'I don't think I need to say anything really – other than I'm proud of the effort the players put in on a hot day on a difficult pitch. I don't know how many shots we had on target but we couldn't find the breakthrough. We forced the game, did everything we could to try and win it but it wasn't to be. Everyone should be proud of the players' commitment.

The pitch was as bad as it's been for a long time. When a team plays as defensively as Altrincham did you need to be able to move the ball around the pitch quickly'... Money's decision to take off defenders Ed Asafu-Adjaye and Freddie Murray in the second half was met with boos by some fans but he explained his decision to go all out for the win as the clock counted down...

It was a disappointing afternoon all round for Luton, who smashed six past Histon on Tuesday night, but couldn't continue their goal glut in an awful match. Perhaps it was no surprise as in 450 minutes of football over two seasons, neither side had scored in open play against each other. Two 0-0 games in the FA Cup last season were settled by penalties and only a Tom Craddock spot kick in October could break Altrincham... The best Town could muster up after the restart was three long range shots that flew over Coburn's goal... Alty stood strong and repelled every Town attack, frustratingly restricting Luton to long range efforts".

Contrary to the above, Luton Today adds that "This was the first time Luton had failed to score at home since December 2".
OLD BOYS
Jake Sedgemore scored a penalty for Nantwich, whilst ex-Alty trialist Gavin Salmon got two for Warrington Town and former loanee James Dean got one for AFC Halifax Town. Joe O'Neill netted again for Stalybridge Celtic.
---
17 April 2010
LUTON TOWN 0 ALTRINCHAM 0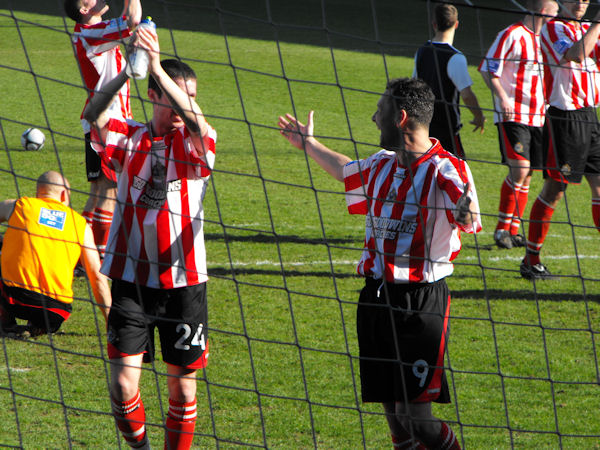 Luton, averaging six goals a game at home over the last four matches, were tamed by a disciplined Alty performance. After matching a disappointing Hatters side, who made numerous unforced errors, in a first half during which Alty won twice as many corners as the hosts, the Robins spent most of the second half on the back foot. Coburn was the busier of the keepers but even he had only a couple of important saves to make.

Right: Adam Carden and Colin Little salute the travelling supporters at the end of the game at Luton.

Match report here.

Saturday 17th April

Barrow 0 Salisbury City 1
Cambridge United 4 Hayes & Yeading Utd 1
Crawley Town 2 Tamworth 0
Ebbsfleet United 2 Gateshead 0
Forest Green 2 Histon 0
Kettering Town 4 Eastbourne Borough 0
Kidderminster Harriers 0 Stevenage Borough 2
Luton Town 0 Altrincham 0
Oxford United 2 Mansfield Town 0
Wrexham 0 Rushden & Diamonds 1
York City 1 Grays Athletic 1
BEFORE THE GAME
There will be the usual live updates on the Matchday Update page for today's Luton town v Altrincham match.

The BBC say that "Wing-back Claude Gnakpa is still a doubt for Luton with a hamstring injury and he may not be risked. Liam Hatch and Matt Barnes-Homer both played in the reserves in midweek and could come into contention if boss Richard Money opts to rotate his squad.

Altrincham goalkeeper Stuart Coburn (back) missed the 1-0 defeat by Stevenage and is a doubt. Winger Chris Denham suffered minor injuries in a car accident this week and faces a late fitness test".

The Luton & Dunstable Express reports that "Luton Town manager Richard Money has told his players not to concern themselves with what might happen at Aggborough and instead concentrate on beating Altrincham. Blue Square Premier leaders Stevenage Borough need three points from their final three games to win and secure the title and the Conference's only automatic promotion place. If they beat Kidderminster Harriers tomorrow then Luton will have to win the play-offs if they want to turn out in the Football League next season.

'Nothing has changed', said Money. .The most important thing is that we win because if we don't then it is all over anyway. We've got to concentrate winning ourselves - that's the only thing we can determine and control and that's the way it's been for the past few weeks. Anything can happen in football - but we must make sure that we come off the pitch with three points'.

Altrincham sunk [i.e. sank] to a sole 83rd minute goal on Tuesday to Stevenage so the Hatters' boss knows how hard the task will be when they come Kenilworth Road. 'It will be tough, they are a tough team to beat' he said. 'They've had two tight games with the sides above and below usin the table this week. I'm expecting a slightly different game than the home games we've had recently. I'm expecting a tight game to be honest and it's a very, very important one. Like every game, we always concentrate on winning the game first. Once we've made sure of that, and with the form we're in, we're good enough to be able to push forward further. If I'm honest the team have been a joy to watch recently and it's been a real privilege to watch them. I think confidence is the conundrum, it's the thing all teams are searching for and for us, the whole group, not just those in the team but those out of it too - are playing with it'...

He said: 'We've tried to make our own pitch into a fortress but now's the time for us to turn it into a cauldron'. French winger Claude Gnakpa is still suffering with his hamstring so will not feature against Alty, while the manager could announce mixed fortunes for two of Town's longer term casualties. 'Kevin Nicholl's knee looks like a knee at long last', he said. 'It hadn't done for a long time. He's a long way away from showing us if he's made a recovery but it seems it's moving in the right direction and everyone is pleased. Lewis Emanuel is due to have the pin taken out of his toe next week. We were really hopeful that we could call upon him but he will probably need a bit longer'".

Meanwhile Luton Today tells us that "Luton Town manager Richard Money looks set to name an unchanged team for the visit of Altrincham tomorrow... On the injury front, Claude Gnakpa is out with a hamstring problem... Money continued: 'It will be the same group of players tomorrow. We've got a real consistency in our team selection which is good... It is a privilege, I think, to watch them... We need to make the ground a cauldron, make it intimidating for other teams both on and off the pitch and, for that to happen, we need the supporters' help'".
GRAHAM ON RADIO MANCHESTER
In Friday night's interview on BBC Radio Manchester, Alty manager Graham Heathcote referred to the narrow defeat by league leaders Stevenage Borough in midweek, describing the league leaders as a "No frills side, away from home" who defeated an Alty side shorn of five injured regulars.

Asked about next year, Graham said that the absence of this season's £30K pay out from the Premier League would make things difficult. However, if he could have the same budget next season, he would keep the squad as it is "more or less. I don't envisage a lot of changes. Our aim will be survival, again".

He reiterated that his players received "Not a penny" in bonuses for league games. The Alty boss also explained how he is always honest about the wages to prospective players. "Most of my players, and certainly Colin Little, play for Altrincham for a lot less than they could get elsewhere", he added, as he praised the honesty of part-time players who put in a day's work and then make the effort to come and play football afterwards. He admitted that "Other clubs have been in the ribs of some of my players" trying to tempt them to leave. Graham also paid tribute to chairman Geoff Goodwin and the board for their sensible approach to finances, whereby if we don't have the money we don't spend it. Graham reported that an FA official had told him that Altrincham were "the perfect example of how a non-League club should be run".
"CALL ME A BIG HEAD"
Alty's next game after Saturday is away at Salisbury on Tuesday night and the BBC reports that "Boss Tommy Widdrington wants Salisbury to play 'as though their lives depended on it' for their last three games. Although the Whites are safe from relegation, Widdrington revealed only 'six or seven' players have contracts next season.

He told BBC Wiltshire: 'Any player who turns down a contract at the moment is a brave guy because it's a tough climate out there'. Widdrington says he wants to keep the nucleus of the team together, but he has a list of players he would like to sign. 'I'm not going to change my methods', he said. 'Call me a big-head, but I think my methods work. I know they work with the smallest budget in the league, with the most restrictions in the league'".
LAST OPPONENTS
News of Alty's end of season opponents comes from the Cambridge News, which says that "Adam Marriott will be handed his full home debut when Cambridge United entertain Hayes & Yeading tomorrow. The teenage striker was given his first start in last Saturday's 2-1 defeat at Salisbury after making 15 appearances from the bench this term, scoring twice.

Manager Martin Ling said he would give Marriott another chance, with Lee Phillips struggling with a groin problem... He said: "It might be a good time to find out if he can play together with Crowy (Danny Crow) because they're both intelligent footballers. 'He has got a reputation as an out-and-out goalscorer because he has got 90 goals for CRC. But he can mix it physically and although he isn't going to win overly many headers, with the ball to his feet or chest he can hold it in because his touch is superb. He can fetch other people into play and he's an exciting player'...

Fellow youngster Jordan Patrick will also be handed his chance from the bench for only the second time this season, with Scott Neilson expected to be fit despite missing training through illness yesterday... We want to finish the season with two wins so people go away with a more positive view of the season'".
BSP NEWS
According to the Northants Evening Telegraph "John Dempster has given Lee Harper a ringing endorsement ahead of the final week of Kettering Town's campaign. The loyal defender believes Harper should be given the manager's job for the next campaign... The playing budget is set to be slashed again over the summer following Imraan Ladak's decision to step down as chairman and withdraw his extra funding while the well-documented stadium issue shows no sign of being resolved...

Asked if he would be willing to take a reduction in wages, Dempster said: 'There's a good chance, yes. Obviously money is important but at the same time you have to be happy with where you are and what you are doing. I have a lot of loyalty towards the club but you also have to look after yourself and if you aren't hearing anything, you have to look elsewhere. We will have to see what the future brings but I can't speak highly enough about the gaffer (Harper) and Kettering Town as a whole. Unfortunately, no one seems to know what the future holds at the moment...

It would be fantastic to see Lee here next season," he added... 'He has his own ideas about the way the game should be played and he has different training methods that he hasn't really had the chance to do this season because we were too far in when he took the job'... Meanwhile, Kettering owner Ladak has paid his FA fine for comments made about referee Mike Riley and is now permitted to resume his role as chairman at the club. However, it is understood he will not be taking part in the day-to-day running of the club in the immediate future".

From the Uxbridge Gazette we learn that "Hayes boss Garry Haylock lambasted referee Amy Fearn after his side's draw with Kidderminster accusing her of not being fit to officiate Sunday league football. 'I have nothing against her personally but she was awful', he said. 'A referee has to be effective and know the game and she doesn't. She is not fit to referee Sunday league football. I would pay money to see the referee's report'.

Haylock is convinced Fearn was [put] in charge of the 2-2 with Harriers on Thursday night because of comments he made about the official following her handling of Hayes's game at Grays in March. He pointed to a number of incidents in the match...'Our guy has clearly got the wrong side of him and pulled him down but we got a free kick. It's beyond belief'. Haylock was also furious at Fearn for sending off Scott Fitzgerald, who scored both Hayes' goals. The striker received his second yellow card of the match after a tussle with Harriers' Luke Prosser.

He said: 'Prosser has raised his hands to Scott. I'll show you the DVD... We have been disrespected and let down by the officials who run this league. We've had to put a shift in on Tuesday and again tonight [Thursday] and we are getting nothing for it. We'll take a point after what happened'.

Fearn would not respond to Haylock's comments, only saying: 'It's not the first time he's criticised me and I'll take it on the chin'".
---
16 April 2010
GRAHAM ON GMR TONIGHT
Graham Heathcote was interviewed on BBC Radio Manchester (95.1FM) tonight; more on this to follow...
THURSDAY GAMES
Barrow 4 Crawley Town 1
Hayes & Yeading Utd 2 Kidderminster Harriers 2
League table
COTE'S COMMENTS
How Much Would You Pay for Mediocrity?

Welcome to Stevenage Borough for tonight's rather strange encounter, with it being on a Wednesday night. They have put themselves in a very strong position to win this league and I'm sure will be looking to move one step closer by beating us.

We must be prepared to make this their most difficult game. I believe it is every club's job to ensure you give it your best shot against the team or teams who are in a position to win the league; that way the Champions can say they have overcome everything that has been thrown at them, and they have earned the right to be the Champions. That is the reason I had to prioritise over the course of this week who to play and when.

With such a thin squad, it was and is going to be a really big ask to compete in the three games; Oxford, Stevenage and Luton. It was great credit to our side that we really pushed Oxford on Saturday and such a shame we were undone by the inability of people being able to recognise what is going on off the ball on corners and set plays.

The lads told me they had informed the officials about blocking of the ball but it either wasn't seen or wasn't given and it cost us. Constable got a free header 10 yards out in the middle of our box, their main striker totally free. Still I guess these officials are learning as well. I hope this one on Saturday understands and accepts what the lads were trying to tell him. I hope this so he can become a better referee for it and I do believe he had a very good game throughout, just a bit naïve.

Credit Oxford, they got away with it. We must be stronger tonight as this is a team that is very dangerous at set plays and clearly work at them, as you should when you are full time. I'm not sure all sides do though; I scratch my head at some full time sides in this league – budgets for the players of over £1 million per season and not even reaching the play offs.

I read Chairmen giving this sort of money out, saying we are overachieving – on a budget for players of £260,000 per season I would love to see how some of them would cope on that. I read, if it's true, Histon players taking home £1,000 per week and, if the truth be known, at a few other clubs in this league. For the financial layout there are some very mediocre sides whose only answer when they don't beat a part time side is to say they put everyone behind the ball.

Get real, for the monies some of you are paying out, you should be able to find a way past us. I promise you we won't be changing so you had better find the answers in the summer; maybe another £1 million on the budget will do it – I doubt it though".
FREE ADMISSION FOR CHILDREN ON LAST DAY
The Sale and Altrincham Messnger reports that "Altrincham FC are offering free admission for children in an effort to turn Colin Little's farewell appearance against Cambridge United into a carnival occasion.

One of Alty's greatest-ever goalscorers bows out in the final game of the season, at Moss Lane a week on Saturday, and the club are determined to mark an emotional landmark afternoon in fitting style.

They are urging supporters to turn out in numbers, to give the hugely-popular 37-year old a rousing send-off, and are doing their bit by allowing free entry for kids under-12 at turnstiles five and six.

The Alty Fans Forum website has already received nearly 100 posts, saluting Little's spectacular scoring exploits over the past six years, and manager Graham Heathcote said: 'Colin deserves every bit of praise that's coming his way, and we are determined to do all we can to try and ensure there is a bumper crowd against Cambridge. I would love to think that people who have watched him over the years, and marvelled at his finishing skills, will come along and show their appreciation.

'As a club, we will be paying our own tribute, so let's all get together and make sure it is an occasion that does justice to all he has contributed.'

Heathcote believes his side can learn from the way they were pipped 1-0 by Oxford last Saturday, even if there was a sense of frustration at the manner of the visitors' winning goal.

'Officials can be a bit naive at times, and that was the case again,' he said. 'Despite telling the referee at least three or four times to look out for our lads being blocked at set-pieces, Oxford got away with doing it to John McAliskey at the corner they scored from.

'When the ref came off at the end, I said to him: "Do you really think we would allow a 25-goal striker (James Constable) yards of space for a free header at a corner?" He replied "course not" but said he hadn't seen it. What can you do?

'Running a side like Oxford so close is still a good indication of where we are at and what is still needed to push on even further."
CAPTAIN'S LOG
From Press Officer John Edwards comes Robbie Lawton's latest column...

"No one likes losing at the best of times, but the manner of Oxford's second-half breakthrough made their 1-0 win all the harder to take in the home dressing room at Moss Lane last Saturday.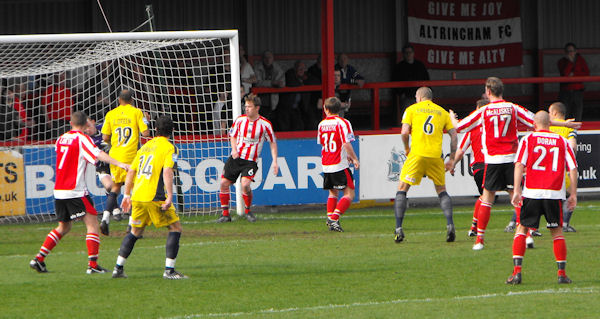 Left: John McAliskey appeals after Creighton had prevented him stopping Constable (far right) from scoring on Saturday. It may have looked like our marking was at fault when James Constable steered home an unchallenged header, but it should have been a free-kick to us, rather than a goal to Oxford, after a clever ruse that succeeded in hoodwinking the referee. A lot of the top teams do it at set-pieces, and Oxford are no different. They stick a man on the near post, and while all eyes are on him, they detail someone to step in the way of whichever opposing player is most likely to get his head on the ball and clear his lines.

In this case, it was big John McAliskey, and I would have backed him to win the aerial duel with Constable but for being totally blocked off and prevented illegally from mounting a challenge. What made it all the more galling was that Oxford were doing it every time, and I had already warned the referee about it repeatedly, prior to the goal. When he awarded it, I said: 'Ref, I've told you all game about blocking off at set-pieces, and they've done it again.'

His reply was: 'Ok, I'll have a look at it, Rob.' I thought to myself: 'Great, that's going to do a lot of good.' He actually said he intended having a look at the dvd, but I'm not sure what that was going to achieve. It was certainly too late by then to make any difference to us.

You can at least have a conversation with this particular ref without being told to go away, but it didn't alter the fact that the damage had been done and Oxford had registered what proved a winning goal by distinctly dubious means. They knew we had one or two big lads who can make their presence felt in the air, and the plan was to take them out of the equation without the referee noticing. Fair play to them, because it worked to perfection, but it did make it very, very frustrating from our point of view.

It was still an honourable defeat, in my book. We gave the ball away a bit too cheaply at times, but there was no need for any big inquest. Oxford are a top side, but we kept them at bay, other than that one set-piece, and should have come away with a 0-0. There were a couple of spells, in the early stages of both halves, when we were struggling to get a foothold, but we came back strongly and had them hanging on at the end, after going with three players up top and then making it four by adding Robbie Williams for the final few minutes.

I've made the point before, but it bears repeating. It is a measure of how far we have come that we had a team like Oxford on the ropes near the end. Who would have thought a couple of years ago that we would be picking holes in a 1-0 defeat against a team like them? They would have come here thinking the three points were a given, but not now. We pushed them all the way and were genuinely disappointed we couldn't quite grab a point for our efforts.

We have faced most of the sides chasing promotion now, and, for me, it will be Stevenage going up automatically, with Oxford and Rushden fighting it out to join them via the play-offs.

We could still have a say in how it all pans out, with tonight's home game against Stevenage followed by a trip to Luton on Saturday. Fatigue could become a factor - maybe that's why the manager brought off the two 'owd fellers, in myself and Colin Little, against Oxford! - but that didn't stop us putting in one of the best 45 minutes we've had for some time, on one of the worst pitches in the League, at York a week last Monday.

Again, there was cause for questioning the justice of a single-goal margin of defeat, not least the way Richard Brodie, all 6ft 3in and 14 stone of him, went tumbling twice in the game. It should have been a yellow card for diving on the first occasion, and the second should never have been a penalty, even if you have to give him some credit for the way he smashed it past Stuart Coburn.

You can't always point the finger at officials, but they do invariably have a big part to play on these occasions. Finally, Colin Little has had a fair bit of attention over the past week or so, and I'm glad to report the contents of Saturday's Captain's Log met with his approval. It's a must-read in the dressing room, and he said he was happy enough with the way he had been portrayed (he was made up, truth be told!) I think we'll draw a line under it there, though. No more mention of Col until after the end of the season!

Robbie".
SHAUN'S CAREER IS ON A FIRM FOUNDATION
The excellent Non-League 24 magazine, issue 6 (just out) has an interview with Alty's Shaun Densmore.. Asked what he could improve he says "Fitness and one-on-one defending". Confirming that his father Peter, also an Altrincham player in his time, is his biggest influence, Shaun adds that his career highlight was getting his first England C international cap. As for ambitions, "Like everyone, I'd love to play higher if I can. But I'm doing a degree in construction management at the moment and if I could work on that while playing part-time for Altrincham, who are probably the best-run part-time club in the country, I'd be happy".
NEXT UP
From our next opponents, Luton Town we learn that "The Hatters made it 12 games without defeat in the league keeping the pressure on leaders Stevenage and with the final games of the season now upon us Jake Howells is looking for a strong finish. The 18-year-old wide man scored a double against Histon on Tuesday in the latest fixture...

'My direct play as a winger has improved - getting crosses in and also scoring goals which I now have six of for the season'... Howells, who celebrates his 19th birthday next week, puts down the Hatters' work-rate in games as the key to why they have been scoring so many games of late...

'Everyone is getting on the score sheet at the moment. It seems that every shot we have is going in which is great. We've got good enough players to keep this high scoring run going to help us finish strong. We will certainly not be giving up on the title... I can't see us faulting [faltering?] in any way at the moment'".
BORO'S VIEW
After Wednesday's win at Moss Lane, Stevenage Borough have a match report. "Stevenage Borough left it late with a goal from Charlie Griffin as they overcame a dogged and resilient Altrincham side at Moss Lane on Wednesday night. Borough showed a resilienc[e] of their own though and with the minutes on the clock counting down, finally found a way through the sturdy Altrincham defence.

It was a difficult game, with two changes for Borough as Yemi Odubade and David Bridges were brought back into the starting line up. Chris Beardsley was not included in the sixteen.

The opening exchanges were spent with Borough trying to suss out a way past a team that had set up in a five-four-one formation and were packing the defence and midfield. Russell Saunders had replaced Stuart Coburn in goal and he was determined not to put a foot wrong as he didn't allow Borough a sniff in front of goal, collecting everything that came his way...

The second half proved just as difficult to break down the opposition... Altrincham then sent Borough hearts racing with two close efforts. Firstly Senior found acres of space behind the defence from a throw in, but rushed his effort on the turn, only managing to hit a weak shot towards Day... Clee sent an effort goalwards that deflected off of the back of Bostwick, beat Day, but came off the woodwork.

Borough took the hint, changed to a three-five-two formation and it began to pay dividends... With eighty-four minutes on the clock Borough made the breakthrough. Tim Sills headed goalwards from a good cross and Saunders, spilled the ball from the save, allowing Griffin to mop up and fir Borough into the lead... Stevenage require three points from their last three games to win their second Blue Square Premier title".

Alty fans will need no reminding that should Stevenage be promoted, it will leave Altrincham as the only remaining top-flight non-League club to have won the Conference (or its predecessor the Alliance) and never tasted Football League action. Stevenage won the league in 1995/6 but ground grading prevented their promotion. Alty won the title twice in 1979/80 and 1980/81 but under the iniquitous re-election system.
FLYNNZINE
Brian Flynn's latest Flynnzine article, from Wednesday, is reproduced here from The Robins' Review...

Fantastic stuff.....BUT "Have you ever won at Stoke?"

There is a small possibility that Stevenage Borough will have the opportunity to become champions of the Blue Square Premier tonight. If Cambridge achieved some sort of result at The Kassam Stadium against Oxford and Luton somehow capitulated at home to Histon, then Graham Westley's side will literally be on the verge of reaching their Holy Grail and a place in the Football League.

Whatever has happened last night, the Hertfordshire club has its destiny completely in its own hands with a maximum haul of six points required from tonight, away trips to Kidderminster and Gateshead and a home game on the last day of the season against York City. Many Borough supporters will feel that they should have become members of the Football League fourteen years ago, when they won the Conference but were denied promotion due to F.A. rules relating to their ground facilities and capacity.

The Football Association were deemed the bad boys then, but there is no doubt that the denial of Football League entry to three consecutive winners of the Conference (Kidderminster-1994, Macclesfield-1995 and Stevenage-1996) was the catalyst for the development of some of the fantastic stadia that we enjoy today in this league with Broadhall Way and Aggborough probably being the best two examples of this.

There was no great indication that Stevenage would have such a great campaign when we visited Broadhall Way last September. Robbie Williams's superb header from a perfectly delivered free kick by Sam Sheridan gave the Robins a first half lead and it was one that we looked like holding onto as Stevenage struggled to create clear cut chances against a very well organised Altrincham side. In the dying minutes,substitute, Danny Heffernan, unforgiveably, failed to hold on to the ball on a couple of occasions, the latter leading to a free kick from which Michael Bostwick headed an injury time equaliser, thus preserving Stevenage's proud home league record of not having been defeated at Broadhall Way since November 2008......a record that continued until Luton won by a single goal there last week.

It seemed at that point that the loss of their goal scoring talisman, Steve Morison, might be their undoing this season, but their outstanding defence which has only conceded twenty four goals in forty games has been the platform for their title charge and they have managed to score enough goals without ever being prolific at the business end of the field of play. One of Borough's major disappointments came the night before we were promoted at Stoke as they went down at The Britannia Stadium by a single goal in the Conference Play Off Final to Carlisle United. Our first game back in the Conference was at Broadhall Way, when the only real entertainment for Alty fans in a 3-0 defeat was singing "Have you ever won at Stoke". During the last five seasons our visitors have been knocking on the door of the Football League and at some time over the next eleven days, it looks like it is going to finally open....good luck to them!

Many people forget that Stevenage Borough are a relatively new club. They were formed in 1976 and were in Ryman League Division Two North as recently as the early 1990's. Casting my mind back, I have attended a number of their big games. F.A. Cup ties at Birmingham City (1997) and Port Vale (2009), F.A. Trophy semi final heartbreak at Watford against Woking (1997) and the same again in the 2002 Final as Yeovil were the victors at Villa Park by two goals without reply.

I wonder when we will meet again??".
SEAN'S SURGERY
"I'm pleased to say that there have been no fresh injuries reported following the Oxford game. However, Chris Denham was involved in a car accident on Monday morning and is suffering from whiplash so he is a major doubt ahead of tonight's game.

I would like to give a special mention to my assistant Stratos. Tonight is his last game as he has been asked to play football next season on Saturdays. He has been with me for the past 16 months in order to develop his clinical skills and learn more about how a medical department operates within football.

His commitment to both the club and myself over this period has been fantastic. He is very well thought of by the players and the gaffer. When someone shows the level of commitment Stratos has shown in order to improve as a physiotherapist, it becomes a pleasure to help develop and improve someone's abilities.

Over the past 16 months I have watched him develop into a confident and very competent physiotherapist and I am sure he will go on to have a very successful career within this profession. You are welcome to come back at anytime mate and thanks for everything you have done for this club"
BORO'S VIEW
The Northants Evening Telegraph reveals that "Justin Edinburgh has signed a new contract to stay in charge of Rushden and Diamonds... Edinburgh – who took over from Garry Hill 14 months ago – ended his caretaker spell just before the end of last season...

Chairman Cousins confirmed: "We think Justin is a managerial asset now and in the future... To be honest I didn't think we would get into the play-offs. But once the Christmas and New Year programme was out of the way, the belief developed and the team started expecting to win rather than just hoping... There has been a lot of anxiety around the club about survival over the last two years. Now it's a pleasure to come here and enjoy what has been achieved through hard work...

Our budget is in the bottom six of our division. At the start of this season we had very difficult times ahead of us financially and the budget was cut accordingly. We are paying considerably less than most of the other teams. We have achieved promotion performances on relegation prices. All the credit for that must go to the management team and players".
BSP NEWS
Former Alty loan player [from Macc. Town] "Jordan Hadfield could well have played his last game for Kettering Town. The tough-tackling midfielder has had his season ended prematurely after he suffered a dislocated elbow in a training ground accident on Monday. The Mancunian joined the Poppies during the January transfer window and proved to be a popular figure due to his no-nonsense approach...

And boss Lee Harper revealed... 'It was just one of those accidents that can happen on the training ground... He was in a lot of discomfort and went into shock so we had to call an ambulance and I know he was given morphine to control the pain. I spoke to him yesterday and it turns out he dislocated his elbow but also chipped a bone and damaged a ligament'... Hadfield's injury means the Poppies will go into their final three matches light on numbers after striker Kwesi Appiah was recalled from his loan spell by Peterborough United".

Kettering Town say that "Owner Imraan Ladak has paid his fine to the Football Association to lift his suspension and resume his duties as Chairman of Kettering Town Football Club".

The Worcester News confirms that "Kidderminster Harriers have offered a new contract to top-scorer Brian Smikle. Smikle, who has netted twelve times so far, is out of contract at the end of the season and manager Steve Burr is keen to keep him at Aggborough.... Burr added: 'We have put the offer out there and ultimately the decision rests with him in regards to what he would like to do. It is now a question of waiting for Brian and his advisor to come back to us but we have made it clear we need a decision quite quickly'".

And the Kidderminster Shuttle adds that "The Aggborough outfit are set for a summer of change as Harriers' new manager looks to revamp his squad. Burr has been handed a small budget to re-build and admits that with potential new signings set to shop around to get the best deal, he may have to hold his nerve until pre-season starts. 'The budget is quite tight to be fair so we're going to have to make sure we get the balance right in the squad', commented the manager...

'There's going to be a lot of players available in the summer and we might have to offer them something, let them look around elsewhere, before they come back to us in pre-season'. Burr has Robbie Matthews, player/coach John Finnigan, Jack Byrne and Chris McPhee contracted for next season, but he has not ruled out selling one of those quartet to bolster his spending power. He said: 'I will have to look at selling players if I get offers. It may be because of the budget and wages but we'll have to see if that situation arises'" .

Meanwhile, " A well-known local businessman is prepared to come to Kidderminster Harriers' rescue and sponsor the shirts for next season – but only on his terms. John Davies, who owns tool hire shop Hire It!, confirmed he is interested in backing the club for the second time. Harriers are struggling to find replacements for Law Plant Hire and Tim Rose Electricals, whose deals finish at the end of the season.

However, the entrepreneur insists that if the club want him to come on board and fill a £30,000 to £40,000 financial black hole in the club's finances they must accede to his wishes... 'I am prepared to sponsor the shirts again but on my terms', commented Davies. 'There are three things that must be done. We've got to get more of the fans on board and buying more tickets. There are also successful small businesses out there that the club could get involved. A group of those would be able to act together and put more than the £50,000 in that is required to be on the board. I also feel it's important that the fans and supporters have representation on the board'".

Down at the bottom of the table, the Gravesend Reporter says that "Liam Daish has called upon his Ebbsfleet United players to take their fight for Blue Square Premier survival to the last round of fixtures next Saturday. The Fleet must win against fellow strugglers Gateshead, and hope Forest Green Rovers and Eastbourne Borough drop points, this weekend to prolong their involvement in the scrap for safety.

That would then leave Ebbsfleet still needing another victory at Tamworth seven days later to stand a chance of an unlikely escape route and, even then, it might not be enough to salvage their status... 'We want to take it to the end as the other clubs have some difficult outings coming up; Eastbourne, for example, have Kettering away from home and entertain Oxford United on the final day. We need to do our jobs and get the three points on Saturday, which isn't going to be easy'...

Speculation persists that a number of BSP outfits' financial difficulties may spare the Stonebridge Road outfit the ignominy of dropping down a division... 'We're in this position for a reason, which maybe everybody will be told about afterwards', he added. 'But, now is the time just to knuckle down, concentrate on the next two games, give it the best that we can do and hopefully it will be good enough. If it's not, then we'll dissect the reasons why afterwards'".

"Joe Welch is waiting to hear if he will be brought in from the cold to solve Histon's goalkeeping crisis" reports the Cambridge News. "The Stutes' stopper has been frozen out since contract negotiations stalled last month, but with David Knight suffering a thigh injury in Tuesday's 6-3 defeat at Luton he could come back into the squad for Saturday's crucial trip to fellow strugglers Forest Green Rovers. With Danny Naisbitt on loan at Brighton, Histon's only other option would be to start with [ex-Alty loanee] Lance Key in goal, but the veteran keeper has not played a competitive match for the Stutes since the end of the 2006/7 season...

Welch said. 'I've not been involved with the first team since the disagreement over contracts, so it's up to the manager whether he wants to draft me in or go with Lance. 'Although I've not been training, I've been doing my own stuff and I'm sure I'd be fit enough. I'm capable of stepping in', he said".
---
15 April 2010
ALTRINCHAM 0 STEVENAGE BOROUGH 1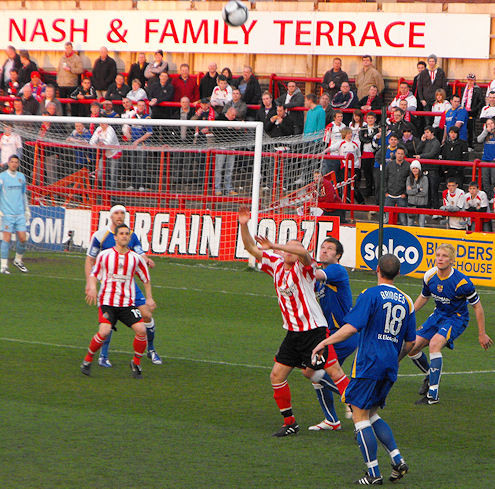 The Robins gave the champions-elect a very good run for their money. Indeed, Alty struck the bar twice. First Senior's header came back off the underside of the bar in the first half and in the second half a Nicky Clee shot deflected off Bostwick over the stranded keeper but again hit the framework.

Match report here.

Right: Peter Doran prepares to go up for the ball as Chris Senior looks on.

Alty drop a place, on goal difference, to 13th, having now lost four games against the top three this season - all by the same narrow margin of a 0-1 scoreline.
YANKEE
Last week's Saturday Yankee jackpot was not won, leaving a jackpot of £5,000 to be won, with the reserve jackpot at £2600. Four trebles were won, each netting their owners £50.
SATURDAY'S GAME
News of Saturday's opponents comes from the Luton & Dunstable Express, which says that "Richard Money was delighted with another Kenilworth Road goal feast as Luton dispensed with Histon... Town's stretched their unbeaten run to 12 games with their tenth win...

'I like it when we walk off the pitch with a clean sheet and I guess we've had a number recently. I suppose, if you're going to concede three it's better to do so in one game when we've scored six. Am I happy with conceding three goals? You bet you're life I'm not. We are going to keep pushing... We want to keep scoring goals like that at home and try and put as many points on the board as we can... Goal difference could decide it at the end of the day. The quality of our play going forward was of the highest order, and in my opinion far high above this league, and that's no disrespect to anyone.

'We scored six but it ould have been any score and that's pleasing. I'm not sure how many that is at home but it's a heck of a lot of goals... Teams are coming here and working really hard in the first 30 minutes, but we're playing with such an intensity that's it's difficult to maintain'...

It was the second match in a row at Kenilworth Road that free scoring Luton have managed six goals taking their tally in 24 goals in five home matches, and that has been in no small part due to the strike partnership of Tom Craddock and Kevin Gallen... Said Money. 'We'll get Claude Gnakpa back soon, and Liam Hatch and Matthew Barnes-Homer came off the bench, so there's plenty of goals around the team'...

It was Howells who orchestrated much of Luton's play and the teenager rightly took home the man-of-the-match award. His boss said: 'There's a nice partnership developing with him and Freddie Murray, and Craddock likes to go down that channel as well. We've worked a lot on it and they've got pretty good movement going... We are only a point adrift and a game in hand [Stevenage's] sometimes don't mean too much. Let's see how they go because they've got three very difficult away games [including last night at Moss Lane] coming up'". [At that point Stevenage actually had two games in hand on Luton].
OLD BOYS
Former Alty players in Wales include Matthew Berkeley who scored in midweek to keep TNS top of the Welsh Premier. Lower down the league, Mark McGregor scored the only goal for GAP Connah's Quay who won at Elements Cefn Druids.

Elsewhere, Peter Wright got two goals as Kendal beat Frickley in the UniBond Premier.
BSP NEWS
Despite the economic downturn, after Gateshead annOunced plans to go full-time next season, so too are another BSP club as the Surrey Herald reports that "AFC Wimbledon have announced an ambitious plan to go full-time for the 2010/11 season. Dons' boss Terry Brown aims to start the 'hardest rebuilding job of my life' in the summer by trimming his existing squad, while bringing in young players that are capable of becoming Football League players in the future.

The Dons Trust Board met on Monday night with next season's vision in mind and they have decided to take the huge step of going full-time... 'The fact that we are going to go full-time is a real bonus for me', said Brown. 'I would not have been interested in bringing in youngsters and they are then part-time that would have been suicide. The club has still got massive overheads in terms of paying for our stadium and we will not be in a position to compete with the top teams as we have nowhere near their budgets. We need to cut our cloth accordingly and I want to add one or two senior players to the spine of our team and bring in young, hungry players that we want to be Football League players.

It is going to be the hardest rebuilding job that I have had in my life because the finances are not there to replace senior players with other senior players and it will not be a big squad'.

Top scorer Danny Kedwell is one of the key players that Brown is determined to keep... 'The club is in a very good position', he added. 'The club has a mortgage to pay, but no debts and Eric and the board will not allow us to chase the dream before we are ready for it. We will be going from 38 weeks to 52 weeks a year with roughly the same budget and we have not finalised how we do it yet, but we had to bite the bullet at some time by going full-time and taking the club forward. But we are not a Luton and will not be doing it haphazardly and going for promotion next season. That is not what the club is about and we will be trying to build a squad that is capable of going into the Football League and staying there'".

An interesting snippet comes from our Hereford friends on Bullsnews. "Rochdale chairman Chris Dunphy claimed on BBC5 Live last night that Darlington's playing budget when they went into Administration last season was £2.2million".

From The Argus we learn that "Crawley boss Steve Evans was furious with his team's performance as they went down 1-0 to struggling Forest Green Rovers... A 75th- minute goal from Conal Platt, who had earlier missed a penalty, settled a scrappy contest and moved Green to within a point of Eastbourne Borough as the relegation battle intensifies...

Evans said: 'That performance summed up why we are not in the play-offs. It's great to beat the Lutons, Yorks, Wrexhams and Kidderminsters of this league. Mikey Malcolm played as if he was on Dubai beach instead of trying to earn a living at Forest Green and he wasn't the only one... We have made decisions on most of our players for next season but one or two have not done themselves any favours with this performance'".

The Cambridge News reports that "Alan Lewer admitted Histon were architects of their own downfall as they went down 6-3 at Luton Town... He said, 'When you score three goals away from home you expect to get something'... Compounding Histon's misery were injuries to Oyebanjo, who is now out for the season, and David Knight. The Histon keeper completed the 90 minutes, but was unable to take goal-kicks in the second half because of a thigh strain and is a doubt for Saturday's crucial trip to Forest Green".
---
14 April 2010
TONIGHT
The BBC has an interview with Stevenage goalie, Chris Day, about tonight's match at Moss Lane. In the interview, Day told BBC Three Counties Radio: 'They [Altrincham] are a decent team and have done well to survive at this level for so long. They have players that can score goals. We are very adaptable. We can play three, four or five at the back, and three, two or one up front. Whatever they do won't influence us. It's what we do to start off with, and if we do need to change anything we have the personnel to do it'".

According to the BBC, "Altrincham's top scorer Chris Senior will return after being rested for the 1-0 defeat by Oxford, with Colin Little expected to make way. Chris Denham should return from injury, while Nicky Clee (groin) is a doubt and Tom Kearney (broken leg), Matt Doughty and Dale Johnson (both knee) are out.

Stevenage could welcome winger Mitchell Cole and forward Yemi Odubade (ankle). Lawrie Wilson, David Bridges and Charlie Griffin are also fit as Boro look to edge closer to the title.
THANK YOU
The half-time bucket collection for the Strengthen Our Squad campaign raised £89.96 last Saturday. Many thanks to the donors and collectors.
COLIN'S COVER-UP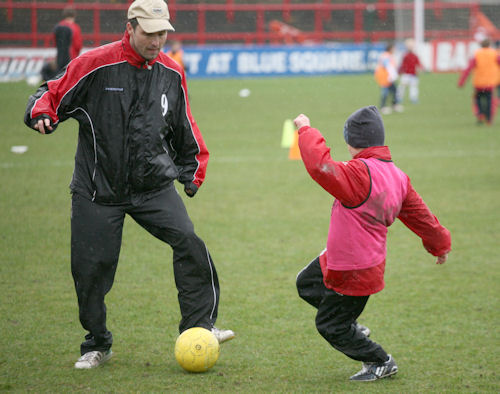 Right: Colin Little coaching at the recent Altrincham FC Easter Fun Week at Moss Lane. Photo courtesy of Gavin Rathbone of GR Photography.

In Monday's Manchester Evening News, Colin Little referred to his Manchester City tattoo, on his calf, saying, 'I think I'd better keep my legs covered up when I go there', alluding to his new job as under-13s' coach at Manchester United. He added, 'The lads in the pub might wonder why I'm going there because of my City links but that doesn't even enter my head. This is a job of work and a great opportunity.

I've been coaching the under-15s at Crewe and the manager, Dario Gradi, has been telling me to devote more time to that. I always resisted because I couldn't imagine not playing for Altrincham, but then this chance came along at United. Inevitably, Crewe get all the players the likes of United, City and Liverpool don't want so to be working with a better standard of player is going to be good experience... I had eight great years there with Dario and played alongside the likes of Dean Ashton, Robbie Savage, Danny Murphy and Neil Lennon'".

Colin's proudest moment was scoring in a 2-2 draw for Crewe at Maine Road in 2001... 'It was a weird feeling to score against the club I'd supported all my life and I went over to celebrate in front of all the City fans, only because my family were sitting at the Platt Lane End. But Dario thought I was trying to irritate the home fans and thought I might cause a riot so he substituted me a few minutes after that'...

Colin was named after Colin Bell, arguably City's greatest player... He has a DVD of every goal he has scored and before the season is over would like to sign off for Altrincham with one final addition to his collection".
END OF SEASON CELEBRATION
Grahame Rowley writes...

"Come and join us to celebrate our most successful season so far in the Blue Square Premier!

Our "End of Season Dinner" is to be held on Saturday 8th May at The Cresta Court Hotel. We have tried to price this dinner as low as possible to try and encourage as many fans as possible to join the players and management for this celebratory evening. Tickets are just £30 per person which includes a four-course dinner.

The evening consists of presentations, a raffle and a disco till late. Please see me, Karen or Sarah for more information and tickets oremail us.

So come and thank the players and management for all their hard work this season, in a party atmosphere.

Grahame"
BSP NEWS
Despite winning at league leaders Rochdale on Tuesday night, Darlington have been relegated to the BSP due to results elsewhere.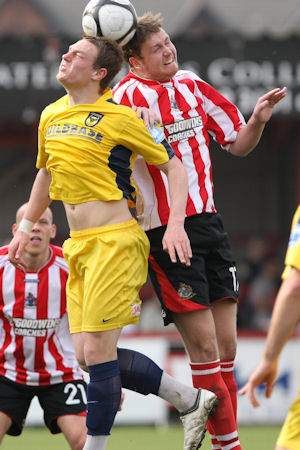 Left: John McAliskey in action against Oxford; photo courtesy of Gavin Rathbone of GR Photography

According to the Thurrock Gazette "Grays Athletic, relegated from the Blue Square Premier, are homeless after their Bridge Road ground was sold. Club secretary Joel Nathan confirmed the Blues are seeking a ground share with another club in the borough.

Nathan also revealed the club is hoping to drop down to the Ryman League, bypassing the Blue Square South and making Thurrock the highest-ranked club in the borough. He said: 'The ground has been sold, our last home game will be against Forest Green on April 24th. We won't be going in the Blue Square South, the ground sharing rates we've been quoted just don't add up. We are looking, if accepted, to be in the Ryman League next season. We have a few different options, but more than likely we will share a ground with another club in the Ryman'.

East Thurrock United is thought to be the most likely destination for a ground share... The Bridge Road ground has been the home of the Blues for 120 years... A spokesman from the recently-formed Grays Athletic 1890 Supporters Trust said fans were "stunned" by the news, and urged as many as possible to attend the last home game".

The Daily Post "Wrexham manager Dean Saunders yesterday met one of the players he hopes to bring into the club next season and will be watching two Blue Square Premier League matches this week to run the rule over other potential targets... even though he has yet to sit down with the club's directors to hammer out a budget that looks certain to be reduced in the coming 12 months.

Last week's statement that accompanied draft financial results for the year to June 30, 2009 said a net reduction of £750,000 in annual turnover that fell to £1.9m demanded attention and it went on: 'We believe our player and management expenditure of £1.4m was a valid attempt to regain League status, but it cannot be sustained at these levels of income'.

Acknowledging the need for restraint, Saunders said: 'We have yet to talk about figures, but there will be less money than this season... but I'm looking to sign five or six what I would call first team players... I'll be at the Oxford v Cambridge game tomorrow and I'm going to Barrow v Crawley on Thursday...

I'm waiting to see what the budget will be and that will determine how far I am able to go. It's important that we bring in players who have done well at other clubs and who can do the same job for us'. Already at the Racecourse and hoping to secure deals next season are former Swansea City stalwart Kristian O'Leary and the hugely experienced Aaron Brown...

This weekend's Blue Square Premier League match with Rushden & Diamonds – the final home game of the season – is free to all fans. Up to four tickets per person must be collected from the Mold Road club shop prior to the match and can also be ordered online".
---
13 April 2010
TUESDAY SCORES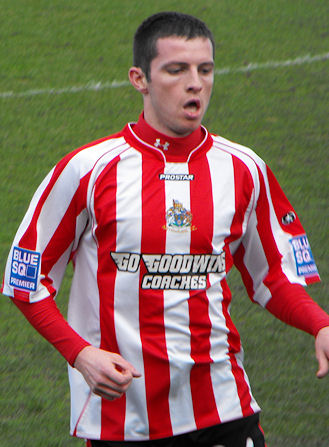 Right: Adam Carden has impressed now he has recovered from the illness that blighted his early weeks at Moss Lane.

Tuesday 13th April

AFC Wimbledon 0 Grays Athletic 2
Forest Green 1 Crawley Town 0
Luton Town 6 Histon 3
Mansfield Town 3 Rushden & Diamonds 2
Oxford United 0 Cambridge United 0
Salisbury City 3 Hayes & Yeading Utd 1
York City 3 Barrow 0
NEXT UP
Wednesday's referee for Altrincham v Stevenage Borough is Mr M. Brown. The man in charge on Saturday for Luton Town v Altrincham is Mr J. Adcock who reffed Alty 0 Torquay 1 on March 10 2009. And on the Tuesday following at Salisbury, the man in black is Mr S. Creighton, who we saw for Canvey island 1 Alty 1 on October 8 2005

From Hertfordshire's Comet we read that "Stevenage Borough boss Graham Westley insists Luton's failure to register three points at Tamworth on Saturday will not alter his side's incentive to win all of their remaining league games...

'All we're thinking about is winning our next game', said Westley. 'We did the job we had to do against Forest Green but it was never going to be easy because they've been on quite a good run of form... We were without Yemi [Odubade] which meant we couldn't get in behind their defence very often but it was great to see [ex-Northwich man, Joel] Byrom get forward and score his goal... Boro: Day 6, Laird 7, Ashton 7, Roberts 7, Henry 7, Long 6 (Bridges 6, 60), Bostwick 6, Drury 7, Byrom 7* (Griffin 75), Beardsley 6 (Wilson 7, 50), Sills 6. Subs not used: Bayes, Vincenti... 'We know what we have to do now to go to Altrincham and get the three points'" said manager, Graham Westley.
NEXT SATURDAY
On Saturday, Alty are at Kenilworth Road where Luton Town report that "The Hatters will wait to see results of a scan on Claude Gnakpa's hamstring to see if the Frenchman can face Histon at Kenilworth Road on Tuesday. The Frenchman hobbled off during Saturday's 1-1 draw at Tamworth with the injury that manager Richard Money revealed had been affecting the 26-year-old in recent weeks... Only Lewis Emanuel and Kevin Nicholls remain sidelined through injury...

'I've said all along, while everyone else is getting carried away with what's happening to other teams around us, that our objectives stay the same' [manager, Richard] Money explained... 'We want to get as many points as we can, finish as high as we can, put as much pressure on the team above us and enter the Play-Offs in good form... It takes some team to win 13 matches in a row and to be honest I'm not surprised we slipped up somewhere... We're going to see about Claude', Money said. I don't think it's serious but he's had a troublesome tight hamstring recently but carried on and he could play tomorrow'".
YOUTH WIN
Alty Youth won 2-1 at Salford City on Sunday to go top of the NW Youth Alliance Premier Division table.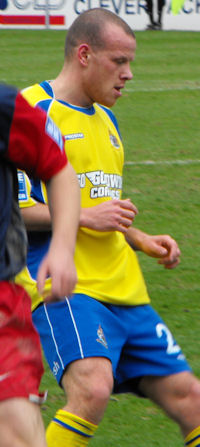 Left: Peter Doran is establishing himself well at Altrincham following his arrival from Welshpool Town.
NOW ON SALE
Issue number six of the Non-League 24 magazine is now on sale.
OXFORD'S VIEWS
The BBC has brief highlights of Oxford v Alty.

The Oxford Mail reports that "James Constable's 21st goal of the season - or 24th if you count his hat-trick against Chester - brought United a second successive win which consolidated their place in the play-offs. It was the very least Chris Wilder's team deserved after they dominated so much of the first half.

In the opening 30 minutes it was almost one-way traffic for the visitors, but they couldn't apply the finishing touch to some promising moves. Yet once they got the goal, the confidence came flowing back, and so did their short-passing game as they moved the ball around the pitch beautifully, with their opponents often unable to get near it...

Altrincham had a Peter Crouch-like 6ft 6in beanpole up front, in John McAliskey, who at times showed moments of surprising skill for such a big man, interspersed by other moments which fully explained why he was playing four divisions lower than Crouch...

So solid had United been defensively, that it took Altrincham 71 minutes to test Clarke with a shot [they seem to have forgotten a shot by Doran as early as the first five minutes], substitute Chris Denham smashing an angled drive that the keeper saved high to his left.

The home side had a spell of possession late on and Clarke produced an excellent punch under pressure from Rob Williams to deny them what would have been a very harsh equaliser".

And "Left back Anthony Tonkin thought Oxford United got back to looking really solid away from home in Saturday's 1-0 win at Altrincham... The home side didn't manage a worthwhile shot at goal until the final 20 minutes, as the U's completed a Blue Square Premier double over them...

'We were unlucky not to get a half-time lead, we looked really solid – I couldn't see them as too much of a threat even though they're a good team and not many teams come here and win'...

Manager Chris Wilder [said] 'I thought we knocked it about well. We just tried to over-complicate things, instead of thinking what's got us into this position and keep knocking on the door... I was a bit disappointed that we didn't open them up a bit more with the possession we had... On a bouncy, bobbly pitch [???] away from home they stuck to their task...

'I know other teams have come to Altrincham and struggled to break them down. People talk about awards for winning the league and getting through the play-offs, but what their manager [Graham Heathcote] has done, to be competitive in this league, is a good achievement from him'".
BSP NEWS
Sport4Salisbury reports that "Reece Connolly has been praised by Salisbury City boss Tommy Widdrington for his contribution to the club since he arrived on loan from Aldershot during the transfer window. The Coca-Cola League Two side have recalled the youngster who played 15 times for Whites".

Mansfield Town confirm that "Two first year professionals and five second year scholars have been released. Strikers Grant Ryan (19) and Jason Bradley (21) are the junior professionals making the move out of Field Mill, while youth scholars Rob Ludlam, Sam Purcicoe, Nick Langford, Andreas Iaonnou and Elliot Atkin have also been released".
---
12 April 2010
OXFORD GAME
GET YOUR ALTY MERCHANDISE NOW!
Below are images of a range of new Altrincham FC clothing merchandise for 2010-11, supplied by Ian Senior's Sensports Kits. You can order this from the club shop on matchdays or by ringing the club on 928-1045, or by e-mail.

The 2010-11 home shirt remains the same as this season's, supplied from Prostar in conjunction with Sensport Kits. The polo shirt shown below which is predominantly navy (with red/white trim) will be worn next season as the players' travel shirt.

You can click on each image below to see an enlargement.
Left: Altrincham FC
2010-11
HOODIE zip or non-zip
black, navy, red, marl grey or dark grey
Adults £25
Junior £20
Left: Altrincham FC
2010-11
GOALKEEPER'S SHIRT
Adults £35
Child £30
Left: Altrincham FC
2010-11
AWAY SHIRT long or short sleeved
Adults £35
Child £30
Left: Altrincham FC
2010-11
POLO SHIRT navy
Adults £22
Junior £18
Left: Altrincham FC
2010-11
POLO SHIRT red/black/white
Adults £22
Child £18
Left: Altrincham FC
2010-11
POLO SHIRT all red
Adults £22
Child £18
Left: Altrincham FC
2010-11
SWEAT SHIRT red/navy
Adults £25
Junior £22
Left: Altrincham FC
2010-11
SWEAT SHIRT navy
Adults £25
Child £22
Left: Altrincham FC
2010-11
T-SHIRT navy & red
Adults £22
Junior £18
Left: Altrincham FC
2010-11
LADIES' TOP
Adults £20
Left: Altrincham FC
2010-11
TRACK SUIT
Adults £45
Child £38
Top-only £33
Left: Altrincham FC
2010-11
TRAINING JACKET
Adults £35
Child £30
ROBBIE'S CAP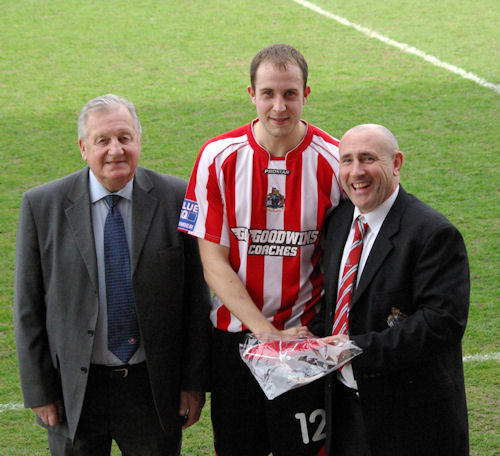 Right: Rob Williams received his Wales semi-pro international cap at Moss Lane during half-time of the match against Oxford United. He is seen here receiving the cap from Geoff Goodwin (right), Alty chairman, and Bill King, from the Football Conference.
STAFF v SUPPORTERS
Grahame Rowley writes:

"The date has been set for the annual Staff v Supporters game at Moss Lane. It will take place on Monday 26th April starting at 7.30pm. The staff team have already signed up Mr McKenna to lead the attack so the supporters' team had better watch out. Mark Eckersall has kindly volunteered to lead the supporters into action so if you're interested in playing in the team please e-mail him or phone the office on 928-1045 to register. Admission to this classic will be free so – you've watched the rest now see the best!!!!!!!"
COLIN LITTLE
From the Robins' Review:

Colin Little – A True Alty Legend

"Colin Little is calling time on his illustrious Altrincham career to take up a post on Manchester United's coaching staff. The 37-year old, one of the most accomplished goalscorers in Alty's history, admitted it will be a 'massive wrench' leaving Moss Lane at the end of the season after accepting an invitation from Brian McClair to coach United's under-13s.

'I have loved every minute at Alty and have friends for life in people like (manager) Graham Heathcote, (chairman) Geoff Goodwin and (vice-chairman) Grahame Rowley and his family,' said Little, who announced himself with a 38-goal haul in 2004-05 and was the Conference's third-top scorer with 21 goals in a struggling side in 07-08.

'I have been coaching at Crewe the past three years, and Dario Gradi has kept chipping away at me to devote more time to that. I always resisted, because I couldn't imagine not playing for Alty, but then this opportunity came along at United. 'It's a step down in a way, because I'm going from being in charge of an under-15 team to assistant coach of under-13s, but let's be fair - United don't come calling every day. To get a foot on the ladder there was too good to miss, and leaving Alty, and Crewe, was the price I had to pay.

'I have played five-a-sides with ex-United players like Frank Stapleton and Stuart Pearson for a few years and got to know Brian McClair quite well. They have asked me to get on board before, but I just couldn't give up being an Alty player. 'This time, it just seemed the right moment. I've had one or two injuries this season, and the other lads have done so well, and it has been difficult getting a run of games under my belt. What softens the blow of leaving for me is the progress we have made.

'I can remember training at the back of Newall Green School in the early days and struggling to take on big clubs with massive budgets. But we're up there matching them stride for stride now. I'm leaving the club in fantastic shape, and that makes it a little less painful.

'All I hope now is that I can perhaps pop on, even from the bench, and try and nick a goal. I get a bit embarrassed if there's a lot of fuss, but I'm dying to do that before I finish.'

Alty boss Heathcote said: 'Colin is the main reason we have survived in the Conference. He has been a fantastic servant to this club'".
ANOTHER PERSPECTIVE ON COLIN LITTLE
Another perspective on Alty's leading marksman for the past five seasons comes from captain, Robbie Lawton in his "Captain's Log" column:

"It's not just opposing defenders who can look forward to a quieter time when Colin Little calls a halt to his outstanding Altrincham career at the end of the season.

There are any number of players from our own dressing room who will be spared an ear bashing, now Colin has understandably decided a coaching role at Old Trafford is too good an opportunity to turn down.

As a close pal who has admired his unrivalled finishing skills down the years, I will be as sorry as anyone to see him go. It is a fact, though, that he does believe in being a bit vocal out on the pitch. In fact, anyone newly arrived at the club could be forgiven for thinking he's a right pain!

He's anything but, of course, as becomes evident when you talk to him afterwards and realise he is passionate about getting the best out of everyone around him and ensuring the team are performing at their maximum.

He wants to pass on his expertise, and if he does it in a way that sounds a bit harsh, then tough! It does come across that way sometimes, and not everyone takes kindly to it. I'm thinking Steve Bushell, in particular, here. There'd be murder going on between him and Colin at times over something as simple as a misplaced pass or a ball played to the wrong area.

Even now, Col goes berserk if something isn't done to his liking, but it's all forgotten afterwards when a quiet word of explanation leaves you nodding in appreciation at how he insists on standards being kept at the highest possible level. Few of us have escaped a sharp reprimand during a game, but if we won't exactly miss that, we most certainly will miss the quality and technique that sets him apart from the vast majority at this level.

He has unbelievable feet and balance, and countless players, past and present, have remarked on how he is one of the best volleyers of a ball they have ever seen. He's also one of the most two-footed. I would challenge anyone who doesn't know him to watch him for 90 minutes then tell me which foot he favours.

It's actually his left - I think! - but you will sometimes see him take corners and even penalties with his right, so comfortable is he with the ball on either side.

He had already done some amazing things and scored some unbelievable goals before I arrived at Moss Lane, and I soon saw for myself why he was so revered by everyone at the club.

It is no exaggeration to say there have been occasions he has kept us in this division single-handedly, and no-one will forget his exploits in the 2007-08 season, when we finished in the bottom four yet he was third-top scorer in the Conference with 21 goals.

It almost defies belief that when the team are clearly struggling that much, and not creating anything, he can still be banging goals in left, right and centre. There were times when there seemed nothing on, yet suddenly he'd have the ball in the back of the net, and you'd be left thinking: 'Where did that come from?'

In a way, that could be one of the main reasons he can't help raising his voice at times. He assumes others think at the same speed he does, when, of course, they don't. He is one or two moves ahead of the rest, and a bit of frustration creeps in when others aren't on the same wavelength. What else will we miss about Col? I think an awful lot of him on and off the pitch, but I would have to say he is a full Manc, with all the behavioural traits you would expect.

He's the worst-dressed feller I've ever known, for one thing. I'll never forget the first time I met him after joining Alty. He was wearing his black club suit, which looked ok even on him, but it was topped off with brown suede shoes and a biege cap!

He's never been one for brushing his hair, either. If he does have pots of money, as he would have us believe, I've no idea what he spends it on. Not clothes or grooming, that's for sure!

He can expect a great send-off between now and the end of the season, but I just know he's going to struggle with that. For someone with a mouth on him, he does get embarrassed easily. The Setanta TV interview he did a while ago was a classic. He was stuttering and stammering so much, I thought his teeth were going to fall out! I don't know whether he fancied the girl asking the questions, or it was us putting him off in the background, but it was a massive wobble!

Finally, a word about Greg Young's goal celebration with Chris Senior against Kidderminster. It confirmed what the rest of us have long thought about the Yorkshire lads. You've got to be from Yorkshire to understand their humour. I find I'm quite busy during the day, but they clearly have enough spare time to sit around thinking up things like that. Too much, if you ask me!

Robbie"
ALL CHANGE FOR ALTY
Grahame Rowley writes:

"We have available for collection 'All Change for Alty' money boxes. This scheme was started last year for fans to collect small change and was a great success raising in excess of £1000. Seventy five boxes were distributed last year and this year we aim to distribute in excess of 100. Please consider taking one home – it's a great way to help fundraising with very little effort. Your support would be much appreciated".
DAY IN THE LIFE...
The latest article in the Robins' Review series entitled "A Day in the Life" comes from Derek Wilshaw...

Life of the Club Secretary

With the end of the season approaching and having been reminded on many occasions by the programme editor, Grahame Rowley, it is time I made my contribution to this section of the match day programme.

As a Club Secretary there are various facets within the job including being the Club contact with the Football Association (FA), The Football Conference (FC) and the Cheshire County Football Association (CCFA). These three organisations all have different roles to play in the running of the Football Club. A summary of their involvements maybe of interest:-

The FA:

If Graham Heathcote wishes to place a player on contract, as in most things in life, a set of forms are completed with strict rules as to when contracts can expire. The FA do acknowledge receipt, therefore, it is known if everything is in order. If necessary, before submission of these forms they, if requested, obtain International Clearance!

As one would expect the FA Cup and FA Trophy competitions are administered by the FA which generates more emails - unfortunately we have not received too many in these competitions of late. Regular correspondence is received from the FA Discipline department for all cautions, sending-offs and records are kept for when suspensions are imposed.

The FC:

All players' contracts or non-contracts are registered with the FC each season with the onus on the club to ensure that a player is correctly registered. It is pleasing to see that the FC have introduced a database which is now very easy to check that the registrations have been received and recorded. With 68 clubs to administer the FC generate much correspondence on general matters which is either for information or action.

The CCFA: For the club to play football, affiliation to the CCFA is required on an annual basis. Thank goodness the Junior Section of the club have their players on a database, as names and addresses of all registered players within the club have to be submitted. The CCFA also administer the Senior Cup Competition.

Two important roles of the Club Secretary are taking money to the bank, (it would be great if I needed to go more frequently), and possibly the downside of the job, is paying the bills!!! On the plus side of this and unlike years gone by, all suppliers and HM Revenue & Customs, are paid on time. We no longer dread the phone ringing or the postman arriving. On a daily basis many one-off and regular jobs crop up; I will not bore you with the details.

One job that is very important is done by Karen who sends emails to Referees and their assistants for all our home fixtures and monitors their acknowledgements.

Everyone in the ground today will have an opinion on the "Man in the Middle" so I will give you mine. In the FC there are some very good referees and as in any walk of life some have not yet reached that level. Being a Club Secretary is a job, as is playing football and refereeing at Conference level. Many people do not have sympathy for referees, but I do! At our level an assessor attends every game and like the referee and his assistants arrives two hours before kick-off time.

In addition the games are filmed and the Assessor receives a DVD t help him with his written report. The referee, his assistants and the assessor have a pre-match discussion and post-match debriefing. I have thought long and hard but cannot bring to mind where anywhere else throughout the working period a person is constantly observed, filmed and then is the subject of a written report.

Referees know that they need to receive constantly good reports if they wish to advance up the ladder and the main way to do this is to please the Assessor and therefore are unable to apply the unwritten law of football, 'common sense'. I could carry on about the role of the 4th Official and what they add to the game but thought that this was enough on the subject for one article!

A final point, please don't forget to order your season tickets...

Derek Wilshaw.

Deatils of season ticket prices and an application form are here.
SEAN'S SURGERY
Sean Riley, the Alty physoio, writes:

"With our bad luck this season regards injuries I was fearing the worst, having two games in 48 hours over the Easter period. Thankfully no injuries were reported that caused concern ahead of today's game. Only Ryan Brown picked up a slight ankle problem that should be fine for today.

It was good to see Smithy back in action following his hamstring injury and he had no reaction following Monday's game at York. You may be wondering where Nicky [Clee] has been for the past few games, He has picked up a virus that has made him quite ill and as the virus is quite contagious it was wise to keep him away from the other players so they too did not pick up the bug. Hopefully Nicky will continue to regain his fitness ahead of the game.

By the time you read this Tom [Kearney] and I will have seen the consultant yesterday were a further x-ray will be taken of Tom's leg to see if the new bone is growing as it should be. Matty [Doughty] is doing well following his cruciate operation, and Dale [Johnson] continues to make good progress from his cruciate surgery, as most of you will have seen him working hard with running drills before games".
---
11 April 2010
OXFORD GAME
There are a couple of photos from the game in Saturday's news, below...

Oxford United have their match report on Saturday's win at Moss Lane.
ROBBIE'S VIEW
In the NLP today, Alty captain Robbie Lawton "was upset by the way the winning goal was conceded. 'Credit to Oxford...They were a good side and made us look second best for much of the game. But they were deliberately blocking our players at set pieces. I had spoken to the referee a couple of times, but it happened again with Mark Creighton deliberately impeding John McAliskey. That's what created the space for their goal. We had good spells, but some players were giving the ball away far too often and our delivery at set pieces was probably the worst of the season. On the plus side, we were never carved open."
COLIN'S DECISION
Also in the NL Paper, Colin Little reveals the sacrifices he will make to take up his new job at Manchester United as Under-13s assistant coach. He revealed, too, that United "have asked me before but I just couldn't give up being an Alty player. This time, it just seemed the right moment... To get a foot on the ladder there was too good to miss. Leaving Alty and Crewe [where he coaches] was the price I had to pay. People keep saying I'm getting on a bit but I would like to think the old potency is still there. While coaching is the future, there is still a bit left in the tank as a player" he stated.
OLD BOYS
In a remarkable match at Ossett Town, Lee Elam scored one for Bradford PA who came from 1-4 down to win 6-4! Ex-Alty men at the Bower Fold have not had a happy time since Jim Harvey's arrival. Recent signing Danny Adams has now left as has Richard Battersby (due to injury), whilst leading scorer Joe O'Neill has only played a peripheral part recently. Joe got 11 minutes as a used sub in Celtic's 5-1 defeat at Corby. However, ex-Alty loanee Jody Banim did score Celtic's goal.

An Alty trialist last summer, Jake Moult has moved to Alfreton from Stafford Rangers and was on the mark on Saturday. Carlos Roca missed a penalty for FCUM and Derek Goulding has left AFC Liverpool's managership by mutual consent. Former Alty Reserve Conall Murtagh scored for Aberystwyth Town on Friday night.
BSP NEWS
Grays Athletic vice-chairman Andy Swallow confirmed to the NL Paper that the club faces administration and a drop to the Ryman. He said, "We're looking at the Ryman Premier if we can stabilise over the summer". Also the NLP says that the club "have been evicted from The Rec [their ground] after more than 100 years... It has been sold by the landlords for housing. Mr Swallow added, 'We're likely to go into administration in the very near future. That's a formality as we don't have a penny. We will play our last game at the Rec. on April 24. To be honest, I think the Ryman is where we belong'"

Harsh words for Histon CEO Allen Soraff are reported in the NLP from former chairman Tony Roach. "I may have resigned but I was pushed into it. I had a big disagreement with the financial director. The state of the books is an absolute disgrace. The man (Soraff) does not know what he's doing and actually told me last week he doesn't even know how much the players are earning...

I got the playing budget down from £800,000 a year to £350,000'". As for manager Alan Lewer, Soraff's suggestion that former boss Steve Fallon might return is anathema to Roach. "'I find that beyond disrespectful' Roach added. 'There seems to be an obsession with Steve Fallon. I am not saying he didn't do great things but before he left he was working with a £60,000 a month budget'". Soraff retorted that "'We will not wash our dirty linen in public'".

Blue Square Football says that "Cambridge United manager Martin Ling insists that he will have the cash to create a promotion-chasing outfit next season. The 43-year-old had a productive meeting with the club's board this week and believes he will be able to significantly boost his squad for the 2010/11 campaign.

Ling told Cambridge News: 'I was told there would be a three-year budget with the same figures each year when I came here, and that's been ratified. I'd say it's in the top eight budgets...and I'm happy with that, although I'd say it's nearer eighth than first. In terms of 'is the amount I can spend better than when I came here?', I'd say yes. When I came here I thought I had an imbalanced squad and there were people earning really good money for not doing a good job, and that was the difficulty... I'm not going to name names, but it doesn't take a rocket scientist to work out some of those players aren't at the club now'".

The Luton and Dunstable Express says that "Luton Town boss Richard Money insisted it was a point gained, rather than two dropped as the Hatters' nine-match winning run came to an end. The draw with Tamworth... leaves Luton four points behind their Hertfordshire rivals having played an extra game...

'There seems to be, judging by people's reaction, a feeling that it's all over. Let's hope Stevenage think that too', he said. 'People need to take a step back and have a look at where we were 11 games ago. We've taken 29 points from the last 33 available and there's still three games to go. You never know how important that point might turn out to be at the end of the season. Stevenage have now got to go to Altrincham, Kidderminster and Gateshead... We've seen today that games like that are not easy...

Despite scoring an amazing 36 goals in their nine game winning streak, the Hatters found it impossible to break down the hard-working Midlanders. 'I always thought it was going to be the toughest of our remaining fixtures" [which include Alty at Kenilworth Road!] said Money...

To the naked eye the Lamb Ground looked like an ideal green playing surface but afterwards Money – who used to see his reserves play at Tamworth's stadium when he was Walsall boss – explained how bad the sloping pitch was. 'The pitch looks nice from here', he said. '"But it's terrible'...

Money also revealed that Claude Gnakpa, who hobbled off in the first half, should be fit for Tuesday's game with Histon despite picking up a hamstring injury. The Hatters boss also explained his reason behind making two changes from the side that beat Grays 6-0 on Easter Monday. 'Kevin Gallen felt his hip in training on Friday while we thought Shane Blackett alongside George Pilkington gives you that bit of left-foot and right-foot balance at centre-half'".

Bulls News" tells us that "Wrexham are the latest side to announce cost cutting measures for next season after they announced losses of £1.5million for last season. A Directors' statement accompanying the accounts says the club is debt free after they sold development land around the stadium for twice the estimated value to the club's parent company. Their playing budget for the Conference season was £1.4million, but they finished 15 points adrift of the play-offs".

The draft accounts to 30 June 2009 are reported on the Wrexham site. "We would like to comment on the figures and various matters surrounding them as follows:

The Club is Debt Free: Whilst there are normal trading related creditors disclosed in the accounts, plus a £145k loan due to Dickens Group (which is interest free and for which there is no pressure regarding repayment), we believe that these do not constitute 'debt' and as such the company is therefore debt free...

The Club owns the Racecourse Ground and the training ground at Gresford... Wrexham Village Ltd acquired the development land from Wrexham FC for £6m. This amount was sufficient to pay off all the debts resulting both from the pre and post Administration period and the losses incurred thereafter. The land had been valued by professional valuers in March 2009 at around £3m...

As can be seen our income for the year fell by nearly £1m compared to the previous year (including a £300k drop in match receipts plus a drop in League funding). We were able to reduce costs by £250k. The principle reason for the continued losses was our determination to offer both Brian Little initially and Dean Saunders thereafter, sufficient funding to seek promotion. Obviously, this has been unsuccessful. We believe our player and management expenditure of £1.4m was a valid attempt to regain League status, but that it cannot be sustained at these levels of income...

As with previous years no Director has been paid for their services...

With the levels of income falling due to both attendances and League support, we cannot maintain the current levels of player and management expenditure. The summer of 2010, with most player contracts ending, allows us the opportunity to have a fresh and realistic approach to next season's squad. Discussions are already underway with Dean Saunders regarding this".

The Wrexham Daily Post adds that "In a possible foretaste of a new era of austerity next season, Wrexham FC make an early morning start for their Blue Square Premier League match at Grays Athletic and will have a pre-match meal without leaving their luxury coach. An overnight stay and hotel-prepared lunch have gone by the board mainly because the Dragons have little more than pride to play for".

"Saunders believes he and his players have learned the lessons and will return a much stronger, if leaner, outfit after the summer break. 'The club has had some dark days but I'm trying to get it going the right way', added the Racecourse boss. 'That starts with the attitude of myself, the coaching staff and the backroom team to take up the task with drive and determination. We haven't finished this season as high up the league as I would have liked, but there hasn't been a team that has scored more than two goals against us. On the other hand we've dropped about 16 points as a result of conceding goals in the last few minutes of matches we should have won, so that needs to be addressed. I've learned a lot and I've made mistakes. I've been right about some players we've brought in and wrong about some others who cannot cope with this league'".

This is Sussex reports that "Crawley Town co-owner Susan Carter has revealed that the club are in negotiations to sell naming rights to the Broadfield Stadium... Carter added that Crawley needed to find additional income to be able to continue to play full time. Whether the Reds would be able to sustain a full time club on gates of 900 had been hotly debated all season by the club's board, with the final decision only being made yesterday (Tuesday).

Added Carter, 'We felt that going part time wouldn't lead to anything other than relegation as it would be impossible to compete with some of the bigger sides in the division... We are still ambitious and want to push for promotion but we need our supporters to be behind us more than ever before. We will be holding a fun day on April 24, [Crawley were due to play Chester City then] and want as many people as possible to come down. The team will be playing a supporters' XI and one fan will even get to manage the Reds for the day in place of Steve Evans'".
---
10 April 2010
ALTRINCHAM 0 OXFORD UNITED 1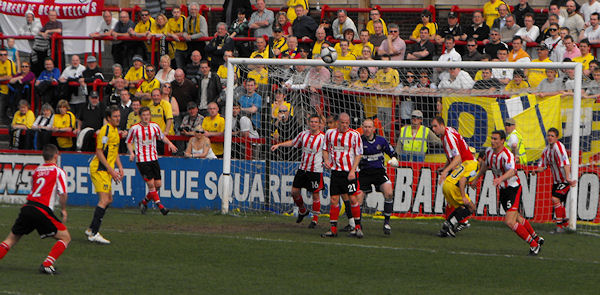 Above: Alty clear their lines in the first half.

After holding the visitors to a goalless first half, Altrincham will have been disappointed to have lost this game early in the second half to slack marking from a corner, which allowed James Constable a free header (53 mins). Oxford had the better of the first half without forcing Stuart Coburn into any really serious action, though an Oxford header did strike the cross bar. Alty had rotated their small squad with a view to tough games against the top two (Stevenage and Luton) later this week, so leading scorers Chris Senior and Chris Denham only joined the game just before the hour mark. With Williams also pushed forward, Alty pressed hard in the closing stages but could not get an equalizer. Brown's excellent burst forward was one of their best chances but his final shot was a disappointment. But overall there could be few complaints at the outcome, as Oxford became the only side to beat Alty home and away this season.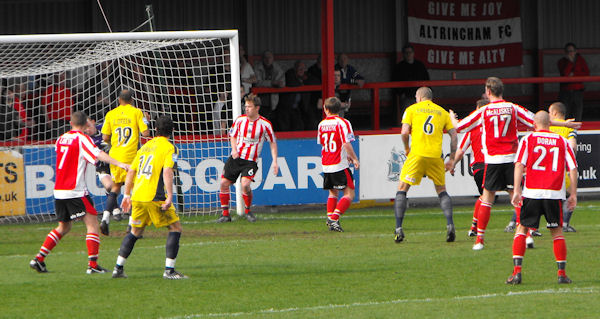 Right: Constable (in yellow, far right, with captain's armband) heads the only goal of the game.

Alty line-ups

Saturday 10 April

Altrincham 0 Oxford United 1
Eastbourne Borough 3 York City 1
Gateshead 0 Kidderminster Harriers 2
Grays Athletic 0 Wrexham 2
Hayes & Yeading Utd 1 Barrow 1
Histon 0 Crawley Town 1
Mansfield Town 0 AFC Wimbledon 1
Rushden & Diamonds 2 Ebbsfleet United 0
Salisbury City 2 Cambridge United 1
Stevenage Borough 2 Forest Green R. 0
Tamworth 1 Luton Town 1
SATURDAY'S GAME: ALTRINCHAM v OXFORD UNITED
There will be the usual live Matchday Updates on Saturday for the game against Oxford United.

Before today's game against Oxford United, Alty defender Robbie Williams will be presented with his Welsh international semi-pro cap. Robbie made his debut against Portugal last month and scored after coming on as a substitute.

Oxford United manager "Chris Wilder faces a striking headache ahead of his side's trip to Moss Lane on Saturday" according to the Oxford United website. "Matt Green is available for selection after completing his one match suspension... The pacy forward is already pushing for an instant recall to the starting line-up. James Constable and Jack Midson remain available... though John Grant could also come into the frame...

In midfield Simon Clist could return after recovering from a head injury sustained during Good Friday's trip to Hayes & Yeading. Recent match-winner Alfie Potter is expected to be fit while Kevin Sandwith should also be available after taking a slight knock during the match. Lewis Chalmers could push for a place against his former side, and the manager will also have to decide whether to move Anthony Tonkin into his familiar left-back role after using him in midfield".

The Oxford Mail adds that "Wilder will be doing everything to get Chris Hargreaves fit for the play-offs. The experienced midfielder has a knee problem... But Wilder is desperate to get the 37-year-old ready for the climax to the season. Hargreaves enjoyed play-off success with Torquay last season, ending a torrid run which had seen him suffer play-off heartache in four of the previous five campaigns. The other saw him relegated – with Oxford...

'We're working on the fitness of Greavsie and are just going to try and get him through and give him some minutes ready for the play-offs', Wilder said. United will train at Premier League Stoke today ahead of tomorrow's game at Altrincham. It's the team's first trip north, of any distance, this year and they travelled up this morning with doubts over Hargreaves and Simon Clist. Clist needed almost half a dozen stitches in a head wound sustained at Hayes & Yeading on Good Friday, and these are now being taken out.

Wilder added: 'We're not going to take any unnecessary risks with anyone'".

Meanwhile, "Wing wizard Alfie Potter says United just need to get some momentum now before the play-offs come along... The introduction of Sam Deering and Potter turned the match [against Salisbury] to bring the U's a vital win, only their second in nine games...

This was the 13th occasion a sub has come on to score for them this season... 'The gaffer told us to come on, get on the ball and run at them and try to cause a few problems, and I thought Sam was excellent when he came on. He makes things happen... Everyone's remaining positive, and excited about hopefully getting to Wembley and the chance to get this club back to where it should be, back in the League'".

The BBC says that "Midfielder Nicky Clee (groin) has missed the last two games for Altrincham and faces a late fitness test for the visit of Oxford. Winger Chris Denham and striker John McAliskey were both rested in their 2-1 defeat by York but could make a return to the starting line-up".
GATE PRICES
After yesterday's announcement of next year's season's ticket prices at Altrincham, it has been confirmed that matchday turnstile prices will remain unaltered.
ALTY KITS AND CLOTHING
Courtesy of Ian Senior of Sensport Kits, below are come catalogue images of Alty merchandise available via the Robins' Shop. I hope to have some photos of the Alty logo-ed material and prices on the website over the weekend. You can view and/or order the items in the Robins' Shop this Saturday.
BSP NEWS
"Darlington boss Simon Davey has bolstered his side for the likely Blue Square Premier campaign next season by extending Gary Smith's contract. Midfielder Smith, 26, has agreed a one-year deal...

'All but mathematically we're going to head to the Conference', Davey said... Former Middlesbrough trainee Smith arrived at the Arena during July 2009 following spells at MK Dons and Brentford. Chairman Raj Singh sees the signature of Gary Smith as a positive step, and despite looming relegation remains upbeat about the club's future... 'Simon is looking for positive characters and Gary will hopefully be the first of many to sign up to our long-term plan to assemble the strongest possible squad for next season. It's vital we hit the ground running at the beginning of 2010-11, so getting players signed up early is very important'" said Singh.

"Allen Soraff has told Histon supporters to pack the Glass World Stadium tomorrow and prove they want the club to stay in the Blue Square Premier" reports the Cambridge News. "The Stutes' chief executive is calling on all fans who have stayed away since Tony Roach - who resigned on Tuesday along with his wife and secretary Julie - replaced Gareth Baldwin as chairman in November to return to the club...

'We're hoping that, after what's happened - and I don't mean this in a nasty way - people will now return to Histon Football Club', said Soraff. 'Their support could enable us to have a larger budget for next season and we'll be judging that on our last two home games. It's imperative that if the people of Histon want a football club competing at this level that they come and support us... Tony put a lot of good work into the club, as did Julie, and I won't say a bad word about him. We all have our strengths and weaknesses. Tony had a way of doing things that some people didn't like, but you always get that in football. You can't please all of the people all of the time'".

Meanwhile Blue Square Football reports that "Histon manager Alan Lewer says he can't start planning for next season until he receives clarification on his future at the club... 'As a manager you need to know where you're going as quickly as possible because the players you want to bring in might not be someone else's cup of tea. From that point of view we need to move quickly... Clubs like Leicester City might not let players go (out on loan) until a week before the season starts but you've got to start that process now.

Over the past few months what we've tried to do is cut the budget down to reality. I go out and go to Peterborough, Ipswich and Tottenham to try and have a look where we can bring a player in on a wage we can afford. If we do that and structure the club properly we've got half a chance. That's the way we're going to go'".
---
9 April 2010
COMING UP
News of our next opponents comes from BBC Oxford; "Oxford United's 1-0 win over Salisbury can help restore player confidence, according to manager Chris Wilder. The U's have managed just two wins in nine games to slip out of title contention in the Blue Square Premier. 'It was a massive game for us, just for us to get over a winning line', Wilder told BBC Oxford. 'It's been difficult for the players as they have seen their first dream slip away. But our aim remains to get out of this division and we must cement that'".

"Kelvin Thomas has been talking about the task ahead of Oxford United as they look to end the season in style... 'It has not been a great month and Chris and a lot of the players have gone on record and said that we haven't performed at the level that we wanted to... I think a play-off place is an improvement but the problem we created was that we set ourselves up and put ourselves in a great position to win the league automatically, and we really wanted to do that. It looks like that isn't to be this year, although we will still keep going for it. But realistically we have to focus on the play-offs...

Injuries haven't helped, the weather didn't help, things in and around the pitch haven't helped, the pressure, a little bit of a loss of confidence, all of those things in combination have been problems.. The ball hasn't rolled for us and things haven't gone our way... It's just a case of building up to a three game season in the play-offs. It's about making sure we take care of business in the build up to it...

We have had financial problems and are getting through them by working hard. But we always get a little dig here and there from different clubs saying we have loads of players and a huge budget and the fact is that we haven't got a huge playing budget. We can't compete with some of the top payers in this league and I think from where our budget is we are punching a little bit above our weight'".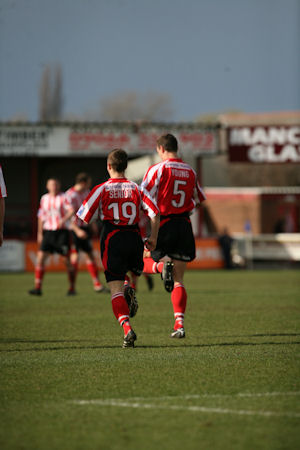 Right: Greg Young and Chris Senior's unusual goal celebration against Kidderminster captured by Gavin Rathbone of GR Photography.

According to the Oxford Mail, "Back-in-favour striker Jack Midson says he's determined to keep his place in Oxford United's team until the end of the season. The former Histon hitman... was a substitute at Hayes & Yeading. He impressed when coming off the bench, and then started alongside James Constable in Monday's 1-0 win over Salisbury. With boss Chris Wilder seemingly setting his sights on playing 4-4-2 after the 4-3-3 system which had worked so well in the autumn came unstuck on the boggy pitches this winter, Midson now has an opportunity of a run in the team.

He said: 'We'd like to have won the league, but while I don't think it's going to happen, hopefully we'll go up through the lay-offs'". United's participation in at least the play-offs was confirmed on Wednesday night when AFC Wimbledon lost 5-0 at York".
RESULT
Thursday 8 April
Barrow 1 Kidderminster Harriers 0
League Table
MORE PATRONS WANTED!
Grahame Rowley writes:

Altrincham FC 2010-11: Your Community Club

Altrincham FC is a family friendly club whose aim is to encourage youngsters, girls and boys, to participate, watch and get involved in football.

In addition to that, the club have competed on a part-time basis in the Blue Square Premier League for the last five consecutive seasons.

The Patrons Scheme was created to assist the club to continue to fulfil its community activities through the summer months when there are no league games and thus no gate income.

For the bargain sum of £50, your name will appear throughout the season 2010-11 in the matchday programme for every home game.

In August, every Patron will be entered into a prize draw with the winner being match sponsor for an appointed game along with 9 guests. Second prize will be hospitality for 5 people and third prize hospitality for 3 people in the Sponsor Lounge – the value of the 1st prize is £550.

Last year we had over 100 members of the Patrons Club. If you are interested in helping us obtain 200 for this season please forward a cheque payable to "Altrincham FC" for £50 for my attention.

If you require further information, please speak to me on 07720-606897 or email me at:- altrinchamprog@yahoo.co.uk

Thank you in anticipation,

Yours sincerely

Grahame Rowley, Vice Chairman
SEASON TICKETS
Vice-chairman Grahame Rowley writes:

"After a successful season both off and on the field, we now start to look forward to next season. After reviewing the admission pricing we have decided to add a £16 increase per season to all season tickets – less than £1 per game. We appreciate that the concessionary price has increased by a greater percentage than the adult price but the concessionary season ticket still provides great value for money with standing prices working out at just £5 per game in comparison to £8 per game on the day.

These price increases are necessary if we are to maintain our progress and we look forward to receiving your renewal form. The £10 discount if purchased before June 30th 2010 still applies.

A season ticket also entitles you to free admission to all the pre-season friendly matches at Moss Lane. We hope that we can rely on your support again this season and look forward to seeing you at Moss Lane in July.

Standing: Adults £225 Concessions £115
Seating: Adults £265 Concessions £125
Under 12's: £25
12-16 years: £50".
ALL CHANGE FOR ALTY
Altrincham FC's All Change for Alty campaign is under way. Please collect a tin [from the club] and fill it with all your spare change and bring it back into the Club at the start of the 2010/11 season. Thank you for your support. Grahame Rowley.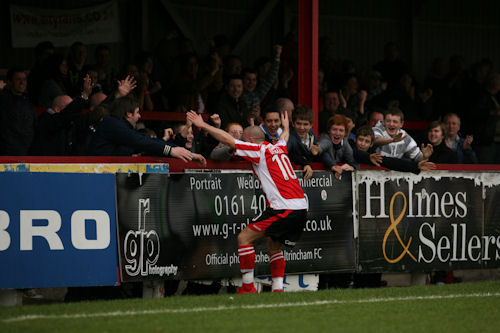 Above: Gavin Rathbone of GR Photography's image of Chris Denham taking the plaudits after scoring against Kidderminster last Saturday.
COLIN LITTLE
John Edwards, Alty's joint Press Officer, writes:

"As the news about Colin Little's impending departure begins to sink in, it is clear he will be sorely missed by supporters who have marvelled at his supreme finishing skills down the years. But how is the Alty striker perceived in the dressing room? What do his team-mates think of his goalscoring prowess, his occasionally abrasive approach on the pitch and his demeanour and personality off it?

Robbie Lawton provides the answers in his column, Captain's Log, in this Saturday's Robins Review against Oxford United. Robbie and Colin have formed an unlikely 'Scouse-Manc' alliance that has developed into a close friendship, and the skipper devotes nearly all his column to a full and frank analysis of a player who has become a Moss Lane legend in his six years at the club. The only other topic Robbie covers is Greg Young's goal celebration against Kidderminster - and he has a straight-to-the-point take on that as well! Catch up with all the news from the dressing room in Robins Review, on sale inside the ground at £2".

John Edwards, Alty FC joint Press Officer writes:

"Altrincham fans can relive every one of Colin Little's 94 Conference (North and National) goals for the club after Moss Lane officials announced they were producing a DVD dedicated to his remarkable scoring feats over the past six years.

Alty bosses reacted swiftly to the imminent loss of one of the most prolific and accomplished finishers ever to grace the red and white stripes and have already drawn up plans to mark his departure in fitting style. A one-off DVD chronicling every single Little strike in the Conference, and more besides in other competitions, is being painstakingly put together and has been earmarked for release towards the end of June.

As an added bonus, the club are arranging for Colin to be the star attraction at a special signing day, where he will autograph the sleeve of each individual DVD to turn it into an even more unmissable memento of his phenomenal scoring exploits for the club.

As he announced details of an intiative that will be music to every Alty fan's ears, vice-chairman Grahame Rowley heaved a sigh of relief at being meticulous about hanging on to club memorabilia.

'In Colin's first season with us, in 2004-05, we actually didn't produce a DVD of the campaign, due to being in the process of changing supplier and switching to Ian Unsworth,' he said. 'But each game was filmed, and the manager was always given a copy. Fortunately, I made a point of storing them away, so we actually have coverage of every Conference goal Colin scored for us, and quite a few in other competitions as well.

'Seeing as he scored 38 in all competitions in that debut season, I'm just so relieved we kept all those individual match DVDs! The end product will take a fair bit of compiling, but it will be done, and it should be out before the end of June. It will be a limited edition, priced £15 each, so I would urge supporters to pre-order as soon as possible.

'I'm sure Colin will agree to come along and provide an autograph for anyone who wants one, even if it means signing hundreds of copies. What a lovely finishing touch that will be.'

With numbers limited, anyone wishing to place an order should email Grahame as soon as possible or call the club on 0161 928 1045".
GET YOUR ALTY GEAR
Ian Senior of Sensport Kits announces that "There are now a number of new items for sale in club shop, ranging from Alty polo shirts to a new rain jacket, along with a ladies' t-shirt". We hope to have photos of these, soon, on the website.
TASC NEWS
The Altrincham Supporters' Club (TASC) page in this week's programme is published below courtesy of Steve Foster.

"As we come towards the end of the season, we need to look towards the summer's activities which will be run by both the club and TASC, please support the events in any way you can. The club needs all the money it can get to try to maintain the progress that it is making both on and off the pitch.

Bag 2 The Future

Thanks to everyone who donated clothes to this appeal, TASC are pleased to say that the appeal raised £112. TASC would like to thank Darren, Louise Gregory and family for doing such a good job in running this promotion.

Race Night and Player of The Season Awards

Voting forms for Player of the season will be handed out at the turnstiles today. On the form there is also a section to fill in if you want to buy a horse or sponsor a race for the race night (costing £10 and £20 respectively). Please fill these forms in and hand them in to the TASC section of the before the final game. As of Thursday, there are 30 horses left to be sponsored, Please support this promotion, it is an important fund raising event for the club and TASC!

Race Night Treble

The Race night treble will be available at today's game. In this scheme, you get the chance to predict the winners of the 4th, 5th and 6th races, each combination of winners costs only a pound, and the person who predicts the winning combination will win £100.

Altrincham Festival

Altrincham Festival is at the start of July. This is also a really important event for TASC and the club. Not only is it a good fund raiser for the club, but it is also a great opportunity to increase the awareness of the club in the local area. TASC will be running a stall at the festival and participating in the parade. We would like to hear from anyone who feels that they can help at the festival on the day. Secondly, any donations of raffle or tombola prizes will be greatly received.

Gareth Thomas and Steve Foster (TASC Committee members)"
OLD BOYS
The Crewe Chronicle tells us that "Three wins on the spin have convinced Kevin Street and Darren Tinson they can become permanent joint-managers of Nantwich Town... The Dabbers had won one in five before Street and Tinson took charge... Street said: 'Darren and I think we could do a good job on a permanent basis and we'd like to do it. We're very confident we can get the best from the players and we're delighted with how they have responded to us'... Chairman Clive Jackson is expected to wait until the summer to decide who will be the next Dabbers boss... Both of them plan to continue as players and recent results suggest they have the respect of their team-mates".

Lee Elam's two goals on Wednesday for Bradford Park Avenue could not stop them losing 2-4 at home to a resurgent Guiseley.

Peter Wright scored for Kendal Town in their 4-1 away win against FC United. And at Matlock, Liam King scored for the home side in a win over Worksop Town. Another ex-Alty loanee, James Dean, scored for FC Halifax Town in their win over Garforth Town.
BSP NEWS
"The Football Conference confirm that Grays Athletic of the Blue Square Premier has suffered the deduction of two points and been fined a total of £500 in relation to five breaches involving the fielding of ineligible players in contravention of Conference Rule 6.8. The adjustment to the league table will take immediate effect.

The details are:

1. Daryl Robson played whilst ineligible on 31st October 2009 against Barrow, prior to receipt of the players registration.
2. Callum Leahy also played whilst ineligible in the same fixture, again prior to receipt of the players registration.
3. Sam Cutler played whilst ineligible in three fixtures. On 29th August 2009 he played against Crawley Town and was ineligible to do so, due to the fact that despite the player being registered with the Football Conference as a 'contract player' it was established that the contract had been rejected by the Football Association and prior to a new contract being approved by the Football Association the club had played him before the start date of his new 'monthly' contract of 31st August 2009. Subsequently when that 'monthly' contract expired on 30th September 2009, the club again played the player twice again whilst ineligible on 3rd and 17th October 2009 in fixtures against Gateshead and Wrexham respectively.

The Football Conference has been unable to finalise this matter until now, due to appeal procedures evoked by Grays Athletic, which the club formally withdrew from the Football Association as of 7th April 2010.

Colin Peake, PR & Media Board Director, The Football Conference".

The Football Conference says that "Following the announcement of television coverage for the Blue Square Premier 'Promotion Final', it is unlikely the semi finals will be televised, in which case, the Blue Square Premier semi-finals can be played on the same evening.

The first leg matches will, therefore, be played on Thursday, 29th April 2010 (7.45pm) and the second leg fixtures will be played on Monday, 3rd May 2010 (3pm). The 'Promotion Final' will be at Wembley National Stadium on Sunday, 16th May 2010 (5.00pm)

The Blue Square South semi finals will be played as scheduled:- First Legs on Tuesday, 27th April 2010 (7.45pm); second legs as scheduled on Saturday, 1st May 2010 (3pm).

In accordance with the clubs' wishes expressed at the pre-AGM meeting last June, the Board's endeavours to re-schedule the final for a weekend date have not so far proved possible. The Final will, therefore, be played as scheduled on Thursday, 6th May 2010 (7.45pm).

This scheduling could be reviewed once the participating teams are known, and with their agreement, otherwise the Final will remain as programmed on the 6th May.

NB: The Board of the Football Conference are mindful that this date has now been set for the General Election and therefore it is appreciated that the latter may have an impact but by giving at least one month`s notice supporters of those clubs involved have time to make suitable arrangements for voting. To clarify the issue of not being able to guarantee a weekend date for this final, this was solely due to previously booked committment of facilities at certain club's but as indicated this may still change, dependent on which club will eventually host this particular Final.

The Blue Square North semi finals will be played as scheduled on Wednesday, 28th April 2010 (7.45pm) - second legs as scheduled on Sunday, 2nd May 2010 (3pm). Again, in accordance with clubs' wishes at the pre-AGM Meeting, the Board concurs with the proposal to schedule the final on a weekend date and has re-scheduled the final for Sunday, 9th May 2010 (3pm)".

The BBC says that "Histon chief executive Allen Soraff has hinted that former manager Steve Fallon could return to the club following Tony Roach's resignation as chairman. Roach, the club's major financial backer, stepped down on Tuesday citing a lack of support from the board. Soraff told BBC Radio Cambridgeshire: 'It's a very difficult situation and we won't be rushing in to anything. I have consulted Steve Fallon since Tony's departure and I've made that clear to [current boss] Alan Lewer'...

However, despite recent disagreements and falling crowds, Soraff says they were keen for Roach to continue as chairman. 'Tony and Julie [Roach] did a great job here and although we've had disagreements, they didn't have to resign. Unfortunately Tony felt he should go and we wish him well', he said... 'We've spoken to Alan Lewer and he has laid out his plans for the rest of the season and we won't be making any rash changes before the end of the season'".

Roach claims disagreements over Lewer and his role at the club played a part in his departure and expects a change in management. 'I don't think they will continue with Alan because they don't agree with the way we've been doing things, they've made that clear to me', he said".

Meanwhile, the Cambridge News says that "Allen Soraff insists Histon will not go into financial meltdown despite the shock resignation of chairman Tony Roach. The Stutes chief executive said 'Let me assure the fans and everyone else that Histon FC will not be going into administration or liquidation', he said. 'We're still here, in better condition than we were before Tony Roach took over, and there are no problems that will cause the club to be wound up. We're not discussing administration, insolvency or liquidation because we're not in that position. It's not even on the agenda as it's not going to happen. People believe Tony Roach was the only person supporting this club. He has put a lot of money in, and we thank him for that, but other directors have also been supporting us. They were before Tony came, they did while he was here and they will continue to do so. We'll have a look at the budgets for next year and will adjust them accordingly, but we've got to get to the end of the season first and make sure we stay in the Conference Premier'...

Current first-team boss Alan Lewer met with the board on Tuesday night and will continue in his role for the foreseeable future, but it remains unclear whether he will remain in charge for the 2010/11 campaign. 'Everything is open at the moment', said Soraff. 'We've not made any decisions at all. This only happed on Tuesday. The main thing is to keep the club going at this stage... I'm a chartered accountant by trade and have been sitting on boards up and down the country in various businesses for 40 years, and there have always been disagreements. People have different opinions and that was just the way it worked out with us. Tony seemed to feel the disagreement we had was insurmountable and felt he had to go'.

Soraff said safety officer Malcolm McDonald was voted on to the board during Tuesday night's meeting and that physio Roy Johnson had left the club before Roach's resignation."

Crawley Town report that "Gaffer, Steve Evans, has stated he will use every player available to him and that may include a few youth team players as The Reds face four Blue Square Premier matches in seven days next week after The Football Conference ruled that we must travel to face Barrow AFC next Thursday (15th April).

Next week's punishing schedule will fully test Steve Evans, Paul Raynor and the smallest squad in The Conference Premier as they try and secure Crawley Town Football Club's highest-ever league placing in its history... Given the team resources co owner Bruce Winfield used the word 'miracle'.

First up is a trip to Cambridgeshire on Saturday to face Histon... In follow up to that the team will travel to Gloucestershire on Tuesday to face relegation battlers Forest Green... After getting back from Gloucestershire in the early hours of Wednesday morning the team will prepare to leave for Barrow AFC at 8am on the Thursday morning. A twenty hour round trip lies ahead for the staff and players... The Reds will then arrive back in Crawley around 6am on Friday morning and after some needed sleep they will then try to prepare for the visit of Tamworth on the Saturday afternoon, a schedule that certainly does not speak highly of The Football Conference fixture scheduling or indeed help Steve Evans men achieve the highest league placing in our club's history.

Steve said, '' The schedule is not good, in fact it's rubbish. I have to be careful of what I say so I am best saying nothing at all. We will all be cream-crackered at the end of next week that I do know, as for safety of my players and staff, no one except us seem to care'.

'I will prioritise my team selection as I see fit for each of the matches and one or two youth team players might just get a nice surprise, probably one they are not ready for in all honesty but the schedule dictates what I need to do. I have to distance myself from those clubs fighting relegation and what their thoughts are, to solely concentrate on delivering as many points for Crawley Town".

The Crawley Observer adds that Crawley "will remain a full-time club next season. The Reds' board met on Monday and weighed up all the costs involved and agreed to fund staying full-time. Co-owner Sue Carter said: 'Going back to part-time we felt would be a regressive step. It's going to be tight and we need fans to keep behind us'.. Carter would not reveal if the budget would be the same, biggger or smaller than this season, which the club has previously said is in the bottom quartile of the Conference...

Among those who wants to stay is goalkeeper Nick Jordan, who has just played two matches in a row after having had to sit out almost the entire season on the bench as Simon Rayner's understudy".

According to the Kidderminster Shuttle "Harriers' chairman Barry Norgrove has urged any potential new investors to come forward after warning that the club is set to suffer more tough economic times... Norgrove predicts an even tougher period financially in the 2010-11 campaign as the economic downturn continues. The club are also still searching for new shirt sponsors for the next two years...

The chairman admitted he is also finding it increasingly difficult to fund the club as his own house building business, Norgrove Homes, struggles in a flat market. As a result the chairman and the board have stepped up the search for new directors prepared to put money into the club...

Norgrove said: 'We're crying out for help. The board have put an awful lot of money into the club this season but I won't be able to do it next year. Businesses are struggling and I haven't sold a house in god knows when'...

Harriers received a small boost when the Football Conference signed a new three-year sponsorship deal with current backers Blue Square for a seven-figure sum... The chairman believes Harriers will get less than the £15,000 they received from the Conference for this campaign... 'At the moment we don't have any shirt sponsors, which means we'll be £30,000 to £40,000 worse off next season... I've never seen it this bad. At the moment we need £250,000 to run the club... If we were running on a budget of £100,000 next season we wouldn't be able to build a team capable of competing in the top half'".

In similar vein This is Mansfield claims that "Mansfield Town will be forced to cut their wage bill next season, chairman Andy Perry confirmed... But the Stags' chairman has also moved to reassure fans there are no deep-rooted financial problems at the club.

Mansfield yesterday confirmed that Stewart and Sharon Rickersey, chief executive and operations manager respectively, had left the club... Perry insists the decision to make cut-backs is the correct one, given that the two-year parachute payments following the Stags' relegation from the Football League are about to end...

'The wages budget will have to be cut', said Perry. 'But that is more likely to be because we operate with a smaller squad, which is something David and I have already talked about... We have to recognise that we aren't in the Football League and we couldn't afford to continue in that way... We certainly don't have a Notts County-type situation'

'I think we really do need to do well next season. It's an important one for the club. The mistakes we made last year we haven't made this year and the mistakes we have made this year, we won't make next... Hopefully we can still finish sixth or seventh and take that into next season... It will be our third season as a board and David's second full one as manager after keeping us in this league when he first came here. We went down the route of appointing a new manager, who is still learning, as are we. We signed a four-year deal with the manager because we felt we needed time to build for promotion'".

From The Comet we read that "Graham Westley praised comeback kid Lawrie Wilson after the winger scored on his first start in eight months in Boro's 3-0 win at AFC Wimbledon. The Boro boss said Wilson had 'worked so hard' to get back into the first team following a dislocated ankle against Rushden & Diamonds in August last year". Following defeat by Luton, Westley said "I thought we were the better side on Saturday and I didn't think we got what we deserved". AFter that Boro defeated AFC Wimbledon and the manager said, 'It's an incredible performance when you look at the amount of players that have played two 90 minutes in three days. They haven't got that physical ability for no reason; they've got it because they work so hard, keep themselves right and look after themselves and all credit to them'".

The Daily Post says that "[Dean] Saunders revealed [Frank] Sinclair, most recently sent off for violent conduct at Wimbledon last week, had been fined a fortnight's wages in addition to picking up a five-match ban and he added: 'We simply cannot afford to lose players like we have and I certainly expect the older, more experienced players to set the right example. So I am not happy with our record – and all the players know how I feel – but I think some of it has been down to desperation in some games to come back from a losing position and also due to general frustration that we are not as high up the league table as we feel we should be. I can't blame players for sometimes trying too hard, but I don't think anyone who has watched us regularly could ever say we were a dirty team. Christian Smith is the closest thing we have to a tough-tackling midfield player, which says it all really'".

But the Dragons boss said he would be looking for an all-round improvement in discipline next season. 'We have lost too many players for too many games this year and it's got to stop. Next season we are likely to have a much smaller squad, so it will be even more important not to lose people to unnecessary suspensions'".
BS NORTH NEWS
From NL News 24 we learn that "Fleetwood Town's appeal to the Football Association over the decision by the Football Conference to expunge Farsley Celtic's record is scheduled to be heard later this month. Town chairman Andy Pilley is confident... 'We expect news of the outcome prior to our final game. We and Southport are in a two-horse race for the title and it is very positive that the issue will be wrapped up when the decision is made by the FA prior to the end of the season... In my business experience, Barristers are normally very wary and cautious. In this particular instance they are quiet confident and think there have been some fundamental flaws. They have certainly observed that the correct procedure has not been followed and have passed on a positive feeling to the club. We really do fancy our chances of the league table being adjusted with these points being reinstated. We believe that is the correct and proper action to be taken. Once those points are reinstated for the various teams then the league will look very different'.

'It's the performances on the pitch that actually decides who wins championships. That's the correct manner in which any league should be contested. We had a set back on Easter Monday against Workington. I think Workington are a good team and it was a disappointing result. However, I am confident there will be further twists and turns up until the finishing line. Southport will have a very difficult time at Droylsden on Saturday. We saw first hand last weekend that Droylsden are a very useful team, particularly going forward. They will have players back from suspension next Saturday as well and I really expect them to give Southport a tough game. I also expect a reaction from our lads and expect us to go on and win our final three games. There is everything to play for and we remain confident we can and will win this league'".
---
8 April 2010
COLIN TO MOVE ON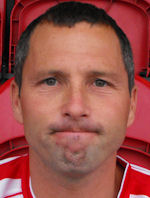 Alty Press Officer John Edwards writes in The Sale and Altrincham Messenger...

"Colin Little is bringing down the curtain on a glorious Altrincham career to take up a coaching role at Manchester United next season.

The 37-year old, one of the most accomplished goalscorers in Alty's history, admitted it will be a 'massive wrench' leaving Moss Lane at the end of the season after accepting an invitation from Brian McClair to coach United's under-13s.

'I have loved every minute at Alty and have friends for life in people like Graham Heathcote, the Rowley family and all our fantastic supporters,' said Little, who announced himself with a 38-goal haul in 2004-05 and was the Conference's third-top scorer with 21 goals in a struggling side in 07-08.

'I have been coaching the under-15s at Crewe the past three years, and Dario Gradi has kept chipping away at me to devote more time to that. I always resisted, because I couldn't imagine not playing for Alty, but then this opportunity came along at United.

It's a step down in a way, because I will be assistant coach for the under-13s, but let's be fair - United don't come calling every day. To get a foot on the ladder there was too good to miss, and leaving Alty, and Crewe, was the price I had to pay.

I have played five-a-sides with ex-United players like Frank Stapleton and Stuart Pearson for a few years and got to know Brian McClair quite well. They have asked me to get on board before, but I just couldn't give up being an Alty player. This time, it just seemed the right moment. I've had one or two injuries, and the other lads have done so well, it has been difficult getting a run of games under my belt. What softens the blow of leaving for me is the progress we have made.

I can remember training at the back of Newall Green School in the early days and struggling to take on big clubs with massive budgets. But we're up there matching them stride for stride now. I'm leaving the club in fantastic shape, and that makes it a little less painful.

All I hope now is that I can perhaps pop on, even from the bench, and try and nick a goal. I get a bit embarrassed if there's a lot of fuss, but I'm dying to do that before I finish.'

Alty boss Heathcote said: 'Colin is the main reason we have survived in the Conference. He has been a fantastic servant to this club. His goals tally tells its own tale of the contribution he has made.'

Little isn't quite ready to hang up his boots, even though his Blue Square Conference days are over.

'People keep saying I'm getting on a bit, but I would like to think the old potency is still there,' he said. 'The demands of the new job mean I can't carry on committing the time needed to be an Alty player, but I don't want to finish playing yet. If there was an opportunity with another club at a lower level that didn't cut across my coaching duties with United, I'd jump at it. I want to stay in the game as long as possible, because football is all I know, and while coaching is the future for me, there is still a bit left in the tank as a player".

Colin has, so far, made 243+30 appearances for Altrincham and scored a magnificent 114 goals. He has been Alty's top scorer for the last five seasons. This season he has made 12(+16) appearances, scoring four times. But two of those were wiped out so far as the Conference were concerned by the demise of Chester City.

Everyone at Moss Lane hopes to see Colin add some more to his tally before the end of this season and wishes him well at Manchester United.
SADDLE UP!
Brian Flynn, chair of TASC, writes:

Horse Sales are a bit 'Pony'

With just over two weeks to go to the Race Night on Saturday April 24th, there are still 30 horses available for sponsorship. Last year, we ended up being oversubscribed, therefore if you would like to reserve your own personal thoroughbred for the evening, please either email Brian Flynn or see Anthony Wright or Mike Garnett in the TASC section of the Club Shop before the Oxford game or during the half time interval.

There are also five races awaiting a sponsor!

Prices are as follows:-

Horse Sponsorship £10
Race Sponsorship £20
BIG-MONEY YANKEE
Not only is there a £5,000 jackpot to be won on the Altrincham FC Saturday Yankee but there is also a reserve jackpot of £2,300 which will immediately replace the bigger prize when it is won. SO, to find out how to win, for just a £1 weekly stake, visit the Yankee page. Last week, six entrants won £33.33 each for "Trebles".
GET YOUR DVD
TASC's Mike Ainsworth announces that "Orders are now being taken for the "2009 - 2010 End of Season" DVD which will, as usual, include all the goals from all the games played by Altrincham this season. The price is £15.00. Orders can be placed at the Club shop on matchdays or via the shop on ebay. It is expected that the DVDs will be available for delivery/collection by mid-May".
WELL DONE!
Alty Safety Officer, Darren Gregory, reports that the "Bags2thefuture initiative raised an impressive £112. Thank you to all those that took part; it's not a lot but as a certain supermarket would say 'every little helps'". And many thanks are due to Darren and his wife, Louise, for their hard work in raising these funds for the Club.
KEEPING IT CLEAN
BSP players nearing ten yellow cards need to avoid a 10th caution before the second Sunday in April or they will be suspended for two matches.
RONNIE R.I.P.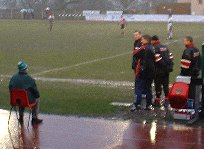 Every club has its characters and, where Altrincham FC has Kenny Palin, Bradford PA had Ronnie Bottomley. Alty fans will remember one match with the Robins (an FA Trophy game on 20 November 2002, which Alty won 1-0). Ronnie's continuous comments from the stand led to his being offered a seat on the pitch side by Alty physio Gary Thompson, an offer Ronnie took up (as seen, right). But we learn, sadly, that Ronnie has recently died and we send our sincere condolences to his family and friends. Football is duller without him.
BSP NEWS
The Cambridge News says that "Tony Roach has quit as Histon chairman, claiming a boardroom disagreement has forced him out. The Stutes' supremo resigned, along with wife Julie, the club secretary, having been at the helm at the Glass World Stadium for less than six months. 'It was a very difficult decision', he said. 'It wasn't something me or my wife wanted to do, but we were left in a situation where we could not do anything, but resign. We're devastated. Histon was our future, we were enjoying it and loved it. We didn't want to go but we've been pushed out'.

Roach declined to elaborate on the exact reasons for leaving, but said he could no longer work with his fellow directors. 'It's a board issue. There was a disagreement in the board and I will not work (with them) under these circumstances'...

He took over from Gareth Baldwin at the end of October but wasted little time in making his presence felt. Steve Fallon was suspended and then sacked as first team manager, while a need to drive down running costs led to the departure of several senior players... He said he has no plans to pursue any return on his investment at Histon.

'The future of the club is the most important thing to me. I put a lot of money in but I'm not looking to cause the club any problems. At the moment, the club is paid up in full, with Inland Revenue, VAT and players' wages'...

It was also revealed last night that stadium manager Mick Collis and his wife, Carol, the office administrator at the Glass World, had already left the club before Roach's resignation. Roach added: 'I feel I've achieved a lot and Julie has done an amazing job at the club with help from Mick and Carol Collis'".

According to the Express & Star "Kidderminster Harriers manager Steve Burr already knows his budget for next season as the club prepare to make big decisions on their current squad this summer. Just four of the playing staff – captain Chris McPhee, assistant boss John Finnigan, Jack Byrne and Robbie Matthews – are under contract beyond the end of the campaign. All have another season left on their deals at Aggborough, but everyone else faces an uncertain summer...

First-teamers such as Martin Riley, Darryl Knights and goalkeeper Dean Coleman await word on whether they will get new terms for 2010/11, while loan players also come into the equation. For instance, Lloyd Kerry is expected to be a free agent when his contract at Chesterfield expires at the end of the season, while Port Vale defender Luke Prosser's future is also up in the air... He said: 'It's a big rebuilding job and we will have to spread our resources around in the best way possible'".

<>A href="http://www.thisisgloucestershire.co.uk">This is Glos says that "Forest Green hope to ease their financial worries today after meeting the taxman's first deadline. The Inland Revenue are demanding 40 per cent of an historical debt of around £45,000 immediately, after which the club hope the remaining amount owed can be paid off in instalments...

The Forest Green Supporters' Trust have confirmed the appointment of three new board members. Accountant Lisa Astle has joined as treasurer... She said: 'Not many towns have a football Cinderella story like Forest Green Rovers... The club has so much to offer the town – not just enjoyment of great professional football but also the stadium, pitch and top leisure facilities'".

And the BBC adds that "The immediate future of Forest Green Rovers is secure... The New Lawn side was given until 7 April to pay £18,000 of the £45,000 it owes to HM Revenue & Customs and is awaiting an official response.

'We've had a few supporters take up the offer of buying a ten-year season ticket', club vice-chairman Colin Peake told BBC Radio Gloucestershire... Peake added: 'I would stress once again we've not defaulted on any loans, we've not defaulted on our other payments to the revenue. This blip has brought it into focus and I think it was good that it was brought into focus at the time it was... One of the things about talking to new investment is probably waiting until the 24th of April when the season ends and we find out where we are going to be playing next year'".

Blame is the name of the game as the BBC reports that "Mansfield Town manager David Holdsworth says he needs stronger characters to take the club back to the Football League next season. The Stags' play-offs hopes ended with a 3-2 defeat at Cambridge on Monday. Holdsworth told BBC Radio Nottingham: 'We've fallen away [from the play-offs] in recent weeks because we haven't had the ability to win games. It's about players having to step up, so there are one or two there who may have to go. I only want characters who have got that willingness to be able to understand the game - it's not just about brute force and passion. I don't think we've been strong enough in the centre of our defence throughout the season'".
---
7 April 2010
SCORE
Wednesday 7 April
York City 5 AFC Wimbledon 0 Rankine scored the first after 32 seconds, then Brodie scored a hat-trick including two penalties which he won himself..
WAKING UP TO THE REAL WORLD
Below, in today's BSP News section you will read about Mansfield Town making both their CEO and Operations Manager redundant because, having failed to reach the play offs, they cannot afford them, and also about Histon, whose chairman has resigned, leaving them to sort out the financial problems he inherited. And then comes news from the BBC of the tribulations of a third BSP club, Kettering Town, whose manager Lee Harper "Says he feels 'powerless' to change the club's fortunes in their current situation. The Poppies are without a win in eight matches and their aim of a top five finish in Blue Square Premier has faded with the dip in form.

Harper tells BBC Radio Northampton: 'I'm powerless to change it because I can't go out and get anybody. I can't get communication from anyone [about next season]. If I was here [next season], I'd want to bring in my own team. We've needed a couple of players for a while now', he said. 'But we were paying two strikers £10,000 a month, and now I can't be giving £250 a week. You're on a different playing field...

It's up to them, [the players], as individuals to give their all. Against Histon, Rushden and Diamonds and Forest Green, they haven't done that. It wouldn't seem possible you could knock the belief out of them, but they've done that themselves... The fans can get on my case, but I'll do the best I can do. At the moment, it's not enough'".
YORK VERDICT

Above: Richard Brodie converts his penalty as his York team-mate, Lawless, appears to have got a masssive head-start on every one else to seize on any follow-up chance from the spot-kick.

York Press says that "York City manager Martin Foyle praised Richard Brodie's 'guts' after he converted the injury-time penalty that earned a 2-1 home win over Altrincham. Top scorer Brodie had seen his last spot kick saved at Mansfield in March but made no mistake from 12 yards yesterday, blasting into visiting 'keeper Stuart Coburn's top-right hand corner after on-loan Chesterfield midfielder Paul Harsley had offered to take the penalty instead...

Speaking about the character of Brodie, who had only ended an 11-game goal drought six days earlier with a brace at bottom-of-the-table Grays, Foyle said: 'I thought Brodes was back on song last week and he created a few decent openings for himself again (against Altrincham). I told Paul Harsley to speak to him if we got another penalty and that, if he felt confident, to let him have it. People might say he's nervous but he showed a lot of guts to take that penalty with two points riding on it after having his last one saved'.

Foyle added that, despite the victory, he felt his side were below par against Altrincham and was also disappointed by the manner of Chris Denham's opening goal on 63 minutes, which was cancelled out by David McGurk's first of the season. The City chief said: 'It was a soft goal to concede. It came from one long boot [plus a header and two passes, one of which, from Doran, split the defence] and we did not cover properly in the centre-back area. We also looked like we were playing at three-quarter pace at times and I was a bit disappointed in certain aspects of our game'...

Controversial scenes greeted the final whistle at yesterday's match with Altrincham manager Graham Heathcote reacting aggressively to City safety officer Eric Hope's attempts to prevent him confronting referee Andrew Madley".

[This is not what happened, as at the end of the game Graham spoke politely to the referee, who agreed to see the Alty manager half an hour after the game. The York safety officer then intervened for some reason]. The report continues, "A City fan then jumped on Heathcote with the pushing and shoving continuing as officials from both teams headed down the players' tunnel.

When asked about the fracas, Foyle joked: 'I was first in the changing room and that's not me pretending to be Arsene Wenger – I just like to get there first to get the best sandwiches'.

But the City boss also added: 'I thought we should have had another blatant penalty and Graham probably thinks our equaliser should have been disallowed for a foul on their 'keeper. We could have got both decisions, but maybe it's a bit greedy to expect both in your favour... Teams come here to stifle us and get the crowd on our backs. I know Rushden's crowd are getting on their backs and I don't want our fans to go that way'".

The BBC has an interview with Martin Foyle.
YOUTHS SECOND
The NWYA has the latest league table for Altrincham FC Youth.
CHANGING FACE OF THE CONFERENCE
If at the end of this season Stevenage and York go up to League Two and if FGR and Ebbsfleet go down, only Crawley Town will have been in the BSP (Conference National) continuously since the 2004-05 season - just five years ago. Tamworth were in the Conference National in 2004-05 and are there now, but they have been down and up in between. Altrincham, who came back up for 2005-05 would thus be the second longest survivors in the division in 2010-11.

For the record, the 22 Conference teams in 2004-05 were: Barnet, Hereford United, Carlisle United, Aldershot Town, Stevenage Borough, Exeter City, Morecambe, Woking, Halifax Town, Accrington Stanley, Dagenham & Redbridge, Crawley Town, Scarborough, Gravesend & Northfleet, Tamworth, Burton Albion, York City, Canvey Island, Northwich Victoria, Forest Green Rovers, Farnborough Town, Leigh RMI.

FGR were saved from relegation at the end of 2004-05 season by the enforced demotion of Northwich Victoria.
REFS
For Saturday's game with Oxford United at Moss Lane the referee is Mr Jake Collin who was the referee who did not send off James Smith at Mansfield in the FA Cup this season but had the decision taken for him retrospectively courtesy of a dubious YouTube video. Mr Collin has also overseen several other Alty games including...
Alty 1 Wrexham 1 in August, 2008,
Alty 0 Burton 0 in October, 2007

Next Wednesday, for our home game with Stevenage, the referee is Mr M. Brown,who reffed Alty 1 Rushden 2 in October 2007 as well as Alty 2 Kidderminster 2 on 2 April, 2009.

Alty, who meet Luton later in April, will be hoping that the Manager of the Month award for March has its customary effect on the winner as it has gone to Luton manager Richard Money for his side's amazing run of wins in the BSP. And Luton Town add that "French midfielder Claude Gnakpa has made it a March to remember for the Town by scooping the Blue Square Premier Player of the Month award. The 26-year-old has been in scintillating form down the right flank scoring an incredible seven goals in seven starts".

The Luton & Dunstable Express says that "Ninety-four points – that's the target Luton Town manager Richard Money has set his free-scoring Hatters to achieve by the end of the season. Town smashed six past already relegated Blue Square Premier basement club Grays Athletic to stretch their winning streak to nine games. They now sit in second on 82 points with four games left...

'I said after the Mansfield game that we had to win our 13 remaining games. We've won the first nine but we think unless we win those four games that the yardstick won't be big enough', insisted Money after the 6-0 victory... 'I'm not even bothered about Stevenage. We can't do anything about their results...

People who weren't here will probably say 'it was only Grays, what did you expect?' I think that's a load of nonsense and a total lack of respect to that football team. I read in some papers at the weekend that we've scored eight and four against so-called teams that are not very good. But one of those teams (Hayes & Yeading) beat Oxford in the same period and I think one or two people have been a little bit disrespectful to the teams in our division. Hayes have shown everyone that they are a good team, and Grays have shown that they are a decent team because they've drawn with Kettering on Saturday and almost beaten Stevenage last week.

I think the fact they we've been able to put six past them is testament to our quality and the way that our players are at the minute'. With first choice strike partnership Kevin Gallen and Tom Craddock claiming five of the six goals, Money said he is delighted with their form'...

For half an hour, the score remained 0-0 and the manager was unhappy with the reaction of some of the Kenilworth Road crowd. 'I don't want to say too much but you could hear one or two just start to turn and moan', he said."

In contrast, Kidderminster and Cambridge Utd are using the last games to experiment...

Firstly, according to the BBC we read that "Kidderminster manager Steve Burr will give his fringe players a chance to impress before the end of the season. Harriers have six games to play in the next 19 days, including trips to Barrow, on Thursday, and Gateshead two days later. Burr told BBC Hereford & Worcester: 'It's a chance to look at these lads who have been waiting, Lloyd Carey and people like that need an opportunity... We are not going to go up and we are not going to get relegated'. And the Harriers boss says he has an idea of who he wants to bring in but must wait to find out if he can afford them with his budget for next season. 'We will have to do the best with the money we have available, so we will look at all areas of the squad' he said".

Amd it is a similar tale from the Cambridge News, from which we learn that "Martin Ling was thrilled to see 10-man Cambridge United make certain of safety with [a] 3-2 victory at home to Mansfield. Danny Crow grabbed the winner with a late penalty... and Mansfield then missed a stoppage-time penalty of their own...

Ling said: 'We got our noses in front twice and threw it away quickly. You're always at your most vulnerable when you've scored a goal... Their penalty was a ridiculous decision. 'Their bloke pushed Brian Saah to help himself up and they got the penalty, but we scored, they missed theirs, so we take the three points and now we're mathematically safe... I just noticed we're 11th in the league, so a top-half finish is still possible from the debris that was the first half of this season'...

Ling said he may leave captain Paul Carden on the bench for Saturday's trip to Salisbury and begin to experiment with his side. He said: 'If Paul picks up a booking on Saturday, he can't play two of the last three games'... But Ling said Kevin Roberts' season is over after confirming he had damaged his ankle ligaments".

Casualties of an over-stretched budget are announced at Mansfield Town where the Stags announce that "Chief Executive Stewart Rickersey and Operations Manager Sharon Rickersey have left Field Mill after their positions were made redundant. No further comment will be made". But more revealing is a report from This is Nottingham which says that "Mansfield Town today confirm that chief executive Stewart Rickersey and operations manager Sharon Rickersey have left Field Mill. They have been made redundant as part of the club's cost-cutting measures after failing to secure a Blue Square Premier play-off place".

Histon report that "The Directors of Histon FC have released the statement below: Tony Roach has today resigned as Chairman of Histon FC and Julie Roach has resigned as Club Secretary with immediate effect. The Directors wish to acknowledge the commitment and support Tony and Julie have given the club in these past few difficult months and will be making a statement regarding a new Chairman in the near future".

The Cambridge News adds that "Roach, who took over from Gareth Baldwin in November, has stood down with immediate effect. His wife Julie has also left the post of club secretary... The situation is due to be discussed at a board meeting tonight. Roach has had a eventful tenure, with long-serving manager Steve Fallon first suspended and then sacked, and a host of senior players leaving as Histon have sought to drastically reduce costs".
---
6 April 2010
YORK GAME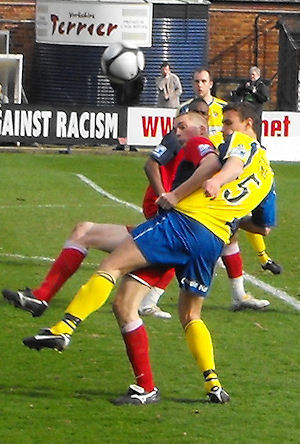 Right: Greg Young had his hands full with Richard Brodie at York; and Richard Brodie had his hands full with Greg Young's shirt in this particular encounter.

Match report here.

See Chris Denham's goal here.

York City report that "It may have taken until the 92nd minute, but City recorded a fully deserved win over mid-table Altrincham... After Martin Foyle's men dominated possession [51% v 49% according to the BBC] and chances, Chris Denham gave the visitors a shock lead... before Richard Brodie's whole-hearted performance was rewarded with an injury time penalty...

Despite having showed no attacking intent whatsoever after the interval, the visitors took the lead just after the hour. Substitute Denham, who had been on the pitch less than two minutes, broke free into space down the right channel before looping an audacious shot into the stranded Ingham's top right-hand corner... After an infuriating last ten minutes of time-wasting from the visitors, the Minstermen deservedly settled the contest after Brodie was felled deep inside the Altrincham area.

The ultimate irony was that the subsequent penalty came two minutes into the injury time only added because of the Robins' spoiling tactics".
LATE TWISTS
There have been quite a few late goals and comebacks in Alty's recent games.
Sat.20.3.10 at home to Rushden and Diamonds, Alty drew 2-2 with a Chris Denham equalizer in the fourth minute of added time
Tue.23.3.10 at Mansfield Town, the Stags equalised in the fourth minute of added time, to draw 1-1
Sat.27.3.10 at Forest Green Rovers, Alty lost a 3-1 lead to go down 3-4
Mon. 5.4.10 at York City, Alty led 1-0 before losing 1-2 to a penalty in the third added minute of the game

So Alty could have been six or seven points better off with just a bit of luck!
OLD BOYS
Jez at Ashton United writes, "Ged Murphy made his Ashton United debut today (05.04.10) after moving from UniBond League rivals Nantwich Town on transfer deadline day. Murphy's impact was immediate, setting up Adam Morning for Ashton's equalising goal against FC United of Manchester with his first touch. Former Alty Youth player Alex Frost gave away a controvertial penalty in the same game; he definitely caught FC United's Jerome Wright but appeared to do so just outside the area. Former Ashton striker Ben Deegan missed the game through suspension after two recent red cards whilst playing for the Rebels".

Stalybridge Celtic's poor recent form continued as they lost to relegation threatened Vauxhall Motors. Warren Peyton netted a last-minute penalty for the Tameside outfit. Menahwile third-placed Alfreton Town beat Corby Town, one of their goals coming from Jake Moult, an Alty trialist last summer. And for FCUM, Carlos Roca scored two in a 2-2 draw with Ashton United.
---
5 April 2010
YORK CITY 2 ALTRINCHAM 1

York's Gash has Alty's Williams in a bear hug whilst Chris Senior receives close attention from a York defender in this first-half view of the home side's penalty area.

A penalty in the third added minute at the end of the game decided this match. Greg Young brought down Richard Brodie, right of goal, and the combative York striker converted the spot kick. Before that a superb 35-yard lob from Chris Denham had put Alty ahead but the lead lasted only five minutes before McGurk equalised, when Stuart Coburn dropped a cross (69 mins).

Alty had made three changes as Little replaced McAliskey and Smith came in for Carden, whilst Doran replaced Denham.

Match report here.

Alty line-ups and bookings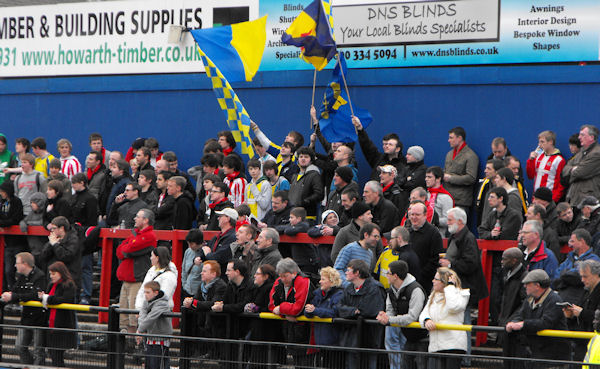 Alty took 213 supporters to York on Easter Monday...

Monday 5 April, 3pm

AFC Wimbledon 0-3 Stevenage B.
Cambridge U. 3-2 Mansfield T.
Crawley T. 1-0 Hayes & Yeading U.
Ebbsfleet United 3-2 Eastbourne B.
Forest Green R. 3-4 Tamworth
Kettering T. 1-1 Histon
Kidderminster H. 1-1 Rushden & D.
Luton T. 6-0 Grays A.
Oxford U. 1-0 Salisbury C.
Wrexham 0-0 Gateshead
York C. 2-1 Altrincham
EASTER MONDAY
There will be the usual live matchday updates during the game at York City on Easter Monday. These will start with confirmation of the teams and will continue through the match with regular news on the

Matchday Update page.

The BBC reports that "York City manager Martin Foyle has the luxury of selecting from a fully-fit squad after nine days without a game. Striker Michael Rankine could come back as the Minstermen look to consolidate fifth place... Altrincham manager Graham Heathcote is sweating on the fitness of three men.

Nicky Clee failed a fitness test before Saturday's 3-2 win over Kidderminster, while Robbie Lawton (ankle) and Chris Denham (calf) are also struggling. Heathcote's side, who seemingly have nothing other than pride to play for in the Blue Square Premier, have won six times away from home this season".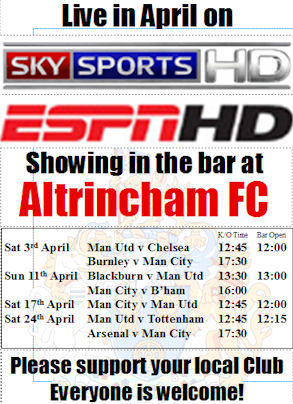 EXCITING DRAW
Alty Youth snatched an equalizer in the fifth minute of added time to emerge from their league match with Nantwich Town with a 3-3 draw. Report in Youth section.
KIDDY GAME
Harriers Online has a match report which says that "Kidderminster Harriers recorded their third loss in four league games at the hands of Altrincham"
OLD BOYS
In Wales Marc Lloyd Williams scored for Airbus against Newtown, whilst Mark McGregor scored for GAP Connah's Quay in a 5-0 win over Caersws. Aaron Burns also scored for Connah's Quay.

NL Daily says that "Mossley will now be donating ALL gate receipts from their UniBond League Division One North match agsisnt Woodley Sports on Thursday, 8th April at Hurst Cross to Ashton United's Appeal Fund. This kind gesture is of gratitude for their Tameside neighbours help following their recent floodlight problems". Ashton's appeal follows the success of Marcus Hallows in his case against Ashton United Danny White for his tackle on the Altrincham striker which resulted in a badly broken leg for the striker.
---
4 April 2010
SATURDAY'S GAME
Match report here

Above: Alty line up a lengthy wall to defend a first-half Kidderminster freekick.

Alty captain Robbie Lawton told the NL Paper, "We looked second best at times. Kidderminster were good coming forward but weren't too clever at the back and we took our chances".

Kidderminster Harriers report that "Harriers dominate but come home empty-handed... A deeply frustrating Blue Square Premier day on Saturday saw Harriers take the lead but end up on the wrong end of a five-goal encounter as Altrincham won out 3-2 at Moss Lane...

Harriers made the breakthrough and took the lead with their first real chance of the afternoon... Altrincham completed their comeback as they went 2-1 up. Harriers were attacking but were robbed of possession in the centre circle as Denham stole from McPhee - he played a fine one-two with fellow danger man Carden who saw his shot saved excellently by Atkins, the former on hand to head in the re-bound".

aT 2-2 "Greg Young cannot have scored many a better goal in his entire career but he took Altrincham's third of the day in real style - picking the ball up from plenty inside his own half before virtually waltzing through the entire Harriers side before poking a finish under the body of the utterly exposed Atkins who could do nothing about it".

Manager "Steve Burr admitted his Kidderminster Harriers side 'beat themselves' on Saturday as three gift-wrapped goals saw them fall to defeat at the hands of Altrincham... 'It's a bit frustrating because we've had a lot of possession today but again we've conceded three really bad goals from our point of view', he said... 'The way we've let soft goals in hasn't helped our cause and I didn't feel so much it was Altrincham that beat us - we've beaten ourselves with our mistakes'".

Meanwhile the Kidderminster Shuttle also claims that "Poor defending ensured Harriers returned to Worcestershire without any points on Saturday... as Graham Heathcote's determined side took advantage of three defensive mistakes in an error-strewn Blue Square Premier clash. The away side had plenty of the ball in the second half but could not find their way through the home team's defence... In the end, the Aggborough outfit will be wondering how they lost a game they controlled for long periods".
THANK YOU
Saturday's half-time bucket collection for the Strengthen our Squad appeal raised £38.08. Thanks are due to collectors and donors alike.
UPS AND DOWNS
Saturday's results mean that Grays Athletic are now relegated, subject to any decisions at the Conference AGM in June or another club going bump before then. Likewise, Altrincham are now mathematically safe from relegation. Eastbourne, Ebbsfleet and Grays are all now unable to overtake us.

Bullsnews confirms that "Weymouth have suffered a second successive relegation after Worcester's win on Friday made it impossible for the Terras to escape the drop. They may yet be relegated a further division due to their financial problems, but will start next season with a points deduction regardless".

Bullsnews also reports that "Darlington have had to change their kit design for next season as it breaks Conference rules on the amount of black allowed as the refs wear that colour. The club say the change does not mean they have accepted relegation".
THE RUN IN OF DEATH?
Every World Cup there is a so-called Group of Death comprising four or more strong teams. Altrincham's next four league matches are a bit like that as we face four of the top five in the space of 12 days!
Mon.5.4.10 Away to York City (5th)
Sat.10.4.10 Home to Oxford United (3rd)
Wed.14.4.10 Home to Stevenage Borough (1st)
Sat.17.4.10 Away to Luton Town (2nd)

However, before we get too despondent let's remember that:

We drew with York at home this season
We only narrowly lost 0-1 to Oxford Utd away this season
We drew at Stevenage away this season
We only narrowly lost 0-1 to Luton at home this season

And, apart from the top five, no one in the BSP has lost fewer league games that Altrincham this season.
OLD BOYS
Rossendale United manager John Hughes [not the ex-Alty striker] has appointed former player Joe Paladino [ex-Alty goalkeeper] as his assistant manager after his number two Mickey Graham stepped down this week due to work commitments although he will remain at the club in an advisory capacity. Paladino, a former professional boxer who played in goal for several UniBond clubs in the eighties, has been working behind the scenes at Dark Lane as goalkeeping coach. He is currently in the middle of taking his Level 3 coaching badge. Hughes said "I am sorry Mickey has decided to take more of a back seat but Joe is a big lad with great presence and he will be a huge boost to the dressing room".
CAPTAIN'S LOG
Robbie Lawton's "Captain's Log" in Saturday's "Robins' Review" is entitled "Groundhog Day!!"

Robbie writes...

"As you can imagine, the journey home from Gloucestershire last Saturday wasn't the greatest. We watched the DVD of the game and then sat down to watch this 'video nasty' again on Tuesday night at training. Graham was at Stevenage watching their game against Oxford in preparation for our home games against those two sides next week, so Kenny was in charge of talking us through the events of what was a very strange game.

The match never really got going even though we were 3-1 up at Half Time. Perhaps we were guilty of complacency in the second half and what happened was certainly very unusual for us this season when we have been generally very organised and difficult to score against. To be fair to Forest Green they are a decent passing side and once they got a goal back you could feel that a comeback was on the cards. In terms of learning from the game, we must be able to cope better with that sort of pressure, but we were also unfortunate with a couple of key decisions going against us.

What annoyed me with their penalty was not so much the decision to penalise Shaun Densmore, but the fact that the referee, who was just a few yards away, waived away appeals, and then pointed to the spot when the linesman signalled. The linesman was further away from the incident and the referee was wrong to act on his flag. It was the other linesman who let us down in injury time. You can clearly see on the DVD that Colin Little was onside as he steered Ryan Brown's effort into the unguarded goal in injury time. In between those key moments, I think that the referee tried to even up his poor decision with their penalty, by showing David Brown a second yellow for time wasting without any sort of warning whatsoever. That was also an incorrect decision and I told the referee that he had got it wrong.

In summary, we have to get last week's performance and result into perspective. We shouldn't make too much of a big deal out of it as it was so uncharacteristic of the way we have played this season, but we can't ignore it either. Bizarrely enough, I think that we have watched three DVD's on training nights since I have been at the club and they have all been against ...........Forest Green!!! The other horror shows were a 5-0 defeat at their old ground in 2007 and when we lost a 2-0 half time lead before conceding five in the second half here at Moss Lane last season! It feels like the 1990's film Groundhog Day, where Bill Murray plays a weatherman who keeps living the same day over and over again!!

Despite the fact that we have a difficult run-in , we still feel that we can achieve a top ten finish and today's game against Kidderminster and Monday's trip to York give us a good opportunity to wipe away the memory of last week's nightmare! Finally, I believe that Matt Doughty has had his cruciate operation this week and we all wish him well in his recovery. I also understand that Tom Kearney had a scare, when it appeared that there was a problem with the pin inserted in his leg, however I believe that there is no need now for a further operation to put in a new pin and that is really good news for Tom".

Robbie's injury jinx continued yesterday as he limped off during the second half. Hopefully it was nothing too serious.
SEAN'S SURGERY
In the Robins' Review on Saturday, Alty physio Sean Riley confirmed that Matt Doughty had had a successful operation on his cruciate ligament injury last week. Indeed, Matt was at yesterday's game, on crutches. His fellow cruciate victim, Dale Johnson, once again was seen running up and down the pitch before kick off as his rehabilitation continues. Also, Sean writes that Tom Kearney continues "to make good progress" with his broken leg.
FRIENDS
Steve Foster of TASC reports that the winners of the March monthly draw of the Friends of Altrincham FC are:
1st 53 Ruth Gallagher £100
2nd 9 Steve Foster £35
3rd 54 Ruth Gallagher £15
FLYNNZINE- ALTY FC IDOLS
Brian Flynn's latest "Flynnzine" is on the subject of:

Alty FC Idols 'till we die!!!!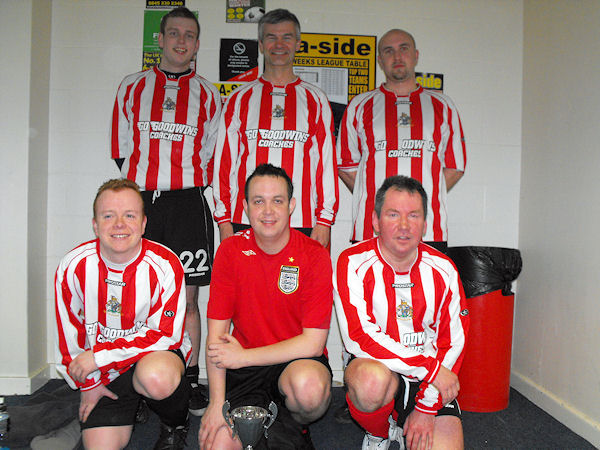 Standing Left to Right: Tom Jacobs, Grahame Rowley, Ross McEwan
Kneeling Left to Right: Steve Foster, Mike Barton, Brian Flynn

"It's been a terrific season for Altrincham Football Club, notwithstanding events between 4.25-4.35pm at The New Lawn last Saturday, but for today's missive it is time to focus on the exploits of one of the lesser known teams that proudly wear the Red and White stripes.....Alty FC Idols, who ply their trade each Sunday afternoon in the 5-a-side Leisure Leagues played at Altrincham Leisure Centre.

The team have competed for the last four years in this league and typically have achieved a mid table position at best, however during the last twelve months there has been a measurable improvement in results and during the season completed just three weeks ago they were involved in a titanic four team struggle that ultimately saw The Idols finish a point behind the aptly named Clansmen to finish as Runners-Up.

We did, in fact ,inflict the only two defeats on the eventual Champions in a couple of very highly charged encounters, but ultimately paid the price for losing twice to Indoor Milan, who looked likely winners before losing 2-0 in their final fixture against Clansmen.

So let me introduce you to the brave souls that put their bodies on the line each week in the name of Alty as most people are settling down to their traditional Sunday Roast:-

Tom Jacobs: Having achieved a personal body shape transformation from Jody Banim to Robbie Williams, this now sylph like figure has been a revelation throughout the season with some spectacular play and many vital goals!
Grahame Rowley: There are some very good keepers in the League, but none better than 'The Cat' who has saved the team on numerous occasions. Tends to be a little vitriolic after conceding and one or two defenders have been known to burst into tears after Grahame has pointed out deficiencies in their man-marking technique.
Ross McEwan: Very pacy and direct player with a vicious left foot. Works at Manchester Airport and as a Chauffeur and often fits in a game during his lunch hour. This boy will improve with experience, particularly if he can improve his stamina as he generally starts blowing within about three minutes of entering the field!
Steve Foster: An excellent player with a cultured and deceptively powerful left foot, Foz has a huge female following. He can be a little tentative when it comes to being substituted and has had to be surgically removed from the field of play on at least two occasions!
Mike Barton: Mike was the League Player of The Year and deservedly so for performing excellently week in and week out throughout the season. We may even club together to get him an Alty shirt to recognise his exploits!
Brian Flynn: Can be relied on 100% to turn up on time for kick off and tends to amble around just outside his own penalty area making the odd defensive block. Having the lung capacity of a Russian dwarf hamster, attacking forays are a rare occurrence, but has been known to go on the odd penetrating run......usually with a wildly disappointing finish!
Dan Martell: Missed the last couple of games through injury and chose not to appear on the team photo on the advice of his agent and stylist, Dan is a talented, slightly enigmatic footballer. A striker with a broad spectrum of finishing skills that range from the ridiculous to the sublime.

Special mention also needs to be made of a couple of players who weren't regulars, but still made their mark. Matt Lamey produced some calm efficient performances in an interesting array of retro Alty tops and Daniel Jackson is as idiosyncratic on the pitch as he is is off it, yet produced a couple of important goals at critical moments in the season! So there you have it....Alty FC Idols.....producers of the first silverware of the season at Moss Lane!!"
YOUTH FIXTURES
Altrincham FC Youth team's remaining NWYA fixtures are now in the Youth section. The lads are at home today to Nantwich Town (2.30pm at Wythenshawe Town).
BSP NEWS
Blue Square Football reports that "Forest Green Rovers have revealed they are still £9,000 short of their target figure as they look to secure the future of the club. The Rovers are aiming to raise £250K in the next three months but they still need to raise £9,000 to meet the requirements of their first payment of debt.

Vice Chairman Colin Peake told the club's official website: 'It is vital we meet the Revenue first payment so we are able to get the long term payment plan on offer from them. "Eric Whitlock made a generous donation of £5000 at our game against Barrow and in return receives two passes for the next 10 years so he can watch his beloved Rovers. If we can only find a few more who would be able to make such a donation then we get easily over the first hurdle in front of us". News of our Monday opponents comes from Blue Square Football which tells us that "York City manager Martin Foyle has been scouting the league's top clubs over the past few weeks in the hope of gaining an edge over their play-off rivals... Foyle told the York Press: 'You can get reports off people but, if you see these teams with your own eyes, it gives you your best possible shot. Some clubs have proper scouting systems but we lag behind a bit in that respect. You can rely on contacts and get DVDs in but you have to watch them and that takes time as well'".
---
3 April 2010
ALTRINCHAM 3 KIDDERMINSTER HARRIERS 2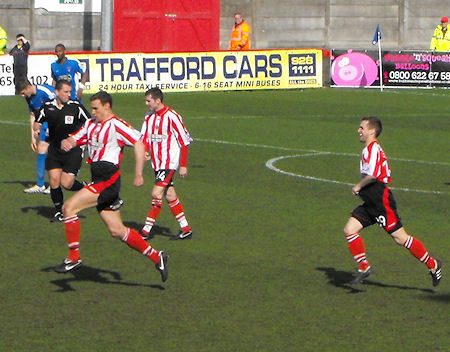 Altrincham came from behind to take the points and secure only their second win in their last eleven games.

Match report here

Right: Greg Young's strange goal celebration consisted of his pulling his shorts up to his waist and then running back to his own half, as shown! Chris Senior appears to be following suit.

Saturday 3 April, 3pm

Through the Years by Howard Watts
Altrincham 3 Kidderminster H. 2
Eastbourne B. 1 Forest Green R. 0
Gateshead 2 Cambridge U. 0
Grays Athletic 0 Kettering T. 0
Histon 1 AFC Wimbledon 3
Mansfield T. 0 Wrexham 1
Stevenage B. 0 Luton T. 1
Tamworth 3 Barrow 0
LIVE UPDATES
There will be the usual live matchday updates during the game on Saturday afternoon at Moss Lane, between Altrincham and Kidderminster Harriers. These will start with confirmation of the teams and will continue through the match with regular news on the

Matchday Update page.
SPECIAL OFFER
Ian Senior of Sensport Kits, suppliers of Altrincham FC shirts announces that "If you order the new away replica kit before the end of the current season, you can have a name/number attached free of charge. This can be any player's name or individual's name or nickname". Please contact the club to arrange this (928-1045) or...

The new 2010/2011 adult away shirt is now available from the club's Ebay Shop at a cost of £35 + p&p.

Children's shirts are also available for £30 + p&p.
BEFORE THE GAME
From our opponents, Kidderminster Harriers we learn that "The likes of Luke Prosser and Lloyd Kerry are slowly beginning to show just what they're capable of in a Harriers shirt, says boss Steve Burr. Central defender Prosser joined the club on loan from Port Vale until the end of the season on loan deadline day... He put in a fine showing at the back as Harriers picked up a win and a clean sheet against Cambridge United on Tuesday night... Burr explained... 'Luke is not the biggest but he is fearless and he put himself about - that is what you're looking for'...

"Harriers' boss Steve Burr is looking forward to returning to one of his favourite grounds tomorrow as the side kick-off the Easter break with a trip to Altrincham's Moss Lane. Burr may well still be regarded as something of a striking legend among Macclesfield Town fans for his many a season banging the goals in for the Silkmen, but that very form less than endeared him to the faithful of another club just nearby - Altrincham.

Good-natured banter between the now Harriers' boss and one of his former playing rivals is all part and parcel of the game, and speaking to harriers.co.uk today Burr admitted he's always enjoyed a day out at Moss Lane. He was full of praise, too, for current incumbent Graham Heathcote, who continues to lead Alty on a charge of defying all odds by securing a top ten finish in this term's Blue Square Premier.

'To be fair they have had a number of reprieves over the years due to other teams' struggles but Altrincham have taken that and they have built on it," says Burr. "Each year they seem to be getting stronger - Graham Heathcote has done a really good job there with his team this year and they are always tough to play against. As a former Macclesfield player I always remember the Macc-Alty games as being massive and it is a place I look forward to visiting. There's always a bit of banter with their fans and myself given my playing days, and it's great for their supporters to be up where they are this season; it's proof you can still compete as a part-time side'...

Matt Doughty (cruciate) is out for the hosts following surgery, whilst Anthony Danylyk is unlikely to be fit following a back injury. Nicky Clee (groin) missed the Rovers game and could be a doubt for our visit. Harriers have injury concerns of their own - left-back Lee Baker (groin) is approaching fitness but may not be ready in time to race the Robins, with the same said for John Finnigan who continues to be dogged by a thigh problem.

Luke Prosser (concussion) and Martin Riley (groin) and Duane Courtney (ankle) all took knocks in the midweek win over Cambridge United at Aggborough and will be assessed prior to the game

Meanwhile the unofficial Harriers Online site says that "We should be feeling inspired by the win against Cambridge Utd on Tuesday evening to be able to gain a similar kind of result at Altrincham... The passing was good too and at times we were cutting Cambridge to ribbons with ease. It's that kind of endeavour that we'll be taking to Moss Lane...

We beat Altrincham 3-0 at Aggborough back at the start of the season with two goals from Brian Smikle and the other from Matthew Barnes-Homer. Martin Riley was sent off in that game as was Sean Densmore for Altrincham and it's to be hoped that we don't have a repeat of that".

The Express & Star adds that "Defender Riley now has a groin problem after recovering from a badly bruised toe, while midfielder Byrne is struggling with a foot injury although is hoped to be passed fit...

The manager will need all the help he can get over the next seven days, and believes that the run to the FA Trophy semi-final is the cause for the pile-up. He said: 'It's ridiculous, full stop, but it always seems to happen at this stage of the season when a team has been involved in cup competition... Altrincham have done well compared to previous seasons, where they have usually been battling against relegation. It's never an easy place to go, but if we can produce another performance like the other night there's no reason why we can't come back with three points'".

The BBC asserts that "Kidderminster midfielder John Finnigan (calf) is unlikely to feature at Altrincham ... Lee Baker will also miss out, while Duane Courtney (ankle) and Martin Riley groin) should both be available."
YOUTHS TO PLAY IN THE DARK?
Altrincham FC Youth will now play Nantwich Town in an NWYA Premier Division match at 2.30pm on Easter Sunday at Wythenshawe Town FC. The league has also scheduled them to play a 6.30pm kick off at the same venue on Tuesday 6th April against Salford City. As the sun sets at 7.53pm that night and there are no floodlights, it could require torches to finish the game.
KEN'S TESTIMONIAL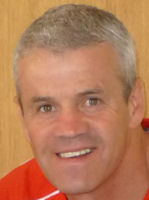 The New Saints announce that "The New Saints' supporters will have the opportunity to guarantee [themselves] a ticket for the club's first pre-season friendly against Premiership giants Liverpool.

Vouchers will be issued at the club's final home Welsh Premier fixture of the season against Haverfordwest County on Saturday April 17. Supporters will be able to obtain a maximum of two adult and two concession ticket vouchers for the game which will be played on a pre-season date to be confirmed by both clubs.

The game will be a testimonial for ex-manager and player Ken McKenna (pictured), who is currently assistant manager at Blue Square Premier side Altrincham and spent 10 successful years with the Saints, clinching three back-to-back league titles".
OLD BOYS
A summer trialist with Alty, David Owens scored for Rossendale United against Radcliffe Borough on Friday. Also in the UniBond League, former Alty reserve Richard Chetcuti scored for Warrington Town at Wakefield. And Paul Ellender netted for Retford against Durham City. Jake Sedgemore scored for Nantwich Town.
RE-LIVE THE GAME
Video highlights of the recent Mansfield Town v Altrincham game are on the Stags' website.
BSP NEWS
The Football Conference announces that "Sky Sports will show the Blue Square Premier 'Promotion Final' exclusively live and in high definition on Sunday 16 May from Wembley Stadium. The competition showpiece will kick off at 5pm and is one of eight finals live on Sky Sports this season. This great news for the fans of the game comes at a time which will only add extra spice to the run in for the top spots as this season draws to a conclusion.

The champions of the Blue Square Premier gain automatic right to promotion, whilst those finishing 2nd to 5th at the end of April, will play off to determine which two teams will participate for the remaining place under the two up and two down agreement between the respective competitions. The top five clubs going into the last four weeks of the regular season at this time are, Stevenage Borough, Luton Town, Oxford United, York City and Rushden & Diamonds, with only the 'Boro never having played in the Football League before from this quintet of clubs.

As the 'Promotion Final' offers the last chance for entry to the Football League this season and with it again being staged at Wembley Stadium, it is likely that the attendance on 16 May will shatter the existing record set in 2008, when Exeter City booked their return to the Football League with a victory over Cambridge United in front of 42,511 fans.

Announcing the deal to show the 'Promotion Final' live Brian Lee, Chairman of the Football Conference said: 'The Football Conference are delighted to be renewing their relationship with Sky Sports in showing the Blue Square Premier 'Promotion Final' from Wembley. After a highly contested top of the competition this season, it promises to be a well supported game with the prize - a place in The Football League, alongside previous winners like Carlisle United, Shrewsbury Town and Doncaster Rovers'.

Barney Francis, managing director of Sky Sports said: 'It's been an exciting season that's set for a great climax. This game, which gives a place in the Football League for the winner, sits perfectly alongside the Football League Play-Off Finals and is one'".

According to the Football Conference, "Histon have cancelled the contract of striker Craig Hammond following his return from a loan spell at AFC Sudbury... Manager Alan Lewer said: 'We wanted to keep working with the boy as he's scored plenty of goals at lower levels. But the Conference is a different league and he needed to work on his movement and it wasn't clear if Craig wanted to put the time in'".
NW NEWS
According to the Northwich Guardian "The Football Conference has refused to end a signings ban on Northwich Victoria despite the club's claim to have paid off debts owed to other teams. League bosses say they will wait for cheques written by owner Jim Rushe at the start of the week to clear before allowing Andy Preece to bolster his injury-hit squad.

'It's simple', said Conference general manager Dennis Strudwick. 'The [transfer] embargo will be lifted once we receive confirmation all football creditors have been paid [from the creditors themselves]'.

The Guardian can reveal that each of the clubs or players waiting for Vics to settle old bills – some dating back as far as three years – have already told Strudwick they received a cheque signed by Rushe ahead of Wednesday's league-imposed deadline. That was also the last day Blue Square North clubs could sign players for the season's run-in.

Preece tried to recruit three players to feature in Vics' Easter double-header... The former Bury boss wrote to the Conference yesterday, Thursday, to ask for leniency because he fears not being able to field a full team against title hopefuls Port if any of his players are injured on Saturday. But the league has stood firm. Strudwick added: 'Our position will not change'. He has also told Preece the club has the option to recall Aaron Burns or Ryan Brown from loan spells at Gap Connah's Quay and Altrincham respectively.

However Burns would need international clearance from both the Welsh and English FA to return, both of whose offices are closed until next week. 'I'm genuinely worried', said Preece. 'What happens if we don't have 11 players to face Southport? I'm not sure Fleetwood would be too happy with a scenario where their rivals for the title play a match against a team with nine or ten men'.

His crisis is a real one. Nat Kerr is banned this weekend, while Ian Herring (ankle), Jon Newby (groin) and Jamie Vermiglio (hamstring) are all definitely out injured. However there are doubts too over the health of Ryan Broadhead (leg), Mark Cadwallader (knee), Johnny Evans (hamstring) and Luke Horrocks (ankle). None are fit to play two matches in 72 hours, according to Preece.

Last month the Conference ordered Vics to clear debts – totalling around £16,000 – to all of their football creditors by March 31, after accusing the club of 'misleading' the league's board. They fined the Wincham outfit £10,000, suspending three quarters of that figure, plus threatened them with a second ten points deduction of the season should they fail to comply.

Rushe told the Guardian on Monday that he had paid up. 'I've told the league too' he said".
---
2 April 2010
GOOD FRIDAY FIXTURES
Hayes & Yeading Utd 2 Oxford United 1
Rushden & Diamonds 1 Crawley Town 1
Salisbury City 3 Ebbsfleet United 1
"MY FAULT" SAYS GRAHAM
The Sale & Altrincham Messenger says that "Graham Heathcote admitted Altrincham had been guilty of complacency, but readily shouldered his share of the blame after a seven-game unbeaten run ended in dramatic and controversial circumstances at Forest Green Rovers...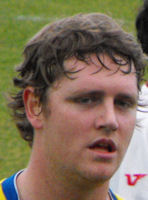 'There was a lesson to be learnt that if you become complacent in this league, you are going to lose', said Alty boss Heathcote. 'You have to maintain your level of performance for 90 minutes, but, to be fair, the changes I made probably didn't help. I have this mindset with John McAliskey (left) that fitness might become an issue after an hour, and I wanted to ease James Smith back in by giving him the last 25 minutes or so. But perhaps I should have left things as they were a bit longer, because taking "Big John" off affected our ability to hold the ball up. We allowed them to come on to us far too easily, and the compactness that has been our strength was suddenly missing. We were punished severely for that, and we all felt down and disappointed at the end. It was more my fault than they players', but I'm probably not the first manager to get his substitutions wrong!

It didn't help that we suffered two horrendous decisions.Their equaliser was 100 per cent not a penalty. Even the referee told me he didn't think it was a foul by Shaun Densmore. He admitted he had allowed the linesman to overrule him, and Colin was 100 per cent onside when he scored near the end. You can see the keeper and a defender four yards to the side of the goal are playing him on. Over the 90 minutes, we deserved something out of the game, and that would have been a fitting finale, had Colin's goal stood'.

Alty are boosted by the news that Anthony Danylyk, Nicky Clee and Smith are all fit for their massive Easter fixtures against Kidderminster at home on Saturday and York away on Monday".

The Kidderminster Shuttle reports that "Harriers' manager Steve Burr believes there are more gems to be mined from the Blue Square North and South this summer after being impressed by the impact of Jack Byrne. The 20-year-old has been a revelation for the Aggborough outfit since his move from Redditch and has nailed down a regular berth place in Harriers' midfield. After spells at Northwich Victoria and Stalybridge Celtic as boss, Burr's knowledge of the divisions below the Conference Premier is second to none and he is sure there are more players who could make an impact.

With eight league games of the season left, he has already began to reshape his squad and assess his current playing staff. He loaned out centreback Gavin Caines to promotion-chasing Luton and drafted in Port Vale defender Luke Prosser and Chesterfield midfielder Lloyd Kerry until the end of the season...

'It all depends on what sort of budget we've got to play with but I do think there are some players in the Conference South and North that could make the step up to this level', commented the manager. 'Jack [Byrne] has done incredibly well since he's joined'...

Burr said: 'I must talk to the board and discuss it with them but I do have some idea on who we'd like to keep'...

Harriers, who ended a seven-match winless streak against the U's, have a few defensive headaches for their Easter weekend clash at Altrincham on Saturday... Martin Riley limped off with a groin problem on Tuesday, while Duane Courtney (ankle) and Luke Prosser both picked up knocks. Left-back Lee Baker has missed the last two games and may not be ready for Saturday's trip to Moss Lane...

Meanwhile, an attempt by clubs to have expelled Chester's points reinstated collapsed this week. The group, which included Oxford, Tamworth and Stevenage [as well as Kidderminster themselves], had appealed to the FA in order to get back the points they lost [or had not yet contested] when City were kicked out in February".

Before the game you can watch Manchester United v Chelsea on High Definition TV in the bar at Moss Lane; following the Alty game, Burnley take on Manchester City in another televised game to be shown in the bar. Details are shown in the poster below.
TASC TEES UP £110
TASC chairman Brian Flynn writes...

TASC Golf Day raises £110

The winner of the recent TASC Golf Day at Mobberley Golf Club was Malcolm Horner, who pipped Paul Salt by one point and Dave Gretton by two points in a competition under the Stableford Points System.

Malcolm is pictured (left) with his Winner's trophy alongside TASC Chairman, Brian Flynn (centre) and Runner-Up, Paul Salt (right) at the World Cup Heroes evening held at The Cresta Court Hotel last week.

The event raised £110 for Altrincham Football Club and TASC would like to express its gratitude to Eric Robinson and Gary Donnison from Mobberley Golf Club, for their help in organising the event and providing trophies and prizes on the day.

TASC are planning a further Golf Day for September/October time".
BLUE SQUARE SPONSORSHIP RENEWED
The Football Conference is "pleased to announce that Blue Square, part of the Rank Group, has signed a new three-year, seven-figure deal, to continue as Title Sponsor for all three divisions for the next three seasons.

To bring more emphasis to their sponsorship, the respective divisions will now be known as BLUE SQUARE BET PREMIER, BLUE SQUARE BET NORTH and BLUE SQUARE BET SOUTH.

The agreement [was] signed by Mark Jones the MD of Blue Square, and Brian Lee, the Chairman of the Football Conference... in the presence of Sir Geoff Hurst, who will be Blue Square's guest of honour at this season's Promotion Final at Wembley on Sunday, 16th May.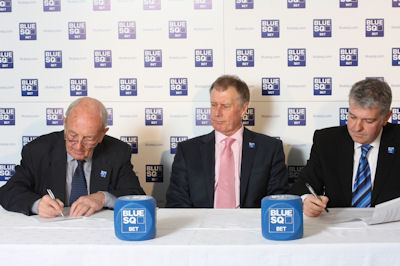 Blue Square are excited to have such a legend, not only in this World Cup year but with him returning to the 'Venue of Dreams' to present the trophy to the club who will gain promotion to the Football League via the Conference play-off system.

Mark Jones stated: 'We are delighted to be continuing our sponsorship of the Conference competition. Football is a vital part of our company strategy and we are delighted to support that with our investment into the grassroots game'.

Brian Lee in response commented: 'The partnership with Blue Square has seen The Football Conference grow in stature in the last three years within the professional game. As the present season draws to an end we are absolutely delighted that we are renewing our sponsorship with Blue Square and look forward to continuing our successful working relationship with them in the future'.

Member clubs will, starting next season, see a closer link with other partners of Blue Square via the Rank Group, namely Mecca Bingo and Grosvenor Casinos.

Spearheading the sponsorship on a day-to-day basis will be Richard Jaques, Sponsorship Manager for Blue Square. In his new role he said: 'It's fantastic to be able to continue our association with the league. The new deal runs for another three years and we look forward to supporting all of the member clubs during that time'.

As this current season and the current deal draws to a close, Alan Alger, PR Manager for Blue Square, underlined his and Blue Square's passion for the competition: 'This season is shaping up to be as exciting as the first two. I'm extremely happy that the deal will run for three more years as attendances continue to rise and the quality on the field reaches even higher standards. The Blue Square Promotion Final in May will be eagerly awaited by all in football generally, let alone the fans of the two clubs who will be treading the hallowed turf to secure their dream end to this fabulous season'".
NEW AWAY SHIRT
Altrincham FC will have a new away shirt next season, which is shown, right, in a photo taken by Sarah Rowley. Ian Senior of Sensport Kits says that "it is available to view at the club. Jenny Heslop has samples of long- and short-sleeve versions and various sizes available".
BSP NEWS
From This is Sussex we learn that "Charlie Ademeno and Sam Rents will be the first Crawley Town players to be offered new contracts by the club. Reds' boss Steve Evans revealed that both the striker and left-back will have new deals put to them before the end of the season... Both players are under 24, meaning that any club who tries to sign them in the summer will be liable to pay compensation to Crawley if the Reds have shown they want to keep them by offering them a new deal...

He said: 'They are two players we want to stay here and be a big part of the team next season. With the exception of maybe one or two, we know which players we are looking to offer new contracts to, but will wait until after the last game of the season to begin negotiations'.

With the exception of Eddie Hutchinson, who signed on a two-year deal from Oxford United last summer, the majority of the Reds squad are out of contract at the end of the season. But Evans says... 'There is a lot of talent in this squad and I'd like to keep a lot of them but we will have to spend our resources wisely', he added. 'But I can guarantee that no player will hold Crawley to ransom... Ebbsfleet United have a bigger budget than we do here but they are going to be relegated. That shows you what a fantastic effort it has been by the players to get so close to the play-offs. The management and playing staff have played their part in bringing costs down by driving to games. We'll be driving ourselves to all the remaining away games in a mini-bus and our own cars but hopefully it will make a difference next season'".

NL Daily says that "Micky Mellon, manager of Blue Square North leaders Fleetwood Town, has moved to shore up his defensive cover as the club enters the final five games of the season... Wrexham left-back Sam Williamson will spend the rest of the season on loan".

From NL News 24 we learn that "The FA Trophy final between Stevenage Borough and Barrow will be shown live on ITV4... on Saturday May 8..., enabling Freeview viewers to watch Non-League football for the first time ever".
---
1 April 2010
YANKEE
There were five Treble winners in the Altrincham FC Saturday Yankee this week but the £5,000 jackpot remains to be won. To find out how you can win this for just £1, visit the Saturday Yankee page.
EASTER SOCCER SCHOOL SUCCESS
The Easter Soccer School at Moss Lane has attracted more than fifty children for the four-day event. Alty striker Colin Little is one of the coaches involved in the event. The Summer Soccer School will be held at the end of July and full details will be available shortly.
BSP NEWS
AFC Wimbledon report on their draw with Wrexham on Tuesday. "A weaker set of characters than AFC Wimbledon's would have taken that as a sign that it was just wasn't their night, but incredibly, the game had more late surprises in store. Obeng and Maxwell made a complete hash of seeing the ball out for a goal-kick that would have heralded the final whistle: they left it to each other and allowed Blanchett to steal in and slide the ball towards the goal from an acute angle. Westwood hacked it out for a corner ... cue Mr F. Sinclair. As Poole swung over the ball, Sinclair swung his right arm into Kedwell's face, the assistant referee spotted it through a crowded penalty area, and signalled for a foul. Referee Long concurred, pointed to the spot for the second time in the game and, after some discussion with his assistant, despatched Sinclair down the tunnel.

Poole kept his nerve in the near-two-minute wait to take the kick, and although Maxwell guessed the right way, the ball found its way into the bottom corner of the net and the Dons had rescued a point, for the second time in six minutes".

From the other side, Wrexham boss Dean Saunders said that "We weathered the storm in the first half, after it took us five hours to get here, which was far from ideal... We gave away a stupid penalty... Maxi has saved it... but at one-up I felt comfortable.... Then with three minutes to go they score from a set piece with an own goal. I don't think I've every seen anything like it - you just couldn't write it! At the end I'm told that the lad's thrown a punch at Frank [Sinclair], he's reacted and the linesman has given a penalty... There's 10 seconds left on the clock, they kick a hopeful ball down the channel and Curtis Obeng can do anything - apart from what he did! He's only got to clear the ball - put his head through it. But he decides to try and give it back to the keeper and we concede a corner, which leads to the penalty!... Had we managed to hang onto leads we have gained, then we could be in a play-off place now... One decision from Curtis has cost all of us".

The BBC adds that "Wrexham manager Dean Saunders says Frank Sinclair will be punished for his red card in the 2-2 AFC Wimbledon draw... With Wrexham leading 1-0 he hit a 90th-minute own goal, Andy Mangan restoring the advantage before Sinclair's red led to an equalising penalty for the Dons... Said Saunders, 'He's retaliated and been sent off'...

The red card is Sinclair's second in March, following a dismissal for a tackle against Altrincham that left Tom Kearney with a double break of the leg. He now faces a five-game ban, Saunders acknowledging that it will be 'the end' of Sinclair's season".

Blue Square Football reports that "Cambridge boss Martin Ling was far from impressed following his team's 1-0 defeat to Kidderminster on Tuesday night... 'We were lucky to get nil to be honest', he told cambridgeunited.com after the final whistle. 'We were outfought. We had to change our system to accommodate them, which I don't like doing but we had to, with the way things were going. We had two wide boys who didn't get involved and their three man midfield was overrunning ours. So we made changes at half time and went 4-3-3... We're out of the relegation issue but we still want to put a high point to end this season to take into the next one. Plus there are contracts still up for grabs'".

"Histon's highly-rated defender Callum Stewart has been invited to train with Fulham's Under-19 squad" states Blue Square Football... But Stutes' boss Alan Lewer told Cambridge News, 'Callum was at Ipswich before he joined us and he enjoys the full-time training, but I wouldn't read too much into it'".

"With Oxford's hopes of automatic promotion extinguished, Wilder wants his charges to regroup and focus on the season run-in. 'We've got to dust ourselves down and go again' he told The Oxford Mail'... Stevenage have not lost a match at Broadhall Way for almost 18 months and Wilder admitted that the hosts were the better team".

According to the Northern Echo "Hours after suggesting he was the right man to take Darlington forward, Mark Cooper is believed to have been lined up for another job... Cooper has been looking for a quick return to frontline management since losing his job at Peterborough United at the beginning of February. He is thought to have applied for the Hereford United job, although former club Kettering are hoping for his return".

The BBC states that "Eastbourne Borough assistant boss Nick Greenwood says Tuesday's 2-1 win over Gateshead is the start of their bid to avoid relegation. Boro face crucial matches against fellow strugglers Forest Green on Saturday and Ebbsfleet two days later. He told BBC Sussex: 'There's that feeling in the changing room that it's the first step on a difficult week. We've got to take it on for the first time this season and win back to back games. That's now the next challenge... It was getting to the last chance saloon. It's not easy for the players to know they've got to go out and win a game. The question is 'Can we do this again on Saturday against Forest Green?'"

The Kidderminster Shuttle reports that "Hitman Darryl Knights produced a sparkling performance and earned the man of the match award as Harriers stopped the rot with a well-deserved win at Aggborough on Tuesday night. Steve Burr's troops ended a seven-match sequence without a win and stopped a U's side that had not lost in 10 games with some thrusting attacking football".

And Harriers quote Steve Burr, "We've got to put some of these chances away because I won't see 60 I don't think, if it carries on like that!... I left Darryl [Knights] out on Saturday and I probably made a mistake doing that because he is a lad who gives us a spark'...

Meanwhile, "Chairman Barry Norgrove has given his latest update from the Boardroom at Aggborough Stadium with March 2010 now consigned to the history books... It seems that positivity is spreading from the manager's office upwards, and all around for that matter!... 'We are really pleased with Steve [Burr] - he is the same character whenever you see him, rain or shine', says Mr. Norgrove... 'He's freshening things up and trying to generate a really good atmosphere and we know he'll get there. We've been working with him to bring in a couple of players as one or two have gone out and we believe he's doing a wonderful job... We'll try and make sure we have a budget in place to get the kind of players he wants... Overall we have not had a bad season ... For a club our size and with what we're paying out in comparison to what the bigger clubs are paying, I think we've done tremendously well'...

One of the biggest talking points of March 2010 was of course Chester City... Norgrove has rallied[?] on the Football Conference to meet with the remaining member clubs to lay down some 'ground rules' to help protect the clubs both directly involved and indirectly affected. The Chairman concludes: 'We feel all of the clubs in the Blue Square Premier should get together for a meeting with the Conference... so that we can get some rules put down to cater for clubs like Chester who are having such trouble... We hold our hands up because we voted to expel Chester from the League originally but it's clear now that doing that is all well and good, but there is a lot of aftermath. We weren't put straight in the first instance what would happen with regards to points, results, cards, goals and what have you, and quite a few things have now come to light and it has caused disturbances for a number of clubs'".

Before Wednesday's win over Barrow, This is Glos reports that "Forest Green wait for the all-clear from Coventry City before goalkeeper Danny Ireland can line up against Barrow... The on-loan stopper suffered a badly cut lip against Altrincham on Saturday, bravely making a vital late block to help Rovers to an epic 4-3 victory... Hockaday said: 'Danny was rushed to hospital on Saturday for stitches and he basically has three lips – it was a really nasty one' ... Definitely missing for Rovers tonight is ex-Barrow man David Brown, who serves a one-match ban after his red card against Altrincham, so Craig Armstrong will continue in a midfield role. Hockaday said: 'Craig's experience and versatility are proving vital to us, especially against Altrincham when he nullified their number 10 (Chris Denham) in the second half. I felt we had to change things round and hats off to the lads for carrying out what I asked. A few weeks ago there is no way we would have come back from 3-1 down at half-time, especially against a side on a seven-match unbeaten run'".
---
FOR EARLIER NEWS, CLICK HERE
---