---
28 February 2010
AFTER THE GAME
Following yesterday's 1-1 draw with Grays, the NL Paper quotes Alty captain, Robbie Lawton. "The boss isn't happy. He feels that we should have won. Without being disrespectful to Grays, we have set ourselves high standards this season and, considering their poor run, we should've taken three points, but we failed to capitalise on some really good approach work in the first half". Grays' boss Julian Dicks said, "I would have taken a point before we set out from Essex. We have to believe we are capable of staying in this league. Performances like today's show we have a chance".
SEAN'S SURGERY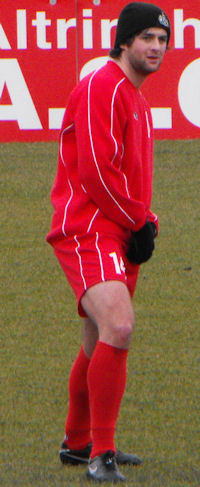 A pleasing sight before Saturday's game (right) was that of Dale Johnson, jogging on the pitch during the players' warm-up. Dale suffered a cruciate ligament injury early this season and is now recuperating well, following an operation. However, Dale will not be fit to play again until after the end of this season.
News of other injured players came in the Robins' Review on Saturday, where Alty physio Sean Riley wrote: "Thank you to all the supporters who made the two long trips on Saturday and Tuesday to Eastbourne and Gateshead respectively. It means so much to all of us to have good vocal support when we are away from home and it's always nice to have a chat with some of you...
On the injury front Robbie Lawton responded quickly to the cortisone injection he recently had and his tendonitis has settled down well. Matt [Doughty']'s scan unfortunately had to be cancelled last Saturday but he is having it done today. Hopefully we will see the consultant in the next few days to discuss the results and his subsequent treatment.
The medical team would also like to congratulate Matt and Natalie on the recent birth of their son, Jake. Natalie has assured me that Jake looks nothing like his dad.
Shaun Densmore and Nicky Clee picked up slight injuries at Gateshead" [But both were fit to play on Saturday]...
Finally I would like to give special praise to our club doctor, Richard Parris... With Robbie's recent injury, the Doc was instrumental in getting him an x-ray at very short notice and, with the help of his colleagues at the hospital, helped quickly rule out a particular condition. Thanks, Doc.
Sean Riley".
FEATURED CLUB
Timperley Villa junior FC were the latest guests at Moss Lane under the
Featured Club
scheme. They witnessed an entertaining game and helped the side along greatly with their vocal support.
ALTY ICE CREAM- IT CORNET BE BEATEN
Altrincham FC official caterer, Richie Bentley wrote, before the Grays game that "Today's special half-time treat for the sponsors' lounge could be a trial of the flavours of ice cream I will (or might) be selling through the shop in the summer...
I have made some lemon sorbet, raspberry and grape sorbet, vanilla and cranberry ice-cream, white chocolate ice-cream, chilli-banana ice-cream, toffee and pecan swirly ice cream...
This half-time treat is not a one-off. Many recent spopnsors have been treated to "Alty Legends" real ale and "Bentley Bitter", not to mention the pancake feast of a few weeks ago. If you wish to be part of the matchday sponsors experience, please contact the club for details. We only have a few games to go and they are all against tasty opposition, so book a table... now! (Please ring 928-1045 to book).
Cheers, Richie".
PICTURES
As well as Altrincham FC official photographer Gavin Rathbone's consistently excellent matchday photos from Moss Lane on his
GR Photography
website, Alty supporter, Harry, has his own
Alty FC Supporters'
images site.
FLYNNZINE
Altrincham FC joint press officer Brian Flynn's latest column in the Robins' review is headed, "Turbulent Times in our green and pleasant land....and on the Emerald Isle". It reads...
"It's been a disappointing week for us with just a single point from two games where we really needed four or six points. However at least everyone at the club has been able to focus on matters on the pitch.
An incredibly high proportion of football stories these days seem to focus on non-football issues. The slow, almost tortuous, death of Chester City F.C. may be resolved by today, depending on the outcome of yesterday's meeting of all Conference Clubs and there must be ten to fifteen clubs in the top five tiers of English football that are trying to deal with some sort of financial sword of Damocles that hangs threateningly over their head........English football, you feel, is heading quickly towards some sort of financial meltdown that is probably going to impact on all of us who are involved and love the beautiful game.
The Conference seems to be grabbing its fair share of headlines in all of this mayhem and, within the last couple of days, we have seen Imraan Ladak, Kettering's Chairman.....or is it former Chairman.....I'm not really sure, send the most ridiculous and immature reply to a letter received from the Conference, who have fined Kettering Town £5,000 for comments made by Mr. Ladak, which it deemed to have brought the league into disrepute and so it ordered an apology for those comments.
I am sure that there will be further chapters in this fascinating war of words but for now Imraan Ladak walks away with the 'I'm almost as big a tosspot as Michael Winner' Award for February'!!
Over the Irish Sea, the League of Ireland, is experiencing a huge amount of turmoil as well and it is interesting to compare and contrast the recent experiences of Bray Wanderers to those of Altrincham between 2006-8. My bloodstock is 100% Irish and I am very interested in League of Ireland Football and travelled to see my Dad's team, Sligo Rovers, three times last season.
Bray Wanderers were rooted to the foot of the Premier Division, pretty well from the start of the last campaign, and destined for the one automatic relegation place, (the league is made up of just twelve teams), until Derry City's financial misdemeanours caught up with them and they were demoted to the First Division after the completion of the league fixtures.
This meant that, with just three days' notice, Bray were set for a relegation play-off away to Drogheda United, who had finished next to bottom. Unsurprisingly, Drogheda despatched them 2-0 and it was time for the third lifeline....... a two legged play-off with Sporting Fingal from the First Division. Fingal sent Bray packing 4-2 on aggregate and the team from the pleasant coastal resort south of Dublin prepared for life in the lower league.
That was back in November, (the League of Ireland runs from March to November), and then, this week, Cork City have been wound up, reforming within twenty four hours as Cork City FORAS Co-op!! The newly formed club will play in the First Division and Bray are reprieved yet again....and good luck to them as they have played by the rules and ultimately got their just reward.
As Jimmy Greaves.....who celebrated his seventieth birthday last Saturday....always said "It's a funny old game!" Enjoy it!!
Brian Flynn".
OLD BOYS
Jake Sedgemore scored as Nantwich lost to Ashton United, Ben Deegan got two for FCUM in a 3-3 draw with North Ferriby. Kieran Lugsden scored for Buxton and Liam King netted for Matlock Town. Scott Metcalfe scored as Trafford beat Rossendale 8-1, and Alty Youth graduate Danny Browne scored in Woodley Sports' 3-3 draw with Warrington Town, for whom ex-Alty trialist Gavin Salmon scored. Lee Elam scored as Vics won 3-0 at Fleetwood 3-0, whilst also in the BSN, both Joe O'Neill and Jody Banim scored as Stalybridge Celtic won 3-2
Mark McGregor (left) moved from Alty on the eve of this season to be player-manager at Connah's Quay but that "GAP Connah's Quay have announced a management role reversal at the Deeside Stadium, with Mark McGregor and Ken Price swopping places. Price becomes the Nomads' new manager, with McGregor stepping down to become his number two.
'Developing all players, from youth and junior to senior, by the highest standards of coaching is a vital element of the clubs strategic plan, and when Mark joined the club it was agreed that we would support him in getting his coaching certificates', says a statement from the club. 'This move will enable him to focus on achieving his 'A' certificate as soon as possible. Mark and Ken have worked as a team all season and have done a tremendous job considering the turmoil of the close season'".
Another ex-Alty player with managerial problems is Joey Dunn, as "Warrington Town goalkeeper Richie Mottram walked out on his team mates after a half-time bust up with manager Joey Dunn during the 3-3 draw at Woodley Sports on Saturday afternoon. Mottram walked after being told he was at fault for one of Woodley's two first half goals... Dunn said Mottram showed 'lack of character' and 'let his team mates down' as he walked out leaving the goalkeeping duties to winger Jimmy McCarthy" reports NL News24.
The UniBond weekly press release announces a search for several ex-Alty players because "Leek Town are looking to celebrate the 20th Anniversary of their visit to Wembley to compete in the 1990 FA Trophy against Barrow by playing a commemorative match between the Trophy side and the 1996/7 Blue's UniBond League Championship winning side. The club is now trying to make contact with as many players as possible from the two squads and anybody with any information on the following lists [is] asked to contact the club on 01782 626555... [Their] championship side [includes]... Mark Ogley... Steve Tobin... Stuart Locke".
The UniBond League also confirms that the loan of Kyle Wilson from Macclesfield Town to FCUM has been extended.
BSP NEWS
"Goalkeeper Chris Maxwell has agreed a twelve-month extension to his present contract, which will keep him with Blue Square Premier club Wrexham until the end of next season"
NL Daily
reports.
According to NL News24 "Fans of Cambridge United are trying to find £3.5million in 18 days to buy back the R Costings Abbey. The supporters will try to match the sum set to be paid to the landlords by Grosvenor Developments, who plan to purchase the ground.
Fans' spokesman Dave Matthew-Jones said he felt United would not have a better chance to regain the Abbey if they could find a wealthy benefactor to help raise the money. He tells Cambridge-news.co.uk: 'As developers go, Grosvenor are probably a very good one and better than some of the alternative options who have looked to buy the ground. However, if there's a group of people or an individual who would be willing to soft loan the club that amount of money on easy terms or conditions, or just give the money, the ground would come back to Cambridge United... It's a tall order, but I think it's now or never if we want to get it back'... United chairman Paul Barry would not comment on... whether the company would reduce United's annual rent of £240,000".
---
27 February 2010
ALTRINCHAM 1 GRAYS ATHLETIC 1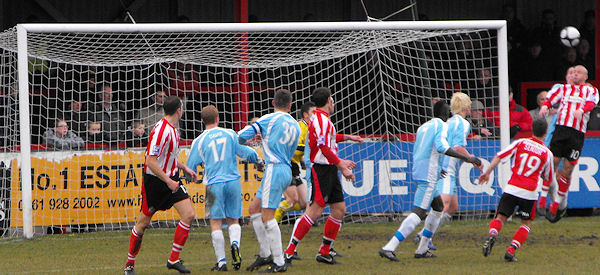 Right: Chris Denham goes up for the ball in the first half against Grays.
Grays arrived at Moss Lane bottom of the league following Chester's demise and having lost their previous six league games.
BSP
Altrincham 1 Grays Athletic 1
Cambridge United v Tamworth POSTPONED
Chester City v Oxford United CANCELLED
Crawley Town 2 Luton Town 1
Ebbsfleet United 1 Barrow 4
Gateshead v Forest Green POSTPONED
Hayes & Yeading Utd 1 Mansfield Town 1
Kidderminster Harriers 3 Histon 0
Rushden & Diamonds 0 Kettering Town 0
Salisbury City 1 Wrexham 1
York City 0 Eastbourne Borough 1
League Table - provisional, showing Chester's record deleted.
Through the Years for 27 February, by Howard Watts.
SATURDAY'S GAME
It is intended to provide live updates from the match at Moss Lane against Grays Athletic, starting with the confirmed line-ups before kick off. During the game, updates will be displayed on the Matchday Update page, every five minutes or so.

Saturday's referee for Altrincham v Grays Athletic is Mr D.Handley. He reffed Alty v Woking on 21 Feb 2009.

NL Daily confirms that eight new faces have arrived at the Essex club this week. "Under pressure Grays Athletic — whose last league points were bagged early in December — have a tricky away clash against Altrincham on Saturday. Grays' boss, West Ham legend Julian Dicks, is looking to his players to step up a gear.

In the past week he's brought in eight new players... And there is a good chance that one of the new players, Grays' reserve striker Joseph 'Jo-Jo' Bayowa will be warming up with Dicks' men when they take to the field at Moss Lane.

The new players include former Orient and Shrewsbury goalkeeper Glyn Garner and on-loan Southend centre half Duran Reynolds. Ex-Yeovil midfielder Sam Lechmere is another new name.

Others invited to train with Grays are centre half Marc Clarey, striker Joe Sweeney and Ibrahim Conteh who is a right winger from the reserves. Grays under-18 midfielder Arian Retkoceri is has also caught Dicks's eye.

Dicks said: 'We are trying to get these players more involved. It is about getting people used to training with the team. Jo-Jo Bayowa will probably be with us at the weekend and warming up with the lads. He is not the biggest striker in the world, but he is bright and fast'" he told the Thurrock Gazette.
WINNERS AND LOSERS
Altrincham are one of the bigger losers from Chester City's demise as they lose four points and drop a place. They, along with Stevenage, Luton, Mansfield, Tamworth, Salisbury, Gateshead and Cambridge will have played 46 games by the end of this season whereas the likes of Crawley, Kettering and Barrow, who did not play Chester, will only have to play 44 matches. This season the fixtures were not arranged so that everyone met everyone else before playing their return game, hence the uneven effect of the loss of Chester.

The biggest points losers are Stevenage, Cambridge, Tamworth and Mansfield, who all lose six points. The biggest winners are arguably Gateshead who lost both their expunged games to Chester. The revised table is here. Officially the removal of Chester City's record does not occur until a period is allowed for them to appeal against the decision.

In terms of league places Kettering, and Crawley gain most (two places), whilst Rushden drop two places.
1 OXFORD UNITED
2 STEVENAGE BOROUGH
3 YORK CITY
4 KETTERING TOWN up 2
5 LUTON TOWN down 1
6 AFC WIMBLEDON up 1
7 RUSHDEN & DIAMONDS down 2
8 MANSFIELD TOWN
9 CRAWLEY TOWN up 2
10 KIDDERMINSTER HARRIERS down 1
11 ALTRINCHAM down 1
12 WREXHAM
13 HISTON
14 HAYES AND YEADING UNITED up 1
15 TAMWORTH down 1
16 EBBSFLEET UNITED up 1
17 SALISBURY CITY down 1
18 GATESHEAD (minus 1 point) up 1
19 CAMBRIDGE UNITED down 1
20 EASTBOURNE BOROUGH
21 BARROW
22 FOREST GREEN ROVERS
23 GRAYS ATHLETIC
BSP NEWS
"The Board of the Football Conference has issued a statement following the meeting of member clubs at Rushden & Diamonds on Friday morning. The statement reads: 'Member clubs of the Football Conference, at a general meeting held today, voted in support of the Board of Director's recommendation to erase Chester City (2004) FC Ltd from membership in accordance with Article 5.2. Chester City did not attend the meeting". and also "Following the general meeting the Board of the Football Conference convened and declared in line with Football Conference Rule 13.9 that Chester City's record in the Blue Square Premier this season will be expunged. The resultant changes to the table which will affect other club records will not be activated until any right of appeal process has expired or such appeal dealt with. For avoidance of doubt, Chester City FC can only appeal against the original decision of the Board in relation to Football Conference Rule 8.6 which relates to their recommendation to member clubs. There can be no direct appeal via the Football Association in respect of the decision by member clubs relating to Article 5.2. Chester City FC, although having the right to make a presentation to the member clubs against the recommendation, did not attend the meeting. Friday's events are unparalleled in the history of our national sport and it is with much regret these circumstances have evolved. The Football Conference are saddened that any club should meet such a fate and it sympathises with those who hold the club dear to their hearts, especially after a proud heritage of 125 years. Whilst the decision of member clubs was taken in respect of the club failing to fulfil fixtures, behind these failures is a lesson to every club at whatever level they participate. Clubs have to live within their means and financial prudence can be the only way forward.

AFC Wimbledon has an illustrated report on "What's happening at Kingsmeadow... With the perimeter lease now secured, work on improving the stadium to meet Ground Grading level 'A' has gone ahead at a great pace, under the watchful eye of the Stadium Working Group.

There is a whole range of improvements that are needed to meet Grade A standards, but the main one is the installation of two new turnstiles, to bring the total up to eight. We also need to be able to segregate away fans and, for each segregated area, we must provide refreshment and toilet facilities. So, in the north east corner of the stadium (i.e. where the John Smith's stand meets the Kingston Road end) we have now installed two turnstiles, which can be accessed from the car park behind the KRE.

Now that the turnstiles are in place, work is going ahead on the new toilets, which will be behind the existing temporary toilets, but beyond the stadium boundary wall. This involves replacing the existing septic tank. Immediately behind the KRE goal we are having a new burger bar built. This will be for away fans who will enter the stadium via the new turnstiles and filter down the north end of the John Smith's stand...

One of the more visible pieces of work is the extension of the KRE roof. This work isn't essential for Grade A classification. However, it is a necessary condition, laid down by Kingston Council, for increasing the capacity to 5,000, which will be needed within a year of entry to the Football League. With the new turnstiles meaning that away fans will be located in the northern end of the John Smith's stand, Dons fans will be reclaiming the KRE and we wanted to make sure that as many as possible can watch the game under cover.

In the south east corner of the stadium you will see that a hole has been knocked through the wall behind 'the tea pot', the wooden hut which serves hot and cold drinks, as well as sandwiches etc. Eventually, the tea pot will be removed and replaced by another new burger bar on the perimeter lease land in that corner of the stadium...

Finally, the floodlights have been enhanced over the last couple of weeks and are now certified to meet both Grade A level as well as the entry level for the Football League. Technology improvements mean that the new, brighter lights use no more power than the old ones, but we are sure you'll see the difference at our next home game. There are more potential improvements in the pipeline".

The Cambridge News says that "Martin Ling is looking for a winger following the news Robbie Willmott will miss the rest of the season. Willmott will have an operation on Monday after tests revealed he tore knee cartilage in Cambridge United's 1-1 draw at fellow strugglers Forest Green last weekend.

United boss Ling said it was a major blow to lose Willmott for the run-in... and felt they needed to bring in a new wide player as cover, admitting he did not want to throw youngster Jordan Patrick into a potentially difficult situation... 'Playing with 4-4-2 the last couple of games we've looked more solid - not that I'm saying we've been scintillating - so I'll probably slip somebody out there rather that change the tactics'..

Ling felt it was vital for United to make the most of Tamworth's own lack of form tomorrow... Ling said: 'I saw them on Tuesday and they look like a side short on confidence, but it will be up to us to break them down '".

Cambridge United Football Club "are pleased to advise their loyal fans, sponsors and volunteers that they have received notice that their ground is under contract to be sold in the near future to Grosvenor Estates. The Club is able to confirm that the potential of a new Landlord in no way affects the existing lease...

Chairman and major shareholder Paul Barry spoke to cambridgeunited.com about the news, 'I and the board are excited at the potential of having a friendly Landlord in the form of Grosvenor. They are a very responsible, collaborative, and highly respected development company... We will be meeting with our potential new landlord early next week to explore all possibilities so that we can secure not only the future of Cambridge United'".

The Cambridge News adds that "Grosvenor Estates [are] set to buy the R Costings Abbey from Bideawhile... The Abbey was sold to then United director John Howard's firm Bideawhile in 2004".

Crewe Alexandra report that their "defender Patrick Ada has rejected the chance to move out on loan after Dario Gradi agreed to release the former Histon defender until the end of the season. Ada who was signed in the summer by former boss Gudjon Thordarson has struggled to command a regular place under Dario. Although he has made 18 appearances this season he has been an unused substitute in recent weeks". He was rumoured to be joining Rushden.
---
26 February 2010
CHESTER EXPELLED
Oxford United report that "Chester City have been expelled from the Blue Square Premier League. Over 75% of clubs agreed with the Conference board's decision to expel Chester from the competition. United now have no game tomorrow".
BAG2 TO THE FUTURE IS BACK
Altrincham FC Security Officer, Darren Gregory writes...

Who are Bag2TheFuture?

They are a business which specialises in collecting second-hand clothes in their original condition, these are then sold to developing countries in Africa, the Indian sub-continent and parts of Eastern Europe. Visit their website for more info

What is it?

If you have any good quality secondhand clothing, bedding, curtains, soft toys, shoes (tied together please), belts and handbags you could donate, (NO Bric a Brac), please start saving these items now.

How do I do this?

On Saturday 27th February 2010 at the Grays game you will be asked to take a donation bag home and fill it with the above items if possible. You can collect bags from the club shop. If extra bags are required you can just use a ordinary bin bag.

What do I do with my bag then?

Please return your bag with articles to Altrincham Football Club on Sunday 21 March 2010 between 11am - 1pm. Please look for the signs and somebody will be there to take it from you.

What happens next?

The bags will be collected by the organisers, Bag2TheFuture, on Tuesday 23rd March and taken away to be weighed. The club will receive £200 per ton. Basically, the more we collect, the more money will be made>. If we don't make the ton, we still get paid for as much as the items weigh.

How much does this cost?

The cost to you is nothing, apart from a bit of time filling your bag and bringing it to Altrincham Football Club on the above date. All bags are supplied by organisers.

Please note all bags are checked before weighing.

Will you be able to collect my bag?

No door to door collections will be available.

Can I bring my bag to the game on the 20th March?

Yes, there will be signs and a place allocated

Please do your best to support the above scheme. It is not very often we have a fundraising idea that doesn't involve you putting your hand in your pocket. Any queries please contact Darren Gregory.
BSP NEWS
Kettering Town reproduce a letter to their chairman, Imraan Ladak, received from the Football Conference and his reply - which may not be the end of the affair.

"I am obliged to inform you, you have been fined a sum of £5,000.00 for bringing the Competition into disrepute for remarks attributed to you:
"The governance of the Conference is very poor. We've seen and heard about it externally for years, but this was my first internal involvement and I've never seen such an unprofessional, incompetent operation with people that just do not have a clue how to run an organisation".
"I can't believe people like Bill King are in the positions they are".
"People throughout the Conference - chairmen, chief executives, managers - are fed up of this regime. They are desperate for change, but are scared to stick their head above the parapet for fear of implications against their club. You can see why we have no TV deal. It's nothing to do with the climate, it's to do with the people running the league".
"The problem is that most don't understand modern football or business. There is no transparency when it comes to the division of sponsorship money and 'gifts'. Who decides that the North and South clubs get so much less than the Premier? We don't know".
You are also ordered to issue a statement of apology for the comments in the form of a Press Statement; for publication in your Club's Match Day Programme and on the Club's Official website. A copy of this statement must be sent to the Football Conference Office within 14 days of the date of this notification. Failing this the Football Conference reserves the right to prepare a statement for your Club to issue in the above format.
Yours sincerely,
Dennis Strudwick, General Manager"
There follows an "Apology as requested by Conference:
Dear Mr Strudwick,
I have not been Chairman of Kettering Town FC for quite some time now, but perhaps the Conference fax machine was switched off when the announcement was made? Fortunately we weren't registering players that day. Please find to follow my obedience to your request:
The Conference is a well run organisation. I am particularly impressed by the choice to manually configure the fixture list for the season rather than trust a computer to do it. I am considering buying my Finance Director an abacus and instructing him to use it instead of Excel, Access and Sage.
It is acceptable to announce a wage cap the week before the season starts and after clubs have signed contracts with their playing squads for that season and to not understand why that might be a problem. The Conservative party should consider bringing back Margaret Thatcher.
People should not be scared to stick their head above the parapet. Fines appear to be limited to £5,000. The Conference should contact the Premier League and offer their services to negotiate the next Sky deal on their behalf. I would be happy to give you a reference.
I was unaware that modern football and business dictates that people should be asked when they can attend a meeting in order to ensure a meeting is held on the specific day they are unavailable – I thank the Conference for teaching me this. We do know that Conference North and South clubs do not decide that they get so much less than the Premier clubs.
I trust you no longer need to order the club to issue an apology written by you on my behalf and am particularly impressed by the process, rules and regulations you followed in order to fine me.
Regards, Imraan Ladak".
"Mansfield Town will vote to keep Chester City in the Football Conference – to boost their own play-off ambitions" confirms This is Nottingham "Chester have pleaded guilty to five rule breaches, including the failure to fulfil their last three fixtures... But the Stags stand to lose six points if Chester's record is expunged after 4-0 and 1-0 wins over them.
Club chairman Andy Perry says Mansfield have no choice but to support the Blues because they will otherwise lose ground on their rivals who have not played and beaten them twice. Perry also hit out at the Conference, who he believes should be deciding Chester's fate for themselves. 'We will be voting to keep Chester City in – and that's purely for selfish reasons', he said. 'At this stage of the season, we can't afford to look at it from any other way. I do feel for the Chester fans and what they are going through because this club has had its own issues and the pain of going out of the Football League in the last few years. But we are trying to do the best for our club and I'm sure all the other clubs will be doing the same. They are not going to vote from a moral standpoint, but a practical one. This is a decision that should have been taken out of our hands. It should not be up to the member clubs to decide Chester's fate'...
Seven votes in favour of City – who are the target of a Danish consortium – would allow them to continue.
Mansfield are hoping to receive prompt payment on the money they are still owed by Northwich for Jonathan D'Laryea. The Stags are owed £4,000 of wages the Vics agreed to pay while the midfielder was on loan in Cheshire, plus a percentage of his sell-on fee following his move to Eastwood Town. Perry added: 'They have been fined £2,500 and told they must pay by March 31 or face being docked points'".
"Chester City's largest supporters group City Fans United today issue a challenge to Palle Rasmussen, the man behind the internet based 'Chester is Danish' consortium, to present his plans for the future of their football club or to admit that his scheme to purchase the debt riddled historic Club is no longer feasible.
The committee of CFU, speaking on behalf and at the request of its 900 strong membership would also like to ask Rasmussen to explain why his meeting to broker a deal for the Club did not contain any owners or directors of the Club? In fact the only person present at the meeting who used to be a board member of the Club, Stephen Vaughan, is currently banned from being a Director of any business for 11 years. A stipulation of this banning order means that he 'may no longer act as either an active or inactive director, or exercise control over an individual who is a director, of any company'.
Mr Rasmussen has been complicit in the breaking of this rule, and may now face questioning during the inevitable investigation of this.
City Fans United would also like to press Mr Rasmussen on why he feels that no British based business people have come forward to purchase the Club, if the deal is so good? Why would local Chester City supporting business people with substantial funding available not come forward and purchase the Club they have supported since they were children?...
We are reiterating that this deal is NOT acceptable to the local Chester supporters, and would repeat our request that the offer be withdrawn, as per Mr Rasmussen's first statement. We have attempted to contact Mr Rasmussen to discuss this privately yesterday and today, but he refuses to acknowledge our emails, this despite publicly claiming to have dialogue with us 'several times a day'. We have not actually heard from Mr Rasmussen since he childishly insulted ourselves and our members on his blog, and referred to our historic, 14th century Guildhall as a 'bingo hall'.
As we have told our friends from Denmark who have contacted us, we would be delighted and honoured to have members of City Fans United from Denmark, and would honour them within our pubs, clubs and bingo halls should they come over to watch their adopted, local supporter owned community football Club. But we would ask that they think again about supporting Mr Rasmussen's 'Chester is Danish' scheme to tread all over our dreams and wishes for this 125 year old part of our community, our history and our lives.
We will fight to secure the future of football in Chester for as long as it takes".
"Salisbury City took another step towards exiting Administration on Tuesday when the court approved its Company Voluntary Arrangement" reports NL Daily. "William Harrison-Allan, Jeff Hooper and Chris Brammall must wait just a little while longer before they officially assume control of the club. The handover is expected to be completed early next week.
A statement said: "The new board... invite supporters past and present to share in what they believe will be a bright future. The board is acutely aware that there is still much work to be done to guarantee Salisbury City's survival at the current level of football and is looking forward to working alongside all the relevant footballing authorities in order to achieve its goal of keeping the Whites in the Football Conference. Although deducted ten points for entering administration, the club remains above the relegation zone and thanks to last weekend's win against Tamworth, are through to the semi finals of the FA Trophy, ensuring there is plenty to play for in the remaining third of the season".
According to the Football Conference "The Royal Borough of Kingston and AFC Wimbledon reached agreement for the strip of land ('the perimeter lease') which stretches around two sides of Kingsmeadow Stadium, to be acquired by the club in a new lease. As part of the agreement, Kingstonian and AFC Wimbledon have announced that they have signed an extended licence for the Ryman League Premier Division outfit to play at Kingsmeadow.
AFC Wimbledon chief executive Erik Samuelson said: 'I am delighted to say that we can now complete work that is essential to comply with Ground Grading regulations'. Kingstonian`s joint-chairman Malcolm Winwright said: "This extended licence effectively ensures that we have security of tenure for the foreseeable future'".
From Blue Square Football we learn that "Histon chairman Tony Roach has revealed that the club are already planning for next season after paying off all of their outstanding debts...
Roach told Cambridge News: 'We've been negotiating contracts with certain players and we're hoping to have 80 per cent of the players for next season signed up by next Friday... Alan Lewer is working on what he's got, what he wants and who he can bring in during the summer. We're getting ourselves financially structured for next season and we have no debt to the Inland Revenue or VAT now. That's a hell of an achievement and I think it's the first time for five years that that's been the case.'".
OLD BOYS
"Rhyl reclaimed third place by going nap at home to Bala Town, hitting five first half goals... with Andrew Pearson... on target. John Toner scored a consolation goal in each half for the Lakesiders in a 5-2 defeat".
---
25 February 2010
GATESHEAD MATCH
Gateshead's excellent programme for Tuesday's game with Altrincham had an article by Craig Chisnall who wrote "Everything about Altrincham impresses me. They never shout from the rooftops when they are doing well or get down in the dumps when results have gone against them. They just get on with life and move on.
Long-serving boss, Graham Heathcote (left), is as stubborn as they come and has done a fantastic [and ridiculously under-rated] job on limited resources. There are no superstars in the Alty squad but no shortage of quality and in the likes of Colin Little, they have one of the best strikers at this level over the last five years.
Some pundits and clubs have pointed the finger at them as fortunate to be at this level after a couple of escapes at other clubs' expense, but not me. They've simply lived within their means and, although they have finished in the relegation zone three times, they have survived because of the misdemeanours of others and that's true justice for me.
While Northwich, Canvey and Halifax lived beyond their means for far too long, they kept the books balanced and that's paid off handsomely. They are having a magnificent season to be pushing the top half and should be the example for every promoted club.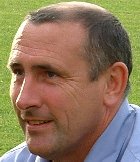 And, in chairman Geoff Goodwin (right), they have a real character. You always get an honest answer from Geoff and it's always been a pleasure when I've talked to him with my work for the Non-League Paper. He's got some pretty forthright views on the way the game should be run and the administrators, particularly at the embattled Conference, would do well to listen.
And there aren't many Blue Square Premier chairmen that can call some of the best cricketers in the world over the last decade friends. Goodwin has the pleasure of driving Ricky Ponting and his Australian team round the country every time they are over here".
Footnote: It was Geoff himself who drove the team coach to Gateshead on Tuesday - and negotiated the snow on the top of the Pennines on the way back, as did Mike Ainsworth who drove the supporters' transport and who also deserves the grateful thanks of the club.
After the game, Gateshead said "It took something special to prevent this attritional game from heading for only the second goalless draw of the season at the International Stadium - and it arrived in spectacular fashion 14 minutes from time. Craig Baxter had few options when he picked up a ball 35 yards out on the right but unleashed a right foot thunderbolt that flew into the roof of the net beating Robins' keeper Stuart Coburn at his near post...
This was not the gung ho Gateshead of late on home soil and, while Altrincham had a shot deflected onto the post by Paul Heckingbottom, the visitors were generally held ay bay. Gateshead set up to be more solid and compact after conceding seven goals in their last three games on home soil and it worked. While it led to a less attractive game it was a means to an end as a first clean sheet in the league at the International Stadium since November was achieved.
Gateshead's players even indulged in a pre-match huddle for the first time and assistant manager Jeff Wrightson was delighted with the response to Saturday's defeat against Ebbsfleet. 'The huddle showed the togetherness and spirit among the lads', said Wrightson. 'We wanted to be a lot more solid throughout the side and we achieved that which was reflected in the clean sheet. The pitch is awful and difficult to pass on so it was important we scrapped for every ball and made life difficult for the opposition. We had one bit of luck when Altrincham hit the post but generally we restricted them to shots from outside the box - and we should have had a penalty in the first half.
'We were well organised and disciplined and it was a great strike from Baxter to give us all three points... On a pudding of a pitch that had passed an inspection earlier in the day Gateshead had the better of the first half but couldn't gain an advantage... The final whistle was greeted with a roar of approval and relief and the result justified famed Norwegian fan Arvid the Viking's decision to extend his stay on Tyneside to take in both the Ebbsfleet and Altrincham games".
There's Norway that Altrincham can claim a fan with a more striking nickname than that!
The Chronicle Live rpeorts that "Craig Baxter struck the 'best goal' of his career to earn Gateshead a priceless victory over Altrincham... The 23-year-old former Newcastle United youth teamer – the Tynesiders' only ever-present during last season's promotion from Blue Square North – had previously scored just seven times in 190 appearances for the club...
A tight affair with precious few genuine chances was settled on 74 minutes when Baxter advanced from his right-back slot and thumped an unstoppable effort past visiting keeper Stuart Coburn from 35 yards... 'We've been struggling of late and to get another three points on board at a crucial stage, it's an important win', Baxter said. 'There weren't many chances in the game and one goal settled it. There was a lot of space, I took it forward and saw Andy Parkinson to my right. I was going to put him in but as I took another touch there was still no one closing me down. When someone eventually did I just shot and it went in. Obviously I don't score many but I would say it's probably the best goal I've scored... We've come under pressure for conceding a few goals of late so to keep a clean sheet is another bonus. It was yet another different back four so it's a great achievement. Two bonuses in one night'.
Meanwhile, Baxter revealed that the idea to form a pre-kick-off huddle for the first time was inspired by captain Kris Gate – and after victory... 'It worked against Altrincham and we'll do it again on Saturday – hopefully it'll work again'" said Baxter.
OLD BOY
Karl Munroe saw a red card last night playing for Leigh Genesis; he got it for two yellow-card offences.
BSP NEWS
The recent Sky Sports interview with ex-owner of Chester City, Steven Vaughan, together with the reply by the Chester FAns' United spokesman is now on YouTube. Listen in and draw your own conclusions.

The Holker Street Newsletter quotes Barrow director Tony Keen on the Conference clubs' vote on Chester City this Friday. "We were asked last Saturday what our thoughts were on the matter and we have sent our views to the Football Association. I don't think we will be going public with our decision because we won't want to be compromised. Would we be able to claim to the league for loss of earnings? And who is to say we will not pick up six points from the two games with Chester? Personally I feel sorry for Chester and the position they are in, but they seem to have broken too many rules. Ten years ago when Barrow were in a desperate financial state, and my father was poised to take over as chairman, he had to give a guarantee that Barrow would complete the season - and we did. That does not seem to be the case with Chester"

Next week Alty will have a trip to Kingsmeadow, where AFC Wimbledon report that "Terry Brown was philosophical about last night's debate [defeat?] when we spoke to him... 'Tuesday night's game at Oxford was certainly a different experience for both the supporters and the players of Wimbledon. It went to show how far the club has come in the last seven years and yet emphasised that we still have some way to go as far as winning this particular league. I thought Oxford dominated the game from the start... Their forwards caused us more problems than any other club has done this season.

It is difficult to read too much into one game although I would say on that performance that Oxford look to be the strongest side we've played this year. Sometimes you have to get your backside kicked to make you get back to working on the basics. We tried to make the mood in the dressing room after the game as positive as possible and as for our future with regards to the play offs, the games against teams such as Altrincham, Eastbourne, Grays at home will decide our destiny much more than an away game at the league leaders.

We now enter a period with no league game for 11 days in which time we will hopefully, weather permitting, be able to work with the players as far as pattern and shape are concerned. The injuries to Brett Johnson and Luke Moore will have progressed and increased the possibility that they will be available in the near future. This will also give Lewis Taylor time to recover from the dead leg he received early in the Oxford game'".

Ambitious Eastwood Town "have signed 21-year-old right-back Scott Gardner on an initial one month`s loan deal from Mansfield Town. The player has made a dozen starts for the Stags this season after joining from Leeds United where he made two first-team appearances... [Manager] Cox says the addition of five new players over the last couple of weeks will make team selection a welcome headache".

On the Ebbsfleet Forum it is reported that "less than 20% renewed and MYFC membership is now below 4,500". But as another supporter says "Other clubs have to live within their means, WITHOUT a MyFC 'boost'. Therefore the number of renewals really shouldn't be affecting day to day business as much as it is... The club needs to be run on a budget without it". According to This is Sussex, "Steve Evans says he will finish the season with Crawley Town after rejecting the chance to take over at Notts County on a short term basis... but [he] refused to rule out leaving the club for the Magpies in the summer. He said: 'There was a link to them at the end of last week and we had a conversation earlier this week. I know their new owners very well and I think they are looking for someone to come in right away so I asked them not to take it further at the moment. But we'll see what happens in the summer and what the situation is then'.

Former Burnley boss Steve Cotterill was appointed manager until the end of the season on Tuesday... Evans has excellent connections with the new regime at Meadow Lane, and even managed County's new chief executive Jim Rodwell at Boston United... 'We have done so much hard work at Crawley to get the club in a position where it will be debt free by the end of April and I don't want to have to go through that again. I have been fighting fires all season and we have had to let so many players go and that might have been the case with Notts County which is one of the reasons that I said I'd see this job through to the end of the season'. Evans is contracted to Crawley Town until the end of the 2010-11 campaign but warned the club's owners that he would not hang around unless he had a playing budget to compete for promotion".

The Northants Evening Telegraph says that "Lee Harper believes Damian Spencer could prove to be a big asset for Kettering Town in the remainder of the season. The big striker is due to return to Rockingham Road on Friday after a three-month loan stint at Kidderminster Harriers... Harper dispelled the myth that Spencer wanted away as a result of Mark Cooper leaving...

Harper said 'Things are different here compared to when he left and there is much more stability around the place and the team spirit is awesome'".

The Luton & Dunstable Express tells us that "Hatters' boss Richard Money has called for investment on the problem pitch at Kenilworth Road, believing it to be the 'last piece in the jigsaw' of Luton Town's rebuilding process.

More snowfall on Monday was cleared from the pitch but still last night's Conference clash with Histon was postponed due to waterlogged pitch. Town have long had issues with their pitch which the manager believes stems from the infamous plastic pitch that was laid in 1985 but removed three years later when the Football Association banned them.

When grass returned in 1988, the year that the club won the Littlewoods Cup, it was laid over the top of concrete that had been put under the unpopular Astroturf. It means that water can't drain properly".

Manager Money said "I'm not trying to make excuses but that's the way it is... I really don't know how to play football where you smash it in behind the back line and squeeze up. If that's the mood of people then I'm not the right man for the job... Rochdale, for example took a view point, two or three years ago, that they wouldn't spend as much on their squad so they could get their pitch sorted. The manager wanted them to play in a certain way and I think that somewhere along the line, we've got to take some sort of decision like that... It's a difficult one because I think people are genuinely still looking at relocating the club, so therefore spending a lot of money on a new pitch would be null and void at some stage in the future. It might be a false economy, so we might have to live with it".
BSN NEWS
This is Glos says that "Gloucester City will be relegated from Blue Square North if they fail to agree a groundshare agreement before the end of March. Conference rules stated that clubs achieving promotion to either the Blue Square North or South divisions have to attain Grade B status before March 31. To satisfy the standards for B grading, clubs need to have a ground capacity of 3,000 with a minimum of 250 seats. The Tigers' current Corinium Stadium home falls short on both of these counts.

In a statement released yesterday, Gloucester City confirmed that the following an independent assessment of the ground's capacity... 'This took the cost well beyond what it was possible or sensible for either Gloucester or Cirencester to invest'. The statement also confirmed that 'exploratory talks' had taken place with Cheltenham Town over a possible ground-sharing agreement...

A Football Conference spokesman explained the ground grading criteria. 'To gain entry to the Football Conference you need to have a C graded ground, which Cirencester Town currently have', he said. 'However, once promoted, the clubs have until March 31 of the following year to reach Grade B standard. Gloucester will have been made aware of this when they were promoted. 'Grade B requires the clubs to have a ground capacity of 3,000 and 250 seats. Following a survey the ground capacity at Cirencester was found to be approximately 2,300 with 230 seats'".
---
24 February 2010
WEDNESDAY
Wrexham 0 Stevenage Borough 1
League Table
GATESHEAD 1 ALTRINCHAM 0
In what was Gateshead's third successive home league game, and Altrincham's third long away trip over the last ten days, it was perhaps predictable that the Tynesiders would win. And, indeed, Gateshead deservedly beat Altrincham - thanks to a 35 yard goal from Craig Baxter after 74 minutes. Before that Densmore had hit the post for Altrincham but otherwise Alty created little on a heavy pitch swept by a cold, gusty wind. Gateshead seemed to have more appetite for the conditions and after a fairly even first half, they had the better of the second. A late rally by Altrincham could not help them to snatch a point against a team which had conceded ten goals in its four most recent matches.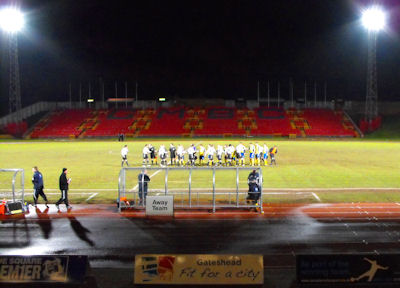 Right: In some respects the International Stadium can appear soulless with three completely empty sides and a pitch a long way from the stand, as last night's image of the team presentations shows. But, even with only 489 spectators present and both sets of fans in good voice, it managed to generate a decent atmosphere.
Alty line-ups
Before Tuesday's game, the Chronicle Live reported that "Wing man Peter Winn's form can help Gateshead's Conference Premier survival bid get back off the ground against Altrincham tonight – but not if he flies solo again...
Gateshead coach Paul Thompson insists the Scunthorpe winger needs better support. 'He's been excellent for us throughout his time here', said Thompson. 'He and our new signing Andy Parkinson are both very intelligent players who you can tell are capable of playing at a higher level... If we rely on Winny or any other individual, we'll get nowhere. We'll stand or fall as a team'... Tonight's game is the third of four successive home outings for Gateshead". In contrast, it was Alty's thurd long away trip in their last four games. Thompson continued, "We've won one and lost one of these four home games, and they simply don't come any bigger for us than Altrincham. "They are a good footballing side but have struggled – a bit like ourselves – for consistency, and may not be too comfortable on our pitch, which is showing its wear and tear. Having said that, we obviously like to play the game on the floor, so the surface may suit some sides more than us, but that's no excuse for performances like Saturday's. It's not the reason we conceded goals which would have embarrassed a schoolboy team".
OLD BOY
A petition has been set up in response to Marcus Hallows winning his case against Ashton United and their former defender Danny Wright, following a bad injury suffered by the Altrincham striker in 2005 in a UniBond League game. The petition says of the case, "Expert witnesses were called in – and were divided on the case – one side (Gary Mabbutt – ex-player) saw the tackle as 'reckless', and the other side (Jeff Winter – ex-Premier Referee) argued that the type of tackle was 'commonplace in football at any level". Ashton United had argued from the start that the tackle was 'not malicious' but a 'collision' - and also pointed out that the referee and linesmen took any action at the time. Unlike football at the professional level, there was no available video evidence – merely photographs and witness statements – and the judge has made a decision based on only this.

This decision could create a legal precedent in football whereby any injury could result in players or clubs being taken to court, and the financial implications could bankrupt both club and player".
BSP NEWS
According to the Argus "Eastbourne Borough manager Garry Wilson has praised Sacha Opinel after the on-loan defender agreed to waive his wages while he was suspended. Opinel picked up a three-game ban after being sent off for violent conduct at Altrincham last Tuesday which meant he would only be available for one more game – against Kidderminster – before returning to Farnborough. Wilson criticised the former Crawley left-back straight after the 3-0 loss but has since mellowed after viewing the incident again and was impressed by Opinel's generous offer.

Wilson said: 'Sacha phoned up to apologise and said he didn't want any money because he felt he had let us down. Fair play to him because not many players would be willing to do that and it helps us a lot because money is tight. I am not condoning what he did but I have watched the DVD since and he was perhaps a little bit unfortunate to get sent off too. Their player went in on him and then came right up to him and Sacha just pushed him away'. Borough may scale down their search for a goalscorer after Andy Atkin made his comeback from groin surgery ahead of schedule when he came off the bench against Altrincham on Saturday".
---
As ever, the 200% website has some interesting views on what it calls "Chester City: The Death Rattle – Part 132". It says, "This story has unravelled into one of the most extraordinary football stories of recent times, and it still is not being reported to the extent that it should be elsewhere. With all of this in mind, we are going to have a final go at bringing this ridiculous story up to speed and will then leave it be until the Football Conference's extraordinary meeting on Friday morning. The cast list of rogues continues to grow...
The apparent sale of the club to a Danish website called Chester Projekt has been agreed by the Vaughan family...
At eleven o'clock on Friday morning at Rushden & Diamonds' Nene Park, the Football Conference will meet to discuss expelling them from the league. Twenty-three BSP clubs and the eight divisional representatives from the Blue Square North and the Blue Square South will vote, and three-quarters will need to vote in favour of the recommendation to expel the club. It is not known whether abstentions will be completely null and void, or whether they will count..
Consider this comment, made by the chairman of Histon in this evening's Cambridge Evening Post: 'Clubs have been asked to vote on the future of another football club and we'll have the blood on our hands if we vote Chester out. I don't necessarily agree with it at all. Teams above us could lose up to 6 points (if Chester are expelled) and that could give us an outside chance of reaching the play-offs, so there could be a benefit there to us'.
Standing accused alongside the Vaughan family is Palle Rasmussen of the Chester Projekt itself... They launched a major media campaign in Denmark without contacting anyone from the Chester supporters group. They claimed, on their website, to have the 100% backing of CFU when they hadn't (a complaint from CFU meant that this statement was removed from the site, but no retraction was published)... When they were requested not to proceed with a bid, went ahead with one anyway.
Having submitted their bid and having had it accepted, they made various insulting and derogatory comments about CFU on a website... The Vaughans may well cut and run, but Chester City's total debt is £703,000, of which £218,000 isn't owed to the family... Chester Projekt would still be left with these debts and would also have to cover the ongoing running costs of the club. How long would it be before another winding up petition landed from HMRC for non-payment of tax? ".
More on this comes from the Liverpool Daily Post. "Despite being sold to a Danish-based consortium over the weekend, Chester City still have to find around £200,000 this week if they are to convince the Football Conference authorities that they can stay in business... It is understood that City's existing owners have been told to pay certain outstanding football debts and monies due to HM Revenue and Customs this week...
A spokesman for the Conference said, 'My understanding is that if a large proportion of the outstanding debts are settled, then it would certainly be to Chester's advantage'. Part of the agreement made by City's prospective purchasers Chester Projekt.dk with current owners the Vaughan family, is that the club must not drop any lower than Conference North next season – if it does the deal would become null and void. This caveat was confirmed by the spokesman of the Danish consortium Palle Rasmussen when he spoke to the Daily Post on Sunday.
The Danish group were introduced to Chester's current owners by former Liverpool and England central defender Mark Wright, who has also served as City manager on three occasions. Wright, who now runs a sports PR company, has been assisted during the negotiating process by his former Liverpool colleague Jan Molby. There was speculation last night that Molby, who is a former Denmark international midfielder [and ex-manager of Kidderminster Harriers] and now works for Danish television, would join the coaching set-up at the Deva Stadium, if the deal to purchase City by his countrymen was concluded successfully.
Rasmussen stated over the weekend that in his opinion it would take between seven to 21 days to complete the legal formalities and conclude the purchase of Chester City".
Back on the pitch, NL Daily says that "Salisbury City midfielder Stuart Anderson is the latest player to agree a new contract keeping him with the club... until the end of the 2010/11 season... Since the club's new owners came on board, manager Tommy Widdrington has moved quickly to ensure City secured the services of key players such as Matt Tubbs, Chris Flood, Jamie Turley and others... 'Bit by bit I am trying to give us some stability, an asset we haven't had for some time', explained the Salisbury boss. 'Stuart, whilst not always eye catching in the way a Matt Tubbs or a Chris Flood can be, has performed consistently well since he arrived, hence the amount of times I've picked him to play!'".
The Football Conference report that "AFC Telford United have signed defender Adam Dugdale until the end of the season after he was released by Barrow".
Meanwhile, the BBC reports that "Barrow have made an enquiry about the experienced Marine striker Lee McEvilly. McEvilly had a loan spell at Barrow last season, scoring once in six games and joint-boss Dave Bayliss admitted his interest in bringing him back. 'He's declared himself fit, and a fit Lee McEvilly is a fantastic player', he told BBC Radio Cumbria...
Bayliss and joint-boss Darren Sheridan have put in seven days notice of their intentions to speak to McEvilly, whose injury problems in recent seasons have included a broken leg while with Cambridge and Grays Athletic". "I've played on the same team, I've played against him and I've followed his progress over the years, and I'm sure every person who follows non-league football will tell you what Lee is like," Bayliss added. "He's a handful, he's a match-winner, and he can also be frustrating but that's what you get within non-league, we'd be foolish not to look at Lee McEvilly".
South London Today tells us that "Nathan Elder and Danny Kedwell shot down promotion rivals Luton on Saturday - and now AFC Wimbledon boss Terry Brown has told them to prove they are the best strikeforce in the Blue Square Premier. The manager criticised both players' workrate in the 2-2 draw at Cambridge last week...
said Brown, 'They ought to be the most fearsome duo in the Blue Square Premier. I gave them a kick up the backside last week and it worked a treat'... Brown admitted his criticism of Kedwell's effort at Cambridge - the striker is renowned for his hard-working approach - might have been a little harsh. 'Danny has to work harder than most on his fitness', said Brown. 'He had a bit of a dip last January and I wondered whether that was because we were part-time. I really think that if we go full-time next year he will be one of the players who gets the most benefit out of it'".
---
23 February 2010
TUESDAY GAMES
FAT 4
Barrow v York City - OFF

BSP
Gateshead 1 Altrincham 0
Grays Athletic v Hayes & Yeading Utd OFF
Luton Town Histon OFF
Oxford United 2 AFC Wimbledon 0
Tamworth 1 Kettering Town 3

Wednesday, 24 Feb.

BSP
Wrexham v Stevenage Borough
THURSDAY TO SALISBURY
Altrincham's away match at Salisbury City, scheduled for 13 March, has now been rearranged for Thursday 22 April at 7.45pm. The change has been required because of Salisbury's FA Trophy involvement.
TUESDAY'S GAMES
Through the Years from Howard Watts

The Chronicle reports that "Ian Bogie has insisted the fight goes on – and will again rally the troops for this week's important home games against Altrincham and Forest Green Rovers.

The Robins are on Tyneside tomorrow and Forest Green on Saturday – and after the weekend's 3-1 defeat against Ebbsfleet United, six points is a must. Gateshead boss Bogie... said: 'I will shoulder all the blame. They are my players and I expect them to do the job they were brought here for, which is to keep us in the Blue Square Premier. The pressure is on me not the players, but I cannot go round in circles giving people a chance they do not take. We played very good football on a bog of a pitch [at home] for 20 minutes but did not earn the breakthrough – and then got hit hit by two goals in two minutes. The defending was inept and teams are not having to work hard for their goals, which makes it doubly frustrating...

Confidence is low with some players... The plus point is we are creating plenty of chances and we are still out of the bottom four'...

Gateshead would be the major beneficiaries if Chester are voted out by member clubs on Friday, the Cestrians did the double over the Tynesiders. Bogie added: 'You do not like to see any club in trouble, and even if Chester's results are expunged and our position improved we have to achieve survival on the pitch... The next two games give us a great chance to improve our lot'.

The quest to find a regular central defensive partner for the long-serving James Curtis shows no sign of ending, with Gateshead conceding three goals for the third time in the last four games. Veteran Chris Swailes, Wayne Buchanan and Carl Jones are all pushing for a recall, with transfer-listed Jones likely to be given the nod against Altrincham – if fit.

On-loan Scunthorpe United winger Peter Winn and schemer Phil Turnbull were the pick of the bunch against the Fleet".
VIDEO FROM SATURDAY

Above: Whether this is what caused the ref to award a penalty against Nicky Clee is not clear, but this was the scene in the Alty box as Eastbourne took their corner in the 82nd minute on Saturday. Nicky is the third Alty player from the left.
There are video highlights of Saturday's Eastbourne Borough v Altrincham game on The Argus website.
WORLD CUP COMPETITION
Grahame Rowley announces -

World Cup Competition

Altrincham Football Club, in this World Cup year, are organising a competition with participants drawing one of the 32 teams taking part. For a £10 stake you can draw a team out of the hat with a chance of earning the top prize of £75.

The prizes available are:-
World Cup Winners - £75
World Cup Runners-Up - £25
3rd / 4th Place Teams - £10
Most Goals Conceded - £20
First team to have a player sent off - £20

There is a chance that any team can win a prize, so sign up today. Get your team allocated and help the club during the close season when finances are tight.

Please see Grahame or Karen Rowley for further details or email them. If we get sufficient interest we will run a second competition with all the teams being allocated again.

Various World Cup matches will be shown live in the Noel White Suite. Watch the website for details. Please support the club and try and get down to one of the games.

Thank you for your support

Grahame.
OLD BOYS
The Manchester Evening News reports that Droylsden "were held 1-1 by rock-bottom visitors Vauxhall Motors. Former Altrincham defender Chris Lane stunned the Bloods by firing the Motormen into a shock 35th minute lead... Stalybridge gave their fading promotion challenge a boost as they ended a seven-game winless stretch with a Warren Peyton penalty five minutes into injury-time giving them a dramatic 2-1 victory at Gloucester - their first win under new boss Jim Harvey. Trailing with just 10 minutes left, Bridge equalised through Joe O'Neill, who then won them the spot-kick dispatched by Peyton to keep them on the fringe of the play-off race".
BSP NEWS
The unofficial Chester City website reports that "The Vaughan family have agreed to sell their 100% stake in the football club to a Danish consortium who formed an internet group to buy the club when it was announced it was for sale for £1, around that two weeks ago! It transpires that the two parties were introduced to each other through a PR company run by former Chester manager Mark Wright and Jan Molby.

The consortium, headed by Palle Rasmussen, are called Chester projekt.dk and are believed to have concluded the deal at 02:30hrs this morning. The agreement must have been done without consulting the membership as a whole who don't hold their first meeting until 6 March in Odense. They have yet to appoint their own management, or board of directors.

Their website states 'Interested parties can subscribe for shares / units in Chester City; a share cost 1,000 kroner (roughly £118), and one person can buy up to 10 shares. You're only liable for the amount you chose to put in and can not be charged more money, even if the club were to go bankrupt'.

The club isn't sold as yet, it's all subject to legal conditions, but with a vote to expel City by Conference clubs due at the end of the week, and a winding-up order to be heard on 10 March, news of the potential sale has come at an opportune moment for the family!

On 19 Match 2009 the club announced that the Vaughan shareholding had been sold to Gary Metcalf, only for that 'sale' to fall through at a later date.

The Vaughans are to defer their full payment until June 2011. Stephen Vaughan Junior told the Evening Leader: 'The Vaughan family will today contact the Football Conference and inform them that we will defer full payment until June 2011 and ensure that full funding will be made available to pay all of our outstanding creditors, i.e. rent, revenue and all players' wages and players' arrears, and other football creditors. We will make an application to the Football Conference for them to reconsider their position so that we can fulfil the remainder of our fixtures'".

However Chester Fans United responded, saying, "Members of a Danish consortium met representatives of the CFU yesterday before they met the club. It was made clear to them that any rescue bid would need the support of the fans, the wider community, and a viable Business Plan. Despite agreeing to do so, they did not get back to us after the meeting with the club. The Danish consortium also have no current business plan or strategy for running the club on a day to day basis. They do not have adequate finances to cover the current debt, and have no plans for community involvement.

We are saying clearly and directly to the Danish consortium: On Thursday you stated that if we did not wish you to continue with your bid, you would not proceed. We are saying that we do not wish you to proceed with your bid. We would however welcome you to be part of an exciting journey with us as we rebuild our club in our own vision. But if you proceed without us, you are proceeding against us with all that entails. City Fans United are trying to clarify the full situation surrounding the reported sale of the club and will make a further statement in due course".

It's not often that the Copenhagen Post is the source of a story about Cheshire non-League football but such is the nature of the Chester City that even that does not now come as a surprise. It reports "A group of Danes hope to be able to save an English football club from demise by taking over its debts. Crisis-ridden west English football club Chester City FC may soon be Danish-owned, if a group of local fans get their way. As the founders of 'Projekt Chester City', the group of around 500 Danes has already met with the team's management about a possible purchase of the football club...

Palle Rasmussen, who heads the group, said the club's owners told him there were currently no other bidders to help save it. He said the club's local fan base in England support his group's push for ownership. 'They support the Danish project 100 percent,' he told public broadcaster DR. 'None of us in the group expect to become millionaires from the deal. We're doing this purely for the love of football'".

Meanwhile, the Football Conference "have issued the following statement on the Chester City situation...

The Football Conference announce that Member Clubs have confirmed, in accordance with the Articles of Association of the Ltd Company, that they consent to a meeting to consider the recommendation to expel Chester City (2004) FC from membership, being convened with less than 21 days notice.

The matter is therefore scheduled to be heard on Friday, 26th February 2010 at Rushden & Diamonds FC, commencing at 11am".

Forest Green Rovers confirm that "Paul Lloyd has left the club by mutual consent. Paul joined Rovers exactly 12 months ago... He played his part in last year's team... and scored 1 goal, that was away at Altrincham in a 5-2 win... As a consequence of that move, the club can confirm that they are currently in negotiation with another Blue Square Premier club to bring in an experienced centre-half on loan. It is hoped the details can be completed in time for the player to join the squad as they travel to North Yorkshire on Friday ahead of Saturday's visit to Gateshead".

The man in question is identified by Mansfield Town who announce that "Veteran defender Craig Armstrong will join Forest Green Rovers until the end of the season... The 34 year old has made 17 starts and two substitute appearances this term and has joined Rovers to fulfil his need of regular first team football... We have the option to recall Armstrong after one month".

Blue Square Football says that "Former Darlington defender Alan White has completed a loan move back to the Quakers from Luton Town. The 33-year-old centre-back has signed for the Quakers until the end of the season".

Your Local Guardian says that "Danny Kedwell admits his lethal partnership with Jon Main may be a thing of the past thanks to the recent exploits of Nathan Elder. Loan signing Elder struck his fourth goal in five games since his switch from Shrewsbury in Saturday's 2-1 win at Luton Town, with Kedwell notching the winner...

Kedwell said: 'It is a completely different way of playing when me and Nathan are up front together and it is really working. When you have two big men up front it causes defences all sorts of problems and we are reaping the benefits. If anything I am actually playing the Jon Main role now... I know it is pretty harsh on Jon as he scored twice in his last game (against Tooting) but me and Nathan seem to be the way forward'...

On Tuesday night they travel to Oxford United. Kedwell added: 'Games like that are all about the development of the side. In many ways it was like playing a Football League game... I think the squad that the boss has put together is very strong and that is really paying off at the moment... AFC Wimbledon's next three matches: Mar 6 Altrincham (h), 9 Crawley Town (a), 13 Eastbourne Borough (h)".

According to The Comet, Stevenage Borough "have taken attacking midfielder Justin Porter on trial from Bridgwater Town. Porter has been playing under Scott Laird's father Craig who is the joint-manager of the Somerset side and has been staying with the left-back during his trial. Laird [senior] said: 'Although Justin is with Stevenage during the week, he is still available for us on Saturdays'".
TROPHY SEMIS
The FA Trophy semi finals are as follows. The first leg is on 13 March and the second leg is on 20 March.
Salisbury C. v Barrow / York C.
Kidderminster H. v Stevenage B.
---
22 February 2010
LANDMARKS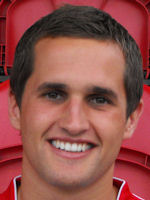 If Chris Senior (right) starts on Tuesday it will be his 100th start for Alty. He has also made 30 appearances from the bench and scored 38 goals altogether and is Alty's leading scorer this season with 13 goals, 12 in the BSP and one in cup matches.

Greg Young just beat Chris to 100 starts (plus 8 used sub appearances); he racked up a century of starts last week at home to Eastbourne, whilst Chris Denham's appearance in the same game was his 50th appearance for the club (and was his 35th start).
DIARY DATES
On Monday, 1st March, at 7.30pm, there will be a Fans' Forum at Moss Lane, when supporters are invited to question the manager and the club's board members.

And don't forget that on Thursday, March 25th, at the Cresta Court, Altrincham, there is a World Cup Heroes dinner with special guests Nobby Stiles MBE and George Cohen MBE. Tickets, available from the club, are £40 each.

Altrincham's next home game is on Saturday, February 27th when they entertain Grays Athletic (3pm). That day there is also a double-header of televised Sky HD matches in the Moss Lane bar, which opens at 12.15pm for Chelsea v Man City, with Stoke City v Arsenal at 5.30pm.

From Monday, March 29th to Thursday, April 1st, there is an Easter Fun Week at Moss Lane. This comprises a four-day football course for all abilities from age 5 to 12 (school years 1 to 7). It costs just £48 for all four days; discounts apply for brothers and sisters. The scheme is run by the experienced Altrincham FC Community Coaching Team. Please ring the club (928-1045) to book.
BORO TARGETED THREE POINTS
Eastbourne v Altrincham - Match Report here.

According to The Argus "Nick Greenwood refused to criticise Danny Knowles after the goalkeeper's blunder handed Altrincham the initiative back... Knowles made a mess of an attempted punch a minute before the break to allow Chris Denham to equalise. Borough had been on top up until then but Altrincham raised their game after the break and took the lead in the 68th minute through Chris Senior before Simon Weatherstone salvaged a point with an 83rd-minute penalty.

Assistant boss Greenwood said: 'He came straight in at half time and said it was his fault but you can't criticise him. He made two fantastic saves to keep us in the game in the last home match against Luton'...

Boss Garry Wilson said: 'We thoroughly deserved to go in ahead at half-time but an unfortunate goalkeeping error cost us. That put us on the back foot and they could only get better in the second half. It was a game we had targeted to take three points from and we thought it was heading that way in the first half but at the end of the day we were happy to salvage a point'".

The BBC has a post-match audio interview with the Eastbourne manager.
NEXT GAME
Alty travel to Gateshead on Tuesday where the Sunday Sun tells us that the club's "survival hopes took a knock when they conceded three goals for the third time in the last four games to slip to defeat in this six-pointer against Ebbsfleet United. The Tynesiders will be the main beneficiaries if, as expected, Chester City are kicked out of the Conference in the near future. The Deva Stadium outfit, whose results will be expunged, did the double over Gateshead...

Gateshead, however, cannot expect help from other sources to save them and unless they sort out their inability to defend as a team relegation will turn from a threat to reality. This week's home games against mid-table Altrincham on Tuesday and a six-pointer against Forest Green Rovers next Saturday are crucial in the fight for survival. On the plus side, the Tynesiders are creating plenty of chances, but if they don't keep the door locked at the back there will be more heartache to come...

Said assistant manager Jeff Wrightson, 'Peter Winn did well on the left but there weren't many players who had good games and we have to be better in two more big home games this week. The pitch was very heavy and difficult to play on... We are down at the bottom because we haven't produced enough on a regular basis, but the relegation fight is far from over'...

Gateshead: Farman 7, Baxter 6, Heckingbottom 7, Ferrell 6, Curtis 6, Bains 5, Parkinson 6 (Francis 69m 6), Turnbull 7, Wake 7 (Armstrong 69m 6), Clare 6, WINN 8. Subs not used: Provett (gk), Buchanan, Sinclair... Att: 533".
EASTBOURNE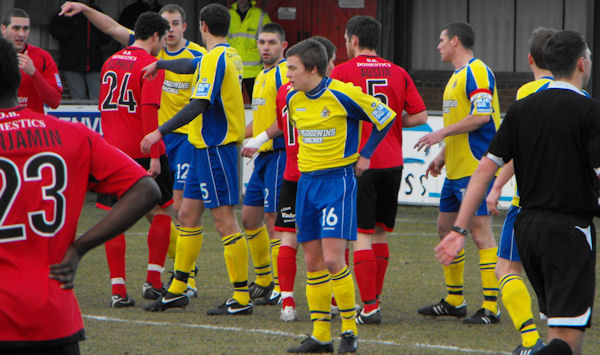 Right: Alty build a defensive wall at Eastbourne on Saturday. With Anthony Danylyk in the foreground, the Alty men are Robbie Williams, Greg Young, James Smith, Robbie Lawton and Shaun Densmore.
OLD BOYS
As reported last Friday, Marcus Hallows won his recent court case for damaages following his horrific injury whilst playing for Altrincham versus Ashton United in March 2005. The verdict was reached in the absence of any video evidence but "witnesses", who included former Spurs' player Gary Mabbutt, who was not at the game, were called by Marcus. The NL Paper reveals that "All parties had to agree a compensation figure before the case started, in case Hallows won. After the Robins (Ashton United) said £100,000 was totally uancceptable, a figure of £32,000 was eventually agreed. The UniBond Premier club will be asked to pay it but White, 29, is next in line if the club can't settle the debt... United can only appeal if there is a dispute over a point of law.

[Ashton United chairman] David Aspinall said, 'We had to send the other side our accounts and they know we have got no money. We could get served with a winding up order but, whatever happens, we will continue in some shape or form next season. We may have to re-form and come back lower down the pyramid... This has set a precedent and the repercussions for non-League are unbelievable... I'm very sad Marcus took this course of action. When you play football you know you can get injured and it was an honest challenge. The referee was five yards away and did not even give a freekick. The judge, however, has backed him [Hallows]'".

Peter Wright missed a penalty for Bamber Bridge but Matt Berkeley netted for TNS, as did both Warren Peyton and Joe O'Neill as Stalybridge, with Richard Battersby also in their side, got back on the winning track, at Gloucester. Nat Kerr, an Alty trialist last year, scored for Northwich Vics.

Chris Baguley, a former Alty trialist (2007) has moved to New Mills. Alty youth and reserves' product Ben Deegan, and former Alty player Kyle Wilson got FC United of Manchester's two goals at Frickley on Saturday. Carlos Roca also played for FCUM, whilst another ex-Alty youth player, Rico Richards scored for Rossendale United.
BSP NEWS
Chester First announces, alongside a picture of Stepehen Vaughan Senior that "Stephen Vaughan Junior today [Sunday] revealed that a deal had been struck in a with a Danish consortium to save Chester City Football Club.

The Blues' club owner, who attended a meeting in London last week where the Conference board recommended that Chester City be removed from the competition after pleading guilty to breaching five league rules, is hopeful that the crisis-hit club can earn a last gasp reprieve.

Vaughan said: 'A deal has been done with a Denmark-based consortium, Chester projekt.dk, subject to legal issues being agreed. 'I was one of three people from Chester City who met members of the Conference board at a meeting in London on Friday where the club presented cash forecasts and funding projections in a bid to safeguard the club from being expelled from the league. The club admitted it had breached five rules including rule 8.6 which mentions expulsion, and the Conference board have now recommended that member clubs of the Conference Premier Division will vote to expel Chester City from the competition.

The Vaughan family will today contact the Football Conference and inform them that we will defer full payment until June 2011 and ensure that full funding will be made available to pay all of our outstanding creditors, i.e. rent, revenue and all players wages and players arrears, and other football creditors.

We will make an application to the Football Conference for them to reconsider their position so that we can fulfil the remainder of our fixtures'.

Vaughan added: 'In the meantime, the Vaughan family and Gary Metcalfe met a Denmark-based consortium at the Deva Stadium on Saturday to strike a deal for the sale of the football club. The deal entails a 100 per cent buy out of the Vaughan family's shareholding. The Danish consortium was headed by Palle Rasmussen who was representing a group known as Chester projekt.dk. We shook hands on a deal which is now the subject of legal issues, but I feel confident that the Danish consortium can now be the new owners of the football club subject to an agreed sale through our solicitors Brabners, and the Danes' solicitors who will stage talks today.

I feel a deal can be done between now and March 6th if the funds are put in place. They need to satisfy everyone that Chester City Football Club has a future. I now believe that Chester City Football Club does have a future and I hope the Football Conference and its Premier Division clubs can save the club from expulsion and safeguard 125 years of history at the club'.

The Danish consortium were introduced to the Vaughan family by former Chester City manager Mark Wright who now has his own public relations company. Vaughan added: 'Both Mark Wright and his former Liverpool team mate, Jan Molby, have both been involved in the sale of Chester City Football Club through Mark Wright's PR company, and we are now hoping the sale can go through'".

Before the above news broke, Sunday's NL Paper reported that at this week's Conference meeting about Chester City, "Each of the other 23 BSP clubs has one vote, with the Blue Square South and North teams allowed eight between them. It means the league require 24 votes out of 31 to end the sorry saga". The NLP has conducted a straw poll - "Four clubs told us they will be voting to keep debt-ridden Chester in the league, with some still undecided". The Paper says that some clubs which would lose points if Chester's record were expunged are likely not to vote for expulsion. A Conference official revealed "If the clubs voted against the expulsion, it would create an impasse but we have been hoist by our own rules... but our regulations demand that we consult our member clubs. There is a fear that whatever way the vote goes, clubs affected by the decision could launch legal action over lost points".

One of the clubs thought to be voting against is Mansfield Town, whose chairman has reportedly stated on his Twitter account that the Stags would lend players to Chester to keep them playing. Mansfield would lose six points if Chester cease to play.

Meanwhile former managing director of Chester, Bob Gray, said of former City owner Stephen Vaughan,. "In all fairness to him, all he wants to happen is that these guys [local businessmen who might takeover the club] make an offer to him. If that's not acceptable to him, then come back with a better one... Credit to the Vaughan family, they are prepared to defer the loans [of £485,000]. They are willing to negotiate".

In the NL Paper, Steve Evans says of his own touchline discipline "I had to change and I have... I have to remind myself when I see awful decisions but other managers see awful decisions so it's not just Steve Evans seeing it blindly, like I used to do. ... A positive Steve Evans on the sideline works" said Steve Evans, who continued "If Steve Evans is going to chunter at referees all the time then Steve Evans's team isn't going to get a level base of decisions. It's taken me a long, long time to realise that". He went on "We might only have 15 players plus one YT but this is the best squad we've had since we finished 10th in the league... The prize at the end of it, if we are here next year, is that we'll have a budget in place that allows us not to be worrying about the bottom end" of the table.

The Crawley Observer tells us that "Notts County have said they are not actively seeking a manager despite being linked to Crawley Town boss Steve Evans. It was reported by a newspaper on Friday (February 19) that Evans was hotly tipped to take over... New County chief executive Jim Rodwell was a director at Evans' previous club Boston United, and it was rumoured that chairman Ray Trew had put Evans at the top of his shortlist...

A statement from the club said: "The board are not actively seeking a new manager or drafting up a shortlist presently"...

Evans said: "I still speak to Jim Rodwell as I have done for the last 10 years, we had a fantastic working relationship before and whether that means I am going to be on a list that they are compiling remains to be seen... I think the speculation is testament to the job everyone has done at Crawley Town".

The Chad reports that "Mansfield Town have made an official complaint to the FA and the BSP today over what the club believes was the premature postponement of their crucial home BSP clash with Rushden and Diamonds today [Saturday]. Furious chairman Andy Perry described the decision by referee Mark Brown to postpone the game for a frozen pitch at 11.50am as a farce.

And, with Tuesday's home clash with York City also called off today due to the Minstermen needing to play an FA Trophy game that night, Perry admitted it had left the club with their 'backs against the wall' financially. The pitch inspection was due to be at 12.20pm today and there was a heavy overnight frost, but the official and assessor turned up early and, despite the BSP rules allowing until 3.45pm to try to get a game on, they quickly ruled it out and left.

'I am standing on the pitch in the Mansfield version of the Maldives right now and I am bloody livid', said Perry at 1pm today. 'The pitch is squelching underneath my feet and the sunshine is bright and hot. The last bits that were really hard this morning are softening up and the groundsman has agreed that with a bit of spiking, some salt and some sand, it would be fine. The office staff are all out here with me right now and can't believe it either. I have no answer for why he arrived earlier than planned and called it off there and then. He's only come from Hull, not the other end of the world. These people just don't realise the effect they have on the game at times. If we are not careful the Police and referees will be telling us when we can and can't play football matches.

Look at what happened last week with the Police refusing to do the Chester v Wrexham game which meant it had to be called off'. [Chester had unpaid policing bills].

He added: 'How did we manage to clear all that snow away off the pitch before we played York last season and, despite the pitch being a bit hard underneath, that referee said he would have been very happy to wait until 3.45pm if needed to give the game a chance to be played. The referee and the assessor were in agreement today so we had no choice but to agree. You have to be careful and can't overstep the mark with referees but I would like an explanation why they couldn't give it longer than this. The forecast was sunshine with a few clouds and it is glorious here at the moment'.

With so many home games called off for the Stags since Christmas, it still leaves the owners with a wage bill to pay and Perry added: 'It doesn't take a mathematician to work out our backs are against the wall here'...

Manager David Holdsworth added: 'We are very disappointed. At the time the referee looked at the pitch it was still frosty but the sun seems to have come out, it has defrosted fairly rapidly and, with hindsight, we feel it may have been more favourable to wait a while before the decision was made'. Stags have asked Rushden if they would like to move today's game to then but Diamonds felt it was too soon and declined".
CHESHIRE NEWS
Speaking of the Conference's threat to fine Northwich Vics and dock them another ten points for not paying off their football debts by the deadline, the club's owner, Jim Rushe, told the NL Paper, "I paid as much as I could possibly pay but we ran out of time".
---
21 February 2010
YOUTH GAME OFF
Following an inch of unexpected snow in the early hours of this morning, the Youth team's game at home to Marine today has been postponed.
OLD BOYS
Buxton beat Guiseley yesterday with Kieran Lugsden netting a last minute goal for the Derbyshire side. Jake Sedgemore scored Nantwich Town's first as they lost 2-3 to Kendal Town. Rossendale United have signed David Owens, an Alty trialist last summer, from Hyde United.
AFTER THE GAME - EASTBOURNE BOROUGH 2 ALTRINCHAM 2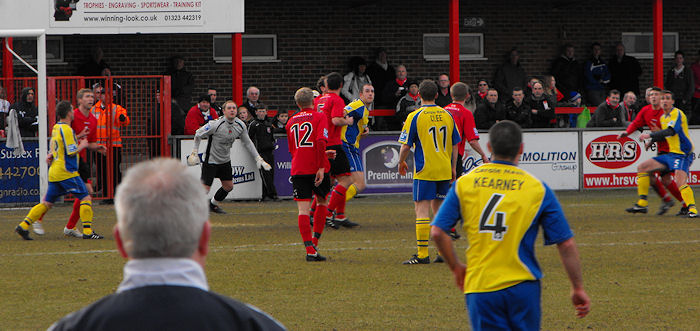 Above: Tom Kearney's freekick is in the air and keeper Knowles comes to deal with it. But the Borough keeper failed to do so and Chris Denham stole in from off the right of the picture to head home near the upright to make it 1-1.
Match Report here.

Even our opponents yesterday seem less than convinced about the validity of the penalty award that gained them a point against Altrincham. In the NL Paper, Eastbourne Borough's head coach Nick Greenwood said, "We have had many bad decisions go against us this season, so if that was a soft penalty, we are grateful for it". He added that "We played as well in the first half as we have this season". Alty's assistant manager Ken McKenna added, "We started off slowly but we battled our way back and I thought we did enough, in the end, to edge it. The penalty was disappointing. Nobody appealed and we should been awarded a freekick for a foul in the build-up to the corner" which produced the spot-kick.
SEAN'S SURGERY
At yesterday's game, Alty physio Sean Riley told the website that Matt Doughty was undergoing a scan that afternoon on his suspected cruciate ligament injury. Sean said that if the worst is confirmed, the operation cannot take place till at least five weeks after the injury, which was incurred only a fortnight ago. Everyone wishes Matt well.

Sean added that Robbie Lawton and Colin Little were now fit again - though Robbie got injured again yesterday. Also, Stuart Coburn's shoulder is not far from being better and he should be available for selection on Tuesday.
THEY ALSO SERVE...
A significant factor in Alty's good performances this season has been the strength of the squad and not just of the first-choices. Below are four of Alty's players who did not get onto the pitch at Eastbourne on Saturday but who are seen warming up before the game. Left to right, we see Colin Little with Clive Moyo Modise and John McAliskey, Adam Carden, Peter Doran, Michael Welch, and Ryan Brown, replacing Chris Denham. Colin, Clive and Michael were unused subs on the bench, having had a season disrupted by injury,John was a second half used substitute, whilst Adam was not in the sixteen and Peter was suspended. Ryan replaced Chris Denham late in the game on Saturday.
---
20 February 2010
SATURDAY
Saturday 20 Feb.
BSP
Eastbourne Borough 2 Altrincham 2
Forest Green 1 Cambridge United 1
Gateshead 1 Ebbsfleet United 3
Histon v Chester City OFF
Kettering Town v Grays Athletic OFF
Luton Town 1 AFC Wimbledon 2
Mansfield Town v Rushden & Diamonds OFF
Wrexham 2 Crawley Town 0

FAT 4
Barrow v York City OFF
Oxford United 1 Kidderminster Harriers 2
Salisbury City 2 Tamworth 1 - so Alty's league game at Salisbury will be postponed
Stevenage Borough 2 Workington 1
Through the Years from Howard Watts

"Manager Garry Wilson has backed on-loan goalkeeper Mitchell Walker to shine as Eastbourne Borough look to exact swift revenge on Altrincham. Walker made his debut against the Poppies on Tuesday after signing on loan from Albion but could not prevent Borough going down 3-0 at Moss Lane" reports The Argus. "The 18-year-old is set to continue in goal against the same opposition at Priory Lane tomorrow with Danny Knowles still struggling to overcome a combination of illness and injury.

Wilson said: 'Danny's groin is still not right and' as he has been unwell' he hasn't been able to get treatment on it. It was tough for Mitchell coming in at the last minute on Tuesday but you couldn't fault him for any of the goals and I'm sure he'll show what a good player he is'.

Wilson has confirmed that Dan Brown is unlikely to play for 'at least two weeks' after a scan on his troublesome knee failed to identify the cause of the problem... Darren Baker is expected to fill in at left-back tomorrow with Neil Jenkins and Sacha Opinel both suspended. Simon Weatherstone, who did not travel to Altrincham [but was named on the bench] on Tuesday so he could play for the reserves on Wednesday, is available".

After their midweek trek to Moss Lane, Eastbourne Borough themselves say that "This time it is the Cheshire club who face the 530 mile round-trip for the Blue Square Premier League encounter at Priory Lane on Saturday...

And 'Altrincham part two' is an early chance for Borough to avenge a 3-0 defeat at Moss Lane on Tuesday evening. It was a night to forget for The Sports... Saturday is Alty"s second visit to Sussex in a week having made the 450 mile two way journey to Crawley Town... Their away form is better than at Moss Lane...

Despite three successive defeats in a week [to] Rushden and Diamonds, Luton Town and Altrincham, Borough are still 19th... Kids Go Free at Eastbourne Borough on Saturday... This offer, in conjunction with the Eastbourne Herald is for youngsters under 16 - those under 11 must be accompanied by an admission paying adult - and to gain free entry children must collect the Kids Go Free voucher in Friday's (February 19) edition of the Eastbourne Herald and present it at the turnstiles when entering the stadium".

"Eastbourne Borough manager Gary Wilson told BBC Sussex: 'These guys have just got to give everything in every game. Nothing less than 100% will do'".
MARCUS WINS HIS CASE
Ashton United report that they "are disappointed that the courts have found against the club and former player Danny White in this distressing case. This verdict opens a potential can of worms for every single football club up and down the land as, based on the precedent set in this case, any incident resulting in an injury may now be subject to a legal challenge, regardless of the lack of any intent.

Speaking as someone deeply committed to the game of football, I fully understand Marcus Hallows's wish to seek redress for the unfortunate injury that he suffered in a challenge with Danny White during the game between Altrincham and Ashton United on March 19th 2005. However, Ashton United FC always felt that, as Mr Hallows's injuries were suffered as the result of an accidental collision between two consenting adults playing a sport with a known degree of risk, no liability was owed by either Danny White or Ashton United for a genuine, if unfortunate accident.

The club wishes to make no further comment at this stage until it has consulted with its legal advisors about the potential ramifications for both Ashton United and Danny White following this verdict. It is the club's understanding that no appeal may be forthcoming unless there is a dispute over a point of law.

David Aspinall, Chairman Ashton United FC".
OLD BOY
Eastwood Town of the Blue Square North, reputed to have a £10,000 a week budget, "have completed the signing of Nottinghamshire based midfielder, Jonathan D'Laryea, 24, and Crewe based defender, Mat Bailey, 23, from Northwich Victoria.

The two clubs have agreed an undisclosed fee for both players...[Paul] Cox revealed that he has had to be patient to get both players. 'I have been interested in Mat for some time, he has attracted attention from some very high profile clubs following Northwich's excellent FA Cup run. Despite agreeing a deal with Northwich, we then had to wait a couple of weeks to discuss terms with Mat as Watford were having a look at the player, which clearly would have been a no brainer for the lad. Although Mat can also play as a target man up front, I have brought him here as a defender because I think he is one of the best centre backs at this level, and at 23, he will continue to get better'"

And Eastwood "Chairman, Rob Yong, has confirmed that they will be more new signings joining the club... Yong revealed that Eastwood have been involved in negotiations for five players over the last few months. 'Three of our initial five targets have now signed... I don't understand why some clubs choose to disclose transfer fees, especially at this level of football, where no one discloses wage budgets or what individual players earn. We have paid fees for about ten players since I joined, but we have not disclosed how much and asked the selling club to do the same. If you are in the market for players, I think that you could put your future negotiations at a disadvantage by making public the size of the transfer fee paid for a particular player... I think the deals with Northwich and Ilkeston ended up being fair for all parties concerned... We are not one of the bigger clubs at this level and there is nothing to suggest that this will change dramatically in the future'. The Badgers' average home gate this season, so far, is 510.

The Northwich Guardian adds that "Northwich Victoria have trimmed their wage bill further after selling two players to Blue Square North rivals Eastwood Town. Defender Mat Bailey and midfielder Jon D'Laryea – who only joined Vics in November from Mansfield Town – departed last night, Thursday, for an undisclosed five-figures fee. 'It's a business decision rather than a football one', said Vics boss Andy Preece. 'I didn't want to lose either of them because they've both been important members of the team this season, but we've had to do what is in the best interests of the club for its long term future. The money will help us no end'...

Ryan Brown joined neighbours Altrincham on loan for the rest of the season on Tuesday. Preece added: 'These moves have all been made as part of our plan to restructure the budget and bring it to a manageable level. Both players would have wanted to stay here under different circumstances but they understand the situation and are moving to an ambitious club'... Bailey has made more league starts than anybody else this term – 23 – while D'Laryea has been a near ever-present since he switched to Vics on an initial three-months loan in September. Eastwood offered £10,000 for him last month, but Rushe refused to do business...

'I've wanted them both for some time', said Badgers' boss Paul Cox. 'Northwich were not willing to sell either of them but things change in football and we have now agreed a deal'"
CHESHIRE NEWS
Although Matt Bailey and Jonathan D'Laryea have joined Alty loanee Ryan Brown in leaving Northwich, "Caretaker-manager Carl Heeley has failed in his bid to bring Mark Danks back to Blue Square South club Worcester City. The St George's Lane boss had been tracking the Northwich Victoria striker... However, the Vics, managed by former Worcester chief Andy Preece, are keen to keep hold of their player and are not prepared to do business" reports tha Worcester News.
BSP NEWS
The Football Conference report that "The Board of the Football Conference today (18th February 2010) met with representatives of Chester City (2004) FC, when the club pleaded guilty to all five counts with which they were charged. These included those in respect of failing to fulfil fixtures, non payment of Football Creditors, failing to attend satisfactorily to competition business and bringing the competition into disrepute.

At the conclusion of a lengthy meeting, the representatives were advised that the Board failed to be convinced with their presentation that the club were able to demonstrate the club's ability to fulfil future fixtures in the competition and, as a consequence, informed the club of their finding in relation to Conference Rule 8.6.

In compliance with Article 5.2 of the Football Conference, the Board will recommend to its Member Clubs that Chester City (2004) FC should face expulsion from membership. To facilitate this recommendation the Board are now legally mandated to convene a General Meeting of Member Clubs to receive, deliberate and vote on the said recommendation to expel in consideration of Rule 8.6 and Article 5.2.

Until the meeting is held the club will remain suspended from the competition and their representatives suitably advised as to any future plans or presentations they may well wish to pursue against the recommendation of the Board to its Member Clubs. The date and venue of the meeting is subject to final clarification". It is expected to be next Friday at Rushden and Diamonds' Nene Park stadium.

The abovementioned Article 5.2 states "The members in a general meeting by a resolution passed by a three quarters majority of those present and voting may, on the recommendation of the Directors, expel a member from the Competition. The Directors may suspend such a member from the Competition pending the general meeting. The notice convening the meeting shall specify the matter to be discussed. The member facing expulsion shall be entitled if present at the meeting to present a statement in defence of that expulsion either verbally or in writing. If the vote is carried by the required majority, the member shall be erased from the Competition's register of members". A "three quarters majority" presumably means three quarters voting yes, e.g. 18 to 6, rather than that the majority has to be three quarters of the membership e.g. 21 to 3.

The Liverpool Daily Post states that "Chester City could well have played their last match in the Blue Square Premier... It is understood that the Conference weren't convinced that City's current ownership could meet their outstanding financial responsibilities, nor were they won over by what is believed to have been an unprofessional presentation as to how the club would resolve the five charges that had been levied against them...

City were told they have a further week to ensure that all their football creditors and HM Revenue and Customs debts are cleared, however it is unclear how the owners will find the monies to clear their financial commitments. Chester's players haven't been paid for over three months. If Chester City are expelled from the Conference, which is now a virtual certainty, they will almost certainly be liquidated...

Meanwhile, Chester's largest supporters group City Fans United held a meeting with concerned followers of the club in the Guild Hall last night to discuss the current situation and propose the formation of a phoenix club".

From The Argus we learn that "Crawley boss Steve Evans is being lined up for a dramatic return to Football League management with troubled Notts County. I understand County's new owners are keen for Evans to take over in the summer once they have stabilised the club's future and have put him at the top of their short list.

County's new chief executive Jim Rodwell played for Boston United when Evans took the club into the Football League in 2002. He subsequently became the club's director of football and chairman and stood by Evans when he was convicted of tax fraud and given a 12-month suspended jail sentence in 2006.

The pair are still in regular contact and Rodwell and County's new chairman Ray Trew have been impressed with how Evans has kept Reds competitive in the Conference this season and his ability to sell players on for profit. Despite a 40% cut in his playing budget compared to last season, Reds are on course to at least match last season's ninth-place finish. In the last 13 months Evans has sold five players for combined fees of £350,000 and Crawley will bank another £100,000 if striker Charlie Ademeno, whom Evans signed on a free transfer in the summer, is sold.

Those qualities will appeal to Trew and Rodwell, who are only just uncovering the extent of the financial mess left by previous owners the Munto Group... Trew, a former director of Lincoln City with extensive business interests, bought it for £1 last week and immediately installed Rodwell.

County have debts of £4m and Rodwell admitted last week they would need £2.5m to survive until the end of the season without making a dent into their debts. They are considering going into administration to secure their long-term future, although the ten-point deduction which would follow would almost certainly end their promotion hopes.

From a personal point of view a move north would suit Evans whose family home is still in Cambridgeshire. His assistant Paul Raynor, who played for County's rivals Nottingham Forest, would almost certainly move with him... Evans refused to comment about the County link but admitted... 'I am ambitious like every manager. As soon as you lose that you might as well put the kettle on, put on your slippers and start drawing your pension'".

The BBC reports that "Ebbsfleet manager Liam Daish has revealed at a fans' forum that he took a pay-cut last year and that his entire squad are out of contract this summer. Around 200 supporters attended the event which was broadcast on BBC Radio Kent and discussed matters largely centred around the MyFootballClub deal.

It was put to Daish that he was on £75,000 a year. But he said: 'I'm not going to say how much of a wage drop I took but you're far out with that figure'. Fleet had just three players under contract after last season and Daish said: 'You tell me what the solution is. It's to learn from the situation we had last year. If something doesn't change it is going to happen again'...

The club is owned by a members' website, MyFootballClub and for many the renewal date is 19 February. Jessica McQueen, who represents MyFC, said: 'I don't think we should throw MyFC out but the next three months could be the turning point'.

One of the subjects to come up was a question about why the club are paying £40,000 a year for the Fleet Leisure facility, even though the club no longer train there. Director Brian Kilcullen explained: 'There are new people involved at Fleet Leisure now'... The majority of members of MyFootballClub will decide this month whether to renew and chairman Duncan Holt outlined the importance of renewing. He said: 'We can exist with 5,000 members. We've got about 8,500 at the moment. 2,500 have signed up to long-term deals and about 4,200 are up for renewal on Friday'".

According to the Daily Post, "The man poised to become the new chairman of Wrexham FC last night offered an olive branch to the club's largest supporters' organisation... A press conference is expected to confirm that present chairman Geoff Moss is stepping down as a director of the club with Ian Roberts, a Ruthin-based businessman, taking over.

Other changes following the recent introduction of Super League rugby to the Racecourse will see Crusaders marketing director Mike Turner and commercial manager Richard Jones appointed to the board with responsibility for building the business and maximise revenue streams for both teams.

At a sparsely-attended fans' forum last night, Roberts insisted he wanted to draw a line in the sand on what had gone before and promised more consultation and transparency in the future. Introducing Turner and Jones, he said: 'We have brought these guys in – and they don't come cheap – because we are entering a new phase. We want to wipe the slate clean with the supporters and open negotiations with Wrexham Supporters Trust. There have been misunderstandings in the past, but we would like to engage in a dialogue to see how we can work together'.

The Trust, whose long-held ambition is to take a shareholding in the club, has a war-chest of more than £350,000 and Roberts added: 'With the sort of money they have raised, we (the club) should be shaking their hands and inviting them to do the same for us. We can't afford not to work with people who are the heart and soul of the club and for too many years the two sides have been working against each other'...

Trust vice-chairman Peter Jones grilled him [Richard Jones] on the club's employment of two alleged 'charity scammers', pointing out that many supporters were dismayed by Wrexham's refusal to sack the pair. But he was told that, although the club's inquiries were ongoing, both had so far proved exemplary employees".

Oxford United "have added to their squad with the signing of winger Ashley Cain from Coventry City on an emergency loan. The nineteen year old has great speed and can play on either wing. He has made one starting appearance for the Sky Blues plus five as a sub...

Manager Chris Wilder told us: 'He can play out wide or through the middle and has bags of pace and gives us an extra option'... Ashley's arrival is again thanks to the 12th Man Fund and Chairman Kelvin Thomas said: 'Once again the 12th man has come to the club's help. At this stage of the season we have to make sure that we have enough quality players at the club to get us through a probable 20 games in nine weeks. Having the 12th Man fund has given us the ability to do that, so well done to the fans once again'".
PART TIME v FULL-TIME
The Staines News tells us that "Staines Town are set to make history by offering their first full-time player contracts... In current form, a place in next season's Blue Square Premier via the play-offs is not out of the question. But an FA Cup run and 11-game unbeaten league run has caused some envious glances at their players by other clubs, and only last month, the lure of Bromley's cheque-book proved too much for Richard Butler to resist. And so the club are looking to safeguard their stars by offering them the chance to play professional football.

Captain and defensive lynchpin Danny Gordon is believed to be the first in line for a full-time contract. Boss Steve Cordery said: 'We've spoken to two or three players about going full-time, and we'll see what happens as it'll be a big decision to make for them'". In 15 home league games this season their average gate is 455.
---
---
19 February 2010
CHESHIRE NEWS
The Football Conference Board issued the following statement yesterday:

"Northwich Victoria FC, having pleaded guilty to a breach of Football Conference Rule 11, have been made subject of the following decisions in respect of default in payments to Football Creditors.

In light of the fact of the Football Conference being misled in respect of these payments the club has been fined £2,500 and warned as to its future conduct.

In addition the club has been made subject to a suspended fine and points deduction; and should it fail to settle all outstanding Football Creditor payments, to the satisfaction of the Football Conference by the 31st March 2010, it will be fined an additional £7500 and be deducted 10 points".
A WELCOME AWAITS...
Altrincham FC have received a message from the landlady of The Kingfisher Tavern which is apparently the closest pub to Eastbourne Borough's ground, on Kingfisher Drive. She said that all Alty fans are more than welcome - and there is a large car park there that fans can use, including space for a coach.

For details of TASC supporters' transport to Eastbourne this Saturday (and Gateshead, next Tuesday), click here.
BUCKET COLLECTION
Tuesday's bucket collection raised £55.23, a great effort from such a small gate. Many thanks to all who collected and gave.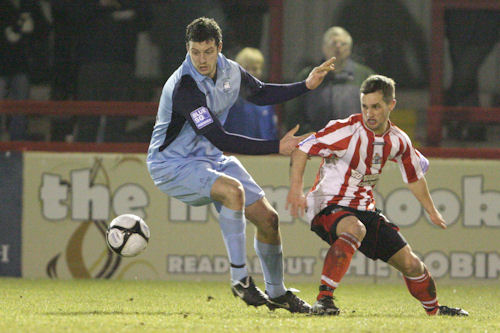 LAST GAME
Left: Gavin Rathbone of GR Photography here captures Alty's top scorer Chris Senior in action against Eastbourne Borough.
According to The Argus "Manager Garry Wilson could not hide his anger with Sacha Opinel after he collected the 11th red card of his career as Eastbourne Borough went down at Moss Lane. Opinel was only playing his second game since joining on month's loan from Farnborough and will now be banned for three matches. The defender saw red on the stroke of half-time after retaliating following a challenge by Chris Denham...
Wilson said: 'We had a great opportunity to get back in the game after they went down to ten men but what Sacha did was ridiculous. It was only a little tackle he received but he then got his hands on their player's throat and had to go. If we had got in with a man advantage at half-time I thought we stood a chance but having Sacha sent off really flattened us. We also had a goal disallowed just after their man had been sent off. If it had been 2-1 and we had an extra man then we could have got something from the game'.
Borough handed a debut to Albion goalkeeper Mitchell Walker after signing him on loan... The deal was so last minute that the team coach had to stop en route to Altrincham to fax over Walker's registration to the Football Conference. The 18-year-old who signed pro for the Seagulls this season made a confident start...Borough looked vulnerable every time Altrincham attacked... The home fans were furious when Doran was shown a straight red after catching Benjamin late four minutes before the break but referee Darren Bond was back in their good books when he disallowed a header from Gary Elphick for a foul on the goalkeeper. If that had gone in the momentum might have turned but then Opinel's moment of madness wiped out Borough's numerical advantage".
FLYNNZINE
Brian Flynn's latest "Flynnzine" appeared on Tuesday...

When Charles Ademeno didn't make a move from Crawley during the January transfer window, there was always going to be a strong possibility that we would suffer from that outcome on our trip to the Broadfield Stadium on Saturday.........and so it proved that a relatively mediocre game was decided by one moment of brilliance as the former Southend striker made the most of an inviting cross from the dangerous Barry Cogan, glancing a textbook header into the top corner just before the hour mark. Cogan has caused Altrincham problems before, having scored for Grays when they beat us 2-1 in Essex last season and played for Millwall in the 2004 FA Cup Final against Manchester United.

From our point of view, we didn't really play well or badly, although we had at least three opportunities to prevent the ball fatally reaching Ademeno's head.

Listening to Steve Evans' post match interview with BBC Radio Surrey, the portly 47 year old Glaswegian made some interesting comments..........praising Graham Heathcote and Ken Mckenna for having "the most improved team in the league season on season" but describing us as "not coming with any flair" and stating that if the game was a boxing match then the "towel would have been thrown in after 70 minutes and we could all have gone home". I thought Crawley just about deserved the points but were always under threat from some decent approach play by Altrincham that didn't really materialise into clear cut chances. Peter Doran and Clive Moyo-Modise look like a couple of interesting signings and if we can get 4 or 6 points from our double header with tonight's visitors then by Saturday evening, we could be looking back on a decent week.

I can't attend tonight's match as I am on a family skiing holiday in Germany so I will be nervously awaiting news from Moss Lane. I am planning an extra special Valentine's Day treat for Mrs. Flynn.......a trip to the Commerzbank Stadium to see the Bundesliga match between Eintracht Frankfurt and SC Freiburg......there is no end to my creative talents in the romance department!

Auf Wiedersehen Pet!!!

Herr Flynn.
BSP NEWS
Histon confirmed on Thursday night that "Today, the Football Conference upheld the suspension of Chester City and as a result our Blue Square Premier match at home to Chester City on Saturday 20 February has been postponed". On BBC on Thursday night, player Neil Ashton spoke about how he and other players had not been paid since November. The Conference will now meet again next Thursday to address the Chester problem.

Also on Thursday, Chester fans held a public meeting with a view to forming a "phoenix club" to replace City at a lower level in the pyramid.

Meanwhile, the unofficial site at Chester City said on Thursday that "Today's meeting in Birmingham between the Management Committee of the Football Conference and representatives from Chester City FC (2004 Ltd) should finally bring to an end this sad shambolic season. It seems unlikely that the Conference could do anything other than expel the club from this year's competition, expunging their results in the process. A relegation of several divisions down the pyramid as punishment is also a possibility.

The club face five charges at the meeting including failing to fulfil two fixtures prior to last week's seven-day suspension imposed on the club. Should City be allowed to limp on until the end of season, their inability to be able to pay their ever-dwindling number of players, a coach company for several away trips and the police to man Deva Stadium will only bring a swift repeat of last week's chaos.

The club have asked for a personal hearing this afternoon. Blues' director Bob Gray said: 'We will fight hammer and tong with the Conference and hopefully continue to play football at this club'... The only two groups who have publicly appeared to show an interest are a group of Danish businessmen whose plans to raise money to buy the club can be found on their website, and Mike Harris, owner of TNS. Following today the club still have to face a winding-up order brought by HMRC on 10 March over unpaid tax".

From the Liverpool Daily Post we learn that "The Conference hierarchy are concerned about the club's ability to complete their fixtures, given the exodus of City's unpaid senior players and the apparent fiscal meltdown at the Deva. It is understood from a source at the Conference that Chester will be represented by owner Stephen Vaughan Junior, managing director Bob Gray, and advisor Gary Metcalf who a few months ago was linked with a possible buyout from the Vaughan family... Expulsion would inevitably lead to Chester going out of business, which would bring the clubs 125 year existence to an end...

Meanwhile, reports last night linked captain Tim Ryan with a move to Stalybridge Celtic, the Blue Square North club are led by former City manager Jim Harvey. In another development last night, Chester cancelled tomorrow's scheduled FA Youth Alliance fixture against Wigan Athletic".

The Daily Post has a report that "Wrexham manager Dean Saunders believes it would be in the Football League's long-term interests if three Conference clubs were promoted every year, instead of two at present. The Dragons' boss... said former members of the Football League, such as Wrexham, Luton Town and Oxford United had paid too heavy a price for past mismanagement, both on and off the field of play. As full-time clubs in the Conference we are the teams that everyone else wants to beat yet we sometimes even find ourselves at a disadvantage against part-time clubs," said Saunders.

'I tried to sign a player from one such club a couple of months ago who was earning £350 a week from his football, but was not interested in coming full-time with us because he was also earning £700 from his day job and I could not match that'. Arguing that the Conference runners-up should win promotion alongside the champions and play-off winners, the Dragons' boss added: 'As it is now, it's not impossible to get back into the Football League, but it's becoming more difficult each year as teams like Oxford, York and Cambridge United, who have been here quite a few seasons, have discovered. What they share in common, as do we, is that they have a large number of supporters and the potential to attract far bigger crowds, which is something that cannot be said of a number of other teams in this league.

It must surely be in the interests of the Football League that such clubs, hopefully back on an even keel and being run on sensible lines, are given every opportunity to strengthen and improve the quality of the competition in League Two and eventually even higher up in the pyramid'.

Addressing the problems being faced by rivals Chester City... 'I hope they can keep it going, but only if there is a cast-iron guarantee of immediate investment and the payment of players', he said. 'Weymouth were being beaten 9-0 last season because they didn't have a team and it made the whole competition something of a farce. It's not in anyone's interests for that type of scenario to be played out at Chester, so I hope it's sorted out tomorrow, one way or the other'".

Meanwhile there is potential turmoil at The Racecourse as The Leader says that "Geoff Moss last night [i.e. Wednesday] looked certain to resign as chairman of Wrexham FC. Last week the Leader exclusively revealed how businessman Mr Moss was so sick of being targeted by 'offensive and libelous' comments by some fans on the Red Passion website that he had been forced to call in the police...

We spoke to Mr Moss just before he went into a crisis board meeting with fellow directors to discuss his future with the club... He told me: 'I am expecting to resign as chairman for the reasons I mentioned last week. However... I will stay on a director of the club'. Mr Moss, who pumped £4 million of his own money into keeping the club afloat just a few years ago and still owns the majority of its shares, added: 'I have other things that I would like to go and do. My partner, Samantha Brightmore, who already has a boutique in Holt, is opening another business in Tarporley of which I am also a director and I want to help her with that'.

Mr Moss, who made his personal fortune by selling his Elegant Resorts travel company to Thomas Cook a few years ago, said he expected the club would be releasing an official statement on his position soon... Carroll Clarke, chairman of Wrexham FC Supporters' Association, said: 'It would be a sad loss to the club if Geoff left – it doesn't bear considering'".

Kidderminster Harriers confirm that "Winger David McDermott is set to go out loan for a month to Halesowen Town... The lively winger had started the season at Aggborough as a regular fixture in the team until a serious illness late last year robbed him of several months of his career... The next stage in his rehabilitation is some first-team football, so 'Macca' is set to spend the next month out on loan".

The Football Conference says that "Kidderminster Harriers are pleased to welcome back Marcus Bignot to the club on non-contract terms until the end of the season. The versatile 35-year-old defender is back at Aggborough for a second spell, following a hugely successful season at the club in 1996/97 - during which his performances landed him a move to the Football League with Crewe in a deal that went on to fetch the club £100,000... He parted company with the New Den outfit [Millwall] on transfer deadline day this year...

[Manager Steve] Burr said: 'It was sensible for us to try and bring in some defensive cover, especially for the full-backs, and Marcus will more than give us that'". And "Steve Burr has today eased his goalkeeping problem with the addition of Derby County stopper Ross Atkins on a one-month loan deal. With Dean Coleman on the sidelines and awaiting groin surgery, the 20-year-old former England Youth international arrives at Aggborough to bring up the complement of goalkeepers in the ranks back up to two, alongside Jasbir Singh".

"Crawley Town co-owner Susan Carter has moved to reassure supporters that the club is not in financial trouble despite their recent court appearance over unpaid debts" reports This is Sussex. "The Reds were in the High Court last Wednesday over money owed to Her Majesty's Revenue and Customs, and were given four weeks to pay the debt. But Carter says 'The club paid this debt several weeks ago and I'm very disappointed and angry that they have made such a cock-up. They have received a short sharp email from me demanding an explanation and an apology... The club's name has been tarnished by them failing to communicate properly with each other'.

Carter admitted that the club had suffered a cash flow problem at the end of January after having several games called off due to the weather - but said the owners had invested a sizeable sum into the football club... 'We are still on target to be debt free by the end of the season. As a club we are trying to be honest and up front about it but we're not being helped by the Inland Revenue when they are unable to get the admin right at their end'... The case will return to court on March 17, and Carter says she will be looking forward to hearing the HMRC admit they had made a mistake.

Lisa Billard, a spokeswoman from HMRC said she was unable to confirm or deny if Crawley Town had paid the amount owed. She said: 'HMRC only initiates winding up or bankruptcy action where it believes this is the best course of action to protect the interests of the Exchequer in respect of a particular debt. We do not take such action lightly'".

"Assistant manager Jeff Wrightson believes Gateshead can continue their fight to avoid the drop with another three points against a rejuvenated Ebbsfleet United on Saturday. It is the second leg of a four home games in 11 days period [including a match against Altrincham]. 'We are looking for the same determination and effort with a bit more quality', said Wrightson. 'We rode our luck against Barrow but kept going until the 96th minute and got our reward'... Captain Kris Gate is close to fitness but may not be risked ahead of Tuesday's visit of Altrincham and either Rikki Bains or Wayne Buchanan will partner James Curtis at the centre of defence. The fit again Steven Richardson is pushing for a place on the subs' bench but Wayne Phillips remains sidelined with a hamstring injury".

The referee at Gateshead on Tuesday is Mr J. Simpson.

According to the Thurrock Gazette "Grays Athletic boss Julian Dicks believes he can see light at the end of Blues' drop-zone tunnel... Being on the wrong end of four and five goal drubbings means that Dicks views last weekend's 2-0 defeat to Salisbury City as a positive. He said: "I think that we played a lot lot better. 'Our passing improved and, although we lost, at least we created 17 chances. That's more than we have done in the whole of the rest of the season'...

Dicks said: 'Kettering are not going to make it easy for us. I'm concerned about the fitness of Harlee Dean, but apart from him there are no injury concerns'. Dicks even has some of Grays Athletic's Under 18s training with the full squad".

Luton Today tells us that "Steadfast Luton will give wayward winger Craig Nelthorpe all the support he needs when he appears at York Crown Court. The 22-year-old, who has been signed on loan from York City until the end of the season, is due to appear before a judge on Friday. Nelthorpe, along with City players Michael Rankine, Michael Ingham and Michael Gash, is charged with affray after a disturbance in the city centre last year... Boss Richard Money revealed... 'Everybody is hopeful that it will be OK on Friday... We've an agreement with York over if anything untoward happens to him. We haven't gone into this with our eyes closed, put it that way'".
---
18 February 2010
FOLLOW THE ALTY
If you want to see Alty in the next month you would be well advised to come to some away games as five of the next six Alty games are on the road. Apart from the home match with Grays on 27 February, Alty do not have a home game till 16 March. The itinerary reads:
Sat.20.2.10 Away, Eastbourne Borough
Tue.23.2.10 Away, Gateshead
Sat.27.2.10 Home, GRAYS ATHLETIC
Sat.6.3.10 Away, AFC Wimbledon
Tue.9.3.10 Away, Wrexham
Sat.13.3.10 Away, Salisbury City

For details of TASC supporters' transport to away games, click here.
EASTBOURNE VERDICTS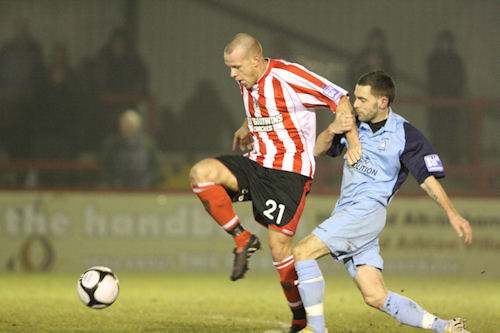 Right: On his first home start, Peter Doran had an eventful forty minutes - socring a fine goal and then seeing a red card. Here he is seen by Gavin Rathbone of GR Photography.
Altrincham FC joint Press Officer, Joh Edwards, has supplied this extended version of an article submitted to the Sale & Altrincham Messenger. "Graham Heathcote admitted he was 'flabbergasted' at being sent to the stands 10 minutes from the end of a convincing 3-0 win over Eastbourne Borough at Moss Lane on Tuesday night. Alty were coasting to victory when Heathcote took exception to a yellow card for James Smith and found himself being dismissed from the dug-out by referee Darren Bond, on the advice of the fourth official.
With a three-match suspension already hanging over him, the Alty manager is now bracing himself for a lengthy touchline ban, even though he insists he did not step out of line. 'It was a perfectly good tackle by James, not even a foul, so when he got a yellow card, I made one or two observations', he said. 'They were addressed to no one. If I had moved towards the fourth official, pointing and giving him a mouthful, I could have understood what followed. But that wasn't the case. They were just generalisations that disappeared into the night air, as happens with managers and coaches on the sidelines every week, yet this fourth official interpreted it as being aimed at him.
I was flabbergasted when he called the referee over and I was sent to the stand. I hadn't had a single altercation with anyone all night, and my comments about the yellow card were nothing out of the ordinary and, more importantly, were directed at no one. The fourth official was clearly over-sensitive and over-zealous, and he even claimed later that I had aimed the remarks at the assessor, which was equally untrue.
There had not been a single issue in the whole evening and it took all the gloss off the night for me, given what the outcome is likely to be from the FA and the fact it was so unjust. No one could possibly have tried any harder than I have to stay out of trouble over the past season and a half, and I have succeeded up to now. I am the sort who has always held his hands up and taken any punishment on the chin, whenever I have done wrong, but there is no way I can accept this one. It is annoying, to say the least.
I'll have to see what the FA do now, but I've got a three-match suspended ban from nearly two years ago. There's no point appealing, but some people nearby, who were as astounded as I was, may submit written evidence in my defence. There was a lot of surprise in and around the area. People could not understand it, so if anyone wants to write in, they are more than welcome'.
Midfielder Peter Doran marred another impressive performance by being sent off soon after opening the scoring, and he now faces an automatic three-match ban. 'It was a shame, because he started the game really well and scored a smashing goal', said Heathcote. 'But we can't really complain because he went into a tackle at 100mph and dived in a bit. He got a fair bit of the ball, but once your foot leaves the ground these days, you are asking for trouble. That is the interpretation, and he was perhaps a little over-zealous. The speed he went in at probably made it look more dangerous than it actually was, but we can't argue. It could be they still get away with that in the Welsh League, but you can't hope to at our level. He's a young lad, and I'm sure he will learn from it.
Fortunately for us, they had a player sent off just before half-time for raising a hand towards Chris Denham, so that evened things up. We were very sloppy for a while at the start of the second half but comfortable enough after Chris Senior made it 3-0 from the penalty spot. The fourth official had to intervene after that, unfortunately, but it was still pleasing to bounce back so strongly from the disappointment of losing at Crawley. The players deserve great credit for that'.
Keeper Stuart Coburn and skipper Robbie Lawton could return at Eastbourne on Saturday, while striker John McAliskey is also fit again. 'I hope Stuart will be all right, while Robbie has done some running and is in with a chance,' added Heathcote. 'I didn't use John on Tuesday night, but his hamstring is fine now, and he is available for Saturday'".
An opposition view on the Alty v Eastbourne game comes from The Argus blog on Tuesday's game at Moss Lane in which the paper's reporter reported live on Peter Doran's dismissal, "Home fans angry about that one and they might have a point. It was certainly late but I think a yellow would have sufficed. Don't think anyone in the ground expected a red to come out"... "Opinel shown red. Didn't quite see what he did but makes a mockery of the interview I did with him saying he had calmed down. That's the end of Opinel in a Boro shirt then. Will be banned for three games and when he's available again Jenkins will be back". And also, "Half-time. All got a bit heated there. Referee lost the plot for five minutes. Don't think he needed to show either red card but will canvass opinion at half-time to see about Opinel's decision. Fans shouting 'rubbish' at the referee as he goes off... Consensus is that Opinel deserved to go. Wasn't happy with a challenge by Denham so swung a hand/fist at him". It continues, "Alty manager has been sent to the stands for having a pop at the ref. He [ref] has been truly awful... I do feel sorry for the Boro five who have travelled up. I get paid to watch this dross but they have done it off their own back and have been let down by their side".
AWAY SUPPORT AT MOSS LANE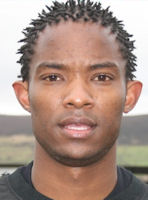 Right: Clive Moyo-Modise, Altrincham's recent signing. Picture courtesy of John Cawthorne's Mossleyweb.
Courtesy of Altrincham FC Security Officer, Darren Gregory, is a list of away supporter totals for games at Moss Lane this Saturday. Figures only include away fans who entered via the away turnstiles, not those who went into the Main Stand. All are Saturday matches except where shown:
Ebbsfleet Utd 91
Histon 23 (Tues)
AFC Wimbledon 440
Chester City 455
Crawley Town 21
Tamworth 70 (Tues)
Gateshead 11 (Tues)
Mansfield Town 389
Luton Town 640
Witton Albion 16 (Tues)(CSC)
Forest Green Rovers 36
Barrow 105 (Tues)
Wrexham 84 (Tues)(FA Trophy)
Hayes and Yeading 31
Wrexham 592
Salisbury 28
Eastbourne 4 (Tues)
ROBBIE'S CALL UP
NL Daily reports on an international at the Municipal Stadium in Fátima on Wednesday, March 3rd, for which Alty's Robbie Williams has been called up. "One player from Principality Welsh Premier club The New Saints and a former Saint are new faces in the Wales Under-23 semi-professional squad to face Portugal... Manager Terry Boyle has called-up central defender Rob Williams, who has been virtually ever-present for Blue Square Premier side Altrincham since being released by the Park Hall outfit at the end of last season. A product of the TNS Scholarship Scheme, Williams also spent time on-loan at Caersws and Newtown but has blossomed at Moss Lane this season".

According to The Argus "Sacha Opinel was sent off on only his second appearance for Eastbourne Borough as they went down 3-0 at Altrincham... Opinel was dismissed for throwing an arm at Denham just before half-time". It was the Frenchman's first game after suspension. Making his debut for Eastbourne was goalkeeper Mitchell Walker, as "Borough rushed through the 18-year-old's loan after Danny Knowles was ruled out through a combination of illness and injury".
BSP NEWS
Should Chester City be expelled from the Conference today, the following league table shows the effect of their results being expunged. It means that some clubs would end up playing 46 games this season whilst others will only play 44 or 45.

"Under fire Barrow joint-manager Dave Bayliss cited his team's failure to finish and a disallowed goal as the difference in the loss to Gateshead on Tuesday night" reports BLue Square Football. "The Bluebirds lost 2-1 to their relegation rivals with Bayliss ruing his side missing a host of chances as well as having a goal disallowed after play was called back for a Barrow free-kick. 'We've created enough chances to win four games', he told BBC Radio Cumbria. 'Both strikers should have been going away with the match ball'...

The disallowed goal would have brought the scores level and Bayliss...was left bemused by the decision. 'I can't explain, it's a free-kick to us, and he's played on, then we've had the ball in the back of the net and he's pulled it back for a free-kick. We've then had their last man pull Jason Walker back and he's got a yellow card, I don't understand the rules of the game whether the last man gets sent off or gets a yellow card but you can understand why people get frustrated... I had to bite my lip at times and say a few prayers just to keep myself calm'".

The Chronicle reports that "Refreee Paul Davison gave Gateshead a helping hand as Ian Bogie's men came out on top in a Blue Square Premier thriller against fellow strugglers Barrow. The Stockton official incensed Barrow in each half when he first gave the Cumbrians a free-kick instead of a goal after Mark Boyd's 25-yard shot flew into the net. Gateshead's central defender James Curtis should then have been sent off midway through the second period for a foul on Barrow striker Jason Walker when last man... It was thrill-a-minute fare for a 503 crowd and, while a new- look Gateshead rode their luck, they showed great resilience and determination to pick up all three points...

Ian Bogie, who handed a debut to former Tranmere Rovers [and Cambridge United] winger Andy Parkinson, was delighted his side had finally had the rub of the green. He said: 'Barrow are a dangerous side and we have done well to take four points off them. They will be disappointed not to have taken something out of the game, but football can be cruel at times'".

According to the Cambridge News "Alan Lewer has revealed he signed goalkeeper David Knight in case Danny Naisbitt decides to leave Histon at the end of the season. The Stutes' manager moved to bring former Middlesbrough shot-stopper Knight to the Glass World Stadium on Friday... 'Danny's been offered something and he's talking to the chairman at the moment', said Lewer. '"It's down to Danny whether he accepts that or whether he doesn't. The new keeper has signed for 18 months and he's come in on sensible money, which is fantastic. I've got to work to restructure things at the club, with the chairman (Tony Roach), to make sure we can afford what we're doing'".
---
17 February 2010
ALTRINCHAM 3 EASTBOURNE BOROUGH 0
Match report here
Results: Tuesday 16 Feb.
Altrincham 3 Eastbourne Borough 0
Gateshead 2 Barrow 1
Oxford United 1 Rushden & Diamonds 0
Salisbury City 1 Tamworth 0
York City 0 Luton Town 0
YOUTH REPORT
Courtesy of George Heslop, a report has been added to the Youth Page on Alty Youth's recent win at Prescot Cables.
FIXTURES
The Alty Youth fixtures page has been updated. The next two matches are against Marine "A"; at home this Sunday (21st) and at Crosby the following Sunday (28th).
BSP NEWS
Cambridge United report that "28-year-old former Crawley Town striker Calum Willock has joined on non contract terms. Willock started his career at Fulham and made his professional debut at Craven Cottage as a substitute in November 2000. The 6ft 1 striker scored 23 times whilst with neighbours Peterborough and has also enjoyed spells with Brentford, Port Vale, QPR and Bristol Rovers. Willock joined Crawley Town from Stevenage Borough and joins the U's on a free transfer... Manager Martin Ling, who has been looking to strengthen the United strike force since the departure of Chris Holroyd to Brighton last month, added 'Calum has joined us on a non-contract basis to show us in the short term what he's all about'".

In addition, the Cambridge News adds that "Twenty-year-old defender Kevin Roberts was set to complete a move from crisis club Chester to the R Costings Abbey Stadium today (Tuesday)."

NL Daily tells us thaT "Runcorn Linnets have made one of the more long-distance signings of the season so far! The Linnets have signed central defender or right-back Tayo Davies Coker from Hayes & Yeading United... Davies Coker has actually joined the Linnets after moving to the area with his studies!".

Meanwhile, "Steve Fallon has rejected the offer of a testimonial match at the Glassworld Stadium after he and the board at Histon finally agreed a settlement. The former Stutes' boss, sacked from the post by chairman Tony Roach in January, has accepted the terms, but is clearly unhappy with the fall-out from his departure. Fallon said it would be inappropriate for him to accept the testimonial, which had been earmarked for the end of the season to celebrate his 10 years as Histon manager, and would have given the wrong impression.

'I don't feel it's right that I have my testimonial there', said Fallon. 'I would not feel comfortable with that. Agreeing to that would be like saying "never mind about what's happened, everything is all right". It would have looked as if I accepted everything that was said'.

Just days after sacking Fallon, Roach described him as 'the most unprofessional manager at this level I've ever seen' and added: 'It's not school sports any more, it's not playground stuff and it's not kids' football, this is men's football'.

Histon director Angelo Dama confirmed... 'We're pleased to reach agreement and finalise the settlement terms with Steve. However, the board are very disappointed the offer of a testimonial event at the Glassworld Stadium, in acknowledgement of Steve's highly-successful ten years as manager, was declined'" reports Cambridge News.

Alty are away at the International Stadium next Tuesday form where NL24 says that "Ian Bogie, manager of struggling Gateshead, wants his side to raise their game, and has admitted his job is on the line if the players don't start performing... Bogie's patience is wearing thin and experienced former Football League defenders Chris Swailes and Mark Robinson, along with Carl Jones, have been made available for transfer".

After defeat at Hayes, Bogie told ChronicleLive.co.uk: "I expected the players to make it count in the second half, but we were poor from start to finish and have missed the chance to move out of the bottom four. It has to mean more to the players. We need them to stand up and be counted and show they want to play for Gateshead Football Club. The game was a non-event and a poor spectacle involving two teams who looked as though they were playing out the season yet we are in a desperate scrap to avoid the drop. My neck is on the line. I was brutally honest with the players who, apart from two, are all my signings and I expect a lot more from them. We now have four crucial home games in 11 days three of them against relegation rivals and I am demanding four wins".

Somebody who is safe in his job is the subject of a BBC report which says that "Barrow joint-boss Dave Bayliss will keep his job despite his part in Saturday's melee after the 2-0 defeat at Kettering. The board have invited Bayliss to an internal disciplinary meeting where they will discuss their own means of handling a punishment. 'It is in the best interests of Barrow AFC that Dave remains part of the management team', read a statement. The Football Association have confirmed that they are also investigating".

"Kidderminster Harriers goalkeeper Dean Coleman is to have surgery on a groin injury and is likely to be out for the remainder of the season. Coleman, 24, who moved to Aggborough in July 2007, has made 27 appearances in the Blue Square Premier this season. 'It's a big blow for us', Harriers' boss Steve Burr told the club's website".

Chester City's unofficial site reports that "Kevin Roberts has left City to join fellow Conference side Cambridge United. Roberts, a product of the club's youth policy, had given the club 14 days notice of his intention to leave. Roberts scored 9 goals in 105+10 appearances for the Blues. It also appears that another young player who made the first team from the youth ranks, Shaun Kelly, may soon join former manager Jim Harvey at Stalybridge Celtic".
---
16 February 2010
TONIGHT'S MATCH
There will be matchday updates on this website, before and during the match at Moss Lane on Tuesday night. These will be found on the Matchday Update page.

According to The Argus Eastbourne Borough manager Garry Wilson "Admits the chances of Eastbourne Borough boosting their firepower before tonight's trip to Altrincham are fading. A deal to bring in a striker on loan from a Championship club fell through last Friday and attempts to resurrect the deal yesterday proved unsuccessful. Wilson is determined to bring in support for top scorer Liam Enver-Marum but fears he may have to turn his attention to other targets if the situation does not change in the next few days.

Wilson said: 'We were waiting to see what happened with a forward yesterday but didn't have any joy. There was a league club interested in him so he wanted to see if that came off or not. We spoke to the boy on Sunday and he said he was happy to come if it didn't work out but the longer it drags on the chances of him coming to us are fading. Things can change very rapidly but I think if it was going to happen it would have been done yesterday. We have one or two other players in mind but we put everything else on the back burner while we were trying to complete this deal'...

Borough have another more pressing problem ahead of the trip to Moss Lane with goalkeeper Danny Knowles unlikely to play due to a combination of illness and injury. Knowles... has gone down with a bug and is also suffering from a groin problem. Reserve goalkeeper Michael Jordan was released from his contract two weeks ago and has since joined Farnborough with goalkeeping coach Dean Lightwood providing back-up on the bench for the last three games. Wilson was hoping to complete an emergency loan siging last night...

Wilson added: "'It doesn't look like Danny will make it so we might have to sort something out very rapidly. We made a few phone calls yesterday but it is very short notice'. Midfielder Danny Brown is due to have a scan on his troublesome knee today and misses out while striker Andy Atkin has only just resumed light training following groin surgery. Sacha Opinel is available after serving a one-match ban and is likely to replace Darren Baker at left-back but Neil Jenkins is still suspended.

Altrincham are without midfielder Robbie Lawton and defender Matt Doughty due to injury but John McAliskey could return to the starting line-up following a hamstring strain. Meanwhile Borough have been hit with two FA charges following a melee during their 1-1 draw at Tamworth last month.

Eastbourne: Knowles, Austin, Elphick, Pullan, Opinel, Taylor, Armstrong, Johnson, M Crabb, Benjamin, Enver-Marum. Subs from: Lightwood, Smart, Baker, N Crabb, Weatherstone, Rowe."
ALTY'S NEW SIGNING
Altrincham FC have today signed Northwich Victoria left-back Ryan Brown on emergency loan till the end of the season. He will wear squad no.27.

Earlier, the Northwich Guardian reported that "Northwich Victoria say they have reached an agreement with neighbours Altrincham to send Ryan Brown to Moss Lane on loan for the remainder of the season... 'It's done and sorted', said Vics' boss Andy Preece. 'He'll go there and try to impress enough to get a deal for next season'. Brown, 24, is the first of the Wincham club's full time players to depart following last week's decision to cut the wage bill by offloading the highest earners.

He leaves with just weeks to run on a two-years' deal signed in the summer of 2008. But the former Port Vale junior has struggled to hold down a place in Vics' starting line up after missing the whole of pre-season following knee surgery. That, coupled with the impressive form of newcomer Junior Brown, has restricted him to just six league starts. However he has amassed more than 100 appearances in non-league's top tier for the Victoria Stadium outfit after joining from Leek Town in 2006...

They need defensive cover though after first choice left back Matt Doughty suffered suspected cruciate ligament damage during last week's 5-0 drubbing of Salisbury City... 'We'll have to wait for the scan but we fear he's damaged the cruciate and that would mean losing him until September', Alty boss Graham Heathcote told the club's official website".
HELP NEEDED ON TUESDAY NIGHT
Altrincham FC Secretary George Heslop has issued an appeal for turnstile attendants for Tuesday night's match with Eastbourne Borough. If you can help, please contact George at the club tomorrow on (0161) 928-1045. As well as free admission, £5 will be paid for your services - unless you prefer to volunteer for nothing, of course!
TUESDAY GAMES
The BBC says that "Altrincham defender [?midfielder] Peter Doran is likely to keep his place in the side as Graham Heathcote struggles with a number of injuries. Matt Doughty ([suspected] cruciate ligament), Dale Johnson (knee [cruciate ligament]), Robbie Lawton (knee [foot?]) and Colin Little (groin) will all miss the game.

Eastbourne defender Neil Jenkins will not travel as he is serving the third game of a four-match ban. Ben Austin (groin) returns but Danny Brown (knee) may be ruled out."

"Eastbourne Borough manager Garry Wilson is hopeful of resurrecting a deal to sign a Championship striker after watching his side fail to score for the third time in four games" reports The Argus. "Borough were poised to bring in an unnamed forward on loan in time for Saturday's visit of Luton Town, only for negotiations to collapse at the last minute. Wilson... has hinted the deal could still be done before tomorrow's trip to Altrincham.

He said: 'We nearly brought someone in on Friday. We were just about to sign the paperwork but the player's agent got involved and it broke down at the last minute. I think the shirt was being printed with his name on the back it was that close but hopefully something can still be done. The agent just wanted to wait a day or two as he felt he could get the player a deal with a league club. There is a possibility it might still happen before Tuesday and if not we will look for somebody else. We need something different up front and we also need to give the likes of Liam Enver-Marum, Jamie Taylor and Joe Benjamin a bit of a break.

We have played three tough games in a week and it would be nice to have some fresh legs for Tuesday because it is difficult for our players to keep pounding out performances game after game'". Following defeat by Luton, Wilson added: 'We made a poor start to the game and that proved our undoing... We improved a lot in the second half without really creating a lot of chances... We've had a tough run of games recently but in our current situation we need to get points from every game we play... We are capable of getting results against anyone'".
RETURN GAME AT EASTBOURNE
The referee for Eastbourne Borough v Altrincham next Saturday is Mr G. Jerden who oversaw Cambridge United 0 Alty 0 last September. TASC is running supporters' travel to Eastbourne; details are on the Away Travel page.
ROBBIE'S CALL UP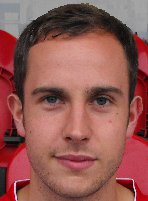 Alty already have A current England C international in the shape of Shaun Densmore. Now we have a potential Welsh international as the FA of Wales announces the Wales squad to face Portugal in the International Challenge Trophy, which includes Robbie Williams.
YOUTH TEAM SECOND
Altrincham FC Youth, unbeaten in the league this season, are now second in the NW Youth Alliance league table, with games in hand.
LAST GAME
According to The Argus "On the face of it Wayne Rooney and Charlie Ademeno have absolutely nothing in common apart from their choice of bright green footwear. But Ademeno gave a passing impersonation of England's talisman on Saturday in the manner he capped an impressive performance in the lone striker's role with a superb goal... Like Rooney, he has physical strength to go with blistering speed. There is even a touch of selfishness all goalscorers need... This was his most complete performance of the season....

He said: 'It is hard work running channels, holding off two big centre halves and bringing others into play. I can hold my own physically but I prefer to play alongside another front man to share the workload.. As soon as I walk through the door the first question is: 'Are you still here?' It's quite funny - they have started calling the club Charlie Town!'.

Even boss Steve Evans seems to be getting a little weary of the soap opera surrounding Ademeno's future. The sensible decision would be to keep him all the time Reds have a slim chance of a top-five finish. But crowds of 688 – Reds lowest for a Saturday game this season – do not pay many bills at a full-time club.

Evans said: 'Nobody has budgeted for Charlie going and he will go when it is right for Crawley Town'... Evans is expected to bring in one new face next week to bolster his small squad. His original plan was to recruit a midfielder but it might be a centre-half now after Glenn Wilson limped off... while Karl Broadhurst was absent with a back strain.

On a bitterly cold day the stayaways certainly didn't miss a classic [against Alty] but Reds deserve credit for patiently probing away after a soporific first half... It forced Alty to come out of their defensive shell and Reds should have picked them off in the closing stages on the break when several chances went begging".

Evans acknowledged that it wasn't a classic. He said: "You can't always play fluent football because this is an unforgiving league but the first time we put ten or 12 passes together the best player on the pitch gets on the end of it with a fantastic goal.
TEE TIME
Brian Flynn, chairman of The Altrincham Supporters' Club announces that TASC will be holding their second Golf Day on Friday March 19th at Mobberley Golf Club, starting at 11am. The cost is £30 per person & for this you get the following:-
Tea/Coffee & Bacon Roll beforehand (From 10.00am)
20 Minutes Golf Coaching from Gary Donnison, the Mobberley Golf Club Professional, prior to teeing off
18 Holes (4 Ball, Stableford Points System)
A pint in the bar afterwards
Prizes (Top 3 Highest Points Scorers/Longest Drive/Nearest The Pin/Booby Prize for worst score)

Please contact Brian Flynn on 07860 561011 or by e-mail to make a booking or for further information.
BSP NEWS
Gateshead report that they "conceded a penalty goal and a goal from a cross for the second consecutive game on their way to another disappointing 3-2 defeat [at Hayes & Yeading]... It was another three disappointing goals to concede and it was the manner of the defeat that angered managerial pair Ian Bogie and Jeff Wrightson.

'The game was a non-event and a poor spectacle', admitted Bogie "and it was a very disappointing performance. We were poor from the start and certainly didn't deserve to be ahead at half-time... The engine room was non-existent and Kris Gate was a big miss again... "We now have four big home games in 11 days [including Alty next Tuesday] starting with Barrow on Tuesday'". "If we had turned up we would have walked away with the game but instead lacked character, desire and heart all over the pitch", said Wrightson. "We didn't deserve to be leading at half-time as we had played poorly - but in the second half we were even worse... We went long and didn't pass the ball".

The unofficial Chester City site announces that "With the threat of expulsion from the Football Conference highly likely at this Thursday's meeting in Birmingham, City Fans United have called a public meeting for the same evening, at the Guildhall in Chester, commencing at 20:00hrs. All supporters are urged to attend and demonstrate that our city does want a football club... Today's Non-League paper understands that tomorrow (Tuesday) the Conference will ask for opinions on the Chester situation from all Blue Square Premier clubs. If Chester are removed from the league and their results expunged it will, of course, affect each club in a different way. Gateshead, who lost all six points to Chester and are fighting relegation, and Luton Town who only picked up two from six and are pushing for promotion, would both benefit more than others".

Yet more players have arrived at Field Mill as Mansfield Town report that manager "David Holdsworth will be running his eye over two new trialists throughout the week. Centre half Matthew Heywood and centre forward Darren Mansaram, who are both currently unattached, will be doing their best to impress the Gaffer and earn themselves a deal. Heywood was released by Grimsby at the start of the month after spending a year and a half at Blundell Park. The 30-year-old 6ft 4' defender started his career with Burnley... Mansaram began his career at Grimsby where he spent three years before moving to Halifax following a successful loan spell at the Shay. After further loans at Tamworth and York, Darren moved to Irish side Sligo Rovers... He returned to England in 2008 to play for Leigh Genesis and finally Gainsborough Trinity, where he was released on February 12th".

The Northants Evening Telegraph reports that former Alty loan player "James Jennings insists he did nothing wrong in the incident that led to him being attacked by Barrow joint-manager Dave Bayliss. The Kettering Town left-back was ushering a ball out of play in stoppage-time at the end of the Poppies' 2-0 win at Holker Street at the weekend.

But the incident resulted in Barrow striker Gregg Blundell slamming into the concrete wall that separates the pitch from the terraces and suffering a serious facial injury. It was all too much for Bayliss as he proceeded to attack Jennings after the final whistle just seconds later by grabbing him around the throat. A 35-man brawl followed as players, managers and stewards tried to calm things down but one steward was left lying in the centre circle while Blundell also collapsed.

Jennings insists he was simply doing his job by shielding the ball out and he admitted he was happy his team-mates stuck by him when Bayliss came onto the pitch. 'I have just done everything a defender can do', the left-back said. 'I have ushered the ball out and got my body in the way. He was running at full pelt and went into the wall... I would say their manager was probably disappointed at the result. I know Dave Bayliss and I was surprised. I thought he was coming to shake my hand and then he has put his hand to my throat. If it hadn't been for our gaffer (Lee Harper) and the other lads getting involved I don't know what would have happened because I could see in his eyes that he wasn't happy. I shouldn't have even got a yellow card for what happened. But it says a lot about our team spirit because the lads were with me when the incident happened and I am glad they all came in to try to calm it down'.

A statement released by Barrow said: 'The club are pleased to report that Gregg Blundell was released from hospital following a head injury... Officials have also spoken to Max Rattray, a club steward who was injured and are pleased to report that he is also recovering. The club will be holding an internal investigation into the events and will make a further statement when appropriate'".

From the Barrow side, the NW Evening Mail says the "ugly brawl that marred the end of Barrow AFC's home game against Kettering Town was probably seen by only half of the 1,160 crowd. That's because when the Poppies went 2-0 up with 13 minutes to go, many Bluebirds supporters headed for the Holker Street exits... The Bluebirds have now gone six Blue Square Premier home matches without a victory...

To make matters worse on what was a black day, Barrow had Robin Hulbert sent off... The midfielder had only just returned from a two-game suspension for totting up 10 yellows... Kettering full-back James Jennings appeared to shove AFC striker Gregg Blundell head-first into the perimeter wall in the fourth minute of injury-time. Jennings was booked.

Furious at what he had seen happen to Blundell, Barrow joint-manager Dave Bayliss stormed onto the pitch at the end of the game and raised his hands at Jennings. As players from both sides waded in, the punches began to fly. Stewards and club officials did their best to calm the situation down. Eventually everyone headed down the tunnel, followed on stretchers by a steward and Blundell".

"Speaking to the Evening Mail, Bayliss said: 'I want to apologise and say sorry for what I did. It was totally out of character. I am a passionate person and passionate about football, and I love Barrow, the club and the supporters so much. It was brutal what happened to Gregg. His head hit a 20-inch concrete wall. I don't want to go over the top or be dramatic, but that could have been a fatality. I was just trying to stand up for Gregg.

'I've spoke to Gregg since and, although the lad obviously didn't mean to concuss him, Gregg says it was an intentional push... Had that incident been dealt with appropriately straight away by the officials then I don't feel there would have been any need for me to get involved... I'm not condoning what I did, it was wrong and silly, and I deserve to be punished. I'll take all the punishment that comes my way... I was always the one at school who if my friend got hit I was always the first one to jump in and protect him. That's the type of person I am... I expect a fine and a touchline ban', said the 33-year-old co-chief...

'I'll ring Lee Harper in the morning and apologise. I'll also speak to the lad who I did throttle... I know I was out of order and I'm trying to do the right things... Gregg's heavily concussed and has stitches above his eye'.

Kettering boss Harper said: 'When it happened my first view of it, and knowing (Jennings) JJ, was that he just tried to shield the ball and shield the guy. It was shoulder-to-shoulder, I know, from my point of view there was no malice whatsoever, I was annoyed that he even got booked". As for Bayliss, Harper added "You can't grab one our players round the throat, but I can understand him being upset because the referee lost control of the game. I just hope he (Bayliss) doesn't get in any trouble and we don't get in any trouble".
---
15 February 2010
LAST GAME
Crawley Town report on Saturday's game in which they feel that "The Reds largely dominated this match throughout the second half after the first forty-five minutes saw both teams cancel each other out... Charlie Ademeno, again watched by a host of Football League representatives... scored with a superb header on 58 minutes after a brilliant cross from Barry Cogan.

Both managers had spoken before the match of the importance of securing the victory that would keep their team in touch with the playoff pack and there can be no doubt the half-time team talk by Steve Evans saw the Reds dramatically improve after the interval after a scrappy first period. Also key to total dominance for the last half hour was the tactical withdrawal of midfielder Thomas Pinault which witnessed the impressive Barry Cogan switch inside to a central area as Danny Forrest came on to play effectively in an attacking wide role.

The victory ensures the Reds very impressive run of form continues and when you consider youngsters Byron Napper and Ben King were on the bench its speaks of a remarkable effort by the team to be in such a strong position in the Blue Square Premier league table". Full-time Crawley are now four points ahead of part-time Alty who have two games in hand on them and who had five players on their bench with just eight Conference starts between them.

The Argus reports that "Charlie Ademeno made it seven goals in seven games as his second-half strike earned Crawley a 1-0 win over Altrincham... Ademeno rose highest to send a glancing header from Barry Cogan's 58th minute cross past Alty goalkeeper Stuart Coburn to earn Reds a victory their second-half display deserved, according to manager Steve Evans.

He said: 'It wasn't pretty but this is an unforgiving league and sometimes you can't always be at your best. But the first time in the match we put together a passing move of 10 or 12 passes the best player on the park was on the end of it with a fantastic header to win it for us. It was a richly deserved three points'... The first 45 minutes was a non-event with Chris Denham's shot straight at Simon Rayner the only effort on target in front of a crowd of 688, Reds' lowest for a Saturday game this season. But the contest improved after the break and after Ademeno had broken the deadlock Crawley should have made it a more comfortable victory".

Crawley Observer adds that "Town gained their second successive 1-0 victory at home... Altrincham's topscorer Chris Senior was rarely allowed a sight of goal but did have the first chance of the game and was denied by an alert Reds' stopper Simon Rayner... The visitors piled on some pressure just before the break with a series of four successive corners which were well defended... Crawley put pressure on Altrincham during the second half and they had to defend against a series of crosses from the right by the highly effective Cogan... For the second week in a row Crawley might well have won by a bigger margin".
NEXT GAME
According to the Argus "Eastbourne Borough felt they were denied a penalty as they went down 1-0 at home to Luton Town. Borough were trailing to Asa Hall's ninth-minute strike when Gary Elphick was sent tumbling in the area... Assistant manager Nick Greenwood said: 'Gary said he was pushed in the back and a lot of the players around him thought so too... The second half performance was up to the standard we are looking for but the first 25 minutes was nowhere near what we are capable of. We could have been 3-0 down after 15 minutes'".

The Argus adds that "Borough kept battling but were restricted to just two half chances as they strived for an equaliser... Borough threw on an extra attacker and went 4-3-3 for the last six minutes in front of a crowd of 2,018 but were unable to nick a point".

Before the game The Argus reported that "Ben Austin returns after injury for Eastbourne Borough's big match against Luton Town... Simon Johnson keeps his place despite taking a heavy blow to the nose in midweek but Danny Brown is still not available due to a knee problem".
YOUTH TEAM WIN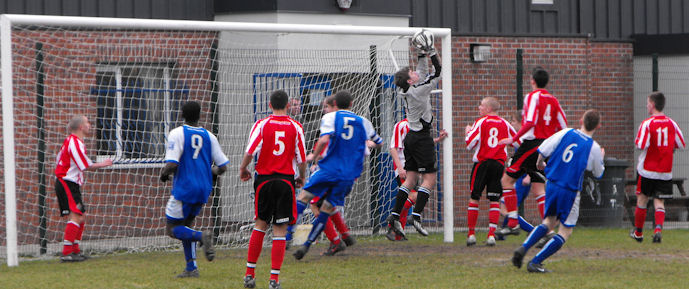 Above, Alty goalkeeper James Fossdyke collects the ball.
Altrincham FC Youth, playing only their fourth league home match of the season, after five months of the campaign, defeated Stalybridge Celtic 4-2 on Sunday. But the game was marred by a bad injury to Celtic defender Ryan Liddle who broke his leg in three places and fractured his ankle; it was the defender's first game back after broken ribs. Everyone at Altrincham FC extends their best wishes to Ryan, who undergoes an operation tomorrow (Monday) at Wythenshawe Hospital.
There is a match report on the game in the Youth Section.
BSP NEWS
From the Football Conference "Gateshead have transfer-listed three defenders as they look to reshape their squad for the run in... Central defenders Chris Swailes and Carl Jones along with left back Mark Robinson are all available on a free transfer or on loan. Jones, a pivotal player at the heart of the defence during the past two promotion seasons, has been limited to seven starts this season after he tore a hamstring in August. Now fully fit, the 22-year-old, previously with Hartlepool United and York City, has made a total of sixty-nine appearances for Gateshead, scoring five goals.

Both Swailes and Robinson joined Gateshead during the close season, Swailes from Hamilton Academical and Robinson from York City. Gateshead-born Swailes, 39, has played eighteen games for his home-town club after a seventeen-year career in the Football League with seven clubs, including two spells at Ipswich Town.

Robinson, who has played twenty games this season, also has extensive experience in the Football League having made ninety appearances in six years at Hartlepool. The 28-year-old England `C` international also spent a season at Hereford United and Stockport County before he linked up with York City following a short spell at Torquay United.

The three players have been made available after Gateshead made eight new signings since the turn of the year".
---
14 February 2010
ANNIVERSARY
This Tuesday, 16th February, is the 19th anniversary of Alty's record breaking 9-2 Conference win over Merthyr Tydfil at Moss Lane; don't expect a repeat against Eastbourne Borough this year, though! Howard Watts's Through the Years records show us every Alty game previously played on 16th February.
OLD BOYS
Despite a goal from Joe O'Neill, Jim Harvey's Stalybridge Celtic lost 3-2 on Saturday. Sean Clancy scored for Fleetwood, whilst Karl Munroe was sent off playing for Leigh Genesis. Also in action on Saturday were Kieran Lugsden (Buxton) and Chris Lane (Vauxhall Motors). Former Alty reserves, Lee Shillito (Chorley) and Richard Chetcuti (Warrington Town) also scored, as did Peter Wright for Bamber Bridge - but all three ex-Robins finished up on the losing side.
BSP NEWS
Guiseley have signed Sierra Leone international Malvin Kamara from Barrow

Yet more new faces have arrived in Essex where the NL Daily reports that "strugglers Grays Athletic have added four more players to their squad. Joe Sweeney, Marc Clarey, Duran Reynolds and Ibrahim Conteh have all been brought in by manager Julian Dicks. Sweeney is a striker who joined Ryman League Division One North side Brentwood Town in 2008 after being released by Crystal Palace and scored eleven goals before moving on to Aveley... Defender Clarey, 21, joins from another Ryman Division One North side, Thamesmead Town. Formerly with Maidstone United, Billericay Town, Maldon Town, Sittingbourne and Harlow Town, Clarey begins his second spell with Grays. Eighteen-year-old defender Duran Reynolds joins from Southend United on `work experience`, while former Almondsbury Town and Bristol Rovers midfielder Ibrahim Conteh has also joined".
LOCAL NEWS
The UniBond League reports that our neighbours, Trafford F.C.'s "main sponsor – the law firm ClearLawSolicitors – is celebrating its 5th anniversary in 2010 and to kick-off the celebrations it's giving one lucky winner the chance to win a £5,000 World Cup holiday for two in South Africa. The 7 day holiday includes British Airways flights to Johannesburg, 5 nights accommodation in a 4* hotel, return airport/hotel transfers by coach, return hotel/stadium transfers by coach and two tickets for England's first group stage match.

So if you can see yourself at England V USA on Saturday, June 12th then click here before Friday 30th April to enter. All you need to do is register your details and then answer a question to be in with a chance"... Trafford F.C.is celebrating its 20th anniversary this season".
---
13 February 2010
CRAWLEY TOWN 1 ALTRINCHAM 0
Alty Line-Ups / Bookings
Saturday, 13 Feb.
Through the Years by Howard Watts
Barrow 0 Kettering Town 2
Cambridge United 2 AFC Wimbledon 2
Crawley Town 1 Altrincham 0
Eastbourne Borough 0 Luton Town 1
Ebbsfleet United 1 York City 0
Grays Athletic 0 Salisbury C. 2 (att. 232)
Hayes and Yeading Utd 3 Gateshead 2 (att 296)
Kidderminster Harriers 2 Forest Green 1
Oxford United 2 Histon 0
Rushden and Diamonds 1 Stevenage Borough 0
Tamworth 2 Mansfield Town 4

Sunday, 14 Feb at 12 noon
Chester City v Wrexham POSTPONED
SATURDAY'S GAME
Unfortunately, due to a family illness, it will not be possible to provide the normal, full, live matchday updates here on the website this Saturday afternoon from Altrincham's game at Crawley. However, limited updates including a half-time summary should be on the Update Page.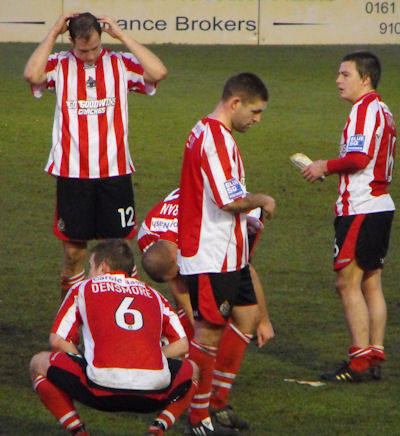 Left: Crawley boss Steve Evans says that "Alty are the hardest working team in the league", and this post-match picture, following victory over Salisbury last week, shows the effect of the effort put in (l. to r.) by Robbie Williams, Shaun Densmore, Peter Doran, James Smith and Anthony Danylyk.
The Crawley Town website describes the game as "a match that has added significance for both teams. Altrincham and the Reds will aim to claim all three points on offer if either team is to stay on the edge of the end of season playoff race. With a number of the teams fighting for a playoff place, this Saturday could prove to be a pivotal afternoon for those clubs in the hunt for a top five finish. Alty are in terrific form and smashed five past Salisbury City in their last outing in The Blue Square Premier so a tough afternoon is expected for the Reds.
Reds' boss Steve Evans is looking forward to the action and said; 'We find ourselves facing good opposition tomorrow and it is again a game that we perhaps need to win if we are to stay in contention for a playoff place. Believe me Altrincham are a decent team with good players and under Graham Heathcote (Altrincham Manager) and Kenny McKenna (Assistant Manager) they will be dangerous opponents. They are enjoying their best season in many years. The fact is we need another big performance from the lads and should we get three points we will very much be a part of the playoff race, that would be a wonderful achievement.
The reality is that minus a couple of youngsters in Ben King and Byron Napper, we have 15 players in our first team squad after Chris Giles, Calum Willock and Jefferson Louis were allowed to play their football elsewhere. Also we recognise that two of the 15 squad players are goalkeepers so the lads deserve enormous credit for this especially when you consider the size of clubs in The Blue Square Premier this season'".
Likewise, if Robbie Lawton is unfit, Alty may also have only fifteen senior players available this Saturday - including two keepers and three players who have not started an Alty game between them (Peter Doran, Adam Carden and Clive Moyo-Modise). The other players likely to feature at Crawley are goalkeepers Coburn and Saunders, plus outfield players Smith, Kearney, Young, Densmore, Denham, Clee, Williams, Danylyk, McAliskey and Senior. Of the rest of the squad, Dale Johnson and Matt Doughty are long-term injured and Colin Little is out, too. Youth teamer John Bennett featured on the bench again recently and may well be needed again at Crawley.
Crawley's local paper, The Argus says that "Steve Evans believes Chester are not the only club whose Conference existence is under threat. The Crawley boss predicts that other teams face financial meltdown if they fall short of their aspirations, especially those chasing promotion...
Evans said: 'Believe me, there are a lot of clubs at our level who are struggling to pay the bills at the moment and at the end of the season it's going to be carnage. For a club like Mansfield, who had 31 professionals in their squad at Stevenage on Tuesday, the play-offs are a minimum requirement. I don't think a club will go to the wall but a lot of budgets will be drastically reduced in the summer'.
Thanks to the generosity of co-owners Bruce Winfield and Sue Carter, who have pumped in around £500,000 between them, Crawley are on course to be debt-free having inherited £750,000 debts when the SA Group sold the club two years ago. Evans said: 'We have been through that – players not being paid and the phone getting cut off – but this club is a pleasure to be around now'.
Defender Karl Broadhurst, who has a slight back strain, is Reds' only doubt for tomorrow's home game against Altrincham which Evans feels Reds must win to keep their play-off challenge alive. He said: 'Alty are the hardest working team in the league and their form is not a fluke, it will be a very difficult game. Not so long ago you could put the coffee on and count on four or six points from your two fixtures against them but we are second in the form league ourselves and it's at home so it's a winnable game...
[The statistics actually show that, although Alty have only once beaten Crawley in nine attempts over the five seasons that the two clubs have met, the Sussex side has taken 4pts (2005/6), 2 pts (06/7), 3 pts (07/8), 4pts (08/09) and 1pt from the reverse fixture this season].
Evans confirmed that two Football League clubs have made further approaches for striker Charles Ademeno but he expects the 21-year-old to be in the side tomorrow.
Crawley (from): Rayner, Rusk, Wilson, Quinn, Rents, Cogan, Pinault, Hutchinson, Smith, Malcolm, Jordan, Broadhurst, Killeen, Forrest, Napper, King".
NEW MAN ON VIDEO
There is a YouTube video showing the skills of Alty's new signing, 25 year-old Clive Moyo-Modise. Some sources, including the Sky Sports (formerly Rothmans) Football Yearbook wrongly describe him as three years younger.
TUESDAY'S REF
The referee at Moss Lane for the Altrincham v Eastbourne Borough game this Tuesday night is Mr D Bond.
GRAHAM ON RADIO
Alty manager Graham Heathcote was a guest on Friday night on BBC Radio Manchester where compere Jack Dearden praised the club as a model to others who are spending more money than they have got. The Alty manager revealed during the interview that he thinks 46 or 47 points will be enough to stay up in the BSP this season, without having to allow for clubs going bust or having more points deductions.
FRIENDS' PRIZES
The Friends of Altrincham FC monthly draw results are below, courtesy of Steve Foster:

December 2009
1st No. 67 - Mike Jones £100
2nd No. 75 - John Searle £35
3rd No. 28 - Jackie McLay £15

January 2010
1st No. 57 - Ian Jones £100
2nd No. 5 - Grahame Rowley £35
3rd No. 30 - John Brennan £15
BSP NEWS
The unofficial Red Passion forum at Wrexham announces that "The RP forums are looking a little empty. This is due to legal correspondence from Gamlins Solicitors acting on behalf of their client, Mr. Geoffrey Moss, a Director of Wrexham Football Club Limited. A complaint was received, it however did not provide specific information to the content they found objectionable. I requested specifics so I could remove any objectionable content, as I and others have done many times before.

Sadly I have been notified at 11am that Gamlins will not provide me with that information, without cost. As a result I, or others, do not have the time to read through 222,000 posts inside the 24 hour deadline issued. Due to this, I have been left with no option but to 'zero' the Red Passion forum posts and re-open the forum to new posts only. This is very regrettable as the historic record of the forum is being lost, for example many years of Live Match Threads, European Years memories and the like.

I do hope this situation changes, and I am provided with the information requested so I can comply with the request to remove objectionable material and return the RP site to its former glory... I have been in contact with the club regarding the inaccuracies in their recent statement entitled 'Red Passion' and have asked them to correct it or remove it", which the club has now done.

The Football Conference says that "York City have signed a new player – aged 40! The Minstermen have signed veteran Australian goalkeeper Simon Miotto as cover... In 1994 he was signed by then-Blackpool manager Sam Allardyce. He spent one season at Bloomfield Road before being released without making a first-team appearance... In 1998 he moved to Hartlepool United, for whom he made five appearances in two years. He joined Scunthorpe United briefly in 2000, and then moved to north of the border with Raith Rovers and St Johnstone. In July 2004, then-West Brom manager Gary Megson gave him a one-year contract at The Hawthorns. He has since been plying his trade in Danish football".

And "Histon have signed striker Charlie Sheringham on a month's loan from Bishop's Stortford. Sheringham started out at Millwall's academy, and won an FA Youth Cup winners' medal with Ipswich Town in 2005. He signed a two-year deal with Stevenage Borough but was released in January 2008. He joined Bishop`s Stortford from Welling United in pre-season 2009/10 and an FA Tribunal recently ordered the Blues pay £6,500 for his services... He was recently offered a trial with Gillingham, only to suffer an injury that prevented that happening.

The Stutes have also signed 23-year-old goalkeeper David Knight. Knight began his football career with Middlesbrough... with [loan] spells at Darlington and Oldham Athletic before leaving the club for Swansea City in 2007. He moved again to Mansfield Town in 2008... before a similar loan move to Thurrock and then signed this time permanently for Darlington again in 2009. Knight left Darlington in December 2009, having played seven games, when manager Steve Staunton released him from his contract".

The Conference also confirms that "Forest Green Rovers have completed a one month loan deal for 21-year-old Danny Ireland from Coventry City due to contacts between Rovers' manager David Hockaday and Sky Blue goalkeeping legend Steve Ogrizovic. The 6' 3" stopper, who is Australian by birth... has one first-team appearance to his name... Meanwhile, Hockaday has had another rejection for a striker rebuffed in the last 24 hours".

Also active are Kidderminster Harriers who "have announced that a deal has been agreed to bring Northern Ireland international striker James Lawrie to Aggborough on loan from Port Vale next week. The 19-year-old is regarded as one of the finest products of the youth system at the League Two outfit... In pre-season there was interest in the player from Everton, with Lawrie spending a week at Goodison Park... [He] is set remain at Aggborough for an initial one-month period".

According to Blue Square Football "Tamworth FC are cursing their luck after it emerged striker Nick Wright is likely to miss the rest of the season with an ankle injury. The former Birmingham trainee came close to joining promotion-chasing Stevenage Borough in the January transfer window but the switch did not materialise. The 22 year-old was looking to impress when the Lambs took on Stevenage last weekend but was stretchered off after just two minutes. And it has now emerged that he has sustained damaged ankle ligaments and a chipped bone. Tamworth assistant boss Darron Gee told the Birmingham Mail: 'Nick will be in plaster for six weeks and I don't think we will see him again this season'".

Meanwhile, NL24 reports that "Centre-half Adam Bygrave will stay at Histon until May 2012 after signing a two-year contract extension... Manager Alan Lewer has started talks with the rest of his squad as he prepares for the next campaign, Cambridge-news.co.uk is reporting. 'I've worked with Adam Bygrave before (at Weymouth) and he's got stronger and better', says Lewer... 'His strengths are attacking everything and his recovery runs are magnificent. If he's got a fault, it's his passing ability. But he and 'Langers' at the back compliment each other. Negotiations are ongoing with the other players that are here. We want to cement as many people as we can to take the club forward'".

According to the Birmingham Mail "Steve Burr hopes to see some reward for his endeavours next week by securing two new players for his Kidderminster Harriers squad... His only transfer window signing was on-loan Burton winger Marc Goodfellow. But the Harriers boss hopes to complete the signing of a defender and a striker by Monday. However, Burr will not be drafting in Chester City defender Rhys Meynell...'It was a deal I was looking at before the transfer deadline but there were complications at the other end so we didn't get the deal done'," said Burr

Title chasers "Oxford United have forked out several thousand pounds to cover the whole pitch at the Kassam Stadium" reports the Oxford Mail. "The covers were put on by club staff, stewards and Oxford University groundstaff yesterday with frosts forecast...

United chairman Kelvin Thomas told the Oxford Mail: 'We've got four big games coming up at home so we took the decision to rent these covers for those games. They are effective for temperatures down to about minus 4'. Thomas would not reveal the cost to the club, but said the outlay was being borne by United, rather than the stadium company. It's believed to be several thousand pounds... 'We took the decision to rent full pitch covers for the next few weeks'" he said.

From the Leader, we learn that "Marc Williams could be out for the rest of the season after the striker's injury jinx struck again. The Wales under 21 international has fractured the same metatarsal in his right foot that kept him out for six months in 2009. After damaging ankle ligaments in a practice match earlier this month, Williams was sent for further examinations and X-rays revealed a far more serious foot injury. Williams said a pin inserted in his foot following surgery last year merely masked the extent of the problem...

'I had my last X-ray last July and it showed everything had been fixed. It is a weird thing... If I carried on playing the pin could snap and that could be career threatening... The option is to have surgery now. I will have a bone graft put into the fracture to fill it. I will have the operation in the next week or two and that will mean six weeks with an air boot on waiting for it to heal. And that is the end of the season'... Out of contract in the summer, Williams is now waiting to see if he will be offered a new deal by Reds' boss Dean Saunders".

From Grays Athletic "Richard Martin, Jack Hunt and Harry Baker have all returned to their clubs after their loan period expired".
NW NEWS
Stalybridge Celtic chairman Rob Gorski reports that "The Board are delighted to announce that Jim Harvey becomes our new manager with immediate effect. Jim has a fantastic reputation, not only a successful manager but also as someone who likes to play attractive and exciting football... Jim has initially agreed to take us through to the end of the season and we will review matters at that stage.

I must say that we feel terribly sorry for Benny [Phillips, acting manager, who is ill]. The players made it very clear that they wanted Benny to take over the reins after Steve left. The Board were happy to back both the players and Benny. On a personal note, I really hope he gets a clean bill of health next week and can take his seat as Jim's number 2.

[Recently appointed acting deputy manager] Chris Willcock leaves us with immediate effect...

We have been inundated with applications over the past few weeks, without advertising the position. A decision was made on Wednesday afternoon to approach Jim Harvey after we felt we were unable to wait for Benny to return to the dug out".
---
---
12 February 2010
ALTY's NEW SIGNING
Altrincham FC have signed former Rochdale striker Clive Moyo-Modise (d.o.b. September 24, 1984, in London). Clive has also played in South Africa for Premier Soccer League club, Bidvest Wits, where he was deployed as a winger. He has played for South Africa under-23s and was included in training for South Africa's national team in early 2008. But he began his career at the Spotland club in 2005, for whom he made 2 + 26 first-team appearances.

Clive, who is 5ft 10ins will assume squad number eight for Altrincham, the number vacated by Matty Crowell earlier this season.
NEXT OPPONENTS
News of our next opponents comes from This is Sussex. "Steve Evans is eyeing up an ambitious double signing to help Crawley try and gatecrash the end of season play-offs. The Reds boss has identified the two players, a striker and a winger, as being the men to fire Crawley into the promotion mix.

Loan deals for the duo have been agreed in principle with their parent clubs, and now the manager just needs the go ahead from club owners Susan Carter and Bruce Winfield... He said: 'I've had a chat with Bruce and Susan and I'm expecting an answer from them on either Wednesday or Thursday'... The unnamed players, a striker from a League One club and an attacking midfielder from a Blue Square Premier rival, are out of favour with their present employers...

'The striker has played at a higher level and the other is a wide man who can also play in the hole behind a forward'... The fact Crawley are even contemplating a push for the play-offs is remarkable considering their playing budget is amongst the smallest in the division... In recent weeks the club have saved some money by releasing Chris Giles and Calum Willock while the extension of Jefferson Louis's loan to Rushden & Diamonds will have freed up further funds.

'The owners have... had a vision over the past 16 months to make this club debt free. But our recent run of form has us hanging onto the teams above us by their shirt tails and I know how much it would mean to them for us to be involved in the play-offs'. The Reds face an in-form Altrincham side at the Broadfield on Saturday, knowing another three points is required if they are to keep tabs on the top five. [Crawley are one point ahead of Altrincham but have played two games more].

'I was the first to admit that last week against Cambridge was a must win game and it is the same this weekend', added Evans. 'We have ways of monitoring how far the players run and their effort levels were just amazing. They knew how much it meant to us as a team and I'm sure it will be the same on Saturday'. Evans should have a full strength squad to pick from at the weekend as Michael Malcolm will be available after limping off against the Scholars... Crawley may still have Charlie Ademeno in the side as Evans revealed no club had yet been prepared to pay a high enough fee to take the striker on loan".

The same source reports that "Thomas Pinault has admitted to playing through the pain for the Reds this season as he has battled a back injury... He said: 'I don't think I have had a great season so far... but I've been struggling with my back since last year'.... Pinault insists the injury is not too serious but feels worse when it is cold and he is running on harder pitches. 'It has kept going from last season when I had a slipped disk. It's never going to go away but the ground being hard has been sore on the back'...Pinault also hailed the form of Charlie Ademeno, and said it was only a matter of time before the striker moved to a club in the Football League".
FOR BATTER OR VERSE
When Alty entertain Eastbourne Borough on Shrove Tuesday, 16th February, why not celebrate Pancake Day in the Sponsors' Lounge?

Free entry to the ground, a full hot meal before kick off, a drink, half-time tea/coffee and a matchday programme - as well as Graham Heathcote's pre-match analysis, are all available at the bargain price of £30 - or just £20 for season ticket-holders. You will also have a seat in the Dunn & Gray Family Stand to watch the match. In addition, chef Richie Bentley will be providing pancakes for all guests. Please ring the club (1061 928-1045) to book your place.

And the Bard of Moss Lane, Alty boss Graham Heathcote, whose verse renditions of grace before social events in the Manchester Glass Sponsors' Lounge are always memorable, has even been moved to pick up his pen for the occasion, producing the following composition...

Pancake Tuesday, make sure you cook them through,
Better still, why not try Richie's in the Sponsors' Lounge against Eastbourne Borough?
Tuesday 16th Feb, a date not to be missed by all,
Come and eat and enjoy Alty play football.
The warmth of the Sponsors' Lounge and that of the Club,
It's far more friendly than sat in the pub!! <
21!
Grahame Rowley reports that "The Altrincham FC Pontoon competition is finally over with 3rd place being won by Mike Ray and Cardiff City on Tuesday night. Many thanks to everyone who took part. Can Mike Ray please contact me (via the Club on 928-1045) in order to collect his winnings?" Here is the final Pontoon Table.
LAURA READY TO GO
As reported here recently, Alty turnstile operator Laura Barnett is off to Africa, armed with football kits provided by Altrincham FC. The Sale & Altrincham Messenger reports that "An Altrincham gap year student is set to embark on a life changing trip to Uganda. Laura Barnett, 18... will be jetting off for two weeks to the eastern city of Jinja as part of UgandAid's prolonged missionary work. A former student of Wellington School, Laura has previously helped out at the Altrincham Baptist Church with the church's youth groups but looks forward to the new challenge.

Laura said: 'The main aim of the trip is help children and young people and aid with building work in some of the local villages'... Part of the work includes a trip to the Nile Vocational Institute, which aims to help vulnerable youngsters with no other chance of further education. Laura said: 'My parents have sponsored children for a while now at the institute and I thought it would be a good idea to go out there and help out'. Altrincham FC have also donated football kits for the trip, which the group will deliver to local schools in the area".

As well as Laura, both her mother Julie and sister, Heather, are also turnstile operators at Moss Lane.
UNITED GAME OFF
Thursday night's scheduled game at Moss Lane between Manchester United Reserves and Burnley was postponed.
BSP NEWS
Forest Green Rovers' Colin Peake, in his role as PR & Media Board Director, The Football Conference, has issued the following Press Release...

CHESTER CITY FOOTBALL CLUB (2004) LIMITED – 'THE CLUB'

The Board of the Football Conference has given exhaustive and thorough consideration to matters at Chester City FC following the Club's failure to fulfil its fixture at Forest Green Rovers FC on Tuesday 9th February 2010.

During consideration on events ensuing at the Club, the Cheshire Constabulary has withdrawn Special Police Services due to be provided at the Club's match at the Deva Stadium on Sunday 14th February against Wrexham FC, for failing to pay policing costs by a due time. As a consequence the Cheshire West & Chester Borough Council has issued a Prohibition Order on the Club preventing the admission of spectators into the Ground, as the inadequate number of Police Officers will involve a risk so serious that admission ought to be prohibited, until appropriate steps have been taken. Chester City FC, therefore, is unable to fulfil its engagement on Sunday 14th February 2010.

Pursuant to other matters currently existing at the Club, the Football Conference has served charges for breaches of five separate Competition rules upon the Club which include the failure to fulfil the above two fixtures.

The Club has been given seven days to respond to the charges, and/or request a Personal Hearing. The charges, and a Personal Hearing if requested, will be considered on Thursday 18th February 2010.

Meanwhile, the Club's fixtures have been suspended; resulting in Chester City's home fixture on Wednesday 17th February against Kidderminster Harriers being postponed.

As these matters are now subjudice, no further statement will be issued until after the meeting of 18th February.

Dennis Strudwick, General Manager.

The 200% website says that "The story of the winding down of Chester City has been gathering pace all day. The club's expulsion from the Football Conference now seems close to inevitable... The club's managing director, Bob Gray, turned up on the local news, saying that the club would be starting next season even if expelled from the Blue Square Premier tomorrow. No supporters, no income, no league, but they will keep playing, according to Gray...

As long-time readers will be aware, Chester City (2004) Ltd is the company that owns the club, and the name is a misleading one. The company only took the ownership of the club in the summer last year, with the blessing of the Football Conference, the Football League and the Football Association. It has only been trading since last summer, after the old company that owned the club had its CVA thrown out by a court following a challenge from HMRC. On the BBC's North-West Tonight news programme it was confirmed that the club's current total debt... stands at £703,000. The BBC didn't have the time to go into the details of how this was made up, but the good news is that we have also got a copy of what we presume to be the same document...

The two pages list the club's creditors and debtors. The debtors, we can discuss pretty briefly. They list the Football League as a debtor (£127,000 for a parachute payment) and the Football Conference (£10,000 for central funding). It would be interesting to see the contract that promises Chester City this money. If the organisations concerned withhold that money, the only legal recourse that CCFC 2004 Ltd would have would be to take them to court but, if they attempted to that, they would be expelled from all football. To list that money as a debt owed to them (and, therefore, an asset of the company) is misleading, to say the least.

The list of creditors, however, is what should interest us the most. How does a non-league [club] that has effectively been trading for a few months run up debts of over £700,000? They owe just over £53,000 to HMRC – the £26,000 that they face a winding up petition over, plus just over the same again for having continued to not pay their tax bill. They owe just over £33,500 to the local council for rental and business rates owed for use of The Deva Stadium. Their utility bills make up just shy of £10,000, for the gas, electric and the telephone. Their trading losses amount to just under £10,000 as well, including the coach company, rates on their training ground, an insurance company (for an operation on a player) and programme printing, among other things. Their football debts (which couldn't be included in any CVA) total just over £78,000 and include just over £50,000 in unpaid wages and almost £14,000 for contract terminations. The staff – the people that have stood behind the Vaughans throughout this time – are owed almost £33,000. The stand-out figure, the figure that almost takes one's breath away with its sheer audacity, though, is near the bottom of the page. It reads as follows:

Vaughan Family – Payments/Loans IN to Chester City 2004 Ltd: £485,911... The Vaughan Family is claiming to have put £485,911 into Chester City 2004 Ltd. A company that has only effectively been trading since last summer. This statement almost raises more questions than it answers. Where has this money gone? Because it seems, from the list of other creditors, that precious few of the club's other financial obligations have been being met over the same period of time – especially if we consider that other revenue such as season ticket sales, gate money and so on will have been coming into the club over much of this period...

Anybody wanting to purchase Chester City for £1 had to satisfy four criteria that had been dictated to solicitors Brabner-Schaffer-Street by the current owners, and number one on the list was "Proof of funding of a minimum of £500,000 cash, to both satisfy club creditors and to fund the club going forward".

Key to the development of a new club for the supporters is what happens to The Deva Stadium, and Mike Harris of the Welsh Premier League side The New Saints already seems to be preparing his move. The club's official website stated this afternoon that TNS are 'exploring all options at the moment, of which ground-sharing with Chester is one'... Approximately two-thirds of The Deva Stadium lies geographically in Wales".

Meanwhile, The BBC reports on Chester. "After consultation with their fellow football authorities, the Conference have spent the last two days discussing their next move... Throughout Chester's escalating problems this season, league officials have been keen to do all they can to keep the club going to avoid major issues affecting the other 23 Blue Square Premier clubs. If, for example, Chester's results were expunged from the records that would affect the promotion race most clearly in Luton Town's favour. They have twice failed to beat Chester this season, and would thereby enjoy a point four-point swing over neighbours and promotion rivals Stevenage, who have already beaten beleaguered City twice".

"Kidderminster Harriers have released striker Aaron Farrell after his contract expired" reports The BBC. "The 23-year-old rejoined Harriers for a second time in the summer".

Blue Square Football has audio interviews with the Gateshead, York and Eastbourne managers. Alty play Eastbourne twice in the next ten days or so. "After the heady heights of mid-table security last season, it's been a tough campaign so far for Garry Wilson's Eastbourne Borough. The 'Sports' welcome Luton Town to Priory Lane in the Blue Square Premier this weekend and Wilson is keen to get back to winning ways after Tuesday night's defeat at Rushden and Diamonds, their first loss in four matches. Click here to listen to the interview.

"Play-off hopefuls AFC Wimbledon [have] handed goalkeeper Seb Brown a permanent deal which will keep him at Kingsmeadow until the end of the season. The 20 year-old was representing the Dons on a game-by-game deal but his impressive form prompted manager Terry Brown to offer him a full-time contract. Brown has kept eight clean sheets in 13 league appearances and will vie for the number one jersey with James Pullen.

Meanwhile "Millwall boss Kenny Jackett says he has no imminent plans to bring in players on loan after being linked with Crawley Town striker Charles Ademeno. The Lions have been mooted as admirers of the former Southend United youngster, who was the subject of a failed bid from Swindon Town in January. MK Dons, Southampton and an unnamed SPL club are also interested in Ademeno".

However, Cambridge United report that their "manager, Martin Ling, has dived into the transfer market to capture experienced goalkeeper Simon Brown on a free transfer until the end of the season. The capture follows the news that Danny Potter will be out for up to eight weeks following a shoulder injury sustained in training last week.

The 33-year old has made over 250 starts during his career which started as an apprentice with Tottenham Hotspur. The Chelmsford born shot-stopper did not make a first team appearance at White Hart Lane and had several spells on loan at League clubs prior to joining Colchester United in 1999. Simon went on to make 140 appearances for the U's over a five-year spell at Layor Road before joining Scottish Premier League outfit Hibernian in 2004, where he made just short of 50 appearances before being released at the end of the 2006/7 season. Spells at Brentford and Darlington (loan) followed, before he signed with Northampton Town on a contract until January 2010, so arrives at the R Costings Abbey Stadium as a free agent".
---
11 February 2010
ALTY HIT BY INJURIES
Alty joint Press Officer, John Edwards writes: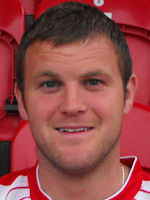 "Matt Doughty faces up to seven months on the sidelines as injuries once more stretch in-form Altrincham's slender resources to the limit.
The Alty left-back was on crutches, after Saturday's resounding 5-0 win over Salisbury City, and has been booked in for an MRI scan on March 4 to discover whether he has ruptured a cruciate ligament. As an added concern for manager Graham Heathcote, skipper Robbie Lawton may also need a scan on a mystery foot injury, striker Colin Little has been ruled out of Saturday's trip to Crawley and John McAliskey and Tom Kearney both missed training earlier this week.
'At least it is just niggles with Tom and John, and they should both be all right for Saturday,' said Heathcote. 'We have to wait for the scan on Matt but the fear is it's damage to the cruciate and that would mean losing him until September. It would be a massive blow for Matt, after doing so well and, for us, when you consider Dale Johnson has been out nearly all season with the same injury.
Robbie has had two x-rays, and we still don't know exactly what is wrong. There is a suggestion of a stress fracture, but that hasn't shown up. All we know for sure is it's still really sore, so he may need a scan. It would be a challenging injury list for a squad of 20-odd players, but for one of our size, it's horrendous'.
As he prepared to switch Nicky Clee to the left of defence at Crawley, Heathcote reflected on the clinical finishing that routed Salisbury. 'The fourth goal was fantastic but the fifth, also by Chris Senior, was even better,' he said. 'Everything about it, from the build-up and cross, to Chris's movement and technique, was exceptional. You won't see a better goal anywhere'.
Alty are marking Shrove Tuesday (Feb. 16) in style with an all-inclusive package for the home game with Eastbourne. The £30 cost [£20 for Alty season ticket holders] includes a seat in the Dunn & Gray Family Stand, pre-match hot meal with drink, matchday programme, half-time refreshments and chef Richie Bentley's renowned pancakes. As an added attraction, local bard as well as team boss Heathcote will be performing a Pancake Day verse specially composed for the occasion. Places can be booked at the club on 0161 928 1045".
NEW YEAR DRAW RAISES £1,300
The Altrincham Supporters' Club chairman, Brian Flynn reports -

"TASC are pleased to announce that the Revenue & Costs for the New Year Draw were as follows:-
Ticket Sales £1590
Costs £269
Net Profit £1321

When announcing the prize winners on Sunday, I failed to thank three people who sold tickets, namely Anthony Wright, Mike Garnett & Niall Flynn (Doh!!!).

Thanks to everyone for making the Draw a great success.......the revenue is greatly appreciated by the Football Club... particularly with the cash flow challenges caused by recent postponed matches at Moss Lane".
NEW BALLS, PLEASE
Alty's joint press officer, Brian Flynn (the author of the above title!), writes...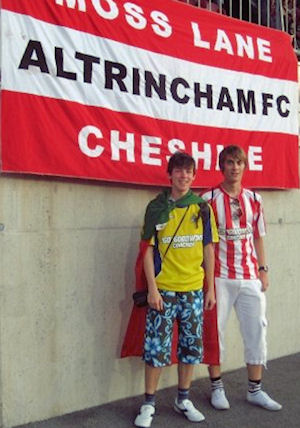 "Two young Altrincham supporters are raising funds for Altrincham Football Club and The Children's Adventure Farm Trust by cycling to the Robins' Blue Square Premier game at AFC Wimbledon on Saturday March 6th.
Dan Martell and Niall Flynn (pictured right, flying the flag in Vaduz at a Liechtenstein v Portugal match) will cycle in excess of 200 miles over a three day period and the Altrincham Football Club Board have got the ball rolling superbly on the fundraising front by pledging £500 to this cause. Pledges can be made by contacting one of the following:-
E-mail Dan Martell or ring him on 07817 477736
E-mail Niall Flynn or ring him on 07806 093769.
E-mail Altrincham Football Club or ring Moss Lane on 0161 928 1045.

The Children's Adventure Farm Trust is based at Millington, near Altrincham, within ten acres of beautiful Cheshire countryside, It is a haven for hundreds of disabled and disadvantaged children. Its aim is to provide special holidays for special children. Groups of children, average age 4 - 14, and their carers, visit The Farm for a free weeklong holiday. The cycle ride replaces the sponsored walk that has taken place during the last couple of years to Droylsden and Wrexham. Please support Dan and Niall in their efforts to raise as much money as possible for this cause".
OLD BOYS
The Northwich Guardian reports that "Northwich Victoria plan to offload their highest earners because they can no longer afford to pay them. Five players, including captain Simon Grand, were told before last night's match at Redditch United that they were free to find new clubs. Jonny Allan, Mat Bailey, Ryan Brown and Lee Elam are the others. 'I've got no choice', said Vics' owner Jim Rushe. 'I don't want a repeat of last season, so the best thing to do is to let the players know now so they can sort out something for themselves'.

Three of the group – Brown, Elam and Grand – are the remaining survivors from last season's ill-fated experiment to recruit full-time footballers for the first time in the club's history. Allan and Bailey signed season-long deals at the start of the current campaign. That means Vics can demand a fee.

Rushe told the Guardian that falling attendances – less than 400 watched last Wednesday's home defeat against Droylsden – were partly to blame. He said: 'This is a very difficult decision and I will be really sorry to see these players go, but their wages are higher than we can currently afford. I'd like to get some money for some of them, but we'll wait now and see if another club comes in. I've always said we have to be realistic and it's a constant battle to keep the wolves from the door. We have to adjust what we spend according to the amount of money that is coming into the club and right now that's simply not enough. Circumstances have worked against us in that we went from the start of October right through until the middle of January without a home league game on a Saturday...

Allan is still out injured but Bailey, Brown and Grand all started last night's 1-1 draw at the Valley Stadium. Their reaction at the final whistle suggests they may already have played their last game for the club. Meanwhile Elam was not picked, nor has he started a league game since the turn of the year. The news comes just weeks after Vics turned down £20,000 in combined transfer fees for Grand and midfielder Jonathan D'Laryea from league rivals Fleetwood Town and Eastwood Town respectively. Now the former could leave for much less or, worse, nothing.

The Guardian understands that none of the players has been asked to accept a pay cut, nor would they be obliged to under the terms of their contracts. Rushe has not ruled out further cuts... The rest of Vics' squad is part time... In December – days after their FA Cup second round exit against Lincoln City – it invited offers from other teams for any members of the playing staff. A number of fringe players moved on while three others – Aaron Burns, Danny Meadowcroft and Harry Winter – are turning out temporarily elsewhere".

"Ossett Albion had a relegation `six-pointer` at Salford City... Astley Mulholland pulling City level on 35 minutes". And Scott Metcalfe scored twice for Trafford on tuesday as they beat Prescot Cables.

Garforth Town and Bamber Bridge dree 3-3 with Peter Wright scoring a hat trick for Brig" whilst former trialist Cayne Hanley scored for Buxton.
KEN'S FORMER CLUB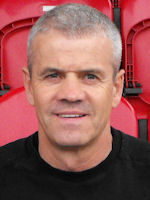 Alty assistant manager Ken McKenna's former club, The New Saints - TNS report that "The New Saints have applied to ground share with Blue Square Premier strugglers Chester City next season as an another option in their bid for Super 12 status. The move comes after the Saints were refused grant aid for further development of Park Hall stadium by Welsh Grounds Improvement last month.

TNS had applied for funding towards the cost of a 1,000-seater stand and other upgrading work, and managing director Mike Harris yesterday confirmed the application to share the Deva Stadium. The matter will be considered by the FAW, with Harris looking to ensure the club meets the new licence criteria to play in next season's slimmed-down Welsh Premier.

'We are exploring all options at the moment, of which ground-sharing with Chester is one', Harris said. The move follows Harris's disappointment and frustration at being refused grant aid that would enable Park Hall to meet the new criteria and he described the FAW's move to deny TNS help towards upgrading the ground as 'short-sighted'. Although Chester is the county town on Cheshire in England, the stadium lies within the Welsh boundary".
BSP NEWS
The Football Conference announced on Wednesday evening that its Board of Directors "has been in dialogue all day with regard to the future of Chester City Football Club following the Club's failure to fulfil its League fixture at Forest Green Rovers on Tuesday 9th February 2009. Further news has been received today, Wednesday 10th February 2009 that Chester City's home 'derby' fixture with Wrexham on Sunday has been postponed after Trading Standards of the Cheshire West & Chester Borough Council issued a Prohibition Notice on the Deva Stadium. These matters are now being considered in accordance with Membership Rule 8.6 regarding the failure to fulfil two fixtures. These discussions will be on going throughout the evening and a decision is expected to be made by mid morning tomorrow, with a further press release to follow".

It is understood the prohibition order relates to non-payment of policing bills. BBC NW tonight reported that Chester's debts stand at £705,000.

Earlier Wrexham reported that "As of 12.30pm today, it appears that Chester City FC have been issued with a prohibition order saying that no spectators will be permitted to enter the ground and Trading Standards does not want the game to proceed behind closed doors for the fear of disorder outside the ground".

The ever-interesting 200% website addresses the Chester situation as well as reporting on developments off the field at Wrexham. "A situation that had long been beyond being a farce finally looks like entering its end-game after Chester City failed to fulfil their fixture against Forest Green Rovers... Once again, the club's owners have brought shame on themselves, the carcass that they claim to represent and the league of which they are members...

For Chester supporters, who have long since abandoned any hope of salvation for this wretched incarnation of what used to be their club, there was at least some black humour to be found in the circumstances surrounding the postponement of the match. Their match against Ebbsfleet United last week avoided action being taken by the players after they were paid one week's wages – reportedly in Scottish bank notes – on Friday, but this time the Vaughans' luck ran out. There have been conflicting rumours of what actually happened outside The Deva Stadium this afternoon, with the BBC reporting that the players were refusing to board the coach and local newspaper the Chester Chronicle reporting that the coach company refused to leave because they hadn't been paid.

The club's long-suffering supporters could, however, now be joined in boycott by supporters of their bitter rivals Wrexham... Wrexham's supporters have problems of their own. It has recently come to light that two employees of the club, Andy Garside and Lisa Colford, have somewhat chequered pasts and were involved with the running of a company called Chestnut House, which [was] exposed by the Daily Mirror a couple of years ago as being little more than a scam to sell goods under the near-pretence of giving money to charity. Garside and Colford are respectively employed in the retail and financial departments of the club, and some Wrexham supporters have stated that they will now boycott the club until the pair are removed, whilst others are now boycotting the club shop and their weekly draw.

What is somewhat peculiar about the whole affair has been the club's reaction to it. When it first became public knowledge on the supporters' forum, Red Passion, numerous messages sent to the club were met with a resounding silence. Today, however, the story broke in the local newspaper, the Daily Post North Wales [see below], and the club was finally backed into a corner of releasing a public statement. It didn't make for particularly inspiring reading:

"The Directors of Wrexham FC were disappointed to read the article that appeared in the Daily Post on February 9th and would like to issue a statement in response to the inaccuracies printed about two of its employees. The club was aware of the allegations against the two employees and following internal investigation noted that:
1. Neither had broken any laws.
2. The Honeyrose Foundation negotiated and agreed with the 5% figure, by way of a commission payment from Chestnut House, a commercial business, towards their Charity.

Geoff Moss, Chairman of Wrexham FC said: 'Spurious newspaper allegations can sometimes be very damaging to the individuals concerned. Neither have been charged with anything and we will be supporting them in this difficult time. Both are valued employees at the club and the situation will be discussed at a full Board meeting which is scheduled for Wednesday 17th February when a further statement will be issued'...

What is interesting about the club statement is what part of the newspaper report they find 'spurious', because every single part of the report in the Daily Post is factually correct. The Honeyrose Foundation's own website confirms that it terminated its arrangement with Chestnut House, and there is a direct quotation from the charity's founder, Lynn Duffy, in which she states that, 'I'd urge the Wrexham FC board to get rid of these two, and quickly – they're a nightmare. I'll certainly join the Wrexham fans in protest'".

Back at Chester, the article continues "The FA gave the Football Conference a suspended fine for allowing them to start the season without having agreed a CVA (which, it should be remembered, was never agreed after they cravenly allowed the club's league place to be transferred into that of a new company for the sake of expedience), after all".

The article in the Daily Post to which the above refers is as follows....

"Angry Wrexham FC fans have vowed to boycott the club until they sack employees allegedly involved in a 'charity scam' two years ago. More than 100 supporters gathered outside the Racecourse ground last Tuesday night to demonstrate against the recruitment of Andy Garside and Lisa Colford... Mr Garside is working as a retail manager for both the football club and the Crusaders rugby league team, while Ms Colford is reportedly based in the finance department.

Fans said they will avoid matches and stop buying from the club shop, as well as withdrawing from a popular lottery game, until the pair are removed from their positions. Their concern follows an undercover investigation by the Daily Mirror in October 2008, which revealed how Mr Garside and Ms Colford, both from the Wirral, ran Chestnut House, a company advertising space on wall planners to raise money for a St Helens charity for the terminally ill, the Honeyrose Foundation.

The charity later terminated its relationship with Chestnut House after discovering just 5% of money gathered by tele sales reps went to them, while 30% went to the rep and the rest to Chestnut House... The Mirror also reported how nine years ago Ms Colford became company secretary of publisher Barrington House, which made £3.5m a year by claiming to raise money for children's charities, yet just £100,000 went to good causes".

Later, the Daily Post added that "Wrexham FC is standing by two employees allegedly involved in a 'charity scam' two years ago" as reported above.

And the BBC reports that "Wrexham FC chairman Geoff Moss says he is 'deadly serious' about his threat to quit the club because of abusive criticism from fans. He says he will be making his position clear after discussing the issue with fellow directors at a board meeting next Wednesday...

'There comes a point when you think, do I need this any more?' said Moss. 'The answer is, I don't think so'. Businessman Moss is the majority shareholder in Wrexham and invested more than £4m of his own money to help save the club after it went into administration five years ago. 'What the fans should ask themselves is 'who's been funding the wages over the past two months when we've had no games because of the bad weather', said Moss. But Moss stressed that he had no intention of leaving Wrexham 'in the lurch'. 'I would see it as a retreat over the next few months', he said. 'I'm definitely going to retreat... without a shadow of doubt'".

Meanwhile the BBC reports that "Forest Green will seek compensation after their match at home to Chester City on Tuesday was postponed... 'We'll look at our own insurance for business interruption', Rovers' director Colin Peake told BBC Gloucestershire. 'We'll seek compensation from the Football Conference because we don't think we can be held responsible for this and we've suffered a loss'...

Peake is also on the Conference board and suggested the postponement could have future consequences for Chester and the teams who have played against them in the Blue Square Premier. 'I think this is the end of Chester City', Peake said. 'I think that the only outcome is that they will be expelled from the league and their record expunged'.

Peake also went on to reveal that Chester are the second club in financial trouble who are costing Forest Green at the moment. He claims that the club is still waiting for its share of gate receipts from its FA Cup third round tie at Notts County in January... He added 'We have tax bills to pay like any business and it's adding to an absolute catalogue at the moment'".

The Football Conference reports that "Salisbury City have announced that Matt Tubbs has agreed a new two-year contract keeping him at the club until the end of the 2011/12 season... [He] is currently the fifth highest scorer in the club's history. The 25-year-old has netted 129 goals in his 273 first team appearances... City manager Tommy Widdrington says keeping Tubbs at the club, which exited administration earlier this month, is vital to its future development and sends a clear signal that a new era is indeed dawning at the Blue Square Premier outfit".

And "Kidderminster Harriers have extended the loan period of striker Damian Spencer from rivals Kettering Town. The front man's current deal was due to expire this week, and Harriers have reached an agreement with Kettering to be able to retain his services for a further seventeen days - the maximum possible under the ninety-three-day ruling on short-term loans".

NL Daily says that "Ryman League Division One South club Croydon Athletic have announced the signing of experienced 35-year-old goalkeeper Andy Little from neighbours AFC Wimbledon. Little originally played for Sutton United before moving to Crawley Town in 2000, and subsequently transferred to the Dons in the summer of 2005".
---
10 February 2010
GATESHEAD GAME ON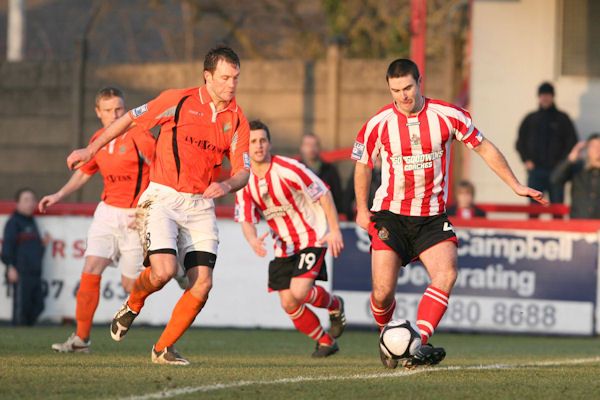 Right: Tom Kearney, with Chris Senior, in action against Salisbury last Saturday, pictured by Gavin Rathbone, who has more Alty images on his GR Photography site.
Following Tuesday night's Trophy results, the rescheduled BSP game for Altrincham at Gateshead can now take place as planned on Tuesday, February 23rd. However, Salisbury's win over Cambridge United means that Alty's scheduled trip to Wiltshire could be postponed on Saturday, March 13th (FA Trophy semi-final first-leg day) should the Whites win their Fourth Round match on February 20th at home to Tamworth.
Tuesday, 9 Feb.
FAT 3 replays
Gateshead 2 Barrow 3 - att 312
Salisbury City 2 Cambridge United 1 - att 592

BSP
Ebbsfleet United 0 Histon 1
Forest Green v Chester City POSTPONED
Hayes and Yeading Utd 4 Grays Athletic 0 - att. 251
Luton Town 2 Oxford United 1 - Oxford led till 90th minute.
Rushden and Diamonds 2 Eastbourne Borough 0
Stevenage Borough 3 Mansfield Town 1
Wrexham 0 Tamworth 0
League table
FINALS AT MOSS LANE
The Cheshire Senior Cup Final between Woodley Sports and Northwich Victoria will take place at Moss Lane on Wednesday, 24th March, at 7.45pm.

The Cheshire County FA District Youth Cup Final will be played at Moss Lane on Sunday, 7th March, between Stockport & District FA and Altrincham & District FA. Kick off is at 2pm. The Altrincham side comprises the Altrincham FC Youth team.
UNITED AT MOSS LANE
Manchester United Reserves' fixtures at Moss Lane are now as follows (k.o. 7pm):
Thursday, Feb. 11 v Burnley Res.
Thursday, Feb. 18 v Everton Res.
Thursday, Mar. 11 v Manchester City Res.
Thursday, Apr. 8 v Hull City Res.
Tuesday, Apr. 13 v Liverpool Res.
Thursday,Apr. 22 v Manchester City Res. (M/cr Senior Cup)
TV AT MOSS LANE
The following Sky Sports HD matches will be shown on the day that Altrincham entertain Grays Athletic, Saturday 27th February:
Chelsea v Man City (k.o. 12.45pm)
Stoke City v Arsenal (k.o. 5.30pm)
FOR PARENTS AND CHILDREN
Every Tuesday morning from 23 February, Jo-Jo's Music will be running "music and fun for parents and children, aged 0 to 5 year" in the Manchester Glass Sponsors' Lounge at Altrincham FC on Moss Lane. 10am is the start time for the Toddlers' Group session (for those from 12 months to 5 years old). 10.45am is the time for the Baby Group (up to 12 months). The Toddlers' session costs £3.50 per child and the Baby Group costs just £3 per child. The sessions aim to "help to develop social skills, including sharing, listening, waiting your turn and interaction". The sessions include "singing, playing instruments, dancing and fun!". To reserve your place please ring Jo on 07803 205657.
EASTER FUN WEEK
Altrincham FC is running a four-day Football Course from Monday 29th March to Thursday 1st April at Moss Lane.

WHO? There are courses for all abilities from age 5 to 12 (school years 1 to 7).

WHEN? From 9.30am to 3.15pm (daily registration from 9.15am)

HOW MUCH? £48 for all four days; discounts apply for brothers and sisters

WHAT TO EXPECT...
Skill awards for each age group at 3pm daily
Meet the manager - Graham Heathcote
Group photo for each player
Presentation, with awards, on Thursday for each player - parents welcome
The scheme is run by the experienced Altrincham FC Community Coaching Team

For an application form or further details, please contact Altrincham FC on 0161 928-1045.
YANKEE JACKPOT NEARS £5,000
Last week's Altrincham FC Saturday Yankee produced six winning trebles, each winning £33.33. However, the jackpot remained un-won and now stands at £4,900. You can win this for a £1 stake by joining the scheme; details are here.
BSP NEWS
Following Chester's failure to travel to the New Lawn, on the FGR Forum we read: "The following is issued by Colin Peake in his role of Vice Chairman as of 7pm this evening (Tuesday).

I was aware that Chester City met with the Football League this morning in Preston, seeking to have discretionary payments made to them from their time in the Football League. This would have allowed them to make interim payments to their players but unfortunately for them this request was declined.

In light of that information I sought an assurance from Chester City that they would still fulfill their fixture this evening and this was confirmed to me at 2pm... At 5.11pm I received notification by telephone from Chester City that they were unable to fulfill the fixture due to lack of players and since then staff and I have been working hard to minimise the impact such a late cancellation causes to everyone...

It would be remiss of Forest Green Rovers to pass further comment at this time, other than to say this loss of the fixture will cause serious consequences financially, when you consider the loss of other fixtures... Added to that we also have had an issue over money from Notts County and the knock on effect with Inland Revenue payments. The club will now be seeking to recover loss of revenue from those sources it feels it can claim against.

No doubt the Football Conference will now be seriously looking at Rule 8.6 and the possible expulsion of Chester City under this rule. If such action ensues this will not help us for obvious reasons but again I believe it is right we keep our counsel at this time and await a speedy resolution so we can adjust accordingly to protect the long term interests of the football club and the Ltd Company".

According to the BBC "Former Ebbsfleet United chairman Lionel Ball has urged MyFootballClub members to renew their subscriptions before the February 19 deadline. Ball, who twice hauled the Fleet back from the brink of closure in the 1980s, said renewals were crucial to safeguard the club's future. He told BBC Radio Kent: 'There is a lot riding on this... If I was asked would I have tolerated such a situation [of MyFC ruining the club] had I been chairman, the the answer is no... I know a number of clubs who would have liked the sponsorship, if you call it that'.

Ball also described Gravesham Borough Council's decision to purchase Stonebridge Road and lease it back to the club on a 100 year deal for a low rent as hugely significant. He added: 'In my two spells as chairman I was hugely disappointed with the local council's attitude towards the football club. Now they've come up trumps with what is a fantastic deal for the Fleet. Better they own the land because every club is at risk when newcomers come in and start borrowing, using the land as collateral to sign expensive players. That can be the road to disaster'".

Barrow "have now re-arranged all their outstanding Blue Square Premier fixtures, resulting in a midweek game every week from now until the end of the season. Barrow Secretary, Russell Dodd, said 'I am very grateful to the help given by Nick Bassett at York City and Roger Barlow at Kidderminster, so that we were able to avoid playing twice in a single midweek. We have made the best of what we could, as we had very few mutual free dates with York, Kidderminster and Histon'".

From Sussex's Argus we learn that "Jamie Taylor believes hard work and a bit of luck are key ingredients for Eastbourne Borough's survival chances. Both were evident in abundance during Saturday's battling 2-1 victory over Wrexham ... Garry Wilson's men played more than 40 minutes with just ten men... Taylor said: 'My theory is that if you work hard then you earn your luck... If we keep putting in performances like that then we have got a great chance of staying up. We might not have the quality some of the big clubs have but we have shown we can match them through sheer hard work. We have got to grind out as many results as we can'". Alty play Eastbourne home and away in the next fortnight.

"Gateshead's new strike force has been hailed as one of the best in the Conference – and backed to fire the Tynesiders onward in both league and cup" according to Chronicle Live. "Ian Bogie's side can move within two games of Wembley with victory over Barrow in a third-round FA Trophy replay... But new boy Brian Wake and Daryl Clare, along with Graeme Armstrong, also have a huge part to play in securing Gateshead's Conference future – continuing with Saturday's grudge match at Hayes & Yeading...

'You look at that (Clare and Wake) for a top two, and there's no doubt that most clubs in the Conference top six would like them', said coach Paul Thompson. 'They are proven quality with the nous to deliver the goods at this level. The difference between staying up or not at this level, or going on a cup run or not, is what you've got up top – and we've now got plenty'...

'Ask every player which game they have been looking forward to and they will all say Saturday [against Hayes and Yeading]', he added. 'There is still a very bitter taste in the mouth over what happened in the game up here and we are desperate to put one over them'. It was in early September that Hayes's visit to the International Stadium sparked uproar. Gateshead were controversially docked a point by Conference chiefs, having not returned to the field after the game was suspended for 45 minutes while home midfielder Martin Brittain was treated for an horrific multiple leg fracture. Bogie and his men remain furious at Hayes & Yeading's part in the furore, with Thompson's words illustrating the depth of feeling which will follow them to Middlesex for the return game. 'We thought their manager's attitude in particular was disgraceful', he said. 'Brittain's injury was horrendous – he couldn't be moved for 45 minutes – but all their manager was bothered about was getting the points, not about the player. We can't forget that, and our players won't need much motivating on Saturday'".
---
9 February 2010
BAD NEWS FOR MATT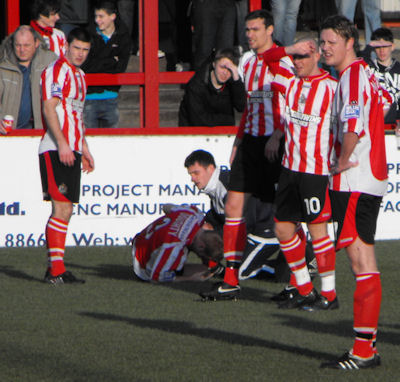 Alty physio Sean Riley writes about Matt Doughty who (as pictured, right) was injured in Saturday's game against Salisbury...

"Following a lengthy examination of Matt's knee injury on Saturday, I suspect that he has damaged his left Anterior Cruciate ligament. As a result of this I spoke to the consultant yesterday morning (Monday)and we saw him in the afternoon. He suspects the same but he has arranged an MRI scan to see if the cartilage has been damaged. This is due to take place on March 4th. There are two scenarios; the best being that there is only damage to the cartilage, the second and, no doubt, the worst is that the cruciate has ruptured, in which case we will lose Matty until the end of September. I will update everyone when we have the results of the scan".

Everyone at Moss Lane wishes Matt a full and speedy recovery. If the diagnosis is confirmed, Matt will join Dale Johnson as Altrincham's second victim of a cruciate rupture this season. Dale has had his operation and is making a good recovery but will not play again this season.
CHESTER FAIL TO PLAY
The BBC says that "Chester's trip to Forest Green on Tuesday has been called off at late notice after the cash-strapped club's players refused to get on the team bus. The game was postponed at 1711 GMT, two and a half hours before kick-off, after Forest Green received a call saying that City could not fulfil the fixture.

'Negotiations had been going on all day', revealed former managing director Rob Gray, who is still at the club. 'But, in the end, we'd no option but to say we could not fulfil the fixture'. Crisis club Chester's players had gone unpaid for three months until receiving a week's salary prior to last weekend's home defeat by Ebbsfleet.

But, having twice threatened strike action already this season (only for the targeted games to be called off on each occasion due to the weather), the players finally appear to have had enough. The players have obviously been unhappy about not being paid...

'The fans' boycott has finally taken its toll', said Gray. 'I'm not sure it's the right way to go about things. But the players have obviously been unhappy about not being paid'. Chester have already lost top scorer Nick Chadwick and midfielders Anthony Barry and James Owen in the last month. And defenders Rhys Meynell, a target for Kidderminster Harriers, and Kevin Roberts, reportedly pursued by Cambridge United, have both served a two-week notice to terminate their contracts".

The Football Conference says "Chester notified both Forest Green and the Football Conference that they were unable to fulfill the fixture due to insufficient players being available. The Football Conference will issue a further statement after their investigation into this matter is concluded".
FANS' FORUM
Alty vice-chairman Grahame Rowley announces that, "The club intends to hold a Fans' Forum on Monday, March 1st at 7.30pm in the Noel White Suite. Manager Graham Heathcote, along with members of the Board, will be in attendance to answer questions from the audience. Everyone is welcome to attend".
SPEAKING SENSE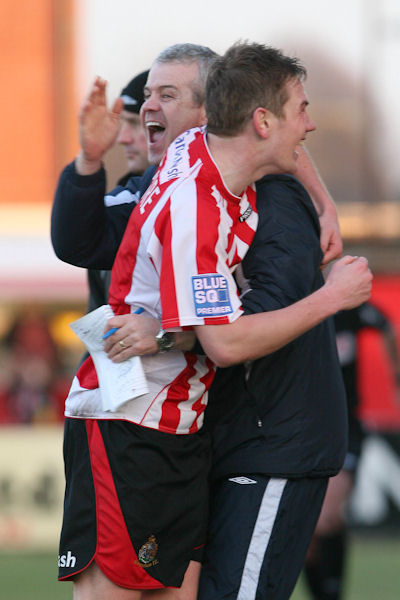 Right: Shaun Densmore embraces assistant manger Ken McKenna after Shaun had scored against Salisbury. Photo courtesy of Gavin Rathbone, who has more on his GR Photography website.
Altrincham manager Graham Heathcote wrote the following article in last Saturday's "Robins' Review" programme:
What about the clubs who are relegated doing it right?
Welcome to everyone for today's game against Salisbury; a team that would be in a very healthy league position if they hadn't had a points deduction, so I know we are in for a very tough game; no tougher than last week against a strong Wrexham side.
I set us out to match them but when you concede so early in a game, your plans are left in tatters a little bit. I felt we played some good football but when they opened us up for the second goal it was always going to be an uphill task as Wrexham don't concede that many goals. They have spent a lot of money on a striker and if it solves their goal scoring problem, they could be a real late contender for the playoff spots.
I have let two players [Andrew Pearson and Andy Owens] go to Rhyl because they are young and need to be playing football. Michael Welch has gone to Bamber Bridge to have some matches and, with new signing Peter Doran suspended, we really did only have 15 fit players other than a couple of the Youth Team players.
I left it as late as possible for Colin Little to be declared fit but this was not to be the case so we had to go with only 4 fit subs; that highlights our difficulty. We have re-assessed our finances and will have to be very prudent to see us through the season so as not to create a penny of debt. It's called cutting your cloth accordingly. Of course, as a manager I could love to be able to have as larger squad as possible, I think Wrexham had 10 players who trained after our game, who had not been involved.
Today's opponents have just brought in three players and lots of other Clubs have increased their squad's size; good luck to them as long as they can afford it and they pay the HM Revenue and Customs like we and many others do. I understand that, at all the clubs who have had or have difficulties, the people trying to resolve the problem are not the people who have created the problem; but it is still the Club.
We have been there and we have paid everyone that was owed money back, every penny, and it was tough but it was achievable. You just have to put your ambitions on hold. I listened to Barry Hearn's view with regard to league clubs who have got themselves into financial problems; he was very direct in his view and he said that these clubs are cheating and gaining points with squads of players they cannot afford. His solution was simple; it wasn't to allow agreement to pay 5p, 10p, 20p, 40p in the pound or anything else. It should be automatic relegation and I agree with him.
The answer is not to give clubs an extended period to pay off debts, all that will do is create a continuous debt scenario where clubs will just pay off a third of their debts each year and the debt that is paid off every three years will have just created another three years of debt. It is a far too grey area that will be exploited; it will not resolve the problem.
What is wrong with the Conference wanting the clubs to pay everyone what they are owed? It will be a kick in the teeth for every club that is running its finances properly [if others don't pay their debts]. Why should clubs borrow players to either win a league or avoid relegation, then not want to pay for these players to clubs they have borrowed them from.
It's simple if you don't pay for a player within an agreed period of time, which should be short; don't let that club sign any more loan players. If they haven't paid for one, they won't pay for the others and whilst these players may help you achieve your club's desire. Or, the players you sign and pay monies you can't afford, because you don't pay HM Revenue and Excise, help you achieve a title or avoid a relegation.
Who gives a thought for the club who misses out on a playoff spot, who then find out at a later date in a new season that this club or that club were not paying their dues? Does that not mean that the clubs who missed out or were relegated have been cheated? No one gives a thought for them - 'oh, that was in the past' is the attitude. 'It wasn't under our leadership', 'it was someone else in charge'.
Well, unless something positive is done, it will carry on and carry on. It is the authorities' job to protect the clubs that are doing it correctly at all levels and we need to stop feeling sorry for clubs who have created their own problems. The supporters of those clubs, yes – it is not their fault. But I do believe they will stand up and have a big say if they knew their club would be relegated unless it is run properly. Barry Hearn is right, people who make the decisions would do well to listen to him or face chaos every season.
Enjoy the game
Graham.
ANDREWS AT RHYL
Bangor City's report on their game last weekend with Rhyl confirms that "Andy Owens and Philip Ojapah made their debuts for Rhyl while other new faces Andrew Pearson and Russell Courtney were on the bench". Rhyl lost 3-1.
NEXT OPPONENTS
The referee for Crawley Town v Altrincham this Saturday is Mr J. Farries, who previously officiated when Alty won 2-0 at Weymouth in a very windy FA Trophy 4th Round Match on 31 January, 2004.

News of our next opponents comes from The Argus. "Steve Evans is hoping to get the green light to add to his squad as Crawley try to build on their best run of the season. Saturday's hard-fought win, which completed the double over free-falling Cambridge, extended Reds' unbeaten run to six games...Crawley still have aspirations of sneaking into fifth place after trimming the gap to seven points.

It would be a remarkable achievement, given the paucity of resources at Evans's disposal, but the Scot increased his bargaining position with co-owners Sue Carter and Bruce Winfield, who control the finances, after a first home win since November 24 in front of the second-highest gate of the season, which was boosted by a sizeable contingent from the Fens. Evans said: 'I will ask about making a signing or two and it has been intimated to me that it is possible but we will wait and see'...

Evans will need more options especially if Mikey Malcolm, who went off clutching his hamstring, is sidelined for a long period. He only has a squad of 15 senior pros on Saturday after Calum Willock was released and that includes a substitute goalkeeper. New faces will certainly be needed if one of the clubs who had representatives watching Charlie Ademeno follows it up by taking the striker when the loan market opens again at midnight tonight.

Eight scouts were in attendance, including former Reds' boss John Yems on behalf of Torquay, and Evans revealed a League One side had asked about taking the striker on loan on Friday. A decision is likely to be made today although Evans will be aware that if Ademeno goes it is hard to see Crawley getting into play-off contention.

He said: 'Our owners have been fantastically supportive throughout over Charlie and have left it largely to me. If we get a good offer and a loan fee we will think about it but as a manager I want Charlie in the team against Altrincham on Saturday'. Ademeno was named sponsors' man of the match and went off to a standing ovation and if he had shown a touch more composure he would have scored. Cambridge recognised the threat by man-marking him...

Reds' system means Ademeno often has to plough a lone furrow up front and against feisty opposition the support from midfield wasn't always there... Evans said: 'On another day Charlie could have got three or four. They knocked a lot of balls into our box but Quinn and Broadhurst were reasonably commanding'. Crawley: Rayner, Rusk, Quinn, Broadhurst, Rents; Cogan, Smith (sub: Forrest 83), Pinault, Hutchinson, Malcolm (Killeen 87), Ademeno (King 90+3). Unused subs: Jordan, Lake-Edwards."

From the Welsh end, the Daily Post reports that "Eastbourne Borough did their shirt sponsors proud on Saturday. The representatives of Best Demolition Group must have been delighted with the manner in which the home side blew a massive hole in Wrexham's New Year resurgence... The Racecourse boss, without suspended midfield enforcer Christian Smith, saw his worst pre-match fears realised in that Borough were allowed to play to their strengths and won plenty of possession in the middle third of the pitch...

Defenders Mansour Assoumani and Ashley Westwood were always struggling to cope with the pace and power of striker Liam Enver-Marum. He combined energy and physical presence with a fair degree of skill and a superb work ethic... Much to the displeasure of the home fans in the 57th minute Borough boss Garry Wilson sent on another defender, Ollie Rowe, at the expense of the impressive Benjamin".
FLYNNZINE
Brian Flynn, chairman of TASC, writes in his latest Flynnzine article...

Three months ago, I received a request from the programme editor of Tamworth F.C. which requested an article for their programme for our visit to Staffordshire in November. The brief was to chart the recent history of Altrincham Football Club but, unfortunately, the article ended up not being published and I thought that I would use it for the scheduled game against Eastbourne Borough just before Christmas. That game was postponed before the programme print-run so this is the third attempt for this article to see the light of day..........so here it is!!!

Three Wise Men and a Messiah!

You cannot please all of the people all of the time but if you ask most Altrincham supporters how they feel we are doing, then the response will generally be positive. Many of us remember the halcyon days of the late seventies and early eighties when we were the undoubted kings of non-league football, winning the Alliance Premier League (Conference) in its first two seasons and reaching the third round of the F.A. Cup in four consecutive seasons.

The majority of Alty aficionados however jumped on the bus after those heady days and their experience has been....shall we say... varied and interesting! Having never suffered relegation in almost a century, 1997 saw the club finish bottom of the Conference and a return to the UniBond (Northern Premier) League. An action packed 'Big Dipper' of a rollercoaster ride followed as we won the UniBond title two years later only to plummet the following season from a top half position in mid-March to achieve a perfectly timed landing in the bottom four on the first Saturday in May. This time, there was no quick escape back to the promised land of the Conference and a couple of years on we found ourselves over £600,000 in debt and the Board resigned en-masse.

These were dark days, indeed, but three reluctant heroes emerged to turn the club around. Geoff Goodwin (Chairman), Grahame Rowley (Vice Chairman) and Andrew Shaw set about getting the club back on some sort of sound terra firma. Deploying the wildly outrageous football club management principle of matching income with expenditure, these three knights in tin helmets, set about rebuilding Altrincham Football Club. The team was bobbins, however, and a change of direction was needed pitchside.

Graham Heathcote, a playing legend at Moss Lane from that golden era, had been involved in many roles at Moss Lane over a period spanning thirty years and now took on the mantle of manager. With very little cash available there was no magic wand waved and for a couple of years the team struggled and only just managed to qualify for the newly formed Conference North in 2004.

Heathcote capitalised on his own personal powers of persuasion to attract better quality players to Moss Lane and exploited a slice of good fortune in bringing Colin Little to play for the Robins. Little had been offered a renewal of his contract at Crewe but wasn't going to be a regular in the first team. His passion for playing and desire to finish his career at his local club, was the trigger for a wonderful chapter in the club's history in which the former Crewe man has scored over a hundred goals, the majority in a side that has been struggling in the lower reaches of the league.

A rather unlikely promotion was achieved through the back door the following May as Alty squeezed into the play-offs before triumphing at Nuneaton Borough and Kettering Town prior to clinching promotion in a unique North v South Play-Off Final against Eastbourne Borough at the Britannia Stadium, Stoke.

Three relegations from the Conference.......and three reprieves due to financial issues at other clubs followed. You will not find a single person connected with Altrincham who has any qualms about these events whatsoever. We put a team out on the pitch that we could afford and fell short. Scarborough, Boston United and Halifax Town each created a team that they couldn't afford and ultimately paid the penalty.

Whilst all of this was happening on the pitch, remarkably the mountain of debt was cleared and during the last couple of seasons the playing budget has been increased. It is still one of the smallest in the league, but 15th position was achieved last year and this season we are currently bettering that!

In the wider domain of non-league football, no trees have been pulled up at Moss Lane, but if you are an Alty fan then the last few years have been brilliant!
BSP NEWS
Altrincham travel to Eastbourne later this month. Blue Square Football reports that "The managers of the two teams had vastly contrasting reactions to Saturday's 2-1 victory for Eastbourne Borough over Wrexham... Eastbourne assistant manager Nick Greenwood told Non League Daily: 'It was a thrilling victory for us today. That performance is Eastbourne Borough at its best. It was backs to the wall, bodies flying all over the place and everyone throwing themselves in for the cause. It's been a great boost to everyone today and that gives us a chance (of survival)'.

Wrexham boss Dean Saunders blamed poor goals and blown chances for the defeat, saying: 'We didn't start the game very well. We conceded a dreadful first goal. Second half we've come out not bad, then the referee sent one of their players off. We pressed and had enough chances to win five games in the end. The second goal was a shambles'".

The Argus adds "This result may not quite rival David's shock victory over Goliath – but it was not far off. Wrexham are no giants these days but they still have a staggering 40 full-time professionals on their books and manager Dean Saunders was able to bring a squad of 20 to Priory Lane on Saturday.

By contrast Garry Wilson had just 15 fit players to choose from - including goalkeeping coach Dean Lightwood who was drafted in to fill the bench - and even joked about borrowing a couple from his opposite number before the game... It was no fluke either and had to be achieved despite playing for more than 40 minutes - including eight agonising minutes of stoppage time - with just ten men following the dismissal of Neil Jenkins...

He said: 'Our last game against Cambridge was our fourth in ten days and we put in a tired performance but after a week without a game we showed great energy... I think there is a group of about seven teams all fighting to stay up and this brings us into the pack a bit more... This shows we can beat the big clubs. It is a reminder for the players of what we are capable of when we all stick together and fight'...

Borough's options were limited following the departures of Dan Smith and Michael Jordan in the week while Ben Austin joined Andy Atkin and Dan Brown on the injury list... Borough have struggled defending leads all season and their cause was not helped when Jenkins saw red for a rash challenge... but despite referee Mark McLaughlin playing eight minutes of stoppage time Borough withstood everything Wrexham could throw at them".

Meanwhile Eastbourne Borough confirm that they "have taken French left-back Sacha Opinel on a one-month loan from Farnborough Town. 32 year-old Opinel, a cousin of Eric Cantona, began his career with Cannes and had spells with Lille and Ajaccio before moving to Raith Rovers where he made 22 appearances. Stints at Plymouth Argyle and Leyton Orient followed before he joined Farnborough in 2003. Crawley Town was his next destination in 2005 and he then had a spell at Ebbsfleet United and picked up an F.A. Trophy winner's medal in 2008.

Opinel is in his second spell for Farnborough... Borough manager Garry Wilson moved quickly to bring in defensive cover after left back Neil Jenkins was sent off against Wrexham on Saturday and will serve a four match ban for his second red card of the season". Farnborough say that "Opinel has signed a temporary transfer arrangement which will see him move to Eastbourne Borough, initially until March 13th. Boro boss Steve King has dispelled any rumours of his departure commenting 'Sacha has had a spell out of the side due to the recent poor weather and suspension, he acknowledges the current form of Nic Ciardini, Jamie Stevens and new signing Craig Graham-Barrett and he was frank in his opinion that it would be better for all parties that he was playing as opposed to sitting on the bench, it is testament to his ability, experience and reputation that he has signed for a club at the highest level of Non League football, he remains very much part of my plans'".

At "Kettering Town boss Lee Harper says he is still hopeful of bringing in new players despite financial restrictions. Club owner Imraan Ladak cut the resources available to Harper for wages and new signings in January. 'We're having trialists in who've played at Tottenham and Charlton', Harper told BBC Radio Northampton. 'I'm speaking to Arsenal, I don't know if we can get a couple there. We'll steal a bargain from somewhere. I'm trying everything to be successful'".

Hayes & Yeading United report that their "striker, Staforde Palmer, today began a loan spell at Blue Square South side Eastleigh. Staforde will remain with Eastleigh until the end of the season".

Rotherham United confirm that "Defender Andy Nicholas has joined Mansfield on loan for the rest of the season".

According to the Surrey Herald, "Terry Brown has told Jon Main to be patient after he was left warming the bench for Saturday's victory over Forest Green Rovers. The 13-goal Dons striker was a spectator as fellow frontman Nathan Elder, who partnered Danny Kedwell in attack, set the the hosts on their way to a 2-0 win to maintain their play-off push... He said: 'I feel for Jon Main who didn't get onto the pitch, especially as he was in very good form when we signed Nathan Elder. But he will get his chance again, I'm sure'".

Cambridge News says that "Martin Ling will delve into the loan market to boost his Cambridge United squad following Saturday's 1-0 defeat at Crawley. It was United's sixth successive Blue Square Premier reverse, and with keeper Danny Potter ruled out for up to two months because of a shoulder injury suffered in training on Friday and his strikers struggling to hit the target, Ling said he would try to bring in reinforcements.

Laurie Walker made his debut in goal, but despite being pleased with his performance, Ling felt it was vital to draft in another keeper. He said: 'It's disappointing because Danny is a big miss for us and he'll be out for six to eight weeks. Young Laurie came in and did a fine job, but I've got to find another keeper to come in because you can't just have one keeper for the rest of the season'.

Ling also felt his strikeforce may need a shake-up... He said 'With no disrespect to Lee (Phillips), he hasn't got a goal for us this season and confidence in that area isn't that high because we're not banging the goals in. So it may be an area we've got to look at changing things... Winning becomes a habit, but so does losing and it's a habit we've got to break quickly. It's hard. They're fed up of hearing they played well and I'm fed up of saying it, because it's about winning games and we aren't doing that at the moment. The word relegation shouldn't be mentioned, but if we don't start pulling our finger out quickly we're going to be dragged down there before we know it'".

The Northants Evening Telegraph says that "Justin Edinburgh admits Rushden & Diamonds need to stay full of confidence going into a key period for their play-off bid...Diamonds' fourth win in five league games lifted them above the Poppies in the table... Edinburgh's side are only outside the top five on goal-difference behind AFC Wimbledon with a game in hand... The Diamonds' boss said: 'At the moment we feel we can win every match. There was no complacency at Grays. The players showed their professionalism and character'... Diamonds must cope without star man Lee Tomlin for the next two home games after his 10th booking of the season brought another ban. Edinburgh added: 'He plays on the edge and he has got that little bit of fire in him which makes him such a good player'".
---
8 February 2010
SALISBURY GAME
Match report here.

A Salisbury supporter has put a nine-minute clip of the game on You Tube
CRAWLEY GAME
Altrincham's next game is on Saturday (13th) away at Crawley Town. Details of the TASC away travel there are here.
TASC DRAW
Below is the list of prizewinners in The Altrincham Supporters' Club (TASC) New Year Draw.

TASC chairman Brian Flynn writes, "The winning tickets were drawn in the Noel White Suite after Saturday's fantastic victory over Salisbury City. Winning tickets were drawn by Greg Young, Nicky Clee, Chris Senior, Graham Heathcote, Ken McKenna, Grahame Rowley, Andrew Shaw and Pete Hughes.

The winners were:-

Wharfedale HD Ready 19 inch digital LCD TV - Duncan Brickhill, Cadishead
Songmaker Recording Studio Experience - Iain
Philips Blu-ray Disc Player - Maggie Needham
Garmin Sat-Nav system - Andy Woan
£90 Aroma Spa Vouchers for The Marriott, Worsley Park - Carl
6-Month Membership of Mobberley Golf Club - Ray Tandy
Tassimo Coffee Maker - Phil Leigh
Epson SX200 Printer/Scanner/Copier -Steve Foster
Signed Altrincham F.C. Ball - Ivan Curtis, Timperley
Courvoisier Brandy & Two Glasses Set - Stacey Rowley
Bottle of Martini - Richie Bentley
Football Manager 2010 - V. Shaw
Bottle of Jameson's Whisky - Gavin Poole
Bottle of Piper Heidsieck Champagne - Alan Ford

Thank you to everyone who bought tickets... We'll advise the amount raised as soon as possible and a very big thank you to the people who helped out by selling tickets at the ground (Jamie Taylor, Gareth Thomas, Chris Ainsworth, Will Cross, Steve Foster, Graham Muir & Graham Jackett) and those who did a brilliant job selling copious amounts to various local pubs and clubs (Mike Davies, Graham Houghton, Eric Robinson, Gareth Thomas & Grahame Rowley).
THANK YOU
Saturday's bucket collection by TASC raised £63.53 for the club, which thanks all concerned - collectors and donors, alike.
A PROPER UPBRINGING!
Altrincham Football Club is always keen to build its fan base by encouraging the involvement of members of the "younger generation". Below are three stories which show ways in which this is happening.

First of all, Alty gateman Colin Mitchell chronicles a big day for his three year-old son, George, as a matchday mascot last Saturday. Also at that match were a lively group from Worthington Road Primary School, who were guests of the Club under its Featured Club scheme. And, finally, we have an amusing article written by ball boy Jack Bowyer, which gives us the inside story on the team of young boys and girls, ably organised by Ray Armstrong, who ensure that balls put out of play are retrieved as quickly as possible.

1. The Matchday Mascot: George Mitchell (aged 3)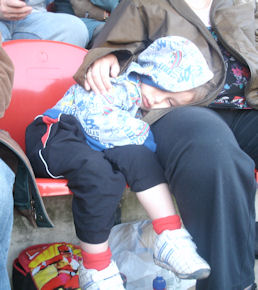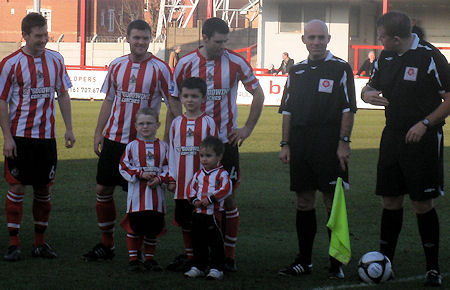 Above: It's a hard life being a mascot. Alty turnstile operator Colin Mitchell's son, George, was one of three young mascots at Saturday's game. In the above photos from Colin and his wife, Jill, we see George and Matthew and James Best meeting the players. But it all got too much for George who fell asleep during the game!

Colin has written to the Football Club, saying...

I would personally like to thank on George's behalf the players for making him so welcome in the dressing room quarters before the game. Even though at the time he was a bit shy, a few of them came up to us, had a chat and made us feel really welcome and 'bigged up' George for his fantastic day ahead. Thanks to the players, as well, for acknowledging George on the pitch while they were warming up.

Greg Young had a chat with George who was practising his headers with the other mascots. He said to George that's why he comes up for corners - to head the ball into the net. Just remind me how we scored our first goal! We were also welcomed into manager Graham Heathcote's office where he did his best to get George out of his shell. He managed it, too, when he offered George a Jaffa cake. That broke the ice and there was no stopping him after that.

Graham suggested we should go and 'have a kick about' on the pitch to get George's confidence up a bit and it worked too. He also kicked a ball about with the other two mascots for the day - Matthew and James Best, who later George referred to as his friends. George predicted a 4-0 scoreline - he was nearly right too. After the game lots of people/fans came up to us and said George can be mascot every week if we score five when he's there! My mum also enjoyed her first trip to Moss Lane and her first ever football match. I did say it's not like this every week...

The club and everyone involved with it in any way never fail when it comes to making sure whoever visits Moss Lane feels welcome and has a great day - which George certainly did. Thank you to all who made George's Day so memorable for him. I am sure he will be talking about it for years to come.

From Colin, Jill and George Mitchell

2. The Featured Club: Worthington Road Primary School, Sale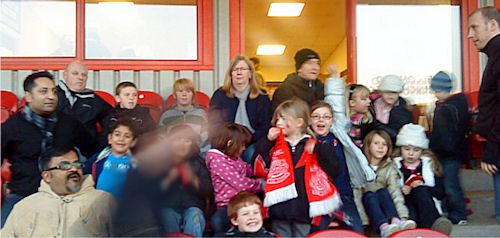 Pictured, above, by Alty Security Officer, Darren Gregory, we see pupils from Sale's Worthington Road Primary School and their families, who were guests at the Alty v Salisbury City match and who made themselves heard roaring Alty to a 5-0 win!

3. The Ballboy: A Day in the Life of...Jack Bowyer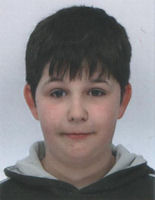 "Hello, everybody and welcome to the best team in the Blue Square Premier. My name is Jack and I have been a ballboy at Altrincham Football Club for some while now. Around 6 years ago I became a ballboy and I have enjoyed every second of it. I have some jobs to do before the match starts, I put all the corner flags out and help Keith Davey stock up the snack bars sometimes.

I have a great time with everyone from ballboys to Directors, the stewarding team and, of course, the manager, Graham Heathcote. If the flags are not straight, Graham sends me back to do them again! If I had to choose to go to school or Alty FC, it would be Alty FC hands down.

Sometimes I like to clear the tables for Jen [Heslop] in the bar when I've had a drink with my mum and the other stewards after the game. After me starting as a ballboy, my mum became a steward and my big bro has now started as a steward. My favourite player is, of course, the goalie Stuart Coburn.

My role as a ballboy is to stand on the pitchside and to keep an eye open for the ball coming off the pitch or when it goes out of the ground, where I have to go out and get it, then pass it to Ray [Armstrong] to take back. If it comes out on my part I have to pass it to one of the players. You can sometimes get hit by the ball but that is very rare. We get paid for this job – we get £1 per match.

I have some banter with some people within the ground. One of those people is Dan Jones. I am well known within the ground as I will talk to everyone, even the fans, as I can talk a glass eye to sleep!

I have six chickens and have named some of them after some of the players. One is called Chicken Stu Coburn and another is called Colin Chicken Little! Ha – sorry lads, only I've got to call my chickens something! I've even asked Graham if he needs my chickens to play – they are cheap! 2 left wings, 2 right wings and 2 defenders!

I would like to say thank you to Ray Armstrong for taking me on as a ballboy. Ray is the guy who keeps us in order and makes sure we do our jobs right. I would also like to say thanks to Grahame Rowley for letting me do this and put it into the programme.

And thanks to Graham Heathcote who takes time to have a chat to me before every match. My wish would be to be here at Alty FC for many more years to come and to give them players a good telling off in the changing rooms!

Enjoy the game everyone and last but not least, 'Come on Alty!'".

With young supporters like these, Altrincham FC looks to be in good hands for many years to come.
CAPTAIN'S LOG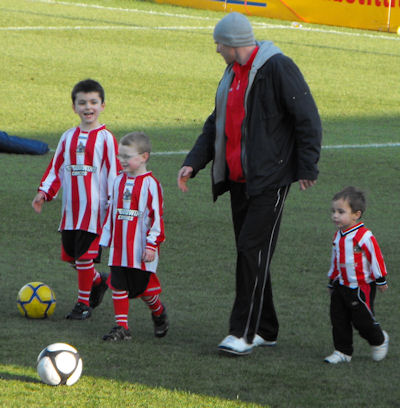 Left: As he explains, below, Alty captain Robbie Lawton is unfit at the moment, so he did not play on Saturday. Nevertheless, before the game, he was working hard as an ambassador for the club, helping to look after the match day mascots.

Robbie Lawton's "Captain's Log" in the matchday programme on Saturday has, courtesy of press officer Brian Flynn, the headline "Não entendo o que você diz" which means, in Brazilian Portuguese, "I don't understand what you are saying". The article in the "Revista do Pisco de Peito Ruivo", better known as the "Robins' Review", continues...

"Despite losing last Saturday at home to a very good Wrexham side, in many ways the lads felt more positive after the game than after beating Hayes and Yeading the previous week....when in all honesty it was nice to get the three points but it didn't feel that good. Wrexham's early goal meant that our game plan was thrown into a bit of disarray straight away, but I felt that we played some decent stuff against a team that is certainly picking up a fair bit of momentum at the moment (ten points from twelve from games against Rushden and Diamonds, AFC Wimbledon, ourselves and Mansfield).The match itself was a good one to play in with the intensity of the game itself and the big crowd making it quite easy to concentrate throughout. We played 4-4-2 which is different to the way we have been set up in recent weeks and it seems that we are still searching for the solution to being able to match our away performances when we play at Moss Lane.

Arriving at the ground last week, most of the lads thought the game wouldn't be played and even though most of the pitch had thawed a bit by kick off time, the section in front of the main stand was pretty unplayable......nevertheless it was important from the club's perspective to get the game on and bring in some much needed revenue.

I didn't pick up an injury during the game but, by Monday, my foot was badly swollen and bright red and Sean Riley sent me for an x-ray at Trafford Hospital on Tuesday, thinking that it could be a stress fracture. Fortunately it wasn't but I was advised at the hospital that it could be cellulitis, which is a potentially serious infection of connective tissues. Since then I have seen my own GP and he thinks it is gout, a form of inflammatory arthritis.

I have had blood tests and await the results but, oddly enough, my foot has been OK for the last twenty four hours and I might even be available today.

There were a few of us who didn't train on Tuesday, with Stuart Coburn resting his arm and Tom Kearney not risking aggravating his groin problem. The Manchester United winger, Nani, brought a player down to train with us for the evening and Tom and I congratulated him on how well he had played against Arsenal on Sunday....as well as giving him some wise words of advice on how he could improve his game. He seemed pleased with the praise given but struggled to understand the feedback we gave him on his improvement opportunities!!

The lads still feel that we can push on and fight for a play-off place but I guess that Wrexham have shown us that we have still got a bit to do if we are going to get anywhere near the top five. We know that supporters' expectations have changed and are far higher than in previous seasons but, when you think that we only get a couple of hours training each week together, we are doing amazingly well to be in the top half of a league where a lot of teams have got relatively huge resources to fall back on.

If we are going to push on then it's vital that we get a good haul of points from the next few games, which are all against teams either around us or below us in the league.......three points against Salisbury today would be a nice start!

All the best, Robbie".
BSP NEWS
NL24 says that "Former Weymouth star Cameron Mawer has returned to the club, along with two other new signings... The defender re-joined the Wessex Stadium-based outfit on non-contract terms from Grays Athletic, the Dorset Echo is reporting. Left winger Danny Smith has also joined on non-contract terms from Blue Square Premier club Eastbourne Borough while former Southend United goalkeeper Joe Welch has completed a loan move from Histon until the end of the season".
---
7 February 2010
ALTRINCHAM 5 SALISBURY CITY 0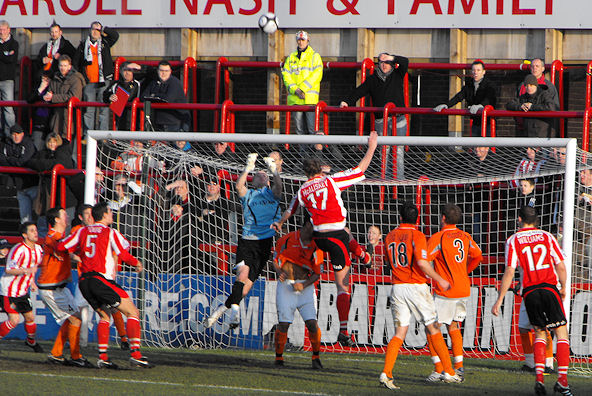 Above: John McAliskey challenges in the first half.

Altrincham recorded their first five-goal haul in a league match at Moss Lane since March 2007 with this win over Salisbury who enjoyed plenty of possession especially in the first half.

Alty player stats
SALISBURY AT A LOSS
Sport4Salisbury reported on Saturday evening that "Salisbury City boss Tommy Widdrington had to admit he was at a loss to explain his side's hefty 5-0 defeat away at Altrincham today. The Whites, unbeaten in five outings ahead of the trip to Cheshire, produced a lively performance but simply could not find the net. However, the hosts scored with alarming regularity. Despite City enjoying the lion's share of first half possession, Altrincham led 2-0 at the break courtesy of Greg Young and Nick Clee efforts. Stuart Anderson missed a great opportunity to pull a goal back early in the second half before the Moss Lane side made it 3-0 - Shaun Densmore chipping James Bittner. 'The game was as good as over then', admitted the City boss. Chris Senior scored twice in the last ten minutes to inflict Salisbury's heaviest defeat of the campaign. Widdrington said: 'The stats show we had 17 attempts to their seven, but we lost 5-0! But it wasn't a 5-0 by any stretch of the imagination'".
RECRUITS EVENING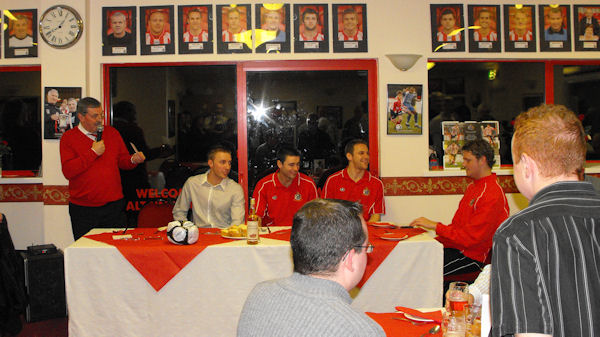 Right: Graham Heathcote compered another very enjoyable "New Recruits" evening at Moss Lane on Saturday evening. The guests were four of Alty's new players this season and they are seen above, left to right (Russell Saunders, Tom Kearney, Nicky Clee and John McAliskey).

If you have not been to an Altrincham FC "New Recruits" evening yet, be sure not to miss the next one. As well as having an excellent hot meal prepared by Alty's official caterer, Richie Bentley, the packed Sponsors' Lounge were treated to Graham Heathcote's inimitable compering. This time it was "Big John" McAliskey who was the particular target of the Alty manager's good-natured banter but he and the other players gave as good as they got to their manager. The audience learned a lot about each player's footballing background and current non-playing activities.

Interestingly, Tom Kearney explained that Alty's improved away form this season may actually be aided by the club not having had any overnight stays before matches this campaign. Tom, who regularly experienced "over-nighters" at his previous clubs thought that players often got restless, with nothing much to do, when hanging round in hotels before games.

Asked to name the best players they had encountered this season in the BSP, Graham Heathcote suggested Oxford's Damian Batt, whilst Tom had been impressed by Nicholls of Luton. Danny Kedwell was Russ Saunders's choice. John had been impressed by Barrow's wingers when we played against them. We won't dwell on some of the comments made about one or two other Conference club characters!

The tips for promotion to League Two were varied, with Graham expecting Oxford to win the title because of their tight defence. Tom had a sneaking suspicion that York City would get promoted whilst Stevenage also had some support for winning the title.

We also learned that John had been in the Cardiff Millennium Stadium play-off promotion final for Huddersfield Town in his earlier career but had fallen out of love with football to take a six-month trip round the world - well, he went to Thailand at least! Asked about adjusting to part-time football, Russ told us he was about to start working with Bolton Council, whilst Tom spends much of his non-Alty time coaching for Everton. Nicky's prowess as a cricketer was also confirmed. Russ also revealed why Stuart Coburn never wears a cap!

Graham derived plenty of humour from Nicky Clee's home town of Upperthong in West Yorkshire, which we also learned was once the home of "Last of the Summer Wine" character 'Compo'! Nicky works in the accounts section of a Leeds construction firm when not playing football.

Graham paid tribute to the current team and to the continuing excellent camaraderie amongst the players. The audience was grateful to Graham and the players for giving up their time, expecially as Nicky and John had to get back across the foggy Pennines to their homes in Yorkshire after the event. As well as being very grateful to Richie Bentley and his able young assistant who prepared the food, many thanks are also due to the event organizers, Grahame and Karen Rowley, and to Sarah Rowley, Dan Jones and Alison and Samantha Lewis family for their hard work in serving all the meals and drinks. Many thanks, too, go to Jenny Heslop and her colleague, Helen, who extended their already long shift in the bar to support this evening event.

Visit the Sponsors' Page to learn how to hire the Alty Sponsors' Lounge whilst Bentley's Catering can be contacted on 01625-523015 and will be happy to help with your catering requirements.
OLD BOYS
Former loanee Ryan Shotton was sent off for the second time this season in Barnsley's 1-0 win over Watford yesterday. Another ex Alty loanee, James Dean scored again for FC Halifax whilst Kyle Wilson hit a hat trick, and Ben Deegan also netted, as FC United beat Nantwich 6-1 away.
---
6 February 2010
SATURDAY SCORES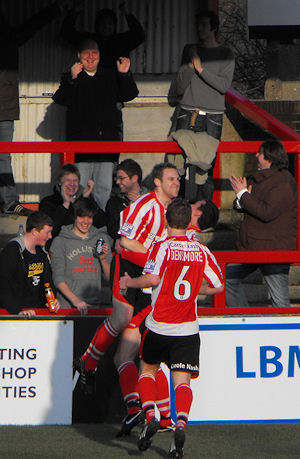 Right: Man of the Match Nicky Clee celebrates his goal against Salisbury..

AFC Wimbledon 2 Forest Green R. 0
Altrincham 5 Salisbury City 0
Barrow 0 Luton Town 1
Chester City 1 Ebbsfleet United 2
Crawley Town 1 Cambridge United 0
Eastbourne Borough 2 Wrexham 1
Grays Athletic 0 Rushden & Diamonds 3
Histon 3 Hayes & Yeading Utd 3
Kettering Town 0 York City 1
Mansfield Town 0 Gateshead 2
Oxford United 0 Kidderminster Harriers 0
Tamworth 1 Stevenage Borough 0
MATCHDAY UPDATES
It is hoped to provide live updates here from the Altrincham v Salisbury City clash on Saturday afternoon, starting with the confirmed line-ups before kick-off. These reports will appear on the Matchday Update page.
HELP NEEDED!
Brain Flynn, chairman of TASC writes:

"The New Year draw will be drawn today at 5.30pm in the Noel White Suite . Can you help TASC by selling tickets? If you can spare a few minutes, please help us!

Needless to say, today is the final opportunity to buy raffle tickets. Have you bought any? Do you want to buy any more? Please see any of the ticket sellers around the ground. Tickets are available at £2 for a book of five tickets. There are some fantastic prizes available this year. You can help the club and give yourself a chance of winning any of the below prizes by buying tickets!

Wharfedale HD Ready 19 inch digital LCD TV
Songmaker Recording Studio Experience
Philips Blu-ray Disc Player
Garmin Sat-Nav system
£90 Aroma Spa Vouchers for The Marriott, Worsley Park
6 Month Membership of Mobberley Golf Club
Tassimo Coffee Maker
Epson SX200 Printer/Scanner/Copier
Signed Altrincham F.C. Ball
Courvoisier Brandy & Two Glasses Set
SATURDAY
Live on Sky Sports HD in the bar at Moss Lane this Saturday, before the Altrincham v Salisbury City game, will be the 12.45pm kick off between Liverpool and Everton . The bar opens at 12.15pm. After the game there will be the TASC annual prize draw as well as a showing of the 5.30pm kick off between Tottenham Hotspur and Aston Villa.
Howard Watts's Through the Years for 6 February.
SALISBURY'S "EMBARRASSMENT OF RICHES
On Tuesday of this week Business in Berkshire reminded us that "Salisbury City have vowed to fight a controversial Conference ruling to stop the Whites being relegated to the Southern League this summer. City may not be eligible for any divisions of the Blue Square League if they do not repay all their creditors every penny by the second Saturday in May. City are set to exit administration in three days' time with a CVA agreed with Revenue and Customs - to whom they owe almost £200,000 - and other creditors to repay a minimum of 35p in the pound. It is understood that a benefactor has agreed to settle the footballing debts totalling more than £30,000".

However, the Salisbury Journal reports that "Salisbury City will take a squad of 18 players to Cheshire for Saturday's match at Altrincham. Boosted by five transfer window signings, who are all available for the match, Whites manager Tommy Widdrington has an embarrassment of riches causing a rare selection headache. Only defender Dan Webb is sidelined, following the knee injury sustained against Histon recently...

Salisbury have not played a league game since January 23's 3-0 home win against Histon and currently occupy 17th place in the table – eight points and six places behind Saturday's hosts, who are still targeting a play-off place finish. Whites are now unbeaten in four outings this year and have not conceded a goal (excluding the Wiltshire Premier Shield) since the 1-1 draw with Oxford United at the end of December. Leading striker Matt Tubbs has scored four goals in four games...

City team (from): James Bittner, Ryan Pryce, Sean Clohessy, Luke Ruddick, Patrick Cox, Chris Bush, Ronnie Bull, Stuart Anderson, Chris Giles, Jamie Turley, Ben Adelsbury, Robbie Sinclair, Darrell Clarke, Chris Flood, Bradley Gray, Reece Connolly, Matt Tubbs, Toby Osman".

Sport for Salisbury adds that "A hectic few days of wheeling and dealing ended with Salisbury City boss Tommy Widdrington having boosted his squad by five by the time the January transfer window closed on Monday.

The Whites' manager had been frustrated earlier in the window as the club's ban on registering new players, which had been lifted, was temporarily re-enforced. But with a suitable agreement in place with the footballing authorities, Widdrington was eventually given the all clear to start shopping and wasted no time bringing in a mixture of experience and youth. The manager, whose side are unbeaten in 2010, gives Sport4Salisbury the low-down on the quintet of new faces.

Chris Giles... The 27-year-old defender's career has included stints with Yeovil Town, Forest Green Rovers, Gravesend & Northfleet, Woking and two spells with Crawley Town, from where he joined Salisbury... In stark contrast, Widdrington's second acquisition was Reece Connolly, a player, who, having just turned 18... The attack-minded player has become a regular in the Aldershot reserves and has been knocking on the door of the first team...

Widdrington's third capture was another highly experienced player. Ronnie Bull began his career with Millwall, where he made exactly 50 appearances. Loan spells at Yeovil and Brentford were followed by a move to Grimsby Town where he stayed for a year before moving to New Zealand... He became a feature at Rushden & Diamonds, Grays Athletic, Ebbsfleet United, Fisher Athletic and Exeter City before returning to Grays, where he made a handful of appearances earlier this term...

Former AFC Bournemouth custodian Ryan Pryce, who had been training with the Whites recently, agreed to sign until the end of the current campaign. 'Having been released by Bournemouth, Ryan became ill, but is thankfully well on the way back to full fitness. That means we have a goalkeeper who can challenge and push James for the jersey'" said the manager.

Brentford's Chris Bush, completed Widdrington's transfer window shopping spree. A central defender, who can also play at left back, 17-year-old Bush has progressed through the ranks at the League One side...

Widdrington said that with limited funds at his disposal he was extremely grateful to Kevin Dillon and Gary Owers – the manager and assistant manager at Aldershot - along with Brentford boss Andy Scott for enabling the deals to go through... All five are expected to travel to Altrincham for Saturday's match".

The BBC reports that "Torquay boss Paul Buckle has said he is still interested in signing Crawley Town striker Charles Ademeno on loan. Buckle missed out on a deal for the the 21-year-old by just two minutes when the transfer window shut on Monday... 'There's still a chance', he told BBC Radio Devon. 'The player wanted to come to us which was very encouraging but it comes down to the money. You speak to the agent and you agree something with Crawley, but we didn't get it through in time'. Ademeno joined Crawley Town last summer after being released by Southend United and has scored eight goals this season", three fewer than Alty's Chris Senior.

"The need for extra firepower for Torquay is all the more pressing following the sale of Tim Sills to Stevenage last month, coupled with Scott Rendell breaking his arm against Bradford last Saturday. This leaves the Gulls with Elliot Benyon and Chris Zebroski as their only fit forwards".

The BBC confirms that "Altrincham have new signing Peter Doran available for the visit of Salisbury after he completed a suspension. Veteran Colin Little is a doubt after a recent knock, while fellow frontman John McAliskey (hamstring) will have a late fitness test. Salisbury defender Danny Webb (knee) is definitely unavailable while recent signings Ronnie Bull and Chris Bush have been added to the squad. Chris Giles is set to keep his place alongside Jamie Turley in defence."
CHESHIRE NEWS
The Macclesfield Express says that "Macclesfield Town vice-chairman Andy Scott has issued a stark warning to the Silkmen's armchair supporters – support your local club or it may cease to exist. The former Moss Rose terrace hero... couldn't disguise his despair at last week's meagre crowd – just 1,035 came through the turnstiles for the first game of 2010, a 2-0 defeat to Northampton...

'We're at a crossroads now', he told the Express. 'I'm really concerned about our gates at the moment. We desperately need the support of the local community, because the stark reality is that we cannot survive on 1,000 supporters attending home games. We've got a fabulous never-say-die attitude at this club, but we desperately need local support because, unless we see a change, it's going to be really difficult to pull through, even to see out the season. It was painful to see the crowd at the Northampton game...

Owners Amar and Bashar Alkadhi are still very much dedicated to the club, that hasn't wavered, but the current climate means they haven't been able to invest more money in... We've always punched above our weight, since gaining promotion to the Football League, and there's a great spirit at the club... How many supporters in cities such as York, Oxford, Chester or Cambridge would love to be able to see their team play league football week in, week out?'.

Meanwhile, manager Keith Alexander has, in the main, enjoyed a good relationship with the Macc fans but, following Saturday's 0-0 draw at Vale Park, he was surprised to hear his players booed off the field by a minority of the 332 travelling fans.'It's easy to criticise when you're not playing well, but if you're supporters you've got to come down and support your team', he said. 'They can have a go at me by all means but you look at everyone else in this league and we do very well to stay in the division'...

And Alexander's vice-chairman backed his manager, adding: "We pulled off a great result on Saturday, the Port Vale board members were wondering what it was all about... There's nothing worse than running around a muddy pitch for 90 minutes and giving everything you've got then getting booed off the field'".
BSP NEWS
According to The Argus "Eastbourne Borough have released goalkeeper Michael Jordan from his contract. Jordan signed in the summer and made 11 consecutive appearances in Blue Square premier but has not played since October after losing his place to Danny Knowles. The 22-year-old is expected to sign for Farnborough where he will link up again with Steve King, who he played under at Lewes. Manager Garry Wilson said: 'Michael came in and did well for a while but then his form dipped and was not able to recapture his place. It makes sense for us in our financial position to go with one keeper and get somebody in on loan if necessary'. Goalkeeping coach Dean Lightwood will take Jordan's place on the bench at home to Wrexham tomorrow".

Nearby, the Crawley Observer says that "Striker Calum Willock and defender Chris Giles have left Crawley Town at the end of the busy January transfer window. Record breaking frontman Charlie Ademeno remains at the club... Willock was on a short-term deal which was up for renewal while Giles's contract has been torn up and he has joined rivals Salisbury City. Assistant manager Paul Raynor said: "Calum came into the side with a burst of form but it has now been decided he is superflous to requirements. It's a shame because he was a nice guy, he worked hard and fitted in extremely well'".

This is Nottingham reports that "Andy Perry says Mansfield Town can shine in the national spotlight if the public back their 'Pay What You Want' offer against Gateshead tomorrow. Supporters of both clubs can decide the price of their admission to Field Mill... Chairman Perry believes the backing of the town through a bumper gate will benefit not just the club, but the community as well. 'The motivation we have in doing this is to bring new people to our games and break down barriers to coming to watch us play', he said.

'We are a club that are fighting for promotion with a good home record and hopefully some of the people will like what they see and want to come back. We are conscious that the eyes of the nation are on us. What we are doing was running across the Sky Sports News ticker tape the other day. And I have had numerous club chairmen phoning me up asking about it. They are all waiting to see how it works and I just hope we can show them it has captured the imagination of Mansfield. If we could get 4,000 people along, then we would be happy with that. We realise it is not easy because people have other commitments... We know (playing in) the Blue Square Premier is not necessarily going to motivate people to come but we are trying our hardest to get back into the League... This is definitely something we would consider doing again. I'm not sure what the rules are in the Football League, but you are allowed to have three offers a season in the BSP".

A few Conference clubs may be looking over their shoulders as This is Nottingham reports that "Forest loanee Nicky Shorey could be in trouble with FIFA because he has played for three clubs this season. The world body are unhappy that English football continues to provide a loophole to avoid their transfer rules, which state that players can represent a maximum of two clubs in one season. The former England full back played for Fulham against Portsmouth on Wednesday after signing on loan from Aston Villa, following an earlier nine-game spell at Nottingham Forest. But Shorey and Fulham are backed by the FA, the Premier League and the Football League, all of whom classify his time at Forest as an emergency loan".
---
5 February 2010
LINE-UP

Above, Alty line up before last Saturday's game against Wrexham

Altrincham's opponents this Saturday, Salisbury City, are one of three clubs who we have not yet met in the league - the others are Eastbourne Borough and York City. Graham Heathcote has limited scope to change the squad which played last Saturday. Colin Little missed that game through injury whilst new signing Peter Doran was suspended but is now available for selection. With Michael Welch on loan at Bamber Bridge, that only leaves youth teamers John Bennett and James Smart as players with first-team squad numbers who could come into contention, if need be.
CORRECTION: YOUTH GAME
Altrincham Youth are set to host Nantwich Town a week on Sunday (14th) and NOT on Sunday 7th as previously announced. The game will be at Wythenshawe Town FC (2pm). This Sunday (7th) the youth team will be playing a practice match at BTH (2pm).
BSP NEWS
"Grays Athletic manager Julian Dicks has called on his players to make a concerted effort in their fight against the drop" reports Blue Square Football... The boss told the Thurrock Gazette... ahead of the match with Rushden & Diamonds this weekend, Dicks added: 'Rushden have scored ten... and we've conceded eight in the last two games. Rushden are going to be a big test for us. They are a decent outfit and I know Justin Edinburgh well. What we need is for the players to really give 110 per cent. If the players give 110 per cent we can do well, but recently not all the players have been doing this... Training is going well and the lads are getting on well, but it doesn't matter what you do on the training ground if the players don't carry this through to the pitch... Of the new lads, Andrea Zola has been making an impact'".

"Gateshead have taken their earnings this season to £160,000 after former striker Lee Novak completed 30 games for Huddersfield Town in his first season at the Galpharm Stadium. Novak signed for the Terriers for an initial down payment of £50,000 with two further instalments of the same amount paid on the completion of 15 and 30 games... At £150,000 Novak is comfortably a record transfer for North East non-league football and Gateshead chairman Graham Wood is delighted he has made an impact in Yorkshire...

Wood said: 'They rate him highly and he has been involved in the first team from day one. It shows what a quality player he is and he will only get better. It was a good deal for both clubs... Becoming a full time club next season will be expensive so £100,000 this season from the Novak transfer has been a tremendous help in difficult economic times'. As well as the six-figure sum for Novak Gateshead have accrued £23,500 in prizemoney from the FA Cup and Trophy and a one-off £30,000 donation from the Premier League... Gateshead meanwhile saved £15,000 during the transfer window when their bid to bring Rushden & Diamonds goalkeeper Dale Roberts back to the North East fell through... Rushden's attempts to bring in a replacement were unsuccessful leaving York City midfielder Andy Ferrell at £3,500 as Gateshead's only outlay in transfer fees in January. Had the Roberts deal gone through it would have been a record transfer fee for Gateshead... 'With Jim Provett's contract up at the end of the season the idea was to have two quality young keepers at the club vying for the number one spot', added Wood".

"Former Histon chairman Gareth Baldwin is confident he can bring stability to Cambridge United once his place on the board is finalised. Baldwin is set to join the U's board in a commercial capacity just weeks after stepping down after 17 years at the helm at local rivals Histon. He told BBC Radio Cambridgeshire: 'There are some bridges to be built and trust to be earned. I'm hoping to bring some stability to the boardroom and the Cambridge brand. I'm hoping to be involved with the club in lots as ways, not just on the commercial side', he said. 'Will Jones [press officer] and Gary Atyes [business development manager] are already doing a great job, but hopefully we can use some of my expertise'.

Baldwin stepped down at Histon on health grounds after spending time in hospital in the early autumn... He said: 'I can totally understand why Cambridge United fans might be nervous about someone who has been at Histon for all that time coming on board. But when I joined Histon they were an Eastern Counties First Division side and Cambridge were in the second tier... I've met [current manager] Martin Ling and I've been very impressed. He's very focused, he's an absolute winner and all he wants is the support off the field to enable him to achieve success', he said. 'I can assure people there is zero intention or desire to bring Steve Fallon or [his assistant] John Beck to Cambridge United, I'm fully committed to what we have'".

The Cambridge News says that "Andy Parkinson is confident he can relaunch his career after leaving Cambridge United... by mutual consent on Monday after a torrid, injury-hit 18 months... But Parkinson said he hoped to join another club at a similar level in the north-west in the near future. He said: 'My family and I are moving back to Liverpool as soon as possible and I'm looking to find a club at least until the end of the season... I had the pleasure of working with Gary Brabin and there are some good lads in the dressing room, so I've made some friends and made a Wembley appearance, but apart from that it has been forgettable... Leaving is something I'd been thinking about for a few weeks because I hadn't enjoyed my recent time at the club and I think it showed in my performances'".

Meanwhile, nearby, "Alan Lewer has told Michael Frew he still has a future at Histon. Striker Frew was expected to complete a loan move to Corby at the start of the week with a view to a permanent move, but a deal with appears to have fallen through... The boss wants Frew to show what he is made of in training and fight for a first-team place... 'Michael has got a contract with us until the end of the season and he's still a part of what we're trying to do here', said Lewer. 'The situation (with Corby) was they were offering him terms for next season as well and I'm not in a position to do that at this moment... He's got to look after his future and I would never stand in his way if he was offered terms for next season'".

The Chester Chronicle says that "Chester City fans have sent a letter of apology to every team in the Blue Square Premier because they are so 'ashamed' by the way their club is being run. Chris Pilsbury, chairman of City Fans United (CFU), has put pen to paper on behalf of the official supporters' club. He feels City's problems 'reflect badly on us' and 'do no good for the reputation of the league'. The letter says the "trust and confidence" Chester's fellow clubs gave them last summer – when the Blues were voted into the Football Conference after coming out of administration – has been 'repaid with contempt'...

The letter states: 'We are genuinely ashamed that our club has not honoured contracts, has kept football clubs and our own players waiting for payment and, after being allowed to start the season through the unanimous vote of our fellow Conference clubs, is now back facing administration or worse'. Mr Pilsbury goes on to say that CFU are doing everything in their power 'to ensure the swift transfer of ownership of the club to people who will operate in a radically different fashion'...

City Fans United issued a statement yesterday afternoon complaining that they had not received a purchase pack or any acknowledgement from the solicitors dealing with the sale of Chester – despite making two applications. Mike Blood, of Brabners Chaffe Street, last night explained to The Chronicle that email problems had delayed his receipt of the CFU application. He has now received it and has sent out an official response. Mr Blood said that there had been 'more than five but less than 10' enquiries received so far for the Blues. For confidentiality reasons, he was unable to reveal the identities of any of the other interested parties".

"Captain Tim Ryan has denied Chester's players went on strike over their unpaid wages – the truth is they could not afford the petrol to get into work" according to the Chester Chronicle. "It was widely reported that the members of City's small squad would have refused to play in last Saturday's match against Grays Athletic had they not been given a small amount of what they are owed-... pay for three months...

'There were rumours coming out saying that the lads were going to strike, but it was nothing to do with that', said Doncaster-based Ryan. 'All it was to do with was that the lads couldn't physically get in. Everyone still playing for Chester City will go out there and give it 100% for the club, but at the end of the day if you can't physically afford to get in, it's one of them. The fact is the lads didn't have enough to do the home life and also put petrol in the car... I'm travelling quite a distance, the Liverpool lads travel over an hour, and to go quite a long time without money hits everyone in the pocket... I've spoke to a lot of people in football and they all agree you cannot point the finger at our players', said 35-year-old Ryan. 'We're losing games because we've got such a young side and we're bedding players in who might not be ready. But after every single match you can't say to any of us that we're not giving it our all'".

We learn from the NW Evening Mail that "Barrow AFC joint-manager Dave Bayliss is perplexed as to why fans are continuing to stay away from Holker Street. Just 1,200 made their way through the turnstiles on Tuesday when the Bluebirds drew 1-1 with Gateshead in the third round of the FA Trophy. The club have seen home attendances slide this season and earlier this month set supporters a challenge of averaging crowds of 2,010 for the remaining 10 league games.

Speaking after the Gateshead draw, Bayliss said: 'We've been down on bended knee to the crowd, to the public, saying "come on, support us". I don't know what they expect from us. Whether they want us back down in Conference North, I don't know. We've had meetings with the board and if the crowds don't turn up they're going to cut our budget. That's the bottom line. So, it's up to the Barrow public themselves, if they don't want to get behind the lads then they're not going to see a good team play football. It's down to them. We've done all we can regarding commercial work, publicity in the newspapers and on the radio, and telling people how much we need them, but, at the end of the day, if they're not prepared to turn out then there's not much we can do'".

From the Uxbridge Gazette we learn that "Garry Haylock has angrily accused his red-faced Hayes & Yeading United players of lacking desire and questioned their ability to cut it in the Blue Square Premier. The manager was furious after Saturday's humiliating 6-1 defeat to Rushden & Diamonds at Church Road... In a scathing attack after the game Haylock said his players "had better be" embarrassed and warned every match squad place was up for grabs... 'I hope their embarrassed, I really do, and if they are not now they will be when we look at the video on Tuesday', fumed Haylock... 'I know I'm embarrassed. But I'm not angry as it's pointless because you can't do anything... If you analyse the goals they are individual errors... We've got some good people here, some good personalities, but whether they are up to this level I don't know. Have we got the best out of them we possibly can and peaked? We haven't got a lot of players who have played regularly at this level. There is no doubt that the vast majority have the ability to play at this level but that's not what it's about – it's about being able to do those things every week and we obviously struggle to do that. We can't put a run together'".

The Kidderminster Shuttle reports that "Harriers' new manager made his first acquisition this week when he signed winger Marc Goodfellow on a season's loan from Burton Albion... Monday's Trophy win gave Harriers a £7,000 boost, but with funds tight at Aggborough the manager had to loan out defender Liam Dolman to Corby for a month to allow him to bring in Goodfellow. Burr may also try to bring more players in when the loan window opens again next week, but will have to offset any new additions by sending out members of his squad.

He also ruled out a move for Chester City defender Rhys Meynell, after a temporary move to Harriers fell through... Burr is also searching to bolster his backroom staff, despite bringing in former Blackburn Rovers and England keeper Tim Flowers to work with Jasbir Singh and Dean Coleman. He is hoping Flowers will coach the duo on a regular basis'".
---
4 February 2010
UNITED GAME OFF
Tonight's scheduled derby between the reserves of Manchester United and Manchester City at Moss Lane has been postponed due to a waterlogged pitch.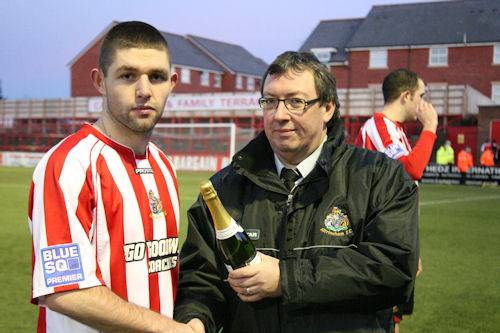 Right: Gavin Rathbone's camera captures James Smith receiving his Man of the Match award from sponsor, Neil Faulkner of Robinson's Preservation, after the game with Wrexham last Saturday.
GRAHAM'S DECISION
Alty joint press officer, John Edwards, writes in the Sale and Altrincham Messenger:

"Graham Heathcote was given another reminder of how money talks after seeing Wrexham's expensive acquisition Andy Mangan dictate the outcome at Moss Lane on Saturday.

Alty mustered a goal and a near-miss in a spirited rally near the end, but the damage had already been done after former Forest Green Rovers striker Mangan fired a fourth-minute opener and cleverly set up a second before half-time in Wrexham's 3-1 win.

Heathcote was pleased with aspects of his side's performance but accepted it had been a reality check.

'Wrexham were already a decent side who just needed someone to stick chances away,' said Alty boss Heathcote. 'Being able to go out and spend between £30,000 and £50,000 on putting that right means they are now a very good side who could even be in with a late shout of a play-off place. You have to be realistic at times and analyse the size of our club, compared to others. While our squad is very thin at the moment, Wrexham had 10 players in the stand, so that shows what we are up against.

It is frustrating sometimes seeing other clubs sign players when we can't. But I backed this club's policy of not going into the red from day one, and I still do. It is the only sensible option. We had a go at Wrexham in the second half and put them under pressure. Their keeper made an outstanding save from Chris Denham, to prevent it becoming 3-2, and they were wobbling. The pitch was playable, and I'm glad the game went ahead, because there was tremendous support from Wrexham, and from our fans, and that was so important for our finances and budgeting.

I just have a decision to make now about how we set up at home. I played 4-4-2 because I wanted to match them up, but when you consider how solid we look on our travels with a 5-3-2 formation, I'm beginning to wonder whether we should play the same way home and away'.

' Striker Colin Little is fit for Saturday's home game with Salisbury, while new signing Peter Doran is available after suspension. There is a worry, though, about skipper Robbie Lawton, who has a foot injury".
YANKEE JACKPOT NOW £4,600
The Altrincham FC Yankee jackpot now stands at £4,600 for a £1 stake. Details of the scheme are here.
HOPITALITY OFFER
Altrincham FC announce that "For all home matches at Moss Lane until the end of season you will be able to enjoy matchday hospitality at Moss Lane at the bargain price of £35 per head or just £25 for season ticket holders. This brings you a choice of hot meal and drink before the match, matchday programme, a pre-match analysis from Graham Heathcote, tea/coffee and biscuits at the interval and a seat in the Dunne and Gray family stand."
TASC MINUTES
The latest Altrincham Supporters' Club minutes are here.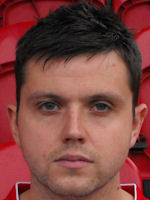 MICHAEL AT BRIG
As part of his recovery to full fitness after his operation, Michael Welch played 90 minutes for Bamber Bridge on Tuesday night alongside Steve Aspinall. "Brig" won, but Welch picked up a yellow card. In the opposing Chorley side was ex-Alty youth and reserve striker Lee Shillito whilst Peter Wright netted for the home side.
NEXT OPPONENTS
From Sport4Salisbury we learn that "Tommy Widdrington insists Salisbury City deserve another bite of the cherry in their bid for FA Trophy glory after Tuesday's draw at Cambridge United... 'I didn't think we deserved to lose', Widdrington told Sport4Salisbury. 'But overall you have to say a draw was just about the right result... We came here with a game plan which was if we can't win it, let's make sure we're going home still in the competition'.

The City boss handed a first team debut to transfer window signing Chris Giles, who took to his role like the proverbial duck to water, linking up well with central defender Jamie Turley in particular... Another new signing, Reece Connolly also made his first start, coming off the bench to replace Rob Sinclair... City had been forced to make a change on the hour mark – Bradley Gray, who was on the receiving end of a hefty challenge... City team: Bittner, Turley, Clarke, Gray (Flood, 59), Adlesbury, Giles, Tubbs, Ruddick, Clohessy, Sinclair (Connolly, 81), Anderson.Subs: Pryce, Osman, Cox."

And "Salisbury manager Tommy Widdrington told BBC Wiltshire: 'The lads applied themselves magnificently, we were built on solid foundations... We came up here with a game plan. I thought we took the game to Cambridge ever so well from the start of the game'".
BSP NEWS
"Chester director of football Morell Maison admits the club will struggle to compete with only nine senior players ahead of the visit of Ebbsfleet" according to the BBC. "City face a winding-up order over an unpaid £26,025 tax bill and Maison claims they owe another £37,000. 'The team virtually picks itself', Maison told BBC Radio Merseyside. 'It's the nine players we have plus the best of the academy kids. It's not an ideal situation and we're not going to win many games with that set-up. So we need to solve our problems fairly rapidly if we're going to have a chance [of staying up]. We need to pay off our football debts, which include three clubs and our players, which is somewhere around £37,000 in total. Once those debts are paid, we're allowed to bring players in'...

'The players were paid a week's wages last week', Maison continued. 'There are moves afoot to pay a month's wages this week and another month's wages the following week, which would bring them up to date. The plans are there and the will's there. The ball started to roll last week and hopefully the club can keep it continuing this week. Money came in last week and there is some stuff we're doing this week coming to fruition, and that should lead us nicely into next week. So there are moves afoot'".

The Cambridge News says that "United will have to travel to Salisbury for a replay on Tuesday after being held to a goalless draw in their FA Trophy, third-round tie... Manager Martin Ling said: 'If you look at the game, we had the chances, and most of them came from set-plays... We were too narrow and condensed. So we went to a 4-4-2 in the second half and that produced a bit more width to our play and allowed us to get a foothold in the game'".

The York Press says that "It's a sign of the times at York City as the club's home reverts to its old name. The Minstermen will once again be playing at Bootham Crescent rather than KitKat Crescent following the end of their four-year sponsorship deal with chocolate giants Nestlé, which netted the club £200,000. Signs displaying the sponsored name of the ground were yesterday taken down from stands inside the ground. The sign at the main entrance was due to be taken down today, and the KitKat branding will also be removed from the stadium's family room. Supporters are set to be canvassed about a new guise for club mascot Yorkie the Lion, whose name was also part of the Nestlé deal, at the end of the season.

Sophie Hicks, City's communications and community director, said: 'We are hoping to secure a new sponsorship deal for the ground's naming rights in about June.'".
NW NEWS
The Football Conference says that "Blue Square North leaders Fleetwood Town face their one of their biggest matches so far this season on Wednesday afternoon. It won't be Micky Mellon leading the team into action but club chairman Andy Pilley as plans for the ambitious £4m flagship stand are presented to Wyre Borough Council planning bosses. The building will contain a 2,000 capacity seated stand and is earmarked for the run down side of the ground bordering the Memorial Park.

The development will include new community changing facilities for the Memorial Park and an IT & learning suites. Office facilities for rental to non-football concerns will attract up to 100 jobs to the port. In addition, operational enhancements will include a function lounge, executive boxes, club offices and club shop.

Pilley said: 'We are confident that we will get the go ahead... with a view to our starting construction as early as April. With a nine-month projected build time, the new stand should be in use in early 2011'".
---
3 February 2010
NEW DATE
As a result of Gateshead's draw at Barrow in the Trophy on Tuesday night, next Tuesday's BSP match at Gateshead against Altrincham has had to be postponed to accommodate the replay. The Gateshead v Altrincham league game will now be played on Tuesday 23 February at 7.45pm - subject to Gateshead not needing a replay in the next round of the Trophy, should they progress against Barrow.
ATTENTION! ARMED FORCES DAY AT MOSS LANE
Altrincham Football Club is offering serving members of the Armed Forces and a family member or friend, the opportunity to see their Blue Square Premier game with Salisbury City on Saturday, February 6th, for just £5 each.

'The idea came from one of our supporters and we feel that this is a good way for Altrincham Football Club to show its support for the men and women that do such a fantastic and courageous job for our country throughout the world', said Vice Chairman, Grahame Rowley.

Entry on the day will be via turnstiles 5 and 6 and proof of identity, such as a military ID card, will need to be shown at the turnstile. The kick off time of the match is 3.00pm.
ALTY IN WELSH
The Welsh TV channel S4C has highlights of Altrincham's recent match with Wrexham here. The commentary is in Welsh though there are interviews in English with Ken McKenna and Dean Saunders.
BSP NEWS
The Liverpool Daily Post reports that "Concerned officials from the Football Conference have requested an urgent meeting with senior decision makers for troubled Chester City as the financial problems at the Deva Stadium appear no closer to being solved. It is understood that the Conference hierarchy have pencilled-in this Wednesday for a meeting with worried representatives of the FA and Football League also expected to be involved. Chester's cash flow last week wasn't helped by Saturday's basement clash with Grays Athletic being postponed with the Deva Stadium pitch frozen".

And the BBC adds that "Chester City officials have been asked to reconvene their shelved meeting with the Football Conference to outline the exact state of their finances. The up-for-sale club were asked to attend a meeting in Birmingham prior to last week's High Court date over an unpaid tax bill. But Chester failed to send along any of their relevant club officials...

City avoided a winding-up threat in the High Court last Wednesday. But their case, over an unpaid £26,025 tax bill, is not over, having simply been adjourned until 10 March... Chester supporters group City Fans United were offered the chance to buy the club last week when one of their representatives was texted by current City chairman Stephen Vaughan Jr. In a statement, the CFU said: 'We have sent a request to the solicitors dealing with the sale of the football club, asking them for further details regarding the purchase of the club and we are currently awaiting a response'".

Meanwhile NL Daily reports that "Chester City midfielder Rhys Meynell has been linked with a possible loan move to Kidderminster Harriers. Former Barnsley player Meynell was signed in the summer by former City boss Mick Wadsworth after spells with Gretna and AFC Telford United".

From The Comet, we learn that Stevenage "boss Graham Westley has been named the Blue Square Premier Manager of the Month for January... The Blue Square Premier Player of the Month for January was Magno Vieira of Ebbsfleet United".

The Chronicle Live says that manager "Ian Bogie has warned his potentially new-look Gateshead team to start turning chances into goals... Bogie is hoping that the arrivals of the likes of Andy Ferrell and Peter Winn will see his side finally translate their fluent attacking football into positive results...

'I believe it's only a matter of time before we start sticking them away, win a game away from home and generally begin to get the results to match the quality of much of our football... Avoiding relegation is our biggest priority, and we've got some absolutely crucial games coming up against the teams around us'".

This is Nottingham states that "Mansfield Town boss David Holdsworth is confident he has enough cover at left-back... Having decided to allow Paul Heckingbottom to join Gateshead on loan for the rest of the season, he was hoping to bring in competition for Craig Armstrong. Holdsworth spoke to several players about a move to Field Mill but was unable to clinch a deal... He will, of course, be able to look at the situation in a week's time when ["emergency"] loan signings will once again be permitted...

'I was close to getting something agreed with a couple of players, but as the hours tick down, then the prices tend to go up. In the end, we couldn't meet the demands of those we wanted to bring in. We were priced out of it. But I have still got one loan available to use and I may look into that. Left-back is a specialist position in my view and, in an ideal world, I would like to have a left-footer there. With Hecks having gone, I can still play Michael Brough there as well as using Andy Burgess, so we still have options'", said Holdsworth.

"Eastbourne Borough have released midfielder Dan Smith by mutual consent and cancelled his contract and registration. The 20 year-old was on loan at Priory Lane last season together with his Plymouth team-mate Ashley Barnes and in 14 appearances Smith scored three goals. The Plymouth pair became big crowd favourites and played a key role in hoisting Borough to mid-table respectability. In the summer, after release by Argyle, Smith signed a one year contract with Borough but has featured sparingly and made only seven starts this season. He was placed on the transfer list in November".
LOCAL NEWS
The UniBond League announces "Its five nominations to represent the League in this season's FA 'Groundsman of the Year' competition". They include our neighbours Trafford FC's Graham Foxall whose pitch at Shawe View is always in excellent shape". As for the BSP nominations, surely Neil Brown's Moss Lane must be in contention!
---
2 February 2010
ALTY GAME OFF
Tuesday 2 Feb.

BSP

Histon 1 York City 1
Wrexham 2 Mansfield Town 1
League Table

FAT3

Barrow 1 Gateshead 1
Cambridge United 0 Salisbury City 0
Guiseley 0 Tamworth 1
MAKE A DAY OF IT!
You can almost make a day of it at Moss Lane this Saturday as the following schedule shows:
12.15pm bar opens for 12.45 k.o., live in the bar on Sky Sports HD, the Merseyside derby, Liverpool v Everton
3pm - live on the Moss Lane pitch, Altrincham v Salisbury City
5.30pm kick-off for Tottenham Hotspur v Aston Villa, live on Sky Sports HD in the bar
c.5.30pm TASC prize draw in the bar
7.30pm New Recruits Evening featuring compere Graham Heathcote and guests Tom Kearney, John McAliskey, Russell Saunders and Nicky Clee.
NEXT TWO OPPONENTS BRING IN NEW FACES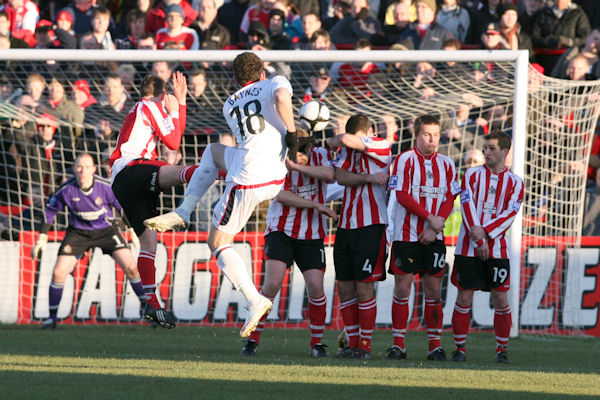 Right: Alty's wall takes defensive action against Wes Baynes's freekick for Wrexham last Saturday. This excellent photo is one of many by Gavin Rathbone to be found on his GR Photography website

.
The referee for Alty v Salisbury this Saturday is Mr P. A. Davison.
Our cash strapped opponents on Saturday could be thrown out of the Conference if they fail to pay their creditors 100% by the second Saturday in May. However, Salisbury City announce that "Goalkeeper Ryan Pryce has become the fourth transfer window signing by the Whites. The 23-year-old goalkeeper has signed a deal keeping him at the Ray Mac until the end of the season. He left the Cherries [Bournemouth] by mutual consent back in September, having made a handful of appearances for their first team".
The Salisbury Journal adds that "Salisbury-born Pryce, 23, had been on the books of AFC Bournemouth as a trainee and on the fringes of its first team for the past two seasons... He made a handful of appearances for the Cherries... Pryce follows Ronnie Bull, Chris Giles and Reece Connolly into the Ray Mac".
And another signing came along later when the Whites confirmed that "Brentford defender Chris Bush has become the fifth new arrival during the transfer window. The 17-year-old is to join Salisbury City on work experience... The central defender, who can also play at left back... has been a regular in Brentford's reserve team this season".
And Gateshead, our next but one opponents are adding four new faces as York City announce that "midfielder Andy Ferrell is being reported as ready to sign a one-and-a-half-year deal with rivals Gateshead. The 26-year-old is expected to be one of a quartet of new signings announced by the north-east club after spending much of this season on the bench at Bootham Crescent... 'Ferrell is a player I tried to sign in the close season', Gateshead boss Ian Bogie told the Evening Chronicle. 'But the lure of a full-time contract at York meant we missed out. He is an aggressive player who puts his foot in. He is the sort of player we need and is a fellow Geordie so we're delighted to bring him home. He is a seasoned player at this level, having helped Hereford back into the Football League, and he did well at Kidderminster last season'. Gateshead are also chasing Scunthorpe United winger Peter Winn, who spent a loan spell on Tyneside earlier in the season".
Later, Gateshead confirmed that they had "brought in three players on deadline day, one on a permanent deal and two on loans until the end of the season. Combative midfielder Andy Ferrell has returned to his native Tyneside, left-sided Scunthorpe United player Peter Winn has rejoined Gateshead for a second loan spell and experienced left back Paul Heckinbottom has signed a loan deal until the end of the season from Mansfield Town".
TASC MONTHLY DRAW
News of the Altrincham FC Supporters' Club monthly draw for matchday hospitality comes from chairman, Brian Flynn:

"The winner of the TASC Monthly Draw for February, which was drawn at half-time of Saturday's game with Wrexham, is Louisa Facchino-Stack. Louisa will enjoy hospitality for two people in the Sponsors' Lounge at the home game against Grays Athletic on Saturday, February 27th".
BSP NEWS
From the Football Conference we learn that "Kidderminster Harriers have announced that a deal has been agreed with Burton Albion to bring pacy winger Marc Goodfellow to Aggborough on loan until the end of the season. The 28-year-old has plenty of Football League and Blue Square Premier experience following spells at Stoke City, Bristol City, Swansea City and Albion. He began his career at the Potteries as a youth team player before breaking through to the first-team and making more than fifty appearances. This led to a £50,000 move to Bristol some six years ago, where he featured regularly during the 2004/05 campaign before spending spells out on the loan at likes of Port Vale and Colchester United... His move to Burton came in the 2007 January transfer window... Although he has failed to hold down a firm League Two place this season, he has impressed out on loan at Barrow".

Blue Square Football says that "Forest Green Rovers boss Dave Hockaday has admitted that he will have to sell if he is to add any players to his squad before the transfer deadline. The Rovers boss is reported to be ready to release David Brown and Paul Lloyd should the right offers come along... 'Watch this space, because there are one or two I would like to bring in, but I've got to move people on and we haven't got too many who others would want', he told This is Glos.

"Hockaday was unable to hide his disappointment after his side went down 4-1 to Mansfield on Saturday despite taking an early lead. 'Throw-ins, corners and free-kicks are what they do very well and it's no good knocking it', he said. 'So to see them get three free headers in the second half was really disappointing, as it hasn't taken any cleverness to beat us'".

The Uxbridge Gazette reports that "QPR starlet Ed Harris has joined Hayes & Yeading on loan for the rest of the season... Garry Haylock... has brought in the 19-year-old defender in a bid to shore up a shaky backline". HYU add that "Also joining Hayes & Yeading United today is 22 year old goalkeeper Clark Masters from Aldershot Town to give Simon Overland additional competition". And "Haylock has secured the services of former Fulham player Andrejs Štolcers from Bath City".

Cambridge United "have signed 25-year old Antonio Murray until the end of the season as a replacement for Andy Parkinson who had his contract terminated today by mutual consent". The former Histon man had been at Chelmsford City.

Meanwhile Histon have "signed Glen Southam a 29 year old midfielder on an 18 month contract. Glen was at Spurs as a youngster and at Fulham and after 4 years at Bishops Stortford he moved to Dagenham and Redbridge where he made nearly 250 appearances, won promotion with them to the Football League and picked up 18 England C caps in the process. He left Dagenham and Redbridge for Hereford Utd and left them in November 2009".

A strange sequence of events comes from Crawley Town where "Reds' striker Charlie Ademeno remains with the club beyond the January transfer window despite the Reds and the player agreeing a deal late in the day for the player to move into The Football League. The player agreed personal terms for the move but the paperwork could not be completed in full prior to the 5pm deadline. Reds boss Steve Evans said; 'Four clubs in total made offers but our valuation of the player was only met at 3pm today. Each of the four clubs have been aware of our valuation from the first time they made contact with us, that value has never changed.

'We immediately gave permission for the player and his representative to talk personal terms. Personal terms were only agreed some ten minutes before the 5pm deadline. Despite the best attempts of both clubs, the paperwork could not be with the Football Association and The Football League before the strictly enforced 5pm deadline, thus Charlie remains a Reds player this evening. As a manager I am delighted Charlie is still here'".

At Kettering Town "both Nathan Abbey and [ex-Alty loanee from Macclesfield] Jordan Hadfield have signed contracts until the end of the season. We are in discussion with Kidderminster Harriers about Damian Spencer, and also Peterborough United concerning Kwesi Appiah with a view to both loan deals being extended, and further news will forthcoming within the next 10 days".

Wrexham confirm that "International clearance for Luke Holden arrived with the Football Association of Wales and has now been passed onto The Football Conference to allow his registration to be confirmed... Said the player, 'I've been training with Wrexham for getting on a month and can't wait to be playing again'... The club would also like to acknowledge the part that the Supporters Association are playing in this deal, by agreeing to finance the player's wages over the next three months...

He joins us on an Emergency Loan from the Addicks, which lasts for a maximum of 93 days and would take him past the end of the current Blue Square Premier league season. The completion of Luke's move to the Racecourse was the last bit of transfer activity at the Racecourse for this particular window, although manager Dean Saunders has not ruled out a few more moves once the Emergency Loan window re-opens in seven days time". Emergency seems to have taken on a new meaning in football.

According to the Football Conference "York City have signed versatile midfielder Jamie Clarke from Grimsby Town... The 6' 2" Sunderland-born player has previously played for Rochdale, Boston United and Mansfield Town and can also play in defence if required. Clarke has signed a contract with City until the end of the season".

The draw for the 4th Round of the FA Trophy produced the following ties, to be played on Saturday, February 20th 2010.
Stevenage Borough v Workington
Cambridge United or Salisbury City v Guiseley AFC or Tamworth
Barrow or Gateshead v York City
Oxford United v Kidderminster Harriers

Finally, comes news of a recent BSP manager... "After meeting with the Manager, Peterborough United and Mark Cooper are parting company with immediate effect following the termination of his contract". The BBC adds that "Struggling Peterborough United have terminated the contract of manager Mark Cooper after just 13 games in charge. Championship bottom club Posh have won just once since Cooper took over from Darren Ferguson on 14 November. Cooper said: 'I am deeply shocked and saddened that my contract with Peterborough has been terminated'... Captain George Boyd told BBC Radio Cambridgeshire: 'Everyone knows Mark Cooper is a lovely bloke, the boys got on really well with him. In terms of man management he was very good'... Chairman Darragh MacAnthony heaped pressure on the management and players last week with a statement on the club's official website. He said: 'I have to apologise to all Posh fans for this season up until now. It's been nothing short of a disaster... I am done with defending the players, the previous management, current management and everyone else at the football club top to bottom'".
---
1 February 2010
NEW DATE
Altrincham's postponed home game with Stevenage Borough will now be played on Wednesday, 14 April at 7.45pm. Alty's revised league fixtures are here.
RESULT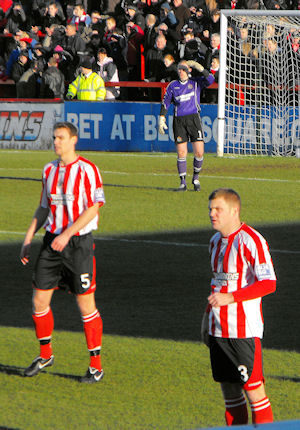 Right: Greg Young and Matt Doughty protect Stuart Coburn's goal against Wrexham.
FAT 3
Worcester City 0 Kidderminster Harriers 1
BSP NEWS
News of our next opponents comes from NL Daily to the effect that "Ronnie Bull has become the third transfer window signing for Tommy Widdrington, manager of Salisbury City. The 29-year-old left-back has completed a deal that will keep him with the Whites until the end of the season. Hackney-born Bull is a vastly experienced player, who until recently was playing for league rivals Grays Athletic. He follows Crawley Town defender Chris Giles and Aldershot Town attacker Reece Connolly into the Raymond McEnhill Stadium.

Widdrington said: 'He's primarily a left-back, but he's a versatile player'". In non-League he has previously "played for Rushden & Diamonds and was also with Ebbsfleet United, Fisher Athletic and Exeter City before joining Grays for a second time".

Hayes and Yeading United confirm that "Steve Basham who was stretchered off at the end of United's defeat against Rushden & Diamonds was released from hospital the same evening. Steve is very sore but his x-rays thankfully were clear. We wish him a speedy return to action". A spinal injury had ben suspected.

From AFC Wimbledon we learn that "Luke Garrard has left the Dons to join Boreham Wood. Terry Brown said 'He wanted first team football and I said that he was presently third in line for the right back spot'".

From the Daily Telegraph we learnt that "Chester City players agreed to play Saturday's game against Grays Athletic after they were finally paid by the troubled club on Friday, although they were given only a week's money and it was paid in Scottish pound notes... Some of the players, who earn between £400 and £600 a week, are still owed nine weeks' salary. Although Chester's players have called off their planned strike there is no guarantee they will fulfil future Blue Square Conference fixtures. The club, who have until March 10 to pay off tax arrears, have been put up for sale for £1. City Fans United, the supporters' group, have organised a boycott of Saturday's relegation six-pointer at the Deva Stadium as they seek new owners. At a CFU meeting on Thursday, messages of support were read out from fans of Wrexham, Tranmere, Bolton, Grimsby, Luton, Oldham, Bristol Rovers and Mansfield, amongst others".

A supporter reports on the Chester City forum that, on enquiring about purchasing the club, he received the following from the solicitors acting on behalf of the club...

Thank you for your email.

Prior to the release of any further information regarding Chester City Football Club, I need the following/confirmation of the following:
1. Proof of funding of a minimum of £500,000 cash, to both satisfy club creditors and to fund the club going forward;
2. The identity of the consortium/company behind the purchase of the club to satisfy the 'fit and proper person test' imposed by the league;
3. A commitment to pay the club's legal fees; and
4. A commitment to sign a non-disclosure agreement.

The club is prepared to allow a potential purchaser 4 weeks to complete their due diligence.

Kind regards,

Brabners Chaffe Street, 55 King Street, Manchester M2 4LQ".
---
FOR EARLIER NEWS, CLICK HERE
---