---
30 June 2009
BIG DEAL HITCH
York City
report "It is with great disappointment that York City confirms the deal to sign Darius Charles and Michael Gash from Ebbsfleet United has faced a major setback. After the £80,000 fee for the pair was agreed with Ebbsfleet and their members and personal terms had been confirmed with both players, sadly Darius Charles feels he is no longer able to commit to the Minstermen. Due to personal family circumstances the player is reluctant to move from his home in London to York.
York City confirms they are still pursuing a deal to sign Michael Gash alone, but this means a restructured offer and will be dependent on positive approval from Ebbsfleet members".
GRAHAM BARROW
Monday's Manchester Evening News reports that "Altrincham boss Graham Heathcote is facing the loss of his well-travelled assistant Graham Barrow...Heathcote said: 'Nothing's definite yet, but, from what I understand, Graham is 90% certain to be going back to Wigan. If he gets offered a job there, he'll certainly take it and we'll wish him well. I'd be sorry to lose him, but I've already got people lined up as potential replacements should that be the case'".
PONTOON COMPETITION
A new Football Pontoon competition is being launched at Moss Lane:
Each of the Clubs from the Premiership, Championship, League One, League Two and Blue Square Premier will be given a random number from 1 to 116. For a £10 stake, you can chose or you will be allocated one of these numbers and this will determine your team in the competition.
The idea of the competition is for your team to accumulate exactly 21 goals by the END of any particular sequence of games. The winner will receive a £100 cash prize, the holder for the number of the second team to reach exactly 21 goals will receive £50 and the third-place prize will be £10.
If more than one team attains 21 goals on the same day, the team that scored their 21st goal earliest in their game will be awarded 1st prize. Goals are tallied up at the end of each match and the totals adjusted accordingly. If by the end of any particular game, your team's goals total exceeds 21, then you will "go bust" and be out of the Competition. Only league goals will count towards your total.
You are not restricted to one number, so increase your chance of winning by buying a second team!
If you are interested in participating, please forward your name, contact number and payment along with your chosen number to the Club for the attention of Sarah Rowley. Weekly updates will be posted here on the Club's website and forum.
Thank you for your support.
Sarah Rowley.
YOUTH HONOURS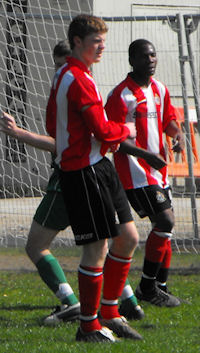 Alty Youth manager George Heslop informs the website that two of his players "Dan Shaw (right, in foreground) and Blaine Whiteside [son of Norman] have been invited to Keele University to attend the England Schools Under-18's Trials from August 21st - 25th 2009. Also, Nikki Douthwaite, a former Moss Lane gateperson has just been awarded a World Record Certificate by the Guinness Book of Records. The award was for the largest confetti mosaic in the world consisting of 587,000 hole-punch dots, measuring 10ft 1in by 6ft 10in". Beat that!
ALTRINCHAM FESTIVAL
TASC's Secretary, Dawn Abbott, is appealing for helpers to assist with Altrincham FC's involvement in the Altrincham Festival, which takes place on the Saturday 4th July. The jobs involved include helping on the field with the penalty shoot out and walking in the parade with the coach, lent by Geoff Goodwin. Raffle prizes are also needed for the day so if you can help in any way, please email
Dawn
and she will get back to you.
JACKIE'S FAREWELL
The funeral of Jackie Swindells will take place on Monday, 6th July at 10.30am at St George's Church in Mossley. There will then be a private family service at the crematorium but everyone is welcome to attend the church service and the reception afterwards at Mossley Football Club.
John Cawthorne, who runs the excellent MossleyWeb site adds that "In the mid/late seventies Jack was steward at Mountain Street Conservative Club in Mossley... He was quite a character and always a gentleman!"
GUESS THE FIRST FIXTURE
The
Alty Fans' Forum
is hosting a "Guess the First Fixture" competition. The organizer explains:
"Guess the first league fixture. £5 stake, total kitty of £230. Winner gets £115 (50%), runner-up gets £57.50 (25%), club gets £57.50 (25%). The runner up is the person who guesses the right club but wrong venue. The fixtures are released on the 2nd or 3rd of July, depending on which paper/website you read so this needs to be done quickly. I suggest using this thread to pledge your £5 stake and make your choice. Obviously the success of this idea relies on selling all 46 possible choices so spread the word. If someone has a good way to collect the money please suggest it, otherwise I suggest you all pay the club directly...
Everyone names a club home or away on a first come first served basis and when all predictions are made I will do a printout and take it to the club. People can pay the club directly, for example you can put your username on the cheque and someone at the club can tick your prediction as paid. Come on everyone. This has to be done by Wednesday evening. There are still plenty of options available. Get your predictions in".
BSP NEWS
Crawley Town
says that its "players reported back for pre-season this morning and, under the supervision of manager Steve Evans and his assistant Paul Raynor, they went straight to work. All the players were present and completed the disciplined training session which in total lasted just short of two hours... Gaffer Steve Evans said, 'The first day of pre season is always an exciting one at every club... The lads had the balls today for parts of the session and seemed to enjoy themselves. The new lads have slotted in very nicely and the banter was flying right from the start, Paul Raynor is trying to convince us all he looks like Brad Pitt but he needs to dye his hair first! Seriously it was a good start and we build from here. I have read at least ten clubs state they will make the playoffs so it shows us the challenge we face. Our first objective is to get as many players as possible unscathed through pre season. We have the smallest squad in the Blue Square Premier except Ebbsfleet but by all accounts that too will change very quickly". Somehow, I don't think Graham Heathcote and his 13-man squad will agree with the last claim.
Confirmation comes from the Chester Evening Leader that "Mick Wadsworth has been appointed the new manager at Chester City. [A] 58-year-old former England coach... Barnsley-born Wadsworth replaces Mark Wright... Wadsworth, who made 28 appearances as a Scunthorpe United player in 1976-77, was an official match observer for the England national team under Bobby Robson and then Graham Taylor between 1988 and 1992. Wadsworth coached some of the representative teams during his time at the FA, including a coaching role with the national team at the 1990 FIFA World Cup. He spent two years as manager of the England non-league team, five years as manager of the England youth team and had a coaching role with the England U-21 team. Wadsworth, who has managed Carlisle United, Scarborough, Colchester United, Oldham Athletic, Huddersfield Town, DR Congo, and Portuguese club, Beira-Mar, was also manager of Gretna last year until he was one of the 40 members of staff laid off due to financial difficulties at the club".
York City have "confirmed speculation that they are the unnamed club who has successfully signed Darius Charles and Michael Gash from Ebbsfleet United for a fee of £80,000. Along with Charles and Gash, the Minstermen have also signed Ebbsfleet midfielder Neil Barrett. Commenting on the trio of signings City manager, Martin Foyle said, 'I'm delighted to have secured three quality players of this calibre. It's a big coup for York City and I now think we have a great squad of players to take us forward for the coming season. The club confirmed that the London-based trio will be moving to York and that pre-season training will commence on Wednesday 1st July".
Crewe Alexandra report that "Gudjon Thordarson has told the club's official web-site that he still hopes to add two or three new players to his squad this summer. Thordarson is expected to add the former Histon captain Mat Mitchel-King to his ranks this afternoon after he agreed personal terms with the club over the weekend. The former Histon captain is set to undergo a medical later today before putting pen-to-paper on a two-year deal. He will join his former Histon team-mate Patrick Ada at the club after he agreed to join the club in May".
Meanwhile Histon confirm that "Mathew Mitchel King is expected to sign for Crewe Alexandra tomorrow, following a medical tomorrow morning. The Histon captain has made no secret of his desire to obtain full time football and after speaking with a number of clubs has selected Crewe Alexandra, a club Patrick Ada joined just three weeks ago. Mathew has been an ever-present member of the Histon team since arriving from Ridgeons League side Mildenhall Town establishing himself as one of the best centre backs in the league then forming a brilliant central midfield partnership with Josh Simpson again proving his versatility and value to the team...
Chairman Gareth Baldwin spoke of the club's plans going forward now that three of last year's squad have left for pastures new, 'I think this season will provide the opportunity that some players have been looking for with Mat going it opens the door for JK [John Kennedy] and Neil Andrews to fill that void. We have to look to replace Mat so once again we will look to the expertise that Steve & John have offered the club finding players like Cliff Akurang, Patrick Ada, Mat Mitchel King, Danny Wright, Jack Midson, Gareth Gwillim and Lanre Oyebanjo. All these players who have joined us have found it's a great platform to show what you can do with a chance to get a move to a higher level... We have taken players from leagues below the Conference and they have taken that opportunity and done very well. I have no doubt Michael Frew and Nathan Bowden-Haas will do very well for us this year along with the two or three other players we hope to bring in'".
Leigh Genesis as manager Garry Flitcroft continues to build his squad for the new season. Thompson was with Genesis on-loan from Barrow, but having extended his loan period once already last season, he was enjoying the time spent at Genesis so much that he decided to return here permanently this season".
"Skipper Tom Cadmore and right-back Danny Allen-Page today signed contracts with Hayes & Yeading United... as Garry Haylock continues to formulate his plans for the new season. More signings, including new faces to be announced during the coming week".
"AFC Wimbledon are poised to sign former Brentford centre-back Brett Johnson" according to South London Today. "But the 23-year-old defender is unlikely to put pen to paper for some time yet. Although he was released by the Bees at the end of the season, his Griffin Park contract does not expire until the end of the month. After that, he will be paid by the Professional Footballers' Association for another month - saving the Dons a hefty chunk in salary payments. Dons' boss Terry Brown is a big fan of Johnson... 'I signed Brett from Ashford when I was at Aldershot and he was a regular in my side which reached the Conference semi-finals. He then moved on to Northampton and I think maybe that came a little bit too soon for him. He had injury problems last year and he needs to be a regular in a side again. That is something he will be able to do with us. "He's tall, quick, can play at either centre-back or left-back and he's still a very young man'".
Your Local Guardian adds that "Terry Brown reveals he wants his AFC Wimbledon side to be pass-masters this season... He said: 'We need to have two very specific styles of play this season. When we are away from home we need to be strong and able to stop sides from playing, especially when we come up against the likes of Luton and Oxford. But at home we want to play a very expansive game, even more so than last year. The key to our game will be the midfield, and I am very excited when you look at who we have. We have Steven Gregory and Kennedy Adjei who can both put their foot on the ball and pass it, and then we have Sam Hatton and Lewis Taylor who will be up and down the pitch for the whole game, with or without the ball. Add Ricky [Wellard, signed from Ashford Town] to that and we have a lot of options. He is one of the best passers in the whole of non-league football in my opinion... We need someone who can thread the ball through to Jon Main and Danny Kedwell and that is exactly what Ricky is capable of. He is probably the most versatile player that we have - he can play any of the four midfield positions... We have some great athletes at the club now, and stamina will certainly not be an issue for us this season'".
The BBC says that "Salisbury City defender Jon Bass has announced that he is retiring from the game after a 15-year career. Bass, 32, joined Salisbury in 2006 from Bristol Rovers and has also appeared for Birmingham City and Hartlepool. By the end of last season he was the Whites' only part-time player and could not commit to a full-time contract".
"Chairman Andrew Perry has revealed to Meanwhile, This is Nottingham confirms that "Mansfield are running the rule over former Bradford City midfielder Kyle Nix. The left-footed player, released by Bradford City, has come in for a trial at Field Mill... Born in Sydney, Australia, 23-year-old Nix made 19 appearances for the Bantams last season, without hitting the target. But he was more impressive in 2007-2008 when he made 44 appearances as a first-team regular, scoring eight goals. Nix began his career as a trainee at Manchester United and has also been on the books of Aston Villa and Sheffield United".
In addition, "Young striker Jason Bradley will start a trial with Mansfield Town. The 20-year old has played for Buxton and also been on the books of Darlington".
---
29 June 2009
STEWARDS NEEDED
Darren Gregory, Altrincham FC Safety Officer announces that "Altrincham Football Club are seeking additional stewards for matchdays for the 2009-2010 season. Do you like working as part of a team and can deal with the public?
Full training will be given and a nationally recognised NVQ in spectator safety is achievable. You must be willing to do both Altrincham Football Club and Manchester United reserve games. You must be over 17 years of age and flexible, due to different match times and days. All positions are voluntary. If interested please contact the club on 0161-928-1045 and leave your name and telephone number and I will get back to you, or contact me by e-mail. We have lost a couple of stewards who have stepped down, after more than 10 years of helping, for personal reasons. I thank them for their help".
Darren adds that "There will be a recruiting hour for anyone interested becoming a steward on Saturday 4th July in the Gill Oates sponsors' lounge at Moss Lane from 12-1pm. Please feel free to come along".
OLD BOYS
Two ex-Alty men are in Dominic Krief's Team of the Week in the NL Paper. Ian Craney (right) "was streets ahead of anyone in the Conference and it's no surprise to me that he's gone on to do well for himself in the League. Bags of energy, all-action and scored his fair share of goals". The other man is striker Lee Ellington, who is "one of the quietest men off the pitch but he comes alive when he crosses the white line and takes a lot of his chances".
Former Altrincham loan striker, Alex Hay, has moved from Cammell Laird to Colwyn Bay. He joins Steve Aspinall and former Alty trialist Dave Challinor at the North Wales club, who meet Altrincham in a pre-season game next month.
BSP NEWS
In the NL Paper, former Woking player Matt Pattison, now with Rushden, says of his former club, "Last year, I don't think anyone enjoyed it. When Kim Grant was appointed.... we all knew he'd played at a high level but playing is very different from managing... The whole place became like a boot camp... The boys weren't used to working like that and we couldn't adjust. It wasn't fun, the atmosphere was terrible and the quality of football was poor too".
Mark Wright, who recently left Chester City as manager, told the NL Paper, "I wasn't going to be able to bring in the players we need. We couldn't compete. I'm a winner... I didn't have a contract and we only had 13 players, four of them are kids on £45 a week and that's before the loss of Ryan Lowe and Kevin Ellison". Alleged applicants for the post include Julian Dicks, Ray Mathias, Keith Curle and Dennis Smith.
Martin James of Sports 360, who are seeking a replacement broadcaster of Conference football after the collapse of Setanta, has told the NL Paper, "It's not a question of if we'll get something, we will get something, I'm sure of that. There are a number of broadcasters in serious contention... Is there a chance it could be free to air? Yes, there is".
For those BSP clubs seeking promotion Bullsnews gives some idea of the budget needed. "The average squad budget in League Two is now £1 million, according to Barnet chairman Tony Kleanthous. Speaking to their supporters' association, Kleanthous says their budget is around the £750,000 mark and that they will have to sell players to try to compete financially with other clubs. He also says they were £250,000 over-budget last season due to having to bring loan players in and falling gates".
Following the appointment of former West Ham player John Moncur as chairman of Grays and of ex-Tottenham boss, Peter Shreeve as Director of Football, Grays' Chief Executive Mick Woodward has also announced that "Within four to six weeks there will be two ex-Premier footballers who will be coming on board as part of our new structure... We need a higher profile. With what I know about non-League, Peter about coaching and John about the game as a whole, it could be a winning team" he told the NL Paper.
Stevenage Borough are applying higher entry prices to the eight games against clubs whom they judge to be the highest profile; entry will be £1 extra for those matches.
Despite their denials, York City is the destination for the Ebbsleet pair of Darius Charles and Michael Gash, according to the NL Paper.. They "will sign this week in a blockbusting £80,000 deal... The move is a signal of intent from York who are going for broke after their FA trophy final netted them a £300,000 windfall". York boss Martin Foyle, now says the "deal might happen" having previously denied it was even in the offing.
---
28 June 2009
FORUM BACK
Gary Warrington, administrator of the
Alty Fans' Forum
announces that the "forum is back up and running and this delay will not happen again. Normal service has been resumed and apologies for any inconvenience caused. Thanks, Gaz".
WARREN JOINS JOE
Stalybridge Celtic
announce that "Celtic have today announced the signing of left sided midfielder Warren Peyton. Peyton (29), Burr's third signing of the summer, was released at the end of last season due to cost cutting measures at Blue Square Premier Altrincham and joins Robins team mate Joe O Neill at Bower Fold. Warren's previous clubs include Rochdale, Bury, Nuneaton Borough, Doncaster and Leigh".
TASC MINUTES
The latest Altrincham Supporters' Club (TASC) committee minutes are now on the
TASC Page
of the website. TASC continues to arrange fundraising ventures for the club; if you can help them, please do come forward and join TASC.
BSP NEWS
Gateshead
"have further strengthened their squad with the signing of 24 year old right sided midfield player Martin Brittain whose career began at Newcastle United. Brittain made one start for the Magpies... He was however a regular on the bench for Newcastle during the 2005-6 campaign where he made an additional five appearances... A short stay at Ipswich Town was then followed by a loan spell at Yeovil Town which saw the Cramlington-born player make 15 appearances for the Glovers. A handful of appearances for Carlisle United and Walsall followed before he joined Blue Square Premier Club Kidderminster Harriers last year. Brittain played 44 games for the Worcestershire club... Said manager Ian Bogie, 'He operates wide on the right and comes to us after a solid season at Kidderminster Harriers'... Brittain is Gateshead's fifth signing of the summer and Bogie is hopeful of adding two more players to his squad next week. 'I expect to get an answer from an experienced Football League striker next week and hope to have another left back on board in the near future', added Bogie. 'An offer is also in for Whitley Bay striker Lee Kerr, which is a good one, but we won't be held to ransom or get involved in an auction, and if it doesn't come off we'll move on... There will be more to follow'. Gateshead begin pre-season training this weekend when Bogie expects several trialists to feature, including three from the professional game'".
From the Football Conference we read that "Blue Square South club Braintree Town have added two further players... [including] 23-year-old central midfielder Jacob Mingle from Eastbourne Borough".
From the Crawley Observer we read that "Crawley Town chairman Vic Marley has revealed he is about to cut their budget for next season because TV company Setanta have gone into administration... Last season the Reds received around £80-£90,000 from the deal... Marley said: 'Unless we find a new broadcaster or monies from an alternative source then Steve Evans will have no option other than to accept that the budgeted Setanta monies will have to be taken from the team budget'... Evans has already made five new signings over the summer and has two more in the pipeline which look like they will not now take place. These are a second quality goalkeeper to come in on a six-month loan from a Championship club to give competition for the No.1 shirt for regular custodian Simon Rayner and an additional striker who Evans has lined-up ready to sign if the funds to do so are forthcoming".
In similar vein, the Kidderminster Shuttle reports that "Chairman Barry Norgrove believes Harriers must find new ways to compete with some of their big spending rivals... While Oxford and York City have extensively strengthened their squad in the close season, Harriers have been scouring the transfer market for good quality free agents. The club have secured Matthew Barnes-Homer and Dean Coleman but are poised to add a host of players when players' contracts finish at the end of the month... 'What the fans like to see is a successful Harriers team', said Norgrove. 'There's nothing more that I'd want to see is promotion but the fans have to realise that it's a difficult job for a club our size. There's people throwing a lot more money at clubs than we are and they're bigger clubs with better crowds'... He said: 'Season ticket sales are down a little bit compared to last year but I think that's down to the recession... If we're successful, put out a good team and play some exciting football the fans will start to come'".
Acording to The Press "York City are expected to unveil their final three signings of the summer on Monday. Manager Martin Foyle held talks with a centre-back, midfielder and forward at Bootham Crescent yesterday and hopes to conclude deals with the trio over the weekend. The City chief said: 'One is a midfielder, one a centre-half and another a utility man who can play right along the front line, and everything should be announced on Monday'. Despite previously giving the impression that City were not the club to have had a joint £80,000 bid accepted by Ebbsfleet for Michael Gash and Darius Charles, Foyle has declined to reveal whether either player was among the potential new recruits".
At AFC Wimbledon "Terry Brown emerged from pre-season training this morning to confirm the news that Ricky Wellard is now a Dons' player. 'We have managed to complete one of the longest-running sagas in non-league football. After making an unsuccessful bid last year for [Ashford Town midfielder] Ricky Wellard we went back with a substantially improved bid and after long and arduous negotiations we sealed the deal earlier today. Ricky brings us legs in midfield, and pretty long legs at that (he is 6' 4"), and great ability on the ball. He is a midfield player who always wants the ball to feet and can pass with both feet. For us to play passing football next year it is vital that we have at least two or three players who are comfortable on the ball and possess the ability to find a man in space... He complements the existing midfield that now possess the ability to pass, plus fantastic energy and power, combined with the height and strength that are the building blocks of our new side. We still have one or two signings to make, but I can't tell you how excited I am about our current crop of very talented young players... I am also delighted to say that we've agreed terms with Hayes & Yeading United for Steven Gregory and therefore we avoid an FA tribunal'".
Meanwhile, Hayes & Yeading reporta nother departure "Garry Haylock has allowed striker Staforde Palmer to join Maidenhead United on a three month loan deal with effect from the start of the new season".
Mansfield Town state that "Out-of-contract winger Nathan Arnold will begin pre-season training with us next Monday but his future continues to remain uncertain. The 21 year old has turned down a contract offer with us but it is understood that he has other offers, including ours, on the table. However, due to him being under 24, we would be entitled to compensation should he sign for another club. Meanwhile, 20 year old striker Jason Bradley will join on trial next week. The former Darlington hitman scored 16 goals in 10 starts for Northern Premier League side Buxton in season 07/08".
NORTHERN NEWS
The
Yorkshire Evening Post
adds that "Just two years after living the dream of Conference football, Farsley Celtic are facing extinction. The west Leeds club face a winding up order in the High Court in London on Wednesday – over a £200,000 tax bill – and unless a new investor comes forward within the next 72 hours say there is a 'very real possibility' Celtic will go to the wall. In a last-ditch bid to stave off the petition being brought by the Inland Revenue, Celtic's board has agreed to put the club into administration but claim the taxman has refused a request to adjourn Wednesday's hearing pending the formal appointment of an administrator. Commercial director Paul Grayson... said: 'At this moment in time it's looking bleak... Without outside help I would say things are 30/70 against us surviving and even that's being optimistic. If nobody comes forward in the next three days and the judge won't allow us to put the club into administration, then there will be no Farsley Celtic on Wednesday. The padlocks will be on the gates'.
Palmer said: 'The board of directors resolved to enter administration at a meeting last week. We have held meetings with a couple of insolvency practitioners who are working up until Wednesday's deadline in the hope that the winding up hearing will be adjourned so as to give time to allow for the formalities associated with the appointment of an administrator'".
---
27 June 2009
MICHAEL'S AWARD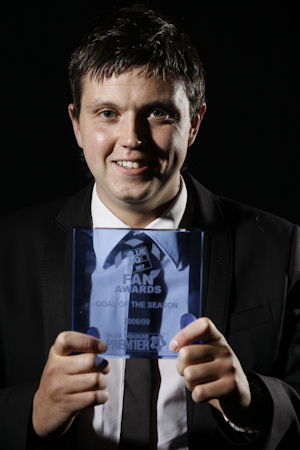 Michael Welch is pictured (courtesy of the Football Conference) with the award he received at the Conference AGM for scoring the Goal of the Season in the Blue Square Premier last season, against Crawley Town.
JACKIE'S NATIONAL OBITUARY
National newspaper, The Daily Telegraph had an obituary this week of Altrincham goalscoring legend Jackie Swindells who died recently. It described him as "one of the most prolific scorers in the history of non-League football".
CUP DRAWS
The FA states that "All clubs accepted into next season's FA Cup, FA Trophy, FA Vase and FA Youth Cup will be announced on TheFA.com on Wednesday 1 July, along with the lists of exemptions. In addition to this, the early round draws will be released as follows:-
The FA Cup – Extra Preliminary Round, Preliminary Round and First Round Qualifying
The FA Trophy – Preliminary Round and First Round Qualifying
The FA Vase – First Round Qualifying, Second Round Qualifying and First Round Proper
The FA Youth Cup – Preliminary Round, First Round Qualifying and Second Round Qualifying

Details of prize fund distributions for season 2009-2010 will be announced at a later date".
BSP NEWS
"Chester City owner Stephen Vaughan has been impressed with the variety of candidates who have applied for the job of manager which was vacated by Mark Wright earlier this week" claims the Chester Evening Leader. "Vaughan has watched a succession of interested applicants attend interviews for the post of Blues' boss. And with the process of interviewing all 12 candidates nearly complete Vaughan is now keen to see a decision... He said: 'We have received applications from a number of people who have managed clubs in non-league, and from others who have managed in the Premier League... some of the candidates are currently employed by clubs. One applicant has won the Conference title and he told me he could immediately bring in six players with him if we awarded him the job. Another manager presented us with an unbelievably good cv which included previous experience at a number of Football League clubs'... Speculation surrounds the possibility of Bournemouth boss Jimmy Quinn being interested in the City hotseat, while current Forest Green Rovers manager, Jim Harvey, is another name that has been linked.

Meanwhile, a former League Two chairman and owner has expressed an interest to work alongside Vaughan at Chester City. Eric Whalley, from Accrington Stanley, who has stepped down as club chairman and is expected to sell his majority shareholding at the East Lancashire club, is looking to work alongside Vaughan at City".

Stevenage Borough report that "Chairman Phil Wallace has returned from the USA today in the light of the Setanta news. He said: 'Up until a few days ago it wasn't worth discussing. One day we'd lost them, the next we hadn't... However the news now makes it virtually certain that we've lost this income – I've seen talk of £70,000 per club but it would have been over £100,000 as the Setanta contract had annual uplifts built in. So that's gone and anyone that thinks that's not a problem must be barking mad. It's a big enough problem for me to fly back from the US so that should tell you something. I have to go over the budgets again – we lived dangerously last year but fantastic results in the second half of the season got us out of jail. We still lost money, but it was manageable. If we hadn't done so well on the pitch we'd have lost a lot of money – more than we've ever lost before by a long way. Now add the loss of £100,000 before we've even kicked a ball and you'll see what we're talking about. At Stevenage we're lucky - we have good financial backing from the directors, no debts whatsoever, cash in the bank and varied income streams. So we don't have to think about selling players to raise emergency cash, for example, but we will have to make cuts in a number of areas to find £100,000'".

The Football Conference says that "Nat Brown has left Wrexham by mutual consent - despite having twelve months left to run on his deal. The versatile player, at home in defence and midfield, has reached an agreement with the Dragons to terminate his contract by mutual consent. Brown... spent the majority of last season on loan at Macclesfield Town having failed to cement a place in Dean Saunders' side".

And "It's all-change at Blue Square Premier club Grays Athletic. Former Tottenham Hotspur manager Peter Shreeves has been appointed as the new director of football, and in a re-structure of the board, ex-West Ham midfielder John Moncur has become the club's new chairman. Moncur replaces Mick Woodward, who has stepped down but will stay on as the chief executive at the New Rec. Earlier this summer, the Essex side appointed Craig Edwards as their new manager, replacing Gary Phillips".

And according to Blue Square Football "Grays Athletic have to continued to strengthen ahead of the new campaign with the signing of four new players. 22-year-old midfielder Nick McKoy joins the Blues along with 28-year-old former Grays player Alan McLeod. McKoy was previously with Wimbledon/Mk Dons, Cardiff and Torquay, while McLeod has been turning out for Tooting most recently. Also arriving at the club is 24-year-old left-sided player Marcel McKie and 22-year-old striker Serge Makofo. McKie was a professional at Tottenham and went on to play for Lewes, while Makofo is a former MK Dons player".

From Blue Square Football comes news that "York City manager Martin Foyle has denied that the Minstermen are the mystery club having a combined £80,000 offer accepted for highly-rated Ebbsfleet United duo Darius Charles and Michael Gash. Fleet's owners - football website MyFootballClub - voted in favour of accepting the bid from an unnamed club following an online ballot that reached its conclusion at midday on Wednesday. Their manager Liam Daish had earlier reluctantly recommended members to record a positive vote as his financially troubled club attempt to reduce costs.

As a result of the 2,896 members who voted, a clear majority (2,272 - more than 78%) approved accepting the offer, although the deal is now subject to both players agreeing personal terms with the club in question. The Minstermen had already had an opening £10,000 bid for centre-back Charles turned down, while earlier offers reaching as high as £42,000 for striker Gash - believed to have come from Morecambe and Luton Town - were similarly rebuffed. It is understood that any deal would involve an initial 50% down payment, with the balance to follow on 1st January, in addition to 20% sell-on clauses and a further £5,000 each based on promotion.

Meanwhile, Foyle is unlikely to continue his interest in out-of contract Darlington defensive duo Steve Foster and [former Alty man] Tim Ryan".

Blue Square Football announces that the Blue Square Premier "Fixtures will be released on Wednesday 2nd July at 11am". (However, Wednesday is 1st July and previously 3rd July was announced, so take your pick).

From Sport4Salisbury we learn that "It's business as usual at owner-less Salisbury City, despite the club remaining up for sale. Whites' chief Nick Holmes, refreshed and healthily tanned following his annual sojourn in the USA, along with trusted right hand man Tommy Widdrington, [is] busy with their preparations for the club's forthcoming campaign. And with City's players and numerous trialists due to report for training on Monday, the duo are glad to once again be concentrating on footballing matters.

Holmes admitted he was disappointed that the sale of the club had not been concluded during his holiday, but remains upbeat about the situation. The cash-strapped club was put up for sale for £1 back in April... Widdrington has already identified the players he wants to remain with the Whites for the club's third term in the Blue Square Premier, and although he is unable to offer those who are currently out of contract a firm deal, early indications are that the vast majority of his squad will be back at the Ray Mac next week... 'I know they want to be here next season but our hands are tied until things are sorted out', he said. Widdrington has also identified a number of summer targets he wants to add to Salisbury's squad and many of them will also check in at Old Sarum next week as City's pre-season schedule begins".

Meanwhile the Salisbury Journal reports that "Salisbury City supporters are being invited to attend a special behind the scenes event to get a rare glimpse of how the club prepares for a new season. The Blue Square Premier club is opening its doors on Saturday, July 25 to offer fans the chance to witness a full-on training session involving its first team squad. Tommy Widdrington will be leading the players through a variety of exercises and drills, and as well as a question and answer session at the end of training, all players will then be available to sign autographs or pose for photographs with City supporters.

As well as opening the club up to regular Whites followers, Widdrington and Nick Holmes are keen to make the day memorable for all members of the family, particularly children. Winners of a free prize draw will be invited to take part in a beat the 'keeper competition on the pitch, while other attractions include a Whites' treasure trail. Refreshments will be available in the Sarum Suite from 9.45am, with Widdrington getting the 90-minute training session underway at 10.30am prompt. The event runs until noon and admission is free.

Guided tours of the ground will be conducted, allowing supporters access to the players' dressing rooms and other areas of the Raymond McEnhill Stadium which are normally off limits on match days. A variety of stalls will be open for business, offering special one-day only discounts on City replica shirts and season tickets".

"Chris McPhee has decided not to join Cheltenham after talks with the club", reports the BBC. "The 26-year-old midfielder finished the 2008-09 season at Kidderminster Harriers... 'It hasn't gone the wrong way for me, it's gone the wrong way for him. It's his mistake in my opinion', Robins' boss Martin Allen told BBC Gloucestershire. 'It's his decision and his choice, he should have come to us but that's life and it's his life and his decision'".

Luton Today tells us that "The Hatters have dismissed reports that they were beaten by Barrow to the signature of combative midfielder Robin Hulbert. Barrow boss, and former Luton Town defender, Dave Bayliss had claimed 'He had a lot of big contract offers but they were away from the north west, where he is now settled. Luton came in for him and offered probably double what we've offered, but he's seen how well we did last year, what we're trying to do, and hopefully he can help push us up to the next level... While Luton Town director Antony Brown admitted the Hatters had been interested in Hulbert in the past, he asserted they were not in the running this time... Town target Shane Blackett, meanwhile, has reportedly rejected the opportunity to join former Peterborough United team-mates Mark Tyler and striker Liam Hatch at Kenilworth Road. Luton had admitted they were interested in the former Crawley Green centre-half, but now appear to have turned their attentions to fellow Posh defender Chris Westwood".

According to This is Tamworth "Danny Alcock is relishing returning for pre-season after his dream of a return to the Conference Premier became a reality this week. Goalkeeper Alcock's university commitments had looked to have scuppered his chance of a return to the top flight of non-league football. But he has since managed to compromise with tutors on his PE Teaching course at Manchester Metropolitan University. 'I'm thrilled that I have been able to sort something out', Alcock told Herald Sport".

Meanwhile, "Tamworth FC skipper Martin Foster has admitted he was left with little option but to quit the club after rejecting terms offered to him. The Sheffield-based midfielder completed a move to Conference North side Eastwood last week...'It would have been nice to have had a crack at the Conference Premier again', said Foster. 'But it's not to be... The terms I was offered made the decision easier for me, given that I have to travel to Tamworth from Sheffield as well... It was an incredibly proud moment to captain the team to the championship'".
PYRAMID NEWS
NL Daily says that "King's Lynn have resumed the battle to overturn their controversial demotion from Blue Square North and are to take their case to the Court of Appeal. The appeal is being funded by businessman Michael Chinn, who has returned to the club's board of directors... [following] the decision by the FA to demote them from Blue Square North to the UniBond League for failing to undertake a £250,000 upgrade to their council-owned Walks Stadium... Lynn have always claimed they were victims of double standards and point to Blue Square South promotion-chasers Hampton & Richmond Borough, who were allowed to take their place in the play-offs even though they failed to secure council planning permission and funding to build permanent terraced seating that meets the league's stringent grading rules... Bobbins says Lynn's upgraded floodlights are expected to be in place before the season begins and that the club will satisfy the Conference's grounds criteria" reports EDP24.
---
26 June 2009
CLUBCALL UPDATE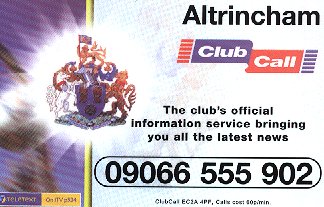 Altrincham FC Clubcall has a Brian Flynn interview with Alty boss Graham Heathcote and covers topics which include the late Jackie Swindells and the situation regarding Graham Barrow. Call the number, right, to hear the news, direct from the manager.
MARK WARD'S VIEW
Last Sunday's NL Paper had a double page on ex-Alty player-manager Mark Ward and his new autobiography entitled "Mark Ward, from right wing to B-wing". The article includes many references to his time at Moss Lane and also at Leigh RMI. "With typical candour... his book explains why his lack of respect for the managers he played under at those clubs, Bernard Taylor and Steve Waywell, convinced him it was time to move on". Of joining Alty as manager in 2000, he says "I didn't apply. Gerry Berman (chairman) phoned me one day and asked if I fancied the job of player-manager. I treated it as a very important first step on the managerial ladder... I certainly never thought that turning out in front of a few hundred hardy souls in a ramshackle stadium in one of the Non-League backwaters was beneath me. But I soon learned that was the easy part. Little did I know when I was appointed that Altrincham were already in financial freefall.

Gerry Berman had been bankrolling the Moss Lane club for years and the wage bill was the largest in the UniBond, twice as big as that of any other club in our division. Relegation, just before I arrived, had come at a massive cost. Not only had I inherited a poor team, but the players were on too much money for the level they were playing at. Gerry told me the wage bill for 17 contracted players was £7,500 a week and that I had to reduce it to five grand... I had to sell our best players...

The board needed the sale of Kevin Ellison, our leading scorer, to pay an outstanding tax bill... I got a call from Colin Murphy, the assistant to the Leicester manager, Peter Taylor. He told me I had to deal with the sale of Ellison because he didn't trust the board at Altrincham... Kevin was on £400 at Altrincham and they were offering him £200 a week more...

At one stage Ward said his players went six weeks without being paid... Berman went on record admitting that the Alty board had let their new young manager down.... The circumstances surrounding his dismissal at Moss Lane still rankle with Ward today... On Sunday, March 18, 2001, the day after Alty's 3-0 home victory over Droylsden, he was summoned to the ground to be given a letter by acting chairman Mark Harris informing him he'd been sacked. Anthony Taylor, promoted to assist Harris, wanted his father (Bernard) back in charge... I felt immediate and overwhelming anger, a sense of betrayal and it was so very unjust".
OLD BOYS
"Neil Aspin, manager of UniBond League Division One North club FC Halifax Town, admitted he was delighted that midfielder Tom Baker had decided to stay at The Shay next season. The former Bradford Park Avenue man [and ex-Alty Reserve] was one of the success stories of Halifax's first campaign in UniBond One North, sweeping the board at the end of season player awards" reports the Halifax Courier.
BSP NEWS
"Eddie Hutchinson has spoken of his delight at joining Crawley Town, a year after the transfer was first meant to happen" reports This is Sussex. "The 29-year-old tough tackling midfielder joined from Oxford United on a free transfer last month... He said: 'The deal almost happened last summer and again a few weeks in to the season. The deal was all set to happen on the Monday but someone got injured so I played a couple of days before and scored. The injury meant we were short in midfield so I ended up staying. But I wasn't happy at Oxford and I hoped that Steve [Evans] would get in contact again. When he did it all happened quite quickly... I knew of him as he has taken a team up to the league and had talked to other players about what he is like. Not all I heard was positive but I met with him and he seemed like a nice bloke. I'm not interested in reputations but didn't make my own mind up until I actually met with him myself. He said he wants players to play for him and be happy at the club. He made me feel wanted and that is important for a player'... Hutchinson said he wants to put the experience behind him describing his final months at Oxford as a 'tough time'. 'They wanted me out by then. I didn't know anything about it until it came out in the press, I had no idea it was me [whose registration led to a 5 point deduction for Oxford] and felt a bit let down by the whole affair... 'I wouldn't pretend to be the greatest passer in the world but I'm good in the air and a good battler... it will be difficult because we are not a club who just throw a lot of money at it'"

Blue Square football says that "Ronnie Moore has refuted claims that he has turned down the vacant Chester City manager's position. The 56-year-old, who was relieved of his duty at Tranmere Rovers three weeks ago, insists that he is open to listen to offers from the Blues. He told the Chester Chronicle: 'I would never have thought I would be out of work when not too long ago I was 90 seconds away from getting Tranmere into the play-offs. I haven't applied for the Chester job and nobody has approached me, but if somebody wants to call me to have a chat then you can never say never'...

"Kidderminster Harriers are set to unveil two new signings within the next few days according to chairman Barry Norgrove. The club has only offered four players contracts thus far and are only likely to announce their new signings when the transfer window opens on 1 July. Norgrove told BBC Hereford and Worcester 'We have been down to three or four players that are on contract and we have paid them through May and June. We haven't had to pay the players who were released and that has made a big difference to our costs... We took some stick for releasing so many players, but the manager would have got rid of some of them anyway."

The Football Conference states that 'We may be considered to be a minor player in the demise of Setanta but we know we have an excellent marketable product'. So said the independent Chairman of the Football (Blue Square) Conference, when questioned this week... Brian Lee, who was instrumental in the rise of Wycombe Wanderers from non league to League One status, remains bullish and optimistic in the wake of the devastating news... 'Recent viewing figures, which are comparable with the Scottish Premier League, clearly show that we have a competition which is of major interest to subscribers who hold the sport so dear to their heart in this country. It would be silly not to recognise the value of Premier League packages which became available following Setanta going into administration but with the Blue Square Premier now consisting of numerous ex Football League clubs and the cream of the non- league battling it out season after season we would like to think, that we can amongst the debris, find a new broadcaster who values what the ordinary supporter wants from the game nowadays'. In last Sunday's NL Paper, it was reported that the effect of the Setanta crash had meant that "The Conference have put their search for a chief executive on the back burner because of the financial uncertainty".

Lee continued 'The ordinary fan knows in the current climate that he or she cannot afford some of the pricing that is associated with the top of our game and have turned to find a more sensible and sustainable product in the market place. We believe we can offer that, not only in real terms at any of our member clubs but as a product which can be relayed into people's homes. Obviously whether there is any mileage still to be obtained through the administrators or whether we accept a new approach, we want broadcasters to know we are happy to talk'... The Football Conference, which celebrated it 30th year last season, continues to lead the way for all clubs' aspirations in the world outside The Premier League and The Football League. Having been at the forefront for so long it is obvious The Football Conference will not leave any stone unturned to keep the momentum going in the advances it has made over those past three decades".

AFC Wimbledon has issued a statement "to explain the possible effect on our finances" of the demise of Setanta Sports. "The budgets for season 2009-10 were prepared in late March/early April and, as a result, there were two budgets; one for promotion and one for 'non-promotion'... For the avoidance of doubt, the proposed budget included our best estimate of the likely income from Setanta, including fees for televised games. The budget for the year, including the budgeted income from Setanta, showed a profit. Without the Setanta money, the budget showed a loss which the AFC Wimbledon board considered to be manageable. After discussion, the budget including the Setanta money was approved and, in effect, this allowed Terry Brown to start recruiting players. The AFC Wimbledon board...is content that the budgeted loss is still manageable... While the demise of Setanta makes things much more challenging, we are confident that we are better placed than many clubs to deal with it".

The NL Paper reports that Onome Sodje's surprise move to Barnsley from York City came after the Minstermen had laid out £5,000 in legal costs to get the illegal immigrant footballer a work permit. Sodje's part of the deal was to sign a two-year contract at KitKat Crescent "But after finally being granted indefinite leave to stay in the UK in April, Sodje went AWOL and... signed for Barnsley".

South London Today reports that "AFC Wimbledon boss Terry Brown has warned his players they face being kicked out of Kingsmeadow if they don't come back in prime condition after their summer break. The Blue Square Premier new boys return to training on Saturday and each member of the squad has been given a rigorous close-season regime to make sure they are up to the challenge... Ben Judge and Alan Inns have both been told to prove their fitness if they are to earn new contracts... 'Anybody who comes back and does not show me that they've prepared properly for the coming season - barring injury problems - won't be at the club very long', said Brown... 'Some of the boys aren't the fittest in the world and they need to improve'".

From the Cambridge News we learn that "George Rolls believes survival is more important than promotion for Cambridge United following the collapse of Setanta... United chairman Rolls reiterated the board had not budgeted for the TV cash this season... He said United had made around £135,000 from the Setanta deal this season after being screened live 11 times. BSP clubs receive the TV money via the Conference and Rolls believed United would gain only £10,000 to £15,000 from the league next season if it cannot find another broadcaster.

Rolls said: 'Setanta have been great for the profile of Cambridge United and their viewing figures for non-League football were highest when we were on... It's a huge blow and a massive gap to bridge... We've got to be realistic in our expectations... We all want promotion, but first and foremost we need to make sure we're still watching football at the Abbey, and we need the fans to understand that... We're going to need £2,800 extra on each home game for extra revenue, which works at out around 300 more fans, so if they can help us increase our attendance, losing the TV money isn't going to have an impact on Cambridge United'. Histon chairman Gareth Baldwin, a member of the Conference board, is away on holiday and was unavailable for comment".

But "Histon captain Mat Mitchel-King is having talks with three Football League clubs and is set to decide his future by the end of the week. Stutes boss Steve Fallon revealed the defender-cum-midfielder, who is out of contract, has received offers from a Coca-Cola League One club and two League Two sides... Fallon said: 'We've not been in a rush as there are lots of players out there looking for clubs and we're looking at one or two trialists in training. We wanted to give Kingy time to make his decision'".

According to the Thurrock Gazette "Grays Athletic have signed ex-AFC Wimbledon left back, Michael Haswell. This is Michael's second time with Blues having played during 2001 before moving to Wingate & Finchley. Michael started his career as a training with Wimbledon FC before switching to Southend United. Dropping into the non-league game, he spent time at Harlow Town and Grays Athletic before spending three seasons at Wingate & Finchley. Chelmsford City signed him in January 2005 but was snapped up by AFC Wimbledon for an undisclosed fee the following close season after winning both the Supporters' and Players' Player of the Year Awards".
NORTHERN NEWS
The UniBond League says that it "is disappointed with the timing of Newcastle Blue Star's withdrawal just three days after the formal constitution of the league at its AGM on 20th June 2009. The decision will leave the Premier Division one club short and prevents a club being moved to bring the top tier up to its full complement of twenty-two clubs - a situation the UniBond League believes could easily have been avoided had the club not failed to communicate either with league officers or the Football Association".
---
25 June 2009
GET YOUR TICKETS!
Altrincham FC season tickets for 2008-09 are now ready for collection for those who have already ordered them. There is still time to order yours and, if you are an adult or concessionary, qualify for a £10 discount by doing so by 30 June. Full details are here.
TASC HITS HUNDRED
The newly formed TASC (The Altrincham Supporters' Club) has now recorded its hundreth member. All Altrincham supporters are urged to joined TASC, which replaced the STAR supporters' trust during last season. Please contact the club for further details or e-mail TASC chairman, Brian Flynn.
GRAHAM MAKES CUTS AT ALTY
The effects of the economic downturn are certainly being felt at Altrincham FC where manager Graham Heathcote was spotted on Wednesday cutting the Moss Lane grass with a pair of scissors! In fact, Graham, aided by John Skelhorn, Karen Rowley and Keith Davey, was re-fixing the Carole Nash End goalposts and cutting the tuft of grass around the base of the uprights.
Meanwhile, groundsman Neil Brown was using a more conventional means of grass-cutting as he drove the motor-mower across the pitch, which is looking in fine shape after its summer re-seeding. Another illustration of how the club continues to be active over the summer is the poster (below right) for the Summer Fun Week from 27-31 July, which will be run by Chris Bullock.
Amongst the groundworks which have taken place this summer at Moss Lane is preliminary work on construction of new changing rooms under the main stand, a new timber gate and fencing to segregate supporters in the Moss Lane/Hale End corner of the ground and a fresh coat of paint for Keith Davey's mobile refreshment unit at the away end.
YANKEE
Altrincham FC's Saturday Yankee jackpot remains unclaimed and now stands at £9,300, which can be won for a £1 a week stake!. There were seven winning trebles this week, each earning £28.57 for the winners. Click the Yankee link at the top left of the page for full details of how to join the Yankee and help the Club.
OLD BOYS
Stalybridge Celtic confirms that manager "Steve Burr has begun the process of building his squad for next season... Celtic have announced the signings of striker Joe O Neill... O Neill(26, right) arrives at the Fold having been released by Blue Square Premier outfit Altrincham. His previous clubs include Preston, Bury, Mansfield, Chester and York and he hails from the same Scottish town as Internet phenomenon Susan Boyle".

The NW Counties Football League announces that their Player of the Year for the Vodkat Premier Division in 2008-09 was Danny Heffernan of Abbey Hey. Danny also played for Altrincham during 2008-09 having previously been with Altrincham Reserves.

Welsh Premier says that "Bala boss Colin Caton has made his second major signing of the week by landing former prolific TNS striker John Toner. Fifth on the league's all-time scorers' list, 32-year-old Toner was released after 10 seasons with the Saints and was the longest-serving player at Park Hall, also holding the TNS scoring record with 112 goals from 181 (+79 sub) Welsh Premier appearances. A former Liverpool trainee, Toner started his domestic league career with Cemaes Bay before scoring 38 goals from 49 games for Conwy United. He joined TNS in 1999 and played in the side that won the league title for the first time, going on to lift three further championship medals under manager and former strike partner Ken McKenna".
BSP NEWS
"The following is a statement from the Football Conference regarding Setanta Sports. The Board and staff of the Football Conference are deeply saddened by the news that Setanta have gone into administration.

Although the financial implications of this action will have an enormous impact on the competition, our clubs, partners and supporters, we must not forget the contribution made by them to us over the last two years. Setanta pioneered many new initiatives during their association, some of which are now copied by other broadcasters... We sincerely hope those dedicated staff, who have become part of the Football Conference family over the last two seasons, will continue to operate and work at the highest level in sports broadcasting and that their future remains positive.

To all our member clubs, may we thank you for supporting Setanta. Be assured that your Board together with all staff will be working hard to find another broadcast partner to further build on the ground work laid down by them in supporting our competition, which is at the very heart of English football".

"Goalkeeper Dean Coleman has signed a new one-year deal with Kidderminster Harriers" reports Football Conference. "The 23-year-old former Walsall keeper joined the club in the summer of 2007 but was made to wait until the end of the 2007/08 season before getting a run in the first-team. Coleman looks set to be Harriers' first choice after Adam Bartlett left to join Hereford United earlier this week".

And "New boys Gateshead have clinched the signing of experienced left-back Mark Robinson, who has spent the last two seasons at rivals York City", whilst "Mansfield Town have signed former Port Vale striker Kyle Perry. The 23 year old began his career at Walsall and then moved on to Telford United, where he scored thirty-two goals in two seasons. He subsequently netted twenty-six times for Willenhall Town before moving on to play for Chasetown, and was part of their FA Cup success which saw them reach the Third Round in 2008. He was soon snapped up by Port Vale, where he spent last season, and had a short loan spell with Northwich Victoria. Perry, who has signed a two-year deal, will fight for a first-team place with Rob Duffy, Daryl Clare and Jake Speight".

"Cambridge's proposed community stadium could take a decade to come to fruition because of a lack of funding, according to Gareth Baldwin" reports the Cambridge News. "The Histon chairman thinks the 10,000-seat arena, which is expected to cost in the region of £14 million, may struggle to get the financial backing it requires to get off the ground... A South Cambridgeshire District Council officer told a colleague in an email that plans for the stadium on the preferred site at Milton are 'unsustainable' and 'need to go back to the drawing board'. The Stutes' supremo has been in meetings with Cambridgeshire Horizons, which is leading the search for a site, and has not been given assurances that the required money would be readily available. Baldwin said: 'The chances of a community stadium being built in the next 10 years are, I would have thought, pretty slim. The amount of funding you need and the amount of red tape you have to wade through means it's not unrealistic that it could take another 10 years'... Baldwin believes... 'We've got a site that we own and we believe we can develop it to Championship level if we can get the funding that we require. We're not in a hurry to move, as owning our own ground means we're rent-free. It would make sense to be part of a brilliant new community stadium and a new project like that, but we've got our own plans to continue developing the Glass World'". However, the Cambridge Evening News later reports that "The chairman of the trust which owns the ground Histon use has since written to the CEN pointing out that the trust own the ground and that they let Histon use it rent free".

From NL Daily we learn that "Kingstonian winger Dean Lodge will start the pre-season campaign on a two-week trial at Grays Athletic, according to the Ryman League Premier Division club`s boss Alan Dowson. The 23-year-old played a significant role in K`s Ryman Division One South title-winning season... The influential wide man endured a doomed spell with Northwich Victoria last season before returning to Kingsmeadow to help claim a league winners' medal".

"Wrexham have confirmed they are in talks with striker Andrew Mangan and they are also set to sign Poland youth international Adrian Cieslewicz" states NL Daily. "Mangan was top scorer in the Blue Square Premier last season after netting twenty-six goals in thirty-nine games for Forest Green Rovers. The Liverpool-born striker is now out of contract and is looking to move back to the North West. However, he is currently facing an FA charge for breaching betting rules which dates back to his days at Bury".

"Andy Preece has rubbished rumours that top scorer Jonny Allan is the man Barrow have hailed their 'number one' signing" says the Northwich Guardian. "The Northwich Victoria manager told the Guardian that no club had called him to talk about the fans favourite. 'It's certainly not him', he said. 'I know Jonny well and, if he'd been approached by somebody, he would have let me know. He hasn't and I expect him to be here next week for pre-season training'... Barrow announced on Saturday that they had signed a new front runner... Speculation surrounding Allan intensified following an interview given by co-manager Dave Bayliss to the Bluebirds' official website... Preece added that Allan, who scored nine goals in league and cup last term, has also now been paid in full after playing the final weeks of the campaign for free. He picked up the rest of his wages this week".
STAR GOES UNDER
Altrincham's match last season against Newcastle Blue Star has sadly turned out to be the Tyneside club's last FA Cup match as NL Daily writes that "Following on from a meeting at the FA`s Soho Square headquarters, where UniBond League Premier Division club Newcastle Blue Star`s director of football Bob Morton met up with representatives from the Football Association, the FSIF (grants) and a member from the financial regulations department of the FA, Morton submitted mitigation as to why the club should be shown compassion with regards to the claims for full repayment of £61,000 which the club received towards development of the Wheatsheaf Sports Ground.

Morton pleaded with the members to forego their claim of the full amount of this money and allow the club to continue with their progression and keep the club in existence, however it was to be fruitless as the FSIF were demanding full payment prior to the 2009-10 season commencing.

Club secretary Jim Anderson states that although all parties confirm and endorse that the grants which were awarded and have been correctly utilised over the period 1999-2004 in which they had been claimed, it is the fact the senior club no longer play their games at the Wheatsheaf Ground that has instigated this claim even though their relocation to Kingston Park was urged and commissioned by the same authorities.

Taking this into account, Newcastle Blue Star would like to confirm that they are officially withdrawing from all competitive football, having announced at the end of the 2008/09 season their concerns over their future, both Bob Morton and Jim Anderson have worked vigorously in an attempt to prevent the closure of such a great club attempting to attract investors in what is an unstable economic climate."
---
24 June 2009
GRAHAM ASSESSES THE SITUATION
Altrincham manager Graham Heathcote has spoken to the Altrincham FC website about the club's position in the wake of the collapse of Setanta Sports and also on the situation as regards assistant manager Graham Barrow.

Graham confirmed that Altrincham FC has not spent or committed the envisaged 2009-10 Setanta Sports television income. The 13 players currently on the books at Moss Lane are all funded from the remainder of the budget. But while the Club is in the healthy position of being debt free, the Setanta money would have totalled around 20% of the season's budget so its impact is very serious. As Graham points out, the loss of Setanta money affects smaller clubs like ours proportionally harder than it hits the bigger-budgeted Blue Square clubs. The Altrincham FC Board will now be meeting to decide how or whether the Setanta shortfall can be made up or not and will decide as a consequence on the number and level of players who can be brought in to supplement the existing thirteen. Any new players could be youngsters.

As announced below, the Board is keen to attract new directors to the club, who would be prepared to invest in it.

Graham envisages that 2009-10 will be Alty's "toughest season over the last six years" since our return to the Conference. The Alty boss underlined how even a number of Blue Square North clubs are now able to outbid us in acquiring new players. Indeed, our budget for the coming season is likely to be less than that which former manager Mark Ward confirmed he enjoyed at Moss Lane in 2000, in his NL Paper article last weekend. "It is important that the supporters realise that we are in for a very tough season on the financial front", added Graham.

Turning to the Graham Barrow situation, in the context of the Manchester Evening News last night linking the Alty assistant manager to the reserves' managership at Premiership Wigan Athletic, Graham Heathcote said, "There is nothing concrete about Graham going to Wigan but it remains a strong possibility that he may go there. He would go with our good wishes. But if that does not happen, he would hopefully continue with us. If he goes, we do need an assistant manager and I won't be letting the grass grow under my feet in replacing him". Graham underlined how the loss of Setanta Sports coverage makes it even more important to have a good assistant and coach as the manager would have to spend more time travelling to watch opposition rather than weighing them up on TV.
JACKIE SWINDELLS
Altrincham FC has issued the following statement:

It is with a huge sense of loss and sadness that Altrincham have announced the death of Jackie Swindells at his home in Cornwall at the age of 72. Jackie had suffered health problems of late, but his passing, at 3.30 this morning (Tuesday), was still described as unexpected and has left everyone at Moss Lane deeply saddened.

One of the most prolific scorers in the history of non-League football, Jackie's astonishing return of 82 goals from 63 appearances in his first full season at the club made him an authentic Alty legend whose enduring appeal was evident to all when he made an emotional return to his old stamping ground last April.

Guest of honour against Kidderminster, to mark his 72nd birthday, he reminisced with some familiar faces but also found himself obliging youthful autograph hunters who knew all about his fabled scoring exploits. As vice-chairman Grahame Rowley observed: 'Whenever anyone talks about Altrincham Football Club, one name always crops up. Young or old, it doesn't make any difference. There's a shake of the head and a look of wonder as Jackie's famous season is recalled, when he scored over 80 goals. He was a true legend of this club, and what he did here has been a frequent topic of conversation for all ages, from teens to 80-year olds. It was great that he was able to travel up for his birthday and spend some time with us all. This is desperately sad news, but it is still nice to think that we've all got that final memory of him'.

Graham Heathcote narrowly missed out on playing alongside Jackie but soon had a close-up of the former England Youth international's lethal touch in an FA Cup tie at Moss Lane. 'It was the early 70s, and Jackie had moved on to Radcliffe Boro,' said the Alty manager. 'Everyone had them down as outsiders when they came to our place, but Jackie had other ideas. He scored with a bullet header, and we were 2-0 down after quarter-of-an-hour! Andy Windsor saw us through with a hat-trick, but that was a reminder of what Jackie was all about anywhere near goal. Scoring 80-odd times in a season is phenomenal, by any standards, and I can't imagine we'll see it again. The term legend tends to be used a bit too easily these days, but it was entirely fitting for Jackie. He did so much for this club, and you could see the affection people had for him when he visited a few months ago'.

The club will consider ways of honouring Jackie's memory, according to Grahame Rowley, who added: 'For now, what matters most is that our thoughts are with Jackie's family'.

Terry Rowley's account of Jackie's career is in the Altrincham FC Legends section of the website. Jackie is the second player from the right on the front row of the accompanying photo of the 1966 Alty side.
BOARD LOOKS TO STRENGTHEN
Club statement:

Altrincham Football Club are looking to strengthen the Board of Directors.

Following the recent loss of David Burns, the retirement of Barry Pond and the potential loss of income following the problems at Setanta, the Board feel it is the right time to look for enthusiastic and hard working individuals with a passion for football and time available to bring fresh impetus to the Football Club's Board. It is expected that the new Directors would generate or invest substantial income into the Club in order to continue the recent success of Altrincham FC.

Altrincham FC is a Community Club with recognised Charter Standard status. The Club has teams from Under 8's to its senior squad who currently play in the Blue Square Premier – the top flight of non-league football. Anyone who feels that they fulfil these criteria and wish to become involved as a Director in their local Football Club should contact the Chairman in writing or by e-mail.
BSP NEWS
The BBC says that "Chester City manager Mark Wright has resigned, seven weeks after the club's relegation to the Blue Square Premier. City's recent move in and out of administration under owner Stephen Vaughan had badly affected Wright's summer rebuilding plans. 'The difficulties faced by the club made it impossible for me to create the type of team I would wish to take forward', said the ex-England defender. Chester face a 10-point penalty from the start of next season. They have already trimmed their playing staff since the turn of the year, cutting six players from the wage bill on January deadline day. And six more have gone since the end of the season, including the key departure of their star player, last term's 18-goal top scorer Ryan Lowe.

In his final interview with BBC Radio Merseyside on Friday, just prior to his parting of the ways with City, Wright admitted the full extent of his frustration. 'There's still a lot of players there that are on way too much money for what Chester will be able to handle', he said. 'I feel for Stephen Vaughan as he's put so much money in, and put a lot of heart and soul into it and things have not gone well over the past two years. I think I deserve to be in the Championship now for what I know and what I've done. Do I want to be in the Conference? No'.

Wright, 45, who took City back into the Football League in 2004 after a four-year stay in the Conference, started his third spell in charge of the club in November... 'I've won this league', said Wright. '"Do I want to be there again? I'd rather not!'".

"Ebbsfleet United have recommended that the club's owners vote to accept a bid of £80,000 for both Michael Gash and Darius Charles from an unnamed club... Manager Liam Daish, the Fleet board and the club's accountant say they need the pair off the wage bill as they take up almost half the annual budget... The club released a statement saying: 'We are still some way short of, and look extremely unlikely to hit, the required £7,000 a week target (it currently stands at approximately £4,500). Retaining Gash and Charles would mean that the rest of the squad has to be built with around £3,000 per week. The sale of the players would mean the weekly playing budget increases to around £6,250, giving Liam Daish a fighting chance of building a squad capable of surviving in the Blue Square Premier League next season'".

The BBC also reports that "Barrow have signed former Darlington midfielder Robin Hulbert on a two-year-deal... He was made available for free, along with practically the entire squad, when the Quakers entered administration... he is the fourth signing to arrive at Holker Street this summer".

"Kettering Town's ground will be called Elgood's Brewery Arena after a new sponsorship deal. Rockingham Road was called the A-Line Arena but will change its name for the next two years following the sponsorship by a real ale brewery. The Blue Square Premier club revealed this month that they want planning permission to build a new purpose-built stadium at Kettering Business Park".

"Kidderminster striker Matthew Barnes-Homer has signed a new two-year deal... Chairman Barry Norgrove told the club website: 'There was a lot of interest in him. We worked long and hard after the season finished keeping him on board and we're pleased he's chosen to stay - he's going to be a big player for us'" he told the BBC.

"Oxford United have clinched the season-long loan signing of Torquay striker Matt Green, who has apologised for snubbing the U's 12 months ago. The 22-year-old scored 10 goals in 21 games during two loan spells at Oxford from Cardiff in 2007/08, but turned down a permanent move to join Torquay. He was used as a wide player for many of his 29 appearances for the Gulls last season, netting four times".

"Cheltenham could lose out in their chase of midfielder Chris McPhee after Kidderminster, who released him last month, made him an offer after losing other players", according to Bulls News.

"Histon chairman Gareth Baldwin... told BBC Radio Cambridgeshire: 'We've agreed terms with three players, but we're waiting on the future of Setanta before we press the button. We've already replaced two of the players that we've lost and we'll almost certainly sign three more players at some point'. All three players are believed to be from the non-league, but the moves will not go through unless Setanta pay the first instalment of their television deal. The pay-TV broadcaster provides around 10% of the Stutes' annual turnover. Baldwin admits... 'Television contracts make up a significant amount of our income, and we've had to put that into the budget', he said... 'We're currently in advanced negotiations with two big backers that we hope will make the difference between us being a play-off side and challenging for the title', Baldwin said".

"Forest Green have announced three more players from last season's squad have agreed terms on new contracts. Goalkeeper Terry Burton, plus centre-backs Lee Ayres and Mark Preece have all ended doubts over their futures... A deal with full-back Paul Stonehouse should be done when he and manager Jim Harvey return from their respective holidays. It leaves only striker Andy Mangan and defender Ben Ashford left to decide whether to accept new deals".

The BBC states that "Rushden and Diamonds have completed the signing of striker Aaron O'Connor, who was recently released by Mansfield", whilst "Gateshead have signed experienced defender Chris Swailes on a one-year deal... Swailes, 38, was recently released by Scottish Premier League side Hamilton, and also played for Rotherham, Ipswich and Oldham during his 20-year career... Meanwhile the Tynesiders have also snapped up goalkeeper Paul Farman from rivals Blyth Spartans, also on a one-year deal in addition to the signing of former Durham City striker Steven Richardson".

"Grays Athletic have signed defender Michael Haswell from AFC Wimbledon. Haswell joins Crystal Palace striker Jerson dos Santos as the second new arrival to the New Recreation Ground since Craig Edwards took charge". However, "Dagenham and Redbridge are set to sign out-of-contract Hayes and Yeading striker Josh Scott".

The BBC confirms that "York City have signed former Wales Under-21 utility player Alex Lawless from Forest Green Rovers. The 26-year-old can play at right-back and central or right midfield".

Bulls News reports that at Hereford United "Goalkeeper Adam Bartlett, from Kidderminster [has] joined the club. Bartlett left Kidderminster for Cambridge at the end of the Conference season to feature in Cambridge's play-off final defeat. He is capped by England 'C' and was released by Kidderminster due to financial constraints".
WORKING DAYS
The Club would very much appreciate more volunteers coming to the "Working Saturdays" at Moss Lane over the summer; the working days at Moss Lane operate from 10am. Please do come and help if you can; the Club relies on volunteers to keep the stadium looking smart each season. The remaining working days are on the following Saturdays...
27th June
4th July
SEASON TICKETS
Don't forget that if you buy your season ticket before the end of June there is a £10 discount for adults and concessionaries.

Season Ticket Prices
Standing - Adults £209; Concessionaries £99
Seating - Adults £249; Concessionaries £109
Aged 12 to 16 seated or standing - £50
Under 12s seated or standing - £25

Season tickets also confer free admission to the pre-season friendlies held at Moss Lane..

N.B. The Club welcomes payment by instalments; please ring the Club (928-1045) to arrange this.
NW NEWS
The UniBond League announces that its Altrincham-based "Executive Officer Duncan Bayley is to step down from his post at the end of June, bringing to a close 30 years at the helm of the league's administration. The announcement was made at the league's AGM in Blackpool... The move comes as the UniBond League completes an 18-month review... The review has led to the creation of the post of Assistant League Secretary in a new team of three officers headed by League Secretary Phil Bradley and completed by Operations Manager Alan Allcock... The AGM also brought further changes at the helm, with Peter Maude stepping down from the chair despite being re-elected to the board... Maude is succeeded by Mark Harris, Chairman of Witton Albion. Harris, 48, was previously Vice Chairman, has been on the Board since 2005 and as chairman of the Marketing Committee secured the partnerships with the PFA, Adidas, Corbett Sports and others. He is a past chairman of Altrincham FC and works in the business travel industry".

For those who cannot wait for the new season, the Welsh Premier clubs start their European campaigns in mid-July, with some of the ties within striking distance of Altrincham.

2009/10 UEFA Champions League, Second qualifying round draw, first leg: 14/15 July , second leg: 21/22 July:
Rhyl v FK Partizan Belgrade

Europa League 1st QR - 2 and 9 July 2009
Motherwell v Llanelli
TNS v Fram Reykjavik (Iceland)

Europa League 2nd QR - 16 and 23 July 2009
Honka Espoo (Finland) v Bangor
Flamutari v winners of Motherwell/Llanelli
Sigma v winners of TNS v Fram
---
23 June 2009
SETANTA GOES INTO ADMIN.
The BBC confirms that "The Irish broadcaster Setanta Sports has gone into administration after failing to make a number of payments to sporting organisations. The administrator Deloitte said that it would shortly cease broadcasting to customers in Great Britain but would continue to operate elsewhere. They said they would immediately stop collecting subscription payments. About 200 employees involved with the British operations will be made redundant, the firm said. Setanta had a total of 420 employees in the UK and Ireland.

'This is a sad day for all concerned', said Sir Robin Miller, chairman of Setanta. 'Unfortunately, in a difficult and highly competitive market, and despite strenuous efforts by the board and management, it has not been possible to find sufficient additional funds in the time available to ensure its survival'. Setanta will continue to broadcast in Ireland. Setanta International and Setanta Ireland have not entered administration.

Analysts say Setanta has been running at a loss of about £100m a year, after missing subscriber targets. The broadcaster has 1.2 million customers, 700,000 short of the 1.9 million that industry experts believe they need to break even. Setanta Sports missed payments to both the English Premier League and the Scottish Premier League (SPL) in recent weeks, resulting in both organisations taking their respective broadcasting rights back.

On Monday, the US sports network ESPN bought the rights to show the 46 English Premier League games Setanta was due to show next season, as well as the 23 matches it was to broadcast in each of the following three seasons... Setanta also has broadcast deals with the Blue Square Premier non-league football in England".
JACKIE SWINDELLS
It is with the deepest regret that Altrincham FC has heard the news that their 1960s' goalscoring legend, Jackie Swindells, died this morning at 3.30am.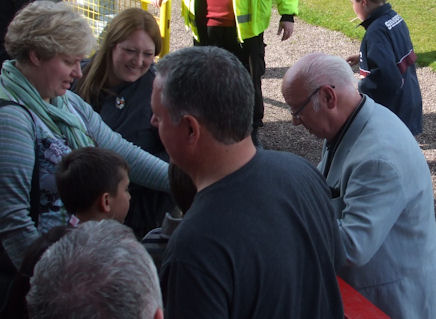 Jackie was a visitor at Moss Lane as recently as April this year when he was the club's guest for the match against Kidderminster Harriers. He is seen (right), signing autographs at that game.
Jackie, who was 72, was an England Youth International who joined Manchester City as an amateur but he made his Football League name initially with Accrington Stanley, hitting 28 goals in 65 matches. Barnsley, Workington, Torquay United and Newport County were other League clubs for whom he played. He signed for Altrincham in 1965 and went on to score an unbelievable 82 goals in 63 games in 1965-66. He went on to net 265 goals for Altrincham in all competitions, from just 317+5 appearances.
Terry Rowley's account of Jackie's career is in the Altrincham FC Legends section of the website.
Everyone at Moss Lane sends their condolences to his family. His lasting place in the history of Altrincham FC is guaranteed.
FRIENDS' DRAW
Steve Foster announces the winners of the latest Friends of Altrincham FC monthly draw for May, which was delayed due to Steve's work commitments; normal service will be resumed this month.
1st, No. 49, George Heslop £100
2nd, No 19, Dianne Swindells £35
3rd, No 27, Campbell McLay £15
---
16 June 2009
WORKING DAYS
Altrincham Football Club would like to thank those who have helped on this summer's Working Saturdays but would very much appreciate more volunteers coming to the "Working Saturdays" at Moss Lane over the summer; the working days at Moss Lane operate from 10am. Please do come and help if you can; the Club relies on volunteers to keep the stadium looking smart each season. Working days will be held on the following Saturdays...
20th June
27th June
4th July
WEBSITE
This website, at best, will only be updated intermittently over the next few days. Apologies for any inconvenience caused...
MICHAEL'S OPERATION
Altrincham FC physio, Sean Riley, writes:

A further update [on Michael Welch], as a result of today's meeting [Monday], is that Michael will go into hospital on 9th July to have his ankle ligaments reconstructed. Rehabilitation following reconstructive surgery is 3 months, so with intense physiotherapy, it is planned that Michael should be fit for first-team duties by early October. Michael was in good spirits following today's meeting. Despite missing the early part of the season, he feels the time is right to have the operation as he has been troubled with the same problem for the past three years.
SEASON TICKETS
Season ticket sales have been very healthy so far but don't forget that if you buy yours before the end of June there is a £10 discount for adults and concessionaries.

Season Ticket Prices
Standing - Adults £209; Concessionaries £99
Seating - Adults £249; Concessionaries £109
Aged 12 to 16 seated or standing - £50
Under 12s seated or standing - £25

Season tickets also confer free admission to the pre-season friendlies held at Moss Lane..

N.B. The Club welcomes payment by instalments; please ring the Club (928-1045) to arrange this.
OLD BOYS
NL Daily reports that "Leigh Genesis have confirmed the return of goalkeeper Steven Drench... Drench becomes the fourth signing so far for Genesis, joining the capture of FC United of Manchester's prolific goalscoring duo the Baguley brothers, Chris and Jamie." Jamie is pictured in Alty colours in 2004, right.
BSP NEWS
Championship club Barnsley "are delighted to announce the arrival of young striker Onome Sodje on a one-year contract. Reds boss Simon Davey [said], "As part of the restructuring of the playing side we will have a development squad... and Onome will be part of that. 'Onome is one for the future and a player we are looking forward to working with having here at Oakwell. He is lightening quick with an eye for goal, a lot of potential and someone we feel can improve and develop here at Oakwell'. Just 20, Onome started his career at Charlton Athletic and enjoyed a spell with Ebbsfleet United before joining York City in June 2007".

Bullsnews gives us the very sad news tha "Non-League statistics king Tony Kempster has died after a year long battle with cancer. While many football fans will never have heard of the name, people who run sites like ours were ever-reliant on his tireless work maintaining his site, with all the facts and figures that make our job that much simpler. Rest in peace, Tony. And thank you". Hear, hear.

Luton Town "are disappointed to reveal that the Football League has written to the club to confirm that the Town will not be able to defend the Johnstone's Paint Trophy next season. Despite relegation from the Football League the Hatters had hoped to take part in next season's competition after April's enthraling 3-2 extra-time win over Scunthorpe United at Wembley. But in a letter written to Town Managing Director Gary Sweet, the League outlined that they wanted to keep the competition solely for clubs in Leagues 1 and 2... Sweet said: 'Everyone at Luton Town Football Club are hugely saddened by the Football League's verdict. To refuse the club entry into a competition we fully embraced and ultimately won in front of 42,000 of our own supporters, makes it even more galling. However, we are considering an appeal against the decision'... The Hatters will be making their [first-]ever appearances in both the FA Trophy and Setanta Shield and will as enter the FA Cup at the fourth qualifying round stage".
---
15 June 2009
GOOD AND LESS GOOD NEWS
In Sunday's Non-League Paper there is a piece on Michael Welch (right) receiving the "Setanta Sports Goal of the Year" award for his 70-yard freekick goal against Crawley Town.

Michael told the NLP, "I've won awards at clubs before but never one across the whole league... so, I'm really pleased... Ever since I was a kid, I've been able to kick a ball a mile' added Welch. 'I've always been able to strike a ball cleanly so I think it's just a knack. If I get the chance, I'm not afraid to have a shot and, a lot of the time, it seems to fly in the top corner. Even so, I've never scored from further out than that... Over the last five years I've usually had one or two a season which catch the eye. My dad's mate even set up a website with my goals on. Mind you, I've probably had thousands of shots end in the stands!' The NL Paper adds that "There was more good news for Welch this week when he was told that an ankle problem he picked up towards the end of the season does not require surgery".

However, Alty physio Sean Riley has advised the Alty website as follows: "The stress x-rays that were done on Thursday clearly show that Michael would need reconstructive ligament surgery at some point. Michael, the gaffer [Graham Heathcote] and myself will be meeting tomorrow [Monday] to discuss if the operation is to be carried out sooner rather than later. Since Michael joined us from Northwich, his ankle stability has been maintained during games by a specific strapping to try and prevent him from going over on it. The only way to give Michael's ankle the stability needed for football would be to reconstruct the ligaments that are damaged and overstretched".
BSP NEWS
Oxford United report that "There was double delight for United's top scorer James Constable tonight. James was awarded the top prize of Blue Square Player of the Year at the Conference's awards dinner in Stratford on Avon. This award is voted for by the managers at all of the clubs in the Blue Square Premier, North and South and was presented by Setanta TV's Rebecca Lowe and Steve Bower. James was also named as Blue Square Fans' Player of the Year".

Dates for the FA Trophy have been announced by the FA. Alty enter at the First Round Proper.
Preliminary Round: Saturday, 3 October 2009
First Round Qualifying: Saturday, 17 October 2009
Second Round Qualifying: Saturday, 31 October 2009
Third Round Qualifying: Saturday, 21 November 2009
First Round Proper: Saturday, 12 December 2009
Second Round Proper: Saturday, 9 January 2010
Third Round Proper: Saturday, 30 January 2010
Fourth Round Proper: Saturday, 20 February 2010
Semi-Final Leg 1: Saturday, 13 March 2010
Semi-Final Leg 2: Saturday, 20 March 2010
Final: Saturday, 8 May 2010 (provisional).
---
14 June 2009
MICHAEL WINS AWARD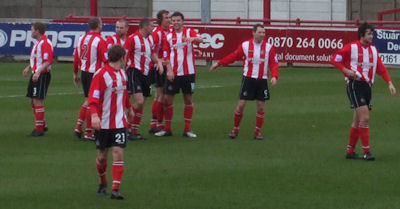 Congratulations to Altrincham's Michael Welch who has won the Blue Square Premier "Goal of the Season" award for 2008-09 with his goal from more than seventy-yards against Crawley Town. Michael is currently proving his fitness after suffering from an ankle injury at the end of last season. Michael is pictured, right, receiving his team-mates' congratulations after the goal in the game on 28 March 2009.
BSP NEWS
Cambridge United say that "Gary Brabin has been named the Blue Square Premier 'Manager of the Year'. The awards ceremony on Saturday evening followed the Conference Annual General Meeting for officials of clubs in the Blue Square Premier, North and South. During the AGM, Luton Town, Chester City, AFC Wimbledon, Hayes & Yeading, Tamworth and Gateshead were accepted into the Conference Premier following their respective relegations and promotions.

The maximum number of short-term loans has been increased from eight to twelve, and the fixtures for next season are due to be announced on Friday 3rd July or earlier if possible. Speaking about his award, Gary commented, 'There are some good young managers in this division who have a bright future in the game and some good, competitive football clubs, so I'm really honoured to receive the award but obviously still very disappointed about Wembley'. Brabin drove straight to the AGM in Stratford-upon-Avon from Wales, where he has been on a course to complete his UEFA 'A' licence... Rolls also revealed that the future of broadcaster Setanta TV was discussed at the AGM. There are reports of a rescue package for Setanta, but talks are ongoing and Conference officials urged clubs to act with caution and not budget for TV income for next season. Highlights of the award ceremony will be shown on the Blue Square round-up programme on Friday evening".

The The Times reports that "British football can carry on spending after a deal was agreed to save Setanta Sports last night that should mean clubs and governing bodies continuing to pocket hundreds of millions of pounds in television revenue from the broadcaster. Access Industries, a company run by Len Blavatnik, a billionaire businessman, will pay £20 million for a 51 per cent stake in Setanta to help it to avoid administration. Setanta's football rights include the FA Cup, World Cup qualifiers, the Barclays Premier League, the Clydesdale Bank Premier League and the Blue Square Premier...

Blavatnik is a Russia-born American citizen who has invested in Russian oil. He also backs TopUp TV, which operates pay television on Freeview, has a stake in Sport 5, an Israeli channel, and a stake in Perform Group, a digital sports rights business with clients including the Premier League and some of its clubs. Other investors are expected to come forward to help Setanta to become profitable in future years".

On Saturday Chester City "today were unanimously accepted into the Blue Square Premier League following the AGM in Stratford upon Avon. [Secretary] Tony Allan today said he was delighted with the outcome of today's vote after all the hard work done over the last few weeks at the Deva Stadium. City will start the season with a 10 point penalty... Blues chiefs would like to thank the committee including Bill King and Charles Clapham for their full support".
---
13 June 2009
COFFEE MORNING SUCCESS
Darren Gregory reports that Friday morning's coffee morning at Moss lane raised "a very good £152 and a few pence. Thanks go to Louise Gregory, Louise Bowyer and Ian Cox who organised it and made sure it went smoothly on the day.A big thank you to all those who attended and those who gave the donations. Watch this space for another one in a couple of months".
NEIL WANTS PLAYERS
The NWCFL website announces that Alty groundsman and manager of Vodkat League team, Abbey Hey, is "holding trials for players on Saturday 20th June in the West Didsbury area of Manchester. Players with experience of playing at centre half and centre forward would be of particular interest. All potential trialists should contact Abbey Hey manager Neil Brown on 07968 045657 for more information".
OLD BOYS
Welsh Premier has news of two ex-Alty strikers. "Two Welsh Premier clubs are thought to be leading the race to sign marksman John Toner, who was released by The New Saints at the end of the season. Airbus UK Broughton and newly-promoted Bala Town are both reported to be in the frame for the services of the striker, who lies fifth on the league's all-time list with 152 goals from 231 appearances. Seemingly frustrated in his bid to land the signature of all-time leading hitman Marc Lloyd Williams by a counter-offer from Prestatyn Town, Wingmakers' boss Craig Harrison is targetting Toner, who lives not far away in Runcorn. But the Lakesiders are also said to be mounting a strong bid for the man who was the longest-serving current player at the Saints until his departure, a survivor of the 2000 title winning side who holds the club scoring record. Toner began his career as a trainee with Liverpool before joining Cemaes Bay and Conwy United and has also played with Altrincham" as has Lloyd-Williams.
BSP NEWS
A press statement has been issued by the Board of the Football Conference saying "The Football Conference is disappointed and bewildered by the decision of The Football Association Appeal Board on 8 June 2009 in relation to the appeal against The Football Conference's decision that Northwich Victoria would not be eligible for membership of the Football Conference Competition for Season 2009/10. The Football Conference is concerned that the Appeal Board's decision may undermine the integrity of the Football Conference's Competition and Rules and is seeking an urgent meeting with The Football Association".

"Simon Wormull is looking for a new club after being shown the door by Eastbourne Borough" "The 32-year-old has had his contract at Boro cancelled by mutual consent and... is touted as a target for manager Steve King at Farnborough".

SkyNews reports that "US tycoon Len Blavatnik has offered £20m for a 51% stake in struggling pay-TV broadcaster Setanta. Setanta holds the rights to broadcast 46 live Premier League games next season. The board of the Irish sports channel is weighing up the proposal from Mr Blavatnik's Access Industries firm... It is understood Setanta needs to raise around £50m to avoid going into administration ahead of a deadline to pay £30m due to the English Premier League".

From Stevenage, The Comet says that "A new name will be amongst Boro's playing staff next season although he will be a familiar face to everyone connected with the club. Last season's forgotten man Eddie Anaclet has decided to take on his father's name and become Eddie Odhiambo from next season and the 23-year-old hopes the change could prompt a new beginning in his Boro career. Odhiambo was last summer's big signing from Oxford but the defender's season was blighted by a knee injury".

York City have "signed striker Michael Rankine from Rushden & Diamonds with Craig Farrell going in the opposite direction. Rankine is 6' 2 and has scored 27 goals in 116 games and joins City on a 2 year deal. Rankine spent a month on loan at League Two Bournemouth last season and started his League career at Scunthorpe United. City have paid £10,000 for Rankine and City Manager Martin Foyle commented 'I'm delighted to capture a striker with presence, the ability to hold the ball and score his fair share of goals. Craig Farrell leaves the club having joined from Exeter City". Meanwhile "York City have moved quickly to tie Michael Emmerson to a professional contract. The 18-year-old recently graduated from the Minstermen youth team" reports Blue Square Football.

The Press says that "Onome Sodje is seemingly edging towards the Bootham Crescent exit door having failed to meet the 28-day deadline to accept a new contract... Fellow forward Richard Brodie and full-back Ben Purkiss, who had also been out of contract, have been among those players to accept new terms within the set period... [Manager, Martin] Foyle told The Press: 'We can't get hold of him... I'm a bit disappointed he hasn't got back in contact to tell us his situation and whether he wants to sign for York City'".

The BBC says that "Mansfield Town have signed former Nottingham Forest and Sheffield Wednesday defender Craig Armstrong... [He] has signed a one-year contract at Field Mill and becomes the Stags' ninth signing of the summer. Armstrong told BBC Radio Nottingham: 'It is a league club, it's only been in the Conference for a season'".

Coming shortly to the Conference? "Football League clubs will be subject to a transfer embargo if they fall behind on their tax payments. Clubs voted to accept the new regulations at the Football League's Annual General Meeting. Under the new system clubs will not be able to deal in the transfer market until their debt is cleared... The regulations have been introduced in an attempt to make clubs more prudent... The new system should also impact on a club's ability to come out of administration without incurring additional points penalties... Meanwhile, the number of substitutes on the bench in the Football League next season has increased from five to seven" reports the BBC.

The Cambridge News says that "Steve Fallon will be assessing a clutch of trialists when Histon begin pre-season training in 10 days' time - but may only decide to sign one if Mat Mitchel-King leaves the club.... The boss thinks a lack of funds could mean he can only add to the summer signings of Michael Frew and Nathan Bowden-Haase if the captain exits Bridge Road. Fallon said: 'We're not in a position where we can afford to pay a fee for someone, so we'd be looking at free agents. 'We're still waiting on Kingy... He's away again at the moment doing some of his modelling work'".

Chester Evening Leader says that "Stephen Vaughan has retained command at Chester City Football Club. Creditors and shareholders agreed to support administrators Refresh Recovery Limited's proposal to set up a new company headed by Vaughan... Vaughan is now hoping that Chester City can be accepted as members of the Blue Square Premier Division at tomorrow's Conference League AGM.

He said: 'It has been well documented that I was the only bidder before the creditors' and shareholders' meeting was held but it was good to see that the Chester City Supporters Trust gave us their full backing of the takeover... We've now got to put the CVA proposal in place and have it accepted by the Conference League at their AGM... Hopefully we'll be accepted into the Blue Square Premier League, but we will suffer a 10 points penalty... It's just unfortunate that I controlled 77 per cent of the previous company and the smaller shareholders have been hit by the new set-up. But we've got to put that behind us, draw a line under it and move forward with the new company. We will be looking for new investors and will be looking for more input from the city.... We've run this club in the best possible way we can, but it has been a one-man show and I have been that man... I'm a Chester City supporter and I hope I get the backing that I deserve... I'll keep the finances in order but we've obviously got to unite the supporters groups and get them to back the club".

The Liverpol Daily Post adds that "creditors overwhelmingly agreed to except a deal which will give them 15p in the £1... The Vaughan family, who now own 100% of the club's issued shares... Vaughan was non committal on the position of current team manager Mark Wright. He said: 'Obviously we must start to assemble a squad for next season, and I can assure our supporters that the process of acquiring players will start in the next few days'".

The Stroud News and Journal reports that "Forest Green are chasing Burton Albion midfielder Danny Holmes. Holmes, 22, has been released by new Brewers boss Paul Peschisolido... But he faces competition from rivals Altrincham and Tamworth for the signature of Holmes, who began his career at Port Vale. Holmes said: 'It's nice that Forest Green and Altrincham have already expressed an interest and I'm hoping to speak to Tamworth, who have just got promotion'".

"Oxford United are unveiling their biggest commercial prize today. They are giving companies or individuals the chance of an executive box for the whole of next season for just £500" states the Oxford Mail. "It is being done through a draw, with box holders who have signed contracts for the 2009-10 season entering for free – with the chance to win their box, if they wish. The value of the first prize – an executive box for the season, a player visit and programme and anticipated media coverage, is put at more than £12,000".
---
12 June 2009
COFFEE MORNING
A Coffee Morning, organised by Darren and Louise Gregory takes places today (Friday) in the Gill Oates Sponsors' Lounge from 10.30am till 1.30pm. Come along and have a chat whilst enjoying a coffee/tea with a cake for just £1! There will also be a table-top sale of books, bric-a-brac and sundries, as well as a raffle. Everybody is welcome - all proceeds go to Altrincham Football Club.

The Social Events & Fundraising page has details of all of the club's off-field activities. Please do support these as they generate vital income for the Club. And don't forget next Saturday's Working Day at Moss Lane to help prepare the stadium for next season; it starts at 10am and everyone is welcome.
WORKING DAY
Saturday's "Working Day" at Moss Lane will operate from 10am. Please do come and help if you can; the Club relies on volunteers to keep the stadium looking smart each season.
SMALL WORLD
Altrincham vice-chairman Grahame Rowley and his wife, Karen, have just returned from holiday in Paphos in Cyprus. Whilst enjoying a beer in a local restaurant, Karen and Grahame spotted former Alty captain Darren Tinson (right). Darren was out there to get married to his partner today (Friday) and some 30 family and friends have travelled there to be at the ceremony. All at Altrincham FC send Darren and his new wife best wishes for the future.
OLD BOYS
Stalybridge Celtic have confirmed that former Altrincham man Richard Battersby and defender Andrew Smart, who played a couple of times for Altrincham Youth, have re-signed for another season at the Bower Fold.
BSP NEWS
According to the BBC "Chester City have reached an agreement with their creditors, which will allow the club to come out of administration... A decision on the future ownership of the club is expected later on Thursday".

However, Get Surrey says that "Ambitious Woking chairman Shahid Azeem is prepared to launch a legal challenge against Chester City should the Blues be accepted into the Blue Square Premier, as expected, at this Saturday's Conference AGM. The Cards' chief is determined to be in a position to exploit any legal loopholes that may arise in his bid to earn Woking a reprieve following last season's relegation to Blue Square South. Chester, demoted from League Two along with Luton Town, will start the next campaign with a 10-point deduction, with Azeem of the opinion that City should actually be relegated two divisions because of their financial situation.

He cited Boston United as a recent example of a club being demoted from the Football League by more than one division, with the likes of Altrincham saved at the 'AGM Cup' on more than one occasion having finished in the bottom four. 'I'm not a legal expert but if there is the slightest chance of earning Woking a reprieve then we owe it to the fans, our players and those who work at the club to make sure we take it', he said... 'I will be at the meeting and if there is anything we are not satisfied with and which we believe is outside the rules then we will challenge it... I would be more than satisfied if we were able to finish fifth from bottom in the Premier if we can stay in that division'. The Conference's constitution will once again depend on what happens in the Football League meeting 24 hours earlier, when the likes of Darlington will have their League Two status rubber-stamped.

General manager and company secretary of the Conference, Dennis Strudwick... added: 'My understanding is we will be accepting Chester warts and all. Their situation is not an identical one to that of Boston'".

This is Nottingham tells us that "Mansfield are closing in on their ninth signing of the summer in the shape of midfielder Craig Armstrong, the Evening Post understands. The well-travelled 34-year-old former Forest trainee is a veteran of more than 400 senior appearances with 13 different clubs. The South Shields-born player spent the latter half of last season playing for Blue Square Premier rivals Kidderminster Harriers".

"Luton managing director Gary Sweet wants to see contingency plans brought in to protect clubs in broadcast deals" states the BBC. "Blue Square Premier clubs are still waiting to hear the fate of Setanta, who cover the league's matches... Sweet told BBC Three Counties Radio: 'I'm disappointed no contingencies have been made with so much money around in the game'. And he fears the club could lose up to £120,000 in lost television revenue.

'Clearly as a high profile club in the Conference this season we were hoping to be shown quite a few times', he said. 'Burton were shown six times this season, which probably took them up to about £110,000 to £120,000. I think if you run your business properly, then that £70,000 to £80,000 [from television coverage] has probably already been spent because clearly if you want to buy a player you want to get in ahead of your competition and you need to make other plans. Contracts for the season need to be signed up during the summer, so pretty much every football club would have spent that £70,000 so now for us it is about how we create initiatives to recover that money if, of course, Setanta do go bust, or if they don't get bought out by somebody else. We have got the Conference AGM this weekend, which we are attending, which could shed a little bit of light on the current situation. At the end of the day £70,000-£120,000 is a lot of money to Luton Town FC. It isn't so critical that it could put us on the brink, of course, it's not like ITV Digital a few years ago. But certainly for a number of clubs in the Conference it could be a problem. It could give Luton a little bit of a competitive advantage because we are more stable than most others'".

Likewise, The Argus says that "Chairman Len Smith fears Eastbourne Borough will be forced to make cut-backs if satellite broadcaster Setanta goes into administration... Lewes would also be entitled to £15,000 following their relegation... Smith said: 'We are talking about a substantial amount of money which we might lose and that would have serious consequences for the club. If the worst happens then we would have to look at ways of replacing that money or making savings to cover the shortfall but we can't plan anything yet until we know for sure. It might mean the playing budget is reduced or we cut back on building work at the ground'".

And "Crawley chairman Vic Marley said: 'We are keeping our fingers crossed. Not only would it take a big chunk out of our budget but they have also done a great job of raising the profile of the Blue Square Premier and that has a knock-on effect'".

The Gravesend Messenger" reports that "Manager Liam Daish has urged Ebbsfleet's owners not to sell the club's remaining star players. Only three senior players are on contract at Stonebridge Road and Daish has revealed for the first time that he wants to build his squad around them. MyFootballClub members have rejected two bids for striker Michael Gash and a cheeky £10,000 offer from York City for defender Darius Charles in the past week. 'If I lose them, then it weakens my position', insisted Daish. 'I'm not surprised the members turned it down. We're in a position where we want to keep the lads that are on contracts. We need to keep them and then boost the budget – and quickly. We need more than five players on contract'.

Ebbsfleet have surprisingly conducted negotiations for Gash and Charles via their members. The bids for Gash, believed to be from Luton and York, have been worth £30,000 and £40,000. The sale of John Akinde, for an eventual £175,000, saw negotiations conducted by Daish until the fee reached a level that was acceptable to the club... Daish added: 'I have my valuations. The bids that have come in are the first offers and it's still very early. It would be foolish to take the first bid and snap their hands off. It's wise not to rush into it. I've spoken to Michael. He is obviously concerned with what way the club is going and I appreciate that... We've got to realise that they [Gash, Charles] are taking up close to 50 per cent of the weekly budget', added Daish... 'They are not going to be replaced by a player on £200 a week'".

According to This is Glos, "Martin Allen is set to return to Kidderminster Harriers for what will probably be his third and final signing of the summer. After snapping up striker Justin Richards from the cash-strapped Aggborough club, Cheltenham Town will return for midfield playmaker Chris McPhee... [who] is expected to put pen to paper on a one-year deal, like Richards".

"Wrexham will continue to retain an interest in the land earmarked for a multi-million pound residential development designed to wipe out the Dragons' debts and provide an annual income stream over and above its football related revenue" claims the Wrexham Chronicle. "And with preparatory ground work now under way on the first phase of student accommodation that will go up adjacent to the club's Racecourse home, Wrexham's chief executive Paul Retout had a blunt message for critics of the controversial scheme. 'We must get away from the idea that we are trying to screw the football club', he said. 'The truth is that we are here to secure its future, to keep it going beyond my lifetime and for at least the next 100 years... Wrexham Village is buying the share capital of Wrexham FC so that it will own 100% of the club and its assets', added Retout... 'By retaining ownership of the scheme and the land through Wrexham Village, the football club will have its football-related income and a share of rental income on an ongoing basis'... The club recently posted annual losses of nearly £1m for the 12 months ending June 2008 and the current year's results are expected to be as bad, if not worse. Admitting mistakes had been made, Retout promised... 'My role as chief executive is to ensure that the club at least breaks even or maybe even makes a profit and hopefully that will eventually be the case'".

Gateshead "have completed their first close season signing with 23 year old striker Steven Richardson putting pen to paper on a one year deal with another year's option. The Gateshead-born player left his hometown club four years ago for Durham City where he has been top scorer for the past three seasons".

From Rushden & Diamonds we learn that they "are in the advanced stages of negotiations with another Blue Square Premier club, regarding the sale of [former Alty trialist] striker Michael Rankine. The potential deal looks set to involve a fee and a player coming to Nene Park in return... Justin Edinburgh commented 'Negotiations are at a very advanced stage'".
---
11 June 2009
BSP NEWS
Morecambe "say they have had a substantial five figure bid for Ebbsfleet United striker Michael Gash turned down. The Shrimps offered £42,000 for the striker who is being chased by a number of clubs... Shrimps' bosses say they are not prepared to up the offer for the 22-year-old who scored 11 goals in 39 games last year*. Luton Town had a £30,000 bid for the former Cambridge City player turned down last week. Shrimps' vice-chairman Graham Hodgson said: 'We have made what we think is a substantial bid for the player but Ebbsfleet have told us they are not prepared to sell. We will not go any higher and will turn our attention elsewhere but we want to assure fans that we are working hard behind the scenes to bring in quality players to the club this summer'". *Footnote: Alty's Chris Senior scored 12 goals in 26 matches last season, whilst Colin Little scored 16 in 41 league starts.

The Northwich Guardian says that "The Football Association were 'brave' to back Vics' appeal against expulsion from the Football Conference, according to the solicitor hired to fight the club's corner. Richard Cramer told the Guardian that the game's governing body had made a common sense decision. 'They made the right move', he said. 'It was a brave one but, in my view, correct given the fact that the sanction of a 10-point deduction is very much the modern way of imposing sporting sanctions on professional clubs... We lodged notice of the appeal last Tuesday and there was a high element of urgency with the Football Conference AGM only days away'... Rushe, who spent thousands of pounds preparing the appeal, acknowledged Cramer's role in saving the club's skin. He said: 'Considering he had so little time to react to the Conference's decision I think he worked wonders'".

Kettering Town Football Club "can confirm its intention to move to a new, purpose built stadium at the Kettering Business Park situated on the A43/A6003 for the 2011/12 season. Over the past twelve months, Buccleuch Property have been working alongside the Club in a confidential tender process to seek and select the best partner to fund and enable the construction of a stadium to meet Football League criteria... Poppies' Chairman Imraan Ladak revealed 'Whilst our plans will of course be subject to a successful planning application, these are very exciting times for Kettering Town. After the extensive process of selecting a partner, matters have progressed very quickly and I am certain everyone will be as thrilled as we are when they see the plans - which we expect will be in the not too distant future. Integral to our plans is the ability to provide the use of health and sporting facilities to all the residents of Kettering. We hope the general public embrace our plans for the project and its facilities to be intertwined with the community, not just for the benefit of our supporters'... The town's MP Philip Hollobone, when speaking to the Kettering Evening Telegraph said: 'It is very important for the town to have a successful football club and unless this ground issue is sorted out we could even lose the local club altogether. Last season was a great one and the club has a very proud history and is one of the oldest football clubs in the country. We need to sort this ground issue out'".

From the BBC we learn that "Mansfield Town have signed midfielder Steven Istead on a two-year deal. The 23-year-old, who began his career at Newcastle United, was at Stags' manager David Holdsworth's former club Ilkeston Town last season".

Meanwhile, "A decision on the potential takeover of Salisbury City is likely to be made in the next two weeks. Chairman Neville Beal told BBC Wiltshire he is still in discussions with two unnamed groups about selling the side. He said a deal is no closer now than it was two weeks ago and work is underway on a 'plan B' to ensure their survival. The Whites have just four players under contract with less than two months to go until the start of the new season. Beal said it is still possible Salisbury will be sold but he is neither despondent not optimistic about the chances. Salisbury were put up for sale for £1 at the end of the season, after he revealed he could no longer continue to bankroll the club".

"Bury have signed striker Ryan Lowe from relegated Chester City" reports the BBC. "The 30-year-old, Chester's 18-goal top scorer last season in his second spell at the club, still had two years left on his contract".
---
10 June 2009
BSP NEWS
The Football Conference has issued a statement on Northwich Vics' successful appeal. "A Football Association Appeals Panel yesterday considered an Appeal by Northwich Victoria Football Club against a decision of The Football Conference Limited. The Company considered the Club was not eligible for membership of the Competition for the 2009/2010 season following the Insolvency Event suffered by the Club in May 2009. The Football Association Panel upheld the Club's Appeal, but amended the Football Conference's decision. The Panel determined, in this case, the Club was eligible for membership but decided it should start next season in Conference North on minus ten points".

NL Daily says that "Gainsborough Trinity's impressive summer recruitment continues with the capture of striker Darryn Stamp... Experienced frontman Stamp, who has left troubled Northwich Victoria, has signed for Trinity".

According to Blue Square Football, "Histon have completed the signing of defender Nathan Bowden-Haase. The 25-year-old has put pen to paper on a one-year contract, with the option of another year... After losing Patrick Ada, Stutes boss Steve Fallon had been on the lookout for a new defender... Fallon told the club's official website: 'Nathan comes to us highly recommended after a good season with Hemel Hempstead'".

And "Forest Green Rovers have been boosted by the news that three players have signed new contracts. Conal Platt, Jonathan Smith and Paul Lloyd will all be staying for next season". However, "Hereford have completed the signing of defender Darren Jones from Forest Green Rovers".

From the BBC we learn that "York City striker Richard Brodie has signed a new contract which will keep him at the club until May 2011... The 21-year-old joined York from Newcastle Benfield in 2007... The deal follows Ben Purkiss agreeing a new one-year contract. Foyle told BBC Radio York 'We have got one or two that have already agreed but with one or two things that are going on and with the physio away we can't get medicals done', he said".

"Grays Athletic centre half Jamie Stuart is likely to leave Bridge Road, says manager Craig Edwards, with player and club 'miles apart' on a new deal... 'I think he's looking elsewhere and so are we', Edwards told BBC Essex... Stuart, 32, has been a regular since joining Grays from Hornchurch in 2004. Edwards, who took over at the Blue Square Premier club in May, says he is in no rush to make signings. 'I've just got the PFA list of available of players and there's a huge number to choose from', he said. 'There are some quality players out there and no need to rush'".

"Football Conference director Phil Ledger is concerned clubs could be dealt a serious financial blow if Setanta goes into administration" reports the BBC. "The Conference leagues are two years into a five-year deal worth £2.5m with the troubled broadcaster. Blue Square Premier sides receive a minimum of £70,000 a year and clubs in the North and South take £15,000 each. Ledger told BBC Sussex and BBC Surrey: 'I think it will affect people a hell of a lot. £70,000 is a lot of money'...

Rushden and Diamonds manager Justin Edinburgh says his budget at Nene Park is likely to be affected if the sports broadcaster goes out of business... Setanta is reported to be desperate for backers to step in and provide it with funds to bridge the £30m debt it owes to the English Premier League. The broadcaster... is believed to be losing £100m a year". Ledger added, "Clubs might have had advice not to budget for that money, but I'm sure some clubs think well there is £70,000 guaranteed. Also on top of this people do get £8,000 for a home game and £3,000 for an away game, and it's another couple of players for your squad".

The Northants Evening Telegraph says that "Kettering Town chairman Imraan Ladak insists he will be taking the 'sensible approach' when it comes to sponsorship funds from television company Setanta... And while Ladak believes a deal will be reached between the broadcaster and all the relevant parties, he admitted he won't be planning with the sponsorship money in mind... 'At the moment we are budgeting with 50 per cent of the amount due from Setanta and I think that is the sensible way to go. If it does all go wrong then that is a shortfall that can be covered by our shareholders and that's what we will do if the worst comes to the worst'".

Meanwhile, the Kidderminster Shuttle claims that "Harriers and their fellow Football Conference clubs could face a fresh financial crisis if stricken television broadcaster Setanta falls into administration... Last season, Harriers also made an extra £21,000 from televised matches against Torquay and Burton Albion. The deal gave English football's top Non-League division far greater national exposure, but fans have been unhappy at seeing matches moved to Thursday nights and at odd times over the weekend, with some fixture changes made very late. Football Conference spokesman Dennis Strudwick said: 'We are aware of all the reports of Setanta's situation and we are talking to them about it... We have a three-year deal with them but we will see what happens'".

The Oxford Mail states that "Oxford United say they are carefully monitoring the situation at troubled satellite company Setanta. However, they have not withdrawn the near £80,000 they get from the Irish broadcaster from their budget, as Conference chairman Brian Lee is urging all Blue Square Premier clubs to do. Chairman Kelvin Thomas says United do nevertheless have contingency plans in place...

'We tell clubs not to use the TV money in their yearly budgets', Lee said. But Thomas felt it was not practical for clubs to operate like that... 'Yes, it is included in our budget, but we're also aware of the need to keep a close eye on the Setanta situation', he said".

In contrast to their Oxford rivals, Cambridge United report that "CUFC Chairman George Rolls has reassured supporters that the club has not budgeted for TV income from Setanta and will not be affected if the sports broadcaster is unable to meet its financial commitments. Rolls was interviewed live by Jeff Randall on Sky News... Rolls told the interviewer, 'Fortunately for Cambridge United we got wind of this halfway through last season and we prudently decided that we wouldn't be budgeting for the Setanta money this season, so luckily for us it won't have an effect on us... It's a lot of money - we were live on television eleven times last season so it would have an impact of about £125,000 to us. It will be a lot more serious for some of the other clubs. Fortunately we average about 3,700 fans and we're one of the bigger sides in non-league football, but I'm sure that some of the other clubs that have budgeted for it will struggle to pay their bills. Luckily for us, we're not one of them so our fans can rest safe in the knowledge that Cambridge United FC will not be troubled by Setanta if they do go into administration... We've just used our business acumen to know what's going on and we've made sure that we won't suffer as a result'".

But there is mixed news from the Cambridge News which tells us that, on the one hand, "Jai Reason has signed for Cambridge United... Reason, who spent the back end of last season on loan from Ipswich, has signed a one-year deal at the Abbey after being released by the Tractor Boys".

But, on the other hand, "Gary Brabin may have to sell players if he wants to keep Phil Bolland and Daryl McMahon at Cambridge United next season. The U's boss is working with a tight budget and has not been able to offer defender Bolland and midfielder McMahon - who are out of contract - new deals. And United chairman George Rolls...said: 'Phil Bolland and Daryl McMahon haven't been offered new contracts yet. If the manager can fit them in his budget, then he's free to sign whoever he wishes. But, at the present time, there's no room for Phil or Daryl in the budget and I can't see either of them signing'".
---
9 June 2009
VOTE FOR GREG
The Manchester Evening News has a picture of Greg Young as it announces that it has "teamed up with Bargain Booze to find Greater Manchester's non-league player of 2008-2009... For your chance to win a share of £500, all you have to do is e-mail your choice of player - selected from the shortlist below - explaining your decision in 100 words or less.

If you are chosen as the winner, you will win £250 and the player will win £250. Good luck! Amongst the candidates profiled by Tony Glennon are Altrincham's Greg Young. "Defender. Aged 24. Manager Graham Heathcote says: 'Greg's consistent displays at the heart of our defence played a big part in us holding our own in Blue Square Premier. We achieved a lot of 1-0 victories over the course of the season and Greg was instrumental in helping us keep many of those clean sheets. Our keeper, Stuart Coburn, would be the first to recognise that, as would the rest of his team-mates. We're certainly much more secure at the back than we were when Greg first arrived at Moss Lane two years ago and he deserves a lot of the credit for that. It's good to know he'll still be with us next year because I regard him as one of the best young centre-halves in the top-flight of non-League'".
GEORGE'S BIRTHDAY
Congratulations go to Altrincham FC Youth team's successful manager George Heslop on his 70th birthday this week. George fulfils many roles at Moss Lae as well as running the youth set-up. These range from bingo-caller and race-night compere to Company Secretary of the football club.
STEWARDS WANTED
Darren Gregory writes: ""Altrincham Football Club are seeking additional stewards for matchdays for the 2009-2010 season

Do you like working as part of a team and can deal with the public?

Full training will be given and a nationally recognised NVQ in spectator safety is achievable. You must be willing to do both Altrincham Football Club and Manchester United reserve games. You must be over 17 years of age and flexible, due to different match times and days. All positions are voluntary. If interested please contact the club on 0161-928-1045 and leave your name and telephone number and I will get back to you. Alternatively, you can e-mail me. We have lost a couple of stewards who have stepped down after more than 10 years of helping for personal reasons, and I thank them for their help. Darren Gregory, Safety Officer".
BSP NEWS
The Northwich Guardian reports that "Northwich Victoria have won an appeal against the Football Conference's decision to kick them out of the competition. Owner Jim Rushe called the Guardian from Soho Square to confirm the game's governing body had overruled the league's verdict. 'I'm absolutely buzzing', he said. An FA panel told him Andy Preece's men will start next season in Blue Square North with a 10-point deduction". The Vics had been demoted to the UniBond League by the Football Conference for financial reasons.

The NW Evening Mail reports that "Barrow AFC have accepted Fleetwood Town's offer for centre-half Steve McNulty... The fee for the 25-year-old was a club record £17,000. Fleetwood chairman Andy Pilley said: 'Fleetwood Town have agreed a transfer fee of £17,000 for Barrow centre-half Steve McNulty This large financial commitment far exceeds our previous transfer record and is a clear statement of our intent'. Barrow released a statement which read: 'Barrow chairman Brian Keen has agreed a deal for the transfer of Steve McNulty to Fleetwood Town. The deal for "a sizable five-figure fee" was finally agreed on Sunday afternoon".

News of a former Alty winger comes from AFC Telford United who "have completed the signing of wide midfielder Steve Torpey from Stalybridge Celtic. The 26 year old former Halifax and FC United man signed on Saturday with Telford beating off competition from a number of clubs".

Meanwhile, Blue Square Football says that "Newcomers Luton Town have re-signed defender Alan White nine years after he left Kenilworth Road. White, 33, signed for Darlington in 2007 and made 85 appearances for the north east club before his release at the end of the season. He is Mick Harford's fourth signing of the summer, joining Andy Burgess, Adam Newton and Liam Hatch. The centre-half played 93 times for the Hatters between 1997 and 2000 and has signed a two-year deal".

This is Glos says that "Cheltenham Town are set to make Kidderminster Harriers striker Justin Richards their second signing of the summer. The 28-year-old target man... top scored for Kidderminster last term".

According to the Cambridge News, "Gary Brabin has told Cambridge United supporters to be patient as he eyes up suitable replacements for the departed Scott Rendell. U's manager Brabin... does not expect to make any new signings in the coming weeks. Brabin said: 'Scotty's a Peterborough player and he's gone back there and, at this moment in time, we're a million miles away from being able to sign him. With the cuts we're having to make to the budget, it looks like it's almost impossible for us to get him back here. But you never know in football'... Brabin said: 'We're trying to work on the budget and we've got to be cautious. We're trying to tie up the players we've already got in the squad'".

"Chester City face the most important week of their life this week" according to the Chester Evening Leader. "The troubled club's financial position will be revealed to Chester City's creditors and shareholders by administrators Refresh Recovery... on Thursday... The Blues are expecting to be officially accepted into the Blue Square Premier League when the Football Conference hold their annual general meeting on Saturday. But Chester are likely to kick-off their campaign with the handicap of a 10-points penalty after their decision to enter administration. Meanwhile, reports suggest that Chester's Player of the Year, Ryan Lowe, is poised to join Bury.... Meanwhile, Chester City today confirmed they have exercised their option to retain the services of young defender Glenn Rule".

From This is Nottingham we learn that "Mansfield Town chairman Andy Perry insists manager David Holdsworth's budget this summer has not been compromised to offer cut-price season tickets. The club said they would only make the £195 adult seats available if they got a take-up of 3,000 or more. But with well over 1,500 signing up – more than double the 709 last year – the club agreed to honour the scheme anyway. That has left a shortfall in the revenue they are striving to recoup from those sales. But Perry says the club expect to make it up through commercial activity – and hope for a further boost from a good start to the 2009-2010 campaign.

It means Holdsworth can still bring in the three players he is targeting, despite having already added seven new faces. 'The budget for David is no different than if we had got the 3,000', said Perry. 'We are not holding back money to spend on the team in January – we are spending the budget to build a strong squad from the start. Then, if we have a decent run up to Christmas, we hope that would bring in extra income and then we could strengthen again using that. It's unlike last year when there was still money unspent when the summer transfer window (in August) and then the loan window (in November) closed'.

Along with students and senior citizens, there are now more than 2,000 registered season ticket holders... With those who pay on the gate and away supporters, the club hope to have at least 3,000 for most home games". 2,423 was the average gate last season and the previous year, in League Two, it was 2,821.

"Carl Heggs has hailed Gareth Sheldon's arrival at King's Lynn as an 'unbelievable' signing for the Unibond Premier Division club" according to This is Tamworth. "Sheldon rejected a fresh deal at the Lamb and turned down interest from Kidderminster to sign a one-year contract at The Walks... Said Heggs. 'What does that tell everybody? It tells everybody something magical is happening down at our club. Kidderminster and Tamworth both offered him good deals but he is my pal and I've sold him the club and what I'm trying to achieve. Gareth isn't a has been who has come to King's Lynn to make a few quid. He is a non league centre forward that everybody respects and he has come to help me win the league... If they gave ASBOs for trying I'd be getting one. I phoned him up 50 times, I went round his house, I begged him, I made him feel special'".

Relegated "Weymouth FC has been dealt a new blow in its bid to recover from the financial meltdown that threatened the Terras' very existence earlier this year. Creditors Barclays Bank have requested repayment on money owed to them... A statement issued to Echosport reads: 'The problem is not the longer term but the here and now. Over the summer, the club is experiencing cash-flow problems that it is seeking to address but life has been made very difficult for us, sadly, in the past week. One big issue is that Barclays Bank have decided to foreclose on us, requiring that we pay off our overdraft with them very soon. This has come as a serious and unexpected blow just at a time when we hoped our creditors were giving us some leeway, with the Inland Revenue having agreed a payment plan. The new board has always wanted to do the honourable thing and pay the club's creditors, rather than default. We also do not want to have to have to suffer any punishment, from points deduction to expulsion from the Blue Square Conference, should we be forced into any insolvency action... One problem is that we no longer have any collateral to borrow against because of the sale of the land surrounding the Wessex Stadium. In the meantime, we will keep seeking help as we try to raise the money that will keep the wolves from the door this summer. It is not helping that certain concerns who owe the club money are not paying their own debts... The club will survive and will start next season no matter what, we are sure'...

The board also claims that former chairman Malcolm Curtis is demanding repayment of some of the money he believes he is owed by the club. However, Curtis insists that this far from the case. He said: 'I've not made any statutory demands. When the board took over they signed an agreement that £20,000 of money owed to me, which I put into the club before Christmas, would be paid back at £500 a month. However, no payment has been made at all – I've not received a penny. I've had no contact from the club to clarify their position so all I want is clarification. I'm not going to wind the club up as I have no intentions of doing that. They signed a legal agreement with me and I just want clarification'... Meanwhile, the Terras have completed the signing of former Weston-super-Mare keeper Ryan Harrison - manager Matty Hale's fifth signing since taking charge last month" reports the Dorset Echo.

The Press confirms that "York City right-back Ben Purkiss has signed a new deal for next season. Purkiss, 25, was out of contract but has agreed improved terms that will keep him at the club until next summer. Former club captain Mark Greaves, however, has now been released".

At Wrexham "Defender Kyle Critchell has agreed a deal which will see him leave the club with immediate effect, despite having a season left on his current contract... The 22-year-old Wales U21 international... [moved] to Wrexham followed last summer, but he was suspended for the first three games of the season (following a red card in his final match with Weymouth [against Altrincham]) and then picked up an injury in training at the end of August.... [before] Joining fellow Conference side York City on a month's loan in early January 2009... Coming back to Wrexham in early March, Kyle then rejoined his local side Weymouth on loan until the end of the season... In total, Kyle only played two games for the Dragons, both last August".

Hayes & Yeading United report that "Garry Haylock has confirmed that left-back Gary MacDonald has signed a two year deal with Havant & Waterlooville. Gary arrived at Church Road from Bognor Regis Town midway through last season".

Crawley Town "are delighted to confirm that attacking midfielder Barry Cogan (23) has joined the Reds... from Grays Athletic but considering his young age he has significant Football League experience with Gillingham and Barnet. He also featured for Millwall where he played as a substitute in the FA Cup Final against Manchester United... Gaffer Steve Evans was delighted with the signing. He said, 'I tried again on 3 occasions last season to sign him from Grays Athletic but Mick Woodward (Grays Chairman) was having none of it'".
---
8 June 2009
OLD BOYS
Former Altrincham reserve "Tom Baker has handed new boss Neil Aspin an early boost in his [AFC Halifax] Town rebuilding efforts by agreeing a new one year deal... But [another ex-Moss Lane reserve], Ashley Stott, has decided not to stay at Halifax and has returned to Bangor City" states The Halifax Courier.

An ex-Alty trialist, "right-back Adam Yates is set to be unveiled as Micky Adams's first signing next week [for Port Vale]... after being released by side Morecambe at the end of the season" reports This is Staffs.
BSP NEWS
There is potential bad news for Blue Square clubs as The Times reports that "Setanta, the sports broadcaster, is on the brink of collapse this weekend as it struggles to agree a rescue plan with rights holders and investors. Deloitte, the accountancy firm, is on stand-by to put the company into administration. This would mean Setanta could disappear from the airwaves immediately. For the past six months Setanta – which has 1.2m customers, considerably short of the 1.9m needed to break even – has been desperately trying to raise new capital to meet rights' payments.The broadcaster has until tomorrow to pay the Scottish Premier League (SPL) £3m as part of its £31m a year deal... There are also huge repercussions for the Barclays Premier League, which is awaiting a £35m payment from Setanta due on June 15. The company's collapse could result in a fire sale of rights, including the £425m four-year deal for England and FA Cup matches it shares with ITV. Analysts say no one will pay anywhere near Setanta's rates to pick up the contract. Setanta was started in a pub in Ealing, west London, in 1990 by founders Mickey O'Rourke and Leonard Ryan who bought the rights to the Republic of Ireland's World Cup game against Holland and screened it, charging £5 entry. The most likely outcome is understood to be a straightforward administration with most of the rights reverting to their holders".

Despite their financial difficulties and threatened demotion to the UniBond League, NL Daily reports that "Northwich Victoria have brought in central defender Mark Cadwallader from Principality Welsh Premier outfit Airbus UK Broughton... 20-year-old Cadwallader graduated through Chester City's youth system and made several appearances for the reserves before joining Bangor City in March 2007. He moved on to Connah's Quay Nomads three months later before joining the Wingmakers".

According to The Press "Former York City favourite Jon Maloney is targeting a return to KitKat Crescent. Despite playing as a centre-back, Maloney scored four goals in 13 league appearances for City to help stave off the threat of relegation from the Conference in 2005 during a loan spell from Doncaster Rovers. Now, having enjoyed a record-breaking four years in American College football, the converted striker is hoping City manager Martin Foyle will give him a second chance to impress... Maloney, 24, has been invited back to Championship outfit Doncaster for pre-season training at the end of this month but admitted his main ambition is to secure a pre-season trial with City. He told The Press: 'I really enjoyed my time at York four years ago and feel I had a really good relationship with the fans and players. I still believe I have a lot to prove in England and I would love to do that with York. The club would be my first choice without a doubt'".

Ebbsfleet United say that "Having rejected a £30,000 bid from an unnamed Blue Square Premier club for Fleet striker Michael Gash, MyFC members will now have to decide after fresh interest was shown by other clubs. The new deal is worth £40,000, with half paid upfront, a further £10,000 to be paid on 1 January 2010 and a final payment of £10,000 to be made on 1 July 2010. The club in question have asked to remain anonymous. They have stressed that this is a final offer and that they want a reply by Monday morning. MyFC has set the vote to close at 11.30 am on Monday 8 June. There are no sell-on clauses included in their offer". the NL Paper suggests that the club in question is Luton Town.

"The first unnamed club, whose £30,000 offer was rejected, as well as a third unnamed club, are considering making additional offers for Michael Gash... The vote follows on from the 97% rejection of York City's £10,000 approach for Darius Charles".

Gateshead's "striker Graeme Armstrong is the latest player to accept new and improved terms... Armstrong... has scored 38 goals in his two seasons at the International Stadium.All of Gateshead's retained players meanwhile have agreed new and improved deals apart from wide man Wayne Phillips who is already contracted for next season... Gateshead meanwhile have agreed terms with Durham City's Gateshead-born striker Steven Richardson, though the transfer fee is likely to be settled by an FA tribunal".
---
7 June 2009
COFFEE MORNING
Darren and Louise Gregory announce that there will be a Coffee Morning in the Gill Oates Sponsors' Lounge on Friday, 12 June 2009 from 10.30am till 1.30pm. Come along and have a chat whilst enjoying a coffee/tea with a cake for just £1! There will also be a table-top sale of books, bric-a-brac and sundries, as well as a raffle. Everybody is welcome - all proceeds go to Altrincham Football Club.

The Social Events & Fundraising page has details of all of the club's off-field activities. Please do support these as they generate vital income for the Club. And don't forget next Saturday's Working Day at Moss Lane to help prepare the stadium for next season; it starts at 10am and everyone is welcome.
BLUE SQUARE NEWS
The Northwich Guardian poses and answers some questions about the fate of Northwich Victoria. "Northwich Victoria Football Club (2004) Limited faces an FA panel at the governing body's headquarters on Monday... Do Vics have a case? ... The club's argument will be two-fold; first that the firm entered an insolvency event BEFORE the Football Conference deadline of May 9 and, second, that in any case the sanction applied by the league is 'excessive.' Rushe says he has paperwork proving that Vics served a snappily-titled 'Notice of intention to apply for an administration order' on May 6. He had to, because HM Revenue and Customs would have been granted a winding-up order against NFVC (2004) Ltd at London's High Court the following day if he did not.

The league's rules are certainly tough, stating that club's must pay back ALL their debts in full or face being kicked out.

What's the difference with Chester City's situation then? First, Chester are on course to agree a Company Voluntary Agreement (CVA) before the Football Conference AGM... Second, as a club coming down from the Football League, their insolvency is subject in the first instance to the rules of that competition and not the Conference. Chairman Stephen Vaughan is the sole bidder for the debt-ridden club. He is also it's biggest creditor and major shareholder. He has offered to pay back around a sixth of the Cheshire outfit's £7m debt over a four-year period".
---
6 June 2009
VICS FACE DEMOTION
Following the announcement in yesterday's news (below) of Northwich Victoria's expulsion from the Conference, the Northwich Guardian adds that "Northwich Victoria will know their fate before the Football Conference's annual meeting next Saturday... 'It's make or break time', admitted owner Jim Rushe. 'The Football Conference appear set on throwing out a club with more than 100 years of history using a rule that even they admit does not make sense... It adds insult to injury that they want all the other clubs to be judged by different rules from next Saturday night'.

The Guardian has learned that the Wincham club will appeal on two counts; first that the Football Conference board have misinterpreted their own rules and second that the competition's regulations make it impossible for any team to continue playing in non-league's top tier if they suffer financial problems. Vics' neighbours, Chester City, will also discover if their entry to the Blue Square Premier has been accepted in the coming days...

The Football Conference is already considered the toughest league on clubs becoming insolvent. Two years ago the competition scrapped the oft-quoted football creditors rule. Now, even if a club has agreed a Company Voluntary Agreement (CVA), it must pay all debts owed in full by the second Saturday in May. If not, then they are kicked out... They plan to get tougher still, proposing that any club entering administration be automatically relegated the following season.

Vics' owner says administrators Refresh Recovery Limited are close to agreeing a CVA with the club's biggest creditors, particularly HM Revenue and Customs. The club's tax bill is around £400,000. 'Talks are ongoing', revealed Rushe. 'But we think we will agree a payment plan with the tax man that will ensure the club's future'".

And the Guardian goes on to claim that "League bosses say an administration order was made against Northwich Victoria Football Club (2004) Limited after a competition deadline. Refresh Recovery Limited were appointed on May 15 - six days after the Conference cut-off date. However Rushe says he gave the league notice of his intention to apply for an administration order much earlier, on May 6.

Appendix E, headed Financial Information, reads: A Club will not be eligible for membership of the Competition for the following season if by the second Saturday in May in the current season it shall be subject to an Insolvency Event. Similarly, a Club shall not be eligible for membership of the Competition for the following season if between the second Saturday in May and the Annual General Meeting of the Company it has undergone an Insolvency Event. Further, a Club will not be eligible for membership of the Competition for the following season if it shall have entered into an Insolvency Event during the preceding season and have exited such Insolvency Event without paying its creditors (including but not limited to football creditors) in full.

In the event of a Club suffering an Insolvency Event after the Annual General Meeting of the Company and prior to the start of the new season then the Club will cease to be eligible for membership of the Competition for the new season and the Club will be relegated from the Competition to a level within the National League System as may be decided upon by the Football Association". The Oxford Mail claims that "Chairman Kelvin Thomas believes increasing Oxford United's revenue can make significant inroads into the club's annual losses. The club recorded a loss of around £800,000 in the year ending June 30 2008... Thomas hopes these [losses] can be reduced to between £100,000 and £200,000 next season. Thomas, U's manager Chris Wilder, and Michael Good, from auditors Critchleys, addressed the shareholders... Thomas said he was committed to reducing the loss for the forthcoming season...

The success of the Youth Development Benefit Match last week, when more than 2,500 people turned up, means this could become an annual event to help to keep the club's youth set-up going. A new kit deal, which will see United wearing a Nike strip from next season, is also a step in the right direction, he said... The club are aiming to be professional in all ways, to build a winning mentality...

'I think people were pretty complimentary and excited about the atmosphere around the club right now', said United's chairman... He told the Oxford Mail: 'We are looking to reduce our annual loss to between £100,000 and £200,000 essentially through increasing revenue' [rather than cutting spending]. And this would be done, he believed, if United are able to maintain average home gates of around 5,000-5,500, which they were achieving in the last few months of last season".

News of AFC Wimbledon comes from This is Local London which tells us that "Dons' boss Terry Brown reckons his philosophy of building a young and athletic squad will pay dividends for years to come - not just next year. The Kingsmeadow chief beat off Football League interest to add 21-year-old FA Trophy winning [Ebbsfleet] striker Luke Moore to his squad this week... Brown is looking to added four more players to his squad before pre-season with an emphasis on youth and a winning mentality. And he believes that approach can not only compete at the higher level, but will eventually see his side make the step to the promised land of League Two and beyond.

'It is evident that we will be one of the youngest squads in the the division this year', he said. 'This doesn't indicate any lack of ambition; in fact, quite the opposite. We intend to work incredibly hard during pre-season training to ensure this squad is not only full of talented players with pace and energy, but is able to cope with the demands of playing full-time teams... Luke is one of the Blue Square Premier's brightest prospects and is a very talented front runner... I expect Luke to develop into a quality Football League striker within the next couple of years and his addition to our squad fits in with our player profile of young talented winners'".

Another player departing Ebbsfleet is the subject of a BBC report. "Ebbsfleet striker Michael Gash's potential transfer to an unnamed rival Blue Square Premier club has been rejected by an internet vote. Ebbsfleet are owned by subscription website MyFootballClub's 10,000 members, 2,835 of whom voted on Gash's proposed £30,000 transfer. The result was overwhelmingly in favour of keeping the striker, signed for £20,000 from Cambridge City last July. Only 250 (8.82%) voted to sell Gash while 37 (1.31%) abstained". Earlier this week, a similar vote turned down a big offer from York City for Fleet defender Darius Charles.

Left: Ebbsfleet's Darius Charles may still be greeting Altrincham to Stonebridge Road next season, (as he is shown doing last March), following MyFC's refusal to sell him to York City this week.
Indeed, The Press confirms that "York City are unlikely to offer rivals Ebbsfleet an improved bid for star defender Darius Charles... York assistant manager Andy Porter feels another approach would be similarly rebuked... Porter did, though, add that the wage budget Foyle and himself have been handed this summer permitted some scope to pay modest transfer fees. 'We've got to spend it wisely', he said. "But we've been given a figure and are moving it around a bit by getting rid of a few players and bringing others in'. The City coach also stressed that he expects to hear confirmation from Ben Purkiss and Onome Sodje on the extension offers to their contracts by the middle of next week.
He said: 'We should find out by then because the 28 days since the offers were made will be up. We haven't heard anything from Sodje but have had a chat with Ben and he seems to feel we are moving in the right direction and is happy with the way we are getting players in'. Free agents Shaun Pejic and Mark Greaves have not been offered new contracts for next season as yet but Porter admitted that the door had still not been closed".
Yet another man leaving Stonebridge Road is confirmed by the BBC, which says that "Woking have signed Ebbsfleet midfielder Mark Ricketts, subject to a medical. The 24-year-old was out of contract at Fleet, who have not been able to retain any of their players whose contracts had expired because of their finances".
In contrast to the financial troubles at one "Fleet", the other "Fleet" in the Blue Square leagues has substantial funds available as the NW Evening Mail reports that "Fleetwood Town have tabled a 'sizeable' five-figure bid for Barrow AFC defender Steve McNulty. The Liverpudlian centre-half turned down a new improved deal with the Bluebirds at the end of last week and was put on the transfer list alongside striker Nick Rogan. Fleetwood's official website says; 'Fleetwood Town have tabled a sizable five-figure bid for Barrow's Steve McNulty... Fleetwood Town chairman Andy Pilley said: 'We are looking for players who can make an immediate impact in a promotion campaign. Steve has clearly demonstrated he fits that bill... Town also have an offer under consideration for Northwich Victoria's Simon Grand'".
From Luton Town we learn that "As Mick Harford continues to build a team fit to return to the Football League at the first attempt the Hatters are delighted to confirm the signing of striker Liam Hatch on a season-long loan from Peterborough United... with a view to a permanent move. Hatch started his career with Herne Bay before a switch to Ebbsfleet United and is another player signed by Mick Harford with a Conference winners' medal having been a part of the Barnet team that lifted the Conference title in 2004/05... Last season the 6ft 3in England C international was loaned out to Darlington where he scored nine goals in 23 appearances".
According to the Northants Evening Telegraph "Keith Cousins insists Rushden & Diamonds can build a top-five squad 'at the right price'. The club chairman believes Justin Edinburgh's new-look side will push for a promotion play-off place next season – despite further financial restraints. They have already lost captain Andy Burgess and player-coach Chris Hope, along with homegrown midfielder Marcus Kelly... Burgess also turned down the offer of a money-spinning testimonial by instead joining Blue Square Premier rivals Luton Town... and Daryl Clare also completed a permanent move to Mansfield Town.
Diamonds have kept hold of Simon Downer, Kurt Robinson and Nicky McNamara, with former Barnet midfielder Max Porter coming in. A year ago Cousins splashed out to sign the likes of Clare, Lee Phillips and Rob Wolleaston. However, he ended up losing around £500,000 last season as Diamonds finished in mid-table again. Cousins confirmed: 'The budget and players' wages have been reduced to reflect the current times. Last year we went for it but that was a failure. Since Justin took over from Garry Hill, our performances and results have improved. To be honest, it's going to be very difficult for him... We need a forward and a centre-half. We're not being rushed, though... We're going to have a small squad which we think will be capable of making a challenge at the right price'".
From The Comet we read that "Stacy Long has signed a one-year contract with Stevenage Boro after coming through a medical... Long signs on a free transfer having been released by Ebbsfleet United... However, Long will have to fight for a starting place next term... The likes of David Bridges, Michael Bostwick, Joel Byrom and Darren Murphy will all be vying for place in central midfield alongside Long, who can also operate on either flank if required". Somebody's not going to be very happy...
Bullsnews reports how Peterborough are trying to sign Grimsby's Ryan Bennett. "The Posh are believed to have turned to Bennett after Crewe quoted them £500,000 for their defender John Brayford" who was playing for Burton Albion and scoring against Alty last season.
Former Hereford man Clint Easton is to have a second trial at Mansfield. He played in an end of season reserve match against Shrewsbury, and the Stags want a second look" states Bullsnews
"Tamworth FC boss Gary Mills has backed striker Stuart Nicholson to take the Conference by storm next season" claims This is Tamworth. "The former West Bromwich Albion striker has signed a one year deal at The Lamb. And Mills said: 'He has had a couple of bad years really but he's someone I rate very highly. When I bought him in last season, to be fair he joined us at 40 per cent fitness so he needs that pre-season behind him'".
NW NEWS
Accrington Stanley report that they "had a constructive meeting with HMRC officials in London and will now submit formal proposals to repay the amount owed to them over the weekend which should then be sufficient to postpone the court hearing scheduled for next Wednesday". Bullsnews adds that "Accrington's takeover is still on, according to the potential buyer - and current General Manager - Dave O'Neill. O'Neill is said to have put £150,000 into the club last summer to avert a previous threat from the taxman. Assistant boss Jimmy Bell has confirmed to the local press that several players are refusing to agree new deals while the winding up order remains on the table".
---
5 June 2009
VICS FACE DEMOTION
The Northwich Guardian reports that "Northwich Victoria have been kicked out of the Football Conference for breaking finance rules. League bosses say they will bar the club from playing in Blue Square North because they entered administration too late. Vics have already lodged an appeal with the Football Association.

'I'll fight for the club's future', said owner Jim Rushe. 'I feel we've been really harshly treated; the league want to boot us out using a rule that they intend to change next week because they think it's out of date. Northwich Victoria's very existence is on the line'. He faces an FA panel in London on Monday afternoon.

The Guardian has asked the Football Conference to comment, but general manager Dennis Strudwick refused to even confirm Rushe's version of events... Vics have fallen foul of regulations set out in Appendix E, which covers Financial Information. It reads: 'A club will not be eligible for membership of the competition '. An administration order against Northwich Victoria Football Club (2004) Limited was made on May 15 – six days after the deadline. However Rushe says that he gave notice of the club's intention to enter administration more than a week earlier on May 6. He says he has court papers to prove it. Perversely, the Football Conference includes an application for administration in its list of definitions of an Insolvency Event.

Rushe, who has hired top solicitor Richard Cramer to fight Vics' case, added: 'I've already spent thousands of pounds putting an appeal together. We're not prepared to accept a decision we believe to be grossly unfair'".
YANKEE JACKPOT
The Altrincham FC Saturday Yankee jackpot is now £8,400 as there were no winning codes this week. There were, however, six winning Trebles, each earning £33.33. You can have a chance of the jackpot for just £1 a week. Follow the above link for details.
HOLIDAY CLUB
You can make savings for yourself and earn commission for Altrincham FC by booking your holiday through the Alty Holiday club. All you have to do is book through Going Places or Thomas Cook. Their local branches are:
Altrincham - Thomas Cook 0845 308-9110
Sale - Going Places 0871 664-7413
Sale - Thomas Cook 0845 308-9538
Wilmslow - Thomas Cook 0845 308-9648

Click on poster image (right) for further details.
WORKING HOURS
Saturday's "Working Day" at Moss Lane will operate from 10am to 3pm to allow people time to get to watch the England match. John Skelhorn and Neil Faulkner will be organizing the day. Please do come and help if you can; the Club relies on volunteers to keep the stadium looking smart.
OLD BOYS
NL Daily reports that "Marksman Ashley Stott has rejoined Bangor City... A former Preston North End youth, 20-year-old Stott was in the middle of a two-year contract with FC Halifax Town and returns to City for an 'undisclosed fee'. After leaving Deepdale, Stott made a couple of [reserve] appearances for Altrincham, where he was spotted by City manager Clayton Blackmore who brought him to Farrar Road with the promise of first-team football. He scored thirty goals in fifty-nine Welsh Premier appearances during his two seasons with the Blues but, after attracting interest from Chester City, Northampton and Darlington, decided to link-up with Halifax last summer and was leading scorer with twenty-two goals last season".

Also, "Steve Waywell, the new manager of Chorley, has begun his squad rebuilding programme with ten of last season`s squad so far committing to staying at Victory Park". These include former Alty youth and reserve Lee Shillito". And a striker who was once signed as injury cover but never played for Alty, "Trafford's 26 year old star striker Andy Lundy, has told the UniBond league Division One North club that he wishes to leave to further his career... He has scored seventy-nine goals in 146 appearances".
BSP NEWS
Blue Square Football says that "Woking chairman David Taylor has called time on his tenure at the relegated club. Taylor's position at the club is set to be taken up by Shahid Azeem after a recent board election... 'As you may know it was my intention to resign as Chairman as soon as the shareholders were in a position to elect a new board. That process is now taking longer than anticipated, and there are urgent additional actions that need to be driven forward. In the light of these, along with the need for new blood, my reducing available time and ongoing health pressures, I have decided to stand down as Chairman with immediate effect. I pledge myself to the service of the club, the fans and the board in whatever capacity I can most be of help. The board have asked Shahid Azeem to be Chairman of the club and lead the club through to the new structure, and elections'" stated Mr Taylor.

At Ebbsfleet United "Almost 97% of MyFC members who voted have rejected York City's offer for Darius Charles. In a 24-hour vote, more than 2,000 members had their say, with 1,977 (96.72%) saying no and only 60 (2.94%) agreeing to accept the York offer. The Fleet had received an offer earlier this week of £10,000".

Still at Ebbsfleet we find "a list of confirmed comings and goings... Although all first-team players, bar those who have contracts lasting into 2010, have been formally released, we will only list those who have been confirmed as signing for new clubs". These departed players are Rob French (to Sittingbourne), Peter Hawkins (to Maidstone United), Sacha Opinel (retired), George Purcell (to Braintree Town), Danny Slatter (to Billericay Town), James Smith (to Farnborough Town)". However, Farnborough report that "For two years, the sight of Sacha Opinel rampaging up the left wing and crunching into tackles was common in the red and white of Farnborough Town. Now, in the yellow and blue of Farnborough, the fearsome left-back has returned, becoming Steve King's fourth signing of the summer".

"The 58th AGM of Oxford United FC was held this [week] at the Kassam Stadium. Chairman Kelvin Thomas, Manager Chris Wilder and Michael Good of auditors Critchleys were present... Despite a significant loss in the year ending 30th June 2008 Chairman Kelvin Thomas is committed to reducing this for the upcoming season and has taken major steps in this direction while also increasing the club's asset base. Youth development received a major boost with the Benefit Match last weekend and remains a priority for the club, and the new kit deal, which will see The U's wearing a new Nike kit, will be another step in the right direction... The ultimate aim is for a profitable club playing in the Football League".

According to the NW Evening Mail "Barrow AFC have made their second new signing of the summer. The player's identity is, however, been kept under wraps for now, with a tribunal set to decide what fee the Bluebirds must pay for their man. It is understood the player in question is a defender, possibly a full-back, who has played for the England semi-pro team. Barrow joint-manager Dave Bayliss said: 'The lad has signed for us but we can't release his name yet as he's under 24 years of age and it's going to a tribunal'. So far the Bluebirds have added just one new permanent recruit to their squad, right-sided defender Simon Spender, who finished last season on loan at Holker Street... Bayliss said: 'We have players lined up to replace Steve McNulty... lads who have good experience at this level'. Fans hope skipper Paul Jones, who has partnered McNulty in the centre of defence for much of the last two seasons, will agree a new deal. A confident Bayliss added: 'It's looking boxed-on that Jonah will be signing'".

The Chester Chronicle says that "D-day is looming for Chester City after its administrators revealed they will attempt to push through the sale of the debt-ridden club a week today. Chester City Football Club Limited, the company presently behind the Blues, owe in excess of a staggering £7m. But administrators Refresh Recovery Limited say liquidation can be avoided after they accepted a bid of £290,000 from Chester City Football Club 2004 Limited. Stephen Vaughan, who placed the club into administration last month following its relegation out of the Football League, is the man behind the bid.

Vaughan is Chester's major shareholder and creditor with more than £4m in secured loans. He is willing to waive the money owed to him, however, under the Company Voluntary Agreement (CVA) that will be put forward by the administrators to the club's creditors at a meeting at the Deva Stadium on Thursday, June 11 (11am). A CVA enables a company to agree with its creditors how its debts should be paid and in what proportions. Under the proposed CVA, an estimated divided of 15 pence in the pound will be paid to the club's creditors, which include HM Revenue & Customs and the Chester City Supporters Trust, over a four-year period. A CVA requires the approval of in excess of 75% in value of those creditors voting on the resolution. The Blues need the CVA to be passed if they are to be accepted into the Football Conference at its AGM on Saturday, June 13.

But, even if it is passed, City will almost certainly start the 2009-10 Blue Square Premier season on minus 10 points. Chester owe the Football League £72,000 and, unlike, non-footballing creditors, they have to be paid in full. This debt is likely to be deducted from the League's £225,000 parachute payment awarded to clubs who are relegated from League Two... Germany-based David Jones, a former Blues' player and coach, has reportedly withdrawn a bid of £290,000 he made earlier this week".

The Northwich Guardian reports that "Clitheroe claim they are worried about losing out on their share of Joel Byrom's transfer fee. The midfielder's £15,000 switch to Stevenage Borough last month should see a four-figure sum swell the UniBond League outfit's coffers... Byrom, 22, joined Northwich Victoria for a small fee in January 2008 after a year at Shawbridge... Clitheroe fear they will not be paid if Northwich fail to agree a Company Voluntary Agreement (CVA). However under FA and Football Conference rules, Vics owner Jim Rushe must pay football-related debts – including transfer fees and wages owed to players and backroom staff – first and in full if the club is to have any future".

This is Tamworth reports that "Goalkeeper Danny Alcock looks unlikely to return to the Lambs next season because of university commitments. The former Stafford Rangers shot-stopper... is studying a degree in PE Teaching on the Alsager campus of Manchester Metropolitan University... He has not been given the flexibility to change his study hours to fit in with the midweek training schedule at Tamworth. 'I am absolutely, totally gutted', said Alcock. 'I would be available for Saturdays and night games but because of the course, I wouldn't be able to train during the week. Last year, my course tutor was flexible and allowed me to have Thursdays off for training and I would make the time up. But they have been stricter this time. It's totally gutting for me. It's Sod's Law that I should get a good move to the right club at the wrong time in my goalkeeping career... It's not even possible for me to defer my course for a year because they are closing this course down next year so I wouldn't be able to finish it. At the end of the day, I have a family to think about now, with a baby daughter and I have to look more long term'".

At promoted Tamworth, manager Gary Mills "has added another five names to his squad... Alongside already re-signed, Bradley Pritchard, Michael Blackwood, Jake Sheridan, Tom Shaw, Chris Smith and new signing Neil Mackenzie from Mansfield Town, the Lambs have announced that Michael Wylde, Stuart Nicholson, Richard Tait and Des Lyttle have all put pen-to-paper. In addition, a second new face - Gavin Hurren - has also signed from Mansfield... following a two-year stay at Kidderminster Harriers".
---
4 June 2009
OLD BOY
Brian Flynn, chairman of The Altrincham Supporters' Club, reports from an Eircomm League of Ireland Premier Division match this week, which ended as Bray Wanderers 3 Sligo Rovers 1, that former Alty defender Chris Butler is now with Sligo but is sidelined by a long-term injury. 24 year-old Butler, a left-back, signed for Alty, initially for a month, in November 2005 from Accrington Stanley having been released by Liverpool in September 2004. He made his debut for Alty at Gravesend in November 2005 where he played for 58 minutes before being substituted. He left Alty for Vauxhall Motors on 1 December 2005.
BSP NEWS
The News Shopper tells us that "Stacy Long believes Liam Daish's job as Ebbsfleet boss is going to be harder than ever after the club's budget was drastically reduced. Long was released by the Fleet at the end of last season as the reality of the financial problems at Stonebridge Road began to hit home, a point further underlined by the departure of assistant manager Alan Kimble earlier this week. Daish has already been told by the club's owners MyFC he must operate on a weekly budget of £5,000 next season, probably one of the smallest in the Conference.

And Long believes... 'The club is obviously in a lot of trouble financially and it is unfortunate the team Liam built last year can not stay together. It is a real shame because there was a lot of potential there with young players who wanted to stay. I honestly believe everyone there last year did want to stay, including me. I don't know how they are going to do next season'... Long confirmed he is about to complete a move to Stevenage Borough at the end of this week... Meanwhile, MyFC members are set to decide the future of striker Michael Gash by Friday. Gash is set to join another Conference club for £30,000 but the move will have to be approved by the website's 10,000 members first. The striker scored 12 goals since arriving from Cambridge City last summer".

Meanwhile< A href="http://www.ebbsfleetunited.co.uk">Ebbsfleet United "have received an offer of £10,000 from York City for defender Darius Charles. Darius began his Fleet career on loan at the tail-end of the 2007-08 season and was signed on a season-long loan during 2008-09, later made permanent in a transfer from Brentford for a fee which could rise to £25,000 based on the number of appearances and EUFC's performance in seasons 08/09 and 09/10... The player was the Fleet's Player of the Year for last season. MyFC members now have until 9.45am on Thursday to decide whether or not to accept the bid as York City need to be informed by 10am on Thursday. The original purchase from Brentford contained a 10% sell on clause which the Fleet would have to pay to them in the event of any transfer".

NL Daiy confirms that "Ebbsfleet United`s striker Michael Gash's potential transfer to a rival Blue Square Premier club is to be decided by an internet vote... Gash joined Fleet in July 2008 from Cambridge City on a two-year contract in a deal worth £20,000. That money was raised by MyFootballClub members and fans. If Ebbsfleet sell Gash, 30% of the transfer fee will go to Cambridge City".

"David Holdsworth, manager of Mansfield Town, admitted he may be fighting a losing battle to keep Curtis Woodhouse" reports This is Nottingham. "The experienced former Birmingham and Sheffield midfielder made a dozen appearances for the Stags in the second half of last year. But Woodhouse's other career as a professional boxer has become increasingly important.... 'Curtis has told me that if he does carry on playing then we are the club he wants to sign for', said Holdsworth. 'But we are close friends and I know the boxing career is taking a major role for him, which means it is touch and go'... Holdsworth has appointed Mike Whitlow as his head of youth development. The former Leeds, Leicester and Bolton defender has performed a similar role at Notts County... Holdsworth said: 'Mike understands my ethos and high standards – which is what it is all about'. Meanwhile, Alan O'Hare has been told he will not be offered fresh terms, while young left-back Michael Turner has been handed a one-year deal at Field Mill with the option of a second".

Welsh Premier reports that "Bangor City will stage the home leg of their Europa Cup second qualifying round tie at Wrexham's Racecourse Ground. City's Farrar Road ground is not licensed to stage European ties".

Luton Today tells us that the "Hatters are on the verge of making several new signings... Giant defender Shane Blackett has become the latest player to be linked with a move to Kenilworth Road as Luton look to secure a Posh hat-trick. Town are already known to be interested in United striker Liam Hatch and goalkeeper Mark Tyler, and manager Mick Harford confirmed they have also been in contact with Peterborough over 6ft 3ins defender Blackett. He also admitted that they are in the race to sign former Luton defender Alan White who has left Darlington... 'We are starting to bolster the squad and we want to get up to 20 to 22 players and be ready for the challenge'. Blackett, 26, can play at centre-half or left-back and has made over 100 appearances for Peterborough and Dagenham & Redbridge... Posh director of football Barry Fry said: 'Luton have made strong bids for all three of those players... The Peterbourgh link at Kenilworth Road is already strong, with ex-United players Claude Gnakpa and Adam Newton on their books".

Tamworth "are pleased to welcome back the following four players to The Lamb from last season's squad; Bradley Pritchard, Jake Sheridan, Tom Shaw and Chris Smith. We also welcome one new one - 33 year old midfielder Neil MacKenzie from Mansfield Town... and on Saturday, Michael Blackwood became the sixth player to pledge his allegiance to The Lambs".

Following their budget cuts, Kidderminster Harriers "are looking into using some of the stars of the future next season by delving into the loan market. Current defender Lee Baker and the likes of Luke Jones and James Constable have gone on to have successful spells at Aggborough after initially coming in on a temporary basis". Manager Mark Yates said "It's a good way of bringing players in. First and foremost we'll work at bringing in [contracted] players full stop - but once we've done that then loans can certainly help over the season. The loan market is a situation we're monitoring and talking to clubs and managers about, with a view to players they might want to let out".

From Eastbourne Borough we learn that "Ross Treleaven, who has been at Worthing for the past season whilst dual registered with Boro, has been invited to return to pre-season training... Joining Ross at pre-season will be Shoreham defender Matt Hurley. Defender Hurley caught the eye of manager Garry Wilson and head coach Nick Greenwood with an excellent performance against Borough in the Sussex Senior Cup semi-final".

Confirmation comes from the NW Evening Mail that "Steve McNulty is set to leave Barrow AFC... The 25-year-old centre-half has turned down an improved deal and was yesterday put on the transfer list. The club issued a statement saying they were unable to meet the Liverpudlian's money demands... [He] has a full-time job outside of football as a delivery van driver. He said, 'I can't take what the club are offering because I'd have to give up my job and I'd be losing too much money. It's financial reasons... We were just a million miles apart. I've been well looked after at Barrow, it's the best club I've ever played for. I'm really disappointed that I'm set to leave'... [Co-manager Dave] Bayliss said: 'I'm disappointed, but it's black and white, there's no grey areas. He's made his choice and put money before a career... We offered him good terms as regards sending him to college or university as well, to learn something outside of football, but he refused that. You've got to look carefully at what's happened to teams like Northwich. If we were silly and offered ridiculous money there'd be no team left because we'd go bust... If we got held to ransom by one player it says something about us, that we're not strong enough. We'll have 16 players to look after. If we start bowing down to every single one of them then there won't be a club at all, it will go bust'".

The Chester Evening Leader states that "Blues' fans have painted a worrying picture of their club's financial plight. Chester City ISA chairman, Peter Mitchell...informed a well attended public meeting... that a creditors' meeting had been called for June 11 and the administrator advised that he was intending to accept a bid from Chester City FC (2004) Ltd in the sum of £290,000 which would enable him to safeguard the club from liquidation and pay a dividend of 15 pence in the pound (spread over four years) to the creditors, providing they support a CVA agreement. This arrangement should enable the club to be accepted into the Blue Square Premier League by the Conference chiefs at their AGM on June 13.

It is anticipated that Chester City's entry would be subject to a 10-point deduction at the start of the season. The report also indicated that the club owed the Football League £72,000 which, after allowing for a parachute payment of £13,000, left a deficit of £59,000 to be paid to the Football League as a preferred creditor. The total debts to creditors was in excess of £7 million of which club owner Stephen Vaughan (£1.8 million) and the Cestria Group (£2.2 million) were the largest...

A proposal from the fans that the ISA and Supporters Trust disband in preparation for the formation of a new supporters' group was passed by a large majority of those present".

Meanwhile, Stephen Vaughan "threw down a 'you can come and run the club' challenge to Chester City supporters... 'They can come in and run it', said Vaughan... Vaughan says he would work hand in hand with supporters... 'If I did get the club back, I've got the players lined up to get this club into the play-offs next... I've put a lot of money into the club over the years and that's been well-documented. But what I don't want is this turning into a small scale Newcastle United'".

The Northwich Guardian says that Vics' "skipper Simon Grand will wait to decide upon his future. The defender... has delayed answering Fleetwood Town's call to join their promotion push. They have made a club record five-figure bid for the former Carlisle United man. 'Grandy doesn't want to be rushed into anything so has asked for time to think things over', said Vics' boss Andy Preece. 'He has played in the Football League in the not too distant past and he's capable of playing there again. I think he feels that too. Fleetwood remains an option'".
---
3 June 2009
TEEING OFF
Altrincham Supporters' Golf Day
TASC (The Altrincham Supporters' Club) is pleased to announce details of the first Golf Day for Altrincham supporters.
Details of the event are as follows:-
Date: Friday July 24th
Venue: Mobberley Golf Club (website here)
Tee-Times: From 1.00-2.30pm

The cost is £30 per person & for this you get the following:-

Tea/Coffee & Bacon Roll beforehand (From 12 Noon)
20 Minutes Golf Coaching from Gary Donnison, the Mobberley Golf Club Professional, prior to teeing off
18 Holes (4 Ball, Stableford Points System)
A pint in the bar afterwards
Prizes (Top 3 Highest Points Scorers/Longest Drive/Nearest The Pin/Booby Prize for worst score)

Please contact Brian Flynn on 07860 561011 or by e-mail to book your place or should you need further information.

This event is aimed at Altrincham Supporters and their friends who enjoy a round of Golf and should be a very enjoyable social occasion as well. You do not need to be the next Tiger Woods to participate and all profits will go to Altrincham Football Club.

Mobberley Golf Professional, Gary Donnison recently won the Brother International Pro-Am Tournament at Royal Lytham St Annes with an incredible round of 64....7 under par!!
GOING TO THE DOGS
TASC chairman Brian Flynn writes,

At recent TASC Committee Meetings, we have discussed the possibility of Altrincham supporters getting together for a 'non Football night out' during the close season. We agreed at the last meeting that a night out at the dogs would be a good option, particularly as there are some very good offers at the moment and, within the last couple of days, the following offer has been launched.

This will be night at Belle Vue Greyhounds on Tuesday, June 9th.

All you need to do is download the voucher, print it, fill it in and turn up with it on the night to receive:-
FREE ADMISSION
FREE PINT OF CARLING
FREE RACECARD

The meeting is live on Sky so all in all this should be a very good event. Further details regarding meeting up on the night will be announced, however if you need any further information please contact Brian Flynn by e-mail"
BSP NEWS
According to Scotland's Herald "Setanta has defaulted on a £3m payment owed to the Scottish Premier League for televising football games, raising fears for some top-flight clubs that depend on the money for survival. The Herald understands a number of SPL chairmen are concerned the broadcaster will not be able to honour its exclusive agreement to show live Clydesdale Bank Premier League matches in the short term, let alone for the entirety of a five-year commitment... One SPL chairman, who did not wish to be named, expressed his fears: 'Some clubs were dependent on that money because there is no cash coming through the turnstiles during the summer'".

And the BBC adds that "Some clubs will go bust if financial problems at satellite broadcaster Setanta are not resolved... Setanta wants to renegotiate a number of their contracts to screen sporting events due to cash-flow problems".

"Mansfield Town have signed defender Paul Heckingbottom, who has spent the last two seasons at Bradford City. The 31-year-old left-back has amassed over 350 appearances in a career which has taken him to Norwich, Darlington, Sheffield Wednesday and Barnsley. Mansfield manager David Holdsworth said: 'Paul's a class act, an accomplished player. He's played at a high level and we're lucky to get him'. Heckingbottom becomes Mansfield's sixth new signing of the summer", reports the BBC. A hamstring injury sidelined Heckingbottom for much of last season.

"Oxford City have signed four players including former Oxford United strikers Lee Steele and Alex Fisher. Steele, 35, ended last season on loan from Northwich Victoria to Barrow. Fisher, 18... was released by U's manager Chris Wilder in March".

Meanwhile, "Mansfield Town have been told that they will need to stump up £10,000 if they want to follow through with their interest in Anton Foster. The Eastwood Town midfielder is wanted by Stags manager David Holdsworth... Eastwood chairman Rob Yong told This Is Nottingham: 'We will not sell him for less than we paid, it's as simple as that. We paid £10,000 for him last summer and Mansfield will have to pay us that to get him, but they are yet to agree to that. A big club like Mansfield should be able to pay that if we can'".

"Powerhouse defender Steve McNulty has turned down an improved contract offer from Barrow and is set to leave the Blue Square Premier club" according to NL Daily. "McNulty has one year left to run on his current deal at Holker Street, but the 25-year-old has failed to agree new terms... A club statement said: 'The club are unable to meet the demands of Steve McNulty without breaking the planned financial structure... McNulty remains under contract at Holker Street and the club will be seeking a sizeable transfer fee for a player who was voted Blue Square North player-of-the-year just 12 months ago. With a wish to enable greater earnings from a combination of a full-time job and part-time football, McNulty is likely to have to drop back to that division... Moving to a more professional training set-up was always likely to have its casualties, but the directors and managers are convinced that this is the only way to move the club forward'".

NL Daily tells us that "Lee Fowler is ready for a key role in Kettering Town's push for the promotion play-offs next season. The former Welsh under-21 international midfielder, who celebrates his 26th birthday next week, has signed a two-year contract..., joining from league rivals Forest Green Rovers. He said: 'Forest Green also played good football. But I want to be involved at the other end of the table and fighting for a Football League place... After finishing eighth, we should be going for the play-offs'... Chairman Imraan Ladak added: 'Mark gave me a list of players he wants and Lee was right up there with another midfielder who we are looking to sign as well. The plan is to have a slightly more attractive style of play and Lee fits in with that because Forest Green and Burton are good footballing sides. That should allow Andre Boucaud to play further up the pitch where he can hurt other teams instead of doing all the dirty work. We want to give him more freedom'".

And Kettering Town add that "Young Cobblers' centre-half Greg Taylor today became the latest player to commit himself to Poppies' colours next season. A member of the Northampton Town youth set-up, Greg made one first-team appearance last season".

At Cambridge United "Courtney Pitt and Jon Challinor have been transfer listed as Gary Brabin works within a smaller playing budget for next season. Former Chelsea trainee Courtney Pitt (27) joined on a free transfer in October 2006 while Jon Challinor (28) joined for £15,000 from Rushden & Diamonds last summer... 'Due to the budget cuts I'm having to juggle things and I'm finding it hard to strengthen the squad'," Brabin told cambridgeunited.com. 'Those two players are in the high earning bracket and they haven't nailed down starting places so, due to the budget cuts, they have been placed on the transfer list'. Brabin has already moved to exercise the option of a further year on the contracts of both Chris Holroyd and Robbie Willmott... but young pros Jordan Collins and Craig Bussens will be released at the end of their contracts. The loans of Scott Rendell, Simon Ainge and Jai Reason ended after the Play-off Final but Reason has been released by Ipswich Town and is currently in talks about signing for Cambridge United. The contracts of Phil Bolland and Daryl McMahon expire this month and Brabin has said he will try to keep both players at the club if it can be done within the budget. The rest of the senior squad is already contracted for at least next season, and is joined by midfielder Sam Ives, striker Adam Marriott and winger Sam Ives who earned their first pro contracts in March after successful scholarships. Brabin was pleased to report that first team regulars Wayne Hatswell and Danny Potter have both successfully come through hernia operations".

"Chris Hope has opted to join Blue Square North new boys Corby Town after turning down the offer of a new deal at Rushden & Diamonds" states Blue Square Football. "The 36-year-old was asked to take a pay cut at the Blue Square Premier club, but declined the offer. He decided instead to join Town in the belief that it will be more of a challenge for him".

At AFC Wimbledon, "James Pullen has signed a new contract with the Dons". Manager Terry Brown observed that "James is a quality 'keeper and I am very pleased that he has re-signed for us. He has great presence, which always makes a defence feel comfortable".

Crawley Town "boss Steve Evans is more hopeful than confident of adding to his squad before he departs on holiday early next week. Jefferson Louis, Eddie Hutchinson, Charles Ademeno and Simon Rusk have all signed up for next season but Gaffer Steve Evans says he will be patient if it means he gets the type of players he needs... Steve said; 'We are not at the front of the queue when it comes to offering big wages so we need to sell the lads the ethos of enjoyment at work. We have a specific list of players and we are waiting to hear back from a couple of them'... Evans did confirm that, contrary to press reports, he had never been interested in signing midfielder Phil Trainer who has signed on again at AFC Telford. Steve added 'We have had a twenty per cent cut in our playing budget for next season and that makes things even more difficult... I have watched with interest what the likes of Luton Town, Oxford United, Mansfield Town, Stevenage Borough, Cambridge United and Wrexham have been up to. I can tell you next season will be the toughest yet in The Football Conference... The big clubs are certainly spending the cash to make sure they get their pick'".

Ebbsfleet United "boss Liam Daish will take charge of the team for another season in 2009-10 following ratification by MyFC members of the continuation of his role... Liam commented, 'It's really great to have the backing of the members. Now I can get down to work and start planning ahead of next season... I've made no secret of the fact that it will be a struggle with funds for the squad at current levels. But it's encouraging to see that figure on the rise with over 300 members and supporters generously donating funds to boost my playing budget. I hope that more members will be able to do the same to give our team the best possible shot at what is going to be a very tough Blue Square Premier league next year".

Daish added, "As well as the smaller playing budget, my coaching budget has also come down from last season. As such I have had to let Alan Kimble know that we can no longer afford his services as my assistant. I have spoken to club captain Paul McCarthy and he has agreed to become player/assistant manager for the 2009/10 season. Paul will also continue in his role coaching the youth lads. Ron Hillyard will be staying on as goalkeeping coach".
---
2 June 2009
SEASON REVIEW
The website's annual statistical review of Altrincham's season is now here. For the fifth season running, Colin Little (right) was Alty's top scorer.
BSP NEWS
The BBC says that "Torquay United have released out-of-contract strikers Roscoe Dsane and Iyseden Christie following their promotion to the Football League".

Meanwhile "Ebbsfleet manager Liam Daish will be offered a new contract after a vote amongst the club's owners saw 93% of those polled want to keep him on. The Blue Square Premier club are owned by subscription website MyFootballClub, which has around 10,000 members - who each get a vote in team matters" says the BBC. Local sources in Kent say the voting was:
Yes - 2373 (93.1%)
No - 161 (6.32%)
Abstain - 15 (0.59%)"

"Salisbury City's Jon Bass is considering retiring from the game after a 15-year career. The experienced defender was the Whites' only part-time player by the end of the season. Bass, 32, joined Salisbury in 2006 from Bristol Rovers and has also appeared for Birmingham City and Hartlepool. 'It's been quite a tough season and it's something I've considered. I've made no final decisions and I need to talk to the management', he told BBC Wiltshire."

"Forest Green Rovers announce their first major decision for the coming season in that they have appointed 31 year-old David Brown as Assistant Manager/Player" reports the Football Conference. "Brown who has been on the playing staff since his arrival in January from Barrow was a major factor in assisting the Blue Square Premier "Golden Boot" winner Andy Mangan to a season long haul of 26 league goals, with most coming in the second half of the season after his arrival from the Cumbrian club... Manager Jim Harvey... is really pleased to have his right hand man. 'David will bring not only bring a wealth of playing experience but with his pedigree [and] strong discipline gained over the years at a number of clubs. It is vital that the choice of No2 not only needed to fit the style of play I favour but also ensure that we keep to budget during these times'.

Meanwhile Brown expressed his excitement... 'My priority at Rovers will be to continue playing and hopefully link up again with Andy Mangan to help him continue his blossoming career'... Brown started his professional playing career at Manchester United and played over 150 times for Hull City. He was also part of the Accrington Stanley promotion side who gained Football League status in 2006... Andy Mangan stated 'This is terrific news. Not only am I pleased for David but because he can only make me a better player and I relish the opportunity of having him as my striking partner'".

According to Blue Square Football "Kidderminster hitman Stefan Moore is likely to leave Aggborough despite being offered a new deal at the club. The 25-year-old is only one of a handful of players to be offered new terms at the Harriers, but says he is not satisfied with the amount that was put on the table. The former Aston Villa striker arrived at the club as a free agent last September, but he was unable to cement his place in the side with Matthew Barnes-Homer and Justin Richards ahead of him in the pecking order. He told the Express&Star: 'What Kidderminster have offered me is not what I am looking for, so I don't think that is going to be happening to be honest with you. I have other irons in the fire, a few things lined up... When I signed last season, it was under the agreement that things might get a little better for me in the summer, but that is not how it is looking because of the financial problems at the club'".

"Stevenage Borough are on the brink of securing the services of Stacy Long after he was released by Ebbsfleet. Boro boss Graham Westley is believed to have beaten off competition from several other clubs for the 24-year-old's signature. The midfielder began his career at Charlton Athletic and represented England from Under-15 to Under-18 level playing alongside the likes of Wayne Rooney... He spent a season at Notts County before moving on to Ebbsfleet under Liam Daish. Long joins Charlie Griffin, Yemi Odubade, Joel Byrom and Chris Beardsley as Boro's fifth signing of the summer".
---
1 June 2009
KEVIN IN DREAM TEAM
Alty midfielder Kevin Street (right) is named by Stafford Rangers' Wayne Daniel in his NL Paper "Dream Team". The Stafford defender writes "Streety gets into my team as I fear the wrath of the Lord. Always preaching and would never use a swear word, this guy loved to train and that energy, desire and work rate showed through in a match. Scored some spectacular goals".
VOTE FOR MICHAEL
"Serial runner-up Michael Welch is hoping finally to net a goal of the season award this year... The 27 year-old defender has made a habit of scoring spectacular shots down the years and his 70-yard wonder goal against Crawley in March is one of nine efforts nominated for Setanta Sports 'Goal of the Season' gong. Welch is desperate to finally get his hands on the prize after near misses in his days with Northwich Victoria, Accrington Stanley and Macclesfield. In 2006, his 40-yard rocket for Accrington against Stockport came second in a BBC goal of the year poll, beaten only by Argentina's 24-pass move against Serbia in the World Cup. Last year, Welch thought he had done enough to claim the Blue Square award with a lob from the halfway line against Droylsden... In the NL Paper, Welch says of this term's goal, 'It's probably the best I've scored'... To vote, check out www.bluesquare football.com.
OLD BOYS
The Sydney Morning Herald reports that "Sydney Olympic have pulled off a major coup by convincing former Socceroos [and Manchester United goalkeeper] great Mark Bosnich to resume his playing career in the NSW Premier League...Meanwhile, Bosnich's former club, Central Coast Mariners, will start their rebuilding program by trialling five foreigners... [who are] two unnamed Serbian players, one Italian, former Australian youth international Rostyn Griffiths, English midfielder Jamie Smith and Welsh midfielder Matt Crowell... Crowell, 24, spent the last half of the English season on a short-term deal with non-league Northwich Victoria after being released by Wrexham during the January transfer window". And former-Altrincham player "James Robinson has left Perth Glory and is at North Queensland Fury Football Club"... who have also "signed former Liverpool star Robbie Fowler as the club's Marquee player for the Hyundai A-League 2009-10 and 2010-11 seasons. Fury FC chairman Don Matheson said 'Robbie is a legitimate international super star of the game and there's no doubt he will give us every chance of winning'".

Ashton United report that "Manager Danny Johnson has revealed that Ben Deegan has left Hurst Cross and his likely destination is Unibond Premier League rivals FC United of Manchester... Danny explains 'loyalty is a rare commodity in the game these days but after sitting down and shaking hands with Ben after agreeing a deal with him to stay with us next season the least I would have expected was a phone call from the player himself... It wasn't too long ago that I plucked the player from oblivion when it appeared no one fancied taking a punt on him due to his reputation as being a bit of a "hot head" following a number of red cards in the North West Counties Football League'

Danny Johnson also confirms that "Callum Flanagan [an Alty Reserve, briefly in 2005-06] and Robbie Talbot are both working hard in the build up to pre season and are chomping at the bit to get back playing again. Gareth Richards has also confirmed that he will remain with the club next season and I also believe we will see the best of Pat McFadden now that he has settled in to the club. We also have Astley Mullholland (right) and Iain Howard who can operate at the top end of the pitch so we are not too bad off in that department... All the lads have taken a substantial cut in pay and I know that there are clubs out there who can pay an extra £50/£60 per week more than I can'".
ALTY IN TWO BOOKS
In its double-page spread on FA Cup giantkilers, the NL Paper reminds us that of the current non-League sides, Altrincham have the most league scalps in the FA Cup - sixteen. Yeovil had 19 such wins but are now in the League - "Only Altrincham, with just three scalps less than Yeovil are in a position to challenge their proud status, and although they have had their best league season for a long while in the BSP, it is now 15 years since they last achieved a giant killing, with a 1-0 victory over Wigan. This win actually placed them level with Yeovil on 16 victories but the Glovers added three more wins during the next few years... Since the FA Cup took its present form in 1925, there have been 440 victories by non-League sides over league opposition". Of the other giantkillers, before their demise, Telford United had 13 scalps and Enfield 11 whilst League Two Hereford accomplished 10. The article accompanies publication of "FA giantkillers" by Paul Harrison, available from the author at 38 Hillside Avenue, Gravesend, Kent DA12 5QR - at £8.95 for NLP readers.

The Daily Telegraph on Saturday had a double-page spread on former Alty player-manager Mark Ward's autobiography "From Right Wing to B-Wing", available, signed by the author, for £15 from Football World, for £15. The article refers to how, after a "brief, unlucky tenure as manager of Altrincham", Mark "found himself approaching his forties, unemployed, bereft, adrift". Mark now says, "I don't know if anyone in football will take a chance on me but I think I've got a lot to offer. For me, prison worked, I've changed".
"ENGLAND'S NUMBER ONE"
In the NLP's list of the Top 20 non-League goalkeepers, Stuart Coburn is named at number 17. He is described as "Something of a legend at Moss Lane... Coburn has made 435 appearances in over ten years with the club making him Altrincham's most senior professional. His only spell away was a single season with Leigh in 2002-03 when he won the club's player of the year award. Tall, commanding and ultra reliable, Coburn was a part of a much improved Altrincham defence that saw Graham Heathcote's men easily beat the drop this season. And 15 shut-outs in 43 games underlined his value to the side".
BLUE SQUARE NEWS
Chris Dunlavy writes in the NL Paper, "The problems of myfootballclub.com are sad - but inevitable. In a year, the online venture, which bought Ebbsfleet for £600,000 last March, has seen its membership plummet from 29,000 to just 9,000. At £35 for a share, that's a £700,000 drop in revenue... The club cannot sustain itself on what's left and will probably have to be sold.... MyFC is many things but it isn't immediate and it isn't exciting" as video games can be. "Most damning of all, the team selector never got off the ground... But if you can't pick the players and tactics, all the excitement is gone. And when your motto is 'Own the club, pick the team', it's tantamount to false advertising. That's why, for all its grand intentions, MyFC is dommed to failure". The same writer also lists Kidderminster, Salisbury, Rushden and Chester as other BSP clubs which are cutting expenditure to varying degrees, "Yet teams like Altrincham and Histon, who have remained part-time and refused to recklessly chase the dream, already have the set-up to cope with these tough times. Both made huge strides last season and with two part-time sides in Gateshead and AFC Wimbledon joining the party, who's to say next year won't be the year of the underdog? Hopefully one can do a Jenson Button and prove that prudence, patience and perseverance can triumph over financial excess".

One BSP club making a loss of almost £1 million a year is Wrexham who have released "financial statements for the year ended 30 June 2008... These accounts should not be considered as audited. We do not, however, anticipate any major changes to the figures or underlying results... We now feel that there are reasons to be optimistic about the long term future of the Club. It was our performance on the pitch, despite our attempts to fund our way to a more successful season, that was the dominant impact on the current year figures. The expenditure on management, loan players and fulfilling player contracts has resulted in a loss of £940,482 for the year. The continued funding of new management, new players and loan players during the 2008-09 season will mean that we will have similar results for the year ending 30 June 2009...

Our attempts to gain a big pay day via promotion; a play-off final; or an FA Trophy final did not materialise... These losses have been funded by Mr Moss, interest free and he is willing to continue to do so, until such time as the development plans are actioned. Although he has made it clear that he does not want to fund continued losses in the longer term. The loan interest charged during the year relates to interest paid on loans from third parties, made to the Club via Mr Moss and Mr Dickens...

With the agreement by the Council to our planning application, we have now secured the financial future of the Club. We have reached outline agreement with investors to fund the building project for 800 student flats. Mr Moss will sell his 100% share holding in the Club to Wrexham Village Ltd. This company will buy the development land from the Club and in return clear the debts of the Club and also invest desperately needed working capital into the Club... Paul Retout has now been made Chief Executive with the task of initially cutting the losses to a manageable level and within two years to make the Club profitable. Unfortunately, this has meant some voluntary and compulsory redundancies, however we feel that this was unavoidable".

Luton boss Mick Harford told the NL Paper of his club's relegation, "The culture shock will come when we go away from home... Chris [Wilder, the Oxford boss] is probably right, when you go to small grounds in front of small crowds, there will be a bit of 'Oh dear, I don't fancy this'. That's where you maybe need two or three players with experience of non-League".

Relegated Lewes's chairman Terry Parris has resigned his position, after setting up a management committee to run the East Sussex club. "The last thing I wanted was to start next year and then go into administration when we have worked hard all sumer to put things in place. I just felt I could not continue", he told the NL Paper.

Chester City state that "The club have extended the initial deadline for season tickets from 31 May to 4 June. However Bill Brandon, of Refresh Recovery, the administrators, said: 'There is no income coming in, and the club has also been instructed not to sell season tickets'. So the message appears to be hold on to your money the time being! A meeting has been set for 11 June where the creditors of the club will be given an update on proceedings by the administrators RefreshRecovery. They will also reveal details of one potential bidder who has come forward".

Gloucester City are up in arms that they have been put into the Confernce North rather than South division. "I'm bloody disappointed" said their chairman Dave Phillips, according to Sunday's NL Paper... referring to the FA he said,"If they want to kil the club they're going the right way about it". City will be in the Blue Square North division, whilst Worcester City, forty miles further north, remain in the South division after turning down an offer to switch leagues. The chairman added, "Half the side, including the manager, live in the Bristol area... It would have saved me a lot of financial problems if we hadn't gone up".

In Sunday's NL Paper, John Moules, chairman of Ebbsfleet is keen for former Liverpool man Rick Parry to become the new Conference chairman.. "If they can afford him the ideal man would be Rick Parry. He's not working at the moment and Rick is a good friend of [former Altrincham chairman] Bill King, the league's president".
---
FOR EARLIER NEWS, CLICK HERE
---