Altrincham's last six games played on today's date, 26v September, have all been away matches and not one of them was a defeat.
---
31 March 2009
TUESDAY AT EBBSFLEET
Matchday updates are at the following link :
MATCHDAY UPDATE PAGE.
YANKEE PRIZE
The Saturday Yankee winning number was 6907 this week. As there was no winner, the prize money rolls over to £5,700 for next week so it is a good time to join this fundraising scheme. Details are on the Yankee page. The winner of the Yankee treble netted £200 this week with winning combination 6307.
WELCH'S GOAL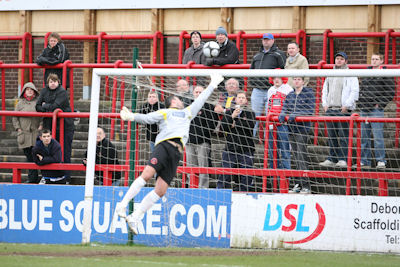 Right: Michael Welch's freekick from 70 yards beats Crawley keeper Rayner. This and many other excellent photos are on Gavin Rathbone's GR Photography site.
The Manchester Evening News has video of Michael Welch's "wonder goal" against Crawley. In the newspaper,it says of Michael, "It is not the first time he has netted a spectacular goal. He scored a blistering half-volley from over 40 yards out against Stockport in 2006 while playing for Accrington Stanley. But he reckons Saturday's effort is his best, and said, 'About five minutes before I scored, we got a free-kick and it must have been 75 yards away. I looked up and saw the goalkeeper off his line but I decided against the shot. the next time we got a free-kick I was stood right by it, so I just hit it. I knew as soon as I hit it that I'd caught it well. I've scored a few goals over the years that have attracted attention but I think this one is the best so far'. Welch is hoping the goal will help persuade Altrincham boss Graham Heathcote to keep him at Moss Lane. Welch added, 'Hopefully the goal will count in my favour. I'm doing okay biut I'm not getting too far ahead of myself'. Altrincham travel to Ebbsfleet tonight but Welch will miss out with an ankle injury".
BEN AND PAT
Ashton United's strikers, Ben Deegan (aged 20) and Pat McFadden (21), who signed non-contract forms yesterday for Altrincham (see below) have been given squad numbers 24 and 15 respectively.
"FORTUNATE ALTY"
Crawley Town report that they "had to settle for a share of the points at Altrincham on Saturday despite bombarding the home goal for the entire second period... It was a decent performance from the Reds but two sloppy conceded goals always make it a tough match... Manager Steve Evans said; 'It was certainly two points that got away. Altrincham are an honest, hard working team but even they accepted at the end how fortunate they were to take anything from the match. We scored late to equalise but we had been camped in their box for the entire second half. [Though, somehow Altrincham scored their second goal during this period]. It would have been totally unjust if we had failed to score but football can be a cruel game at times... We opened them up enough times to have scored 3 or 4 more goals and its only goals that win football matches'".
Meanwhile, "Crawley boss Steve Evans says the Conference management 'haven't got a clue' after making his side's punishing play-off schedule even tougher" reports The Argus. "The league have ruled that Reds have to play three games in five days, all against promotion rivals, next month. They make the long trip to Torquay on Easter Saturday, host Stevenage two days later before travelling to Kettering on Wednesday, April 15. If that wasn't tough enough, they then have to make the 700-mile round trip to Barrow the following Saturday. Evans said: 'The Conference board are absolute nuggets – they haven't got a clue about football. Kettering don't want to play us in the last week of the season because they then have to go to Barrow but we have Torquay away, then a home game followed by Kettering and then Barrow! We're shaking our heads as to why but, as we saw with our appeal against the points deduction, the Conference don't want us to be in the play-offs. It would be a disaster for them if we got promoted via the play-offs'... They needed an 88th-minute equaliser from midfielder Glenn Wilson against feisty Altrincham and Wilson regarded it as a case of two points dropped rather than one gained. He said: 'We knew we were in for a tough test and Altrincham didn't disappoint us but we had some good chances to win it".
As for Michael Welch's 70-yard goal, Evans said: 'I have no issue with Simon [Rayner, the goalkeeper] because it's a fantastic strike but the player has hit the ball when it's rolling which you cannot do... We showed great character to come from behind twice and in the second half it was one-way traffic'".
FIXTURES
Altrincham have 938 miles to travel this week, to and from Ebbsfleet (Tuesday) and Lewes (Saturday).

As Altrincham travel down the 214 miles to Ebbsfleet this afternoon, Hereford's Bullsnews has an interesting piece on overnight stays and players' wages in League Two. "Darlington boss Dave Penney has vented his anger at the club's administrator after he pulled the plug on an overnight stay for their match with Barnet on Saturday. The cash-strapped club almost went out of business last week, but Penney claimed the players were being treated like amateurs by being denied the stay for the 239 mile trip. In comparison the Bulls [Hereford] never opted to book an overnight stay for their trip to Carlisle in the week, which was eight miles further". Bullsnews also says that "Four clubs have been named as having to ask the PFA to cover players' wages this month. A Mail On Sunday report says that the PFA handed over around £300,000 in total to Stockport, Bournemouth, Chester, and Darlington to help to cover this month's wages. The paper says that six other clubs, including Southend, have asked for the PFA's help in the last year. Bournemouth themselves face a further winding up order after the local press found out yesterday that a failed attempt to bring Twenty20 cricket to their Dean Court home had left them with an unpaid £10,000 debt that was now facing court in mid-May. Gillingham chairman Paul Scally told the paper: 'Being docked points is not enough. If a club go into administration, they should be automatically relegated a division'. Scally's club, who paid £440,000 in interest on their sizeable debt last season, was also listed as receiving PFA help in the past year".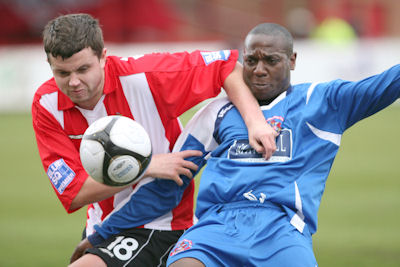 Right: Michael Welch in action against Crawley. This and many other excellent photos are on Gavin Rathbone's GR Photography site.
EASTER EGGSITEMENT
For the Altrincham v Kidderminster Harriers game on Easter Saturday (3pm), under-12s will be admitted free if they bring in a "decent-sized" Easter egg, which will go into a collection of eggs to be donated to local underprivileged children. The initiative wlll be overseen by Rev Andy Barclay-Watts, club chaplain at Moss Lane.

And from Monday 6th to Thursday 9th April there will be an Easter Fun Week at Moss Lane when football coaching for children (boys and girls) for school years 1-7 will be available. The four-day course will be overseen by qualified coaches including Alty striker Colin Little, who coaches at Crewe Alexandra.. Priced at just £50 all participants receive a certificate of attendance and are guaranteed an enjoyable week, Please contact Karen Rowley at the club 928-1045 for further details and a booking form.
OLD BOYS
Ryan Shotton was suspended for Tranmere Rovers' game last Saturday at Brighton. His ex-centre-back partner Darren Tinson played for Nantwich.
DON'T MISS IT!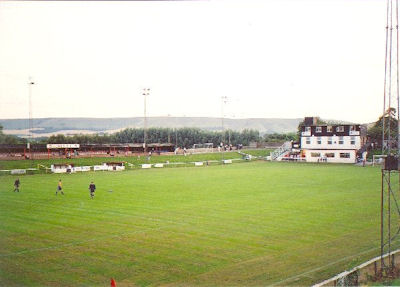 Left: The Dripping Pan club house, 2001
Next Saturday will be the first and last chance for at least two years for Altrincham fans to visit Lewes. The Sussex club has already been relegated for next season and this deprives supporters of another chance to visit this very pleasant county town of East Sussex and its fascinating football ground.
The Alty website actually visited Lewes's Dripping Pan ground for a Sussex county cup match on a summer evening in pre-season 2001. A leaflet issued to spectators at the game that night underlines how far the club has come in a short time. Then, the club was celebrating its promotion from the Ryman League Division Three at the end of the 2000-1 campaign - under the managership of Jimmy Quinn, a man well known to Alty fans as manager of Shrewsbury Town and Cambridge United amongst other clubs. The leaflet gave a useful summary of the club's history...
"The origins of the club can be traced to a meeting in the Royal Oak in the town in 1885. Following this meeting, a football club was formed and a decision taken to play in green - to match the colours of the dominant and surrounding South Downs. Eight-years later red and black was chosen - the colours we still play in today.
The first taste of competitive football was in the Mid-Sussex League. Prior to World War I Lewes won the championship twice and in 1920 the club became founder members of the Sussex County League, finishing as runners-up in 1924/25, 1933/34, 1958/59 and 1963/64. In 1962 the club finally achieved its first senior title - winning the Sussex RUR Charity Cup. Then, a year later we finally won the title along with the RUR Charity Cup and the Sussex Senior Cup. After winning the title, we resigned from the County League and joined the Athenian League winning the Division 2 Championship in 1968. Two years later promotion to the Premier Division was earned after taking the Division I title and in 1971 we won the Sussex Senior Cup for the second time.
In 1977 we decided to move up into the newly expanded Isthmian League - the league we play in today. Our first success, in 1978, saw us promoted to Division I where we stayed until 1991 when we were relegated for the first time in our history. However, we bounced straight back the following year only to be relegated in successive years to leave us languishing in Division 3.
Following the arrival of Jimmy Quinn as manager and a new board of directors we have just enjoyed one of the most successful seasons in our history. We beat Brighton & Hove Albion, Horsham, Crawley and Bognor Regis to win the Sussex Senior Cup and finished in second place in the league to gain promotion to Division 2. With reorganisation of the Ryman League promised for next season, we should gain automatic promotion into Division I. So within three years we could achieve our target of Premier Division football".
The club then rose rapidly through the pyramid and reached the national Conference in 2008.
Lewes, built on a hill, boasts a castle, started by William the Conqueror, and a house owned by Anne Of Cleves, one of Henry VIII's wives. Thomas Paine, the famous 18th century American political pamphleteer lived in Lewes before his transatlantic emigration and his former house is on the High Street. But perhaps a more immediate attraction for football supporters is Harvey's brewery which produces some excellent ales - these are sold in the football club's bar as well as in local hostelries. The brewery also offers guided tours and has a brewery shop.
Unfortunately, the castle is closed to visitors for refurbishment till May 2009.
Unlike the anonymous out-of-town stadia that we sometimes visit, the Dripping Pan ground of Lewes FC has character, being built into a natural bowl, not far from Lewes railway station. The club had a battle to get the Dripping Pan approved by the ground-grading committee for Conference football. However, since 2001 when the adjacent pictures were taken, they have built a stand behind the goal shown in the action photo and a small terrace at the other end, to the right of the club house. If you possibly can, make sure you get to this game.
As usual, The Altrincham Supporters' Club will be running Away Travel to the match, so book now (0161 928-1045) to avoid disappointment.
LEWES PLAYERS
The new-look FA website says that two Lewes players will be suspended for Altrincham's vbisit this Saturday. Anthony Barness got a straight red and Stefan Cox got two yellows last Saturday and the FA says that Cox is banned for three games and Barness for two.

The Argus adds that "When Anthony Barness gets upset, you know something is wrong. The former Charlton, Chelsea and Bolton defender is rarely flustered and rarely overtly emotional on the football field... Barness was shown a straight red card for conceding a penalty just before the half-hour mark which enabled the hosts to draw level but the decision was contentious on two fronts. Firstly, striker Andy Mangan looked offside and, more significantly, Barness was adamant he took the ball not the man. Referee Wayne Barrett, who had a decent view of the incident, awarded a penalty on the advice of his linesman, much to the annoyance of Lewes caretaker boss Steve Ibbitson... [The] situation became worse when Stefan Cox was sent off 14 minutes from time for an alleged stamp. What is not in dispute is the spirit shown by one of the youngest sides fielded in the club's history. Even with 36-year-old Barness in the team the 16-man squad at The New Lawn had an average age of 19.

They were already without Chris Breach, David Wheeler and Sam Fisk when their problems were exasperated by captain Danny Cullip pulling out with tonsillitis. It meant they took a squad including 11 teenagers, with debuts handed to new work experience signings Josh Jirbandey and Luke Rooney, as well as youth team midfielder Ben Osborn as a second-half substitute. When Barness was dismissed, their rejigged defence included two 17-year-olds, an 18-year-old and a 19-year-old, three of whom had not started a Blue Square Premier game before. The exception was Grant Hall who was making his third start...

Ibbitson said: 'I am proud of every one of them, they worked their socks off. Towards the end we had nine men and we were still trying to get forward... We have not had one player in these last three or four games who we have thought is miles out of his depth... Lewes: Banks; Hall, Barness, Jirbandey, Wilkinson (sub Osborn 70); Storrie, Standing, Keehan, Rooney (sub Sutton 70), Cox; Rivers (sub Foreman 79). Subs not used: Bell, Barton."
ALTY ROCKERS
On Saturday April 25th at 7.30pm (Doors Open at 7pm), TASC (The Altrincham Supporters' Club) presents 'Harbingers' plus support in the Noel White Suite, Altrincham Football Club. 'Harbingers' are a band comprising a number of Altrincham supporters including the club's longest serving gateman........Nigel Hennerley and they will be performing songs from their debut album 'Falling off Roofs'. The full line up of the band is: Mike Besnon - Guitars/Vocals, Ian Price - Bass/Vocals, Jim Benson - Drums, Nigel Hennerley - Guitars. This is sure to be an excellent evening and you can listen to some Harbingers' tracks at MySpace. Tickets from Brian Flynn or ring him on 07860 561011 - they are £4 in advance, £5 on the door
BSP NEWS
Monday 30 March
Woking 0 Cambridge U. 1
League table
"Manager Alan Lewer pulled no punches in his assessment of Weymouth's chances of survival in the Blue Square Premier following Sunday's televised 3-0 defeat against Barrow... The Terras' boss thought his side were 'poor from start to finish' and admitted that he cannot see where their next win is coming from. Lewer said: 'We had an early goal from Gavin Hoyte ruled out for offside when I did not think it was but fair play to Barrow because they out-fought us and out-worked us and deserved the points. I told the players in the changing room afterwards that they now have six weeks to try and earn a job for next year and, trust me, if they continue to play like that there will not be many takers'. The Terras have lost their last nine games and have not found the net for 502 minutes, a run of form that now sees them lie just four points above the relegation zone in eighteenth spot. Lewer added: 'In some ways maybe it would be better for the club to go down and re-group so it can come back stronger. People might not like hearing me say that but when you have got teams in the league below working on a budget of £17,500 and we are working on one of £4,500 you have to take a realistic view of things. The budget we had when we were not far off the play-offs was £7,500 so it is possible to work with limited funds and do well. However, we have not even got a training ground at the moment so basically we are having to beg, borrow and steal no matter what we do'" he told the Dorset Echo.
Salisbury City say that "They have extended the loan of Torquay United defender Michael Brough until the end of the season, to include the Final of the Wiltshire Premier Shield... As with all extensions, Torquay have 24-hour recall rights".
Blue Square Football says that "Cambridge United have allowed Ben Farrell to join local rivals Cambridge City on loan. The midfielder will spend a month on loan at City... U's chairman George Rolls told the club's official website: 'We wouldn't normally loan a player of Ben's quality but this is a chance to help City and build up our relationship with them, as well as for Ben to play some first team football'. The 22-year-old's campaign has been blighted by poor discipline on the pitch, resulting in him making just sixteen appearances for the club".
"Eastbourne Borough need to rediscover the knack of scoring if they are to prevent a fantastic debut season in non-league's top flight ending with a whimper" claims The Argus. "An injury-ravaged Borough side failed to find the net for the fourth time in seven games... Boss Garry Wilson said: 'Our goal at the start of the season was to stay up but it would be a major disappointment after the year we've had to end up finishing 19th... It is more difficult to motivate the players now we are safe but that is what we have got to do because the season isn't over yet and we want to finish as high as possible'".
From This is Nottingham, we learn that "Mansfield are to give a trial to former Notts County striker Spencer Weir-Daley. The 23-year-old had his contract with the Magpies cancelled by mutual consent in January... Said Mansfield manager David Holdsworth. 'He wants the chance to show what he can do and we can have a look – to me it's a no brainer. He has got bags of pace and he is a good finisher and he is keen to impress'".
But "Mansfield must make Field Mill into a fortress, David Holdsworth insisted... The Stags made it seven games unbeaten on home ground since the new boss took over... 'I would love nothing more than to stay unbeaten for the rest of the season at home – I think people know by now the standards I demand', he said. 'I am still demanding more from myself, the staff and the players. I don't just want to be in the top 12. I want us to be ruthless and we will be – I won't put up with anything else'"
"Steve Fallon paid tribute to his defence after seeing Histon claim a hard-fought win over Wrexham" reports the Cambridge News. Said Fallon. "I can't think of a chance they've had in the game and that was down to our magnificent defending".
---
30 March 2009
PAT AND BEN RETURN
Altrincham FC have signed former Moss Lane strikers Pat McFadden and Ben Deegan as non-contract back-up to the squad in advance of tomorrow's match at Ebbsfleet United. With Richard Acton unavailable and an injury list which includes Michael Welch, Chris Senior, Chris Denham and Kevin Street, Altrincham's squad is down to the bare bones.

Both Ben and Pat are currently with Ashton United in the UniBond Premier. Ben graduated from the Altrincham youth system whilst Pat made his name with 30 goals in a season for the reserves.
70 YARDS - IT'S OFFICIAL!
After studying a DVD of Saturday's match at Moss Lane, Altrincham groundsman Neil Brown has identified the spot from which Michael Welch scored with his freekick against Crawley Town. The official measurement of the distance from that spot to the goal-line is seventy yards and six inches.

A new Goal of the Season voting form is being produced to include Michael's goal and will be available at our next home game on 7th April against Eastbourne Borough. Completed forms can be handed in no later than at half-time of the home match with Grays on 18 April; the award will be made that evening at the Race Night and Player of the Season Awards event in the Noel White Suite.
SUNDAY GAME
Weymouth 0 Barrow 3
ROBINS' REVIEW
There was the usual range of interesting articles in Saturday's "Robins' Review" which remains one of the best-value matchday programmes in the BSP. In addition to the latest of Terry Rowley's "Altrincham Legends", which will appear here shortly, there were several informative articles:
EdLines
Alty vice-chairman and joint programme editor, Grahame Rowley.:
Good afternoon and welcome to Steve Evans and his Crawley Town side who come to Moss Lane this afternoon in 9th place in the Blue Square Premier, just 5 points outside the play-off places, guaranteeing a tough game for the lads once again. Steve's sides are always hard working so the lads will have to be on top form if they are to come out on top today.
After the shock defeat and performance last Saturday against Forest Green Rovers, I thought that the lads put in a thoroughly professional performance on Monday in the Unibond Cheshire Senior Cup final against a confident Nantwich Town side. It would have been easy to underestimate the opposition but the two Grahams got the team focussed and, despite awful playing conditions, the lads played some great football and scored three well worked goals to come away with the Cup - a lovely trophy for the cabinet. We now need to take that performance into the League and gain those elusive points required to guarantee us safety for this season.
Talking of this season, I would say that to date it has been a relatively successful one considering the constraints put on the management with regards finance and, with the Credit Crunch beginning to bite, it doesn't look like conditions are going to improve in the short term. Thus the letters distributed a couple of weeks ago and the article penned by John Edwards on behalf of Graham Heathcote [Geoff Goodwin] in the press. The idea of those was to make people aware of the difficulties we were going to face in light of these conditions and the hope that action taken early may avert more extreme actions in the long run.
However some people seemed to construe from this article that we were applying for the Blue Square North and throwing the towel in. There is nothing further from the truth. We, as a Board, are working tirelessly to try and maintain as big a budget for next season that is possible and that is where each and every one of you can help. Every penny in the bucket collection, every pound spent on the lottery and every ticket bought for one of the club's Dinners, all help to maintain what is still one of the smallest budgets in this league. Your help is much appreciated and, take it from me, your Board is also making every effort. We have not applied for Blue Square North, even though we may have a budget of a Blue Square North team. Enough said.
On the fundraising front, we had a successful Sportsman's Dinner on Thursday night when we were entertained by Mickey Thomas and now look towards the "End of Season Ball", where hopefully we are celebrating the retention of our status in this league. Tickets have been reduced in price this season to just £35 per person so please make every effort to attend. All the players and management will be in attendance so what better way to sign off the season?
Following an idea from long-standing fan Bob Allan, we are launching a fundraising scheme to take place over the close season. Named "All Change for Alty" it involves fans taking an Alty money box home and, over the next four months, putting their small change in it. By just collecting 1p, 2p and 5p pieces it will amaze you how much you could raise for your club. If you would like to take home one of these money boxes please collect one from the club shop today or from the offices during the week.
Finally, if anyone wants to view the beautiful Unibond Cheshire Senior Cup it will be on display in the offices during the week between 9am and 5.30pm. You're welcome to call in, have a brew and even have your picture taken with the cup if you bring your own camera along. Enjoy today, see you in the bar, Grahame & Terry Rowley.
Cote's Comments by Graham Heathcote
We are in a scrap and we have to get out of it together.
Welcome to everyone for today's league encounter against Crawley Town who, I have to say, at their place destroyed us in the first half with a brand of attacking football that was difficult for us to compete with. And as they are still in with a shout for the play-offs we are in for a very difficult afternoon because also, as a full time side, they pride themselves on their fitness levels. So, combined, we will have to be well and truly on our own game and we need the sort of performance level we put in against Oxford, Wrexham, Mansfield and a few others earlier in the season. I mention those games because we got points out of them. We played equally as well against Torquay United and Stevenage and got nothing, which at this vital stage of the season is no good. It's all about putting points on the board as this bottom end of this league is going to be just as intriguing as the top. Put it all together and you have a very, very competitive league where anyone can beat anyone on a given day and, as was proved by last Saturday, to squander a 2-0 half time lead is criminal.
But let's credit Forest Green Rovers for taking us apart especially when we went down to 10 men. I cannot condone James Smith's reaction but, having studied the tape of the game myself, then with the players on Tuesday night, I have to say the tackle on James was a disgrace, side on and over the ball, studs showing. The referee didn't even give the lad a yellow and, as is always the case, the retaliation gets punished. I've outlined to our players this week what our requirements from them are and what is expected of them and for sure we can't win games of football giving the ball away so easily and giving the opposition so much space to play.
We had a lengthy, healthy discussion after Saturday's game and I thought the lads put a good performance in on Monday night to win the UniBond Cheshire Senior Cup against a side who were confident and winning a lot of games of late. However, football is about levels and we were too well organised and strong for them and handled the conditions better. So, the lads have same silverware to show for their efforts and we go into today's game in a positive frame of mind rather than a negative one which is always good.
Over the last few home games we will be encouraging groups and teams to arrange a day out for their youngsters and bring them along to one of our games. The last one against Grays on the 18th of April is free for all under 12s and we want you to create an atmosphere that will drive our players on to achieve the results that we all want. It is no good waiting until the last game of the season to realise that we are in a scrap, we're in it now and we have to get ourselves out of it quickly together. When we have achieved that, the players will be able to turn around and say that they have had a good season. Part-time, genuine part-time, two nights a week is tough against full-time sides. Same of the other part-time sides are doing three nights, three days, four days mornings only but still maintaining their part-time status. To me they are nearer the full-time clubs than the part-timers. I wonder how many of them will be able to keep it up financially. It will be interesting to see. Still, there is always administration to fall back on! Enjoy the game, Graham [Heathcote].
Captain's Log by Robbie Lawton
I would like to start by apologising to our fans on behalf of all the players for what happened here in the second half against Forest Green Rovers last week. The way we allowed our opponents to come back from 2-0 down at half-time to win 5-2 was unacceptable, and we all want to say sorry for putting you through such a wretched experience. It shouldn't have happened, and we intend making sure it doesn't again.
I'm just glad and relieved we managed to put you in a better mood after Monday night's Cheshire Senior Cup final, and I can assure you we will be redoubling our efforts today to put last Saturday in the bin and guard against any repeat. I don't even think we played that well in the first half against Forest Green. We were reasonable for 15 or 20 minutes but owed our interval lead to two opportunist efforts from Colin Little, as much as anything.
What happened after that was hard to come to terms with and prompted a few harsh observations from the terraces at the time and the manager afterwards. And, let me tell you, every last word was spot-on and fully justified. We may have lost James Smith to a red card, but you can't blame being down to 10 men for conceding five goals in 45 minutes. You shouldn't let five in with seven players, let alone 10.
Our collective inability to keep possession meant we repeatedly gave the ball away, and I can't think of a worse team to do that against than Forest Green. The pitch felt twice its normal size, the way they knocked it about, and we became more and more rattled, the more we conceded free-kicks and possession. I'm not excluding myself from that, either. Not by any stretch. It went from bad to worse and turned into an extremely uncomfortable afternoon, on and off the pitch. We were kept in the dressing room for a while, because the manager wanted answers as to why we, as players, had embarrassed the club. They had to be honest answers, and they were. We held our hands up and were just as critical as anyone else had been of the way we had let everyone down on the day.
To be fair to the manager, it was a two-way discussion. He had his say, and we had ours. Of course, the manager's word is always final, and it will come as no surprise, given what had happened, that our views pretty much reflected his. There was general agreement that we had shipped five goals and been given the runaround due to a massive inability to keep the ball. There was also a concern we may have jeopardised attendances, just when we need you to be coming through the turnstiles. You pay good money week-in, week-out, and no one could have blamed you for thinking about Monday's game and deciding: 'Thanks, but no thanks - we've seen enough.' Instead, you turned out in numbers again, and your support against Nantwich was appreciated more than ever.
I'm just glad we responded in the right manner and gave you something to cheer about with a performance that was as good as the 3-0 scoreline suggests. It was nice not only to get Saturday out of our system but set the record straight after last season's Cheshire Senior Cup final disappointment, and it was even more pleasing to see the scenes afterwards. We travelled back from Wincham Park to Moss Lane to pick up our cars and were greeted by 30 or so fans in the club bar, toasting our win and all in high spirits. It was a welcome contrast to 48 hours earlier, and it just showed what winning a trophy meant to so many people connected to the club.
A really tough test awaits against a physically strong, combative Crawley side this afternoon, but I can promise you there is a real sense of determination among the players to make amends for what you all had to endure last week".
FUNDRAISING
From the Robins' Review...

There is something for everyone here and your help is required if we are to attain our commercial budget this season. If you are interested in any of the following events please see Karen or Grahame Rowley as soon as possible to express your interest.
Wednesday 1st / Monday 6th / Monday 13th April - Sponsored walk to Wrexham.

If you don't fancy walking you could always sponsor one of the walkers. Proceeds will be split between the club and the Autistic Society. There are two 20 mile sections and a final 10 miles on the day of the game. Anyone interested in walking can obtain a sponsor form from the office. You don't have to complete all three sections of the walk - take your pick from a 10, 20, 30, 40 or 50 mile course. Any walker who raises in excess of £100 will be provided with free entry to the game at Wrexham as well as transport home. Sponsor forms are available as from today in the offices or by emailing Grahame Rowley.
Monday 6th - Thursday 9th April - Easter Fun Week at Moss Lane.

Football coaching for children (boys and girls) for school years 1-7. A four-day course overseen by qualified coaches. Priced at just £50 all participants receive a certificate of attendance and are guaranteed an enjoyable week. Colin Little is one of the coaches taking part in this course. If you know or have any children who are looking for something to do during the Easter holidays then contact Karen at the club 928-1045 for further details and a booking form.
Saturday 18th April - End of season Race Night Race and Player of the Year Awards
Horse Sponsorship required. Please see any TASC member for further details. Race sponsorship costs £25 and horse sponsorship £5. There is also a triple prediction chart available, predicting the result of the first 3 races. Each prediction costs £ 1 and the winning combination wins £100. Give it a go - if you're not in, you won't win.
Saturday May 2nd - End of Season Ball at the Cresta Court Altrincham.
The players, management and Board will be in attendance at what is always a memorable night. Tickets are extremely well priced at just £35 a ticket so let's celebrate the end of the season in style for what hopefully will be our most successful season in the Blue Square Conference.
Monday May 4th - Staff vs Supporters Football Match.

After their outstanding victory last season, the staff of Altrincham FC will once again be facing the challenge of a supporters' side again managed by the now slimmer Mark Eckersall (Ecky). A 16-man squad is required and the price of taking part has been reduced to £25 per person for this season. Please see Mark if you are interested in taking part.
Saturday May 9th or Sunday 10th (dependent on Manchester Derby timing) - 7 a Side Tournament at Moss Lane.

Squads of 10 players are required to take part in this inaugural event. Price per team is £350 with medals for all. A guaranteed three 30-minute games. See Grahame Rowley for further details. We only have two places still available for this tournament so if you're thinking of entering please see Grahame urgently.
TASC INITIATIVES
TASC: THE ALTRINCHAM FC SUPPORTERS CLUB: Gareth Thomas and Steve Foster (TASC Committee members) write...
We have selected a few schemes and events that we are holding over the next couple of months. We hope, with your help, these schemes will raise money to supplement the club's income, and enable Graham Heathcote to have the best chance possible to continue the team's improvement over the last few seasons.
ALL CHANGE FOR ALTY
Following an idea from longstanding fan Bob Allan, we are launching a fund raising scheme to take place over the close season. Named "All Change for Alty" it involves fans taking an Alty money box home and over the next 4 months putting their small change in it. By just collecting 1p, 2p and 5p pieces it will amaze you how much you could raise for your club. If you would like to take home one of these money boxes please collect one from the club shop from Saturday or from the offices during the week. You would be required to leave your name and telephone number on collection so the club knows who has taken them. Many thanks to Sarah Rowley for obtaining the money boxes and designing the covers.
HARBINGERS
The band Harbingers, featuring our very own gateman Nigel Hennerley will be playing in the Bar at the club on Saturday 25th April. Tickets are available from Brian Flynn on 07860 561011 at a price of £4. (For more on The Harbingers, seeMySpace).
THE RACE NIGHT
TASC will be hosting its annual Race Night on Saturday 18th April. We are looking for people to buy horses and sponsor races. Horses are priced at £5 each, race sponsorship is £25 each. If you are interested in either of these, please see any of the TASC committee or ask in the club shop. Entry will be free to all on the night, The event will NOT be all ticket, so please do your best to come along and support the event! As in previous years, we will be selling the treble chance, where you can win £100 if you have the correct combination of winners in the three featured races, this only costs a pound!
AWAY GAME TRAVEL RAFFLE
Subject to a few provisos, the club has offered to allow a fan to travel to the game against Cambridge United on Sunday 26th April on the team coach. We intend to sell raffle tickets in order to decide who will have the pleasure of enjoying the match day experience with the players. Tickets will be on sale at £2 each or 3 for £5 in the Bar before, at half time and after the game until the Race Night, when the winner will be drawn. If the club can't offer the travel to Cambridge, the prize will be held-over to next season.
MEMBERSHIP
All Previous STAR members should have just received details of membership to TASC through the post. If you are interested in becoming a member, please bring your forms along to the STAR table in the bar or contact TASC to get new forms by e-mail or by phone or letter to the club at the usual address.
SOS - Strengthen our Squad
The bucket collections will be added to the SOS fund. Thanks for your donations!
BIN STICKERS
We have now sold over 60 bin stickers, if you are interested, please order them from the club shop at £4.99 each or 4 for £18.
If you have any general queries about TASC or questions to ask about TASC matters we have set up an email address. Please contact us by e-mail.
FEATURED CLUB
The latest guests at an Alty match were The Unicorn Tigers (under 11s) who were the club's guests for the game with Crawley on Saturday, 28 March 2009. The Unicorn Tigers U11s have largely been together for five seasons... The boys sit comfortably mid table in the third division of the Timperley and District league. For more, see the Featured Club page.
MASCOTS
From the Robins' Review...

The Mascots at the Crawley game had the honour of parading the Cheshire Senior Cup round the pitch before kick off. They were Paula-Jo Gaskill who celebrated her 9th birthday on 25th March. She attends Heyes Lane Junior School and enjoys coming to watch Alty. Her favourite player is Chris Senior. All at Altrincham FC would like to with Paula-Jo a very Happy Birthday and we hope that she enjoys her day with us today.

Aaron Schora is 7 years old and attends St Hugh's Primary School in Timperley. He is a goalkeeper for Timperley Villa UB's... He has a dog named Stanley and rabbits called Bugsy Malone and Jasper Carrot. He loves watching Altrincham and his favourite players are Chris Senior, Matt Doughty and Colin Little.

Connor Richardson is aged 7 and attends Holy Family School. He lives in Brooklands on the same road as Colin Little and his favourite player is, surprise, surprise, Colin!!

Joe Riley attends Tyntesfield Primary School in Sale and will be 9 years old on April 4th. He is a regular supporter at Altrincham and one day hopes to play for the club. He is a member of the Altrincham Saturday Morning Club, playing football at Blessed Thomas Holford school.

Henry Millachip, aged 2 made sure his snowman supported Alty by giving him his dad's scarf. Henry's uncle, James Cram, is a season ticket holder at Altrincham FC.
BSP NEWS
Blue Square Football reports that "Brian Lee, chairman of the league's governing body, has issued an official statement regarding the fielding of unregistered players this season. The statement reads as follows:

"The Football Conference Sub-Committee has concluded their review of the organisation and procedures at the Birmingham Office. Since Mansfield Town were discovered to have played an unregistered player in the first week of the season, random checks of team sheets using a similar system to those undertaken in other Leagues, found three other Clubs had also played unregistered players. These Clubs were also dealt with in accordance to the rules.

Whilst the breach of rules quite naturally attracted a lot of attention it is important to note that 21 Clubs in the Blue Square Premier, and 64 Clubs out of 68 in the whole competition had abided by the rules. The Review Sub-Committee would like to emphasise to all Clubs that it remains their sole responsibility to ensure that all players are correctly registered before making them available for selection. To play an unregistered player is an absolute offence for which the penalty is the deduction of points.

The Board of Directors recognise that they have a hard working and committed Staff in the Birmingham office who have received an unfair amount of criticism over the last few months. The continued support of Clubs, who continue to have confidence in them, has been most welcome. The Football Conference has also received negative communications and in some cases unwarranted abuse via Supporters' Trusts. These groups have been unaware of all the facts and the legal implications both of Clubs complying with the Rules and the absolute obligation of the Board to apply the same.

Communications of this sort does nothing for the game we all love or the Clubs they support. The Review Sub-Committee are satisfied that all the necessary office systems are in place, but will continue to monitor and observe any new procedures being developed in the national game that will further enhance the operations of our competition and the communications with our Clubs, supporters and partners".
---
29 March 2009
CRAWLEY "EXPECTED TO WIN"
In the NL Paper, after yesterday's 2-2 draw at Moss Lane, Crawley boss Steve Evans said, "We expect to come here and win, so we're a little disappointed... I felt we were totally dominant and definitely deserved the equalizer... We're definitely in the play-off hunt though we're never confident. Even when we sat top of the table, we had to pinch ourselves. We're a bunch of over-achievers. It is obvious that, over the last five years, more progress has been made here than at any other BSP club".
Alty captain Robbie Lawton said that "Before the game, we might have settled for a draw but, the way it's gone, we should have held on for the win. It's nice to be approaching the end of the season away from the relegation battle. We're closing in on the 50-point mark and you can feel expectations around the club beginning to change'".
JOE TASTES SUCCESS
The 4,000th bag, this season, of Altrincham FC sweets was sold yesterday to Alty supporter Joe McCann. He won two complimentary tickets for the Alty v Kidderminster game as his reward. 139 bags were sold on Saturday including 23 to the Crawley supporters' coach organizer; we hope they had a good journey home and enjoyed their sweets! All profits from the sweet sales go to the football club; they can be bought from the Robins' Shop before and at half-time at each first-team game at Moss Lane.
OLD BOYS
Former Altrincham Reserve Laurence Ball is on the front page of today's NL Paper as part of the Dover Athletic team which has become the first club to secure promotion in the top four tiers of the Non-League pyramid. Centre-back Laurence played for Dover before coming to study at the University of Manchester. Whilst a student, he played at centre-back in Neil Brown's Altrincham FC reserve side.

Ex-Alty Youth striker Tom Bailey took a step nearer to playing at Wembley this season as he scored the last equalizer for Glossop North End in a 3-3 semi-final first-leg draw in the FA Vase at Chalfont St Peter. In midweek, Woodley Sports lost but "a bright spot of the game was when 18 year old Sam Madeley made his debut and scored" reports NL Daily. Sam played with Tom Bailey in the Alty Youth team. NL Daily adds that when Burscough lost 3-2 at Solihull Moors on Saturday, "Jake Sedgemore scored Moors` third just before the half time break". Alty midfielder from 2000, Stuart Scheuber scored for Stone Dominoes and former Alty Youth Charlie Weir netted for Leek CSOB.

Former Alty Youth Danny Jarrett has joined Steve Aspinall at Colwyn Bay, having been at Woodley Sports.
NEXT GAME
Altrincham travel to Ebbsfleet United on Tuesday night. The Fleet report on their defeat at Kettering on Saturday said "The home side's play-off ambitions proved stronger than the Fleet's survival instinct. With Mark Ricketts suffering from a knock, Sacha Opinel and Giuseppe Sole won recalls while Michael Gash returned to the starting line-up at the expense of Luke Moore". The Fleet have had "a league campaign that has now seen only two victories in 2009 and if the realisation hadn't dawned that points in the bag are more important than games in hand, it is fast doing so. The Fleet cannot afford another one of their losing streaks and given a mediocre away record, a home game cannot come soon enough. And as the packed fixture schedule would have it, that arrives on Tuesday in a must-win clash at Stonebridge Road [against Altrincham]. Team: Cronin, Stevens, Opinel (Smith 61), Crooks, Charles, Duncan, Martin, Long, Sole (Shakes 78), Gash, Cumbers (Moore 53). Subs not used: Mott, Yussuff".

Meanwhile, Kent Online records that "Ebbsfleet suffered a fourth straight defeat as they surrendered a lead at Rockingham Road... in truth the Fleet struggled to create chances in the closing stages".
NEXT SATURDAY
Altrincham meet Lewes next Saturday, where The Argus says that on Saturday "Lewes had two players sent off as they went down 4-1 away to Forest Green. Stand-in skipper Anthony Barness was dismissed for bringing down Andy Mangan for a controversial penalty in the 28th minute... [and] Stefan Cox was shown a straight red card for an off-the-ball incident... It completed a miserable afternoon which had started so brightly when Joe Keehan fired the Rooks into a fifth-minute lead. Skipper Danny Cullip was a late withdrawal due to illness which meant the Rooks were without three first choice defenders. Left-back Sam Fisk was also missing due to an ankle injury while Chris Breach was serving a one-match ban. In addition, winger David Wheeler was also out having played for English Schools under-18s against Northern Ireland in the Centenary Cup last night. New signings Josh Jirbandey and Luke Rooney were handed starts after joining on work experience from Peterborough and Gillingham respectively while youth team player Ryan Storrie made his full debut on the right side of a five-man midfield. The fit again Michael Standing was one of only two players over 22 in a 16-man squad, which included six teenagers in the starting line-up and ten in total. Lewes were chasing their only double of the season, having beaten Forest Green 3-2 at home in October... Given the circumstances and the age of the team, the Rooks did the club proud to battle away for the entire 90 minutes, even threatening in stoppage time through Standing... Lewes: Banks; Hall, Barness, Jirbandey, Wilkinson (sub Osborn 70); Storrie, Standing, Keehan, Rooney (sub Sutton 70), Cox; Rivers (sub Foreman 79). Subs not used: Bell, Barton".

Afterwards co-manager "Steve Ibbitson was upset with referee Wayne Barrett for the match-turning decision which sent Lewes on their way to a 4-1 defeat at Forest Green. The referee awarded a penalty and sent off Anthony Barness for bringing down Andy Mangan in the 28th minute even though it looked like he got the ball. Lewes were leading at the time but were eventually soundly beaten. Ibbitson said: 'I don't like having a go at referees because they have a very difficult job. Everybody makes mistakes but even from where I was standing you could see Barny won the ball and the ball has gone in the direction he has played it. To me it was never a penalty and never a sending off. We were leading, we were getting the ball down and playing well... The second sending off [for stamping] I didn't see but other people on the bench did and I have no complaints about that'".
BSP NEWS
According to the Northwich Guardian, "Mike Aspin will walk out on Vics because he is not being paid. The teenager wrote to owner Jim Rushe a fortnight ago warning of his intention to leave the Marston's Arena as a free agent if the club did not cough up the wages owed to him. The 14-day notice period runs out on Monday. 'It's a sickener', said caretaker manager Andy Preece. 'I don't want to lose him, he's been absolutely fantastic since he came to the club and has worked his socks off'. Preece revealed that the 19-year-old is free to find a new club even if he is paid in full over the next 48 hours... The former Preston North End trainee signed for Northwich in the summer... Added Preece, 'Sadly I now have to look to the future and work out where we go from here'".

The BBC reports that "Mansfield Town joint-owner Steve Middleton has said the Stags can be a Championship club within 10 years... [They] are currently mid-table in the Blue Square Premier. Middleton told BBC Radio Nottingham: 'We've actually got a 10-year plan together and we are going to be in the Championship in 10 years time. It's very realistic and when you see the financial plan over the 10 years you can see it's attainable'. Middleton, alongside Andy Perry and Andy Saunders, has been in charge at Field Mill for nearly nine months. He added: 'There's over 400,000 people living within half an hour of Field Mill and 52,000 businesses. If we get 1% of that support it will give us gates of 4,000. If we get 2% it will be 8,000, which we can sustain a Championship football team with".

The UniBond League reports that "Newcastle Blue Star have signed 27 year old Mark Convery". He has played "at both Weymouth and Cambridge United in the Blue Square National". Also on the move are Ludovic Quistin who has moved from Grays Athletic to Hednesford, Barrow's Chris Thompson who has signed for Leigh Genesis.
---
28 March 2009
STEVE EVANS'S VIEW
The Argus says that "Crawley boss Steve Evans felt justice was done after his side grabbed an 88th-minute equaliser to draw 2-2 at Altrincham.today... It was no more than Reds deserved. They dominated for long spells although the quality which had been evident in their attacking play at Wrexham last week was often lacking. Evans said: 'In the second half it was one-way traffic apart from their goal when we got a bit sloppy at the back. If we had lost it would have been a travesty'. The home side took the lead in remarkable fashion after 27 minutes when Michael Welch spotted goalkeeper Simon Rayner off his line and beat the keeper David Beckham-style from well inside his own half... Evans added: 'If you had offered me four points before we went to Wrexham last week from two tough away games I would have taken it and who knows how important a point it might be at the end of the season'".
MICHAEL'S INJURY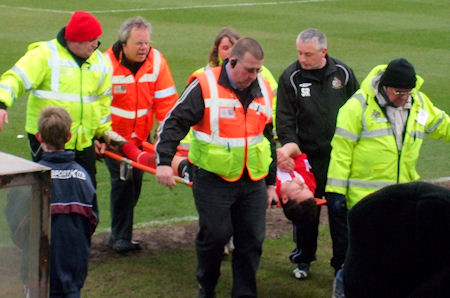 Alty physio Sean Riley writes after the injury to Michael Welch during today's game against Crawley Town:

Just to update everyone on the injury to Michael Welch. As always removal of a player from the field of play with a potentially serious injury takes some time, and with a player leaving in a leg brace and on a stretcher people rightly so, fear the worst. In the treatment room the leg brace was removed and a thorough examination of Michael's right leg and ankle was carried out. Initial findings are that he has not broken his leg, but has sustained ankle ligament damage. He did not require hospital treatment this evening, and left Moss Lane on elbow crutches. His injury will be closely monitored over the next 48 hours to determine the full extent of the damage.

I would also like to complement our stewards for their assistance in the safe removal of Michael from the pitch, the involvement of the stewards during this incident was as vital as my own, and they were faultless in the execution of the correct proceedure on removing an injured player from the pitch. Thank you and well done to all of you.

Sean Riley is seen, right, in black tracksuit, as the Alty stewards and stadium officers carry Michael Welch to the dressing room. All at Moss Lane wish Michael a speedy recovery from his injury.
ALTRINCHAM 2 CRAWLEY TOWN 2
Altrincham fans would probably have settled for a point before kick off but after leading till two minutes before the end of the ninety, they were disappointed not to take all three. In blustery conditions Alty took the lead with a quite sensational goal. From a freekick, more than 60 yards out, Michael Welch beat Crawley keeper Rayner with a superb lob (27 mins).

Saturday's results:
Altrincham 2 Crawley T. 2
Burton A. 4 Grays A. 0
Forest Green R. 4 Lewes 1
Histon 1 Wrexham 0
Kettering T. 2 Ebbsfleet U. 1
Mansfield T. 1 Torquay U. 1
Northwich V. 4 Rushden & D. 2
Salisbury C. 2 Eastbourne B. 0
Stevenage B. 1 Oxford U. 1
York C. 0 Kidderminster H. 0
MATCH DAY
As usual the website hopes to provide updates from the Altrincham match on Saturday afternoon: these will appear on the:
MATCHDAY UPDATE PAGE.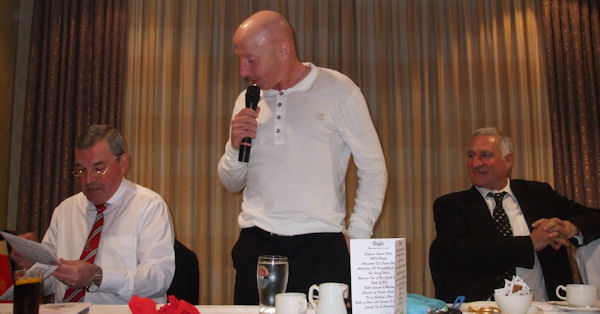 DINNER SUCCESS
Preliminary figures suggest that Thursday night's Sportsman's Dinner, at which Mickey Thomas, the former Manchester United and Wales winger was the guest, raised about £4,000 for the club. Thanks are due to Mickey, compere Graham Heathcote and all those who organized and /or attended the event at the Cresta Court Hotel. Mickey is seen above (centre), with Graham Heathcote (left) and Graham Barrow, Alty's assistant manager. Mickey entertained the guests with an unscripted talk ranging over his whole career - including his 18-month imprisonment for dealing in forged currency and his unhappy time at Manchester united, where he could not handle the pressure. Mickey's brushes with the law continued as he arrived late, having been stopped for speeding on the M56 on the way to Altrincham! Graham Heathote compered the event excellently, at one point even waving a supposed wad of £15 bank-notes which Mickey had allegedly printed-off.
FOOTBALL FOR A FIVER!
Altrincham FC Press Release:

Blue Square Premier Football for £5 for Premiership & Football League Fans!!

With there being no Premier League action this weekend, Altrincham Football Club are offering season ticket holders of all Premiership and Football League clubs the chance to see their Blue Square Premier match with Crawley Town this Saturday for just £5 (£2 for Under 16s).

The match kicks off at 3pm at Moss Lane and Altrincham will be looking for points to banish any lingering concerns of getting dragged into a relegation battle, whilst it is a must win game for the Sussex side who are still very much in with a chance of reaching the play-offs.

In order to take advantage of this offer you will need to present your season ticket along with proof of your identity at Turnstile 5 or 6.

So why not come along & cheer on the Robins?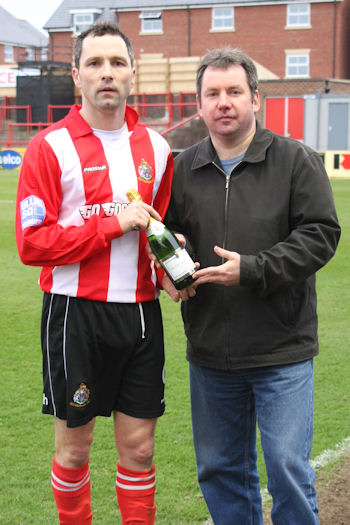 Right: Colin Little is back in form with four goals in nine days. Here he receives his Man of the Match award from Alty's joint press officer and TASC chairman, Brian Flynn, after the game with Forest Green Rovers.
CRAWLEY GAME
With, at best, 13 fit outfield players available to select from, the BBC is on pretty safe ground when it asserts that "Midfielder Ben Wilkinson could make his Altrincham debut after joining from York, but James Smith starts a three-game ban... Chris Senior (hamstring) remains out and Joe O'Neill faces a late test, but Dale Johnson is fit after tight hamstrings. Crawley are expected to be without midfielder Thomas Pinault... Jamie Cook may be on the bench as he recovers from a lengthy groin injury".

Crawley Town report that "The Reds travel north again this weekend to face Altrincham in what promises to be another tough challenge as we set about trying to secure an end of season playoff place. The team go into the fixture in a confident mood after beating Wrexham last weekend but Altrincham are a much improved team this season and sit comfortably in mid table. Gaffer Steve Evans will have a fully fit squad available for selection except midfielder Thomas Pinault who is not expected back in action till next week. Speaking on Friday manager Steve Evans said; 'Altrincham are a decent side this season and at home they are strong so we know it will be tough. I may make a couple of changes to the starting XI from match at Wrexham last week. Whatever team I select I will just ask them to give it everything they have and we will see where it takes us'".

"Crawley boss Steve Evans has challenged his squad to maintain the standard they set at Wrexham last week to keep their play-off dreams alive" according to The Argus. "With six of their last nine games on the road... Evans said: 'We need six wins as a minimum to get into the play-offs and if we repeat the performance at Wrexham we will win most games but it is going to be difficult to maintain that standard... We are bucking the trend among the play-off contenders because of the size of our squad'... The squad will prepare for tomorrow's trip to mid-table Altrincham with an overnight stay even though the club are unable to afford it. Evans revealed: 'We were due to travel on the day to Wrexham but I phoned one or two personal friends of mine who are not connected with the club to see if they could help us with an overnight stay and they have given us the same opportunity tomorrow. If we had lost at Wrexham you can be sure we would be going to Altrincham on the day. But we will take advantage of it by preparing in the best fashion possible. Every player makes excuses when they don't play well – the weather, the conditions, injuries, the food before the game. All we can do is put them on the pitch and say you have no excuses'... Evans might freshen things up elsewhere with striker Jamie Cook and midfielder Lewis Killeen both impressing in training this week. He added: 'We have different options although I would be loath to change the back five who were outstanding at Wrexham'... Evans expects a tough afternoon against an Altrincham side beaten in six of their last eight league games. He said: 'I'm under no illusions about how difficult it will be. (Manager) Graham Heathcote has made them attractive to watch and they are a decent side especially at Moss Lane. We will need to be at our best to get three points'".
SILVERWARE
Above: Alty with the Cheshire Senior Cup, which they won on Monday night. Picture by Les Rathbone, kindly supplied by GR Photography.
SAM reports that Alty became "Cheshire champions in style. Alty now plan to mark the achievement in a similar way on Saturday, with four local youngsters, mascots against Crawley, parading the cup round the pitch 15 minutes before kick off. 'It dates back to 1886 and is a beautiful trophy, as well as one of the oldest around' said Graham Heathcote.'It will be a special day for these kids and quite rightly too. Let's all share in what was a really good, positive performance... I said to the players beforehand that winning silverware was what they were playing football for. We were never going to be blase about this competition and, as the leading non-League side in Cheshire, it was important we went all the way and won it.No one should underestimate the importance of putting a trophy on the table for the morale and self-esteen of the players, supporters and everyone connected with the club'".
NW NEWS
The well-informed Bullsnews reports that "Accrington will be sold to their General Manager Dave O'Neill. Owner Eric Whalley will step down at the end of the season after 14 years due to heart problems. Whalley claims that clubs around the League Two drop zone are pressing the Football League to check whether the extra seats currently being installed are done on time. If they don't have the seats installed they will face relegation themselves".

The Lancashire Telegraph has a lengthy interview with Whalley. It says "Q: Last year's accounts show that Accrington Stanley's turnover was £1.5m with a loss of £65,000. How do you reflect on those figures? A: That's not a bad loss. But this year's accounts will show a much greater loss because gates have dropped and sponsorship deals have gone by the wayside. When we entered the Football League three years ago, attendances at the time averaged around 2,200. It was a lot easier to manage the budget. But gates are now averaging around 1,100 - attendances have halved in those three years". Whalley adds that "The budget is £900,000 - which is 60 per cent of the club's turnover. It's a low figure, but I'm told there's clubs on less than us. You have got to be realistic. Stanley are the worst supported club in the Football League, and with the worst stadium and facilities... The Football League are adamant that we have to put 800 seats in. It is costing us £100,000 to put these 800 seats in - but there's no bums to sit on them... It is absolutely crazy...

Having read Deloitte's findings into football finances, I think 57 clubs have gone into adminstration since 1993 and most of them are still playing in the Football League. In some cases, clubs have cleared their debts and started again and yet, a few years later, they have gone into administration again. That's totally immoral."
SAVE YOUR CHANGE FOR ALTY!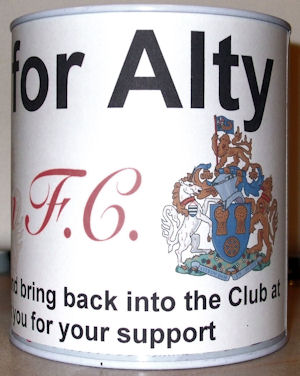 Grahame Rowley writes, "Following an idea from long-standing fan Bob Allan, we are launching a fundraising scheme to take place over the close season. Named "All Change for Alty" it involves fans taking an Alty money box home and over the next 4 months putting their small change in it. By just collecting 1p, 2p and 5p pieces it will amaze you how much you could raise for your club. If you would like to take home one of these money boxes please collect one from the club shop from Saturday or from the offices during the week. You will be required to leave your name and contact number so the club knows who have taken them". One of the boxes is pictured, right.
BSP NEWS
Our opponents on Tuesday, Ebbsfleet United "have signed 19-year-old Charlton Athletic midfielder Rashid Yussuff on loan until the end of the season. Yussuff, also known as 'Toks', is 19 and regarded as a quick and skilful player. He has been a consistent performer in Charlton's reserves having graduated from the club's youth academy. He has represented England at Under 16, Under 17 and Under 18 level and also played on loan earlier this season with Northwich Victoria, making seven league appearances". Ebbsfleet's attendance on Thursday night for their Setanta Shield Area Final with FGR was just 431.

"Stevenage Borough completed the loan signing of Junior Mendes from Aldershot Town until the end of the season" reports NL Daily. "The 32-year-old Balham-born striker started his career at Chelsea before featuring for clubs including St Mirren, where he picked up a Scottish First Division title, Dunfermline Athletic, Mansfield Town and Huddersfield Town in a career that has spanned 300 senior appearances".

Meanwhile "Wrexham have bolstered their squad by signing two international players, one from the Faroe Islands and another who plays for Mali. Manager Dean Saunders has recruited goalkeeper Gunnar Nielsen, 22... [as reported yesterday, and] French-born Mansour Assomani, 28, has also joined the Dragons". And "Cambridge United completed a late move on loan transfer deadline day by bringing in Bradford City defender Simon Ainge. The 21-year-old will stay at the Abbey until the end of the season". Also ""Kettering Town have signed striker Ryan Charles on loan for a month from Luton Town". Finally, "Torquay United have signed striker Blair Sturrock from Swindon Town on loan".

Grays Athletic "have signed the following players on work experience: Ronnie Jones, Centre Half, Southend United, Sam Long, Midfielder, Charlton Athletic".

The Argus reports that "Lewes have made a second signing... Young Peterborough defender Josh Jirbandey has joined on work experience... Jirbandey, who made his debut for County League side Rye United as a 15-year-old, is a second-year apprentice at Peterborough and has spent time on loan at Hastings United this season. Meanwhile, teenager forward Rhys Henry has returned to Southend at the end of his month's loan at Lewes and Steve Elliott has extended his loan at Hastings to a second month".

Allan Tait has answered an SOS from Eastbourne Borough after the club decided against reinforcing their injury-ravaged squad on the eve of their most gruelling period of the season" states The Argus. "The striker looked to have played his last game for Borough when he was sent out on loan to Basingstoke in December soon after being dropped following a training ground bust-up with boss Garry Wilson. Tait's spell at Basingstoke came to an end last week but he was expected to go out on loan to another club... However, injuries... mean he could be back in the squad for tomorrow's trip to Salisbury City... Greenwood said: 'Allan came back after his maximum 93 days at Basingstoke and with the injuries we have picked up we asked him to stay until the end of the season... The committee were not keen to spend a chunk of money on a loan player when we are already safe'... Borough's plans for tomorrow's game were thrown in to disarray by the bruising encounter with Sidley United in the Sussex Senior Cup on Monday night. Goalkeeper Lee Hook dislocated a finger but is expected to be fit for the trip to Wiltshire but Matt and Nathan Crabb, Brown and Smart are all struggling. An X-ray on Smart's shin has shown no fracture but he is extremely unlikely to play while Matt Crabb is doubtful with a dead leg and Nathan Crabb has a back problem which could rule him out. Brown is expected to recover from a neck injury but Atkin is due to have a scan on his groin today and could miss the next five games".

from Kent Online, we read tha "Andy Pugh has returned to Grays for the rest of the season. Gillingham manager Mark Stimson... agreed to let Pugh return to Grays, where he played 11 games and scored four goals during a recent loan spell, under the proviso that he could be recalled at short notice. The Gills' boss said: 'He came back but Grays drove me mad, begged me, everything they could to take him again because he did so well for them'".

This is Nottingham states that "The season may be realistically over for Mansfield Town in terms of their play-off hopes – but try telling David Holdsworth and his team the last few weeks of the season are meaningless. At the moment, the list of players under contract is vastly outnumbered by those whose deals expire in the summer. That fact alone... means most of the squad are still under pressure to perform. Alan Marriott, Louis Briscoe and Scott Garner may have signed deals to keep them at Field Mill for the next two seasons after this. And there is a further set of players who have agreed terms until the end of next season, namely Jonathan D'Laryea, Scott Gardner, Ryan Williams, Anthony Howell and Curtis Shaw. But the rest fall into two categories – those whose deals run out in May and those whose contracts end in June. The discrepancy stems from the fact that some have signed year-long deals to join from league clubs, which expire a month after non-league ones. Contracts up in May are those with Michael Blackwood, Rob Duffy, Luke Herriott, Alex Jeannin, Neil MacKenzie, Aaron O'Connor, Alan O'Hare, Gary Silk, Curtis Woodhouse, Gianluca Havern and Matt Somner. In June, contracts run out with Ryan Goward, Lewis Trimmer, Adie Moses, Mark Stallard, Nathan Arnold, Chris Wood, Warren Burrell, Jamie McGhee and Jason White. It is impossible to know at this stage who Holdsworth will want to retain and who release.

But with the likelihood of more players arriving in the summer, despite a plan to trim his squad to an ideal of 23, departures are inevitable. Already, in fact, some have been told they are surplus to requirements. Young players Wood, Burrell and McGhee have been told their deals will not be renewed, while senior players Jeannin and O'Hare have been put on the transfer list and will not be here come pre-season either. The fact that Blackwood (Tamworth), Trimmer and Goward (both Glapwell) are out on loan suggests they will be plying their trade elsewhere too. That leaves a further 12 players whose futures remain up in the air... Those likely to be on Holdsworth's wish list are Silk – a contender for player of the year – Somner and Moses... Woodhouse is another strong contender for a fresh deal... Stallard comes under the list of "likely to be released", along with goalkeepers Herriott and White... Stallard turns 35 in the autumn".

The Press reports that York "City midfielder Ben Wilkinson has joined Altrincham on loan until the end of the season, but will be eligible for the FA Trophy final and is contracted at KitKat Crescent until the summer of 2010. Foyle said: 'He hasn't been getting into the squad... so it will be an opportunity for him to get some games".
---
27 March 2009
OLD BOY
Carlos Roca got a hat-trick against Ashton United as FCUM won 4-0 on Wednesday. Jake Moult, an Alty trialist last summer, played for Stafford Rangers on Tuesday night.
BSP NEWS
"Northwich Victoria is no closer to owning its own home" claims the Northwich Guardian. "Jim Rushe told the Guardian that lawyers are locked in talks over VAT payments attached to a £1.35m deal for the stadium... Meanwhile Vics will continue to play home matches at the Marston's Arena under the terms of a temporary Licence to Occupy. That arrangement costs Rushe £1,000 a week. His consortium have had their bid for the nine-acre site accepted, with a £75,000 deposit the next stage towards completing the deal. Once he has paid that, Vics' owner will have six weeks to pay the balance. A winding-up petition against the club, brought by the tax man, has been adjourned until May 6 to allow time for negotiations to continue".

From Salisbury City we learn that "The Whites have completed the loan signings of midfielder Ben Osman and striker Toby Osman from Exeter City. The brothers are the sons of Russell Osman and are first year professionals at Exeter".

Wrexham report that "Providing international clearance is granted, then the Reds will parade a new goalkeeper at Histon on Saturday. Returning to Manchester City for a third time this season, Dean Saunders had recruited new signing Gunnar Nielsen. The 22-year-old was with Mark Hughes at Blackburn Rovers earlier in his career and only moved to Eastlands a month ago as a free agent. A full international for the Faroe Islands, he made his debut in a victory over Iceland last Sunday... The 6' 3" tall stopper started in senior football with hometown club HB Torshavn, switched to Danish side BK Frem Cophenhagen, before joining Blackburn Rovers in the summer of 2007. After a season at Ewood Park, he went on loan to Motherwell in the SPL, before leaving Blackburn in January of this year. With four senior keepers on their books at City, a switch to the Racecourse for the remainder of the season will see Gunnar gain some valuable playing time".

The Northants Evening Telegraph says that "Rushden & Diamonds left-back Gareth Jelleyman has joined rivals Barrow on loan until the end of the season. The 28-year-old defender was signed after being released by Mansfield Town last summer... Since picking up an injury at the end of 2008 and the arrival of Kurt Robinson on loan from Ipswich Town, Jelleyman has struggled to gain first team football".

Mansfield Town "Manager David Holdsworth has today signed Leeds United central midfielder Oliver Hotchkiss on an emergency loan until the end of the season. United's 19 year old reserve player has put pen to paper... The move follows the news that Curtis Woodhouse will be out of action this Saturday as his professional boxing fight takes place the following day... Hotchkiss is a former Sunderland youngster and is contracted to Leeds until the end of next season. He had a loan spell with UniBond League Division One club Garforth Town near the beginning of the season".

Weymouth FC "have signed Barnet striker Cliff Akurang on loan until the end of the season. The 28 year old has had previous Conference experience having signed for the Bees from Histon".

The Dorset Echo adds that Weymouth "have signed Barnet striker Cliff Akurang and Crewe Alexandra keeper Adam Legzdins on a month's loan. Twenty-eight-year-old Akurang... was wanted by several of Weymouth's Blue Square Premier rivals. But the Terras won the race for his signature... Legzdins, 22, is also set for his first appearance in a Terras' shirt on Sunday after League One Crewe confirmed the deal".

According to NL Daily "Gateshead are set to boost their Blue Square North promotion challenge by bringing Geordie boy Tony Dinning back home. Dinning, 34 next month, began his career at home-town club Newcastle United fifteen years ago and went on to rack up over 550 appearances for a dozen Football League clubs. The experienced midfielder... is currently out of favour at Chester City. A loan spell at Blue Square Premier club Grays Athletic was completed during the Essex club's midweek draw at Torquay United... Gateshead are also on the trail of another experienced Football League player, Northwich Victoria striker Darryn Stamp... 'Stamp has to sort out his financial situation at Northwich', added Bogie."

Former Alty defender "Phil Bolland has signed a contract with Cambridge United to the end of the season. The influential Merseyside-based defender has been on non-contract terms all season in an agreement that suited both him and the club. However, in view of interest from other clubs and the impending deadline for player registrations, the club has protected its interests by offering Bolland (pictured) a deal to the end of the season, which he signed today. Manager Gary Brabin believes... 'we need him tied up so we know he's here until the end of the season'", reports the Green Un

The BBC says that "Relegated Lewes insist they will 'definitely not' be going into administration. The Conference deadline for filing for administration in time for any points deduction this season is Thursday. Club spokesman Steve White told BBC Southern Counties Radio: 'We're not in a position to expand on details, but we are not going into administration'... The Rooks... are the first team in the top five divisions of English football to be relegated. They went down with seven games to go".

The Argus adds that "Lewes have signed a player called Rooney for the run-in to the season. The Rooks have taken central midfielder Luke Rooney on work experience from Gillingham... Caretaker manager Steve Ibbitson is hoping to add two more work experience signings to his squad. Work experience signings are not governed by Thursday's 5pm loan deadline".

Also from the Argus, we learn that "Martin Elliott says he is not prepared to put Lewes's Conference future at risk... Elliott believes going into administration would not benefit Lewes because they would still have to pay their creditors in full. Unless they did so by the league's annual meeting in June they could be prevented from playing in Conference south next season... Should they go into administration after today the points deduction would be imposed from the start of next season but Elliott insists 'The Conference rules are fairly clear that we have to be able to pay all our creditors and football creditors if we go into administration or we put our membership of the Conference at risk. If we went into administration, payment terms would still have to be agreed and satisfied with all creditors and football creditors. Then, depending when we come out of it, it is whether we could satisfy the Conference we had a structured plan to go forward. Having taken advice we can't see any huge advantages of putting Lewes Football Club into administration. It costs a lot of money to call in the administrators and it is money we could spend on the creditors and football creditors we have got to deal with. The only advantage is we might, and I say might, be able to reduce the tax and VAT sums we have to pay... We still think we may be able to negotiate with our creditors and secure our position but we are reliant on some funding partners. All the time we are able to keep the wolf from the door we are not going to put our membership of the Conference at risk by going into administration".

According to the Sussex Express "Lewes FC chairman Terry Parris has revealed that a number of high profile managers have contacted the club about the vacant manager's position – including a former international footballer... He said, 'We've had a person who has managed computer teams since 1990 and who thinks he is ready to take his experience into the real world. And we've also had an international footballer contact us'... Mr Parris pointed out that the club had not been advertising the vacant manager's post".

the Gravesend Reporter says that "Liam Daish has distanced himself from his post-match comments in the aftermath of Saturday's FA Trophy exit, insisting the media reaction was over the top... The Fleet boss was quoted as saying: 'Do people want me here next year?'... Daish said "I answered it as honestly as I could, as I've always done. It was a little bit light-hearted'".

Meanwhile Ebbsfleet United "will know how much money is available for next season's playing budget in less than a month. On Monday, the website society that owns the Fleet, MyFootballClub (MyFC), issued a statement on its message board calling upon its thousands of owners to provide a cash lifeline. It estimates that an 'extra £25,000 needs to be found each month to keep the playing squad as competitive as possible' and warns that the 2009/10 season will be 'tough' if sufficient funds are not raised. Head coach Liam Daish currently has a budget of £10,000 per week to spend on his squad... Fleet chief executive David Davis told the Reporter 'We're trying to generate more revenue and, as MyFC is the primary source of that, we're asking the members - as well as local supporters - if they're prepared to contribute more. We need that money... If the fans want to continue to see Blue Square Premier football, there is going to be a price to pay for that... Our intention, if at all possible, is not to go to part-time football and we'll do whatever we can to avoid it. We're fully committed to keeping full-time footballers on, if that is practical'".

According to the Crewe Chronicle "Nantwich returned to earth with a bump on Monday. The Dabbers had enjoyed a stunning few days. They posted their biggest win for more than 40 years – an 8-0 demolition at Leigh Genesis – in midweek, and notched a 4-0 success at Frickley on Saturday. But Blue Square North [what!!] side Altrincham were a different proposition in the Cheshire Senior Cup final and Nantwich went down 3-0...

Boss Steve Davis said: 'I'm glad it is out of the way with no injuries to be honest. It was a poor game that was ruined by the wind. Altrincham have improved since we beat them in the final last year and it did show us what we would need to compete at their level. But that cup was not our priority and now we'll focus on the league".
---
26 March 2009
TWO IN, ONE OUT
With the deadline for signing loan players falling today, Altrincham FC confirm that they have re-signed Michael Welch on loan from Northwich and also have signed 22 year-old Ben Wilkinson from York City. Both loans run till the end of the season, with Michael's being a continuation of his one-month loan which expired last weekend.

Sheffield-born Ben, a midfielder (5ft 11ins, d.o.b. 25.4.87), had spells as a youngster with both Sheffield United and Wednesday as well as Derby County, Hull City (where he turned professional) and Gretna (where he spent the end of last season on loan). He will have squad number 17. Ben (though his first name is actually Alistair) is the son of former Leeds United and England manager/coach Howard Wilkinson. He played the last 20 minutes against Alty at Kit Kat Crescent earlier this season.

Meanwhile Alex Meechan (right) has had his contract cancelled, at his own request, and he has now joined Stalybridge and wil be at the Bower Fold as the Celtic website announces till "at least the end of the season". Altrincham FC would like to thank Alex for his services. He joined Alty last summer and made a scoring debut at Woking in August 2008. But he was unable to command a regular starting place and, in all, made 11+17 appearances, and scored three goals. He was at Stalybridge at the end of last season and also had a month's loan at Celtic earlier this year.
CHRIS'S FITNESS
Stalybridge Celtic report that their loanee from Altrincham "Chris Denham's last chance to play for Celtic will be Saturday, but after the knock against Gateshead he looks doubtful".
REFS
Saturday's referee for the game against Crawley Town is Mr R. Merchant, and for Tuesday at Ebbsfleet it will be Ms Amy Rayner who is in charge.

Mr Merchant has previously reffed:
ALTRINCHAM 4 FARSLEY CELTIC 1 - FA Cup, 2nd Qualifying Round Match, played on Saturday, 2 October, 2004
ALTRINCHAM 0 GRAYS ATHLETIC 1 - Blue Square Premier game, played on Saturday, 25 August, 2007
ALTRINCHAM 1 EBBSFLEET UNITED 3 - Blue Square Premier match, played on Saturday, 20 October, 2007 at 3pm.

In the above-mentioned Grays game he awarded a penalty against us, which Richard Acton saved, whilst against Ebbsfleet he awarded a spot kick which Colin Little converted (pictured above, right).

Amy Rayner has also pointed to the spot against Altrincham, when she reffed:
STEVENAGE BOROUGH 3 ALTRINCHAM 0, Blue Square Premier match, played on Saturday, 13 September 2008
SLIM4ALTY
If anyone has yet to pay their sponsored slimmer for the Slim4Alty competition, would he or she please do so as soon as possible?
SWEET SUCCESS
Whilst some supporters were starving themselves for Altrincham FC in the Slim4Alty campaign, others were helping the Club by eating sweets! At all Altrincham FC home games you can buy a bag of sweets in the Robins' Shop for twenty pence. This initiative has now produced sales of almost 4,000 bags, with the profit going to Club funds. To mark this achievement, whoever purchases the 4,000th bag, this Saturday at the game with Crawley Town, will win two complimentary tickets for the home game against Kidderminster Harriers on Easter Saturday, 11th April. The sweets are for sale in the Robins' Shop.

Initially, the sweets were only sold at league games only but now are available at cup and friendly games too. In all the initiative has raised several hundred pounds for the Club, with the sweetest-toothed crowd being that at the game against Salisbury City last year near the end of last season, which alone raised £34.80 profit.
CSC TROPHY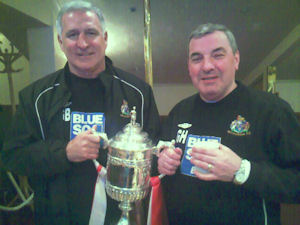 Right: Sarah Rowley has kindly supplied this photo of Graham Barrow and Graham Heathcote celebrating with the Cheshire Senior Cup in the bar at Moss Lane after the win on Monday night.
CRAWLEY'S PLAN
News of our next opponents, Crawley Town... "Assistant boss Paul Raynor has praised manager Steve Evans after the Reds returned from Wrexham with what could be a huge 3 points in the race for the end of season playoffs... The victory was fully deserved after the team produced a superb performance. Assistant boss Paul Raynor said, 'The Gaffer got the team, formation, tactics and game plan absolutely spot on. We pressed the game all over the pitch and every player for Crawley Town played a big part... We always know that if we can play the way we did at Wrexham we can beat most teams we play at Conference Premier Level... For us to make the playoffs we need to leave behind us a number of clubs that are massive in every way compared to ourselves. Wrexham, Oxford United, Kidderminster, Mansfield Town, York City, Rushden & Diamonds and perhaps even Stevenage Borough would all perhaps have to miss out if we are to achieve the playoffs so that is a little summary of how hard our task is. The Gaffer will decide the team and game plan for Altrincham next Saturday and I think he may make a couple of changes. He will discuss that with me then we will set about planning our match strategy. I know we will need to be at our best again to beat Altrincham who have a number of very good players this season".

"Reds' Gaffer Steve Evans said; 'I do believe it will go to the last matches of the season, Sunday 27th April will be the day it gets finalised.... I said a while back that I believed Burton Albion would be Champions and despite a recent dip I still believe that will happen. For me there is only one playoff place left and there are 3 teams fighting for it. I believe we are one of them but there is no doubt we are the least fancied and given the size of the clubs we are competing against I am not surprised. All the leading clubs have each other to play and that makes it even harder to put a run of results together to make sure you earn that place'".

Meanwhile The Argus says that "Crawley skipper Chris Giles insists he is happy to play anywhere... The 26-year-old operated in his fourth different position when he appeared at right-back in Saturday's 2-0 win over play-off rivals Wrexham. In an injury plagued campaign Giles has operated in his preferred central defensive role as well as left-back and as a holding midfield player. He said: 'Until Saturday I'd never played at right-back before but I don't care where I play. I just want to be involved if we're going for the play-offs and not sitting on the bench watching it go by'. Giles returned to Broadfield Stadium last summer but his season has been badly affected by injury and illness...

He added: 'My fitness is improving all the time and I've put weight on after losing two stones when I was in hospital [with appendicitis] so I feel fresh for the run-in... We've got another nine games to go'... Reds travel to Altrincham on Saturday and boss Steve Evans is expecting as tough a game as Wrexham. He said: 'I said before last Saturday that we needed to win seven games and we've achieved one of them but Altrincham will be difficult. They only lost to Stevenage and Torquay recently to last-minute goals but if we display the same passion and commitment we did against Wrexham we will give ourselves a chance'".
TUESDAY'S OPPONENTS
Newshopper says that "Liam Daish is confident Ebbsfleet will beat the drop despite slipping into the dreaded relegation zone after[Tuesday's] 1-0 defeat at Salisbury... their 15th defeat of the campaign but they do have five games in hand on Grays Athletic, the side immediately above them in the final safety position. Daish said: 'The fact we've only played three league games since January 27 certainly hasn't helped us. We've lacked playing in the cut and thrust of Conference football a bit because we simply haven't had enough league games. Now we've got a backlog of fixtures where we are going to be playing Tuesday, Thursday and Saturday until the end of the season, which is going to make it even more difficult... I would rather be in the bottom four now than in the final two weeks of the season...Salisbury is a tough place to go anyway... They closed us down after scoring so quickly. We had to change things around again because of Michael Gash's injury'... Daish rates Gash as 70-30 to play in this weekend's visit to Kettering".

Details of the TASC transport to Ebbsfleet next Tuesday (31st) are here.
OLD BOYS
A number of "old boys" were on the scoresheet last Tuesday. Steve Aspinall scored with a freekick from outside the box as his Colwyn Bay side won 5-2 at Bamber Bridge this week, to go second in the UniBond First North. Ilkeston moved into second place in the UniBond Premier, after beating Cammell Laird 2-1 with Tom Cahill scoring Town's first goal. Glossop North End won 6-0 away at St Helens Town with former Alty youth striker Tom Bailey hitting a hat-trick.

In local football former Alty reserves were in action for Sale as they beat holders Grey Horse (Failsworth) 3-2 in the NW Champions' Cup, the region's top Sunday competition. Striker Aaron Edwards was sent off for Sale, whose extra-time winner was scored by Adam Walker.
BSP NEWS
According to the Evening Leader, "Dean Saunders spoke of his frustration after seeing Wrexham's play-off challenge continue to falter. Saunders... admitted he is 'exasperated' seeing players who are plying their trade at a lower level struggle with aspects of their game. But Saunders accepts he has to come to terms with the fact Wrexham are in the Blue Square Premier... 'I have got to keep reminding myself that if they scored the chances that came their way and got on the end of the crosses, and the crosses were perfect, they would be playing in the Championship or the Premier League', said Saunders. 'I have got to remember where we are. Strikers in this league miss chances – that's why they are in this league – and defenders make mistakes. I find it very frustrating when things happen out there as you can probably see. Some things exasperate me – I can't believe what's going on. For example, we get a free-kick with a minute to go, a chance to put it into the heart of their box, and we play a ridiculous ball down the channel. But I have to give myself a shake, get them on the training ground and try and improve them. That's what I am here for... They have got to lift themselves', added Saunders, who will be away on international duty [on Saturday] in his role as assistant manager of Wales who have a World Cup qualifier against Finland in Cardiff. 'The board where I put all the markings and tactics up, I may as well just chuck it away because we have gone over it and over it. They have got to go out and do it themselves now. I can't go and head the ball out of the box or mark somebody – as much as I am nearly on the pitch at times trying to sort the problem before it happens'".
The Setanta Shield Final has been arranged for Thursday 9th April (Maundy Thursday) at 7.45pm. Should Barrow overcome AFC Telford United in the semi-finals, they will play six games in 12 days on April, 2nd, 4th, 7th, 9th, 11th and 13th!
Thursday 26th
Setanta Shield
Ebbsfleet U. v Forest Green R.
Barrow v AFC Telford

Where's The Match lists forthcoming Setanta TV matches until June.

Torquay United "boss Paul Buckle gave his thoughts on the draw with Grays Athletic. 'In fairness to Grays they looked up for the battle and showed some quality... This is a tough league, it's an unforgiving league... but I didn't feel there was a buzz tonight. It's not going to be easy getting out of this division, everybody needs to know that, it is going to be a mission. It is a mission that a lot of clubs have found very difficult to do over the years... We need to get an atmosphere in this ground whether we are playing teams who are down the bottom or the top... It was a physical game which is what we expect'".

Salisbury City have "completed the signing of 22 year old central defender Sam Pearce from Bognor Regis Town. Pearce started his career with Havant & Waterlooville".

The loan transfer window closes in the BSP for the final time on Thursday, 26th March.
---
25 March 2009
MIDWEEK
Tuesday 24th
BSP
Histon 0 Stevenage B. 0
Rushden & D. 1 Oxford U. 3
Salisbury C. 1 Ebbsfleet U. 0
Torquay U. 1 Grays A. 1
York C. 0 Kettering T. 0
League Table
SATURDAY YANKEE
The winning code for the Yankee on Saturday 28th March was 0086, but that code was unissued. This means that the jackpot for next Saturday is £5,400. However, there were two lucky treble winners (0586, 1086), each receiving £100. To join the Yankee, ring the club on 0161 928-1045. You stand a chance to win a big prize whilst also helping Altrincham FC.
CHRIS DENHAM
From Stalybridge Celtic before Tuesday's game, we read that "Chris Denham picked up a knock early on against Gateshead, and will have to have a fitness test". Chris's loan continues at the Bower Fold till next week.
NEXT UP
Alty's next opponents are Crawley Town, from where the Crawley Observer reported last Friday that "French midfielder Thomas Pinault is expected to return to action in two weeks... The diagnosis was a badly swollen ankle... Assistant manager Raynor said: 'The injury is not as bad as first anticipated and he is able to put weight on it.... Jake Wright is fit to return, which is a big boost... If we can put a few results together there is no reason we can't get one of the play-off places'".
BSP NEWS
The Conference confirm that "this season's FA Carlsberg Trophy Final between Stevenage Borough and York City will take place at Wembley Stadium on 9 May at 2pm".

"Kettering Town Football Club is delighted to confirm it has received confirmation from the Football Conference that it will not be demoted from the Conference Premier League at the end of the season over our well publicised security of tenure issues. We are disappointed that on the day we planned to announce this long awaited news, false information was leaked to the non-league paper about us being denied a potential play-off position. We can confirm that the Conference Board have indicated the only scenario in which we would not be allowed to play in the play-offs, should we achieve the necessary league position, is if the Football League ruled that they would not accept us, should we win the play-offs.

At the present time, the Football League have not stated that they would not allow Kettering Town into the Football League, should we qualify through automatic or play-off promotion. We understand our application is still being considered, along with those of other clubs. Furthermore, any decision to not allow us to be promoted to the Football League, should we achieve the necessary success on the field, would surely leave us with no alternative but to bring a very strong case to the relevant courts - a scenario we do not expect to arise.

Kettering Town Football Club has privately demonstrated its long term security of tenure, to both the Conference Board and Football League and will make a detailed public statement about our long term future in the not too distant future; ideally during the current playing season, but certainly prior to commencing the 2009/10 season. Until such time as this is possible, we hope our supporters are as thrilled as we are that at the very least, we will be playing Conference Premier football next year, whilst our play-offs aspirations remain very much alive".

But one man won't be at Rockingham Road next season as "Kettering Town can confirm that Tommy Jaszczun has been released".

Anothe player moving on is revealed by Blue Square Football. "Cambridge United have revealed that midfielder Mark Convery is leaving the club after having his contract was cancelled by mutual consent. The 27-year-old suffered a knee ligament injury in December which kept him on the treatment table for three months. He made a return to action earlier this month but hasn't featured for the first-team and it was believed that his chances of featuring again this season were slim to none".

The same source adds that "Mansfield Town manager David Holdsworth has decided to place defender Alan O'Hare on the transfer list... Holdsworth has started a mini-clearout at Field Mill by telling young trio Jamie McGhee, Warren Burrell and Chris Wood they are free to leave the club, while Jason White, Nathan Arnold and Alex Jeannin are already on the transfer list".

It is not all departures as "strugglers Grays Athletic have continued their recent recruitment drive with the signing of striker Joe Sweeney on non-contract terms. Sweeney is a product of the Crystal Palace youth system and can also count Brentwood Town and Aveley amongst his former clubs. He will link up with fellow new signing Thomas Black, who signed for the Blues on non-contract terms on Friday, last week".

And "Kidderminster Harriers manager Mark Yates is hoping he'll be given the go-ahead to strengthen his squad ahead of Thursday's loan deadline... Yates has approached chairman Barry Norgrove about the possibility of swelling squad numbers with a loan signing or two. Yates told the Express & Star: 'I am speaking to Barry today, I have got a couple of issues that I want to see where we can go on ahead of the deadline. What we have on Thursday is what we have to the end of the season and, with the amount of games we still have left to play, we need all bases covered'".

Ebbsfleet United, following elimination from the FA Trophy "wishes to release the following request to its many supporters on behalf of the CEO, Chairman, Vice Presidents, MyFootballClub Trust Board and the Fleet Trust Board. As of June 1 2009, it is estimated the football club will have a positive bank balance of around £30,000. This does not include sales of 09/10 season tickets, but takes into account Eurostar sponsorship money (May 09 to April 10) plus all the funding available from MyFootballClub (approximately £80,000 as of 23/3/09).

It's rare for any professional football club, in any league, not to be burdened by debt, and we are in a minority of clubs in the Blue Square Premier, South and North divisions to be in such a position... We estimate an extra £25,000 needs to be found each month to keep our playing squad as competitive as possible. Without additional and ongoing funding, the football club faces a tough 09/10 season...

From April 1st, a number of cost cutting measures will take place. Club CEO David Davis has offered to work on a voluntary basis for the club. A further saving has been made thanks to the generosity of Fleet Group Development (FGD), which is contracted to the club in order to deliver a new stadium. FGD have agreed to work for free of charge on behalf of the club, which could mean a saving of up to £40,000 per year.

Unlike other clubs, The Fleet does not rely on a single benefactor or small group of directors. The club's funding comes from its thousands of supporters across the world. This means that everyone giving The Fleet an affordable amount each month will help put the football club in a sustainable position. The club's single biggest cost is its playing staff... Many individuals have already offered to give monthly to the club. In addition, The Fleet Trust has confirmed that it will contribute a monthly sum. And the club's ex-Directors have also agreed to give the club £300 each month... 2,500 Friends of the Fleet giving £10 each month (that's less than a pint of beer a week!) will help us find that additional £25,000 per month... Please help us to sign up as many Ebbsfleet United supporters as possible to Friends of the Fleet".

"A row has erupted between Wrexham and the club's Supporters Trust about the Wrexham Village project on land surrounding the Racecourse Ground" claims the BBC. "The £40m proposal is to rebuild the Kop stand and create accommodation for 800 Glyndwr University students in a bid to clear the club's estimated £4m debt. 'Our concern is the element of risk to the club if the development encounters any difficulties', said the Trust. The Wrexham board replied, accusing the Trust of 'trying to destroy our club'. The Wrexham Supporters Trust are worried that the Wrexham board will use the 127-year-old club, Wales' oldest football club who now play in the Blue Square Premier, as security against the redevelopment. Nick Stockdale, chairman of the 600-member WST, wrote an open letter to Wrexham director Paul Retout highlighting the Trust's concerns... 'You will be very aware of the recent history of Telford United. This club was owned by a development company that went bankrupt. As a 100% owned subsidiary of the building company, the football club was liquidated. The club was reborn [as AFC Telford United] and is now owned by its supporters... A Telford-type scenario would be devastating to the club, its supporters and the town'...

Wrexham's board of directors issued a collective response on the club's official website... 'We are concerned at the lack of factual information that the WST puts into the public domain. It is further evidence of their relentless plan to derail the planning application, mislead our fans and ultimately destroy our football club'. This is the latest off-the-field distraction Wrexham's fans have been forced to endure since the controversial reign of former owner Alex Hamilton. The club went into administration in December 2004 with debts of £4m and Hamilton's troubled reign continued until August 2006 when a consortium led by local businessman Neville Dickens took over and brought the club out of administration".

The NW Evening Mail reports taht "Joint-boss Dave Bayliss has stressed Barrow AFC will be taking Thursday night's Setanta Shield semi-final tie against AFC Telford United seriously... Bayliss stressed: 'The final is not until the end of the season and would give us focus as well. It (the final) is another live game on television, a decent cup to be involved in and money for the club'".

The Dorset Echo says that "Weymouth legend Anni Iannone hopes the new board of directors at the Wessex Stadium can bring much needed 'stability' to the club... He said: "It's nice to see Ian Ridley back as well as a few others such as Paul Cocks, let's hope they can settle the club and get back to playing football again... "After losing 9-0 against Rushden, 4-0 at Altrincham and 5-0 against Burton Albion things are picking up a bit. They just need another two wins to see them scrape through... I haven't been down there for the last few weeks because I've had other things to do but I had a call from the club to do some sort of shootout at half-time on Sunday. I need a new knee but hopefully I'll be able to kick the thing'... Meanwhile, Weymouth boss Alan Lewer is aiming to add to his squad this week and hopes to capture a new goalkeeper".

The Woking Evening News and Mail says that the Cards' "chairman David Taylor has denied a consortium is about to take over the club. And he laughed off a remark from fellow Cards' director Peter Jordan after Saturday's match with Wrexham that 'a revolution' was on the way at Kingfield. But Taylor has confirmed that talks have been ongoing with successful businessman Shahid Azeem, who may be invited to join the board. Any link-up between the parties would have ramifications too for Guildford City, with Azeem currently chairman of the Combined Counties outfit. The football-mad 49-year-old IT entrepreneur, who as chairman of the Woking Asian Business Forum is an influential figure in the town, was Taylor's guest at Kingfield... With the club's owner Chris Ingram withdrawing his substantial funding at the end of the season, Taylor is viewing the development as an exciting possible way forward. 'I would like Shahid on the board but I'm talking to him for his expertise, not his money', Taylor said. 'He has got great business skills and has done a tremendous job at Guildford City where he is still chairman'...

On Jordan's remark, he commented: 'That was completely tongue in cheek. We are still looking for a buyer and at other options. Shahid has no intention of buying the club... I'm talking behind the scenes with lots of people about buying the club but I don't expect them to come to anything because every club in the world's for sale'... Azeem spoke last month about his growing frustration after a two-year battle with Guildford Borough Council to fund upgrading work at City's Spectrum ground... It now appears the former Varsity Centre squash champion is fed up with waiting and is ready to focus instead on turning round Woking's fortunes".
---
24 March 2009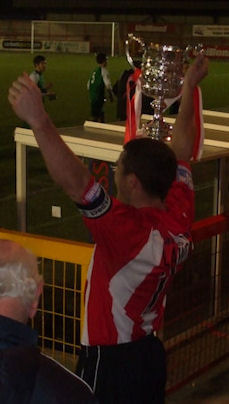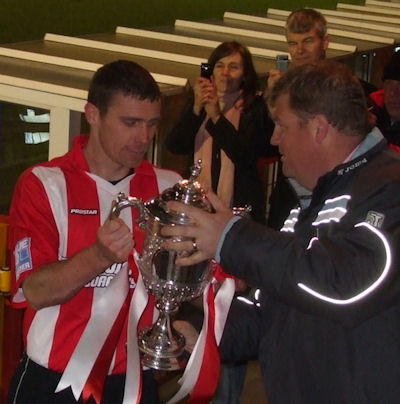 ALTY LIFT CHESHIRE SENIOR CUP
Right: Robbie Lawton receives the Cheshire Senior Cup.
Altrincham's depleted squad worked hard to secure a comfortable 3-0 win over the holders, Nantwich Town, in the Cheshire Senior Cup Final at Wincham Park on Monday night. Alty were so short of players that Alex Meechan was the only first-team regular outfield player fit enough to come off the bench. Joe O'Neill and Chris Senior were both also named as subs but neither was fit to play and the other two substitute places went to keeper Richard Acton and Danny Heffernan, who has yet to play in the BSP.
Match report here.
FGR VIEWS
This is Glos reports on Saturday's game at Moss Lane. "Stunning is the only way to describe Forest Green's first league win in eight attempts, as they crawled from the wreckage of a 2-0 half-time deficit... What happened after the break was astonishing, as crackers from Paul Lloyd, David Brown and Alex Lawless were followed by Conal Platt's penalty and a debut strike from Marcus Palmer. The shellshocked hosts' cause was not helped by the stupidity of defender James Smith, sent off in the 55th minute for kicking out at Brown, but they could have no complaints at being on the wrong end of a mauling...

"Forest Green assistant manager Jerry Gill described his side's incredible comeback at Altrincham as a victory for hard work... Gill said: 'The minimum we asked of the lads was a work ethic, but we didn't have enough players doing that in the first half. Our football was good – I think we created three of four good chances – but that desire to close the ball down and get stuck in was lacking and we were beaten up a little bit. It was totally different in the second half. Altrincham suddenly knew they were in for a tough game and our football shone through".
OLD BOY
New Mills have signed former Alty defender Richard Battersby from Salford City. Since leaving alty he has also turned out for Radcliffe Borough and Stalybridge Celtic.
BSP NEWS
Non-League Daily reports that "Grays Athletic have signed experienced midfielder Tommy Black following his release by Barnet. The 29-year-old winger joined the Bees from Stevenage Borough in January but only made five first-team appearances".

Blue Square Football reports that "Salisbury City's on-loan defender Sean Clohessy has admitted that he is unlikely to return to parent club Gillingham because of his strained relationship with manager Mark Stimson. 22-year-old Clohessy joined the Whites in September last year and will stay until the end of the campaign. He told BBC Sport: 'I'm 99% sure I'm not going to return there. Me and the gaffer don't really get on there so I can't really see that materialising'. However, the Croydon-born player says he will not necessarily sign for Salisbury once he parts ways with Gillingham. 'I've just got to see what happens. I just want to play at the highest level possible. I'm not a fool, I don't just want to say I want to sign for Salisbury in the Blue Square Premier, I want to play at the highest level. Salisbury have given me a chance to play and I'm grateful for that, and I'd be happy to sign it if it comes to that'".

The BBC reports that "Ebbsfleet United manager Liam Daish says he is uncertain about his future at the club after his side crashed out of the FA Trophy... Daish told BBC Radio Kent: 'Do people want me here next year? There are a lot of questions to be answered. I'm sure all will be revealed but we'll see... We've got no divine right to keep getting to Trophy finals. You can't base a club around getting into a final. The model of the club, the way things are going, we don't know'".

"Manager Dean Saunders is to miss Wrexham's key Blue Square Premier clash at play-off rivals Histon next Saturday as he will be on international duty. Wales's assistant manager will be with John Toshack for their 2010 World Cup qualifier against Finland in Cardiff. Saunders' right-hand-men Brian Carey and Terry Darracott will take over Wrexham duties against Histon. Wrexham have asked league chiefs to postpone the Histon game as the Dragons have had three international call-ups... Saunders, though, is unequivocal that he will be with his country rather his club next week despite Wrexham's poor recent form... Wrexham's on-loan Cardiff City striker Jon Brown and full-back Neil Taylor were already in Brian Flynn's Wales under-21 squad for their double-header with Luxembourg. But Wrexham stopper Chris Maxwell was a late call for young Wales on Friday... The Football League automatically postpone fixture when a club has three players away on international duty but the Blue Square Premier has no such rule.

Wrexham, in their first year since dropping into the non-league, succeeded in their bid to postpone a match earlier in the season due to international calls. Ironically that was the reverse fixture against Histon... Saunders's men are playing twice a week every week until the end of the season so it would add to their fixture congestion if their new request is successful" reports the BBC.
---
23 March 2009
MONDAY SCORES
UniBond Cheshire Senior Cup Final
At Witton Albion FC
Altrincham 3 Nantwich Town 0
Through the Years from Howard Watts.

BSP
Wrexham 0 Kidderminster H. 1
JAMES TO MISS FOUR GAMES
Altrincham defender James Smith (right) has been suspended for three games for "violent conduct" following his dismissal on Saturday. Although the Cheshire Senior Cup final is not officially a first-team game, the offence of "violent conduct" brings a complete suspension from all games "until the club has completed three first-team matches". In other words James will sit out tonight and our next three BSP games (v Crawley, Ebbsfleet and Lewes).

Admission prices tonight at Wincham Park are £8 for adults and £3 for concessionaries.
CSC FINAL
Tonight (Monday) witnesses a repeat of last year's Cheshire Senior Cup Final when Altrincham take on UniBond League Premier Division Nantwich Town. "The Dabbers" beat Alty in a penalty shoot out to lift the triophy last season and again go into this season's game as a team at the top of their form,. After an 8-0 win over Leigh Genesis last week, they won 4-0 away at Frickley on Saturday. They lie second in the table behind Eastwood Town.

Managed by former Northwich defender Steve Davis, Nantwich number Alty's former captain Darren Tinson amongst their squad, as well as former Stafford Rangers winger Robin Gibson. Prolific striker Michael Lennon is another man to watch.
YOUTH TEAM WINS
In Sunday's NWYA Premier Division match, Altrincham FC Youth defeated Glossop NE 2-0. Altrincham lie third in the table.
BSP NEWS
Barring some improbable results, Lewes are now effectively relegated from the BSP. Their maximum points total is now 38 points, the same as the current totals of York, Ebbsfleet and Grays who currently lie occupy 19th to 2st places in the table.

NL Daily says that "Peterborough United striker Ben Wright has joined Kettering Town in a loan deal until the end of April. Wright has only made one substitute appearance for Posh since joining from Blue Square South side Hampton & Richmond Borough. Wright... joins his Posh team-mate Alifie Potter, who is also currently on loan at the A-Line Arena".
---
22 March 2009
AFTER THE GAME
THE NL Paper spoke to FGR's assistant manager Jerry Gill after yesterday's remarkable match at Moss Lane. referring to the transformation from 0-2 at the interval to 5-2 at the end, Gill said "I'd like to say it was all down to a good tactical talk at half time. But that was not the case. We tweaked a few things but generally we asked the players to show the desire that just four or five had shown in the first half". As for Altrincham, after the whistle the "management team [were] conducting a lengthy post-match inquest behind closed doors and the home players did not emerge until long after Forest Green started their journey home".
ALTRINCHAM 2 FOREST GREEN ROVERS 5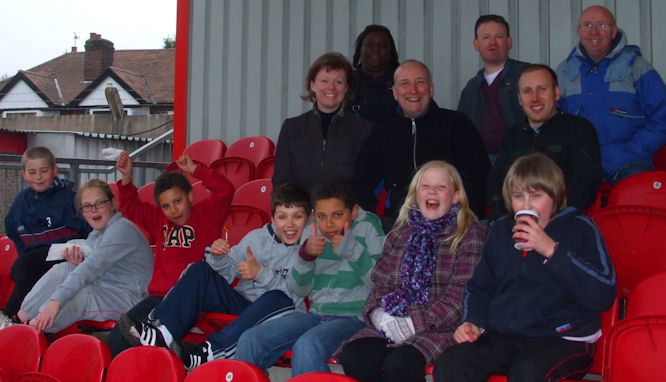 Above: Pupils and staff of Worthington Primary, Sale Moor, were guests at the Alty v FGR match and kept up some good chanting during the game - despite the result.
At half-time Altrincham were comfortably two-goals up against a shaky FGR, who were without a win in seven league games and who were also without their suspended leading scorer, Mangan and banned defender, Darren Jones. Yet 45 minutes later Altrincham had shipped five goals and had seen James Smith sent off during a disastrous second half.
MATCH REPORT HERE
FOLLOW THE ROBINS
Come along and support Altrincham on the road as they travel to Ebbsfleet United (Tuesday, March 31st) and Lewes (Saturday, April 4th). Details of TASC's supporters' transport are on the Away Travel Page.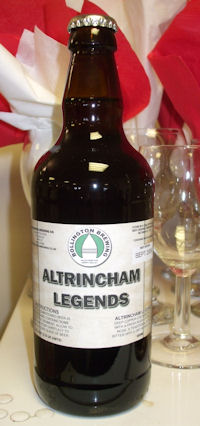 DRIVEN TO DRINK
Alty boss Graham Heathcote is tee-total but he could be forgiven for being driven to drink by Saturday's second half at Moss Lane. If so, he would appreciate the excellent new beers to be launched by Bollington Brewing in conjunction with Altrincham FC. Pictured right is the Altrincham Legends ale; there is also a bitter being produced. More news of these products will be published when the beer is made available for purchase.
CUP OPPONENTS
Whilst Alty were losing 2-5 on Saturday, their CSC oponents on Monday night, Nantwich Town, won 4-0 at Frickley on Saturday.
NEXT SEASON
Bullsnews reports that the Football League's competitions department has "confirmed the key fixture dates for the 2009/10 season. Next season will kick off on 8th August 2009... Once again, there will be no New Year's Day [Football League] fixtures as the third Round of the FA Cup takes place the following day... The 'regular' league season for the Championship will finish on the weekend of the 2nd May, with the other two divisions finishing a week later". The BSP dates for 09-10 remain to be confirmed.
OLD BOY
Friday's Manchester Evening News reported that "Former Altrincham striker Phil Smith is hoping to be bang on target at Aintree next month. Smith is now Head of Handicapping for the British Horseracing Authority which puts him right in the John Smith's Grand National hot seat... 'The Grand National ratings can't be altered once thay have ben announced', said Smith, who was in the Alty team that took Everton to a replay at Goodison Park [actually it was at Old Trafford, the first game was at Goodison], in the FA Cup third round in 1975. 'Graham Heathcote, the present manager, was in that team' recalled Smith. 'And I was also in the Northwich Victoria side that reached the fourth round in 1977... I'd always been interested in racing and went from teaching to this job when the chance came up'".
---
21 March 2009
SATURDAY GAMES
Saturday 21st
BSP
Altrincham 2 Forest Green R. 5
Barrow 2 Lewes 0
Eastbourne B 1 Burton A. 2
Grays A. 2 Mansfield T. 1
Kidderminster H. 3 Woking 0
Northwich V. 2 Torquay U. 3
Salisbury C. 1 Rushden & D. 1
Weymouth 0 Kettering T. 2
Wrexham 0 Crawley T. 2
Through the Years by Howard Watts

FAT SF 2
Ebbsfleet U. 0 Stevenage B. 1 (2-4 on agg.)
York C. 2 AFC Telford U. 1 (4-1 on agg.)
MATCHDAY UPDATES
It is hoped to provide matchday updates via the link below during the match against Forest Green Rovers. This service should start with the team line-ups before kick-off...
MATCHDAY UPDATE PAGE.
PRICES FROZEN
Alty vice-chairman Grahame Rowley announces...

The board of Altrincham FC have decided to freeze season ticket prices for the 2009-10 season. They are also introducing a scheme whereby fans can pay for the season ticket in instalments any time from now until the start of the new season. Tickets will be issued once paid for in full and can be used, as in previous seasons, for free admission to pre-season home games. All you have to do is come into the office, see Karen Rowley or Jenny Heslop, pay any amount you wish and this will be allocated against your account.

Details of the season ticket prices for this [and next] season are -
Standing - Adults £209; Concessionaries £99
Seating - Adults £249; Concessionaries £109

A £10 discount will apply to the above categories (only) if bought before the end of June.
Aged 12 to 16 seated or standing - £50
Under 12s seated or standing - £25
KIDS GO FREE FOR GRAYS GAME
Altrincham FC announces that "The final home game of the season, against Grays Athletic on Saturday 18th April, has been designated a 'Kids Go Free' game, whereby any person under the age of 12 will be admitted to the match through a specified gate for free. Please spread the word and let's have a carnival atmosphere to celebrate the 2008-09 season. All local schools and clubs will be notified in the coming weeks".
BEFORE THE GAME
According to the BBC "Altrincham defender Mark MacGregor faces a test on a hamstring injury. Striker Chris Senior definitely misses out with his own hamstring injury while midfielder Kevin Street is out for the season with a cruciate knee injury. Forest Green have defensive problems as Darren Jones is banned and Jerry Gill has a facial injury while John Hardiker left after a disciplinary incident.Rovers will also be without leading scorer Andy Mangan who serves the second game of his two-match ban".

Meanwhile, This is Glos says that "Alex Lawless has assured Forest Green supporters that there is no crisis of confidence in the dressing room. The Welshman is still burning with a sense of injustice after York City's late equaliser at the New Lawn on Tuesday night, which denied Rovers the victory they deserved from a dominant display. Jim Harvey's men have made a habit of letting winning positions slip this term, hardly ideal when scrapping for Blue Square Premier survival. But Lawless, who is approaching the end of his third full season with the club, remains in bullish mood ahead of tomorrow's trip to Altrincham. 'I've been at Forest Green a while now and I've lost count of the number of times when we've totally outplayed teams and not got what we deserved', he said. 'Tuesday night was probably the worst of the lot, and I take a lot of responsibility for it because I missed a great chance to put us 2-0 up and kill them off. We also weren't happy with the goal we conceded, as there was a misunderstanding with the referee and we didn't expect York to take a quick free-kick... There is no doubt we're playing very well at the moment'... They must kick off at Moss Lane with only a two-point cushion between themselves and the bottom four. Lawless and company have drawn nine of their last 11 matches, their only triumph coming at the expense of doomed Northwich Victoria... 'It's massive psychologically not to be in that drop zone with nine games to go, even if it's only by a couple of points', the 26-year-old said. Lawless will play at right-back tomorrow, with Jerry Gill injured and Darren Jones serving the first of a two-match ban. Top scorer Andy Mangan is also suspended, and misses out along with Curtis McDonald (groin) and Les Afful (knee). Perennial strugglers Altrincham, who look set for rare mid-table finish, are likely to include former Rovers favourite Alex Meechan on the bench. FOREST GREEN (PROBABLE): T. Burton; A. Lawless, M. Preece, L. Ayres, P. Stonehouse; P. Lloyd, J. Smith, L. Fowler, C. Platt; D. Brown; K. Mohamed".
BSP NEWS
Blue Square Football says that "Crawley Town manager Steve Evans has set his side a target... He told The Argus: 'We've got ten games left and it's a tough ask. We need to win seven. Last year it needed 81 points to get in the play-offs but I don't think we'll need that many this year. I think it will come down to Stevenage, Wrexham, Oxford and ourselves fighting for one place. I believe Torquay will make it. They seem to have come through their bad spell and looking at their bench this week there isn't a single player who wouldn't get into the starting XI at every other club in the division... The Red Devils prepare to take on Dean Saunders' Wrexham on Saturday and Evans admits that he is envious of the array of talents at the Dragons' boss disposal. He added: 'They have something like 40 professionals, we have 17. They have huge resources but it doesn't come down to the size of the club at 3pm on Saturday'".

"Lewes caretaker manager Steve Ibbitson hopes to extend the loan deals of Guy Butters, Shaun Wilkinson and Rhys Henry when their current deals expire after Saturday's clash with Barrow. Butters and Wilkinson are currently on loan from Havant & Waterlooville, while Henry has been on loan from Southend United... 'I am keen to keep all three of them and have been talking to the clubs', Ibbitson told The Argus. 'We are trying to come up with a financial arrangement to keep them'. Chamal Fenelon left the club this week and his departure has freed up some funds for Ibbitson to bring in a new face. He added: 'We have a number of players in mind who we would like to bring to the club and we are trying to get them here'".

But, later the Argus added that "Lewes have lost Shaun Wilkinson ahead of tomorrow's game at Barrow. Midfielder Wilkinson, who was particularly impressive against Kettering in midweek, has been recalled early from his loan spell by Havant... Youth team midfielder Ben Osborn has been added to the squad that travels" to Barrow.

Off the field "The Rooks remain desperate to avoid being put into administration but know a decision has to be made in the next few days. Managing director Martin Elliott is trying to bring in new investors. He said: 'We are having a meeting with some new people this afternoon [Friday] and some other people we have met previously on Monday. They have expressed a wish to help out. I have spoken to the new people at length over the phone... We have some fairly big decisions to make. We are trying to avoid the administration route. One or two people are helping out with covering the trip to Barrow and the hotel. People are chipping in. If we can get that to a level that prevents us going down the administration route that is what we would favour'. A winding-up petition from Portakabin, which was delayed earlier this month, is set to be heard on April 1 but Elliott hopes to resolve that problem. He added: 'If half a dozen of us could chip in £1,000 that would put that one to bed'. It has emerged that Lewes, under Conference rules, may have to pay their debt in full if they do enter administration. So they are doing all they can to make it more appealing for new investors to get involved with the club as it is'".

Stalybridge celtic "have announced the signing of central defender John Hardiker. Hardiker (26)... left Forest Green Rovers, and he turned down a rival offer from Fleetwood Town before agreeing to sign for the Celts".

According to the Dorset Echo, "Weymouth manager Alan Lewer has admitted that he is going to have to pull "a few rabbits out of the hat" in order to keep the club in the Blue Square Premier. The Terras' boss snapped up ex-Cheltenham Town midfielder Ben Gill earlier this week and he is hopeful other signings will follow... Lewer said, "Although funds have been made available we are still working to a very tight budget so I am going to have to pull a few rabbits out of the hat. We have had a couple of lads training with us this week that I will continue to have a good look at. One is ex-Swindon Town [and Cambridge United] striker Fola Onibuje, who is 6ft 6in tall, and the other is Dominic Merella who is a winger that was at Blackpool. I have also been in talks to try and bring in former Bristol City defender Clayton Fortune and Crewe Alexandra keeper Adam Legzdins but we shall just have to see how that develops'... Lewer is expecting a very tough assignment against Kettering... He added: 'Their manager Mark Cooper is a very good friend of mine and he has done a great job there. His side is very well organised and they play to their strengths. They like to get it forward early and play in the final third around your penalty area'".

Salisbury City "regret to announce that defender Chris Todd has been recalled by Torquay United. Michael Brough, also on loan from Torquay, will remain for the time being".

Rushden & Diamonds have "signed nineteen year old midfielder Nicky McNamara. The midfielder has been training with the Diamonds on a trial basis for the last week... Nick was given his first professional contract at Hull City at the start of this season after developing through the Tigers youth side, but struggled to gain first team Premiership football and now signs for Rushden & Diamonds following his release from Hull".

fromMansfield Town we read that "Left midfielder Michael Blackwood has joined Conference North high flyers Tamworth on loan until the end of the season. The 29 year old, who signed in the summer from Kidderminster Harriers, has made 21 starts and five substitute appearances for us this season. He has been kept out of the side most recently, however, since the signing of diminutive wing man Ryan Williams. Said manager David Holdsworth: 'He is on a 24 hour call back. He wants to play football and earn a contract for next season. I respect Michael for coming to see me and informing me that he wants to play regular first team football'".

"Pending completion of all the relevant paperwork Burton Albion striker Jody Banim will rejoin his former club Droylsden on a loan deal to the end of the season... Jody has already had one loan spell away from the club since Christmas with a short stay at Altrincham".

The Burton Mail adds that "Jody Banim's Burton Albion career appears to be over after another loan move. The 30-year-old is joining former club Droylsden until the end of the season, having only recently returned to Albion after a month on loan to Altrincham. Banim has plumped for a return to the Bloods after what Albion boss Roy McFarland described as a 'chaotic two days' as clubs vied for his services. McFarland said: 'First he wanted to go to Salford City because his mate is the manager there. Then Southport came in and he changed his mind, but that didn't work out, so in the end he's sorted something out with Droylsden because they want him in for the weekend'. The move will bring the curtain down on a stay in which Banim's form failed to live up to expectations.

Former manager Nigel Clough made the ex-Manchester United trainee his first close season signing last summer, but he rarely featured after failing to make the most of an early run in the team... After failing to impress incoming boss McFarland in January, Banim was packed off to Altrincham and this latest move merely underlines the lack of consistency that has blighted his career. Banim leapt to prominence when his return of 97 goals in 125 games for Radcliffe Borough earned him a £20,000 move to Shrewsbury Town in 2003. Since then, however, his only other productive spell was at Droylsden last season when he scored 10 times in 27 games. McFarland said: 'Jody wasn't going to get a game with us, so it makes sense for him to move on and, hopefully, enjoy his football again'".

"Ebbsfleet manager Liam Daish has called on his players to overcome Stevenage in this Saturday's FA Trophy semi-final second leg at Stonebridge Road for the sake of midfielder Neil Barrett" reports Kent Online. "The 27-year-old sustained a double fracture in his jaw and a double fracture of a cheekbone as he scored for Fleet in the first leg of the tie, which Stevenage won 3-2. Daish said: 'I know all the lads will have Neil in their thoughts when they face Stevenage and I know they will be fired up for his sake and that of Craig Stone, who broke a leg in the quarter-final at Wrexham. The Trophy has not been kind to us this season and maybe it owes us something because we've suffered terrible injuries along the way'. At stake for Fleet is a £300,000 pay day for reaching Wembley and Daish confessing: 'It might be just petty cash at Premier League level but at our level it might be the difference between our club surviving or not, or at least keeping our status as a full-time club'. Striker Luis Cumbers, signed on loan from Gillingham, could start the tie. The Fleet have also signed defender Jamie Stevens from Northwich".

The Kidderminster Shuttle says that "Harriers' chairman Barry Norgrove is hoping that the long running saga to find new investors in the club is nearly at an end. He is hopeful that at least one interested party is ready to sign on the dotted line next week... Said the chairman, 'He's had a good long look at our finances and obviously thinks that there's something worth get involved with'".
---
20 March 2009
CUP FINAL
Don't forget that after the league game at home to Forest Green Rovers this Saturday, it is the Cheshire Senior Cup Final on Monday (23rd) at Witton Albion FC. TASC is running supporters' travel to the game; please book with the club on 928-1045 or at Saturday's game, in the Robins' Shop.
GEOFF'S STARK MESSAGE
In the Sale and Altrincham Messenger, Alty chairman GeoffGoodwin has underlined his club's fragile financial position. With Altrincham "within touching distance of securing another season in non-League football's top flight... a worsening financial situation has left a cloud over their prospects of staying there.... Alty chiefs fear they will struggle even to maintain their current playing strength during the summer, let alone build on it. They need four-figure gates to continue meeting the present wage bill without incurring debt yet the last two home games, against Torquay and Weymouth were watched by 735 and 750 respectively.
'These are worrying times' said Geoff Goodwin. 'Money is short and jobs are disappearing and the knock-on effect is hitting us hard. We won't jeopardise this club's future by slipping into the red but what level we'll be playing at is another matter.... if you haven't got the funds, you can't put a team out. You have to be realistic. That's why we haven't brought players in on loan recently to cover for all our injuries. We just haven't got the money. We need at least 1,000 every home game just to keep our heads above water but, at the moment, we are falling short. I'm not having a go at our fans. Those who keep turning up and getting behind the team are hugely appreciated but maybe they could help bring a few more in. If they could put the word round at work, in the pub, or wherever, and turn up on Saturday with a pal, it would make such a difference. We won't let this club go under. Directors come and go but Altrincham FC will remain. Which league we'll be playing in is less certain, though".
Meanwhile, manager Graham "Heathcote is hopeful centre-back Mark McGregor (right) will shake off a slight hamstring tear... against Forest Green Rovers on Saturday".
BSP NEWS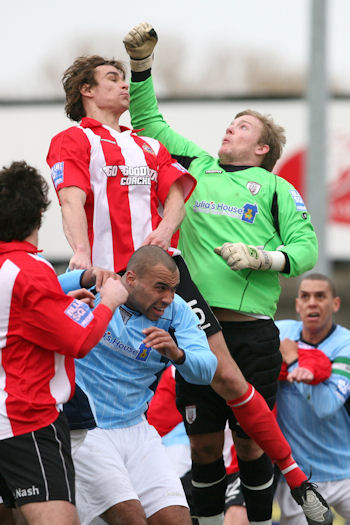 Right : Greg Young was man of the match against Weymouth and he is seen here in Gavin Rathbone's photo from that game. More of Gavin's images are on his GR Photography website.
The Dorset Echo says that "Returning chairman Ian Ridley believes it is 'absolutely vital' that Weymouth avoid relegation from the Blue Square Premier... He said: 'The easiest thing in many ways would be to go down because the costs go down, but the problem with that is we spent a lot of time trying to get into the Blue Square Premier and we don't want to give that up lightly. This is the Premier League of non-League football and we want to stay in it. In terms of revenue, AFC Wimbledon could come into this league next season and they'll bring 1,000 people with them, which is money into the football club. We want to be playing Oxford United and other big clubs – Luton Town next year maybe. We want to be in amongst that and it's easier to attract revenue, sponsorship and TV money so we want to be in there – it's absolutely vital we stay up. The easy and safe option would be to go into the Blue Square South but we don't want to do that... We've given Alan Lewer a bit of leeway to get players in and hopefully he'll be able to do that to get the six to nine points we need to stay up because we definitely want to stay in the Blue Square Premier. Off the field it's about managing the debt, and our finances, and we'll re-evaluate where we are at the end of the season'...
Boss Alan Lewer aid, 'Budget-wise? I don't know. The immediate thing is to bring players in and that's what I've started to do. Whether we can afford it as a board I don't know, all I can do is ask the questions. If I can't have it, I can't have it and if I can then I can. I've just got to get on with it day by day'. Lewer also revealed that James Coutts, who was on the verge of joining Dorchester Town last Friday, is set to stay at the Wessex. The manager added: 'He's staying... He didn't want to go and no one wanted him to leave so he'll stay at this club'"
According to the BBC on Friday, "Ridley told BBC Radio Solent: 'We need volunteers as I imagine we are going to go part-time next year. We are throwing ourselves at the mercy of our fans, we will need their input to help fund it'".
Kidderminster Harriers "can finally confirm that their away game at Ebbsfleet United will take place on Thursday, 9 April 2009. It fits into a busy week for the Aggborough outfit, with games now on Saturday 4th (Stevenage), Tuesday 7th (Forest Green), Thursday 9th (Ebbsfleet), Saturday 11th (Altrincham), and Monday 13th (Burton Albion)!
From This Glos we learn that "A Forest Green Rovers player who quit the club has admitted driving off without paying for fuel, it has emerged. John Hardiker, 26, who resigned from the club last week, admitted making off without payment for £45-worth of fuel, when he appeared before Gloucester magistrates court on January 12. And police confirmed a 26-year-old Preston man was formally cautioned for taking £70-worth of fuel without paying from a Stroud filling station in August. The defender resigned last week, and was understood to be facing the sack, after being suspended and banned from the club for the four previous matches. The loss of the former Stockport County, Bury, Fleetwood and Morecombe man on the pitch has been felt keenly by the Nailsworth side - he was appointed club captain at the start of the season. Hardiker admitted driving off without payment from Charnock Richard services on the M6 motorway on November 24 last year, when he appeared before the bench in Gloucester. He was given a 12 month community order, and ordered to pay £60 costs.
Gloucestershire police confirmed that a 26-year-old Preston man was arrested on December 28 for making off without payment on November 24, after it was alleged that car registration plates had been taped over. Police also said the same man was given a formal caution on January 29 for making off without payment for £70-worth of fuel from Dudbridge filling station in Stroud on August 28 last year. Yesterday the club declined to comment further on the matter, standing by the statement it released last week".
"Midfielder Thomas Pinault is out of Crawley's crucial clash at play-off rivals Wrexham on Saturday" according to The Argus. "But the Frenchman has not broken his ankle as was first feared... An x-ray revealed only soft tissue damage... Assistant manager Paul Raynor said: 'He's got no chance for Saturday and we'll know more next week'".
The Argus says that "Steve Ibbitson believes Lewes are getting closer to ending their long losing run. A fourth successive single goal defeat, this time at Kettering, made it 16 Blue Square Premier losses on the trot and leaves the Rooks on the brink of formally being relegated... Caretaker-boss Ibbitson said: 'We are getting there. We are playing top sides but the two games we have played we lost 1-0 and we weren't outplayed in either game. I thought we were the better side in the second half and certainly tried to play more football than they did. After such a long run you tend to get subconsciously into a mindset that 0-0 is a good result and perhaps you stop doing some of the things you should do. If we can get the players believing a bit more they are a match for the two teams we have seen I think it is going to come. We are at Barrow on Saturday, it is a long trip but we will be trying to win that game'".
"Keith Cousins is full of praise for the improvements seen since Justin Edinburgh took charge of Rushden & Diamonds" says The Nirthants Evening Telegraph. "The Nene Park chairman believes Edinburgh and the players 'deserve all the plaudits' for picking up 11 points from six games following Garry Hill's resignation last month. Cousins confirmed: 'He has definitely got the job until the end of the season. But I'm not going to start making any decisions yet until we see where we end up... What I also like is the resilience because we are difficult to break down defensively'... Edinburgh fielded three trialists – Hull City midfielder Nick McNamara, former Notts County forward Spencer Weir-Daley and Billericay Town striker Bradley Woods-Garness – during a midweek 1-0 friendly loss at Wolves' training ground... Diamonds players under contract for next season include Dale Roberts, Curtis Osano, Michael Corcoran, Marcus Kelly, Rob Wolleaston, Lee Tomlin, Michael Rankine, Sam Smith, Jamie McGuinness and Neil Cousins. Player-coach Chris Hope and skipper Andy Burgess are discussing new deals while on-loan Ipswich Town left-back Kurt Robinson could return".
At Kidderminster Harriers "Chairman Barry Norgrove believes that even if Harriers miss out on promotion they will still have had a good season. Currently, the rejuvenated side are pushing hard for a play-off spot after picking up 10 points from the last four games... Commented Norgrove, 'Even if we miss out on the play-offs we've been right up there and had a great run in the FA Cup... We're still in with chance of making it to the play-offs and could still go up, but whatever happens I hope they realise what a good job has been done by everyone here'. Norgrove re-asserted they are in a solid financial position compared to many of their league rivals, but admitted that funds were tight because of the recession. 'At the moment we're ticking over and paying our bills', he said. 'We don't have a huge amount of money in the bank, but we're not in the situation that many clubs at this level find themselves in. The board have to put money in themselves which is something we've had to do'...
He said: 'We've not spoken to [management duo] Mark Yates or Neil Howarth about new deals and I don't think we'll be able to sort anything out until we know which level we'll be playing at. Mark won't agree a new deal until he knows what his budget is for next season and that's hard to predict right now. If we go up then the budget will be very different from the one which we'll have if we stay in the Conference'".
The Northwich Guardian claims that "Dean Saunders was a relieved man after his side won a league match for the first time in a month. The Wrexham boss admitted Northwich had pushed his players all the way before Nathan Fairhurst's winner... He said, 'It was agony watching at times to be honest, we've got to do something about some of the mix-ups in our back four'... Saunders felt Vics' aerial approach had caused his side no end of problems – many self-inflicted – in their own half. Keeper Anthony Williams, at fault for Kyle Perry's opener, endured a night to forget. 'We were all over the place at times, mind you I thought we were playing against the Harlem Globetrotters by the end', quipped Saunders. 'They must have had four or five players about six foot seven by full time. We were in no danger and then all of a sudden long balls are hit in behind us and we look in trouble', he said".
Meanwhile, the Northwich Guardian claims that "Andy Preece has admitted for the first time he wants to be the next Northwich Victoria manager... 'There's no point going from game to game', he said. 'I've got to think more long-term than that and if everything gets sorted out with the ground then I've got to have a plan ready to show to Jim [Rushe]. I don't want to be stuck behind the 8 ball'. Preece has yet to taste victory since taking over from Steve King last month... 'If you go on performances so far we've had four really good displays from the players', he said. 'You can't hide from the circumstances they are playing under with regards to being paid and I take my hat off to them... I've got to start looking at the players and thinking about who is good enough, who isn't, and whether they can do a job in the future for Northwich Victoria... We'll be trying to put a run together between now and the end of the season that gives some indication of the level we can expect to be at next term'".
"Striker Lee McEvilly's in/out Rochdale career is about to take another twist. Following a phone call from his old friend Dave Bayliss he is now on his way to joining up with Conference side Barrow on a 1 month emergency loan deal".
CHESHIRE NEWS
Devachat reported yesterday afternoon that radio station "Dee 106.3 has been exclusively told by Chester City Chairman Stephen Vaughan, that he expects to sell the club by the end of the day. There will be a press conference at midday Friday... The club has officially been taken over by Gary Metcalfe, a property developer. He has bough ALL of Stephen Vaughan's shares and will be unveiled at the press conference".

The Chester Chronicle earlier reported that City "have unveiled plans for a multi-million pound upgrade of the Deva Stadium. If the plans are approved, the council-owned Bumpers Lane stadium will be transformed to include a four-tier stand, office facilities, a gymnasium, cafes and bistros, as well as retail outlets. Writing in Sunday's Chester v Shrewsbury matchday programme, Blues owner Stephen Vaughan claimed the club had been offered confidentiality lockouts by two potential developers – Property First Asset Management Ltd and Robson Lloyd. Vaughan added: 'I will make the right decision, which will be in the best interests of this football club's, within the next few weeks. Even though the club has not been making big strides on the field in the past 12 months we have made leaps and bounds off it and this project is pivotal to that. The investment will be funded by the Football Foundation, the private sector and the club itself'.

Gary Metcalf, of potential project developers Property First, said: 'If Stephen and Bob Gray give us the green light for the contract and providing it's passed through Chester council, then work could start as early as January'. All the profits will be ploughed back into the club, according to Vaughan".
---
19 March 2009
RESULT
Kettering T. 1 Oxford U. 2 <
NEXT OPPONENTS
This is Glos reports on our next opponents, Forest Green Rovers, who visit Moss Lane on Saturday. "Thoroughly dominant for the whole contest, Forest Green were the victims of a huge injustice in last night's relegation clash [with York]. Kaid Mohamed looked to have answered his manager's SOS call with a priceless first-half winner, but substitute Onome Sodje's 85th minute leveller ensured Rovers remain in trouble. Mohamed filled the lone striker's role in place of suspended top scorer Andy Mangan... Conal Platt was extremely lively on the left flank...

Few sides in such relegation peril would be brave enough to spray passes around as Jim Harvey's men did, but a tendency to overplay in the final third was a cause of frustration for some of their less patient supporters... Purkiss was the instigator of the gut-wrenching equaliser, shifting a quick free-kick to the right for Sodje to slide past a furious Burton.

Forest Green: T. Burton; D. Jones, M. Preece, L. Ayres, P. Stonehouse; P. Lloyd (J. Smith 90), A. Lawless, L. Fowler, C. Platt; D. Brown; K. Mohamed (A. Rigoglioso 90); Subs not used: B. Ashford, R. Robinson.
BSP NEWS
"Grays Athletic chairman Mick Woodward will step down from the role at the club's AGM on June 8. Woodward broke the news that we was planning to quit in an exclusive interview with the NL Paper following the club's 4-1 hammering by Histon on Tuesday night. The Blues' owner, who started the season as manager, was so "embarrassed" by Gary Phillips' team's showing in the first half at the Glass World Stadium that he went into the dressing room at half-time to give them the hairdryer treatment.

Relegation-haunted Grays had found themselves four down inside the opening half-hour... Woodward – who previously quit as manager and chairman immediately after defeat at Woking earlier in the campaign but was eventually persuaded to stay – said he was 'insulted' by the 41 travelling fans chanting Phillips' name in the closing stages while the chairman directed proceedings from the technical area in the second half. Woodward said: 'That's not Grays Athletic Football Club. I've never been associated with a team like that. I can understand sometimes this, that and the other. But that's embarrassing. That's hurt me. I'm being honest with you. I feel like I've had enough now'.

Asked if he was ready to finally throw in the towel, Woodward replied: 'Yes, especially after the supporters singing what they were singing there. I've done more for this club than anyone. That was an insult what they were singing to me out there, about Gary Phillips. Watch this space tomorrow, because I think that's me done now. It has hurt me a lot. That's me done. There's a couple of clubs who want me to go somewhere, but what will happen with this club is, at the end of the day, they owe me a fortune and I'm going to take my fortune as well. I've had enough. That was an insult, what they were singing there. If they'd put the money in, what I've put into this club, and the time and the effort, and saw how much it f****** hurt me today, why you heard me ranting and raving in the dressing room. They don't see it. I tell you what, at the end of the day they are the people that make or break clubs. I went round there to confront them at the end today. It was only because my best mate said "Micky, don't" – because I would have stood there and had a fight today'.

The Grays fans had chanted 'There's only one Gary Phillips' as the former goalkeeping coach stood impassively next to Woodward in front of the Athletic dugout. 'I pay Gary Phillips's wages', said Woodward. 'I was the one who brought him back into football. He's the one who works for me. I'm the one who has to go and find his money and work 24/7. I'm the silly prat who has to get up at five o'clock in the morning and don't get to bed until eleven or twelve o'clock. I work seven days a week and then you've p***ks like this. I'm sorry, but I've got a wife up there who begs me not to do it anymore, and I have rows with her'.

Asked whether what he had just said meant Phillips' future with the club was in doubt, Woodward added: 'No. I thought they let him down tonight. In the first half they let him down, so he needed some backing in there because there was no passion'. A statement announcing Woodward's decision said: 'Mike would like to thank all the loyal supporters who have stood by him since his arrival at the club and would like all of them to know that he is leaving due to a minority element who seem intent on destroying his tenure at GAFC. Before standing down the chairman wants to go on record that he will leave the club in a financial position that will allow the club to function within its own means which in turn will determine which level the club plays at and that emotionally and financially he feels he can not continue anymore. Mike will continue to hold his GAFC shares and directorship in order to safeguard his investments made since arriving at Grays and feels that June 8 2009 will be a very sad day for him'".

The BBC adds that Woodward told BBC Essex: 'I can't keep on financing a club at this level when I've got people who don't want me. They [the fans] made it very evident last night, I think my time is up as chairman and I'm going to stand down. People are very hard to please, they've turned against me and I'm not having it. I've got my family to look after, my business is more important than football but at the end of day football is very much at my heart. I've stopped putting money into the side, that's it'".

Meanwhile, "Gary Phillips has said 'I'm never going to quit on anything, I believe in whatever I do. If the players aren't performing, then big changes have to be made. What those changes are going to be I don't know'. Grays chairman Mike Woodward visited the dressing room at half-time and Phillips added... 'He's totally entitled to come and say what he felt, he pays the wages'".

The Woking News and Mail says that "Defensive colossus Tom Hutchinson could well have kicked his last ball for Woking. Despite successfully recovering from a knee operation, the inspirational centre-back needs a scan on his injured groin... The chances of playing again this season are remote while Woking's financial situation means his future at the club is bleak. 'I hope I haven't played my last match for Woking... it doesn't look like I'll be able to return this season', he said.... 'I'm not sure what's going to happen in the summer but I just want to get fit and play again', he added. 'Whether that be for Woking we'll have to wait and see... My only concern is getting fit so I can work on my own in the summer, get a good pre-season under my belt and start again next season, whoever that may be with'. Cards' boss Phil Gilchrist is understood to have given the player permission to look for another club... The likelihood of the club being able to afford to keep their biggest wage earner is slim and will largely depend on whether he is prepared to take a pay cut".

"Weymouth Football club announces that former chairman Ian Ridley and former vice chairman David Higson have been co-opted on to the board. Mr Ridley will serve as chairman and Mr Higson as vice chairman. They join existing board members Ian Winsor, and recently co-opted Shaun Hennessey and Paul Cocks, who will all continue. Connor Kinsella from the Terras' Trust will be co-opted shortly... The new board will be working to reorganise the club's parlous financial situation and will also be addressing other major issues, especially the security concerns following last night's incident at the ground. A further statement will follow on this shortly".

Blue Square Football says that "Weymouth manager Alan Lewer... told the Dorset Echo: "Paul Cocks and Shaun Hennessy have come into the club with a rescue package this week and I have been given funds to bring people in but I have not been given a budget yet that is set in stone... The main point is that the club is safe'...Lewer has wasted no time by adding a new face to his squad with the capture of ex-Cheltenham Town midfielder Ben Gill. He added: 'Ben Gill is a good signing for us and I am talking to a few others as well. However, it is difficult because I already have a full quota of loan players so if I bring someone in I have to let someone else go. Finding non-contract players is also not easy'".

Two contrasting approaches to ticket pricing are revealed this week in the BSP. At Kettering Town "Supporters are respectfully reminded that Thursday evening's game against Oxford Utd is a premium fixture, with £2 added to normal league prices for cash entry at the gate. However, tickets can still be purchased in advance at normal league prices. However, at Eastbourne Borough there is an "evening kick off rate - to compensate for the VAT reduction - of £11,50 adults; £7. concessions and £3. under 16"s. This is a £1. across the board saving compared with 15.00 BSP kick offs".

Alty still have to play Kidderminster Harriers at Moss Lane but the Harriers report that "Youngster Sam Foley is to spend the remainder of the season out on loan at Newport County. Foley has yet to make a first team appearance at Aggborough after signing from Cheltenham back in the summer... Mark Yates will continue to track his progress and insists... 'There is a call-back in there and we won't think twice about bringing Sam back if we need him here to do a job for us'".

Lewes report that they "suffered their fourth successive 1-0 defeat [on Tuesday] against Kettering Town, which puts them on the brink of relegation. Caretaker Manager Steve Ibbitson was forced into a late change when Guy Butters suffered a calf injury in the warm-up which saw Chris Breach dropping into defence and Fred Foreman replacing him in midfield. David Wheeler was rested and started on the bench, with Rhys Henry moving into midfield and Tim Rivers taking on the role of lone marksman... Lewes fell to their 16th consecutive league defeat. Another loss at Barrow on Saturday will confirm Lewes's relegation from the Blue Square Premier in their debut season".
---
18 March 2009
SATURDAY YANKEE
The winning code for the Yankee on Saturday 14th March was 3197, but that code was unissued. This means that the jackpot for next Saturday is £5,100. However, there were 4 lucky treble winners (3117, 3190, 4197, 9197), each receiving £50. To join the Yankee, ring the club on 0161 928-1045.
MIDWEEK GAMES
Tuesday 17th
Barrow 0 Cambridge U. 2
Eastbourne B. 0 Salisbury C. 0
Forest Green R. 1 York C. 1
Histon 4 Grays A. 1
Kettering T. 1 Lewes 0
Northwich V. 1 Wrexham 2
Weymouth 0 Burton A. 5

As the above table now shows, Altrincham cannot now win the Blue Square Premier title! Their maximum points total is 76 and Burton now have 78. If Northwich lose on Saturday and Alty win, the lowest the Robins can finish will be 22nd! The table also shows the final points projection assuming that each team acquires points at the same average rate as it has done so far.

Setanta Shield
Crawley T. 1 Ebbsfleet U. 2
NEXT GAME
Altrincham FC Youth's next match is a league game at home to Glossop North End on Sunday, March 22nd, at Wythenshawe Town.
TASC MINUTES
The latest minutes of The Altrincham Supporters' Club are here
BSP NEWS
"Grays Athletic chairman Mick Woodward will step down from the role at the club's AGM on June 8. Woodward broke the news that we was planning to quit in an exclusive interview with the NL Paper following the club's 4-1 hammering by Histon on Tuesday night. The Blues' owner, who started the season as manager, was so "embarrassed" by Gary Phillips' team's showing in the first half at the Glass World Stadium that he went into the dressing room at half-time to give them the hairdryer treatment.

Relegation-haunted Grays had found themselves four down inside the opening half-hour... Woodward – who previously quit as manager and chairman immediately after defeat at Woking earlier in the campaign but was eventually persuaded to stay – said he was 'insulted' by the 41 travelling fans chanting Phillips' name in the closing stages while the chairman directed proceedings from the technical area in the second half. Woodward said: 'That's not Grays Athletic Football Club. I've never been associated with a team like that. I can understand sometimes this, that and the other. But that's embarrassing. That's hurt me. I'm being honest with you. I feel like I've had enough now'.

Asked if he was ready to finally throw in the towel, Woodward replied: 'Yes, especially after the supporters singing what they were singing there. I've done more for this club than anyone. That was an insult what they were singing to me out there, about Gary Phillips. Watch this space tomorrow, because I think that's me done now. It has hurt me a lot. That's me done. There's a couple of clubs who want me to go somewhere, but what will happen with this club is, at the end of the day, they owe me a fortune and I'm going to take my fortune as well. I've had enough. That was an insult, what they were singing there. If they'd put the money in, what I've put into this club, and the time and the effort, and saw how much it f****** hurt me today, why you heard me ranting and raving in the dressing room. They don't see it. I tell you what, at the end of the day they are the people that make or break clubs. I went round there to confront them at the end today. It was only because my best mate said "Micky, don't" – because I would have stood there and had a fight today'.

The Grays fans had chanted 'There's only one Gary Phillips' as the former goalkeeping coach stood impassively next to Woodward in front of the Athletic dugout. 'I pay Gary Phillips's wages', said Woodward. 'I was the one who brought him back into football. He's the one who works for me. I'm the one who has to go and find his money and work 24/7. I'm the silly prat who has to get up at five o'clock in the morning and don't get to bed until eleven or twelve o'clock. I work seven days a week and then you've p***ks like this. I'm sorry, but I've got a wife up there who begs me not to do it anymore, and I have rows with her'.

Asked whether what he had just said meant Phillips' future with the club was in doubt, Woodward added: 'No. I thought they let him down tonight. In the first half they let him down, so he needed some backing in there because there was no passion'. A statement announcing Woodward's decision said: 'Mike would like to thank all the loyal supporters who have stood by him since his arrival at the club and would like all of them to know that he is leaving due to a minority element who seem intent on destroying his tenure at GAFC. Before standing down the chairman wants to go on record that he will leave the club in a financial position that will allow the club to function within its own means which in turn will determine which level the club plays at and that emotionally and financially he feels he can not continue anymore. Mike will continue to hold his GAFC shares and directorship in order to safeguard his investments made since arriving at Grays and feels that June 8 2009 will be a very sad day for him'".

The BBC adds that Woodward told BBC Essex: 'I can't keep on financing a club at this level when I've got people who don't want me. They [the fans] made it very evident last night, I think my time is up as chairman and I'm going to stand down. People are very hard to please, they've turned against me and I'm not having it. I've got my family to look after, my business is more important than football but at the end of day football is very much at my heart. I've stopped putting money into the side, that's it'".

Meanwhile, "Gary Phillips has said 'I'm never going to quit on anything, I believe in whatever I do. If the players aren't performing, then big changes have to be made. What those changes are going to be I don't know'. Grays chairman Mike Woodward visited the dressing room at half-time and Phillips added... 'He's totally entitled to come and say what he felt, he pays the wages'".

The Woking News and Mail says that "Defensive colossus Tom Hutchinson could well have kicked his last ball for Woking. Despite successfully recovering from a knee operation, the inspirational centre-back needs a scan on his injured groin... The chances of playing again this season are remote while Woking's financial situation means his future at the club is bleak. 'I hope I haven't played my last match for Woking... it doesn't look like I'll be able to return this season', he said.... 'I'm not sure what's going to happen in the summer but I just want to get fit and play again', he added. 'Whether that be for Woking we'll have to wait and see... My only concern is getting fit so I can work on my own in the summer, get a good pre-season under my belt and start again next season, whoever that may be with'. Cards' boss Phil Gilchrist is understood to have given the player permission to look for another club... The likelihood of the club being able to afford to keep their biggest wage earner is slim and will largely depend on whether he is prepared to take a pay cut".

"Weymouth Football club announces that former chairman Ian Ridley and former vice chairman David Higson have been co-opted on to the board. Mr Ridley will serve as chairman and Mr Higson as vice chairman. They join existing board members Ian Winsor, and recently co-opted Shaun Hennessey and Paul Cocks, who will all continue. Connor Kinsella from the Terras' Trust will be co-opted shortly... The new board will be working to reorganise the club's parlous financial situation and will also be addressing other major issues, especially the security concerns following last night's incident at the ground. A further statement will follow on this shortly".

Blue Square Football says that "Weymouth manager Alan Lewer... told the Dorset Echo: "Paul Cocks and Shaun Hennessy have come into the club with a rescue package this week and I have been given funds to bring people in but I have not been given a budget yet that is set in stone... The main point is that the club is safe'...Lewer has wasted no time by adding a new face to his squad with the capture of ex-Cheltenham Town midfielder Ben Gill. He added: 'Ben Gill is a good signing for us and I am talking to a few others as well. However, it is difficult because I already have a full quota of loan players so if I bring someone in I have to let someone else go. Finding non-contract players is also not easy'".

Barrow report that "The Football Association have dismissed the appeal against Jason Walker's dismissal at Torquay... The disciplinary commission have ruled that the appeal never had a chance of success and increased the ban to four games rather than the original three. Barrow have no right of appeal".

Kent Online reports that "Ebbsfleet midfielder Neil Barrett has been ruled out for the rest of the season through injury. Barrett suffered a fractured jaw and depressed cheekbone while scoring the Fleet's first goal during their FA Trophy Semi-Final First Leg at Stevenage on Saturday... and underwent a four-hour operation the following day. Fleet boss Liam Daish said: 'Losing Neil and Craig Stone are big blows for us, not only as valuable members of our small squad but also the commitment that they give and have given to this football club since they have been here'". Alty are away at Ebbsfleet on Tuesday, March 31st.

"Nick Greenwood has warned Eastbourne Borough's players they cannot afford to relax despite admitting they are almost certainly safe from relegation" claims The Argus... Greenwood said: 'We think we should be safe so the pressure is off a bit but now we want to finish as high as we can. We've reached the target we set for the players but now we've got to try to pick up as many points as possible. The players are also playing for their futures so there are lots of reasons why our season shouldn't just tail off. I hope they all want to stay so they can't just relax'". Striker Andy Atkin faces a fitness test on the groin injury which has ruled him out of the last two games but is expected to return to the squad". Eastbourne visit Alty on Tuesday, April 7th.

According to the Dorset Echo "Businessmen Paul Cocks and Shaun Hennessy have been appointed directors of Weymouth Football Club after their rescue package was accepted by the club's board of directors yesterday. Following this decision, chief executive Gary Calder and director Mark Golsby resigned from their positions and left the club while finance director Ian Winsor will remain on the board...

Cocks said: 'We are confident the club will survive and there is no risk of it going into administration however, cash will be very tight for a while... Manager Alan Lewer will now hopefully be able to go and strengthen his side against Burton. We will be relaunching the share sale and hope as many fans as possible will invest in the club'... Calder, who joined the Terras in March 2005, refused to comment on his exit from the Wessex Stadium... Lewer said: 'I have players in mind but whether I can get them here in time is another matter'".
ROUGH TREATMENT FOR CHRIS
Alty's Chris Denham (right), on loan at Stalybridge Celtic has been on the end of some rough treatment, it seems. Celtic report on their draw on Monday With Droylsden, "Denham was proving a handful for Newton all night, and on his sixth foul on Denham, he was shown a yellow card for persistent fouling. He risked the referee's wrath almost immediately by bringing Denham down again within minutes of his booking. When he went through the back of Denham for a ninth time, the referee decided enough was enough and dismissed the fullback... [Ex-Alty striker] Ellington came on for Joynes to freshen up the target man... [Steve] Torpey and Denham had doubled up on the stand-in left-back Brownhill, and it was Torpey's ball that came into the box. In came Barlow who smashed the ball past Mawson at the start of stoppage time".
TROUBLED CLUBS
The Blue Square Premier will be the destination of two League clubs for 2009-10 but the list of financially troubled clubs is much more numerous. The Independent reports that "Neasham Road is the too-long artery that connects Darlington town centre to a 25,000-seater white elephant stadium that has been home to Darlington FC since 2003... 12 days ago, for the visit of Notts County, the Darlington match programme had a new red stripe on its cover. 'Admin special', it read. This was Darlington's first home game since the club were placed in administration the previous week... Darlington have been in administration before, as recently as 2004, but this latest development was unforeseen...

World-weary manager, Dave Penney, spoke about the bigger picture. 'I've had contact from people not just in this division, but the division above', Penney said. 'There's a cut-off date, 26 March, and I know a lot of clubs that are close to administration. From talking to people, we might be the first but we won't be the last. I'd say five will go this year'... The significance of the 'third Thursday of March' is also disputed. It is a date set by the Football League by which clubs considering administration must enter if they are to take the 10-point deduction this season.

David Hinchliffe, of the Leeds firm Walker-Morris says 'There is an acceptance," he says, "that all clubs in administration are going to survive. But maybe quite a few won't"... Hinchliffe "is not keen on melodrama. His priority is the nitty-gritty. The Darlington programme lost £2,000 an issue; no longer, its production has been outsourced. He is hopeful for Darlington, because of the willingness of staff to take a 50 per cent wage deferral... John Beech, from Coventry University's Centre for the International Business of Sport, has been researching insolvency in English football and spoke of 'some form of insolvency at more than half the clubs in Leagues One and Two. I'll eat my hat if no one goes into administration in the next week'. Another voice, who wishes to remain anonymous, says that a League Two club will fold 'this season' and will not be able to fulfil their fixtures".

And Bullsnews adds that "Despite their transfer embargo supposedly being lifted, Chester boss Mark Wright has told the press they will not be signing any new faces until the summer. Owner Stephen Vaughan told the fans the embargo would be lifted a month ago, but has not stumped up the money". The Chester Chronicle states "'I've been told to say that there isn't anybody coming in now', said Wright, who was ready to boost his 16-man squad with up to five recruits. 'What we've got is what we've got and we'll see where we are at the end of the season. That's the reality and that's what we've got to get on with'. The Football League imposed a transfer embargo on Chester following the late payment of players' wages. The League declined to comment when asked by The Chronicle whether the embargo continues to be in place.... 'If we fall over like a pack of cards like we did against Rotherham, then we have no chance. But we have set ourselves a standard now. We've set the benchmark and if we keep believing in ourselves then who knows where we'll go'", added Wright after a draw in their last match.
JAY'S PROGRESS
BBC Newsround has an audio interview with Altrincham chairman Geoff Goodwin's son, Jay (11), on his developing career as a go-kart driver. Jay told the BBC "I spend more than 40 weekends a year travelling to go-karting races around the country... Now, I'm in the Super One National Championship... I'm even being sponsored by a major jeans company who have given clothes to Lewis Hamilton!... I have to stay fit and committed, and that means following a list of rules. My dad has typed them up for me so I've always got them handy. I have to drink at least a litre of water every day, I'm not allowed sweets or fizzy drinks, and I've got to make sure I am always friendly to other drivers".

The article continues "Go-karting is an expensive sport. It can cost up to £40,000 to compete at my level, so my family's had to save really hard. My dad and I used to travel around in his old van, but since I've been doing well, people have helped us get a special sports bus we can sleep in!"
---
17 March 2009
MOTHERS' DAY AT MOSS LANE
It's Mothers' Day this Sunday so, on Saturday for the Forest Green match, Altrincham FC has a special offer. In addition to some excellent hospitality, the above poster by Lisa Jones promises that all ladies attending "will receive a Mothers' Day treat". Don't worry, though, a Club spokesman has denied rumours that the treat consists of a kiss for all the ladies from company secretary George Heslop!
NEXT OPPONENTS - FGR
News of our next opponents comes from This is Glos which says that "Forest Green manager Jim Harvey has been charged with improper conduct by the FA following his sending off at Stevenage on March 3... after protesting to officials over the award of a penalty... The Ulsterman is expected to contest the charge... Harvey was at odds with a referee again on Saturday, as Mansfield Town ran out 3-0 winners to halt his side's nine-match unbeaten run in the Blue Square Premier. Man in the middle Colin Harwood red-carded Rovers' top-scorer Andy Mangan for swearing in first-half stoppage time... 'This fella (Harwood) has been refereeing at this level for a long time, and I've had him on four or five occasions', said Harvey. 'Similar things have happened, and for me he took the game away from us and just ruined it. The first goal came from an offside position... Lo and behold, and I don't know where it came from, he gave a penalty kick against us'...

Harvey felt Mangan was harshly treated for his show of dissent. He said: 'There is not a game that goes by when boys don't come out with that sort of language, and a quiet word would have sufficed'. Forest Green: T. Burton; D. Jones, M. Preece, L. Ayres, P. Stonehouse; P. Lloyd (J. Smith 55), A. Lawless, L. Fowler (A. Rigoglioso 70), C. Platt; D. Brown (K. Mohamed 55); A. Mangan; Subs not used: B. Ashford, R. Robinson". Both Mangan and defender Darren Jones are banned for the visit to Altrincham whilst Jerry Gill is out injured.
YOUTH TEAM
Altrincham FC Youth lost 2-1 at Marine on Sunday, despite putting on a good performance.
NEXT REF.
The referee for the Altrincham v FGR match is a regular official at Moss Lane, Mr J.Collin. He was in charge for Alty's draw with Wrexham back in August.
WELL DONE, CHRIS!
Congratulations to Chris Lane (right), whose substitute appearance against Weymouth last Saturday was his 350th appearance in a Conference league match. He is believed to be the most experienced Conference player still appearing at that level. At only 29 years of age, Chris has every opportunity to push that total even higher.
A TRAGIC TALE
The tragic tale of Robert (Bob) Marshall, an Alty left-back, who died from a footballing injury in 1927, is told by Terry Rowley in the latest of his fascinating Altrincham FC Legends.
BSP NEWS
"Weymouth Football Club is expected to announce today whether or not it will accept a last-minute rescue package put forward by local businessmen. Former club chairman Paul Cocks, who runs Café Oasis at Bowleaze, and Shaun Hennessy, the owner of Blondz hair salon, are among those offering a cash investment as part of the deal" according to the Dorset Echo. "But they are insisting that a precondition of the deal – which would see them become board members – is that the club's current chief executive Gary Calder and fellow director Mark Golsby resign... Mr Cocks would not reveal how much cash might be invested. He also said that other businessmen, as yet unidentified, are prepared to support the investment. Mr Hennessy added: 'We felt we had no choice but to take very quick action to ensure the club's survival'... Mr Calder said: 'The board is meeting today and will make the right decision for the club. The club is bigger than me and bigger than anyone else'".

Elsewhere, Paul Cocks said "Malcolm Curtis [former chairman] did not broker this deal; he is not part of this deal save in the sense that it depends on his agreement to postpone repayment of the £240,000, or so debt, to him from the club; and also that, going forward, the club has to live with the deal made re the land. Ian Ridley is not part of the proposal, although I believe he is broadly supportive of it.

Later yesterday, the Echo reported that "Chief executive Gary Calder has resigned from his position at Weymouth Football Club". Mark Golsby is also believed to have resigned from the board. Mr Cocks adds that there will be a "press conference at 2.30pm on Wednesday... We are confident the club will survive, but money is going to be very tight for some time. Everyone needs to pull in the same direction. None of this hatchet stuff!!".

"Weymouth boss Alan Lewer has admitted that the drastic situation at the troubled club is 'close to breaking point'. The Terras fell to a sixth successive defeat at Altrincham yesterday... Lewer said: 'After going three down the lads showed good character particularly with the injuries we suffered throughout the game. We lost Gavin Hoyte and Jordan Collins, both to ankle injuries, and we are also lost Cameron Mawer. All three are now likely to be out for the game against Burton on Tuesday and we could lose Jermaine Palmer as well. He does not drive and usually gets a lift with Gavin, so we will have to look at that'".

Grays Athletic chairman Mick Woodward says, "It has been brought to my attention that there are certain rumours going round about Grays Athletic and AFC Hornchurch amalgamating, I would like to state that Grant Beglin, who is a good friend of mine, is looking to take control of AFC Hornchurch and he has asked me to assist him with advice on certain matters as I live local to the ground and obviously have experience with running a football club. No discussions regarding a merger have taken place between both clubs".

From the BBC we learn that "Grays Athletic boss Gary Phillips felt Stuart Elliott let his side down by getting sent off against Oxford United... 'He's a senior pro who should know better - he was warned a couple of times by the ref about a few silly incidents', Phillips told BBC Essex. 'He's taken responsibility, but it was ill-discipline from him. He knows that and he will be dealt with accordingly'... Phillips has been boosted, however, by news that goalkeeper Rob Beckwith, who was taken to hospital after accidentally being kicked in the face on Saturday, has no broken bones and should be back in action within the next week".

The NW Evening Mail reports that "Jason Walker was shown the first straight red card of his career as relegation zone battlers Barrow AFC fell to a 4-1 defeat at high-flying Torquay United... The Barrow-born striker, making his 100th appearance for the Bluebirds, was dismissed two minutes into time added on at the end of the game following a two-footed sliding tackle on Mark Ellis... The club last night decided that they will appeal to the Football Association against the sending off... Walker said: 'We both slid in for the ball. It was two-footed, but there was absolutely no intent or maliciousness. Neither of us were off the ground, it was just a sliding tackle... It was almost the end of the game and we were 4-1 down, I'm not going to go in with a tackle that might warrant a red card'"... AFC club football secretary Russell Dodd said last night: "We will send a written fax to the FA by 1pm tomorrow. The FA will also need to receive the DVD, plus a £750 appeal fee, from us by Tuesday 1pm'".

"Crawley Town are to let in fans free of charge for Tuesday night's Setanta Shield Southern Area semi-final clash against Ebbsfleet Utd" states the Crawley Observer. "This follows some low crowds recently at Broadfield Stadium... Saturday's crucial 0-0 league draw with Rushden & Diamonds attracted a gate of only 777. The winners of tomorrow's tie will be at home to Forest Green Rovers in the Southern Area final".

"Mansfield Town boss David Holdsworth was delighted with the way his side demolished Forest Green Rovers... He said: 'I still believe we can offer a lot more, I want more, I demand more. I was pleased with another clean sheet and we really put them to bed'... In the final minutes, Forest Green skipper Darren Jones escaped with a yellow for a late lunge on winger Ryan Williams. Holdsworth said: 'There was a couple of naughty challenges, especially on the little man Ryan. I thought it was a harsh tackle and we have had a man sent off for hardly nothing. We might appeal against it. Yet the challenge on Ryan was X-rated. It was a leg-breaking challenge'. The Stags' boss also revealed that Scott Gardner has now agreed a deal that will keep him at the club until the end of next season", he told This is Nottingham.
---
16 March 2009
CUP FINAL TRAVEL
Details of The Altrincham FC Supporters' Club coach travel to the Cheshire Senior Cup Final against Nantwich Town at Witton Albion FC on Monday, March 23rd, is on the Away Travel. page.

Our opponents are in good form, as the UniBond League confirms that "The February Premier Division UniBond 'Club of the Month' went to Nantwich Town who took the top-tier prize with a 100% record in four games scoring eleven goals and conceding just one". The Dabbers won the Final last year, defeating Alty in a penalty shoot-out.
ALTRINCHAM FC NEEDS YOUR HELP
All supporters at Altrincham's home game with Weymouth last Saturday were given a fundraising pack at the turnstiles, compiled by Vice-Chairman Grahame Rowley. It read:

We Need Your Help!

Good afternoon and welcome to today's game against Weymouth. I'm sure that nobody has missed reading about the problems that they have faced over the last few months but they are not alone in struggling to raise finance in these challenging times. I and the club appreciate that the ticket prices for some club events are quite high and not everyone can afford to attend them. However, the club does run fundraising schemes from as little as £1 per week which I'm sure that everyone could afford.
The Saturday Yankee costs £1 per week
The Friends of Altrincham FC Monthly Draw costs just £5 per Month
The Patrons' Scheme costs £50 per year (or £5 per week for the 10 weeks of the close season)

If half our supporters would sign up to just one of these schemes the club would be well on the way to achieving its targets and be able to maintain the great progress that it has made over the last 6-7 years.

I have enclosed information on all these three schemes along with application forms.

Please consider the above schemes and if you're not joined up to any of them please see me, Karen (Rowley), Foz (Steve Foster) or Jenny (Heslop) and help your club to avoid any more cutbacks - before it's too late.

Many Thanks

Grahame Rowley

The Saturday Yankee

For one pound a week you receive four numbers, which represent four horses, which are scheduled to take part in each Saturday's national horse-racing programme. You can either pay a weekly sum to a collector who will visit your address, or you can subscribe by standing order. Yankee collectors earn commission and volunteers are always welcome. Your Yankee Collector delivers a slip to your home each week which allows you to see which horses are yours in the coming Saturday's races or you can download the races from the Saturday Yankee website. These are normally televised races. If the 4 horses win and their race numbers are in the same order as your four numbers, you win the Yankee, which is a minimum of £300. At present the jackpot is at £4,500 so it's a great time to join. If this is not won, £300 is added to the Yankee each week until it is won. Even in weeks where the Yankee is not won, a total of £200 is divided amongst those holding three winning horses in the correct order.

An application form and standing order form is on the Yankee Page.

The Friends of Altrincham FC Monthly Draw

For just £5 per month, you could have a number in our Monthly Draw with a chance of winning the first prize of £100. At present there are three prizes every month but this will rise as the number of entrants increases. The basic rules of the draw are:-
Each entry costs £5 per month which can be paid at any time during the month by standing order.
There is no limit to the number of entries anyone person can have in the draw.
Minimum prize of £ 100 drawn every month. Current prizes are £ 100 first prize, £35 for the second prize and £ 10 for the third prize.
All proceeds go to Altrincham Football Club.
Draw to be made every month with one entry for every £5 contribution that has been made in the previous month. The draw will take place each month at a function, or match. If neither is possible, it will be performed at the earliest convenience by the club.
A list of the entries and winners will be published on the website and when possible in the programme. Please fill in the form on the Friends Page and then set up your standing order with your bank with the following details.
Patrons of Altrincham FC 2009-10
Thank you to everyone who participated in the Patrons' Scheme last season - your support was much appreciated. If you didn't join last season then can I please ask you to consider joining this year? Following the success of the scheme over the last four years, we have decided to continue with it for the coming season 2009-10. It has become even more important this season to maintain our income streams throughout the year as the credit crunch bites and thus your support would be greatly appreciated.
For the cost of £50 your name will appear throughout the coming season in the matchday programme as a Patron of Altrincham Football Club. At the beginning of the season, every member will be entered into a prize draw, with the winner being match sponsor for an appointed game along with 9 guests. Second prize will be hospitality for 5 people and third prize hospitality for 3 people in the Sponsors' Lounge.
If you are interested in becoming a Patron for next season, please forward a cheque, payable to Altrincham Football Club, for £50 for my attention. If you require any further information please do not hesitate to contact me on 07720-606897 or by e-mail. Thank you once again for your support.
Grahame Rowley, Vice Chairman.
WEYMOUTH GAME
This site's match report.

Another perspective comes from the Dorset Echo where we read that "Beleagured Weymouth suffered their sixth consecutive Blue Square Premier League defeat after going down at Moss Lane. Having left Weymouth at 6am for the trip north it maybe was no surprise that the Terras started slowly. However, to concede three goals in the opening 14 minutes was a shock, from which they would never recover... The second half was, in the main, a different story as the visitors looked the better side for long periods... Somewhat against the run of play Altrincham added their fourth, in the 52nd minute... The opening 14 minutes – with Weymouth recovering from the long coach trip – certainly cost the Terras dear as they were always able to match the home side after that poor start, but were not rewarded for their efforts".
LOCAL NEWS
With no Alty game this Tuesday, why not go and watch our neighbours Trafford FC, who announce that "Not only is 17th March St Patrick's Day, it is also the day of our Unibond League President's Cup semi final versus Mossley AFC. Both teams are mid table in the Unibond League North and the cup is our only chance of success... Try and do your best to come down and cheer the lads on, your support is always appreciated. The cup semi final is a welcome distraction to our league form where we don't appear to have ever got going this season for one reason or another, our form best described as being like a "bride's nightie" and something we need to improve on. On the injury front, I'm sure that you will have noticed Tom Read [ec-Alty Youth goalkeeper] is gently easing his way back in the squad. Tom has played a couple of games for the reserves to get his sharpness back but looks match fit and is keeping Damien Rooney on his toes... Wes Wilkinson [another ex-Alty youth] still has problems with his knee and is unlikely to feature again this season".
BSP NEWS
Altrincham still have to pay games against all three BSP teams from Sussex where the Argus says that "Steve Ibbitson took plenty of positives from his first game in charge of Lewes. The new caretaker boss began with a 1-0 defeat at home to in-form Kidderminster. Defeat stretched the Rooks' run to 15 Blue Square premier defeats on the trot but Ibbitson said: 'I was very pleased, particularly with the second half. In the first half we defended well and didn't look under a lot of pressure but we never really got anything going forward. In the second half we actually did cause a threat and I thought we did well. We continued to defend really well so I'm very pleased with the back four'",

At nearby Eastbourne Borough, "Boss Garry Wilson praised Nathan Crabb after his goal sealed a second successive 1-0 win... at Kettering... Wilson said: 'He is a great player coming off the bench when games are getting stretched... we thought his pace could cause them problems... We should be safe now although you can never say never'".

Still in Sussex, "Crawley's play off hopes suffered a setback today after they were held to a goalless draw by Rushden...A crowd of 777 saw the hosts dominate the second half... Assistant manager Paul Raynor said: 'We were flat in the first half but much better in the second and created some really good chances, none of which we took. It's disappointing but there are still ten games to go and no one is giving up on the play-offs yet'".

"Wrexham manager Dean Saunders was bitterly disappointed after seeing his side held to a stalemate by Woking... The Dragons have now gone eight games without recording a win and their play-off hopes are taking a serious battering... He told Wales Online: 'It's deja-vu all over again, isn't it? You could just use last week's interview and the week before that as well to be honest because it is the same" reports Blue Square Football. "We kept shooting ourselves in the foot because we can't keep clean sheets", he added.
---
15 March 2009
ALTRINCHAM 4 WEYMOUTH 0
Following Saturday's game against Weymouth, Alty assistant manager Graham Barrow said of Weymouth, "Of course I am sympathetic with what is happening to them but we knew what we had to do and we didn't show any mercy. That's the game. They put up a real fight in the second half but, after the dream start for us, it was over really".

The NL Paper reports that "Stephen Beer pulled the plug on Weymouth because the cost of saving the club had rocketed to £500,000". From his hospital bed Beer said that "threats to his family will force him to leave the south-west. He said, 'I am being accused by some people of faking a stroke to get out of the takeover. I have never heard so much disgusting rubbish in my entire life. I was taken ill at 10.40am on Tuesday not ten minutes before the press conference as they are all saying. By that point the deal was already over. I had not been told the full extent of the club's problems... I was told £300,000 would keep the club in existence. That figure is, in fact, nearer £500,000... I and my business do have debts; in this day and age, who does not owe somebody money? What I have in my bank account is nothing to do with anyone. I have had checks on me by the financial people at Weymouth and they found nothing untoward". Referring to the Terras' CEO and Company Secretary, Mr Beer said, "Why should I talk to them again after what has happened? That's it, as far as I am concerned... I cannot go home, I will have to move house. My life has been ruined'". But the Terras' Company Secretary said, "Mr Beer clearly got cold feet".

The NL paper adds that two other prospective bidders have pulled out of taking over Weymouth leaving just the duo, Lee Power and Colin Hill. "The pair, who called off buy-out talks last month, are still understood to be interested but only if they can get the club on the cheap from the administrators... Ian Ridley, the former chairman, who was also keen to take over, has now ruled out a move". Grant Leighton, one of a consortium who had considered taking over, has asked "Conference chairman Brian Lee to step in but he says there is nothing they can do. 'Our consoritum are no longer interested. I believe the club are as good as in administration, if they're not already. Mr Calder refuses to tell anyone anything'. Webmaster Mark Probin has removed the club's website from the internet and programme editor Ian White is considering stepping down. In a statement Ian Ridley ended all hope of a return. 'The FA have launched an inquiry into betting patterns surrounding the 9-0 defeat by Rushden & Diamonds' he said. 'That has widened its scope to take in alleged financial irregularities and, for my own reputation and integrity, I cannot be associated with, or deal with, certain individuals'".... [Manager, Alan] Lewer, now unpaid for nearly three months, said, 'Relegation is a formality'".
OLD BOYS
On Saturday Kieran Lugsden netted for Witton Albion as they beat North Ferriby United. Kieran's fellow Alty Youth graduate, Ben Deegan also scored for Ashton United, who beat Boston United 3-0. Another ex-Youth player Dion Depeiaza scored Trafford's winner at Radcliffe on Saturday. In midweek, former Alty loanee, Tom Cahill, hit three goals as his Ilkeston town side won a UniBond Challenge Cup tie at Whitby. Two ex-Alty trialists are in the list of leading scorers in the UniBond League; Ashley Stott (FC Halifax Town) has 21 goals and Gavin Salmon (Woodley Sports) has 20.

Marc Limbert netted for Bangor City, whilst the following old boys were amongst those in action on Saturday; Jake Sedgemore (Solihull), Laurence Ball (Dover), Chris Timons (Hucknall) and Karl Munroe (Hyde).
MOSS LANE DEVELOPMENTS
Right: Altrincham fans exiled away from Moss Lane may be interested in this view of the new housing development at the Hale end of the ground. The new road serving the new apartments is named The Chequers after the former nightclub which was demolished to make way for the new properties.
NEXT OPPONENTS
Altrincham's next opponents are Forest Green Rovers. NL Paper reports that they like everyone else are feeling the pinch...

In their game on Saturday, at Mansfield Town, leading scorer Andy Mangan was sent off and will now be banned for next Saturday. Also suspended is FGR's leading appearance maker, defender Darren Jones, whilst another defender, their assistant player/manager Jerry Gill, is out injured with a fractured cheek-bone. The NL paper adds that "Forest Green players are giving part of their wages to keep midfielder Curtis McDonald at the New Lawn until the end of the season. Manager Jim Harvey was told to trim his budget and, after loaning striker Mike Symons to Gloucester and seeing captain Jiohn Hardiker quit after being suspended, non-contract 21 year-old McDonald was next in line... Harvey said, 'Curtis is injured and probably won't be fit for a couple of weeks so, as a non-contract player, was the obvious one to go. I put it to the lads that with two months of the season left we could all chip in and keep him. It says a lot that they all, along with myself and physio Ian Rodgerson, agreed to dip into their own pockets'".
BSP NEWS
This is Nottingham says that Mansfield Town... demolished Forest Green Rovers [3-0]... The visitors had been on top before half-time but then in first-half stoppage time had striker Andrew Mangan sent off for foul and abusive language. Stags were also reduced to ten men in the second half when Matt Somner saw red... Forest Green: Burton, Lawless, Stonehouse, Jones, Mangan, Platt, Preece, Fowler (Rigoglioso, 70), Ayres, Brown (Mohamed, 56), Lloyd (Smith, 56). Subs: Robinson, Ashford.

This is Glos says that "Jim Harvey has admitted John Hardiker's decision to quit Forest Green has left a hole in the squad. Rovers confirmed yesterday that Hardiker, absent from the last four matches and banned from training since February 27, has handed in his resignation. While the club are remaining tight-lipped over the details of Hardiker's misdemeanour, it is understood he has been punished in court for a motoring offence and was facing the sack... Harvey, who gave Hardiker his senior debut as a 16-year-old at Morecambe a decade ago, is less than enamoured to have lost arguably his finest defender... He said 'I can't say much more, other than that John is a very good player and I wish him well'... Hardiker has been unavailable for comment since he was suspended".
NEIL'S GREAT JOB
Pitchcare magazine (no.23, Feb/Mar 2009) has a four-page article entitled "Altrincham's Part-Time Love" which features groundsman Neil Brown. Neil used to be Alty Reserves' manager and is currently manager of Abbey Hey in the Vodkat (NW Counties) League.

The article recalls how "When Graham Heathcote took over as manager in October, 2002, he inherited a poor quality pitch at the Moss Lane stadium, something that didn't suit the style of play he was intending to coach... To help achieve the standards he wanted, Keith Porter, the former Head Groundman at Manchester United, was approached, back in 2002, to advise on upgrading the pitch.... Keith and Graham implemented a rolling programnme of work...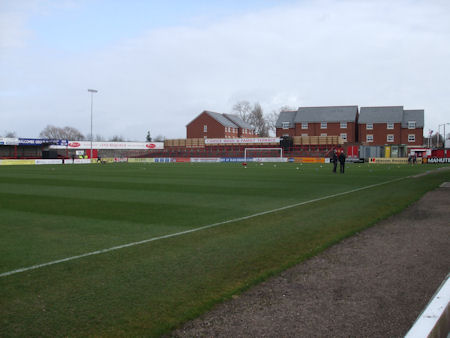 Right: Moss Lane, pictured yesterday, is still in excellent condition despite three quarters of a season's games, a bad winter and Manchester United reserves playing on it as well as Altrincham.
Once the 2002/3 season had finished, Keith removed the surface... [He] removed over 500 tonnes of vegetation and soil material to level up the surface. Five-metre centre drains were installed at one metre depth running the length of the pitch. these were back filled with clean washed gravel to within 100mm of the surface and topped off with soil. The surface was top dressed with 1500 tones of medium fine sand,... Eighteen 20kg bags of TT4 grass seed, a blend of perennial ryegrass, were then sown. Two water tanks were installed along with a self-travelling sprinkler. The cost of that work totalled £70,000".
Neil Brown "took over the overall maintenance two years after the initial work was carried out in his first ever job as a groundman. Being part-time, Neil could only spend around twelve hours a week on the pitch... Over the following three years, at an approximate cost of £10,000 per time, the pitch had remedial work carried out... All that is now required is the weekly maintenance".
Neil says "After a Saturday match, I usually divot the pitch. I can put it back to Monday morning if required, as I also manage a team on Saturday. Usually I get it done in under two hours... However, if the weather has been bad it can take up to three hours.
I then cut and roll the pitch... on Monday if I have time - and definitely if we have a Tuesday match. If it's a Saturday game I would cut and roll on Wednesday and then again on Friday to make sure it is always ready in case of any bad weather etc.... We have a feeding programme which involves granular and liquid fertiliser, the granule type being put on by myself with a mechanical spreader attached to the tractor. The liquid is put on by Martin Porter, Keith's son, as he has the necessary qualifications.
The pitch has improved so much over the last couple of years. The more I learn the better I understand and, consequently, the more the pitch benefits. I would not have been able to do as well if it had not been for all the help and advice I have been given by Keith. He has been a massive help since I took over and always compliments me on how the pitch has come on.
The fans and visiting teams compliment me on the pitch all the time now. One thing I don't think the fans realise sometimes is that it is not just about what I do on the pitch, but also the fact that the current board has eradicated all the club's debts which, in turn, means we have more funds available to set up fertiliser programmes and purchase equipment such as the rapid core. It all helps massively".
Manchester United reserve team manager, Ole Gunner Solskjaer, "came to look at the pitch at the end of last year. He liked it so much that, the next morning, we were asked if United could play Bolton there the following day. With the pitch in good condition, and no Altrincham game scheduled, we obliged ... and they then asked to stay until the end of the season!' The club is currently in negotiations with Manchester United for them to use the pitch for reserve team matches next season.
---
14 March 2009
AND THE LAST TIME, WE SCORED FOUR?
Altrincham kept their first clean sheet today in five games and netted four goals in a league match at Moss Lane for the first time since they beat Cambridge United 5-0 on 6 March 2007. And who was the referee that day? None other than Mr R.J. Wigglesworth, who was also today's match official. Perhaps he could come again next week? For the record the last time Alty scored more than three in any league game was away at St Albans City in April 2007, when they won 5-1.
ALTRINCHAM 4 WEYMOUTH 0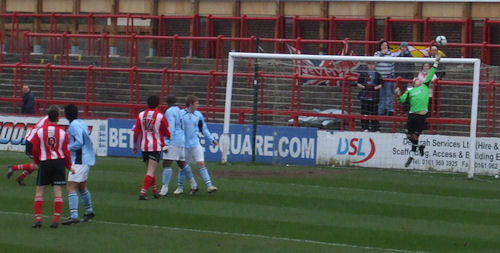 Above, Evans sees an Alty effort over the bar.
Altrincham got a fine start, taking the lead at the end of the first minute...
League Table <
AWAY THIS SUNDAY
Altrincham FC Youth are away at Marine "A" this Sunday for a NWYA premier Division league game.
WHAT'S ON
Saturday 14 March
BSP
Altrincham 4 Weymouth 0
Burton A. 1 Salisbury C. 2
Cambridge U. 4 Northwich V. 1
Crawley T. 0 Rushden & D. 0
Kettering T. 0 Eastbourne B. 1
Lewes 0 Kidderminster H. 1
Mansfield T. 3 Forest Green R. 0
Oxford U. 4 Grays A. 1
Torquay U. 4 Barrow 1
Woking 1 Wrexham 1

FAT SF 1
Stevenage B. 3 Ebbsfleet U. 2
AFC Telford 0 York C. 2
WEYMOUTH'S HARD TIMES
Before today's game, "Terras' boss Alan Lewer has insisted" to the Dorset Echo, "that he has stayed at the club 'for the fans and the people of Weymouth'. Over the last three months the loyal manager has lost the majority of his first-team squad, had no where to train, and been forced to field the under-18s. But he is still refusing to walk away even though he has not received a penny for his services since the turn of the year. Lewer said: 'I have stayed at the club for the fans and the people of Weymouth. It would have been easy to walk out the door but we are all trying to do as much as we can to make sure it survives'. When Lewer took over at the helm of the Terras he was working with a playing budget of around £8,500 a week, which included the club physio.

Despite the limited funds he still managed to lead the club into the top ten and put them in contention for the Blue Square Premier play-offs – that was until he was forced to make further cuts to the wage bill during the January transfer window... Since then Lewer has had to use all his contacts to try and put together a side "on nothing," by asking for favours and calling upon inexperienced youngsters... He said, 'Some of the players have come back to the club for me in the respect of Stephen Reed, Sam Cutler and James Coutts and the fact the ones that left stayed for two months without getting paid is a great achievement in itself but it has been extremely tough. Even day-to-day training has not been easy. With no facilities we have had to find somewhere to go every morning and really we are living hour by hour. It has also been very hard to motivate the players. With no regular training everything has been difficult to organise. When you are putting players together on a Friday night and introducing them to each other just before a game it is far from ideal. To be fair a lot of people within the game have been very supportive including the likes of Barry Fry at Peterborough United, Gary Johnson at Bristol City, Craig Shakespeare and Nigel Pearson at Leicester City and Russell Slade who is now at Brighton & Hove Albion' ... Lewer is also thankful to first-team coach Marcus Browning. He said: "I would like to thank Marcus Browning for sticking with me and seeing through the difficult times".
TERRAS' BIG DECISION
The Dorset Echo reported this morning that the "Weymouth Football Club is facing administration after Devon investor Stephen Beer pulled out of a £300,000 cash injection into the debt-ridden club. Mr Beer, who is still recovering in Dorset County Hospital from a stroke he suffered on Tuesday, has told club officials that he never realised the full extent of the problems at the Wessex Stadium and that is the reason why he has pulled out of the deal. That has now left the Terras contemplating administration despite repeated interest from former chairman Ian Ridley and a local consortium of nine businessmen,...

A statement from the Weymouth FC board reads: 'Stephen Beer's investment, as has been well documented, is not going to happen and that has now been confirmed.... We can confirm that we are taking a lot of advice on administration. Once that is concluded a decision will be made after the weekend'. Terras' director Ian Winsor added: 'Mr Beer clearly got cold feet. He did have a bit of money and being a major football fan he thought he could help the club. However, what has happened, is that he has spent too long in Weymouth over the last couple of weeks and through speaking to people heard so much bitterness that he got scared. After he had the stroke he admitted that the problems at Weymouth were bigger than he thought they first were. Now that clearly does not help the club. Administration is being looked at but there are still people prepared to talk, like the consortium of nine local businessmen, Ian Ridley and Malcolm Curtis. I strongly believe that the club must not go into administration but it might well be inevitable. Whatever happens though, a decision needs to be made quickly'...

Mr Winsor said that Mr Beer said that the funds were coming from Abbey National... 'There was nothing to suggest he was involved in any criminal activity or indeed that he did not have the money. Mind you, there was also nothing to suggest that he did have it. I did ask him for a letter from the Abbey National saying that the funds were in the process of being transferred. I then asked for one again on the morning of the press conference and he said he would get it because, believe me, I would not have got up in front of everyone without it. The only other thing I would have loved to have got was a letter of good character from his solicitor'. Mr Winsor added that Mr Beer's solicitor said he could not do anything because he had not been acting for Mr Beer for long. Mr Beer was unavailable for comment.
BEFORE THE GAME
When Alty lost at the Wessex Stadium in October, the Terras' side was:
1. Danny KNOWLES, 2. Cameron MAWER, 12. Scott DOE, 16. SANTOS GAIA, 3. Kevin SANDWITH; 11. Ryan WILLIAMS, 14. Stephen REED, 7. Chris McPHEE, 13. Sam CUTLER; 9. Pierre DUBOIS, 10. Stuart BEAVON. Subs: 25. Richard BARNARD, 5. Adam BYGRAVE, 4. Michael MALCOLM, 8. Anton ROBINSON, 6. James COUTTS.

Of these only Mawer, Reed, Cutler and Coutts were in Weymouth's squad for their game last week against Salisbury, following the mass exodus of unpaid players last month. Of the four named above, Reed is suspended tomorrow. The other 12 players in the Terras' squad last week included former Dorchester Town goalkeeper Simon Evans and 6 feet 4 inch defender Gavin Hoyte, who is an injury doubt today. The other defenders were 23 year-old Callum Hart and Jordan Vincent. 20 year-old defender Jordan Collins may return to the side at Altrincham. Along with Coutts in midfield last week were teenagers Billy Crook and Sam Cutler. Up front Weymouth included Jake Hyde and Kwesi Appiah - the latter is expected to be out, injured, for the Alty game. Weymouth's subs last week included striker Jermaine Palmer and defender Scott Dixon. Manchester United youngster Kenny Strickland is likely to join the squad tomorrow as well.

Altrincham, with Chris Senior and Kevin Street out for the rest of the season, have only 16 players remaining. And one of these, Mark McGregor, limped off last Tuesday so he may be a doubt. So, Alty will select 11 from Coburn, Smith, McGregor, Young, Doughty, Densmore, Danylyk, Lawton, Peyton, Little, Johnson, O'Neill, Lane, Welch, Acton, Meechan.
BSP NEWS
Remarkable reports come from This is South Devon to the effect that "A businessman who has promised to invest £300,000 in a struggling football club worked as a cleaner to pay off a debt to Torquay United just two years ago, it is claimed. Stephen Beer, 39, is currently in hospital in Dorchester after suffering a minor stroke moments before he was due to be unveiled as the 'saviour' of Weymouth Football Club. Two years ago he and his wife were living in a one-bedroom housing association flat at Clarence House on Newton Road. It is alleged Mr Beer, who has no outstanding debts with Torquay United, still owes money to another of the region's largest sporting clubs.

The club, which does not want to be named, said it wanted to contact Mr Beer about his failure to pay around £5,000 for corporate hospitality. But yesterday, Gary Calder, chief executive of Weymouth FC, said the club had carried out checks on Mr Beer and had documents lodged with his and their lawyers confirming the money was in place. As the owner of Wipe Away Cleaning Services, Mr Beer is alleged to have left behind a number of other creditors when he vacated his flat in Newton Road. He now lives with his wife Lyn in a flat near Torquay police station. When the Herald Express put the allegations to Mrs Beer she said they were 'complete lies'. She added: 'I don't even know if the thing with Weymouth is still going to happen'.

John Tyrrell, who lived next door to Mr Beer at Clarence House, said: 'I nearly choked on my coffee when I saw his picture in the paper. He could barely rub two coins together when he was here'. Neighbours claim a number of people visited the flat in the months after the couple left claiming they were owed money by Mr Beer. Mr Beer's company was employed as a contract cleaner for Torquay United for one year at the start of the 2007-08 season. Colin Lee, Torquay United chief executive, said Mr Beer had taken corporate space at the Tony Boyce suite but had not been able to pay for it. Mr Lee said: 'Wipe Away were doing the cleaning contract for the club. The contract lasted one season. They took on a box near the end of the contract and we talked about him paying it off through doing cleaning. We had a discussion over payments and basically made a contra deal where he could pay what he owed by doing the cleaning... We were surprised he appeared on the back of a newspaper the other day as being able to support and help Weymouth, but in life you don't know'... In a Torquay United match day programme from August 12, 2007, Mr Beer's company was named as the match ball sponsor...

The Herald Express also contacted one of the region's largest sporting clubs, which wished to remain anonymous... A spokesman for the club said: 'We are currently pursuing an unpaid debt from Stephen Beer of around £5,000'. Paul Hall, who ran Colour Work Print and Design in Totnes, alleges he is still owed £160 by Mr Beer. 'He sent me two cheques that both bounced and when I arranged to meet him at his house he was never there'. Mr Beer came to public attention after he promised to invest £300,000 of his own money into Weymouth FC".

Weymouth's Gary Mr Calder "confirmed Mr Beer had made the first approach to the club. He said: 'I have met with Mr Beer today and his lawyers at the hospital. Our finance director did the full due diligence checks on Mr Beer and we have documents lodged with his lawyers and our lawyers confirming the funds were in place. I have no comment to make on the state of the investment. We will wait to see how Mr Beer recovers and take it from there'". A spokesman for Devon and Cornwall Housing, which runs Clarence House, confirmed Mr Beer had been a tenant. She added: 'Housing association properties like Clarence House are for people on low or no income.You don't have to be claimingits to live there but you certainly wouldn't be a high earner'. Mr Beer previously appeared on national television on ITV's Jeremy Kyle show in 2006 to discuss his weight problems".

From NL Daily comes news that "Brighton striker Sam Gargan is returning to Eastbourne Borough for his second loan spell of the season... The 20-year-old spent a month at Priory Lane but with three games postponed (Altrincham, Crawley Town and Ebbsfleet United) only made two substitute appearances for the Sports... On Wednesday, 6` 3" Gargan scored twice in Brighton reserves` 5-0 win over Southampton. A product of the Brighton School of Excellence, he was on loan at Lewes earlier in the season and scored three goals for the Rooks".

The BBC confirms that "Defender John Hardiker has resigned from his Forest Green Rovers contract with immediate effect. Hardiker was suspended for 'matters unrelated' to the club or 'any of its management and staff' on 27 February... The club refused to make any further comment".

"Burton Albion are set to sign Nottingham Forest midfielder Mark Byrne (19) on loan until the end of the season... Byrne, who was picked up by Forest from Irish side Crumlin United, has made three substitute appearances for the Reds this season".

When Saturday Comes says that "When Kevin Keehan found himself vacating the manager's office at Conference strugglers Lewes on March 11, it was the culmination of one of the most extraordinary tales of mismanagement that British football has seen for some time. Former Chelsea youth coach Steve King did a remarkable job in his five years as Lewes manager, taking the club from a town of 16,000 people in East Sussex into the Conference at the end of last season. But it was already known that chairman Terry Parris was concerned about the club's financial health and wanted to replace the current squad with younger, cheaper players. Even as King lifted the trophy – in tears, surrounded by his players – he probably knew that his contract would not be renewed. On the last day of 2007-08, he was removed.

The board's excuses were novel, at least: director Martin Elliot claimed that the club's recent habit of getting promotions – King had taken them up three levels – meant that they were spending too much on keeping the ground in line with FA guidelines and on upgrading the playing staff. The entire first-team squad (barring veteran defender Anthony Barness, easily their best known player) duly followed King out. New manager Kevin Keehan was the figurehead of a "sponsorship consortium" which included Sussex-born Gareth Barry. Keehan had previously worked as commercial director of Brighton, but had no tangible experience of club management... There is justifiable concern about what will happen to Lewes back in the Conference South in 2009-10... Surprisingly, most fans place little blame with chairman Terry Parris... Lewes FC risk becoming yet another casualty of a growing trend for football clubs to pay players far more than they can afford".

And the Argus says that "Steve Ibbitson insists he is only keeping the manager's seat at Lewes warm. The 58-year-old, who was appointed caretaker manager on Wednesday, has no intentions of going for the job on a full-time basis... Ibbitson said: 'I have been here five or six years and I love the club. I just want to help them out. I have made it clear I am not the man to take them forward longer term... People need to give us some breathing space'... His own career started in the juniors at Leeds United and Scunthorpe before heading south to spend a season with Albion, where he played for the reserves. Freddie Goodwin, a former Busby Babe at Manchester United, spotted Ibbitson while winding down his playing career at Leeds and persuaded the youngster to move to Sussex after taking over as Albion manager... The work he and Jason Hopkinson have done with Lewes under-18s has caught the eye. Together they helped the Rooks reach the third round of the FA Youth Cup before going out to Premier League side Hull City. They have also nurtured the progress of current first teamers like David Wheeler and Fred Foreman... He said: 'The main target is steadying the ship'".

"Adam Chapman will turn down offers from League One and League Two clubs to stay at Oxford United next season" according to the Oxford Mail. "The on-loan teenager, who has excelled in midfield since joining the U's from Sheffield United, is keen to stay at the Kassam Stadium next season, whether it's on loan again, or in a permanent deal.... 'Obviously, if a big club in the lower half of the Championship came in for me it might be different, but anything in League Two or lower League One . . . I'd rather come here', he said. 'I enjoy playing for Chris Wilder'. It's not known, however, whether Sheffield United will try to hold onto him as one for the future".

Meanwhile, "Oxford United have offered professional contracts to right back Ian Sampson and midfielder Richard Groves, but Alex Fisher has been released. Striker Fisher, who has scored two goals for the first team, has been told he will not be offered a pro deal, along with Chris Fower and James Foster. Declan Benjamin, who broke a leg in pre-season, has been given a deal until Christmas to prove himself".

"York City will part company with Darren Kelly at the end of the season" reports The Press. "Minstermen chief Martin Foyle has informed the Irish defender in advance to help him in his bid to pursue a career in coaching. Centre-back Kelly, 29, has recently had back problems and has been restricted to just nine first-team outings this season. Foyle said: 'He was always going to need to play out of his skin to get in the side ahead of David McGurk and Danny Parslow and he's had his injury problems as well... I will be trying my best to get him a youth job somewhere else'" .
---
13 March 2009
STILL UNCLEAR...
As Altrincham prepare to face Weymouth tomorrow, the Dorset club's financial situation is still far from clear. News came this lunchtime from the Dorset Echo that "The fate of Weymouth Football Club was hanging in the balance as the club's board of directors held a meeting last night to discuss the future. The meeting was called after it emerged that Stephen Beer's proposed investment failed to register in the club's account. A club statement released on Wednesday evening claimed Weymouth officials were holding talks with Mr Beer and his lawyers to see why the transaction had not taken place and said they would release further news within 48 hours... A consortium of nine local businessmen have also ruled themselves out of the running for investing in the club. Former Terras' chairman Ian Ridley said he was considering his position and may make a statement in the next 48 hours". Meanwhile...
WEYMOUTH PREPARE
The Dorset Echo reports that "Weymouth boss Alan Lewer has several injury doubts ahead of tomorrow's trip to Altrincham.

Peterborough United loanee Kwesi Appiah is out with ankle-ligament damage while Jake Hyde and Jordan Vincent are also struggling. Since the exit of the majority of their senior squad in mid-February the Terras have lost five on the spin and according to Lewer require at least two more wins to ensure their Blue Square Premier survival.

Despite Alty having also suffered defeats in their last four the Wessex Stadium outfit will view the game as another tough test as they continue to field a patched-up side full of youngsters and loanees. Lewer said: 'To be fair in the first 25 minutes against Salisbury City on Tuesday night we did well... and ended up losing 4-0 but if we can reproduce the sort of play we showed in the opening third of that game tomorrow, and sustain it, then we will have a chance of getting something. We did manage to get most of the lads to train together yesterday but without a doubt it is going to be another very tough game for us. Altrincham is always a difficult place to go and they will be pumped up to get as much out of us as they can'... Lewer added: 'Kwesi is out. He is having treatment at Peterborough on an ankle ligament injury... Jake Hyde is struggling with a calf problem and Jordan Vincent has tendonitis and is another major doubt. The other lad from Peterborough, Billy Crooks, has impressed me and should play, and there is a chance that Kenny Strickland and Dave Ryan will be with us as well. Kenny is the young player from Manchester United that played at York City while Dave is a Blackburn Rovers academy lad that also made the trip to York but did not play because we already had the full quota of loanees. Jordan Collins could start tomorrow as well... but to be honest we will not know exactly what we have got until on the day'".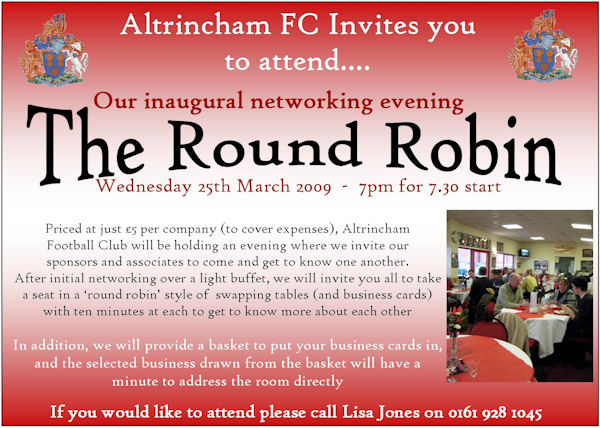 WORRYING TIMES
In the Sale and Altrincham Messenger, Graham Heathcote speaks, after being left with "just 14 outfield players for Saturday's home game with Weymouth. Chris Senior hobbled off [against Torquay and]... defender Mark McGregor is doubtful for Saturday after feeling his hamstring tighten". With a gate of just 735 on Tuesday night, Alty's lowest by far this season, Graham told SAM "I know the problems people are facing financially and I understand the counter attraction of Champions' League football on television", he said. "But if we are to maintain our current squad of players without subjecting ourselves to a [financial] loss for the season, an awful lot has got to happen in the next week or two in terms of attendances. It was alarm bells last night when you consider there were only about 650 of our own supporters in the ground... That is not going to pay the wage bill, nothing like. And you are talking about one of the smallest budgets in the league. There are big questions out there and worrying ones about the level of football we can operate at. If you are a realist you know you cannot run a club on hope alone and we are facing severe times unless something can be done. People are trying hard to bring money in... but it is so difficult at the moment".

If you yourself or anyone you know would like to attend the club's networking evening, (see left), please contact Lisa Jones (928-1045) at Moss Lane.
SATURDAY'S OPPONENTS
Our opponents on Saturday have even worse problems than Alty, as the Dorset Echo reports that "Marcus Browning admits he is unsure what the future holds for anyone at Weymouth Football Club. Confusion reigned at the Wessex Stadium last night [Wednesday] amidst reports claiming that Devon businessman Stephen Beer had pulled out of his proposed investment of £300,000. Chief executive Gary Calder and financial director Ian Winsor went to visit Beer – who is recuperating in hospital after suffering a suspected stroke just 30 minutes before Tuesday's intended Press conference – yesterday and will do so again today, in order to gain clarification on whether the deal is on or off. If Beer, whose money has not yet registered in the club's account, decides to pull the plug, first-team coach Browning fears that another exodus of players could be on the cards, not long after he and manager Alan Lewer had persuaded the likes of Stephen Reed, Cameron Mawer and James Coutts to stay with the ailing club. Browning said: 'We just don't know what's going on so I don't really know what to say at the moment. We don't know what direction the club is going in and we don't know what the next step is. If the deal is off then the players will be gutted. Alan and I had managed to bring some of them back on the pretence that the investment would work out. Mr Beer seemed genuine enough when we met him, we put that to the players and they took it in good faith and decided to play the last couple of games for us. But I don't know what to tell them now as it seems to end in heartache every time. I wouldn't be surprised if they just decided to go and find new clubs'.

He added: 'We've not been paid since Christmas and sometimes you just don't know whether to jack it in. It's upsetting from mine and Alan's point of view in the sense of telling players that everything is going to be okay and then this... I just wish there was some form of a conclusion, whatever it may be, that we could prepare for. Instead, everything's just up in the air'. The Terras are set to make the long trip north to Altrincham on Saturday, aiming to avoid a sixth successive Blue Square Premier defeat".

The Dorset Echo also says that "The group of nine local businessmen who failed in a bid to take over crisis club Weymouth believe a "reality check" needs to occur at the Wessex Stadium. The consortium, made up of Grant Leighton, Simon Etherington, William Ronald, Shaun Hennessy, Tristan Murless, Colin Brumble, Ramon Hidari, Stuart Barnes and Mark Coleman, saw their rescue package rejected by the current board of directors on February 25 in favour of Stephen Beer's proposed investment. The nine-strong contingent... have issued a statement... 'As a group of local businessmen and WFC supporters, we answered the call from Gary Calder to attend an informal meeting at the Wessex Stadium (February 12) to look at ways of saving the club... Broadly speaking our plan was, with the agreement of creditors, to place the club in a pre-pack administration and to form a new company to take it forward. It would have almost certainly resulted in relegation, but we were certain that this would give the club the chance to remain in existence at a playing level that it could sustain. It would have given the club the opportunity to do the honourable thing with the creditors but also ensure any financial skeletons lurking in the WFC closet would not be able to hinder the club in its restructuring process. With administration would also have come the removal of the current board of directors. This fact may be the reason why our proposal was declined, and we were never even shown the courtesy of a meeting with the full board of directors to discuss our plans. We would have also wanted the club to return to part-time playing staff and to give the opportunity for a few more local players like James Coutts to step up to the plate... Too many managers have come and gone – 23 in last 20 years... there has been little continuity on the pitch... How can WFC, who were probably one of the wealthiest non-League clubs in the country, have transcended to the dire financial condition it is in today?... Even though it is still in doubt, the alleged £300,000 cheque from Stephen Beer would not plug the financial black hole that still exists at the club. It would still leave the club teetering on the brink of insolvency, still losing thousands of pounds every month. Surely the time has now come to take a reality check on what WFC actually is and what level it should be playing its football at. Our proposal, while not palatable to some, would have at least guaranteed football at the Wessex Stadium and then in its new home for the foreseeable future'".

The Weymouth website no longer exists; the site says "The website in its previous guise is no more. If you feel you would like to offer an alternative website for Weymouth FC you will need to liaise with the club".
OLD BOYS
According to the Northwich Guardian has a report of the Witton v Ashton Utd game this week. As previously reported "fan favourite Rod Thornley returned to Wincham Park with a goal inside 11 minutes". Also playing for Ashton was Astley Mullholland as was Ben Deegan who "was guilty of a glaring miss... Witton made their guests pay when Kieran Lugsden, standing-in for injured top scorer Neil Black, glanced Gary Scott's cross into the corner for only his second league goal of the campaign. Ashton replied when Deegan stooped low to head Ian Bennett's set piece past Greg Smith to make it 4-2. Buoyed, they seemed certain to add another only for Smith to smother Thornley's blast at point-blank range after sub Pat McFadden had danced into space. Stopper Stephen Rose should have seen red when he halted Lugsden's route to goal with a cynical block... He escaped with a caution... Deegan then fluffed a sitter when he thrashed a loose ball well wide after McFadden's original effort had thudded against a retreating Booth". In addition Gary Scott was booked for dissent, Ben Deegan also saw yellow and ex-Youth team captain Alex Frost played for Ashton.

Former Alty Reserve Levi Kennedy scored Woodley Sports' winner at Clitheroe on Wednesday.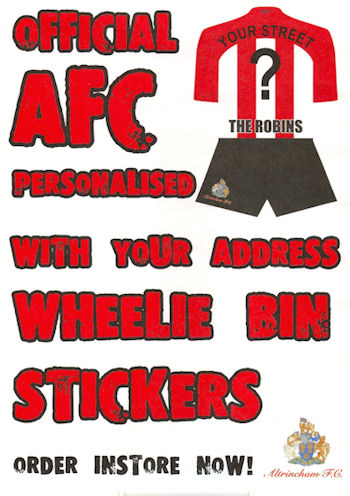 BIN LOOKING FOR WHEELIE GOOD STICKERS?
If you have been looking for really good house-number stickers for the profusion of wheelie-bins which Trafford Council has delivered to all of its residents recently, TASC (The Altrincham Supporters' Club) has the answer. The stickers (see left) cost just £4.99 each (£18 for four) and can be obtained from the club shop or by ringing 928-1045.
BSP NEWS
NL Daily says that "Crawley Town is receiving a cash boost through a mystery benefactor who has bought 10 per cent of the club. Club vice-chairman Steve Mansell announced the new deal... He did not announce how much the share has been sold for, but it is understood the amount is in the region of £75,000... Mansell said: 'Ten per cent of Crawley Town Football Club has been sold by Prospect Estates Holdings to someone – but I cannot say who it is as the person does not want to be identified'... The cash boost has come at the ideal time with Reds in with their best ever chance of reaching the Conference play-offs for the first time in their history" states the Crawley Observer.

"Northwich Victoria have signed a new midfielder but have lost an experienced forward. Carlisle United midfielder Luke Joyce will be at the Marston's Arena for an initial month as a favour to former Brunton Park favourite Andy Preece... Joyce, 21, made nine appearances for the Cumbrians this season before spending five weeks with Vics' league rivals Barrow at the end of last year... The former Wigan Athletic trainee had been due to join the Vics last Friday ahead of their clash with Stevenage Borough, but a foot injury picked up in training prevented him making his Northwich bow... Meanwhile, Damian Reeves has quit the Marston's Arena to rejoin former club, Farsley Celtic. The ex-Histon front man leaves Northwich after less than two months. 'Damian's return will send shockwaves around the club', read a note on the Celts' website. The 23-year-old switched from promotion-chasers Histon in January after falling out of favour with Stutes` boss Steve Fallon" reports the Northwich Guardian.

Rotherham United report that "Alex Rhodes has joined Woking on loan until the end of the season. The winger has fallen out of favour over the last few months... Woking are managed by former Miller Phil Gilchrist and Rhodes will also join up with ex- player Paolo Vernazza as the Cards fight against relegation from the Conference". Reportedly a Woking director is paying for Rhodes out of his own pocket; Micah Hyde is likewise funded already.

The Football Conference confirms that "bottom club Lewes have appointed Steve Ibbitson as their caretaker-manager, with Danny Cullip continuing as first-team player coach, for the rest of the season. Lewes Chairman Terry Parris, is convinced that the Youth team boss is the man to take the team forward. He said 'I have known Steve for many years. We played together for a number of years, not for Lewes, for Newick Rangers who were a top Sunday League side. He is a good coach, he has played a good standard of football with Leatherhead and Sutton and he is well respected'". NL Dailyadds that "A club spokesman said: 'This appointment allows the club to concentrate on the off field issues in the knowledge that we have two very able personnel looking after the playing side'".

Blue Square Football says that "Weymouth defender Scott Doe is set to join Dagenham & Redbridge by the end of the week. The Daggers' manager John Still is just waiting for clearance from the Football Association before the 20-year-old can join his squad.... 'Scott has played for England C, he was Weymouth player of the year last year and for all intents and purposes, would have been again this year', said Still".

From the BBC we learn that "Oxford United's on-loan defender Damian Batt is set to be offered a contract extension beyond the end of the season... 'U's manager Chris Wilder told BBC Oxford: 'We are talking to Damian Batt about an extension to his deal, I think he has been excellent. There are two or three other players that we will sit down with before the end of the season and hopefully tie up', he added. 'There are certain things that I want to get boxed up for next year and hopefully Damian will be one of those before Saturday'". Meanwhile, The Argus adds that "Danny Cullip has distanced himself from a management role in the new set-up at Lewes. The club put out a statement last night saying Steve Ibbitson was the new caretaker manager with Cullip working alongside him in his existing role as player-coach. But Cullip says that position was only ever in name only to take the pressure off previous boss Kevin Keehan. The Lewes skipper has stressed he remains fully committed to the club but he wants to concentrate on playing. Cullip said: 'The reason I was named player-coach was to help Kevin out. He was under pressure and he thought if he named me as player-coach it might take the pressure off him. I want to concentrate on playing. I came to the club as a player and I want to carry on doing that. I will always help out in the changing room as a player and captain. Whoever takes over I will always be there to help. I don't need a title to do that. There are no facilities to do any coaching anyway... I am still only 32 and I want to be playing'.

Also "Martin Elliott says he has no regrets about appointing Kevin Keehan as manager... Managing director Elliott caused a storm among fans when he replaced Steven King with Keehan within days of Lewes being crowned Blue Square south champions last April... [Lewes] have been up for sale since the start of November and still have the threat of going into administration hanging over them... He said: 'It has not worked out as one would have hoped but I have no regrets... He has not had a great deal of luck and the economic climate has killed off a lot of what Kevin could bring to the table in terms of sponsorship. However, the possibilities would have been an awful lot worse if we had not taken the course of action we did'.

Elliott says the club's immediate need is to address the bigger picture of their problems off the pitch which is why they have gone for a caretaker appointment for the time being. He hopes new investors may come forward now that Keehan has left... He said: 'What we are looking for is some people to take it on and the decision (on a permanent manager) will ultimately be theirs. That has got to happen in the next few weeks. We are more than happy to work with whoever these individuals may be. If they were holding back because of Kevin and his team the slate has been wiped clean. We have a very serious situation here. We have an adjournment on a winding-up order and have a decision to make on administration. The outcome is we must rally around and raise some money. We still feel some sort of share issue would give us a chance. At this moment we are not in a position as a business to go out into the wider market place to try to recruit a manager. We have got to deal with the bigger picture first'... Terry Graves has left his position as assistant-manager following the departure of Keehan".

The Gravesend Reporter says that "Ebbsfleet manager Liam Daish has revealed club captain Paul McCarthy's recovery from injury has been halted by yet another setback. The 37-year-old has spent much of his stop-start season out of the team with a series of niggles... It now seems likely he will have to sit out the remainder of this term after Daish told the Reporter that the former Wycombe Wanderers player may face an operation on a troublesome hip. Last year, McCarthy was a key figure as he led the Stonebridge Road outfit to an FA Trophy victory at Wembley. However, the centre-back will definitely miss the first leg of their semi-final match in the same competition against Stevenage Borough this Saturday... There is no escaping how important a repeat success in the competition would be for the Fleet. As well as the boost in morale it would offer ahead of the league run-in, it would also provide some much-needed cash for the club's coffers following the disappointing level of MyFootball Club renewals in recent weeks".

"Alec Jeannin will leave Mansfield at the end of the season, boss David Holdsworth today confirmed" to This is Nottingham. "The left-back was put on the transfer list in January after failing to impress the new Stags boss... Holdsworth was pleased with what he saw from his four trialists in Mansfield's 2-0 reserve defeat by Walsall last night. Former Coventry duo Neil Collett (goalkeeper) and Bradley Jones (central defender) figured alongside Elijah Reid (right-back), formerly of Sheffield United, and Ross Wilkinson (central defender), who is to be released by Leeds.New signing Daryl Clare came off the bench to play 30 minutes... Curtis Woodhouse is receiving around-the clock treatment for the tendonitis in his knee".

"The Whites' unbeaten streak was stretched to five games on Tuesday night, when they beat crisis club Weymouth 4-0 at the Wessex Stadium" reports the Salisbury Journal. "City dominated the game from the start... and took advantage of their extra man – Weymouth's Steve Reed was sent off on 42 minutes".

The Press tells us that "The fixture between Barrow and York City on Easter Monday, April 13, will be screened live by Setanta Sports TV... kick off time has been brought forward to 12.45pm". Before that Setanta visits familiar territory for Burton v Torquay on 6 April.

Another new face is announced at Grays Athletic where they have signed "Fabian Batchelor on non-contract, Fabian started as a youth footballer at Colchester United Football Club, he progressed through the Reserves and was given a professional contract after impressing in the Reserves, spent some time on loan with Welling last season."
NW NEWS
"Telford United have suspended top scorer Terry Fearns ahead of their eagerly-anticipated FA Trophy semi-final clash with York City. The Shropshire club have acted after 17-goal Fearns was arrested on suspicion of possession of drugs with intent to supply, following a police raid on his Liverpool home. Telford have stressed, however, that the suspension is in relation to a breach of club discipline with Fearns... A club statement, issued by Telford, read: 'We have written to Terry Fearns informing him of our intention to suspend him for a period of two weeks without pay. "The suspension, which will take effect from March 16, will be enforced as a result of non-attendance at a club training session and first team match, and will be subject to an obligatory seven-day period during which the player is entitled to appeal against the decision. As required under the terms of the player's contract, the club have notified the Football Conference and FA of their intended action"... Fearns, who was taken into custody after raids in the Sefton area of Liverpool, has been released without charge pending further inquiries".
---
12 March 2009
NO ROOM FOR MANOEUVRE
With Kevin Street (right) and now Chris Senior out of action for the rest of the season, and Chris Denham out on loan, Altrincham are down to just 16 fit first-team players including two goalkeepers. Denham is not available for Altrincham until we play Ebbsfleet on 31 March as players are not allowed to be recalled during the first month of their loans; after that they can be recalled at 24 hours notice.
FRIENDS
You can help the Club and win cash prizes if you join the Friends of Altrincham FC scheme. February's winners were:
No. 58 Steve Murray
No.42 Nigel Hennerley
No.54 Ruth Gallagher
WEDNESDAY
BSP
Ebbsfleet U. 2 Burton A. 1
League table
JOE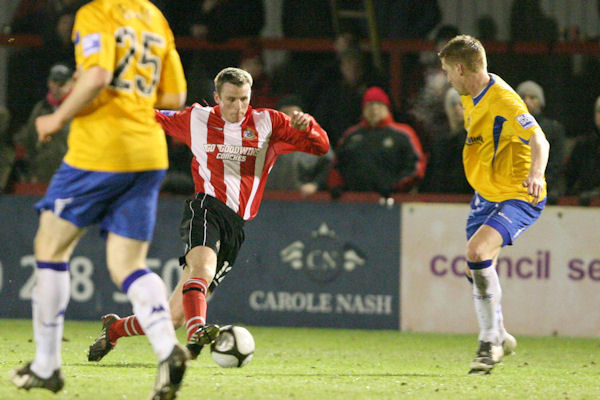 Right: Joe O'Neill in action against Torquay as captured by Gavin Rathbone's camera. More of Gavin's photos are on the GR Photography website.
TORQUAY VIEW
This is South Devon tells us that "Seven nights after coming off the bench to head the winner at Grays Athletic, 'supersub' Wayne Carlisle staged a repeat performance to strike Torquay United's stoppage-time winner against Altrincham... Carlisle took his tally for the season to seven goals with an unstoppable drive in off the bar... Two fine saves by United goalie Scott Bevan in the closing stages had seemed to make sure that the match would end in stalemate, after both sides had pushed hard for victory in an entertaining game... After a spell of sustained United pressure, it was Altrincham who finished the first-half on top... Bevan had to pull out the two saves of the match in the 83rd and 86th minutes. He parried a rasping drive from O'Neill from 15 yards. Then O'Neill set up Little on the right, he jinked inside and outside the retreating Ellis and let fly from 15 yards with a shot which Bevan did well to tip over his bar. That seemed to ensure that the match would remain goalless. But in the second minute of stoppage-time, Carlisle struck".
SATURDAY YANKEE
The winning code for the Yankee on Saturday 7th March was 8494, but that code was unissued. This means that the jackpot for next Saturday is £4800. However, there were 7 lucky treble winners, each receiving £28.57. To join the Yankee, ring the club on 0161-928-1045.
NEXT OPPONENTS
There is an audio interview with Altrincham manager Graham Heathcote on the Blue Square site. The site says "After losing to a 92nd minute goal to Torquay on Tuesday night, Altrincham boss Graham Heathcote laments his team's luck as they fall to their 4th defeat on the spin. He quickly switches his attention to Saturday's league match at home to struggling Weymouth, but insists despite the Terras problems, they'll still be a difficult team to overcome".

Blue Square report that "Weymouth have been dealt a blow with news that skipper Stephen Reed will miss their next five matches with a double suspension. The left-back was handed a three-match suspension for accruing a tenth yellow card on Saturday and has now been slapped with a further two-game ban after receiving a straight red card in Tuesday's 4-0 defeat at the hands of Salisbury City. Reed's enforced absence comes at a crucial stage for the crisis-hit club, who could find themselves dragged into a relegation scrap if they are unable to halt a four-match losing streak. The Terras prepare to take on Altrincham at Moss Lane this weekend and manager Alan Lewers admits that he cannot afford to be without the services of his skipper at such a vital time. He told the Dorset Echo: 'Stephen will be out for five games now but to be honest I thought the situation could have been stopped before that when he was involved in a collision of heads with one of their lads who got away without receiving a booking. As for the tackle itself, it was late and as soon as you leave the floor you are running the risk of being sent off. But their lads were clever as well. They immediately surrounded the referee and put the pressure on him to show the red card, just like most teams would have done. Stephen is not a player that we want missing at the present time and we certainly won't be able to replace him. And that is not an ideal situation with the difficult run of games that we have coming up'".

Bullsnews with its ears to ground as ever, reports that "Weymouth's £300,000 investment appears to be in some doubt as the cheque presented for the money is reported to have failed to clear. Some local businesses claim investor Stephen Beer, who is understood to have suffered a stroke, also owes them money."

The BBC adds that "Weymouth are back in deep financial trouble after would-be investor Stephen Beer changed his mind and decided not to invest in the Terras. Beer did a U-turn after suffering a stroke on his way to a news conference to detail his £300,000 investment into the Blue Square Premier club. Beer's wife told BBC Radio Solent that her husband had failed to realise the extent of difficulty the club was in. The Dorset club are believed to be around £500,000 in debt. The Terras' plight was highlighted a fortnight ago when the majority of the first-team squad left the club after not being paid, and being left medically uninsured. Since then, manager Alan Lewer has continued to field a makeshift team comprising mostly junior players and non-contracted players from around the country, but the Terras have lost every match since. They have conceded 19 goals in their four games since the mass exodus.

Former chairman Ian Ridley told BBC Radio Solent: 'I once wrote 20 episodes of the drama Dream Team but I've never come across anything so far fetched as some of this stuff. I'm very sad - I thought it was the lifeline the club wanted. I have to say though, there is always a doubt and with Weymouth, when something seems too good to be true, then sometimes it is and that's proved to be the case here'.".

NL Daily adds that "Beer, who is pumping £300,000 into the club in a bid to safeguard its future, was taken by ambulance to Dorset County Hospital after complaining of feeling unwell. It was left to club director Mark Golsby and fixtures secretary Pete Saxby to announce the news to supporters and media at the Wessex Stadium on Tuesday as Terras' chief executive Gary Calder and financial director Ian Winsor accompanied Beer's wife Lynn to the hospital. South Western Ambulance said Beer, 39, presented himself to the Weymouth Minor Injuries Unit and was taken to hospital in Dorchester for further investigation. Later he was said to be in a stable condition on a general ward. After visiting the hospital, Calder said: 'Stephen had a slight stroke and has lost the use of his left hand side. His speech was returning when I left. The issue at the moment is his health. Nothing else matters'.

Golsby said the press conference had been called to confirm Beer's investment – due to be transferred into club accounts today... 'It's all come as a bit of a shock', said Golsby. Saxby added: 'It's devastating news for Beer's wife. They're both lovely people and our thoughts are with them. We were going to announce the investment Stephen Beer had made in the club which will go a long way to wiping off the debt... Discussions have been held with people in the past few days with a view to them joining the board'.

Businessman Stuart Barnes questioned why a consortium, of which he is a member, was not able to discuss their plans with the board of directors at a meeting. He said: 'We were rejected without even having an interview. We now have a bloke in hospital with Gary Calder up there although I don't know why. If Father Christmas turned up I wouldn't be surprised'. Speaking after the press conference, fan and businessman Shaun Hennessy said he hoped Beer recovered quickly but questioned why both Calder and Winsor had gone to the hospital. He added: 'This development is another twist in the never-ending tale of the club. It's stumped us all'. Terras' Trust member Matt Barton said: "It seems we lurch from one crisis to another. I wish Stephen Beer a speedy recovery'" reports the Dorset Echo.
OLD BOYS
Witton Albion beat Ashton United at Wincham Park 4-2 this week. "Rod Thornley put the visitors in front after 11 minutes" before Witton scored three times. Then "Kieran Lugsden made it 4-1 on the hour-mark, with Ben Deegan replying for Ashton 7 minutes later".

NL Daily adds that Stalybridge Celtic had "a 4-1 win over Tameside neighbours Hyde United". At 1-1 "Steve Torpey restored Celtic`s lead 10 minutes later and then Keith Briggs made it game over with number three on 72 minutes, with Torpey adding his second and the hosts' fourth 3 minutes from time".
BSP NEWS
The BBC confirms that "Kevin Keehan has resigned as Lewes manager, leaving the club 19 points from safety in the Blue Square Premier... A club spokesman said: 'It is now the time for everyone to get behind the team and the club to see what we can salvage from the season. The club also appeals, again, to anyone out there wishing to get involved financially or with offers of support to contact the club... The club are very hopeful for the future. The season is not over yet... We will firstly look at a caretaker appointment to give us time to get the right person in. There are a few names already mentioned that we will consider'".

"Terry Parris has been charged with the task of finding Lewes a manager for Saturday's game with Kidderminster" reports The Argus. "Chairman Parris has [been] talking to existing club personnel, including senior players, ahead of making a caretaker appointment in the wake of Kevin Keehan's decision to resign. Managing director Martin Elliott decided Parris, who is a club legend and someone the fans can relate to, is the right man to make to find an interim successor to Keehan. Lewes have already indicated they will appoint from within which suggests they will either go for youth team managers Jason Hopkinson and Steve Ibbitson or player-coach Danny Cullip... Lewes will only make a caretaker appointment for now while their off-field financial problems are on-going. Parris said: 'The most important thing is the financial issue. We have a deadline coming up which we need to meet financially. We need to get through these games over that period. As a club we have a lot to look forward to if we can get through this'.

Parris said he had not been told yet of any players leaving the club in the wake of Keehan's departure and has dispelled suggestions that they will not have a team for Saturday's game. He said: 'We will get a team out. I would like to think all the players are professional enough to stick with the football club'... Lewes have confirmed that Kevin Keehan has resigned from all three positions at Lewes. Keehan held the triple roles of first-team manager, general manager and commercial manager". For the managership, "Former boss Jimmy Quinn and chairman Terry Parris are other names that have been touted around".

The BBC says that "Wrexham are on the verge of completing the signing of former Premiership striker Matt Jansen. The former Blackburn Rovers frontman was at Wrexham's 1-1 draw with Forest Green on Tuesday to cast his eye over the north Wales club. Jansen, 31, has held discussions with Wrexham manager Saunders and has verbally agreed a short-term deal. 'Matt has agreed to sign. He's not doing it for the money; he is not earning a lot', said Saunders. 'He wants to come and get back to enjoying playing football again - he has not been enjoying it. We will not tie him down on a long-term deal but if he is enjoying it, I am sure he will stay here longer. It is ideal for him and just what we need'. Because he is out of contract at present, Jansen is eligible to sign even though the transfer window is currently closed. 'Matt has done it to help me and get the club get back up there', added Saunders... 'Matt is a class player but I am not expecting miracles. He will come in, work hard and, hopefully, will show the bits of quality I know he has got in him. He has not played a lot in the last 18 months but he has been training'... Following a motorcycle crash in 2002, he was restricted in his appearances... Last month, he joined League One club Huddersfield Town on trial and was given a run-out in their reserve match against Rotherham United".
---
11 March 2009
MATCH REPORT
There is a match report on last night's game against Torquay United, here.
INJURIES
Chris Senior (right) had to go off in yesterday's game with hamstring problems and he is now expected to miss the rest of the season. Mark McGregor, also had to be substituted last night with tight hamstrings.
TORQUAY'S VIEW
Torquay United report that they "stretched their unbeaten run to five games with a dramatic last gasp 1-0 win at Altrincham. Wayne Carlisle was the scorer of a cracking goal with just seconds remaining... Despite United's positive start it was Lee Mansell who saved his team from a [Young] header when he headed off the line with Scott Bevan beaten as the home side applied some pressure of their own with a corner kick... Altrincham started the match with three at the back and certainly had their work cut out with trying to keep tabs on Green and Benyon... Scott Bevan produced the save of the match in the 83rd minute when O'Neill again produced a fine shot that the United 'keeper did well to keep out at full stretch, he repeated the acrobatics moments later to concede a corner... Altrincham certainly proved a sterner test for United as the match reached its conclusion... In the third minute of added-on time Wayne Carlisle collected the ball just outside the Altrincham penalty area, looked up and smashed a right footed shot in off the underside of the crossbar for a superb winning goal... United supporter Steve Breed travels to every United match and he gave his thoughts straight after the final whistle: 'It was a horrible pitch and it wasn't a great game but then Wayne goes and smashes one in at the death and that is all that we will remember'". His opinion about the pitch is not matched by Pitchcare magazine, the leading publication in the sports pitch field, which has a four-page feature this month on the superb job done by Alty groundsman Neil Brown at Moss Lane.
ALTRINCHAM 0 TORQUAY UNITED 1
Altrincham were unchanged but Richard Acton replaced Alex Meechan on the bench and Torquay were without leading scorer Tim Sills. Torquay started brightly but Altrincham came into the game and were deservedly still level at the end of the goalless first half. In the second half Torquay again started the better, without posing too many threats, but Alty finished strongly with O'Neill and Little both forcing good saves. However, substitute Carlisle snatched the points with a shot from the edge of the box which bounced in off the underside of the bar in the second added minute of injury time. It was a cruel result as Altrincham had deserved to take at least a point. Report to follow.

ALTRINCHAM (Red and white striped shirts, black shorts, red socks): 1. Stuart COBURN, 22. James SMITH, 4. Mark McGREGOR, 5. Greg YOUNG, 21. Shaun DENSMORE, 7. Robbie LAWTON (capt), 3. Matt DOUGHTY, 16. Anthony DANYLYK, 14. Dale JOHNSON, 19. Chris SENIOR, 9. Colin LITTLE,. SUBS: 12. Joe O'NEILL, 11. Warren PEYTON, 18. Michael WELCH, 23 Richard ACTON, 2 Chris LANE

TORQUAY UNITED (Yellow shirts, shorts and socks): 20. Bevan; 7, Mansell, 5. Robertson, 3. Nicholson 12. Thompson; 11. Wroe, 14, Hargreaves, 25. Ellis, 16, Hodges, 17. Green, 9.Benyon, SUBS: 19. Stevens, 24 Adams,, 15. Carlisle, 18, Carayol, 31.Palmer
OLD BOY
Former Alty Youth and Reserve, Mark Drew scored on Monday for Radcliffe Borough as they beat league leaders Durham City. Kevin Ellison scored for Chester City but they lost 5-1 at home to Rotherham United last night.
BSP NEWS
Rushden & Diamonds confirm that "Daryl Clare has joined Mansfield Town on loan until the end of the season, where the move will then be made permanent... After a brief stint in the team, Clare then expressed his desire over the Christmas period to move to another Club, which would be allow him to be nearer to his family home, for personal reasons. Club Secretary Matt Wild commented 'We are pleased that an agreement has finally been reached between all parties that will finally put this matter to bed. It has been a very drawn out affair not helped by the arbitration hearing last month. We, of course, wish Daryl all the very best at Mansfield, where he will now be closer to his family'".

The Argus reports that "Kevin Keehan has resigned as Lewes manager. His departure was announced after tonight's 2-1 defeat away to Rushden and Diamonds, their 14th Blue Square Premier defeat on the trot. Keehan had already made his mind up and informed managing director Martin Elliott earlier in the day although the players were not told until after the game. Keehan took over as Lewes boss last April in controversial circumstances, replacing former manager Steven King just ten days after he had led them to the Blue Square south title. His appointment was never really accepted by a number of fans and there have been calls for his head at most home games this season.

During his time in charge Keehan led Lewes to just seven wins in 45 games, which includes three cup games against lesser opposition... Keehan also held the roles of commercial manager and general manager... Keehan said: 'It is the right time for me to go... I have agonised over this. We have known for some while we are probably going to go down but a part of me was saying keep going, stay on and we will develop the youngsters which is what I wanted to do. For a club like Lewes I think that is the only way forward. We have gone down the road of paying more than other people and ultimately it doesn't work'".

According to the Dorset Echo "A businessman who is giving ailing Weymouth Football Club £300,000 was rushed to hospital with a suspected stroke 30 minutes before he was due to appear at a press conference. Stephen Beer, from Devon, was due to answer questions at a meeting called by the directors of Weymouth Football Club at 1pm today. It was also anticipated that an appeal would be made at the meeting for new members to join the board of the club. Supporters and assembled media were given the shock news by director Mark Golsby. He told how Mr Beer had been taken by ambulance to Dorset County Hospital in Dorchester about 12.30pm after falling ill at his hotel".

Blue Square Football say that "James Coutts has targeted another eight points from Weymouth's remaining matches in order to avoid relegation... Coutts believes that 50 will be enough to stave off relegation. The 21-year-old told the Dorset Echo: 'People have got to realise that we are in a relegation battle now. We have points on the board but in my view we have got to get to a minimum of 50 to be guaranteed safety. We have got 42 at the moment so that means two more wins and a couple of draws and with the home games we have left we should be able to do that but it will not be easy. If we can keep the team together we had on Sunday and add a couple then I am sure we will be okay, as long as we can start working on the training ground together. At Crawley the lads hardly knew each other and that makes it very difficult. We need time to work alongside one another and get a shape and a pattern of play. I mean, I have not trained properly for three weeks. I have been working hard in the gym but that is no substitute for full-time training and competitive matches".
---
10 March 2009
TUESDAY FIXTURES
Tuesday 10 March
BSP
Altrincham 0 Torquay U. 1
Barrow 1 Histon 0
Cambridge U. 2 Mansfield T. 1
Kettering T. 0 Grays A. 0
Kidderminster H. 2 Crawley T. 0
Rushden & D. 2 Lewes 1
Weymouth 0 Salisbury C. 4
Wrexham 1 Forest Green R. 1
MATCHDAY UPDATES
It is hoped to provide some updates from this evening's match between Altrincham and Torquay United on the:
Matchday Update Page.
TUESDAY'S VISITORS
Torquay United are the visitors to Moss Lane on Tuesday night, mirroring Alty's long trip in the opposite direction in midweek last season. The Gulls are travelling up on the day but will be without the suspended Roscoe Dsane who is serving a four-match ban for his second red card of the season. The referee for the game is Mr J. Adcock. The BBC says that for Altrincham against Torquay "On-loan defender Michael Welch is vying for a starting place. Torquay striker Tim Sills is an injury doubt for the trip to Altrincham after suffering a hamstring injury last week. The Gulls are also waiting on the fitness of striker Iyseden Christie, who has the same problem".

It's only 24 days since Torquay beat Alty 3-1 at Plainmoor. Above the teams line up before that game.
When Torquay United drew with Rushden on Saturday, the Northants Evening Telegraph reported that "Former Nene Park transfer target Tim Sills headed home the opener just before half-time but Tomlin levelled... Diamonds caretaker-manager Justin Edinburgh handed a full debut to loan signing Chris Arthur while Michael Rankine and Jake Beecroft were both recalled in the absence of Neil Cousins and Michael Corcoran... Torquay: Bevan; Mansell, Mansell, Woods, Robertson, Nicholson; Carayol, Wroe, Hargreaves, Green; Benyon, Sills (sub Stevens, 57 mins). Subs not used: Thompson, Carlisle, Hodges, Ellis".
However, This is South Devon says that "Torquay United are contemplating life without Tim Sills after their 17-goal leading scorer finally succumbed to the rigours of another long season. The Gulls are facing an anxious wait to see if centre-forward Sills can shake off the hamstring strain which forced him off midway through the second half of Saturday's 1-1 draw with Rushden & Diamonds at Plainmoor. Manager Paul Buckle already has his most experienced forward, Iyseden Christie, sidelined, also with a hamstring injury. Neither Sills nor Christie has been ruled out of promotion-chasing United's next game, away to Altrincham tomorrow night. Buckle... will give both his casualties every chance to recover in time for the trip to Moss Lane. 'The amount of miles we have to travel certainly isn't helping – it definitely takes its toll', said Buckle. 'We have picked up a few injuries. Tim has played a lot of games, he works tirelessly for the team and when he isn't on the field we are a slightly different side. We had a very young forward line in the second half (against Rushden). But they've got to learn how to play without "Sillsy"... The result stretched United's current unbeaten league run to four games".
PICK UP YOUR WHEELIE BIN STICKERS!
The Altrincham Supporters' Club (TASC) announces that "All orders taken to date for Altrincham F.C. wheelie bin stickers will be available for collection from the Club Shop before Tuesday night's fixture against Torquay United. These excellent high quality stickers are available to order from the club shop & are priced at £4.99 or £18 for four".
NEXT SATURDAY
Altrincham entertain Weymouth this Saturday, when the referee will be Mr R. Wigglesworth. He was the man in charge when Alty beat Cambridge United 5-0 at Moss Lane in March 2007.

As for the Terras, the Crawley Observer says that "Crawley Town rose up to sixth place and lie within four points of the play-off places following a resounding 4-2 victory over Weymouth on Sunday. Reds were up against a side led by former Crawley assistant boss Alan Lewer, patched together with loan signings from Peterborough and Swindon after the club stopped paying its players and most of them left as free agents... The gloss of an otherwise one-sided performance was taken off as the visitors responded with two long-range goals which both caught out keeper Simon Rayner. One was from wide on the right and was only intended as a cross by Jordan Vincent which curled in, helped in by the wind and beat the back-tracking Rayner... The second Weymouth goal came in the 38th minute direct from a corner-kick, taken by James Coutts, which Rayner flapped at and failed to keep out".

The Dorset Echo tells us that "Weymouth boss Alan Lewer had plenty of reasons to feel a little more optimistic despite seeing his side fall to a 4-2 defeat at Crawley Town. With Devon businessman Stephen Beer having invested £300,000 in the club on Friday to ease the financial situation and both James Coutts and Sam Cutler returning to first-team action, it appears the Terras could be beginning to turn a corner... Lewer was not too despondent afterwards. He said: 'We got back to 3-2 and very nearly levelled... All in all we did not do too bad, considering we fielded a team that was just thrown together. Jake Hyde did well on his return to the club up front and it was great to see Sam Cutler and James Coutts back. Both of them have signed on non-contract terms until the end of the season but at the moment they are a little off the pace having not trained for a couple of weeks. We missed Cameron Mawer a bit but he will be back for the home game against Salisbury City on Tuesday and if we could get a couple more through the door as well, hopefully we can start getting back to some normality. Two more victories and we should be okay. We have not been able to train for two weeks. The lads will have a day off today and then report to the club for the game tomorrow. They will then have Wednesday off before coming back down for training on Thursday ahead of the game at Altrincham on Saturday. We will also look to bring in a couple more players and I am sure I will also get together with the board to talk about the playing budget'". A Press conference will be held at the Wessex Stadium tomorrow [Tuesday] at 1pm when Beer and chief executive Gary Calder are expected to reveal their hopes for the future of the club".
OLD BOYS FLOCK TO SALFORD
NL Dailt reports that "UniBond League Division One North basement club Salford City may be seemingly doomed to a return to the Vodkat North West Counties League, but their stunning 5-3 win at play-off chasing Lancaster City on Saturday shows that, had they been able to field the side they now have at Moor Lane, they would surely have survived comfortably. Steve Foster, whose own move to Salford from Blue Square North side Fleetwood Town caused a few raised eyebrows, netted all five of City`s goals at the Giant Axe. Having brought in experienced players like Foster, Darren Hockenhull, [ex-Alty] Steve Tobin, [ex-Alty] Ged Murphy (right) and Will Ahern, City have added more in the shape of defender [ex-Alty] Richard Battersby and prolific striker Stuart Rudd and have extended the loan of Matthew Edwards from Leeds United. Battersby, 29, joins from Stalybridge Celtic... He joined Northwich in 2005 from Radcliffe Borough for £5,000. In January 2008 he left the Vics to join Altrincham... He signed terms with Radcliffe to help out his former team before signing on at Celtic. He started his career at Oldham Athletic, coming through the youth ranks into the reserves". Ged Murphy has joined "from across the Pennines with Bradford Park Avenue".
"AWFUL ALTY"
According to Your Thurrock, on Saturday Grays Athletic "delivered the three points; they delivered two wonderful goals; and they delivered their promise to get the kids into the ground which created a wonderful atmosphere. The only downside is the question of whether this is manager Gary Phillips' last game or not? We will come to that. Grays played what looked like an adventurous 3-4-3 formation with three attackers determined to get the elusive first goal. For 30 minutes it was an unbridled mess and Grays were fortunate that Altrincham came to the match with no away wins this year and no ambition in the bank...

It didn't help that there was a ref with all the authority of Charles Hawtrey (am I showing my age here?)... Grays' only problem was the players injuries. Hudson-Odoi pulled up with cramp and Tyrone Berry only lasted six minutes before tweaking a hamstring. For the last ten minutes, Grays played with ten men... On the one hand Altrincham were awful - and beggared belief that they are mid-table - but at the same time, Grays defended manfully. Time after time, great tackles went in that could define the Blues' season...

Joe O'Neill was fouled in the box on the 90th minute and as Matthew Doughty converted the penalty. It led to a very nervous five minutes of injury time in which Grays were very fortunate to not concede a penalty as Stuart Eliott handled in the box... Let us make no bones about this. Gary Phillips is unhappy about the way he is being treated. It takes a lot for Gary to get upset. He had the experience of working under Stan Flashman... Gary clearly feels that his position is in doubt and the pain of a decent footballing man was etched on his face... The reason that there is disquiet is down to the presence of Roddy Collins at the game yesterday. Mr Collins, brother of former Boxing Champ, Steve Collins brings quite a circus with him wherever he goes. His time at Bohemians, Carlisle and Shamrock Rovers have courted great controversy. His recent forays have been associated with take-over bids including Gretna, Livingston and Rotherham with a variety of business associates including McMullen Properties (fronted by a 27-year-old Anthony McMullen). At the time all those clubs were described as "cash-strapped".
HONOURS LIST
"The FA is seeking potential candidates to be nominated for the 2010 New Year Honours list in recognition of their services to football. The Department for Culture, Media and Sport are now identifying potential candidates for the 2010 New Year Honours List and has asked The FA to assist with encouraging nominations. The Honours system provides a great opportunity to recognise those people who are really making a difference to football, not just those who participate but those involved behind the scenes, be it on the coaching, managing, refereeing or administration side... The FA is particularly keen to see an increase in the number of people recognised from the lower levels of football, including volunteers and those involved at the grassroots of the game. Nominations are particularly welcome from groups that tend to be under-represented, such as women and ethnic minorities... The deadline for completed nomination forms is Thursday 30 April. Nomination forms should be sent direct to the Department for Culture, Media and Sport".
BSP NEWS
"Guy Branston protested his innocence after collecting yet another red card" according to the Northants Evening Telegraph. "The centre-back was sent off for the third time this season in Kettering Town's excellent 1-0 win over Histon after being adjudged to have kicked Jack Midson in the head... It is likely he will now face a five-match ban. However, Branston insists there was no intent to hurt his opponent.

'I'd never do that to any fellow professional', he stated. 'I went for the ball and I caught him slightly. There was never any malice... I was just trying to get the ball... I think referees just like sending someone off. They love being the centre of attention. I heard him (running over) shouting "He's off, he's off, he's off"... I'm 16 stone. I'm running at 18 miles an hour. If I kick someone in the head is he getting up? I don't think so. He got up and carried on for the whole game without any repercussions'... Poppies boss Mark Cooper says 'I think we have now got a reputation – from sides we've beaten – as a physical team'"

On 31 March, Altrincham travel to Kent where The Press reported before Sunday's game with York that "Ebbsfleet could still have 22 games to cram in before the end of their season. The Blue Square League campaign closes seven weeks [last Sunday] and Liam Daish's men already have 19 fixtures left to play. That tally will increase should the Kent club progress further than the semi-finals of the FA Trophy and the Setanta Shield southern section. Frustratingly and surprisingly, considering their ridiculous backlog, Ebbsfleet have been out of action for 11 days... A lack of league activity has seen Ebbsfleet fall to a position just one point above the drop zone although the Trophy holders have up to five games in hand on their relegation rivals. The Fleet's recent home form has been strong with four wins and a draw from their last five matches at Stonebridge Road... Only Cambridge (11) and Kettering (12), meanwhile, have conceded fewer goals at home than the 14 Ebbsfleet have shipped... although ex-City defender Peter Hawkins, now 30, has moved on to Maidstone having been limited to just seven league starts this season".

Histon's "Danny Wright could miss the rest of the season after picking up a hamstring injury in Histon's 1-0 defeat at Kettering" reports the Cambridge News. "The striker pulled up just 17 minutes into an incident-packed encounter... Histon boss Steve Fallon said: 'I'd have thought Danny will be out for three to six weeks, but he could be out for the ... When they pull up like that, it's not normally good'".

This is Nottingham reports that "Ross Wilkinson, Rob English and Jake Speight are the latest trio of trialists bidding to impress Mansfield boss David Holdsworth. Wilkinson is a central defender who has been at Leeds United while goalkeeper English has been out in the United States. Speight is currently playing for Droylsden but will train with the Stags from Thursday until the end of the season. 'There are opportunities there for these players', said Holdsworth. 'When you are trying to get a career in football, you are desperate for it'".
NW NEWS
The BBC says that "A Shropshire footballer has been arrested over an alleged drugs offence... AFC Telford United striker Terry Fearns was arrested in the Sefton area of Merseyside on Wednesday. The club said it was aware of an incident involving the player and was seeking legal advice. Merseyside Police confirmed a 31-year-old man had been arrested on suspicion of possession of controlled drugs with intent to supply. Mr Fearns, who is the club's joint top goal-scorer with 17 goals this season, was not named in Telford manager Rob Smith's squad for match against King's Lynn on Saturday... The player joined the Bucks from Droylsden last summer. His previous clubs include Wigan Athletic and Southport, where he scored 41 goals in the 2004-2005 season".

Wrexham report that "Moving away from North Wales will be Simon Spender, who will head up to Barrow to help Dave Bayliss and the Cumbrians in their battle to avoid relegation. Meanwhile, after two months on loan with York City, the versatile Kyle Critchell returns to the Racecourse, fit and raring to be a part of the promotion chasing squad". Spender said, "I'm looking forward to being involved again and every game will be important as Barrow battle to stay in this division. We will be training near Blackburn, rather than travelling all the way to ground, and the manager has arranged for me to get a lift up for games. After spending my entire career to date with Wrexham, it will be a change and I hope one I enjoy". The deal is until "the end of this season, [but] he will have a 24-hour recall clause available after 28 days and won't be eligible for selection in our remaining match with the Bluebirds... International clearance is the next hurdle and that should be granted tomorrow... For Kyle, a run in the first team at York has done him the world of good. 'I really enjoyed my time in Yorkshire', he said. 'It's a good club with a nice family atmosphere'".
---
9 March 2009
GRAYS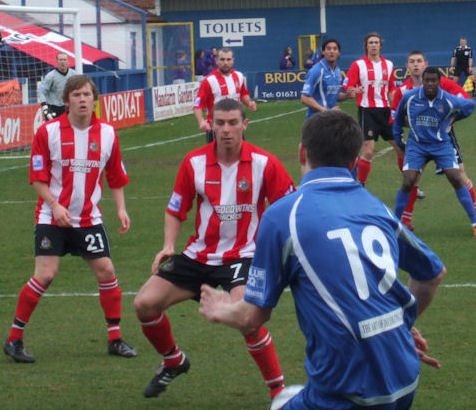 Right: Robbie Lawton (7) and Shaun Densmore (21) attempt to stop this Grays' attack on Saturday. In the background are Mark McGregor, Greg Young and James Smith.
FOUR ON THE RUN
Altrincham now have four consecutive home fixtures, starting this Tuesday...

Our next opponents, Torquay United report that "boss Paul Buckle gave his thoughts after the home draw with Rushden & Diamonds: 'It was certainly two points lost after being in front, I thought we started the game very brightly and Rushden struggled to contain us in the first half... but it has turned out another frustrating afternoon although eight points out of twelve is a good return'.

Tim Sills scored United's goal which took his tally to 17 for the season but he had to leave the pitch in the second half through injury: 'Tim affects the game and in the second half we had so many opportunities to affect the game as individuals, the fine detail missing today was that final ball, it was the difference between a draw and a win. The goal we conceded was very disappointing because the one thing you shouldn't do with a player in that position is let him back on the inside, you have to keep him wide but these are all things that the players know and we have to learn from it and be better next time. We are playing games thick and fast now and Tim has played a lot of games, he works tirelessly for the team. I'm not making any excuses but on Tuesday we left at eleven in the morning and we got back home at four in the morning which does take it out of the players. We have picked up a few injuries now, whether it is the travelling I don't know. You can see what Tim Sills brings to the team when he wasn't on the pitch, we are a slightly different side but having said that we had a very young forward line out there in the end and they have got to learn to play without Sillsy, players want their chance and you have to grab it when it comes and being a forward or a winger you have to score or make goals, Sillsy did that today and the others need to join him'".
CENTURION
If Chris Senior (right) plays against Torquay on Tuesday night, then next Saturday's game against Weymouth will be his 100th appearance for Altrincham. So far he has made 68(+30) appearances and scored 25 goals for the Robins. He will join five other players with 100 Alty appearances to their name, namely Stuart Coburn 423, Colin Little 227, Warren Peyton 165, Robbie Lawton 137 and Joe O'Neill 119.
LEGEND
Terry Rowley's latest "Alty legend" profile is of the club's 1930s' star, Arthur Hughes.
YOUTH REPORT
There is a match report on Sunday's Youth team game against New Mills in the Youth Section.
OLD BOY
FCUM's scorer in their 2-1 defeat by Matlock Town this weekend was former Alty winger, Carlos Roca.
BSP NEWS
"During time added on in the first half in the Forest Green Rovers v Oxford United fixture...on Saturday, Assistant Player/Manager Jerry Gill left the playing area behind the Oxford goal and collided with the hoardings. He suffered injuries to both knees but more seriously it is confirmed that he received three fractures to the right hand side of the face. One by the eye socket, one in the cheekbone and the other between the cheekbone and the nose... He is being admitted to a specialist clinic in Worcester on Monday and will remain there for three days whilst he is operated on to insert a plate and repair the injuries... It is anticipated he will be unavailable for some 4 weeks... Gill is still officially on loan until the summer from Cheltenham Town."

The visitors to Moss Lane next Saturday are Weymouth who report that "Weymouth FC fans will be raising their glasses to Stephen Beer this weekend after the Devon investor had his £300,000 investment into the club confirmed yesterday. Beer's generous cash injection, which has been born out of a love of football and the town of Weymouth, will go a long way to easing the debts at the Wessex Stadium. But he is the first to admit that a sound business plan must be put together with the support of the local community if the club is to finally find stability.

Supporters have already played their part and have pledged more than £70,000, with at least £38,000 already being handed over. The cash-strapped club issued a million share issue valued at 50p each and the take-up in this difficult financial climate has been astounding. Business people in the town now need to show their colours.

Yes a consortium has already had a take-over bid rejected by the club but now they need to reconvene and reconsider what they can offer to the club. If the Terras can get to the end of the season and maintain their Blue Square Premier status then the real work needs to begin... [Beer] has admitted that he has made a big sacrifice by putting the money into the Terras and is encouraging people to join him... The current structure of the club still remains uncertain... Beer's cash injection sees him own a 48 per cent shareholding in the Terras but he does not want to be involved in the day-to-day running of the club... We will hopefully find out more on the Terras' future at a Press conference on Tuesday".
---
8 March 2009
SUNDAY GAMES
Crawley T. 4 Weymouth 2
Ebbsfleet U. 0 York C. 0
League table
GRAYS ATHLETIC 2 ALTRINCHAM 1
Match report here.

After the game, Alty assistant manager Graham Barrow told the NL Paper, "We deserved a draw from the game. In the first half we coped with everything that was thrown at us. One thing Grays did today was they stuck away the couple of chances they had [as the NLP match statistics verify - 2 shots on target, 2 goals]. Our finishing wasn't up to the quality they showed. If you were critical of any department in our team, you'd have to say it was up front. The lads put their bodies on the line in defence and midfield. If we'd shown the same desire in the attacking third, we'd have been a lot better off".
OLD BOYS
Amongst the "old boys" scoring goals on Saturday were Rod Thornley for Ashton United, for whom ex-Alty youth and reserve player Ben Deegan returned after suspension. Steve Aspinall scored for Colwyn Bay but the leading scorer for FC United, Kyle Wilson may be out for the rest of the season with ligament damage. Ex-Alty reserve Richard Chetcuti scored for Warrington Town.

Paul Ellender (34) has rejoined Boston United on loan from Alfreton Town. Ellender holds the League appearance record for The Pilgrims and remains their costliest signing. Radcliffe's Richard Battersby has signed forms for Salford City.
---
7 March 2009
GRAYS ATHLETIC 2 ALTY 1

Above: Matt Doughty hammers home Altrincham's last-gasp penalty.
Match report here.
RESULTS
Saturday 7th
Cambridge U. 2 Burton A. 0
Eastbourne B. 1 Wrexham 0
Forest Green R. 3 Oxford U. 3
Grays A. 2 Altrincham 1
Kettering T. 1 Histon 0
Mansfield T. 1 Lewes 0
Northwich V. 0 Stevenage B. 1
Salisbury C. 0 Kidderminster H. 0
Torquay U. 1 Rushden & D. 1
Woking 1 Barrow 0
Through the Years by Howard Watts.
BEFORE THE GAME
Alty's opponents today, Grays Athletic, yesterday signed striker Bradley Hudson-Odoi who has been with Hereford United and Fulham. Bullsnews adds that he "has joined Grays on loan after a trial spell. The former Fulham trainee has not played for the Bulls since November, missing out on 17 games since starting the League match against Northampton. He remains the second top scorer, tying on three goals with three of the club's loan players, after ten starts and ten sub appearances for the Bulls". Grays also say that "Bradley has also featured in the Ghana U20 International Squad".
STAFF v SUPPORTERS
The Altrincham FC Staff v Supporters' fixture this year will give those playing the chance to run out at Moss Lane for a ay kick-off at 3pm; the date is bank holiday Monday, May 4th. Vice-chairman Grahame Rowley is putting together a 16-man squad and the bargain price to be a member of it is just £25; kit (except boots) is provided.
SETANTA REVIEW
The Digital Spy claims that "Setanta has launched a comprehensive review of its entire pay TV offering, it has emerged. According to The Irish Examiner, the international sports broadcaster is trying to find ways to develop its business after losing half its Premier League live TV rights to Sky in early February. Analysts have warned that Setanta may not be able to survive in its current form because the loss of the Premier League rights could impede its ability to attract a sufficient number of subscribers. The company appointed Close Brothers merchant bank to raise £159m in new funding to try and buy some games back from Sky after the decision was announced. However, some press reports now indicate it is trying to renegotiate its entire complement of rights deals in case it needs to pare back its channels to a core offering".
BSP NEWS
Carlisle United say that "midfielder Luke Joyce will join Andy Preece at Northwich Victoria next week on a one-month loan deal. Joyce, 21, has made nine appearances for the Cumbrians this season... Former Carlisle hero Preece enquired about the availability of Joyce... when he cast aside his BBC Radio Cumbria commentary duties to speak to manager Greg Abbott about the possible move. Abbott said: 'Luke would actually have joined them today, ahead of their home game against Stevenage on Saturday, but he picked up a knock to the top of his foot in training yesterday. What we will do now is wait until the bruising goes down, and he will then be able to join Andy at Northwich.'".

Northwich Victoria add that "Vics' caretaker manager Andy Preece has made two new signings, the players registrations have been rushed through in order to make both available for selection this weekend. Kyle Perry on loan for one month from Port Vale. Kyle signed for Port Vale after starring for non league Chasetown in an FA cup reversal against the Potteries club. He is a highly rated young striker whose recent achievements include a hat trick of goals for Vale Reserves. Age 22, height 6' 5", weight 14st 2lbs... Vics have also signed a former Manchester City and Northern Ireland midfielder Jeff Whitley, from Woodley Sports FC. Twenty-nine-year-old Whitley... is a free agent having left Wrexham last May, but since then he has been training with Wolverhampton Wanderers".

Meanwhile, the Northwich Guardian says that "Jeff Whitley is being given the chance to rebuild his career at Northwich. The ex-Northern Ireland international penned non-contract terms with the Blue Square Premier strugglers after leaving Woodley Sports. 'I'm sure he can come in and do a job for us', said caretaker manager Andy Preece. 'With Joel [Byrom] suspended it leaves us desperately short of cover in midfield, so hopefully Jeff will slot in there'... Northwich is the latest stop on his road to recovery following battles with alcohol and drug addiction in recent times. The Zambia-born midfielder, who had a trial for Vics under previous manager Steve King... He will be joined be another new face on the pitch tomorrow afternoon – long-time Vics' target Kyle Perry. The striker has signed on a month-long loan from Port Vale and is expected to replace banned Jonny Allan in attack".

Weymouth Football Club "will be holding a Press Conference on Tuesday 10th March at 1.00pm". It will presumably announce the saving of the club by Steven Beer's investment of £300,000. Indeed, the Football Conference signals this with news that "Having signed Jermaine Palmer earlier in the week, Weymouth have re-signed defender Sam Cutler and midfielder James Courts. They have also signed striker Jake Hyde on an emergency loan from Swindon Town".

Cambridge United player/assistant manager Paul Carden has won the Blue Square Premier 'Player of the Month' award for February.

"Forest Green defender John Hardiker has been suspended by the club on disciplinary grounds" reports This is Glos. "The former captain has been absent from Rovers' last two matches, and the club today confirmed that the suspension has been in place for a week. An offical statement reads: 'Forest Green Rovers can confirm that John Hardiker was suspended as of Friday, February 27, from attending all matches, training and the club premises for matters which are unrelated to Forest Green Rovers or any of its management and staff... The club await a formal reply from the player... The player has 14 days in which to respond. The club will not make further comment on the matter until that requisite time period as passed".

This is Nottingham says that "Rising stars Scott Garner and Louis Briscoe have signed contract extensions to remain at Mansfield until the summer of 2011... with both handed 18-month deals... Central defender Garner has missed just one game through suspension since arriving from Leicester City. Briscoe, who came from Holdsworth's old club Ilkeston, has proved a danger with his pace and power in attack". Meanwhile, "Town have taken on three trialists – while a fourth is expected to arrive on Monday. Full-back Elijah Reid, 19, comes in from Sheffield United while goalkeeper Neil Collett, 19, and central defender Bradley Jones, 18, have previously been at Coventry City. The quartet will be completed after the weekend by a former Leeds United player. They will hope to win a deal with the Stags as Gianluca Havern successfully did shortly after David Holdsworth's arrival as manager".

The Argus reports that "Lewes's longest-serving director cited a failure to act after a dismal FA Cup exit as his reason for stepping down. Steve White resigned as a director last October following the costly cup exit at the hands of minnows Leiston. The club did not announce his resignation because they wanted to portray a united front during a bleak period which has left them on the brink of administration. But White, who also needs to concentrate on his own business, has now confirmed he has stepped down. He wanted changes at the top following the FA Cup defeat, and for manager Kevin Keehan to step down or aside.

White does not blame Keehan for all the problems this season but was never fully convinced by the management changes last May and was left marginalised in his main role by Keehan's dual appointment as commercial manager. After joining Lewes in 1998, initially as chairman, White was commercial director for the best part of a decade before Keehan joined... 'Things were not seen to be changing and I couldn't put any more in. I had done all I could. I have been around since October helping Martin (Elliott) and the board in terms of PR work... and helping out on the tannoy which I don't enjoy but it has to be done. I am still trying to help... It is phenomenal because we have gone from the bottom of the non-league pyramid to the top. When I first got involved I remember going to one newsagent in the town, asking him to sponsor the club for £25 and he said, 'You are joking, Lewes always lose'... Last year we brought in £120,000. Back then it was hockey and rugby that were the dominant sports in the town and now it is football. Attendances were 25 people and a dog and I used to have to wash the kit occasionally. The pitch was a cabbage patch but look now at it now and the facilities we have. For me it is mission accomplished... It can comfortably operate from mid-table in Blue Square South. The people involved now have been there for eight or nine years and it needs fresh blood but we have been trying to get people on board for three years'".

From the Sussex Express we learn that "Lewes boss Kevin Keehan still believes he has the backing of the Dripping Pan faithful despite failing to record a home win in nine matches. The Rooks fell to their 12th consecutive league defeat against promotion chasers Histon at the weekend and the final whistle was greeted with boos from the Lewes supporters... 'To be honest, the boos have been there for most games this season but it's only a small group of them doing it. I still have others coming up to me, telling me to keep getting on with the job'" he said. The Express adds, "And with this comes the news of the departure of Seb Wallis-Tayler from the club, with Keehan being forced to sell the defender in order strengthen his squad".
BLUE SQUARE & RED NOSE DAY
The Bird Consultancy, which handles public relations for the Football Conference is launching a Blue Square Comic Relief campaign and have issued the following press release:

'SQUARE UP' TO BLUE SQUARE AND RAISE MONEY FOR RED NOSE DAY

Right: oxford United supporter, Timmy Mallett, shows off his red nose.

Blue Square, proud sponsors of the Football Conference, are looking to make Saturday 14th March a special fundraising day for Comic Relief through their exciting keepie-uppie challenge "Square Up". By taking part, you the fan will have the opportunity to win £10,000 and a trip to Wembley!

In order to raise money for Comic Relief, Blue Square are appealing to home clubs and fans to join in with the spirit of Red Nose Day by getting involved on Saturday 14th March.

At half time at each home game on the 14th March we would like to see as many clubs as possible invite four fans, home or away aged 18 and over, to take part in the keepie uppie "Square Up" Challenge. To be in with a chance of being invited onto the pitch to take part, we would like clubs to choose fans who have come dressed for the occasion …… wearing their Comic Relief Red Nose!

Each fan will have 3 attempts to do as many keepie uppies as possible with the square ball. The fan who scores the highest on a single attempt will win a £25 Blue Square betting voucher and £25 will be donated by Blue Square to Comic Relief for each club taking part.

Blue Square's Sponsorship Manager, Matt Cook, says: 'This is a great opportunity to encourage clubs to get their fans involved in the 'Blue Square' challenge and at the same time raise valuable funds for Comic Relief'. Matt adds: 'Just £15 can pay for two months' worth of basic provisions, giving an orphaned child in South Africa the chance to go to school rather than have to work or walk miles a day to fetch wate. If all 30 games taking place on the 14th March partake in the 'Square Up' challenge, we will be donating £750.00 to Comic Relief'.

So come on fans, get your Red Noses on and get down to your local Blue Square Premier, North or South club on Saturday 14th March and help those less fortunate. Who knows, your generosity might lead you onto the Wembley pitch at the play-off final with the chance to win the phenomenal £10,000 prize!".
NW NEWS
The Tameside Advertiser says that "Ashton United has sought to clarify the club's position following the news that Danny Johnson's wage bill had been reduced. Johnson told the Advertiser last week that the financial hit left him giving his squad a choice of a wage cut or leaving Hurst Cross. Much to his satisfaction, his squad agreed to a wage cut until the end of the season... The club insisted that the move was necessary in the current financial climate. A statement said the cut "only represents a return to the weekly wage bill that was agreed with the manager prior to the commencement of the current playing season. A spate of injuries to key players in the opening weeks of the season led to a situation where the club increased the wage bill to allow Danny to bring in replacements on a temporary basis. The intention was always to bring the wage bill back down to the agreed level at the earliest opportunity... A reduction in income from the social club, due to reduced levels of business, made this inevitable... The population of Ashton has failed to come out and support the team in reasonable numbers and this, allied to the reduction in trade through the social club. left only one course of action open to the board of directors". Stephen Rose, Rod Thornley, Ben Deegan and Alex Frost are amongst the ex-Alty men at the club.
OLD FOES
Having seemingly been saved, there is more bad news fropm NL Daily about an ex-Conference team. "Merthyr Tydfil have less than seven days to stave-off extinction after Wednesday night's home match against Farnborough was called off. The game was in doubt because the electricity had been cut off at Penydarren Park over unpaid bills and, although the Martyrs will play their game at Gloucester City on Saturday, the club is battling to stage next week's home match against Clevedon Town... Merthyr's plight hit the headlines two weeks ago when it was revealed they were massively in debt and owner Wyn Holloway said he was not prepared to carry on bank-rolling the club. No solution has been found either to the stand-off between Holloway and the Merthyr Tydfil Fans Trust. 'We have given the club £40,000 in the last eighteen months', said John Strand from the Trust. 'Our board have unanimously decided we are not going to offer more money. We want to own and run the Merthyr Tydfil as a democratic, community club. We have offered to take the club and the debts over and run it, but that was not agreed'".
---
6 March 2009
GAMES OFF
Thursday 5th
BSP: Weymouth v York OFF
Setanta Shield: Crawley v Ebbsfleet OFF - both due to waterlogged pitches
KICK IN THE TEETH
The Sale & Altrincham Messenger quotes Graham Heathcote. "Stevenage was a kick in the teeth and I felt sorry for the players because they had done all we asked of them in terms of playing some football and imposing themselves on the game. There were bright spots at Kettering as well and, for 25 minutes either side of half time, I thought we were the better team. We have to convert a better percentage of chances and we have got to tighten up. We are giving away too many needless freekicks for daft things like pushes and nudges and that has cost us dearly. We are an experienced bunch who should know better and we have got to wise up and starting making sure we close games out". As for our next match Graham said, "The reports I've had over the past month tell me Grays are better than their position suggests. I fully understand the financial problems we're all facing but if as many fans as possible can turn out over the next few weeks it would be hugely appreciated by all the players and myself".
"HUGE GAME" AT GRAYS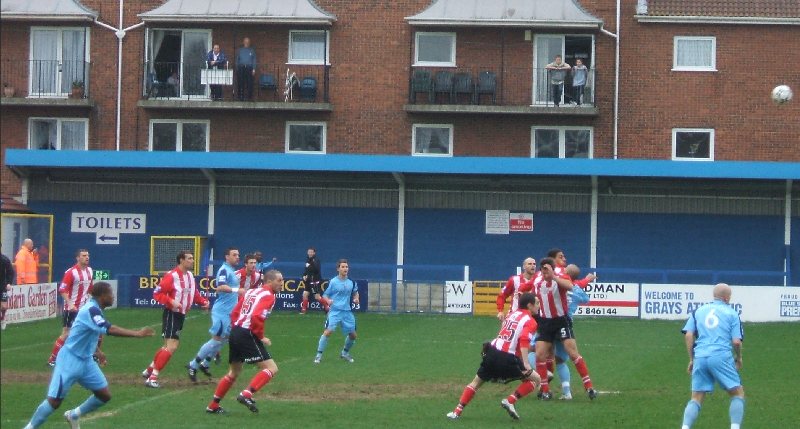 Above: Alty lost 1-0 at Grays last season with a very different side from the current one. The line-up up on 15 March 2008 was 1. Stuart COBURN; 16. Ryan SHOTTON, 5. Darren TINSON (capt), 10. Greg YOUNG, 4. Ryan LYNCH; 15. Chris LANE; 23. Ryan TOULSON, 7. Robbie LAWTON, 25. Liam KING, 11. Warren PEYTON; 9. Colin LITTLE. Subs: 3. Gary SCOTT, 13. Richard ACTON, 17. Richard BATTERSBY, 19. Chris SENIOR, 20. Carlos ROCA. Only 8 of the 16-man squad that day are still at the club.
Grays Athletic is the only club which Altrincham have not yet faced this season but this Saturday could well be our last visit to their current ground as the Essex club reports that "It appears yet again that Grays Athletic Football Club has been left in an isolated position regarding what is to happen once the lease expires at The New Rec. The club is required to give an indication to The Football Conference by 31st March 2009 on the issue of what are we going to do when our lease expires and with the days passing quickly the Local Authority along with Capita Symonds who are carrying out the feasibility study on a possible new stadium complex have informed us that this information will not be ready to put to Council until the end of April beginning of May 2009. This highlights to the club that only one option is available to the club in informing the Conference League by 31st March 2009 that for the season 2010/11 we will need to ground share.
Problems that we have already encountered in finding a place to play have been numerous and the overall view of staying at the New Rec is not financially suitable for a new ten year lease to be entered into... Our own near neighbours Dagenham & Redbridge have been afforded the privilege of £450,000 by the Local Authority in building a new stand. Woking again [is] another example of how the Local Authority has helped out with planning and finance... GAFC have waited for too long for an answer to its problems regarding this issue and now the Chairman and CEO are to meet on Friday 6th March with the Leader of The Council in an effort to get answers regarding the situation this club finds itself in due to lack of response from decision-making parties. The club thinks it fair and reasonable that its supporters know this information... Thurrock Council have cancelled the meeting for Friday and have now relisted the meeting for next Wednesday 11th March 2009, where the leader of Thurrock Council has invited other Departmental Heads to listen to the ongoing problems with Grays Athletic Football Club".
Your Thurrock says that "The cold, cold reality is that Grays Athletic have not won a game since January 1st. The question is whether they will win any of the fourteen games left? On this evidence [v Torquay] the answer has to be no... The fact is that in every game, it is not a question of Grays looking like fodder or out of their depth. They look like combative competitors. It seems a done deal, that they will lose by one goal to those at the top and draw with the relegation candidates. The big question is how will they fare with the middling teams? The answer will come on Saturday. If Altrincham prove to be one goal better then it doesn't look good. Altrincham's away form is pretty wretched with three defeats and a draw.
The club have gone to great lengths to issue free tickets to all 42 infant and junior schools in the borough so there should be a big crowd to watch this vital fixture... Ishmael Welsh continued to give defenders a very hard time but at times you feel his crosses are aching to be met by a bustling centre forward. Barry Cogan and Andy Pugh showed a high degree of skill in close control and twisting and turning but you started to feel that Grays were playing with a man short. Tyrone Berry was attacking manfully down the right, much more assertively than on Saturday while at the back Fabian Wilnis and Jamie Stuart simply never put a foot wrong. Stuart Thurgood continued to hunt and gather... Andy Pugh continued to plough a furrow up front...It will take all of Gary Phillips' positive powers to get the players back up for Saturday in what is now shaping up to be a huge game".
"First team coach Shaun North believes that Torquay United's 2-1 win at relegation haunted Grays Athletic might turn out to be one of the Gulls' most valuable results of the season. 'It was a very important game for lots of reasons'" North told This is South Devon. "There was the weather, the conditions, and Grays are always very difficult to beat at home. I think Grays are better than the table makes them look". Grays manager Gary Phillips said: 'Torquay had three or four chances and took two, we had five or six chances and took only one — that's why Torquay are at the top and we're at the bottom. It's a cruel game. Maybe we were a tad naive at the end, but every small mistake we make, we get punished for at the moment... We played some lovely stuff at times, but we haven't taken our chances'".
Details of the supporters' coach to Grays are on the Away Travel Page.
OLD BOY
Mike Brown, the former Alty reserve, lashed home a 35-yard freekick as Abbey Hey beat Ashton Athletic last week. Former youth team striker Tom Bailey scored as his Glossop NE side won 2-0 at Silsden on Wednesday.
FLEET BACKLOG
Altrincham have a midweek trip to Kent on 31 March where Ebbsfleet United confirm that Thursday's "away tie at Crawley Town in the Southern Area semi-final of the Setanta Shield has been postponed because of a waterlogged pitch... It leaves the Fleet with a further fixture headache in a competition that has already been delayed. The final was originally scheduled for tonight but there is still the Southern Area semi and final to complete as well as the Northern final before the final itself can even be scheduled".

Barrow have a similar problem. "Barrow's Setanta Shield Semi-Final tie will now be played, at the third time of asking, on Tuesday March 17th... The instruction from the Conference, to cause least disruption to all, means that a new date will need to be found for Cambridge United's trip to Holker Street... Tuesday's postponement meant that should Barrow progress to the Final they would have at least 1 midweek with 2 fixtures. It is hoped to make this as spread out as possible and avoid any blank midweeks which would cause a second hectic one! A date for the outstanding trip to Wrexham will also be announced before the weekend. The Setanta Shield final will take place on Thursday March 26th hosted by the club with the higher league placing at the playing of the semi-finals on March 17th".
BSP NEWS
"Northwich Victoria has slashed gate prices to attract more people to the Marston's Arena this weekend" states the Northwich Guardian. "Adults will pay £10 to watch Saturday's home date with play-off hopefuls Stevenage Borough, which marks the return of former manager Dino Maamria for the first time since his controversial exit. The club hopes to attract a four-figure crowd to greet him. 'That would be nice', said owner Jim Rushe. 'We've got a lot of home matches coming up in a short space of time, so we wanted to do something to tempt supporters back to the stadium'. Vics will play nine of their remaining 14 matches in front of their own supporters after being locked out of their home ground at the start of the year. That's 27 points up for grabs. Just 479 turned out to watch Vics' return to the Marston's Arena after a 37-day lock out against play-off hopefuls Kettering Town last week".

Meanwhile, "Andy Preece will have to redesign Vics' attack for Saturday's visit of Stevenage. Creator-in-chief Joel Byrom and front runner Jonny Allan will both sit out the clash with Boro through suspension... 'It's a bit of a sickener to be honest', said the caretaker manager. 'To lose two forward players is a blow we could have done without'... Another forward, Darryn Stamp, is also banned... Vics are the worst behaved team in the Blue Square Premier so far this term, accruing a huge 74 cautions and six red cards in their 33 league matches to date. Midfield enforcer Matty Crowell is another facing an enforced stop as he is one yellow card away from 10 for the season".

NL Daily says that "Oxford United are ready to step up their planning for the future by offering some of their best-performing players new deals. Manager Chris Wilder feels it's important to make offers to some of the players who have helped the U's on a superb winning run this year... Leading scorer James Constable and the versatile Adam Chapman are likely to be top of his list. Wilder said: 'We've raised the bar and raised expectations over the last couple of months. We've won nine, drawn one and lost one since that Salisbury game when there was really no time to prepare the team as I had wanted. That's a fantastic record when, as some people have said, the team has been chucked together... You hear some managers and chairmen talking about five-year plans, or three-year plans. Sometimes it's a load of rubbish. Our plan is for us to win the next game – that's how it is in football... What division we might be in next season doesn't make any difference', Wilder added. 'I'd like to think the players we do sign can handle the level above, should we be in a position to be there... The teams that have gone up have generally gone on to do well'. The U's have already begun preliminary talks with Shrewsbury about keeping Constable, who is on loan for the season. Chapman, who can play in midfield or defence, is another that Wilder would love to hang on to, but his parent club, Sheffield United, may not want to let him go" states the Oxford Mail.

"Reports that Histon would be denied a day out at Wembley if they were to reach the Blue Square Premier play-off final have been quashed by league officials" reports the From the Gravesend reporter we learn that "Ebbsfleet United head coach Liam Daish says he cannot understand why his side had to sit out a Saturday ahead of a major fixture pile-up. Tonight's Setanta Shield game against Crawley Town [postponed] is the start of 10-day period in which Ebbsfleet will play four matches. Daish admitted he was bemused that the Fleet did not have a game scheduled for last weekend, something that would have eased the pressure ahead. 'I don't see how any club at our level can't have a game on Saturday', he said. 'It doesn't make sense for financial or fixture reasons. I cannot do anything about it, but if you do well in the cup competitions you seem to be punished. I am a little perplexed as to why we didn't have a game at the weekend. There isn't a professional team in any other country that would be put in this situation'. There will, however, be no let-up until the final round of matches on April 26 with the Fleet almost certain to face a minimum of 14 outings in the final five weeks of the season.

At least three of those weeks will see the former Republic of Ireland international's men have to deal with two midweek ties as well as the normal weekend run-outs. Ebbsfleet are precariously placed in the Blue Square Premier, just one point clear of the relegation zone... Daish also confirmed that he is likely to have to strengthen his squad to deal with the player exhaustion he fears will be inevitable... 'I will have to bolster the squad so that I can bring fresh legs in when needed', he added".

The Dorset Echo reports that Malcom Curtis, Weymouth's "former chairman is believed to be owed close to £250,000 in loans made to the cash-strapped Terras. Potential new investor Stephen Beer is on the verge of saving the Wessex Stadium outfit by donating £300,000... Curtis said: 'Whether it's the window cleaner or the biggest creditor, nobody can afford to write off what they are owed. But just because Mr Beer is about to invest, it doesn't mean I'll be banging the door down looking for all my money back straight away... I want to work with the new investor and the board. I am committed to delivering a new stadium for Weymouth and so we all have to work together'... Curtis has made himself available for questioning by the Football Association's compliance department who are currently investigating financial and administrative procedures at the club".

The Football Conference adds that "Troubled club Weymouth have signed striker Jermaine Palmer on a non-contract basis. Palmer has previously been with British Gas Southern League Premier Division Club, Halesowen Town".
---
5 March 2009
GOALS OF VARYING VALUE
Altrincham have scored a goal in each of their last seven league games but with varying results. A solitary strike has won us two of the games, drawn two more for us but has not stopped us being defeated in the other three matches.
CHRIS MAKES HIS MARK
News of an Alty current player and some old boys... Stalybridge Celtic won 7-1 on Tuesday after "Celtic came racing out of the blocks with loan signing Chris Denham latching onto a through ball from Briggs of perfect weight, and running straight at Mackenzie in the Hinckley goal. With the Hinckley defence struggling to catch the zippy winger, there was only one outcome, and Denham (right) coolly slotted the ball into the corner of the net inside five minutes.. Another Denham speed boost took him past Bradshaw, and the Hinckley defender up ended Denham. A clear penalty and it was given. Torpey elected to take the spot kick, but Mackenzie did well to get across and palm the ball away... Denham: another surging run had the defence back peddling, but this time his low drive hit the upright". Lee Ellington was another ex-Robin in Celtic's side against Hinckley United but Richard Battersby was an unused sub.
OLD BOY
Best wishes go to Macclesfield Town's James Jennings who is reportedly sidelined for the rest of the season with ligament damage.
NEXT GAME
News of our next opponents comes from the Thurrock Gazette. It says that "Grays saw their bid to escape the relegation zone suffer a massive blow on Tuesday night when they were beaten by an 87th minute goal... As part of the Grays Football Foundation's incentives for football in the community, Blues have issued every Infant and Junior School in the borough with free child tickets to the Grays Athletic vs Altrincham fixture on Saturday March 7. There will be further initiatives including coaching sessions for local children".
LAST GAME
On Tuesday, Kettering Town "reached the 50 point mark in the Blue Square Premier League by beating Altrincham 3-1 in a game dominated by heavy rain and strong winds... Marna's first goal of the day couldn't have got Kettering off to a brighter start, arriving just 9 minutes after the action began. The Poppies had the advantage of the wind... Kettering failed to capitalise and take control of the game... Altrincham rode the storm and began to create some chances of their own as the second half drew on".

On the same theme, the Northants Evening Telegraph says that "It may come as a surprise to many that this clash actually finished despite the farcical conditions. Puddles of water were clearly visible on the A-Line Arena pitch when Jean-Paul Marna fired in his second goal of the night... A late Brett Solkhon header eventually finished off the challenge of Altrincham, who certainly put up a stern fight for long spells. No-one could have blamed referee Mr West if he had abandoned the game around the hour mark as the pitch became saturated. But his decision to continue was about the only one that went in the Poppies' favour as he was pretty unpopular with the home fans all night... It was Altrincham who enjoyed the better of the first half and Chris Senior was desperately unlucky to see his low shot bounce off the post... Robins boss Graham Heathcote earned the respect of the A-Line Arena when he ordered his players to pass a corner back to the Poppies after a wayward shot had deflected off Branston who was down with an injury... The conditions turned farcical" but the Poppies secured the points.

"Kettering Town manager Mark Cooper praised two-goal hero Jean-Paul Marna's work-rate... The 27-year-old French striker made it four goals in five matches... 'If he keeps scoring he stays in the team, it's as simple as that', Cooper told BBC Radio Northampton. 'And anyone who wants to play in my team has to be prepared to work hard'".
PLANNING AHEAD
The website has received the following e-mail relating to our last game of the season at Cambridge United on Sunday, April 26th. Hopefully we will be celebrating the prospect of another season in the BSP!

Hi, My name is Andy I am the manager of the 7 Stars public house, Newmarket road Cambridge. I would like to inform you that we welcome away supporters in the pub for games against Cambridge United. We are one of the closest pubs to the ground (just a 5 min walk away) and offer a small bar snacks menu with our prices ranging from £2.00 t0 £4.50 for burgers, chips & scampi etc. Children are most welcome, with a pool table and we are one of the only pubs in the area showing Sky Sports. I hope this information might be of some use to you with your up and coming game against Cambridge Utd.

Yours, Andy Pannett.
BSP NEWS
The winner of the Blue Square Premier February Manager of the Month is Gary Brabin of Cambridge United.

"Northwich Vics claimed their second consecutive clean sheet under new management on Saturday with a 0-0 draw at Barrow" reports the Mid-Cheshire Chronicle. "Despite seeing their hosts go down to ten men on the hour, Steve McNulty being sent off for abusive language, Vics could not press home their advantage in front of 1,437 at Holker Street. It was the Marston's Arena outfit's second point in two games having earned a 0-0 draw with Kettering last week. Former Man City star Andy Morrison is now assisting caretaker boss Andy Preece with first-team affairs, after ex-manager Steve King left the club last weekend. Morrison said: 'We have worked at one aspect with the team and now we have proved that we can stop sides scoring against us. But it's up to us to work on the attacking side now and find a goal from somewhere'".

"Andy Preece says Blue Square Premier survival is attainable... The fourth manager to take control of Northwich Vics this season... Preece has his eyes fixed firmly on the teams above the Conference relegation zone but the 41-year-old...said: 'The players have been absolutely fantastic so far. There have been a lot of problems here with regards players' wages not being paid but they have still given everything. They are working their socks off and they have responded well to what me and Andy (Morrison) are trying to do on the training pitch. There's still about a third of the season to go. Nobody can say we are out of it just yet'... Vics' owner Jim Rushe confirmed that Preece and Morrison would be in charge of first team affairs indefinitely".

According to the Dorset Echo, "Malcolm Curtis has today played down speculation he is set to call in his debt from Weymouth Football Club. The former chairman is believed to be owed close to £250,000 in loans made to the cash-strapped club. Potential new investor Stephen Beer is on the verge of saving the Terras by donating £300,000 and some fans fear that Curtis will demand an immediate repayment... The property developer said: 'With someone about to invest £300,000 into the club all creditors, including me, obviously see it as a positive sign because we all want our money back at some stage. But just because Mr Beer is about to invest, it doesn't mean I'll be banging the door down looking for all my money back straight away. That would be counter-productive as far as the club's future is concerned'.

Meanwhile, "Weymouth boss Alan Lewer is hopeful that ex-Cambridge United defender Gavin Hoyte and Peterborough United duo Kwesi Appiah and Billy Crook will all turn out for his side in [Thursday] night's clash with York City at the Wessex Stadium. The trio played for the Terras in their 2-0 defeat against the Minstermen on Saturday and are now all in line to make their home debuts while Manchester United Academy youngster Kenny Strickland is a doubt. Lewer said: 'The two lads from Peterborough will play because Barry Fry is paying their wages and expenses. Gavin Hoyte will also travel down but at the moment I am not so sure about the lad from Manchester. Obviously the club is still waiting for things to be sorted off the field at the moment so we are still working very much day to day'. Free agents Stephen Reed and Cameron Mawer, who are still owed two months wages from the club, are also likely to play again tomorrow along with ex-Dorchester Town keeper Simon Evans. Lewer added: 'I have also spoken to Sam Cutler, who could have signed for Cambridge United but would still like to stay here with me. However, like I said, until things are sorted out I cannot offer anything'. Weymouth officials are still waiting for the proposed deal with Stephen Beer to be finalised. The Devon businessman is looking to invest £300,000 into the troubled club, with the funds expected to be in the Terras' account by Friday".

A new source of news for us is the Elmbridge Guardian which reports that "Former Kingstonian winger Dean Lodge has denied he is about to make a dramatic return to Kingsmeadow despite training with his ex-team mates last week. The 22-year-old quit in November last year to sign a full-time contract with Blue Square Premier strugglers Northwich Victoria... Lodge, who has not featured for Vics in their last two league games... But he insists 'People shouldn't read anything into the fact I've been around the club recently. Things could be going better at Northwich because we are still at the bottom of the table, but I'm still contracted to them and I'm happy to see that through'... Lodge insists he is still enjoying the experience of playing football for a living and does not regret swapping a title challenge for a relegation battle. 'I'm still learning so much every day, just in training and am still happy at the club. It was an opportunity I couldn't turn down', he added. 'I was dropped recently for not working hard enough, but I'm getting back and just want to help the team.'".

The Sussex Express says that "Some uncertainty surrounds Lewes FC's expected appearance in the Royal Courts of Justice today [Wednesday]. We reported yesterday that the club was facing a winding-up petition lodged by Portakabin Ltd, with the case due to be heard at some stage after 10.30am. And the chancery division website today lists "'Lewes 2000 FC Ltd' to appear towards the end of an extremely long list of cases... But Lewes FC chief Martin Elliott today said he had no knowledge of a court appearance today, saying he believed the case wasn't due to be heard until Monday next week... Mr Elliott said, 'We have taken advice (on administration). I can see it from both sides. Clubs tend to chance ownership under adminstration. We have had no confirmed interest from any parties following 18 months of chasing people... We have a meeting this afternoon with legal and insolvency advisors and we spoke to legal advisors the other morning. We are doing everything in our power to avoid Portakabin winding up the club. One way or the other we will deal with Portakabin'... Portakabin Ltd are one of Lewes FC's largest creditors and are owned somewhere between £10,000-20,000".

The Express adds that the petition "to wind up Lewes Football Club has been adjourned until Wednesday, April 1... The petition, brought by Portakabin Limited, was heard by Registrar Derrett at the companies court. A deadline of March 26 exists for clubs entering into voluntary administration if they are to have their 10-point deduction this season and not next".

The man trying to coordinate a rescue of Lewes said, "After requesting on numerous occasions financial information and receiving limited and unsubstantiated (no asset register, balance sheet etc) response, it has not been possible to invest in the current set up. There are sufficient investors waiting to buy the club from administration... I am positive the club WILL survive post administration. The problem may well be that this route does not best serve some people's interests (which I can quite understand) and they may delay and stumble along in the hope of retaining control somehow. However in my opinion if no viable plan by the current BOD is on the table within the next ten days and the club has not been placed into administration then it is most certain that those currently in control are not acting in the best interests of Lewes F.C.".

The Argus adds that "Lewes's Steve Elliott has joined Ryman premier side Hastings United on loan".

According to the BBC "Cambridge United striker Mark Beesley has been ruled out for the season after undergoing hip surgery on Tuesday... He told BBC Radio Cambridgeshire: 'I was talked out of playing on by [U's physio] Greg Reid, he knows more than me and is better qualified than me... The management and the board were both wanted me to have the operation. It's been ongoing for two or three months now'... The U's have moved quickly to replace Beesley, with former Weymouth striker Lee Phillips arriving on a deal until the end of the season". Beesley joined the U's from Forest Green for an undisclosed fee in January 2008".

The NW Evening Mail says that Tuesday's "Barrow AFC versus AFC Telford United Sentanta Shield semi-final tie at Holker Street was abandoned after 22 minutes for safety reasons due to high winds. Around 20 minutes before kick-off an iron sheet was blown off the nearby Bluebird Function Suite and landed on the pitch in the corner where the Popular Side meets the Holker Street end terracing. The Telford players and the referee were warming up in that half of the pitch when the incident happened. Referee Andy Halliday, from Ripon, immeadiatly took all the players off the pitch. Several other pieces of sheeting were removed from a roof on the same building before the game kicked off, 10 minutes late at 7.55pm. The tie was 22 minutes old when a section of one of the advertising hoardings on the pitch perimeter wall at the Crossbar end of the ground came loose and was blown onto the pitch. Mr Halliday immediately abandoned the game, which was goalless at the time. Afterwards the referee explained his decision, saying: 'If one of those items was to get a bit of speed on them, and the wind was very, very strong, it could have hurt someone really badly... At the end of the day, my sole thought is for the safety of the players and spectators'". The other semi final is yet to be arranged - it features Crawley Town/Ebbsfleet United v Forest Green Rovers.

According to This is Glos "Courageous Forest Green were more than a match for the Blue Square Premier's form team, and even the unlikeliest of victories would not have flattered the Nailsworth strugglers. Rovers boss Jim Harvey missed most of the match after being sent to the dressing room, standard punishment these days for excessive ranting from the touchline. He was given his marching orders in the 36th minute, incensed by the decision of referee Stephen Ross to award the hosts a penalty which was converted by Mitchell Cole. That cancelled out Andy Mangan's 19th goal of the season". 4 March 2009
THURSDAY
Weymouth v York City
KETTERING TOWN 3 ALTRINCHAM 1
Altrincham were comfortably beaten by Kettering Town in dreadful conditions at Rockingham Road. Lashing rain and a strong wind combined with an increasingly sodden pitch made it difficult for the players throughout. A 9th minute goal by Marna put Town ahead. He drove a left foot shot past Coburn following a clever dummy by Westcarr. Alty had a lot of the play in the latter part of the first half and went close twice. First Senior hit the post after cutting in from the right. Then Senior was inches wide from Doughty's cross on the half hour. A low 20-yard shot from Densmore put Alty level after 62 minutes but the visitors threw it away when Marna got free of McGregor and shot home. Following an unnecessary foul by Peyton, Solkhon was allowed a free header from the freekick to make it 3-1 in added time. MATCH REPORT HERE
SCORES
Tuesday 3rd
Crawley T. 1 Wrexham 0
Eastbourne B. 0 Oxford U. 3
Grays A. 1 Torquay U. 2
Kettering T. 3 ALTRINCHAM 1
Salisbury C. v Rushden & D. POSTPONED
Stevenage B. 1 Forest Green R. 1
Woking v Kidderminster H. ABANDONED at 0-0
Through the Years from Howard Watts
BSP NEWS
The BBC said before Tuesday's game that "Kettering boss Mark Cooper is sweating on the fitness of Dale Bennett ahead of his side's game against Altrincham as the defender has a leg muscle injury. Youngster Frankie Artus has returned to Bristol City after his loan, leaving Darren Wrack, Brett Solkhon and Andre Boucaud to vye for a midfield role. Altrincham manager Graham Heathcote has no new injury or suspension concerns for the trip to Kettering. Winger Alex Meechan could feature after returning from his loan at Stalybridge."

And the Northants Evening Telegraph added that "...Mark Cooper wants Kettering Town to finally get on the goal trail when they return to action against Altrincham... The Poppies had the weekend off and will be looking to boost their Blue Square Premier play-off hopes by extending their unbeaten run of four games. But to do that, Cooper knows his team need to start producing more goals with just 33 to their name from 28 league matches. They boast the best defensive record in the division but the worrying fact that John Dempster (five) and Alfie Potter (one) are the only players from the midfield or defence to find the net in the league shows where the problem lies. And Cooper believes that's clash against the Robins is the time for that particular issue to be resolved... He said. 'It is about time the midfielders started contributing in that department. The defenders also have their part to play – especially from set-pieces. You can't always rely on your strikers to get the goals and I really want us to start scoring all over the pitch'... Tonight's clash is the first of six successive home matches for Cooper's men. But he has warned his players to keep their minds focused solely on Altrincham who were narrowly beaten by high-flying Stevenage Borough at the weekend. 'We watched that game and Altrincham were very unlucky,' Cooper added. 'They are a really tricky team to play against. They have won at some impressive places this season already'".

Grays Athletic ". Midfielder, Stefan Bailey, has joined Farnborough FC on temporary transfer and Striker, Harry Hogarth, has returned to his parent club, Luton Town". Meanwhile "From now until the end of the season the whole of section one of the seated stand will be given over to all those who wish to stand, shout and sing for the team. This area is under cover and as such should amplify the sound from those who wish to get behind the team in a vocal way. We apologise to those who normally sit in this section but we want to raise the level of noise at The New Recreation Ground to spur the team on."

The Cambridge Evening News says that "George Rolls has hit out at Histon's decision to lock hundreds of Cambridge United fans out of the ground before last night's 1-1 draw in the local derby. ...The turnstiles for the away end were closed before kick-off, with queues of visiting supporters still outside... Many hung around to watch the game from the bridge overlooking the ground... He said: 'I'd have thought they'd have got segregation sorted out and there was obviously 400 or 500[?] empty seats in the home end. ... We had some outside with tickets who couldn't get in to watch the game. The safety advisory group changed it to a non all-ticket game, and there need to be some questions ..asked about that decision... I think Gareth (Baldwin, Histon chairman) will have a lesson learned here, because it's cost them £4,000 or £5,000.

But Baldwin defended Histon's decision to close the gates before the game. He said: 'Cambridge sold 590 tickets, so we gave them the whole of the away end and 300 seats in the home end... If I'm honest, we didn't think we'd get to capacity, but once we were, Trading Standards and our safety officer said no more fans in the away end. We could have accommodated another 600 in the home end, but when the ground is segregated, it is what it is. We had no choice but to make it pay on the day because we pre-sold 1,100 tickets, so it would have been commercial suicide if we'd stuck by that. If we play Cambridge again in the play-offs, it will be all-ticket and that would resolve it'".

THe Argus says that " Michael Standing has leapt to the defence of Lewes manager Kevin Keehan. Midfielder Standing, who is Keehan's nephew, believes some of the criticism his manager has been subjected to is unfair. The Rooks suffered a 12th successive Blue Square premier defeat when they went down 3-0 at home to Histon on Saturday. Calls for the head of Keehan were louder than at any stage of the season despite an attendance of just 345 at the Dripping Pan.

Standing said: 'I understand why the Lewes fans are so frustrated and upset. They get up to the highest level of non-league football, which with all due respect is the pinnacle of what they can achieve, and the manager and side that got them there are taken away... but to sing 'You have killed our club' is nonsense... I have never played under circumstances like this before. Half the squad is getting paid nothing and they are performing against teams like Wrexham and Oxford who I know have a £2million budget. Our budget is a third of last season. We haven't been training properly because the club can't pay to hire anything and we can't get on the pitch, which we understand, because so many teams play on it. We have got a third of a pitch to train on which we share with an under-10s side and a Sunday League team. We pay £30 for that which for the last two weeks I have paid out of my own pocket'...

The reason this club has shot up through the leagues is one man's wealth and generosity (managing director Martin Elliott). He couldn't carry on doing that and then it is not sustainable... The club has been living beyond its means for too long. I know I am biased because he is my uncle but I have worked under John Gregory, Graham Taylor, Brian Little, Bryan Robson, Jim Smith and Paul Merson and I am sure they couldn't have done any better under the circumstances. It is an impossible task. I do feel for the fans. If I was a supporter and the team and the manager had been ripped out I would be devastated but the reason the club is in this financial position isn't anything to do with Kevin."

The Kidderminster Shuttle says that "Andy Ferrell is set to be out for at least a month after undergoing surgery on a troublesome knee problem".

From This is Nottingham we learn that "David Holdsworth likened his Mansfield Town side to Premier League Everton, saying both need to add to their firepower... 'Everyone knows we are short of a prolific scorer up front', said Holdsworth. 'Otherwise, we are going to have to try to win 1-0 every week and I know we can't do that. I sometimes see us in Everton's mould. We are hard to break down and not the best footballing side because we haven't got that type of player... One player who will not be looking to add to the Stags' goal tally – before the end of the season at least – is Rushden striker Daryl Clare. A stumbling block is thought to be Diamonds' ...demands for a fee – believed to be £7,500... Holdsworth estimates Louis Briscoe will be out for another two weeks

This is South Devon says that "If new Grays manager — that's become an almost recyclable phrase in recent seasons — Gary Phillips continues as he's going on, he might yet haul the Essex club out of relegation trouble. For the Gravelmen, as they are affectionately known, may not score many goals (28 in 31 games so far), but they don't concede many, especially at the Recreation Ground.

Over the past 12 months they've had chairman Mick Woodward, Wayne Burnett and now former Barnet goalkeeper Phillips in charge... There are now eight [loanees] at the club. In goal is 19-year-old former Norwich starlet Steven Arnold, while at full-back are experienced Rob Gier – who joined last summer after spells with MK Dons, Rushden, Cambridge, Woking and Aldershot – and Kenny Davis. There are two interesting characters at centre-back.

Player-coach Jamie Stuart is a combative defender who's played for Charlton, Millwall, Bury and Southend. And Surinam-born Fabian Wilnis spent nine years at Ipswich after starting his senior career in Holland with NAC Breda. There are two grizzled merchants in central midfield — Tony Dinning (see player to watch ) and Stuart Thurgood, who left Spurs as a kid for a couple of years in China and has since done the rounds with Southend, Grays, Gillingham and back to Grays on loan.

Former Grays manager Mark Stimson, now boss of the Gills, has certainly done his best to help his old club, loaning out Thurgood, ex-Millwall and Barnet winger Barry Cogar and strikers Tyrone Berry and Andy Pugh. On the left wing is former West Ham and Yeovil man Ishmael Welsh... Up front Berry has had spells with Rushden, Crawley and Stevenage, while Pugh is a pacy youngster who's come up through Gillingham youth scheme.

... Another loan signing [is] Luton defender George Beavan, who is serving a three-match suspension. But there are further loanees on the fringes of the side — Barnet goalkeeper Rob Beckwith, Lewes winger Joe Tabiri and Southend striker James Lindie. Also hoping to break into the side are well-travelled midfielder Stuart Elliott (Darlington, Plymouth, Carlisle, Exeter briefly, Halifax, York), Jamie Slabber and Harry Hogarth."

The Dorset Echo says that "Former Northwich Victoria boss Steve King has expressed an interest in becoming Dorchester Town's next permanent manager...Chairman Eddie Mitchell said: "We haven't approached him, he's approached us expressing his interest in the job".

The Echo also says that "Midfielder Stephen Reed has committed his short-term future to Weymouth FC but only if the troubled club resolves its future in the coming days. The 23-year-old, who became a free agent eight days ago, has had offers from other clubs but has turned them down to stay at The Wessex Stadium despite not having been paid since the turn of the year... Reed said: 'I have had other options to go elsewhere but I have been told things are happening behind the scenes so I am going to stick around and hopefully we will be paid soon'... Chief executive Gary Calder held further talks with Beer yesterday and it appears the deal is close to being completed. Calder said: 'The negotiations are continuing to go well and now we are just waiting for everything to be finalised... The FA have been down and done their enquiry and have been shown everything they wanted to see. They are going to report back the truth'".
---
3 March 2009
BEFORE THE GAME
Before the game: Kettering Town say that "The Poppies face old adverseries Altrincham FC this Tuesday... The home side will be looking to get back to winning ways following the disappointing away draw against relegation threatened Northwich Vics at the same time last weekend... The two sides met early in the season at Moss Lane in a match with saw both sides come away with a point. Gareth Seddon opened his account for the Poppies in a spell of games when they were still finding their feet in the BSP. Now the Poppies have done so much more than simply find their feet, but if their play off hopes are to remain alive they will surely need to win against the latest visitors to the A-Line Arena."
FLYNNY AVOIDS RELEGATION
Congratulations to joint Altrincham FC press officer Brian Flynn who celebrated a significant birthday yesterday - the number of candles on his cake was equivalent to the number of points Altrincham are popularly believed to need to be safe from relegation this season!
HAVING A BALL
Alterincham vice-chairman Grahame Rowley says that "To try and enable more people to be able to afford to support our Sportsman's Dinner with guest speaker Mickey Thomas, we are now offering Two tickets for £60 (usual price £45 each). Why not get together with a friend or partner and come along to what we hope will be a great night, and raise some vital funds for your football club? Please e-mail or ring the club (0161 9281045) for further details".
YOUTH REPORT
Courtesy of George Heslop, there is a brief report on Alty Youth's good win at Bury Amateurs last Sunday on the Youth Page.
SATURDAY GAME
The referee next Saturday for Grays v Alty is Mr D Coote, a Referees' Development Officer responsible for the area of referee recruitment and retention, including the area of referee training for the Nottinghamshire FA. He is the man who sent off Anthony Danylyk at Oxford earlier this season. Amongst other Alty matches he has run include the 1-1 draws at Stafford and Halifax in August and January 2007 respectively.
This is Glos has news of our opponents this Saturday, Grays. Against FGR on Saturday, "Grays belied their billing as relegation favourites to serve up an energetic and enterprising display, rewarded with a magnificent second-half equaliser from former Forest Green loanee Ishmael Welsh... Welsh spent the final two months of last season on loan at the New Lawn from Yeovil Town, only occasionally setting pulses racing with his displays on the flanks". Grays' team was: S. Arnold; R. Gier, J. Stuart, F. Wilnis, K. Davis; B. Cogan, S. Thurgood, T. Dinning, T. Berry, I. Welsh; A. Pugh; Subs not used: J. Tabiri, S. Elliott, J. Lindie, J. Slabber, R. Beckwith.
PLAYERS IN SUSPENSE
The suspension rules for cautions are not always clear to spectators. Apparanetly they are as follows:
5 yellow cards prompted a one match suspension if incurred before March 1st.
10 yellow cards incurred on or before April 12th prompt a two-game ban
15 yellow cards accumulated at any time in the season lead to a three-match suspension.

The rules also state that "Any period of suspension arising from recording cautions will commence on the seventh day following the date of his last offence... Any period of suspension or part thereof which remains outstanding at the end of a Season must be served at the commencement of the next following Season".
BSP NEWS
Cambridge United report that "Goalkeeper Aaron Grundy has signed non-contract terms... The 21-year-old has been training with the squad for the last two weeks... Aaron's career began with Bury, where he made six first team appearances in three seasons and also enjoyed a successful loan spell with FC United of Manchester last season before being released at the end of last season. A 6ft 2ins tall stopper, he made a number of appearances earlier this season for Burscough after a pre-season trial with Oxford United, and also had a spell training full-time with Rochdale earlier this year as he seeks a return to full-time football". Manager Gary Brabin added, "He'll be with us for the next month or so and working hard to try to earn a contract".

The Football Conference says that Cambridge United "have also signed Lee Phillips, one of the 15 players who served 14 days notice on struggling Conference rivals, Weymouth".

Torquay United "forward Roscoe Dsane has been handed a four match suspension following his sending off against Oxford United on Saturday. Roscoe had already been sent off earlier this season (ironically against Oxford in the F.A. Cup) and therefore received a further game added to the usual three match ban for a straight red card. He will sit out the match at Grays on Tuesday night followed by Rushden (h), Altrincham (a) and Barrow (h) but will be available for the trip to Northwich on 21st March". Dsane was sent off just 54 seconds after coming on as a substitute.

"Eastbourne Borough are taking West Ham United striker Jack Jeffrey on loan until the end of the season" according to NL Daily. The 19-year-old... joined the Hammers in 2004... In 2007/08 [he] had loan spells with Hampton & Richmond Borough (two goals) and Cambridge United".

"Wrexham joint top scorer Marc Williams is expected to miss the rest of the season with a broken foot suffered in Saturday's 1-1 draw with Salisbury" confirms the BBC. "Football has a habit of slapping you in the face", said manager Dean Saunders. "We'll look to replace him now. We've got no-one like Marc so we have to try to find a player who will complement those we have at the club, make an impact and score goals". The BBC adds that "Wales Under-21 international Williams has scored 17 goals for the club this year".

Last week the Gravesend Reporter announced that "Ebbsfleet United will need its owners to dig the club out of a financial hole to help secure its long-term future. Last year, the Fleet were bought by MyFootballClub.co.uk, the internet-based society made up of 32,000 football enthusiasts who paid an annual subscription of £35 to vote on key decisions. The first wave of 12 months came to an end last Thursday, but only 9,500 members elected to sign up for another year, which has left Ebbsfleet £250,000 short of the £500,000 target needed for next season.

The club discussed a range of options drawn up by MyFC at a board meeting at Stonebridge Road and are expected to present a list of ways to boost income and cut costs to the website next week. Chief executive David Davis acknowledged the number of renewals had been disappointing and that one option would be whether members should donate more money, on top of their existing subscription".
CHESHIRE NEWS
Hereford's Bull News says that ""Macclesfield have dropped adult admission prices to £5 for their coming home match with Accrington in an attempt to boost attendances. They will give free programmes to season ticket holders".
---
2 March 2009
MONDAY SCORE
Monday 2nd
Histon 1 Cambridge U. 1
AFTER THE GAME
Altrincham assistant manager Graham Barrow (left) told the NL Paper after the Stevenage game on Saturday, "We felt disappointed when it looked as though we were only going to get one point from the game, so you can imagine the feelings after we lost all three. We probably should have been more ahead at the break. But credit to Stevenage; they kept on going even if they had to resort to more direct football than normal. But there are positives from today. We looked for a better performance and we got it. And it was good to push one of the big guns so hard".

Boro boss Graham Westley said "I have the utmost respect for what Altrincham do. But when you are on a good run like ours, the players sometimes take victory for granted. That's what we were like in the first half."

The Stevenage Borough website reports that "Borough made it ten straight victories with a narrow win at Moss Lane on Saturday afternoon. It was a hard fought three points and what, for a long time, looked to be an unlikely triumph. The winner three minutes into second-half added time came from an unlikely source in Mark Roberts, the defender who had given away a first-half penalty to which Borough trailed for much of the match. It was a far from fluid performance from Borough... Little collapsed dramatically under a challenge from Roberts, and to the surprise of most the referee pointed to the spot. Little dusted himself down to hit the penalty straight down the centre to give the home side the lead. From that moment on Altrincham bossed the rest of the first half and it was only due to a string of fine saves that the deficit was not increased. The Borough defence that had looked impregnable in recent weeks was rocking, with Dale Johnson the chief tormentor...

[Stevenage] started the second half in much the same fashion that they ended the first. Moves broke down through mislaid passes and Borough struggled to match the intensity of the home side who were first to every ball... Slightly against the run of play Borough drew level with 19 minutes left on the clock... Borough stole the points three minutes into added time with a fabulous strike from Roberts.".
OLD BOYS
The NL Paper has an interview with Ashley Timms, just released after serving a quarter of his 20-month gaol sentence for attempting to blackmail a Premier League player. Briefly an Alty keeper, Timms says he has now realised the folly of his old ways. "I was too interested in going out and drinking champagne with Premier League players. I'd not been training properly, so in gaol I made that my goal, to use the gym every day... to hopefully give myself a second chance. Timms adds that he "was sent to the same Strangeways cell that Joey Barton had been in". After leaving Manchester City he made 16 moves of club in barely three and a half years but now hopes to rebuild his career.

Less colourful old boy, Ryan Toulson, is in the NLP's "dream team" as selected by Bradford PA's Andy Campbell. Campbell says, "Tully is a young lad who I believe will play in the Football League". Campbell also reveals that current Alty player Matt Doughty (right) known as "Buzz" after Buzz Lightyear from the Toy Story film, "is a good solid player and what you see is what you get with him. He's got a great sideline as a wedding singer... does a great 'Sweet Caroline'"!
GOOD WIN
Altrincham FC Youth continued their good league form with a third successive win, this time away at Bury Amateurs. On a muddy pitch, two goals from Paul Cordock and a third from Osebi Abadhaki allowed an Alty side short of nine squad members to win 3-2.

Altrincham's team was 1. Walker; 2. Bown, 4. O'Donnell, 5. Oliver, 3. Brownhill; 7. Abadhaki, 6. Bennett, 8. Whiteside, 11. Silvester; 9. Berkeley, 10. Cordock.
GATES
The brilliant Tony Kempster site is a mine of information including the latest Blue Square Premier average attendances. Currently Altrincham's home attendance average is up by more than 100 on last season. Alty's gates in recent years are here.
WHAT'S THE POINT?
When Altrincham were found guilty of playing James Robinson without international clearance they lost 18 points representing all those gained in every match in which James had played, whether from the start or as a sub. Now the rules allow the authorities the discretion to dock points for substitute appearances or not. Curiously, Oxford United who, according to the NL Paper, gained 11 points when their unregistered player(s) took to the pitch, were docked only five points, Bognor lost seven when their offence covered games in which 13 points were won, and Crawley were originally docked four points which has now been reduced to one.
BSP NEWS
Bullsnews reports from The Daily Mail that "Weymouth are to be investigated by the FA after it was revealed they made an £11,270 payment to a company which lists Rushden chairman Keith Cousins as a director. The company specialises in finding investment for football clubs, and the club say they've done nothing wrong despite the subsequent scoreline (9-0) between the two sides". In the Daily Mail former Terras' chairman Ian Ridley writes, "Last Monday, I was phoned by two humiliated local businessmen asking if I would front a consortium, with the club apparently hours from going into administration and possibly liquidation, due to debts of about £600,000. They have been the product of three over-spending chairmen since I was at the club - who were even paying a chief executive a package worth more than £80,000 a year, an astonishing sum in non-League - with it having become the plaything of a hotelier, a music promoter and a property developer, who found themselves unable to satisfy a surprisingly demanding support.

I decided to help if I could but within a couple of days, another potential mug had been found and now a possible takeover and injection of £300,000 looks set to go through early this week. Three cheers for the man on the white charger. Good luck to him, too, as he inherits the debt, a club without players - most having moved on - and an FA inquiry that will also take in a curious payment of £11,270, sanctioned by that Weymouth chief executive Gary Calder to a company of which the Rushden chairman Keith Cousins is a director, at a time when the players were getting nothing. The £800 monthly instalments for the players' insurance was also going unpaid.

It is the tip of an iceberg I discovered as I considered returning there during the week. Icebergs are white, though. The picture at the Wessex Stadium could still be very black. Doubtless this column will annoy some Weymouth fans, but I also want those around the country, who have touchingly sent about £70,000 to help save Weymouth, to be sure their money does not disappear into a black hole".

In Sunday's NL Paper it is reported that "Weymouth are on the brink of being saved after Dorset businessman Stephen Beer came to their rescue... Beer, an occasional supporter, has had his offer accepted... Due diligence is expected to be hurried through". Beer "owns a cleaning and haulage company and also has an hotel. He is a successful businessman and it seems like he wants to add a football club to his portfolio".

Blue Square Football says that "Wrexham have not recorded a win in their last four matches and manager Dean Saunders admits he is in the midst of a striking crisis... With Jefferson Louis still in frustrating form, it was no real surprise when Charles Ademeno levelled matters for Salisbury. The Dragons then plunged further into disaster when leading striker Marc Williams was forced off the pitch with a suspected broken foot. 'There must have been 10 chances we should have scored today, but we missed them', Saunders told Wales Online. 'If you don't finish teams off you give them hope and they kept plugging away until they got one - but we still went up a place! Marc's having an x-ray now. I hope he's not broken his foot, but if he has I'll have to go and get a striker. Maybe two'". Wrexham currently list 33 players in their squad, though two are out on loan.
---
1 March 2009
ALTRINCHAM 1 STEVENAGE BOROUGH 2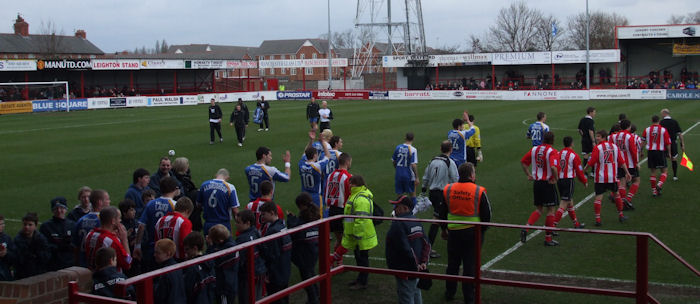 Above: The Altrincham ball boys and girls, organised by Mike Antrobus and Ray Armstrong, provided the guard of honour for the players yesterday.
MATCH REPORT HERE
HELPING THE CLUB
Many football clubs are in dire straits through financial management but, thankfully, Altrincham FC is not one of them as the chairman and board have adopted a very sensible budgeting policy over the last few years. Nevertheless, running costs have been increasing whilst the credit crunch has hit fundraising and sponsorship.

There are many ways for all supporters to help the club, ranging from supporting one-off fundraising events to joining schemes to donate regular funds to the club. You can find on this website details of the various social and fundraising events and schemes. The Saturday Yankee, for example, costs just £1 a week and gives you the chance of winning three-figure cash prizes, whilst the Friends of Altrincham FC has a monthly draw. Recycling your old mobile phone also raises important funds for the club.

The club is also putting on a number of activities which combine enjoyment with income generation. These include an Easter Fun Week at Moss Lane, which starts on April 6th. This features soccer coaching for year one to seven pupils. It costs just £50 for a four-day programme. The coaches include Altrincham striker Colin Little, who is also a qualified coach with Crewe Alexandra.

On the weekend of May 9th and 10th, there will be a seven-a-side tournament being staged at Moss Lane. You will need a squad of ten players and will be guaranteed three thirty-minute games. Registration is £350 per team. The annual Staff v Supporters football match is also at the planning stage.

Altrincham FC's annual Ball and Dinner will take place on Saturday, May 2nd and before then, there will be a Sportsman's Dinner on Thursday 26th March at the Cresta Court Hotel, Altrincham. Mickey Thomas will be the main speaker. He played over 600 league games for Man Utd, Everton, Wrexham and other clubs. This event will be compered by Graham Heathcote and includes a four-course meal and a guest comedian. If you would like to purchase a table/tickets, the price is £450 + VAT for a table of 10. For either event please ring Grahame Rowley on 07720 606987 or Altrincham FC (928-1045).

In advance of Altrincham's game at Wrexham on Easter Monday (April 13th, 3pm), Altrincham FC is arranging a sponsored walk. This will cover the 50 miles to the Racecourse Ground in three separate stages, on Wednesday April 1st and Mondays 6th and 13th. If you would like to take part and raise funds for the Club, please ring 928-1045 for further details.

Please do what you can to support these events and initiatives to help the Club through these difficult economic times.
OLD BOYS
Several former players were in the news on Saturday. Jake Sedgemore scored a last-minute equalizer for Solihull Moors against Tamworth whilst still in the BS North, at Harrogate Town ex-loan player James Dean netted in a 2-2 draw for the Yorkshire side with Hinckley United.

Another ex-loanee, Tom Cahill scored for Ilkeston Town as did Rod Thornley for Ashton United. Former trialist Dave Challinor was on the scoresheet for Colwyn Bay and former Reserves Griff Jones (Radcliffe Borough) and Scott Metcalfe (Trafford) also hit the target.

On the move is Ged Murphy, who has joined Salford City from Bradford PA. Ex-reserve Richard Chetcuti has signed for Warrington Town from Ashton United.
BSP NEWS
Following their 9-0 trouncing last week, Weymouth fielded a stronger side at York yesterday and only lost 2-0. The Dorset club's team included Kwesi Appiah, a striker who controversially left Ebbsfleet United for Peterborough a year or two back. Billy Crook, a midfielder from Peterborough, also played for the Terras as did Kenny Strickland, an 18 year-old Manchester United defender. Ex-Arsenal youngster Gavin Hoyte also featured, along with some established Weymouth players like Cameron Mawer. Also involved was ex-Dorchester Town goalkeeper Simon Evans.

Before the game, manager Alan Lewer said, "I worked all day yesterday trying to do everything we could to get as strong a team out as possible. But all I am willing to confirm at present is that Ryan McKechnie, Tom Richardson, Jamie Sibley, Ollie Tribe, Scott Dixon, Jordan Collins and Simon Evans have all travelled. We did hold a trial game on Thursday night but unfortunately there was nothing there for me. I fully appreciated the way all the lads came down but we play in a men's league and those boys would just get bullied'.

Stephen Reed, Sam Cutler, Cameron Mawer and James Coutts are among those senior players who have not found clubs yet since their 14-day payment notice deadline expired. When asked whether any of them will feature this afternoon, Lewer added: 'All I will say is that the lads spent a long time yesterday thinking about it because they wanted to make sure everything was concrete. We also spoke with a lot of contacts at other clubs in a bid to get some loan players in'... Meanwhile, talks are still ongoing at the Wessex Stadium with a potential investor from Devon and Browning is optimistic that a deal is close to fruition. He added: 'Hopefully, there will be no more twists and turns, and it will all be sorted by Monday. Then we will be able to come up with a budget and be able to go to clubs and try and get some players in'".
---
28 February 2009
ALTRINCHAM 1 STEVENAGE BOROUGH 2
Stevenage would have counted themselves fortunate had they taken just one point from this match but for them to take all three, with a goal deep into stoppage time, was very hard on Altrincham.
MATCH REPORT HERE
Saturday 28th
Altrincham 1 Stevenage B. 2
Barrow 0 Northwich V. 0
Cambridge U. 1 Crawley T. 1
Forest Green R. 1 Grays A. 1
Kidderminster H. 2 Eastbourne B. 0
Lewes 0 Histon 3
Oxford U 0 Torquay U. 2
Rushden & D 0 Mansfield T. 1
Woking 0 Burton A. 0
Wrexham 1 Salisbury C. 1
York C 2 Weymouth 0
Through the Years by Howard Watts.
MATCHDAY UPDATES
It is hoped to provide some updates from this afternoon's match between Altrincham and Stevenage Borough on the:
Matchday Update Page.

Before today's match Stevenage Borough report that "Stevenage Borough face a tricky trip to Altrincham this Saturday afternoon... Securing the three points on Tuesday night gave Borough their longest winning streak in fifteen years...

Over the years Altrincham have generally found themselves amidst a battle for survival at this stage of the season, but their lofty and seemingly safe position of 13th is testament to the excellent job that Graham Heathcote has managed this season. Whilst other teams have struggled, both on and off the pitch, Alty have been quietly picking up points and claiming some decent scalps, with Cambridge, Oxford and Mansfield amongst their victims. Although unlikely to gatecrash the playoffs, Altrincham's experienced squad will be looking to push on and ensure that, in this unpredictable league, they really are safe from relegation sooner rather than later... Both Ronnie Henry and Darren Murphy are major doubts for this game for Stevenage after injuries in midweek against Woking. Lawrie Wilson and Jon Ashton are expected to take their places... with Michael Bostwick moving into midfield. Chris Day's recent illness could see him miss out again with Ashley Bayes likely to make his third consecutive start in between the sticks".

"As is quite common for teams at this level, Altrincham have yet to lose a league game in which they have scored the first goal (15 games, 11 wins, 4 draws) but have won only once from the 15 in which they have conceded the opening goal". For Borough, "Both Scott Laird and Ronnie Henry are currently on four bookings for this season".
TELEVISED GAMES
There is a wide range of matches on Setanta in March:
2nd March - Histon v Cambridge Utd
24th March - Histon v Stevenage Boro.
30th March - Woking v Cambridge Utd.
TRADITIONAL STRUGGLERS?
The Comet says that Stevenage Borough "make the long trip north looking to beat an Altrincham side that hasn't lost at home since Burton Albion won there in late December. Graham Westley's side make the journey buoyed by their 1-0 win against Woking and will be hoping to extend their 16-match unbeaten run. Last Meeting - Boro ran out comfortable 3-0 winners when Altrincham visited The Lamex Stadium in September. Steve Morison scored twice, including a late penalty, either side of a Mitchell Cole strike as Boro recorded back-to-back wins for the first time this season.

Traditional strugglers, Altrincham have surprised many this season and find themselves occupying 13th place in the Blue Square Premier table. The Robins have only lost twice since the turn of the year away at Oxford United and Torquay United... Colin Little has forged a reputation as one of the League's top marksmen finishing with 21 goals last season and attracting the attention of clubs higher up the football pyramid but, despite this interest, Little has remained loyal to the Robins. The pint-sized Senior has worked his way into manager Graham Heathcote's plans and has rewarded him with goals in several key games... Greg Young has become a key component in the Robins' defence since his switch from Halifax Town last January. The 6ft 3ins defender has played all but one of Altrincham's Blue Square Premier games and will be charged with marking Boro hotshot Morison on Saturday".
ON A RUN
A message on the Stevenage Borough forum summarises the current record of our next opponents. Since 6th December 2008, it says "That's 15 unbeaten. 11 wins and 4 draws. 8 wins on the trot. 37 goals scored, 8 conceded. 8 clean sheets. Morison has scored 14 of those 37 goals".
OLD BOYS
Former Altrincham reserves' keeper Craig Ellison has joined Flixton, whilst ex-Youth winger Charlie Weir has signed for Leek CSOB.
BSP NEWS
Last week's visitors to Moss Lane, Woking "announce the signing of Micah Hyde and the extension of Oli Bozanic's loan, both until the end of the season. Micah Hyde is a midfield player who began his career at Cambridge, where he turned out nearly 100 times before moving to Watford.... He next moved to Burnley (over 100 appearances) and finally spent almost two years at Peterborough before being released in late 2008. Micah has also represented Jamaica a number of times at international level. Manager Phil Gilchrist told us 'Micah is an experienced central midfield player of the type we have been looking for'". Hyde's wages are reportedly being paid by one of Woking's directors.

QPR tell us that "Midfielder Chris Arthur has joined Rushden & Diamonds on a one month loan deal... Arthur enjoyed a similar spell on loan at Kettering Town earlier in the season".

According to the Dorset Echo "Weymouth boss Alan Lewer will 'look at everything' before making a decision on his line-up for [the] clash at York City. The Terras held a behind-closed doors trial game last night in a bid to strengthen their side for the 600-mile round trip, following last Saturday's 9-0 mauling against Rushden & Diamonds when the club was forced to field the majority of their under-18s' team. Players from all over the country took part in the match at the Wessex Stadium but Lewer is keeping his cards very close to his chest. He said: 'We had a behind-closed-doors trial game last night and I am currently looking at everything but one thing is for sure and that is tomorrow's match is going to be another massive test'...

Last week, the Terras were offered players from Peterborough United and Leicester City, who would join on loan for nothing to help the club out, but it appears even that possibility is off the agenda for now. Lewer added: 'Clubs will not let any players come to us while we are playing kids. And while there are no experienced pros around the place it is going to be hard to get people in'...Several of the senior players that became free agents on Monday have captured moves to other clubs. Lewer said: 'Kevin Sandwith has signed for Oxford United, Santos Gaia has gone to Crawley Town, Ryan Williams has signed for Mansfield Town and Chris McPhee has gone to Kiddermin-ster Harriers. As for the rest of the lads, Scott Doe is still talking to Dagenham & Redbridge, James Coutts is talking to Rushden & Diamonds, Woking are interested in Stephen Reed, and Sam Cutler is talking to Cambridge United but will go to Macclesfield Town at the end of the season. Cameron Mawer has nothing lined up at the moment while Lee Phillips is talking to three clubs including Stevenage Borough and Kidderminster. I think the other one is Chester City'.

Behind-the-scenes the club's directors are still holding talks with a mystery investor from Devon. Chief executive Gary Calder told Echosport last night: 'We have been holding ongoing talks with a potential investor and hopefully we will be in a position to make an announcement on Monday'".

In fact, the Oxford Mail confirms that "Oxford United are set to sign Weymouth left back Kevin Sandwith – but it is likely to happen on the basis of a player going out as well. Sandwith, a 30-year-old, will be in the squad for United's televised home game against Torquay United on Saturday evening after completing the paperwork on a deal until the end of the season... There is speculation linking teenage right back James Clarke with a possible move. He is reported to have spoken to League Two clubs Grimsby, Luton and AFC Bournemouth, while league rivals Forest Green Rovers, Mansfield Town and Woking are keeping tabs on him. But it could also be another of the fringe players who moves on". Manager Chris Wilder said "I took him out of Doncaster reserves and he played for me for a year, was excellent, and we sold him to Carlisle". However, "Wilder stressed that Sandwith's arrival doesn't mean regular left-back Chris Carruthers is on his way out".

From Mansfield Town we learn that "Manager David Holdsworth has signed ex-Weymouth winger Ryan Williams on an 18-month contract following a successful trial... The 30 year old returns to Field Mill following a 12 year absence, having started his career with us in 1995, staying for two years before moving on to Tranmere Rovers. The 5ft 5in winger went on to play for Chesterfield, Hull City, Bristol Rovers, Forest Green Rovers (loan), Aldershot and more recently Weymouth".

However, earlier This is Nottingham reports that "Mansfield are unlikely to bring in any more players until they trim their existing wage bill, manager David Holdsworth confirmed today. The Stags boss targeted a loan striker from a Football League club earlier in the week with Louis Briscoe (back) already out and Rob Duffy (calf)... But with the possibility of winger Ryan Williams signing, should he impress in his trial, Holdsworth's budget is stretched to its limit. 'I don't think anything is going to happen before the weekend and we need to get players out on loan first', he said. 'I understand that we are top heavy'". Meanwhile, "Scott Gardner is progressing well after a thigh injury and could be available as soon as next weekend's clash with Lewes".

The Football Conference has issued a statement about Crawley's points deduction which reduced the club's punishment to just one point. "The Board of the Football Conference recognises that the appeals process has worked. All parties have had a fair hearing from the three man independent commission. The appeal boards decision to uphold the deduction of a point and apply fines as per the original process confirms that the Conference commission applied the rules correctly. The Conference board has no issue with the final decision and is committed to and believes fully in the appeals process. Football Conference Chairman, Brian Lee comments: 'Additional to the findings of the appeal process this morning I can confirm that the structural and administration review at the Football Conference headquarters is progressing well under the direction of the review sub-committee. I am confident that we will have a final report and recommendations for the board before the end of this current season'.

"The England 'C' team's international tie against Belgium in May is set to be hosted at Oxford United's Kassam Stadium... The 2-2 draw in Italy last year sealed qualification for the International Challenge Trophy final by the non-league representative side" says Blue Square Football.

And "Oxford United's financial future was offered a boost last night after the club brokered a key deal with controversial former chairman and stadium owner Firoz Kassam... Mr Kassam – who left the Us in 2006 – has agreed with the club a 50/50 split for advertising and match-day food and drink sales. Fans avoided kiosks at the stadium and there was a reduction in the number of advertising boards around the pitch because the money went to Mr Kassam's Firoka business. Club chairman Kelvin Thomas said: 'One of my focuses when I first came in as chairman was to develop the relationship between the club and Firoka. 'This agreement is the logical next step for the football club....it gives us the opportunity to continue building our relationship with Firoka with the medium and long-term goal of owning the stadium ourselves'".

Dean Saunders continues to add to his Wrexham squad by "agreeing terms with ex-Man Utd, Blackburn and Forest defender John Curtis. The former England U21 & B international has been non-contract with Worcester City of late... Still only 30, John has been looking to get back into the full-time game. He said, 'Dean's a long standing friend... I've had trials at places like Preston, Hull City and Notts County, so it's nice to just back with a team'... Nuneaton-born John attended the FA National School of Excellence at Lilleshall before joining Manchester United in 1995 as a trainee... John made his first-team debut in a 7-0 win over Barnsley on 25th October 1997, going on to made a total of 13 appearances for United as well as 28 for Barnsley, where he was on loan during the 1999-2000 season. In the summer of 2000, Graham Souness signed him to Blackburn Rovers for £1,500,000 and he was an ever-present in the 2000-01 season with Rovers gaining promotion to the Premier League... John then had spells with Leicester City, Portsmouth and Preston North End (on loan) before joining Nottingham Forest... A free transfer to Queens Park Rangers followed, before he joined up with old friend Richard Dryden at Worcester City in January 2009, seeking a return to the professional game".

There is no list yet on Setanta's site but individual televised games are being mentioned on BSP clubs' websites. For example, Kettering Town say that their game at home to Oxford United on 19th March will be screened live on Setanta". Altrincham have yet to have a home match screened this season.

"20-year old left sided Scunthorpe United winger / striker, Peter Winn, has joined Barrow on emergency loan for 1 month... Although also eligible, Lee Steele on loan from Northwich, will not feature as it transpires that a verbal agreement was made between the player and parent club before agreeing to him being loaned out. The Barrow management team have allowed Steele to keep his word, despite the agreement not being made between the two clubs".

The Argus says that "Striker Sam Gargan has had his loan spell at Eastbourne Borough brought to an end. Gargan was supposed to complete his month at Priory Lane after tomorrow's trip to Kidderminster with Borough hoping to extend the deal for a further month. However, [Brighton & Hove] Albion caretaker boss Dean White decided to recall the 20-year-old on Friday afternoon as the Seagulls are struggling for numbers".
---
27 February 2009
FLEET DATE
Altrincham will now travel to Ebbsfleet United on Tuesday 31st March at 7.45pm. The game has had to be moved because of Ebbsfleet's involvement in the FA Trophy semi-finals on the original date.
CRAWLEY CUT REDUCED
Crawley Town Football Club have today appeared before an FA Appeal Board in relation to a Football Conference decision to deduct them 4 points for fielding an unregistered player earlier in the season. The Football Club's appeal was headed by Barrister Adam Lewis and attended by Chairman Vic Marley, Directors Susan Carter, Steve Mansell and Barry Munn.

The appeal case lasted over 4 hours as both Crawley Town Football Club and The Football Conference presented their evidence to the 3 man FA Appeal board. Crawley Town Football Club are delighted to announce that the FA Appeal board have upheld the appeal so therefore only 1 point will be deducted from the current points total thus ensuring the Reds are very much part of The Blue Square Premier Conference playoff race.

A full statement will be issued by The Chairman Vic Marley later this afternoon but speaking within minutes of the decision, clearly delighted he said from the steps of Soho Square, The FA Headquarters; 'We are all delighted that justice has prevailed. We were given a full and fair hearing. At this stage I must thank our barrister Adam Lewis for presenting our case which we knew from the outset was strong. I will now take time to reflect on this decision, speak with my fellow board members, take advice once again from Adam Lewis and then issue a full statement in due course. That will in turn educate our supporters, players and staff who after all are the most important people in all of this'".
REDUNDANCY AT ALTRINCHAM FC
On behalf of the Board, Altrincham FC vice-chairman Grahame Rowley writes:

It is with regret that Altrincham Football Club has to announce that they have had to make Lisa Jones, their Commercial Executive, redundant as from the end of March 2009. The credit crunch has hit the club hard like most other clubs in this league and if they are to finish the season within budget they will have to make savings wherever possible. This is not the first and will not be the last cost cutting measure that will have to take place.

The Football Club would like to thank Lisa for all the hard work that she has put into the job over the last 9 months and wish her all the best in her future career. We hope to still see Lisa down at Moss Lane cheering on The Robins.
PLAYING HIS CARDS RIGHT
Altrincham FC joint press officer, John Edwards writes:
Graham Heathcote is hoping referee Ian Smedley keeps his cards in his pocket against Stevenage on Saturday - for Altrincham's players, at least. Several Alty players are just one booking away from a suspension - Greg Young (right) among them - but will have the slate wiped clean, if they can avoid a caution against the Blue Square Conference's form team at Moss Lane.
'This is the last Saturday for picking up a ban for five bookings,' said Heathcote. 'After that, we are in the clear for the rest of the season, unless someone goes daft and gets into double figures, or something like that. We've got three or four who are just one booking away, so we'll have to hope we come through the game unscathed, from a disciplinary point of view'.
The Alty boss at least has ready-made cover for Young, should the dependable Alty centre-back be unfortunate enough to have his name taken, after the arrival of Michael Welch on loan from Northwich. 'I've seen a few mentions of Michael being able to play here and there, but I can tell you he is 100 per cent a centre-half,' he said. 'He went up front after going on as a late substitute against Woking purely because of the circumstances. We simply weren't getting the ball in attacking areas towards the end and had to try and do something about it. It also meant we had another six-foot-plus presence to help out at corners, and considering he has not had a lot of football recently, Ithought he did well'.
Richard Acton makes way for Stuart Coburn's return from suspension, with Heathcote leading the acclaim for his heroics in the 1-0 win over Woking. 'Accie was absolutely fantastic,' he said. 'He made an early save from a one-on-one that seemed to settle him down, and by the end, there was a case for saying he had done more than anyone to earn us the points. He was always going to be standing in for just the one game, but he will be staying with us. Everyone is happy about that, because he's a good lad to have around the place'.
Chris Denham (left) trained this week, after shaking off an ankle knock, and is expected to be available".
DON'T PANIC!
In the Sale & Altrincham Messenger, Graham Heathcote says "I haven't been happy with our general play in the past three games and it's just as well we've been right defensively or we wouldn't have picked up so many points. There seems to be an air of panic when we've got the ball and I can't understand that, for the life of me. If we are like that against Stevanage, we are going to be in for a difficult afternoon because they are playing with the confidence you would expect of a team unbeaten in 16 games. we need to relax a bit more and get back to the form, on our own pitch, that we were showing against the likes of Oxford, Mansfield and Wrexham".

Referring to last Saturday, Graham added, "Some people seemd a bit worried about Accie (goalkeeper, Richard Acton) having to step in but I always felt the situation was made for him. When he is fully focused, he is a very good keeper and he was absolutely fantastic".
STEVENAGE READY FOR ALTY
News of our next opponents, Steveanage Borough, comes from The Comet. "Ronnie Henry and Darren Murphy are major doubts for Saturday's trip to Altrincham after both hobbled off in Boro's win against Woking on Tuesday. Henry is likely to be out for at least a week with a dead leg while Murphy had to be replaced in the first half putting his participation in doubt for the long trip north on Saturday... [Manager Graham] Westley told The Comet: 'Ronnie's got a muscle injury - it's not as acute as a knee problem. I think he will be out for about a week to 10 days... It's the same for Darren but hopefully it won't be as bad as we're thinking down there at the moment'. Henry's problem allowed Jon Ashton to come on and make his debut following his January move from Grays and the 25-year-old slotted in at the heart of the defence seamlessly alongside Mark Roberts...

Westley warned his side they face a tough task against Altrincham at the weekend but added the fillip of going for 10 consecutive wins should see them through. 'Any time you travel north then you know what you're going to get', he said. 'They are a hardworking side and they've got some good talent in their team. They have improved a lot this year compared to last. They came here earlier this season and I thought they were unfortunate to go away defeated 3-0. We're not underestimating the challenge at all. They won at home last weekend against Woking so you could so we are matched at the moment in terms of recent results. We'll go up there determined to bring three points back again. It's vital we keep winning. It would be great to make it 10 wins on the bounce. We've got lots to play for and we're ready'".
BSP NEWS
The BBC reports that "Youngsters from all over England have turned up at troubled Blue Square Premier side Weymouth in a bid to get a game this Saturday against York. The cash-strapped club fielded a youth team against Rushden last week after most of the first-team squad left - and are looking for a team to face York. 'One player's come down from QPR, one from Brighton and one from Hitchin', coach Tim Davis told BBC South Today. Talks are continuing to save the Terras, who lost 9-0 against Rushden. Former Torquay youth team player Matt Hayward said: 'I thought it's a good opportunity to get some first-team football. I didn't get the chance at Torquay so I saw this opportunity and thought I'd grab it with both hands'. Former Terras' striker Martin Underhay, now advising at the club, said: 'It's hard for them to come to terms with playing for Weymouth's first team in the first place but to go straight into a Conference game from youth level is practically impossible'".

Meanwhile, the Dorset Echo says that "Nine local businessmen have had their offer of a rescue package to save Weymouth FC rejected for the time being by the club's board of directors... whilst the procedure of due diligence is undertaken on a potential new investor from Devon who has been holding talks with chief executive Gary Calder. The group... has since released the following statement: 'We got together as a group of local businessmen when it became obvious that the football club needed assistance and we put together a proposal for the football club which we believed would have secured its future... We are also Weymouth FC supporters and it was our full intention that the future of Weymouth FC would rest in the hands of the true supporters and the local community. We were also prepared to invest money and our time free of charge. However, as we understand it, our offer has been rejected by the board in favour of another offer'...

Calder told Echosport 'The situation is quite clear. The board have to take into consideration all offers on the table and make the right decision for the club going forward... We want to make sure that the club does not get into the situation it is now ever again and we will need the help of the local business community to ensure that is the case'... Meanwhile, Echosport contacted the Football Conference League to ask whether any clubs had complained about the Terras fielding a youth team in their fixture against Rushden & Diamonds last Saturday. They responded by saying: 'It is a club matter and we are currently awaiting further information from the club regarding its operational position'".

Salisbury City have "signed young goalkeeper Grant Porter on Football Conference forms. Porter has appeared regularly for the reserves... It has now been decided that Jonathan Davies's loan at AFC Totton will be extended, but will be on a month-to-month basis until the end of the season".

Another departure from Weymouth is confirmed by Kidderminster Harriers who "announce the signing of former Weymouth midfielder Chris McPhee. McPhee... signs on at Aggborough as a free agent on a deal until the end of the season. With 30 league games and seven goals already under his belt this term, the former Torquay United player was a big part of the Weymouth side and was hailed as a major coup for the club when they signed him in the summer - McPhee turning down the advances of many Football League sides to join up with the side then managed by John Hollins. That came on the back of a fantastic season last season for him at Ebbsfleet United". Manager Mark Yates added, "It's a short-term deal until the end of the season with a view to us having a look at one another for next year".

This is Local London reports that "Ebbsfleet United, the club owned by its fans, is struggling to attract enough shareholders to raise its budget for next season... The Stonebridge Road outfit had set itself a target of getting 12,000 renewal subscriptions by last Thursday, but its chairman said only 10,000 had been secured so far. Former Conference chief executive John Moules said: 'Realistically, we need between 15,000 and 16,000 subscribers to raise the running costs for next season, which are around £500,000 to £600,000. February 19 was when the first year members' subscriptions became renewable, and we had hoped to have 12,000 by then, but we are still a couple of thousand short... We expect to reach between 15,000 and 16,000 before the new season begins in August'. However, if the club fails to get enough subscriptions to meet its running costs, it may have to be sold". In similar vein, Kent Online has an audio interview with the Fleet CEO, David Davis. It adds that John Moules said: 'We have always been planning and hoping to get 12,000 initially... From the 32,000 people who initially signed up, our target [by next season] has always been somewhere between 15,000 and 16,000'. The club are due to hold a board meeting on Wednesday at Stonebridge Road.

In Sussex, the Argus tells us that Crawley Town have "signed midfielder Gavin Hurren and defender Santos Gaia until the end of the season. Midfielder Hurren, 23, started the campaign with Mansfield before joining Conference north outfit Kings Lynn last month. The former Kidderminster schemer was targetted by boss Steve Evans in the summer but opted for the Stags when they made him a better financial offer. Brazil-born Gaia, 30, has joined from crisis club Weymouth. The central defender made 119 Football League appearances for Exeter before spells at Grays, Stevenage and Halifax".

"Alan Marriott today predicted Mansfield Town would finish their Blue Square Premier campaign season strongly – because so many players are vying to be part of the club's future", he told This is Nottingham. "The Stags' first choice goalkeeper is one of those already under contract for next season along with the likes of Scott Garner, Jonathan D'Laryea and Louis Briscoe. But a raft of other players – especially those brought in by ex-boss Billy McEwan – are on one-year deals that run out in the summer. Players in that category include Adie Moses, Michael Blackwood, Alan O'Hare, Alex Jeannin, Mark Stallard, Matt Somner, Gary Silk and Aaron O'Connor... 'A few years ago there were three and four-year contracts around and people were not having to worry about their futures'," he said.'Clubs can't afford to do that anymore. There are a lot of players out of contract here in the summer, but players can often thrive in that situation because they want to show they deserve to be part of the future... There are 14 games to go, and even if we finish in mid-table there is still a lot to play for because there are bills to be paid'".

The Oxford Mail interviews Oxford United chairman Kelvin Thomas. Asked about Oxford's Kassam Stadium , he said "The licence agreement here is for 25 years, and a 25-year option. If we decided that we did not want to play here, we would still be liable to pay the rent, so there would be no benefit in moving". Thomas added "The football club has a financial shortfall this season... We are in a better place now than when I took over as chairman... I would not say that the club is in 'deep financial straits', but we are certainly in a financially-challenging position... It would be very difficult to try and attract players and commercial partners if we stated exactly how much we were losing each week". He refused to reveal the club's wage bill... Firoz [Kassam] has been very flexible and now allows us to pay monthly rather than quarterly. This has helped us with our cash flow".

Asked, "Have you talked to Sir Richard Branson about buying the stadium and renaming it the Virgin Stadium?", the chairman replied, "Yes, the club have spoken to Richard Branson, but he has unfortunately confirmed that he did not want to invest in a football club – at this time". Meanwhile, he said, "The club has converted its overdraft facility into a loan with the bank".

As for manager Chris Wilder, Mr Davis said "The encouraging thing is that Chris has already shown everyone what he can do within a certain budget. He certainly has a very realistic idea of what players are worth in this league. I see the budget reducing naturally next season". Questioned about the refusal to hold a fans' forum, he said, "What I do not want to do is sit at the front of a room, be asked lots of good questions by supporters and be unable to give a proper answer to them – that is of no benefit to them or me".
---
FOR EARLIER NEWS, CLICK HERE
---