You are in the
ALTY LEGENDS SECTION 22
page

Home Page



---

Alty Legends- Section Twenty-Two
by Terry Rowley


---

These pages chronicle the playing legends of Altrincham Football Club. The texts have been kindly supplied by Terry Rowley, joint editor of the Robins' Review matchday programme. The profiles have previously appeared in the Robins' Review.



---
Altrincham Football Club Legends Section Twenty Two
Profiles 64-66.
64. Clive COLBRIDGE
65. Ronnie ELLIS
66. Arthur HUGHES
---
64 - CLIVE COLBRIDGE
By Terry Rowley, Joint Editor of The Robins' Review.
Born Hull 27th April 1934
Height 5' 7" Weight 10st 4lbs
Position: Left Wing

Career Details

Clive Colbridge arrived with a justifiable reputation, working his way from amateur to professional football, through the lower leagues all the way to the First Division with Manchester City where, for a time, he was talked about as potential for international honours. Having scaled the heights, he returned to lower league football with Wrexham and finished his career gloriously as part of Fred Pye's 'back to back' Cheshire League championship side.

Born in Hull, with a father who was a noted Yorkshire athlete, Clive immediately caught the eye whilst at school, representing Yorkshire Boys on either wing, which led to him signing amateur forms with his home town team, Hull City in 1950, whilst training as a salesman with a local timber firm. In May 1952, the eighteen year old Clive accepted professional terms with Leeds United. Unfortunately, his time at Elland road was interrupted by two years' National Service with the RAF where he was stationed mainly in Liberia as a clerk.

With this interruption Clive never made it past the reserve side and on demob he joined Division Three (North) side, York City in May 1955 without having made the Leeds first team. He made his York (and League) debut in September in a 3-0 home win over Hartlepool United, scoring the opening goal. He finished the season with a respectable 11 goals in 22 league appearances; he also scored one of the goals in his only FA Cup appearance, a third round 2-1 win over Swansea Town.

The following season he was in and out of the side (mainly out) and so it was no surprise when Joe Harvey (the future Newcastle United manager), signed him for Workington early the following season (September 1957) where he will always be remembered for scoring Workington's goal (the opener) in a dramatic FA Cup tie against Manchester United, a tie that United eventually won 3-1. But after just 13 months he was moved on, as most saleable assets were at Workington, and joined Crewe Alexandra in October 1958, for a then record fee (for Workington), of £1,500.

At Crewe he continued to impress as a creative winger, who was also capable of scoring his fair share of goals. (He scored 4 times against Tranmere Rovers in a Cheshire Bowl match). Performances were such that he was signed for struggling first division Manchester City for a fee of £10,000 in May 1959. A near ever-present in his first season, Clive made the step up from the Fourth Division with some ease, scoring 9 times in the League and he was even mentioned as a potential England player.

The following season, Clive's most notable achievement was scoring against Spurs in front of 65,000 spectators to square the match 1-1 and end Spurs' 11 match winning start to the 1960/61 season. From then on it was in and out of the side, never being allowed to recapture the heights of his first season. His final season saw him hardly feature for the first team so in February 1962, former City team mate, Ken Barnes, then manager at Fourth Division Wrexham, signed him to assist with Wrexham's promotion push but, after just two games, a niggling ankle injury was diagnosed as a hairline fracture and he played little for the rest of the season.

Once recovered though, he remained a regular in the side over the next two seasons, gaining Welsh Cup runners-up medals in 1962 and 1965. Freddie Pye then persuaded him to drop out of the League and take on the challenges of the Cheshire County League. Clive lined up for his debut on the opening day of the season, a 2-1 away win at Rhyl and throughout the season was part of the Altrincham 'all star' attack that stormed to the title, had FA Cup ties against Rochdale and Wolves, reached the final of the Cheshire League Cup, the semi-finals of the Cheshire Senior Cup and won the Macclesfield Floodlit Cup, (forerunner of the North West Floodlit League).

Clive fully played his part scoring 13 goals and creating many more. The following season (66/67) Clive, although initially first choice, dropped out of favour in December, after a 4-1 thumping at Northwich and was not to feature in a first team shirt until the return fixture against Northwich, the following April. His final game for the 'Robins' came weeks later but, what a high to go out on, the 2nd leg of the Cheshire Senior Cup Final, with Altrincham 1-0 down from the first leg, they triumphed, 3-1 at Moss Lane in front of 7,190 spectators and Clive left, having won a second championship medal and a Cheshire Senior Cup winner's medal to boot. Released in the close season, Clive moved to Rhyl.

Clive Colbridge Career Record

Hull City (Amateur 1950)

Leeds United (05/1952)

York City (05/1955)
55/56 22 games, 11 goals in the League, 1 game, 1 goal in the FA Cup
56/57 11-2 League, 2-0 FA Cup
57/58 4-1 League

Workington (09/1957)
57/58 34-6 League, 2-1 FA Cup
58/59 12-2 League

Crewe Alexandra (24/10/1958)
58/59 29-7 League, 2-1 FA Cup, 3-4 Cheshire Bowl

Manchester City (13/05/1959) £10,000
59/60 40-9 League, 1-0 FA Cup
60/61 19-3 League, 1-0 FA Cup, 1-0 League Cup
61/62 3-0 League

Wrexham (17/02/1962)
61/62 6-1 League, 3-1 Welsh Cup
62/63 40-11 League, 4-0 FA Cup, 1-0 League Cup
63/64 38-12 League, 2-0 FA Cup, 4-0 League Cup, 2-1 Welsh Cup
64/65 24-9 League, 2-0 FA Cup, 1-0 League Cup, 5-1 Welsh Cup

Altrincham (29/07/1965)
65/66 38-8 Cheshire League, 8-3 FA Cup, 6-0 Cheshire League Cup, 4-2 Cheshire Senior Cup, 3-0 NWFL
66/67 15-3 Cheshire League, 1-0 1-0 Cheshire Senior Cup, 1-0 NWFL

Rhyl (7/08/1967)
---
65 - RONNIE ELLIS
By Terry Rowley, Joint Editor of The Robins' Review.
Born: Liverpool 15th March 1958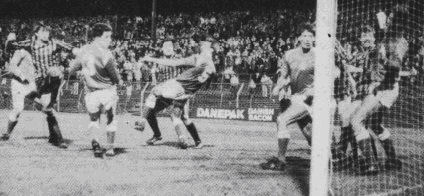 Career Details
One of Altrincham's unsung heroes, Ronnie Ellis, an electrician by trade, started with Speke-based Dunlop Juniors and played as a junior at Runcorn before moving up into the Cheshire League with, first, Burscough and, then, Winsford United. Continuing success at this level saw him eventually sign for Runcorn in 1982. He moved, initially on loan, to Altrincham in late March 1983, making his Altrincham debut at centre half in the 3-0 home win over Barnet, scoring his first goal in the 1-0 home win over Weymouth.
Ronnie followed up with three further goals against Northwich Victoria, Trowbridge and Dagenham before the end of the season which persuaded Altrincham to make the move permanent in the summer. For the 83/84 season Ronnie was used in a number of roles in both midfield and up front and scored crucial goals in the 1-0 win away at Nuneaton and the 1-1 home draw with Northwich Victoria. Adapting to his varied role it was unfortunate that he broke his leg early in the 84/85 season during the 1-0 win away against Nuneaton but returned as substitute in time to play in the 3-1 FA Cup defeat to Doncaster Rovers and finished the season playing up front and scoring 14 goals, including a hat trick against Northwich Victoria in the 2nd leg of the Cheshire Senior Cup semi final. Ronnie finished the season with a Senior Cup finalist's medal, as Altrincham lost 2-0 to Runcorn.
For Ronnie the 1986/87 season would be the one that guaranteed that he would become part of Altrincham's history when he scored in Altrincham's historic 2-1 victory of Birmingham City at St Andrew's, (remember Birmingham were in the First Division). Hopkins had given Birmingham a 1-0 lead in the 63d minute, scoring after a corner kick by Ray Ranson but, just two minutes later, the Birmingham defence blundered and Ronnie levelled from close range (see picture above). Even better, Ronnie scored one of the goals that beat Enfield, 2-0 in the second leg of the FA Trophy semi final, which sent Altrincham to Wembley where they beat Runcorn, 1-0.
A hard act to follow, and 1986/87 Ronnie ended up with another Cheshire Senior Cup finalist's medal as Altrincham, once again lost to Ronnie's previous club, Runcorn. For the following 1987/88 season Ellis was used in both midfield and as a forward,
The 1988/89 season was Ronnie's best in terms of goals scored. Now playing consistently in midfield Ronnie finished trophy-less again but finished the season with twenty goals. 1989/90 was to be his last season at Moss Lane, moving to Macclesfield in late October 1989 after becoming one a small the elite of Altrincham players by making over 300 appearances in addition to scoring 77 goals. At the end of the 89/90 season Ronnie picked up two more finalist's medals, once more in the Cheshire Senior Cup, with Hyde United being the victors, 1-0. In addition he picked up a finalist's medal in the Staffordshire Senior Cup, with Northwich being the winners on this occasion.
The following season saw Ronnie finally pick up a Cheshire Senior Cup winner's medal when Witton Albion were beaten, 2-0 with another former Altrincham favourite, Graham Tobin scoring one of the goals.
Career Details
Dunlop
Runcorn
Burscough
79/80,

Winsford United
80/81
81/82

Runcorn
82/83 20+4 league appearances, 6 league goals

Altrincham (Loan March 1983; permanent, Summer 1983)
82/83 9 league appearances, 4 league goals
83/84, 38+1 league appearances, 5 league goals, 3 FA Cup app's, 0 FA Cup goals, 2 League Cup app's, 2-0 CSC app's.
84/85, 25+1 league appearances, 7 league goals, 0+1 FA Cup app's, 2 League Cup app's, 1 League Cup goal, 5 CSC app's, 5 CSC goals, 6 FA Trophy app's, 1 FA Trophy goal.
85/86, 29+3 league appearances, 5 league goals, 3 FA Cup app's, 1 FA Cup goal, 1 League Cup app., 2 CSC app's, 6 FA Trophy app's, 3 FA trophy goals.
86/87, 38+1 league appearances, 8 league goals, 3 FA Cup app's, 3+1 League Cup app's, 3 CSC app's, 2 FA Trophy app's, 1 FA Trophy goal
87/88, 38+1 league appearances, 10 league goals, 1 FA Cup app's, 3 League Cup app's, 2 CSC app's, 2 CSC goals, 8 FA Trophy app's, 1 FA Trophy goal.
88/89, 33+3 league appearances, 17 league goals, 4 FA Cup app's, 2 FA Cup goals, 1 League Cup app., 3 CSC app's, 1 CSC goal, 4 FA Trophy app's.
89/90, 9+3 league appearances, 3 league goals, 0+1 League Cup app's,

Total 288+16 games - 77 goals.

Macclesfield Town (10/89)
89/90 18+1 league appearances, 2 league goals, 2 FA Cup app's, 1 League Cup app., 4 CSC app's, 2 CSC goals, 3 FA Trophy app's,
90/91 25+8 league appearances, 4 league goals, 0+1 League Cup app., 4 CSC app's.
91/92 15+10 league appearances, 2 league goals, 1+1 FAC app's, 1+1 League Cup app's, 0+2 CSC app's, 0+2 FA Trophy app's.

Total 93+25 appearances, 10 goals
---
66 - (ROBERT) ARTHUR HUGHES
By Terry Rowley, Joint Editor of The Robins' Review.
Holywell Flintshire 26/9/1901, Died 1973
Born: Height 5'9" Weight 11st
Position: Centre Half
Preferring to be known as Arthur, Robert Arthur Hughes remained an amateur all his playing career. He arrived at Moss Lane, at a time when the club were in mess, with poor finances and seeking re-election in the Cheshire League after finishing bottom of the league. Altrincham needed some leadership and experience on the park and, in the three seasons that he was at Moss Lane, Arthur just what the club needed.
Born in Holywell, he turned out for Flint Town and then moved on to Chester, then playing in the Cheshire League. His appearances were sporadic, but this was not down to lack of ability but due to work commitments, as he had already been picked to play twice for the Welsh Amateur side.
His ability saw him taken on by Blackpool, making his first team debut for Second Division side on January 2nd 1928 in a 4-5 home defeat to Grimsby Town. The following week he was again selected for the first team for what proved to be his last appearance for the first team, a 4-2 home defeat to Chelsea.
With work taking him south, Arthur joined Third Division South side, Clapton (now Leyton) Orient for the 1929/30 season, playing mainly for the reserves. He made his Orient first team debut in a 2-1 home win over Swindon Town, with Hughes opening the scoring. Strangely, he played at outside-left as was to do for the next 3 games. For his fifth game he moved to inside left and then played left-half in his last game, a 3-0 defeat at Watford. Moving back north at the end of the season, Arthur was in search of a club.
Having finished bottom of the Cheshire League and faced with the humiliation of re-election, the Altrincham committee were looking for a leader and in Hughes they found him. Hughes was made Altrincham captain on signing and led the side by example; he was an ever present in the team during the 30/31 season, opening his Altrincham scoring account with a tense penalty that secured Altrincham a hard earned point in a 5-5 draw away at Chester in front of 4,708 spectators. His next goal, also a penalty, was merely a consolation as Macclesfield won, 6-1. But his third and fourth goals for the season both came from open play in the 4-1 win over Winsford United and a 3-1 win over Stalybridge Celtic.
Although not tearing up any trees, Hughes had help stabilise the club from going into to free fall and finished 4th in the table and reached the semi-finals of the Cheshire Senior Cup. The following season (31/32), Arthur again put in impressive performances, commanding at the back and chipping in with important goals throughout the season, (scoring 8 in all, 6 of them being penalties). The team finished the season in 4th place, as they had the previous season, but were knocked out of the league cup and Senior Cup at the 1st round stage. The only consolation was a good run in the FA Cup, making the 4th Qualifying round before surprisingly falling to the Yorkshire Amateurs at Moss Lane in front of 5,000 spectators.
For his final season Hughes once again was a near ever-present but success in the cup competitions saw a decline in the side's league form, finishing in 12th place. In compensation, they again reached the 4th Qualifying Round of the FA Cup and managed to reach the final of the Cheshire League Cup, where they drew with Manchester North End, 3-3 with the replay being carried over to the following season. Unfortunately, Arthur would not be with Altrincham when they lifted the trophy early the following season. The Altrincham Committee had now become ambitious after the gradual improvement over the previous 3 seasons and they released Arthur at the end of the 32/33 season. He had no problem finding another club and he was soon installed as captain of Mossley, where he finished his senior playing career after 2 seasons, having played a further 95 games.
Career Details
Flint Town
Chester
1924/25: 1 appearance; 0 goals
1926/27: 3;0

Blackpool

Clapton Orient
1929/30: 6;1

Altrincham
1930/31: 42;4 (League), 2;0 (FA Cup), 5;0 (CSC)
1931/32: 38;7 (League), 6-1 (FA Cup), 1;0 (CLC), 2;0 (CSC)
1932/33: 40;2 (League), 6;0 (FA Cup), 4;0 (CLC), 1;0 (CSC)

Mossley
1933/34- 34/35: Team captain, 95 games, Welsh amateur international.
---
FOR FULL LIST OF LEGENDS, CLICK HERE
---

Copyright: ©


Compiled by John Laidlar