CURRENT NEWS
OPTIONAL DROPDOWN MENU - HERE
---
NEXT FIXTURES:
Tue. 6 Mar. 2018: STOURBRIDGE (Home) 7.45pm
Sat. 10 Mar. 2018: CREWE FC (Away)
Sun. 11 Mar. 2018: ASHTON ATHLETIC (Away) TBC pm
Sun. 11 Mar. 2018: STOCKPORT COUNTY (Home) 2pm
Please note: THIS IS A TEMPORARY PAGE
This page is only in use because the normal website at altrinchamfc.com is currently inoperable due to technical problems at the 1 & 1 web-hosting service. Unfortunately, links to that site from this temporary page are not currently working. It is hoped that this may be rectified during Tuesday 6 March 2017. Apologies for the inconvenience caused.
---
ALTY HEADLINES
OTHER HEADLINES
5 Mar 2018: EVO-STIK PREMIER NEWS... More
---
5 March 2018
Altrincham and Stourbridge hope, finally, to meet on Tuesday night at the J Davidson Stadium, following changes of date to both the scheduled home and away encounters between them. They almost met on 20 January when Altrincham got as far as the War Memorial Athletic Ground only for the referee to call off the match barely an hour before kick off.
Stourbridge and Shaw Lane AFC are the only two clubs in the league yet to meet Altrincham this season.
Next Sunday, Altrincham FC Youth are away to Ashton Athletic and the Ladies are at home to Stockport County.
Next Saturday, the Reserves are away at Crewe FC.
For the rearranged home match against Stourbridge, next Tuesday (6th March), Altrincham FC is offering matchday hospitality in the Manchester Glass Sponsors' Lounge for just £25 per person. This includes match admission, pre-match food and drink and half-time tea/coffee and snacks. To take advantage of this special offer, please ring the club on (0161) 928-1045 or
e-mail
, as soon as possible.
The mobile version of this website
mobi.altrinchamfc.net
continues to be inaccessible to users due to incompetence at the website's hosting service, 1&1, a German company, which Wikipedia describes as "one of the world's largest web hosting companies". 1&1 informed me last week that it needed to change the way in which the website is updated. However, so far, they have only succeeded in disabling the mobile site and, several days later, they have still not yet rectified their error.
As the person dealing with this "upgrade" is based in the Phillipines(!) and is not back in work till Monday, this will remain the case at least till then. To date, the desktop site has not been affected and, hopefully, this will remain the case. I apologise for the inconvenience caused.
"On Friday 16th March 2018, the Altrincham FC Community Sports Hall at the J Davidson Stadium will be the venue for an exciting murder mystery evening, based on a fictional end-of-season Altrincham FC Awards Dinner, filled with intrigue, suspicion, and of course, MURDER!
As well as enjoying a delicious 2-course buffet, guests will be able to take part in a fully interactive murder mystery event, performed by 8 professional actors. During the course of the evening, guests will have the opportunity to interrogate the suspects, examine the evidence, and ultimately guess the murderer, with the winner receiving a 'Star Detective' certificate and a special prize!
The event will start at 7.30pm, finishing at around 10pm, with the bar remaining open until around 11.30pm.
Come along and find out. Tickets are £20 each including 2 course buffet meal."
For more information or to make bookings, please e-mail or telephone 0161-928-1045
Barwell
"are pleased to announce that Brady Hickey and Matt Stenson have both put pen to paper on contracts with the club.
Manager Jimmy Ginnelly was delighted to see the duo sign their contracts during a team bonding session on Saturday afternoon, as our fixture against Stafford Rangers was postponed.
'They're both massive players inside this group of players that have taken us into a top 10 league position, which is fantastic for a club of our size,' Ginnelly said. 'I'd like to thank the chairman, Dave Laing, for his full support on these two contract decisions. I'm now going to be asking him to put a few more of this group of players on a contract as I'd like to start planning for next season...
'With Saturday's game being cancelled due to the weather, me and Guy took the opportunity to get all of the lads in for a team bonding session at the clubhouse. It was a great afternoon!'"
More on this comes from Nuneaton Town who have "confirmed that Brady Hickey has transferred to Barwell FC. Hickey joined the Boro' from Barwell in the summer and made 17 appearances for the club including 13 starts. He scored one goal and contributed two assists before being loaned back to Barwell for a period of three months. With that loan spell coming to an end the attacking midfielder has now been transferred back on a permanent deal".
---
4 March 2018
Altrincham FC Ladies' scheduled match today against Stockport County LFC, in the North West Regional Women's Argyle Cup at Mersey Valley Sports Club, has been postponed. It is now hoped to play this game next Sunday (11 March) at 2pm.
Altrincham FC Reserves' home game against Knutsford on Saturday was postponed. Their next scheduled game is on Saturday, 10 March away to Crewe FC.
Monday 5 March 2018
The EVO-STIK Premier Division
Shaw Lane v Grantham Town
Tuesday 6 March 2018
The EVO-STIK Premier Division
Altrincham v Stourbridge
Hednesford Town v Buxton
Mickleover Sports v Stalybridge Celtic
Nantwich Town v Matlock Town
The Integro League Cup 17-18 - Third Round
Lancaster City v Workington
Stafford Rangers v Coalville Town
The
Evo-Stik League
reports that "The final countdown for supporters to nominate their stars of the historic 2017-18 season for the Evo-Stik NPL Show Fans Player of the Year is underway!
After the nominations phase for the coveted accolade opened nearly two weeks ago, supporters only had until a minute to midnight on Sunday (March 4) to register their choices for five finalists bidding to follow in the footsteps of 2017 winner Dale Hopson at the Northern Premier League's 2018 Players of the Year Awards.
The Whitby Town midfielder's successor and two runners-up will be unveiled on Sunday 15 April at the seventh running of the awards at the plush Brooklands Holiday Inn near Barnsley after an online vote for supporters opens when the finalists are unveiled on 22 March. The poll closes on Easter Monday (April 2) and fans will be able to watch the winner being crowned on the night with the event set to be broadcast live on Facebook for the second year running.
This season's ceremony to celebrate the milestone 50th anniversary season will see Sheffield United boss Chris Wilder handing out the accolades after managers and coaches at all 68 clubs finish voting for a 'Player of the Year' and 'Young Player of Year' in each of the EVO-STIK League's three divisions, as well as the line-ups in three 'Teams of the Year'.
The now annual awards are the brainchild of former Manchester City keeper and NPL stalwart Alan Ogley. For the first time ever, voting is being carried out electronically, including the nominations process to pick the NPL's top bosses of the last five decades as part of the competition's on-going NPL50 celebrations.
Like the 100 playing legends and 'Team of All Time' who attracted thousands of votes in the first half of the season, they will also feature in '50 Glorious Seasons - A History of the Northern Premier League 1968-2018', a new book charting the competition's proud history since 1968. Currently being written by the EVO-STIK League's official historian Dominic McKenzie, the book is due out at the end of the season".
Saturday 10 March 2018
The EVO-STIK Premier Division
Altrincham v Mickleover Sports
Ashton United v Halesowen Town
Buxton v Nantwich Town
Marine v Hednesford Town
Matlock Town v Stourbridge
Shaw Lane v Sutton Coldfield Town
Stafford Rangers v Lancaster City
Warrington Town v Barwell
Whitby Town v Grantham Town
Witton Albion v Farsley Celtic
Workington v Stalybridge Celtic
The
Evo-Stik League
reports that "Clitheroe haven't lost their sense of humour after the 'Beast from the East' met Storm Emma over the Shawbridge home of the Blues. Despite working late into the night on Friday to clear up after a stand collapsed in the high winds and a burst pipe flooded their changing rooms, hardy volunteers and officials at the club were still managing to joke on social media in regular updates on the chaos for fans.
In one post confirming this Saturday's match against Trafford was definitely off, Clitheroe FC tweeted, "Tomorrow's game against Trafford is officially off. This is due to the deep snow drifts still sat on the pitch, the winds pulling down a stand, and the changing rooms having no water due to a burst pipe. Enjoy your weekend! This was the damage done by Storm Emma and, unfortunately, before we got chance to do anything with this some disappeared into next door...
The full programme of fixtures were postponed 24 hours early on Friday after league officials put special measures in place to avoid any unnecessary travel and inconvenience for fans, players and officials and ensure their safety".
---
3 March 2018
Today's game at Shaw Lane has been postponed due to a snow covered and frozen pitch at the Yorkshire club. The next scheduled fixture for Altrincham is at home on Tuesday night (6th), against Stourbridge.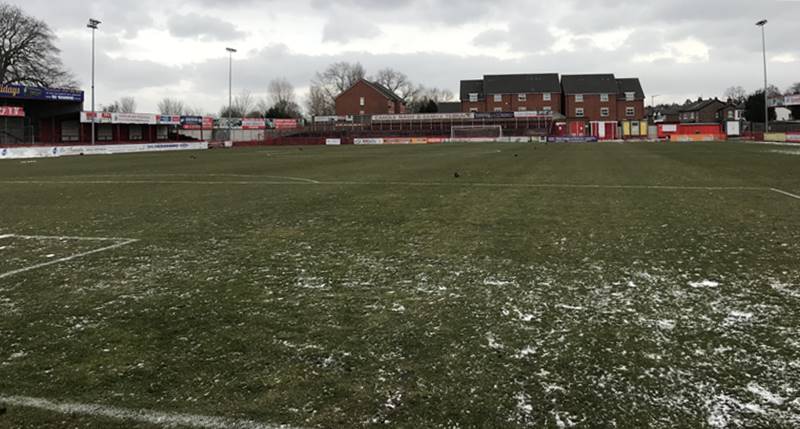 Although the pitch at the J Davidson Stadium (seen above) was not playable on Friday, Altrincham FC is confident that, barring further severe frost or snow, it will be OK for Tuesday's fixture.
Press and Media Officer John Edwards writes that "Altrincham striker Josh Amis (right) is heading to Marine in his quest for more game time to build up his fitness levels, following a succession of injury problems.
With Josh needing minutes under his belt to regain his old sharpness, the move should benefit both clubs and is expected to be rubber-stamped tomorrow (Saturday)".
Footnote: Josh has made one start and five appearances from the bench for Altrincham this season. Earlier this season he had loan spells with Colne and Trafford.
As previously advised, it has not been possible to update the mobile version of this website for the past 24 hours because of essential work by the site's hosting service which, due to their incompetence, has not gone as planned. Currently the mobile version of this site is not accessible online. Should a similar issue affect the desktop site, a temporary (and very limited) replacement news page will be available
here
, which you may wish to bookmark.

Keith Edleston writes that "Last week the Ladies team welcomed new signing Beth Hayes (right, click on image to enlarge) into the squad. Beth, who has joined us from FC United of Manchester, is a very accomplished midfielder/forward whose passing ability in midfield can unlock many a stubborn defence and she also has shown, when played upfront, a great eye for a goal.
Last Sunday, Beth made her debut and slotted in well in midfield when she came on for the last 20 minutes against West Didsbury and Chorlton LFC. She also had a hand in what turned out to be the winning goal. She will take the no.23 shirt. Welcome into the Club!"
In Cumbria, the
News and Star
reports that "Lee Andrews is not panicking about Workington Reds' backlog of fixtures just yet... Andrews does not believe it to be any worse than previous years...
'I think if you look back over the past few seasons, we have had more games than we have got left this time,' said Andrews. 'We will manage to squeeze them all in as we have the dates for the rearranged games now. It can be difficult on the lads playing Saturday, Tuesday each week but if we can get the results, it can also work in our favour. You can get into a routine of churning games out and, if you hit a run of form, then that helps because the next game can't come quick enough'...
[Saturday's postponement gives] Reds a chance to regroup with defender Dan Wordsworth available after Saturday. Andrews is still hoping to bring some fresh blood into the club to boost his side going into the last crucial few weeks."
Also on the West coast, the Lancashire Evening Post reports that "Lancaster City manager Phil Brown admits he is a little flummoxed by his team's inconsistency at the moment.
The Dolly Blues' boss was left mightily frustrated on Saturday after his team went down to a disappointing 2-0 home defeat to Rushall Olympic. After winning two games on the bounce the previous week, which snapped a three-match losing streak, City went into the match at the weekend in high spirits. However, they were unable to repeat their exploits of the previous two fixtures as a sorry first-half showing saw them concede twice.
They were unable to recover in the second half and slipped to another defeat, their second against Rushall in a matter of weeks.
Brown said, 'Two steps forward and then a couple of steps back is probably a good way of describing how we felt after the game on Saturday... We expected a little bit more, well a lot more on Saturday. For whatever reason, we weren't at it at all in the first half really... We were off the pace and mentally we weren't sharp enough. Our intensity was not high enough and we allowed them to get a foothold in the game and they scored two goals...
'For me as a manager I have got a few decisions to make in terms of the squad and the starting XI for the game against Marine. I do think there will be changes based around what I saw last Saturday'. Selection wise, Brown will be without striker Tom Kilifin, who has work commitments, and Ricky Mercer is a doubt with a trapped nerve in his back."
Saturday 3 March 2018
The EVO-STIK Premier Division - all games postponed.
Barwell P-P Stafford Rangers
Coalville Town P-P Halesowen Town
Farsley Celtic P-P Witton Albion
Grantham Town P-P Hednesford Town
Marine P-P Lancaster City
Matlock Town P-P Ashton United
Rushall Olympic P-P Buxton
Shaw Lane P-P Altrincham
Stalybridge Celtic P-P Workington
Stourbridge P-P Sutton Coldfield Town
Warrington Town P-P Nantwich Town
Whitby Town P-P Mickleover Sports
---
2 March 2018
Altrincham's Cheshire Senior Cup quarter-final, at home to Winsford United, will take place on Wednesday 21st March at 7.45pm.
Altrincham now have nine fixtures in March, seven of them at home!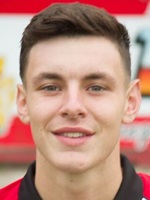 John Edwards, Press and Media officer at Altrincham FC writes that twenty-year old "Sam Heathcote (right) is heading back to The J.Davidson Stadium after agreeing to rejoin Altrincham from Ramsbottom United.
Though primarily a centre-back in his first spell with Alty, Sam reverted to the striker role he filled as a junior at Manchester United when he signed for Ramsbottom last August.
He underlined his goalscoring prowess with a double-figure haul that endeared him to Ramsbottom fans and included an unerring second-minute strike at The J.Davidson Stadium in November that briefly threatened an FA Trophy upset before Alty rallied to run out 4-1 winners.
His versatility makes him a valuable addition to Phil Parkinson's squad and means he can provide cover up front or at the back, as Evo-Stik Nothern Premier League leaders Alty look to finish the task of securing promotion in the season's final stages".
In his previous spell at Moss Lane, Sam made 32(+19) appearances for Altrincham.
The funeral for Altrincham supporter David Cameron will be held on Thursday, 8 March, at Altrincham Crematorium at 2pm. Please note that for the funeral it will be family flowers only and any donations should be made to the British Heart Foundation via Kenneth Dewey & Sons, funeral directors.
The family wishes to express its appreciation for the support that the Altrincham FC community has given them.
On Sunday Altrincham FC Ladies are scheduled to host Stockport County LFC in the North West Regional Women's Argyle Cup with a 2pm kick off at Mersey Valley Sports Club, Banky Lane, Sale, M33 5SL.
The clubhouse and car park will be open from 12-45pm and all spectators are very welcome.
The
EVO-STIK League
"is putting special measures in place ahead of this weekend's action to avoid any unnecessary travel and inconvenience for fans, players and officials with more severe winter weather forecast.
With freezing temperatures and snow blanketing much of the UK and more expected before Saturday's full programme, Northern Premier League secretary Angie Firth authorised early pitch inspections on Friday in an email to the secretaries at all 68 clubs confirming a number of other special measures to help ease disruption".
The league also announces that "Stamford, Barwell and Hyde United are celebrating the start of Spring as the Northern Premier League's latest performance kings!
February's 'Club of the Month' winners will be presented with engraved glass mementos to mark their form and results over the last four weeks and a bottle of spirits to celebrate with...
Barwell and manager Jimmy Ginnelly are also looking forward to collecting their first monthly honours of the campaign in the EVO-STIK League Premier Division at Kirkby Road after recording three wins and a draw in February to beat Warrington Town to the award on points taken per game".
And the EVO-STIK Northern Premier League FWP Group Fair Play Winners in the Premier Division for February are Lancaster City.
From the Warrington Guardian we learn that "Warrington Town could be boosted by the return of skipper Jay McCarten when they host Nantwich Town on Saturday. The centre-half has not featured since suffering an ankle injury in the 1-1 draw at Altrincham on January 27 and has missed Yellows' past eight games.
He had been ever-present before then and manager Paul Carden says he is reluctant to risk McCarten unless he is 100 per cent fit...
He told the Guardian... 'There's no point risking him until he's 100 per cent right. We're going to have a load of fixtures piled up that we're going to need him for'...
In McCarten's absence, Jack Higgins has filled the void in the heart of Town's defence alongside Liam Goulding... 'Jack has had a bit of an up-and-down season in terms of suspensions, injuries and what not,'he said. 'Hopefully he's found his feet now and he's starting to show the player I know he can be. Liam Goulding has been immense. He's really stepped up which is why I've given him the captaincy in Jay's absence...
'He's been flawless. He's got a lot of attributes for someone who's only 21 years of age'...
Yellows sit second in the Evo-Stik Premier Division table ahead of Saturday's visit of Nantwich to Cantilever Park... The gap between Town and leaders Altrincham has been cut to seven points and Carden believes his side can close the gap further.
'When you look at the league above and you see what's happened with Salford in the past month or so, nothing should ever surprise you,' he said. 'That said, we know how good a side Altrincham are and they don't drop points often... If we carry on racking up the points, we may see the gap closing further.
'I know Dave Cooke, Nantwich's manager, very well. Being honest, I've tried to sign his son Sean a few times. He's their stand-out player and seems to score or make a goal every week'".
---
1 March 2018

Above, the pitch at the J. Davidson Stadium, as seen on Wednesday morning. Since then there have been some further light snow showers and the mid-afternoon temperature was minus three Centigrade. However, the next scheduled match on the pitch is not until next Tuesday, when Stourbridge are the visitors.
Like Altrincham, our next opponents, Shaw Lane, had their Tuesday night fixture postponed.
Shaw Lane AFC
now report that "Our visit to Nantwich Town has been re-arranged. The game, postponed last night, will now be played on Tuesday 24th April. The fixture becomes our penultimate game before the final Saturday of the season and could become an important game with regards to our promotion hopes."
Meanwhile, on the player front, Shaw Lane AFC confirm that "Winger Nicky Walker has left Shaw Lane to join National League North Gainsborough Trinity [managed by Lee Sinnott]. The winger who signed only last summer has teamed up with former assistant manager John Reed at the struggling Lincolnshire club. Walker had made 31 appearances (24 in the starting XI) and scored seven goals, including two at Whitby Town earlier in the season."
---
28 February 2018
Altrincham have virtually a third of the season's league fixtures to complete, having played 31 of their 46 allotted matches. Of the 15 remaining games, eight are at home and seven are away. With the recent change to the Stourbridge fixture, Altrincham play four successive home matches after their planned visit to Shaw Lane this Saturday. In contrast their final six matches feature four away trips.
The only free Tuesdays at present are 20 March and 24 April, the latter being in the final week of the season. One of the vacant Tuesdays is expected to be assigned to the Altrincham v Winsford United Cheshire Senior Cup match and victory in that match would, of course, create a further fixture at some stage.
The current top six on a points basis are
Altrincham P 31 PTS 67 GD 43
Warrington Town P 31 PTS 60 GD 18
Shaw Lane AFC P 29 PTS 57 GD 27
Farsley Celtic P 35 PTS 57 GD 7
Ashton United P 31 PTS 55 GD 18
Grantham Town P 31 PTS 54 GD 26
On a points per game basis, the table would read...
2.16 Altrincham
1.96 Shaw Lane
1.93 Warrington Town
1.77 Ashton United
1.74 Grantham Town
1.63 Farsley Celtic
1.54 Witton Albion
1.48 Workington
And on a maximum points achievable basis, the running order would be
112 Altrincham
108 Shaw Lane
105 Warrington Town
100 Ashton United
96 Grantham Town
91 Workington
90 Farsley Celtic
90 Witton Albion
Tonight's postponed home match against Stourbridge has been rearranged for next Tuesday, 6th March, at 7.45pm.
All EvoStik Premier matches were postponed on Tuesday night; a measure of the severity of the weather is that for Grantham Town it was apparently a first home postponement since 2014.
The Evo-Stik North was also decimated and matches in the National League had to be postponed as well.
Tuesday 27 February 2018
The EVO-STIK Premier Division
Altrincham P-P Stourbridge
Ashton United P-P Stalybridge Celtic
Buxton P-P Workington
Grantham Town P-P Warrington Town
Nantwich Town P-P Shaw Lane
The
EvoStik League
announces that "The Northern Premier League's clubs will meet this weekend to decide the future geography of the competition after the Football Association published next season's draft boundaries at Steps 3 and 4 around the new Midlands divisions.
Taking place at the Holiday Inn, Wakefield at lunchtime on Sunday, the meeting of all 68 clubs was planned to coincide with the long-awaited publication of the results of the National League System Review on The Non League Paper's website at 9am on Wednesday.
Carried out by the FA Leagues' Committee to iron out geographical anomalies, cut down on travelling costs and time for fans, players and officials and encourage more Step 5 clubs to climb the pyramid, the biggest shake-up to the structure of Non-League in more than a decade since 2004 will see the creation of new Step 3 and 4 divisions covering the Midlands region.
In total, the 276 clubs currently playing in Steps 1 to 4 will increase by 20 to 296 when the two new divisions kick-off in August 2018. Across the board, the reshuffle will see the three current Step 3 divisions of 24 clubs increase to four divisions of 22 clubs while the six divisions at Step 4 currently run by the Northern Premier League, Southern League and Isthmian League will rise from 136 clubs playing in six divisions to seven 20 club divisions."
The NL Paper has more details of the plans and a map, and it adds that "The Northern Premier League is calling a meeting of its clubs to decide whether to remain with a north/south split or to change to an east/west allocation."
---
27 February 2018
Following a pitch inspection tonight's game at home to Stourbridge has had to be postponed because of a partly frozen playing surface. This decision comes despite hard work by the groundsman and volunteers to make the pitch playable. Our next scheduled game is at Shaw Lane AFC on Saturday.
After an abortive trip by Altrincham to Stourbridge where the game was called off at 1.50pm by the match referee, both sides will be hoping for better fortune on Tuesday night, despite the current cold spell. It will be the Glassboys first trip to Altrincham and also the first-ever meeting between our two clubs. Curiously, Stourbridge are the only team in the division yet to draw an away league match; they have won seven and lost seven of their away trips, so far.
On the eve of the match, Stourbridge reported that "The Glassboys travel to Altrincham on Tuesday night...
The postponement of Saturday's game at Buxton, the only Premier Division game to fall foul of the weather, denied Stour the chance to build on the previous weekend's win over the same opposition, and meant that we slipped a place to 15th in the League table. With 16 matches still to play, plus our ongoing involvement in the Birmingham Senior Cup, it looks set to be a busy final couple of months of the season, starting with a tough test at the home of the table-topping Robins.
Since losing two of their first three League games, Alty have been in magnificent form, with only two subsequent defeats in 28 matches. They last tasted defeat on New Year's Day when Witton Albion sprang something of a surprise with a 4-3 win at Moss Lane, not least as Alty had conceded just four goals in their previous 16 League fixtures.
Since then the Robins have won four and drawn two...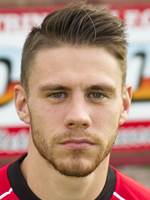 Saturday saw Altrincham pegged back by a late equaliser at Ashton United as the home side rallied from 1-3 down to salvage a point, whilst the previous Saturday saw Sutton Coldfield Town pushed them close at Moss Lane, before Alty ran out 2-1 winners.
Whilst Altrincham show no real signs of faltering, it is worth noting that they have conceded seven goals in their last four games after conceding only eight in the previous 19, including the four scored by Witton.
On home turf, Alty have won 11, drawn two and lost two...
The teams have never met before, with both of this season's fixtures delayed by a combination of Cup commitments and weather, and the Robins are due to visit the War Memorial Ground on Monday, 9th April for the reverse fixture.
Playing links are few and far between, but recent seasons have seen George Bowerman (above, right), Junior Smikle and Kyle Perry play for both clubs... A club coach is running to the match, departing from the War Memorial Ground at 4pm".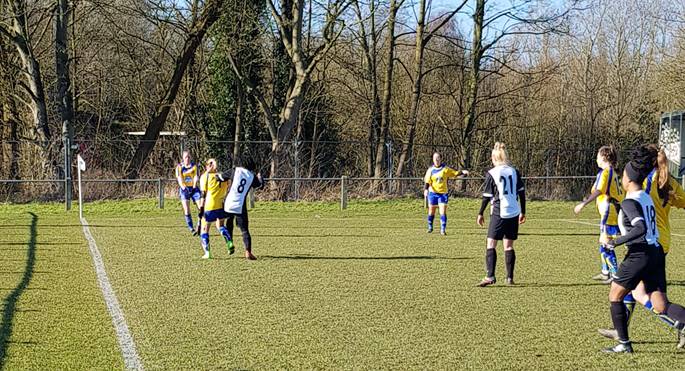 Manager of Altrincham FC Ladies, Keith Edleston reports how the team advanced into the quarter-finals of the Argyle Cup on Sunday.
He writes, "The first team advanced into the next round of the Argyle Cup with a 2-1 away victory against West Didsbury and Chorlton LFC. Two goals, (one in each half), from midfielder Laura Dodds settled a good game of football although a few nerves set in when West pulled a goal back with a few minutes to go. There were lots of positives to take from an impressive away win with all the team putting a shift in and showing quality on the ball when needed against what is a good West side.
There was a pleasing debut also from new signing Beth Hayes who got a good 20 minutes under her belt and will definitely improve the team in the coming games. Best wishes to Paul and his team at West for their hospitality and we wish them well for the rest of the season".
The starting eleven was: Paula Alarcon-Conde, Georgia Ashton, Louise Edleston, Bliss Molyneaux (capt) Aimee Hopkinson, Laura Dodds, Gail Simpson, Nadine Sproule, Jess Hartopp, Jade Hesketh, Kye Brown. Subs: Beth Hayes, Megan Rowley
Goals: Laura Dodds (x2).
Winsford United 3-0 Warrington Town, played at Warrington.
Winsford will now travel to Altrincham in the next round on a date to be confirmed.
Mike Garnett provides data on previous CSC encounters with Winsford United...
Home P9 W6 D1 L2 F18 A9
Away P5 W2 D2 L1 F5 A9
Neutral P3 W0 D1 L2 F2 A7
Overall P17 W8 D4 L5 F25 A25
From the
News & Star
we learn that the "Depleted Workington Reds have help coming with a Football League club midfielder set to join up on loan. Reds travelled to Barwell on Saturday, where they lost 1-0, with only two substitutes; Conor Tinnion, who was not fully fit, and joint-manager Lee Andrews.
'I'd been hoping to get two players on loan before Saturday's game and almost got one over the line,' said Andrews. 'That should be completed early in the week, although the second one might not happen.'
Reds have not won in the Evo-Stik Premier Division this year and conceding a quick double to Barwell was their fifth straight defeat, which has dropped them to 10th in the table. Injuries to Jordan Holt, Josh Calvert and Anthony Wright, with Dan Wordsworth unavailable, cut Reds' options, compounded by the fact that younger players used before, were involved with the Cumbria [county] side.
'Under the circumstances, I thought it was a very good effort,' added Andrews. 'It was a totally committed performance and I thought we deserved something out of it. One mistake cost us... We are still focused on making the play-offs'...
Workington should be in action again tomorrow [Tuesday] night at Buxton but there looks every chance of that falling foul of the weather... Reds are also away on Saturday when they travel to Stalybridge. And they will also be on the road the following Tuesday when they are due to take on Lancaster in the third round of the League Cup. The winners of that tie will be at home to either South Shields or Cleethorpes in the fourth round."
---
26 February 2018
Next Sunday, 4 March, Altrincham FC Youth are away to St Helens Town in the North West Youth Alliance Open Cup.
On Sunday in the Argyle Sports Cup, Altrincham FC Ladies won 2-1 at West Didsbury & Chorlton. Their next game is against league leaders FC United of Manchester at Mersey Valley.
---
25 February 2018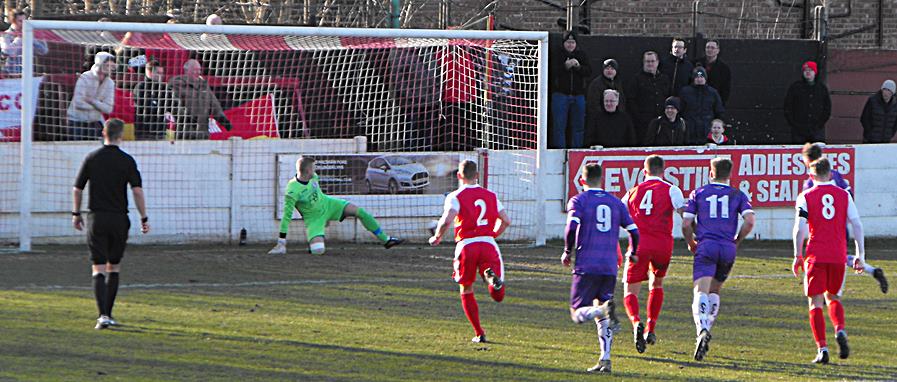 Above: John Johnston, far right, converted the penalty which opened the scoring.
Match report here
Below: Mike Ripley's camera shows James Jones heading Altrincham's third goal.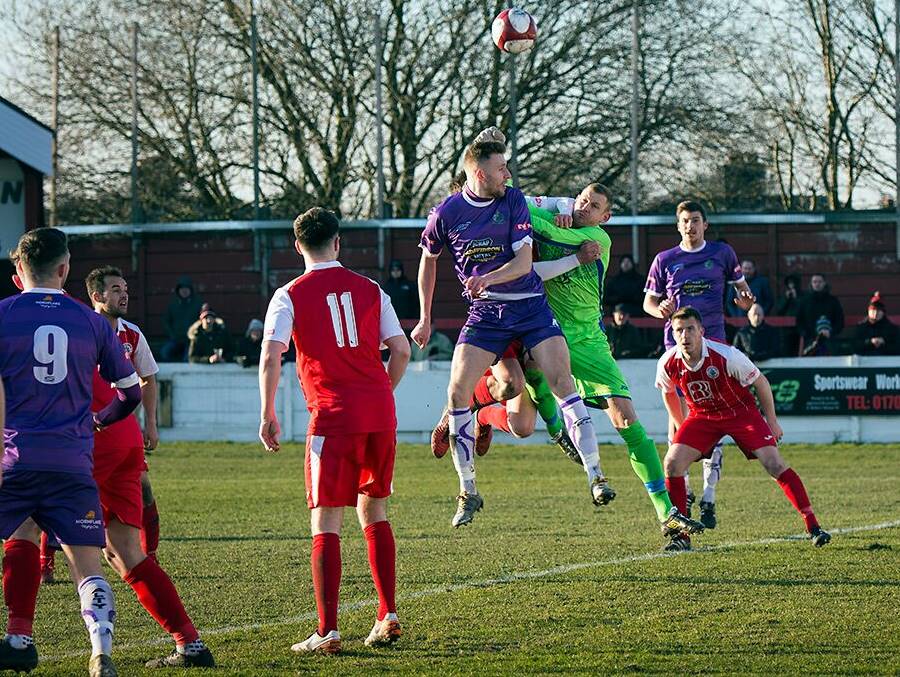 On Saturday, in The Cheshire Football League, Premier Division, Altrincham FC Reserves drew 1-1 at home to Congleton VR, The next two fixtures are also at home. Next Saturday (3 March) they play against league leaders Knutsford FC and the following Saturday (10 March) they entertain tenth-placed Crewe FC at Egerton Sports Club, Knutsford. Altrincham Reserves currently lie 13th in the table.
Saturday 24 February 2018: The EVO-STIK Premier Division
Att. 546 Ashton United 3 - 3 Altrincham
Att. 157 Barwell 1 - 0 Workington
Att. 326 Halesowen Town 3 - 2 Matlock Town
Att. 346 Hednesford Town 0 - 2 Warrington Town
Att. 209 Lancaster City 0 - 2 Rushall Olympic
Att. 323 Marine 1 - 3 Mickleover Sports
Att. 327 Nantwich Town 3 - 1 Grantham Town
Att. 193 Shaw Lane 2 - 0 Coalville Town Paul Clayton 46' Damian Reeves 50'
Att. 426 Stafford Rangers 2 - 0 Stalybridge Celtic
Att. 144 Sutton Coldfield Town 0 - 1 Farsley Celtic
Att. 229 Witton Albion 1 - 0 Whitby Town
Kevin Ellison
was 39 last week but he is still knocking the goals in for Morecambe. He hit a superb shot and then a header to record a brace on Saturday against Wycombe Wanderers in League Two.
NL Pitchero records the fact that, in midweek, "Trafford needed penalties to make the final of the Manchester Premier Cup at the Butcher's Arms against rivals Droylsden. The teams had shared a 2-2 draw in 90 minutes with Aaron Burns giving Trafford the lead after 35 minutes which Callum Bagshaw cancelled out 4 minutes later.
Sefton Gonzales's penalty, 14 minutes from time, gave the Bloods the lead, but Altrincham loanee Sean Miller took the game to spot-kicks with an 80th minute equaliser.
Trafford won the shoot-out 3-1.
Our opponents next Saturday,
Shaw Lane
report on Saturday's win against Coalville Town.
"Coalville will rue their chances missed in the first half as Shaw Lane continued their unbeaten run. The Ducks are now seven unbeaten as they keep pushing for a play-off place. But it was the Ravens who had the better of the play and chances in the first 45 minutes. A double save by Ed Wilczynski on 21 minutes kept the home side level...
After the break it was a different story and it didn't take long for the home side to find the back of the net. Paul Clayton tucked home from five yards after an Alex Byrne cross from the left was deflected in front of the target man, a minute after the restart.
Top-scorer Damian Reeves made it two nil on 54 minutes with a header inches out. A corner by Byrne was flicked on by James Pollard over keeper Elliott Taylor and Reeves couldn't miss.
Coalville still had chances and Watson smashed an effort onto the crossbar from a free-kick on 68 minutes. The Ducks could have put the game to bed but were also denied by the crossbar. Reeves headed against the frame from a Byrne cross on 78 minutes and then, heading into added time Byrne did the same with his shot from the left side of the box.
Coalville eventually became frustrated and a poor challenge on Byrne by Kyle Dixon a minute later saw the midfielder shown a straight red.
Full Time: Shaw Lane 2, Coalville Town 0.
Shaw Lane: Ed Wilczynski, Kieran Lugsden, Ben Gordon, Spencer Harris, James Pollard, David Norris, Alex Byrne, Godwin Abadaki, Paul Clayton (Chib Chilaka 77), Damian Reeves (Ryan Serrant 84), Gavin Rothery (Jake Picton 70). Subs Not Used: Nicky Walker, Niah Payne".
Last midweek, a "cup tie saw promotion-chasers Shaw Lane AFC take their place in the semi-finals of the Sheffield & Hallam Senior Cup after a comfortable 4-1 win against Sheffield County Senior League minnows North Gawber Colliery. Although the scoreline was comprehensive enough, the visitors didn't go down without a fight – literally!
Spencer Harris's penalty and a Damian Reeves brace had the Ducks three-up at the break.
Liam Marsden pulled one back from the spot 5 minutes after the restart, but Alex Byrne made it 4-1 just past the hour-mark for a stronger Shaw Lane side than would probably have been the case had it not been two weeks since they played due to the weather.
The scoreline could have been greater with Byrne and Reeves both hitting the woodwork in the second half, either side of the fourth goal but then the game went awry.
Firstly, Kieran Lugsden had to hobble off the pitch reducing the home side to ten-men for the final 6 minutes, but then the referee had a major decision to make. Following an awful lunge near the dug-outs a crowd of players had words. This resulted in not one, but three red cards! With the brawl at conclusion, the referee sent-off North Gawber`s Scott Chipchase for the initial tackle and Carl Woodhead for a punch.
After the two red cards and just a yellow to the Ducks' Godwin Abadaki, North Gawber`s Jake Senior was then sent for an early shower for abusive language. Shaw Lane await to see if they'll play either Swallownest or Frickley Athletic in the semi-final."
Before Saturday's matches, Sutton Coldfield Town reported that "With a crucial home game tomorrow against Farsley Celtic, Toothy has signed 3 players in time to make tomorrow's squad. We see goalkeeper Matt Cotton sign from Coalville, central midfielder Louis McGorry sign on loan from Telford and defender Sam Coulson sign from Tamworth".
Monday 26 February 2018
Cheshire Senior Cup First Round
Winsford United v Warrington Town, to be played at Warrington Town, to determine who visits Altrincham in the next round.
Quarter-Finals:
Stafford Rangers v Mickleover Sports
Bamber Bridge v Ramsbottom United
Hednesford_Town v Basford United
Lancaster City or Workington AFC v Clee Town or South Shields
---
24 February 2018
Three defensive lapses cost Altrincham two points. In 2018 they have now conceded 11 goals in seven league matches having only conceded ten in their previous 19 league games (and five of those ten were in one game at Workington, where they were reduced to ten men).
Altrincham started the game on a bobbly pitch at Ashton well but did not get the breakthrough till the 32nd minute when Johnston converted a penalty after a foul on Poole. But they fell asleep from the restart and Pritchard equalised a minute later.
After a lacklustre start to the second half, two goals in a five-minute spell around the hour mark seemed to have secured an away victory. A superb counter-attack was finished off by Johnston to make it 2-1 then a Jones header span into the net to make it 3-1 (62 mins).
But, five minutes later, a foul by Moult gave Ashton a freekick from the front edge of the box which Pritchard curled home and in the 89th minute Hampson failed to make a clearance. Posssession was lost, Ashton struck the bar and Chadwick nodded in the loose ball.
Match report here
Apologies for the slower than usual matchday updates today; for some reason the connection at Hurst Cross is extremely slow but the updates have worked fine in every other location we have visited this season.
Saturday 24 February 2018: The EVO-STIK Premier Division
Ashton United 3-3 Altrincham
Barwell 1-0 Workington
Buxton P-P Stourbridge
Halesowen Town 3-2 Matlock Town
Hednesford Town 0-2 Warrington Town
Lancaster City 0-2 Rushall Olympic
Marine 1-3 Mickleover Sports
Nantwich Town 3-1 Grantham Town
Shaw Lane 2-0 Coalville Town
Stafford Rangers 2-0 Stalybridge Celtic
Sutton Coldfield Town 0-1 Farsley Celtic
Witton Albion 1-0 Whitby Town
In advance of Saturday's game,
Ashton United
said that "It's another big game at the top end of the Evo-Stik Premier Division as Ashton welcome runaway leaders Altrincham to Hurst Cross. Banim's men have only lost one of their last 12 league games and that solitary loss came against the Ammies in a 3-2 defeat at Moss Lane last month.
The visitors will come into the game on the back of a 2-1 home in over Sutton Coldfield, thanks to Max Harrop's goal of the season contender, and John Johnson's penalty in the second half ensured that Altrincham increased their lead at the summit. Altrincham are in fine goal scoring form this season, finding the net 68 times in just 30 games. They also boast an impressive defensive record too, conceding only 25 goals so far this campaign.
Despite losing the reverse fixture, Ashton can go into the game encouraged with their home form as the Robins haven't lost at home since September in the league when Hednesford Town took all three points at Hurst Cross.
This week our one to watch is ex-Robin Max Harrop, the 24-year-old started his career at Bury in 2010 and, following numerous loan spells away, Harrop joined Nantwich Town in 2013. After his two-year stint he then went to Hurst Cross and joined Ashton United but, after only five appearances, he then joined Rammsbottom United for another short period. In August 2017, Harrop joined Altrincham and has scored five goals so far this term including a stunner vs Sutton Coldfield".
Admission prices:
Adults - £10
Concessions - £6
Saturday 24 February 2018: The EVO-STIK Premier Division
Ashton United v Altrincham
Barwell 1-0 Workington
Buxton P-P Stourbridge
Halesowen Town 3-2 Matlock Town
Hednesford Town 0-2 Warrington Town
Lancaster City 0-2 Rushall Olympic
Marine 1-3 Mickleover Sports
Nantwich Town 3-1 Grantham Town
Shaw Lane 2-0 Coalville Town
Stafford Rangers 2-0 Stalybridge Celtic
Sutton Coldfield Town 0-1 Farsley Celtic
Witton Albion 1-0 Whitby Town
---
23 February 2018
Altrincam FC Community Sports has vacancies for the roles of Casual Sports Coach and Caretaker. Details are on the CSSH
website
.
Alty's opponents next week, Shaw Lane, beat North Gawber Colliery on Thursday in the Sheffield & Hallam Senior Cup, quarter final. Their starting eleven comprised 1. Myles Wright 2. Kieran Lugsden 3. Ben Gordon 4. Spencer Harris 5. James Pollard 6. David Norris 7. Alex Byrne 8. Godwin Abadaki 9. Paul Clayton 10. Damian Reeves 11. Gavin Rothery
---
22 February 2018
Sutton Coldfield Town
have produced a report on last Saturday's game against Altrincham, headed "Late drama at Altrincham robs The Royals of a hard fought point".
Sutton traveled to top of the league Altrincham on the back of several improved performances since Neil Tooth to over as manager but it was always going to be a very tough ask...
An early move saw Sutton have the first chance almost from the kick off when Karl Hawley shot tamely at the keeper. Sutton continued their early pressure and a defender almost gifted them the opening goal when he cleared just over the bar. A good ball in the 13th minute to Tyler Little allowed him to cut in and beat the diving keeper and Sutton were ahead which was just reward for their early pressure.
Altrincham hit back and Max Harrop equalised with a great 30 yard shot, after the ball was given away in midfield, that gave Jon Brown in the Sutton goal no chance...
With the game heading towards a 1-1 draw, a foul by James Beresford in the 85th minute gave Altrincham a penalty which John Johnson converted.
Dominic Dell came on as a substitute but only lasted about 5 minutes before being red carded.
This was a very spirited performance against a very good team and was yet another much improved performance giving hope that Sutton can yet avoid relegation. It was significant that Sutton's Tyler Little was awarded Man of the Match by the Altrincham sponsors. [Tyler was named as Away Man of the Match and Max Harrop was named Alty Man of the Match].
The
Northwich Guardian
reports how "Witton Albion let a lead slip three times before bowing out of the Integro League Cup following a penalty shoot-out at Mickleover Sports on Tuesday.
Goalkeeper Lewis King was the home team's match-winner, saving four spot-kicks, two of those when Carl Macauley's men would have progressed had they been converted. His opposite number, Ryan Neild, also stopped three.
The visitors had led at the break through James Foley's goal after Will Jones and Owen Dale had combined in the build-up.
Pablo Mills levelled with a header shortly after the interval before substitute Steven Tames restored Witton's lead when he fired low into the corner from the edge of the penalty area.
Louis Briscoe's maiden strike for Sports hauled them level again before Tames made it 3-2 with six minutes left when he pounced on a rebound after Jones's shot had been parried.
However Mills netted a second time with a header for the hosts, who rode their luck when Jones's header hit the woodwork in added time.
Nick Ryan, Prince Haywood and Michael Wilson all scored for Witton in the shoot-out, but King stopped Danny McKenna's sudden-death effort before Andy Dales converted to send Mickleover through to the competition's last-eight".
​Halesowen Town "can confirm that, after lengthy discussions, they are in a position to name the investors that are in place to complete the purchase of the club. ​
Halesowen Chair, Karen Brookes, will be making the announcement exclusively on the pitch with Black Country Radio's Adam Parkes before the game against Matlock Town FC on Saturday 24th February. ​
This is an exciting chapter in the history of our great club."
---
---
---
---