---
Saturday 31 March 2018
The Through the Years files of Howard Watts and Mike Garnett reveal that Alty have lost their last seven games played on the 31 March date!
Ashton United 1-1 Mickleover Sports
Coalville Town P-P Workington
Halesowen Town 1-0 Stourbridge
Lancaster City 2-1 Sutton Coldfield Town
Marine 2-3 Buxton
Matlock Town P-P Stalybridge Celtic
Nantwich Town 1-1 Farsley Celtic
Rushall Olympic 2-0 Altrincham
Shaw Lane P-P Barwell
Stafford Rangers 1-2 Grantham Town
Whitby Town P-P Warrington Town
Witton Albion 3-0 Hednesford Town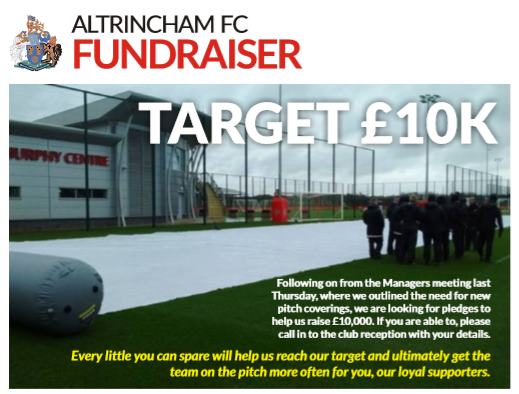 There has been an offer to the Club of some new half-pitch covers at a discounted price and the Club was launching an appeal for £10K to that end. It had been decided to fund the covers by an appeal so that the manager's playing budget does not feel the impact. Supporter Pete Scotson has already donated £1K to get the fund going and other supporters are invited to add to this. (Details of how you can help are shown in the adjacent poster. Please contact the club for further details or to pledge a donation.)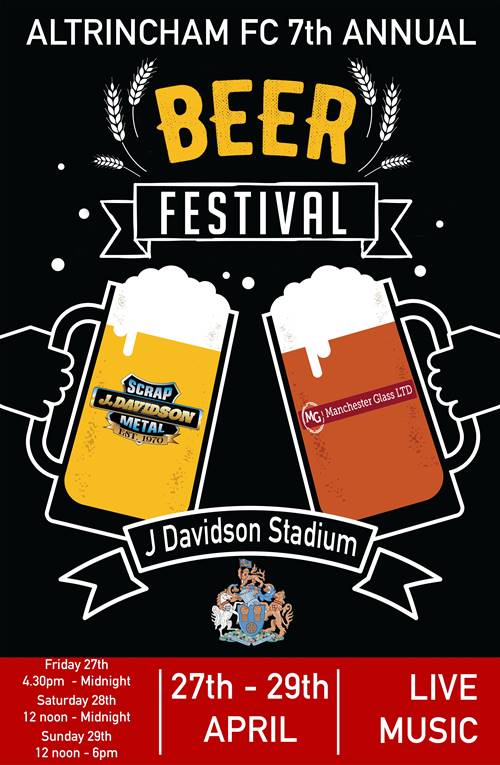 The
Northwich Guardian
is looking "to see how Witton respond to successive defeats in the past week, at Ashton last weekend and then at home to lowly Halesowen on Tuesday.
Albion were punished for mistakes in defence by the Yeltz, for whom Lee Hughes scored a decisive goal in the third minute of added time.
It means Carl Macauley's men start the weekend seventh in the Northern Premier League's Premier Division table, three points adrift of a promotion play-offs place.
Hednesford Town, their guests on Saturday, are three points further back in eighth.
Rob Smith's men have fallen from contention following a single victory in their past eight league games, although they travel up the M6 boosted by an emphatic midweek victory against Basford United in the Integro League Cup.
"We have to regroup, we know that, and it's important we put behind us quickly the past couple of results" said Carl Macauley, Witton Albion manager.
Rob Smith, Hednesford Town manager said, 'The past couple of matches have seen us put in some real fight and come away with a deserved point last weekend against Buxton and an excellent victory over Basford [in the Integro League Cup]'...
Witton won the first three meetings between the teams in the Northern Premier League. However six games have passed since without Albion collecting maximum points. Carl Macauley is hoping to receive a boost from Crewe Alexandra with regards to the fitness of on-loan winger Owen Dale, who has missed the past three games through injury.
River Humphreys is likely to be recalled after work commitments prevented him from starting a defeat in midweek against Halesowen.
For Hednesford... Jordan Graham has been recalled by parent club Mansfield Town following a successful temporary stay... James Fitzgibbon (back) hasn't played at all since a 2-0 defeat at home to Warrington last month, while an injury sustained by Sam Oji late on at Buxton last weekend ruled him out of a midweek knockout success against Basford."
---
30 March 2018
A meeting of supporters with the Board and management of Altrincham FC took place in the Community Sports Hall on Thursday evening. A report on the meeting is to be found, below.
The meeting started with particularly good news as manager Phil Parkinson and his assistant, Neil Sorvel signed new contracts to remain at the Club next season.
As mentioned above, a meeting of supporters with the Board and management of Altrincham FC took place on Thursday evening. Compered by Brian Flynn, the structure of the evening was laid out by him, with a series of presentations on club operations by Board members to be followed by a Q&A on footballing matters with Phil Parkinson [PP] and Neil Sorvel [NS].

Those representing the Club were (left to right, above) Neil Sorvel (assistant manager), Phil Parkinson (manager), Rob Esteva (director), Derek Wilshaw (director), Grahame Rowley (chairman), Neil Faulkner (director), Bill Waterson (director), Lawrence Looney (director), Mike Adams (director), Barry Pond (associate director).
Club Operations
Grahame Rowley [GR] (Chairman and responsible for Club Operations)
GR started the evening with the excellent news that the manager Phil Parkinson and his assistant, Neil Sorvel, had agreed new contracts which would keep them at Altrincham next season. Indeed, the management duo were invited to sign their contracts, which they duly did.
GR then outlined how the Board had heeded the comments from the Strategic Review and had refreshed the Board with three new appointments in the form of BW, RE and LL and other directors had left the Board. The Chairman also indicated a new "open book" policy on finance (see below).
Whilst introducing the Board and outlining their responsibilities, he paid tribute to Associate Director, Barry Pond [BP], who is to step down at the end of this season. BP explained that he would be 80 in October and had served 23 years as a volunteer on the commercial and hospitality front. He praised his successor Noel Shield for his excellent work this season. It was later estimated by Mike Adams that BP had raised more than £600K on the commercial side alone, which prompted applause from the meeting.
The Board then gave individual presentations with the exception of Derek Wilshaw, whose proficiency as Club Secretary was acknowledged by the Board and the audience.
Mike Adams [MA] (Director, responsible for Finance)
MA stated his primary aim to be the club's short- and long-term solvency. He indicated that an "open and transparent" policy would be applied to the Club's finances. He compared the Club's parlous bank balance of £8,405 twelve years ago with the figure of £144,895 at the end of last season.
The debts of 12 years ago had been cleared largely through income from cup competitions, league sponsorship, sale of assets (car park) and transfers. Since then, expenditure had been generally kept within the club's means.
MA explained that gate receipts accounted for 34% of income, commercial activity comprised 29%, donations 16% and miscellaneous sums from the likes of FA prizes, transfers, hiring of facilities accounted for the remaining 21%. 43% of income derived from matchday activity. MA also highlighted "The Curve", i.e. the build-up of income at the start of each season from season tickets, etc. and then the gradual decline through the season as players' wages and other costs kicked in.
Lawrence Looney [LL] (Director, Commercial Matters and Strategy)
After outlining his background on the Isle of Man, where he still lives, and his working career with Barclays, LL referred to his two years as a Director at Lancaster City, a club which he had joined initially after talking to them about untapped player potential on the Isle of Man.
He emphasized the important distinction between the Club having a Strategic Plan and actually developing a Strategy to ensure the success of the Plan and he saw much of his role as ensuring that the latter was the case at Altrincham.
Neil Faulkner (Director, Facilities & Community)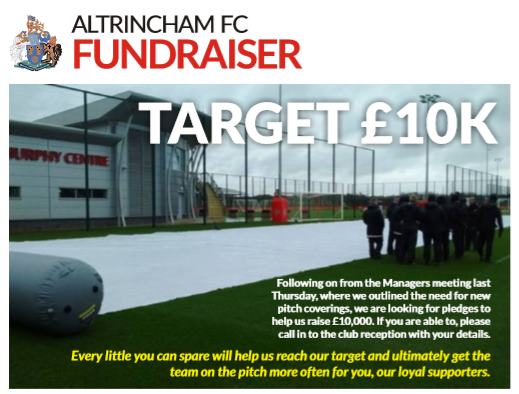 After referring to a recent incident which had been interpreted in some quarters as his being disrespectful of supporters, NF explained that that had never been his attitude but that he apologised if that had been the impression.
He went on talk about the pitch and its drainage at the JDS and GR added that the Club had been investigating the acquisition of pitch covers. To that end there had been an offer to the Club of some new half-pitch covers at a discounted price and the Club was launching an appeal for £10K to that end. It had been decided to fund the covers by an appeal so that the manager's playing budget would not feel the impact. It was announced that supporter Pete Scotson had already donated £1K to get the fund going and other supporters were invited to add to this. (Details of how you can help are shown in the adjacent poster. Please contact the club for further details or to pledge a donation.)
Bill Waterson [BW](Director, Marketing & Communications)
Bill reported that the Club would "deliver a Premier League website for next season" with an improved "look and feel". He also paid tribute to the Club's social media initiatives in which, in several instances, they were "early adopters" of new ways to engage fans. In future, BW also seeks to raise the Club's digital revenue via Twitter, the website and other means.
He also stated that the Club would continue to support inclusivity and diversity initiatives which would help make the Club more relevant to its community.
Q&A
BF then took the meeting through a number of questions from the audience and also from queries submitted digitally.
On the question of those supporters who had "stayed away" from the Club this season, MA emphasized that any consequential loss of revenue impacted on the manager's budget.
As for improving harmony at the Club, GR alluded to measures such as the rejuvenation of the Board, the manager's delivery of good football on the pitch and, above all, that the Club was listening to its supporters as was shown by the measures being publicised at this meeting.
Questioned about whether small investors were as welcome as large ones, GR added that the Club had 275 different shareholders, with share ownership ranging from a handful of shares to much larger holdings. He outlined that three approaches had been made as regards taking a majority shareholding but that these had not followed up on their initial enquiries.
Asked whether his new contract was performance related, PP jokingly said that he had only signed the renewal after finding out from MA how much was in the bank! MA, he added, would be his "new best friend".
Pete Scotson made a generous offer to the Club of use of the facilities of a new YouTube studio which he was building locally.
The Footballing Side
Rob Esteva [RE] (Director, Football Operations)
Leeds-born but now an Altrincham resident, Rob outlined his background which included a spell as a Director at Brentford. His earlier career had been with UEFA and then a betting firm, SmartOdds. He had set up his company the Stats Zone in late 2015. The company provides performance analysis for clubs in a number of countries.
His company provides Phil Parkinson and Neil Sorvel with a 40 page report on all home games which details team and individual performances, making use of the excellent Alty TV recordings by Mark Bennett. There is also a ten-page report provided in advance on each opposing team; Shaw Lane, for example, had been watched four times prior to their visit last Tuesday.
His company also reports on potential recruits and provides reports on them to PP and NS. He intends to extend data coverage to include the Reserves, Ladies and Youth teams at AFC and has appointed three staff to that end.
RE also explained his role in the managerial process which appointed PP. He praised PP's interview presentation and his clearly expressed footballing philosophy, which matched that of the Club. RE also explained that the Club had a "Plan B" should PP or any subsequent manager move on.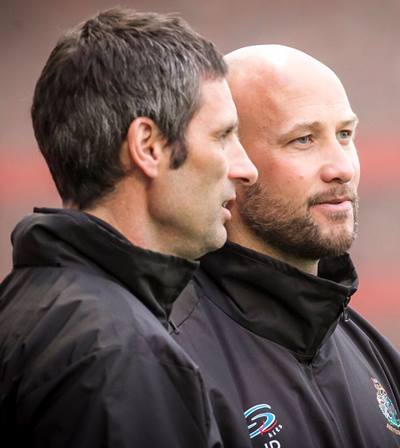 Right: Neil Sorvel and Phil Parkinson in pre-season. Image courtesy of Gavin Rathbone.
Phil Parkinson [PP] (Manager) and Neil Sorvel [NS] (Assistant Manager)
PP started by saying he was "very proud to sign a new deal" at the Club. His and NS's goal was to create a "dynasty" at AFC. He stated that several players have already committed to stay at Alty next season.
Asked about his footballing style, PP said its origins went back to his young days in the Crewe area where the example of Crewe Alexandra's playing style was an influence on him.
Questioned about injuries, PP said that both Ben Harrison and James Poole would be having their knees scanned.
NS confirmed that RE's data proved very useful and was relayed to individual players.
As for Josh Amis, Laurence Taylor and Sean Miller, PP explained that they could not be called back at this stage of the season. They had all needed to be reintroduced to 90 minute games after their injuries and that that was not possible at AFC due to the good form of other players.
As for the effect on performances of the wetter pitches recently, PP said he actually liked the wetter surfaces and so did the players. Hence, he had often used the sprinklers before the recent really wet weather set in. The wet surfaces helped to move the ball around the pitch.
Referring to our fixture schedule of five games in ten days, PP conceded that he could not rotate too much but that he would do so to some extent.
Having concentrated largely on a promotion push for th first team, PP hoped to give more attention to the Reserves and Youth teams next season.
Questioned about transfers and fees, PP confirmed that Andy White had been signed for a "nominal fee" and that he was proving his worth now. He paid tribute to the team spirit, with the substitutes being very supportive of those who were starting games.
The manager made a final pleas to all supporters and those involved with the Club to get together. "If we are all in it together, we will get results!", he said.
BF summed up the evening as being one which had relayed to everyone "really positive developments" at the Football Club."
TASC is running supporters' transport to Rushall Olympic (March 31st), details of which are on the
Away Travel
page. You can book your seats by ringing the club on 0161 928-1045 during normal weekday working hours. Why not come along and help the team in its quest for promotion?
In advance of their match against Altrincham on Saturday,
Rushall Olympic
report that "The Pics have a tricky-looking Easter schedule of matches but, with six wins from our last eight games, we go into it full of confidence and belief.
First up, is the visit of League leaders, Altrincham, on Saturday (kick-off 3.00pm). They are six points clear at the top and look set to make an instant return to The National League North following relegation at the end of last term. They have ten wins to their name from their 17 League games on the road so far and beat us 4-0 at the start of October.
Bank Holiday Monday sees us make the short trip to Hednesford Town (kick-off 3.00pm). The Pitmen have already beaten us twice this season, securing a 2-1 win at Dales Lane on Boxing Day as well as removing us from the Integro Cup, so hopefully they won't be able to make it a hat-trick of victories...
'We go into Easter in good form and playing with plenty of confidence,' said manager, Liam McDonald. 'We're showing what a good side we are and the win against Ashton United in our last game was fantastic as we found ourselves up against the best footballing side in this League. The lads know that I have high demands and they are reaching those standards. We're right up there in the form table and we're playing some good stuff.
'It was a big test for us tactically against Ashton, but credit to the lads because they got it spot-on. We maybe gave them a bit too much respect during the first half, but it was a deserved win in the end.
'We've got players here who can create something out of nothing and we're looking forward to testing ourselves against two good sides over Easter. It will be a good gauge for us against Altrincham and a chance to see how far we have come since we faced them earlier in the season...
'We're working well as a team now. It's good to see some of the younger lads starting to stake their claims and we were able to give Simeon Paisley from the under-21s his chance in the last game. His crunching tackle soon after coming on really galvanised us and it culminated with him getting his name on the scoresheet towards the end, which was great for him and also shows the other youngsters at the club that there is a clear pathway to the first-team here. There's a really positive vibe around the place at the moment and we'll take it into these forthcoming matches.'"
Former Altrincham boss, Peter Band (below, left), oversaw his team's win over Altrincham in the Integro Cup but now
Mossley
report that "The directors have taken the decision to part company with joint managers Peter Band and Lloyd Morrison after almost five full seasons in charge at Seel Park.
Band joined Mossley as a player coming to the end of an illustrious non league career at the start of the 2011/12 season under Gareth McClelland's managership. He was appointed assistant manager to Steve Halford following McLelland's departure the following year and then, when Halford left suddenly in August 2013, Band was appointed as team manager. He quickly brought the then Winsford United boss Lloyd Morrison in as joint manager.
Band and Morrison's tenure brought some success with Manchester Premier Cup Final wins over Curzon Ashton and Stalybridge Celtic being the main highlights of their time in charge.
Mossley finished 15th in their first season in charge before a great run the following season saw the side finish just outside the play off places. 13th and 17th place finishes followed. But following only one win in their last fifteen games it was decided that a change in leadership of the team was necessary.
Band and Morrison's overall record in charge at Mossley reads:- played 245 (only Bob Murphy and Don Wilson were in charge for longer), won 96, drawn 38, lost 111.
An announcement naming Band and Morrison's successor will be made tomorrow".
Wednesday 28 March
Matlock Town 0-0 Stourbridge
Thursday 29 March
Shaw Lane 3-1 Sutton Coldfield Town (Damian Reeves started and scored the opening goal for Shaw Lane).
The Integro League Cup 17-18 - Quarter Final
Workington 1-5 South Shields
Atherton Collieries 2-0 Ramsbottom Utd
Matlock Town
say that "Matlock caretaker boss Dave Hoole was largely satisfied from what he saw in his first game at the helm which ended in a goalless stalemate with Stourbridge on Wednesday night.
Following the mutually agreed departures of Glenn Kirkwood and Craig Hopkins over the weekend, Hoole accepted to take over until a replacement is found and is being assisted by injured top scorer Shaun Harrad and captain Adam Yates. The Gladiators slipped into the bottom three after Saturday's disappointing performance in the 1-0 defeat at Rushall and in any other season would be occupying one of the relegation positions. But this time only one club goes down due to league reorganisation and that looks like being Sutton Coldfield Town who are thirteen points adrift of Matlock and have played a game more.
'It's been a mad forty-eight hours', said Hoole afterwards, 'Everything seemed to come at one go and I needed to get my head together. I chatted with Shaun Harrad but there's not been the time to think too much about things. But I tried to put my ethos across to the lads, the lads listened and have done just about everything I'd asked. We could have done one or two things a little better but overall I'm happy with what I've seen.'
Stourbridge arrived on the back of two successive wins, an excellent 4-1 triumph at play off chasing Farsley Celtic on Saturday being followed by a last gasp 2-1 home win over bottom markers Sutton Coldfield Town on Monday night.
'Everyone's done really well, the lads have worked tremendously hard and shown good character', Hoole continued. 'We needed to prove a point, not only to ourselves but also and mainly to the club and the supporters. There were plenty of positives, there's plenty to work with but we're still some way from where we need to be. It's good though to get a clean sheet against a strong side like Stourbridge but it could have been different but for Richard Walton's great early save. Had that gone in then it could have been a backs to the wall job.'
Attention now turns to the Easter programme which starts with a home game against Stalybridge Celtic on Saturday and a derby up at Buxton on Monday afternoon. Hoole is leaving Harrad in charge as he is with the academy at a tournament in Holland.
'I told the club I would knock that in the head if needed but they're happy for me to go with my role in the development of young talent at the club. I'm sure everything will be in good hands with Shaun.'
Matlock should have largely the same squad as on Wednesday. Ted Cribley is expected to feature after retiring three minutes from time against Stourbridge with Jamie Jackson and Curtis Morrison likely to be added. Sixteen years-old Zak Brunt, though, is in Holland.
The transfer window slammed shut last Thursday with Matlock making two new signings. Seventeen years-old 6'4" defender Marshall Willock was brought in on loan from Chesterfield while striker Amos Kabeya joined from Ossett Albion.
Meanwhile on the managerial front, Matlock are currently accepting applications from candidates who have experience of the National League system and will be looking to bring someone in before the end of the season in preparation for the new campaign in August."
The
Birmingham Mail
tells us "why your old football programmes could be worth a fortune! If you have thrown away hundreds of programmes you may be left kicking themselves when you discover just how much some of them are worth today
Whether you support Sutton Coldfield Town FC, Aston Villa, Birmingham, Wolves or West Bromwich Albion, your old matchday programmes could be worth a fortune. And a man who is an expert in the field, and owns 100,000 of them, is coming to Sutton Coldfield in April to value football programmes and sporting memorabilia for free.
Alistair Lofley will be joining the experts from Hansons' Auctioneers at a free antiques and collectables valuation event at St Chad's Church, Hollyfield Road, on April 10, from 10am-1pm.... Alistair, 53, [is] a lifelong collector turned dealer who rents out four storage units to house his vast collection... Now it's time for the football fans of Sutton Coldfield to find out if they are sitting on treasures...
Items can be consigned to the Sporting Memorabilia Auction at Hansons Auctioneers, Heage Lane, Etwall, Derbyshire, until May 4... Alistair and general valuers will be at St Chad's Church, Hollyfield Road, Sutton Coldfield, B75 7SN, on April 10, 10am-1pm. To find out more, call Alistair on 07863 203377."
---
29 March 2018
Supporters are reminded that there will be a meeting with the manager, Phil Parkinson, and the board of Altrincham FC in the Community Sports Hall at the J. Davidson Stadium, tonight (Thursday, 29 March) at 7pm. As usual at such meetings, the manager and board will be happy to respond to questions from supporters and they hope that as many as possible will attend.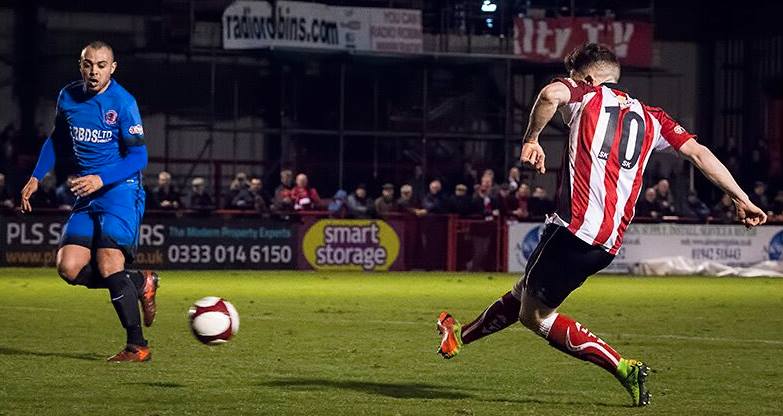 Above: Tom Peers nets the opening goal. Image courtesy of Mike Ripley.
New Shaw Lane manager Chris Willock suffered a baptism of fire as a superb performance from Altrincham condemned the Yorkshire club to a fifth successive defeat, a run which has seen them concede fifteen times and fail to score a single goal from open play.
The Ducks started well but it was Alty who took a tenth-minute lead...
Match report here.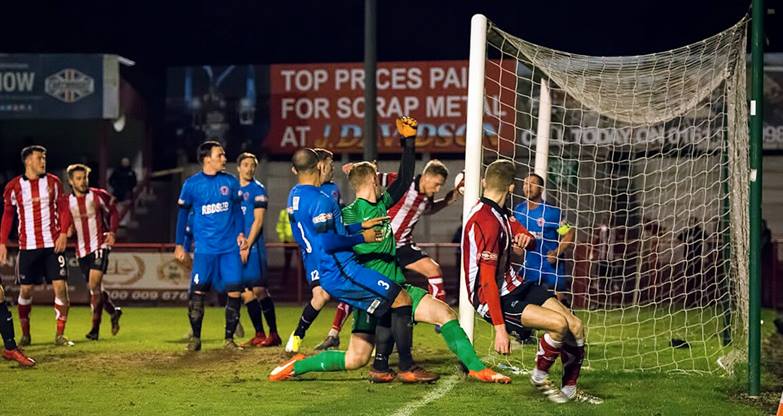 Above: Jake Moult heads the fifth goal after James Jones (nearest to camera) had cleverly hooked the ball back from the by-line. Image courtesy of Mike Ripley.
There are AltyTV highlights here.
Our opponents Shaw Lane report that "Shaw Lane fall to a fifth straight defeat to title contenders Altrincham. With the score standing at 1-1 at half time few would have predict[ed] the result tonight...
For Chris Willcock it was a baptism of fire but his new team did show desire and strength going forward. A Byrne free-kick was saved by Tony Thompson on 27 minutes. Confidence seemed to be restored on 37 minutes when Spencer Harris scored from the spot for his 12th of the season...
The second half is one to forget from a Shaw Lane point of view. An early goal by Simon Richman came out of nothing and it set the standard to the second 45. Travelling with the ball across field Richman was able to get a shot away and put it past Wright.
A quickfire double in three minutes saw Altrincham out of sight. Jordan Hulme credited with both goals, scoring on 56 and 58 minutes respectively.
It was an unhappy return for Damian Reeves who came on from the bench with 26 minutes to play, but debutante Olly Dyson who entered the fray at the same time looked lively and created the best opportunity for the Ducks in the second half...
A corner finished off the scoring on 72 minutes as the long corner was volleyed in by James Jones, the curling shot, going in, was claimed by Jake Moult though with a header on the line.
Shaw Lane now have to pick themselves up after five straight defeats as they face bottom club Sutton Coldfield Town on Thursday night at Sheerien Park".
Altrincham FC Press and Media Officer, John Edwards, has submitted the following article for inclusion in this weeks' Sale and Altrincham Messenger.
"Phil Parkinson demanded a ruthless streak for the title run-in after Altrincham reeled off two convincing wins in quick succession to confirm a return to peak form and strengthen their hold on top place in the Evo-Stik Northern Premier League.
A recent return of one point from three home games seemed a distant memory, as Alty followed up Saturday's 2-0 scoreline at Halesowen with a 5-1 rout of Shaw Lane on Tuesday night to open up a six-point lead over nearest rivals Warrington.
It left Parkinson (right) beaming with pride, but the Alty boss warned there must be no let-up in the quest to be promoted as champions.
'We have to keep our foot on the pedal, and that's something we have spoken about,' he said. 'We have already seen this season how important it is to maintain performance levels, and that will continue to apply, because it's going to be anything but plain sailing. There are still a lot of minutes to be played, and there will be twists and turns.
'But I'm immensely pleased and proud at the way the players are dealing with the pressure at the moment, in terms of the expectations on them. We kicked on from Saturday and went on to the next level, and I was really made up with the way we managed the game. The intensity, work-rate and leadership on the pitch throughout was fantastic.
'The sharp interplay and clinical finishing for some of the goals was what we've been about all season. It was a real statement, and I thought the fans were superb as well, singing and cheering us on, even at 1-1, which is when we needed it most.
'As I say, there are still going to be twists and turns over the remaining nine games, but we've got a team out there who are fighting every inch of the way. It's not just the starting XI, either – the lads on the bench have got a fantastic, positive attitude, which is great to see.'
Connor Hampson could be back next week, but Ben Harrison and James Poole are major doubts".
Excellent quality highlights of Halesowen Town v Altrincham, which took place last Saturday, are
here
, courtesy of Yeltz TV.
Alty travel to the outskirts of Walsall on Saturday, from where
Rushall Olympic
report that on Tuesday, "The Pics made it two home wins in the space of three days as we chalked up a 4-2 victory over third-placed Ashton United.
'I was delighted with the win,' beamed manager, Liam McDonald. 'Ashton are the best footballing side that we have played this season and they will be in the play-offs come the end of the season. The lads know that I have high demands and they are reaching those standards. We're right up there in the form table and playing with a lot of confidence and belief.
'It was a big test for us tactically, but credit to the lads because they got it spot-on. We maybe gave them too much respect during the first half, but it was a deserved win in the end.
'We've got players here who can create something out of nothing and its now six points out of the last two games here and another big test coming up on Saturday when we play host to the League leaders, Altrincham.
'The last two games have seen us carry out a game plan that has stopped the threat of the opposition and it will be the same at the weekend.
'Altrincham are a good side and deservedly sit at the top of the table. We'll prepare in the right way and look to add to our points tally.
'We're working well as a team now. It's good to see some of the younger lads starting to stake their claims and we were able to give Simeon Paisley from the under-21s his chance.
'His crunching tackle soon after coming on really galvanised us and it culminated with him getting his name on the scoresheet towards the end which was great for him and also shows the other youngsters at the club that there is a clear pathway to the first-team here.
'All in all it was a good night's work.'"
From the other side, Ashton United report that a "Ashton's third game in 6 days proved a bridge too far as they slid to their heaviest away defeat of the season. Starting with an unchanged line up the visitors got off to a flyer as John Pritchard won a free kick just outside the area after 2 minutes and his usual accurate effort saw Slinn only able to palm the ball against the post with Liam Tomsett on hand to knock home the rebound.
The lead only lasted a further 2 minutes as Dubidat's shot came back off the bar and with Carnell trying to recover his ground Daniel Waldron headed the loose ball in to equalise...
Ten minutes after the break and the ball was played wide to Dubidat whose weak effort surprisingly evaded Carnell to give the Pics the lead. Just past the hour a quick break by Evangelinos saw the ball reach Jack Dyche who fired over but 2 minutes later a long ball through the middle saw Dom Smalley's clearance volleyed home emphatically by Mathis Fonovich.
The Robins were now up against it but reduced the deficit as Dom Smalley's overlapping cross reached John Pritchard who steadied and fired home into the opposite corner. Lewis Baines then headed Pritchard's return cross wide of the far post and Carnell just beat Waldron to Smikle's cross. With Ashton pressing for the equaliser Tomsett moved forward but floated his effort wide and sub Brodie then ran clear from halfway for Rushall before lofting his shot over an open goal but Simeon Paisley showed his how it should be done rolling the ball into the empty goal from 40 yards out".
TASC is running supporters' transport to Rushall Olympic (March 31st), details of which are on the
Away Travel
page. You can book your seats by ringing the club on 0161 928-1045 during normal weekday working hours. Why not come along and help the team in its quest for promotion?
Rushall Olympic report that their ground, "Dales Lane was officially opened on Sunday, August 14th 1977. It has seen many developments over the years, but the warm welcome that supporters receive has been a constant over the past four decades.
Upon your arrival, there's a large private car park which is well stewarded on a matchday with disabled parking by prior arrangement. The cost for parking is just £1.
Matchday admission prices are, as follows:
ADULTS (Aged 18 - 60): £ 10.00
CONCESSIONS Senior Citizens Over 60, 16-17 year olds, Students in full time education with NUS Card, Armed Forces & Emergency Services (in uniform or with ID): £ 6.00
UNDER 16s: £ 3.00
UNDER 12s: Free if accompanied by one paying adult.
Once inside the stadium, the Clubhouse (situated to your right as you enter via the turnstiles) has recently been refurbished and boasts a stylish and modern look. It is accessible for all home and away supporters.
The Pics Pantry serves delicious hot food plus snacks and refreshments, whilst the Club Shop (situated to the left of the turnstiles as you enter the stadium) offers a range of merchandise and memorabilia.
The award-winning Matchday Programme, The Olympian, weighs in at 76 packed pages for just £2 and can be purchased at the turnstiles or from the Clubhouse and Club Shop.
The nearest Railway Station is Walsall, which is situated 3.4 miles away. The 997 bus between Walsall and Birmingham passes by the stadium."
In its Tuesday review, the
EvoStik League
reports that "Altrincham extended their lead at the top of the EVO-STIK League Premier to six points on Tuesday night after hammering play-off chasing Shaw Lane while second-placed Warrington Town could only draw at home to Workington, writes Pitchero's Steve Whitney...
Warrington took the lead at Cantilever Park on the half-hour mark through Mekhi Leacock-McLeod. But they were unable to break down the visiting Reds after that and they pulled level three minutes after the restart through David Symington to eventually earn a point and damage the Wires' title hopes.
A terrific team performance at Bower Fold against in-form Stalybridge Celtic meant a 3-1 for Grantham Town to lift them up to third in the table. Zayn Hakeem after 17 minutes, Lee Shaw on 25 minutes and Sam Osborne in the 88th minute were all on target for the Gingerbreads, with Alex Honeyball netting a stoppage time consolation for the hosts.
Grantham slipped above Ashton United in the table after they were beaten 4-2 at Dales Lane by Rushall Olympic. [Ex-Alty loanee] Liam Tomsett gave the visitors the boost of an early second minute lead that Danny Waldron cancelled out within two minutes. It wasn`t until nine minutes into the second half that Daniel Dubidat scored the Pics second and Mathis Fonovich added a third after 63 minutes. John Pritchard gave Ashton hope when he reduced the deficit to just one after 68 minutes, but Simeon Paiseley ensured the points stayed at home with a fourth in stoppage time.
Second-bottom Halesowen Town inflicted a damaging blow on Witton Albion`s play-off hopes by winning 3-2 at Wincham Park to move six points clear of bottom-markers Sutton Coldfield Town...
Elsewhere, Whitby Town sent Mickleover Sports home empty-handed after a 3-2 win at the Turnbull Ground... Marine AFC and Nantwich Town shared a 1-1 draw at the Marine Travel Arena in the evening`s other game, the Dabbers leading through Harry Clayton's 20th minute effort until the hour-mark when [Alty loanee] Josh Amis equalised."
---
28 March 2018
Monday 26 March
Stourbridge 2-1 Sutton Coldfield Town (an own goal in added time settled the match in Stourbridge's favour).
Tuesday 27 March
Altrincham 5-1 Shaw Lane (att 805)
Barwell 1-2 Stafford Rangers (172)
Marine 1-1 Nantwich Town (362)
Rushall Olympic 4-2 Ashton United (162)
Stalybridge Celtic 1-3 Grantham Town (276)
Warrington Town 1-1 Workington (210)
Whitby Town 3-2 Mickleover Sports (192)
Witton Albion 2-3 Halesowen Town (247)
The Integro League Cup 17-18 - Quarter Final
Hednesford Town 5-0 Basford United
Altrincham now face five league fixtures in a ten-day period, four of which are away from home.
First up, on Saturday, is a first-ever trip to Rushall Olympic. Although Alty won the reverse fixture 4-0, the Rushall cause was not helped by a red card, which reduced them to ten men after 50 minutes of that match. The Walsall-based club lie 14th in the table after this Tuesday's defeat of Ashton United and their other notable scalps this season have included Witton Albion and Workington. Following their game last Saturday, manager Liam McDonald told the Rushall Olympic website that he "was full of praise for his side as we ran out 1-0 winners against Matlock Town. He said, 'We were men out there; we looked solid and organised and could have won by a bigger margin, to be be fair. We've got a fantastic team ethos at the moment with quality running throughout the team and a strong bench. We're a top side and teams should fear us. We're in good form'".
48 hours later (2nd April, 3pm), the visitors to Altrincham are Marine, who lost 0-3 to Alty on Boxing Day in Crosby. Before Tuesday's draw with Nantwich Town, the Merseyside club had won three of its last four league fixtures. Whereas Alty have only this one home game in a sequence of five fixtures, Marine will have played six of their previous seven fixtures at home by the time they visit us!
Just three days later (Thursday 5th), we have the return fixture with Shaw Lane AFC, over in Barnsley.
And, then, fewer than 48 hours after our Trans-Pennine journey, on Saturday, 7th April we are on the road in another direction as we travel north to the Giant Axe to face Lancaster City, who lost at the J Davidson Stadium 0-4 back in October.
Finally, two days later Altrincham make their second journey of the season down to Stourbridge, having arrived there on 27 February only to have the game postponed. In the reverse fixture, Altrincham won 4-1 at the J Davidson Stadium.
TASC is running supporters' transport to Rushall Olympic (March 31st), details of which are on the
Away Travel
page. You can book your seats either at Tuesday's home match against Shaw Lane or by ringing the club on 0161 928-1045 during normal weekday working hours. Why not come along and help the team in its quest for promotion?
Before Tuesday's match, the
Times & Star
reported that "Joint chairman John Mackay insists Workington Reds are still in with a shout of the play-offs as they head for a crunch tie at Warrington Town tonight.
Reds travel to second place in the table Warrington, with both sides looking to pick up a win to avenge defeats at the weekend. Reds followed up their midweek victory over Shaw Lane with a 1-0 loss at the hands of Mickleover Sports while Warrington went down 2-0 at Stalybridge Celtic.
But Mackay is positive, saying, 'All you can do is take the positives from it and look how you can improve'...
Reds now have 10 games to go and are sitting in 10th position, eight points behind Farsley Celtic who currently occupy the last play-off berth.
'It is getting harder to make the play-offs,' admitted Mackay. 'But it is still not impossible and the teams above us are not all winning. You can never say never and we will keep on fighting. Every team in this league is fighting for something, some to stay in the league, others making sure of a job next year'...
Warrington have one of the best defensive records in the league, second only to table-toppers Altrincham. But, after putting eight past Altrincham in two games, Mackay is confident that his side can do the same to Warrington. Gari Rowntree and Jamie Mellen will be available to come back into the side after missing Saturday's game due to work commitments. And joint manager Lee Andrews will also assess Jordan Holt to see if he is ready to return from injury."
---
27 March 2018
Tonight is the fourth date set for the first-ever meeting of Altrincham and Barnsley club, Shaw Lane AFC, following postponements and a change of date by the league.
Shaw Lane have just appointed a new manager, Chris Willcock, following the departure of former Alty boss Gerry Quinn's son, Paul at the weekend. Shaw Lane announced on Monday evening that "Chris Willcock has been named as the new 1st team manager. The former Glossop North End manager will be joined by his former assistant Lee Donafee.
The pair worked together at the Surrey Street club for four years and guided the club to the FA Vase Final and promotion to the Evostik Northern Premier League. Chris eventually resigned from the club at the end of season 2016/17 as the most successful manager in terms of winning titles, trophies and games in the club's history. They will join the Ducks with immediate effect in time for Tuesday's crucial league fixture at Altrincham.
Chairman Craig Wood said, 'We are delighted to have Chris and Lee on board. Chris knows our club and has watched us this season on numerous occasions. He has also worked with a number of our existing squad [including the Lugsden twins, see below] and it means he has a better chance of hitting the ground running as the hectic schedule of fixture continues.'
Chris Willcock said, 'It's a unique opportunity with the current league position the team is in and my aim is to quickly turn results around and finish the season strongly, putting pressure on the teams above us. I'm inheriting a group of very good players, which I'm looking forward to working with. I'm fully aware of the club's ambitions and the challenge that has been given to me by the Chairman and the club'".
On leaving Glossop in 2017 NL Daily reported that "Willcock told fans he believed it was time for a change after their eighth-placed finish to the campaign last weekend and his four seasons at the Evo-Stik NPL First Division North's Hillmen.
Willcock leaves the Arthur Goldthorpe Stadium with an impressive win ratio of more than 60 percent in the 232 games he'd taken charge of since his appointment in 2013. As well as taking the Hillmen into the EVO-STIK NPL as North West Counties' League Premier Division champions and league cup winners in 2015, he guided the club to final of the FA Vase in the same season.
Willock, who played for a number of Non-League clubs including Mossley, Rossendale and Salford City before starting out in management at Winsford United, Woodley Sports and Stocksbridge Park Steels, said 'It has been a real honour to be the manager of such an historic club as Glossop North End. Nevertheless, after four wonderfully eventful seasons it is now time for someone else to take over the reins and to make their mark as I now feel that this is the right time for myself, Lee and Lincoln to step aside as the management team".
On the field there should still be three very familiar faces in the visitors' squad in the form of Damian Reeves and the Lugsden twins.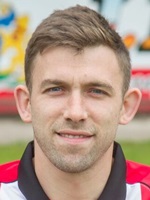 Damian can expect a warm welcome at the J. Davidson Stadium where he netted 166 goals in a seven-year stay. His goals' total is into double-figures again this season with his new club. Damian (left) will find quite a few new faces in the Alty team since his departure last summer but he is likely to face old team-mates in the Alty squad in the shape of Shaun Densmore, Jake Moult, Tim Deasy, Tom Hannigan and Sam Heathcote.
Kieran (right) and Kelvin Lugsden both joined the Altrincham Youth team in late April 2003 from New Mills. Kelvin played at left-back, in midfield and centre-back for the Altrincham Youth team and made his first-team debut, as a substitute, in the UniBond League Cup match at Workington on 18 November 2003. Whilst at Altrincham, he was also a regular first-choice for New Mills's first team in the Air Miles Manchester League and reverted to New Mills for 2004-05.
Kieran also made his first-team debut, as a substitute like Kelvin, in the same match at Workington on 18 November 2003 but he suffered a broken arm and head injuries on his impressive full debut at Whitby in April 2004. His subsequent appearances were mainly in a substitute's role in that campaign. To maintain match fitness, Kieran went briefly on loan to Radcliffe Borough but returned to play a regular role as a frequently used substitute in the Conference.
Kieran left Altrincham after taking part in the 2006-07 season by which time he had made nine first-team starts and seventy-five appearances from the bench, netting five goals. Both Kieran and Kelvin had a spell at Glosop North End under the newly appinted Shaw Lane amanager. At Shaw Lane, Kieran has recently played at right-back rather than up front.
Shaw Lane arrive at the JDS in sixth-place, 17 points behind Altrincham, but with three games in hand on them. The return fixture is less than a fortnight away and two wins for the Ducks would dramatically transform that gap. Alty, of course, will be keen to ensure that such an outcome does not happen and the Robins will be boosted tonight by their return to form last Saturday at Halesowen, which put an end to a recent spell of indifferent results.
Alty will again be without Connor Hampson and centre-back Tom Hannigan must also be a doubt after having to be subbed in the first-half at Halesowen. New signings Theo Bailey-Jones and Chris Merrie may come into contention after both started last week's Cheshire Senior cup tie against Winsford United.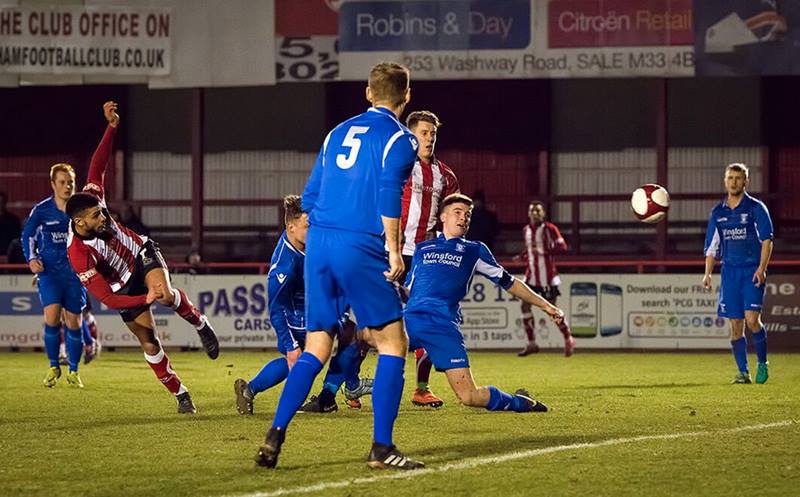 Above, new signing, Theo Bailey-Jones, made his debut against Winsford last week and he is seen in action here, courtesy of Mike Ripley's camera.
NL Daily
reports that "Witton Albion have announced that John Salmon is to become chairman when Mark Harris completes a ten-year tenure at the end of this season.
Salmon joined the board as a non-executive director in 2015 and has since acted as the club's solicitor. During his time at the club to date, he has established a flourishing player pathway at Wincham Park, introducing Youth, Reserve and Development teams which have generated a number of players, including Ronan Eves, who last year became the youngest ever player to represent Witton Albion at first-team level since 1940.
'John has all the qualities required of a chairman', said Mark Harris. 'He is a businessman and a football person; commercially astute and focused on compliance. I am confident that he will take the club forward.'
Salmon is looking forward to the challenge ahead. 'Witton Albion is a fantastic club and I'm delighted to have the opportunity to lead it', he said.
Outgoing chairman Harris has agreed to stay on as a director for a limited period to help his successor settle into the hot seat."
Other news from Witton is that "Northwich Victoria will be playing all home fixtures at Wincham Park from next season. The two clubs have agreed a two-year partnership which will also see Wincham Park stage six social functions and Northwich Victoria providing additional volunteers to prepare and maintain the playing and training pitches at Witton.
'It is no secret that we have been exploring ground share opportunities with prospective partners for next season and beyond', said Albion chairman Mark Harris. 'In today's semi-professional game groundshares make good business sense.
'They are a source of total revenue, not only in match fees but in bar revenues too. We are delighted to have agreed terms with Vics and we look forward to working in partnership with them.'
Albion have been hosting 1874 Northwich games this season and Harris did not rule out hosting further games in the future.
'We have developed an excellent working relationship with 1874 and hosting their games has helped both parties and we would do the same again subject to wear and tear on the Wincham Park pitch.'
Northwich Victoria chairman Brian Turner was delighted to have secured a return to Wincham after spending one season at Barnton.
'I'd like to thank Mark Harris and the Witton board in agreeing to this two-year partnership deal along with the prospect of an extension. I would also offer my sincere thanks to Barnton Football Club for allowing us to ground share at the Townfield ground during the last 12 months'".
At Workington, "The club can confirm that we have been meeting with representatives of Allerdale Borough Council and Workington Town RLFC to discuss the future of both sports' provision in Workington.
These discussions relate to improving facilities and offering a stronger and more sustainable future for both clubs.
It is intended that the 'facilities' on offer to our players and supporters will inspire and develop young players into our sport. We hope that these proposals will match and exceed supporters' ambitions...
Initial discussions suggest it is quite clear that Allerdale Borough Council is keen to support both clubs' aspirations, matching those of the local authority. They want to provide facilities which the local community can enjoy, which will enhance the town and, along with the new leisure centre, put Workington on the sporting map of Cumbria.
There is a commitment from both clubs to work together to explore a range of options that will improve their facilities, for players and spectators, creating a sound footing for the future...
We believe this will lead to exciting times for the club and will be working on options available to secure our long-term future. We aim to enhance the experience of our supporters as we strive for successful teams, at all levels, playing under the Workington AFC crest".
---
26 March 2018
Barnsley club Shaw Lane are the visitors to Altrincham on Tuesday night. On Saturday they lost 0-2 at home to
Nantwich Town
who report that "Despite an early red card for Matt Bell, Nantwich Town showed excellent resilience to overcome the disadvantage and come out of Yorkshire with all three points...
Sean Cooke gave the Dabbers the lead after thirteen minutes with an excellent left-footed strike... Bell was sent off after eighteen minutes after a late tackle, which had Shaw Lane players surrounding the referee. However, despite the one-man deficit, the Dabbers rallied to prevent going behind, and even added a second goal after an hour as Joe Mwasile netted from close range to give Nantwich all three points...
Due to troubles on the motorway on the way to Yorkshire, the team arrived with half-an-hour until kick-off; as a result, the match officials agreed to delay the kick-off time by fifteen minutes, the fixture beginning at 3.15pm...
With ten minutes remaining, the hosts threw one last roll of the dice as they replaced Tyler Williams with Adam Knight. However, there was only one team left in the game...
Shaw Lane: Wright, Kelvin Lugsden, Serrant, Kieran Lugsden, Harris, Norris, Brownhill (Abadaki 61'), Rothery (Reeves 61'), Byrne, Williams (Knight 81'), Clayton. Subs not used: Picton, Gordon".
Altrincham FC Ladies' manager, Keith edleston, reports on Sunday's game which ended Altrincham FC Ladies 2 Liverpool Feds (Res) 2.
"Good point as ladies flatter to deceive...
On a beautiful sunny day we welcomed high flying Feds to Mersey Valley in what was sure, on paper, to be an absorbing game of football.
In a game of few chances, and on a bobbly pitch, it took until the 37th minute to make it one nil, when a corner from Laura Dodds found the head of Megan Rowley, in a melee of players. She firmly planted a header past the visiting keeper.
Still there was nothing between the sides and, at halftime, we had the slender lead.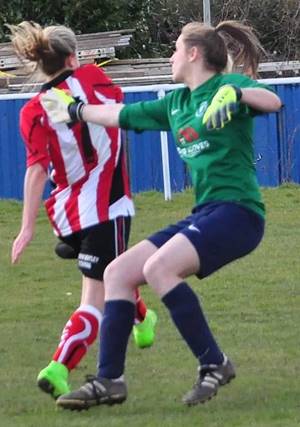 Above: Jess Hartopp rounds the keeper and slots the ball into the net to make it 2-0.
The second half kicked off and the game went much the same way until Jess Hartopp sprang the offside trap from wide right to take the ball around the keeper to make it two-nil.
There was still time now to put this game to bed but Feds had other ideas and pulled a goal back from a speculative shot which Paula failed to hold and the incoming forward finished to make it 1-2.
Now Feds had their tails up and, with 10 minutes to play, we got a very harsh penalty decision given against us and, from that, Feds equalized. The game petered out with both sides not really troubling either keeper although Kate Bryan had a golden opportunity to hit the winner from a keeper mistake, after she had passed the ball straight to her, but she hit her shot high and wide.
Well, overall, a 2-2 draw was not a bad result but we can look back on a game in which we could have played much better and, with more quality, we might have got the win but it just was not to be. We go again next weekend when we welcome Crewe Alexandra LFC to Mersey Valley (2pm k.o.). It would be great to see you there.
Starting 11: Paula Alarcon-Conde, Aimee Hopkinson, Bliss Molyneaux, Louise Edleston, Kye Brown, Laura Dodds, Gail Simpson, Jess Hartopp, Beth Hayes, Jade Hesketh, Laura Kelly
Subs: Kate Bryan, Georgia Ashton, Megan Wright, Hannah Shufflebotham".
Altrincham FC is holding its annual Race Night on April 14th, following our game with Barwell. Appropriately, this date coincides with the Grand National at Aintree.
Altrincham FC announces that all spectators entering the turnstiles for the Barwell game will receive a ticket (one per person only) bearing the the name of a horse running in the National. Ticket-holders should the go to the Community Sports Hall after the match and, if they wish, get themsleves a drink whilst watching the televised race from Aintree (5.15pm). Potentially, many spectators will be winners and each will win five bottles of beer or cider, as well as a big Alty burger meal.
For everyone, burgers will be available for purchase throughout the evening, including Richie Bentley's new Alty chicken burger.
The Race Night is due to start as near to 6pm as possible and features eight races, with eight riders in each. Please consider sponsoring a horse for just £10 or a race for a bargain £25. All winning horse owners receive a bottle of fizz.
Please support this event and help to raise funds for the Club.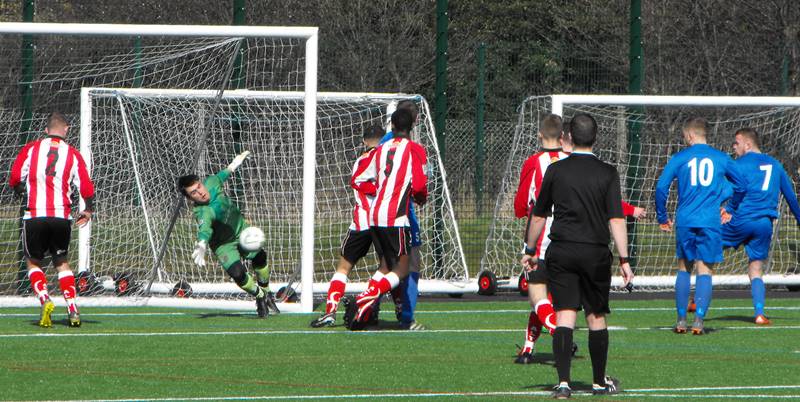 Altrincham FC Youth's scheduled NWYA Premier game at home to Southport on Sunday was cancelled at short notice when the National League club was unable to raise a team for the match.
Above: Alty goalkeeper Matt Loizou in action against Irlam Town on Sunday.
Alty Youth manager, Paul Fay, hastily arranged a friendly instead, pitting his under-18 side against the under-21s of Irlam Town. Experience told, as the Irlam team won 8-1 on the artificial surface at the Wythenshawe Health Academy at Moor Road, Baguley. Despite the heavy defeat the Alty lads will have learned a lot from their older opponents.
Match report here.
Before the match at Halesowen on Saturday, Brian Flynn submitted the following comments form manager Phil Parkinson to Altrincham Today...
Despite the poor recent run of results, which has seen us take just a single point from three home games, we are feeling very positive about today's trip to Halesowen Town. The squad trained really well on Thursday night & I think that we all knew that there was a likelihood that we would face a challenging period at some point in the season and that period seems to be now.
Tuesday night's 1-1 draw with Mickleover Sports was a difficult one to take as we dominated the game but fell behind when the referee and his assistant somehow did not spot a blatant foul on Tom Hannigan by Matthew Barnes-Homer in the lead up to their goal.

Despite the recent run, we are still top of the league and if I'd been offered this state of affairs at the start of the season, I would have been very happy. Our destiny is still within our control and our nearest challengers will be fully aware of that.

Warrington, our nearest challengers, signed three players on Thursday's transfer deadline day and whilst that's a signal of intent, it doesn't always help adding a number of players to a squad at this stage of the season. I was offered one of these players but felt that the particular individual was not what we were looking for at this point and wouldn't have been a good fit for our squad.

We have brought in Theo Bailey-Jones from Stalybridge, who will travel today but not be involved. Theo made his debut against Winsford United in the Cheshire Senior Cup on Wednesday but needs more minutes to regain full sharpness. Unfortunately, the Reserves do not have a game today, which would have been ideal for Theo, therefore Ryan Murray will work with Theo down in the Midlands today, with a view to him being potentially involved in the Shaw Lane game on Tuesday.

Connor Hampson (right) is the only injury in the squad and we are hoping that he will return from his knee ligament injury, sustained last Saturday against Stalybridge, in 7-14 days.

You can forget the league table positions for today's encounter. Halesowen are fighting for their lives and have been in good recent form. The pitch will be a challenge and in Lee Hughes, they have a genuine goalscorer, who has played at the highest level and whilst he may not be able to run around like a spring chicken any more, if he gets a decent opportunity, there's every chance he will take it. We are very confident and upbeat though, particularly as we haven't lost away from home in the Evo-Stik Premier, since mid-September!"

The EvoStik League reports that "Matlock Town and their joint management duo of Glenn Kirkwood and Craig Hopkins agreed to part company by mutual consent on Sunday after their side's latest reverse in the EVO-STIK League's top flight.

Appointed in May 2016 as the successors to Mark Hume, the former Mickleover Sports managers stood down following talks with club officials in the wake of Saturday's 1-0 defeat at Rushall Olympic, a result that left the Gladiators third from bottom...

The Chesterfield-based duo were crowd favourites as players at the DCJ Group Insurance Arena more than a decade ago before taking their first steps into management at the helm of Matlock's reserves. Before the appointment of Mark Atkins during the 2008-09 season, they also enjoyed a short spell as caretaker bosses at Causeway Lane. In a joint statement released by the Gladiators confirming their departure, the pair, pictured, agreed it was the right course of action".

Rushall Olympic report "Great to see The Pics getting the headlines in the Sunday Mercury after our excellent 1-0 home win against Matlock Town yesterday. An early Richard Brodie goal was the difference in a tight, competitive affair".

The Warrington Guardian reports that "Warrington Town's six-game unbeaten run came to an abrupt end as they were beaten by Stalybridge Celtic. Two goals in the final five minutes of the first half swung the game in Celtic's favour and they comfortably saw out the second half to record a double against Yellows this season.

Former Yellows midfielder Connor Hughes won a penalty on 41 minutes that was converted by Liam Dickinson before Greg Wilkinson scored a beauty from the right angle of the box right before the whistle...

Stalybridge ended the half strongest and a brilliant pass from midfield by Danny Morton split the Yellows defence and with Hughes chasing, he was awkwardly brought down by goalkeeper Tony McMillan in the box. The 'keeper guessed the right way from the spot-kick, but Dickinson's effort was too powerful.

And the Yellows were hit by a double hammer blow as a superb strike by Wilkinson doubled the lead on 45 minutes.

Paul Carden introduced new loan signing Mehki Leacock-McLeod at half time and he was a constant menace in the second half. But with a two-goal cushion, Stalybridge could sit back and they kept a tight ship for the whole of the second half... The Yellows are back in action on Tuesday night at home to Workington".
---
25 March 2018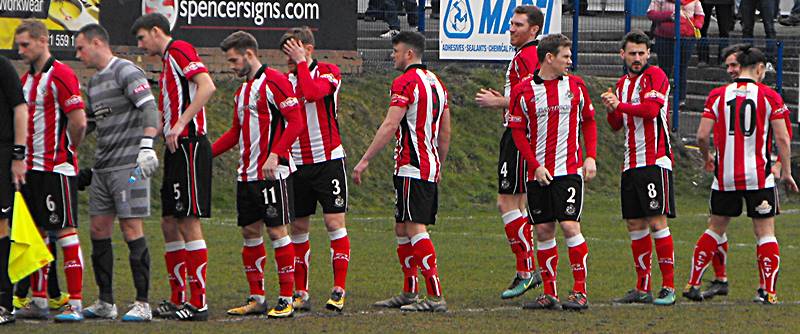 Alty line up at Halesowen. Left to right: Moult, Deasy, Harrison, Hancock, White, Hulme, Hannigan, Densmore, Richman, Johnston and no.10 Poole.

Match report here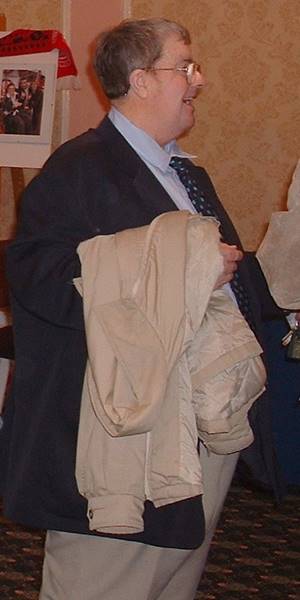 Paul Raftery writes that "Following the recent sad passing of Altrincham legend Kenny Palin (right), his family have asked for anyone with any photos of him kindly to submit them for inclusion at his funeral. These can be shared via social media or sent by e-mail".

The funeral service will take place on Friday 6 April at Altrincham Methodist Church, Barrington Rd, Altrincham WA14 1HF at 2pm. This will be followed by a reception, which will be open to all of Kenny's friends, at Altrincham Football Club's Community Sports Hall, Moss Lane, WA15 8AP from 3pm.

Altrincham's next opponents, on Tuesday, are Shaw Lane. The EvoStik League has reported that "Promotion-chasers Shaw Lane are looking for a new management team after parting company with manager Paul Quinn and his backroom team on Saturday night.

Quinn, along with assistant manager Rob Wilson and coach Dave Thompson, were relieved of their duties within hours of the Ducks losing 2-0 at home to Nantwich Town.

Appointed in November as the successor to Craig Elliott, former Brighouse Town boss Quinn and his staff left with the Ducks in sixth spot and three points off the play-offs spots but with games in hand on everybody above them in the top flight table.

Quinn, who took Brighouse Town up into the EVO-STIK League during six successful years at the helm, was thanked by the Shaw Lane chairman Craig Wood in a statement explaining the club's reasons.

Elliott said, 'Unfortunately after suffering a fourth straight defeat and without scoring a single goal we felt a fresh impetus was required. Having dropped out of the play-off positions it is imperative that we look to appoint a new management team that can work with the existing squad of players. I believe, and have believed all season, that they are capable of challenging for promotion this season. I would like to thank Paul and his team for the work they have put in during their short tenure. It was a very difficult decision for me to make personally as they have been very professional during their time at the club'".

NL Pitchero reviews Saturday's results, sayong "It's advantage Altrincham in the Evo-Stik League Premier on Saturday after the Robins won at second-bottom Halesowen Town and second-placed Warrington Town were beaten at in-form Stalybridge Celtic...

Defeat leaves the Yeltz just three points above bottom side Sutton Coldfield Town, who also lost, whilst the win lifts Altrincham four points above Warrington after they lost by the same scoreline at Bower Fold to a Stalybridge side for whom this was a fourth straight win. In front of a crowd of 615, Liam Dickinson gave Celtic the lead from the penalty spot 3 minutes before half-time.

And then in first half injury-time, Greg Wilkinson doubled the home side's advantage, and one they maintained.

The battle for a play-off place is just as tight, although Ashton United look firm favourites for one of the spots after a 2-1 Hurst Cross win over another of the contenders, Witton Albion, leaves them seven points clear of the sixth-placed team. Ashton had to come back from behind too as Steven Tames broke the deadlock to put Albion ahead on the hour-mark. Five minutes later, Dean Smalley equalised and then on-loan Scunthorpe striker Jack Dyche won it for the home side 9 minutes from time.

Grantham Town and Farsley Celtic occupy the other two top five spots but they had very differing fortunes on Saturday! The Gingerbreads eased to a 4-1 win at The Meres against Barwell... But Farsley were beaten by the same scoreline at Throstle Nest by a Stourbridge side who had only won one in eleven going into the game!...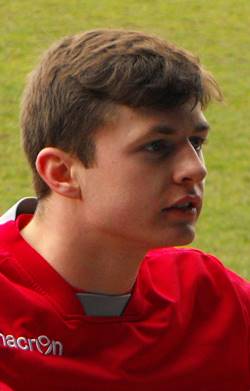 Left: Wigan Athletic loanee Chris Merrie made his Alty debut in the Cheshire Senior Cup on Wednesday and was included in his first league squad on Saturday at Halesowen Town, where he was pictured (right) .

A disappointed Farsley manager Adam Lakeland told his club's Pitchero website, 'It's a different game at home, when you're at home there's more onus on you to take the game to the opposition. Away from home we can get set up deeper and not get exposed but, at the end of the day, it's a bad day and a bad result. We deserved to get beat, they were the better side, no doubt about it'...

The good news for Farsley was that sixth-placed Shaw Lane AFC were also surprised at their own Sheerien Park by Nantwich Town, who triumphed 2-0 to leave the Ducks three points behind Celtic but with four games in hand. Sean Cooke after 12 minutes and Joe Mwasile on 65 minutes won it for the Dabbers [who also had a man sent off].

And Hednesford Town`s hopes also took a knock as they were held to a 2-2 draw at Silverlands against Buxton to leave the Pitmen six points behind the play-off places but having played 38 games...

The relegation place is looking like a straight battle between Sutton Coldfield and Halesowen, although Matlock Town are trying hard to get involved! Only one win in six has seen them drop to third-bottom, their latest loss being 1-0 at Dales Lane against Rushall Olympic, for whom Richard Brodie's early 5th minute goal proved decisive. The Gladiators should have enough points to avoid getting sucked in though.

The Royals remain bottom after a 5-0 defeat at the Marine Travel Arena against a Mariners side who were third-bottom at start of play. But a Danny Mitchley hat-trick in the 13th, 45th and 65th minutes – the third from the spot – sandwiched by a Josh Amis brace on 31 and 40 minutes, completed a bad day for Sutton Coldfield.

Elsewhere, Tom Burgin's 51st minute effort sealed Mickleover Sports` home win over Workington AFC, while Junior Mondal did likewise for Whitby Town at Owen Street against Coalville Town, but not until the 86th minute. Craig Carney`s 52nd minute goal looked as though it was going to be enough for Lancaster City at the Giant Axe against Stafford Rangers, until Rob Thompson-Brown popped up with an 89th minute equaliser."

Bradford PA report that "Two dubious red card decisions paved the way for FC United of Manchester to comprehensively defeat Bradford Park Avenue at Broadhurst Park. Mark Bower shuffled the pack once again, making three changes to the side that were held by Alfreton Town a fortnight ago. Nicky Clee dropped out of the squad altogether, whilst Gianluca Havern and Danny Boshell settled for a place on the bench".
Att. 244 Ashton United 2 - 1 Witton Albion
Att. 366 Buxton 2 - 2 Hednesford Town
Att. 132 Coalville Town 0 - 1 Whitby Town
Att. 262 Farsley Celtic 1 - 4 Stourbridge
Att. 319 Grantham Town 4 - 1 Barwell
Att. 565 Halesowen Town 0 - 2 Altrincham
Att. 299 Lancaster City 1 - 1 Stafford Rangers
Att. 402 Marine 5 - 0 Sutton Coldfield Town
Att. 252 Mickleover Sports 1 - 0 Workington
Att. 221 Rushall Olympic 1 - 0 Matlock Town
Att. 172 Shaw Lane 0 - 2 Nantwich Town
Att. 615 Stalybridge Celtic 2 - 0 Warrington Town
---
24 March 2018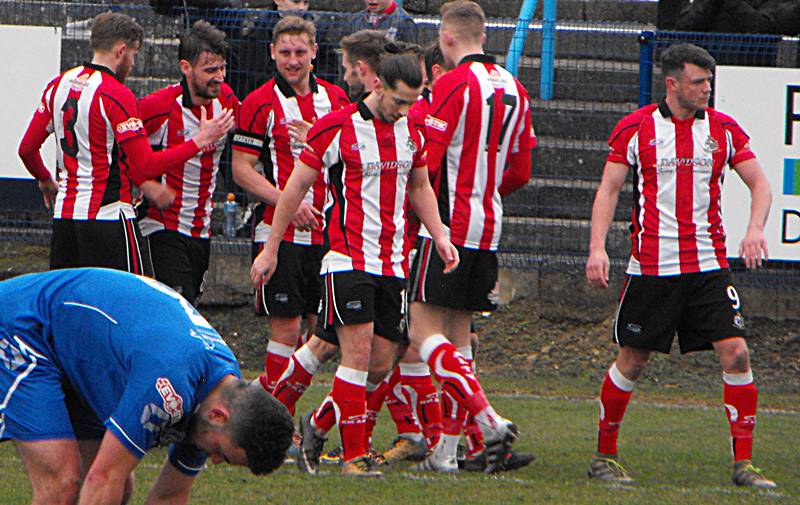 Above: Simon Richman is congratulated on his goal

After their recent run of poor home results, Altrincham were back to much better form at Halesowen in what was only their second away match in ten weeks, thanks to postponements and a run of home fixtures assigned by the league. But for wayward shooting, especially in the second half, Altrincham would have won by a wider margin against a Halesowen side which kept going to the end.

Alty took the lead in the eleventh minutes after attacking relentlessly from kick off. Jordan Hulme netted the goal after a superb jinking run into the box by John Johnston.

Despite losing Tom Hannigan to injury after 32 minutes, Alty doubled their lead seven minutes later when Simon Richman scored from close range, following a pass from Hulme.

Alty kept their first clean sheet for ten weeks but failed to add to their own score in the second half.

Results elsewhere helped Alty to extend their lead at the top of the table to four points.

Match report here.

Saturday 24 March

The EVO-STIK Premier Division
Ashton United 2-1 Witton Albion
Buxton 2-2 Hednesford Town
Coalville Town 0-1 Whitby Town
Farsley Celtic 1-4 Stourbridge
Grantham Town 4-1 Barwell
Halesowen Town 0-2 Altrincham
Lancaster City 1-1 Stafford Rangers
Marine 5-0 Sutton Coldfield Town (Alty loanee Josh Amis got two and former Alty striker Danny Mitchley netted a hat-trick)
Mickleover Sports 1-0 Workington
Rushall Olympic 1-0 Matlock Town+
Shaw Lane 0-2 Nantwich Town (Joe Mwasile scored the second)
Stalybridge Celtic 2-0 Warrington Town (Greg Wilkinson scored the second goal).
The Barnsley Chronicle reports that "Pete Goodlad says this is the worst season he has known for weather in his 40 years of running Athersley Rec and is unsure whether they and their tenants Shaw Lane AFC will be able to complete their crammed fixture lists.

Both sides have eight league matches and a cup tie still to be played at Sheerien Park before their seasons are due to end on April 28. That is 18 matches in 35 days. Rec's home games on Saturday and Monday were called off this week after the pitch was covered in snow last weekend following being blighted by rain and frost for most of the season.

Athersley have played just three home league games since the first week of 2018 while Shaw Lane had played only one home league game since January until a fixture against Grantham Town which was scheduled for last night.

General manager Goodlad, who is back at the club full-time after a fight with cancer earlier in the season, said, 'I've never known anything like it. In 2011 we had snow in March but this time it has just been bad weather non-stop since November which has never happened before. It's the worst I have ever known, no doubt about it. Since I've come back from my operation we have had constant problems with the weather. It's a total wash-out'...

While the drainage system is working well, part of the Sheerien Park pitch is subsiding into a slight slope. Goodlad said, 'There's a bit of subsidence and the pitch does drop down a little bit. We've had a professional firm out to look at it and we're going to see what can be done to make it right. The weather has obviously not helped with that.

'We're going to have games Saturday, Monday, Wednesday and Thursday on some weeks. I honestly don't know if the pitch will hold up. We haven't been able to get onto the pitch to work on it because of the snow and rain. There is more rain forecast throughout March then, if we get April showers, God knows what we are going to do. Hopefully we can make it through but I can't be sure of it and I don't know what will happen at the moment if we just can't fit the games in.'

Shaw Lane have been groundsharing with Rec all season after leaving Barnsley Rugby Union Club, and their fixtures take priority over Athersley's. Goodlad said, 'Shaw Lane are having a bit of hassle from their league about not playing games. But, if you look at the games that have been called off, Yorkshire and the North East has been hit really badly and places like Nottinghamshire and Liverpool haven't been as bad. It's not our fault if we keep getting the bad weather. It's not just us having games called off. The Evo-Stik League has said they are not extending the season and they haven't let Shaw Lane use the reserve pitch, which is like a bowling green, because it doesn't meet their requirements'".

According to the Warrington Guardian reports that "Paul Carden says coming to Warrington Town may be 'a culture shock' for Scotland international Jay McEveley but he is confident of the impact he will have.

The Yellows' boss moved to bring the 33-year-old defender in on loan from former club Tranmere before yesterday's player registration deadline. Carden said the move came about through being 'a bit snookered' defensively due to news of skipper Jay McCarten's ankle injury being worse than first feared. McCarten has not played since January 27 [against Altrincham] and Carden now expects him to miss the rest of the season.

McEveley may not feature until the Easter weekend, but Carden says his experience will play a big role on and off the field. 'We thought we were getting a young centre half from Accrington, but that didn't happen,' the Town boss said. 'It left us a bit snookered because we got news that Jay McCarten's injury is worse than first feared. He's going to be out for the season. We needed to act and obviously, I have a good relationship with Tranmere'".

'I spoke to Steve Jennings and he told me Jay hadn't been in the team at Tranmere and it didn't look like he was going to get back in... I gave Jay a call. He asked to think about it but he phoned me back five minutes later and said he needed to come and enjoy football again. He knows a few of the players and said he had heard nothing but good things... He'll be of great help to the young lads, people like Liam Goulding in particular'...

Another player to join Yellows on loan for the remainder of the campaign is winger Mekhi Leacock-McLeod, who arrives from Accrington Stanley. Carden believes the 21-year-old's 'electric pace' will see him complement fellow winger Devarn Green. 'We're starting to see the best of Devarn now. He's over his injury and he's raring to go every game,' he said. 'We've got some quick players, but Mekhi is electric quick in the way that he goes past players. He's been in and around Accrington's squad this season, but he's seen that we're challenging and he wants to come and have an impact'".

Meanwhile, Workington report that "Lee Andrews added two players to the squad just prior to Thursday's registration deadline. Carlisle United's Max Brown has joined the club on loan for the rest of the season... The eighteen years old striker scored against Wigan Athletic and Preston North End in United's two most recent Youth Alliance fixtures.

Jamie Pattinson has also been added to the squad having already played for the Reserves this term."

The EvoStik League reports on moves involving clubs in the Premier division...
Guilherme Baltazar from Darlington to Whitby Town
Adriano Basso from Radcliffe Borough to Ashton United
Dale Belford from Barwell to Romulus
Bradley Birch from Worcester City to Stourbridge
Benjamin Bradshaw from Kettering Town to Coalville Town (loan)
James Coates [ex-Alty] from Stalybridge Celtic to Ossett Albion
Oliver Crowley from Stalybridge Celtic to Brighouse Town
Adam Dugdale from Southport to Warrington Town
Anthony Dwyer from AFC Telford United to Hednesford Town
Oliver Dyson from Huddersfield Town to Shaw Lane (work experience)
Kegan Everington from Grantham Town to Brighouse Town
Dan Gathercole from Nunawading City (Australia) to Whitby Town
Amos Kabeya from Ossett Albion to Matlock Town
Mekhi Leacock McLeod from Accrington Stanley to Warrington Town (loan)
Simeon Maye from Solihull Moors to Rushall Olympic
James McEveley from Tranmere Rovers to Warrington Town (loan)
Michael Monaghan from Marine to Prescot Cables
Adam Murray from Mansfield Town to Sutton Coldfield Town
Paul Phillips from Glossop North End to Buxton
Daniel Pilkington from Ashton United to Glossop North End
Max Povey from Ashton United to Mossley
Thomas Rose from Sutton Coldfield Town to Market Drayton Town
Jassem Sukar from York City to Whitby Town
Thomas Westall from Ramsbottom United to Altrincham
---
23 March 2018 On Saturday, Altrincham make their first ever visit to Halesowen Town, whose nickname of The Yeltz prompts various claims as to its origin. Admission to their stadium, The Grove, is £10 for adults, £7 for concessionaries, £3 for under-16s and free for under-12s. However, Halesowen Town have made the following announcement... "Altrincham FC season ticket holders, bring your season ticket to our game on Saturday to get admission for just £5".

Halesowen currently lie 23rd on the table and in eleven matches in 2018 they have won four and lost seven. However, Halesowen have seen a marked upturn in form recently with three wins from their last five league fixtures which is a better record than Altrincham who have won just once in their last five league outings. Most recently the Yeltz enjoyed a fine 3-1 away win at Nantwich Town in which new signing, former Premiership striker Lee Hughes scored a brace. Hughes has scored against Alty previously when playing for Worcester City.

Manager John Hill told the Bromsgrove News about Hughes's arrival, saying "Matt Clarke (assistant manager) knows him well and, when we heard he may be available, we jumped on it. We are all fighting to keep this club in this league and his goals and experience could be key to that". Other recent signings by the Yeltz include Ahmed Ali from Bromsgrove Sporting and Danny Byrnes from Clitheroe.

In the reverse fixture with Halesowen, on 14 October, Altrincham won 3-0 (goals from Hancock, Johnston [pen] and Poole), which was the result that first took Alty to the top of the league table this season. Ironically, anything less than a win for Alty on Saturday could mean that they are knocked off the top of the table by Halesowen should Warrington Town win at Stalybridge!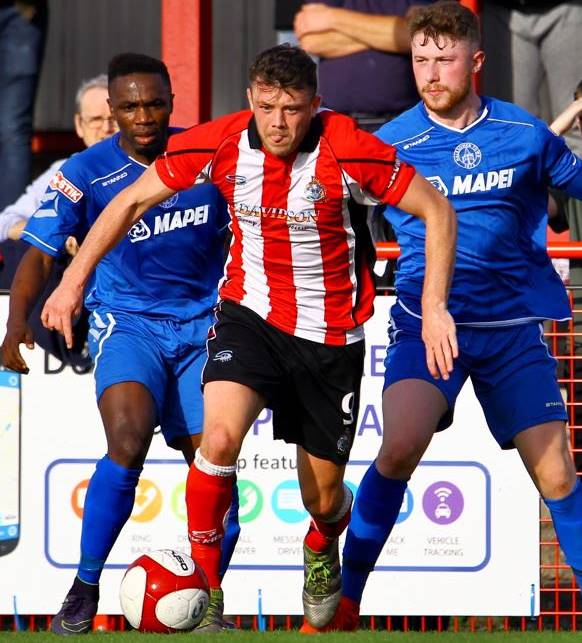 Above: Gavin Rathbone's image shows Jordan Hulme in action against Halesowen in October.

Alty's line-up in the October match was...

ALTRINCHAM: 1. Tony THOMPSON, 2. Joel BEMBO-LETA, 3. Lewis SHORT, 4. Tom HANNIGAN, 5. Ben HARRISON, 6. Jake MOULT (c), 7. John JOHNSTON, 8. Simon RICHMAN, 9. Jordan HULME, 10. James POOLE, 11. Josh HANCOCK. Subs 12. Sam SHERIDAN, 14. Tom PEERS, 15. Sean MILLER 16. Shaun DENSMORE, 17. James JONES.

Since then Joel Bembo-Leta, Lewis Short, Sam Sheridan have left the club and Sean Miller is currently out on loan. As for Halesowen, there has been much more player turnover, as only Platt, Charlton, Kelly and Morrison from their October line-up started at Nantwich last week.

The Halesowen News reported this week that "Halesowen Town's battle to beat the drop has only just begun, says assistant manager Matt Clarke.

The Yeltz gave their survival chances a big boost last Saturday thanks to a fine 3-1 success over Nantwich Town. Former West Brom forward Lee Hughes fired home a double on his second start for the club after midfielder Ivor Lawton had opened the scoring...

Clarke said, 'It was a massive win for us, especially because Nantwich is not an easy place to go. We fully deserved to win and could have been two or three goals up even before we got the first... It was great for Lee Hughes to get on the scoresheet too. His record shows you that wherever he goes he scores goals. That is why we brought him in. There is still a long way to go this season and that battle to stay up is only just starting to heat up now. There will be a lot of twists and turns along the way. We want to try and drag a few others into it as well if possible'...

Despite Hughes quickly showing his finishing prowess, it was the impact of right-back Enock Ekongo that won the praise of Clarke. The consistent defender set up both of Hughes' goals to continue an impressive campaign. The assistant boss added, 'He came to the club and watched a game and asked us for a trial. He was very persistent and has since gone from strength-to-strength for us'...

The Yeltz now face a tough test at league leaders Altrincham this Saturday. Clarke said, 'We've watched them and think there are a few areas we can exploit. We'll have to be at our very best. It's going to be difficult but we are confident at the moment'. The Yeltz management team are working to add a few new face before Thursday's transfer deadline but nothing is close at the moment.

They are hopeful, however, that Jack Kelly (hamstring) and Ahmed Ali (heel) will be available for the weekend".

Thursday 22 March
Buxton 1-0 Ashton United
Shaw Lane 0-2 Grantham Town
The Integro League Cup 17-18 - Third Round
Atherton Collieries 2-0 Scarborough Athletic
Coalville Town 3-0 Mickleover Sports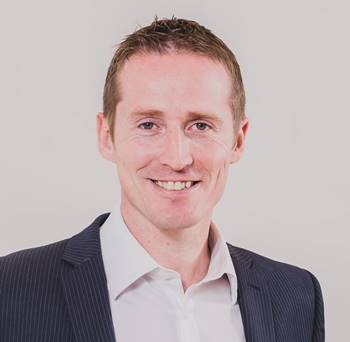 "The board at Altrincham FC is delighted to announce the appointment of Lawrence Looney (right) as a Director, with effect from Wednesday, 21 March.

Lawrence, 39, joins the club after a hugely successful spell as Chief Executive of Lancaster City, where he transformed their commercial and strategic operations. Lancaster achieved promotion last season and have secured many new and innovative revenue streams during his time at the club.

An Isle of Man resident, Lawrence works in the financial sector and is keen to help Altrincham move up the divisions. 'I am delighted to join the board of Altrincham Football Club. This club is going places. The ambition and drive expressed by the board, the quality of football being played under Phil Parkinson, and the passion shown by the fans have all been key reasons why I have joined the board.

'I am sure I can make a major contribution to the club with my experience and my ambition and I look forward to playing a full role in Alty's continued transformation. I personally think for a club to really be successful, it has to built on a sound commercial structure which will help us get to the level we want to get to. To be successful, we have to get all the fans pulling in the same direction.'

Grahame Rowley, Altrincham chairman said, 'Over the last 12 months we have taken steps to strengthen the board to give us the capacity and capability to execute the Strategic Review and this has brought fresh new thinking to the team. Lawrence is a superb further addition to the board and will accelerate our progress in delivering an off-the-field set up that matches the improvements we have made on the field.'

Lawrence, a father of four, has had a lifelong passion for football and is currently working with the Isle of Man FA to develop routes into senior football for young talent on the island. This is another key area he feels could benefit Altrincham in the long run.

'There's a lot of talent on the Isle of Man, but if a young footballer doesn't get picked up by the likes of a Manchester United, then they can get lost to the game. There is so much scope for good players to progress at the level of an Altrincham, so hopefully my links can help there.'

Please join us in welcoming Lawrence to the board at a 'Meet the Manager and Board' event in the Community Sports Hall on Thursday, 29 March".

Contact: info@thesportbusiness.co.uk.

A second-half goal by Perry Bircumshaw settled this Cheshire Senior Cup encounter. Altrincham fielded a mixture of first-team squad members, new signings, reserves and youth-team players. The team was 1. Tim Deasy, (c) 2. Callum Jones, 3 Dontai Gabidon, 4. James Jones, 5. Sam Heathcote, 6. Chris Merrie, 7. Theo Bailey-Jones, 8. Max Harrop, 9.Tom Peers, 10. Rhain Davis, 11. Darius Palma. Subs: 12. Harry Sheridan, 14. Tom Westall, 15 Dylan Scanlan, 16 Scott Smith, 20 Cameron Terry.

Match report here.

Alty travel to Rushall Olympic on Saturday, 31 March. The club reports that "On-loan midfielder, Jordon Sangha, has been recalled from his loan spell at Dales Lane by Walsall".

Elsewhere, Southport confirm that "Striker Kaiman Anderson has joined Stourbridge on a free transfer. Kaiman made a total of 10 appearances for the club in all competitions and impressed for Stourbridge on loan in December

Meanwhile at Shaw Lane AFC the Ducks report that "Huddersfield Town youngster Olly Dyson has joined on work experience. Oliver Dyson, a Huddersfield Town U23 player, was recently gaining match practice with Liversedge.

Paul Quinn says,'we've been developing our relationship with Huddersfield over recent weeks and I'd like to thank Leigh Bromby for making this signing possible. Olly is an impressive young player who has a very bright future and hopefully we can play a positive role in his progress'".

Thursday night's Buxton v Ashton United match was declared a "free match" for spectators.Ashton United report that "On the road the Robins have done well this season only suffering three league defeats on the road in 17 games. Ahead of the fixture manager Jody Banim had the following to say... 'it's got that bit of added spice with my old teammates and managers at the club and I'm under no illusion how difficult the game will be but we're more than capable of going there and getting a result'".
---
22 March 2018 Alty TV has highlights of the draw with Mickleover Sports on Tuesday night. The video clearly shows the foul on Tom Hannigan which led to the Sports' goal.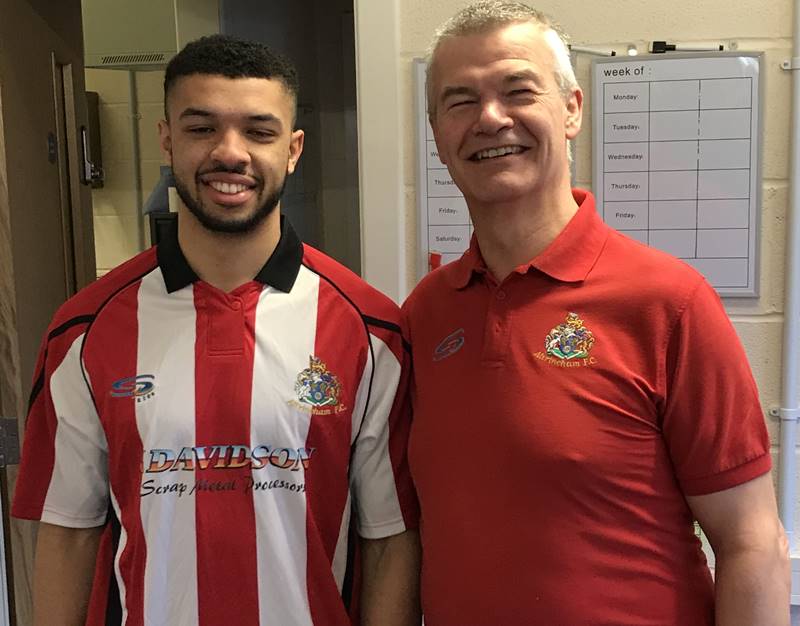 Pictured, above, is Theo Bailey-Jones who, as reported yesterday, has signed for Altrincham from Stalybridge. He is seen above, with chairman Grahame Rowley, after signing on Tuesday.

131 supporters watched the Altrincham v Winsford United CSC tie on Tuesday. Courtesy of Mike Garnett, we have a list of the low attendances at Moss Lane over recent years...
29.1.2014 v Stockport Sports (CSC) 106
11.12.2001 v Vauxhall GM (ULCC group) 114
Other sub-200 CSC home gates of which Mike has a record are...
128 v Vauxhall Motors 2008-9
140 v Chester 2006-7
161 v Cammell Laird 2004-5
169 v Cheadle Town 1999-2000
172 v Congleton Town 2012-3
186 v Stalybridge 2013-4
Following Tuesday's game at Altrincham, Mickleover Sports "can also confirm that Jimmy Phillips was taken to hospital straight after he was substituted from a nasty clash of heads. He was released after there was no further sign of injury following a thorough assessment".

At Sutton Coldfield Town, "With registration deadline day looming, manager Neil Tooth has been busy looking to strengthen his squad for the final weeks of the season.

The Royals are very pleased to announce that Adam Murray has joined the club for the remainder of the season. Toothy said 'I am delighted to get a player of Adam's quality in with us for the run in. He brings a wealth of experience both on and off the pitch and we will need every bit of he can offer over the six weeks'. Adam, 36, has enjoyed a professional football career with Mansfield Town, Carlisle, Torquay, Oxford United and others, having started his career with Derby County.

Toothy has also reached agreement with both Birmingham City and AFC Telford United for Matt Timms and Louis McGrory to remain with the club until the end of the season."

Workington report that "'I don't like Saturdays' could be adopted as Reds' new theme tune. All their weekend fixtures this year have failed to produce a win, whereas Tuesday encounters under the lights has been a different story. Shaw Lane were the latest to suffer against Jekyll and Hyde Workington with a vibrant display from the hosts in sharp contrast to previous outing v. Buxton.

'That's the frustrating thing for us because we know what we are capable of against the better sides,' said Lee Andrews, as unsure as the rest of us which team is going to turn up....

Despite the amount of possession they enjoyed, and the six second-half corners forced, the Barnsley side rarely troubled Aaran Taylor. His one moment of concern saw him push the ball onto the post after being 'pinned' at a corner but the ball, fortunately, rebounded into his welcome arms...

The match winning goals were credited to Matty Douglas although there was a hint of an own-goal with each...

Shaw Lane Wilczynski, Picton (Chilaka, 84), Gordon, Lugsden, Skelton, Norris (Rothery, 73), Byrne, Brown-Hill, Clayton, Reeves, Williams (Knight, 71). Substitutes – Quinn, Abadaki (not used)... Attendance 269".

According to the Derbyshire Times "Matlock Town have suffered another blow, in what has been a difficult campaign, with top scorer Shaun Harrad being ruled out for the rest of the season. The Gladiators pulled off a coup by signing the 33 year old former Notts County, Burton Albion and Cheltenham Town striker in the summer and he has repaid joint bosses Glenn Kirkwood and Craig Hopkins' faith in him by netting 22 league and cup goals.

But a troublesome ankle injury finally caught up with him after playing through the pain barrier and Harrad had an operation on Monday. Even with 10 games left to play, he seems likely to remain as the Gladiators top scorer unless someone else hits an extremely rich vein of scoring form in the remaining six weeks of the campaign.

'The operation went well but that's him done for the season,' said Hopkins. 'He's been absolutely superb for us and now it's up to someone else to step up to the mark. Shaun's been playing in pain for a while now and very few people were aware of that, so all credit to him for his performances and the way he's gone about his business. He's been a true professional'.

Harrad signed off for the season with a well taken goal that put Matlock into a first half lead against Farsley Celtic last Saturday, but following a couple of snowstorms, Matlock lost their way and lost by the odd goal in three to the play off contenders... 'It was a matter of Farsley coping better with the conditions than we did,' said Hopkins. 'It was like an ice rink out there and definitely the worst conditions I've known while I've been in football. It made it a bit of a false game and in the last 20 odd minutes the snow was blowing straight into our lads' faces. We found it difficult to get out of our own half'...

Stalybridge Celtic have now moved above Matlock after three successive splendid away wins at Workington, Altrincham and Nantwich Town. The Gladiators are now down in 20th spot. They are two points behind their opponents on Saturday, Rushall Olympic, ahead of the clash at Dales Lane, having played one game more.

'It's a six pointer,' Hopkins admitted. 'It'll be a tough game for [us] since Alvin McDonald [actually it is Liam McDonald] has taken over as manager, they've probably been one of the top six or seven sides in the league. They've got a good, strong squad who play it hard but can also play some good football'".

According to the Hull Daily Mail, "The writing has been on the wall for a year or more but the North Ferriby United fairytale is finally at an end. Relegation from National League North was confirmed in spite of an excellent 1-1 draw with big-spending Salford City, but the hardy supporters in attendance at the Eon Visual Stadium have long since been braced for the moment...

The Villagers are now on a rapid retreat back down the league ladder. The good times are officially over and the strong suspicion is that they will not be coming back... A second relegation inside 12 months has sent them back to the Northern Premier League for 2018-19... There are too many doubts over the long-term future for this second relegation to genuinely sting.

The arrival of Jamie Waltham as owner in November, succeeding Steve and Eman Forster, has raised significant question marks over the direction Ferriby take from here. Waltham has made it clear the Villagers are currently 'unsustainable' as a club and has raised the unpalatable prospect of transferring the Ferriby's league standing to another Hull-based club. Where that leaves Ferriby remains unclear but the only thing certain is that the fifth, or even sixth, tier of English football will not be seen again any time soon.

The enduring spirit of players has never been in question but this season has been tantamount to a surrender off the field. Although Ferriby put up a fight during their one season in National League, eventually winning 12 of their 46 games against opponents such as Lincoln City and Tranmere Rovers, the current campaign has been a thankless slog.

The draw with Salford... leaves Ferriby with just two wins to their name from 35 games in National League North... This has been a train rolling down the tracks ever since the financial backing of the Forster family was reined in shortly after promotion to the National League was won in 2016. Budgets were slashed and the heroes departed en masse. Billy Heath, the mastermind behind the FA Trophy win, preferred to take charge of Halifax in a lower division and popular successor Steve Housham was powerless to keep Ferriby up...

The Mail understands the annual budget was set at £76,000, down from £160,000 the previous season, and has since been cut again. In a division that sees Harrogate Town, Salford and York operating as full-time clubs, Ferriby have barely stood a prayer... The Villagers went 28 league and cup fixtures without a win. Only when beating Bradford Park Avenue last month did the miserable run end...

Ferriby have taken on the honour of becoming the first club in English football's top eight tiers to be relegated this season".
---
21 March 2018 Altrincham have signed winger Theo Bailey-Jones from Stalybridge Celtic. He was a used substitute against Altrincham last Saturday when Celtic beat Alty 2-1. Theo (dob 22 May 1994) joined Wrexham in November 2012, having started out at Manchester City, before moving to Crewe Alexandra. He then played for Northwich Victoria and Irlam Town before his move to Wrexham. In summer 2015, he joined Macclesfield Town after a loan spell at the Moss Rose from Wrexham. When his contract expired at the Welsh club, he signed for the Silkmen. It was deja vu for Altrincham as for the third home match in succession they started the better side, only to fall behind through an individual error. This time it was Andy White's cross-field pass which allowed Jack Walsh to nip past an exposed Harrison to score in the 38th minute. But how the officials failed to see the most blatant arm-pull by Barnes-Homer that upended Hannigan in the build-up, is one of life's mysteries.

Altrincham laid seige to the visitors' goal in the second half and finally equalised in the 71st minute when Jake Moult headed home from close range. With Sports employing spoiling tactics which the referee failed to clamp down on, the game ended in acrimony after the final whistle.

Match report here.

Tuesday 20 March

The EVO-STIK Premier Division
Altrincham 1-1 Mickleover Sports
Buxton P-P Ashton United (snow)
Nantwich Town 2-3 Stalybridge Celtic
Warrington Town 4-1 Hednesford Town
Witton Albion 1-0 Stourbridge
Workington 2-0 Shaw Lane
Beyond the Big Two reports that "Altrincham manager Phil Parkinson hopes Saturday's surprise defeat by Stalybridge Celtic will give the Evo-Stik Premier leaders a 'kick up the backside'.

The Robins' 7-match unbeaten run was halted by Workington last Tuesday and lowly Bridge won 2-1 at the J. Davidson Stadium to make it back-to-back home defeats. The Robins have hit some bad form in a vital part of the season...

Warrington, meanwhile, won 2-1 at home to Grantham to cut the gap to just 3 points before Alty welcome Mickleover Sports this Tuesday night, while Warrington host Hednesford.

'I thought we played well in the opening 15 minutes but after that we were lacklustre,' said Parkinson. 'We didn't deserve to win and we didn't do enough to get anything from the game. It was probably not a good time to play Stalybridge because they've recently beaten Warrington, they've beaten Workington and now they've beaten us. But for us, it might be a good time to get a kick up the backside. Maybe one or two of them think they've already won the league, but we've certainly given them no information to tell them that is the case'.

Bridge fielded an 18-year-old debutant in goal after on-loan keeper Jack Walton was recalled by his parent club Barnsley... Bridge took a surprise lead against the run of play on 17 minutes as Johnston hit a poor pass to Jake Moult and former FC United midfielder Wolfenden slotted comfortably past Tony Thompson.

The visitors continued to press Alty, forcing the Robins to make mistakes and constantly give away the ball... Shaun Densmore's cross was met by Poole, whose shot cannoned off the post. Alty sub Simon Richman also fired against a post on 78 minutes but the Robins were picked off on the break with 3 minutes left, as Dickinson tapped into the roof of the net at the back post from a Connor Hughes cross.

Johnston prodded in on 90 minutes from a Sam Heathcote flick...

'It is their Cup final when they come here and there were a lot of below-par performances from us,' Parkinson added. 'At the end we had a real go but I think we have to look at our performances and our decision making, and we have to rectify it. The good thing is the games are coming quick and fast.'"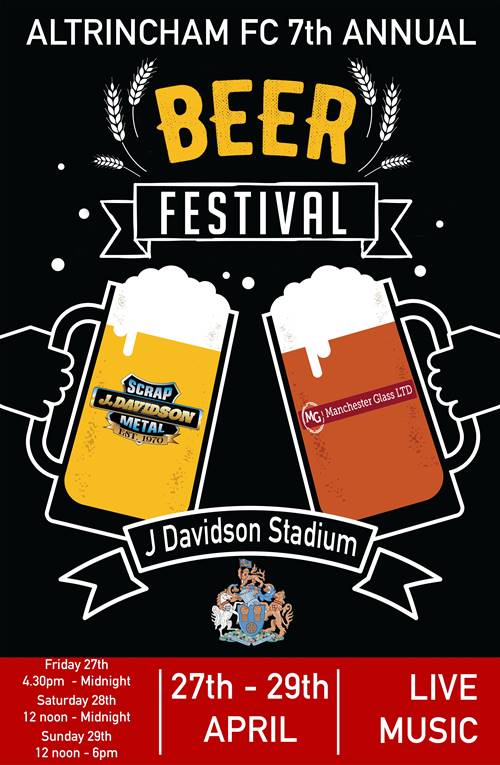 Stourbridge "are delighted to confirm the return of midfielder Brad Birch, who has signed for us on dual registration forms. Brad spent the whole of last season with the Glassboys, making 33 appearances in all competitions, and re-joins us from Worcester City.

He was extremely popular with Stour supporters last term for his energetic, hard-working displays in midfield before departing at the end of the season. Brad signed for Worcester City and he has been an integral part of the side that is fighting to win the Midland League Premier title. The former Littleton man was also made captain by City and has made 27 appearances this season, scoring seven times.

Gary Hackett has moved to bring him back to Amblecote on a dual-registration deal and Brad goes straight into the squad for tonight's game at Witton Albion."

At Coalville Town, Ben Bradshaw has signed from Kettering.

Hednesford Town "have completed the signing of Anthony Dwyer from AFC Telford United... The 21-year-old Jamaican born forward joined the Bucks in the summer, going on to score six times for them but, of late, he has struggled to get match time in the team."
---
20 March 2018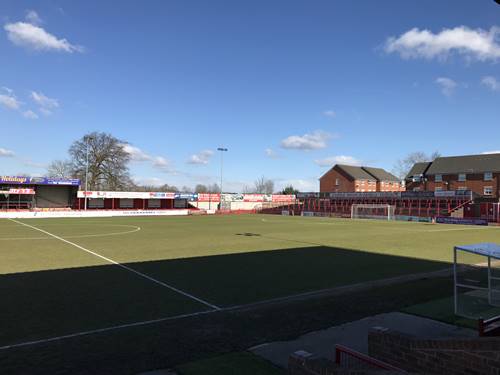 As the image, above, taken on Monday shows, the pitch at the J. Davidson Stadium is ready for two matches in 24 hours. Tuesday sees Alty entertain Mickleover Sports in a league match and on Wednesday evening, Winsford United are our opponents in the Cheshire Senior Cup.

Altrincham will be without Left-back Connor Hampson, who was clattered by Liam Dickinson's challenge on Saturday. He is expected to be out for at least a fortnight, with Andy White the most likely replacement.

Tuesday will be Mickleover Sports' first visit to Altrincham. In the reverse fixture, in September, Alty won 2-1.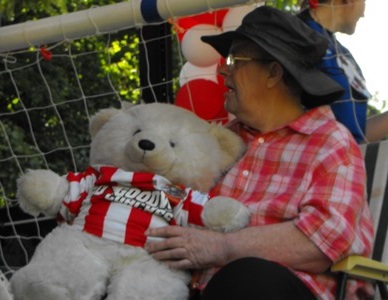 Press and Media Officer John Edwards has submitted the following article for inclusion on the news pages of this week's Sale and Altrincham Messenger.

"Altrincham players past and present have paid heartfelt tributes to legendary support Kenny Palin after he died in hospital on Sunday, following an illness. Renowned for initiating the zigger-zagger chant that reverberated round the ground and bellowing 'get your subs on' at a succession of Alty managers, Kenny was a larger-than-life character known to everyone at The J.Davidson Stadium and also Timperley Cricket Club.

Right, pictured by the website, Kenny on the Altrincham FC float at the Altrincham Festival in summer 2013.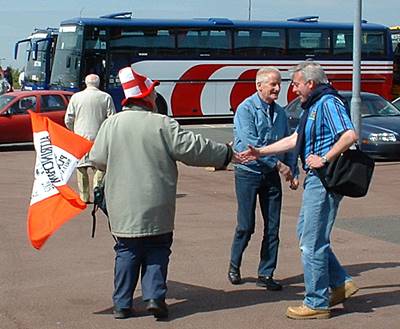 Left: Kenny, with his Alty hat and flag, greets one of his many acquaintances as he walks back to one of the supporters' coaches after Alty's play-off win against Eastbourne Borough at the Britannia Stadium, Stoke in 2005.

News of his death sent social media into meltdown, with Alty players, officials and supporters taking to Twitter to share memories and express their sadness.

'Such a lovely guy,' wrote Stuart Coburn, who made a record number of appearances for Alty. 'Never had a bad word for anyone, but had me on toast after many a game, telling me how many goals I'd let in. Proper Alty legend.'

Former Alty centre-back Scott Leather recounted a similar experience, saying 'Always the first to tell me "you were rubbish today" – what a guy', while long-serving defender Shaun Densmore tweeted 'Rest in Peace, Kenny. Loved moaning at Stuart Coburn as much as I did!'

Ex-Alty striker Rod Thornley reacted to the news that broke on Monday morning by writing, 'Sad, sad day. I was only speaking to him in Partington last week. RIP Kenny, huge part of my time at Alty, even invited himself to my wedding ceremony. Brilliant. Moss Lane will sorely miss you.'

Alty chairman Grahame Rowley described Kenny's affinity with the club by saying, 'He would phone the office five or six times a day without fail, often just for a chat but also to tell us all the latest results, who had scored for which team and what fixtures were coming up. He was so friendly and informative about local matters, and it's an endearing memory of him, the way we'd hear from him every single day.'"

Keith Edleston, manager of Altrincham FC Ladies, under the above heading, writes...

"What can we say about today? Well, from the moment we got there we thought 'Is it going to be one of those days?' It was absolutely bitterly cold with a very strong wind howling around the ground and then, when the keys didnt fit the clubhouse...!!!! Finally we got some some keys and eventually got to warm up around 1-45.

Things were going well with the football but City of Liverpool dug in resolutely and played a high line which kept catching us offside time and time again. On 35 minutes, one of our many corners from Laura Dodds found the head of Gail Simpson who fairly bulleted it past the keeper to open the scoring.

Further goals from Jess Hartopp, Laura Dodds, Laura Kelly, Jade Hesketh, Kye Brown and a first for the club from Beth Hayes sealed a 7-0 win. All credit to City of Liverpool players, staff and supporters (AND our own supporters) who braved the freezing cold weather; you are a credit to grassroots football, thank you.

On to next week, when we welcome Liverpool Marshall Feds Reserves to Mersey Valley Sports Club, (2pm ko), and hope to continue our good run and climb the league table. See you there!"

Starting eleven: Paula Alarcon Conde, Aimee Hopkinson, Bliss Molyneaux (capt) Louise Edleston, Jess Hartopp, Gail Simpson, Laura Dodds, Kye Brown, Beth Hayes, Laura Kelly, Jade Hesketh. Subs: Megan Rowley, Georgia Ashton

Goals: Gail Simpson, Beth Hayes, Laura Dodds, Laura Kelly, Kye Brown, Jess Hartopp, Jade Hesketh.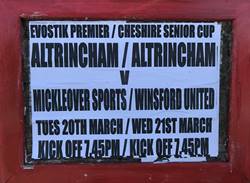 When Altrincham entertain Winsford in the Cheshire Senior Cup on Wednesday, 21 March (7.45pm), the admission prices will be as follows:-
Adults £5
Concessionaries £2
Under-16s £1
Our opponents on Wednesday, Winsford United report that "As the new board of Winsford United Football Club. We would like to announce the following...

We have added two new directors to the already existing board, they are Kevin Livemore and Keith Badrock. Both Kevin and Keith are well known in the community for being involved in the Winsford youth set-up. They join with some great ideas, and we look forward to seeing them implement them...

We can now make public...

The role of
Club Secretary: Robert Astles.
Club Treasurer: Tony Duckworth.
Vice-chairman: Stephen Pardoe
New Chairman :Ray Duckworth.
As the new chairman, Ray has given the following statement: "I have been fortunate enough to be elected the club's new chairman, in the recent restructuring of the board. Many of you already know me. I have been at the vast majority of Winsford United games, home and away, for the past twenty years. I've seen this great club in moments of elation and triumph, but also during times of struggle. My input into this club is someone who will work, tirelessly and enthusiastically, for the good of the club to secure a prosperous future.

It's the belief of the new board and I, that this club should be the focal point of the community. We will be undertaking to ensure that this happens as efficiently as possible, whilst seeking to restore the positive times to this great club. I believe in actions rather than words, so with this in mind I'd welcome as many of you as are willing to get involved to help take OUR club forward. It's only through working as one, that we will achieve what is best for the club"

The Winsford Guardian recently reported that "Winsford United eased aside 1874 Northwich to reach the Macron Cup last eight on Tuesday. Blues took control of the contest from the moment Michael Koral's speculative strike from distance squirmed from goalkeeper Callum Spencer's grasp on 11 minutes...

1874 management duo Paul Bowyer and Wayne Goodison selected a side with one eye on an FA Vase semi-final encounter with Thatcham Town on Saturday, and made nine changes to a side that started the previous game.

Winsford started the second-half at the same tempo they had the first, and Jamie McLellan's header from a corner flashed narrowly wide. Scott Taylor was next to go close, his shot hitting the woodwork. He was not to be denied, and applied an emphatic finish to Callam Gardner's cross to double Blues' lead on 50 minutes.

[Ex-Alty youth and reserve] Will Foster ought to have done better with a header, while at the other end Ben Woods blazed over when well-placed.

The contest was over on 73 minutes when Gardner punished a defensive error, side-stepping an opponent before waltzing past Spencer to score.

Riley at least registered a goal against his old team when he dispatched a penalty three minutes later.

Winsford | Green (GK), Fowles (Clarke 83), Skolorzynski, Hopper, Foster, McLellan, Scott Taylor, Michael Taylor, Koral (Hatton 77), Bircumshaw, Gardner. Subs not used Kerr, Osborne (GK). Goals Koral 11, Scott Taylor 50, Gardner 73".
---
19 March 2018 On Sunday, Altrincham FC Ladies won 7-0, away to City of Liverpool Ladies. They now lie seventh in the league with games in hand. Their next match, next Sunday, is at home to Liverpool Marshalls Feds Reserves, who lie second. On Sunday, in the NWYA Open Cup Round 3, Altrincham FC Youth won 2-1 at St Helens Town. Their next cup opponents are either Heswall or Witton Albion who play next Sunday. Alty are scheduled to host Southport in a league match this Sunday. The Chester Chronicle reports that "'If Neil Young wouldn't have come in I would probably have walked away', says Chester FC boss Marcus Bignot... Marcus Bignot has admitted he considered his future as Chester FC manager but believes the arrival of [ex-Alty boss] Neil Young has given them a fighting chance.

Marooned near the foot of the National League table, forced to lose his support staff and a number of senior first team players and relying on volunteers to patch up his match day squad, this has been the most testing of seasons for the Chester manager.

Mismanagement at the top has left the Blues in crisis. Over £95,000 was raised by fans after the revelations of the financial crisis at the end of January, and that figure will help Chester get to the end of the season at least.

But what happens next?

Liabilities well in excess of the £100,000 quoted at last week's City Fans United members meeting mean that it will be a season of real struggle again next year, one that will likely be played out in the National League North given Chester's perilous league position".

Until recently Neil was helping out at FC Halifax Town.

Shaw Lane report that "Manager Paul Quinn looks back at the disappointing result at Witton Albion. Shaw Lane lost their first game since New Year's Day away at Witton Albion yesterday. It was three nil to the Wincham Park side by half time with goals by Matt Devine, Owen Dale and Steve Tames.

A fourth goal just after half time by captain Rob Hopley finished the scoring.

Manager Paul Quinn looked back at the last few weeks. 'We've had a very testing few weeks and ultimately that's played a large part in today's disappointing performance. The players haven't played for 3 weeks and we've had training facilities disrupted due to the weather.

'That match sharpness, understandably, wasn't there. As a group we set ourselves high standards and we fell below those standards today. We talked about the threats Witton would pose today prior to the game and full credit to our opponents they fully deserved the win. The message to the players after the game was that we have to pick ourselves up and go again.

'We have 48 points left to play for, our season was never going to be won or lost today. We learn and move on.'

Shaw Lane are on their travels again with a long trip to Workington on Tuesday night, before hosting Grantham Town on Thursday."
---
18 March 2018 Courtesy of kit supplier and Alty goalkeeping coach, Ian Senior, we see below the new Alty kit for 2018, produced by SKkits. Modelled by Jordan Hulme, Ian advises that "After weeks of work with the players in terms of design and cut, this is confirmed as the home kit for the next two seasons. A sample can be seen at the club".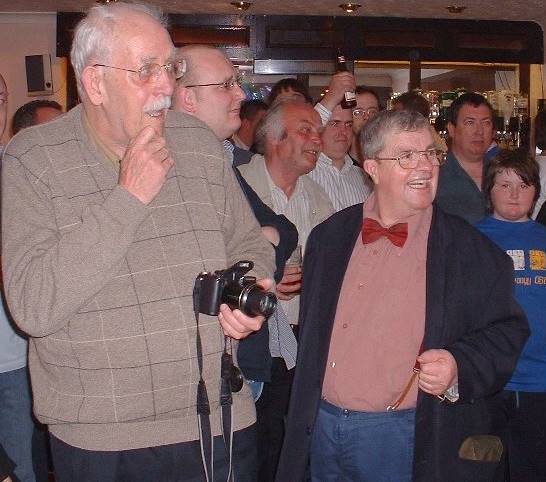 Above: Kenny Palin, in his bow-tie, beside Alan Johnson, whose own death was also sadly reported recently.

It is with great sadness that Altrincham FC has learned of the death of legendary supporter Kenny Palin who, over his many years of supporting the Club, became well-known to many of our opponents' clubs as well as our own. Kenny passed away at 6.30am this morning in hospital, with his sister in attendance. Despite ill health in recent years Kenny continued to support the Robins.

Known for his "zigger-zagger" chant from the Alty terraces, Kenny was also a true character in the town of Altrincham. He could not walk along George Street without meeting his friends and acquaintances every few yards; everyone knew Kenny.

He was also a supporter of nearby Timperley Cricket Club, where his ability to clear the players' tea-time sandwich tray was part of folklore.

Stories about Kenny are legendary but one that sticks in the mind was on the occasion, many years ago, that the supporters' coach broke down en route to a match. (It doesn't do that nowadays!). Whilst awaiting a repair to the vehicle, Kenny proceeded to entertain the passengers with renditions of his favourite songs, notably "Old MacDonald Had a Farm" and "All Things Bright and Beautiful". Kenny's interventions at supporters' meetings and, at matches, his shouts to successive Alty managers of "Get your subs on!" were beloved of his fellow supporters.

Kenny was truly a one-off character, in the nicest possible sense. He will be greatly missed by all who knew him and Altrincham Football Club expresses its condolences to his sister, family and friends.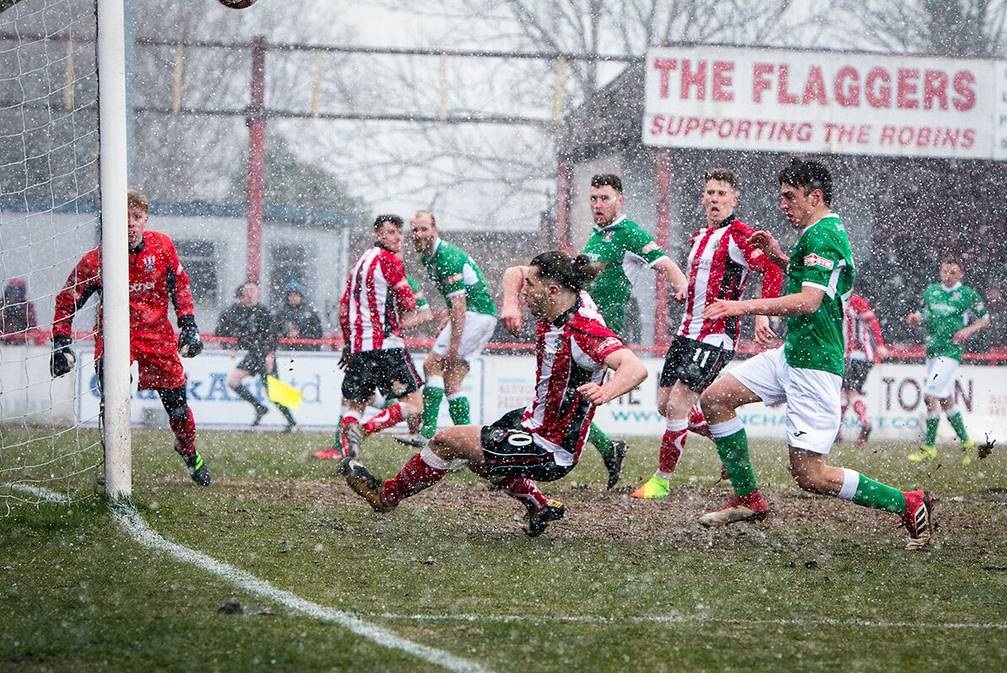 Match report here.

Above James Poole goes close in the blizzard on Saturday. Image courtesy of Mike Ripley.

Brian Flynn's post-match interview with Phil Parkinson is here.

On Saturday, Altrincham FC Reserves won 3-0 away at Denton Town on Saturday. Their next league fixture is currently scheduled for 31 March at home to Wythenshawe Town.
Att. 844 Altrincham 1 - 2 Stalybridge Celtic
Att. 246 Hednesford Town 3 - 2 Marine
Att. 189 Matlock Town 1 - 2 Farsley Celtic
Att. 193 Nantwich Town 1 - 3 Halesowen Town
Att. 301 Stafford Rangers 4 - 1 Coalville Town
Att. 367 Stourbridge 2 - 3 Ashton United
TBA Sutton Coldfield Town 2 - 1 Mickleover Sports
Att. 241 Warrington Town 2 - 1 Grantham Town
Att. 201 Witton Albion 4 - 0 Shaw Lane
Att. 299 Workington 1 - 2 Buxton
Goalkeeper Russell Saunders has moved from Trafford to Glossop North End. Saturday 24 March

The EVO-STIK Premier Division
Ashton United vs Witton Albion
Buxton vs Hednesford Town
Coalville Town vs Whitby Town
Farsley Celtic vs Stourbridge
Grantham Town vs Barwell
Halesowen Town vs Altrincham
Lancaster City vs Stafford Rangers
Marine vs Sutton Coldfield Town
Mickleover Sports vs Workington
Rushall Olympic vs Matlock Town
Shaw Lane vs Nantwich Town
Stalybridge Celtic vs Warrington Town
---
17 March 2018 For the second time in a week, Altrincham surrendered three home points in a match. This time it was in a game played in a biting wind and blizzard conditions. Their league lead has now been cut to three points by Warrington Town.

After starting the better side, Alty fell behind in the 17th minute when Wolfenden found himself unmarked and scored with a low shot. Altrincham dominated the second half but could not unlock the Celtic rearguard with substitute Richman's shot, cleared off the line, the nearest to a leveller.

Alty suffered a double blow in the closing stages when the already booked Dickinson clattered Hampson who was unable to continue. The ten men of Alty then conceded a second goal in the 88th minute, through a mistake by Hannigan, which allowed Hughes to cross for Dickinson to net from close range.

Altrincham got a consolation goal in added time when Johnston netted after a corner.

Match report here.

Saturday 17 March 2018
Altrincham 1-2 Stalybridge Celtic
Barwell P-P Lancaster City
Hednesford Town 3-2 Marine
Matlock Town 1-2 Farsley Celtic
Nantwich Town 1-3 Halesowen Town
Stafford Rangers 4-1 Coalville Town
Stourbridge 2-3 Ashton United
Sutton Coldfield Town 2-1 Mickleover Sports
Warrington Town 2-1 Grantham Town
Whitby Town P-P Rushall Olympic
Witton Albion 4-0 Shaw Lane
Workington 1-2 Buxton
Mike Garnett's data provides the historical record against Saturday's opponents, Stalybridge Celtic.
Home: P66-W36-D16-L14-F129-A80
Away: P72-W20-D12-L40-F114-A153
Neutral: P5-W1-D1-L3-F5-A7
All: P143-W57-D29-L57-F248-A240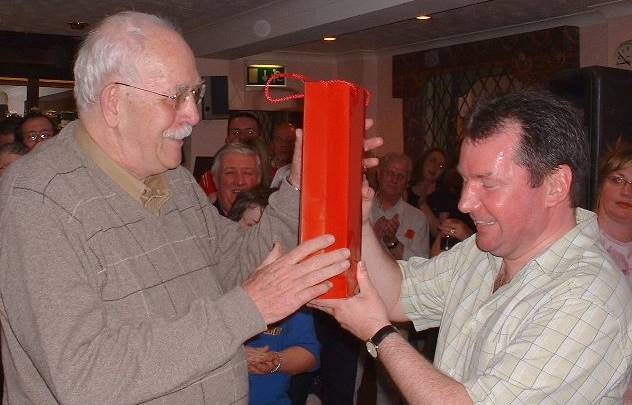 Above: Alan receives an end of season award from Brian Flynn.

Altrincham FC is saddened to learn of the death of Dr Alan Rhodes Johnson who was the Club's first webmaster at a time when websites were a novel phenomenon in Non-League football. He died in Wythenshawe Hospital on 28 February, aged 89. In addition to his website duties, Alan also acted as a club photographer, using his images to illustrate the website. He was also an active member of the supporters' association, SAFE (Save Altrincham's Football Existence).

The following article by Alan, which documents the website's origins, appeared in the Robins' Review of 16 January 1999. As the article relates, outside his football-related activity Alan was a biochemist who spent a number of years working in Australia. All at the Football Club send their condolences to Alan's family and friends.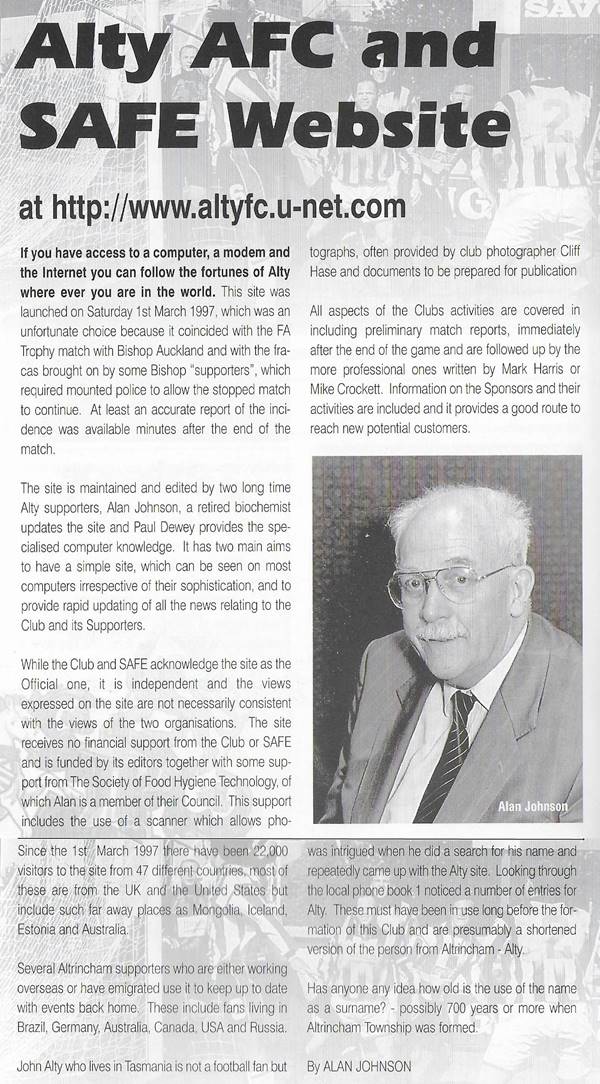 Alty TV has highlights of Tuesday's defeat by Workington and a post-match interview with Jake Moult. When Altrincham entertain Winsford in the Cheshire Senior Cup on Wednesday, 21 March (7.45pm), the admission prices will be as follows:-
Adults £5
Concessionaries £2
Under-16s £1
At Stourbridge, the club is "Delighted to announce the signing of former Romania U17 international winger NICOLAE CARNAT on loan from Wolves. The 19-year-old arrives at the War Memorial Ground on a youth loan and will remain with the Glassboys until the end of the season.

The highly-rated youngster was snapped up by Wolves in August 2014 from Academi Hagi in his native Romania. He has regularly featured for Wolves' U18 and U23 sides since joining... Nicolae spent the end of last year on loan at Danish side Esbjerg fB, playing for the club's youth and reserve teams as well as making three appearances in Denmark's first division.

The midfielder, who predominantly plays out wide, will now be hoping to get more senior experience under his belt with Stour. He joins fellow Wolves youngster Aaron Hayden at Amblecote, with the defender already on loan with the Glassboys. Nicolae goes straight into the squad for Saturday's Evo-Stik Premier home game against Ashton United. "

There is also a new face at Lancaster City who "confirm the signing of 17 year-old striker Connor Simpson from Preston North End.

Club manager Phil Brown was excited with the new addition to the squad, 'Connor's a very good player and will significantly enhance our attacking play, he's a great signing for us.' Simpson, a 6ft 5 striker, featured once for Preston North End's first team after joining the club from Hartlepool United in January.

The striker made 7 appearances in the National League for the Pools, scoring one goal, before moving to the Championship outfit.

'I think he's got outstanding qualities, with his size and his stature and the fact that he's played men's football at such a young age', Preston boss Alex Neil told the club website when the youngster joined his side."

Preston North End add that "The 17-year-old follows in the footsteps of Josh Earl who spent time on loan with Phil Brown's side before breaking into the first team this season."

Over in Barnsley, "Brighouse goalkeeper Harry Stead joins Shaw Lane. Manager Paul Quinn returned to his old club to sign the young keeper who was with him at Brighouse last season".

Still east of the Pennines, Scunthorpe United confirm that "Iron attacker Jack Dyche has re-joined Ashton United on loan until the end of the season.

During successful loan spells in 2016 and 2017 with the Robins, Jack made 38 appearances and scored 18 goals before returning to United in January 2018. The 20-year-old joined us as a scholar at the start of 2014-15 season after leaving Leeds United... Dyche recently spent a month on loan at Boston United."
---
16 March 2018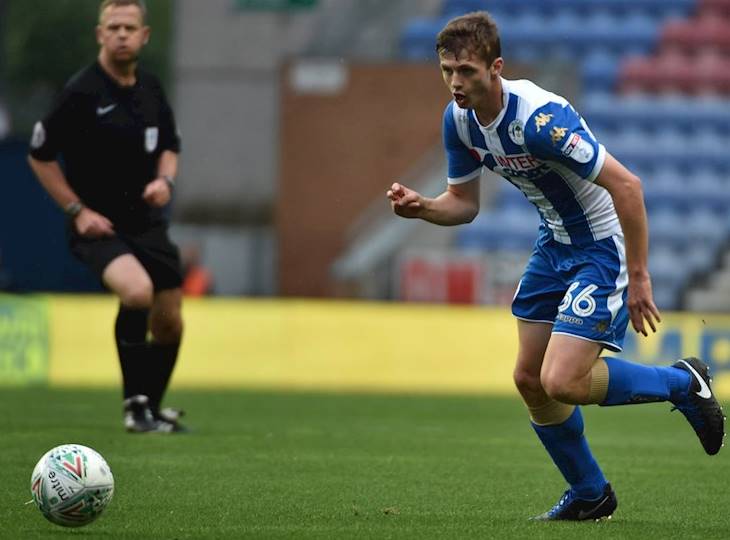 Above: Chris Merrie, image courtesy of Wigan Athletic.

Altrincham FC Press and Media Officer John Edwards writes...

"Altrincham manager Phil Parkinson has strengthened his midfield options for the Evo-Stik Northern Premier League title run-in by snapping up teenage Wigan Athletic prospect Chris Merrie on a youth loan for the rest of the season.

Liverpool-born Merrie (19), a left-footed central midfielder, has signed forms until the end of April and is available for Saturday's League game with Stalybridge Celtic at The J.Davidson Stadium.

After starting out at Everton's Academy, he joined Wigan at the age of 14 and made such an impression for the under-18 side in the 2016-17 season that he was awarded a professional contract at The DW Stadium last July. He had a loan spell at Southport earlier this season, and Parkinson believes his arrival will further equip Alty's table-topping squad for the demands of a congested fixture list over the next month or so.

Merrie made his first-team debut for Wigan in a 2-1 League Cup win over Blackpool last August and is described on the Latics' club website as 'a ball-playing central midfielder with a cultured left foot, very combative with an eye for a spectacular goal.'

Everyone at The J.Davidson Stadium extends a warm welcome to Chris and wishes him an enjoyable and successful stay at the club".

Footnote: Chris was born on 2 November 1998. Whilst at Southport on loan he made 3(+3) league appearances, and scored one goal.

Shaw LAne AFC "welcome left sided attacking player Tyler Williams to the club following his move from Goole AFC. Williams, 22, started his career with Sheffield United's academy, but is no stranger to the NPL with previous spells including Worksop Town, Leek Town, Frickley Athletic and Buxton.

The pacy winger returned to Goole for a second spell in September 2017. Manager Paul Quinn said, 'we have been tracking Tyler recently and we've been impressed with what we have seen. Tyler is an exciting wide player who will give us an additional option in that area as we head into a very busy period.'"

Elsewhere, Buxton Football Club announce that "Kern Miller has departed the club and is expected to sign for Spalding United... We are expecting a couple of new signings before Saturday's trip to Workington". News of one of these new faces comes from Glossop North End who report that former Altrincham youth winger "Jude Oyibo has left the club to join Buxton... Callum Chippendale has also been released by the club".
---
15 March 2018 Thursday 15 March 2018
Shaw Lane P-P Stalybridge Celtic
Altrincham's erratic recent form has now seen them fail to win three of their last six games and concede eleven times in those matches, five of which have been at home. Against a Workington side which had lost its previous six league games and which arrived with an apparently reduced squad, Altrincham's defence conceded three poor goals in a match in which the hosts, at the other end, gained fifteen corners but failed to capitalise on them...

Match report here.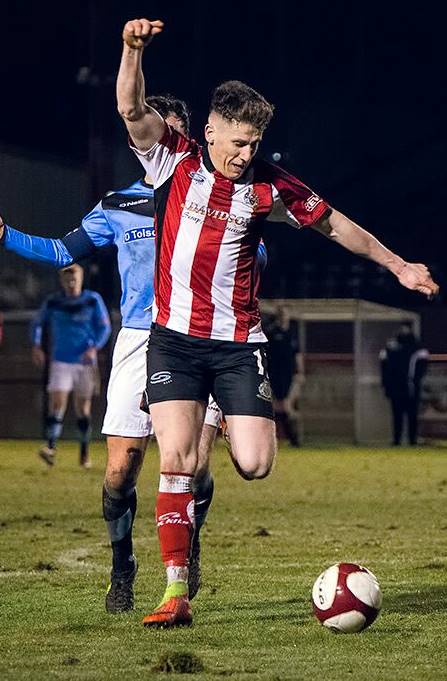 Above: Tom Peers in action against Workington, as seen by Mike Ripley. Tom has now become Alty's fifth goalscorer in double figures this season.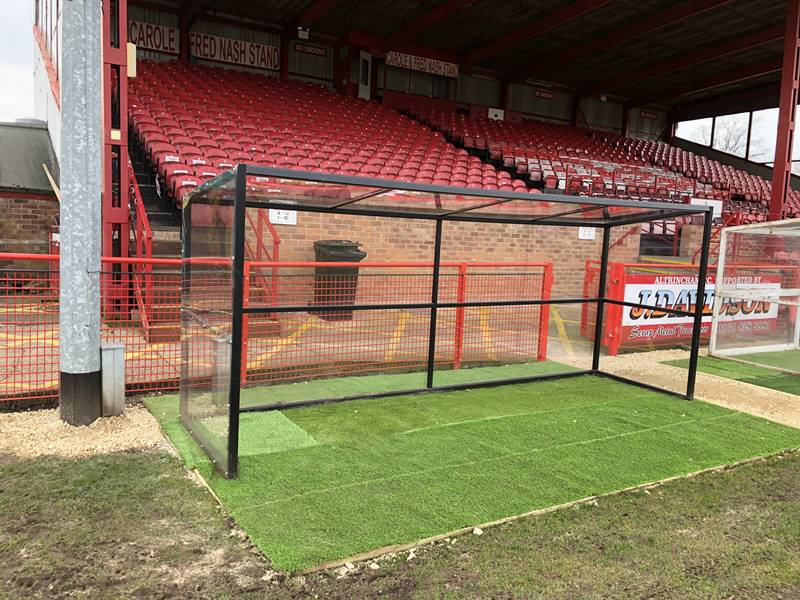 After much hard work by Richie Bentley the new disabled shelters at the J. Davidson Stadium are now finished (as seen above). Richie spent a full day surfacing the area and laying the Astro turf under foot! Also we thank Jordan Tyms for initiating the project earlier in the season and working with our suppliers to secure the materials and have the shelter constructed. Thanks too to Patrick Air from Manchester Glass for supplying the material and for glazing the shelter and to Manchester Metalcraft for making the framework!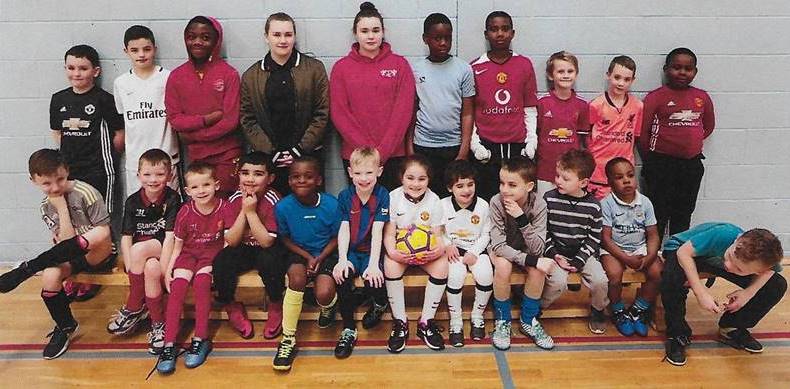 Pictured above are a group from East Manchester Mini-Sports who attended a recent match at Altrincham FC via the good offices of Terry Surridge. The children sent the Club a lovely letter of thanks, which is reproduced below, telling us how much they enjoyed their visit.

If you are involved with any similar children's group who would enjoy watching a match at the J. Davidson Stadium please contact the club by e-mail or telephone (0161 928-1045). Packages can be arranged to incorporate group entry to a game as well as refreshments of your choice.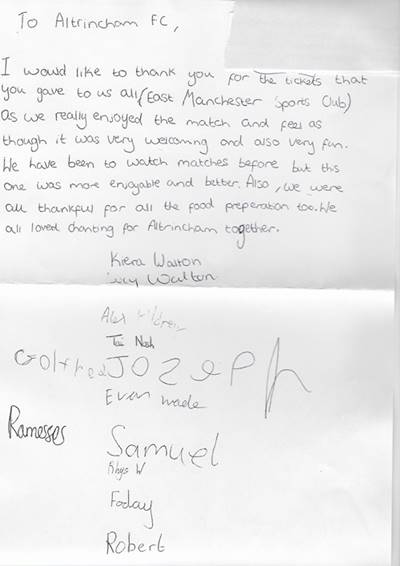 Workington report on "A stunning performance and result which has lifted everyone at the club, so full credit to the management and the last XI standing for completing an impressive double over the league leaders. It was well reported that resources were stretched to the limit but Steven Rigg's timely arrival completed a competent team with four teenagers named on the bench as back-up.

Credit the kids too, all of whom played for the Reserves twenty-four hours earlier. The line-up had a 4-5-1 feel to it but, after a confident start, quickly became 4-4-2. Whatever the shape, it was a superb disciplined performance with some heroic defending and some brave, incisive attacking... Sit back against this powerful Alty team and there would only be one outcome, have a go at them and the unlikely is possible.

Then the breakthrough goal, after twenty-three minutes, with Symington providing the assist from the right. Scott Allison received the ball, got the better of two defenders and then planted an accurate right foot finish beyond Anthony Thompson.

The second goal was even better and proved that route one can be as beautiful as anything Manchester City, Liverpool or Arsenal produce with a dozen or more passes. Symington thundered a magnificent fifty yard assist to Allison and the stunning accuracy saw a brilliant first touch take him clear of James Jones and Ben Harrison before another sublime finish left Thompson helpless....

It certainly wasn't one-way traffic with the hosts bombing forward at every opportunity, forcing eight [first-half] corners but hardly creating a clear-cut chance. Their best effort in the first half was a superbly hit Max Harrop shot from all of thirty-five yards which produced a magnificent Aaran Taylor save.

Within three minutes of the restart, Rigg released Allison whose attempt to go round Thompson resulted in the 'keeper conceding a penalty. Having confidently converted from the spot in the two most recent games, Allison placed the ball but, with Thompson going the other way, his shot clipped the left-hand post.

Altrincham sensed a reprieve and it was like the Alamo for the next twenty minutes. Reds seemed to get lucky when a Taylor fumble led to a Gari Rowntree own-goal but a raised flag by an alert assistant curtailed the home supporters' celebrations.

But Altrincham did reduce the arrears after sixty-one minutes when Matty Douglas slipped in attempting to clear a pass for Tom Peers. The latter had all the time he needed to curl the ball beyond Taylor and it was game on, definitely. Eight minutes later Alty restored parity with John Johnston clipping over a delightful cross from the right and Peers heading in off the post for his second. Jamie Mellen looked as though he might have cleared the ball off the line but video evidence suggested it was a brilliant decision by the assistant who had come to Reds' rescue earlier.

Reds were hanging on by their finger nails and had to survive ten second-half corners, a staggering eighteen in total. Taylor's handling was superb, however, and the only shot he had to deal with was a Johnston screamer which he brilliantly turned over the bar.

Having weathered the storm, Reds went looking for another goal themselves and it duly arrived with ten minutes to go. Allison somehow managed to lay the ball into Rigg's path and the new boy capped a great night's work by hitting the ball into the corner of the net from eighteen yards. A great moment for him after so long out of the game, and a wonderful moment for the team and their small band of supporters.

The last ten minutes, plus the added four, wasn't as nail biting as the previous half hour but there was one final scare when Johnston's cross from the left skimmed Taylor's crossbar. Lee Andrews deserved that performance with recent frustration replaced by delight. '"We know we are capable of playing like that week in, week out but haven't quite reached the required levels recently.'"

In its midweek review, the EvoStik League says that "Altrincham may still lead the EVO-STIK League Premier table by six points but they have now failed to win three of their last six games after going down to a 3-2 defeat to Workington AFC at Moss Lane on Tuesday night, writes Pitchero's Steve Whitney.

The Reds travelled down to Cheshire having suffered a home defeat to relegation-threatened Stalybridge Celtic is last weekend – their sixth successive league defeat...

Altrincham`s closest rivals, Warrington Town, were held to a 0-0 draw at Marston Road by mid-table Stafford Rangers, while third-placed Ashton United suffered a 2-1 Hurst Cross defeat by inconsistent Coalville Town.

Tom McGlinchey gave the Ravens the lead on the half-hour mark. Sam Sheridan equalised 12 minutes into the second half but it was the visitors who stole the points, courtesy of Nathan Watson 20 minutes from time.

Grantham Town would have moved into the top five with a win at The Meres against mid-table Nantwich Town but had to make do with just a point from another goalless encounter.

Marine AFC enjoyed a good 3-0 win at the Marine Travel Arena against Lancaster City and now look relatively safe... Buxton are level on points with the Mariners after sharing a 1-1 Silverlands draw with out-of-form Stourbridge". Leon Broadhurst broke the deadlock to give the Glassboys the lead five minutes into the second half. But Liam Hardy`s penalty reply came within four minutes.
Att. 510 Altrincham 2 - 3 Workington
Att. 126 Ashton United 1 - 2 Coalville Town Samuel Sheridan 57'
Att. 172 Buxton 1 - 1 Stourbridge
Att. 183 Grantham Town 0 - 0 Nantwich Town Match centre 
Att. 286 Marine 3 - 0 Lancaster City
Att. 301 Stafford Rangers 0 - 0 Warrington Town
The Chester Chronicle reports that "Another member of the backroom team has departed Chester FC. Marcus Bignot is now the only remaining member of first team coaching staff after another departure.

Dave Felgate has left his role of goalkeeping coach at Chester FC. The 58-year-old, who was on a month-to-month contract with the Blues, who have been forced into reducing their wage bill in the wake of the financial crisis, left the club earlier this week on his own accord. With the club now without any of their own goalkeepers on their books, with Andy Firth and Will Jaaskelainen both on loan from Liverpool and Crewe Alex respectively, relegation-threatened Chester have made the decision to part company with Felgate before the end of the season.

Felgate's departure follows that of assistant manager Ross Thorpe last month, although Thorpe is volunteering his services on a match day to help boss Bignot, now the only remaining member of the first team coaching staff after Mick Moore was unable to commit to his voluntary coaching role last month...

Felgate, who was a popular figure at Chester during his playing days between 1993 and 1995 and was part of the Division Three promotion-winning side under Graham Barrow, joined the club's coaching staff in October 2016".
---
14 March 2018 Monday 12 March 2018
Shaw Lane P-P Stalybridge Celtic (Waterlogged pitch. For rearranged date, see below.)
Tuesday 13 March 2018
Altrincham 2-3 Workington
Ashton United 1-2 Coalville Town
Buxton 1-1 Stourbridge
Grantham Town 0-0 Nantwich Town
Marine 3-0 Lancaster City
Stafford Rangers 0-0 Warrington Town
The EvoStik League reports that "Stafford Rangers manager Neil Kitching is warning his players to improve their game management or risk throwing away more vital points.

Rangers have let winning leads slip on more than one occasion this season and, on Saturday, somehow managed to snatch a draw from the jaws of victory against Lancaster City in their clash at Marston Road. Leading 2-0 heading into time added on and heading for a third win on the trot for the first time this season, Rangers were forced to settle for a point when the Dolly Blues pulled one back in the second minute of injury time and then grabbed an equaliser with the last kick of the game.

After seeing more than 400 fans leave deflated, Kitching told the club's YouTube channel, 'It's difficult to put into words but I'm angry, really, really angry. I'm frustated about the amount of time added on but they were two really soft goals. Game management-wise, we're not good enough, and that's been the case in too many games, especially at home. We haven't managed matches well, in-game, and that's down to the players.'

He added, 'They've got to manage games better. Someone just needs to go down with a knock, or an injury, so we can get some treatment on. Other teams do it against us.'"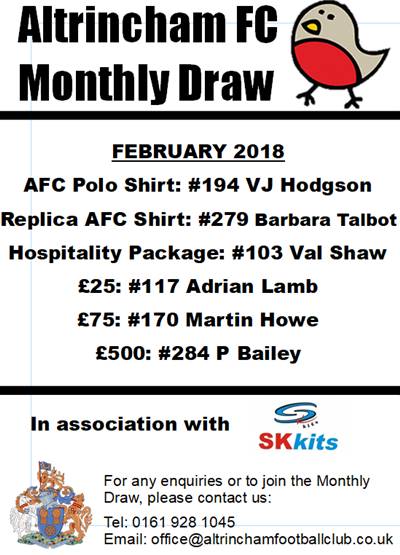 Details of the results of the February 2018 Altrincham FC Monthly Draw are shown, right.

Why not give yourself a chance of being a winner? Join the scheme here.
---
13 March 2018 On Tuesday afternoon, our opponents tonight, Workington, announced that they are "delighted to secure the signature of Steven Rigg on a non-contract basis and the former Keswick, Penrith, Carlisle United and Queen of the South midfielder will make his debut at Altrincham tonight.

He joins us whilst remaining a part of the Chorley squad in order to gain some much needed game time, a deal which will benefit both clubs as the player returns from a long-term injury.

Keswick based Steven will welcome the opportunity to play competitive football to regain full match fitness as soon as possible. He will add some much needed quality to our depleted squad... Rigg's arrival couldn't have come at a better time with depleted Reds facing the league leaders at Moss Lane with unavailability again the main concern. Conor Tinnion and Sam Smith both have college commitments tonight and they join the injured trio of Phil McLuckie, Anthony Wright and Jordan Holt and forgotten man, Jack Ryan.

Alty are seven points clear at the top of the table and a massive twenty four points ahead of tenth placed Reds. They will be thirsting for revenge following their 5-2 defeat at Borough Park back in September, one of only four losses incurred this season."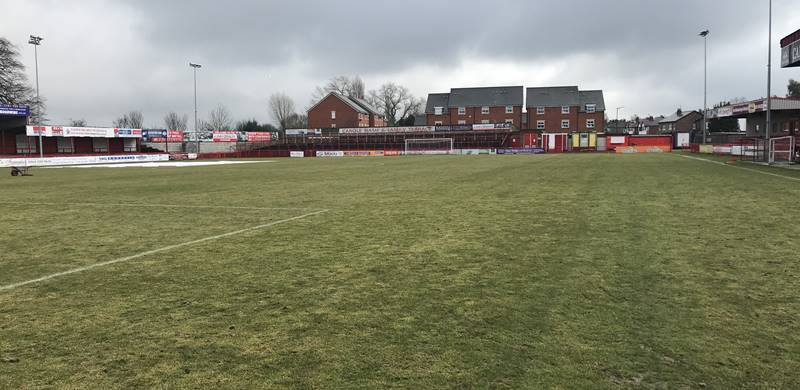 Tonight's match, against Workington, goes ahead thanks to hard work by groundsman Neil Brown, his assistant Bryan Ford and volunteers. The pitch is shown above on Tuesday afternoon.

You can follow this fixture via this website's minute by minute text updates by clicking on the icon below. Alternatively, Radio Robins' coverage of the game is outlined below as well.

Brian Flynn announces that "Radio Robins, sponsored by Ashley Mowers Garden Machinery, is providing full live commentary of Tuesday night's game. The commentators are Alex Sarwar and Brian Flynn and the match summariser is Mark Simpson. Coverage starts at 7.25pm.

Guidance for Listening to Radio Robins

There will be 4 ways to listen to Radio Robins via Mixlr
a) The Radio Robins website. Open the page in any web browser and the broadcast should start automatically. Please note that the 4 Player Options (Windows Player | Real Player | Quick Time | Winamp ) will not work now.
b) Download and install the Mixlr app on Android devices from the Google Play Store - start the app and search for 'Radio Robins'.
c) Download and install the Mixlr app on Apple devices from the Apple Store - start the app and search for 'Radio Robins'.
d) There is a temporary WIX website here.
For Tuesday night's game against Workington at the J Davidson Stadium (k.o. 7.45pm), the Club is need of additional turnstile operators due to unavailability of a number of the regular team. Any volunteers will get free entry to the game and no previous experience is necessary. If you can help, please contact the club by e-mail or phone (0161 928-1045) as soon as possible. Thank you.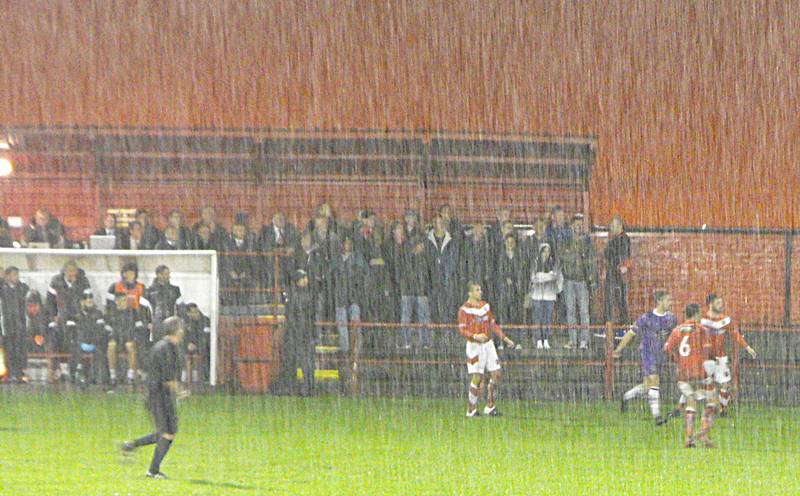 Altrincham will be hoping for rather less wet conditions on Tuesday night than those which they encountered at Borough Park back in September, which are seen in the above image. After Max Harrop had been sent off before half-time, Alty lost 5-2, which was their last away defeat of the season to date.

Mike Garnett reminds us of the historical record against the Cumbrian Reds...
Home: P6-W4-D1-L1-F16-A6
Away: P8-W3-D2-L3-F16-A11
All: P14-W7-D3-L4-F32-A17
Recent league results show Altrincham unbeaten in their last seven matches, whilst Workington have been hit by injury problems and have lost their last six league fixtures. The Reds currently lie tenth in the division.

Altrincham should have defender Shaun Densmore available again after his injury lay-off.

Last Friday, the Barnsley Chronicle reported that "Shaw Lane AFC manager Paul Quinn admits the 'overwhelming' schedule of at least 18 games in 49 days might damage his side's title challenge but insists first place is still achievable.

The Ducks have played just 29 of their scheduled 46 Evo-Stik Premier Division matches so far, which is the fewest of any side in their league while their rivals have played up to seven games more.

With the season to end on April 28, Paul Quinn's men have seven weeks to play their remaining 17 league fixtures as well as a Sheffield Senior Cup semi-final. They have at least two fixtures booked in for every week until the end of the season while they will have at least three three-game weeks, a figure that is likely to increase with more bad weather.

Shaw Lane, who have played one league game in the last month, were due to host leaders Altrincham on Saturday but the game was called off and the two clubs are still yet to meet this season after a series of postponements. Altrincham are 13 points clear of the Ducks having played three more games.

The Ducks, whose Monday home match against play-off hopefuls Grantham Town was also cancelled, are third in the league, which has one automatic promotion place to the National League North as well as four play-off positions.

Quinn said, 'Having so many games will make things tougher for us but we can certainly still get that first place. Altrincham have a lot of games to play as well and we still have to play them twice this season. There are a lot of other clubs who will be looking at that first place as well, not just us and Altrincham. We're hoping to bring in a couple of extra players to boost our numbers and take us from a squad of 19 to about 22. Then we can rotate and keep players fresh.

'If you look at the big picture of 18 or 19 games in seven weeks then it is very overwhelming but we are just breaking it down to segments of three or four games and focusing on that.'"

Following that interview, two more of Shaw Lane's home games, on Saturday against Sutton Coldfield Town and, on Monday night, against Stalybridge Celtic, were postponed because of a waterlogged pitch at Athersley. The rearranged Celtic game is now to be played on Thursday, 15 March, which replaces a planned Shaw Lane v Sutton Coldfield fixture. Shaw Lane currently have 17 league games to play by 28 April, with nine of those games being at home. Their groundshare partners, Athersley Recreation, have a further ten home games to complete in the Toolstation North East Counties League by the same end-of-season date as Shaw Lane. Athersley have only played one home league game so far in 2018. So the pitch at Athersley now needs to accommodate a total of nineteen league matches over the next six and a half weeks.

The EvoStik League reports that "Glossop North End have named Mark Canning as caretaker boss after joint managers Paul Phillips and Steve Halford stood down to take charge at EVO-STIK League rivals Buxton [who are in a higher division].

The former Ashton United and Stalybridge management duo resigned on Sunday night to succeed former long-serving Buxton boss, Martin McIntosh, following his departure from Silverlands at the start of February.

Phillips and Halford were appointed at Surrey Street in the summer of 2017 as the successors to Chris Willcock and left the Hillmen in 11th spot in EVO-STIK League North...

A Glossop club spokesman told fans at lunchtime on Monday, 'We are disappointed to let you know you that joint managers Paul Phillips and Steve Halford have resigned as managers of Glossop North End. The duo informed the GNE board of their intentions to take up the vacant position at Buxton FC in a phone call to chairman Dave Atkinson on Sunday evening'".

Meanwhile, Buxton Football Club "is delighted to announce the appointment of Paul Phillips and Steve Halford as the club's new joint First Team managers... The Chairman and Board of Directors wish to place on record their sincere thanks to caretaker manager [ex-Alty loanee] Tim Ryan and wish him every success in the future."
---
12 March 2018 Saturday's postponed home game against Mickleover Sports has been rearranged for Tuesday, 20 March at 7.45pm, which is twenty-four hours before we entertain Winsford United in the Cheshire Senior Cup. Altrincham FC Ladies' manager, Keith Edleston, reports on Sunday's Argyle Cup match...

"It was a tough game on Sunday at Mersey Valley, which ended Altrincham FC Ladies 1 Stockport County Ladies (First) 4

In a good game, where both teams gave everything, the girls unfortunately ended up exiting the Argyle Cup at the quarter final stage. Stockport are a good quality side from the Premier League with lots of experienced players and we wish them well for the rest of the season.

As for us, a great goal on 67 mins by our prolific left-midfielder Kye Brown did give us a glimmer of hope and, coupled with some good performances by the girls throughout the 90 minutes, it means we have a lot to look forward to for the remainder of the season. Beth Hayes made her home debut and got a good 65 minutes under her belt before tiring and coming off and Paula is making great progress with another assured performance in goal.

We now move on to next Sunday where we are back on our travels up to Liverpool to play City of Liverpool Ladies.

Thanks for all your support today".

On Sunday, Altrincham FC Youth won 2-1 at Ashton Athletic and now lie in third place in the Premier Division of the NW Youth Alliance Premier Division.

Next Sunday, in the North West Youth Alliance Open Cup, they are away to St Helens Town. Should they win this tie, they would play the winner of the Heswall FC v Witton Albion FC match which also takes place next week.

Workington visit Altrincham on Tuesday night and Stalybridge Celtic are our visitors next Saturday, and those two teams met in Cumbria on Saturday.

Workington report that on Saturday, at home to Stalybridge Celtic, "Reds re-discovered the goal-scoring habit but the three-goal salvo coincided with a shambolic defensive performance, as they slipped to a sixth successive defeat. It might have been an entertaining game for the neutral, or the handful of Celtic fans, but not for Reds' boss, Lee Andrews.

'Although things are going against us at the moment, you make your own luck in football and we didn't help ourselves in a poor first half with the game passing too many players by,' he said. He was referring to the two poor goals they conceded which paved the way to Celtic getting a foothold on a slippery Borough Park pitch.

Andrews had to go into the game without midfielders Anthony Wright and Jordan Holt and his problems were compounded when Rob Wilson and Phil McLuckie declared themselves unfit prior to kick-off. Josh Calvert and Dan Wordsworth returned to the starting XI, however.

The visitors were ahead inside six minutes and regained the lead after Reds equalised, with more topsy-turvy frolics in the second half.

Liam Dickinson and Oliver Roberts were allowed to exchange passes on the edge of the area before the former side-footed the ball beyond Aaran Taylor to open the scoring.

But Reds responded positively and were back on terms two minutes later. Conor Tinnion advanced towards goal and a firmly hit low shot was only partially saved by Celtic 'keeper, Jack Walton. Sam Smith was quick to react and fired the loose ball high into the Derwent End net... Good play, and a good advantage from the referee, saw Celtic carve Reds' rearguard open again and Connor Hughes slid in to force the ball over the line after twenty eight minutes.

But if that was poor defensive play on Workington's part, they were a tad unlucky with the visitors' third goal four minutes after the restart. A wayward shot was probably heading for throw-in but Greg Wilkinson stuck out a leg and diverted the ball into the vacant net.

Tinnion's meandering run into the area resulted in him being fouled and the referee immediately pointed to the spot. Scott Allison converted in style and at, 2-3, Reds were back in contention... But Hughes' second goal, and Celtic's fourth, effectively won the game for Steve Burr's side in the seventy first minute. He cut in from the right and curled in a left-foot wonder goal from twenty-five yards.

Reds scored an equally spectacular goal after seventy-nine minutes to restore hope once more. Tinnion and Sam Joel worked a short corner routine and the latter rifled in a brilliant goal from an acute angle... But Celtic survived and, overall, deserved the three points.

Workington Taylor, Douglas, Rowntree, Wordsworth, Smith, Mellen, Symington, Calvert (Whitehead, 85), Allison, Joel, Tinnion. Substitutes – Wilson, McLuckie, Carter, Hetherington (not used).

Stalybridge Celtic Walton, Holgate, Honeyball, Morton, Ashworth, Killock, Wilkinson, Roberts (Brown, 69), Dickinson, Wolfenden, Hughes. Substitutes – Crowley, Taylor, Charles, Ramsden (not used)."

Leek Town report that "Blues' boss Neil Baker brought in two new signings just prior to the home game with Stamford. 6ft 5 inch central defender Mat Bailey has joined the club from Stafford Rangers where he had been captain. The experienced player who turns 32 tomorrow, started his career at Nantwich Town and was initially a striker, but was soon picked up by Stockport County. After various loan spells he moved to Crewe Alexandra where he was converted to a central defender.

Again he was sent out on loan to a number of clubs, before ending his three year spell at Gresty Road by joining Northwich Victoria, further spells with Nantwich Town and AFC Telford United followed before he joined Stafford Rangers. Bailey made his debut against Stamford and immediately impressed as Blues kept a clean sheet for only a second time in 2018."

On Sunday, The EvoStik League announced the following fixture changes affecting the EvoStik Premier clubs...

THURSDAY 15TH MARCH:
ON Shaw Lane v Stalyrbridge Celtic ex 12/03
TUESDAY 20TH MARCH
OFF Coalville v Mickleover INTEGRO CUP to Thursday 22/03
ON Altrincham v Mickleover Sports ex 10/03
THURSDAY 22ND MARCH
ON Coalville Town v Mickleover Sports INTEGRO CUP ex 20/03
WEDNESDAY 28TH MARCH
ON Matlock Town v Stourbridge ex 10/03
THURSDAY 29TH MARCH
ON Buxton v Nantwich Town ex 10/03
THURSDAY 05TH APRIL
ON Whitby Town v Grantham Town ex 10/03
TUESDAY 24TH APRIL
ON Witton Albion v Farsley Celtic ex 10/03
---
11 March 2018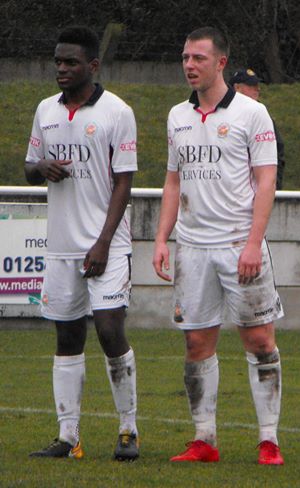 With Altrincham's match postponed on Saturday, there was nevertheless a local opportunity to watch three of the club's current squad in action for Trafford FC, where they are on loan. The EvoStik First Division North match, against Skelmersdale, had only survived the wet weather after two pitch inspections and heavy rain, for long periods of the match, was to make conditions very soft but certainly playable.

Starting the game for Trafford were Altrincham loanees Laurence Taylor in central midfield and Sean Miller, partnered up front with ex-Alty striker Aaron Burns. A substitute for the last fifteen minutes was Altrincham's youth team graduate and reserve, Darius Palma. It was a low cross from Sean which set up Burns for the home side's opening goal in a match which was to end 2-2. As ever, Laurence had a dependable game. And, ten minutes after coming on, Darius Palma, deployed on the left-wing, thought he had netted a winner but was ruled offside.

Pictured, right, Laurence Taylor and Sean Miller form a two-man defensive wall for Trafford.

The Reserves match at Crewe FC was postponed on Saturday. The next fixture is at Denton Town, next Saturday at 3pm.
Att. 188: Ashton United 3 - 0 Halesowen Town
Att. 305: Marine 2 - 0 Hednesford Town
Att. 406: Stafford Rangers 2 - 2 Lancaster City
Att. 172: Warrington Town 2 - 0 Barwell
Att. 324: Workington 3 - 4 Stalybridge Celtic (Greg Wilkinson netted for Celtic)
The EvoStik League lists the following moves affecting the Premier division.
Matthew Bailey from Stafford Rangers to Leek Town
Christopher Gallagher from Shrewsbury to Stourbridge (loan)
The EvoStik League reports that "Promotion-chasing Grantham Town have been showing off their first performance accolade of the Northern Premier League's historic fiftieth anniversary season this weekend.

After suffering a series of postponements that scuppered plans to present the EVO-STIK League Premier Division's Gingerbeards with January's Club of the Month Award, they were finally honoured at the Holiday Inn Wakefield on Thursday night before the NPL's clubs voted to switch from a north-south to east-west geographical split at Step 4 next season.

Grantham Town were unveiled alongside Scarborough Athletic and Frickley Athletic in EVO-STIK League North and South respectively as the first winners of the monthly performance awards in 2018... The Lincolnshire club were presented with an engraved glass memento to mark their form and results and a bottle of spirits to celebrate with, Grantham Town secretary Pat Nixon collecting their reward from Warrington Town chairman and EVO-STIK League director Toby Macormac at the Holiday Inn Wakefield."

On Saturday, the Warrington Guardian reported on "Warrington Town 2 Barwell 0.

Yellows secured an ultimately comfortable win over Barwell... Jamie McDonald netted twice after the hour mark at Cantilever Park as Town ended the visitors' nine-match unbeaten league run.

The result keeps Paul Carden's side in second place as they took advantage of Altrincham's game being postponed to narrow the gap between them to seven points... For the visitors, Matthew Stenson looked like their most dangerous outlet...

After a cautious start to the second half by both sides, Yellows... were not to wait much longer for their opener as top scorer McDonald won the ball back inside the Barwell half and fed Beeley, who in turn fed the striker to smash home left-footed.

Piggott flicked a Sean Williams free kick over the bar as Town looked to double their lead, which they duly did with 20 minutes remaining. Pilling's long free-kick was expertly controlled by McDonald, who rolled the ball past the advancing Castle.

Now backed by a two-goal advantage, Town showed excellent game management to keep control of the game and deny Barwell a foothold in the contest".

The next two visitors to Altrincham are Workington and Stalybridge, who met on Saturday in Cumbria. From the News & Star we learn that on Saturday at Borough Park, "Workington Reds narrowly lost out in an action-packed encounter against Stalybridge Celtic. In the end Stalybridge took the win 4-3 and the league points but the result was in doubt up until the final whistle as Reds threw everything at their visitors in the latter stages.

Perhaps the injury problems in the end took their toll on Reds as they could only name three fit players on the bench, and all youngsters... Stalybridge opened the scoring inside the sixth minute as Oliver Roberts got the ball into the path of the powerful Liam Dickinson and he made no mistake...

But there was an immediate reply for Reds as they won two successive corners... Conor Tinnion tried a powerful shot through the defenders but the keeper managed to palm it away. But it only went as far as the waiting Sam Smith who slotted it home to equalise...

Reds had been pushing hard but it was Celtic who took their chance... Alex Honeyball produced a good drive across the goal, that beat Taylor and Connor Hughes just tapped it home... It finished 2-1 to Stalybridge at the break... A defensive mix up allowed Stalybridge to extend their lead... and it was Greg Wilkinson who provided the finish...

The rain began to worsen at Borough Park. Just as it looked as though Workington were out of this match, Tinnion looked to weave his way through in the area but was brought down by by Hughes and referee Lindsey Robinson pointed straight to the spot. Allison stepped up to take the penalty and he made no mistake...

The home side battled to level the game. But, just as they were forcing their way back into the game, Stalybridge struck on the break with Hughes curling a nice ball into the net to widen the gap once more...

But, with 10 minutes remaining... Sam Joel... rifled the ball into the back of the net to lift his side and give them hope... But it was to no avail as the final whistle sounded as the ball was cleared to hand the visitors a narrow win."

Before the match, the home side reported that "Josh Calvert is back in the Workington Reds starting line-up as they welcome Stalybridge Celtic... Following the departure midweek of forward Nathan Waterston, joint manager Lee Andrews was forced to make a couple of changes to the team... Dan Wordsworth returns in the centre of defence, following his recovery from a chest infection. And Jamie Mellen is rewarded for his efforts by retaining his place in the starting line-up.

There have been a number of injury problems in the Reds' camp and both Rob Wilson and Phil McLuckie are named on the bench but are not set to take part as they are still recovering. So, ready to play their part, are youngsters Tommy Whitehead, Cameron Carter and Joe Hetherington."

Sutton Coldfield were due to play at Shaw Lane on Saturday. Npw the Royals report "Shaw Lane game re-arranged. Following today's postponement, the Royal's trip north has been re-arranged. We will now play this coming Thursday 15th March. Clearly not ideal but our opponents have a backlog of fixtures already and there are very few opportunities otherwise for this fixture."
---
10 March 2018 Altrincham FC arranged a pitch inspection this morning in advance of the scheduled fixture against Mickleover Sports at 3pm. The outcome of the inspection is that today's match has had to be postponed as parts of the ground are under water after significant overnight and morning rain.

With the Reserves' match also postponed, those seeking local action might consider Trafford v Skelmersdale this afternoon, a game which may include a number of ex-Alty players and current loanees in the home squad. Shawe View passed an 11am pitch inspection.

Saturday 10 March 2018

The EVO-STIK Premier Division
Altrincham P-P Mickleover Sports
Ashton United 3-0 Halesowen Town
Buxton P-P Nantwich Town
Marine 2-0 Hednesford Town
Matlock Town P-P Stourbridge
Shaw Lane P-P Sutton Coldfield Town
Stafford Rangers 2-2 Lancaster City
Warrington Town 2-0 Barwell
Whitby Town P-P Grantham Town
Witton Albion P-P Farsley Celtic
Workington 3-4 Stalybridge Celtic
After yet another hour and three quarters on the phone, the mobile version of this website has finally been reinstated by the hosting company 1&1 and is therefore now working as normal. Apologies again for the inconvenience caused over the past week or more by that company's incompetence. Supporters are invited to a meeting with the manager, Phil Parkinson, and the board of Altrincham FC in the Community Sports Hall at the J. Davidson Stadium, on Thursday, 29 March at 7pm. As usual at such meetings, the manager and board will be happy to respond to questions from supporters and they hope that as many as possible will attend. Altrincham FC Community Sports Manager, Judy Henson, writes...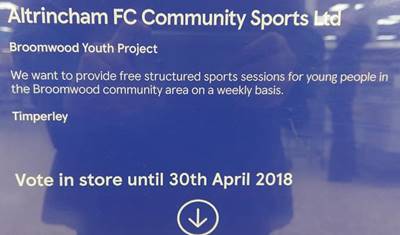 "To all Altrincham FC fans and friends of the club,

If you shop at Tesco, you'll be aware that they run a 'Bags for Life' scheme, offering funding to local good causes or charity groups to help fund projects that support the local community.

We have successfully passed the initial application phase and we are eligible to receive funding from Tesco Baguley and Northern Moor shops. Three projects get funding after all the tokens are collected over March and April in these two stores, with the highest token project receiving upto £4,000, second receiving upto £2,000 and third receiving upto £1,000. So we will receive at least £1,000 to our chosen project.

As a lot of you will know, Altrincham FC Community Sports Trust is the registered charity for Altrincham FC, so all our activities are self-funded (by customers paying) or part-funded/free (part of this funded by grants). Most of our activities over recent years have been predominantly subsidised by The National league Trust to get new sessions off the ground.

We have applied for this Tesco grant to support a new project we are running at Broomwood Community Wellbeing Centre. We are hoping to provide sports sessions, 2-3 nights a weeks for young people, free of charge. These sessions are to be led by qualified coaching staff, representing Altrincham FC. There is Walking Football, Disability Football and Veterans Football at this site and already, there is clearly a need for youth provision. We are also planning to include holiday sports sessions and family fun days there in the near future.

So, if you happen to collect tokens from Tesco, please would you consider putting yours towards a worthy cause on behalf of Altrincham FC? If you are interested to know more, please don't hesitate to get in touch bye-mail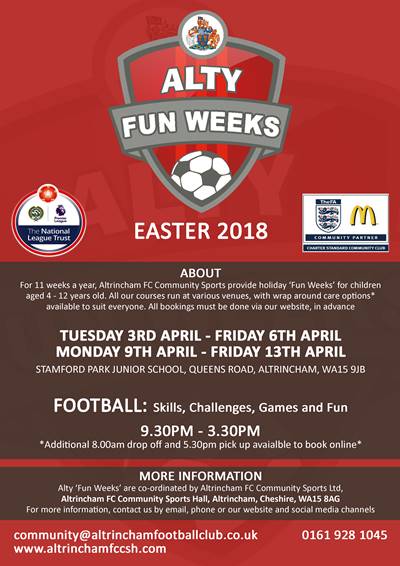 Altrincham FC Community Sports Manager, Judy Henson, informs us that "AFC Community Sports are running two Easter fun weeks and further holiday dates in May for school polling closures and inset days. More information can be found on our website.
---
9 March 2018 Following heavy rain this week, and with more forecast tonight, Altrincham FC has taken the precaution of arranging a pitch inspection tomorrow morning at around 9.30am. Once a decision has been made about playing the scheduled fixture against Mickleover Sports, it will be posted here. Work is continuing on the pitch today to give the game the best chance of going ahead as planned. Press and Media Officer, John Edwards, has supplied the following press release from Altrincham FC and The Gym Group, Altrincham.

"Altrincham's title aspirations have been given a timely boost after the club announced a new partnership with state-of-the-art fitness centre The Gym Group, Altrincham.

In a move that will significantly enhance Alty's range of fitness work options for the Evo-Stik Northern Premier League title run-in, The Gym's general manager Phillip Ravenscroft has placed the centre's facilities at the disposal of Phil Parkinson and his table-topping squad, following talks with the club's commercial manager Noel Shield.
'I'm delighted with this arrangement and look forward to welcoming Phil and his players to The Gym, here in Atlantic Street,' said Phillip. 'We've been open about 10 months, but I only took over as general manager six weeks ago, and one of my main aims was to try to get involved with the local community as much as possible.

'We wanted to offer something to the community and become active and involved in something that is important to the town. What better than the football team, especially when you consider the history and tradition attached to Alty?

'We have a wide range of training and fitness facilities that are sports specific and will enable Phil and his staff to concentrate on any given aspect of the players' physical condition. We have the usual standard gym equipment for cardio work but also more specialised facilities for improving agility, strength or speed, lateral movement, twists and turns and stamina.

'In fact, we've just bought a brand new machine called Fitquest, which offers fitness assessment, explosive power testing, strength testing, speed testing, balance testing and body composition testing. It basically does the lot, because it also tests levels of hydration and levels of lean muscle mass and fat.

'It is massively applicable to football fitness and wellbeing, and we are delighted to place it at the disposal of Phil and his players. Visiting us here at The Gym can certainly complement work done on the training pitch, and if Phil feels it has been beneficial when the season ends, I'd be more than happy to extend the arrangement for this summer's pre-season programme and beyond.

'It's open-ended, as far as I'm concerned, and, from our point of view, it's also a great opportunity to spread awareness of The Gym, and the benefits of training and working at personal fitness, among people from the local area.'"

Derbyshire club Mickleover Sports are set to make their first ever visit to the J Davidson Stadium on Saturday. This fixture had to be postponed on 3 February and was rearranged to this Saturday. In the reverse fixture on 2 December, Alty won 2-1, thanks to goals from Tom Peers and Jordan Hulme inside the opening half hour.

But Alty conceded a goal five minutes from the end of normal time and had to endure a fairly torrid 11 minutes which included six minutes of added time. Altrincham hope to have right-nack Shaun Densmore available for selection after his recent injury. Altrincham are on a run of seven league games without defeat (comprising 5 wins, 2 draws) but they have failed to keep a clean sheet in their last five outings, shipping eight goals in those games.

Mickleover's last league outing was on 24 February when they won 3-1 at Marine. However, player manager John McGrath was sent off in that game. However, Altrincham should be aware that Mickleover are stronger away from home, having taken 25 points on their travels and only 19 at home from the same number of games. They are currently eleventh in the table with a record as follows:
P34 W12 D8 L14 F49 A45 GD4 PTS44
Well-known names at Mickleover include Matthew Barnes-Homer, Louis Briscoe and player-coach Clinton Morrison.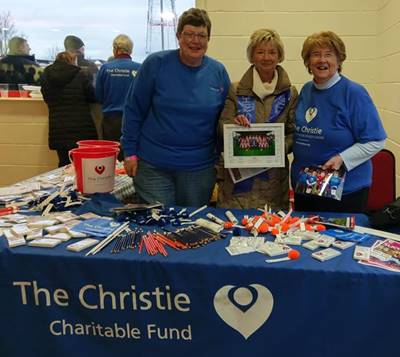 Altrincham FC Community Sports Manager, Judy Henson, writes...

"On Saturday 27th January, for the match against Warrington Town, 'The Christie' charity visited Altrincham Football Club to raise awareness. Janice Moss and her group of amazing volunteers raised an impressive £520, with thanks to all the Altrincham and Warrington supporters on the day. Janice said, 'This money raised will be put towards funding a fellowship for the teenage and young adult unit.' Janice's grandson Owen, who is coached by AFC at his local primary school, proudly led the team out of the tunnel as mascot for the occasion.

If you work for a local charity and you feel you could benefit from attending one of our awareness days at a future AFC home fixture, please e-mail for further information.

Most clubs are finding difficulties with training caused by the bad weather and on Thursday, Shaw Lane AFC manager Paul Quinn tweeted, "Unfortunately our usual training venue is closed tonight due to snow, anyone any other suggestions in the West/South Yorkshire area?"

Cantilever Catchup reports that "There will be a big clash at Cantilever Park this weekend, with play-off hopefuls Barwell making the trip from Leicester but how have they been performing over the past couple of weeks?

Warrington Town currently sit second in the league table, with six points separating themselves and sixth, the closest position that would not provide play-off football. Therefore, it is with paramount importance that the Yellows continue to mount up the points to help them reach their priority target. Both Shaw Lane and Farsley Celtic are hot on the heels of Paul Carden's side in third and fourth, with just three points being the difference.

The Town may have four games in hand over the Villagers, which provides some breathing space, but the Ducks have two extra fixtures over Warrington. As a result, it is vital that the Yellows do not make it easy for the South Yorkshire club and put as much pressure on them as they possibly can ahead of those matches.

Altrincham's 4-1 win over Stourbridge on Tuesday night means that the gap at the top is now 10 points, albeit Carden and co have a game in hand. From a Barwell perspective, a tremendous run of form has played made them play-off candidates, with just two points standing between the Canaries and a golden spot, although, Ashton United, who are fifth, have played four less matches than Jimmy Ginnelly's side.

Despite going seven league games without a defeat prior to going up against Coalville Town in the Leicestershire Challenge Cup, the Canaries crashed out after a 3-2 defeat... The Canaries went up against Ashton United at Kirkby Road the Saturday after their cup exit, where the honours were shared".

Barwell's 1-0 win over Workington on 24 February meant that manager "Ginnelly saw his side extend their unbeaten run in the Evo-Stik Northern Premier Division to nine games".
---
8 March 2018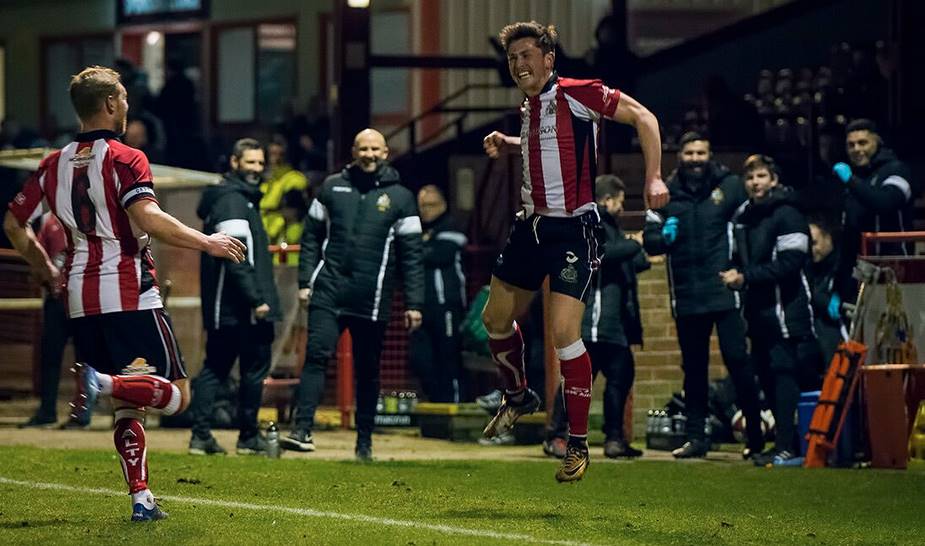 Above: Captured by Mike Ripley's camera, we see the delight of Alty goalscorer Connor Hampson, right, as his captain Jake Moult rushes to congratulate him. In the background, the management and coaching staff also show their delight.

In a superb first-half performance, Altrincham secured a 4-0 lead, with the visitors not troubling home keeper, Tony Thompson...

Match report here.

There are brief highlights of the goals on Alty TV.

Following Tuesday's game against Stourbridge, Press & Media Officer John Edwards spoke to assistant manager Neil Sorvel (right). Below is his article submitted for inclusion in this week's Sale and Altrincham Messenger...

"Neil Sorvel hailed Altrincham's 'Red Arrows' after a dazzling first-half display kept them flying high at the top of the Evo-Stik Northern Premier League on Tuesday night. Not even a local power cut could dim Alty's brilliance, as they lit up The J.Davidson Stadium with a four-goal blitz inside the opening 38 minutes against an outclassed Stourbridge side.

The partial power failure left the floodlights operating at two-thirds efficiency in the second half, but the referee deemed the conditions playable, as Alty ran out 4-1 winners to open up a 10-point gap at the top.

'That was the best 45 minutes we've produced this season,' said assistant-manager Sorvel. 'We've seen some great performances, but that was above and beyond any of them. In fact, it was as good a 45 minutes of football as I've been involved in at any level. We were outstanding. It was like the Red Arrows at times, just flooding into the box, and they couldn't cope. Some of the quality of the football and one and two-touch play through midfield was exceptional. We were bouncing it around and able to easily access their back four.

'We attacked them at will and, on top of that, when we didn't have the ball, the energy, pressing and hunger to get it back was top class. There were some quality goals as well, notable for unselfish play by one or two of the lads and some good awareness around the box to create the openings.

'The only little concern was about the lights. I'm not sure whether they (Stourbridge) were getting at the ref and wanting it off, but that would have been a travesty at 4-0 up. The light was fine. We've been to some away grounds where the lights haven't been as good as ours were in that second half, so it was the right decision to play on.'

Right-back Shaun Densmore returns to full training after a knee injury tonight (Thursday) and is in contention for Saturday's home game against Mickleover Sports, with Workington next up after that at The J.Davidson Stadium on Tuesday night (7.45pm)".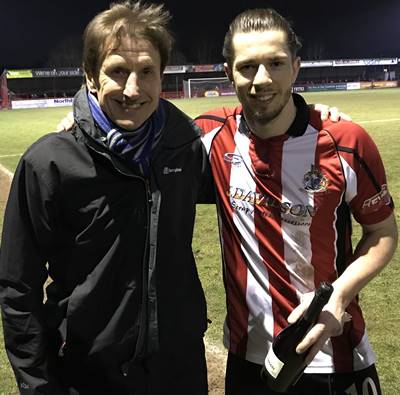 The person who presented Tuesday night's Man of the Match award to James Poole was none other than Frank Carrodus (now aged 68 and pictured, right), the former Alty player who moved directly to Manchester City. As Terry Rowley's Alty Legends profile reminds us "As a junior Frank Carrodus played for Heys Primary School, Wellington Secondary, followed by Lymm Grammar School before progressing to Lymm Grammar OB's, Old Alts and finally Heys Albion, before signing up as a for Altrincham AFC. He made his Altrincham debut against Hyde United as a substitute in the 2-0 League Cup win at Moss Lane on the 17th October 1969, having been a non playing substitute a month earlier, also against Hyde, but his performances had been attracting League club attention before that...

He was signed by Manchester City in November on Malcolm Allison's recommendation... He made his first-team debut against Arsenal in a 1-1 draw at Maine Road. But Frank found it difficult to break into a midfield dominated by the likes of Colin Bell and Mike Summerbee and, after nearly 5 years at Maine Road, and playing only 42 games it was no surprise when former manager Ron Saunders signed him for Aston Villa for a fee of £100,000 in July 1974. At Villa, Frank soon became a first-team regular, helping them to a promotion and League Cup double in 1975, with a second League Cup winner's medal in 1977.

Unfortunately, three knee operations in 14 months decimated his career, with Villa, he was advised to retire. Yet, despite this, he overcame his injuries and signed for Second Division Wrexham and in nearly three seasons missed only 10 league matches, the highlight being a 3-1 FA Cup win over then European Champions Nottingham Forest at the City ground. The following season (1982/83) he moved to Birmingham City, making his debut in a 3-0 defeat at Old Trafford but 7 games later Frank injured his knee again, requiring further surgery and another 'lost' season.

For 1983/84, Frank joined Bury for a final season in the Football League before returning to non-league football with Runcorn. At Runcorn he won a Champions Shield winner's medal, as Runcorn, as Bob Lord Trophy holders, beat Gola League champions Wealdstone. The following season (1985/86) saw Frank at Wembley, as Runcorn faced his old club Altrincham. The following season Frank came full circle as he re-joined Altrincham, whilst on a joint registration with Macclesfield Town.

Retiring from competitive football in 1987 Frank still continued to turn out for Old Alts. Still living locally Frank is Managing Director of Choice Events, which is based on Ashley Road, Hale".

Mike Garnett adds that "Frank's last appearance in his initial short spell at Moss Lane was on Saturday November 1st 1969 in a 3-0 defeat at Macclesfield in the FA Cup 4th Qualifying Round. He started three games & was a used sub in another before moving on to City. His next appearance for Alty was as a used substitute on Saturday February 14th 1987, coming on for the last few minutes of a 2-1 home win over Telford United in the GMVC. He started one game and was a used sub three times that season, scoring once, the equaliser in the dying moments of extra time at Hyde in the Senior Cup semi-final 2nd leg which gave us a 4-4 draw and made the aggregate 5-5 and sent us through to the final on the away goals rule.

That by my reckoning is a gap between appearances of 17 years 3½ months", which is believed to be a record for an Altrincham player and one of which Frank indicated on Tuesday that he is still very proud to retain!

Current Alty goalkeeping coach Ian Senior is another player with a long gap between appearances for the club. Ian rejoined Altrincham in 1999 as cover for Dean Greygoose, having played for Altrincham in the 1983-84 and he became, at 39, the Conference's oldest current keeper when he substituted for Greygoose against Welling on 8 January 2000. That was his first appearance for the team since 1983 when Mike Garnett's records reveal he played at Nuneaton on Saturday October 8th 1983 (won 1-0) and at home to Wealdstone in the last game of that season (Saturday May 5th 1984, again won 1-0). That makes a gap of 15 years 8 months 3 days.

Where Ian has the edge over Frank is that he has been on the books of 30 different clubs during his career and can boast that he did not concede a goal for Altrincham over a period of almost 16 years! His record was lost at Witton on 4 April, 2000 when he played the full match in the Cheshire Senior Cup Final, which was won by Macclesfield Town, 2-1.

After Tuesday's game, the Stourbridge News reported that "Glassboys boss Gary Hackett says he'll have to bring in fresh faces to help his side cope with a hectic end to the season. Stour now face 15 games over the next seven weeks as they look to wrap up a disappointing campaign.

Defender Darryl Westlake and midfielder Leon Broadhurst both missed Tuesday's night's 4-1 loss at title-chasing Altrincham. Aris Christophorou, Aaron Forde and Tom Tonks [who all started against Alty] are also trying to manage injuries at present and Hackett admits his squad isn't strong enough to handle the gruelling schedule.

He said... 'At the moment the present squad won't be able to cope with that. Aris and Tom are both carrying niggles and Aaron Forde's hamstring was tight was well. We need to bring more players in and I'm frantically making calls to get a few things over the line before Saturday....

'First of all we have to give a lot of credit to Altrincham. They played very well and showed really good movement and interlinking. It was the best performance against us in 45 minutes that we've seen from any team all season. We did that to teams last season [when Stourbridge reached the play-offs] but it was hard to take now. That said, we didn't do ourselves justice either. We haven't trained for 12 days because of the weather and that showed.

'I was disappointed in one or two of the players because we'd asked them to do their own fitness work. That must not have happened properly because in the end they were found wanting'.

One positive to come out of the defeat was appearances from youngsters Jake Evans and Louis Hall. Hackett added, 'We did battle in that second half and a few of the young lads came on and they were a bit of a shining light for us. I definitely won't think twice about using them again before the end of the season'".

The Stourbridge News reports that "Ex-West Brom striker Lee Hughes has signed for Halesowen Town after stepping down as Worcester City's joint-manager. Hughes's exit was confirmed by a City club statement.

It read, 'Player and joint-manager Lee Hughes has left City following a request being submitted from a club two leagues higher than ourselves. "Lee rejoined City to become player and joint-manager in the summer alongside John Snape, having previously played for City between September 2015 and February 2017. John Snape will remain as sole manager'...

The Yeltz have now announced the signing as they look to add the firepower to push them away from relegation trouble. Halesowen currently have former West Brom midfielder Richard Sneekes as coach at the Grove."

More comes from the Stourbridge News which adds that Halesowen "boss John Hill hopes Hughes's experience and ability in the final third will help drive his side away from basement boys Sutton Coldfield.

He said, 'We are delighted that we've been able to get him in because there were a lot of other clubs chasing his signature. His experience will be a huge help to us. Matt Clarke (assistant manager) knows him well and when we heard he may be available we jumped on it. We are all fighting to keep this club in this league and his goals and experience could be key to that'...

It's been a frustrating time for Hill and assistant Clarke with their efforts to add new players often proving fruitless with their side battling at the bottom. However, that changed this week with Hughes' arrival adding to the capture of Ahmed Ali from Bromsgrove Sporting and Clitheroe's Danny Byrnes.

Central midfielder Ali, 27, was a popular figure at The Rouslers but has moved on following the departure of manager Paul Smith. He joins fellow new arrival Danny Byrnes... Byrnes, 21, started his career at Oldham Athletic, has also played for Ossett Albion and can operate out wide as well as in the middle.

Hill said, 'We know all about Ahmed. He came and played for us in pre-season a few years ago but it didn't quite work out... He's moved into midfield since those days and done extremely well. We are pleased with both signings because Danny Byrnes is a player with good pedigree who can give us something out wide as well as centrally. Both players will add extra energy to our play...

'It's frustrating that we haven't been able to play since our win over Matlock because we wanted to follow it up quickly and build on that'... Brad Lewis is available after injury and skipper Dan Bragoli and defender Marcus Poscha have finished their suspensions."

Alty host Workington next Tuesday and from the News & Star we learn that "Barrow AFC have have brought one of the town's top young footballers back home after signing Workington's Nathan Waterston.

The Bluebirds put in seven days' notice on the Reds striker, but the West Cumbrian club waived that period, allowing AFC to secure him on a deal until the end of the season. Waterston has impressed Ady Pennock in recent weeks, with the AFC boss watching the 20-year-old forward in action several times and describing him as 'hungry' to impress for his hometown club.

'He's done well for Workington,' said Pennock. '"Yes, he's a little bit raw, but he's got good pace about him and he can play in a couple of positions; he can play centre-forward and out wide as well... He lives in Barrow, he's from Barrow, and he's really hungry to do well. I want to give him that opportunity. It was a no-brainer... I want to go on record to thank Workington. The way they dealt with it was top-drawer; they were very honest and they're good people, very good people.'

Former Penrith player Waterston has been given a run in the Workington side recently, and has been playing well... Workington joint-manager Lee Andrews had accepted he was set to lose one of his talented young players before the deal was announced, and said, 'We have always said, as a club, we will not stand in anyone's way of playing at a higher level'... Waterston is the first local to be part of the squad since [ex-Alty loanee] Elliot Newby departed last summer. The young winger had been offered a new deal by then-boss Paul Cox, but having seen his first-team chances limited chose to join National League North AFC Telford United, where he has been a regular.

Barrow-born Waterston has previously turned out for the likes of Crooklands Casuals and Furness Rovers on the local football scene since his youth, and is well-known on the cricketing circuit as well, having played for Furness and Hawcoat Park and has represented Cumberland."

The Nantwich News tells us that on Tuesday "Two first half goals saw Nantwich Town suffer their sixth home defeat of the season as they were beaten 2-0 by Matlock Town at the Weaver Stadium... Dave Cooke made one change from the win over Grantham Town as Myles Boney replaced Fabian Spiess in goal.

It was Matlock who opened the scoring on 10 minutes after the Dabbers' backline were unable to clear, leaving Shaun Harrod to lay the ball on for Williams who shot into the bottom corner... Five minutes before the break Matlock scored a second through German, who slotted past Boney...

The Dabbers have the chance to bounce back this Saturday as they travel to Buxton".

Meanwhile the Matlock Mercury says that "Matlock stopped the rot with their surprise, impressive and deserved 2-0 win at Nantwich on Tuesday night but joint managers Glenn Kirkwood and Craig Hopkins say all of their focus is now on Saturday's home clash with Stourbridge.

The Gladiators had conceded three times in each of their preceeding five outings, their last four ending in defeat. So to keep their first clean sheet since November 25 and gain revenge for a 3-0 home defeat by Nantwich in November was sweet to say the least for Hopkins.

He said, 'The most frustrating thing is that we're capable of performances like these, it's what our sides are all about.... Nantwich are a good side with the ball but we knew that if we made one or two good passes after winning possession then we could catch them out. We pushed them back, we harried them, we chased them, we won the ball back in good areas in the final third and created chances. That's how the first goal has come about. Everyone knew their jobs and they all stuck to their task admirably...

'There'll be no patting ourselves on the back and getting excited. We need to show graft as we did on Tuesday and we want to do it in front of our own fans for we've not given them enough to shout about so far this season.'

Matlock signed 20-year-old goalkeeper Richard Walton on loan from Lincoln City for the rest of the season when it became clear that regular custodian and current fans player of the year Phil Barnes would be out for longer than was first thought with a leg injury. Walton replaced youngster Jordan Pierrepont who deputised for Barnes in the defeat at Halesowen, Matlock having sent Pierrepont out to Heanor Town to gain vital first team experience...

'We thought at first Barnesy would only be out for a week with a dead leg but it's still swollen so we've got to play it by ear and at this moment in time we can't say how long he'll be out. We're delighted to have Richard with us and it's a big thanks to Danny Cowley and Lincoln City for making this happen'...

Meanwhile, the Gladiators have also signed academy captain Ashton Hall on a long term contract. The 17-year-old defender is the youngest ever homegrown product to sign a contract at Matlock".
---
7 March 2018 Monday 5 March 2018

Shaw Lane AFC announced on Monday that "Tonight's game has been postponed. The melting snow has waterlogged the pitch. We are sorry for the inconvenience. We play at home (hopefully) on Saturday 10th March against bottom club Sutton Coldfield."

The EVO-STIK Premier Division
Shaw Lane P-P Grantham Town (waterlogged pitch)
Tuesday 6 March 2018

The EVO-STIK Premier Division
Altrincham 4-1 Stourbridge
Hednesford Town P-P Buxton
Mickleover Sports P-P Stalybridge Celtic (waterlogged pitch)
Nantwich Town 0-2 Matlock Town
The Integro League Cup 17-18 - Third Round
Lancaster City 0-0 Workington (Workington won 5-4 on pens)
Stafford Rangers 2-3 Coalville Town
Although there are at least half a dozen clubs which still have a realistic chance of winning the EvoStik Premier title, Altrincham and Shaw Lane currently have the two highest potential points hauls. In that context, they both have a very busy April ahead.

In terms of league matches, Altrincham have eight fixtures in that month, five of which are away, whereas Shaw Lane have nine games in April. However, although both Alty and Shaw Lane play four times in eight days between 2nd and 9th April, three successive games in that punishing sequence are away for Altrincham, whereas Shaw Lane have two at home (including their clash with Alty) and two away. But Shaw Lane also have a sequence of three successive away fixtures in April when, between 17th and 24th, they travel to Warrington, Stafford and Nantwich.

Altrincham's April...
Mon.2.4.18 H MARINE
Thu.5.4.18 A Shaw Lane AFC
Sat.7.4.18 A Lancaster City
Mon.9.4.18 A Stourbridge
Sat.14.4.18 H BARWELL
Tue.17.4.18 A Buxton
Sat.21.4.18 A Grantham Town
Sat.28.4.18 H HEDNESFORD TOWN
Shaw Lane AFC's April...
Mon.2.4.18 A Grantham Town
Thu.5.4.18 H ALTRINCHAM
Sat.7.4.18 A Rushall Olympic
Mon.9.4.18 H MARINE
Sat.14.4.18 H LANCASTER CITY
Tue.17.4.18 A Warrington Town
Sat.21.4.18 A Stafford Rangers
Tue.24.4.18 A Nantwich Town
Sat.28.4.18 H MATLOCK TOWN
Coalville Town "have added strength to their depleted squad with three new arrivals and two players promoted from the development squad.

The first player to be announced is Jake Woolley, who returns to Coalville having taken some time out to recover from a serious injury. In his previous spell at the club he finished top scorer in the Evo-Stik Division One South campaign in 2014/15 and was part of the squad that attained promotion the following year. He had injury-hit spells at Rugby Town, Chasetown and Shepshed Dynamo.

Goalkeeper Phil Smith has signed from Bolehall Swifts to act as cover for Elliott Taylor, and Connor Moore has signed dual registration forms from Rayford FC. Finally, development squad players Jack Samples and Aaron Windram have signed forms for the first team as well."

Workington travel to Altrincham next Tuesday and from Cumbria the News & Star reported on Tuesday that "A near full-strength Workington Reds team will travel to Lancaster City tonight as they look to revitalise their season with a win in the Integro League Cup.

The competition has provided an opportunity for fringe players so far this season but, with Reds having been out of action for more than a week, tonight should see a strong side take to the field.

Dan Wordsworth will miss out with a chest infection and Anthony Wright is still a few weeks away from a return but Josh Calvert has a chance to make the squad. Joint manager Lee Andrews said, 'I think we'll probably play a strong team because we haven't played or been able to train much recently. We'll try to give them a decent 90 minutes, everyone's fine and raring to go and wants to get back out playing. We keep saying one win and things will change and start going for us again, so it's been frustrating to have to sit and wait to get that. We want to win and progress and hopefully that will carry into the league.'

Reds are still chasing their first league win of 2018 and Andrews believes a good result tomorrow can give them momentum... He said, 'I think it happened earlier on in the season, when we were stuttering along and we had a couple of games in midweek, Sam Joel scored four goals in the cup and it seemed to give us a massive boost. It depends on what team Lancaster put out because we've done it ourselves in the earlier rounds, putting a different team out, but I think they've also had some games off. I'm sure they'll want to go into the game to win'".

Just over a week ago our opponents in the Cheshire Senior Cup were finally determined when Winford United won 3-0 at Warrington Town. The Warrington Guardian reports that "A young and experimental Yellows side bowed out of the Cheshire Senior Cup on a freezing Monday night at Cantilever Park.

In a game finally being played at the sixth time of asking following various postponements, the greater experience of opponents Winsford United told in the end as Jamie McLellan, Dan McLaughlin and Michael Koral got on the scoresheet.

With the match taking place just 24 hours before a scheduled league game against promotion rivals Grantham Town, Yellows' boss Paul Carden named a team consisting mainly of students from the Robbie Fowler Academy, with whom Town have recently forged a formal link. Only midfielder Dylan Vassallo and goalkeeper Ben Ascroft were recognisable names, and the latter was kept busy to deny Winsford early on...

Winsford then took control and went ahead when a corner made its way to an unmarked McLellan, who converted at the far post just before the break. After the break, McLaughlin doubled the visitors' lead when he buried a header past Ascroft before a quick free-kick caught the Yellows defence out, allowing Koral to wrap up the game with a firm low finish.

Warrington Town: Ascroft, Campbell, Cunningham, Banks, Shield, Noonan, Mulholland, Vassallo (McGrath), Daniels, Tyrer (McColl), Davis. Subs not used: Summers, Speare."

News of a recent Altrincham FC reserve player comes from Prescot Cables who "have received the sad news that Joey Faux's injury has turned out to be a bad one. He has ruptured his ACL and will return home to Australia in the next week to have surgery, this also allows him to rest and recuperate with family. We wish Joey well with his surgery and hope to see him back around the squad in the early part of next season and raring to go, he is going to be missed."
---
6 March 2018 Despite heavy rain last night, and thanks to the heroic efforts of the groundsman and volunteers, tonight's match against Stourbridge will go ahead as planned at 7.45pm. So please come along and support the team after their ten-day lay-off due to postponements. First of all, apologies that the mobile version of this site remains unavailable due to its webhosting company's failures to manage efficiently a change of their systems. Hopefully it will be restored very shortly.

As for the desktop version of the site, that too was unavailable for a few hours yesterday but, at the time of writing, has been restored. However, there are still some files, mainly images, which may be missing from certain webpages. Again, hopefully, these will be restored before long. It is hoped to operate the matchday live updates as normal this evening (Tuesday).

Altrincham FC have now been informed by the league of the new date for our game at Shaw Lane which was postponed recently; it will be played on Thursday, 5th April at 7.45pm.

Shaw Lane AFC add that "We also have the date for the home tie to Altrincham, another mouth-watering fixture, which will be on Thursday 5th April".

After a run, now, of four successive home games, followed by four alternating home and away games, Altrincham face five away trips in their final seven fixtures of the season.

After just three league games in February, Alty face at least seven in March, starting with a run of four successive home fixtures against Stourbridge, Mickleover Sports, workington and Stalybridge Celtic.

Our opponents tonight, Stourbridge, announce that "Winger Chris Lait and goalkeeper Harry Beasley's loan spells have come to an end and they have returned to their parent clubs".

Since Alty's last outing, at Ashton United, Josh Amis has gone on loan to Marine. This follows previous loan spells with Colne and Trafford this season and means that there will be at least one new name in the 16-man matchday squad tonight.

You can follow this fixture via this website's minute by minute text updates by clicking on the icon below. Alternatively, Radio Robins' coverage of the game is outlined below as well.

Brian Flynn announces that "Radio Robins, sponsored by Ashley Mowers Garden Machinery, is providing full live commentary of Tuesday night's game. The commentators are Ian Wilkinson and Mark Simpson and the match summariser is John Edwards. Coverage starts at 7.40pm.

Guidance for Listening to Radio Robins

There will be 4 ways to listen to Radio Robins via Mixlr
a) The Radio Robins website. Open the page in any web browser and the broadcast should start automatically. Please note that the 4 Player Options (Windows Player | Real Player | Quick Time | Winamp ) will not work now.
b) Download and install the Mixlr app on Android devices from the Google Play Store - start the app and search for 'Radio Robins'.
c) Download and install the Mixlr app on Apple devices from the Apple Store - start the app and search for 'Radio Robins'.
d) There is a temporary WIX website here.
Monday 5 March 2018

Shaw Lane AFC announced on Monday that "Tonight's game has been postponed. The melting snow has waterlogged the pitch. We are sorry for the inconvenience. We play at home (hopefully) on Saturday 10th March against bottom club Sutton Coldfield."

The EVO-STIK Premier Division
Shaw Lane P-P Grantham Town (waterlogged pitch)
Halesowen Town repport that they have "completed the registration of Daniel Byrnes. Midfilder Byrnes, 21 has signed from Evo-Stik North side Clitheroe, He started his career at Oldham Athletic and has also played for Ossett Albion."

At Workington who visit Altrincham next week, "After the unscheduled break prompted by the Arctic weather Reds return to action on Tuesday as they take on Lancaster City in the Third Round of the Integro League Cup... Reds are keen to retain an interest in the competition, having never previously got beyond the semi-final stage. It represents a realistic chance of lifting silverware after the play-off bid hit the buffers with a five-match losing streak. City, meanwhile, have reached the final on two previous occasions and lifted the attractive trophy seventeen years ago.

History favours the Dolly Blues in this competition, however, as, in five previous meetings, they have beaten Reds four times after we won the inaugural encounter twenty-eight years ago. Lee Andrews is again short of bodies with Dan Wordsworth likely to be missing because of a chest infection while Tom Fowler has been ruled out because of an ankle injury. They join Anthony Wright and Josh Calvert on the unavailable list."
---
---
5 March 2018 Altrincham and Stourbridge hope, finally, to meet on Tuesday night at the J Davidson Stadium, following changes of date to both the scheduled home and away encounters between them. They almost met on 20 January when Altrincham got as far as the War Memorial Athletic Ground only for the referee to call off the match barely an hour before kick off.

Stourbridge and Shaw Lane AFC are the only two clubs in the league yet to meet Altrincham this season.

Next Sunday, Altrincham FC Youth are away to Ashton Athletic and the Ladies are at home to Stockport County.

Next Saturday, the Reserves are away at Crewe FC.

For the rearranged home match against Stourbridge, next Tuesday (6th March), Altrincham FC is offering matchday hospitality in the Manchester Glass Sponsors' Lounge for just £25 per person. This includes match admission, pre-match food and drink and half-time tea/coffee and snacks. To take advantage of this special offer, please ring the club on (0161) 928-1045 or e-mail, as soon as possible. The mobile version of this website mobi.altrinchamfc.net continues to be inaccessible to users due to incompetence at the website's hosting service, 1&1, a German company, which Wikipedia describes as "one of the world's largest web hosting companies". 1&1 informed me last week that it needed to change the way in which the website is updated. However, so far, they have only succeeded in disabling the mobile site and, several days later, they have still not yet rectified their error.

As the person dealing with this "upgrade" is based in the Phillipines(!) and is not back in work till Monday, this will remain the case at least till then. To date, the desktop site has not been affected and, hopefully, this will remain the case. I apologise for the inconvenience caused.

"On Friday 16th March 2018, the Altrincham FC Community Sports Hall at the J Davidson Stadium will be the venue for an exciting murder mystery evening, based on a fictional end-of-season Altrincham FC Awards Dinner, filled with intrigue, suspicion, and of course, MURDER!

As well as enjoying a delicious 2-course buffet, guests will be able to take part in a fully interactive murder mystery event, performed by 8 professional actors. During the course of the evening, guests will have the opportunity to interrogate the suspects, examine the evidence, and ultimately guess the murderer, with the winner receiving a 'Star Detective' certificate and a special prize!

The event will start at 7.30pm, finishing at around 10pm, with the bar remaining open until around 11.30pm.

Come along and find out. Tickets are £20 each including 2 course buffet meal."

For more information or to make bookings, please e-mail or telephone 0161-928-1045

Barwell "are pleased to announce that Brady Hickey and Matt Stenson have both put pen to paper on contracts with the club.

Manager Jimmy Ginnelly was delighted to see the duo sign their contracts during a team bonding session on Saturday afternoon, as our fixture against Stafford Rangers was postponed.

'They're both massive players inside this group of players that have taken us into a top 10 league position, which is fantastic for a club of our size,' Ginnelly said. 'I'd like to thank the chairman, Dave Laing, for his full support on these two contract decisions. I'm now going to be asking him to put a few more of this group of players on a contract as I'd like to start planning for next season...

'With Saturday's game being cancelled due to the weather, me and Guy took the opportunity to get all of the lads in for a team bonding session at the clubhouse. It was a great afternoon!'"

More on this comes from Nuneaton Town who have "confirmed that Brady Hickey has transferred to Barwell FC. Hickey joined the Boro' from Barwell in the summer and made 17 appearances for the club including 13 starts. He scored one goal and contributed two assists before being loaned back to Barwell for a period of three months. With that loan spell coming to an end the attacking midfielder has now been transferred back on a permanent deal".
---
4 March 2018 Altrincham FC Ladies' scheduled match today against Stockport County LFC, in the North West Regional Women's Argyle Cup at Mersey Valley Sports Club, has been postponed. It is now hoped to play this game next Sunday (11 March) at 2pm. Altrincham FC Reserves' home game against Knutsford on Saturday was postponed. Their next scheduled game is on Saturday, 10 March away to Crewe FC. The Evo-Stik League reports that "The final countdown for supporters to nominate their stars of the historic 2017-18 season for the Evo-Stik NPL Show Fans Player of the Year is underway!

After the nominations phase for the coveted accolade opened nearly two weeks ago, supporters only had until a minute to midnight on Sunday (March 4) to register their choices for five finalists bidding to follow in the footsteps of 2017 winner Dale Hopson at the Northern Premier League's 2018 Players of the Year Awards.

The Whitby Town midfielder's successor and two runners-up will be unveiled on Sunday 15 April at the seventh running of the awards at the plush Brooklands Holiday Inn near Barnsley after an online vote for supporters opens when the finalists are unveiled on 22 March. The poll closes on Easter Monday (April 2) and fans will be able to watch the winner being crowned on the night with the event set to be broadcast live on Facebook for the second year running.

This season's ceremony to celebrate the milestone 50th anniversary season will see Sheffield United boss Chris Wilder handing out the accolades after managers and coaches at all 68 clubs finish voting for a 'Player of the Year' and 'Young Player of Year' in each of the EVO-STIK League's three divisions, as well as the line-ups in three 'Teams of the Year'.

The now annual awards are the brainchild of former Manchester City keeper and NPL stalwart Alan Ogley. For the first time ever, voting is being carried out electronically, including the nominations process to pick the NPL's top bosses of the last five decades as part of the competition's on-going NPL50 celebrations.

Like the 100 playing legends and 'Team of All Time' who attracted thousands of votes in the first half of the season, they will also feature in '50 Glorious Seasons - A History of the Northern Premier League 1968-2018', a new book charting the competition's proud history since 1968. Currently being written by the EVO-STIK League's official historian Dominic McKenzie, the book is due out at the end of the season".

The Evo-Stik League reports that "Clitheroe haven't lost their sense of humour after the 'Beast from the East' met Storm Emma over the Shawbridge home of the Blues. Despite working late into the night on Friday to clear up after a stand collapsed in the high winds and a burst pipe flooded their changing rooms, hardy volunteers and officials at the club were still managing to joke on social media in regular updates on the chaos for fans.

In one post confirming this Saturday's match against Trafford was definitely off, Clitheroe FC tweeted, "Tomorrow's game against Trafford is officially off. This is due to the deep snow drifts still sat on the pitch, the winds pulling down a stand, and the changing rooms having no water due to a burst pipe. Enjoy your weekend! This was the damage done by Storm Emma and, unfortunately, before we got chance to do anything with this some disappeared into next door...

The full programme of fixtures were postponed 24 hours early on Friday after league officials put special measures in place to avoid any unnecessary travel and inconvenience for fans, players and officials and ensure their safety".
---
3 March 2018 Today's game at Shaw Lane has been postponed due to a snow covered and frozen pitch at the Yorkshire club. The next scheduled fixture for Altrincham is at home on Tuesday night (6th), against Stourbridge.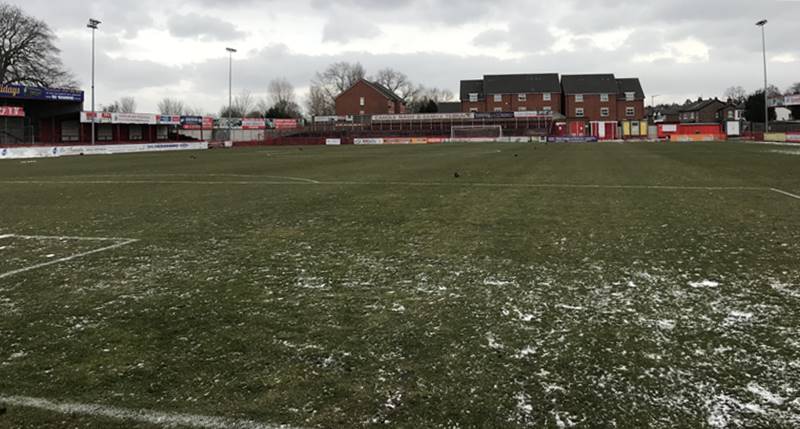 Although the pitch at the J Davidson Stadium (seen above) was not playable on Friday, Altrincham FC is confident that, barring further severe frost or snow, it will be OK for Tuesday's fixture.
Press and Media Officer John Edwards writes that "Altrincham striker Josh Amis (right) is heading to Marine in his quest for more game time to build up his fitness levels, following a succession of injury problems.

With Josh needing minutes under his belt to regain his old sharpness, the move should benefit both clubs and is expected to be rubber-stamped tomorrow (Saturday)".

Footnote: Josh has made one start and five appearances from the bench for Altrincham this season. Earlier this season he had loan spells with Colne and Trafford.

As previously advised, it has not been possible to update the mobile version of this website for the past 24 hours because of essential work by the site's hosting service which, due to their incompetence, has not gone as planned. Currently the mobile version of this site is not accessible online. Should a similar issue affect the desktop site, a temporary (and very limited) replacement news page will be available here, which you may wish to bookmark.

Keith Edleston writes that "Last week the Ladies team welcomed new signing Beth Hayes (right, click on image to enlarge) into the squad. Beth, who has joined us from FC United of Manchester, is a very accomplished midfielder/forward whose passing ability in midfield can unlock many a stubborn defence and she also has shown, when played upfront, a great eye for a goal.

Last Sunday, Beth made her debut and slotted in well in midfield when she came on for the last 20 minutes against West Didsbury and Chorlton LFC. She also had a hand in what turned out to be the winning goal. She will take the no.23 shirt. Welcome into the Club!"

In Cumbria, the News and Star reports that "Lee Andrews is not panicking about Workington Reds' backlog of fixtures just yet... Andrews does not believe it to be any worse than previous years...

'I think if you look back over the past few seasons, we have had more games than we have got left this time,' said Andrews. 'We will manage to squeeze them all in as we have the dates for the rearranged games now. It can be difficult on the lads playing Saturday, Tuesday each week but if we can get the results, it can also work in our favour. You can get into a routine of churning games out and, if you hit a run of form, then that helps because the next game can't come quick enough'...

[Saturday's postponement gives] Reds a chance to regroup with defender Dan Wordsworth available after Saturday. Andrews is still hoping to bring some fresh blood into the club to boost his side going into the last crucial few weeks."

Also on the West coast, the Lancashire Evening Post reports that "Lancaster City manager Phil Brown admits he is a little flummoxed by his team's inconsistency at the moment.

The Dolly Blues' boss was left mightily frustrated on Saturday after his team went down to a disappointing 2-0 home defeat to Rushall Olympic. After winning two games on the bounce the previous week, which snapped a three-match losing streak, City went into the match at the weekend in high spirits. However, they were unable to repeat their exploits of the previous two fixtures as a sorry first-half showing saw them concede twice.

They were unable to recover in the second half and slipped to another defeat, their second against Rushall in a matter of weeks.

Brown said, 'Two steps forward and then a couple of steps back is probably a good way of describing how we felt after the game on Saturday... We expected a little bit more, well a lot more on Saturday. For whatever reason, we weren't at it at all in the first half really... We were off the pace and mentally we weren't sharp enough. Our intensity was not high enough and we allowed them to get a foothold in the game and they scored two goals...

'For me as a manager I have got a few decisions to make in terms of the squad and the starting XI for the game against Marine. I do think there will be changes based around what I saw last Saturday'. Selection wise, Brown will be without striker Tom Kilifin, who has work commitments, and Ricky Mercer is a doubt with a trapped nerve in his back."

Saturday 3 March 2018

The EVO-STIK Premier Division - all games postponed.
Barwell P-P Stafford Rangers
Coalville Town P-P Halesowen Town
Farsley Celtic P-P Witton Albion
Grantham Town P-P Hednesford Town
Marine P-P Lancaster City
Matlock Town P-P Ashton United
Rushall Olympic P-P Buxton
Shaw Lane P-P Altrincham
Stalybridge Celtic P-P Workington
Stourbridge P-P Sutton Coldfield Town
Warrington Town P-P Nantwich Town
Whitby Town P-P Mickleover Sports
---
2 March 2018 Altrincham's Cheshire Senior Cup quarter-final, at home to Winsford United, will take place on Wednesday 21st March at 7.45pm.

Altrincham now have nine fixtures in March, seven of them at home!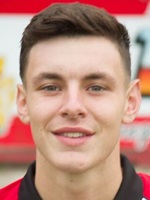 John Edwards, Press and Media officer at Altrincham FC writes that twenty-year old "Sam Heathcote (right) is heading back to The J.Davidson Stadium after agreeing to rejoin Altrincham from Ramsbottom United.

Though primarily a centre-back in his first spell with Alty, Sam reverted to the striker role he filled as a junior at Manchester United when he signed for Ramsbottom last August.

He underlined his goalscoring prowess with a double-figure haul that endeared him to Ramsbottom fans and included an unerring second-minute strike at The J.Davidson Stadium in November that briefly threatened an FA Trophy upset before Alty rallied to run out 4-1 winners.

His versatility makes him a valuable addition to Phil Parkinson's squad and means he can provide cover up front or at the back, as Evo-Stik Nothern Premier League leaders Alty look to finish the task of securing promotion in the season's final stages".

In his previous spell at Moss Lane, Sam made 32(+19) appearances for Altrincham.

The funeral for Altrincham supporter David Cameron will be held on Thursday, 8 March, at Altrincham Crematorium at 2pm. Please note that for the funeral it will be family flowers only and any donations should be made to the British Heart Foundation via Kenneth Dewey & Sons, funeral directors.

The family wishes to express its appreciation for the support that the Altrincham FC community has given them.

On Sunday Altrincham FC Ladies are scheduled to host Stockport County LFC in the North West Regional Women's Argyle Cup with a 2pm kick off at Mersey Valley Sports Club, Banky Lane, Sale, M33 5SL.

The clubhouse and car park will be open from 12-45pm and all spectators are very welcome.

The EVO-STIK League "is putting special measures in place ahead of this weekend's action to avoid any unnecessary travel and inconvenience for fans, players and officials with more severe winter weather forecast.

With freezing temperatures and snow blanketing much of the UK and more expected before Saturday's full programme, Northern Premier League secretary Angie Firth authorised early pitch inspections on Friday in an email to the secretaries at all 68 clubs confirming a number of other special measures to help ease disruption".

The league also announces that "Stamford, Barwell and Hyde United are celebrating the start of Spring as the Northern Premier League's latest performance kings!

February's 'Club of the Month' winners will be presented with engraved glass mementos to mark their form and results over the last four weeks and a bottle of spirits to celebrate with...

Barwell and manager Jimmy Ginnelly are also looking forward to collecting their first monthly honours of the campaign in the EVO-STIK League Premier Division at Kirkby Road after recording three wins and a draw in February to beat Warrington Town to the award on points taken per game".

And the EVO-STIK Northern Premier League FWP Group Fair Play Winners in the Premier Division for February are Lancaster City.

From the Warrington Guardian we learn that "Warrington Town could be boosted by the return of skipper Jay McCarten when they host Nantwich Town on Saturday. The centre-half has not featured since suffering an ankle injury in the 1-1 draw at Altrincham on January 27 and has missed Yellows' past eight games.

He had been ever-present before then and manager Paul Carden says he is reluctant to risk McCarten unless he is 100 per cent fit...

He told the Guardian... 'There's no point risking him until he's 100 per cent right. We're going to have a load of fixtures piled up that we're going to need him for'...

In McCarten's absence, Jack Higgins has filled the void in the heart of Town's defence alongside Liam Goulding... 'Jack has had a bit of an up-and-down season in terms of suspensions, injuries and what not,'he said. 'Hopefully he's found his feet now and he's starting to show the player I know he can be. Liam Goulding has been immense. He's really stepped up which is why I've given him the captaincy in Jay's absence...

'He's been flawless. He's got a lot of attributes for someone who's only 21 years of age'...

Yellows sit second in the Evo-Stik Premier Division table ahead of Saturday's visit of Nantwich to Cantilever Park... The gap between Town and leaders Altrincham has been cut to seven points and Carden believes his side can close the gap further.

'When you look at the league above and you see what's happened with Salford in the past month or so, nothing should ever surprise you,' he said. 'That said, we know how good a side Altrincham are and they don't drop points often... If we carry on racking up the points, we may see the gap closing further.

'I know Dave Cooke, Nantwich's manager, very well. Being honest, I've tried to sign his son Sean a few times. He's their stand-out player and seems to score or make a goal every week'".
---
1 March 2018

Above, the pitch at the J. Davidson Stadium, as seen on Wednesday morning. Since then there have been some further light snow showers and the mid-afternoon temperature was minus three Centigrade. However, the next scheduled match on the pitch is not until next Tuesday, when Stourbridge are the visitors.

Like Altrincham, our next opponents, Shaw Lane, had their Tuesday night fixture postponed. Shaw Lane AFC now report that "Our visit to Nantwich Town has been re-arranged. The game, postponed last night, will now be played on Tuesday 24th April. The fixture becomes our penultimate game before the final Saturday of the season and could become an important game with regards to our promotion hopes."

Meanwhile, on the player front, Shaw Lane AFC confirm that "Winger Nicky Walker has left Shaw Lane to join National League North Gainsborough Trinity [managed by Lee Sinnott]. The winger who signed only last summer has teamed up with former assistant manager John Reed at the struggling Lincolnshire club. Walker had made 31 appearances (24 in the starting XI) and scored seven goals, including two at Whitby Town earlier in the season."
---
FOR EARLIER NEWS, CLICK HERE
---