---
30 April 2015
Peter Foster writes that "Altrincham FC Community Sports Co. wishes to announce that the Club's Community Officer, Chris Bullock, will be leaving this role with effect from April 30th.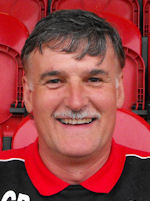 Chris [right], who is a UEFA B Licensed Coach, has been supporting the Club's community activities for many years, and has done a magnificent job in introducing so many young children, and their parents, to football, and to the Football Club. These community activities have included support for AFC Juniors, schools coaching, Fun Weeks, Ladies' football, and after-school activities.
Chris will continue to be the lead-coach for the Club's 'mini kickers' sessions at the CSH on Saturdays. Chris will be supporting the handover of activities and, in the future, will continue to be involved in supporting some of the Club's activities.
Everyone at the Club, and the Community Co. would like to thank Chris for the support he has provided, and all of his efforts, and we hope he will continue to be a regular visitor to the Club, where he will always be welcome. In the meantime, if anyone would like to know more about the work of the Community Co., or would like to contact the Club re any Community activities, then please either ring the Club on 0161 928 1045, or email me.
"Altrincham Football club have been informed by Allison and Peter Lewis that they are to step down from their roles of Safety Office and Chief Steward as of 2nd May 2015.
Thus, we are looking to recruit new personnel to take on these roles within the Football Club. If anyone is interested in learning about what the roles involve, be they existing or new staff, please contact either Derek Wilshaw (secretary) or Grahame Rowley (Chairman) for further details. Either can be rung on 0161 928-1045, or you can contact Grahem by e-mail.
The Football club would like to thank Allison and Peter for all the hard work which they have put in over many years".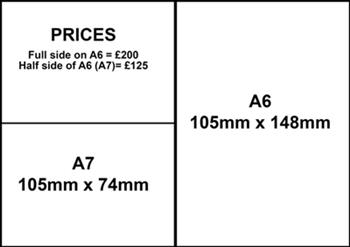 Assistant Manager of the Altrincham FC Community Sports Hall, Judy Henson, is writing to local businesses inviting them to secure an advert in a forthcoming new booklet of Altrincham FC 2015/16 fixtures and business pages of the area. Judy says, "It's to replace the old calendar wall charts we give out each season at the first game".
In her letter to local businesses, Judy says, "I am writing to you with a proposition to promote your business in our new 2015/16 season booklet. In recent years we have made and distributed wall planners and sold boxes to companies around the edges of our calendar. This year we are making an A6 booklet (A5 folded landscape), with the option to buy a full or a half-page spread (as shown, right). You may wish to add text, images or even money-off/savings coupons.
We decided a wall planner wouldn't be of use to many people, whereas a handy booklet would be. We will include a 2015/2016 calendar, Altrincham FC match fixtures and business pages. This booklet will be handed out to all fans at our first home game of the season and also to local businesses, which will be an advertisement to over 1,000 people at the very least, who will see a copy. If you are interested or would like to know more, please reply by June 30th 2015".
If your business would like to be part of this initiative, please contact Judy as soon as possible to secure your space by e-mail or phone (0161 928-1045).
In Tuesday's EvoStik League Premier Division play-offs, several ex-Alty players featured. In one of the semi-finals, Ashton United drew 1-1 with neighbours Curzon Ashton but lost in the penalty shoot out, 2-4. Both goals in the game itself came from players who have worn the Alty shirt; Chris Baguley (a former trialist at Moss Lane) scored early on for the hosts before another ex-Robin, Ryan Brooke netted an 80th minute equalizer. Baguley was carried off injured with a suspected broken ankle before Brooke was sent off with the Ashton United captain.
Former Alty reserve Ashley Stott netted the decisive penalty in a 4-2 shoot-out outcome, whilst another ex-Alty player in the match was Curzon's Simon Woodford.
Curzon Ashton now meet Ilkeston in the play-off final as the Derbyshire side won away 1-0 at Workington.
In the EvoStik First Division North Promotion play off semi-finals, Bamber Bridge beat Northwich Victoria 2-1 whilst Sutton Coldfield Town triumphed 3-1 at Newcastle Town.
In the first leg of their Vanarama Conference promotion play-off semi-final, Bristol Rovers beat Forest Green Rovers 1-0 at the New Lawn, despite having a man send off in the second half. Tomorrow Eastleigh host Grimsby Town in the first leg of the second tie. The second legs of both ties are on Sunday.
In the Vanarama Conference North play-off semi-final first leg, the scores were:
Chorley 0 Boston United 0, (att. 2022)
Guiseley 1 AFC Fylde 0 (att. 1025)
Vanarama Conference South play-off semi-finals:
Havant & Waterlooville 0 Boreham Wood 2 (att. 1296)
Whitehawk 1 Basingstoke Town 1 (att. 629)
There is bad news for an ex-Alty player as "Goalkeeper Tony McMillan is among the first casualties of Barrow AFC's title triumph as he will not be offered a new deal by the club" reports the
NL Daily
. And Tony is not the only ex-Robin to be disappointed as, "Striker James Ellison, defensive duo
Robbie Williams
and Liam Willis, plus midfielder Ted Cribley will also not be handed fresh terms after falling out of contract, with the quartet having completed loan spells away from Holker Street this season.
McMillan was Barrow's regular number one keeper this term until the back end of January, when he lost his place to Aaran Taylor, who started all but three of the final 16 games of the campaign. Having serving AFC well over the past two seasons, McMillan has walked out of the exit door along with his four fellow out-of-contract team-mates...
The majority of his 2014/15 squad are out of contract this summer, with players hunting new deals understood to include Taylor, Alex-Ray Harvey, Dan Pilkington, Niall Cowperthwaite, Andy Burns, Sam Sheridan, Lewis Guy and Karl Ledsham. They should learn their fate soon and the manager says he will not conduct any business in the transfer market until he has spoken to his contract hopefuls about their respective futures.
Edmondson said, 'Between now and next Monday we should have sat down and spoken with all of our players... We've probably already highlighted players (potential external targets) who we feel we might need'. The club are obliged to offer wanted players new terms by May 9 before those affected are given around a month to mull over the deals on the table. Edmondson indicated that he has gone some way to making decisions about his retained list, but it would seem to remain a fluid situation in some cases.
Commenting on the task of deciding who to keep, he added,'We have a window where we have to let players know. So that gives you a little bit of time to see what comes out from other football clubs as well... There will be lots of players available this year. So it would be wrong of me as a manager if I didn't just keep my options open with regards to the amount of players we can bring in because there are so many good players available this year'".
NL Pitchero reports that "Chester FC have announced that both John Rooney and Craig Hobson have both agreed one year deals to stay at the club. Rooney joined from Bury back in 2013, initially on loan, before making his move permanent in January last year.
Hobson also joined on a loan from Vanarama Conference North side Guiseley AFC, with him making his move a full-time one at the end of the season. Hobson has since scored 7 goals this season, with Rooney bagging 11, both in all competitions."
---
29 April 2015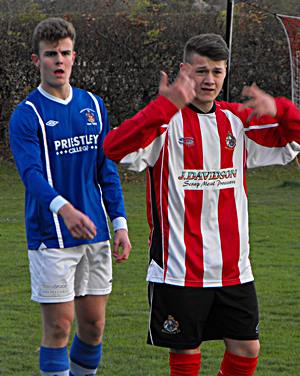 Altrincham FC Youth maintained the pressure on league leaders Chester FC with a 2-0 win over Warrington Town on Tuesday evening. The goals came from Reece Dwyer (right) and James Clancy. It was the team's fourteenth successive game without defeat.
Match report here.
Alty play Morecambe next, at the J. Davidson Stadium, next Tuesday at 7pm. If they win that game, they face leaders Chester in the final match of the season and a win for Alty in that game would clinch the league title.
Courtesy of Sarah Rowley we have the updated
Goal Rush
statistics which incorporate Monday's results.
Altrincham FC announces that "The following twelve players have been retained for the 2015-16 season:
Stuart Coburn
Shaun Densmore
Adam Griffin
Jake Moult
Gianluca Havern
Scott Leather
James Lawrie
Simon Richman
Damian Reeves
Nicky Clee
Tom Marshall
Ryan Crowther
Released List:
Steven Gillespie
Kyle Perry
David Parton
Sean Williams
Peter Cavanagh"
Those released all joined the club last summer, except for striker Kyle Perry who signed in 2013 and made 18 league starts last season plus 24 from the bench. Striker Steven Gillespie made 9(+13) league appearances whilst goalkeeper David Parton made 14 starts in the Conference. Midfielders Sean Williams and Peter Cavanagh made 22(+11) and 28(+6) league appearances respectively in 2014-15.
As yet, the Club has been unable to contact Greg Wilkinson.
The latest Altrincham FC Saturday Yankee results are
here
. The jackpot now stands at £1700 and like four winners last week, there are "Trebles" prizes to be won, too; all for a £1 stake.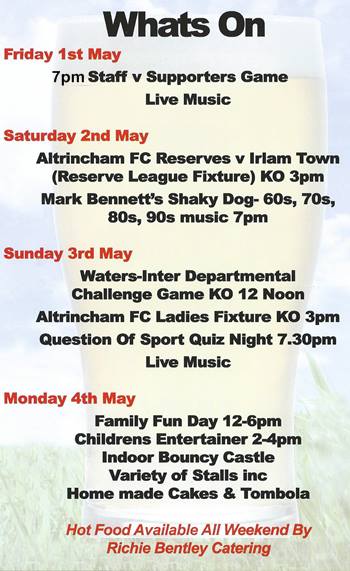 As well as the Beer Festival itself, there are numerous events taking place during the weekend at the J. Davidson Stadium, as the adjacent list shows. So come along and enjoy yourself!
If you can bring any items of chocolate before the event they wil be most welcome for the Chocolate tombola. And if you can help to publicize the event by handing out some flyers in your locality that, too, will be much appreciated. They are available from the club offices during weekday office hours.
Steve Foster announces the third tranche of beers...
Brewsmith - Oatmeal Stout - 5.2% - Sponsored by Keith Edleston. A full bodied, richly textured stout. Balanced bitterness. Coffee, liquorish, blackcurrant and citrus aromas.
Thwaites Brewery – Wainwrights – Golden Ale 4.1% - Sponsored by The Sport Business. Wainwright is a refreshing golden ale with subtle sweetness and delicate citrus fruity overtones.
The Kite Brewery - Jemimas Pitchfork – Imperial Pale Ale 4.4% - Sponsored by Interactive Sports. A pale refreshing, crisp beer brewed with citra and eldorado hops giving a brilliant undertone of citrus, pear and melon.
Burscough Brewing Company - Priory Gold – 3.8% - Sponsored by Alan Murray. A golden session ale with a light body and moderate bitterness. The initial sweet, hoppy finish gives way to a fragrant citrus aroma with hints of pine and lemon.
Tatton Brewery – Tatton Ale 3.7% - Sponsored by Premium Collections. The beer has a full malty/toffee flavour for its gravity, balanced by a soft bitterness and hoppy, fruity taste and aroma.
Bank Top Brewery – Barley to Beer – Golden Ale 3.6% - Sponsored by Robinsons Preservation. A blend of English malt and European hops resulting in a pale bitter with a citrus lemon and herbal finish
There has been something of a clearout at Plainmoor, as the
Football Conference
reports that "Chris Hargreaves, manager of Torquay United, has released a number of players... It has been a difficult day for Hargreaves and his assistant Lee Hodges... The Gulls now have a relatively clean slate to start planning for the new National League campaign... The list of released player is detailed below, along with those who are awaiting a final decision and new contracts offered:
Released Players:
Elliot Benyon, Dale Tonge, Duane Ofori-Acheampong, Martin Rice, Krystian Pearce, Courtney Cameron, Aaron Downes, Mickey Parcell, Tom Cruise
Awaiting Final Decision
James McQuilkin, Ollivier Gueguen, Aaron Dawson, Ben Harding, Ashley Yeoman
New Contract Offered
Toby Ajala, Levi Ives, Daniel Lavercombe
Under Contract for Next Season
Ryan Bowman, Louis Briscoe, Courtney Richards, Sam Chaney, Angus MacDonald, Luke Young
'It's been a very difficult day and not a good part of the job,' said Hargreaves. 'I hope that I'm a fair manager and a fair bloke but it's not easy for the players to accept and not easy to deliver the news. If we go down the list, Krystian Pearce doesn't see himself staying here, so that conversation was slightly easier. We part with a handshake and wish each other all the best. Courtney Cameron is another who did want to get back home but I wasn't offering a contract, so there was no grey area. It just hasn't happened for Courtney this season and I've given him the opportunities, which he accepts. He's definitely got ability but it's not clicked for him, and he probably needs to try new pastures to get that again.
Aaron Downes was a very difficult decision because he is such a hard worker and a good character. In another circumstance, it might have happened... He'll probably be playing against us next season... For Tom Cruise, injury has blighted his time at the club and he's not had the minutes on the pitch. Levi Ives has been playing at left-back because Cruise has been injured, which is unfortunate, but I can't hang my hat on someone who has played so few games. It was another hard conversation but I do think he'll get another club.
Mickey Parcell was a very tough discussion because he's a fantastic character. If we had a development squad, he may well have stayed but he has to be ready to play next season, or very close, and he's not there at the moment... We're not in the financial position to give lads a new deal if they're not playing because that becomes expensive.
We also have a group of lads where we are not yet able to make a decision on because it is dependent on our budget for next season but the non-contract players are people I am so thankful for their efforts. In Aaron Dawson, James McQuilkin and Ollivier Gueguen, we've had three players essentially playing for almost no money and I've got so much time for them in doing that. They are fighting for a deal and I can't offer them something yet because I don't know the budget... It is the same scenario for Ashley Yeoman and Ben Harding.
I don't know what we will end up offering Ash, if anything at all. He hasn't played a lot of games but he can score goals, so he must find it within himself to come back and really be aggressive, if he does come back. Ben hasn't played enough games and yet, he's finished the season playing really well. If it was right for both parties, there may be a deal on the table but, with all of those five players, they remain a question mark.
We have offered contracts to Toby Ajala, Levi Ives and Daniel Lavercombe. We've had interest in Toby and whether he stays or not remains to be seen, but we protect our interest by offering him a deal, so someone will have to pay for them. Levi and Dan have been magnificent, and it is massive congratulations to the youth department and the whole Academy system for the youngsters breaking through. It is brilliant to have youth-team players regularly in the first-team. It vindicates the whole youth set-up and we are only scratching the surface. I watched a youth game for the under-17s last week and we had three boys who were magnificent, which all bodes well for the club'".
Former Altrincham loanee "Defender Carl Piergianni has been named as Boston United`s player of the year for 2014/15... Piergianni won further acclaim courtesy of the BUSA player of the year and York Street veterans supporters` awards".
According to the BBC "Gateshead boss Gary Mills was expected to be named the new manager of Wrexham on Tuesday evening. The Dragons sacked their previous boss Kevin Wilkin in March after losing to North Ferriby United in the FA Trophy. Mills, 53, led York City to the FA Trophy and promotion to the Football League in 2012 and took over the Tynesiders in September 2013".
Wrexham later stated "Following the departure of Kevin Wilkin, we received circa 80 applicants for the position of first team manager for consideration. Our search priority was to find a new manager who would play an exciting brand of football and enable us to challenge for promotion again next season. These criteria were fully met by Gary Mills, whose extensive knowledge of the league and promotion made him an ideal candidate.
Significant progress has been made in our discussions with Gary and we will be holding a press conference at 6.00pm today confirming his appointment - prior to his departure for a family holiday".
NL Daily reports that "Kidderminster Harriers have confirmed the departure of Danny Lewis, Callum Gittings and Kevin Nicholson from the club. The contracts of both Lewis and Gittings are set to expire in May but both are looking to pursue other interests outside of full-time football, while Nicholson's contract has been cancelled by mutual consent."
And more players released are the subject of NL Pitchero, which tells us that "Aldershot Town have released three players at the end of their contracts as new manager Barry Smith begins building a squad for 2015/16. Midfielder Mark Molesley and strikers Andre McCollin and Josh Scott will not be offered new deals, whilst all of the Shots' loaness have returned to their parent clubs.
In addition to Joe Oastler, who has already triggered an extension clause in his existing deal, contract offers have been made to seven players, with a further three invited to return for pre-season training. In addition, Smith is also monitoring the recovery of several players who missed the final game of the season with injury."
The Football Conference announces that "Five scholars have been given full-time terms by Wrexham... Midfielder Iwan Cartwright, strikers Danny Reynolds and Joe Williams and central defenders Aaron Simpson and Jake Doran have all been offered terms.
Both Reynolds and Williams played in the first-team at the end of 2013/14, while Cartwright and Reynolds have been unused substitutes this season. Centre of Excellence manager Andy Davies said, 'We are delighted to be offering terms to these five young players... We think they all have a good chance of progressing'".
---
28 April 2015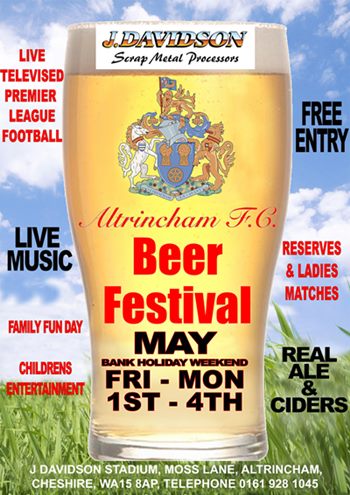 The Altrincham FC Beer Festival has become established as a popular event and a good fundraiser for the Club. However, the word needs to be spread far and wide. To that end, the Club has a supply of leaflets (shown right) which are intended to be posted throughout the locality. If you can help by delivering a batch of the flyers in your neighbourhood or at work (with permission, of course), it would be greatly appreciated. You can pick up the leaflets at the reception office at the J. Davidson Stadium during normal weekday office hours. The entrance is on the corner of Moss Lane and Golf Road.
Also, during the Beer Festival there will be a Chocolate Tombola stall in operation. You just buy a raffle ticket or two and, (hopefully), you will win a chocolate item. Whilst large items such as boxes of chocolates are always welcome, there is also a need for smaller chocolate goods, such as bars of chocolate, chocolate buttons, etc. Any donations will be very welcome and should be delivered to the reception area of the J. Davidson Stadium during normal weekday office hours. The entrance is on the corner of Moss Lane and Golf Road.
Brian Flynn interviewed Lee Sinnott after the Braintree game. It can be heard
here
The
Essex Chronicle
reports that "Two second half goals within the space of five minutes from Jordan Cox set the Iron on their way to a winning end to the season as they beat Altrincham 4-2... Cox admitted afterwards he had three comparatively easier first half opportunites to have scored adding, 'I was disappointed not to had taken at least two of the chances but, as a striker, you just have to keep believing in yourself.
Thankfully I had two more opportunities soon after half time and put them away which made me feel much better', he added. 'I think we fully deserved to win in the end of what was a great entertaining game and the three points pushed up the tables to a decent finish... It's been a really difficult season for the team with so many injuries to so many players, including myself, but we've finished on a high.'
On the surprise departure of manager Alan Devonshire ten days previous[ly], he said, 'All the lads were devastated and shocked to see him go because he's done such a great job over the four seasons here, including bringing me in from lower league football and encouraging me to play at this high level... Hopefully the new manager will offer me a new contract as mine is up now. I want to stay and see us progress'.
Stand-in manager Mark Sansom was full of praise for the players explaining, 'I told them before the game to go out there, enjoy it and most important of all told them to express themselves and put in a performance to thank both the patient fans this season and also Alan for all the work he has done here. They did exactly that and I think we should have been at least three up by early on and I was a little aggrieved at half time because we were the only team really in the game.
We had changed the system slightly from the Wrexham defeat last week and it clearly worked and the players responded in the right fashion... Whoever comes in has a great bunch of united players to work with and I know that 90 per cent of them want to stay here for next season. I shall continue to run the Academy set-up and develop the marketing and sales side for the club off the field so I don't want this job'...
The tricky Simeon Akinola caused mayhem through the visiting defence every time he ran at them. The home side opened the scoring on 36 minutes... but the lead was shortlived, as on a rare counter-attack the visitors' Jamie Lawrie drilled a 20 yard drive past keeper Nick Hamann three minutes later.
The turning point of the game came in the 51st minute when Cox latched on to a defensive error by defender Gianluca Havern to volley the ball home past Parton. Four minutes later he scored his second with a fine header from an accurate left wing cross from Sparkes..
By now the Iron were well on top but, against the run of play and in a rare breakaway on 78 minutes, the visitors grabbed a second when substitute Kyle Perry cut in from the left wing and drove the ball low and hard across Hamann, with the ball going in off the foot of the far post.
But any hopes that the visitors might salvage something from the game completely disappeared on 82 minutes when Iron substitute Bernard Mensah skipped through from the halfway line to slide the ball past the advancing Parton".
One of the five players missing from the Alty Youth squad on Sunday was Aaron Goldman. This was because he was making his mark once again for the England Independent Schools' team as they thrashed Scotland 7-1 at Nantwich Town FC. The
ISFA
reports that "England were three up, minutes into the second half... Scotland grabbed a goal back... Subsequent goals for England from Tom Ardron,
Aaron Goldman (2)
and a Scottish defender rounded off an enjoyable, well contested encounter".
The
Football Conference
confirms that the "2014/2015 Football Conference Play-Off Semi Final & Promotion Final scheduling is as follows:
Vanarama Conference (All matches will be screened LIVE by BT Sport.)
Wednesday 29th April - Forest Green Rovers v Bristol Rovers (1945KO)
Thursday 30th April - Eastleigh v Grimsby Town (1945 KO)
Sunday 3rd May - Bristol Rovers v Forest Green Rovers (1245 KO)
Sunday 3rd May - Grimsby Town v Eastleigh (1530 KO)
PROMOTION FINAL - Sunday 17 May 2015 at Wembley Stadium, Kick Off -14:00
Vanarama Conference North Semi Finals 1st leg, Wednesday 29 April 2015 at 7.45pm
Guiseley v AFC Fylde
Chorley v Boston United
Semi Finals 2nd leg, Saturday 2 May 2015 at 3.00pm
AFC Fylde v Guiseley
Boston United v Chorley
PROMOTION FINAL - Saturday 9 May 2015 at 3.00pm (to be played on the ground of the higher placed team left from the Play Off Semi Finals)
Vanarama Conference South, Semi Finals 1st leg, Wednesday 29 April 2015 at 7.45pm
Havant & Waterlooville v Boreham Wood
Whitehawk v Basingstoke
Semi Finals 2nd leg, Saturday 2 May 2015 at 3.00pm
Boreham Wood v Havant & Waterlooville
Basingstoke v Whitehawk
PROMOTION FINAL - Saturday 9 May 2015 at 3.00pm (to be played on the ground of the higher placed team left from the Play Off Semi Finals)
All scheduled dates and kick off times stated above may be subject to change".
The BBC reports that "Aldershot Town have appointed former Dundee and Alloa Athletic boss Barry Smith as their new manager on a one-year rolling contract. The 41-year-old has been out of work since leaving Alloa in March.
Chris Barker, who has been in caretaker charge since Andy Scott was sacked in January, will remain with the Shots as player-assistant manager.
'Barry is ambitious and has great experience of developing young players,' said chairman Shahid Azeem. Smith began his playing career at Celtic and then spent 11 years at Dundee, captaining the side between 1997 and 2006. He returned to Dens Park as manager in 2010 and spent almost two and a half years in charge before parting company with the club in February 2013. He was appointed Alloa manager in January 2014 but resigned last month, with the Wasps bottom of the Scottish Championship following a run of one win in 13 league matches.
'I see Aldershot as a great club with the same aspirations as myself. It felt an ideal fit,' he said. 'We are looking to build a new squad and we have to build slowly. Ultimately we want to take the club back to the Football League.'"
Meanwhile, "Relegated Cheltenham Town would like to keep Gary Johnson as their manager next season, says chairman Paul Baker. The Robins dropped back down to the Conference after a 16-year stay in the Football League following defeat by Shrewsbury Town on Saturday.
'There's a lot of support out there for Gary,' Baker told BBC Radio 5 live's Non-League Football Show. 'We've got on very well with him, we've been impressed with him and he's my, and the board's, first choice'. When 59-year-old Johnson arrived at Cheltenham last month, the club were two points from safety with seven League Two matches remaining. The former Bristol City, Peterborough United and Yeovil Town boss, who was appointed on an initial deal until the end of the campaign, was the Robins' fourth manager this season, following Mark Yates, Paul Buckle and Russell Milton...
Said Baker, 'He came in just at the end of the season to try to keep us up and we said we'll sit down afterwards to talk about the future. He came in on a hiding to nothing, unable to do anything in the transfer market and having to work with what he had. Frankly, I want to get the managerial situation sorted sooner rather than later so that the fans, who we hope will buy season tickets, know who the manager of the football club will be, because that's the most important decision. He's got to consider whether he wants to manage in the Conference'".
The BBC adds that "Following Yeovil's drop from the Championship 12 months ago, Johnson has suffered relegation twice in successive campaigns having enjoyed four promotions across his previous 10 seasons in management. Cheltenham Town, who had topped the division at the start of September after four wins in their opening five games, will now return to non-league football for the first time since 1999.
"Relegation out of the Football League for clubs our size is pretty significant', continued Baker. 'In terms of the percentage of our turnover that we lose, it means job losses and it means we look at our entire operation. But we came out of the Conference 16 years ago, we've punched above our weight, spending four years in League One, we've been to Wembley twice and the Millennium Stadium twice and we're pretty resilient. We've got a good board, we've got good staff, we've got good facilities and we don't carry debt. We're looking to bounce back'".
According to the Leader Live, "Chief Executive Don Bircham insists other candidates are in contention to be Wrexham manager if they miss out on Gary Mills... But Mills, who led York City to promotion via the Conference play-offs in 2012, announced on Friday that he was considering his future and hadn't ruled out remaining with the Heed despite interest from a Football League club, believed to be Tranmere Rovers, who have also asked to speak to him.
'We have never ruled anything out', said Bircham. 'We had some great candidates and they are still in contention. We have options... It makes no odds to us,' said Bircham. 'We will continue to speak to him and if he is talking to someone else, that is entirely his prerogative. They are on going with us and are constructive'...
Said Bircham, 'If he is also talking to someone else, I don't know about that, but it is up to him'.
Mills, who has been granted permission to talk to the league club, is weighing up his options. 'Wrexham asked for permission, I've spoken to them, and they have offered me the job,' said Mills. 'The chairman gave me permission to speak to Wrexham, and there are reasons for that. I will have to make a decision in next few days... It will be done in the right way, and the decision will be made for the right reasons'"
In the Shropshire Star we learn that "Striker Tony Gray insists that money will not be the only factor in deciding whether to stay at AFC Telford United for next season. The Bucks' 20-goal top scorer is out of contract in the summer and manager Steve Kittrick has revealed that he has had two relatively big financial offers to join other clubs...
He said, 'If it is all about the finances he won't be at Telford.' Gray added, 'It is obviously going to be a bit of a factor and there is travelling to consider. It is two hours for me to get here and, with work and stuff like that, it is a big commitment. I am 31 now and I have got a few years left at this type of level, so I have to do what is best for me and my family. But there is still a big possibility that I will be back here...
I have got a few options on the table, but there's still a chance I will be here. I have spoke[n] to a couple of people here and I think there is going to be an offer on the table this week. Obviously I am going to get other offers and I have just got to do what is right for me and my family'.
Gray crowned a prolific season by clinching three awards – Club Player of the Season, Players' Players of the Season and Top Goalscorer – at the Bucks' end-of-season presentation night on Saturday. Midfielder Godfrey Poku, another player Kittrick is keen to retain, went one better by picking up four awards. He was awarded the away travel club, vice presidents', sponsors' and supporters' Player of the Season awards while the Unsung Hero award went to club stalwart Alison Crofts...
Kittrick is hoping to have some news regarding his search for an assistant manager this week and has not ruled out two people being brought into the backroom set-up. He said, 'I would have thought that, by Wednesday or Thursday, there will be some decisions made and an announcement made'".
A report in the Lincolnshire Echo says that "Lincoln City boss Chris Moyses has said he wants to complete his summer recruitment by the end of May. The Imps boss is meeting with players on Friday before announcing his retained list.
Lincoln City's squad for next season is already taking shape, with Jon Nolan agreeing a one-year deal at the end of last week. The current players committed to the Imps for the 2015/16 campaign include goalkeeper Paul Farman, defenders Tony Diagne and Nat Brown, midfielders Nolan and Alan Power plus forward Jordan Burrow. Youngsters Alex Simmons, Kegan Everington, Aidan Grant and Elliot Hodge have also been given extensions...
'We are looking for a stronger spine and players who can deal with the physical side of the game a bit more,' said Moyses. 'We want to couple that with the fact we have got some really good footballers in the squad, like Alan Power, Nolan, Simmons and Robinson. There does need to be some muscle amongst that. I'm looking for a big centre forward, with a bit of experience. I think I've got a reasonable midfield and I might need to strengthen it. At the back I've got Nat Brown, but we'll need to add to that. There are full backs to look at, I want players who are going to be more resilient. I want to be harder to beat next season, but also have the capacity to play some good football.
We recognised some of the weaknesses in the squad a long time ago. We were actively looking and discussing options since we took over. That's no disrespect to the boys that have been here this season, but I want a slightly different type of man in the squad... We've just about got the pre-season schedule done... I want to get some attractive football and have players that can play two or three formations that can be changed during the course of a game. We've been trying to recruit for a number of weeks. We've got a few things in place, so we'll take a brief break and I will speak to them next Friday and we'll see what happens...
I'm trying to get all my shopping done in May. I cannot wait. I've got an allocation of money and I cannot hang on and wait for people to come. I have got to get out there and get the people I want and work with what I had. I know one or two of the players want to move on or wait'"
" From the Hull Daily Mail we learn that "North Ferriby United owners Steve and Eman Forster insist they remain committed to the club, despite admitting they have offered to hand over the club for free. Issuing a second statement... to reassure fans following a weekend of uncertainty... the Forsters say there has been no contact with the Football Association regarding voluntary relegation from the Conference North.
And in a new twist to the situation, they say the current board of directors were offered an opportunity to take over the ownership of the club for free, but declined. The statement read, 'We intend to remain at the club and meet our obligations to the club for as long as we own it. During our time with North Ferriby we have left the day to day running of the club to the directors. On April 2 we then offered 100 per cent of the shares in the club to the directors in the form of a gift, but they did not want to take up this offer.
As a result we are now exploring all options to enable the club to operate within its means. As reported over the weekend there are a number of issues being considered with no firm decisions having been taken on any, nor has there been any official communication with the FA on these matters'... Current chairman Les Hare and manager Billy Heath have so far been unavailable for comment."
---
27 April 2015
Match report here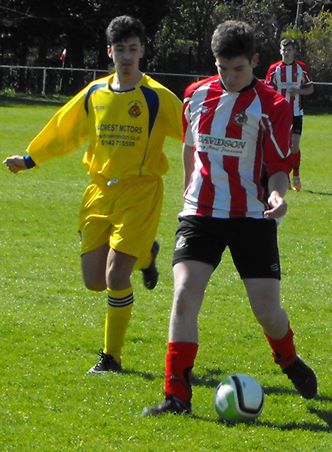 Right, Alty centre-back Will Foster, in action against Ashton Athletic.
Altrincham FC Youth kept the pressure on league leaders Chester FC with a 3-2 win against Ashton Athletic on Sunday. Alty fell 2-0 down after just seven minutes before securing a late victory.
There is a match report here.
Chester won 6-2 on Sunday so, With three games left, Alty are seven points behind Chester but have two games in hand. However, the final match of the season is Altrincham v Chester and this could prove to be the deciding encounter for the Premier League title.
The league table is here.
On Tuesday, Alty are at home to Warrington Town at Hale Country Club (6.30pm).
Ian Senior reports "There are no changes to playing kit planned for next season, except the HOME kit will feature white socks, as worn by Dave Parton at Braintree, and AWAY kit will have the reverse to those used this season, i.e, YELLOW with ROYAL BLUE trim".
Altrincham FC Ladies won 5-0 away at Vauxhall Ladies on Sunday. Next up is a home game against Egerton FC at Mersey Valley FC on Wednesday evening.
An amusing misprint appeared in Braintree Town's otherwise excellent match programme on Saturday. On the team sheet page, Altrincham's number five was named as Gianluca Heathcote!
The
Coventry Telegraph
confirms that "Nuneaton Town have announced that manager Liam Daish is to "step down" after Thursday's Birmingham Senior Cup Final. The 46-year-old former Sky Blues defender took over at Liberty Way from Brian Reid in September but couldn't steer Boro to Conference safety during a traumatic campaign on and off the field.
Daish saw his side lose 5-3 at Chester in the final league clash of the season, in which they have finished bottom with 36 points, and will take charge of the team for the last time at St Andrew's against his former club Birmingham City [in the Birmingham Senior Cup]...
Chairman Lee Thorn said, 'Liam has carried out his role professionally, he has worked extremely hard to bring in players and has developed a strong mentality throughout the club. After an open and honest meeting last week we unfortunately failed to agree terms. It was concluded that the BSC final at St Andrews on Thursday would be his last game'".
According to the BBC "North Ferriby United defender Nathan Peat claims the FA Trophy winners are facing voluntary relegation from the Conference North. Peat, one of several players to post messages on the subject on social media on Saturday, said the club could be demoted 'one, maybe two leagues'.
A club statement released later on Saturday did not address Peat's claim. North Ferriby are owned by Eman and Steve Forster, the daughter and son-in-law of Hull City owner Assem Allam. The pair have been in charge since late 2013 but announced the club was for sale on 16 April.
The news of their intention to sell came just over a fortnight after the small East Yorkshire club, who have an average attendance of around 365, beat Wrexham on penalties to win the FA Trophy in a thrilling encounter at Wembley. Among a series of social media postings, former Hull and York City player Peat alleged the owners had pulled 'every penny' from the club.
In response, the club said the owners would 'continue with the club until they can transfer to new owners', adding, '"Contrary to comments already made there is no money being pulled out of the club, in fact the opposite is the case, more money has to be put in by the Forsters to ensure the club's continued survival'.
The statement said the club's "commerciality and fan base have not matched" recent successes on the pitch, and claimed it was "'totally reliant on the continued injection of monies from Steve and Eman Forster'. Striker Ryan Kendall, who scored twice in the victory over Wrexham, had earlier said on Twitter that the players were now 'free to find new clubs'. 'A sad day for North Ferriby today. The best season of our lives just turned into the worst. Will miss everyone at the club,' Kendall said.
He added, 'Unfortunately for us as a club businessmen don't see the consequences of their actions, that's the way they work...ruthless. Villagers' midfielder Tom Denton added, 'Gutted about the news at Ferriby today really enjoyed my football this season.' Peat also claimed North Ferriby's players have been invited by the Allam family to parade the FA Trophy at the KC Stadium during Hull's game with Liverpool this Tuesday. Despite his obvious unhappiness, Peat said, 'Just to let everyone know!! Every player will be parading the trophy at half time on Tuesday! To show the biggest achievement in Hull.'
North Ferriby, who are managed by Billy Heath, narrowly missed out on promotion to the Conference National last year. They finished 10th in the Conference North this term, their season ending with Saturday's goalless draw at home to Bradford Park Avenue."
North Ferriby United provide a "Club Statement of Facts.
2011/12 Club in major financial problems...Money injected
2012/13 Club stabilised financially and with new signings promoted to Conf Nth
2013/14 Continued investment...Required ground improvements and NFU runners up in Con Nth
2014/15 Continued investment...FA Trophy winners
2015/16 NFU to move to a more sustainable future...Club for sale with all existing commitments being met".
NFU have also issued a statement by Steve and Eman Foster...
"The last 2 years have seen an injection of over a quarter of a million pounds into North Ferriby United. This has undoubtedly led to the recent success that all involved in the club have enjoyed and experienced. This injection has allowed the focus at the club to be on the quality of its football and resulted in North Ferriby United being 2nd last year, in the Conference North League, narrowly missing out on automatic promotion to the Conference Premier and of course winning the FA Trophy at Wembley this year. An absolutely magnificent time and these achievements will be part of the club's history for ever.
However, the commerciality and fan base have not matched the success nor have they matched the above mentioned funding. The club is totally reliant on the continued injection of monies from Steve and Eman Forster, even after the success at Wembley.
With this realisation, the club's only way forward for 2015/2016 is to trade within its own means and build on strong foundations going forward. The owners will endeavour to achieve this, in the hope that the recent success at Wembley and the high profile will encourage others to become involved with the club.
The Forster's have enjoyed their 2 years at North Ferriby United and will continue with the club until they can transfer to new owners. Contrary to comments already made there is no money being pulled out of the club, in fact the opposite is the case, more money has to be put in by the Forster's to ensure the club's continued survival."
Comment on the situation comes from the Hull Daily Mail. It says that "North Ferriby United's owners have told all of the club's players they are free to find new clubs... The players were informed their current deals will not be renewed when they expire.
The decision has been taken by the Forsters to allow the club to reduce its outgoings, which they are currently responsible for... The Mail understands at least one player at the club has been earning in excess of £700 per week, with many others on contracts which are also worth hundreds a week. Whilst these deals have resulted in unprecedented on-the-field success, gaining promotion to the Conference North and winning at Wembley, the owners no longer wish to plough in as much cash as they have been for the past two years.
Having decided to reduce their spending, the owners are allowing every player at the club to leave if they wish to. However, the Mail understands none of the players have been told they have no future at the club and they can play for the Villagers again next season if they want to accept vastly-reduced terms...
It is still unclear, though, whether the club will be seeking a voluntary relegation, as has been widely reported".
The LIverpool Echo says that "Tranmere will be visiting a host of non-league grounds for the first time, as well as entertaining rivals Chester, Wrexham and Southport... and a likely Christmas and New Year derby against Southport.
But the Prenton Park outfit will be making journeys across the country to play a host of teams for the very first time in the Vanarama Conference. The Superwhite Army will grace the likes of Braintree in Essex, Bromley in Greater London and quite possibly one of Conference North play-off teams Chorley, Guiseley or AFC Fylde.
Here is our brief guide to the famous - and not-so-famous - names that make up the top tier of non-league football... [It includes]:
Part-timers Altrincham were promoted from the Conference North in 2014 and have spent a number of seasons yo-yo-ing between the two divisions. Altrincham have a proud history of giant-killing in the FA Cup, holding the record of knocking out more League sides than any other non-league team. The Robins exceeded expectations to finish 17th this year.
Bromley - Fortress Stadium (capacity 5,000). Bromley secured promotion after winning the Conference South title. The Ravens will play in the national division for the first time. The Fortress Stadium is shared with Cray Wanderers - the oldest football club in London and the joint second oldest in the world."
According to the Daily Post "Carl Darlington admits to an uncertain time ahead over the coming weeks as the wait for a new Wrexham manager continues. The Dragons had been given permission to speak to Gateshead boss Gary Mills last Tuesday, but the saga took a major twist on Friday as the Heed chief revealed a Football League club, believed to be Tranmere Rovers, who ironically were relegated to the Conference on Saturday, had sought permission to approach Mills...
There is an air of uncertainty surrounding the Racecourse at present with only a handful of the current squad under contract for next season, with the majority becoming free agents now the campaign has ended. There is also a sense of the unknown for the coaching staff at the club, and whether any new manager who is appointed will bring in his own backroom. Darlington, along with fellow coaches Michael Oakes, Lee Jones, and with help from Andy Davies and Joey Jones, had been tasked solely with leading the team while the club was hunting for a new boss...
'I haven't got a clue and the players don't understand either what is going to happen in the summer,' said Darlington... 'From the staff's point of view we are all uncertain about our jobs and our futures and the same for the players as well, so it is not a great situation to be in... We have actually finished joint ninth on points, and when I came in we were 17th in the table. We are joint ninth now, so it shows you how much we have leaped on...
Since Valentine's Day, the players have been playing Tuesday, Saturday, Tuesday, Saturday. For Manny (Smith) that will be his 61st game of the season, I can't speak highly enough of the players'...
He added, 'I used to go and watch Wrexham play when I was a boy with my dad on the Kop... I always wanted to be a player, I should have brought myself on today to get my dream, but I always wanted to lead the team out and look after the team, and I have got that opportunity over the last eight games, and taking the team out and it has been great. It has been an absolute privilege for me to look after Wrexham for eight games and I want to stay on, I am a fan, I am a pro licence holder, I have shown that we can win games and be organised and be structured and I want the opportunity to help the club and, if I get the opportunity, I am sure we will go to higher things'".
Meanwhile, Gateshead say that their manager "Gary Mills remained non-committal over his future at Gateshead following last night's 2-0 defeat at Barnet... The 53-year-old held talks with fellow Conference side Wrexham on Wednesday, and revealed on Friday that a second club had approached him for his services..
Speaking immediately after the game, he said, 'At this moment in time, I think I know what I'm doing, but now isn't the time to say it. I've done my job today, and now I have to go back and get things right for myself. If I am in charge next season, then we have to be stronger and better. If I am not in charge, then somebody else will hope to achieve more'".
Also discussing their management are Aldershot Town who say that "With the season now complete, the Board of Directors are pleased to confirm that there will be an announcement at 12.30pm tomorrow [Monday] to introduce the football management team who will lead The Shots next season".
---
26 April 2015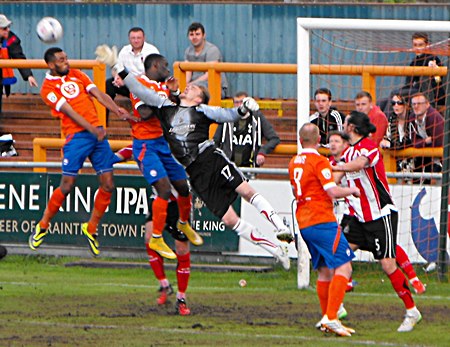 Altrincham's season ended with a fourth succcessive defeat after another lacklustre display and especially poor defending.
Mulley headed The Iron ahead in the 36th minute from a Sparkes freekick. Somewhat unexpectedly Alty levelled four minutes later as Lawrie scored past a wrong-footed goalkeeper.
Two early second-half goals settled the outcome. Cox got them both in a four-minute spell (51 and 55 mins). The first came from a bad error by Havern, who missed a long ball and Cox half-volleyed home. Braintree's third was an unchallenged header by Cox from Sparkes's cross from the left.
Alty grabbed a potential lifetime when substitute Perry scored a fine goal with a low, drilled shot from wide left in the 78th minute. But when Mensah outsprinted Marshall the game was over at 4-2 (82 mins).
Match report here
PIcture, right, Dave Parton punches clear but he suffered a minor nose injury in the process.
Saturday 25 April - all are 5.15pm kick-offs
AFC Telford Utd 1-2 Wrexham
Barnet 2-0 Gateshead
Braintree Town 4-2 Altrincham
Bristol Rovers 7-0 Alfreton Town
Chester FC 5-3 Nuneaton Town
Dartford 0-0 Lincoln City
Eastleigh 2-1 Kidderminster Harriers
Forest Green Rovers 0-0 Dover Athletic
Grimsby Town 3-1 Aldershot Town
Torquay United 1-1 Macclesfield Town
Welling United 0-1 Southport
Woking 3-2 FC Halifax Town
---
25 April 2015
You can follow Saturday's fixture via this website's minute by minute text updates by clicking on the icon below. Alternatively Radio Robins' coverage of the game is outlined below as well.
Brian Flynn advises that "Radio Robins, sponsored by Ashley Mowers Garden Machinery, will be broadcasting live coverage full live commentary of Saturday's game. The match commentary sponsor is Go Goodwins Coaches. The commentary team is Mike Reeves and Ian Wilkinson; the match summariser is Brian Flynn.
Coverage starts at 5.10pm and you can listen to Radio Robins on the internet at www.radiorobins.com.
Steve Foster of TASC has announced the first group of beers which will be available during the Altrincham FC Beer Festival (at-4th May) at the J. Davidson Stadium.
Tatton Brewery – White Queen 4.2% - Sponsored by Sally Cooper. White Queen is a Belgian white Wheat beer and is spiced with coriander, Curacao orange peel, and cardamom. It's a naturally cloudy wheat beer, a whiter shade of pale.
Brewsmith - Brewsmith Bitter - 3.9% - Sponsored by Barry and Carol Pond. A pale session bitter. Moderate bitterness, pronounced floral/citrus hop aromas.
Thwaites Brewery – TBC (Thwaites Best Cask) – 3.8% = Sponsored by GR Photography.
Amber Ale. A lovely fresh hop aroma with a balanced hop/malt flavour throughout.
Timothy Taylor – Landlord – Pale Ale 4.3% - Sponsored by The Old Roebuck. Refreshingly reliable, nationally renowned, this full drinking Pale Ale with a complex and hoppy aroma has real "Pulling Power"
Thwaites Brewery – Original Cask – 3.6% - Sponsored by SK Kits. A clean dry tasting and refreshing session bitter with a glowing amber appearance. Brewed using premium grade Maris Otter malt and a blend of traditional English Hops, including Goldings and Fuggles, to give a malty flavoured beer with a delicate dry finish.
Bank Top Brewery – Old Slapper – Premium Ale 4.2% - Sponsored by AFC Ladies. Note of grapefruit with pale cereal malts in the aroma and flavour. Good hop presence with a dry bitter aftertaste".
Steve Foster, vice-chairman of TASC says that "TASC are delighted to announce that the Race Night 2015 was a great success. The total amount raised from the event comes, in total, to £1818.50.
We would like to thank all the people who supported events, whether by buying horses, sponsoring races, or attending the event. Not only was the night a success profit wise, but everyone seemed to have a great night at the event too!
I would like to pass on my thanks to Brian Flynn, George Heslop, Karen Rowley, Peter Foster, Simon Ainsley, Mike Ford, Judy Henson, Dan Jones, the bar staff, and Ange and Kev Lawley for all their help in organising and running the event".
The
Braintree & Witham Times
reports that "Mark Sansom won't be throwing his hat in the ring to be Braintree Town's new manager.
The club's former Reserve team boss and current Academy manager has ruled himself out of the running to succeed Alan Devonshire in charge of the Iron, despite taking charge of the first-team in a caretaker capacity for their final two games of the season.
Sansom is also a member of the club's Board, in a sales and marketing role, as well as having his Academy duties and, even though he was honoured to be asked to be caretaker, he said he didn't wish to jeopardise those positions by becoming manager on a permanent basis.
He said, 'It's a hell of a story for me and really has been from the Rec to the Racecourse. I've gone from coaching kids on the local Rec to managing Braintree Town as caretaker in the Conference at Wrexham and that's amazing but I won't be applying for the job as I've got too much to lose here. Don't get me wrong, I love this club to the core.
I started working here at 13 years of age, opening and closing the boardroom door when the directors went in and out and I love it. It has been a great honour to have been given the chance to lead the first team for these final two games but I couldn't risk losing the club if I got the job permanently and it went wrong. From my point of view, I will support the next man who comes in as much as I supported Devs [Alan Devonshire]'".
Coincidentally, the Iron's last opponents are also without a permanent manager as the Daily Post reports that "Wrexham's search for a new manager took a twist today as Gary Mills revealed interest from a Football League club had given him some 'tough decisions' [to make].
Gateshead boss Mills appears the favourite for the job at the Racecourse, Wrexham being given permission to speak to Mills on Tuesday by the Heed. However, the North East club arranged a press conference today, where Mills revealed a second approach, this time from a Football League club, with speculation suggesting it may be Tranmere Rovers.
A spokesperson at Prenton Park refused to comment on Friday, insisting the club at present were simply focusing on their fight to avoid relegation to the Conference. Mills also didn't rule out staying on Tyneside, describing himself as 'very happy' and will remain in charge for Saturday's clash at Barnet, before taking 'a few days' to make any decision.
'I always try to be as honest as I can and you appreciate you can't always say everything until it's right and proper to say it,' said Mills. 'What I will say is that there's another (Football) League club come in in the last 24 hours who want to speak to me, the chairman's given them permission to do that, so there's another spanner in the works.
At this stage I'm deciding whether or not I'm going to talk to them. So it's a bit of a hectic and busy period for me, mentally. We've got one game to go and then things, hopefully, will settle down a bit. I've got to make some decisions. This is possibly the toughest (decision) I've had to make because I love the area, the people. I'm happy up here, it's a great place to live.
I came here to get Gateshead out of this league. We got close last season and, although things haven't gone as swimmingly as we'd like this season, I still think there's a strength been built here, we've built a respect within the league. People know what Gateshead are about now, and the way they play the game. We've achieved a lot in two years.
I was building on that, a lot of people want to get involved with Gateshead now; sponsors, and people want to come and watch us. We had 1200 last week without anything really to play for. When I first came we were getting 500, 600. All these things are important to me, and of course to the football club. So, yeah, it's a big decision. We were talking about next season, about players and decisions we'd have to make.
Then out of the blue there's a spanner in the works and is it me who'll take the club on now? That's down to me now, and I'll be fair and honest with everybody, and make a decision at the right time. But, to repeat, Saturday's game has got to be done in the right way because I want to get a result at Barnet'...
He added, 'Whichever decision I make, whether people believe it or not, it's a tough one. Wrexham are, traditionally, a big football club. But I've worked hard here for two years to build something, to give Gateshead strength and move the club forward, and that was still on my agenda for next season until this stirred things up a bit.
You just never know in this game, who wants you, who doesn't, whether you're still going to be in work. I've experienced all of those, and it's a situation now that's got to be done in the right way and I will make my decision for the right reasons. So that's where we are. Hand on heart, at this moment in time I honestly haven't got a "Yes" or a "No" either way because it's a big decision for me.
Like anyone, it's always nice to be wanted. Wrexham have been out of the (Football) League for eight years, like York (City) were before I took them back. So perhaps they see me as someone who can hopefully and eventually get them out (of the Conference), which is lovely for me. But I have to decide whether that's right for me and my family'...
Mills says he and Gateshead owe it to Bristol Rovers to give it 100% at the Hive on Saturday... 'I want to finish this season with a result down at Barnet. We're on the television, so my team [needs?] to go and put on a show, to show their passion and desire and ability.. We've got to show our professionalism. We owe that to Bristol Rovers...
There's still a chance I'll stay. I'm happy here. It's come out of the blue... If didn't do my job because I've been unsettled, it's not fair on anybody. But anybody who knows me knows I'll be putting a side out tomorrow to go and get a result at Barnet'".
Bulls'News tells us that "Former Kidderminster Director John Davies has written an open letter, published on his company website, to the club's shareholders.
Davies, who quit the Board last week, says the club has relied on former Directors Ernie and Kath Lane to support it for the last three years. In the 2012/13 season, Davies says the club could only afford a playing budget of £300,000 to £350,000 but spent double that after the Lanes agreed to underwrite a shortfall.
When Jamille Matt was sold for £240,000 the money was effectively written off from the sum the Lanes were due to put in, leaving the club no better off having already spent the cash. The Lanes also agreed to fund a £300,000 loss for the 13/14 season, eventually handing over £100,000 after an FA Cup run and the sale of Joe Lolley lessened losses.
That figure only came after the pair quit the board, and threatened to call in the Fraud Squad to the club over claims of sums of up to £400,000 being missing from the club. Davies says every penny was accounted for and eventually the Lanes further agreed to cover a six figure sum for the 14/15 season.
Davies, whose firm sponsors the club's shirts, says he has already paid money to continue his sponsorship two weeks ago".
The open letter is here and includes the following...
"Having had time to read and digest the story in last week's Shuttle which is very derogatory towards me and the role I undertook as Director at Kidderminster Harriers I feel the need to respond with the facts that have actually led to the club being in the position it is in.
Anyone who read the article would assume I have no experience or ability to run a business however, for the last thirty years I have successfully run Hire It, employing twenty local staff through two recessions. I took this experience to the Harriers and with directors Ken Rae and Gino Ruffinato helped the club through a period where we inherited a number of large financial commitments brought about by sacking of two previous managers. We all worked diligently, within our means and were assisted by the generous contributions of supporters, KHIST and Ernie and Kath Lane.
The club is actually in a much better financial position than it was in nine months ago but the situation where players and staff were not paid was a huge embarrassment.
I feel that Ken, Gino and myself have been made to look responsible for problems at KHFC and would like to share the events with you so you can make your own minds up and perhaps avoid such situations in the future".
He adds that "Matters within the Club worsened when Steve Burr was approached and interviewed by Forest Green Rovers for their vacant manager's job... It was agreed Steve Burr would stay on as the manager of KHFC, although it was subsequently unanimously agreed by the directors at a board meeting that he should leave. Mark Serrell provided details of Andy Thorn who he proposed be appointed as the new manager, this decision was unanimously agreed by all of those present, including Kath and Ernie Lane. As is subsequently well recorded Andy Thorn's tenure was terminated, together with his assistant. The Club therefore had to enter into financial settlements not only with Steve Burr but also with Andy Thorn and his assistant".
He concludes, "Whilst we'd all like to have people giving over money and bank rolling our football clubs, you can see the instability it can cause. We, the directors budgeted on the promises made by the Lanes, promises made in front of fans at a fans forum and directly to the playing staff. When the money didn't materialise we had no way of paying the staff. The reason why the players were calling for a meeting with the Lanes is because the people who told them they would pay their wages, were in fact withholding the money. This is probably why the Lanes didn't turn up to the meeting and ultimately why I resigned".
The Football Conference reports that "Chris Hargreaves, manager of Torquay United, has informed Elliot Benyon and Dale Tonge that there will be no new deal on the table this summer.
The experienced duo have now played their last game for the Gulls, as the boss continues the restructuring of his squad following confirmation that Duane Ofori-Acheampong has also departed. Benyon first moved to the Launa Windows Stadium in the summer of 2007...
Prolific form in front of goal earned him a big-money move to Swindon and he later signed for Southend before moving back to TQ1 on loan, and then signing a new permanent deal two years ago.
Dale Tonge also joined in the summer of 2013 and was a regular at right-back for much of last season, but the current campaign has been blighted by injury for the former Rotherham and Barnsley defender".
---
24 April 2015
Of the four first-teamers who missed last Saturday's defeat by AFC Telford United, two remain sidelined by injury, (defender and captain Shaun Densmore and goalkeeper Stuart Coburn), but the two suspended players (midfielders Peter Cavanagh and Jake Moult) both return to the squad after completing their bans. Jake (right), was last week named the Players' Player of the Season.
Altrincham's last away game is on Saturday 25 April, 5.15pm at Braintree Town. TASC is running a 49-seater supporters' coach and this may be booked by visiting the TASC table in the Community Sports Hall or by ringing the club during weekday office hours.
Those who have already indicated their interest to Mark Eckersall will be on the list already so need not sign up again.
Timings and fares are here.
Altrincham's game at
Braintree Town
is one of The Iron's "Category B" matches and, prices are as such,
Standing: Adults £16, OAPs £11, U16 £6, U11 £4.
Seating Adults: Adults £17 Concessions £12
The
Essex Chronicle
reports that "Braintree Town chairman Lee Harding is excited about the candidates lining up to replace Alan Devonshire... Since it was announced last Friday that Devonshire would not be returning as the Iron boss, after rejecting a new contract amid interest from a Football League club, one at Conference Premier level and one below, more than 70 applications have flooded into the Essex club.
Harding has been impressed by many of the applicants and expects to have a shortlist of six drawn up this weekend before interviews take place in the ensuing days. Appointing a female manager would certainly place the Iron among the most forward-thinking clubs around, with Stirling University boss Shelley Kerr the first, and currently only, woman to manage a senior men's team in the semi-professional and professional levels of British football.
'We've been inundated with applications. We've had some very good ones and some prank ones,' said Harding. 'But we've had two international managers apply and one of the best female managers apply, so that's of interest. She's a young lady with an excellent CV with all her badges, not just a UEFA B badge, but the A one as well. She's a very well coached young lady. We've had some very good applications from all over the world, ones from Uruguay, Brazil, the United States and Europe'.
He added, 'We'll complete the process, probably on Saturday, of drawing up a shortlist. We've probably got four of the six lined up to speak to from Saturday or Sunday onwards. Hopefully we can then move quickly and get someone in to start planning for next season'.
Devonshire told the Chronicle that he wanted to wait until the season had finished before giving his side of events. Harding was disappointed to see the former West Ham man depart... 'We did everything we could to encourage him to stay. We matched the deal we offered him last season. Last season his playing budget was increased because of player sales, which of course we're not going to have for next season', he said...
'As with any club, it's not just about one man. We like to think it's easier for a manager to build on solid foundations. At Braintree we're not the most high profile or biggest spending club, but we like to think we've got our feet on the ground. There's other clubs out there chasing dreams, spending money they don't always have. That's not our way. We always make sure everything's as it should be. That gives a bit of stability and Alan was part of our success story.
But there's other parts to it as well. We've got a good groundswell of volunteers, some excellent players, a hardworking board and some very good coaches. Alan will be missed, but we've had good managers before that have been replaced and presumably there will be ones to follow'".
The Football Conference says that "It is unable, due to circumstances outside of its control, to confirm the full play-off semi-final schedule at the moment.
Having prepared the schedule twelve months ago the competition has been asked in the past few days, by Avon & Somerset Police, to take into account Bristol City's final fixture of the season and its planned open-top bus tour to celebrate success in the Sky Bet League One and the Johnstone's Paint Football League Trophy.
BT Sport also asked to reschedule one of the second leg ties to Bank Holiday Monday but, since the game scheduled to be moved involves Grimsby Town FC, Humberside Police has raised concerns regarding this proposal, as it will not have sufficient resources to cover all other events in the area, which include a Premier League fixture at Hull City and Beverley Races"
Later we learnt that "The Football Conference is pleased to announce, following further discussion, which included respective police authorities and our television broadcast partner, we are able to confirm the agreed dates and respective kick-offs for the Vanarama Conference play-off semi-finals. All matches will be screened LIVE by BT Sport... Avon & Somerset Police has agreed to a slight amended change in kick off time should Bristol Rovers finish 2nd after the final regular season matches played this Saturday.
This amended kick-off time will remain even if Barnet finish second. Each home club is responsible for their own match arrangements including ticketing.
Confirmed play-off details:
Wednesday 29th April – Fifth-placed club v Second-placed Club (7.45pm KO)
Thursday 30th April – Fourth-placed club v Third-placed club (7.45pm KO)
Sunday 3rd May – Second-placed club v Fifth-placed club (12.45pm KO)
Sunday 3rd May – Third-placed club v Fourth-placed club (3.30pm KO)
Surprising news about Welling United's former manager comes fom the Football Conference. It says that "Ebbsfleet United have announced that manager Jamie Day has been issued notice to terminate his contract. His assistants Barry Ashby and Dean Frost have also had their contracts with the club terminated with immediate effect. A further comment will be made in due course regarding the future football management structure at the club."
The Conference adds that "Academy manager Daryl McMahon and chief scout Steve Gritt will take charge of the team for the final home match against Bishop's Stortford on Saturday".
According to NL Pitchero "Jared Hodgkiss is contracted to Kidderminster Harriers next season after triggering an appearance-based contract extension. The versatile and experienced defender was a 2014 summer signing for Harriers.
Stafford-born, Hodgkiss began his career with Wolves and West Bromwich Albion, featuring under Tony Mowbray in the Championship for the Baggies. A switch to Aggborough moved him back closer to home after a number of successful seasons with Forest Green Rovers in the Conference...'Yaz,' as he is known in the dressing room... was the club's big winner at the end of season awards as he was named player of the season by manager Gary Whild and was also the fans' and his team-mates' choice."
---
23 April 2015
Altrincham FC is again running its Patrons' Club. Chairman Grahame Rowley writes:
"It doesn't seem a few weeks since I wrote this letter last season, but what a first season we have had in the Vanarama Conference. We're now asking for people to join the 2015-16 Patrons' Scheme.
For the bargain sum of £50, your name will appear throughout the season 2015-16 in the matchday programme for every home game and on the club's official website as a Patron of the Football Club.
In August, every Patron will be entered into a prize draw with the winner being match sponsor for an appointed game along with 9 guests. Second prize will be hospitality for 5 people and third prize hospitality for 3 people in the Sponsor Lounge; the value of the 1st prize is £550.
If you are interested in becoming a Patron again this season or joining for the first time please forward a cheque payable to "Altrincham FC" for £50 for the attention of Grahame Rowley.
If you require further information, please speak to me on 07720-606897 or e-mail me.
We need your support even more for the forthcoming season, as we look to 'push on' in the Conference National, so please help the club through the close season by joining up today.
Thank you.
In the Cheshire Senior Cup Final on Tuesday,
Macclesfield Town
"beat Northwich [Victoria] 3-2 win the trophy. A superb late strike at the Weaver stadium from Danny Rowe ensured the Silkmen got their hands on some silverware this season despite a heroic comeback attempt from Northwich Victoria who trailed 2-0 in the opening half an hour..
With Macclesfield holding the record of being victorious in the Cheshire cup twenty times compared to Northwich Victoria's nineteen it was always going to be a fiery affair with the Evo-Stik Division North side eager to equal the Silkmen's record...
With manager John Askey in the stands taking a back seat for the evening, stand-in manager, his assistant, Efe Sodje will have been pleased with the creativity the side were displaying. Sodje had handed starts to some of the younger players of the squad with the likes of Jack Disney, Jack Hunter and Dan Cowan all named in the Silkmens starting eleven. Waide Fairhurst looked like he was going to score every time he got the ball to his feet".
The
BBC
confirms that "Conference strugglers Welling United have appointed Loui Fazakerley as their new manager on a permanent basis. The 30-year-old defender had been in caretaker charge of the Wings since 3 March, when Jody Brown was sacked.
'The board have been impressed by Loui and his team since they have taken charge', Welling general manager Barry Hobbins told the club website. 'They have displayed plenty of passion and qualities that we look for in our club, and we wish him every success.'
Fazakerley has won three of his 10 games in charge of Welling, who are currently 20th in the table and above the relegation zone on goal difference. The former Eastbourne Borough player will remain in charge at Park View Road even if the Kent side are relegated this weekend. 'I would like to thank the board for putting their faith in us and giving us the opportunity to manage the club on a full-time basis next season,' Fazakerley said.
'I say us because I wouldn't be able to do this job without both head coach Matt McEntegart and first-team coach Paul Barnes. All three of our skill sets compliment each other and we all bring something different to the table. I truly believe the three of us can create something special here.'
Heading into the final round of league games on Saturday, Welling must equal or better Alfreton's result to stay up. The Wings host Southport, immediately above them in the table, while Afreton go to second-placed Bristol Rovers, who are chasing automatic promotion".
And Bristol Rovers "will be looking to eclipse the current Conference record for attendance in a regular season fixture. The current record is held in the Boxing Day fixture between Oxford United and Woking back in 2006 and stands at 11,065. With today's news that Rovers have sold out of their allocation the club eagerly anticipate final figures coming in from Alfreton Town so we can calculate the anticipated attendance.
Bristol Rovers would like to take a moment to thank you Gasheads for your fantastic support throughout the season both on the road and at the Memorial Stadium and we hope to see as many of you as possible come 5:15pm Saturday."
According to the Football Conference, "Striker Duane Ofori-Acheampong has left Torquay United at the end of his one-year contract. The young striker scored six goals from sixteen starts and fourteen substitute appearances.
Manager Chris Hargreaves explained, 'The decision is mutual because, although I am not offering him a new contract, Duane also wants to get closer to his family in London after a very difficult year for him. He's gone through the mill', added Hargreaves. 'He's a fantastic lad'".
The Leader Live claims that "The prospect of Gary Mills being Wrexham's new manager was the main topic of conversation from Reds' fans last night at Aldershot. While the Reds were picking up an away point at The Recreation Ground, Mills spoke for the first time about reports linking him with a move to The Racecourse and admits he won't be fazed by the expectation levels at Wrexham if he is appointed manager.
Gateshead boss Mills has been given permission by his club to speak to Wrexham over the vacancy and will hold talks with the Board in the next 24 hours. And although he is still employed by Gateshead, Mills, who led York City to promotion via the Conference play-offs in 2012, admits it would be a privilege to be in charge of Wrexham.
'Wrexham want to speak to me. They have shown an interest in me and we will have talks,' said Mills. 'It is a massive club and it is a great privilege that they want to interview me to possibly be the new manager of Wrexham. But at this time I am still Gateshead manager and I have had some great times here. I am not going to be disrespectful and start shouting about the situation'
It is a tough Conference division with ex-League clubs but, whoever is manager, will have to go and do that[?] and if it is me, that is the aim'...
As Wrexham caretaker manager Carl Darlington [was] away in his job as Technical Programmes Manager for the Welsh Football Trust, backroom staff Michael Oakes and Lee Jones were in charge for last night's 1-1 draw [at Aldershot]. Wrexham's penultimate game of the season ended in a stalemate but at least it means Wrexham continued their improvement since Wilkin's dismissal, with the Reds only losing once in the last seven games". "
More comes from the BBC to the effect that "Wrexham coach Lee Jones criticised the players after their 1-1 draw against Aldershot on Tuesday.... 'If I was a new manager looking at that I would say probably [only] one or two I would look to keep,' he said. 'I think whoever the new manager may be, he'll... probably want to bring in new players as well because, over the past couple of seasons, this current group have shown that they are not good enough.
We're a middle table team when we should be play-offs minimum'... They were beaten in the final of the FA Trophy by Humberside village side North Ferriby United on penalties... 'I don't think the FA Trophy was any big success even if we had have won it this year,' said Jones. 'It's been a really really disappointing season.'"
At Dover Athletic, "The club are pleased to announce that we have extended Tom Murphy's contract until the end of the 2015/16 season. There was an option in Tom's contract enabling us to sign him for the next campaign and this has been taken up."
---
22 April 2015
"Here are manager Lee Sinnott's post-Telford thoughts, in an interview with joint press and media officer John Edwards.
'The supporters can see, in our last three performances, we have been below-par, but there are understandable reasons for that. You don't want it to happen but, sometimes maybe, it is part of the price you pay for all you have put into previous games.
You have goals for the season, and all credit to the players when they are attained. But the downside is this (the performance against Telford), and it is frustrating to watch. They are a good, honest bunch of lads, but the game was flat, and that is not what we are about.
The first 20 minutes is key to any game. It starts your engine running, and, if you are off and running and sharp, you can build from that. But if you are playing catch-up after 20 minutes, it's hard.
You have to say neither keeper had a great deal to do. We scored a goal and hit both posts with a free-kick in a spell late on where they didn't have a single opportunity, but we still ended up losing 2-1, which was disappointing.
You have to look at the picture in its entirety, though. I don't like to say it, really, but you have to be honest and ask, would we have accepted the position we are in, going in to the last game of the season? Yes, of course we would.
What would our thoughts have been about having a productive season but three out of four games near the end might be a bit disappointing? I think everyone would have gone for that.
So, though there is a general feeling of disappointment at how our final home game of the season has gone, the players have been magnificent.
It is a small squad, and there are only so many times you can go to the well. But, to be honest, it could be a 25-man squad, and there's nothing to say this wouldn't still have happened.
It's that time of year for performances like this. You don't get them at the beginning of the season. There may be a bit of rustiness and players not up to speed in the opening weeks of a campaign, but that's different.
These performances you see at the end of every season in every division. I thought we showed glimpses at times, but really that just mirrors the previous two games.
If we had 25 players, it would be 25 players who knew we were safe and perhaps subconsciously allowed that to affect them. You can always tell that is happening from the tempo, and the tempo was always lacking against Telford.
We did not move either ourselves or the ball as we can. When that's the case, you are easier to play against. There are no killer balls being played. There is a lack of momentum, whereas the better performances we've had this season have come when we've played on the front foot.
To be fair, it was another really good goal (by Nicky Clee [right]) to add to the collection. We haven't been bobbling them in or knocking them over the line off someone's backside, have we? Mind you, that might not be a bad idea every now and then. We could probably do with adding a few scruffy goals to our repertoire, because are we going to score wonder strikes all the time?
You can never guarantee the outcome in any game, but I like to sit there and be entertained, and if we had moved the ball round a bit quicker, I can't help feeling it might have made a difference.
We do create opportunities, and have attempts at goal, but the percentage of them on target needs to improve. That has been a criticism of us and is something we need to address.
I sent Joel Swift [left] on because I wanted to have a look at him, and there's s no doubt he did well. What he did was inject energy into the game in the last 15-20 minutes, and, to be fair, that was probably our best spell.
We started to exert a bit more pressure, and Joel was very much to the fore. We wanted to have a look at him and see how he handled a first- team appearance, and he was enthusiastic and lively.
We are on 56 points, but I feel we could have had more, though I dare say everyone in the division will be saying that. We are the epitome of a part-time team operating in the company of full-time ex-League clubs, and I have to say the players have been first-class in the way they have taken on the challenge. Now, as the summer break approaches, we will have a look at things and have a think about the direction we will go in for next season.
I don't like to lose. It makes you miserable. I said to the players at half-time:, 'Come on, it looks like you are playing with a bit of a burden on your shoulders. You've not been relegated. You have survived on your own merits, go and express yourselves.'
That was the message, but sometimes that impetus you need can be a bit elusive. I have been in the game long enough to recognise that, once it is in their minds that they are safe, it is human nature to respond to no longer having a fear factor stalking you.
Fear can work both ways. For as long as it is there, perched on your shoulder, telling you points are still needed, it drives you on. But once you look round and see it has gone, what do you do? You try to keep going, of course, but it is human nature that you let out a sigh of relief. That's when flatness creeps into your game.
But if that's the price you have to pay for safeguarding our Conference status early, I'm sure we would have accepted that at the start of the season. And I say that through gritted teeth, because I don't like standing on the touchline and not enjoying what I'm seeing from my team.
But then I go in the dressing room at the end, have a look around and think to myself, 'They are not doing it deliberately – they are probably goosed.'
They have been running on vapours, to a degree, because it is a small squad, and suddenly it's "Phew, we've done it." It's not just one or two, either. There were probably nine or so who looked jaded at Torquay, and it wasn't much different here today. Now we have to go again one more time and do our utmost to make it 59 points at Braintree next Saturday. There are a few walking wounded we need to monitor as the week unfolds, but at least Peter Cavanagh and Jake Moult are available again after suspension'".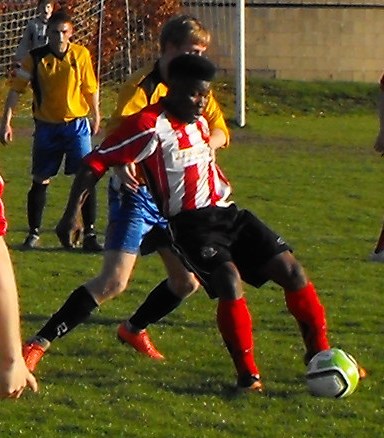 With four more matches to play, Altrincham FC Youth moved to within four points of leaders Chester with a game in hand with a 2-0 win on Tuesday night. Their opponents, Prescot Cables, fielded only ten men but worked hard to restrict Altrincham to a 2-0 win.
Match report here
Right: Boris Melingui fights for possession against Prescot Cables.
ALtrincham FC reserves lost 3-2 at Witton Albion on Tuesday evening.
Tuesday 21 April
Aldershot Town 1 Wrexham 1
The
BBC
confirms that "Wrexham have had an official approach accepted to speak to Gateshead manager Gary Mills about becoming their new boss. The Dragons sacked Kevin Wilkin in March 2015.
Mills, 53, led York City to the FA Trophy and promotion to the Football League in 2012 and took over the Tynesiders in September 2013".
The Football Conference reports that "With the climax to the Vanarama Conference season this coming Saturday (25th April), BT Sport has confirmed [its] final regular season presentation will come LIVE from The Hive, where Barnet will be seeking the win required against visitors Gateshead to lift the championship trophy.
With just one match to go the Bees lead at the top has been reduced over recent weeks to just one point so it certainly is a winner take all afternoon. Additional coverage will come from the Memorial Stadium the home of Bristol Rovers who will be seeking a victory and the three points required against Alfreton Town, which will allow them to become champions if Barnet fail to win.
The Reds, however, will be fighting for their own survival because they know they can only escape the trap door to relegation by turning over the form book.
It could not be closer, so make sure you tune in via BT Sport2 and due to so much at stake the programme will start at 4.30pm. All matches in the Vanarama Conference kick off at 5.15pm, and BT Sport will keep everyone up to date with goals and reports from all the other matches, especially those involving Eastleigh, Forest Green Rovers and Macclesfield Town who will be striving to make the play-off semi-finals along with Grimsby Town who are already assured of a play-off berth.
So Saturday is certainly set to be a great finish to a VANTASTIC VANARAMA season."
The
EvoStik League
says that "England C manager Paul Fairclough handed out the accolades at the EVO-STIK Northern Premier League's 2015 Players of the Year Awards on Sunday night.
The Three Lions Non-League manager... was the guest of honour... at the four-star Brooklands Holiday Inn near Barnsley. The biggest winner on the night was undoubtedly forward Robbie Dale at Blyth Spartans. He was named in one of the three divisional 'teams of the year', collected the coveted NPL Facebook Group Pitchero sponsored Fans' Player of the Year Award and also took home the event's top accolade after being unveiled as the top flight's 2014-15 Player of the Year...
The annual awards are unique in the top levels of Non-League football with the focus purely on recognising the league's star players with the winners being chosen by the league's managers and coaches.
EVO-STIK Players of the Year 2015 Roll of honour, [all of the following played for Altrincham or were trialists].
First Division North
Left Back - Cavell Coo, Salford City
Centre Back - Christopher Lynch, Salford City
Midfield - Scott Metcalfe, Warrington Town
Midfield - Sam Madeley, Salford City
Premier Division
Liam Brownhill, FC United of Manchester
Trafford
reproduce
an article from their matchday programme, Written by Graham Heathcote for Tuesday's game versus Blyth Spartans.
"I knew after Stamford game I would be going.
Well these are my final notes for Trafford FC and I wish to start by thanking everyone involved in the club for their help and warmth they have given to myself and Chris [Adams].
When we took over this job it was an honour and I firmly believed we would be here for a few seasons and hopefully enjoy some success, alas the problems I have encountered with players have dampened my enthusiasm for the job, obviously no one can lose as many players as we did so quickly and I can honestly say I only let two players go, the rest asked to leave some without even meeting me but that was their choice and if they had found better clubs than Trafford they have done well but if they are not playing regularly they have achieved nothing.
I thank the players that have come in and have done their best but it is hard to gel so many so quickly and the results have not come which has made it extremely difficult for everyone concerned and from my point of view is has not been enjoyable and that is the bottom line for me.
I knew what I was going to do the day I was sent to the stands against Stamford, I was going to always be in trouble with the officials at this level and I have not been able to be myself and I didn't want that so my managerial career is over I will still enjoy watching my son Sam play and will help Trafford FC is I can as I have done in the past, I wish the club and everyone involved in it much success and look forward to the battle to gain promotion again. 45 years in football mostly enjoyable never dull it just never took off here, good luck next season"
---
21 April 2015
The following article by Grahame Rowley appeared in Saturday's
Robins' Review
...
"What a fantastic first season it has been back in the Vanarama Conference. There've not been too many seasons, whilst I've been on the Board, that we haven't been involved in promotion/relegation issues come the start of April. So, it's nice to be in our present position, where safety is secured and we look to finish the season on a high with a maximum of 62 points to look towards.
However, as well as our on field activities there have been many things going on off field that have put a great strain on the personnel who work day in day out to ensure that the Football Club flourishes and these strains are beginning to produce cracks. These cracks will only widen if we don't take remedial action now.
There's too much expected from too few volunteers and it will come to a point when those volunteers will have had enough and call it a day - and then the club will be in trouble - so let's do something about this before it reaches crisis point.
We, as a club, need more people to step forward and strengthen the infrastructure of the club, be that as an occasional volunteer-helping the club, to joining the Board and helping run it.
The success of the season does have its down side and it's one which shows up the frailties of a club like ours, which is mainly run on volunteers.
When things are going well everyone believes that there's no need to step forward and offer help because 'everything's fine'; that's not the case and, if we are to progress this club, then we need more people to step up to the plate and offer some help, be it half an hour to paint a railing to taking on board a bigger project around the stadium.
The Community Sports Hall is a classic example itself. When it was in the planning stage everyone was very supportive of the venture. When it neared completion everyone rallied around to pay for the AV system within the Hall but now it's open and fully functional everyone's forgotten that we still owe up to £50k on the build cost and this money has to be found/raised as quickly as possible to ensure that it doesn't impinge on other club activities. Perhaps there are supporters out there who might like to organise a fundraiser on behalf of the CSH. I have noted that Andrew Brennan is running the Manchester marathon later this month, a commendable effort and many thanks for all at AFC. He already has over £1,000 of sponsorship.
As the saying goes, ideas are cheap, it's the implementation of them that takes the time and effort. I can name 20 ways we could raise more finance for our Football Club but I haven't got the time to implement them - have you?
Let's not just sit back and enjoy the good times, let's try and move this football club forward. With your help I'm certain that we can achieve continued success, without it there's only one way we're going.
If anyone would like to discuss matters further please feel free to give me a call on 07720-606897
Thank you for reading this article.
Grahame Rowley, Chairman".
Alty TV has highlights of the Altrincham v AFC Telford United match on Saturday,
here
.
Phil Taylor reports that "for the second time this season the Ladies lost to Crewe by way of a stoppage time goal. Georgia Plant had given us the lead after 19 minutes and we were the better side. Crewe equalised after 86 minutes and scored the winner in the 93rd minute. The Altrincham players were excellent. I will be preparing a report in the near future" which will appear on the website.
According to the
Times Series
, "Barnet's title decider at home to Gateshead on Saturday (5.15pm kick-off) has been chosen for live television coverage by BT Sport. The clash at The Hive will be shown live on BT Sport, with cameras also in place at the Memorial Ground, where second-placed Bristol Rovers take on Alfreton Town.
A win for Martin Allen's Bees will be enough to take Barnet back into the Football League after two seasons away. Equalling Bristol Rovers' result against relegation-threatened Alfreton is the minimum requirement for Barnet."
The Essex Chronicle says that Alty's next opponents, "Braintree Town, fell to a 3-0 defeat at Wrexham in their first match of the post Alan Devonshire era... Academy boss Mark Sansom took charge and it was a baptism of fire as Wrexham made it 11 Vanarama Conference Premier games unbeaten at the Racecourse Ground, though the scoreline was harsh on the Iron, who had the better chances in the first half.
Louis Moult scored twice in the second half to put the home side in the driving seat before Andy Bishop added some gloss with a third in time added on. The Iron made two changes from the team that won 2-0 at Southport on Tuesday night, Carl Pentney returned between the sticks for his second start of the season, while Sean Marks replaced Jordan Cox up front... Hudson went off with an ankle injury and Marks carried on before he was replaced by Cox five minutes before the break, after picking up another injury.
In between the substitutions Chez Isaac hit a fantastic shot on 34 minutes that was destined for the top corner before home keeper Andrew Coughlin managed to tip the effort over the bar... Early in the second half Braintree were forced into a second substitution when Matt Paine picked up another head injury, Simeon Akinola coming on... The Iron were more than holding their own but on 62 minutes the hosts went ahead as Pentney spilled a close range effort and Moult reacted quickest to fire home from six yards.
Isaac was the next to go down with an injury, and was replaced by James Mulley on 65 minutes... Braintree Town: Pentney, Brundle, Habergham, Isaac (Mulley 67), Paine (Akinola 53), Massey, Davis, Marks (Cox, 40) Sparkes, Mensash, Clerima. Unused subs: Hamann, Maybanks."
From Kent Online we learn that "Winger Tom Murphy completed a hat-trick for Dover Athletic after being the third player to agree to stay at Crabble in three days. Murphy, who has scored 11 times in Vanarama Conference this season, has had his contract extended until to the end of next season. The club announced at Saturday's awards night that defender Sean Raggett and midfielder Ricky Modeste had also both agreed to new deals".
In the Nuneaton News, we read that "Liam Daish was left full of regret on Saturday as his Boro side ended their home campaign with a 1-1 draw with play-off chasing Woking. Daish, who has been at the club since September, was left frustrated after the result as he admitted a different set of circumstances when he walked into the club could have meant a different end to the 2014/15 season...
The former Republic of Ireland man said, 'Do I think things would have been different if I had been at this club sooner? Yes, I think they would have been. I have said it before but I think, maybe, this division was too big for the club this season. For us to stay in it we needed a lot of things to go for us. We needed the right players in at the right time, we needed help with injuries, we needed to keep the three points and we needed to have things go our way at certain stages.
But, I think we needed to start off well and the club did not do that. I am confident things may have been different, but that is all too late now'.
Daish believes that a lack of quality when he first came to the club played a large part in the relegation they eventually succumbed to this season. He said, 'More than half of our budget was taken up by players that were not good enough at the time. I am talking about dross basically. Players that were not here for the right reasons or were just not right for the club. We had to work against that and also a few problems with the first lot of loans we got in. If you look at how things have been since then, with some of the loan players we have brought in, it has been a lot better.
It has also kickstarted much better performances from those who were already at the club'. Daish refused to confirm or deny whether he would be at the club next season or not, admitting things had to be right for him to stay. He said, 'I want to be at a club that wants to succeed. I want to be successful'".
Reports of another unhappy manager are in the Halifax Courier where "Neil Aspin admitted changes will be made at FC Halifax Town after they were beaten 2-0 by Torquay in their final home game of the season. The Town boss described his side as 'not good enough' over the last few weeks as their play-off hopes fell away and said there will be personnel changes in the summer.
He said, 'I'm not really looking at the 90 minutes, I'm looking at the bigger picture. In the second half of the season, and especially in the last few weeks, we've not been good enough... and we've got to make a lot of changes. I need to make changes. That's been more than evident over the last few weeks. The players have had a good chance to show they want to stay here and it's clear that we're a long way off where we need to be. It's got to be addressed, it's as simple as that."
Asked whether he could take any positives from the game, Aspin said, 'Not really no. We're not scoring goals and we're conceding goals and if you've got that combination you're not going to win matches. We're fortunate in some respects that we had a good start and got a lot of points early on. That's helped us to finish in a reasonable position but I'm not kidding myself because if the season was finishing now then we'd get relegated. The performances have been poor and the only good thing it's not pulled the wool over my eyes and I've got a chance to address that.
It's going to be a busy time but that's what I'll have to do as manager'. The Town boss admitted the end to the season had left a sour taste in the mouth, and said the state of the Shay pitch had been a contributing factor in his side's recent slump,,, 'The pitch, you can say it's the same for both sides, but our players are having to play on it every week, twice a week sometimes. We've certainly struggled since the rugby game destroyed the pitch. Whether we would have struggled with a nice pitch or not I don't know. Maybe it's just a coincidence. But I'm not going to make excuses because we haven't been good enough'".
And a dissatisfied coach talked to the Lincolnshire Echo. "David Preece has said a change of players next season will mean no repeats of the sort of performance that saw Lincoln City falter against Eastleigh. The Imps were beaten 2-1 as they played out their final home game of the Conference Premier campaign in lacklustre style.
It was galling for the 2,000 Imps fans present and did not make pretty viewing for those who had tuned in to see the game live on BT Sport on Saturday. Goalkeeping coach Preece accepts the display was not good enough, but insisted the management team are determined to eradicate such performances next season.
'We are looking to next season. And I can speak for the coaching staff when I say we will not have performances like the one against Eastleigh on a regular occasion, things we will be much different,' said Preece. 'There will be different personnel and there will be a change of mindset to make sure this doesn't happen again. Players will only be brought in if they can improve the team. It is not just ability, it is down to character and we have to make sure that runs like what we have been on doesn't happen.
It is black and white. If we can get players to improve the squad then we bring them in and swap them for the ones who are here. If there are players here that are still good enough, or can improve, we'll keep them'.
Lincoln City chairman Bob Dorrian confirmed to the Echo recently that the playing budget is unlikely to change for next season. It means the Imps will be still working with a restricted amount of cash, something Preece acknowledges will make recruitment a challenge. 'The club is still an attractive proposition for players,' said Preece. 'We might not have the financial clout of the likes of Eastleigh, or Forest Green Rovers. However, the facilities are great here. The manager has a clear idea of what he wants to do and the way he wants to do things. If that's to happen the right players have to come in. I think they only have to chat to the manager for two minutes to convince them to come here'"
---
20 April 2015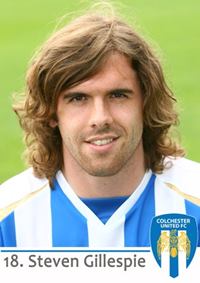 Barry Pikesley wrote an entertaining review of the 2014-15 season for the Robins' Review which was issued on Saturday. The article is reproduced
here
and includes the accompanying photo of striker Steven Gillespie as you have never seen him before (left).
Michael Ripley has images from the Altrincham v AFC Telford game
here
.
In the
Daily Post
"Michael Oakes described Wrexham's first half showing in the win over Braintree Town as being a 'bit like a testimonial', such was the lack of urgency from both sides, and was relieved to see the Dragons put in a much better shift after the break to seal the win.
After a decent opening five minutes, in which Connor Jennings glanced a header off the bar, Wrexham struggled to find any fluidity and went in at the break to the sound of boos from the home fans. But after what Oakes, who was in the caretaker manager role due to the absences of Carl Darlington and Lee Jones, stated as a 'little shake' up at half time, Wrexham came out stronger and two goals from Louis Moult and a late header from Andy Bishop ensured the win.
'I'm happy with the result. We were better in the second half, we started okay but generally we were poor in the first half so that was disappointing,' said Oakes, who is the goalkeeper coach at the Racecourse... 'It was a little bit testimonial-like in the first half, which is disappointing because we still feel we have got something to play for. We are looking for three wins this week, that has done the first part of it'...
Oakes was in charge alongside Centre of Excellence chief Andy Davies with Darlington away as part of his FAW role with the Wales under-16s, and Jones taking part in a coaching course. The win is Wrexham's third since the sacking of manager Kevin Wilkin three weeks ago, and sees them claim 11 points from a possible 18, Tuesday's loss at Park View Road to Welling United the only defeat in the last six outings. Ruling himself out of taking over from Wilkin on a permanent basis, Oakes joked, 'I've got a 100% record, so my own odds might come down a little, but I have definitely ruled myself out of the running... We are looking for three wins this week to finish as high up the league as we possibly can.'...
Oakes had a word of praise for both Moult and Bishop. He also revealed Blaine Hudson may be struggling to play in Tuesday's match at Aldershot, the centre-half leaving the ground with his right leg in an air boot as a precaution after being forced off after the half-hour mark".
Should Wrexham beat Aldershot it will ensure that Altrincham cannot be overtaken by the Hampshire side on the final day of the season.
For those wishing to see Alty's next opponents, Wrexham have highlights of their game against Braintree Town.
There has to be something seriously wrong with football when many Premiership players receive millions of pounds a year, but the
Daily Mail
reports that "The England C team is facing the axe after 36 years as part of Greg Dyke's spending review at the Football Association. FA chairman Dyke must find £30 million to fund his masterplan to reform grassroots football with more 3G pitches in urban coaching hubs, and has identified the non-League national team as an area of potential saving.
England C, which has operated under different names since it was formed in 1979, is managed by former Barnet boss Paul Fairclough, who selects from players outside the Football League, aged 23 and under. The team normally plays only three or four times a season, but some friendly fixtures have attracted attention inside the organisation because of the elaborate travel involved... Fairclough's team also compete in the International Challenge Trophy, a competition for European semi-pro national teams...
Those capped at this level include George Boyd of Burnley, Craig Mackail-Smith of Brighton and Steve Morison of Leeds, who all went on to play at full international level, although not for England. Boyd and Mackail-Smith won caps for Scotland and Morison for Wales".
With Hartlepool United, Cheltenham Town and Tranmere Rovers seeking to escape the drop to the Conference next season,
BBC
reports that "Tranmere Rovers have parted company with manager Micky Adams by mutual consent following Saturday's home defeat by Oxford United. The 53-year-old left with the club bottom of League Two and in danger of losing their Football League status. Adams's number two Alan Rogers and academy boss Shaun Garnett have been put in charge for the final two games of the season.
Rovers are one point behind Cheltenham and two adrift of Hartlepool United. Two of those three teams will be relegated, with Tranmere having the superior goal difference should that be the deciding factor. They face play-off contenders in their final two matches, travelling to Plymouth next Saturday before a home game against Bury a week later."
And, finally, a reminder that next season's Conference football, a.k.a. the National League, will kick off on Saturday, August 8th, 2015.
---
19 April 2015
Altrincham's disappointing end to an otherwise successful campaign continued with this lacklustre showing against relegated AFC Telford United.
Match report here.
Courtesy of Mike Ripley, we see (below), images from Saturday's TASC Awards Event in the Community Sports Hall. (Click on each to enlarge).
Top row: James Lawrie, Young Player of the Season receives his award from Dave Johnson; Adam Griffin, scorer of Goal of the Season (v Eastleigh), with Neil Tolson.
Middle: Jake Moult, Players' Player of the Season, with Lee Sinnott; Madeline Warburton receives the Clubman of the Year Award dedicated to her late husband, Peter Warburton, from the Earley family who sponsor the award in memory of the late Tom Earley.
Bottom row: Tom Marshall, Supporters' Player of the Season; Damian Reeves, runner-up Supporters' Player of the Season.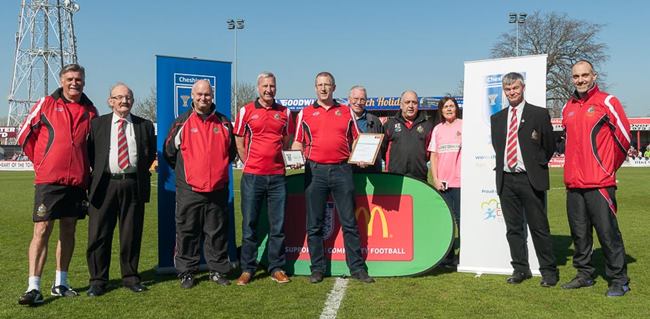 Above, courtesy of Mike Ripley, we see the half-time presentation of the award to Altrincham FC Juniors of the FA Charter Standard Community Club status. Thanks go to all those who helped to bring this about. Pictured, with Cheshire County FA officials, are representatives of the Juniors, youth and community set-ups at the J. Davidson Stadium.
At Saturday's Race Night, Grahame Rowley, chairman of Altrincham FC, announced that the Club had secured a lease for the next 80 years with the local Council for the J. Davidson Stadium at Moss Lane.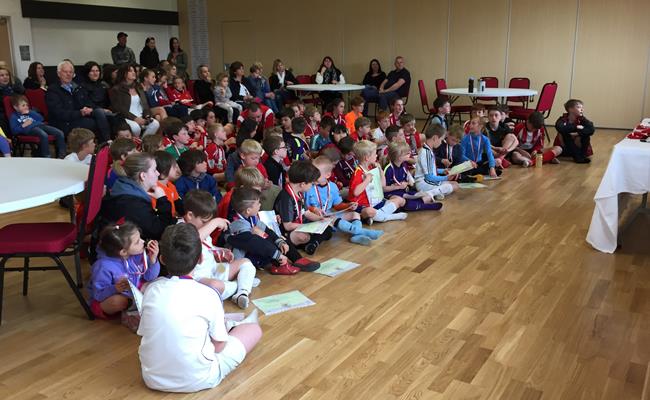 Above, courtesy of Karen Rowley, we see the large numbers who attended the Easter Fun Week at Altrincham FC last week. Karen adds that "We have had over 100 children during the course of the week with the busiest day being Wednesday, when we had 69 attending! We did a specialised goal keeping day on Wednesday, which was really enjoyed by everyone. We even enjoyed a visit from Stuart Coburn!
Our next course is in May and will be held at Altrincham Grammar School for boys. We hope to see you then!"
Duncan Watmore netted twice in the week as Sunderland under 21s won at Fulham.
The NL Paper reporter gave Saturday's Alty v AFC Telford United match just two stars out of five for entertainment. After the game, Lee Sinnott told the NLP, "We were a bit flat today and I'm disappointed in the result, as well as the past two games against Torquay and Gateshead. But, in truth, if you'd have told me we'd be safe with four games of the season left then we'd have snatched your hand off. So, I can't be too harsh on the lads.
Like Telford, we're a Tuesday/Thursday night job, and the first 12 games were a bit of a steep learning curve for us, with eight defeats. But the players have been magnificent for us this season".
The Shropshire Star reports that "Tony Gray's 20th goal of the season helped AFC Telford United to a club-record third straight Conference Premier win at Altrincham today. The Bucks' top scorer opened the scoring with a predatory finish late in the first half.
Adam Farrell then doubled their lead eight minutes into the second half with a cool finish from close range. Nicky Clee set up a tense finale with a fine volleyed finish eight minutes from the end of normal time...
Halifax loanee Ross Dyer came in for Wolves loanee Bradley Reid up front in an otherwise unchanged side. The first half was a poor spectacle with neither goalkeeper being greatly extended. Both sides failed to hit the target with ambitious strikes from long range, with Scott Leather and Nicky Clee shooting over for the hosts and Dyer doing the same for Telford early on. Clee then went closest for Altrincham with a fine curling strike from 20 yards out which James Montgomery did well to tip over the bar on the half hour mark.
But Gray put the Bucks ahead with a poacher's finish from inside the box on 39 minutes. He received the ball 12 yards from goal, worked the ball onto his left foot and slotted past David Parton in cool fashion.
Things got even better for the Bucks on 53 minutes when Farrell slotted home his side's second, having been left in acres of space on the far side of the box. Sam Smith appeared to scuff his shot from the edge of the area but it fell perfectly for Farrell who finished in style.
The Bucks looked on course for a routine victory at this stage but Jordan Sinnott gave them a major scare 15 minutes from time. His excellent 25-yard free-kick crashed back off the post with James Montgomery beaten for pace...
The Bucks survived a convincing penalty appeal in second half stoppage time after defender John Disney appeared to upend substitute Ryan Crowther in the box. The home fans were convinced they should have been awarded a spot kick but referee Steve Rushton ruled no foul, and Telford managed to see out the remaining minutes".
The Shropshire Star adds that "manager Steve Kittrick praised his side after they lifted themselves off the foot of the Conference Premier table. Telford's 2-1 win at Altrincham saw the already-relegated Bucks jump up to third from bottom in the table.
And he said, 'In this last month of the season a lot of teams and a lot of players are (already) on "on holiday". But we have spoken for the last two or three games about not being on holiday yet, being positive and professional about what we do. The biggest aim was to get off the bottom of the table which we have done now. Altrincham are a good side and Lee Sinnott has done a tremendous job there. We knew it would be tough for the first 20 minutes but we just stuck at it and frustrated them, and then we got an opportunity and scored the first goal'...
I have just given him [Gray] a different role that he is happy playing. Sometimes, it can be frustrating because he is not as defensive-minded as an attacking midfield player should be. People say he is a striker but he's playing in a front three and he has to do the ugly side of the game, as well. But he'll always get you a goal and I have given the freedom to do what he wants to do as long as he picks up the deep-lying midfield player. And when we get the ball he needs to be positive and that is what he has done. I have had some belief in him and he has had some belief in himself'"
The BBC adds that "Steve Kittrick talking to BBC Radio Shropshire, 'With some players you have to get inside their heads and make them believe they can win. You have some players who have learnt whilst I've been here and they are developing'".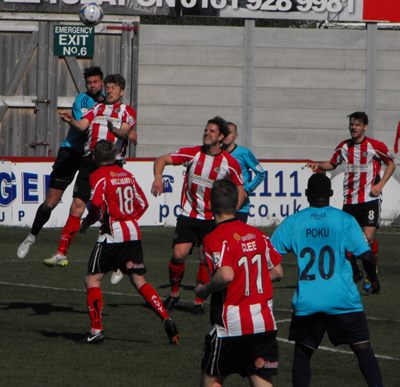 Right: James Lawrie contests an aerial ball against AFC Telford United..
Aldershot 0 - 1 Chester (att. 1953)
Alfreton T. 2 - 2 Welling U. (1593)
Altrincham 1 - 2 AFC Telford U. (1265)
Dover A. 1 - 1 Bristol Rovers (2351)
FC Halifax T. 0 - 2 Torquay (1175)
Gateshead 2 - 4 Forest Green R. (1203)
Kidderminster H. 1 - 1 Barnet (2540)
Lincoln City 1 - 2 Eastleigh (att. 2132)
Macclesfield T. 2 - 0 Dartford (1756)
Nuneaton T. 1 - 1 Woking (709)
Southport 2 - 2 Grimsby T. (1968)
Wrexham 3 - 0 Braintree T. (2766)
Saturday 25 April - all are 5.15pm kick-offs
AFC Telford Utd v Wrexham
Barnet v Gateshead
Braintree Town v Altrincham
Bristol Rovers v Alfreton Town
Chester FC v Nuneaton Town
Dartford v Lincoln City
Eastleigh v Kidderminster Harriers
Forest Green Rovers v Dover Athletic
Grimsby Town v Aldershot Town
Torquay United v Macclesfield Town
Welling United v Southport
Woking v FC Halifax Town
The BBC reports on Alty's next opponents when it says that "Wrexham extended their unbeaten run at the Racecourse Ground to 11 matches with a 3-0 victory against Braintree. Louis Moult took his tally for the season to 22 goals with a second-half double... Wrexham have been conducting interviews this week for their vacant managerial post".
The Daily Post adds that "In what has been a season of disappointments, Wrexham ended the campaign at home on a high with a convincing 3-0 win... A mid-half lull that saw Braintree gain a foothold in the game, Chez Isaac seeing a long range effort tipped over the top by Andy Coughlin, while Jordan Cox didn't make the most of Anthony Stephens's error, and Dan Sparkes had a shot just wide of the mark.
But Wrexham improved after the break and two goals from Moult put them in command... Bishop sealed the win with the third, heading home Jay Harris's cross".
Alty will have at least one new club to play next season as the Football Conference reports that Kent side "Bromley clinched the Vanarama Conference South championship with a home win against Weston-super-Mare on Saturday. A crowd of 2,938 saw a Bromley take a 28th minute lead... Nine minutes later it was 2-0 with Prestedge this time turning provider, setting up Moses Ademola, who finished first time...
Victory, and the title, was confirmed on the hour-mark when, after Purnell had saved from Ademola, Goldberg slipped the loose ball to [ex-Grays Athletic] Jamie Slabber who volleyed home. Whitehawk [near Brighton] completed the play-off line-up, joining Boreham Wood, Basingstoke Town and Havant & Waterlooville after a 3-1 win against Hemel Hempstead Town".
Meanwhile, "The Vanarama Conference North title race will go all the way to the last game of the season after wins for both leaders Barrow AFC and second-placed AFC Fylde on Saturday. Barrow ended Tamworth`s play-off hopes with a comfortable 4-1 win at the Furness Building Society Stadium. In front of a terrific crowd of 2,758, the home side hit the Lambs with two great strikes, first from Danny Livesey after 10 minutes and then by [ex-Alty] Pat Lacey 3 minutes later.
Ten minutes into the second half Jason Walker added a third from the penalty spot and, after Kevin Thornton had reduced the arrears, also from the spot, on 67 minutes, Andy Cook made it 4-1 with 11 minutes remaining.
Fylde produced a fantastic come-back victory over Harrogate Town at the CNG Stadium. [Ex-Alty] James Walshaw scored a 17th minute free-kick for the home side but a two goals in first half stoppage time gave the Coasters a 2-1 lead, thanks to goals from Danny Rowe and Danny Lloyd. Rowe then completed his hat-trick 6 minutes into the second half from the penalty spot with his second and a terrific strike for this third to give Fylde a 4-1 lead that Town never threatened to reduce.
The three other play-off places were all confirmed today. Boston United booked their top five place with a 4-1 win at the Autotech Stadium against Solihull Moors... Guiseley AFC and Chorley are fourth and fifth respectively after they met at Nethermoor with the hosts running out 2-1 winners... Only a point separates the three, so final placings will be decided on the final day, although Guiseley have an extra game against North Ferriby United on Tuesday. Oxford City have fallen just short in the end, despite a 2-1 win at the Northolme against Gainsborough Trinity.
North Ferriby ended their four-game losing sequence with a 2-2 draw that saw Leamington relegated. That was due to wins for Stalybridge Celtic and Brackley Town which left Paul Holleran's side five points from safety and means the Brakes' two-season stint in the Conference North has come to an end. Stalybridge grabbed a last-gasp win at Keys Park against Hednesford Town... It looked bleak for Celtic, until 7 minutes from the end when Aidan Chippendale grabbed the equaliser and then in injury-time, Chris Simm popped up with a crucial winner.
It was not quite as dramatic at Ewen Fields where already-relegated Hyde FC took on Brackley... David Moyo scored what proved to be Brackley`s winner 7 minutes before half-time. Neither are yet out of danger, however, although Colwyn Bay`s disappointing 1-0 defeat at the Red Lions Foods Stadium against Lowestoft Town leaves them currently occupying the final relegation spot, two points behind Stalybridge and Brackley, although Celtic have a game in hand against Bradford Park Avenue on Tuesday...
Gloucester City recorded a final home win of the season against Stockport County."
On Tuesday, 21 April, it will be the Cheshire Senior Cup Final at Nantwich Town between Northwich Victoria and Macclesfield Town (7.45pm). Alty fans looking for local midweek action may prefer Trafford v Blyth Spartans.
---
18 April 2015
Following the defeat by AFC Telford United, The Altrincham Supporters' Club (TASC) held the annual awards event in the Community Sports Hall.
Vice-chairman of TASC, Steve Foster announced the winners of the supporters' awards. They were:
Young Player of the Season: James Lawrie.
Goal of the Season, 1st: Adam Griffin versus Eastleigh
Goal of the Season, 2nd: James Lawrie v Macclesfield Town
Goal of the Season, 3rd: Nicky Clee v Chester FC
Alty captain Shaun Densmore announced...
Players' Player of the Season: Jake Moult
Brian Flynn, chairman of TASC, introduced manager Lee Sinnott who had selected as Tom Earley Clubman of the Year
The late Peter Warburton. This award was accepted by his widow, Madeline.
Below: Madeline Warburton receives the Tom Earley award from Lee Sinnott.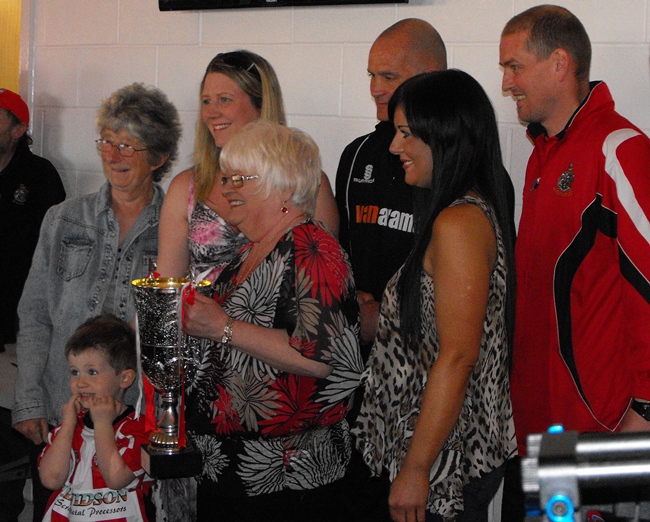 Brian now announced the...
Supporters' Player of the Season, 1st: Tom Marshall
Supporters' Player of the Season, runners-up: Damian Reeves and Stuart Coburn
You can follow Saturday's fixture via this website's minute by minute text updates by clicking on the icon below. Alternatively Radio Robins' coverage of the game is outlined below as well.
Brian Flynn advises that "Radio Robins, sponsored by Ashley Mowers Garden Machinery, will be broadcasting live coverage of the game with AFC Telford United.
The match commentary sponsor is John Green Professional Editing Services. For all your editing and proofreading needs. Anything from novels, to essays, to football programmes. Contact John by e-mail. The commentators are Paul Salt and Brian Flynn with match summaries from John Edwards.
Coverage starts at 2.55pm with the game kicking off at 3.00pm. You can listen to Radio Robins on the internet at www.radiorobins.com."
Brian Flynn, chairman of TASC, writes "The 'End of Season Awards' will take place on Saturday, during the half-time interval (6.20pm) of the Chelsea v Manchester United game that is being shown in the Community Sports Hall. The Race Night will start following the conclusion of the screened game at 7.30pm.
Altrincham FC press release:
"It was always going to be a special day for Altrincham supporters, with the last home game of the season on Saturday followed by a race night and awards ceremony, but it has just got a bit more special.
A 3pm kick-off against AFC Telford marks the final phase of an eventful and successful J.Davidson Stadium programme in the Vanarama Conference, and there is so much more to come in the Community Sports Hall afterwards. Weeks of debate and argument over who should be Player of the Year and who scored the best goal will finally end when the gongs are handed out, while TASC's ever-popular race night always adds to the sense of celebration.
This season, there will be even more cause for celebrating, after a far-reaching breakthrough behind the scenes that is very much in keeping with the progress made on the pitch by manager Lee Sinnott and his players.
All will be revealed midway through the race card, when chairman Grahame Rowley takes the microphone and explains in detail how perseverance paid off and produced another significant item of good news. Be there to find out the latest development in a campaign that has been one of the most positive for years".
Altrincham FC supporter, Dan Martell, informs us that "In advance of this weekend's Greater Manchester Marathon, in which a number of Altrincham Fans are running, the half-time bucket collection at tomorrow's game will be in aid of Cardiac Risk in the Young and Altrincham Community Sports.
Last month Ben Smith from Sale, aged only 27, tragically passed away whilst running the Wilmslow Half-Marathon. In his honour Ben's family would like to raise awareness and raise funds for 'Cardiac Risk in the Young' so that some good may come of this unexpected loss. There is a Just Giving page for this deserving cause".
Altrincham Juniors FC has achieved The FA Charter Standard Community Club status. This is the next level up from Charter Standard and has come about following great work by Stuart Buchan, the Club Community Officer.
Chairman Grahame Rowley adds that "Representatives of the Cheshire County FA will present this award on the pitch at half time in the Altrincham v AFC Telford United match at the J. Davidson Stadium.
For Altrincham FC there will representatives of Altrincham FC Juniors, Altrincham FC Youth (George Heslop), Altrincham Ladies (Keith Edleston), Altrincham FC (Grahame Rowley) and the Altrincham Community Sports Hall (Pete Foster, Chris Bullock, Karen Rowley).
Paul Kelsall and Tom Fairhurst are attending from Cheshire FA, and hopefully will be joined by Simon Gerrard".
Supporters who sponsored individual players during 2014-15 season may collect the signed shirt(s) in question from Karen Rowley in the Community Sports Hall after Saturday's match at the J. Davidson Stadium. Alternatively, they can be collected today (Friday) during normal office hours. The Club thanks everyone who took part in the scheme.
As reported here yesterday,
Braintree Town
report that they "will be looking for a new manager for next season. On Saturday the Board offered Alan Devonshire an extension to his current employment on the same terms and, to assist with our preparations for next season, we asked for an answer by Thursday evening. Last night (Thursday) Alan declined our offer and the Club will now be seeking applications for the post".
The Club adds that "Chairman Lee Harding said, 'We had a lengthy chat with Alan on Saturday and advised him that we would like him to remain with us for a fifth year. Alan advised that he had been approached by third parties for next season and was not prepared to sign as he felt that he wanted to speak with them. We agreed to give him until Thursday evening to consider our offer but he was still not prepared to sign. The Board have therefore decided to ask Mark Sansom to act in a caretaker role for Saturday's trip to Wrexham and at home to Altrincham a week on Saturday.
On behalf of all of us, I'd like to thank Alan for his efforts over the four seasons he was with us, more so this season when a number of injuries have made the job difficult. But now the Board look forward to a new era and new challenges. We continue to make progress with our discussions on relocation... We have made real progress in recent weeks and hope to be in a position to make an announcement on our future in June.
As a club we like to think we have our feet on the ground. We've always said that we have ambition tempered with reality and want to play our football at the highest sustainable level. Our current stadium meets the entry requirements for the Football League, but a small fortune would need to be spent on further improvements, so we believe relocation to a purpose- built stadium is the best way forward. Over the coming weeks we will be looking for a new manager that can work with the Board to build a team on the pitch to compete and help prepare us for the challenges that lie ahead'.
The local Green 'Un comments that this "brings to an end an association that has brought great success to the over-achieving Essex club over the last four years. Devonshire has worked wonders to keep Braintree, considered to be one of the minnows of the Conference, in the top flight of non-league, against all odds", while the Braintree and Witham Times adds that "chairman Lee Harding has said that he would like to have a new manager in place for the first-team's post-season get-together, soon after their final game of the season...
The chairman said there was a process that they would have to follow, but added that he hoped an appointment could be made either in time for the final game of the season against Altrincham on April 25 [or] in the days just after that. He said, 'I have to be honest and say that up until last night we were hoping that we could do a deal with Alan. However, we could not offer him enough. That's the basic situation and now we look elsewhere. The process of advertising has started and we've had 18 applications this morning [Friday] since news came out about Alan leaving. You obviously get one or two crank ones, but we have to go through the process of looking at them all now...
"I expect... there'll be a lot of interested people watching our remaining games. We have the two fixtures left and then the traditional evening when we all get together for the end of the season the week after and I have to say, it would be handy to have the new manager in place for that so he could speak with one or two people then'...
Meanwhile, Harding added that assistant boss Keith Rowland had also left the club along with Devonshire. The chairman said, 'We said to Keith would he be interested in taking charge for the two games that are remaining and he turned that down. It's my understanding that he didn't want to be involved'".
Meanwhile, "Mark Sansom says it will be a proud moment for him when he leads his boyhood team out as Braintree Town manager at Wrexham tomorrow. The Braintree Town Academy and former reserve team boss will be taking the reins... Sansom said... 'It will certainly be a proud moment for me to get to manage my boyhood club and my home town club... It's about finishing what Devs started and doing a good job for him. It's not about my ego. It's about making sure I get the best out of the lads for the two games and seeing if we can get to the 12th position in the league that Devs wanted to get.
I have spoken to most of the players and they seem to be up for the challenge so hopefully it can be enjoyable within difficult circumstances. I think it will be a motivational role rather than a tactical one for me tomorrow. I won't be trying to reinvent the wheel in these two games. Alan's contract doesn't run out until the end of May and even though he's not there in body I'll make sure he's there in spirit to help achieve what he wanted'...
Chairman Lee Harding said he had faith that Sansom, who has been working as a sales and marketing director on the club's board this year as well as in his role as Academy maanger, would do a good job. Harding said, 'It is a big step, but I have spoken to Mark and he has done ever so well this year in taking up the challenge of the sales and marketing position at the club. He is doing well in that role and Mark is a classic example of someone who has volunteered at the club and has enormous bags of enthusiasm for it. He was so excited to be the reserve team manager and then Academy manager and he's done a great job in those roles.
And I have every confidence that he'll do a great job in organising the team at the Racecourse ground at Wrexham tomorrow and possibly against Altrincham the following week. He is very much a Braintree man and he'll look after the team well. I know it's a big step from managing in front of a hundred people in the Thurlow Nunn League to three or four thousand at Wrexham but he'll do a good job'...
Sansom said 'I've been in the dug-out with Alan at places like Luton, but what it will be like sitting there tomorrow and standing in front of the boys in the dressing room I don't know. I know it will be a challenge for me, but it's about learning from it. I'm sure there are people out there who would like to see me fail as well as ones who want to see me succeed, but I won't be putting any pressure on myself'".
Should Braintree appoint a new manager before Alty play The Iron, it will be the fourth time this season that a new manager's first game will have been against us this season!
News of a former Conference opponent of Altrincham is to be found in the Daily Mail which tells us that "Newport County striker Chris Zebroski has been sentenced to four years in prison after admitting four charges of robbery, attempted robbery and assault. The 28-year-old, who has also played for Bristol Rovers, Torquay United and Millwall, among others, has been jailed for attacks relating to two incidents.
Swindon Crown Court heard he crashed his BMW into a taxi in December and attacked another taxi driver who filmed him, smashing his mobile phone. The 28-year-old admitted four charges of robbery, attempted robbery and assault. He then chased the first taxi driver and punched him at least 10 times, saying 'Give me your phone'. When arrested, Zebroski said he was 'A bit over the limit' and that he had gone too far, though he said he did not intend to rob them...
The court also heard that, while he was on bail for these offences, he assaulted and attempted to rob two men after leaving a party in Swindon in February. The player was said to have previous convictions for assault and alcohol-related incidents. Rob Ross, defending, said Zebroski had a problem with alcohol, and recorder Ian Lawrie said, 'Whatever talent you had as a footballer has been squandered because of alcohol abuse. It is a matter of regret if this sentence shatters your professional football career.'"
---
17 April 2015
Braintree Town
report that they "will be looking for a new manager for next season. On Saturday the Board offered Alan Devonshire an extension to his current employment on the same terms and, to assist with our preparations for next season, we asked for an answer by Thursday evening. Last night (Thursday) Alan declined our offer and the Club will now be seeking applications for the post".
More on this in tonight's update...
Congratulations go to Altrincham FC Reserves, who have been promoted to Division One of the Hallmark Security Cheshire Football League following the midweek defeat of Irlam Town by Wythenshawe Town. That result prevents Irlam from overtaking Altrincham.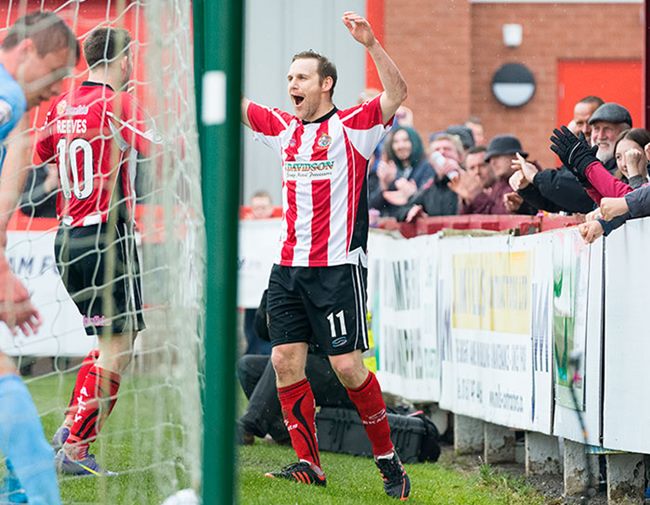 Nicky Clee's next appearance for Altrincham will be his 250th for the Club; to date he has made 215 starts and 34 appearances for Altrincham from the bench. Coincidentally, he also has scored 34 goals for the Club. Nicky becomes the third man in the current squad to reach 250 games, (after Stuart Coburn and Shaun Densmore), with Damian Reeves nearest to emulating him with 237 games to date.
31 year-old Nicky joined Altrincham from Hyde United on 17 July 2009. It was a former Alty boss, Gerry Quinn, who took Nicky from Ossett Albion, whom he had joined in 2002-03 from local football, to join Ashton United in the 2003-04 season. The following summer he moved to Hyde United, where he made his debut at the end of July 2005. Nicky made 147(+12) appearances and scored 21 goals in all for the Tameside club
Above, Nicky celebrates his goal against Southport. Image courtesy of Mike Ripley.
The final of the Neil Thomason Trophy competition on Sunday, 3rd May has been moved from Runcorn Town to Ashton Town's AM Property Group Stadium, Edge Green Street, Ashton in Makerfield WN4 8SL. The match is between Altrincham and Curzon Ashton (k.o. 2pm).
The referee for Saturday's game against AFC Telford United is Mr Steve Rushton (Staffordshire). Earlier this season he oversaw Alty's 1-1 draw at home to Grimsby Town.
Mike Garnett tells us the record of previous encounters between the clubs.
At home: 1-0-1-0-1-1
Away: 2-0-0-2-2-5
All: 3-0-1-2-3-6
After the game on Saturday, the Chelsea v Manchester United game will be shown on the TV screens in the Community Sports Hall. When that game finishes (about 7.20pm) the TASC Race Night will start. During the Race Night, the Player of the Season awards event will take place.
The Football Conference's latest statistical bulletin has some interesting entries relating to Altrincham.
The following figures relate to the whole of the Vanarama Conference national division this season, to date:
Most Shots Without Scoring - Jake Moult (Altrincham) 37
Most Shots Per Goal - Steven Gillespie 34 (1 goal)
Most Shots Off Target - Altrincham 263
Least Number of Players Used - Altrincham 20
Latest Goal - Kyle Perry 96 mins 17 secs (AFC Telford vs Altrincham)
Caught Offside the Least - Altrincham 62 - next best is 86
Fewest Penalties Scored - Altrincham and Southport 0 (both have missed two spot kicks)
Most Fouls Committed and Cards Received. These figures show some very variable ratios between fouls committed and cards received.
Jon Akinde 92 fouls - 9 yellow, 1 red card
Brett Williams (Aldershot) 66 - 4Y 0R
Ben Tomlinson (Lincoln) 65 - 8Y 0R
Jon Parkin (FGR) 64 - 4Y 0R
Jake Moult (Alty) 63 - 8Y 1R
Richard Brodie (Southport) 63 - 10Y 2R
Lenell John-Lewis (Grimsby) 61 - 5Y 1R
Luke George (Southport) 60 - 15Y 0R
For the Family Fun Day on Monday 4th May, during the Beer Festival, there will be a chocolate/sweets tombola. If you would be able to donate chocolate/sweets to this stall it would be much appreciated! If you can help, please bring your donations to the game on Saturday, if possible, or leave them at the Club office during the week. Many thanks.
Alty's final opponents, a week on Saturday, are Braintree Town, who take on Wrexham (away) this Saturday. The
Braintree and Witham Times
were still reporting late on Thursday that "Today is the day that is set to decide whether Alan Devonshire is Braintree Town's manager for a fifth year or not. The West Ham legend and former England international has been given today as a deadline to decide whether he accepts or declines a new contract that he has been offered by the club to lead them in the Conference Premier for a fifth season.
Chairman Lee Harding said the terms of the deal that has been placed on the table for Devonshire mirror the contract that he has had this year".
And the Essex Chronicle reports that "The Iron boss has been on a yearly contract since taking over at the club back in May 2011 and last week secured their place for a fifth consecutive season in the Vanarama Conference Premier, a fantastic achievement considering the club's part-time status and budget.
Harding has made it very clear that Devonshire is their first choice for next season by starting talks over a new contract and is hoping he will sign. 'We've got to be pleased with maintaining our league status and we can now look forward to organising for next season and a fifth year at this level,' said Harding. 'Every year we talk to Alan because he's on a yearly contract and we have done for the past few years so we'll offer him a deal for next season. It will be on the same terms with the same budget and, ultimately, it's down to Alan if he decides whether he wants to accept it or not. We hope he does, of course, but if he doesn't I'm sure we'll be inundated with offers.
We hope that he wants to stay involved with us, obviously the club is going in the right direction with the new stadium and so forth'.
With talks continuing, Devonshire is coy about discussing the contract situation but admits 'I'll make my decision soon... We're in talks about the contract, that's all I can say', said Devonshire. 'I'm quite proud of four seasons in the Conference Premier and not having any relegation worries going into the final stages of the season. We've had four great seasons and last season was exceptional to finish so highly in the league. At the end of the day you just want to always improve and get better, that's what everyone wants to do as a manager. When you get involved with a team you want to take them to the next level sooner rather than later. The next level, in the chairman's eyes, is for the club to secure a new stadium in their ambitions to progress as a football club'".
According to the Shropshire Star, "AFC Telford United midfielder Jack Rea has joined a lengthening list of players willing to sign up to next season's push for an instant return to non-league's top tier. Striker Tony Gray, midfielder Godfrey Poku and utility man Sean Clancy have all voiced an interest in remaining at the New Buck's Head.
And Rea, who signed from Bradford Park Avenue in January on a deal until the end of the season, has also told manager Steve Kittrick he would like to stay on, following relegation from the Conference Premier. Kittrick is keen to retain the 24-year-old's services, provided he can overcome a knee injury which has curtailed his season.
Rea has made made just five league appearances for Telford and has yet to feature for the club since March 10. Kittrick said, 'He is seeing a specialist either this week or next week to assess his knee. He's not going to play again this season, but he has told me he wants to stay at Telford. He wants to test himself and I am sure that he will help us get where we need to be as long as he gets his knee sorted'...
The Bucks are likely to be missing the versatile Mike Grogan for Saturday's clash at Altrincham, because of a mouth infection. But centre-back Rod McDonald looks set to return to the squad having overcome a sickness bug. Kittrick said, 'I think Rod should be all right this weekend, but I don't think Mike will be'".
The
Hull Daily Mail
The Villagers enjoyed the greatest day in their history when beating Wrexham on penalties at Wembley last month but are suddenly facing an uncertain future after owners Steve and Eman Forster today announced their intention to sell up. The husband and wife team, son-in-law and daughter of Hull City owner Assem Allam, have been in charge of Ferriby since November 2013 and have overseen a golden period for the club...
A statement from Eman and Steve Forster read, 'After two very exciting years as owners of North Ferriby United we have decided that the time is now right for us to sell the club. From the start of our tenure our intention was to relieve the immediate financial burden on North Ferriby United and bring to it a financial stability that meant all efforts could be concentrated on the pitch. We feel the results of our investment speak for themselves, in particular the club's recent success at Wembley.
However, we also feel that we have achieved all we can at North Ferriby United and this, along with a desire to pursue our other interests, means the time is now right for us to step aside'...
Although the Mail understands the sale of the club is not imminent, it invites a question mark over the club's continued development in 2015-16"
---
16 April 2015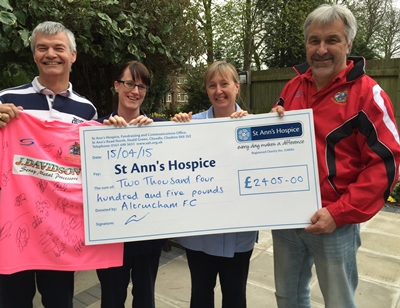 Pictured right are Grahame Rowley (chairman of Altrincham FC) and Ian Senior (AFC goalkeeping coach and owner of kit suppliers SKkits) with representatives of St Ann's Hospice and a cheque for £2,405. The sum was raised through the team wearing the pink Cancer Awareness shirts in the match against FC Halifax Town, after which the shirts were auctioned. In addition, more than seventy of the pink shirts were sold to supporters. Special thanks go to Ian's SK kits for the idea and for providing the shirts.
The club would like to thank everyone who contributed towards this excellent effort.
From
NL Pitchero
we learn that "There were seven matches in the Evo-Stik Northern Premier League Premier Division on Tuesday night... The standout result came at the West Lancashire College Stadium where Skelmersdale United were left thinking `what might have been` after ending leaders FC United of Manchester's five-month spell without defeat. A crowd of 1,133 – just short of Skem`s record attendance of 1,171 - saw
Danny Mitchley
score the decisive goal on 69 minutes to complete a league 'double' for Skem after their 2-1 win over the Reds back in October.
FC United are now just two points clear at the top of the table with a game in hand after second-placed Workington AFC beat Trafford 1-0 at Borough Park and third-placed Ashton United won 3-0 at... relegation-threatened Ramsbottom United. A crowd of 594 saw Scott Allison scored the only goal for Workington against already-relegated Trafford, while Ben Deegan broke the deadlock for Ashton, opening the scoring 7 minutes into the second half. Dale Johnson then bagged a brace in the 81st and 90th minutes to complete a comfortable win and keep them with an outside chance of the title."
The
Football Conference
says that "AFC Fylde are delighted to announce that following a recent inspection, Fylde's Kellamergh Park ground has been declared fit for the new National League (formerly known as the Vanarama Conference).
Fylde have had to make some serious investment in bringing their ground up to standard, which included new floodlights, crash barriers, toilet block and a new 250 seated stand. All in all, the total investment has been around £85,000 but chairman David Haythornthwaite said, 'The news is well worth the investment. It's no secret we want to play at a higher level and, although our new ground will come on stream in March next year, we had to plan for promotion this year. With two games to go we still have a realistic chance of automatic promotion, if not, we will be in the play-off lottery. If we don't go up we will have no regrets about the investment, even though some of it will appear to some as wasted money. As the old saying goes, if you fail to plan, you plan to fail'.
As part of the improvements, Fylde's ground now has an increased capacity of 3,180 with 520 seats which is a 40% increase on the previous capacity."
Elsewhere "Both Kidderminster Harriers and the Kidderminster Harriers Independent Supporters Trust (KHIST) have issued a joint statement. 'The Board of Directors met with the major shareholders yesterday evening ahead of their Board meeting. We are pleased to announce that all parties concerned have agreed to meet the Club's financial obligations until the end of the season. This positive action will enable the Board of Directors to focus on all the revenue for next season to support the future financial sustainability of Kidderminster Harriers Football Club. This action also allows, with immediate effect, all income generated to fully support the 2015/16 playing budget."
More on this comes from the BBC, which says that "Kidderminster Harriers... have struggled to met their wage bill at times this season. And they have been forced to sell players to raise money and cut costs. But, following new chairman Rod Brown's appointment on Monday, Harriers are now financially secure in the short term.
Harriers now have a four-man board made up of new chairman Rod Brown, as well as three fellow directors, Wayne Allen, a former director of Cheltenham Town, and two Kidderminster Harriers Independent Supporters' Trust fan representatives, Geoff Coles and David Williams... Harriers have slipped to 16th in the Conference table, having won just once in 13 games since manager Gary Whild was forced to prune the playing staff budget.
Whild, appointed 13 months ago following the sackings of Steve Burr and Andy Thorn in the space of two months, has told BBC Hereford & Worcester that he has considered quitting as manager. But the club are hoping that their restructuring in the boardroom, previous chairman Ken Rae and fellow directors Gino Ruffinato and John Davies stood down last week, will help turn the club round."
According to NL Pitchero, "Following Tuesday night's win against Lincoln City, it has been confirmed that Thea Bristow has entered into formal discussions in regard to the majority ownership of Torquay United with a willing and able party. Due to confidentiality issues, there will be no further information until the due diligence and contract period has been completed.
As is common knowledge, Thea has been in discussions with various groups and the relevant parties, including the TUST (Torquay United Supporters' Trust), have been informed of this development and understand there is now an exclusivity period. Any further discussion with these groups will continue if this transaction is not completed for any reason.
Thea said, 'Hopefully we will be able to conclude this deal. It is a big decision to announce at this point, but we all know the way that football works and it is very difficult to keep anything under wraps once a few people know, so I felt it was important to inform you all of this milestone myself. That way you know that the work is continuing to find a solution. It is safe to say that this does not mean we are over the line yet, but it is a major step in the right direction. I am also really pleased that the last few results have been positive'".
Also from NL Pitchero comes a report that "Struggling Welling United earned a vital 2-1 win over Wrexham at Park View Road on Tuesday night, a result which meant relegation was confirmed for both Nuneaton Town [once their points are deducted] and Dartford. Ironically, both Boro and Darts came up together in 2011/12 after winning their respective play-offs.
Welling... raced into a 2-0 lead inside the opening 20 minutes... Wrexham continued their search for a replay[???]... and they eventually made Welling suffer a nervy final 8 minutes when a powerful effort from Andy Bishop reduced the deficit to one. But the Wings held on and now have their fate in their own hands heading into the final two games of the season.
And on Saturday they face a real 'six-pointer' when they travel up to play fellow strugglers Alfreton Town at the Impact Arena.
Southport could have virtually guaranteed their survival had they managed to beat Braintree Town at the Merseyside Community Stadium. However, Port fell to a 2-0 defeat to leave them three points above both Welling and Alfreton. The visitors broke the deadlock 11 minutes after the break when striker Jordan Cox bundled home Bernard Mensah's cross... And 6 minutes from time, Alan Devonshire`s side sealed victory when Chez Isaac fired home after good work from Dan Sparkes.
At the other end of the table, Eastleigh moved into fourth place after winning 2-0 at The Shay against an FC Halifax Town side whose top five hopes have disappeared."
From the Southport Visiter we learn that "For almost an hour of this slow and sterile encounter, a goalless draw had probably seemed the most likely outcome. Two teams who began Tuesday night in the bottom eight of the Vanarama Conference produced a match desperately low on quality and decidedly lacking in inspiration.
Disappointing as it was as a spectacle, that result would have served a purpose for Southport by earning them the point needed to effectively secure safety for another season. In the end, the fact that they could not hold on for a draw sums up the way things are going for the Sandgrounders at the moment. In a season that has seen Southport struggle for results and performances at the Merseyrail Community Stadium, this match was among the most disappointing of them all. With players again finishing the match out of position and only four substitutes named on the bench, Southport's cause has been severely hindered by a growing list of injuries and suspensions but, somewhere, somehow, the players available need find a result.
In the fight to stay in the Conference, there are two teams who are capable of catching the Sandgrounders. One of those is Welling United, whose victory on Tuesday against Wrexham served as a reminder that Paul Carden's team cannot rely on other results to survive. Perhaps most worryingly for Carden, this was his team's fourth match without a goal and rarely did they look like threatening the scoring...
With their fourth win at the Merseyrail Community Stadium in as many years, Braintree have shown themselves to be a functional, well-drilled side... Large parts of the first half were nondescript as both teams struggled for any form of fluency... If one side was going to find a route to goal it was Braintree and they opened the scoring on 57 minutes, Davies appearing to get the final touch to send the ball in as he and Cox contested a left-wing cross from Bernard Mensah...
Southport should have been awarded a penalty... Instead, Braintree went straight down the other end to extend their lead, Chez Isaac steering home a through-ball from Kenny Davis with six minutes remaining... Southport have lost their form at exactly the wrong time. They now have two games remaining to find it again".
Chester First reports that "Craig Mahon explained why he has penned a new two-year contract at Chester...
'I never had any hesitation about signing a new deal because I love playing for Chester,' Mahon said. 'I've had the best season of my career and it's been fantastic. The club have looked after me in more ways than one and just to stay with Macca and the gaffer is brilliant. I love playing for them both and I love playing with the team, and I want to build on that and hopefully we can create more history again next season by getting Chester back to where they belong in the Football League.
I've loved every minute of my time at Chester and that is down to training with Macca, the gaffer and the lads. Macca and the gaffer give me the freedom to go out and play my game and I can't ask for more than that. But it's the group of lads as well and I can't just put my good season down to just one thing. We've had some fantastic team performances this season and it's a team effort at the end of the day. Our team spirit has got us through some hard times'...
Mahon, 25, joined Chester at the beginning of last season after being voted as Vauxhall Motors' Player of the Season back in the 2012/13 season... He became the fifth player to commit to the club in recent weeks after Ben Heneghan, Ryan Higgins, Jon Worsnop and Michael Kay agreed new deals.
He added, 'Because we are now safe from relegation the gaffer has obviously been looking towards next season by getting a few players in and to make sure that we have a strong squad... I think it has been a successful season because we have managed to retain our place in the Conference. But we have now got to build on that by getting lads in for next season so that we can go again and get a better position in the league.... I don't think we will look back on Saturday's home win against Dover Athletic as our best performance of the season, but we needed to bounce back after such a poor run of results'".
In the Shropshire Star we learn that "AFC Telford United ace Adam Farrell looks set for a greater role up front next season after playing much of the current campaign in midfield. Farrell was the Bucks' 18-goal top scorer in 2013-14 as they won the Conference North title. But he has been used predominantly as a midfielder in the latest campaign under ex-manager Liam Watson, who was sacked in December, and current boss Steve Kittrick.
But Kittrick sees him employing a more attacking role again in the future. He said, 'I just think if we are going to play 4-3-3, which I like to play, he can either play down the middle or either side. That is what 'Faz' has got to get used to, and when we get to pre-season we will get more into it'.
He added, though, that Farrell may be asked to reprise his midfield role, in games where Kittrick opts to field a front two. He said, 'If we play 4-4-2, he would then play in midfield'.
Farrell, who is one of two players, along with Neill Byrne, contracted for next season, has failed to match last season's goal-scoring exploits this time around, with seven in all competitions.... Kitrick said, 'I have said to him that he's been a lot better these last two or three weeks than he had [been] since I have come to the club. He's started listening, he understands what we want from him. When I came here he wasn't confident but I have given him his confidence back.
He has got at people, he's created chances and he has got a tremendous shot on him. He is a confidence player and I have got confidence in him. He has got to have more confidence in his ability. He'll score plenty of goals next year'... And he will be expected to add to that tally this weekend when the Bucks travel to Altrincham for their penultimate league fixture of the campaign."
---
15 April 2015
Brian Flynn writes "You can still vote for your 'Player of The Season' and 'Goal of the Season' until midnight tonight. Please email your top 3 players & goals (in 1/2/3 order)
here
.
As a reminder, the nominations for 'Goal of The Season' are as follows:-
Adam Griffin (Eastleigh (H) September 13th 2014).
Damian Reeves (Eastleigh (H) September 13th 2014).
James Lawrie (Macclesfield Town (H) September 30th 2014).
Nicky Clee (FC Halifax Town (A) October 4th 2014).
Kyle Perry (Barwell (A) October 26th 2014).
Simon Richman ( Lincoln City (A) November 4th 2014).
Tom Marshall (Forest Green Rovers (A) December 6th 2014.
Ryan Crowther ( Dover Athletic (H) December 20th 2014.
Nicky Clee (Chester (H) January 1st 2015.
Damian Reeves (Kidderminster Harriers (A) January 10th 2015.
And there is a video showing 9 of the 10 nominations. These awards will be announced during the 'End of Season Awards' presentations, which will take place during the 'Race Night' on Saturday".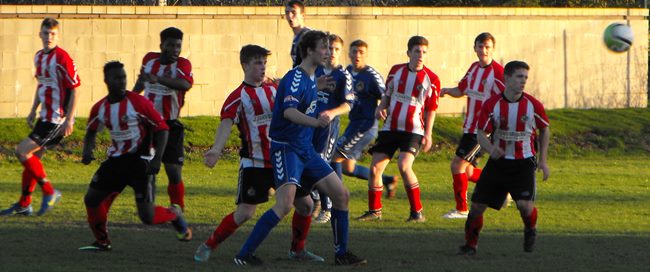 After cruising to a 4-0 lead by early in the second half, Altrincham allowed the visitors back into the game, with two quick goals. But the win lifts Alty to second in the table, as they attempt to chase down the leaders Chester FC.
Match report here
Above: Alty defend in depth in the first half.
The remaining fixtures are here.
Tuesday 14 April
FC Halifax Town 0-2 Eastleigh
Southport 0-2 Braintree Town
Torquay United 1-0 Lincoln City
Welling United 2-1 Wrexham
Tuesday's scores saw Braintree and Torquay go above us. But six teams between twelfth and seventeenth are covered by a single point, Alty being the lowest placed of those clubs. Welling's win took them out of the relegation places on goal difference, with Alfreton dropping down into the bottom four. Next Saturday, Alfreton Town are at home to welling United.
Alty supporter Noel Shield writes that "Neil Faulkner and I are planning to do a sponsored slim with proceeds going to the Community Hall. The weigh-in will be in the Community Hall after the game on Saturday and the "slim" will end at the first home league game next season. If anyone would like to join in with the "slim" they are more than welcome. Sponsor forms will be available and there will be a Just Giving site set up also".
The Altrincham FC Saturday Yankee jackpot stands at £1250; the latest results are
here
. Details of how to join the scheme are on the
Yankee
page.
There are very brief highlights of the Torquay United v Altrincham game
here
. They show the goals but neither Alty's disallowed goal not the fracas prompted by Bowman's throwing the ball at Parton after the penalty.
Saturday, 18 April
Aldershot Town v Chester
Alfreton Town v Welling United
Altrincham v AFC Telford United
Dover Athletic v Bristol Rovers
FC Halifax Town v Torquay United
Gateshead v Forest Green Rovers
Lincoln City v Eastleigh (k.o. 12.15pm)
Macclesfield Town v Dartford
Nuneaton Town v Woking
Southport v Grimsby Town
Wrexham v Braintree Town
Phil Taylor reports that Brogan Walsh, the player injured in Sunday's Ladies' match, which caused its abandonment, is making good progress. Phil says that "Brogan is fine, other than a lump on her shin and some residual pain. Lots of people have been enquiring either in person, on Social Media or in other ways about her and both she and Altrincham Ladies, as a team, are both grateful and touched by the concern people have shown".
At
Dover Athletic
"There are still hundreds of home and away tickets available for Saturday's home match against Bristol Rovers and the club are meeting with Police tomorrow to see if there is any flexibility on the all-ticket status.
With our opponents battling for promotion, and considering their well-documented away followings this season, Dover Athletic acted on police advice and made this weekend's fixture an all-ticket match. We had originally been advised by Bristol Rovers that they would comfortably sell their full allocation plus any extra we could let them have. However, disappointing sales figures are concerning.
We have been advised that Bristol Rovers still have over 600 tickets available and we have sold 550 tickets for the home end (plus our several hundred season ticket holders), meaning that, as it stands, the ground would be nowhere near the capacity we were expecting.
We are holding a meeting with the local Police tomorrow (Wednesday) to discuss whether there is any flexibility on the game's all-ticket status, to allow as many supporters as possible to see our final match at Crabble this season.
Further details will be communicated once the meeting has taken place, and we stress that, as it stands, the match is still all-ticket, so the only way for home fans to currently ensure they are in attendance is to purchase a ticket from our club office between 9.30am and 4.30pm this week. The club office is accessible through the players tunnel".
According to the Braintree & Witham Times, "Manager Alan Devonshire has said that Ryan Peters may not be involved for Braintree Town again this season after suffering a knee injury in their 1-1 draw with Aldershot Town on Saturday. The Iron head to Southport... tonight, but full-back Peters is unlikely to make the trip after taking a nasty blow to the back of his leg against the Shots...
He said, 'Ryan has done the back of his knee a bit and I hope it's not too serious, but it could be his season finished now'. However, he is hoping that two other members of his squad may return after Matt Paine and James Mulley were out at the weekend.
The Braintree boss added, ' "Painey wasn't fully fit and James Mulley wasn't either, but I hope both of them. or at least one of them, may be fit for Tuesday... It's a long journey to Southport so we'll be home at three or four in the morning after it; lovely, that's all we need'.
Meanwhile, Devonshire has a choice to make over the goalkeeping berth for their trip to Southport. He said before the game against Aldershot that he would be alternating Nick Hamann, who has been Braintree's first-choice keeper all season, with Carl Pentney for their remaining games. Former Colchester United keeper Pentney made his full Iron debut on Saturday and impressed his manager, but Devonshire now has to decide whether to start him or not at Southport.
'It was good for Carl to get a run-out', he said. 'He did well and he did well with his kicking. There wasn't a lot to do, but what he did do, he did well'".
From the Leader Live we learn that "Chief Executive Don Bircham admits Wrexham's new manager might not be appointed by the end of the season. Wrexham are unbeaten in four games since Carl Darlington took over as caretaker boss following the dismissal of Kevin Wilkin a fortnight ago and the Reds finish the campaign with a trip to relegated Telford United on April 25.
Bircham insists... 'We are still aiming for the end of the season but there is no point in rushing,' said Bircham. 'We need to get the appointment right. The end of the season would be the goal but if it means taking a bit longer to get the right candidate, that will be the case. We are in good hands, the league position is improving and the guys are happy with Carl. The ship is on a steady course so there is no real need to rush it'.
The club's board are due to complete the first round of interviews with a shortlist or eight to ten individuals this week and that figure is expected to be whittled down to a smaller number of names before holding another interview. Darlington, first team coach under Wilkin, has ruled himself out of the running while The New Saints manager Craig Harrison, Macclesfield Town boss John Askey and former Wrexham midfielder Kevin Russell are among the names linked with the position.
'With football managers and their commitments, although we are keen to get it done and dusted we have not been able to fit everybody in', said Bircham. 'We will see the remainder at some point this week. They have got jobs, some are not from this part of the world, and the board have got jobs so it is just the logistics. Once we have completed the interviews, there might be an outstanding individual and no need for a second round of interviews but, mostly in these cases, you go from an initial group to a shorter list'.
Harrison remains the 2/1 favourite for the position, with Macclesfield boss Askey heavily supported into 6/1 at the weekend. Speculation has also linked Reds' director of football Barry Horne with the job but he is not thought to be one of the names in the running at this stage."
---
---
14 April 2015
John Edwards, joint Press & Media Officer, writes that "Lee Sinnott urged his Altrincham players to banish the disappointment of a rare off-day at Torquay by smashing through the 60-point barrier in their remaining two games.
The Alty manager struggled to contain his anger at a lacklustre 2-0 defeat in Devon and admitted, in the immediate aftermath, that his thoughts on the performance were 'unprintable.'
But as he looked at the wider picture and reflected on a 56-point haul that has exceeded virtually every pre-season prediction, he had little difficulty putting the Plainmoor blip into perspective.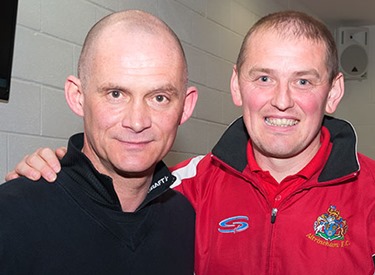 Left: Courtesy of Mike Ripley, we see Lee Sinnott and Neil Tolson at the recent Question and Answer session at the Community Sports Hall.
Alty play their last home game against AFC Telford on Saturday and sign off for the season at Braintree a week later, and Sinnott said: 'I wasn't happy on Saturday, and things were said, but when you consider the season as a whole, you have to give the players full credit for what they have achieved.
'They have done superbly, particularly given the size of the squad. They are a genuine, honest bunch who have worked their socks off to make us safe in the Conference. But I won't accept standards dropping, and I felt particularly sorry for those supporters who had an expensive day, travelling all that way and paying admission prices that were a bit steep.
'We were still on the bus for the first 45 minutes, and there was some blistering of paint at half-time. I said to the players that if they were going to stink the place out, couldn't they at least have done it an hour's drive away, out of consideration for the fans?
'It was unfortunate, to say the least, but I can assure everyone it's not a case of the players already being on the beach. Sometimes, games don't always unfold as they should, but we will be going for it against Telford and Braintree.
'The approach in both those games will be exactly the same as in previous weeks, with a mindset that we want to win. We know what is needed to give us the best opportunity to win each game, and that's what we will be looking to execute.
'There are problems with injury and suspension, but, to be fair, if you're going to have to contend with those, you'd rather it was after you've safeguarded your place in the league, than before. Peter Cavanagh and Jake Moult are suspended, Shaun Densmore is injured and it will have to be a late decision on Sean Williams, due to his back condition. But it gives others an opportunity, and I'm sure they will be keen to take it, because we all want a positive finale.
'I like the sound of us having 60 points to our name. My goal is to be in the 60s, and if we can make it 62 with two wins, that would be the ideal way to round off a season of real progress.'
The outcome at Torquay might have been different, but for Damian Reeves having a goal ruled out by a debatable offside decision.
'I wasn't in line, so it was difficult for me to judge,' said Sinnott. 'Our supporters were pretty much level, and in a far better position to make a call, and the feedback we got was no one could quite understand why it was disallowed.
'I have to say that, looking at the angle of the phase of play, and where their line was, I'd have been surprised if it actually was offside. It's a shame, because a goal then could have made all the difference. You up your game 20 per cent, and the match can so easily follow a different path.'"
Whilst the first-tem will recall our visit to Barnet with horror, four of Alty's youth team will have much happier memories of The Hive as the
FA
reports on the final of The FA County Youth Cup, last Sunday, at Barnet. The result was Middlesex 2 Cheshire 3. "Three goals in the space of ten minutes... sealed a remarkable late turnaround as Cheshire lifted The FA County Youth Cup... Middlesex had been 2-0 up until the 75th minute... until Cheshire's late wind-assisted charge saw them lift the trophy for the second time".
Cheshire started with Alty's James Campion and Harry Cain (the latter, replaced by James Clancy 62 minutes) while Sam Heathcote was a used sub on 72 minutes".
Alty Youth entertain Curzon Ashton on Tuesday evening at the Hale Spa and Country Club, Clay Lane, k.o. 6.30pm. Entry free; spectators welcome.
Tuesday 14 April
FC Halifax Town v Eastleigh
Southport v Braintree Town
Torquay United v Lincoln City
Welling United v Wrexham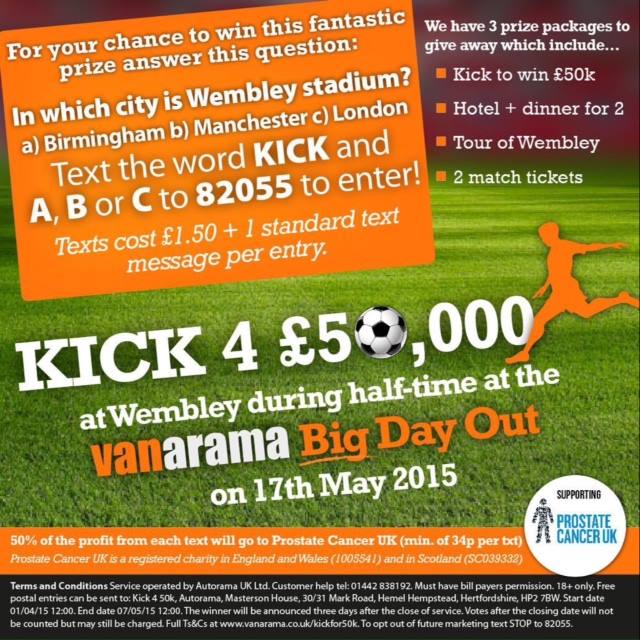 According to NL Pitchero, "Alfreton Town chairman Wayne Bradley is looking to make next weekend's vital home match against Welling United a sell-out by allowing fans to pay what they want to watch the Vanarama Conference game on Saturday, April 18th. Bradley said, 'We want to make it as easy as possible for the people of Alfreton to get behind the manager and players in our bid for Vanarama Conference survival and I feel it is time to give something back to the community by allowing people to come to the match for a price which they decide.
'This is a gesture to the whole of Alfreton and the outlying areas. It is also a thank you and a reward for our loyal supporters who have backed us throughout a tough season. We want to maximise the attendance, pack the Impact Arena out for this match, and roar the team on to victory'.
The pay-as-you-want scheme also applies to away fans. Bradley ended, 'I really hope the town comes out in big numbers to support the boys. Playing in front of a large crowd would be fantastic for the team and a big boost for the club as we try to stay in non-League's top flight'".
From the BBC we learn that "Struggling Southport have recalled forward John Marsden from a loan spell with rivals Lincoln City. The 21-year-old joined the Imps in February, having previously scored six goals in 30 games for the Sandgrounders this season. The former Shrewsbury striker made six appearances for Lincoln, but failed to get on the scoresheet for the club.
Southport have lost their last three games and are 19th in the table".
"The management team at Kidderminster Harriers Football Club are pleased to announce the appointment of Rod Brown as its new Chairman of the Board. Rod had already joined the Board as Vice Chairman and has spent the last five or six weeks studying all the aspects of the Club's management structure and current financial position.
He has identified several areas where he believes the Club can be improved to its financial benefit and to the benefit of the Club's loyal supporters, players and staff. Rod's background includes the running of several businesses both past and present, mainly within the publishing industry. He also brings 25 years experience of football management and is therefore considered a great asset to Harriers.
During the upcoming closed season, Rod and the new Board of Directors will be finalising their review of the Club's procedures and will be putting in place a playing budget and a financial structure to take the Club forward with a view to attracting new investment and additional, experienced personnel to the Board. We trust that Harriers supporters will get behind the new Chairman and Directors to help us rebuild our football club in the tradition it has always enjoyed."
More comes from the Express & Star which tells us that "Rod Brown... will now step up following Ken Rae's dramatic departure on Friday. Rae, together with fellow directors Gino Ruffinato and John Davies, resigned in the face of pressure from the cash-strapped club's major shareholders.
A former manager at both Redditch United and Stourport Swifts, Brown was brought in to evaluate Harriers' finances and admitted last week the club was in 'disarray'".
Macclesfield Town report that "they will take on Northwich Victoria in the Final of the Cheshire Senior Cup on Tuesday April 21st. The match will be played at Nantwich Town's Weaver Stadium with a kick-off time of 7.45 pm. Tickets for the game are priced at: Adults £8.00, OAP/Children Under 16 £3.00, Adults accompanied children go free."
According to the Coventry Telegraph, "Liam Daish will sit down for a heart-to-heart with chairman Lee Thorn before deciding whether he will be the man to revive Nuneaton Town's fortunes next season. Former Coventry City defender Daish, who took over from Brian Read until the end of the season, admits it has been his toughest experience as a manager...
'It's not any one person's decision', he said. 'There will be conversation between me and the chairman, and the board. It will be sorted out in its own time. It's been a tough season. I'm not making excuses but anything that could go wrong, or go against us, has gone wrong or gone against us. There are reasons for that and that needs to be addressed. I'm not speaking out of turn when I say this season has probably been too much for the club at every level, in terms of structure, organisation and the team.
It's been fantastic for the club over the seven years since it reformed, winning three promotions to get to the pinnacle of non-League. But the Conference Premier is a full-time league and there are clubs with a lot better resources, better facilities. We just want to finish the season with good performances and good results in our last three games'.
Boro will aim to bounce back tomorrow night when they face West Bromwich Albion at Liberty Way in the semi-final of the Birmingham Senior Cup."
In the Shropshire Star, we learn that "Midfielder Sean Clancy is 'happy' to stay at AFC Telford United next season and has hinted that he could take up a role within the club's burgeoning youth set up. Clancy was one of the Bucks' star performers as they claimed a first home league victory in almost five months with 1-0 triumph against Lincoln City on Saturday.
And the former Fleetwood [and Altrincham] man said, 'I am comfortable to stay at the club. I am happy where I am and I love being part of Telford. I think the fans are fantastic and the club's really good. I am not looking to get away but I haven't had anyone approach me yet about next season so we will see whether they do or whether they don't'.
It has been rumoured that Clancy could be offered a role within the youth set up and he said, 'I think there might be something coming out next week. There's exciting stuff going on behind the scenes and I'd love to stay part of a club that has got such a good structure. It is improving all the time behind the scenes'.
Manager Steve Kittrick... said, 'We'd like to keep him but it is down to Sean on the finances. I am going to a board meeting on Thursday to get the budget set for next season... I am sure we will come up with deals for most of them' ... Among those Kittrick hopes to retain are leading scorer Tony Gray and star midfielder Godfrey Poku... And the former Guiseley chief revealed Gray has discussed an extension to his current deal with managing director Lee Carter. He said, 'Tony has told Lee what he wants and it is up to us to see if we can meet what he wants and whether we want to go that far or not'".
Alty's final game of the season will be at Braintree from where the Essex Chronicle reports that "Town played out an end of season 1-1 draw at home to Aldershot on Saturday. With neither side now not having anything to play for the result was a fairly predictable stalemate.
The visitors were marginally the better side in the first half taking a 29th minute when Sam Hatton, who looked off-side, was left unmarked to tap home from the edge of the box from a right-wing cross by Tristan Plummer. After the interval the Iron were the more purposeful going forward... and it was no surprise that on 56 minutes they equalised...
Iron manager Alan Devonshire was left fuming with the first half goal they conceded, 'He was clearly in an offside position by some two or three yards and, once the lad had put the ball in the net, he stared across to the linesman that side expecting the flag to be raised; he couldn't believe his luck and it was a disgraceful decision in allowing the goal. verall I was pleased with a draw which is what most people had probably expected beforehand.
It was not the best game to watch what with a dry, bumpy pitch that gave us no pace in the game when going forward. It was what we call a bitty game but we got our point and stay unbeaten'.
Devonshire gave a first league start for keeper Carl Pentney adding, 'He's been very patient over the season and deserved to have a full game and I shall rotate others for the remaining three games. We had Matt Paine and James Mulley on the bench not fully fit but I am hoping at least one of them will be okay to play at Southport on Tuesday night. Ryan Peters had to come off at half-time with a knee injury and that may be his season over. But we've three games to go and I'm looking to take maximum points from those games so we finish on a high.
We have had tremendously difficult season with injuries, the worst I've ever known as a manager'... Braintree certainly improved after the interval... but, as all too often this season, they lacked someone with that killer instinct in front of goal, particularly with the recognised strikers Sean Marks and Charlie Strutton still out injured.
Braintree: Pentney; Peters (Mensah 46), Massey, Clerima, Habergham; Issac, Brundle, Davis Akinola (Maybanks 90); Cox, Sparkes. Unused sub: Hamman, Paine, Mullet."
At
Stockport County
, Alan Lord will become Director of Football at Stockport County Football Club with immediate effect, with responsibility for building the foundations of the club's football development structure, as well as running the Profootball Academy, in association with SCFC.
Alan decided to make the move after positive discussions with the football club Board over the weekend. As outlined in the club's five-year plan, the new development structure ensures Alan Lord will remain an integral part of Stockport County, which was always the intention at some stage of the plan's lifespan.
Director Richard Park said, 'We look forward to continuing our relationship with Alan Lord, and we would all like to express our appreciation to Al for his efforts since taking over at Edgeley Park in August 2013. He has helped the current Board to steady the ship and arrest the previous decline of our football club, and we are all delighted that he has agreed to stay on at Edgeley Park. Our aim for next season remains to win promotion and the incoming manager must share that immediate ambition'.
Alan Lord said, 'I am immensely proud to have been the manager of this club for 86 games, but I've decided that now is the right time to change my role within the club. This decision will give the new manager the whole summer to recruit players and enjoy a full pre-season with his squad. My role will be to continue to supply a stream of young talent, which the club can opt to use in the coming years, as we cement our reputation as a conveyor belt for developing talent. I am excited and enthusiastic about the future, and proud and privileged to have been First Team Manager on behalf of our incredible supporters'...
Assistant Manager Phil Brown and First Team Coach Dave Conlon will be in sole charge of the team for the remaining three games of the season, and Alan Lord will attend the game at Hyde tomorrow, sitting alongside the club's directors. The Board will begin the recruitment process immediately". Read more at http://www.stockportcounty.com/news/article/board-statement-2398923.aspx#YQJGDg0xWGJ05gcU.99
The
EvoStik League
reports that "The League has received resignations of membership from Brigg Town FC and Rainworth Miners Welfare FC with a request that they both be relegated to Step 5 of the National League System at the end of the current playing season. The NPL Board have reluctantly accepted the club resignations...
These two resignations plus that of Norton United FC will mean no club will be relegated from the First Division South as a result of their league points position. The First Division North is not affected by this decision".
Supporters Direct
has an excellent "match finder" tool which allows supporters to find football matches near to their current location.
---
13 April 2015
Alty's next game is on Saturday at home to AFC Telford United and Howard Watt's Through the years statistics are
here
.
AFC Telford United report how "A resolute defensive display, capped with a fine glancing Neill Byrne header seven minutes from time was enough to see off a Lincoln City side that had beaten the Bucks comfortably at Sincil Bank earlier in the season. Godfrey Poku for Glenn Matthews was the only change to the Starting XI for Steve Kittrick... Rod McDonald [was] missing from the bench as the Bucks named two 'keepers amongst a depleted bench.
Telford started the match slowly and for the first six minutes found themselves camped in their own half as Lincoln started the game strongly.... Bradley Reid's pace was asking questions of the Lincoln centre half, Bencherif and ensuring the game remained stretched...
The Bucks started the second half in much the same way Lincoln had started the first, with lots of pressure... With 22 minutes left on the clock, Lincoln had a Sam-Yorke goal disallowed. Soon after coming on the Imps forward pulled the ball down from the sky with a high boot, that referee Robert Jones deemed dangerous...
Following the introduction of Glenn Matthews for Bradley Reid and a tweak of formation, Sean Clancy became more involved further forwards and his direct running began to cause Lincoln problems defensively... Steve Kittrick took the opportunity to change his attacking options, replacing Sam Smith with Ross Dyer for the closing stages. Adam Farrell floated in an inch perfect cross, that Neill Byrne stretched to meet, glancing his header past Farman and into the net to give the Bucks the advantage with little over six minutes remaining...
[It was] an impressive team performance that saw the Bucks register their second back to back win of the season and first back to back clean sheets of the season. And by the time we play next week against Altrincham… we could well be off the foot of the Vanarama Conference, depending on Nuneaton's appeal against the three points they are due to be docked for fielding an illegible player!... Man of the Match: Godfrey Poku.
AFC Telford United: Montgomery, Disney, Clancy, Sharps, Byrne, Poku, Ventre, Reid (Matthews), Smith (Dyer), Gray, Farrell. Subs not used Hall and Pryce".
More comes from the Shropshire Star to the effect that "Manager Steve Kittrick was relieved to see AFC Telford United end a near-five month wait for a home league win at home to Lincoln City... A defensive error in last Saturday's home draw with Kidderminster Harriers saw the Bucks relegated with four games to go.
And Kittrick said, 'At at the end of the day we have dug in again and we have got three points. It is pleasing but it is not pleasing because of what could have been. If you wind the clock back a week to Kidderminster here, one mistake has cost us and I keep thinking about it. Had that not happened it would have made this a different game all together but, as I said to the players afterwards, they have just got to go and enjoy it and keep playing with a smile on their face.
We didn't speak about the home record, and wanting to win at home before the game. I just said "Go and enjoy yourself and express yourselves, and lets bring the away form home". I am pleased we got a home win. I am sorry if I don't sound upbeat about it because when you get relegated (it hurts), but a win is a win'.
Kittrick also revealed... 'I am going to a board meeting on Thursday to get the budget set for next year and if people are sensible there will be a lot of people that have played today that are here next year. But if they aren't sensible and they want money that we can't afford, then they will be going to other clubs'".
Phil TaYlor advises us that "The Ladies' game this afternoon [Sunday] was abandoned at about 65 minutes following what seemed to be a serious injury to an Altrincham FC Ladies' player". All at the club wish the injured player well and hope that the injury is not as serious as it initially appeared.
Courtesy of Sarah Rowley, we have an update of the positions in the Altrincham FC
Goal Rush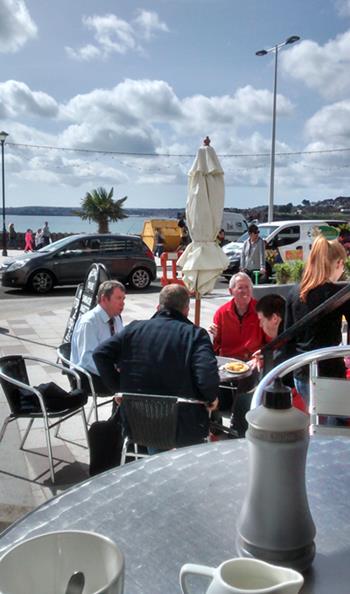 There was little to relish about Altrincham's trip to Torquay on Saturday but before the match, Radio Robins' finest and other Alty supporters took advantage of the sunny weather to indulge in an al fresco fish and chip lunch at the excellent Seabank Chippy on the Devon resort's promenade. Here we see the secret of the radio commentators' staying power as Brian Flynn and Ian Wilkinson tuck into their meal to set them up for a harrowing 90 minutes at Plainmoor.
Our neighbours,
Trafford
confirm that the "Football Club will be appointing a new manager for next season following Graham Heathcote's decision to stand down at the end of the current campaign. Heathcote succeeded Garry Vaughan back in January, when Trafford were already deep in relegation trouble, and he has been unable to prevent them dropping down into the Evo Stik League Division One North.
After 45 years in non-league football, 61 year-old Heathcote feels he has had enough but will be leading Trafford in their final six games of this season. As a result of this decision, Trafford are now inviting applications for the Manager's position".
Gareth Whalley is the Manchester City U18s Assistant Manager and was at the United v City U18 Premier League derby at the J. Davidson Stadium on Saturday. United won 1-0.
Torquay United
report that they "strolled to a comfortable 2-0 win over an Altrincham side that never looked like matching their Yellow hosts. Kadell Daniel opened the scoring with a neat finish midway through the first period and the game was up five minutes later, when Ryan Bowman slotted home a composed penalty kick.
The Gulls could have scored many more on a relaxing afternoon and Altrincham's miserable display was compounded by the late dismissal of Jake Moult. United manager Chris Hargreaves made two changes from the side beaten at Aldershot on Easter Monday, restoring fit-again Bowman to the attack in a move that saw Toby Ajala drop back to replace the injured Courtney Cameron on the wing. A reversion to a normal 4-4-2 led to Courtney Richards moving to the substitute's bench and Daniel was given another chance to impress on the flank after recently joining on loan from Charlton.
Altrincham boss Lee Sinnott made just the one alteration... with the robust Peter Cavanagh replaced in midfield by Simon Richman. It was a special day for teenage goalkeeper Daniel Lavercombe, making his full home debut for the Gulls and interesting to note his opposite number in the Altrincham goal, Stuart Coburn, is 20 years older than the Yellow custodian.
Lavercombe was introduced to the game by a very crude and late challenge from Damian Reeves. The only way the Altrincham striker escaped a booking was the fact the tackle came in the opening two minutes but it still should have been a yellow card. Moments later, the youngster was diving full length to palm clear a low shot from Jordan Sinnott and Reeves was denied a tap-in opener by the assistant referee's flag being raised in a swift act of football karma.
All the action continued to revolve around the goalkeepers and Coburn was left in a crumpled heap on six minutes after slipping on the turf with nobody close to him. The veteran was quickly removed from the action and replaced by David Parton...
[At 1-0], the Gulls were soon given a glorious opportunity to double their lead after a lunge by Gianluca Havern on Bowman. It was a clear penalty and the incident stemmed from a terrific United move down the left involving Briscoe and Daniel. Bowman clambered to his feet and dinked a cheeky penalty past Parton and into the top corner. United's leading scorer then threw the ball against the back [actually the face] of Parton in a naughty celebration, prompting an unseemly melee that saw both Bowman and Moult booked. To his credit, Bowman accepted responsibility for the situation and apologised to Parton...
United ended the first period in complete control... Ajala was giving Griffin a torrid afternoon... Altrincham briefly emerged from their lethargy to string together a neat passing move that culminated in space for James Lawrie 20 yards from goal, but his shot was rocketed miles over the bar.
The action was soon back up the other end and Parton added another chapter to his own nervous performance, playing a pass straight to Campbell, who quickly sorted out his feet and curled a shot toward the vacant goal from a difficult angle that only missed by a fraction. Parton and Marshall then indulged in criminal indecision from the next Yellow attack...
The Altrincham resurgence prompted Lee Sinnott to freshen his ranks by replacing Richman with the physical presence of Kyle Perry. Altrincham had definitely improved and Lavercombe was forced to use his fists in beating clear a dipping shot from Jordan Sinnott before diving full-length to thwart a long-ranger by Scott Leather...
Courtney Richards replaced Briscoe for the final 10 minutes and the new man was soon waving to Moult on his way by, as the Alty midfielder received a second yellow card and the subsequent red for a trip on Daniel".
'We needed to get back on the winning trail and there were some really good performances,' said manager Chris Hargreaves. "'In the first half, we were excellent. We looked a bit tired in the second half but still created some chances, and I'm thoroughly delighted for the players. It takes a bit of pressure off them for a couple of days. Kadell played well and these are his first games in competitive football. It has hit him hard and he can't believe the intensity, but it was a brilliant first goal. We needed him to run at people and he did that.
We also did the ugly side of things to win the game... We over-achieved at the start of the season and raised expectations very high, but it's been a disappointing few months'".
The local Torquay Herald Express adds that after the game "It was their young goalkeeper Dan Lavercombe who could hold his head the highest when he left the pitch after a string of classy saves. The 18-year-old was again preferred to Martin Rice and stopped an early chance for the visitors before making three great saves in the second half to keep his first clean sheet in senior football...
Hargreaves was happy to sing his praises. 'Dan was confident', he said. ,He was coming for crosses and claiming them and he saved all he had to save. He has just said to me in the changing room that he would have been disappointed if those shots had gone in but, from our point of view, they were good saves... We had an 18-year-old in goal and a 17-year-old left back; it's not a bad place to be. That's what we want to do, we want to get these young players on the pitch and let them develop'...
The Gulls doubled their lead from the penalty spot... The heavy challenge which won the penalty was costly, though. Bowman injured his shoulder and had to go off to be replaced by Campbell. The second half produced fewer clear chances for Torquay and the attention switched to the other end where Lavercombe really earned his stripes.
The pick of his saves came with a double effort in the 74th minute, first of all he punched away a fierce swerving drive by Jordan Sinnott, and moments later he dived low to his right to deny Scott Leather".
The
Football Conference
confirms that "For the penultimate Saturday of the season (18th April) BT Sport will be screening LIVE the important Vanarama Conference fixture from Sincil Bank the home of Lincoln City, who will face Eastleigh FC with a 12.15pm kick-off... Grimsby Town, meanwhile, are assured of a place in the semi-finals of the play-offs and they will be certainly be interested in the outcome at Sincil Bank for it may determine who the Mariners meet over the two-legged semis."
According to the Lincolnshire Echo "Chris Moyses was disappointed Lincoln City did not take their chances as they fell to a 1-0 defeat at AFC Telford United in the Conference Premier. Telford were rock bottom of the table and had already been relegated, but proved a tough nut to crack for the Imps on a rotten surface at Buck's Head..
'When chances are there you have to take them and we didn't do that,' lamented Moyses after the game. 'Hamza Bencherif openly admits that he slipped to allow their player to get across him and get the goal. It was the only attack they had. It was a soft goal and was disappointing to concede, especially as how Bencherif and Tom Miller had been defending as a pair'...
Nolan, who had only recently returned from a hamstring injury, got his foot caught on the atrocious pitch and was hobbling heavily before being replaced... 'When you come to places like Telford, you know it is going to be difficult and when the chances present themselves, you have to take them. That was the difference. Delano Sam-Yorke's goal was disallowed for high feet, the referee was not the best today, to be fair... I don't think we showed enough quality. We want to play some football, if we get the chance....
We wanted to get some game time into the younger players and that's what we want to do now in the remaining games. We want to get some experience into them so they know full well what is expected of them next season'".
The Worcester News reports that "Gary Whild lamented his players' lack of character after Harriers suffered a 3-0 capitulation at Welling yesterday. A youthful Kidderminster side collapsed alarmingly at Park View Road.
Poor defending allowed Jake Gallagher to open the scoring for the relegation battling Wing, before an error by Danny Lewis lead to a fluke goal by Kieron St Aimiee. Sam Corne bagged a third in the second half to seal a miserable day for Kidderminster.
Defeat came after the resignation of chairman Ken Rae, John Davies and Gino Ruffinato, following the intervention of major shareholders. Whild said, 'It was nowhere near good enough. Whatever has gone on this week, you have to do justice for the rest of the teams in the league,' said an irate Whild. 'You can't just come and play for 15 minutes. I thought we started quite well but after that is was an embarrassing afternoon. The position we are going to be in next season, we are going to need some strong characters. We are looking at players as to whether we are going to keep them for next season and I don't think they have helped themselves.'
With a host of players seeking for contracts next season, the Harriers boss could not hide his bitter disappointment at some leaky defending. He added, 'Their first goal was from their first attack. The ball comes into the box too easily and the guy heads it in between my two centre halves. The second one is from a comedy of errors by an experienced goalkeeper who, for some reason, kicks the ball against a Welling player after hesitating. It is not good enough from Danny Lewis.
The goals were basic errors and you can't be talking to professional footballers about basic mistakes. You either do better or end up leaving full-time football and become a labourer, plumber, labourer or taxi driver. That is where some of there are the moment. Irrespective of the club's situation, you have to have some pride to show they see professional footballers and I didn't see that today.'
Meanwhile, the major shareholders are set to hold meetings with players and remaining board members tomorrow to discuss the future of Harriers. 'Fair play to them, it is their call as major shareholders. If they are concerned about what is going on at the club, they are in a position to make a change,' commented Whild. 'They have a meeting with the players on Monday but I think they have done something positive and made a decision'".
---
12 April 2015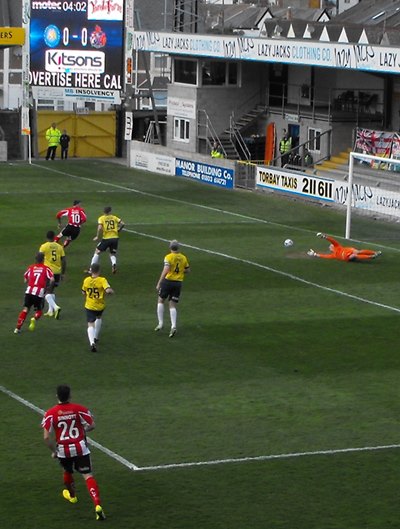 Following Altrincham's 2-0 defeat at Plainmoor, manager Lee Sinnott told the NL Paper, "My thoughts on that performance are unprintable and we showed absolutely nothing in the first 45 minutes. Things were said inside the dressing room that I can't repeat and, whenever a manager says that, you know he's not happy.
'It felt like we were just fulfilling a fixture and I have to be careful what I say. We presented the ball to Torquay at times. I am always very supportive of my squad because of what they've achieved this season but there are mental aspects to our game that really annoyed me'".
Right: The Torquay keeper pushes out Lawrie's shot and Reeves pounces to score - but is given offside, with barely four minutes on the digital clock. Interestingly no Torquay player appealed for the decision as the image here shows.
The NL Paper rightly condemns Torquay's Bowman for his unwarranted behaviour towards keeper Dave Parton. It says, "Bowman won the decisive penalty when falling unconvincingly over the outstretched leg of Gianluca Havern and nonchalantly dinking the penalty past the hapless Parton (see image below). This then sparked an unsavoury melee after a naughty celebration which lacked respect for his opponents". The striker threw the ball at the Alty keeper's head, an action for which he could justifiably been dismissed.
Having started the season with nineteen first-teamers, Altrincham were reduced to running on a squad of seventeen by the retirement of Mike Williams through injury and the loaning out of Greg Wilkinson. They have taken in one new face since then, with Jordan Sinnott arriving in mid-February.
With Saturday's injury to Stuart Coburn and the sending-off of Jake Moult, the number of first-team players who may be available for the next game at home to AFC Telford, has dropped to just twelve men plus reserves' striker Joel Swift.
Peter Cavanagh will miss the next game, along with Moult, through suspension, whilst captain Shaun Densmore has been out for several weeks, injured. In addition, Sean Williams's back problem has ruled him out of contention recently.
Whatever happens from now on, it has been a successful season as Altrincham, after a dreadful start to the campaign, (just eight points were garnered from the first twelve games), will finish well clear of relegation. This is some achievement with one of the Conference's smaller budgets and it has included some excellent performances. However, the most recent twelve games have seen just eleven points collected in a run which has included seven defeats, giving the campaign an unwanted symmetry.
Recent weeks have not been helped by the fixture list. With the exception of a rearranged midweek game at Macclesfield, Alty's last eight away games of the season have been, or will be, round trips of more than 300 miles, including five journeys of more than 400 miles and three away trips to Kent in a three-week period and journeys to each end of the country (Gateshead and Torquay) during last week. There was also a run of four successive matches against top-five clubs in February.
But we are not alone. Southport boss Paul Carden told the NL Paper, "The team basically picked itself because it was the only eleven we had fit".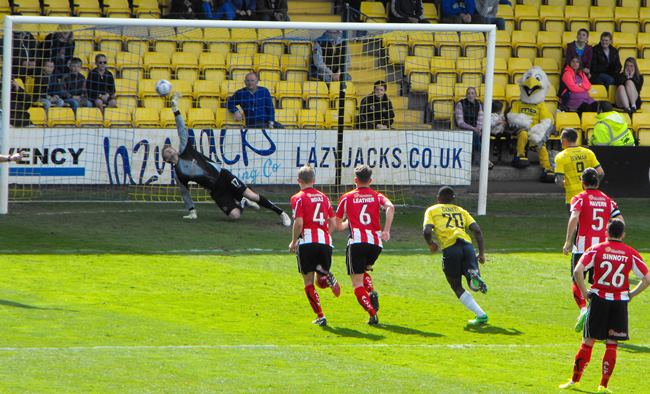 Alty lost Coburn in the opening minutes to injury and had an early goal ruled out for offside. Two goals in five minutes from Daniel and Bowman gave Torquay command before the interval, the second a penalty conceded by Havern. As the image shows, above, substitute keeper Dave Parton almost saved it.
Sinnott and Leather had good shots saved in the second half but Alty could not get back into the game. Eight minutes from time Moult was sent off for a second yellow card offence.
Match report here.
AFC Telford Utd 1-0 Lincoln City
Barnet 3-0 FC Halifax Town
Braintree Town 1-1 Aldershot Town
Bristol Rovers 2-0 Southport
Chester FC 3-1 Dover Athletic
Dartford 3-1 Nuneaton Town
Eastleigh 3-1 Alfreton Town
Forest Green Rovers 3-1 Macclesfield Town
Grimsby Town 0-1 Wrexham
Torquay United 2-0 Altrincham
Welling United 3-0 Kidderminster Harriers
Woking 3-0 Gateshead
Kidderminster Harriers
report that "The major shareholders of Kidderminster Harriers Football Club have met with the Chairman of the Football Club, Ken Rae, who has today [Friday] tendered his resignation.
Also resigning are Gino Ruffinato and John Davies who have worked tirelessly for the club in recent years.
We thank them each for their valuable input and efforts on behalf of the club and in particular their services following the sudden resignation last year of the former Chairman and his wife... This new situation has afforded the shareholders and the Board of Directors an opportunity to restructure the administration of the club to enable it to meet the challenges currently being faced by many football clubs. The aim is to attract further investment into the club and to provide a secure future for its administrative staff, coaching staff and players."
The BBC adds that "Ken Rae has resigned as Kidderminster Harriers chairman after only 14 months in the role at Aggborough... The announcement comes less than a month after Rod Brown was appointed as vice-chairman to "'compile an overview of all the facets of the club and provide recommendations to the board'...
Harriers, who stand 13th in the Conference, have already revealed the extent of their financial woes. They were in the running to make the play-offs until a succession of forced players sales triggered a run of only one win in 12 matches - and manager Gary Whild has admitted that he considered quitting too".
---
11 April 2015
You can follow Saturday's fixture via this website's minute by minute text updates by clicking on the icon below. Alternatively Radio Robins' coverage of the game is outlined below as well.
Brian Flynn advises that Radio Robins, sponsored by Ashley Mowers Garden Machinery, will be broadcasting live coverage of the game. The match commentary is sponsored by Terry Surridge. The match commentators are Ian Wilkinson and Paul Salt with Brian Flynn as match summariser. Commentary begins at 2.55pm. You can listen to Radio Robins on the internet at www.radiorobins.com
Brian Flynn advises that "Fans can vote for the Supporters' Player of the Year by emailing
me
with their top three players by Wednesday April 16th".
On Friday,
Torquay United
reported that "Youth team goalkeeper Daniel Lavercombe will continue between the sticks for tomorrow's clash with Altrincham.
The teenager enjoyed a decent debut in the defeat to Aldershot on Easter Monday, recovering from the loss of an early goal to a freak cross to perform with impressive maturity.
'Dan did well in the game and showed good composure,' said manager Chris Hargreaves. 'He perhaps got his angles wrong for the first goal but how many times do you see that when a player hits a bad cross, and it loops in the net? You see it in all Leagues and Dan didn't fold after that. He was excellent for the rest of the game and it's a tough call to play a 17 year-old goalkeeper. His talking was good and I could hear him clearly.
The second goal was a defender losing his man at a set-piece and nothing Dan could do about that. We've got to play young lads early because we haven't got two or three years to give them to develop. They have to get in the team at 17 and show something. If they do that, they've got a chance because we can't pay the wages to wait for a player'...
The Gulls welcome Altrincham to the Launa Windows Stadium tomorrow and pride in the shirt will be the main motivation for the Torquay United squad. Manager Chris Hargreaves has hinted that some fringe players may be given an opportunity and perhaps people utilised in different positions, but a lack of numbers will limit the experimenting...
'We've got to get through the rest of the season and the players have got to show they care for the club, and they care for the shirt,' said Chris. 'I'm all the way down the road on who we would like to see here next season and the next two games give us a little bit of a chance to integrate some players. There isn't a multitude of options but I will be having a look at a few lads. You can't tamper with it too much because that is disrespectful to other sides but, whatever I do has got to be right for our football club.
We're not looking too bad injury-wise and Ryan Bowman is back for selection, as is John Campbell. We have a couple of suspensions in Duane Ofori-Acheampong and Luke Young. Dale Tonge is not 100% there with fitness, Angus MacDonald is out and Courtney Cameron has a knee problem.
There is a squad to select from and I want to see that passion and desire from the players when they pull on the Yellow shirt'".
Owing to Virgin Media's second major broadband breakdown in the South Manchester area in the last couple of months, today's news updates are more limited than usual. However, the Matchday Updates from Torquay should not be affected as they are routed via another, more reliable, provider.
---
10 April 2015
In advance of Saturday's trip to Torquay United, Alty manager Lee Sinnott reports that the main doubt concerns midfielder Sean Williams, who had to come off in Alty's last game with a back spasm. Goalkeeper Stuart Coburn, who missed that match, trained on Thursday and will be available for selection on Saturday. However, fellow midfielder Peter Cavanagh will miss the match as he is suspended for two games, having amassed ten cautions this season.
Right: Altrincham had a 310-mile round day-trip to the North East on Monday to play Gateshead. They are seen (right) saluting the travelling supporters before that game. On Saturday they will make a 500-mile return day-trip to the South West when they visit Torquay.
Mike Garnett provides the record between Altrincham and Torquay United.
At home: P3-W1-D1-L1-F3-A3
Away: P2-W0-D1-L1-F2-A4
All: P5-W1-D2-L2-F5-A7
Torquay United advertise their "Ticket Prices...
Bristow's Bench / Away Seating
Adult - £21
Concessions [65 and over / Students with NUS] - £17
17 - 18 Years -£10
12 - 16 Years -£6
Under 12s [must be accompanied by a full paying adult] -£5
Family Stand Adult - £19
Concessions [65 and over / Students with NUS] - £15
17 - 18 Years -£10
12 - 16 Years -£6
7 - 11 Years -£5
Under 7s [must be accompanied by a full paying adult] -FREE
Family Ticket [two adults and two under 16s] -£30 - This ticket offer is only available in the Family stand
Popside / Away Terrace
Adult - £17
Concessions [65 and over / Students with NUS] - £13
17 - 18 Years -£10
12 - 16 Years -£6
7 - 11 Years -£5
Under 7s [must be accompanied by a full paying adult] -FREE"
Richie Bentley, Altrincham FC official caterer, reports that "It's Derby weekend in Manchester and I am catering the big one! I'll see you all at Altrincham FC (J. Davidson Stadium) on Saturday 11th April for Barclays Premier Under-18s Manchester Utd v Manchester City, kick off 3pm.
And, on Sunday 12th April, come to the Altrincham Football Club Community Sports Hall for the Red v. Blue Premier League match on the multiple TV screens. I'll be providing food and the bar will be open on both days of the weeekend for these matches. But, there won't be a prawn sandwich in sight!"
Regarding Saturday's' game at Altrincham, Manchester United confirm that the "Under-18s get a taste of a Saturday 3pm kick-off when facing rivals City in the mini-derby at Altrincham's J. Davidson Stadium. The local affair will be the fourth outing at the venue, the former home for United's Reserves, and Paul McGuinness's side are unbeaten there after two wins and a draw. The Reds are competing for top spot in the seven-team Academy top flight and have four points from two fixtures thus far.
With free entry for all spectators on the day and, with the senior teams not doing battle for another 25 hours, it is hoped there will be a sizeable attendance to witness two of the best young sides in the country. After a 5-2 win for United in the last meeting between the clubs, there is likely to be more excitement at the weekend.
'Every game we've had [at Altrincham] has been a better match than playing here [at the Aon Training Complex]', McGuinness told ManUtd.com. 'It's more intense and more like a first-team match because it's closer to it with the surroundings, the stadium, coming out of the tunnel, and all those things help to make it more like a proper Football League match. That's why we've done it again really. We've already played City at the training ground and it makes it a different game for all those reasons. We want to get the guys closer to replicating first-team football.
Who knows, but I quite like the idea of a 3pm kick-off on a Saturday. We've not done that before and it's not normal in youth football but, again, it means we're closer to men's senior football and maybe we'll get a few people in to watch at that time. It would be nice to have fans from both clubs in the ground.
There has not been massive advance notice for the game but we're still hoping for a good turn-out. We might look at doing the same thing for the Chelsea game as well but the other ones we've had at Altrincham; Wolves, Newcastle and Liverpool, were really sharp games so I'm hoping it ends up something like that again. It is a play-off game and deserves a bit more status'...
A penultimate home game of the campaign provides an opportunity to close the gap on leaders Middlesbrough, even if City have showed their quality by reaching the FA Youth Cup final... 'It's not just a normal Under-18 game as now it's about how you manage that thinking when you're clearly under pressure and how you manage your emotions and setbacks and so on when it all means a bit more'" stated McGuinness.
Alty TV has put together a video showing almost all of the Goal of the Season candidates. It can be viewed
here
.
The
BBC
reports that "Wrexham chief executive Don Bircham says the club are hopeful of having a new manager in place before the end of the season. Kevin Wilkin was sacked after only a year in charge of the Conference club...
'We're down to eight to ten, they are good, solid candidates and the best qualified for the job. They have to be', Bircham told the Evening Leader. 'We will have a meeting after all the interviews and it is highly likely we will go to a second interview with a reduced number. We're aiming to have someone in place by the end of the season'...
New Saints' manager Craig Harrison is among the favourites to succeed Wilkin... The former Middlesbrough, Crystal Palace and Preston North End defender has led the Saints to four Welsh Premier League titles and two Welsh Cups since being
Also from the BBC comes confirmation that "Chester winger Craig Mahon has signed a new two-year contract... Mahon joins Ben Heneghan, Ryan Higgins, Jon Worsnop and Michael Kay in agreeing new contacts with Steve Burr's side. "
The Chester Chronicle adds that "Steve Burr understands fans' frustration at the end-of-season collapse but highlights the headway made in the past year and vows his team will improve again...
'Our aim this season [was] to make sure that we improved on last year and we've done that', said Burr, whose side have registered just five points from the past nine games. 'What I will do now is improve us again for next year and at the minute we've got a lot to do. Possibly what results are telling me at the minute is that there's a lot of hard work to be done again in the summer to maintain another season in this division where we can finish higher than we've done this season'.
Following relegation to the Conference North last April, the Blues were left in limbo for six weeks as the Football Conference dallied over what to do about the financial mess at Hereford United. Burr's rebuilding plans were hindered by uncertainty over which league the club would be in, and a number of signings were made for the lower division and the hope they would be able to step up if required...
He said, 'It's like an orange and we seemed to have squeezed as much out of everybody as we can and there doesn't seem to be anything left. We brought in one or two with the Conference North in mind but I know something for certain that we won't be sitting in front of our fans in the stand at the last game of the season knowing that we've been relegated, that is a fact'.
Burr feels he has the core of a squad that can be even more competitive next term with Ben Heneghan, Jon Worsnop, Michael Kay, Ryan Higgins and Sean McConville under contract. Craig Mahon, Kingsley James and Matty Hughes are understood to be mulling over new deals and Burr has confirmed he has identified a number of potential new recruits too...
He said, 'It will be pretty similar to last summer really with what we do recruitment wise'".
As suspected, "Yeovil Town have appointed former Plymouth and Southend boss Paul Sturrock as their new manager. The 58-year-old, promoted five times as manager, left his role as advisor to Conference side Torquay on Wednesday just four days after taking the job... Sturrock told BBC Somerset he took the job because of the 'challenge'".
We learn from the Braintree & Witham Times that "Alan Devonshire has spoken of his pride in keeping Braintree Town in the top echelon of English non-league football for a fourth season. The Iron's 1-0 win at Nuneaton Town on Easter Monday made them mathematically safe... The victory was brought by a Dan Sparkes goal late on and took them past the 50-point mark that has guaranteed their safety.
This season may not have seen the level of success that the Iron have enjoyed in previous years, especially last season's top-six finish, but they have endured a lengthy injury list during the current campaign and their manager is proud of what he, his staff and players have achieved. Devonshire said, 'I'm proud that in the four years that I've been at the club, we've been safe in the division. There are no sweaty palms about relegation come the end of the season and I'm very proud of the boys. We know what our problem has been this year and we haven't scored enough goals. We've been OK and have had a lot of injuries, but we know what we need to do.
But for four years the board haven't had to be too worried about being relegated and I'm delighted with that'. However, the job is not yet done and Devonshire is now eyeing a strong finish to the campaign from their final three games, starting against Aldershot at the Miles Smith Stadium on Saturday." Their final match of the season is at home to Altrincham.
In the Nuneaton News we learn that "Gaz Dean has hit out at the circumstances surrounding Nuneaton's relegation this season but admitted the loss of three points was just the tip of the iceberg at the club. The Boro... were stung this week as an off-field administration error saw them docked three points by the Conference...
The former Nuneaton skipper said, 'There is no denying, there has been a massive error made at the this club and that has cost us three points... we just could not afford to lose at this stage of the season. But, we need to look at things as a whole, we were six points adrift of safety when they were taken...
For me it started in the summer. We got the recruitment wrong and it just went from there. We have managed to turn it round a bit since then, but to do that Liam Daish has had to get rid of a lot of dead-wood at the club and almost build again. He has brought in a lot of young and hungry players and they have done well. It has just all been a bit too late, though, and now with the points situation happening off the field, it means there is just too much to do now'....
" The much-hyped AGM cup, which saw Dartford and Chester stay up last season, as well as personal pride and fans support are all reasons for the players to keep going now. Dean said, 'None of us will just go through the motions... Finishing as high as you can means something. The way teams go bust in this league, fourth bottom can be enough at times. Then there is personal pride. Nobody just wants to give in... Plus there is the fans. They pay hard earned money to come and watch us. The least we can do in return is give everything we have got in those games. That is what we will be doing'".
According to the Kidderminster Shuttle, "Harriers' board of directors have come under fire from angry fans as frustration at the club's financial problems boiled over. A small section of supporters unfurled a banner during Monday's 3-0 home defeat to Bristol Rovers asking chairman Ken Rae 'Where's the money gone?'
The event came after The Shuttle revealed the club had paid employees a third of their wages last week. Director John Davies confirmed the Reds had reimbursed all staff in full after Monday's game, which boasted an attendance of 4,229, Kidderminster's biggest crowd of the season. Harriers have been plagued by cashflow issues all year as they struggle to pay their hefty wage bill and have relied on benefactors Kath and Ernie Lane.
The backers have so far paid an estimated £130,000 to the club since the summer, thought to be more than the figure they had been contractually obliged to put in... Kidderminster were hoping to arrange a meeting between Mr Lane, the players and Rae for this morning, after a similar showdown fell through last week.
Directors have also been criticised by supporters for not paying the mandatory £10,000 each season. Harriers say payment can be in money or the equivalent in terms of time volunteered or funds raised. Wayne Allen is believed to have put in the cash, while Geoff Coles and Dave Williams represent fans trust KHIST, which raises funds through the 2020 Lottery scheme. Rae volunteers his engineering expertise and spare hours, while Davies sponsors the club through firm Hire It and splits his time between his business and the club. Gino Ruffinato has raised funds through boxing evenings.
'I spoke to the protesters and they were very young,' said Davies. 'They wanted to know why we'd wasted money but I explained that we had made mistakes and apologised at the fans' forum. This has been a very stressful season and none of us want Harriers to be in this situation. We've all got jobs but we devote a lot of time working for Harriers'.
Harriers also apologised to season ticket holders, who were moved from their usual their seats in the East Stand to accommodate some of the 2,669 strong Rovers contingent for security reasons. Meanwhile, midfielder Aman Verma is set to miss the rest of the season with a broken bone in his foot. With Jack Byrne also suffering from a hamstring problem, Harriers are lacking experience in midfielder with Callum Gittings their only senior player.
Academy starlets Luke Maxwell and Kennedy Digie played over the Bank Holiday weekend, while on-loan Birmingham rookie James Fry also deputised in midfield. The Reds go to relegation battling Welling on Saturday (3pm ko) aiming to keep blooding the club's youngsters as manager Gary Whild prepares for next season."
Kent Online informs us that "Dartford will stand by manager Tony Burman despite the club facing a second relegation in as many seasons... Burman found himself in the same position a year ago when Dartford finished in the bottom four, only to be handed a summer reprieve.
Although their three-year stay in non-league's top flight now looks to be over, Burman will stay on to oversee the interconnection of the club's developing youth system with its first-team structure. He said, 'The "in thing" to do at football clubs is to sack the manager. That's what they all do and if that's the "in thing", so be it. But it's different here because we're trying to make the foundations of the club even stronger. I'm disappointed to be involved with a club that's been relegated for the last two seasons but I'm proud to have been in charge and brought the club up to where it is.
Is there shame in being relegated out of this great division? I don't feel ashamed of it at all. Everyone at the club could not have done any more to try and help the team stay in the league. But the batteries need charging and unfortunately it's the first-team that's suffered over the last two years. We've got things we're trying to put in place and trying to get stronger for the last five years. That will come to fulfilment in the next six to 12 months.
People say "Is it time for you to hand over?" but it hasn't quite happened yet. I'll know when the time's right because I'll think I've done what I can do. There are still some things to put into place and it'll be a far better outfit and club when the time comes for me to say "That's enough"'".
News from Vanarama Conference North comes from NL Pitchero. It says that "Oxford City have submitted a planning application for the laying of a 3G artificial pitch at Marsh Lane. Artificial pitches... will be allowed in the Conference from the start of next season. Conference South clubs Eastbourne Borough, Sutton United and Maidenhead United have already announced plans to install artificial surfaces themselves, but City are the first Conference North side to express similar intentions... The new surface should be in place for the beginning of the 2015/16 season."
The latest issue of the Football Conference's statistics is here.
---
9 April 2015
In a vital clash between second and third in the NWYA Premier League, Altrincham Youth had a fine 5-0 away win at Ewen Fields against Hyde FC on Tuesday night. A match report, courtesy of George Heslop, is now
here
As they chase league leaders, Chester FC, Alty Youth's six remaining games are all at home, starting with a match against Curzon Ashton next Tuesday, at Clay Lane, 6.30pm.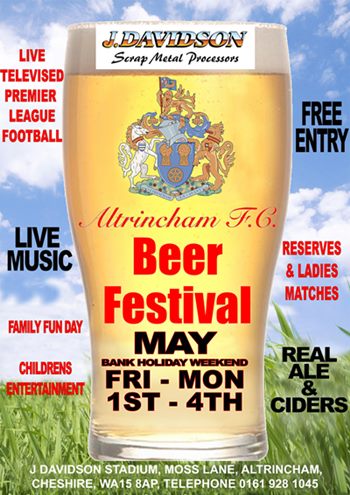 The image, right, gives details of this year's Beer Festival at Altrincham FC. And, for the first time, it will be held in the wonderful new facilities of the Community Sports Hall. Put the dates in your diary now!
Grahame Rowley advises us that the Patrons' Scheme for the 2015-16 Season is being launched.
"It doesn't seem a few weeks since I wrote this letter last season, but what a first season we have had in the Vanarama Conference. We're now asking for people to join the 2015-16 Patrons' Scheme.
For the bargain sum of £50, your name will appear throughout the season 2015-16 in the matchday programme for every home game and on the club's official website as a Patron of the Football Club.
In August, every Patron will be entered into a prize draw with the winner being match sponsor for an appointed game along with 9 guests. Second prize will be hospitality for 5 people and third prize hospitality for 3 people in the Sponsor Lounge; the value of the 1st prize is £550.
If you are interested in becoming a Patron again this season or joining for the first time please forward a cheque payable to "Altrincham FC" for £50 for the attention of Grahame Rowley.
If you require further information, please speak to me on 07720-606897 or e-mail me.
We need your support even more for the forthcoming season, as we look to 'push on' in the Conference National, so please help the club through the close season by joining up today.
Thank you.
Grahame Rowley, Chairman.
The
BBC
says that "Paul Sturrock has left his role as an advisor to Conference side Torquay United after just four days in the job. The former Plymouth boss, 58, was appointed on Sunday after two years out of the game, but has left after being offered a permanent role elsewhere [rumoured to be Yeovil Town].
Sturrock refused to discuss who he is joining when contacted by BBC Sport. His exit is not the quickest someone has left a role at Plainmoor; Leroy Rosenior was sacked 10 minutes after being appointed as manager in 2007. Rosenior left shortly after the club was taken over by a new consortium.
The Torquay board still hope to try and bring in some else to support manager Chris Hargreaves. 'I am very disappointed but we wish Paul the very best of luck in his new job,' said Torquay United vice-chairman Bill Phillips in a statement. 'We still believe in the principle of someone to work with Chris and to provide an additional sounding board for ideas, both tactically and in terms of recruitment. I also genuinely believe Chris endorses that view.
Paul Sturrock fitted the bill because he lives locally but I wish him well in his new job. Events can take over the best laid plans but we have to find someone comparable with Paul. The principle is there and now it's finding the right person. The basis of the idea is to do everything we can to help Chris achieve great success as the manager of Torquay United'".
The BBC goes on to summarise "Torquay's turbulent 12 months:
April 2014: Relegated from the Football League after finishing bottom of League Two
September 2014: Go second in the Conference after a 10-game unbeaten run which included six successive wins
October 2014: Fail to make the FA Cup first round for the first time in club history after a 2-0 loss at Aldershot in the fourth qualifying round
December 2014: Begin a run of one win in 12 league games
January 2015: Bring in former Oxford chairman Kelvin Thomas to try and find a buyer for the club
March 2014: Reserve goalkeeper Jordan Seabright quits to become a car salesman
March 2014: Millionaire chairwoman Thea Bristow leaves the club
More news from Plainmoor is featured in the Torquay Herald Express, which tells us that "Manager Chris Hargreaves says he is not surprised by the news that Paul Sturrock is poised to take up a job in management, expected to be at Yeovil Town, only four days after joining Torquay United in an 'advisory' capacity.
Ex-Plymouth Argyle boss Sturrock is expected to be announced as Yeovil's new manager tomorrow, and Hargreaves said, 'Paul told me that he still wanted to get back into club management and was hoping to do that... Paul's role with us was all about recruitment, and finding players for next season. He said he wouldn't have done anything different with our current squad than we're doing now...
We're just sitting down now to talk about budgets for next season, and those are important discussions'... United vice-chairman Bill Phillips said... 'Events can take over the best-laid plans, but we have to find someone comparable to Paul'".
"At a Football Conference Board Meeting on Thursday, 2nd April 2015 the Directors considered a charge against Nuneaton Town FC for fielding an ineligible (unregistered) player in its match against Welling United FC on Saturday, 28th February 2015, which they won 1-0.
Upon the club's own admission, Nuneaton Town FC was found guilty of a breach of Rule 6.9. The club was fined £500 for the offence and had the three points it gained in the match deducted from its league table score.
The club has the right of Appeal against this decision. Such Appeal must be lodged with the Football Association by 17th April 2015. The league table will not be adjusted until any Appeal procedure has been exhausted.
In a similar case, Colwyn Bay FC had also been charged with a breach of Rule 6.9 in its match against Stalybridge Celtic on Saturday, 10th January 2015. Upon the club's own admission it was found guilty of the offence and was fined £500. As Colwyn Bay lost the match, 1-0, no points were deducted. Colwyn Bay has the same right of Appeal against this decision".
According to the BBC, "AFC Telford United boss Steve Kittrick says the club will have trouble keeping some of their players after their relegation from the Conference...
'Tony Gray will get a lot of offers as he's scored 18 goals this season,' Kittrick told BBC Radio Shropshire. 'There are rumours that clubs are looking at Godfrey Poku but if he wants to stay here, I'd love to have him.'...
The 57-year-old wants to plan for the future... 'I want people that will be hungry to win next year. I won't overpay for players and I want a good dressing room', he added. 'When I took the job I was told not to take things personally because I'd inherited someone else's team'".
Another club planning for a (possible) relegation is the subject of an other report from the BBC. "Jobs would be at risk at Cheltenham Town Football Club if it is relegated from the football league, the chairman has warned. Paul Baker said admin jobs would be axed if the League Two club drops into the Football Conference next season. Cheltenham are currently bottom of the league with five games left to play.
'People would lose jobs all over the football club [and] we would have to trim down the team,' Mr Baker told BBC Radio Gloucestershire. The club recently appointed former Bristol City and Yeovil Town manager Gary Johnson to try and help the team avoid relegation. 'We'd have to look at all aspects of the business', he said...
'Hopefully we'll be able to retain the academy and hopefully we'd be able to retain the training facility. But the key thing will be the wages and the playing budget which will have to be significantly reduced'".
Happier news comes in the Chester Chronicle which tells us that "Chester FC winger Craig Mahon has confirmed his desire to sign a new contract with the club but says there are still a few issues to be ironed out... He has scored seven goals in 46 appearances this term...
The Chronicle understands the 25-year-old, who ex-manager Neil Young signed from Vauxhall Motors, has been offered a two-year contract but would like a slight improvement in the terms. He has aspirations to play in the Football League but the popular wideman, who came through the ranks at Wigan Athletic, believes he can fulfil those with the Blues.
'I love the club and I love the fans, and I love playing for Chester,' he told the club's official website. 'I'm looking forward to making some more history next season if I get the opportunity. I obviously want to be here next season and I just need to sort some things out with the gaffer, hopefully we can get it sorted... I'd love to play in the Football League and if I could do that with Chester, that would be even better'".
According to Kidderminster Harriers, "Luke Maxwell believes the future is bright for Harriers despite Monday's 3-0 defeat to Bristol Rovers. It was a youthful side who took on title-chasing Rovers at Aggborough and 17-year-old Maxwell earned several plaudits for a mature display in the centre of midfield.
The Academy star spoke after making his fifth first-team appearance of the season, two days after playing alongside fellow Academy graduates Kennedy Digie and Jordan Harrison at AFC Telford United, while youngster George Forsyth was also included in the first-team squad on Monday... Maxwell believes his Academy team-mates have got what it takes to perform at this level...
Maxwell continued, 'It was tiring playing two games in three days... 'There is a massive difference between Academy football and playing out there. It's more physical, your basics like first touches have to be a lot better, and there's a fast pace so you need to be fit... I play with the Academy boys every week and I think they are good enough to step up to this level...
The midfielder is now looking ahead to Saturday's trip to struggling Welling United... 'Saturday could be a good opportunity to get a win under our belts, after we beat Braintree and did well against Telford,' Maxwell said".
---
8 April 2015
In a vital clash between second and third in the NWYA Premier League, Altrincham Youth had a fine 5-0 away win at Ewen Fields against Hyde FC on Tuesday night. A brief match report is to follow...
As they chase league leaders, Chester FC, Alty Youth's six remaining games are all at home, starting with a match against Curzon Ashton next Tuesday, at Clay Lane, 6.30pm.
Altrincham FC Reserves beat Moore United 2-1 on Tuesday night and on Thursday (09/04/15) they entertain Witton Albion FC Reserves (kick off at 6.15pm) at the Mersey Valley stadium, Banky Lane, Ashton on Mersey.

Above: On Monday, the pitch at Gateshead was heavily watered before the game and, as shown above, at half-time.
According to the
BBC
"Torquay United manager Chris Hargreaves says he hopes Paul Sturrock's experience can help improve his team. The 58-year-old former Plymouth Argyle and Southend manager has been appointed as an advisor to the struggling Conference club.
'He's got good experience in the game', Hargreaves told BBC Radio Devon. 'We'll have lots of discussions to try to get the right type of team out there to show the fans that we mean business'. The Gulls have won just one of their last 11 games in all competitions, but are safe from relegation after Welling's loss to Eastleigh. 'Paul's a good bloke, I get on with him and if we can help each other than it's going to be great', added Hargreaves, who was unable to keep Torquay in the Football League last year. 'It's not going to be easy but I'm as up for it as the day I first walked in and sometimes the team doesn't reflect what I was like as a player'".
According to the Shropshire Star, "AFC Telford United's top scorer Tony Gray is 'willing to talk' about extending his stay at the New Buck's Head. But the 31-year-old hitman, who has scored 19 goals this season, is keeping his options open until the end of the campaign as he carefully weights up the next chapter in his career.
Gray marked his 31st birthday yesterday with goal number 19 of a prolific season during Telford's 3-0 win at Southport. And he said, 'Telford have asked me if I want to talk about next season and I am willing to, but I am going to leave it until the end of the season. I got a text the other day asking how I was and what was going on and where I stood, where they stood. And I just told them I am just going to see how it goes but I am definitely willing to talk. With my age and work commitments, family and stuff, I will give it a thought and I have got to listen to everything that I get'.
Gray is expected to attract plenty of attention in the coming months following his superb tally for Telford this season, with Halifax one side rumoured to be interested. But he said, 'Until I get something sorted out or until something offers me something, I won't be going anywhere'".
The Nuneaton News reports that "Nuneaton Town look set to be hit with a three-point penalty after fielding an ineligible player. The Nuneaton News understands The Football Conference is to impose the sanction after the club fielded George Maris against Welling United on February 28, two days after his loan from Barnsley had terminated.
The club has until April 17 to appeal the decision, but sources from within the club suggest it is unlikely an appeal will be lodged. The Boro were notified of the rule breach on March 3 following Maris's involvement against Welling. The club replied after realising an email destined for the Football Conference, containing signed documentation extending the youth loan of George Maris, had not been sent. However, documents were sent in the post prior to the Welling game and were received the following Tuesday.
Speaking exclusively to Nuneaton News Sport, chairman Lee Thorn said, 'This is a regrettable situation for the football club to be in but one we cannot hide away from.... We were not aware of the email not being sent until we were contacted by the Football Conference'.
The Boro had been operating without a permanent club secretary since Richard Dean's decision to resign in December. Thorn added, 'It is a big role to fill in the middle of a season and unfortunately a mistake has been made. The club fully appreciates how important the role of club secretary is. But we can move forward now with the appointment of Russ Horsley and hopefully we will learn from this mistake going forward'.
If uncontested via appeal, the three point penalty will place Boro on 35 points, nine points behind Alfreton (who currently occupy the position above the relegation zone with three games remaining). Thorn added, 'You can see with the players we have bought in I have backed Liam Daish to keep the football club in this league and, until the recent run of three defeats, it was looking like we could achieve the aim of survival... The points deduction doesn't relegate us, but it certainly doesn't help our cause'".
In the Chester Chronicle we learn that "Chester FC boss Steve Burr says he's 'bitterly disappointed and angry' about his side's dreadful end to the season, which continued with a 4-1 defeat at home to Forest Green Rovers on Easter Monday...
It has been a nightmare Easter period for the Blues, who were hammered 5-1 at Bristol Rovers on Good Friday, and a record of one win, two draws and six defeats from the past nine games does not make for good reading. Forest Green punished a woeful start from Chester to lead 3-0 inside 23 minutes... Matty Brown (ankle) and Michael Kay (head wound) were forced off with injuries in a wretched first-half.
John Rooney did pull one back just before the interval but the game was over when Aarran Racine made it 4-1 three minutes into the second-half.
Burr said, 'For me, you're remembered in football for your last game and our last game is going to be remembered for a 4-1 defeat at home, which is not good. The only positive thing I can take is what we set out to do this season was not be in the position we were in last year [relegated but reprieved] and we've done that. We've had some good games and some good times this season but at the minute we're in a bad rut of results. Defensively we're conceding goals and looking like the start of the season where every time the ball goes in the box it looks like we're going to concede so that's something we need to address..
We had a bit of momentum to get it to 3-1 but to concede just after half-time was really poor and it killed the game. "We had a little rally just before half-time where we got ourselves a goal and we spoke long and hard at half-time about the momentum and within two minutes they've scored. Kingsley James's man has gone in front of him and just poked it in so it's disappointing. People have got to do their jobs whether it's a corner for, a corner against and basically just out on the park...
I'm bitterly disappointed and angry at the minute at the fact we've lost another game heavily but as I say it gives me a better idea of what we need in the summer'... Parkin's elbow appeared to be the cause of Kay's head wound and Guthrie appeared to go over the top on Brown, who suffered a suspected broken ankle, although the damage was not as serious as feared.
Burr said, 'Defensively we were awful. I'm really disappointed with the goals we've conceded and it's not helped obviously with losing our two centre halves'".
NL Daily adds that "Chester FC have recalled Peter Winn from his loan spell with Kings Lynn Town Winn, who joined the Linnets last month, will now be available for Chester's remaining fixtures as they look to battle through an injury crisis that has sees no fewer than four first team players doubtful for forthcoming fixtures".
Get Hampshire says that "Aldershot Town FC officially secured their Conference Premier status for another season after completing a very happy Easter at the expense of Torquay United. Goals in each half from Tristan Plummer and captain Glenn Wilson sealed a relatively comfortable 2-0 Bank Holiday Monday (April 6) victory for Chris Barker's men, adding to their impressive 3-1 success at Forest Green on Good Friday.
And Eastleigh's 2-1 victory at Welling United ensured Aldershot's Conference survival with four matches left to play.
Beaming Barker told Get Hampshire, 'When I first took the job three months ago, keeping this club in the league was my first aim even if it meant not playing pretty football. That's all done now, hopefully we can kick on for the rest of the season. If you'd have said to me Friday morning (April 3) that we'd get six points and stay up this weekend, I'd have been buzzing... I'm very proud of the boys for turning the season around'.
In-form Plummer got the ball rolling with an audacious fifth-minute effort, a looping effort from wide out on the right, bamboozling Torquay's debutant keeper Dan Lavercombe at his far post. However, Plummer later admitted to Get Hampshire that he didn't mean it and didn't celebrate, owing to the fact that in 2009 he played one game for the Gulls".
---
7 April 2015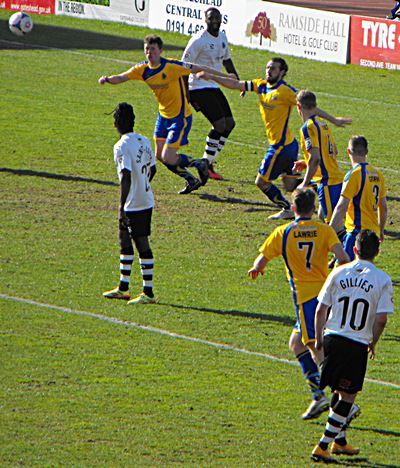 On a poor pitch which rendered the game largely devoid of quality, Gateshead took the points with a first-half goal from former Altrincham trialist Michael Rankine. He turned and drove home from the edge of the box in the 40th minute.
Altrincham had more than matched the promotion aspirants before then but barely threatened to score themselves.
The second half was, if anything, even poorer in quality. Sainte Luce looked the liveliest player on the pitch but Parton was scarcely troubled. For Alty, the introduction of Crowther and Perry prompted an improvement in the closing stages but two fumbles by the Gateshead keeper were the nearest to a goal for the visitors.
An unhappy afternoon also saw Cavanagh booked and he now faces a two-match ban.
Match report here.
Right: Alty clear their lines at Gateshead.
After Monday's game,
Gateshead
report that "manager Gary Mills paid tribute to Michael Rankine as the frontman struck the decisive goal in today's 1-0 win over Altrincham... a first win in six outings.
It was the 30-year-old's fourth goal in eight games, having netted just once all season previously. And Mills believes that the Tynesiders' hectic schedule has been to the benefit of Rankine, who has begun every game in the last month. He said, 'He's probably getting fitter, he's played a lot of minutes. He's a handful, as you've seen again today. He's a big unit to play 93 minutes game in, game out. I brought Ranks here to come and give me an option, and we've had no options of late and that's why he's had to play. But he deserves to play, whether I have options or not. He's been a handful all season, and he's scoring goals now, too'.
Clear-cut chances were at a premium in a largely forgettable encounter on Tyneside. Rankine gave the Heed a half-time lead with their first shot at goal, before Josh Gillies and Alex Rodman both went close after the break. On a balmy afternoon, winger Kevin Sainte-Luce was named as Gateshead's man-of-the-match...
Mills spoke of his delight for the Frenchman... 'He's a great lad, and the worry with him was his defensive duties but he's put the work in there... We've deserved it; we've worked really hard in the last few games, and have been unfortunate not to pick up a few more points. It's nice to keep a clean-sheet – [goalkeeper] Joel [Dixon] has deserved that, although I had my heart in my mouth towards the end'... We've got to beat the teams above us, but it's in our hands to go and beat them'".
The Heed also report that "In a game of precious few chances, Rankine's emphatic finish five minutes before the break proved enough to earn the Heed a first win six outings. The only effort at goal in a drab opening half-hour came six minutes in, as Altrincham livewire James Lawrie, looking to catch goalkeeper Joel Dixon off his line, curled the ball high and wide of the target from 40 yards out.
On 39 minutes, a neat passage of play involving Adam Griffin, Jake Moult and Lawrie saw the latter gather the ball 25 yards out and flash a powerful effort just wide of Dixon's near post. But from the following attack, the Robins found themselves trailing. Alex Rodman's ball trickled into the path of Rankine 20 yards out, and after taking a moment to set himself, the frontman larruped the ball into the bottom corner of the net...
Lawrie, undoubtedly the visitors' liveliest asset,– then struck powerfully at Dixon from range, which the stopper gobbled up at the second time of asking... Former Port Vale midfielder Lawrie almost restored parity for Altrincham ten minutes from time, as his right-footed effort was clawed clear by Dixon with the top-corner of the net set to ripple.
In truth, neither side carried much of a threat late on, but the Robins almost levelled out of nothing in stoppage time, as Dixon allowed a loose ball to trickle beneath his body, and only a desperate clearance from Baxter prevented Tom Marshall from stabbing home".
Monday 6 April
Dartford 1-2 Barnet (gate 1579)
Aldershot Town 2-0 Torquay United (2033)
Alfreton Town 0-2 Grimsby Town (3327)
Chester FC 1-4 Forest Green Rovers (1911)
Dover Athletic 2-1 Woking (1078)
Gateshead 1-0 Altrincham (957)
Kidderminster Harriers 0-3 Bristol Rovers (4229)
Lincoln City 1-1 FC Halifax Town (2263)
Macclesfield Town 2-2 Wrexham (2050)
Nuneaton Town 0-1 Braintree Town (636)
Southport 0-3 AFC Telford Utd (1092)
Welling United 1-2 Eastleigh (700)
The
Football Conference
announces that 'The Vanarama National League' is coming along with two new broadcasting initiatives and a new three-year TV deal with BT Sport.
The Football Conference is proud to announce that 'The Vanarama National League' is coming to a ground near you!
In a re-branding initiative, which will under-line the competition's status at the pinnacle of the semi-professional game; and linked to a community programme the length and breadth of the country, the Vanarama National League will engage fans not only of the competition's 68 member clubs but football throughout the UK and beyond.
The new 'Vanarama National League' will officially take its place in the football family on June 6th and the changes will include a new look logo, whilst acknowledging the past it looks to the future, to strengthen the competition's identity.
The Vanarama National League will also launch a new broadcasting company, NLTV, which will be the first fully dedicated broadcasting channel focusing solely on the 68 member clubs, creating a regular narrative for the competition that will run throughout the whole season and lastly, in yet another first, the competition will create the all new NLTV Broadcasting Academy.
Brian Barwick, the incoming chairman of the new Vanarama National League said, 'I am delighted to be joining at this vibrant time with this exciting new branding. It offers so much to our existing partners whilst at the same time opening up potential new opportunities. I look forward to steering this great competition to new levels of awareness and visibility.'
A further resounding endorsement for this level of the game and in support of the new branding initiative, BT Sport have agreed a new three-year deal with the competition which will extend the live coverage of matches and feature a regular weekly highlights show to be broadcast on a Sunday evening,
Tony Kleanthous, Board director responsible for broadcasting said, 'We are delighted to be continuing our partnership with BT Sport and indeed embracing their expertise and experience. NLTV's aim is to launch a very affordable internet subscriber portal in 2016 where fans anywhere in the world can keep up to speed with what's going on across the activities of all member clubs and everything which affects them, their players and even their fans. The NLTV daily show will include short clips, podcasts and updates from clubs around the country and our new digital platform will also feature highlights from every game every week so you never need miss the action.'
Steve Norris, commercial director at BT Sport said, 'We are proud to continue our sponsorship of this level of the game with a significant further investment for another three years. We are also pleased to support the academy initiative which underlines our commitment not only to grass roots football but the future education for all the young students out there who want a helping hand up the sports broadcasting ladder."
Chairman of Vanarama David Bernstein said, 'My extensive involvement in football over the years has allowed me to be connected with a wide range of initiatives. I am particularly excited by this announcement and the Broadcasting Academy is an educational project to which Vanarama is proud to extend its support. We have demonstrated our commitment to football and their communities up and down the country and want to continue working with an organisation whose vibrancy and ethos matches our own.'
The final words come from the outgoing chairman of the Football Conference Brian Lee, who will complete his tenure at the end of this current season. 'Our announcement around the name change, broadcasting channel and academy excites me and I sincerely hope it excites the football world. I know I am passing on this organisation in good shape and there is much more to come with the positivity showed so far it can only be more exciting for our clubs, our fans and the future of our game.'
*BT Sport has also teamed up with Vanarama, to provide financial support for the all new 'NLTV Broadcasting Academy'. This will be another first for the industry, whereby forty-eight media students from around the country will be given the opportunity to be part of this exciting new initiative where they will be trained in filming techniques and then embedded with clubs, provided with BT professional broadcasting equipment and taught by BT Sport technical staff how to film, edit and stream media to a new production hub.
Tony Kleanthous added 'This would never have been possible without the committed support of the commercial team at BT Sport and our hugely supportive title sponsor Vanarama who have committed extra funding and other resources to help get this worthy project up and running. This will provide students with the best teaching, using the best equipment in the best environment, real on the job training and I just can't wait to see the smiles on the faces of the graduates who receive the first diplomas we will be handing out next year.'
Vanarama, the competition's Title Sponsor, together with leading sports marketing agency SportQuake have combined to facilitate the name change and logo design, culminating in the announcement last month that Vanarama were extending not only their main sponsorship but adding support for the academy. This underlines their commitment not only to the competition but also to education and community. SportQuake specialise in creating world class two-way partnerships between rights owners and brands."
Our
next opponents,
Torquay United
report that "The difficult United run continued with a 2-0 defeat at Aldershot and another day when the Gulls failed to convert possession into goals.
Tristan Plummer opened the scoring with a freak cross that found the net on five minutes but United had plenty of chances to recover before Glenn Wilson confirmed the home victory with a low strike.
'The lad has whipped in a cross for the first freak goal and we looked very comfortable in the first-half,' said manager Chris Hargreaves. 'In the second half, we got bullied and we got dominated. I don't want the lads to play nice football that is meaningless and maybe there are too many players in our team that don't realise percentage football works. We made changes in the second half because Louis Briscoe and Toby Ajala were cramping up but it didn't give us the legs I wanted.
Daniel Lavercombe made his debut in goal and did very well. Martin Rice needed a rest and Dan was excellent. We have four games to go in the season and still plenty to play for. I've got to start looking at things and possession is nonsense if you don't score goals'.
United (4-4-2): 31 Daniel Lavercombe, 29 Aaron Dawson, 5 Krystian Pearce, 4 Aaron Downes, 25 Levi Ives; 22 James McQuilkin, 6 Ben Harding, 16 Courtney Richards, 11 Courtney Cameron (20 Kadell Daniel 58); 7 Louis Briscoe (15 Liam Prynn 67), 10 Toby Ajala (14 Ashley Yeoman 73). Substitutes (not used): 1 Martin Rice, 26 Ollivier Gueguen".
---
6 April 2014
You can follow Monday's fixture via this website's minute by minute text updates by clicking on the icon below. Alternatively Radio Robins' coverage of the game is outlined below as well.
Brian Flynn advises that Radio Robins, sponsored by Ashley Mowers Garden Machinery, will be broadcasting live coverage of the game on Easter Monday. The match commentary is sponsored by Italian Apartments. See the superb range of quality Italian Apartments for rent in Lake Como, Tuscany, Venice, Puglia & Lake Maggiore here.
The match commentators are Ian Wilkinson and Brian Flynn with George Heslop as match summariser. Commentary begins at 2.55pm. You can listen to Radio Robins on the internet at www.radiorobins.com
Gateshead
's prices for "Admittance via cash turnstile" are:
Adults: £15
Concessions: £10
16-17/Students: £8
Under 16: £3
Tickets for our home matches in the Vanarama Conference can also be purchased in advance here, with a "£1 discount. "Tickets can be collected from the ticket office at the International Stadium, which is open on match days prior to kick-off. Matchday Magazine: £3...
Gateshead supporters are housed in the main Tyne & Wear stand, which holds 3,200. Away fans are located in the opposite 4,000 capacity East Stand. Both stands are all-seater and covered and have refreshment and toilet facilities."
After Friday's win over Southport, Lee Sinnott spoke to Dave Stringer of the NL Paper about Altrincham having ensured their position in the Conference for next season. "Sometimes you need a get out of jail card but it is very pleasing to have done it ourselves, especially after our first half-dozen games, and I am delighted for a great bunch of lads", he said. "We're not finished yet and I have a points target to aim for. It was a strange game and, sometimes, you get a bit more than you deserve". Opposition boss Paul Carden said, "I am disappointed with the result, we played some really good stuff... I can't remember too many chances for Altrincham. This is probably the best we have played since I took over. But football is about fine margins. We have nicked some results when we haven't been on top but, today, the small margins were against us".
Friday's bucket collection raised £65. Many thanks go to contributors and collectors alike.
Andrew Brannan, who is one of the Altrincham FC Juniors' fathers is running the Manchester Marathon to raise money for the AFCCS Hall. Andrew has set up a
Just Giving
page for sponsorship of his run. So, if you can, please support Andrew by pledging your support.
Altrincham FC Youth are away to Hyde FC on Tuesday evening, 7th April. This game has been switched from the Egerton Sports Club at Knutsford to Hyde FC's ground, Ewen Fields. Kick off is 6.15pm subject to confirmation.
Altrinham's Football Careers, Scholarship & Education Programme team beat Harrogate Town 7-1 on Wednesday. Their next game is away to Farsley on 15 April.
According to the
Grimsby Telegraph
, "A football hooligan who hurled a smoke bomb on to the pitch during trouble at a Grimsby Town match has been banned from games for three years. He was an 'avid' Grimsby Town fan and the ban, which includes England away matches, would be a 'very real punishment for him', a court heard.
Lewis Beeken, 22, of Riverside Drive, Cleethorpes, admitted throwing a smoke bomb towards the playing area and unlawfully going on to the pitch at the match on November 15 last year. The incidents happened during the Mariners' away match at Altrincham, which ended in a 1-1 draw.
Rebecca Dolby, prosecuting, told Grimsby Magistrates' Court that smoke bombs were set off during the match and were thrown into the penalty area. A man was seen to throw a smoke bomb and later enter the penalty area after Grimsby scored. He was not arrested at the time but was later identified from pictures that were circulated.
Steven Freestone, mitigating, said that Beeken travelled to Altrincham and he was standing in the away supporters' area just before the start of the match when others threw smoke bombs forward. 'He was standing at the front of that section of the ground when one landed by his feet,' said Mr Freestone. 'He very foolishly picked it up and threw it towards the penalty area. He did not throw it at anyone.'
He later entered the playing area after Grimsby scored a goal and 'went over in celebration' just past the hoardings facing the Grimsby Town supporters. 'There is no suggestion he went over towards the rival supporters,' said Mr Freestone.
'It was for a few seconds and he went back to the away supporters' end. There is no suggestion of anything provocative or aggressive but he should not have done it and he realises that.'
Beeken voluntarily handed himself in after being identified at another football match and he was not actually arrested. 'He apologised to the police officers when they spoke to him,' said Mr Freestone'...
The three-year football banning order means Beeken will not be allowed within half-a-mile of Blundell Park on a matchday, three hours before and after the game, or within half-a-mile of Cleethorpes Market Place or Grimsby town centre during the same period.
The ban also prevents him from visiting any town or city where the Mariners or the England national team are playing an away match that day. Beeken was given a one-year conditional discharge and was ordered to pay £85 costs and a Government-imposed £15 victims' surcharge.
Police have warned Alfreton Town and Grimsby Town supporters not to take any flares, smoke bombs or similar projectiles to Monday's crunch fixture. Alfreton host Grimsby and about 2,500 Town fans are expected to make the trip... A Derbyshire police spokesman said, 'Together with the clubs, we take a zero tolerance stance on the illegal use of pyrotechnics at football fixtures. They are unwanted and can be dangerous, and we know that law-abiding fans do not want them blighting football'".
According to the Western Morning News, "Torquay United hope to have on-loan striker John Campbell back from injury for Monday's Conference Premier trip to Aldershot... Campbell has been out for the last three games with a hamstring problem and, with leading scorer Ryan Bowman already missing with a groin strain, manager Chris Hargreaves could do with more firepower up front.
Geordie-born forward Campbell, on loan from Oxford, has resumed training, along with right-back Dale Tonge, and both are thought to be in contention for tomorrow afternoon's match. Torquay head for Aldershot after another disappointment in front of their own fans on Saturday.
After several missed chances, a James McQuilkin goal in the 67th minute seemed to have settled the game against one-from-bottom Dartford. The visitors did not look like equalising until five minutes from time, when United goalkeeper Martin Rice first parried a long-range low shot by Rory McAuley, then couldn't quite smother the rebound, allowing on-loan Cambridge striker Jordan Chiedozie to score.
Chiedozie is a former AFC Bournemouth starlet, whom Hargreaves coached during his time as Development Coach with the Cherries. The result leaves United with one win in their last ten league and cup games, and only five points from the last 24.
'It's frustrating, because we limited Dartford to one real shot, and to concede from that is very annoying,' said Hargreaves... 'You've got to be prepared to get hurt in those situations. But their player reacted first... and we needed to show a bit more composure at times'...
Charlton loanee Kadell Daniel made his full debut on the wing, with Hargreaves saying, 'He was a bit disappointed with his performance, because he didn't have a lot to show for it. He did OK, but he's not used to playing 90 minutes at this level after Under-21 football. We wanted to get 80 minutes out of him, and we did, and he'll benefit from that.'
Hargreaves... said of today's game in Hampshire... 'I'm not sure that the same eleven will be able to play again in 48 hours' time, but we'll see.'. Midfield skipper Luke Young is in the middle of a three-match suspension. Defender Aaron Downes took the armband against Dartford, but United have welcomed back young centre-forward Duane Ofori-Acheampong following the recent death after an illness of his younger sister.
Torquay United (from): Rice, Lavercombe; Dawson, Pearce, Downes, Ives, Daniel, Harding, McQuilkin, Cameron, Ajala, Briscoe, Prynn, Richards, Ofori-Acheampong, Gueguen, Campbell, Tonge, Yeoman, Chaney.
Unavailable: Young (suspended), MacDonald (ankle), Cruise (knee), Bowman (groin), Benyon, Chapell, Parcell (all out on loan)."
And Torquay United add that "United manager Chris Hargreaves was left bemoaning the one chance that proved enough for Dartford to snatch a lucky draw...
The Gulls dominated for long periods and spurned a gilt-edged chance through Louis Briscoe before James McQuilkin thundered home what looked like the winner on 67 minutes... Said Chris, 'Perhaps we have to limit teams to no shots because they only had one shot, and scored. I'm surprised with Louis because he normally puts those chances away. In training, he is lethal but it can do things to you when you're out on the pitch and the adrenalin is flowing'".
We also hear that "Torquay United and manager Chris Hargreaves have recruited the services of former Plymouth and Dundee United manager Paul Sturrock.
The experienced Scot will help with the rebuilding process at Torquay United for the remainder of the season and in planning for the summer recruitment drive. Sturrock lives locally and has been a regular visitor to the Launa Windows Stadium this season, giving him an insight to the current Yellow squad, as well as a view on the type of player needed for us to build a team to succeed in the Vanarama Conference next season.
'Paul has huge experience in the game and a book of contacts that could prove a massive help in our bid to create a squad capable of mounting a serious challenge in the new campaign,' said Chris. 'When the offer of assistance from a proper football person with terrific knowledge of the game came in, I felt it was a positive opportunity for myself and Lee to share our vision for the future...
'We have five games remaining this season and we will fight hard for every single point available, but the process of planning for the future has to begin now. We know the type of squad and the type of player we want lining up on the opening day of the new campaign'".
Southport report that "Paul Smith will miss Easter Monday's clash with AFC Telford after suffering ligament damage just two seconds into Good Friday's defeat at Altrincham. Smith sustained the injury, which required an immediate X-Ray, right from the kick off. Smith's determination and one hundred per cent effort have been central to the Sandgrounders recent revival. Paul Carden will miss his genuine squad man who has been an unsung hero in recent weeks."
According to the Shropshire Star "AFC Telford boss Steve Kittrick has called for a united front in the remaining four games of the season following the team's relegation from the Conference Premier...
It is the first time Kittrick, who took over the reins of an already badly struggling team in December, has experienced relegation in a lengthy managerial career, and he said, 'I can't be upbeat today because I have never been in this situation in my life... We have got to try to get off the bottom of the table and just be professional...
When I took the job I was told not to take things personally because I had inherited somebody else's team. But I have always had an affection for this place and it does hurt... We have got to stick together; all the supporters, the people that have helped me, the backroom staff, and I have said to the players that they have got to play for themselves as well.
As a team and individually they have got to play because they are in the shop window for me and for other clubs... I think a lot of players when I came here were down in the doldrums. I think a lot of them thought it was over anyway and you have got to try to make it happen'...
An error by Sean Clancy allowed Callum Gittings in to score a 78th minute equaliser which condemned Telford to the drop. Kittrick said, 'It came down to errors again. Sean Clancy is gutted and I thought he had a good game today'".
Welsh Premier says that "The New Saints' director of football Craig Harrison says he is flattered to be linked with the vacant managerial position at Wrexham. Former Middlesbrough and Crystal Palace defender Harrison, 37, is now 2/1 favourite with some bookmakers to succeed Kevin Wilkin at the Racecourse.
Harrison worked with Wrexham's recently-appointed first team coach and caretaker boss Carl Darlington at TNS... Harrison left Airbus UK Broughton four years ago to manage TNS, where he has won four Welsh Premier League titles, two Welsh Cups and a Word Cup since his appointment".
Welsh Premier
"clubs playing in the Europa League next season will receive a substantial boost in their prize money. They will each earn €200,000, the same as The New Saints will bank for reaching the first qualifying round of the Champions' League.
UEFA has moved to narrow the disparity in prize money between its two competitions. Rather than Champions League clubs getting £4.30 for every £1 available in UEFA's secondary competition, the ratio has been narrowed to £3.30.
UEFA has increased the financial rewards for the Europa League by 65 percent with additional revenue for clubs in the qualifying rounds.
The three qualifiers will see their prize money rise by more than 50% from the current €130,000 with an additional €210,000 up for grabs if they can reach the second qualifying round as Prestatyn Town did two years ago.
In comparison, TNS would win an additional €300,000 Euros should they win through to the second stage.
Should any team reach the Europa League group stage, €2.4m would be their reward".
---
5 April 2015
As Grahame Rowley explained in the Robins' Review, the situation regarding Peter Cavanagh (right) and his suspension is rather bizarre. He received his tenth booking last week and was then sent off for a second yellow card. Had he not been booked a second time he would have got a two-game ban for his ten cautions over the season. Instead, he has got a one-game suspension (served on Friday) for the sending off and his yellow card count reverts to nine. If he can keep his nose clean at Gateshead and Torquay, he won't get banned again even if he is booked in either of the final two matches, because an armistice applies from the second Sunday in April! Grahame adds, "I'm sure we all believe Cav thought all that through as well!"
Following the win over Southport which mathematically confirmed Altrincham's participation in the Conference's national division next season, the audience in the Community Sports Hall was in good humour for this Question and Answer session with manager Lee Sinnott and his assistant, Neil Tolson. The event was compered by Alty's joint Press and Media Officer, Brian Flynn.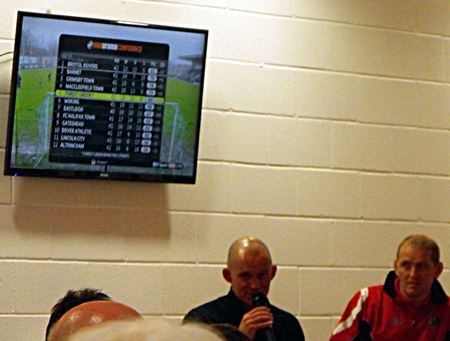 As Lee Sinnott and Neil Tolson answer questions from supporters on Friday, the TV screen above them confirms Altrincham in 12th place after beating Southport.
After being congratulated on his team's achievements over the season, Lee said that "The work is not finished even though we are twelfth and safe. There is work to be done between now and the end of the season". Lee recalled how we only gleaned eight points from the first 12 games of the campaign, so "Where we now stand is testament to the players; and we only used twenty players all season".
The manager also reminded the audience of the difficulties for part-time players, not least getting home at 5am from midweek games at Woking and Dover. Neil Tolson added that he was pleased with the season as "The gaffer stuck to his principles of passing the ball around, of playing 'proper' football". Lee responded by saying how he did not just want to win "I want to be entertained".
Asked about next season, Neil said "We know players we would like to target and we are making a list of those we want to keep". When asked about the club's five-year plan by a recently converted supporter wearing a Manchester United shirt, Neil prompted a round of applause for telling the questioner that "First of all, you need to get an Alty top!"
Referring to next season, Lee told the supporters that "We won't be a surprise package next season so we need to up our game. It's a hard league and we need to make progress each year, off and on the pitch".
Questioned about Alty's small squad, Lee replied "I won't say yes or no to a larger squad next season. To keep the squad performing it needs to be tight knit. One of our strengths is our togetherness". He continued, "if you have injuries and need to strengthen, you have the resources available if you haven't spent the budget beforehand".
The manager explained that he looked at games in blocks of six. "After we had only got eight points from twelve matches, we held our nerve. We had to get the players to realize that they were good enough at this level. And we are still capable of more with these players".
Lee was asked about his son, Jordan's fine goal against Southport. He replied that "The number twenty-six" had done well! Asked about Tom Marshall, Lee explained how Tom had a "nightmare against Barwell" but when Scott Leather got suspended, he had seized his chance and played well since then to retain his place.
As Neil recalled his own drop from Football League to non-League, from the audience Stuart Coburn told the gathering that when both he and Neil had played for Leigh RMI, "Tols was shocking!"
Lee went on to explain how when looking for new players, age is important. He had brought in quite a few young players over the past four years and many of them were still not at their peak age. An exception, in being an older recruit for Alty, had been Peter Cavanagh "who has been brilliant for us".
Alty's legendary supporter Kenny Palin now asked a question with his usual directness. "How many more years has Stuart Coburn got", he asked as Alty's 39 year-old keeper looked on. Kenny then promptly left the room after doing some wall press-ups and did not hear the response! Lee replied that "Age does not come into it. he's a top class keeper . Hopefully he can continue next season and the season after that. Getting promoted kept Stuart young and hungry", he concluded.
After a break for the TASC Easter Draw, the meeting continued with a question about the progression from youth level to the first team. Neil pointed out that "It is a big step from youth to Conference national football". Had we been in Conference North the progression would be easier, he said.
A question about how Lee and Neil had managed the recent =sequence of very long away games, Lee replied that "You have to keep challenging the players' minds. That has been key to the last two weeks. We have taken six points in the last week and haven't trained at all in that period. We need the players' minds to be physically fresh". He continued, "Our system of trying to keep the ball helps us too as other teams often tire but we generally finish strongly".
During this season Lee said "We have played six or seven different systems. Two have been the most productive 4-4-1-1 and 4-2-3-1". Neil added that having to get through three lines of defence helped to make it difficult for the opposition.
As for other teams, Lee said the best one-off performance against us was by Barnet, away. He felt "the best team over both games against us was Grimsby Town, whilst Woking were also impressive".
The manager and his assistant's professional ambitions were the subject of a query. Neil said that he always aimed to give his best and if his best was to be Assistant at Altrincham, that was fine. Lee said that "I am not looking to go anywhere. I didn't ask for a contract when I came here. I am 48 hours from the sack or resignation!" He added, "This is a wonderful football club; let's just keep it going forward."
Supporters are reminded that if they wish to book on the TASC supporters' coach to Gateshead for Monday's game, they should please
e-mail
Mark Eckersall, as the Club's offices will be closed over the weekend.
Alty TV has highlights of Alty v Southport, adjacent.
And Mike Ripley's photos of Altrincham v. Southport are here.
Altrincham dropped a place as Kidderminster's draw took them above us. However, Altrincham are the only team in the division to have won their last two games!
Saturday 4 April
AFC Telford Utd 1-1 Kidderminster Harriers (Telford now relegated) (att. 1,773)
Barnet 1-0 Nuneaton Town (2,006)
Eastleigh 0-1 Dover Athletic (1,703)
Grimsby Town 2-2 Gateshead (5,958)
Torquay United 1-1 Dartford (1,754)
Woking 2-2 Welling United (2,819)
Wrexham 4-0 Alfreton Town (2,468)
Our next opponents,
Gateshead
report that "manager Gary Mills admitted he was 'gutted as his side came within seconds of a morale-boosting win at title-chasing Grimsby Town. A 95th-minute equaliser from Mariners' captain Craig Disley denied the Heed a first victory in five games, after Kevin Sainte-Luce had twice put the visitors in front.
The Frenchman had yet to score for the Tynesiders ahead of the trip to Blundell Park, but opened his account with a breathtaking solo goal ten minutes before the interval. Jack Mackreth restored parity with an impressive strike of his own, before Disley cancelled out a second effort from Sainte-Luce at the death.
With ten first-team players unavailable for selection on Humberside, Mills was again forced to make do with a threadbare squad. And the boss was visibly proud of their efforts... 'Again, the players have given me everything. We're just not having the run of it at the moment. "It's a hard one to take. We've set up slightly different today, I've asked them to be disciplined, and they were excellent. It's cruel. I'm gutted for my players, they didn't deserve that today. And I'm gutted for the travelling fans; they were fantastic as well.
It just seems that's the way the season has been this year, but this is the game we're in, and you have to take it on the chin. Without a doubt, it would have been our most satisfying victory of the season. But we'll keep going, we've still got another 12 points to play for and we'll try and get a result on Monday'..
Next up for the Heed is a home clash with 13th-placed Altrincham, enjoying a comfortable first season back in the Vanarama Conference. Mills will have to do without Valentin Gjokaj on Monday, with the midfield battler dismissed in the last minute of normal time after picking up two yellow cards. The involvement of forward Adam Campbell is now also in doubt, after the Newcastle United loanee fell awkwardly on his ankle in stoppage time.
However, Frenchman Sainte-Luce looks set to start successive games for the first time as a Gateshead player, with Mills delighted by the winger's display at Blundell Park. The 21-year-old had not begun a league game for the Tynesiders since... January. The boss... said, 'Kev has come in and has been unbelievable. His first goal was breathtaking, and he has put in a really good shift for us, considering he hasn't been playing lately. It's never too late in football, he has come out today and shown that he wants to be part of it. He's happy here. But it wasn't just Kev, I thought every player was immense today.
It wouldn't be fair to single one out,– from Joel [Dixon], through to Ranks [Michael Rankine], they were immense. Ranks, they couldn't live with him today, to an extent where they were trying to get him sent off, and accusing him of things that he wasn't doing. We'll have Josh Gillies back on Monday, but we lose Val, so it's one-for-one, and that seems to keep happening. And we might be without Adam Campbell now, who went over on his ankle at the end, with the same problem he has had in the past'".
From the above game you can see "Jack Mackreth's wonder strike against Gateshead", here. Town add that "A last-gasp equaliser from Craig Disley rescued a point for Grimsby Town against Gateshead and kept them firmly in the race for automatic promotion... Town kept going to the end and they got their reward in the fourth minute of added time, when captain Disley's far-post header made it 2-2 and kept them within three points of the top of the table...
A familiar face to home fans lined up in the colours of the visitors in the shape of winger Alex Rodman, who left Blundell Park last summer. Another ex-Town winger, John Oster, was unable to play against his former club as he was one of Gateshead's squad on an extensive injury list...
Gateshead boss Gary Mills would have been delighted with his side's opening 45 minutes, while the hosts were left with plenty to do after the break... Gjokjaj was shown a second yellow card for a foul on Magnay as four added minutes were signalled, meaning Gateshead had to play the remainder of the game with 10 men. Town's hopes of getting anything from the match appeared to be fading but in the last of the added minutes, they got their second equaliser, when DISLEY popped up with a far-post header from a Mackreth cross to make it 2-2".
---
4 April 2015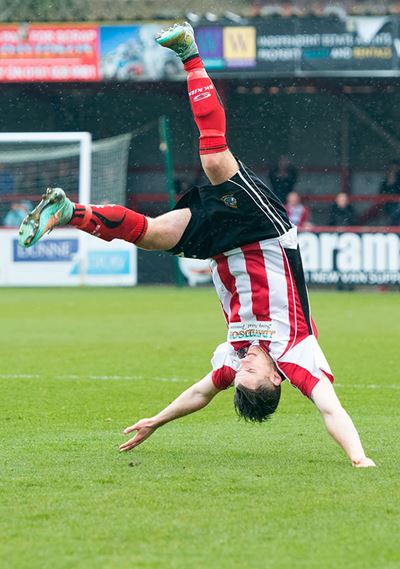 Right: Courtesy of Mike Ripley, we see that Jordan Sinnott celebrated his goal in style on Friday!
A first half strike from left of goal by Nicky Clee put Alty ahead in the 37th minute after Southport had set much of the first-half pace. The Sandgrounders had seen Brodie's early long-range shot smash against the underside of the bar and had been denied by several excellent saves from goalkeeper Stuart Coburn before Alty scored.
The visitors continued to enjoy forward momentum after the break but a superb goal direct from a freekick left of goal by Jordan Sinnott put Alty 2-0 up in the 71st minute. After that, Altrincham had the better of things and their win moved them into the top half of the league for the first time this season. The points also ensured, mathematically, that Altrincham would be in the same division next season.
Match report here.
After Friday's match,
Southport
reported that their "six-match unbeaten run came to an end at the J Davidson Stadium on Good Friday as they lost at Altrincham...
Southport were left to regret a number of missed chances before half-time when they were the stronger team but, having fallen behind, they were unable to find a way back. It was an open first half and by the time they conceded on 37 minutes, Southport should really have been ahead. The closest they came was after only four minutes, as Richard Brodie came within inches of scoring a spectacular goal, sending a scorching shot from 30 yards against the underside of the crossbar...
Steven Hewitt, on his full debut, should have done better with the rebound after Stuart Coburn had saved a shot from Brodie but the Altrincham keeper saved again. Coburn, the veteran keeper who recently set a new appearances record for Altrincham, from Brodie again before pushing wide a swerving shot from Connor McCarthy...
The home side went ahead in the lead-up to half-time. Having found space on the left side of the Southport area, Nicky Clee scored with a cleanly-struck shot from an acute angle... Altrincham increased their lead on 71 minutes, as Jordan Sinnott's free-kick from the left went through the crowded penalty area and straight past keeper Tony Thompson.
Southport had a chance to pull a goal straight back with a Brodie free-kick from 20 yards, but Coburn in the Altrincham goal was probably the game's best player and he saved low to his left."
Friday 3 April
Altrincham 2-0 Southport (gate 1,401)
Braintree Town 1-3 Lincoln City (650)
Bristol Rovers 5-1 Chester FC (8.455)
FC Halifax Town 2-2 Macclesfield Town (1,768)
Forest Green Rovers 1-3 Aldershot Town (2,247)
TASC's Geoff Morris advises us that "The Friends of AFC draw for april was made at halftime of the match on Friday. The winners are -
*13 John Laidlar £100
*84 David Lewis £50
*88 Alexander Reynolds £35
*11 Peter & Judy Foster £15
The
Football Conference
reports that "The winner of the Vanarama Conference Manager of the Month award for March is Paul Hurst of Grimsby Town" and "the winner of the Vanarama Conference Player of the Month award for March is Scott Rendell of Woking."
According to NL Daily "On Sunday afternoon one of the most intense rivalries in English football will play out the latest battle in their long history as Sunderland host Newcastle United in the Premier League. But one club benefits from a special relationship with both sides of the Tyne-Wear divide.
"Vanarama Conference play-off challengers Gateshead have benefitted from the use of players from both the Black Cats and the Magpies and manager Gary Mills explained that it is a process that has benefits not only for his club, but also for their Premier League neighbours. 'It is something that we have talked about since I have been up here, it works both ways and people maybe don't realise that. If Newcastle United or Sunderland think they have a player who needs to play competitive football and I feel they are a player who can help us win matches then we talk about it.
These lads quickly learn what a tough league this is. Sometimes when you go to watch Premier League Under 21 games it can be a non-competitive environment so it is hard to pick out a player. But both clubs have been obliging... Where we are on the map can be an issue when it comes to bringing players in so we have to use Newcastle United and Sunderland when we can...
I think what is nice for us is the way I like my teams to play and that is similar to how both clubs like their players to play. That is my way and when the coaches I mentioned earlier come and what us I think we have shocked them. They tell me the way we play is a major reason as to why they look to us to loan players, they know they will send us players and they will get the same coaching and be around the same sort of style of football as they are used to. I watch a lot of the Under 21 games and I get on really well with Peter Beardsley and Steve Stone at Newcastle and Kevin Ball at Sunderland as well. I can talk to them and say, for example, I need a left-back and they will say we have this lad who I think could do a job for you. They know whether their players are ready and sometimes they say no to me because they don't think it's the right move because he isn't up to the standard here yet.
It's really just a case of being honest with each other, not just about abililty but about temperament too. Are they going to sulk if they are told they are going to Gateshead or are they going to make a real go of it here'...
The likes of Newcastle United's Adam Campbell and Callum Roberts have had loan spells with Mills' side, as have a number of Black Cats' youngsters, the latest of which is goalkeeper Joel Dixon. And Mills believes... 'First and foremost they don't play enough competitive games. So, when they come from that environment of playing against lads who are there own age and into one where they are playing against older players who have been there and done it, it can be tough. There are points at stake and it's not about just showing your technical abililty, it's about winning points.
In an Under 21 game you might go one up and then look to score more but in this league often if you go one up, you then try and close the game out, you kill the game. It is good for them because it teaches them how to win a game and how to see it out, they learn what the game is about'
He did have special praise for one of this season's loanees, Sunderland's USA Under-20 international Lyndon Gooch. The attacking midfielder made a big impact in his month with the Vanarama Conference club... 'We have had the odd player who I have taken from Football League and Premier League clubs who I have had to send back after a month or send back after one game because they look like a rabbit in headlights. They can't handle the psyhicalilty of the league, or they can't grasp the way we train but I would pay tribute to Lyndon Gooch. He came in and was incredible for us'".
ALfreton Town reported yesterday that "Goalkeeper Jason Mooney has had his loan spell at the Impact Arena cut short by parent club York City who recalled him... after having number two keeper Bobby Olejnik pick up a red card against Mansfield Town last weekend...
Mooney, 26, had played a major part in helping Alfreton climb out of the relegation zone... He impressively kept five clean sheets in thirteen league appearances for Nicky Law's side. Meanwhile, as one door closes, another one opens and goalkeeper Tom Flynn, who joined Alfreton on February 3rd on non-contract terms when George Willis's loan fom Sheffield United ended, will now make his Reds' debut...on Saturday.
Former Cowdenbeath keeper Flynn, 24, began his career with Newcastle United's Academy set-up before moving on to Scottish club Hibernian... Incredibly, Tom Flynn will become the eighth goalkeeper used by Alfreton during the 2014/15 season".
---
3 April 2015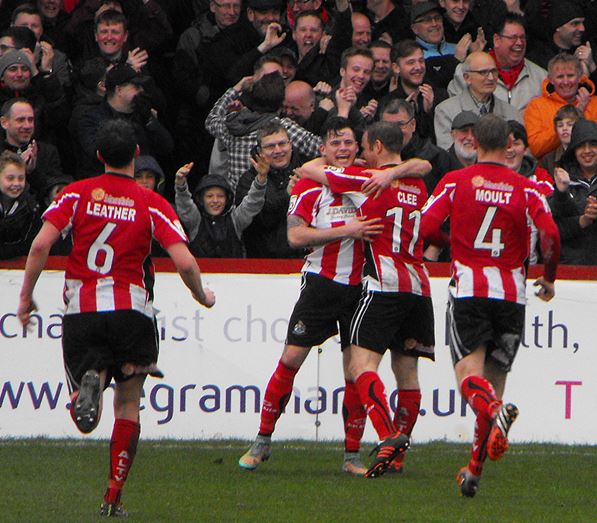 Above: Jordan Sinnott is mobbed by his team-mates after scoring Alty's second goal.
Friday 3 April
Altrincham 2-0 Southport
Braintree Town 1-3 Lincoln City
Bristol Rovers 5-1 Chester FC
FC Halifax Town 2-2 Macclesfield Town
Forest Green Rovers 1-3 Aldershot Town
Manager Lee Sinnott will be holding a Question and Answer session at 6pm in the Community Sports Hall after today's match. Everyone is welcome.
The Football Conference announces that the referee for Altrincham v Southport is Mr Paul Rees (Bristol). He previously officiated over our defeats at Aldershot Town and Kidderminster Harriers this season.
Before Friday's match, the Southport Visiter said that "Southport will be hoping to extend their six game unbeaten run when they take on Altrincham... With survival almost guaranteed Southport's attention will now turn to the possibility of beating last year's 18th place finish. Should Paul Carden's men achieve this, it will be their highest finish since narrowly missing out on the play-offs two years ago.
Despite The Sandgrounders fighting their way out of the relegation battle in recent weeks, Paul Carden will be aware of the threat teams such as Bristol Rovers and Grimsby pose and will be keen to round off the Easter period with survival mathematically guaranteed.
Altrincham may prove to be a stern test for The Yellows however, with the attacking partnership of Damian Reeves and Kyle Perry scoring for fun in recent weeks; Southport's defence that has been so successful in recent weeks could come under siege.
Southport will prove to be tricky to get past though, with the seaside outfit boasting the best defensive record this month. The Sandgrounders have only conceeded three goals in March thanks to the efforts of on loan defender Tom Davies.
The centre half, who is on loan from Fleetwood, has been a rock in defence in recent weeks and a vital cog in The Yellow's resurgence and has shown signs that he could hold his own at professional level.
Robins' manager Lee Sinnott has set out a top-half finish as his main aim for the season and [in] their run-in, including burdensome trips to Gateshead and Torquay United, Alty will see Southport as one of their winnable games between now and the end of the season. Altrincham will dearly miss the services of Peter Cavanagh, who has been ruled out of the tie through suspension, meaning that Lee Sinnott could play either Shaun Densmore[?] or Jake Moult out of position as he has done throughout this season.
Altrincham have struggled with poor discipline in recent weeks and have not kept a clean sheet throughout this campaign after going a man down. The Sandgrounders will hope that his[?] lack of defensive leadership will assist them in extending a run of three consecutive games where they have found the back of the net.
With showers expected on Friday which will add to the boggy conditions experienced throughout Greater Manchester last weekend both sides short passing game will be restricted, and whoever can adapt best to the conditions will come away from the J Davidson victorious."
TASC Chairman Brian Flynn writes that "There will be a voting form available ,at the TASC table in the Community Sports Hall from 2-3pm on Friday for the 'Supporters' Player of The Year' and 'Goal of The Season'".
The
Sale & Altrincham Messenger
reports that "Lee Sinnott saluted a 'solid, workmanlike' win at Dartford then challenged his Altrincham players to finish the season with a flourish by breaking the 60-point barrier in the Vanarama Conference. Two goals from Damian Reeves were enough to take them on to 50 points [53 actually] as Sinnott's side withstood a late rally by the home side to chalk up a deserved 2-1 victory.
It kept Alty well clear of relegation trouble, but with a home game against Southport looming tomorrow, the Altrincham manager was adamant there could be no easing up. 'Now we have reached 50 points, it is important we keep going', said Sinnott, ahead of the Good Friday match and a long trip to Gateshead on Easter Monday. 'We've got two big games over the Bank Holiday. Playing twice in 72 hours is a big ask, but the quest is the same. Can we get above 60 points? Our goal is to break the 60-point mark and then see how many more points we can add to that'.
Sinnott has urged his players to show the same kind of professionalism that helped them secure an important three points following a difficult journey down to Kent. 'I was very pleased at half time because we were a bit late arriving, due to traffic problems', said the Altrincham manager. 'When that happens, you can easily leave something on the bus. Your mind can easily be on what had delayed you, but we started strongly, with plenty of energy and sharpness'...
Reeves added to his goal tally with cool finishes at the start of each half... 'The first goal was excellent, precise passing followed by a good diagonal run and great finish from Damian, and it's fair to say we were in the ascendancy at half-time,' added Sinnott. 'The second was also well created and executed, and overall I'd say it was a solid, workmanlike win, with seven out of 10 performances all over the pitch. There was a deflection off Luca Havern for their goal, which is an occupational hazard for any defender, but we held on at the end'.
With Cavanagh suspended and the injured Shaun Densmore and Simon Richman both missing Saturday's trip to Kent through injury, the Robins' small squad could be seriously stretched over the weekend programme".
Altrincham travel to the International Stadium to play Gateshead on Easter Monday, 6 April, k.o. 3pm. TASC has arranged a supporters' coach and details are on the
Away Travel
page. All those who have already expressed their firm intention of travelling to the TASC Travel Coordinator, Mark Eckersall, have been logged, so need not re-book. However, anyone else wishing to travel should please book a place as soon as possible. This can be done at Friday's match against Southport by adding your name to the list at the TASC table in the Community Sports Hall or by ringing the club (0161 928-1045) on working days within normal office hours.
Mark also confirms that the supporters' transport to Torquay United (18 April) is now full but the times and fares have been posted on the Away Travel page for the convenience of those booked on this journey. Those concerned are reminded that for this journey any cancellations must be paid for, to meet the hire and fuel costs.
TASC transport will be arranged for the final day of the season when Alty are away at Braintree Town. Details of this will be released in the next few days.
Campbell McLay writes that he has a "match programme from 10 January 1959, Tranmere Rovers Res. v Altrincham in the Cheshire League. It is a full 12 page programme, not a team sheet, and is in mint condition. I am asking for sealed bids from anyone interested. The programme can be inspected at the Club Shop before the Southport game.
The Procedure.
Decide how much you want to bid and write it on a piece of paper together with your name and contact details.
Put the paper in a sealed envelope and write "Tranmere Programme" and "For the attention of Campbell McLay" on the outside of the envelope.
Hand in your bid to the club shop at the Southport match or before kick off at the Telford match (18th April) or hand it in to the Club office during the week up till Friday 17th April.
I will then contact the winning bidder to complete the transaction. All proceeds will go to the Club, of course".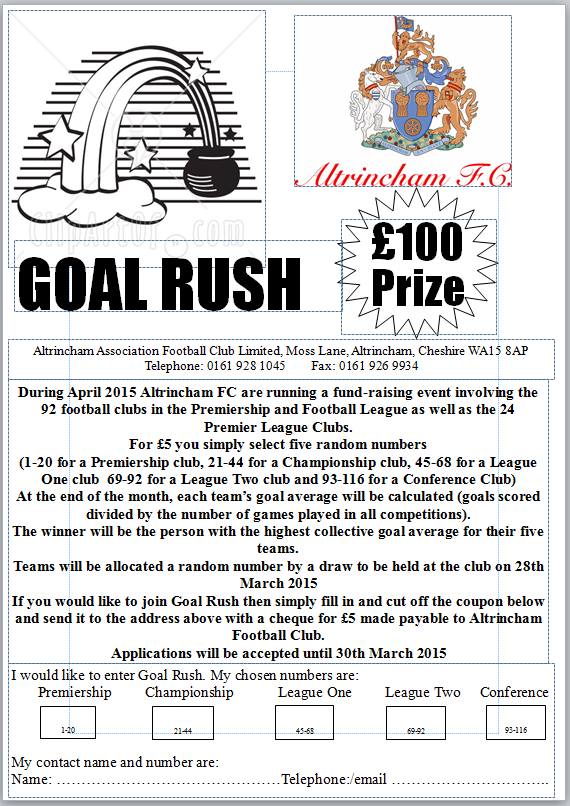 Click to enlarge the adjacent image to read the details of the Goal Rush scheme and to apply for your chance to win the prize of £100. Grahame Rowley adds that "With only one game played on the 1st and no games tonight (2nd) the early leaders in the 'Goal Rush' are Chris Blackburn, Les Pearson and Geoff Morris who all have Leyton Orient in their five-team selection and, since they beat Coventry 1-0, they streak into an early lead!".
A list of the numbers and teams is here.
According to the
Football Conference
, "Chester FC have announced that goalkeeper Jon Worsnop and centre-back Michael Kay have signed new deals, keeping them at the Swansway Chester Stadium for the 2015/16 season. Kay has captained the side on many occasions this season following the injury of club captain Matty Brown which kept him out of the starting line-up for several weeks.
Worsnop has also played a pivotal role between the sticks throughout this season... Worsnop, originally from Bradford, started his career with his home-town club, spending brief loan spells at Rushden & Diamonds and Hull City before making his first move to Chester in 2002.
He only made one appearance for Chester and has taken in spells at Leigh Genesis and FC United of Manchester since then before he made the switch to the Impact Arena in December 2013, where he was ever present and helped the Derbyshire side to a respectable eleventh-placed finish in the Conference Premier. Starting his career at Sunderland, Kay made thirty appearances for Gateshead then Tranmere respectively before joining the Wirral side on a permanent basis.
Kay played twelve times in League One for Rovers before joining the Blues following promotion from the Conference North. This new deal will see Michael play in his third season at the Swansway Chester Stadium. The pair are the first players to follow Ben Heneghan and Ryan Higgins, who committed themselves earlier in the week, in signing a contract to play for the club next season."
NL |daily reports that "Eastleigh boss Richard Hill has been given a two-match touchline suspension after being found guilty of improper conduct by the Football Association. Hill was fined £750 and warned about his future conduct after two incidents during and after the Conference game against Grimsby on 21 March... Hill was sent off for poor language and/or behaviour and was found to have used abusive/insulting language."
Alty travel to Gateshead on Monday and in the Grimsby Telegraph we read that "Gateshead have been ravaged by injuries in recent weeks, with several first-team players having been unavailable to boss Gary Mills. John Oster picked up a knee injury two weeks ago and hasn't been involved since, while [ex-Alty loanee] Andrai Jones, Matt Robson and Ben Clark may also struggle to be passed fit in time for Saturday.
JJ O'Donnell and Phil Turnbull have both been sidelined with foot injuries and neither featured in Gary Mills' 16-man squad for their trip to Dartford on Tuesday night. The Heed were boosted however by the return of highly-rated Newcastle forward Adam Campbell, who was a half-time substitute in midweek. Mills also hinted he may start young winger Kevin Sainte-Luce at Blundell Park, with ex-Mariner Alex Rodman among those the Frenchman could replace. First-choice goalkeeper Adam Bartlett's 'internal' injury forced the North East club to sign Sunderland stopper Joel Dixon on loan, last week, and it remains unclear exactly how long Bartlett will be unavailable for.
Possible Gateshead XI: Dixon, Allan, Curtis, Glokaj, Baxter, Rodman, Pattison, Ramshaw, Sainte-Luce, Shaw, Campbell".
The BBC says that "Torquay boss Chris Hargreaves will not experiment with his side, despite being unable to reach the play-offs. The Gulls, who are 16th in the Conference, still need two more wins to be sure of not being relegated. 'The last couple of games maybe you have a look but, at the moment, you still play your best team,' he said.
'There are so many players playing for their contracts and for their futures, whether it's at Torquay or not, it's still a really important time for us'.
Despite not experimenting in the final six games of the season, Hargreaves says he has made his mind up about who he will keep at the club and who will leave come the summer. 'I've made the decisions in my mind,' he told BBC Sport. 'That's not saying that if someone comes in and scores 12 goals in six games I'll sit them down and say "Look you've not performed" but, realistically, I know in my mind what I want to build and who I see in my plans. To that end, I pick a team and players might have a perception of whether they're staying or not staying, but it's professional football and that's the word, "professional".
A player who plays at any club in this country, whether they know they're being kept or not, they give everything for the shirt. They do it for the pride they do it for the shirt and they do it because they're being paid.'"
From the Shropshire Star we learn that "AFC Telford midfielder Sean Clancy is urging his team-mates to come flying out of the traps against Kidderminster on Saturday as they aim to defy the drop. Telford were made to pay for another sluggish start last Saturday as they fell behind at Dover after just four minutes.
That is the way the scoreline stayed and their 1-0 defeat, combined with good results for strugglers Southport and Alfreton, have left the Bucks on the brink of relegation this weekend. Their demotion from the Conference Premier will become official if Alfreton, fifth bottom, avoid defeat against Wrexham.
If they slip up, victory for Telford would at least extend their stay in the division until Easter Monday when they head to Southport for the second half of a big Easter double.
And Clancy said, 'In the first half at Dover it didn't feel like we were at the races and performing at the levels that we should. In the second we did pick up the intensity but we have got to start with intensity from the word go – and that is what we will have to do on Saturday'.
Telford will be hunting a first home win in the league in almost five months against their Midlands rivals. And Clancy admitted... 'You have got to turn performances into points. We have plenty of good performances this season and not come away with anything, and that has contributed, definitely, to where we are in the table'. One positive for Telford will be the return of goalkeeper Freddy Hall, who has missed the last two games because of international duty with Bermuda. James Montgomery has impressed in his absence and manager Steve Kittrick has a choice to make."
In the Worcester News we learn that "These are worrying times for Kidderminster Harriers. A club that just over 12 months ago was playing at Sunderland in the FA Cup fourth round, now has real question marks over their future.
Since November, a raft of key players have left Aggborough, culminating in the departure of influential centre-half Josh Gowling on non-league transfer deadline day. Yet, despite receiving fees for Nathan Blissett and Chey Dunkley, as well as getting them and Michael Gash off the wage bill, money remains tight. Players and staff have not yet been paid in full for March and received February's wages late, a situation which led to a media boycott following the 0-0 draw against Halifax.
Consequently, the team has plunged down the Conference table to the extent that last Saturday's 3-1 win over Braintree was their first victory since January 20. It all paints a bleak picture and there are few signs that things are going to improve any time soon.
Chairman Ken Rae has already revealed that the playing budget will be significantly reduced for next season and has brought in former Stourport Swifts manager Rod Brown to conduct a review of the club's commercial activities.. Harriers have become too reliant on benefactors Ernie and Kath Lane...
Harriers now look like they will get the majority of their income through gate receipts, which makes the decision to remain full-time a bold one. While part-time clubs aren't cheap to run, playing to a standard to attract the fans to finance full-time staff is a tough ask when the budget is lower... But Harriers must at least be praised for addressing the problem now... By burying their heads in the sand and carrying on, Harriers could fast have become non-league's next crisis club and that doesn't serve anybody's purpose."
Meanwhile, "Gary Whild has said Kidderminster Harriers' players won't go on strike, despite the club's money worries... Staff at the club were only paid a third of their wages for March this week. Chairman Ken Rae has pledged to pay the money next Tuesday after Bank Holiday Monday's Vanarama Conference home clash against Bristol Rovers, with the club braced for the biggest crowd of the season.
Board member John Davies spoke to the players on Wednesday morning to explain the situation and has set up a meeting between the squad benefactors Kath and Ernie Lane... The players have requested a meeting with the benefactors for this morning. However, manager Whild ruled out possible strike action over pay...
Whild said, 'The money problems are not a new situation, they're ones the lads have been dealing with all season. But they will do what they have done in every match, go out and do their best for the club in difficult circumstances'...
After captain Josh Gowling joined Kidderminster's Conference rivals on loan until the end of the season. The 31-year-old, who was also a first team coach... stated on Twitter he had no choice but to leave but Whild made it clear Harriers had worked hard to keep him. He said, 'Josh wanted to explore other opportunities, that is his prerogative. He is club captain, one of my staff, so of course I am disappointed'.
Kidderminster brought in Birmingham City duo Nat Kelly and James Fry, who played against Braintree. Huddersfield youngster William Boyle has also came on board. The club have also signed Tipton Town striker Gurjit Singh on non-contract terms. Whild also played down a move for Redditch United defender Clayton McDonald, who is staying at the Valley Stadium"
Reports in the Essex Chronicle say that "Braintree Town skipper Kenny Davis has bemoaned his side's fitful form this year after two consecutive losses... back-to-back defeats to basement side AFC Telford United and Kidderminster Harriers, who were winless in nine, and Davis admits he can't quite understand why his team haven't built up a steady run of wins.
'It's just been a stop-start season, when we manage to get a run together we've topped it off with a couple of losses', said Davis. 'I can't put my finger on it really, earlier on in the season when we started well we got a few injuries and that slowed us down a little bit. People have been in and out of the team and it's just been one of those seasons which we haven't had for the last four or five years since I've been there, especially with all the injuries. We haven't really scored enough goals this year as well, I can't really put my finger on it...
We want to try and win four of the last six games left to try and finish strongly', he revealed... 'It's important we try and get these wins under our belt, because we might still finish in the top half... I think at the beginning of the season we would have taken a good mid-table finish. Obviously, after last year, we had set out expectations of finishing the same or better but for a club like Braintree mid-table is still a great achievement. It's not a place where the players want to be but we just need to get the job done for this year and concentrate on the next one'".
---
2 April 2015
TASC chairman, Brian Flynn, writes that "We need help on Friday selling tickets for the Easter Draw, which takes place after the game against Southport on Good Friday. If you can help sell tickets between 2-3pm, or for half an hour after the match, please contact Brian Flynn (tel: 07860 561011) or by
e-mail
".
Brian adds that "Tickets for the 'Easter Draw' will be available on the day via ticket sellers or at The Club Shop in the Community Sports Hall from 2pm.
Prizes are as follows:-
Jazzy Blue hudl 2 Tablet Computer
Brother Multi-Function Printer/Scanner
VIP Hospitality Package for 4 People at Manchester Phoenix Ice Hockey
Four Ball Round of Golf at Heyrose Golf Club
Any item from the Altrincham F. C. Merchandise/Clothing Range
2 Tickets for an England International Match at Wembley Stadium
Matchday Hospitality for 4 People at an Altrincham F. C. Home game & a signed home shirt
Hugo Boss Man Aftershave
Four Ball Round of Golf at Davyhulme Golf Club
George Foreman Grill - PLUS MANY MORE!
Tickets are 50p each or a book of four for £2".
According to the
BBC
, "Wrexham caretaker boss Carl Darlington says he does not want to succeed Kevin Wilkin as manager of the club. Darlington and goalkeeping coach Michael Oakes were in charge as the Dragons drew 1-1 with Dover on Tuesday.
Wilkin was sacked on Monday... 'this is a short term thing for me. Kevin brought me to the club as a coach and I love coaching,' said Darlington..'If I go into management side of things it takes me away from the players, and I don't want that at this moment at time. I hope the new manager who comes into the club will want to keep me as a first team coach'.
Chief executive Don Bircham told BBC Wales Sport that the club's board met before the Dover game to start the process of recruiting a new manager. 'We want to get to a speedy conclusion', Bircham said. 'It would be nice to get someone in place at what is a pivotal part of the season when there's contracts to deal with and you wouldn't want a manager coming in as the players disperse for the summer'.
Bircham claims to have received 'many' inquires about the vacant manager's job, including one from a former Netherlands international. Tuesday night's draw with Dover saw Wrexham take a first-half lead through Jay Harris, but pegged back by Ricky Modeste before goalkeeper Andy Coughlin saved a penalty. The result leaves Wrexham in 15th place in the table, a long way off their goal of promotion back to the Football League."
From Chester First we learn that "Criag Hobson insists he is preparing to give his all in a bid to win a new contract. The 27-year-old striker has scored six goals in 31 league appearances so far this season, but he knows he faces a race against time to extend his stay at Chester.
Hobson joined the Blues in March last year from Guiseley having previously played for Stockport County, where he netted six goals in 26 appearances...
'I'm out of contract at the end of the season, so I'll give my all and we'll see what happens', Hobson said. 'The gaffer has told all the lads that we are playing for our place in next season's squad. He's told us all to go out and bust a gut in every game we play for ourselves and for the team. He has spoken to a few lads and pretty much everybody knows where they stand, so it's up to everyone to knuckle down for the last few games'...
Hobson... admits he is struggling to explain why Chester have only won one game in their last seven matches... Hobson added, 'I don't know why we are struggling at the minute to put points on the board. We are heading towards the end of the season, but that's not an excuse for a dip in form because all the lads want to win every game. I think it's a case of us having a good game and picking up a good result and then seeing that kick start a good run like we enjoyed in January, but I don't know to be honest why we have been unable to string a few wins together recently.
Everybody is working hard in training. I know that we've not been getting the results we've been wanting, but that isn't through a lack of effort or determination from the lads'".
"Gary Mills cut a frustrated figure after watching his Gateshead side extend their winless run to four games with a 1-1 draw at Dartford on Tuesday. The Heed fell behind to Jordan Chiedozie's sweetly-struck strike early on, only for Tom Allan to restore parity with his first goal in the professional game...
Their attacking intensity dropped after the break, with Mills asserting that certain players will have to improve on their efforts come Saturday, when the Heed travel to title-chasing Grimsby Town. He said, 'We haven't won in four now, and it's difficult for everybody connected with our club, as our season is starting to dwindle away from us... Some players have got to perform better than they have tonight, regardless of what stage of the season it is. So, I'll be looking for more from a few players on Saturday'...
Gateshead have collected just two points from a possible 12. The Darts, meanwhile, have registered just one victory in their last nine outings, with Tuesday's draw edging them closer to a return to the Conference South. On a surface hardly conducive to free-flowing football, both sides struggled to get out of second-gear , a point which Mills acknowledged at full-time. He said, 'It was a poor game. They didn't really look like scoring, but we've given them their goal... It turned into another battle, like we've had of late. But once we drew level we could have gone on and got a couple more with a little more about us...
Young Jake [Orrell] almost got on the end of one at the end, following a great ball in from Matty Pattison, who I thought was outstanding again, and without doubt our best player tonight'...
On-loan forward Adam Campbell returned to action for Gateshead as a second-half substitute. Following a month on the sidelines, the 20-year-old found his chances in front of goal limited, although another substitute, Kevin Sainte-Luce, looked lively in the opposition's third. And Mills hinted... 'Adam has come on at half-time but he hasn't really got into the game. He isn't at 100% fitness yet. Kevin came on and did reasonably well. It might be time to give him a start on Saturday, and see what he's about in the last few games.
And young Jakey has done a couple of good things again tonight... We'll be trying to win, and that's all we can do'".
The Heed's match report adds that "The Tynesiders had the better chances on a blustery night at Princes Park, but failed to make the most of their first-half supremacy, and slumped as an attacking threat late on. With just five games of the campaign remaining, Gateshead lie seven points adrift of the Vanarama Conference's final play-off place...
Gateshead: Dixon, Baxter, Curtis, Shaw, Pattison, Allan, Gjokaj, Ramshaw, Finnigan (Campbell, 46), Rodman (Orrell, 76), Rankine (Sainte-Luce, 66)".
---
1 April 2015
Ian senior, owner of SKKIts, writes "with only two home games left, purchasing any of current clothing stock from the Club Shop will entitle the buyer to a FREE pair of away shorts, in whichever size suits. This offer only applies to items currently held in stock, not new orders. So you could buy a polo shirt for the summer, and receive a complimentary pair of shorts for when the 'sun comes out'!".
The
Cheshire County FA
reports on "Cheshire FA 2-1 Northumberland FA, 23 March 2015. Youth Team progress to the Semi-Finals of the Association of Northern Counties competition after beating Northumberland to secure top spot in Division One. The 2-1 victory means that Cheshire FA's Youth Team remain unbeaten in all competitions this season.
Goals from [Altrincham's] James Clancy and Ben Collins for Cheshire cancelled out an early goal from the visitors to secure a vital three points. The Association of Northern Counties Division One game took place at Rivacre Park, home of Vauxhall Motors FC, on Saturday 21st March...
The visitors... deserved to go into the interval ahead. After the half-time break Cheshire started to play with much more quality... The passing game paid dividends as Sam Hughes played a neat ball through to Will Booth who then picked out Harry Cain [Altrincham]. Cain skipped down the left wing and crossed to the back post where James Clancy met the ball with a powerful header to bring the score level.
Cheshire then made a key substitution, they brought on striker Ben Collins who was only on the pitch for 10 minutes before taking a pass from midfield, chesting it down and coolly planting the ball into the Northumberland goal to give the hosts a 2-1 lead.
The home side had further chances to extend their lead but had to settle for a one goal advantage at full-time. It was a good all round squad performance which secured Cheshire's place as the winners of the Association of Northern Counties Division One. They are now through to the Semi-Finals of the competition where they will play West Riding FA, who finished in second place in Division Two, for a place in the Final.
The Cheshire team will now take a break from league and cup matches but will continue to train as they prepare for their FA County Youth Cup final in April against Middlesex FA."
Remaining fixtures:
Middlesex FA v Cheshire FA (FA County Youth Cup Final) at Barnet FC on 12/04/15
Cheshire FA v West Riding FA (Association of Northern Counties SF) on 18/04/15
Meanwhile the Independent Schools FA for whom Alty Youth player Aaron Goldman plays, report that "ISFA's Travel Partners, Complete Sports Solutions, have announced that the ISFA U18 and U16 Representative Teams will play Benfica on Tuesday 7th April during their upcoming tour to Portugal".
Also, "England Independent Schools will play Scotland Independent Schools at The Weaver Stadium, Nantwich Town FC, on Sunday 26th April (2.00 pm). The England Squad will be announced after the Portugal Tour. .Admission to The Weaver Stadium will be free of charge".
NL Pitchero
reports that "It is understood that Barclays Premier League giants Manchester United have taken Glossop North End`s Sam Grimshaw on trial. Grimshaw is a product of Altrincham`s youth team, which he has captained on many occasions. Before that, he spent nine years as a junior at Manchester City.
Grimshaw, who can play at left-back or on the left wing, also possesses a long throw. After impressing Alty boss Lee Sinnott in training, he signed first-team forms in mid-February 2012 and the following month he made his debut for Clitheroe, where he had gone to gain experience of senior football. He made two first-team appearances for Altrincham from the bench the following season before going on loan to Goole AFC so that he could gain more senior experience, and in March 2013 he went on loan to Radcliffe Borough.
The pacey 21-year-old, left Altrincham and signed permanently for Radcliffe in the summer of 2013 before moving to Glossop, who he has helped to reach Wembley in the FA Carlsberg Vase Final, in November".
The Daily Mail adds that Manchester United have handed a trial to Glossop North End youngster Sam Grimshaw... Grimshaw will train with United this week, and hopes to earn a place in Warren Joyce's Under 21s...
Grimshaw can run 100m in under 11 seconds, and is set to spend this week training at United who are keen to boost their U21 squad having loaned out Reece James to Huddersfield Town".
Tuesday 31 March
Dartford 1-1 Gateshead (att. 602)
Wrexham 1-1 Dover Athletic (att. 1,831)
Ian Senior advises that the pink Cancer Awareness shirts are now available for collection by Bill Egan, Barry heaton, Mark Griffin, Brian Rooney, MArk Arland, Elizabeth Hepworth, Steve Aylmer, Andrew Thorpe and Mark Harris. Please contact the club on 0161 928-1045 or call during office hours to arrange collection. thanks for your support, Ian
Kidderminster Harriers
report that "Harriers and Worcester City are pleased to formally announce the signing of a further ground-share agreement, enabling Worcester to continue to play their home games at Aggborough next season.
Both Harriers and Worcester have agreed a formal one-season arrangement, with an option for this to be extended to a second season. Worcester will continue to pay Harriers a set sum on a match-by-match basis for the hire and use of Aggborough and its facilities.
Harriers chairman Ken Rae said, 'I am pleased that Kidderminster Harriers and Worcester City have been able to come to an arrangement which suits both football clubs. It is clear that the playing surface at Aggborough this season has not been up to standard and plans are in place to make the necessary improvements in the close season. I would like to highlight that these planned improvements would have been implemented regardless of whether or not a further ground-share agreement with Worcester was signed.
We are well aware that these improvements need to be made, whether it would have been one team or two teams playing at Aggborough next season, and we are optimistic that these improvements will rectify a number of issues with our pitch. This agreement will benefit both parties going forward and we are happy to continue to assist City as they pursue their aim of returning to Worcester'.
City chairman Anthony Hampson said, 'The club has again considered all the options available to it and is grateful to all who have offered to share their facilities. However, having concluded that it wishes to continue to play football at its current level, Aggborough remained the obvious choice. Both clubs are aware that there have been issues with the Aggborough playing surface this season and arrangements are in place to rectify this during the close season.
City will contribute to the cost of these works by paying an increased rental charge from next season. Despite the challenges of playing away from Worcester, the board remains ambitious and wishes to compete at the highest possible level during its period of ground share. It also wishes to give the manager the opportunity to continue to play the attractive brand of football and attract the standard of player we have become used to...
City continues to pursue its ultimate ambition of returning to Worcester. The Perdiswell Planning application is now out for consultation... From its part the club will be looking carefully at season ticket and admission prices to ensure that prices remain attractive and affordable'".
Wrexham confirm that "Following on from the departure of Kevin Wilkin we can now announce that Assistant Manager Gary Mills will also depart the football club... Carl Darlington and Michael Oakes will prepare the team for the home fixture this evening versus Dover Athletic and we will make further announcements in due course."
And another assistant leaving a Conference club is the subject of a report from Forest Green Rovers. It says "Rovers can confirm that assistant manager Dave Kevan has today left the club. The 46-year-old departs The New Lawn having served as assistant to first team boss Ady Pennock since his arrival at FGR in November 2013.
Kevan is set to link up with a club back in the Football League where he has previously been part of the coaching set-ups at Hereford United, Stockport County, Notts County and Cheltenham Town. Commenting on his departure, Ady Pennock said, 'It's a surprise but I couldn't stand in Dave's way'... Before linking up with Forest Green, Kevan was a part of the coaching set-up at Stoke City with Pennock and current Rovers physio Paul Maxwell."
In the Leader Live we learn that "Skipper Dean Keates says the Wrexham players are to blame after Kevin Wilkin was sacked as manager. Wilkin lasted just over a year in The Racecourse hotseat as failure to mount a promotion challenge this season cost him his job.
'It is disappointing for the manager to lose his job', said Keates. 'We, as players and squad, have to take the blame. It has not been good enough performance-wise or results-wise for a club with the expectations of Wrexham and everybody is accountable for it'.
Wrexham lost in the FA Trophy final at Wembley on Sunday... When asked whether victory would have seen Wilkin continue as Wrexham manager, Keates continued, 'It is all ifs and buts. But before the final, I said that from the moment I arrived here and the expectations that surround this club, just to be challenging for the FA Trophy is not a great season. The bread and butter is the league and Wrexham need to be at the top end of the league, if not top. You will take the play-offs.
But going into the last eight games not in the mix, not even in the play-offs, just shows it has been a disappointing season'.
Wilkin came under-fire because of a poor run of league results in recent months, but Keates wouldn't comment when asked whether he thought it was correct to sack the former Nuneaton Town boss. 'It is not my decision, it is not for me to answer,', said Keates. 'The club is owned by the fans and decisions are made for the good of the club and for it to go forward'...
Keates said all the players are playing for their futures. 'Everybody has got a point to prove, the players have got to make an impression,' said Keates. 'Lads are out of contract, but even players with long term contracts, just because one manager fancies you does not mean another one does'".
Bristol Rovers report that "boss Darrell Clarke had time to reflect on his sides 0-0 draw at Moss Road[!] against Macclesfield on Saturday. 'Macclesfield gave us a very good game on the day, they were excellent, their recent performances had picked up and they gave us a good test. Alfreton getting an equaliser in injury time [against Barnet] was a boost when we'd already got our game out of the way, Grimsby are on a hell of a run and doing really well so it's a three-horse race'...
A game against Chester on Friday could propel the Gas into pole position... Rovers' manager Darrell Clarke praised Chester on their style of play. 'Steve Burr has always got a good footballing side, a good footballing team and that's how he likes to play the game. He's a very cute manager at this level, he's also assistant manager for the England C side, so he knows his non-league football'.
Ellis Harrison, Jake Gosling and Lee Mansell are all back and available for selection the bank holiday fixtures after Lee Mansell's ban and Harrison's and Gosling's international performances... The players are under immense pressure but it's how they deal with that and handle it, they've dealt with it fantastically...
It's only Grimsby in better run of form over a sustained period of time'".
---
FOR EARLIER NEWS, CLICK
HERE
---