---
31 May 2014
As Altrincham get to grips once more with the Conference National it may be helpful to remind ourselves of what we are up against. Last July, the NL Paper said that, for the 2013-14 season, "There will be 14 fully professional sides, training every day, usually with a Wednesday off, in non-League's top flight.
They are Aldershot, Barnet, Cambridge United, Forest Green, Gateshead, Grimsby, Hereford, Kidderminster, Lincoln City, Luton, Macclesfield, Salisbury, Tamworth and Wrexham. Eight sides are two-nights a week semi-professional outfits; Alfreton, Braintree, Chester, Dartford, FC Halifax, Hyde, Nuneaton, and Woking. The other two teams are the "Inbetweeners" doing three sessions a week, Southport... and Welling".
And last August, the NLP added that the then Skrill Premier "budget table" was as follows...
£1 million plus: Forest Green Rovers and Luton
£750,000 to £1 million: None
£500,000 to £750,000: Barnet, Wrexham, Grimsby Town, Kidderminster Harriers, Cambridge Utd, Gateshead
£250,000 to £500,000: Aldershot Town, Lincoln City, Hereford Utd, Salisbury City, Dartford, Chester, Woking, FC Halifax Town, Southport
Below £250,000: Macclesfield Town, Tamworth, Alfreton Town, Braintree Town, Nuneaton Town, Welling, Hyde.
From
Bristol Rovers
we learn that "The club has been given notice that John-Joe O'Toole has activated the release cause in his contract... The Irishman was Bristol Rovers' top goal-scorer last season, after joining the club on a permanent basis last summer."
And the Bath Chronicle adds that "Former Bristol Rovers hero Rickie Lambert is on the verge of completing a dream £4 million move to boyhood club Liverpool from rivals Southampton. And the transfer will provide a financial boost for Rovers... with the club confirming there is a sell-on clause in Lambert's current contract.
The 32-year-old striker... scored 59 goals in 139 appearances for Rovers between 2006 and 2009".
The Bristol Post claims that "Rovers could be in line to receive up to £2 million should the proposed transfer be finalised. The unexpected windfall could not be more welcome at a time that Rovers are looking at a loss of up to £1 million as a result of their recent relegation to the Conference".
Aldershot Town report that "Goalkeeper Glenn Morris has joined Gillingham on a one-year contract Morris joined the Shots in August 2012, after making over 200 appearances for Southend United and Leyton Orient. In his two years at the Electrical Services Stadium, The Cat made 39 appearances".
At, Dover Athletic, "After finally completing the mission of reaching the top tier of English football under his ownership, chairman Jim Parmenter issued a warning to Whites' fans who may be expecting another promotion battle similar to previous seasons in the Skrill South and the Ryman divisions. 'Expectations will need to change. We have a competitive budget but we won't be finishing in the top six. We have to accept there is building to do and, in the long term, we are going to try and progress'.
Manager Chris Kinnear is currently taking a well earned week's break, though Jim revealed the club are already looking to strengthen... 'I have no idea what the squad will be, but we are talking to a number of players. However we are going to be prudent and not rush, I know for a fact that that ridiculous money is being thrown about at the moment by some South East clubs. We need to make sure we get the right type of players here so this club can remain sustainable'...
Jim confirmed one player has made a decision. 'Moses Ademola has turned down our offer of a new contract to go elsewhere for a bigger package.'
Match day prices have increased and the Dover Chairman admitted that this was something he considered very carefully. 'The costs of going up are very high - Training three days a week, the extra travel, more stewardship, a doctor at every game and we still need to pay our bills like everyone else!' He also added 'It is a comparable price to other clubs at that level that don't have a geographical disadvantage'".
At the other end of the country Gateshead announce that they "will not be offering new contracts to eleven players. These include six strikers, four defenders and one midfield player. Three players who spent the second half of the season out on loan; Adam Boyes, Joe Tait and Richard Brodie will all leave the club.
Boyes scored 15 goals in 24 games for Guiseley and has now joined the Conference North club for the 2014/15 season. Brodie spent time on loan at Hereford United and Southport last season while Tait returned to former club Darlington.
Former Chelsea starlet Carl Magnay has also left Gateshead after playing 77 games for his home town club... Left-back Luke O'Brien, 25, made only nine appearances in his one season on Tyneside... Another left-sided defender, Jordan Holt, 20, was brought in during the season from Notts County but was limited to one substitute appearance. Experienced front man Liam Hatch is also surplus to requirements at Gateshead...
Another striker, Ryan Noble, 22, was signed in mid-season from Burnley but the former Sunderland man failed to break into the side, starting just one game. Veteran goalscorer Jack Lester was brought out of retirement during the second half of the season...The 38-year-old was resticted to four starts for Gateshead... Colin Larkin is another who will be leaving...
The only midfield player to leave the club is Josh Walker... Walker, 25, joined Gateshead from Scunthorpe United in the summer and most of his 25 starts came in the first half of the season. The club would like to thank all of the above players for their efforts".
Meanwhile, Hereford United report that "Representatives of the consortium who have taken on a major shareholding in Hereford United have failed to reach agreement with Martin Foyle over a settlement to bring to a close the winding up petition by former manager Martin Foyle...
Club representatives will now go to Court on Monday to ask for an adjournment that would enable negotiations to continue".
Kidderminster Harriers "are pleased to add to their squad tricky young winger Ahmed Obeng... Boss Gary Whild has long been an admirer of the skills the 22 year-old possesses. He's been with [Rushall] Olympic since 2010 and has regularly been amongst the goals each season with his pace and scoring prowess... Born in Ghana, Ahmed is capable of playing on either flank or up front and joins Harriers on a one-year contract".
According to NL Pitchero, "Supporters of Leamington will be disappointed to hear that midfielder Nathan Hicks will not be re-signing for the Sclub, having been offered the opportunity to play Conference Premier football next season at Alfreton Town. The 22-year-old midfielder began his career at Leicester City and had spells at Evesham United, Daventry Town and Kettering Town, where he was skipper, before signing for Histon in the summer of 2013. He joined up with the Brakes in March.
Leamington boss Paul Holleran said, 'He told me that he... would not have left us for any other club at this level of football. Quite simply, the chance to play Conference Premier football was too good for him to turn down'".
---
30 May 2014
Altrincham FC is pleased to announce that Ryan Crowther (d.o.b. Stockport, 17 September 1988) has agreed to sign forms for the Club for the 2014-15 season. A winger, Ryan has most recently been with FC Halifax Town.
As a youngster he was at Stockport County, before he joined Liverpool (2007-09) where he figured regularly in their Reserves. After a brief spell at Stalybridge Celtic in 2010, he joined Ashton United, then moved across Tameside to Hyde. A spell at Fleetwood Town followed before he was released in January 2014 after which he joined FC Halifax Town.
Altrincham FC announces...
"We will be competing in the Conference Premier next season and have set season ticket pricing that reflects the increased number of games and the higher standard of football that the Club will face".
Standing: Adults £250 Concessions £145
Seating: Adults £290 Concessions £155
12-16 year olds: £60
Under 12s: £30
Gate prices will be as follows:-
Standing: Adults £14 Concessions £9
Seating: Adults £15 Concessions £10
12-16 year olds: £5
Under 12: £2
A £10 discount will apply to adult season tickets purchased before 30 June 2014. The home pre-season friendlies will be free to those holding 2014-15 Altrincham FC season tickets.
Tickets can be ordered by ringing the usual number (0161) 928-1045 or by calling in at the Club Offices during weekday office hours (9.45am to 5pm). Payment should be made by cheque or cash, please.
Bristol Rovers
report that the club "has received responses from both the Football League and the FA to its allegations concerning the competitive advantage Wycombe Wanderers obtained from breaching Third Party Investment Regulations.
Both the FA and the Football League have indicated they take the allegations seriously and shall be investigating them without further delay. Wycombe Wanderers FC have failed to respond. The allegations relate to payments made and agreements in existence during the last season in which Bristol Rovers was relegated on goal difference. The Club reserves all it rights following the investigations under way by the FA and the Football League."
At Macclesfield Town, "Mark Blower has been helping the Silkmen work through the takeover process which we hope will soon come to fruition for a new era for Macclesfield Town...
'As the club announced on Friday, the talks are at an advanced stage and are making good progress. There is now one, locally-based individual who is putting together a rescue package to put the club back on an even keel and set the foundations for a sustainable club to emerge. This isn't someone who is planning to bankroll the club with unlimited resources, but someone who wants to see the club building for the future again'...
Amar has been involved in the discussions and remains committed to hand the club over to someone who will commit to its long term sustainability and we are now edging closer to a deal... We don't think we'll be able to complete everything before this weekend, but we are hopeful that we could be in a position to make an announcement by the end of next week. But as with any deal you can't be sure about anything until the ink is dry on the contract'".
In the Lincolnshire Echo we learn that "Bob Dorrian is urging his fellow football club chairmen to join him in a call for more regionalisation in the Conference as he battles to balance the books in the face of rising travel costs.
The Imps' chief plans to raise the issue at the next meeting of league bosses after revealing he faces a bill of more than £20,000 next season just to get his players to games. With Bristol Rovers, Torquay United, Eastleigh and Dover Athletic joining the Conference Premier next season, the Imps travel costs will be the equivalent of a first-team player's wages at the club according to the Imps chairman.
The distance travelled for the four new fixtures will total 1,716 miles and Dorrian says the cost is unsustainable. 'We are facing an increase of £7,500 on top of the £12,500 we already had to budget for', said Dorrian. 'There could even be arguments to travel overnight to more games, but it is a heavy cost, just to start, the hotel can cost £1,500 and the coach is £1,000 as it is for two days. We will have to find funds to cover this and we will hope people can come forward to help by sponsoring some trips, but we need to start thinking about the situation.
When we played in the Football League we had a solidarity payment of £700,000, which went a long way to covering the costs for travel. Now we get just under £50,000 from the Conference, it's a massive disparity when it comes to covering the costs. In effect, the £20,000 we will pay out in travelling next season would be the same amount of money that would go towards a first-team player. This cannot continue, we are reaching a breaking point'.
The answer in Dorrian's mind is to bring back regionalisation. The Football League had a Division Three North and South, with the Imps last competing in the northern division back in 1952 under manager Bill Anderson...
'Regionalisation is an idea which we must start talking about and, when I can, I will raise it', said Dorrian. 'I can see the merging of League Two and the Conference into North and South divisions. I don't think it would be a massive change as there are so many former League clubs now in the Conference. The benefit would be that you would not be funding overnight stays and that would save you a lot of money straight away.
You could then also start to contemplate that if you are facing sides who are not a million miles away from you, then there would be more local rivalry. That in turn could be a bigger draw to fans which could in turn mean more gate revenue. Sadly, at the moment, I think the Football Conference like the fact their set-up has a number of ex-League teams in it as it gives it a lot of credibility and I feel they would be loathe to give them up.
The truth is though, they cannot provide the support needed and this is the only national division of non-league. Something has got to happen for the sake of the clubs involved in this division. There has been talk of a League Three, so the FA is considering changes to the league structure in this country'".
At another ex-League club, Wrexham report that "Manager Kevin Wilkin wasted no time in making his first new signing after returning from a family holiday, by securing the signature of Cambridge United centre back Blaine Hudson. The 6'6" tall defender arrived in Wrexham late this afternoon, toured the stadium and then agreed a one-year deal, before heading back off to his home in Lowestoft.
Although emerging through the ranks at the Abbey Stadium, Blaine spent the whole of 2014/15 on loan with Welling United and played about 40 times for the Wings, scoring once. In addition to this, he played over 30 times for the U's, since making his debut in January 2010 as an 18-year-old against Eastbourne.
With their promotion to the Football League, Blaine found himself on a long list of players who were not retained. He jumped at the opportunity of switching to the Racecourse, after watching his former Welling defensive partner Frasier Franks enjoy a move to Luton Town... After a short loan spell with Billericay Town in the Blue Square South in March 2013, he was more than happy to head south of the Thames and hardly missed a game for Welling United last season".
Still in the Principality, the Daily Post says that "A special pop-up museum to celebrate the 150th anniversary of Wrexham FC opens today. The museum will be officially opened...by the Mayor of Wrexham, Cllr Alan Edwards, and former star player and manager Dixie McNeil will be a guest of honour.
The museum will be open from 11am to 4pm every day until Saturday and will include interactive exhibits and free family entertainment such as table football tournaments and treasure hunts. The club, established in 1864, is the oldest in Wales and the third oldest in the world.
Organisers say the anniversary celebrations are particularly appropriate with the World Club looming because as the Racecourse is the world's oldest international football ground still in use. The first international match was played there in 1877 when Scotland played Wales.
Among those visiting the museum will be a group of football fans with dementia... Liz Wilks, the Alzheimer's Society Befriending Manager, runs the group and she said, 'The group is made up of up to ten football fans who are living with dementia... We find that using football memorabilia often jogs memories of games in the past and in turn that leads to other associations, who you went to the match with and other things... They can help people with dementia remember other areas of their lives'".
---
29 May 2014
It has been confirmed that the pre-season friendly at home to Shrewsbury Town on Friday, 1 August, will be a 7.45pm kick off. Don't forget that all the pre-season games at the J. Davidson Stadium are free to holders of Altrincham FC 2014-15 season tickets, so get yours now. Prices are as follows...
Standing: Adults £250 Concessions £145
Seating: Adults £290 Concessions £155
12-16 year olds: £60
Under 12s: £30
A £10 discount will apply to adult season tickets purchased before 30 June 2014. Ring the club on 0161 928-1045 to order yours or visit the club offices during normal office hours on any weekday.
Alfreton Town
"chairman Wayne Bradley has urged the club's supporters to show faith and be patient as the club continue to work hard towards the new season.
The Red's supremo understands there are bound to be some frustrations following the departure of some of last season's squad, the most recent being Josh Law who has signed for Motherwell and striker John Akinde who has been announced by league rivals Barnet as a new signing for them despite still being contracted with the Reds until the end of June...
'We obviously have our own targets and are talking to players every single day, making offers to them, and all the majority of them will do is somewhere along the line, wait for a better offer to come in', explained Bradley. 'We could not be any busier if we tried, and I am asking the fans to be patient and show us some trust and faith. We have many irons in the fire and I am confident in many of our targets joining us.
There will be players who will go and yet we are being asked to announce a retained list when we are still talking to people to try and get them to stop with us! It is fair to say there won't be a single player who leaves Alfreton who won't have been offered terms by the club and that was the same last season. You have to accept that the player has a limited span of career and wants to do the best for himself and his family. There is no negativity, it is a matter of fact, and fans have to accept that.
Things are also quickly forgotten, and it is only a couple of weeks ago that manager Nicky Law signed a new deal to extend his stay with the club. We are at that quiet time of the season and we simply have to accept Alfreton have to wait for the right type of player to come along but we are not going to change the way we do business. Until we have physically negotiated, agreed terms with, and actually signed someone, there is no point in announcing what we are going to do or not going to do with whichever target we are in contact with.
These things take time and I think I am correct in saying that Alfreton Town have never ever signed a player in May for the following season. Any club doing that at this time of year is paying absolute top dollar for them anyway and we refuse to use up valuable budget money unnecessarily. We cannot compete at that level of finance. What would supporters want us to do, break the bank?
Players come and go, but one thing we have seen regularly every season since I have been here, is that there will be people coming in who will become the new household names and heroes to Alfreton fans', ended Bradley.A fantastic example of the club's policy of waiting for the right player at the right time was the signing of last season's top scorer John Akinde. The powerhouse striker was only actually signed on the day of the first game of the season at Dartford and didn't make his debut until the first home game a few days later".
Macclesfield Town announce that "full-back Danny Andrew has signed for Fleetwood, who earned promotion to League One at the weekend... The player, who joined the Silkmen from Cheltenham Town last summer, went on to be an ever present for the side in League action with a total of 53 appearances... as picking up the club's Player of the Year and Player's Player of the Year awards."
Torquay United "have announced season-ticket and admission prices for the 2014-15 season will be frozen at the current levels". A general guide to Conference National admission prices for 2014-15 is here.
According to the BBC "Hereford United keeper Daniel Lloyd-Weston has opted to leave as he is still owed part of his salary by the troubled Conference Premier club. Lloyd-Weston, 22, has told BBC Hereford & Worcester that he is not the only player still owed money by the Bulls, who are currently up for sale. 'The money I'm owed might not sound too substantial to some people', he said. 'But, as a percentage of what I am owed contractually, it is a lot. I need it to survive, to put food on the table'.
After making his debut for the Bulls in November, the Manchester-born former Port Vale and Cheltenham Town reserve keeper became a fixture in the Bulls team over the second part of the season. He conceded a comparatively frugal 37 goals in 28 appearances, 10 of which came in the space of two matches at Woking and Luton when Hereford hit the low point of the season in early February.
But, after playing a key role in the three wins in five matches that steered the Bulls to their miraculous final-day rescue at Aldershot, Lloyd-Weston is upset at the lack of contact since from the club, who allowed caretaker manager Peter Beadle to leave last week for Conference South side Sutton United.
'We had that high on April 26th. Then we haven't heard anything from the club', Lloyd-Weston told BBC Hereford & Worcester. 'We were then told we'd receive an email every week to notify us of the situation and we haven't received one. I just think what's the point of making promises if they're not going to keep them. It's unfair and unjust how the club have treated this. It's not like I'm asking for the earth. I'm not a £100,000 a week player from the Premier League. I'm on the equivalent of a minimum wage. Some lads have got mortgages and children. We kept our end of the bargain. We stayed and did the job. If this was any other club they'd have struggled to put a team out. Anywhere else, the lads would have walked'.
Under Conference membership rules, Lloyd-Weston has notified the club, the league and the Football Association, giving 14 days' notice of the termination of his contract, making him a free agent. 'I'm disappointed as I've grown really attached to the club and I saw a future here', added Lloyd-Weston. 'I had the hunger and desire to do well but my hands have been tied'...
Former Bulls' manager Martin Foyle's petition for a winding-up order against Hereford is due to be heard at The Royal Courts of Justice on Monday, 2 June. The Conference's Annual General Meeting will take place four days later on Friday, 6 June and the Bulls have to clear all their football debts by then, or they may face sanctions that could yet include relegation, possibly reprieving Chester from the drop.
Meanwhile, Hereford United Supporters Trust officials say they are 'deeply concerned' about the length of time it is taking to complete the proposed investment deal in the club."
The
EvoStik League
reports that "The Northern Premier League has confirmed the resignation of Worksop Town from the competition. On 22nd May the club submitted a formal letter of resignation with immediate effect. The instruction from the club was accepted by the League Board with the decision immediately being notified as a matter of urgency to the Football Association due to the knock-on implications of club allocations across Steps 3, 4 and 5 of the National League System.
The league on Monday 26th May received further correspondence from Worksop Town asking for the resignation to be withdrawn. The NPL board in consideration of the contents of the letter voted unanimously to uphold its original decision and to decline the request. The club has been advised accordingly.
The League will now await instruction from The FA as to its revised constitution of clubs for Season 2014-2015."
---
28 May 2014
The winning code on the Altrincham FC Saturday Yankee was 9635. As that combination had not been issued, the jackpot remains at £5,000 but the second jackpot has risen to £500. However, three members each won £50 for winning "trebles".
Congratulations to Stacey and Chris Rowley on the birth of their second daughter who also becomes the second grand-daughter of Altrincham FC chairman Grahame Rowley and his wife, Karen.
AFC Telford United
, have "secured the signing of former Tamworth, Cambridge and Grimsby goalkeeper, Jonathan Hedge. Hedge signed for the Mariners from Cambridge in the summer of 2013.The 25 year-old has also featured for England C and has been recruited on a one-year deal as a replacement for long-serving keeper Ryan Young, who has joined Havant and Waterlooville".
Another goalkeeper on the move has arrived at Kidderminster Harriers where "Harriers are pleased to announce the signing of goalkeeper Jas Singh following the shot-stopper's departure from Solihull Moors. Jas, who is 24, had a year with Harriers in 2009/10 following his release by Shrewsbury Town but left Aggborough after just seven appearances.
Since then he's spent several years with the Moors earning his 'kicks', making close to 200 appearances there and becoming one of the most consistent goalkeepers in the Conference North. A free agent at the end of the season, however, he has been brought back to the club by boss Gary Whild who confirmed Singh will duel with Danny Lewis for the spot between the sticks next season after Nathan Vaughan opted not to extend his stay with Harriers.
Jas has agreed a one-year deal on his return to Worcestershire."
At Grimsby Town, "Chris Doig has been appointed as the club's assistant manager. The Scottish defender will continue as a player and will take up a role as 'assistant player-manager' when the players return for pre-season on July 1.
And Town manager Paul Hurst is delighted to see the 33 year-old back at the club. Paul said, 'I'm pleased to have Chris on board. He showed last season, once Rob had gone, what a massive help he could be on the training ground. We did have that in mind for him to help a little bit but he ended up doing more and more on the training ground, which he took to very well'.
Doig is currently undertaking his final assessment for his UEFA A-Licence."
Torquay United report that "The Gaffer's player recruitment plans may have taken a hit recently; with a transfer target giving the Club a knockback, but the young manager is moving at full throttle to bring the 'right' type of player to Plainmoor...
'We tried for a player that I thought would be good for the Club but it wasn't to be. We do have three experienced Conference players joining us for pre-season with a view to signing for the Club. These are separate from the players that impressed on the trial day. Fans will get to know who they are in due course but our business needs to be kept quiet for now', said manager Chris Hargreaves".
The Football Conference tells us that "Boston United have recruited Grimsby Town striker Dayle Southwell as their first outright signing of the summer. The 20-year-old, who scored against the Pilgrims during a loan spell at Harrogate Town last season, officially put pen-to-paper on Tuesday afternoon.
He netted 5 times in only three starts for the Mariners last season, including an FA Trophy hat-trick against Coalville Town, but found regular opportunities hard to come by... United boss Dennis Greene said, 'We feel that he is a young player with plenty to offer. We saw him at first hand for Harrogate last season and he arrives with a glowing endorsement from Grimsby manager Paul Hurst'".
Meanwhile, another player moving from the national to the regional level is the subject of Conference reports that "An agreement has been reached with Adam Boyes to keep the striker at Nethermoor [Guiseley] for the upcoming campaign. Boyes spent the latter part of last season with the Lions on loan from Gateshead and quickly became a fans' favourite due to his 15-goal haul in 24 games as well as his impressive work-rate.
He is Mark Bower's third new signing of pre-season, following the arrivals of Danny Lowe and Ryan Toulson, with the Guiseley boss delighted to bring the 23-year-old to the club permanently".
Bristol Rovers report that "It has come to the attention of Bristol Rovers FC that Wycombe Wanderers FC appear to have breached FA rules on Third-Party Ownership. Its current Chairman, in giving evidence at a recent FA Disciplinary Hearing, appears to have admitted a serious breach in respect of the player, Matt Phillips (and possibly other players).
The result of this led to Wycombe wrongfully obtaining a competitive advantage over Bristol Rovers. Without this, Wycombe rather than Bristol Rovers could have been relegated. Bristol Rovers were relegated merely on goal difference and as the breach, if proven, would have almost certainly led to a points deduction, Bristol Rovers have instructed specialist sports lawyers, together with Nick De Marco, a leading sports barrister, to draft and send a complaint to both The Football League and The Football Association".
According to Bulls' News, "BBC Hereford & Worcester are reporting that a statement is due from the club [Hereford United]. Trevor Owens reported that he had spoken to David Keyte, who denied that a new manager had been appointed and that there was no trial game planned for this coming weekend in London.
Since posting details of the claimed trials match, the Twitter account making the announcement has been locked from public view. People who have contacted the mobile number listed on the messages say the man behind the account is named Don Ubah.
Update: The BBC have added this, 'General manager Dennis Strudwick has confirmed that the Conference has issued United a directive with which they have to comply, but was hopeful the Edgar Street club would "get all their ducks in a row" before the deadline. The Conference can also request a bond from the club in order to guarantee Hereford would be able to fulfil their fixtures for the 2014-15 season.'"
Bulls' News also has an interesting aside concerning one of our Conference rivals next season. It says, "Coventry have reported selling less than 400 season tickets in six weeks despite offering discounted prices to their disconnected fans. Their playing budget is reported to be cut for the coming season to £2 million, roughly the same as Forest Green and Luton this term".
In the Bath Chronicle, "Chairman Paul Williams has called on Bath City's supporter groups to help put a winning team on the field in 2014-15. Williams revealed at a fans' meeting that his board has cut the playing budget by £70,000 for next season in a bid to arrest the year-on-year losses that have left the club close to £1 million in debt... with the future of their prime asset, Twerton Park, still the key issue to be resolved".
The Daily Post says that "Midfielder Johnny Hunt, who was Wrexham's leading goal-scorer last season, could be leaving the Dragons this summer, the club admitted yesterday. The 23-year-old England C international, who has been offered a new Racecourse deal by manager Kevin Wilkin, is currently away on holiday, but Wrexham's head of football operations, Barry Horne, confirmed that a League Two club have expressed in interest in signing the Liverpool-born player..
Yesterday Hunt, who grabbed 12 goals last term, declined to comment, but Horne said... 'If he were to choose not to stay with us, we would be entitled to compensation'.
Horne confirmed that goalkeeper Joslain Mayebi, who returned to his family home in France at the end of last month, and Hunt's midfield colleague Joe Clarke have given no indication of their plans after being offered new deals. But the Dragons have opened negotiations with two new potential signings... He added, 'There is nothing to add on Joe Clarke, who is away on holiday, so we don't know where we are up to with him and there has been no contact with Joslain'".
have published "Further questions answered by Club Chairman Tony Kleanthous...
16. How do you feel the membership scheme has gone?
AAK: 'Exceptionally well and it enabled the club to continue with its investment both on and off the pitch despite the financial pain of relegation.. The membership scheme meant that we were able to put together a strong budget for a promotion push but ultimately it was having to sustain a playing squad of some 30 players that was our downfall and not the budget...
We started the junior membership scheme at Underhill some twenty years ago and this allowed kids to watch the game for just £1. This was very successful and we tried to extend the scheme this season by making it a monthly charge with a guaranteed seat. The problem was that a number of supporters booked up the seats and either never used them, leaving lots of empty space in busy games or, worse still, would pass the membership to older age groups who would attend and cause problems with stewarding and turnstile staff. We knew the members responsible because every supporter has their photograph taken as they enter the turnstiles but we were very disappointed by the abuse of the system caused by some of our own supporters. We were faced with either getting confrontational with our own fans or scrapping the scheme, we chose the latter...
22. Are there any plans for the future of Underhill?
AAK: 'We are now looking to sell the site. We have had Broncos using the facilities keeping it ticking over but it is clearly deteriorating fast and the cost of maintaining the old stadium seems disproprtionate... Ultimately we would all like to be in Barnet [not Harrow] but this will require a concerted effort...
Building work at The Hive is all practically paid for and has been funded by a further cash injection of nearly £7 million by me personally, some grant funding and also bank financing which I also personally guarantee on behalf of the group...
25. Do you think that having Rugby played on the pitch as well as football had an impact in any way on results at home? AAK: 'Absolutely not at all, the pitch has held up fine but we have asked Martin to keep the ball in the air more... Just in case...
Barnet Council are not and have not been interested in anything to do with Barnet Football Club since Underhill ward become politically sensitive in the local elections twelve years ago...
AAK: 'Last season was poor. A talented squad underperformed and ultimately did not even make the play-offs finishing in the lowest position since I have been Chairman. I am embarrassed and very upset about it and my expectation for the coming season is to do a lot better. Our target, as always, is the play-offs'.
29. How long are we likely to be playing at the Hive? AAK: 'As long as is necessary until I can find a new site, preferably in Barnet, to build a modern new 10,000 seated stadium which has always been my stated goal'".
---
27 May 2014
Harrogate Town
confirm that "After weeks of speculation, the 'Where's Wally' saga can finally come to an end as we are extremely pleased to announce that our second signing for the 2014-2015 season is prolific goalscorer James Walshaw.
James, 30, joins us after what can only be described as an 'epic" season for Altrincham that culminated in him not only scoring an impressive 29 league goals (32 in total) and winning the league's top scorer award, but also helping Altrincham to a tense 2-1 play-off final win against our neighbours, and ironically his former team, Guiseley AFC.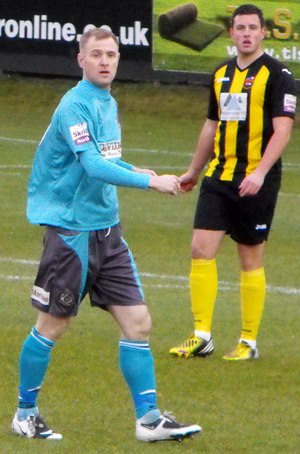 Right: James Walshaw in action at Harrogate last season.
Following his decision to quit Altrincham, Town manager Simon Weaver acted quickly to secure the much sought after striker's signature and we believe that this signing will send out a real statement of intent for the forthcoming campaign...
Despite FC Halifax's hope to sign him full time, James agreed to re-join Guiseley during the 2012-2013 season and finished with another 16 goals to his credit. A deal for the 2013-2014 season wasn't forthcoming from Guiseley, so James reluctantly left Nethermoor for a second time to link up with Altrincham and forge an envious [enviable?] and extremely profitable partnership with Damian Reeves".
Harrogate added later that "Press-officer Peter Arnett caught up with our new signing. This is what he had to say. It must have been difficult for you to leave Altrincham having had such a fantastic season with them?
'It was. I was gutted to be honest, I would have liked to have had a stab at the Conference Premier but, with all the travelling that would be involved and with my family, I had to leave. I had a fantastic time [at] Altrincham but I am ready to give it my all with Harrogate Town'.
I'm sure that our supporters will be very happy to hear that. We haven't had a 30 plus goal striker in quite some time, does that spur you on knowing that you could be the first? 'It's definitely a spur. '.
Superb. How did Simon sell Harrogate Town to you? 'I spoke to a few clubs but, after speaking to Simon, I sensed that Town are a club that is really pushing forward to improve and improve all the time! I wanted to go to a side that wanted promotion as bad as I did'.
We also released the news last week that Ashley Worsfold has signed a new contract, what do you make of playing alongside Ashley this season? 'When he played against Altrincham he was the stand-out player for you. I am really looking forward to playing alongside him. He is one of those players that when you see him working hard, it spurs you on to work harder as well. It should be great to play with him and all the other players in the squad as well'.
You have often been a thorn in our side, but what did you think of our club when you were playing against us? 'Yeah, sorry about that!! I must admit that it is a ground that I always liked going to. As a club it always looked really well run. Other players that I have spoken to about Harrogate Town have never had a bad word to say about it. To be fair, that was one of the reasons why I joined. It's all the little aspects that make a successful club and that is why players sign... On a personal level, I will give 100% every match and watch this space!'"
Neil Faulkner has set up a
Just Giving
page in memory of Keith Davey, who was a volunteer at Altrincham FC in many capacities over many decades. If you would like to contribute, please follow the above link.
According to
NL Pitchero
, "AFC Telford United manager Liam Watson insists no player will be holding the new Conference Premier club to ransom over their wage demands this summer.
The likes of winger Mike Phenix and 15-goal defensive midfielder Mike Grogan are all without terms at the New Buck's Head for their return to the Conference Premier. The Bucks also want to open talks with top scorer Adam Farrell over a new contract, but they have another season's option on his deal which they plan to take up.
Captain Simon Grand left last week for Barrow AFC, opting to stay in the Conference North but picking up a significant wage from the big-spending Bluebirds. And Watson insists he won't be held over a barrel by anybody re-negotiating or coming into the club, adding there will be no mercenaries plying their trade at Telford next season.
He told the Shropshire Star, 'Players have to be conscious of putting themselves into a position where they are not value for money. It comes down to what level you want to play at. People have got to be at your club for the right reasons and that doesn't mean wages. I am not giving someone a pay rise just because we have been promoted. There are players who, perhaps, don't deserve it as they were on good money last season and didn't deliver. Each situation will be judged on its own merit.
Some have never played at this level, either. I have had people, in the past, who I thought would be nailed-on to succeed in the Premier and they have struggled. There have been others who I have been unsure of and they have done it. There are no guarantees in anything'.
Phenix and Grogan have both mentioned cutting down on their hours in their day jobs, to focus more on life as a footballer in non-league's top flight. Overnight stays on a Friday night are more commonplace in the Premier, too, as the part-time Bucks pit their wits against a number of full-time outfits. Watson said, 'Yes, there will be more travelling but the training patterns won't change. There will be some overnight stays, though, because of the distance we have to travel. We also have the option of travelling down to Telford, which is in the Midlands, and staying in the hotel at the club, on occasions where that suits the trip'".
According to The Leader, "Wrexham will be keeping tabs on left-back Neil Taylor's situation at Swansea City as the club could be due a big pay-day. The 25-year-old Welsh international, who joined Swansea from Wrexham in the summer of 2010, has cast doubt over his future at The Liberty Stadium after a lack of first-team action...
Wrexham sold Taylor for £150,000 plus 10 per cent of any future transfer fee profit and missed out on a cash windfall in January... When asked whether he expects to be at Swansea next season, Taylor, who has 18 Wales caps to his name, said, 'I've no idea. The most important thing is that you do your job for the team and that's what I've had to do'..
Southampton are keen on Taylor and see him as a possible replacement for England defender Luke Shaw who is expected to join Manchester United in a £27m deal after the World Cup...
Meanwhile, winger Theo Bailey-Jones has become the latest player to sign a new deal at Wrexham this summer. The 20-year-old Mancunian has signed a one-year contract after impressing manager Kevin Wilkin towards the end of last season. Bailey-Jones had two short-term deals last season and also a brief loan spell with Colwyn Bay, before returning to the Racecourse...
Bailey-Jones joins Dean Keates, Mark Carrington and Steve Tomassen in committing to the Reds".
---
26 May 2014
Already living a double life as Altrincham FC striker and member of the rock band Stubblemelt, Kyle Perry is revealed by the NL Paper to be branching out into organizing music festivals. Of Kyle the NL Paper says, "The 28 year-old left Nuneaton Town a year ago to move to Moss Lane... But, the striker has joined forces with his old Town chairman, Ian Neale, to organise The Big Boro Festival at Nuneaton's Liberty Way next Saturday, with his own up and coming band "Stubblemelt" performing alongside platinum-selling group "Scouting for Girls".
Perry, who plays alongside Alty team-mate Tom Marshall in "Stubblemelt" said, 'Ian saw what I did organising the Lichfield Rocks festival last summer and was impressed. He's wanted to put one on at Liberty Way for along time and we've come up with this.
We've got some fantastic acts on two stages... with stilt walkers, graffiti artists, fire breathers, face painters, inflatables and stalls. There'll be something for everyone but to get people as big as Scouting for Girls" and "Lisa Lashes" involved... is just massive". For details see the Big Boro Festival website.
Manager George Heslop writes that his Altrincham FC Youth team "requires a volunteer to assist in the role of Coach/Assistant Manager. The team were founder-members of the North West Youth Alliance Football League at its inception in 1998-1999. They have been in the Premier Division from the start and have won the championship four times and been runners-up three times. The team has also won the Fair Play League twice, the Open Cup once and have been runners-up in that competition three times.
The team has also been the Premiership Cup winner three times & runners-up four times. So, we are trying to keep up a high standard of play and discipline. Our pre-season is due to start around June 24th. Manager George Heslop (Manager) can be contacted on phone 0161-718-0624 or by e-mail.
It has been announced on the Alty Fans' Forum that the newly formed Development Squad/Reserves' "home games will be played at the Mersey Valley Sports Club at Ashton on Mersey next season. The facilities and pitches there have had substantial investment from the Football Foundation and are good. Altrincham FC Ladies team will also play their home games there next season".
Meanwhile Sale Town announced on Saturday that their "Football Club is no longer based at the Mersey Valley Sportsclub (MVSC). STFC Chairman and Secretary are currently in the process of concluding an amicable agreement with MVSC Treasurer / Director to finalise conditions of departure of STFC as the football member section of the MVSC.
This decision was made by the Chairman and Secretary of Sale Town FC during a meeting with officials from the Cheshire County FA on Tuesday 13th May 2014 who were fully informed of the situation the club has found itself in at the MVSC. Many issues have arisen that have led to this outcome.
Fundamentally, Sale Town FC committee do not consider the Football Development Strategy that is now evolving and being led by MVSC at Banky Lane to be aligned with what we were trying to achieve when we formed Sale Town in 2010".
Duncan Watmore, on loan from Sunderland, was not in the squad for Hibernian on Sunday as they surrendered their Scottish Premier status to Hamilton Academical. Hamilton won on penalties after a 2-0 draw had ensured that the two-legged play-off had ended 2-2 on aggregate.
Macclesfield Town
"would like to confirm that it is currently working hard to complete a deal that will result in a change of control at Moss Rose which will enable the Club to plan for the future.
Negotiations involving a number of parties are at an advanced stage but are not yet complete. A further statement will be made as soon as the situation allows".

Right: It will be good to see Welling at Moss Lane again this season after a 15-year absence; as shown on the poster at the time, their last visit was on 12 February 2000, when no lesser referee than a young Mark Clattenburg was the official in charge, Alty lost 0-1.
At Welling United, "As the close season is now upon us the Club and in particular the Team Management will obviously be turning their attention to squad strengthening... Thankfully, a number of exciting signings have already been made.
It almost goes without saying that there will be times where a player's remuneration expectations / requirements are beyond that which our budget structure permits and one problem that a Club such as ours faces is that it is difficult to be able to recruit players who do not already live within commutable distance to Welling. Clubs with larger budgets are able to offer relocation allowances, or simply wages high enough that allow a player to afford temporary accommodation.
The Club do wish, from time to time, to be able to consider recruiting a player from further afield (perhaps even abroad) and we are therefore enquiring [of] all of our wonderful, loyal fans to see if they, (or if they know of anyone who), would be willing to provide accommodation/lodging for a player during the football season. If we were able to find one or two such accommodation options, it would enable the Club to consider recruiting a player from further afield, which may just increase the calibre of whom could be signed."
According to the Hereford Times "Hereford United's new mystery investors will be watching a trial game for the club in London next Saturday. A sports management company, called SSGlobalSports, says the trials for United's new team will take place at Bedfont FC.
SSGlobalSports' Twitter page claims the trial 'Will be watched by the new owners plus by pro-scouts representing over 12 pro clubs'. United chairman David Keyte expects an investment deal to be concluded shortly but says those putting in the cash, believed to be based in London, want to remain anonymous.
Keyte says he expects to remain in the hot-seat after the investment has been confirmed. Since United avoided relegation from the Conference Premier at Aldershot, the caretaker boss Pete Beadle has joined Sutton United and assistant Steve Jenkins, Merthyr Town. Three people are understood to have been interviewed in London for the manager's job.
And fans' message board speculation claims Terry Harris, the assistant boss of Luton Town, will be among those involved in a new-look Hereford United management team".
Welsh Premier
reports that "On the face of it, a rise in Welsh Premier attendances of 16.7% last season is a reason to be cheerful but the figures mask a growing discontent amongst supporters and managers with the current 12-club format of the league.
The average gate at the 192 regular season WPL games rose to 326, compared with 279 the previous campaign. The return of Rhyl to the top flight with reported average gates of 594 was a significant factor, especially as well-supported Bangor City saw Nantporth attendances drop by almost 7%...
There was no four-figure gate during the league campaign, although Bangor attracted 1,442 to the last-day Europa League showdown against north Wales coast rivals Rhyl. A major caveat is that many of the figures should be regarded with suspicion. Earlier this season, a WPL club press officer confided that an actual attendance of 77 was officially returned as more than 200 for reasons he found difficult to fathom...
The FAW seems to have accepted that attracting respectable crowds to WPL games is a losing battle. Instead, the policy is to turn clubs into 'community hubs' with major investment in synthetic pitches which, whilst undoubtedly beneficial from many other aspects, tend to produce fixtures with a lack of the traditional competitiveness and physical contact which makes football the game that fans want to watch.
A large number of WPL fans are also bored with the repetitive nature of the fixture list which sees some clubs play each other as many as seven times a season, as was the case with Bangor and Rhyl.
Rhyl boss Greg Strong... [said] 'I've seen Nev Powell (Bangor manager) more often than I've seen my wife this seasom... We want rivalries to be special and playing the same team seven times in the same season is way too often'...
Only 14 clubs achieved the requisite FAW domestic licence standard this year and neither of the two who are currently outside the top flight, Haverfordwest (fourth) and Llandudno (fifth), finished high enough in their feeder leagues to achieve promotion... For the time being at least, the 12-club format looks set to remain in place and fans will no doubt vote with their feet and their wallets".
News of an ex-Alty man also comes from Welsh Premier, to the effect that, at "Airbus UK Broughton, experienced former Football League defender Phil Bolland has decided to retire".
---
25 May 2014
With the news that goalkeeper Josh Samberg and striker Max Pouncey have been invited to First Team pre-season training from June 24th, there are now five members of last season's youth team involved with the Conference National squad. The other three, as previously announced, are Rob Gilroy, Jeff King and David Brown.
A rough guide to turnstile prices at clubs in the Conference's national division next season is
here
. No two clubs have exactly the same cetegories of admission price, so there is a certain amount of simplification in the figures shown. Also, some clubs do not make clear whether their prices are for the coming season or for last season. No responsibility is accepted for errors, so please check before travelling if you want to be certain of the admission prices.
Barnet "are pleased to announce the signing of centre forward John Akinde. The striker joins the club on a two-year-deal... He has chosen to join Barnet FC ahead of the challenge of getting back to the Football League".
The
Evostik League
says that "The Northern Premier League has received from Worksop Town Football Club a letter resigning membership which has been accepted by the League Board with immediate effect. The implication of the Worksop Town resignation with regards to club allocations in all three divisions has been referred to the FA Leagues' Committee.
The League cannot make any further statement until The FA is able to clarify the NPL constitution of clubs for Season 2014-2015".
Worksop finished fourth in the NPL Premier league last season but their main backer has since withdrawn.
---
24 May 2014
Before Friday night's Altrincham FC Youth teams' presentation night (see below), it was announced that Altrincham FC will be operating a Development Squad in 2014-15 season. The following press release has been issued by Peter Foster to explain this development.
"Altrincham FC are pleased to announce that next year the Club will have a reserve/development team in the Cheshire Football League Division 2
The Club runs teams at all age groups up to and including Youth team. However, we do have a gap, being unable to offer football to players too old for Youth team football, if they are not quite ready for the first team squad. We believe that entering a team into the Cheshire Football League will assist in the development of such players. The team will also provide an opportunity for players returning from injury to get back into competitive football.
The AFC Youth teams have an outstanding record and reputation within North West Youth Football, with many of our players having represented Cheshire (seven this year) and with the team also having reached the 2nd Round Proper of FA Youth Cup this season. We believe that, within the Cheshire Football League, players will benefit from playing a good competitive standard of open-age football in a well organised league, with good playing facilities.
The team will be run by Craig Malbon and Chris Rowley, both experienced and well qualified coaches, who will in turn report to Neil Tolson (AFC 1st Team Assistant Manager). Anyone interested in joining the squad can contact Craig or Chris by e-mail or by phoning the club on 0161 9281045 and leaving your details".
Please note that the above e-mail address is not operative until 1 June.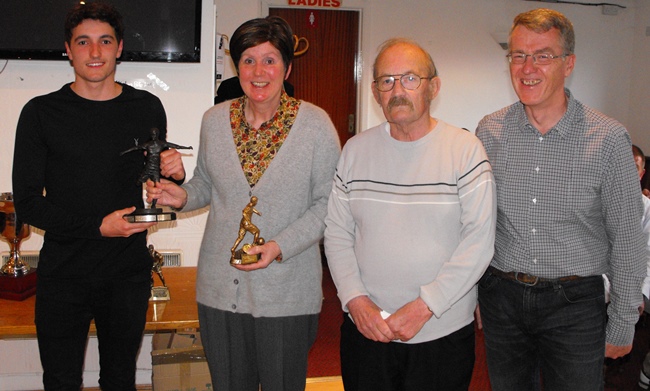 Above, Max Pouncey received the James Black Trophy from Ian and Jenny Black after being selected by George Heslop as the Manager's Player of the Season.
The annual presentation night for Altrincham FC youth players was held on Friday evening. This year two youth squads were honoured; the Under-18s who play in the NW Youth Alliance Premier League, and the Under-17s, who feature in the NWYA First Division and represent Altrincham and District FA in the Cheshire County FA's District Youth Cup.
The Under-18s finished league runners up and progressed to Round Two of the FA Youth Cup before bowing out with honour at Walsall's Bescot Stadium.
Meanwhile, the Under-17s finished off their season on a high note by clinching the NWYA President's Cup trophy.
Paul Fay presented his Under-17s' Manager's Player of the Season award to Will Foster and the Players' Player of the Season trophy to James Campion.
Altrincham FC Vice-Chairman Andrew Shaw introduced the Under-18s Youth Team manager, George Heslop. Before announcing the awards, George paid tribute to his captain, Spencer Cunliffe, who had recovered from a bout of glandular fever to attend the event. He went on to praise Spencer's talent and commitment whilst joking about the verbal exchanges that he and his captain had during the past two seasons.
George's first award was to goalkeeper Steve Bullen, who was named as Clubman of the Season. Unfortunately, Steve was unable to be present to receive this honour in person.
George called on Karen Rowley to present the Goalscorers' Award to Max Pouncey. The manager then announced the prizes for Players' Player of the Season, as voted by the squad. Third place was won by goalkeeper Josh Samberg whilst the runner-up was defender Tom Clarke. The winner of the Players' Player award was fellow defender David Brown.
George then paid tribute to James Black, a keen supporter of Altrincham FC, who had died at the age of 18, and in whose memory his parents, Ian and Jenny Black, had commissioned a prestigious bronze trophy which is awarded each year to the Manager's Player of the Season. For 2013-14 the award went to striker Max Pouncey.
Finally, George paid tribute to his long-suffering wife, Jenny, who had not only endured George's many absences at football matches and training but had also washed the players' kit for 17 years. On his behalf, Club Secretary Derek Wilshaw presented Jenny with a well deserved bouquet.
Before the presentations ended, Andrew Shaw underlined the admirable work done this season by George in managing the team despite suffering ill health. For his part, George looked forward to being able to resume his full role in 2014-15.
Above, top row, David Brown, Players' Player of the Season with George Heslop and Andrew Shaw; Max Pouncey, Goalscorer of the Season, with Karen Rowley and George Heslop. Middle row: Tom Clarke and Josh Samberg, respectively second and third in the Players' Player of the Season voting. Bottom row: George Heslop with Andrew Shaw, and, right, Derek Wilshaw with Jenny and George Heslop.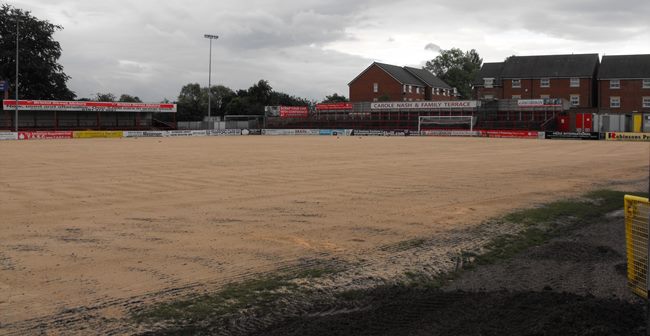 Above, the pitch at the J. Davidson Stadium currently is more suited to beach football than Conference National after being sanded as part of the preparations for the coming season.
Dover Athletic
report that the club "can confirm its retained list for the forthcoming 2014/15 season...
Players already under contract for next season are goalkeeper Mitch Walker, defenders Sean Raggett and Tom Wynter, midfielder Tom Murphy and striker Jeff Goulding. In addition, three players have signed new contracts; defender Richard Orlu, and midfield duo Chris Kinnear Jr and Ricky Modeste.
Four players have been released by the club; defender Terrell Forbes, midfielders James Rogers and Ashley Carew, and striker Elliott Charles.
Moses Ademola, Nathan Elder, Craig Stone, Barry Cogan, Liam Bellamy, Michael Kamara, Lee Hook and Lloyd Harrington have either been offered a contract by the club and are weighing up their options, or are currently away on holiday. With the latter, manager Chris Kinnear will talk to the players upon their return".
Further experience is being added to the squad at Eastleigh, where the club "can reveal that we have completed the signing of Jack Midson. The attacker comes to the Silverlake Stadium on a two-year deal, having played his football with AFC Wimbledon since 2011.
In his first campaign at Kingsmeadow, Midson's 18 league goals were sufficient for him to finish tied at the top of League Two's 2011/2012 scoring charts. Twelve months later, the striker completed another season as his club's leading marksman. The last of Midson's 13 strikes in 2012/2013, a penalty against Fleetwood Town, was decisive in the Dons' retaining their Football League status.
Midson's new boss, Richard Hill, has now secured the Spitfires' second marquee acquisition in the space of three days, with the former Histon man's arrival coming hot on the heels of the club's swoop for James Constable. Hill says that the pursuit of Midson began as soon as he learned that the 30 year-old was set to become a free agent.
'I have been speaking to Jack for a few weeks now, desperately trying to get this deal over the line. Like James Constable, Jack is an extremely ambitious lad and, to come and play in the Conference, he needed to be convinced that we're not going into this league just to tread water.
'Jack has committed to us for the next two years and, once more, that speaks volumes for this club's long-term aspirations. We are all looking forward to welcoming a player of Jack's pedigree and goal-scoring ability into what we consider is already a high-quality squad'. Prior to his time at AFC Wimbledon, Midson was a team-mate of Constable's for two years at Oxford United...
Midson had stops at Dagenham & Redbridge and Bishop's Stortford but it was on moving to Histon that he announced himself to a wider audience. The forward's 20 Conference Premier goals in 2008/2009 helped the Stutes all the way to the semi-final of the season ending play-offs".
At Welling United, "Jamie Day has made a further permanent signing this week by bringing in Rod Young on a one year deal. 19 year-old striker Rod joined Norwich City from Exeter City and is Essex-based and can also play in midfield. Young was part of the Norwich City team that beat Chelsea in the FA Youth Cup final before being released at the end of last season.
Rod also spent time on loan at Bishop's Stortford last season."
Also, "22 year-old midfielder Matthew Harriott will join the Wings from July 1st on a one year deal after his release from Northampton Town. Harriott started out at Luton Town as a youth player and moved on to Sheffield United, appearing for the first team, before going on to Northampton Town."
Meanwhile, wrexham announce "the re-signing of Theo Bailey-Jones for a full year, after the exciting young winger impressed new boss Kevin Wilkin at the tail end of last season. A former schoolboy with both Manchester City and Crewe Alex, he was a trialist with us 12 months ago and also had a spell training with Birmingham City.
Last year he had two short-term deals and also a brief loan spell with Colwyn Bay, before returning to The Racecourse and playing in our final four games of the campaign".
A report in the Burton Mail says that "John McGrath is hoping to extend his contract at Alfreton Town but needs to overcome the injury that curtailed his season first. The former Burton Albion skipper signed a one-year deal with the Reds, after leaving the Brewers last summer, and was enjoying a good season until a knee injury hit him at the end of last year.
'My season finished at Christmas', he told Mailsport this week. 'Until then, I had had a good season with Alfreton and really enjoyed it. I saw the specialist this week and he said my knee is as stable as it was before I injured it. But now I've got to build up the muscle around it. Alfreton have said my situation is a bit different because they want to keep me on, but they can't offer me anything until we know what is happening with my injury'".
Congratulations to referee Mr Ryan Johnson of Swinton, the man who officiated at the Colwyn Bay v Altrincham re-match in the FA Trophy last season. He also oversaw our 6-1 win at Llanellian Road in 2011. Mr Johnson has been promoted to officiate at Conference National level. Meanwhile, fellow referee Chris Kavanagh, who oversaw Alty's home draw with FC Halifax Town in 2012, has been elevated to the Football League following what David Coote, Referee Development Manager of the Manchester FA and no stranger himself to officiating at Alty games, described in the Manchester Evening News as "an outstanding season in the Conference National League".
---
23 May 2014
It was a successful season for both the Altrincham FC under-18s Youth team and the under-17s. The Under-18s were runners up in the Premier League of the NW Youth Alliance and also did well in the FA Youth Cup, reaching the second round. The under-17s, meanwhile, won the NWYA President's Cup.
To mark their achievements, there will be a Presentation Evening on Friday (23 May) at 7 p.m. in the Noel White Suite. During the evening the players will be given an insight into the new Altrincham FC Development Squad and awards will be to players of both the NWYA Premier Division side and the First Division side. Of course, the main award of the evening is the James Black Trophy, presented by James's parents in memory of their son who was an ardent Alty supporter until his untimely death.
The Altrincham FC Monthly Draw winners for 2014 are below. The Club is grateful to all members of the scheme; new members are always welcome - full details are
here
.
January 2014: 1- Jamie Taylor (78) 2- Graham Jackett (56) 3- Sarah Rowley (100) 4- Hilary Moore (104)
February 2014: - 1- Dave Tracey (65) 2- Steve Murray (52) 3- Jackie McLay (28) 4- Neil Faulkner (44)
March 2014:- 1- Mike Ford (86) 2- Campbell McLay (27) 3- Terry Surridge (47) 4- Claire Brennan (76)
April 2014:- 1- Ruth Gallagher (53) 2- Paul Daine (8) 3- Ian Gordon (106) 4- Mike Jones (67)
May 2014:- 1- Graham Houghton (99) 2- Stuart Coburn (3) 3- Paul Salt (90) 4- Dianne Swindells (19)
The
Football Conference
has reported "A worldwide ban on betting on football will come into force from August 1st 2014 for certain participants in English football. Included within the worldwide prohibition ratified by the FA shareholders' 111th Annual General Meeting at Wembley Stadium on Wednesday are all those involved in the game at Premier League, Football League and
Football Conference
levels, as well as the top two divisions in each of the Northern, Southern and Isthmian leagues.
Participants covered by the ban will be prohibited from betting, either directly or indirectly, on any football match or competition that takes place anywhere in the world".
According to the Football Conference, "Midfielder Andi Thanoj will not be taking up his contract offer with Grimsby Town and is set to leave the club. Thanoj was one of only three players offered new deals by manager Paul Hurst. It is thought that the Albanian player will now look to play his football at a European club, nearer to his homeland. Hurst said, 'After speaking with Andi he indicated that he feels a change of scenery is required and as a result has turned down the offer to remain with us'".
Hereford United have issued a "Club statement regarding current negotiations. The current negotiations between Hereford United and investors has [sic] continued to go well today [Thursday].
Both parties have reached agreement and the matter is now being dealt with by each parties' legal teams. The agreement is expected to be finalised tomorrow (Friday 23rd May). The Football Conference have been fully kept up to date with proceedings throughout. The Official website will publish further news and details on this tomorrow.
The current winding up order served by ex-Manager Martin Foyle has not come unexpectedly, the debt owed to Martin is included [in], and will be fully covered by, the above agreement".
He was injured playing for Colwyn Bay against Altrincham last season, but the Daily Post now reports that "Jonathan Royle has signed a new one year deal with Wrexham FC. The 19-year-old midfielder spent his first season as a professional on loan to Colwyn Bay... Royle joins Steve Tomassen, Mark Carrington and Dean Keates on the list of players to accept new deals from Kevin Wilkin".
According to the Telegraph & Argus, "Guiseley manager Mark Bower has made it his goal to sign Adam Boyes on a permanent deal. Boyes, who was named as Skrill North's Player of the Month for April and May, was a big hit during his loan spell from Gateshead...
'As a goalscorer he will be in demand, but he enjoyed his time here and I hope he signs for us', said Bower. Guiseley have already snapped up the Halifax pair of Danny Lowe and Ryan Toulson. Experienced goalkeeper Steve Dickinson has agreed to extend his stay at the club and Guiseley have exercised the extension clause in winger Wayne Brooksby's contract. Talks are still continuing with defenders Danny Hall and Ben Parker over new deals.
Bower has decided to release four members of last season's squad, Jack Rea, Rhys Meynell, Michael Potts and Macauley Parkinson. 'It was the hardest thing I have had to do since becoming a manager', said Bower. 'Sitting down and telling players, who have done their best for you, that you are letting them go isn't easy but if, I was to freshen things up, I had to make room for new signings to come in. There is a budget to work to and so I decided that I would let the four players go'.
Youngsters Kyle Harrison, a product of the club's academy, and forward Ryan Williams have been included in the first team squad.
Bower is delighted that former Halifax skipper Lowe has agreed to move to Nethermoor. He said, 'He can play centre-half or right-back and that is the sort of flexibility we need. Last season Telford and Altrincham, the two promoted teams, had the personnel to switch to playing with three centre-backs on occasions and now we can do that too.
Ryan Toulson is no stranger to the club. He has played for Guiseley [and Altrincham] before and is a good right-back. Having him in the squad gives us the flexibility to use the experience of Andy Holdsworth in midfield'. Bower insists that there won't be wholesale signings over the coming weeks. He said, 'I am comfortable that we have a squad that can mount a challenge for promotion again'".
Barnet Mad "looks at another of Barnet's opponents in the Conference in 2014/15 - Altrincham... The two clubs first met back in 1979/80 in the initial Alliance Premier League season. The two clubs met four times that season. In the APL, Altrincham won 1-0 at Moss Lane, but the Bees won 2-0 at Underhill with goals from Steve Robinson and Elwyn Roberts. Altrincham won in the semi-final of the APL Cup, beating Barnet 8-0 on aggregate, winning 1-0 at Underhill and 7-0 at home".
After outlining the clubs' clashes in the seasons after that, the report resumes.. "In 1990/91, the game at Underhill ended goalless and Altrincham, inspired by future Underhill favourite, Paul Showler, won 4-1 at Moss Lane, a result that took Alty to the top of the conference, but it was to be Barnet who took the title with a last day of the season win at Fisher.
Paul Showler was a rare player who played for both Altrincham and Barnet, moving from Alty in 1991 after Barnet had won promotion to the Football League for the first time. Showler helped Barnet to the play-offs in 1992 and to win promotion to Division Two (now League One) the following year but left that summer to join Bradford City. He scored 16 goals in 90 matches for the Bees.
Steve Berryman was a goalkeeper who had a short loan spell from Cambridge United in 1991 and subsequently played for Altrincham. He made 2 appearances for Barnet."
Football Webpages reports that the average home gates for those clubs who were in the Skrill Premier last season were as follows. The figures for the play-off teams (Cambridge Utd, Grimsby Town, Gateshead and FC Halifax town) are affected, of course, by high gates in those matches.
Luton Town 7,387
Cambridge United 3,873
Grimsby Town 3,637
Wrexham 2,993
Chester 2,366
Lincoln City 2,353
Kidderminster Harriers 2,038
Aldershot Town 1,946
Hereford United 1,757
Barnet 1,705
FC Halifax Town 1,683
Woking 1,601
Macclesfield Town 1,529
Dartford 1,250
Nuneaton Town 1,209
Forest Green Rovers 1,194
Gateshead 1,187
Southport 1,048
Salisbury City 998
Braintree Town 993
Tamworth 970
Welling United 807
Alfreton Town 804
Hyde 688
Altrincham's average gate in 2013-14, from the same source and on the same basis as above, was 1,118, though it would have been 909 without the play-off matches.
---
22 May 2014
Though not at the current time formally announced by the Football Conference, Altrincham FC manager Lee Sinnott has deservedly been named Skrill North Manager of the Month for April/May. Chris Kinnear of Dover Athletic won the Skrill South managerial award.
The Skrill North Player of the Month is Guiseley's Adam Boyes.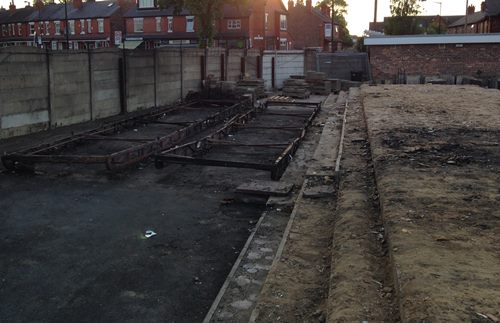 As can be seen, right, the Robins' Shop at Moss Lane is no more. However, don't forget that you can make your purchases via the
online shop
.
Once the new season begins, you will need to allow extra time for getting to Altrincham as the new
Greater Manchester Roadworks
site alerts us to five months of "high impact" roadworks by British Gas near The Vine, Washway Road, Sale.
AFC Telford United
"Skipper Simon Grand has joined Barrow on a one-year deal. Grand, who led the club to its first title in 62 years was not offered terms by Liam Watson at the end of the season and agreed terms with Cumbrian side who have set out ambitious plans for next season in the Skrill North...
The club can also confirm that they have given Stockport County permission to speak to Russell Benjamin and that Robbie Booth has left the club. Striker Andy Owens has agreed terms to remain at the club for another year. Andy Pryce has also agreed to remain at the club as Goalkeeper Coach".
Telford's squad so far is: Jonathan Hedge (GK), Neil Byrne, Wes Baynes, Steven Akrigg, Chris Lever, Josh Hancock, Adam Farrell, Charlie Barnett, Tony Gray, Alan Moogan, Sean Clancy, Sean Cooke, Mike Grogan, Mike Phenix, Andy Owens.
According to the Football Conference, "Welling United have announced two new defensive signings with Zach Fagan joining from Arsenal and Ben Jefford from Port Vale. Fagan, 19, is a centre-back who featured at both under-21 and under-18 level for the Gunners, having been at the club since the age of 10. He joins the Wings on July 1st on a permanent basis having been released by Arsenal.
Welling boss Jamie Day is clearly deciding to bring in younger faces as he freshens up his squad for the second campaign at Conference Premier level... Day said of Fagan, 'He is a good size but is also mobile and can pass and play'... Fagan ended last season on loan at Boreham Wood.
Earlier, Day signed 19-year-old defender Ben Jefford. Having been released by Port Vale at the end of the season, Jefford has penned a one-year deal at Park View Road. He started his career at Reading and then moved to Port Vale. A left-back, who can also operate as a holding midfielder, Jefford has experience on loan in non-League circles, having spent time with both Boreham Wood and Basingstoke Town.
Day added, 'Ben is a young left-back'".
At the other end of the age spectrum NL Pitchero reports the signing of another experienced player at Eastleigh. "Ambitious Conference South champions Eastleigh have announced the signing of former Walsall, Kidderminster Harriers and Shrewsbury Town striker James Constable on a two-year contract. Twenty-nine-year-old Constable has spent the last six years with Oxford United...
Spitfires' boss, Richard Hill, said, 'I've spent the past two-and-a-half weeks speaking to James and telling him all about what we are striving to achieve here. On the three occasions we've met, and during numerous telephone conversations, the subject of money has never been raised. In truth, James was keen to stay at Oxford and overhaul the club's scoring record... He was initially holding out in the hope that Oxford would offer him fair terms to stay and do that. Oxford's loss, though, is definitely our gain.
James is exactly the type of player that Eastleigh need to be signing, not only to meet our immediate objective to establish ourselves in next season's Conference Premier, but as a statement of where we view this club going in the long-term. Don't misinterpret James dropping down a level as representing any lack of personal ambition. After listening to what we've had to say he is excited to be embarking on this next stage of the Eastleigh project with us, and wholeheartedly believes he is coming to a place where he can be part of something extremely special'".
The BBC says that "Lincoln City have signed former Stevenage striker Jordan Burrow on a two-year deal. The 21-year-old was released by Boro earlier this month after scoring three goals in 23 appearances. The former Chesterfield trainee had previously scored five goals in 54 games for Morecambe. Burrow is the second player to join the Imps for next season after Southport midfielder Karl Ledsham agreed a one-year contract".
In the Express & Star, we learn that "Kidderminster Harriers have announced defender Josh Gowling will join the club's management team as player-coach. The 30-year-old will join assistant boss Mark Creighton as part of manager Gary Whild's backroom staff.
Gowling has been a fixture in the Harriers defence since joining the club two years ago and has been a professional for more than a decade, playing extensively in League One and League Two with the likes of Gillingham and Bournemouth...
Whild said, 'Josh still has a massive part to play as a player... Josh knows that and knows that this isn't a step for him to ease off in terms of playing... It's nice to have two guys who are young, hungry and ambitious in him and Mark Creighton'".
Scotland's Daily Record reports that "Motherwell win race to sign midfielder Josh Law from Alfreton Town...
Law, the younger brother of former Fir Park midfielder Nicky, now at Rangers, knocked back offers from England's League One and League Two to sign for the Steelmen after quitting Alfreton Town".
Meanwhile, in Wales, the Daily Post says that "Steve Tomassen has become the latest Wrexham player to put pen to paper on a new deal. The 20-year-old defender, who came up through the ranks at the Dragons' Centre of Excellence, has signed a one year deal... after making 31 appearances during the 2013/14 season.
Tomassen was used at right back at the start of the campaign before putting in a number of impressive performances when switched to centre back. He joins Wrexham skipper Dean Keates and player of the season Mark Carrington on the list of players to have committed themselves to Kevin Wilkin's team for next season".
---
21 May 2014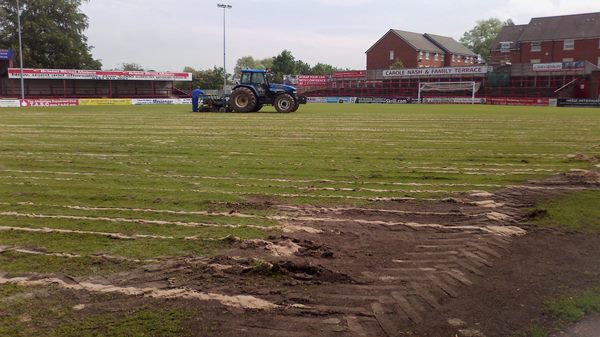 It may be the "close season" but there is plenty of activity at the J. Davidson Stadium. Here we see drainage work on the pitch preparatory to re-seeding over the summer.
A second jackpot has been started in the Altrincham FC Saturday Yankee after the current jackpot reached its maximum of £5,000 when it was not won last week. Last week's winning code was the unissued sequence, 3025. However, one lucky member scooped £150 for a winning "treble".
At the Promotion Final a raffle was held for a 2014-15 Altrincham FC home shirt; the winning ticket was "Yellow 281 to 285". To date, this prize has not been claimed so, if you have that ticket, please contact the club as soon as possible on (0161) 928-1045.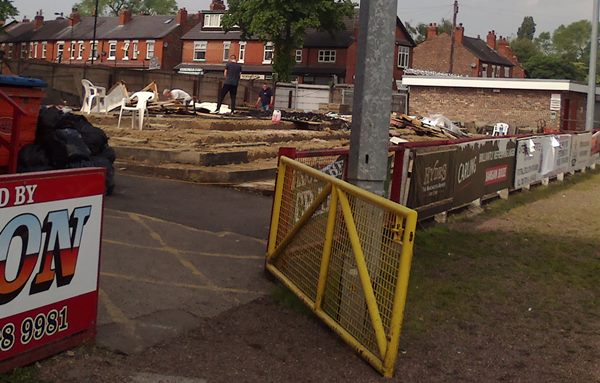 As can be seen, above, work continued again on Tuesday to clear the site of the former Robins' Shop in preparation for the erection of the new Community Sports Hall, which is to be built on that site.
AFC Telford United
"have today secured the signing of former Tamworth, Cambridge and Grimsby Goalkeeper Jonathan Hedge. Hedge signed for the Mariners from Cambridge in the Summer of 2013.The 25 year-old has also featured for England C and has been recruited on a one-year deal as a replacement for long-serving keeper Ryan Young, who has joined Havant and Waterlooville."
Also in Hampshire, Aldershot Town report that "As we look back over the past season, we can all be very proud that the Club has secured its place in the Conference Premier despite receiving a 10-point penalty. Much of our time this season was devoted to developing a robust financial plan that would ensure the longevity of our Club. To do that, we had to overhaul our business model, outsourcing loss-making activity and making very difficult cost-cutting decisions. It is fair to say that with this focus we may have neglected a number of areas; if so, we apologise and will do our best to address any concerns...
We want this to be a real community club with the fans at its heart... We can report a positive financial performance which expects to deliver a little better than break-even, and with our CVA repayment plan on track to complete ahead of schedule. We have suffered a number of setbacks: a string of unfortunate injuries necessitated additional spend on loan players; our early exit from the FA Cup meant we did not receive any 'windfall revenues' that a cup run can generate to offset these additional costs; plus, a late decision from the Conference to not give the Club funding until the CVA was cleared...
These shortcomings were managed by utilising more of our Football League parachute payment than we had wanted too. However, the playing budget will be set in accordance with our original plans to build a competitive squad and we will ensure that it is used effectively. The Club's goal for the coming season remains consolidation. We know, though, that Andy and his squad will be aiming to win every game.
Fans through the turnstiles are the lifeblood of any club. The average attendance this season was 1,954 which, unsurprisingly, was down on previous League Two seasons, along with an anticipated decline in away support. We also suffered a number of key Saturday postponements, which is both costly and frustrating...
As you now know, Chelsea have been very generous in donating our new pitch. Hopefully, we will not be so vulnerable in the future to the weather. This coming season we have budgeted for an average home league gate of 2,000.
On a positive note, we saw the first full year of our new Community Stand, where we gave away 100+ seats to community groups and schools for every home game, and played host to over 2,000 guests during the course of the season. Whilst there was no revenue associated with these seats, we believe it is important to give youngsters the opportunity to watch our games, and hopefully become the next generation of Shots' supporters. We are also proud of the Club's historic association with the British Army. In 2014, to mark the 100th anniversary of the First World War, we will be working closely with our military colleagues to ensure that Aldershot Town Football Club plays its part in marking the centenary...
Our plan is keep prices the same as the last two years... The more season tickets that are purchased by regular supporters, and the more we can encourage new and lapsed fans through the gate for home games next season, the more competitive we can be, both on and off the pitch".
In the West Country, Bristol Rovers announce that "Donovan Wilson has signed a professional contract... The 17-year-old striker has signed a one year deal... The youngster has been with Bristol Rovers since the age of seven".
Across the country, Grimsby Town confirm that "Midfielder Scott Neilson has signed a new one-year deal with the club. Scott had rejoined the Mariners during the summer of 2013, having had a successful three-month loan spell in 2012, before joining Luton on a short-term contract in January 2013...
He made his name in non-league as a goal-scoring winger... and eventually won a move to Bradford City... he eventually moved south to Crawley Town. Scott came to Cleethorpes for a successful three month loan spell in 2012, before joining Luton on a short-term contract in January 2013".
Grimsby boss "Paul Hurst said, 'Scott's one of those that gets fans on the edge of their seat. When he picks up the ball fans are expecting things to happen from him. He's certainly a player that a lot of defenders won't enjoy coming up against. He's a bit of a live-wire. He's been a big part of how well we've done over the last couple of seasons... Maybe in terms of constancy [?consistency]... I've said to him how many times can we get it out of him, over a full year. If he does that on a regular basis then he's going to be a real handful for the opposition".
Kidderminster Harriers are "pleased to confirm that another of their out-of-contract players has signed a new deal for the forthcoming 2014/15 season. Defender Jamie Grimes has penned a new one-year contract with the club after an impressive end to 2013/14.
The former Swansea City youngster made a total of 25 appearances in all competitions during what was his first full season at the club as well as sandwiching in an impressive loan spell with Worcester City".
At Wrexham, "After joining as a trialist and then playing for nothing, former Bury man Mark Carrington has been rewarded with a new two-year contract at the Racecourse. 'I'm delighted to have my future settled' said the defender."
The Football Conference tells us that "Guiseley AFC have announced the double signing of Danny Lowe and [ex-Alty man] Ryan Toulson. The defensive pair are the first signings of pre-season, with both arriving having been released by neighbours FC Halifax Town...
Toulson returns to Nethermoor having been with the Lions in their first season at Conference North level where he was a regular feature at right-back".
According to the Scunthorpe Telegraph, "Grimsby Town boss Paul Hurst has said he would like to sign Scunthorpe United defender Andrew Boyce on a permanent deal but admits it is a long shot. The 24-year-old impressed during a loan spell at Blundell Park at the end of last season...
Hurst said, 'Andrew is under contract at Scunthorpe and will want to try to impress there during pre-season... Realistically, in terms of planning and bringing players in, that's probably not going to be possible until the season begins or extremely late in pre-season. Either way, that would mean we've had a struggle to bring players in, which I don't envisage'.
Boyce made 15 appearances for the Mariners over the last two months of the season, mostly alongside Shaun Pearson in the centre of defence. And Pearson said...'In a lot of ways we're quite similar centre-halves. I don't think Boycey will mind me saying that neither of us are natural ball players as such... We built up a good partnership and got on really well, which always helps, we had a good understanding'".
Chester First reports that "Tony Durkin has revealed the Football Conference has promised to update Chester about any developments at cash-strapped Hereford United. The Blues' chairman admitted the Conference had spoken to Chester FC on Thursday in light of Hereford United's battle to clear their football debts and wages before the league's annual general meeting on June 7.
But Durkin refuses to speculate on Hereford's situation or provide an idea of what might happen if the Bulls fail to solve their financial worries by the deadline set by the Conference. Hereford retained their Conference Premier league status on the final day of the season with a last gasp goal in their 2-1 victory at Aldershot to condemn Chester to life in the Conference North next season...
Durkin said, 'I don't know what the Conference are doing to assist Hereford's financial worries but Hereford's chairman, David Keyte, seems to be making all the right noises... Keyte insists that investment is imminent at Hereford'".
---
20 May 2014
Although not yet on the FA site, the dates of the FA Cup and Trophy rounds and other significant games are apparently as follows:
August 9th - Conference Premier opening league fixtures.
October 25th - FA Cup 4th Qualifying Round.
November 8th - FA Cup 1st Round.
November 18/19th -FA Cup 1st Round Replays
December 6th - FA Cup 2nd Round.
December 13th - FA Trophy 1st Round.
December 16/17th - FA Cup 2nd Round Replays
January 3rd - FA Cup 3rd Round.
January 13/14th - FA Cup 3rd Round Replays.
January 10th - FA Trophy 2nd Round.
January 24th - FA Trophy 3rd Round.
February 7th - FA Trophy 4th Round.
February 21st - FA Trophy Semi-Final 1st Leg.
February 28th - FA Trophy Semi-Final 2nd Leg.
March 29th - FA Trophy Final.
April 25th - Conference Premier final league fixtures.
May 17th - Conference Premier Promotion Final (Wembley).
England 'C' Internationals dates:
Saturday 31 May 2014 - Slovakia v England – International Challenge Trophy Group A
Tuesday 14 October 2014 - Turkey v England – International Challenge Trophy Group A
Tuesday 18 November 2014 - England v Estonia – International Challenge Trophy Group A
The weeks beginning 23 March 2015 & 30 March are provisionally reserved for ICT Semi-Final or an International Friendly fixture.
Altrincham FC announces its Patrons' Scheme for the 2014-15 season.
For the bargain sum of £50, your name will appear throughout the season 2014-15 in the matchday programme for every home game and on the club's official website as a Patron of the Football Club.
In August, every Patron will be entered into a prize draw with the winner being match sponsor for an appointed game along with 9 guests. Second prize will be hospitality for 5 people and third prize hospitality for 3 people in the Sponsor Lounge – the value of the 1st prize is £550.
If you are interested in becoming a Patron again this season please forward a cheque payable to "Altrincham FC" for £50 for the attention of Grahame Rowley.
If you require further information, please speak to me on 07720-606897 or email me.
We need your support, especially now that we have gained promotion to the Conference National, and have set a target of 150 patrons for the forthcoming season.
To date the following people have signed up: Paul Brady, John Hutton, Mark Embury, Paul Daine, Stan Riley, Isabel Riley, Paul Salt, David Meadows, Bob Peters, Ian Senior, Terry Surridge, James Surridge, Barry Pond, Grahame Rowley, Karen Rowley, Chris Rowley, Stacey Rowley, Sarah Jones, Dan Jones, Robert Sharpe, Dr Nigel Lord, Arnold Rogerson, John Laidlar, Dana Laidlar, Steve Murray, Bob Allan, Claire Allan, Kirsten & Nigel Bunce, John Skelhorn, Mike Garnett, Mike & Louise Alexander, Celia Hodgkinson, Neil Faulkner, Harold Smith, Francis Heald, Alan & Shirley Gorrill.
There are some familiar names to be encountered when Altrincham visit Eastleigh this coming season, as
Eastleigh
"can now confirm that the following players from the 2013/14 season have signed contracts for next season.
Ross Flitney, Dan Spence, Michael Green, Jamie Collins, Dean Beckwith, Chris Todd, Ben Strevens, Glen Southam, Craig McAllister, Jai Reason, Stuart Fleetwood, Yemi Odubade and Will Evans.
Defender Chris Dillon and assistant manager Guy Butters have left the club".
According to NL Daily "Stockport County boss Alan Lord has offered deals to a dozen of last season's squad... It was announced last month that Ian Ormson, Scott Duxbury and Matthew Todd had been offered contracts to stay at Edgeley Park.
They have now been joined by Kyle Jacobs, Mark Lees [ex-Alty], Stephen O'Halloran, Jordan Fagbola, Tunji Moses, Jamie Milligan, Chris Churchman, Bobby Lofthouse and Kristian Dennis. Joining retiring skipper Phil Jevons in leaving the Edgeley Park club are Jamie Hand, Ian Craney, Iain Howard, Nicky Platt, Sanchez Payne, Adriano Moke, James Washburn, Kieran Charnock and Mark Battersby."
At Hereford United, the unofficial Bulls' News site says that "The Club's Board of Directors are meeting... Rumours have swirled over the weekend of an investment deal being on the table to be ratified at the meeting, after David Keyte spoke of 'imminent cash investment' on Thursday morning.
There is less than two weeks to the Conference AGM, and the league chiefs are expected to be wanting assurances over the future of the club ahead of any decisions at that meeting. One potential name that has resurfaced over the weekend is that of former Arsenal and Crystal Palace player Brian Sparrow. The 51 year-old was named as a suitor by the Non-League Paper nearly two months ago.
Sparrow, whose experience includes two spells as manager at Crawley during their part-time days, coached at Palace and Brentford before a two-year stint in China under the stewardship of former Birmingham City vice chairman Sammy Yu, a former Hong Kong footballer and TV commentator. Yu joined the Blues as part of Carson Yeung's takeover but left shortly after the deal was completed. He has since tried to buy the club from Yeung following his arrest on fraud charges, and also made moves to buy Sheff Weds last summer."
According to the BBC, "Barrow have re-signed striker Jason Walker, four years after he originally left the club... Walker signed for Forest Green in January but left last month after ending the season on loan at Southport, where he netted six times in 10 games. He has now agreed a two-year contract with the Bluebirds".
bristol Rovers "are very pleased to hear that National Heritage will not be listing the whole Memorial Stadium site as a war memorial. We can now move forward finalising our agreements with our partners. Further announcements will be made as the summer progresses".
At Aggborough, Kidderminster Harriers "can confirm that defender Lee Vaughan has decided to leave the club after four seasons after securing a move to League 2 side Cheltenham Town. It brings to an end a long stay at Aggborough for the 27 year-old, who made a total of 178 appearances with the club including more than 50 in 2013/14.
The manager told harriers.co.uk, 'I am sure Lee will be the first to tell you that we've done all we can to try and keep him and that we couldn't have done any more'".
Reports in the Leader Live say that "Manager Kevin Wilkin has identified areas that Wrexham need to work on so they can be successful on the pitch next season. Doing everything possible to keep players injury-free and improving Wrexham's disciplinary record, which was one of the worst in the division this term, will be important to the Reds' chances of challenging for promotion as Wilkin operates with a smaller squad.
'I need players to be tougher and more durable through the course of the season', said Wilkin. 'I had very few soft tissue injuries when I was at Nuneaton and I think that's an area we need to concentrate on and focus on. am not going to be able to carry the big numbers so it is important all the big players are able to play more often that not. Discipline, we also need the big players to be playing more often than not. If I can make an improvement on both of those areas it will give us a better chance'...
Wrexham were shown seven red cards this season but did not have a player sent off and received a fewer amount of bookings in the final eight matches under Wilkin who was appointed manager on March 20. I know I get passionate and have my moments on the side but I think I have generally kept a measure of how far I push things', said Wilkin. 'Players need to focus on the football, they don't need to be opening their mouths. Every bit of energy they have got needs to go into the game...
You need to keep 11 players on the field'...
Wilkin is also looking for high fitness levels from his players going into the 2014-15 campaign and believes the club will benefit from utilising sports science. 'We have had a lot of players here who are sort of reaching the twilight of their careers', said Wilkin. 'When you get a new manager coming in at a club, it is a bit of a cheap shot for me to say across the board that the fitness could have been better. Possibly there are areas that could be improved...
I progressed at Nuneaton with the activation bands. I think they are a major asset to what you are looking to do as an injury prevention as much as anything else'. WIlkin added, 'I like to try and buy into the sports science side of it. I want to get people around me that understand it. I am no expert on it but I am embracing of it and that is where I want to continue to push us forward. Get players to take a responsibility for what they are, that is a culture and a theme that I want to work forward throughout the club'".
"The League Management Committee" of the
NW Counties Football League
"is now awaiting news from the FA regarding applications from two clubs to join our League for the 2014-15 season. As reported at the weekend, Barnton FC and Litherland REMYCA FC have been promoted from their respective Step 7 Leagues to the NWCFL, and we now await the decision of the FA on applications from Cammell Laird FC and Stockport Town FC.
Cammell Laird resigned from the Evo-Stik League at the end of last season, and last week the announcement of the constitution of the Northern Premier League confirmed that Lairds will not be a member of the League in 2014-15. Stockport Town are a newly formed club who gave notice of their intentions to submit an application to join our league several months ago.
Both clubs' applications to join the NWCFL are still being considered by the FA and, once the outcome of both applications is known, we will publish the details on the League website".
---
19 May 2014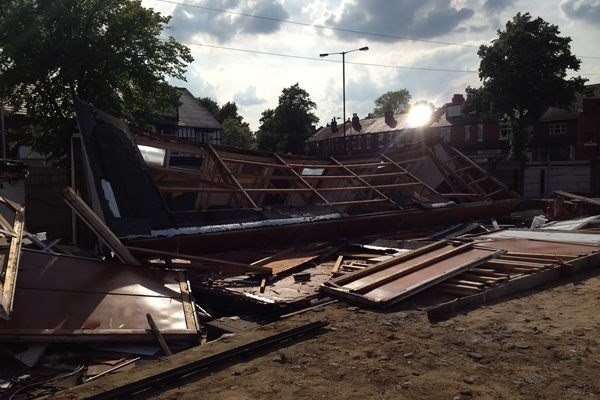 Courtesy of Karen Rowley, the above picture shows the demolition of the club shop at the J. Davidson Stadium prior to the construction of the new Community Sports Hall.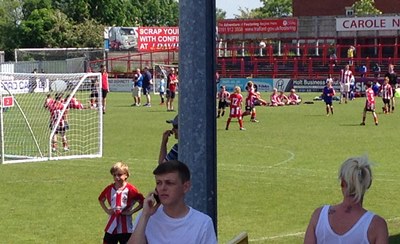 Meanwhile, on the pitch, it was business as usual as Altrincham FC Juniors held a tournament today (right).
Pre-season training starts on 24 June and the dates of the pre-season friendlies have now been published. However, all these games are subject to confirmation over the summer.
Saturday, 5 July, Abbey Hey (A)
Tuesday, 8 July, Buxton (A)
Saturday, 12 July, No game will be scheduled for this date
Tuesday, 15 July, Mossley (A)
Saturday, 19 July, Trafford (A)
Tuesday, 22 July, Tranmere Rovers XI (H)
Saturday, 26 July, Hyde FC (A)
Tuesday, 29 July, Accrington Stanley (H)
Friday, 1 August, Shrewsbury Town (H)
As usual the home friendlies will be free to those holding 2014-15 Altrincham FC season tickets.
The Skrill Premier Promotion Final on Sunday ended with Cambridge United beating Gateshead 2-1 at Wembley. So, next season, Alty supporters will be renewing their acquaintance with the International Stadium at Gateshead rather than with the herd of cows they used to encounter at Cambridge. Local regulations at Cambridge require away supporters to be dropped off by their coach about a half a mile from the stadium with the fans then having to follow a path across a field through a herd of cows to the ground.
However, the defeat of Gateshead adds 34 miles to the round trips to be made by Altrincham in the league next season compared with the mileage had Cambridge lost. In all, 6,388 miles will be travelled by Altrincham next season to complete our league fixtures. But Gateshead themselves will have some horrendous journeys, including those to Torquay (770 miles return) and Dover (701 miles return). Alty's longest trip will be 554 miles return to Dover.
Meanwhile, at Torquay United "When Chris Hargreaves walked through the Plainmoor doors in January, he was a manager facing a desperate fight for League survival. The situation dictated quick-fix loans were brought into the club and some of those, Shamir Goodwin, Shaquile Coulthirst and Baily Cargill, would become our top performers...
The loan policy will switch to long-term agreements next season, although the immediate priority is boosting the playing staff with permanent additions.
'We were the platform for a lot of those lads to go on and do well', said Chris. 'I gave Shamir, Shaq and Baily a chance to play in League 2, and I'll still be trying [to recruit them] for next season. I've spoken to people at Brighton and Tottenham to see if there are any more bright sparks available. We have to be looking to try and get solid loan signings for a season.
The one-month loans are not ideal and people can be critical of loan signings because they may not have the club at heart. It is true to an extent but Shaq, Shamir and Baily, for example, were some of our best players and they were brought in because others hadn't done the job... Ideally, you start with 18 of your own lads and finish with your own lads'".
---
18 May 2014
Work on the demolition of the Club Shop and of the adjoining "Mausoleum" terrace, in front of it, made good progress on Saturday. But extra help would be very much appreciated today (Sunday) from 10.30am. Please bring gloves and any other equipment that you might think would be useful for the work, which includes the lifting of paving flags and further demolition of the wooden shop structure.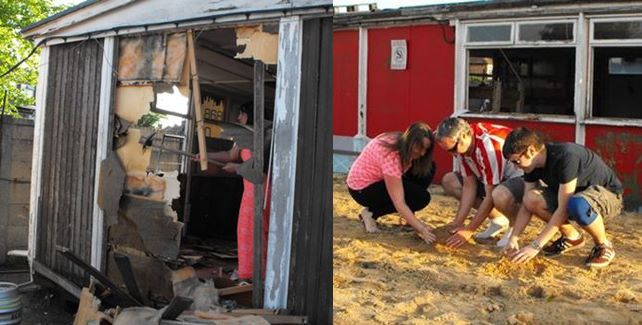 The above pictures show, left, Dawn Abbott, normally seen in charge of the Golf Road catering cabin, wielding a pick-axe and, right, Sarah Rowley, Richie Bentley and Mike Ford, (who is leading the demolition work), take a break to build a sandcastle where the flags have been removed. Please come along and help the Club and have a good time too!

In Saturday's
Manchester Evening News
, Altrincham FC chairman Grahame Rowley said, "Lee [Sinnott] as manager is a very organised person. Nobody else is as meticulous as he is in his preparation for the new season and for games.
I have confidence that we are going to go into this division fully prepared for what we're about to face'.
Speaking in advance of the issue of the retained players' list, Grahame added "We're always very loyal to our players and we'll continue with that but we're looking to strengthen around it. Players are already coming to us expecting increases in salaries and it'll be a difficult balancing act for us.
It'll be a challenge staying as a part-time side but teams like Halifax and Braintree have proved it can be done. If you're well organised, you can succeed... Hopefully, we can make the step up".
Right: Lee is pictured with the Promotion trophy.
Sunday's Non-League Paper has an interview with Lee Sinnott. The Altrincham manager says that promotion means that "There are some longer journeys and bigger commitments needed from the players. But they can class themselves as Conference Premier players now. That's a big fillip for them and it's a box ticked, after the disappointment of last year and losing in the play-offs.
They've broken through the glass ceiling and shown they can come through the tough mental, and not just physical, encounters".
Referring to last season, Lee added that "We started very strongly. I'd expect the same again now because of the excitment of playing against quite a few ex-League teams".
Following Greg Wilkinson's dramatic goal in the Promotion Final, Lee was left "shocked for 48 hours after the game. 'You're numb, especially in the circumstaces that it happened. We were putting Greg on with the intention of taking a penalty; within 22 seconds he writes himself into folklore. When the dust settles, after 48 hours, you do think it's nice to put the club back where they were. When a club gets relegated there is doom and gloom.
You look at the playing side of it. Some didn't want to step down, some stayed and you need to bring other bodies in as well, so it was a big change. The idea was to get the team pointed in the right direction and then make progress from there. From an OK season, finishing eighth, the last two seasons have been testament to that progress'...
'Non-League has changed dramatically over the past ten or more years, with so many ex-League clubs being in the Conference. Altrincham has been a very big name, traditionally, in non-League football and that is the most pleasing aspect of getting back'".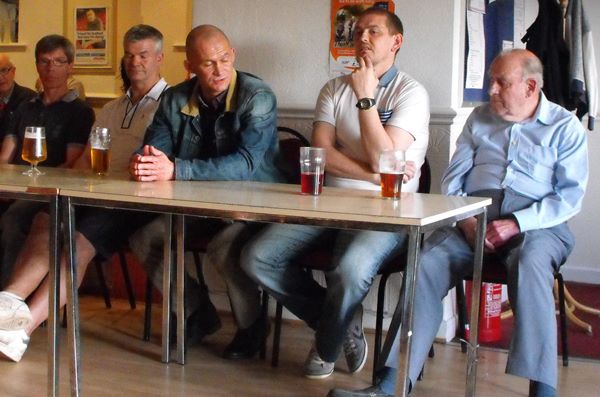 Above: At Saturday's Q+A session, the panel comprised, l. to.r., Alan Ainsley (Physio), Grahame Rowley (Chairman), Lee Sinnott (Manager), Neil Tolson (Asst. Manager) and Derek Wilshaw (Club Secretary).
At a well-attended "Meet the Management" session at the J. Davidson Stadium, on Saturday evening, Lee Sinnott announced that all fourteen of the remaining playing squad from 2013-14 have agreed to re-sign for the 2014-15 season. As had been previously announced, Matt Doughty, Carl Rodgers and James Walshaw have decided to leave.
The fourteen players are Stuart Coburn, Shaun Densmore, Adam Griffin, Jake Moult, Gianluca Havern, Scott Leather, James Lawrie, Simon Richman, Damian Reeves, Nicky Clee, Tom Marshall, Greg Wilkinson, Kyle Perry and Mike Williams. It was confirmed that the club would remain part-time, as would manager Lee Sinnott himself.
Lee and assistant Neil Tolson also announced that agreement has been reached for Colwyn Bay midfielder Sean Williams to join Altrincham. 22 year-old Sean has had two spells with the Bay, having also been a member of the FC Halifax Town squad to win promotion in 2012-13. Prior to that he had spells with Stockport County, Vauxhall Motors, Hyde and Skelmersdale United.
Lee and Neil confirmed that they are looking to have a squad of about 19 and have identified five positions where we need reinforcement; one of these is obviously up front, to replace James Walshaw, and another is in goal, where the Club "needs to have two quality goalkeepers" - one being Stuart Coburn, of course.
Alan Ainsley confirmed that Mike Williams's recovery from his cruciate injury is progressing well.
Both Lee and Neil are confident that the current players have the ability to raise their game still further to Conference National level. "I don't have any fear for next year as regards the players' capabilities; my only fear would be if we do not do ourselves justice" said the manager. "Promotion should push the players on to a higher level", he added. Lee also confirmed that the team would continue to play good football; "I want to play football that I also enjoy watching", said Lee. They will not just be looking "to survive, but to give it a go" in the national division.
Lee and Neil also said that three current youth players, David Brown, Rob Gilroy and Jeff King would be joining the first-team squad for training. Tribute was paid to youth manager George Heslop for continuing to produce such very promising players.
Lee and the rest of the panel thanked the supporters for their help during the past season with many of the audience expressing their gratitude, in turn, to the club for its success on the field this season. The manager underlined that the coming season was an exciting one with, not only promotion, but also the building of the new Community Sports Hall at the J. Davidson Stadium taking place.
Saturday's game between a Keith Davey XI and an Altrincham FC XI ended in a 10-0 win for the Alty team. The scorers were Rod Thornley (4), Neil Tolson (3), Andrew Jones, Colin Little and Chris Burcott. The Club would like to thank Gareth Davies for organizing the game and all of the players for taking part. The teams comprised:
Keith Davey XI: Rob Lawrenson, Leon Smith, Simon Hyams, Stuart Blades, Simon Long, Mark Chadwick, Danny Lowry, Jason Coughlan, Paul Hayes, Dan Gosnold, Shane Ritchie. Subs: Niel Hulse, Luke Gaskell, Rob Allen, Dominic White, Andy Davies.
Alty XI: Andrew Jones, Gary Scott, Danny Adams, Gareth Davies, Shaun Constable, Val Owen, Robbie Lawton, Colin Little, Eddie Hussin, Neil Tolson, Rod Thornley. Subs: Alan Ainsley, Colin Potts, Aron Ewing, Chris Burcott and Tom Hopkins.
The
Shropshire Star
says that "AFC Telford United manager Liam Watson will press on with plans for his next batch of signings this week. Southport defender Steve Akrigg and Witton Albion winger Josh Hancock have already joined and another two could come on board.
The Bucks' boss is close to landing a replacement for goalkeeper Ryan Young and will then look to outfield players. He said, 'I want to make eight signings. We now need, at least, a couple of defenders and a couple of strikers. If I can get another two done this week, I will be delighted'.
Football League clubs were filing their lists of released players today. But Watson said, 'I don't really look at them anyway; we have our own targets'. The Telford chief does, however, leave cash for a late signing. 'I always leave a little bit back', he said. 'Someone always tends to turn up towards the end of pre-season or even after we get started'".
According to the NW Evening Mail, Barrow "boss Darren Edmondson is set to recruit a handful of new players, with familiar faces Ted Cribley and Paddy Lacey committed to staying at Holker Street. Cribley has now penned a one-year contract and fellow midfielder Lacey has agreed to do likewise, although his contract contains the option of a further 12 months.
And by the start of next week, Edmondson hopes that five contract targets, who were not part of last season's squad and have all performed at a higher level than Conference North, will be ready to ink deals, which will all be at least one year in length... With Paul Casson close to completing his £600,000 AFC buy-out Edmondson has held talks with the quintet over how they can improve in the future...
Edmondson explained, 'These lads are bringing ability but at the same time, from the conversations we're having, there's a desire within all of them to get this club where we all want it to be. There's a good mix of youth and a couple of experienced lads... There's nobody coming here who is breaking anybody's bank or taking home a nice pot of gold. They're all coming for the right reasons... They've all played higher than this level, even the younger lads'".
---
17 May 2014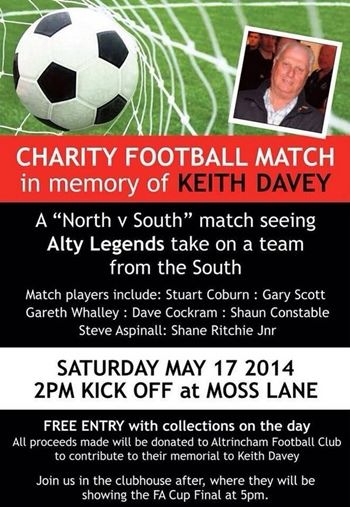 On Saturday (17th May), as well as the Keith Davey memorial match at 2pm (see right), and the televising of the FA Cup Final in the Noel White Suite at 5pm, there will be a Question & Answer session with the management and Club board from 7.30pm. So, do come along, enjoy a drink and get your questions answered! At this meeting the names of the players retained from this season will be announced.
Neil Faulkner has set up a Just Giving page in memory of Keith Davey. If you would like to contribute, please follow the above link.
The
BBC
reports that "Salisbury City have been taken over by a consortium made up of a Dubai-based Moroccan businessman and Whites' supporter Mark Winter. Otail M Touzar and Winter completed the deal on Thursday with outgoing chairman William Harrison-Allan.
'Myself, and all the fans, are thankful we've been able to secure the future of the club', Winter told BBC Wiltshire. 'It's not going to be boom-and-bust. Our thoughts are that we stabilise the club and run it in a sensible way'...
The club officially came out of administration in December but four months later the chairman issued a plea for new investors to come forward... Winter confirmed that Touzar would now be the main investor at the Conference Premier outfit.
'He's a very keen football fan and is well connected in the football world', added Winter. 'Most people who are looking to invest will look at the Premier League but he comes from a small Moroccan town of a similar size to Salisbury. There's nothing that's going to change here in the short term. But we are both marketeers and the club needs a good marketing plan. It needs to reach out to the wider community'".
Insider Media adds that "businessman AS Otail M Touzar, and local entrepreneur Mark Winter, have reached agreement to acquire all shares in Salisbury City Football Club Ltd. The terms of the transaction were not disclosed...
Otail added, 'This is just a first transaction of a series of major football club investment deals in various countries currently in process and to be announced over the course of the summer. I look forward to working with all club stakeholders to ensure a bright and sustainable future for the Salisbury City FC'".
Kidderminster Harriers have confirmed that Mark Creighton is to remain with the club as assistant-manager after agreeing a deal for next season. The popular former player of the year at Aggborough returned as part of Gary Whild's new backroom team in March, having had a memorable spell before moving on to even more successful times with Oxford United and Wrexham...
The 32 year-old added, 'I have recently retired and I didn't want to come out of football; it was what I want to do and where better to do it than here?'. Meanwhile, in a piece of bittersweet news the club can confirm that first-team coach Tim Flowers is to leave his role with the club after landing a role with a top Football League side".
Kidderminster Harriers also confirm that "Tim Flowers is to move into the Football League. The former Premier League winning goalkeeper had been working as a first-team coach at Aggborough alongside boss Gary Whild...
However, a fantastic opportunity has arisen at a big-name club in the Football League and few can blame the ex-England international for wanting to follow that up".
In the Worcester News we read that "Right-back Lee Vaughan has been linked with a switch to Cheltenham Town. The 27-year-old was one of seven players offered a new deal by Kidderminster Harrier boss Gary Whild at the end of the season. Vaughan, who was voted the supporters' player of the season, joined the Aggborough outfit in the summer of 2010 from Telford and has become of one the club's most reliable players".
Barnet "are pleased to announce the signings of Dan Bradley from Alfreton Town and Sam Muggleton on a free transfer. The club can also reveal that Jon Nurse has agreed a new one-year deal at The Hive to become player/coach for the 2014/15 season.
Goalkeeper Graham Stack will also become a player/coach for the campaign ahead and head-coach Martin Allen shared his thoughts... 'It has been a busy week and I can confirm that we have signed Dan Bradley from Alfreton Town and Sam Muggleton on a free transfer. We have also agreed a one-year contract with Jon Nurse for him to join as player/coach for the season ahead'".
Welling "have made their first new signing of the close season, bringing forward Charlie Penny into the club from neighbours Millwall. Penny, who spent time on loan at Wealdstone last season, will join the Wings on a permanent basis...
Boss Jamie Day said, 'He has shown he can score goals, and he also helped Wealdstone win promotion while on loan last season so has experience in non-league circles'... Penny, who signed his first professional contract with Millwall last summer, did not make a first-team appearance at The New Den."
"Torquay United manager Chris Hargreaves says it is unlikely he will offer midfielder Joss Labadie a new contract" reports the BBC. "The 23-year-old was banned for 10 games for biting in March, having signed a deal to keep him at the club until the end of the season in January.
'It's unlikely that he will remain with the club', Hargreaves told BBC Sport...
Hargreaves says he has had little interest in any of the eight players currently on the Gulls' transfer list, while only Ashley Yeoman has agreed a new deal. But the Torquay boss says he has secured the services in pre-season of four experienced trialists...
'I'm not going to name them because I don't want anyone else nipping in there and offering them contracts', Hargreaves said. 'But these lads have had good success in their careers and are prepared to start with us, if they end up signing they'll be four fantastic singings. Two have had quite a bit of League experience even though they're young, the other two are more experienced'".
Meanwhile, Woking "can confirm that the following players have not been offered new terms for the forthcoming season; George Frith, Brett Johnson, and Anthony McNamee".
According to
NL Pitchero
, "Danny Johnson, manager of Nantwich Town, has blamed a lack of interest from some of his players for the club's end-of-season decline. Johnson's men won just one of their last ten NPL Premier Division fixtures...
'Next season I want a team, not individuals, but a group of players who are here for the right reason and want to pull in the same direction', Johnson told The Sentinel... 'The last ten or twelve games of the season were a massive disappointment for me, as some players appeared disinterested and were quite happy for the season to pass them by... It is my job to make sure that doesn't happen again'.
However, he did reserve some praise for his leading scorer Aaron Burns, who has turned down the offer of a new contract. Burns netted 27 goals last season and will be followed out of the Weaver Stadium by fellow striker Ben Deegan and defender Alex Frost.
Johnson said, 'Aaron scored plenty of goals during the last four years for me. His record is excellent and I am sure he will have plenty of offers'".
---
16 May 2014
Altrincham FC Ladies confirmed a third-place finish in the league with a 4-2 win away to Runcorn Linnets Ladies in their final match of the season.
Phil Taylor's report on the game is to be found here. As Phil says, it has been an excellent season for the Ladies in both league and cup competitions.
Altrincham spent the last three seasons in Conference North but, in that short time, of the 23 clubs who we were with us in the national division in 2010-11, only six will remain in that league when we return to it next August; they are Forest Green Rovers, Grimsby Town, Cambridge United or Gateshead (one will be promoted), Kidderminster Harriers, Southport and Wrexham.
Neil Faulkner reports on the AFCCS Disco Night...
"​What a great day for the Altrincham yesterday; the result was fantastic and us winning promotion was even more special on our home ground than back in 2005 at Stoke City. The crowd was absolutely amazing 4,632 I cannot believe it, I hope that many come back to support our club after such a fantastic day. The celebrations in the bar afterwards will live long in the memories of the fans.
I would like to send our best wishes for next season to Guiseley, their, players, fans, management and directors they were a great credit to the club and we have always been looked after very well when we have visited them and this is what makes Non-League football so special.
Thanks for supporting another great Friday Disco night at the Club, another important fund raiser for the Community Sports Hall. As we got near to the night I was beginning to think that I must have been mad to arrange this on the eve of what turned out to the Promotion Final at our ground.
I would like to especially thank Pat and Tony Savage of the Topaz Dance School for hosting the night for free, again. Please read their details on their website. It is important to support local businesses but dancing is also a great way to keep fit and enjoy yourselves. Also thanks to Ritchie Bentley for the great Chicken in the basket, and to Grahame & Karen Rowley, Barry & Carol Pond, Neil & Debbie Dawson, Noel & Sylvia Shields, Stuart & Maria Ritchie, Dave & Ange Newell and their families for support the night and providing raffle prizes.
We raised £707 on the night and this has now taken us over the £2,000 mark for the three nights. Thanks again for your support and... We are going up We are going up!"
Neil adds that "Our Just Giving page is up and running for people to make donations now after a great week for the team. Please help to raise the remaining money for the Community Sports Hall! The 'Just Giving' page can also be used by anyone who has already pledged to the Community Sports Hall appeal and wishes to make their donation".
Moore Foundation press release:
"On Sunday 11th of May local charitable trust, the Moore Foundation, returned to Altrincham Football Club for the second year running to host a family fun-filled celebrity packed football match, raising vital funds for its beneficiaries!
Despite the early morning rain and the grey clouds, people came out to show their support for the two teams and enjoyed a great afternoon of football, fun and banter. Even the Mayor of Trafford, Councillor Dylan Butt, turned out to open the event and meet the players and charity representatives on the pitch.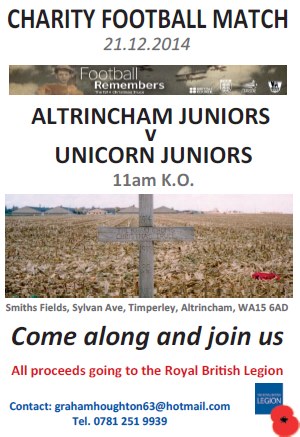 Compered by the very talented and hilarious Alan Keegan (Manchester United stadium announcer) the event brought together football legends including former Manchester United stars Clayton Blackmore, Lee Martin (a patron of the charity), Arthur Albiston, Sammy McIlroy and Frank Stapleton, as well as former Manchester City goalkeeper, Eric Nixon, and current Stalybridge Celtic player Charlie Ennis.
The celebrities included faces such as former "Apprentice" candidate Neil Clough, BBC Radio Manchester's Mike Sweeney, former Coronation Street actors Nick Cochrane and Scott Wright, celebrity chef Aiden Byrne, "Disney XD's Goalmouth" presenter Frankie Vu, E4's Younger actor Leon Tennant and former "Eastenders" actor Max Williams.
The charity held a cake stall with delicious charity and football themed cakes that were donated by supporters, as well as other family related stalls. During the event there was a children's half time penalty shootout, a raffle with some amazing prizes donated by corporate sponsors and local businesses, and the charity mascot, Little M came along to meet the crowd and help out in goal!
After 90 minutes of play, great player banter and action, the game came to a close with the "legends" team victorious, claiming a 6-5 triumph over the celebrities.
Lee Martin was presented with the winning trophy by the Mayor of Trafford at the end of the game and the various personalities met the crowds and signed autographs before the celebrations began.
Throughout the game, spectators voted for their favourite player of the match via the Foundations twitter address, a vote which was clinched by Neil Clough who had been a force to be reckoned with on the pitch, showing his competiveness and football skills. Neil was presented with a player of the match trophy by the charity's chairman Nigel Garner.
The Moore Foundation is a charitable trust based in Cheshire and provides financial and practical relief to local children's charities and worthy causes. The Foundation was established in 2005 when it was noted that suitable funding was slow to reach the smaller charitable organisations in the region, as well as many disadvantaged and disabled children being found to have unsuitable support equipment and treatment.
Nigel Garner, Chairman of the Moore Foundation says 'The event has been so well received and supported by the many players, our champions, local and affiliated businesses, as well as those associated with Altrincham FC. The match was so exciting and fun to watch with the quick wit of Alan Keegan, and we've been overwhelmed with the media and public support we have received in the run up to the game.
Last year the celebrity team defeated the legends so a rematch could be on the cards in 2015!
On behalf of everyone from the charity and the beneficiaries of the fundraising efforts, I'd like to thank everyone who contributed towards the day and made it the success we hoped for'.
For further information please contact Stephanie Jones on 01925 963162 or e-mail her".
The
Football Conference
reports that "Woking have announced that Adam Newton and Giuseppe Sole have signed contractual forms for the 2014/15 season. Newton, vice-captain, has played over 130 games for The Cards... Sole, a product of Woking's academy, was presented with a special appearance award at the end of season dinner earlier this month for 250 appearances for the club".
Also, Woking FC "is pleased to announce that Scott Rendell has signed contractual forms for the 2014/15 season. Scott joined the Cards, at first, on loan from Luton Town in September, scoring an impressive 17 league goals, his highest return in 5 seasons, and 23 goals in all competitions. Scott's loan finished at the end of 2013, but after being released by Luton Town Scott signed for Woking on a permanent basis at the end of January.
The striker was presented with the prestigious Manager's Player of the Season award by Garry Hill at the End of Season Dinner this month."
According to the Stroud News & Journal, "Former Forest Green striker Reece Styche has joined rivals Kidderminster Harriers on a two-year contract. Styche,25, who is also a Gibraltar international, left Rovers in January and spent the second half of the season with Wycombe Wanderers.
He told harriers.co.uk, 'This is a club with an ambition to be in the Football League and after three months in LeagueTwo it's quite clear to me that there is very little difference between the two levels'... He joined Forest Green from Chasetown in January 2010, having risen through the non-League pyramid with Hednesford Town and Shepshed Dynamo...
The following season was persuaded by former boss David Hockaday to give up plumbing in order to turn professional... Successive knee injuries have severely limited his availability since the 2011/12 campaign".
From the BBC we learn that "Grimsby Town captain Craig Disley has signed a new one-year deal. The 32-year-old midfielder joined the Mariners from Shrewsbury in 2011 and has made 123 league appearances for the Blundell Park side".
Also from the BBC we learn that "An application has been submitted to list the home of Bristol Rovers as a war memorial. Applicant Jamie Carstairs said the 'significant heritage site' was 'very special' and he wanted English Heritage to have the 'whole site listed'. It is not yet known how the move will affect the club's plans to build a new £40m stadium at Frenchay.
To finance the new 21,700-seat stadium, the club agreed to sell its Memorial Stadium home to a supermarket chain. But there has been a two-year legal battle over Sainsbury's plans to redevelop the Horfield site. '
Nick Higgs, club chairman, said they now faced 'another delay' and had to wait for English Heritage to issue its decision. 'We have been advised, that whilst there is little chance of this application ultimately being successful, we still have to go through the process and submit a robust response to the application to English Heritage,' he said...
'But we still hope to be able to start the development of the UWE [University of the West of England] Stadium in the summer'. In a statement, Mr Carstairs said the Memorial Ground's pitch and the Grade II-listed entrance gates 'were designed to be together and were built as an entity... One without the other would be like an altar without its church'".
According to the Salisbury Journal, "New backers are urgently needed to secure the future of Salisbury City Football Club... The club has narrowed the search to two interested parties, but fans are alarmed by the time it is taking to strike a deal...
William Harrison-Allan, who formed a consortium board with Chris Bramall and Jeff Hooper to bail the club out of administration in 2010 when the team suffered a double demotion, has made it clear he is looking for new investment. It is understood interest has been shown by the former AFC Bournemouth chairman and entrepreneur Eddie Mitchell, as well as an un-named consortium.
Mr Mitchell, who was at the Ray Mac for City's clash in the first round of the FA Cup with Dartford back in November, told the Journal he is interested in the club but no deal has yet been made... Mr Mitchell, who owns The Seven's Boatshed restaurant in Poole as well being involved with Poole Town FC, added, 'I'm always interested in exploring different avenues'...
Mr Harrison-Allan told the Journal he couldn't secure the club's finances single-handedly and his businesses, The Dove Inn, CGA and Ask Eric, were his main priorities. Lower than expected gates have had an impact on the club's finances over the past season, coming on top of the loss of vital training facilities in the previous year, when the club's nearby training pitches were sold by the MoD to Persimmon Homes for development."
Another club seeking investment is Hereford United, wher NL Pitchero tells us that "David Keyte, chairman of United, says investment is imminent...
Keyte told the official Hereford United website 'Everyone is aware of the urgency of the situation. We've obviously got the June deadline whereby all our football debts and wages need to be cleared in order to go to the Conference AGM. Not only that but everyone is aware of the need to appoint a manager, to start bringing in players and to start arranging pre-season as soon as possible...
The investors, being football people, have ideas of their own and are all set to get things into place as soon as everything is signed... They're very keen for us to continue to make this a Community club with a focus on young local talent... It's fair to say investment is imminent. The initial investment will clear the immediate debt. Long term debt in the form of loans will be reduced too...
Keyte also spoke about the outstanding wages owed to players. 'We continue to make payments to the players as and when funds are available. Their last two payments were made on Friday last week and Tuesday this week. We had already discussed with the players that payments would likely continue through May and into June. Our position is that we have stated that all wages will be paid in full as and when finances are available, and the club continues to work towards that'".
The Torquay Herald Express tells us that "Torquay United manager Chris Hargreaves is ready to go head-to-head with Westcountry Conference rivals Bristol Rovers for the signature of veteran striker Jamie Cureton. The Gulls' boss has made at least two new strikers his top transfer priority as he starts the job of rebuilding the Plainmoor squad after relegation.
Jack Midson and Deane Smalley, just released by AFC Wimbledon and Oxford United respectively, are other forwards on his radar... His just-completed 'retained list', which included the transfer-listing of strikers Karl Hawley and Elliot Benyon, underlined his determination to tackle a problem which saw United score only 42 goals all last season.
Hargreaves declined to discuss specific targets, but I understand that Midson is one of them...T he pair were teammates at Oxford towards the end of the 2009-2010 campaign...
It is the prospect of United bidding for Cureton which will intrigue fans in the South-West. The Bristol-born marksman, he's scored 253 goals during a 20-year senior career, has been linked with a return to his old club Rovers, in the wake of their own shock relegation to the Conference. Even at 38, Cureton is determined to keep on playing, and he's a free agent after scoring eleven goals from only 24 starts for Cheltenham Town last season.
'Ideally, I would like to stay in the League, but it has to be the right club which suits my style of play. I am gutted that Rovers went down last season, and it would be great to be part of them getting back into the League but I have not spoken to them, and I won't sign for a club just for the sake of it'.
Hargreaves had listed six under-contract players,Aaron Downes, Dale Tonge, Jordan Chapell, Nathan Craig, Shaun Cooper and Hawley, last week. Long-serving left-back Kevin Nicholson announced his own release a couple of days later. Now Hargreaves has added Benyon and midfielder Ben Harding to that group, as well as announcing that winger Danny Stevens is being freed at the end of his short-term deal.
But United's manager has also offered new contracts to goalkeepers Michael Poke and Martin Rice, midfielders Lee Mansell and Damon Lathrope, striker Ashley Yeoman – he signed yesterday – and winger Niall Thompson (six-month deal). Left-back Tom Cruise, whose season was interrupted by injuries, has also been invited back for a 'prove-your-fitness' mission next pre-season...
Midfielder Labadie is still involved in a drawn-out disciplinary process with the club, arising from the 'biting' case which saw him banned for the last ten games of the season by the FA".
We learn from the Nuneaton News that "'Boro' defender Gavin Cowan has hailed the England call-up of Louis Moult [Jake's brother] as feather in the cap of the club as a whole. Moult has been called-up for the England C squad... [Cowan], the 32-year-old defender, who signed a new contract at the club last week, is hoping that call-ups like the one for Moult, coupled with a play-off push for the Boro last season, will see Conference teams showing the club the kind of respect they deserve from now on.
He said, 'There have been times when we have played people and you can tell that they are thinking "what are they doing on the same pitch as us?" I cannot describe how good it felt when we showed them last year. We have made the Boro a real force and hopefully that will continue in the months ahead... We can challenge up there at the top'".
---
15 May 2014
"It is with regret that Altrincham Football Club announce that James Walshaw will not be joining the club in the Conference National for the 2014-15 season. After thinking long and hard about the extra travel involved, along with his work commitments and his young family, James has decided that his future lies elsewhere.
We wish him well in his future career and are sure that he will have a lot of clubs after his services for next season. James scored 29 League goals in 35 + (8) appearances for the club last season as well as 3 cup goals in 4 appearances".
The club are currently in negotiations with all the first team players and a retained list will be announced on Saturday at the Q+A session (7.30pm)".
Altrincham FC is sad to announce that defender Matt Doughty and midfielder Carl Rodgers are both leaving the Club.
Matt (left) is to undergo another scan on his knee next week and does not think that it will stand up to the rigours of Conference National football. Subsequent to receiving his scan results, he will decide on his future career path.
Matt (32) first joined Alty from Halifax Town in mid-June 2008, having been with the Shaymen since July 2004, a club he had joined from Rochdale. He had previously also played for Chester City, for whom he signed professionally when just 16. Matt was a regular for Chester for two seasons (1999-2001) making 53(+17) League/Conference appearances for them.
By 2001, he had moved to Rochdale and had a trial with Southampton but a broken leg halted the prospects of a move to Hampshire. At Rochdale he made 93(+12) appearances in the League. Another broken leg sadly hampered his career at The Shay but he still managed 119(+12) league appearances for the club.
Matt made his Alty league debut on 9 August 2008 and he became one of the team's most consistent players, as well as its penalty taker, but he suffered cruciate ligament damage against Salisbury City in February 2010. This injury effectively ended his initial spell at Moss Lane. After leaving Altrincham, Matt joined Witton Albion before moving on, in March 2011, to Hyde.
However, he was back at Moss Lane for the start of 2011/12 season. In all, Matt made 137(+18) appearances for Altrincham and scored six goals.
Carl (31), pictured right, has obtained a one-year work permit to go to Australia and he leaves a week on Monday. He has friends "Down Under" and has promised to keep in touch with the Club. Carl says that it is an opportunity on which he does not want to miss out. He signed for Altrincham on 16 May 2012, after six seasons at AFC Telford United, where he was the longest-serving player. Carl's previous clubs included Chester City (2002), Caernarfon Town (2002-03), TNS (2003-04) and Colwyn Bay (2004-06).
In all, Carl made 62(+22) appearances for Altrincham and scored 8 goals.
Altrincham FC would like to record its great gratitude to both players, who have been loyal servants. The Club also wishes both players good luck in their future careers..
Following the Promotion Final success, Alty TV has Brian Flynn's post-match interviews with a number of the players and with assistant manager, Neil Tolson (right). And Brian's interview with manager, Lee Sinnott, is here.
John Edwards, Altrincham FC joint Press Officer writes in the Sale & Altrincham Advertiser, "Jubilant players and supporters celebrated long into the night after Altrincham's biggest crowd for over 30 years saw them clinch promotion to the Skrill Conference Premier in dramatic fashion at the J.Davidson Stadium on Saturday. With the fourth official indicating two added minutes at the end of extra-time, manager Lee Sinnott sent on Greg Wilkinson as substitute, specifically to take part in the penalty shoot-out that appeared inevitable. Exactly 22 seconds later, Wilkinson wrote his name into Alty folklore by scoring with his first touch to seal a 2-1 win.
As Guiseley's players sank to their knees in despair, home fans in a remarkable crowd of 4,632 erupted, while Wilkinson disappeared beneath a pile of red and white shirts, as team-mates rushed to congratulate him.
'No-one could have written the script any better than that,' said Alty chairman Grahame Rowley. 'Everyone was waiting for penalties, and that's why Greg was sent on. What happened after that was just unbelievable.
'In all my years with this club, I have never known anything like it, in terms of sheer drama. Of course, we all fondly remember being promoted at Stoke's Britannia Stadium in 2005, but doing it at our own ground before such a massive crowd, with the late drama and celebrations that followed, made Saturday even more special. 'The players and staff joined supporters in the bar afterwards and were still there at 10.30. It was an unforgettable day, and an unforgettable evening. We are going forward as a club, and I just hope people who are perhaps not regulars, but were there on Saturday, will want to come back and watch us again. There was real quality on the pitch and an atmosphere none of us will ever forget.'".
And in the Sale and Altrincham Messenger, John Edwards wrote, "Altrincham went promotion crazy as the club's biggest gate for over 30 years cheered them over the line in the most dramatic finish imaginable to their play-off final against Guiseley...
'You could not have written the script any better than that,' beamed Alty chairman Grahame Rowley. 'Everyone was waiting for penalties, and that's why Greg was sent on. What happened after that was just unbelievable... It was great to see everyone together in the bar afterwards, the manager, coaching staff, players and supporters. The players were still there at 10.30, mixing with supporters and joining in songs, and I have never seen the place rocking like that, so long after the final whistle...
'We are looking to build the club up as much as we can, and it is important to keep the momentum going, after what we've done this season. Full credit to Lee for that. We were at a low ebb when he took over, after being relegated, but we have improved year on year and have now been promoted'...
The celebrations will continue this coming Saturday, when Sinnott, assistant-manager Neil Tolson, chairman Grahame Rowley and various backroom staff will take part in a question and answer session in the Noel White Suite from 7.30pm. Supporters can have their photograph taken with the play-off trophy and take advantage of beers at promotional prices as a thank you for their backing this season".
Further preparatory work for the Community Sports Hall is to be carried out this weekend. On Sunday, the intention is to start at about 10.30am and volunteers are asked to bring "appropriate tools/gloves". If you can help, please e-mail
Mike Ford
in advance.
On Saturday (17th) at 2pm there will be a match at the J. Davidson Stadium in memory of Keith Davey, the former catering manager at Moss Lane, to raise money for the Community Sports Hall. A number of past players will be playing including Gary Scott, Steve Aspinall, Danny Adams, Robbie Lawton, Rod Thornley, Colin Potts and Val Owen.
Following the match, the FA Cup Final (Arsenal v Hull City) will be shown in the Noel White Suite on TV, (5pm kick off).
Then, from 7.30pm, Lee Sinnott, Neil Tolson, Grahame Rowley and a number of the backroom staff will be available for a Question & Answer session. In addition there will be the opportunity to have your photo taken with the Promotion Final winners' trophy.
Ian Senior adds that Promotion Final "Winners" t-shirts will be available; they are still just £5 on the night!"
NL Pitchero
confirms that "Stafford Rangers, relegated from the Evo-Stik Northern Premier League Premier Division, are on the lookout for their fourth manager in twelve months after Graham Heathcote walked away from Marston Road.
Heathcote, who took over in January following the sacking of Andy Mutch, parted company with Rangers following a meeting with club officials to plan for next season's budget. The Altrincham legend became Rangers' third manager of a traumatic season...
Rangers are also without a chairman following Rod Woodward's resignation in the wake of their relegation in April.
In a statement to supporters, the club said, 'A meeting was held between the Board and Graham Heathcote to discuss the way forward. We are disappointed to tell everyone that we could not reach a satisfactory conclusion and Graham will not be continuing in his role as manager. Graham did not feel able to commit to the club within the playing budget that the club could afford...
Graham accepted the difficulty he would encounter in recruiting players out of the local area and the additional costs that this would incur which made the budget, in his opinion, not viable... This was not the news that we expected or wanted'".
According to
NL Daily
"Hereford United have offered deals to six players for next season. Contracts are on the table for Dom Collins, Kingsley James, Rod McDonald, Danny Leadbitter, Daniel Lloyd-Weston and Jarrod Bowen to sign for next season. In addition, two youth players from last season have signed their first professional contracts. Billy Murphy and Cory Williams have signed deals that will see them promoted to the first team squad for the coming campaign."
According to NL Pitchero, "Kidderminster Harriers have made their first move in the summer transfer market by agreeing a deal to sign striker Craig Reid after the front-man left Stevenage FC. Reid has made his mark on non-League football in the past, particularly with a spell at Newport County a few seasons ago that saw him notch 62 goals in 106 games for the Welsh Exiles.
Leaving County to join Stevenage for the first time in January 2011 for a club record fee... Last summer he moved to Southend United but after limited first-team opportunities under Phil Brown, he returned to Stevenage... He's now opted to return to the top-tier of non-League football for the first time since that red-hot spell with Newport – as boss Gary Whild's first new signing".
At Torquay United, "Manager Chris Hargreaves has continued his preparations for next season with offers for six players approaching the end of their contracts at Plainmoor..
Goalkeepers Michael Poke and Martin Rice have both been offered new deals, as have midfielders Lee Mansell and Damon Lathrope, plus the young pairing of Ashley Yeoman and Niall Thompson... Said Chris 'They have all been offered deals that reflect the changing financial status of our club and our new position in the football pyramid. We are now making offers that we feel are realistic in the context of what happened last season and I want people to know that we are wiping the slate clean in terms of how we approach player contracts'".
Off the field, the BBC reports that "Wrexham FC's Racecourse stadium is to undergo a £300,000 facelift this summer which could herald the return of senior international matches... The work includes a new pitch, changing rooms and improved floodlighting. The medical and treatment facilities at the ground... will also receive a revamp.
There are also plans for improved seating for disabled supporters, but this to subject to fundraising by Wrexham FC Disabled Supporters' Association. Glyndwr University, which owns Glyndwr University Racecourse Stadium, said, 'The ground will be closed for two months when work begins next week, and will be ready for the start of the new football season in August'".
The Grimsby Telegraph reports that "Gromsby Town have confirmed that Scott Neilson has been offered a new deal to stay at Blundell Park. The winger was away on holiday when boss Paul Hurst met with his other squad members last week".

Also in the Grimsby Telegraph comes news that "Paul Hurst has explained why Caine Winfarrah, Ellis Humble and Paul Walker have been handed pro deals. After none of Grimsby Town's Youth team earned contracts last summer, the Mariners handed out three this time around. Winger Winfarrah, and defenders Humble and Walker all had a taste of first-team action last season...

'These three have got some potential', he told the Telegraph... 'Obviously, none of them are going to be the finished article, but they've shown that they're capable of making that step up'".

Doncaster Rovers are "Remembering where we once were. Over the course of the next five weeks, www.doncasterroversfc.co.uk will take a look back in time at the five year spell we had in the Conference... and each of the teams we played...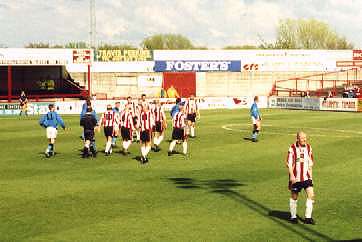 Right: From the altrinchamfc.com archives, Mark Maddox is sent off in the game at Moss Lane.

First up is Altrincham. The Robins have bobbed throughout non-league during their 123-year history without ever making it to the promised land of the Football League. An 81st minute own goal by Rovers centre back Dean Walling ensured that the first ever meeting between ourselves and the Greater Manchester outfit in September 1999 resulted in a slightly embarrassing 1-0 defeat for Ian Snodin's side.

Having only just cleared another relegation the previous season, it was no surprise to the Belle Vue faithful that a trip to the 'Old Girl' was considered a big day out for aspiring Conference teams. Altrincham fitted that bill, having claimed 16 league scalps during their FA Cup escapades and so dismissing Rovers was probably not such a shock after all.

Having sacked Snodin over the Easter period, Dave Penney and Mark Atkins took charge for the return fixture on Bank Holiday Monday at Moss Lane. Penney and Atkins anchored the midfield on the day as Rovers emerged victorious over ten men courtesy of strikes from Neil Campbell and Lee Warren, either side of Kevin Ellison's goal for the hosts.

The visitors went on to finish in a comfortable, yet transitional, 12th position, while Altrincham were relegated".
---
14 May 2014 It hasn't just been 2013-14 which has witnessed a tense finish to a season at Altrincham FC. Indeed, in ten of the last eighteen seasons Altrincham have either been promoted, relegated, reprieved or involved in play-offs at the end of a season. And all this up-and-down activity has come about after more than a century during which Alty were never relegated. This season's own ups and downs are recorded in the annual Altrincham FC statistical review, which is here.
As well as the hardworking players and management at Altrincham, off the pitch the Club's official caterer, Richie Bentley, and his staff have been hard at work, not least in the "Feeding of the 5,000" (well, actually, 4632 plus the playing staff) last Saturday. And Richie would like to thank all the supporters who made use of the catering facilities at the J. Davidson Stadium and also all of those who have used the Manchester Glass Ltd Sponsors' Lounge throughout the past season.
Although the first team's season is over, Richie will be busy providing the catering to the players and families at the Altrincham FC Juniors football festival on Sunday, 18 May. As the Under-9s' games start from 8.45am breakfast will be available and food will then be available throughout the day during which some 600 players are expected to play on the hallowed turf.
And, don't forget, Richie's innovative pop-up Italian restaurant to celebrate the England v Italy match in the World Cup, as detailed below..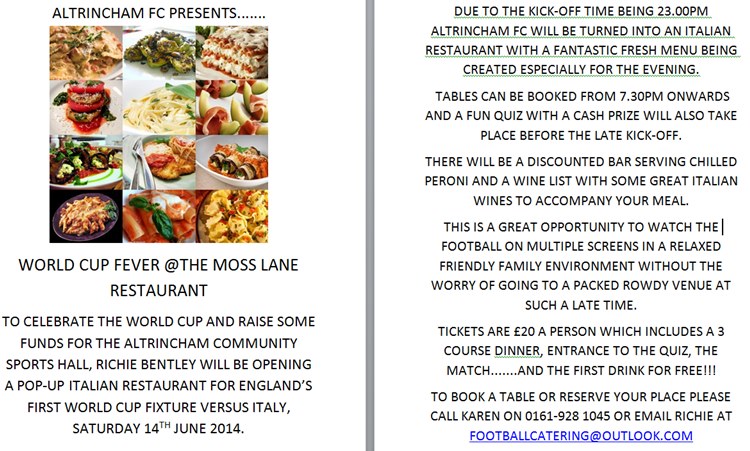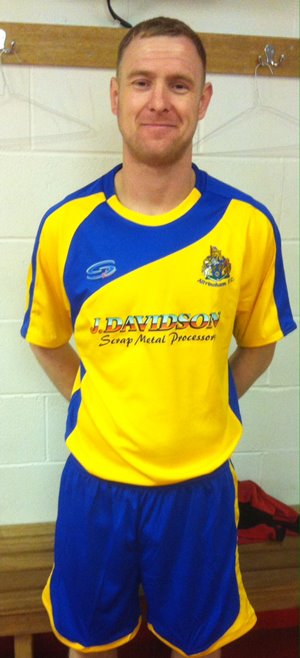 Ian Senior advises that the new home shirts for 2014-15, in limited numbers, have arrived. So get yours ordered now by ringing the club on (0161) 928-1045. Until the Conference's sponsorship arrangements are resolved, the shirts will not bear the Conference's logo but Ian will sort out that issue when the logo is available. Meanwhile, don't forget that with the new away shirts (modelled, right, by James Walshaw), Ian is offering a free pair of shorts.
According to the
Telegraph & Argus
"Mark Bower can expect some sleepless nights when he becomes a dad again next month. But it was a raging case of the 'if onlys' that caused the weekend insomnia for the Guiseley boss.
If only he had been allowed to play close confidante and midfield mainstay Danny Boshell.
If only ever-present winger Wayne Brooksby had not been hammered from pillar to post at North Ferriby the week before and forced out of contention with a broken jaw.
If only the injured bodies of Danny Forrest or Oli Johnson had been able to stand up to another half an hour or so.
If only Altrincham had never brought on Greg Wilkinson.
As Altrincham gallivanted with their trophy in the Manchester rain, Bower and Boshell stood in isolation, left on the outside looking in...
This was the fourth year in a row that they fell short in the knock-out stage. But this was too painful. As Forrest said later, he would rather have been beaten in the lottery of penalties. The match was in the first of three added minutes at the end of extra-time when the ball broke kindly for Wilkinson to pierce a dagger through the heart of the Lions. The Altrincham substitute had been in the game a matter of seconds – it was his first touch – and Lee Sinnott had only brought him on to take one of the spot-kicks.
No wonder Bower, and no doubt all his players and the 794-strong Yorkshire contingent in a rammed 4,632 crowd, will have tossed and turned through the early hours.
Sinnott consoled his one-time Valley Parade team-mate afterwards with the message that Guiseley can put it right next season and win the league itself...
For the first 20 minutes, it seemed that past ghosts would haunt the visitors. Guiseley looked hesitant, 'rabbits caught in the headlights', according to the manager, as Alty knocked the ball round confidently on a difficult surface...
Guiseley settled and grew into the game... Unfortunately Forrest had to call it quits after half an hour as his troublesome calf, which had made him a pre-match doubt, tightened up once more. The enforced changes handed the momentum back to the home side for extra-time and Perry lamped a 30-yarder against the bar...
Then, after 121 minutes of combat, Altrincham launched another ball over the top of the tiring yellow ranks. The fresher legs of the subs got there first as Perry committed Drench to racing from his goal. The keeper made the block but was taken out of the play by the burly striker, allowing Wilkinson to make his first contact with the ball the winning one by shooting into the unprotected net. Finales have never been so cruel".
According to the
Football Conference
, "Sean McConville has become Chester FC boss Steve Burr's first summer acquistion, signing from new Conference North rivals Stalybridge Celtic. McConville, a 25-year-old striker, netted 11 times last year for Celtic, and has previous Football League experience with Accrington Stanley and Rochdale.
McConville, started his career at Skelmersdale United in 2008..., before moving to Accrington... He then made a move to Edgeley Park in 2011... A further move to Barrow AFC" followed.
Burr said, "I'm really pleased that Sean has chosen Chester over a couple of other Conference Premier clubs. He fits in to what we are looking to do here at Chester in terms of daytime training, and he was on my list regardless of which league we were going to be playing in next season".
According to Get West London, "Hayes & Yeading United are appealing to the Football Association and the Football Conference for a reprieve following their relegation. United fell out of the Conference South last month following a dramatic final-day defeat to Dover Athletic at Kingfield.
It looked as though the club will be playing step three football next season but Phil Babb's side have since made moves to try and save themselves from the drop. Vauxhall Motors tendered their resignation from the Conference North last March, thus freeing up an extra space at step two for next season. As it stands, Oxford City are set to benefit and would remain in the division despite finishing third-from-bottom on 37 points.
Hayes & Yeading, who also play at step two and finished third-from-bottom in the Conference South, believe that they should be the ones spared. United ended the campaign on 45 points, eight more than City, and the club reckons that superior points total should see them safe.
A Hayes & Yeading spokesman told the Gazette, 'The club can confirm that it has made representations to both the Football Association and the Football Conference'...
The Football Conference made their position clear as early as April, insisting that if Vauxhall Motors finished outside the dropzone, they would take place of an otherwise relegated club. Dennis Strudwick, general manager for the Football Conference, said, 'The team with the highest number of points should be saved,but only where the a vacancy has been created after the end of the season. The vacancy was created once Vauxhall Motors opted to take relegation and resign from the league, which was in March. This is an FA decision, not ours, and the FA regulations for the National League System have been applied'.
Rule 5.4 (i) of the regulations for the operation of the National League System, published by the FA, states, 'Where a vacancy occurs in a particular division prior to the end of a playing season, the club creating the vacancy is taken to be the club in the bottom position in that division'".
The Eastleigh News tells us that "Life in the Conference National will certainly be a new experience for Eastleigh fans as the club prepares to make major improvements to the Silverlake Stadium. They have already announced that will be placing Exeter Chiefs Rugby Club's 2000 capacity terracing into the stadium in the summer, which they purchased recently.
Excited chairman and owner, Stewart Donald commented on the ground improvements and said, 'During the summer, the Exeter Chiefs stand that we bought, that will be in by June. That will give us about 1250 standing spaces opposite the main stand. The remainder of the terrace is going to go behind the goal at the clubhouse end. There will probably, subject to the council saying yes, be a 2,200 seater stand at the Silverlake end. And again, subject to the council saying yes, the plans for about a 2,500/3000 seater stadium with corporate facilities will start in September and finish in March'.
When asked where he would like to see Eastleigh finish next season, Stewart confidently said, 'Top five is what I would like. Being realistic as well, we are the only team that has never played at this high standard before so it's going to be very tough. We might struggle with that but we got to aim for top five and see how close we can get'...
New dugouts will be also be built as well as new turnstiles in preparation for bumper crowds throughout the season. Help with painting the clubhouse and changing rooms will be required from fans so if you wish to help then contact chairman of The Spifires Supporters Club, Chris Blake on 07973 744584."
Eastleigh's average league gate last season was 679.
New of an ex-Alty player comes in the Halifax Courier which says that "Ryan Toulson is leaving FC Halifax Town after an association with the club stretching back more than 10 years. Toulson came through the youth team with the old Halifax Town... before rejoining the new club in 2011".
At Barnet, "the club will not be offering Mark Byrne a new contract. The 25-year-old joined the club in 2011 and has made over 100 appearances in black and amber. ... Head-coach Martin Allen praised Byrne's contribution whilst wishing him the best of luck for the future... 'I had a chat with Mark and I have decided that we are not in a position to offer him a new contract... as a person, he is a diamond. It was a very difficult decision for me'...
The head-coach also revealed that the club are hoping to finalise deals as soon as possible to get The Hive buzzing again".
From Braintree Town we learn that "Iron Manager Alan Devonshire has started work on moulding his squad for season 2014/2015. All of this season's successful squad have been invited back for pre-season at the end of June. Seven players have had their contracts at Cressing Road extended. Dean Wells, Alan Massey, Jordan Cox, Sean Marks, Chez Isaac, Kenny Davis and Nick Hamann have all signed new contracts. Six more have been offered new deals for next season: Nathan McDonald, Sam Habergham, Dan Holman, Dan Sparkes, Ryan Peters and Matt Paine. Alan Devonshire admitted to being inundated by requests from players who want to join the Club and we'll announce news on new signings as they're completed!"
Bristol Rovers say that "Three members of back room staff have been released from their contracts, as the club continues to restructure following relegation to the Conference. Fitness consultant Mark Hammond, analyst Jonathan Robinson and scout Stuart Gray have all left the club."
Rovers also announce that "For a number of months, and certainly since the end of the season, there have been a number of threads and posts on our forum featuring libelous comments, misinformation concerning club affairs, directors and club staff. This is not acceptable to us, nor is it acceptable to many of our fair minded supporters, who have questioned in which direction the forum is heading!
It has become impossible for the club to moderate the forum to the standards required, and we are leaving ourselves open to legal action by continuing to host the forum under the official club website. We have consulted Bristol Rovers Supporters' Club and offered them the opportunity to run the forum but they also do not have the resources to moderate it.
It is important for the club to keep you updated with daily news and for you to be able to give us your feedback. With that in mind, we suggest you follow us on Twitter at @Official_BRFC to receive breaking news, and for you to give us your constructive comments.
Added to this, we intend to hold regular live forums at The Memorial Stadium, attended by the manager, chairman and directors for question and answer sessions... Unlike the forum which has less than 1,000 members, we have nearly 22,000 fans following us on Twitter and the numbers are set to grow!"
Meanwhile, at Kidderminster Harriers "Senior Sports Therapist Gavin Crowe is already licking his lips in anticipation of putting players through their paces this summer. That's mainly because he doesn't have to wait until July to get his claws into the lads - he's already up and running!...
Michael Gash, Josh Gowling and Anthony Malbon are just a few of the players who've come in for extra 'homework'. Asked to briefly describe the kind of work the boys are doing at this stage he commented, 'It's very tough! There's a lot of running and speed work being done and it's certainly demanding. This will probably be one of the toughest pre-season we've given to the lads'".
---
13 May 2014
On Saturday (17th) there will be a match on the pitch at the J. Davidson Stadium in memory of Keith Davey, the former catering manager at Moss Lane, to raise money for the Community Sports Hall. A number of past players will be playing including Gary Scott, Steve Aspinall, Danny Adams, Robbie Lawton, Rod Thornley, Colin Potts and Val Owen.
Following the match, the FA Cup Final (Arsenal v Hull City) will be shown in the Noel White Suite on TV, (5pm kick off).
Then, from 7.30pm, Lee Sinnott, Neil Tolson, Grahame Rowley and a number of the backroom staff will be available for a Question & Answer session. In addition there will be the opportunity to have your photo taken with the Promotion Final winners' trophy.
Altrincham FC joint Press & Media Officer, John Edwards, has interviewed manager Lee Sinnott and chairman Grahame Rowley, following the Promotion Final success last Saturday.
John writes, "It was a day that will live long in the memory of all who witnessed it, an epic play-off final that looked destined to be settled on penalties, until Greg Wilkinson went on as substitute just as the fourth official indicated two added minutes at the end of extra time. The midfielder's brief was to take one of the spot-kicks that would surely ensue but, instead, he scored the most dramatic of winners with his first touch of the ball, 22 seconds after going on, to leave Guiseley's distraught players sinking to their knees and most of a remarkable 4,632 crowd leaping in the air.
When the final whistle sounded, seconds later, it sparked a pitch invasion, followed by celebrations in the Noel White Suite that went on long into the night. Here, manager Lee Sinnott and chairman Grahame Rowley share their memories of an unforgettable afternoon with me".
Lee Sinnott
"I tried to impress on the players beforehand that they should play the game, not the occasion. We have all seen instances of teams not playing to their capabilities in finals because the occasion has got to them, and I felt it was important to try and guard against that. Even more so when you consider the size of the crowd. That was just jaw-dropping. We wondered whether we might have a chance of touching 3,000, but 4,632 was absolutely incredible. It was more than Burton had for their League Two play-off against Southend, which really is quite unbelievable.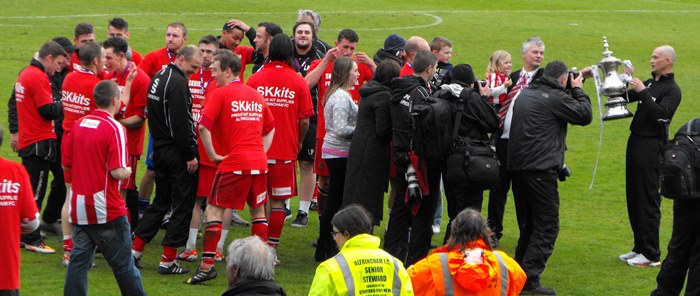 But there is a level of expectation that goes with such a fantastic turnout, and the players could feel it when they went out to warm up before kick-off. Everyone knew what was at stake, and you could feel the pressure. But I was encouraged by the way we were in the groove from the off in the first leg of the semi-final at Hednesford. That filled me with confidence that we would be up to the challenge and, sure enough, I thought we started well.
We didn't work their keeper enough for my liking, but we were moving the ball around well, which was a good sign. If you looked at the game as a whole, I think it is fair to say both defences operated well and coped with just about everything that was thrown at them. Chances were few and far between, which is perhaps to be expected in such a high-pressure, high-stakes game.
I was just so pleased with, and proud of, the way the players coped with it all and got on with playing their normal game. That is a big box ticked for them, particularly after the disappointment of the semi-final second-leg at Brackley last season, when questions were asked about whether they can perform in the heat of a big-match atmosphere. They answered that one, all right.
If you look at the three games this time, there has been intense pressure on them, but they have handled it admirably. They will be better for that. It is part of their make-up now, part of their DNA, that they can come through when the pressure is on. No one can call them chokers, that's for sure, and I'm delighted for them in that aspect.
You can see the progression they have made but, with things like that, you are talking about their personal mindset, and they will be stronger mentally for the experience they have been through. They have that vital extra ingredient now. So many finals are decided 1-0, so it looked good for us when James Lawrie put us in front. But, equally, there was still a long time to go! The substitutions I made were all based on the probability of it going all the way to penalties.
It was such a tight game, that always looked on. It was a case of assessing when we needed fresh legs, and where we needed to change things. I thought Kyle Perry would give us some fresh impetus and pose a different threat, compared to James Walshaw and Damian Reeves, and so it proved. Some people might have been surprised to see James coming off, given he's our main penalty-taker, but you can only make a judgement on what you see.
James had run his socks off and I couldn't be sure he would be OK for the rest of the second half and extra time. Sending Tom Marshall on and switching to three at the back is something we have done before, and it allows us to stretch the play a bit with extra width from the full-backs pushing forward. And the other sub?
Well, Greg has written himself into club folklore, hasn't he? Of course, we were getting him ready towards the end of extra time purely so that he could take a penalty in the shoot-out. We had been practising for weeks, just in case, and he had always looked calmness personified from 12 yards. But standing there by the touchline, he was actually getting quite frustrated, because he just wanted to get on. He was actually ready three minutes from the end, but I was still looking out to the middle, trying to see who looked strong enough for penalties and who should make way for Greg. I kept checking how long left with the fourth official, because the last thing I wanted was for the final few moment to pass without play stopping and Greg not to get on.
Finally, the official said 'You'd better do it now, Lee, we're heading into the last 60 seconds'. That was it. On he went. It may have come as another surprise choosing Reevesie as the one to make way, given he also used to take pens, but I wanted the least disruption to the team, even for those last few moments.
Greg likes to play just behind the front man, so it was like a straight swop. There was no need to rejig the team, which might have caused a problem, if we'd had a corner or set-piece to defend. It's all about taking a calculated risk, and how about that one with Greg? There are good managers and lucky managers and, possibly, even both. If anyone wants to call me a lucky manager, that's fine by me. If I had sent Greg on three minutes earlier, when he was pestering me to, who knows what might have happened? It may well not have panned out the same way. The sequence of events wouldn't have unfolded exactly as they did when I sent him on at the start of stoppage time. That's where luck comes in. It was incredible, really.
Some credit should go to Kyle for that goal. He caused a bit of mayhem with his physical strength without quite doing enough to give away a free-kick, and the rest - Greg picking up the pieces and slotting it into the bottom corner of the net - is folklore. When it went in, I gave it a fist-clench, then turned to the main stand and started laughing a bit. It wasn't being disrespectful to Guiseley. Certainly not.
They are a well-run club who play some nice football and their manager and, of course, his assistant Bosh are people I respect. I certainly wasn't going to do a José Mourinho and go tearing down the touchline, but I couldn't help smiling and saying to people behind me, 'I only sent him on to take a penalty, and he's gone and b***** well won it for us!' That's just luck. You could try a wry smile and say you fully expected it to turn out that way, but I don't think too many people would believe you.
When the final whistle went soon after, the whole place erupted, but I'd always had it at the back of my mind that, whichever way the result went, I should be careful to show respect for our opponents. You get wrapped up in the occasion, but I just felt it wouldn't be right to go charging on the pitch, if we won, mobbing everyone, and then try and find your opposite number for a handshake five minutes later, when he has probably disappeared down the tunnel. He's only 15 yards away, so do the right thing and seek him out first, and that is why I walked over to the Guiseley technical area before anything else at the end. Keep your emotions in check, then celebrate afterwards.
And how we celebrated! I stayed until nearly half-seven, but I know most of the players were there a lot later, and quite right, too. If you can't enjoy moments like that, there's something wrong. I know James Walshaw was leading the way and acting as choirmaster and cheerleader, and I think that is absolutely brilliant. I love that, the players sharing what they have done with the supporters.
For me, I'm proud. Absolutely proud for the chairman and his family, for everyone who works at Altrincham, for the players and, of course, for the supporters. I am delighted for them all. When I took this job, the mantra was 'put smiles on faces', and I think it is job done, in that respect. There is still plenty more to do, though. There is a big sense of pride at achieving goals, but we are building something here, and that process will go on. A lot of the players here are still approaching their prime, don't forget, so there is a lot to be optimistic about".
Grahame Rowley
You couldn't have written the script any better than that, could you? What a finish! I thought we started the game really well and bossed the first half. We knew they would come out and exert some pressure in the second half but the way the players responded was a real credit to them. I think there was a bit of stage-fright at Brackley last season, and that's why we lost so disappointingly but the way they coped with such a massive crowd, vibrant atmosphere and big occasion this time showed how they have matured. Both teams put so much into the two hours and looked so tired that penalties seemed inevitable. Everyone was just waiting for extra time to finish and the shoot-out to start.
I wasn't surprised to see Greg appear by the touchline near the end of extra time, because it had been decided beforehand he would be one of the chosen five to take a kick, if it came to it. Who could possibly have dreamed up what happened next? It has been timed at 22 seconds between him going on and scoring with his first touch. Just incredible.
I thought the game as a whole was absolutely superb, a credit to non-League football and to the Skrill North. It was two teams giving their all, playing some great stuff and making it a final to remember. And I have to say Guiseley took defeat very graciously. It must have been awful to lose a game of that magnitude with virtually the last kick, and their players were on the floor when it happened. But their fans stayed to cheer their team off, our fans gave them a cheer as well, and there just seemed to be an appreciation from both sets of players and supporters that it had been a final played in the right spirit and to a high standard.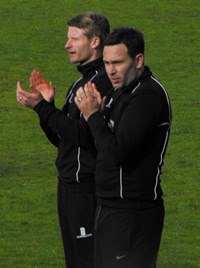 Their manager, and of course his assistant Danny Boshell, were also very gracious in defeat (seen, left), and I made a point of wishing them all the best for next season.
It was great to see everyone together in the bar afterwards, the manager, coaching staff, players and supporters. The players were still there at 10.30, mixing with supporters and joining in songs, and I have never seen the bar rocking like that, so long after the final whistle. I think James Walshaw takes the crown for orchestrating most of the singing, but it was clear all the players loved it. They lapped it up. It was great that they were all there, taking it all in and enjoying the moment.
For sheer drama, I don't think I've seen anything like what happened on Saturday, in all my years of being associated with Altrincham. We've all got fond memories of the final at Stoke in 2005, playing at a big stadium like that and the celebrations that followed. But the whole package made Saturday even better. Being at our own ground and seeing that drama unfold in front of such a massive crowd, then the celebrations on the pitch and in the bar. No, you can't beat the feeling of being involved in something like that.
My one big hope about the number of people who turned out is that those who are not regulars will have appreciated the quality of football on show and perhaps thought to themselves that it is likely to be even better in the Premier next season. My fervent wish is that they will want to come back and watch us again, because we are looking to build the club up as much as we can, and the aim must be to maintain the momentum we've got at the moment. I trust people will have enjoyed the football, the facilities and the occasion, and my plea would be to come back again next season.
Lee deserves a lot of credit. We have a great history in non-League football, but people can sometimes expect too much. He came in when we were at a bit of a low ebb after relegation, and it was clear a rebuilding job was needed. He has done that in his own methodical way. His style of management is perhaps different from some of his predecessors, but he is a very methodical person who believes in doing a lot of planning for games.
The results are there to see. We have improved year-on-year, and now we have been promoted. He has done really well for us, and I will be sitting down with him later this week to talk about next season and how we move forward".
Mark Bennett has posted the AltyTV highlights of Promotion Final against Guiseley (right). He adds that the "Celebrations, awards and interviews are to follow in the next few days; the dressing room scenes need a lot of editing!".
The postponement of the last league fixture of the season for Altrincham FC Youth last Sunday has been treated by the NW Youth Alliance League as being a goalless draw. That, in turn, leaves Altrincham as having finished second in the NWYA Premier League, a fine achievement in a season badly interrupted by postponements. The league table is
here
.
In the
Stroud News & Journal
we read that "Forest Green boss Ady Pennock has captured his second signing of the summer by raiding rivals Welling for striker Kurtis Guthrie. The former Wings' boss has snapped up the 21-year-old Jersey-born forward on a two-year deal for a nominal fee. He was offered a new deal but declined the option of staying at Park View Road in favour of full-time football at the New Lawn.
'I am delighted to sign for Forest Green and can't wait to get started', said Guthrie. The 21-year-old Jersey-born forward... was quickly spotted by Accringtron Stanley and he was handed a one-year contract... Later, he made the switch to Conference side Southport on a month long loan deal. He rejoined Stanley in January 2012...
In May 2012, Guthrie was released from Accrington and signed for Conference South side Bath City... He left the club in October having scored six goals in 13 appearances."
Also, "Pennock has swooped for his second signing of the day by landing midfield general Sam Wedgbury on a two-year deal from Stevenage... Pennock captured the former Sheffield United, Macclesfield and England C man after he left Stevenage by mutual consent.
The 25-year-old started his career at Worcester City before a move to Sheffield United... After spending time on loan at Hungarian giants Ferencvaros, he returned to the UK only to eventually be released by the Blades. After signing for Macclesfield in 2010, he had a short loan spell at Altrincham, before returning to fight for his place in the Silkmen's first team.
He went on to rack-up 100 league appearances for the Silkmen before turning down a new deal at the end of 2013 after securing a dream move back into the Football League...with League One Stevenage last summer. He started the club's first three matches of the season at right-back, but in total made just seven appearances this campaign."
Hereford's Bulls News reports that "Torquay will charge up to £21 for adult admission next season in their main stand. Terrace admission will be £19 with £295 the cheapest adult season ticket during their 'Early Bird' period. Wrexham will charge £19 for adult admission for seating next season, and £15 for terrace. Their cheapest adult season ticket is £258 for non-members and £229 for members."
The BBC states that "Salisbury City manager Mikey Harris has agreed a new one-year rolling contract. Harris was promoted from assistant to manager in July last year, making him English football's youngest full-time boss at the age of 28.
He led Salisbury to a 12th-place finish this season, their first year back in the Conference Premier, and they also reached the second round of the FA Cup.
'I'm already looking forward to next season', he told BBC Wiltshire".
According to the BBC "Grimsby Town winger Alex Rodman has left the club after deciding not to exercise the one-year contract extension he had triggered. Rodman, 27, joined the Mariners in July... Goalkeeper Jamie McKeown and midfielders Craig Disley and Andi Thanoj were offered new deals last week".
Meanwhile, the BBC reports that "Hereford chairman David Keyte says that the club's prospective takeover by an unnamed bidder would involve representation from the current board.
'They've done their due diligence and they're almost there', Keyte told BBC Hereford & Worcester, ahead of closing a deal which he hopes can be concluded before the Conference AGM on 6 June...
Keyte added, 'We discussed that it might be prudent to keep some local representation, as they can't be there to do the job daily, and that has been accepted'".
The cost of running Hereford, according to the article includes... "The Bull's Edgar Street home costs an estimated annual £100,000 to run. Last year's playing budget for Hereford was around £400,000, ranking them 16th of the 24 clubs in the league in terms of expenditure on squads. The vast majority of Hereford players were on 44-week contracts - so were effectively out of work from 1 May".
The BBC continues, "Keyte has spoken to three prospective groups looking to take over the club - none of whom are local to Herefordshire. They are also "at an advanced stage" of talks with Herefordshire Council over property development opportunities at both ends of the club's council-owned Edgar Street home.
'The opportunity for somebody is the development of the ground and they will make money at that', added Keyte. United still effectively have to find approximately £225,000 by 6 June or they face being thrown out of the league. That includes £70,000-£80,000 owed to Revenue and Customs and a sum of approximately £30,000 owed to other clubs, from whom the Bulls loaned players during the season, as well as members of the current squad who are owed wages...
Hereford are still expected to start next season in the Conference Premier after their remarkable final-day relegation escape when, at grounds 230 miles apart, two goals went in almost simultaneously to send Chester back down to Conference North and keep the Bulls in the top level of English non-league football."
Chester First tells us that "Matty McGinn is being linked with a return to Chester. The 31-year-old left back has just celebrated the third Conference North title of his career after helping to steer AFC Telford United to automatic promotion...

But McGinn, who is an electrician, can't commit to life in the Conference Premier League because of his work... McGinn scored 22 goals in 35 appearances to help earn Chester the Conference North title during the 2012/13 campaign...

McGinn's former Chester team mates, Wes Baynes, Sean Clancy and Tony Gray, are all staying at the New Bucks Head, as they have a year left on their deals."

In the Nuneaton News we learn that Nuneaton Town's new signing Ben Starosta has had a career which "has taken him all over the globe. From Poland to Australia and beyond. The former Poland under-20 man was the captain of Global FC last season – the team managed by Brian Reid before he joined the Boro".

Starosta said, "I was at the under-20 World Cup in Canada a few years ago and I was playing for Poland," he added. "We took on Brazil and I was man-marking a guy called Alexandre Pato. I played so well, I was the man-of-the-match in the game. We won 1-0 and he didn't get a look-in.

I get back to England a few weeks later and I was sent on-loan from Sheffield United to Brentford. Pato, meanwhile, goes on this big multi-million pound move from Brazil to AC Milan. Crazy to think of, but I kept him quiet in that game. He gets the AC Milan move, though, and I get to go to Brentford'...

He had "a loan move to Lechia Gdask in Poland. "After less than a season in Eastern Europe the born-and-bred Sheffield midfielder came back to the UK" before moving to Australia and the Phillippines".

The Grimsby Telegraph reports that "Grimsby Town boss Paul Hurst waves goodbye to eight players - and wishes them well. The Mariners began their preparations for the 2014/15 campaign by allowing Andy Cook, Scott Kerr, Clayton McDonald, Sam Hatton, Jonathan Hedge, Joe Colbeck, Dayle Southwell and Jamal Fyfield to leave"...

He said, 'All of the players have left on good terms. It's not the nice part of the job for me but, looking at the list of released players, I'm sure they will all find clubs".
---
12 May 2014
| | |
| --- | --- |
| | |
The biggest gate at Moss Lane for more than 30 years included members of several of the Altrincham FC Juniors' teams, as the two images show, above.
Darren Gregory informs us that on Saturday "There was another winning Altrincham team in Altrincham Skylarks who were the South Manchester Girls Under-11s' League Cup winners. Before the game they sent a message to the Altrincham first team, as shown in the picture (above, left). Like the first-team, the Skylarks won 2-1 after extra time. The goals were a fantastic solo goal from Rebecca Pitts and an own goal. They beat Stockport County who had previously been unbeaten all all season".
And Andrew Brannan's image (above, right) shows that Altrincham FC Juniors Tigers were also behind the first team at the J. Davidson Stadium on Saturday. Pictured are Louie Brannan, Isaac Maley, Charles Mills and Max Lloyds, who play for the Tigers, watching the play off final at Altrincham FC.
Altrincham FC Ladies won their final match of the season, 4-2, away at Runcorn Linnets on Sunday. The goals came from Cloe Alsop (2), Tracey Blanchard Webb and Nat Thornley. A report from Phil Taylor will follow in the next day or two.
It's not quite as long as "Ben Hur" but it's an equally epic production; Brian Flynn writes "Here it is... all 3 hours and 12 minutes of the Radio Robins'
coverage
of Altrincham's win on Saturday".
Altrincham chairman Grahame Rowley was interviewed on the BBC Non-League Football Show after yesterday's game. The interview can be found at around 35 minutes of the
broadcast
.
The Chester FC forum notes the following average away attendances in the Skrill Premier this season. The figures give some idea of what Altrincham might expect to see next season.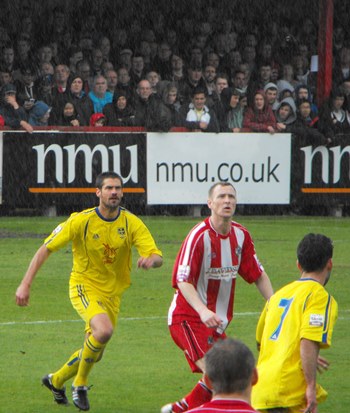 Right: James Walshaw is marked by Guiseley's former Alty centre-back, Danny Hall, in pouring rain during Saturday's match.
1086 Luton
414 Grimsby Town
384 Cambridge Utd
350 Chester
280 Wrexham
270 Lincoln City
257 FC Halifax Town
257 Aldershot Town
202 Hereford Utd
189 Barnet
181 Kidderminster H.
132 Nuneaton Town
111 Macclesfield Town
109 Woking
88 Southport
85 Dartford
65 Salisbury City
65 Alfreton Town
63 Welling
60 Forest Green Rovers
57 Gateshead
49 Tamworth
43 Braintree Town
36 Hyde
On a related topic, Altrincham's promotion back to the national level means that compared with return trips totalling 3,654 miles to watch Altrincham on the road in their league matches in 2013-14, supporters will be travelling 6,388 miles there and back next season (the total will be 30 miles more if Cambridge United rather than Gateshead remain in the division after the play-offs are completed). The increase in travelling is not only because the geographical spread of the Conference National is greater but also because the league has 24 teams, so two additional away trips have to be made.
The average away trip this season was a return journey of 174 miles; this rises to 278 miles next season. Don't forget the best way to travel is on the TASC supporters' coach!
The longest trips will be...
Dover Athletic 277 miles each way
Torquay United 248
Welling 221
Eastleigh 212
Braintree 212
Aldershot 210
Woking 200
The shortest trips are
Macclesfield 18 miles each way
Southport 41
Wrexham 43
Halifax 43
---
11 May 2014
Sunday's final league game for Altrincham Youth was called off a quarter of an hour after it should have started, owing to a couple of small waterlogged patches on the pitch. It will now be for the NW Youth Alliance League to decide whether the game is to be played in midweek at Abbey Hey's Knutsford base of Egerton Boys' Club, or whether it will be declared a draw. If it is a draw, that would be sufficient to give Altrincham second place in the Premier League table.
Following Saturday's promotion, Altrincham manager Lee Sinnott told the NL Paper, "When I took over this job, I inherited a team that was coming out of the Conference. There are big changes when you get relegated and there was also a bit of gloom and doom.
The job was to turn the club around, point it in the right direction, then go for promotion. We all want promotion straightaway but it doesn't work like that.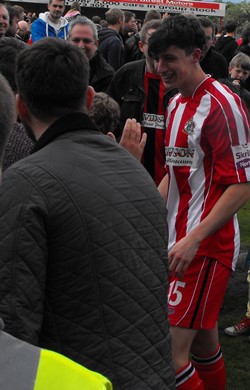 We lost in the play-offs last season and we've gone one further this season. I achieved three promotions to take Farsley into the Conference and what we've managed today is right up there.
When I took the job on, the aim was to put smiles back on the faces of people and I think I've done that".
And goalscorer Greg Wilkinson (seen, right, after the game), said, "When I came off the bench, I knew I could do it... I've scored a few penalties over the past few weeks [in training] and the manager brought me on to take a penalty. But, as soon as the ball dropped to me, I knew it was going in and I put it in the net. The fans have been tremendous here".
The NL Paper also has an article on Alty players Kyle Perry and Tom Marshall and their exploits with their band, Stubblemelt. Tom said, "I moved out to Marbella last April to sell My Protein recovery shakes to clubs in the Spanish League. I was training with Marbella in the Third Division but didn't play because I was coming home every weekend to work on the album. In nine months I did 47 flights!
I came back permanently in January and played a couple of games for Stafford Rangers then Lee offered me something up at Alty. It's been brilliant to go into a team challenging at the top, while getting the buzz of putting this album together. It's been some journey!"
The album, Gypaetus Barbatus", which translates as "bearded vulture" is released next week. Kyle, who fed Greg for the winning goal yesterday, added that "The band has grown into something we could have never imagined. We are all very creative people and like to express ourselves in many ways, on and off the pitch".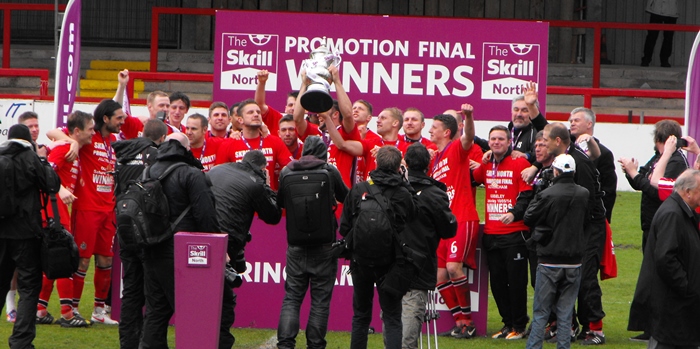 With virtually the last kick at the end of extra time, substitute Greg Wilkinson, who had just joined the game, secured Alty's place back in the top level of non-League football
Match report here.
Guiseley's forum has post-match interviews; sign-in is necessary to hear them:
NL Pitchero adds that "A fantastic run which had seen Guiseley AFC lose only once in twenty games ended in dramatic fashion right at the death in the Skrill North Play-Off Final on Saturday at Moss Lane against Altrincham.
Greg Wilkinson, having come on as a late 119th minute substitute for striker Damian Reeves, scored with his first touch to win the tie in the last minute of extra-time... after Guiseley `keeper Steve Drench had parried a Kyle Perry effort.

Above: It was good to see Mike Williams, who missed most of the season through injury, able to take part in the promotion celebrations. L. to R. Shaun Densmore, Adam Griffin, Matt Doughty, SImon Richman, Mike Williams, Damian Reeves, Carl Rodgers, Russ Saunders, Luke Pickering (kitman) and Stuart Coburn.
Altrincham had the best of the opening minutes in front of a terrific crowd of 4,632, but Guiseley came more into it as the first half wore on... Guiseley finished the half on top and seconds before the whistle Johnson's close-range shot clipped off Coburn's leg and somehow squirmed past the post...
But on 51 minutes it was the home side who broke the deadlock when Clee played the ball into James Walshaw, who pulled it back for James Lawrie to beat Drench from close range... On 70 minutes Guiseley were back on level terms when Jake Lawlor headed on and Forrest bundled the ball home in the subsequent melee".
2014-15 will be the fourth time Altrincham have been in the national level of non-League football and, each time, their route there has been different. When they first joined the Alliance (later the Conference) in 1979, the criteria were each club's league position in the previous two seasons. When promoted in 1999, it was by winning the UniBond (Northern Premier) League. In 2005 they went up after winning the only ever Conference North v South promotion final and, today, they won the Skrill (Conference) North Promotion Final.
Altrincham's fourth spell in the national level of non-League is not a record, as both Barrow and Nuneaton have been there five times, though Nuneaton have done so with two separate identities; Nuneaton Borough and Nuneaton Town. Neither of those clubs has spent as long in total in the national level as Altrincham.
Of the 20 teams which formed the inaugural Alliance, (forerunner of the Conference), in 1979, only one is currently playing at the same or higher level, namely Yeovil Town. Indeed, about a half of the Alliance's founder clubs have gone bust and/or reformed since 1979. The only clubs who will be in the Conference National next season who were in the Alliance in 1979 are, curiously, the promoted duo of Altrincham and Telford, albeit the latter, as AFC Telford United, is a reformed club following the demise of Telford United in 2004.
Altrincham have had 25 seasons in the Alliance/Conference; Telford have had 27 but two of these were since their re-formation in 2004.
Until Saturday, when 4,632 were at the J. Davidson Stadium, the highest gate for a league match at Moss Lane since Alty joined the new national division in 1979 was 2,864 versus Yeovil Town on 4 May 1981.
Today's attendance of 4,632 would seem to be the biggest at Moss Lane since 1982 when 5,762 saw Altrincham play Huddersfield Town in the FA Cup.
The winners of the Skrill South Promotion Final were Dover, who won 1-0 at Ebbsfleet today. Along with AFC Telford United, Altrincham and Eastleigh, they join the national division for 2014-15.
Colwyn Bay
"have announced that goalkeeper Chris Sanna has decided to leave the club after seven seasons and 227 appearances. Chairman David Messon reported, 'He wanted Frank [Sinclair, manager] to guarantee he would always be the first choice next season. Unfortunately, Frank could not do that as we are signing [ex-Alty keeper] Josh Ollerenshaw who has been released by Fleetwood.
Frank wanted to play whoever was performing best. I can understand Chris's situation not wanting to travel long distances to away matches and not playing and at least two other clubs were after him... We will be signing Josh Clark as our other keeper'".
A
map
has been produced showing the geographical spread of the Conference National next season. It includes both Gateshead and Cambridge United whose play-off has yet to take place.
The Football Conference says that "Paul Hurst, manager of Grimsby Town, has been busy organising players' futures at Blundell Park. Goalkeeper James McKeown and midfielders Andi Thanoj Alex Rodman and Craig Disley have been offered new deals at the club. Defenders Paul Bignot and Aswad Thomas and striker Lenell John-Lewis have all triggered new deals, taking them up until May 2015.
Hurst has not yet spoken to midfielder Scott Neilson or defender Chris Doig but will do so next week. Youngsters Caine Winfarrah, Paul Walker and Ellis Humble have all been handed professional contracts at the club."
Elsewhere, "Brian Reid, the new manager of Nuneaton Town, has made his second new signing since taking over. A [face] familar to supporters is [that of] former Boro left-back Connor Franklin, who returns to Liberty Way for next season. Franklin left when Boro were demoted two divisions, and has since played for Hinckley United and Conference Premier rivals Alfreton Town. He made twenty-nine first-team appearances for Alfreton last season...
Franklin joins fellow full-back Ben Starosta, who joined the club earlier this week."
---
10 May 2014
Brian Flynn advises us that "Radio Robins, sponsored by Ashley Mowers Garden Machinery, is providing full live commentary of Saturday's Skrill North Promotion Final at the J.Davidson Stadium against Guiseley. The match commentary sponsor is Richie Bentley.
Richie is Altrincham F.C's official caterer and he will be hosting a World Cup Italian Evening, as England start their World Cup campaign on Saturday, June 14th, to raise funds for the new Community Sports Hall. A "Pop-Up Italian Restaurant", offering a fantastic fresh menu, chilled bottles of Peroni and great Italian wines will set the mood for the evening with tables available from 7.30pm.
Tickets are £20 per person which includes a three=course dinner, your first drink, a quiz and the England v Italy match, which kicks off at 11pm. You can book your table by calling Karen Rowley at the club on 0161 928 1045 or emailing Richie.
The commentary team is Paul Salt and Ian Wilkinson, with match summaries from Ryan Daly. Coverage starts at 2.45pm with the game kicking off at 3pm. You can listen to Radio Robins on the internet at www.radiorobins.com.
Dan Whitelegg will be providing regular updates on Twitter (@altrinchamfc) as well as half-time & full time updates on facebook (Altrincham FC).
As usual, this website will also be providing its live matchday updates through every minute of the game, starting with the line-ups around 2.30pm or as soon as they are available.

A full supporters' guide to the arrangements for Saturday's Skrill North Promotion Final at the J. Davidson Stadium, this Saturday (3pm) is available here.
Brian Flynn recorded an interview with Scott Leather on Wednesday, after training. It can be heard
here
.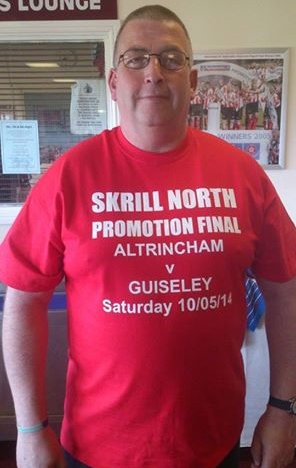 Pictured, right, is the special t-shirt produced by Ian Senior's SKkits for the Promotion Final, modelled by Darren Gregory. It will be for sale at £5 at tomorrow's match.
In Friday's
Manchester Evening News
, Damian Reeves is quoted as saying, "Everyone wants to play in this match, especially with it being at our place... The plan is that I can bag a goal but everybody wants to score the winner. The main thing is that we manage to win the game but, at the end of the day, it is down to 11 players on our team to make sure they do..
I think a large part of our success this season has been the way we go about the game. We try to get the ball down and play football on the deck. We are not one of those teams who will lump the ball forward. We try to keep it down, play it around and score some good goals...
We have got to have confidence because we have played two semi-finals and came out on top. Guiseley have been on a good run of form themselves... We have to be wary and stick to our own game plan.
The players we have got at this club create plenty of chances going forward and that is the reason both myself and the team have been able to score so many'".
Manager Lee Sinnott added, "All the preparations are going fine. We are really looking forward to Saturday because we will be playing at our home ground, so we'll have familiar surroundings. But a final is a final and it's little things that will decide it...
There are two teams with similar styles so it's down to who can win on the day and, if we play like we can, then, of course, we have a great chance".
One of Alty's other Yorkshiremen has been interviewed by the
Huddersfield Daily Examiner
< which says that "Holmfirth's Nick Clee has his sights set on play-off glory with Altrincham, and making up for last season's bitter disappointment, when the Robins host Guiseley in Saturday's Skrill Conference North final.
The 30-year-old, who also plays Drakes League cricket for Marsden, is in his fifth campaign with the Cheshire club, historically one of the non-league's biggest and managed by former [Huddersfield] Town defender, Lee Sinnott.
Former Upperthong junior and Holme Valley Academicals winger Clee suffered the misery of relegation from the Conference top flight in 2011. And, 12 months ago, the Moss Lane side were licking their wounds after bowing out in the play-off semi-finals, beaten 4-2 on aggregate by Brackley Town.
'We put ourselves in a good position by winning the first leg 2-1 at our place but we just didn't turn up for the second leg and lost 3-0', explained Clee, who has also played for Hyde, Ashton United and Ossett Albion. 'There's a lesson there for us, because we have to make sure we avoid the same scenario against Guiseley'.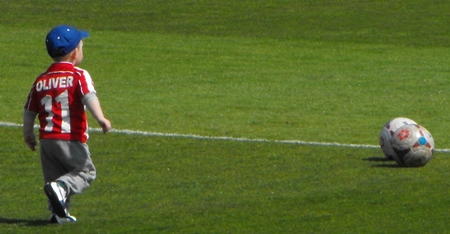 Clee, a finance assistant for Huddersfield firm Fired Up Corporation who has a two-year-old son Oliver (pictured, right, following in his father's footsteps at Moss Lane), is one of a trio of Yorkshire-based players who head across the tops [of the Pennines] twice a week for training.
Former Wakefield & Emley man Damian Reeves and ex-Guiseley player James Walshaw have teamed up to form a white-rose frontline. The pair have plundered 54 goals between them, with Dewsbury-based Walshaw leading the way with 32.
'They've done a great job, and you always fancy us to get goals', added Clee, who has scored seven times himself and formed a useful left-sided partnership with former Oldham and Stockport full-back Adam Griffin. 'Lee Sinnott has done a great job and has made us very well organised. The chairman (Grahame Rowley) is really ambitious as well and, to be fair, the club is geared up for bigger things. But with only two teams winning promotion each season (AFC Telford United go up automatically as champions), getting there is tough'.
Altrincham, who have twice hosted Town in FA Cup ties (1982-83 and 90-91) and beat Hednesford Town 4-3 on aggregate in the play-off semis, have home ambition because they finished third in the table to Guiseley's fifth.
A bumper crowd is expected, and Clee said, 'Hopefully they will help give us an edge. The lay-out of the ground helps create a bit of noise and the fans certainly played a big part in the semi-finals'...
Mark Bower's side have picked up over the second half of the season and have plenty of play-off experience, with his their fourth successive season of involvement. 'We know they are a decent side, so we will have to be switched on', admitted Clee, who says he wants to stay at Altrincham. 'I don't know what the manager's plans are squad-wise but I've played at Conference national level before and I feel I am still capable of it. Whatever happens, I desperately want to get Altrincham up there, because they're a great club'".
According to the
Football Conference
, "Altrincham are expecting a huge crowd at The J.Davidson Stadium for their Skrill North Promotion Final showdown with Guiseley AFC on Saturday afternoon (kick-off 3pm)...
With no other Saturday afternoon games being played throughout the north of England, the Cheshire club are hoping that they will welcome their biggest crowd of this millennium, which was 3,302 for an FA Cup First Round tie with Darlington in 2001.
The Robins have home advantage, having finished third in the league, two places above their Yorkshire visitors, who are the form team, having qualified for the play-offs from being in nineteenth position in mid-October.
Altrincham skipper, Shaun Densmore is one of four remaining players from the team that was relegated in 2011 and the enormity of the occasion is not lost on the 25-year-old Liverpudlian. 'The players felt responsible for the club being relegated three years ago and it would be great for all of us, but particularly the likes of Stuart Coburn, Nicky Clee, Damian Reeves and me, if we could play a part in getting the club back where I think that we deserve to be'.
Guiseley are offering free transport to all of their fans and already they have ten coachloads making their way across the Pennines. The Lions' remarkable rise up the table to qualify for the play-offs and beat runners-up North Ferriby United in both legs of their semi-final has been masterminded by Mark Bower, who replaced Steve Kittrick last September, following a wretched start to the campaign.
Bower's player/assistant-manager is the influential midfielder Danny Boshell, who re-joined Guiseley from Altrincham in October, but who cannot play in the final under the terms of agreement of his transfer. Bower has a further selection problem as he will be without the services of the hugely-talented Wayne Brooksby, who fractured his jaw in the second leg of the semi-final...
Preparations for the final have been much more straightforward for Altrincham supremo Lee Sinnott, who has a full squad to choose from, apart from long-term casualty Mike Williams. Sinnott, who guided unfashionable Farsley Celtic into the Conference Premier in 2007, has the league's leading strike pairing at his disposal and he will be hoping that James Walshaw and Damian Reeves, who have scored 54 goals between them this season, can make the difference in a tie that will go to extra-time and penalties if required.
The game is not all-ticket and is pay at the gate."
The
BBC
reports that "Manager Lee Sinnott says it is 'massively important" for Altrincham to return to the Conference Premier... Victory will see the club return to the top tier of non-league football for the first time since the 2010-11 season.
'Altrincham have played there on and off for a few years and obviously we want to make that step back now', the 48-year-old told BBC Radio Manchester. 'It's been three seasons since a cruel final day when they got relegated and this new squad is out to put that right'. Altrincham dropped into the Conference North in April 2011 after losing 4-3 to Eastbourne in their final game, having come back from 3-0 down to level at 3-3, and knowing a win would have been enough for them to survive.
Sinnott took over at Moss Lane a month later and has led the club to the play-offs twice in three seasons... Sinnott hopes playing the final at their home ground with prove to be an advantage.
'The more noise the fans make, the better', added Sinnott, who had a 10-month spell as a Football League manager with Port Vale in 2007-08. 'Our supporters were fantastic in the home leg of the semi-final. It does have an effect on our players'".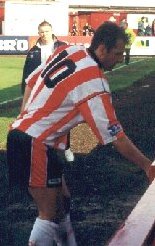 Former Alty striker and now
Stockport County
"kit man, Richard Landon, will be recognised for his contribution to the club with a testimonial game against his former team Macclesfield Town this summer. The game will be played at Edgeley Park at 3pm on Saturday, August 2, and will be the final pre-season game for Alan Lord's side ahead of the new 2014/15 campaign.
Richard, now 44, has worked in County's backroom team for eleven years, having been brought to the club by former manager Sammy McIlroy. He made 83 Football League appearances and scored a very respectable 25 goals for Plymouth, County, Rotherham and Macclesfield.
Richard started his professional career under Peter Shilton at Plymouth Argyle, after a £30,000 move from non-league Bedworth United, before a £50,000 move to Edgeley Park. His two-year stint at County, playing under Danny Bergara and Dave Jones, was hindered by injury and Richard moved on to play for Macclesfield and Rotherham. He then moved to Altrincham in the Conference, where he earned a reputation as a 'supersub' with a powerful shot, before ending his playing days with Radcliffe Borough and Cheadle Town.
Richard said, 'I was very grateful to Sammy Mac when he brought me back to Edgeley Park more than ten years ago, and it is a real privilege to have been here for the past decade. We have gone through many ups and downs as a football club during my time here, and the remaining staff all have to do a little bit more these days, but I love my job and I love coming to work at Edgeley Park. I am very grateful to Alan Lord for agreeing to schedule this game as part of his pre-season schedule, and to everyone at Macclesfield Town, as well'".
The
Telegraph & Argus
says that "Mark Bower believes Guiseley are in the best possible shape to win promotion tomorrow and put three years of play-off torment behind them... They have fallen agonisingly short in the past three seasons, losing to Telford in the 2011 final and then FC Halifax and Nuneaton in the semis.
But boss Bower said, 'I've been here for the last two years when we went into the play-offs after finishing second. It was almost as if we were disappointed to be there. We were playing dead rubbers for a couple of weeks and it did slow the momentum down. This year we've had to continuously win and we went into the last game still needing a result to get in. We took that good feeling into the play-offs. That momentum and confidence is completely different to what it's been like last couple of years'.
Guiseley will have to beat Lee Sinnott's Altrincham without ever-present winger Wayne Brooksby... and player-coach Danny Boshell also misses out under the terms of his return from the Cheshire club earlier in the season. Bower added, 'We knew when we took him that he wouldn't be allowed to play against them. We were hoping a Conference North final came under a different bracket to a regular league game but that's the agreement. Altrincham don't want him to affect the game on the pitch but we've been working on things this week in training so he can have an influence off it.
I'm really disappointed for Wayne because he's been terrific for us. There have been a lot of clubs sniffing around and his performances have been excellent... He played an hour with a jaw broken in two places and put in the performance he did while still being kicked, elbowed and hacked'.
Goalkeeper Steve Drench is back in training after his recent virus and likely to replace 41-year-old Steve Dickinson, who shut out Ferriby over both legs. With only one loss in the last 20 games, Altrincham can expect a very different Guiseley team from the one that collapsed 4-1 on their last visit seven months ago.
To rub salt in the wounds, former Lions hitman James Walshaw scored a hat-trick on his way to a 32-goal tally for the season... Bower added 'I remember being stood on the touchline watching that unfold and feeling totally powerless. A couple of individual mistakes were made, we fell behind and then just capitulated. Looking back now, it might have been the best thing that could have happened to me. You realised what needed to be done...
We had a two-week break afterwards and were able to make a few changes that have certainly helped us since. But there are still a fair few players who were involved that weekend and will want to put it right'. As for Walshaw, a veteran of those three play-off near-misses, Guiseley will be equally well prepared. 'He's a prolific scorer at this level and won't give you a second's rest', said Bower. 'He certainly gets under your skin. But we know a few of his tricks and what to do against him. The big thing is to stop the supply and then you can isolate him'".
And the Yorkshire Evening Post claims "'Finish off the job', that's the emphatic message from Guiseley boss Mark Bower...
Bower's competitive juices dictate that he is only interested in victory tomorrow afternoon... He said, 'When we started the run where we had 20 games in 10 weeks, we knew getting to the final would be a magnificent achievement. But there's no point being here, if we are not going to go out there and finish off the job. There's added ingredients to the final. We went to Altrincham in October at the lowest point of our season in terms of the second-half performance we put in. Some of the players in our team will be wanting to put that right.
It was painful because in the first half, we were in control and 1-0 up at half-time. But the second was bitterly disappointing. But it possibly acted as a turning point for our season as we went 15 or 16 games unbeaten and have only lost four league matches since then... There will be the added pride of getting promoted to the Conference National, which would be a remarkable achievement. That's certainly the aim and we are coming up against a team who like ourselves pass the ball and play good football.
They are a good team who finished above us in the league and who beat us at home and are on home soil again. We know it will be difficult, but will be going there to win it'...
Bower added, 'The performance at Ferriby when we brought Danny Boshell back and Adam Lockwood had just joined and Gavin Rothery was back from suspension was a key moment. We got the formation going and it has served us well. We out-footballed them across the park and you just knew there was a good side and that with a bit of luck with injuries, we could put a run together and we did'".
The same newspaper reports that 'Phil Rogerson admits that Guiseley's decision to promote from within when they appointed Mark Bower as boss has reaped major dividends... The 34-year-old has massively vindicated the faith shown in him since...
Lions' chairman Rogerson insists the club and Bower will be able to look back on a memorable season whatever happens... Rogerson said, 'Mark has pulled it around amazingly. We had an iffy start after the disappointment of the play-offs and Mark came in and life got more difficult initially... I always think bringing in someone internally is a huge advantage.
We did it with Neil Parsley [who briefly played for Alty] and someone who has been a first-team captain and knows the squad can hit the ground running. They see what needs changing. It doesn't always work, but it has in this case.
'Whatever happens, this season has been a great one. For us to get to a play-off final in Mark's first season is amazing. If we don't do it on Saturday, he will have another year to have a go at it. Fingers crossed that we do it, though'.
Scores of fans have taken up the club offer of free coach travel to Altrincham and the Lions could be backed by a travelling army of 1,000. Rogerson added, 'Everything is gearing up for a day out with, hopefully, the right result. We had seven coaches booked at the beginning of the week, which is fantastic and will probably have more. We traditionally have a fair following of people who travel independently and I suspect we'll get as many driving. There could be 800 to 1,000 there. We are up for it. We have crept up the rails a bit and we go there as underdogs, and there's not really the pressure we have had in previous years'".
At
AFC Telford United
, "manager Liam Watson has started his preparations for the 2014/15 season with the capture of two new players. Watson has swooped to secure central defender Steven Akrigg, who was out of contract at Southport... He moves to Telford after a frustrating season in the North West which has seen him suffer an ongoing shoulder injury which is now completely healed.
The Bucks have also secured the transfer of Josh Hancock from Witton Albion for an undisclosed fee. Hancock, 23, is an _attacking midfielder who started his career at Nantwich Town. He signed for Witton in 2010 and has since made over 100 appearance scoring over 40 goals. Bucks' manager Liam Watson has scouted Hancock on a number of occasions over the last few months".
---
9 May 2014
Alty manager Lee Sinnott is hopeful that midfielder Carl Rodgers will have fully recovered from his recent hamstring problem in time for the Promotion Final on Saturday against Guiseley. Carl has missed the last three games but was fit enough to be lapping the pitch before last Saturday's semi-final against Hednesford Town. Should Carl be declared fit, Lee should have his full squad available for selection, barring long-term injury victim Mike Williams.
Brian Flynn has recorded an interview with Alty captain, Shaun Densmore, following training on Wednesday evening in which he discusses the play-off games.
The Altrincham
Fans' Forum
has a posting from Mike Ford which says that "We are helping the Club by organising working parties over the next couple of weekends to help prepare for the Community Sports Hall construction. This Sunday we will be moving the contents of the Club Shop and nearby storeroom to other areas in the Ground.
The following weekend (May 17/18th) we will be demolishing the Club Shop and removing and stacking flagstones for disposal. We will be starting around 10.30am each day and would appreciate any help that you can provide over the two weekends. Any 'porters' trolleys' or similar, would be really useful as well. Getting the work done by supporters will take £7,500 off the project costs.
To give an idea of the number of people coming down, I'd be grateful if anyone interested could let me know what time they are able to provide".
Courtesy of Phil Taylor, there is now a report of the Altrincham FC Ladies' 9-0 win over Whitchurch Alport, last Sunday. It can be found
here
.
Guiseley
report that "Ever-present winger Wayne Brooksby has been ruled out of Saturday's Skrill North Promotion Final at Altrincham following an injury sustained at North Ferriby United at the weekend.
Wayne's jaw was fractured in two places, requiring immediate surgery to insert supporting wires and a metal plate. He spent three nights in hospital after Saturday's match. Manager Mark Bower shares Brooksby's disappointment, 'It's a real blow for us as a team. We have quality players to come in but I'm devastated for Wayne. He missed the play-offs through injury last year and has started every game for us this season, so he's gutted to be missing out again.
I feel that Wayne was not adequately protected on Saturday and, from my viewing angle, it was a shocking challenge that led to the injury. It says a lot about him that he played on for almost an hour with a broken jaw and put in the performance he did to help get us to the final'.
The club would like to thank Wayne for his incredible efforts in his 56 appearances for Guiseley this season, and wish him a speedy recovery from his surgery."
More on this comes from the
Yorkshire Evening Post
, which says that "Guiseley boss Mark Bower is adamant his Lions side will cope with the double blow of being without key duo Danny Boshell and Wayne Brooksby for Saturday's Skrill North play-off final at Altrincham.
Assistant-manager Boshell (right), who proved the coolest of heads in two composed showings in the middle of the park in the two-legged semi-final against North Ferriby United, is ineligible under the terms of his transfer from Alty earlier this season. While that absence is unavoidable, Bower is livid over the fact that winger Wayne Brooksby will sit out the final on the sidelines, with X-rays confirming that he broke his jaw in two places after being subjected to some hefty treatment at the hands of his former club, Ferriby, in Saturday's second leg in East Yorkshire.
It's a cruel blow for Brooksby, who despite being targeted continually, managed to fire in the only goal of the game last weekend, having been named man-of-the-match in the first leg. Bower said, 'Danny not being able to play is unfortunate but, at the time when we signed him, I suppose if they (Altrincham) said, 'You can have him and you will get in the final of the play-offs but he won't be able to play', we would have taken it. Although it is a blow'.
On Brooksby, he added... 'With Bosh and Wayne out, it leaves us a bit short in midfield. We also have Jack Rea out long term as well. It means we don't have too many options there, but the lads who will come in will do well for us, no doubt'.
While Boshell misses out against his old side, one man who will definitely be lining up against his former team is former Nethermoor favourite James Walshaw, who alongside another Yorkshireman, in the shape of ex-Farsley frontman Damian Reeves, will be attempting to dash White Rose dreams at the weekend.
The predatory pair have hit 54 goals between them in all competitions this term, both netting in the 4-3 semi-final aggregate win over Hednesford. Walshaw also struck a treble in the 4-1 league win over Guiseley at Moss Lane in October, but insists his old side will be a wholly different proposition on Saturday, as he aims to avoid a fourth season of Skrill North play-off heartache after three defeats with the Lions.
Walshaw (left), who fired both goals to seal the UniBond Premier title for Guiseley in 2009-10, when he plundered 31 goals ahead of top-scoring with 32 the following season, said, '"It's funny that I leave Guiseley with three play-off defeats in the last three years and then go to Altrincham and do very well and then get to a final where we have to beat Guiseley. So one of us is going to have four play-off defeats in a row, which is quite ironic'.
On the final, he added, 'There is no underdog, although they might say that they are. They come into it as the form team and having lost one in 18, you could even say they are favourites, although others will say we are. I think it's who turns up on the day and plays the best. Simple as that'.
While Walshaw is intending it is his current side and not his old one, who are celebrating on Saturday tea-time, he admits that, if Guiseley do triumph, it will at least soften the personal blow for himself a little, mindful of the Lions' previous play-off history at this level.
He added, 'It would be fantastic if we went up. But if we do lose, as much as it will be disappointing, I will be happy for Guiseley if they did go up. It would mean my friends would be going into a higher league. It's a no-lose in that respect'".
And elsewhere, the Yorkshire Post tells us that "James Walshaw appreciates the irony in attempting to inflict another dose of despair on the Lions on Saturday...
'I had four or five wonderful years at Guiseley, but just thought it was time for a change of scenery. I have come to Altrincham and done well but do hold Guiseley in high regard. I had a good time with them, won a league and got in three play-offs and have a strong relationship with the fans. It will be a good day for me, but you do have to keep your emotions to one side.
It's the business end and you have to just do a job. There were a few texts going back and forth on Saturday night when we realised we were playing each other in the final. But since Monday, it's been all about concentrating on the build-up really. I am sure I will definitely sit down in the summer and have a drink with one or two of them'".
In the
NW Evening Mail
, we read that "Barrow AFC stalwart Russell Dodd is convinced the club are not heading for a 'boom and bust' disaster under the chairmanship of millionaire Paul Casson. And that was a major reason why the 48-year-old Barrovian has agreed to be part of Casson's new eight-man board, having already served as a club director for more than 15 years...
However, the pharmacist stipulated that he would only stay on if he was happy with the position he was offered, with Dodd subsequently agreeing to continue as football secretary...
Dodd is pleased Casson will resist applying an open cheque book policy when it comes to formulating Darren Edmondson's players' budget, with the US-based businessman committed to investing up to £1.2m into AFC over the next two years...
Dodd said, 'I've seen so many clubs up and down the country over the years that have just gone from boom to bust by throwing a load of money at the squad... So I was very keen that would not be the case... Discussing Paul's plans it was obvious that the initial plan for the team was a sensible and modest increase to the budget and not a stupid one'...
Casson... plans to inject his cash right across the club, with the vital job of revamping Holker Street near the top of his agenda. Dodd added, 'You want the foundations to be in place, you don't want the team to outgrow the ground and the club which is probably what slightly happened when we got promoted last time (from Conference North in 2008). So you really want to spend money on the infrastructure of the club and the ground to increase your income potential.
As such, although you can increase your budget with external funding, there's a chance in the future that you can build a sustainable team based on increased income and not just funded from outside'...
" While he fully accepts Casson will ultimately be calling the shots as the club's sole owner, he will perform an important advisory function to ensure AFC fully adhere to the football authorities' rules and regulations, including ground grading aspects".
The
Football Conference
has issued a "Board Statement re-English Commission", which says "The Football Conference Board at its meeting today had its first opportunity to see the 80-page England Commission Report which has just been published. It has noted that in its efforts to 'diagnose' the problems addressed in the report the Commission heard the views of 650 people allegedly across all levels of the game'.
Whilst the Commission contains in some detail proposals deeply affecting the Football Conference, neither its chairman nor any other members of the Board of that particular competition were in any way consulted nor were their views sought directly or indirectly...
We agree that future England players need to be given the opportunity to play more competitive football but we believe that experience should be at the highest levels of the game. We agree there should be more home grown talent playing at those highest levels... We would like to see The FA extend its coaching programme by providing more financial support...
The last point we wish to make at this stage is that the English pyramid system is unique, having evolved over 100 years. It has supported the growth of football into a league system that has become the envy of the world. The foundation is that in every community, throughout the UK, ordinary individuals engage in the financing, support and participation of teams which one day can reach the pinnacle of the top of the Premier League. It is built on a dream that every single football supporter has bought into...
We, as a competition, together with all other leagues who make up the structure beneath the Premier League and the Football League, should have the opportunity to meet, with some urgency, to reflect on the issues...
We, like all supporters, wish to see the national team successful on the world stage but not to do it in a manner which threatens the whole existence of the Pyramid, on which the solid base of our whole game is dependent. The report will no doubt be viewed with much scepticism, surely players who seek to wear the Three Lions shirt in the future MUST be enhancing their skills and ambitions at the highest level of our game".
The
Football Conferenbce
reminds us that "Fans can watch the Skrill [Premier] Promotion Final between Cambridge United and Gateshead exclusively live from 3pm on BT Sport 2 on Sunday, 18th May."
---
8 May 2014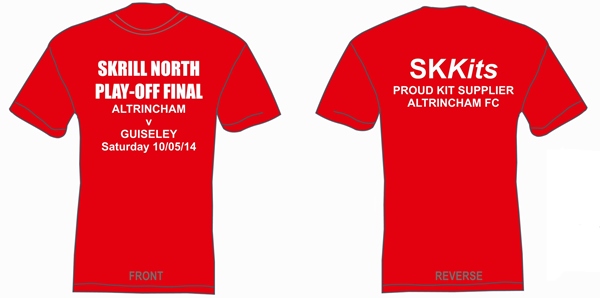 Above is the special t-shirt produced by Ian Senior of SKkits for Saturday's game; the wording will be amended to read "Promotion Final" before the garments are produced. The shirts retail at £5 and come in all sizes and will be available from the club on Friday, or on entry to the ground on Saturday.
In the Sale & Altrincham Messenger, John Edwards, Altrincham FC's joint Press & Media Officer, writes that "Lee Sinnott wants the J.Davidson Stadium to be 'rocking' when Altrincham make their final push for promotion back to the Conference Premier against Guiseley on Saturday (3pm).
The Alty boss echoed a sentiment expressed by several players on social media that a vibrant home crowd had inspired their side to a dramatic play-off semi-final win over Hednesford last Saturday.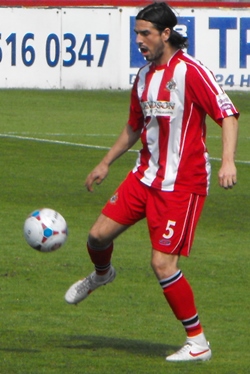 It looked ominous for Alty after going behind in the 78th minute, but, roared on by a near-2,000 crowd, they bounced back with two goals in little over 60 seconds to seal a 4-3 aggregate win and spark scenes of wild celebration. Alty are expecting a gate upwards of 2,500 this time, with home fans again having all the Popular Side, as well as the Golf Road end, and an estimated 500-strong travelling support housed in the away end or main stand.
The stage is set, and Sinnott is calling on players and supporters to turn it on again and help make it a day to remember for all concerned.
'The encouragement from the fans at 1-0 down spurred us on and played a big part in us turning it round,' he said. 'I firmly believe that, and I hope there will be even more Altrincham fans inside the ground on Saturday and they will make even more noise.
'I want it as loud as possible. I want the place rocking. The fans were magnificent last season in the play-offs and created some memorable scenes against Brackley, but I thought the decibels were even higher last Saturday. It was a great atmosphere, and the players responded to it.
'The exit door was opening with 12 minutes left, but the players were brave, and kept playing their football, and I was proud of them for that. When we got ourselves level, there might have been thoughts of extra time, but I just sensed we had a chance to settle it there and then.
'I remember we had a throw-in right in front of where I was standing, and I shouted at anyone within earshot, "We can win this". I just felt that, without being gung-ho, if we were positive about what we had just done, we could get another goal. Sure enough, with quality on the pitch and fantastic backing on the sidelines, we did, and it was a sweet moment.
'For much of the time, I thought the game had 0-0 written all over it. Never mind extra-time, it looked for all the world like a penalties job. Both teams were cancelling each other out, then it suddenly ignited in the last 12 minutes. We got ourselves level with a bit of quality and were then bold enough and brave enough to keep going and get ourselves over the line.
'It was a reward for being positive, and it was great to see the scenes all around the ground after the second goal went in and again at the end.
'Now it's down to who handles the occasion better. You've got two teams with a similar approach, and we have to concentrate on playing our football. When we do that, we are at our best.
'The message to the players will be the same as before the semi-final first leg. We are here to win. Don't be gung-ho, but have a positive mindset and make sure you give it your best. As long as they go for it, they will do no wrong by me.'"
In the Sale & Altrincham Advertiser, John Edwards, Altrincham FC's joint Press & Media Officer, writes that "Altrincham's jubilant players took to social media to salute a dramatic play-off victory and made it clear their fans can roar them over the line in their biggest game of the season at the J.Davidson Stadium on Saturday.
Hednesford went ahead in the 78th minute, but Alty bounced back with two goals in little over 60 seconds, from Damian Reeves and James Lawrie, to send a near-2,000 crowd wild and set up a final showdown with Guiseley that looks sure to attract an even bigger gate to one of non-League football's most famous venues.
Guiseley are one of the form teams of the division, as proved by wins home and away in their semi-final with North Ferriby, but Lee Sinnott's side are convinced Alty's vocal crowd can again raise the volume and provide the impetus for an eagerly-awaited return to the Conference Premier.
Assistant-manager Neil Tolson tweeted that Alty's fans were "Our 12th man again", and the sentiment was echoed by striker James Walshaw, who tweeted, "The fans were absolutely outstanding today, definitely the 12th man when we were 1-0 down. So a season's work boils down to one game now!'
Left-back Matt Doughty captured the mood within the dressing room with a tweet that read, 'Made up for the lads. Especially the ones who got relegated with the club. Got a chance to right a wrong now. Believe.'
Hednesford were magnanimous enough to shrug aside their disappointment and post a tweet that said, 'Well done to @altrinchamfc and good luck in the final.'
It appeared to be acknowledged by Tolson, who tweeted, 'Today was a great advert for non-League football, both on the pitch and off it. Well done to both clubs. Lads were class, showed real character.'
Away from Twitter, Reeves reflected on a dramatic finale to a tense semi-final and forecast an enthralling contest between two footballing sides at a packed J.Davidson on Saturday (3pm).
'It flattened us a bit for a couple of minutes when Hednesford scored, but the fans got behind us and gave us some momentum,' said the Alty striker. 'For the equaliser, it was a bit of magic by Nicky Clee and a terrific cross by James Walshaw, and really the ball was straight on to my forehead.
'I was really pleased for James Lawrie for the winner, because he hasn't played that much this season but always has the ability to unlock the opposition with something a bit different.
'Now I just hope we can keep it going for another week, and there is every chance we can, being at home. Guiseley like to play football, and I think that will suit us, because we like to get the ball down and play. The team that play the better football on the day, and take their chances, will win. If we get the fans behind us again, there's no reason why that can't be us.'"
Altrincham FC Youth Education Programme team finished off their season in good form with a 4-1 win over Crewe Alexandra last week and a narrow 3-4 defeat to runaway champions, Gateshead, this Wednesday.
On Sunday, for the second year running, the Moore Foundation Charitable Trust, based in Warrington, is organising a charity football match that will see former professional football players compete against a team of celebrities at Altrincham Football Club on Sunday 11th of May 2014.
The event will be a great family fun-filled afternoon and all money raised will go directly to the beneficiaries of the charity. There will be activities and stalls open throughout the event, a half-time raffle with some fabulous prizes, the chance to nominate your player of the match and get autographs from the players. There is also a half-time inter-school competition with the charity mascot, Little M.
Former professional footballers playing in the game include:
Lee Martin (former Manchester United player and Patron of the charity)
Arthur Albiston (former Manchester United player and manager of the team)
Clayton Blackmore (former Manchester United player)
Danny Higginbotham (former Manchester United and Altrincham player)
Eric Nixon (former Manchester City goalkeeper)
Frank Stapleton (former Manchester United player)
Sammy McIlroy (former Manchester United player)
And the celebrities include:
Mike Sweeney (BBC Radio Manchester presenter)
Neil Clough (from "The Apprentice")
Scott Wright (actor from "Coronation Street")
Leon Tennant (actor)
Keith Rice (Finn O'Connor in "Hollyoaks")
Max Williams (actor from "Eastenders")
We also have pop star Anthony Kavanagh (currently on "The Big Reunion") due to perform one of his songs at the beginning of the game, the very brilliant Alan Keegan (stadium announcer at Manchester United) is returning as match compere and Key 103 morning presenter, Mike Toolan, will hopefully be making an appearance too!
We are running an inter-school competition which is also open to children's football teams and charities. We are donating 10% of the ticket sales made by these establishments to their own cause.
Since the Moore Foundation was established in 2005 it has provided funding to smaller charitable organisations at a grass-roots level across the north west, as well as providing many disadvantaged, disabled and terminally ill children and their families with much needed support, equipment, treatment and once in a lifetime wishes".
"
AFC Telford United
legend Ryan Young has left the club bringing to an end one of the finest careers seen at the Buck's Head. Young will depart due to his family's move to the Isle of Wight and relocation at work. He signed in 2007 and has since made over 350 appearances... Despite offers from higher placed clubs, he remained with Telford last season despite relegation from the Conference Premier in 2013.
After a long discussion with Manager Liam Watson, both parties decided not to renew the popular goalkeeper's contract...
Club Managing Director, Lee Carter, said 'To be remembered in the same vein as the likes of Kevin Charlton and Bobby Irvine is testament to his qualities not just as a player but also as a man'.
The club have also announced that Matty McGinn will leave the club due to increasing work commitments. The left sided player signed after his release from Chester last Summer and made over 30 appearances for the club. Also released are Dan Preston and Martyn Jackson."
According to the Football Conference, "Worcester City have announced that four players from last season`s squad have signed new deals which will keep them at the club for the 2014 /15 campaign. Tyler Weir, who re-joined the club after leaving for Gloucester City last summer was the first to sign a new deal..
Double player of the season George Williams has joined his full-back colleague in pledging his future after a hugely successful first season at the club after joining from Loughborough University last summer. Williams, who represented Great Britain at the World Student Games in 2013, is seen as a huge prospect for the future and a key part of the clubs future plans.
Captain Ellis Deeney is the third member of the quartet to put pen-to-paper on a new deal. Deeney made the successful transition from full-back to central midfield after the departure of key players during last season and the club view this as a key reason behind the good form during the second half of the campaign.
The final member is central defender Graham Hutchison, who has been a mainstay in a defence that performed tremendously over the last campaign conceding 53 goals. Hutchison, who played alongside seven other central defensive partners prior to finishing the campaign alongside Wayne Thomas, is seen as another player with as very bright future in the game... Discussions have been very positive with the rest of the squad and we are hopeful of adding more players to this list in the near future."
Cumbria's News & Star says that "Workington Reds have announced a £70,000 cash injection. The club's major shareholders have ploughed money into the west Cumbrian club to ensure the off-field position remains extremely healthy.
Chairman Glenn Heathcote revealed at a fans' meeting last night that Hong Kong supporters, Andy Ross and Barry Scott, have bought £50,000 of newly-released shares. Director Dave Cumberworth and an unnamed backer have also put £20,000 into club coffers. That takes Ross and Scott, who represent Baker Tilly and Allied International, Reds' shirt sponsors', investment to £140,000 over the last 12 months.
Heathcote, addressing around 100 fans inside Borough Park, outlined the club's finances, and said he was extremely optimistic about the future. It is great news for Workington, who also announced club legend David Hewson is returning for pre-season training, Kyle May has been made player/coach and Sam Smith has already signed a one-year contract.
Heathcote said, 'We still have to find £40,000, but that's over the course of the whole season... we are [in] great shape off the pitch... We have put £125,000 shares up for grabs, of which Andy and Barry have taken £70,000. There are £50,000 left. This is a one-off. We must learn to be self-sufficient and, with the positive talks and offers of help, we will get there'.
Reds are also debating dropping match tickets from £12 to £10, with children's tickets staying at £1 for the 2014/15 season.
Manager Gavin Skelton addressed the fans, and said ex-Gretna team-mate Derek Townsley would be his No.2. Jake Smith, Sam's brother, has also agreed terms. Skelton said, 'David [Hewson] is coming to training and, hopefully, he can be part of the team next season... but it all depends how his knee has healed. It's great Kyle has agreed to coach. He loves the club and will be a huge asset. Kyle is a legend'...
Meanwhile, Workington will today submit their evidence to the FA regarding the unsavoury incident involving a flare, which held up play during the club's final Conference North fixture at Stalybridge Celtic. The club, facing a possible misconduct charge, have been asked for their observations and face being fined."
From the Hull Daily Mail, we learn that "North Ferriby United chairman Les Hare believes his side can challenge again for the Conference North title after persuading leading scorers Nathan Jarman and Anthony Wilson to stay at the club... despite attracting interest from other clubs.
'To have Nathan and Anthony stay with us for next season is a massive fillip', Hare told the Mail. 'We have also extended deals for Adam Nicklin, Danny Emerton and Josh Wilde too, but the two strikers have terrorised defences this season and have attracted wider attention. Nathan said during the season he is born-again and loving his football at Ferriby... It didn't matter to him which league we were playing in, which makes his commitment all the more remarkable.
We'll speak to the rest of the squad this week and I'm sure the majority will stay... There is a feeling of new life with this team and hopefully they'll stay together'.
Ferriby's dream of winning promotion to the Conference was ended by Guiseley...Hare is delighted to have Heath in charge next season... 'Billy's going nowhere', Hare said. 'The two of us have a fantastic relationship. I felt at the time he was the right appointment, although one or two raised their eyebrows... Billy gets on with his job without moaning. Like the players, I'm sure Billy will have attracted some interest from other clubs, but we have had no formal approaches from anyone. He has never given any hint of going anywhere... Our working relationship is the perfect relationship'".
---
7 May 2014
A full supporters' guide to the arrangements for Saturday's Skrill North Promotion Final at the J. Davidson Stadium, this Saturday (3pm) is available here.
Saturday's game is perhaps best described as a match "hosted" by Altrincham FC rather than a normal league match "organised" by the home club. This is because the Promotion Final is being staged to specific Football Conference requirements which declare the J. Davidson stadium to be a neutral venue and mean that certain matchday arrangements at the J. Davidson Stadium will be different from those on a normal league matchday. For example, there will be no "Robins' Review" matchday programme, as the Conference itself will be responsible for production of a programme. This will have 36 pages and will cost £3. Other rulings include one that complimentary tickets are not available for other clubs' scouts for this match.
Conference rules also mean that match income, including that from programme sales and hospitality, is to be split three ways; 25% to each participating club and 50% to the Conference; the Conference element is for distribution to other member clubs in the league.
In the
Manchester Evening News
, Alty boss Lee Sinnott says of Alty's home league win over Guiseley earlier this season, "The first game is of no relevance. They were in a bit of a slump and Mark Bower had only just taken over... Is the second game of any relevance? Perhaps not, as Saturday is a one-off game. We're quite comparable in styles but it's a Final.
It's a matter of who handles the occasion better and who freezes in the headlights...
If you said to anyone, "Would you rather play at home or away for the Final?" and somebody said "Away", they're lying. But, if you freeze on the day, playing at home isn't an advantage. You have to make it your advantage. The players showed against Hednesford they've got the character and, hopefully, we can show it again'".
Altrincham FC Caterer, Richie Bentley, writes, "Thanks to Dawn and the team for the great work at last Saturday's semi-final. I am also grateful for the help of Sarah Rowley and Louise Bowyer in preparing the hundreds of sandwiches on Saturday morning! We will be executing the same plans for the Guiseley match with a third stall (in addition to the normal home and away kiosks) at the Golf Road end which will serve food to home fans. The bottle bar will also be available, once more, to our supporters". Richie asks all spectators to bring extra change for purchases from the catering kiosks.
Fuller details of the catering arrangements will appear in the supporters' guide to be issued, here, during Wednesday.
The
Yorkshire Evening Post
tells us that "Mark Bower has revealed his delight after Wayne Brooksby had the last laugh against former side North Ferriby United, with the Guiseley winger subject to some roughhouse tactics from the hosts on Saturday.
The ex-Villagers' player, who joined Guiseley last year, was targeted by the home players in the second leg of the Skrill North play-off semi-final, but had his moment by netting the only goal of the game... Bower said, 'I think it was disgraceful the way Wayne was targeted in the game. The challenge on him, which left him with a lump the size of a golf ball on his jaw, was just not what is called for. But every time Wayne got the ball, he was kicked at, hacked and elbowed. But he just kept picking himself up off the ground and, if there was one player deserving of a goal, it was Wayne because he just kept going.
It was a fantastic performance from Wayne with a great goal, which was the final nail in their coffin'.
The Lions are now hoping to write the final chapter of a truly captivating season at Altrincham on Saturday... It's a level that the Robins have played at for a number of years, while Guiseley are aiming to create history.
Bower insists that Alty are favourites for the final, but his Guiseley side go into the game undaunted by the challenge and aiming to play the underdog card successfully once more at a venue where his side were swept aside in the regular season.
Bower said, 'We stuck to our game plan well in the first half and restricted them to very little and when our chance came, Wayne took it magnificently... We know what happened the last time we went there, but it's strange how things have worked out. We pipped Boston to the last spot in the play-offs, which was my first game in charge and we have now beaten Ferriby, where our turnaround started.
Altrincham is now a game to go where, a few months ago, was probably my lowest point, certainly, and the club's lowest point of the season. Hopefully, we can go there and get a result this time. We are in good form and have only lost once in 18 or 19 games, but likewise, they are in good form. But if we go out there and play the way we are capable of, we've got a chance of winning. It should be a closely-contested game. The play-offs have been tight this year with only six or seven points separating all four teams'".
Gavin Rathbone's images from the Altrincham v Hednesford Town game, last Saturday, are available
here
.
And Mike Ripley's images from the same game are also now available.
Altrincham FC Ladies won 9-0 on Sunday at home to Whitchurch Alport, thanks to goals from Cloe Allsop (4), Tracey Blanchard-Webb (3), Aimee Gibson and Hayley Macardy. Phil Taylor will be kindly providing a match report in the next day or two.
Results of the last two Yankee competitions are
here
.Why not join in the scheme; you can win big prizes whilst also helping your Football Club! Details are
here
.
Barrow
have the latest "in our series of Q&As", which says "centre-back Rob Williams talks about why he loves Nemanja Vidic, his international goalscoring exploits and Duran Reynolds's dress sense". He reveals his playing idols are Roy Keane and Sergio Ramos. Asked, "Is there any player you base your playing style on? 'Nemanja Vidic. He loves smashing people!'" was his reply
As for the "Loudest manager played under" it was Alty boss Ken McKenna. As for "What do you do outside of football?, 'I'm currently studying for a degree in Strength and Conditioning'". And, "What would you be if you weren't a footballer? 'A swim shorts model!'"
According to Rob, the "biggest joker" is ex-Alty midfielder "Paddy Lacey; you can't not laugh when he's about".
From
NL Daily
, we learn that "Assistant boss Carl Macauley does not believe he will be able to continue in his role as Chester FC prepare to turn full-time. Macauley left his post with Vauxhall Motors in March after the club announced it would be quitting the Conference North and became assistant to Steve Burr.
Regarded as one of the most talented coaches in non-league football, the 43-year-old moved to the Swansway Chester Stadium to replace Gary Jones... Burr has agreed a new two-year deal to become full-time manager but the move away from part-time football presents a problem for Macauley.
He is employed as the head coach of the Liverpool FC Foundation Football College, a partnership between the Premier League giants and the University of Liverpool.Macauley said, 'The club is looking to go full-time next season but I have a really good job that makes it very difficult for me to do that. It would be tough for me to leave that job and I have said that to Steve. We are going to meet up for a coffee and discuss it but it's going to be hard for me'.
Although he has not reached a final decision, Macauley said he had throughly enjoyed his time with the Blues and has tipped the club to bounce back from relegation. He confirmed he would be looking to take on another management or coaching role with a part-time club should he leave".
"After careful consideration, Boston United have decided to form an under-21s development squad for 2014-2015, replacing the current reserve side. This brings the curtain down on a four-year stint in the Lincolnshire League..
The development squad will not take the reserves' place in any formal league structure but, instead, will play non-competitive fixtures against Football League and Football Conference sides, with further emphasis on player development. The Pilgrims have already agreed in principle to play the likes of Doncaster Rovers, Notts County, Mansfield Town and Lincoln City throughout the course of next season".
As for the first team, "Boston United manager Dennis Greene has confirmed that eight players have verbally agreed new deals with the Pilgrims. With defender Carl Piergianni already signed up on a two-year deal, Greene has started to make inroads into the remainder of his squad. Greene has announced that goalkeeper Lewis King, defenders Scott Garner, Stefan Galinski, Rene Steer and Zak Mills, midfielders Conor Marshall and Jamie McGhee and striker Marc Newsham have pledged their futures to United.
The Pilgrims have retained teenage goalkeeper Sam Vince after offering terms of re-engagement as per the rules regarding players under 24 and on contract. The futures of midfield duo Jay Dowie and Junior Konadu and 28-goal top scorer Ricky Miller have not yet been resolved.
The remainder of the Pilgrims' squad from 2013-2014 are expected to move on, including midfield trio Ian Ross, Ben Milnes and Indy Aujla and strikers Ben Fairclough and Spencer Weir-Daley. Midfielder Gary Mills has been released".
Stalybridge Celtic's chairman Rob Gorski announces that "I am delighted to announce that Briggsy has agreed to sign a new contract for the forthcoming season. From Keith's point of view, he is committed, determined and raring to go for next season already. From my side, I truly believe that we've got a tremendous young manager who has learnt a lot in a short period of time and who can now develop his team and his philosophy.
I sat down on Friday with Briggsy, Fearny and Sully [David Sullivan, coach] and we discussed next season. I am afraid the budget is considerably down again, but because of their contacts, the reality is that we are hoping to have up to 4 quality loan signings again next season. They will be merged in around a spine of the team that will have two main ingredients - experience and a physical presence.
I believe that Briggsy can assemble a squad with a spine of experienced and physical players coupled with exciting young talent and a few loan players. Talking of young talent, we are pleased to confirm the signing of Oliver Crowley. Oliver has tremendous ability and is a massive prospect...
Let us not kid ourselves regarding the difference in budgets. Other clubs have not [just got] 10% more, some have three to four HUNDRED per cent more than we can offer Keith. In that sense, he fights with one hand behind his back. But his contacts within the game, which are truly second to none in my experience, mean that we can balance both the books and the squad by utilising that address book.
Some people have questioned the full time philosophy. The four loan signings we've had this season (and some of Briggsy's other signings) would not have signed for Celtic had it not been for the full-time aspect. It is that black and white. There are five League clubs who want to get closer to us and send their old mate Briggsy players next season. For all of Keith's history and friendship [with] those people, they would not be sending him one single player if we were part-time".
The
BBC
says that "A new competition for B teams of Premier League and Championship clubs will be considered by the Football Association on Wednesday. One proposal is for these second teams to play in a league sandwiched between League Two and the Conference. Another option is to merge the B teams with League Two and the Conference to form two regional leagues.
The plans are part of FA chairman Greg Dyke's commission looking at ways to improve the national team's fortunes. [FA England's Commission comprises Danny Mills, Dario Gradi, Glenn Hoddle, Greg Clarke (Football League chairman), Greg Dyke (FA chairman), Howard Wilkinson, Rio Ferdinand, Ritchie Humphreys (PFA chairman), Roger Burden (FA vice-chairman) and Roy Hodgson].
It is understood the Premier League and Football League clubs are broadly in favour of a new competition... but they have deep reservations about how it might fit into the pyramid and the knock-on effects to other leagues and competitions. The Premier League would favour a beefed up academy league for players under the age of 23, modelled on the United States' college football system.
One question is whether current League Two clubs would be relegated into the Conference or the new B team league. The other difficult issue is how far B teams could be promoted.
Alan Algar, sponsorship manager for Conference sponsors Skrill, told BBC Radio 5 Live he had deep reservations about the idea. 'I think it's a disgraceful proposal because it makes it very difficult for non-league clubs to feel part of the football pyramid', he said... 'To insert a number of teams that aren't competitive and won't have a fan base just makes it very difficult'".
---
6 May 2014
Brian Flynn has an excellent interview on Alty TV with Damian Reeves (right). And Brian also advises us that "Lee Sinnott was interviewed by Caroline Barker of The Non-League Football Show on Saturday evening. You can listen to the interview here. It is a one hour programme with the interview being part of a Play-Offs feature at 45 minutes 51 seconds" into the programme.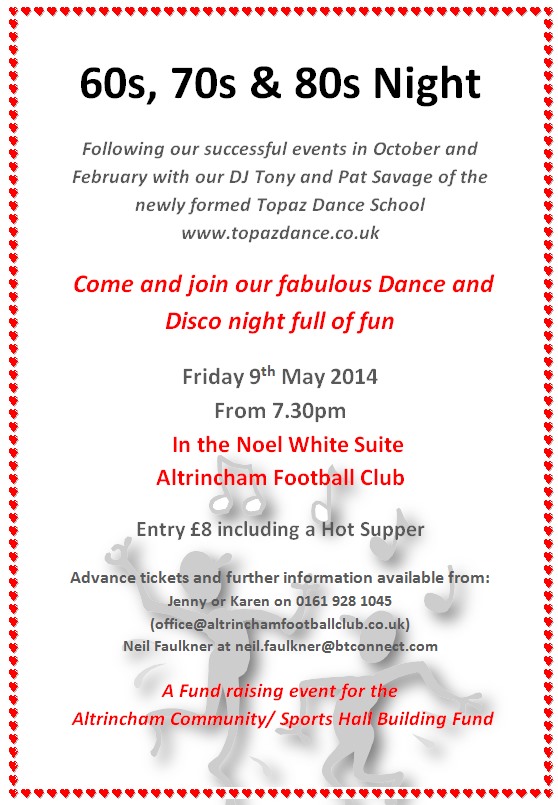 Neil Faulkner writes that "We are having another great Disco Night at the Club on Friday, 9th May. Please support this if you can. It will be the third great fund raiser for the Community Hall, with over £1,300 raised from the first two events. I want to push this over the £2,000 mark for the three events.
We are also looking for a few raffle prizes, if anybody could kindly donate something. I would love to see more Alty fans and their partners at this night. This is particularly aimed at the poor, long-suffering partners of our great fans as this is a Strictly no Football event, with no auctions, and will be a night of dance and fun. Once again, the evening will be hosted by Pat and Tony Savage of the Topaz Dance School and there will be fantastic music from the 60s to the 80s and you can learn a few new dance moves as well!"
On Saturday, 17, May 2014 there will be match at the J. Davidson Stadium in memory of former Altrincham FC catering manager Keith Davey, who also carried out numerous other voluntary roles at the Club. Involved in the game will be a team of ex Altrincham players and fans, with the aim to raise money for a lasting memorial to Keith.
The ex-players will play a southern-based team of Altrincham supporters. Supporters' places in the teams are available on a first come first served basis and a contribution will be asked for, to go in the fundraising pot.
If you would like the chance to play please email the organizer Gareth Davies. The kick-off time will be confirmed to fit in with the FA Cup Final kick-off time. As Gareth says, "Why not come down and make a day of it and share your memories of Keith and the club with everyone".
The players and ex-players who have already agreed to take part include Stuart Coburn, Steve Aspinall, Gary Scott, Peter Band, Chris Adams, Shaun Constable, Dave Cockram, Gareth Whalley, Neil Tolson and Rod Thornley. Others who may be involved include Paul Showler and Nicky Daws".
Sunday's win by Alty Youth over Witton Albion is the subject of a
match report
.
Guiseley
report that "As a thank you to our fans for their loyal support this season, and so that as many of you as possible can attend the game, the club is providing free coach transport to next Saturday's Skrill North Promotion Final at Altrincham.
This has been very generously underwritten by Steve Parkin, one of our directors.
On the field, "Danny Hall is expecting a different test against Altrincham in the Skrill North Promotion Final to the one Guiseley negotiated against North Ferriby United in the semi-final...
The partnership between Hall and Danny Ellis at the heart of defence proved crucial as the Lions shut Ferriby out for a third game this season. Hall expects more of a footballing test from Lee Sinnott's Altrincham, with the former Alty defender predicting an entertaining encounter.
'We said before the play-offs that three clean sheets was the target to give us a great chance and we are now two thirds of the way there', he told Tom Feaheny. 'In the final, if we get another clean sheet, I think we have the players that can nick us a goal'...
On the subject of his former club, Hall predicted that the number of familiar faces on both sides would make for a good final. 'They're a very good team and they play football the right way. They are different from North Ferriby who played it more direct', he added. 'Altrincham will keep the ball on the ground and hopefully it will be a more entertaining game. Obviously there are a few strong ties between the two clubs, with the amount of players who have played for the other side, so it will be a good final'".
We learn from the
Boston Standard
that "Dennis Greene has agreed deals to keep the majority of his Boston United squad at York Street, although question marks remain over the future of Jay Dowie.
With centre back Carl Piergianni already signing a two-year deal, Greene told The Standard that he fully expects fellow defenders Scott Garner, Stefan Galinski, Conor Marshall, Zak Mills and Rene Steer to remain at York Street. The signing of Garner, who spent the season on loan from Cambridge United, will be seen as a particular coup.
Midfielder Jamie McGhee is also expected to remain at York Street, while striker Marc Newsham has also pledged his future to the club. Greene says talks have also gone well with 28-goal striker Ricky Miller... Greene explained, 'I want Jay to come back but he's currently going down the agent route. It seems he may have one or two trials in the summer to see if he can get in at a pro club, but we'll keep talking to him'.
Spencer Weir-Daley and Ian Ross have announced they are to leave the club with Ben Milnes and Ben Fairclough also likely to move on, despite being offered the chance to link up for pre-season training."
The Hull Daily Mail tells us that "North Ferriby United boss Billy Heath says his side has everything to build on following their exit from the Skrill North Conference promotion race...
'The planning for next season begins next week. I'll sit down with Les (Hare, Ferriby chairman) and we'll put a plan together', Heath told the Mail. 'We'll see who's staying and who's not staying. We'd never have thought we'd get to the play-offs. It took us God knows how many years to get to this level. You look at a big team like Alfreton, they have had nine seasons in this league and we've had a great punt at it. A little more luck and it could have gone our way...
I said before the end of the game to be patient, because we knew the first goal was massive. It'd be game on or the game would be finished', admitted Heath... 'I'm not really sure how we lost the game because we had the most chances... We've run out of steam in the last month but simply down to injuries, nothing else. Out of the boys that started the game, only four were 100 per cent fit... I said to the boys if it is our last game make sure we give everything we've got, and they did'".
According to the Yorkshire Evening Post, "Guiseley are through to the Skrill North play-off final against Altrincham after defeating North Ferriby United, 3-0 on aggregate...
Guiseley manager Mark Bower was delighted to see his side make the play-off final, saying, 'The last time we were leaving this ground, we were just outside the relegation zone so the journey we have gone on since then has been great and all the credit goes to the players'... Guiseley: Dickinson, Holdsworth, Parker, Hall, Ellis, Lawlor, Brooksby (Meynell 85), Boshell (Potts 82), Boyes, O Johnson (A Johnson 55), Rothery. Subs not used: Drench and Holsgrove".
NL Pitchero
confirms that "Lowestoft Town will be playing in the Football Conference for the first time in its history after a comprehensive 3-0 win against AFC Hornchurch in Bank Holiday Monday`s Ryman League Premier Division play-off final at Crown Meadow.
The Trawlerboys were looking to put previous play-off misery behind them, having lost in in the last three seasons... [At 3-0 down] Hornchurch rarely looked like threatening a comeback... Although it was an outcome few of the current Conference South clubs would have preferred, given Lowestoft`s geographical location, they are a well-run outfit who possess a good fan base".
According to Bulls'News "Chester manager Steve Burr has signed a new two-year deal with the club after talks with Directors. The former Kidderminster boss will do the role on a full time basis, but the club are yet to confirm whether the playing staff will switch from part time also."
Also, "Telford boss Liam Watson hopes to sign Southport defender Steve Akrigg. The 27 year old spent several years at the Sandgrounders under Watson, who is also on the verge of signing a winger and central defender."
Meanwhile our Cheshire neighbours "Macclesfield are waiting on investment talks before they can begin planning for next season. The Silkmen have limped through the current season financially thanks to their FA Cup run, with Director Andy Scott telling their official site, 'It's no secret that last summer we were on the brink of the Football Club ceasing to exist. We simply didn't know if we were going to make it to Christmas, let alone to the end of the season... The whole plan was to stay in the Football Conference and give us an opportunity to build for the future'".
The BBC reports that "Martin Foyle is the new manager of Southport... Foyle, who left financially-troubled Hereford in March, also had spells in charge of Port Vale and York City".
---
5 May 2014
Mark Bennett's excellent highlights of the Altrincham v Hednesford Town game are now available (right).
This website's match report is here.
Brian Flynn describes the Radio Robins commentary from last Saturday's win over as "Outrageous in parts!". You can hear the commentary again, here. Brian adds, "I am still in shock, 24 hours on!"
A full guide to the arrangements for next Saturday's Altrincham v Guiseley Play-Off Final will be published here in the next couple of days, once finalised with the Club. The intention is to open the turnstiles at 1.30pm.
In the meantime, those travelling to the game from the Manchester direction by public transport should be aware that the Metrolink tram service will not operate on Saturday beyond Timperley (two stops north of Altrincham) because of engineering works. Replacement buses will operate. For details see the Metrolink site.
Ian Senior of SKkits writes that "For next week's Play-Off Final against Guiseley, we are offering a
red
t-shirt, in all sizes, priced at just £5. It be available from the club on Friday, or on entry to the ground on Saturday. Images will be available from Tuesday.
In advance of Saturday's matcch, courtesy of Mike Garnett, we have "Altrincham v Guiseley – the full record".
9th August 1986 PSF: Guiseley 0 Altrincham 0
10th February 1996 FA Trophy 2: Guiseley 4 Altrincham 0
8th November 1997 ULP: Guiseley 2 Altrincham 2
24th January 1998 ULP: Altrincham 2 Guiseley 0
2nd January 1999 ULP: Altrincham 1 Guiseley 0
1st May 1999 ULP: Guiseley 2 Altrincham 0
12th October 2002 FA Cup 3Q: Guiseley 2 Altrincham 1
29th August 2011 BSBN: Altrincham 2 Guiseley 2
9th April 2012 BSBN: Guiseley 3 Altrincham 2
30th October 2012 BSBN: Altrincham 1 Guiseley 3
11th April 2013 BSBN: Guiseley 1 Altrincham 1
5th October 2013 SN: Altrincham 4 Guiseley 1
21st December 2013 SN: Guiseley 2 Altrincham 2
Overall: Played 13, Alty win 3, Guiseley win 5, Drawn 5, Goals: Alty 18 Guiseley 22.
Key: ULP – Unibond League Premier Division, BSBN – Blue Square Bet North, SN – Skrill North, PSF – Pre-Season Friendly
In Sunday's Non-League Paper, Lee Sinnott told Dave Stringer that after falling behind aginst Hednesford Town on Saturday, "The players could see the door swinging open to show them the exit but they slammed it shut. They showed character and proved that we have made progress over the season. We would not have come back from that goal last year...
There was tension in the air and that affected the performances. I'm just glad that we scored to give our fans something to shout about".
His counterpart, Pitmen boss Rob Smith was gracious in defeat. "The players are obviously upset but I am immensely proud of them... I never thought we were safe because we seem to let in sloppy goals. But Altrincham deserved to win over the two legs. They were the better side at our place".
Elsewhere, Hednesford Town report that "Town's Conference promotion dreams came crashing down on a sunny day in Cheshire as, despite taking a heroic 1-0 lead with just ten minutes to go, The Pitmen were hit with two goals in a minute from their hosts Altrincham to leave Hednesford boss Rob Smith, the players and the supporters devastated after the final whistle.
It's the hope that kills you and, on a dramatic day at Moss Lane, a superb move by substitute Robbie Thompson-Brown and Darren Campion set up Tom Thorley to nod in at the back post to send the Hednesford travelling throngs wild and give them the dream of a home Play-Off final against Guiseley next Saturday.
Unfortunately, Altrincham showed real desire in their quest for an equaliser and two quality crosses with some tired defending proved the undoing for The Pitmen but boss Rob Smith could only talk of the immense pride he had in his team for their performance.
'We didn't leave anything in the dressing room, we gave everything we had and I'm just gutted for the lads. The end was so deflating with what's happened to us this year; we've been kicked so many times with Durrell leaving, Taylor's diagnosis of cancer and Osborne's injury at the end. We just needed to hang on a couple of minutes more but I've never been as proud of a dressing room in my whole career.'
Captain Darren Campion, such a bastion of commitment and leadership throughout this season, echoed his manager's sentiments in equally deflated fashion. 'The spirit in the team was great today; we frustrated Altrincham for an hour, started playing our football, scored our goal but couldn't hang on. The gaffer gave a nice talk to us in the dressing room after the game about how proud he was of us. No one would have thought we would have been at this level at the start of the season, there was no pressure on us but it was a real sucker punch towards the end.'
With the game level on aggregate at 2-2 after Wednesday's first leg The Pitmen clearly went with a game plan to frustrate a usually fluid Altrincham passing style and, thanks largely to the fine defensive performance of Ben Bailey and Paul McCone alongside the other nine players on the pitch, it worked very well".
Altrincham FC Youth beat Witton Albion 2-1 on Sunday. Match report to follow.
In the other semi-final, the
Telegraph & Argus
says that Guiseley's "Lions roared into the Conference North play-off final with yet another victory over North Ferriby United... Mark Bower's men did the double over them on their way to sneaking into the play-offs by bagging fifth place and they won home and away in the end-of-season extras to book their place in Saturday's play-off final against Lee Sinnott's Altrincham.
The Lions had a two-goal cushion from the first leg and it was just as well as the second clash was a tight affair... There was more defending needed from the Lions after the break and Steve Dickinson, who was again inbetween the sticks with supporters' player of the season Steve Drench still suffering from illness, had to be on top form.
Brooksby hit the winning goal against his former club with a superb strike from outside the area. Dickinson was tested time after time. Wilson, Nathan Jarman and Danny Emerton were all thwarted.
Bower said, 'Six months ago if anyone had said we would be back here beating them for the fourth time this season to reach the play-off final I would have said they were crazy. We had to defend well but we stuck to our game-plan and when our chance came Wayne took it magnificently. I think that goal was the final nail in their coffin. It will be a fantastic final at Altrincham, with connections both ways in the squads. We will be going there as underdogs but we are looking forward to it'".
---
4 May 2014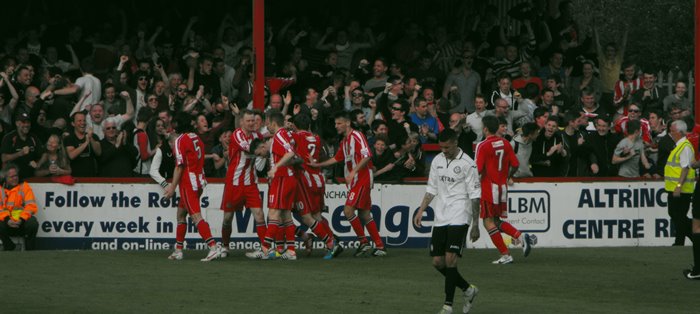 Above: Damian Reeves is mobbed by his team-mates in front of a packed Popular Side, after scoring Alty's equalizer.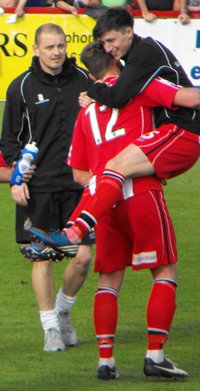 With the league's two highest-scoring teams locked at 0-0 and with extra-time looming, a crazy seven minutes saw the Pitmen take the lead through Tom Thorley's 78th minute header, before two goals in little more than a minute, from Damian Reeves and James Lawrie, transformed the outcome.
Altrincham now entertain Guiseley in the Play-Off Final next Saturday, after the Lions defeated North Ferriby United 1-0, to win 3-0 on aggregate.
Match report here.
Right: Tom Marshall hoists Greg Wilkinson aloft at the end of the play-off game against Hednesford, as Neil Tolson looks on.
Alty TV has a "sneak preview" of James Lawrie's winning goal on Saturday.
There were, apparently, 362 Hednesford supporters in the away end yesterday and several dozen more in the main stand, all of whom gave their team excellent support which helped create a lively atmosphere during the game.
Altrincham were the only home (i.e. higher-placed) team to win through in yesterday's Skrill play-offs. The results in the North were...
Altrincham (2) 2 Hednesford Town (2) 1. Aggregate: 4-3
North Ferriby United (0) 0 Guiseley (2) 1. Aggregate: 0-3
In the South play-offs, the scores were
Bromley (1) 1 Ebbsfleet United (4) 0. Aggregate: 1-4
Sutton United (1) 0 Dover Athletic (1) 3. Aggregate: 1-4
According to the Football Conference, "The Skrill North Play-Off Final will [be] between the teams finishing third and fifth respectively in the regular season...
North Ferriby's marvellous first season at Conference level ultimately ended in disappointment with defeat to Guiseley... Billy Heath`s side, chasing a two-goal deficit, came out of the blocks quickly and had several first half opportunities without managing to really test the Lions` stand-in keeper Steve Dickinson...
Ironically, it was former Ferriby player Wayne Brooksby who broke the deadlock in this tie on the hour mark...
The second leg between Altrincham and Hednesford at Moss Lane saw a terrific crowd of 1,974 enjoy a late burst of goals that eventually led to the home side taking their place in next week`s final... With 10 minutes to go and the sides still 0-0 and 2-2 on aggregate, extra-time lookd on the cards – until the Pitmen broke the deadlock in the game and the tie.
Alex Melbourne did well before finding Tom Thorley, who headed past Stuart Coburn from close range. But 5 minutes later Alty pulled back on level terms and it was top scorer Damien Reeves who managed to get on the end of a James Walshaw cross to beat Dan Crane.
And just 2 minutes later came the winner in the tie when another cross was headed back into the mix by Reeves for James Lawrie to fire past Crane via a little deflection.
So it will be Altrincham who host Guiseley in the Play-Off Final next Saturday."
The gate at NFU v Guiseley was 924. A defiant North Ferriby United reported that "Ferriby were obviously disappointed with the result and the aggregate score that ended their promotion hopes. Over both games they had far more goal-scoring chances but could not make them count. Guiseley took most of the few opportunities that they had to make it four wins out of four over Ferriby this season.
Ferriby manager Billy Heath commented 'I am really proud of my players. We had only four fully fit players in the starting line-up today but the whole team gave their all. I couldn't have asked for more. Credit to Guiseley for winning the tie. They had a game plan and kept to it'...
At training on Thursday there were only five players fit enough to train with the ball. The side's horrendous run of injuries has taken its' toll in the final six weeks of the season. Players have not had the opportunity to recuperate as much as they would like and this has sometimes been reflected in team performances. The strength of character to play and performance in these circumstances is something special...
The second-half was largely the same as the first. Ferriby pressed more and had more opportunities but Gusieley played a very controlled and disciplined game to constantly thwart Ferriby's attacks...
The only goal, and the one that sealed the tie, came after 61 minutes. Nathan Peat misjudged a pass and this allowed Brooksby to take the ball past him before cutting inside to fire a low 2-yard shot just inside Adam Nicklin's left-hand post...
Ferriby will rue their missed opportunities over the two games. Gusieley have proved the old adage that goals win matches. However they will take pride in a successful first season at this level. To finish as runners-up in their first season at this level is a tremendous achievement. Add to this the fact that they equalled their best ever FA Cup run and reached the quarter-final of the FA Trophy and it all adds up to a splendid season. There is still the chance to retain the East Riding Senior Cup when they play Bridlington Town on May 13th".
The Hull Daily Mail adds that "Former Villagers' star Wayne Brooksby came back to haunt his former side with a goal on the hour mark... The dazzling footwork of Brooksby was too hot to handle and his powerful shot to the bottom right of the post was too much for Ferriby keeper Adam Nicklin".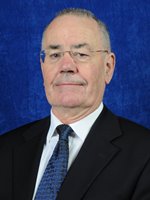 Altrincham Football Club is pleased to announce that Nigel Collins (ex-Solihull Moors Chairman) has agreed to join the Board as an Associate Director. Recently awarded the Football Association medal for fifty years service to the game, his non-League affair with The Game started in 1958 at Alvechurch FC, where he remained for over thirty years holding positions as Secretary and Director. Vice-Chairman and Secretary at Moor Green FC from 1993, following the merger with Solihull Moors he did a six-year stint as Chairman. Nigel joins the Altrincham Board with vast experience, having been on the Football Conference Board since 2010, representing the northern division. We all wish him well in his new position
Barry Pikesley published his entertaining review of the season (so far) in the "Robins' Review" and it is reproduced
here
.
Ashton United's former Alty striker, Dale Johnson, suffered a suspected broken leg in the EvoStik Premier play-off semi-final in midweek. His side went on to lose the final to AFC Fylde 4-3 on penalties after a 1-1 draw on Saturday.
In the EvoStik First Division North Promotion Final the score was Bamber Bridge 2 Ramsbottom United 3. In the South division, the final ended Belper Town 1 Mickleover Sports 0, whilst the Peter Swales Challenge Shield Final ended Halesowen Town 3 Curzon Ashton 1.
---
3 May 2014
Before today's game against Hednesford Town, Alty boss Lee Sinnott (right) told the
Manchester Evening News
, "This tie is on a knife edge. The players did magnificently to get a decent result [in the first leg] and we've set ourselves up well for what will be a good game at home. It will be an open game. Last time out, it lived up to its billing.
The intention was there, in the first leg, to go and win the game. It was a great advert for the Conference North. When you play the first leg, away from home, you don't want to lose, first of all, and we managed that.
I will be a happy man if we create the same sort of chances we did in the first leg and, if we can take some of those, then great. We will speak about a few things before the game but we want to play our way and, hopefully, we can get through to the final'".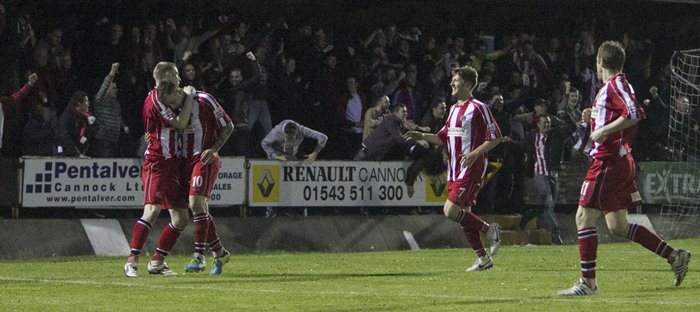 Above: Alty official photographer, Gavin Rathbone, captures the celebrations as Damian Reeves congratulates James Walshaw after his equalizer at Hednesford, last Wednesday. Gavin has more images from the game, here.
Brian Flynn advises us that "Radio Robins, sponsored by Ashley Mowers Garden Machinery, is providing full live commentary of Saturday's Skrill North Play Off Semi-Final at the J.Davidson Stadium against Hednesford Town.
The match commentary sponsor is SKkits, a major independent sports brand in the North West, supplying Altrincham and a further eight leading semi-pro clubs including Buxton, Kendal Town and Lancaster City.
SKkits is a well established company, owned and run by Ian Senior, with a reputation for supplying high class products at unbelievably low prices to sports clubs the length and breadth of the UK. Due to their unique relationship with their suppliers, they guarantee that they will not be beaten on price and service. All products are delivered within 14 days of order FREE OF CHARGE in mainland UK.
Have a look at their website or call Ian Senior directly on 07960 137232
Match coverage starts at 2.50pm with the game kicking off at 3.00pm. You can listen to Radio Robins on the internet at www.radiorobins.com. The commentary team is Ian Wilkinson and Brian Flynn, with match summaries from Ryan Daly.
Leah & Simon Brotherton will be providing regular updates on Twitter (@altrinchamfc) as well as half-time & full time updates on facebook (Altrincham FC).
As usual, this website will also be providing its live matchday updates through every minute of the game, starting with the line-ups around 2.30pm or as soon as they are available.

.
Information about Saturday's matchday arrangements at the J. Davidson Stadium is
here
.
It is planned to open the turnstiles from 1.30pm.
Altrincham FC supporters are reminded that play-off matches, such as this, are NOT covered by season tickets; all entry is via payment at the turnstiles..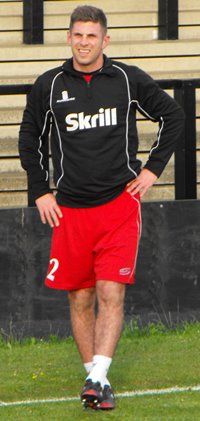 At recent Altrincham games it has been good to see Mike Williams warming up, as at Hednesford, last Wednesday (right). Mike played just five league games this season before he suffered a cruciate ligament injury but he is now well on the road to full fitness.
First-leg scores are shown, below, in brackets.
Altrincham (2) v Hednesford Town (2)
North Ferriby United (0) v Guiseley (2)
Hednesford Town
say that "Moss Lane will be a cauldron of noise on Saturday afternoon as hundreds of Hednesford Town supporters make the short journey up the M6 with the comments of their manager Rob Smith calling on them to ramp up the atmosphere even more.
'I know Lee Sinnott has asked his fans to make some real noise but I know our supporters will travel in large numbers and we need them to be as vocal as ever. It will be an amazing atmosphere and I want them to sing from the first moment to the last.'
After Danny Glover's wonder goal in the second half gave Hednesford a short-lived lead, Smith has talked of his frustration that his players weren't able to see the game out but admits that Altrincham's positive tactics worked very well.
'We knew before the game that there was not a great deal between the sides and nothing has changed. Both teams are still in the tie and it will all come down to how we both perform tomorrow. What I will say is that I have total respect for Altrincham as a club and team, the way they came to our place and had a real go made for a great game and I'm sure tomorrow will be no different.'
With what is, in essence, now a one-off cup-tie, due to the no away-goals rule, the next 90 minutes Hednesford play in could be seen as the most pivotal in many years as Smith and his squad of very committed players, short of Wayne Riley due to suspension, aim to book a place in the final next Saturday and keep their fans dreaming, amazingly, of a place back in the Skrill Conference Premier for the first time since 2001."
Altrincham FC thanks all of the supporters who have sponsored players' shirts this season. These will be available at tomorrow's match from either Karen Rowley (who will be near the Main Stand turnstiles before the game) or Sarah Jones, who will be at the Golf Road End turnstiles.
Meanwhile, you can order your 2014-15 replica kits at the Robins' Club shop or by ringing the club on 0161 928-1045. Don't forget that there is an offer of free shorts for every order of the new away kit.
There will be a presentation before tomorrow's match at which the Altrincham FC Community Sports Hall project will receive a cheque comprsing the Club's share of the proceeds from the FA Community Shield fund.
At half-time, the Altrincham FC Youth, Ladies and Under-17s' sides will be on the pitch to be applauded for their achievements this season. The Youth team is fighting for a runner-up position in the Premier League of the NW Youth Alliance; the Ladies reached the final of the Cheshire Women's & Youth League Challenge Cup and are riding high in the league, whilst the Uner-17s recently won the NWYA President's Cup, a competition which is played in honour of former Alty Youth coach, Neil Thomason.
Hednesford Town
have highlights of the first leg of the Play-Off semi-finals.
Champions
AFC Telford United
"have raised manager Liam Watson's playing budget for next season's Skrill Premier campaign. The Bucks' boss revealed he has been handed a higher, but undisclosed, figure to the one he worked with during his first year at the helm...
He told the Shropshire Star, 'I had a really good meeting with the board, so it's all systems go. We talked over budgets, transfer targets, the current squad, pre-season and everything else. We bottomed out a lot of stuff, so it's all positive. I have got the budget, so I know where I am up to and I can kick on in trying to bring a few new players to the club.
I am happy with the figure given, they have upped it, which is important as we are going up a league, but they are fully aware of that. It's good for the club and for me. We just have to make it work now, we only needed a little bit more'".
Meanwhile, the Hull Daily Mail tells us that "North Ferriby United manager Billy Heath believes his side are still in with a chance of reaching the Conference North play-off final despite losing the semi-final first leg 2-0 to Guiseley...
The Villagers weren't at their best at Nethermoor, but in front of a packed Eon Visual Media Stadium, Heath says his side can turn things around on Saturday..
'It's a precarious scoreline but we have to regroup and see what players we have for Saturday. The next goal is the key. It's like we are 2-0 down at half-time. It could have been 3-0 but, there again, we missed a free header in their box from a corner. We did not really have a clear-cut chance all game and there were opportunities in their box where we should have done better.
We have to show what we are about, like we have done all season, and defy people again. We'll stick together and have a right go on Saturday, hopefully in front of a big crowd. It's Guiseley's to win now'.
If Ferriby are to win, they might have to do it without a couple more players but Gregg Anderson was named on the bench after recovering from shoulder surgery quicker than expected... 'Liam King and Ryan Kendall picked up knocks so we'll see how they are', Heath said. 'We might have to play players that haven't played much all season. We are down to the bare bones and beyond. We had Gregg on the bench but he's not kicked a ball in three months. It will be a big ask for him to play on Saturday, but we'll see what we've got'".
And North Ferriby United "are expecting a large crowd at the Eon Visual Media Stadium to urge them on to overcome Guiseley's two goal lead... Ferriby believe that they have the character and ability to reach the play-off final. The two goal margin was harsh on Ferriby following Wednesday's game. The Villagers created more scoring opportunities and had Guiseley defending desperately at times.
Ferriby played the more attractive football in a game of contrasting styles in which Guiseley played a largely long-ball game. The Villagers' defence generally handled this well and Guiseley had few opportunities. Saturday's game will certainly continue this difference in styles.
Ferriby certainly showed on Wednesday that they are more than capable of getting behind Guiseley's defence and creating scoring chances. Luck was not really with Ferriby on Wednesday but an early goal will throw the tie wide open...
It is a credit to the spirit and character of Ferriby's players that they are still in this tie. Billy Heath's squad has been decimated with injuries throughout the season. The fact that Ferriby have a fairly small squad has meant that Heath has been unable to rest and rotate players. In recent weeks he has found it hard on occasion to field 11 players who are fully fit. Such is the players' determination that they are keen and determined to play in every game even whilst carrying injuries.
We are hoping that there will be a large crowd to cheer the players on. They have been magnificent this season. They have worked hard and played good football. They will certainly be giving their all on Saturday.
Against Guiseley, Heath will definitely be without Jon D'Laryea and Jamie Yates due to injuries. At Guiseley, Gregg Anderson was recalled to the bench following his recent lengthy shoulder injury. Danny Clarke and Ryan Kendall are doubtful through illness and injury respectively. Danny Hone is suspended".
The Yorkshire Evening Post adds that "Mark Bower insists that parking the bus just isn't an option for his Guiseley side ahead of tomorrow's Skrill North play-off semi-final second leg... The Lions head east mindful that one half of the job has been successfully negotiated... with the impressive front duo of Adam Boyes and Oli Johnson netting a goal apiece...
The savvy young manager is mindful tomorrow could be a different proposition... Bower said, 'If we get an early goal there, it will really put the tie in our favour while, if they score early on, it can change the tie... We go to win the game, but keep that defensive shape we had. At half-time in a game, you would not shut up shop and certainly won't be doing that at Ferriby.
We have shown that, by playing two up top, we can cause problems in behind them. We won't be going to defend, but to take the game to them.. It's only half a job done.. We again have a few bumps and bruises and one or two lads with illnesses they have been carrying for a week or so'...
Bower will monitor the fitness of influential defender Danny Ellis, in the wars after picking up several knocks... Steven Drench will also be assessed after Steve Dickinson deputised for him in admirable fashion at Nethermoor after he missed out through illness.
On Ellis, Bower said, 'They must do something bad to get him off the pitch! But, hopefully, he will get himself iced up and be ready to go again. Especially with the way Ferriby play, who put balls into the box'.
Bower's counterpart Billy Heath echoed his thoughts that the tie is still up in the air, although his primary concern is team selection with his options becoming more limited by the game at the end of an exhaustive season. The ex-Frickley Athletic boss said... 'We picked up some more knocks with Liam King having an ankle problem and Ryan Kendall having an "egg" on the side of his foot. Danny Clarke was also in a rare old state with flu. But we were that short of numbers'".
According to the NW Evening Mail, "Paul Casson insists he is not surprised that he will have to cough up around £400,000 to bring Holker Street up to scratch over the next five years. Casson, who is Barrow AFC's owner-in-waiting after his £600,000 buy-out deal was approved by club members, intends to act upon all of the recommendations made by chartered surveyors Actua, who carried out a full review of the ground.
His top priority is to replace Holker Street's four faltering floodlights over health and safety concerns. Resolving the pressing floodlight issue represents the most expensive of the 30 listed identified repair works required over the next five years. The estimated total cost of all the work is £382,300.
Three of the four floodlights structures are in a 'very poor state of repair', according to the report, and Casson will not take any chances over fan safety next season and so he wants to get the replacement work contracted out over the next month.
The cost of replacing the floodlights is likely to be in excess of £100,000... Casson said, 'The size of the task wasn't totally unexpected... If there was an accident or, if anything happened, then I would feel completely culpable. It's made us have to accelerate our plans for the whole ground because you don't want to put a set of floodlights in that aren't then going to fit in with the whole development project we have over the next five to 10 years.
So now it has put added pressure on that to a certain extent, because we have to do this so quickly... Ideally, we would have taken the next 18 months'... The [floodlight] structures are suffering from heavy corrosion and, in some instances, steel sections have failed...
Casson believes he will have to spend a minimum of £200,000 on ground improvements in the first year after taking control of the club, a hefty sum that will be taken out of the 'up to £600,000' he has put aside to invest over the first 12 months... Cash is also set to be spent on specific developments... Such developments in the pipeline include constructing a roof on the Holker Street End over the next two years, upgrading toilet facilities and renovating parts of the Crossbar building...
The report states that the ground is 'generally in a poor condition'... 'Fortunately, it looks like the basic structure of the ground, which was built over 100 years ago, looks like it is in pretty good condition', said Casson. 'And so one of the biggest things was the plan to put a roof on the Holker Street end, and it looks like we can start to plan for that'...
Casson will call upon the club's loyal band of volunteers to aid him in his ground mission, tapping into the efforts and skills of the Asset Management Maintenance Team... He added, 'I hope they will have major involvement... They can help the club to save money, and that money can be spent on other things to the benefit of the club'".
Meanwhile, "chairman Brian Keen has welcomed the massive support Paul Casson's proposed buy-out tie-up received from club members in a postal vote. Yesterday it was announced that 90.49 per cent of Barrow's total membership backed the takeover...
Keen said, 'The club's not split. The members have taken the vote together, this is how it's come out... If it had been a very close vote... you would have had some supporting him and some against him. "You haven't got that now, you've a got a positive number of fans who have gone with this – you've got your 90 per cent in favour and that should give you confidence that you have got the fans behind you'.
Keen declined to reveal which way he voted but reiterated that the outgoing board could not financially compete with what Casson offered, including a commitment to invest up to £1.2m over the next two years after purchasing AFC for £600,000. 'I think it is the best for the club in terms of cash flow and all that goes with that', added Keen. 'I think I've left them with a cracking manager in Darren Edmondson. I'm going away and the club is in pretty good shape. You've got a guy who has come along, who's ambitious and if he fulfils what he's promised, then that can only be good for the club, can't it?'
But Keen is rightly proud of the massive contribution he has made to Barrow AFC, after all, he was at the forefront of saving the club when it fell into liquidation, before serving on the board for a long spell lasting more than 15 years... He said, 'You've got to look at the club when I took it on. The best thing I did, achieved and was proud to have done, along with Alan Dunn, was buy Holker Street back. That's been the club's biggest asset...
I'm walking away with my head held high. I just wish this guy and the fans all the best for the future... I'm quite chuffed with what I've achieved with my colleagues. There will be knockers and criticism. But the last words I'm going to say on it is, "I done my best"'".
The
EvoStik League
says that "AFC Fylde are offering to bus any Blackpool fans to their Evo-Stik Northern Premier League Premier Division promotion play-off final with Ashton United for free so they can enjoy a Fylde coast double-header.
The Coasters announced on Friday that they have laid on a double-decker coach that will leave Bloomfield Road's West Stand at 2.15pm, immediately after Blackpool's Championship match with Charlton Athletic, to take fans to Kellamergh Park to back their promotion bid. An AFC Fylde spokesman said, 'This is a great opportunity for any supporters of Blackpool FC wanting to come along and support their local Non-League side in their quest for promotion to the Conference North'".
---
2 May 2014
For Saturday's Play-Off semi-final second leg at the J. Davidson Stadium (3pm), please arrive early as there will be a good attendance.
It is planned to open the turnstiles from 1.30pm
. Altrincham FC looks forward to welcoming visitors from Hednesford and aims to reciprocate the good reception that Alty supporters received at Keys Park on Wednesday evening.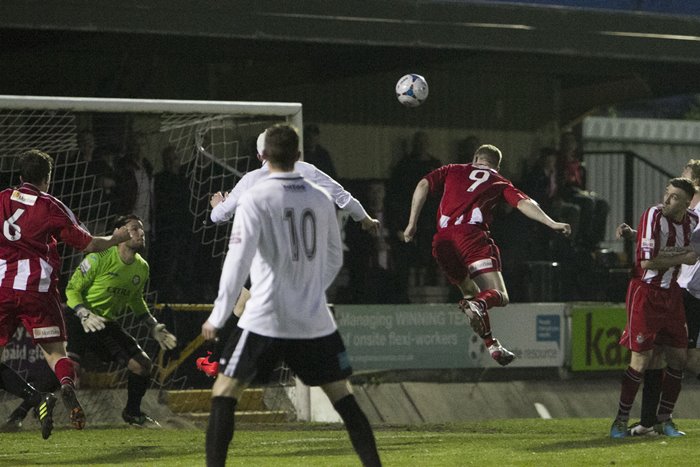 Above: James Walshaw heads Altrincham's equalizer at Hednesford on Wednesday night. The image is kindly reproduced, courtesy of Gavin Rathbone's GR Photography.
Away fans wishing to stand on the terraces should please enter by the turnstiles (nos. 1-4) at the Carole Nash & Family (Hale) End, which is the furthest part of the ground as you reach the J. Davidson Stadium from Altrincham town centre. Ground details including prices, directions, a plan of the ground and facilities are here. A number of the Pitmen's own stewards will be attendance, as well as the home stewards, to help you enjoy your day.
Away fans wishing to be seated should enter via turnstiles (nos 5 and 6) on Moss Lane. Home fans wishing to stand should use the Golf Road turnstiles. It would be appreciated if supporters could bring the exact money, wherever possible, to speed up access.
There is no spectators' car park at the ground but visitors can either park on the local streets or use the town centre car parks, notably the one at the rear of the Altrincham Interchange, which is both cheap and within 10 minutes walk of the ground.
Alty FC official caterer Richie Bentley adds... "I have organised extra catering provisions for Saturday's big game as we are expecting a strong contingent from Hednesford. Can all our wonderful supporters be advised that a third catering stall will be available by the stewards' area (near Golf Road turnstiles) which will be serving cold drinks, freshly-made sandwiches, crisps, chocolate and snail porridge? Please bring plenty of change in your pockets to buy your mid/pre-game refreshments. By popular demand, burgers will also be available from both ends. Dawn and the team are looking forward to seeing you all on Saturday".
Also, Richie is asking for help on Saturday matchday, when Altrincham entertain Hednesford Town. He says, "I've had a few requests to see if we can do a Bottle Bar as it alleviates queues in the Noel White Suite. If anyone would like to do a few hours selling bottles, etc. please get in touch with me on 07542 193900 or by e-mail, i would be super grateful!".
Altrincham FC supporters are reminded that play-off matches, such as this, are NOT covered by season tickets; all entry is via payment at the turnstiles.
Match report here.
Wednesday night's Radio Robins' commentary files are now available...
Playing their third game of the week, on Thursday night Alty Youth beat Warrington Town 1-0, with a goal from Tom Westall and an assist by Joe Coffey. The team is in action again on Sunday at home to Witton Albion (2pm).
With Ian Senior having won the latest instalment of the Crossbar Challenge for the benefit of the MNDA, 3-2, to lead the contest by an uncatchable four-game margin (24-20), his opponent Neil Tolson will be contributing £100 towards the MNDA charity. Both Ian and Neil are to be applauded for their efforts throughout the season.
Altrincham FC's former captain and a leading figure in the Motor Neurone Disease Assocation's fundraising campaign, Mark Maddox, is expected to be at the J. Davidson Stadium on Saturday for the second leg of the Promotion Play-Off semi-final against Hednesford Town.
Ian Senior of SKkits announces that, throughout May, he will be giving away a free pair of shorts with all sales of Altrincham FC's 2014-15 away kit.
In the other Skrill North play-off on Wednesday night, Guiseley beat North Ferriby United, 2-0.
Guiseley
report that they "travel to North Ferriby on Saturday with a two-goal advantage after goals from Adam Boyes and Oli Johnson capped a superb all-round team performance.
The Lions suffered a setback earlier in the day when Supporters' Player of the Year Steven Drench was hospitalised but, with the ever-reliable Steve Dickinson resuming goalkeeping duties for the second time in three games, the defence looked as solid as ever.
Visitors North Ferriby were making their first appearance in the Conference North Play-Offs whilst Guiseley were making their fourth consecutive appearance and the experience showed as, after a quiet opening quarter of an hour, the Lions gradually took control of the game...
When Mark Gray and Nicklin showed hesitancy just inside the box the big striker [Boyes] nipped in to slot the ball home for the opener on 37 minutes.
Dickinson pulled off a good stop at the foot of the post from Nathan Jarman's free-kick and Russell Fry shot over from a good position shortly after as Ferriby exerted some pressure. But they were undone again, four minutes after the restart, by the silky skills of Johnson, who danced past two defenders in the left channel before lifting a delightful ball over Nicklin to double the Lions' advantage...
The Lions could have increased their advantage but for Josh Wilde's timely interception to take the ball off Boyes' foot as he sought to drive home another of Johnson's efforts that had been parried by Nicklin. Despite Ferriby forcing several corners late on the Lions held firm to secure a crucial advantage".
Guiseley add that "Oli Johnson is taking nothing for granted in the Skrill North play-off semi-final against North Ferriby United, having scoring the second goal in Wednesday's 2-0 first-leg win... Despite forming a dangerous partnership with Boyes and the two-goal advantage, Johnson says the tie is far from over...
'It's a good result for us but it is a job half done', he told Tom Feaheny... Johnson played a part in both goals with his flick-on allowing Boyes to race in and score the opener before he tricked his way down the wing and lobbed Adam Nicklin for the second.
He paid tribute to strike partner Boyes, who has been a key fixture in the Lions' strong form of late, and said the pair are confident of building on Guiseley's first-leg advantage. 'Boyesy is really easy to play with, even when he played with AJ you could see that', Johnson continued... 'They (Ferriby) will be on the front foot from the start, trying to overturn the deficit, but we are confident'", he concluded.
Their opponents, North Ferriby United claim that "The scoreline was rather harsh on Ferriby who matched Guiseley in virtually all areas of the game. A competitive and fairly even first-half saw The Villagers go in at half-time a goal behind.
The Villagers actually played the better football and actually managed more goal attempts and won more corners than the home side. Unfortunately, despite the pressure that Ferriby exerted, especially in the second-half, they had little luck in and around the penalty area.
Guiseley's attacking plan was to launch the ball forward for Adam Boyes and Oli Johnson to win in the air and chase, a tactic that led to both of Guiseley's goals... Guiseley's approach plays the percentages in terms of beating the off-side trap. On two occasions players seemed to come back from off-side positions to play the ball..
Ferriby came back in to the game and exerted the greater pressure in the final 20 minutes of the half... However, in the 37th minute, a long ball from keeper Stephen Dickinson was flicked-on by Johnson to Boyes who slid the ball past Nicklin as he came out to narrow the angle... The half-time score was harsh on Ferriby who really did not deserve to be behind...
Another long clearance from the keeper reached Johnson on the left. He outpaced Mark Gray before cutting-in and firing past Nicklin to double Guiseley's lead... Guiseley continued with their long-ball approach..'. To Ferriby's credit, they kept pressing for a goal... Ferriby had the better of the final 15 minutes but did not enjoy the bounce of the ball...
Ferriby manager Billy Heath commented, 'It is obviously a disappointing result and it was also disappointing to concede the goals in the way we did. However, the tie is far from over. We had a number of players carrying injuries and that always makes it hard. We will assess all of them over the next couple of days. We have a difficult task on Saturday but the players have the ability and character to win through'.
NFU: Adam Nicklin, Paul Robson, Josh Wilde, Liam King, Mark Gray, Matt Wilson, Danny Clarke (Dean Lisles 70), Russell Fry, Ryan Kendall (Anthony Wilson 60), Nathan Jarman, Danny Emerton, Subs not used: Gregg Anderson, Antoni Pecora Nathan Peat,
Guiseley: Stephen Dickinson, Andy Holdsworth, Danny Hall, Danny Ellis,Jake Lawlor, Wayne Brooksby, Danny Boshell, Adam Boyes (Kevin Holsgrove 86), Oli Johnson (Michael Potts 76), Gavin Non-playing subs:Rhys Meynell, Ryan Williams, Connor Crossley".
The
Football Conference
reports that "Following a Board of Directors' meeting on Wednesday night, Oxford City have announced that Mike Ford will not be in the first-team manager`s role next season. The Board of Directors wish to sincerely thank Mike Ford for all his hard work and dedication over his eight years at the club".
There is optimism at Barrow where the Club announces the "Result of the members' vote on the proposal from Paul Casson. The deadline for members to vote on the proposal submitted by Paul Casson to purchase the business and assets of Barrow AFC and also to request the transfer of the football registration to a new company owned and controlled by him has now passed.
As the proposal was a Special Resolution it required 75% of the total membership of Barrow AFC Limited to vote in favour for it to be accepted. All the votes received have been counted and verified by Club accountants JL Winder & Co and the results were as follows:
Total members entitled to vote - 494
Votes cast for the proposal - 447 - 90.49% of total members
Votes cast against the proposal 24 - 4.86% of total members
Votes not returned - 23 - 4.65% of total members
Therefore it can be announced that the proposal has been approved by the membership of Barrow AFC Limited. The sale of the football club is however still subject to receiving approval from the Football Association and Football Conference.
The next steps in the process are that Paul Casson will now be required to submit details of his new Limited Company along with various financial and legal documents to the relevant football bodies along with a formal request that the membership of the FA, Football Conference and Lancashire FA be transferred from Barrow AFC Limited to his Ltd Company. Both Barrow AFC Ltd and Paul Casson will also have to complete various other legal/financial matters in respect of the sale of the Holker Street Stadium. At this stage it is not possible to give an exact timescale for when these matters will be completed...
We have seen many highs and lows but we pass the club on to Mr Casson and hope that he can take the club forward. The Directors, Barrow AFC Limited".
---
1 May 2014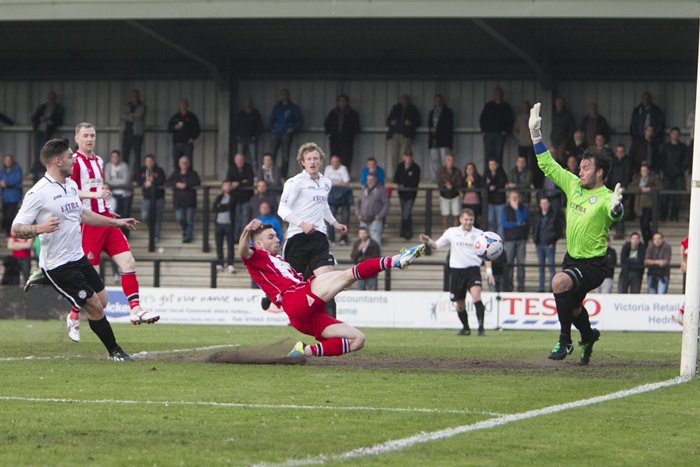 Above: Gavin Rathbone's excellent image of Damian Reeves's goal. More of Gavin's Alty images are on the GR Photography website.
Brian Flynn recorded an interview with Lee Sinnott after the game at Hednesford, which is here.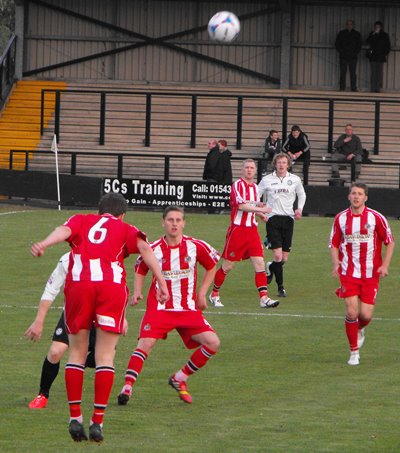 Altrincham had the better of the game...
Match report here.
Right, Scott Leather heads clear at Hednesford.
The other play off result was:
Guiseley 2 North Ferriby United 0 (att 1164)

Whilst play-off teams are hampered in their recruitment by being unsure whcih division they will be in next season, according to the Manchester Evening News, "Stockport boss Alan Lord has revealed that he will begin reshaping his squad this week, giving some players bad news in the process...

The recruitment drive has already started with Ian Ormson, Scott Duxbury and Matthew Todd already agreeing contracts at Edgeley Park. It's perhaps fair to say Ormson's new deal wasn't met with unanimous approval from the County fans but Lord has eyes on bringing in another keeper to provide strong competition for his place.

As for departures, Phil Jevons's exit due to work commitments with Everton was already known, but other players' futures remain up for discussion.

Lord said, 'I might be giving some good news and others not so good news but I'll be honest with every player. If I'm releasing them, then I'll be telling them why... What I want to do is get into the first two or three weeks of May have two, three or four signings on the books and ready to be announced... As I've said before, we do need strength, pace, power and goals. That also includes the other end of the field'".

The Hull Daily Mail reports that "North Ferriby United manager Billy Heath says his players want to use the play-offs to put right the wrongs they suffered against Guiseley in the league this season. The West Yorkshire side are the only side to have beaten Ferriby twice and that isn't sitting well with the Villagers...

Heath admits his players were bitterly disappointed to drop six points against their county rivals and told the Mail, 'Guiseley got out of jail against us in the second game this season. We missed so many good chances that looking back we could have won 5-1 or 6-1. They barely got out of their own half after we conceded a silly goal... They seem to have a bit of a swagger about them when they play us, but we'll be positive as always. We won't be negative just because we are away from home first'.

Heath is waiting on three of his players to prove their fitness ahead of the first leg. Striker Anthony Wilson is a major doubt with a hamstring injury, while Danny Emerton and Danny Clarke are also concerns...

'I can't risk any players tonight', he said. 'I can't select anyone who could break down in the first 20 minutes tonight and be ruled out of Saturday's second leg... I hope the side that starts resembles what our team looked like throughout the season. For big games like this, you want your big players fit.

Guiseley finished the season in fine form with three wins and a draw. Striker Adam Boyes has led the line superbly in the last couple of months with 12 goals in his last 10 games... We will have to be mindful of him, but I think they will be more mindful of our strike-force. We have struggled to keep clean sheets recently but if we can do that in both legs, then I'm sure we can score the goals to get us through to the play-off final'".

From the other side, the Telegraph & Argus says that "Guiseley manager Mark Bower has warned that their league double over North Ferriby will count for nothing... Bower said, 'Anyone thinking that because we beat them twice we are favourites for this is very much mistaken. Ferriby are a very good side with a couple of strikers, who scored a lot of goals over the season... I think the Altrincham against Hednesford ties in the other play-off will also be very closely contested. I can't see any of the four clubs running away with it so the second legs will go right down to the wire.

We face a difficult task but we are on a very good run. We have had just one defeat in 18 games, which is a remarkable achievement, and now that we are in the play-offs we have to believe we can win promotion'.

Bower is sweating on the fitness of his strikers. However, the midfield and defensive units are strong and Ben Parker's return from injury is a bonus. Bower added, 'Adam (Boyes) came off with an injury on Saturday and he is struggling. Alex Johnson and Danny Forrest are also doubtful and, unfortunately, all three are up front. Adam has a chance but he took a kick to the lower abdomen against Gloucester and had to substituted. Because it's in a delicate area we can't be too careful.

AJ is still troubled by his ankle knock and Danny is out with the calf injury from the Colwyn Bay game. But Oli Johnson and Kevin Holsgrove have come into the side and done really well so whoever is fit and available we will have a competitive squad'".

The Shropshire Star says that "AFC Telford United manager Liam Watson today revealed he's close to landing his first summer signings...

He said, 'I am trying to get the ball rolling quickly and I am close to agreeing terms with one or two players, but their contracts don't run out until the first week in May... Even after the season has began, we need to keep finding golden nuggets'...

Chris Lever, Wes Baynes, Neill Byrne, Russell Benjamin, Sean Clancy and Tony Gray will all be staying at the New Bucks Head, as they have a year left on their contracts. Sean Cooke also has terms for another season but is likely to be moved on, finishing the season out on loan at his former club AFC Fylde after a fall-out with Watson.

The Telford chief will also take up the one-year option on top scorer Adam Farrell's deal... The only players to stay on when he arrived as manager last season, goalkeeper Ryan Young and defender Dan Preston, represent a number of out-of-contract players.

Watson said, 'It's vital for a club of our size and stature to do our business early but it was a lot harder last year, when I only had two players. There a core of a squad here now, but I want to strengthen all over the field'".

The Liverpool Echo reports that "John Coleman has left Southport after the club claimed his 'style of touchline behaviour' towards referees and assistants threatened the club's family values. Coleman and assistant manager Jimmy Bell will pursue jobs in the Football League after guiding Southport away from Skrill Conference Premier relegation, finishing 18th and two points above the drop zone.

A statement released by Southport highlights the pair's away record as a 'disaster' and the club were less than impressed with Coleman's touchline antics.

It read, 'John, in the local press, has questioned passionately whether he should be in football due to his stance with referees and assistants. This style of touchline behaviour has found the club in somewhat of a quandary regarding the FA Respect campaign and attracting a family audience. John has kept the Merseyrail Community Stadium a fortress, maintaining Alan Wright's record, but the away form, nine points out of 23 games, has been a disaster and nearly cost Southport their Conference status.

Southport supporters travelling all over the country deserved better while home fans have played a great part in creating a positive home atmosphere for which the club says a sincere thank you... John Coleman has made it clear that at his age of 52 he feels he should be managing in the Football League, and by his short management spell at Southport he has put himself back in the shop window...

Southport Football Club now have to look to the future, longer-term planning to take the club forward as a competitor at the top end of the Conference table, fighting for Football League status'. The club states it 'may require three to four years of building' in order to reach the play-offs...

'John Coleman came into the club last December and navigated the Port to their points target of 30 points, in fact gaining 32, in so doing, dispelling the real threat of relegation feared at the turn of the year. Southport Football Club would like to thank John Coleman and his assistant Jimmy Bell

The Football Conference reports that "Alfreton Town chairman Wayne Bradley has put the club up for sale just days after it ended the 2013/14 season in its highest ever league position...

Should nothing materialise, Bradley insists it will be business as usual but that the club will have to cut its cloth accordingly due to falling attendances. 'We have got to a point where they won't pay £18, they won't pay £15 and affordability is something that is definitely questioned. We have got a support level that is going the wrong way and an income level that is following suit. There have been creaks in the club from the running point of it for around eight years. Trying to get new blood into the football club has been diminishing year on year.

Alfreton on gates on well below a thousand are trying to compete with clubs who have over 3,000 and we have shown it can be done. However, some of our critics have been venomous and eventually it wears you down. I have been told enough times you don't know what you are doing and in the end you end up believing it'".
---
FOR EARLIER NEWS, CLICK HERE
---