BARRY PIKESLEY: Review of the Season (so far)
---
The following article is reproduced from "The Robins' Review" of 3 May 2014.
SHINY, SHINY, SHINY BOOTS OF LEATHER
So, the main section of this season's setlist has been played and we now await the encores. I can only hope that, in terms of duration, quality of performance and ultimate gratification, these will prove to be more akin to Springsteen than Stubblemelt for all those Alty supporters dreaming of glory days.
Well, we wait over 13 years to play Hednesford Town again in a competitive fixture and now we end up facing them four times in the same season. As these notes are being compiled prior to the outcome of the Play-Off Semi-Final First Leg at the Pitmen's Keys Park stadium last Wednesday, I have no idea as to whether the two highest-scoring teams in this season's Skrill North managed to live up to their billing.
Elsewhere in this issue of the Robins' Review, the sagacious Mike Garnett has penned an authoritative chronicle of the previous encounters between the two clubs, which I duly commend to you.
One statistic that I hope no longer exists by the time that this article appears in print is the one which states that the Robins have yet to record a victory at Keys Park. Our four visits to that particular venue to date have yielded two draws and a couple of defeats with six goals being scored and 11 goals being conceded.
My own debut at Keys Park comprised that 2-2 GM Vauxhall Conference stalemate back on Saturday, 9th November 1996. However, it's the harrowing events of the Saturday, 5th February 2000 Nationwide Conference fixture on that ground which still haunt my remaining brain cells.
Bernard Taylor's Alty side arrived in Staffordshire on the back of a 14-match (three wins and 11 draws) unbeaten run in the league, only then to implode to a mortifying 5-0 drubbing. Alas, relegation duly ensued three months later.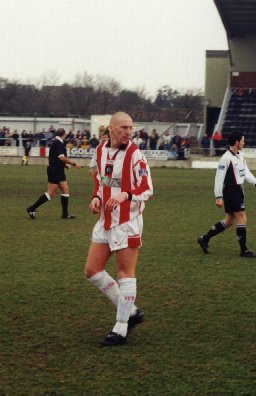 Left: Kevin Ellison in the match at Keys Park, 2000
Apologies for being seemingly trapped in a downbeat theme here but the lone home fixture against the Pitmen which still lingers in my memory (again, for all the wrong reasons) also relates to another relegation season for the Robins.
My abiding recollection from that notorious 1-1 GM Vauxhall Conference draw at Moss Lane back on Tuesday, 25th March 1997 consists of that (in)famous announcement on the PA system by a palpably exasperated Mark Harris which greeted the visitors' heart-rending equaliser in a perplexing amount of time added on by the referee: "And scoring for Hednesford in the (huge emphasis!) 96th minute..."
Anyhow, enough of all that distress, as it's putting me right off my blancmange. Forward to the present day and it's an opportune time to indulge in a highly subjective overview of the Robins' 2013/14 season, which represents the third under the supervision of Lee Sinnott and Neil Tolson.
Purely in statistical terms, our league form this season has finished up looking remarkably similar to that of the 2012/13 campaign. That one concluded with the following record: played: 42; won: 24; drawn: eight; lost: 10; goals scored: 100; goals conceded: 51; total points accumulated: 80 and final position: fourth.
Meanwhile, the 2013/14 Skrill North season has elicited the ensuing data: played: 42; won: 24; drawn: nine; lost: nine; goals scored: 95; goals conceded: 51; aggregate of points amassed: 81 and final position: third.
Plenty of positives to be taken there then - if I may be allowed to lapse into a bout of 'footballmanagerspeak'. Last season's points total has been eclipsed whilst attaining a higher final league placing. We are the highest goalscorers in the Skrill North (by a margin of eight goals) and, together with North Ferriby United, possess the joint-second best defensive record in the league (Brackley Town conceded six fewer goals). In addition, and for the third year in succession, an Alty striker has finished the season as the division's leading goalscorer.
James Walshaw (right) has enjoyed a tremendous debut season with the Robins and, to date, has achieved the impressive tally of 31 goals in all competitions, 28 of which have been scored in the Skrill North (including a run of ten goals in our closing 11 league fixtures), and all that despite only getting 11 minutes on the pitch in those two 'help yourself' encounters with the extremely submissive and magnanimous Stalybridge Celtic!
However, notwithstanding all of the aforementioned laudable aspects, my own take on the season (so far) is one of an underlying sense of frustration at our ultimate failure to muster a sustained title challenge. To my mind, the overall standard of this division has diminished from last season's level; the league was 'there to be won' and the team was capable of accomplishing so much more.
We commenced proceedings with four consecutive victories (our best start since the 1994/95 campaign) and an admirable record of eight wins; two draws and just the single defeat from our opening eleven league fixtures augured well for the months ahead.
However, a meagre return of merely seven points from our next seven league matches, enacted between 26th October 2013 and 21st December 2013 inclusive, rather undermined our prospects of mounting a credible challenge for the automatic promotion spot.
In the final analysis, our disappointing results against the other five teams who occupy the top six positions in the final Skrill North league table have condemned us to being compelled to negotiate the minefield of the play-offs if we want to engineer an overdue reunion with the heinous Macclesfield Town in a league fixture next season.
Our record in those league games played against AFC Telford United; North Ferriby United; Hednesford Town; Guiseley and Boston United respectively reads as follows: played: ten; won: one; drawn: five; lost: four; goals scored 14; goals conceded: 17 and points gleaned: only eight out of a possible total of 30. Moreover, that solitary victory was gained over a Guiseley side who were then at a low ebb and it occurred prior to the resurrection that they would proceed to experience once Danny Boshell had elected to leave the Robins and return to Nethermoor Park in early October.
In terms of playing fluent attacking football, I'd opt for the 4-1 triumph over a Bradford Park Avenue side who arrived at the J Davidson Stadium on the back of four successive clean sheets as Alty's best performance of the season. After the torturous events of last season's Play-Off Semi-Final, I also particularly enjoyed witnessing us inflict on the nouveau riche Brackley Town their first league defeat of the campaign via a disciplined display. Oh, and whilst I readily accept that the opposition were ineffably abject on the day, that 3-0 humiliation of Stockport County here in the third game of the season was still immensely satisfying!
In the category of the Robins' worst displays of the season in league fixtures, my nominees would comprise that pair of dispiriting 2-2 draws at home to poor sides from Histon and Oxford City respectively; the 2-1 home reverse at the hands of Worcester City and the ill-starred combination of woeful defending and some profligate finishing which characterised that extraordinary 5-4 setback at Gainsborough Trinity, which so traumatised one Danny Higginbotham.
Best opponents: AFC Telford United, purely in the sense that they were far too powerful for us and their method of play was simply purpose-built for winning this league. Harrogate Town were the only side to accomplish the league double over us this season and they looked destined for a play-off berth after overwhelming us here last month. Meanwhile, the combative, if somewhat cynical, Boston United achieved the feat of being the only side to prevent us from scoring at the J Davidson Stadium during the 2013/14 season.
At the other end of the scale, Stalybridge Celtic constituted an embarrassment of poverty in our two league meetings with them. Ten-nil on aggregate to the Robins in the space of a week. Marvellous (I've never liked Tameside).
You will probably recollect, all too well, that in the preceding season the Robins were awarded a total of 16 penalties and, bizarrely, four different players collectively contrived to miss 10 of them. Well, by contrast, this season we've only been allotted five spot kicks, however, all of them have been successfully converted by a certain James Walshaw. I sincerely hope that I'm not tempting fate by dredging up that particular salient statistic!
As regards my nominations for Alty's 2013/14 Player of the Year, as disclosed in the previous issue of the Robins Review, it appears that, to paraphrase the great Eric Morecambe's response to Andre Previn (Preview/Privet) at Christmas in 1971, I was picking all the right names - but not necessarily in the right order. Gianluca Havern (left) and James Walshaw respectively were my first and second choices but sincere congratulations to Scott Leather, who went one better than last season's winner Duncan Watmore (whatever happened to him?) by securing a clean sweep of the three major awards which were being bestowed.
Naturally, we must also remember those who have served but who just didn't cut the mustard. This season, we seemed strangely cursed by underperforming wingers. Yes, I'm looking directly at you two here - Joe Mwasile and Brian Smikle.
Alas, the former turned out to be a bit of a damp squib and never looked like emulating his dazzling performance against us for Workington last season. The latter was somehow with us for six months, during which time he managed eight (+ six as sub) appearances in which his sole contribution of note was a volleyed goal against Gloucester City. That was it. Nothing else whatsoever. As someone remarked during the Altrincham FC life of this Brian: "He's not the Messiah. He's a very naughty boy."
My favourite chant of the year transpired towards the conclusion of that FA Trophy Third Qualifying Round rematch at Colwyn Bay on a chilly Tuesday evening back in November.
Prior to the initial (abandoned after 81 minutes) fixture on the preceding Saturday, the Seagulls' player-manager, our dear friend Frank Sinclair, had issued the ludicrous claim that he had received death threats from Altrincham FC supporters via Twitter. Hence the recruitment of a platoon of bouncers and the farce of spectators having to undergo a body search before entering the ground. With his team 2-0 down (once again) and facing elimination from the competition for the second time in this tie, the Alty faithful serenaded Mister Sinclair with a delightful chorus of: "You're not tweeting anymore."
The nadir of the season to date was undeniably that ignominious and costly 2-1 capitulation at near neighbours Trafford FC in the FA Cup Second Qualifying Round on a sunny afternoon in late September. An opportunity to win £4,500 just frittered away. Horrid stuff.
In the FA Trophy, the admirably professional approach exhibited in overcoming the whole Colwyn Bay brouhaha then sadly gave way to a dishearteningly meek surrender at home to Leek Town, a club from two leagues below us. £4,000 in prize money received but the chance of an additional £5,000 duly squandered.
With the exception of Kyle Perry's memorably lush beard, the most surreal episode of the season surely comprised the fleeting Altrincham FC career of Danny Higginbotham, who signed for the Robins on 2nd January 2014. Six days and two appearances for the club later (and just as the local press was trumpeting his arrival), he opted to retire and head for a career in the media instead. Did nobody tell him about the potential of Alty TV and Radio Robins?
Speaking of our beloved Radio Robins, I feel compelled to mention one of the absolute highlights of the season viz. Brian Flynn's infamous profanity at Wetherby Road in early December or 'Harrogategate', as I prefer to term the entire unseemly incident.
Late in the game and with the Robins having gamely fought back to 3-2 down after conceding three goals in the opening 22 minutes, Kyle Perry unleashes an overhead kick which sends the ball into the side-netting. However, up in the commentary box, Mister Flynn's failing eyesight has convinced him that the burly forward has actually scored, thereby prompting the following unforgettable outburst live on air: "It's a goal! Oh f****** hell, it's wide."
Not quite up there with Kenneth Wolstenholme's immortal lines from 1966, I'll grant you, but a priceless moment of broadcasting history nonetheless.
Right: Brian Fl**n with Darren Tinson.
In the aftermath of the Trafford debacle, I wrote an indignant article for the ensuing Saturday's edition of the Robins Review and I still stand by the words of the following heartfelt plea dispensed to Messrs. Sinnott and Tolson which I expressed at that juncture: "For my money, their path to redemption lies solely in proceeding to secure promotion from this division during the 2013/14 campaign. Gentlemen, I don't care whether you attain atonement by winning the title or even by means of the excruciating route of the play-offs, but please, please, please, let me get what I want and just get us out of this league!"
In the words of the peerless Van Morrison, "It's too late to stop now..."
BARRY PIKESLEY
---