---
31 August 2013
ALTRINCHAM 2 HISTON 2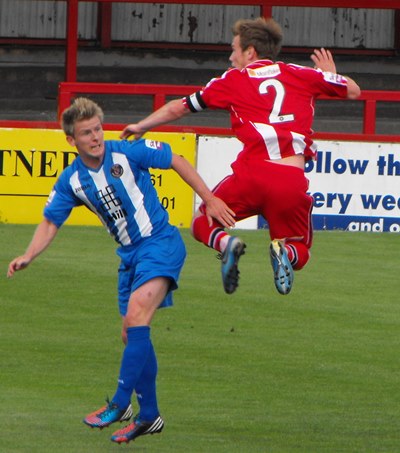 Right: Shaun Densmore leaps to head clear against Histon.
The strain of four games in nine days at the start of the season may have caught up with Altrincham as they showed only flashes of the good form that had taken them to the top of the table. But they got off to an excellent start when James Walshaw headed home a fine cross from the right delivered by Shaun Densmore after just 70 seconds. But Histon, with quick attacking play, scored two good goals before half-time through Sheppard (13 mins) and Hicks (41 mins).
When, in the 63rd minute, Damian Reeves scored his third headed goal of the season from Matt Doughty's good cross from the left, Alty briefly looked like going on to win the game but Histon's young side were good value for their point.
SKRILL NORTH ON SATURDAY
Altrincham 2 Histon 2
Boston United 2 Worcester City 1
Brackley Town 1 North Ferriby United 1
Bradford Park Avenue 3 Oxford City 3
Colwyn Bay 1 Leamington 1
Gainsborough Trinity 1 AFC Telford United 3/li>
Gloucester City 1 Guiseley 1
Harrogate Town 3 Stockport County 1
Hednesford Town 3 Barrow 1
Solihull Moors auxhall Motors 0
Workington 1 Stalybridge Celtic 0
HELP ON SATURDAY
If you would be able to help by being a turnstile operator for the game against Histon at the J. Davidson Stadium on Saturday, it would be much appreciated. Please ring Matchday Secretary, George Heslop, on 07939-890503 if you can assist.
ALTRINCHAM v HISTON: BEFORE THE GAME
Altrincham entertain Histon at the J. Davidson Stadium. The Cambridgeshire side stayed in this division at the end of last season by just one goal after finishing level on points with Corby Town and avoiding a points deduction when they failed to fulfil a fixture. However, Histon have started the season in better form, with seven points gained from their opening four matches.

Mike Garnett provides the historical record of games between our two teams.
At Moss Lane p6-w3-d0-l3-f11-a7
At Histon p6-w1-d1-l4-f3-a19
All p12-w4-d1-l7-f14-a16
Brian Flynn writes that "Radio Robins, sponsored by Ashley Mowers Garden Machinery, is providing full live commentary of Saturday's game at the J.Davidson Stadium against Histon. The match commentary is sponsored by Cheshire Stoves & Fires Ltd, leading suppliers and installers of wood-burning stoves. You can find out more about Cheshire Stoves & Fires Ltd by going to their website, or why not visit their brand new showroom, opening this week at High Legh Garden Centre?
Coverage starts at 2.55pm with the game kicking off at 3.00pm. You can listen to Radio Robins on the internet at www.radiorobins.com (icon-link below). The commentatory team is Tim Ainsworth and Simon Ellis with match summaries from Paul Salt.
Social Media Updates: Brian Flynn will be providing regular updates on Twitter (@altrinchamfc) as well as half-time & full time updates on facebook (Altrincham FC)"
Also, this website will be providing matchday updates throughout the game, starting from as soon as the line-ups are available. The updates can be found by clicking on the icon below.

The Cambridge News reports that "Brian Page is wary of the threat posed by former Histon striker Damian Reeves ahead of his side's trip to table-toppers Altrincham tomorrow.

Reeves's three goals in the first four games have helped fire the unbeaten Robins to the top of the early Skrill North standings, having led the scoring charts for the club in the past two seasons. The 27-year-old endured a difficult eight-month spell at the Glass World Stadium after signing from Farsley Celtic in June 2008, scoring five goals in 22 appearances, but Page is in no doubt about how dangerous he can be.

'He's an excellent footballer and at this level he has proven he can score goals year in, year out', said the Stutes' boss. 'He is their [joint] top scorer already this season and let's hope we can keep him quiet this weekend. I'll be confident in our back four and our midfield that we can make it difficult for them to create chances and, hopefully, we can limit their chances and keep him quiet.

We know it will be tough, but we go into every game believing we can win and that will be no different this weekend. It's important we give a good account of our
selves'.

The match at Altrincham represents arguably Histon's toughest test so far in a season which, bar a 3-0 defeat at promotion-favourites Brackley Town, has started positively for Page's young side. He is delighted with the way central defensive duo Omar Beckles and Remy Clerima have gelled on and off the pitch, which has contributed to the defence keeping consecutive clean sheets in last weekend's draw at Solihull Moors and Monday's win over Gainsborough Trinity.

Goalkeeper Calum Kitscha has also played his part in ensuring Histon's defence has been solid, with the 20-year-old belying his relative lack of experience in a string of impressive performances. Page thinks highly of Kitscha...

'When I came in last year at Christmas, he was the first person I spoke to and I told him he was going to be the first-choice keeper', said Page. 'I wanted him to get his head around starting every game he was fit for and show everyone why he is at this football club and why he will play higher in years to come. He is a great lad off the pitch, he works extremely hard with goalkeeping coach James Alger, he listens to all of the points we want him to do and he is just improving. His performances put confidence in the back four to play the way they're playing and, if those five continue their performances, it will stand us in good stead for the season'".

More comes from Pitchero Non-League to the effect that "Histon have signed young defender Peter Grant on loan from Peterborough United on loan until January 1st 2014. Former youth team captain Peter Grant is making his first season as a professional... Grant, 19, is now returning to the squad after a long lay-off after suffering cartilage damage and a spell out on loan will aid his recovery.

During his career Grant has enjoyed successful loan spells at a number of clubs, including St Neot's Town".

Altrincham FC joint Press and Media Officer, John Edwards, has responded to queries about local press coverage of Altrincham FC. He writes, "Could I just take a moment to try and explain how things work with the local papers and how we might be able to improve matters with the Advertiser?

In an ideal world, every paper would have adequate staffing levels to be able to cover all key events and organisations within their catchment area but, unfortunately, in these times of financial restraints, that isn't always possible. For instance, when Connor Murphy left the S&A Messenger, the feedback we received was that they wouldn't be replacing him. Given he was their only sports journalist, and their few news reporters were busy filling pages at the front end of the paper, there was clearly a real danger that the flow of Alty news, information and manager's quotes would diminish significantly.

With that in mind, after discussing it with my co-press officer Brian Flynn, I volunteered to provide a weekly article for inclusion on the back page. It is usually quotes-led, often including details of events or developments at the club, and it is invariably the lead article on the back, with a match report by John Laidlar running alongside. If I am away for any reason, such as being on holiday for the past two weeks, Brian steps in and ensures continuity is maintained.

Even during the summer months, there is, almost without exception, an Alty story in the paper. I hope most people would agree that, in addition to the club's official website, this is a useful platform for keeping supporters informed of all Alty-related matters.

As for the Advertiser, when they launched in the area, it did appear they intended having their own dedicated Alty reporter, as they sent a staff sports writer to the press conference we arranged for Lee Sinnott's appointment and seemed content to generate their own reports about matches, team news, etc. It is unfortunate if this has tailed off, but I'm sure it can be remedied. I will speak to Brian, and, between us, we will contact the Advertiser's head of sport and see what can be done.

If need be, I am prepared to let them have a version of the article I file to the Messenger. There are usually more than enough quotes from interviewing Lee to cater for two papers! Raising our profile in the MEN may not be quite so straightforward. The perception there seems to be that Stockport County, with their recent League history, and FCUM, as an offshoot of United, are above us in the pecking order for column inches, though Brian and I will endeavour to push Alty stories and ideas their way as much as possible. Sorry to go on so long, but, I thought it might help to provide at least some insight into how we try and obtain coverage and publicity for our club".
ACTIVE ALTY FUN DAY
The 'Active Alty Family Day' (see adjacent poster; click on it to enlarge it) at the J. Davidson Stadium, features a TV All Stars v Alty Legends football match, as well as other sports activities and family entertainment. Entry to the Family Day is free".

Peter adds that "The timings for the 'Active Alty' day are:
Doors open at 12 noon
Bar and food available from 12 noon until 4.30pm
Match kicks off at 1.30pm
Childrens entertainer from 2pm until 4pm
Bouncy Castle from 12 noon until 4pm
Other activities (Boxing, Martial Arts etc) from 12.30pm until 4.30pm
The Altrincham Legends team will include Gary Scott, Steve Aspinall, Colin Little, Chris Adams, Peter Band, Ged Kielty, Colin Potts and Neil Tolson. We will update th list as we get more names confirmed. The All Stars XI players will be communicated when filming commitments are finalised".
SKRILL NORTH ON SATURDAY
Altrincham v Histon
Boston United v Worcester City
Brackley Town v North Ferriby United
Brackley Town v Oxford City
Bradford Park Avenue v Oxford City
Colwyn Bay v Leamington
Gainsborough Trinity v AFC Telford United
Gloucester City v Guiseley
Harrogate Town v Stockport County
Hednesford Town v Barrow
Solihull Moors v Vauxhall Motors
Workington v Stalybridge Celtic
OLD BOY
The Football Conference reports that "John Askey, manager of Macclesfield Town, has added to his midfield options with the signing of Lewis Chalmers, who left the Silkmen last summer after two seasons at the Moss Rose.

A former Manchester City and Accrington Stanley trainee, Chalmers' first taste of senior football came when he joined Altrincham in 2004, spending three seasons with the side, breaking into the first-team at the end of his first season and making around 100 appearances in all competitions, gaining international recognition with England `C` along the way.

A move to Aldershot Town followed where he was an integral part of their 2008 Conference title-winning side and [he] later spent time on loan at the top end of the Conference with loans at Crawley and Oxford United. After again making almost 100 appearances for the side at this level and League Two, he joined the Silkmen in the summer of 2010, making sixty-three appearances before leaving the club at the end of the 2010/11 campaign.

The player returned briefly during that summer on trial but joined Radcliffe Borough shortly after the start of the season. During his trial with the Silkmen, he featured against FC United of Manchester and clearly impressed as he joined the following month, before ending the season at Droylsden".

Pitchero Non-League says that "Stalybridge Celtic have signed young goalkeeper Jack Cookson from Warrington Town. Cookson, 19, came up through the ranks at Morecambe. He was released at the end of last season without managing to break into the Shrimps' senior side and signed for his home-town club, Warrington earlier in the summer".

Over the Pennines, the Telegraph & Argus says that "Rumours of Louie Swain's departure from Horsfall Stadium have proved to be wide of the mark as Bradford Park Avenue manager John Deacey has included him in today's squad to face Oxford City. The Bradford boss has been making changes to the playing squad, with Lee Elam and Danny Forrest heading through the exit door, but Swain, who arrived on a one-month loan deal from neighbours City, is not one of them.

The young striker came from the Bantams with a glowing endorsement but he picked up an injury in his first appearance. Deacey said, 'He is over his injury and I haven't sent him back to his club so he will be with us again. I'm looking forward to seeing some more of him'. Swain lasted 66 minutes on his debut against North Ferriby... but he was struggling with a pelvic injury and could not train that week...

Deacey said, 'I did let two players go on Thursday though, Lee Elam and Danny Forrest. We need to get the balance of the squad right so I released Luke Dean the week before because we can't keep them all'. The numbers will be swelled by the return of two of the five players that Avenue have been missing since the season began. Club captain Nathan Hotte returns after a four-game suspension and Nicky Boshell has recovered after missing the two games over the holiday weekend through injury.

'It is a massive boost to us having Nathan back', said Deacey, 'I don't think Alex Davidson will be quite ready, Jason Price is struggling and Adam Quinn is still injured. It has been a testing start to the season but Jordan (Deacey, the manager's son who suffered a double fracture of the arm in a pre-season friendly) is training with his pot on and he could be back in another week. We have really missed Nathan and Jordan in the centre of midfield. They are our playmakers and were looking really good in the friendlies'".

Alty's next away opponents are the subject of a report by the Warwick Courier, which says that "Manager Paul Holleran has called on Leamington to show more mental toughness after a third successive Skrill North defeat. A last-gasp winner for Gloucester City on Monday made it a weekend to forget following on from Saturday's 2-0 defeat at Boston United.

After seeing Brakes have much the better of their home fixture with the Tigers only to lose 1-0, Holleran said his side must learn to concentrate through to the final whistle. 'We didn't deserve it on Monday. They should have been dead and buried', said Holleran... 'The mindset has got to change and we've spoken to the players about it. The mindset at the club for a long time has been win, win, win. But at this level you take your points. If we had stayed switched on we'd have had a draw at Hednesford and a draw against Gloucester. That would have given us five points and you'd think one defeat from the opening four games is not a bad start. Now it looks a poor start'.

Brakes travel to Colwyn Bay tomorrow without Craig Owen, who suffered a recurrence of his hamstring injury against Gloucester before entertaining Altrincham a week tomorrow. The clash with Altrincham marks the first time Brakes have been at home on Non-League Day and will see all Premiership and Championship season ticket holders admitted to the New Windmill for half price".

"Steve Housham, manager of Gainsborough Trinity has snapped up Lincoln City teenage striker Conner Robinson on a one-month loan deal" reports the Football Conference. "Robinson signed a two-year professional contract with the Imps a week before the start of the 2012/13 season having been an integral part of the successful under-18 side... as Housham looks to re-shape his squad which currently sit bottom of the table with no points.

Housham, who earlier today registered ex-Harrogate Town forward Dan Clayton from Glasshoughton Welfare, has also brought in 18-year-old striker Rhys Oates from Barnsley. Oates, who signed his first professional deal in May, has recently been called up by the England under-19 squad."

And, Gainsborough Trinity add that "Steve Housham has admitted he was surprised he was able to snap up Lincoln City teenage striker Conner Robinson on a one-month loan deal... Housham has said that his arrival has created a buzz and that he will be starting when Trinity take on AFC Telford at the Northolme...

'Robinson coming in has given the lads a real boost at training', said Housham. 'He looked sharp, he's got this fearless attitude and the rest of the team have reacted to it. I think he's a great player. I watched him a couple of times last season and thought he looked good for Lincoln City. I was surprised when he became available, if I'm honest. I remember watching him play against Nuneaton last season and he was the best player on the park'.

Housham believes that the loan deal will give Robinson the chance to show what he is capable of and is even confident he could grace the Football League further down the line. 'I had a little one-to-one chat with Conner when he signed and I told him to not feel down that he's gone on loan', said Housham. 'This is a chance to play senior football. I don't think Lincoln City will be his last club. He has the quality in him to play in the Football League.

People's careers can take different paths. I played alongside Grant Holt at Barrow and he went all the way to the Premier League and the cusp of an England call up. I remember when he arrived that he was this real raw young talent, though, and Conner is at that stage too'".

Elsewhere, "Oxford City have taken young utility player Saul Williams on loan until January 1st 2014 from Forest Green Rovers. Williams signed his first professional contract with Forest Green as a 17-year-old before the start of the 2012/13 season... Rapid over the ground and with an eye for goal, he was previously on the books of Tottenham Hotspur... After a successful loan spell with Slimbridge in the Uhlsport Hellenic League at the start of the 2012/13 season, he made his first-team debut for Rovers in February as a 58th minute substitute against Gateshead".
---
30 August 2013 Following Thursday night training, Scott Leather and Kyle Perry are, as expected, the main concerns for Saturday's game against Histon at the J. Davidson Stadium, having both been taken off with injuries on Monday at Vauxhall Motors. Kyle has a niggling groin problem, whilst Scott took a blow to his shoulder at Rivacre Park. Simon Richman has seemingly receovered from the injury he picked up whilst playing with the British Universities' team over the summer.

Manager Lee Sinnott is understandably pleased with the team's unbeaten start to the season and, not least, that the goals have been shared around amongst his forward players, with Damian Reeves and Kyle Perry each netting three times, James Walshaw twice and James Lawrie once. Lee repeated that he thinks there is one too many fixture in the opening fortnight of the league season when four games are scheduled while teams are still bedding in after the summer. The Alty boss believes that the intense schedule is a factor in some of the unexpected results that have been seen in the Skrill North this season.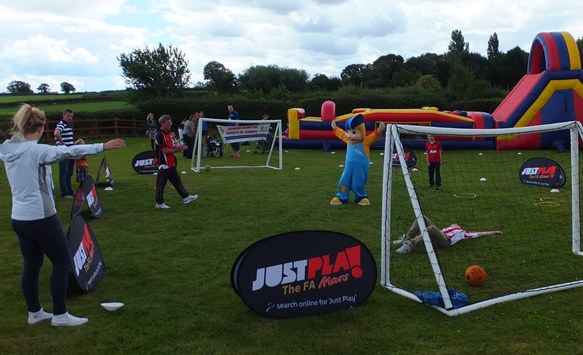 Neil Faulkner writes, "Altrincham Football Club Community Sports (AFCCS) were involved in the annual Children's Adventure Farm Trust (CAFT) Open Day and Family Fun Day on 11th August. The image (right) of CAFT mascot "Bobby", scoring a goal against Simon Ainsley and being watched by club physio and Simon's dad, Alan Ainsley, capped a fantastic day.

Earlier there had been loads of kids of all abilities playing football and having fun which is what it is all about. Our Community Coach, Chris Bullock, was at hand to promote our Junior section and the parents we spoke to were impressed with the set up, and we passed on contact details for them to join. We also ran a tombola with gifts from the clubs and many kind individuals and raised over £150 on the day for CAFT.

A special thanks goes to Ann Ainsley, Hazel Faulkner and Peter Foster for running the Tombola and our excellent coaching team, Alan, Simon and Chris. From September we will be providing football coaches for the Children's Adventure Farm Trust (CAFT) who provide holidays for disabled and disadvantaged children; we are delighted that we are able provide assistance.

To enable us to continue our works in the community, and to build the Community Sports Hall, please help us by supporting our up and coming events, including the Sportsman's Dinner with Anthony Taylor on the Friday 6th September in the Sponsors' Lounge and the Family Active Day on Sunday 8th September at the Club from 12 noon. Spread the word on Facebook and Twitter for us to make these events a big success and keep on following the Robins - what a great start to the season!

Thanks for your support, Neil Faulkner".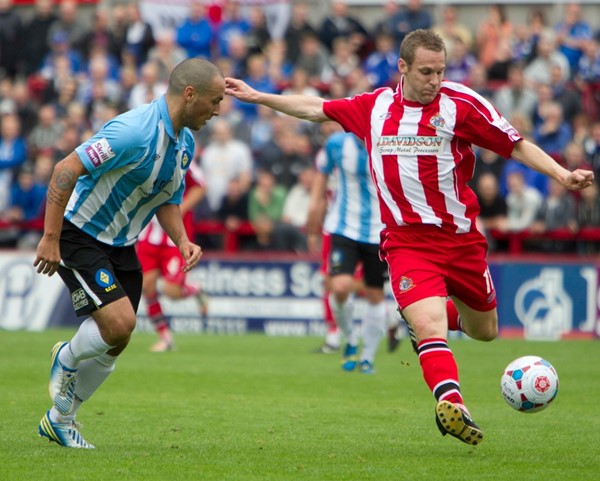 Above: An excellent view of Nicky Clee in action against Stockport County, as captured by Gavin Rathbone of GR Photography.

Barry Pikesley has kindly provided a slightly amended version of his article on "Robins and Hatters" which appeared in the Robins' Review when Alty entertained Stockport County last week. It includes Barry's selected eleven who have played for both clubs, as well as reminding us of many of the other names who have donned the shirts of both clubs. It can be found here.

In the Sheffield Telegraph comes news of an ex-Alty loanee goalkeeper, still playing at a high level. Barnsley " boss David Flitcroft has stressed he made the right decision by dropping first-choice goalkeeper Luke Steele for Tuesday night's Capital One Cup defeat to Southampton... His replacement, the 41-year-old Wigan loan shot-stopper Mike Pollitt, leaked five goals in a crushing 5-1 defeat at Oakwell.

Said Flitcroft, 'Luke was rested because I wanted to look at something different. It was a good opportunity to do something different... I thought he [Pollitt] put in quite a commanding display. He wasn't at fault for any of the five goals. It gives Luke some competition. That's what any player needs. I've got two number one's now rather than a number one and a number two. I've felt for quite a while that Luke Steele has maybe not been under enough competition...

I've brought in a player who is a big character and someone I feel is used to playing in good games'".

News of a former Alty reserve comes from PItchero Non-League, which reports that "Warrington Town have swooped to sign former Curzon Ashton left winger Scott Metcalfe".

Skrill Football reports that "Boston United midfielder Gary Mills has moved to King's Lynn Town on a three-month loan deal in a bid to secure regular first-team football. The 32-year-old, who arrived at York Street in the summer after leaving Lincoln City, has yet to feature for Dennis Greene's side this season.

His solitary appearance for the Pilgrims came in the Lincolnshire Senior Shield defeat to Gainsborough Trinity on August 10... He told the Lincolnshire Echo, 'The manager (Dennis Greene) made it clear that I wasn't going to be in his plans at Boston. I don't want to go into details, all I want to do is go and play some games. I thought it best I left Boston and cut my losses and play some games. I've signed a three-month loan deal until November and then I will see where I stand. I'm 32 and I want to play, so I'm happy to do it with whatever team. It will be a tough league and I fully respect the players in it. When I've completed my loan deal I will go back to Boston and sit down with the manager and the chairman and see where I stand'".

The EvoStik League adds that "The former Lincoln City captain departed Sincil Bank following a knee injury picked up at the mid-point of the 2012/13 season. He began his career at Rushden & Diamonds and went on to enjoy three spells with the sadly now defunct Northamptonshire outfit. Mills has vast experience with other spells unfolding at Crawley Town, Kettering Town, Tamworth, Stevenage Borough, Mansfield Town and Bath City. He also spent a brief loan stint with Forest Green Rovers and helped lead Nuneaton Town to promotion from the Conference North, via the play-offs, in 2011/12.

At Stockport County, we learn that "Ian Bogie has added Oldham Athletic youngster Danny Gossett to his squad. The Welsh midfielder is joining the Hatters on a month's youth loan from the Latics... He made his Oldham first-team debut as a substitute in the power League One match at Shrewsbury Town last April before making his full debut four days later at Leyton Orient".

According to This is Scunthorpe, "Scunthorpe United have been asked if they would be willing to let any players go to Gainsborough Trinity. Blues boss Steve Housham is looking to strengthen his team and has been in touch with the Iron to see if they can help.

Housham admits the loss of chairman Peter Swann's backing since he made the move to Glanford Park has had an impact. And Trinity also saw Terry Hawkridge and Luke Waterfall head in the same direction this summer, though secretary Pete Wallace has previously said the deal 'involves players coming on loan to Gainsborough throughout the season'...

'I want to strengthen right down the middle of the park', he told the Lincolnshire Echo. 'I want a centre-back, a central midfielder and a striker and I've already been on the phone to numerous people. I've spoken to Scunthorpe, Doncaster and even somebody I know who is on the Chelsea staff about players that may be available. And I've told them that if they give me players then they will go straight into the team. Unfortunately, we are not blessed with too much strength in depth and that's left the players on easy street somewhat. They know they are guaranteed a place at the moment and that's not ideal. We lost a lot of good players over the summer'".
---
29 August 2013
Altrincham FC PR & Promotions Manager, Peter Foster, tells us that

As most will be aware, the Sports Hall plans were supposed to be discussed at the Trafford Planning meeting in August; however, we have been put back to the meeting on September 12th. Hopefully, we will have a successful outcome.

Without being too presumptuous, we have arranged a couple of events to increase awareness and to raise funds for the project. (Should the planning application not be successful, the funds will go to other community projects).

An evening with Premiership referee Anthony Taylor (see below for further details) is our first fundraiser aimed at the Sports Hall project and, although it is a relatively small event, it will raise valuable revenue for the project. Anthony is an Alty season ticket holder, and we really do appreciate him sparing the time to support the Club's community activities.

The 'Active Alty Family Day' (see poster, right), features a TV Allstars v Alty Legends football match, as well as other sports activities and family entertainment. We will provide details of participants in both teams over the next few days. Entry to the Family Day is free".

Brian Flynn writes that "Altrincham have burst out of the blocks to win all four opening games, to give the club its best start to the season in 35 years.

Lee Sinnott worked the oracle to rotate his 18-man squad to perfection over the Bank Holiday weekend, as Stockport County were comprehensively beaten in front of a crowd of almost 3,000 at the J.Davidson Stadium on Saturday, before a late winner from James Walshaw secured a first ever league victory at Vauxhall Motors on Monday.

The Altrincham supremo was clearly delighted with the teams perfect record to date but felt that 'Four games in ten days at the start of the season is one too many in my view and both Vauxhall and ourselves looked tired on Monday and we only really played in fits and starts. The most pleasing aspect of the first four games has been the resilience that we have shown to win games, some of which could easily have been draws.

I'm really pleased that all of four strikers have got going in terms of scoring and produced nine of the ten goals scored'.

The Robins welcome visitors from Cambridgeshire on Saturday in the form of Histon and will be looking to extend their winning sequence to five games against a side that has also started well, with seven points from four games.

Monday's hard fought 2-1 victory on the Wirral did come at a cost as Kyle Perry (groin), who had scored his third goal in Altrincham colours to open the scoring, and Scott Leather (shoulder) succumbed to injuries that may restrict the manager's selection options for Saturday's game, which kicks off at 3pm at The J.Davidson Stadium.

Altrincham F.C. are holding a Sports and Community Open Day on Sunday September 8th starting at noon. This FREE event features a football match between an All Stars FC XI and a Legends XI, including Soap, TV and Sports Stars past and present".
RICHIE SPONSORS LADIES' TEAM
Altrincham FC Ladies are pleased to announce that they have a sponsor for their polo travel shirts. The new sponsor is Richie Bentley Catering Services. Richie's company provides the matchday catering at the J. Davidson Stadium, as well as offering other outside catering services. Ladies' Manager Keith Edleston says, "We thank Richie for his kind sponsorship and hope we can promote his business throughout the North West this season".
PREMIERSHIP TV AT ALTY
There is televised Premiership football in the Noel White Suite at the J. Davidson Stadium on Moss Lane this weekend.

On Saturday, before the Histon game, the bar will open at 12.15pm to show Manchester City v Hull City, which kicks off at 12.45pm.

On Sunday, the bar will open from 1pm to show Liverpool v Manchester United, which kicks off at 1.30pm.
The Manchester Evening News has an article on Stuart Coburn, who talks about his pre-season accident. "It was ten days before the season started" said the Alty keeper, "I daren't tell the gaffer, I let the physio do it! One of the stitches popped open in the first game but I had them out that night. Luckily, it's settled down now".

Stuart continued, "Last season the team picked itself to an extent. This season the gaffer's been able to rotate his starting eleven. Four of us have started each game [Coburn, Densmore, Havern, Reeves], the others he's rotated, to keep it fresh and the people who've come in have made an impact.

We were getting beaten at Worcester... then he made two subs and the two lads scored. Then, on Monday, James Walshaw came on and scored the winner. Senior players like Danny Boshell and Nicky Clee were both on the bench and didn't get used, so it shows the depth we've now got.

As well as we did last season, if Duncan [Watmore] or Reevesy didn't score, then we struggled. This year we've got other options. Kyle Perry's scored three in three, James Walshaw's scored two in four and Reevesy's got three. The gaffer's made us even stronger and we've hit the ground running. It just breeds confidence.

You look forward to every game because you believe you're going to win it. It's not a situation where you're dreading the next game".
VAUXHALL VIEW
After Monday's game, the Chester Chronicle reports that "A late winner denied Motors a share of the spoils on Monday... Altrincham striker James Walshaw's goal saw the visitors snatch the three points...

The second period saw the Motormen put a lot of pressure on the Altrincham goal as they searched for a winner... With seven minutes remaining, the visitors sprung an attack on the break. Jake Moult sent Walshaw through and the striker's shot from the edge of the penalty area just went past Jones's despairing dive and into the net".

The Manchester Evening News reports on Stockport County where "Former commercial boss Steve Bellis told a sponsors' evening that a Chinese consortium was interested in a possible investment.

County's former vice-chairman Spencer Fearn has called on the majority of current loan holders to write off the Hatters' debts. The Hatters' poor start to the Skrill North season has led to an increasing sense of disquiet from fans.

Fearn, who has £265,000 in loans to County, said, 'Currently there are around £850,000 in loans to the football club and, without the club reducing this debt, we will see no investment into the football club. If those shareholders that have loans are not prepared to contribute funding to assist with the running of the football club further, they should write them off and give County a better chance of securing investment.

If those that do not contribute anymore, write off their loans I am prepared to write off mine as this would change the debt of the club considerably'...

Fearn told the Express that a potential investor made [himself] known after his exit from the club in May. He said, 'The guy I met was worth tens of millions of pounds and had a firm interest in helping the club. However, as soon as I made him aware of the debt, understandably he was not interested in getting involved. I know there have been several approaches over the summer which Ryan McKnight (Chief Executive) has been working hard on, but the story is always the same, the huge loans to shareholders scupper new investment.

The majority of the shareholders are non-existent and, frankly, leave the funding of the club to two individuals, Chris Bramall and Richard Park. Without them, and the fantastic work of Ryan McKnight, the football club would have struggled to get through the summer... The attendance for the first game of the season was remarkable and this is a huge attraction to would-be investors', Fearn said.

'The people who have approached the club know their football and that County can be a force again with the fantastic backing that they receive, but why would they take on this level of debt with no assets – it just will not happen'... The Express emailed the club's shareholders to get their reaction... However, no replies had been forthcoming as the Express went to print".

Meanwhile, Stockport County have issed a "Statement from the Chairman". It starts, "The Board of Stockport County Football Club welcomes the offer from former Vice-Chairman Spencer Fearn to write off his loans to the Club, in exchange for the remaining shareholders to do likewise. I have already committed to do the same, because there is no doubt that the scale of this 'debt' is a deterrent to potential investors..

The Board of Directors remains committed to ensuring that the Club breaks even by the end of next season and our Chief Executive, Ryan McKnight, continues to seek out ways in which the Club can reduce its substantial overheads, whilst also identifying new revenue streams for Stockport County.

The Club is also aware of a meeting proposed for this evening involving a group of County fans. The Football Club has an open door policy with regards to our magnificent supporters and any group which has ideas or suggestions to take the Club forward will be welcomed to Edgeley Park".

Meanwhile, Chief Executive Ryan McKnight said 'The Club clearly welcomes any move by the shareholders to write off their loan notes... these gestures help a huge deal. I think it also highlights the reality that there is not a 'pot of gold' for any shareholder attached to the potential deal to reacquire Edgeley Park; the only beneficiary of such a deal would be the football club itself".

On the playing front, Skrill Football says that "Stockport County have moved swiftly to replace departed goalkeeper Lewis King by signing Ryan Jones on non-contract terms. Hatters boss Ian Bogie has been forced to field teenager Ian Ormson in goal for his side's opening four games of the Skrill North campaign following King's exit.

However, he has now added competition for Ormson by bringing in Jones, who has been on the lookout for a new club after leaving Richmond Kickers in the United States recently. The 21-year-old had a trial at Edgeley Park back in the summer of 2010 following his release by Leeds United, where he had spent his formative years. However, after failing to win a County contract, Jones joined Rochdale but six months later he was on the move again, accepting a three-year deal to play in America with Kickers".

"Gainsborough Trinity assistant manager Darryn Stamp pulled no punches following Monday's frustrating 2-0 loss at Histon" reports Dinnington Today. "Stamp was sent off after coming on as a substitute in the Skrill North clash and, after apologising for getting himself ejected, admitted the club's poor start has affected everyone at the Northolme.

'We didn't see this coming, even after all of the upheaval at the end of last season', he said. 'The lads are an honest bunch and they know that what they've shown in the last four games isn't good enough... We haven't been completely played off the park, by any means, but it's a big worry... If there's a time to improve, it's now. In the next few games, we play the teams that have come down from the (Conference) Premier'...

Regardless of our budget, there's ways and means of getting fresh blood in if needed'.

After losses in their first three games, the Trinity faithful were hoping to see some improvement after the long trip to Cambridgeshire, but were left disappointed as the Blues conceded early. With just 12 minutes played, the effervescent Salim Relizani glided through Gainsborough's back line before laying the ball off to Nathan Hicks, who drove it low past Phil Barnes in the Trinity net..

Things went from bad to worse for Trinity, with substitute Stamp seeing a second yellow card for a clumsy foul late in the game, putting further strain on an already stretched squad. In the face of one of their worst starts in living memory, the Blues welcome AFC Telford United to the Northolme on Saturday".
---
28 August 2013

Above: In a new pre-match ritual on Tuesday evening, Altrincham FC Youth team players (right) bow down in homage to their manager George Heslop (left)

Altrincham FC Youth entertained Curzon Ashton Youth on Tuesday evening. Although they dominated the second half they could not get the decider and the match ended 1-1, with Alty's goal coming from Max Pouncey in the first half. Report and pictures in the Youth section.

The winning code in this week's Altrincham Saturday Yankee competition was 6880 which had not been issued, so the jackpot rises to £3,700. There were, however, three Treble winners, each netting £50.

Collectors are needed in the Sale, Ashton on Mersey, Broadheath and Broomwood areas. If you can help, please contact Jenny Heslop at the Club (928-1045).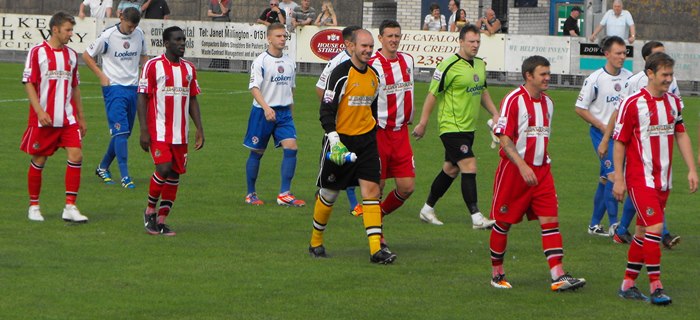 Above, as Alty take the field at Rivacre Park, Scott Leather follows the smiling Shaun Densmore, Matt Doughty and Stuart Coburn. Behind them come Junior Smikle and James Lawrie.

Altrincham defender Scott Leather put his head on the block for his side on Monday at Vauxhall Motors (coming off injured at half-time) but, off the field, he is seeking an engineering apprenticeship to run alongside his football career. Scott is currently completing an NVQ Level 2 in Performing Engineering Operations. If anyone can help with this request, please contact Scott through the club. You can contact the club during normal office hours on 0161 928-1045 or by e-mail.

Radio Robins's commentary from Vauxhall Motors is now available to hear again:

It's four wins on the trot for Altrincham FC - and also 4-0 for assistant manager Neil Tolson in the season-long Crossbar Challenge for charity between him and goalkeeping coach Ian Senior. But Ian, who also runs SKKits, has not given up and will be seeking to halt Neil's run in the next instalment of the competition before Saturday's game with Histon.

Brian Flynn has conducted a fascinating interview with Stuart Coburn after his 600th start for the Club in Saturday's 3-0 win over Stockport County. The interview can be seen and heard on Alty TV via the adjacent screen. The Football Conference says that "Skrill North club Barrow AFC have suffered a blow with the news that veteran midfielder Robin Hulbert has been forced to retire from football but exciting Oldham Athletic winger Chris Sutherland has joined on a youth loan. Hulbert has quit the game due to work and family commitments which he says means he can't reach the level of fitness he requires to perform to his ability...

The space created by Hulbert's departure though has been swiftly filled as 18-year-old Oldham winger Chris Sutherland has joined on an initial one month youth loan".

Another report from the Football Conference tells us that "Colwyn Bay's Board of Directors have announced that Bob Paton is stepping down as chairman of the club...

The Board have released the following statement, 'The Colwyn Bay Board of Directors have reluctantly accepted Bob Paton's resignation as chairman. Bob, who has been chairman for the past two years, has decided to step down with effect from 14th September, but will continue as both a member of the main Board and that of Colwyn Bay FC Football in the Community... The Board of Directors have appointed David Messom, a current director, to the role of Chairman, and Grant McIndoe, company secretary, to the role of vice-chairman"."

Also at Llanellian Road, according to Skrill Football, "Colwyn Bay have announced the return of Charlie Joyce to the club after the midfielder joined on a new loan deal from Southport. The 19-year-old initially linked up with the Seagulls for the final few months of the 2012/13 campaign, and heads back to Llanelian Road on loan until January..

Sinclair told the club's official website, 'He hasn't been able to force his way into the first team at Southport and, rather than sitting on the bench there, it is much better for him to come here and get games'".

Bottom of the table, Gainsborough Trinity met the next visitors to Altrincham on Monday. They report that Trinity "slumped to their fourth defeat of the season and their second straight 2-0 loss as Histon took their chances on a hot Monday afternoon in Cambridgeshire... Histon took the initiative after 5 minutes as they forced 2 corners and really pressed the Trinity back line. They were to open the scoring as Nathan Hicks was left all alone in the Trinity box to pick his spot past Phil Barnes.

Trinity were rocked by the goal and Histon took the game to them with shots raining on Barnes from all angles... The second half started somewhat at a stalemate as neither side created any clear cut chances. With 20 minutes to go three incidents were to mark a turning point in the game and sum up the start to Trinity's season. The first on the 70th minute mark was when Darryn Stamp was booked for arguing an offside call with the linesman. From the resulting free kick, Histon forced a corner after a save from Barnes. The corner was floated over to Remy Clerima, who powered a header through the Trinity defence to give Histon a 2-0 lead.

The Frenchman was to be Trinity's undoing as a free kick was floated into the box, Kitscha claimed comfortably but Stamp and Clerima came together as the keeper caught the ball. The Histon captain went down and the referee issued Stamp with his second yellow card; Trinity were down to 10 men. A man down and 2 goals adrift, Trinity couldn't get back into the game and slipped to their fourth defeat of the season."

Alty's visit to Leamington on 7th September coincides with Non-League Day and Sports Interactive have issued the following press release..

"Sports Interactive, the makers of Football Manager, have teamed up with Non-League Day (NLD) to provide an extra incentive for fans to get behind their local clubs on September 7th. Every Football Conference North and South club playing at home on NLD will be given two copies of the eagerly awaited Football Manager 2014, to give away as they see fit. This might be via a raffle, quiz, supporters' penalty shoot-out competition or anything that can engage fans on the day...

Benefitting from more than 1,000 improvements and enhancements over its most recent predecessor, FM 2014 is the most realistic simulation of football management ever released. More information can found here.

Our suggestion would be that the home team would use the games as competition prizes on the day itself, offering one copy to a home fan and one to an away fan (that way, all clubs would be represented up to a point). Games will be provided digitally."

Meanwhile, Alan Oliver is Manchester City supporter and a groundhopper who has made occasional use over the last couple of seasons of the TASC away supporters' travel for Altrincham FC. He now has a website called the Casual Hopper on which his latest excursion coincidentally takes him to Leamington.
---
27 August 2013
RECORD BREAKERS?
Altrincham's four successive wins from the start of the season is a great achievement but the lads have a long way to go yet to emulate 1962/63 when Alty went 10 league games unbeaten from the beginning of the campaign and won the first six of those games, before drawing at home to Stafford Rangers. The sequence started on 18 August 1962 and was ended on 8 October at home to Buxton when they lost 0-2. They did lose an Inter-League Cup match on 1 September at Ashton United.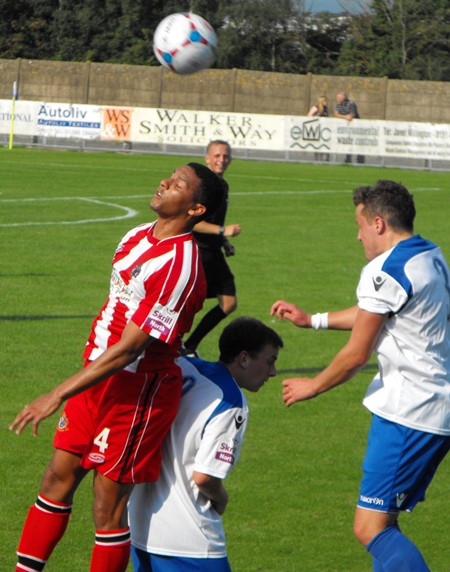 VAUXHALL MOTORS 1 ALTRINCHAM 2
At half time the score was 1-1 but Altrincham had dominated the first 45 minutes...

Match report here

Right: Carl Rodgers in an aerial duel at Rivacre Park.
AFC Telford United 1 Solihull Moors 1
Barrow 1 Harrogate Town 0
Guiseley 1 Workington 0
Histon 2 Gainsborough Trinity 0
Leamington 0 Gloucester City 1
North Ferriby United 3 Boston United 0
Oxford City 0 Brackley Town 1
Stalybridge Celtic 2 Bradford Park Avenue 2
Stockport County 0 Colwyn Bay 1
Vauxhall Motors 1 Altrincham 2
Worcester City 2 Hednesford Town 2
Through the Years by Howard Watts.
---
27 August 2013 Brian Flynn reports that "Radio Robins, sponsored by Ashley Mowers Garden Machinery, is providing full live commentary of Monday's game at Rivacre Park against Vauxhall Motors. Coverage starts at 2.55pm with the game kicking off at 3.00pm. You can listen to Radio Robins on the internet at www.radiorobins.com, via the icon below.

The commentary team is Ian Wilkinson and Brian Flynn with match summaries from Tim Ainsworth.

Dan Whitelegg will be providing regular updates on Twitter (@altrinchamfc) as well as half-time & full time updates on facebook (Altrincham FC).

Alternatively, this website will be providing matchday updates throughout the game, starting from as soon as the line-ups are available. The updates can be found by clicking on the icon below.

Both teams are unbeaten this season. Altrincham's three successive wins from the start of this season emulate the performance in 2001/02 when The Robins' record was:
Home v Whitby Town 1-0 (scorer Furlong 51)
Away v Worksop Town 2-1 (Hulme 28, Craney 70)
Away v Colwyn Bay 5-2 (Hawes 9, Thornley 26,35,90(pen), Craney 44)
The run ended in the fourth game of the campaign with a 2-0 defeat at Moss Lane by champions-elect Burton Albion.

If you believe in omens, Alty's next opponents in 2013 could not be worse, as we have never beaten Vauxhall Motors in a league game at Rivacre Park. Mike Garnett provides the historical record, in which Alty's only away win was in a cup match.
At Moss Lane p10-w7-d0-l3-f19-a12
At Rivacre Park p8-w1-d2-l5-f9-a17
All p18-w8-d2-l8-f28-a29
But as former chairman Geoff Goodwin always said "The past does not equal the future"!
Should Altrincham defeat Vauxhall Motors today, they would match the four successive wins which started the season of 1978-79 in the Northern Premier League campaign.
In advance of Monday's game, Vauxhall Motors say that "There should be a great game of football on Bank Holiday Monday as Altrincham visit Rivacre Park. Both sides go into the clash with unbeaten starts to the season, setting up an intriguing encounter.
The Motormen continued their impressive start to the campaign on Saturday with a 1-0 victory at Workington. Karl Noon's strike gave Motors the three points to make it seven from a possible nine on offer... The weather is forecast to be glorious, so why not spend your Bank Holiday with us at Rivacre Park?
Admission: Adults £10, Concessions £6, Under 16s £2."
The Wirral side adds that "Motors maintained their unbeaten start to the Skrill North season with a 1-0 victory at Workington. They raced to a quick start with [ex-Alty reserve] Ashley Stott hitting the crossbar after just four minutes. It wasn't long before the deadlock was broken. Karl Noon scored his second goal of the season on 12 minutes... Motors held on to their advantage and move up to 7th position in the Skrill North table."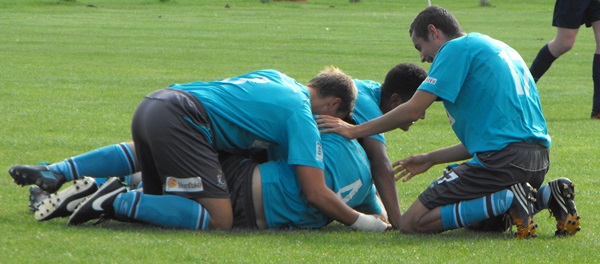 Altrincham FC Youth maintained their unbeaten start to the season with an ultimately comfortable 4-1 win away to Hyde FC at Knutsford on Sunday. Report here.
Above: Under the pile of bodies is Tom Clarke, whose well-taken goal put Alty 3-1 up.
On Tuesday, Alty are at home (Clay Lane) to Curzon Ashton (6.30pm).
COUNTY MATCH REPLAYED
Brian Flynn advises us that "The recording of Saturday's Radio Robins commentary can be located here.

Highlights of the Altrincham win over Stockport County have been compiled by Mark Bennett of Alty TV and can be viewed in the adjacent frame.

As well as the official Stockport County match report, there is an honest and entertaining match report from the Stockport perspective here, and a further match report on Hatters' Matters.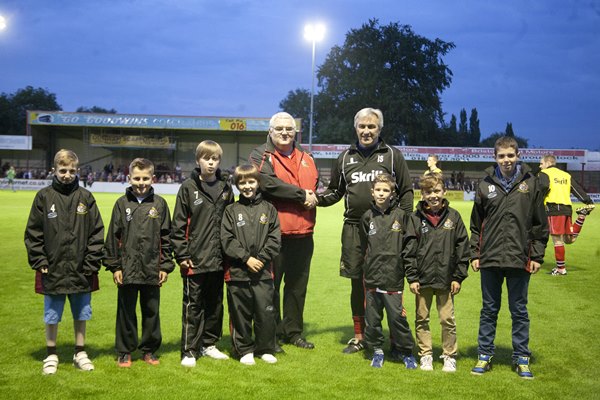 Above, Ian Senior's SKKits has presented a set of matchday kit to the Altrincham FC ballboys and girls. Seen, above, Ian (right) hands over the smart attire to Rick Brennan, who will be drawing upon several of the Altrincham FC Juniors' teams to provide ball boys and girls for the present season. If any other local teams are interested in being involved as ballboys or girls at the J Davidson Stadium , they are invited to contact Karen Rowley at the ground on 0161 928-1045 or by e-mail.

Some views on opponents in the Skrill North come in The Holker Street Newsetter from Barrow manager Dave Bayliss, who "has been keeping an eye on Bradford PA, as he told the Mail, 'I went to watch Bradford on Monday and, to be fair, they were up against a very good North Ferriby side. I think North Ferriby will finish in the play-off positions. They've spent well, they've got a big budget and they're big and well-organised".

The Newsletter also quotes Dave Bayliss as telling the NW Evening Mail, 'I thought Dale (Johnson, a loan striker from FC Halifax Town) was fantastic on Tuesday. We didn't want to give him a start (due to Johnson only just returning from injury) but we felt his experience would be invaluable. We set up our goal through him as he was strong. And if you look at Aaron, we said to him and half-time and at full-time, 'There's your benchmark for being a striker and if you want to earn some money out of the game and play for a long time then you have to look at Dale Johnson to see what he does'. Dale doesn't over-exert himself with silly runs... what he does do is cause central defensive partnerships problems by getting hold of the ball and bringing people into play'".
---
25 August 2013 Altrincham FC would like to thank all the volunteers who helped yesterday's match against Stockport to go ahead smoothly. In addition to the stewards, bar, sponsorship, media and catering teams, turnstile operators, programme sellers, ballboys/girls, door and shop staff there were many others who worked before, during and after the game to ensure that all went well. The Club is very grateful to you all and hopes that, in addition to your hard work, you also enjoyed the game. The spectators of both teams too are to be congratulated on their good behaviour and we hope to see them all again during the season. Altrincham cruised to a comfortable win over a County team which looks to be facing a long, hard season.

Match report here.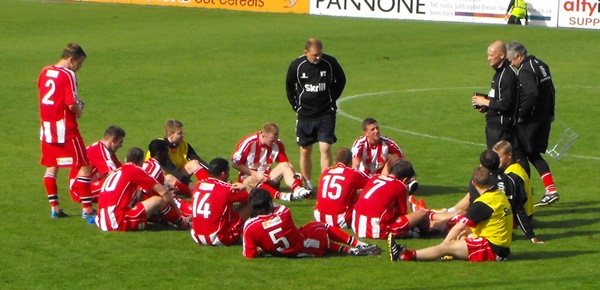 Above: Alty take a well-earned break after the final whistle at Moss Lane.

The Manchester Evening News says that "Altrincham's dynamic duo of Damian Reeves and James Walshaw made it a second defeat in three Skrill North games for the Hatters...

A frenetic opening saw the home side having the better chances and County relying on long-range efforts. Walshaw could have netted three times in the opening half-hour, while the Robins were aggrieved they didn't earn a penalty when Nicky Clee went down under pressure from Kieran Charnock...

County keeper Ian Ormson made a double save from Walshaw and Gianluca Havern but could do nothing about Alty's 42 minute opener. Clee found space on the left-hand corner of the area and fired the ball across goal, Walshaw getting the vital touch to open the scoring.

The lead was doubled five minutes into the second half when Reeves nodded home Densmore's far post cross. With County offering little going forward, Reeves wrapped up the points with 19 minutes left, finishing confidently past Ormson...

The final whistle could not come quickly enough for a well beaten County side who need to respond, and quickly, against Colwyn Bay on Monday."

Attendances on Saturday were:
2875 Altrincham v Stockport County
1086 Boston United v Leamington
312 Brackley Town v Worcester City
315 Bradford Park Avenue v Barrow
282 Colwyn Bay v Guiseley
422 Gainsborough Trinity v Stalybridge Celtic2
434 Gloucester City v AFC Telford Utd
442 Harrogate Town v North Ferriby United
581 Hednesford Town v Oxford City
235 Solihull Moors v Histon
353 Workington v Vauxhall Motors
Before Saturday's game NL Daily reported that "Oxford City's French winger, Adam Maabdi could make his debut at Hednesford Town today after Tom Winters was ruled out for several weeks through injury. The former U's midfielder, who joined from Brackley Town, tweaked a hamstring in Tuesday's 2-2 draw at Solihull Moors.

But while the news is not good for Winters, it could give Lille-born Maabdi his big chance. The pacy winger, 23, who was on trial at Marsh Lane over the summer, due to the efforts of City's president, Thomas Guerriero...

'Adam's now available to us. He's a tenacious player and has a great attitude,' said manager Mike Ford. 'He generally plays down the left and comes in on his right foot. He's also a quick learner which is good for me as Tom is going to be out for several weeks'. Although Maabdi, who had spells at AC Cambrai and Saint-Armand in France, is a non-contract player, Ford said he hopes to discuss terms with him next week. Maabdi's fellow-French trialist, goalkeeper Victor Francoz, is also available" reports the Oxford Mail.

Players leaving Skrill North are David Thompson who has moved to Warrington Town from Vauxhall Motors, Cliff Moyo to Witton Albion from Barrow and Michael Lennon to Stafford Rangers from Hednesford Town on loan.

The Boston Standard says that "Ricky Miller and Marc Newsham scored the goals which saw Boston United earn a 2-0 victory over newly-promoted Leamington... Meanwhile, Ashley Timms also had something to cheer after keeping his first clean sheet for United... Miller smashed the hosts into a 53rd-minute lead... Newsham did get on the scoresheet with 12 minutes remaining... Late on Timms earned his clean sheet with a firm-handed save against Lee Chilton".

According to NL Daily, "Winger Carlos Roca has left Chorley by mutual consent. Following his move from FC United in the summer, big things were expected of Roca but, after a heart to heart with the manager, the club and player have decided to go their separate ways.

'During the summer Carlos arrived at the club and never gave less than 100 per cent in training, training as hard as any other member of the squad', manager Garry Flitcroft said. 'However he has struggled to recapture his form and pace in the matches we've played... Carlos has been honest and realised he was struggling and has decided to retire from playing to concentrate on his coaching'".

NL Daily also reports on now "Stafford Rangers were comprehensively beaten 4-1 at Marston Road by newly-promoted Trafford, who took a 22nd minute lead through Andrew Smart... Smart added his and Trafford`s second on 67 minutes".

Also, confirmation comes that Kieran Lugsden has moved to Northwich Victoria from Buxton
---
24 August 2013
RESULTS
Altrincham 3 Stockport County 0
Boston United 2 Leamington 0
Brackley Town 0 Worcester City 0
Bradford Park Avenue 2 Barrow 2
Colwyn Bay 2 Guiseley 2
Gainsborough Trinity 0 Stalybridge Celtic 2
Gloucester City 1 AFC Telford Utd 2
Harrogate Town 5 North Ferriby United 0
Hednesford Town 3 Oxford City 0
Solihull Moors 0 Histon 0
Workington 0 Vauxhall M. 1
Brian Flynn reports that "Radio Robins, sponsored by Ashley Mowers Garden Machinery, is providing full live commentary of Saturday's game at the J.Davidson Stadium against Stockport County.

The match commentary sponsors are SKkits, who are a major independent sports brand in the North West, supplying Altrincham & a further eight leading semi-pro clubs including Buxton, Kendal Town and Lancaster City.

SKkits are a well established company, owned and run by Ian Senior, with a reputation for supplying high class products at unbelievably low prices to sports clubs the length and breadth of the UK and, due to its unique relationship with its suppliers it guarantees that it will not be beaten on price and service.

All products delivered within 14 days of order FREE OF CHARGE in mainland UK.

Have a look at their website or call Ian Senior directly on 07960 137232

Coverage starts earlier than usual at 2.45pm with the game kicking off at 3.00pm and you can listen to Radio Robins on the internet via the link below.

The commentatory team is Simon Ellis and Niall Finnegan with match summaries from Ian Wilkinson.

Dan Whitelegg will be providing regular updates on Twitter (@altrinchamfc) as well as half-time and full time updates on facebook (Altrincham FC).

Alternatively, this website will be providing matchday updates throughout the game, starting from as soon as the line-ups are available. The updates can be found by clicking on the icon below.

Stockport County tell us that "This Saturday sees County travel the short distance to Moss Lane to take on Altrincham in their third game of the season.

Ian Bogie's side will be looking for their first win, after a hard fought draw against Workington helped the team get a point on the table after a disappointing start to the season at Edgeley Park against Boston United.

Altrincham have had a very good start to the season winning both of their games against Worcester City and Barrow, and will be looking to make it a third against the Hatters. Manager Ian Bogie stated that his team shouldn't be written off and will show fight to stop Alty in their tracks in front of a great turn out of away fans...

Altrincham feature a couple familiar faces in Gianluca Havern and Danny Boshell. 'Luca' made his debut in the last home game of the 2007/08 season, when he scored the winning goal; Danny had one season at Edgeley Park during the 2005-06 season scoringone goal".

Altrincham FC Ladies now have a dedicated section on this website. The team's fixtures for 2013-14 have now been issued and the Ladies kick off with a home game against Blacon on Sunday, 8 September. This season the home ground will be at Beech Avenue, Timperley rather than Manor Farm, Ridgeway Road, where they played last season. You can find the Ladies' page here, where there is a link to the fixtures.
In the Hale, Altrincham & Sale Independent, Kevin Thompson speaks to several Altrincham players about the new season. Goalkeeper Stuart Coburn says, "We are all looking forward to this season and we all hope for another promotion push". Asked which three teams he fancies, Stu names four! "Oxford City have spent a lot of money. Stockport County have got new players. Telford are another team, with Liam Watson who has been there and done it before. And there is Brackley".

As for Jake Moult (right), pre-season has "been physically tough. We've done a lot of running and I think it has shown in the games". A lesson Jake has learnt after last season is that "We need to pick up points from the start of the season".

As for Kyle Perry "It has been a long, tough pre-season. The lads have gelled... We are all getting on and you don't have it very often where you can gel so quickly. The teams that I have played for [[previously] have not played football as muuch as here, at Altrincham.

It is great having a healthy competition for places but we all add something different. Hopefully I can add that extra dimension". As for why he joined Altrincham, Kyle said, it was "The gaffer. I have a lot of respect for the boss. The opportunity was there for me to stay in the Conference but the short story is I have not been enjoying it. I have not been utilised to my strengths and here, at Altrincham, is a guy who knows me and what my strengths are, so I jumped at the chance".
YOUTH TEAM DRAW
Altrincham FC Youth drew on Thursday night 3-3 at Ashton Athletic. The NWYA Premier League table is here.

There are photos from the Ashton game on Twitter.

This Sunday Alty are away to Hyde FC who actually play at the Egerton Youth Centre on the outskirts of Knutsford (2.30pm).
---
In last Tuesday's "Robins' Review", Brian Flynn wrote...

"One of the great successes at the club over the last couple of seasons has been the introduction of 'Alty TV' which provides a superb service of match highlights & post match interviews for Altrincham fans. 'Alty TV' is run by a longstanding Robins' fan, Mark Bennett and, this season, we are offering sponsorship opportunities for businesses to promote themselves through this very popular service which is available on the internet via 'YouTube' or 'facebook'...just type 'Alty TV' into Google and click on either the 'YouTube' or 'facebook' links and away you go!

The man behind the lens is Mark Bennett (right).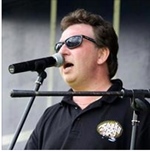 The viewing statistics are hugely impressive. Below is a sample of data which really demonstrates how popular the service is:-
105,000 views last season and a total of 311,000 minutes watched
Alty TV YouTube subscribers - 336. Alty TV facebook subscribers - 371
88.6% viewers are male (from those viewers who have registered with YouTube/Google).
The largest age group is 35-54 years old, accounting for 31% of viewing figures.
Average match views last season were 2800 (individual hits rather than unique views).
Average interview views around 300.
Alty TV has been viewed in at least 140 countries (some listed as unknown which may include China).
Second largest Alty TV fanbase country outside the UK is Italy with over 6000 views.
In third comes The USA with over 3000 views
The clip of Duncan Watmore's goal against Corby has been viewed over 25,000 times!
The best of Duncan Watmore montage has been viewed over 8000 times.
Duncan Watmore's goal against Corby was a huge viral hit in Albania (featuring on a popular football website).
Jake Moult's goal against Brackley went viral overnight on facebook, where it was viewed over 25,000 times in 24 hours!
We are introducing two sponsorship opportunities on 'Alty TV':-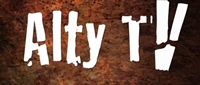 Main Sponsorship.
The main sponsor will be advertised at the start and end of each 'match highlights' video throughout the season, with the facility to change the promotional message during the season. Price for 2013/14 Season: £450 (monthly payment terms available).
Post-Match Interviews Sponsorship.
This is available in '3-match packages' where your business will be featured at the start and end of three post-match interviews. Price for 3 Matches: £60
We believe that both of these packages offer excellent value for money and also the opportunity to support Altrincham Football Club in this important and potentially exciting season.
To make a booking or for further information, please contact Mark Bennett (07525 492328) or Brian Flynn (07860 561011)".
---
23 August 2013 Altrincham FC official caterer Richie Bentley writes that he and his team will have a "Busy evening of preparation on Friday before the fun starts on Saturday. We will be serving food from every corner of the ground on Saturday for the game with Stockport County. Bookers in Stockport have helped me with some point of sale posters, as they enjoy a good supplier relationship with us and are based in Stockport.

Wrights Pies have given me 100 full-colour posters to put around the stadium, to point people in the way of extra catering provisions, and we have the amazing offer of a FREE pie for the next 100 people who like their facebook page. If you are an Alty fan on a diet, please bear in mind it is the Bank Holiday Weekend, so let yourself go! Visit Wright's to upload the link... and claim your free pie".

Richie would like to thank the catering team of Dawn Abbott and all the volunteers for helping to make the extra provision for Saturday's expected bumper crowd.

TASC, The Altrincham Supporters' Club, is running a 49-seater coach to the game at Rivacre Park on Bank Holiday Monday against Vauxhall Motors. Full details are on the Away Travel page. Please book in advance by ringing the club on 0161 928-1045.
Subject to any post-training reaction from Thursday evening's session, manager Lee Sinnott's only serious doubt for Saturday's game is striker Kyle Perry (right), who hobbled off after scoring on Tuesday night. Goalkeeper Stuart Coburn who played on Tuesday with knee stitches, after a workplace accident, is fit to continue for what will be his 600th start in between the sticks for Altrincham. Stuart has also made one appearance as an outfield substitute so it is actually game 601 for him.

Lee indicated that Simon Richman had come through his reintroduction to the side on Tuesday night after injury. Overall, the Alty manager is content with two wins from two games but feels that "there is still more to come" from his squad. But "So early in the season, no one is at their best yet", added the Altrincham manager. With four games over the first nine days of the season, selection will be influenced to some extent by players' recovery levels after each game.
LEE'S RADIO INTERVIEW
Pure 107.8FM radio station carries an interview with Lee Sinnott on its sports show tonight (Friday) between 7-8pm. The programme will also be available as a podcast from 8pm.
Alty TV has its usual high quality highlights of the game last Tuesday against Barrow. Sadly for Shaun Densmore they appear to confirm that Barrow's goal was diverted into his own net by the Altrincham captain! Mark Bennett has also posted an Alty TV interview with Luca Havern by Brian Flynn. In Tuesday's game Gianluca (left) made his 50th start for the Club.

After Tuesday's game, the NW Evening Mail says that "Barrow AFC boss Dave Bayliss bemoaned his side's misfortune in failing to escape Atrincham with at least a point last night and also questioned the dismissal of centre-back Robbie Williams. The Bluebirds displayed their fighting qualities in getting the better of promotion-hunting Alty for sustained periods, before falling to a 2-1 defeat...

The sending-off of Williams, on 63 minutes, heavily contributed to Barrow being unable to find a leveller, despite producing a superior display to the one which saw them suffer an opening-day 1-0 defeat against Brackley Town on Saturday.

When asked if his side deserved at least a draw from the clash, Bayliss said, 'Definitely. I thought the performance was a hundred times better than Saturday. The players worked their absolute socks off and I've got nothing but admiration for the players... Even when we went down to 10 men, we were the better side. It was like a kick in the teeth when their manager (Lee Sinnott) came up to me after the game and said "You deserved something out of the game" and that we were so unlucky'...

Bayliss is still gelling a squad that only includes two players from last season's line-up. 'It will come good', added Bayliss. 'The first time I realised how difficult the job we have taken on was when our PA announcer Darren (Herbert) announced so many debuts on Saturday.

'That's the task ahead of us but we've probably played two of the best teams in this league and we've more than matched them in my opinion. It might take us a week or two to get going, but I've got massive faith in that group of players and I think we'll have a good season'.

Bayliss was less enthused by the decision of match referee R Jones to issue former Altrincham defender Williams with a straight red card for hauling down striker Damian Reeves... He said, 'I thought there was a covering defender there. I though it was poor defending in the first place in letting the ball bounce. We knew that all Damian Reeves does is gamble off shoulders and, as a former team-mate of his, Robbie knew that. So it was poor defending from Robbie's point of view, but there was still a covering defender around him. So it was probably a harsh decision to send him off. But he made it and we were down to 10 men. But it sort of gave us a kick up the backside and we really pushed on then and had a right go at them'.

A traffic incident on the M6 yesterday meant that fans had to endure long delays on their way to Altrincham, while some may have even turned around and headed back to South Cumbria. But even so, a total of 87 fans still braved the nightmare journey to bolster an overall attendance of 844.

'The fans were fantastic', said Bayliss. 'We had to wear Altrincham's away kit because our kit was stuck in traffic. We had no warm-up gear, balls or cones so the preparation wasn't great. But it didn't affect us whatsoever. As I've always said, the supporters are fantastic and to make the effort to come all that way and clap the lads off at the end even though we had been beaten was great. They could see that the performance and effort was there'".

The Mail also says that Barrow "more than matched Alty, who are fancied to, once again, do well this season... But former Port Vale attacker James Lawrie produced the one bit of class in front of goal, as he fired the Robins ahead just before the break with a tidy finish.

That execution was matched not long after the break by Alty striker Kyle Perry who made it 2-0 with a superb volley, moments before AFC midfielder Richard Davies scored his first goal for the club...

In the end, it turned out to be mission impossible for AFC".

Since then Barrow "have agreed a youth loan deal for 18-year old Fleetwood Striker, Jamie Allen. Allen will stay at Holker Street until January 5th 2014. Fleetwood tied down the promising young striker to a new two-year contract in May this year. The teenager scored on his Football League debut for Fleetwood at Northampton in January, which was later voted as the club's goal of the season. Allen made a total of four appearances for Graham Alexander's side in 2012-13".
Altrincham resident and supporter, Anthony Taylor, one of the elite band of English Premiership referees, is the guest at a special event in the Manchester Glass Sponsors' Lounge at the J. Davidson Stadium on Moss Lane. The event is combined with live transmission of England's game against Moldova. Full details are on the attached poster (click on it for enlargement).
EVERY DAY IS LIKE TUESDAY"
Barry Pikesley tells us that his article from Tuesday's "Robins' Review" programme "comprises an overview of those occasions when Alty's opening home league fixture has fallen on a Tuesday evening. All sorts of Alty luminaries feature, from the likes of Eddie Bishop and Ronnie Ellis to Ian Craney and John Brady, not to mention the colossus that was Ian Tunnacliffe, naturally".

Entitled, "Every day is like Tuesday", it can be read here.

Our opponents next Monday, Vauxhall Motors report on their draw at Harrogate where "The Motormen continued their unbeaten start... A late Andy Nicholas goal rescued a well-deserved point... Next up is a long trip up to Workington on Saturday".

Earlier the Chester Chronicle, reported that "Motors' boss Carl Macauley was delighted with his players after two spectacular strikes saw the Ellesmere Port side claim a win on the opening day of the Skrill North season. Lloyd Ellams and Karl Noon netted...

Macauley said, 'The first 45 minutes we were fantastic. It was as well as we've played for a long time. We could have been three up, we opened up Gainsborough time after time'".

According to the Hartlepool Mail, "Hartlepool United have completed the signing of Bradford Park Avenue's Michael Duckworth. The 21-year-old has been on trial at Pools for six weeks, impressing during that period. And Duckworth has now been rewarded with a month-to-month deal at Victoria Park... and goes straight into the squad for Saturday's visit of Fleetwood Town".

The Football Conference tells us that American-owned "Oxford City have signed French midfielder Adam Maabdi following a period on trial at Court Place Farm. The former AC Cambrai, Saint-Amand player has been in the United States on an athletic scholarship at the University of St Francis College in New York".

And Pitchero Non-League adds that "Oxford City have signed goalkeeper Victor Francoz, who has come over from the United States. Francoz, who originally hails from Fleurieu-sur-Saone in France, has been playing for Old Dominion University in the USA having transferred from Lindenwood University in Missouri where he was named an "Honorable Mention All-American" as a freshman, a third team NAIA "All-American" and Second Team NSCAA Division "All-American" in his sophomore campaign. Francoz achieved note-worthy accolades such as being named to TopDrawerSoccer.com's National Team of the Week for the shut-out against Central Florida with four saves". Hopefully these honours mean more to you than they do to me!
---
22 August 2013 According to the Sale and Altrincham Messenger "Altrincham are in great shape as they prepare for one of the biggest occasions in the club's recent history - the clash against Stockport County at the J.Davidson Stadium on Saturday in the Skrill North.

The Robins have made just the start demanded by manager, Lee Sinnott, with an opening day victory at Aggborough against Worcester City before getting the better of Barrow in their first home game on Tuesday night.

A goal down after an hour against Worcester, Sinnott's ploy to bring on Kyle Perry and Nicky Clee paid massive dividends as Perry was involved in all three goals and Clee tormented a tiring Worcester defence. Carl Rodgers entered the fray late on to complete a 3-1 victory with a clinical finish.

'The substitutions were pre-planned, whatever the state of the game, but you obviously want players to make an impact when they come on and that's exactly what they did', said Sinnott , who proceeded to make three changes for the Barrow game.

'I told the players on Saturday that there would be changes on Tuesday night. Kicking off the campaign with four games in ten days is a big ask and I want to get as many players as possible into the season during this time'.

On the 2-1 home victory over the Cumbrians, Sinnott was frustrated that 'We didn't build up any momentum in the game, playing in fits and starts and we never really dominated the midfield', whilst paying tribute to James Lawrie's finish that opened the scoring as a 'wonderful strike, showing great technique'.

Altrincham are expecting a huge crowd for Saturday's first ever league encounter with Stockport County, who just 11 years ago were in the same division as Manchester City. The match is not all ticket and fans are requested to arrive in plenty of time ahead of the 3pm kick off."

Altrincham supporters are able to secure a player's shirt at the end of the season by sponsoring the wearer for the 2013-14 season. For just £150 per player or £250 for two players, you can secure the shirt of your choice. Hurry, as the options are reducing daily!

Home and away shirts are available so there are plenty of opportunities to secure a memento of what, hopefully, will be a successful campaign. So far the following players have secured sponsors...
Stuart Coburn (h) Chris Rowley
Shaun Densmore (h) Jack, Eliot and Lara Shaw
Matt Doughty (h) Eddie Bishop - (a) Sarah Rowley
Scott Leather (h) Hugh Purchas - (a) Tim Olin
Danny Boshell (h) and (a) Neil Shackleton
Damian Reeves (h) Tom Murray - (a) Andy Mein
James Lawrie (h) Ian Wilkinson
Simon Richman (h) Paul Daine - (a) Nigel & Kirstin Bunce
James Walshaw (h) Neil Shackleton - (a) Neil Shackleton
Damian Reeves (h) Tom Murray - (a) Andy Mein
Nicky Clee (h) Dan Eadie - (a) Josh
Carl Rodgers (h) Mark Embury
Jake Moult (h) Robinsons Preservation
Adam Reid
Gianluca Havern (h) Ian Watmore
Kyle Perry (h) The Fosters
Mike Williams (h) Muriel Lewis/Joan Hide - (a) Muriel Lewis/Joan Hide
Rob Gilroy (h) Altrincham FC Ladies Team
Junior Smikle
Lee Sinnott - Hugh Purchas
Neil Tolson - Andrew Shaw
Alan Ainsley - The Rowley Family
The TASC half-time bucket collection on Tuesday night raised £59.73. The Club thanks both the collectors and the donors.

Brian Flynn announces that Tuesday night's Radio Robins commentary of the Altrincham v Barrow game is now available, as follows.

Ex-Alty striker Rod Thornley is now reportedly playing for Chris Adams's Knutsford.

Former Youth players now at new clubs include Oliver Riley (Curzon Ashton), Derryn Ofori and Alex Weatherby (Hyde FC), whilst Adam Bezzina is at Abbey Hey.

Altrincham FC assistant manager Neil Tolson and goalkeeping coach Ian Senior are again holding a season-long Crossbar Challenge for charity. The idea is that before each first-team game they each take shots from the penalty spot with the aim of striking the crossbar. The winner over three shots each (or however long it takes) by the end of the season will require the loser to forfeit a three-figure sum to charity. Neil won the competition last season and he has already gained a 2-0 lead this season.

Stockport County "picked up their first point of the season with a battling point at Workington Town, Iain Howard's second half goal earning Ian Bogie's side a draw after a true game of two halves. The home side taking the lead in the first half after taking the game to County, Bogie's side dominating the second.

The first half began with several ferocious tackles from the home side as County's players were left in no doubt as to Workington's intentions. Ian Bogie's side were not allowed any time on the ball as the Reds used the strong wind to their advantage.

The opening goal came on 13 minutes as Kyle May headed home from a neat Ben McKenna free kick to put his side in front. Dan Wordsworth and Anthony Wright were both spoken to by referee Miller as the home side's tackling became a little reckless, the latter finally picking up a booking on the half hour...

Bogie's half time talk appeared to have the desired effect as his side came out of the blocks quickly. Keiran Charnock starting the move from the back that led to Dennis finding space on the left, his low cross finding Howard who had time to pick his spot to drill passed Mitchell to the delight of the large following from Stockport".

314 of the 563 gate were away supporters. County's team was Ormson, Jacobs, O'Halloran, Verma, Fagbola, Charnock, Hand, Craney, Jevons (Turner), Dennis, Howard (Moke). Subs: King, Turner, Tunnicliffe, Windsor, Moke.

However in the News and Star reports that "Workington Reds boss Darren Edmondson insisted his team were the better outfit during a stalemate with Stockport County...'If we had the luck, and maybe been smarter at other times, we would be celebrating a win, but it was another good performance. We dug in at the end, and it was vital we got a point on the board'.

The only negative came through injuries to experienced defenders Lee Andrews and Anthony Wright... Edmondson said, 'Lee had a bit of swelling, and we don't know how he'll be for Saturday, and Anthony also needs to be looked at. But with Gavin Skelton and Dom Kennedy we have options to swap the defence around'".

A summary of the midweek games comes from the Football Conference which tells us that "Four teams made it two wins from the opening two matches... Newly-promoted North Ferriby United are joined by fellow new boys Hednesford Town, fancied Brackley Town and Altrincham on six points...

Motorway problems prevented Barrow AFC's supporters' coach and their team kit getting to Altrincham and the visitors had to don the home side's away kit, so the evening didn't exactly begin well for the relegated Bluebirds, who lost their opening game against Brackley on Saturday".

Our hosts next Monday, "Vauxhall Motors continue their unbeaten start to the season when a late Andy Nicholas goal rescued a well-deserved point at the CNG Stadium against Harrogate Town.. After the break, Motors put the home side under pressure as they went in search of the equaliser. The pressure finally told on 86 minutes when Nicholas sent the ball past Harrogate keeper Craig MacGillivray to make it 1-1."

Gates on Tuesday were:
844 Altrincham v Barrow
1145 Boston United v AFC Telford Utd
281 Brackley Town v Histon
309 Colwyn Bay v Stalybridge Celtic
425 Gainsborough Trinity v Guiseley
566 Gloucester City v Worcester City
628 Harrogate Town v Vauxhall Motors
708 Hednesford Town v Leamington
303 Solihull Moors v Oxford City
562 Workington v Stockport County
The NL Paper says that "A mass confrontation between players and officials from Gloucester City and Worcester City marred the Severn derby" on Tuesday. "Gloucester took a first-half lead courtesy of an own goal and Scott Wilson doubled their advantage early in the second period. Worcester pulled one back through a bullet headed from George Williams and shortly after the game took an unsavoury turn.
Tigers' captain Matt Coupe and City's Shabir Khan confronted one another and both were shown red cards by the referee. Coupe received treatment on the touchline after being injured during the initial clash and the pair came together again as Khan left the pitch.
Their dispute continued down the tunnel and members of both sides and their management staffs joined the melee. Order was eventually restored and referee Mr D'Aguillar then invited both managers to address their sides to try and ensure no further nonsense.
The rest of the game was played out without incident, Gloucester holding on to their one-goal advantage to take all three points.
Gloucester chairman Nigel Hughes subsequently released the following statement regarding the violent scenes at Whaddon Road. 'The board condemns the actions of a number of players and staff from both clubs which took place during the second half of the fixture... Gloucester City will be dealing internally with this matter and apologise unreservedly for the behaviour demonstrated. The management board will not make any further statement publicly but confirm strong action will follow'".
More on this comes from the Worcester News, which says that "Worcester City and Gloucester City could both face punishment after players and managers were involved in ugly scenes... Following red cards for both City left-back Shabir Khan and Tigers captain Matt Coupe, when the pair clashed off the ball, the aftermath between the two spilled down the tunnel.
Almost every player and members of the coaching staff chased them towards the changing rooms and it took several minutes for referee Michael D'Aguilar to restore order... As Shabir left the field he tried to get at Coupe again which saw players and coaches from both sides tangle. Suddenly, sparked by an unseen incident in the tunnel, City boss Carl Heeley sprinted off down towards the changing rooms, followed by virtually all the players".
According to the Shropshire Star "AFC Telford United manager Liam Watson is expecting better from certain members of his team after hauling off Andy Owens and Charlie Barnett at half-time against Boston United last night.
The Bucks boss displayed a ruthless streak by dropping Saturday's man of the match, Mike Phenix, and replacing two of his starting line-up during the break of the 1-1 draw at York Street. Watson felt Owens and Barnett had not performed in the Skrill North clash, so he brought on Adam Farrell and league debutant Matthew McGinn.
Striker Owens looked jaded while Barnett has not had the benefits of a full pre-season and is still feeling his way into the standard, having never played at non-league level before. Russell Benjamin also impressed after being brought into the team last night for Phenix and Watson warned there will be no place to hide when the going gets tough for Telford.
He said, 'I walked in the changing room at half-time and said ''You and you are not doing enough, come off'. I just don't think they were giving us enough and it's about the team, not individuals. Andy looked shattered and Charlie just didn't get into the game. He needs more match sharpness... But he's got the one thing that probably no one else in the squad has really got, he can open a team up and that will be important as the season wears on. I don't ask an awful lot of the players, just give me everything you have got for 90 minutes. Telford fans had come a long way and paid good money. If you don't match ability with work ethic, your decent quality doesn't mean anything'.
Watson was disappointed with his side on Saturday despite beating Workington 2-1 at home and the Boston display, despite only gleaning a draw, was a marked improvement. He said, 'I got the reaction I wanted. There was phenomenal work-rate all over the pitch'."
In This is Lincs, we learn that "Chairman David Newton admits time is of the essence in Boston United's bid to finance and build a new stadium. With less than five years remaining on their current lease at the Jakemans Stadium, Newton intends to submit a planning application for the club's new home by February next year..
Newton now has one preferred site in mind, believed to be out of the town centre....
'We've got consultants and architects working on preliminary sketches of the stadium', said Newton, the head of property firm Chestnut Homes...'We're looking seriously at one site as we're moving forward with an application. Going for a planning application will help us go for funding.. We can't deliver it at the moment, we haven't got the funding but if we get the permission, we can hopefully sort some funding out and the project will gain momentum in the town...
I love York Street. It will be a sad day when the club leaves there, but it's got to happen', said Newton...
Meanwhile, Newton has praised Pilgrims fans for their support after the club sold around 500 season tickets. 'We've got about the same number of season ticket holders as last season. That is great because times are getting harder for people'".
According to Buckingham Today "Brackley Town made it back to back wins as they hit three goals without reply against Histon... And it was the perfect end to a special day for Saints manager Jon Brady who became a father for the first time earlier in the day...
Histon played some neat football but rarely threatened... With the free running Walker at the heart of all Saints' attacking play... It took the second goal to go in before Histon raised the tempo... but Histon left it too late to get anything from the game and Diggin grabbed a third in stoppage-time".
---
21 August 2013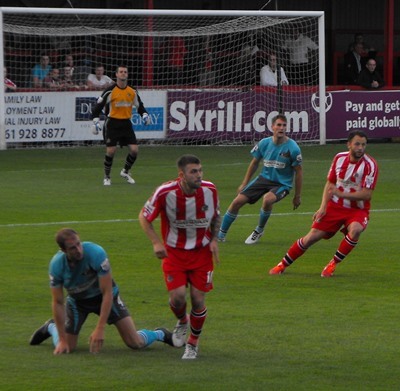 When motorway problems prevented the Barrow's supporters' coach and their team kit getting to Altrincham, the visitors had to don Alty's away kit to play this match.

Altrincham took the lead on the stroke of half time when Lawrie threaded a low shot into the corner of the net. But Barrow had the better of the first 45 minutes...

Match report here.

£3,400 is the Altrincham FC Saturday Yankee jackpot following last week's races in which the winning code 3656 had been unissued. However, three contestants each pocketed £50 for winning trebles.

The Yankee is a very important fundraiser for the Football Club and, currently, collectors are needed in the Sale, Ashton on Mersey, Braodheath and Broomwood areas. If you can help, please ring Jenny Heslop at Alty on 0161 928-1045.

Skrill Football says that "Workington manager Darren Edmondson has hit out at the Football Association over their delay in registering Scottish defender Dominic Kennedy. The 21-year-old joined the Reds two weeks ago after a successful trial spell, but is still waiting for the governing body's seal of approval.

Edmondson has contacted the FA on numerous occasions in an effort to get Kennedy's paperwork sorted out, but to no avail. With the 5pm deadline looming to register the youngster for Tuesday night's Skrill North visit of Stockport County, the 41-year-old is dissatisfied with the two-week hold-up to complete the necessary paperwork.

'If I was Arsene Wenger or David Moyes, this wouldn't be happening', he told the News & Star. 'We have made countless phone calls but haven't heard anything back. It is unacceptable that we have been waiting for 14 days to register a non-league footballer. The lad just wants to play'".

Vital Bradford City says that "Louie Swain's development, for the time being, will continue with Bradford's neighbours Bradford Park Avenue with him loaned to them. Swain completed his loan move to them in time for their non-league game on Monday night but couldn't prevent them losing heavily 4-0. At present Swain, who has worked his way through the youth ranks, hasn't made his first team debut but is thought highly enough of to have earned a first professional contract this summer, penning a one-year deal. The kid needs first team football and for the next month, at least, he'll get this with Park Avenue".

According to Pitchero Non-League, "Ambitious North West Counties League Division One club Nelson FC have announced two coup signings in experienced strikers Richie Allen and Peter Wright... The 31-year-old makes the switch to Victoria Park after leaving Nantwich Town. Wright links up with Fell for the second time after being part of the 2006 Chorley side in which Fell was part of Paul Lodge's management team. As one of the North West's top non-League strikers, Wright scored twenty-eight goals last season in the NPL First Division South with Leek Town".
---
20 August 2013
TUESDAY GAMES
Altrincham 2 Barrow 1
Boston United 1 AFC Telford Utd 1
Brackley Town 3 Histon 0
Colwyn Bay 1 Stalybridge Celtic 2
Gainsborough Trinity 1 Guiseley 2
Gloucester City 2 Worcester City 1
Harrogate Town 1 Vauxhall Motors 1
Hednesford Town 3 Leamington 2
Solihull Moors 2 Oxford City 2
Workington 1 Stockport County 1
NFU KO BPA IN SN
Mon 19 Aug
Bradford Park Avenue 0 North Ferriby United 4
Updated league table
Brian Flynn advises that Radio Robins, sponsored by Ashley Mowers Garden Machinery, will be broadcasting full live commentary of the first league game to be played at The J.Davidson Stadium, which is against Barrow. Ashley Mowers Garden Machinery is a family business which provides a friendly, personal service and a comprehensive choice of quality garden products from the leading manufacturers. You can find out more about them at their website. Right: Poster courtesy of Jack Jolly and Matt Royle.

The match commentary sponsors are Leck Construction Ltd, founded in 1946 and now one of the largest and most experienced Construction and Development companies in South Lakeland/Cumbria. They have regional offices in Barrow and Manchester and undertake many aspects of construction and development work throughout the North West.

In addition to their own development schemes, Leck Construction deal with a broad client base and are active in constructing residential, commercial and industrial buildings for both the public and private sectors. They are currently engaged in measured term contracts with both GlaxoSmithKline and BAE Systems and have strong bonds with regional housing associations. The company also offers a design and build service taking sole responsibility for the entire project from its initial concept through to completion. This can be tailored to meet any particular needs, providing maximum value for the client along the way.

Enquiries from all types of domestic or commercial clients are welcome and you can find further details on their website.

Coverage starts at 7.40pm, with the game kicking off at 7.45pm. You can listen to Radio Robins via the icon below. The commentatory team is Paul Salt and Tim Ainsworth with match summaries from Niall Finnegan.

In addition, Dan Whitelegg will be providing regular updates on Twitter (@altrinchamfc) as well as half-time and full-time updates on facebook (Altrincham FC).

Alternatively, this website will be providing matchday updates throughout the game, starting from as soon as the line-ups are available. The updates can be found by clicking on the icon below.

Before Tuesday night's match the Football Conference announced that "Barrow AFC have signed 19-year-old goalkeeper Jaroslaw Bitner from West Lancashire League Division Two neighbours GSK Ulverston Rangers. The Polish youngster is a student and joined Ulverston from league rivals Furness Rovers. In his homeland he played as a youngster for Stal Swidnica and Sparta Swidnica".
In advance of Tuesday's game, the NW Evening Mail reported that "Barrow AFC's non-contract players have been put on red alert after Dave Bayliss revealed he would be willing to rip up deals to make room for new squad additions. The Bluebirds opened their Conference North campaign on Saturday by slipping to a 1-0 home reverse against promotion contenders Brackley Town.
And while Bayliss was pleased with his side's general defensive display and endeavours, he bemoaned their lack of cutting edge and poor decision-making in the final third. As such, he indicated that he is hunting a new versatile attacker, with any target offering him an extra option out wide, following the departure of tricky and pacy winger Shelton Payne.
However, the AFC boss says that he would probably need to shift a player out of his current 18-man squad to accommodate any new signing after spending his budget. It appears the arrival of another attacker is not yet imminent, but with half Bayliss's players sealing non-contract tie-ups his comments are sure to focus minds.
'We'll probably have to move someone out to bring someone in, which I've got no problem with doing', he said... 'If that means relieving someone (of their deal) and getting someone out then we'll have to do it... The budget's gone but we've got nine non-contract players so we can bring in whoever we want... We want that little bit of raw pace and someone who can give us that option out wide and up front'...
But, overall, Bayliss appears happy with the strength of his 'decent' squad... The back-line was bolstered by the return of no-nonsense centre-back Danny O'Donnell after the 27-year-old linked back up with AFC last week...
Said Bayliss, 'I don't think the problems are at the back or in midfield, I just think we lacked that little bit of cutting edge in the final third'. O'Donnell's inclusion, in partnering Robbie Williams at the heart of the defence, meant 21-year-old defender Duran Reynolds dropped to the substitutes' bench despite largely impressing during pre-season. But Bayliss says...
'Duran has had a couple of family issues to deal with and we didn't know if he was in the right frame of mind to be involved on Saturday', he said. 'He's massively part of our plans'".
In the Banbury Guardian, we read that "A solitary goal from Izak Reid earned Brackley Town an opening day victory at Barrow...
Aaron Bowen's eagerness to impress brought a yellow card for a reckless challenge on Curtis McDonald, who then squared up to Alex Meechan as both sides struggled to come to terms with atrocious conditions and a difficult surface.The game took an enforced break on the half hour following an aerial collision between [two ex-Alty men] Barrow keeper Tony McMillan and defender Robbie Williams, both men requiring lengthy treatment to head injuries and involving medical attention from staff from both clubs".
Mike Garnett has provided the data on previous clashes between Altrincham and Barrow.
At Altrincham: p.36-w.19-d.13-l.4-f.74-a.35
Away p.33-w.14-d.8-l.11-f.52-a.41
All p.69-w.33-d.21-l.15-f.126-a.76
This is the clubs' first league meeting for three seasons, when both clubs were in the Conference's national division.

Howard Watts has kindly provided his Through the Years data for Tuesday's date.

There are very short highlights of Barrow v Brackley on You Tube.
ALTERNATIVE VIEW OF THE NEWS
Don't forget that there is an alternative format version of this webpage which may be more suitable if using an iPhone to access the site. It can be found here.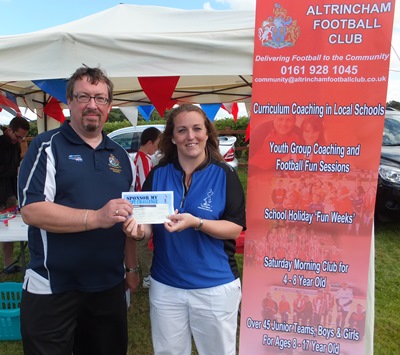 Altrincham Football Club Community Sports (AFCCS) were involved in the annual Open Day and Family Fun Day on 11 August, providing football coaches for the Children's Adventure Farm Trust (CAFT). As Altrincham FC's Neil Faulkner says of CAFT, "Their work for providing holidays for disabled and disadvantaged children is fantastic and the Club is delighted that we are able provide assistance. We have been involved for several years with CAFT and we have helped with several fund raising events. This year my son Anthony and I ran the Manchester 10K to raise funds for CAFT and AFCCS and we presented them with a cheque on Sunday". Neil has kindly provided the accompanying image of him making the presentation. There are video highlights of the Worcester City v Altrincham game available via YouTube.

Meanwhile, the Worcester News reports that "MAnager Carl Heeley says there is plenty for Worcester City to be optimistic about despite their opening day 3-1 defeat to Altrincham... Worcester's new-look team produced a good display, particularly in the first-half, and Heeley was delighted with their efforts.

The City boss said, 'They are good players but the learning curve was Altrincham punished us with their chances and we didn't take ours because the game would have effectively been over. It's easy to be critical and say we could have done this and that better but that's football, you've got to be realistic. The best players in the world will have lapses and make mistakes, these boys are no different but we'll stick with them and they will improve.

We will get better as we familiarise ourselves with our new home... Unfortunately, the substitutions and the extra quality was the difference. There are lots of positive signs for me, they didn't get their heads down and neither did myself, Matt (Gardiner) or John (Snape)'.

Off the field, director Mike Davis hailed the club's transition to Kidderminster, following 108 years at St George's Lane, as a triumph. As well as attracting 714 fans... Davis said, 'I think it went really well, the only disappointment was the result but, even then, I thought we performed well'...

Heeley added, 'I don't think we really knew what to expect but I think the match-day experience at a modern stadium was very good'".

The Shropshire Star reports that "AFC Telford United manager Liam Watson today fired back at Stockport County midfielder Jamie Hand's claims that the Bucks play 'a rugby style'. The 29-year-old raised the ire of the gaffer at the New Bucks Head with comments made to the Manchester Evening News last week when asked about Telford as a promotion favourite.

Hand said, 'No disrespect to Telford but there is a right way to play and, if you do that over the course of the season, the cream will rise to the top. They play a more rugby style, we play football and I would rather play for Stockport County than Telford United'.

Watson retorted by revealing that Hand could have signed for Telford this summer, holding talks with the player after being made aware he was interested in a move. Hand's comments ended up as a laughing stock in Shropshire by full-time on Saturday, after the Bucks had ground out a 2-1 victory at home to Workington. Stockport...were surprisingly beaten 4-1 at home to Boston...

Watson said, 'Stockport are certainly fancied by themselves, I saw Jamie Hand has made a few comments about AFC Telford, which I find bizarre, because I don't think he has ever seen us play. When I read what he said I started laughing, to be honest. I took it as a complement, if he's calling us a rugby team he must be worried about us a touch. I find it quite weird that he's making negative comments about Telford when he's spent most of the summer trying to get people to ring me about taking him here'...

Watson also revealed Telford midfielder Jake Bennett, 17, has gone on trials with the England Colleges' team this week before joining Chasetown on a rolling month-to-month youth loan... Watson said 'He will learn more playing games there than he will sitting in the stands here'".

According to the Wirral Globe "Two fantastic goals by Lloyd Ellams and Karl Noon gave Motors all three points from the opening fixture against Gainsborough Trinity at Rivacre Park. It was a terrific first half performance by the Motormen with some great passing football causing Gainsborough all sorts of problems...

Gainsborough came out after the break looking much better and more dangerous... but the Motormen regained their composure to keep the visitors at bay to secure an opening day victory. Boss Carl Macauley was delighted with his side's performance, 'The first 45 minutes we were fantastic. It was as well as we've played for a long time. We could have been 3 up, we opened up Gainsborough time after time. In the second half, they changed the shape of the team and our lads were getting tired after all the hard work of the first half'". Vauxhall host Alty on Bank Holiday Monday; their team on Saturday comprised Jones, Wainwright, Barnes, Hannigan, Nicholas, Noone, Noon (Rutter 79), Williams, Stott (Rugg 70), Ellams, Kosylo (Davies 90) Subs not used: Martindale, Ellison.
---
19 August 2013

Match report here

The Worcester News reports that "City may not have made a winning start to life in exile but they provided enough evidence to suggest their tag as relegation candidates is premature. Faced by one of the league's perennial play-off chasers, City's youthful team looked set for a baptism of fire in the club's first match at Aggborough, following 108 years at St George's Lane.

But they were the better side for most of the first-half, taking the lead through a stunning Danny Glover volley, and stuck to their guns until the end, despite being overpowered in the second period.

Many of the larger than expected 714 crowd would have left feeling both disappointed yet encouraged at the same time. Carl Heeley's team, which featured five players making their debuts, know they have a tough campaign ahead but they have a few dangerous weapons in their armoury to test opponents.

Chief of these are striker Daniel Nti and winger Luke Hubbins, new signings who bewildered the Altrincham defence in the first 45 minutes. Nti, deployed as the central target man in a flexible 4-3-3 system, has pace and power, while Hubbins delved into his box of tricks on the right flank, supported by overlapping right-back George Williams...

Every time an Altrincham player tried to escape their own territory, they were hustled off the ball by a City counterpart. When the goal arrived, it was as much deserved as it was spectacular. Captain Tom Thorley picked out Nti, he nodded the ball down and Glover's left boot met it with a crisp, perfectly-timed volley that left Coburn helpless...

But after that, Worcester seemed to lose their way. A knee injury to Nti, which forced the youngster off at the break, stifled Worcester's threat and Altrincham took control... With Altrincham manager Lee Sinnott also able to bring on new signing Kyle Perry, seasoned winger Nicky Clee and midfielder Carl Rodgers, Worcester became increasing[ly] over-run. By contrast, rookies Ebby Nelson-Addy and Danny Williams did not carry the same prowess coming off the home bench".

As mentioned yesterday, Stuart Coburn should make his 600th start for Alty on Saturday but as Mike Garnett points out his actual 600th appearance will be on Tuesday night (if selected!). Mike points out that when Alty beat Emley 7-1 in the Unibond League on April 25th 1998, Stuart came on as an outfield substitute. So Tuesday is his 600th appearance and Saturday his 600th start.

Mike also calculates that at Kidderminster last Saturday, it was Stuart's 500th start in a league match (his 598th overall). Mike adds that "My figures on the other 'legends' with 500+ appearances in total show that none of them come close to Stuart's 500 league starts. John Davison comes nearest (472 starts plus 5 playing subs) but I suspect we can say Stuart holds the record at least in 'modern times'; my detailed stats only go back to the late 1960s. I suppose it's possible there might be somebody to challenge him in the way back when but, if there is, I've never heard of it!"

Mike's data for Alty 'legends'.

The Football Conference reports that "AFC Telford United manager Liam Watson was scathing about his troops, after watching them edge to an opening day victory against Workington.

'Performance wise we were second best, especially in possession', he said. 'I think our front four were absolutely dreadful. Andy Owens didn't hold anything up all day. I don't know how Mike Phenix got man of the match, Sean Clancy wasn't good enough on the ball and Tony Gray gave the ball away too much. As a front four, not one of them was good enough on the day'.

On the opposite side of the fence, Workington manager Darren Edmondson was naturally pleased with his side's display. 'We've come here against a Telford team that are meant to be champions elect, and we've been the better team. Liam sets his teams up a certain way. They're full of big strong boys, who can play if you give them time to do it. You've got to pressurise them at all times and we had good intensity to our play. We're talking about chances created and I felt we created more than them'".

News of our next opponents comes from the NW Evening Mail, which says that "Barrow AFC opened their Conference North campaign with a 1-0 defeat against fancied outfit Brackley Town at a rain-lashed Holker Street... Barrow AFC: Tony McMillan, Andy Burns, Robbie Williams, Danny O'Donnell, Paul Edwards, Alex Meechan, Robin Hulbert, Richard Davies (Alex-Ray Harvey 73), Greg Mills, Aaron Bowen (Dale Johnson 63), Gareth Arnison (Cliff Moyo 80).Substitutes: Sam Sheridan, Duran Reynolds."

According to the Boston Standard, "Scott Garner says he knew that Boston United could put Stockport County to the sword by his teammates' attitude before kick off. The central defender... sensed the Pilgrims were ready for something special.

'In the warm-up the lads were fired up', Garner said... the most pleasing aspect for him was how the defence handled themselves. He continued, 'They've had that chance (the penalty) and Ashley Timms has made a good save at the end. Apart from that, that's about all they had'..

Manager Dennis Greene also had plenty of praise for his defence. He said, 'The back five were unbelievable. Ashley Timms, everything he did was superb. His kicking set up Spencer's goal, and Scott and Pidge (Carl Piergianni) have headed everything. Netan and Borey (Peter Bore) have dealt with the wingers... We've restricted them and not allowed them to play in our final third, and I think they've run out of ideas... It was a great performance, that was to our standards'".
---
18 August 2013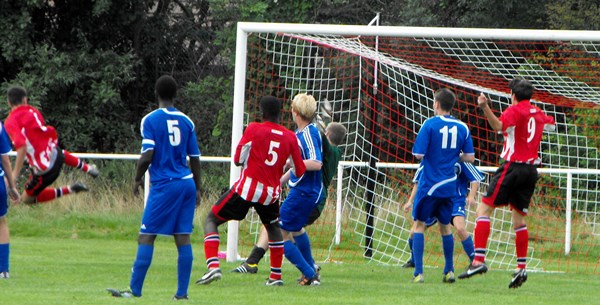 Above: Pat Crilley's flying header goes wide as Derek Ubah (5) and Max Pouncey (9) look on.
Following Saturday's first-team victory over Worcester City, the Alty Youth team made it a double-winning weekend as they secured a comfortable 4-1 win against Macclesfield Town. Report in Youth section.
LANDMARKS
Congratulations go to three Altrincham players who are reaching landmarks in their club careers this week. The game against Worcester was Jake Moult's fiftieth for the club (37 starts and 13 games from the bench), an achievement which Gianluca Havern reaches in his next game (all starts). Assuming he plays on Tuesday, Stuart Coburn should reach his six hundreth match for Altrincham FC on Saturday against Stockport County. Well-known Altrincham supporter Kenny Palin is being honoured today (18th) by the other club in his life, Timperley Cricket Club. There is to be a light-hearted cricket match in Kenny's honour on Sunday 18th August (1.30pm at Timperley C.C.) to recognize his longstanding support for the club. Everyone is welcome to come along.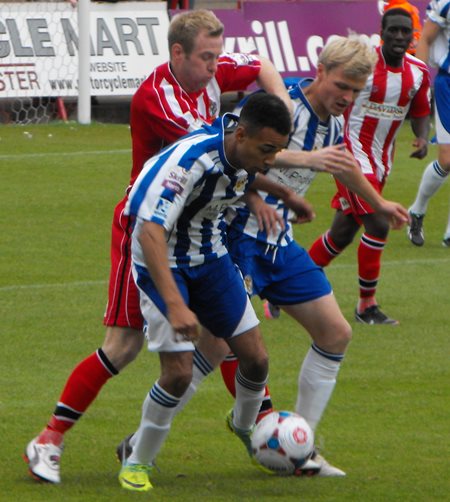 Alty trailed 0-1 at the interval but the introduction of three substitutes during the second half changed the game...

Report here

Right: Jamie Walshaw battles for the ball.

Worcester City report that "City were defeated in their first home game away from St George's Lane for 108 years as Altrincham came from a goal behind to win 3-1 [in] a closely fought game. City led at the break, after striker Danny Glover hammered home a spectacular left footed volley from outside the area and were the better team for much of the first half.

But it was the visitors, who were looking to bounce back from last season's play-off semi-final defeat, who came from behind with goals from prolific striker Damian Reeves and substitutes Kyle Perry and Carl Rodgers, to prove why they are considered by many to be one of the favourites for the Skrill North title.

It was a young Worcester squad that featured six new signings, five of which were featured in Carl Heeley's starting line-up... On the twenty fifth minute City's dominance paid off as they took the lead through a very early goal of the season contender from Danny Glover. Tom Thorley's pass was headed down by Daniel Nti, and Glover unleashed a spectacular left footed volley into the top left hand corner to give City the lead...

Daniel Nti was replaced by Ebby Nelson-Addy at half time as he failed to shake off his first half injury, as he landed awkwardly after challenging for a header. Manager Carl Heeley said after the game that the injury was 'innocuous' and unlikely to be serious, but admitted that the team missed the striker in the second half...

Altrincham equalised mid-way through the half as Michael Williams's cross was met by last year's Conference North top scorer Damian Reeves, who headed home for the Robins... Altrincham snatched the lead... as Gianluca Havern headed a corner across goal for substitute Kyle Perry to head home from close range with a real poacher's effort.

Nicky Clee came close to adding to Altrincham's lead after hitting a dipping long range shot that cannoned off the crossbar, to the relief of the City fans... Any hopes of a comeback were quashed in the eighty-ninth when Kyle Perry's through ball to substitute Carl Rodgers was fired past Sargeant...

City boss, Carl Heeley, believed his side were unlucky, and ultimately, Altrincham's strength in depth changed the game. 'The differences today were the substitutions they have been able to make and the quality of those lads coming on like Clee, Perry and Rodgers. They've all been top players and still are top players; that's the difference today. You need great quality players to come on and change the game and Altrincham have got that. Unfortunately, we haven't. And that's no detriment to the boys who went off the bench for us, but the top sides have got that quality... I think we've seen today we're not going to be push-overs', he said".

The EvoStik Leagueconfirms the summer transfers of numerous ex-Altrincham players, including:
Ryan Brooke to Curzon Ashton from Altrincham
Chris Denham to Ashton United from Mossley
Carlos Logan to Ashton United from Droylsden
Joe O'Neill to Ashton United from Droylsden
Osebi Abadaki [ex-Youth] to Ashton United from Salford City
Mark Beesley to Burscough from Skelmersdale United
Andrew Pearson to FC United of Manchester from Hyde
Wesley Wilkinson to Kidsgrove Athletic from New Mills
Sam Madeley [ex-Youth] to Mossley from Ashton United
Scott Metcalfe [ex-Reserve] to New Mills from Curzon Ashton
Kieran Lugsden to Northwich Victoria from Buxton
Brian Summerskill to Northwich Victoria from Curzon Ashton
Stuart Cook [ex-Youth] to Salford City from Curzon Ashton
Nehru Mckenzie to Salford City from Padiham FC
Ex-Alty men who scored on Saturday were Kyle Wilson for Witton at Buxton and Nantwich Town's Adam Carden and Aaron Burns, as they beat King's Lynn Town. Kendal won 3-1 at Mossley with ex-Alty Youth Andy Keogh scoring for the Lilywhites and Danny Mitchley notching one of the Cumbrians' goals. Mark Beesley scored a penalty for Burscough as they lost to New Mills.

Alty's guests next Tuesday are Barrow, who lost their opening game at home to Brackley, 0-1. Their side included several ex-Alty men: McMillan, Burns, Edwards, Rob Williams, O'Donnell, Hulbert, Meechan, Davies, Bowen, Arnison, Mills. The used subs were Dale Johnson, Harvey and Moyo. In "Barrow Lad"'s match report Barrow say that "Considering the horrendous conditions and the holiday season, a decent crowd of 884 turned up... Barrow started brightly with two Mills corners in the first couple of minutes but heavy blustery showers soon dampened proceedings...

In the 28th minute, Brackley's goalkeeper Billy Turley launched a free kick which McMillan couldn't hold, O'Donnell clearing from the penalty area. Both McMillan and Robbie Williams were injured in this attack and play for stopped for 5 minutes while both received treatment...

The rain stopped at half time but the Brackley pressure continued... in the 64th minute, Brackley scored the only goal of the match, Izak Reid cutting through the Barrow defence and slotting into an empty net.

We then made our first substitution, Dale Johnson replacing Aaron Bowen. In the 70th minute, we had our only real chance of the match, a goalmouth scramble including Burns, Johnson and Hulbert bringing a close range save from Turley... The new Barrow team hasn't yet had chance to gell. Over the coming weeks we need to build a positive attacking strike force to boost the crowds".

Meanwhile former Barrow player Shelton Payne has now re-joined Trafford.
---
17 August 2013
RESULTS
Saturday's inaugural fixtures in Skrill North were...
AFC Telford United 2 Workington 1
Barrow 0 Brackley Town 1
Guiseley 0 Solihull Moors 3
Histon 3 Colwyn Bay 1
Leamington 2 Bradford Park Avenue 0
North Ferriby United 3 Gloucester City 1
Oxford City 1 Harrogate Town 2
Stalybridge Celtic 0 Hednesford Town 4
Stockport County 1 Boston United 4
Vauxhall Motors 2 Gainsborough Trinity 1
Worcester City 1 Altrincham 3
As Altrincham prepare to kick off a new season, their eighteen-man first-team squad includes six players who were not paid employees of the Club last season:
L to R; Danny Boshell, Rob Gilroy, Kyle Perry
Danny Boshell: midfielder, who finished last season at Moss Lane, on loan from Guiseley.
Rob Gilroy: midfielder, who has graduated from the Altrincham FC Youth team and has captained England Schools.
Kyle Perry: experienced striker with plenty of Conference experience, with Nuneaton, Mansfield and Hereford amongst his former clubs.
Brian Smikle: winger, who counts Kidderminster Harriers amongst his former clubs.
James Walshaw: striker, who joined from Guiseley but has also played for Darlington and FC Halifax Town.
Mike Williams: experienced Conference defender, formerly with Kidderminster Harriers and Wrexham.
R to L: Brian Smikle, James Walshaw, Mike Williams
Brian Flynn advises that Radio Robins, sponsored by Ashley Mowers Garden Machinery, will be broadcasting live coverage of Saturday's Worcester City v Altrincham game at Aggborough Stadium. Ashley Mowers Garden Machinery is a family business which provides a friendly, personal service and a comprehensive choice of quality garden products from the leading manufacturers. You can find out more about them at their website.
The game kicks off at 3pm and the match commentators are Ian Wilkinson and Brian Flynn. You can listen to Radio Robins by clicking the image below.
Alternatively, this website will be providing matchday updates throughout the game, starting from as soon as the line-ups are available after 2.30pm. These can be found by clicking on the image below.

There is still time to join Altrincham FC's Patrons' Club. Chairman Grahame Rowley writes:

For the cost of £50, your name will appear throughout the coming season in the matchday programme as a Patron of Altrincham Football Club. At the beginning of the season, every member will be entered into a prize draw, with the winner being match sponsor for an appointed game along with nine guests. Second prize will be hospitality for five people and third prize will be hospitality for 3 people in the Sponsors' Lounge.

If you are interested in becoming a Patron for this coming season, please forward a cheque for £50, payable to Altrincham Football Club, for my attention. If you require any further information please speak to me (Grahame Rowley) on 07720-606897 or e-mail me. Thank you for your support".

For more details, visit the Patrons page.

Worcester City announce that "We head into a new chapter in the history of Worcester City FC tomorrow (Saturday) when Altrincham will be the first visitors to Aggborough our temporary home.

Chairman Anthony Hampson said, 'We are all in this together but we need support to carry us through. Every single person who supports this club in any way they can is contributing to its success...

As we move to a new ground, we have done everything we can to ensure everything runs smoothly as possible at the first game. We will learn from any mistakes and we welcome positive feedback'".

However, "City will miss Sam Smith for the opening three games due to suspension picked up from last season and will need surgery to repair an injury picked up in pre-season. Carl Heeley said, 'We came as a Team to Aggborough for the first time on Tuesday evening and managed to get an hour on the pitch. For most of the lads it was their first visit to our new home and they can't wait to get on with the job. We have a very young side but they are very determined to prove a point and do their best for the Club. For those that don't make the starting line up for the Altrincham game, they will get an opportunity and we will have no qualms about shaking things up if we need to'.

Tom Thorley has been appointed Club Captain and Graham Hutchison has been appointed vice captain. Shabir Khan and George Williams were both suffering from mild injuries earlier in the week but both are hoping to be fit."

City also say "With their new-look squad and unfamiliar surroundings, it is the moment of truth for Worcester and their fans. More than 500 have snapped up season tickets, the majority at £100 a time, and Heeley wants as many supporters as possible to make the journey up the A449...

'We need support throughout the season and we need our fans to come out', the City boss said... 'It's been a really tough summer but we are about to kick-off and there is light at the end of the tunnel. There's a long way to go but our destiny is in our own hands'.

That task rests with a young squad assembled over the summer, some of whom will be tasting football in non-league's second tier for the first time. But the likes of striker Aaron Williams and midfielder Elliot Turner have played professionally for Walsall and Shrewsbury respectively and will be relishing the opportunity to link up with player-of-the-year Tom Thorley and striker Danny Glover. Left-back Shabir Khan, right-back George Williams (both hamstring) and striker Ethan Moore (groin) have all improved but centre-half Sam Smith needs knee surgery and will be out for around a month...

In Altrincham, City face one of the promotion favourites, who have strengthened their squad following last season's run to the play-offs. Although forward Duncan Watmore made a shock move to Premier League Sunderland, boss Lee Sinnott has added midfielder Danny Boshell and striker James Walshaw from Guiseley and ex-Kidderminster winger Brian Smikle.

Heeley added, 'It's technically a home game for us. But it's not a major advantage because we are not used to playing at Aggborough either. We were on the pitch for an hour the other evening but it will take time to adjust to our new surroundings. It's a new era for us but, as for preparing for Altrincham, we won't do anything different. They are a good side and proved that last season by getting into the play-offs'".

Meanwhile, "Chairman Anthony Hampson says he is 'very optimistic' for the future of Worcester City despite them being homeless... It is the start of an exile brought about by selling the Lane for housing but being unable to afford a new ground. With a move to Nunnery Way dead in the water — the St Modwen contract is due to be terminated — and the club's supporters' trust plan for Perdiswell the only potential option on the table, there are uncertain times ahead.

However, Hampson has been buoyed by 550 season ticket sales, which have brought in much-needed cash, and the youthful team being assembled by manager Carl Heeley. The bank balance will also be aided in December by the last of three annual sponsorship payments of £62,500 from Careys New Homes...

The City chief said, 'There are a lot of clubs that are probably in the same position as us in that league at the moment who are around our level so I am not pessimistic in any way, shape or form... We're working to make sure that there will be a healthy club when City actually come back to play in Worcester. We really hope it won't be for more than two seasons otherwise it's going to be very difficult to keep the club together.

The forecast we have at the moment gets us through this season cash-wise as long as attendances don't plummet dramatically... There is a considerable saving in what we're trying to do in terms of not maintaining an old ground with the problems of all the ageing facilities. Even though we all like to go to the traditional ground of St George's Lane, the upkeep was horrendous. There were additional bits of costly maintenance turning up all the time... It's a welcome relief and hopefully it will mean our focus will be more on fundraising'".

The Football Conference comfirms that "Vauxhall Motors have signed striker Jordan Rugg. The 22-year old came through the ranks at Wigan Athletic, where he was a regular scorer with the Latics' reserve side. He signed a short-term deal with Bath City last season having also gained experience in the North West Counties League with Formby".

The new Skrill North site reports that "Harrogate Town have signed goalkeeper Peter Crook on dual registration forms, while Daniel Clayton has parted ways with the club. Crook is a promising young goalkeeper, who has impressed Town boss Simon Weaver in pre-season, and will continue his development with Harrogate Railway Athletic.

He is a product of Scunthorpe United's youth system and was on the books of Ilkley Town last season.

Utility man Clayton, meanwhile, has departed Harrogate for Glasshoughton Welfare, having made 21 appearances, scoring two goals in the process".

AFC Telford United "have confirmed that young midfielder Martyn Jackson has signed a one year deal with the club. The midfielder, spotted during a trial game by manager Liam Watson, has earned himself a deal after making a very good impact during pre-season. The 19 year old started as a youngster at Manchester United and also had a stint at Burnley. He has been playing North West Counties football since his release.

Jackson joins Jake Bennett who has also signed forms with the club. Bennett is likely to further his development with Chasetown. Jackson will go into the squad for tomorrow's game. Matty McGinn is suspended and the club are still awaiting confirmation that Robbie Booth has received International clearance to play from the FA of Wales. Wide man Sean Cooke is still on the comeback trail after recovering from a broken ankle".

As well as Paddy Lacey, two more ex-Alty players will figure at Barrow, who have "bolstered their squad to 17 with the signings of Danny O'Donnell, Robin Hulbert, Sam Sheridan (ex-Alty loanee) and Dale Johnson (ex-Alty striker).

O'Donnell has agreed an amendment to his original contract to stay at Barrow for the remaining one year of the deal he signed in January... Hulbert, FA Trophy winner three years ago, has signed on non-contract terms and is keen to prove his fitness and worth to the Barrow fans.

Fellow midfielder, Sheridan, 23, who left Stockport last season, has also joined on non-contract terms. Completing the quartet is the one month loan deal for FC Halifax striker, Dale Johnson. All signed their paperwork at Barrow's training base at The Accrington Academy last night. A further signing is expected".

Later Barrow reported that "Alex-Ray Harvey has agreed a deal to stay at Barrow and has signed papers for The Bluebirds. The young midfielder whose contract at Holker Street expired in May, has spent most of pre-season with Macclesfield, but no deal was forthcoming".

And there are more signings at Stockport County, where "Ian Bogie has added Bobby Lofthouse and Scott Duxbury to his 2013/14 squad. Lofthouse is a left-footed midfielder who can play central or left midfield. He is the captain of Myerscough College's ECFA National Championship & Lancashire FA Floodlit Championship winning teams. He also played for Squire's Gate in the latter part of last season putting in some impressive performances, helping them secure Premier division status.

Duxbury is a versatile, strong and combative defender, also left-footed he can play central and left side of defence. He is also a member of Myerscough College's ECFA National Championship winning squad, and has been selected and represented the Lancashire FA county team. Both players...will be continuing their further education at Myerscough College."

It's been a difficult summer at Workington, where "Reds' skipper Jonny Wright has announced that he will be leaving the club at the end of the month. Jonny has announced his plans to live and work in the London area. He has made the following announcement...

'I will be playing my last game for Workington Reds on the 31st August 2013 against Stalybridge. I have taken up the opportunity to go and work and live in London. My reasons for leaving are not football related. I am leaving to further my work career and to live closer to my girlfriend... and apologise for the timing of this announcement'...

The squad has though been bolstered by the signing of ex-Burnley winger Ross Wilson and ex-Burnley and Barrow striker Joe Jackson".
---
16 August 2013
REMINDER - ARRANGEMENTS FOR STOCKPORT GAME
All those intending to be at the J. Davidson Stadium on Saturday, 24 August when Altrincham entertain Stockport County, should read Grahame Rowley's statement about arrangements for the game.
Former Altrincham FC Chairman, Geoff Goodwin is organizing a Gala Dinner on Saturday 7th September 2013 with the Australian Cricket Team, who many supporters will remember have had close links with our Football Club as a consequence of Geoff's coaches being their mode of transport when touring in this country. Geoff's wife, Suzanne, has been battling with a rare lymphoma cancer since February 2013 and the Dinner is to raise funds for the Haematology and Transplant Unit at the Christie Hospital in Manchester, where Suzanne has been receiving treatment and support.

Geoff says that "The staff at this unit, based in Christie Hospital, have been tremendous and all of them go over and above their call of duty, 24 hours a day, 7 days a week!". Regarding the Dinner, Geoff adds that he and Suzanne, "Together with our family, would appreciate your support by buying tickets for this event, which are £59.50 each - or maybe treat your hardworking staff for a table of 10 at £550.00. Some may think this a little steep but please help us, this for a very worthy cause".

Anyone wishing to attend should contact Grahame or Karen Rowley for tickets.

Geoff and his family did so much to help turn round the financial fortunes of Altrincham FC that it would be good if as many supporters as possible could support this venture. Needless to say, all at Altrincham FC extend their best wishes to Suzanne at this difficult time.

Go Goodwins will be again providing team transport for Altrincham FC this season.

The NW Football Awards are again being organised and they have issued the following announcement:

"What do Michael Carrick, Leighton Baines, Jose Baxter and George Horan have in common? Indeed, the quartet from Manchester United, Everton, Oldham and Chester City are literally leagues apart. But all four have won nominations for the 2013 Northwest Football Awards taking place on November 4th.

Now it's the public's chance to choose players they want to see pick up silverware at the annual and prestigious Awards gathering at Lancashire Cricket Club's, The Point conference centre this autumn.

To coincide with this weekend's kick-off to the new Premier League season, voting has opened to decide who will become Player of the Year from across the leagues from Premiership to Conference and Rising Star for 2012/2013...

The Awards celebrate all levels of North West football and organisers are looking to exceed the tens of thousands of votes cast across a wide range of categories in 2012. A distinguished judging panel includes: Gordon Taylor, chairman of the Professional Footballers' Association, former chief executive of the Football Association, Mark Palios, and Paul Thorogood, chief executive of the Football Foundation.

To vote and also see the full list of Player and Rising Star nominations visit the website.

The following have been nominated for player of the season: Accrington Stanley (Lee Molyneux), Altrincham (Duncan Watmore), Barrow-in-Furness (Danny Hurst), Blackburn Rovers (Jordan Rhodes), Blackpool (Alex Baptiste), Bolton Wanderers (Jay Spearing), Burnley (Charlie Austin), Bury (David Worrall), Carlisle United (Matthew Robson), Chester City (George Horan), Crewe Alexandra (Luke Murphy), Droylsden (Rob Sissons), Everton (Leighton Baines), Hyde United (Luke Ashworth), Liverpool (Jamie Carragher), Macclesfield Town (Peter Winn), Manchester City (Pablo Zabaleta), Manchester United (Michael Carrick), Morecambe (Jack Redshaw), Oldham Athletic (Jose Baxter), Preston North End (John Welsh), Rochdale (Jason Kennedy), Southport (Shaun Whalley), Stockport County (Jordan Fagbola), Tranmere Rovers (Zoumana Bakayogo), Vauxhall Motors (Tom Hannigan) and Wigan Athletic (Shaun Maloney).

The top three most voted for player from each category will be shortlisted and the winner chosen by the judging panel. Voting closes on Friday, October 4, 2013

Following a soggy training session on Thursday evening, manager Lee Sinnott confirmed that Simon Richman had been able to join in the session, following the injury he sustained on duty for the British Universities' and Colleges' team in July. However, it is still more likely that he will be fit for next Tuesday's match against Barrow than for this Saturday's opening fixture against Worcester City. Otherwise, subject to any post-training reaction, everyone is fit for selection on Saturday.

Mike Garnett has provided the data on previous clashes between Altrincham and Worcester City.
At Altrincham: p.10-w.8-d.1-l.1-f.26-a.11
Away p.11-w.3-d.3-l.5-f.12-a.14
All p.21-w.11-d.4-l.6-f.38-a.25
Mike's statistics also provide a record of Altrincham's performances over the years at Aggborough.
Record at Kidderminster - p.22 w.8 d.6 l.8 f.25 a.35
Record at Kidderminster in August - p.4 w.2 d.0 l.2 f.3 a.6
Record at Worcester in August - p.2 w.0 d.1 l.1 f.1 a.2
The Worcester News reports that "Worcester City have a number of injury concerns ahead of Saturday's Skrill North opener against Altrincham at Aggborough.
Right-back George Williams and left-back Shabir Khan are both struggling with hamstring problems, while striker Ethan Moore has a groin strain.
Manager Carl Heeley is hopeful Williams, a summer signing from Loughborough University, and Shabir will be available for selection but Moore, who has yet to sign a deal with the club, is ruled out.
Elliot Turner, another addition to the squad, suffered an eye injury during last Saturday's 1-1 friendly draw at Rushall Olympic but is expected to be fine.
Left-back Ellis Deeney is on his way back to full fitness, following an ankle injury suffered in March, having featured in the last two warm-up games, while midfielder Ashley Sammons seems to have shaken off a thigh problem.
With the new campaign just days away, Worcester are still to sign a second goalkeeper and also name a captain".
Meanwhile "Goalkeeper Deale Chamberlain, striker Ebby Nelson-Addy and left-back Calum Flanagan have completed Worcester City's squad for the new season. The trio... all featured on the club's official team photograph... Striker Ethan Moore was also included, suggesting that he has been registered by the club just a week after returning from a trial at Forest Green Rovers.
However, there was no place for left-winger George Washbourne who, according to Stourbridge where he was on trial, has signed a one-year contract with the club. Chamberlain, once part of the youth team at Liverpool, has been involved in the recent warm-up matches after the club had previously given trials to Dean Snedker and Jose Veiga.
Former Aston Villa academy player Flanagan and Nelson-Addy, who was with Daniel Nti and George Williams at Loughborough University last season, could be among a few City players who will be dual registered with lower ranked clubs for match practice.
Left winger Danny Edwards was part of the team photo despite being expected to miss the majority of the season following major knee surgery. Centre-half Stuart Whitehead was not included."
SKRILL NORTH NEWS
The Football Conference reports that "Michael Built has become Histon boss Brian Page's latest signing... The 20-year-old New Zealander agreed terms with the manager three weeks ago but the signing wasn't finalised until International Clearance was received from the FA...

'I have known Michael for a while since he was at Northampton Town as a Scholar and watched him at Bedford Town last year. He's a strong player that can play in the centre or wide in midfield'...

Starting his career in the UK with Northampton in 2009, the former New Zealand under-17 and under-20 international signed an eighteen-month contract with the Cobblers in January 2011... Following a short loan move to Bedford in March 2012 he then made the move permanent, signing for the Eagles for the 2012/13 season before returning to his native New Zealand where he has been playing for Hamilton Wanderers over the summer".

"Paul Holleran, manager of Skrill North newcomers Leamington, is pleased to get pre-season out of the way. After the Brakes' final pre-season run out at Halesowen Town, Holleran said, 'To be fair I am glad pre-season has come to an end now! It has dragged on a bit with our season in the Conference North and South starting later than pretty much everyone else and I think everybody, the fans, the players, are just looking forward to the big kick-off really.

It's been a difficult pre-season with Richard Batchelor's injury, Paul McCone's appendix problem, the niggles with Stefan Moore and Matty Dodd, and then Ricky Johnson tweaked his knee, so it's been a trying pre-season but in general we've done well...

We had to try a few new things out at Halesowen such as Joe Magunda playing at centre-half and Lee Moore in the middle of the park, so you can't always expect to have the same momentum and cohesion when you're doing that...

Most of the players are where they need to be at the moment... Obviously Liam Daly will be serving a suspension from his sending-off at Chippenham Town last season, and there's a couple of other little bits and bobs that we need to tie up before the weekend, people like Paul McCone and Alex Taylor. Paul's back in full training now...

Regarding Sam Oji, I know Sam, and sorted him out with a couple of games while he was trying to sort himself out with a move, but that hasn't materialised for him yet. He would have played for us at Halesowen but he jarred his knee in our match against Birmingham City last Wednesday. At the moment he'll be around the place and will be having treatment with us.

We've had more injuries and niggles during this pre-season than we had in the whole of last season, and to be honest I don't think we'd have won the league if we'd had them during last season! ... I want to try and give Joe Magunda and Craig Owen their chance in midfield in the absence of Richard Batchelor. We've got Sam Adkins in there as well, and I played Lee Moore in there against Halesowen. I tried to get Joe Halsall in, who I think is a really promising young player but unfortunately that didn't materialise.

We've got another one or two little things that we're looking at and I wouldn't rule out one new face in the near future'".

While Leamington ponder one signing, The Conference says that "Bradford Park Avenue have confirmed six new signings. Manager John Deacey moved quickly to get the signature of the former Avenue captain James Knowles. The central defender left the West Yorkshire club to join FC Halifax Town last season...

However, Knowles is pleased to return to the Horsfall Stadium... ' I hope I can add my experience and ability to help the club achieve their goal of another promotion'" he said.

"Also, Jason St Juste has signed for the Avenue after impressing in pre-season. The former FC Halifax man has featured at left-back for his new team and said... 'It is my kind of football, but I am learning while I`m here and I`m looking forward to a long season. I had a few options but I wanted to stay local'...

Meanwhile, Deacey has added Charlie Clamp to his squad for the new season. The young midfielder signed for the Avenue after appearing in pre-season friendlies, and is hoping to be involved in the first-team...

Deacey has added three more players to the squad. Two former Bradford City players return to the Horsfall to wear an Avenue shirt. Both Luke Dean and Danny Forrest have joined the club. Dean has featured in midfield during pre-season, scoring one goal. Meanwhile, Forrest has been playing in a forward role...

Deacey has registered Dermot McMurray as a goalkeeper for the club".

Further south, "Gloucester City have signed trialist Ryan Batten. The centre-half, who was been plying his trade with Bitton in the Toolstation Western League, has impressed City boss Dave Mehew... Mehew is in need of defensive cover following Tom Hamblin's move to London with his job. Formerly with Bristol Manor Farm, Batten joined Bitton exactly a year ago."

and, to the east, "North Ferriby United have completed the signing of Tom Davie... ​Recently released by Hull City, Davie was given the chance to impress Ferriby boss Billy Heath, who faced competition for the youngster's signature from Kilmarnock... Davie, 19, is very adaptable in that he can play left-back or left midfield".

The Daiy Telegraph reports that "Virgin Media will provide BT Sport to two million subscribers to its most expensive television package at no extra charge and offer it to other customers for £15 per month, the cable company said on Thursday...

Virgin Media will pay around £75m a year for three years to carry BT Sport, it is understood... BT is giving its broadband subscribers access to the channels for free in an effort to stem and reverse the flow to Sky.

The deal with Virgin Media will provide some guaranteed revenue to reassure investors nervous about the £738m bill BT faces for its 38 live Premier League matches per season. It also means Virgin Media is now the only television provider that offers all BT's and Sky's sports channels via a single subscription".

Skrill Premier matches to be shown in the near future are:
Hyde v Grimsby Town, Monday 26 August, on-air 5pm, KO 5.30pm, BT Sport 1
Luton Town v Grimsby Town, Saturday 7 September, on-air 5pm, KO 5.30pm, BT Sport 2
Wrexham v Luton Town, Friday 13 September, on-air 7pm, KO 7.45pm, BT Sport 2
Kidderminster v Aldershot, Friday 27 September, on-air 7pm, KO 7.45pm, BT Sport 2
Barnet v Wrexham, Sunday 13 October, on-air 1.30pm, KO 2pm, BT Sport 1
Macclesfield v Southport, Thursday 17 October, on-air 7pm, KO 7.45pm, BT Sport 1
Salisbury v Hereford, Thursday 31 October, on-air 7pm, KO 7.45pm BT Sport 1
Barnet v Cambridge, Saturday 16 November, on-air 5pm, 5.30pm, BT Sport 1
---
15 August 2013
REMINDER - ARRANGEMENTS FOR STOCKPORT GAME
All those intending to be at the J. Davidson Stadium on Saturday, 24 August when Altrincham entertain Stockport County, should read Grahame Rowley's statement about arrangements for the game. John Edwards, Altrincham FC's joint Press and Media Officer, writes that "Lee Sinnott has called for a positive start from his Altrincham side to ensure they are not caught out by any early pacesetters in this season's Skrill North title race.

In common with other teams, Alty were forced to play catch-up in each of the past two campaigns, as Hyde and then Chester came flying out of the traps and turned the battle for top place into a procession.

Sinnott is determined to avoid any repeat, as he prepares for Saturday's opener at Worcester City and next Tuesday's first home game against Barrow.

'I'm not one for rash predictions, but if we can look to improve on what we did last season, we won't go far wrong,' he said. 'We have all seen the benefits of a good start, over the past couple of seasons, and the players and I are very much focused on doing just that. The games come thick and fast to begin with, and we don't want to get left behind.

'When you think how we didn't make the greatest of starts last season but still reached the play-offs, you get an idea of what might be possible if we can begin in positive fashion this time.
'This league has a history of someone setting off like a house on fire, and it would be nice to be in the mix with anyone who does that. It's not do or die, as we illustrated last season, but that is the message I have been drilling into the players and will continue to.'
Alty have had a welcome boost on the injury front, with Simon Richman's powers of recovery allaying fears he could miss a chunk of the early games.
'The ankle injury he picked up with the GB Universities squad ended up irritating his knee, but it has settled down, and he was able to do some light training yesterday,' said Sinnott. 'He has not done any competitive training for four weeks, but Simon being Simon, he's got a chance for Tuesday against Barrow.
'We've had a couple of accidents at work to contend with, as well, with Stuart Coburn cutting his knee and James Walshaw (left) treading on a nail. The stitches have been left in Stuart's knee as a precaution, but they should both be fine for Saturday.'
Alty completed the signing of Brian Smikle (right) after their final pre-season game, a 3-2 win over Burnley, and Sinnott added: 'There is a sharpness about Brian's movement, and he will help create chances for others. When you look at our other pre-season acquisitions - Kyle Perry and Mike Williams fresh from the Conference Premier, Danny Boshell and James Walshaw both up at the top of this division the past three years - he fits into the same mould.

'It's important to have strikers who can finish off chances but just as important to have players who can create openings, and Brian has shown us in his two games so far that he will provide an extra element in that respect.

'You have to keep pre-season in context. Some players are away, you want to try different things and you are sometimes up against full-time teams who can train five days a week and may even have reported back sooner.

'It is a means to an end, and we know everything is going to go up about three notches when points are at stake, but I do feel we are in decent shape, going into this weekend.

'When you compare the first half to the second against Burnley, it really was chalk and cheese. It was pleasing to come back from 2-0 down, but I was somewhat irked by that first-half performance. We reported early for the team photo, and we just seemed out of kilter a bit by kick-off. We took our eye off the ball, and that is what annoyed me.

'I smelt it wasn't right less than 10 minutes in. When the players need to be told, they will be, and it was pointed out in no uncertain terms at the time and again afterwards. It's like being on a lazy racehorse. You have to get the whip out and give it a tap on the hind quarters, and that was done.

'The good thing is, we put in an excellent second-half performance and I got exactly the reaction I wanted at training on Tuesday night. That bodes well for the weekend, and I'm sure we'll be ready. The players all know how important it is to start as positively as possible, and we are ready to give it our best shot.'"

With a team including numerous Altrincham FC Youth players, the Cheshire County FA Youth team overcame Runcorn Town 3-2 in a friendly match this week. Cheshire trailed 0-2 at the interval but three goals from Altrincham's John Dawson (2) and Max Pouncey secured a win in this pre-season friendly. Stockport County "Manager Ian Bogie has added another great addition to his squad signing midfielder Adriano Moke on non-contract terms. Adriano has played in two games for the Hatters at Nomads and Skelmersdale, and has shown enough to be signed up and add to the now almost complete County midfield. He has previously played for York City, Cambridge United and Tamworth", as well as FC Halifax Town.

More comes from the Manchester Evening News, to the effect that "The Hatters begin life in Skrill North with a home game against another former Football League side in Boston United.

After a sticky start to pre-season with new players getting to know each other and trialists bidding to earn a deal, the Hatters have now won four of their last five warm-up games.

'I'm the manager of a team that's going to be at home and I'd expect to win the game; it's as simple as that', Bogie said... 'It's important you make your home ground a fortress and the lads need to have that belief they can win whoever they come up against. If I was the opposition manager, I'd like to keep the opposition fans quiet and frustrate them. We know we're in for a difficult game but it's about how we impose ourselves on the opposition with the players and quality we'd like to think we have'.

County go into the new season rated by some bookies as second favourites to lift the title behind AFC?Telford United...

'I was manager of an unfashionable club to a degree when I was at Gateshead but now I've gone to the other side and I'm at a big, big club', Bogie said. 'A lot of teams who came to Gateshead played in front of about 250 people which wasn't really a game raiser for them. Now, they're coming to Edgeley Park and there could be anything in excess of 2,500 people there on Saturday.

Other players and teams will raise their games so our players will need the temperament to handle that. Boston are a good sized club for this league and we don't expect to steamroller teams and beat them 7-0 every week. We are one of the favourites to be promoted though and, without shouting it from the rooftops, I'm expecting a successful season.

We have the quality and the team in the squad to win games, be it through free-flowing football or through being tough, resolute and grinding out results. It's going to be a difficult season, it's going to be competitive and there are teams who have invested heavily but we're quite confident we can have a successful season, bearing in mind we keep people fit and on top of their games'.

The latter is easier said than done with Bogie's plans taking a turn for the worse on Monday. Having agreed a deal until January, Paris Bateman damaged ankle ligaments in training and looks like being out for a couple of months but Bogie is optimistic of strengthening his squad before Saturday".

Meanwhile, Guiseley "are pleased to announce three additions to the first-team squad...

Firstly, the Lions have signed former York City midfielder Michael Potts following a trial with the club. The 21-year-old also spent time at Manchester United and Blackburn Rovers during his youth career.

Fellow midfielder Jake Scott, 19, has also arrived at the club on loan from Barnsley... Jake joins on a rolling youth loan basis.

Last but not least, 19-year-old goalkeeper James Montgomery will fill the void left by Jacob Giles's departure. The young stopper was released by Middlesbrough and is the son of former Sunderland goalkeeper Jimmy Montgomery".

Further south, Pitchero Non-League say that "Brackley Town have signed former Northampton Town winger Greg Kaziboni. The 20-year old impressed Brackley boss Jon Brady when playing against his side in a pre-season friendly for Rugby Town, for who he was on trial, last month.

Kaziboni is a product of the academy at Northampton. However, he was released by manager Aidy Boothroyd in February 2012. The talented midfielder made his Football League debut in February 2011 against Gillingham. Kaziboni signed for Corby Town in August 2012, following a successful pre-season at Steel Park."

From the News & Star we learn that "Workington Reds are fighting hard to land highly-rated Newcastle United goalkeeper Jonathan Mitchell...

The west Cumbrians still do not have a shot stopper to replace Aaran Taylor since he quit for Celtic Nation. Mitchell excelled on loan at Borough Park last season...

'I've had long conversations with Newcastle's coaches about Jonathan', he said. 'Hopefully we can come to an agreement because Jonathan has improved since his spell with us last year, and would be a great addition to our squad. We must have a goalkeeper in by training tomorrow night. The defence needs to know who is going to be behind them, and Jonathan already knows the majority of the players'.

If Edmondson isn't able to snap up Mitchell, he is keen to bring Alex Wimmer back after a successful trial. But international clearance may prove a stumbling block as the American must satisfy UEFA's rules.

Edmondson said, 'It's a joke that a non-league football club must have to send passports and paperwork for UEFA and the Football Association to sign'.

Meanwhile, Phil McLuckie has agreed a Reds' return. The midfielder has been speaking with Edmondson for weeks, and finally signed a contract. Edmondson said, 'Phil is proven at this level, and will offer us a great attacking option. I'm delighted he wants to come back. He was at training last night, and he's still as fit as ever'".

Another player needing UEFA authorisation is the subject of a report in the Boston Standard. "Netan Sansara should receive his international clearance in time to play in Boston United's opener at Stockport County.

The left back sat out of Saturday's Lincs Senior Cup defeat to Gainsborough Trinity because he has not yet been given the all clear to play competitively in this country. The former Walsall player may be based in Birmingham, but his registration is currently held in Denmark, where he played last season for FC Vestsjælland.

However, boss Dennis Greene... said [of his registration], 'It's in Denmark apparently at the moment, and it's being FIFA'd across somewhere or other. It should be here in time for him to play'.

Former Hull City defender Joe Lamplough signed forms with the Pilgrims to make him eligible to deputise for Sansara, and Greene says he'll keep tabs on the player. Meanwhile, midfielder Indy Aujla remains on the club's radar. However, he has not linked up with United during the past fortnight as he's nursing an injury".

Hereford United's excellent Bulls' News reports that "The Conference have declined to comment at this stage on a sponsorship deal at Farnborough that has seen them finally move out of Administration. A bookmakers has struck a deal with the club, reported to be six figures, for their players to legally change their names by deed poll to those of a string of ex-footballers like Gary Lineker and Pele. The bookmakers are understood to have approached an unnamed fifth tier side first, but were rejected.

Quoting the Digital News Agency, we read about "Farnborough FC who, this Saturday, are unveiling Lionel Messi, Pelé and Franz Beckenbauer as part of their starting line up!

In a world football first brokered by bookmaker Paddy Power, every player in the first team squad of Farnborough FC has changed their name by deed poll to that of a legendary footballer in their respective position...

Instead of a line-up including the likes of Balls, Inns and Treacher, the yellow kit of Hampshire's finest will be adorned with all-time great names like Gascoigne, Best, Pelé, Banks and Beckenbauer. Additionally the manager of Farnborough FC, formerly known as Spencer Day, has become Boro's very own 'Special One' by changing his name to Chelsea favourite José Mourinho

The partnership between Paddy Power and Farnborough FC came just in time for 'Boro'...

José Mourinho (previously Spencer Day) of Farnborough FC said, 'Over the summer it looked touch and go whether we'd even start the season, but now we've got by far the greatest team the world has ever seen. Although it's not all good news, Pelé and Maradona have almost come to blows over who gets to wear the number 10'.

Paddy Power, of Paddy Power, added, 'We hear you, Farnborough FC. Not only does our support help secure the future of a great club but, in the modern world of sky-high money for season tickets, fans can forget the Nou Camp and now need only to travel to Paddy Power Park to see some of the world's greatest in action'...

Full squad List with previous name and "legend" name...
Kevin Ainsley SCRIVEN... Gordon BANKS, Goalkeeper
Oliver George TREACHER... Silva Rocha ROBERTO CARLOS, Defender
Joshua Adam HUGGINS... Lothar MATTHAUS, Defender
Adam Hugh DOYLE... Paolo MALDINI, Defender
Alan Francis INNS... Alan HANSEN, Defender
Paul Jinnah MASSAQUOI... Marcos Evangelista de Moraes CAFU, Defender
Nathan KOO-BOOTHE... Bobby MOORE, Defender
Thomas Andrew McGARRY... Franz BECKENBAUER, Defender
Reece Nicholas JONES ... George BEST, Midfield
Stephen Thomas LAIDLER... Paul GASCOIGNE, Midfield
Scott Paul DONNELLY... David BECKHAM, Midfield
Merrick Anthony JAMES-LEWIS... Zinedine ZIDANE, Midfield
Tyrone Michael Justin BERRY... Johann CRUYFF, Midfield
Daniel BENNETT... Lionel MESSI, Striker
Reece William CONNOLLY... Gary LINEKER, Striker
David Charles TARPEY... Diego MARADONA, Striker
Elvis Zark HAMMOND... Edson Arantes do Nascimento PELÉ, Striker
Spencer DAY... José MOURINHO, Manager
Leigh James Thomas DYNAN... Paddy POWER, Assistant Manager
Simon John GARDENER... Sir Alex Ferguson, First-Team Coach
Roger Leslie PEIRCE... Terry Venables, Kit Man
".
Farnborough add that "Despite successfully exiting administration and securing a high profile club sponsor in Paddy Power, the Football Conference are demanding a staggering £100,000 bond from Farnborough FC to allow them to compete in the 2013/2014 Conference South season...

The Football Conference demands seem even more bizarre when you consider that Aldershot FC, who play in the Conference Premier with considerably greater travelling costs than Farnborough FC, were allowed to exit administration and compete with no bond in place only two weeks ago...

However... Paddy Power have agreed to post this bond to ensure that the greatest team in the world lines out this Saturday in Paddy Power Park".

According to the NW Counties Football League, "Wigan Robin Park will be accompanied by a film crew from ESPN when they travel to AFC Emley for their FA Cup tie on Sunday.

The station are starting their coverage of the FA Cup in the opening round and, as Robins Chairman Steve Halliwell explained, the club were selected for the high profile coverage as a result of being located next door to the current FA Cup holders Wigan Athletic...

Explained Steve, 'They contacted us as they wanted to do a link with the FA Cup holders Wigan Athletic, with them being based next door to us, so they will be coming on the coach and interviewing players and the management team. Obviously they won't be allowed to film the game, but they will be with us on the coach both going to and coming back from the game on Sunday'".
---
14 August 2013 Altrincham FC chairman, Grahame Rowley, writes: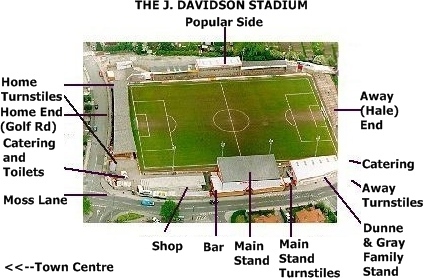 "I have held a number of meetings over the last couple of weeks with regard to the staging of the Stockport County game on August 24th - both with internal staff members/volunteers and with external agencies.

The Stockport fans will be housed both in the designated away end as well as along the Popular Side up to a segregation fenced area which will be around the TV gantry.

There WILL be police presence at the game as well as SIA trained stewards, who have been brought in especially for the event.

Additional catering facilities and toilet facilities will be provided in the away segregated area to try and alleviate the expected pressure on the existing facilities.

Additional volunteers are required for the day so if you could help out in any capacity please contact me.

The local Derby is a game to be enjoyed; I appreciate some people might not be able to stand in their usual place but, with a little patience, I'm sure that the match will pass with minimal problems. Your help on the day would be much appreciated; please arrive early (turnstiles open at 1.30pm) and, if you're paying by cash, please bring the right change.

Prices to stand up are £13 for adults, £8 for concessions, £5 for U16s and £2 for U12s.

Main stand (seated) prices are £15 for adults, £9 for concessions, £5 for U16s and £2 for U12s.

Thank you for your help - looking forward to an exciting season!"

The Football Conference tells us that "Ian Bogie, manager of Stockport County, has added to his squad after offering attacking midfielder Paris Bateman a six-month deal to join the Hatters.

Bateman appeared in the majority of County's pre-season games and looked to fit the profile of the players that had joined the club in the summer. His omission from the games against Cheadle Heath Nomads and Skelmersdale United appeared to spell the end of his chance of a deal but Bogie decided he was worthy of the chance today.

Bateman, released by Crewe Alexandra after five years with the Railwaymen, is to continue with his coaching career at Gresty Road whilst playing for County after a glowing tribute from Dario Gradi, 'We've released Paris as a first-year pro and offered him a full-time job coaching but he wants to be playing while he can. We have earmarked him as a potential full-time coach because we are keen to produce top-level coaches as well, that's an important part of what we do'.

Bateman said, 'Everyone in football knows what a big club this is and the chance to play here was too good to miss. During the pre-season I have been overwhelmed by the level of support the team gets both home and away. I have had several conversations with supporters who have been very complimentary and have wished me well. I aim to win a place in the team as soon as I can and hope to be part of the team that gets this great club back up the leagues'.

Also earning a deal with the Hatters is midfielder Aman Verna. Verna, 26, began his career at Leicester City but having worked his way through their youth academy he failed to break into the first-team squad and was eventually released. Having then played well for then Conference North outfit Redditch United he was invited back to Leicester for a trial in December 2008, when he did enough to secure a six-month contract, which was then extended for a further year.

Verma spent spells on loan at Crewe Alexandra, Histon, Kidderminster Harriers and Darlington before joining Kettering Town for the 2011/12 campaign. Last season the midfielder spent time playing in the Maltese Premier League with Floriana, leaving the club after it ran into financial difficulties. Earlier this summer Verma trialled with Conference Premier side Nuneaton Town".

At Hednesford Town, "Boss, Rob Smith, has backed Elliott Durrell to be a success at Skrill North level this season as last year's top scorer finally put pen to paper on a new one-year deal...

'It's a step up for Elliott, as it is for all of the players, so he must realise it is not going to be easy and he will have to endure some frustrating periods, but he has the ability to cause damage to defences in this league. I'm sure he will work hard to make a real impact. If he scored twenty goals this year it would be a fantastic achievement at this level'.

The ex-Telford player, whose progress was blighted by two bad knee injuries a couple of years ago, had by far his best season for The Pitmen last term as his team won promotion... plundering 30 goals including a 100% record of 18 penalties out of 18 and, despite a nervous wait for Hednesford fans, Smith was never in any doubt that Durrell would commit his future to Keys Park".

In the Worcester News, we learn that "Worcester City insist they are doing all they can to keep the club in the public eye during their exile at Kidderminster Harriers. By playing at Aggborough and not having a permanent base in the city, the 111-year-old club are facing their biggest challenge...

Kit and merchandise is being sold at Knowles Sports in Broad Street and Nutz4Sportz in George Street near Asda, as well as at Harriers on matchdays, while the Pheasant pub in New Street is showing match highlights before Saturday home games. A revamped club website will provide an online base for fans...

In addition, a community scheme launched through a £15,000 Football Conference Trust grant in December is currently providing coaching to 10 schools".

Bradford City won 1-0 in a recent friendly at Bradford PA and the Telegraph & Argus telss us that "De Vita's first-half penalty ensured Bradford honours for City as the Tom Banks Memorial Trophy made its way back to Valley Parade...

Unfortunately the Horsfall playing surface was anything but first class. It was a pity that the landlords could not dig out a mower. Bradford Council had not got round to cutting the grass despite being asked by Avenue, which made for a pitch with the texture of a thick sheepskin rug...

The pitch made for a poor game but City almost had a second as Louie Swain outmuscled James Knowles – back in Avenue colours after leaving FC Halifax Town... City old boy Chib Chilaka lasted only five minutes before pulling up with an injured hamstring to his huge frustration.

Avenue's chief attacking threat instead came from left winger Paul Walker, who always had the beating of his trialist marker Gary Stohrer... AVENUE: Lamb, Clayton, St Juste, Daly, Quinn, Knowles, Boshell, Corner, Marshall, Chilaka, Walker"
---
13 August 2013 In the Cheshire County FA Senior Cup, the Preliminary Round ties were drawn. The games are to be played in the week commencing Monday, 4 November, 2013.
Hyde FC v Cheadle Town
Northwich Flixton Villa v 1874 Northwich
Winsford United v Northwich Victoria
Macclesfield Town v Vauxhall Motors
Stockport County v Witton Albion
Alsager Town v Runcorn Linnets
Congleton Town v Cammell Laird
Clubs exempt to Round 1 are Chester FC, Crewe Alexandra, Stalybridge Celtic, Tranmere Rovers

Clubs with byes to Round 1 are Altrincham, Nantwich Town, Runcorn Town, Stockport Sports, Warrington Town".

According to This is Glos, "Dave Mehew has hailed the signing of former Cheltenham Town and Arsenal youth starlet Jamie Edge as a significant transfer coup for Gloucester City.

The 19-year-old midfielder, who spent a year as a professional with the Gunners and then West Bromwich Albion, has penned a deal to play for his home-town club. Born in Gloucester and a former pupil at Churchdown School, Edge has been without a club to call home since his release by the Baggies last summer.

Plucked from the Robins' youth set-up as a 15-year-old for a reported £100,000 fee, Edge has seen his football dreams go sour after a three-year stint with Arsenal. He spent last season playing for the Nike Academy at Loughborough University before... earning pro deals with Newport County and Salisbury City...

'Jamie has... adapted more and more in each of the games he has played', he said... 'I knew about him at the start of the summer and didn't really think we would have a chance of bringing him, in to be honest. He chanced his arm at Newport and it didn't work out... I am sure that the scouts will be flocking to come and watch him play and now it's up to him to impress and do well for us and if that happens then it's a win-win situation'".

Workington report that "The Reds added further to their squad following Saturday's victory at Kendal Town. Twenty-one year old Scottish defender Dominic Kennedy has put pen to paper for the forthcoming campaign.

Kennedy was previously with St. Mirren and Dumbarton. Last year he secured a place in the Nike Academy, a year long football academy based at Loughborough University. He has impressed in his five pre-season appearances.

Also joining the Reds is former Huddersfield Town player George Conway. Pacey midfielder Conway, based in West Yorkshire, joined Town as an Under-9 and was released following two seasons with Town's Academy.

Reds' manger Darren Edmondson still has to secure the services of a keeper. American Alex Wimmer has yet to sign and 'Edmo' may have to dip into the loan market for Saturday's opening league game at AFC Telford United".

In the Worcester News, we learn that "Worcester City completed their pre-season friendlies with a tough 1-1 draw at Rushall Olympic. Carl Heeley's side, who kick off their Skrill North campaign against Altrincham on Saturday, were behind at half-time due to Liam Spink's penalty...

City levelled on 52 minutes when Aaron Williams's cross was turned into his own net by Rushall's Jimmy Turner. Northern[!] League outfit Rushall's goal arrived after keeper Deale Chamberlain, a former Liverpool youngster, brought down experienced ex-Birmingham City forward Dele Adebola.

Williams tested Rushall custodian Lewis Solley in a physical encounter, while summer signing Elliot Turner was substituted after taking a blow to the eye. City: Chamberlain; Turner, Hutchinson, Munday, Deeney; Hubbins, Thorley, Sammons, A Williams; Nti, Glover. Subs: D Williams, Flanagan, Nelson, Walker, Sargeant".
---
12 August 2013
The website was unable to include images from the annual Altrincham FC Youth Team presentation night owing to holidays but, belatedly, here is an image of Alex Weatherby, who won both the Manager's and Players' Player of the Season awards, with which he is seen (right).

Meanwhile, the Cheshire County FA Youth team faces Runcorn Town in a friendly match this Tuesday (13th). Altrincham FC Youth have ten players in the 23-man squad. The Altrincham Ten are Richard Barnes, David Brown, Stephen Bullen, Tom Clarke, Spencer Cunliffe, John Dawson, Matt Graetzer, Louis Potts, Max Pouncey amd goalkeeper Josh Samberg, who has recently been playing for the GB Under-18s Jewish side in the 19th Maccabiah Games in Israel.

Alty TV has the goals from the Alty v Burnley match and, this time, they are enhanced by the addition of the Radio Robins' commentary. The Cheshire County FA announces that "The 1st Round Draw for the Cheshire Senior Cup 2013-14 will take place on Monday morning (12 August)". The Worcester News reports that "City manager Carl Heeley says there are plenty of places up for grabs in the starting XI for the Skrill North opener against Altrincham... City play their final warm-up match at Northern League[?] side Rushall Olympic...

'There are places up for grabs. I have an open mind and it will be the players I feel deserve to be in the starting 11 against Altrincham', he said. 'I've got no pre-conceived ideas and we'll just see how it goes in the next 10 days or so. If players are doing well, they'll stay in the side. If others are doing better, they'll get the shirts and that's the fair policy we'll operate with as we always have done'...

Of Rushall, Heeley said, 'They thumped Hednesford (4-1) and gave Kidderminster a hell of a game so they are a big, strong side and very direct... Results don't mean anything, it's about trying different things and working out what your strongest 11 is and the best formation'...

Midfielder Ashley Sammons could be fit having struggled with a thigh injury for most of pre-season, while winger Luke Hubbins, a devout Muslim, is still getting up to speed having seen his training restricted by Ramadan".

Meanwhile, "Summer recruit Elliot Turner says he is ready to repay the faith shown in him by Worcester City. The 19-year-old midfielder, a former Shrewsbury Town youth team captain, is one of the many new faces at the club this season. Like several of manager Carl Heeley's other signings, he is a player released from the professional ranks aiming to prove their worth in the non-League game...

He said, 'I was at Shrewsbury and Tamworth last year but not getting a lot of games... I want to do well at Worcester. They have given me the opportunity so I want to do well for them. I know some of the players through playing against them. I've played against Aaron Williams for the past few years for Shrewsbury while he's been at Walsall. We're both looking to do well for Worcester. They've invited us in, signed us and taken a gamble on us so we are looking to pay them back and give them 100 per cent week in, week out'.

Turner came to the attention of the club through former City keeper James Dormand, who employs the teenager in his coaching business and put him in touch with Worcester assistant boss Matt Gardiner. Although predominantly a central midfielder, Turner has filled in for Ellis Deeney at left-back".

Barrow confirm that the Bluebirds "have once again secured the services of the ever-popular full-back, Paul Edwards but have parted company with Shelton Payne. Edwards, 33, signed for next season after Saturday's lacklustre defeat against AFC Fylde and is likely to be joined in the Skrill North squad by fellow 2010 FA Trophy winner, Robin Hulbert, who missed yesterday due to holiday...

Departing Holker Street however is [ex-Trafford FC] winger Shelton Payne, who has failed to settle in pre-season and has cancelled his contract by mutual consent. Meanwhile FC Halifax striker, [ex-Alty man] Dale Johnson, is expected to join on a one-month loan deal as part of his recovery from a cruciate knee ligament injury six months ago. Johnson impressed in a half-hour stint at the end of the Fylde game and was credited with Barrow's second goal by some pundits.

According to the North Wales Weekly Times, "Frank Sinclair has made two additions to his squad by agreeing contracts with brothers Louis and Ed Moss ahead of Saturday's game at Bala Town...

Frank Sinclair, who knows them both from his days at Wrexham, commented, 'They have worked hard and have earned their contracts on merit'. Louis, 20, who has won three international caps for Barbados in World Cup qualifying games, made a couple of first team appearances for Wrexham... and was at Vauxhall Motors last season.

Ed played for Chester Nomads after being released by Wrexham and is making a comeback after taking a short break from the game...

Meanwhile Nathan McDonald, who only signed forms last week, has been released after the club discovered he has to serve a three match suspension at the start of the season held over from his time at Salford. The Seagulls already have Rob Hopley suspended for the opening two league games following his sending off at the end of last season. Recent trialists Dylan O'Connor and James Owen have also been released.

Hopley and Ade Akinbiyi have still not fully recovered from injury and will not be risked... The squad for Saturday's game at Bala was; Chris Sanna, Danny Taylor, Mike Lea, Frank Sinclair, Tom Smyth, Ed Moss, Gaz Evans, Jamie Crowther, Steve Connor, Jamie Ellison, Louis Moss, Josh Ollerenshaw, John McKenna, Jamie Mathews, Cameron Darkwah and Paul Ennis".

"Ellison converted a 57th minute penalty to earn Colwyn Bay a 1-1 draw... at Bala Town... But the most significant activity of the day was off the field with Danny Meadowcroft returning to the squad... 'I am chuffed he has agreed to come back', said the manager. 'I know there are times he will not be available due to his family issues but I am happy to work around that...Having him back is a huge weight off my mind. I've been struggling to find another quality centre half but I am not alone in that. Every manager I have spoken to seems to be in the same position'".

According to Pitchero Non-League, "Stalybridge Celtic have announced that they have agreed a loan deal with Blackburn Rovers for goalkeeper Matthew Urwin. Urwin, 19, arrives at Bower Fold on an initial three-month loan... Last season Unwin spent time on loan at Taunton Town".
---
11 August 2013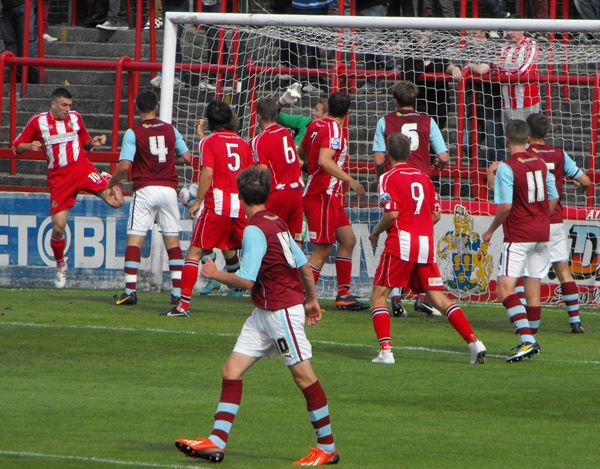 Thanks to a strong second-half performance, Altrincham recorded a deserved win over Burnley's Development Squad. Burnley had taken the lead with two goals in as many first-half minutes.

Match report here.

After Saturday's game, Clarets Mad says that "The development squad, two goals to the good at half time, were beaten at Moss Rose[!!] against Altrincham this afternoon...

The development squad looked to have things going all their own way in the first half as two goals in two minutes put us in the driving seat at Altrincham. With twenty minutes gone Steven Hewitt struck with a 20-yard free kick and almost immediately the lead was doubled by Jamie Frost who curled home a low shot.

Things didn't quite go to plan in the second half. The home side dominated proceedings".

Altrincham FC Youth kick off their 2013-14 season next Sunday (18 August) at home to newcomers in the NWYA Premier League, Macclesfield Town. Kick off is at 2.30pm at the Hale Country Club and Spa which, despite its name, is located on Clay Lane, Timperley. Alty Youth's league fixtures are to be found here. In Saturday's "Robins' Review", chairman Grahame Rowley writes, "Unfortunately, our planning application for a new Sports Hall and Bar didn't make the listing for hearing this Thursday and, thus, it now goes on the listing for September. Hopefully, just a short delay. Plans are afoot to begin fundraising as soon as planning is forthcoming". Howard Watts will be kindly providing his Through the Years information for the coming season. This Saturday's data is here. Liam Irwin made an impressive, if brief, debut for Altrincham on Saturday. Midway through his seven minute cameo his well-taken corner laid on the winner for the Robins. Born in Altrincham, Liam is the son of former Oldham Athletic and Manchester United defender, Denis Irwin. Liam was with Bolton Wanderers (2010) and had trials with Oldham. He has played for the Republic of Ireland's under-19 team.

A midfielder, Liam played for Alty on the left flank.

Well-known Altrincham supporter Kenny Palin is being honoured next Sunday by the other club in his life, Timperley Cricket Club. There is to be a light-hearted cricket match in Kenny's honour next Sunday (1.30pm at Timperley C.C.) to recognize his longstanding support for the club. Everyone is welcome to come along.
OLD BOY
The BBC confirms that "Bury have signed Huddersfield's Jordan Sinnott on a six-month loan deal, their 17th new arrival of the summer. Midfielder Sinnott, 19, has made three appearances at senior level for the Terriers... He is the son of ex-Watford, Bradford City and Huddersfield defender Lee Sinnott, who is currently manager of Conference North side Altrincham".
---
10 August 2013 Brian "Junior" Smikle, who has featured in the last two friendlies for Altrincham, has agreed terms with the Club and is expected to sign on Tuesday. Brian (d.o.b. 3 November, 1985) started out at West Bromwich Albion, from where he had loan spells with Hereford United in 2005-06. In summer 2006 he joined Kidderminster Harriers and enjoyed five seasons at Aggborough, the ground at which, ironically, he may make his formal debut for Altrincham next Saturday.

After this, he joined Cheltenham Town in 2010, a club he left in summer 2012 for Hereford United. He was released from Edgar Street at the end of last season and, after trials with Tamworth this summer, he has now arrived at the J. Davidson Stadium, where he is a very welcome addition to the Altrincham squad for the 2013-14 season. He is Alty's fifth external signing of the summer, after Danny Boshell, Mike Williams, Kyle Perry and James Walshaw.
TEAM PHOTO
Pending the issue of the official club photograph by Gavin Rathbone, here is a view of Saturday's team photo-shoot.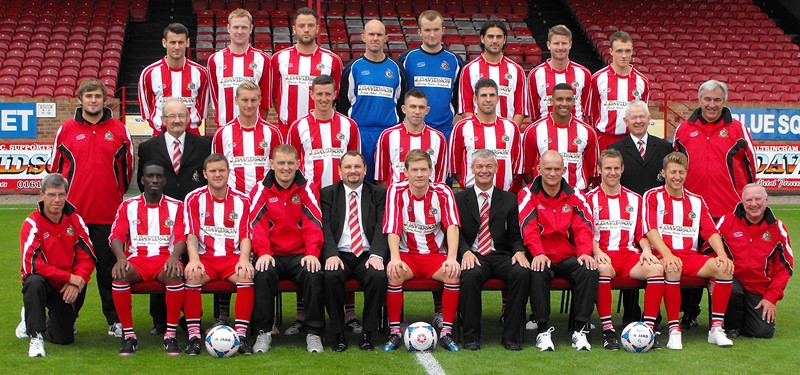 Pictured above are:
Back row: Simon Richman, James Walshaw, Kyle Perry, Stuart Coburn, Adam Reid, Gianluca Havern, Danny Boshell, Rob Gilroy.
Middle row: Luke Pickering (kitman), George Heslop (matchday secretary), Jake Moult, Scott Leather, Damian Reeves, Mike Williams, Carl Rodgers, Barry Pond (associate director), Ian Senior (coach).
Front row: Alan Ainsley (therapist), Brian Smikle, Matt Doughty, Neil Tolson (assistant manager), Paul Daine (director), Shaun Densmore (team captain), Grahame Rowley (chairman), Lee Sinnott (manager), Nicky Clee, James Lawrie, John Skelhorn (kitman)
BEFORE THE GAME
Altrincham entertain a Burnley XI at Moss Lane this Saturday (10th), k.o. 3pm. Admission for this friendly is £7 for adults, £3 for concessionaries and no charge for under-fives. Holders of Altrincham FC season tickets for 2013-14 will be admitted free, too. This is the final pre-season game for The Robins before the Skrill North season starts a week on Saturday.

Altrincham are expected to be without the injured Simon Richman whilst manager Lee Sinnott has also indicated that trialist Brian Smikle will again be in the Robins' squad.

Brian Flynn advises that "Radio Robins, sponsored by Ashley Mowers Garden Machinery, is providing full live commentary of our final pre-season game against a Burnley XI at The J.Davidson Stadium. Coverage starts at 2.55pm and you can listen to Radio Robins on the internet. The commentatory team is Niall Finnegan and Paul Salt, with match summaries from Brian Flynn.

Dan Whitelegg will be providing regular updates on Twitter (@altrinchamfc) as well as half-time & full time updates on facebook (Altrincham FC)". The Twitter feed can also be found on the Headlines page of this website.

The Altrincham FC website's matchday updates will resume next Saturday with the start of the league season.

Mark Eckersall advises that "As reported earlier on the site, TASC will once again be running transport to away games this season. The coaches will again be looked after by Mark Eckersall and Tom Jacobs. The coaches are family friendly and we welcome supporters of all ages to travel with us. Our aim is to get to the venue around 1:30 - 1:45pm on Saturdays to allow people to have a few drinks and relax. We leave straight after the game to get people home as soon as possible, to make the most of their Saturday evening.

TASC members receive a £2 discount of fares and you can join on the coach if needed. The coaches are priced to break even in order to ensure that we get you there as cheaply as we can. The coach is open to all supporters and we look forward your support for the season. Places can be booked by calling the club on 0161 928 1045 or at the club shop on a home match day".

Times for the first trip of the new season, to Kidderminster to play Worcester City on Saturday 17 August, are now on the Away Travel page.
SATURDAY CLUB
For the benefit of players and parents of the 'Saturday Club', Altrincham FC's Community Officer, Chris Bullock, writes:

"This Saturday, at Manor Farm, there will be a Summer Fair and Festival. This will run from 12 noon to 5pm (see f4c for details). Just a reminder that we will need to be careful, particularly as we end and the Summer Fair starts. Paul from Manor Farm doesn't feel there will be any parking problems but an early pick up at 11.45am may be useful. Players & parents are then more than welcome to enjoy the F4C activities. Many thanks, Chris Bullock".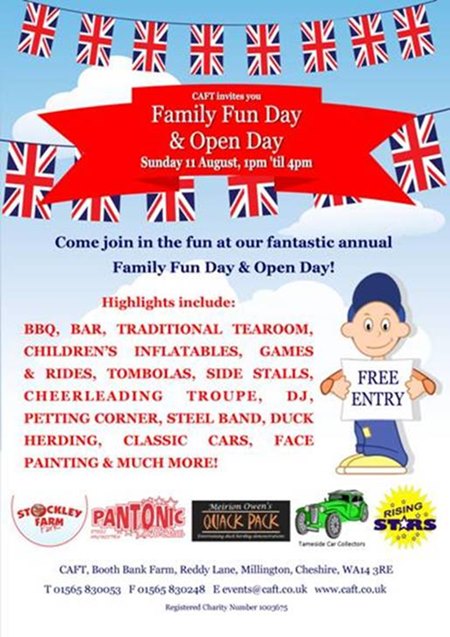 Neil Faulkner, a well-known supporter of Alty writes that "Altrincham Football Club Community Sports (AFCCS) are pleased to announce that we have agreed to provide football coaches for the Children's Adventure Farm Trust (CAFT). Their work for providing holidays for disabled and disadvantaged children is fantastic and the Club is delighted that we are able provide assistance. We have been involved for several years with CAFT and we have helped with several fund raising events. This year my son Anthony and I ran the Manchester 10K to raise funds for CAFT and AFCCS and we will be presenting them with a cheque on Sunday.

On Sunday 11th August CAFT hold their annual opened day between 1pm and 4pm and AFCCS will be present with a stall to promote our work in the community. Chris Bullock and his team will be attending and demonstrating football skills and coaching. For more details please look at their website, where details of the Open Day can be downloaded".

The Football Conference reports that "Brian Page, manager of Histon, has made further additions to his squad ahead of tomorrow's Cambridgeshire FA Professional Cup match against Cambridge City.

Signing on the dotted line for the coming campaign are Claudiu Hoban, Declan Hunt, Joe O'Donoghue, Jack Higgs and Stefan Hayles...'With these signings we have given ourselves some depth to the squad and we have a real attacking threat now. Claudiu has looked so sharp and has only just returned to training after his knee operation. He looks like he hasn't been away and will be a big player for us this year... Declan has been great in pre-season. He gives us options up front and makes things happen... Joe has done well', said Page, 'He's made it impossible for me to let him go and that's a credit to him. He needs more matches to get his fitness and sharpness levels up but he's a good player...

Jack has a great left foot on him', says Page, 'And his delivery from set-pieces gives us real quality in attack'... Stefon Hayles has also joined the squad, the right-sided defender earning his chance after impressing Page in pre-season. .. Said Page, 'The squad has some depth all over the pitch now but there are still one or two positions where we are a little vulnerable to injuries or suspensions. I still have the option to bring in one or two loans in and I'm talking to a couple of clubs about players so we'll see if we can get something done in the next few days'".

According to NL Daily, "Rob Smith, manager of Hednesford Town, has declared himself as being 'over the moon' with the capture of Wayne Riley from Airbus UK. The Pitmen beat off strong competition from a number of leading lights in the Skrill North and Skrill Premier for his signature...

The ex-Northwich Victoria man comes highly regarded, having been prolific during his time at The Vics, clocking up over 150 appearances and scoring 17 goals in a season two years in a row...

'I am absolutely over the moon, Wayne was a name on our list in the summer but he wanted to play in Europe for Airbus which was fully understandable. He had top clubs very interested in him and, obviously, football-wise and financially, he would have had better offers, but he knows some of our lads and they have helped sell what we are all about here. I genuinely feel he fancied the challenge with us and I've said before that once you are with this group they are very infectious and you just want more of it. I hope it sends out a message that we can attract good players to this club and it shows we have ambition'..

'Wayne is flexible, he can play up front, wide, or in midfield and he also fits the bill perfectly with regard to fitting in as he is young, hungry for success and a character in the dressing room which is what you need with this bunch'...

Hednesford have also signed striker Robbie Thompson-Brown, who was previously on the books of Stratford Town, Kidderminster Harriers and Nuneaton Town...

'I have signed Robbie Thompson-Brown, Kris Taylor, Nick Rogan, Charlie Anagho-Ntamark and Wayne Riley so five is more than enough. I knew we wouldn't be signing loads of new players because the key was keeping and securing some of the current squad, notably Jamey Osborne, who I believe is one of the brightest talents in Non-League football'" said the manager."
---
9 August 2013 According to the Worcester News "Ethan Moore has been thrown a lifeline after Worcester City performed a U-turn on their decision to release the striker... City cited a lack of commitment from the player but have welcomed him back into the fold after Moore, who was on trial with Forest Green Rovers, picked up the phone to manager Carl Heeley.

Gloucestershire-based Moore, who initially signed for the club last season, scored the only goal in Tuesday's friendly victory at Evesham United. Heeley said, 'We released Ethan because he'd missed too many training sessions and it was difficult for him but, in fairness to the lad, he's contacted us again and asked for help to get another club. He realises his application hasn't been quite good enough and has asked for a second chance. We're reasonable people, he's a good player and we're happy to give him that second chance.

There's nothing to lose for us so he's come back in and repaid us with a goal so it's a good start for him. The door's open for Ethan, he knows Worcester City are a good club at a good level of football and there's not too many of them around. The positives are he recognises that and he's been big enough to ask for another opportunity'".

This is Glos says that "Fresh plans for a smaller football stadium for Gloucester City could be revealed in as little as four weeks' time... after plans for a bigger venue were refused by city councillors this week...

Its bid to resurrect Meadow Park first came before Gloucester City Council's planning committee last September, when it was deferred... However, the club resubmitted the application virtually unchanged in a deliberate bid to get it refused so it could proceed with a smaller plan.

Paul Duncliffe, the club's planning consultant, said, 'It now allows City to move forward with a scaled down stadium design on the same site, reducing some of the concerns raised around the original application for the site... The planning committee could be asked to consider full consent in eight to 12 weeks... Our main aim is to get the club a stadium back here in the city approved before the end of this current year'".

Pitchero Non-League reports that "The Non-League Football Show makes a welcome return to BBC Radio 5 Live on Sunday, August 11th for a new season. Its excellent host Caroline Barker will be rounding-up Saturday`s opening games in the Skrill Premier and the show will contain the usual views, interviews and opinions on non-League football throughout the country, not forgetting, of course Pitchero`s Steve Whitney's news round-ups!

Broadcast live at 5.30am on Sunday mornings, it is available throughout the week on the BBC iPlayer Radio".

Reports in the NL Paper say that "Stockport County have signed former Leicester City midfielder Aman Verma. The 26-year-old came through the Foxes' youth system but was released by them after failing to break into their first-team squad.

He then had spells with Bedworth and Redditch United before rejoining Leicester on trial in December 2008... and ended up remaining at the King Power Stadium until being released in the summer of 2011. During his stay with the Foxes he spent time out on loan with a number of clubs, including Crewe Alexandra, Histon, Kidderminster and Darlington".

Meanwhile, the Manchester Evening News tells us that "Hatters' boss Ian Bogie has refused to rule out a return to the club for Liam Dickinson. The 27-year-old striker is without a club and Port Vale, for whom he had played twice in pre-season, haven't taken their interest further thanks to an ankle injury.

He's being treated for his injury by County physio Rodger Wylde, leading to speculation County might offer him a deal once he's recovered. It would be a return for the prodigal son, whose goals helped County to promotion from League Two before a £750,000 move to Derby County in July 2008... In 2012, he joined Port Vale for training but suffered a broken ankle and missed all of last season.

'He's been a big favourite at the club over the years', Bogie told a fans' forum on Tuesday... 'If he has the hunger and wants to come training, I'm happy to have a look at him'".

Also "Ian Bogie has named four teams who he believes will prove stiff opposition as they bid to win promotion from Skrill North. The Hatters' campaign gets under way a week on Saturday against Boston United with some outsiders assuming they will steamroller the rest of the division.

Bogie has cautioned against such talk all the way through pre-season and told a fans' forum who he expects to be up there. He said, 'Altrincham were very close last year when they got to the play-offs and they've kept the majority of their squad. Brackley Town are a very powerful side, Harrogate Town have big money and have invested in players. AFC Telford United have reshaped their squad with a lot of ex-Southport players but there will be a lot of favourites to win the league'...

Fifteen players have signed on with County for next season with Bogie seeking to run an 18-man squad. 'We hope for promotion; that's the aim and the expectation of the supporters', he said. 'We're trying to assemble a squad that's going to be good enough to achieve that; it's been a big rebuilding job through the summer. We could have got a squad together quite early but they have to be the right players and that's what we'll be doing over the next few weeks. We have a tight budget but budgets don't win titles or promotion; we have to assemble players who are hungry and determined to move the club forward'".

The Gainsborough Standard reports that "Gainsborough Trinity's commercial director John Myskiw has moved to reassure Blues fans that the club will not be left short changed by Terry Hawkridge's move to Scunthorpe United. The promising youngster was snapped up by The Iron this summer, along with Luke Waterfall.

But the move resulted in some negative press for the Blues, with Hawkridge's former club Carlton claiming they were owed money from a sell-on clause. Trinity moved to clarify the deal, insisting there was no fee paid for the winger, with Scunthorpe offering loan players in return for Hawkridge... Trinity have moved to make amends with Carlton. 'We haven't done anything in terms of back stabbing Carlton... We've tried to do something about it'...

Myskiw and Wallace form part of a new board on the Northolme, and although he admits running the club is a learning curve, he's pleased with the off-field progress this summer. 'We've got all the shirts sponsored, front and back, and the shorts and even the tracksuits', he said. 'We've sold 14 new boards around the ground. The fundraising is going well and we've raised nearly £6,000 in pre-season. It's all new for us but we have to start somewhere, and we're going to learn as we go. It's more like a business now...

The fans have done a hell of a lot around the ground, it's a good sign that local people are happy to give up their time and effort. And we've had things donated for the ground, things that would have cost thousands to repair', he added."

We learn from the Manchester Evening News that "Stalybridge Celtic centre back Mark Lees is happy for his side to be ruled out of promotion contention by the bookies this season...

'The gaffer (Jim Harvey) was telling me that we are sixth from bottom in the odds to win the league but I don't mind that, hopefully people will underestimate us', said Lees. 'We were near unbeaten at the end of last season and hopefully we can take that form into the start of next season. Hopefully a few people will write us off and we can catch a few by surprise... We're starting again with a young team but, thankfully, we were able to keep a lot of the lads from last year', he said.

'We're not setting any targets yet, you have to wait and look at the first 10 games and see who the pacesetters are'. It was announced last weekend that Lees had re-signed at Bower Fold for the new season... Lees is happy to see Bembo Leta in the squad again, but believes Celtic are on the lookout for one or two more players..

'I think we are still looking for a goalkeeper and a striker possibly. All the key positions in midfield and defence, we have all signed on'".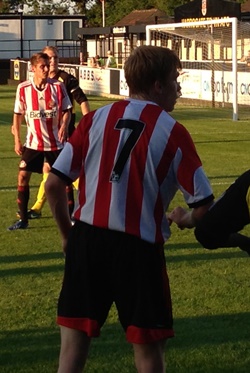 Pictured right is Duncan Watmore in the familiar red and white stripes at Harrogate Town. However, this image was only taken this week and shows Duncan turning out for his new club Sunderland in a pre-season game at Wetherby Road. As previously reported, Duncan scored in a 2-1 win for the Black Cats. (Photo courtesy of Grahame Rowley).
Sunderland report that the club's "development squad completed their pre-season schedule with a fine win over Conference North outfit Harrogate Town. Duncan Watmore and Billy Knott grabbed the goals for the under-21's after Alan White had given the hosts the lead...
Watmore eventually levelled for the visitors, adding to his pre-season tally after Lawson flicked on for the former Altrincham man to drive at the Harrogate defence and curl a fine effort into the corner".
And Harrogate Town add that "A bumper 616 crowd saw Town go down 2-1 to an accomplished Sunderland XI... Duncan Watmore proved a thorn in Town's side last season, while at Altrincham, and he became Town's tormentor in chief last night. After firing a warning shot across Town's goal, he then picked up a pass in midfield, sliced through the home defence, like a knife through butter, and hammered past Craig MacGillivray...
MacGillivray made a superb save after Watmore dispossessed the ever reliable Dave Merris, but Town's stay of execution was only brief... Mitchell was guilty of the miss of the match when he sidefooted Watmore's cross over the bar from point blank range".
---
8 August 2013 Altrincham FC joint Media and Press Officer, John Edwards, reports that Alty boss "Lee Sinnott launched a scathing attack on the British Universities staff after admitting Simon Richman looks certain to miss the start of the season with an injury that was allowed to deteriorate during the recent World Student Games.
Altrincham's key midfielder, one of the outstanding successes of last season, pulled up in the early stages of training on Tuesday night, amid fears he has developed Osgood-Schlatter's, a painful knee condition that could take several weeks to clear up.
He will miss Saturday's final friendly against Burnley at the J.Davidson Stadium (3pm) and looks a near-certain absentee for the launch of Alty's Skrill North campaign against Worcester seven days later.
'The more this rumbles on, the more it annoys me,' fumed Alty boss Sinnott. 'It originated with the ankle knock against Italy at the Games and has got worse because of the short-term thinking of the GB manager and physio.
They would have known Simon needed seven to 10 days' rest. Instead, they strapped him up and sent him out to play 90 minutes in the semi-final four days later, then strapped him up again and used him for 120 minutes in the final, two days after that.
Now he's come back, and, just a few minutes into training last night, he's complained of discomfort in his knee. It is a consequence of the original ankle injury, and we think it is Osgood-Schlatter's, which is bizarre because that normally affects young teenagers who are still growing.
We will have to look into it further, after it has settled down, and manage it as best we can, but in the meantime, missing Burnley would mean a month without a game, so he's got to be a major doubt for the start of the season.
I can accept someone going away to a tournament like this and picking up an injury, but what I can't accept is the complete lack of care for the player and consideration for the club he is contracted to. They have shown no thought for his wellbeing or our needs and have done Altrincham, myself and ultimately Simon no favours whatsoever.
They put their own interests first, strapping him up and sending him out, not once but twice, with an injury that needed rest, and it is totally unacceptable. I have spoken to the chairman about whether we should take the matter further and make our feelings known. We will see where we go with that, but I don't feel like just dropping it. I'm angry and very unhappy at the way one of my players has been mishandled.
It leaves a sour taste in the mouth, because there has been no quality of care or consideration for us or Simon. We had no correspondence from GB Universities and the first we knew about it was when Simon walked back through the door and told us what had happened. We rested him for a while and then felt he was ready to proceed with some light training, only for his knee to start troubling him in a way that is linked with the ankle problem.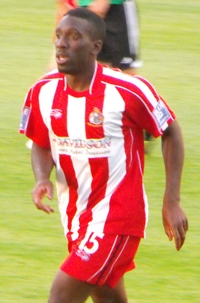 It's just not on and, if they think that is an acceptable way to run an operation, they need to have a closer look at themselves. I can appreciate it was a final, but Simon hardly lasted any time at all in training last night, and we are now left to pick up the pieces.

I told him before the tournament that it would be a great experience and he should make the most of it, but not to take any risks with his fitness. I said, 'If you pick up an injury, don't play'.

It's probably fair to say he's feeling a little sheepish now, but I was young myself once and I know how easy it is to get wrapped up with it all when it's a big event like that.'

Sinnott will make a decision on trialist Brian Junior Smikle (right) after the Burnley game, as Alty round off a pre-season programme that hit the heights with a 3-1 win over Wrexham on Friday night.

'Junior, as he likes to be known, will play a part against Burnley, and we will have had a decent look at each other by then,' he said. 'Results in the earlier games might not have been what we wanted, but you have to set that aside in pre-season. It's all about building up match fitness and taking the chance to look at different things and different players.

The benefits of the weekend together a few weeks ago are beginning to kick in. We worked the players incredibly hard both days, and you can see they are starting to get their sea legs again.

The new recruits are settling in really well, too. Kyle [Perry] and Willo [Mike Williams] were in the Conference last season, while Danny [Boshell] and James [Walshaw] were with a team who have been consistently knocking on the door for promotion from this division. They are all of a calibre that should serve us well.

I know we've had James, Kyle and Damian Reeves up front on occasions and people might wonder about the formation but this is the time to be trying things, not when the season is underway. I think the whole nation can play 4-4-2 in their sleep, but there may be times when we need to adapt and try something different. It's all about being prepared.

As for who will start, I've told the players that if they want a shirt, they have to earn it. After that, they have to show they deserve to keep it. It's not going to be a massive squad of 22 or 23. I'll be looking to run with about 18 but, when you've got quality in all areas, it creates competition and there's nothing better for keeping players on their toes. I want players to be looking over their shoulder and knowing they can't take anything for granted.'"

Our special correspondent (a.k.a. Grahame Rowley) reports from Harrogate where, on Wednesday night, a Sunderland XI defeated the Yorkshire club 2-1. After Town had taken an early lead, Duncan Watmore scored a 12th minute equalizer.

Two ex-Alty men have moved into theEvostik League; Kevin Street has joined Kidsgrove Athletic from Stafford Rangers and goalkeeper Craig Dootson has signed for Warrington Town from Kendal Town.

We learn from the Shropshire Star that "AFC Telford completed the signing of midfielder Charlie Barnett as they staged a behind-closed-doors game at the New Bucks Head.

A near-to-full strength Telford team beat a London Elite side, comprised of players let go by club academies, 1-0 through Mike Phenix's 35th minute goal. And Bucks' manager Liam Watson sealed the deal to bring Barnett into non-league football for the first time.

The 24-year-old former England under-16 international started out as a youngster at Liverpool and twice won the FA Youth Cup with the Reds in 2006 and 2007. He played 36 first-team games for Tranmere and featured 94 times for last club Accrington Stanley, turning down a full-time deal at Macclesfield to join, with Morecambe also interested.

Telford's chase [?began] when Watson learned Barnett had watched the Bucks play in a friendly against Chester last week, along with long-term target Godfrey Poku... Watson said, 'I think he's a big signing, I always leave scope for such a player in my budget because there's always someone special who comes along every year. Lo and behold, Charlie has come along and he's a big bonus. He's someone I never thought I would be able to attract to the club'.

Barnett didn't feature against the Elite last night but fellow midfielder Nathan Rooney played the full 90 minutes, although his wait to discover if he will be offered terms continues... The club's remaining trialist, midfielder Martyn Jackson, didn't feature last night and won't on Saturday but remains in contact with the club".

According to the Worcester News, "Prolific striker Daniel Nti has become the latest player to sign for Worcester City. The 20-year-old bagged 34 league goals for Loughborough University in the Midland Alliance last season... and he has followed fellow former Loughborough player George Williams in making the switch to the Skrill North outfit.

A club statement said, 'Daniel is a very hardworking and brave forward with a proven goalscoring record in the lower divisions and it is hoped he can make the step up to Conference football. Currently in his third and final year at Loughborough, the management team respect the importance of his education and are confident that they can give him the platform to play a higher standard of football without affecting his studies'".

The Evostik League confirms three departures from Boston United; Paul Lister and goalkeeper Danny Haystead to Grantham Town and Anton Foster to Matlock Town. Matlock have also signed Corey Gregory from Stalybridge Celtic.

Harrogate Town are "pleased to announce another addition to the squad... Tricky winger and hat trick hero at Ossett Albion, Dominic Rowe. Dominic, 20, started at Bradford City before a loan move took him to Barrow AFC."

The Football Conference has issued the following press release:

"In conjunction with our web hosting partner 89Media the Football Conference official website has been redesigned and will be launched at 10am on Friday 9th August... To enable the current site to be replaced, this will be deactivated at 6am on Friday morning to allow the new site to be installed and become operative at 10am that morning. P> The new site will be more user friendly, mainly through accessible direct information on the home page.

These changes in the main will assist to:
Enhance communication streams by increasing our news gathering and output, introducing social media feeds and event promotions availability;
Increase commercial traffic opportunities to the site, for Football Conference sponsorships/partnerships;
Introduce potential financial revenue via new advertising areas, including for the first time 3rd party promotions;
Enhance Football Conference and member clubs' profile, by introducing a new online media area (to be introduced later in the year) enabling clubs to upload video, podcasts and photographs.
So please remember: load the version best suited for your use, whether office based or on the move. The overall game plan is to create income generation so, with member clubs coming on board, this will increase the total traffic to the site and therefore lead to its [?greater] commercial value...
No change is to be made to the website address, which will still be accessible via www.footballconference.co.uk".
---
7 August 2013 Once again Altrincham supporters are able to stake their claim to a player's shirt by sponsoring the wearer for the 2013-14 season. For just £150 per player or £250 for two players, you can secure the shirt of your choice.

Home and away shirts are available so there are plenty of opportunities to secure a memento of what, hopefully, will be a successful campaign. So far the following players have secured sponsors...
Stuart Coburn (h) Chris Rowley
Shaun Densmore (h) Jack, Eliot and Lara Shaw
Matt Doughty (h) Eddie Bishop - (a) Sarah Rowley
Scott Leather (h) Hugh Purchas
Danny Boshell (h) and (a) Neil Shackleton
Damian Reeves (h) Tom Murray - (a) Andy Mein
James Lawrie (h) Ian Wilkinson
Simon Richman (h) Paul Daine
James Walshaw (h) Neil Shackleton - (a) Dan Eadie and Neil Shackleton
Damian Reeves (h) Tom Murray - (a) Andy Mein
Nicky Clee (a)Josh
Carl Rodgers
Jake Moult (h) Robinsons Preservation
Adam Reid
Gianluca Havern
Kyle Perry (h) The Fosters
Mike Williams (h) Mark Embury
Rob Gilroy
Lee Sinnott - Hugh Purchas
Neil Tolson - Andrew Shaw
Alan Ainsley - The Rowley Family
Mark Eckersall writes that "TASC will once again be running supporters' travel to away games this season. Details of the times and prices for the game against Worcester City will be available on here on Thursday and bookings can be made via the club or in the club shop at the Burnley friendly, this Saturday. Prices are currently being collected from a number of companies around the North West to ensure that the fares are kept as low as possible and TASC looks forward to welcoming supporters once again this season". To assist website users with iPhones, a simplified version of this news page has been created here. It lacks a number of the features of this page but should function better on those devices. It replaces the small-format version of this page and it is intended to modify other pages of the site similarily in due course. There were two treble-winners on last week's Altrincham FC Saturday Yankee. But the winning code of 3786 had not been issued so the jackpot climbs to £2,800. Details of how to join the scheme and have the chance to win the big prize for a £1 stake are here.

Yankee collectors are required for rounds in the Ashton-on-Mersey, Braodheath and Broomwood areas so, if you can help, whilst earning yourself commission, please contact Jenny Heslop at the Club on 928-1045 or by e-mail.

Barry Pond's updated list of Matchday Sponsors is If you would like to sponsor a game or a matchball, please contact Barry at the Club on 928-1045 or by e-mail. Altrincham FC is looking for further support for the following venture...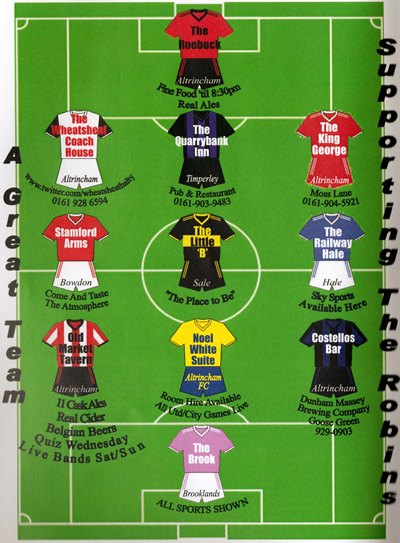 Pub Page in the matchday programme, the "Robins' Review". We would like to recruit eleven local pubs to advertise themselves on our Pub Page which will appear in every home-match programme. Please ask at your "local" if they would like to be part of the "Select 11". The cost is just £50 per pub and each can choose its own kit colours and a few words underneath.

Pictured, right, is the page as it appeared last season.

Grahame Rowley adds that "We now have six pubs who have signed up for our Pubs Page; we still require five more to commit. If you can get your local to add their name to the list, it would be much appreciated. Those who have joined to date are:-
The Roebuck Inn
The Market Tavern
The Railway, Hale
The Quarrybank
The Packet House
The Stamford Arms
With two weeks to go till the start of the season, your help is needed". "Radcliffe Borough have confirmed that goalkeeper James Coates has moved to Welsh side Airbus. The popular keeper made his decision at the end of last week, and leaves Stainton Park with a heavy heart. Coates proved to be very popular with the supporters and the players at Radcliffe, and was the club player of the year last season.

'Coatesy was made an offer that was too good to turn down and, with his impending wedding this year, it was an offer he had to take. Throughout the whole procedure he was up front and honest and always had the respect for the club to keep us fully updated. He was a model professional and fantastic to deal with and he will be sorely missed. We wish him well both on and off the pitch and he will always be welcome at the club', said a club spokesman".

The Football Conference reports that "Stalybridge Celtic have announced that 'old boys' Mark Lees and Joel Bembo-Leta have committed to the cause for the 2013/14 season. Former Mossley, Buxton, Ashton United, Hyde United and Altrincham defender Lees, 25, joined Celtic in March 2012.

Congolese-Born midfielder Bembo-Leta, 21, first signed for Celtic in 2008 having been at Oldham as a youth. Manager Jim Harvey's squad now stands at thirteen".

Elsewhere, "Leamington midfielder Richard Batchelor received the news that he and the club did not want to hear when he was advised by a specialist knee consultant that he had torn his cruciate ligament and an operation was needed to repair the damage. The nature of the injury and rehabilitation period required make it unlikely that Leamington fans will see him in the 'Gold N Black' colours this season.

Manager Paul Holleran said, 'This is a big disappointment for both Richard and us. He played a large part in what we achieved last season but, unfortunately, long-term injuries are inevitable within any squad and we have to manage the situation".

Stockport County "and Help the Hatters today concluded a partnership that sees the supporter group fund the wages of County's youngest player in Ian Bogie's squad. The deal will also see Help the Hatters have their investment returned to them should Rhys develop and progress in the years to come.

County CEO, Ryan McKnight, commented on the partnership...'Of course the spirit of agreement is that any money received will then be reinvested back into the club in a way of their members' choosing. They have worked so hard all summer within the ground and now are funding what we hope to be a special player's wages. We're lucky to have them on board and as a club we are very appreciative indeed'.

Help the Hatters' spokesman, Mike Hopper, said, 'Help the Hatters believe that the agreement to fund the wages of Rhys Turner is ground breaking... The Rhys Turner deal allows Ian Bogie the luxury of having a young talent in the team adding to the experienced players recruited within the playing budget'".

At Gloucester City "The new club Communications team has been working hard on a raft of issues and they are pleased to release the new front cover of the match day programme, a fortnight before the start of the season.

You can check out the cover of the 2013/14 Gloucester City Programme clicking here.

For those unable to get to matches, the club will, as part of our restructure, be offering an electronic digital programme at the same cost of buying it at the match. Full details of how to access and pay will shortly be posted on the website for potential purchasers to find out more. The purpose behind this move is not only to find another way of improving income streams, it will also go to introduce a dedicated service to keep supporters up to date with what is going on, using the match day theme... Please note the system to be introduced needs to safeguard our copyright by restricting access to only those who purchase and even thereafter they will be unable to re-distribute."
---
6 August 2013 Altrincham FC is again running its Patrons' Club. Chairman Grahame Rowley explains how the scheme works...

"For the cost of £50, your name will appear throughout the coming season in the matchday programme as a Patron of Altrincham Football Club. At the beginning of the season, every member will be entered into a prize draw, with the winner being match sponsor for an appointed game along with nine guests. Second prize will be hospitality for five people and third prize will be hospitality for 3 people in the Sponsors' Lounge.

If you are interested in becoming a Patron for next season, please forward a cheque for £50, payable to Altrincham Football Club, for my attention. If you require any further information please speak to me (Grahame Rowley) on 07720-606897 or e-mail me. Thank you for your support.

So far, 116 have signed up - click here for full details... This is a great effort to date but we are looking to beat last season's 124 so, if anyone else would like to join/re-join for this season, please contact me".

The draw for matchday hospitality will take place at the Barrow game on Tuesday 20th August.

To assist website users with iPhones, a simplified version of this news page has been created here. It lacks a number of the features of this page but should function better on those devices. It replaces the previous small-format version of this page and it is intended to modify other pages of the site similarily in due course.
ALTY PRESENCE AT TEST MATCH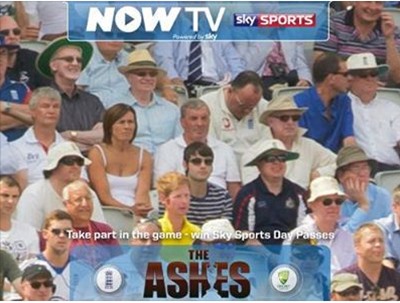 Altrincham FC official caterer, compere and programme seller, Richie Bentley has sent the website the adjacent image, also circulating on Facebook, created by supporter Mike Ford showing a number of well-known Altrincham FC faces at the recent Old Trafford Test Match watching the club's shareholders (the Australian cricket team!) in action against England. Alty's league season kicks off away to Worcester City and the Football Conference confirms that "Worcester City have announced that long-term target Graham Hutchison has committed his future to the club. The 20-year-old Scottish-born former youth international central defender has penned a deal after initially spending time on loan at the club from Birmingham City during the last campaign.

After his month's loan expired City maintained contact with the player and were keen to extend for a further month but he wanted to keep his options open. Hutchison now feels that playing regular first-team football will benefit him and he thoroughly enjoyed his time at the club and this has aided his decision to commit.

Also joining the club is former Shrewsbury Town youngster Elliot Turner, who came to the attention of the club via former City goalkeeper James Dormand, who employs the player since his release from the professional ranks".

Elsewhere, "Exciting prospect Scott Allison has put pen-to-paper and signed for Workington for the forthcoming campaign. Midfielder Allison netted his third pre-season goal on Saturday within two minutes of making his appearance as a second half substitute at Kellamergh Park, scoring the equalising goal in the 2-2 draw against AFC Fylde.

Allison joins from Penrith AFC where he was leading scorer with twenty goals last season.

He joins up with fellow new signings for the rapidly approaching season David Lynch, signed from Burscough, Gavin Skelton, signed from Barrow AFC, the returning Stephen Hindmarch, who has played the last two seasons for Western Suburbs in New Zealand and twins Sam and Jake Smith, who step up from the Reds reserves but also played for Whitehaven AFC in the Northern League last term."

Clubs in the Skrill North will have read the Non-League Paper columnist Stuart Hammonds's article this week with interest as they strive to gain promotion to the Premier division. Stuart lists the budgets of the clubs in the Skrill Premier with two clubs, Forest Green Rovers and Luton Town, having budgets alleged to be in excess of £1 million a year. After these two, the next highest club budgets are between £500,000 and £750,000, a band which comprises Barnet, Wrexham, Grimsby, Kidderminster, Cambridge United and Gateshead. The lowest funded clubs have budgets of £250,000 or less. They are Macclesfield Town, Tamworth, Alfreton Town, Braintree Town, Nuneaton Town, Welling and Hyde.
---
5 August 2013 To assist website users with iPhones, a simplified version of this news page has been created here. It lacks a number of the features of this page but should function better on those devices. It replaces the small-format version of this page and it is intended to modify other pages of the site similarily in due course.
Barrow's Holker Street Newsletter tells us that "The latest player to join Dave Bayliss's band of merry men, Paddy Lacey, has been telling the Mail his plans for the season, 'I trained with Barrow (in the second half of the 2011/12 campaign) and they were doing really well in the Conference Premier and I just wasn't ready to go into Dave's set-up. I wasn't good enough at the time.

But I came in and trained every day and Dave got me my move to Droylsden, where I played about ten games before the end of that season. I started to get myself back together because I was limping with the knee and ankle injuries, I just wasn't myself. I tore my thigh as well, so it was just a bad season. Dave was good to me because I needed to train full-time to get through the injuries.

When my contract at Bradford was mutually terminated I still wasn't match fit. But Dave let me train, got me involved with his lads, which got me on the road to full fitness. The games at Droylsden got me back on track, I worked hard in the summer and then I moved to Altrincham, which wasn't a bad move for me at the time. I went and learnt my trade at Altrincham, played in this League and I just think I've come back to Dave a lot better player as I've honed my skills.

I'm more than happy to join Barrow, this is a big club in this League and Dave and Robin were a pulling factor because they can teach me a lot. I've never really played with a central midfielder who has played at a higher level, taken me under their wing and helped me. But Dave and Robin have already helped me and I haven't been at the club long'".

As the NW Counties Football League started its season, former Alty man James Olsen netted for Bootle as they beat Colne 4-0. Elsewhere, former Alty youth Tom Bailey scored for Glossop North End, but they lost to Ashton Athletic.

"Simon Weaver, manager of Harrogate Town, added the seventh signing to his squad before yesterday's match with a Hull City XI when he unveiled former Scunthorpe United, Brentford and Burton Albion winger Cleveland Taylor. The 29-year-old started his career with Bolton Wanderers, before loan spells took him to Exeter, Scarborough and Scunthorpe United.

It would be the latter club that he would join on his release from Bolton... Leaving Scunthorpe at the end of the 2007-08 season, he joined Carlisle United before moves took him to Brentford, Burton Albion on loan, Scottish side St Johnstone, Burton Albion again and finally Grimsby Town on loan".

Barrow's Holker Street Newsletter reports that "Before the Airbus game, Dave Bayliss was in the Mail telling us how he hopes to entice Paul Edwards back to Holker Street, for what be the player's fourth stint with Barrow AFC. 'We'll have to sit down with Eddy and discuss it with him. We'd like him to stay because he's done well and he's an experienced lad who, as a personality, I really like. He brings experience to the team as well. So we'll have to sit down with him in the next few days'...

Bayliss added, 'I would like 17 or 18 players, (we have thirteen on the books at the moment). If the budget stretches that far, we'll have to see'. And when asked if there would be any possibly of him approaching the club's board to request more funds should the need arise, Bayliss responded, 'Not a chance. We've set a budget and I know it's a budget that we've all agreed. So there's no point me going back and saying I want more money because that's not fair. We'll get on with it and deal with what we've got... So we have to make sure we're properly prepared and hope that we don't get many injuries'".
---
4 August 2013 Altrincham's final pre-season game will be next Saturday, 10 August, against a Burnley XI at the J. Davidson Stadium on Moss Lane (3pm). It will be the third year running that the Clarets have visited Altrincham in pre-season, having won 4-1 last season and 4-2 the year before.

Admission is £7, except for concessionaries who pay £3 and under fives, who are free. Holders of 2013-14 Altrincham FC season tickets will also be admitted free of charge.

A number of former Altrincham players were in action at Mossley on Saturday in a charity match which ended Mossley 0 Ashton United 2. Playing for Mossley, as on Tuesday against Alty, were Russ Saunders, John Bennett and Sam Madeley, whilst for Ashton, Chris Denham was captain and Joe O'Neill and Carlos Logan turned out, as did recent Alty trialist, Sam Freakes. Last Tuesday, former Trafford player Kayde Coppin scored against Altrincham but on Saturday he was playing for one of Alty's rivals in the coming season, reports the Football Conference. It says that "Stockport County ran out 3-1 winners over hosts FC Halifax Town at The Shay. A brace from Kristian Dennis and a Kayde Koppin [sic] strike were enough to secure a victory for County.

Halifax's goal, scored by centre-back Marc Roberts, proved to be nothing more than a consolation goal for the Shaymen who will be sweating over the injuries that occurred to both Dan Gardner and Scott McManus".
---
3 August 2013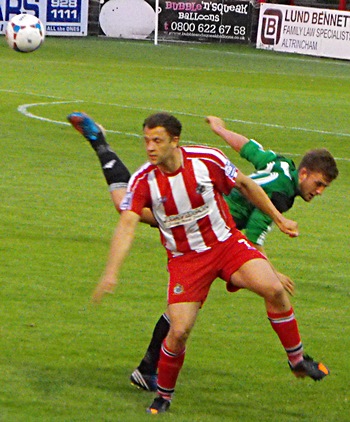 With manager Lee Sinnott able to field a stronger side than in previous pre-season games, his view that the team was coming together well for the start of the season was proved right as a run of five successive defeats was turned around at the J. Davidson Stadium on Friday night. But Altrincham had to come back from a 1-0 deficit...

Match report here.

Right: Kyle Perry in action against Wrexham. He scored for the second successive game.

The Football Conference confirms that "Barrow AFC have signed midfielder Patrick Lacey and defender Cliff Moyo on one-year deals... Former Altrincham and Bradford City midfielder Lacey spent his apprenticeship with Sheffield Wednesday.

In July 2011, following his release from Hillsborough, he moved to Bradford City on a one-year contract... He joined Altrincham late in pre-season 2012 after trialling with Morecambe.

Also re-joining the Bluebirds squad is popular young defender Moyo, who was part of Barrow's Conference Premier squad in 2011/12, and was loaned to Northwich Victoria and Droylsden, where he spent a spell last season".
---
2 August 2013 Altrincham entertain Wrexham tonight (Friday), kick off is at 7.30pm. Admission is £7, except for concessionaries who pay £3 and under fives, who are free. Holders of 2013-14 Altrincham FC season tickets will also be admitted free of charge.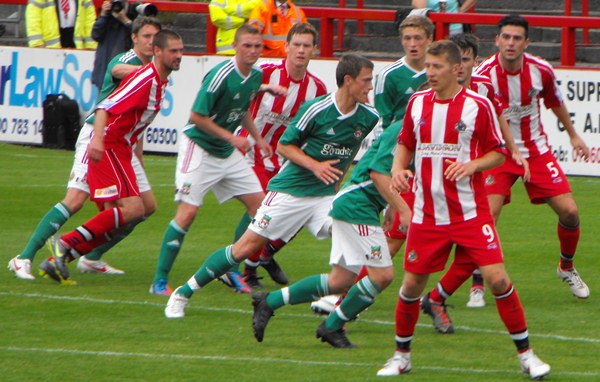 Right: The 2012 friendly betwen Alty and Wrexham. L. to R.: Danny Hall, Shaun Densmore, James Lawrie, Simon Richman and Gianluca Havern, defend Alty's goal.
Mike Garnett advises us of our previous record against Wrexham in friendlies is as follows:
Played 5, Won 0, Drawn 3, Lost 2, For 4 Against 8.
"Our most recent pre-season meeting was on August 4th 2012, a game which ended 1-1 at Moss Lane. Our pre-season meetings with Wrexham, one of which was at the Racecourse, started in 1975; there has also been one 'in-season' friendly, which was abandoned due to floodlight failure".
Our competitive record v Wrexham (between 1963-2011) is:
Home p.6 w.1 d.3 l.2 f.4 a.6
Away p.5 w.1 d.2 l.2 f.3 a.6
Overall p.11 w.2 d.5 l.4 f.7 a.12
In addition, we played Wrexham Reserves in the old Cheshire County League:
Home p.22 w.12 d.5 l.5 f.57 a.31
Away p.22 w.7 d.3 l.12 f.40 a.52
Overall p.44 w.19 d.8 l.17 f.97 a.83
Radio Robins, sponsored by Ashley Mowers Garden Machinery, is providing full live commentary of Friday night's game against Wrexham at The J.Davidson Stadium. Coverage starts at 7.25pm and you can listen to Radio Robins on the internet. The commentary team is Brian Flynn, John Edwards and Luke Edwards.

Dan Whitelegg will be providing regular updates on Twitter (@altrinchamfc) as well as half-time & full time updates on facebook (Altrincham FC)". The Twitter feed can be followed on the Headline page.

It is intended to resume this website's Matchday Updates from the start of the new league season.

In advance of the match at the J. Davidson Stadium tonight (Friday), the Daily Post reports on the "Wrexham player-manager's damning verdict on his team's embarrassing defeat at the hands of Connah's Quay on Tuesday... The Dragons notched a sixth minute lead at the Deeside Stadium before being matched and even out-played for more than an hour, new Nomads' striker Simon Everall grabbing a brace either side of a goal from striker partner Mike Hayes to secure a well-deserved success...

'We probably thought it was all done and dusted because once you get ahead you think it's all going to happen', he added. '"But they ran our back four ragged and they just bullied us. It's not what I expect from that level of the bunch of lads in there and I've told them that. The balls were flat and the grass was a bit long, but they (Nomads) seemed to do all right. Okay, they might be used to it a little bit more, but I don't care about that. If you take the ball away, they out-ran us, out-fought us, out-battled us and played better football than us. If you do that, it doesn't matter whether the ball is round or square, it was not good enough and it's back to square one for some of them'...

Only two of the starting line-up escaped Morrell's wrath; 16-year old debutant centre-back Ross White and trialist Mark Carrington, who set up Wrexham's goal and will be given a further opportunity to impress at Altrincham on Friday evening.

The Racecourse boss said, '"I thought Ross White did well at the back, at 16 and coming in for his first game. He did great but I don't think anyone else would get in their (Nomads') team. I thought Mark did okay and, at least, he tried. He got a few tackles in, he moves the ball well and is good on the ball'..

In an update on his pursuit of central defender Junior N'Tame, who has already turned down one contract offer, he added, 'If he wants more money than we can offer, then it can't be done. We trying to put together accommodation and all that sort of stuff and we're negotiating to see if there's anything we can do'".

A couple of players moving from one end of the country to another are featured in a report from the Football Conference, which tells us that "Barrow AFC have signed three more players on one-year deals. The players, who have all impressed in pre-season, are central defender Duran Reynolds, whose contract with Dagenham & Redbridge ended yesterday, as did left-back Andy Burns.

Reynolds, 21, joined the Daggers in July 2010 from Southend United. He began his career working his way through the youth sides at Peterborough United, Cambridge United and Histon. It was from the Glassworld Stadium that he joined Southend in November 2007. He spent the second half of the 2009/10 season and the entire 2010/11 season on loan to then Conference Premier side Grays Athletic, where he made over fifty appearances and scored five goals.

The 2011/12 season saw him spend a spells on loan at St Neots Town and at Metropolitan Police and last season with Billericay Town and AFC Hornchurch.

Burns, 20, joined the Daggers in the summer of 2012... He started his career at Bolton Wanderers and then moved to Bradford City before signing a one-year deal with the Daggers. Burns has spent time on loan at Kettering Town and Bishop's Stortford in order to gain first-team football

Winger Dan Parkinson joins the Bluebirds having seen his contract with Morecambe also end on July 31st. Parkinson, 20, played five times for the Shrimps and has spent time in the Conference North on loan at Colwyn Bay and Vauxhall Motors".

Meanwhile a striker (and former Alty trialist) heading southwards is also in the news as "Hednesford Town have signed experienced forward Nick Rogan. Rogan's former clubs include Morecambe, Southport, Barrow AFC, Fleetwood Town, Corby Town and Stalybridge Celtic. Rogan, 29, born in Blackpool [also] signed for...Marine, who he joined from neighbours Vauxhall Motors in March 2012".

Still at Hednesford, we learn from Welsh Premier that "Leading scorer at Airbus last season, Wayne Riley, is expected [to] leave the Wingmakers to join Hednesford Town after being released by mutual consent, writes the club website. Riley was a non-contract player due to compensation being sought from his previous club Northwich Victoria and, despite being offered a trial by Wrexham, it is expected he will join the Pitmen, who have served seven days' notice of approach.

'Any club signing Riley on a contract can expect a call from Northwich Vics' owner Jim Rushe for compensation from the midfielder's time there', says Airbus chief operating officer Stewart Roberts. 'We wish Wayne all the best wherever he ends up and hope that the compensation due to Northwich will not hamper him or his new employer too much... A consistent goal scorer with the Vics, Riley followed his former manager Andy Preece to the Airfield last July and scored 12 goals from his 29 (+2) Welsh Premier appearances".

The Dinnington Guardian reports that "Gainsborough Trinity boss Steve Housham has admitted that his squad will still need strengthening ahead of the new season, despite announcing a clutch of new signings over the last week.

Michael Emery, Josh Lacey and Josh Williams have all signed for the club for the coming season, with local players Greg Andrews and Adam Martin expected to sign forms in the coming days. But the Trinity boss says... 'We have a group of 12 or 13 players that we've added the new signings to, which gives us a good core for the season ahead. Darryn (Stamp) and I have been looking at players to potentially bring in, and we'll also be looking at loan players closer to the season'...

Trinity have played a host of trialists in their pre-season friendlies, and... the Blues' boss has revealed his disappointment in the overall standard...'We saw a lot of players that have good technical ability in training but weren't able to show it in games where it matters'...

Two players that did impress the former Scunthorpe United man were Andrews and Martin, who were both playing football at local league level last season. 'I'm proud to be able to offer Greg and Adam a chance with the club. As a local man myself, it's great to be able to give them the opportunity. Our budget is well publicised, so we can't go out and buy an extensive squad like we have in previous years. We've had to look for bargains, and these two fit the bill. But, make no bones about it, they've more than held their own in pre-season and have earned their right to play for the club'".

Up in the North East, the Peterlee Star says that Hartlepool boss "Colin Cooper admits that he would like to reward trialist Michael Duckworth with a professional contract but concedes priorities may lie elsewhere. The 20-year-old has appeared three times for Pools over pre-season having been recommended to Cooper by the player's boss at Bradford Park Avenue. And Duckworth has certainly caught the eye at right-back with his energy and comfort in possession...

Cooper explained, 'If I could do something tomorrow I would. But, as it is now, I go back to Financial Fair Play... Right-back is not a priority but I do want good footballers at this club. Whether we can do anything will be dictated by finance and whether we've got any room to work within... When his manager spoke to me he said he was good enough to play League football, he just hadn't had that chance yet', he explained. 'But Michael has shown that he is a good player and has done well'".

Guiseley, "have announced the signing of Gibraltar striker Adam Priestley... Priestley scored 27 times for Farsley AFC last season, finishing as the club's top goalscorer and winning the manager's player of the season and players' player of the year awards. The club says they look forward to seeing Priestley make his mark in the krill North this coming season, joining Craig Hobson and James Burgess as the strikers chosen to fill the boots of the departed Josh Wilson, James Walshaw and Kevin Holsgrove".
---
1 August 2013 Following the game at Mossley, Brian Flynn recorded an interview with Altrincham manager, Lee Sinnott. It can be heard here.
"WE WILL BE READY"
Joint Press and Media Officer, Brian Flynn, writes, "Despite losing two further pre-season friendlies, Altrincham manager Lee Sinnott remains 100% confident that his team will be fully prepared for the new league season which starts on August 17th.

Two late goals in each of the games, against F.C. Halifax Town on Saturday and Mossley on Tuesday evening, mean that the Robins have now lost all five friendlies to date and, whilst Sinnott recognises that the pre-season preparations have been disjointed, he is adamant that his team will be ready to burst out of the blocks when his team travel to take on Worcester City for the opening day of the campaign.

'Pre-Season is always disjointed at this level with holidays and injuries. Up to now, we have been focusing on fitness and sharpness but we haven't been able to play anywhere near a settled side, but that will come during the next two and a half weeks'.

Kyle Perry scored his first goal for his new club in the 4-2 reverse against Mossley, a game in which George Heslop's Youth Team squad were deployed during the second half. 'Kyle took his goal well and we have no one else like him in the squad. He holds the ball up well and I am really pleased to have him on board, having tried to sign him last year'.

Sinnott's biggest concern at present is that Simon Richman has returned from the World Student Games injured. 'It was great for Simon to be involved in such a wonderful tournament and come back with a silver medal but he was injured in the win over Italy and then strapped up to play in both the semi-final against Russia and the final against France. We're disappointed that the British Universities' people haven't been in touch with us and [with] the after-care he received. We hope to have Simon available for the Burnley game but that will be almost a month since he played in the final in Russia'".

Please don't forget that Alty play Wrexham at the J. Davidson Stadium on Friday< (not Saturday) and that kick off is 7.30pm not 7.45pm! Admission is £7, except for concessionaries who pay £3. Under fives are free, as are holders of 2013-14 Altrincham FC season tickets.

Meanwhile, the Leader tells us that "Wrexham enjoyed a dream start against Gap Connah's Quay but were eventually on the wrong end of a 3-1 defeat at The Deeside Stadium last night. It was the second time in pre-season that Wrexham have been beaten by Welsh Premier League opponents, although player-boss Andy Morrell selected an experimental side that featured few players who will be in the team when the new Conference campaign gets underway...

Only one player, centre-back Leon Clowes, who started Saturday's 2-0 victory over Tranmere Rovers was included in the side from the off at Quay as Morrell gave other members of his squad a run-out. Clowes was partnered in the centre of defence by youth team player Ross White and there was also a place for former Bury midfielder Mark Carrington who joined Wrexham on trial the previous day...

Wresxham (4-3-3): Coughlin, Parle, White, Clowes, Hunt; Carrington, Clarke, Royle; Rushton (Cieslewicz 79), Bishop (Ogleby 72), Morrell (Reid 79). Subs not used: Hodgin, Bailey-Jones, Smith, Cartwright, Evans".

Also, Wrexham announce that "Manager Andy Morrell was not one for mincing his words after emerging from the dressing room at the Deeside Stadium.

'Miles away from where I expected us to be at this stage', he said following a defeat to the Welsh Premier League side. 'All about attitude and some were miles away. So I don't expect anyone knocking on my door if they are not in the team in two weeks time, as they have done themselves no good whatsoever. We didn't turn up to play and if I was a neutral watching tonight, then I don't think any of our lads would get in their team. Which is a damning verdict on a lot of our lads.

I thought Ross White did well at the back. He's 16 and coming in and playing his first game, but I don't think there was anyone else you would put in their team... They ran our back four ragged, two up top and one in the hole. They just bullied us and that's not where I'm at... Maybe some had got the hump if they thought they might not be in the starting side, but I would expect them to be thinking "Hang on a minute I'm going to get myself in the first team".

I only left six lads at home so, somewhere along the lin, I need another five to be playing. My attitude when I was playing and not being involved, would be to try and be the best player on the pitch, and if that was not good enough, then so be it. But I would try and do that. I think some of the attitudes out there were way off what we would have expected'.

Looking at trialist Mark Carrington's first appearance and he did find some positives about the new lad. 'I thought he did okay, at least he tried, threw a few tackles in and moved the ball well. I think we'll have another look at him, as I think it would be unfair to view him on that, with what went on around him. That's assuming he wants to stay, that is. We'll have to see. Not sure if he's used to playing in a three; a new team and a new system. But he certainly looked comfortable on the ball, got in a couple of shots as well'".

Guiseley "are pleased to announce the signing of three more players...

Striker James Burgess, 24, as well as defenders Kyle Harrison and Israel Johnson, both 19, have all been added to Steve Kittrick's squad after impressing in pre-season training and friendly matches. Burgess, formerly of Frickley Athletic, is a strong, quick forward...

Harrison is considered a real prospect at the back, having been at Bradford City and has also shown his talent in pre-season games, while Johnson is a former Huddersfield Town defender.

The 19-year-old, who can also play in midfield, is quick and seen as a strong addition for the Lions."

Our first opponents of the coming season, Worcester City "are pleased to announce the signing of Aaron Williams, a centre forward who joins the club after his release from Walsall. The 19 year old forward has been with the club throughout the season to date and his performances, work rate and super attitude have convinced the management team to give him a deal for the coming season.

Joining Aaron at the club is flying winger Luke Hubbins who joins from AFC Telford after his release from Birmingham City the previous season. Luke has been training with the club but his availability in games has been restricted due to him observing Ramadan, the holy month for Muslims.

Both players are seen as exciting additions to the squad, are of the right age profile and their pedigrees certainly demonstrate the ability they both possess. The club... look forward to being able to announce further additions within the next 48 hours as discussions are at an advanced stage with a number of other targets."

According to the Boston Standard, "Boston United boss Dennis Greene has warned that he is prepared to wield the axe, if that means he can strengthen his squad. The Pilgrims have no cash left in the budget, following the signing of ex-Derby County defender Stefan Galinski last Tuesday.

But with a handful of trialists still impressing in pre-season matches, Greene told The Standard he isn't afraid to tinker with his playing staff if that means he can create a more competitive squad..

Greene said, 'At the moment we've spent what we've got as a wage bill but... if I find something better than what I've got, then it'll be one in and one out. I'm always looking to tweak the squad'...

Holding midfielder Indy Aujla has certainly impressed while on trial at York Street. His progress was being tracked by Leeds United last year, and he has previously had spells with Forest Green Rovers and Frickley Athletic, as well as a stint in Belgium with Royal Racing Montegnee.

Former Burton Albion man Billy Bennett caught the eye when curled home a late winner against a Leeds XI at the Jakemans Stadium, while ex-Lincoln City youth teamer Elliott Green is also hoping to secure a deal".

The Shropshire Star informs us that "AFC Telford boss Liam Watson expects to sign Mansfield midfielder Godfrey Poku within the next 24 hours. The Bucks chief has been working to bring in Poku on a season-long loan for more than two months...

He said, 'Godfrey Poku was at the game last night and I would have thought that the deal will be done in the next 24 hours'. Watson said that the arrival of the 23-year-old ex-Luton man would add a physical presence in the middle of the park as well as competition for places.

'It will give us more of a threat and more of a presence in the middle of the pitch', said Watson. 'It has been obvious for the last couple of games that we do need a presence in there. It is all right at Telford getting the ball down on a nice pitch but there are going to be times, going to other places, where it is not going to be a nice pitch and you have got to dig in. One thing we do know from Godfrey is he will dig in as much as anyone. And it is throwing down the gauntlet to all the players because, come the first day of the season, I want to be at stage where I don't know who's going to play'.

Meanwhile, Watson was pleased with his team's fightback against Chester at the New Bucks Head last night. The Bucks battled back from 2-0 down with late goals from Andy Owens and Mike Phenix to net a draw... 'We showed a little bit of character to come back', he said. 'But we need to work on making sure that we don't concede. If we don't concede, we have got options on the pitch and on the bench which can win us games'".

From the Daily Post we learn that "Colwyn Bay boss Frank Sinclair expects to have culled a number of trialists from his squad ahead of this Saturday's home game against Welsh Premier champions TNS. Having made multiple changes in the opening three pre-season games, at times to the detriment of the side's performance, Sinclair says he is ready now to cut down numbers, allowing him to play a more settled team in the remaining friendlies.

Eight interval changes last Saturday wrecked the momentum after a good first-half performance to hold a strong Chelsea Xl to 1-1 at the break, but he needed to see everybody in action against top quality opposition. He still requires another centre-back following the departure of Danny Meadowcroft...

New star signing Ade Akinbiyi, the ex-Norwich, Leicester and Stoke City striker, is likely to miss the next two games after having to come off with a tight hamstring just 38 minutes into his debut against Chelsea. But Sinclair's other two new additions, Cameron Darkwah (ex-Stockport County) and Jamie Matthews, will be playing.

The 20-year-old Matthews made the final 20 of Sky's 2010 competition 'Football's Next Star' in which the first prize was a contract with Italian giants Inter Milan. Steve Connor and John McKenna should also be fit to return against TNS after picking up knocks against Wrexham".
---
FOR EARLIER NEWS, CLICK HERE
---