Altrincham F.C. Youth Team
---
Altrincham F.C. Youth Team
4 August, 2001
YOUTH HONOURS
Six of last year's double-winning Altrincham Youth side played this week for Manchester County F.A. in their match against Huddersfield Under-19s. Those called up were Paul Robinson, Lee McDonald, Paul Coverley, Mario Daniel and Domain Esdale, whilst Wes Wilkinson was only prevented by injury from also playing in the game. Two other Alty Youth players, Vernum Rowland and Mark Drew, join Wesley Wilkinson in the Cheshire County F.A. trials tomorrow.
---
18 July, 2001
ALTY YOUTH TEAM
The Youth team have drawn a home tie for their first game in this season's FA Youth Cup competition, against Leek Town. This will be played at Moss Lane on Wednesday 29 August. If they win, they will meet either Gretna or Crook Town at Moss Lane in the next round.
---
12 June 2001
DOUBLE WINNERS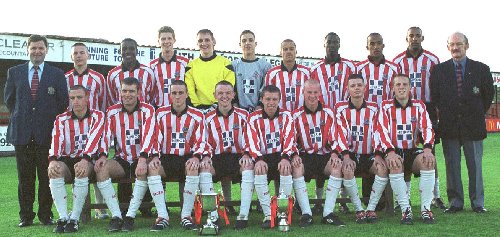 Pictured above, courtesy of Danny Claffey, is the Altrincham Youth double-winning side. The photo was taken last Friday at the trophy and medal presentation ceremony at Moss Lane. The line-up is: Back row Neil Thomason (coach); Paul Monaghan, Rico Richards, Pat Claffey, Neil Wolszczuk, Dale Newbrook, Wes Wilkinson, Otis Thomas, Domain Esdale, Levi Kennedy, George Heslop (manager); Front row Lee McDonald, Paul Crowther, Paul Robinson, Steve Howe (captain), Paul Tilley, Vernum Rowland, Lee Shillito, Danny Leahey. Thank you to Danny, father of centre-back Pat, for this excellent photograph.

---