---
31 December 2012
ALTY PONTOON 2013
Join the Alty Football Pontoon, 2013
Grahame Rowley writes, "We are proposing to run a football pontoon, starting on Friday 1st February 2013. To play it will cost you the princely sum of £10 and the winner will receive a minimum of £100 in cash.
The rules are simple...
You pick one random team out of a hat and that is your team for the duration of the competition. Premiership, Championship, League 1 & 2 and Blue Square teams available.
Your team has to be the first team to score EXACTLY 21 goals for you to win
If your team goes over 21 goals, you are bust!
Only competitive games (League or FA Cup games) played on a Friday, Saturday, Sunday or Monday count towards the goal total
If more than one team reaches exactly 21 goals on the same day the prize money will be shared
If a particular weekend's matches are lacking any teams, due to postponements or blank fixtures, those teams will be awarded 2 goals
International weekends do not count towards scoring.
An updated table showing each person's team and how they are doing will be posted on the website and in the programme as soon as possible. Let me know if you wish to join up for this exciting game of Pontoon. If you have any questions, please do not hesitate to phone me on 07720-606897 or
e-mail
me.
Many thanks for your support.
Grahame adds that the rules and a list of numbers is diaplayed inthe bar at Moss Lane.
DUNCAN - ONE TO WATCH
In Sunday's NL Paper, their 13 players to watch in 2013 include Duncan Watmore, who is described as "Son of the former FA chief executive, Ian Watmore, the flame-haired attacker broke into the Alty team last season. Now establishing himself as an important first-team player, he has 8 goals in 11 starts. A bundle of energy, he really showed his potential in Alty's FA Cup games against Burton Albion".
One of the other thirteen is Liam Tomsett, now on loan at Hyde from Blackpool. Midfielder Liam enjoyed a spell on loan at Moss Lane last season in which he made five starts.
Also in the NLP, in his "Non-League New Year's Honours List", Stuart Hammonds awards Damian Reeves an MBE, which he describes as "Man Bagging Easily", for his goalscoring success over the past year.
ROLL OF HONOUR
Before the Altrincham v Stalybridge Celtic match on New Year's Day, the Club will hold its annual "Roll of Honour" ceremony to pay its respects to those who have died during 2012 who were connected with the Football Club. The names will be read out by club chaplain, Rev Andy Barclay-Watts of LifeChurch Manchester, followed by a minute's applause in celebration of theirlives. If you have lost a relative or friend who supported the club or know of the death of any former player or member of staff of Altrincham FC, please e-mail the
Club
as soon as possible.
Those whose deaths have been recorded on the website in 2012 include former groundsman Jack Thorpe and longstanding supporters Arthur Hodgkinson and Renee Stuart.
BSBN NEWS
The
Telegraph & Argus
reports on our next (and most recent) opponents, Stalybridge Celtic, who beat Bradford Park Avenue 2-0 on Saturday.
"Bradford Park Avenue's search for their tenth league victory of the season goes on after a fourth defeat on the bounce left them just outside the play-off zone... and they have also been goalless in that spell... They found themselves behind in the third minute...
The Celts' defence stood firm as Avenue came out strong for the second half and, after a brief spell on the back foot, they doubled their advantage. In a 61st-minute attack, Laird laid a square pass into the path of Buckley, who fired an unstoppable shot past keeper John Lamb into the bottom corner... Avenue were reduced to ten men when Marshall picked up his second yellow card in quick succession... and [this] ended the game as a contest.
Avenue's press officer Lewis Sale said, 'John (manager Deacey) and the lads were stunned in the dressing room after the game. It is so frustrating for them because there were so many chances and balls into the area that just needed a boot on them'".
In the Northants Telegraph, we learn that "Chris Plummer is hoping striker Leon McKenzie will feature in Corby Town's next two games. But the Steelmen manager has confirmed that recent discussions he has had with the experienced frontman have included the possibility of McKenzie retiring from football after the New Year's Day home clash with Boston United at Steel Park.
Before then, Corby head to FC Halifax... McKenzie has barely featured for the Steelmen during December due to a tour of the country to promote his autobiography. And he has also expressed a desire to take up a career in boxing in the future...
'I don't think we will see Leon on the pitch too much', Plummer said... 'We are hopeful he will be available for Saturday and also for New Year's Day. But he has other things happening outside of football, which we have always known... It is a tough period against some big clubs that have been in the Football League before', Plummer added... 'We have a few walking wounded. The squad is looking thin and we need to address that in the next week or two. We know the targets we want and hopefully we can get them. If we can't then we will have to think again'".
According to the Oxford Mail, "Oxford City have extended goalkeeper Matt Ingram's loan from Wycombe Wanderers until the end of the season. The 19-year-old was City's hero in the goalless draw at Brackley Town on Boxing Day. And manager Mike Ford said, 'Wycombe are chuffed to bits how we have looked after him and the way he has grown and matured as a goalkeeper. He will stay with us until the summer and go back to them for next season, so that is brilliant news'...
When City take on Boston United at the Jakemans Stadium [last Saturday], Zac McEachran will feature again in City's squad after Ford gave the 18-year-old midfielder his full debut at Brackley. And City's boss believes the teenager can step out of the shadows of his famous brother, Josh, the England Under 21 international, who is on loan at Middlesbrough from Chelsea. Ford said, 'He can create opportunities and go past people. He is what I call a line-breaker'...
Full-back Jack Mills misses the trip to Boston, who drew 1-1 at home to Corby Town on Boxing Day, with a one-match ban after being sent off at Sutton United. Andy Gunn could come into the side to take his place or Paul Stonehouse or Andy Ballard could switch positions. Ford added, 'Jack has done great, but it is an opportunity for somebody and if they do well they will stay in the team for New Year's Day'".
---
30 December 2012
LACK OF ACTION
The postponment of our trip to Histon yesterday means that Altrincham will have completed just 18 league matches this season before the end of the calendar year 2012. You have to go back eleven years to 2001 to find a season when we played fewer league games before the New Year. In that season of 2001-02 we completed just 17 matches in the UniBond Northern Premier League from August to December. Nine of those 17 matches were at Moss Lane; this season Alty have completed just eight home league matches so far.
The 2001/02 season saw just one league match between 30 October and 15 December and, after 22 December, there was no league game for Alty till 19 January 2002.
But every cloud has a silver lining; for those buying half-season tickets, you will now get 13 home matches for your money! And in 2001/02 we had scored only 29 league goals before New Year; this season we have hit 43 in the BSBN.
THE YEAR AHEAD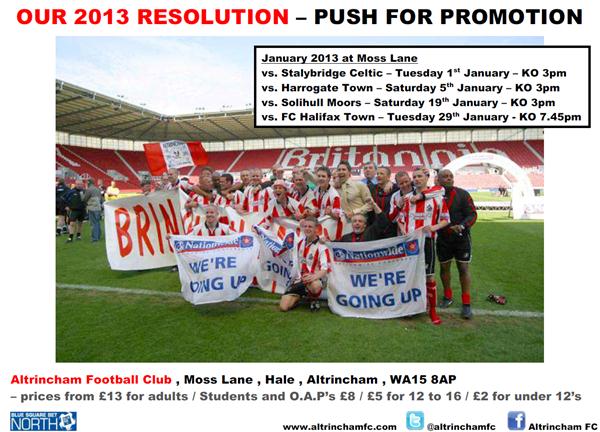 Altrincham FC Marketing Manager, Matt Royle, writes, "Moving into the New Year (weather permitting) we have a good number of home games to look forward to. Due to our fantastic cup runs, home games, particularly on Saturdays, seem to have been few and far between. January sees two traditional Saturday 3pm home games, as well as a tasty Cheshire derby on New Year's Day, not to mention the game against well-followed FC Halifax Town at the end of the month.
All games will be important to our push for promotion and, with the home games continuing to flow in February, we hope to see as many of you there as possible cheering on the lads into the play-off places".
Matt's latest fixture poster is seen, right; click on the image for a larger version which you can print off for display at your place of work, local pub or anywhere else (with permission) that it will attract attention.
And don't forget that the team also really appreciates strong away support. TASC (The Altrincham SUpporters' Club) arranges transport to all away matches. The next scheduled trip is to Worcester City on 12 January; details of the times and fares will be available shortly.
NEW YEAR'S DAY
Altrincham v Stalybridge Celtic
Bishops Stortford v Histon
Bradford Park Avenue v Guiseley
Colwyn Bay v Vauxhall Motors
Corby Town FC v Boston United
Droylsden v Chester FC
Gainsborough Trinity v FC Halifax Town
Gloucester City v Worcester City
Hinckley United v Solihull Moors
Oxford City v Brackley Town
Workington v Harrogate Town
---
29 December 2012
SATURDAY'S FIXTURES
Altrincham dropped to eleventh after having had to sit out today's scheduled fixture.
Boston United 3 Oxford City 1
Brackley Town v Gloucester City POSTPONED
Chester FC 3 Hinckley United 0
FC Halifax Town v Corby Town POSTPONED
Guiseley v Colwyn Bay POSTPONED
Harrogate Town v Droylsden POSTPONED
Histon v Altrincham POSTPONED
Solihull Moors v Bishops Stortford POSTPONED
Stalybridge Celtic 2 Bradford Park Avenue 0
Vauxhall Motors v Workington POSTPONED
HISTON GAME OFF
Following a pitch inspection at Histon this morning, today's match against Altrincham has been postponed.

On Friday, the Cambridge News reported that "Histon supporters were starting to get that sinking feeling before the recent downpours. In a run of three consecutive home games in the Blue Square Bet North, they saw their side trail at half time 3-2 to Corby, 4-0 to Chester and 3-0 to Bradford Park Avenue. On each occasion their soggy spirits were lifted with rejuvenated second-half displays, although none of them were good enough to produce points.

Those three fixtures proved to be the last of Dennis Greene's time in charge and, after defeats in their first two games at the helm, the interim management team of Nacer Relizani and Brian Page celebrated a vital 2-0 victory over Bishop's Stortford at the Glass World Stadium on Boxing Day...

'We'd talked before the game about how we needed to stop talking about our potential and youthfulness, and start producing', said Page... 'I was delighted with the courage, belief and spirit they showed. Bishop's Stortford are a good side who do what they do well, so the win gives us real belief... Against Bishop's Stortford we were switched on for full 90 minutes, so now we know we can beat teams like them... On the whole, they're grasping what Nacer and myself are asking them to do', said Page...

Histon are due to entertain Altrincham tomorrow – weather permitting, which would mean another return for former Stute, Damian Reeves. Danny Fitzsimons cut his head in a brave challenge against Stortford, but the defender will be patched up and start if the game gets the green light.

'With Reeves up front, who we all know, they can score goals, so we'll have to make sure we do the basics right and nullify their attacking threats', said Page. 'Then we'll see if we can do something in the attacking third ourselves'".
Worcester City v Gainsborough Trinity POSTPONED
BSBN NEWS
As well as the Histon pitch inspection, other inspections scheduled for Saturday morning include:
Vauxhall Motors v Workington AFC (8.15am)
FC Halifax Town v Corby Town (10am)
Brackley Town v Gloucester City (10am)
Harrogate T. v Droylsden (9.30am)

Harrogate Town add that "We managed to play the home game against Hinckley United on the 15th December in spite of heavy rainfall during the week prior to the game. The covering of the pitch had been successful following four dry days during which we verti drained (400mm deep holes) over the whole pitch. Recovering after the match, depends on the state of the playing surface and in this case. In fact the rain fall has been heavy and continuous...

The additional drainage and new turfing work in early November to rescue the middle third of the pitch has been successful. However, excessive rainfall, playing always on a rain affected pitch, (one dry game only this season, against Oxford City) has destroyed other areas, in particular central areas in front of the Wetherby Road terrace. We either need a dry week, which we cannot wait for any longer or we need to, if practical, to carry out further banding (deep slits filled with aggregate to link the surface to the new underlying drainage) and to lay new turf to the areas devoid of grass, which are by now just mud patches, acting like a lining to a pond.

We will need five clear days to affect the work. Until we complete the work, any home game is at risk. We will hope to complete at our earliest opportunity... It is very frustrating for everyone connected to the Club, it was always going to be a tricky first year but no one could have envisaged the battle with the extreme elements".

A broken arm is expected to keep Workington keeper Aaran Taylor out of action for six weeks, so the Reds have signed Newcastle United's Jonathan Mitchell on loan

The Herts & Essex Observer reports that "The three-match ban for Blues midfielder Lewwis Spence has been overturned and he is available for their match at Solihull Moors... Lewwis Spence was set to miss this clash and the home games against Histon and Guiseley on January 1 and January 5. This was after the former Crystal Palace midfielder was sent off during the 4-1 defeat at league leaders Chester City on December 15.

Spence received his red card after the assistant referee claimed that he had kicked out at Chester substitute Craig Curran. However, an FA disciplinary hearing rescinded the red card following an appeal by Stortford".
---
28 December 2012
NEXT OPPONENTS
Altrincham are scheduled to travel to Histon this Saturday. Mike Garnett's statistics tell us that the previous record between the clubs is:
At Moss Lane: p6-w3-d0-l3-f11-a7
At Histon: p5-w1-d1-l3-f3-a7
All: p10-w4-d1-l6-f14-a14

According to NL Daily, "Following on from Boxing Day's 2-0 victory over Bishop's Stortford, there was more good news for Histon with confirmation that the Histon Independent Supporters' Trust has been offered two places on the club's board. The two representatives will be appointed from the current acting board of HIST.

A statement from HIST, reported by the Cambridge News, said, 'This proposal will be voted on at a meeting of club shareholders in the new year. The board of HIST would like to record our thanks to the board for their help and co-operation on this issue which we feel will go a long way towards helping the club and its fans work together for the long term benefit of Histon FC'"

On the pitch, news of Altrincham's next opponents comes from the Cambridge News as it reports on "Histon 2 Bishop's Stortford 0. Goals from Lewis Taaffe and substitute Nick Freeman gave Histon a vital win over fellow strugglers Bishop's Stortford at the Glass World Stadium yesterday... It was Histon's first win since the 2-0 defeat of Vauxhall Motors on October 13 and moves them just three points behind Stortford.

'I couldn't be more chuffed for the lads for all the hard work they put in', said assistant manager Brian Page. 'We talked at half time and said you've still got to believe in yourselves and what we're doing and the opportunities will come. The boys stuck to their gameplan and were brave in possession and we used the space well to cause them problems. It's a lovely Christmas present for everyone at Histon'.

Charlie Day, who has returned to Histon, lined up in attack alongside Taaffe, while on the bench was new recruit Daniel Elmes... Conditions made it difficult for both sides to play any good football but every time Stortford managed to get crosses into the box Histon looked vulnerable...

'Nick [Freeman] has real talent', added Page. 'He's a smashing player. We brought him on and he stretched the game, used his ability and skill and caused them some real problems. He capped it off with a great finish under pressure'. Histon: Kitscha, Mills, Clerima, Fitzsimons, Hawkins, Roberts, Stevenson, Dowie, Hoban, Day (Freeman 70min), Taaffe. Not used: Fulcher, Freeman, Waters, Elmes".

On the same match the Herts & Essex Observer adds that "If Blues did not know they are in a relegation battle before, they certainly know now. Bishop's Stortford boss Rod Stringer might well wonder how his side lost this Boxing Day match to the struggling Cambridgeshire side... Stortford must now put the Christmas over-indulgence to one side and badly need to secure victories in their next two league games, away to Solihull on Saturday and at home to Histon on New Year's Day".
BILL'S EXCELLENT RECOVERY
All at Altrincham FC send their best wishes to Bill Coop, a long-time Altrincham supporter who has also played for the Alty FC Supporters' football team on several occasions. The front page of Thursday's Manchester Evening News reported how "A dad whose heart stopped beating had his life saved by a long-lost friend he hadn't seen in THIRTY years. William Coop, 46, almost died when he collapsed and suffered a sudden cardiac arrest in the living room of his home.

His wife Susan dialled 999 and a paramedic was quickly sent to the scene with a volunteer First Aider. They fought for 40 minutes to resuscitate him and managed to shock his heart back into action using a defibrillator machine.

Dad-of-two William was taken to Wythenshawe Hospital, where he made a good recovery and was allowed home after six weeks. William and his wife wanted to thank the paramedic and First Aider personally and asked bosses for their details. They were stunned to find out that the volunteer who had helped save his life was Simon Morrell – he and William had been good friends as teenagers but had lost touch.

The pair were reunited again at Altrincham Ambulance Station, along with paramedic Dave Blowers, 30, and have now vowed to be life-long friends. William, a graphic designer, said, 'I don't remember anything about the incident, I just remember waking up in hospital. When I heard Simon's name I just couldn't believe it. We had been good pals but we drifted apart and lost touch. It's hard to describe my emotions. You'd be grateful to a stranger if they saved your life but for it to have been a long-lost friend just made it even more mind-blowing. He not only saved my life but he gave Susan back her husband and meant that the kids still had a dad.

I can't put into words how much Simon and Dave mean to me but someone was definitely watching over me when they sent them to save my life'.

William and Simon used to know each other through the Axe and Cleaver pub football team in Dunham Massey but drifted apart as they grew up and the football team disbanded. They hadn't seen each other since William was 16, meaning Simon, now 48, didn't recognise him. Remarkably, William and Simon, who works as an engineer in his day job, live just around the corner from each other in Timperley.

Simon, who has volunteered with the Community First Responders for more than three years, said, 'When I arrived at William's house I knew the incident was very serious and just got stuck in, working on him as best we could. It was quite worrying as he didn't respond at first but then his heart kicked in again which was a massive relief. When I later heard the patient's name from the ambulance service, it took my breath away as I realised it was my friend. It made what I did even more meaningful and special. It was one in a million'.

William and Susan, who have two children Andy, 22, and Sarah, 19, met up with the men to thank them. Now they want to raise awareness of the good work of the responders, who are all volunteer first-aiders. Susan added, 'I call them our heroes. If they hadn't been there my husband wouldn't be here today. We owe them everything'".

Andy Coop will also be known to many Alty supporters as he is a young referee who has officiated or run the line in friendly games at Moss Lane. Indeed, he was an assistant referee for the Mossley v Altrincham friendly on 31 July this year.
BSBN NEWS
According to This is Lincs, "The ownership of Gainsborough Trinity's home, the Northolme, is poised to be decided in the new year. The ground's owners, the Blues Club, have entered into talks with Trinity chairman Peter Swann about purchasing the stadium which is situated in the centre of the town. The two parties are currently unable to agree on a price for the ground, with the Blues Club seeking a fresh valuation of the three-acre site.
However, Swann has said, after an initial meeting... 'We have had some progress', said Swann. 'We have met and discussed two different offers for the ground. The Blues Club then held an EGM and I understand there were about 100 or 150 members there. I think they talked about the proposals in general, some are for it, some are against, which sounds about right. I think there is a 50-50 spilt at the moment...
I think they are working on getting a viable valuation on the ground but what they value it at and what we value it at are very different', he said. 'They (the Blues Club) value the land with regard to its ability to be used for housing in the future. But even if you look at housing in the area, you are only looking at £200,000 an acre, we have three and a bit acres here, so you would be looking at something like £700,000. But, to be honest, all that is irrelevant because football is going to be played on here.
It has nothing to do with housing and what the land could be worth in the future. It's what the land is worth at the moment as a football club. If we can get over that hurdle, we will be fine. I have told the Blues Club, if the land is sold in the future I don't want any of it, I don't need it. There is a lot of amicability between the two parties, but there are things to overcome. There are two offers in. They like some parts of one and some parts of the second. So it will be a matter of us all sitting down in January and going through it...
'They will get their valuation and that will come our way and after that I will have a think of a renewed offer to see if it would tempt something... The big thing is, if the football club don't get the ground then I, or the football club are not going to invest'".
From the North Wales Weekly News we learn that "Colwyn Bay will be hoping they can kick off the New Year with a crucial home win over Vauxhall Motors next Tuesday. After last Saturday's home game against Halifax was washed out by the weather, the Seagulls were due to travel to Ellesmere Port on Boxing Day just three points behind their bottom eight rivals them with two games in hand... [and] with a really tough run of games over the next month.
They start with a trip to promotion-chasing Guiseley this Saturday, where Colwyn Bay have never done well, and during January the Seagulls must also travel to Boston United, Harrogate Town and third-placed Brackley Town – as well as entertaining Worcester City, another of the potential candidates for a top five play-off place. That makes taking points off Vauxhall Motors all the more important.
Sadly for the Bay they are set to lose on loan striker Jamie Rainford after this Saturday's game at Guiseley as he returns to Halifax, although player-boss Jon Newby is in negotations with the Shaymen to extend his stay. And the news on Christmas Eve was even grimmer with Bay revealing Rainford's knee problem is likely to keep him out of the Guiseley test. In just six appearances for the Bay, two of them as a second half substitute, the 24-year-old has become the club's second top scorer this season with four goals.
They will miss that goal threat, and Newby must try and fill the void next Tuesday against a Vauxhall Motors side who have recently bolstered their attack by signing former Wrexham striker Obi Anoruo from Barrow. The 20-year-old Nigerian scored 17 goals for Vauxhall last season while on loan from Wrexham...
One New Year boost for Colwyn Bay during January should be the return to action of defender Tom Smyth who has not played since injuring his knee at Hinckley in October. He has undergone surgery to repair a torn cartilage but says he hopes to be back in full training by mid-January".
Buckingham Today reports that "Brackley Town and Oxford City produced a highly-entertaining goalless draw on Boxing Day to extend Saints' winless run to four games. In driving rain on a sodden pitch, it was a glittering spectacle as fans were treated to an exhilarating display by the home side in an ultimately futile pursuit of victory as City escaped with a precious point...
Saints came out from the break firing, winning corners in quick succession to launch a tally of 13 second-half corner kicks in total... and there was a threat to the Oxford goal from every quarter... The introduction of Elliot Sandy and Steve Diggin on 70 minutes only increased the pressure as Walker and Odhiambo combined in a wonderfully fluid movement and moments later a breath-taking run on the left by Winters found Diggin storming through the middle but he shot over...
It was a superb performance from Town, full of verve and energy but a lack of a clinical edge meant they fall 18 points behind leaders Chester".
From the other side the Oxford Mail reports that "Goalkeeper Matt Ingram was the hero as Oxford City held local rivals Brackley Town to a goalless draw... Ingram, on a season's loan from League Two Wycombe Wanderers, pulled off a string of superb saves, prompting manager Mike Ford to describe his display as 'magnificent'".
Elsewhere, "Popular midfielder Ryan Melaugh has returned to Bishop's Stortford on work experience from Colchester United. The 18-year-old proved extremely quick and efficient on the left wing at Stortford last season".
In the Halifax Courier we read that "Neil Aspin was full of praise for Ryan Toulson after the defender scored his first Town goal but admitted an injury to Jason St Juste was a big blow to his side. In what proved to be a tale of two full backs, Toulson played a part in setting up the Shaymen's first two goals with deliveries into the box from wide areas, and then rifled a right foot shot into the bottom corner on the hour mark for his first goal in Town colours.
But, after the game, Aspin confirmed that St Juste, who has been one of the stars of the season at left-back, will need surgery on a hernia problem in the new year.
On Toulson, Aspin said, 'I don't think he's ever been a prolific scorer. He certainly hasn't been since I've been here... He's very willing to get up and down and does a lot of good work for the team. If you get the chance to cross it ten times then you're not going to hit them all brilliantly. But the fact that he's willing to go again and get another cross in shows a lot of character and I will always say you have to try and generate a bit of power in the crosses'...
On the injury to St Juste, Aspin added, 'I must say, to lose Jason St Juste was a massive blow. He said after the Maidstone game that he had a lump in an area which is a hernia. We got it checked out and it's going to need an operation... We know Scott McManus is a good player and those two are going to jostle for positions. You would like to think you could get them both in the team but it's a blow for Jason. But, if we get him operated early enough, he can still play a big part in the season because we've got so many games left'".
According to the Boston Standard, "Boston United boss Graham Drury has paid tribute to his number two Paul Holden, who suffered a heart attack and 'died twice' on Christmas Day. Thankfully, medics revived the former Army PT, who was on the phone to Drury on Boxing day morning, eagerly discussing tactics ahead of the 1-1 draw with Corby.
'I spoke to Paul, the man's incredible', said Drury after the stalemate with their former club. Reliving the incident, the Boston boss added, 'He was at home on his own and he was lighting the fire, he'd just done a bit of house cleaning, which I can't believe really, and he went to light the fire and he just collapsed'. From then on, Holden began a remarkable fight for survival, which included having to drive himself to the outskirts of his village just to get a phone signal to call for help.
'He's only just moved there, he's got no home telephone and he can't get a signal on his mobile', Drury said. 'This is where the army training must come in. He had to get to his car to get out of the village to get to his car where he rang the ambulance. He's done remarkable to be here as he's passed away twice in the ambulance'...
'Football sometimes goes on the backburner', Drury continued. 'But that's not Paul, he rang me (on Boxing Day morning) and said "Have you got the set plays sorted because I've got them (the plans) in my car?". He's just had a stent put in a major artery and he's ringing me to ask that. That's the man, that's what he is'.
Holden – a former Director of Football for the Gibraltar FA and academy boss at Crystal Palace – has been Drury's right-hand man for five years.... Youth team supremo Steve Welsh will now fill in for Holden until he returns".
---
27 December 2012
NEXT UP
After eight league games without a win, Histon beat Bishop's Stortford 2-0 on Boxing Day. The next visitors to their ground are Altrincham, this Saturday. Details of the TASC away travel arrangements are here.

Histon's squad on Boxing Day comprised: Callum Kitscha, Zac Mills, Harri Hawkins, Remy Clerima, Danny Fitzsimmons, Grant Roberts, Claudiu Hoban, Jay Dowie, Lewis Taaffe, James Stevenson, Charlie Day, Matty Waters, Nick Freeman, Jack Uttridge, Curtis Fulcher, Daniel Elmes.
CROSSBAR CHALLENGE
Alty coach Ian Senior has updated us on the latest instalment in his charity Crossbar Challenge against assistant manager Neil Tolson. Ian says, "I suffered an embarrassing defeat one-nil yesterday to Neil who 'toe-bunged' the winner in his trainers, as he is still recovering from his minor knee operation. Score now stands at 15-13 with two very important 'ties' to come at Histon and the home game against Stalybridge".
BOXING DAY GAME AT STALYBRIDGE
Match report
Stalybridge Celtic also have a report on Wednesday's game against Altrincham.
---
26 December 2012
STALYBRIDGE CELTIC 2 ALTRINCHAM 2

Above: The two sides shake hands before the game at a very wet Bower Fold.
In an entertaining game, played in rain throughout, Altrincham yet again earned themselves a lead away from home; in all 16 away games this campaign they have been winning at some point in the match. But this time they had to settle for a draw...
Match report
BOXING DAY GAMES
The Football Conference reports that "Today's Boxing Day match between Harrogate Town and Workington has been postponed due to a waterlogged pitch. The notoriously bad surface at the CNG Stadium has once again caused the club to call off a potentially lucrative home game. The club are intending making improvements to the pitch at the end of the season".
Boston United 1 Corby Town 1 att. 1176
Brackley Town 0 Oxford City 0, 476
Chester FC 5 Droylsden 0, 2,934
FC Halifax Town 3 Gainsborough Trinity 1, 1515
Guiseley 1 Bradford Park Avenue 0, 1,017
Harrogate Town v Workington OFF
Histon 2 Bishops Stortford 0
Solihull Moors 1 Hinckley United 0, 208
Stalybridge Celtic 2 Altrincham 2, 802
Vauxhall Motors 1 Colwyn Bay 1, 168
Worcester City 0 Gloucester City 1, 1,290
STALYBRIDGE CELTIC v ALTRINCHAM
Altrincham FC has confirmed that Altrincham's match today at Stalybridge is "on". Kick off is at 3pm at the Bower Fold.

Mike Garnett's statistics tell us that the previous record between Alty and Stalybridge Celtic is:
At Moss Lane: p62-w33-d15-l14-f120-a78
At Stalybridge: 68-18-11-39-103-146
Neutral: 5-1-1-3-5-7
All: 135-52-27-56-228-231

Brian Flynn writes that Radio Robins, sponsored by Ashley Mowers Garden Machinery, will be broadcasting live coverage of Boxing Day's game at Stalybridge Celtic against Altrincham. The match commentators will be Niall Finnegan and Paul Salt with match summaries from Ian Wilkinson. The broadcast begins at 2.55pm. You can listen to Radio Robins on the internet at through the link below.

Alternatively, you can find text updates on this site's Matchday Updates page, at the link below

You can follow the match via the following quick links...
---
25 December 2012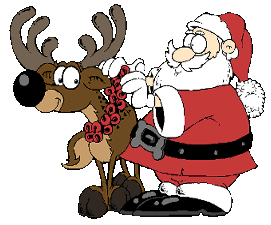 HAPPY CHRISTMAS
Altrincham FC wishes everyone a very Happy Christmas and New Year. Thank you for your support during the past twelve months - we hope to see regularly again during 2013.
POSTPONEMENT HELPS LUCA
The Manchester Evening News reports that if Altrincham's game last Saturday had gone ahead, centre-back Gianluca Havern would have missed the game through injury, but adds that he is likely to be fit for the Boxing Day clash at Stalybridge Celtic.
---
24 December 2013
SATURDAY'S DELUGE
There are video images of the waterlogged pitch and the area around the ground at Moss Lane last Saturday on Alty TV.
NEXT GAME
Alty's next game is at Stalybridge Celtic who won 2-1 at Gainsborough Trinity last Saturday. Celtic report that they "were well worth the three points on a pitch that had survive the day's deluge remarkably well and was testament to the Trinity groundstaff...

A perfect cross into the box was nodded home by Greg Young, ghosting into space and thumping a powerful header past Alex Cairns, just four minutes into the game... Celtic got their act together, and took control of the game, dominating possession, sometimes guilty of passing themselves off the pitch, never mind the opposition. Despite the possession there was no real end product, and it was Trinity who looked the more dangerous around the box...

Some super passing work saw Corey Gregory put Mitchell Austin through with a great ball, and Austin fired past Budtz to equalise the scores... The Celtic passing game reached new heights for Celtic's second goal that saw Wilkinson trade passes with Kelvin Bleau to put the full back through one-on-one with Budtz and he made no mistake...

Celtic Line-up: Alex Cairns; Kelvin Bleau; Callum Warburton (Joel Bembo-Leta 86 mins); Tim Ryan; Kristian Platt; Prince Hayward; Tom Buckley; Greg Wilkinson; Jack Laird (Dennis Sheriff 90 mins); Corey Gregory; Mitchell Austin (Alec Mudimu 74 mins). Unused subs: Rico Gomes; Adam Pepper".

From the other side, This is Lincs says that "Gainsborough Trinity's winning run came to a disappointing end following a 2-1 defeat... as Stalybridge staged a second half comeback".

From Corby Town, we learn that "Liam Hughes has returned to Cambridge United following the completion of his loan spell".
KENNY'S FUNDRAISER
The Sale and Altrincham Messenger informs us that "A big-hearted landlord and his regulars are paying homage to Altrincham Football Club's biggest fan – Kenny Palin – by raising money for cancer research, at Kenny's request.

Kenny, a popular customer at The Bricklayer's Arms in Altrincham's George Street, recently featured in a programme of the club, known as The Robins' Review. Now he has autographed it and asked for donations for cancer research. And the person who gives the biggest donation will be presented with it by 67-year-old Kenny of Timperley and landlord Phil Harris.

Kenny, who recently recovered from cancer of the gullet, said, 'Everybody dreads the illness but I am living proof that it can be beaten'. He added, 'I love my football and have followed The Robins for many years and have made many friends at the club. But I was thrilled when I saw the write-up about me in the club's programme of December 8'.

Father-of-two Phil, 46, is also passionate about helping to raise funds for cancer research for his younger brother, David, 43, and their mum, 73-year-old Mrs. Joyce Harris, are both recovering from the illness.

Phil said, 'Kenny is a character and a half. You can't help liking him. My customers love him and he is a popular personality around the town. When he showed me the programme, I suggested raising money for charity and Kenny said straightaway, "Let's do it for cancer research". Now he's autographed it and the person who digs deepest into his or her pocket will be presented with it by Kenny and myself in the not-too-distant future'.

One of the Robins' vice-presidents, Brian Flynn, who wrote the article for the programme, wrote... 'Let's salute one of our favourite sons, a man who says, "I enjoy this football club because I've got many friends and that's what makes me happy". What a legend!'".
FOR BEN'S BENEFIT
The EvoStikLeague reports that "Fun-loving guests at FC United of Manchester's Ben Deegan Benefit Night raised nearly £2,000 by donning masks of the former Rebels favourite!

Organised by FC United of Manchester's Moston branch, one of the highlights of the fundraiser saw an impromptu game of 'Where's Ben?' break out among masked guests, pictured. The masks were later thrown into a raffle and auction to aid the midfielder who is recovering from a compound tibia and fibula fracture of his right leg.

Deegan, now with Ashton United, has been unable to work since his sickening injury in October playing in a Sunday League game. With Christmas on the way, supporters stepped in to help after learning that he is struggling to support his partner and seven month old son on statutory sick pay.

Deegan was a key member of FC United's headline grabbing 2010 FA Cup side and signed shirts and other memorabilia were auctioned off in the FC Lounge at the Lightbowne Sports & Social Club in Moston last Friday night. FC United manager Karl Marginson and many of Deegan's former teammates from a number of clubs including Altrincham and Ashton also attended.

Dave Bonner, Moston Branch Charitable Funds Facilitator, said supporters were delighted to swing into action to stage the event within two weeks of hearing of Deegan's plight. Bonner said, 'At the end of the night a figure of close to £2,000 was raised and handed directly to Ben and his lovely partner Kathryn to help make Christmas a bit more comfortable for them and their seven month-old son Maxwell...

Bonner also singled out a number of clubs and officials to thank them for supporting the auction and raffle, including Ashton Chairman Dave Aspinall who donated a shirt signed by the Robins team and four full hospitality tickets for an upcoming Ashton game.

Altrincham Chairman Graham Rowley was also there to personally hand over a club shirt along with New Mills manager Roy Soule. Mark Weaver from Deegan's Sunday side, Cale Green FC, also received a 'massive thanks' from Bonner and FCUM's Moston branch for continuing with his own personalfinancial support for Deegan as he recovers".
---
23 December 2012
COLLECTING MERCHANDISE
Ian Senior of SKKits advises supporters, who had been hoping to pick up replica shirts and other merchandise at Saturday's postponed game with Boston, that they can do so on Monday morning from the club offices at Moss Lane. Ian adds, "If this creates a problem, contact me on 07960 137232 and I will see if I can deliver if possible".
NEXT OPPONENTS
In the only BSBN game to be played on Saturday, Alty's next scheduled opponents, Stalybridge Celtic, won 2-1 at Gainsborough, despite former Alty man Greg Young giving the Lincolnshire side the lead.

Celtic's squad was: Alex Cairns, Kelvin Bleau, Callum Warburton, Tim Ryan, Kristian Platt, Prince Haywood, Tom Buckley, Greg Wilkinson, Jack Laird, Corey Gregory, Mitchell Austin, Dennis Sheriff, Rico Gomes, Adam Pepper, Joel Bembo-Leta, Alec Mudimu.
---
22 December 2012
YOUTH MATCH OFF
Tomorrow's Altrincham FC Youth match at Chester has been postponed because of a waterlogged pitch.
ALTY v BOSTON UNITED POSTPONED
Today's match at Moss Lane against Boston United has been postponed due to heavy rain.
SATURDAY GAMES
Through the Years by Howard Watts
Altrincham v Boston United OFF
Bishop's Stortford v Harrogate Town OFF
Bradford Park Avenue v Vauxhall Motors OFF
Colwyn Bay v FC Halifax Town OFF
Corby Town v Solihull Moors OFF
Droylsden v Worcester City OFF
Gainsborough Trinity 1 Stalybridge Celtic 2
Gloucester City v Guiseley OFF
Hinckley United v Brackley Town OFF
Oxford City v Histon OFF
Workington v Chester FC OFF
SATURDAY VIEWING
Instead of seeing Alty v Boston United, you can still watch the following matches in the bar:
Wigan Athletic v Arsenal k.o. 12.45pm
Liverpool v Fulham k.o. 5.30pm
BEFORE THE GAME
The forecasts on the FootyMad have not proven to be very accurate this season. Now they say that "Altrincham prepare to entertain Boston United at Moss Lane... needing to improve on a poor record between the sides. The visitors have won 2 of the 7 previous games, with the Robins winning just 1...

The most recent encounter between these two sides at Moss Lane was just last season, in October 2011, with Altrincham annihilating their visitors 6-1 in a (Conference) North match...

Altrincham's home form is poor, winning just 2 of the last six, and losing the other 4... Boston United's away form is none too clever either, winning and losing 3 each of the last six games... FootyMad's prediction, it's been a distinctly poor show from Altrincham at home in recent games and, though we cannot see a run starting here, we do think the Robins will at least gain a draw. No-score draw".

For the record, the last goalless draw in a league match at Moss Lane was nearly two years ago, in February 2011, against York City.

Mike Garnett's data tells us that the previous record between the clubs is:
At Moss Lane: p32-w15-d11-l6-f64-a31
At Boston: 34-10-10-14-55-62
All: 66-25-21-20-119-93
OLD BOY
In the Northwich Guardian we read that "Witton boss Brian Pritchard has added an attacker to his squad after signing Alex Meechan. The striker left Worcester City earlier this month before approaching Albion about a move...

'It's a switch that suits us both', said Pritchard. 'Alex is a player who has played for most of his career in the Football Conference, so brings quality to an area of the field in which we've been short on numbers since Ashley Stott left'. Versatile Meechan, now 32, left AFC Telford United in the summer to join Harrogate Town after a loan spell, switching to Worcester in October. He counts Stalybridge Celtic, Altrincham and Droylsden among his former clubs".
BSBN NEWS
The Football Conference says that "Graham Drury has made his first signing as manager of Boston United with the acquisition of attacker Jordan Smith from Ilkeston FC. The 24-year-old, capable of playing wide or as a striker, has previously played under Drury for both Corby Town and Stamford AFC. Smith scored fourteen goals in the Conference North for Corby last season and linked up with Ilkeston in October after beginning the current campaign with Stamford. He has been registered in time to make his debut against Altrincham tomorrow".
Smith played in the 1-1 game against Altrincham at Moss Lane on 6 December 2011, coming on as a sub in the 65th minute. He also played as no.11 in our 3-1 win at Corby on 28 March 2012.
The Cambridge News reports that "Histon have avoided a points deduction for failing to travel to Colwyn Bay for their match on November 17. The Football Conference have instead handed them a £5,000 fine, of which £4,500 is suspended for three years. They will also have to pay Colwyn Bay an, as yet, unspecified amount of compensation. Histon decided they could not fulfil the fixture when their finances again came under scrutiny following a court ruling in favour of former chief executive Allen Soraff".
According to the Telegraph & Argus, "It has been a busy time for Bradford Park Avenue boss John Deacey as he has had to rely on his many contacts in the game ahead of a critical time for the club. Three victories, by handsome margins, in Blue Square Bet North lifted Avenue to fourth place but they then lost twice on bounce...
Regular goalkeeper Tim Deasy picked up an injury in the most recent defeat, 2-0 at home to Gainsborough Trinity on Monday, and an amalgamation of suspensions has led to Deacey's threadbare squad being stretched even more. The supporters were questioning their manager's sanity when he sent two players out on loan but Deacey feels his actions will be justified. Midfielder Ross Daly and the versatile Adam Clayton joined Farsley at the beginning of the week.
Deacey explained, 'Ross had a month on loan at Thackley and he got a lot of games in. Adam had a knee operation five weeks ago and needed some game time, so we asked Farsley to take them both on loan, if they were going to get time on the pitch in competitive games. I watched Farsley on Tuesday when they both played, just to see how they got on, and they did well, so I was very happy with that'.
Thackley boss Vince Brockie and Farsley manager[ex-Alty man] Neil Parsley are both former assistant managers to Deacey and the Avenue chief used to manage Farsley Celtic, so networking is essential in the business...
Deacey has asked his former keeper John Lamb to come out of semi-retirement to fill the void in Deasy's absence on a temporary basis and is open about the return date of the players he has sent out, hoping they gain match fitness. 'We need all available bodies for the second of the Guiseley games over Christmas because we have five big players out for that one', said Deacey. 'Jordan (Deacey, the manager's son and regular midfield starter), Nathan (Hotte), Knowlesy (skipper James Knowles), Matty (James) and Scoobie (Richard Marshall) will all be suspended on New Year's Day and that is when we play Guiseley at home. We all work with squads these days but it means we will be without half of a team that could have started any game. I have to thank Thackley and Farsley for giving game time to our players but I need Ross and Adam back in time for that one'".
Alty's win last week sounds like a different game from the one most spectators saw as theNorthampton Chronicle reports that "Brackley boss Jon Brady says goalkeeper Billy Turley completely let his side down last weekend. And he admits he is now ready to hand second-choice stopper Laurie Walker a chance to make the No.1 shirt his own at St James' Park.
Turley's error against Altrincham last weekend cost Brackley valuable points in their quest for Blue Square Bet North promotion. The Greater Manchester outfit earned a smash and grab[?] 1-0 win after the Saints' goalkeeper dallied on the ball allowing Damian Reeves to score his 19th goal of the season.
And Brady was not impressed by Turley's antics during the defeat. 'We destroyed them[?] and the goalkeeper has completely let us down', said the Saints' supremo. 'The error he made you learn (not to do) at Under-6 level. He tried to usher the ball out and pretended it was out of play after they had scored. Fortunately he's suspended this weekend, which makes the decision easier for me'".
From the Halifax Courier, we learn that "League chiefs have expressed concern about the state of the Shay pitch ahead of a busy festive fixture list for the FC Halifax Town... Conference bosses have written to the Shaymen regarding the high number of postponed home games...
Flooding and frost has seen five home games postponed due to the weather...
A league spokesman said, 'It's fair to say we've got concerns. We will be getting in touch with the club to express our concerns about the number of postponements because we've not really had any severe weather so far'. While the club won't face financial penalties, the Conference will ask the club to try and find a 'practical solution' to the problem...
Aspin said the situation was likely to get worse. 'By the time we play the next round of the Trophy we're going to be eight or nine games behind some teams in our league and that's something we didn't want," said Aspin. 'You don't want to be getting any more postponements but that's going to be down to the weather and there's nothing I can do about that... and you can't just play game after game and expect not to pick up knocks and fatigue'...
Ahead of the trip to North Wales, Aspin said he was expecting a typically difficult clash. 'Colwyn Bay is a tough game, we've proved that over the years', he said. 'They have been a difficult team to play against and losing to them first home game of the season wasn't a great start for us and we really owe them one'... Town loanee Jamie Rainford, who is currently at Colwyn, will be unavailable to play against his parent club. Aspin must also decide whether to recall Alex Johnson, who was cup tied in mid-week, or give Dan Garnder his second start in a week".
NORTHERN NEWS
Matt Rogerson, a press officer for Guiseley AFC, writes on the Football Ramble site on "Why has every winner of the Northern League since 2006 refused to accept promotion?... Clubs themselves argue that the extra cost of travelling from the north-east to places such as Warrington, Prescot and Burscough just isn't sustainable on their crowd levels. However, that said, many clubs in the league are hardly short of a bob or two.

A recent investigation by Sky Tyne and Wear found that one club in the league is spending £180,000 a year, with the vast majority of this going on player wages. If this figure was for Darlington 1883 then it may be understandable... but it's not and this mystery club aren't the only one spending big, with one player earning as much as £600 a week...

Not only is the excess money in the league affecting its own quality, you also have to wonder about clubs like Blyth Spartans and Workington who would struggle to compete with wages on offer in the region from Northern League clubs. Not one winner of the Northern League has accepted promotion since 2006...

League chairman Mike Amos said, 'Money talks and we all know that. Any level of semi-professional sport it is going to talk and players will go where there is money, it is not a secret'...

If you were going to pump money into a club, whatever the rights and wrongs of that may be, surely it's utterly pointless to stay in the same league, year after year... Why lose blood, sweat and tears over a campaign just to do the same thing all over again next season?"
---
21 December 2012
DANNY DOING WELL
The Crosby Herald reports that "Kevin Lynch praised the contribution of debutant Danny Mitchley after Marine maintained their promotion push with a 2-1 win at Eastwood Town on Saturday. The on-loan Altrincham striker netted an 85th-minute winner at Coronation Park to move the Mariners up to third in the Evo-Stik Premier Division table...

'It was a great performance', said Lynch... 'Danny's goal was worthy of winning any game, it was a tremendous strike and capped a very promising debut. He had a few chances early on, which he didn't take. He is still not fully fit, which was obvious, but you could see his quality. His movement and his link play was good, and he showed great toughness to carry on after being clattered by the goalkeeper. It is always difficult coming to a club on loan, especially when that club has just won 5-1 in their last game, but he's a quality player.

He's come to score goals, and you can see the desire he has to do that, but he's also intelligent and clever in his passing. I hope his arrival will not only help him, but also give the rest of the squad a lift'".
JAKE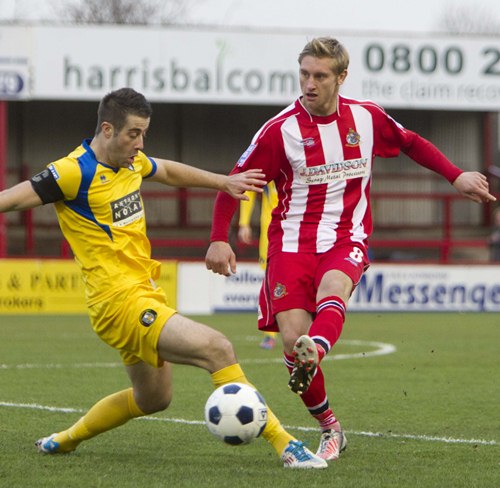 Right, Gavin Rathbone captures Jake Moult in action against Gainsborough Trinity in Alty's most recent game at Moss Lane.
MATCHDAY SPONSORS
Barry Pond has updated the chart of Altrincham FC Matchday Sponsors.
OLD BOYS
According to the Football Conference, "Kidderminster Harriers have won the race to sign highly-rated midfielder Sean Clancy from Chester FC. Clancy joined Chester in June 2012, and arrived with two successive promotions under his belt with Fleetwood Town... His previous clubs include Blackpool, Southport, Altrincham and Burscough, whilst he also spent time on loan at FC Halifax Town.

Stoke City's defender, Ryan Shotton (left), was a very popular loan player at Altrincham in 2007-08 season so it is good to read in This is Staffs that "Stoke City ace Ryan Shotton has spoken of his relief after being cleared of a city centre assault.
The 24-year-old was yesterday found not guilty of attacking Mark McDonald on the grounds that he acted in self defence, and to protect a friend...
After the case, Mr Shotton told The Sentinel, 'I am just a happy man. Justice has been done'.
North Staffordshire magistrates heard Mr Shotton punched Mr McDonald once in Pall Mall in the early hours of June 24, leaving him needing stitches to cuts to his lip and head. The defender, of Brunswick Court, Newcastle, accepted punching Mr McDonald but denied assault saying he delivered the pre-emptive strike in self-defence. The court heard the violence came after an earlier incident in Touch nightclub. Magistrates found there may have been 'verbal contact' in the toilets between the two men. Mr McDonald said he tried to speak to Mr Shotton but said the footballer was 'very up himself' and 'arrogantly' pushed him, a claim denied by the Premier League star.
Mr McDonald admitted he was 'wound up' and said there was a confrontation in which he described a 'bit of pushing and shoving' before he was asked to leave the club. But minutes later Mr McDonald and his friend approached one of Mr Shotton's friends outside the club. They then continued towards Mr Shotton and another friend before last season's Young Player of the Year struck him with a single blow.
Mr Shotton told the court Mr McDonald gave him a 'very cheap shot' in the club. He said he and his friends went to get a taxi when two men walked towards them near Pink nightspot... 'I thought he was ready for round two. He came across the road aggressively', Mr Shotton said. 'He said he was going to stab me and beat me up. His body language was really aggressive. He moved towards my friend. I thought he was going to strike my friend. I accept I hit him. I took it upon myself to hit him to protect myself and my friend. It was a preemptive strike'...
Chairman of the bench Kate Fitzpatrick said, 'We find Mr Shotton not guilty and he was acting in self defence of another'".
MASKING THEIR AGES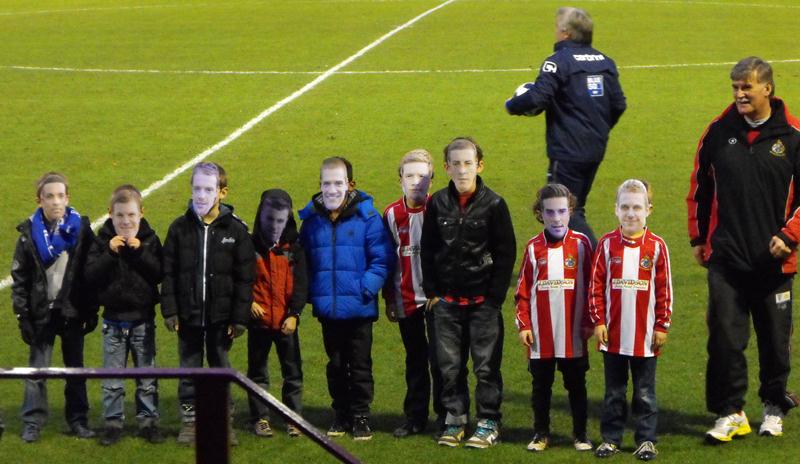 Altrincham have a young side this season but not quite as young as the adjacent photo above suggests. At the home game with Gainsborough, Chris Bullock and a group of Altrincham Juniors took to the field wearing first-team face-masks. In the background is a more Senior member of Altrincham FC.
BSBN NEWS
The Banbury Guardian reports that "Brackley Town boss Jon Brady may well be relieved that Billy Turley is suspended for Saturday's trip to lowly Hinckley United because he won't have to decide whether or not to drop him. Turley will be replaced by Laurie Walker for Saturday's clash and then Brady will have to decide who will be between the posts for the Boxing Day derby with Oxford City at St James Park. Brady dropped Turley earlier in the season but he recalled him a week later and it will be interesting see what happens this time.

Turley gift-wrapped three points for Altrincham following another error by the experienced keeper. His first half error allowed the league's top scorer Damian Reeves to grab the solitary goal at St James Park where Altrincham gained revenge for their opening day defeat.

Brady said afterwards, 'Laurie Walker will get his chance next week because Billy [Turley] is suspended. I hope he keeps a clean sheet and goes on from there because he deserves his chance and maybe it's the right time for him. We're going through a bit of a tough spell at the moment but I'm sure it's just a blip and I'm confident we can get back to winning ways'".

In the Boston Standard we learn that "Graham Drury says he won't be bringing in any new faces ahead of Saturday's clash at Altrincham. The new Boston United boss will take charge of the Pilgrims for the first time at Moss Lane

The new manager is famed for his contacts in the non-league game... He told The Standard, 'I am going to be loyal to the lads here. I'll have a look over them and see what their strengths and weaknesses are... If they respond in the right manner we might not have to bring people in'...

Altrincham have twice left York Street with victories this season, winning 3-1 in the FA Cup and 3-2 in the Blue Square Bet North. They also hammered United 6-1 at Moss Lane last season. Drury took training for the first time on Tuesday. He guided the team through a free play session so he could 'cast my eye over the players to see what their touch and movement is like'.

Tonight's training will see number two Paul Holden implement his game plan for Saturday. 'It will be a difficult first game, its obviously trial and error', Drury admitted. 'It can go one of two ways'".

The same source adapts an earlier report that "New Boston United assistant manager Paul Holden says he wants to build a team of 'soldiers and artists'. The former Crystal Palace academy director has been working with manager Graham Drury for five years... Holden will know all about soldiers, having spent 22 years with the Army as a physical training instructor, after life with Portsmouth FC didn't pan out the way he had hoped.

But he continued to play football at non-league level and has accumulated all the correct coaching badges, to go with the MBE he was awarded in 1997 for his services to sport. Holden spent time with Gibraltar FA as director of coaching. It was there he became friendly with Simon Jordan, the former Palace owner who had a home in nearby Puerto Banus.

Jordan invited Holden to link up with him at Selhurst Park, where he worked with the youth teamers and reserves... He added, 'I've been with Graham five years now. His attention to detail is second to none. I've worked in the international game, but his attention to detail is something to admire. I structure sessions around Graham's plans'.

Joining Holden and Drury on the new management team is former United defender Dean West. During his playing career, he turned out for the likes of Bury, Burnley and Lincoln, as well as having two spells at York Street... Joked West, who is beginning to learn the managerial ropes, 'Graham signed me for Corbny five seasons ago from King's Lynn, and we won the league in our first season together'..

A brickie, an army PT instructor and a former pro footballer walk into a bar. It sounds like the beginning of a poor joke. But that's how the new Pilgrims management team were unveiled on Monday, and they believe they have the credentials to make sure they're not the punchline".

Meanwhile, "Pilgrims' attacker Ben Fairclough admits that all of the Boston United squad are now playing for their futures at the club... 'It's a new experience for me', he said. 'Everyone's playing for themselves. But at the end of the day, they're a good bunch of lads and we know we've got to stick together as a team'...

Last season Boston lost 6-1 in Cheshire, with Fairclough's image of his head covered by his shirt as the Robins celebrated summing up the contest. On top of that, United have already lost at home to Altrincham twice this season, 3-1 in the FA Cup and 3-2 in the Blue Square Bet North... 'We need to rectify that, we need to go there and get a good result', Fairclough said. 'It's something I want to put right... It'd be nice to go there and get a good result'".

BSBN say that "Vauxhall Motors have announced the signing of striker Obi Anoruo following his release by Barrow AFC. The 20-year-old signed for the Bluebirds on a one-year deal in the off-season after parting ways with Wrexham. However, he failed to break into the first-team picture at Holker Street, making just two appearances from the bench.

Anoruo will be familiar with the surroundings at Rivacre Park, having enjoyed a successful loan spell with the Motors while on the books of Wrexham in the 2010/11 campaign. The Nigeria-born forward started his career as a trainee at Liverpool and was signed by former Wrexham boss Brian Little when the Red Dragons where in League Two".

Meanwhile, the Football Conference reports that Harriers' defender Ryan Austin is to stay out on loan with Brackley Town through the New Year. Austin's deal with the Northamptonshire side is set to be extended until January 23rd".
---
20 December 2012
FOR THE FOURTH TIME...
After three postponements due to cup-match clashes, Altrincham's home league match against FC Halifax Town, previously scheduled for 20 October, 13 November and 18 December, has now been fixed for Tuesday, 29 January, 2013 at 7.45pm.
STALYBRIDGE PRIZE DRAW
Shaun Bishop of Stalybridge Celtic writes:

"I am contacting you on behalf of Stalybridge Celtic. Myself and a few supporters set up a fund in the summer to try and raise money to build a new social club at Bower Fold. We have done really well, so far, and have raised over £5,000. The reason I am contacting you is because we are holding a Christmas raffle with the draw to be made on Saturday 29th December. We have a great list of prizes (below). As we play you over the festive period, I was wondering if you could put a news story up on your website advising Alty fans that they can purchase tickets from the ground and, if any Alty fan wins a prize, we can deliver the prize on New Year's day when we travel over to play yourselves. Tickets are only £1 each and will be on sale outside the social club on the day of the game.

Prizes are as follows:
1st prize, 42 inch plasma TV
2nd prize, £50 cash
3rd prize, Luxury hamper
4th prize, Spray way jacket
5th prize, Team GB/Commonwealth cycling attire
6th Manchester United museum and stadium tour
7th Manchester City stadium tour
8th meal for four in Sponsors' Lounge for Sat. 12th v Corby
9th £15 ITunes Voucher
10th 3 framed, autographed photographs (Celtic Players)
11th Trip to the airport from anywhere in Tameside (minibus) worth £25.
12th Football Manager 2013
13th Limited edition bottle of Scotch whisky".
THE FOOTBALL STAGE
As Christmas approaches there is a curiously literary and theatrical link for our next three stories today...
1. WHAT THE DICKENS!
John Edwards, Alty's joint Press Officer, reports how Lee Sinnott set the literary theme going, as he reports that...

"Damian Reeves was likened to Fagin after leaving keeper Billy Turley red-faced with an audacious piece of finishing that gave Altrincham an outstanding victory at title-chasing Brackley Town.

After stepping over the ball, in the belief it was going out for a goal-kick, Turley could only look on despairingly as the ever-alert Reeves stopped it on the line and curled it into the net from the tightest of angles for a morale-boosting 1-0 win.

According to Lee Sinnott, it would have left the hapless Brackley keeper feeling like a victim of the notorious underworld boss from the Dickens novel 'Oliver Twist'.

'Damian is often referred to as a goal poacher, and, for me, that was the ultimate example of poaching something from nothing,' said the Alty boss. 'There was a bit of Fagin about the way he picked Billy's pocket, and all credit to him. His build-up play has been superb over the past three or four games. He has been holding the ball up for others really well.

'But that goal summed up what he's all about inside the area. It was a reward for perseverance and being mentally alive to how a situation might develop.'

Reeves's 24th goal of the season gave Sinnott one of the results of his Alty tenure, and his first away clean sheet, but he was still left wondering what might have been.

'When you score and don't concede, you've got to be happy, but the last two matches have shown what a strange game football can be,' he said. 'I firmly believe we did more than enough to have beaten Gainsborough last week, but we lost 1-0. On Saturday, Brackley had an argument for saying a draw would have been a fair result, but we won 1-0.

'That said, we have been magnificent on the road, and I don't want to take anything away from the players' achievement at Brackley. It was all hands to the pump, and they really stuck together, while still maintaining a threat on the break. It is a difficult place to go to, because they have had a wonderful start to the season, but I thought we shaded the first half and responded admirably when we came under a bit of pressure towards the end.

'Stuart Coburn made one or two decent saves, but the back four, supplemented by the midfield, protected him so well that he was not overly worked. It compares to any away result we've had in my time here, and there have been a few. The FA Cup performance at Burton Albion springs to mind, and there have been one or two big-hitting wins on our travels, like the 6-1 at Colwyn Bay.

'But there is still a slight frustration, when you think we could so easily be heading into Christmas with an unbeaten away record. We were 1-0 up at Solihull with a couple of minutes to go, and there's no way we should have lost to a 10-man Vauxhall Motors.

'The fact is, there are lots of ingredients that are needed to be a successful side, and we know where our problem lies. The away results have got to be in tandem with an upturn in fortunes at home. That has to be the aim, and we have to do it as quickly as possible.'

Turley complained the ball had gone out of play for Reeves's opportunist winner, but he had only himself to blame, according to Sinnott.

'The linesman was not up with play, and the referee was in no position to judge, so there are only two people (Turley and Reeves) who really know if the ball had crossed the line,' he said. 'But the fact is, Billy stopped, and you can't do that. It's bad enough if a defender gets caught trying to usher the ball out for a goal-kick, but if it's the keeper, you've got serious problems. In hindsight, he probably wishes he'd just put his foot through the ball.'

Reflecting on his decision to give Duncan Watmore a starting role up front, Sinnott chuckled and said, 'We've talked a lot about Duncan recently, haven't we? He has played primarily on the right so far, but I believe the natural progression for him will be down the middle. It makes it an easier transition for younger players, and we will be looking to filter him into a more central role as we go along.

'I thought Ryan Brooke did extremely well up front the week before, but I just thought I'd go for a bit of movement and pace from Duncan at Brackley. Get him on the ball, turning and running at defenders, and he will ask serious questions of them. I wanted to have a look at him in the middle, and he did well.'

Alty face Boston United at home on Saturday and await a late fitness check on midfielder Simon Richman, whose throat infection has turned into a perforated eardrum".
2. DRURY (at Moss) LANE
After staging "Oliver" at Moss Lane (see above story), we now move on to preview of next Saturday's spectacle on a footballing stage which the visitors' new manager might liken, if not to the Nou Camp or the Theatre of Dreams, at least to Drury Lane...

The Boston Standard reports that "New manager Graham Drury introduced himself to the Boston United fans by declaring, 'I'd like my team to play like Barcelona every week'. York Street may not be the Camp Nou, and some may argue that Marc Newsham and Messi are not quite in the same category of goalscorers. But Drury sees himself as a motivator who can get the best out of his new charges with his own pep talk.

'I can make players feel on top of the world', he told the fans at Monday night's fans' forum. 'Refs think I'm a nightmare because I can't stay in my box but, every time the team scores, I score that goal as well. Hopefully, my passion will rub off on the fans and players'.

Drury, a former Corby Town manager who arrived at the club from Stamford, will be joined in the dug-out by number two Paul Holden and conditioning coach Dean West. Holden is a former academy director at Crystal Palace and was once director of football for the Gibraltar FA. West is an ex-United defender, currently learning the managerial ropes.

'I'd like my team to play like Barcelona every week, it's all about the team ethic', Drury added, before sending his squad a stark warning. 'Teams must give everything they've got. But if they dip in form and don't give me the effort, I'll move them on'".

More comes from This is Lincs which says that "In the short-term, Drury wants to turn United into Blue Square Bet North play-off contenders and 'double"' attendances at the Jakemans Stadium. In the long-term, the 41-year-old is eyeing a place in the Blue Square Bet Premier, a level Boston have not graced for more than a decade.

'I'm not using Boston United as a stepping stone, I want to be here and take the club forward', he declared at a fans' forum on Monday. 'I want to take the club to the Conference. I believe I can manage at that level.. You've got to set goals. I do believe there is a table of 10 in the league from fourth spot, down to Harrogate (in 12th), and we're in that. If we can finish runners-up in that table of 10, we will be in fifth spot. That position is anybody's. The top three (Chester, Guiseley and Brackley) are too far away to catch, but I believe fourth and fifth are up for grabs.

We've got a budget that I believe is capable of achieving a play-off position... I believe we can put more numbers on the gate by playing attractive football. We're not just looking to put a few on the gate, we want to double the gate'. Drury insists chairman David Newton has hired 'a winner' and his track record supports that. He has won promotion with both Stamford and Corby and left the Daniels in second place in Evo-Stik Division One (South)...

'I want results even more than the fans, trust me', he added. 'When I lose a game of football, no one can speak to me for a week. I'm a winner and nobody hurts more than Graham Drury when we lose'. The Drury era gets under way at Altrincham on Saturday".

Boston United report that their "midfielder Ben Milnes is looking forward to Saturday's trip to Altrincham. It will be the Pilgrims' first visit to Moss Lane since their 6-1 defeat last season — but Milnes is confident that match will not have an impact on this season's outcome. Milnes was an unused substitute in the October 2011 clash but has played in the three home fixtures against Altrincham in 2012.

Speaking to bufc.co.uk, Milnes said, 'Altrincham are a good side so it will be a tough game, particularly at their place. We have got the players, that if we perform on the day, that we can beat anybody in this league. I watched (the 6-1 defeat) from the bench and it was not the best viewing, but it's a different season and a different game and hopefully we can go there and get a good result'".
3. OLD VIC FARCE
The Northwich Guardian confirms that "A judge closed down an old version of Vics this week, but the club's owner is confident the current incarnation will not be adversely affected.

Solicitors working for Marshman Price, finance experts, that three years ago negotiated part payment of a six-figures debt to businesses owed money by Vics, presented a petition to wind up Northwich Victoria Football Club (2004) Limited to Manchester County Court on Tuesday. District Judge Araba Obodai, in the absence of anybody representing the Evo-Stik Northern Premier League outfit, agreed to issue an order at the end of a hearing that lasted a few minutes.

'I was advised to let it happen', said Vics' owner Jim Rushe. 'After making enquiries with the relevant bodies, I am reassured there will be no impact on the club that is now trading [as Northwich Victoria Football Club (2007) Limited]'. He told the Guardian that he must now decide whether to take legal action to retrieve a sum totalling more than £100,000 that he says is owed to him.

In February an insolvency practitioner hired by Rushe asked a judge at the same court to rip up a Company Voluntary Arrangement (CVA), a binding legal commitment to pay back part of a debt, after accusing the club of not fulfilling its part of the deal. Gary Pettit, in papers filed at Companies House, said that Vics' owner had reneged on an agreement to find £2,500 each month for creditors.

'Mr Rushe sought to claim payments were not due and pleaded ignorance as to his obligations', he wrote. Mr Pettit brokered a deal with creditors a month after his appointment, who were persuaded not to petition to wind up Northwich Victoria Football Club (2004) Limited, the firm that paid the players' wages at the time, after the team reached the FA Cup second round. Vics' reward was a prize pot worth close to £190,000, cash those companies owed money thought would be shared between them. They never received a penny.

Mr Rushe claims that two thirds of that sum should have been paid directly to him after he covered the club's losses from May 2009 until the end of the same calendar year. Vics' owner says that he could have made the initial monthly contributions to the CVA from that amount.

He said on Monday of this week, 'The situation is ongoing; I'm considering my options to get back what is mine'. A receiver for the liquidated company has yet to be appointed. Once it is, then Mr Rushe could request that individual to investigate Mr Pettit's conduct while supervising the CVA...

Membership of football competitions was transferred to the 2007 version of Vics early in 2011. However in April of this year, Mr Rushe admitted a Northern Premier League charge of not complying with the conditions of moving the membership from the old company to the new one. The dissolution of its CVA, plus an associated rule break for not telling the league's management committee, led to Vics' expulsion from the competition at the end of last season. That sanction was later reduced to a one-level relegation by an FA appeal panel. After punishing Vics once in relation to this issue, it is unlikely the football authorities can – or will – take action following last week's court hearing".
EX-ALTY YOUTH DOES WELL IN USA
The Sale & Altrincham Messenger reports that "A Stretford soccer star has American dreams for life, after his glittering college career, however, this is not the first time Tom Cosgrave has made it big. As when he was born in 1991, weighing an astounding 13lbs 4oz, he was named Britain's biggest baby.

And at 13 he hit the headlines again, when his size 14 feet were deemed too large for any of the standard shoes demanded by Stretford Grammar School. However, after leveling out at a more manageable 6ft 3" and 15 stone, 21-year-old Tom has already forged an impressive career for himself in the states.

Having played for Altrincham FC (youth and reserves) from 16 to 18, Tom was offered four different scholarships to colleges in America, but decided Belhaven University was the best option for him.

Tom said, 'I was still at Trafford College when I was offered my scholarship and I was delighted to have the chance to not only play football full time, but to have the chance to experience a new way of life in the states and start a new chapter in my life'.

During his time at Belhaven, Tom has been awarded many accolades, including National Association of Intercollegiate (NAIA) defensive player of the year, Musco Lighting Champions of Character Award and being made captain for Belhaven.

Tom said, 'inning the awards were a great achievement for my performances but it was nothing compared to the feeling of winning the national championship and knowing we are the best team in the the USA at university level. Many pros in USA go to university there before so they have a degree and the university standard is still very high'.

In fact, Belhaven did extremely well to win at nationals, having been seeded 12 out of 12 teams, but defied everyone's expectations to be crowned victors, with Tom named as defensive player of the tournament

Tom plans to go back to the US for trials and, if nothing comes of that, put his sports medicine degree to good use and open his own soccerdome and athletic performance centre. Tom's mum Jackie said: "We are so proud of Tom, what he has done is an amazing achievement for a boy from Stretford and shows youngsters what can be achieved by being committed to your game and working hard".
WEDNESDAY GAMES
BSBN
Chester FC 2 Harrogate Town 0
League table
FA Trophy 2R replay
Corby Town 2 Tamworth 4
BSBN NEWS
Guiseley, "are pleased to announce the signings of defenders Aaron Hardy and Sean O'Reilly. Aaron Hardy, 26, is mostly a right-back, and lists Huddersfield, Harrogate Town, FC Halifax Town and Farsley among his most recent clubs, while Sean, 23, is an Irish-American who has been training with the first team for a while, having played at a good level in America.

Both are now available for selection ahead of Saturday's game against Gloucester. Club secretary Adie Towers said, 'Aaron and Sean will add well to an area of the squad we are currently a little bit short in. Both are quality additions who will be able to bring something to the squad as we look to move forward as a club'".

According to FC Halifax Town, Town "May have grabbed a late goal in a dramatic F.A. Trophy tie at The Shay last night during what turned out to be a classically entertaining cup fixture, yet it was a missing player who grabbed attention. News that Town striker Dale Johnson's injury he picked up at the weekend had filtered through with the details revealing he had injured his knee's cruciate ligaments and will now be out for the rest of the season.

It can also be revealed that the striker will have to undergo some sort of surgery, which means that his campaign has ended before even the half-way stage. Manager Neil Aspin reacted to the news... 'You've got to feel for the lad', he said. 'Dale's had injuries in his career and this was a season we were hoping he could remain injury-free and for him to need an operation on his cruciate ligament, it's something that all players dread. You have to say we have been unfortunate with injuries this year, whenever we have a settled team we get hit with another injury and it makes our options limited.

Obviously Alex Johnson being cup-tied, we didn't have a lot of options for striking roles and Dale was coming into form. He's had a good goal return so we are going to miss him but the main thing is that he can get his knee sorted out and continue his career'.

One player who is on the comeback trail after his own knee problems is Dan Gardner, who managed to play the first 45 minutes of Town's cup win. 'I think first fifteen minutes he started off very brightly', said Aspin, 'but Dan's trouble is his lack of fitness. He's had a major injury, he's come back'".

Whilst he was at Altrincham Dale Johnson also suffered a ruptured cruciate ligament injury.

According to the Nuneaton News in a piece published before Tuesday's postponement, "Hinckley United manager Carl Heggs says he is banging his head against a brick wall in an effort to even field a team at home to Bishop's Stortford tonight... Heggs had just nine players available...

He said, 'I'm trying to get it all sorted. I need to know if I can register players as a one off emergency. I can't get an answer. I'm banging my head against a brick wall. I've got a couple of ex-pros who are willing to help me out. One of them is a friend who is an ex-Premier League player'... The Knitters will be without the suspended Charlie Raglan and the injured quartet of Jack Lane, Max Harrop, James Hicks and Matt Stenson. Aaron Cole is a major doubt with a groin injury and Martin Conway is thinking of leaving as he wants to play in goal rather than as a right winger. I understand what Martin is saying but every time he plays outfield he does well. If I put him in goal then I won't be able to use Rob Peet there as he can't play as a winger — he's a keeper. I'd be doing myself out of a player', he said".
---
19 December 2012
CHRISTMAS CAROL SERVICE
On Thursday (20th), Altrincham FC Chaplain, Rev. Andy Barclay-Watts of Sale LifeChurch, will be leading this year's Christmas Carol Concert, in the Noel White Suite at Moss Lane. The choir from Andy's church will be in taking part at the event, which starts at 8pm. Mince pies will be served during the evening. Everyone is welcome, Alty supporters or otherwise, so please come along!
BOOK EARLY FOR HISTON
On Saturday, 29 December, Altrincham are away at Histon in Cambridgeshire. As usual for away games, TASC is organizing supporters' transport. The coach is largely booked up but a few places remain so if you intend to go, please contact the club a.s.a.p.. on 0161 928-1045. The club offices are open during normal office hours this week and next week are open on the morning of Christmas Eve only.

The club offices reopen on the morning of Friday 28 December.

Times and fares for the Histon trip are on the Away Travel page.
TUESDAY GAMES
Tue 18 Dec.
Hinckley United v Bishop's Stortford POSTPONED

FA Trophy Second Round

Tues 18 Dec.
FC Halifax Town 2 Maidstone U. 1

FA Trophy 2R replays

Tues 18 Dec.
Southport 3 Stockport County 1
YANKEE
Altrincham FC's Saturday Yankee competition is a weekly fundraiser for the club. For just a £1 weekly stake, you could win a jackpot of up to £5,000. Currently the jackpot stands at £4,200 after last week's winning code of 8449 remained unissued. Two members of the scheme each won £100 for winning trebles.
BSBN NEWS
The Football Conference has issued a statement about the fixture Hinckley United v Bishop's Stortford on Tuesday 18 December 2012

"Hinckley United informed the Football Conference by email at 9.16pm on Monday, 17th December that it had only nine fit/available players for the following evening's Blue Square Bet North match against Bishop's Stortford. The competition responded by seeking the club's proposals to overcome the solution, adding the issue would be addressed immediately the Office opened the following morning.

Further communication followed this morning but a request for medical evidence, which the club was advised would enable the competition to consider three further registrations, was unfilled when the club informed the Conference Office it (Hinckley United FC) had postponed the fixture as it was unable to fulfil the engagement. Hinckley United also advised the Conference it had informed its opponents of its decision.

Hinckley United will now be charged with failing to fulfil an engagement and it will have seven days in which to respond to the charge".

The Knitters have already beend deducted three points this season for failing to pay football creditors.

BSBN also reports that "Hinckley United are confident their home game against Brackley Town on Saturday will go ahead despite the visit of Bishop's Stortford tonight being postponed. The Knitters pulled the plug on the match as they could not raise a side, prompting the Football Conference to prepare a charge of failure to fulfil a fixture, which could see them kicked out of the league in the most extreme circumstances.

Conference general manager Dennis Strudwick said, 'Hinckley chose to call off the game as they said they only had eight players available. I offered them the olive branch of registering three players but that did not happen'. Punishment for pulling the plug on the game will more likely be a fine ranging from £2,500 to £10,000, or a three point deduction, which would put them on minus three points.

Hinckley chairman Mike Sutton admitted the Conference offered the chance to sign players, but said... 'The offer to sign players didn't come through until 1pm. I had already cancelled the game by then. We had to think of Bishop's Stortford travelling. The league said we needed to send medical evidence of injuries but how can we do that at such notice? There will be a doctor at training on Thursday who can provide medical certificates. We have players we can call up so Saturday should go ahead'.

Meanwhile, the Knitters remain under embargo as they are yet to pay all the money owed to former players. A fans fund of £3,300, matched by the board, was set to settle all debts. However, another former player is demanding money owed and that will have to be paid before the embargo can be lifted. 'We have other debts to service as well', said Sutton. 'We are trying to clear the debts so we can start with a clean slate next season'" he told the Nuneaton News.

BSBN reports that "New Boston United manager Graham Drury believes there is enough quality within his squad to challenge for a play-off place...

After leading the club to a third-placed finish in the Blue Square Bet North last season [?Boston actually finished eleventh last season and are also eleventh currently!] alongside joint-caretaker boss Lee Canoville, the former Pilgrims striker was unable to bring the best out of his players this season.

The Lincolnshire outfit slipped a massive 24 points behind leaders Chester FC after losing nine of their opening 17 league games, which resulted in Lee's dismissal.

However, Drury feels his side can compete with the best the league has to offer... He told the club's official website, 'The first team squad is good enough and they have proved that by beating the likes of Chester and Halifax... but they have just got to have that desire week in, week out. Consistency is the key'...

He added, 'I really wanted the job. There are no doubts about that. It's a big football club with a great fanbase and I actually believe that you can put a lot more numbers on the gate if you are playing good attractive football and are winning games of football. I am not just looking to put 10 on the gate, I am looking to double the gate. There is a big fanbase here and hopefully I can do the job right and everybody will be pleased with me and we can put more bums on seats'".

Meanwhile the Boston Standard says that "Graham Drury boldly announced himself to Boston United fans as the man who believes he can guide the Pilgrims into the play-offs. 'I can get the best out of players, I can make them feel on top of the world', claimed the 41-year-old as he was introduced to suporters at tonight's fans' forum.

The new manager is not short on confidence. He talked a good game. He told the crowd he would get John Blackwell working overtime with seven-day approaches if he believes the squad needs strengthening...

'Everyone has a clean slate', he said. 'Everyone has the opportunity to show me what they've got. The first thing is getting that winning mentality into the dressing room'... Paul Holden will act as Drury's number two. After 22 years in the Armed Forces, plus spells with Gibraltar's national team and Crystal Palace's youth side, he linked up with Drury. Together they have worked at Stamford and Corby. While Drury is the motivator, Holden is the football man. He will take training sessions with Dean West, and he has an interesting philosophy, stating, 'You need soldiers and artists. The flair players and those with the dirty, hard-working soldier mentality. It's about getting that balance right... Players should jump through hoops to play for this club', he added to his opening gambit, 'I'm a Lincolnshire lad, and Boston's the biggest club in Lincolnshire'.

If Drury manages as well as he talks, this could be an interesting tenure".

And the Boston Standard adds that "It took just seconds for Boston United chairman David Newton to introduce Graham Drury as his new manager... before cracking a joke or two at his expense. 'I wanted someone tall, dark and handsome, so he didn't have everything', said Newton of his latest employee. 'We looked at managers and we drew the short straw... the very short straw'.

OK, so Drury may not be the tallest man in the world, he conceded himself he got into management because he was too diminutive to play the game at a high (no pun) level. But what Drury lacks in height, he makes up for in enthusiasm. What he does is think big.

'I want to manage in the Conference Premier, and this is the club that can take me there', he said at tonight's fans' forum. He's got his eye on a top five finish this season...

'He wasn't the top of my list, until we interviewed', Newton admitted. 'He was well prepared and had analysed our squad. We looked at his stats and they compare favourably. He demonstrated a real desire to manage Boston United and that was way more than anyone else demonstrated'.

But Newton's greatest praise was the comparisons to ex-bosses Rob Scott and Paul Hurst, the last managers to bring this club promotion. 'I haven't felt like this since we interviewed Rob and Paul', Newton stated".

In the Cambridge News, we learn that "Brian Page believes Histon need to get back to basics on the training ground after they suffered a 3-1 defeat to relegation rivals Colwyn Bay... But Page is backing himself and interim boss Nacer Relizani to get the players back into good habits...

'We've got a talented young squad', he said. 'I feel sorry for the lads as they've had 16 or 17 games where they've barely been coached, and they look a little lost. There are still enough games to pick up enough points'...

Danny Fitzsimons and Lewis Taaffe both started despite suffering illness in the week, while Remy Clerima and Claudiu Hoban are playing through the pain barrier as they both struggle with groin injuries...

Histon: Kitscha, Mills, Hawkins, Clerima, Fitzsimons, Stevenson, Hoban (Waters), Dowie, Ivey-Ward (Freeman), Roberts, Taaffe (Relizani). Not used: Uttridge, Ahmed. Booked: Taaffe".
---
18 December 2012
THREE WAYS TO ENJOY YOURSELF AND HELP THE CLUB
The following ventures are on offer this Christmas at Altrincham FC.Please do consider all of them as they raise important funds for the Football Club...
Half Season Tickets
What better present for a true Alty fan than a season ticket for the remainder of the 2012-13 season? The tickets will run from January 1st, 2013 till April 27th, 2013 to include a minimum of 11 home Blue Square Bet North games. The cost will be:-
Standing – Adult £115, Concessions - £60
Seating – Adult £135, Concessions - £65

Please phone Derek Wilshaw, Karen Rowley or Jenny Heslop in the office for further details on (0161) 928-1045
An evening with Paul Merson
Another great idea for Christmas for the man who has everything – a ticket to see Paul Merson at the Cresta Court on Thursday 21st February 2013. There will be a four-course meal, a comedian, an auction and a raffle, all for £40 per head. Again, for further details or to book your place please, please contact the office or email Altrincham FC.
Join the Alty Football Pontoon, 2013
With Christmas almost upon us, our sights must be set on attaining a play-off place in 2013. With this in mind we are proposing to run a football pontoon, starting on Friday 1st February 2013. To play it will cost you the princely sum of £10 and the winner will receive a minimum of £100 in cash.

The rules are simple...
You pick one random team out of a hat and that is your team for the duration of the competition. Premiership, Championship, League 1 & 2 and Blue Square teams available.
Your team has to be the first team to score EXACTLY 21 goals for you to win
If your team goes over 21 goals, you are bust!
Only competitive games (League or FA Cup games) played on a Friday, Saturday, Sunday or Monday count towards the goal total
If more than one team reaches exactly 21 goals on the same day the prize money will be shared
If a particular weekend's matches are lacking any teams, due to postponements or blank fixtures, those teams will be awarded 2 goals
International weekends do not count towards scoring.
An updated table showing each person's team and how they are doing will be posted on the website and in the programme as soon as possible. Let me know if you wish to join up for this exciting game of Pontoon. If you have any questions, please do not hesitate to phone me on 07720-606897 or e-mail me.

Many thanks for your support.

Grahame Rowley
NEW YEAR'S DAY IS FAMILY DAY
Altrincham FC are making New Year's Day a Family Day in the Manchester Glass Sponsors' Lounge. On that day, when Alty entertain Stalybridge Celtic, you can enjoy a hot meal before the game, with complimentary drink and half time refreshments. Alty boss Lee Sinnott will also have a few post-match words with those in the Lounge.

For Altrincham season ticket holders the cost for adults is £20. For non-season ticket holders the adult price is £27.50 and includes free admission to the match. The price for children is just £7.50.

Please contact Barry Pond or Karen Rowley on 0161 928-1045 or by e-mail to book your place.
BSBN FIXTURES
Mon 17 Dec.
Bradford Park Avenue 0 Gainsborough Trinity 2 att.265
BSBN NEWS
Altrincham could be facing two clubs with new managers in December as both Boston United and Histon recently lost their bosses. Boston United have now announced their new boss and have posted a video interview with their new appointee. The Pilgrims and also "Boston United are delighted to announce the appointment of Graham Drury as the club's new first team manager. The 41-year-old Stamford AFC boss has guided the Daniels to second position in Evo-Stik Division One South this season and now takes over at The Jakemans Stadium following Jason Lee's departure on December 6.

Drury beat off competition from five other interviewed candidates and will take charge of the Pilgrims for the first time when they travel to Altrincham on Saturday.

Having managed Corby Town in Blue Square Bet North during the previous two seasons, having earlier guided the Steelmen to promotion from the Southern League, Drury is highly-rated and United chairman David Newton is delighted to have him onboard.

Reflecting on Drury's appointment, Mr Newton told bufc.co.uk, 'We received in excess of 30 applicants for the vacant manager's position and, after a long and thorough selection process, we are delighted to announce the appointment of Graham Drury as first-team manager of Boston United. Graham was selected from a shortlist of six potential managers and was the candidate that closely matched the criteria set by the board.

He has a proven track record, his contacts are second-to-none and he is meticulous in his preparation for matches. He is also a motivator and is young, very ambitious and demonstrated his desire to not only manage Boston United but that his aspirations matched those of the board...

I must also put on record my thanks to Graham Hyde. He has been an excellent assistant to Jason Lee this season and of course he stepped in to take the first team for the past two games'...

Drury will be joined at The Jakemans Stadium by head coach Paul Holden and conditioning coach Dean West, who embarks on a third spell with the Pilgrims following playing stints in 1992-1993 and 2004-2005".

The Bicester Advertiser and Review says that "Brackley Town suffered a second successive home defeat on a frustrating afternoon for Jon Brady's side as visitors Altrincham enjoyed an early Christmas present after being gifted the only goal of the game.

After a largely uneventful first half – aside from the goal – Brackley dominated in the second period and frantically searched for a deserved equaliser but they were to be denied... The only goal of the game [arrived] in the 23rd minute after a bizarre gaffe from Billy Turley in the home goal. Judging the ball to have run out of play, Turley was dismayed to see Damian Reeves race away with the ball and score off the post from a tight angle...

Saints created pressure and chances in a second half that they dominated and it seemed the equaliser would come. Yet the Robins always threatened on the break, through the lively Reeves and Duncan Watmore, and could have grabbed a second to seal the win... However, Alty held on to avenge their 4-1 mauling on the opening day of the season".

According to This is Lincs, "Peter Swann believes there could be signs of a breakthrough in his attempts to buy The Northolme. The Gainsborough Trinity chairman has confirmed he will attend a meeting this week with the ground's owners, the Blues' Club, to discuss a possible sale. Swann has been rebuffed in his previous attempts to buy the ground...

'I have received a letter, asking me to attend a meeting with the Blues' Club committee', he said. 'I understand they want to ask a few more questions of me regarding the two separate offers for the ground I submitted last month. I don't want to jump the gun or raise anyone's hopes, but it is a good starting point...

I do not know which road we will go down but the important thing is that it looks as though we can now, at least, sit down and talk about it'...

Swann has said he will step down as chairman of the club at the end of this season, but plans to continue as owner. The Gainsborough businessman claims to have invested £1.75m into the club since he became owner four years ago but is not prepared to carry on spending unless he secures The Northolme as a football club asset. Last month, Swann submitted two separate offers to buy the ground. Those offers included the promise of £500,000 of improvements but only if he owned the ground".
FA TROPHY
Below is the FA Carlsberg Trophy Third Round Draw, games to be played on Saturday, January 12th 2013.
King's Lynn Town v Stockport County or Southport
Sutton United v Wrexham
Dartford v Bromley
Welling United v Grimsby Town
FC Halifax Town or Maidstone United v Chelmsford City
Gateshead v Barrow
Gainsborough Trinity v Tamworth or Corby Town
Luton Town v Skelmersdale United
CHESHIRE NEWS
The EvoStik League announces the "Northwich Victoria Arbitration Verdict... No change to the original decision made by the League. The Northern Premier League welcomes the findings of the Arbitrator in up-holding the Northern Premier League's original decision, subsequently endorsed by the Football Association, relating to Northwich Victoria and the venue for playing of home fixtures.

A full transcript of the decision may be found via the FA website. The League Board and Officers will continue to focus on the interests of all 66 member clubs".
---
17 December 2012
NEXT OPPONENTS
Altrincham's next scheduled match is their third meeting in nine weeks with Boston United. After an away FA Cup and BSBN encounter, this will be the home league fixture between the two sides. Mike Garnett's data tells us that the previous record between the clubs is:
At Moss Lane: p32-w15-d11-l6-f64-a31
At Boston: 34-10-10-14-55-62
All: 66-25-21-20-119-93
ONE SHORT - AND OTHER NUMBERS
The NL Paper has Damian Reeves on 18 BSBN goals this season; in fact, he has scored nineteen. With five cup goals, too, Damian's tally is 24 from 24 games. Over his Alty career he has 87 goals from 103(+12) appearances.

Saturday's game was Altrincham's first away clean sheet in a league match since 25 April 2011 at Grimsby Town. The previous week's 0-1 defeat by Gainsborough was the first time Altrincham had failed to score in the league since last season, on 10 March 2012 at Bishop's Stortford.

Altrincham have now won 17 of their 26 league points away from home, where they have P9 W5 D2 L2. At home they have lost five times, in a record of P8 W3 D0 L5.
RADIO ROBINS
The sound wasn't crackly from Brackley on Saturday and, now, Brian Flynn advises us that the Radio Robins commentary files from the game at Brackley last Saturday are now available to be heard again:-
Second Half
NARROW DEFEAT
Altrincham Youth lost 4-3 at Morecambe on Sunday.
OLD BOY
Former Alty Youth striker Theo Kidd has moved to Salford City from FC United of Manchester.
BSBN NEWS
Bishop's Stortford report that a "Right-back comes in on loan. 19 year-old Andrew Burns from Dagenham & Redbridge joins on a month's loan. Andrew has previously been on the books at Bolton Wanderers and Bradford City".

News of Boston United comes in a report on their 5-1 win over Droylsden last Saturday, a game in which former Alty man Carlos Logan missed a penalty which would have put the Pilgrims two down.

"Boston United put their poor run behind them with a thumping 5-1 home victory over struggling Droylsden... After trailing to Steve Hall's well-taken opener, and with Droylsden having seen Carlos Logan denied from the penalty spot by Dan Haystead, United came back strongly and led 3-1 at half-time thanks to goals from Spencer Weir-Daley, Mark Jones and Marc Newsham. Newsham added his second after the break and James Reed put the icing on the cake with a deflected fifth.

Graham Hyde had assumed control of the Pilgrims for a second time in a caretaker capacity and he made three changes, with Dan Haystead and Gary Silk joining Jones in the starting line-up, with Ricky Drury, Jack Andrews and Ian Ross missing out...

Boston (4-4-2): Dan Haystead; Conor Marshall, Gary Silk, Nathan Stainfield, Gareth Jelleyman; Ben Fairclough, Ben Milnes, Jason Stokes (James Reed 68), Mark Jones (Kallum Smith 81); Marc Newsham, Spencer Weir-Daley. Subs (not used): Tom Ward, Charley Sanders, Ricky Drury (gk)".
FIXTURES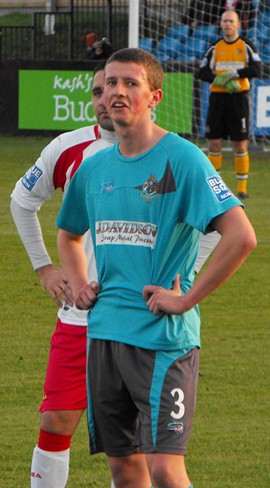 Right: 20 year-old Scott Leather is one of several young players to have played regularly for Altrincham this season and he was recently rewarded with a contract till the end of next season. A local lad, from Sale, Scott has made 14(+9) appearances so far, in a variety of defensive positions. Here he is seen enjoying a well-earned breather at Brackley on Saturday, with Stuart Coburn in the background. To underline Alty's youthfulness, in that match there were four players younger than Scott in the Alty squad; teenagers Adam Reid, Patrick Lacey, Duncan Watmore and Jordan Sinnott..
BSBN fixtures...
Sat 22 Dec.
Through the Years by Howard Watts
Altrincham v Boston United
Bishops Stortford v Harrogate Town
Bradford Park Avenue v Vauxhall Motors
Colwyn Bay v FC Halifax Town
Corby Town v Solihull Moors
Droylsden v Worcester City
Gainsborough Trinity v Stalybridge Celtic
Gloucester City v Guiseley
Hinckley United v Brackley Town
Oxford City v Histon
Workington v Chester FC

FA Trophy Second Round

Tues 18 Dec.
FC Halifax Town v Maidstone

FA Trophy 2R replays

Tues 18 Dec.
Southport v Stockport County

Wed 19 Dec.
Corby Town v Tamworth
---
16 December 2012
BRACKLEY TOWN 0 ALTRINCHAM 1
Match report here
GET WELL, SOON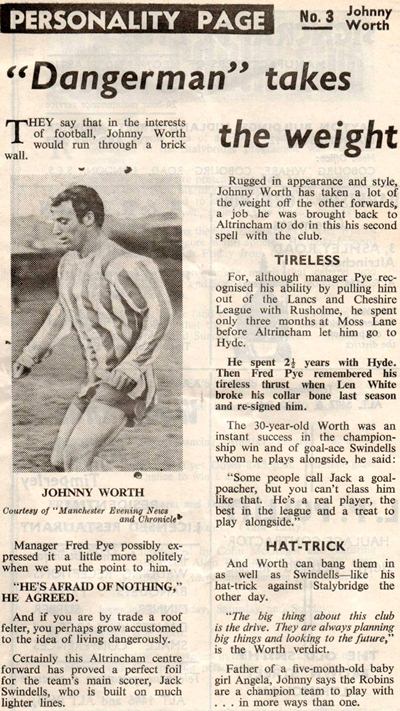 The website was pleased to hear last week from John Worth, the son of Altrincham FC star of the late 1960s, Johnny Worth. Unfortunately, Johnny is not too well at the moment but he continues to look back on his days at Moss Lane as a very happy period. A profile of Johnny appeared in the Robins' Review in 1967/68 season and it is reproduced, right. All at Moss Lane wish him a speedy recovery; many of our older supporters will remember him well in the same side as Jackie Swindells. For those less familiar with Johnny's achievements, Terry Rowley's profile of Johnny is here.

Johnny hit 119 goals for the club, including 34 in season 1966-67 alone and is one of only nine players to hit 100+ goals for the club.
DANNY NETS WINNER
Alty's Danny Mitchley scored the late winner on loan for Marine yesterday as they triumphed 2-1 at Eastwood Town yesterday.
OLD BOY
NL Daily reports that "Forward Chris Denham is back at Ashton United after a gap of seven years. The 30-year-old signed on Friday from Chorley after being transfer listed by Ashton's rivals. Denham spent most of his time away from Hurst Cross plying his trade for Stalybridge Celtic and Altrincham in the Conference Premier and Conference North...

Denham signed for Chorley manager Garry Flitcroft last season and is able to play on the wing or as an out-and-out striker. His arrival will boost competition for places with Robins' wide man Matty O'Neill and forward Ben Deegan both [ex-Alty and] looking at long lay-offs".
ATTENDANCES
Saturday's BSBN gates were:
Boston United v Droylsden 759
Brackley Town v Altrincham 330
Chester FC v Bishop's Stortford 2,058
Colwyn Bay v Histon 326
Harrogate Town v Hinckley United 1,440
Stalybridge Celtic v Workington 343
Vauxhall Motors v Gloucester City 122
Worcester City v Bradford Park Avenue 709
FA TROPHY
In Saturday's FA Trophy Round Two, the results were:
Dartford 3 - 0 Tonbridge Angels
Stockport County 1 - 1 Southport
Sutton United 1 - 0 Oxford City
King's Lynn Town 3 - 1 AFC Telford United
Bromley 1 - 0 Kidderminster Harriers
Forest Green Rovers 1 - 2 Gainsborough Trinity
Tamworth 1 - 1 Corby Town
Cambridge United 0 - 1 Gateshead
Woking 0 - 1 Welling United
Wrexham 3 - 2 Solihull Moors
Chesham United 1 - 5 Barrow
Hereford United 0 - 3 Chelmsford City
Grimsby Town 4 - 0 Havant & Waterlooville
Skelmersdale United 2 - 0 Guiseley
Matlock Town 1 - 2 Luton Town
BSBN NEWS
Chester FC report that "Chester striker Craig Curran, who bagged a hat trick in today's 4-1 win over Bishop's Stortford at the Exacta Stadium, will stay for a further month with the Blues after a Chester-based business offered funding to the Club to extend the Rochdale striker's loan deal.

Bell Developments regular sponsors of Chester FC confirmed the move after today's game, in which the striker appeared as a second half substitute, going on to score his three goals".

Meanwhile, This is Lincs tells us that ""Manager-less Boston United ended their seven-match winless run in ruthless fashion as Droylsden were hammered 5-1 at the Jakemans' Stadium... but they were made to come from behind to register a morale-boosting victory.

Droylsden made the brighter start and were rewarded when Steve Hall drilled home...

Attention now shifts to United's next manager, with the club set to confirm Jason Lee's successor early next week". Meanwhile, "Caretaker boss Graham Hyde remains in charge of Boston United... After interviews began this week, the Pilgrims are set to unveil Jason Lee's successor early next week. One contender, former Histon and St Neots boss Dennis Greene, [was] at the match [on Saturday], fuelling spectulation he has been interviewed for the post. Meanwhile, former Luton and Cambridge boss Gary Brabin is the latest name to be linked with the post. Hyde... is thought to have applied for the job himself".
---
15 December 2012
BRACKLEY TOWN 0 ALTRINCHAM 1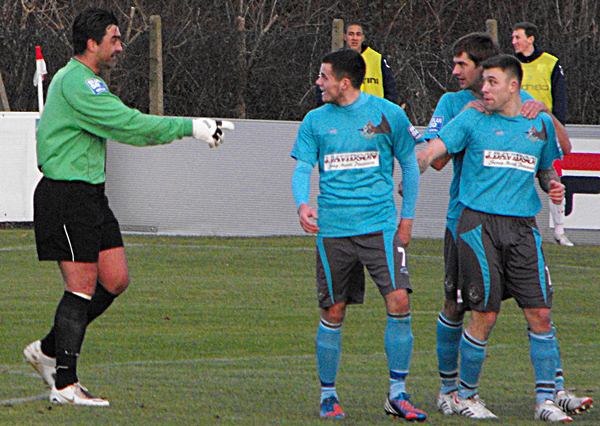 Altrincham got revenge for their home defeat by Brackley with a well-earned win in Northamptonshire. The goal came in unusual circumstances ...
Right: Brackley keeper, Billy Turley, protests about the goal scored by Damian Reeves, who is accompanied by Jordan Sinnott and Danny Hall.
Match report here
Alty line-ups
The Banbury Guardian reports that "An error from keeper Billy Turley cost Brackley Town dearly as they slipped to a 1-0 defeat against Altrincham at St James Park.
It was Saints' second defeat on the trot in Blue Square Bet North but they went close to breaking the deadlock when Owen Story's free-kick was met by Marvin Robinson and his header was superbly tipped over by Stuart Coburn.
Altrincham scored what proved to be the winner in the 24th minute when the experienced Turley was trying to usher the ball out for a goal-kick. But the league's top scorer Damian Reeves won possession before firing into an empty net from an acute angle with Turley stranded.
Saints responded well. Tom Winters tested Coburn with a low drive moments later, Eddie Nisevic fired across goal and Sandy shot over from Story's low cross.
After the restart Turley partly redeemed himself when he saved well at his near post from Jordan Sinnott. And it took a last-gasp block from Michael Corcoran to deny Reeves after a good move involving Jake Moult and the impressive Duncan Watmore.
Saints had some late pressure with Ryan Austin heading over and in added-time Saints almost grabbed a point when Solkhon's header was cleared off line by Gianluca Havern".
Other BSBN scores
Boston United 5-1 Droylsden
Brackley Town 0-1 Altrincham
Chester 4-1 Bishop's Stortford
Colwyn Bay 3-1 Histon
Harrogate Town 5-0 Hinckley United
Stalybridge Celtic 1-4 Workington
Vauxhall Motors 1-2 Gloucester City
Worcester City 2-0 Bradford Park Avenue
KEEPING UP WITH THE MATCH
Brian Flynn writes that Radio Robins, sponsored by Ashley Mowers Garden Machinery, will be broadcasting live coverage of Saturday's game at Brackley Town. The match commentary is sponsored by Handpicked Villas where you can find the very best holiday villa rentals in Barbados, Canouan, Grenada, St Lucia and other Caribbean destinations.

For full details on over 150 Caribbean villas have a look at their website.

The match commentators are Ian Wilkinson and Brian Flynn, with match summaries from George Heslop. The broadcast begins at 2.55pm. You can listen to Radio Robins through the link below.

Alternatively, you can find text updates on this site's Matchday Updates page, at the link below

You can follow the match via the following quick links...
BEFORE THE MATCH
According to Buckingham Today, "Brackley Town will look to bounce back from their first home defeat of the season last week when they entertain Altrincham at St James' Park. The Saints were beaten 3-2 by an impressive Chester FC outfit in a high-quality match in front of St James' Park largest ever crowd...

[Manager, Jon Brady] said, 'I think Chester are easily the best team in the league. They have a lot of experience and they'll be a very strong Conference side next year... We made three vital errors and that's what cost us in the end – our marking wasn't tight enough... The positives for us is that we never gave up and scored two late on, so we know we have that quality to threaten but we didn't do ourselves justice. It was a lesson to us; we have to be at our best to compete with the best teams in this league. We had four or five players not on their game and you can't afford that.

It wouldn't have been a fair result had we got a draw... It'll make us better because it was a learning curve and we'll be stronger for it'. Brackley welcomed their largest ever crowd for the visit of Chester with over 1,100 people attending – making for a tremendous atmosphere inside St James' Park. Brady added... 'Our crowds have improved by 50% so hopefully that can continue'.

This weekend Brackley host 10th placed Altrincham, who they beat 4-1 on the opening day of the season. But Brady insists that result means nothing going into tomorrow's match, saying, 'It means absolutely nothing. They have threats all over the pitch and they have the top goalscorer in the league by a mile [Damian Reeves]. He was only half fit when he played them earlier in the season so we need to ensure we keep him quiet and hopefully we can keep a clean sheet'".

Footnote: Brackley's home league attendances before the visit of Chester this season are...
v Hinckley United 303
v Bishop's Stortford 358
v Droylsden 307
v Workington 476
v Histon 324
v Gainsborough Trinity 320
v FC Halifax Town 522
v Stalybridge Celtic 380

Footy Mad has its customary match forecast for Alty's visit to Brackley... "Brackley Town are in decent form at home, having won four and drawn two of their last six games. [They seem to have forgotten Brackley's home defeat last week].

Altrincham have an average recent record on the road, collecting 2 wins and 3 draws from the last six. The games have constituted a decent return of 15 goals for the Robins, and 8 goals against... Neither team is setting the world alight, and we think this game will result in a narrow home win for the home [team]".
BSBN NEWS
As reported yesterday, the Halifax Courier says that "FC Halifax Town have had another home match postponed due to weather, with tomorrow's FA Trophy clash being called off over 24 hours before kick-off. The second round tie against the Kent based outfit [Maidstone] has been rescheduled for Tuesday night (7.45pm). That means Town's Conference North clash at Altrincham has been postponed again. Although the Trophy match has been moved to Tuesday, growing concerns over the condition of the Shay pitch means there is already doubt about whether the game will be able to go ahead".

Alty's home match with Halifax has now been postponed three times.
SATURDAY FIXTURES
BSBN
Boston United v Droylsden
Brackley Town v Altrincham
Chester FC v Bishops Stortford
Colwyn Bay v Histon
Harrogate Town v Hinckley United
Stalybridge Celtic v Workington
Vauxhall Motors v Gloucester City
Worcester City v Bradford Park Avenue

FA Carlsberg Trophy
Bromley v Kidderminster Harriers
Cambridge United v Gateshead
Chesham United v Barrow
Dartford v Tonbridge Angels
FC Halifax Town v Maidstone United POSTPONED
Forest Green Rovers v Gainsborough Trinity
Grimsby Town v Havant & Waterlooville
Hereford United v Chelmsford City
Kings Lynn v AFC Telford Utd
Matlock Town v Luton Town
Skelmersdale United v Guiseley
Stockport County v Southport
Tamworth v Corby Town FC
Woking v Welling United
Wrexham v Solihull Moors
BSBN NEWS
As well as Halifax, another Yorkshire club having pitch problems faces another postponement. Harrogate Town report that "There will be a pitch inspection tomorrow between 9.30-10am to see if the ground is fit to play the Blue Square League match against Hinckley United on".

But another BSBN Yorkshire club on its travels hopes to have better fortune as "Skelmersdale United groundsman Peter McGee is confident tomorrow's game at home to Guiseley in the FA Trophy will take place. However, he does need your help. The pitch is presently frozen and due to the rain that has fallen over the last twelve hours or so it has a huge amount of water sat on its surface. There is an inspection planned for 10am. The weather forecast is for a big rise in temperature in the next twenty four hours and it is currently well above freezing".

According to the North Wales Weekly News "Colwyn Bay face major suspension and injury problems ahead of Saturday's crucial bottom-four clash at home to Histon. With John McKenna still serving a three match ban, the Seagulls now have skipper and central defender Danny Meadowcroft ruled out by a one-match suspension for an accumulation of bookings.

On top of that, midfielder Sean Williams is extremely doubtful after injuring ankle ligaments in training on Tuesday and Danny Lloyd is struggling with a hamstring strain from last weekend's defeat to Harrogate Town.

'We cancelled training on Thursday because we just couldn't afford anyone else getting injured', said player-boss Jon Newby. Luke Denson, back on loan from Chester until the end of the season, is likely to go straight into the side, possibly having to fill in as an emergency centre back. Ex-Airbus defender Danny Taylor could also be in line for his first start, but with Meadowcroft and McKenna both out, a lack of height in defence is a major concern.

Colwyn Bay badly need the points, after losing five of their last six games, and Newby commented, 'The players know how important this game is and if we can play like we did in the second half against Harrogate last weekend then we will be fine - that has to be the aim'.

Histon are second from bottom of the Conference North table and will hear next Friday if they are to have three points deducted for failing to fulfil the original fixture at Colwyn Bay on November 17. The Cambridgeshire club parted company with full-time manager Dennis Greene last week and have severely trimmed their playing squad in a major cost-cutting exercise. They have not won any of their last eight games (six defeats and two draws) and their only away success this season was at rock bottom Hinckley (deducted three points themselves this week for failing to pay creditors).

But the new management team of Nacer Relizani and assistant Brian Page were delighted with their young side's performance in only narrowly losing 2-1 at promotion-chasing Guiseley last weekend".

Meanwhile, the Cambridge News confirms the new appointment at Histon, before anything appears on the club's website. "Histon could finally visit Colwyn Bay tomorrow, six days before discovering if their decision not to travel there on November 17 will cost them three points. The Stutes were charged by the Football Conference for failing to fulfil the fixture and they will attend a personal hearing in London a week today. The club elected not to travel as their finances again came under scrutiny, with a fine of up to £10,000 also being a possibility.

Dennis Greene has since been replaced at the helm by the interim management duo of Nacer Relizani and Brian Page, and their first game in charge brought an encouraging performance in a 2-1 defeat at Guiseley...

'I wouldn't say it's a big game, but it's an important game because it could keep us in touch', said assistant manager Page. 'It's important we don't build it up into something it's not. If we can go and get the points, and I'm confident we can after the performance on Saturday and the way the boys have been working this week, then it gets us back in touch and might make them (Colwyn Bay) nervy for their games in hand.

We have a gameplan, we know how they're going to play and we know where their strengths and weaknesses are. If we play at a really high tempo and match the hard-working way they play, then our qualities and our youthfulness should hopefully help us get the three points'.

Ian Gayle is ruled out with a hamstring injury, but Lewis Taaffe should be fit despite having a bout of tonsillitis this week. And Claudiu Hoban will also be involved, with the winger receiving glowing praise from Page after he received incorrect information about his future at the club last week.

'Claudiu has been an absolute credit to himself in the way he's conducted himself over this difficult period', said Page. 'He was actually told, from a third party, that the club no longer wanted him and that the club couldn't pay him, which was totally wrong. The board, myself and Nacer would love him to be at this football club. We think we can help him develop and push on to the next level. He's been brilliant in training and he was exceptional at Guiseley. We hope that form can continue'".

In the Boston Standard comes news that "Graham Hyde has ordered his Boston United side to pick themselves up and stop the rot. Tomorrow the Pilgrims host struggling Droylsden...

'You have good runs and bad runs in a season', Hyde told The Standard. 'We're in a bad run and we need to get out of it'.

The Bloods' poor run of form is almost as bad as United's. They have failed to win in any of their past four matches and currently sit in the final available relegation place. Droylsden have won just one of their past eight matches... and have not won away from the Butcher's Arms ground in the league this season. From their nine road trips, they have lost seven times and drawn twice...

So is this the best game Boston can ask for right now? Hyde is unsure, adding, 'Is it a good game or a bad game? Well, it's up to the players to turn up this week'... Hyde's first match as caretaker boss, following the sacking of Jason Lee, was Saturday's 4-0 defeat at Vauxhall Motors... He added, 'I hope it hurts them and I hope it bothers them'...

Captain Gareth Jelleyman hopes history can repeat itself. 'We are low on confidence but we'll pick ourselves up and dust ourselves down', he said".
---
14 December 2012
ONE OFF, ONE ON
A pitch inspection this lunchtime at The Shay has resulted in the postponement of tomorrow's planned FA Trophy match tomorrow for FC Halifax Town against Maidstone. This match will now be played on Tuesday, 18 December, the date when the Shaymen were due to visit Moss Lane in the BSBN. So that league match will now have to be re-arranged.

However, tomorrow's match betweem Brackley Town and Altrincham looks set to take place. The Northamptonshire club have informed Altrincham today that, despite the recent bad weather across England, they expect the match to take place as scheduled, at 3pm.
FITNESS REPORT
Manager Lee Sinnott says that only Simon Richman will definitely miss this Saturday's game at Brackley as he recovers from the complications of a throat infection. Everyone else trained on Thursday night and, subject to any post-training reaction, they should all be available for selection.
BRACKLEY LOOKING FOR A DOUBLE
According to the Banbury Guardian, "Brackley Town boss Jon Brady will be looking for his side to bounce back when they entertain Altrincham... Saints lost their unbeaten run at St James Park against leaders Chester who ran out 3-2 winners in last weekend's top-of-the-table clash...

Saints beat Altrincham on the opening day of the campaign and Brady will be hoping to complete the double over the Lancashire [Cheshire!!] outfit.

But it looks as though Glenn Walker will miss Saturday's game with a knock he picked up against Chester. With Walker a doubt Tom Winters should get his chance to impress from the start after several substitute appearances".
SATURDAY VIEWING
If you cannot get to Brackley this Saturday, you will find the bar will be open at Moss Lane for the showing of the following televised matches in HD;
Newcastle Utd v Manchester City (k.o. 12.45pm)
Manchester Utd v Sunderland (k.o. 3pm)

Everyone is welcome!
FA CUP 2
Hastings U. 1 Harrogate T. 1... Hastings won 5-4 on pens AET
DANNY AT MARINE
IC Sefton tells us that "New loan signing Danny Mitchley will be in the squad for Saturday's match with Eastwood Town after missing the win over Blyth Spartans to be at the birth of his child.

The Altrincham striker has joined the Mariners until the beginning of January and must now try and fight for a place in a team who hit five goals last time out.

Manager Kevin Lynch was thrilled with the manner in which Marine thumped Blyth Spartans last weekend... 'We made some changes for the game and the lads who came in did really well', said Lynch. 'I wasn't happy with the Southport game on the Tuesday because we played it like a pre-season friendly. And with Blyth having a bit of a journey to get to the game, I felt we needed to start with high energy. It paid off'.

Although Lynch admits it would be hard to change a winning side, he has not ruled out tweaking with the starting line-up. Danny has been looking sharp in training and will be in the squad".
BSBN NEWS
There is more woe for the BSBN's bottom side as BSBN reports that "The league's governing body, the Football Conference, have issued a statement with regards to Hinckley United.

The statement read:

'Hinckley United Football Club has been deducted three points from its League Table score for failing to pay football creditors. The Football Conference received claims relating to outstanding wages from five players. After much correspondence from the Competition to the Club the claims have neither been refuted nor settled.

On 27 November the Competition instructed the Club to settle the outstanding sums within seven days, or be subject to the above sanction. None of the balances have been settled, and now the Appeal procedure has been exhausted, the penalty of the deduction of three points is effective forthwith". This leaves Hinckley with no points this season.

At the other end of the table, BSBN confirms that "Chester FC manager Neil Young revealed that midfielder Sean Clancy has had his contract at the club cancelled by mutual consent. The 25-year-old had only joined the Blues in the summer having been released by Fleetwood Town at the end of last season.

However, he has failed to establish himself in the first team under Young, managing just five league appearances and scoring one goal, and has decided to move on in search of regular game time.

Young told the club's official website, 'I have mutually agreed to cancel Sean's contract. Sean is another player who recently has not been involved and wants to be playing regularly. With this and the need to reduce the squad numbers it was jointly agreed to cancel Sean's contract'".

Meanwhile, Pitchero Non-League reports that "Hinckley United have confirmed reports that there have been on-going discussions with npower League One outfit Coventry City. The Sky Blues revealed that it had commenced the process of making contact with other football clubs to evaluate if their stadiums meet our requirements should negotiations with ACL fail to reach a mutually agreed position on the rent with the result that CCFC is forced to move away from the Ricoh Arena to a new venue.

Hinckley United have had a long standing relationship with Coventry City and many other local clubs and those relationships includes the provision of any viable support which in the past has included pre-season matches which supporters of both clubs have enjoyed over the years. That mutual support will hopefully continue to ensure the future of football at all levels locally."
---
13 December 2012
FIXTURE CHANGE
The game between Droylsden and Altrincham that was postponed last Tuesday is now scheduled to take place on Tuesday 15 January at 7.45pm.
LEE'S VIEW
John Edwards, Altrincham FC's joint Press and Media Officer, writes:

"Lee Sinnott has defended his handling of Duncan Watmore and insisted Altrincham will benefit from carefully 'nurturing' one of their brightest prospects for many years.

A dominant Alty did everything but score in a 1-0 defeat by Gainsborough Trinity, but a section of the home crowd still voiced their disapproval at 18-year old Watmore being held back until midway through the second half.

'I fully respect the supporters' views, but they don't always know what is going on behind the scenes,' said Alty boss Sinnott. 'We all know what Duncan is capable of, with those wonderful mazy runs, but other things come into the equation.

'For one, he has had a growing spurt just recently, which obviously affects his physical condition. He has been doing calf-stretching exercises to try and guard against any muscle strains along the way, but these are things that happen with a lad his age.

'He has gone up an inch or two in height and filled out a bit. It is part of growing up, and another part is making sure his development and involvement on the pitch is governed properly. The easiest thing would be to play him six or seven games on the bounce, 90 minutes at a time, and bury him into the ground, but that would hardly be in his long-term interests.

'This is his first full season, and he has already had a lot of games. I would say he is a better and stronger player now than at the start of the season, and, another four months down the line, he is going to be even better.

'It is stepping stones when you've got a young lad still acclimatising to changes in his physical condition, and we will take them one at a time. I'm not going to overuse Duncan and run the risk of injuries hampering his development. You have to realise that, at this early stage, he hasn't got the physical strength of a player in his late 20s.

'There are other considerations, too. He is still learning about things like positional play and the defensive aspect of his game when he plays on the right. The natural progression for him will be to play through the middle, but for now, he is doing both. He has made a great contribution already, but we have to nurture him, and he appreciates that. We have had lots of chats about that and will continue to.

'I accept that people will always ask why didn't you do this or why didn't you do that, but I have to make a judgement based on what I think is right for the club and the player.'

Sinnott was left to rue the way a succession of chances, in a performance that included an impressive debut for his on-loan son Jordan, seemed to fall to anyone but leading marksman Damian Reeves.

'That was the first time we have failed to score in 16 league games this season,' he said. 'Clearly, you'd be a happy man if you could score in every game you play, but if you do suffer a blank, you at least want to come away with a 0-0.

'In that respect, having looked at the goal they scored, I think we could have done a bit better. There was a bit of a deflection that took the ball into the path of the scorer, but given how well we defended generally, it was disappointing we didn't deal with that particular situation better.

'But, to be fair, their keeper was man of the match after having one of those games where things are just hitting him from point-blank range. There were aspects that left a bit to be desired, such as trying to shoot from too far out too often. You can do that once or twice, but half-a-dozen times is too much. But over the 90 minutes, I felt we actually played better than we did at their place, when we won 4-2. That's football logic for you.

'If we keep playing like that, though, we will come out victorious more often than not, because we were up against a decent team who were in the play-offs last season and we dominated. The result is paramount, of course, and it is just a shame not one good opportunity fell to Damian.

'From the first couple of minutes, when Jordan went through and had a left-foot shot saved by the keeper's outstretched foot, to the dying seconds, when Paddy Lacey went so close with a shot and header, we were creating good openings. There are no guarantees, but knowing what Damian is like, it could have been a different story if just one or two had fallen his way.

'It was really frustrating, but you can only put it down to one of those days and move on. No one is trying to claim we are the finished article, but we are evolving. There are some good components in what is quite a young squad, and while we are examining ways to improve all the time, I believe we are moving in the right direction.

'If you look at our home results, they has let us down, but we are capable, without a shadow of a doubt, of stringing results together.

'With Danny Mitchley going out on loan to get some games under his belt, it was a good opportunity to bring in Jordan on loan, and he has settled in well. Regardless of his surname, he will be subject to the same rules as everyone else, but I thought you could tell he had come from a professional club from the way he hardly wasted a ball. He was getting in good positions, and I thought it was a decent start for him.'

Sinnott explained his stance on naming substitutes, after Alty failed to field a full complement against Gainsborough.

'I'm not against the idea of having a youth team player on the bench for experience, and I will have a look at that,' he said. 'But you can only put three on the pitch, and I am always looking over my shoulder and thinking who can go on and make a difference. That is my priority for substitutes, rather than just looking to make up the numbers, but I'll give it some thought.'

On the injury front, Simon Richman misses Saturday's trip to Brackley through illness, but James Lawrie (foot) and Ryan Brooke (groin) should be available.

'Simon is available again after suspension[?] but is suffering from an ear, nose and throat infection,' added Sinnott. 'I think the Halifax game next Tuesday is the earliest we can hope to have him back. Ryan felt a slight niggle in his groin, but should be ok, while James has had another week to get over bruising on his foot and is 95 per cent there'".
WYTHENSHAWE FM
Brian Flynn advises us that "Kevin Thompson's interview with Lee Sinnott, following Saturday's game against Gainsborough, is available here. "The interview was broadcast on the WFM Sports Talk Show on Wythenshawe FM on Tuesday".
BSBN NEWS
According to the Halifax Courier, "Neil Aspin admits he feels for top scorer Dale Johnson after the striker limped out of Town's win at Worcester. Johnson went down clutching his ankle in the first half as he cleared a corner from inside his own six yard box. After several minutes of treatment he was helped off the pitch and straight into the Town dressing room.

Aspin said afterwards that the injury looked like medial ligament damage, meaning Johnson could be out for several weeks at a time when the Shaymen face a huge number of fixtures.

'It's unfortunate because he looks like he's done his medial ligament which means he will be out for a few weeks', he said. 'No player wants to get injured and I feel for Dale. He's had a lot of injuries in his career'".

The Huddersfield Daily Examiner says that "FC Halifax Town accept both their players and pitch face a tough test over the next three months.

With fixtures already piling up – Neil Aspin's fifth-placed Blue Square North side have played four fewer games than leaders Chester – Shay chiefs are desperate Saturday's FA Trophy second-round home clash with Maidstone United goes ahead.

It would be helpful to avoid a replay as well, because Tuesday's scheduled league visit of Altrincham [it's actually at Alty not at Halifax] is the first of eight midweek matches between now and the end of February.

Halifax also have to fit in a West Riding FA County Cup second-round home clash with Ossett Town. The club have played only seven league games on a Shay pitch which is owned and maintained by Calderdale Council and will soon be used for rugby league matches as well, and director Bobby Ham admits that's a big frustration.

'We can't control the weather, but the pitch does have a drainage problem', he said. 'It's difficult to find space to do the necessary improvement work between the football and rugby seasons. Losing games is a problem, because we still have to pay the players and the bills, even though there are no gate receipts'.

Halifax are seeking an eighth straight win in all competitions against Maidstone".

According to the Football Conference "Luke Denson is back at Colwyn Bay, on loan from rivals Chester FC until the end of the season. The 21-year-old defender joined Chester earlier this season after three successful years with the Bay, but has struggled to stake a regular place in Neil Young's table-topping side and has been hampered by injury.

Seagulls' player-boss Jon Newby commented, 'It wasn't something we were pursuing, but he was offered to us by Chester this week and we felt that to have someone of his quality back in the squad was too good an opportunity to turn down'".

A report in Pitchero Non-League, says "Gainsborough Trinity have signed former Manchester United and Middlesbrough midfielder Mark Wilson. Wilson made his debut for United in October 1998 in a League Cup tie against Bury.

In 2001, he joined Middlesbrough in a deal worth around £1.5 million and played sixteen times for Boro as well as having loan spells with Stoke, Swansea, Sheffield Wednesday and Doncaster Rovers, where he played between 2006 and 2012 after a stint in the United States with FC Dallas...

Wilson was released from Oxford at the end of last season. Wilson, 33, is accused of conspiring with seven others, including Ipswich`s Michael Chopra and Doncaster's James Coppinger and jockey Andrew Heffernan to fix horse races by the British Horseracing Authority...

If found guilty Wilson could face a ban from all involvement with racing for several years".

The Worcester News tells us that "An ambitious scheme to sell season tickets for just £100 could be launched by Worcester City in a bid to attract more supporters.

City are considering the cut-price tickets to generate as much money as possible for when they leave St George's Lane in June. It is hoped fans would snap up the cheap passes to watch Carl Heeley's team during the 2013/14 campaign, likely to be at Kidderminster Harriers...

A full-priced adult season ticket in the main stand at Worcester this term was £252... Said director Rich Widdowson... 'If they pay £100 and we can get enough people to do it, we will survive there (Harriers)... Next season is not about how many people come, it's about how many people support the club... My brother is a prime example. He doesn't really watch the City but he's been to about eight games this season and he's brought three or four of his mates. They've all said if we did they'd buy a ticket but they wouldn't come every week'...

He added,'We'd definitely have to sell over a 1,000 to 1,500 tickets. We don't get that at home but there's a lot of people who support the club without coming to the game every week. Hartlepool did it a while ago and they sold about 5,500... City are currently enjoying some bumper crowds at the Lane, with 1,032 turning up for last Saturday's 1-0 defeat to... Halifax...

City have also launched the Gold Bond Weekly Draw to raise funds. Run nationally by Blackpool FC, It costs a minimum of £1 per week, 70p of which goes to the club, for seven chances to win a weekly jackpot of £2,000".
---
12 December 2012
CHRISTMAS AT ALTRINCHAM FC
The following ventures are on offer this Christmas at Altrincham FC.Please do consider all of them as they raise important funds for the Football Club...
Half Season Tickets
What better present for a true Alty fan than a season ticket for the remainder of the 2012-13 season? The tickets will run from January 1st, 2013 till April 27th, 2013 to include a minimum of 11 home Blue Square Bet North games. The cost will be:-
Standing – Adult £115, Concessions - £60
Seating – Adult £135, Concessions - £65

Please phone Derek Wilshaw, Karen Rowley or Jenny Heslop in the office for further details on (0161) 928-1045
An evening with Paul Merson
Another great idea for Christmas for the man who has everything – a ticket to see Paul Merson at the Cresta Court on Thursday 21st February 2013. There will be a four-course meal, a comedian, an auction and a raffle, all for £40 per head. Again, for further details or to book your place please, please contact the office or email Altrincham FC.
Join the Alty Football Pontoon, 2013
With Christmas almost upon us, our sights must be set on attaining a play-off place in 2013. With this in mind we are proposing to run a football pontoon, starting on Friday 1st February 2013. To play it will cost you the princely sum of £10 and the winner will receive a minimum of £100 in cash.

The rules are simple...
You pick one random team out of a hat and that is your team for the duration of the competition. Premiership, Championship, League 1 & 2 and Blue Square teams available.
Your team has to be the first team to score EXACTLY 21 goals for you to win
If your team goes over 21 goals, you are bust!
Only competitive games (League or FA Cup games) played on a Friday, Saturday, Sunday or Monday count towards the goal total
If more than one team reaches exactly 21 goals on the same day the prize money will be shared
If a particular weekend's matches are lacking any teams, due to postponements or blank fixtures, those teams will be awarded 2 goals
International weekends do not count towards scoring.
An updated table showing each person's team and how they are doing will be posted on the website and in the programme as soon as possible. Let me know if you wish to join up for this exciting game of Pontoon. If you have any questions, please do not hesitate to phone me on 07720-606897 or e-mail me.

Many thanks for your support.

Grahame Rowley
ALTRINCHAM FC FOOTBALL EDUCATION PROGRAMME
The Altrincham FC Football Education Programme is pleased to announce that the first round of trials for the September 2013 intake will be held early in the New Year. To register for the trials, please phone Steven Mort, Programme Director on 07540 418599 or e-mail him (at info@interactivecompany.co.uk).

You can click on the image below for a larger-sized version of the Football Education Programme brochure in MS Word format...
Further details of the scheme are on the Football Education Programme page.
BRACKLEY NEXT
Alty's next match is away at Brackley Town on Saturday- a new venue for The Robins. Details of Brackley's location and parking arrangements are on their website.

TASC is running supporters' transport, details of which are on the Away Travel page, along with details of our Boxing Day trip to Stalybridge Celtic. Please book early for these trips to avoid disappointment.
SATURDAY YANKEE JACKPOT
The winning code in last week's Saturday Yankee races was 9214, which was unissued. So, the jackpot now rises to £3,900, which can be won for a £1 stake. Last week one member won £200 for a winning treble. Details of the Yankee scheme, which raises important funds for the Club, are here.
CLUB TIES
A new supply of Altrincham FC ties (shown, right) has been delivered to Moss Lane; please contact the club if you would like to buy one... on (0161) 928-1045 or by e-mail.
PROMISING YOUNG PLAYERS
In the Manchester Evening News, before the game was postponed, we read that "Altrincham boss Lee Sinnott is looking for his team to return to the goals when they travel across Manchester to Droylsden tonight. The Robins did not score in a league game for the first time this season on Saturday, when they went down 1-0 to fellow promotion-chasers Gainsborough.

Left: Damian Reeves and Jordan Sinnott form a two-man wall against Gainsborough as Jake Moult and Shaun Densmore take up their defensive positions, too.

'We failed to score in a league game for the first time this season which is disappointing', said Sinnott. 'But it had to happen at some time. It would be great to score in all 42 league matches but, realistically, it isn't going to happen'.

Alty are bolstered by the signing of Sinnott's 18-year-old son Jordan on a month's loan from Huddersfield Town, while another young star, Scott Leather, has signed a contract extension. 'I'm pleased because the young lads like Scott and Duncan Watmore are showing promise, so it is nice to secure them for the future'. Simon Richman will miss the trip to the Butchers Arms with an infection, but Danny Hall is available for selection following a suspension".
BSBN NEWS
BSBN reports that "Derby County defender Stefan Galinski is hopeful of returning to Corby Town on loan in January. The 19-year-old initially joined for a month, before having that extended to the maximum three-month period allowed. He will now have to wait until the transfer window opens in January before he makes a possible return.

A Polish youth international, who is in his first year as a professional at Pride Park after captaining the academy team, [he] has done well at Steel Park with his arrival coinciding with that of Chris Plummer and an upturn in fortunes for the club. Galinski told the Northamptonshire Telegraph, 'With the loan window being shut until January 1, it means I can't go anywhere. I will have a month of not doing much and that is disappointing because the Christmas period is a busy time and I wanted to be part of that with Corby. If I am going to go anywhere in January I need to keep myself fit and that is what I will be doing.

I think the chances of me coming back to Corby are good. The gaffer (Plummer) has already been in contact with them. But I need to know where I am at in my own development and I need Derby to tell me that... I have had a great time at Corby and all the people have been brilliant. When I first got told I was coming here, I wasn't sure what to expect because I had never been to a non-League club before. But from my experiences here you can see that everyone is behind the club and trying to help it move forward. For a young lad like me, it has been great to be part of it.

I have been able to see the amount of work that goes into running a club like this and that is something you don't see at bigger clubs. There are people who take time out of their own lives to help and they don't ask for any money. They do it for the love of the club. And I have probably enjoyed that more than anything, the people around the club have been fantastic'".

From EDP24, we learn that "Gary Setchell has moved to quell speculation he could be on his way out of The Walks - by insisting he hasn't applied for the Boston United job. The King's Lynn Town boss has been strongly tipped as one of the favourites to fill the Blue Square North club's vacant managerial position after Jason Lee was sacked last week.

However, Setchell claims he isn't one of the supposed 20 applicants for the Pilgrims' post... 'I'd like to go on record to say I haven't applied for the job and I'd also like to say that nobody has approached me or, to my knowledge, the club', said Setchell. 'I'm very proud to be in charge of King's Lynn Town. I'm a young manager at a big club who has a lot to learn but I feel I'm good enough to get Lynn into the play-offs. Am I flattered to have been linked to the Boston job? Yes. It means I must be doing something right. But I'm not looking to jump ship'".

Meanwhile the Boston Standard tells us that "Caretaker boss Graham Hyde described his Boston United side as 'shambolic' after they lost 4-0 at Vauxhall Motors on Saturday. All four goals came inside the opening 34 minutes - and Hyde believes it was far from the right response after the sacking of Jason Lee.

He said, 'In the first half we were shambolic as a team. We were feeling sorry for ourselves and waiting for them to score. It's been a difficult week, but I wanted them to turn up and be difficult to play against and we never had that'. The Pilgrims' winless run stretched to seven matches after a first-half horror show.

In the warm-up keeper Dan Haystead pulled up with a foot injury, to be replaced by Ricky Drury."
NORTH-WEST NEWS
Welsh Premier confirms that "An unnamed Welsh club has made a bid to join the English pyramid system according to the Non League Paper. John Deal, secretary of the North West Counties Football League (NWCL), told the paper that they had received enquiries for membership from an Isle of Man side, Widnes Vikings FC and a Welsh club, but the bid from the latter would be unlikely to succeed as it would be 'in breach of FIFA rules'.

'FIFA regulations state that a club must play in the country of their national association, although how that applies when a considerable number of Welsh clubs play in the English system already is rather strange', Deal told the NLP. It is the second season running that a Welsh club has applied to the NWCL and it is not specified whether the club is in the Welsh Premier or the Huws Gray Alliance".
---
11 December 2012
MATCH OFF
Following a pitch inspection, tonight's match at Droylsden against Altrincham has been postponed.
ALTRINCHAM AFC AGM
Altrincham AFC held its AGM on Monday evening. This confirmed that a surplus of £2,569 was achieved in the financial year to 31 May 2012. This out-turn contrasted with a deficit on £61,924 when Alty were relegated from the national Conference. Chairman Grahame Rowley highlighted how the past year's satisfactory outcome had arisen despite a 25% drop in revenue. "The club is back on a stable footing", stated the chairman. As well as being achieved through hard work in fundraising and sponsorship ventures, the financial turnaround had been helped by a reduction in playing squad wages and in travelling costs following relegation.

Board member Paul Daine was re-elected for a further three years and chartered accountants Milner Boardman were re-engaged for a further year.

In response to questions from the floor, Grahame Rowley confirmed that the lease on Moss Lane still had seventeen years to run. He also responded to a query about the use of this season's FA Cup prize money. After emphasizing that a balance needed to be achieved between giving support to the existing squad and bringing in new players, Grahame and Paul confirmed that the manager, Lee Sinnott, had been made aware that, if he saw fit, funds were available to strengthen the team.
THANK YOU
Saturday's half-time bucket collection by TASC raised £55.28, for which the club thanks all concerned.
LADIES' GAME
Altrincham FC Ladies'next game is away from home, as detailed in the adjacent image.
INTERVIEW WITH LEE
Alty's joint Media and Press Officer, Brian Flynn, advises us that "Lee Sinnott was interviewed, after last Saturday's game against Gainsborough Trinity, by Wythenshawe FM's Kevin Thompson. You can hear the interview on the WFM Sports Talk Show, which is broadcast on Tuesday morning from 11.00am to noon. The interview is scheduled for 11.15am and you can listen on 97.2FM or online.
GAINSBOROUGH MATCH COMMENTARY
The Radio Robins commentary files from Saturday's match against Gainsborough Trinity are below:-
Second half
BSBN NEWS
BSBN reports that "Worcester City manager Carl Heeley has confirmed that Alex Meechan has been released by the club. The 32-year-old striker failed to make a single appearance for the Loyals since joining from league rivals Harrogate Town in October". [He played against Alty and according to Football Webpages actually made five league starts for City].

Heeley had to make space in his squad following the loan arrivals of Birmingham City forward Kyle Patterson and Nuneaton Town centre-back Graham Hutchison, meaning there was no place for Meechan. The 43-year-old tactician told Worcester News, 'I've got a budget to stick to so unfortunately Meech has been the one that's had to go. It's not a nice thing to do, it's not something you enjoy in the game but we've got to balance the books and unfortunately there has to be a casualty'.

However, Heeley hailed the performance of new boy Patterson, who was handed his full debut up front in the 1-0 home defeat to FC Halifax Town on Saturday. He added, 'I think we saw the benefit of giving him time on the pitch, I thought his work-rate was superb and at times his positions warranted a better final ball and it didn't come'".

"David Newton, chairman of Boston United, wants to appoint Jason Lee's successor ahead of Saturday's home clash with Droylsden" according to This is Lincs. "Newton has... confirmed he has received around 20 applications and is planning to interview four or five candidates.

'We've had some good applicants in and we expect that to increase', said Newton. 'We're not going to rush into it. It would be great to have someone in for Saturday and that is the aim but we will be measured in what we do. With a bit of luck we'll be interviewing this week and have someone in (before Saturday). If not, we'll do it the following week'.

Current candidates include former Histon boss Dennis Greene, ex-Grantham Town joint-managers Jimmy Albans and Wayne Hallcro and current King's Lynn chief Gary Setchell. Lee's assistant Graham Hyde has been placed in temporary charge of team affairs. He is still weighing up whether to apply, but has received Lee's backing. Hyde does have managerial experience having been in charge at Redditch",

Pitchero Non-League says that "Belper Town have signed Rory Coleman from Hinckley United. Coleman signed for Hinckley in September 2012 from NPL Premier Division side Matlock Town. He started at Gainsborough Trinity before moving to Scunthorpe United. He was loaned out to Harrogate Town and Boston United before being released and signing for Matlock".

In the Banbury Guardian, we read that "Brackley Town boss Jon Brady had no complaints after seeing his side's unbeaten record ended by Blue Square Bet North leaders Chester...

'Chester were excellent and the final scoreline flattered us', said Brady. 'They were strong in all departments and their front two really worked hard and pressed the ball well. Once they got on the ball they showed a lot of composure but we were very naive for their goals. We showed them too much respect but Chester worked so hard and if we can work half as much as they did then we would do a lot better. Not playing last week didn't help us and that meant we weren't as sharp but no excuces, Chester were better in all departments. A big crowd turned up but my players didn't'".

And Buckingham Today adds that "Chester FC underlined their promotion credential[s] with an accomplished display to beat Brackley Town 3-2... Brackley's inability to deal with crosses was their downfall... The score line was a false reflection on the balance of play with Chester dominant before a quick-fire brace from Steve Diggin set up a frenetic finale...

Chester outclassed the Saints in every department in a showing that surely makes them nailed-on for promotion". Brackley host Altrincham on Saturday. Their side against Chester FC was: Turley, Corcoran, Austin, Solkhon (c), McDonald, Story (Winters 45), Nisevic, Odhiambo (Sandy 65), Walker, Diggin, Robinson (Mulligan 65). Subs not used: Clifton, Laurie Walker'

Meanwhile, the Chester Chronicle says that "Rival managers Neil Young and Jon Brady were united in agreement that the margin of Chester FC's 3-2 victory in Saturday's top-of-the-table clash flattered Brackley Town. Relentless Chester, whose seventh straight success maintained their six-point lead over second-placed Guiseley, completely bossed the battle of the title rivals...

Blues' boss Young said, 'The scoreline flattered them. We knew we were coming to a very good side, who like us have been promoted and are having a great start to the season. It was always going to be a physical battle but I thought our lads were excellent'...

Young hailed centre-backs Horan and Paul Linwood and man-of-the-match Hankin as 'outstanding'. But he saved his biggest praise for superb midfielder Ashley Williams, who is back to the form he was showing at the start of the campaign. Young, who has now guided the Blues to an incredible 16 wins from their opening 18 matches, said, '"He's been excellent for the last three weeks. He's had big changes in his life, with him becoming a father and moving to a new house, and you have to remember he's only a young lad... In the last few games he has been head and shoulders above'.

Brady was impressed with the Chester front pairing of Jarman and Mills".
---
10 December 2012
2013 CALENDAR
Gavin Rathbone has again produced an excellent Altrincham FC full-colour calendar, which is available in two formats, of which the smaller is A4. As well as including many excellent action images of the Alty squad, there are some interesting facts about each player. Amongst these, you can learn which player helped his mother deliver his own brother, and which players were "extras" in, respectively, "Billy Elliot" and the programme "Sinchron City"! You can get your copy in the Robins' Shop or by contacting the club on 0161 928-1045.

The calendar costs £8 (smaller format) or £10 (larger size).
NEXT GAME
Alty travel to the Butcher's Arms on Tuesday. Droylsden's squad for their last match at home to Bishop's Stortford included several Alty old boys: Dale Latham, Nathaniel Kerr, Shaun Holden, Ashley Palmer, Alex Coleman, Robert Sissons, Lee Rick, Steve Hall, James Ellison, Joe O'Neill, Carlos Logan, Andy Langford, Antonio Bryan, Joe Jacombs, Lewis Killeen, Adam Evans.

Kerr, O'Neill, Logan and Bryan have all worn the Alty strip as players or trialists.
KENNY, A "LEGEND"
The subject of Brian Flynn's latest "Flynnzine" is Moss Lane's legendary supporter, Kenny Palin.
Left: Rocky Robin greets Kenny at Timperley Cricket Club, during this year's Altrincham Festival parade.
Brian writes...
"Get yer subs on!"
What an entertaining day November 17th was. A hugely impressive 8-0 defeat of Hinckley United, here at Moss Lane, was preceded by the opportunity for me to interview one of Altrincham Football Club's greatest ever characters, the one and only Mister Kenneth Palin.
Kenny was born a couple of months after the end of the Second World War, on October 31st 1945 and started watching Altrincham in 1966. One of his earliest memories is of Jackie Swindells scoring seven goals in an 8-1 victory over Chester reserves in The Cheshire League.
He's been at all of our famous cup games down through the years since then but left Anfield in 1981 with the score at 3-1, missing Liverpool's final goal, to go and find the coach. 'I'd had enough', said the 67 year-old, who has lived in Timperley for most of his life.
Kenny is no slave to social mores, citing the former homes of Northwich Victoria and Witton Albion - the Drill Field and The Central Ground - as two of his favourite stadiums down through the years.
His favourite player, since starting his love affair with the club, is John King. 'When John King was here, I used to sing to the players in the dressing room before the game'. The boy Palin is a real activist, it's not just Alty that he watches, but he's a regular at Trafford, Glossop North End and Cheadle Town, as well as Timperley Cricket Club.
One of my most enduring memories of Kenny is from the Altrincham Festival Parade about five or six years ago. Kenny walked the whole route, which takes about an hour and a half, and we didn't go more than thirty seconds in that time without someone piping up 'There's Kenny', 'Hi, Kenny' or something similar, such is the popularity of one of the town's favourite ever sons!
He's had his fair share of health challenges, throughout his life, but he just gets on with things, including recently recovering from cancer of the gullet.
We don't hear it these days very much, but Kenny will go down in history at this football club for his immortal 'Zigger Zagger... Zigger Zagger, Alt...trinc...ham' chant and Kenny obliged during our discussion by treating everyone in the Noel White Suite to a short rendition of his personal anthem. He has no idea where it came from.
I'm sure that we all have our own favourite story about Kenny and we might just feature the odd one in future articles.
For now though, let's just salute one of our favourite sons, a man who says 'I enjoy this football club because I've got a lot of friends' and that's what makes him happy.
What a legend!"
THANK YOU
Anyone in attendance at the game or Race Night at Moss Lane will have been aware of the presence of Alty coach Ian Senior's mates from Greenmount Cricket Club in Bury. Ian says that his friends "would like to send their sincere thanks for a great day at yesterday's match, starting with pre-match refreshments in the Manchester Glass Sponsors' Lounge and carrying on with The Race Night after the match. Massive thanks to everyone at the club!"

Ian and his friends are pictured, left.
OLD BOYS
"Warrington Town recovered from going a goal behind to secure a 3-1 win over Bamber Bridge in the Evo-Stik League Division One North on Saturday... John Miles completed the win for Warrington with two goals, the first in the 25th minute and the second one six minutes from time" reports the EvoStik League.

We reported recently that former Alty youth and reserve Ben Deegan had seen his career ended by a bad injury. More details come from the EvoStik League, which reports that "FC United of Manchester`s fans counting down to Friday's Ben Deegan Benefit Night say donations are still coming in for their former midfielder after a horrific injury left him struggling to support his young family. Deegan was a key member of FC United's headline-grabbing 2010 FA Cup side and their First and Second Round opponents Rochdale and Brighton are the latest clubs to send in signed shirts and other memorabilia for a charity auction supporters are organising.

Right: Ben in his Alty days.

FC United manager Karl Marginson and many of Deegan's former team-mates are attending the event to support the 24-year-old Ashton United striker who suffered a sickening leg injury – a compound tibia and fibula fracture of his right leg - playing in a Sunday League match back in October. Deegan has been unable to work since and the Moston Branch of FC United are organising the fundraising night at their FC Lounge after learning that the fans' favourite is trying to support his partner and seven month-old son on statutory sick pay.

Moston Branch committee member Dave Bonner is appealling for other NPL clubs to help raise funds for the popular player by sending in signed shirts of their own or other prizes this week. He said, 'All supporters of FC United still see Ben as one of our own and donated shirts from other clubs will be raffled or auctioned with all proceeds aiding Ben's Fund'".

For Marine on Saturday, two ex-Alty men were on the bench - Robbie Lawton and Paul Jones - but recent loanee from Moss Lane, Danny Mitchley, was not in the squad.
BSBN NEWS
"Bishop's Stortford have signed defender Adam Bailey-Dennis. The 22-year-old defender has been released by struggling neighbours Braintree Town. He joined the Blues ahead of their trip to Droylsden on Saturday. Bailey-Dennis had been with Braintree since 2009 and prior to that was part of the reserves at Colchester United".
---
9 December 2012
11 GOALS IN AN INCIDENT-PACKED MATCH
Today's Alty Youth v Lancaster City game at Clay Lane in the NWYA Open Cup ended up as an 8-3 win for the Robins! Match report in the youth section.
RACE NIGHT AND MEET THE PLAYERS
After Saturday's game at Moss Lane, TASC and the Club put on a Race Night and Meet the New and Old Players event in the bar. The players in question were Nicky Clee, Stuart Coburn, Scott Leather and Duncan Watmore, who all answered questions put to them from the audience, through compere Brian Flynn. Brian later caused consternation when he unwittingly dropped hundreds of raffle tickets all over the floor but, nevertheless, a prize draw was successfully completed. Catering manager Richie Bentley kept everyone well fed with his tasty sausage and bacon barm cakes whilst Jenny Heslop and her team provided the liquid refreshments with their customary efficiency.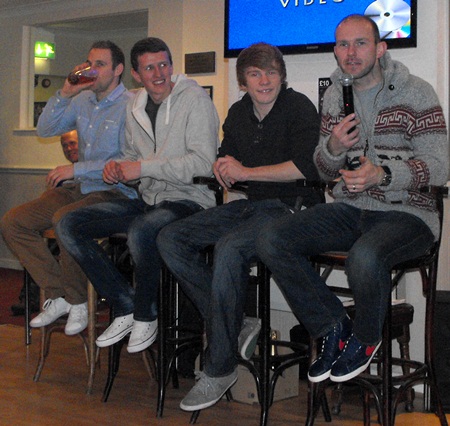 Right: Nicky Clee, Scott Leather, Duncan Watmore and Stuart Coburn made up the players' panel.
Questions posed to the players' panel led to discussions about the merits of having everyone back in one's own penalty area for corners and how best to counteract the sort of direct play used by Gainsborough. The four players also talked about their best moments in football. For Nicky Clee the highlights included his first appearance this season in the FA Cup First Round proper after ten seasons in the competition.
The panel, and especially Stuart Coburn, were also on the end of some searching questions from Kenny Palin, not least his query as to what the players did in their spare time. Duncan is studying at Manchester University, Scott is doing an engineering course, Nicky works in a finance office whilst Stuart manages a hire shop in Altrincham.
An entertaining evening was had by all, despite Brian having to act as Peter O'Sullevan in providing race commentary when the sound system played up at the start of the evening. George Heslop acted as Race Night compere, taking his customary opportunity to take a pop at all the race and horse sponsors.
ALTY 0 GAINSBOROUGH TRINITY 1
After Saturday's game, Gainsborough Trinity admitted that "A real smash and grab raid at Altrincham saw Gainsborough Trinity return from Cheshire with all three points. The home side dominated at times, but Trinity defended well and managed a break-away goal from Bradley Barraclough midway through the second half to earn a valuable win for Steve Housham's side...

Trinity started the second half well, creating chances with a number of forrays forward. But the home side hit back, however they were restricted to long range efforts by a hard working Trinity defence. Half an hour into the second half, Trinity took the lead. A move down the left saw Knowles feed substitute Brad Barraclough who showed great feet to beat two defenders and score in the corner.

A good number of Trinity fans had a scare when James Lawrie's volley went just wide with 14 minutes to go. Then Watmore's header fell just short and man of the match Budtz was able to smother. That man Budtz was at it again five minutes from time when he saved a point-blank header from Patrick Lacey as Althrincham threw everything at the visitors.

Lacey had a chance to level the game with the last kick but his volley from three yards went harmlessly to, who else, but Budtz".
GATES
BSBN attendances on Saturday were:
Altrincham v Gainsborough Trinity 728
Brackley Town v Chester 1,155
Colwyn Bay v Harrogate Town 322
Corby Town v Hinckley United 300
Droylsden v Bishop's Stortford 195
Gloucester City v Workington 230
Guiseley v Histon 484
Solihull Moors v Stalybridge Celtic 202
Vauxhall Motors v Boston United 172
Worcester City v FC Halifax Town 1,032
OPERATIONS
All at Altrincham FC wish former manager and player Graham Heathcote well after his hip replacement operation last Thursday.

Meanwhile, current manager Lee Sinnott and his assistant Neil Tolson, both await knee operations, with Neil forced to sit out yesterday's Crossbar Challenge against Ian Senior because of his injury. Altrincham FC catering manager Richie Bentley stepped in but Ian won the contest before yesterday's match against Gainsborough.
FIXTURES
BSBN next week...

Tue. 11 Dec.
Droylsden v Altrincham
Through the Years by Howard Watts

Sat. 15 Dec.
Boston United v Droylsden
Brackley Town v Altrincham
Chester FC v Bishops Stortford
Colwyn Bay v Histon
Harrogate Town v Hinckley United
Stalybridge Celtic v Workington
Vauxhall Motors v Gloucester City
Worcester City v Bradford Park Avenue

FA Cup next week...

Tue 11 Dec
Barrow v Macclesfield Town

Wed 12 Dec.
Mansfield Town v Lincoln City

Thu 13 Dec.
Hastings United v Harrogate Town

FA Carlsberg Trophy next week...

Sat. 15 Dec.
Bromley v Kidderminster Harriers
Cambridge United v Gateshead
Chesham United v Barrow
Dartford v Tonbridge Angels
FC Halifax Town v Maidstone United
Forest Green Rovers v Gainsborough Trinity
Grimsby Town v Havant & Waterlooville
Hereford United v tbc
Kings Lynn v AFC Telford Utd
Matlock Town v Luton Town
Skelmersdale United v Guiseley
Stockport County v Southport
Tamworth v Corby Town FC
Woking v Welling United
Wrexham v Solihull Moors
---
8 December 2012
ALTY 0 GAINSBOROUGH TRINITY 1
Apart for a ten-minute spell midway through the half during which Stamp shot wide when he should have scored, Altrincham were the better side in a goalless first-half. Some wild shooting by Brooke and Lacey offset some good approach play by Alty with Sinnott having a promising debut.

In a second half played in pouring rain the deadlock continued, with few real chances. Then, against the run of play, Barraclough jinked into space and scored with a low shot (74 mins). Alty dominated the closing stages but could not score and paid the price for failing to take any of their chances.
Alty line-ups
RESULTS
Saturday, 8 December
Altrincham 0 Gainsborough Trinity 1
Brackley Town 2 Chester FC 3
Bradford Park Avenue v Oxford City OFF
Colwyn Bay 1 Harrogate Town 2
Corby Town 5 Hinckley United 3
Droylsden 1 Bishop's Stortford 2
Gloucester City 0 Workington 1
Guiseley 2 Histon 1
Solihull Moors 1 Stalybridge Celtic 0
Vauxhall Motors 4 Boston United 0
Worcester City 0 FC Halifax Town 1
Through the Years.
SATURDAY ENTERTAINMENT
TASC's Steve Foster writes:

Race night and 'the new and old' event

"Altrincham Football Club will be holding a Christmas Race Night on Saturday 8th December following the game against Gainsborough Trinity. The night will comprise a race night with, in the middle, the chance to meet "the new and the old", for which we have asked four fans' favourites to appear. This part of the event will be in the form of a questions and answers session with Stuart Coburn, Nicky Clee, Duncan Watmore and Scott Leather. To try to get maximum numbers along, entry is free, complimentary race cards will be provided, and bacon and/or sausage sandwiches will be available to purchase in the bar after the game.

We hope to be under starters orders for the first race at 6.30pm. On the night, betting on the races costs 50p per ticket and you can buy as many (or as few) tickets as you like. Come along, support your club and have an enjoyable night!"
NEW SCARVES!
Brian Flynn writes:
Limited Edition Red and Aqua Scarves
Just in time for Christmas, a new limited edition Altrincham F.C. scarf will be available from the Club Shop at Saturday's game against Gainsborough Trinity.
The scarves depict our home and away colours, red on one side and aqua on the other. Just fifty have been made and the scarves feature two stars to represent the two occasions that Altrincham won the Conference. The scarves also celebrate our Cheshire identity and, of course, a Robin!
The scarves were the brainchild of Iain Hepworth, an Altrincham fan and TASC member, and this is a really good example of a supporter coming up with an idea and then seeing it through. Iain took responsibility for the design, production and delivery of the scarves on behalf of TASC (The Altrincham Supporters' Club) and we would like to express our grateful thanks for that.
The scarves are priced at £10 each".
TRINITY VERY CONFIDENT
According to This is Lincs "Two of Blue Square North's most lethal marksmen will be on show at Moss Lane on Saturday. Gainsborough Trinity striker Dominic Knowles will be part of Steve Housham's squad... But the home side will also have some firepower at their disposal with the league's leading scorer Dominic [Damian!] Reeves expected to lead their line...

'I have not come up against Damian Reeves, as yet, but I have heard a lot about him', said Knowles... 'The boss (Steve Housham) will have his plans for how we set up for the match and he will tell us what he expects from us nearer the game. But our defenders are good enough to do their job on Saturday. I don't think we have to take special measures to deal with any particular player'.

The former Burnley striker will arrive in Cheshire with a growing reputation himself. Knowles is now Trinity's leading scorer after hitting ten goals in all competitions and with the team's confidence growing with every game, he believes Trinity will give Altrincham's defenders plenty to worry about.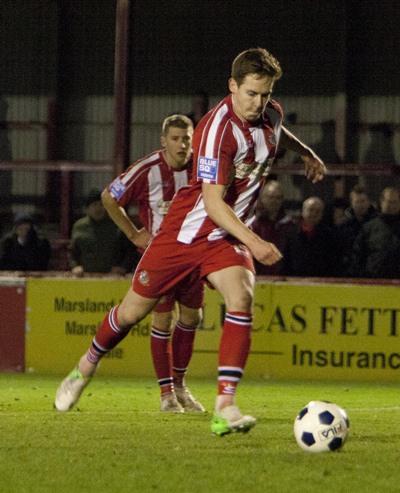 Right: Ryan Brooke is a model of concentration as he puts way his penalty against Hinckley United. The image is courtesy of Gavin Rathbone of GR Photography
'If I am scoring lots of goals, then it means the team is doing well', added Knowles. 'I am not going to say I will score but I will say the chances will come against Altrincham. We are playing very well and creating chances which, thankfully, we have been able to put away. I set myself a target of reaching double figures when I signed for Trinity and I have done that, so I need to set my goals even higher now. I don't look at the goal scoring charts very often, but if I do and I see my name creeping up towards the top, it gives me confidence to go on and score more.
I am really enjoying it at Trinity. I would like to play in the Football League again but I am taking each game as it comes... Normally, every game is like an away fixture for me, as I still live up in Lancashire', he joked. 'But this is close, it's only about 25 minutes away for me so I am looking forward to it like I would a home game'".
Gainsborough Trinity themselves add that "Trinity go up against the deadliest striker in the Conference North on Saturday without fear; because their own forwards are bang in form. Front man Darryn Stamp insists the Blues can get a result against anyone at the minute, and with Steve Housham's three strikers all banging in the goals, they're proving a potent attacking force". [Trinity are actually the division's eighth-top scorers by goals per game, whilst Altrincham are top].
PhD student Stamp has bagged four goals in the last five games, alongside Dominic Knowles who has four in five and Paul Connor with three in five. Between them, the trio have found the net 25 times this season, accounting for over 60 per cent of Gainsborough's goals. And while Stamp admits he wants to play every game, he isn't adverse to competition for places up front.
'I welcome it to a certain extent, you don't want to be playing because there's no one else', he said. 'At the start of the season people were saying we needed more strikers but, at the moment, it's tough for Housh (Steve Housham, boss) because we're all scoring. At the moment, whoever is playing is banging them in left, right and centre, all three of the main strikers are scoring goals, and we've got Brad to come back from injury too'.
'To be fair to Housh he's always said if you're performing then you'll play games. It's been tough on Conns (Paul Connor) because he's been scoring when he's been playing, so it's just about biding your time and waiting for your chance'.
The prolific nature of Trinity's attack has helped them put together a great run of form, winning their last four and losing just once in 10 outings. So ahead of an encounter with Altrincham and league top scorer Damian Reeves, who put four past the Blues earlier in the season, Stamp and his team-mates have every right to feel confident.
The Hull University sports science student said, 'Everyone is always in a better mood when you're winning games, everyone is upbeat at training even if they're not playing, there's a buzz about the place. We're winning games even when we aren't playing our best at the moment, grinding our results. We fancy ourselves to beat anyone. The loss to Altrincham in September was a bit out of the blue, it was a freaky game because we did well in the two previous games but were 4-0 down at half-time. We won't be thinking about that on Saturday, we're in a great run of form and we're confident we can beat anyone'.
Altrincham sit directly below Trinity in the Blue Square Bet North table in ninth position. Striker Reeves has 22 goals [23 actually] to his credit this season from 22 starts. The two sides met on 4th September on the Northolme, when the Robins won 4-2 in front of a crowd of 525" reports the Gainsborough Standard.
As ever Footy Mad has a prediction for Saturday's game. "The most recent encounter between these two sides at Moss Lane was less than a year ago, in April 2012, with Gainsborough Trinity inflicting a narrow 2-3 defeat upon the Robins in a (Conference) North match... Altrincham have had an average home run of late, winning and losing 3 each of the last six games...
The Blues have had a decent run of form away from home recently, coming away with three points on 3 occasions, but drawing 1 and losing 2. FootyMad's prediction ... Altrincham are performing in fits and starts at home in recent games, and FootyMad doesn't see things getting any better, as the visitors squeak past and take all the points. Away win".
Mike Garnett advises us of the historical record between Altrincham and Gainsborough Trinity:
At Moss Lane 23-8-10-5-35-21
At Gainsborough 27-11-4-12-33-29
Neutral venue 1-1-0-0-2-1
All games 51-20-14-17-70-61
A RISKY ROLE
As recent events involving Mark Clattenberg and the sad death of a linesman in the Netherlands confirm, the role of a match official can be a risky one. But proving that this is not a new problem, reproduced right is an account of a violent incident in our own town back in 1904. The match in question did not involve Altrincham FC but, rather, Linotype of Broadheath. Linotype manufactured typesetting equipment for many years in the Broadheath area of Altrincham.
BSBN NEWS
A different form of booking from usual is keeping a player out of action as the Northants Telegraph tells us that "Chris Plummer insists Corby Town were fully aware that they would be without striker Leon McKenzie for a large portion of December. The experienced frontman recently released his autobiography 'My Fight With Life' and will continue to take part in a number of book signing sessions ahead of Christmas.

McKenzie didn't feature in last weekend's 2-1 defeat at Bishop's Stortford and will also miss this weekend's home clash with Hinckley United as well as the FA Carlsberg Trophy second-round tie at Tamworth a week on Saturday. McKenzie's tour of his former clubs to sign copies of his book will also incorporate Corby on December 22 when he will be at Asda to meet fans...

'We have known for a number of weeks that Leon would not be available much in December', the Corby manager said. 'We had a chat about it and he has various commitments he needs to fulfil in his personal life. We knew it would be happening'.

Plummer, meanwhile, is sure there won't be any problems with confidence within his squad, despite them heading into Saturday's clash with bottom markers Hinckley on the back of two successive defeats. 'If we were playing badly then I would be concerned', he added. 'But we haven't been and last weekend at Bishop's Stortford we were caught out as we looked to go and win the game. That happens sometimes'".

According to the North Wales Weekly Times, "Colwyn Bay take on FA Cup battlers Harrogate Town on Saturday with loan signing Cameron Darkwah having returned to Stockport County. Seagulls player-boss Jon Newby commented, 'Cam's contract at Stockport runs out at the end of this month and he wants to concentrate on trying to sort out a permanent position somewhere and that is something I couldn't offer him at the moment'.

Jamie Rainford, on loan from Halifax, is likely to start against Harrogate... Frank Sinclair has recovered from a dead leg suffered in last Saturday's defeat at Gainsborough and was able to train normally on Thursday, but John McKenna is still suspended and Colwyn Bay have a slight doubt over Luke Holden who has had a sickness bug this week and will need a late check...

Harrogate are set to scoop a £60,000 bonanza with next week's FA Cup second round replay at Hastings being televised, and with a trip to Championship high-fliers Middlesborough awaiting the winners".

In the Worcester News, "Danny Glover and Michael Taylor are both set to hand Worcester City a major boost ahead of tomorrow's visit of Halifax. The strike duo have been struggling with injuries in recent weeks but have returned to training and are poised to be fit for the clash at St George's Lane. Along with Mike Symons, Alex Meechan and new loan signing Kyle Patterson, manager Carl Heeley expects to have a full complement of strikers available..

Elsewhere, "Bradford Park Avenue face a stern test as play-off rivals Oxford City arrive for a top-six clash at Horsfall Stadium... Fourth-placed Avenue are above their visitors but will be without stalwart left back Martin Drury, who picked up a knee injury in last weekend's 4-1 win at struggling Histon. Drury underwent an operation on Wednesday and could be sidelined for six weeks...

[Manager] Deacey said, 'I brought Jamie Price back in as a permanent signing and I hoped that would help. But losing Drury this week means we're left with just 16 available players for the game against Oxford. It's a bit of a blessing that we have Simon Garner on loan because he is a left-sided player, who is comfortable at full back. But Simon's month's loan is up after Saturday, so we will have to have a think and make some decisions after that'", he told the Telegraph and Argus.

Pitchero Non-League report that "Workington have signed young striker Jonathan Hooper on `work experience` from Newcastle United. Hooper, also known as `JJ`, has recently returned from Darlington 1883, where he was on on similar terms. The 19-year old 6'1" striker was signed by Newcastle in August 2011 from Sevenoaks Town after a successful trial and London-born Hooper hit a hat-trick on his debut for the under-18s against Chelsea on the opening day of the 2010/11 season. Hooper is a tall and strong frontman who has already demonstrated his eye for goal".

The informative Bulls' News reports that "Conf North side Guiseley are reported to have a weekly wage bill of £11,000. The claim comes from Hinckley, with Guiseley having average gates of around 500".

In the Halifax Courier, "Director Bobby Ham said that moving games away from the Shay is not an option as the Shaymen play catch up with the league leaders. Ham said that the directors have been frustrated by the inability to fulfil fixtures, particularly at home, due to the weather...

Ham admits that there is a problem with drainage at Shay, which is owned and maintained by Calderdale Council. 'We're very disappointed', said Ham... 'The pitch does have a drainage problem and some work was going to be done on it during the summer but, for one reason or another, that work didn't happen'," he said...'It's hard to find the time to do the work between the football and rugby seasons'...

He said that while the club had suffered a drop in revenue as a result of postponements, the club were not in any financial trouble... 'We've only had seven home league games this year and still have the players and bills to pay every week', he said. 'Playing games away from the Shay is not really an option for us though. If we were to try and take games elsewhere then it would cost us more money than we would take it because teams are not going to allow us to use their ground for nothing... By playing a lot of games in a short space of time you're leaving yourself vulnerable to injuries and things like that', he said".

In the Northampton Chronicle, "Brackley Town boss Jon Brady says his side have got a 'great opportunity' to finish in the top five of the Blue Square Bet North this season... They take on title favourites Chester this weekend...

He said, 'We didn't think we'd be in this position so there's no pressure on us. But there's no pressure on them either because they are a bit clear. They've had a great start and even if they lose and we win our game in hand they will still be sitting pretty'. Brady had originally set a target of 50 points this season as he looked for Brackley to consolidate after winning the Southern League Premier Division last season...

'Stepping up, you have your doubts as to whether the squad will come together and work hard enough to be at the top', said Brady. 'But now, 16 games in, I believe we should be there and we've got a great opportunity to perform against one of the league's better sides this weekend... Having played against nearly all of the sides, I believe we have a real opportunity to finish in the top five'.

Brackley could have strengthened their grip on a play-off place with a win at Workington last weekend, but saw the game postponed at the last minute. After a long trek up north the day before the game, Brady's bunch were angered after the home club called it off before they arrived at the stadium at 11am on the Saturday.

'We felt a bit let down by Workington', explained Brady. 'The game should have been on but it was called off at 10.45am, 15 minutes before we arrived. We couldn't understand why the game was off because the pitchfork was going into the ground easily. But when you read the local paper and see they had eight injuries you can perhaps see why'".

The Northampton Chronicle also states that "Chris Plummer is taking the cautious approach as Corby Town prepare to take on Hinckley United at Steel Park... In recent weeks they [United] have become the league's whipping boys having suffered 14 successive defeats in the Blue Square Bet North...

'If you look at it on paper, then it is a game we should be winning, especially at home', Plummer said. 'Anyone who is getting ahead of themselves should remember the run of form we had right at the start of the season. We have turned it around and it shows it can be done. I have said all along that anyone can beat anyone in this league and I stand by that'...

Plummer, meanwhile, says the club will continue to assess the ankle injury picked up by defender Stefan Galinski in last weekend's defeat at Bishop's Stortford. Saturday is due to be the centre-half's final game of a three-month loan from Derby County, although Plummer is hoping a new deal can be agreed with the npower Championship club in January.. 'He has been a key player for us in turning things around'" he said.

"Russell Hands has urged Histon supporters to stand by club despite the turmoil off the field" reports the Cambridge News. The club parted company with manager Dennis Greene this week as they were unable to guarantee his wages, but chairman Hands insisted... 'If people stick with the club and put the endeavour and support in, like I and all the board and staff have done, we'll be fine', he said.

'We'll make sure the club stays in business. It may not be what everyone would like to see but there will be a club'. While the club continues to pay off long standing debts, Hands also blamed poor gate receipts – home crowds have averaged just 302 so far this seasob and the failure of some sponsors to fulfil their commitments for the club's poor finances...

He disputed Greene's claim there was a lack of communication from the board and said the former manager had been aware of the financial situation. 'We were advised by the receivers who were looking at the books that we would have to do a, b, c and d. Dennis and the non-contract players were all in that package. He was told that these (four players) would have to go. Dennis did that but when we had (another) meeting the receivers they said "You're still paying Dennis and the (first team) coaches, and you can't afford to do that".

With the club struggling financially and a possible three-point deduction looming over Histon's failure to fulfil their away fixture at Colwyn Bay on November 17, Hands admitted the young team now managed by Nacer Relizani and assistant Brian Page faces a tough battle to avoid the drop...

'Relegation is realistic', he added. 'The club can run with the resources we have in the Southern League Premier Division. What we've got coming through the system and the structure in place, we could be a half decent side at that level. We might have to look at how we do our football next year. Possibly, we may have to change from having a lot of full-time lads to part-time football. We shouldn't let our pride take over. We've got to accept the reality'".
---
7 December 2012
DANNY GOES ON LOAN
Altrincham FC have arranged for striker Danny Mitchley to go on loan to Marine for a month to give him match practice. Danny, who signed for Altrincham this summer, has yet to start a league game for the Robins due to the form of Damian Reeves and James Lawrie. In all competitions he has made 1(+10) appearances to date for The Robins.

Marine meanwhile "announces the signing on a month loan of former Blackpool young player of the year Danny Mitchley. Striker Mitchley, 23, joins Marine on loan from Altrincham. In the previous two seasons he has played at Conference Club, Mansfield Town, including during that period a loan spell at Nuneaton Town.

Subject to registration clearance today the loan period starts with tomorrow's game at home against Blyth Spartans and ends in the beginning of January.

Marine Chairman Paul Leary said, 'It is important that we maintain our challenge for a play off place as we head towards the end of the year. The signing on loan of Danny Mitchley will provide further options for Kevin in his search for more goals'.

Marine Manager Kevin Lynch said, 'We have missed having a target man since Marcus Carver returned to Accrington Stanley and the signing of Danny will give us that extra edge up front that we have been missing in recent games'".
SQUAD UPDATE
Following training on a very wet Thursday night, Altrincham manager Lee Sinnott then faced a bad journey home to Hull on a rain-swept and gridlocked M62. But he was kind enough to inform the website from his motorway queue that the two players who missed last week's game at Boston were both able to train. Subject to any reaction to that training, both Carl Rodgers and James Lawrie should be fit for inclusion in the squad on Saturday at home to Gainsborough Trinity.

However, Simon Richman is suffering from a sore throat, which may affect his availability. Alty's Yorkshire contingent - Damian Reeves and Nicky Clee - were unable to get to Altrincham for training because of the bad weather but both are fit. After training with Alty on Tuesday, midfielder Jordan Sinnott will also be in Saturday's squad. Defender Danny Hall, however, will be serving a one-game suspension.
BSBN NEWS
A curious piece from This is Lincs claims that "A ceasefire has been called in the war of words between Gainsborough Trinity's management team and Altrincham dangerman Damian Reeves.

Blues' boss Steve Housham says any problems between the two factions is in the past and there will be no signs of friction when Trinity arrive at Moss Lane on Saturday. The prolific Reeves, who was a summer transfer target for the Blues and Lincoln City, reminded Trinity what they had missed out on when he hit all four goals in Altrincham's 4-2 win the last time the two teams met at the Northolme in September.

At the time, there was a certain amount of bad blood between the striker and the Trinity management after their disagreements were aired through the media...

'There were a few things said at the time, but all that is behind us now', said Housham. 'I made it my business to speak with Damian after all that and there is absolutely no problem between us now. I explained what was said and why and he has totally accepted it'.

Improved relations between the two parties does not mean the Reeves' goal threat will be diminished. The 26-year-old has already scored 18 [actually 23] times this season in all competitions and Housham admits he will be taking a 'once bitten, twice shy' approach to the game.

'It proved last time, at our place, that if we don't prepare for the threat he poses he will punish us', Housham added. 'But Altrincham have other good players. You can't really single him out, we will have to watch all of their players and defend well if we want to get anything from the game. But Gainsborough Trinity also have dangerous players that Altrincham will need to worry about. We have only lost one game in our last ten and we will go there full of confidence.

I can't worry too much about Altrincham, I will be more concerned about how Gainsborough Trinity play. The atmosphere in the dressing room at the moment is absolutely buzzing and we are in touching distance of the play-off places. We believe we can keep this run going. We have got ourselves into good habits. We are used to winning and we are used to scoring goals and when you have a team like that confidence naturally follows'.

Housham will have just one team concern on Saturday, with left back Josh Wilde suspended following his two yellow cards against Harrogate. [Ex-Alty man] Greg Young is primed to step in, with Housham confident the 29-year-old central defender can fill the gap. 'Greg has played in that position a couple of times and played very well', Housham said. 'I have felt for him this season, because he is a very capable player, but the other two central defenders Luke Waterfall and Danny Hone are playing so well he can't break into the team'".

Elsewhere in Lincolnshire, Boston United report that the Board "have announced that Jason Lee's position as first team manager has been terminated with immediate effect. Commenting on the Board's actions, chairman David Newton told bufc.co.uk, 'This was a very difficult decision as Jason has been a good servant to the football club and is a true gentleman. However, recent results have been poor and it was felt that the required changes to improve team performances and the squad were not being fully addressed.

'We thank Jason for his commitment to Boston United and we wish him and his family all the very best for the future. The recruitment process begins now'.

Mr Newton added, 'Although gates are down, the directors are very grateful for the support received so far this season. We are aware that it is difficult to watch a team that is not performing well. We are also acutely aware that it is financially very difficult for fans at the present time, particularly with the high number of recent home fixtures — and with Christmas looming.

That said, we believe that the squad has shown that they are still working hard in games and we ask that the fans get behind the team to help the club through this difficult period'".

Following this, "Boston United chairman David Newton has appointed Graham Hyde as the Pilgrims' caretaker manager. The 42-year-old, who was Jason Lee's assistant, will take charge of first team affairs".

This is Lincs adds that "Jason Lee's departure as Boston United manager arrived after a near 50/50 split on victories and defeats during his tenure... He departs with a win percentage of almost 41 percent from 79 matches (based on Blue Square Bet North, play-off, FA Cup and FA Trophy fixtures only)".

Another dismissed manager is the subject of a report in the Cambridge News which says that "Dennis Greene delivered a damning indictment of the Histon board following his shock departure last night. Greene, who left his job selling photocopiers to take on a full-time post at Histon, slammed the board for their lack of communication throughout his tenure and for going back on their initial pledge that the playing budget would not be changed.

'I'm disappointed with the way I've been treated', he said. 'It's three weeks before Christmas and I haven't got a job. I got rid of four non-contract players last week. No one asked me to get rid of them, I did it off my own back yet it still takes the club a week to tell me I haven't got a job'.

Greene also revealed that he was told the club will no longer be able to pay non-contract players, meaning Shane Tolley and Claudiu Hoban are also likely to leave.

'When I took the job on I said I don't mind doing it on that budget, provided we could stick to it, because I didn't want bring in players I knew and trusted like Adrian Sear and Shane Tolley and then three weeks later tell them I've got to let them go. The board assured me the budget they gave me would be set for the season yet, two months later, we're really struggling. That's disappointing. The club's supporters and HIST (Histon Independent Supporters' Trust) want to know what's going on at their football club. They want communication. And if you're the manager and the club is in trouble, you need to know'".

Bulls' News confirms that "Simon Hackney has teamed up with Hereford United. The 28 year old winger was recently released by Halifax. Hackney started his career with Woodley Sports before a four season spell with Carlisle United. In 2009 he moved to Colchester for around £80K and stayed for two seasons during which he went to both Morecambe and Oxford United on loan. In 2011 he moved to Rochdale. Last July he had a trial at Wrexham before joining Halifax".
---
6 December 2012
TRAVELLING TO BRACKLEY AND STALYBRIDGE
TASC is arranging supporters' transport to Altrincham's away matches at Brackley (15 December) and Stalybridge Celtic (Boxing Day). Details are on the Away Travel page. As usual, booking should be made by ringing the club on 0161 928-1045.
MOVE SUITS EVERYONE
As reported here yesterday, HUddersfield Town confirm that their "Development Squad captain joins Blue Square Bet North club... on loan to further his experience during the busy festive period. 18 year-old central midfielder Jordan Sinnott has joined Altrincham on loan until 12 January 2013 inclusive and is expected to go straight into their squad for their home game against Gainsborough Trinity on Saturday.

Altrincham are managed by Jordan's father and Town's former promotion-winning skipper, Lee Sinnott. They currently sit in 9th place in their division, four points behind the play-off zone, with two games in hand.

The deal will see Academy graduate Sinnott, who has captained the Under-21 side on 11 occasions this season, continue to work with Town's Development Squad and join up with his new Altrincham teammates to train once a week.

Huddersfield Town's Senior Professional Development Coach, Steve Eyre ,believes this move is perfect for Jordan. 'Jordan has got himself into a real position of strength in terms of his fitness and we think it's a shame that, with there being no Under-21 games until January 14... this is the ideal scenario for him to continue to develop. We know this move will suit both parties, as Altrincham has 10 games in the next month. He will learn different things there. He's playing competitive football against seasoned players; he won't get much time on the ball and he'll learn to look after himself. We think he's ready for that challenge and we will monitor his progress very carefully'".
YOUTH TEAM FIXTURE CHANGE
Sunday's scheduled league match against Northwich Victoria has been postponed and is replaced by an Open Cup match, at home, against Lancaster City. This was originally an away tie but due to its previous postponement, has been switched to Clay Lane, Timperley.
ROB'S NATIONAL HONOUR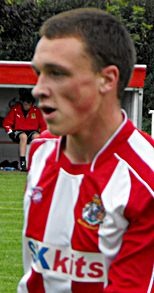 The English Schools FA has announced its 16-man squad to play for the England Under-18 Schoolboys team for 2012-13. One of those selected is Rob Gilroy (right), who plays for George Heslop's Altrincham FC Youth. Midfielder Rob is the only member of the squad to play for a non-League club and the only one who is young enough to be a representative of the under-18s next season as well as this.
OLD BOYS
"Shaun Reid, manager of Warrington Town, has secured the signature of Jimmy McCarthy from AFC Fylde. A former fans' favourite in his first spell with Warrington, McCarthy arrives on a month's loan from Kellermergh Park in the search of first team football. He joined Town initially from Kidsgrove Athletic in 2008 and spent three seasons at the Abacus Solicitors' Community Stadium under former boss Joey Dunn... He later went on to play for Leek Town, then Altrincham in the Blue Square Bet North [actually we were in the National Conference division then] and AFC Fylde".
FIXTURES
Wednesday 5 December
FC Halifax Town v Harrogate Town - POSTPONED - frozen pitch.
Gloucester City 1 Boston United 0
BSBN NEWS
Histon have issued a "Statement from the Board". It says "The Board of Histon FC has today met with Dennis Greene and his position has been terminated by mutual consent due to the extreme financial circumstances the club finds itself in. Dennis joined the club in July at a difficult time for Histon FC and, whilst the Board acknowledges that circumstances have been far from ideal, the need to reduce on-going costs has resulted in this situation.

The Board would like to sincerely thank Dennis for the way he has handled himself in what were at times, very difficult circumstances, and for the commitment and passion he brought to the job whilst with us here at Histon. We wish him every success in his future career".

The Cambridge News adds that "Greene attended a board meeting and was told the club's extreme financial problems meant they could not afford to keep him on. Greene took over in the summer after the departure of David Livermore and has had to contend with a raft of cost-cutting measures, with the shape of the squad changing hugely over the course of the season as players have come and gone".

Before the game was postponed, the Huddersfield Examiner reported that "Neil Aspin is desperate for FC Halifax Town's home clash with Harrogate Town to beat the cold snap. The Shaymen were frustrated when Saturday's meeting with Solihull Moors was postponed, leaving them well behind their Blue Square North rivals in terms of games played... four fewer than leaders Chester and five less than Oxford City, the side immediately above them...

Halifax have won their last six games in succession, but only two of those have been in the league (4-0 against Vauxhall Motors and 4-1 against Droylsden, both at home). Aspin, whose side go to Worcester City on Saturday, will run checks on defender Scott McManus and midfielder Paul Marshall... while winger Simon Hackney has left the club".

In the same vein, the Halifax Courier adds that "Town's game away to Guiseley due to be played next Tuesday has been postponed for a third time, just two days after the club's re-arranged the fixture. It's the third time this fixture has been called off.

It was originally due to be played on November 3 but was postponed due to Guiseley's FA Cup committments. Then it was due to be played November 27, but was called off due to a waterlogged pitch. On Monday the league announced the game would be played on Tuesday December 11 at Nethermoor but the game will have to be rescheduled for the new year because Guiseley have to play their West Riding County Cup game against Harrogate Town, who Halifax were due to play this week".

According to This is Lincolnshire, "Ian Ross has pleaded with Boston United fans to turn their jeers into cheers after admitting he can't wait to play away from home. After playing at the Jakemans Stadium for seven straight Saturdays, the Pilgrims are set for back-to-back away games at Gloucester City tonight (Wednesday) and Vauxhall Motors on Saturday. United have struggled to make home advantage count over the last two months...

Ross, the club's vice-captain, admits the Pilgrims are conceding too many sloppy goals, a theory backed up by last weekend's 3-2 defeat to Altrincham. However, the former Sheffield United middleman believes negativity emanating from a section of the home faithful is having an adverse impact on the team.

'It doesn't bother me, but we have got a couple of young lads in the squad and, when things aren't going right, the crowd will get on at us', said Ross. 'That has been affecting players. I would ask the fans to get behind us a bit more and I'm sure the results will follow. It's not nice playing in front of that sometimes. At the end of the day, we all want to get out of this league, we all want to win. They pay their money, I understand that, but I don't think that (the criticism) is helping the team get the results that the crowd want. Personally, I'd rather play away from home at the moment. There's probably a bit of pressure off...

We're fully behind the manager and the chairman and will try to put things right'...

Ross's comments were echoed by his manager... 'It hasn't been an advantage playing at home', conceded Lee. 'We've played too many games at home in a short space of time and we've not won enough of them. The fans at home games want to see us win, but we do feel that some fans are getting at certain players so we may have to adopt an away-fixture mentality. That's means coming in and being solid and just thinking about keeping a clean sheet. If we can score on the break then great. That's not what I would like to do at home because I'm a striker and would like to see us creating opportunities'".

The same paper reports that "The Boston United manager wants to bring in a defender to help shore up a back four which has been leaking goals...

'I would like to strengthen the defence', declared Lee. 'We have got a player (Jack Andrews) coming in, but he's a young boy from Nottingham Forest. We are probably in the market for young players who we can borrow from other clubs, or young players who want come in and progress their careers. We're not in the market where we can afford to bring in an experienced player who commands a good wage. We're not in that category...

As long as everybody is aware that Boston United have not got an abundance of cash to go and spend. Our squad is small and we've tried to make it as competitive as possible... We're not in a position to go and spend money willy nilly'".
---
5 December 2012
JORDAN SINNOTT JOINS ON LOAN
Altrincham FC are pleased to welcome 18 year-old Jordan Sinnott (d.o.b. 14 February 1994) to Moss Lane. He arrives from Hudderfield Town, on loan, until 12 January 2013. A 5ft 11in. central midfielder, Jordan was captain of the club's under-18 team in 2011-12. The son of Alty boss, Lee Sinnott, Jordan joined Town as a 14 year-old. In May 2010, he graduated from Huddersfield Town's under-16 side to their Academy. Two years later, in mid-April 2012, he was awarded a professional contract at the West Yorkshire club and immediately responded by scoring twice in Town's 3-3 draw with Manchester United in an FA Premier Academy League match.
SCOTT SIGNS ON
Altrincham's 20 year-old defender, Scott Leather (right), has now signed an 18-month contract which commits him to Moss Lane till the end of the 2013-14 season. He originally joined on a non-contract basis on 19 July 2012, having figured for just 29 minutes on his Altrincham debut a friendly against Morecambe two days earler. A full-back or central-defender, Scott spent some eight years at Crewe Alexandra before he moved on to Preston North End in 2009. He made two League appearances for the Deepdale club but was released by Preston at the end of 2011-12 season. Before joining Altrincham in summer 2012, he had a trial with Barrow.

Though initially mainly named on the bench for Alty, Scott seized his chance when injuries and suspensions gave him a chance. Since then, he has shown his versatility by playing across the back four positions. So far he has made 7(+8) appearances for the Robins.
IMPROVING ALTY'S HOME FORM
John Edwards, Altrincham FC's joint Press and Media Officer, writes:

"Lee Sinnott saluted his special reserves after seeing Altrincham launch a crucial month of Blue Square Bet North fixtures with a morale-boosting 3-2 win at Boston United.
Boosted by his first goal in Altrincham colours, in the previous game against Hinckley United, fringe striker Ryan Brooke (left) continued to look a capable deputy for the injured James Lawrie, with a prominent role in a deserved win that lifted Sinnott's side to within four points of the play-off places.
Lawrie is expected to be fit for Saturday's home game with Gainsborough Trinity, but Sinnott admitted he faces a selection dilemma as he paid tribute to the patience and perseverance of Brooke and fellow-striker Danny Mitchley.
'It has been difficult for both lads, because the complexion of our strike force suddenly changed when Damian Reeves came back to us just a couple of weeks before the season started,' said the Alty manager. 'It wasn't rocket science that he was going to play, and when James slotted into a more central role, that gave us a further dimension up front.
'Unfortunately for Ryan and Danny (seen, below right), it meant fewer opportunities for them, and they have been left kicking their heels a bit. No one can really quibble with our goalscoring record, but it has been difficult and frustrating for those two lads.
'But they have both been patient and shown a great attitude, and I thought Ryan was excellent at Boston. You have to remember he is still only a young lad of 21 who has just come out of the professional game, but his work-rate and desire has been first class. He may not have scored at Boston, but he was instrumental in us securing all three points. He has put pressure on that position in attack, and that's what you want.'
Sinnott urged his side to make home advantage count, after just nine points out of 21 at Moss Lane this season, compared to a remarkable record of eight wins and three draws from 14 League and Cup games on their travels.
'We are facing a really congested month and it is going to be a big ask for the squad,' he said. 'It is always busy over Christmas but, if you factor in the rearranged games with Droylsden and Halifax, it is going to be busier than ever. I think it's nine games between now and January 5, but we all know the importance of standing up to the test, because when fixtures are coming thick and fast, League positions can change rapidly. It's a psychological test for the players, after so many away games, but I mean that in a positive manner, because it really is a great opportunity.
'It's just a shame we had that manic week after the Cup-tie at Boston, when we slipped off the rails and lost three on the bounce. That still riles me, because you would normally hope to take six, seven or even nine points from those games, and if we had, the picture would have been different.
'But we are better placed to be in contention for the play-offs, after winning at Boston, and it's important now that we make things count at Moss Lane. It's the flip side from last season, when you consider we have won three and lost four at home, but when you have got a young squad who are maturing and developing, there will be faults that need ironing out. One is getting our home form back on track. It won't be easy against a Gainsborough side who will be smarting from the way we went 4-0 up by half-time at their place, but that is paramount.'
There was the threat of a backlash at Boston, but it was dealt with efficiently enough.
'Going back there so soon after beating them in the FA Cup did leave me wondering whether they might have an extra incentive for pulling out all the stops,' said Sinnott. 'I was a little wary of that, so, taking everything into account, I thought it was an excellent result.
'I thought we started well and progressed through the first half, without ever quite finding the final ball to unlock them. They had changed their keeper, and I would have liked to put him under a bit more pressure. Our possession rate was good throughout, though, and we added guile and craft to our play in the second half to really start causing them problems.
'The game opened up, and it was a great time to score, so soon after half-time. The only minus point was that we let them get back on terms within a couple of minutes. Then, after going 3-1 in front, we let them in again to make it 3-2 and put unnecessary pressure on ourselves. That's me nit-picking a bit, but it's my job to nit-pick. That's how we are going to improve as a team.'
Lawrie (foot) and Carl Rodgers (hamstring) are hopeful of being fit, but centre-back Danny Hall serves a one-match ban".
MATCHDAY SPONSORS
Barry Pond's updated table of Matchday Sponsors is now available.
BSBN NEWS
A BSBN club is once more in the money as the FA announces that "ESPN will show two FA Cup Second Round replays live next week... Mansfield Town will host Lincoln City at Field Mill on Wednesday 12 December... And 24 hours later, on Thursday 13 December, Harrogate Town head south to play Hastings United following their 1-1 draw on Saturday, with the winner of that tie travelling to play Middlesbrough... All four clubs receive a live television fee of £34,100, with the winners collecting £27,000 from The FA's prize fund".

In Round Three, The Independent confirms that "Lincoln or Mansfield Town's FA Cup third-round meeting with Liverpool is one of five matches selected to be televised. ESPN will show that tie... and Swansea's all-Premier League clash with Arsenal on Sunday January 6.

ESPN will also televise the meeting between Cheltenham or non-league side Hereford against Everton on Monday January 7. ITV will show the clash between Championship outfit Brighton and Newcastle and West Ham's meeting with Manchester United on Saturday January 5". The Halifax Courier reports that "FC Halifax Town have confirmed that midfielder Simon Hackney has left the club. Hackney arrived after the start of the season and made eight appearances for the Shaymen, although all but one were as a substitute. But he has failed to do enough to win a contract with Neil Aspin's side and has now left the club.

Hackney, 28, who had football league experience with Carlisle, Morcambe, Oxford United and Rochdale, scored just one goal for the Shaymen".

At Boston United, "Nottingham Forest loanee Jack Andrews will be included in the Boston United squad for the first time ahead of Wednesday's trip to Gloucester City.

The 19-year-old defender, who watched from the sidelines as the Pilgrims were beaten 3-2 at home by Altrincham on Saturday, is eligible to make his debut... following the official start of his loan spell on Monday. The Pilgrims will be desperate to arrest a five-match winless streak in all competitions, which has seen 11 goals conceded in the process, when they take on Gloucester".
FA TROPHY
Tuesday 4 December
Braintree Town v Havant & Waterlooville
Luton Town 3 Dorchester Town 1
Maidenhead United 0 Sutton United 1
Oxford City 1 Bishop's Stortford 0
TV OFFER
The Football Conference has sent the following "Premier Sports Christmas Offer" to all member clubs...

7 Live games for only £9.99

"To celebrate one of the closest league seasons in recent times the official broadcaster of the Blue Square Bet Premier has launched a terrific offer. For only £9.99* you can get Premier Sports on Sky channel 428 for 2 months with no connection fee which is a saving of nearly £15. Please enter 'BLUESQ' under promo code at www.premiersports.tv or quote it on the phone via 0871 663 9000 before Saturday 8 Dec to see all the games below for only £9.99.

The holiday season is when the league really heats up and with some cracking live matches coming up there is no better time to subscribe. The live schedule is as follows:
Fri 07 Dec: Barrow v Hereford United
11th Dec: Newport County v Luton Town
21st Dec: Grimsby Town v Wrexham
Fri 29th Dec: Forest Green Rovers v Kidderminster Harriers
Fri 04th Jan: Newport County v Wrexham
Fri 18th Jan: Braintree Town v Grimsby Town
Fri 01 Feb: Ebbsfleet United v Macclesfield Town

*Offer ends Saturday 8th December. Offer is only valid using a credit card. Fixtures and times are subject to change. Please note Premier Sports is a subscription channel and you must give 30 days' notice of cancellation.
---
4 December 2012
BOSTON VIEW
After Saturday's game, the Boston Standard reports that "United suffered a 3-2 defeat to Altrincham on Saturday, in a game which saw all five goals scored within a crazy 18-minute spell... This contest did not have the controversy of Altrincham's 3-1 FA Cup victory - where United's Spencer Weir-Daley and Ben Fairclough both saw red - but once again the Cheshire side proved superior".
OLD BOY
Runcorn Linnets have appointed Joey Dunn as caretaker manager... He has managed at Warrington Town and more recently he was assistant manager at Stockport Sports".
BSBN NEWS
The Football Conference reports that "Stalybridge Celtic have signed highly-rated Portuguese winger Rico Gomes. Gomes has come through the ranks at Manchester United's academy. The Portuguese winger was tipped to be a future star, and has played for the Portugal's under-16s squad. Whilst in the Manchester United under-16s, he has played in various tournaments, and helped United to the Milk Cup in 2009, although mainly a substitute.

On turning 19, United had to make a decision to keep or release Gomes, and they released him. Touted as a seriously good player, he has pace and vision. Gomes is United star Nani's cousin".

The Oxford Mail reports that "Oxford City manager Mike Ford admitted that his side were lucky to take a point from struggling Droylsden in Saturday's 2-2 draw... 'We did look rusty today', said Ford. 'We've looked like a team that hasn't done much in recent weeks and we need to be better...They had the ball in from a corner and then the right back smashes a worldy in and I think at that point a lot of teams might have just caved in and gone under. But full credit to my players, they came back with an equaliser and even went looking to get a winner'".

According to the Yorkshire Post, "Harrogate Town manager Simon Weaver will tap into the knowledge of local neighbour Gareth Southgate in readiness for a possible FA Cup third-round tie at Middlesbrough. Town must first overcome a second-round replay at Hastings United a week on Tuesday after the lowest ranked team left in the competition fought back to earn a 1-1 draw on Saturday.

But the Yorkshire outfit will remain favourites to progress to the third round for the first time in their history and, in Harrogate resident and former Boro boss Southgate, Weaver has the perfect ally. Southgate was among the bumper 2,926 gate at the CNG Stadium on Saturday having contacted Weaver beforehand to wish his side well ahead of Saturday's game, dubbed the 'Battle of Hastings'...

'Gareth is a lovely man and he sent me two messages on Saturday about the game and wishing us good luck', said Weaver. 'What with his Middlesbrough connections, I think I will be texting him asking for the low-down on them. The Riverside is a great stadium and with it being so close I think we could take a good few thousand so it would just be a massive day out for the club. As regards the finances, we'd have to sit down and work out the maths but the gate receipts are split 50-50 and you'd like to think you'd get at least 15,000 there. It would make the club for many years to come and also be a reward for all the money we have invested into getting our pitch sorted out, from which we will see the benefits next year'...

'We have already created history. Anything more will be a bonus. But they (Hastings) will be saying the same. We might even get on television, but we'll have to see about that as you'd imagine they will put the game on between the winners of Mansfield and Lincoln and Liverpool'...

After seeing 2,926 fans at Wetherby Road on Saturday, Weaver is hoping plenty of new supporters will return. 'When we came to the club we said that it would be nice to get 700 fans every week and I don't think that's being unrealistic', said Weaver, whose side normally attract between 400 and 500 fans for home games. 'On Saturday we saw 2,900 there and I think it just shows you that if you are winning there is the interest there'".

The Gainsborough Standard reports that "Trinity stretched their impressive league run to just one defeat in 10 games and remained on the coat tails of the play-offs, after a comfortable 3-1 win against Colwyn Bay...

After seeing Colwyn take the initiative heading into half-time, it was the award of a spot-kick that saw the Blues regain the lead... Hawkridge, believed to be the main target of watching Football League scouts within the crowd, confidently placed the penalty into the bottom-left corner. Knowles then polished off proceedings with a tame shot which somehow trickled into the net.

Another boost for Trinity is that goalkeeper Jason White, who has been out for eight weeks, has revealed he is back in training with a view to returning to action over the coming month.

Trinity: Budtz 6, Young 5, Roma 7, Waterfall 7, Hone 6, Leary 6, D'Laryea 6, Hawkridge 8, Knowles 7 (Barraclough 79), Stamp 7 (Connor 57 5), Nelthorpe 7 (Yates 66 7). Not used: Wilde, Williams".
---
3 December 2012
FIXTURE OFF
Bradford PA have announced that "Tonight's match between Bradford Park Avenue and Gainsborough Trinity at the Horsfall Stadium has been postponed. The game has been called off due to a waterlogged pitch". Trinity's next league game is at Moss Lane.

BSBN game Monday 3 December
Bradford Park Avenue v Gainsborough Trinity POSTPONED
SPORTSMAN'S DINNER
Paul Merson, the former England and Arsenal striker, and more recently a Sky Sports pundit, is the speaker at a Sportsman's Dinner being organised by Altrincham FC. The event will be held at the Cresta Court Hotel in Altrincham on Thursday, 21 February, 2013. It's an ideal Christmas present for the man who has everything! Tickets are £40 each or £400 (+ VAT) for a table of ten. Please contact the club on 0161 928-1045 or by e-mail.
BOSTON IN WORDS AND IMAGES
The Radio Robins' commentary files from Boston United v Altrincham are now available:
Second Half
And Boston United have video highlights of the game.
YOUTH GAME OFF
Sunday's Youth team match was postponed as the pitch was unfit. The latest NWYA league table is now available.
SQUAD NEWS
Confirmation of Danny Hall's suspension comes from the FA. Danny is suspended for one game from 8 December so misses our home game with Gainsborough Trinity. It is hoped that James Lawrie's foot injury will have recovered by then.
FA CUP
In Sunday's FA Cup Third Round draw the non-League clubs fared as follows:
Cheltenham Town or Hereford United v Everton
Barrow or Macclesfield Town v Cardiff City
Middlesbrough v Harrogate Town or Hastings United
Lincoln City or Mansfield Town v Liverpool
Luton Town v Wolves
BSBN NEWS
Altrincham's next opponents are Gainsborough Trinity, who travel to Bradford this week. BPA report that "The home side have won their previous three matches in the league, which has seen the Avenue climb into fourth place... John Deacey has strengthened the squad with recent additions; Tom Corner and loanee Callum Howe. However, the manager was dealt an injury blow during their 4-1 win at Histon FC, as left back Martin Drury was forced off with a suspected knee injury...

The visitors make the trip to the Horsfall Stadium, sitting in eight position, currently, five points behind Bradford... Recently, the Blues have hit a good run of form, losing only once in their previous ten league matches... a narrow 2-1 defeat to Boston United in November. At the weekend, they recorded a 3-1 victory against Colwyn Bay at the Northolme".

And more on Trinity comes from their last opponents, Colwyn Bay, where the N Wales Weekly Times informs us that "Bay's return to action after three weeks without a game ended in a disappointing 3-1 defeat at Gainsborough Trinity today... A penalty decision 10 minutes after half-time turned the game against them...

Player-boss Jon Newby afterwards [sais]... 'The referee admitted that Danny's arm was tight by his side when the ball bounced up off his thigh and hit it. "You need to be 100 per cent certain when you give penalties like that, but you can talk about referees until your are blue in the face - and to be honest I am sick of talking about them'...

Gainsborough led after seven minutes when a good run and cross by Jonathan D'Laryea was thudded against the cross bar by a first time shot from Dominc Knowles, and Darryn Stamp followed up to score from the rebound... The result drops Colwyn Bay back into the bottom six due to Vauxhall's surprise win at Stalybridge".

Wales online adds that "Bay slipped to their ninth defeat of the season... After taking the lead, Gainsborough looked like a different side as they started to dominate".

According to the Worcester News, "If Worcester City didn't know what it takes to be a major contender in Blue Square Bet North, they do now. In their last two matches, Carl Heeley's team have visited two of the sides who are vying for automatic promotion as champions. Against Guiseley, who sit second in the table, they were out-played for 45 minutes before rallying and securing a remarkable 3-3 draw, albeit against nine men.

On Saturday they came up against league leaders Chester and, despite playing their part in a thrilling encounter, were given a lesson in clinical finishing... They still have a way to go to bridge the gap between themselves and the likes of Chester and Guiseley... Heeley has turned them from a mid-table outfit into one that has genuine aspirations of winning promotion.

It was a point the manager was quick to make in his post-match interviews, also highlighting the vast void in wealth between the teams".

On Saturday the Times & Star reported that "Workington Reds' game against Brackley Town has fallen victim to the weather... due to a frozen pitch. The Town End goal area at Borough Park was considered too firm in the referee's view...

Before the inspection, Brackley Town's players had already made the 268-mile trip to west Cumbria. Setting off yesterday afternoon, the Northampton side stopped overnight".

The Football Conference reports that "Forward Kyle Patterson has joined Worcester City on a ninety-two day loan period from Nuneaton Town. Patterson is a former team-mate of David Beckham at LA Galaxy and more recently he was part of the Tamworth side that reached the Third Round of the FA Cup against Everton. He began his career at West Bromwich Albion.

Patterson, who joined Boro from the Lambs just before the start of the season, will hope his loan spell provides him with a concentrated period of first-team match play after several weeks of injury pushed him down the pecking order at Nuneaton".

According to BSBN, before Saturday's game "Hinckley United manager Carl Heggs managed to secure the services of a goalkeeper ahead of [their game] with Guiseley AFC. With the club currently operating under a transfer embargo and first choice goalkeeper Rob Peet serving a suspension, the new manager had precious few options for the league encounter.

However, he was able to persuade Martin Conway to link up with the Knitters in time for Saturday's game at the Greene King Stadium. Heggs told Nuneaton News, 'We've got five players suspended for Saturday, including the goalkeeper. Dean (former manager Dean Thomas) registered a keeper called Martin Conway in pre-season and he's agreed to help out. If he doesn't play then I'll play myself in goal. I think everything that could go wrong has gone wrong!...

Joking aside, I knew what I was taking on when I came here. If the club can get things off the pitch sorted and give me a competitive budget then I can get us up the league. That's what I did on small budgets when I was at Redditch and King's Lynn. People will look at this from the outside and think I've got a terrible job. I don't see it that way. There's potential here. I'm always positive. I'm always the one sticking my chest out and that won't change'".

The EvoStikLeague says that "Ossett Albion striker Tom Corner [lined] up for Bradford Park Avenue against Histon on Saturday in Conference North after moving for an undisclosed fee from the Unicorns on Friday".

At Chester, "midfielder Antoni Sarcevic has agreed an extension to his current contract which will see him at the club until 2014. Sarcevic, who rejoined the club from Crewe after an initial loan spell, has been a key member of the team this season, and manager Neil Young is delighted... 'We set Antoni the challenge of making the central midfield place his own this season, and he has certainly responded to that challenge. He has also chipped in with some vital goals too, and we hope to see that continue'", said Aspin.

Acording to FC Halifax Town, "striker Jamie Rainford has extended his loan spell with Colwyn Bay. Rainford has spent the last month at Colwyn Bay and has also had a spell with Marine this season.

In the Northants Telegraph We learn that "Chris Plummer felt Corby Town 'left the back door open' for Bishop's Stortford as he saw his team slip to a second successive 2-1 defeat, having been beaten by a late goal at Chester in midweek..

'On the whole I thought we played really well and we were in control of large parts of the game', Plummer said... 'And then we have been hit with a sucker punch at the end... If we had come away with a draw, it would have been the least we deserved... but we gave the ball away in a bad area and they were straight at us. We left the back door open for them... We are not a million miles away, we just need to cut out the silly mistakes. I am not too worried'.

Plummer, meanwhile, is fearing Stefan Galinski's three-month loan stint from Derby County may be over a week early after the central defender limped off with an ankle injury in the second half... and, with Carl Piergianni facing a two-match ban due to start the following week, the urgency to find at least one new centre-half is now increased... 'My understanding is that Carl is banned for two games after he was sent off at Chester'" said the manager.
---
2 December 2012
BOSTON UNITED 2 ALTRINCHAM 3
Match report
After yesterday's match, Boston United reported that they "were on the wrong end of a five-goal scoreline... Marc Newsham's equaliser was sandwiched by two Damian Reeves efforts, before Nicky Clee extended Altrincham's advantage. Kallum Smith cut the deficit for United, but the Pilgrims were unable to force a leveller during a frantic finale.
It was United's fifth match without a victory... Manager Jason Lee had made a big call ahead of kick-off by dropping goalkeeper Dan Haystead and handing Ricky Drury his first start of the season".
WISHING BEN WELL
There is sad news about former Altrincham FC youth and reserve player, Ben Deegan, in today's NL Paper as it reports that "FC United supporters are planning a benefit evening for former player Ben Deegan, after a horrific injury has left him struggling to support his young family. Now playing his trade at Ashton United, the 24 year-old striker suffered the sickening leg injury while playing in a Sunday league match.

With his job only providing statutory sick pay, Deegan has struggled to make ends meet, but his former club's supporters have stepped in to help. The supporters' club's Moston branch will host a night of entertainment on December 14, with all proceeds going directly to Deegan".

All at Moss Lane also wish Ben well following his injury.
MOSTLY LOW GATES
Saturday's BSBN gates were:
Bishop's Stortford v Corby Town att 317
Boston United v Altrincham att 782
Chester v Worcester City att 2640
Gainsborough Trinity v Colwyn Bay att 426
Hinckley United v Guiseley att 192
Histon v Bradford Park Avenue att 264
Oxford City v Droylsden att 183
Stalybridge Celtic v Vauxhall Motors att 331
BSBN NEWS
Before Saturday's defeat by Bradford PA, Pitchero Non-League said that "Dennis Greene will fight tooth and nail to keep Histon in the Blue Square Bet North but believes getting relegated would be far from a disaster... Some non-contract players could be departing soon to cut the wage bill.

Manager Greene is confident his side can finish at least fourth from bottom and avoid the drop, but he feels it would not be all doom and gloom if they were to fall through the trapdoor. 'If we go down but I've managed to keep the club together because we've cut the wage bill, then, I'll get a load of flak and everything else, but the most important thing is the club', said Greene.

'If we can cut our cloth accordingly, make the club survive and stay up then that would be great. If we do go down then we're in the Southern Premier with hardly any travelling but it's still a nice strong league. We can keep bringing the youngsters through and build a side that might have a chance of getting up. Who knows, if we go down, then this team we've got now would certainly be in the top six of that division and it might generate a bit more interest and support. I want to stay in this league, for sure, but if we do go down then it's not the end of the world...

I'm not planning on being in the Southern Premier next year. If I was, then I might as well stop what I'm doing and look for another job'," said Greene. 'When I took this job I thought keeping the team in this division would be like winning the league at St Neots Town. The achievement's still the same'. Histon's survival chances could yet be hit by a points` deduction or a fine of up to £10,000 after being charged by the Football Conference for failing to fulfil their fixture at Colwyn Bay on November 17th. The club have requested a personal hearing and are waiting to hear when it will take place".

The Guardian reports that "Hastings United will be the lowest-placed club in the hat for the FA Cup third round draw after their 1-1 draw at Harrogate Town. The Sussex side, struggling in the lower reaches of the Ryman Premier Division, secured a second-round replay against their Conference North opponents thanks to Jamie Crellin's goal in the second half.

Harrogate had taken the lead five minutes before half-time when Tom Platt headed in Shane Killock's cross. Hastings spurned a glorious chance to win it late on but Zac Attwood shot straight at Craig MacGillivray when clean through.

Probably the biggest surprise came at Gresty Road, where Burton of League Two, [who put Alty out of the Cup], won 1-0 away to League One Crewe. Calvin Zola's fifth-minute header gave the visitors the lead and a determined defensive display secured Gary Rowett's side a place in the third round".
---
1 December 2012
LADIES' GAME OFF
Altrincham FC Ladies' match against Chester FC Ladies on Sunday (2nd) has been postponed due to a waterlogged pitch. Alty Ladies' next match is on Sunday, 9 Dece,ber at 2pm at Manor Farm, Ridgeway Road, Timperley. The visitors that day will be Wythenshawe Amateurs Ladies in the Challenge Cup, 1st Round.
BOSTON UTD 2 ALTRINCHAM 3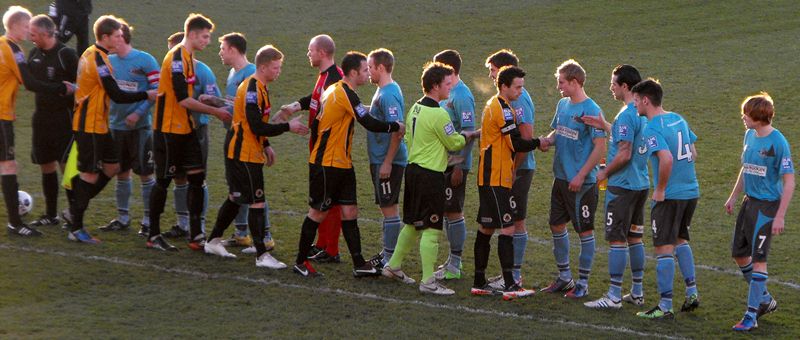 A strong second half performance after a goalless 45 minutes earned Altrincham a deserved win at York Street...
Match report
Above: The teams shake hands before kick-off.
Bishop's Stortford 2-1 Corby Town
Boston United 2-3 Altrincham
Chester 4-2 Worcester City
FC Halifax Town OFF Solihull Moors
Gainsborough Trinity 3-1 Colwyn Bay
Hinckley United 0-3 Guiseley
Histon 1-4 Bradford Park Avenue
Oxford City 2-2 Droylsden
Stalybridge Celtic 0-1 Vauxhall Motors
Workington OFF Brackley Town
SATURDAY VIEWING
If you cannot get to Boston to watch Altrincham on Saturday, you can help the Club and enjoy two live Premiership matches on HD television by going to the bar at Altrincham FC on Moss Lane instead...
3pm Manchester City v Everton
5.30pm Reading v Manchester United

The bar opens at 2.30pm, entry is free and everyone is welcome.
BOSTON GAME
For the Boston United v Altrincham game on Saturday afternoon, there are the usual two ways to keep up to date with the action, if you are unable to get to the match itself.
Radio Robins
Brian Flynn writes, "Radio Robins, sponsored by Ashley Mowers Garden Machinery, will be broadcasting live coverage of Saturday's game at The Jakeman's Stadium. The match commentary is sponsored by Ideal Engineering Support Ltd (I.E.S.) of 20 Westwood Avenue, Timperley - Timperley's Number 1 Industrial Automation Specialist!
To get in contact with I.E.S. email Dave Hudson.
The match commentators are Ian Wilkinson and Brian Flynn with match summaries from Carl Rodgers. The broadcast begins at 2.55pm".
Matchday updates: You can also follow the match via the website's matchday update service, which aims to start as soon as the team news is available.
BEFORE THE GAME
Boston United report that "Altrincham renew their rivalry at The Jakemans Stadium on Saturday afternoon. The sides have already met in Lincolnshire this season — with Altrincham recording an FA Cup with Budweiser fourth qualifying round victory over the nine-man Pilgrims in October..

Since their victory over Boston six weeks ago, Altrincham have lost three out of four Blue Square Bet North contests, as well as crashing out of the FA Trophy to FC Halifax Town. The Pilgrims will be aiming to bounce back from their own FA Trophy exit at the hands of Skelmersdale United on Tuesday evening.

Manager Jason Lee has admitted that changes could be made after expressing his dissatisfaction with United's display in midweek. Lee expects to have a full squad to choose from... Last season's corresponding fixture ended 1-1. Saturday's match referee is Simon Barrow" from Tamworth.

Despite only one draw for Alty at York Street in recent years, Footy Mad says "Altrincham face a trip to Boston United... hoping to improve on a record of draws against their opponents...
2012/2013 Sat 20 Oct Boston Utd. 1 - 3 Altrincham F.A. Cup
2011/2012 Sat 17 Mar Boston Utd. 1 - 1 Altrincham (Conference) North
2011/2012 Sat 08 Oct Altrincham 6 - 1 Boston Utd. (Conference) North
1997/1998 Sat 02 May Boston Utd. 1 - 0 Altrincham (Northern) Premier
1997/1998 Sat 27 Sep Altrincham 1 - 2 Boston Utd. (Northern) Premier
1992/1993 Wed 28 Apr Boston Utd. 1 - 2 Altrincham Conference
1992/1993 Sat 19 Sep Altrincham 1 - 1 Boston Utd. Conference

Boston United have managed to pick up just two wins from their last six home games, losing three... Altrincham have an average recent record on the road, collecting 2 wins and 3 draws from the last six... FootyMad's prediction: this is a game in which both sides are showing indifferent form, so the Madmen are expecting the Robins to come away from it with a creditable draw. No-score draw".
BSBN FIXTURES
Sat. 1 Dec.
Through the Years by Howard Watts
Bishops Stortford v Corby Town
Boston U v Altrincham
Chester FC v Worcester City
FC Halifax Town v Solihull Moors
Gainsborough Trinity v Colwyn Bay
Hinckley United v Guiseley
Histon v Bradford Park Avenue
Oxford City v Droylsden
Stalybridge Celtic v Vauxhall Motors
Workington v Brackley Town
OLD BOY
A member of Altrincham Youth team who made a first-team appearance for the Club in 2010-11, defender Jake Barnabas, has joined Winsford United.
BSBN NEWS
The Football Conference reports that "Bradford Park Avenue have announced the signing of striker Tom Corner from Ossett Albion and young defender Callum Howe on loan from Scunthorpe United... Corner has already played, and scored, against his new team mates. In October, the 20-year-old gave Ossett Albion the lead, but, suffered a 4-1 defeat to the Avenue at the Horsfall Stadium.

Despite his age, Corner has experience playing for a number of clubs. The striker joined Ossett Albion from Tadcaster Albion but has played at a higher level in the football pyramid for Grimsby Town. He has played in the third tier of the Spanish League.

The Avenue manager John Deacey is pleased to add the striker to his squad, 'I'm happy to have finally got Tom. He will be a welcome addition, and there is no pressure on him. He will have time to settle in... He will add plenty of competition for places in the squad'. Howe signed a professional contract for the Iron in the summer of 2012. The 18-year-old Doncaster-born centre back was the only one of the club`s second year trainees to be offered a deal. Howe, who stands 6`2", has been with United since he was 14 and has enjoyed regular experience with the reserves as well as skippering the youth team".

From the Cambridge News comes news that "Adrian Sear is among four players who have been released by Histon as part of cost-cutting measures. The midfielder had played in all but three matches, since linking up with ex-boss Dennis Greene again in the summer, but he has been axed along with Saul Otobo, who scored a hat-trick on his debut in a 5-3 win at Eastwood in the FA Cup in September, Omar Folkes and Theo Ola. Sear has rejoined St Neots Town where he was last season's supporters' player of the year".

And there are more surprising exits at the Bower Fold as the Tameside Advertiser tells us that "Stalybridge Celtic playmaker Greg Wilkinson has been placed on the transfer list and fellow midfielder Callum Warburton has been told he can find another club as manager Jim Harvey steps up the squad rebuilding pace at Bower Fold.

Defender Sam Egerton has gone out on-loan to Ramsbottom United in order to get some regular football. Club Chairman Rob Gorski will make a personal appearance tomorrow (Friday 30th November) at the tribunal which will decide the amount of compensation that Guiseley will have to pay to Stalybridge after Jack Rea's move to the Yorkshire Club".

According to the Hinckley Times, "Hinckley United hope to have their transfer embargo lifted today [Friday], allowing them to bring players in to the club. A deal has been struck between the board and the four former players still owed wages from last season and interim chairman Mike Sutton is now hopeful that the agreement will be ratified by the game's governing body and the embargo will be removed.

The Knitters have agreed to pay the players in two instalments and the plans were laid out at a meeting on Tuesday night, where the fans showed their loyalty to the cause by organising a supporters' trust. With half of the money already raised by the board, the supporters' trust have vowed to raise the other half leaving the directors to concentrate their efforts elsewhere.

Sutton said, 'We have spoken to the four players involved and they have agreed to 50% this month and then 50% the month after. We have got to speak to the FA to get the wording of that sorted and hope that we can get the embargo lifted... But you never know with Leagues, so nothing is certain yet... There are already 34 people signed up to the Trust and they want to raise the other half so the directors can concentrate on the other repayments'...

After last week's shock news that former chairman Kevin Downes has demanded a payment of £73,000 for use of the main stand at the Greene King Stadium, the fact that fans, directors and players of all ages are giving their all for Hinckley United is something that the interim chairman is delighted to see.

'We are all trying to raise money to decorate the rooms in the stadium', said Sutton, 'And a special note must also go to Ku Akeredolu who, along with the Academy, has raised about £4,000, which will help us to get all the floodlights on at the all-weather pitch. At the moment half of the pitch is in darkness but we will now be able to get them all working and then be able to full-let the pitch. The money raised shows that the academy is working well and then the juniors are also using buckets to raise money for the paint and brushes that will be used to help decorate. All sides are pulling together and the future is bright'.

One other debt that must be settled is with neighbours Nuneaton Town after the club failed to pay their share of Danny Newton's wages during his loan spell with the Knitters. And although Sutton knows the money must be paid, he is unhappy with Nuneaton's actions during the striker's last days with Hinckley. He said, 'We are aware that we owe Nuneaton £710 and they had let him travel for his last match. But they then rang the coach and said they had withdrew [sic] his registration, which is not what you expect from your close neighbours. They have been here themselves and you would have thought in the circumstances that they would be more supportive'".

Meanwhile, "Hinckley United and a town hairdresser's are singing the blues after they were both hit with a music ban by the same judge at London's High Court. The cash-strapped football club has to pay fines and costs totalling £1,637 after they were caught playing music over a tannoy system without a licence during their match with Blyth Spartans on April 21...

Amanda McClean, who trades at The Hair Stop in Castle Street, Hinckley, was banned after she too was caught playing recorded copyrighted music without a licence from royalties collectors Phonographic Performance Ltd (PPL). They were both banned by the same judge at London's High Court...

An officer from PPL caught the club playing tracks including 'Still Crazy After All These Years' by Paul Simon, 'You Make Me Feel Brand New' by Simply Red and 'You've Got A Friend' by James Taylor...

Today's ban applies to all forms of mechanically recorded music such as records, tapes and CDs in PPL's repertoire. Depending on the size of a venue and the audiences involved, music licences can cost very little but they can also run into hundreds or even thousands of pounds...

Mike Sutton, interim chairman at Hinckley United, said, 'A PPL licence was something which was overlooked at the time. However, we have now come to an arrangement to pay the fine and legal costs and are settling what we owe. We are obtaining a licence for the tannoy system'".

News of a former BSBN player comes from Pitchero Non-League, which says that "Warrington Town have swooped to sign Chorley's transfer-listed goal machine Ciaran Kilheeney... The 28-year-old joined Chorley in March 2012 from Droylsden... A prolific striker at every club he has played for, he came to prominence in his early 20's at Ashton United and Radcliffe Borough in the Northern Premier League before becoming a leading striker in the Conference North, netting over 100 goals with Burscough, Southport and Droylsden over a five-year spell. Meanwhile, Warrington have decided not to take up an option to sign on-loan [ex-Altrincham] striker Mark Beesley from NPL Premier Division side Nantwich Town."

Following a tribunal hearing, it is reported that Stalybridge Celtic are to receive £10,000 from Guiseley for the transfer of Jack Rea to the Yorkshire club.
---
FOR EARLIER NEWS, CLICK HERE
---