Altrincham FC Archived News
June, 2012
---
28 June 2012
SUMMER FUN WEEKS
Football in the Community - Summer Fun Weeks
If you want to keep your children entertained during the school holidays, you will be pleased to hear that there will be two Summer Fun Weeks this summer, organised by the Altrincham FC "Football in the Community" programme. Each Fun Week will run from 9.15am to 3.15pm, with parents able to "drop-off" their children from 8.45am.
6-10 August 2012 at Altrincham FC, Moss Lane.
13-17 August 2012 at Altrincham Boys' Grammar School.

To book places, please contact Karen Rowley or Chris Bullock on 0161 928-1045 or send an e-mail.

Alternatively, please print off the adjacent application form and either send it to Altrincham FC, Moss Lane, Altrincham WA15 8AP, or bring it to the Club offices, as soon as you can.
SEASON TICKET DISCOUNT
The closing date for applications to qualify for the £10 discount on your Altrincham FC season ticket for 2012/13 is 30th June. So, if you have not yet ordered yours, please do so as quickly as possible.
SHORT INTERMISSION
It is unlikely that there will be any updates to this website for the next few days; apologies for any inconvenience caused by this.
BSBN NEWS
Braintree Town confirm that they "have signed Daniel Sparkes from Histon on a two-year contract. The left-sided midfield player, who will be 21 in August, is a player long admired by Iron Manager Alan Devonshire who said after signing Daniel last night (Tuesday), 'Daniel is a player we've been watching for a while. He's got a great left foot and will comfortably make the step up to the National Division. He'll be a great asset for us'. Daniel had been a contracted player at Histon and a compensation fee will be due to the Bridge Road club".

According to the Boston Standard, "Boston United striker Mark Jones says he wants to go beyond manager Jason Lee's expectations for him this season. The striker, who joined from rivals Corby Town earlier this summer, says he hasn't set himself any targets ahead of his first campaign in the Pilgrims' colours.

But manager Lee is known for handing out incentives to his front men, such as the 20 goals he demanded from striker Mark Newsham last season. He got 21... 'I haven't set myself any targets', Jones told The Standard. 'But, if the manager sets me some, then I'll try to reach that and go further'".
---
27 June 2012
RENE STUART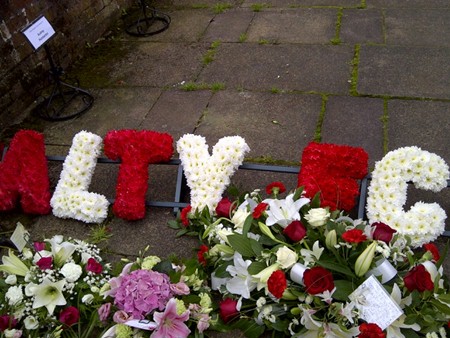 Courtesy of Altrincham FC supporter Frazer Thorley, is the photo (right), taken by his brother Wayne Thorley, of the floral tribute kindly donated by various Alty fans in memory of Rene Stuart. Up to last season Rene was a very well-known figure in the Main Stand at Moss Lane, following the club she had supported over many years, with her son Gary and family. She will be greatly missed.
GEORGE RECEIVES AWARD
Altrincham FC Youth Team manager George Heslop has been presented with a special long-service award by the NorthWest Youth Alliance League, whose AGM was held on Tuesday. George's longstanding success with the Youth team was particularly notable last season with five of his youth squad making appearances in the first-team's squad and a number of others being signed as cover.
£3,000 TO BE WON
The Altrincham FC Yankee jackpot has now reached £3,000, as this week's winning code of 1749 had not been issued. However, one lucky member of the scheme had a winning "treble" which netted him or her £200.
OLD BOY
"Paul Cox, manager of Mansfield Town, has strengthened his defensive options with two new signings. Ex-Southport left-back Andy Owens and former Lincoln right-back Lee Beevers have today put pen to paper with the Stags. Cox has reputedly fought off interest from Gateshead and Cambridge to win the race to sign ex-Liverpool trainee Owens".
---
26 June 2012
BSBN NEWS
The Cambridge News reports that "Brian Page will fight to keep Histon's squad together following his appointment as manager. The assistant has stepped up to replace David Livermore in the hot seat after the Stutes announced the player-manager had taken up a coaching role at his former club Millwall on Friday.

Page has nothing but admiration for the work done by Livermore in difficult circumstances during two seasons at the Glass World Stadium. And he would love to keep captain Daniel Sparkes, Remy Clerima, both of whom have rejected re-engagements, Jorg Stadelmann and Grant Roberts at Histon ...

'I need to sit down with the board to work out the finance things as I've got some people I'd like to bring in on the coaching side of things', said Page, who will get the squad together for the start of pre-season tomorrow. 'Daniel Sparkes and Remy Clerima will be back at training as normal and I'll sit down with them. I want them at the football club next year... We won't break the bank, but if I can make it work for the squad, the player and the club then hopefully they'll be here next season. We've invited Grant back in and we'll sit down with him to discuss the best way forward for keeping him at the football club, and I've been in contact with Jorg on a regular basis, but his situation is a bit different as he's got a family to think of. Over the next week or so I'll be sitting down with him and seeing what we can potentially offer him'".

According to Pitchero Non-League, "Striker Scott Ginty will not be joining Wisbech Town, after all, after taking up an offer from Bishop's Stortford. Fenmen boss Steve Appleby swooped for 21-year-old Ginty, a former Peterborough youth player, last month after the player had had spells with Ebbsfleet United and Deeping Rangers...

Appleby said, 'He had a chance to play at a higher level and you cannot stand in the way of a lad improving himself'".

Meanwhile, "Gavin Cowan has returned to Nuneaton Town for a fourth spell after agreeing a one-year deal with the Blue Square Bet Premier new boys. The central defender joins from Gainsborough Trinity... The 31-year-old joined on loan from Canvey Island and Grays Athletic in 2005 and 2007 respectively. Cowan then signed for Nuneaton Borough for the 2007/08 season but left when the club went bust. An ex-Shrewsbury Town defender, he was Gainsborough's club captain last season", reports the Nuneaton News.
FIXTURE INSIGHT
Bromley's Colin Russell provides an insight into how the Conference fixtures are compiled.

"Dennis Strudwick, the General Manager of The Football Conference is currently working on the Blue Square Bet Premier, North and South fixtures for the 2012/13 season. By the end of May each club was required to complete a fixtures questionnaire and return it to The Football Conference. This contained a mixture of useful information that will help Dennis complete the list and some requests from individual sides.

Requests are by no means guaranteed, as it is impossible to keep everyone happy, but the things we were able to ask for were:
a) Who we wanted to play on Boxing Day/New Year.
b) A Premier or Football League side we wished our fixtures to be opposite. That is, a professional side who we want to be away when we're at home and vice-versa. This is why fixtures for semi-professional sides come out later than those for the levels above; the fixture list cannot begin to be completed until the Premier and Football League fixtures are out.
c) A Football Conference side we wanted our fixtures to be opposite.

We also provided a list of the nine shortest journeys we will make in the league this season and the nine longest ones. When the fixture list is compiled they aim to give sides short journeys for Bank Holiday fixtures and midweek games. The longest journeys are ideally... arranged for what are known as "unencumbered Saturdays" which translates as Saturdays when there is no chance of the game needing to be rearranged due to a side's progression in The FA Cup or FA Trophy.

Finally:
a) Clubs need to list any dates when their ground is unavailable to host a home game (along with a very good reason as to why!).
b) Any sides who compete in a county cup competition where matches must be played on a specific date need to list those dates to avoid matches being arranged on them, at least for the earlier rounds".
OLD FOES RE-BORN
The ITV confirms that "The football club formerly known as Darlington FC will play next season as Darlington 1883. The decision came after the new owner, DFC 188,3 failed in their appeal against the FA, who ruled they had to change the club's name. The club had originally planned to hold a poll to allow as many fans to put forward their opinion on the new name. But due to a last minute deadline the new name had to be submitted today (Monday)...

'I am confident we have a playing name that will prove popular with the fans although I do think there will be some who will be critical. This is an exciting new era for this football club and the 400+ season tickets sold on Saturday show that the Darlington FC fans are still 100% behind the football club'" said Craig McKenna, project director".
EUROPE ON YOUR DOORSTEP
For those interested in some pre-season European action, UEFA has made the draws for the Champions' and Europe Leagues, which include some Welsh clubs within striking distance of Altrincham...

Champions' League Second Qualifying Round draw (matches on 17/18 and 24/25 July)
The New Saints FC v Helsingborgs IF (Sweden)

Europa League, First Qualifying Round draw (matches on 5 and 12 July)
Myllykosken Pallo-47 (Finland) v Cefn Druids
KuPS Kuopio (Finland) v Llanelli
FC Zimbru Chisinau (Moldova) v Bangor City

Second qualifying round (matches on 19/26 July)
BSC Young Boys (Switzerland) v FC Zimbru Chisinau (Moldova)/Bangor City FC (WAL)
Maccabi Netanya FC (Israel) v KuPS Kuopio/Llanelli
FC Rapid Bucuresti (Romania) v Myllykosken Pallo-47/Cefn Druids.

Welsh Premier comments that "The New Saints have drawn Helsingborgs IF of Sweden in the second qualifying round of the Uefa Champions League. HIF were comfortable winners of their domestic league last season... They then lifted the Swedish Cup, beating Kalmar 3-1 in the final, to become the first team to complete a treble of Super Cup, League and Swedish Cup titles.

Helsingborgs currently lie fifth in the Swedish First Division with 18 points from 12 games at the mid-season break and will provide formidable opposition for the Saints, who lost 4-1 on aggregate to Swedish outfit Osters IF in the 2004/5 Uefa Cup.

In the Europa League, Llanelli will face KuPS of Finland, while Cefn Druids will play MyPa-47 of Finland, who beat TNS 2-0 on aggregate in the 2006/7 Champions League".
---
25 June 2012
OLD BOYS
A highpoint in defender Gary Scott's time at Altrincham was when he was named Man of the Match in the Play-Off Final for promotion to the national level of the Conference in 2005. But as Gary (pictured right) recently revealed at a fundraising event for team-mate Mark Maddox's testimonial, it still rankles with him that the News of the World's report on the game, against Eastbourne Borough, announced "Man of the Match, Glenn Scott".

And now Gary has again been the object of mistaken identity as it is his picture which accompanies the NL Daily's report that "Darlington have completed two more signings... Manager Martin Gray has brought in Leon Scott, a former Whitby Town and Shildon midfielder".

Pitchero Non-League report that "AFC Fylde have completed a double swoop for Matty Hughes from new npower League Two neighbours Fleetwood Town and Adam Carden from Southport. The versatile duo, Hughes who is only 20, and Carden 26, can operate in both defence and midfield and joined their new team-mates for pre-season training this weekend at KEQMS their Lytham training base".
MATCHDAY COVERAGE
Many Altrincham fans who cannot get to games use the excellent Radio Robins live commentary service. But a sizeable number of people also used to log on to this website's Live Matchday Update service during each game. For the last 20 games of last season, this service was provided via the Cover It Live service, which was a free facility available to all internet users.

Now, however, the Cover It Live company, based in the USA, has been taken over and has introduced charging based on the number of viewers. Only 25 clicks are to be allowed free of charge from 1 July 2012.

The official Cover It Live statistics show that, over the 20 matches covered in this way last season by the Altrincham FC website, there were:
Average Reader Clicks per Game: 650
Average Reader Duration: 50min

The company will not classify Altrincham FC as a "not for profit organisation"; Cover It Live have told me, "We have reviewed your request and unfortunately your organization does not fit our criteria for this status. Examples of non-profits for our purposes are organizations registered as 501(c)(3) in the U.S. or similar certification worldwide working directly with a charity such as the American Cancer Society, etc, or when used for educational purposes in the classroom at K-12 schools, colleges, and universities".

At the level of usage which this Altrincham FC Live Matchday Update service attained in 2011-12, the cost this season for the Alty website to provide this service would be in the company's top charging band, which is US$149 per month, an amount that neither I nor the club can absorb.

So, for 2012/13, the Updates will revert to the former format of live text, updated via FTP (File Transfer Protocol) rather than via Cover It Live. This means there will still be free updates throughout each game but, because it is a bit more cumbersome to transmit them during each match, there may be fewer of them than was the case last season e.g. perhaps an update every couple or minutes instead of more than one a minute as was the case last season. I am sorry for this but I hope that you can appreciate why it has happened.

For the same reason, (i.e. so that charges are not incurred), I have taken down the links to the 20 matches which were covered last season using Cover It Live

For 2012/13, as previously, team news will be displayed from up to half an hour before kick-off, depending on availability of line-up information. Live coverage of the game will then follow throughout the match.
---
24 June 2012
"YOUR STAND", 2012-13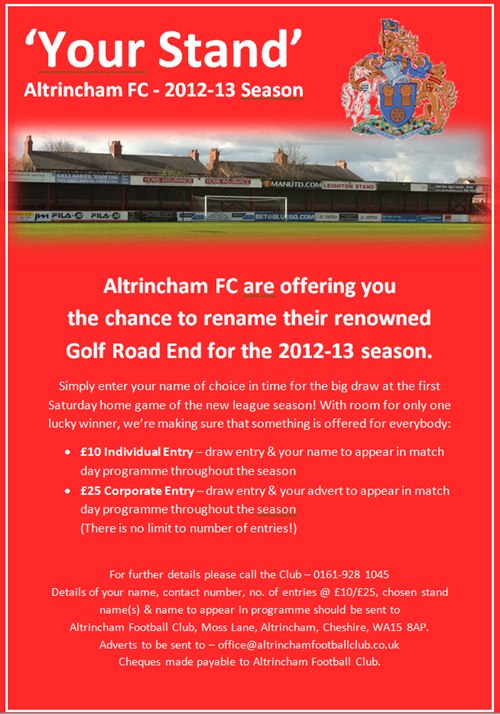 Altrincham FC announces:

'Your Stand' - 2012-13

"As another season has passed, planning for the 2012-13 season is already well underway at Moss Lane – except this time, it's with a twist. Altrincham FC are offering a unique opportunity to all supporters and businesses, for one lucky winner to re-name the renowned Golf Road End.

Designed not only to bring the club closer to our supporters, 'Your Stand' also holds great potential coverage for local businesses; 21 Altrincham FC home games (average attendance of around 800), over 2,800 people connected to Altrincham FC via social media, 15 Manchester United FC Reserve games (all televised live on MUTV) as well as an ever-increasing Junior section of the club.

With the power in your hands, the stand name really is down to you; your name/family name/business name, a tribute or special question to someone, your favourite motto etc. You may even wish to officially call it 'The Golf Road End'!

How do I get involved?

Two different entry levels are on offer:

1. £10 Individual Entry:
One name draw entry: your name listed in match day programmes for the season

2. £25 Corporate Entry:
One name draw entry
A colour advert in match day programmes for the season
Dual entry giving the opportunity to distribute flyers at a home game in the season

Simply return the application form attached to the club! There is no limit on the number of entries allowed from one party.

When will the draw be made?

The draw for the official re-naming will be made at the first Saturday home game of the new league season – make sure you come down and join us for the big event!".

Please make your application(s) by using the 'Your Stand' application form.
BSBN NEWS
The Boston Standard says that "Pilgrims' boss Jason Lee has vowed to replace Danny Sleath, after the midfielder rocked Boston United by opting to join Nuneaton Town. Sleath had told the club he would sign on for fourth season at the Jakemans Stadium. The reason he hadn't previously put pen to paper was because he didn't want any distractions while he prepared to sit his final exams at Loughborough University.

But as the Pilgrims played the waiting game, Borough, who won promotion from the Blue Square Bet North via the play-offs last term, swooped for the 25-year-old. Although disappointed, Lee remains pragmatic.

He said, 'We wish Danny well. He is stepping up a division and we cannot stand in his way. We expected the move in all honesty, and talks are under way with targets to replace him'.

However, Sleath will be a tough player to replace. Last season, United won 45 per cent of the 38 matches Sleath appeared in. Compare that to the 12 games they have competed in without his services – where United lost 68 per cent – and it shows how vital contribution is.

'It is sad to leave such a great club as Boston United but the opportunity to play at Conference level is something I could not turn down and I am excited about the new challenge in my life', Sleath said".
---
23 June 2012
HELP NEEDED, PLEASE!
Altrincham FC chairman, Grahame Rowley writes, "Once the fixtures are out next week, the main priority will be getting Match Sponsors for all the fixtures. So, at present, we are renewing advertising hoardings and programme adverts.

This is where you may be able to help. With time short and manpower limited, I'm looking for help with compiling our "Pubs Page" - trying to get 11 local pubs to pay £50 for an ad in our matchday programme on our 'Featured Pub' page. Anyone who bought a programme last season will have seen the full colour page with each pub able to advertise with a short message as well as choosing the colour of their kit in the advert.

Can I ask you to ask your 'local' whether they'd be interested or not in being featured this season? I can scan a copy of last season's page if required and can provide receipts for all monies collected. Your help would be much appreciated. Please e-mail me with any bookings or contact the office on 0161-928-1045
BSBN NEWS
The Football Conference tells us that "solihull Moors have announced the signing of defender Tom Kemp. Twenty-five-year-old Kemp has joined the Moors from Brackley Town, whom he joined from Worcester City in July 2010. His previous clubs include Derby County, Lincoln City, Tamworth, Grays Athletic, Kettering Town and Halesowen Town. His time at Kettering included being a central part of the side that won the Conference North in 2007/08, and he was a mainstay of the promotion-winning Brackley side last season. At 6'3", Kemp is a commanding defender and very dangerous at set-pieces."

From Harrogate Town, we learn that the Club has "revealed that former Gateshead midfielder and captain Kris Gate has become the third new signing of the pre-season following the capture of Shane Killock and Dwayne Samuels.

Kris, 27, played a total of 45 matches (8 goals) last season, as Gateshead recorded their highest finish in the Blue Square Bet Premier since their promotion a couple of seasons ago. A hard working central midfielder, Kris has won many plaudits with his coolness on the ball and his ability to quickly turn defence into attack, he also has an eye for goal and is not afraid to have a shot when needed...

Kris ended up at Gateshead in 2007 and... over the past five seasons, he has made over 220 appearances for the "Heed" before being released".

Histon report that "First Team Manager David Livermore has left the Club to take up a coaching role at Championship Club Millwall. During his two years with us he made an enormous impact on the Club putting in place high levels of professionalism, developing our talented young players, playing a leading role in progressing our partnerships with Anglia Ruskin University and Cambridge University Press FC as well as leading the team on the pitch and making 44 appearances in a Histon shirt.

Chairman Russell Hands stated, 'Whilst all at the Club are disappointed to see David go, we are pleased that he has been given the opportunity to progress his coaching career at a higher level and are grateful for the significant contribution he made to Histon FC during two difficult years for the Club'...

The Board has moved quickly to appoint a successor and are delighted to announce that Brian Page has stepped up from his role as Assistant Manager to become First Team Manager. Brian will also continue in his position as Scholarship Lead Co-ordinator...

Chairman Russell Hands commented further, 'We are all disappointed to lose David, of course. He has done a terrific job under what were all too often very difficult circumstances. His success in developing our young players is clear for everyone to see and their progress last year is proof of that. He fully deserves the chance to move back into the Championship'".

Pitchero Non-League tells us that "Martin McIntosh, manager of Buxton, is celebrating after signing two 'giants' to strengthen his squad... McIntosh revealed his recruitment of 6`4" goalkeeper Jan Budtz following his release by Stalybridge Celtic and finally secured the season-long loan of Marc Roberts from league rivals Worksop Town.

Thirty-three-year-old Danish keeper Budtz made national headlines in 2005 on his debut for Doncaster Rovers when he helped his new team beat Manchester City in a League Cup penalty shoot-out".

The Chester Chronicle tells us that "Neil Young has assured Chester FC supporters new striker Adam Proudlock is in 'great shape' and ready to prove his class. The 31-year-old spent more time on the sidelines than he did on the field for AFC Telford United last season after breaking his ankle... His arrival at the Exacta Stadium, however, has been met with a lukewarm reception by some Blues fans.

But Young has no doubts over Proudlock's fitness or ability. The Chester manager, whose assistant Gary Jones was a team-mate of Proudlock's at Tranmere, said, 'Adam's record speaks for itself... The lad broke his ankle but he was down every day at Lilleshall to get himself fit and that says a lot about his character and attitude. He got himself back fit and was playing toward the end of last season.

You've got to understand that lads like Adam have played in the Football League and in the Conference'...

While the majority of Young's summer captures have come from clubs playing in the Blue Square Bet Premier, he did drop back down to the Evo-Stik Northern Premier League to sign Lancaster City goalkeeper Martin Fearon [brother of Alty's Matt Fearon]. Fearon will provide back-up to John Danby and Young believes the 23-year-old will benefit from the experience. Young said, 'John is number one, and Martin knows that, but he is keen to come and ply his trade for Chester and learn from John and our goalkeeping coach Lee Worrall'.

Young has made seven signings since leading the Blues to the their second straight championship success... The current Chester squad is: John Danby, Martin Fearon; Wes Baynes, Dom Collins, George Horan, Michael Taylor, Paul Linwood, Matty McGinn; Robbie Booth, Dave Hankin, Antoni Sarcevic, Michael Powell, Ashley Williams, Levi Mackin, Iain Howard, Sean Clancy; Marc Williams, Nathan Jarman, Adam Proudlock."
NW NEWS
According to Bulls' News "The North West Counties League reports that the Widnes FC side, chaired by Mark Wright and managed by Stephen Vaughan jnr, has withdrawn its application to join the League after the FA raised concerns with the club at a meeting".

The NWCFL confirms that "Since the AGM last weekend, the League has received a number of enquiries regarding an application from a club known as Widnes FC to join our competition. In the early part of this year, the League had been approached by representatives of the club, who currently do not play in one of our Step 7 feeder leagues, with a view to making an application, and the matter was referred by the League to the FA.

League Secretary John Deal explained, 'We have been made aware that a meeting was held between representatives of Widnes FC and the FA in early June. This meeting highlighted some issues regarding the application and, as a result, the club then advised that they would be withdrawing their application to join our League for season 2012-13. The club has stated that their intention is to work towards submitting another application to join our League at some point in future'".
---
22 June 2012
JUST THE TICKET
The Altrincham FC 2012-13 season tickets have now been received from the printers. However, the ticket wallets have not yet arrived. If you are happy to re-use last season's wallet, you are welcome to come and collect your new ticket now, from the club, during normal weekday office hours. If you have asked for the ticket to be posted to you this will be done as soon as the wallets arrive - hopefully in a week or so. If you have asked for the postal service but now wish to come and collect your ticket, please advise the club as soon as possible.

The closing date for applications to qualify for the £10 discount on your ticket is 30 June. So, if you have not yet ordered yours, please do so as quickly as possible.
ON THE SCREEN
The club will be showing England's QF game against Italy in the European Championships, live in the Noel White Suite on Sunday night. The bar will be open from 7pm.

Once again there will be a special promotion, with all of Hyde's bitters priced at just £1.50 a pint and all other beers or lagers at £2.50 a pint. So, come along to support England as well as your local club.
ARTHUR HODGKINSON
Altrincham FC has been saddened to hear of the death of longstanding supporter, Arthur Hodgkinson. Until the last year or so, Arthur had been a regular at Moss Lane, with the match officials often having good cause to be aware of him! Sadly, heart trouble had recently made it difficult for him to attend matches in cold weather, though he continued to drive his wife, Celia, to Moss Lane to follow The Robins. The condolences of all at Altrincham FC are extended to Celia and Arthur's family.
BSBN NEWS
The Football Conference advises that "Bishop's Stortford have moved swiftly in replacing their first-team coach who resigned at the weekend. Blues' manager Rod Stringer has acted quickly in appointing former West Ham United player Paul Hilton as his first-team coach. Hilton brings a wealth of experience having been a player at England under-18s, Bury and nearly 100 first-team games for West Ham United... Hilton holds a UEFA A Licence, and his last position was working with the academy at Stevenage FC as Head of Youth".

Meanwhile, "Guiseley have announced that striker James Walshaw has re-signed for the club on contract terms. Walshaw, who scored thirteen goals in twenty-one appearances after returning to the Lions in January, is the latest name to be confirmed for manager Steve Kittrick's squad... The squad includes another England 'C' forward in new signing Josh Wilson. However, Guiseley have lost another striker, [ex-Alty man] Lee Ellington, who has moved to Matlock Town".

According to BSBN, "Brackley Town manager Jon Brady is confident he'll have a competitive squad before his newly-promoted side kicks off the 2012/13 campaign... Brady believes he is on the right track in terms of talent retention having already retained the services of Billy Turley and Steve Diggin, while only Paul Walker (Corby Town) and Tom Kemp (Solihull Moors) have left St. James Park.

'The majority of the team are secured for next season. I've just got a few more to speak to in the next couple of days', the Town boss told the Northampton Chronicle & Echo. 'It's been more relaxed than ever this year. If players think they can get better money elsewhere then I've told them to go and do it. But no one apart from Paul Walker and Tom Kemp have signed for another club and we want all the others from last season to stay here. I've made most of them offers and we will just wait and see.

Our belts have been tightened but I think we'll be quite competitive. We can't compete with the top teams financially but we'll at least be middle of the road... No disrespect to the league (Southern League Premier Division) but I can't wait to have a fresh challenge. It will be brilliant to see the likes of Josh Green, who is a Brackley boy, playing in front of 3,000 fans at Chester'".

Darlington should have been in the BSBN this season but it is now definite which league they will be in as they "have lost their appeal to the Football Association over its decision to place the club in the Ebac Northern League. The ruling means the club will be prevented from playing in national FA competitions next season and must now change its name. The club's new owners, Darlington FC 1883, had hoped football bosses would allow the Quakers to play in the Evo-Stik League next season. But by rejecting the appeal, the FA is ratifying its decision to treat Darlington FC as a new club", reports the Northern Echo.

According to This is Lincs, "Steve Housham insists Gainsborough Trinity will not 'chuck money around for the sake of it' as he prepares to intensify his recruitment drive. The Blues' boss believes he is two or three players short of the squad he wants for the new season...

Housham has already been busy in the transfer market having signed Greg Young from Alfreton as a replacement for Andrew Boyce, who joined Lincoln City. Highly-rated winger Terry Hawkridge and defender Josh Wilde have also signed from Carlton Town and Buxton respectively. However, Housham is not finished in wheeling and dealing and will run the rule over a vast number of trialists...

'We are going to have a look at a few players during the summer and a lot of them will play in the first two friendlies', he said. 'It's up to them to impress us but I will say now we will not chuck money around for the sake of it... The players we want have to want to work hard and be successful, not just look to come here for a wage packet... We have had lots of CVs in from players and we've sifted through the ones that we want to run our eyes over. I don't want them to try and over impress, they have to be natural and I will soon know if they have what it takes'.

Housham said Trinity have benefited from their success last season as a number of players are eager to join the Blues on the premise they are in line for a good season... 'A lot of players know what we achieved last season and can see we want to go one better this year', he said. 'They can see we have a very good structure at the club and that we want to go places. Last season helped put us on the map so to speak and that's certainly attracted players' interest... We want to win promotion either by finishing first or going up via the play-offs'".

Meanwhile, the Chester Chronicle says that "Sean Clancy turned down the chance of higher wages and higher league football to become Neil Young's latest summer capture. Barrow, Southport and FC Halifax Town were among a host of clubs chasing the 24-year-old midfielder.

But Clancy, whose famous model sister Abbey Clancy is married to England striker Peter Crouch, made it clear Chester FC were the only club for him after leaving League Two new boys Fleetwood Town. Blues boss Young said, 'I've been talking to Sean for a number of weeks and although there has been a lot of interest in him, what was clear throughout the talks was that he wanted to come to Chester. He had bigger offers from elsewhere but he's looked at the size of the club, looked at the size of the fan base, and bought into what we're trying to do and what we've already done. We're in a very tough market now as we're a part-time club trying to bring in players who have been playing full-time. But we've managed to sell the club to Sean and to be fair to the lad, it wasn't hard. He's done his research into us and he's happy to be here and we're delighted to have him'.

Clancy came up through the Blackpool youth ranks and at the age of 16 was handed his Football League debut by then Tangerines boss Steve McMahon. Spells at Southport, Altrincham and Burscough followed before he signed for Fleetwood in 2009... Injury problems restricted his opportunities last season...

Clancy is Young's third signing of the last week after he completed deals for former Wolves, Sheffield Wednesday and Grimsby Town striker Adam Proudlock, 31, and Lancaster City goalkeeper Martin Fearon, 23".

But, "angry Neil Young has rubbished the suggestion Chester FC have the financial firepower to blow their Blue Square Bet North opponents out of the water. The money Chester have to spend on players has been talked up by rival clubs. But Young says most of what he hears about his budget is 'laughable'.

The double title-winning Blues boss said, 'People keep mentioning our budget and what we have to spend... Some of the figures I have heard are laughable. We will continue to spend within our means and I will worry about my own football club'. Young has signed seven new players and seen eight leave since leading Chester to back-to-back championship victories. While he is delighted with his dealings in the transfer market, he has lost out on targets to clubs who will play in the same division as the Blues next season."
---
21 June 2012
MORE TO COME
John Edwards, joint Press Officer at Moss Lane, writes, "Altrincham have snapped up former Blackpool striker Danny Mitchley in a move that is being seen as another significant step towards keeping the goals flowing at Moss Lane next season.

Alty were the Blue Square Bet North's joint top scorers, with champions Hyde, on 90 goals last season and boasted far and away the division's leading marksman in Damian Reeves, whose 44 goals overall seem likely to earn him a move to a Football League club.

While Reeves's remarkable feat is unlikely to be repeated, assistant-manager Neil Tolson is confident the arrival of 5ft 11in marksman Mitchley and ex-Oldham frontrunner Ryan Brooke will ensure Alty once more have a cutting edge.

'It's not a case of someone trying to fill Damian's boots, because it doesn't work like that,' said Tolson. 'Reevesie was exceptional and, fair play to him, if he gets fixed up with a League club, as seems likely.

'But don't forget, we created an awful lot of chances to help him reach that tally and, if we continue to do that, I'm sure we will continue to be an attacking force to be reckoned with.

'Ryan and Danny are both perfect for us. They are both young lads who are eager to prove themselves and want to keep learning. That attitude is so important, and when you add Leighton McGivern to the mix, you are looking at three strikers who could all be thinking in terms of 20-plus goals next season.

'We could see the load spread around a bit, rather than piled on to one person, and that would be no bad thing. Danny can hold the ball up and has good movement, but his main asset is he's a goalscorer. Blackpool gave him a two-year contract in the Championship, and they don't do that unless you've got something about you.'

As Alty prepare for the start of pre-season training on Tuesday, 22-year old Mitchley is unlikely to be the last arrival.

'A centre-half to play alongside Danny Hall is the priority, but we are looking at maybe two or three more new faces,' added Tolson. 'We haven't necessarily finished up front, but the main focus is on another defender'".
OLD BOY
A former Alty player is not flavour of the month at Haig Avenue as the Football Conference says that "Southport manager Liam Watson has spoken about his pre-season plans for the new season... Andy Owens he has stated he has left Southport; well, he must have retired as he is, as far as I am concerned, still a Southport player until a tribunal decides otherwise. If we go to a tribunal I will put a figure of £100,000 on his head! I will give the examples of players we have transferred and we can negotiate from that stance'".
BSBN NEWS
According to BSBN "Neil Young's Chester FC have announced the summer signing of versatile Sean Clancy for the upcoming season. Clancy, who closed out the 2011/12 campaign on loan at FC Halifax Town, has signed a one-year deal with the Blues from last term's Blue Square Bet Premier title-winners Fleetwood Town.

The 24-year-old scored an impressive 26 goals in 87 appearances over the course of a three-year spell with the Cod Army, 18 of those strikes coming in Town's Blue Square Bet North promotion-winning season in 2010. Able to operate as a left-sided midfielder or full-back, he arrives at Deva Stadium with previous experience with Southport, Altrincham and Burscough.

'It's a great signing for the Club, and I'm pleased that Sean has joined us as he can improve us going forward and has a proven record in the Conference North, where he has already scored plenty of goals', Young told the Seals' official website. 'There were other clubs in for Sean, including clubs from the Blue Square Premier, who were offering much more financially, but he has chosen Chester as he sees the ambition of the Club'".

From the BBC we learn that "Corby Town have signed the former Boston United midfielder Ryan Semple. The 26-year-old also counts Lincoln City, Peterborough and Rushden & Diamonds amongst his former clubs. Semple helped Boston to Northern Premier promotion in 2009/10 and then to the Blue Square Bet North play-offs in 2010/11. He was released by the Pilgrims in late April 2012, and becomes the third new player for the Steelmen after Paul Walker and Lewis Webb."

The Ellesmere Port First says that "Former boss Jim Harvey has tipped Chester to take the Conference North by storm next season. Chester were made favourites to win promotion to the Conference Premier by the league sponsors early last week with odds of 4/1.

Harvey, who will see his Stalybridge Celtic outfit try and thwart Chester's promotion hopes next season, agrees that the Blues are amongst the favourites to take the title. 'I don't think they will find it particularly tough', he declared... 'I imagine that they will have one of the biggest budgets in the league and they are one of the biggest clubs, so it is understandable that they are amongst the favourites. They have been very successful during the last two years and they have a budget that enables them to continue their progress through the leagues. They will soon be back where they belong, which I believe is the Football League'.

Harvey was in charge of Chester City for a matter of months in late 2009 and early 2010 as they lurked [?lurched] from problem to problem before their demise was finally sealed...

'The support Chester has is terrific and it is great to see everyone smiling again', he declared... 'Towards the end of my time people were not smiling and there were a lot of dark days, now when I go back to Chester I see people enjoying themselves... The crowds Chester get are a big boost to their budget', he explained. 'At Stalybridge we get crowds of 500 while Chester were getting 3,000 at times. That means that Neil Young has six times the budget I do. With that type of budget he can sign experienced players who know the league, while I have to go out and find young talented players that people haven't heard of'...

However, Harvey knows that this season will be about rebuilding his side rather than challenging the likes of Chester, Halifax and Guiseley. Ex-Chester youngster Rhys Meynell, Craig Hobson and Phil Marsh are amongst those to have left Bower Fold since the end of the 2011/12 campaign. 'My budget isn't strong', said Harvey. 'We have lost half of the team that came close to the play-offs last season and big changes will have to be made. We sold Connor Jennings to Scunthorpe in January for £100,000, which was a massive boost for the club because we needed the money. His departure was a major factor in us missing out on the play-offs, but now we are back to square one.

It will be the start of a two-year cycle for us this season. I will look to sign players for this season with an eye on getting them ready for a push the year after. It is disappointing but we will see what we can get together and I look forward to playing against Chester'.

Meanwhile, Blues boss Neil Young admitted he was close to signing an experienced midfielder in a bid to strengthen his squad for the Conference North campaign. He said, 'A deal has virtually been done to secure the services of a midfielder from a higher level who can play a wide or central midfield role. The players I have signed so far have been brought in to improve us, and the midfielder I'm planning to sign will certainly do that. My target is to assemble a squad of 18 or 19 players, which includes two goalkeepers, before the players turn up for pre-season training which is scheduled to start on June 28'".
WELSH NEWS
The BBC confirms that "Wrexham and Newport County have not been invited to participate in the 2012-13 Welsh Cup as they would be not able to qualify for Europe. The two Blue Square Bet Premier clubs, plus Western League champions Merthyr Town, returned last season after a 17-year absence in the competition. But UEFA ruled in March ruled that clubs in the English pyramid could not represent Wales in Europe .

The New Saints beat Cefn Druids 2-0 in last season's Welsh Cup final. The winners of the Welsh Cup qualify for the Europa Cup and Uefa, European football's governing body, have said the only way Wrexham, Newport, Merthyr, Swansea City, Cardiff City and Colwyn Bay can qualify for Europe is by representing the English league. Uefa's executive committee rejected the Football Association of Wales's request to give their six exiled clubs a promise of European football through the Welsh Cup".
---
20 June 2012
JUST THE TICKET!
Don't forget that there is a £10 discount if you purchase your Altrincham FC season ticket before June 30, 2012. Details of the prices and how to apply are here. And, as an added bonus, the holders of season tickets gain free admission to Altrincham FC's home pre-season friendlies, a list of which is here.
YANKEE'S £2,700 TO BE WON
The Altrincham FC Saturday Yankee's winning code this week was 2271, which had not been issued. So, the jackpot now rises to £2,700, which can be won by YOU for a £1 stake. Five entrants did win £40 each for winning trebles. The Saturday Yankee also helps the club's funding, so please do consider joining.
BSBN NEWS
The Football Conference says that "Carl Macauley, manager of Vauxhall Motors, has signed defender or midfielder Michael Burns from league rivals Guiseley. Burns is a former Liverpool player. He was a member of their 2006 FA Youth Cup-winning squad and has also represented England under-16s three times. Since then he has played for Bolton Wanderers and Carlisle United before being loaned to Newport County during 2011. He joined Guiseley in June 2011."
OLD FOES
They may have only agreed to pay their creditors 10p in the pound but, nevertheless, Kettering have come up with a big-name managerial appointment. "George Rolls believes John Beck is the 'ideal appointment' at this stage of Evo-Stik Southern League Premier Division club Kettering Town's history.

The Poppies' acting chairman has moved quickly to make his first managerial appointment at Nene Park after a busy weekend, which saw the club enter into a Company Voluntary Arrangement in a bid to sort out their debts of £1.2m. Kettering were then confirmed as an Evo-Stik Southern League Premier Division side at their annual meeting in Torquay on Saturday.

And Rolls has wasted little time in confirming Beck, who has been strongly linked with the post, as the new man at the helm. The 58-year-old has enjoyed a fine managerial career, most notably with Cambridge United and, more recently, at Histon where he was assistant-boss to Steve Fallon...

'I think John's record speaks for itself', Rolls said... 'There aren't many managers out of work who can match it... He knows our expectations and he is a disciplinarian. He will get our players organised. He knows promotion is our aim. I know he will get some good players in at the right price'", he told the Northants Telegraph.
---
19 June 2012
ALTY SIGN NEW STRIKER
Altrincham FC is pleased to welcome to Moss Lane, Liverpool-born striker Danny Mitchley, aged 22 (d.o.b. 7 Oct. 1989). After starting out with Skelmersdale United as a youngster, the 5ft 11 inch forward was at Oldham Athletic before going to Blackpool. His career at Blackpool, where he made two Championship appearances in 2008-09, was halted by a broken foot, which led to his moves on loan to Southport (March 2009), Burscough (August 2009) and Wrexham (March 2010) before he found himself at Mansfield Town's Field Mill (November 2010), following a second brief spell with Burscough. He was loaned to Nuneaton Town late last September and made a great start, scoring twice in the first quarter of an hour of his debut.
BSBN NEWS
NL Daily says that "Curtis Woodhouse, manager of Sheffield FC, has begun building his side for the new season with the addition of five players... Anton Foster, who will celebrate his 30th birthday later this month, joins from FC Halifax Town".

Bishop's Stortford "have announced the departure of coach Colin Reid. Reid, who joined Stortford in December 2012, when brought in as first team coach by manager Rod Stringer, will be taking up a full-time coaching position at Macclesfield Town under their new manager Steve King...

Meanwhile, the following players from last year have been retained and have signed registration forms for the 2012/13 season, Reece Prestedge, Matt Johnson, Ritchie Jones, Max Latte-Jallow, Jack Lampe, Harry Milton, Phil Anderson, Jordon Pavett and Matthew Redgrave. New players to sign forms are Lewwis Spence, Steve Cawley, Scott Ginty and Nathan Gordon".

According toBulls' News, "Worcester say that ex-Bull Danny Carey-Bertram has turned down an offer to stay at St George's Lane and will be seeking a new club for the coming season".

This is Lincs says that "Plans to crackdown on overspending clubs by policing their finances will help create a 'level playing field', a top league chief has insisted. The Echo can reveal how the Football Conference wants to enforce financial fair play across its three divisions by monitoring their budgets...

Those who do not comply, or send their figures in late, risk punishment, which could end in a transfer embargo. In an exclusive interview with the Echo, Conference General Manager, Dennis Strudwick, said he is keen to stop the boom and bust culture.

'These rules will help create a level playing field and, not only that, they will give clubs extra protection', he said. 'We cannot police accounts in extreme detail but, if clubs are going to make a loss, then we want to know the measures they have in place to offset it. Loans from directors are all well and good, but they will want them back and, in some instances, they can actually be recalled at any time. There have been clubs who have fallen by the wayside as a result and that is what we want to stop'...

However, because of concerns that some clubs rely on directors' loans rather than self-funding, the proposals are back under revision. A conclusion is now expected at the Conference's EGM early next year, although it is widely accepted that it is a matter of when, not if, the new rules will come into force. In the meantime, all Blue Square Bet Premier teams have been asked to submit a budget for examination".
CHESHIRE NEWS
The Northwich Guardian reports that "Jim Rushe has not given up hope of Northwich hosting opponents in Manchester next season, despite league bosses insisting Stafford will be the club's base.

Vics' owner will ask the Football Association to force the Evo-Stik Northern Premier League to bend its own rules and allow the team, allocated a place in the competition's southern section, to play home matches at Flixton's Valley Road ground. The game's governing body listens to his case at an appeal hearing later this month.

In the meantime, Vics' place in Division One South for next season is to be made official at tomorrow's annual meeting in Blackpool. 'For us, the situation is unchanged', a League source told the Guardian. 'Stafford Rangers' Marston Road continues to be the sole designated home ground for all Northwich fixtures during the coming campaign'. The FA's leagues committee recommended last month that Northwich play in the NPL's southern division as a consequence of the club's agreement with former Conference foes Stafford, a switch sanctioned only hours before a deadline in March.

Vics originally came to an accord with Skelmersdale to play at their West Lancashire College Stadium but then, still in with a chance of promotion, had to find an alternative when inspectors said the ground was not up to scratch for the Northern Premier League's top tier and, in turn, the Conference. However, last month the FA confirmed that Flixton's home patch was fit enough only for North West Counties League fixtures.

The Guardian understands that [that], plus a reluctance to ask the other 21 Division One South clubs to travel more than 50 miles further north for away matches to Greater Manchester, is the reason behind the league's refusal to approve a change.

Stafford would not complain though. 'As far as we are concerned, Northwich have our blessing to go somewhere else', said chairman Mike Hughes...

Flixton, despite being invited to, have not commented. Their resignation from the North West Counties League is set to be accepted at that competition's annual meeting, also scheduled for tomorrow, Saturday. One team definitely calling Valley Road home next season is Northwich Villa.

'After much discussion I have managed a share move for us to play there', said new secretary Ken Stevenson. The North West Counties League has the same security of tenure regulations as the Northern Premier League, but has decided to make an exception for Villa. 'The intention was for Northwich Villa to continue playing at Winsford but that changed when the latter amended the terms of the original ground share', said a spokesman.

'Villa therefore looked for a new venue, and the league's emergency committee approved this one'. Winsford wanted to be paid next season's rent before a ball is kicked. But Villa, who switched to Barton Stadium in January after the Victoria Stadium's new owners Thor Specialities (UK) Ltd said football could no longer be played there, refused".
---
18 June 2012
MORE ON THE LADIES' NIGHT
At Saturday's presentation evening for the Altrincham FC Ladies, manager Keith Edleston recalled a successful inaugural season for his open-age team. With fellow coaches, Rick Brennan and Jamie, as well as Altrincham FC Community Officer, Chris Bullock, Keith then compered the evening. Altrincham FC chairman Grahame Rowley made the presentations, which included a memento for each of the players. After a short break, the individual awards were made, as follows...
Sportsperson of the Season: Nadine Dixon
Most Improved Player of the Season: Jaquie Farrar
Manager's Player of the Season: Natalie Thornley
Players' Player of the Season Runner-Up: Rosie Emerson
Players' Player of the Season: Louise Edleston

Pictured below are the individual awards; (Jaquie Farrar was unable to attend). If anyone requires a full version of any image (which includes chairman Grahame Rowley making each award), please this website, quoting the image number (found by right-clicking on image).

For photos of the squad presentations, visit the Ladies' Presentations page.
BSBN NEWS
BSBN reports that "Gainsborough Trinity boss Steve Housham is confident new signing Josh Wilde will add value to the Blue Square Bet North outfit. The 20-year-old left-back recently penned a one-year deal from Buxton FC. 'We were trying to get Josh in last season, but it didn't work out for us', said Housham in the Lincolnshire Echo.

'He is an attack-minded full-back and has good pace and a great delivery. He is another talented young player who has committed himself to Gainsborough and he will fit into the squad very well. We are delighted to get him'.

Housham is also pleased midfielder Shane Clarke has agreed to stay at the club for next season... Housham added, 'Shane does not have another job, football is his livelihood so he had to be sure it was the right deal for him. He was excellent for us last season but did have a bad time with injuries. I believe we will see even more from Shane Clarke next season'".

Two players exiting the BSBN are the subject of a report from Pitchero Non-League, which says that "Bedlington Terriers have announced the signing of another three high-profile players ahead of the 2012/13 season after announcing the capture of Richard Pell from Harrogate Town. The Terriers have agreed terms with prolific and much-travelled striker Paul Brayson.

Brayson has played for such clubs as Newcastle United, Cardiff, York City, Gateshead, Blue Star and more recently, Harrogate Town, where he was a team-mate of ex-Lincoln City, Boston United, Gainsborough Trinity, Blyth Spartans and Alfreton Town defender Pell. Former Gateshead midfielder Scott Blandford has also joined, and the club have re-signed left winger Stephen Baptist".
---
17 June 2012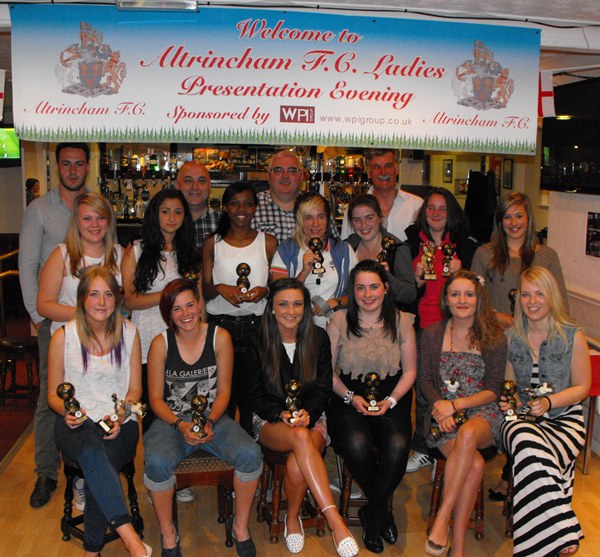 LADIES' NIGHT
On Saturday night at Moss Lane Altrincham FC Ladies held their presentation night, compered by manager Keith Edleston, and kindly sponsored by the WPI Group. Pictured, right, are the Ladies at the end of the awards. Every player received a memento of the team's inaugural season and five individual awards were also made, by Altrincham FC chairman, Grahame Rowley:
Sportsperson of the Season: Nadine Dixon
Most Improved Player of the Season: Jaquie Farrar
Manager's Player of the Season: Natalie Thornley
Players' Player of the Season Runner-Up: Rosie Emerson
Players' Player of the Season: Louise Edleston

There will be a fuller report and many more photos on the website by Sunday night.
WELCOME BACK!
Altrincham FC are pleased to welcome back to the club physiotherapist Alan Ainsley. Alan first came to the club as physio when Altrincham re-established its reserve side in 2003/04 under Neil Brown's managership. Prior to that Alan had football experience as a coach and physio at local club, Fletcher Moss FC, and was also a manager there for three years. He has also been involved with Northwich Vics and Stalybridge Celtic, as well as being a coach for the Tameside Sports Trust. More recently he has worked at Abbey Hey and supporters will also know hime as a regular defender in the Altrincham FC Staff v Supporters games.
CONGRATULATIONS
The Manchester Evening News reports that longstanding friend and sponsor of Altrincham FC, Carole Nash, has been awarded the OBE in the recent Honours List. The MEN says that "When Carole Nash received news of her OBE through the post, it took her almost a day to pluck up the courage to open it, because she thought it was a speeding fine.

The gran of eight, 71, who made millions when she sold her Altrincham-based motorcycle insurance company, was awarded the honour for her services to charity in the north-west. Mrs Nash, from Bowdon, said it is one of the proudest moments of her life. She said, 'I was overwhelmed when I realised I had been awarded my honour. It was a lovely surprise and very unexpected'".
OLD BOY
BSBN reports that "Colwyn Bay player-manager Jon Newby has completed his second new signing of the summer in former Workington and Hyde striker Matty Berkeley. The 24-year-old, who has won two international caps for St Kitts and Nevis, scored 11 goals in 27 appearances for the Reds, following a stint at Gretna when they were in the Scottish Premier.

Last season, Berkeley struck eight goals in 17 outings for the Tigers... He also had spells at Altrincham, Mossley and Leigh Genesis before joining Welsh Premier champions The New Saints, where he scored 21 goals in 60 appearances between 2009 and 2011.

Newby said in a club statement, 'Matty is a strong, speedy front man who has scored goals where ever he has been and with Hops (Rob Hopley), myself and Allan Collins we now have four good strikers that should increase our goalscoring threat'".
BSBN NEWS
According to Buckingham Today, "Brackley Town have won the Vefa Club House competition as work continues off the pitch in preparation for their first season in the Blue Square North. The club beat off hundreds of other teams from across Derbyshire, Nottinghamshire, Leicestershire, Northamptonshire and Lincolnshire and work has already begun on the new club house.

Having had their place in the league confirmed, Brackley's attention has already turned to making improvements to St James' Park. Work is needed in order to meet the tough ground grading requirements for the Conference League and also to provide first class facilities for spectators, junior teams and the wider community.

Club chairman Sara Crannage has described the challenge as enormous, saying, 'For a small club there is so much to do but we have a clear plan that has taken shape and we are now making strides forward with everyone pulling together. We have three major projects; installing new floodlighting, creating additional ground capacity and providing enhanced facilities including changing rooms, toilets and segregation for big games'.

New fencing has already gone up at the ground while the club also have plans to include new terracing and additional car parking.

On winning the Club House competition, Crannage added, 'This competition attracted hundreds of applications from football clubs across five counties and Brackley Town has been selected as the winner and proud recipient of a new clubhouse. This will provide new changing accommodation and a first class additional facility for the club and the wider community. I wish to thank Vefa UK for this wonderful opportunity that will benefit so many people. Arrangements for delivery and build on site of the 19 metre long building are progressing well and will supplement existing facilities perfectly'".

Another happy club are Solihull Moors who "are pleased to announce that the club has signed midfielder Andy Gooding from Hinckley United for his second spell with the club. Andy previously had a loan spell with us in the 2010/11 season, making 6 starts for the club...

Andy was on the books of Coventry City as a youngster, and also represented England in his youth, including making two appearances for his country at the 2005 UEFA European Under-17 Championships in a side that included current England player Theo Walcott. After leaving Coventry he had spells with Burton Albion, Rushden and Diamonds, Corby Town and two separate spells at Hinckley. Last season at Hinckley he captained the side making 37 appearances for the Knitters scoring four goals".
OLD FOES
The BBC states that "Debt-ridden Kettering Town have moved closer to securing their future after the approval of a Creditors' Voluntary Arrangement at a meeting on Friday. The Poppies owe a total of £1.2m to 71 creditors and will now pay about 10p in every pound over the next three years. However, current directors of the club are among the creditors and they are expected to write off their losses. Approval of the CVA will allow acting chairman George Rolls to complete his proposed takeover of the club.

Rolls is currently facing more than 3,000 Football Association charges for alleged breaches of betting rules, relating to his time on the boards of Cambridge United and Weymouth. Speaking to BBC Radio Northampton, he denied the charges but was unwilling to say more on the matter.

Kettering's eight months of anguish
Nov 2011: Placed under transfer embargo and deducted three points for failing to pay players' wages in full
Jan 2012: Replaced boss Mark Stimson with Mark Cooper, who subsequently refuses to work until players are paid. Ashley Westwood takes caretaker charge.
Feb 2012: Winding-up petition from HMRC deferred.
Mar 2012: George Rolls pays HMRC tax bill and effectively takes over from Imraan Ladak as club owner
Apr 2012: Relegated from Blue Square Bet Premier
May 2012: CVA bid launched as club decides to drop two divisions
Jun 2012: CVA approved, clearing way for Rolls to complete his takeover

Regarding the CVA agreement, he said, 'It's not good for the creditors who have lost their money. However, they will get some money back over a period of time. We feel for anyone put in this situation. I've been hit myself in the last three years on companies that have gone bust on me. I've lost £600k in bad debt and I understand what it's like. It's not a nice thing to happen'.

He added, 'There weren't that many people at the meeting. A lot of people had put their proxies in. The mood was one of relief that the CVA was accepted and I think everyone is looking forward to a really good start to the season. It's the start of a new era at Kettering Town. The club is now relatively debt-free and it's all positive. I think the fans will see a winning team next year, hopefully as well'.

The Poppies, who suffered relegation from the Blue Square Bet Premier last season, are poised to start the new campaign two tiers below in the Southern Premier. "

From the Cambridge News we learn that "Dave Doggett is confident Cambridge United will not be affected by Football Association charges against former chairman George Rolls. Rolls, who quit the United hot seat three years ago, was charged on Thursday with more than 3,000 breaches of the governing body's rule E8, which states participants cannot place bets on the club or competition with which they are involved. He was also charged with three breaches of FA rule E3 regarding misconduct during the probe into the betting allegations.

Rolls, who now owns Kettering, has denied the charges, which will be considered by an independent regulatory commission on July 4. But United managing director Doggett was optimistic the club would not be dragged into the situation despite 974 of the alleged breaches taking place during the 2007-08 campaign and 1,707 relating to the 2008-09 season when Rolls was on the board at the Abbey.

It follows Weymouth issuing a statement on their official website yesterday claiming the FA had confirmed they would not be punished despite Rolls's remaining 392 alleged betting breaches taking place during the 2009-10 season, after he had bought the Evo-Stik League Southern outfit.

Doggett said he similarly expected the charges not to reflect on United and felt only Rolls, who is banned from the R Costings Abbey, was likely to be sanctioned if the allegations were proven.

He said, 'The FA haven't been in touch with us, but we're going to put in a call just to see what the implications are for us. We believe they're just personal cha'.

Rolls joined the United board as business development director in 2007 before taking responsibility for playing matters the following year... He became chairman in January 2009, but resigned in August the same year... Rolls bought the Terras later the same year before selling the club for a five-figure sum in February to launch a takeover bid at Kettering".
GROUNDS FOR SATISFACTION
The Football Conference announces "The results of this season's Groundsman of the Year awards have now been confirmed... The judges reported a particularly high standard of Groundsmanship across the country despite the adverse winter weather...
The Football Conference Award Winner : Rob Brooks, Alfreton Town FC
Runner Up : Graham Osbourne, FC Halifax Town
3rd Place : Stewart Ward, Forest Green Rovers
Northern Premier League Award: Winner : Michael Grimmer, Stocksbridge Park Steels FC
Runner Up : Graham Foxall, Trafford FC".
---
16 June 2012
LADIES' NIGHT
Saturday night (16th June) is Altrincham FC Ladies' Team's Presentation Night, starting at 7.30pm. All supporters are very welcome, in the bar at Moss Lane.
MONTHLY DRAW
The Altrincham FC Monthly Draw was made at Moss Lane at half-time during the England-Sweden game. The outcome was:
1st prize (£100): No. 13 John Laidlar
2nd (£50): No.36 Andrew Shaw
3rd (£35): No.50 Jenny Heslop
4th (£15): No.9 Steve Foster
BSBN NEWS
The Football Conference confirms that "Mike Ford, manager of Oxford City, has secured a third signing for the upcoming season. After revealing the arrival of goalkeeper Dan Platt from Evesham United and Nick Stanley`s return from Swindon Supermarine, Ford has announced the signing of the experienced Jamie Cook. Cook joins the newly-promoted club from Conference South side Bath City.

Thirty-two-year-old Cook began his career at Oxford United before Steve Evans signed him for Boston United, where he went on to lift the Conference Premier championship. He enjoyed further spells at Stevenage Borough, Bath and a brief spell at his local side Witney United before joining Rushden & Diamonds in 2007. Cook once again joined up with old boss Evans at Crawley Town, where he netted thirty-three goals in seventy-eight matches before Oxford United's '12th Man' fund saw him head to the Kassam Stadium.

However, he made only sixteen appearances before returning to Crawley where he was part of the team who entered into a magical FA Cup run culminating in a trip to Old Trafford against Manchester United".

Meanwhile, "Neil Young, manager of Chester FC, has signed former Wolves striker Adam Proudlock. Proudlock, 31, has extensive League experience and joins the Blues having turned down a new contract offer at AFC Telford United. The striker has twelve years' League experience behind him, with spells at Wolves, Sheffield Wednesday, Stockport County and Grimsby Town, making over 250 League appearances in the process.

Telford signed Proudlock in 2010, and the striker was part of the squad that were promoted from the Conference North in 2011. Young said, 'I've been looking to bring in a big strong centre forward and Adam fits the bill, and has a proven record at a higher level. We can also benefit from the fact that he's also partnered Nathan Jarman previously too, so that will bode well for us. Adam is fit and raring to go'".

According to BSBN, "Harrogate Town have announced that central defender Richard Pell has decided to leave the club this summer. Having made the move to Wetherby Road at the beginning of the 2010/11 campaign, Pell made 51 appearances and scored seven goals for the Sulphurites... Pell, who had been carrying a niggling injury suffered over the festive period, was invited back for pre-season training but has since opted to join Bedlington Terriers."

His brother, Matt, is at Altrincham FC, but the NL Daily tells us that "Goalkeeper Martin Fearon has left Lancaster City for Chester FC. Fearon makes an impressive step up from the Evo-Stik League Division One North to the Blue Square Bet North after being an ever-present part of Tony Hesketh's side over the last three years".

Elsewhere, "Manager David Livermore could discover his playing budget next week if Histon's new board of directors can unravel a couple of mysteries in their books. The new board met for the first time on Wednesday night and chairman Russell Hands said plans for next season are taking shape.

Stutes' manager Livermore is still waiting to find out how much money he has to spend, with captain Daniel Sparkes and Remy Clerima having turned down re-engagements and the futures of Jorg Stadelmann and Grant Roberts unclear. But some grey areas in the finances need to be clarified before a playing budget can be confirmed, while the Football Conference are also bringing in stricter punishments for clubs who fall foul of financial regulations.

'We just need to clarify these couple of situations to make sure what we've set out can really work', said Hands. 'Everything's set in place, but we need to cross the T's and dot the I's. We need to clear the decks and make sure there's nothing in the closet we don't know about. There are a few things we need to find out, otherwise they could come back to bite us. We hope to have some indication next week of where we can go and then we can set David a budget'", he told the Cambridge News.

Formerly Lee Sinnott's assistant at Farsley Celtic, "John Deacey, manager of Blue Square Bet North newcomers Bradford Park Avenue, has wasted no time in bolstering his squad for next season since returning from a trip to play in a Veterans' World Cup tournament...

New arrivals are Danny Holland and Aaron Hardy from FC Halifax Town, who will be divisional rivals next season, and Jamie Jackson from Worksop Town. Avenue chief executive officer Bob Blackburn said, 'There are three new signings that John has asked me to confirm and he is working on bringing another three players in, hopefully before pre-season gets underway. Holland is a formidable striker and should fit in with Jackson, who is a forward who fills one of the wide roles.

Added to what we have already got, that should give us more strike power, while Hardy is a right back. Jackson can be that fox in the box, because you never know where he is going to pop up. He played against us for Worksop last season and tore us to bits. He is exactly the kind of player that will improve us, as will the other two. Holland's record speaks for itself'.

Blackburn added, 'John wants another three players, one of which is a keeper. We need to operate with two top goalkeepers next season – in fact, we need competition for every place. But John is happy with last season's squad and feels the six players he is going to add in total will be enough to make us competitive next season'" reported the Telegraph & Argus.
CHESHIRE NEWS
Northwich Victoria report that "Andy Mutch has called for Northwich Victoria fans to 'move forward together' in the hope that happier times lie ahead for the historic 138-year-old football club. The new Vics' manager said supporters needed to unite, in a pragmatic interview, but [he] could understand the feelings of disappointed fans, disillusioned by the way the club has been ran [run].

The much travelled former Vauxhall Motors and Burscough boss, aged 48, said, 'I will do my job to the best of my ability and my long term aim is to get this club back into the Conference National. The fans needs to unite, we're not going to please everyone, people will come with you and people will go against you but we just have to accept that'.

Mutch also said he would be careful with the wage bill for next season, after it was confirmed by the chairman, Jim Rushe, at the last open fans meeting, that the club would spend £3,500 on player salaries per week – the same amount as the previous campaign.

He said, 'Having a specific budget doesn't mean I'm going to spend all of it. I will be careful not to overspend because there could be a time in the season when there are a few players injured and I might look to bring a few in'.

The ex-assistant manager of AFC Telford and Morecambe, who he helped to second [place] in the Conference Premier, has already signed six players as he looks to rebuild a squad dismantled from the club's forced relegation last season.

Mutch said, 'No players are contracted currently, although I can't say for sure that will be the case in the future. The secret to me attracting players like John Hardiker is my name and the fact I know them from my past experiences in football'.

Previous experiences at Burscough have also allowed Mutch to draw sympathy for Vics having to ground share at Stafford Rangers next season. Mutch had to contend with the chairman, Chris Lloyd, suffering a brain tumour and working on a low budget with the Lancashire outfit in exile, after also losing their ground.

'Playing at Stafford is a tremendous strain on supporters and players. Some lads I have spoken to about signing won't [sign] until they know exactly where we are playing and what league. There is still a possibility of playing at Flixton. It's not easy, but it will just require a lot of hard work'.

A move to Flixton's, Valley Road, looks unlikely though as it will probably not meet the ground-grading requirements for Evo-Stik Division One South. Vics are likely to be confirmed in the Southern division of the Northern Premier League (NPL) at the league's AGM tomorrow, but Mutch was not worried despite the greater travelling conditions and cost.

'I don't see any problem playing in the South because you travel in whatever league you are in, including the North. Players are used to it these days'.

Mutch applied for the Vics' job after former manager, Andy Preece, left in January and fans first learnt of the problems with the ground but Rushe preferred Paul Simpson at the time and more recently Martin Foyle, until Mutch was offered the job by Rushe in May.

'I'm delighted to get the job, my main reason for coming to Vics was the fact I had a soft spot for the club and consider them to be one of the biggest names is non-league football... There is a certain disappointment within the club at the way its run but I'm the football manager and am not in control of those things. The people in positions to do that will do so and address any problems that hinder us from going up the leagues'".
3,076 CHARGES
The FA has confirmed that Kettering Town owner, George Rolls, has been charged by them... The FA has charged Mr George Rolls in relation to alleged breaches of its rules governing Misconduct and Betting.

Mr Rolls has been charged with the following offences:
Three breaches of FA Rule E3 – Misconduct relating to his conduct during the investigation of the alleged breaches of the Betting rules
974 breaches of FA Rule E8(a) – Betting - during the 2007/8 season
1,707 breaches of FA Rule E8(a) – Betting - during the 2008/9 season
392 breaches of FA Rule E8(a) – Betting - during the 2009/10 season

Mr Rolls has denied the charges which will be dealt with by an independent Regulatory Commission on 4 July".
---
15 June 2012
ON THE SCREEN
The club will be showing all of England's games in the European Championships, live in the Noel White Suite. Tonight's fixture is...
England v Sweden - Fri 15th June 7.45pm

And the final group game...
England v Ukraine - Tues 19th June 7.45pm

As a special promotion all of Hyde's bitters will be priced at just £1.50 a pint and all other beers or lagers will be £2.50 a pint. So, come along to support England as well as your local club.
THANK YOU
Altrincham FC expresses its thanks to Dawn Roberts who, through the Barclays Giving scheme, has matched the funds raised at the recent Steve Claridge Sportsman's Dinner event to the tune of £750 for the benefit of the Club's Community activities. Altrincham FC chairman Grahame Rowley says that he and the club, "very much appreciate Dawn and her colleagues' efforts towards bringing the award to fruition".
OLYMPIC BREAKFAST
Altrincham FC has been advised by Trafford Leisure that "On Sunday 24th June 2012 at 6:15 am, Trafford will be welcoming the world as the Olympic torch relay comes to our borough. You are invited to celebrate this extraordinary event with us and to take part in a whole morning packed with record breaking Olympic fun and games!

The torch will come into Trafford from Media City at around 6.15am and travel to Old Trafford Football Stadium, move down to Talbot Road, before heading down Seymour Grove. Exact details of the torch relay route can be found here.

Following the Olympic spectacle, a 'Good Morning Trafford' family event will be held at Lancashire County Cricket Club! The event takes place from 7am until noon and will be open to everyone. There will be a whole morning of action packed events and sporting activities - special guest appearances, the chance to meet official torch bearers and have your picture taken with an Olympic torch and a mascot race with all of your favourite local mascots!

This special morning will be even more memorable for local groups as they take part in a world record breaking 'Big Breakfast' at Lancashire County Cricket Club. The record is for the greatest number of people participating in eating breakfast cereal at a single venue and will start at 7.30am.

If you would like to be a record breaker, tables of ten are available for local groups. To register for a table please e-mail Joanne Ellor. Be a part of this unique and unforgettable morning as Trafford celebrates the Olympics!!
CAN YOU HELP, PLEASE?
Altrincham FC chairman, Grahame Rowley writes:

"Once again, at this time of year, work continues behind the scenes to raise vital funds for the Football Club before the football action starts. Once the fixtures are out, the main priority is getting Match Sponsors for all the fixtures so, at present, we are renewing advertising hoardings and programme adverts.

This is where you may be able to help. With time short and manpower limited, I'm looking for help with compiling our 'Pubs Page' - trying to get 11 local pubs to pay £50 for an ad in our matchday programme on our 'Featured Pub" page. Anyone who bought a programme last season will have seen the full colour page, with each pub able to advertise with a short message, as well as choosing the colour of their kit in the advert.

Can I ask you to ask your 'local' whether they'd be interested or not in being featured this season? I can scan a copy of last season's page, if required, and can provide receipts for all monies collected. Your help would be much appreciated. Please e-mail me with any bookings or contact the office on 0161-928-1045.

Many thanks, Grahame Rowley".
OLD BOY
NL Daily reports on a player who impressed on loan from Rotherham United at Alty in 2007-08. "Mr Consistency of the Matlock Town midfield Liam King [right] has shocked the Gladiators faithful in moving on from the club. The 24-year-old had established himself as the Gladiators' kingpin in their engine room with a series of fine performances. After being at Matlock for four seasons since his release by Rotherham United, boss Mark Atkins fully expected him to sign a new contract. He now looks set for a surprise move to divisional rivals North Ferriby United.

King admitted in a message on the club's official website, he felt he needed a change. Atkins is far from pleased with King's decision, particularly as he offered him an improved deal after King revealed to him that other clubs were showing an interest in him".
BSBN NEWS
The Gainsborough Trinity FC chairman says "I would like to announce that we have agreed to sign Greg Young [left] from Alfreton. This will be completed on Friday. An excellent replacement for Boycey, with a huge amount of experience, he promises to be a great asset for the club and we wish him all the best here at Trinity".

This news is confirmed by the Conference which adds that "Alfreton Town defender Greg Young has agreed terms and will be signing for [Trinity] An ex-York City and Altrincham central defender, Young was the Reds' first summer signing of 2011. He arrived at the Impact Arena on a two-year deal, but it was actually a second spell with Alfreton following a month's loan spell at the start of the 2007/08 campaign where he made six appearances.

At 6'3'' he will bring plenty of power and experience to the Trinity defence... Upon his release by Grimsby, he joined Halifax Town for three seasons... He moved on to Altrincham, where he made 108 appearances over nineteen months, before moving to York City in August 2010. He ended the 2010/11 campaign back on loan at Altrincham for the last two months".

The Herts & Essex Observer reports from Bishop's Strotford that "Former Crystal Palace midfielder, Lewwis Spence, is one of four new players Blues' boss Rod Stringer has brought into his squad for the 2012/13 campaign. Spence, 24, brings an exciting pedigree to Woodside Park as he has twice worked with ex-caretaker England boss Peter Taylor.

Spence first linked up with Taylor, current head coach of the Bahrain national team, at Selhurst Park, where he was a regular in the reserves and made two league appearances for the first team between 2004 and 2006. The duo came into contact again at Wycombe Wanderers, where Spence played 30 matches between 2008 and 2010.

After leaving the Bucks side, he made 15 first team appearances at Rushden and Diamonds and more recently, was at Dover Athletic...

Stringer said, 'Lewwis is coming back from an injury (knee) and will need time. He can play in the midfield or out wide. He is going to get more of chance to feature with me than a higher club'. Forward Scott Ginty, who has played for Ebbsfleet, is another new face at Blues as are central midfielder Steve Cawley from Waltham Abbey and right winger Nathan Gordon from Grays Athletic.

Stringer said, 'Scott is strong and he has more of a chance of playing every week (at Stortford). Steve (Cawley) is a box to box midfielder and I am confident he can step up (two leagues). Nathan is strong and quick. He has an eye for goal'.

Meanwhile left back Sebastian Dunbar and Paco Craig, who could play in midfield or defence, have also left. Stringer explained, 'Sebastian lives in Ipswich and I cannot afford to give him a lot more money. Paco Craig has gone on a football scholarship to America'. Stringer's shopping still list includes a winger, a left back and a central defender".

From the Oxford Mail, we learn that "Oxford City goalkeeper Jason Mooney and defender James Clarke have been invited for trials at Tranmere Rovers and Yeovil Town. It is a blow for City manager Mike Ford, who was hoping to have both of them in his squad... but Ford admits it will be tough to keep them.

He said, 'Jason had a trial at Cheltenham and now he's going to Tranmere for pre-season training, so the likelihood is that he will be snapped up by a League club. James is going to Yeovil for two weeks and, although he is still our player (he is under contract), I didn't feel we could stop him having the opportunity to go to a Football League club. If I'm being selfish, I would like him back at the club. I told him how valuable he has been to us, but I hope it works out well for him...

Ford has already anticipated Mooney's departure by signing former Crewe, AFC Telford and Nantwich keeper Dan Platt, 21, from Evesham. He added, 'He's has played at a decent level. They got relegated last season and wasn't prepared to stay with them'. In addition, winger Nick Stanley, 25, has rejoined City from Swindon Supermarine after leaving last season due to family reasons which have now been resolved".

There have been mass departures from Corby Town where the "Football Club can confirm that a number of last season's squad have departed Steel Park ahead of the new the 2012/13 season. Defender Delroy Gordon has today left the club to join Nuneaton Town.

Long-serving midfielder Steve Towers has also ended his five-year stay at Corby Town, by agreeing a deal at Worksop Town. Youngster Lee Beeson has also re-joined the Tigers on a permanent basis, following a successful loan spell at the end of last season.

Striker Mark Jones will be returning to Steel Park next season as a Boston United player, after joining the Lincolnshire club in May.

Also, no fewer than seven of last year's squad have followed Graham Drury to Stamford, with the former boss securing the signatures of defenders Richard Jones, Joe Hopewell and Paul Mayo, midfielder Tom McGowan and strikers Greg Smith, Gary King and Sam Mullarkey. Physio Chris Palmer and coach Dean West have also left the club to team up with Drury".

But the NL Paper confirms some new arrivals at Corby, who it says "have signed two new players and have also retained the services of centre-back Phil Gulliver. Goalkeeper Paul Walker joins the club after being released by Northampton Town at the end of last season.

Stepping up to join the Steelmen from St Neots Town is midfielder Lewis Webb. Webb, 22, skippered the Saints in 2011/12 and has been a key figure in their back-to-back promotions over the past two years. Gulliver re-signs for Corby for what will be his fifth season with the Northamptonshire outfit.

The ex-Rushden and Hereford man joins Steelmen skipper Paul Malone in committing himself to the club for the 2012/13 season".
---
14 June 2012
ALTY'S RESPECT AWARD
John Edwards, joint Press & Media Officer at Moss Lane writes, "Chairman Grahame Rowley was beaming with pride after Altrincham won a prestigious award at a Football Conference gala night in South Wales last weekend.

The Moss Lane boss arrived at the annual meeting and awards dinner at the Celtic Manor in Newport unaware that Alty had been installed as inaugural winners of the Respect Award trophy for overall contribution to the Conference during last season.

'They had kept it quiet, and I must say it was a lovely surprise when I got there and was told about it,' he said. 'It was one thing finishing second to Nuneaton in the Blue Square Bet North Fair Play table, but this was a real feather in our cap.

'There was an extra dimension to this, because it covered the entire Conference and reflected on all aspects of the club. It was the idea of the Conference media officer Colin Peake, and he evidently gathered information during the season on how clubs had been received on their travels and what their overall impressions were.

'We came out on top, and it was a very proud moment when I stepped forward to receive the trophy in front of over 600 people, with 68 clubs represented, from the host Caroline Walker, from the BBC's non-League show.

'I'm pleased to say we were well represented, too. Andrew Shaw (vice-chairman) and Derek Wilshaw (secretary) also travelled down, as did Pete Warburton, who makes sure visiting directors are welcomed into the boardroom, and Neil Faulkner, who is involved in our community work.

'It was fitting others were there, because this was recognition for all aspects of our club. Everyone contributed – supporters, staff, management and players – and everyone should feel proud at portraying Altrincham in such a favourable light. We all want a successful team on the pitch, and efforts are continuing behind the scenes to that end, but the image of the club counts as well.

'It matters that we are viewed as a family-friendly club, and it is good to know that others do see us that way'".
TELEVISED FOOTBALL
When the 2013-2014 season starts, ESPN will have no live Premier League matches as Bulls News reports that "According to the Guardian, the Premier League has sold its live television broadcast rights to BSkyB and BT for a total of £3.018bn – a remarkable £1.254bn increase on the current deal. Sky secured five of the seven packages for 2013-14 to 2015-16, totalling 116 matches a year, while BT, ousting ESPN, acquired the rights for 32 games. Its package includes 18 of the 38 first-choice picks.

With Sky paying £760m a year for 116 games, that represents £6.6m a fixture – a huge increase from the current £4.7m. 'We have just come off the back of a fantastic season and it has been good for us', said the Premier League's chief executive Richard Scudamore. 'We went to the market at the right time. It was a very competitive process which, if you are selling, is a very good thing'. Whether any of this extra income will filter down the Leagues as far as the Conference remains uncertain".
ON YOUR MARKS
The Alty Fans' Forum includes an image of Mark Maddox at the 10km race he completed last weekend on Merseyside.
OLD BOY
Worksop Town "have signed central defender Adie Hawes from Alfreton Town. Following talks with the player and Alfreton Town, the 6 foot 4 defender joins up with the Tigers".
BSBN NEWS
According to the Football Conference, "Boston United have appointed former Sheffield Wednesday and Birmingham City midfielder Graham Hyde as their new assistant-manager. The 41-year-old, who managed Redditch United last season, will begin his role as Jason Lee's number two with immediate effect. Hyde's playing career started at Sheffield Wednesday in 1988 and he played in both the 1993 FA Cup and League Cup finals as the Owls twice narrowly lost out to Arsenal at Wembley.

The Doncaster-born midfielder was part of the Birmingham side which won promotion to the Premier League in 2002. His later career included spells with Bristol Rovers, Hereford United, Worcester City, Hednesford Town, Halesowen Town and Fleet Town. Hyde's spell with Halesowen included the role of assistant-manager. The appointment of Hyde completes the Pilgrims' backroom staff for 2012/13, with Lee and Hyde being supplemented by fitness coach Ian Freeman and sports therapist Katie Cooper".

Meanwhile, "Central defender Paul Malone has signed a new deal with Corby Town, which will see him remain at Steel Park for 2012/13. Malone, a product of the Corby Town youth system, re-joined the club from Stamford AFC in April 2011...

Malone expressed his delight at signing the new deal, 'I am very pleased to have signed for next season. I wanted to stay and am really looking forward to the new campaign. For me personally football is not about making as much money as you can, it is about playing at the highest level that you possibly can. Corby Town are a Conference North club, just two leagues away from the Football League. There were other clubs interested at lower levels, but I am an ambitious person and wanted to stay at this level and play for my home-town club'".

Elsewhere, "Steve Davies is the latest player to commit to another season with Gloucester City. The 23-year-old striker/winger agreed new terms last week. After a turbulent first season with the Tigers, which saw him score on the first day of the season, sit out a month with a hamstring injury and then break his arm while playing against FC Halifax Town, Davies is back to full fitness and ready for pre-season".

From BSBN we learn that "Oxford City manager Mike Ford hopes to sign a physical striker for the Blue Square Bet North newcomers. City gained promotion from the Southern League Premier Division, with Ford aiming to enlist some experience for the coming campaign.

'I do think we need a bit more experience upfront', Ford said in the Oxford Mail. 'We have Felipe Barcelos, Aaron Woodley and Conor McDonagh, but they are just kids. When we were without Steve Basham (due to a hamstring injury), we had our two worst months of the season. We need someone up there who is big and strong. I think this year we are prepared to wait to bring in new signings. I'm going to take my time and get the right one'.

Ford, though, says he has modest funds at his disposal. 'I have had more text messages and phone calls than ever from from players interested in coming here', he said. 'They might think we have lots of money, but we haven't. Any players who think they can come along here for a big pay-day have got another thing coming. We have got what we have got. Our budget wasn't the biggest last season and it won't be this time. We like to operate with old-fashioned values here. If people want a wage rise, they have to prove to me that they are good enough to get one'". Another patient manager is the subject of a report from Chester First which says that "Chester boss Neil Young is happy to bide his time as he looks to finalise his squad for next season. Defensive duo Paul Linwood and Dominic Collins, midfielder Dave Hankin and striker Nathan Jarman have joined the Blues since the end of the club's Northern Premier League title winning campaign.

The likes of Liam Brownhill, Alex Brown, Christian Smith, Matty McNeil, Matt Glennon, Jerome Wright, Chris Simm and Michael Wilde have all departed the Exacta Stadium. With four players coming in and eight leaving, Young still has room for manoeuvre when it comes to bringing in new additions. 'We are looking at bringing in three or four new faces', said Young on his return from holiday.

'It depends on the finance of the deals and who the players are before we finalise everything, but we are looking at players and there [is] a list of possibilities... We are happy to fly under the radar for the moment', he explained. 'We have bits and bobs going on and we are working hard to progress with certain things. Nothing will be announced until it is 100 per cent done, however, because that is how we like to do business'".

According to Pitchero Non-League, promoted "Nuneaton Town have agreed terms with three new players as manager Kevin Wilkin builds a squad for the Blue Square Bet Premier. Hinckley United striker Danny Newton, Boston United midfielder Danny Sleath and Corby Town defender Delroy Gordon join midfielder and fellow new signing Jon Adams alongside ten members of last season's promotion-winning squad".

More on this comes from the Boston Standard which confirms that "Boston United have been dealt a blow with the news that midfielder Danny Sleath has joined Nuneaton Town. Sleath was expected to sign on for a fourth season at York Street, after stating it was his desire to do so.

However, an offer from Borough, who won promotion to the Blue Square Premier... was too good to turn down. United boss Jason Lee said, 'We wish Danny well. He is stepping up a division and we cannot stand in his way. We expected the move in all honesty and talks are under way with targets to replace him'".
---
13 June 2012
BSBN NEWS
Pitchero Non-League reports that "Chester FC`s top scorer in the club`s first season, Michael Wilde, has turned down an offer to stay at the Exacta Stadium and has returned to Welsh Premier champions The New Saints.

Wilde, who featured twenty-seven times for Chester last season, scoring eight times, said, 'I am gutted to be leaving Chester as I have made lots of friends here and had a great relationship with the fans'. But, with a young family, he felt he had to consider all his options and felt that the security of the contract was too good to turn down.

The 28-year-old forward added, 'I would have loved the chance to prove myself again this season but had to think of my family when making the decision'.

In his debut season, Wilde bagged thirty-six goals in just forty-three appearances, and Wilde was keen to emphasise how much he's enjoyed his time at the Exacta. 'It's been an absolutely brilliant time here and I hope that the fans understand my reason for leaving. I really wish everyone at the club the best and am sure Chester will go on and get another promotion in the bag next season, and get into the Conference'".

Gloucester City say that "Welsh wonder Steve Davies is the latest player to commit to another season with Gloucester City. The 23-year-old striker/winger agreed new terms last week. After a turbulent first season with the Tigers which saw him score on the first day of the season, sit out a month with a hamstring injury and then break his arm while playing against Halifax, Steve is back to full fitness and ready for pre-season.

Manager Dave Mehew said, 'Steve showed last season his pace can be a real threat, after his horrible injury. I'm sure he'll have the bit between his teeth and be looking forward to getting back into it and helping us push on in the new season'".
73 GOALS FOR £10
Don't forget to get your copy of the Altrincham Football Club 2011/2012 Highlights DVD. 73 Alty goals are packed into 90 minutes of highlights from 19 league home games including 26 of Damian Reeves's record haul of 44 league goals. The DVD also includes full post-season interviews by Brian Flynn with Altrincham manager, Lee Sinnott, and striker Damian Reeves. The DVD is priced at £10 and is available from Moss Lane during normal office hours.
---
12 June 2012
MARK'S A MARVEL
On the Alty Fans' Forum, Mark Maddox writes, "Hello and thanks for the nice comments and for all your support over the last 18 months... Honestly, Altrincham's support has been amazing and I couldn't have done all this [the 10km run] without the support from everyone involved at the club. I'm glad some of you caught the interview on BBC last night. I did give Alty a mention but they edited it out!! I have woke up this morning feeling like I have been tackled by myself, haha, CANT MOVE !! but it was worth it, if it raises more awareness for Motor Neurone Disease...

I have formed a band with my mates and have set up a website through twitter. We are @lastofadying1, if anyone is interested. It's all trying to raise awareness for MND. Again thanks to all the supporters you have been amazing and I am truly humbled by the support and friendship you have shown me and my family. Mads".
For more information on MND, please visit the Motor Neurone Disease Association website.
MATT'S BACK
NL Daily reports that "Central defender Kevin Brown has decided to leave Evo-Stik League Division One North side Clitheroe and join his old boss Neil Reynolds at Bamber Bridge... Also leaving Shawbridge are Matt Fearon, who has rejoined his parent club Altrincham after being on loan at Clitheroe last season".
BSBN NEWS
The Football Conference has confirmed that "The AGM of the Football Conference and Awards Dinner took place at Celtic Manor, Newport on Saturday.

The constitution of the three divisions were [was] announced and approved and a number of rules and regulations were agreed and passed but the proposed changes to new financial structure regulations was [were] deferred, although clubs are still required to submit budgets for examination.

Whilst the clubs supported wholeheartedly that financial prudence and sustainability had to be achieved, some concerns were expressed around the matter of playing budgets and, in particular, the use of loans.

Rather than railroad these changes through at this time, the chairman received support that the matter would be considered further by the Financial Compliance Committee, via more consultation with member clubs, to allow the new regulations to be represented and come into force at a later date.

For 2012/13 the Football Conference Board will consist of:

Chairman: Brian Lee (Independent)

Board Directors: Charles Clapham (Southport), Wayne Allen (Kidderminster Harriers), Gary Sweet (Luton Town), Chris Blight (Newport County AFC), Lee Carter (AFC Telford United), Graham Wood (Gateshead), Nigel Collins (Solihull Moors), David Martin (Dorchester Town)

The Awards Dinner which followed was the largest ever in its 33-year history, with over 600 in attendance, with the ceremony being hosted by Caroline Barker from the BBC Radio Non-League Show and Alan Alger from Blue Square Bet.

A summary of the awards were [was]:

Community Club of the Year:
BSBP - Kidderminster Harriers
BSBN - Boston United
BSBS - Woking

...with each club receiving a cheque for £10,000.

Programme of the Year:
BSBP - Gateshead
BSBN - Boston United
BSBS - Staines upon [Thames] Town

Press Officer of the Year
BSBP - Derick Thomas (Fleetwood Town)
BSBN - Craig Singleton (Boston United)
BSBS - Chris Evans (Chelmsford City

Blue Square Bet Premier Team of the Year: Mark Tyler (Luton Town), Shaun Beeley (Fleetwood Town), Mark Creighton (Wrexham), Janos Kovacs (Luton Town), Nat Knight-Percival (Wrexham), Matty Blair (York City), Lee Fowler (Fleetwood Town), James Meredith (York City), Jamie Vardy (Fleetwood Town), Jon Shaw (Gateshead), Liam Hearn (Grimsby Town)

Blue Square Bet North Team of the Year: Steven Drench (Guiseley), Andrew Pearson (Hyde), Gianluca Havern (Hyde), Adam Griffin (Hyde), Simon Ainge (Guiseley), Ryan Crowther (Hyde), Greg Wilkinson (Stalybridge Celtic), Jack Rea (Stalybridge Celtic), Scott Spencer (Hyde), Damian Reeves (Altrincham), Dwight Gale (Bishop's Stortford)

Fair Play (On field discipline ONLY)
BSBP - Stockport County
BSBN - Nuneaton Town
BSBS - Sutton United

Top Scorer
BSBP - Jamie Vardy (Fleetwood Town)
BSBN - Damian Reeves (Altringham)[!!!!!]
BSBS - Frannie Collin (Tonbridge Angels)

Manager of the Year
BSBP - Micky Mellon (Fleetwood Town)
BSBN - Gary Lowe (Hyde)
BSBS - Garry Hill (Woking)

Respect Awards (Club judged to have contributed best)
Altrincham (Overall winners)
Special Recognition - Ebbsfleet United and Dartford"
The Football Conference says that "Corby Town have signed 21-year-old Lewis Webb – much to the annoyance of King`s Lynn Town. Having played for Yaxley under-18s he became part of Peterborough United's youth set-up in January 2007. The 2008/09 season saw him gain 'work experience` with Aylesbury United and Stamford AFC. He signed first for King`s Lynn in June 2009, making seventeen appearances...
In December 2009 he joined St Neots, making fifteen appearances in the 2009/10 season scoring twice... Last week Lynn boss Gary Setchell announced that Webb had agreed to rejoin them, only for the player to do a U-turn to sign for the Steelmen".
Gloucester City "have captured the signature of midfielder Lewis Hogg in the first of their new summer signings. The 29-year-old has joined Gloucester on a one-year deal... City boss Dave Mehew said... 'Lewis is fantastic signing for us', he said. 'He is an experienced midfielder in non-league and also has league pedigree from his Rovers days. He wanted a new challenge and we can offer him that. We heard he was turning down a new deal at Bath and we'd have been daft not to take a chance on him. He was instrumental in Bath's promotion push and hopefully we will get a little extra out of him with him being fresh into the squad.
I helped bring him to Weston when I was there and have known him a long time but there were also a couple of ex-Bath players who were instrumental in bringing him here. Lewis can play anywhere across midfield which gives us great versatility, if you look at the spine of our team now, with Mike Green back in goal, our strong defence and the front pair who scored more than 35 goals between them last season we are looking good. That said, I am looking to make at least one more signing in the near future'".
"Top transfer target Ryan Semple has decided against a move to ambitious Spalding United" reports Spalding Today. "The ex-Peterborough United and Deeping Rangers winger, who left Boston United at the end of last season, has told Tulips boss Pat Rayment he wants to play at as high a level as possible... The Spalding supremo said, 'Ryan informed me (last week) that he wants to continue playing as high as he can. While we're able to compete financially, that's not something we can offer just yet – and credit to him for wanting to do that, it's what I'd have done as a player'".
Boston United "goalkeeper Ricky Drury has penned a new deal... The 22-year-old, who made three appearances in 2011-2012, has put pen-to-paper to remain with the Pilgrims and vie with Dan Haystead for the keeping duties. Drury has made a total of seven senior appearances for the Pilgrims. He spent spells of last season on loan with Quorn".
The Cambridge News tells us that "David Livermore will have to wait a while longer to discover what his playing budget will be despite the election of a new board at Histon on Thursday night. Chairman Russell Hands believes the club are now a more attractive proposition to potential and existing sponsors and hopes that the Stutes will be in a position to offer the likes of captain Daniel Sparkes and centre-back Remy Clerima, who have both this week rejected new contracts, more money.
'In putting this well balanced board together, I believe we'll be on a much firmer footing and we'll be able to go forward', said Hands. 'One or two sponsors we're talking to will want to see we've come out of the tunnel'.
Livermore is now on holiday for a week but with the new board not due to meet until Wednesday, when they will agree the individual roles and responsibilities, the amount of money he will have to retain and sign new players will not be finalised for some time yet. 'We've been talking to David and we'll get this (news of the new board) issued to him', said Hands...
'I don't believe that Daniel and Remy want to leave the club. They've both found it difficult, especially Remy, living off what we pay. We'd like to be able to offer them more money and I think if the club could get close to what they're after, they'd stay'. While Hands will remain as chairman at Histon, the new directors voted on to the board were David Humm, John Hall, Neil Davies, Colin Pettit, Brenda Soar and Joy Mansfield".
---
11 June 2012
ALTY WIN "RESPECT" AWARD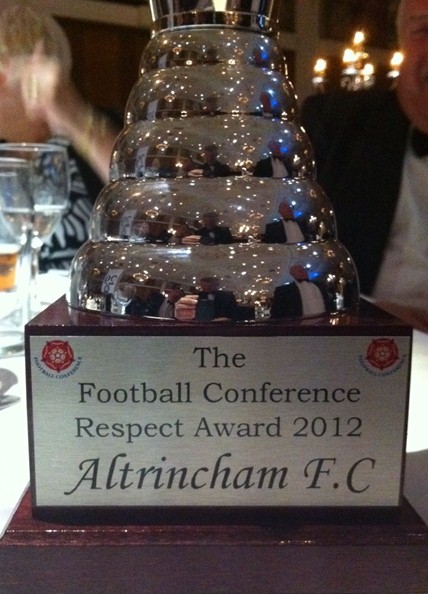 At the Conference AGM yesterday, of which (at the time of writing) there is no news whatsoever of the meeting itself on the Football Conference website, the BSBN Player of the Year and top scorer award went to Damian Reeves. The BSBN North "Team of the Season" was Drench (Guiseley); Pearson, Havern, Griffin, Ainge (Hyde/Hyde/Hyde/Guiseley); Crowther, Wilkinson, Rea (Hyde/Stalybridge/Stalybridge); Spencer, Reeves, Gayle (Hyde/Altrincham/Bishop's Stortford)

However, the Football Conference did report that "The Blue Square Conference introduced Respect Awards for clubs in the Blue Square Bet Premier, South and North.

MyFootballclub announced that on Saturday evening at the Football Conference Annual Awards at Celtic Manor, Newport, Ebbsfleet United chairman Jessica McQueen collected the Special Recognition Award for the Conference Premier that had been won by Ebbsfleet United...

The Blue Square South award went to the Fleet's near neighbours, Dartford, whilst the Blue Square North and overall winner trophy went to Altrincham".

And Vauxhall Motors have confirmed the composition of the BSBN for next season. "The Blue Square Bet North league Teams were confirmed in the Conference AGM, held today in Newport.

Brackley Town, Bradford Park Avenue, Chester FC and Oxford City are the new comers to the league. Hyde FC and Nuneaton Town are promoted to Blue Square Bet Premier and Blyth Spartans and Eastwood Town are relegated to the Evo-Stik Northern Premier League. Hinckley United were handed a reprieve from relegation following the resignation of Kettering Town from Conference football.

BLUE SQUARE BET NORTH 2012/2013

Altrincham, Bishop's Stortford, Boston United, Brackley Town, Bradford Park Avenue, Colwyn Bay, Corby Town, Chester FC, Droylsden, FC Halifax Town, Gainsborough Trinity, Gloucester City, Guiseley, Harrogate Town, Hinckley United, Histon, Oxford City, Solihull Moors, Stalybridge Celtic, Vauxhall Motors, Worcester City, Workington."
ANDREW'S CONFERENCE WALK
In the NL Paper, Blue Square Bet's Alan Alger writes that at the Football Conference "Congress", he joined "three hardy souls on a 17-mile sponsored walk through the middle section of the Monmouthshire and Brecon Canal. My fellow walkers were Football Conference General Manager, Dennis Strudwick and his wife, Jan, and also Altrincham director [vice-chairman] Andrew Shaw. The weather was not on our side but it was a very enjoyable day and formed part of a number of fundraising activies over the weekend.

Dennis nominated the Haemophilia Society as the chosen charity for the walk and explained to me how the condition has affected his close family. Donations can still be made by sending a cheque payable to the Football Conference, c/o Fraser Tooley, The football Conference, Third Floor, 31-34 Wellington House, Waterloo Street, Birmingham B2 5TJ.
MARK COMPLETES RUN
There was extensive coverage on BBC regional TV news on Sunday of Mark Maddox's 10km run in Liverpool to raise awareness of Motor Neurone disease. Mark is currently undergoing medical trials and feels better though he does not know if he is receiving a new drug or a placebo. He and his freinds were interviewed before the race and when completing the course.

And the NL Paper's Stuart Hammonds interviews Conference Manager of the Year, Liam Watson of Southport. Asked who was his "toughest opponent as player-manager", Watson's reply was "Mark Maddox. I was centre-forward for Runcorn and he was centre-half at Altrincham. Sometimes, I got the better of him and, on others, he got the better of me but there was obvious respect for each other.

He loved a last-ditch tackle and they didn't call him 'Mad dog' for no reason but he was a an awful lot better footballer than people gave him credit for, like Jamie Carragher.

It's a crying shame he's suffering from Motor Neurone Disease now because he's a similar age to me and he shouldn't be going through what he is.

But I read about him forming a band in the NLP... and the way he is fighting his illness tells you what he was like on the pitch, he was a winner!"
BSBN NEWS
The Football Conference confirms that "Midfielder Darren Mullings is the latest player to commit his future to Gloucester City. The 25-year-old Bristolian has agreed terms to stay with the Tigers for the coming season. Mullings joined City from Weston-super-Mare in 2010 and has scored nineteen goals.

Tigers' boss Dave Mehew said he was delighted to have Darren on board for the team's fourth season in the Conference Nort. 'Darren is probably one of our best kept secrets', he said. 'He's perhaps underrated as a player but he has been industrious in midfield for us'".

And, "Following the departure of Simon Garner to Chorley, FC Halifax Town have announced that full-back Aaron Hardy has not been offered a new contract after a three-year stay at The Shay. Hardy's time Town started in 2009 when manager Neil Aspin also joined the club, following him from Harrogate Town. He was a regular in his first two years at the club and was known for his trustworthy performances and consistency on the right-hand side of the defence... but it has been decided his time at The Shay was to come to an end.

Aspin said the following of his departure, 'It was a very difficult decision to let Aaron leave but I felt, with us having Ryan Toulson and also having cover at right-back, that we didn't need two right-backs.

It would have been very difficult to let either leave but I just felt with Tully having the shirt at the end of the season he should get the opportunity next season too. He's a great lad, good player and done a good job for us. It's always sad to see players like Aaron leave as he's a great person, and he could well join the club if his circumstances change, but these decisions have to be made and that's what I felt was right'.

Aspin admitted that he has already had thoughts on changes next season, and hinted at a possible change in formation. 'We have Ryan Toulson obviously who can play at right-back and we know Liam Hogan can too. It will all depend on what formation we are playing and also on the players we bring in to the club from here... There will obviously be new players coming in. For every player that has left from last season there will be a player arriving'".

According to BSBN "Blue Square Bet North newcomers Bradford Park Avenue are likely to keep faith with most of their playing squad in the new season. The Brackets gained promotion via the play-offs...

Club chief executive Bob Blackburn feels a few signings will be enough for the team to compete in the division. 'It looks like a good side that just needs a few additions', he said in The Telegraph and Argus...'The extra players have to have quality and hopefully experience of the higher league. Last season's squad will be given their chance... I don't see any of them struggling in the Conference North personally. We play football and, when you go up a division, you usually find that the opposition likes to play the game and the surfaces are better. If you look at the sides that have gone up recently, like Guiseley, Boston, Halifax and Colwyn Bay, they have done well once they have earned that promotion'".

Elsewhere, "Worcester City have bid farewell to skipper Kevin O'Connor who has left the club to sign with Bray Wanderers. The midfielder, who has scored three goals in 90 appearances for City since joining in 2010, has opted to return to Ireland... O'Connor's exit could be off-set by the re-signings of midfielder Tom Thorley and forward Mike Symons".
---
10 June 2012
ALTY WIN NATIONAL AWARD
At this weekend's Conference AGM, Atrincham were awarded the national Respect Award... more to follow on this.
RENEE STUART
Altrincham FC sends its condolences to son, Gary, and the family of longstanding supporter Renee Stuart who has died after fighting cancer.
BSBN NEWS
"Dean Thomas has kept his job as Hinckley United manager for the 2012/13 campaign, with the relegated club set to continue in the Blue Square Bet North... Thomas, who will now head into his 16th season at Greene King Stadium, oversaw the Leicestershire outfit's bottom-three finish last term.

'The board met and voted for me to stay as manager. We had good discussions and I put my case forward', the Knitters boss told the Coventry Telegraph. 'We talked of the situation and that things need to improve throughout the club and they said they will supportme. Hopefully things will be better this year on a financial level. We've had a slight reduction in the budget, which was always going to happen and that is the way things are in football at the moment.

But now we know the budget we can sit down with players we want to keep and release those we don't. The club also has to play its part in making sure that the structure remains in place'", reports BSB North.

And, "Following the news that Dean Thomas will remain in charge of Hinckley United for next season, the Leicestershire club have signed three new players... Lane, 19, and Towers, 20, arrive at Greene King Stadium from Oadby Town where the latter filled in at full-back and in central defence. Furlong joins from Nottingham Forest.

'Jack is a tough little player, while Declan is a tough defender and I think both can make the step up to this level', Thomas told the Coventry Telegraph.

'Scott Furlong has been released by Forest where he has been for two years. These are young players but it is important I am prepared to give them a chance. We have got to inject a new freshness into the place and also into the players but I am also speaking to experienced players as well.

I'm going to sit down with Dan Newton, Richard Lavery, Tom Byrne, Paul Lister and Mark Dudley to speak to them while we've already retained Ben Richards-Everton'.

Meanwhile, the Knitters chief has appointed Carl Heggs as his assistant manager for the 2012/13 campaign as the club looks to improve on the lowly 20th place finish last time out. Thomas added, 'I don't want us to just survive. I want to be pushing us up the table and if we can get a good start then that can create a really good changing room to be in'".

Former Alty defender Andy Pearson "has signed a new deal and will remain at the club for next season's debut in the Blue Square Bet Premier. Meanwhile, new Tigers boss Scott McNiven has secured the services of former Chester City midfielder Alex Brown for the upcoming campaign.

Pearson, who follows in Callum Byrne's footsteps in re-committing his future to last season's Blue Square Bet North champions, had an impressive 2011/12 campaign as the 23-year-old scored seven goals in 45 appearances.

New arrival Brown will provide McNiven with another experienced midfield option. He arrives at Ewen Fields having left City after 39 outings last term. The 27-year-old can also include Droylsden, Witton Albion, Leek Town and Crewe Alexandra amongst his former employers".

FC Halifax Town have announced that Simon Garner and Aaron Hardy have both left the club. Garner has joined Chorley FC on a one year deal while Hardy has not been offered a new contract after a three year stay at the club...

Garner has been the dominant force in Town's midfield since, providing courageous performances that won over the Shay faithful.

As for Hardy, his time with Town started in 2009 when Neil Aspin also joined the club, following him from Harrogate. He was a regular in his first two years at the club and was known for his trustworthy performances and consistency on the right hand side of the defence. His reliability provided was pivotal in Town's two promotions but it has been decided his time at The Shay was to come to an end.

Manager Neil Aspin admitted that the fans can expect to see some new faces soon.

'There will obviously be new players coming in. For every player that has left from last season there will be a player arriving'".
---
9 June 2012
PLEASE HELP ON SATURDAY!
On Saturday (9 June) there is a Working Party Day at Moss Lane when supporters are invited to come along and help to prepare the stadium for the new 2012-13 season. Please do come along if you possibly can; the day starts at 9.30am and the work will including weeding around the ground. If you have any suitable equipment such as a hoe, please bring it along. Your help will be much appreciated.
UPDATES
Updates to the website will continue this weekend but will be more limited in content than usual.
MORE LEGENDS
Terry Rowley's Alty Legends series continues with his profile of Bert Lister, who as well as playing for Altrincham was also well known in the north west from his days with Oldham Athletic and Stockport County. All of the Legends can be found here.
---
8 June 2012
BARGAIN-PRICED ALTY SHIRTS
Altrincham FC have a number of the club's former white away shirts which are now available to buy for a donation of at least £5. They can be bought either individually or in larger numbers. The sizes and quantities available are:
Five x XS (32"-34")
Eight x S (34"-36")
Two x LB (32")

Please call in at Moss Lane, or either ring (0161 928-1045) or e-mail the club to secure your shirt(s).
OLD BOYS
Chorley report that "Manager Garry Flitcroft has made his first signings of the summer after pulling off a triple transfer coup. The Magpies chief has snapped up highly-rated full-back [ex-Alty loanee] Kieran Walmsley from Kendal Town, and Halifax defender/midfielder Simon Garner. Goalkeeper Andy Robertson has also agreed to join the club from Trafford...

Garry said, 'These are three great additions to the squad. Kieran Walmsley is an attacking right back with great quality on the ball. He spent the second half of last season on loan at Altrincham and they wanted to sign him permanently but he's turned them down, and AFC Fylde too, to sign for us instead... Andy Robertson is another player I've admired for a while. He's 6ft 4in and a really commanding presence so we've now got two top keepers at the club in him and [ex-Alty man] Russ Saunders, which is important because it's vital we have competition for places in all areas".
BSBN NEWS
From Pitchero Non-League says that Bedworth United "have sealed a transfer coup by swooping for former Nuneaton Town midfielder Sam Belcher. The 20-year-old chose to leave neighbours Hinckley United, where it is believed he was owed multiple weeks wages, to join the Greenbacks this week. Manager Steve Farmer was delighted to bring in a player who was a regular in the Blue Square Bet North last season.

He said, 'He's a fantastic signing. It's a testament as to how far we've come in a short time that players like Sam are joining us. Twelve months ago he joined Nuneaton Town. It didn't quite work for him but he went back to Hinckley and I saw him play a number of times there... 'We've not had to push the boat out at all. Sam is here for football reasons. He's come through an academy background with Coventry and Wycombe Wanderers".

Meanwhile "Marine have re-signed striker Karl Noon... Noon, 25, rejoins the Mariners from Colwyn Bay. He had signed for Bay from Vauxhall Motors in August 2010".

Reports on a club which has by-passed the BSBN following their relegation from the BSB Premier comes from the BBC, which say that "Kettering Town owe £1.2m to 71 creditors, including players, local businesses and energy companies, BBC Radio Northampton has learned. The details are included in the club's proposal to enter into a Company Voluntary Arrangement (CVA). The creditors' meeting is scheduled to take place on 15 June. And acting chairman George Rolls said that if the CVA is approved, a "new beginning" will follow "the sorry chapter of the last 18 months'.

The proposal states that the planned takeover of the club will only go ahead if the CVA is approved... 'When I came in and addressed the players [in February], what I said was that if the business hadn't applied for an insolvency act or administration by the 1st of June, we would be paying their back-dated pay', Rolls told BBC Radio Northampton. 'If we did [apply for a CVA], though, they would only be entitled to £800 from the government, plus whatever there would be from a CVA - or nothing if the club was liquidated'.

Last summer, Kettering quit Rockingham Road, their home since 1897, to take up tenure of Nene Park... As a result, they owe East Northants District Council more than £28,500 and Kettering Borough Council over £2,000, the latter for 'empty premises' rates. Other creditors include the Child Support Agency, St John's Ambulance and Northants Police, as well as football clubs Blackpool and Crystal Palace. The largest sums are owed to current owner Imraan Ladak, shareholder Ray Khan and Rolls, but the proposal states that 'the current directors will waive the right to repayment of their loans under the arrangement'.

Khan is set to remain with the club after the takeover, but the CVA will only be approved if creditors holding cumulatively over 75% of the debt allow it. 'Of course all the creditors have been let down, but this is a solution', said Rolls. 'Some people will suffer financially, and I apologise for that, but for those who [continue to] work for us, hopefully they will get money back over time with new business from the football club. If the CVA isn't approved, the club will go into liquidation and the creditors will get nothing. Over the last three years, I've lost over £600,000 with companies going insolvent. I know how the creditors all feel'.

The proposal states the club will switch to part-time football next season, 'with the consequent saving in players and back room staff wages', although Rolls maintains that their intention remains to stay a full-time club... 'The sorry chapter of the last 18 months will come to an end next Friday and then it's a new beginning. Kettering Town will prosper again and it won't be long before the Poppies are back in the Conference'" asserted Mr Rolls.

The Telegraph & Argus says that "Guiseley manager Steve Kittrick wants the Blue Square Bet Conference to look at the way they arrange the end-of-season play-offs.... The Lions, who finished second 11 points clear of FC Halifax Town, had home advantage in the second leg of their play-off semi-final against Nuneaton Town, who finished fifth 13 points adrift.

However, because Guiseley's home tie fell on a Sunday, whereas Nuneaton's hosting of the first leg was on a Wednesday, Kittrick feels that any advantage went to the Midlanders. He explained, 'It is part-time football, and our lads have to get up at 6am and go to work, and probably knock off early in order to get the team coach to Nuneaton. We then play the game and the lads will probably get to bed at 2.30am. For the tie at our place, the Nuneaton players could finish work on the Friday, have Saturday to rest up, and play the game on a Sunday afternoon before getting home not too late on the Sunday evening. Where is the advantage there in us staging the second leg at home?'

Kittrick was also frustrated that his team played nine games in March and another nine between the start of April and May 6 but only five in September and four in October when the weather was good enough to have played a sequence of Saturday and midweek fixtures, thus avoiding the almost inevitable backlog that occurs in the spring, caused not only by bad weather (waterlogging, frost or snow) but also by a club's success in national or local cups.

He said, 'We played too many games but why can't we play more matches early in the autumn and really get into the season that way? At one point we were three matches behind Hyde and were playing catch-up after that'".
---
7 June 2012
MATT'S DISAPPOINTING EXIT
John Edwards, Altrincham FC's joint Press & Media Officer, writes:

"Altrincham chairman Grahame Rowley has expressed his disappointment at a late change of heart by Matt Flynn, after the defender pulled out of a move to Moss Lane and joined Barrow instead.

Former Fleetwood centre-back Flynn made his decision after assuring Alty manager Lee Sinnott he was bound for Moss Lane and it was the manner of the about-turn that left club bosses distinctly unimpressed.

'We basically found out through the social media, after Radio Cumbria put something out on Twitter', said Rowley. 'When I contacted Matt and asked about it, he admitted he'd had an approach from Barrow and said he was mulling it over.

'The next thing I heard was after Lee spoke to him and it finally all came out that everything had, indeed, been agreed with Barrow. He was supposed to be coming here. We had his word on that, and while I accept players do what they want to, it is pretty disappointing when they can't be upfront with you. Good luck to him, but we only want players who want to play for us.

'We will move on but it has created a problem, because we are trying to build things for next season and make sure everything is in place, and now we have to find another centre-half to play alongside Danny Hall. We have people in mind, though, and will crack on with things.'

Meanwhile, Moss Lane will be turned into the Altrincham branch of the England supporters' club for the next couple of weeks, following a decision to open the doors of the Noel White Suite and offer cut-price drinks for each of the nation's group games at the European Championships.

As a special promotion, all Hydes bitters will be available at £1.50 a pint, and all other beers and lagers £2.50 a pint, for screening of the games against France, on Monday, June 11 at 5pm, Sweden, on Friday, June 15, 5pm, and Ukraine, Tuesday, June 19, 7.45pm.

'This is an ideal way for people to support their country, as well as their club, and it would be great to see the Noel White Suite packed for each game,' added Rowley. 'If it is, there will be a cracking atmosphere'".
BSBN NEWS
"Daniel Sparkes and Remy Clerima have snubbed the offer of new deals with Histon. But manager David Livermore said he had not given up hope of the pair being at the Glass World Stadium next season. Skipper Sparkes and centre-half Clerima have turned down two-year and one-year contracts respectively" reports the Cambridge News..

Livermore said he understood why the players had decided not to sign, with many issues at Histon unable to be resolved until after the club's general meeting tomorrow. He said, 'I spoke to Remy on Saturday morning about it and he said at this stage he just wants to keep his options open, which I can understand. It doesn't mean he wants to leave the club, but if there's an opportunity somewhere to go to a higher league, he wants to take it.

He said he has got no interest in going to a lower level and he just wants to improve himself. The same goes for Sparky with his reasons for rejecting the agreement and he'd have been tied in on a two-year contract. At this club, moving to a higher level is what we encourage in some ways and if we can help them out and they can move on to bigger and better things, that's good'.

But Livermore said he still hoped to be in a position to offer both Sparkes and Clerima improved terms to stay depending on the outcome of the meeting where a new board is set to be voted in to take the helm".

Gainsborough Trinity have used Twitter to announce that they "are delighted to announce the signing of Terry Hawkridge from Carlton Town".
FA TROPHY CHANGES
The FA "has announced a change to The FA Carlsberg Trophy competition with the 2012-13 Final moving to a new date of Sunday 24 March. The change sees The Final move away from its traditional May weekend slot with The FA confirming that the new date is designed to help clubs manage their fixtures as the non-League season draws to a conclusion.

'The FA Carlsberg Trophy comprises clubs in the Football Conference, Northern Premier, Southern and Isthmian Leagues and this change allows the showpiece Final to be played at Wembley Stadium and away from the end of season play-off schedules', commented Charlie Clapham, Chairman of The FA Trophy Committee.

'As a consequence, the preceding rounds have also had to be brought forward accordingly and the competition will now commence on Saturday 15 September, 2012'...

FA Trophy 2012-13 Round Dates:
Preliminary Round, Saturday, 15 September 2012
First Round Qualifying, Saturday, 29 September 2012
Second Round Qualifying, Saturday, 27 October 2012
Third Round Qualifying, Saturday, 10 November 2012
First Round Proper, Saturday, 24 November 2012
Second Round Proper, Saturday, 15 December 2012
Third Round Proper, Saturday, 12 January 2013
Fourth Round Proper, Saturday, 26 January 2013
Semi Final First Leg, Saturday, 16 February 2013
Semi Final Second Leg, Saturday, 23 February 2013
Final, Sunday, 24 March 2013".

Altrincham will enter the competition at the 3QR on the 10th November.
ENGLAND C THRASHED
The Football Conference reports that "England 'C` found themselves on the end of a heavy defeat against Russia in their International Challenge Trophy clash in Moscow on Tuesday, but manager Paul Fairclough... was philosophical in his thoughts and told the fa.com, 'We were under no illusions as to the task we faced. We set about our game plan and it worked for 27 minutes. We almost scored and Hedge did not have a shot to save, but two bad errors undid all our good work... at half-time to go in at 2-0 down meant that we had to change things around and this allowed the Russians to expose us more as the game progressed. We were beaten by a quality side and we are now faced with going to Belgium in September knowing that we must win to qualify for the semi-final'".
GOODNESS, GRACIOUS
The BBC has an interesting story that "One of the world's oldest football leagues is to introduce "secret shoppers" to spot officials and players swearing during games. T|he Northern League, formed in 1889, could then 'name and shame' the worst offending clubs... Chairman Mike Amos said, 'People say to me "it's a passionate game", and it is, but it is also a disciplined game'.

He added, 'If you go to a Premier League game with 50,000 people there and the players and management are effing and blinding, you can't hear it, and so in a sense it doesn't matter. But if you are at a game with 100 people in the ground, you can hear'.

The League advertised for volunteers to monitor swearing at matches and had over 100 replies from former players, referees and ordinary spectators. A swearing 'league table' will be published on the club's website, in programmes and in the league magazine...

'We have to get it through to the managers that the crowd is a few feet behind them', he said, explaining managers who swore often had players who did likewise. 'If they are swearing like that on a main street on a Friday night they would be arrested, so what makes it acceptable at a ground?'".
CHESHIRE NEWS
The Stockport Express reports that "Woodley Sports' controversial name change could be completed as early as this week.

The ambitious non-league club announced last October they were considering changing their name to Stockport FC, news that angered many Stockport County fans. Yet Woodley have maintained their desire to incorporate Stockport into the club name and, having had further feedback from Edgeley Park, they have since settled on Stockport Sports FC.

The Steelmen, who were last week told they'll be playing [as a demoted side] in the North West Counties Premier next season, are hoping to climb the non-league ladder. While naming Peter Withe as their new manager has done wonders for the club's profile, the board see a name-change as equally important to their long-term plans and have since stepped up their efforts to get the new name registered in time for the new season.

Cheshire County FA wanted assurances the club will remain in Stockport before approving the switch and, last week, Woodley signed a three-year lease to remain at their Lambeth Grove ground, with the option of a two-year extension. Cheshire FA have been informed and, now their officials have returned to work following the Jubilee weekend, Woodley expect the change to be ratified any day.

'We've provided all that was needed for the name change', said club director Wayne Ashworth. 'Now everything's on standby. We've designed a new crest, ordered a new kit, new suits and a club tie – even some scarves too. Our website and Twitter account are ready to switch over so everything's ready to go'. After playing in a blue and white home strip last season, the club's new home kit will be all white and their away, all red, with the new badge being red, white and black.

Woodley's initial proposal caused a stir amongst County fans as they felt Woodley were trying to capitalise on the Hatters' recent plight having struggled financially and dropped into non-league, but Ashworth insists they are doing nothing of the sort. 'I understand that's how it looks', he said. 'But we started thinking about this two years ago and, since then, County have had a downturn in fortunes. In 2010 we were finding it hard to get sponsors because there'd been a downturn in the market.

There's only so many local businesses that we can go to and when we approached businesses outside the area they weren't interested because they didn't know where Woodley was. We'd also play at places like Ilkeston and Farsley and they'd be asking 'Where's Woodley?' It's the same when we approach players. Names such as Stockport City and Stockport United were considered but Ashworth explained that Woodley 'didn't want to alienate fans on the blue or red side'. And the board's decision was easy once it became apparent that the £9million development ongoing at Lambeth Grove will be called Stockport Sports Village and managed by Stockport Sports Trust.

We've got the directors in place, the coaches and now the manager – all that's left is the name', said Ashworth".
---
6 June 2012
BSBN NEWS
"Graham Drury, manager of Stamford AFC, has persuaded striker Sam Mullarkey to make a return to Stamford, having previously left the Daniels to play under him at Corby Town last season. Mullarkey originally signed for Stamford in July last season, netting nine times in 22 appearances before making the move to Steel Park in October 2011...

Commented manager Graham Drury... 'I believe that Sam is too good for this standard of football, which was why I signed him for Corby. Unfortunately, injury halted his progress in the second half of the season but I know he is hungry to get back to that level'".

Another departure from Corby is the subject of a report from BSBN to the effect that "Corby Town midfielder Steve Towers has revealed he has left the club to join Grantham Town from next season. After five years with the Steelmen, the 25-year-old has called it quits at Steel Park and decided to re-unite with former Stamford boss Wayne Hallcro...

Towers told the Northampshire Telegraph, 'I wasn't enjoying my football at Corby as much as I had, with everything that was going on there, so when Jimmy and Wayne got in touch, it took my interest. Grantham are a club on the up and looked very good when I played in the pre-season friendly'".

Meanwhile the BBC has recently reported that "The ex-Leader and Chief Executive of a Northamptonshire council agreed to guarantee a loan to a football club without local authority approval. Corby Borough Council guaranteed a £60,000 loan to the town's football club from Greene King Brewery Company. The decision was signed off in February 2010 by ex-Chief Executive, Chris Mallender and ex-Leader, Pat Fawcett, a report leaked to the BBC revealed.

Acting Chief Executive Norman Stronach said the report was true. He added the matter was being investigated. The report went on to say that the decision of Mr Mallender and Ms Fawcett to act as guarantors for the loan on behalf of the council was 'beyond their powers'. The loan should have been reported to Corby council's full committee or other statutory officers on the Labour-run authority.

Mr Mallender said he was unable to comment as he was bound by a confidentiality agreement and Ms Fawcett, who stepped down from the council in November 2011, has since died. The report also said that the council could retrospectively give consent to guaranteeing the loan but none of the statutory officers would support such an action. Corby Town Football club already gets £38,500 in council grants for managing the facilities at Rockingham Triangle. The local authority is also giving a one-off payment to the football club worth £11,500. This money is completely separate from the brewery firm's loan which the former council bosses guaranteed".

From Gloucester City, we learn that "Midfielder Matt Lock has confirmed he is leaving the Tigers after being offered the chance to play football in Australia. Matt, who joined City from Chelmsford City at the beginning of last season, announced his departure on Twitter. He will be joining Bunbury Forum Force, who play in the Football West State League Premier Division.

City boss Dave Mehew said, 'It was a bit of a surprise really. He's the second player we've seen leave to go to Australia, after Marc Richards went a few years ago'".

Stalybridge Celtic confirm that "Despite much speculation to the contrary, Greg Wilkinson has decided his immediate future is with Stalybridge Celtic and has signed a contract for the 2012/13 season. There have been a number of reports linking Greg with teams in the Conference Premier but only one concrete offer was made to the club and this was deemed unacceptable.

Following talks with Manager Jim Harvey on his return from holiday, Greg has put pen to paper and will be an integral part of next season's squad. The club hopes that this will be seen as a measure of the determination to continue with 'the project', something that the Chairman and Board both support and passionately believe in. To quash rumours regarding players that have left the club, it needs to be made clear that given their age and status in regard to the Bosman ruling, we were unable to claim any compensation or request any fee for Phil Marsh, Craig Hobson or Rhys Meynell, who have joined Forest Green Rovers, Stockport County and Guiseley respectively.

Hopefully, Greg's re-signing will be good news for the vast majority of Celtic fans and, given that the club has been contacted by over thirty players who are keen to join us, these are positive signs that the club's ambition burns brighter than ever".
---
5 June 2012
ALTY LEGEND
Terry Rowley's fascinating "Alty Legends" series continues with a profile of Ernest Bracegirdle, who not only turned out for Altrincham and Manchester United, but was also an excellent sprinter on the local athletics tracks.
BSBN NEWS
According to BSBN, "Chester FC boss Neil Young backs Antoni Sarcevic to shine in a new role for the Blue Square Bet North newcomers next season. Sarcevic, who was signed from Crewe Alexandra in November, spent much of the 2011-12 campaign on the right wing. Young, however, plans to use the 20-year-old in the centre of the park, in response to the departures of Alex Brown and Christian Smith.

'When people are talking about who is going to play in midfield for us next season they should not forget we've got a lad, who's just 20, who was part of the Crewe squad, which has done fantastically well to get promoted', Young said in The Flintshire Chronicle. 'Antoni came here at a time when the season was up and running and we were bustling along. But now we've got the time to work with him in pre-season, get our points across and give him more opportunities to play in the centre of midfield. He got games for a Crewe team who, from what I've seen on the television, look a real breath of fresh air, so we people shouldn't forget what we've already got at the club.

Yes Alex Brown is a big loss and Christian Smith has also moved on as well but in Sarcevic, Ashley Williams, Levi Mackin and Michael Powell I think we've got one of the best midfield[er]s in the league'".

In the Cambridge News, "David Livermore has called on his wanted Histon stars to choose their long-term career prospects over a better financial deal elsewhere. Captain Daniel Sparkes and defender Remy Clerima have until tomorrow to decide whether to accept re-engagements at the club, while hotshot Dan Holman and a couple of other players are also being tracked by other clubs.

But Stutes' manager Livermore is in a state of limbo at the moment ahead of Thursday's shareholders' meeting, when a new board could be formed. And the boss is eager to have a new board in place so discussions about next season's playing budget can be held, both increasing their chances of keeping their current players and attracting new ones.

'It's difficult at the moment', said Livermore. "There's not really anyone to answer to. The chairman's getting on with what he's getting on with, but everything's really geared up for that meeting on Thursday. In the meantime, everything's on hold, really, and there's not much I can do. Dan Holman and Daniel Sparkes got 42 goals between them last season, so I know we need to keep those two players. Remy has been superb in the two seasons I've been here and he would be a difficult player to replace as well. I know there's interest in both of them and there's interest in Dan Holman, as well as one or two others.

These lads don't have a lot of money, so what they have to do is weigh up whether it's about money or their football careers. Hopefully they'll choose their football careers because I still think, for the four or five players that have had interest shown in them, Histon Football Club is the place for them for at least another season'.

Livermore said their pre-season plans were still a work in progress, but their first home friendly is not likely to be until August 1 against Cambridge University Press. That is because the finances are not there for groundsman Trevor Ball to do all the work he wants on the pitch, so they may have to use it sparingly".

It is a different story in the Telegraph & Argus where it is reported that "Work at Horsfall Stadium has already begun as Bradford Park Avenue gear up towards the coming season. That means, for the people behind the scenes at the club, there will be little or no break during the close season...

Director Kevin Hainsworth said, 'We won't have a minute to ourselves. There is a lot of work that needs doing before the new season and there is still a lot we have to brush up on. It is a new venture for the club and, though it is exciting, it will also take a huge amount of effort'.

Firstly there is a list of improvements that must be undertaken following the visit from the Conference league's ground-grading committee. 'We know that the floodlights need looking at and other little jobs here and there just so that we can stay in this division. When the league give you a certificate to say your ground has passed, they also point out what needs upgrading and we have to work to their deadlines.

They set down certain criteria that are allowed as a new club, but not an existing one, so we have to get all those things done or face the prospect of being relegated, no matter where we finish, at the end of the season. I'm sure the jobs will be done well before time but we have to be in negotiations with the league regarding rulings. For instance, there should be a separate stand for away fans but while our main stand is more than capable of accommodating a large crowd, it is a single structure.

So we have to come to arrangements for crowd segregation that they, (the league), are satisfied with. It promises to be an interesting summer for our directors and football management team'.

Hainsworth hopes the step up in standard will be matched by increased attendances, not least to swell the gate receipts to help fund all the extra work off the field.

'We need to sit down and formulate our playing budget and look at resources to do the work but what we really need is the people of Bradford behind us', added Hainsworth... 'We know we have a very strong core support but we hope our people (Bradfordians) are out in force to get behind us in the big derbies against Guiseley and FC Halifax Town. With Altrincham, Boston, Chester and Kettering all in the division, there will be some well-supported clubs coming to us and we don't want to be outnumbered on our own ground. I'm sure we won't be, as you only have to look at Guiseley and how their support increased dramatically after they went up. Mind you, they have maintained that interest by keep challenging for another promotion'".

And the Ilkley Gazette says that "Guiseley manager Steve Kittrick gave himself a three-day break in Portugal before returning to formulate a squad for the new season. The Lions boss, who is operating on the same budget with which he started last season's campaign, according to chief executive Adrian Towers, has already got 11 players signed up for 2012-13.

Kittrick, has, however, said goodbye to five players as he intends to field a squad that has a younger average age. Skipper Simon Ainge and keeper Steve Drench have signed on the dotted line along with Jamie Clarke, Danny Ellis, Andy Holdsworth, Gavin Rothery, Danny Forrest and Mark Bower, who will have a player-coach role next season, with responsibilities for the defence.

Reserve goalkeeper Jacob Giles is also back on board, while Kittrick's new signings are England C striker Josh Wilson from Vauxhall Motors, plus fellow 24-year-old Rhys Meynell, who is a left-back or mid-fielder from Stalybridge Celtic.

On the other hand, Kittrick has said goodbye to left back Dave Merris, the Supporters' Player of the Year in 2011-12 who made 61 appearances, more than anyone else, for the Lions last season. Also going are Ciaran Toner, Guiseley's Fair Play Trophy winner Lee Ellington, Simon Baldry and Joe O'Neill.

Kittrick explained, 'I brought Dave Merris to the club, and he is a personal friend of mine, but you cannot let sentiment come into things and I have made a decision that I believe is in the best interests of Guiseley Football Club... In Simon's Baldry's case, he is 36 and I am looking for a younger replacement. As for Chris Senior and Matt Wilson, they are both Alfreton Town players, while I haven't heard from James Walshaw since the second leg of the play-offs'.

Kittrick added, 'I will be looking to operate with a first-team squad of 18 players, so it is a matter of getting the right players for another push at promotion'".

And, finally, some general news, from Bulls' News, which reports that "There will be no implementation of plastic pitches in the Football League after talks drew only limited support. Only two League One sides and a handful of League Two clubs backed the plan".
---
4 June 2012
WHERE ARE THEY NOW?
Sunday's NL Paper has a "Where Are They Now?" feature on the Altrincham team which won the inaugural season of the Alliance Premier League, a competition which has now become the Football Conference. In an interview with the captain of that team, John King, the NLP reveals that the fact that the old boys' network of clubs in the Football League prevented Altrincham taking a place in Division Four, the disappointment was more of a blow to the club than the players. "As a player, all I was interested in was playing football", said King. But John added that "It was the people behind the scenes who were more hurt because of all the hard work they were putting into getting Altrincham into the Football League. Chairman Noel White was devastated".

As for the players of that season, John Owens went on to manage the England semi-pro side and worked for 18 years for Liverpool FC's academy. Graham Heathcote "is now a graoundsman for a local grammar school", whilst goalkeeper Colin Darcy "finished his career at Colwyn Bay and is now living and working in Holywell, Clwyd".

As for fellow keeper Alex Stepney, he has latterly "worked as an after-dinner speaker and radio pundit", whilst Graham Tobin still lives in Altrincham, "working as a school teacher in the Manchester area". After leaving Moss Lane, Stan Allan was a toolsetter while managing a host of non-League clubs. Barry Whitbread became Liverpool FC's chief recruiting agent in Singapore "and then chief scout for Blackburn and Bolton".

Jeff Johnson is in "business" after running his own engineering company near Stockport. After his playing career John King himself, of course, went on to manage Altrincham and is "still a director of his own Liverpool scaffolding company". Phil Wilson went on from school teaching to non-League football management and is now "a senior scout at Blackburn Rovers". Barry Howard "runs his own painting and decorating business in Stalybridge", whilst former electrician John Rogers currently "spends six months of the year in Australia and the other six in Liverpool".

As for the back room staff, coach Peter Warburton was assistant manager at Wigan and is now "a retired school teacher, living in Preston". The team manager, Tony Sanders "retired from management in 1984 and "is still based in Liverpool, where he ran a joinery business".

Sadly physio George Evans died in 2000, whilst players Micky Brooke and Ivan Crossley passed away in 2000 and 2001 respectively.

For the same players' pen pictures during 1979/80 season, visit the Past Players pages of this site.
BSBN NEWS
Blue Square Bet North tells us that "Harrogate Town manager Simon Weaver says Richard Pell will be given time in pre-season to prove whether he is fit enough to take part in the 2012/13 campaign. Pell joined the Sulphurites in June 2010 and quickly cemented his place in the starting XI, and his status as a fan favourite reached new heights following his brace on the final day of last season, helping the team avoid relegation.

However, the defender has been held back by a niggling hamstring injury he sustained in December, and Weaver admits he has concerns over the player's fitness ahead of the pre-season campaign. 'Richard has been a fantastic player for us, he had a great season last time around and those two goals against Corby epitomised what type of player he is', the manager told the club's official website.

'However, he has really struggled with his hamstring since Christmas and it is that type of injury that can take a long time to shake off. I have invited him back for pre-season training to see how he has progressed following the summer break, I know Richard looks after himself and I am hoping that he has overcome any problems. I also want to have a look at Danny Stimpson, who suffered a nasty injury in pre-season last time around and I think that it is only fair that I give both players a chance to prove what they can do. Hopefully, both of them will give me a right selection headache!'"

Meanwhile, Solihull Moors tell us that they "are pleased to announce the signing of striker Gary Birch... Gary becomes the club's first new signing of the 2012/13 season, the Birmingham born target-man joining the club from recently relegated Chasetown. A former Walsall trainee, Birch has played over a hundred games in the Football League for Walsall, Exeter City, Barnsley and Lincoln City, and has previously played in the Conference North during a season with AFC Telford Utd in 2007-2008. After a short spell at Rushall Olympic, he joined Chasetown in 2008 and scored over 60 goals during his four seasons with the club. Birch is primarily a target-man and manager Marcus Bignot hopes he will fill the void left by the unexpected departure of Richard Walker in mid-season".
---
3 June 2012
FLYNN MOVES ON
Despite earlier indications that he would sign for Altrincham, where he spent much of last season on loan, centre-back Matthew Flynn has opted to join Barrow instead. Altrincham FC thanks him for his services and wishes him well at Holker Street.
BSBN NEWS
According to the Football Conference, "Boston United attacker Ben Fairclough has pledged his future to the club by penning a new deal. The 22-year-old frontrunner, who scored four goals in eighteen starts (and fifteen substitute appearances) in 2011/12, established himself as an integral part of the Pilgrims' forward line during the second half of the season.

The former Nottingham Forest and Notts County striker, who has also played for Hinckley United and Eastwood Town, put pen-to-paper on Friday afternoon... Teenage full-back Jason Field has also penned Conference forms after being named on the club's retained list".

BSBN reports that "Worcester City could be forced to ground-share with Kidderminster Harriers if their new stadium at Nunnery Way is not built in time for the start of the 2013/14 season. The club will have to leave their St George's Lane at the end of next season with the stadium due for demolition, with the club's directors having met with their Harriers counterparts on Thursday to hash[?] out a deal.

Worcester company secretary John Jordan told Worcester News, 'We have got an offer from Kidderminster Harriers for ground-sharing for the season after next with the provision to go a season further if we need to. Kidderminster have been extremely helpful in terms of assisting us where they can. We consider it to extremely reasonable; financially it's an acceptable offer'.

City have also reportedly held talks with Midland Combination club Bromsgrove Sporting with a view to sharing their Victoria Ground, although any such move would involved the club having to fund improvements to acquire the required ground grading. Jordan added, 'It (Bromsgrove) remains an option. We recognise money needs to be spent and before we make a final decision we want a clear indication of how much investment would be needed in those facilities'".
OLD BOY
Welsh Premier says that "Defender Liam Brownhill has linked-up again with manager Nev Powell. The City boss has signed the 25-year-old, who played for him at Connah's Quay in season 2005/6. The Altrincham-born player had trials with his home-town Conference club and then joined Bangor after being released by Stockport County in the summer of 2005. But the right-sided full-back or wing-back moved on to the Nomads in October 2005 before being released to return to Witton Albion. Brownhill, who has been capped by the England 'C' semi-pros, arrives at Nantporth for a second spell from Chester, following the same path as his former team-mate at the Exacta Stadium, striker Chris Simm, who signed for the Citizens last weekend".
---
2 June 2012
DAMIAN'S SITUATION
BSB North reports that "Altrincham are 'entirely sure' top striker Damian Reeves (right) will leave this summer, according to club secretary, Derek Wilshaw. The 26-year-old has been a revelation for the Robins over the past season, firing home 44 goals in 42 appearances to earn the club's Golden Boot award [i.e. Player of the Season award], as well as help[ing] the side clinch an eighth-place finish in the Blue Square Bet North.

Those performances have caught the attention of several clubs higher up in the English League echelons, with Doncaster thought to be leading the chase for the forward. Reeves's contract at Moss Lane already expired at the beginning of May and the club have revealed the player, who rejected a contract extension at the end of the campaign, is almost guaranteed to be leaving in the coming weeks.

'As far as we're concerned, his contract here finished on May 5 so he is a free agent', Wilshaw said. 'He can have talks with Sir Alex Ferguson, Dean Saunders or anyone else for that matter. If he goes to another club, which I'm entirely sure he will, it will be at his own discretion because he is out of contract'".
OLD BOY
Pitchero Non-League reports that "Jimmy Quinn, manager of Nantwich Town, has swooped to bring prolific marksman Mark Beesley to the Weaver Stadium. The former Chester City and Cambridge United hitman was one of the leading scorers in the NPL Premier last season with struggling Burscough before joining Hednesford Town in January.

'I'm delighted to have signed Mark', Quinn told Nantwich`s official website. 'He has scored goals wherever he's been and has got bags of experience. He's a player I've had my eye on for some time and am really pleased that he has agreed to join us'. Beesley, 31, has also served the likes of Fleetwood Town, Forest Green Rovers and Altrincham.

'Nantwich have a fantastic set-up and it's great to be joining them', he said. 'Jimmy signed me when he was the gaffer at Cambridge and I'm looking forward to working with him again. I can't wait for the new season to start!'".

Alty have a pre-season friendly on 14 July against Nantwich so Mark is likely to face us then.
BSBN NEWS
The Football Conference confirms that "barring any unforeseen issues, the fixtures for 2012/13 will be released on Monday, 2nd July to member clubs and then shortly after that to the media. We wish to remind everyone that the Blue Square Bet Premier will commence on Saturday, 11th August and the Blue Square Bet North and South Divisions on Saturday, 18th August".

According to the Football Conference, "Harrogate Town AFC have announced that former fans' favourite Dave Merris has re-joined the club for the third time. Merris, 31, who started his career with his home-town club of Rotherham United, first came to Harrogate from Guiseley AFC in September, 1999. Four seasons later, he signed for then League club York City before Neil Aspin brought him back to Wetherby Road in 2006. Halfway through the 2007/08 season, Merris re-joined former club Guiseley. where he helped them from the Northern Premier and nearly into the Conference Premier. He leaves the Lions having made over 250 appearances, and scoring four goals. At present he has made 285 appearances for Harrogate and sits in eleventh place in Town`s all-time appearances list".

The BSBN reports that "Steve Housham has revealed his retained list ahead of the new season as he continues to reshape his Gainsborough Trinity squad. The following players have all signed year-long contracts: Jonathan D'Laryea, Luke Waterfall, Ryan Kendall, Ryan Williams, Darryn Stamp, Michael Leary, Dominic Roma, Jamie Yates, Jonathan Williams, Jason White, Shane Clarke. Paul Connor and Lee Ridley were both, meanwhile, assured of a place in the squad after both signing two-year contracts last season.

Goalkeepers Phil Barnes, Andrew Pettinger and Michael Emery will still have to prove themselves when they return for pre-season. Williams, though, revealed his delight at securing a new deal. He told the club's official website, 'My deal is all signed and I'm looking forward to next season'...

Chairman Peter Swann added, 'Both Steve and I are very excited about the coming season and the fact that the majority of the squad have signed, also with the influx of players wanting to be part of the squad. We are looking forward to the new season and will be announcing new signings as they come along'".
---
1 June 2012
LADIES' NEWS

Keith Edleston, manager of Altrincham FC Ladies, announces that his team's first pre-season game will be away to Blackpool Wren Rovers on Sunday, 19th August, kick off time to be confirmed. The Ladies Team's presentation evening will be on June 16th at Moss Lane. The bar doors open at 7.30pm for an 8pm start. Everyone is welcome to come along and show their appreciation for the Ladies' efforts during their inaugural season.
ANOTHER FRIENDLY
FC United confirm that they "will play against Altrincham on Thursday 9 August 2012.

Another midweek local friendly has been arranged in the run up to the new season, thanks to an invitation from Conference North side Altrincham to visit their Moss Lane ground on Thurs 9 Aug 2012. Many FC United fans will have fond memories of their ground, because we've played there several times, not only for previous friendlies against Altrincham, but we also played a home game there against Holker Old Boys in our first season. Trafford also hired Moss Lane as their home ground to play us a couple of times, including for our first ever FA Cup game in 2007. It will be good fun to go back again".
BSBN NEWS
BSBN reports that "Workington have revealed they are close to completing a deal which would enable them to build a 1,200-capacity stand at Borough Park. The Reds have been in talks with the council landlord for the past 18 months over an agreement to extend the club's stay at the stadium for another 35 years. The agreement would also allow the Blues Square Bet North club to use grant money to build the new stand at the end of the 2012/13 season.

Workington chairman Humphrey Dobie told the Times & Star, 'We're delighted that Allerdale has agreed a new lease in principle. It has taken its time but we have held some constructive and necessary meetings. Our plan is to demolish the existing stand shortly after next season finishes and, then, we can start the new era at Workington Reds'".

Elsewhere, "Guiseley have confirmed they will release six players, while retaining the services of 12 others. An official club statement read: 'Guiseley AFC can disclose that the following players' futures at Nethermoor have been decided... Steve Kittrick told the Ilkley Gazette this week, 'I will be looking to operate with a first-team squad of 18 players, so it is a matter of getting the right players for another push at promotion'.

In/Staying On: Steven Drench, Jacob Giles, Jamie Clarke, Simon Ainge, Danny Ellis, Mark Bower, Rhys Meynell, Andy Holdsworth, Danny Boshell, Danny Forrest, Gavin Rothery and Josh Wilson

Out: Dave Merris, Ciaran Toner, Joe O'Neill, Lee Ellington, James Booker, Simon Baldry".

Chester "have announced the second signing of the day, and its a welcome return to Chester for defender Paul Linwood, who has joined the Club from newly promoted Fleetwood Town. Linwood is no stranger to the fans having played for Chester City for three years between 2006-09, and made over 120 appearances for the Club... Linwood, 28, started off his career at Tranmere Rovers before moving over to Chester in the summer of 2006, and was voted Player of the Season in 2007/08. Following the 2008/09 season he moved to Grimsby Town, before then joining Fleetwood Town in in 2010 where he spent the last two seasons helping the Club gain promotion to the Football League".

And, according to the Times and Star, "Carlisle United will take Workington Reds' out-of-contract goalkeeper Aaran Taylor on trial this summer... The 25-year-old, who kept 10 clean sheets during a frustrating year for the Borough Park club, will link up with Greg Abbott's men when United return to pre-season training. Taylor has been Workington's No1 since Tony Caig left the club to join Abbott's backroom staff in 2010. It is understood there are no guarantees regarding his future at Carlisle, but the keeper will join the League One side for training.

If the shot-stopper does sign on at Brunton Park, he will become the third goalkeeper in four years to make the switch. Carlisle's current No.1 Adam Collin started the exodus from the non-league to the Football League when he quit Workington in 2009. Taylor's contract at Workington ended at the end of the season, and he is understood to have turned down a new deal... Taylor was named Workington's Away Supporters' Player of the Year following a good season between the sticks."

Confirmation comes from Pitchero Non-League, that "Jon Newby, player-manager of Colwyn Bay, has secured the services of top scorer Rob Hopley and attacking left-back Mike Lea on one year contracts... Newby has also this week completed the signing of centre back Tom Smyth from demoted Northwich Victoria. The 21-year-old is a former youth team captain at Preston North End and had spells at Accrington Stanley and Workington (on loan) before returning for a second spell at Northwich last year".

Chester First states that "Michael Taylor believes he can contribute towards another title-winning campaign. The Chester centre back has agreed to sign for another year at the Blues who are scheduled to kick-off their Conference North season on August 18.

Taylor, who won the Away Supporters' Player of the Year and Players' Player of the Year Award at the end of season club presentation evening, impressed Blues fans with his solid defensive partnership last term with club captain George Horan... Taylor is one of three players who have agreed to accept new offers at Chester. Midfielders Robbie Booth and Iain Howard have both agreed to stay with the Blues, but Christian Smith has rejected new terms and will be leaving the club.

Young said, 'Christian was keen to stay at the club but the offer has now been withdrawn because he turned down a deal I made him and I'm not prepared to move on that because I have to stick to my budget. I'm still in talks with Michael Wilde and they have been going well'".

The Northern Echo reports that "Darlington FC will play at Bishop Auckland, not Shildon, next season, it has been announced... after concerns emerged about the safety of Shildon's Dean Street ground, which the club had agreed to use.

Fans' company DFC 1883 made the announcement, at the same time confirming that it would appeal against its demotion to the Northern League... He added, 'This is in no way meant to be disrespectful to Shildon – they are a lovely club and nice people, but we have significant concerns about safety, bearing in mind we will be bringing several hundred fans to the ground'...

Terry Jackson, chairman of Bishop Auckland FC, welcomed the partnership with the Quakers. He said, 'It's fantastic news. It will provide us with important extra income'...

Craig McKenna, DFC 1883 project manager, said: "Unfortunately, the details of the appeal can't be shared until after the appeal has been heard, but we've got a three-point appeal..

Meanwhile, Gareth Howe, Shildon FC club secretary... said, ' I resent the way they're using health and safety as an issue when our ground meets health and safety standards for the Northern League. It suggests there's something wrong with our ground, but our ground meets Northern League specification'".
OLD BOY
Nantwich Town "are delighted to announce that defensive kingpins Mat Bailey and Darren Moss have committed to the club for the forthcoming 2012/13 season... Bailey, still only 22, [he was actually born 12 March 1986], featured for Stockport County, Scunthorpe United and Crewe Alexandra before joining the Dabbers last August. The towering centre half earned rave reviews with his accomplished performances".
---
---