Altrincham FC Ladies' Team, 2011-12
Presentation Evening, kindly sponsored by the WPI Group.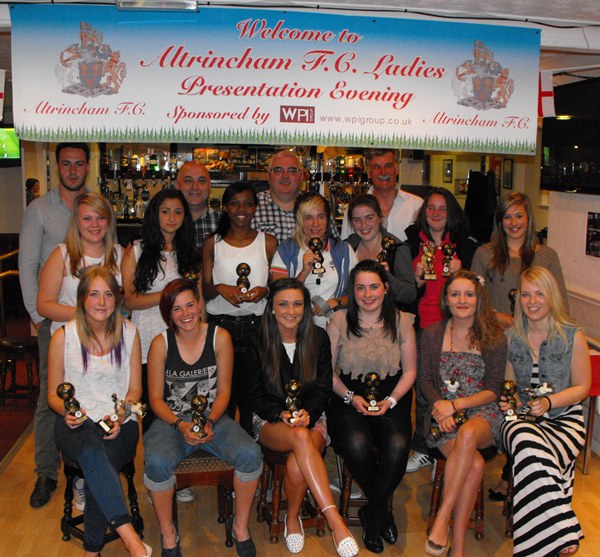 At the presentation evening for the Altrincham FC Ladies, held at Moss Lane on Saturday, 16 June 2012, manager Keith Edleston began proceedings by recalling a successful inaugural season in 2011-12 for his open-age team. Accompanied by fellow coaches, Rick and Jamie, as well as Altrincham FC Community Officer, Chris Bullock, Keith then revealed the award winners. Altrincham FC chairman Grahame Rowley made the presentations, which included an award for each of the players in addition to the individual trophies.
In conclusion, the Ladies made a presentation of a framed and signed shirt to Grahame and Karen Rowley in recognition of the help given to the Ladies' team by the Football Club.
The individual awards were as follows...
Sportsperson of the Season: Nadine Dixon
Most Improved Player of the Season: Jaquie Farrar
Manager's Player of the Season: Natalie Thornley
Players' Player of the Season Runner-Up: Rosie Emerson
Players' Player of the Season: Louise Edleston

Pictured below are four of the winners of the individual awards; (the fifth, Jaquie Farrar was unable to attend). If any of the team requires a full version of her image, please e-mail website, quoting the image number (found by right-clicking on image).
ALTRINCHAM FC
Ladies' Team Squad
2011-12
in alphabetical order.
Each member of the squad
also received an award...

Talullah Anton
Rachel Bullock
Millie Byford
Rebecca Collins
Nadine Dixon
Louise Edleston
Susanna Elias
Rosie Emerson
Jaquie Farrar
Jo Finnegan
Maya Germain

Faye Howard
Shanune Hylton
Hannah Kibble
Kimberley Latham
Kelly Leigh
Kate Rawthorne
Ella Taylor
Laura Thorneycroft
Natalie Thornley
Brogan Walsh
Scarlett Wright
Below, left: Karen and Grahame Rowley receive a signed shirt from the Ladies. Right, The management & coaching staff.