---
31 December 2009
NEW YEAR DRAW
Brian Flynn, chairman of TASC writes:
"The TASC New Year Draw will now take place on Saturday January 23rd after the home game with Hayes & Yeading, rather than after Friday's scheduled fixture with Wrexham. This decision has been taken in order to maximise ticket sales and therefore revenue for Altrincham Football Club. The postponement of three games at Moss Lane during the last five weeks has severely restricted opportunities to sell tickets and the current profit forecast for the draw is significantly lower than last year when almost £2,000 was given to the Football Club.
New Year's Day remains a vital opportunity to sell lots of tickets, but by moving the draw date, we will have three further matches to go at as well!"
SPECIAL OFFER TOMORROW
Spectators in possession of a valid Football league or Premiership season ticket and accompanying identification will be admitted for £5 to the game at home to Wrexham on New Year's Day.
Admission is via turnstiles 5 and 6 only on Moss Lane.
Also don't forget that half-price half-season tickets are now available at the club as follows...
Standing - Adults £104.50; Concessionaries £49.50
Seating - Adults £124.50; Concessionaries £54.50
Aged 12 to 16 seated or standing - £25
Under 12s seated or standing - £12.50
PITCH UPDATE
Altrincham manager Graham Heathcote said this morning that the pitch at Moss Lane is currently fit for play and that while he is hopeful that the New Year's Day match against Wrexham will go ahead, overnight conditions will ultimately determine this.
REVIEW OF THE YEAR
Who scored the most goals for Alty in 2009? How many clean sheets were kept over the twelve months? Who played the most games for the Robins during the calendar year?. All these vital questions - and many more- are answered in this year's Review of the Year 2009!
NEW YEAR'S DAY GAME
Moss Lane, pictured on Wednesday afternoon.
As the adjacent picture shows, the Moss Lane pitch is now clear of snow. As for Alty's game on New Year's Day at home to Wrexham, much will obviously depend on the next couple of nights' temperatures.
If the match goes ahead, it is hoped to provide the usual updates during the game on the update page.
News of out next opponents comes from The Leader which says that "Dean Saunders is desperate to see Wrexham return to action against Altrincham at Moss Lane on New Year's Day. Wrexham's last three matches over the festive period have been postponed due to frozen pitches, meaning the Reds have not played a competitive fixture since the FA Trophy defeat at Altrincham on December 15. With more wintry weather forecast this week, Wrexham are in danger of having a fourth consecutive match called off...
'It has been very frustrating', said Saunders. 'I have never had three games on the trot called off before in my career. That is four games we have got in hand on some teams which is unbelievable... I am keeping my fingers crossed Altrincham will be on. You get worked up for a game and then bang - it's off again'...
'We are training on the astro turf which is not ideal, although we have had a chance to work on a few things', said Saunders. 'A couple of the older boys are not so keen on training on astro turf because of old scars... Marc Williams is injured and he is delighted because he has not missed a game!... You end up playing Saturday, Tuesday, Saturday, playing one game after another, which gives you no advantage. But it also gives you a chance to get nine points in a week'...
'I will get calls for some of our players, some I don't want to lose, but I have got to try and juggle things around... The players have got to step up and play to their best to stop me signing players'".
NEXT TUESDAY's VISITORS
On Tuesday, York City are the visitors to Moss Lane. York Press announces that "Tyrone Berry has been released by York City after failing to make a senior appearance for the club during his six-week stay on non-contract terms. The former Crystal Palace and Grays winger made the first-team bench twice... but was an unused substitute on both occasions...

City boss Martin Foyle said: 'Tyrone has been a bit unfortunate. We've had two or three behind-closed-doors games and he did all right in a couple. He wasn't poor by any means, but he picked up a hamstring strain and we're not in a position to carry anybody. I know that's ruthless, but we need to make sure we have the room to bring the right people in if we need to during the January transfer window'. First-year professional striker Michael Emmerson, meanwhile, has been loaned out to Ossett Town...

The City boss is also hoping to finalise a permanent transfer to Tamworth for Simon Russell, who has spent the last three months on loan with the Lambs. But the future of fellow winger Craig Nelthorpe, who is due back at Bootham Crescent on New Year's Day following his loan spell from Barrow, is yet to be discussed. Foyle said: 'We have virtually agreed things with Tamworth over Simon Russell, but I haven't spoken to Craig Nelthorpe and David Bayliss at Barrow yet. One or two more might go out on loan during January so we can get a couple more players in'".
RICKY'S RECORD
Congratulations to Altrincham FC shareholder, Ricky Ponting, who has this week become the most successful captain in Test match cricket history, after he won the 42nd of the 65 test matches in which he has led the Aussies. Ricky is pictured at Moss Lane earlier this year, with Manchester United Reserves' manager Ole Gunnar Solskjaer, Alty chairman Geoff Goodwin and former Manchester United goalkeeper, Jack Crompton.
OLD BOY
NL Daily says that "Former goalkeeper and current Supporters` player of the year James Coates has agreed terms to rejoin Vauxhall Motors once his clearance is obtained from both Northwich Victoria and the Principality Welsh Premier, as his last action was with Rhyl".
BSP NEWS
Radio station, The Chester Chronicle adds that "Former Halesowen Town owner and manager Morell Maison is now running Chester City. A club statement...confirmed that 'Morell Maison assumes responsibility for the running of the football club with immediate effect'... Maison enjoyed a successful spell in charge of Kettering Town, working alongside director of football Ron Atkinson, before resurfacing at Halesowen, where he was banned from football for three months after a post-match altercation with one of his own players".

The Football Conference reports that "Blue Square Premier leaders Oxford United are the club to have signed Welsh midfielder Lee Fowler for the rest of the season following his release by league rivals Kettering Town. Fowler, 26, had been a regular for the Poppies this season since moving from Forest Green Rovers in the summer. But the ex-Wales under-21 international lost his first-team place a month ago and was released on Boxing Day".

The Oxford Mail adds that "Oxford United should have two new faces in their squad for the New Year's Day trip to Rushden & Diamonds. Midfielder Lee Fowler joined yesterday...and boss Chris Wilder is confident that a left-sided central defender will sign today. 'We want to make sure that the players and the supporters know that we are not by any means resting of what we've got', Wilder said. 'We have bought in Lee, should complete another one first thing tomorrow and hopefully another in the not-to distant future... We've only done half a job and need to finish it off now'.

Fowler was delighted to have joined the table-toppers. 'I have played a good few games in the Football League and want to play more there', he said". The Mail adds that "Anthony Tonkin, the Cambridge left back, should sign early next week".

"Cambridge City have signed Lee Brennan from neighbours Histon. Brennan, 18, is a central midfielder and was until recently under contract at Histon after progressing through their academy. He was previously with Tottenham Hotspur, and in the academy at Cambridge United".

According to This is Sussex, "Crawley Town have rejected an offer for Charlie Ademeno - made on the way to Grays on Monday, where the striker bagged a hat-trick. An unnamed Football League club made the approach... Boss Steve Evans said: 'Clubs might think they can just come along and pluck cherries off the tree. But I have set a value for Charlie which the directors have backed and this was nowhere near. That club had someone at the game and I'd imagine after 10 minutes that the club's representative would be on the phone getting their valuation upped. We don't want that offer upped, we want Charlie Ademeno here so we can build something for next season'".

"Hayes & Yeading striker Craig Watkins is desperate to mark what could be his farewell appearance at Church Road by helping his club secure a quick revenge against AFC Wimbledon on Friday" reports the Uxbridge Gazette. "The 23-year-old's two-month deal at Church Road expires next week with the visit of Terry Brown's men offering the former Woking forward one final chance to impress Hayes manager Garry Haylock enough to extend his stay beyond the new year. Haylock... admitted that keeping on-loan Luton Town forward Steve Basham is his main priority in the transfer window...

Watkins said: 'I want to stay, 100 per cent. I do not want to just stay for two months. I want to sign and play in the Conference week in and week out'".
---
30 December 2009
YORK PLEASED WITH REARRANGEMENT
From NL24 we learn that "Martin Foyle is relieved that York City have been able to re-arrange their postponed trip to Altrincham so quickly... Foyle tells Dave Flett at the York Press: 'I'm really pleased to get the match rearranged for next Tuesday (5th). I didn't want four midweek games on the road grouped together as people don't realise how much the travelling can take out of the players. Some of the north-east boys don't get back home until 4am sometimes and that's very tiring. I wanted to play the game, but at least we can now prepare for Stoke knowing that game will definitely be on'".
REFEREE
The referee for the New Year's Day game at Moss Lane against Wrexham is Mr M Heywood. He has previously officiated at two Cheshire Senior Cup games for Altrincham:
Altrincham 2 Vauxhall Motors 1, a Cheshire Senior Cup Semi-Final match played on Tuesday, 5 February 2008
Crewe Alexandra 4 Altrincham 0, a Cheshire Senior Cup, second Round Match,on Wednesday, 16 November 2005.
BSP NEWS
At Chester City "Jim Harvey has said it's business as usual as far as he's concerned following the appointment of controversial Morrell Maison as the clubs Director of Football... Harvey said: 'I have spoken to Mr Maison and as far as I am concerned I continue to do the job I was taken on to do; it's a case of business as usual. I haven't spoken to the owners, but I understand that there will be further discussions between them and Mr Maison in the next day or so. I am told that Mr Maison is endeavouring to bring investment to the club, and we are all aware that investment is badly needed at this point in time'...

Harvey is operating without a contract at City and his name has been linked to several clubs the latest of which are Kidderminster themselves.Maison, who has been offered a contract but is yet to sign it, went on to say: 'The betting man would say that Chester are down and the club should rebuild for the Blue Square North next season, and look to get out of that league as soon as possible. I had a couple of seasons at Kettering Town in the Blue Square North and I know that division very well, and I know what we have got to do to build a side to get out of that division. There are contingencies being built for each scenario, but initially I believe there is a huge PR job to be done and there has to be a deliberate way forward and a plan. We are working on that plan now and hopefully within the next week or two we will present that plan to the fans and potential investors too... The position of Eric Whalley who was appointed Director of Football last year remains unclear".

And more behind the scenes news comes from Crawley Town where "Co-owner Susan Carter spoke exclusively to Reds Matchday". She explained how "With the financial constraints Bruce and I have imposed on the Manager I think we are actually doing very well... It is the job of the shareholders to balance the books at the end of the season and ensure there is a club next season". Asked, "Is the Manager happy with this?" she replied "Not at all and we revisit the 'budget' on a regular basis. However, he understands that these are difficult times economically and what we are trying to achieve in the long term takes precedence over the short term. It does not stop him asking though and if he didn't Bruce and I would be disappointed, he does not give up easily...

Crawley Town has always been loss making and has depended upon benefactors to make up that loss. This scenario is just not realistic or sustainable... Over the last ten years Crawley Town FC has been running with an annual loss of anything between £250,000 - £400,000. That is around £30,000 every single month that has to be injected into the club just to stand still. Combine that with the debts left behind by the previous owners and you get some idea of the task we face. Prospect Estate Holdings financed the club last season when the previous owners effectively walked away, saving it from financial ruin and certain relegation but with the credit crunch biting they needed added support this season. That is when Bruce Winfield and I stepped in and took shares with the funds going into the club to service debt. It is ongoing every month, therefore it is my belief that football clubs have to change and be run as businesses in the true sense of the word. Expenditure cannot exceed income".

According to the BBC "Onome Sodje and Ross Perry will not have their loan spells extended at Oxford United and will leave the Kassam Stadium in the new year. Scotland Under-21 defender Perry joined the U's with Rangers team-mate Steven Kinniburgh in August. Barnsley striker Sodje moved to the Blue Square Premier leaders in November".
---
29 December 2009
LACK OF ACTION
Right: Darren Gregory's photo shows Moss Lane yesterday, shrouded in fog and with snow and frost on the pitch.
Only Altrincham and Wrexham have failed to kick a ball this Christmas in the BSP - and both clubs also lost their previous week's fixture so the Daily Post reports that "Wrexham manager Dean Saunders last night surveyed the wreckage of the club's Christmas fixture programme and admitted he was struggling to put a positive spin on the situation. A frostbound Racecourse put paid to the scheduled Boxing Day rematch with Altrincham and it was a similar story yesterday after a pitch inspection ruled out today's visit to Gateshead.
The double blow, which followed the previous weekend's postponement of the game against Mansfield, means Wrexham – who had already played fewer matches than many of their Blue Square Premier rivals – could face a punishing schedule in the New Year to catch up. 'I was disappointed we couldn't play Altrincham on Boxing Day and I'm doubly disappointed now the Gateshead game is off as well', said Saunders. 'The players have been training throughout the Christmas period, so it's terribly frustrating for them as well, because they have prepared for games to no avail. We spent a lot of time working on set-pieces and a style of play for Gateshead and, while training is never wasted, a lot of it has been for nothing'...
Saunders is considering the possibility of arranging a midweek friendly "for Tuesday or Wednesday", Saunders said. "The only good things I can say about the current situation are that Marc Williams hasn't missed a game yet since he was injured at Altrincham nearly a fortnight ago and with the extra few days before we are due to go to Altrincham again, there is a good chance that both Frank Sinclair and Sam Williamson will be fit". In the January "window", Saunders says "Obviously there will be some to-ing and fro-ing and I'm expecting some calls about some of the players here and I have to address our goal-scoring problems so that's my top priority".
The Leader adds that "Wrexham are waiting to hear if they have been successful with their bid for an unnamed striker... Saunders has shown an interest in Forest Green Rovers striker Andrew Mangan... Chairman Geoff Moss would not reveal the identity of the striker and is waiting to see if the bid – less than six figures – has been accepted ahead of the transfer window reopening... Said Moss. "Dean has been looking around and we have put an offer in to a club. 'I can't say how much it is, it is not six figures but we are prepared to finance Dean to bring in a striker. We are just waiting to see if it has been accepted... But there may well be other clubs in for him too'".
TROPHY OPPONENTS
Altrincham have kept four clean sheets in their last five games and their FA Trophy opponents on 9th January AFC Wimbledon report that "For the sixth game in a row Seb Brown and the Dons defence shut out the opposition and in the process helped Wimbledon gain a valuable point at high-flying Stevenage Borough".

The Dons' injury problems continued and from his squad, Terry Brown was unable to call upon the services of James Pullen, Ben Judge, Danny Kedwell, Steven Gregory and Will Hendry, as well as long-term injured players Luke Moore and Alan Inns. As a result, Brown was forced to make a number of changes with starts for Sam Hatton, Kennedy Adjei, Derek Duncan, Ross Montague and Elliott Godfrey, and only able to name four fit players on the bench...

Terry Brown was extremely pleased with the performance and the result. 'I have spoken all year about the importance of a good squad, and that came home to roost today against Stevenage Borough. I spoke to Mike Rayner, our physiotherapist, prior to the game, and had seven regular players unavailable... We are hopeful that one or two of the players will be back for the return match with Hayes & Yeading... on New Year's Day".
CHRISTMAS CARDS
The loss of the three games at Christmas saved several Alty players from potential suspension. With Chris Senior (right), James Smith and Chris Denham all on four yellows, a ban would have followed a further caution. But the clock is reset from the start of 2010. Our opponents on January 5th, York City, benefited even more as they had five players on four cards.

Meanhwile "The postponement of York City's game at Altrincham is leaving the Minstermen with four away games to catch up on in the New Year. Prior to Christmas, York's scheduled game at Grays was lost to the weather, while trips to Histon and Mansfield have been delayed because of the club's success in the FA Cup. Manager Martin Foyle tells BBC Radio York: 'The games we're catching up on are all midweek and away from home. All the travelling and the overnight stays and then you're late back, it does disrupt you... The only good thing about the Altrincham game being called off is that five players were on four bookings, so they'll all be scratched off and they'll be OK for the new year'".
OLD BOYS
A former Alty trialist, former Man. Utd player Ben Muirhead, has joined Harrogate Town. Ex-Alty Reserves' defender Colin McAllister has signed for Witton Albion from Bamber Bridge.
BSP NEWS
Confirmation comes from Chester First that "Struggling Chester City FC have appointed controversial ex-Kettering and Halesowen manager Morell Maison as their Director of Football... Maison, who is still serving a touchline ban until the end of the season... said: 'I have got a list as long as my arm of all the issues and problems, and of all the things that need looking at and, essentially it's now up to me to bring all of my experience in trying to position these things and trying to find a way forward for the football club. Jim Harvey is the manager and that will remain the case for as long as Jim wants it to be that way... I have put proposals to certain individuals within the football club that will possibly help the directors of the club extricate themselves from the club or move the club forward. There is a timescale for the existing directors to extricate themselves'...

Meanwhile, Blues boss Jim Harvey... admitted he had not known about the club's appointment of Morell Maison as director of football until 30 minutes before Chester's 2-0 defeat at Kidderminster on Boxing Day".

NL24 confirms that "Chester City boss Jimmy Harvey is confirming his interest in the manager's job at Kidderminster Harriers... Speaking to BBC Sport, he admits: 'Any manager would be interested... It's flattering to think they'd like me but at the moment I'm at Chester'...

With reports that former Halesowen and Kettering manager Morrell Maison has been brought in as Chester's new director of football, Harvey's days at the Deva could be numbered".

The Liverpool Daily Post states that "The strange and concerning soap opera at Chester City took another bizarre twist on Saturday, when a new Director of Football was announced... Harvey, who handled the post-match interview with his usual dignity and professionalism, confirmed that he didn't know about the appointment until 30 minutes prior to kick-off... The timing and mystifying motives behind this obtuse announcement will do nothing to ingratiate the disillusioned and disenfranchised staff and supporters of the club. Talking to the Press following the announcement Mr Maison [said]... 'We will give the manager (Jim Harvey) the tools he needs".

The 200% site writes that "The recent break has seen developments involving two names that have graced these pages before, Morell Maison and John Batchelor. with mixed results. Maison came to our attention because of his time in charge at Southern League club Halesowen Town, but has now resurfaced at, of all places, Chester City... During his time at the club, the Yeltz were kicked out of the FA Cup and the FA Trophy by the Football Association, ran up horrifying debts, were boycotted by the club's own supporters, had the West Midlands Police Economic Crime Unit investigating allegations of fraud at the club and ended up being released on bail by the police over the matter".

Chester owner Stephen Vaughan "should have offloaded his interest in the club by the middle of December. It was, however, Vaughan that was reported as having met Maison and, as recently as the 22nd of December, Vaughan was confirmed as not having sold his share in the club".

Meanwhile, "John Batchelor can now scrub his name off the list of buying any football clubs in the near future. Batchelor was ruinously involved at York City earlier in the decade, was sniffing around Mansfield Town earlier this year and described himself as an asset-stripper in his involvement in football clubs, but he has now been banned from acting as a company director for seven years... While at York City, he took £120,000 on sponsorship out of the club and diverted it towards his motor racing team. Of the twenty-four companies of which he has been a director, fourteen had been struck off the companies' register and six have been insolvent. He would, however, still have passed the Football Association's Fit & Proper Persons test until his disqualification was announced".

From Bullsnews we learn that "Crewe have made defender Patrick Ada available for loan. The former Histon man is not in Dario Gradi's plans".
---
28 December 2009
MONDAY GAMES
Monday 28 December, 3pm
Altrincham v York City POSTPONED
Chester City v Barrow POSTPONED
Gateshead v Wrexham POSTPONED
Grays Athletic 2 Crawley Town 3
Hayes & Yeading Utd 4 Ebbsfleet United 2
Histon 1 Kettering Town 0
Luton Town 4 Eastbourne Borough 1
Mansfield Town 2 Cambridge United 1
Rushden & Diamonds 2 Kidderminster Harriers 1
Salisbury City 1 Oxford United 1
Stevenage Borough 0 AFC Wimbledon 0
Tamworth 0 Forest Green R. 0
League table.
STILL FROZEN
Graham Heathcote reports that the Moss Lane pitch is still frozen in parts at 1.45pm and that he is certain that the referee made the right decision not to play today's game against York City.
GAME REARRANGED
The match between Altrincham and York City, at Moss Lane, has been rearranged for Tuesday, 5th January at 7.45pm. Altrincham's other postponed matches versus Eastbourne and Wrexham have yet to be rearranged. The game against Kettering was rescheduled some time ago for 12th January. The full, revised fixture list is here
MATCH OFF
Today's home game against York City has been postponed. Manager Graham Heathcote reports that seven-eighths of the pitch is fine but around the centre circle and in the six-yard box at the Carole Nash End there are solid patches where the snow has not fully melted. The referee was not happy to play with such areas remaining. Given the slightly foggy conditions and a temperature barely above zero degrees, there is little prospect of the day being warm enough to bring about an improvement by 3pm.

Alty's next match is now on New Year's Day, at home to Wrexham (3pm). By then, Alty will have played just two home league matches in the preceding eleven weeks. The Robins now have a four-match backlog following postponements in the past month against Kettering Town (re-arranged for 12th January), Eastbourne Borough, Wrexham and York City.
... AND IT'S SIX WEEKS FOR THE YOUTH TEAM
When Altrincham Youth (hopefully) travel to Stalybridge Celtic on 10th January, it will be their first game for six weeks following postponements due to bad weather.
NEW YEAR DRAW
TASC chairman Brian Flynn writes:

Assuming that the games go ahead this week, we need people to help sell tickets for the New Year Draw which is scheduled to take place after the game on New Year's Day. With the postponement of two games (Kettering & Eastbourne), we will need bumper sales at the York and Wrexham games this week to match last year's sales of £2,000.

If you can spare an hour (2-3pm) at either of this week's games to sell tickets then please contact Brian Flynn by e-mail or on 07860 561011).
S.O.S. FUND
Brian Flynn also writes...

The S.O.S. Fund was set up to help fund the club's application to join the Football League and also to help manager Graham Heathcote strengthen his squad in January. There has been an excellent response to date with over £900 raised, however TASC has set an objective of £3,000 to be raised by the end of January and the matchday bucket collections are a major part of this fundraising effort. Almost £300 was raised at the Barrow game at the beginning of the month and if we could match that at each of the games this week, then we would be well on the way to getting towards our January 31st target!

Please give as generously as you can and, of course, if you are unable to attend the matches you can donate online.
HOME AND AWAY
Those hoping to see Altrincham take on York City at Moss Lane today will be surprised to read that according to the BBC the match has been moved to KitKat Crescent for the national broadcaster claims that "Altrincham have no fresh injury worries for their visit to promotion-chasing York City. Striker John McAliskey and midfielder Adam Carden return after being cup-tied for the FA Trophy and defender Matt Doughty is back from suspension". But no one has told the Minstermen of the venue change as the same source adds that "York boss Martin Foyle will be able to choose from a near full-strength side for the trip to Altrincham. Djoumin Sangare is back from injury (abductor) but fellow defender Alan O'Hare is out (ankle)".
OLD BOY
The BBC confirms that "Barnsley have agreed a deal with Stoke to keep Ryan Shotton and Carl Dickinson on loan until the end of the season. Defenders Shotton, 21, and Dickinson, 22, have been on loan with the Reds since the end of September having made 13 appearances each. The pair's original loan spell with Barnsley was set to end on Boxing Day but will now be extended when the transfer window re-opens in January"> Ryan is currently suspended, however.
BSP NEWS
The NL Paper front page announced on Sunday that "Chester City have turned to controversial former Kettering and Halesowen manager Morell Maison to get them out of trouble. The Blues have brought Maison in as Director of Football. Former owner Stephen Vaughan indicated that the club was up for sale and it was thought that former Halesowen owner Maison was set to buy the club but he has said that's not the case. Maison, who was banned from football for three months after a post-match altercation with striker Dean Brennan while at Halesowen said, 'It's not a takeover at this moment in time. It is me coming in as Director of Football. I am here to bring my experience to help the club. I'm certainly not investing in the club'... Whether manager Jim Harvey stays is open to question. Harvey is due to have a meeting with Maison, who has been acting in an advisory capacity at Kettering, and Vaughan tomorrow (Monday) and is in the frame for the vacant job at Kiddderminster".

According to Kent Online "Members of MyFC must decide whether to offer Ebbsfleet players cash incentives to avoid relegation. The novel suggestion of a 'pledge-style incentive scheme' was discussed at a meeting of the Ebbsfleet United board last week and will now be put to members of MyFC to vote upon. Club chairman Duncan Holt (pictured) said: 'It is meant as an individual incentive for each player, we'll have to see what the members think of it'. There are concerns that the move could be unworkable due to players' contracts and bonuses being established at the start of the season.

Manager Liam Daish said: 'We have worked hard and have just lacked the finishing touch at the end. Effort-wise, I can't fault the players, we have maybe just lacked a bit of quality'. Daish hopes to add quality to the squad when the transfer window reopens on January 1 and has an £8,500 kitty to pay for the loan of a striker until the end of the season. The Fleet boss suffered disappointment in trying to attract a striker to club, despite having a list of 25 targets, before the last window closed".

NL24 says that "Kettering Town "are confirming that Lee Fowler has left the club by mutual consent. The player asked to leave some weeks ago due to difficulties with travelling from his home in Wales, the Kettering Town official website is reporting. Rumours are suggesting that he could sign for Dean Holdsworth's Newport County".

Gateshead's Blue Square Premier home game against Wrexham on Monday is already postponed due to the bad weather.
---
27 December 2009
OLD BOY
The Football Conference reported before Southport's 5-0 win over Fleetwood yesterday that "Hat trick hero Sean Clancy can't wait to put Southport in his sights on Boxing Day when second-placed Fleetwood Town visit table-topping Southport.Clancy, 22, has played for Southport and was under Liam Watson, the current Haig Avenue manager, when the pair where at Southport...

Clancy said. 'We haven't been beat for a while... We've closed the gap and are right behind Southport now'... The midfielder put three past Northwich Victoria before a groin strain saw him substituted and then restricted him to an appearance from the bench during last Saturday's win over Stafford Rangers. 'I've been scoring so I'm made up with my form this season and I'm going to carry on. I needed to come off in the Northwich game after my hat trick and could only come on as a second half sub in the win against Stafford last weekend'".
BSP NEWS
According to NL24 "Carl Heggs, the former boss of now defunct Unibond Premier side King's Lynn, is in talks with two Conference-level clubs. Heggs has already revealed he had already been contacted by chairmen higher up the football pyramid". But he may stay in Norfolf as 'I don't see any club out there at the minute without a manager that is as big as King's Lynn', he says. 'Of course it's unfortunate they went down two leagues or potentially could go down two leagues... I'm absolutely brimming with enthusiasm. If the board is right and they had the same ambitions that I've got we could be in the Conference North and I could still be only 42, 43 and at a big club like King's Lynn . It's a big ask, but if you don't set yourself goals and dreams what is the point?'".

Also from we learn that "Neil Taylor is delighted Dean Saunders sees him as part of his future plans... 'I am happy to be offered a new contract, I am really glad', says Taylor... 'I have been at Wrexham six years now and the club means a lot to me. It is where I started my career and learnt my trade. It is the club that gave me my chance and I will be forever grateful for that'".

Meanwhile Justin Edinburgh tells BBC Radio Northampton: "I think we'd take the same number of points in the second half of the season as we got in the first. That would put us in the play-offs and I'd be delighted with that. I put the squad together in the summer and it's certainly developing. Against Billericay (in the FA Trophy earlier this month) we had eight players under the age of 23, and that bodes well for the future".

The Express & Star says that "Jeff Kenna will be making a formal application to become the new manager of Kidderminster Harriers... The 39-year-old is a free agent and living back at his Solihull home in the West Midlands, working as a community youth coach for Birmingham City... after 14 months as a League of Ireland Premier boss ended with his resignation at St Patrick's Athletic in September. Yet the fledgling manager had worked wonders at Galway United in the previous season, steering a club hemorrhaging money who had lost most of their players to the most unlikely of relegation escapes.

And the former defender is still highly thought of among Harriers fans after spending two seasons at Aggborough towards the end of his career... Kenna has fond memories of his time with Harriers, and believes the opportunity of kick-starting his managerial career in England with a club 'of such a proud heritage' is too good to miss. He said: 'I am interested in the job and will be applying for it – it would be a fantastic place to work. I still know everybody at Aggborough and know what the place is about and, believe me, it's a great opportunity for whoever gets the job. It's a great club which is very well run and stable, I had two very happy years as a player and I would relish the chance to go back'".

Chester City'S players were not paid in time for Christmas" claims NL24 "But that will not stop them from going all out to make the festive period special for their fans, according to boss Jim Harvey. The players are, however, back in training after calling off their strike... 'The boys continue to be first class', says Harvey 'What they lack in quality and numbers, they certainly make up for in determination and effort. Given the situation we find ourselves in, that's all you can ask. They have been advised by the PFA to play on, so from that point of view they will look after themselves, they will turn up and they will give it everything they've got'".

NL24 adds that "Jeff Kenna is making a formal application to become the new manager of Kidderminster Harriers. The former Aggborough star currently works as a community youth coach for Birmingham City. The ex-Harriers is still highly thought of among Kidderminster fans after spending two seasons at Aggborough towards the end of his playing career, expressandstar.com is reporting.... He says: 'I am interested in the job and will be applying for it – it would be a fantastic place to work. I still know everybody at Aggborough and know what the place is about and, believe me, it's a great opportunity for whoever gets the job. It's a great club which is very well run and stable, I had two very happy years as a player and I would relish the chance to go back'".
---
26 December 2009
BLANK
Today was Altrincham's first Boxing Day since 2001 without a game, as is shown by Howard Watts's Through the Years data.
ALTY HOLD ON TO 11TH
Saturday 26 December, Boxing Day, 3pm
AFC Wimbledon 5 Hayes & Yeading Utd 0
Barrow 3 Gateshead 3
Cambridge United 1 Stevenage Borough 3
Crawley Town 2 Eastbourne Borough 2
Ebbsfleet United 2 Grays Athletic 1
Forest Green R. 3 Salisbury City 1
Kettering Town 0 Tamworth 0
Kidderminster Harriers 2 Chester City 0
Luton Town v Histon POSTPONED
Oxford United v Rushden & Diamonds POSTPONED
Wrexham v Altrincham POSTPONED
York City 3 Mansfield Town 0
League table
GAME OFF
Wrexham confirm that today's game at The Racecourse against Altrincham has been postponed. The referee "wasn't happy with the frosty coating of snow, despite supporters and staff clearing the pitch" reports the Dragons' official website. Many thanks to Wrexham for their efforts to get the game on and also to club secretary Geraint Parry for his updates over the last couple of days.

Altrincham's next match is at home to York City on Monday (28th) at 3pm.
WREXHAM GAME
At 8.30am this morning Wrexham reported that "There has been a thaw of sorts, although some of the melt water has frozen overnight to leave black ice on the approaches to the ground, behind the Eric Roberts and Yale Stands. Referee Rob Lewis is due to look at the pitch shortly after 10.00am".

The outcome of the pitch inspection will be posted here as soon as it is known.

If the game goes ahead, it is hoped to offer the usual matchday news service. This will be found, this afternoon, on the Update Page.

Before matchday Wrexham's website wrote... "Prepare yourselves for a Boxing Day thriller, as the gripping mini-series of games between two of the most goal-shy sides in The Conference continues! We're certainly not getting too many bangs for our admission bucks at The Racecourse this season, as there have been fewer goals in Wrexham's games than in those involving any other side in the Conference. Our 22 league games have featured just 42 goals and the next dullest side to watch - Altrincham! Their matches have seen just 46 goals hit the net.

So it was no surprise that our two FA Trophy clashes, earlier this month, featured just one scrappy goal and that from a set piece! Fortunately, our defence has been functioning effectively this season; the 10 league clean sheets we've kept is second in the Conference... Altrincham are only two clean sheets off us, and nobody in the division has shut the opposition out more often in away games: Alty and Stevenage can both boast six clean sheets on their travels.

The problem is both sides are hardly swash-buckling at the other end... The Conference's top striker, York's Richard Brodie, has more goals on his own than our entire side!... We haven't scored past their keeper, Stuart Coburn, in 278 minutes, our last goal coming when Jeff Louis struck deep into extra time to earn us a 2-1 win in the Setanta Shield at Moss Lane in November 2008".
BSP NEWS
"Nick Wright's on-off move from Tamworth to rivals Stevenage Borough now seems to be close to completion" reports NL Daily. "After a five-figure fee had been agreed between the clubs last week, the transfer stalled when the 22-year-old England `C` international failed to agree personal terms. But Stevenage have now negotiated a deal with the former Birmingham City trainee and Wright is due to have a medical before signing for the Broadhall Way club. But he will have to wait until the transfer window reopens to make his debut for the promotion-chasers".

Salisbury City "general manager Nick Holmes says he is frustrated that talks aimed at resolving the club's financial situation will now continue into the New Year. Administrators confirmed today that a meeting between themselves and the club's prospective new owners has had to be adjourned until January 5, 2010.... Said Holmes, 'We'd hoped it would have been done and dusted by November, but unfortunately, now it's dragging on into the New Year'".

At Gateshead "Ian Bogie is drawing up a four-man shopping list for the New Year sales - and wants Daryl Clare to extend his stay at the International Stadium... Clare's loan period from Mansfield Town ends on January 2... Bogie said: 'He has scored a few goals and does not seem to figure massively in Mansfield Town's plans. It is something we will have to discuss with them and with the player, because we would like to keep him'".
---
25 December 2009
GET WELL, GRAHAME
As many Altrincham FC supporters will know, vice-chairman Grahame Rowley (left) was set to undergo surgery on Christmas Eve. We are happy to report that the operation has gone well and, though Grahame will be spending Christmas in hospital, he will hopefully soon be back at Moss Lane. The thoughts of everyone at the Club go to Grahame, his wife Karen and children Sarah and Chris. Before he left the country last week on his Christmas holidays, chairman Geoff Goodwin sent his best wishes, describing Grahame as the "backbone of the club", a description which everyone at Altrincham FC will agree with.
WREXHAM GAME
Wrexham state that "The heavy overnight snow on Wednesday evening, which dropped about two inches onto the Racecourse, has added further to the problems of the groundstaff ahead of Saturday's home game with Altrincham. The club has been in contact with the match referee, Rob Lewis (Shropshire), Altrincham FC and the Football Conference to discuss the situation further.

If the game was today (Thursday), then the pitch is unplayable, but the weather forecasts suggest a decent temperature rise on Christmas Day and into Boxing Day. If this does materialise, then there is a chance it could shift the frost out of the ground. After a week of freezing temperatures, we would be looking at a minimum of +5c and probably higher, to get the game on. Although sunshine is also forecast, at this time of the year the Mold Road Stand does cast a shadow onto the playing surface, so we would be relying on the air temperature to be significantly above freezing to do the job.

Referee Mr Lewis will be at the Racecourse before 10.00am on Saturday morning to check the state of the pitch and to see if there is a chance of play. If there are any volunteers who would be available to help shift snow, either off the pitch or from the car park on Saturday morning, then please head for the 'Players Entrance' under the Yale Stand for 9.30am onwards - could you also bring a shovel or brush with you?

As always, you can keep up to date with news on the referee's deliberations be checking onto the website during Saturday or getting Wrexham SMS direct to your phone. Simply text CLUB WREX GOLD to 88442 - you can just as simply unregister by texting STOP to the same number - messages are charged at 25p each".

The outcome of the pitch inspection will also be posted here on the Altrincham website as soon as it is known on Saturday morning.

If the game goes ahead, it is hoped to offer the usual matchday news service. This will be found, on Saturday afternoon, on the Update Page.

The BBC claims that "Teenage striker Obi Anoruo could return to Dean Saunders's Wrexham side who face Altrincham for a third successive match in a row. Marc Williams (ankle) will miss the Altrincham fixture but Wes Baines is likely to be available. Matt Doughty will return to the Altrincham side after suspension, while striker John McAliskey and midfielder Adam Carden could also feature. But Dale Johnson (knee) remains sidelined following surgery last month".

The Daily Post adds that "Obi Anorou wants to prove he's worthy of a place in Wrexham's first team by helping the Dragons to a revenge win over Altrincham on Boxing Day... Onoruo did his cause no harm on Tuesday when he scored one goal and set up the other in a 2-0 friendly win over Colwyn Bay... After recently being recalled from a loan spell at Newtown, during which he scored five goals in nine appearances, Anoruo is desperate to prove he can be the answer to the chronic goalscoring problems which have blighted Wrexham's season so far.

He said: 'It was good to get called back because it shows the gaffer's got faith in my abilities – I was looking to play on Saturday so when it was called off I was very disappointed not to be playing'... Saturday's game will pit Wrexham against familiar foes in Altrincham, the Dragons having faced the Cheshire side twice already this month... Whether or not he gets his first game of the season for the Dragons, Anoruo wants Wrexham to get three points...

'We've been looking at how we're looking to play on Saturday and hopefully we'll get three points for the fans', said the striker, who was born in Nigeria but raised in Liverpool. 'We'll be looking to get one over on them after losing in the FA Trophy – and if we win I'll also be able to have a bit of banter with Tom Kearney who's an old mate of mine'. Saunders should have a full squad to choose from for Saturday's game, apart from Marc Williams (ankle) and Sam Williamson". (hernia)."
HAPPY CHRISTMAS
A happy Christmas to all supporters of Altrincham FC and visitors to this website.
BSP NEWS
The FA reports that "At a Regulatory Commission earlier this week (22 December) Kettering Town Chairman, Imraan Ladak, was suspended from all football and football activities with immediate effect. Following previous Regulatory Commission and Appeal Board decisions Imraan Ladak has failed to pay an FA fine and costs of £3,500, and will remain suspended until which time the amount is paid in full. During the period of the suspension Ladak will be unable to manage, coach, referee, play or undertake administrative duties and he will not be permitted to be in the Directors' Box or hospitality areas. Failure to comply with this suspension will result in Kettering Town FC, as well as Mr Ladak, himself being in breach of FA rules".
CHESHIRE NEWS
Confirmation comes from the Northwich Guardian that "Northwich Victoria can exit administration after agreeing a deal with their creditors to pay back part of the club's six-figures debt. The rest will be written off. 'The timing is perfect', said owner Jim Rushe. 'I know it's been a long wait but I hope now that people can see the hard work we have put in has put the club in a position to move forward'.

HM Revenue and Customs, the creditor owed the largest amount of money at around £465,000, today, Thursday, said it was happy with Rushe's latest proposal. They, along with the other companies owed cash by the club, have voted in favour of a Company Voluntary Arrangement (CVA); a binding legal agreement about how much of the debt will be repaid over the next five years. All parties now have four weeks to appeal should they not agree with the terms. But as Rushe's offer proposes a higher dividend than his two previous ones, which everybody apart from the tax man accepted, then a challenge is unlikely.

Sums owed to former players and other clubs have already been paid in full. Cash rewards from this season's run to the FA Cup's second round and fees from ITV for two televised ties – some £180,000 in total – will go directly towards paying off part of the club's remaining debt at the request of HMRC...

Northwich Victoria Football Club (2004) Ltd, the firm that pays the players' wages, has been in administration since May 15. That's 33 weeks. A company set up by Rushe in October 2007, The Northwich Victoria Football Club (2007) Ltd, will now buy the Wincham-based club. next he will seek to transfer the associate membership of the Football Association from the company in administration to NVFC (2007) Ltd, which will take on the responsibility of paying back the old firm's remaining debts in monthly instalments.

NFVC (2004) Ltd did not satisfy the criteria to become a full member of the FA, one of the reasons the Football Conference relegated Vics from non-league's top tier in 2005. Instead Northwich's membership of Cheshire FA has allowed them to enter FA competitions since then".
---
24 December 2009
GORDON SMITH
Altrincham FC is saddened to report the recent death of Gordon "Biffer" Smith and expresses its condolences to his family and friends.
Gordon is pictured right in the 1951 Altrincham team photo.
Back row: Brian Parkinson, Alf Rawding, - Wasilski (a Polish player), Bob Barrie, Brian Phillips, Gordon "Biffer" Smith, Charles Le-Massure (trainer, from Guernsey).
Front row: Konrad Kapler (Polish player), Bobby Dale, Alf Morris, Cyril Barclay, Walter Jones.
A left-half or inside-left, Gordon was born in Bowdon in 1923. Having previously been with Witton Albion (1947/48-1948/49), he joined Altrincham for 1949-50 and stayed at Moss Lane until the 1953-54 season, amassing 151 appearances, and scoring 25 goals. Gordon then joined Mossley (where he played from 1954/55 to 1955/56 appearing in 39 games and scoring once). He went on to local Altrincham club Linotype, where he was trainer (1956/57) and later manager until the end of the 1959/60 season. Subsequently he became the Altrincham FC reserve team manager, in 1967/68. More recently, Gordon was a welcome guest at the launch of the Altrincham supporters' trust, STAR in 2003.
Thanks go to Terry Rowley for the biographical information, above.
WREXHAM HOPEFUL
The Daily Post reports that "Wrexham manager Dean Saunders is optimistic that the Boxing Day game with Altrincham at the Racecourse will go ahead, given a brighter weather forecast for the weekend. But the ongoing freeze has made life difficult this week for the Dragons boss and his players, especially since the club's all-weather training facility has also been affected to some extent by the plunging temperatures... 'It's difficult for everyone and particularly so for the coaching staff who have to decide just how much training the players need to do on what can be a tricky artificial surface. But at least we can train on something akin to grass and other clubs are not so fortunate in that regard'" said Saunders.

"Saunders has told his players they will be training on Christmas Day. 'We are in the entertainment business so Christmas Day is a working day like any other', he added. 'The players will have to watch what they eat and drink ahead of an important game the next day and, just as important, they have to stay focused on their jobs. There are three points to play for against Altrincham and we need to be looking for back-to-back wins so that we can start the New Year in a positive frame of mind'".

During the transfer window 'We'll have more than four weeks to try and shuffle things round a bit', he said. 'I have been concentrating on speaking to clubs and to agents for a couple of weeks now... I brought a group of players in during the summer and now, having had a really good opportunity to assess everyone, I know what's been right and what's been wrong, who has fitted in and who has not... I'm reasonably satisfied we are solid at the back and if we can change it round at the other end, I'm confident things will come good for us... It's my job to persuade players that their future is with Wrexham. My trump card comes in the shape of the club's training facilities, a magnificent stadium and a substantial base of support, with fans willing to turn out in numbers if we play well and get the results we should. It's also about my own enthusiasm for the job and about my ambition to get Wrexham out of the Conference and back into the Football League'", said the manager.

And The Leader adds that "Gareth Taylor [has] admitted he would jump at the chance of extending his stay at Wrexham if given the opportunity. Former Wales international striker Taylor joined Wrexham in the summer following his release by Doncaster Rovers and is currently the Reds' leading scorer this term with nine goals in all competitions... Wrexham are Taylor's 14th club of his 19-year career and the frontman, who celebrates his 37th birthday in February, has no plans to retire just yet...

Taylor is the second most senior player at The Racecourse. Frank Sinclair turned 38 earlier this month and a series of impressive performances have led to the former Chelsea and Leicester defender being offered a new deal... Injury ruled Taylor out of Wrexham's two FA Trophy ties with Altrincham... With Altrincham returning to The Racecourse on Saturday... Taylor would like to end his mini-goal drought and see Wrexham get revenge... 'I watched the two games with Altrincham and they are difficult to play against. In the first game at The Racecourse they came for the draw as they got loads behind the ball. We owe them, we are working hard in training and will make sure we are right for it to get some points on the board'".

Meanwhile "Due to a combination of uncertainty about the weather over the Christmas period and the numbers who have so far booked, the club has reluctantly had to cancel their official travel coach to Gateshead on Monday, December 28... There is better news for the New Year's Day game at Altrincham, with coaches leaving The Racecourse at 12.30pm for the trip to Moss Lane".

For details of Alty's coach to Wrexham on Boxing Day, visit the Away Travel page

Wrexham add that their "Reserves played a friendly with Colwyn Bay at Colliers Park on the 3G training pitch to beat the freezing conditions. The home side [Wrexham] ran out 2-0 winners... Substitute keeper Danny Ward produced a string of top class saves to deny Colwyn Bay and somehow ensure our cleansheet... pulling off save after save to deny the Bay forwards... Wrexham: Tom Bainbridge (Danny Ward 46), Lee Roberts (Declan Walker 68), Johnny Hunt, Christian Smith, Kai Edwards, Ed Moss, Adrian Cieslewicz, Matty Hurdman (Max Penk 50), Obi Anoruo, Trialist (Luke Carding 60), Jamie McCluskey (Louis Moss 58)".
OLD BOY
NL Daily reports that "On-loan goalkeeper James Coates has announced that he is leaving Rhyl after the Boxing Day fixture against Prestatyn Town. The Manchester-based stopper has made eleven appearances since arriving at the club on a loan deal from Northwich Victoria in the summer. Coates was with Mansfield Town before joining The New Saints for their European campaign in 2004. He was released without being awarded a contract and went on to play for Worcester City, Moor Green, Hucknall Town, Burton Albion, Leigh Genesis and Vauxhall Motors [and Altrincham] before joining Northwich in July."
BSP NEWS
"Kidderminster Harriers chairman Barry Norgrove has confirmed that experienced midfield man John Finnigan has been asked to take temporary charge of team affairs" reports Blue Square Football. "Following the departure of manager Mark Yates on Tuesday, Norgrove met with the playing staff on Wednesday morning and announced his new four-man management structure. Overseeing things for the moment will be Finnigan on a caretaker manager basis. The 33-year-old will be assisted by Harriers captain Chris McPhee. McPhee's agreement with the club is such that he does not train in Kidderminster each day of the week, so to help on a more daily basis will be Dean Bennett. Completing the quartet is physio Gavin Crowe who, as needed, will assist on the touchline... 'We aren't rock bottom and without a manager, we are still just outside those play-off places and it's important we keep things going'" said Norgrove.

"The AFC Wimbledon players are being hit with a 'booze ban' by manager Terry Brown as they gear up for three games in a week over the festive period... the London Informer is reporting... Skipper Paul Lorraine reveals: 'We had a bit of a drink up after the Gateshead game (on December 5), but the gaffer's said no booze over Christmas. We've been set a training schedule to do, and you only get out of it what you put in. The gaffer will be able to tell if we haven't been pulling our weight'".

Likewsie, "David Holdsworth is implementing an alcohol ban on his Mansfield Town players as they gear up for a crunch match fellow promotion candidates York City" states NL24. "The manager didn't exactly do a Harry Redknapp when he gave the Stags squad permission to have a Christmas party after their clash with Wrexham at the weekend fell victim to heavy snowfall...

He tells thisisnottingham.co.uk: "It was good to give the boys a weekend off to get them some rest... "But now the boys are training every day leading up to the York game, probably including Christmas Day... I don't think I had one year as a player when I didn't train on Christmas Day. "I have also imposed an alcohol ban for the Christmas period through to the New Year and, if needed, they will be breathalysed... If they go about things the right way and get the right result at York, then I will give them the New Year off".

Mansfield Town add that "Manager David Holdsworth has presided over 66 player movements during his first 12 months in charge here at Field Mill. After bringing 34 players in and showing 32 the door, www.mansfieldtown.net asks him which signings he thinks were his most important?... Holdsworth's first additions to the squad were those of goalkeeper Alan Marriott and centre half Scott Garner. The gaffer tells us that we needn't look any further for his best ever signing than in that first foray into the transfer market. 'All of the players that we have brought in here have made an impression but of the initial two or three, Alan Marriott stands out by a country mile', he said".

And more movements are ont the cards as This is Nottingham tells us that "Mansfield Town have done the bulk January sales shopping early – but they are still on the look-out for bargains... 'There is a possibility that the manager may want to swap two or three fringe players for more experienced players moving forward', said Stags chairman Perry. 'I know that David (Holdsworth) is already weighing up a few options... The likes of Andy Burgess, Michael Brough, Jon Challinor and Ollie Hotchkiss have been signed on loan and will either sign for the rest of the season or are being looked at for that purpose. But that doesn't mean with a bit of creative management then there won't be any more new players... The key thing is that we don't want too big a squad. There is no point having 28 players running around the training pitch... Players with potential have been loaned out and if more managers had done that over the years, I think more players could have come through. "Lee Gregory, Conor Higginson and Jason Bradley are examples of how it can be done'".

News of Chester City comes from Chester First tells us that "The former Blues' owner has been in talks to sell his family's stake in the struggling outfit. Vaughan, who has been disqualified from acting as a company director for 11 years following an alleged VAT fraud during his time at Widnes Vikings Rugby League Club, has passed his shares in Chester City to his son, Stephen, who now officially owns the football club.

Vaughan said: 'I attended a meeting on Friday with club managing director, Bob Gray, and a representative of a sports management company, to discuss the possibility of a potential takeover of Stephen Vaughan Junior's ownership of the football club. The person we met said his company was part of a consortium that could meet my asking price which we suggested could be paid in instalments to help the club's cashflow problems. The company we spoke to are now carrying out due-diligence on the football club and I am now hoping we can expect a completion of a deal before the new year... I feel it's important for the people who have Chester City at heart to know what is happening... In the past I have had to deal with a lot of time-wasters and people who were just in the business of attracting some publicity... There isn't much due-diligence in the old company because it has only been trading from a shelf company [?] for the past six months'".

"Eastbourne Borough striker Andy Atkin will play through the pain this Christmas as he waits for an operation in the new year" confirms The Argus. Atkin... has been booked in for surgery in January after being diagnosed with Gilmore's groin. The 28-year-old will be available for the busy festive schedule, though... Atkin said: 'I have been managing to get through games and training but only for an hour and then it starts getting too painful to continue. It will feel sore afterwards but then the next day it would be fine... So I went to see a specialist... 'Luckily he can fit me in next month and because it is keyhole surgery I should only be out for four weeks'".
---
23 December 2009
GRAHAM ON THE SEASON AHEAD
Blue Square has an audio interview with Graham Heathcote in which "With three games in six days coming up over Christmas and New Year, Altrincham manager Graham Heathcote says it's a difficult time for part-time clubs especially. His side play Wrexham home and away with a match in between against York over the six day period, but is hoping the Robins will stay injury free and pick up as many points as possible". Graham also referred to the second half of the season being more difficult for teams like ALtrincham who cannot bring in numerous new faces in the January transfer window. He also referred to the "horrendous fixture list" with which we complete the season - five games against Kidderminster (H), York (A), Oxford (H), Luton (A) and Cambridge United (H).
YOUTH LEAGUE
In the NWYA Premier Division, in which Altrincham FC Youth play, Stalybridge Celtic and other teams have suffered deductions of points, as shown in the revised table
"WILL ALTY BE READY?" ASKS DEAN
The Leader reports that "Deans Saunders has revealed that the Wrexham players will report for training on Christmas Day. Wrexham... And Saunders insists a training session has got to be held on Christmas Day to prepare for the clash with Altrincham, who knocked the Reds out of the FA Trophy in last Tuesday's first round replay. 'Unfortunately it is just another day for us', said Saunders. 'We get time off in the summer, that is when we have a rest. I won't be asking the players to relax, we have got a game the following day and it is three points we need to shoot us up the league. And last year we put in a tremendous performance at Barrow on Boxing Day and could have scored 17 goals. I never had Christmas Day off except when I was at Benfica and the season closed in Portugal. We are professional athletes and we will be preparing properly as if it is a World Cup match. The players have got to be focussed and we will be ready. Whether Altrincham will be I don't know'.

Wrexham will face Altrincham for a fourth time in three weeks when they make the trip to Moss Lane on New Year's Day. That marks the transfer window reopening and Saunders is eager to address his side's goalscoring problem by bolstering his strikeforce... 'Andrew [Mangan] is one of a few players I am interested in but he is Forest Green's player', said Saunders. 'I have got a few irons in the fire. There are a few goalscorers in the league I am interested in... Rome wasn't built in a day. I have to keep adding bits to the team', said Saunders... 'We can improve on everything but the only thing I can see that is wrong is a man on the end of a pass. But it is not just strikers. "Have we got the desire and technique to score, and brain to get into the box, and are we brave enough? These are all questions I have thrown to the players, but the biggest thing is anticipation'".
BSP NEWS
Cheltenham Town Football Club and Kidderminster Harriers Football Club have reached an agreement for Mark Yates and his assistant Neil Howarth to join Cheltenham Town with immediate effect. The two clubs have agreed a compensation package and Mark Yates will begin work as Cheltenham Town manager on Wednesday 23 December...

Cheltenham Town chairman Paul Baker said: 'We are delighted to... welcome Mark and Neil back to Cheltenham Town... They have very strong associations with us'...

Kidderminster Harriers chairman Barry Norgrove said: 'We're sorry to see them go as they have done extremely well for us but they are trying to progress up the managerial ladder'... Harriers [are] without a boss for the busy festive period. That will not force the Board into a knee-jerk appointment... 'My phone has been ringing constantly over the past few days and there are a lot of people, a lot of good managers, who would be interested in coming here. But we have to be careful because it can be easy to just jump right into something... We'll look at getting in a new manager over the next few weeks'".

The BBC says of Yates that "The 39-year-old, who spent five years as player with the Robins between 1999 and 2004, moves to Whaddon Road following Martin Allen's departure... Yates was Cheltenham captain under Steve Cotterill when they beat Rushden & Diamonds in the League Two play-off final in 2002. After leaving Whaddon Road in 2004 he returned to Kidderminster briefly before becoming Cotterill's first-team coach at Burnley".

The Home Office list of football-related arrests and banning orders (as of November 2009) does not feature Altrincham but several current Conference clubs do appear with the following number of banning orders:
Barrow 7
Cambridge U. 2
Chester C. 10
Kettering T. 6
Kidderminster H. 3
Luton T. 33
Mansfield T. 12
Oxford U. 8
Salisbury C. 5
Tamworth 1
AFC Wimbledon 5
Wrexham 34
York C. 11

As for arrests in 2008-09, Altrincham had zero. Other current BSP clubs recorded the following arrests, in some cases whilst in different divisions
Barrow 18
Cambridge U. 9
Chester C. 8
Ebbsfleet U. 1
Forest Green R.. 1
Kettering T. 9
Luton T. 31
Kidderminster H.. 1
Mansfield T. 7
Oxford U. 6
Salisbury C. 16
Wrexham 17
York C. 6

Grays Athletic report that "Andy Swallow has just announced he has negotiated for us to stay at the New Rec for a further two years". Grays had previously planned to move to a new ground before then. The local Thurrock Gazette adds that "Grays Athletic are holding a January sale with a difference — they've put up their entire playing squad up for sale. The patience of New Rec boss Julian Dicks finally ran out a week ago when his side slumped to a 3-1 defeat at Blue Square South strugglers Worcester City. Dicks admitted: 'It was the straw that broke the camel's back. Our first-half performance was a disgrace — a total joke. I can understand mistakes but I won't tolerate a lack of passion and desire. If clubs want any of my players they can take them. They are all officially available for transfer, but don't be fooled they will get Blues Square Premier clubs — none of them are good enough for this level. I need a minimum of six or seven positions filled'. Former West Ham full-back Dicks, is hoping to fund a spending spree by Peterborough agreeing to give them a pay-off if former Grays striker Aaron McLean gets an expected £1.2m transfer from Championship strugglers Peterborough United. Posh signed the goal star for £150,000 in January 2007. Former Grays' chairman Mike Woodward revealed that, although Posh treated Grays very well, there was still a small sell-on clause in place".

Histon have rearranged their postponed FAT game at Maidstone United to Tuesday 5 January 2010. "The BSP match at home to York City that evening is now to be re-arranged".

Kettering's Evening Telegraph reported on Monday that "There has been much speculation about the council's position in relation to the aspirations of the Kettering Town Football Club (The Poppies) within the local and national media. The council's officers and our cabinet have sought to respond to comments made in the media by engaging with the football club on a professional basis, as would be expected of a publically accountable body. Major planning proposals have to follow a process laid down in law irrespective of the benefits to or impacts on the local community.

There have been comments in the media which create the perception that the Borough Council is responsible for the current plight of the football club. There has also been a characterisation of the issue as being a stand-off between the council leader and the club's chairman... Major development applications are always decided in public by a committee of councillors... It is our sincere hope that the chairman [pf KTFC, Imraan Ladak] will formally respond to the letter sent on November 5, 2009, and three subsequent reminders dated November 23, 26 and December 7, inviting him, and his advisers, to a business meeting with the council's planning department to look at his plans. The absence of a reply in over a month has prompted this open letter to set out the present position through the local media".

In response a statement was issued by Kettering Town. "In response to the Open Letter from the Senior Members of the Borough Council, we are unaware of the date that this letter was written... The Club has already responded to the letters sent by the Deputy Chief Executive to the Football Club Chairman and a date for a meeting... has already been agreed by both sides... We have no comment on speculation appearing by the media at this time".

According to NL Daily "Terry Brown, manager of AFC Wimbledon, has revealed he will go before the board this week in a bid to raise funds as the Dons look to maintain their unlikely play-off push... He said: 'I am going to be having meetings with the board over the next few days to see just what will be available to me in terms of strengthening in January... It is not fair to anybody for me to name names... To be on the edge of the play-offs is more than anyone could have hoped for... This could be the one year we get a real go at getting back [sic] into the Football League, and if we are in that position come the New Year we would be stupid not to have a real crack at it'" he told This Local London.

Meanwhile "David Obaze expects to complete his move to Grays Athletic later this week but insists he has 'loved' every minute of his time with Weymouth. The towering centre half will become the second Terra to make the switch to Grays after striker Jake Reid joined the relegation battlers at the end of last week" reports the Dorset Echo.
CHESHIRE NEWS
The Northwich Guardian says that "Northwich Victoria remain in administration after a meeting called for creditors to write off some of money they are owed by the club was adjourned for a second time. Administrator Gary Pettit has set a new deadline of Thursday, Christmas Eve, to reach an agreement. 'There are still one or two procedural issues to resolve', he said...

The Guardian understands that HM Revenue and Customs (HMRC), owed around £465,000, wants to see finance records up to the point that the company which pays the players' wages – Northwich Victoria Football Club (2004) Ltd – went into administration in May. But that paperwork is still at the offices of former administrators Refresh Recovery, who were replaced last month.

Their substitute, Pettit, originally called a creditors' meeting for last Friday but the tax office representative who has, in principle at least, agreed to vote in favour of a company voluntary arrangement (CVA) was unable to attend. She has told the club she wants all the relevant paperwork on her desk before accepting owner Jim Rushe's offer to pay back part of Vics' six-figures debt.

Sums owed to former players and other clubs have already been paid in full. Under the terms of his latest proposal Rushe and ex-director Nick Bone will write off loans, thought to be in the region of £650,000, they have paid to the club since October 2007. Cash rewards from this season's run to the FA Cup's second round and fees from ITV for two televised ties – some £180,000 in total – will go directly towards paying back part of the club's remaining debt at the request of HMRC...

Should Rushe get the right result this week then a new company – The Northwich Victoria Football Club (2007) Ltd – will buy the Blue Square North outfit. He must then seek to transfer the membership of the FA and the Football Conference from the company in administration to NVFC (2007) Ltd, which will take on the responsibility of paying off the old firm's remaining debts in monthly instalments over the next five years. It will become a tenant of Northwich Victoria Developments Ltd, also owned by Rushe, should he be successful in completing a £1.3m deal to buy the club's Victoria Stadium home".
---
22 December 2009
CAROL SERVICE CANCELLED
Due to this morning's snowfall, this evening's Carol Service at Moss Lane has, unfortunately, been cancelled. If you know of anyone who was going to attend, would you please ensure that they know of the cancellation? Thank you.
MEN IN CHARGE
The referees for the two next scheduled Altrincham matches are:
Boxing Day at Wrexham, Mr R. L. Lewis; he reffed Alty 5 Aldershot 1 in early 2006.
Monday 28th December, Mr J. Simpson; he oversaw Alty v Farsley in the late, lamented Setanta Shield in October 2008
WREXHAM PREPARE
Wrexham were Altrincham's opponents in their most recent two games and are also their opponents fortwo of their next three fixtures. From the Daily Post, we read that the Welsh club's "Hopes of an early re-match with Mansfield Town following the postponement of Saturday's game at the Racecourse have been scuppered... Wrexham offered to host the re-run on Saturday, January 9, only to be told the Stags have already agreed to play Luton Town...

Saunders said: 'I was down there at 10am and the frost was still in the ground from the previous night... I put some boots on, but my studs weren't going into the ground so it was unplayable. It was like concrete over on the far side and I've got no complaints at all that the game was called off'... The day was not a complete washout for Saunders or his players, who instead trained on the artificial pitch at Colliers Park... With no midweek match, Wrexham have made plans for a friendly tomorrow against Colwyn Bay – which will also take place on the artificial surface, despite the manager's misgivings... He said, 'We need to get a game on because some of the lads have played only one game in five weeks because of matches being called off and we need some of them to get 90 minutes in... I made a few changes last Tuesday (at Altrincham) and a couple of the players were running out of steam with 20 minutes to go which is what happens if you don't play every week'".

Meanwhile, "Saunders has added the name of Wales under-21 international Neil Taylor to his list of players who are being offered new contracts beyond the end of the current season. The 20-year-old defender has joined veteran Frank Sinclair and fellow graduates of the club's youth system Andy Fleming and Chris Maxwell in the select group, even though the Dragons boss admits his long term squad-building plans might yet depend on what happens when the transfer window opens in less than a fortnight... 'You don't have be Sherlock Holmes to work out what's wrong at the moment and there is not a lot', he said. 'We are just not putting the ball in the net and really we need more players who can score goals. That doesn't mean only strikers, but players in any position. I don't know yet where I stand financially, but I know the players that I want. I have got a list of names that I'd like to bring into the club, but whether I can afford them or not I don't know. I might have to sign players or get them in on loan... I'll probably get phone calls for players here that I don't want to let go – possibly Chris Maxwell, Andy Fleming and Neil Taylor – and I'll have to consider any offers. Then it will be a case of juggling things around as much as I can'... Saunders revealed that former Manchester City youngster Angelos Tsiaklis is no longer registered with the club... 'He came back to us on a month-long contract and he's been training with us ever since', said Saunders. 'He's also been at Barrow training and I'm just trying to help him out'".
BSP NEWS
"Gateshead's home game against Kettering Town on Saturday was postponed at the eleventh hour due to a frozen pitch, much to the frustration of both clubs" reports the Chronicle. "Despite the pitch passing inspections on both Friday lunchtime and Saturday morning, Southport referee Peter Wright pulled the plug at 2pm as both sets of players expressed safety concerns. Manager Ian Bogie said: 'There has been a lack of common sense shown by the officials, and my sympathy goes out to Kettering who will have incurred financial costs after being told the game was on'... The Tynesiders hope to play Northern League outfit Team Northumbria in a friendly on the synthetic surface at their training ground next to the International Stadium tonight. 'It is important the lads keep ticking over', admitted Bogie... 'I am very confident that Gateshead will be in the Blue Square Premier again next season. There are at least six clubs not as good as us now, and I intend to strengthen the squad with three or four additions during the transfer window'.

Bogie is hoping his own future is sorted out soon, with Gateshead preparing to go full-time next season. 'I like to think I have done a good job with two promotions, a side playing quality football and scoring plenty of goals, and I have a good relationship with the chairman', he said. 'I have also spent very little money at Gateshead – Graeme Armstrong at £5,000 is the largest transfer paid out – while Lee Novak was signed for £3,000 and sold for £150,000'. Bogie, who played for six professional clubs in an 18-year playing career, is keen to manage in the Football League and would like to take Gateshead back into the League. The 42-year-old has worked... at Gateshead without a contract... 'It is up to the chairman, Graham Wood, to decide whether I am the man to take Gateshead forward, but nothing has been signed and sealed. Hopefully, I'll be made aware of what his plans are in the New Year. Taking the plunge to become full-time manager is a big step and I would be looking for a three-year contract'".

Chester First reveals that "Jim Harvey admits he is facing one of the most difficult jobs in football... Harvey has won only three of his 14 games since taking over the hotseat... Chester are currently rock-bottom of the league table on minus three points having started their campaign with a minus 25 points deduction, a transfer embargo, dwindling attendances by Blues fans boycotting about the Vaughan family's ownership of the club. Harvey said: 'Our preparation for Saturday's scheduled match at Rushden and Diamonds was poor because the boys hadn't been in for training and most of them have been left to do training sessions by themselves. "Unfortunately my job has been made more difficult because the loan players I had at the club have now gone back to their clubs... I'm now left with a lot of youngsters who are not ready... The future is very uncertain... If I knew that Chester could escape their points deficit and the threat of relegation I would be straight down to the bookies... I've got to help instill some confidence back into the squad, but that's not something that's going to be achieved overnight... In the fullness of time I'll be wanting to change Chester's tactics'".
---
21 December 2009
NEXT GAME
Altrincham's next game is away at Wrexham on Boxing Day. The scheduled match at the Racecourse on Saturday was postponed when referee "Mr Joyce joined Wrexham staff at the Racecourse shortly after 8.00am and was pleasantly surprised at what he saw, although there was frost on the grass and the ground still hard.... It was decided to see if temperatures would come up enough to let the surface take a stud... The decision was made at 11.30am to postpone the fixture, which was as late as we would have liked to have left it before starting to inform supporters of any postponement...Said referee Ross Joyce 'Over half the ground is playable, but unfortunately on the far side it is still frozen. After consulting with Dean Saunders and David Holdsworth, we decided it was not safe to play - so unfortunately we have been beaten by the frost... The Mansfield fans will have been well on their way and I do feel desperately sorry for them. It took me four hours to get down from Middlesbrough last night, so I do sympathise... We all wanted the game on, but we had to be realistic'".
BSP NEWS
Blue Square Football reports that "Tamworth's Nick Wright looks set to stay at the Lamb Ground for the foreseeable future after the striker failed to agree personal terms with Stevenage Borough. The Lambs had agreed a fee for the striker with the fellow Blue Square Premier outfit but Wright failed to agree personal terms at Broadhall Way. Tamworth assistant manager Darron Gee told Birmingham Mail: 'A fee was agreed for Nick between the two clubs but unfortunately Nick's people could not agree terms with Stevenage. We've sat down and had a good chat with Nick and if he doesn't move he will still contribute to the football club... If he wants to get away he needs to play his heart out and similarly if he wants to stay he needs to train his heart out and get his place back in the team'".
OLD BOY
Ryan Shotton conceded a penalty whilst playing on Saturday for Barnsley, but the spot kick was missed.
---
20 December 2009
YOUTH TABLE
The latest NWYA Premier Division league table is here. It shows that Alty have played just five games whilst the league leaders have completed eleven!
OLD BOY
Chris Baguley has returned to Leigh Genesis from Salford City.
NL 24
The second issue of the 130 page all-colour Non-League 24 magazine is now available from Altrincham FC - it costs £3.95 with commission going to the football club for each copy sold.

It includes an interview with Altrincham's Michael Welch who talks about the most volatile manager he has played under - Dino Maamria when both were at Northwich Victoria.
BSP NEWS
"Steve Fallon's future as manager of Blue Square Premier club Histon is still in limbo" according to NL Daily. "Fallon met with chairman Tony Roach and director Angelo Dama for showdown talks on Friday night... The club issued a statement on Saturday. It reads: 'Further to Friday night's very positive meeting between Histon FC chairman Tony Roach and manager Steve Fallon the dialogue continues and a follow-up meeting is planned for the very near future'. Alan Lewer has been in temporary control of the side... Fallon had been suspended since December 7th following a disagreement with Roach over the release of Neil Andrews, Jamie Barker, John Kennedy and Craig Pope as part of a cost-cutting measure...

"The morale of the players is fantastic," said Roach prior to Friday night's meeting. "All the players are up for the challenge, especially the young kids. Callum Stewart was the first player in the club's history to come through the academy and play for the first-team when we played Altrincham this month, and the other youngsters are knocking on the door. I'm fed up of reading about Histon being in crisis – there was a crisis when I took over, but there isn't now".

Cambridge News adds that "Another positive is the impending arrival of [an] un-named West Ham United striker, who is set to sign on loan until the end of the season".

"Striker Pierre Joseph-Dubois has returned to the Wessex Stadium to join Weymouth on non-contract terms. Formerly with Reading, Grays Athletic and Crawley Town, the frontman made eleven appearances for the Terras in the Blue Square Premier last season, scoring four goals, before injury curtailed his campaign. He signed for Histon in September but made just one substitute appearances before being recently released" reports NL Daily
---
19 December 2009
ALL BSP FIXTURES OFF
Right: Darren Gregory has kindly supplied this image of Moss Lane on Friday.
Friday 18 Dec.
Cambridge United v Oxford United POSTPONED

Saturday 19 Dec.
Altrincham v Eastbourne Borough POSTPONED
Crawley Town v AFC Wimbledon POSTPONED
Ebbsfleet United v Histon POSTPONED
Gateshead v Kettering Town POSTPONED
Grays Athletic v York City POSTPONED
Hayes & Yeading Utd v Kidderminster Harriers
Luton Town v Forest Green POSTPONED
Rushden & Diamonds v Chester City POSTPONED
Salisbury City v Tamworth POSTPONED
Stevenage Borough v Barrow POSTPONED
Wrexham v Mansfield Town POSTPONED
YOUTH MATCH OFF, TOO
Tomorrow (Sunday)'s Altrincham FC Youth match at home to Salford City has been postponed due to the adverse weather conditions affecting the country at the moment. It is the third week running the youth team has lost a fixture.
GRAHAM ON RADIO
Interviewed on Radio Manchester on Friday evening, Alty boss Graham Heathcote described the season so far as "fair" for Altrincham, who are "punching above their weight" in budgetary terms. The best thing ever to happen to the club was clearing its debts - "We don't owe a penny to anyone". Graham also observed that crowds have improved and the club is progressing in the league.

Graham also found it difficult to support Marcus Hallows's compensation claim against Danny White and Ashton United, following the tackle which ended his footballing career. Having Gary Mabbutt, who was not at the game, "pontificating" on the incident on the basis of still photos was not sensible, he said.
BSP FIXTURES
Can you please spare half and hour to an hour to help clear up after the York City game on Monday 28th December or on Tuesday morning, 29th December? Any volunteers would be greatly appreciated. Please phone the Club (928-1045) to put your name down. Thank you very much.
1990/91 REUNION
TASC chairman Brian Flynn writes:

20th Anniversary Reunion of 1990/91 Team:

Further to a suggestion from a supporter, TASC (The Altrincham Supporters' Club) is hoping to organise a 20th Anniversary reunion of the team that went 28 league games unbeaten (still a Conference record!!!!!!!!) in 1990/91 season. To make this event happen at some point during the 2010/11 season, TASC is looking for volunteers to take responsibility for organising the event and, if you feel able to do this, then please contact Brian Flynn by e-mail or ring on 07860 561011.

Locally Northwich Vics v AFC Telford is also postponed. Trafford v Mossley is subject to a pitch inspection.
BSP NEWS
The Gazette says that "Former Forest Green captain Lee Fowler is interested in a return to the New Lawn following his bust-up with Kettering Town chairman Imraan Ladak... Fowler's situation at Kettering has become a national football story since the row at Elland Road on Tuesday night... Ladak said: 'We do have a player at the club (Fowler) who doesn't want to be at the football club, can't be bothered to come into training and doesn't want to play at the club. He wasn't part of preparation for the game and we had an understanding he wouldn't play again. Unfortunately he came on with 15 minutes to go and we conceded four goals, when he shouldn't have been playing'.

However, Fowler said: 'I knew before I joined Kettering that the chairman was a controversial character, I was warned, but I signed because I wanted to play for (former) manager Mark Cooper. I want to leave because of the travelling and a couple of other things, I've made no secret of that, but when I was asked to be involved at Elland Road, I was happy to be on the bench. What player wouldn't want to play in a massive FA Cup tie? I can't really believe what has happened since, the chairman has gone onto national radio and absolutely slaughtered me and has sacked John Deehan'...

He said: 'Forest Green didn't offer me a contract at the start of the season but they would be a club I would like to play for again. Money is no option whatsoever, if a club wants me I will talk to them, it's safe to say there is no future for me at Kettering now'.

Meanwhile, striker Andy Mangan is understood to be considering his Forest Green future. The 23-year-old has spent the past five months banned from playing or training after breaching FA betting rules during his time at Bury. His ban is due to expire at midnight next Monday, December 21".

From NL Daily, we learn that "Lee Harper has held clear-the-air talks with Imraan Ladak, chairman of Blue Square Premier club Kettering Town, and is now ready to focus on the remainder of the season. The Poppies' player-manager revealed... 'I had a six-hour meeting with the chairman and we found ourselves not really disagreeing on a lot of things', Harper said. 'I believe the chairman has regrets over the timing of what happened with John Deehan. I just want to try and move things forward and get rid of all the negativity that has been around. The chairman feels the same way. He explained to me his plans for the future and if it comes off, then there could be some exciting times ahead".

According to This is Glos "Forest Green have angrily denied claims made by Wrexham owner Geoff Moss about banned striker Andy Mangan. Moss told a Welsh newspaper The Leader that his club had been 'thwarted again' in an attempt to sign Mangan, who returns from a five-match ban for breaching football betting rules next week. The Dragons chief also claimed that the striker, who scored 30 goals for Rovers last season, had put on more than a stone in weight since his enforced exile...

Rovers' secretary Colin Peake said: 'The club can confirm they have not in recent times received any offers and it was unlikely to receive any, whilst the sanctions against the player remain in force. We are also saddened by quotes attributable to another club who publicly stated that they had made an offer for the player but this had been rejected, and went on to pass comment concerning the player's weight. Neither quote is true. The player is grossly upset that comment was made about his weight'".

The Uxbridge Gazette reported on Friday that "On-loan Hayes & Yeading striker Steve Basham is aiming to shoot down Kidderminster tomorrow - and help himself secure an extended stay at Church Road in the new year... He admitted that he is keen on prolonging his two-month loan deal from Luton Town when it runs out on January 23. 'I have really enjoyed the short time that I have been here as I love the way the manager does things and the enthusiasm of the lads in training. A lot of the clubs at this level are professional, but a lot of our lads are coming into training after working from nine until five. They show a lot of dedication and I am enjoying my time here'".

From the Northants Evening Telegraph we learn that "Marvin Johnson will be Lee Harper's new assistant at Kettering Town. The former Luton Town defender and youth-team manager has been working with the Poppies this week... Harper said, 'Marvin is the guy who will be coming in to help us. "He was at Luton and played over 400 games at that level. And he was the youth- team manager there until 2007... It has been a bit of a circus since that Leeds game and I am just happy things have been cleared up'".

"Injured Wrexham FC player Wes Baynes could be back in action much sooner than expected, the club reported in the Daily Post. "But the news is not so good on striker Marc Williams, who faces a few weeks on the sidelines after turning his foot badly in Tuesday's FA Trophy defeat at Altrincham... 'He's got damaged ankle ligaments and we're looking at a few weeks', secretary Parry revealed".

Meanwhile the Leader says that "Dean Saunders is sticking to his guns, insisting that Wrexham will see an upturn in results once the club's goalscoring problem is solved.... Saunders is pleased with the way his side are playing, admitting: 'I thought we played really well in the first half against Altrincham – apart from putting the ball in the goal. We put in 27 crosses the other night and 50 over the two games, it is so frustrating... It's quite plain and simple to anybody that there isn't much wrong with what we are doing... I will need to do something about it in January... I want players to be determined, as determined as I am really, and as passionate about the whole thing as I am...

Turning his attentions to The Stags', who are going through a barren run themselves, having won just once in six matches in all competitions, Saunders said: 'We have patches of games when we look like a Premier League outfit. Anyone who was at that game against Altrincham will have seen the most one-sided game ever; the referee came off and said it was the most one-sided game he had refereed. One of these days they will all go in and we will get four or five... We are a couple of players away from having a team that wins 4-0 most weeks... We have a list of players we are trying to bring to the club, I can see where the problems are'".

"An angry Julian Dicks has put his whole Grays Athletic squad on the transfer list after last weekend's 3-1 FA Trophy defeat at Worcester City" reports the York Press. "Dicks is also hoping to make three new signings ahead of [the] clash against York City. The turnover of players at the Recreation Ground this season has already been frightening with the Essex club having used 46 players in 2009/10 and the latest series of departures have seen striker Petar Rnkovic return to Norway and George Beavan and goalkeeper Stuart Robinson both end their loan spells with the club. Ex-Millwall trainee Preston Edwards, 20, is now set to be recalled between the sticks in place of Robinson.

Dicks, himself, is Athletic's eighth manager in three-and-a-half years and the club have even decided to change their home kit mid-campaign with the new design being christened against the Minstermen. Under Dicks, there has been no discernible improvement in results... having only tasted victory once in their last 13 matches... and their record of 45 goals conceded in 24 league games means their defence is the leakiest in the division".
---
18 December 2009
MATCH POSTPONED
Tomorrow's match between Altrincham and Eastbourne Borough has been postponed. To avoid Eastbourne making an unnecessary trip, as they did last year when the game was postponed shortly before kick off, the Moss Lane pitch was inspected this morning. Local referee Anthony Taylor found the pitch was hard in some places and, with more sub-zero temperatures forecast, had no alternative but to call the game off, especially given the period of advanced warning that was necessary for our visitors who had such a long journey to undertake.
TUNE IN
Graham Heathcote will be on Radio Manchester (FM95.1) between 7pm and 8pm tonight (Friday).
GRAHAM'S TARGET
In SAM Graham Heathcote states, "'Saturday's game is massive and I would love nothing more than to head into Christmas on 35 points', said the Alty manager. 'That has to be the aim of everyone because it would mean job done for the season so far. The Wrexham tie was always going to be one of those where you keep it tight and hope you might nick a goal. That could have happened for us in the first game on Saturday and it duly turned out that way in the replay. To be fair, they battered us in the first half but we looked a lot more solid after changing the formation at half-time. I said to the players it could be a scruffy 1-0 win and to make sure it was us who got it and I can't fault the effort they put in. I'm still not sure who will be credited with the goal. Greg Young had two of their defenders next to him on the line when the corner came over and it's not clear who got the touch. I think the referee will have to decide'".

John Edwards, Alty's joint press officer adds, "Alty have signed former FC United midfielder Adam Carden on a non-contract basis and he is likely to be on the bench against Eastbourne. Striker John McAliskey is available again after being cup-tied, while Matt Doughty returns from suspension".
SPECIAL OFFERS
Spectators in possession of a valid Football league or Premiership season ticket and accompanying identification will be admitted to the following games at Moss Lane for just £5...
Dec. 28th v York City (3pm)
Jan. 1st v Wrexham (3pm)

Admission is via turnstiles 5 and 6 only on Moss Lane.

Half-price half-season tickets are now available at the club as follows...
Standing - Adults £104.50; Concessionaries £49.50
Seating - Adults £124.50; Concessionaries £54.50
Aged 12 to 16 seated or standing - £25
Under 12s seated or standing - £12.50
JACKPOT
The Altrincham FC Saturday Yankee jackpot now stands at £2,500, which can be won for a £1 weekly stake. Last week there were eight winning trebles, each receiving £25.
SMILE, PLEASE
Altrincham FC announce that "The club are proposing to use video camera at the ground for particular games due to the increased nature of incidents occuring at football matches around the country. The club have purchased a video camera for this purpose and the stewards, after full training, will be implementing a policy of videoing the crowd at various games. The images taken will be used for the purposes of crime reduction and prevention".
OLD BOY
This is Retford states that "Tough-tackling midfielder Paul Ellender insists Retford United are taking it one game at a time rather than dreaming of UniBond League Premier Division glory. The Badgers remain top the table following Saturday's 4-2 victory at FC United of Manchester... 'It's always nice to be top of the table, but we are just taking every game as it comes," said the 35-year-old, who can also play in central defence".
BSP NEWS
On Thursday it was announced that the Gateshead v Kettering match is subject to a pitch inspection on Friday lunchtime. Meanwhile, Blue Square Football tells us that "Gateshead will continue their bid for Blue Square Premier survival in the New Year without any Gallic influence. Following the recent release of Armand One central defender Stéphane Pelonde has been released and will be returning to his native France... Earlier in the season another of Gateshead's foreign legion, German-born midfielder Christoph Ascherl, was transferred to Bedlington Terriers. There is likely to be further movement, both incomings and outgoings, during the transfer window in January as Bogie looks to strengthen his squad".

Blue Square also confirms that "Kidderminster Harriers Chairman Barry Norgrove has confirmed that he has granted Mark Yates permission to speak to Cheltenham Town regarding their managerial vacancy. The League Two side formally approached Norgrove earlier on Thursday requesting to speak to the Aggborough boss. Norgrove told harriers.co.uk: 'He would like the opportunity to speak with them and see what they have to say, and we as a club have given permission for him to do so'".

And from NOn-League Football Live, we learn that "Chester City's unpaid players will end their week-long exile from training tomorrow – and decide whether to carry out their threat of refusing to play this weekend. Jim Harvey's men have not played or trained since last Friday after they were told that the cash-strapped club could not afford to pay their wages for November.

Members of City's squad have grown disillusioned with having to wait for outstanding money owed to them and are giving serious thought to not turning up for Saturday's match at Rushden & Diamonds. While both the Professional Footballers' Association and Chester officials are confident every available Blues player will be on show at Nene Park, The Chronicle has learned that if there is ever going to be a strike, now is the time.

The players are fully aware that by striking they will land themselves in hot water with their employers. But with the costly festive season now in full swing, some feel they have nothing to lose given they are not being paid to work. The PFA has advised the players to show up on Saturday to avoid tarnishing City's already badly-damaged profile, although they fully accept why their members are considering such extreme action.

John Bramhall, deputy chief executive of the PFA and former Tranmere Rovers and Bury defender, said: 'It's never a good time not to receive payment, but especially at this time of year as it has an even bigger impact on themselves and their families. We're talking with the Chester players all the time and we'll look to see what further assistance we can offer. From our conversations with the players we believe they will be looking forward to the game on Saturday'".
---
17 December 2009
SPECIAL OFFERS
Spectators in possession of a valid Football league or Premiership season ticket and accompanying identification will be admitted to the following games at Moss Lane for just £5...
Dec. 28th v York City (3pm)
Jan. 1st v Wrexham (3pm)

Admission is via turnstiles 5 and 6 only on Moss Lane.

Half-price half-season tickets are now available at the club as follows...
Standing - Adults £104.50; Concessionaries £49.50
Seating - Adults £124.50; Concessionaries £54.50
Aged 12 to 16 seated or standing - £25
Under 12s seated or standing - £12.50

Also hospitality in the Manchester Glass Sponsors' Lounge this Saturday (v Eastbourne) is available at the bargain price of £20 for season ticket holders. Ring 928-1045 to book your place. The price includes a hot meal, drink and half-time tea and coffee as well as Graham Heathcote's pre-match analysis.
ANDY OWENS
Andy Owens has not figured in recent Alty games as he is in Vietnam with Glenn Hoddle's soccer academy.
ADAM CARDEN
As reported yesterday, midfielder Adam Carden has joined Altrincham from FC United of Manchester. He will assume the number 24 shirt, vacated by Ross Thaker, who has now been released.
COME TO WREXHAM!
TASC is offering coach transport to the Boxing Day BSP game at Wrexham for a flat rate of £10 for all categories of passenger. Details are here. Please ring the club on 928-1045 to book your place.
CSC RESULTS
Results from Tuesday night were:
Cammell Laird 4 Nantwich Town 3
Witton A. 0 Runcorn Linnets 1
Woodley Sports 1 Vauxhall Motors 0
Chester 0 Northwich Victoria 2

Semi-Final draw (26/01/10)
Northwich Victoria v Runcorn Linnets
Cammell Laird v Woodley Sports
OLD BOYS
The Bolton News reports that "Former England football international Gary Mabbutt told a civil court the defender who broke a former Bolton Wanderers' player's leg had no chance of getting the ball. Mr Mabbutt, who won 16 England caps and captained Tottenham Hotspur for 11 years, said Marcus Hallows suffered horrendous damage to his leg after another player performed an 'uncontrolled lunge' to stop him scoring. The incident happened in a non-league game between Altrincham FC and Ashton Town [i.e. United] in March, 2005.

Mr Mabbutt, who has seen photographs of the incident, told Manchester Civil Justice Centre: 'His feet were off the ground and you are not in control of your body when your feet are off the ground. In my opinion, it was an uncontrolled lunge. You would expect a player playing at that level to be making mostly the correct decisions'.

Mr Hallows, who played for Wanderers' reserves during the 1995-96 season, suffered an open fracture of his shin in the challenge with Ashton defender Danny White. He is now suing the club and the player for £32,500 in compensation. Mr Mabbutt now sits on the FA Disciplinary Committee and regularly reviews controversial refereeing decisions in the Premier League using video and photographic evidence. Former Premier League referee Jeff Winter also appeared as an expert witness.

He told the court: 'This particular challenge is common place in football at any level. A defender will try to get across the player making the shot — in fact, they are applauded for doing so'. Mr Winter said the still photographs could not show the speed or force of Mr White's challenge. He added: 'He is perfectly entitled and expected to attempt to stop the progress of that ball'. The case was adjourned until Monday".
WREXHAM VERDICTS
Right: Gavin Rathbone captures Greg Young's celebration of his goal on Tuesday night. Gavin's GR Photography site has more images of the game.
"It was a familiar tale for Dean Saunders men as a failure to score saw them exit the FA Trophy first round" reports The Leader. "If games could be won for intent, possession and shots on goal then Wrexham would be looking at a trip to the capital to tackle AFC Wimbledon in the New Year. However, they once again lacked that all important spark in the final third and paid the price as Altrincham nicked a goal at the other end.
It will surely take a change of personnel for Wrexham's fortunes to turn around with Saunders having tried all his attacking options so far this season... It was evident from the start what both teams had come for with Wrexham using an attacking four-four-two formation, while Altrincham had elected to start with a five-man defence.
Wrexham were the aggressors with some neat passing early on, but that soon disappeared as the home side broke up play and played long balls over the top of the visiting backline. Altrincham were happy to play on the counter at every opportunity... A tell-tale sign of Wrexham's dominance was the restless Altrincham support, who were dismayed by their side's lack of ambition and poor passing...
The physical nature of the Altrincham midfield failed to deter Taboubi... Only wasteful finishing from Colin Little prevented Altrincham from taking an undeserved lead on the stroke of half-time as former Red Tom Kearney's clever free-kick following a Taboubi foul, found the striker six-yards from goal... Altrincham came out of their shell in the early stages of the second period... The change in approach from the hosts saw the game open up...
Altrincham edged in front, a corner from the right by substitute Nicky Clee found Young four yards out and he bundled it past Russell with Sakho unwittingly getting the last touch. And only a last ditch interception from Assoumani stopped Little doubling that lead seconds later".
Wrexham add that "To make matters worse, we also lost two players to injury during last night's FA Trophy defeat to Altrincham. Marc Williams turned his foot when stumbling off the end of the Moss Lane pitch ... This came after Wes Baynes hobbled to the sidelines and had to come off, following a kick to the back of his calf"
"The team dominated play but ended up on the wrong end of a 1-0 scoreline against Altrincham. 'In the first half, that was the most one-sided game we have had', said Dean Saunders. 'We were right on top... How we have lost that game I find hard to believe! It's not just the front men either, we have put in 40 crosses today and that's without the corners. People have to bust a gut to get on the end of those crosses... They're just not doing it - and I don't just mean strikers but also the midfielders... I asked them afterwards "When was the last time you missed an open goal or a chance?" and there were not many of them that said "last week". There are just not enough of them getting in there with the desire to get on the end of things. Altrincham were hanging on and hanging on, looking for a set piece and we get done by an own goal, which just makes it worse".
DONS PREPARE FOR ALTY
According to the Surrey Comet says that "Danny Kedwell has targeted a nine-point Christmas haul for AFC Wimbledon as the Dons look to close in on an unlikely Blue Square Premier play-off place... Kedwell said: "I reckon three wins from the four games is the least we should be aiming for... If we come out of Christmas with nine points that will be a big boost, and I think that could set us on our way to the play-offs'...

Kedwell was hauled off the bench to salvage Wimbledon's FA Trophy campaign at the weekend, scoring a late equaliser before setting up Luis Cumbers' last-minute winner as the Dons eventually saw off Ryman Premier side Boreham Wood 2-1... 'It was great to come on and score as the FA Trophy is very important for us this season. We want to win it and create another bit of history for this club. We have another home draw [v Altrincham] to look forward to now and that is another game that is definitely winnable".

Your Local Guardian says that "Terry Brown is tipping Luis Cumbers to hit the goal trail after the on-loan striker finally opened his Dons account... The Gillingham frontman notched a last-minute winner as AFC Wimbledon finally saw off Boreham Wood... Brown said: 'It has been a nightmare loan spell for him so far so I hope the worst is behind him... With Luke Moore out and Ross Montague having concussion we have lost some striking options, and having Luis back in the fold gives everyone a big boost... If we had drawn the game that would have defeated the entire purpose of resting players as we would have had a replay... Now we have Altrincham in the next round and that is a good draw for us - we would have preferred a side from a lower league but we are at home and that is all you can ask for. Hopefully we will get a bigger crowd for the Altrincham game - I think our supporters only really get into cup games when we are the underdogs but that is happening less and less now'".
THROUGH THE YEARS
Brian Flynn's latest "Flynnzine" is here reproduced from Tuesday night's programme...

"One of my favourite items on the Altrincham FC website is the 'Through The Years' statistics provided by Howard Watts, an Altrincham supporter who now lives in North America. Howard religiously provides details of all matches played on the date of each Altrincham fixture and today's date, December 15th, is a particularly interesting one as it is the date of three of our most heroic performances in the Second Round of the FA Cup.

Many Alty fans consider the 2-0 win at Rotherham in 1979 as one of our best ever FA Cup performances and a year later Scunthorpe were beaten 1-0 in a replay at Moss Lane. John Davison's penalty decider arrived shortly after John King had managed to wind up the Scunthorpe keeper to the point where Joe Neenan felt the reflexive urge to introduce his right kneecap to Kingy's nether regions!!The referee pointed to the spot...booked Neenan and the dream FA Cup 3rd Round tie at Anfield against the European Champions, Liverpool, became a reality.

The game that I would like to focus on in a little more detail is a 0-0 draw at Blackburn Rovers in 1973.This was my second season watching Alty and the first time that I attended a match with my Dad. He had seen Alty a couple of times in the early fifties and was now a little curious as to why his two sons had spurned the bright lights of Old Trafford for the joys of the Northern Premier League. For the first time ever, I had purchased tickets for an Alty game. Adult seats were Sixty Pence with Children half of that figure and as it was the first time I had the chance to see Alty play at a Football League ground, there was a mixture of excitement and trepidation as we set off for Lancashire in the trusty Vauxhall Viva!

Blackburn were in the Third Division at the time and dominated the game, but the Robins' defence was superbly resolute and having weathered the storm for an hour, gradually started to pose an attacking threat as self belief visibly started to increase. The magnificent Joe Pritchard carved his way through a posse of defenders before agonisingly knocking the ball inches the wrong side of the post and in the dying minutes Mickey Brooke produced a wonderful strike from fully twenty five yards which cannoned back off the crossbar with keeper Roger Jones rooted to his muddy spot.

Despite the lure of a trip to Goodison Park in the Third Round, we were beaten 2-0 in the replay at Moss Lane and the Everton dream was shattered......and then reignited twelve months later when a 3-0 victory over Gateshead in the second round enabled us to take our place in the third round draw again and we were on our way to Merseyside to take on the League leaders! It's FA Trophy matters that concern us tonight and after Saturday's predictably tight low scoring encounter, let's hope that we can win our first game in the competition since February 2005".

Howard Watts's latest Through the Years is here.
BSP NEWS
NL Football Live says that "Forest Green chairman Trevor Horsley admits they may sell Andy Mangan during January's transfer window.The 23-year-old striker completes a five-month ban on 21 December for match betting before he joined Rovers. Horsley told BBC Gloucestershire: 'The last thing I want is Andy to move on, but I respect every player here. If they want to move on to better themselves, we won't step in their way. If somebody comes in and wants to talk to us about Andy, then we'll talk'".

The Liverpool Daily Post reports that "The Football Association will meet at the end of this week to discuss whether to impose any sanctions on Chester City following the abandonment of their match against Eastbourne Borough at the end of last month. The game was brought to a halt after 75 minutes on police advice after a group of City supporters, who were protesting against the current ownership of the Deva Stadium outfit, ran onto the pitch.

The sanctions available to the FA are points deductions, financial fines or even ordering Chester to play a specified number of future matches behind closed doors, although the latter is unlikely to be imposed as the protest was non-violent. The Football Conference have ordered the game against Eastbourne to be replayed on a mutually agreed date in the future, however the Conference wouldn't make any further comment last night as they await the findings of the FA inquiry.

Meanwhile, the club's supporters group City Fans United have called on Chester's current owners to 'make public their long term plans for the club'... City players threatened to strike and not play in Saturday's match against Rushden and Diamonds if their outstanding wages weren't paid, but that threat appears to be subsiding after consultation with the PFA".
---
16 December 2009
ALTRINCHAM SIGN CARDEN
In last night's Robins' Review, Graham Heathcote revealed "We have signed Adam Carden from FC United of Manchester, though he is cup tied" for the FA Trophy. Midfielder Carden was recently released by FCUM. His brother, Paul, plays for Cambridge United. More on this to follow.
ALTRINCHAM 1 WREXHAM 0
Altrincham rode their luck to emerge with their first FA Trophy win since 2004-05 season, a result which takes them to Kingsmeadow to play AFC Wimbledon in the next round.
Match report here.
The BBC stated that "Altrincham dug deep to hold off Wrexham in their FA Trophy first-round replay. The visitors dominated the game but could not find a way past the excellent Stuart Coburn in goal for Altrincham... Sloppiness by the Dragons at a corner allowed Altrincham defender Greg Young to score a soft goal...
Wrexham manager Dean Saunders: 'That's the most one-sided first half we've had there, we were right on top. The goalie's made a great save, Marc [Williams] has had three headers in the middle of the goal that didn't go in. How we've lost that game I find it unbelievable, but it's not just the front men... midfielders have got to do it, wide men have got to do it - there's not enough of them getting in there with the desire to get on the end of things. They hung on and hung on and hung on and they were looking for a set-piece and we get done by an own goal, the ball came off Sakho".
FAT GAMES
Tuesday 15 Dec.
Through the Years from Howard Watts.
FAT Rd.1
Maidstone U. v Histon - playing on 22 December


FAT Rd.1 Replays
Altrincham 1 Wrexham 0
Chippenham T. 2 Arlesey T. 1
Gainsborough 1 Southport 0
Harrogate T. 0 Gateshead 2
Lewes v Hampton & Richmond - playing on 16 December
Northwood 0 Carshalton A. 5
Truro C. 0 Chelmsford C. 1
York c. 3 Hinckley U. 1
BEFORE THE GAME
Before Tuesday's game, the Daily Post announced that "Wrexham striker Obi Anoruo has been recalled from a loan spell with Welshpool and could be a surprise selection for this evening's FA Trophy first-round replay with Altrincham. The 18-year old, who progressed from the Dragons' school of excellence to the professional ranks earlier this year, has been included in the squad for the visit to Moss Lane and with Gareth Taylor again ruled out by an ankle injury, manager Dean Saunders yesterday dropped a broad hint that the youngster could be given a run-out.

Still smarting from the fact that Wrexham bossed Saturday's first meeting between the teams, but missed a penalty and hit a post during the 0-0 stalemate, the Racecourse boss said: 'We dominated from start to finish, but once again with the chances we missed it was like watching the same game over and over again. Maybe it's Obi's turn to step up to the plate and see if he can bang some goals in for us'...

In addition to Anoruo, midfielder Christian Smith comes into contention, having completed a three-match ban, but Andy Fleming misses out due to a one-match suspension triggered by a fifth caution of the season on Saturday. And Neil Taylor has recovered from flu, while Frank Sinclair remains sidelined by a calf strain.

Assessing the prospects for this evening, Saunders is anticipating a slightly more ambitious performance from Altrincham, who kept plenty of men behind the ball at the Racecourse. 'I'm pretty pleased that Fleming is suspended because it means he will be available again to play in Saturday's league match, which has to be the more important of the two matches', he said. 'And we are playing pretty well – apart from converting enough chances – there was only one team in it on Saturday', he added. 'They have got to come out a bit more at home, but they have won only two league games there which suggests they try to frustrate teams and then nick a goal, possibly from a set-piece. By the same token we have done well on our travels and I'm confident we can go there and get the right result'...

Meanwhile "The Racecourse boss is desperate to bring in a striker but, with little or no money in the transfer kitty, accepts that he might have to sell in order to balance the books. Saunders would undoubtedly be tempted by serious offers for some of his younger players, including Wales under-21 internationals Chris Maxwell and Neil Taylor, who has already been monitored by Swansea City earlier in the season. But yesterday he said: 'I've had calls asking whether certain players are available (when the window opens) and we'll see what develops over the next couple of weeks... When the window opens I am going to try and strengthen the squad'".
TASC DRAW
The TASC Monthly Draw for Matchday Hospitality for Two was held recently. The winner for December is Lee Wolstenholme. Lee will enjoy hospitality for two people in the Sponsors' Lounge at the home game against Wrexham on New Year's Day.
BSP NEWS
The Conference confirms that "Thurrock have signed defender Craig Pope from Histon".

From This is Glos reports that "Forest Green's decision to sack manager Jim Harvey last summer could cost them the services of prize asset Andy Mangan. The 23-year-old has spent the past five months in the football wilderness, banned from playing or even training with Rovers after breaching FA betting rules during his time at Bury. That ban is due to expire at midnight next Monday, December 21, and many fans had been pinning their hopes on last season's Blue Square Premier top scorer to fire the Nailsworth club to safety.

However, in an exclusive interview with The Citizen, Mangan has cast major doubt on his future by revealing he had yet to discuss his future with current boss Dave Hockaday. Rovers axed Harvey in July for a breach of contract, a decision which still disappoints the 30-goal striker. He does not expect to be fit enough for first-team action until after the FA Cup third round tie at Notts County on January 3, and it appears he could have pulled on a Rovers shirt for the last time.

'I wouldn't have thought twice about staying if Jim Harvey was here – I haven't got a bad word to say about him', said Mangan. 'A lot has changed now. I haven't really spoken to the new manager and I don't think he's ever seen me play. I speak to the chairman Trevor Horsley a lot and I've got so much respect for him – he's looked after me and given me a lot of advice. I'll always thank him and the club for standing by me but I want to play at the highest level I can, as any footballer does. If Forest Green sold me in the January window they would get every single penny'.

Mangan is still registered as a Rovers player but, having become a father in September, a move closer to his Liverpool home could be attractive... Mangan was found guilty of betting on his own team Bury to beat Accrington Stanley in May 2008 – they did 2-1... Mangan said: 'I still believe I'm innocent, but what happened was no one else's fault but mine and I've paid the consequences... We just didn't understand the rules fully, and obviously everyone does now'".

The Football Conference reports that "The following abandoned matches have been ordered to be replayed by the Football Conference....
Lewes v St Albans City (28th October 2009) due to referee's decision in relation to fog.
Chester City v Eastbourne Borough (28th November 2009) due to advice by police after pitch incursion.

A report from the match referee is currently subject of investigation by the Football Association and therefore it would be inappropriate for the Football Conference to make further comment".
NW NEWS
The UniBond League "has launched a new feature-rich website which hopes to set new standards in the non-league football community. Powered by the popular Pitchero sports network, the new league website includes a revamped design, improved layout and navigation... The UniBond League website currently attracts 150,000 unique visitors per month but league officials expect this to rise sharply with the launch of the new site"
---
15 December 2009
TONIGHT'S GAME
News from tonight's game with Wrexham can be found during the game on the Matchday Update page.

Wrexham "Midfielder Andy Fleming, who has been in fine form of late, will have to sit out Tuesday night's visit to Altrincham for our FA Trophy replay. The Liverpool-born player collected his fifth booking of the season on Saturday and will now have to suffer an automatic one-match ban [as does Alty's Matt Doughty, also booked for the fifth time last Saturday], which kicks in with immediate effect... We also have three more players sitting on four yellow cards, Wes Baynes, Gareth Taylor and Ashley Westwood, with the trio doing their best to avoid having their names taken again before 31 December. If they, or any other player, manages to steer clear of getting a fifth caution before the end of 2009, then the threat of that one-match suspension will be lifted. The next threshold of 10 cautions brings with it a two-match ban, if reached before the second Sunday in April!".

Wrexham add that if they beat Alty in Tuesday's replay "That will mean two trips to the Cherry Red Records Fans' Stadium inside just four days, as we already have a re-arranged BSP visit there on Tuesday, 5 January! Just to add into the mix, we are also at home to the Wombles on Saturday, 23 January". At present Wrexham are in a cycle where they play Altrincham four times in three weeks!

The Daily Post adds that "Midfielder Christian Smith returns from a three-ban for the game [but] ... Wrexham FC's top scorer Gareth Taylor and versatile Neil Taylor are doubts for the Moss Lane replay. Defender Sam Williamson has not fully recovered from hernia surgery so will miss the game".

But "The January transfer window can't come quickly enough for Wrexham manager Dean Saunders after his Dragons spent another 90 minutes at the Racecourse on Saturday firing blanks". However, "The impending arrival of Super League outfit Crusaders undoubtedly has massive potential for the club and North Wales, but equally it could prove little more than a self-defeating exercise in terms of anticipated mutual benefit and economies of scale should the Dragons continue to flounder in the doldrums of the Blue Square Premier League".

Last Saturday Altrincham "hadn't won an FA Trophy tie since February 2005 and their chances of ending that dismal record looked less than promising just three minutes into the game... Regular spot-kick specialist Gareth Taylor was in the stands nursing an ankle injury and Lamine Sakho accepted the responsibility, only to be found wanting when he pulled his shot horribly wide of Stuart Coburn's goal... It did nothing either to encourage the visitors that Wrexham's confidence might have been affected by such an early setback as they adhered rigidly to a pre-match strategy based on containment. And on the balance of probabilities it proved a wise decision, the Dragons huffing and puffing to little effect for the remainder of the half.

Their superiority in every aspect of the game was afterwards acknowledged by Robins' assistant boss Ken McKenna. No stranger to the Racecourse during his successful years with Welsh Premier side the New Saints, he summed up thus: 'In the first half Wrexham looked half a yard quicker than us, they were keeping the ball better than us and they were putting us under a lot of pressure. From where we were, it looked as if it was a penalty and we had a little bit of luck when the lad pulled it wide. Both sides struggled in front of goal, but neither has been banging goals in this season and it looked today as though the defences were on top."

Meanwhile The Leader announces that "Wrexham have been thwarted in their attempt to sign striker Andrew Mangan. Owner Geoff Moss today admitted that Wrexham's latest bid to sign Mangan has hit a snag because he understands that the 23-year-old has signed a contract at Forest Green Rovers... Wrexham were one of a number of clubs interested in clinching his signature over the summer. However, interest waned because Mangan was banned for five months by the Football Association in July for breaching betting rules and he will not be eligible to play until later [than] December 22...

'Our plans to sign Andrew seem to have been thwarted again', said Moss. 'We have approached Forest Green, which means there will quite a considerable fee. They were offered over six figures for him over the summer, when we first made an initial enquiry, by a League One team. I know who it is because Jim Harvey told me. Obviously because of the ban then, he wasn't going to be available. Andrew has put on over a stone in weight and is injured at the moment. Dean did see him here for the game and he was interested in coming but there was not only us that were interested but several other clubs too. We have had another attempt because we didn't think he had a contract. But Forest Green are telling us he does have a contract so therefore there is going to be quite a fee involved so that rules it out. And it is too much of a risk bearing in mind in the summer he is out of contract, he is 24 and no fee would be payable, and he is a stone overweight... It looks as if it is absolutely dead in the water'.

Meanwhile, a deal that will see Crusaders Super League club move from south to north Wales and share The Racecourse ground in 2010 has been agreed by Moss. And Moss admitted manager Dean Saunders will be given cash to spend when the transfer window re-opens next month... Added Moss, 'Fourteen clean sheets, normally it would put you right up near the top of the league but we can't score goals. Dean is pulling his hair out as much as anybody. We can back Dean to a certain extent but once you start talking about six figures, we are not in that position. Gates of 1,800, we just simply can't afford it. One of the reasons we brought rugby in is to supplement the football income. It will cut the costs of running the football club quite considerably because the rugby people will be sharing a lot of the costs. With regards to the pitch, Brian Noble said to me that there is less damage done by a rugby league match than a football match, and it is principally summer traffic. It is finished by September 4. There are a couple of winter games and a few of them will be away from home anyway'".
HOSPITALITY AT BARGAIN RATES
For tonight's FA Trophy replay against Wrexham, there is a special offer of hospitality in the Manchester Glass Sponsors' Lounge for just £25 a head. This includes a hot meal before the match, half-time refreshments, and Graham Heathcote's pre-match views on the game ahead. If you would like to take advantage of this offer, please ring the club on 928-1045 or e-mail Grahame Rowley, as soon as possible. The above offer is open to all - not just season ticket holders.

Altrincham FC is also offering all season ticket holders the opportunity to enjoy matchday hospitality in the Manchester Glass Sponsors' Lounge for the Eastbourne game (Dec. 19) or the Wrexham game (Jan. 1) for £20 a head. This includes a hot meal before the match, half-time refreshments, and Graham Heathcote's pre-match views on the game ahead. Please contact the club to book.
PENSIONERS' LUNCH RAISES OVER £300
Brian Flynn, chair of TASC, reports on three recent Altrincham Supporters' Club events...

"The Manchester Glass Sponsors' Lounge looked its festive best last Wednesday as 35 pensioners enjoyed a superb Christmas lunch prepared by chefs Dave Johnson and Brian Southworth. Outstanding table service was provided by Karen and Grahame Rowley, John Skelhorn and Phil Jones, whilst Jenny Heslop helped out effortlessly in the kitchen. Graham Heathcote helped sell raffle tickets, which due to a lack of Mansfield supporters in attendance, went like wildfire!!

The total amount raised of £333.50 goes straight to Altrincham Football Club thanks to the hugely generous support of The Cresta Court Hotel and Marks & Spencer (Altrincham)".

Harbingers Success!!!

The Noel White Suite was rocking on Friday night as local band 'Harbingers' played a superb set, featuring songs from their album 'Falling Off Roofs' and their recently released EP. The evening started with a couple of songs from talented teenager Ben Atkinson and 'Lee & Sam' continued the theme of musical excellence with a blues based session.

As well as raising £250 in ticket sales, the drinks flowed well throughout the evening with excellent bar takings of of over £500!!

TASC would like to express its thanks to the Harbingers' band members, not only for providing such great entertainment but also for their hard work in selling tickets for this event. The full line up of the band who are Altrincham supporters, is: MIKE BENSON - Guitars/Vocals, IAN PRICE - Bass/Vocals, JIM BENSON - Drums, NIGEL HENNERLEY - Guitars.

Alty Rock

With Christmas just around the corner, make sure that you don't miss out on the perfect stocking filler!!!! Alty Rock is available for just 20p a stick from the Club Shop and Snack Bar at the Wrexham game and all home games. Buy loads........you know it makes sense!!!!
MORE TASC NEWS
Steve Foster provides the latest news from The Altrincham Supporters' Club (TASC). This information will appear in tonight's matchday programme...

"Good evening, and welcome to Wrexham for our FA Trophy replay, the second of four games we will be playing against them in just under 3 weeks. After the 0-0 draw on Saturday, I'm sure everyone will be hoping that we can find a victory today to progress to the next round, and earn some valuable prize money for ourselves. The draw has not been kind to the winner of this tie, with a difficult looking away trip to AFC Wimbledon awaiting them.

New Year's Draw

TASC have launched our New Year's Draw. We have now got the tickets and will be selling them at all the home games up to and including the Wrexham league game on New Year's Day. Tickets will be available in the shop before games and at half time, and in the bar after the games. In order to make the most money possible from it, we would like some help from as many people as possible selling tickets, either on match days, or by taking tickets away and selling them to your friends.

Calendars

After the success of the 18 month calendars, we have now produced a 12 month calendar for the New Year. The calendars are smaller than the original ones and will therefore be slightly cheaper than the 18 month ones. They will be priced at £7.99. They will be available in the shop before the game and at a half time and in the bar after the game.

SOS - Strengthen Our Squad

TASC has launched a Strengthen our Squad campaign to raise £3,000 by the end of January. Donations can be placed in the bucket collection at half time, by cheque or by payment on-line. We would like to thank everyone for their generous donations at the Barrow game, the bucket collection alone raised a few pence under £300".
NEXT, EASTBOURNE
The referee for the Alty v Eastbourne Borough match this Saturday is Mr R M Clark. The Argus reports on the Sussex side's last game. "It certainly wasn't pretty but this hard fought victory could turn out to be hugely significant for Eastbourne Borough's prospects this season. As well as booking them a place in the second round draw today, Liam Enver-Marum's solitary goal also ended an 11-week wait for a win... On too many occasions this season they have been unable to capitalise on a winning position – nine times to be precise – but they showed real grit to repel Welling's search for an equaliser in the second half...

Marum observed, "We have been playing well recently and not winning so it was nice to perhaps not play so well and win... We were buzzing in the changing rooms afterwards and now we have got to build on it and win in the league next week".

THe Argus notes that "What made this result even more impressive was the fact Borough only had 11 completely fit outfield players to choose from. Nathan Crabb was on the bench despite having not trained for ten weeks while Matt Smart, Andy Atkin and Marc Pullan were all either carrying niggles or on the way back from illness and injury... Boss Garry Wilson said: 'There was a bit of a mental barrier after not winning for so long... Now we have got that out of the way perhaps we will be able to kill games off a bit better'... Eastbourne: Knowles, Baker, Elphick, Austin, Jenkins, Taylor (Smart,90), Armstrong, Johnson, M Crabb, Smith (Atkin, 73), Enver-Marum. Subs not used: Jordan, N Crabb, Pullan".
BSP NEWS
News of the team who will entertain the winners of tonight's game at Moss Lane, comes from AFC Wimbledon following their Trophy victory on Saturday. "Terry Brown used his get out of jail card as the Dons came from behind to score two goals in the last seven minutes to take their place in the Second Round... Brown had made a number of changes from the team that had started against Gateshead, with Derek Duncan, Kennedy Adjei, Sam Hatton, Ross Montague, Luis Cumbers and Elliott Godfrey all starting... The entrance of Jon Main and Danny Kedwell after 58 minutes began to change the direction of the game... Terry Brown was a relieved man after the game. 'Boreham Wood came with a game plan that worked effectively for 60 minutes and we had to struggle hard to get the goals. They were well disciplined, well organised and only played one man up front. They didn't create much and the goal they did score, we gave them... We took a few gambles today and left out a number of players who needed a rest, and in the end the gamble paid off... Looking forward to the draw for the next round on Monday, I hope that we get a home tie, and that the tie will be a little more appetising for our fans. What I hope to avoid at this stage is one of the top ten teams from the Conference".

According to the BBC "Three more first-team players have accepted severance packages from Histon as the club look to manage their financial problems. Jamie Barker, John Kennedy and Craig Pope have each agreed to leave the Glass World stadium. Barker told BBC Radio Cambridgeshire: 'It was a difficult decision to make as I was a first-team regular, as were the other lads but I didn't want to be somewhere where I wasn't wanted'.

Manager Steve Fallon was suspended last Tuesday after a dispute over how to approach restructuring the club's wage bill. Midfielder Neil Andrews then left the club on Thursday after over a decade at the Glass World. And Barker, Kennedy and Pope each had contracts running through until the end of the season. 'We could have stayed and [chairman] Tony Roach said he was happy to pay us until the end of the season', Barker continued. 'But we have since found out we had been left out of the squad for the weekend and I wouldn't have wanted that to become a regular thing'.

Histon defender Pope had previously retired from football last year after he was handed a four match ban for racial abuse. But Histon's troubles would look to have come at a good time for neighbours Cambridge City, who currently lie third in the Southern Premier League. Barker has confirmed he is close to completing a move to Milton Road, whilst Kennedy and Pope could also follow suit. 'I'm going to sign for City and the paper work will be completed once my contract at Histon is cancelled', Barker said".

According to The Comet, "Stevenage Borough are reportedly facing competition to sign Maltese goalkeeper Jean Matthias Vella, who has been on trial with Graham Westley's side. The 17-year-old, who is a member of the Malta under-19 national squad, has been training with the Boro squad but a number of scouts have been alerted to his availability".

NL Daily reports that "St Albans City have acted to squash any rumours surrounding the situation with two of their players' involvement with Luton Town. A statement from the club reads: 'The club are aware of speculation surrounding the futures of Jonathan O'Donnell and Godfrey Poku, who both appeared on trial in a reserve team fixture for Luton Town last week... However, at this time both players remain at Clarence Park".

"Histon chairman Tony Roach believes the Stutes can still claim a play-off berth this season despite parting ways with four experienced players recently" reports Blue Square Football. "Neil Andrews, Jamie Barker, John Kennedy and Craig Pope all accepted severance packages last week...

Roach told Cambridge News: 'It was a financial decision I made to take some fat off the bone, and it's a real shame to have lost those four boys... We've got to move on now and make sure Histon survives. That's what we're doing and I'm sure it will survive'...

Histon boss Steve Fallon was suspended following a disagreement with Roach over the decision to part ways with the four players in question. Alan Lewer has been installed as caretaker manager... Roach added: 'I'm not worried at all, I'm really positive about the future. 'I had a meeting with the players on Saturday morning, and the captain Matt Langston is very positive and has been getting the players behind Alan Lewer (temporary manager) and me... I still think we've got a chance of reaching the play-offs and you've got to be optimistic'".

"Weston-super-Mare have confirmed the signing of midfielder Ben Osman from Salisbury City. Ben is the son of of ex-Bristol City defender and manager Russell Osman".

From Forest Green Rovers we learn that "David King has returned to parent club MK Dons with immediate effect".

And Salisbury City add that "On-loan defender Ryan Tafazolli has been recalled by Southampton FC. However, Saints have permitted Salisbury to retain the defender's registration and would make him available should City have another selection crisis".
FULL FAT DRAW
Round 2: ties to be played on Saturday, 9th January 2010.
AFC Wimbledon v Wrexham or Altrincham
Worcester City v Carshalton Athletic or Northwood
Stevenage Borough v Vauxhall Motors
Blyth Spartans v Guiseley
Cambridge United v Eastbourne Borough
Gateshead or Harrogate Town v Arlesey Town or Chippenham Town
Oxford United v Woking
Stalybridge Celtic v Corby Town
Kidderminster Harriers v Hampton & Richmond Borough or Lewes
Newport County v Hinckley United or York City
Workington v Rushden & Diamonds
Chelmsford City or Truro City v Crawley Town
Fleetwood Town v Dover Athletic
Southport or Gainsborough Trinity v Tamworth
Maidenhead United v Barrow
Salisbury City v Maidstone United or Histon
---
14 December 2009
FA TROPHY DRAW
Should Altrincham defeat Wrexham tomorrow in their FA Trophy replay, they will have to travel to AFC Wimbledon in the 2nd Round on Saturday, 9th January 2010. More to follow later...
IN THE PICTURE
Right: Robbie Lawton is seen, right, giving a typically committed performance against Wrexham last Saturday. More of Gavin's excellent Alty match photos are on his GR Photography website.
SPONSORSHIP
Alty director Barry Pond has kindly provided an updated Matchday Sponsors list. If you would like to sponsor a game, a matchball or indeed a player, please ring the club on 928-1045.
WHEN WE WERE KINGS
Two more instalments of Barry Pikesley's fascinating series, "When We Were Kings", which chonicles the successful 1979-80 season are now on the website. They can be found, with links to the earlier eight chapters, here.
PRICES BELOW PAR
Courtesy of TASC chairman Brian Flynn comes the following announcement:

Mobberley Golf Club-Winter Specials:

TASC is keen to support organisations who support Altrincham Football Club and Mobberley Golf Club have some excellent deals available to both members and visitors:

Winter Tariff 2009/10

Special Winter Offers – Visitors' Green Fees
Weekends & Bank Hols - 9 Holes for £10; 18 holes for £15
Monday to Friday - 9 Holes for £5; 18 holes for £10

And, after your round, why not warm yourself up with a hot cup of tea or coffee AND a bacon buttie for just £3.00! Or if you prefer, on football match days take advantage of our £2.00 pint offer!
MARCUS HALLOWS'S COURT CASE
Right: Marcus Hallows is carried off after his horrific injury on 19 March 2005.
The NL Paper reports that "Ashton United have an anxious three-day wait to discover if they face ruin after a former opponent sued the club and one of their ex-defenders for a combined total of more than £100,000. On Tuesday, Marcus Hallows, now 35, will find out if his four-year wait for compensation against Dan White and the UniBond Premier club is successful. White's tackle in the Conference North match against Altrincham in MArch 2005 forced the former Leigh and Chorley forward to retire after fracturing his tibia and fibula. He almost died after his heart stopped on the way to hospital. Hallows is suing Ashton for a five-figure sum for potential loss of earnings and Ashton say they will not survive should Hallows, who is also an Elvis impersonator, win at Manchester Crown Court.
United will fight the claim because they believe it could open the floodgates for an explosion of cases which could throw the grassroots game into turmoil. Ashton say their former player, White, has been unable to play for rivals Retford after becoming unwell because of the stress of the trial.
They hinted that they plan to counter-sue Hallows should his case be thrown out"... Ashton chairman David Aspinall said that the club's winding up is a genuine possibility. In court, "Hallows will call former Tottenham star Gary Mabbutt, forced to retire through injury in 1998, but [he] has no video evidence to back up his claims. The court will instead see photographs... At the time, Altrincham boss Graham Heathcote described the tackle as no worse than hundreds seen every weekend" adds the NL Paper.
---
13 December 2009
MAKE A DATE
The Altrincham Supporters' Club's Steve Foster advises that, following their successful 18-month calendar, launched at the start of the season, TASC have now issued a twelve-month calendar, on sale for £7.99. The calendars will be available from the club and in the shop at future games until sold out. Steve adds that "They have very similar illustrations to the 18 month calendars".
WREXHAM GAME
Right: Gavin Rathbone captures Tom Kearney in action against his former club, Wrexham, on Saturday. More of Gavin's excellent Alty match photos are on his GR Photography website.
More match photos are in Saturday's news below...
Before the game on Saturday Wrexham's Leader reported that "Tom Kearney has admitted that he experienced the ups and downs as life as a footballer at Wrexham. After joining Wrexham from Halifax Town in the summer of 2008, Kearney was installed as club captain by former manager Brian Little... Kearney went on to start the opening 11 games of the 2008-09 campaign but when Little was replaced by current boss Dean Saunders, the 28-year-old found himself out of favour and only made two more league starts.
Although he had another year left at The Racecourse, Kearney had his contract terminated by mutual consent in July and joined Altrincham ... 'That's football summed up, it can change that quickly', said Kearney today. 'When I signed for Wrexham I was made up, and proud to be made captain. But things change with a new manager... and I wasn't in the side... I felt it was best to move on and make a fresh start', said Kearney...
Despite serving a suspension, Kearney has started 19 of Altrincham's 23 league games, scoring twice, and is enjoying life as Moss Lane: 'I just wanted to be playing regularly and I am at Altrincham', he said. 'It is going well and I am really enjoying it. We started very well, our home form has been a bit frustrating, but if we stick together we can finish in the top half at least'".
After the game on Saturday, Wrexham boss Dean Saunders told the NL Paper, "I'm going to have to do something up front with what I've got to spend. We've put about 47 crosses in today and we've had enough chances to win the game". The report says that "Altrincham offered very little but every set piece caused panic in the Wrexham box".
The Wrexham official site adds, that "Saturday's moribund draw with Altrincham was hardly an inspiring match, but at least it offered one positive. Sam Russell, who picked up a nasty injury in the fourth game of the season against Kettering Town, was able to make his return to the first team... It turned out it was something of a shock for the shot-stopper when he got the news that he was returning to the starting eleven. 'The team wasn't announced the day before, so it came as a bit of a surprise. Obviously I needed a game and I think it was ideal to give me a game in a game like that as I hadn't played for a while... I had a quiet game... [The manager] was hoping my kicking would be able to get things moving andget us going'...
'Considering the chances we had in the game I think we've been really unlucky. The crowd were booing but I think it was a little bit harsh... If that early penalty had gone in, for instance, then I think we could have gone on to score four or five... When the team's not read out on a Thursday or Friday you just never know, so I just try to prepare myself correctly before every game so I'm ready if I get the call'".
Wrexham add that "A hard working and organised Altrincham held out for a draw... Lamine Sakho's penalty was weak and wide of the target, and The Robins were let off the hook... Altrincham looked dangerous from set pieces and Wrexham by conceding several free kicks in their own half put themselves under some needless pressure".
Meanwhile, the BBC says that "Crusaders Super League club will move from south to north Wales and share Wrexham FC's Racecourse ground in 2010. Wrexham FC chief executive Paul Retout confirmed the move... 'The deal is very important for the future of Wrexham FC. The club cannot survive if only 1,800 fans are coming through the gates... We needed to do something to diversify and to protect the Racecourse going forward'.
The Crusaders' home since their inception in 2006 was the Brewery Field in Bridgend...Now the Crusaders have revealed they will play 11 home games at the Racecourse next year... after [they] accepted a bid by a consortium led by Wrexham FC chairman Geoff Moss to take over the franchise...
Wrexham chief executive Paul Retout added: 'This is a massive coup for Wrexham and for North Wales... It would be fantastic to have 10,000 fans rocking the Racecourse just like the old days".
The FA Trophy Round 2 draw is taking place at luchtime on Monday. Round 2 is a national draw so we could be away at a club on the south coast for example.
OLD BOYS
James Dean hit a hat trick for AFC Halifax Town. retford beat FCUM but Carlos Roca netted for the Manchester side. Joe O'Neill scored again for Stalybrdige in the FA Trophy. FC United's new goalkeeper coach is former Alty man Joe Paladino.

The FA announces that "At a Regulatory Commission hearing, four players received lengthy suspensions from all football for breaches of FA rules concerning betting". They include former Alty defender Adam Farley, who "played for UniBond League Premier Division club Marine at the time of the offences. The charges related to bets placed on two UniBond Premier Division matches - Marine v Witton Albion (21st March 2008) and Matlock Town v Marine (4th April 2009). Farley was found to have placed a £100 bet on Witton to win the 2008 match and two £300 bets on Matlock to win the match in 2009 – a match in which he played. The Commission banned Farley from all football activity for nine months and he was fined £250".
BSP NEWS
Upheaval is reported at Rockingham Road by the BBC which says that "Kettering Town chairman Imraan Ladak says he is shocked by the fans' negative reaction towards him after he sacked assistant manager John Deehan. Deehan was immediately dismissed after Kettering's 5-1 defeat to Leeds at Elland Road on Tuesday. 'It's very close to a million pounds I have put in over four years', Ladak told BBC Northampton. 'For people to turn against me after what I've done, that's an incredible lack of loyalty from some... I am amazed at the way in which people are talking about me'.

The chairman sacked Deehan because of tactical changes he made to the Kettering team during extra time of the FA Cup replay. 'We have a player at the club, Lee Fowler, who doesn't want to be at the club and has made it very clear he doesn't want to be at the club', said Ladak. 'I felt when someone's that uncommitted off the field, they are that uncommitted on the field. He came on and we conceded four goals. I think things would have been different if he hadn't been on the pitch. I was very angry that he had been brought on because he was only on the bench to make up numbers but shouldn't have played'...

Player-manager Lee Harper has said he is considering his position after the manner of Deehan's departure but Ladak hopes Harper will remain at the club... Ladak intends to continue as chairman... 'I think I am the best man for the club to be chairman... I'm not egotistical that I have to be the chairman but I love the football club for some reason'...

Later "Harper told BBC Radio Northampton: 'I'm more-or-less certain I want to stay at the football club... I never wanted to leave. But my assistant was sacked and I felt that was unjust'".

According to the Cambridge News "Steve Fallon has been 'suspended' as manager of Histon. Stutes' chairman Tony Roach said the boss's failure to earmark four players to be released to cut the wage bill left him with no option. The two men will have showdown talks a week on Friday, when the manager's future at the Glassworld Stadium is likely to be decided. 'I gave Steve Fallon 100 per cent clear details of what I wanted him to do and he totally disregarded that', said Roach. 'To be honest, we have a bit of a communication problem and we need to resolve that. I've suspended him from first-team duties until December 18th to give him time to think about his position and what he wants to do. There will be a hearing between me and him and I've told him to bring a representative and I'll bring a representative with me. We'll have a discussion as to whether we can work together at Histon Football Club or not. He hasn't been sacked and coach Alan Lewer will take control of the team for the time being'...

Fallon, who celebrated ten years in charge at Histon in July, said he had heard rumours he had been sacked, but was unaware he had been suspended. 'Nobody's told me I've been suspended', said Fallon. 'But nobody's officially told me - I thought I'd been sacked... I'll wait and see what I'm supposed to have done or not done'. Roach, who took over at the helm following Gareth Baldwin's resignation at the start of last month, insists he has the best interests of the club at heart...

'We need to release four players to stay solvent and we've got to rein things in a bit', said Roach. 'Everybody's been paid in the time I've been in charge and I want that to continue. The club has been run in such a bad manner in the past and it can't go on. I know fans may not like what I'm doing, but I want to secure the long-term future of Histon Football Club and I need the fans to support me and the new board'".

Elsewhere the News reports that "Steve Fallon has vehemently denied claims he told the entire Histon squad they were up for sale prior to his suspension as manager on Tuesday... Fallon spoke to his squad at training last Monday and told them players would need to be released in order to cut costs, as per instructions from Roach. But the manager is upset about comments made by the supremo inferring he told each player they could leave Histon. And Fallon is unhappy about Roach telling him which players need to be axed, and claims the chairman questioned his ability to take charge of the side.

'I spoke to the whole squad at training on Monday and said that cuts would have to be made to the wage bill and that the board might be willing to pay people up', said Fallon. 'But I said we were still ambitious and didn't want to sell our best players. At no point did I tell the players they could all leave. I then told Tony it would be better to lose four players that wouldn't affect my starting team and he started questioning the way I run the team and said I'd lost the dressing room. It was at that point that I said he should sack me, which he as chairman has the power to do, as he was questioning my ability as a manager. It should be the manager's decision as to how to save money if money needs saving'".

But players are already leaving "As veteran midfielder Neil Andrews quit the Blue Square Premier club. The 30-year-old took the decision after meeting with chairman Tony Roach and said it was in the best interests of all parties that he leave. 'The players had a meeting with Tony Roach and he explained the situation with Steve Fallon and his plans for the club. He said he wanted to lower the wage bill and I was one of the four players that was going to be affected, so I decided to call it a day. I understand there were four players they wanted to offload and they want to bring the youth through'... The three remaining players identified by the club are believed to be senior members of the first-team squad".

NL Daily reports that "Gary Mills, manager of Tamworth, has placed striker Nick Wright on the transfer list to 'freshen up' the squad... 'Players have been placed on the list before and have come off it because they have responded by producing good performances. We will see'... Tamworth have also confirmed that on-loan [Wrexham] midfielder Simon Brown will stay with the club for a further month".
NW NEWS
Northwich Victoria have allowed three players to leave on loan; Harry Winter and Danny Meadowcroft have gone to to Salford City and Mark Cadwallader has moved up the road to Witton.

The UniBond League announces that "Witton Albion have been dealt a blow with the decision of goalkeeper Joe Clegg to quit the game to concentrate on a professional career in body building. Signed in pre-season Clegg had made the position his own with a string of impressive performances that prompted the club to place him on contract in October".

The informative Hereford based Bulls News reports that "The FA have rejected the long drawn out takeover of Stockport County by football agent Jim Melrose. Melrose, a former Man City striker, was announced six months ago as the preferred bidder but the FA have rejected his bid after lengthy negotiations. Two reasons have been reported for the bid failing - that Melrose is unwilling to stump up the £300,000 needed to take the club out of Administration, and that he has failed to provide the FA with projected cashflow to show the business would be viable in the future.

The situation at Edgeley Park is bleak. Manager Gary Ablett has had to rely on handouts from club employees and fans to repair and update gym equipment, while their physio is taking leftover supplies from Liverpool to keep stocked up. An announcement earlier in the week that the pitch at Edgeley Park was to be re-laid has also been scrapped, with co-tenants Sale Sharks also struggling with cashflow. The club have to end their period of Administration by the end of the season, or they face being thrown out of the Football League".

"The BBC has unveiled a new weekly Football League magazine show tailored to each individual region around the UK. Titled Late Kick Off, the BBC One programme will have different versions for each of the UK's seven main regions - the North West, North East and Cumbria, Yorkshire and Lincolnshire, West and East Midlands, the East, London and South East, and the South West. Each region will have its own presentation team.

Starting on January 18, 2010, at 11.15pm, the show will feature match highlights and also give fans "in-depth coverage" from behind-the-scenes of clubs in the league. BBC controller of English regions David Holdsworth [not the Mansfield boss!] said: 'Late Kick Off is good news for Football League fans who'll get to see more of their local teams on television but in a way they may not have seen before. They'll get to see the goal action but we'll also examine stories and issues of the day from a different perspective, providing high-quality sports journalism. Added to that we will be going behind the scenes at the clubs giving an insight in to what really goes on, with access to players, managers and backroom staff'...

Late Kick Off will run in conjunction with The Football League Show and live coverage of the League Cup semi-finals and final".
---
12 December 2009
WREXHAM 0 ALTRINCHAM 0
Above: Space is at a premium in this shot of the Alty game at Wrexham. The Alty players (in yellow) are Clee, Danylyk, Lawton, Young and Williams.
The defences were on top in this FA Trophy game at The Racecourse, with both keepers only having to make a couple of decent saves apiece. Altrincham looked more of a threat after Denham had come on during the second half and posed a danger on the break. Alty survived a third-minute penalty when Doughty was penalised but Sakho pulled his penalty wide with Coburn allowing it to pass for a goal kick. Report to follow.
Above: Sakho puts his penalty wide of Coburn's left post.
UPDATES
It is hoped to provide a normal matchday update service for today's game, from Wrexham.
HISTON PRAISE
Altrincham FC joint press officer, John Edwards, writes in the Sale & Altrincham Messenger: Graham Heathcote savoured the rare sound of lavish praise from a rival manager after Altrincham had the better of a goalless draw at Histon. After seeing his side outplayed for much of the 90 minutes, Histon boss Steve Fallon freely admitted they had been fortunate to escape with a 0-0 draw and that Alty had done more than enough to add another three points to their impressive away tally.

It was music to the ears of Alty manager Heathcote, who said: 'Fair play to Steve, he was honest in his appraisal of the game, and that is a rarity where we are concerned. 'It is almost unheard of for an opposing manager to give us credit like that. There seems to be a general perception that we've no right to take points off anyone, so when we do, there's got to be some reason for it, other than how well we played.

So it was good to hear Steve acknowledge the fact that we had put in a very solid performance that could and would have won the game but for the frustration, once more, of not converting chances. Any manager will tell you that the first priority is to create chances, and there is no doubt we are succeeding on that front. Unfortunately, we are not sticking away a high enough percentage. There were still a lot of plus points, though. Greg Young was absolutely outstanding, and showed what a powerful centre-back he is, there was lots of industry in midfield and, up front, John McAliskey and Chris Senior caused problems and looked a decent little partnership'.

McAliskey is cup-tied for Saturday's FA Trophy tie at Wrexham, but Colin Little is ready to return after recovering from a virus. 'We have been drawn away again, but we just have to get on with it', added Heathcote. 'I have watched Wrexham twice over the past month, and while they don't score many, they are a tough, compact side. But I am desperate for a good cup run, and I hope the players are, too'".
SATURDAY GAMES
Howard Watts's Through the Years

FAT 1st Round
Cambridge United 3 Luton Town 1
Vauxhall Motors v Kings Lynn - Vauxhall have bye to next round; King's Lynn wound up
Mansfield Town 0 Tamworth 2
Gateshead 1 Harrogate Town 1
Corby Town 2 Farsley Celtic 0
Workington 2 Nuneaton Town 1
Guiseley AFC 1 Redditch United 0
Hinckley United 0 York City 0
Wrexham 0 ALTRINCHAM 0
Kettering Town 0 Barrow 1
Chester City 0 Fleetwood Town 1
Matlock Town 0 Kidderminster Harriers 2
Nantwich Town 0 Stalybridge Celtic 3
Southport 2 Gainsborough Trinity 2
Blyth Spartans AFC 2 Ilkeston Town 0
Welling United 0 Eastbourne Borough 1
Bishop's Stortford 1 Maidenhead United 2
Chelmsford City 2 Truro City 2
Stevenage Borough 2 Ebbsfleet United 0
AFC Wimbledon 2 Boreham Wood 1
Hampton & Richmond Borough 0 Lewes 0
Rushden & Diamonds 1 Billericay Town 0
Havant & Waterlooville 2 Dover Athletic 3
Bashley 2 Crawley Town 3
Arlesey Town 1 Chippenham Town 1
Oxford United 1 Hayes & Yeading United 0
Woking 1 Forest Green Rovers 0
Weymouth 0 Salisbury City 1
Farnborough 1 Newport County 3
Carshalton Athletic 1 Northwood 1
Worcester City 3 Grays Athletic 1
Maidstone United v Histon POSTPONED
---
8 December 2009
AWAY TRAVEL
Details of the TASC supporters' transport to Wrexham this Saturday are on the Away Travel page. Please ring the club on 928-1045 to book your place.

Wrexham have announced that their social club will be open to Altrincham supporters before the game, from 12 noon, for food and drink.
WINNING FRIENDS
The winners of the latest monthly draw for the Friends of Altrincham FC are:
1st, no.55 Phil Jones £100
2nd, no.64 Ian Rosendaal £35
3rd, no.51 Mrs M Warrington £15
MATCHDAY HOSPITALITY
Altrincham FC is offering all season ticket holders the opportunity to enjoy matchday hospitality in the Manchester Glass Sponsors' Lounge for the Eastbourne game (Dec. 19) or the Wrexham game (Jan. 1) for £20 a head. This includes a hot meal before the match, half time refreshments, and Graham Heathcote's pre-match views on the game ahead. Please ring the club to book on 0161 928-1045.
NEW YEAR'S DRAW
Brian Flynn, chairman of The Altrincham Supporters' Club (TASC) announces:

TASC New Year's Day Draw

In order to make this year's New Year's Day Draw as successful as last year, when £2,000 was raised for Altrincham Football Club, we need all supporters to help where they can.

You can help by:-
1) Buying tickets yourself
2) Selling tickets to friends and family

Tickets are available on a sale or return basis by calling into the club between 9.30am-5.00pm, Monday-Friday, or on matchdays, or by emailing your full postal address and the number of books required to Brian Flynn if you are unable to get to the ground and need the tickets posting to you.
3) Selling tickets at Moss Lane at the matches against Eastbourne Borough, York City and Wrexham. If we could get a handful of volunteers to help sell tickets at just one of these games, then that would be a massive help and boost ticket sales considerably!

We have got some great prizes available this year......but we need all Alty fans to pull together to make this a success!!!!

Details of the draw and prizes are as follows:-

TASC NEW YEAR'S DAY DRAW – FANTASTIC PRIZES

The annual TASC New Year's Day Draw takes place at 5.30pm on Friday 1st January 2010 after the Wrexham home game in the Noel White Suite. This year we have some fantastic prizes including:
Wharfedale HD Ready 19 inch digital LCD TV
Songmaker Recording Studio Experience
Philips Blu-ray Disc Player
Garmin Sat-Nav system
£90 Aroma Spa Vouchers for The Marriott, Worsley Park
Epson SX200 Printer/Scanner/Copier
Signed Altrincham F.C. Ball
Courvoisier Brandy and Two Glasses Set

As last year, tickets are reasonably priced at 40p each/£2 for a book of five. Tickets will be on sale in the Noel White Suite and TASC section of the club shop before and at half time of all December home games (and afterwards in the Noel White Suite. They will also be sold around the ground at half time (volunteers permitting!).
CHRISTMAS DVDS
The latest additions to the club shop and also available on Ebay for only £10 each are the following DVDs:
Altrincham v Runcorn 1986 F.A.Trophy Final (digitally enhanced)
Altrincham v Enfield F.A.Trophy Semi Final 1986
Please telephone the club (928-1045) to place your order and it will be available for collection at the Eastbourne game on December 19th.
HISTON VERDICTS
The Cambridge News says that "They may have shown just about enough character to secure a hard-fought point against Altrincham, but not even that could hide Histon's lack of quality up front. The Stutes failed to register one shot on target throughout the 90 minutes... Chris Senior and John McAliskey had enough strength, pace and trickery to cause the home defence problems but, whenever they did break through, they found Danny Naisbitt equal to the task. The Histon keeper continued his excellent recent form, pulling off a string of fine saves, the best of which came in the second half when he somehow got a fingertip to Senior's close-range effort...

Histon were too often outfought in midfield... as Altrincham attacked with purpose... The Histon goal led something of a charmed life and Altrincham's McAliskey was again left holding his head in his hands when his firm header from Matt Doughty's free kick was acrobatically tipped away by Naisbitt... Histon were ultimately pleased to escape with a point".

Manager Steve Fallon added, "We were sloppy and I wasn't happy with us going forward at all... They were physically too strong for us... Altrincham are big and strong and they were far too physical for us. They're good at what they do and they're very dangerous. They're a decent team and will go anywhere and pick up points".

The 200% website also reports eloquently on the Histon v Altrincham game. "If football precisely mirrored life, people wouldn't be that excited by it, so football contains a higher proportion of exciting moments than your normal life. Sometimes, however, all you get is the bread and butter, and it feels as if "the football" is going on elsewhere, and sometimes the writing is on the wall. Histon against Altrincham in the Blue Square Premier. Twelfth against eleventh in the table. Three weeks before Christmas. There's something in the air which seems to be indicating that this isn't going to be one of the greatest matches of the season, yet six hundred and seventy-six doughty souls have had it sold to them that this match is worth being at.

'Not bad for a village team', says a sign that hangs limply from one of the two stands that line one side of 'The Glassworld Stadium'... Histon's team is different to the one that surprised so many people last season (manager Steve Fallon is still there, but John Beck has now gone)...One can stand right next to the dug outs and listen to the uncensored wisdom of the management team. This is a particularly welcome development, considering that Altrincham's manager is Graham Heathcote, who marauds around his technical area like a caged tiger, throwing forward profanities with liberal abandon.

In the first half, he has plenty of cause for profanity. Histon settle to their task quickly, and Altrincham's attacks are uninspiring. Heathcote doesn't seem impressed by his team ('Bag of shite' is his considered opinion for one cross that sails harmlessly over the goal) or by the referee – every free-kick against his team is treated like a miscarriage of justice of Birmingham Six proportions – and he provides considerably more entertainment than the two evenly matched teams, who spend most of the first half cancelling each other out... Too good to go down and probably not good enough to go up, it seems like that Altrincham and Histon, barring anything cataclysmic happening to either club, will continue to sit in the middle of the table".
BSP NEWS
According to Blue Square Football "Northampton Town striker Joe Benjamin has returned to Sixfields following a one-month loan spell at Eastbourne Borough. The 19 year-old made six appearances for the Sports and Borough manager Garry Wilson was keen to extend his stay at Broadhall Way. However, the attacking player has been recalled".

From the Daily Post we learn that "A 20th goal of the season for York City striker Richard Brodie on Saturday – one more than Wrexham have managed in 20 league matches before this clash – is the damning statistic that sums up just why the Dragons are increasingly likely to endure yet another unfulfilled campaign...

Too often though, Wrexham's build-up was more predictable than pacy and they gave the home side ample opportunity to defend in numbers... And it suited City to play on the break with Carruthers and Alex Lawless always looking to attack from wide positions and Brodie and Rankine tirelessly running the channels".
NW NEWS
The Northwich Guardian confirms that "Northwich Victoria owner Jim Rushe admits the club does not make enough money to continue paying its players. So the Blue Square North outfit has transfer-listed all of them. 'There's no panic and this is not been done on impulse', he said on Monday. 'But the maths are simple; for whatever reason we are not attracting enough people through the turnstiles to watch the team play. The numbers are not high enough to support the wage bill'.

Last week just 451 – the lowest crowd to watch a home league match this season – were there to see Vics fall at home to Hinckley United just three days after more than 3,500 turned out for their televised FA Cup second round date with Lincoln City. An average of 754 [actually 540] according to Football Pages have been at the seven Blue Square North matches played at the Victoria Stadium since the start of the current season.

Rushe added: 'It's not that the manager is unhappy with any of the squad because he's not. But we have to be realistic. I've always tried to keep people's feet on the ground even through the euphoria of the FA Cup run. There will be no windfall for the football team. That doesn't mean the success we enjoyed was not worth it. The money generated from those matches has enabled us to pay off more of our debts, which has to be the priority'. Vics' squad – not including loan players – is made up of 25 players. Too many, according to the owner".
VASE
The FA Vase 4th Round draw for Saturday, January 16th 2010 is:
New Mills v Witney United
Tiptree United v St Ives Town
Needham Market v Kirkley & Pakefield
Whitley Bay v Poole Town
Shortwood United v Barwell
Brimsdown Rovers v Daventry Town
Bristol Manor Farm v Larkhall Athletic or Whitehawk
Norton & Stockton Ancients v Bootle
Pickering Town or Dunkirk v Marske United
Armthorpe Welfare v Wroxham
Willand Rovers v Causeway United
Long Buckby v Epsom & Ewell
Dawlish Town v Gresley
Royston Town v Tipton Town
---
7 December 2009
HISTON'S VIEW
Right: Robbie Williams awaits developments following an Anthony Danylyk challenge in midfield against Histon last Saturday. Robbie Lawton and John McAliskey are further upfield.
Histon have produced a match report which says that the Stutes "played out a disappointing 0-0 draw at home to Altrincham... The Stutes came up with very little in the form of chances, and could count themselves as lucky to have not lost this one... But a mixture of wasteful finishing from Altrincham and good Histon defending made sure of the draw... The second half was a similar story, Histon creating the odd chance, and Altrincham wasting theirs... Still continuing to prove why this season they have done so well, Altrincham spurned another chance just past the hour mark, Doughty displaying his fantastic crossing ability with yet another pearler of a delivery. In contrast to his earlier headed effort, Williams got this one on target, and he forced Naisbitt into a very smart save indeed to tip the ball over for a corner".
The Altrincham view is here.
BSP NEWS
Form team Hayes & Yeading report that "Striker Sean Canham has this week returned to his parent club Notts County at the conclusion of his successful three month loan spell. In 16 appearances Sean netted 6 times".

According to Blue Square Football "Kidderminster Harriers chairman Barry Norgrove claims that the club's top players have to be sold in order to keep the club on safe financial footing. Key striker Matthew Barnes-Homer is poised to join rivals Luton Town in January for a substantial fee...

Norgrove told The Shuttle: 'I cannot run this club without some sales, I haven't got the finances to do it. I think that we've done well in my time, we've been to Wembley, nearly made the play-offs and reached the third round of the FA Cup but I have to sell players. That's how it has always been, like when we sold Lee Hughes, and it will happen all the time because we can't afford not to sell players... Find me the money and I won't have to sell the Barnes-Homers and Creightons.

We do need more finances, this time last year we were in the FA Cup and made between £140,000 and £160,000 out of that run. We've got nothing at all out of it this year so it's a big amount down the line to be without. It's been very difficult with the recession and I am very worried because things are bad and people can't afford things and we will suffer. It's happening all over the league... We've got to manage until the end of the season and obviously I need some money coming in and selling players is the main way of bringing it into the club'".

Meanwhile news of our next opponents comes from the Daily Post which tells us that "Wrexham boss Dean Saunders complained a foul led to York City FC's 2-1 victory over the Dragons... Wrexham FC came back strongly in the second half, but Richard Brodie doubled York's lead with his 20th of the term, followed by Andrew Fleming's rapid consolation for Saunders' side...

The Wrexham FC manager said: 'The first goal was a foul on Curtis Obeng. (Wrexham FC keeper) Chris Maxwell says he was pushed over on the far post and the referee didn't see it... We didn't batter them, but we outplayed them in the second half... We have to pick ourselves up for Altrincham next week - we've got to plough on'".
---
6 December 2009
HISTON 0 ALTRINCHAM 0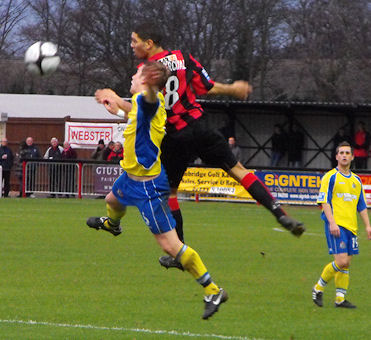 Altrincham took a deserved point at Histon and, indeed, went the closer to scoring, with Naisbitt the much busier goalkeeper. Overall, the game was hardly a classic and heavy rain in the second half did not help. Williams forced a fine save and Senior was also denied by the Histon keeper as the visitors gave a strong team performance based on a solid back three, with Densmore and Doughty getting forward up the wings. Match report here.

Right: Anthony Danylyk competes in the air with Nathaniel Knight-Percival as Chris Senior awaits the outcome.
Alty player stats.

In the NL Paper, it is reported that Histon manager Steve Fallon "made no attempt to disguise the fact that his out-played Histon had scrambled to earn their luckiest point of the season so far... 'We were lifeless and sloppy... and never troubled their goalkeeper... Their front pair (Senior and McAliskey) were very lively and they were generally too strong for us, they were brushing past us". Chris Senior told the NL Paper, "We had a plan for the game which worked well and we dominated. John McAliskey and I might have had two goals each on another day but we couldn't just get the goal we deserved. Their goalkeeper was man of the match for keeping them in it, although our defence had a firm grip and never gave them a look in. It was disappointing not to win but it's a good point at a difficult place'". The report adds that Senior "and McAliskey, a little and large attacking force, pulled the home defence all over the place, creating chance after chance, whereas Histon failed to force a single save from visiting goalkeeper Stuart Coburn in 90 minutes". The Paper names Greg Young as its Man of the Match and credits Alty with six shots on target to Histon's zero.

The Cambridge News agrees that "Histon were ultimately fortunate to come away from this match with a point as once again a lack of attacking threat almost cost them. Altrincham were more threatening and Danny Naisbitt had to save from John McAliskey and Anthony Danylyk in the early stages. Histon failed to trouble Altrincham keeper Stuart Coburn throughout the match... Naisbitt saved again from Chris Senior in the second half to keep the scores level and some resolute defending prevented the visitors from taking the lead".
GAME OFF
Today's Youth team match at home to Marine "A" has been postponed due to a waterlogged pitch.
FIXTURES
Tuesday 8 Dec:
FA Cup 2R
Luton T. 3 Rotherham U. 0
Barrow 3 Oxford Utd 1
Leeds U. 5 Kettering T. 1
OLD BOYS
Former Alty keeper Lance Key was in evidence at Histon yesterday in his role as the Stutes' goalkeeping caoch. Jake Sedgemore scored for Nantwich as they lost 3-2 to Bradford PA.
BSP NEWS
Our next opponents are Wrexham who report that "It was a disappointed Dean Saunders who saw his side lose out to York City, despite being the better side for long periods. 'We were chasing the game after conceding so early', he said. 'I thought we out played them in the second half, but we just aren't getting the luck in front of goal...There are times when you feel the luck is going against you... I think we are improving, but we still have to get better in front of goal. Now we have to pick ourselves up for next Saturday's FA Trophy game with Altrincham'", he said.

Barrow's excellent Holker Street Newsletter reports on the Bluebird's AGM from John Little's posting on the Barrow AFC's forum and the Evening Mail's report on the meeting.

The meeting, held in the Cross Bar, in front of 60 members, heard how the club's finances are much improved since this time last year. Barrow AFC more than doubled its income, from GBP450,167 to GBP934,527, due principally to last season's FA Cup run... As for revenue, GBP720,333 came from gate receipts, season tickets, prize money, League sponsorship, TV payments and transfer fees. Other contributions came from club sponsorship (GBP76,817), and revenue gained from the renting out Holker Street - Study Support and corporate and meeting room hire, community income and grants (GBP67,674). The club have also arranged a deal to store containers on the wasteland behind the Popular Side.

Going out the other way, the expenses for the year were GBP702,585, most of which were wages (players' and managers' - GBP345,825 up from about GBP125,000 last year). Other costs (administration and other football expenses, including travel) were GBP284,556.

Whilst this meant a net trading profit of GBP231,942, almost half of this went on reducing current liabilities: PAYE and VAT debts (GBP72,000), overdraft (GBP16,000), director's loans (GBP42,500) and outstanding bills and accruals (GBP14,000).

The Board pointed out that whilst the figures were good, there's no money this season from Setanta (it was estimated at GBP100,000 last season), and gates are down this season, the figure of 300-400 was mentioned on last season's average, which could mean a drop in annual income of GBP84,000".
NW NEWS
Apparently reliable sources report on the Northwich Vics forum state that "A circular went out [from the Vics] to all clubs in Conference and UniBond yesterday confirming [that] 'Due to a wage restructure all players including first team regulars are available for permanent transfer or long or short term loan. Fees will be required for certain players'".
---
5 December 2009
RESULTS
AFC Wimbledon 2 Gateshead 0
Barrow 1 Hayes & Yeading Utd 1
Chester City 0 Luton Town 0
Eastbourne Borough 2 Cambridge United 2
Forest Green 1 Rushden & Diamonds 0
Histon 0 Altrincham 0
Kettering Town 1 Salisbury City 2
Mansfield Town 0 Grays Athletic 0
Oxford United 4 Ebbsfleet United 2
Stevenage Borough 2 Kidderminster Harriers 0
Tamworth 0 Crawley Town 1
York City 2 Wrexham 1
HISTON GAME
It is hoped to provide matchday news from Histon before and during the game on Saturday, on the Update page.

Before Saturday's game with Altrincham the BBC has an audio interview with Histon boss Steve Fallon who is "likely to be without wing-back Gareth Gwillim (leg) and defender Adam Tann (shin). Striker Danny Wright (calf) and defender Craig Pope (infected leg) will also sit out the game while Erkan Okay is suffering from a hamstring injury. Altrincham have only one major injury doubt in Dale Johnson (knee). Striker Colin Little (virus) faces a late fitness test but Graham Heathcote is expecting to have an otherwise fully fit squad.

Histon boss Steve Fallon told BBC Radio Cambridgeshire: 'I read the other day that they've applied for the Football League so they've obviously got plenty of confidence in their ability. They've got an outside chance of getting into the play-offs and they've got points on the table so they should be very confident'".

Meanwhile, the Cambridge News tells us that "Kieran Leabon could return to the Histon starting line-up for the match at home to Altrincham after completing successful loan spells at Harrogate and Bury Town. The 21-year-old forward has impressed at Blue Square North side Harrogate and, with Danny Wright still sidelined through injury, the Stutes decided not to extend Leabon's loan period.

'Kieran has finished his loan spell at Harrogate and did very well', said boss Steve Fallon. 'He went on loan with the understanding that it would be to get him ready to come back into the first team. From the reports we've had we feel he's now ready. We knew what he was capable of but his confidence got knocked quite a bit in the first month. He's got his confidence and love for the game back and he's desperate to do well at Histon. He's only a young lad and we've got lots of hopes for him'.

Gareth Gwillim's knee injury means Nathaniel- Knight Percival will drop to left-back with Leabon and Jamie Barker taking up roles in attack and left midfield. Neil Andrews is expected to come in if the gash on Adam Tann's shin has not healed. 'We've tried one or two things up front. They haven't really worked and in the centre of midfield we've gone for two ball-winners. We need a bit of flair and pace from the players around them. We need to produce some stuff going forward'. Lee Smith is also likely to start after marking an impressive debut at Grays Athletic with the winner. 'Technically he's a very good player and we felt that role (behind the striker) would suit him', continued Fallon".

Histon (probable): Naisbitt, Oyebanjo, Langston, Bygrave, Knight-Percival, Long, Andrews, Kennedy, Leabon, Smith, Barker.

Altrincham (probable): Coburn, Densmore, Williams, Smith, Doughty, Kearney, Danylyk, Denham, Little, Senior, McAliskey".
CARDEN TRAINS AT ALTY
Friday's Manchester Evening NewsA reports that "Altrincham boss, Graham Heathcote, is giving a trial to all-action midfielder Adam Carden, following his unexpected release by FC United... It follows a clash between the fiery Liverpudlian and a member of FC manager Karl Marginson's backroom staff. .. Carden, whose brother, Paul, stars for... Cambridge United, has since trained with the Robins... Heathcote says he has yet to decide whether to make the player an offer but, should he do so, he could face competition from Carden's former club, Southport... Witton Albion and Chorley are also said to be chasing Carden".
BSP NEWS
FromBlue Square Football we learn that "AFC Wimbledon manager Terry Brown has revealed that he is due to hold talks with Gillingham about extending the loan stay of striker Luis Cumbers... He made just one appearance from the bench after a bout of bronchitis kept him on the sidelines for the first three weeks of his stay".

"Cambridge United have decided to recall striker Mark Beesley from his loan spell at rivals Chester City. The 28-year-old marksman returned to the club for training on Thursday... Cambridge boss Martin Ling told Cambridge News: '(Danny) Crow is probably 50-50, but Tonks (Anthony Tonkin) is still really bad. Danny Potter hasn't been feeling well either and didn't train yesterday but I expect he'll struggle through. We thought bringing back 'Bees' (Mark Beesley) was the right thing to do and he trained with us yesterday. He said it was getting a bit fraught up there towards the end and wasn't really working smoothly. But he's back a few days early and playing regularly has done him good because he looked sharp yesterday'".

Bullsnews tells us that "Stephen Vaughan snr has loaned his 'owner' son Stephen Vaughan jnr £36,600 to keep Chester in the Conference. The sum is the anticipated difference between sums due to the club from the Football League and the Premier League handout withheld earlier in the season, and their total presumed debt to footballing creditors. That would suggest that up to £350,000 is owed to footballing creditors, with a large chunk of it to the PFA.

Over on the Devachat forum the news has not gone down well, with many fans still intent on staying away until the Vaughans are long gone. There are also further claims that some of the youth team have not been paid for up to four months. Managing Director Bob Gray told the BBC that Vaughan senior has spoken to people about selling the club: 'He has seen people. In fact he saw somebody today. But he will not let the club go at any price. They're coming up with stupid figures. They don't realise the strength of the man. He's as thick-skinned as a rhino'".That should interest the authorities, as Vaughan snr told people last week he was no longer owner of the club...".

"Steve Evans has a simple message to Crawley Town supporters: You can't have it both ways" according to NL Football Live. "The Reds' manager hit out at fans who have become critical of his side in recent weeks, insisting it was impossible to cut the club's debt and push for promotion in the same season. Going into Tuesday night's clash with Oxford United the Reds were nine points adrift of the play-offs, but Evans said the results had to be put in context of the work the club was doing off the pitch. He said: 'The club was £400,000 in debt 18 months ago it is less than 50 now. That's why the nuggets out there who want to complain can't have it both ways'.

In his post match press conference following Saturday's 2-1 defeat at Gateshead, Evans cited numerous clubs who had been able to strengthen their squads before last Thursday's loan deadline. The Reds signed just one player last week, midfielder Peggy Lokando, but missed out on a number of other targets as the board would not sanction the spending.

'You can have what some clubs are doing, and we've seen the signings others did last week were players we went for', added Evans. 'We went for [Onome] Sodjie who went to Oxford, we went for Franny Green who went to Oxford, we've been for a lot of players but the difference is we are offering a third of what they are on wages wise while these other clubs are coming in and paying the full lot. But I don't just mean the big clubs who have got the resources, look at Gateshead. They sign [Daryl] Clare and Jon Shaw. We couldn't afford those players. We had Shaw last season but couldn't afford him so he had to go back'.

" Evans admitted if it was up to him the club would have strengthened the squad, but said he would accept the board's restrictions for the time being. 'The difference is there is a different type of strategy in the boardroom to what there is in the manager's office. We've been asked to stick with it until next year when Bruce Winfield and Susan Carter assure us we'll have a budget to be able to have a go, and want to be able to have a go'".

Further south in Sussex, The Argus says that "Skipper Paul Armstrong admits the statistics make pretty grim reading for Eastbourne Borough at the moment. It is 11 games since they last tasted victory in the league and a further four since they managed to keep a clean sheet in any competition. But the statistic that must be causing the most alarm at Priory Lane is the number of times Borough have thrown away a lead this season.

The good news is that Garry Wilson's side have scored first in 12 of their 22 games in Blue Square premier with only five clubs – including the top four in the division – boasting a better record. Tellingly, though, Borough have only gone on to win four of those matches while drawing the other eight – all 1-1 – and the fact they are yet to pick up a point after falling behind makes their inability to hold onto a lead even more costly.

Armstrong said: 'I'm not sure of the reason why it keeps happening. It is not a lack of fitness or effort but as a team we perhaps haven't defended as well as we could'".

"Gateshead will – with a sigh of relief – welcome back Daryl Clare to their line-up tomorrow – but midweek goalscorer Michael Mackay has been challenged to stake a sustained claim to a place in the team" claims the Chronicle Live. "With Clare unable to face his parent club Mansfield Town on Tuesday, Mackay returned to the starting XI and scored only his third goal of the season. Clare previously had six in five games... He will return to the side to face AFC Wimbledon tomorrow, amid a number of changes following a disappointing display in the second half against the Stags. Left winger Peter Winn sustained an ankle injury set to keep him out for up to three weeks, meaning like-for-like replacement Wayne Phillips or central midfielder Phil Turnbull, who has recovered from a dead leg, could come into the reckoning. Chris Swailes and Mark Robinson could replace Darren Williams and Phil Cave respectively".
NW NEWS
"Northwich Victoria's owner believes the team's FA Cup success has given the town a glimpse of what the future could hold for the club" reports NL Daily. "Jim Rushe said 'What a sight to see the stadium so full' after Vics' 3-1 defeat against Lincoln City... 'It was a wonderful experience to be in the national spotlight like we have been over the past few weeks'... A total of 3,544 people watched the match at the Victoria Stadium, surpassing the previous record for a game at Vics' home patch... 'I think the team proved it is making progress and they can only continue to get better in the future'. That future will include the company that pays the players' wages, Northwich Victoria Football Club (2004) Ltd, coming out of administration. Rushe said that money made during Vics' cup run would help him come to an arrangement with the tax man – owed more than £465,000 – to pay off half the club's debts under a Company Voluntary Arrangement (CVA).

He said then his attention would turn to building a successful team on the pitch. 'I'm looking forward to seeing how many people we have persuaded to follow Northwich Victoria on a more regular basis'", he told the Northwich Guardian. However, Vics lost to Hinckley in midweek with just 451 attending the Marston's Arena.

On Friday Vics announced that they had been allowed to sign two players, despite not yet emerging from administration.
---
4 December 2009
GRAHAM DIDN'T SAY IT
Graham Heathcote wishes to make clear that the headline used in The Sale & Altrincham Messenger above the article which appears lower down this page under the title 'Alty's Bid' is not a quote from the Altrincham boss. The newspaper headline is 'Put money where your mouth is for our league dream'. Whilst Graham is very appreciative of the fundraising to date towards the £1000 cost of registering for possible promotion to the League, he is only too aware both of the harsh economic climate and the fact that if we were to find ourselves in the League, a huge amount of investment would be needed to improve the ground. Graham and, indeed, the Football Club, certainly did not challenge the supporters to raise the money and both wish to thank everyone who has contributed to the cause.
COLIN OUT
Alty striker Colin Little (right) will miss tomorrow's game at Histon as he is suffering from a viral illnesss.
ENJOY THE GAME
The following Premiership matches, broadcast by Sky Sports HD or ESPN HD, will be shown live in the bar at Moss Lane. Please support your local club and come and watch them; everyone is welcome.
| | | | |
| --- | --- | --- | --- |
| Sat. 5th Dec. | Man. City v Chelsea | k.o. 17.30 | bar open 17.00 |
| Sat. 12th Dec. | Man. Utd v Aston Villa | k.o. 17.30 | bar open 17.00 |
| Wed. 16th Dec. | Tottenham v Man. City | k.o. 20.00 | bar open 19.30 |
| Sun. 27th Dec. | Hull City v Man. Utd | k.o. 16.00 | bar open 15.30 |
| Mon. 28th Dec. | Wolves v Man. City | k.o. 19.45 | bar open 19.15 |
OPPONENTS' WORRIES
Altrincham are away at Histon on Saturday. The Cambridge News reports that "Adam Tann believes he is "touch and go" to be fit for Histon's home game against Altrincham on Saturday. The 27-year-old had to be stretchered off the pitch during the Stutes' 1-0 win at Grays Athletic on Tuesday night... He said. 'I'll be doing everything I can to make myself fit, but I'm old enough and wise enough to know I've got to be careful and must make the right decision at the end of the week. At the moment it's too early to say, but I think I'll be touch and go for Saturday'.

Tann suffered a severe gash in his left shin midway through the second half at the New Rec but, after having stitches put in, is now walking quite freely.... He said, 'After the tackle I looked down at my leg and could see a bit of white, which I thought was my bone, or close to it. It was a bit of a shock and was not a pretty sight'... Impressive displays from Adam Bygrave cost him his place in defence earlier in the season, but boss Steve Fallon's decision to play Tann alongside John Kennedy appeared to be paying off.

'In my first game in midfield I was a bit all over the place getting used to the position. But in the last couple of games I've shown my worth and really enjoyed it in there', said Tann... Also of concern to Tann is the injury suffered by Gareth Gwillim in the same match. The left-back suffered what is believed to be medial ligament damage and could be out for several weeks... 'Fingers crossed it's only a mild strain'" said Tann.
SPONSORS
Barry Pond's latest list of Altrincham FC Matchday Sponsors is now on the website. If you would like to sponsor a match or enjoy matchday hospitality, please contact Barry at the club (0161 928-1045).
ALTY'S BID
Altrincham FC's joint press officer John Edwards writes, "Football League fever gripped Moss Lane on Tuesday night in a remarkable response to Altrincham's decision to put themselves forward as candidates for promotion from the Blue Square Conference.

Though only around 600 Alty fans braved the elements, in a disappointingly-low 832 crowd, they dug deep for a half-time bucket collection to raise £300 towards the £1,000 cost of applying for a place in the League.

The non-refundable payment had to be made by the end of November, to cover an inspection of facilities at the ground by League officials, and was not budgeted for at the start of the season.

But, while there is a general acceptance that promotion may well prove a step too far, Alty bosses wanted to send out a positive signal and have been hugely encouraged by a reaction that has also generated nearly £250 in donations from the fans' forum.

'Since winning promotion from Blue Square North in 2005, our priority has been to maintain our status in the highest level outside the Football League,' said vice-chairman Grahame Rowley. 'But this season, Graham Heathcote has assembled a team that has shown it is capable of pushing for a play-off place, and the Board decided to pay the application fee to support the dream of bringing League football to Moss Lane.

'We really need our supporters to help financially by supporting the S.O.S.(Strengthen Our Squad) Fund that our Supporters' Club (TASC) has launched. We have a very good team here now, but a very small squad, and we need to do everything we can to help the manager invest when the transfer window opens in January.'

Alty are still only seven points off the play-off places, despite a 1-0 defeat by Barrow that underlined their problems at home this season.

'It's just so disappointing that, once again, we've created chances in a home game - a couple of clear-cut ones in the second half - but failed to take them,' said Heathcote. 'We will have to work with what we've got on the training ground to try and put it right'".
TASC NEWS
The latest TASC Newsletter is now available. You can join The Altrincham Supporters' Club on any matchday in the club shop or by contacting the football club.
BSP NEWS
Blue Square Football says that "Kidderminster Harriers chairman Barry Norgrove believes that the sale of Matthew Barnes-Homer represents good business for the club. Barnes-Homer signed for Luton Town during the week and Norgrove... told the Kidderminster Shuttle: 'This started in the summer, when I spoke to Matthew over a number of months trying to get him to sign (a new deal). A lot of clubs were mulling over signing him then and of course with the Bosman Ruling, he would have left and a fee would have been decided by a tribunal. I don't think we'd have got that much money for him. The only way I could keep him in the summer was to give him a contract with a get-out cause that if a bigger club came in for him, and it was right for the club we wouldn't stand in his way. We weren't prepared to accept less than £50,000 but there wasn't a top end limit... He wanted to go to someone decent and a lot of clubs were interested in him, so it was up to me to do a deal that got good money for him. I stood my ground, stayed strong and stuck to what I wanted. It was a battle of nerves and I knew one of the clubs would come up trumps. It's a cracking deal for the club'".

More on this comes form the Worcester News which says that "Barry Norgrove... has promised that manager Mark Yates will get a slice of the cash from the sale of Matthew Barnes-Homer... The Aggborough outfit are set to pocket a five-figure fee, thought to be in the region of £75,000, for the nine-goal striker... As part of the deal, rookie striker Ryan Charles joined Harriers from Luton on a month's loan, while Kettering Town forward Damian Spencer also came to the club for the same period. Like many Football Conference clubs, Harriers have been hit hard by the recession and the collapse of Setanta Sports...

'We want to rebuild and get into the play-offs, we've got two players on loan and we've got a chance to look at them', commented the chairman. 'If we're still going strong in January and Mark wants to get one or two out and a few in we'll look at the deals, but we won't be going mad'... Left-back Daniel Andrew has extended his loan from Peterborough United for another month".

From Kettering Town, we learn that "The Club can now confirm that we have had final international clearance this afternoon to sign and register Alton Thelwell. The 29 year old central defender joins from Newport County and is a former Tottenham, Hull City and Leyton Orient player".

Meanwhile, Bullsnews reports that "Kettering have released former Bulls' [Hereford] striker Moses Ashikodi after his monthly contract was not renewed. He reacted badly to being substituted twice in recent games, the second time televised live during their FA Cup draw with Leeds, and had also reportedly had a scuffle with a teammate during a previous game. Despite scoring seven times in 16 appearances he has been shown the door. His attitude problems have seen his career spiral downwards since playing top flight football in both England and Scotland and representing England at three age levels. He was released from first club Millwall for threatening a team mate with a knife, and even during his stint with the Bulls Steve Guinan admitted 'we couldn't work out what he was about'".

"Dean Saunders will offer veteran defender Frank Sinclair a contract extension at non-league Wrexham", according to the BBC. "The former Chelsea and Leicester star, who celebrates his 38th birthday on Wednesday, has impressed the Wrexham boss since he signed him in August... Saunders said: 'He is different class, exactly the type of character we need'. One-time Premier League stalwart Sinclair signed a one-year deal at the Blue Square Premier club earlier this season... 'I'm giving him a new contract', said Saunders. 'Hopefully he will sign another one for next year. He is a terrific professional and plays every game as if it is his last game of football'... Sinclair... signed for Wrexham on a free transfer after being released by Lincoln City at the end of last season".

"Ebbsfleet's immediate future appears to have been safeguarded this week following votes made by MyFootballClub members" reports Kent Online. "Fleet officials were desperate to boost funds by increasing the annual membership fee from £35 to £100 and buying the MyFC Operating Agreement from founder Will Brooks for £15,000.

Brooks had previously taken more than 20 per cent of the membership fees to cover the cost of running the website but the purchase means MyFC can keep all the cash and will pay for the running of the site itself. Both the decisions were overwhelmingly backed by members in online votes last week and Ebbsfleet chairman Duncan Holt said 'The members have done a good job for the club by voting this through... We are now working out exactly what numbers we need. We are now a minimalist club – less is more. We would rather have 3,000 members paying £100 each than 5,000 paying £35'... Members also voted to scrap the Pick The Team function – which was one of the most high-profile aspects of the MyFC experiment but was never put into practice.

Mr Holt added: 'Even though we had 30,000 members, there were still only 200 or 300 picking the team and it was never acted upon'".

Before the announcement last night that Chester City had secured their continued existence in the Conference, the Liverpool Daily Post reported that "It is understood that City's owners have been instructed to pay the differential between an agreed parachute payment from the Football League and football related debts, outstanding from the period prior to the Deva Stadium outfit entering administration in the summer... Even if Chester receive a stay of execution, it is unclear how the club propose to continue for the rest of the season, given the apparent parlous state of their finances".
---
3 December 2009
CHESTER LIVE TO FIGHT ANOTHER DAY
"The Football Conference Limited issues the following statement in relation to Chester City FC, as of 3rd December 2009….

The Football Conference and the Football League have been working together to reach a decision over the release of discretionary payments in favour of Chester City FC, thereby retaining the integrity of both competitions and enabling legal undertakings and orders were met by the Club.

As part of a commitment made by Chester City FC towards settling these matters, Chester City FC agreed to make up any potential shortfall between the funding due and football creditors. The Club has, therefore, lodged a payment of £36,600 with the Football Conference. Upon clearance of such payment and release of that funding, the threat of expulsion from membership will be withdrawn.

Brian Lee, Chairman of the Football Conference states: 'Together with my fellow Directors and staff at the Football Conference; and with our other football partners, particularly the Football League and the PFA, everyone has worked tirelessly to save Chester City FC from expulsion. The Club's recent history should send a warning signal to every club'. He added: 'In anticipation a satisfactory conclusion will be reached, we are hopeful those who have supported the club through such difficult times, especially the fans on the terraces, appreciate the position we as a competition faced in dealing with this situation. We wish all those currently connected with Chester City FC will ensure the club deal promptly with all matters of financial prudence in the future and our combined efforts will not have been in vain'".
HISTON
Altrincham FC Safety Officer, Darren Gregory writes: "I have received the following information from Histon's Safety Officer. Altrincham supporters will be allowed in the club bar before the game but will have to leave before kick off and then enter the ground by the correct turnstile".
WREXHAM PRICES
Wrexham have informed Altrincham of the prices for their FA Trophy clash on 12th December. These will be the same as the Welsh club's league admission prices. There are three ways of purchasing tickets:

On matchday:
Adults £15
Concessions £10
Under 16s £5
Under 7s Free

In advance: Tickets will be available for purchase at the club offices at Moss Lane from Tuesday, 1st December, between 9.30am and 5pm on weekdays or at the Barrow game on Tuesday, 1st December.
Adults £12
Concessions £8
Under 16s £5
Under 7s Free

On line:
Adults £10 plus a £1.50 booking fee per ticket = £11.50
Concessions £6 plus a £1.50 booking fee per ticket = £7.50
Under 16s £3.50 plus a £1.50 booking fee per ticket = £5
BARROW VIEW
Barrow report that "An 85th minute 25 yard strike gave Barrow a deserved win at Altrincham on Tuesday. Barrow had dominated for long periods but failed to find the net until the on-loan winger's late effort. Paul Rutherford and Craig Nelthorpe broke at will and Barrow saw Gregg Blundell and Paul Rutherford go close twice each... while the home side also squandered a few chances in front of goal".

And the BBC adds that "Barrow joint boss Dave Bayliss was delighted with the way his side controlled the game... The Bluebirds have now lost just once in their last 14 games in all competitions. Bayliss told BBC Cumbria: 'We got a deserved goal and were worthy winners. Looking at the stats, we had 10 shots on target compared to their one, and that shows our complete dominance'. Despite being on top throughout the game, Barrow had to wait for the breakthrough, with Nelthorpe's 25-yard strike coming five minutes from the end... 'The longer the game went on you thought it might be one of those nights where you dominate the game but they go and nick one', he said. 'From start to finish, I thought the wingers - Nelthorpe and Paul Rutherford - were a real nuisance. If we'd have won the game by four or five, nobody could have complained'".

In similar vein, the NW Evening Mail claims that "If there is any such thing as a 1-0 thumping then this was it. Barrow out-footballed, out-played and out-classed their hosts... Chance after chance after chance – 19 to be precise – the Bluebirds created on what looked set to be one of those frustrating nights. That was until the 85th minute when Craig Nelthorpe – playing his third game of an eight-week loan spell from York City – popped up with a goal worthy of winning any match... and secured the club only a third ever win at Moss Lane in the last 37 years.

The victory was exactly what the Bluebirds deserved from what was, without a doubt, one of their best performances of the season. Joint-manager Dave Bayliss... went as far to say it was 'probably the most complete performance' of their tenure... Playing a 4-3-3 formation, which at times became 4-5-1 when defending, AFC were able to boss the midfield, with veteran Sheridan – who celebrates his 42nd birthday this month – rolling back the years with a masterclass in how to play the anchor role... The 22-year-old Rutherford enjoyed probably his best game to date in a Barrow shirt as he terrorised England C right Shaun Densmore with his pace and trickery... Altrincham, meanwhile, failed to work Barrow keeper Stuart Tomlinson in the entire first half and mustered just three shots off target".
YOUTH REPORT
George Heslop's report on the Alty Youth team's win over New Mills is now in the Youth section, along with the latest fixture list.
BSP NEWS
Wednesday 2 Dec.:
Luton Town 0 Kettering Town 1
League table.

The BBC reports that "Mansfield Town say they were aware of the betting charges against recent signing Andy Burgess before they brought the midfielder to Field Mill. Burgess has been charged by the Football Association with two counts of betting on matches in which he played, while he was with Rushden & Diamonds. A club spokesman said: 'We were aware of this prior to Andrew joining us. We have spoken to Andrew about the matter and we don't anticipate any issues arising as a result of this'. Burgess, 28, has moved to Field Mill initially on loan but an 18-month contract has been agreed for him to sign in January."

"Ebbsfleet United boss Liam Daish says his players are now starting to believe they can get out of the relegation mire after back-to-back wins. The Fleet had gone seven months without a home win, but they followed up their victory over Mansfield Town by beating Stevenage Borough at Stonebridge Road. 'We'll drag ourselves out of it if we keep believing in ourselves', Daish told BBC Radio Kent. 'There's a bit of hope and belief coming back'" he added.

News of our next opponents comes from the Cambridge News. "Gareth Gwillim could face weeks on the sidelines after suffering a knee injury during Histon's 1-0 win at Grays Athletic last night... 'We think GG (Gwillim) has done his medial ligaments, so it's not good', said Stutes' boss Steve Fallon.... Histon were dealt an earlier blow when Adam Tann had to be carried off on a stretcher just before the hour with what is believed to be a serious cut on his leg. 'We picked up a couple of bad injuries, so from that point of view it's been a bad day, but it's a great result for us', said Fallon...

Debutant Lee Smith volleyed home Gwillim's cross... Fallon started Smith in the role vacated by Josh Simpson and believes he could be the ideal replacement. 'He's very good technically and an intelligent footballer'. he said... There was no place for Michael Frew in the starting line-up as Steve Fallon opted to start with Barker up front".
---
2 December 2009
ALTRINCHAM 0 BARROW 1
Right: John McAliskey and Chris Senior are seen in the game against Barrow.
Match report.
HISTON TRIP
TASC is arranging transport to the Altrincham game at Histon this Saturday. Details are on the away travel page. Please note that TASC transport will no longer make a pick up at Station House, Altrincham but will proceed directly from the Hare & Hounds at Timperley to Moss Lane. Bookings can be made, during office hours, by ringing the club on 928-1045.
UNITED GAME OFF
Altrincham FC have been informed that Thursday's game at Moss Lane between Manchester United Reserves and Bolton Wanderers Reserves has been postponed.
RESULTS
Tuesday 1 Dec.
Altrincham 0 Barrow 1
Cambridge United 1 Chester City 0
Crawley Town 1 Oxford United 2
Ebbsfleet United 2 Stevenage Borough 1
Gateshead 1 Mansfield Town 3
Grays Athletic 0 Histon 1
Hayes & Yeading Utd 1 Eastbourne Borough 1
Kidderminster Harriers 0 Tamworth 0
Rushden & Diamonds 0 York City 1
Salisbury City 0 AFC Wimbledon 2
Wrexham 1 Forest Green R. 0
Through the Years by Howard Watts
JACKPOT GROWS
The jackpot in the Altrincham FC Saturday Yankee is now £1,900 after it was not won this week. There were, however, six winning "trebles", each netting the entrant £33.33. Click the Yankee link for details of how to win big money for a £1 stake.
HISTON REF.
Mr M J Amphlett is the referee on Saturday at Histon; he oversaw our 2-0 reverse at a rain lashed Kettering in September.
FLYNNZINE
Tuesday night's Robins ' review carried Brian Flynn's latest "Flynnzine"...

I recently received the following letter from the children of Jack Swindells, the Altrincham goalscoring legend who sadly passed away in June this year.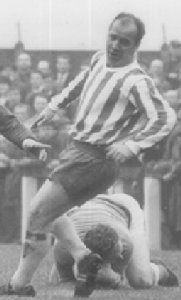 Dear Brian,
Please find enclosed a cheque for £90 as full payment for the Jack Swindells squares on your pitch sponsorship scheme. (See here for details of MySquare). We are all pleased to be able to make a small contribution in recognition of Dad, both because Altrincham F.C. was such an important and happy part of his, and our childhood, lives; and also as a very small thank you for the support given to us all through, messages, the club website and personal contact when he died. That support and knowing how much he was thought of by all at the club made us all stronger at what was a devastating time for each of us.
We are very proud that he lives on in the memories of so many people.
With grateful thanks, and our good wishes for a successful season.
Sincere regards,
Jill, Neil, Martin and Lynne Swindells.
It was lovely to receive such a heartfelt letter from the children of the player that many Altrincham supporters consider to be the legend of club legends. Jackie scored the first goal that I ever saw Altrincham score in a Cheshire League game in March 1967....a 2-1 victory over Ellesmere Port and I also saw his last goal at Moss Lane in 1972 in an FA Cup 2nd Qualifying Round tie, when playing for Radcliffe Borough, he made it 2-0 to the visitors with a fine header. An Andy Windsor hat-trick eventually saw the Robins home that day but oddly enough it is only Jackie's goal that I can still picture.
Jackie was a truly unassuming character, amazed that his goalscoring feats are still so highly revered at Moss Lane. He visited the club on a number of occasions during the last few years of his life with his final visit being for the game against Kidderminster Harriers last April....the day before his 72nd Birthday (incidentally Jackie had the same birthday as Bobby Moore).
Thanks for the memories Jackie.....265 goals in 322 games for Altrincham......never to be matched!!
Brian
BSP NEWS
The Football Conference announces that "York City striker Richard Brodie has won the Blue Square Premier 'Player of the Month' award for November...and York City boss Martin Foyle has won the Blue Square Premier 'Manager of the Month' award for November".

The FA announces that Andy Burgess, currently at Luton Town,C has been charged with "Two breaches of FA Rule E8a – bet on result of a Match in which participated; bet on progress or conduct of a Match in which participated. Burgess has until 4 December 2009 to respond". The matches in question were Rushden & Diamonds FC v Mansfield Town FC, 28 February 2009 and Rushden & Diamonds FC v Kidderminster Harriers FC, 15 November 2008" when Burgess played for the Diamonds.

On Tuesday the Liverpool Daily Post observed that "Chester City's membership of the Football Conference is hanging by a thread this morning, following a decision from the league's management last night. It is understood that football related debts owed to Wrexham and Vauxhall Motors still haven't been settled, whilst there is still certain outstanding paperwork which hasn't been received by the Conference.

City had been given a deadline of yesterday to settle, or reach an agreement with their creditors as well as present all the paperwork that had been previously been requested. It appears that Chester are endeavouring to utilise the Football League Parachute Payment to settle debts, but that money still hasn't been forthcoming following the club's summer fall into administration... The Conference have convened an emergency board meeting of their management committee, which will be held in Birmingham on Thursday"
---
1 December 2009
BEFORE THE GAME
Before the game at Moss Lane, Barrow announced that "The Bluebirds, fresh from their fine away draw at Oxford on Saturday, will welcome back cup-tied duo, Craig Nelthorpe and Jordan Bowery to the squad. Paul Jones and Jason Walker remain doubts after injuries prevented them from starting on Saturday, while Robin Hulbert suffered a groin spasm at The Kassam Stadium and will also need an assessment on his fitness. Definitely out is loan winger, Marc Goodfellow who took a knock to his ankle on Saturday. Other loan signings, Gavin Rothery and Gregg Blundell are available though, as Barrow look for revenge at The Robins somewhat flattering 3-0 win at Holker Street in August.

Barrow squad: Tomlinson; Deasy; Spender; Jelleyman; Bolland; Pearson; Jones; Rutherford; Hulbert; Bond; Boyd: Sheridan; Walker; Blundell; Rothery; Bowery; Nelthorpe; Kamara; Bayliss. "

Barrow joint-boss Darren Sheridan, ahead of Tuesday's league game with Altrincham, told BBC Radio Cumbria: "The league is the priority, we've got to get out of that pack at the bottom. We've got to go there and win to give ourselves a bit of breathing space".

The Robins won the reverse fixture at Holker Street back in August, 3-0, thanks to goals from Kearney, Senior and Crowell. Alty have not played since last Tuesday when they won 2-0 at Tamworth but their home form has been less impressive than when on the road this season, with just two wins to date at Moss Lane.

Barrow, who won 4-3 at Moss Lane last season, came away from league leaders Oxford United with an impressive draw in last Saturday's FA Cup tie and are looking to secure an away tie at sunderland in the replay to be played next week. Marc Goodfellow, Gregg Blundell and Gavin Rothery have all joined the Bluebirds on loan deals this week from Burton, Chester and Carlisle respectively.
Right: The teams come onto the pitch at Holker Street on 11th August 2009.
In their last game, the Oxford Mail reported that "Barrow joint-manager Dave Bayliss thought his side were full value for their draw. 'We deserved the draw', he said. 'I thought Gregg Blundell was absolutely superb up front on his debut, he worked his socks off, and Marc Goodfellow also did well. Our lads stuck to their game plan, our midfield were excellent, and we played really well'".
FOOTBALL LEAGUE BID
Altrincham FC press release from Brian Flynn:

Players inspire Football League bid by Robins!

Altrincham Football Club's progress on the field this season has led to it making a last-minute application to join the Football League, should they qualify at the end of the season. Whilst the club recognises that it is highly unlikely that it will finish in pole position, the Robins are currently in 10th place in the Blue Square Premier just six points behind a play-off spot and the Board have taken the bold step to pay the £1,000 that is required by the end of November by each club which wishes to participate in the play-offs and go through the ground inspection process required by the Football League.

Vice-Chairman Grahame Rowley said 'Since winning promotion from Blue Square North in 2005, our priority has been to maintain our status in the highest level of Football outside the Football League, but this season Graham Heathcote has assembled a team that has shown that it has the capability of pushing for a play-off place and the Board has decided to pay the application fee to support the dream of bringing League football to Moss Lane. This application was not part of our budget planning process and we now really need our supporters to help financially by supporting the S.O.S.(Strengthen Our Squad) Fund that our Supporters' Club (TASC) has launched, starting with the bucket collection at Tuesday night's home game with Barrow. We have a very good team here now but a very small squad and we need to do everything we can to help the manager invest when the transfer window opens in January".
YOUTH TEAM
The latest Altrincham FC Youth team league table is on the NWYA site.
TASC ACCOUNTS
The annual accounts are now included in the latest TASC committee minutes.
BSP NEWS
Between 8.30pm and 9pm on Monday night the Football Conference issued a statement:

The Football Conference confirm that positive discussions have continued today between themselves, the Football League and Chester City FC concerning the club's continued membership and participation in the Blue Square Premier.

We are able to report that the Football League is playing an active role in endeavours to ensure the Club is able to meet its financial commitments regarding their legal undertaking to settle with creditors which formed part of their requirement for membership in 2009/10, and which also incorporates payment to creditors which the Club has with the Football Conference.

To enable the Football League to provide maximum assistance in drawing matters to a satisfactory conclusion, Tuesday evening's match (1st December) between Cambridge United and Chester City will proceed as scheduled.

The Football Conference will then convene an emergency Board meeting on Thursday, 3rd December to receive a report from the joint deliberations between all parties, before discussing what further action may be necessary in light of the information provided. Following that meeting the Football Conference will issue a further statement. Before the above statement, according to the BBC "Chester City expect to find out their immediate fate by the end of Monday... City were already due to be dealt with on Monday regarding their continued non-payment of debts to creditors. But the Blue Square Premier bottom club now face a new investigation following Saturday's pitch protest.. They will almost certainly have to answer both to the Football Association, as well as the Football Conference.

Conference general manager Dennis Strudwick told BBC Sport: 'I'm waiting for the referee's report... All misconduct charges are dealt with by the FA. But the Conference will deal with what happens with regards to the game itself'... The precedent already set by the Conference suggests that they will be further punished...

As for Chester's financial fate, the club have been threatened with expulsion from the Conference if they do not settle outstanding debts to the Professional Footballers Association, as well as to two neighbouring clubs, Wrexham and Vauxhall Motors. But Chester are holding out for their share so far of the £225,000 discretionary parachute payment due to them from the Football League. That already amounts to a six-figure sum. And they are also due an as yet unpaid £70,000 share of the £1m payment kindly made by the Premier League in September to help all 68 Conference football clubs cope with their 'current financial difficulties'.

Conference boss Strudwick added: 'It's not a problem that can be solved by the Conference or Chester City but there might be a solution provided by the Football League. We've done our best to promote the game and to help Chester but the creditors have to be paid... We hope the Football League can help. And we know they're keen to come to the party'".

Meanwhile "Former Chester owner Stephen Vaughan is keen to offer his continued support to the troubled club despite being banned from serving as a company director. Vaughan admits that he has effectively now 'retired' from football after his 11-year ban for an alleged VAT fraud began this week. But, after putting his shares in eldest son Stephen's name, he insisted 'I will still support the club'... 'There will still be money available. All I've ever done is put money into Chester and that will still be the case'...

But midfielders Michael Coulson (Barnsley) and Clark Keltie (Rochdale) and defender Johnny Flynn (Blackburn Rovers) have now all been allowed to return to their parent clubs, only to be sent straight back out on loan to other clubs. And experienced striker Gregg Blundell, frustrated by his lack of first team starts, was allowed to join Barrow on loan on Thursday...

'I believe common sense will prevail', said Vaughan. 'I can understand why the fans are frustrated and we know mistakes have been made. In hindsight, we should have gone into administration last season and taken the 10-point penalty then and we wouldn't be in the mess we're in now. But we were just preoccupied with trying to keep the club in the Football League and all we are concerned about now is the future of Chester City Football Club. The Conference have gone out of their way to help us throughout all this and I'm sure it will all be sorted on Monday. We've just got to take what's happened on the chin and try to pull together as a club... I'm not settling for relegation again. I still think there's hope. I say let's get to the New Year and see where we are then'".

Non-League Football Live reports that "Blue Square South high-flyers Newport County's central defender Alton Thelwell is expected to join Kettering Town this week. The former Tottenham Hotspur star... is keen to return to full-time football". and "Kettering player-manager Lee Harper has revealed he will delay his retirement for another month if the Poppies can beat Leeds in their FA Cup replay. 38-year-old Harper put in a solid performance against the Whites on Sunday...

He told the Daily Star: 'If we beat Leeds I'll play against United if I have to go there in a wheelchair. I'm only 50 per cent fit and I knew the manager's job would be tough. But I think I can keep going for another month. I would have seriously considered retiring if we hadn't made it into the third round draw. People remind me of the day when I saved a penalty from Forlán after Ronaldo had been fouled when I was playing for Northampton. It was a fantastic day but United still won 3-0. I

From Chester First comes a report that "After their home match was abandoned when fans stormed the pitch to protest against the current ownership... Bob Gray, the club's managing director, said, 'I'm totally upset about the game being abandoned. I thought the first demonstration was handled well by the stewards. They got their point across, but then returned to the stand to allow the game to progress... One or two people got onto the pitch again in the second half and the police felt then that it was in the best interests of public safety that the match be abandoned. It was the police's decision to abandon the game... It was certainly not our decision as a club... We had the right amount of stewards for the game to go ahead, but unfortunately people have took it upon themselves to demonstrate...

I feel that some people have got short memories. They don't know what goes on behind the scenes at this football club or how hard one or two people really work here. Stephen Vaughan works tirelessly for this club and I honestly don't care what people think about me. We've both been at the club up until 9 or 10pm in trying to work out how we can better things at the club. But at this moment we stand alone. 98 per cent of people want change, but what people have to remember is that he has put a lot of time and effort and finance into this club and he just wants a little bit back. I don't think that is much to ask. If there is anybody out there who can come up with the money and want to take the club over and move forward, Stephen would be the last person to stop them from doing that...

If they do pay us the parachute payment then we can pay our footballing creditors... I'm sure we will be sympathetic about the protestors being arrested because we don't hold grudges'".

And Jim Harvey admitted he was expecting more misery for his struggling club... Harvey said: 'I've never seen anything like what happened today. It was a first for me. I've seen a game abandoned on television, but it's never happened to me in real life... A protest on the pitch should never lead to the abandonment of a match... To lose the match because of an abandonment was really disappointing for us'... Eastbourne Borough boss Garry Wilson admitted 'This has happened to me once before when I was manager of Hastings and their game against Crawley Town was abandoned... I never expected an abandonment, especially when Chester were in a winning position. It's not for me to decide whether the game will be rearranged, but it's difficult for a part-time club like ours to make a long midweek trip back up to Chester later in the season. I just hope that Chester can have some good news. I feel sorry for Chester, it's a fantastic set-up here and they've got a good manager. It's sad for them to be part of this. Hopefully they can survive and sort it out'"."

This is Nottingham reports that "Daryl Clare could have an important role to play for Mansfield Town in the New Year, boss David Holdsworth re-iterated. The striker has scored six goals in his last four games since being loaned out to Gateshead... Clare will remain with the north-east side until the beginning of January...

'As I have said before, at the time Clarey went out on loan he was frustrated because Kyle Perry and Rob Duffy were the first choice front two and scoring goals'," he said... 'Hopefully he will come back to us full of confidence and we will welcome him back with open arms'. Mansfield go into tomorrow night's clash [at Gateshead] without striker Rob Duffy at a time when fellow hitmen Kyle Perry (thigh) and Jake Speight (knee) are already unavailable. Holdsworth said: 'All three of our main goalscorers this season won't be playing'".

Stevenage Borough announce that "The club would like to inform supporters that it will be removing its ticket price categorisation policy and replacing it with a single tier pricing strategy as of the 1st December. Ticket prices for the new single tier policy will be as follows:
Stands: Adults: £16, etc.
Stand Terraces: Adults: £13, etc."

And finally, having two players out clearly spells trouble for Oxford United who report that for their next game "Onome Sodje and Franny Green will be available up front having both been ilegible for the weekend's Cup action".
---
FOR EARLIER NEWS, CLICK HERE
---