---
31 August 2009
ALTRINCHAM 1 CHESTER CITY 1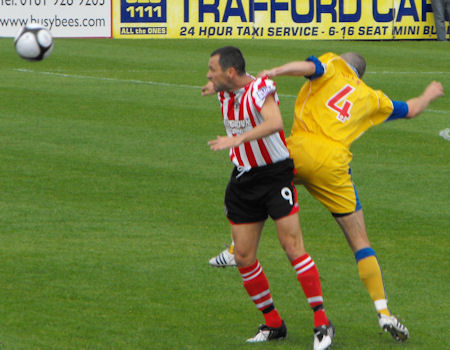 Right: Tim Ryan gets to grips with Alty's Colin Little.
Altrincham's threadbare squad took a deserved point against their Cheshire rivals and, had Dale Johnson been sharper in front of goal when he missed two good second-half chances, the Robins might even have taken all the points. But Chester went close themselves on several occasions so the outcome was a fair one.
Alty player stats
Monday 31 August
Altrincham 1 Chester C. 1
Eastbourne B. 1 Ebbsfleet U. 2
Grays A. 2 AFC Wimbledon 4
Hayes & Yeading U. 3 Salisbury C. 4
Histon 0 Stevenage B. 2
Mansfield T. 0 Kettering T. 0
Oxford U. 0 Forest Green R. 0
Rushden & Diamonds 1 Cambridge U. 1
Tamworth 2 Kidderminster H. 1
Wrexham 0 Barrow 0
THIRD SIGNING
Altrincham FC have this morning signed 18 year-old Manchester United reserve right-back Scott Moffatt on a month's loan. By coincidence, Scott's return to action last week, after an 18-month absence due to knee surgery, was at Moss Lane when he came on as a substitute and scored as United Reserves beat Bury Reserves 5-0 in the Manchester Senior Cup. Scott was born in Openshaw on 7th December 1990. On the MU Soccer Schools site Scott says, "I'm good defensively, so I'm quite strong and good in the tackle, but I also like to get forward when I can... I first got spotted playing for my local team St. Vincent's when I was 12. There was a United scout that had been watching me for a few weeks. I was a bit nervous because I knew they were there to see me play. Then they came up to me after the game and told me they wanted me to go for a trial. Obviously my answer was 'yes' and I haven't looked back since".

Scott signed as a scholar at MUFC in July 2007 and was a member of the United team which won the Champions Youth Cup in 2007, and was also in the side which reached the FA Youth Cup final in 2006/07.

He is expected to go straight into the Altrincham squad for today's game alongside yesterday's signings, midfielder Danny Edwards, (loaned by Port Vale), and former Wigan Athletic defender, Andrew Pearson. Scott will wear squad number 22, whilst Danny has number 17 and Andrew will be number 21.
MONDAY'S GAME
It is intended to provide match updates here during the match at Moss Lane on Bank Holiday Monday against Chester City, as Alty look set to introduce three new faces to their squad (see yesterday's news, below).

The Altrincham Mad site says that "Altrincham play host to Chester City at Moss Lane on Monday afternoon, aiming to preserve their record of never having lost at home to the visitors. The Robins won the only previous game contested between the two". [However, the clubs met regularly in the Cheshire County League but the Chester side was their reserve team, and have also met in the Cheshire Senior Cup on a number of occasions].

Mad continues, "The only previous meeting between Altrincham and Chester City at Moss Lane was well over fifteen years ago, back in November 1992, with Altrincham running out comfortable 2-0 winners in a F.A. Cup match" replay after a 1-1 draw at Chester".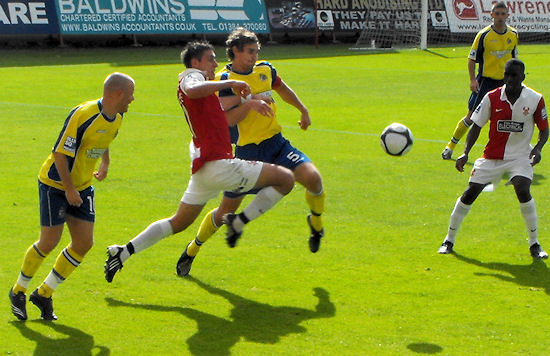 Right: Greg Young (in yellow) in action at Kidderminster in last Saturday's game.
KETTERING TRIP
Details of the TASC supporters' transport to Kettering on Saturday, September 5th is here. Please book on matchdays in the club shop or by phoning the club (928-1045).
CHRIS IN DREAM TEAM
Alty's Chris Denham is in the Dream Team in NLP selected by Ciaran Kilheeney of Southport who writes, "Chris is one of the quickest players I have played with or against. If he gets a chance at goal, he usually scores. He is one of those players who never gives in and works extremely hard for the team."
YOUTH GAMES
Altrincham FC Youth team's first league fixtures of the season are:
6/9/09 home to Curzon Ashton
13/9/09 away at Morecambe
20/9/09 home to Prescot Cables
BSP NEWS
Blue Square Football says that "Grays Athletic have continued their summer rebuilding with the capture of two more players this week. Striker Jack Jeffery signs following his release by West Ham at the end of last season. He was a regular with the West Ham United U18 side throughout the 2007/08 season and has had several opportunities with the Reserve side.

Gravesend-born Jeffery has also enjoyed loan spells with Hampton & Richmond Borough, Cambridge United, Leyton Orient and Eastbourne Borough. Left-sided player Jack Obersteller arrives at New Recreation Ground following his release by Exeter City. Obersteller can operate at left back or in the left of midfield and is still only 20 years of age. He started his career as a trainee at Millwall and has since gone on to represent Crawley Town and Wycombe Wanderers. Obersteller also had a short loan spell at Grays during the 2007/08 campaign".

But "Former Premier League star Darren Williams will not be joining Gateshead after all - a decision acceptable to both club and player. Williams, who previously played for Sunderland, Hartlepool United, Bradford City and Dundee, signed a non-contract form at the International Stadium on Thursday night... However, even non-contract players, it has become apparent, are unable to move to another club, should they want to, before the next transfer window opens in January.

As Williams was brought in to cover for injured central defenders Chris Swailes and Carl Jones, and still harboured hopes of a return to the professional ranks, the decision not to go ahead with the arrangement was taken mutually. 'Darren signed for Gateshead on Thursday night but, at his request, we agreed not to send the form off to the FA until he had shown a copy to his agent', said Gateshead chairman Graham Wood. 'Both parties had agreed a non-contract situation was the way forward. It gave us the chance to look at the player and for Williams to keep his options open. However, when it was discovered what the implications were in signing on a non-contract basis we both decided not to pursue it'.

Gateshead already have a squad of 22 which includes Frenchman Stephane Pelonde, who can play at the centre of defence, as can new signing Christoph Ascherl and Alex Francis".
---
30 August 2009
THREE ARRIVALS
As outlined below, Altrincham's squad has been reduced to just 12 outfield players by injury, unexpected departures and suspension. In response, manager Graham Heathcote has been working hard to bring in three new faces.

He has secured two new faces today and hopes to add a third tomorrow morning. They are:
Danny Edwards, on loan from League Two club, Port Vale. The Valiants confirm that "Reserve-team player Danny Edwards has joined Altrincham FC on a month's loan. The 18-year-old links up with the Blue Square Premier side ahead of their home game and local derby against Chester City tomorrow. Edwards, a midfielder, signed a 12-month professional deal with Vale in the summer". Edwards (d.o.b. 24 April 1991 at Burton-on-Trent), who is 5ft 9ins, has also some experience as a striker and a defender so sounds very versatile, though central midfield seems to be his favoured position. He has graduated through Port Vale's youth team, which reached the FA Youth Cup semi-finals in 2007 and also won the Midland Cup in 2007-2008.
Andrew Pearson, a Manchester-born centre-half, released by Wigan Athletic. Born on 21 December 1989, Andrew was a mainstay of Wigan's youth team for two seasons and also made regular reserve appearances. He played his junior football in Urmston as a striker, a role which took him to Bolton Wanderers. There he moved to central midfield before developing as a centre-back at Wigan.
Alty's third weekend signing is expected to be made on Monday morning; he is a full-back, loaned by a Premiership club.
GRAHAM'S VERDICT
Alty manager Graham Heathcote has expressed his views on Saturday's game at Kidderminster and whilst he was far from happy with a number of the officials' decisions, he was equally upset at the team's performance, especially after they had gone two goals down.

Having viewed a video of the game, Graham was clear that Chris Senior's early disallowed goal was not offside whilst Kidderminster's second goal was "at least five yards offside". He also felt that Shaun Densmore's dismissal was "extremely harsh".

But, turning to his own side's display, he said, "I was very disappointed with the performance yesterday. I had more passion sitting in the dugout than some of the players on the pitch and that is not right. The second goal seemed to drain their self-belief and that is not acceptable. These players have set their own high standard with their early season performances at Barrow and elsewhere. I won't accept that performance yesterday. Everyone needs to 'smell the coffee' and realise that I won't accept that sort of performance. I'd rather have 16 players who would die for the shirt than have 19 and carry some who will let the standard drop. If necessary I'll ship people out. The players have got to realise that for part-time players they are on good wages. They will have to earn that money or they won't be at the club much longer", he said.

Graham continued "The game yesterday has totally spoilt my weekend. I have spent eleven hours today ringing round to get players in as we have only one outfield sub available at the moment". This follows the eve of season departure of Mark McGregor to the player-manger role at Connah's Quay, last week's sudden departure of Matty Crowell to Australian football, the injuries to Robbie Lawton, Michael Welch and, now, Chris Senior, as well as Shaun Densmore's suspension.
KIDDERMINSTER HARRIERS 3 ALTRINCHAM 0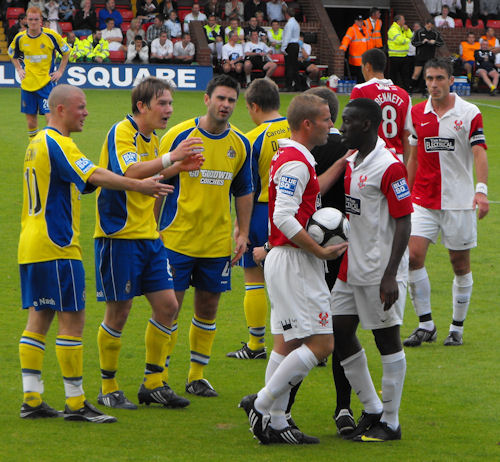 Left: Chris Denham, Shaun Densmore and Tom Kearney exchange views with the referee after the showing of a red card to the Alty right-back.
MATCH REPORT HERE
Kidderminster Harriers report that they had "a comfortable 3-0 win over Altrincham at Aggborough on a very eventful Saturday afternoon. It was a fairly even beginning to the game with no real chances to speak of in the opening ten minutes, but with 11 minutes gone that first chance came and with it the first goal... Bennett's ball upfield came off Alty man Matt Doughty, the hosts were in as Kyle Hadley bravely took the ball past the goalkeeper, before crossing to Brian Smikle who eventually made no mistake...
But the blow came with just over a quarter-hour gone - Alty's Dale Johnson was racing down on goal but over hit the ball which Dean Coleman then collected; the onrushing Martin Riley then collided at pace with Johnson who went down on the edge of the area. Seeing this as the denying of a goal scoring opportunity despite the ball having gone, the referee gave Riley his marching orders with a straight red...
Harriers against the odds quickly got their second on 22 minutes - again superbly beating the offside trap as Dean Bennett's ball was chased down by Matthew Barnes-Homer. He got their first and took an absolute clattering by the 'keeper for his troubles but his lob was expertly taken and looped into the net. The goal came at a price, however - Barnes-Homer was eventually withdrawn after taking time to try and run off injury sustained in scoring...
Just when you though the game would finally calm down, the affair got its second dismissal on 35 minutes and it was perhaps every bit as harsh a decision. Shaun Densmore lunged in on Brian Smikle just inside the Alty half in a challenge that certainly warranted a yellow - instead it was a straight red as the visitors were reduced to ten...
The second half wasn't even a minute old when Harriers nabbed their third in rampant style...
Speaking after the game, Yates said 'The most important thing was the three points, the performance was decent. There was a bit of controversy with a few decisions and maybe one or two went for us today but on the back of that I thought we played very well and thoroughly deserved the victory even if it was a bit bitty. I thought it was a game we dominated'... Martin Riley is facing a one-match ban after being sent off in today's game - though it was ten-apiece before half-time with Shaun Densmore also being given his marching orders for violent conduct.
Reflecting on the two reds, the Harriers' boss admitted: 'I thought Martin's was very harsh. It was a great flighted ball over his head and as he turned, their lad has had a touch across him and I honestly thought they just collided. Martin literally turned to run towards his own goal and they've collided - the ball was in Dean's hands so I was a bit surprised with the red card but we just had to get on with it and we did. I thought both [sendings off] were harsh really'".
From the Kidderminster Shuttle we read that "Harriers took all three points in a fractious match which saw two players sent off in a frantic first half. Defender Martin Riley was shown a straight red card in the 16th minute but can count himself unlucky after he seemed to innocently collide with Altrincham hitman Dale Johnson. The incident sparked a furious first half, where Altrincham were reduced to ten men after Shaun Densmore's first-half dismissal. Despite the setback, the home side were the better team and deserved to win the game... Away manager Graham Heathcote, who had to be pulled away by his assistant as the referee walked off at half-time, made one change at the start of the second half, replacing Danny Heffernan with veteran goal-poacher Colin Little...
Defender Martin Riley was delighted with his team-mates after the 3-0 win over Altrincham but... after the game, Riley still couldn't understand why he was given his marching orders. He said: 'I'm chuffed to bits with the lads for the three points, three goals and a clean sheet but part of me is fuming for receiving a red card. I remember following the ball over my head. My eyes have never came off the ball and he's not even got control of it and we've just tangled. I've not even made a challenge, so I don't see how I can be penalised. I don't even think Shaun Densmore's sending off was a red card, it looked a good solid challenge. Maybe it was bit aggressive but part of me thinks he [the ref] was trying to make up for his error with me... Harriers manager also felt Riley's second off was unfair and he will look at a recording of the game before deciding whether to make an official complaint about referee Michael Naylor".
OLD BOYS
Welsh Premier says that "Rhyl have signed former goalkeeper James Coates on-loan from Northwich Victoria". James is a former Alty trialist.

Former Alty captain Chris Timons scored for Glapwell on Saturday as they beat Ellistown 3-1 in the FA Cup Preliminary Round.
ALTY T-SHIRTS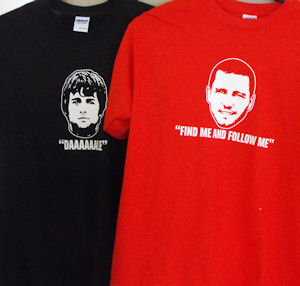 The Altrincham Supporters' Club (TASC) "has teamed up with a supplier called Cult Zeros to offer supporters a range of made to order Altrincham FC T-shirts (seen left). The T-shirts are available in all men's, women's and children's sizes, a wide range of colours and will feature an image of any player that you choose, along with whatever text that you require.

The T-shirts are priced at £13.99 each and be can be purchased here. All T-shirts ordered through this link will earn the club a 20% commission. This is also the case if you order non-Altrincham shirts using this link.

We are currently in the process of providing Cult Zeros with pictures of the 2009/10 squad and management team, although Colin Little and Dale Johnson T-shirts are already available to order. Samples of these T-shirts can be viewed in the TASC section of the Club Shop on matchdays, starting this weekend.

If you wish for any other past Altrincham player to be made available, please contact TASC Chairman Brian Flynn or Membership Secretary Anthony Wright and we will do our best to find a suitable image to use.

Remember you must type in or copy and paste the affiliate link - www.cultzeros.co.uk/default.asp?PARTNER=TASC - into your web browser for Altrincham Football Club to benefit from the 20% commission.

* Please note that TASC does not condone the use of abusive comments regarding players or the management."
BSP NEWS
Altrincham are now reduced to eleven available outfield players with Shaun Densmore now suspended and Chris Senior sidelined by ankle ligament damage. The Birmingham Mail reports similarly that "Tamworth management duo Gary Mills and Darron Gee have been told there will be no reinforcements for their wafer-thin squad... The Lambs are already down to 16 fit players after losing Michael Wylde and Dominic Langdon through injury. They had expected to name 47-year-old Mills on the bench against Cambridge United after Michael Blackwood was granted compassionate leave to visit his native Jamaica. But Blackwood returned in time to take his place in the side and Gee said: 'We did ask the club if we could bring another player in on loan but financially things are very tight. We're not complaining. There's plenty of other clubs in the same boat. It's simply a case of getting on with things and making the best of what we've got... [In midweek], Wrexham were easily the best side we've faced this season but our energy levels were superb. We never gave them a moment's peace throughout'".
---
29 August 2009
JOHN MURRAY
Altrincham FC expresses its condolences to the family and friends of John Murray, who died on Saturday morning after two years of illness. John had supported Altrincham for more than forty years and was at Moss Lane as recently as this summer's pre-season games. John also gave many hours of his time to assist the club in its administrative and financial tasks. He will be much missed at Moss Lane.
KIDDERMINSTER H. 3 ALTRINCHAM 0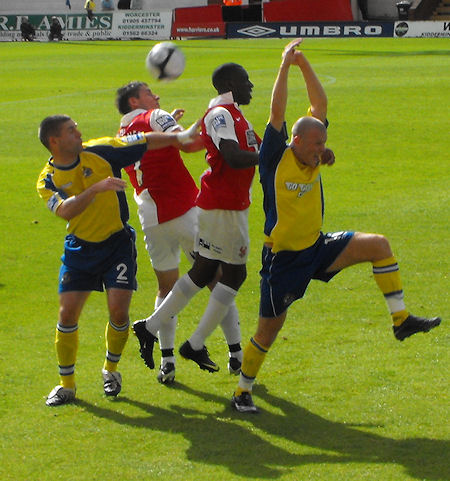 Right: Chris Denham (right) and James Smith contest possession at Aggborough.
An ultimately disastrous afternoon at Aggborough, which ended in defeat, a sending-off and a player stretchered off, had started well for Alty...
MATCH REPORT HERE
Saturday 29 August
AFC Wimbledon 0-1 Oxford U.
Barrow 1-0 Tamworth
Cambridge U. 3-0 Gateshead
Chester C. 0-1 Mansfield T.
Crawley Town 1-1 Grays A.
Ebbsfleet U. 1-2 Hayes & Yeading U.
Forest Green R. 0-2 Wrexham
Kettering T. 0-0 Luton T.
Kidderminster H. 3-0 Altrincham
Salisbury C. 1-1 Eastbourne B.
Stevenage B. 2-1 Rushden & Diamonds
York C. 3-1 Histon
SATURDAY'S GAMES
There will be news of Alty's game at Kidderminster on the update page during the match on Saturday afternoon.

News of Saturday's opponents comes from the Kidderminster Shuttle which says that "Harriers are set for a tough Bank Holiday weekend against two of the Blue Square Premier's surprise packages. Mark Yates's troops will be in for a tough test when Altrincham come to Aggborough on Saturday, before they savour Midlands derby action at Tamworth on Bank Holiday Monday. Both teams are flying high in the top half of the table after strong starts to their campaigns.

'Altrincham are a big strong side who have started the season very well', commented Yates. 'They'll be a test but we're at home and we must make sure we set the tempo. Then we go to Tamworth and they're still on a high after winning promotion. Neil [Howarth] watched them against Wrexham and he thought they did very well. They're tough games but we'll be ready for them'.

Saturday's opponents are fifth in the table after impressive wins over Histon and Barrow and will also be eager to bounce back after losing 1-0 to AFC Wimbledon last week. The Cheshire outfit are a robust side under the guidance of manager Graham Heathcote but their recent record at Harriers' home ground is poor, losing three of the last two matches[!!], including last season's 4-0 thrashing. In contrast, Harriers go into the match full of confidence after beating Grays 3-1.

Midfieder John Finnigan is set for his first league start at home after impressing in Essex last week. Yates may also opt for the 4-5-1 formation he used at the weekend. It allowed wingers Brian Smikle and Kyle Hadley to support lone hitman Matthew Barnes-Homer in an attack-minded formation. However, that selection could be determined by the fitness of hitman Robbie Matthews. The towering forward is set to have recovered from the groin injury that forced him to miss out at Grays.

Striker Aaron Farrell is also in training and could feature on the bench over the long weekend. Harriers' manager is still weighing up whether to play two strikers up front or use the alternative system. 'I like the formation we played at Grays, it give us pace and threat and I thought it worked very well', commented Yates. 'Whether we use it every game remains to be seen. We can also play with Darryl Knights in the hole behind two strikers so we have options. The squad isn't that big but what we have are a number of players who can play in several positions such as Brian Smikle and Chris McPhee'".
YOUTH TEAM SEASON
Altrincham FC Youth kick off their league season in the NW Youth Alliance Premier Division with a home game against Curzon Ashton on Sunday, September 6th at Wythenshawe Town FC.
BSP NEWS
The Football Conference says that "Grays Athletic have added to their squad by signing Glenn Poole. This is Poole's second spell with the Blues. He left at the end of the 2006/07 season to join Rochdale on loan, he then signed for Brentford in May 2007 before being released at the end of last season.

Also joining Grays is Sam Gaughran. Centre back Gaughran played for Boston United and King's Lynn before joining Peterborough United. He has captained Posh's reserve squad and was awarded his first professional contract this year and joins Grays on a month's loan".

Meanwhile, "Barrow have brought in loan striker Jon Shaw and left-back Gareth Jelleyman... while defender Sean Newton has joined AFC Telford United on loan. Shaw, 25, is 6`1" stature and will provide much-needed height up front. He joins on an initial one month loan from Rochdale and impressed at Conference level last season for Crawley Town. Jelleyman returns to Holker Street after being on non-contract terms at Telford and will re-form the full back partnership with Simon Spender that was so successful in last season's run-in. Meanwhile, Sean Newton, in need of confidence after the step up from Blue Square North level, returns to that division on an initial month's loan deal".

"Terry Brown, manager of AFC Wimbledon, has completed the signing of 20-year-old Ross Montague... Montague, who came through the Brentford youth ranks... has subsequently spent loan periods at Sutton United, Welling United and Basingstoke Town."

The Conference also reports that "Gateshead have signed former Sunderland and Hartlepool United defender Darren Williams... Teessider Williams joined Sunderland from York City in 1995 for £50,000 and played almost 250 games, over 100 in the Premier League, during an eight-year period... After a brief spell at Cardiff City, Williams returned to his native North East to sign for Hartlepool, where he made seventy-three appearances during a two-year stay at Victoria Park. A season at Bradford City was followed by a move to Scotland and he spent last season at Dundee where he played nineteen games. The experienced Williams has been drafted in following hamstring injuries to two of Gateshead's three central defenders. Veteran Chris Swailes is out for another two weeks, while Carl Jones, who limped off in the midweek defeat against York City, has a torn hamstring and will be sidelined for another month".

Looking to Scotland, "Oxford United have signed Glasgow Rangers' duo Ross Perry and Steven Kinniburgh on loan until January. Neither player has featured for the Gers first team but both impressed United boss Chris Wilder in a reserve-team friendly against Oxford in July. Centre back Perry, 19, has been called into the Scotland under-21 squad for their European Championship qualifier in Austria next week. Versatile Kinniburgh, 20, played for Queen of the South on loan last term".

And from Blue Square Football we read that "AFC Telford United have been boosted by the loan signing of Shane Killock for one month. The defender arrives from Blue Square Premier club Oxford United in a bid to get him match fit. The 20-year-old left-back has struggled with injuries in recent times and Oxford manager Chris Wilder is eager for the talented youngster to get some gametime under his belt.

According to NL Daily "Luton Town have completed signing of striker George Donnelly on a month's loan from Plymouth Argyle. The 21-year-old, 6ft 2in. tall striker will go straight in to the Hatters` squad for Saturday's trip to Kettering Town. Donnelly began his career in the academy at Liverpool but after being released at Anfield he signed for Skelmersdale United. His impressive goalscoring form with the Lancashire outfit caught the eye of visiting Argyle scouts and the Liverpudlian signed at Home Park in March going on to make two substitute appearances last season".

Former Wrexham boss "Brian Little has been named the new manager of Gainsborough Trinity... as Steve Charles's successor". Charles was sacked after gaining four points from their first two games, which the chairman considered unsatisfactory. Trinity are seeking their first ever promotion in more than 130 years of existence.

The BBC says that "Ebbsfleet United manager Liam Daish is hoping his playing budget will increase once the club receives more money from Bristol City for striker John Akinde. The 20-year-old moved to Ashton Gate a year ago, with City agreeing to pay £140,000 plus another £25,000 once Akinde had played ten games. He made his 10th appearance as a substitute in City's 3-0 defeat to Cardiff on Sunday. 'I think it is due but whether it comes to me is another thing', said Daish. Daish told BBC Radio Kent... 'I'd like to think that comes into my players fund, hopefully that wasn't budgeted for and then that'll give me a few more options'. Akinde moved to City last September, having scored 12 goals in 34 appearances for the Fleet. But he had a difficult start to life in the Championship and dropped down to League One for a loan spell with Wycombe Wanderers, where he impressed manager Peter Taylor".
---
28 August 2009
MATTY LEAVES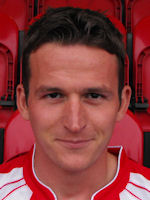 On the eve of the bank holiday programme, Altrincham FC have lost the services of midfielder Matty Crowell (right). The former Welsh under-21 midfielder has accepted an offer to play for Central Coast Mariners in Australia and leaves immediately. Manager Graham Heathcote says that Matty leaves us on good terms, as the offer he received from Down Under was too good to turn down. Matty had spent a spell in Australia before joining Altrincham, for whom he played five games, scoring once.

On the plus side, both Robbie Lawton and Michael Welch should be fit in a matter of weeks to bolster the squad which, for tomorrow's game, is down to 15 fit players. Robbie had his groin operation this week whilst Michael makes good progress following his surgery.
SATURDAY
Alty suffered their joint heaviest defeat of last season at Aggborough, losing 4-0 in August 2008. However, the result was influenced by the sending off of Chris Lane in the 33rd minute for alleged handball when a shot was driven against him on the goal line, with Alty trailing 1-0. In their last eight league visits to Kidderminster, Altrincham have failed to win though they have drawn six times, five times the score being 1-1. In contrast, before our relegation in 2000, Alty had won eight of the 15 league games played at Aggborough, whilst the Harriers had triumphed only three times.

This season Kidderminster had trouble scoring in their opening games but they found their touch last week with a 3-1 win at Grays. They lie 13th with seven points from their five matches. Alty lie fifth, on ten points.

The Express & Star reports that "Kidderminster attacker Brian Smikle admits Harriers' prospective new attacking system will suit him down to the ground - as he is looking for double figures again this season. The wide man got 10 goals going forward last season in a breakthrough campaign for the former WB Albion youngster... Smikle got off the mark for 2009/10 in Saturday's 3-1 win at Grays, forming part of an attacking trio that saw the left-winger and David McDermott on the other flank supporting lone striker Matthew Barnes-Homer.

Now manager Mark Yates has to decide whether to stick with a winning team and formation for Saturday's visit of Altrincham, or bring fit-again forward Robbie Matthews into the side... Smikle said: 'Last season definitely opened up my perspective on the game and my final ball has improved as well'".

Meanwhile, the Kidderminster Shuttle says that "Manager Mark Yates has backed Kidderminster Harriers' new-look midfield trinity to be one of the best in the Blue Square Premier. The triumvirate of John Finnigan, Chris McPhee and Dean Bennett showed encouraging signs they can be a force to be reckoned with after playing together for the first time in Saturday's 3-1 win at Grays Athletic.

Former Cheltenham man Finnigan, 33, made the biggest impact in his first start for Harriers, with his presence in central midfield allowing Bennett and McPhee licence to get forward. Yates has had to wait until the fifth game of the new season to play Finnigan, who signed a two-year deal to join the club in the summer, as he regained his match sharpness. His performance evoked memories of another midfielder who dropped down from the Football League and called the shots — Harriers legend Mike Marsh... Commented Yates 'With John, Chris McPhee and Dean Bennett I think we've got one of the best midfields in the division'".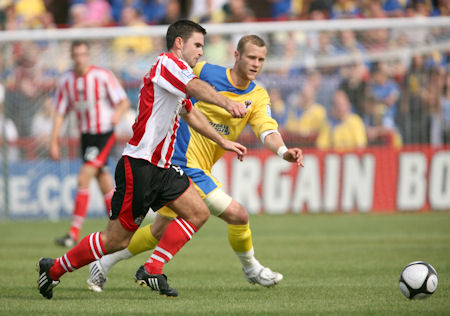 Right: Tom Kearney was Alty's Man of the Match last Saturday. Here Gavin Rathbone's camera catches him in action. More pictures are on the GR Photography website.
NO CALL UP
There are no Altrincham players and only one from the north in the FA announcement that "England C Manager, Paul Fairclough, has announced his 16-man squad for the forthcoming fixture against Hungary on Tuesday 15 September. The squad contains 12 new call-ups as Fairclough begins the process of rebuilding the U23 squad in preparation for the forthcoming International Challenge Trophy qualifiers which begin in the Autumn...
Dale Roberts, Rushden and Diamonds
Joe Welch, Histon
Callum Reynolds, Luton Town
Scott Garner, Mansfield T.
Tom Cadmore, Hayes and Yeading United
Sam Rents, Crawley Town
Lawrie Wilson, Stevenage Borough
Rossi Jarvis, Luton Town
Kyle Nix, Mansfield T.
Nathaniel Knight-Percival, Histon
Nick Wright, Tamworth
Chris Holroyd, Cambridge United
Alexander Rodman, Tamworth
Louis Briscoe, Mansfield T.
Josh Simpson, Histon
Patrese Liburd, Farsley Celtic
OLD BOY
Welsh Premier says that "Mark McGregor couldn't be happier with the start he's made to managerial life with Gap Connah's Quay. After four matches – two league games and two Challenge Cup ties – the Nomads remain undefeated with two draws and the same number of victories. Saturday produced the first home fixture for new boss McGregor and he made a great start to life at the Deeside Stadium with a 3-1 success against local rivals Elements Cefn Druids.

'It was our first home game and first win as well', the player-boss told the Flintshire Chronicle. 'We could have won by more in the end, but to win my first game was fantastic'. Nomads followed that with a cup success at home to Porthmadog on Tuesday night... 'To still be unbeaten after four games is a big plus and to be top of the Challenge Cup group puts us in a good position to make progress', added McGregor. 'Everyone's giving 110%'".
BANK HOLIDAY MONDAY
Alty entertain Chester City on Monday...

"Chester City striker Gregg Blundell scored in his comeback game yesterday, after coming on as a substitute for City's reserve team" reports the Liverpool Daily Post. "Chester's second string lost 3-2 to a strong Crew Alexandra side in the friendly match at the Deva Stadium, but Blundell's return to action will be a major boost for manager Mick Wadsworth. The former Darlington forward has been struggling with a knee injury since April... Wadsworth said that Blundell was showimg improvement but was still three or four games away from a return to first team action.... [Also] a South American striker is on a week's trial at the Deva Stadium. Chester's other injury victim Fabian Yantorno also played yesterday, he made a 15 minute cameo appearance as a substitute. Defenders Shaun Kelly and Glenn Rule suffered knocks during the match, and will be considered as doubtful for Saturday's home game against Mansfield Town. Wadsworth is expected to keep the same side that drew with Luton Town last Saturday for the weekend clash against the Stags".

According to the Chester Chronicle "Mick Wadsworth will soon have a forward line to strike fear into the hearts of Chester City's Blue Square Premier rivals after Fabian Yantorno and Gregg Blundell stepped up their comeback from injury yesterday... The City manager said: 'They've both been out for a long time... I think Gregg's slightly ahead of Fabian and I expect him to be involved in the next three or four games'... Chester's other goal yesterday was scored by an Argentinean trialist who comes recommended by Uruguayan Yantorno. Wadsworth was impressed and plans to take a second look at the winger. Alessandra and Chadwick are the men currently entrusted with the responsibility of getting the goals...

Chadwick said: 'We created four, five, six, seven chances against the biggest club in this league. We've gone to Luton's backyard and given them a real, real good game'. Wadsworth was delighted by the performance... 'It was encouraging but it will mean nothing unless we replicate it this weekend', said Wadsworth, whose side make the short trip to Altrincham on Monday".
---
27 August 2009
NEXT OPPONENTS
According to the Express and Star "Kidderminster manager Mark Yates is considering sticking with an all-out attacking formula as Harriers' look to go up another gear over the Bank Holiday weekend. The Aggborough boss went with a 4-3-3 at Grays on Saturday and saw his side triple their goal tally for the season in a 3-1 win.

Wingers David McDermott and Brian Smikle pushed up to partner lone striker Matthew Barnes-Homer in attack and both the wide men ended up on the scoresheet, while Dean Bennett also found the net in forming a formidable alliance with full debutant John Finnigan in central midfield.

The system was forced upon Yates after front-man Robbie Matthews was ruled out with a tight hamstring, and the new signing from Salisbury is expected back for Saturday's visit of Altrincham and Bank Holiday Monday's trip to Tamworth. But, such was the impact in Essex, the giant forward could find himself warming the bench as a victim of the attacking formation's success.

Yates said: 'It's something we actually like, but haven't done too often. We use it occasionally, using our pace in the wide areas and a bit deeper, and it worked well at Grays. It could be retained for Saturday, because we could have scored 10 goals there... We will have a look, assess where we are and then decide what we are going to do at the weekend".
PONTOON TABLE
Grahame Rowley writes: "As we reach the end of the first month 7 teams have entered double figures in the race to be the first to reach exactly 21 goals. In 7th place is Cardiff City with 11 goals, in joint 4th are Dagenham & Redbridge, Colchester and Huddersfield with 12 goals apiece and in joint 1st place are our very own Mansfield Town and Oxford United along with Notts County in League 2. There's still plenty to play for so watch this space and the website for further updates".

The updated Altrincham FC Pontoon Table is now on the website.
OLD BOYS
The Vodkat League reports that "Rossendale United have a number of players who are available for release to Vodkat League clubs. The players [include, former Alty youth and reserve], Dale Newbrook (goalkeeper)."

In Retford United's 4-1 win at Durham on Tuesday, the last goal for the winners came from Paul Ellender. Former trialist Eddie Stanford scored from the spot for Radcliffe in midweek, whilst James Dean netted again for FC Halifax Town at Chorley.
BSP NEWS
The BBC confirms that "Former Forest Green player-coach Jerry Gill has revealed that he has applied to succeed sacked Jim Harvey as boss. 'I was at Forest Green last season and thoroughly enjoyed my job there', Gill, 38, told BBC Radio Gloucestershire. 'I feel like I'm ready to move into management'... Current player-coach David Brown is in temporary charge at the New Lawn, with Colin Walker brought in to help him... 'There's a long long way to go in the season', the unattached defender said. 'People get het up with budgets and how much players are being paid, but I think if you've got a good work ethic, your players are willing to do the work and you're willing to do the work that can get results. The way the trend's going at the moment, they're looking for fresh enthusiastic managers and coaches that are willing to do the work and put the hours in on the training ground - that's something that I always did as a player and I'd do as a coach a manager'".

However, "Forest Green are in no rush to appoint a new manager following Jim Harvey's departure" claims the Stroud News & Journal. "Club spokesman Colin Peake said: 'Whilst we invite applications for the post of manager at the club, David Brown is to be extended the opportunity to continue in charge of team matters... Despite the current start to the season, they [the Board] know the squad is sound in their football ability but that they do need some experience both on and off the field. Therefore despite the current financial position in football generally, the board has released not only funding to bring in four loan players but also the addition of Colin Walker to assist David Brown'...

Jerry Gill is emerging as a leading contender to to take on the vacant managerial role... Other names linked to the post include former Cheltenham Town boss Keith Downing and ex-Robins' coach Bob Bloomer. Former Torquay and Brentford boss Leroy Rosenior and former Southampton youth team coach Dave Hockaday are rumoured to be interested in the role as is ex Newport County boss Peter Beadle".

From the Chester Leader we learn that "Blues' supporters say they feel betrayed after Chester councillors attended a football match at arch rivals Wrexham. But Chester West and Chester Council (CWaC) Tory councillors deny any offence against Chester City Football Club, saying they only showed up at the Wrexham match out of 'personal interest'. The anger arose after council leader Cllr Mike Jones, fellow executive member Cllr Arthur Harada and the three councillors who represent the ward where Chester City is based – Max Drury (pictured), Richard Lowe and Tom Parry – appeared in several photographs on Wrexham FC's website in support of the team who were up against York City FC...

The [Wrexham] website reads: 'Many thanks to Max Drury from Chester Mobility Centre who kindly sponsored the match and ball against York City on Tuesday evening. As a first time sponsor Max and his guests thoroughly enjoyed their experience and have already inquired about coming back again this season'. Cllr Drury, who presented Man of the Match Silvio Spann with a bottle of champagne, defended his sponsorship of the Wrexham match to the Leader, saying 'I did sponsor Wrexham but we are still trying to save Chester, as is CWaC. I am aware there has always been a conflict of interest between Chester and Wrexham. But I was born in Wrexham, I go fishing in the town of Wrexham and I lived there for 35 years'... Cllr Jones added: "CWaC has supported Chester FC otherwise, they would not be playing football if we had not. We could have taken the ground off them for the third time because we own the ground, but we reassigned the lease'.

"Crawley boss Steve Evans could face another lengthy touchline ban after the Football Association confirmed today that he was ordered from the dugout at half-time during Saturday's 4-1 home defeat by Gateshead" reports The Argus. "Referee John Hopkins mentioned the incident in his report and an FA spokesman said: 'We are currently investigating the incident and can confirm that he (Evans) was sent from the technical area at half-time'. Evans served a 12 match ban at the start of last season, which had been reduced on appeal, for improper conduct during four games in the 2007-08 season. A ten-match ban suspended until the end of the 2009-10 season was imposed at the same time and the FA confirmed that this was still in effect".

From the Chronicle we learn that "Ian Bogie has warned his Gateshead side they MUST start picking up points at the International Stadium or face a season of struggle. The Tynesiders have yet to win a Blue Square Premier game on home soil, having lost to Histon and drawn with Tamworth before 2-1 defeat by York City... After City boss Martin Foyle and striker Richard Pacquette were sent off for dissent and retaliation respectively, Michael Gash, a £55,000 signing from Ebbsfleet United, headed the Minstermen's late winner.

'I'm bitterly disappointed', said Bogie, whose side at least attracted a crowd of 1,174 for the occasion, albeit with 492 from York. 'They probably couldn't have argued if we'd have been two goals to the good, we were that far ahead. In the second half we never really got started... But they've spent £55,000 on a striker – we haven't made that outlay on our whole squad in two or three years. That's the gulf in resources. York are full-time, we're part-time, but as far as the football's concerned we've bossed the game, but lost it'".
---
26 August 2009
TUESDAY SCORES
Gateshead 1 York C. 2
Tamworth 2 Wrexham 1
League Table
SATURDAY'S GAME
Altrincham travel to Kidderminster this Saturday; details of how to book the TASC supporters' travel to Aggborough are here.

For a record of Alty games on the same date (29 August), Through the Years from Howard Watts, supplies the details.

Blue Square Football says that "Kidderminster Harriers have revealed that striker Aaron Farrell is still some way off from making his league debut. Farrell, who is a former Harriers' youth player, linked up with Mark Yates' squad for pre-season after scoring 16 goals in 32 appearances for Sutton Coldfield Town last term... and was subsequently handed a full-time contract at Aggborough. However, a hamstring injury has kept Farrell on the treatment table... Yates told the club's official website: 'He will be fit and ready when he is fit and ready, there is no pressure for him to rush back'... Meanwhile, fellow striker Robbie Matthews will be available for selection against Altrincham this weekend after picking up a slight injury last week".
SALUTE TO ROBERT
As previously noted, the funeral of Robert Anderson, the 15 year-old Altrincham FC supporter who died last week after an asthma attack, will be at St Mary's Church, Bowdon on Friday 28th August. A service to celebrate his life will start at 10.30am but the church will be open from 09.30am onwards. Robert's mother, Johanna, has informed Alty club chaplain that "As this will be a celebration of his life, supporters are welcome to wear their football shirts. Any further enquiry should be directed to Ashton Brookes Funeral Directors, Church Street, Altrincham, WA14 4DB, tel. 0161 928 2000".
UNITED AT MOSS LANE
The Manchester United Reserves' fixtures to be played at Moss Lane are as follows. All games are in the Barclay's Premier Reserve League North and kick off at 7pm unless stated otherwise.
Thu. 27.8.09 Bury (Manchester Senior Cup)
Thu. 3.9.09 Wigan Athletic Res.
Thu. 24.9.09 Manchester City Res. (Manchester Senior Cup)
Thu. 1.10.09 Sunderland Res.
Thu. 22.10.09 Blackburn Rovers Res.
Thu. 12.11.09 Burnley Res.
Thu. 3.12.09 Bolton Wanderers Res.
Thu. 14.1.10 Liverpool Res.
Thu. 18.2.10 Everton Res.
Thu. 11.3.10 Manchester City Res.
Thu. 8.4.10 Hull City Res.
BSP NEWS
From the BBC we learn that "Kettering Town manager Mark Cooper has urged more fans to come and support his side at home. The Poppies, currently sixth in Blue Square Premier, are expecting a big away support from Luton on Saturday. 'At the minute we seem to be getting outnumbered by away fans and that's not right', Cooper told BBC Northampton. 'I just hope that we start getting a few more Kettering fans coming to the arena and giving the players the support they deserve'. Kettering are still waiting for their first home league victory of the season but have won all three of their away games".

We read on the The FA site that "England C will face a Hungary side in their first game of the season in Budapest on Tuesday 15 September, in what will be excellent preparation prior to this Autumn's International Challenge Trophy qualifying games. A number of regulars will now be over the age limit for the European tournament so this game will be an excellent opportunity for some to stake a claim for the future.[Manager, Paul] Fairclough must now build his side up for the new campaign over the next two seasons and this game allows him to start the planning... 'Having narrowly lost in the Final to Belgium in May, it is important that we use this fixture in Budapest as a platform for the new challenge ahead. Consequently, as against Malta and Bosnia, I will use this game to work with some of the new emerging talent who have come to our notice in the early part of this season. Some players will receive their first Cap and be given an opportunity to challenge for a place with more established international players'".

Your Local Guardian says that "Terry Brown is sweating on the fitness of skipper Paul Lorraine as the Dons face a defensive crisis ahead of their clash with table-toppers Oxford United on Saturday. Both Lorraine and fellow centre-back Ben Judge limped off during Saturday's hard-fought 1-0 at Altrincham... And with Judge, who suffered a fractured collarbone less than a minute after coming on to replace Lorraine, set to be out for up to eight weeks, Brown admits his options are stretched. He said: 'Paul seemed to think it was a problem with his hamstring, but we are hoping that it is actually back related. If it is his back, we may well be able to get him back for Saturday. If not, then we have a problem. We are desperately trying to get Alan Inns fit as he hasn't been ready yet this season'".

In the Liverpool Daily Post we read that "The Chester City striker Gregg Blundell will take another step on the road to full fitness tomorrow, when he turns out for the reserve team in a hastily arranged friendly game. Blundell rejoined City in the summer from Darlington but a troublesome knee injury has kept him sidelined for the past month. City are meeting Crewe Alexandra at the Deva Stadium and manager Mick Wadsworth is hopeful that Blundell will come into contention for a spot in the first team squad in the next 10 to 14 days. 'Gregg Blundell is back in full training and he will play in some part of the friendly match against Crewe', Wadsworth said. 'He and Fabian Yantorno have stepped up their training and hopefully they will both be available to us in the next fortnight'. Central defender Shaun Kelly, who has also been absent because of injury, is also expected to be given a run-out".
---
25 August 2009
TEST TEAM MANAGER AT MOSS LANE
Grahame Rowley writes, "As you are probably aware, Steve Bernard, the Australian Cricket Manager, has kindly offer to hold a questions and answers session in our Sponsors' Lounge following the game against Chester City on Monday 31st August. I'm sure that this will be an interesting evening especially considering the result of the final Test Match that finished this week. Along with a hot pot supper provided by Bentley's Catering, the cost of the tickets is just £15 each. In order to arrange appropriate catering would you please confirm whether you intend to attend this event? Many Thanks". Please ring the club (928-1045) or e-mail to reserve your place at this unique event.
ROB'S FUNERAL
The funeral of Robert Anderson, the 15 year-old Alty fan who died last week following an asthma attack, is to be held at at St Mary's Church, Bowdon on Friday at 10.30am.
OXFORD GAME
Oxford United have announced as usual that for our game at their ground (31st October) "Tickets are cheaper if brought before the day. The prices in the North stand (along the side of the pitch) where your fans will sit are as follows:
Adults: £15 (£17 on the day)
Students with NUS Card: £11.50 (£13 on the day)
Over 65: £9.00 (£10 on the day)
Under 16: £9.00 (£10 on the day)
Under 7: FREE (FREE on the day)

Tickets can be bought in advance from Oxford by ringing 01865 337533 or from the website but a booking fee of £2.00 for posting and £1.50 collection is added per booking.
REFEREES
Mr M.A. Naylor who reffed Alty's defeat (2-0) at Droylsden in 2005, will take charge of the Altrincham game at Kidderminster this Saturday. On Monday for the game at home to Chester City, the referee is Mr A. Halliday. Let's hope we do better than when he reffed Alty 1 Stevenage 5 in December, 2007. Mr Halliday has overseen quite a few Alty games. He was the man who postponed the Torquay v Altrincham game with the supporters coach having already reached Gloucester in 2008. Amongst his other Alty games, none of which we won(!) are:
ALTRINCHAM (1) 2 BURTON ALBION (2) 3, played on Saturday, 2 December 2006
SOUTHPORT (1) 2 ALTRINCHAM (0) 1, played on Saturday, 3 February, 2007
RUSHDEN & DIAMONDS (0) 1 ALTRINCHAM (1) 1, played on Monday, 29 September 2008
BARROW (1) 2 ALTRINCHAM (2) 2, played on Tuesday, 9 December 2008
OLD BOYS
Chris Burrows kindly pointed out that this weekend's "League Paper" included Kevin Ellison's 'Dream Team' and he chose former Alty player Mark Maddox in his eleven, stating "Mark Maddox - known as 'Mad Dog', he would tackle his nan. Always put his head in where it hurts but again another out-and-out defender".

The "When Saturday Comes" football magazine, in its next issue, is running "an article about how Altrincham FC never quite get the recognition they deserve for their FA Cup record". If you have any photos of the Birmingham City 1, Altrincham 2 match in January 1986 please contact Ed Upright at When Saturday Comes.
WIMBLEDON REJOICE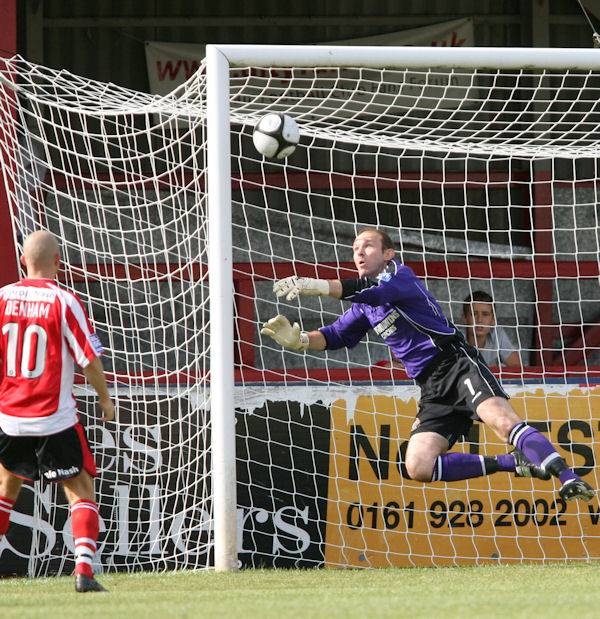 Right: Stuart Coburn is seen in action against Wimbledon in Gavin Rathbone's fine action shot.
In Your Local Guardian we read that "Terry Brown saw his on-fire Dons leave it late to grab three priceless points in Manchester and roared: 'There's much more to come!'... Graham Heathcote's Alty had started the season with a surprising points-tally and were joint top... But they came unstuck and become the latest side to succumb to Kedwell's predatory instincts... But they were dealt a blow with the withdrawals of defensive lynchpins Paul Lorraine and Ben Judge.
Manager Brown said: 'It was a fantastic three points for us – what a brilliant week! To think seven days and a few hours ago we were getting a bit nervy and awaiting our first win. Now we have had three on the bounce, and have scored seven goals. It's wonderful... I think we gave as good as we got today. You know what you're going to get coming to places like Altrincham. It's tough and you have to work very, very hard to come away with anything'".
BSP NEWS
According to the BBC "Wrexham are set to complete a transfer coup as the non-league club are to sign veteran former Chelsea defender Frank Sinclair on a one-year deal. Dragons boss Dean Saunders wants the the 37-year-old former Jamaican international to help inspire Wrexham's push back into the Football League. 'I've joined as I believe this squad has the ability to win automatic promotion', Sinclair told BBC Sport. Sinclair is set to make his Wrexham debut at Tamworth on Tuesday.

Sinclair, who has made more than 500 Football League appearances in his 19-year career, won the FA Cup and League Cup during his eight years at Chelsea... but was released by Lincoln City at the end of last season. Sinclair, who spent time on loan at Wycombe Wanderers last term, has taken part in pre-season training with Bury and has also trained with Wrexham. The experienced centre-back watched Wrexham's 2-1 defeat to Kettering... Said Sinclair, 'I have no problem dropping down to non-league level. I have always being suited to playing at this level because I love heading it, defending and making tackles. One of the main attributes of this league is battling your way out of it and putting your body on the line. I've done that all of my football career. I've slowly gone down the league levels as I get older, going down one division at a time'...

Sinclair admits that one-time mentor Joey Jones, the former Wales international defender who is now a coach at Wrexham, was a big influence in Sinclair's move to North Wales. Full-back Jones was a regular for Chelsea when a young Sinclair was coming through the Stamford Bridge youth ranks. 'I've known Joey Jones since I was 11 years of age', Sinclair revealed. 'He was in the first-team when I was coming through the Chelsea ranks... When I was growing up I wanted to be just like Joey Jones... I have aspirations to go into coaching myself and maybe starting at non-league level, he'll hopefully be a big help of me getting my coaching badges and getting involved in coaching youngsters'...

Sinclair is Saunders's fifth summer signing... Sinclair joins former Manchester City youngsters Curtis Obeng and Adrian Cieslewicz and French midfielder Hedi Taboubi and defender Mansour Assoumani at the Racecourse".

Another veteran, "Trevor Benjamin, got it right when, on the subject of his new club, he said 'don't be fooled', as Cambridge United discovered on their visit to Tamworth. They may remain part-time, but while the Lambs went to the slaughter in their last spell in the Conference's top flight, the Staffordshire side look a much better and more rounded outfit on their return... They kept up their unbeaten start against United, albeit with three draws out of four. But on this showing, few clubs are going to get much joy at their compact Lamb ground.

Where before Tamworth relied on the physical, they now try to pass the ball out from the back and have players comfortable in possession while still retaining the muscular side needed to compete in the Blue Square Premier. The fact a player with experience at the highest level in Benjamin can be left on the bench throughout, thus missing out on playing against United for the first time since his £1.5million move to Leicester nine years ago, shows the quality they have in their ranks. Their 4-3-3 system may also cause other teams problems, as it did against Martin Ling's side" reports the Cambridge News.

The Liverpool Daily Post says that "Chester City registered their first point of the season on Saturday. And it could have been all three had they not found Hatters' goalkeeper Mark Tyler in inspired form... Chester gave debuts to a trio of loan signings, and the addition of the extra quality gave the side a greater solidity defensively, and a far more incisive look offensively.

Midfielder Adam Kay and striker Lewis Alessandra put in competent shifts, but it was the Burnley youngster Chris Lynch, who played in the heart of defence who took the eye. Lynch, who is only 18, was outstanding against the experienced Kevin Gallen and Steve Basham. He was commanding in the air, and his coolness and ability on the ground had the look of a young Alan Hansen... More competent performances like this, and who knows, possibly relegation may be avoided.

After the match a delighted City manager Mick Wadsworth said: 'It was a good performance and a great result... They've looked at our results perhaps, and their fans were baying for blood, it was like the Colosseum. They thought that we were coming like lambs to the slaughter, but we did really well'".

This is Glos states that "The bitter fallout between Forest Green and axed manager Jim Harvey shows no signs of abating. Harvey has now responded to the club's official statement last Friday, which claimed he had been sacked on August 13 for breach of contract after contacting the chairman of a rival Blue Square Premier club with 'a view to securing the position of manager'. The Ulsterman strongly denies the accusation, and has asked his solicitor Lindsey Kidd to bring employment tribunal and High Court actions against the Nailsworth strugglers.

'The club's actions leave me little choice other than to seek legal redress for the monies I am owed', said Harvey. 'I made it perfectly clear that any approach from another club would have to be made via the appropriate channels at Forest Green Rovers'. Harvey has also reiterated his original claim that he was dismissed on July 29, when he missed the club's annual photoshoot and subsequent pre-season friendly against Leeds United...

On the pitch, Rovers' miserable start to the season continued as they slumped to their fifth straight league defeat at Rushden... Caretaker boss David Brown...has brought in an experienced assistant in former York City manager Colin Walker... Walker said: 'All four goals were down to bad decisions individually made. I'm not going to name names but they know who they are and they've stuck their hands up... The main job for me is to relieve David of the day-to-day training so he can concentrate on being a player'".

According to the Thurrock Gazette "Grays slumped to a 3-1 home defeat against Kidderminster Harriers. Harriers proved themselves stronger, fitter and faster than Blues... Grays had no cutting edge up front and no supply from midfield. Once again, Ronnie Bull looked laboured and short of fitness in midfield. The three other midfielders could not supply any decent ball to the hard working Jamie Slabber and Daniel Charge. Pass after pass went astray, players were not closed down and in the summer heat, Grays simply looked unfit... After the 3-1 defeat Grays Boss Gary Phillips said 'Let's not panic. This is still a work in progress. Fitness levels are not what they should be but we will be working them hard next week. There may be players who just can't cut it at this level. That will need to be sorted'".

From the Express and Star we learn that "Kidderminster manager Mark Yates believes veteran midfielder John Finnigan is 'raring to go' after his promising first start for Harriers. The 33-year-old lined up alongside Dean Bennett in the centre of the park at Grays on Saturday and got 83 minutes under his belt... Finnigan is tipped for big things after coming to Aggborough from Cheltenham in the summer with 12 years experience as a Football League player".

"Mark Cooper hit back at Kettering Town's critics after his team produced their best performance of the season so far to claim a fine win at Wrexham. The Poppies are still being labelled by some in the Blue Square Premier as an 'over-physical' and 'direct' side but they rubbished those claims at the Racecourse Ground as goals from Damian Spencer and Patrick Noubissie ensured a fine display was rewarded with three points...

Cooper said: 'I keep reading this stuff about us being an over-physical team with everyone over six feet tall. But in the team we had the two centre-halves and Damian Spencer and the rest are all under 5ft 11in. It's a common misconception but we do a lot of work on set-pieces and we do a lot of work on organisation and that was there for everyone to see. If it takes a set-piece to score a goal then so be it. I am certainly not going to complain about that... We set up with a system to try to frustrate Wrexham a little bit with an extra man in midfield'...

Cooper, meanwhile, played down the confrontations both he and Francis Green had with some Wrexham fans during the second half as the home supporters turned on the Poppies... 'It's a big club with passionate supporters and if things aren't going well they vent their feelings', the Kettering boss said" to the Northants Evening Telegraph.

A report from Luton Today says that "Contrite manager Mick Harford apologised for his side's showing in the 0-0 home draw with rock-bottom Chester City – but asserted it shouldn't be all 'doom and gloom'... Harford: 'I'm disappointed with the result and the performance. I understand the fans' frustrations that we couldn't beat Chester City... They pay their money and they have a right to voice their opinions. They weren't happy with what was served up today and I fully understand that. From start to finish we were pretty average...They came here and had a bit of game plan, showed a bit of gamesmanship, and ran the clock down... We are chopping and changing the team every week which is disappointing for me, but I'm not using that as an excuse. We just can't get a settled team because of injuries and suspensions... The only threat we had really was from set-pieces...You are constructive in your criticism. They were told in no uncertain manner that it wasn't good enough'... On the boos at the final whistle, Harford added: 'Hopefully that will be the first and only time that it happen this season'".

From the Chester Chronicle we read that "Chester...made the journey home knowing they should have won. Mick Wadsworth's men were the better team at Kenilworth Road... CHESTER: Danby, Roberts, Lynch, Ryan, Lea, [Ben] Wilkinson (Meynell 84), Vaughan, Kay (Owen 74), Ashton, Chadwick, Alessandra (Platt 90). Subs: Murphy, Ellams".

The Wrexham Chronicle reports that "The hint of understatement in the post-match comments from Kettering Town manager Mark Cooper could not quite mask his sense of pride in a job well done... The Poppies... were good value for their 2-1 victory...

'I thought we played quite well', said Cooper. 'We set up with a system to try and frustrate Wrexham with an extra man in midfield... We do a lot of work on set pieces and on organisation and I think you could see that today'. What Cooper didn't need to say, but was also evident from his team's display, is that his players concentrate on the basics, make as few mistakes as possible and then rely on the percentages to throw up the opportunities they need to score goals...

Not for the first time since the campaign got under way, the ambitious alternative favoured by the Racecourse boss faltered in the face of relentless pressure from the opposition... The solution for Saunders, who admits he has yet to decide on his best 11, brought a first start of the season for the combative Christian Smith, but it came at the expense of Andy Fleming rather than Hedi Taboubi, the result being two left-footed players at the heart of midfield. And while a few eyebrows were also raised by the deployment of defender Curtis Obeng ahead of Silvio Spann on the right flank, the choice of Mark Jones ahead of Neil Taylor at wide left seemed merely to add to the apparent imbalance...

Kettering only threatened from set-pieces... With the crowd on their backs, Wrexham abandoned any pretence of give-and-go football in their desire to get back into the game and the more direct approach was rewarded...

Just 11 minutes were left on the clock when Russell collided with both Assoumani and [Kettering] substitute Jean-Paul Marna to fall awkwardly. He [Russell] was stretchered off with what was later diagnosed as a dislocated elbow – an injury that could rule him out for up to three months... so it was Taboubi who went between the posts for what turned out to be the last 14 minutes... The French midfielder coped admirably with his first experience of goalkeeping".
---
24 August 2009
ALL CHANGE FOR ALTY
Altrincham FC is grateful to all those who joined the "All Change for Alty" campaign by taking home a money box in which to collect small change for donation to the Club. So far, 26 tins have been returned bringing in a total of almost £600. You can collect a new money box from the club during normal office hours and if you have not joined the scheme already, you will be most welcome to do so.
AFC'S PERFECT WEEKEND
In their own match report on the game at Altrincham, AFC Wimbledon report that "Danny Kedwell was the Wimbledon hero again as he scored his fifth goal in three games... Reverting to a 4-3-3 formation with Jay Conroy, Derek Duncan and Lewis Taylor all returning to the starting line up the Dons thoroughly deserved their victory and with more clinical finishing could have won by a bigger margin... On the coach back to London, Terry Brown reflected on what he described as 'a perfect weekend'.

'We left Kingsmeadow at 10.30 am on Friday morning and as we drove north listened to the cricket which proved to be an outstanding day for the English. We arrived at a beautiful hotel in Cheadle in time to have a training session prior to our evening meal which set us up perfectly for what was going to be a very difficult game at Moss Lane. We started off with a 4-3-3 formation to nullify their 3-5-2 line up and with Lewis Taylor prominent, wide right, we managed to cause problems for them all afternoon. We worked very hard to close them down and the defensive players were excellent and we deserved to keep a clean sheet.

'Going forward we looked bright and kept good possession although we never really tested their goalkeeper enough. The second half turned out to be a more open affair and eventually we got the goal our play richly deserved. On the downside we suffered an injury to Paul Lorraine and Ben Judge's cameo appearance lasted just 49 seconds... As with any game when you are just one goal ahead with ten minutes remaining it proved to be a nervous time but I felt that if another goal was to be scored it would come from us'".
Altrincham FC website match report here.
BSP NEWS
Altrincham's next opponents are Kidderminster Harriers who report that "Mark Yates was thrilled with his hard-working Harriers after finally ending their Recreation Ground hoodoo with a first-ever away win at Grays Athletic on Saturday... Speaking after the game, he said: 'It's been a shocking place for us over the last few years with results but we fancied our chances today - I asked for a performance like I got the other night (against Kettering) and in the first half today I thought we were even better'...

Yates was without new striker Robbie Matthews at Grays after he picked up a groin injury late in the week that only just kept him out. Meanwhile there was a debut for John Finnigan who put in a stylish 80-minute shift to kick-off his Kidderminster career. The Aggborough boss added: 'Robbie just tweaked his groin late on Thursday and there was a chance he could have played today but I'd rather he miss one game than five or six so we took the decision to rest him'".
DAY IN THE LIFE
In the Robins' Review matchday programme, the latest article in the Day in the Life series is on the www.altrinchamfc.com official website.
---
23 August 2009
TWO ALTY CRICKET EVENTS
"There has been a change of plan to the Australian cricketers' event at Altrincham FC. The cricket dinner, which is being hosted by Ricky Ponting, at the Cresta Court hotel, will now be on Monday, 14th September (not 31st August as previously announced). Tickets are £49 or £450 for a table of ten.

However, there is still a cricket event on 31st August (Bank Holiday Monday) as Australian cricket manager Steve Bernard will be the guest at a question and answer session at Moss Lane at 7pm (after the Chester game). This event will be accompanied by a hot pot supper. For both the dinner and the question and answer session, please ring the club to book your seat (928-1045)
SATURDAY'S MATCH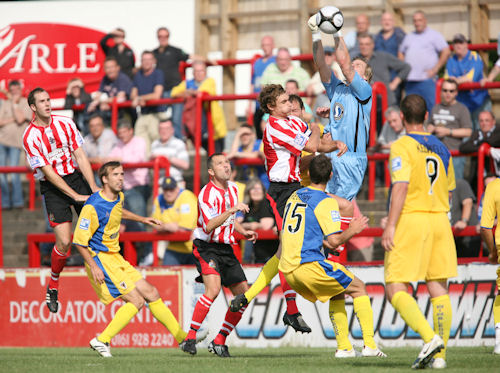 Right: Gavin Rathbone's excellent picture shows how Altrincham threw both Robbie Williams and Greg Young forward in search of a late goal against AFC Wimbledon. Also seen is Colin Little.
Greg Young told the NL Paper after the loss to AFC Wimbledon, "We are disappointed to have lost our unbeaten run but if we'd been offered 10 points from 15 before the season started we would have snapped their hands off. We have generally started games quickly this season but this time it was Wimbledon who started strongly and it took us a while to get into the game. I thought we did well defensively and the game had 0-0 all over it. But losing James Smith to [a toe] injury disrupted our rhythm after the break".
NEXT TWO OPPONENTS
Altrincham's next opponents are Kidderminster Harriers (Saturday 29th) and the local Kidderminster Shuttle reports that "Harriers killed two birds with one stone in Essex as they emphatically ended their goal-drought and hoodoo at the New Recreation ground on Saturday. The Aggborough outfit recorded their first win ever at Grays thanks to strikes from Dean Bennett, Brian Smikle and David McDermott.

Manager Mark Yates was forced to make changes because of an injury to striker Robbie Matthews. It meant that Kyle Hadley and John Finnigan were handed their first starts in the Blue Square Premier... but it was former Cheltenham man Finnigan who produced a classy performance in central midfield... Harriers: Coleman 6; Courtney 6; Baker 6; Caines 6; Riley 6; Finnigan 8 (Dolman, 83); Bennett 7 (Knights, 72); McPhee 7; Smikle 7; Barnes-Homer 6; Hadley 6 (McDermott, 54). Unused substitutes: Singh; Sharpe.

Alty's next home game is against Chester City on August Bank Holiday Monday. Blue Square Football says that "Chester City have been boosted by the arrival of midfielder Adam Kay and defender Chris Lynch on loan. The duo arrive from Burnley... Kay, 19, is best suited to a central role in midfield and will bring some flair to the side. Lynch, 18, is a central defender".
ALTY T-SHIRTS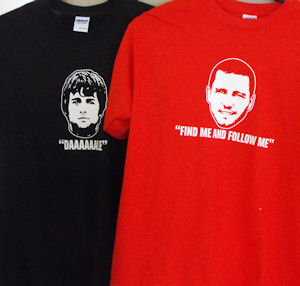 The Altrincham Supporters' Club (TASC) "has teamed up with a supplier called Cult Zeros to offer supporters a range of made to order Altrincham FC T-shirts (seen left). The T-shirts are available in all men's, women's and children's sizes, a wide range of colours and will feature an image of any player that you choose, along with whatever text that you require.

The T-shirts are priced at £13.99 each and be can be purchased here. All T-shirts ordered through this link will earn the club a 20% commission. This is also the case if you order non-Altrincham shirts using this link.

We are currently in the process of providing Cult Zeros with pictures of the 2009/10 squad and management team, although Colin Little and Dale Johnson T-shirts are already available to order. Samples of these T-shirts can be viewed in the TASC section of the Club Shop on matchdays, starting this weekend.

If you wish for any other past Altrincham player to be made available, please contact TASC Chairman Brian Flynn or Membership Secretary Anthony Wright and we will do our best to find a suitable image to use.

Remember you must type in or copy and paste the affiliate link - www.cultzeros.co.uk/default.asp?PARTNER=TASC - into your web browser for Altrincham Football Club to benefit from the 20% commission.

* Please note that TASC does not condone the use of abusive comments regarding players or the management."
TALBS, THE LION
Colin Mitchell has raised funds for the club by raffling a giant soft-toy lion, courtesy of his son, George. Colin tells us that "The winner of the lion is Jon Stack who named the "animal" "Talbs" after former Alty player Gary Talbot (as he was lion-hearted!). Jon will be presented with the lion at half time at the home game versus Tamworth on Tuesday, 22nd September 2009, which is the next home game he is able to attend. Gavin Rathbone will be there to take the photo too!

A special thanks from Colin Mitchell, (organiser of this raffle), goes to all those who had a go. This raised £52 for Altrincham F.C. which is much appreciated. Also thanks to George Mitchell (aged 2 + 3/4) who donated the Lion for this raffle".
OLD BOYS
Mark McGregor seems to have taken to management quite smoothly as his side won again, as NL Daily reports. "GAP Connah's Quay were a goal down at home to Elements Cefn Druids after 12 minutes... But the Nomads hit back through Chris Herbert - his second in two games - and finished the job in style with second half goals from Sam McNutt and former AFC Liverpool striker Andy Olsen".

Joe O'Neill scored again as Stalybridge Celtic drew on Saturday with Workington. Pat McFadden got Ashton United's winner against Guiseley, whilst former loan striker James Dean netted for FC Halifax Town. Ex-Alty trialist Chris Baguley scored for Leigh Genesis whilst another ex-trialist, Eddie Stanford, was on the mark for Radcliffe Borough.
FLYNNZINE
Brian Flyn's latest "Flynnzine" article appeared in Saturday's Robins' Review.

2Histon......we don't have a problem!!!!

At the fifth attempt we laid the Histon bogey on Tuesday and what a thrilling game it was. There were heroes all over the pitch as there had been at Barrow the Tuesday before and to be fair to the much maligned Cambridgeshire side, they played their part in a real end to end ding dong battle.I listened to Steve Fallon talking to BBC Radio Cambridgeshire in the Press Box after the game and the Stutes' boss was pleasingly unbiased in his view of the game. 'They defended magnificently and caused us problems up front', singling out Dale Johnson for specific praise.

The Robins' striker has been a revelation in the four games played to date and it was great that he opened his account for the season on Tuesday. Graham Heathcote fully acknowledges the positive impact that Ken Mckenna has had on Dale since joining as Assistant Manager in early July. 'Ken was an outstanding striker and his specific knowledge of the role, coupled with the massive natural talent that Dale has, has really helped to improve certain aspects of his game'. The former Hyde man is now looking 'lean and mean' and who knows what he can go on to achieve this season?

Reflecting on our incredibly good start, I couldn't help thinking about a very funny cricketing anecdote that has some resonance with our current position.A few years ago, England called up a young batsmen out of the blue for an Ashes Test Match, (cricket is not my specialist subject and I can't actually remember his name). As he walked to the crease for his debut test innings, Mark Waugh immediately started sledging him. 'What the hell are you doing out here mate? You're obviously completely out of your depth'. The young batsmen took guard and calmly retorted 'Yeh... you might be right there... but at least I'm the best cricketer in my family!!!!'

So what the hell are little part-time Altrincham doing nestled oddly between Oxford United and Luton Town at the top end of the Blue Square Premier? Well in all honesty, I don't know and I'm sure that, despite the heroics of the last fortnight, everyone's feet are still planted firmly on terra firma. Nobody really expects us to stay there, but this has not been a flash in the pan, where we have ridden our luck throughout four games. The performance level in all departments has been very good and if we can get a decent run in terms of injuries, then who knows what this group of players could achieve?

We shouldn't get too carried away though, if we did reach the Blue Square Premier summit at any point in the not too distant future. The last time we were top, by my recollection, was in August 1996, when we started off with a 4-3 victory over Rushden and Diamonds at Moss Lane, followed by a 1-1 draw at Halifax Town. We then proceeded to finish bottom and suffered relegation for the first time in our history!!
BSP NEWS
The NL Paper reports that Ebbsfleet United's plans for a new ground have come to nothing after "A bitter stand off between club and council planners saw proposals for a new stadium left in tatters. Kent County Council have written the club out of plans for a proposed complex by the A2 and Fleet say they will now have to stay at antiquated Stonebridge Road for the foreseeable future. Director Brain Kilcullen said, "There are no other sites for the club. Kent County Council are killing off our chances'".

Salisbury manager Tommy Widdrington has a new "take" on the part-time v full-time debate. Confirming that his club remainsfull-time, he says "There is a certain stigma attached to full-time football. It doesn't have to be players on bucketloads of money being paid solid wages because they haven't got other jobs. It's a fallacy to believe that running a football club is cheaper part-time. We are still professional but do it in a certain way. We don't have your £800 a week strikers. We have lads, boys who have been rejected by the system... What I'm doing is catching them before they fall into that part-time non-League mentality, which is all well and good but at this level of football, if you don't put in the hours, it's a thankless task.

I have six starters who are 18 years old. They have never been on good money so why would they want good money to play for Salisbury? We have [only] two [players] on contract here". The youngsters "all trained and played for weeks for free; the first time they started earning their money was when we kicked off the season".
---
22 August 2009
ALTRINCHAM 0 AFC WIMBLEDON 1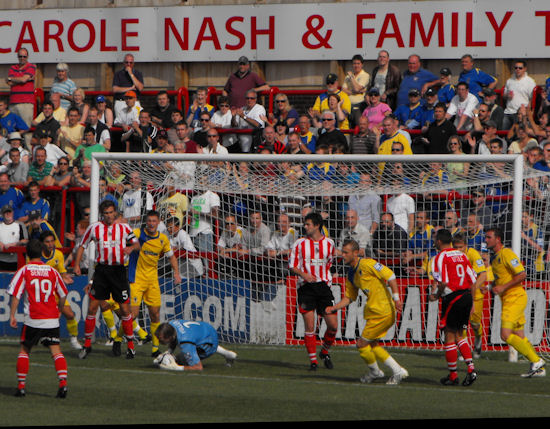 Above: Pullen, Wimbledon's keeper smothers the ball as his side defends the well-occupied away end at Moss Lane.
Alty line-ups
Saturday 22 August
Altrincham 0 AFC Wimbledon 1
Crawley T. 1 Gateshead 4
Eastbourne B. 2 Barrow 1
Grays A. 1 Kidderminster H. 3
Hayes & Yeading U. 1 York C. 1
Histon 2 Salisbury C. 0
Luton T. 0 Chester C. 0
Mansfield T. 3 Ebbsfleet U, 0
Oxford United 2 Stevenage B, 1
Rushden & Diamonds 4 Forest Green R. 2
Tamworth 0 Cambridge U. 0
Wrexham 1 Kettering T. 2

AFC WIMBLEDON (Yellow shirts, shorts and socks): 1 James Pullen, 22. Paul Lorraine, 16. Brett Johnson, 3 Chris Hussey, 2. Jay Conroy, 7. Samuel Hatton, 8. Lewis Taylor, 14. Derek Duncan, 15. Steven Gregory, 9. Danny Kedwell, 18. Luke Moore, SUBS: 10. Jon Main, 13 Seb Brown (gk),17. Ricky Wellard, 6. Ben Judge, 11. Elliott Godfrey,
SATURDAY GAMES
It is hoped to provide matchday updates here during Saturday's game against AFC Wimbledon.
ROBERT ANDERSON R.I.P.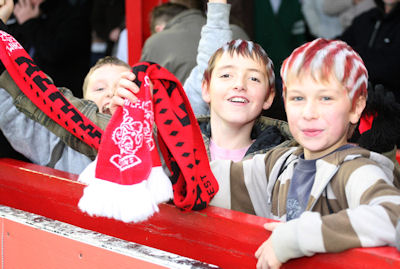 Altrincham FC sends its condolences to the family and friends of 15 year-old supporter Robert Anderson (pictured on the right of the adjacent photo at the Alty v Millwall game in 2007/8 season) who sadly died last Monday after suffering an asthma attack. Robert was a member of the Junior Robins and completed a week of work experience at Moss Lane last summer.
Altrincham FC chaplain, Rev. Andrew Barclay-Watts has written a tribute to James in Saturday's matchday programme in which he says "On the day we were supposedly relegated at Weymouth, he returned with a broad smile because he had got Colin Little's shirt! It remained his most prized possession. Robert attended Altrincham Grammar School and played football through the various age groups for Broadheath Central... We will publish the details of the funeral. The family would really like it to be a football occasion and would love it if there were a number of us from the Altrincham football family who were there. Our thoughts and prayers are with all Robert's family and friends at this time. We greatly appreciate all that Robert contributed to the club and the fact that the club meant so much to him".
GRAHAM PREPARES FOR DONS
From the Manchester Evening News we learn that "Graham Heathcote is challenging in-form Altrincham to keep punching above their weight in the big home Blue Square Premier showdown with newly- promoted AFC Wimbledon.

Alty have surprised the non-League world by taking 10 points from their first four games to lie joint-second with title favourites Luton, trailing leaders Oxford only on goal difference. They passed their first big test in defeating last season's beaten play-off semi-finalists Histon on Tuesday, but now comes an arguably even tougher examination against a Dons outfit tipped to stake an immediate claim for promotion to League Two.

Heathcote said: 'We're obviously delighted to be where we are, but no-one in our dressing room is getting carried away and we're all aware of the stern challenge we're likely to face against Wimbledon. It's vital we stay focused, try to keep performing as we have been doing, then let's see if we're good enough to overcome what looks a very strong Wimbledon side'.

His selection options are likely to be boosted by the return of young utility player Danny Heffernan, who appears to have recovered from the head injury which forced him to sit out the win over Histon. Veteran striker Colin Little, so far confined to a place on the bench due to a niggling back problem, is also rapidly approaching full fitness".

There is also an audio interview with Graham Heathcote on the Blue Square Football site.
CALENDARS AVAILABLE NOW
Steve Foster announces that "TASC are delighted to say that calendars will be available to purchase at the game tomorrow. They will be available in the shop pre-game and in the Bar after the game. Calendars will cost only £9.99".

Left, is a reduced sized sample of the new 17-month calendar, which runs from August 2009 to December 2010. Packed with Gavin Rathbone's excellent photos, it can be ordered from the club (928-1045) if you cannot get one on Saturday.
TASC MEMBERSHIP CARDS
The Altrincham Supporters' Club confirms that TASC membership cards will be available on Saturday from the TASC section of the Club Shop.
KEEP TAKING THE TABLETS
One of the Altrincham FC juniors features in her Alty kit in the latest national advertising campaign for Haliborange. You can see the clip here.
BSP NEWS
Forest Green Rovers "are now able to confirm that on Thursday 13th August 2009 the contract of Jim Harvey, as Manager at the club, was terminated. It would be remiss of the club not to recognise the style of play which teams under Mr Harvey's management produced since his appointment in September 2006 and for that, the Board of Directors thank him not only on their own behalf but on behalf of all supporters. Due to the ongoing disciplinary process, Forest Green Rovers has not been able to make any earlier statements about the situation with Mr Harvey, however, the club is now able to respond to articles and statements which have appeared, including a public statement made by Mr Harvey and his legal advisors on 12th August.

We wish to place on record that Mr Harvey has only once been given permission to speak to another club with regards to a vacant managerial position and that was at Oxford United in December 2008. Nevertheless, during his period of employment as manager, Mr Harvey was interviewed for a similar position at another club without Forest Green Rovers being made aware until after an unsuccessful interview. He apologised, stating it was 'out of character'. He also gave an undertaking and an assurance it would not happen again. As part of the consequence of that specific event Mr Harvey signed a new contract, with an added clause to cover any such future interest with another club. This was agreed in conjunction with his solicitors.

The substance of this recent matter follows Mr Harvey being requested to account for certain actions which were alleged to have taken place during May and July 2009. It had come to the Club's attention that Mr Harvey might have been in breach of his contract of employment by attempting to secure a similar position at another club without permission. Of particular concern was an allegation that Mr Harvey was prepared not to properly attend to his duties at a match involving Forest Green Rovers FC so he could make himself available for interview at this other club.

The club refute any suggestions that Mr Harvey was dismissed on 29 July 2009; the meeting held that day was an investigation to determine whether there were grounds to warrant formal disciplinary action. In compliance with the club's disciplinary procedures, evidence was formally gathered and then served on Mr Harvey inviting him to a hearing on Monday 10th August 2009, which he declined to attend. At that hearing, held by club directors not involved in the 29th July meeting, evidence including signed statements, a transcript of a telephone call and evidence of other telephone calls was considered. The allegation was found proved, in that Mr Harvey, without the prior permission of the club, had telephoned the Chairman of another club with a view to securing the position of Manager of that club and thereby was in breach of Clause 17.3 of his contract of employment.

Furthermore, it was decided that Mr Harvey's actions were a serious and flagrant breach of his contract of employment and the accepted protocols of football practice. These protocols are in place throughout football and ensure that the movement of managers from one club to another does not become an unregulated free for all.

Throughout this matter the club has kept its counsel, contrary to some suggestions otherwise being made in the media, and we will defend rigorously any action contemplated by Mr Harvey of any alleged 'wrongdoing' by the club. The club has never, nor will it in the future, stand in the way of any player or member of the management team in seeking employment elsewhere, provided it is done in accordance with the terms of their individual contracts and accepted codes of practice operating in the game. In closing this unhappy chapter in the history of the club, the Board fully appreciates the unfortunate timing of this decision but wishes to assure supporters and all followers of the club that it will always put the interests of the club first and foremost. The club will make no further statement on this matter".

Meanwhile, the Football Conference says that "Forest Green Rovers announced that local lad and former youth team player Sean Rigg has joined the club on an initial one month loan from Bristol Rovers. Twenty-one-year-old striker Rigg is excited that he can now get some first-team action...

Following the statement made earlier by the club around the departure of Jim Harvey, the Board of Directors confirm that, whilst they invite applications for the post of manager at the club, David Brown is to be extended the opportunity to continue in charge of first-team matters. After discussions with the Board on Friday, he has moved to bring in Colin Walker to assist him... Walker has an interesting, if somewhat unusual footballing pedigree. Rotherham-born, he was reserve-team coach at York City before taking on the role as manager having fulfilled various roles in a fifteen-year stint at Barnsley, including community development officer, youth team coach and academy director.

As a player, however, he has experienced World Cup and Olympic qualifying campaigns with New Zealand, for whom he played thirty-four times and scored eighteen goals... 'I played four times against Brazil in a week against a very young Aldair, who was part of the side who won the World Cup in 1994', he recalled. 'I wanted to swap shirts with him, but he wasn't keen, so to even it up I had to trade him two tracksuits and two pairs of boots'... Despite the current financial position in football generally, the Board has released not only funding to bring in four loan players but also the addition of Colin Walker to assist Brown".

From Hartlepool United comes news that 5ft 4inch "David Foley has completed a one-month loan deal to Barrow. The striker has featured just once for Pools so far this season... Michael Mackay is already out on loan at Gateshead".

The Liverpool Daily Post states that "Chester City last night terminated the contracts of midfielders Jay Harris and David Mannix in the wake of the recent high profile betting scandal. Harris and Mannix, who were both Accrington Stanley players at the time of the offences, were found guilty of betting on a match they were involved in against Bury and subsequently received lengthy bans from the FA last month... It is understood that Chester will now fill the void in their squad and sign two other midfield players next week... Manager Mick Wadsworth will add new loan signing Lewis Alessandra to his squad after the 20-year -old striker completed a one-month temporary move from Oldham Athletic. A central defender is also expected to join City on loan and Wadsworth has been given the green light to bring in a further two players next week".

"Mark Cooper feels Kettering Town will be in contention at the right end of the table if they can pick up a good points return from their next seven games" reports the Northants Evening Telegraph. "The next seven all have a tough look about them with away trips to Wrexham tomorrow, Mansfield Town, York City and Crawley Town as well as home clashes with Luton Town and early high-fliers Altrincham.

The Kettering boss slammed his team's display as they snatched a late goal to 1-0 win at Kidderminster Harriers on Tuesday night... 'Performance wise it wasn't good enough', Cooper said... 'We have played well in two games so far and we have only taken one point from them so it's a strange situation. It's a matter of getting the consistency right and I think the players need to demand a bit more from themselves at times... Our first 11 games are very tough and the next seven matches are crucial for us'".
---
21 August 2009
GRAHAM PLEASED
Altrincham FC's joint press officer, John Edwards, writes in the Sale & Altrincham Messenger:

"High-flying Altrincham are rapidly emerging as the Blue Square Conference's great entertainers after again turning on the style and passing another important test at Moss Lane on Tuesday night.

Trailing to an early goal, Alty bounced back with a brilliant Chris Denham equaliser and close-range effort from Dale Johnson to beat Histon 2-1 and stay level on points with with Oxford United and Luton Town at the top of the table. The significance of coming from behind was not lost on manager Graham Heathcote, as he reflected on a four-game unbeaten start and relished the prospect of taking on AFC Wimbledon at Moss Lane on Saturday.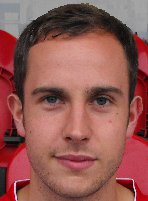 'It's the first time we have had to do that, and the way they reacted tells me a bit more about this squad,' he said. 'One concern last season was the feeling that if we went behind, we'd had it. We never looked like scoring many, and I sometimes sensed a bit of despondency if we found ourselves trailing. But that's not the case now. There is so much more creativity about us that we are always capable of getting back into it, as we showed against Histon.
We have been building towards this level of performance for a few years. I have always believed it is important that people coming through the turnstiles are served a level of entertainment worth the entrance fee, and the players deserve all the credit in the world for providing it in the first four games. The trick now is to keep doing it on a regular basis, but the signs are encouraging.
Youngsters like Robbie Williams (left) and Danny Heffernan have had their chance and shown they can do it at this level, and that extra quality the likes of Tom Kearney gives us means we can play through midfield, rather than by-pass it. No-one is getting carried away, but we should all be looking forward to Saturday immensely. The people at Wimbledon lost their club a few years ago, with the move to Milton Keynes. It's the dreaded scenario that actually happened to them, so to regroup and come back as strongly as they have is a fantastic success story. They will bring plenty of support and have started well, but our confidence is growing with every performance. It should be some game'.
NEXT OPPONENTS
Next, news of Saturday's opponents... "Luke Moore reckons the fear factor is what is driving AFC Wimbledon forward after the Dons notched two wins in the space of four days to ignite their Blue Square Premier campaign" states the Local Guardian. "Terry Brown's men earned their first win of the season with a hard-fought 2-1 triumph at Kettering Town on Saturday, and swiftly followed that up with a 4-0 home romp against Salisbury Town on Tuesday night... He said: 'We have a really strong squad here and there are at least two quality players for every position. No one feels comfortable in their place - and that includes me. You know the only way to keep your place in the team is to play well, and even then the boss may switch things'... Danny Kedwell matched Moore's efforts with a Tuesday brace, having struck both goals in the win at Kettering on Saturday. And the former Ebbsfleet man paid tribute to his strike partner.

Moore added: 'Danny is going extremely well at the moment - he really is on fire... and then you have Jon Main in the mix as well'... The Dons head to Altrincham this weekend as they look to maintain their hot streak which has seen them rise to sixth in the early running... Moore added: 'There is a great spirit down there and they have made it very easy for the new boys like me to gel. They are a really cool bunch of lads and everybody wants to help each other out. Then you have the fans - I was used to playing in front of a 1,000 at Ebbsfleet so to have 4,000 for each game is amazing and it creates a real buzz. There is a great vibe here and we all want to push on and finish as high as we can this season'".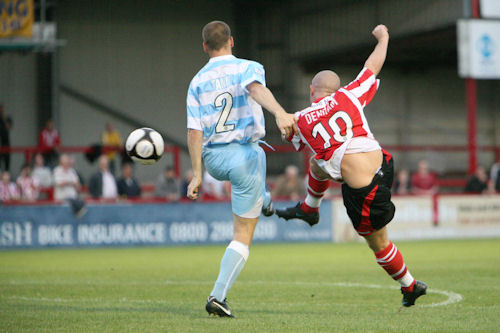 Right: Chris Denham goes for goal against Histon. This and many more of Gavin Rathbone's excellent photos are on the GR Photography site.
GOAL THAT NEVER WAS
Histon report that on Tuesday "Those that had made the long trip to the North West watched the Stutes go down to goals from Chris Denham and Dale Johnson. Despite having a perfectly valid goal ignored by referee Mr Wright, who was indeed Mr Wrong on this occasion, Histon really should have salvaged more from the game with a handful of chances in the second half [going] begging.

Altrincham started the stronger... [But Histon went ahead as] Simpson was quickest to react, poking a leg out to put the ball into the back of the net. Arguably against the run of play, seeing Histon beforehand had very little possession... After a couple of half chances, the Altrincham persistence paid off, a brilliantly worked goal giving Welch no chance in goal. Chris Senior flicked on with his head to Chris Denham, who with a great touch, turn and shot, absolutely hammered his effort over the head of Welch and into the back of the net. An emphatic finish that crashed into the back of the net, one that looked to have been hit with frustration over being behind...

Histon were furious after Josh Simpson was denied a goal by a referee who was clearly concentrating on off the ball matters rather than where the ball actually was. Josh Simpson picked the ball up outside the box, and after swinging his boot, the ball flashed off the underside of the bar, and seemed to bounce in over the line. Simpson was about to wheel away to celebrate his goal, when he was halted by Mr Wright who waved away the goal. If to add insult to injury of being denied a blatant goal, Robin's keeper Stuart Coburn then turned around and admitted to the fans behind the goal he thought the ball had crossed the line. In a week where decisions on goals not being goals had made the headlines, Histon will be forgiven for feeling aggrieved at being denied a goal on this occasion... [Then Alty scored again,]Dale Johnson slotting home from close range after he had missed his previous effort".
NEXT WEEK
Altrincham travel to Aggborough in a week's time where Blue Square Football reports that "Harriers' boss Mark Yates has revealed that he's pleased with the players currently at his disposal and is unlikely to make any more signings before the transfer window shuts. The Harriers clinched the signature of Salisbury striker Robbie Matthews recently... He told the Express & Star: 'We are all right at the moment. The bunch of professionals I have here are a work in progress, we have from now until then to make them better than they already are. It's a good squad. So that is where we are and that is probably us until January now'".
PONTOON TABLE
The updated Altrincham FC Pontoon Table is now on the website.
NORTHERN NEWS
The UniBond League says that "Durham City AFC have today announced the news that Blue Square Conference have refused their entry into their league next season due to the fact that League Officials will not accept the Club's artificial playing surface.

The news came via the Club's existing league, the UniBond Premier League, in correspondence simply stating that the Conference Board had not given its approval for matches to be played on artificial pitches. The news comes despite UEFA's acceptance that the recent Russia –v- England International game could be fulfilled on a similar surface.

As a consequence of this devastating news, their major sponsor, have confirmed they intend to withdraw their financial support only one week into the start of the UniBond Premier Season. Durham AFC, who have previously held league status during the 1930s and have had two recent successes in winning the Northern League and UniBond First Division back to back, are understandably, hugely shocked... The Club's long serving Chairman, Stewart Dawson, said today 'All Board members have worked tirelessly in recent years on raising the profile of the club which has paid dividends with huge success on the pitch. We are a Club that always prides ourselves on excellent house-keeping and working within set budgets and, in recent years, have spent substantial 6-figure sums in efforts to climb through the football pyramid system. To lose our major sponsor in the new season's infancy means that we will not be able to continue to sustain the Club's budgets that were set prior to season commencing, and continue at the level of football we are currently in.

The Board therefore feel we have no alternative other than to allow players to leave and, as a consequence, all players are available for transfer with immediate effect, this will allow them to continue playing at the highest level. We intend to fulfil our remaining fixtures this season, our first season in the UniBond Premier League, and will endeavour to compete within the higher tier to the best of our ability. Any local players who may be interested in joining the Club will be made most welcome".
BSP NEWS
Cambridge United says that "Martin Ling is delighted to be reunited with defender Brian Saah, a player he has worked with since he was 16 and who has played almost 100 matches for Leyton Orient. The 22-year-old played under Ling in League Two and One and joins on a free transfer after being released... "Since I've been here I've been saying we have too many midfielders and not enough defenders, especially in the centre half area, and Brian solves that problem', Ling told cambridgeunited.com. 'We now have three centre halves and during the season you need three to be able to compete. That's no slight on Hatswell and Coulson... Saah's more than capable of League Two and League One football... He's athletic, he's good in the air, he's a good passer, he will add pace and strength to our defensive unit... His agent has a place where his out-of-contract players work while they're not with clubs, so his fitness levels are good and he's ready to go straight into the squad'".

According to Blue Square Football "Chester City manager Mick Wadsworth has revealed that Oldham Athletic striker Lewis Alessandra will join the club on loan this Thursday... Meanwhile, Holdsworth [i.e. Wadsworth] has also revealed that trialist midfielder Erik Paartalu has decided not to make his stay at Deva Stadium a permanent one. He added: 'I also want a strong midfield player and I thought I had one in Erik Paartalu. Morton are willing to release him and help with his wages. I thought it would be a fantastic opportunity for him to put himself in the shop window, but I can't budge him'".

"Ebbsfleet United manager Liam Daish says he will sign the new two-year contract he has been offered" reports the BBC. "After almost losing him to Cambridge United in the summer, chairman Duncan Holt said his main priority was to keep Daish at Stonebridge Road... Daish told BBC Radio Kent, 'It took a long time actually being put on the table in front of me and obviously there was speculation and interest with the Cambridge job. We didn't have a chairman in place at the time so it was a little bit of a mess. Now Duncan Holt is in charge and there's a little bit of direction and hopefully that's going to steady the ship'. Holt said 'Liam has been on one-year contracts for the last four years'...

Former Cambridge chairman George Rolls has claimed the only reason Daish did not take charge at the Abbey Stadium was because the two clubs could not come to an agreement over compensation... However, the Kent club says when Daish travelled to Cambridge for a further meeting, Rolls did not turn up and then the same day Martin Ling was unveiled as manager. Holt said the whole episode had played a part in offering Daish a longer contract. 'It's made it a little bit easier in terms of focusing our minds', he said. 'It's nice to have him tied up on two years and not to have people thinking if they wait a few months he'll be available'".

News of another potential Cambridge manager comes from The Argus which states that "Steve Evans has revealed how he could have joined Cambridge United... Evans was offered the chance to replace Gary Brabin in January by former Cambridge chairman George Rolls but turned the job down. Evans said: 'I have kept quiet about it until now but I had a private meeting with Cambridge officials and was offered the job but it just didn't feel right. In many respects it broke my heart because my wife's family are big fans and they would have been desperate for me to come and take over Cambridge United'... But there still appears to be some bitterness lingering from Brabin's former assistant Paul Carden who captained Cambridge on Tuesday in the 1-0 defeat.

As the players began to walk off at the final whistle Carden booted a clearance which hit Evans on the chest. Evans added: 'I'm disappointed that Paul Carden decided to smash the ball at my face when the play had stopped for ten seconds. He is obviously quite sore that I was offered his job and his pal's in January but I had the courtesy to turn it down'".
---
20 August 2009
YANKEE
The Altrincham FC Saturday Yankee now stands at £2,400 for a £1 stake after last week's races. Five members won "trebles", netting them £40 each. The winning code was 8925.
HISTON GAME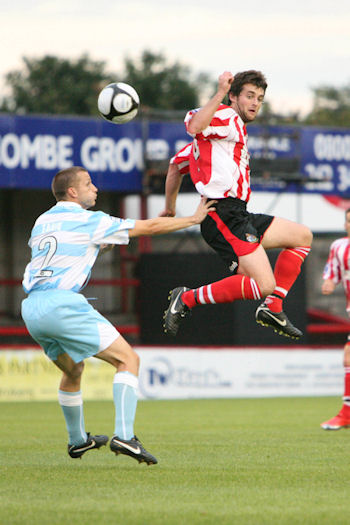 Right: Gavin Rathbone captures Dale Johnson in action against Histon. More of Gavin's photos are on the GR Photography site.
From the Manchester Evening News we read that "Proud boss Graham Heathcote hailed his Altrincham heroes after they came within a whisker of the Blue Square Premier summit with an impressive 2-1 comeback victory over Histon at Moss Lane... a win which would have taken them alongside title favourites Luton at the top had Oxford not leapfrogged the pair of them on goal difference by thrashing Chester 4-0. Said Heathcote: 'Histon are such a difficult side to play against but I thought we coped with them extremely well and showed great character in coming from behind to win. League tables don't mean much at this stage, but it's nice to be up there with the big full-time clubs and we could hardly have asked for more than to have taken 10 points from our first four games'". Last season it took Alty till game eleven to get into double figures and ten games to score a total of eight goals. This season both targets have been reached in four matches.
Blue Square Football reports that "Histon boss Steve Fallon has expressed his disappointment after his side lost to 2-1 to Altrincham... Fallon bemoaned the Stutes' failure to convert a number of second-half opportunities as they succumbed to deafeat at Moss Lane. Fallon told BBC Radio Cambridgeshire: 'We're disappointed. Second half we had enough of the ball and enough situations. But we lacked a bit of quality in our approach play. And they packed their defence. We've got to start taking chances'".
And the Cambridge News adds that "Steve Fallon said Histon need more quality up front... After Denham and Johnson had put the hosts 2-1 in front, Histon rarely looked like getting back on terms. They dominated the second half, but without creating any clear chances and Fallon admitted... 'We didn't test their keeper enough', he said. 'We had two or three headers that we put wide and Langers (Matt Langston) had one at the end and you want someone to get on the end of it. We're not doing that very well at the moment or anticipating the second knock'. Histon were down to 10 men when Altrincham equalised, as Lanre Oyebanjo was off the field receiving treatment to a cut above his eye, but Fallon said there were no regrets about not substituting the defender earlier. 'We were told he would be coming back on in a minute so we didn't think there was a need to substitute him', he said. 'We held on for the majority of the time he was off but got caught right at the end of it'"
The News continues, Histon "appeared to be in control when Josh Simpson put them in front in the 15th minute, but Chris Denham levelled the scores with a brilliantly-taken goal midway through the first half. Johnson then put the hosts in front five minutes before the break, and, although Danny Wright struck the crossbar two minutes into the second half, the Stutes rarely looked like getting back on terms". In the first half, "Simpson shot goalwards from 25 yards. His effort struck the underside of the crossbar before bouncing out. Histon players claimed the ball had crossed the line, but referee Peter Wright waved their appeals away".
OLD BOYS
The Sport Network tells us that "Gap Connah's Quay boss Mark McGregor was pleased with a clean sheet and a point from the trip to Caersws. With several players unable to make the their second long trip in three days, assistant boss Wes Kilgannon had to play in goal, but with McGregor marshalling the backline they held firm. Nomads went close through Chris Herbert, [ex-Alty Youth] Stuart Cook, and Jamie Petrie and McGregor said: 'We had a depleted squad but it was a good team effort and at the moment team spirit is really good'".
NEXT TWO AWAY GAMES
A week on Saturday, Altrincham are away to Kidderminster Harriers and a week later we travel to Kettering. The Popies and Harriers met on Tuesday, the former winning 1-0. Kidderminster have scored just once in four games so far this season but manager "Mark Yates heaped praise on his beaten Harriers side following their defeat to Kettering on Tuesday, calling the 1-0 reverse a 'travesty'. Sub Jon-Paul Marna's late penalty settled a game that the hosts dominated for long spells - so similar a game to Saturday's at Ebbsfleet... Yates remained upbeat...'We were brilliant, absolutely excellent tonight and that's what we're about', he said. 'They had five minutes in the first half where they started well but apart from that we were magnificent - all bar taking our chances... and when we do get one that crosses the line, it isn't given. Unfortunately we've got nothing out of the game which is a bit of a travesty to be honest... We just need a goal and we'll be fine. We haven't scored in three games and that isn't for a lack of trying or a lack of quality'".

From the Kettering Town perspective, there is agreement that "The second half really belonged to Kidderminster with the Poppies seemingly unable to put more than two passes together... The game took a dramatic turn on 85 minutes, as Danny Thomas latched onto a loose ball and Dean Bennett was adjudged to have brought him down in the penalty area. Marna made no mistake from the spot. There was still time for drama as in the third minute of stoppage time, Smikle's effort from a David McDermott corner on the right was hooked off the line by [ex-Alty man] Jennings and it was debateable if the ball had crossed the line- but the assistant gave nothing. Somehow the Poppies had snatched three points after a very poor display in the second half".

When Alty travel to Rockingham Road on 5th September, be warned that Kettering Town announce that "Starting from the home match vs Luton Town on the 29 August 2009, plastic bottles of non-alcoholic liquid will be allowed into the ground providing the top is removed".
PONTOON UPDATE
Sarah Rowley has kindly supplied an updated Altrincham FC Pontoon Chart as it stood before this week's midweek games.
COMING UP
News of our next opponents AFC Wimbledon is that "After a light post-match training session this morning (Wednesday), Terry Brown spent a few minutes looking back on last night's win and the problems of keeping squad players involved. 'Tuesday night's fixture saw us gain another valuable three points. How valuable these points are is something we won't know until later on in the season, but having managed in the Conference Premier before, I can promise you they will be valuable. Once again I was delighted with the defence in particular. The fact that we have only conceded three goals in four games is testimony to the 'keeper, the back four and the holding midfield player, Steven Gregory. Although the score line ended up 4-0 I felt it flattered us and didn't do justice to a very clever and bright young Salisbury side.

Up front it is nice to see the forwards on the score sheet... Stuart, Simon and I still have an enormous amount to do with our midfield and attacking play, and we shall continue to juggle with the squad as much as we can during the initial ten games. We have to take this opportunity to look at all of our squad in depth, especially our vast array of midfield players. The size of our squad is causing me in particular one or two headaches as we have two quality right backs and four quality centre halves, and sometimes I can't give them a game.

As any manager will tell you, the centre back pairing is the more difficult to disrupt and, to be fair to both of them, they couldn't do better than they have been doing... There will be fourteen games over the first two months of the season and injuries will no doubt play a part in team selection when we enter September... All our goals scored so far this season have come from Main, Kedwell and Moore... We need to improve our ball retention. We also need our attacking play to be more fluent... We now face a very difficult trip to Altrincham on Saturday and hope the fans can again come out in force to support the boys'".
BSP NEWS
According to Luton Town "A victory it may have been but for the second match running a disappointed Mick Harford bemoaned another lacklustre display from his side as they laboured to a 1-0 victory at Forest Green Rovers... 'The main thing is we got the three points', he said afterwards. 'We didn't play well throughout, especially in the first half. I thought we were pretty average'... Harford explained the reason behind starting the game at the New Lawn with a 3-5-2 formation in the first period before reverting back to a familiar 4-4-2 at the break.

He said: 'We changed the shape around to bring in three centre halves to give us more width on the pitch because we're without Adam Newton at the moment. It didn't seem to work and we sat back and defended, had no momentum and no-one got close to their midfield. We spoke about it and worked on the new formation in training and the players were happy with it but in the reality of a game it didn't seem to work. To be fair to the opposition they've put in an extra striker and pinned us back... We're winning games and playing poorly'".

The Liverpool Daily Post states that "Chester are still searching for the first points of their campaign, after they lost 4-0 against Oxford United... The side have now shipped eight goals... They must bring experienced players into the club either on loan or permanently quickly... In the first half City competed adequately and were still in it at 0-0, but then they visibly tired in the second period as Oxford took a stranglehold on proceedings".

More comes from the Chester Chronicle which curiously says that "City now find themselves 27 points away from safety after they suffered a second-half collapse at the Kassam Stadium last night. Mick Wadsworth's men, hamstrung by a massive 25-point penalty, put up a brave fight before the break before their lack of pre-season preparation caught up with them for the second match running... The Blues made two changes to the side that started in their belated opening game of the campaign against Cambridge United, with Nick Chadwick taking the place of the injured Anthony Barry and 17-year-old centre-back Kristian Platt coming in for Glenn Rule.

It was Platt's first senior start and he underlined why he is so highly-rated at the Deva Stadium by producing an assured performance in a first period in which the visitors struggled to break out of their own half... That all changed after the restart... CHESTER: Danby, Roberts, Platt, Ryan, Meynell (Rule 78), Wilkinson, Vaughan, Ashton, Lea, Ellams (Owen 66), Chadwick (Rawlinson 90). Subs: Murphy, Kelly".
---
19 August 2009
AWAY TRAVEL
Details of the TASC away travel arrangements to Kidderminster Harriers this Saturday and to Kettering on 5th September are now on the Away Travel page.
ALTRINCHAM 2 HISTON 1
Altrincham's fine start to the season continued with another excellent performance to see off Histon, a team they had never beaten before.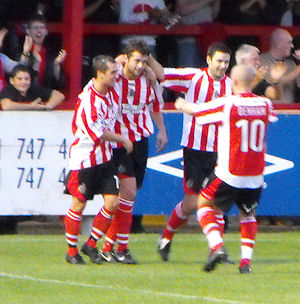 Right: Dale Johnson receives congratulations from Senior, Kearney and Denham after putting Alty ahead.
Alty line-ups, bookings
Before last night's game at Altrincham, the Cambridge News reported that "Histon were last night expected to sign Ben Farrell from Cambridge United on a month's loan in time for the player to travel to Altrincham... A Histon statement said that it was hoped that the loan deal would eventually be made permanent. It added: 'Manager Steve Fallon and coach John Beck have been admirers of Ben for some time and previous attempts to sign him have not come to fruition, but this time the circumstances for all parties seem right and the will to progress this move is also shared by all involved'... He only resumed training with United yesterday after recovering from an ankle injury, suffered in the U's friendly at St Ives two-and-a-half weeks ago. The lack of preparation had meant that United boss Martin Ling had ruled him out of contention for tonight's home clash with Crawley Town.
Meanwhile, 20-year-old goalkeeper Joe Welch will between the posts for Histon following Danny Naisbitt's red card during Saturday's 4-3 defeat to Oxford United. 'We're obviously confident enough he can do it, that's why he's here', said Fallon... 'If he goes in there and keeps three clean sheets and plays really well, he'll stay in', said the Stutes' boss. 'He's only a young lad and this is a big club, so he's not going to walk into our side without working hard and proving himself'... Midfielder John Kennedy appeared to be struggling with an injury in the first half of the Oxford match and may be replaced tonight by Neil Andrews... 'We've got to make sure we pick ourselves up', added Fallon. 'One or two looked tired and we need to make sure we're ready for it'".
OLD BOYS
Peter Band scored a 90th minute equaliser for New Mills as they drew with Congleton Town on Tuesday whilst Kieran Lugsden got an 88th minute leveller at Marine for Buxton. Former Alty youth player, Danny Jarrett, scored for Colwyn Bay in a 4-1 win at Mossley whilst former reserve Scott Metcalfe scored for Trafford.
IDEAS4ALTY
The Alty Fans' Forum announces that the Ideas 4 Alty website has been updated, "so please keep your ideas and offers of help coming in - the club ALWAYS needs more helpers so get in touch ASAP if you think you can help.

A new initiative has just been launched which allows fans to make donations to the club via Paypal. This will be in the form of an online "bucket collection" which will run alongside Gary Warrington's excellent half time bucket collections which have raised a lot of cash for the club over the last ten years or so. Don't worry if you haven't got a Paypal account because you can still make payments by credit/debit card.

For more information please come and take a look at the site" (link above).
SEAN'S PATIENTS
Tuesday's Robins' Review included Altrincham physio Sean Riley's update on the injury situation at Moss Lane... Below is a slighlty different version of that report received from Sean.

"As stated on the club website we picked up three injuries during Saturday's game at Hayes, (Stuart Coburn, Dale Johnson and Danny Heffernan). There is good news for Stuart and Dale, as their injuries were knocks they should both be available for Tuesday night's game...

Not so good news for Danny is that his head wound was glued at the hospital in Hayes yesterday which means he will not be available on Tuesday but should be fine for next Saturday's home match. The home side on Saturday failed to provide a club doctor and this is one of the reasons that may have contributed to Danny requiring hospital treatment.

It would have also meant a long delay for our team coach if it was not for the kind gesture of Grahame and Karen Rowley who offered to go to the hospital and bring Danny back home following his treatment. This meant the team left the ground on time and I would like to thank the Rowley family for their help yesterday.

On Thursday evening Robbie Lawton and myself made the trip to Leicester to see the consultant to see if Robbie was a candidate for a pioneering treatment which hopefully will but an end to his continued groin discomfort. It was positive news as the consultant feels Robbie could benefit from surgery. The surgery consists of dividing a number of ligaments on the left side of his groin to release the tension they are exerting on the pubic bone. Hopefully his operation should take place on Thursday 27th August in Leicester. On the subject of Robbie, previous newspaper reports have stated that he is suffering from a hernia. This is not, and has never been, the case. He is suffering from a condition called - osteitis pubis, which is very difficult to treat as it causes inflammation around the pubic bone which is very difficult to settle.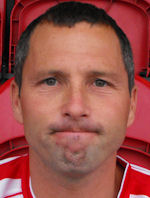 On Tuesday of last week we got the results back from Colin Little's scan on his persistent right sided back problem around his upper spine. As a result of this, Colin (right) he has started a course of specialist treatment that will hopefully settle his symptoms. Early signs are he has responded very well. He has no need to stop playing throughout his treatment.
On Friday, I took Chris Denham to see a consultant in Preston as he has been having pain in his left knee for some time now. he has a condition called patella tendonitis, (this is where the tendon under the kneecap becomes inflamed and very painful). He is having a scan on his knee on the 3rd September and I will decide on the best course of treatment for Chris once I have the results and discussed it with the consultant.
Last Wednesday Michael Welch had his cast removed and his ankle looks really good. The surgeon did a really good job of stabilising his ankle, he will start his rehab this week with me then, in September, he has a four-day spell at Lilleshall then his late-stage rehab will be concluded with me, prior to a hopeful return to first-team duties in early October.
It is not the intention to alarm supporters with all the talk of consultants and scans but, with a small squad, it is very important to keep on top of all injuries and medical conditions that our players present with, so that early treatment can begin which will hopefully maintain the squad at maximum strength to allow the gaffer and Ken McKenna to put the strongest side possible out on matchdays and continue our early run of good form".
A DAY IN THE LIFE...
Brian Flynn has kindly sent the website the following article from Tuesday night's Robins' Review in the "A Day in The Life" series...

"I have been an Altrincham fan since 1972. However, for seventeen seasons, I had no involvement at the club apart from watching home and away games from the terraces. I had no real desire to be involved until a schoolboy error at a Supporters' Meeting held in the old Chequers Nightclub in November, 1989 changed everything for me. I complained about the quality of information on the newly-launched club telephone information line and the then Chairman, Geoff Lloyd, spotted the opportunity to lure another unsuspecting victim into the web that is Altrincham Football Club, by stating that they knew there was a problem and that they needed someone from the Club to run this service.

I agreed to give it a go until the end of the season and, despite some initial misgivings, I have been doing that job now for almost twenty years! I didn't really enjoy it at first, because sitting in a Press Box watching your favourite team is a completely different experience from watching the game from the terraces and, over the years, there have been many occasions where I have found it difficult to reconcile the differences between my official role of being a reporter and my core role of being a fan.... the latter always being the more important one in my view.

My new role soon opened other doors for me and, during the 1990/91 season, GMR (now BBC Radio Manchester) started to take an interest in Altrincham's progress towards landing the Conference title and from that point, whenever Altrincham's matches are covered on the radio, it is generally my dulcet tones that are to be heard through the ether.

During the last seven years, I have taken on other roles within the Football Club, being Chairman of the Supporters' Trust (STAR) and now the Supporters' Club (TASC). Just over a year ago, John Edwards and I became the new Press and Media Officers and therefore on a matchday, I typically wear a number of hats and, as an example, I'll go through my planned schedule for this coming Saturday's game against AFC Wimbledon.

Between 11.00 a.m.- 12.30 p.m. I will be in the Noel White Suite, chairing the monthly meeting of the TASC Committee. I will then go home, grab some lunch and get back to the ground before two o'clock. Having set myself up in the Press Box, I will then normally go into the Club Shop and spend some time there in the TASC area. There are usually one or two people to see about TASC-related stuff and I will then return to the Press Box around twenty minutes before kick off. It normally takes me about fifteen minutes after the final whistle to complete my reporting duties and then it's into the bar to unpick the game in all its finest detail with the intelligentsia that lurk all over the Noel White Suite at that particular juncture.

That will be a fairly normal day for me but, such is the rich tapestry of experience of being involved these days at the Football Club, that there are always new and exciting ways to do my bit e.g. last Saturday I made my debut as a driver to ferry one of the two minibuses of supporters to Hayes and Yeading United!

Oddly enough, one of my all time favourite experiences came from my involvement at Moss Lane but had nothing to do with Altrincham Football Club. At the F.A. Trophy Final in 1996 I did a full match commentary from the BBC gantry that was perched underneath the roof of the old Wembley Stadium... Two other local teams, who wore blue and green were involved!!! Generally though, the satisfaction of being involved at Moss Lane is in being part of the cause to help the Football Club and to share the highs and lows of being an Alty fan with other people who have chosen that same pathway".
BSP NEWS
NL Daily says that "Rushden & Diamonds have signed 20-year-old central defender Bobby Aisien, whilst midfielder Jamie McGuinness has gone out on a month long loan to Bedford Town. Aisien started his career with Peterborough United as a youth player moving to Wingate & Finchley in 2007. He was on trial at the Diamonds this summer... He has also played for the Nigerian under-19 side".

And "Forest Green Rovers have signed Torquay United duo Mark Ellis and Steve Adams on one-month loan deals... Defender Ellis, 20, began his career at Exeter City but was quickly snapped up by Bolton Wanderers. He joined Torquay on loan last season and impressed enough to be offered a contract by the League Two new boys. Midfielder Adams, 28, was a member of Plymouth Argyle's promotion-winning sides of 2002 and 2004 and has also played for Sheffield Wednesday and Swindon Town".

At Ebbsfleet United "Liam Daish has added to his squad with the signing of pre-season trialist Stefan Bailey. The 22-year-old central midfielder, who can also operate at right-back, began his career as a scholar with Queen's Park Rangers in 2004 before making his first-team debut aged 17 in 2005/06, going on to play more than 20 games in the Championship. The tough-tackling, hardworking player played three times for Oxford in the Conference in a loan move in 2007 and a year later signed for Grays following his release by QPR. He ended last season on loan at Farnborough".
---
18 August 2009
RESULTS
Tuesday 18 Aug.
AFC Wimbledon 4 Salisbury C. 0 - Salisbury keeper sent off
Altrincham 2 Histon 1
Cambridge U. 0 Crawley T. 1
Forest Green R. 0 Luton T. 1
Gateshead 1 Tamworth 1
Grays A. 1 Eastbourne B. 0
Kidderminster H. 0 Kettering T. 1
Mansfield T. 4 Barrow 1 - Bolland sent off
Oxford U. 4 Chester C. 0
Rushden & Diamonds 2 Hayes & Yeading U. 1
Stevenage B. 3 Ebbsfleet U. 0
Wrexham 1 York C. 0
MATCH UPDATES
There should be match updates here during Tuesday night's game against Histon.
BANK HOLIDAY EVENT
Altrincham FC announce that on Monday, 31st August, there will be a questions and answers session with Steve Bernard, the Australian cricket manager, starting at 7:30pm in the Sponsors' Lounge at Moss Lane. Tickets are just £15 per head and include supper. Places are limited so please book early by calling the Club on 0161 928 1045 or by sending an e-mail.

The event takes place after Alty's match with Chester City at Moss Lane.
HISTON STRENGTHEN
Cambridge United report that "Ben Farrell is joining Histon on an initial one month loan. The midfielder, who almost joined Histon on loan last season, is expected to train with Histon on Monday evening before completing the loan paperwork. He is expected to go straight into the Histon squad for their game at Altrincham on Tuesday evening, and his initial loan will last to 19th September. 'He's going out to get some first team football', Martin Ling told cambridgeunited.com. 'Also, as I've said before, the squad is overloaded in the midfield area and this allows us to bring in another defender for a bit more balance in the squad'.

Ben, who has just recovered from an ankle injury, joined United from Bedford Town in January 2008. He has made 28 league appearances since then, scoring three goals, but his career at United has been interrupted by injuries and unfortunate red cards. He finished last season on loan at Cambridge City".
REMEDY FOR ROBBIE
In tonight's Robins' Review matchday programme, Alty physio Sean Riley (right) gives a full progress report on the current list of player injuries at Moss Lane, so make sure to get your copy. In the meantime, Sean has confirmed that Robbie Lawton will be having an operation on his left groin on Thursday the 27th August at the Spire Hospital, Leicester, by a specialist in the condition from which the Alty captain is suffering. We all wish Robbie a successful outcome and a rapid recovery.
OLD BOYS
Danny Adams conceded a penalty to Burton Albion on Saturday.
THE MAN IN CHARGE
For Saturday's match at home to AFC Wimbledon, the referee will be Mr A. Madley, who officated at Alty's away game at Mansfield last season.
BSP NEWS
There are more new signings at Grays Athletic, according to the Football Conference which tells us that the Essex club has "completed the triple signing of midfielder Tom Harvey and defenders Rio Bryan-Edwards and George Beavan. Harvey, 19, joins Grays having been released by West Ham United, where he made regular reserve appearances. Bryan-Edwards, 17, arrives having been a trainee at Queens Park Rangers. Meanwhile, 19-year-old Beavan has rejoined Grays on loan from new league rivals Luton Town, having spent four months with the club last season".

From NL Daily comes news that "Dean Holdsworth, manager of Newport County, has announced that he has agreed a deal with Mansfield Town - the club managed by Dean`s brother David – to enable Jason Bradley to join the Exiles on an initial month's loan. Bradley is a 6' 3'' striker who has previously played for Sheffield Wednesday and Darlington".

The Northants Evening Telegraph says that "Speculation is mounting that Exodus Geohaghon is set for a move into the Football League. Scouts, including former Kettering Town boss Graham Carr on behalf of Notts County, have watched the giant defender in the Poppies' first three matches. Southampton are rumoured to be another club interested while Geohaghon was watched by Sheffield United on occasions last season... Manager Mark Cooper has urged Geohaghon to remain focused... 'If any clubs are going to make a move then they will need to do it soon', the Poppies' boss said. 'As far as I know, no one has come in yet... He has to respect his team-mates and the staff here by making sure he is 100 per cent focused on our next game'.

Cooper, meanwhile, revealed the Poppies will complete a permanent deal for winger Danny Thomas today after the former Macclesfield and Bournemouth man scored Kettering's goal in Saturday's 2-1 defeat. Thomas, who has been with the club on non-contract terms... 'Danny has given us that real balance on the left side', the Kettering boss added".
CHESHIRE NEWS
They may only have offered the tax man and other creditors 35p for every £1 of their debt to them, but the Northwich Guardian reports that money has somehow been found to allow Northwich Victoria to sign "their fourth shot-stopper of the summer. Goalkeeper James Spencer agreed to join the Blue Square North new boys on Friday following his release by Rochdale. 'He's another top keeper', said Vics' boss Andy Preece. 'He'll add to the competition for places here'. Indeed, the 24-year-old takes his new club's keeper tally to four following the arrivals of Curtis Aspden, Kyle Clancy and James Coates this summer. 'James is a young guy who we are looking to develop with a view to helping him move on and Northwich Victoria making money', added Preece. 'That's part of my remit. It may be that he's not here too long – I think he's that good'".
---
17 August 2009
COMING UP
Altrincham have lost all four previous encounters with Histon by a single goal; three of the games ended 1-0 and the other 2-1 to the Stutes. This time Alty face a Histon side lacking their first-choice keeper, Danny Naisbitt, who was sent off for throwing a punch on Saturday. Since last season Histon have lost defenders Ada and Mitchel-King to Crewe and striker Jack Midson to Oxford United. Alty go into the game second in the BSP, whilst leaders Luton are away at bottom-placed FGR.

On Saturday, Alty entertain AFC Wimbledon in the first encounter between these clubs. AFC Wimbledon do, however, play at a familiar venue, Kingstonian's ground at Kingsmeadow which is now shared by the two clubs.

AFC Wimbledon announce that "AFC Wimbledon chief executive Erik Samuelson will be appearing on BBC London's Non League Football Show on Monday night at 9 pm, presumably to offer his feedback on life in the Blue Square Premier so far and to join in the studio chat with the host, Caroline Barker, and former Dons manager Dave Anderson, plus other luminaries of the non league world. You can listen by tuning in to BBC London, 94.9 FM, or by clicking Non League Show at the appropriate time".
GREG'S VIEW
In Sunday's NL Paper, Altrincham captain Greg Young said of the Hayes match, "In the first half we played some great football, passing it around. We should've had 3 or 4 goals. In the second half we killed the game off".
SEAN'S SURGERY
Altrincham FC physio has kindly provided an update on the club's injuries. A full version of his report will be in Tuesday night's Robins' Review matchday programme, which remains great value at just £2.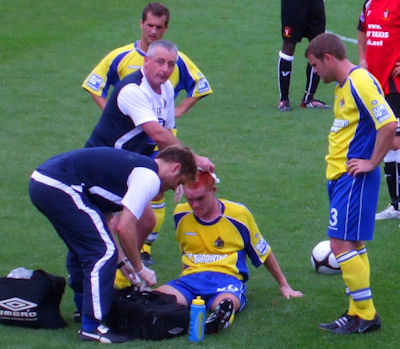 Right: Danny Heffernan receives treatment from Sean Riley (facing camera) and the Hayes physio.
As stated on the club website we picked up three injuries during Saturday's game (Stuart Coburn, Dale Johnson and Danny Heffernan). There is good news for Stuart and Dale, as their injuries were knocks they should both be available for Tuesday night's game. I spoke to both of them this morning [Sunday] and they are both confident of making the squad.
The not so good news for Danny is that his head wound was glued at the hospital in Hayes yesterday which means he will not be available Tuesday but should be fine for next Saturday's home match...
On Thursday evening Robbie and myself made the trip to Leicester to see the consultant to see if Robbie Lawton was a candidate for a pioneering treatment which hopefully will but an end to his continued groin discomfort...
On Tuesday of last week we got the results back from Colin Little's scan on his persistent right-sided back problem around his upper spine...
On Friday, I took Chris Denham to see a consultant in Preston...
Last Wednesday, Michael Welch had his cast removed and his ankle looks really good. The surgeon did a really good job of stabilising his ankle. He will start his rehab this week with me then, in September, he has a four-day spell at Lilleshall then his late-stage rehab. will be concluded with me, prior to a hopeful return to first team duties in early October.
It is not the intention to alarm supporters with all the talk of consultants and scans but, with a small squad, it is very important to keep on top of all injuries...".
OLD BOY
Mark McGregor started his managerial career with a good result as Welsh Premier reports that "Neath's expensively-assembled side was held 1-1 at The Gnoll by Gap Connah's Quay, despite taking the lead... Chris Herbert levelled for the Nomads with a close-range header in the 69th-minute for a well-earned, if unexpected point".
BSP NEWS
After just three games the Bedfordshire press has Luton marked down as champions, as Luton Today reports under the heading "Champions-elect Luton made to look ordinary by part-timers" that "A mad minute cost Gateshead dear against champions-elect Luton Town as they lost 2-1 at Kenilworth Road on Saturday. That is the view of Tynesiders' boss Ian Bogie who felt that his side lack the quality to make their dominance pay. Bogie... said: 'We had a mad minute that cost us the game. Last season in the Conference North we would have won that game. Make those mistakes at the higher level and you are punished. I thought we played some good stuff and created a lot of problems for Luton. We took the game to them at a lot of stages. Luton had their moments, but you would expect that with their following here and we more than matched them... We didn't come here to sit and defend, we came to take it to Luton. I said to the players that Luton will probably win this league and end up as champions but people will come here and raise their game'".
---
16 August 2009
OLD BOYS
Joe O'Neill (right) netted for Stalybridge Celtic on Saturday, whilst former loan player from 08-09, Ben Wilkinson scored after just 32 seconds for Chester City.

Former Alty Youth Tom Bailey, who played inthe FA Vase final last season for Glossop NE, has now joined Maine Road. Nehru McKenzie, an Alty midfielder in 2005/6, has joined Vodkat league side Padiham. One of Tom's successors as a youth team striker, Sam Madeley, scored yesterday for Woodley Sports

An Alty trialist this summer, Eddie Stamford, scored for Radcliffe Borough as they drew 1-1 at AFC Fylde on Saturday, whilst ex-Alty loanee James Dean got two for FC Halifax as they won 3-0 at Colwyn Bay.

In League Two, Ian Craney scored for Morecambe as he starts his season-long loan to the Shrimps from Huddersfield Town. Ex-Alty trialist Chris Baguley netted for his new club Leigh Genesis in a 3-1 win at Rossendale, as did another ex-trialist Scott Metcalfe for Trafford.

An Alty loan player from Macclesfield last season, midfielder Jordan Hadfield has moved to Ashton United.
HAYES & YEADING 1 ALTRINCHAM 2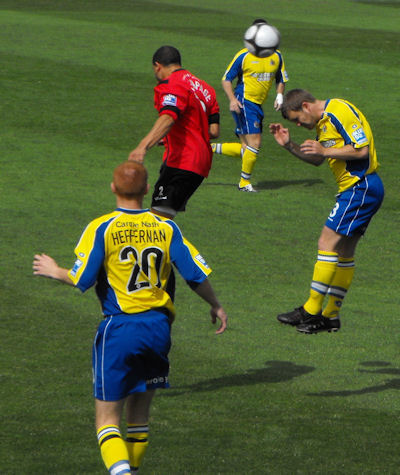 Altrincham picked up injuries to Heffernan, Johnson and Coburn in overcoming a disappointing Hayes side at Church Road.

Right: Matt Doughty heads clear at Hayes, as Danny Heffernan looks on.

Hayes & Yeading United report that "An extremely disappointing Hayes & Yeading United performance saw a full 90 minutes pass before the home side could muster a meaningful shot on target, this effort seeing Scott Fitzgerald net a consolation goal after the visitors had struck earlier through Chris Denham and Colin Little... It was to be a rearguard action from United right from the off... In stoppage time the unthinkable almost happened as United were just inches away from snatching a draw you could never have imagined minutes earlier. Again the catalyst was a 20 yard effort from Green, this time a sliding Marwa was just inches from connecting as the ball continued wide of the far post". Video highlights will be on the HYU site 48 hours after the game.

Saturday 15 August
Barrow 0 Stevenage Borough 0
Chester City 2 Cambridge United 4
Crawley Town 1 Wrexham 0
Eastbourne Borough 1 Rushden and Diamonds 1
Ebbsfleet United 0 Kidderminster Harriers 0
Hayes and Yeading Utd 1 Altrincham 2
Histon 3 Oxford United 4
Kettering Town 1 AFC Wimbledon 2
Luton Town 2 Gateshead
Salisbury City 0 Mansfield Town 1
Tamworth 2 Grays Athletic 1
York City 2 Forest Green R. 0
---
15 August 2009
BEFORE THE GAME
It is hoped to provide updates here during Saturday's game at Hayes and Yeading United.

Before the game, Hayes and Yeading United "have confirmed that Will Hendry has left the club by mutual consent". And the BBC adds that "Hayes and Yeading could hand a full home debut to loan signing George Daly following his arrival from Wycombe. Midfielder Will Hendry will not figure after being allowed to leave the club on Thursday. Altrincham have a doubt over striker Colin Little, who is suffering from inflammation of his back injury. Robbie Lawton is unlikely to feature as he is due to see a specialist about a persistent hip problem. Michael Welch (ankle) remains sidelined".
MATCHDAY SPONSORS
The latest list of this season's Matchday Sponsors is now on the site. If you would like to sponsor a match or a matchball, please ring the club on 928-1045.
ALTY'S COMIC CONNECTION
The BBC iPlayer has an episode of comic writers Laurence and Gus's "Hearts and Minds" programme. In it, Laurence Howarth refers to how he stands on the terraces at Altrincham games. Based in London, the comic writer, who recently appeared in the Reggie Perrin series on BBC TV, is often to be seen at away matches, whilst his father, Nigel, is a regular at Moss Lane.
OLD BOYS
The Baguley brothers, Jamie and Chris, one a former Alty player, the other a former trialist, have joined Leigh Genesis from FC United of Manchester.
BSP NEWS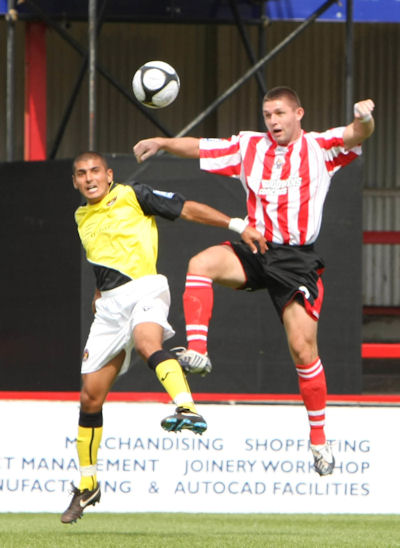 Right: Ebbsfleet striker Magno Vieira tries to pinch a ball off Alty's James Smith in last Saturday's game at Moss Lane. Picture courtesy of Les Rathbone of GR Photography.
According to an official statement from the Football Conference "By proposing to transfer the Competition membership of Chester City FC (in Administration) to a new Company, a Football Association Commission Hearing held yesterday found the Football Conference had contravened its rules along with corresponding Football Association rules.
The Football Conference accepts the findings of the Football Association, in full. It is satisfied the main objective, i.e. to sustain the highest possible level of football in the community of Chester, whilst maintaining the 24 Club Competition; and honouring their promotion/relegation agreement with the Football League, has been achieved. The Football Conference thanks its Premier Division Clubs for supporting the Board's recommendations.
The Competition is happy to announce Chester City FC will commence its fixtures tomorrow (Saturday 15 August) with a home fixture against Cambridge United FC. Chester City FC will, though, commence the season on minus 25 points, i.e. 10 points for entering Administration and a further 15 points for not meeting the competition's insolvency policy, to which the Club has agreed and accepted. The matches postponed on 8th & 11th August will be re-scheduled.
The Football Conference looks forward to reviewing its insolvency rules with the Football Association, and will invite the Football League to join the discussions".
The Conference also reports that "Salisbury City have signed Danny Glover and Luke Prosser on one-month loan deals from Port Vale. Striker Glover, 19, who is the son of former Vale manager Dean, has made forty-two appearances for the Valiants, scoring four goals. Defender Prosser, 21, has made thirty-three first-team appearances for Vale".
The Chester City situation has polarised opinion as the following two pieces underline...
The 200% website writes, "So, Steven Vaughan wins and the game of football dies a little more inside. The FA have decided to back the Football Conference and have given Vaughan's Chester the right to start the new season, in flagrant contravention of rule 2.7 of the Conference's own constitution and awarded the club a licence to play football for this season. It has been a busy week for the Football Conference and the FA. At the end of last week, the Football Conference announced unilaterally that Vaughan's Chester would be given the go ahead for the club start the new season, even though the FA still hadn't ratified that they had an actual licence to play. The FA stepped in at this point and told the Football Conference in no uncertain terms that their match against Grays Athletic would not go ahead until they had granted their permission for it to do so, and the match was called off, as was Tuesday night's match against Gateshead.
At the start of this week, the Conference put the matter to a vote amongst all twenty-three other BSP clubs, who voted (very much in the way that turkeys are not universally known for their tendency to vote for Christmas) unanimously that the club could start the new season this week. Earlier this week, what was supposed to be a protest at what had been going on at the club drew television cameras to The Deva Stadium, but with a significant number of Vaughan's Chester supporters having now seemed to decide that this whole debacle was somehow the fault of the FA rather than the fault of their own club, it was not difficult for those sympathetic to Vaughan to turn the protest into an almost embarrassingly pro-Vaughan, anti-FA demonstration, under the pretence of it being 'a show of unity for the club'. It's unsurprising that this came to pass, considering the thinly-veiled threats of violence made against people that may have protested against Vaughan on the club's unofficial message board, Deva Chat.
The FA and Football Conference have, ultimately, made a decision which is spineless, a cop out and an insult to anybody that believes that football clubs should abide by rules that are in place in the greater interests of the game. The Football Conference's rule 2.7, the one which was the sticking point when it came to the club's eligibility to start the season, may as well be abolished right now. That is the grim truth of the matter. There is no point even having a rule designed to stop clubs body-swerving their obligations towards their creditors if, when push comes to shove, the authorities relent and allow these rules to be bypassed. The Conference has broken its own rules, and the FA have sanctioned it. This disregard for the rules - and, man alive, these guys are rigid enough about rules when they want to be - has wider ramifications. Every asset stripper, every huckster, every two-bit who thinks that there may be a couple of shillings to made from picking at a small club's carcass will have been watching developments at Vaughan's Chester thinking, "He'll never get away with it, will he?", and he has. There is a little less reason for unscrupulous club owners to manage their football club within its means this evening.
What arguably makes this even worse, even more insulting, is that they have admitted as much. The FA have fined the Football Conference £5,000 (suspended for a year) for breaking their own rules and warned them that their rules now have to be reviewed before the end of this season. The Conference, in issuing their own statement describing how they are looking forward to working with the FA to review their insolvency rules, have - in not complaining about it - effectively admitted not merely that they bent the rules to help out a club but that they broke their own rules to allow Vaughan's Chester to stay in the BSP this season. Goodness only knows what will come out of this 'review'. It would be nice to think that the FA would sit down all of the leagues and draw up identical insolvency rules for all of the leagues, from the Premier League down to the amateur leagues, and that these rules will be stiff, with absolute penalties for transgressors. The likelihood of this happening, however, is slim to zero. In the mean time, back in Footyworld, that surreal parallel universe in which the normal laws of physics often don't seem to apply, life will return to normal. The Football Conference hasn't upset the Football League, and it will have twenty-four competing clubs this season.
Vaughan's Chester's supporters may well be celebrating this evening, but their hard work starts here. The points deduction stands, and the lack of a proper pre-season will hurt manager Mick Wadsworth and his team. Even if they avoid relegation this season, it is still possible that they will be expelled at the start of next summer if their house isn't in order by then and with a new CVA now being almost if not completely impossible to obtain, it is difficult to see a long term way forward for them with Vaughan in charge. He has no obligation to sell at the moment, though. It now seems likely that the old company will be put into liquidation and that suppliers, local businesses and HMRC (in other words, you and I - let's not forget that, ultimately, all money raised from tax revenues is our money) will be left without any recompense. Vaughan's Chester's supporters have been very, very lucky, and the very least that they owe the rest of us is to work tirelessly until Vaughan is removed from Vaughan's Chester.
For now, though, he's still there. The man that sold his shares in Barrow for a nominal fee, when the club played Vaughan's Chester in the FA Cup, to a painter and decorator, only to buy them back a couple of days after the match was played. The man that held a minute's silence at The Deva Stadium for Colin Smith, a gangster shot dead outside a Liverpool gymnasium in 2007. The man that either did or didn't pay £11,000 per week for 'cleaning services' earlier this year. The man that signed the club over to his son at the end of April without making it public. The man that attempted a CVA with himself as the biggest creditor and saw an appeal against it upheld in court. Moreover, he still passes the FA's Fit & Proper Person test to be a director of a club. In some respects, this at least makes sense, at least logically. After all, if he wasn't a 'fit & proper person' to run a football club, the Football Conference wouldn't have accepted his application to join their league and the FA wouldn't have ratified the decision, would they?".
However, others think that it is the football club, rather than the creditors, who have been unfairly treated as Chester First reports that "Mick Wadsworth, the Chester City boss has received the green light from the Football Association to prepare his side for action tomorrow at home to Cambridge United... The Blues will start their campaign on minus 25 points on the back of the news that Lewis Alessandra and Glynn Hurst had left the club as a result of all the uncertainty surrounding City's future...
Wadsworth said: 'A victory tomorrow under the circumstances would be a marvellous result because our preparation has been badly affected. It would be like turning a pig's ear into a silk purse, because we haven't had the games and with players leaving us during the last week it has been a real kick up the backside... I hope to win the game, and I aim to win it, but the most important thing is to have a football team. It has been a very frustrating time and the situation has made life difficult for everybody at the club. All the uncertainty hasn't been very nice for the workforce. When you look at it from a human point of view it has been very unfair to everybody at the club, whether you're the groundsman or a striker, we're all in the same boat. It's been very unfair and very unfortunate in my view, and it has made things very difficult because we lost the game last Saturday at Grays and in the meantime we've also lost two strikers'.
'Lewis Alessandra signed forms for us last week to stay on loan for a month, but because we weren't sanctioned and Oldham wanted him, they called him back... and then on Wednesday Glynn Hurst understandably told me he was worried about his future and had had enough with the club. Glynn's agent rang me on Wednesday night and told me that Glynn had accepted terms with another club. So in the space of three or four days we've lost our strikeforce so close to the start of the season. The good news is that Tim Ryan has decided to stay with Chester despite receiving two offers from other clubs...
Wadsworth admitted he was facing a race against time in his search for a striker. He admitted that Gregg Blundell and Fabien Yantorno were not yet ready... He said: 'I have been talking to several clubs about the possibility of taking loan players from them... I know I need to sign another striker... Shaun Kelly is still injured, and we're fighting against time to get Tim Ryan fit. Fabien and Gregg are still about a week away, but Andy Murphy, our second choice goalkeeper is back after illness'".
From the Liverpool Daily Post we learn that "Chester City will turn their attentions to preparing for tomorrow's match, after they were granted their prized affiliation to the Football Association last night... It is understood that Chester are to take legal advice, and in view of the FA's statement will consider an appeal against the extra 15 point deduction, an earlier 10 point deduction will not be challenged. On the field City are expected to sign the former Everton and Plymouth Argyle striker Nick Chadwick later today, the 26-year-old Shropshire-born player is a free agent".
CHESHIRE NEWS
Following a fans' forum at Northwich Vics this week, their Forum reports that the club is "still at an impasse with the tax man, [who] rejected the 35p in the pound offer".
---
14 August 2009
FRIENDS' DRAW
The Friends of Altrincham FC monthly draw for July was performed on Saturday. The winners are as follows:-
1st No 40 - David Mardon - £100
2nd No 1 - Simon Ellis - £35
3rd No 45 - Neil Faulkner - £15
SATURDAY
I am pleased to say that Howard Watts, though still based in North America, will once again be providing the Through the Years data to the website. This records every Altrincham game on each date that Alty have a game this season. The table for August 15th is short as Alty have only three times previously had a game on this date, given that the season has started so early this year.

Highlights of our next opponents, Hayes & Yeading United's last game - versus Stevenage Borough - is on YouTube whilst Blue Square site has audio interviews with both the Barrow and Hayes managers.
ALTY'S "AGEING JOURNEYMEN"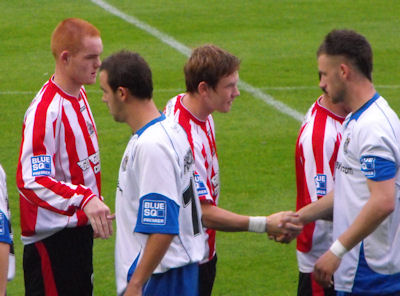 Right: Alty veterans Danny Heffernan (aged 22) and Shaun Densmore (20) shake hands with their Barrow opponents before Tuesday's game at Holker Street.
The Gravesend Reporter "For Fleet fans, it was the longest close season in recent memory with the club seemingly in turmoil, strapped for cash and the worst-case scenario was that we would barely be able to field a youth team, much like Weymouth towards the tail-end of last term...Daish has once again exhibited great professionalism in the stoic manner with which he has continued to build a side on a small budget, and in his dealings with York to secure £55,000 as a result of the Michael Gash saga - a good piece of business all round...
No doubt we have a long campaign ahead of us and such youthful players may initially struggle to find their feet in the presence of gnarly old goats like Cambridge's Wayne Hatswell or experienced workhorses like Paul Carden... I'd much sooner watch the talents on display thus far than the kind of desperate football played with ageing journeymen that sides like Altrincham, Lewes, Southport and Stafford have put on in the past. This team can only get better and the players have undeniable talent".
Altrincham's team of "ageing journeymen" beat an Ebbsfleet side 2-0 last season at Moss Lane whilst the Fleet fielded a 37 and a half year-old central defender in the return fixture.
Elsewhere the Gravesend Reporter reports how "Ebbsfleet began their campaign with a creditable 1-1 draw up at Altrincham last Saturday... Yet [manager] Daish was left bemused when referee Peter Bankes chalked off Darius Charles's late 'winner.' 'It was a good point and the team kneaded [?knitted] well," he said... 'As the game went on, we looked stronger, passed the ball well and deserved a point and possibly all three... We went 2-1 ahead in the end - although the referee saw something...I don't know what... It's been a tough start for us, with a trip to Altrincham, Cambridge at home and now these two games [Kidderminster and Stevenage]'".
OLD BOY
Aldershot lost 2-1 away to Bristol Rovers in the Carling Cup. Get Hampshire" reports that Shots' manager Garry Waddock "took a number of positives from running League One opponents so close, especially as... he had had to adjust his defence and draft Lewis Chalmers in at right back. Chalmers, as he usually does, had a good game".
CHESHIRE NEWS
The Mid-Cheshire Chronicle reports that Former Alty chairman and current "Witton Albion chairman Mark Harris has scheduled meetings with shareholders and supporters this week - but insists he has received no offers for the club's Wincham base. The Chronicle understands a developer has offered to build Albion a new ground in Northwich, and throw in a £500,000 cash sweetener, in exchange for the 'prime' six-acre home - a deal similar to the one that took the club from the Central Ground, now Sainsbury's, to Wincham Park in 1989.

But on Thursday Harris categorically denied there was a firm offer on the table. 'We're having a shareholders' meeting followed by a supporters' information meeting at which I will be updating everyone on our position', he said. 'My responsibility to the shareholders and fans is such that we've got to sustain the club. It could be that's brought about by redeveloping the current ground, or by moving the club. As and when someone comes to us with an offer that we believe is in the interests of the shareholders, supporters and the local community, I'll consult them... But we're not in that position yet'.

Asked for an estimate on the value of the plot, Harrison[?] said: 'It's not so much what it's worth now, it's what it might be worth in the future. Land with planning permission has a much greater value. The reality is we're sitting on a prime plot of development land. We always have dialogue with potential developers'. The open supporters meeting will be held at Wincham Park tomorrow, Thursday, at 8.30pm".

A few hundred yards away, "Chairman Jim Rushe is still locked in talks with the taxman to thrash out a deal and rid Northwich Vics of their six-figure debt. HM Revenue and Customs – owed around £450,000 by the club – have rebuffed two proposals from Rushe for a Company Voluntary Arrangement (CVA)... 'The administrators (Refresh Recovery Ltd) are now in negotiations with the Inland Revenue to try and resolve the situation and establish what offer they will accept', Rushe told the Chronicle yesterday, Tuesday. 'I'm expecting to speak to them this week to find out where we're up to'.... It is only HRMC standing in the way of the CVA being agreed, which would pave the way for Rushe to buy Vics back using a new company and complete a £1.3m deal, agreed earlier this year, to purchase the club's Victoria Stadium home".
BSP NEWS
Another bizarre twist has occurred in the Chester City saga as The FA issues a statement saying, "The Football Conference was called to appear before a Commission of The FA's Sanctions & Registrations Committee today. The Commission found that the proposed arrangement whereby the new company running Chester City would be granted membership of the Conference by accepting a deduction of a further 15 points was a clear breach of Conference rules. As a result, the Commission has fined the Conference £5,000, suspended until the start of the 2010/11 season.

It was also ordered that the Conference review their insolvency rules in conjunction with The FA by 31 December 2009. An FA spokesman said: 'In the interests of all parties, not least the supporters of Chester City, this has been dealt with as a matter of priority. It has been clear that the Conference would be breaking its own rules by proceeding with their proposal and this made it impossible for The FA to approve it. We would have liked to resolve this situation before the start of the season but important aspects of this arrangement have only come to light in recent days.

We understand that this unfolding situation has raised unique challenges for Chester City and the Conference. We have worked with both parties throughout this process to reach a solution that ensures that Chester City can continue to play football whilst respecting the financial regulations which are in place to protect the integrity of the game.

'We are pleased that this draws this issue with the Football Conference to a conclusion. We will now meet with the Conference to look at how its insolvency rules can be changed to avoid a repeat of this situation in the future'.

The Football Conference Chairman, Brian Lee, said: 'Our main objective has been achieved, which will allow Chester City to play football on Saturday against Cambridge United. We accept the Commission's findings and look forward to joining The FA in reviewing our insolvency procedures'".

The BBC says that "Crisis club Chester City have been granted permission by the Football Association to at last get their 2009/10 season underway - a week late. City were granted FA affiliation on Thursday following a meeting involving the club, the Conference and the FA. That enables Chester to belatedly start their Blue Square Premier campaign at the Deva Stadium against Cambridge United this Saturday. But, pending an expected appeal, they will start with a 25-point penalty.

'It's a weight off our shoulders', City's most prominent shareholder Stephen Vaughan told BBC Radio Merseyside. 'We thought we had all this sorted out right up until a quarter to three last Friday when we were preparing to go to Grays. Then we got the bombshell that there had been a breach of the Conference rules to accept us. They then summoned the Conference to today's meeting and thankfully everyone seems to have seen common sense and come out with the right conclusion'.

Following relegation from the Football League in May, City took voluntary administration, knowing that would carry an automatic 10-point deduction. When it became clear that their former owner Vaughan was still part of the consortium which had bought back the club, the FA then intervened. And, following investigations, Chester were told they would be docked an extra 15 points. But the FA and the Conference are yet to say why.

And, although City will kick off against Cambridge still with that 25-point handicap - effectively making them 26 points adrift of safety before they start - they are expected to immediately launch an appeal. Vaughan added: 'The rule is that any side that comes into the Conference in administration would be automatically demoted to the next division. But Chester have come out of administration. Once the Conference accepted the new company, the rule was broken. What they did to overcome that was to get all the Conference members to take a vote and thankfully they all voted in our favour, all 23 of them'".

Earlier, from the Liverpool Daily Post we learnt that "The Football League last night came out in support of Chester City's quest for FA affiliation. In what is now turning out to be a massive PR disaster for them, the Football Association have prevaricated consistently over the past few weeks, regularly changing their stance about the reasons for not awarding City authorisation to play competitive matches.

Chester secretary Tony Allan said last night: 'Andy Williamson the Football League's chief executive contacted me saying that the League were firmly behind us in our quest for affiliation.... It is encouraging when we receive a message of support like this'.

It is understood that a number of ex Football League clubs, who are currently members of the Conference, have lobbied strongly in support of Chester, with Oxford Utd, Mansfield Town, and neighbours Wrexham being particularly supportive. The FA wouldn't reveal yesterday where today's meeting between their hierarchy and the Football Conference was to take place, with the main item on the agenda being the future of Chester City.

In another twist to this soap opera, it emerged yesterday that if City do receive affiliation, they may have the extra deduction of 15 pts, which was imposed last month, suspended for a year and a half. Apparently one of the rules in the League's constitution allows clubs 18 months to exit from administration, if they don't reach a satisfactory conclusion in that timescale, only then would the 15 pts deduction be implemented".

Salisbury City "are delighted to confirm that skipper Darrell Clarke and goalkeeper James Bittner have both agreed to sign new contracts with the club". Sport4Salisbury says that "City has confirmed that striker Robbie Matthews has left for rivals Kidderminster Harriers".

The BBC reports that "Barrow joint-manager Dave Bayliss has urged fans to remain patient after a 3-0 home defeat by Altrincham... 'Three points out of two games is no disaster', he told BBC Radio Cumbria. 'I'm disappointed for the brilliant supporters who came in large numbers. I'm sure they'll realise it's a blip... It's hurting me now and I'm sure it's hurting the players, because to feel like we did on Saturday, to feel like we do now is a stark contrast', he said. 'The performance wasn't too bad, it was individual errors at both ends, which have resulted in a 3-0 scoreline'". In Your Local Guardian "Terry Brown admits he will continue to tinker until he finds the right formula as AFC Wimbledon search for their first win in the Blue Square Premier. The Dons followed up an impressive 1-1 draw with Luton Town on opening day with a disappointing 1-0 defeat at Eastbourne Town [i.e. United] on Tuesday... He said: 'At this stage of the season it is still a learning process - both for the players and the management. It is important that I give all of the new players a chance to impress, and we are still trying to work out everybody's best position. Until we find the right formula there will be a lot of juggling... We will not be pressing any panic buttons yet - not until we get 20 games in'.

Brown opted to play Danny Kedwell on his own up front against the Hatters before reuniting Kedwell with strike partner Jon Main at Eastbourne... Brown added: 'The big plus is that defensively we have looked really strong - to concede a penalty and a ridiculous goal is nothing to be ashamed of... But at the end of the day one point from six is not where we want to be... "Midfield and up front are where the problems appear to lie - we need to be creating far more chances, as our only goal has also come from the penalty spot'... AFC Wimbledon's next three matches: Aug 15 Kettering Town (a), 18 Salisbury (h), 22 Altrincham (a)".

"Paul Barry remains tight-lipped over his future financial commitment to Cambridge United" according to the Cambridge News. "The acting chairman refused to be drawn on whether he still intends to pump money into the club when he appeared at (Wednesday)'s press conference to confirm Martin Ling's return as manager. Barry has injected hundreds of thousands of pounds into United over the last few years.

But it is unclear whether he is willing to keep putting his hand in his pocket amid allegations he had looked to sell his 5.4 million shares in the club to former chairman George Rolls for £240,000 three months ago. Barry said: 'I think a lot of people know me from my days of growing up on the terraces and going to away games. I'll always be a Cambridge United fan and that's all I can say, the rest of the issues are internal club affairs and they'll be dealt with at board level or in a shareholders' meeting... There's no doubt the structure of having [me as] a chairman 4,700 miles away is probably not the best way for the long term'".

Meanwhile "Jez George believes Cambridge United can progress confidently under the stewardship of Martin Ling. The director of youth football has been handed extra responsibilities, dealing with all playing affairs at board level, following the return of Ling... George said: 'Martin is without doubt the best man for the job, and I'm delighted he has taken it back...'Even in Martin's previous nine days at the club, he got involved in everything. He saw the youths play Blackburn Rovers and identified one or two that could be fast-tracked and it's better that we develop what we've got. There's no point looking further afield and not on your own doorstep, otherwise there's no point having a youth structure unless the man at the top is willing to look at them'...

Ling said: 'My previous managerial stint at Leyton Orient was built on a good youth policy and young players coming through, as well as working on a tight budget... The bigger picture is they want someone to come in here for the long term and it's a long-term process we're talking about, not a short-term fix'".

Someone who has started the season in fine form is Josh Simpson, with the former Cambridge United and Cambridge City playmaker excelling in Histon's engine room. And, with John Kennedy not yet at the top of his game and Neil Andrews struggling with blisters, the boss is keen to use the resources freed up by Nathan Bowden-Haase's departure to sign a midfielder to partner Simpson. Fallon said: 'We are a midfield player short at the moment... There are still quite a lot of people without clubs'".
---
13 August 2009
ANNOUNCER NEEDED
Altrincham FC are looking for a P.A. Announcer to cover Manchester United's Reserve games at Moss Lane. Matches normally take place on a Thursday evening with a 7.00 p.m. kick off. If you are interested, please contact Brian Flynn on 07860 561011 or by e-mail.
BARROW VERDICTS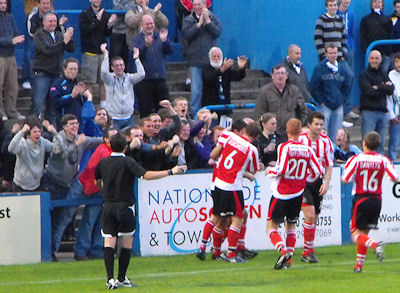 Left: Alty celebrate their first goal in front of the unsegregated crowd at Holker Street.
After the fine win at BArrow, Graham Heathcote told the Manchester Evening News, "Barrow is never an easy place to visit so, for us to have won so convincingly, is really very encouraging. It means we've got off to a nice little start but it's early days yet so it's vital we keep working hard and don't allow ourselves to get carried away".
The Barrow Forum's regular match reporter said of Tuesday's "fast and furious game. There was little to choose between both sides for much of the game. Unfortunately for Barrow , Altrincham's sharp shooters drilled three excellent shots past Tomlinson and we failed to convert a number of good chances. The scoreline flattered Altrincham... the first half finished with Altrincham in the ascendancy. In the 38th minute, Kearney unleashed a 25 yard shot which Tomlinson just failed to save, the ball lodging in the right-side of the net... Eventually, the effort to find the elusive goal left Barrow more open at the back and frustration started to show. After handbags between members of the two teams in the 75th minute, a free kick was awarded to Altrincham...0-3 seemed an unlikely scoreline based on possession but you couldn't argue with the quality of the goals... not a bad Barrow performance but Altrincham ruthlessly took their chances- and we didn't take ours".
Barrow's NW Evening Mail has an interview with "Altrincham assistant manager Ken McKenna – a former Barrow AFC player. He said: 'It was a good performance from our boys. First half, we were well on top, but second half we had to defend a bit and hit them on the break. I thought we deserved the win, I thought we played well. Maybe 3-0 was a bit flattering, but we'll take that. We created some good chances and they were three good goals'. On impressive striker Dale Johnson he added: 'He was excellent. If he can add a couple of goals to his game then there is no reason why he can't play at a higher level'".
The NW Evening Mail says that "The Bluebirds failed to reach the heights that had seen bag a famous 2-0 victory at big guns Cambridge United in the season opener three days earlier... The game saw AFC defender Mike Pearson make his first start since suffering an horrific double leg break in the FA Cup tie at Middlesbrough seven months ago. 'First start back, it's disappointing not to win, especially after we did so well at Cambridge on Saturday', said Pearson... 'We expected another three points tonight, but it didn't happen... The first goal has killed us a bit and then we didn't take our chances... They took their chances and ended up winning 3-0'...
The paper adds that "The Bluebirds... were deservedly beaten by their nearest geographical rivals in Blue Square Premier... All three of the Robins' goals came from strikes outside the box. The first arrived on 39 minutes when summer signing Tom Kearney strode onto a loose ball and from 25 yards out smashed it low past AFC keeper Stuart Tomlinson at his near post. It was a deserved opening goal for the visitors, who, after an opening 20-minute spell of Barrow pressure, went on to dominate the rest of the first half. An out-of-sorts Bluebirds side, who looked shaky in the centre of defence and failed to muster a single shot on target in the first 45 minutes, stormed back at the start of the second half, but some poor finishing and excellent goalkeeping from Stuart Coburn meant an equaliser never arrived... The visitors took time to settle, but once they did they began to play the better football through midfield. The Robins also utilised Johnson, who was cleverly dropping into the hole behind strike partner Senior".
AGES
Altrincham's starting line-up at Barrow had an average age of twenty-five and a half. When Alty started the 2007-08 season the squad's average was more than 28.
NEXT GAME- HAYES & YEADING UNITED
News of our next opponents comes from the Hayes & Yeading United website. Manager "Garry Haylock has boosted his squad with the signing of 'lightning quick' striker George Daly on a month's loan from Wycombe Wanderers. Highly-rated by Chairboys' boss Peter Taylor, he first signed as an apprentice with Wycombe in 2007. After banging in goals for the Under-18s he earned a call up to the senior squad making his first-team debut against Brentford on Boxing Day 2007. He made one further substitute appearance that season and had successful spells with both the youth and reserve teams last term before signing his first official pro contract at the end of May 2009".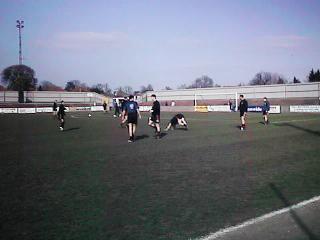 On Tuesday H&Y had a good 1-1 draw with Stevenage Borough at the Middlesex club's Church Road ground which is seen above as the teams warm up before their game there in March 2000. Indeed, Alty have twice before played there, against the former Hayes club, losing 3-1 in 1996/7 and drawing 1-1 in 1999/2000. In that draw Alty's team was 1. Key; 2. Hawes, 3. Adams, 4. Hodson, 5. Talbot (capt.); 6. Russell 7. Gallagher, 8. Morrell, 9. Landon, 10. Power, 11. Ellison. Subs: 12. Lovelock, 13. Greygoose, 14. Chambers, 15. Kielty, 16. Hart.
Hayes & Yeading United add that they "earned a first Blue Square Premier point at Church Road against Stevenage and, but for a superb Chris Day save, it could have been all three. Garry Haylock made two changes to Saturday's starting XI as he replaced James Mulley and Marc Canham with debutant Sami El-Abd and Scott Fitzgerald, new loan signing George Daly was to later make his debut from the bench".
MEN IN CHARGE
The referee at Hayes & Yeading will be Mr W. Atkin, who appears to be officiating an Alty game for the first time. When Alty host Histon next Tuesday, the referee will be Mr P.C. Wright.
OLD BOYS
At Salford City, former Alty midfielder Ged Murphy has left for an as yet unknown club. Whilst at Flixton former Alty Youth "Daniel McDonell [was] causing endless problems with his runs down the left hand side" against Runcorn Linnets.
BSP NEWS
There were some big gates in the BSP on Tuesday. More than 7,000 watched Luton v Mansfield and Eastbourne Borough had more than 3000 when AFC Winmbledon visited. Hayes & Yeading, whom we visited on Saturday had 681 for the visit of Stevenage Borough.

After parting with him last week, Cambridge United "is delighted to announce the appointment of Martin Ling as first team manager. Martin has acted honourably throughout the process of his original appointment, his brief tenure, and our subsequent discussions. The honesty, integrity and strength of character that he has shown, in addition to his undoubted management skills, make him without doubt the right man for the job.

The financial review carried out by the Board in the last few days has confirmed that Martin will be required to operate within a much restricted budget compared to the previous two seasons. However, we are confident that Martin will build a team over the next three years that can challenge for promotion. Martin will work closely with Jez George to develop the talented youngsters at the club, improve the first team squad, and create the environment which will bring long term success.

At Board level, Jez will be given responsibility for all football affairs whilst still overseeing the day to day running of the youth policy. It is anticipated that Martin will become involved at all levels of the club whilst having responsibility for the acquisition of senior players within an agreed structure and process.

The remainder of the Board will concentrate on developing the business side of the club and ensuring the finances are sufficiently robust to maintain a competitive playing budget. Martin Ling has the coaching ability and experience to organise a team that can overachieve and we feel that promotion can be attained within this three year period without jeopardising the financial stability of the club.

We hope to draw a line under the events of the last month and get back to focussing on football. The Board are united in their endeavour to move forward with a common purpose that is required to succeed. Continuity and stability are words that we as a football club have to earn the right to use in the coming years.

As previously stated, we are delighted to have secured the services of such a high quality manager and that both parties are committed to each other for at least the next three years. This is a long-term project and we know that our magnificent supporters will show the patience required to get behind the club, Martin and the players over this period of time".

The local newspaper, the Cambridge News adds that "Ling resigned after only nine days in charge last week, citing irreconcilable differences with the then chairman George Rolls. But, with Rolls having himself quit, Ling has now returned to the club. Ling said at a press conference this morning: 'I've been in the game 27 years and I wouldn't have walked away from a commitment if I didn't think it was right. Everyone knows what has gone on. The situation is right now and I'm sitting here today to move it forward and put a line under things'".

The Cambridge News also says that "Cambridge United could be staring into a financial black hole of more than £900,000 this season, according to former chairman George Rolls... The News has received from a source a copy of an email sent by Rolls to the rest of the board the day before Martin Ling's appointment as manager last month. In the email, Rolls claims United's turnover will slump by £920,000 this season because several sources of income from the previous year had vanished, including:

£135,000 TV cash from Setanta following the demise of the station.
£535,000 from transfers – largely from the sale of Michael Morrison to Leicester and a fee from Dave Kitson's move from Reading to Stoke.
£250,000 directors' commitments.

As a result, Rolls claims in the email, the playing budget had been slashed almost in half from £19,000 a week to £10,000 for this term. But he says United are running almost £4,000 above that figure, with sacked manager Gary Brabin's compensation taken into account. He goes on to say United need to offload at least six players to be able to hit budget. Rolls also warns an extra £40,000 will have to be found to cover the rent of the R Costings Abbey, with the annual sum due to rise to almost £240,000 in November.

The former chairman claims another £300,000 investment would be needed 'if we are to appoint a manager in the mould of Martin Ling'. He adds that Ebbsfleet wanted £12,500 compensation if United were to appoint Liam Daish – the candidate Rolls has since admitted was the club's first choice for the job...

In another document seen by the News dating from May, acting chairman Paul Barry offers to sell his 5.4 million shares in United to Rolls for £240,000. When contacted by the News yesterday, Rolls admitted his concerns... He said: 'They have to start living within their means. It's a sad day for me if the club wants to keep gambling all the time. I kept forewarning the fans cuts would have to take place. If it meant upsetting managers along the way because they were over budget and trying to sign people, I'll take that, I interfered. But I'm sure the fans would rather have me interfere than six months' time the club go into administration. They won't go into administration if they adhere to the budget that has been set, but that's not the case because we're still not getting rid of players. I never believed a Martin Ling-type manager would come in on the terms that we wanted him to come in on. That's not a slight on Martin Ling because he was the best man for the job in terms of his CV, but I'm not so sure in terms of the finances and budgets he'd have needed'...

Rolls also believes [owner] Barry needs to stand down... He said: 'I just hope the club can get it right and I don't think it will while Paul is there. Paul wants to be involved in everything, but from a long distance [USA] he can't be physically involved as much as he'd like to be. He was part of the board that sold the ground and went into administration'... Paul Barry opted not to comment last night".

Across the University city, "Steve Fallon was looking on the bright side of life after watching Histon draw 0-0 with Grays... The Stutes' boss felt his team had more than enough chances to take all three points at the Glass World Stadium. But he was impressed by the visitors' attacking display... Fallon said: 'I thought we created a lot of good chances and it wasn't a bad performance by any means. We had a lot of good opportunities against a good side and I thought Danny Wright was magnificent up front'".

Meanwhile Histon themselves report that "Steve Fallon has announced that defender Nathan Bowden Haase has left the Glass World Stadium by mutual consent. The centre half who joined the Club from Hemel Hempstead played just once for the Stutes... 'Nathan has found the travelling and commitment to training a real challenge and with him having a good job he was struggling to get the time off work which you need to operate at this level so we have shaken hands and thanked each other and he has moved on' said Fallon. The manager confirmed that he is still in the market to bring in a midfield player and hopes this will happen before the transfer window closes on August 31st".

The unofficial Chester City website states that "The FA has today issued a statement regarding Chester City. An FA spokesman said: 'Throughout this process The FA has sought to resolve this matter as speedily as possible whilst ensuring that football's rules and the integrity of its competitions are safeguarded. The issues arising from Chester City's administration have been complex. Whilst we understand the anxiety of the club and its supporters, we have to consider the wider interests of the game. As the governing body, it is The FA's responsibility to sanction the running of English football competitions and ensure that the rules of those competitions, as well as those of The FA, are respected. The FA is concerned that the proposed arrangements between Chester City and the Football Conference are inconsistent with Conference rules. We have asked for an urgent meeting with the Conference on Thursday to try to resolve outstanding issues'".

Crawley Town's "co-owner Susan Carter confirms that Bruce Winfield will be presenting a full, structured financial review, in relation to Crawley Town Football Club, to the board of directors at the end of the month... Contained within the review will be a full action plan to take the business forward. It is the intention of the board to share the headlines of this review with our supporters in early September... Susan said; 'Everyone at the football club has been subject to meetings with Bruce Winfield. His financial review and forward plan will be detailed, honest and thorough. In recent days the shareholders of Crawley Town Football Club have had to invest further monies. This has ensured we are we are up to date with all our creditors which includes Crawley Borough Council, HMRC and a number of small creditors. That is a fantastic achievement considering the inheritance within the business and not forgetting the global recession. Crawley Town Football Club is in a very strong position when compared to a number of football clubs in the industry'".

At Grays Athletic "Some confusion has arisen over the current management of the first team, we would like to confirm that Gary Phillips is the 1st Team Manager and is assisted by Alan Lewer. John Yems is part of the coaching staff who will also act in an advisory capacity on our opponents"..

And, "Following yesterday's announcement that Fred Murray was due to sign for Luton Town, Grays Athletic can confirm that Fred has signed a 6-month loan deal with Luton Town with a view to securing a permanent deal in January".

"Danny Kedwell reckons his AFC Wimbledon side have got to toughen up and fast if their Blue Square Premier dream is not to turn sour" states Your Local Guardian. "Tuesday night's 1-0 loss at Eastbourne Borough made it one point from six in their opening two league fixtures, after Saturday's creditable 1-1 draw with Luton Town. And after being bullied out of things on the South Coast, striker Kedwell admits it is time to stand up and be counted. He said: 'We really need to roll our sleeves up and put ourselves about a bit. There are a lot of sides that are very physical in this league and that is where I think we will struggle. We are fine when we come up against a side that wants to play football, like Luton, as that is how we like to play. But most of the time we are going to come up against very strong sides, like Eastbourne and Kettering this weekend, that like to pressure you, and we have to be able to deal with that pressure'... He added: 'I thought we dominated the game and should have won it... I think they only had one decent shot all game'... Kedwell was partnered by Jon Main at Eastbourne after boss Terry Brown opted for Kedwell on his own against Luton...'I think it will take us seven or eight games to settle, but we will be fine', said the ex-Grays striker. AFC come to Moss Lane for the fifth game of the campaign a week on Saturday.

"Jim Harvey has broken his silence over his sacking as manager of Forest Green Rovers" reports This is Glos. "Harvey was dismissed from his post nearly two weeks ago for an alleged 'serious breach of contract'... Harvey yesterday released a statement through his solicitor... It read, 'It is with great sadness that I feel committed to have to release news of the fact that I was dismissed from my employment with the club at a meeting held before the pre-season fixture with a Leeds United XI on Wednesday, July 29. In that meeting I was accused of a serious breach of contract – an accusation that I completely deny'.

The breach of contract is believed to stem from Harvey's application for the vacant managerial post at Cambridge United. Harvey states that... 'I understand from my solicitors that the club's conduct was procedurally deficient and that the club have been attempting to put right their procedural deficiencies by belatedly taking me through a disciplinary process even though they made it clear on July 29 that I was finished with the club. I can confirm that I intend to fight the suggestion that I was in serious breach of contract and to clear my name of any wrongdoing'...

Harvey said that the club have instructed their own solicitors to deal with the matter but when The Citizen contacted the club yesterday, a club spokesman once again refused to comment on the matter. Harvey's solicitors, Wirral-based firm Hillyer McKeown, confirmed... 'The conduct of Forest Green Rovers Football Club has been nothing short of astonishing especially given the job that Jim has done for them since September 2006'".

The Kidderminster Shuttle says that "Harriers are hoping to line-up a move for Salisbury striker Robbie Matthews... Manager Mark Yates admitted that Matthews is a target and that he will speak to him and his agent today (Wednesday) about a possible move... Yates singled out goalkeeper Dean Coleman for praise after a poor performance by the rest of the team in Wiltshire [at Salisbury]... 'I can't remember us having a shot or a spell of pressure where I thought we'd get something out of the game'".

Another unhappy boss is the subject of The Comet. "Boro boss Graham Westley admitted his side have got some work to do after Tuesday night's 1-1 draw at Hayes & Yeading. For the second time in the space of four days, Boro let the lead slip from their grasp thanks to some charitable defending and Westley is looking for his side to cut out the individual errors... Westley told The Comet. 'We know that we're better than we're playing at the moment and I'm sure that the performances will improve. We got our noses in front and again we've conceded a sloppy goal to let them back in it.... We mustn't underestimate the opponents we've come up against', added Westley. 'There's a danger that people think that you're just going to go and win these games but they are not give to give you the points - it's disrespectful to think that they are. Sides that come up have got something about them or they wouldn't have won promotion'".
---
12 August 2009
SKY SPORTS AT ALTY
Alty fans will be pleased to hear that the Sky Sports channel is to be installed in the bar at Moss Lane. When it is available, confirmation will be posted here.
YANKEE
The jackpot in the Altrincham FC Saturday Yankee has now risen to £2,100, for a £1 stake. Last week there were eight winning trebles, whose owners each won £25. To join the Yankee, follow the link at the top of this page.
BARROW 0 ALTRINCHAM 3
This was Alty's biggest away win in the Conference since April 2007 when they won 5-1 at St Albans City. Altrincham are now third in the Blue Square Premier table.
Tuesday 11 August
Barrow 0-3 Altrincham
Chester City v Gateshead POSTPONED
Crawley Town 3-1 Forest Green
Eastbourne Borough 1-0 AFC Wimbledon
Ebbsfleet United 1-3 Cambridge United
Hayes and Yeading Utd 1-1 Stevenage Borough
Histon 0-0 Grays Athletic
Kettering Town 1-1 Oxford United
Luton Town 4-1 Mansfield Town
Salisbury City 1-0 Kidderminster Harriers
York City 0-0 Rushden and Diamonds
---
11 August 2009
BARROW GAME
Altrincham travel to Holker Street this evening where Barrow "will launch their new 48 page B5 full-colour match day programme on Tuesday evening. The new improved version is fitting of Blue Square Premier status and reflects the steps forward the club is trying to make on and off the field... The programme is more magazine style in design and will feature more photos as the season progresses. The club would like to thank Editor Bob Herbert for all his hard work and also all the programme contributors, including the irrespressible Phil Yelland who types away at the keyboard from his home in Edinburgh. The cover price remains £2.50".

Barrow report that the Bluebirds "kicked off the 2009/10 Blue Square Premier season in fine style with a 2-0 win away at Cambridge United. Backed by a terrific away support of around 200 fans, goals from Carlos Logan and Jason Walker secured the points... Speaking about the support, joint manager Dave Bayliss said, 'They were immense and sang their hearts out all game and the players really appreciated the backing. We told the new lads in the side that the fans would be right behind them and they proved us right'. Now on to Tuesday night and our home opener against our old rivals Altrincham, let's get the ground rocking with a big crowd and the famous Holker Street roar. Tell your friends to come along and be a part of the team for what promises to be a great night".

Meanwhile, "Former Alty defender Phil Bolland will face Altrincham tonight as he returns to the Barrow squad after suspension. Bolland moved to Barrow from Cambridge over the summer".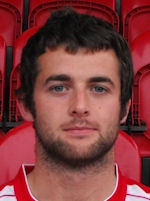 "Barrow co-boss Dave Bayliss has praised defender Mike Pearson after his return to competitive action in Saturday's 2-0 win at Cambridge United" reports the BBC. "Pearson, 21, suffered a double-leg break against Middlesbrough in January but came on from the bench when Sean Newton was sent off in the game. 'To come back from the injury he'd had, he hasn't trained with us for three weeks', he told BBC Radio Cumbria. 'He's a great lad and a great acquisition, it'll make us stronger'.
Pearson, who arrived at Holker Street from Oldham Athletic in the summer of 2008, is expected to feature in Tuesday's Blue Square Premier visit of Altrincham. Barrow gave debuts to six new faces in the starting XI at the Abbey Stadium on Saturday, and Bayliss was quick to pay tribute to goalkeeper Stuart Tomlinson, who marked his last-minute signing with a clean sheet on his debut. 'The keeper's never even had a practice session with the back four today, and I thought he marshalled them very well', he said. 'When balls were coming into the box he was coming out and being intimidating to the strikers. We want our keeper to be our sweeper and he's done that today, he's made some excellent saves, for a big fellow he's got great agility and his distribution of the ball is really good'"...
Altrincham manager Graham Heathcote has no new injury concerns ahead of Tuesday's trip to Holker Street. Striker Dale Johnson (left) was a doubt for Saturday's opening game after picking up a pre-season knock, but he completed 90 minutes and is set to start again".
The North West Evening Mail reports that "Barrow fans can bask in the glory of one of the club's most famous away victories of recent times. Yes, Cambridge United are in turmoil, yes, they have no manager and no chairman, but this was still – minus a few tweaks – the same U's team that graced Wembley less than three months ago in the play-off final. That Barrow beat them 2-0 on their own patch will have sent shockwaves through the non-league game. That they did it with 10 men will have their rivals running scared... With nearly 40 minutes still to play, few would have given the 10 men of Barrow a hope of hanging on to a point... Hobbling striker Darren Green was sacrificed for defender Mike Pearson... as AFC went to a 4-4-1 formation...
Carlos Logan swept a wonderful free-kick up and over the five-man and beyond the dive of Danny Potter into the top corner... Logan – sporting a pair of illuminous green boots – treated everyone to a celebratory back flip and summersault... When Cambridge did penetrate Barrow's defences they were unable to find a way past impressive new AFC keeper Stuart Tomlinson. The man described earlier in the week as having a physique like Arnold Schwarzenegger, enjoyed a superbly assured debut".
From the Cambridge Evening News we learn that "With manager Martin Ling, chairman George Rolls and vice-chairman Terry Baker all resigning for various reasons, followed by an attack on acting chairman Paul Barry alleging he was involved in a private bid to buy the R Costings Abbey rather than on behalf of United, it has all made for plenty of political intrigue off the field... Barry took his place in the directors' box after flying in from Seattle ready to take charge of what will be a crucial board meeting today (Monday, 10 August) with so many matters to resolve...
Tens of Barrow fans cheered their players on to the team coach as if they had won the Blue Square Premier, United were left counting a missed opportunity to restore some pride to the club's tarnished reputation". Paul Carden said "We footballed them to death at times, but a couple of mistakes have led to two goals".
HAYES TRIP
There will be two minibuses run by TASC to the game at Hayes & Yeading on Saturday (15th). Half a dozen places are left at the time of writing so, if you want to see Altrincham in action please ring the club (928-1045) a.s.a.p. to reserve your place. Details are on the Away Travel page.
CAPTAIN'S AND MANAGER'S VIEW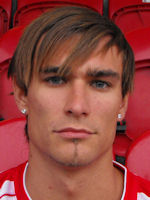 In Sunday's NL Paper, Alty captain Greg Young (right) says of the Ebbsfleet game last Saturday, "We were determined during the break to get all three points. We started the second half sloppily and semmed to tire. That may be because of our hard pre-season. But we are passing the ball around well. We have the players to do that and new coach Kenny McKenna's influence on the training pitch has been massive".

Manager Graham Heathcote told the Manchester Evening News, "We did very well in the fist half but tired in the second and allowed them to take control. A draw was a fair result and, while we'd have liked to have kicked off with a victory, we showed some positive signs and it's nice to be off the mark".
OLD BOY
Lewis Chalmers was an 81st minute substitute for Aldershot Town on Saturday.
PUT YOUR SHIRT ON THEM - AND THEIR SHIRT ON YOU
The Altrincham players' shirt sponsorship scheme has one or two gaps to be filled as follows:
Stuart Coburn - away only available
Tom Kearney- away only available
Matty Crowell- away only available
Nicky Clee- away only available
Robbie Williams- away only available
Russell Saunders - home and away available
Dale Johnson- away only available
Michael Welch- away only available
Danny Heffernan - home and away available
Richard Acton - home and away available

Manager Graham Heathcote has now been sponsored.

If anyone would like to sponsor a player but is unable to afford the £150 in one hit, it is possible to pay by instalments. If you are interested in this option please speak to Karen in the office for further details. As all players have two match shirts, if you are interested in a player who has already been taken, arrangements can be made for you to be a dual sponsor of that player. Once again, please contact Karen in the office for further details (928-1045).
BSP NEWS
On Monday night, The Non-League Show on Radio London had a revealing interview with ex-Cambridge United chairman George Rolls. Rolls revealed that Liam Daish, manager of Ebbsfleet, had accepted the Cambridge United job and was about to be unveiled as the new manager when Ebbsfleet "moved the goalposts" about compensation. The Cambridge United Board then offered the job to Martin Ling, against the chairman's advice. Daish had made his way to Cambridge before United could contact him about the change of plan. On arrival he was told he had not been appointed and, not surprisingly was irate, but he was paid his expenses for four ultimately fruitless trips to interviews at Cambridge.

Rolls confirmed that as he had now been asked to step down from the board at Cambridge he is removing the funding of his Trade Recruitment company from the club. Someone will need to have "very deep pockets" if they want to help Cambridge, he said. "I wanted to run the club solvently, other directors wanted to take a gamble all the time". He added that "If a club is over budget the chairman has every right to interfere" and that is what he tried to do. Referring to owner Paul Barry he queried "how anyone can run a club from 4,000 miles away in the States".

Meanwhile, Cambridge United reports that the club's "Interim Chairman Paul Barry [said] 'During a transitional period, it is normal business practice to do a review of the business along with a financial review', he said. 'It is prudent, before we consider the appointment of a manager, to let him know what the financial situation is. The last few days have seen the club's affairs conducted in the public media; I do not see this as in the best interests of Cambridge United Football Club'".

the Football Conference announces that "Whilst discussions continue between the Football Conference and the Football Association concerning the transfer of membership of Chester City FC Ltd to Chester City FC (2004) Ltd, the match between Chester City and Gateshead scheduled for Tuesday, 11th August 2009 has been postponed. Both clubs have been advised. A meeting between representatives of the Football Conference and the Football Association has been arranged for Thursday, 13th August in an attempt to draw this matter to a conclusion. It is anticipated Chester City's fixture at home to Cambridge United on Saturday, 15th August will proceed as scheduled".

Chester City have put out a lengthy statement saying:

"On the 3rd August 2009, a member of Chester City Football Club attended the Football Conference AGM at Rushden and Diamonds and subsequently attended a private meeting with Conference and FA representatives. This meeting resulted in the way forward being identified for Chester City Football Club, which at that time [was] 2 options by which the club may continue to play football.

Option 1 was that the old company, which remains in admin, would take over the running of the club. A total of 25 points would be deducted, 10 points for administration and a further 15 points for not being able to agree a satisfactory CVA and;

Option 2 was that the new company would move forward with the club subject to certain conditions to be agreed but which included an additional 15 point penalty being imposed bringing the total points penalty to -25 and that guarantees were sought to secure [the] position of football creditors.

On the 4th August 2009 immediately following the meeting at Rushden & Diamonds, Chester City Football Club 2004 Ltd met with the administrators of Chester City Football Club and their lawyers, and following a lengthy meeting it was clear that the administrators were not willing to run the old company primarily because of personal liability issues and particularly because they remained of the opinion that a completed sale and purchase agreement was in place and remains sound despite the issues surrounding the CVA [about] which we understand the administrators will release a full statement in respect of in due course.

This left the 2nd option as the only viable way forward... and resulted in further negotiations with the Conference from which a satisfactory agreement was reached... which ensured all football creditors were secure and the rules of the Conference were fully adhered to... A deadline of 5pm on the 6th August 2009 was set as the latest time a full agreement could be reached. This agreement was only possible with the full support of Stephen Vaughan who has personally guaranteed all football creditors in full and provided personal guarantees in respect of other aspects of the agreement, and without the personal support of Stephen Vaughan it would have not been possible for the club to move forward or any agreement be reached.

The above agreement is covered by confidentiality clauses... It is public knowledge that the agreement includes the additional 15 point penalty... We can confirm that both Chester City Football Club and the Conference met the deadline set for 5pm on the 6th August 2009. Clearly both the Conference and Chester City Football Club were confident that the club had been accepted into the league... On the morning of Friday 7th August 2009 it became clear that there was an outstanding issue with the affiliation to the Cheshire Football Association, despite the club having received verbal assurances from the Cheshire Football Association in or around the 7th July 2009 that membership had been agreed. A cheque from the new owners for £277 was issued and drawn upon by the Cheshire Football Association.

A representative of the FA Mr Neil Prescott then made a further request that before affiliation of the FA would be granted all clubs in the Blue Square Premier would need to take a vote and unanimously agree to accept CCFC into their ranks. All 23 members of the Blue Square Premier have graciously accepted Chester City Football Club into their midst and we would like to take this opportunity to thank them. We were both shocked and amazed by the FA's request as we believe that this is an unprecedented step by the FA and entirely unreasonable. Representatives of the FA were well aware of the time constraints placed upon us and that both the Conference and FA had reached agreement in relation to Chester City Football Club's entry into the league...

Despite having yet again met all the FA requirements we have now been told to postpone Tuesday night's fixture against Gateshead and have no alternative but to await the outcome of Thursday's meeting between the Football Conference and Football Association. We would like to take this opportunity to clarify that, despite ever increasing pressure for a public statement, we have been unable to provide a full statement whilst negotiations were ongoing as a result of commercial confidentiality. We can only apologise for lack of information released to the public however, we believe Chester City Football Club can do no more to secure our membership into the Conference and that every effort has been made by both the Conference and Chester City Football Club to achieve the desired outcome. We have now been informed that we must again await an FA decision which will be taken at some time on Thursday and can do no more than publicly express our ever increasing frustration with the entire process".

But Chester's woe does not stop there as the Chester Chronicle reports that "Chester City Football Club 2004 has been told it must pay all the outstanding rent it owes before the lease on the Deva Stadium can be assigned. A statement from landlords Cheshire West and Chester Council read: 'Any assignment will be conditional on all due rent owed by the new company to the council having been cleared on assignment'. The council has discussed the problems encountered by the former Chester City Council in collecting rent from the football club and has been advised that, 'similar problems will not arise with the new company'. Council spokesman Ian Callister said: 'It has been made quite clear that the authority's responsibilities to council tax payers will mean that it cannot treat the football club any differently to any other commercial organisation with whom it has a contractual relationship'".

Grays Athletic have made more signings, in the shape of "midfielder Paul Terry and striker Dean Morgan. The experienced Terry has had spells at Charlton Athletic, Millwall, Dagenham & Redbridge, Yeovil Town and more recently Leyton Orient. He is the brother of John Terry and has bags of Conference National experience... Morgan, 25, was originally with Colchester and then joined Reading before signing for Luton Town in the summer of 2005. Whilst with the Hatters Morgan has had loan spells at Southend, Crewe Alexandra and Orient". However, they "have released defender, Michael Haswell".

"For several reasons, it is essential that matchday entry moves from cash at the turnstiles to tickets. However, due to heavy rainfall and flooding in July, completion of the new ticket office has been delayed" report Kettering Town. "Following discussions with the police, we can confirm that the matches against Oxford and Wimbledon will be the last time that supporters will be able to gain entry to the stadium by paying cash at the turnstile. For these games, there will be ticket only turnstiles which will move quickly and limited cash turnstiles which will inevitably move much slower, especially against Wimbledon. Supporters are advised to purchase a ticket prior to the game to avoid queues...

From September all games which are not classified all ticket by the police (ie unable to purchase a ticket on the day of the game) will still require entry to the game via a ticket - which can be bought via:
(a) The Tinhat Social Club (as per opening hours) from up to three weeks prior to the game.
(b) The ticket office (as per opening hours when building is completed), including on the day of the match and until just after kick off.
(c) Telephone for all ticket games with tickets posted (if ordered at least five days prior to game) or collection at the ticket office on matchday".
---
10 August 2009
EVEN MORE BSP NEWS...
Further to the story below, Gateshead Football Club says that it "Is still awaiting a decision regarding tomorrow night's scheduled Blue Square Premier fixture at Chester. All 23 member clubs of the Blue Square Premier have voted unanimously for Chester City to be allowed to commence their fixtures, starting with Gateshead on Tuesday. The Deva Stadium outfit had their opening game at Grays Athletic pulled at the 11th hour by the Football Association who are understood to be looking for further assurances.

It is hoped an announcement will be made later today, though Gateshead have indicated they will be prepared to wait until 11am on the day of the game for a decision to be made. Gateshead players, management and officials are scheduled to set off for Chester two hours later at 1pm, and hope the game will be given the go ahead".
MORE BSP NEWS...
The Times reports that "Chester City's hopes of getting their season under way at home to Gateshead at the Deva Stadium tomorrow night rest in the hands of the other 23 members of the Blue Square Premier giving their unanimous seal of approval by midday today. Brian Lee, the Conference chairman, said: 'We are in the process, at the request of the FA, of establishing whether all the clubs in the Blue Square Premier are in agreement with the decision by the Conference board that Chester should be allowed to play because the League is in contravention of its own membership rule 2.7'.

That rule is that a new club must have paid their football debts and have in place an arrangement that satisfies other creditors. That hope was exploded a fortnight ago when Chester 2004 Ltd, established in June by Stephen Vaughan, the owner of the previous club, had a CVA thrown out after an application to the courts by HM Revenue and Customs.

The Conference had hoped that the club would be allowed, nevertheless, to fulfil their opening fixture away to Grays Athletic on Saturday and issued a statement to that effect on Thursday evening. They would do so with a 25-point penalty, ten points for the original club entering administration after their relegation from Coca-Cola League Two and the second because the new club had entered administration.

On Friday, however, the FA announced that it would like further time to consider Chester's position before issuing a licence to allow the club to play and asked the Conference to canvass its member clubs. The match away to Grays was postponed".
EBBSFLEET REPORTS
Match report
Ebbsfleet United report on Saturday's draw at Moss Lane, saying "Liam Daish's latest line of young guns came back all barrels blazing after an indifferent start against a confident Altrincham side and could have stolen all three points with better fortune. Daish's new charges included only four recognised faces from last season and in front of a 914 crowd they looked a little rushed in the opening encounters, Alty's seasoned Conference core of players making most of the running and forcing plenty of set pieces. The Fleet midfield struggled to get to grips with Tom Kearney in particular who was pulling the strings for the home side... Daish either relaxed or rocketed his charges at half-time. Either way they came out a much more composed bunch of players... A disallowed goal at the death would have put the icing on the cake for a Fleet side that showed in the second half much more promise than fans had dared hope a month or two ago".
BSP NEWS
NL Football Paper reports that "Cambridge United have signed three players amid the turmoil of a departed manager and dethroned chairman. The U's have been in disarray following Martin Ling's resignation as manager on Tuesday and George Rolls decision to stand down a day later. However, they have still managed to sign up three players, the first of whom is goalkeeper Laurie Walker. The 19-year-old began his career with MK Dons before joining Millwall on a free transfer in the summer of 2008. He made a handful of appearances for the Lions' reserves but failed to break into their first team and was released at the end of the season. Joining Walker in the first team squad are second year scholars Blaine Hudson and Luke Berry. Towering centre-back Hudson arrived at the Abbey from Norwich City in May 2008, while midfielder Berry has been with the club since he was 11-years-old and was a key player in Cambridge's reserve team last season".
---
9 August 2009
TUESDAY'S GAME
Barrow's new full-back, Sean Newton, signed from Droylsden over the summer, will be suspended for our game against the Bluebirds this Tuesday, following his dismissal in Saturday's game at Cambridge United, in which former Alty winger Carlos Logan netted the opening goal.

Mr T. Harrington is our referee at Barrow on Tuesday. He is the man who postponed the game at Moss Lane against Eastbourne last season.
YESTERDAY'S GAME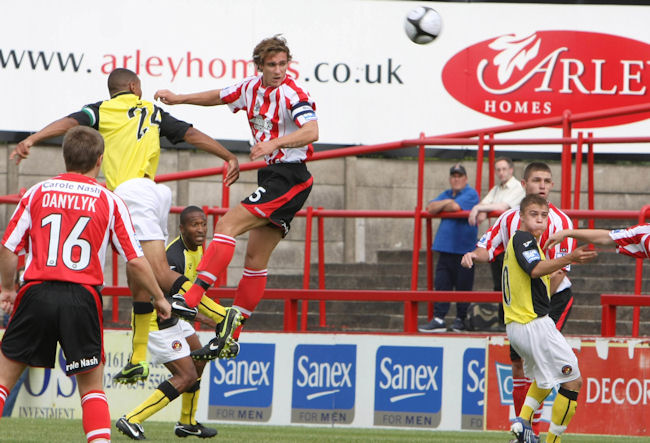 Les Rathbone, Gavin's father took some excellent pictures of the game against Ebbsfleet, which are on the GR Photography website. Above, is one of them, showing Greg Young, Anthony Danylyk and James Smith.
Match report
Kent Online says that "Liam Daish's new-look Ebbsfleet side took a point from their trip to Altrincham ... The Fleet boss had been forced to totally revamp his squad since the end of last season and paraded seven new faces in his starting line-up. But his young side equipped [acquitted?] themselves well... Fleet rarely threatened the Altrincham goal in the first half and although the home side had the better chances most of them resulted in long range efforts that went high or wide... The visitors finished the game strongly and Daish will have been pleased at his young side's first display in competitive action".
ROBINS' REVIEW
As usual the Robins' Review matchday programme was a good read on Saturday and, with its cover price remaining at £2, it represents excellent value.
Graham Heathcote revealed that Mark NcGregor's sudden departure arose when "he was offered the player/manager job at GAP Connah's Quay with a two-year contract on the same money as here. They will put him through his coaching badges and he can probably play at that level for another four years so he felt it was too good to turn down. So, we could not stand in his way; many a selfish club would have".
Graham also thanked Patrick Air of Manchester Glass for glazing the ends of the main stand, Gallagher Roofing for sorting out a leaking roof and Neil Faulkner's Robinsons Preservation for their work on converting the gym area into a new dressing room.
Vice-chairman Grahame Rowley wrote that "I would like to thank both Richard Pulford and Gary Hardy who answered my recent plea in the Messenger for people to come forward and help out the commercial and marketing sides of the club".
Mike Garnett confirmed that Saturday's opening league game occurred on the earliest date in the year since his records began.
There is a profile of Alty Safety Officer, Darren Gregory which reveals just how much work he and his team do behind the scenes at Moss Lane, in addition to their public duties at each match.
Robbie Lawton explained how physio Sean Riley's conversation with his Manchester United opposite number has produced the name of a consultant in Leicester who should be able to sort out Robbie's injury problem.
Barry Pikesley has started a fascinating series of articles "When we were kings" charting the season of 1979-80, thirty years ago.
Sean Riley, in addition to explaining about Robbie's injury, also tells us that Michael Welch's cast is due to be removed from his leg on Wednesday of this week and his target to play again is the first week in October.. Colin Little has a problem which is likely to be bursitis at the top of his hamstring, which should be curable with an injection.
TASC announces that a calendar, from August 2009 covering 17 months to the end of 2010, will shortly be on sale for £9.99. The images are excellent shots from Gavin Rathbone and the website hopes to have a sample to show you soon. Orders can be placed with the club or via any TASC committee member.
... and last but not least there is the return of Flynnzine, the popular column by Brian Flynn, which is reproduced below...

"Times are certainly interesting in the Blue Square Premier. Thirty years on from the league's inception, there's almost as much intrigue and mystery around in terms of how the next nine months will pan out as there was when the Northern Premier League and Southern League merged all those years ago.

York City have been splashing the cash. Their offer to Ebbsfleet United of £80,000 for Darius Charles and Michael Gash was finally accepted after the MyFC members, like 'the Man from Del Monte', said "Yes", only for Darius Charles to scupper the transfer after he typed 'Kit Kat Crescent' into his Sat Nav only to reveal the shocking truth that this iconic City was in fact 'up North'. Whilst this placed a huge spanner in the works of this deal, eventually Michael Gash did get his desired move, only for an official team bonding session to end up in tears at a sandwich shop. After the usual cultural tour of the City's exquisite architecture, tangle of cobbled streets and York Minster, Gash and three of his teammates managed to get themselves into an altercation outside a 'Subway'. The boys in blue were called in and I am sure that all York fans were comforted by York manager, Martin Foyle's, comments that 'There was a little bit of bother. From the start, I want to make it clear that I gave these boys permission to go out, the whole squad went out. They all had a bite to eat together, it was their night to let their hair down after working really hard during the pre-season. Typically[?!], at the end of the night there was an incident... I've had players in trouble before, it happens, but I'm taking no immediate action until I know more'.

Salisbury City's new manager Tommy Widdrington gets the close season 'Tell it how it is award' for his erudite explanation of why Assistant First Team Manager Barry Blankley had left the club. Following a carefully crafted statement from the club thanking Barry for his contribution, Widdrington piped up with "We couldn't work together....we just don't like each other". Rock on Tommy!!

I'm not really quite sure what is going on at Grays. On any given week, it's not the simplest of tasks to understand who is doing what job there and, after it appeared that they were all set to start the season with one of the smallest budgets in the league, we then hear on Wednesday that NINE players have been signed just three days before their opening day encounter with newly relegated Chester City. By now, we will know whether Chester have been granted a license by the F.A., but as I write this game does not look likely to take place unless Chairman Stephen Vaughan and his Board can satisfy Football's governing body that the club's CVA agreement was in order, as there seems to be a view that the 'I's have been crossed and T's dotted!!!' Let's hope that this mess gets sorted out fairly quickly as we really do want to be welcoming Mr.Vaughan and that nice Mr. Whalley, formerly of Accrington Stanley...........exactly..... into the Moss Lane Boardroom on August Bank Holiday Monday.

During the next few months, we can expect to see the publication of 'How to replace your manager' by George Rolls. This textbook guide will detail the critical steps of this process, from identifying which forty eight candidates that you wish to interview, right through to letting the unsuccessful ones down gently by SMS message and then upsetting the new incumbent within ten days. It's rather ironic that a Cambridge United supporter put a fairly successful wind-up on our Fans Forum a few weeks ago, stating that Graham Heathcote's odds on replacing Gary Brabin had dropped dramatically in a matter of a few days, only for the truth to come out that Graham was one of about three managers in the Blue Square Premier that wasn't interviewed!

There's loads more interesting stuff out there in Blue Square Premier Land which we haven't got the opportunity to delve into here, but suffice to say it's going to be a fascinating season!

On a very sad personal note, I am missing my first game in almost three years today as I have to attend a wedding. I'll be back though for the trip down the longest cul-de-sac in the world to visit Holker Street on Tuesday.

Enjoy the game...I really wish I could have that opportunity!"
OLD BOYS
Kelvin Lugsden netted Glossop North End's goal in a 1-1 draw on Saturday with Ashton Athletic.

The Welsh Premier says that "The New Saints wound-up their pre-season preparations with a 9-0 hammering of West Yorkshire League opponents Ilkley Town at Park Hall. Striker Matthew Berkeley led the way with a hat-trick".

The Vodkat Legaue reports that "Ashton Town AFC plays host to a star-studded charity football match on Wednesday 12th August as a team of ex-professionals including Tony Kelly line up to take on a Hollyoaks XI".
---
8 August 2009
CENTURION
Congratulations to Chris Senior, whose goal against Ebbsfleet was his 26th in 100 appearances for Altrincham. He has started 70 games and been a used substitute 30 times.
ALTRINCHAM 1 EBBSFLEET UNITED 1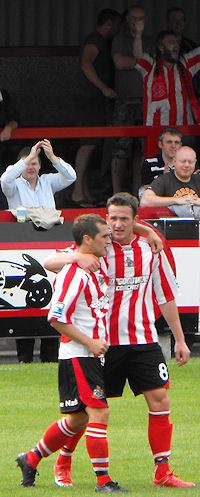 Right: Chris Senior receives the congratulations of Matty Crowell after scoring against Ebbsfleet.
Alty line-ups
Saturday 8 August
AFC Wimbledon 1 Luton T. 1
Altrincham 1 Ebbsfleet U. 1
Cambridge United 0 Barrow 2
Forest Green R. 1 Kettering T. 2
Gateshead 0 Histon 3
Grays A. v Chester C. POSTPONED BY ORDER OF THE F.A.
Kidderminster H. 1 Hayes & Yeading U. 0
Mansfield T. 4 Crawley T. 0
Oxford U. 2 York C. 1
Rushden & D. 0 Salisbury C. 2
Stevenage B. 1 Tamworth 1
Wrexham 3 Eastbourne B. 0
SATURDAY GAMES
It is hoped to provide match updates from Altrincham V Ebbsfleet here on the website on Saturday afternoon.
Matchday update here
It won't just be Altrincham spectators who won't recognise many of the opposition from Ebbsfleet, as the players from Kent themselves may have difficulty identifying each other as the club has now signed eight players in the last 48 hours! The Ebbsfleet United site confirms that "Liam Daish has added three more players to his squad prior to Ebbsfleet United's opening fixture of the season at Altrincham, making it eight signings in a frenetic 48 hours for the club. Twenty-four-year-old Brazilian striker Magno Vieira joins the Fleet after being released by Wycombe Wanderers, having previously played for Carlisle, Wigan, Barnet, Crawley Town and Cambridge United.
Two young defenders have also joined the Fleet after impressing during pre season trials; centre back Charlie Read from Millwall, and 20-year-old right back Will Salmon, formerly with AFC Wimbledon and Aldershot Town".
The BBC reported earlier that "Defender Leon Crooks has returned to Ebbsfleet United as one of five players signed by manager Liam Daish. Crooks, 23, was released by Wycombe Wanderers in the summer and is heading back to Stonebridge Road after a successful loan spell last season. Joining Crooks, are midfielders Kane Wills and Scott Shulton, striker Scott Ginty and young Millwall goalkeeper Matthew Lamprell. Budget cuts have meant Daish has had to rebuild his squad for the new season. He was left with just three senior players at the club after a mass exodus in May".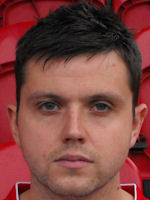 Manchester Online says that "Altrincham skipper Robbie Lawton is almost certainly out of the Robins' Blue Square Premier opener with Ebbsfleet... The tough-tackling midfielder has a suspected hernia and, with centre-half Michael Welch (right) also missing for the first two months of the new campaign as he recovers from ankle surgery, Alty face going into their curtain-raiser with just 16 fit players. But boss Graham Heathcote is optimistic the Robins can strive for an improvement on last season's 15th-placed finish and is targeting an opening-day victory to get his team off to the best possible start.
He said: 'Being without Michael and, almost certainly, Robbie, will be a blow, while the fitness levels of some of our other players have also been affected by one or two pre-season niggles. But I believe our summer signings have improved us and, hopefully, that will show in our results. This league gets stronger every season, but we've so far managed to improve year-on-year, and, with luck, we can continue that this time. But we know that it's at home that we really have to pick points up, which is why it's so important we get off to a positive start tomorrow'.
" Heathcote has added to his summer recruits Matty Crowell, Tom Kearney, Rob Williams and Nicky Clee – by signing ex-Wigan Athletic keeper Russell Saunders, who is likely to be given a place on the bench as cover for Stuart Coburn".
PUT YOUR SHIRT ON THEM - AND THEIR SHIRT ON YOU
The Altrincham players' shirt sponsorship scheme has one or two gaps to be filled as follows:
Stuart Coburn - away only available
Tom Kearney- away only available
Matty Crowell- away only available
Nicky Clee- away only available
Robbie Williams- away only available
Russell Saunders - home and away available
Dale Johnson- away only available
Michael Welch- away only available
Danny Heffernan - home and away available
Richard Acton - home and away available

Whilst assistant manager Ken McKenna and physio Sean Riley have a sponsor for this season our manager Graham Heathcote does not. If you are interested in sponsoring Graham, not only will your name appear as sponsor throughout the year but you will also receive some signed memorabilia at the end of the season in place of a signed match-worn shirt.

If anyone would like to sponsor a player but is unable to afford the £150 in one hit, it is possible to pay by instalments. If you are interested in this option please speak to Karen in the office for further details. As all players have two match shirts, if you are interested in a player who has already been taken, arrangements can be made for you to be a dual sponsor of that player. Once again, please contact Karen in the office for further details (928-1045).
GENEROUS PATRON
Grahame Rowley announces that "Due to the fact that the winner of the Altrincham FC Patrons Draw, Andrew Dannatt, lives in Port Talbot, West Glamorgan, he has kindly asked us to re-draw his 1st prize. A further independent draw has taken place and the new winners for hospitality for ten for the Histon game is now are Mike and Tricia Davies from Sale. Congratulations to them!"
CSC OPPONENTS
The Northwich Guardian reports on our Cheshire Senior Cup opponents. Witton manager "Gary Finley will ask a former foe of Witton to fire the Wincham Park club back to the UniBond Premier Division at the first attempt. He signed striker Steve Foster – a thorn in Albion's side during spells at AFC Telford United and Fleetwood Town – on Sunday to end almost a month of talks... Foster's goals helped keep Salford City in UniBond Division One North last term, where he played in tandem with now Witton teammate Stuart Rudd, netting 16 goals to help the Greater Manchester outfit beat the drop. Finley added: 'I feel that with Stuart [Rudd] and of course Mike [Moseley] we have plenty of firepower... At first Steve was asking for money we could not afford and I could have done with closing the deal before he scored three against Runcorn to be honest!'".
BSP NEWS
Amidst their first-team troubles, Chester City announce that "Chester City Football Club regretfully have to announce that the Centre of Excellence programme at the Football club will be closed down. After our relegation from League 2 into the Blue Square Premier League we have lost 50% of the funding available. We had planned to continue a reduced programme and, after discussions with supporters' groups and coverage in the local press, had hoped for external support but, sadly, this has not materialised. We will however continue put all our efforts in supporting the 20 scholars we have at the club who hopefully can continue the progression into the first team".

On Friday the Liverpool Daily Post reported that "troubled Chester City announced last night that they had accepted a 25-point deduction... While City's directors were upbeat during their announcement, the Football Association refused to confirm or deny that they had granted the Deva Stadium outfit the affiliation they had been seeking.... Chester's secretarial department now face a race against time to register all their players to enable them to play in Essex tomorrow. Last night the registrations still hadn't been accepted by the governing bodies... [Manager] Wadsworth has a number of injury problems... definitely out will be defenders Shaun Kelly and Tim Ryan, as well as striker Gregg Blundell. Uruguayan midfielder Fabian Yantoro is considered as extremely doubtful for the game" on Saturday, which has now been postponed.

Before the postponement of Grays v Chester, the Thurrock Gazette reported that "Still up in the air is any idea on who will be in charge of the home side... It is widely rumoured that Craig Edwards, who took over the managerial hot-seat in the summer for a second spell, has departed with assistant Steve Browne. Certainly he was nowhere to be seen on Tuesday night when Grays lost at Bromley in their last pre-season game. Grays' press spokesman Kevin Lamb said that he could make no comment on the managerial situation at the current time. On the managerial front, ex-Weymouth boss Alan Lewer was in the Grays dugout in midweek along with Gary Phillips, last season's boss who is still on the coaching staff. With John Moncur having taken over as chairman in place of Mike Woodward, who is still majority shareholder, more ex-West Ham names are being linked with the club.

These include former Northern Ireland international Steve Lomas and Julian Dicks. Former Canvey Island player and Wivenhoe Town manager Dicks was recently featured in the Echo where he said he wanted a return to football management. Grays signed no less than 10 new players on Wednesday with the list headed by experienced non-league striker Lee McEvilly. Adriano Rigoglioso, Fred Murray, Ronnie Bull, Sam Cutler, Preston Edwards, Ken Davis, Cameron Mawer, Billy Lumley and Billy Crowther complete the newcomers' line-up".

Meanwhile, the Football Conference says that "Grays Athletic have netted yet another late recruit ahead of Saturday`s opening fixture. Left-back Craig Braham-Barrett has joined the Essex outfit from Peterborough United. Braham-Barrett, 21, signed for the Posh in October 2008 from Welling United... Also joining Grays again is midfielder Tommy Black".

At Barrow "Managers Dave Bayliss and Darren Sheridan have been busy strengthening the squad ahead of the season's opener at Cambridge. Striker Darren Green has agreed a contract until the New Year after being released by Stockport, due to a heart problem which has now been resolved... Young Morecambe striker, Aaron Taylor, 19, has also signed on an initial 5 week loan... The managers have acquired a new goalkeeper for the squad with Tim Deasy suffering from a broken finger, as he did indeed at this time last year. Former Crewe Alexandra keeper, Stuart Tomlinson, aged 24 has agreed a one year contract, having been released by the League 1 outfit after 7 seasons. Tomlinson impressed Port Vale enough this pre-season for them to offer him a one month contract, but he was looking for a longer deal than that. Young defender, Phil Morris will also join the squad on a non-contract basis".

As Alty meet Barrow on Tuesday, their squad numbers may be of interest: 1 Tim Deasy (GK), 2 Simon Spender, 3 Sean Newton, 4 Paul Jones, 5 Phil Bolland, 6 Robin Hulbert, 7 Andy Bond, 8 Mark Boyd, 9 Jason Walker, 10 Darren Green, 11 Carlos Logan, 12 Mike Pearson, 14 Darren Sheridan, 15 Paul Rutherford, 16 Dave Bayliss, 17 Adam Dugdale, 18 Phil Morris, 19 Aaran Taylor. 21 Stuart Tomlinson (GK)

Barrow "are also woring hard to try and obtain International Clearance for Adam Dugdale which was requested over 2 weeks ago".

Tamworth "travel to Stevenage Borough on Saturday... Dominic Langdon will definitely be missing, while Michael Blackwood and Gavin Hurren look set to miss the first game of the season with injuries too". The Lambs have now added the much travelled Trevor Benjamin to their squad.

Managerless Forest Green Rovers "announce that they have signed on a one-month loan, 28 year-old Jon Challinor from Cambridge United, to initially fill the void caused by the serious injury sustained by Mike Fowler... Asst Manager David Brown is very pleased with this capture and does not rule out that the player could stay for longer but his main thrust is to ensure a balanced squad for the opening weeks of the season".

Hyde United announce that "We have signed former Mansfield midfielder, Nathan Arnold. 22 year-old Arnold was a free agent after his contract at Mansfield expired on 1st July. Following discussions with the Mansfield chairman it was agreed there would be no fee providing there was a sell on clause if he moved on from Hyde. The signing is a real coup for Manager Neil Tolson after Arnold had already turned down offers from Mansfield and then from Grimsby Town where he had been on trial. Arnold missed only a handful of games for Mansfield Town last season".

At Hereford, Bullsnews says that "Ex-Bull Bradley Hudson-Odoi has joined Histon on a six month contract... The announcement on the 20 year old striker, on their official site, provides some surprising news: 'The striker who last year was making headlines with Hereford United and Ghana under 20s and but for Histon's FA Cup win over Leeds United he was set to join Gary McAllister's team'. By the time Histon beat Leeds, costing McAllister his job, Hudson-Odoi had made his last appearance in a Bulls shirt after a 14 game streak without a goal". Hudson-Odoi played against Alty for Grays last season.

From Cambridge News we read that "Cambridge United will undergo a financial health check before appointing a new manager while the fallout from the resignations of Martin Ling, George Rolls and Terry Baker continues. Player-assistant manager Paul Carden will take charge of tomorrow's season-opening Blue Square Premier home clash with Barrow with director of youth football Jez George as his temporary No 2.

George would not be drawn on whether either Ling, who quit after just nine days in charge on Tuesday, or Gary Brabin had been contacted about returning to the R Costings Abbey. Both former managers saw their tenures ended following disputes with ex-chairman Rolls, who stood down with vice-chairman Baker at a board meeting on Wednesday.

George said nothing would be decided until after another board meeting on Monday at which acting chairman Paul Barry will be in attendance. He said: 'We need to get a handle on the financial situation first... because the chairman and vice-chairman left on the same night and they were a major part of the running of this club... We've got to make sure the club isn't put in a position again where it becomes an embarrassment to the fans who support the club'.

Meanwhile, former chief executive Norman Gautrey has admitted the reason he quit United in January was as a result of the alleged offer made by Barry and fellow Seattle-based director Adrian Hanauer through ex-chairman Phil Law – after he had left the board – to buy the Abbey for £3 million plus a 25 per cent cut of 'any ultimate development profit'... Plans to go travelling were given as Gautrey's reasons for quitting immediately after the club's annual meeting this year. But following the leaks yesterday, he said he had left after losing trust in Barry after discovering the offer made. Gautrey said: 'If the owner of the club can't be honest with you, you're wasting your time'".

Meanwhile the Ellesmere Port First site says tha "Stephen vaughan appeared at a specially arranged all-day fans' meeting yesterday and urged worried Chester City FC fans to remain positive". before the second points deduction he said, "We're in the League but we're waiting to see whether we're getting a further 15 points deducted. Everything has been done on our side. We complied by 2pm Wednesday. We will kick off on Saturday on either -10 or -25 points". Mr Vaughan said the FA had failed to provide a press statement about the club's future by 5pm on Wednesday...

'Under appendix E of the Insolvency rules, we have 18 months to get out of that... We want the right of appeal, but if the future of the club is in jeopardy we will have to accept the full punishment. Our legal advisers are talking lawyer to lawyer with the FA, but the Football Conference are fully supportive of the argument being put forward by Chester City Football Club. They have always been fully supportive of us and there has never been any doubt of the Conference accepting us'" said Vaughan.

"Vaughan said: 'Bournemouth and Rotherham got out of trouble starting with -17 points. Although -30 was too much for Luton they did have a Wembley appearance. If our support can pull together we feel we're up for the challenge. The squad is registered and ready for action'".

According to This is Nottingham "Mansfield have signed teenager Jason Ventrella on a two-year contract... Ventrella was previously playing for South Notts College".
NEW SITE
Non-League Matters announces that "This site will be the replacement for Tony Kempster's 'Tony's English Football Site' which has long been THE central resource on the internet for all things football, particularly non-league... The members of Tony's Non-League Forum, faced with the loss of such a vital resource have decided to replace it... This is a project that was fully supported by Tony and his family before his passing, on the understanding that it would be a brand new site and not simply the continuation of his original which he wished to preserve as an archive. With this in mind, work started from scratch in June 2009 and it is hoped that everything will be ready for the start of the new season".
---
7 August 2009
CHESTER STOPPED FROM PLAYING
After Grays Athletic announced this evening - "Chester Game Cancelled, August 07, 2009, 05:11 PM... Tomorrow's fixture against Chester City FC has been cancelled, more news to follow". The BBC then stated that "Saturday's Blue Square Premier season opener between Grays Athletic and Chester City has been called off, reports BBC Radio Merseyside... The Football Association have since told the Conference they are breaching rules in allowing Chester to play. The club entered administration after being relegated from League Two in May. Chester, now owned by the Vaughan family, have been struggling to secure accreditation to the FA".

In an untimed announcement issued today, the FA says "The FA have made a statement regarding Chester City. The FA intends to review the decision of the Football Conference to allow Chester City's membership to transfer to a new company subject to certain conditions. It is anticipated that this review will be completed as a matter of priority", then later on Friday evening came the following... "The Football Conference has issued the following statement on the situation regarding Chester City FC (2004) Ltd. In view of the FA`s decision to review the decision of the Football Conference to grant Chester City FC (2004) Ltd membership of its competition for season 2009/10, the Football Conference has decided that it is in the interest of the integrity of all competitions and indeed the club, to postpone the club's first fixture which was to take place against Grays Athletic on Saturday (August 8th). The Football Conference hopes that this matter will be speedily resolved to enable Chester City to fulfill its fixtures without further disruption to the club and the competition".
MORE BSP NEWS
The Chester City situation as announced to date, namely a 25 point deduction and permission to play in the BSP from this Saturday is apparently not the whole story as a statement on the Football Conference website, issued last night, makes clear:

"Official Statement by Board of the Football Conference Regarding Chester City (2004) Ltd 06 August 2009 22:16:00.

The Board announce, following meetings between the Football Conference, Football Association, the club and legal advisors, that Chester City FC (2004) Ltd will commence the 2009/10 season in the Blue Square Premier this coming Saturday - 8th August To ease concerns being expressed by those member clubs who are scheduled to play them in the forthcoming weeks, it was felt prudent to release this interim statement at this time. A full detailed statement relating to the conditions being applied will be released when the matter is finalised but it can be officially confirmed that the club will commence with a deduction of 25 points as one of those conditions". (Italics added above).
CLASH OF EXPERIENCE
Click on the poster image (right) to download it in a larger format and please display it at your workplace, college, shop etc.
Saturday's match between Altrincham and Ebbsfleet pits against each other the two longest-serving current managers in the Conference, Graham Heathcote (appointed at Altrincham in 2002 but only managing in the Conference since 2005) and Liam Daish (appointed in February 2005 at Gravesend & Northfleet). The fact that each has only been in post in the Conference for no more than four and a half years underlines the fragility of a manager's employment these days.
And Mr Daish has been busy as Ebbsfleet united report that "Defender Leon Crooks has returned to Ebbsfleet United as one of five players signed by Liam Daish today (Thursday). Leon was released by Wycombe Wanderers earlier this summer and the 23-year-old 6' 2" centre back now returns to Stonebridge Road following a successful loan spell with the Fleet last season. He figured 21 times in a Fleet shirt last season, including the FA Trophy semi-final against Stevenage. Joining Leon at Ebbsfleet is 19-year-old ex-Brighton midfielder Kane Wills, Scott Shulton, also 19, formerly with Watford and Wycombe Wanderers and ex-Peterborough United striker Scott Ginty, aged 18. Completing the quintet of signings is young Millwall goalkeeper Matthew Lamprell who will be back up to England C keeper Lance Cronin".
ALTY INTERVIEWS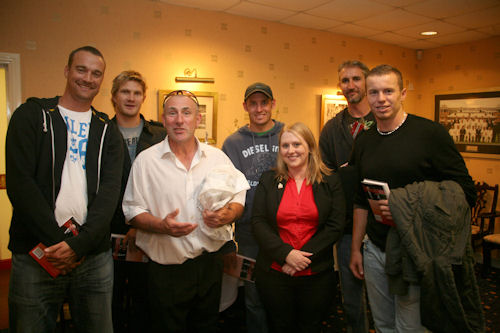 There is a video interview with Australian cricket captain Ricky Ponting on the Mirror website.

Meanwhile the Manchester Evening News has two video clips of the Alty match against a Man. Utd XI showing the goals, as well as interviews with Graham Heathcote, Ole Gunnar Sjolskaer, Ricky Ponting and Jason Gillespie. You may have to scroll down the list of videos at the above link to find these...

Pictured, right by Gavin Rathbone are Australia's Stuart Clark, Shane Watson, Michael Hussey, Jason Gillespie and Peter Siddle, with Alty chairman Geoff Goodwin and Lisa Jones at Moss Lane.

And from SAM we have, "Ponting Punting for Alty! by Brian Flynn.

Moss Lane was the focus of huge media attention on Tuesday night as Australian cricket captain Ricky Ponting and a number of his touring party made a visit to watch Altrincham's friendly with a Manchester United XI. Ole Gunnar Solskjaer's potential stars of the future ran out 2-0 winners, courtesy of a fourteenth minute close range volley from Joe Dudgeon and an own goal two minutes from the end as Nicholas Ajose's clever chip looped over keeper Russell Saunders and bounced off the post before deflecting in off the shoulder of the unfortunate James Smith.

A bumper crowd of 1772 turned up and it was difficult for most of them to focus on the action during the first few minutes as Ponting's arrival in the Director's Box heralded the arrival of a huge phalanx of media cameramen and photographers between the main stand and the pitch. Despite coming out second best to their illustrious opponents, the Robins put in a very decent performance after a sluggish start with Colin Little, Anthony Danylyk and Greg Young all going very close to an equaliser before the team's momentum was interrupted by an injury to Dale Johnson, forcing Graham Heathcote's side to play the last quarter of an hour with ten men, having used all their substitutes and during this period United scored their second.

Mike Hussey, Shane Watson, Peter Siddle and Michael Clarke were amongst the other Australian cricketers attending and Ponting was delighted to be able to come along and support the club whom he is a shareholder of."Altrincham is a really nice friendly club and I think that they played very well tonight and things look particularly promising for the new season" said the 34 year old Australian captain.

Altrincham Chairman, Geoff Goodwin, who is driving the Aussies around throughout their Ashes tour said "The media interest in Ricky's visit has been unbelievable. I've never seen so many cameramen and photographers at Moss Lane and this morning (Wednesday) Altrincham Football Club is featured in every British and Australian newspaper and many TV and Radio Stations. I hope that this might generate interest from someone out there coming forward to help us financially."

The game was Altrincham's final pre-season encounter and Ebbsfleet United provide the opposition for their opening Blue Square Premier match at Moss Lane on Saturday (Kick Off at 3pm).
HELP NEEDED
Gary Warrington writes about the half-time bucket collections at Moss Lane on the Alty Fans' Forum. "It's that time when I ask all around if they would be able to spare 15mins at half time to walk round with a bucket so people can throw their spare change in. I am hoping to get to more games this season but if I cannot attend I am after someone to just collect the buckets and distribute them before the match. It's best to get them before half-time so as can get round quicker. If you are able to help in some capacity then please reply [on the Forum], I'll buy some nice shiny buckets for Saturday. Ideally I would like 6+ buckets going round.. CAN YOU HELP? Thanks, Gaz".
"EUSEBIO" - AN ALTY OLD BOY!
Stalybridge Celtic announce that they have made "two final signings of the summer... Having completed preparations with the Friendly against Manchester City Steve Burr moved quickly to snap up defender Graeme Law and striker Osebi Abadaki. Scotsman Law (24) joins the Celts having been released by Tamworth... Abadaki (18) is a product of the youth scheme at Altrincham and started his career at Blackburn Rovers. He has already acquired the nickname of Eusébio at Bower Fold after impressing in pre-season and will give Burr further options in a new look attack".
RULE CHANGES
The FA has announced that " The major changes ahead of the new campaign include:
In exceptional cases only, the ability to reduce, or increase, on application, the standard punishment for red card offences
Sanctions, resulting from red cards shown in pre-season friendly fixtures, will not apply to competitive first team games
Bringing forward of the yellow card amnesty cut-off date, from end of February to 31 December
Suspensions for reaching 5, 10 or 15 yellow cards to begin with immediate effect

As detailed above, and ready for the new season, clubs can now seek a reduction in the standard punishment for dismissal offences where they feel the punishment is clearly excessive... Clubs will not be able to pursue a claim for wrongful dismissal and also seek to reduce the sanction as an alternative. As with wrongful dismissal claims, Regulatory Commissions will have the discretion to increase the sanction if the rejected claim had no prospect of success and/or amounts to an abuse of process.

The FA also retains the power to seek an increase in the standard punishment in respect of dismissals for violent conduct or serious foul play offences where appropriate.... To address uncertainty over disciplinary sanctions in pre-season friendlies, sanctions for red cards shown in such fixtures will not now apply to competitive first team games. Any such sanction will apply only in the same competition (i.e. other friendlies)....

Players from the Premier League through to Step 4 of the National League System, will also benefit from a change to the date that the yellow card amnesty will take effect. From this season onwards, the cut off date for five cautions is now reduced to 31 December. Previously, players collecting five yellow cards prior to the final day in February were subject to a one-match suspension. This will now only apply if a player reaches five yellow cards before 31 December. Sanctions for players accumulating 10 and 15 cautions remain in place as do their respective amnesty periods.

Furthermore, if a player does accumulate the permitted number of cautions prior to a cut-off date then the suspension will now be automatic as opposed to the current seven day rule".

Also "Amongst the changes that have been confirmed for the new season are:
Fast-tracking of club managers and officials reported for technical area misconduct charges
A prohibition on pre-match media comments about match officials
New guidance on harassment of match officials

The first change means that club staff who are reported for misconduct incidents in the technical area will now be subject to a fast-track disciplinary system, replacing the previous standard process. Now, managers and other club officials should face hearings within three to four weeks of the original offence... Clubs are also being advised separately that any media comments by managers, players or any other club officials relating to appointed Match Officials prior to a fixture will no longer be allowed... Post-match comments in relation to Match Officials and incidents are still permitted provided they are not personal in their nature, imply bias or attack the integrity of the Officials in charge of the match, or in any other respect bring the game into disrepute.

Also, and in line with The FA's previous concerns relating to incidents where Match Officials are surrounded by groups of players, clubs can now be charged for instances where three or more players surround a referee in a "confrontational manner". Previously the charge required officials to report "harassment or intimidation" by three or more players".
BSP NEWS
Before a ball has been kicked this season four managers in the Blue Square Premier have already lost their jobs [two at Cambridge Utd, one at Forest Green and, now, one at Grays] whilst another club has been docked 25 points...

"Grays Athletic have been thrown into chaos once again, as BBC Essex understands that manager Craig Edwards is no longer in charge. Sources close to the club have told the BBC that former Weymouth boss Alan Lewer has been brought in to help coach the first team. Lewer will assist Gary Phillips, who spent much of last season as manager. No-one at Grays was willing to comment on the story, but Lewer has confirmed he is helping the Essex club. The news comes only hours after the club announced nine new signings in the space of a single day".

Later, confirmation came that "Ex-Grays Athletic manager Craig Edwards says he was shocked to be sacked after just two months in the job. Edwards and assistant Steve Browne were sacked on Tuesday... without taking charge of a competitive game. 'Mr Woodward [Mick, chief executive] came in on Tuesday and sacked us', Edwards told BBC Essex. 'I don't think we've done anything detrimental to the club since we started and we weren't given a reason'.

Grays have brought in former Weymouth boss Alan Lewer to help coach Gary Phillips with the first team and they will take charge for Saturday's Blue Square Premier opener at home to Chester. 'We put together a decent side in the time we were there but Mr Woodward didn't share that view and players were signed behind our backs', Edwards continued. 'We were forced to release some of our signings and 14 of our 21-man squad we had for a friendly at Margate were gone by the next week'. Grays have had 12 managers in the last three years and it is all a far cry from when Mark Stimson led the Essex club to two FA Trophy victories and the Conference play-offs. 'If you look at the other managers who've gone then I'm in pretty good company'... No one at Grays Athletic Football Club was willing to comment".

Before yesterday's decision over Chester City, NL Daily said that "Grays Athletic are extremely disappointed with both The FA and The Football Conference over the continued delay regarding Chester City Football Club. Grays were initially informed that they would be told of the outcome by 5.00 on Wednesday evening. However, the club have still not had a response at whether their first fixture in the Blue Square Premier will indeed take place.

Grays have had numerous fans contacting the club to see if the game will be played and as they cannot give them a guarantee some 48 hours before the kick-off, they have the stated that they would seek football elsewhere for the Saturday... This will impact revenue on top of all the pre-match preparation and expense that has already taken place. Grays Athletic Football Club will be seeking financial compensation from The FA and The Football Conference for any expenses occurred during this period.

Meanwhile, Grays have added a tenth player to their squad in two days. Nineteen-year-old Billy Crowther has joined from neighbours Brentwood Town... Equally happy in attack or in central defence, he was originally a youth player at Leyton Orient".

Before the announcement of a further 15-point deduction for Chester, the Liverpool Daily Post announced that "The FA were remaining tight lipped last night but it does appear that whatever deal, if any, is brokered, between the administrators, the club's solicitors and football's governing body, the decision will not be subject to appeal. It is understood that this deduction, which on the face of it appears to be punitive, and the refusal to allow appeal is being taken to the European Courts of Justice by a City supporter and a barrister, who is a Luton Town season ticket holder, for clarification... Such a large penalty is likely to condemn Chester to almost certain relegation, as the bottom four clubs from the top level of the Conference, drop down to regional divisions in the following season".

"Wrexham have revealed that manager Dean Saunders has signed a new one-year rolling contract.. Saunders said: 'The more I'm at the club, the more I like it. I've come to get us back in the Football League and you will see there has been a massive turnaround, both on and off the pitch... I just want to get my head down and concentrate on getting results because I can always fall back on the grass cutting! "On a serious note I want to see more of the effort that was on display tonight [in a friendly]... Anyone who doesn't work hard here will be out of the club'". Chairman Moss added: "No one has more enthusiasm and works harder, he even cuts the grass - so we are delighted to have him here... The manager and the board have a good relationship and I'd go further to say that it couldn't be better... He's turning the club around in a big way and I'm sure the fans will see more of that in the weeks and months ahead. It's a rolling contract, which is there for as long as he wants to stay. No doubt at some stage a Premiership club will come calling for him and we won't dream of standing in his way".

"Wrexham's search for a second keeper has ended with triallist Sam Russell agreeing a one-year deal at the club" states the BBC. "The former Middlesbrough, Darlington and Rochdale stopper, 26, has impressed in two recent friendlies for Wrexham. 'To be honest no one needed to sell the place to me, it does that itself', said Russell".

According to the BBC "AFC Wimbledon have agreed new contracts with Sam Hatton and Chris Hussey. Defender Hussey, 20, has spent the last two years with the Dons, picking up the young player of the year award in 2008. Midfielder Hatton, 21, joined Wimbledon in 2007 having begun his career at Stevenage Borough".

At Cambridge United "Further to the statement yesterday evening, the Board of Directors extends its thanks to George Rolls and Terry Baker for their hard work and dedication to the Club. At a meeting yesterday, the Board asked Paul Barry [based in the USA] to take up the position of interim Chairman, and he will be visiting the Club to Chair a further Board Meeting on Monday 10th August. The process of appointing a manager is on hold until the financial position has been assessed, which is intended to be done urgently. In the mean time, the Board has asked Paul Carden to take charge of the team on Saturday against Barrow.".

Gateshead announce that "New arrangements have been finalised for the segregation of supporters for the forthcoming 2009/10 season. Matches will be given an A, B and C category rating regarding the projected size of the away following.
Clubs bringing 1-100 fans will be housed in the far north west corner of the Tyne & Wear stand.
Clubs bringing 100-500 will be housed in the north west corner at the River End of the ground.
Clubs expected to bring over 500 fans will be allocated the East Terrace opposite the Tyne & Wear stand.

Admission prices will be £12 and £7 concessions. The award winning Tynesider Matchday Magazine has been increased to 58 pages and will cost £2.50".

A week on Saturday, Altrincham travel to Hayes & Yeading United where "Ahead of the new season United manager Garry Haylock has announced the release of midfielder Steve Perkins...After an injury-hit season last term Steve returned to play an important part in United's promotion".

From The Press we read that "York City's tie up with Nestlé will end in January. Although it has been widely reported the deal to name the ground 'KitKat Crescent' will expire in the New Year, The Press can reveal the confectionery giant will pull out of the club entirely. Nestlé chiefs have confirmed, in a letter to City's board, their intention to end their sponsorship of the club which, in terms of the stadium, was a five-year association which netted the Minstermen £200,000. But Nestlé's withdrawal will go much further.

City also receive funding from the chocolate maker for the naming of the family stand, the Smarties family room based in the same stand, and even for Yorkie the Lion. All will come to an end in another financial blow for City, who this week learned they had lost £62,000 after the Football Conference slashed the amount of central funding given to Blue Square Premier clubs... Sophie Hicks, York City's community and communications director, confirmed... 'We intend to use the name KitKat Crescent until the sponsorship agreement ceases in January, and in the meantime, we will be approaching other businesses to try to find a new ground sponsor and also sponsors for our family stand, family room and our furry mascot...

Meanwhile, winger Craig Nelthorpe should be available for the Minstermen's first fixture at Oxford on Saturday... There had been fears he would be hit with a three match ban following a red card after clashing with former Minsterman Mark Hotte in last weekend's 3-1 friendly defeat at AFC Halifax".
---
6 August 2009
CHESTER PUNISHED
Sky Sports News says that "Chester City have been deducted 25 points ahead of the Conference Premier season, but the club will play against Grays this weekend. The club's future has come under threat since The Football Association refused their application for affiliation. The FA raised a number of concerns after the Vaughan family resumed control of the club after a spell in voluntary financial administration. Chester were already facing a ten point deduction result of going into liquidation and that punishment has been increased to 25 points".
ALTRINCHAM 0 MANCHESTER UNITED XI 2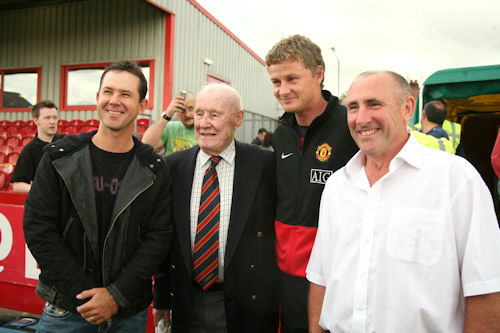 Above - Gavin Rathbone's picture of Australian cricket team captain Ricky Ponting, ex-Manchester United goalkeeper Jack Crompton, United reserve team manager, Ole Gunnar Solskjaer and Alty chairman Geoff Goodwin.
Match report here.
The Manchester Evening News states that Manchester "United Reserves ensured Ricky Ponting's winless streak continued as they beat Altrincham at Moss Lane. Ponting, watching the Robins with several of his Aussie team-mates having become a shareholder of the club, had suffered humiliation in the Twenty20 World Cup while his side is trailing in the Ashes. And now he has tasted defeat on the football pitch. A 14th-minute strike by Joe Dudgeon after good work from Cameron Stewart gave Ole Gunnar Solskjaer's men an early lead.
And a bizarre last-minute goal which saw Nicholas Ajose's long-range shot rebound off the post and defender James Smith's head before going in wrapped up the win for the Reds.But it was Altrincham, who begin their Blue Square Premier League campaign at home to Ebbsfleet United on Saturday, who had most of the chances against a young United second string. Colin Little twice went close in the first half while skipper Greg Young went close with a couple of headers from corners, one of which was blocked on the line.
UNITED RES: Heaton, Simpson (Moffatt 73), Gill (Brady 45), Chester, Wootton (Brown 60), Evans (Norwood 45), Stewart (Ngoo 70), James, Brandy (Ajose 60), Eikrem (Keane 73), Dudgeon."
SATURDAY'S GAME
The Gravesend Reporter says that "Liam Daish is confident his embryonic Ebbsfleet United squad can pull off a few shocks in the forthcoming Blue Square Premier season, which gets underway with Saturday's trip to Altrincham. The Fleet boss has spent much of this pre-season sifting through a large collection of trialists after having only five contracted footballers on the books at Stonebridge Road over the summer. He's since swelled those numbers into doubles figures and, with four or five further additions in the offing today (Thursday), confidence is growing within the camp that an encouraging campaign could be in store.

'The good thing is that - the more I've seen of the players - the more I think they'll punch their weight', the head coach told the Reporter. 'I don't think we're going to be frightened of the physical side of it this year. We'll have a right go at it. We've got young lads that want to do well and they're going to be up for the challenge. I'm hoping that we're going to surprise a few people'...

It's clear he has placed a lot of faith and trust in the fresh-faced Fleet now at his disposal... Meanwhile, off the pitch, Daish has given a ringing endorsement to Duncan Holt's appointment as chairman of the Northfleet-based club following a vote among the club's owners on the MyFootballClub website.... 'I know for a fact that he's got the club at heart as I've been there when he's shown his generosity. He's a great ambassador for the club and a great fella, who is very approachable. I'm going to try and help him and, hopefully, he'll help me move the club on'".
CHESHIRE NEWS
The MId-Cheshire Chronicle says that "Chairman Jim Rushe is still locked in talks with the taxman to thrash out a deal and rid Northwich Vics of their six-figure debt. HM Revenue and Customs – owed around £450,000 by the Blue Square North club – have rebuffed two proposal from Rushe for a Company Voluntary Arrangement (CVA). The original bid early last week offered creditors a dividend of 25p in the pound over five years...

HRMC asked to Rushe to revise it. He returned an improved bid within 24 hours, but that was also knocked back. The chairman has now left the matter in the hands of Skelmersdale-based finance experts Refresh Recovery Ltd, currently Vics' legal owners... It appears it is only HRMC standing in the way of the CVA being agreed, which would pave the way for Rushe to buy Vics back using a new company and complete a £1.3m deal, agreed earlier this year, to purchase the club's Victoria Stadium home. He said: 'They've refused my first offer and my second offer, and we're now trying to establish what exactly it is they want. We're trying to negotiate a settlement that's affordable to us and suitable to them, but I'd like to have it sorted sooner rather than later'. The company – Northwich Victoria Football Club (2004) Ltd – has been in administration since the beginning of May, and start the new season on Saturday with a 10-point penalty as a consequence".
ALTRINCHAM 16TH?
In the BBC preview of the new season it says:

"ALTRINCHAM -How did they do last season? A 15th-spot finish, 12 points clear of relegation but fully 25 points adrift of the top five, was the archetypal curate's egg of a season for Robins: good in parts. Disappointments in both the FA Cup and FA Trophy were only partially remedied by a second Cheshire Senior Cup success in the last three years.

Who's the gaffer? Alty legend Graham Heathcote takes the club into their fifth successive season in non-league football's top flight with a new assistant. Ken McKenna, himself worthy of the legend tag after 33 goals in the 1990/91 season, will be keen to fill the shoes of Graham Barrow, Wigan's new reserve-team boss. McKenna's experience winning three League of Wales titles with The New Saints could prove instrumental as Alty seek a season of consolidation and improvement. The likeable and hugely-respected Heathcote's stock could rise close to semi-godlike status were the Robins able to challenge at the top, rather than the bottom, of the Blue Square table.

Player to watch? Regulars will be keen to see how midfielder Matty Crowell shapes up to life after jumping ship from near-neighbours Northwich Victoria. The 25-year-old has an impressive CV with experience at Wrexham, Southampton and Swansea City on which to draw, in addition to making seven appearances for the Wales Under-21 team.

BBC Radio Manchester's Mike Pavasovic reflects on Altrincham's chances: 'I would expect a lower mid-table finish given that Alty will always struggle to keep pace with the richer clubs. Expect 16th place'."
AVAILABLE PLAYERS
The full PFA list of available players is here.
SHIRT SPONSORSHIP
The folowing players' shirts are still available for sponsorship for this season:
Stuart Coburn - Away
Tom Kearney - Away
Robbie Lawton - Away
Matty Crowell - Away
Nicky Clee - Away
Robbie Williams - Home & Away
Russell Saunders - Home & Away
Michael Welch - Away
Danny Heffernan - Home & Away
Richard Acton - Home & Away
OLD BOYS
From the excellentWelsh premier site we learn that "Mark McGregor soon made his mark in his first game in charge of GAP Connah's Quay. The new player-manager scored after just 7 minutes in a 5-1 win over local rivals Flint Town United at the Deeside Stadium, with Chris Herbert (2), [ex-Alty Youth player] Stuart Cook and Tom Rowlands adding the others".
BSP NEWS
Before chairman George Rolls resigned on Wednesday evening, the Cambridge News reported on Tuesday that "Following today's shock departure of manager Martin Ling, major shareholder Paul Barry has publicly called for George Rolls to stand down as Chairman... Barry stated, 'Events of the last week have shocked and dismayed me and led me to ask George Rolls to resign as Chairman of the football club on Monday. I am publicly reiterating that call today. I fully support the CFU statement made earlier. In my opinion, Martin Ling was definitely the right man for the job and his three-year contract was to bring the stability to the club that it needs. His departure is extremely regrettable'...
"Fans' trust, Cambridge Fans United, has issued the following statement: "Following the resignation of Martin Ling as manager of Cambridge United, Cambridge Fans United have called a board meeting via Fans' Elected Director Colin Proctor. The trust will be asking George Rolls to stand down in his role as Chairman. Dave Matthew Jones, Vice Chairman of the trust, commented, 'The shocking events of today have left supporters completely aghast. This is the second manager in a number of weeks who has left as a direct result of irreconcilable differences with the Chairman. With the allegations surrounding the treatment of other candidates in the lead up to Ling's appointment on top of this we feel George's position at the club is no longer tenable. The fans do not deserve to witness this farcical situation at the club they love".
However, the BBC says that "Cambridge United chairman George Rolls has yet to decide whether he will leave the club following the resignation of manager Martin Ling... Rolls told BBC Radio Cambridgeshire: 'I haven't fully decided on that yet. I would stand down but only on certain conditions. I wouldn't want to leave the club without the backing of the board'... Rolls appears to be at loggerheads with club director and major shareholder Paul Barry, who is based in the United States. Rolls said: 'Paul Barry has put people in place who have allowed us to sail close to the wind. When I joined as a director the club could have been very close to going in to administration again last year. I don't know why Paul Barry from 6,000 miles away feels the need to let that happen to the club'".
According to the Football Conference "Gateshead have completed their squad ahead of the new season with the addition of German midfielder Christoph Ascherl and left-back Phil Cave. Ascherl is originally from Bruehl Germany, but has spent time in the USA with Pen State University. He has no [fewer] than three nationalities having lived in America since 1995, after his parents moved there due to work reasons, he has an American citizenship, Irish (due to his mother) and German (due to his father).
Ascherl, who will be available in the near future, has trained with Gateshead throughout pre-season but has not been able to play due to international clearance not being received.... Cave, 23, meanwhile, has put pen-to-paper on a one year deal with an extra year's option. 'It didn't work out for Phil Cave at Livingston but he has been a part of our two promotion squads and it is good to have him back in the fold', added Bogie. The signing of Ascherl and Cave takes Gateshead's squad up to twenty-two ahead of the transfer window closing at the end of August. 'We have strengthened the squad after promotion, have cover in all areas and genuine competition for places all across the pitch', said chairman Graham Wood."
Blue Square Football confirms that "Jim Harvey has parted company with Forest Green Rovers just days before the start of the Blue Square Premier campaign. The Ulsterman confirmed that he had left the New Lawn, but refused to comment on the situation. He told The Citizen: 'My solicitor is on the case and I'm afraid there is nothing I can say at the moment'. Meanwhile, 30-year-old Rovers hitman, David Brown, has taken over as care-taker boss. 'I can confirm that David Brown has been asked to take charge of first-term affairs until further notice', said a club spokesman".
Nevertheless, FGR "announce that they have signed 18-yr old Ross Stearn on non contract terms. Bristol-born Ross was not offered terms for the coming season by Bristol City... Due to injury last season he was unable to feature for his home town senior side and he is keen to put his skills into the shop window with Rovers... The further good news... is that both Isaac Shaze and Sam Mensah have now been cleared to play in the Blue Square Premier for the coming season. Since their arrival from Ghana on student visas and their enrolment with Hatpury College, the club have waged a long battle to overcome a plethora of regulations. Club Secretary Colin Peake stated 'This has been a battle but we have not yet won the war. It has been the principle behind our efforts more so than the lads themselves. I know both are very happy, although at the moment Isaac is out of the country'".
Chester City report that "Time is running out fast for City who must satisfy the Football Association to accept their application for affiliation today. There are reported to be a number of (unknown) stumbling blocks still to be surmounted if the Blues are to effectively stay in business. Administrators Refresh Recovery as well as club solicitors will be meeting all day to sort out the current mess the club finds itself in. The Football Conference have placed a deadline for today [Wednesday] for things to be sorted out".
The Liverpool Daily Post adds that "Solicitors acting on behalf of troubled Chester City, along with the club's administrators, Refresh Recovery and their legal advisers, held urgent meetings last night to try and find a positive way forward for the Deva Stadium outfit... as the deadline from the Football Conference expires tonight [Wednesday], and if a solution isn't found it could well be curtains for the club... Chester were due to open their Blue Square Premier League campaign this Saturday with a visit to Grays Athletic but whatever the outcome of further meetings that are due to continue today, the weekend trip to Essex looks extremely unlikely. It is understood that players' contracts haven't yet been authorised by the FA and the Grays Athletic 'off the field' preparations have been hampered because of the uncertainty that the situation has created".
At Tamworth "Lambs' boss Gary Mills [has] secured the signature of Anthony Bruce. Previously with West Bromwich Albion, Anthony, a central midfielder, has represented the Republic of Ireland at U16, U17 and U18 levels". Also, "Tamworth expect to find out within the next 24 hours whether former £1 million striker Trevor Benjamin will be part of their squad... The 30-year-old former Jamaica international played as a substitute in last Saturday's win at Solihull Moors and has been training with Gary Mills' Blue Square Premier newcomers. The Lambs would like to keep him but... assistant manager Darron Gee said: 'We can't offer him a permanent deal because there are no funds. If he gets the chance to get paid more and leaves us, you couldn't blame him'. The Lambs... have recruited three new faces in the summer, signing midfielder Neil Mackenzie from Notts County and midfielder-defender Gavin Hurren from Mansfield and welcoming back defender Michael Briscoe after spells at Halesowen Town and Redditch United last term... [but] Michael Blackwood suffered a hamstring injury in training" states the Birmingham Mail
Kidderminster Harriers report that "Mark Yates has secured the services of former Shrewsbury Town goalkeeper Jasbir Singh on a short-term contract... Singh was skipper of the Town side that reached the Fourth Round of the FA Youth Cup back in 2008... Handed a professional contract for last season, Singh found it difficult to break past experienced first-choice pair Glyn Garner and Scott Bevan and was released at the end of 2008/09... He's been on trial at Aggborough this summer and has impressed the management tean enough to earn himself a deal as he battles to dislodge Dean Coleman".
Also "Harriers have completed latest signing by securing the services of former Northampton Town defender Liam Dolman on a one-year deal... 21 year-old Liam..., 6ft 2in.... is a versatile stopper, comfortable at either right back or centre back and also lists Aylesbury United and Kettering Town among his other previous clubs courtesy of loan spells".
"Following his impressive showing against Histon in the pre-season friendly at... Colchester United, and his professional and impressive training sessions with the club manager, Steve Fallon has moved to bring Lee Smith to the club permanently by agreeing terms with Bury Town and the player".
Is this a record? Nine new players signed in a day... Grays Athletic "have been busy today in preparation for the start of the campaign, we have today signed the following players:
Lee McEvilly: very experienced Striker: Ex Cambridge United
Adriano Rigoglioso: Experienced Midfielder: Ex Morecambe & FGR
Frederick (Fred) Murray: Defender: Ex Exeter City
Ronnie Bull: Left Back: Former Grays player, recently with Exeter City
Sam Cutler: Midfielder: Ex Charlton. Cambridge & Exeter
Preston Edwards: Goalkeeper: Ex Millwall & Dover Athletic, also England U19
Ken Davis: Defender: Ex Grays
Cameron Mawer: Defender: Former Grays Player, recently with Weymouth
Billy Lumley: Goalkeeper: Former Wolverhampton Wanderers trainee".
---
5 August 2009
ALTRINCHAM 0 MANCHESTER UNITED XI 2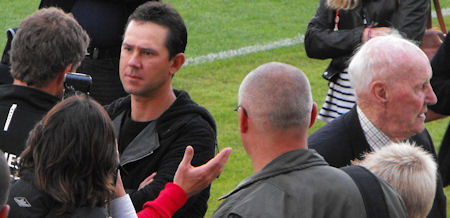 Above: A mingling of different sports and eras was in evidence at Moss Lane on Tuesday night as Aussie cricketer Ricky Ponting was seen in conversation with Manchester United reserves' manager Ole-Gunnar Solskjaer. To the right is seen Jack Crompton, Manchester United's goalkeeper in the 1948 cup final and a frequent visitor at Moss Lane.
Altrincham gave a good account of themselves against a young Manchester United XI, especially considering they played the last 15 minutes with only ten men after Dale Johnson had limped off with what looked like a strained hamstring. United's first goal arrived in the 13th minute when Simpson appeared to foul Clee as he won possession forty yards out on the right. The ball was worked to the right via Stewart, whose low cross was turned in at the back post by Dudgeon. The Reds' second goal only arrived in the 89th minute when James sprang the offside trap and his chip came back off the post, striking the unfortunate James Smith as he attempted to clear, and dropping into the net for an own goal.
There was plenty going on off the pitch, too, as about half a dozen of the Australian cricket touring party, led by Ricky Ponting, watched the game and their host, Alty chairman Geoff Goodwin, gave interviews to the press and posed for the army of press photographers. A crowd of 1,772 were in the ground. Match report to follow
ALTRINCHAM: 1. Stuart COBURN, 2. Shaun DENSMORE, 4. James SMITH, 5. Greg YOUNG (capt), 3. Matt DOUGHTY; 8. Matty CROWELL, 6. Tom KEARNEY, 7. Anthony DANYLYK, 9. Nicky CLEE, 11. colin LITTLE; 10. Dale JOHNSON. Subs: 13. Russell SAUNDERS (gk), 14. Chris DENHAM, 15. Danny HEFFERNAN, 16. Robbie WILLIAMS, 17. Chris SENIOR, 18. Robbie LAWTON.
MANCHESTER UNITED XI: 1. Tom HEATON, 2. Danny SIMPSON, 3. Oliver GILL, 4. James CHESTER (capt), 5. Scott WOOTON, 6. Corry EVANS, 7. Cameron STEWART, 8. Matthew JAMES, 9. Febian BRANDY, 10. Magnus EIKREM, 11. Joe DUDGEON. Subs: 12. Reece BROWN, 13. Ron Robert ZIELER, 14. Oliver NORWOOD, 15. Robert BRADY, 16. Nicholas AJOSE, 17. Will KEANE, 18. Scott MOFFATT, 19. Michael NGOO.
MAN IN CHARGE
The referee for Saturday's game between Altrincham and Ebbsfleet United is Mr P. Bankes, who appears to be officiating Alty for the first time.
PREDICTION
The 200 percent website has an interesting preview of the BSP, in which it predicts that Alty will finish 16th:

"16. Altrincham: Eyebrows had been raised over Altrincham's three successive great escapes from relegation - finishing in the relegation spots and then being avoiding the drop due to the financial misdemeanours of others certainly set the conspiracy theorists' tongues wagging. However, last season they finished in fifteenth place, and can expect more of the same this season. They are another club to have had a quiet summer on the transfer market, and their comparatively meagre squad means that they may struggle this season should they suffer any injuries".
BSP NEWS
Chester First says that "Chester City officials are working against the clock in their bid to start the season. Owner Stephen Vaughan has revealed that the club will make a statement within the next 48 hours after meeting representatives yesterday [Monday] from the Conference and Football Association at Rushden and Diamonds. He said: 'I attended yesterday's meeting with Blue Square Premier League officials, Charles Clapham and his board of officials, and FA representatives. The meeting proved constructive with a number of issues being discussed. I am not prepared to say anything more at this moment in time, but the club will be issuing a statement within the next 48 hours'.

Vaughan has already submitted various guarantees, accounts, and income projections to the FA in the hope of the governing body accepting City's affiliation... City have already received a 10 points deduction after they had entered voluntary administration, but their CVA (company voluntary arrangement) was revoked by HM Revenue and Customs in a Manchester High Court last month and the club are now working hard to claim their FA affiliation in time to start the new season...

Meanwhile, Blues boss Mick Wadsworth, is hoping to secure the services of Oldham Athletic striker Lewis Alessandra on a one-month loan arrangement".

The BBC says that "AFC Wimbledon have signed former Brentford defender Brett Johnson. The former Northampton and Aldershot man, 24, left Griffin Park in May after making 12 appearances last season. Manager Terry Brown told the club's website: 'He is a left-sided centre back who can cover as a left-back if needed. He's a player with lots of talent and pace'. Johnson, who also has non-league experience with the likes of Ashford Town, Ebbsfleet United and Grays, added: 'I've played for Terry before at Aldershot and I'm pleased to be re-joining him at Wimbledon'".

According to the NW Evening Mail "Barrow AFC have offered terms to trialist striker Darren Green. The 20-year-old... scored on his debut at Penrith... Green is a former England Colleges Under-19s player who was recently released by Stockport County. AFC joint-manager Dave Bayliss said 'He's got a little bit of arrogance about him. For a young lad, he struts about the pitch, not in a bad way, but in a good way. He had a (medical) problem with his heart when he was at Stockport, but he's done well in the games he's played for us'... The club are also working hard to try and secure the signing of a loan striker before the weekend. With four days to go until the big kick-off at Cambridge United, Jason Walker, who is attracting interest from several Football League clubs, remains the club's only contracted striker. AFC are also hoping to bring in another winger before Saturday though it appears highly unlikely to be trialist Dean Lodge. Bayliss said: 'Dean's gone back down south. I don't think we could offer him financially what he wanted'".

The Argus says that "Eastbourne Borough have signed former [Brighton & Hove] Albion striker Kane Louis... The 19-year-old was released by the Seagulls at the end of last season and will feature in Borough's new midweek reserve team in the Combination League, along with defender Matt Hurley who has also signed. Assistant manager Nick Greenwood said: 'Kane has had trials at Luton but nothing came of it so he made himself available to us... We want to get as many good young Sussex players in our reserve team as possible and he fits that bill. If he impresses in that he can push for a first team place'".

From the Wrrexham Chronicle we learn that "Wrexham manager Dean Saunders is giving a second chance to utility player Christian Smith, who left the Racecourse under a cloud in January. The 21-year-old midfielder will be offered a new deal, with the Dragons boss saying he was prepared to forgive and forget and urging Wrexham fans to do the same. Smith landed himself in hot water after exchanging 'disrespectful' comments with team-mate Simon Brown on a social networking internet site, with the result that he joined York City for the remainder of the season.

But out-of-contract Smith has impressed Saunders after training at Colliers Park through the summer and the Racecourse boss said: 'He made a mistake with the fans and with me, but he is 21 years old and what I would describe [him] as a bully on the field. Off it though he is a nice lad who would not hurt a fly and I know my own kids go on Facebook and write rubbish. Christian has discovered that when a footballer does the same there will be repercussions. He has a good left foot, he can play in both penalty areas and he will be here to do a specific job for me because he is different to the other midfield players we have, who are all footballers. I can improve him as a player but he can do a particular job for us, particularly away from home and when the pitches start to get a bit heavier. He works hard, he is prepared to put his head in and he can tackle and we need a couple more like him so I'm prepared to give him a second chance... I know it won't be a popular decision with some supporters, but I hope they will back my judgement on this. I don't sign people that I think can't play'...

The Racecourse boss has yet to sign a second goalkeeper as back-up to Chris Maxwell and he confirmed he was looking beyond Sam Russell, the former Rochdale stopper who was between the posts for last Saturday's friendly with Huddersfield Town... Saunders is also keen to sign another central defender, particularly as Ashley Westwood continues to be troubled by a mystery shin complaint... Striker Marc Williams is... expected to resume full training today after badly bruising the foot in which he broke a metatarsal back in February".

Kidderminster Harriers say that they have "secured the services of central defender Gavin Caines for next season. Born in Birmingham, 25 year-old Caines is a tall, 6ft 1inch commanding stopper who boasts 170 career first-team appearances. Gavin began his career with Walsall back in 2003, but his only first-team outings whist on the Saddlers' books came with an eleven-game stint with Stafford Rangers. In 2004 he joined Cheltenham Town and capped his first full season by winning their Young Player of the Year award... He started last season in the side but under new management his opportunities became limited - following his release from Martin Allen's outfit he comes to Aggborough".
---
4 August 2009
BSP NEWS
Cambridge United have issued a "Joint statement from Chairman George Rolls and manager Martin Ling:

As a result of irreconcilable differences between Martin Ling and Chairman George Rolls, Martin Ling has tendered his resignation with immediate effect.

The Club has reluctantly accepted his resignation.

It has been agreed that neither party will make any further statement".

Previous boss Gary Brabin departed some three weeks ago, with Mr Rolls telling cambridgeunited.com at the time that "We both agreed that we just can't work together". Martin Ling was appointed as his successor only last week.
UNITED AND AUSSIES TONIGHT
The Manchester Evening News reports that "Altrincham's unlikeliest shareholder will be at Moss Lane to see the Robins complete their pre-season friendly programme against a Manchester United XI managed by Ole Gunnar Solskaer on Tuesday night (7.45pm). Australia's cricket captain Ricky Ponting is to attend the game as a guest of Alty's chairman Geoff Goodwin, who is now perhaps better-known for his 'other' role as the driver of the Aussies' team bus. Goodwin has granted Ponting 500 Altrincham shares in response to the skipper's generosity in providing so much cricketing memorabilia for the Blue Square Premier League club's fund-raising efforts. Said Goodwin: 'Ricky has become a very good friend to me and to Altrincham Football Club. I'll be proud to have him alongside me in the directors' box for the United game'.

The BBC likewise says that "Australia cricket captain Ricky Ponting has become a shareholder at Altrincham FC, before attending a Manchester United friendly at Moss Lane. The Australian cricket captain is to attend the Robins' pre-season friendly against a United XI on Tuesday".

Ricky's cricketing team-mates are also expected to be in attendance at Moss Lane. Kick off is 7.45pm and entry is £7 (£2 for concessionaries). Admission is free to current Altrincham season-ticket holders.
DINE AND WATCH
You can enjoy matchday hospitality for just £35 per head at the Altrincham v Ebbsfleet United match this Saturday (8th). This price confers free entry to the game, a seat in the Family Stand (or elsewhere in the ground), a pre-match drink, a hot meal, a pre-match word about the match from Graham Heathcote, half-time tea and coffee.

Please contact the club by e-mail or phone (928-1045) to arrange your place in the Sponsors' Lounge.

And holders of valid season tickets from league clubs will be admitted to the Ebbsfleet game for just £5 on production of their ticket and ID. Please use turnstile 6.
SATURDAY'S GAMES
News of Saturday's opponents comes from Ebbsfleet United where "Following ratification by MyFC members, Duncan Holt has been appointed chairman of Ebbsfleet United, initially for a three-month period. Many supporters will already know lifelong fan Duncan as a former Fleet director... Duncan commented, 'I want to get processes in place, the main one being meaningful monthly EUFC board meetings, communicated to members such that votes are better informed and more meaningful'... His first duties include attendance with club secretary Peter Danzey and director Brian Kilcullen at the Conference Chairmens' meeting where one topic under discussion will be news of a possible successor to Setanta for the league's TV rights. There is also a process under way at MyFC to put in place three society members on the club board to represent its 75% ownership, with current director and Conference Board member Brian Kilcullen remaining on the Fleet club board as representative of the 25% of other shareholders".
OLD BOYS
This is Staffs reports that "Tony Pulis has thrown a googly at his full backs by declaring that youngster Ryan Shotton (left) is a genuine contender for the big Premier League kick off against Burnley in less than a fortnight. Andy Wilkinson and Andy Griffin were widely assumed to be battling it out for the right-back berth in the absence of any new signings. But while Wilkinson and Griffin were sent to play at non-league Mangotsfield in a 4-0 win on Friday evening, Fenton-born Shotton was handed his second successive frontline start in the 2-2 draw at Derby on Saturday. The 20-year-old defender has just one substitute appearance in the Carling Cup to his name in a Stoke shirt, but Pulis says: 'Young Ryan has got a chance against Burnley. He's a good defender, quick in one-on-ones and he's done smashing so far'". Ryan was a very popular and successful loan player at Altrincham in 2007-08.

GAP Connah's Quay Nomads report on their win over Winsford. "Nomads attacks were sporadic although up front Andy Olsen and Lucas Cruz looked lively when released by probing balls from Stuart Scheuber... A quality through ball on the hour found Stuart Scheuber and his left-foot shot across goal crept inside the far post... Several Nomads players impressed and new manager Mark McGregor may not have to tweak too much before picking his team for the opening league fixture at Neath in two weeks time."
BURTON GAME
The Burton Mail tells us that "Albion ended their pre-season preparations ahead of their debut League Two campaign on a winning note — but had to fight back from a 2-0 half-time deficit at former Blue Square Premier rivals Altrincham to do it... The Brewers were inches away from going 3-0 down two minutes into the second half when a terrific ball by former Leek Town midfielder Anthony Danylyk found Johnson, who turned Branston and fired in a shot which beat Atkins but crashed off the underside of the crossbar".
BSP NEWS
On Radio London's "Non-League Show" on Monday night, after a meeting involving the Conference, the FA and Chester City, Steven Vaughan, the City owner, said that a statement would be issued within 48 hours about his club's fate. This follows what he termed "constructive" discussions today.

Yesterday the Liverpool Daily Post reported how "Chester City returned to action with a win at Droylsden on Saturday – but the real battle they need to win will be held at Rushden and Diamonds' ground later today. City are currently languishing on football's equivalent of Death Row. The Football Association still hasn't sanctioned the club's affiliation and a gathering of the Conference directors will discuss Chester's situation today and decide how to handle the current impasse. If the FA continue to refuse to accept Chester's affiliation, the Blue Square Premier will have no alternative but to kick the club out of the competition, which will inevitably mean that this proud club, in its current form, will be forced to close.

It is understood that owner Stephen Vaughan and secretary Tony Allan will travel to Northamptonshire today to explain how the club can meet its financial commitments this season and to present a timetable setting out when the club's outstanding football creditors will be paid... One thing is patently obvious; if City are ultimately awarded affiliation to the FA and the Conference accept the business plan that will be presented today, the club must become more professional off the field".

Chester First reports that Chester manager "Mick Wadsworth today issued a plea to the FA. The Blues' boss is hoping the FA will affiliate his club and that the Conference Board will provide Chester with a green light to start the new season on Saturday at Grays Athletic. He said: 'It's not for me to look at the problems the club have experienced in the last few weeks, and it's not up to me to make any judgement. All I care about is that everything is ratified and that we get the FA membership transfer. I will be very disappointed if the FA were in the business of going against a club's existence - I don't think that's healthy for the game. It's not healthy for the club which is there for the community and it wouldn't be healthy for the City of Chester. I hope that good sense will prevail and we'll get what we need. I'm sure we will... We just want to get cracking because it hasn't been the perfect pre-season, but I'm very happy with the strides we have made in a very short space of time. I've brought a lot of players in and when they are all fit I think we'll have a decent squad'.

Wadsworth saw his squad clinch a 1-0 win at Droylsden in Saturday's pre-season friendly held in memory of Neil 'Tony' Downes, a soldier who had been killed in Afghanistan... Wadsworth confirmed that on loan striker, Lewis Alessandra, who scored the winning goal at Droylsden, is this week expected to sign a one month loan deal'. He said: 'We've agreed initially to take Lewis Alessandra on a one month loan deal from Oldham Athletic... He buys us a little bit more time because we've got two proven goalscorers in Gregg (Blundell) and Fabien (Yantorno) to come into the team... Fabien may be available for the Grays game, but Gregg is still a couple of weeks away... I named Glenn Rule as my man of the match at Droylsden because I thought he was outstanding... Connell Rawlinson has only come into the frame during the last week and in him and young Kristian Platt I think we have two good young centre backs and they will give us the back up we need. It won't be long before Shaun Kelly is fit again and Tim Ryan just got a kick on his calf in training and I didn't think there was any need for him to play at Droylsden'".

The Football Conference says that Forest Green Rovers have issued a press release after the serious injury received by 27-year-old midfielder Michael Fowler, who only transferred to the club from rivals Salisbury City two weeks ago. Fowler was 12 minutes into Rovers last pre-season game against Exeter City at the New Lawn on Saturday, when from an incident which was purely accidental and not involving another player, he went over on his right ankle. As a result he suffered three fractures, a dislocation and severe ligament damage. The fractures will need pinning in an operation. Upon arrival at Gloucestershire Royal Hospital the prognosis was not good and he is described as having 'a career-threatening injury'. Initially it was expected that an operation would take place on Monday (3rd) but due to the swelling this has been deferred for at least a week and so in the next 48 hours he will be transferred to University Hospital Cardiff, so he will be nearer his family home in South Wales, for the operation to be carried out".

Yesterday, The Press told us that "Four York City footballers arrested after a late night altercation in the city centre have been released on police bail. Strikers Michael Rankine and Michael Gash, winger Craig Nelthorpe and goalkeeper Michael Ingham, were arrested in the early hours of Sunday morning following an incident at the Subway food outlet in Clifford Street. The four – who had been in The Gallery nightclub – are understand to have been involved in a disagreement with two adult males.

Acting Chief Inspector of Operations for North Yorkshire Police, Mark Iveson, said the disagreement 'escalated into violence' and the two males were subjected to a 'serious assault', one of [whom] ended up in York Hospital with facial injuries. The football stars were consequently arrested and remained in custody at York police station last night... Iveson said: 'All have now been released on bail whilst police enquiries continue'... City manager Martin Foyle said last night that he had given all the players the go-ahead to have a night out at the end of the run of pre-season matches.

The City's pre-season programme of matches ended in a 3-1 defeat at AFC Halifax Town on Saturday. Nelthorpe had been red-carded in the game at The Shay on Saturday afternoon, City's Blue Square Premier campaign is due to start on Saturday away to Oxford United. Manager Martin Foyle said: 'There was a little bit of bother. From the start, I want to make it clear that I gave these boys permission to go out, the whole squad went out. They all had a bite to eat together, it was their night to let their hair down after working really hard during the pre-season. Typically[?!], at the end of the night there was an incident... I've had players in trouble before, it happens, but I'm taking no immediate action until I know more'".

Crawley Town report that "Reds' boss Steve Evans has wasted no time after he was given the green light by the club owners to add to his squad following the sales of Jake Wright, Danny Mills and Romone McCrae... The owners have given the manager permission to sign four players with immediate effect...

Joining the Reds are defender Karl Broadhurst (29) and midfielder Ben Smith (30). Both players played last season in League 1 with Hereford United... Also joining up at The Broadfield Stadium is striker Daniel Powell (18) who joins on loan from MK Dons... Nick Jordan (19) who has been on trial with the Reds for the entire pre season has also joined the ranks...

Steve Evans said 'I had a very constructive and at times informative meeting with the club owners. They understand I am short of players and appreciate we needed to strengthen the squad but it had to be affordable... When it can be afforded we will add to the squad further is what they said and that will do for me. They have a number of issues off the field they want to address... No one buries their head in the sand here at this football club anymore, hoping problems go away. They are dealt with now in a timely and positive manner with these owners in charge and that can only be good for Crawley Town Football Club who everyday now operate in a more professional manner'".

From NL Daily we learn that "Manager Dean Saunders admits Wrexham need to get out of the Blue Square Premier sooner rather than later... 'It's a tough division and getting tougher. We need to get out as soon as we can', said Saunders. 'When you've got the likes of Luton and York splashing out money on players then you get a measure of what you are up against. Saying that, I'm the very pleased with squad I've got here. We've got a good crop of youngsters coming through. We are going to be the paciest side in the league, we've got a lot of very quick youngsters. The great thing is I believe we now have at least 12 players who could bring the club in some money in the future'.

As well as youth, Saunders has brought in a few 'older heads' this summer and is busy working on 'getting the balance right.' Gareth Taylor has joined to bolster the attack, while midfielder Mark Jones returns to The Racecourse after a short stay at Rochdale. Both are former Welsh internationals" reports Wales Online

"Defender Luke Garrard has signed a new contract with AFC Wimbledon ahead of the new season" reports the BBC. "The 23-year-old is about to start his fourth season with the club having joined from Northwood in 2006. Garrard joins Ben Judge and Alan Inns in signing new deals with the Dons... Meanwhile, 17-year-old striker Peter Rapson has also signed a full-time contract after impressing on trial".

Barrow have announced their 'vision' which is "To provide a facility that can improve the overall health and welfare of its' Community, give local business a place to; 1, Generate more business; 2, Improve their employees' skills and to give the local population, without restriction, a facility to play sport while the football team plays at the highest level possible to enhance the overall publicity of the town, to that, of a town that 'Achieves'."

"Back to the season ahead and work continues on and off the field. The Crossbar has had some re-plastering completed in the old bar area, whilst the new bar is also being upgraded. Both dressing rooms are also currently being repainted ahead of the Altrincham fixture in ten days time, with the away one especially now looking much smarter following the alterations done in the spring in compliance with our ground grading. The major building work is the new reception area build and we are please to say that work has now started at the front of the building".

News of a team relegated from the Conference last season comes from the Sussex Express says that "Lewes Football Club have been issued with a winding-up order by HM Revenue and Customs. The Dripping Pan outfit survived two winding-up orders earlier in the year – both issued by Portakabin Ltd, to whom Lewes FC owed around £15,000... Lewes FC managing director Martin Elliott had hoped an offer to pay off money owed to the taxman – revealed last month on the club website to be in the region of £100,000 – in installments would be accepted. But a notice published last week on the London Gazette website here read, 'A petition to wind up the above-named Company (Lewes 2000 FC Ltd)...by the commissioners for HM Revenue and Customs...claiming to be creditors of the Company, will be heard at the Royal Courts of Justice, Strand, London WC2A 2LL, on 2 September 2009'".

The Thurrock Gazette says that "Grays Athletic's majority shareholder Mike Woodward has been quick to dispel rumours that new boss Craig Edwards would be replaced before the new season even starts. Ex-West Ham United Northern Ireland international Steve Lomas, 35, has been helping out at the New Rec, where another ex-Upton Park favourite, John Moncur, has succeeded Woodward as chairman... Woodward stressed, 'Steve has come in to help Craig, taking second string games and helping make decisions on trialists. It's nothing more than that'...

Grays have announced three more signings with ex-Spurs striker Jamie Slabber returning. Others putting pen to paper are former Charlton midfielder Sam Long and ex-Cambridge Utd defender Gavin Hoyte. Grays went down 5-1 at Blue Square South club Bromley on Saturday".

The Chronicle says that "Gateshead expect to boost their firepower for the forthcoming campaign with the six-month loan signing of Hartlepool United striker Michael Mackay. The Tynesiders have struggled to replace Conference North Golden Boot winner Lee Novak this summer, missing out on several targets. However, Steven Richardson was snared early on – and former Ireland Under-19 international Darren Forsyth was signed last week. Mackay, who has made 25 starts and 35 appearances off the bench for Pools, will now fill the fourth striking birth and will remain at Gateshead until January 31. There is no clawback clause, so the pacy Mackay will play exclusively for Gateshead... Mackay has a good track record at Birtley Town, Durham City and Consett – and Gateshead boss Ian Bogie believes the Durham-born player will prove to be an astute capture. He said: 'We tabled a £5,000 bid for him last season and he has extensive experience in League One. We now have the four strikers I was looking for to go into the season, and if Hartlepool recall him at the end of his six-month spell we will be able to target a striker in the January transfer window".

At Histon "Steve Fallon has made a move to sign hot shot striker Craig Hammond; the player who played for The Stutes when he was a fresh faced youth. Despite scoring plenty of goals he moved on from the club. However, four years on, the player who scored over 80 goals for Royston Town last season has returned to the Glass World Stadium, looking to show how much he has improved. The 6ft 3 striker is expected to complete paper work Monday afternoon (3 August)... Manager Steve Fallon spoke of his new signing; 'I am SO confident in the lad that I would say he could end up being our top scorer by May... If we can get him 'Histon Fit' and settled into the squad quickly there is no question we might well have another diamond on our hands'".
---
3 August 2009
BSP NEWS
On Radio London's "Non-League Show" tonight, after today's meeting involving the Conference, the FA and Chester City, Steven Vaughan, the City owner, said that a statement would be issued within 48 hours about his club's fate. This follows what he termed "constructive" discussions today.

The BBC reports that "Four York City football players have been arrested following a disturbance in the city. City manager Martin Foyle confirmed the four were Michael Rankine, Michael Gash, Craig Nelthorpe and goalkeeper Michael Ingham. Police said they were called to Clifford Street at 0400 BST on Sunday.

The men were arrested on suspicion of affray and have been released on bail. The players were out on a pre-season bonding exercise organised by the club".
BIG NIGHT ON TUESDAY
Altrincham entertain a Manchester United XI on Tuesday night at Moss Lane (7.45pm). Admission is free to Alty season-ticket holders, whilst turnstile prices are £7 for adults and £2 for concessionaries.

Alty chairman Geoff Goodwin has invited the Australian cricket touring party to Moss Lane for the game, so expect to see Ricky Ponting and some of his team mates at Moss Lane as well as United's players. He is currently driving their Go Goodwins luxury coach to all their tour matches.

Geoff has also arranged a Cricket Dinner at the Cresta Court Hotel in Altrincham on August 31st at which Steve Bernard and guests from the Australian cricket touring party are expected to be in attendance. Tickets are £45 and can be purchased via Altrincham FC (928-1045) or by e-mailing Alty vice-chairman Grahame Rowley.

Pictured right: Geoff Goodwin and Ricky Ponting with Ian Walkden and Sarah Pickering from the Yorkshire Bank.
AWAY COACHES
Details of the TASC supporters' coaches to our first two away games of the 2009-10 season are on the Away Travel page. You can book your seat by adding your name to the list in the club shop on matchdays or by ringing the club on 928-1045. Come along and help the team get off to a good start this season! The first two trips are to Barrow (Tuesday 11th August) and to Hayes & Yeading United (Saturday 15th August).
TASC DRAW
TASC chairman Brian Flynn writes:

The first monthly draw for Matchday Hospitality for TASC Members took place on the pitch at half-time yesterday. The balls were drawn by Club Photographer Gavin Rathbone and& the winners of matchday hospitality for the Ebbsfleet United game on Saturday August 8th were:-
Peter Foster
Carol Flynn

The draw for September will take place during the half-time interval of the Chester City game at Moss Lane on Monday, August 31st.
CAPTAIN'S LOG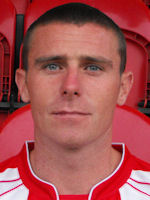 In the Altrincham v Burton Albion programme last Saturday, Robbie Lawton (left) wrote his first "Captain's Log" of the summer...

From a personal point of view, it's not been a good week. I felt OK after the Northwich game, but I felt uncomfortable during the warm up against Trafford and whilst I got through 45 minutes of that match, I could feel pain in my pubic bone before the Bolton game amd the first time that I put any pressure on that part of my body in the first half, I knew things weren't right and I signalled to come off. The booking I got was caused by the frustration that I was feeling at the time, but the challenge didn't cause or aggravate my injury.

I'm having something called Gait Analysis done this week. This looks at the way you are running and hopefully it will help me on my road to recovery. The advice I am getting is not to have further injections at this stage, but all I want to do is play football and I am willing to risk having a problem when I am older if it means that I can play now. I'd really like to thank Sean Riley, our physio, for all his help trying to sort this injury out, he has been fantastic throughout and I know that I am getting the best possible advice and treatment.

Going back to the 3-3 draw against Bolton, it's fair to say that Graham was pleased with our play when we were in possession, but not happy with our performance when the opposition had the ball. Their two wide men caused us problems by staying very high up the pitch, but providing very little defensive cover and whilst one or two teams will play in this way once we get our league campaign going, it wasn't very typical of the tactics that we are generally going to be facing. Russell Saunders had another excellent game in goal.He's a great shot stopper and I'm really pleased that he's signed on as in my view he has been our best player in pre-season.

Another very positive influence has been Ken McKenna. He's got a bubbly, infectious character, whilst at the same time being a straight talker and I really think that he will make a big difference to us. It was a blow losing Graham Barrow, but I think that Ken has many of the same qualities and that everyone will benefit from his input.

Tuesday night's game against Manchester United will be a great occasion for the club, but I think that in terms of our preparation for the start of our league campaign against Ebbsfleet, today's match against Burton Albion is more important. We know a lot of their players and they are of a similar mindset to us, so today's game against the Blue Square Premier champions will be an excellent benchmark to assess our progress to date.

Enjoy the game, Robbie.
OLD BOYS
On Saturday, two old boys were in opposition as Alex Meechan's Droylsden met Ben Wilkinson's Chester City. Pat McFadden scored his second goal of the week for Ashton United, this time against Curzon Ashton.
MORE BSP NEWS
The BBC says that "Exeter City striker Steve Basham is set to complete a deal to join Luton Town. The 31-year-old former Oxford forward played in a friendly game for the Hatters on Saturday and is excited to be making the move permanent. 'It's going to be great to be a part of it', Basham, who was released by the U's in 2007, told BBC Oxford... Basham intends to relocate to Oxfordshire following the completion of the move to Kenilworth Road and is currently staying with former U's winger Andy Burgess".

According to Blue Square Football, "Wrexham have announced the signing of right-back Curtis Obeng following his release by Manchester City. The 20 year-old was released by the Citizens at the end of last season... 'Curtis is a quality player', Dragons' boss Dean Saunders told the club's official website, 'Who has training with a number of Premiership clubs this pre-season and we've had to be patient. He's been down to have a look at the training ground and stadium, so I knew he was impressed with the place, but when sides like Wigan are inviting you along for a game, I did fear he might be offered something by one of the bigger boys... I feel he will be a big signing for this club'"
---
2 August 2009
BSP NEWS
The NL Paper reports that "Alan Lewer is considering sueing controversial Cambridge United chairman George Rolls after being promised the job that was also offered to Liam Daish [Ebbsfleet manager] but actually given to Martin Ling. Former Cambridge number two, Lewer was summoned to the city last Monday and insists he was told he would be unveiled as their manager that night. Former United defender Daish... was told the same and arrived in Cambridge but Lewer received a blunt text message... an hour before the supposed unveiling saying 'sorry not u'. Daish is thought to have received the same message.... Lewer claims he was interviewed four times for the position". Lewer's advisor Tony Turburville added, "Rolls promised him the job last Christmas, telling him Brabin would be gone by the New Year... Rolls offered the job to three people, got them all near the stadium and took his pick. You honestly couldn't make it up". Rolls responded by claiming that Lewer "was never, ever going to manage this club but I felt a duty to the board to at least interview him. With all due respect, Cambridge United would have been scraping the bottom of the barrel if we had employed him. He is a decent number two".

"Steve Evans warned last night that his future could lie away from Crawley Town after he was refused a single penny of the club's possible £250,000 [transfer] windfall". After losing three players Jake Wright, Danny Mills and Ramone McCrae to League clubs, Evans is quoted as telling the NL Paper, "Losing Jake without being able to replace him is absolutely soul-destroying. In a week we begin the season and the board of directors are not concerned in any way, shape or form that we have only 15 players. I'm pretty low and in football you are always contemplating your next move".
PATRONS WINNERS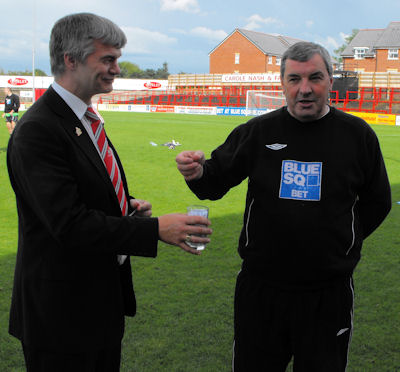 The three winners of the Altrincham FC Patrons' Club draw for free matchday hospitality for the game against Histon on 18th August were:
1st: Andrew Darnatt, who wins free hospitality for 10
2nd: Karen Rowley, who wins free hospitality for 5
3rd: Ian Langford, who wins free hospitality for 2

Right, following the game against Burton, Alty manager Graham Heathcote makes the Patrons' Draw, assisted by vice-chairman, Grahame Rowley.
DAVE LEAVES ALTY
Following the departure of Alty's assistant manager Graham Barrow to Wigan Athletic, Alty kitman Dave Mitten has also moved to the JJB Stadium. Dave put in many years of service at Moss Lane and his dedication was underlined during last season when he still performed his duties despite hobbling badly after an operation on his leg. All at Moss Lane wish him great success at Wigan.

Alty are fortunate in also having Charles and Danny Heathcote to serve as kitmen at the club.
OLD BOYS!
For longstanding Alty fans there are some nostalgic photos of Alty's encounters in the 1980s with Enfield on the Flickr site.
A BRIDGE TOO FAR?
Altrincham make a return trip each season across the Thames crossing at Dartford on the eastern segment of the M25 en route to Ebbsfleet. Kent Online reports that 'Drivers who break into a sweat at the mere thought of crossing the QEII bridge have more to fear from Saturday. From now on, motorists scared of heights will no longer be able to pre-book a traffic officer to take them across in their own cars - while they apparently close their eyes in the back. The little-known Assisted Crossing Service has been provided by the Highways Agency. It was also available to anyone with claustrophia, with fears of the enclosed space of the Dartford Tunnel.

The new ruling means those with such irrational fears must now find their own way across the crossing - or find another route! A Highways Agency spokesman said 185,000 vehicles used the QE2 Bridge and Dartford Tunnel each day..but only 60 people had taken advantage of this service over the past two months [none of them Alty fans, so far as is known]". Of course Alty fans can avoid vertigo or claustrophobia by travelling on the TASC supporters' coach where there is safety in numbers!
MORE BSP NEWS
The Football Conference says that "There was good a bad news for Blue Square Premier club Forest Green Rovers on Saturday. The good news was the excellent team performance in holding League One new boys Exeter City to a goalless draw at the New Lawn. The bad news was that new Rovers' signing Mike Fowler was immediately raced to the Royal Gloucester Hospital with a suspected broken ankle sustained after just 12 minutes of the game. Fowler has been in impressive form for Forest Green in pre-season and was eagerly looking forward to facing his brother Lee in the opening league game next Saturday against Kettering Town".

Crawley Town "Boss Steve Evans has confirmed he will meet with the club owners on Monday to discuss a number of points but he would be placing a high emphasis on his lack of players available to him after the sales of Jake Wright to Brighton & Hove Albion yesterday and youngsters Danny Mills and Romone McCrae to Peterborough United.

The Manager had already accepted his board of Directors stance that he would need to operate with a reduced team budget for the season ahead... but the sales of the three mentioned players have left the manager so short he would struggle to name a full sixteen players if the opening day fixture at Mansfield Town was today...

Steve Evans said, 'I will be meeting with the club owners on Monday afternoon and as always it will be on a constructive basis. They are very good people and are already well aware of my thoughts and likewise, I am aware they need to ensure we keep this football club in a good financial position. The recent sales of players and the pre-season receipts will ensure guaranteed sums of over £300,000 have, or will, come into the club and I can only hope that is taken into consideration when they make their decisions in relation to new player additions whether that be permanent or loan transfers. The Directors have told me this football club is now in its best ever financial position... I look at the likes of Luton Town, Stevenage Borough, Oxford United, Wrexham, York City and our first day opponents Mansfield Town plus a few others in the Blue Square Premier who all have quality and sizeable squads that will ensure they can compete at the top end of the table. For us to achieve that at a vastly reduced cost is possible but we need a few extra... I have identified a few players that I would like to join us and they will be discussed in detail. We are fortunate to be in such a good financial position when you consider the state of some clubs in these difficult economic times'".

According to the Daily Post "Wrexham manager Dean Saunders has drawn up alternative plans for a new goalkeeper should the situation regarding Liverpool's Dean Bouzanis drag on much longer. The highly-rated Anfield teenager was expected to join the Dragons on a season-long loan earlier this month, but the Premier League club has yet to process the necessary paperwork. And with a just a week to go before Wrexham begin the new Blue Square Premier campaign, Saunders admits his patience has been exhausted. 'I'm waiting for another phone call',he said yesterday. 'It seems Liverpool are trying to do something about it just as I was about to sign somebody else. I have two goalkeepers in mind – good ones – that I'm looking at, but I'm just waiting for a call from Liverpool'. The inertia at Anfield means Wales under-21 keeper Chris Maxwell – who was 19 on Thursday will be between the posts for this afternoon's Racecourse friendly with Championship visitors Huddersfield Town".
---
1 August 2009
YOUTHS WIN A TROPHY
Altrincham FC Youth won their group in today's final stages of the Umbro International Tournament. After a 1-1 draw with USA side Salinas Sports, they beat the Isle of Man FA, 1-0. A picture of manager George Heslop with the trophy is below (left).
ALTRINCHAM 2 BURTON ALBION 3
Above right: Dale Johnson proves a handful to the Burton defence - no penalty was given!
Match report here.
BEFORE THE GAME
Our guests today (3pm Moss Lane), Burton Albion, announced this morning that "Winger Jimmy Phillips has today put pen to paper on a two year deal with the Brewers after impressing manager Paul Peschisolido during the pre-season programme following his release from Stoke City at the end of last season. The 19 year old did not figure in Tony Pulis's plans at the Britannia Stadium but having come highly recommended, the Brewers boss was keen to have a close-up look at Phillips and has now added him to his wide midfield options ahead of the new season with Keith Gilroy still sidelined by injury".
FIXTURE POSTER
TASC chairman Brian Flynn writes:

Chris Ainsworth has put together a fixture poster detailing our first six Blue Square Premier matches at Moss Lane. It is available to download and print, (at twice the size of the version shown, by right-clicking on the image and choosing the "save image as" option). Paper copies are also available from the Football Club. We would like to set up a distribution network throughout Altrincham, Timperley, Hale, Hale Barns, Bowdon and Sale, therefore if you are able to distribute these to shops, pubs,etc., please e-mail or phone me on 07860 561011.

You can enlarge the poster image by left-clicking on it.
TODAY'S GAME
Altrincham play Burton Albion today (Saturday, 3pm) in their latest pre-season friendly.

The Burton Mail says that "Albion won the Bass Vase for the fourth successive season thanks to a Shaun Harrad penalty at the Pirelli Stadium. The striker scored the only goal of the game to make sure former boss Nigel Clough and his youthful Derby County side went home empty handed in their first appearance in the competition since 1996. Albion boss Paul Peschisolido rang the changes from the team that beat Birmingham City's Academy side last time out.

There was a first outing in Burton colours for young Derby goalkeeper Ross Atkins, who has joined the club on a temporary basis while Kevin Poole recovers from a back injury — and opposing him was former Albion keeper Saul Deeney... Late on, Derby added spice to the contest by sending on out-of-favour goalkeeper Roy Carroll in an attacking role, but Albion held on comfortably to lift the Vase in its 120th year. ALBION: Atkins, Edworthy (Corbett 76), Austin, Stride, Boertien, Goodfellow (Knowles 84), Maghoma (Penn 46), Simpson, Phillips (Shroot 82), Harrad (Pearson 76), Walker".
LOOSE CHANGE
Those Altrincham FC supporters who have spent the summer collecting their loose change in their Altrincham FC money-boxes are invited to bring them back to the club at the start of the new season next week.
UMBRO UPDATE
In Friday's games at the Umbro International Tournament, Altrincham FC Youth's games ended as follows:
Stretford Victoria FC 2 Altrincham FC 0
Altrincham FC 3 Downers Grove (USA) 0

There is more about these games in the Youth section.
ALTY LANYARDS
Darren Gregory writes that he has produced:

New Altrincham Football Club Lanyards/Neckstraps, including safety break if pulled. They are priced just £2 each and will be on eBay at £2 plus 50p to cover p&p (no further charge for multi purchases to the same address).

I have funded the making of these items with the permission of the club. Any profit will be split between the stewards (for new equipment when needed) and the club. They will be available from tomorrow; ask my wife Louise in the club shop.
BSP NEWS
The BBC says that "Forest Green Rovers' boss Jim Harvey has employed a solicitor after a dispute erupted over his future at the club. A club insider has alleged Harvey had been involved in 'a serious breach of contract', believed to be applying for the manager's job at Cambridge United.

'Matters are in the hands of my solicitor', Harvey, 51, told BBC Gloucestershire before refusing to comment further. Rovers also refused to comment publically on the matter... Supporters Trust chairman Tim Barnard [said] 'On a lot of occasions in the last couple of years the kind of football that Forest Green have played has been Football League standard, so it's definitely not ideal to have this kind of thing going on in the background'".

Blue Square Football says that "Oldham Athletic have given permission for striker Matty Wolfenden to join Wrexham on a free transfer. The promising young striker was on a short term contract but Latics' boss Dave Penney opted not to offer him a new deal at the end of last season".

And "Defender Lewis Emanuel has turned down a move to Grimsby Town and is set to sign a new contract at Luton Town... Hatters' boss Mick Harford claims the 25-year-old was offered a route back into League Two by ex-Luton manager Mike Newell. Emanuel was brought to Luton from Bradford City in 2006 by Newell... Harford said: 'He was offered a very good contract by Grimsby'.

"AFC Wimbledon manager Terry Brown has strengthened his attacking options with the signing of 17-year-old youth-team product Peter Rapson. The 17 year-old has signed terms for the season... Brown told the London Informer: "Peter is a tremendous young prospect who represented the club at U18 level last year. He is still only 17 and has already scored his opening goal in a first-team fixture at the Tempest End - against FC United of Manchester. Peter will train with us on a full-time basis, and although I expect him to play a part in'. Meanwhile, Brown has revealed that he will not be following up on his interest in trialist Calum Willock".

Grays Athletic "have signed the following players:
Ex Cambridge United Defender, Gavin Hoyte
Ex Stevenage and Havant & Waterlooville Striker, Jamie Slabber
Ex Charlton Athletic Midfielder, Sam Long"

Curiously Grays do not mention that Slabber was previously at their club.

"Jake Wright has finally made the move to Brighton & Hove Albion from Crawley Town for a club record fee received for a player. It is understood that the Reds defender was being chased by several clubs including a Scottish Premier League team" claims the Crawley Observer... Wright, 23, has joined the Seagulls, initially signing a two year contract for what the club believed to be around the £100,000 mark. Jake Wright said: 'I am leaving a great club but joining another one at a higher level. I am very grateful to what is my old manager now, Steve Evans. He is a fantastic manager, I loved playing for him and I wish him and the lads every success, they deserve it'...

Steve Evans, who has negotiated the move, said: 'He could have gone and played in the Scottish Premier League but he liked what Russell Slade (Albion Manager) had to say'... Wright is the third player Crawley have sold in a week and Evans could not confirm whether the board at Crawley Town Football Club would sanction any further player additions".
---
FOR EARLIER NEWS, CLICK HERE
---