---
31 May 2009
BSP NEWS
"David Holdsworth, manager of Mansfield Town, confirmed he has made an enquiry about Eastwood Town midfielder Anton Foster" reports
This is Nottingham
"The 26-year-old skippered the Badgers to the UniBond League Premier Division title last season after joining from Buxton. Foster began his career as a trainee at QPR and has also played for Sheffield FC and Ilkeston Town. Holdsworth knows all about London-born player from his time managing at UniBond League level... But the player is understood to still be under contract, which means any potential deal could involve a fee.
'Anton is a player I like with regard to the energy and legs he gives you in midfield', said Holdsworth. 'He hasn't been playing there at Eastwood, but he can also play in a role just behind the strikers. I have lodged my interest with their chairman and we will have to see how it develops. But I am not desperate in midfield because we have already signed some good players in that area'. Another player linked with the Stags is Kidderminster Harriers` striker Justin Richards".
According to the Daily Post "Former Wales international Mark Jones is to rejoin Wrexham with a warning from Racecourse boss Dean Saunders that the return represents a last chance to resurrect his career. The 24-year old midfielder, who won two Wales caps during his previous spell at his hometown club, was given a free transfer 12 months ago by ex-Wrexham boss Brian Little and joined Rochdale. But he managed only 13 appearances for the League Two club and was again declared to surplus to requirements at the season's end... 'I've seen him with Wales and there's no question he is an extremely talented player', said the Dragons boss... 'But in the past couple of years he seems to have lost his way and this next season could be make or break time – it's entirely up to him... I can help him improve his game and I can provide the system that will encourage his goal-scoring ability, which was lacking from our midfield last season'".
"Boss Mark Yates admits the club will continue to play the waiting game over the course of the next few weeks... Ten players have departed Aggborough via various means throughout the summer with just Darryl Knights, Lee Baker and Russell Penn left on contract. Harriers are waiting to hear back from midfielders Sam Foley and Brian Smikle as well as defender Martin Riley and hitman Matthew Barnes-Homer, all of whom were offered contracts... 'We've had to do things out of necessity which is fair enough and we're just waiting at the moment', he told harriers.co.uk.... 'The Chairman is working hard to bring in extra investment which could make a difference so at the minute it's a bit up in the air. We aren't in the position of other clubs where we can go and pay fees and a lot of decent money... We will bring in the best possible players we can and we will be competitive'".
---
30 May 2009
SQUAD NAMES
Graham Heathcote announced recently that he had secured eight of last season's squad for 2009-10 but that he was awaiting responses from a number of others. Alty FC joint Press officer Brian Flynn now writes:
Altrincham manager Graham Heathcote has now secured the services of the following twelve players for the 2009/10 season:-
Stuart Coburn
Matt Doughty
Mark McGregor
Greg Young
Robbie Lawton
Colin Little
Chris Denham
Dale Johnson
Anthony Danylyk
Chris Senior
Shaun Densmore
James Smith

Heathcote also hopes to add Michael Welch to his squad, providing the former Northwich Victoria central defender can overcome an ankle problem. Richard Acton will again be providing goalkeeping cover for Stuart Coburn and both Kevin Street (right) and Danny Heffernan will be joining the squad for pre-season. Street sustained cruciate ligament damage last October and hopefully will be able to prove his fitness for the Blue Square Premier Season, which starts on Saturday August 8th. Heffernan played for Abbey Hey last season in the Vodkat League and made a substitute appearance for the Robins in the Setanta Shield tie with Wrexham last November.

The Robins' manager, who will be leading his team into a fifth successive Blue Square Premier campaign, would like to add "a left sided player, a couple of central midfielders and a striker with pace" but knows that achieving that could be very difficult. "The budget has been pretty well used to retain the majority of last season's squad so I don't have very much leeway at present. It may be that we have to bring in a couple of hundred pound a week players or rely on bringing in youngsters on loan from professional clubs" said the Alty boss.

The club has also confirmed that the scheduled friendly with Macclesfield Town on July 28th has been cancelled as the Silkmen will now be playing Huddersfield Town. Heathcote hopes to be able to rearrange a replacement fixture. However, a lot of clubs are already tied up on that date.

As previously announced three members of last season's squad, Warren Peyton, Joe O'Neill and Chris Lane have not been offered terms for 2009-10.
TASC MINUTES
The latest TASC (The Altrincham Supporters' Club) minutes, from the meeting on 14th May are on the TASC page of this website. As usual, TASC is doing a lot of sterling work to bring fundraising ideas to fruition and the Club is grateful to all the participants. All supporters are welcome to join in.
NW NEWS
"Accrington Stanley have received notice of commencement of winding up proceedings issued by HM Revenue and Customs in respect of unpaid tax and national insurance contributions of around £300,000, to be heard in the High Court on 10th June, 2009.

Although we do not look to make excuses the arrears have occurred due to a number of factors, most notably because of the club's contractual obligations with regards to players wages despite the fact that levels of income have dropped significantly.

While we have been back in the Football League, our average attendance has dropped from 2,260 in our first season, three years ago, to 1,415 for the season just gone. Despite the falling attendances and general economic downturn, our request for dispensation from the Football League to postpone having to install an additional thousand seats was turned down requiring us to carry out over £60,000 of work on the ground, and we also took a significant hit with the collapse of our main sponsor Fraser Eagle midway through last season, with well over £100,000 owing to the club.

All this said, the club fully accepts the liability. We believe that it is morally right that the money should be paid and are not seeking to avoid paying any part of the debt. With the end of the current season we now have the opportunity to restructure the finances of the club, particularly in terms of revising our playing budget, and we are confident that working with our professional advisers we will find a solution to clear the outstanding balance in full.

Aside from the amount owing to HM Revenue and Customs our other liabilities come to less than a quarter of this figure, certainly not excessive for a company of our size with the majority incurred as general day to day operational costs".

The FA has announced the league team allocations to their respective divisions for 2009-10. Local club Hyde United are reprieved from relegation from the BSN by the demotion of King's Lynn.

From the UniBond League we learn that ""At an FA hearing the Cammell Laird appeal against a decision by the UniBond League Board to relegate them from our Premier Division on Ground Grading rules was dismissed. Cammell Laird will therefore be placed in one of the regional First Divisions whilst Whitby Town will retain their place in the Premier Division. The full constitution of UniBond League member clubs and divisions will be released within the next 48 hours".
BSP NEWS
"Stephen Vaughan has exclusively revealed to the Chester Chronicle details of the clubs financial situation - and how he plans to take the club forward. The Blues' owner called on fans to stop the infighting and help him build a successful club again after coming out as the only bidder administrator Refresh Recovery felt was viable with the conference AGM just a fortnight away. 'Basically the situation is that if I take the club through a CVA (Company Voluntary Arrangement) the debt will be £290,000', said Vaughan. 'But if the club goes to another bidder the debt will be £4,290,000. I have met with the Conference and they are looking forward to us joining the league. I want to just take the 10 point hit, which we will overcome, and move forward. Vaughan has pledged to write off the £4 million of debentures he is owed by the club as well as not paying out any dividends to secure the future of Chester City. He told how the club was still paying the wages of all the players they had released, bar James Vaughan, Kevin Ellison and Ryan Lowe, until June 30 but insisted that he would be able to provide funds for a strong squad next season. There are players queueing up to join this club and we will be able to compete with the top five next season', said Vaughan. 'What people need to realise though is that I am the only person willing to realistically take this club forward. The administrators have noted that and that is why we need to look forward now'".

From Blue Square Football we learn that "AFC Wimbledon have completed the signing of Paul Lorraine from relegated outfit Woking. Lorraine returns to Kingsmeadow after two years with the Cards and is delighted to be back at the club... The defender told the club's official website: 'I couldn't be happier. I never wanted to play against Wimbledon, I just wanted to play for the Dons, and it is great to be back'".

"Mick Harford, manager of Blue Square Premier new boys Luton Town, has signed winger Adam Newton on a two-year deal following his release by League One newcomers Brentford... The former England Under-21 international has gained promotion in each of the last two seasons with Peterborough and the Bees, so Hatters fans will be hoping he can bring the same luck... The midfielder began his career at Premier League outfit West Ham United and went on to don the jerseys of Portsmouth, Notts County, Leyton Orient, Posh and the Bees".

According to the BBC "Ebbsfleet manager Liam Daish's future should become clear on Monday, as the club's owners hold a vote on whether to give him a contract for next season. The Blue Square Premier club are owned by subscription website MyFootballClub, which has around 10,000 members - who each get a vote in team matters".

"Gateshead's admission charges have been increased for the second consecutive season as they prepare for life at the summit of the non-league game" states the Chronicle. "Back-to-back promotions has seen the Tynesiders take their place at the top table with prices at the gate now £12 for adults and £7 concessions. Admission charges have increased by £5 over the last two successful years, but chairman Graham Wood was quick to put the price hike into perspective. Wood said: 'Two seasons ago we were playing Prescot Cables and Frickley Athletic in the UniBond League, whereas next season we'll be hosting Luton Town and Oxford United as well as other former Football League clubs. Our prices compare favourably with all the other clubs in the Blue Square Premier'... There have already been indications that some disaffected Newcastle United fans could switch their allegiance to Tyneside's other black-and-whites.

'Only four clubs failed to average four-figure crowds in the Blue Square Premier last season, with Cambridge United and Oxford United both close to the 5,000 mark', added Wood. 'We need to increase our fan base if we're to continue to progress. Last season's average gate of 477 was a 54.9% increase, and I'd like to think we could get that up to 750 next season'. Wood laughed off suggestions Gateshead will make a swift return to the Blue Square North as they have been installed as one of the bookies' favourites for relegation... He said, 'Budget-wise we'll be in the top half of the league and I'm confident we'll be very competitive on the pitch'".
---
29 May 2009
WIN £8,100 AND HELP ALTY!
This week's winning code in the Altrincham FC Saturday Yankee was 2572 which again was unissued. However, there were 9 winning trebles, each receiving £22.22. The jackpot is now a massive £8,100. You can win this for a £1 weekly stake - details here.
FRIENDLY CHANGE
Macclesfield Town announce that "The Silkmen's pre season schedule has been added to with the news that Keith Alexander's men will host Tranmere Rovers on Saturday 25th July (3pm kick-off). The game is one of three fixtures against League One opposition in a week at the Moss Rose, providing a tough challenge and good test for the Silkmen's new look squad. The club is still looking at rearranging their previously scheduled games against Altrincham and Corby". Their fixture list says they are playing Huddersfield on Tuesday 28th July when they were playing Alty.
BSP NEWS
Barrow keeper Tim Deasy told the BBC of his club's move towards full-time. "The club are asking players to give up jobs, obviously money is an issue. You need to try and find yourself a job for those two days off a week, you need flexible working hours knowing that sometimes you will be coming in on a Wednesday morning shattered from a game down south the night before. Sometimes you might need to take a half-day on a Friday or maybe a full day off to travel down south so it was a very difficult situation for all the lads, including the managers."

According to the BBC "Luton have released five players as they prepare for their first season in non-league football in 89 years. Strikers Sam Parkin, Dean Morgan and Paul McVeigh, defender Sol Davis and goalkeeper Dean Brill have all been let go after their contracts expired. Town have placed striker Drew Talbot, who spent time this season on loan at Chesterfield, on the transfer list. Experienced striker Kevin Gallen, 33, has agreed a new one-year deal with the Football League's basement side".

Luton Town add that "There were plenty of happy faces at Kenilworth Road on Thursday when the Hatters confirmed that striker Kevin Gallen signed a new contract to keep him at the club until June 2010. The 33-year-old was in instrumental form for the Town last season after joining permanently in January following a successful loan spell, scoring three times in 29 appearances. Manager Mick Harford was delighted that the Londoner has pledged his future to the club for next season's challenge in the Blue Square Premier. He said: 'When Kevin Gallen came to this football club he made a massive impression on me and the supporters. He can see a pass and bring other players into play and that's what he's all about... My view is that Kevin has got a long term future at Luton Town and he will be given some coaching responsibilities next season".

Standard Sport tells us that "AFC Wimbledon are set to reveal multi-million pound plans to return to Plough Lane - and Merton Council are backing the scheme. The newly-promoted Conference club, formed in 2002 when the original Wimbledon announced they were moving to Milton Keynes, want to develop 6,000-capacity Wimbledon Greyhound Stadium. The stadium is next door to Wimbledon's former Plough Lane ground, which the club left in 1991 and was later demolished to make way for flats. AFC play at Kingsmeadow in nearby Kingston but the Dons' Trust, which runs the club, hope to move closer to home... Wimbledon, who will be playing in the Blue Square Premier next season, hope to win promotion to the Football League and want to sign full-time professionals to replace 10 part-timers".

Sheffield United announce that "Adam Chapman, who spent half of last season out on loan, was under contract but will join Oxford United for a £15,000 fee, dependent on games played, plus a 50% sell-on clause in any future transfer".

EDP "King's Lynn have lost their FA demotion appeal in Derby. A three-member Derbyshire FA panel rejected the club's bid to overturn the club's Conference explusion for failing to initiate a £250,000 upgrade to their council-owned Walks stadium before a March 31 deadline. The FA panel deliberated for 55 minutes before upholding the Conference's initial ruling. Lynn now face being placed in the Unibond or Southern Premier Division for the 2009/10 season. Club officials expect to find out later, following the outcome of a second ground grading appeal by Unibond club Cammell Laird".

NL Daily reports on a former Conference club - "A consortium led by Cardiff-born multi-millionaire Annis Abraham could be in line to rescue Merthyr Tydfil after talks between owner Wyn Holloway and Welsh League Bridgend Town broke down. The group had been set to takeover the club but, following a verbal agreement with Holloway in a deal worth £250,000, they pulled out of negotiations when the asking price was upped to £325,000. The consortium are now in discussions with the supporters' trust... The trust want to put the club into administration and Cardiff City season ticket holder Abraham has given his "100%" backing should their plan go through... Abraham has revealed he has big plans for the club and could put as much as £1million into the ailing Southern Premier outfit... 'I feel the only way forward is to clear the debts'... The Welsh-Egyptian has spoken of his desire to haul the club from the ashes... 'I'm going to lift this club from the ashes, this is going to be one of the great miracles of British football... I'll start with about £200,000 and it'll be about £1m spent before we can dream about League Two'. Abraham, who will hope to utilise his close friendship with Cardiff City chairman Peter Ridsdale in a bid to get season-long loan deals with a clutch of Bluebird youngsters, wants to take Pennydarren Park's capacity from 2,500 back up to 10,000 and play matches on Fridays or Sundays to allow supporters to follow both clubs".

You can vote for the best goal, best save and biggest "blooper" in the BSP last season at Blue Square Football. After voting you can receive a free Blue Square Premier 2008/09 Season Review DVD by post. The details are here.

"More of the players who helped Histon into their highest ever league placing last season ave in the last few days signed up for the season ahead. Histon manager Steve Fallon commented 'I am delighted Craig Pope, Joe Welch, Gareth Gwillim, Jamie Barker and Neil Andrews have now joined Danny Naisbitt and Matt Langston in committing themselves to Histon FC for next season'. The current situation regarding all the players who were with the club last season is as follows:

Retained: Adam Bygrave, Callum Stewart, Craig Pope, Daniel Sparkes, Danny Naisbitt, Danny Wright, Gareth Gwillim, Jamie Barker, Joe Welch, John Kennedy, Josh Simpson, Lanre Oyebanjo, Lee Brennan, Lee Roache, Mat Mitchel-King, Matt Langston, Nathaniel Knight-Percival, Neil Andrews, Tyler Campbell (season long loan to Harlow Town).

Released: Antonio Murray, Marlon Patterson

Departed: Jack Midson to Oxford United, Patrick Ada to Crewe Alexandra

Newcomers: Michael Frew from Cambridge City

Chairman Gareth Baldwin commented 'We've got a great squad of lads and we always thought we would lose at least two or three of our players out of contract. We're pleased to have added Michael Frew and having met with 20 players we are anxious that any more players we bring in have the right attitude, hunger and desire'".

The Cambridge News confirms that "Antonio Murray has been released by Histon... The club was locked in negotiations with the midfielder until the promotion play-offs but were unable to come to an agreement with the 24 year old... The only remaining doubt is over captain Mat Mitchel-King who is weighing up offers from league clubs as he ponders a move into full-time football. Histon chairman Gareth Baldwin said: 'We have a finite budget to work with and we could not reach an agreement with him (Murray). We decided we would move on so he is now looking for another club. We have offered Mat a re-engagement and, as such, have registered him with the FA as a player on our retained list... We're prepared to give him as much time as he needs to make that decision.'... Baldwin said the club were in talks with three players who could replace Murray".

One of the best value grounds next season will be Church Road where Hayes & Yeading will charge:
Adults £12, Senior Citizens and Under 14s £7, Under 7s free; transfer to seating £1 (tbc), car parking at Ground £1 (tbc)

Likewise at Gateshead prices will be "Adults: £12, Concessions: £7, Under 16s accompanied by a full price adult: £2".

"With the ink barely dry from the signing of Gary Elphick another player joins 'The Sports' for 2009/2010" report Eastbourne Borough. "Simon Weatherstone arrives at Priory Lane from Sussex rivals Crawley Town. 29 year old Simon... [joined] Crawley in May 2008. He made 39 appearances for 'The Red Devils' this season past, scoring 6 goals on the way".

From the Liverpol Daily Post is a report that "A meeting of concerned Chester City supporters is to be held at the Deva Showbar in Station Road, Chester... If the court appointed administrators don't find a purchaser soon, then the prospect of liquidation will loom large. Skelmersdale insolvency practitioners Refresh Recovery Ltd are handling the administration procedures, with junior partner Billy Brandon reportedly quoting a massive £1m selling price to one prospective purchaser's inquiry last week... Chester City Independent Supporters Association Chairman Peter Mitchell said: 'We feel it is now imperative that someone stands up on behalf of the loyal City fans. Therefore, we have decided to organise this public meeting'... A number of City supporters who would normally have purchased season tickets for the forthcoming campaign, at this time of the year because of reduced pricing incentives, are naturally stalling on shelling out their money because of the club's uncertainty".

And the Chester Chronicle adds that "A deafening silence has met businessman David Pickering's attempts to rally the Chester business community around the crisis-hit Blues... Pickering has tried to spark interest among his many business contacts to save the financially- stricken club, which was put into administration a fortnight ago... Pickering said: 'I have tried to get corporate Chester behind the club to see if we can come up with a solution. But the response has been very poor. I think it shows that the people of Chester are no longer interested in the football club, and that is a real shame. I am still willing to hold a meeting on Monday, but if by Friday morning no-one has contacted me, I will cancel'...

A meeting will be held at the Deva Stadium on June 11 where creditors will be updated on the current situation. Bill Brandon, of Refresh Recovery, told The Chronicle: 'At the moment, (majority shareholder) Stephen Vaughan is underwriting the club's expenses. There is no income coming in, and the club has also been instructed not to sell season tickets. At our meeting the creditors will be given details of one potential bidder who has come forward'".

"Ebbsfleet head coach Liam Daish is hopeful any outstanding issues preventing him from putting pen to paper on a new contract can be ironed out at a meeting tonight [Thursday]" claims the Gravesend Reporter. "A major reason why the former Birmingham City man has failed to agree terms on a new deal is that the wage budget he has for players was slashed by 60 per cent to £4,000 per week. MyFC have embarked in an online campaign to try and boost this humble figure - which would be one of the lowest in the Blue Square Premier - and Daish is eager to find out what progress has been made. A further £800 per week has so far been raised, pushing the budget towards the £5,000 mark... The Stonebridge Road outfit have been in limbo since the end of the season, with the majority of the playing staff now having been released for pastures new. Currently, only five are on the books for the upcoming campaign and, with the manager yet to confirm that he will remain in Northfleet, things are looking bleak". But Daish said. "I am pretty confident about things".

Rushden & Diamonds "have decided to take up the option to keep striker Michael Rankine. Left-back Gareth Jelleyman has been released following a loan spell at Barrow, who want to make it a permanent move" reports the Northants Evening Telegraph<.

This is Nottingham reports on how "Craig Westcarr is delighted to be back in the Football League at Notts County – because he is sick of making his own sandwiches. The 24-year-old striker has agreed a one-year deal with the Magpies after spending the past four years playing in non-league, following his release by Forest in 2005. And he admits playing for Cambridge United and Kettering Town is a world away from his days at the City Ground...

'Being in the first-team at a club like Forest as a teenager was unbelievable', he said. 'We didn't have to do anything for ourselves, it was a different world. I have seen the other end of it now though. You have to clean your own kit, make your own sandwiches and take your own towels in non-league. [Not everywhere as Alty players will confirm!] I took it all for granted at Forest, but I respect the game more now – I know how privileged a life it is. I'm a better player and a better person. I've grown up a lot'".

This is Tamworth states that "Chris Smith and Michael Wylde have become the latest players to commit their futures to Tamworth FC. And manager Gary Mills revealed this week that Richard Tait, who spent the end of last season on-loan, is also set to sign a permanent deal after being released by Nottingham Forest. Mills said: 'I'm delighted that both my two centre halves (Smith and Wylde) have agreed to stay. As a partnership, I think they were excellent together last season... Richard Tait has also agreed to join us and he is a talented player. We used him in midfield last season but really I see him as a full back and that's where we will be looking to develop him'.

The trio join Alex Rodman, Jake Sheridan, Tom Shaw, Michael Blackwood and Bradley Pritchard in verbally agreeing to stay next season. Mills has offered the rest of the squad deals but is waiting for responses... He said 'I have to say I'm a bit disappointed that a couple haven't come back to me as yet... Financially, the offers we are making to players are not the best in the league but they are the best we can offer. There are players that I have spoken to already that I have had to eliminate because of their wage demands'".

"Dean Saunders has warned his Wrexham players they will have to give him 'value for money' as he overhauls the squad this summer" claims the Daily Post. "The Wrexham manager said he wants to bring in new faces... but only once he has got rid of any players who are surplus to requirements. Saunders has also released a number of players including right-back Simon Spender, Jefferson Louis and Carl Tremarco. And he warned there may be more leaving, saying: 'I've got to do what's right for the football club, not necessarily what's right for me. I'd like to have 50 players but the right thing to do for the club is to thin the squad out. I want to get what I feel are better players into the club, but I also have to get value for money from those players'".
---
28 May 2009
WORKING FOR ALTY
Altrincham vice-chairman Grahame Rowley announces that this summer's "Working Weekends" have been arranged, though this year the "weekends" will only be Saturdays! So please do come and do your bit to help prepare the Moss Lane stadium for another year of Blue Square Premier football. The dates are:
6th June
13th June
20th June
27th June
4th July

Work starts each day at 10am. Everyone is welcome since, as Graham says , "There is plenty to do".
OLD BOY
NL Daily reports that Phil Wilson's son and "FC United of Manchester's leading goalscorer Kyle Wilson is signing for League Two side Macclesfield Town. The 23-year-old hitman, who was third highest scorer in the UniBond Premier last season despite missing the final quarter through injury, has taken the opportunity to become a full time professional with the Silkmen".
BSP NEWS
. Blue Square Football says that "Stevenage Borough have bolstered their attacking options by signing hitman Chris Beardsley from Kettering on a free transfer. The former York City player has signed a one-year deal in the wake of Calum Willock's release from the club. The 25-year-old will be re-united with manager Graham Westley, whom he played under at Rushden and Diamonds. The signing of Beardsley comes on the back of midfielder Lawrie Wilson committing his future to Blue Square Premier side by signing a two-year deal. The 21-year-old made the decision to remain at The Lamex Stadium after Westley assured him that he would be part of the future plans of the club. Meanwhile the club has released youngsters Liam McDevitt, Eliot Buchanan, George Brinkman and Zak Burke after they failed to make the grade".

"Mansfield Town have snapped up the services of former Plymouth goalkeeper Tim Sandercombe on a one-year contract. The stopper spent the second part of the recently completed season at Stafford Rangers and jumped at the opportunity to link up with the Stags and is determined to make the number one jersey his. He told Mansfieldtown.net: 'I know of Alan Marriott's reputation - he is an excellent professional. I know I have to impress'... The 19-year-old started his career at Queens Park Rangers, where he spent one season and had subsequent one year stays at Plymouth Argyle and Notts County before joining up with Rangers".

"Max Porter is eyeing an immediate return to the Football League after completing his move to Rushden & Diamonds. On the day Andy Burgess departed for Luton Town and Marcus Kelly joined Oxford United, Porter, who turns 22 next month, arrived at Nene Park. It was a busy time for manager Justin Edinburgh, who also clinched a deal to keep defender Simon Downer for the new Blue Square Premier campaign.

Porter was released by Barnet at the end of last season having made over fifty appearances... 'I know Justin through some mutual friends and when I was released by Barnet one of the teams I wanted to come to play for was Rushden & Diamonds', Porter said. 'You look around this club and it should be in the Football League. As a group of players we have got to try to make that happen next season. We are probably going to be a young team but that's no bad thing as long as we are all hungry for success'", reports NL Daily.

"Billy Smith, manager of Ryman League Premier Division club Tooting & Mitcham United, insists he will not panic, despite facing the possibility of losing his two leading strikers in the summer. Smith has already lost Dean McDonald, who has departed for Farnborough along with Justyn Roberts. And with fellow frontman Paul Vines and Allan McLeod on trial with Blue Square Premier side Grays Athletic, Smith admits he may have to start upping his search for fresh talent".

Meanwhile, "Blue Square South club Braintree Town have signed 21-year-old striker George Purcell from Ebbsfleet United".

"UniBond League Premier Division newcomers Durham City, who hit ninety-eight league goals last season, have been rocked by a striker crisis as boss Lee Collings bids for a third consecutive promotion... Steven Richardson, top scorer for the past three seasons, is set to move on to home-town club Gateshead... Because he is under 24 Gateshead will have to pay Durham compensation, although the two clubs are currently poles apart in agreeing a figure".

From the Stroud News and Journal we learn that "Darren Jones has quit Forest Green with Hereford leading the chase to sign the out-of-contract Rovers' captain. Jones, 25, said: 'I have had some good times at Forest Green, but the time is right to move on and take up a new challenge. Meanwhile, goalkeeper Ryan Robinson insists his switch to Bath City will be a 'new chapter in his life' following his release from Forest Green... Elsewhere, Terry Burton has nailed colours to the Forest Green mast by revealing he is keen to put pen to paper on a new deal despite overtures from other clubs".

According to the BBC, "Eastbourne Borough have completed the signing of former Brighton & Hove Albion defender Gary Elphick. The 23-year-old has also spent spells playing for non-league sides Aldershot and St Albans, before moving to Havant & Waterlooville. Last season, Elphick scored seven goals and made 51 starts for The Hawks and was also voted the supporters' player of the season".

"Dartford manager Tony Burman says experienced striker Allan Tait has signed for the Darts because he wants to start enjoying his football again. The former Tottenham junior, who played for Folkestone Invicta, Crawley and Canvey Island before joining Eastbourne Borough last summer, made 26 appearances for the Blue Square Premier club but only scored two goals".

"Crawley Town have beaten off Blue Square premier rivals to sign [ex-Northwich] midfielder Simon Rusk" states The Argus. "Rusk, 27, made 38 appearances for York last season and helped them to reach the FA Trophy final at Wembley. Crawley boss Steve Evans... said: 'Rusky was someone we tried to get at this time last year but York City made him a great offer and to be fair they are an excellent football club... I genuinely thought he was going to sign elsewhere so when he rang to say he would sign for Crawley Town I was delighted'".

Kent Online reports that "Ebbsfleet manager Liam Daish meets with the club's board of directors on Thursday for showdown talks which will determine the team's immediate direction and his own future. At the heart of the matter will be the playing budget as rumours persist that cash-strapped Fleet are about to revert to part-time status, leaving the club strongly disadvantaged in the Blue Square Premier next season.

Last week, MyFootballClub – which has suffered a huge drop in membership – voted to hand Daish a £5,000 gross weekly budget, which represents a cut of more than 50 per cent on last season. It means the club will only pay their squad for 43 weeks of the year, rather than 52. Daish, who confessed to being 'frustrated and disillusioned' as the rumour mill went into overdrive, said: 'All being well, everything will be sorted. The board will be asking me questions and I shall be asking them plenty. I shall be seeking to establish what route the club will be taking. As it stands, the club is probably in a worse position than when I arrived. I expect a good deal will come out in the next few weeks but first and foremost, my thoughts are with the staff who are wanting to know about their futures'".

The Wrexham Chronicle states that "Left-back Carl Tremarco yesterday agreed to join Macclesfield Town after being released from his Wrexham contract by mutual consent. And Saunders has warned striker Matt Jansen he must prove his fitness if he wants to stay at the Racecourse for next season... Saunders said: 'I haven't spoken to Matt for about three weeks. He's having his knee operation and I want to see how he comes out of that before I make a decision on him'. One player who will be ready for the start of next season is hotshot striker Marc Williams. Williams scored 12 league goals last season before his season was also ended by a metatarsal injury in February, but Saunders yesterday said Williams's rehabilitation was going to plan and he would be fit for the beginning of the campaign. Saunders said: 'Unless he gets a setback he should be ready for the start of the season'".
---
27 May 2009
COMMERCIAL DIRECTOR RETIRES
Altrincham Football Club press statement:

"Altrincham Football Club's Commercial Director, Barry Pond (right), has retired after 14 years at Moss Lane. Following his retirement from a successful career working for Esso, Barry joined the Moss Lane ranks in the mid-nineties with commercial activity at a low ebb. During his tenure at Moss Lane, he has toiled continuously to build the club's commercial profile and Vice-Chairman, Grahame Rowley led the tributes from his fellow Board members. "Everyone on the Board appreciates what a fantastic job Barry has done and, whilst he is officially retiring, he is still a supporter of the club and will no doubt continue to help out in an unofficial capacity. We all hope that Barry really enjoys his well deserved retirement".
CHAMPIONS' LEAGUE AT MOSS LANE!
Today (Wednesday, 27th) Altrincham FC will be hosting a live television showing of the Champions League Final betweeen Manchester United and Barcelona in the Noel White Suite at Moss Lane. Where better to watch a football macth than at a football ground - with the bar conveniently open and chips available for purchase before the match and at half-time. courtesy of Keith Davey. What is more, all draught beers will be just £1.50 a pint! A Golden Goal competition will also be held where you can win a cash prize for just a £1 stake.

Also available on the evening will be stocks of the excellent Altrincham FC "End of Season" DVD which features every league match and most of the cup games involving the Robins from 2008-09 and is great value at just £15. The DVD can also be ordered from the club who will post it to you (£2 p&p).
SEASON TICKETS
. Don't forget to order your Altrincham FC season tickets...

Season Ticket Prices
Standing - Adults £209; Concessionaries £99
Seating - Adults £249; Concessionaries £109

A £10 discount will apply to the above categories (only) if bought before the end of June.
Aged 12 to 16 seated or standing - £50
Under 12s seated or standing - £25

Season tickets also confer free admission to the pre-season friendlies held at Moss Lane - including the visit of a Manchester United XI..

NB The Club welcomes payment by instalments; please ring the Club (928-1045) to arrange this.

The following gate prices for 2009-10 apply:
Standing - Adults £13; Concessions £8
Seating - Adults £15; Concessions £9
Aged 12 to 16 seated or standing - £5
Under 12s seated or standing - £2
BSP NEWS
Luton Town report that "Hatters' manager Mick Harford has made his first signing of the summer with the capture of midfielder Andy Burgess. Burgess, 27, was released by Rushden & Diamonds at the end of the season which was his second-spell at Nene Park after originally leaving in 2006 to join Oxford United. The midfielder - a self-confessed Town fan - pens a two-year contract at Kenilworth Road - subject to approval from the football authorities. He made 86 appearances for the Diamonds in his second spell scoring eight goals in a career that includes Conference and League 2 titles with the Northamptonshire outfit".

Another Rushden player on the move is involved as Oxford United's "Summer strengthening has continued with winger Marcus Kelly and goalkeeper Ryan Clarke both agreeing to join the club. Marcus, 23, has made over 120 appearances for Rushden and Diamonds... An elusive runner with good delivery, Marcus joins new faces Mark Creighton, Dannie Bulman, Alex Rhodes and Jack Midson in Chris Wilder's squad. Ryan is a former England under 18 international whose last game was against The U's for Northwich in the final game of last season. The 27 year old from Bristol began his career with Bristol Rovers and had loan spells at Kidderminster, Southend and Forest Green before a permanent move to Salisbury in 2006. He was a huge success as Salisbury reached the Blue Square Premier, making 106 starts in two seasons before losing his place due to injury. He then ended the season with the Vics"."

It is not just departures at Nene Park, however, as "Barrow are set to lose the services of Nick Rogan after he turned down the offer of a new contract" reports Blue Square Football. "The 23-year-old is keen to finish his university studies and, as a result, will put his football career on the backburner. Bluebirds' joint-manager Dave Bayliss is disappointed with the forward's decision and believes he will regret his decision in time. The 32-year-old coach told BBC Radio Cumbria: 'I think he's been a little bit too hasty in wanting to leave but there's no hard feelings... But I do think he will regret the decision in the long term. Nick's studying for his PhD at university so it's not money-orientated. He's looking at his career outside of football'".

Better news for the Cumbrians comes from the NW Evening Mail which says that "Ace striker Jason Walker has agreed a deal to stay at Barrow AFC. The 25-year-old Barrow-born marksman finished last season at the top of the club's scoring charts with 18 goals... The Flookburgh-based frontman has, however, decided to stay with the Bluebirds, who from June 30 will commence a new three-days-a-week training regime. Walker also works at the club alongside community development officer Craig Rutherford, helping to coach football to kids and deliver a variety of initiatives into the local area".

From Histon we read of "Their first signing of the Summer with the arrival of striker Michael Frew from Cambridge City. Frew a former Peterborough United player scored 6 goals in his brief spell of 15 appearances with City after joining them from King's Lynn. Histon Manager Steve Fallon... believes Frew can take over the role played by recently departed Jack Midson. 'Michael is very similar to Jack, able to play down either flank or through the middle... We're not finished yet and there could be one or two more signings that will add a bit more competition up front'". In the past, Frew has played against Altrincham for Nuneaton Borough.

Steve Evans has been busy as the BBC confirms that "Crawley Town have completed the triple signing of midfielder Eddie Hutchinson and strikers Jefferson Louis and Charles Ademeno. Hutchinson, 29, has joined the Reds from Oxford United. Louis, 30, netted 15 times for Wrexham this season before having his contract cancelled by mutual consent. Ademeno, 20, has arrived from Southend United after impressing Reds boss Steve Evans during a loan spell at Salisbury...

Crawley assistant manager Paul Rayner told BBC Surrey: 'We're delighted [Louis] chose us as he had offers from clubs elsewhere'... Evans told the club website... 'Eddie will give us a real presence in central midfield and will compliment Thomas Pinault and the others. He is a real battler and will be a key player for us as we strive to get near those play-off places. As for young Charlie, I am really excited about him.... I believe he could be better than Jon-Paul Pittman, who we sold to Wycombe Wanderers... He loves scoring goals, has blistering pace and is very raw. We will get the best out of him'".

"Cambridge assistant manager Paul Carden says he cannot see any new strikers coming to the club now that Lee Phillips has signed a one-year-deal. The 28-year-old will join Chris Holroyd, Mark Beesley and Danny Crow in United's forward line... Carden told BBC Radio Cambridgeshire: 'We won't be having five or six strikers like the other teams at this level', he added. The news will come as a disappointment for U's fans hoping to see Scott Rendell return to the Abbey... Carden revealed Rendell would not be making a permanent move: 'Well, unless we've got a rich fan who wants to pay Peterborough £150,000, which is what they want for him. If I'm honest I wouldn't be paying that money for anyone to play at this level but that's not to say we couldn't get him on loan'"

As for Phillips, "He had offers from other clubs which were better financially. We couldn't compete really. We're not talking the odd £25 here and there, it was substantially a lot more", Carden said. "He wanted to play for the manager and Cambridge United and that's the kind of lad we wanted". In addition, "Carden also confirmed boss Gary Brabin would be holding talks with midfielders Jai Reason and Darryl McMahon this week with a view to keeping both of the players. Meanwhile coach Stuart Bimson has left the club as the United board look to cut costs in the wage bill".

According to the Chester Evening Leader "Richie Partridge revealed he is searching for a new club... The Dublin-born winger is one of several experienced players that have been released... Partridge, 28, started his career as a trainee at Liverpool and had spells at Bristol Rovers, Coventry City, Sheffield Wednesday, and Rotherham United, before joining Chester in June 2007. He said: 'I've not spoken to the manager, but I don't think I'm going to be at Chester next season which is a shame because they are a good little club. Chester have got a young squad and, although I'm still a Chester player, my contract runs out at the end of June. I've been given permission to speak to other clubs and there have been a couple of sniffs from other clubs, but nothing concrete... I'm not in too much of a hurry to secure a deal at the moment and it's still very early before things start to happen in the transfer market. I must be one of more than 500 players who will be searching for a new club during the close season, but I'd still like to play as high up the league as I can for as long as I can. I'm not expecting any move to a new club to happen until probably the last two weeks in June when many other players begin to tie up deals'".

In Northumberland, The Chronicle reports on one of our old opponents - "Blyth Spartans have lost the services of defensive lynchpin Richard Pell, while assistant manager Graham Fenton has also left the Blue Square North club... Blyth are also interested in two more Newcastle Blue Star players, Chris Emms and [ex-Vics' striker] Paul Brayson, although the latter is also being trailed by promoted pair Gateshead and Durham City".

"In his report to MyFC members, Ebbsfleet United's chairman and acting CEO John Moules had this to say about the situation concerning players' contracts and the way forward following the new budget ratification by members. 'Lance Cronin, Darius Charles, Michael Gash, Michael West and Steven Springett are all under written contract until May 2010 and therefore unless we decided as a club - by MyFC members' vote - to accept any offers for them, they will form the basis of our squad for next season. All other players' contracts came to an end on 2 May 2009 and unless we have offered them a new contract at the same or increased terms as last season they automatically become free agents under FA Regulations.

We have the right to forward to the FA in June a list of players we have retained from last season which, at this moment in time, will be the five contracted players only, plus any that Liam Daish has been, or is, negotiating with at present. In the case of Luke Moore, unless we have offered him a 52-week contract at the same or increased terms from last season, he along with all other players becomes a free agent. The key point here is that the moment the club decided on a 43-week wage structure, all players on 52 weeks last season automatically become free agents unless they have been offered and accepted new terms from the club.

Until Liam confirms the situation, we will not be aware of who is going or staying or who may be joining, all of which would, I assume, be subject to a vote by MyFC members. Craig Stone will be offered terms through the summer as will Neil Barrett, if they decide to stay, to assist them as they recover from their injuries following the generous funding from the Fleet Trust of around £8,500 with the proviso that if there is any monies left it goes into the playing budget. Given that the budget voted on by members earlier this week is currently based on a 43-week salary and not 52 weeks, we will be unlikely, in my opinion, to retain any players out of contract from last season...

There will be much press speculation regarding the club and its manager, coaching and playing staff for next season. What is needed right now is the EUFC and MyFC society boards, along with all supporters and MyFC members, to work as a unit and raise the playing budget to a level where we can compete for available players without spending what we cannot afford or do not have".

Mansfield United say that "Creative midfielder Gary Mills has rejected a contract offer from Stevenage Borough to sign for us on a two year deal. The 28 year-old began his career at Rushden & Diamonds in 1999 and made over 120 appearances for the Nene Park outfit, scoring nearly 40 goals. He had subsequent spells at Crawley, Tamworth, and more recently Stevenage Borough, - where he played 37 times last season. After signing a two year contract this afternoon, Mills told mansfieldtown.net: 'I see Mansfield as a Football League club. I was very impressed with what the manager had to say to me. He was totally honest and I know what he expects from both me and the squad'".
---
26 May 2009
CUP OPPONENTS
News of Newcastle Blue Star, one of our FA Cup opponents from last season comes from NL Daily. First of all, "The effects of the global crunch hit the Northern League in a big way when Sunderland Nissan suddenly announced their resignation... following a meeting of company bosses at the Nissan car plant the previous day... The Second Division will now operate with twenty teams next season, and that could provide the FA with the opening to place Newcastle Blue Star, who have applied to go into administration and are quitting the UniBond League, into the Second Division".
BSP NEWS
"Hereford United have signed full back Keith Lowe after his release by Kidderminster Harriers" says NL Daily. "The 23-year-old joined Harriers in August and played forty-two league games for the club. However, Harriers` boss Mark Yates did not offer the former Wolverhampton Wanderers player a new contract as part of cost-cutting".

According to Your Local Guardian, "Jay Conroy admits the illustrious list of departures from Kingsmeadow had him sweating on his AFC Wimbledon future, but the defender has vowed to repay the faith shown in him by boss Terry Brown. Conroy was named as one of just 13 players retained by Brown... Conroy added: 'I have had spells at Canvey Island and Northwich Victoria in the Conference so I know what is expected... In my opinion there is not much difference from the league we have been in - not in terms of skill or ability. The big change will come in fitness and that is why the club is looking at going full-time. The pace of the game is quicker and the players are a lot fitter and faster. But we have a very fit, young squad here and that is a massive plus for us'.

Dons' retain list: Andy Little, James Pullen, Chris Hussey, Jay Conroy, Luke Garrard, Alan Inns, Ben Judge, Lewis Taylor, Kennedy Adjei, Sam Hatton, Elliot Godfrey, Danny Kedwell, Jon Main".

"Kettering Town's club shop in the town's Newlands Centre is to close" reports the Northants Evenin g Telegraph. "The KTFC Shop will shut down at the end of this month and the club has reached an agreement with Rydan Building & Construction to build a new club shop, ticket office and away toilets within the stadium, to be situated at the Rockingham Road end of the main stand. Work will commence next week with the project expected to be complete by mid July.

In a statement explaining the decision, the club said: 'The club believes that this move, in addition to making financial sense, will be more convenient for supporters, with entry to all competitive fixtures likely to be ticket only from next season. This change will improve our financial controls and increase speed of entry into the stadium. We expect to sell tickets in advance from the ticket office at the new shop. On a matchday, for the vast majority of games, tickets will be on sale, on the day, from the shop. There may, however, be some games when we will be directed to sell all tickets in advance'.

The club are also set to announce the appointment of a new board of directors next week as well as their season ticket prices and provisional matchday prices. And they are hoping to make an announcement about the long-term future of the club next month. On the playing front, the statement revealed that chairman Imraan Ladak and boss Mark Cooper are now in advanced negotiations to sign a left-back, three midfielders and two strikers for the new Blue Square Premier campaign".

The NET also reports that "Rushden & Diamonds' captain Andy Burgess could be set for a dream move to Luton Town. The Hatters' fan has already held transfer talks over a possible move to Cyprus and also been linked with Northampton Town. Burgess seems certain to leave Nene Park on a free transfer this summer, along with Chris Hope and Marcus Kelly. It is believed that terms have been agreed with Luton boss Mick Harford hinting... 'We would be interested in speaking to Burgess'".

From the Chester Chronicle we learn that "A former Chester City player is refusing to concede defeat in his bid to buy the crisis-hit club – despite being put off by the £1m price tag put on the Blues. Football coach and entrepreneur David Jones was quoted the seven-figure fee after the Deva Stadium outfit were placed into voluntary administration by major shareholder Stephen Vaughan. Jones, who played for Chester's reserves in the 1988-89 season and returned to coach the youth team in the mid-1990s, will not pay that...

But the 41-year-old from Ellesmere Port intends to go back to the administrators, Refresh Recovery Ltd, once he has held talks with David Pickering, chairman of Chester's City Centre Management, and the Chester City Supporters Trust. 'In my opinion, the administrators are not going to get what they're asking for', said Germany-based Jones, who had a playing career that took in spells in Hong Kong and Spain before establishing a successful soccer school in America... 'Without doing due diligence, which I've asked for, it's impossible to put a figure on the club, especially one that has been relegated out of the Football League and has no tangible assets... Chester City has to become a community-led club'... Jones, who works as an academy coach with Bundesliga Two side SV Wehen Wiesbaden, is not the only party interested in buying the Blues.

An unnamed Cheshire-based entrepreneur – believed not to be controversial former York City owner John Batchelor – said he will be contacting the administrators. Music promoter Gareth Evans, who managed Manchester rock group The Stone Roses, told The Chronicle he would be interested if the council allowed him to develop the Deva so that it could stage concerts. Evans was hired as managing director by Terry Smith during the American's disastrous ownership of the Blues.

Another scenario is that Vaughan could buy back the club from the administrators. Bill Brandon, of Refresh Recovery Ltd, confirmed to The Chronicle they were looking for £1m and a sale before Chester are inducted into the Conference at its AGM on June 13. The Blues are likely to start the 2009-10 campaign on minus 10 points".

Get Surrey tells us that "Giuseppe Sole has achieved one target - a return to Kingfield - and now he has set himself another as he relishes the thought of spearheading Woking's attack next season. After agreeing to sign a new contract, the talented 21-year-old has vowed to weigh in with 20 goals next term having been told by boss Graham Baker that he will play as a striker. Sole was farmed out to Ebbsfleet United for the final two months of a personally disappointing campaign, as the Cards were relegated to Blue Square South. The question of Woking's lower non-league status was not an issue for Sole, and he added: 'I just wanted to stay full-time. Playing in the Blue Square South is not a problem for me but obviously I'll be more than pleased if we get a reprieve'".
---
25 May 2009
BSP NEWS
According to Blue Square Football , "Workington manager Darren Edmondson is hoping to snap up Matt Jansen with Wrexham unlikely to offer the former Blackburn striker a deal for the new season. But the Reds boss will have competition for the 31-year-old's services with at least one unnamed non-League club sounding out Jansen for a coaching role. The Reds boss told Cumberland News: 'I have made a first inquiry and I will be following that up later this month... He has offers coaching in the non-League'... Jansen 'fell out of love' with football after a scooter accident in Rome derailed his career and he has been struggling ever since.. He turned his back on football and was subsequently out of the game for two years".

Crawley Town "are pleased to announce that Jefferson Louis (30), a prolific goalscorer at Conference Premier level has signed for the Reds. The London based striker... is a great capture for manager Steve Evans who has kept the identity of all his summer targets under wraps".

From AFC Wimbledon, we learn that "The topic that most fans want to hear about is which new players [manager] Terry [Brown] and [assistant] Stuart [Cash] are recruiting... Terry has been inundated with calls from agents and players, and dozens of unsolicited CVs have arrived in the post. He has had talks with quite a few players and some themes are emerging.

First, and hardly surprisingly, we are now much more attractive to league players. Second, many of the players Terry is speaking to have been full time. 'Full time' appears to mean one of two things. Some players, especially league players, are paid for all 52 weeks of the year. Meanwhile, others (mainly with Blue Square Premier clubs) have been paid for 44 weeks (which is the 39 weeks we pay, from the first to the last game of the season, plus the period from 1 July when training starts to the first game of the season). Obviously, we can spread the 39 weeks' money over 44 weeks if that helps the players, but it doesn't increase the amount we are paying overall.

One issue that might delay any 52 week full time player who wants to sign for us, is that their contracts expire at the end of June. However, if they haven't found another club by that date they are entitled to be paid for a further month by their current club. We don't pay players in July, so such a player might decide to take the pay from their current club until the end of July and then sign for a part time club like us. Of course, they run a risk that they might miss out if they do that, but that is their decision.

The third theme is that Terry is insisting that the players he signs must be available to train on Monday and Wednesday mornings, as well as the usual Tuesday and Thursday nights. For one player we were keen on, that meant he would have to give up his second job. We couldn't afford to compensate him for that, so we have reluctantly had to drop our interest.

Fourth, as Terry has repeatedly said, we are trying to sign young, athletic players. In quite a few cases these players are out of contract but are under 24, so it means that if we sign them and can't agree a transfer fee with their current club, we are exposed to the uncertainties of a 'Bosman' tribunal to set the fee....

Finally, we believe that some players have unrealistic wage expectations... We are in detailed negotiations with a defender... We have had an offer for a midfielder from a lower division rejected and have just sent a revised final offer for the player... Terry has decided that he wants to sign a particular midfielder. That player is subject to the Bosman rules... Some of our existing players have been retained... Jon Main has signed an improved contract which ties him to the club for two years... Jake Leberl was not being retained...

We have had two meetings with representatives of Merton Council this week. The first was to explore where in the borough there might be space for a stadium".
---
24 May 2009
BUBBLY SHAUN
Shaun Densmore is pictured in the NL Paper with his Man of the Match bubbly for his performance for England C last week. He told the NL Paper, "It's pleasing to have won the award but I'd much rather have won the game". Shaun got his chance after Cambridge United's Danny Gleeson reported unfit. Shaun added, "I didn't think I'd be playing so I'm made up to have started and done well".
COLIN IN TOP 20
Colin Little is number eleven in the NL Paper's "Top 20 strikers" of last season. The paper says "110 goals in 228 starts tell you he hasn't just been picking up his money. Has been known to keep himself fit over the summer by going to Spain. Heathcote will already have him booked on Easyjet if it helps him keep the Robins flying as easily as they have in 2008-09". In its Review of the Season, the NLP records how Altrincham "reached the dizzy heights of 15th in the BSP". It also recalls how Alty almost beat Luton in the FA Cup and says that Graham Heathcote "singled out the 1-0 victory over promotion-chasing Cambridge United, just four days later, as one of the highlights of the season.
CONGRATULATIONS
Congratulations to Chris Rowley, son of Alty vice-chairman Grahame and his wife Karen. Chris got married today to Stacey. As well as doing a lot of jobs for the Club, including coaching youngsters, Chris has also featured as a goalkeeper for Altrincham youth and reserve sides.
BSP NEWS
Cambridge United confirm that "Lee Phillips has extended his stay at Cambridge United by signing a new one year contract. The 28-year-old striker joined at the beginning of March on a free transfer from troubled Weymouth... Chairman George Rolls told cambridgeunited.com, 'There were other clubs interested in him but it reflects well on Cambridge United and the people here that he chose to sign a new deal with us'".

Former Northwich and Lewes boss Steve King has taken over as manager at Farnborough.

Conference chairman Brian lee told the NL Paper, "The situation in football is at its worst ever. This is as bad as I can remember it; every day another club seems to be in trouble and unless attitudes change it is only going to get worse... I'm hearing more about three-year contracts for people in non-League, players and managers. With all respect,. it's crazy and can't continue". Meanwhile "Lewes survived another winding-up order last week but chairman Terry Parris confirmed 'administration cannot be ruled out'". Fellow relegated club, "Northwich Victoria will find out their fate this week after entering administration for the second time in five years. The FA will hold an emergency meeting on Wednesday and the Conference will then decide on the severity of Vics' punishment. A worse case scenario would see the Cheshire club... thrown out of the Conference". But owner Jim Rushe claims "I'd like to think we still have a place in the league because we've done everything above board".

Also in the NL Paper, it is revealed that ex-Wrexham striker "Jefferson Louis is set to join Crawley Town".
---
23 May 2009
ALTY LINKED TO HOLMES
The Burton Mail links Altrincham with a released Burton Albion midfielder. "Danny Holmes is hoping to find a new Blue Square Premier club... The 22-year-old midfielder is the only player so far released from the title-winning squad as new boss Paul Peschisolido prepares for Albion's elevation to the Football League. Forest Green Rovers and Altrincham are among the clubs who have already expressed an interest in recruiting Holmes. Holmes, Burton born and bred, said he was disappointed... 'I was half expecting I would not be offered a new contract because I didn't play much last season. I'd geared myself up for being told the worst... I've just got to concentrate now on getting myself fixed up with a new club, hopefully in the Blue Square Premier'. Holmes has already spoken to Forest Green manager Jim Harvey and Altrincham have been in touch with his agent. The former Port Vale trainee said: 'I'm quite encouraged by the interest that's been already been shown in me because it's still early days. It's nice that Forest Green and Altrincham have already expressed an interest and I'm also hoping to speak to Tamworth, who have just got promotion... (Burton team-mate) John McGrath knows their manager, Gary Mills, [and] is trying to arrange for me to speak to him'".

Holmes came on as a sub in the first minute of added time in Burton's match at Moss Lane this season but was not in the squad for the reverse fixture at the Pirelli Stadium.
OLD BOY
"Ex Wigan and Bolton [and Alty] legend Tony Kelly has signed up to join Ashton Town's charity side Lobbies FC who take on the stars from Hollyoaks when they visit Edge Green Street on Wednesday 12th August. The game is to raise money for Tesco's Charity of the Year, the Muscular Dystrophy Campaign, and Tony now joins fellow local legends Stuart Barlow and Peter Atherton in the squad, with a few more certain to sign up before the event" reports the NW Counties league.
BSP NEWS
The Football Conference site says that next season's fixtures will be released on 3rd July 2009, with fixtures starting on 8th August 8th 2009. Other dates for your diary include:
FA Cup 4th Qualifying Round - 24th October 2009.
Setanta Shield 3rd Round - w/c 5th October 2009.
FA Trophy First Round Proper - 12th December 2009.
BSP Play-Off Semi-Final First Leg - 29th/30th April 2010.
BSP Play-Off Semi-Final Second Leg - 3rd/4th May 2010.
BSP Play-Off Final - 16th May 2010."

Following yesterday's report on former Conference club, Merthyr Tydfil, Welsh Premier announces that "Bridgend have been revealed as the mystery club behind the proposed buyout of cash-strapped Southern League outfit Merthyr Tydfil. The Welsh Leaguers have £2 million in the bank following the sale of their Coychurch Road home for a supermarket development three years ago and official Steve Clark confirmed: 'We have had chats with [Merthyr's] Wyn Holloway'... The Martyrs are £300,000 in debt and facing a winding-up order in the High Court in London next month and owner Holloway will be in Bridgend for talks on a deal which would mean major changes for both clubs. Both parties would retain a football club, effectively switching positions, with Bridgend going into the Southern League and Merthyr into Welsh League Division One. Bridgend, who reached the semi-final of the Welsh Cup this season, have just announced that they will play at the 12,000-capacity Brewery Field next season after plying their trade at temporary homes since they surrendered their ground".

The BBC says that "York City have signed Richard Pacquette and James Meredith as well as re-signing midfielder Levi Macken. Striker Pacquette, 26, joins from Blue Square South side Maidenhead, while left-back Meredith, 21, has signed from League Two outfit Shrewsbury. City boss Martin Foyle told BBC York: 'Richard's a non-league striker who's scored on a regular basis. He's hungry to get back into full-time football. James is dynamite, he has pace, has a super left foot and loads of energy'. Having signed two new left-sided players earlier this week and retained the left-sided Andy McWilliams, Foyle now believes he has the right balance in his squad.

'Towards the end of the season we didn't have enough left-footers in the side, and that helps with set-pieces. We were predominantly right-sided and if you were watching us it wouldn't take a lot to stop. Now I think we're balanced, and if we can just get that little bit more height and presence in the side, we'll be off and running'...

Foyle is also pleased to commit former Wrexham man Mackin to the club. 'Levi's been a crowd favourite since he's been here, he's put in some great performances. The chairman [Jason McGill] really likes him, and, for me, he's not a loud player but he's always a seven out of ten... Believe me, we're still chasing another three or four players. I want to change the pack around. That's what my job's about, trying to put my team out on the pitch'". There's no answer to that.

"Manager David Holdsworth has made experienced striker Daryl Clare's move to Mansfield Town permanent by snapping him up on a one-year contract" states the BBC. "The 30-year-old's deal also includes an option to extend his stay by a year".

And "Dagenham and Redbridge have raided neighbours Grays Athletic to sign midfielder Stuart Thurgood. The 27-year-old former Southend player, who started his career with Tottenham, has agreed a two-year contract".
---
22 May 2009
YOUTH TEAM WINS AWARD
Altrincham FC Youth Team has won the NW Youth Alliance League's Fair Play Award for the second consecutive season. This award is for the best-behaved side in all of the League's three divisions, a total of 25 clubs. The bonus for the Club is that league fees, costing £150, will be paid for by the league. The presentation will be made at the league's A.G.M., reports manager George Heslop.
CHAMPIONS' LEAGUE AT MOSS LANE!
Next Wednesday (27th) Altrincham FC will be hosting a live television showing of the Champions League Final betweeen Manchester United and Barcelona in the Noel White Suite at Moss Lane. Where better to watch a football macth than at a football ground - with the bar conveniently open and chips available for purchase before the match and at half-time. courtesy of Keith Davey. What is more, all draught beers will be just £1.50 a pint! A Golden Goal competition will also be held where you can win a cash prize for just a £1 stake.

Also available on the evening will be stocks of the excellent Altrincham FC "End of Season" DVD which features every league match and most of the cup games involving the Robins from 2008-09 and is great value at just £15. The DVD can also be ordered from the club who will post it to you (£2 p&p).
NW NEWS
"Hyde United, relegated from Blue Square North, are breathing a big sigh of relief after being given another eight weeks to beat the threat of closure" reports NL Daily. "The extension comes after a winding-up motion brought against the Tigers by HM Revenue and Customs was adjourned at a High Court hearing in London until late July. HMRC agreed to the adjournment, giving Hyde an additional two months to reach a settlement over unpaid tax, following talks with the club's chairman, Steve Hartley. Hyde's director of football Tony Beard said: 'This is the news we were hoping for and now it's up to us to get our act together in the time we've been given'".
BSP NEWS
Former Altrincham winger "Carlos Logan (right) has agreed a 12-month deal with Barrow AFC to keep him at Holker Street for another season" states the NW Evening Mail. "The speedster, 23, made a big impression in his first term with the Bluebirds... Barrow joint manager Dave Bayliss [said], 'Carlos knows he needs to be more consistent, but I think people forget he's only a young lad. He will improve a lot with the new three-day training regime we're bringing in. Carlos did a good job at left-back for part of last season, but we see him as a left-winger. When he's fit and flying, he's a threat to anyone in that league. We've talked to Carlos and he knows that at times he didn't deliver to his full potential last season. He's told me and (fellow joint-manager Darren Sheridan) Shez that he's going to come back flying, and to expect big things from him next season. That's exactly the kind of attitude we want from players. Andy Bond and Mark Boyd said exactly the same. That's what we want to hear, that makes us excited about what's in store'.

Both Boyd and Bond, along with goalkeeper Tim Deasy, have now signed deals to keep them at the club. They will report back for the start of pre-season training on June 30, with new signing Simon Spender. Mike Pearson has agreed terms, while the managers are confident skipper Paul Jones will also stay. Bayliss added: 'We're still talking to Steve McNulty. We've made Jason Walker a final offer of what we think is fair, and we've got to speak again to Nick Rogan'".

The Gravesend Reporter says that "Ebbsfleet United have released all of the non-contract players on their books and will rebuild their squad from scratch, according to head coach Liam Daish. On Tuesday, a vote by members of the online society that owns the Blue Square Premier club - MyFootballClub (MyFC) - ratified a draft budget that leaves the weekly wage bill for the Fleet at just £4,000 - less than half of what it was last season. Daish, who admitted he was left 'gutted' by the news, has had to release all of his players, except for the five who were already signed up for next season. 'I have not been able to retain some of the players that I wanted and they are now looking for other teams', he said. 'I will have to build a whole new team on a very low budget that will probably be the lowest in the division. It is not ideal starting from scratch and it will be very hard'.

Daish will now embark on a series of trial matches to recruit fresh faces from the lower leagues as well as hunt for unattached players with experience of competing in the Football League... 'They have given me a budget to work with over 43 weeks and I just think we needed to be a little bit more speculative', he said".

But Kent Online tells us that "Ebbsfleet chairman John Moules has denied the club is in crisis... The Fleet will only pay their squad for 43 weeks per year, rather than 52 weeks, effectively making them part-time regardless of training schedules. However, Mr Moules said: 'It's a fact that the budget is not what it was this time last season but it's not that far adrift of the previous figure. It's important to stress that Friends of the Fleet and others are working hard to step up their fund-raising by raising £2,000 a month which is a fantastic amount of money to put towards the budget... I'm keen to put a positive spin on all that's happening because it's certainly not all gloom and doom... It's important to stress that we have no debts'".

The Kidderminster Shuttle says that "Harriers' directors will discuss the possibility of a £100,000 cash injection... The chance of two new investors pumping in £50,000 each moved a step nearer this week following Barry Norgrove's bid to bolster the budget for next season. The Aggborough chairman had talks with one of the potential directors on Monday while the other has been pencilled in for a meeting. 'We need an investment of £50,000 from each of them and then that entitles them to come on board as a director', said Norgrove, who is under fire from fans for the club's rigid cost-saving policy".

NL Daily says that "Blue Square North new boys Corby Town have signed midfielder Brett Solkhon on a one-year deal. The 26-year-old was released by Blue Square Premier neighbours Kettering Town, where he was the Poppies' longest-serving player, at the end of last season". He scored against Alty last season.

Also, "Striker Craig Westcarr, released by Blue Square Premier club Kettering Town recently, has been signed by League Two outfit Notts County on a one-year contract. The former Nottingham Forest forward, 24, who has taken a pay cut to join the Magpies, played only three times for the Reds before leaving the City Ground to join Cambridge United".

Stevenage Borough FC "has announced that Callum Wilock has been released as Graham Westley continues to make alterations to his squad ahead of the new season...The club have confirmed that midfield player John Martin has been released".

From the BBC we learn that "The Football League wants the transfer window scrapped domestically and a transfer ban on clubs that fall behind on their tax payments. Chairman Lord Mawhinney also wants to explore the possibility of a joint TV deal with the Premier League. The plans were outlined in a four-page letter from Mawhinney to Culture Secretary Andy Burnham. It was written in response to questions raised by the Government about football finances and the running of the game.

Burnham wrote to the Football Association, Premier League and Football League in October 2008, asking seven different questions... Mawhinney argues that since Fifa 'remain implacably opposed' to altering the current transfer window system, Government help would be needed if it was to be altered to allow domestic transfers. But Mawhinney told the BBC: 'We think the original idea was to regulate international player transfers. We are proposing there should be a distinction between domestic and international transfers'... Currently the transfer window is open from 1 July to 31 August and from 1 to 31 January.

The proposals regarding tax and National Insurance payments are aimed at improving the relationship with Her Majesty's Revenue & Customs. When a club is in administration it must pay in full its debts to its football creditors - a policy that is opposed by HMRC, which is no longer a preferential creditor and often has to settle for a greatly reduced offer. Mawhinney said the Football League opposed scrapping its policy regarding football creditors. But he added: 'We will propose at our Annual Meeting next month an initiative which seeks to provide clubs with an incentive to keep up to date with payments to HMRC. If approved, clubs who fall behind will be embargoed from signing further players'.

A new Football League television deal starts next season, with 10 live Championship games per season on the BBC. The new agreements are worth £88m per season to Football League clubs and encompass terrestrial and pay television, broadband internet, video-on-demand and mobile services".

"Weymouth, relegated from the Blue Square Premier, have lost left-back Stephen Reed to League Two outfit Macclesfield Town. The 23-year-old, who has signed a one-year deal at the Moss Rose, can already boast Football League experience with Yeovil and Torquay United and two full seasons in the Conference National with Cambridge United and Weymouth".

According to the Cambridge News, "Steve Fallon said he will have to play a waiting game before finalising his squad for next season after revealing that Mat Mitchel-King, Antonio Murray and Patrick Ada are in talks with other clubs. The Stutes' boss said the trio have all been offered new deals, but as with the departed Jack Midson who has left for Oxford United, the lure of a full-time deal and a pay increase may be too much to turn down... Said Fallon, 'We're hoping we'll be able to hang on to all three but they're in talks with Blue Square Premier and League clubs. They're out of contract so it's up to them... We've offered them as good a deal as we can afford to but other clubs are offering them full-time football and more money'".

Histon themselves add that another player has left; "Patrick Ada has agreed personal terms with Crewe Alexandra FC and leaves the club after two years with the Stutes".

Meanwhile, Crawley Town "can confirm that all talks and negotiations with last seasons squad have finished... Contrary to reports elsewhere, the management team are pleased to confirm that out of contract players Adam Quinn, Danny Forrest, Thomas Pinault and Lewis Killeen have all re-signed for the Reds. They join Simon Rayner, Chris Giles, Sam Rents, Jake Wright, Michael Malcolm, Jamie Cook and Glenn Wilson who are all contracted to The Reds for next season. Youngsters Mithun Nayee, Nick Carter, Byron Napper, Danny Mills and Max Lake-Edwards will also be reporting for the new season... on Monday 29th June 2009. As previously revealed Santos Gaia, Isaiah Rankin, Gavin Hurren have been released while midfielder Danny Bulman... signed for Oxford United last week in a lucrative 2 year deal. Fellow midfielder Simon Weatherstone has also left The Broadfield Stadium as he has elected to join a part time club which in turn will allow him to develop the new business he has started earlier this year".

The informative Welsh Premier site tells us about former Conference club Merthyr Tydfil, whose "Chairman Wyn Holloway says he is considering a takeover deal from a Welsh club that could see the Martyrs relocated to England. Wyn Holloway In a sensational twist to a turbulent season at Penydarren Park, Holloway has revealed an unnamed businessman has tabled a £300,000 bid to buy the Martyrs. If successful, it is understood the potential buyer plans to merge the Southern League outfit with a club in the Welsh football system and use it as a short cut into the English Leagues... 'The person I've had the offer from is looking at the fact that, if he wanted to get a team in the league, it would cost him a lot of money', he told the Western Mail. 'The gentleman wants to get into the English pyramid system. To start from the beginning and go through what we have would take time and cost. This deal would be a short cut to where we are. You would start with a ground share then after two or three years take it elsewhere'".

Blue Square Premier newcomers Gateshead have had a five-figure bid for York City striker Richard Brodie turned down. York have the Gateshead-born player on a year's option and have offered the 22-year-old a new two-year deal which Brodie has yet to sign. Gateshead, in the market for three strikers with top scorer Lee Novak having linked up with Huddersfield Town, have trailed the former Whickham and Newcastle Benfield hotshot for some time. Manager Ian Bogie said: 'It is no secret that we tried to bring Brodie to Gateshead last summer and then on loan during the season. He is a young player who has already proved himself at Conference National level and we'd like to bring him home, but the ball is in York's court'. If the Minstermen refuse to allow their leading scorer to move on, and Brodie decides not to sign the new deal on the table, then York would only get compensation rather than a fee at the end of the 2009-10 campaign...

Brodie is believed to be tired of the daily commute from Tyneside to York by train but may still prefer to remain full-time rather than play part-time in the same league for Gateshead. Bogie meanwhile is also on the trail of another Gateshead-born striker, Durham City's Steven Richardson, who scored 28 goals in 52 appearances for the UniBond First Division North champions last season... The player is out of contract at Durham and is keen to return to Gateshead, though because he is under 24, compensation would have to be paid... Another Gateshead-born player who has expressed an interest in playing for his hometown club is Hamilton Academicals veteran central defender Chris Swailes, whose career began at Ipswich Town".
---
21 May 2009
HAPPY ANNIVERSARY
The Altrincham FC Juniors' "Saturday Club" celebrated its second anniversary on 19th May. The Saturday Club provides qualified coaching for youngsters. For details please contact Chris Bullock via the Club. Congratulations are due to Chris and all of the coaches who have helped to make this scheme such a success.
SHAUN'S INTERNATIONAL DUTY
If you install Microsoft Silverlight, you are able to watch video highlights of England C's defeat by Belgium this week on the FA site. There is a still photo of Alty's Shaun Densmore on the FA site and a brief match report. England C: Bartlett (unatt.); Densmore (Altrincham), Geohaghan (Kettering), Charles (Ebbsfleet), Laird (Stevenage) (Newton (Droylsden) 76); Penn (Kidderminster) (Welsh (Grays) 77), Wroe (Torquay Utd), Byrom (Stevenage) (Fleming (Wrexham) 56), Tomlin (Rushden); Constable (Oxford Utd), Clayton (Alfreton) (Hearn (Alfreton) 69). Sub not used: Cronin (Ebbsfleet). The attendance was 2,842.

"England C manager Paul Fairclough said he was proud of his young Lions on Tuesday night, despite their defeat in the Final of the International Challenge Trophy at Oxford. 'We showed typical English spirit after the goal and threw everything into it as we tried to come back... Belgium played us a very big compliment by bringing in a lot of top players from big clubs, I think they had only one player who played in the last qualifying game, so that showed how seriously they took this. But the future's looking really good for Conference football when you see the young players here and what they have done'".
OLD BOY
"Club legend Paul Ellender has reaffirmed his desire to stay at Boston United ahead of key talks with the Pilgrims' new management team" states the Sports Echo. "The defender returned to York Street on loan from parent club Alfreton Town in March and played an essential role as United narrowly staved off relegation from the UniBond League Premier Division. Ellender admits his career at Alfreton, for whom he left Boston 12 months ago, is all but over and is eyeing a permanent return to the Pilgrims, now managed by Paul Hurst and Rob Scott.

The 34-year-old accepts he may not figure in the pair's plans, but insists he would like to stay at the club he calls 'home'. 'I want to stay' declared the rugged centre-back, who joined United from Scarborough in 2001 for a record £80,000... 'I really enjoyed my time back this season... I've spent a lot of years at the club and feel comfortable there... Thanks to the owners the club seem to be on the up finally after some difficult years. The club is stable and we're not facing another relegation like we have in the last few summers'".
BLUE SQUARE NEWS
The Northwich Guardian asks "Why has Jim Rushe put Northwich Victoria Football Club (2004) into administration? When Rushe, along with Nick Bone and Ian Campbell, bought the company off Mike Connett for a nominal fee in December 2007, he also agreed to take on its debts.

The consortium made a six-figure one-off payment to HM Revenue and Customs (HMRC) to ward off the threat of liquidation before agreeing a structured payment plan to pay off the sum owed to the public purse. But Rushe has struggled to keep up with instalments. The club went more than two months without a home match at the turn of this year after then landlord Connett locked the team out of the Marston's Arena.

That led to players not being paid and, with sponsorship and other revenue streams drying up as the club was left homeless, HMRC went without its money too. When they did return, crowds dropped to around 500 due to the team's position at the bottom of the Blue Square Premier. The tax man lost patience, preferring instead to push for a winding-up order. That case had been adjourned on half a dozen occasions before the club applied for administration this week.

What will happen to HM Revenue and Customs' petition to wind up Northwich Victoria Football Club (2004) Limited? The petition is likely to be dismissed by the tax man. From the moment formal notice is given of the intention for a company to move into administration – something Vics did on May 5 – there is a statutory moratorium, which effectively blocks hostile enforcement action being taken by any of the company's creditors...

Rushe has relinquished control to administrator Daniel Hennessy, who will now manage the business. His job is to prepare proposals for approval by the club's creditors, initially with the aim of rescuing the company as a going concern.

Are Vics up for sale? In effect, yes... Rushe told the Guardian this week that a rescue plan with Hennessy would likely take the form of a Company Voluntary Agreement (CVA); a legally binding agreement with creditors about how the debt will be repaid. It usually amounts to paying them a fraction of what they are owed. That of course, is if they agree to the proposal put to them. Under such an arrangement Rushe would remain at the helm. To work, Hennessy must call a meeting of all the club's known creditors within 10 weeks of the order being made (in this case by July 10 because he must give 14 days' notice). At that meeting a proposal for a CVA will take effect if it is accepted by in excess of 75 per cent in value of the creditors present and voting. A second vote requires simple majority (ie 50 per cent plus one) support from 'unconnected' creditors – that is those not associated in some way with Northwich Victoria Football Club (2004) Limited...

Contrary to popular belief Jim Rushe and former backer Nick Bone are the company's two biggest creditors, not the tax man. HMRC routinely opposes any deals offered by football clubs in administration – a move viewed by experts as a protest against its position as a low-priority creditor...

Will the players be paid what they are owed? They have to be if the club is to survive. Under both FA and Football Conference rules Vics must pay football-related debts, such as wages to players and backroom staff or transfer fees, first and in full. Rushe told fans at a supporter club meeting last week that he will meet a deadline of May 31 to pay his out-of-pocket first team. It is not known how much they are owed collectively, although Rushe did stress that no individual was more than six weeks in arrears...

Football Conference rules state that any club that is subject to an 'insolvency event' will be deducted 10 points with immediate effect. Any further punishment is entirely at the Conference board's discretion... The signings ban, a punitive measure put in place by the Football Conference as a consequence of Vics not paying bills to other clubs for players they took on loan, is now inextricably linked to the administration order. The clubs owed cash are football creditors, so must be paid in full for Northwich Victoria Football Club (2004) Limited to exit administration at a future date...

Rushe has set up a holding company, Northwich Victoria Developments Limited, which has taken out the mortgage to buy the stadium. He exchanged contracts with fixed charge receivers from Deloitte Touche at the end of last month, paying a £75,000 deposit. That gives him until June 12 to complete a £1.3m deal to become landlord".

"Salisbury chairman Neville Beal says there are two groups seriously interested in buying the club" reports the BBC. "The Whites were put up for sale for a pound last month, because the board said they could not afford to keep bankrolling the club. Beal told BBC Wiltshire the initial flood of applicants have now been whittled down to just two. 'We've got two parties who have our financial information, they'll decide whether they want to take the club on'. Salisbury have just four players under contract at the moment, and manager Nick Holmes is unable to sign new deals until the ownership of the club is decided.

'We would like it done as quickly as possible but nobody is going to jump into something that's going to cost them a considerable amount of money, it's a big commitment', Beale added. 'You can't push people into making a decision of that magnitude... but we do need a decision fairly quickly because Nick [Holmes] is waiting to see what he can do'".

"Billericay Town have signed Ebbsfleet midfielder Danny Slatter. The former Wales Under-21 international has spent the last four seasons with the Fleet and made 27 appearances this season. The 28-year-old started his career with Chelsea".

South London Today "confirm that Paul Lorraine is on AFC Wimbledon's wanted list. The Woking defender, who made 25 appearances for the Dons during a spell with the club in the 2006-07 season... has long been linked with a return to South London... However, Woking boss Graham Baker is keen to keep the player at Kingfield, despite the club's relegation".

"Gary Brabin is planning for the season ahead with Cambridge United. Chairman George Rolls told cambridgeunited.com this evening that Brabin will not be joining Blackpool, who were granted permission to interview the U's boss about their vacant managerial post. 'I'm delighted he's staying', Rolls confirmed. 'Hopefully he will lead our push for promotion next season'"

Meanwhile, "Chris Holroyd's contract with Cambridge United will be extended after the club today exercised the option of a further year on his contract. The 22-year-old, who was voted the the 'Young Player of the Year' on the website last month, joined United on a free transfer two games into the season, having agreed a mutual termination of his contract at Chester City".

Blue Square Football confirms that Wrexham "midfielders Levi Mackin and Shaun Whalley have been released with immediate effect. Levi and Mackin spent much of last season out on loan after failing to break into Dean Saunders' first-team... Mackin, 23, joined York City earlier in the season and helped Martin Foyle's side beat the drop before featuring in the 2-0 loss to Stevenage Borough in the FA Trophy Final... Whalley, a former Accrington Stanley player, has also been shown the exit door after a loan spell at Southport last season. Meanwhile, former Wrexham player Mark Jones - recently released by League Two outfit Rochdale - has met up with Saunders to speak about a possible return to the Racecourse Ground. Jones said: 'He invited me in for a chat, but that is as far as it has gone. Wrexham is my hometown club and I enjoyed my time there, so I would definitely consider a return if it was offered. But that has not happened and it's very early days because the season has just finished. My agent is speaking to a number of clubs'".
---
20 May 2009
SHAUN - MAN OF MATCH
Shaun Densmore was England C's "Man of the Match" but they lost 0-1 to Belgium's under-21 at Oxford United's Kassam Stadium on Tuesday night.
COFFEE IS SERVED
Louise Gregory and Louise Bowyer have arranged an Altrincham FC Coffee Morning in the Gill Oates Sponsors' Lounge at Moss Lane. This will be a great opportunity to have a chat over a drink and to make some purchases from a table-top sale which will include books, bric a brac and sundries. Coffee and tea will be available, with a cake, for just £1. The event runs from 10.30am to 1.30pm on Friday, 12th June. All proceeds will go to Altrincham FC.

If you can donate any of the above items, which must be in good condition and, where appropriate, not past their sell-by date, please drop them in at the Club between 9am-5pm on Monday to Friday or please e-mail Darren Gregory. It may be possible to collect items if you cannot bring them in. Thank you in advance for your support. Leaflets about the event are being circulated on the roads around the ground. Posters and an announcement in the Messenger are also being arranged.
YANKEE
The Altrincham FC Saturday Yankee jackpot has now reached £7,800 after this week's winning code of 1873 was found to be unissued. For just a £1 stake per week you can have a chance of winning this sum and, at the same time, helping the Club - contact the club (928-1045) for details or see the Yankee Page. There were five Winning Trebles, each winning £40, with codes 1273, 1803, 1879, 1883, 3873.
NW NEWS
After their five-figure bid to Kettering Town for the services of former Hyde Striker Gareth Seddon, Fleetwood Town announced "Fee agreed [for a] former Conference and now BSN player; five-figure bid accepted ... awaiting discussion on personal terms.. more when available".
OLD BOY
http://www.altrinchamfc.co.uk/07hdrtoulsongr.jpg Blue Square North club Gainsborough Trinity have signed former Altrincham and Harrogate Town player, Ryan Toulson (right).
PRE-SEASON
Alty have a pre-season game against Macclesfield Town, whose website announces that they "have added three more dates to the club's pre-season schedule. The campaign will currently begin with an away trip to Buxton's Silverlands ground on 14th July, and after the games against Northwich and Oldham, Corby Town are next on the list as the Silkmen visit on Wednesday 22nd at 7.30. Then the Silkmen will travel to traditional rivals Altrincham's Moss Lane on Tuesday 28th July. 'We're trying to put together the best pre-season to prepare us for the rigours of the coming campaign' Said Macclesfield boss Keith Alexander. 'We obviously like to play against the bigger clubs, and certainly wouldn't turn that opportunity down, because it is excellent for the supporters, but it doesn't really offer much in the way of preparation. Clubs like Northwich and Altrincham are of a high standard in non-League football whilst Oldham are competitive opposition from the division above'".

Don't forget that an Altrincham FC season ticket for 2009-10 gets you free admission to all the home pre-season games at Moss Lane. Details of prices are here. If you buy yours before the end of June there is a £10 discount on adult and concessionary tickets. Please note that payment is by cash or cheque only.
BSP NEWS
At York City, "manager, Martin Foyle, has signed four players to bolster his playing squad for next season. Goalkeeper, Josh Mimms, has re-signed a contract with the Club along with left sided player, Andy McWilliams. Two new players have also joined York City today. Andy Ferrell,central midfielder [from Kidderminster], and Craig Nelthorpe, left winger [who was on loan at Oxford from Doncaster last season]."

In the context of recent speculation that Darlington's demise might reprieve Chester City from relegation to the BSP, the Northern Echo reports that "Colin Todd is to be officially unveiled as Darlington's new manager before the end of the week... In a related development, Darlington are now expected to exit administration before the weekend".

Oxford United "have further strengthened their squad with the signings of Dannie Bulman from Crawley Town and Alex Rhodes from Rotherham. Dannie is a30 year old midfielder who will add experience in the centre of the park. Dannie made his name at Wycombe Wanderers... In 2004 Dannie joined Stevenage Borough, making just over 80 starts in three seasons before joining Crawley, initially on loan and then permanently, making over 100 starts for them. 27 year old Alex is a very fast and direct left winger who began his professional career at Brentford... Short loan spells at Swindon and Grays followed before a permanent move to Bradford in 2007... Last season he was a regular at Rotherham in the first half of the season before joining Woking on loan".

"Following his release from Ipswich Town, Rushden & Diamonds have now signed defender Kurt Robinson. The nineteen year old left-sided defender has had academy spells at West Ham Utd and Southend United. He then joined Ipswich Town's squad after progressing from their academy. Kurt joined Rushden & Diamonds on a loan spell from January 2009 until the end of the 2008/09 season during which time he impressed manager Justin Edinburgh".

Relegated Weymouth "are pleased to announce that the club's new manager will be Matty Hale. Matty, a Terras' playing legend at left-back, is taking his first job in mangement after cutting his coaching teeth as part of the Blue Square Conference South set-up at Team Bath. The club are sure that Matty, who possesses a UEFA A coaching licence, will bring a hunger and freshness to the Wessex Stadium and we are also confident that he will recruit and develop players of the right quality and price. Matty will be assisted by Andy Tillson, former Queen's Park Rangers and Bristol Rovers defender who was head coach of Team Bath last season".

From Mansfield Town we learn that "Cultured defender Luke Graham has today signed a one year deal... The 23 year old, who started his career at Northampton, was on the books at Kettering Town last season, but spent the majority of the campaign on loan to Kings Lynn".

"Torquay United are likely to benefit by around £600,000, just from being back in the Football League" reports This is South Devon. "That's the figure that Plainmoor officials are putting on the Gulls' 2-0 victory over Cambridge United in Sunday's Blue Square Premier Play-Off Final. And United's share of the Play-Off receipts — the final pulled in a 35,000 gate at Wembley — will be on top of their lucrative share of FL funding. United's place in League Two next season will hand them a full share of the League 'pool', in the region of £400,000. There is a massive £180,000 grant boost to the Youth Scheme. And even the club's Football In The Community operation, which has just taken on 'charitable trust' status, will receive an extra £24,000 because the Gulls are a League club once more".

According to NL Daily "Former Brighton defender Gary Elphick is expected to complete a switch to Eastbourne Borough this week from Blue Square South outfit Havant & Waterlooville. The 23-year-old made two League appearances for the Seagulls before being released. He spent two months on loan with Aldershot Town and also St Albans City, with whom he signed permanently in August 2006".
---
19 May 2009
VICS GO INTO ADMIN
Our neighbours "Northwich Victoria have entered administration for the second time in less than five years. Owner Jim Rushe told the Northwich Guardian that he had no other choice following the club's relegation from the top tier of non-league football last month. 'It's something I've had to think seriously about', he said. 'I made the decision before the weekend to go into administration voluntarily in order to safeguard the club's future. It was vulnerable to action from creditors and this allows us to find a solution that is to the long-term benefit of Northwich Victoria Football Club'. An administration order was granted on Friday morning after Rushe called on Lancashire insolvency experts Refresh for help. Daniel Hennessy will oversee Vics' case.

'I can assure supporters that our aim is to find a way forward for the club so that they can continue to watch their team play in the town from next season', he said. Northwich Victoria Football Club (2004) Limited still owes the tax man around £400,000 – a debt inherited by Rushe from previous owner Mike Connett when he took over in December 2007. Bills not paid to other creditors take that figure to more than half a million pounds. Rushe added: 'I'm sorry it's come to this. But I've been left with no choice given the circumstances the club finds itself in following relegation from the Blue Square Premier. Crowds have been dropping for some time too, further reducing our main source of income. This move was taken to protect the club from being wound up by somebody who is owed money – it is purely a defensive move'.

He will now work with Hennessy on a rescue plan. Vics' most likely exit route is through a Creditors' Voluntary Arrangement (CVA), whereby 75 per cent of creditors must agree to accept a fraction of what they are owed. The players, plus other clubs owed cash, will be paid in full. Vics, who entered administration in September 2004 under Steve Burr, could now start next season in the Blue Square North on minus 10 points. The Football Conference will confirm their punishment at its annual meeting".
SHAUN'S CALL-UP
The FA confirms that Shaun Densmore has replaced Stevenage Borough's Scott Laird in the full England C squad of sixteen for tonight's (Tuesday's) match at Oxford against Belgium.
OPPONENTS' NEW BOSS
On Saturday, August 1st, Altrincham have arranged a pre-season game at home to BSP Champions and new League Two club, Burton Albion who "are pleased to announce the appointment of Paul Peschisolido as their new permanent manager... Paul, who will celebrate his 38th birthday next Sunday, has been assistant manager at Irish side St Patrick's Athletic since January of this year alongside former Rams' defender Jeff Kenna and will be linking up at Burton with another former Rams' man and ex-Brewer, Gary Rowett, who will be returning to the Pirelli Stadium as Paul's number two.

Paul (full name Paolo Pasquale Peschisolido) had an extensive playing career as a striker in England after moving from his native Canada in 1992 listing Birmingham City, Stoke City, West Bromwich Albion, Fulham, Sheffield United and Derby County on his playing CV. An injury at his final club, Luton Town, effectively ended his playing career when he was released by the Hatters at the end of the 2007-08 campaign. By the time he finished playing Paul had made 520 senior appearances in English football scoring 137 goals. 'Pesch' also represented Canada at international level earning 53 caps and scoring 11 times for his country. Paul is married to Karren Brady, the Managing Director of Birmingham City, recently promoted back to the Premiership.

New assistant manager Rowett also had an extensive career as an accomplished defender taking in Cambridge United, Everton, Derby, Birmingham, Leicester City and Charlton Athletic in deals totalling £7m before making 47 appearances for the Brewers after 'guesting' in the match against Manchester United that officially opened the Pirelli Stadium in November 2005. A persistent knee injury finally forced Gary to give up playing during the 2006-07 season.

Ben Robinson was understandly delighted... 'I felt initially that we were looking for a manager with Football League experience but we have been very impressed with Paul and Gary, their ambitions and plans and the way they see the job evolving at Burton Albion', said the Brewers' chairman... 'We are all very excited at the prospect of two young managers who are very keen and ambitious to start off on the managerial ladder at Burton Albion in a similar way to Nigel Clough'".
BSP NEWS
Chester City announced over the weekend that "Chester City FC directors today took the decision following approval from our debenture holders to enter into voluntary administration to safeguard the future of the Football club. The administrators appointed are company called Refresh Recovery Ltd. They have issued the following press release. 'On the 14th May 2009 in the high court of justice,.. Martin Shaw of Refresh Recovery Ltd...Was appointed administrator to Chester City Football club... [He] commented "Supporters can be assured that our aim is to find a new owner for the club so that professional football continues to be played in Chester from the start of the new season. In order to achieve this we need to find a new buyer able to invest heavily in to the club and then to obtain approval from the clubs creditors to the sale. We are already talking to potential purchasers of financial substance and as time is short I would urge any other parties seriously interested in buying the business to make contact with us sooner rather than later"'.

The Chester Evening Leader says that "Mark Wright today revealed he had... earmarked a long list of players within his small budget... Wright is conscious of the mistakes made by previous Blues managers and is keen to see the club keeping a tight rein on players' wages. He said: "I've drawn up a list of 20 players I would like to bring to Chester. It's not my business to go into the whys and wherefores concerning last season's transfer emargo... I've only got a handful of players at the moment because some players have expressed their wish to leave Chester. I can't really do anything about that because they don't want to play in the Conference... I'm here to put a team together. We're only a little club and some players have been big-earners. The chairman has been out on a limb and we've gone down. It's all been a bridge too far and now it's time to balance the books... Players will be out of contract at lots of clubs closer to the pre-season and we have to find a compromise with the players who we want to bring in... I'm going to have a mix of utility players and loan players... Ryan Lowe and Kevin Ellison have both left us, and we'll be doing everything we can to help Anthony Barry find another club because he's a very good footballer... I am wanting to bring in players who are tough, disciplined, totally committed, and up for the fight'".

"Having tasted the non-league game this season, key defender George Pilkington is not taking anything for granted in the Blue Square Premier next term" reports Luton Today. "Luton Town struggled to see off Altrincham in the first round of the FA Cup, twice drawing 0-0 with the non-leaguers before beating them 4-2 in a penalty shoot-out. The 27-year-old centre-half said: 'I think we played Altrincham this season and that was a taste. The top two teams in the Conference will be similar to this division. We have not got to worry too much about who we are playing, but how we are doing. It's a very, very tough division. There's only one automatic place. Teams that have gone down have struggled in the past. If we keep the nucleus of the squad together and have a good pre-season we can bounce straight back up. It's what everyone at the club deserves. We are looking to keep all the players, but nothing is 110 per cent in football. The majority of the players should still be here and I'm including myself. There's a bit of quality in the squad, but at the end of the day it's about going out and doing it on the pitch'".

The BBC report that play-off losers Cambridge United's "Chairman George Rolls has confirmed that the club have given manager Gary Brabin permission to enter talks with a Football League club... Rolls told BBC Radio Cambridgeshire: 'We've had an approach from another club for Gary and they're quite a lot higher up than we are. I felt it was only right to give him permission to speak to them. Hopefully Gary will show some loyalty to us. We gave him a job when he'd only been in football for five or six games', he said. 'We gave him a huge budget last year, more money than Jimmy Quinn the year before. I just hope he stays around and tries to build again for next year'. Brabin spent big on his way to guiding the U's to the play-off final for the second successive season. Scott Rendell, Lee Phillips, Andy Parkinson and Phil Bolland are just some of the big names players to have arrived at the club over the past year. But Rolls said money will be tighter should Brabin stay on for next season. 'We've got to run the club as a business and become solvent, we can't have people putting their hands in their pockets every five minutes to bail us out. We've got to act as a business and act sensibly. There will be cuts, but we can still push for the play-offs again'. Rolls could not confirm whether or not Brabin would take assistant player-manager Paul Carden with him should he decide to move on, but expects the situation to be resolved within the next few days".

Meanwhile Vital Football claims that "Cambridge United boss Gary Brabin is set to talk to Blackpool about the vacant manager position... The 38-year-old, who was a favourite at the seaside in his three years years at the club back in the 90s, guided his Cambridge side to the Conference playoff final this season... The only clubs without a manager in the football league are Stockport County, QPR, Reading and ourselves. This development does not mean that Brabin is The Seasiders' first choice... But the former Blackpool midfielder has made a strong start to his managerial career".

According to the Cambridge News, "Gareth Baldwin expects more Histon players to follow Jack Midson out of the Glass World Stadium following the striker's move to Oxford United. Stutes' chairman Baldwin was disappointed to see Midson... reject a new deal and sign on the dotted line at the Kassam Stadium on Saturday. But, although the supremo thinks two or three other Histon stars could also depart soon, he has backed manager Steve Fallon to sign the necessary replacements over the summer. Baldwin said: 'Jack made no secret that he wanted to be full-time and that's not something we can currently offer our players. We made him what we thought was a very good offer, but the chance to have full-time football at a former Football League club was very tempting to him... We do expect to lose a couple more'". Baldwin added "It's a shame he's gone to a club that's in the same league as us, and I think Oxford will do very well next season".

Crawley Town says that "boss Steve Evans has confirmed he will release later this week full details of which players from last season will be at The Broadfield Stadium for season 2009/10... but he did reveal that a number of decisions have been taken and they are as follows;

Players on contract for 2009/10:
Simon Rayner, Chris Giles, Jamie Cook, Michael Malcolm

Players retained, under 24:
Sam Rents, Jake Wright, Glenn Wilson

Players released:
Santos Gaia, Gavin Hurren, Isaiah Rankin

Loan players returning to parent clubs:
Robbie Matthews, Jon Shaw

Player who refused terms:
Dannie Bulman – signed for Oxford United

The Gaffer said; 'When you consider we only had 18 first team players in our squad and with 2 of these being loan players we did enjoy a superb season. Injuries, illness and the unforeseen absence of key players was the main reason we did not finish in a playoff place but we have lots to build on... Dannie Bulman has turned down our offer and signed for Oxford United. We made the lad what we would consider to be a top offer but that has been simply blown out of the water. Oxford United may be paying him very well indeed but they get themselves one of the best players in The Football Conference... By the end of this week I will have decisions from all of last season's squad and at that point we can set about our targeted list'".

"Gary Mills and Darron Gee expect their futures to be resolved 'sooner rather than later' after revealing Tamworth have offered them new deals" reports the Birmingham Mail. "The pair, who led the Lambs to the Blue Square North title, are out of contract at the end of May. But chairman Bob Andrews and his directors have put a new package together so they can lead Tamworth back into non-League's top tier. Assistant manager Gee said: 'There are deals on the table and things are being thrashed out'... The Lambs' management duo have kept in contact with their players but further talks will continue once their future is confirmed. However, the Lambs do not expect many departures, with the chance for the squad to test their skills against the likes of Luton Town, Wrexham and Oxford United.

But Tamworth confirmed they have released evergreen Craig McAughtrie and youngsters Dean Lea and Callum Burgess. Defender McAughtrie, a policeman, would struggle with the extra commitments and travelling, while the Lambs believe it is better for Lea and Burgess, having been fringe players, to seize the opportunity to play more regularly. The departures will also allow more room to manoeuvre within the budget".
---
18 May 2009
ANOTHER FRIENDLY
Altrincham FC have arranged another friendly. This will be on Saturday, August 1st at 3pm when new League Two club Burton Albion will be the visitors. A full list of the friendlies arranged to date is here
SHAUN IN SQUAD
Altrincham's "Young Player of the Year", Shaun Densmore (right), had been called up for this Tuesday's England "C" international against Belgium at Oxford United's ground. He made his international debut for England "C" earlier this season.
DARREN'S FUNDRAISER
Altrincham FC's Darren Gregory writes on the Fans' Forum, "Over the last few years myself and the stewards of Altrincham FC have been raising money for us to have new equipment - radios, jackets etc. During the summer break this year it will be the same with car boot sales etc. The club have kindly donated us some football shirts and things for us to sell and I have listed them on ebay, If you like the chance to own some unique items please look here. If you want to save on postage and collect or any questions please ask. Thank you all in advance for looking. Possible new fundraising venture coming soon".
BSP NEWS
Amazing news comes from the Cambridge News about a "firebomb attack on football club president". It claims that "Histon FC's president's car was blown up and the club's players threatened with being shot by a gambling ring. The shock revelations emerged after a gambling probe was launched into a match last year between the Stutes and Lewes FC. Seven club officials were left terrified after they received gangland style threats including one to firebomb a female officials' home. The game is among at least four being investigated by football and gambling authorities for suspect betting patterns.

Last September, officials at the Blue Square Premier team received sinister telephone threats. Club president Peter Betson had his car set on fire after a game against Lewes. The threats surrounded the one-all draw between Histon and Lewes on September 23. At just before 1am the morning after the game, a car belonging to Mr Betson exploded outside a college at Cambridge University, where he works as a night porter.

An hour later a female official received a call warning her to leave her house because it was about to be firebombed. Further threats were received in the days following the game. They included a warning that unless Histon paid £100,000 - which the caller claimed his group had lost - the team coach would be ambushed while travelling to or from a forthcoming game at Wrexham and everyone on board would be shot.

A Cambridgeshire police spokeswoman told the News: 'I am able to confirm that threats were made on September 23 and that a car was set on fire outside a Cambridge University college the following day which is being treated as arson. The threats came from the Merseyside area and the investigation into the threats has been handed over to Merseyside Police'".

And the Mail on Sunday adds that "At least five matches are being probed by football and gambling authorities for suspect betting patterns... Last September, officials at Histon, the non-League club who beat Leeds on the way to the FA Cup third round this season, received telephone threats and the car of one was set on fire after a game against Lewes, in incidents confirmed by Cambridgeshire Police. And it has been suggested that players and officials from Forest Green Rovers and Grays, whose match in the same Blue Square Premier last month is the latest known to be subject to an FA inquiry, were also threatened by third parties who were demanding the game finished a certain way...

Unease surrounds gambling on matches just below the Football League. Games under investigation:
Grays 2 Forest Green 1, April 26, 2009: Blue Square Premier
Matlock 4 Marine 0, Apr 4, 2009: Unibond Premier
Weymouth 0 Rushden, 9 Feb 21, 2009: Blue Square Premier
Redditch 1 Burscough 2, Nov 11, 2008: Blue Square North
Histon 1 Lewes 1, Sep 23, 2008: Blue Square Premier

Players and officials on lower wages are thought to be more tempted to risk breaking rules and to believe they are more likely to get away with it because the matches at that level take place, as one source put it, 'under the radar'... The word is that several more matches are also being investigated and that organised criminal activity is suspected in some cases. Neither Forest Green nor Grays, nor the FA nor the Gambling Commission would comment on suggestions intimidation lay behind the alleged £1 million betting coup in which large sums were staked on the 22-1 shot Grays recovering from a half-time deficit to win, which they did, 2-1.

But Histon chairman Gareth Baldwin confirmed rumours about events surrounding his club's midweek game against Lewes on September 23. Baldwin said: 'Our club and its officials did receive threats and one of our officials did have his car blown up overnight after the game.' Within 30 seconds of Lewes taking a surprise lead against a Histon side which was a short-priced favourite to win the game, the first of 38 threatening phone calls to seven club officials was made. The caller warned of dire consequences if Histon did not win and claimed to know where officials worked and lived, and even where their children went to school. A last-minute equaliser earned Histon a draw but at just before 1am the following morning, a car belonging to club president Peter Betson was set on fire".

The BBC has quotes from the two play-off managers. "Cambridge manager Gary Brabin told BBC Radio Cambridgeshire: 'I'm delighted with the lads, what they've given all season. We took automatic promotion to the last game. We've come to Wembley today and I thought we were the better side. We could have easily won the game. I still felt with 10 men we played some good football but it just wasn't to be our day'...

Torquay United manager Paul Buckle told BBC Radio Devon: 'I'm thrilled on many fronts. Obviously the biggest thing is getting back into the Football League but to come to such a fantastic stadium and perform how we did is wonderful. Cambridge are a very good side. We knew they would have quite a bit of the ball but it's not a problem as long as you know what you're doing'".

South London Today confirms that former Stevenage striker "Steve Morison... signed a three-year deal to join Millwall for a £130,000 fee, with extras going to his former club depending on appearances and other incentives. 'I thought it was going to happen in January but Borough asked for more than clubs were willing to pay', said Morison. 'I am absolutely ecstatic the deal is done'".

The Burton Mail states that "Burton Albion will be among the cheapest teams to watch in the Football League next season... The Brewers have resisted the temptation to cash in on their promotion from the Blue Square Premier by announcing an increase in admission prices of only £1. Chairman Ren Robinson said: 'We have opted to apply only a nominal increase in admission prices for our first season in the Football League as a thank you for the marvellous support we have received from our fans over many seasons'. Albion are hoping the modest price increase will help to boost crowds beyond the 2,400 average enjoyed in their promotion-winning campaign".

"Striker Rob Duffy has backed the creation of a new singing section in the upper tier of the west stand at Field Mill next season" reports The Chad. "The section will be located in block Q of the stand following a successful piloting of the scheme in the Stags' 2-1 win over Stevenage on the last day of the season. It is hoped the new section will see Field Mill rocking as the fans cheer Stags on to victory. Duffy told Chad: 'Having the fans so noisy gives us a massive boost as a team and we felt the benefit against Stevenage'...

The group was set up by fans based at website www.alwaysamber.co.uk in March and they said: 'The singing block will continue throughout pre-season as well as the whole of next season. We urge all fans who want to back the players vocally to congregate in the singing block and fill up the unreserved seats'".

News from relegated Weymouth is that "Ian Ridley and his fellow board members are close to appointing the new manager of Weymouth FC. Chairman Ridley has narrowed the shortlist down to one candidate he believes is best placed to fill the void left by interim boss Bobby Gould at the end of April. The Mail on Sunday journalist has informed fellow club directors of his preferred choice and will await their feedback before any appointment is made.

Ridley said: 'We're close to making a democratic decision on who will be the new manager, we just want people to be patient... In the next 48 hours we hope to contact the successful candidate, and the unsuccessful ones'... Bridport manager Ian Hutchinson, who made more than 500 appearances for the Terras in a 12-year spell, has refused to rule himself out of the running while Marcus Browning is also among the front-runners" reports the Dorset Echo.

At another relegated club, "Woking chairman David Taylor has confirmed the Cards' playing budget will be reviewed if the club get a Blue Square Premier reprieve, but he has hinted he is not holding his breath on that happening. And manager Graham Baker will be working 'to the budget he requested', according to Taylor, who is due to step down from his position soon... Taylor said the Cards were planning for at least one season in Blue Square South following relegation last month...

He said: 'If we are reprieved – and it's a huge if – we will revisit it because Setanta money would kick in and the number of home games would change'... Baker, who appointed his former academy coach Jimmy Dack as assistant manager this week, has carried out his threat to ditch most of the players who took the club down. Among those he wants to keep, but on lower wages, are player-of-the-year Paul Lorraine, Tom Hutchinson, Danny Bunce and Giuseppe Sole, one of four to fall under the Bosman ruling. Striker Sole, farmed out on loan to Ebbsfleet United by sacked boss Phil Gilchrist, is optimistic of thrashing out a deal to stay. He revealed there had been some interest from Rushden & Diamonds but said he was keen to play on, and is due to meet Baker on Tuesday... Baker is also holding talks with goalkeeper Ross Worner, defender Daniel Sintim and midfielder Bradley Quamina, plus forwards Wilfried Domoraud, Delano Sam-Yorke and Charlie Moone. The rest of the squad have either left of their own accord or been shown the door" according to Get Surrey.
---
17 May 2009
GULLS PROMOTED
Sunday 17th: Play-Off Final
Cambridge Utd 0 Torquay Utd 2

Former Alty defender Phil Bolland was sent off mid-way throught the second half as his Cambridge side fell at the play-off stage for the second year running.
CHESTER GO INTO ADMIN.
SkySports reports that "Chester City have entered administration following the club's relegation from the Football League. The Blues have been considering going into administration since losing their League Two status earlier this month. Several players have already left the club as a result of relegation to the Conference, while owner Stephen Vaughan has been looking for new investment. However, the club have now headed into administration and are set to start next season in the Blue Square Premier with at least a 10-point deduction".
VOTE FOR MICHAEL!
The Non-League Paper has an article on Michael Welch's bid to win the Blue Square Goal of the Season award for his 70-yarder against Crawley Town. You can vote for the goal at Blue Square Football.

The same paper has an article from Setanta Sports' Rebecca Lowe which hints at two more clubs being ahead of Altrincham in the televised pecking order next season. She says, "With the likes of Luton and AFC Wimbledon in the division, the Blue Square Premier will receive more coverage than ever".
PLAY-OFF FINAL
On Saturday the Football Conference announced that "We regret to inform you that tickets for the Blue Square Premier Play Off Final will NOT be available to purchase on the day... The game will be shown live on Setanta Sports 1, with coverage starting from 15:25. If you do not have Setanta, stay tuned to footballconference.co.uk who will be providing you with a pre-match build up, a live 'clockwatch' feature and a match report to make sure you don't miss a thing".

Both play-off finalists have taken action on the goalkeeping front. Firstly, And, secondly, as regards their opponents, This is South Devon says that "Torquay United WILL have a goalkeeper on their subs' bench at Wembley — because there's no 'tomorrow' after tomorrow! On-loan Southampton 'keeper Michael Poke is poised to keep the place he finally regained recently from the injured Scott Bevan. And, if Bevan does not recover from a calf strain, Martin Rice will be one of United's five substitutes. Manager Paul Buckle, who only included a goalie sub for the first time this season at Barrow four games ago, explained: 'I like to have five outfield players on the bench for most league games. Then, even if the 'keeper gets injured, it's not as if your whole season is riding on it. But for the last few matches, they have been like one-off cup-ties. Tim Sills went in goal for us when Michael was injured at Forest Green early in the season. But, with all respect to Tim's goalkeeping, I don't want him in goal at Wembley'".
BSP NEWS
Oxford United confirm that "United have made a major boost to their firepower with the signing of 25 year old striker Jack Midson from Histon. Midson scored 23 times for Histon last season, including a goal in both Blue Square Premier games against United... Originally at Stevenage, Midson is a hard working forward who gives defenders no rest, and manager Chris Wilder is delighted to be able to pair Midson with James Constable up front. Wilder says 'I have been watching Jack over the last couple of years, even before he signed for Histon and I know that he is an excellent player with a great work ethic... He will be great competition for James Constable and it gives us two twenty goal strikers. It is an important area to get right and we are not finished in that area yet'. Jack told us 'I have been weighing up going full-time and Oxford was the club I always wanted to join. I'm looking forward to joining such a big club with great fans and can't wait to get started'. United Chairman Kelvin Thomas is delighted with the signing: 'Chris has done a wonderful job in identifying Jack and bringing him to the club as a free agent'".

From the other side, Histon quote manager, Steve Fallon "Unfortunately our part time status has cost us a good player, but myself and John Beck have been working very hard for the past three weeks to bring in new players to maintain our squad at a level that will enable us to challenge with the best in Non League. We still have the ambition and desire to reach the Football League, which is taking all of our Club's focus".
NW NEWS: GOOD NEWS FOR NEIL
There is good news for Neil Brown, Alty's groundsman and manager of Abbey Hey as the NW Counties League reports that "The League Management Committee has been informed by Mike Appleby, Leagues' Manager at The Football Association, of the following decisions that have been made with regard to the constitution of the Vodkat League for season 2009-2010. AFC Fylde have been promoted as champions to the UniBond League Division One North. However, the Vodkat League will not receive a team relegated back from a league at Step 4 in the National League system. The FA had previously advised the League Management Committee that Flixton had failed to meet the necessary F Grade ground grading standard to enable them to remain at Step 5 in the National League system, our Premier Division. The FA had therefore advised that Flixton should be relegated from our Premier Division. However, the FA has now informed us that Flixton have since been given the F Grade ground grading status, and will therefore remain in our Premier Division. This means that Abbey Hey and Atherton Collieries occupy the relegation positions in our Premier Division.

As the Vodkat League is not receiving a club back from a Step 4 league, to maintain the quota of 22 clubs in our Premier Division only Atherton Collieries will be relegated to Division One. Abbey Hey will retain their Premier Division status, and Bootle and Padiham will be promoted to the Premier Division.

Division One will in turn be reduced to 17 clubs, and with the resignation of Darwen FC from the league, this further reduces the number of clubs to 16. Barnoldswick Town of the West Lancashire League have applied to join Division One for the start of the 2009-10 season, and their application will be voted on by member clubs of the Vodkat League at the AGM on Saturday June 20th".

Meanwhile the UniBond League. reports that "Following a meeting of the FA Leagues' Committee held in London on 14th May and in view of certain appeals which have been lodged it was not possible to finalise the allocation of clubs across Steps 1 to 4. Clubs and Leagues will be notified of all the changes after 26th May 2009".
---
16 May 2009
FRIENDLY
Trafford FC have announced that the pre-season friendly against Altrincham at Shawe View will be on Thursday 23 July at 7.45pm. A full list of the seven friendlies arranged to date is here
YANKEE
The Altrincham FC Yankee continues to grow with the jackpot now standing at £7,500, for a £1 stake. Last week, the winning code 0521 was again an number. However, there were six winning trebles, sharing £200, including a certain Mr Pete Hughes of Timperley!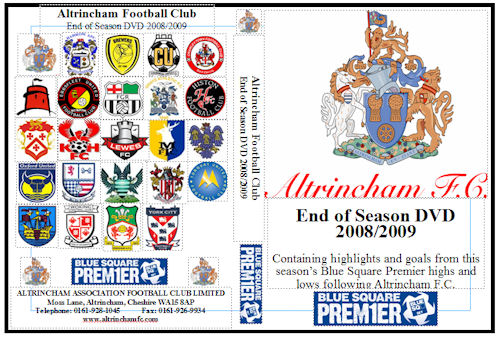 SHIRTS
Limited supplies of the new Altrincham FC home shirt, adult sizes only, are now available from the Robins' Shop. Please ring the club on 0161-928-1045 to place your order.
RE-LIVE THE SEASON
The "End of Season DVD, containing highlights and goals from this season's Blue Square Premier highs and lows, following Altrincham FC" is now available from the Club for just £15. Please ring the club on 928-1045 to place your order. If you need it posting to you, that can be arranged for just £2.
METRO OFF
There is advance notice for Alty fans, from SAM, of Metrolink's closure this August. "Tram stops along the Altrincham Metrolink line will be revamped this summer. The plans include improvements to passenger facilities, signage, security and access. The Navigation Road stop is also in line for more parking spaces. But passengers face a month of disruption in the summer, and will have to use alternative bus services while the Altrincham line is closed. Councillor Matt Colledge, chairman of Greater Manchester Integrated Transport Authority... said: 'This is great news and I look forward to seeing a new look for the Altrincham Metrolink line by the end of the summer'... The improvements will take place during a month-long closure of the line in August, at the same time as major expansion work and technical upgrades. Work will also take place to join the Altrincham line to the new line being built from Trafford Bar to Chorlton, as well as the new tram depot. At Cornbrook, the track layout will be extensively remodelled to accommodate the new MediaCityUK tram service. All the overhead electrical cables and some of the supporting structures on the Altrincham line will also be replaced".
MARK'S MEMOIRS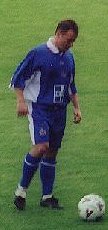 Our former manager, Mark Ward, is publishing his autobiography on 30th May 2009. The former Everton star managed Alty in 2000-01 before a recent spell in gaol for drug dealing. The book is entitled from "Right wing to B-Wing: Premier League to Prison". He wrote the book whilst serving four years of an eight-year sentence. Details of the book are on the Ex-Hammers website. According to the blurb "He still feels aggrieved at being sacked from his first job in non-League management at non-League Altrincham in 2001". A substantial extract is on Football World. The book is £12.59 from Amazon.

Football World adds that "In his new book, he has devoted three chapters – some 7,800 words no less! – to what happened during his two years with Vics... Mark also pays tribute to... John King, who was such a major influence on him and gave him the belief and confidence that led to his move back into the Football League with Oldham in 1983... As well as his lengthy account of his time at Northwich, you may also be interested to read his frank and highly controversial and revealing account of his first taste of management at Altrincham (2000-01), as well as his brief non-league forays with Leigh RMI... If you buy this hardback book direct from us, you will not only save £3.00 on the RRP cover price (£15 instead of £17.99), but it will also be personally signed by Mark Ward".
BSP NEWS
A report on the Northwich Vics' forum relays news of a club meeting with fans this week. "Jim Rushe updated us about the ground, the deposit has been paid and everything should be signed and sealed by 12 June. Deal done with Marstons and they are busy setting up the bars etc. Downstairs will be kitted out as a proper supporters bar, possibly to be named after something from our past, for example The Drill Fielder, Vics' Club or something to that effect! He was open about the possibility of the Club going into administration and is in the process of talking to professionals, the league etc about the 'correct' way to enter and exit admin via a CVA and also about the punishment that could be handed to the Club. It appears that it would be a 10 point deduction. A decision will be made within the next few days...A deal has been agreed that will keep [managers] Andy Preece & Andy Morrison at the Club... Some players have left, as we know Mullan has gone to Fleetwood and everyone wished him well". Another attendee adds "We still have a transfer ban on and are unable to sign players. Current squad that have left or not offered contract, Mullan, Clarke, Byrom agreed personal terms with Stevenage, JA (Jonny Allan) in talks with Barrow, Welch, Stevens, Burns, Crowell, Tynan, steele which leaves us with not very much. Meadowcroft, Bails, Brown, Elam, Horrocks, Riley, Grand, on contract for next season... Kayne Handley will be at pre season training".

According to the Liverpool Daily Post "Chester City are on the verge of financial administration, and they are expected to officially make an announcement in the next 48 hours... Chester owner Stephen Vaughan said , 'We have been considering our options for a number of weeks. I have taken a decision, and when that decision is publicly confirmed, I know people will understand that it was taken to safeguard the future and in the best interests of the club'. City, who will play in the Blue Square Premier League next season, are likely to start the new campaign in August with a 10-point deduction. Meanwhile, Chester are expected to officially announce their retained list today. It is understood youngsters James Owen and Lloyd Ellams will be offered first-year professional contracts, while City are taking up their options with out-of-contract players Glenn Rule and Shaun Kelly.

In another development Chester's management have been in discussion with Stoke City about the availability of 19 year old goalkeeper Danzelle St Louis Hamilton. The 6ft 4in shot-stopper spent part of the season that has just concluded on loan with Bristol Rovers. Chester are hopeful he will be allowed to spend all of next season on loan at the Deva Stadium".

Meanwhile, the Northwich Guardian confirms that "Northwich Victoria have agreed to sell prize asset Joel Byrom. The former Clitheroe creator is expected to join Stevenage Borough in the next 48 hours... 'We're almost done on a deal', said Vics' owner Jim Rushe. 'It's a much improved offer on the one we had during the season and Joel has ambitions to play at a higher level. I won't stand in the way of that and, if he's happy with what they have to offer, then I expect him to sign for them shortly'... They first expressed an interest in Vics' star turn in January, following that with a five-figure bid two months later..."

Stevenage confirmed the move on their official website. 'Borough have agreed a fee with a Conference club for a 22-year-old midfielder and are hoping to complete that transfer before the weekend' read a note posted yesterday. Byrom will join former Northwich defender Mark Roberts, a £5,000 capture for the Hertfordshire outfit at the turn of the year, and ex-Vics' manager Dino Maamria at the Lamex Stadium. The Tunisian paid a five-figure fee to pluck Byrom from UniBond Division One North minnows Clitheroe last January... A hernia injury disrupted his contribution to Vics' cause last term, forcing him to miss exactly half of their 46-match league programme".

Also, the "Vics' owner plans to pay his out-of-pocket players with cash raised from the sale of star player Joel Byrom. The 22-year-old, in line to win his first England C cap next week, completed a £15,000 transfer to FA Trophy winners Stevenage Borough today – money Jim Rushe will use to pay wages owed to the midfielder's now former teammates. He has also secured a 20 per cent sell-on clause should the Hertfordshire club receive a fee for the ex-Clitheroe man in the future... He told fans at a supporters' club meeting that Vics' players, none of whom are owed more than six weeks' wages, would be paid in full before the end of the month. All had signed a wage deferral to signal their agreement, he said...

Boro Chairman Phil Wallace said: 'We've long been admirers of Joel. [Stevenage manager] Graham Westley tried to sign him in January but he was injured and again before the loan window closed two months later only that time we couldn't agree a fee'".

Stevenage Borough report that "Three Stevenage players selected for England have had to withdraw - Mitchell Cole and Michael Bostwick with injuries and Ronnie Henry due to prior family commitments and a newly born child... Terms for striker Steve Morison's move to Millwall were confirmed today. The 25-year-old moves to Millwall for a £130,000 fee plus incentives and joins his new team-mates in time for the League One play off final at Wembley. Phil Wallace said: 'We've been in talks with Millwall for some while and Steve's finally got the move he wanted. For our part, we are happy with the fee and, most importantly, we retain an interest in Steve's future with a healthy sell on and further bonus payments linked to his performance. Steve was due a move, he's been a great servant to the club and would have been out of contract this summer if he hadn't signed a new deal. We made it clear at that time that we would work hard to get him a move into the League if we didn't go up'".

Relegated Lewes report that their "matchday programme has been recognised by the Northern Programme Club's 2009 Programme of the Year Awards. The Rooks' programme has won the 'Best Cover Design' Award in the Blue Square Premier, beating off competition from other clubs in the division with Wrexham runners-up and Oxford United in third place... with Wrexham beating Cambridge United and Oxford United to the 'Best Programme" award for the BS Premier'".

From AFC Wimbledon, we learn that "Terry Brown has confirmed that Jake Leberl is not being retained for next season".

At another promoted club, Gateshead, we learn that they "have offered improved contracts to captain Kris Gate, defenders Craig Baxter, James Curtis, Carl Jones; midfielders Phil Turnbull, Jamie Harwood, Wayne Phillips; and striker Graeme Armstrong. Young midfielder Alex Francis has been offered a contract and French central defender Stephane Pelonde and goalkeeper Jim Provett are already under contract. The club has released three players: left back Dan Smith, central defender Matt Hocking and central midfield player Steve Turnbull. On loan left back Phil Cave remains contracted to Scottish club Livingston while the loan deals involving Tony Dinning and Darryn Stamp have expired. Goalkeeper Paul Musselwhite has hung up his boots after a 23 year career while top scorer Lee Novak will link up with Huddersfield Town on a full-time basis having finished the season on loan at Gateshead.

Gateshead manager Ian Bogie meanwhile has spoken to potential new signings...'I am looking to bring in around seven quality players covering all positions'".

According to the Cambridge News "Mat Mitchel-King is considering his Histon future after stalling over a new deal at the club. The 25-year-old captain has been attracting the attention of several scouts... with Millwall and Barnet among the teams rumoured to be vying for his signature. Mitchel-King, who has modelling commitments away from the pitch, is unsure where his future lies and will take his time before coming to a decision... Mitchel-King said: 'I'm talking to my agent and keeping my options open... Histon have offered me a new contract, but it's the first time I've been a free agent as such, so I want to enjoy the summer and not make a rash decision... I have to decide if I want to go down the full-time avenue, or if I'm happy being part-time'".

TheChester Evening Leader says that "The Conference Football League has refused to comment about the speculation surrounding Chester City Football Club going into administration. Conference spokesman, Dennis Strudwicksaid: 'I'm not prepared to comment because it might compromise the club or affect commercial confidentiality.... But an automatic 10 points deduction would be imposed as a punishment to any club entering the Conference that is in administration'"

But "Chester City boss Mark Wright has revealed he was keen to bring a familiar face back to the Deva. The Blues boss admitted he would welcome the chance to re-sign defender Phil Bolland [ex-Alty] , who is out of contract this summer at Cambridge United... He said: 'I would love to think I could bring him home, but there's no guarantee of that at the moment. Phil is someone I trust. I like him as a man. He always played very well for me and he was always good in training. Phil always did the right things and he is now a qualified physio which would also be a big help to us'. Bolland, who played in Wright-managed teams at Southport, Oxford United, Chester City, and Peterborough United, believes relegation to the Blue Square Premier might be in Chester's best interests.. 'It might be a good thing for Chester so they can build a new squad to try and come back up', said Bolland... 'It took two years to build a team to win the Conference, but we never really fulfilled it when we got back into the league – we had a change in manager and we never pushed on'...

Said Bolland, 'It is hard to sustain a league position when you are not getting good attendances'... Bolland, together with ex-Chester players Gary Brabin, Paul Carden, Chris Holroyd, Mark Beesley, and Wayne Hatswell, stands 90 minutes away from promotion as his Cambridge United side take on Torquay United on Sunday in the play-off final at Wembley".

"A year on from winning the FA Trophy, Ebbsfleet secretary Roly Edwards has spoken" to Kent Online about the critical situation the club finds itself in. The Fleet are due to slash this year's playing budget by more than 50 per cent due to lack of funds and Mr Edwards believes the only people that can turn the situation around are the 9,500 MyFootballClub members. Whether they have the desire to do so, is something that Mr Edwards feels is the biggest obstacle. Mr Edwards, who has been with the club for over 12 years, said: 'Some people have stumped up more money but we need to be talking about thousands of people... When we had the previous owners, they were local people and they had a great desire. There are a lot of good people at MyFootballClub but a fair percentage don't really care if the club continues to exist, it means nothing to them. They just pay their £35 and they don't have the same desire. to get us out of this situation... It's a slippery slope and how far are we going to go before we find our level?'... Only three senior players, Darius Charles, Lance Cronin and Mihael Gash are still under contract".

The Northants Evening Telegraph say that "Adam Sinclair has left Kettering Town. Speculation had been rife in recent days that Mark Cooper's assistant-manager had departed the A-Line Arena. The news was confirmed by the club... The Poppies have also agreed terms with young pair James McPike and Ryan Beswick. Left-winger Beswick arrives from Leicester City while striker McPike was with Birmingham City. And it has also been revealed that Kettering are in talks to sign an experienced left-back. Sinclair's departure may come as a surprise... It now seems certain that Nicky Eaden will assist Cooper in the forthcoming campaign..."
---
15 May 2009
MORE FRIENDLIES
A total of six pre-season games have now been arranged, as follows. More are expected to be arranged in due course. Don't forget that buying a season ticket confers free entry to the home friendlies. Details of the season ticket prices are here; there is a £10 discount on adult and concessionary season tickets if purchased before the end of June.

Sat. 11 July (3pm): Abbey Hey (away)
Sat. 18 July (3pm): Colwyn Bay (away)
Tue. 21 July (7.45pm): Northwich Vics (away)
Thur. 23 July (7.45pm): Trafford (away) TBC
Sat. 25 July (3pm): Bolton Wanderers XI (home)
Tue. 28 July (7.45pm): Macclesfield Town XI (home)
Tue. 4 Aug (7.45pm): Manchester United XI (home)
MOSS LANE PITCH WORK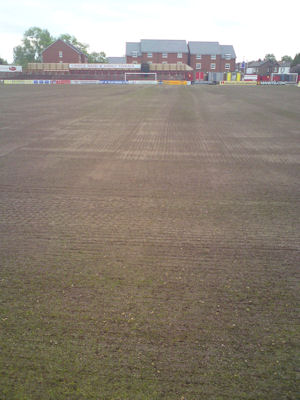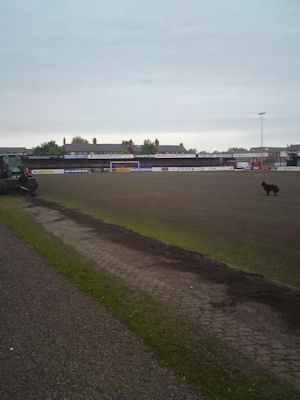 Adjacent are photos taken on Wednesday by Grahame Rowley showing the pitch renovation at Moss Lane. The pitch last season was superbly maintained by Neil Brown but this additional work should make it even better! Graham writes that the work this summer involved using "100 tons of sand/compost and ten bags of seed then the pitch was verti-drained and drag-matted. Special turf will then be laid in the six-yard boxes which will be more hard wearing stuff and this should hopefully prevent it wearing as much". The dog made sure that the work was done properly!
NW NEWS
The Tameside Advertiser says that "Hyde United chairman Stephen Hartley has said a number of investors are willing to come forward and assist the cash-strapped club's survival fight. The Tigers go to the High Court next Thursday after receiving a notice of winding-up proceedings, issued by Her Majesty's Revenue and Customs in respect of unpaid taxes. They need to find around £200,000 to settle their liabilities, which were brought about when the withdrawal of financial support from their holding company made it untenable for them to fulfil obligations to players contracted until the end of last season. The Hyde camp will be asking for an adjournment to help raise further funds, something which HMRC are apparently willing to support. Adding to the uncertainty is Kings Lynn's appeal against their demotion from Blue Square North which, if unsuccessful, means Hyde will escape relegation into the UniBond League.

Mr Hartley said: 'We have a number of investors who have indicated they will help the club out, but not to the full amount we need to pay. If we were to stay in the Conference, then it would encourage them to do more which makes it beneficial for HMRC. We want to get an extension to the hearing until we know what league we're operating in because that will define our budget. We've taken advice about the options open to us, but we're doing everything possible to avoid any 'insolvency events' as they're known – points deductions, CVAs or administration. We'd prefer to avoid that if we can because we're responsible people and want to pay our taxes'". All at Altrincham hope that our friends at Hyde come through this crisis successfully.
BSP NEWS
According to This is South Devon "Should Darlington go the same way as Halifax or Boston in recent seasons, what will happen to make up the numbers in League Two?... The League's head of communications John Nagle set out the plan of action. If Darlington go bust BEFORE the end of the League Two Play-Offs (next Saturday, May 23), then Chester City will be reprieved. But if, much more likely, Darlington go under AFTER that date, League Two will start with 23 clubs next season. So Gulls' fans shouldn't hold their breath. The only way to make sure of playing in the Football League next season is to win at Wembley!".

But speculation that Darlington's demise might save Chester City appears to be quashed by the Gazette, which also reports involvement of Chester's owner in the saga. "Darlington Football Club is likely to survive and start next season in League Two. But the question is: Who will the owner be? Former chairman George Houghton, who placed the club into administration in February, has made a fresh approach to Raj Singh... The bid that Teesside businessman Mr Singh put forward earlier this month was rejected as 'unworkable' by administrators... But now that a further meeting has been held, the signs look more promising'...

Mr Houghton has said that he has no intention of letting the club fold, so if he is unable to do a deal, it appears that he will run the club. The Gazette understands that over the last week or two he has approached other businessmen, including fresh contact with Chester owner Stephen Vaughan, but has not found anyone willing to invest in the club. Most Darlington fans are throwing their weight behind Mr Singh, and he has been backed by the club's Supporters' Trust".

Meanwhile, the Chester Chronicle reports that "Chester City owner Stephen Vaughan has revealed that the club could be put into administration by the weekend. He also told The Chronicle that liquidation-threatened Darlington had found an investor, ending the hopes of all Blues' fans that an unlikely reprieve from relegation would emerge. Vaughan is currently reviewing City's finances in light of the club dropping out of the Football League and says that a decision to bring administrators into the Deva Stadium could be made imminently. 'We will making the decision over the next couple of days whether to put the club into administration to safeguard its future', he said.

'We have only seven contracted players at the moment and we have got the club by the scruff of the neck now. We are also taking stock of the finances and of the losses we have suffered over the last eight years'. Putting the club into administration could result in the Blues starting the 2009-10 season with a 10-point deficit...

If it is confirmed that the Quakers have found a new buyer then Chester's fate will be sealed and they will kick-off in August against the likes of Altrincham, Ebbsfleet United and of course Wrexham. 'We have been told that Darlington FC have found an investor so we have accepted that we are now a Conference club', added Vaughan... Fans' favourite Ryan Lowe became the latest player to formally leave Chester this week after his contract was terminated by mutual consent yesterday. Striker Kevin Ellison... has joined Rotherham United. Free agent Ellison, 30, signed a two-year deal with the Millers yesterday, subject to him passing a medical examination. He is manager Mark Robins's first signing of the summer. Vaughan confirmed that more players would follow out of the Deva Stadium exit door as part of a summer clearout designed to afford manager Mark Wright the opportunity to make new signings".

NL Daily states that "[Eastbourne] Borough have completed the signing of 6ft 2ins striker Liam Marum, who follows Knowles from relegated Woking. The London-born 21-year-old, who is pacy and powerful, began his career at the Reading Academy before joining Cambridge United for a three-month loan spell. He made eighteen appearances for the U`s, mainly from the substitute bench and instead of taking up the offer of a further month, elected to move to Woking where he was on loan until he signed a two-year contract in May 2007. He made seventy-nine appearances for Woking (40 starts and 39 sub. appearances) and scored nine goals. In the season just ended he had twenty-six starts and twenty-four appearances from the bench. Influential midfielder Dan Brown has signed a two-year contract to remain at Priory Lane".

Still in Sussex, Crawley Town's "Manager Steve Evans is delighted that youth team players Byron Napper, Danny Mills and Make Lake-Edwards have agreed to join up as full time professional trainees from July 2009. All three youngsters have now made their first team competitive debuts and will be expected to produce consistent reserve team performances that will see them challenge for a place in the first team squad".

"Oxford defender Shane Killock has extended his stay at the Kassam Stadium by agreeing a new one-year deal" says the BBC. "The 20-year-old first joined on loan from Huddersfield in January and agreed a short-term deal the next month after he was released by the League One side. Killock only played three times for Oxford, all in January, before an injury prematurely ended his season. Meanwhile, United have confirmed that 20-year-old goalkeeper Ben Hinchcliffe will not be offered a new deal. The former Derby County keeper has struggled to get first-team opportunities because of the form of Billy Turley."

Lee McEvilly, who spent part of the recent season at Cambridge United and Barrow is one of ten players let go by Rochdale.

The Gravesend Reporter tells us that "Ebbsfleet United stalwart Paul McCarthy says that he and his team-mates are in the dark about their futures at the club. The majority of last season's squad - apart from Michael Gash, Lance Cronin and Darius Charles - are now out of contract and their futures in north-west Kent are uncertain. MyFootballClub (MyFC), the online society that owns the Stonebridge Road outfit, has recently given head coach Liam Daish a vastly reduced budget to work with. As a result, contracts have still not been offered to any of those who became free agents at the start of May and McCarthy believes that MyFC should have acted sooner to prevent the delay.

'I imagine that all the lads are quite anxious', he said. ,The contracts ran out two weeks ago and players have mortgages to pay. It's not as if they didn't know the season was coming to an end. I haven't got a clue what is going on and the only thing I have heard from the club is the information that is available on their internet site. It is a terrible situation that they don't know what is going on'.

Ebbsfleet chairman John Moules admitted the board felt it would be a difficult campaign ahead. The weekly wage bill for next season has been slashed to around £5,000 - half of what it was last year. However, Moules insisted that the current figure is the lowest it will drop to and that ways to find additional revenue were being pursued. 'We were all pretty much settled on the fact that this second season would be a difficult one', he said. 'The budget that we have is the one that is affordable and the only thing that can happen to it now is that it will increase. We are not at the greatest starting point, but our players will know what they will be getting and there won't be a situation where we have to decrease the budget halfway through the season which is a risk at other clubs'".

Money isn't the same problem at another BSP club as the Northants Evening Telegraph confirms that Kettering's "Chairman, Imraan Ladak, revealed he has rejected offers from FA Carlsberg Trophy winners Stevenage Borough for both skipper Guy Branston and last season's top scorer Gareth Seddon. Blue Square North side Fleetwood Town have also been rebuffed in their attempts to sign Seddon who hit 21 goals in all competitions during the Blue Square Premier campaign. Ladak revealed at least two Coca-Cola League sides had also expressed an interest in Branston who enjoyed an excellent season last time out.

And the Poppies' chairman said: 'We have turned down a couple of five-figure offers for Gareth and there have been inquiries about Guy. But no-one has reached our asking price as of yet and he does have a buy-out clause within his contract. We will have to see what happens but I don't see why I should let our captain leave the club in a cut-price deal'. Ladak, meanwhile, admitted he is still putting next season's budget together for manager Mark Cooper. And he conceded the Poppies will be trying to perform a 'balancing act' when it comes to expenditure for the forthcoming campaign.

'We spent more than a club with our gates could afford during last season', the chairman revealed. 'People forget that we lose 20 per cent of our attendance to rent and VAT so we will have to make sure we get the balance right. There is also the uncertainty over Setanta so that is why we have held back slightly. But Mark has his targets and once we have established everything then we can look at strengthening the squad. Our main priority remains to sort out the long-term future of the club but we obviously want to make sure we continue to move forward on the field as well as off it'".

"Barry Norgrove has defended Kidderminster Harriers' cost- saving policy which this week sparked the start of a mass exodus of players from Aggborough" reports the Kidderminster Shuttle. 'We're trying our utmost to keep the club alive in very difficult circumstances', said the under-fire chairman during a dramatic few days in which skipper Mark Creighton made a shock move to Oxford United for an undisclosed fee. In a 'stick with us' plea to concerned supporters, Norgrove said: 'What fans have got to realise is a lot of clubs are going to go out of business. There are all sorts of people in trouble financially. I think a lot of clubs are going to pull back a fair bit this time and there'll be a lot of players out there come the start of the season that won't have clubs. If we start the season off and we can't pay the bills we'll go into administration so we'll lose 10 points straight away, plus get a fine and all the rest of it. We've got to be sensible about these things. There are hardly any businesses doing any good at all at the moment and with football it costs a lot of money. We're doing as much as we possibly can... I want to see the club being able to carry on for another 100-odd years. I want to do my part as my father did. We're all trying to do our part for the club and those who are doing it are local people, which I think keeps the club alive. You've some clubs where chairmen are coming and going and they haven't got the club are heart. We've got the club at heart and we're doing our utmost to keep it alive'. Norgrove is hoping to pep up the club's stretched finances by attracting two new directors with hopes of extra cash being generated from bumper gates for home pre-season friendlies with West Bromwich Albion, Wolves, Hereford United and Port Vale".

From Get Surrey is news that "Danny Bunce's future at Woking could hinge on whether the club gets a reprieve and stays in the Blue Square Premier. The influential left-back, 23, one of 10 existing players who boss Graham Baker is speaking to having been offered terms, admitted he would 'sign a new contract at Woking today' if he could guarantee playing at non-league football's highest level - even though he'd be taking a big pay cut. But he will not be rushed into making what he describes as a 'make-or-break decision' at an important time in his career.

The status of the club is a vital factor - with Darlington's financial crisis meaning a possible Blue Square Premier lifeline for Woking, if the Quakers go into liquidation before the Football League's meeting on June 12, therefore allowing relegated Chester to stay in League Two. The Conference AGM is the following day. Bunce could delay his decision until after that meeting, while he also wants to know who Baker is going to bring in to fill the player void.

Tom Hutchinson, Paul Lorraine, Bradley Quamina, Charlie Moone, Delano Sam-Yorke, Ross Worner, Gez Sole, Wilf Domoraud and Daniel Sintim are the men lined up for talks with Baker, with every other member of the club's relegated squad having been released. Hutchinson is in talks with Cambridge United and is unlikely to accept what amounts to a hefty pay cut at Woking, while Paul Lorraine looks set to link up with Terry Brown at AFC Wimbledon, with Rushden & Diamonds also on his case.

Bunce, who missed the last four months of the campaign with a broken foot, accepts the club has had to make dramatic cost-cutting measures across the board and, in those circumstances, he is pleased and surprised that Woking want to retain him. He has promised Baker a decision in 'early June' after being offered a new deal, albeit one that represents 'a lot less' money. 'I would like to stay but I also want to be playing at Blue Square Premier level. Woking look like they are going to go part-time and I want to stay full-time if I can, although I've had no other offers so far. I will weigh it all up and let Graham know as soon as possible'".
---
14 May 2009
TWO OLD FOES IN TROUBLE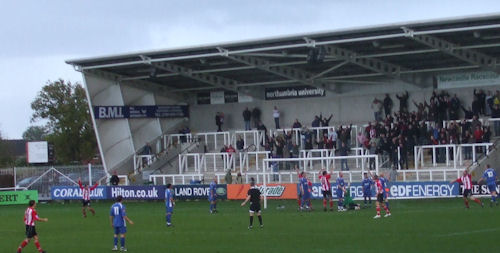 Former Conference club and opponents of Altrincham, "Fisher Athletic, who finished bottom of Blue Square South, have been wound-up in the High Court on Wednesday morning" states NL Daily.

Altrincham played Newcastle Blue Star in the FA Cup this season (pictured right). The Chronicle says that "Newcastle Blue Star are less than 48 hours away from probable extinction after suffering a new and seemingly mortal blow in their fight for survival. Already struggling to meet a £65,000 repayment demand from the Football Stadia Improvement Fund, Blue Star now need a new owner with £100,000 to invest after chairman Dave Thompson withdrew his financial backing for the club. If that saviour does not emerge by 5.30pm tomorrow, Blue Star – only just promoted to the UniBond Premier League – will go into administration and be demoted two divisions into the Northern League. Worse still, the club will then fold completely on Friday if they cannot secure a new £20,000-a-year sponsorship deal and an agreement to continue to play at Kingston Park or Druid Park – formerly their old Wheatsheaf Ground. The latest developments in the Blue Star saga were revealed last night at a public meeting.

Thompson confirmed 'This is a long saga without a simple solution, but you cannot sustain a team on 80 fans turning up every week. We are in the middle of the worst credit crunch the world has ever seen, and 80 people were turning up. Why on earth would you want to keep putting money into something which is bringing that level of enjoyment to the people of Newcastle?'

On the question of Blue Star being allowed to continue playing at Kingston Park, the Newcastle Falcons supremo added: 'That has to be a decision made by the (Falcons) board'.
OLD BOYS
The Chester Evening Leader reports that former Altrincham wing man "Kevin Ellison has agreed a two-year deal at Rotherham United. The midfielder is aiming to play for the Millers in League Two next season after being told earlier this week by Blues boss Mark Wright that he could leave Chester City. Ellison, 30, scored 19 goals in 75 appearances during his second spell at Chester and was keen to remain a Football League player after the Blues were relegated to the Blue Square League Premier Division".

And, a treat for those interested in Alty's past exploits, is a collection of photos from the glory years of Altrincham FC on MySpace.
LOCAL NEWS
Our neighbours, Trafford FC, whom we meet in a pre-season friendly have "appointed former club captain Garry Vaughan as the new First Team Manager. Garry, up until a couple of months ago, was the longest serving Trafford player with 293 appearances & scored 88 goals between 1993 & 1999".Meanwhile, the man who recently overtook Vaughan as holder of Trafford's record appearances total, Lee Southwood, has announced that "The time has finally come to call it a day... 'I will be 34 in August and don't want to be seen as one of those who keeps playing for ever. Especially this year I have found that it is taking longer to recover from games and my joints are creaking".
BSP NEWS
Stevenage Borough announce that "Manager, Graham Westley, has secured the signature of Yemi Odubade. The 24-year-old winger, who can also play as a front man, was signed by former Oxford United manager Jim Smith from Eastbourne Borough in January 2006 for £15,000. In his three-year career at Oxford, Yemi made 74 starts and scored 30 goals. Graham Westley has always been an admirer of Yemi's pace and strength and believes he provides the squad with options from wide positions and up front that weren't available to him last season. Junior Mendes has returned to Aldershot after his loan at Borough expired, whilst Graham Westley is expected to hold talks this week with two more targeted players".

From the BBC we learn that "Rushden and Diamonds have revealed that club captain Andy Burgess, player-coach Chris Hope and midfielder Marcus Kelly are all set to leave Nene Park. Manager Justin Edinburgh is likely to part company with the trio because of financial constraints. 'It's no secret that the budget has been cut and I've got to work within it', said Edinburgh, whose full-time appointment was confirmed last month. 'There won't be the money that's been spent in the last couple of years'. He added: 'I understand they have to make decisions. People have to earn the best living for themselves and at the moment we can't meet some of those needs. Now we're looking for young, hungry players who want to be here for the right seasons. We need an injection of different people at the club'".

A similar scenario is being played out at Aggborough where, also, "young and hungry" players are being sought, according to the BBC. "Kidderminster boss Mark Yates says he would have to consider any serious offers for his players, because of the reduced playing budget at Harriers. Matt Barnes-Homer, Martin Riley, Brian Smikle and Sam Foley have all been offered new contracts. And Yates said: 'There is no point in me fudging around the issue. We'd be delighted to keep those four. But a couple of them are probably on too much money so if a realistic bid comes in we would have to look at it'. The Harriers boss recently agreed a new one-year deal to remain at the club but he knows financial constraints mean that last season's successful squad will be decimated. He has already had to let England C goalkeeper Adam Bartlett and star midfielder Chris McPhee leave Aggborough, while club captain Mark Creighton has joined Oxford United on a three-year contract... 'It's a tough climate out there', he said. 'There are a lot of clubs that are going to be tightening their purse strings and we are the first of a few'. The Aggborough boss said he delayed signing his new deal until he and Howarth were satisfied they could put together a competitive squad with the budget they had been allocated... Yates admits it is going to be tough to emulate the achievements of last season as he will have to rebuild his squad. He said, 'I just felt that if we could have kept around 85% of the current squad plus three or four additions, we could have been a real force. We had the nucleus of a really young, hungry, quality team and the disappointment is that that will be broken up for inancial reasons'"'

Chester City say that "Anthony Barry is the latest player to be told he must find a new club for next season. Barry is still under contract after signing a two year deal last summer when he arrived from Yeovil Town. Midfielder Barry said: 'The gaffer told me that the club could no longer afford my wages and he advised me to look elsewhere for another club. It's disappointing to be told that you're no longer wanted, but unfortunately that's what can happen in football when you get relegated. Barry's former club Yeovil are believed to have enquired about the player's availability."

Another new manager has arrived at Grays Athletic. He is Craig Edwards, who "has joined the club on a non-contract basis. Craig has previously been in charge of Barkingside, Barking, Grays Athletic, Redbridge, Chelmsford City and Dulwich Hamlet; he will be assisted by two coaches, Gary Phillips [who was the previous manager] and Steve Brown... The Club will remain full-time but the manager will have to remain within a strict budget. The Club will move their training to the Aveley Sports & Social ground and will creating an Academy for the youth section of Grays Athletic at Aveley with the view to raising the youth players through to the 1st Team. Grays Athletic will be working on a three year plan".

"Wrexham have renewed their interest in Chris Sharp by offering the Bangor City striker a trial. The Dragons were reported to be tracking the 22-year-old before he broke his arm in a tackle at Carmarthen Town in February, prior to which he had scored twenty goals from twenty-three appearances this season... Sharp turned down an offer to go full-time with The New Saints last week. The son of ex-Everton and Scotland legend and Bangor manager Graeme, Sharp was released by Rhyl last summer despite recovering from a serious leg break sustained in Rhyl's UEFA Cup campaign. He scored seven times in his thirty-eight appearances while at Belle Vue", says NL Daily.

The NW Evening Mail says that "Should Torquay lose and remain in BSP then Gateshead will travel a total of 11,128 miles in round trips to play all their league games next season. This would compare to the 10,796 miles Barrow would face should Torquay fail to win promotion. Should Cambridge remain in BSP then Gateshead would travel 10,820 miles compared to Barrow's 10,642. Last season the Bluebirds travelled over 11,000 miles for their 48 league games. That figure can be cranked up to around 12,500 when adding the away trips for cup games... At the start of last season AFC chairman Brian Keen estimated the club would spend about £50,000 in travel and accommodation during the 2008/09 campaign".

Your Local Guardian says that "Terry Brown admits he hates playing the tinkerman after the Dons boss once again wielded the axe on a promotion-winning side this week... Brown has offloaded nine of AFC Wimbledon's Blue Square South title-winning squad... He said: 'It has been a horrible week... but it is something that needed to be done... The simple fact of the matter is we are looking to go full-time next year and have to put together a squad ready to make that jump. If we can do that I would hope that in future years the departure list will be much less dramatic, as in the last two seasons it has been a bit of a culling exercise'... Brown admitted there may still be more to follow out of the Kingsmeadow door, but for now he will switch attention to bringing players in...

Brown added: 'The aim is to put together as small a squad as I can get away with, and I am looking at 18 to 20 players. For that to work, you really need utility players who are comfortable in a number of positions. So for me the hard work starts now to get those guys in'".

Likewise, "Gateshead have confirmed they will remain a part-time club when they step up to the Blue Square Premier next season. [More than] Half of the clubs in the top flight are full-time outfits, many of them former Football League sides such as Oxford United, Wrexham, York City and Rushden and Diamonds. However, Burton Albion won the championship and promotion to League Two as a part-time club last season while another, Cambridgeshire club Histon, finished third. Ambitious Gateshead chairman Graham Wood had initially planned to make his hometown club full-time once they reached the Conference National. However, after two successive promotions and with the economic climate, which has brought financial problems to many clubs, Gateshead will remain part-time.

Wood said: "There has been a little bit of a move away from full-time football recently, and the manager Ian Bogie believes we should stay part-time. With the recession biting, a lot of clubs are feeling the pinch. Our aim is still to get back into the Football League and we will be stepping up our training next season... We will be pulling out all the stops to make sure we make an impact'. Bogie, who held talks with many of his squad last night, will attempt to bring in six or seven new players this summer. He said: 'We will go full-time eventually but must take one step at a time. Some clubs have been crippled financially by overstretching, and we have to keep our feet on the ground'" reports NL Daily.

This is Nottingham tells us that "David Holdsworth [has] admitted he has approached Rhys Day about a return to Mansfield Town. The central defender, 26, was a popular figure in a three-and-a-half stint at Field Mill before he was released by manager Peter Shirtliff in the summer of 2006. Welshman Day made 103 league appearances for the Stags after joining from Manchester City, scoring 12 goals and helping the club to the 2004 play-off final at Cardiff. After leaving north Notts, he signed for Aldershot and in his second season helped them back into the Football League by winning the Football Conference. But Day struggled to get into the Shots side in 2008-2009 and has been released, leaving him free to talk to other clubs".
ALL CHANGE IN WALES
"Clubs that fail to qualify for the Welsh Premier's new 'Super 10' next year will be relegated to the feeder leagues" reports the excellent Welsh Premier site. "In a move that will set the alarm bells ringing around some of the smaller clubs, the FA Wales is understood to have decided that there will be no second tier in the new-look top flight, so clubs that fail to make the grade will be sent to the Cymru Alliance or Welsh League Division One at the end of the 2009/10 campaign. Selection for the new 'elite' league will be based on the FAW's domestic licensing criteria, with league position only coming into play if more than 10 clubs can meet licence requirements. The criteria will broadly resemble those that the clubs currently have to satisfy in order to play in Europe - and only seven clubs were able to gain the FAW's Uefa licence this year. Aberystwyth Town, Bangor City, Carmarthen Town, Llanelli, Port Talbot Town, Rhyl and The New Saints were successful and are likely to form the core of the Super 10, although a club's own stadium is not necessarily part of the UEFA licence application. That would leave 11 clubs scrambling for the remaining three places to avoid facing the 2010/11 season in the feeder system. It also means that promoted clubs such as Bala Town and ENTO Aberaman, if they are successful in their appeal, could find their sojourn in the top flight a brief one".
---
13 May 2009
PARTING OF THE WAYS
In the Sale & Altrincham Messenger "Graham Heathcote has paid tribute to three outgoing Altrincham players after reluctantly bringing their Moss Lane careers to an end this week. Chris Lane, Warren Peyton and Joe O'Neill have all been released to make way for the new signings Heathcote feels are essential to give his side the best chance of another successful campaign in the Blue Square Conference next season. 'It has been a very difficult week, because I have had to make some hard decisions and tell these lads they are not being kept on', said the Alty manager. 'In an ideal world, I would keep last season's squad intact and add a few new faces, but reality dictates that we can't do that.

The budget has been reduced slightly, so it was a case of sticking with what we'd got, and risking going stale by Christmas, or making some room to freshen things up. It had to be the latter, and those three lads have been given news they did not deserve. They can all count themselves extremely unlucky, because their attitude has been exemplary throughout their time here. They have never missed training and always given 100 per cent, and whoever takes them on is going to be getting quality players, in terms of dedication, determination and a desire to give their all, every time they pull on a shirt'.

Heathcote admitted he faced a waiting game for any incoming transfers but underlined his determination to recuit the players who can help Alty at least emulate last season's outstanding achievement in finishing 15th, 12 points clear of the relegation places. 'It is going to be a game of patience now, because there is only so much money to play with and players are going to be looking for the best deal they can get,' he said. 'But there are going to be plenty looking for new clubs. It isn't a case of four or five being released by clubs this summer, it is more like 10 or 12. The nucleus of the squad is in place, because I have reached agreement with eight from last season and made offers to another three. I have still to speak with a couple of others but don't anticipate any problems with them. I want a minimum of three new faces, and I am prepared to wait for the right ones'".
CORPORATE SUCCESS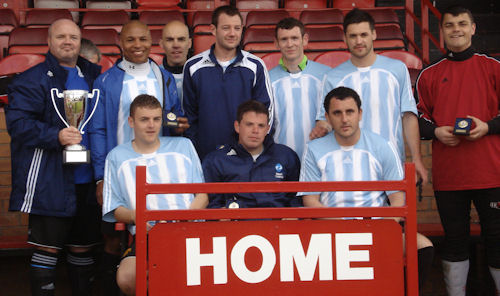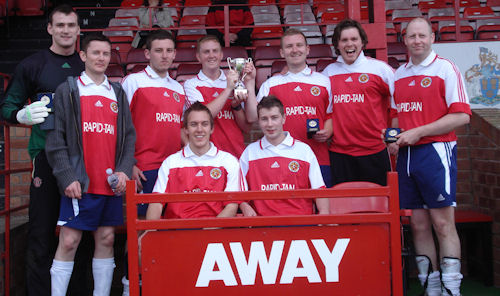 Courtesy of Sarah Rowley, above are the winners and runners up in this week's Corporate Football Challenge at Moss Lane. The winners were Sport Trafford, the runners-up were J. Mills. Altrincham FC would like to thank all who took part.
CHESHIRE NEWS
"The Mirror claims ex-Stockport boss Jim Gannon is ready to go to court to claim a year's wages from the club. Gannon was on a rolling contract with the paper claiming he will seek £200,000. Stockport have sold winger Tommy Rowe to Peterboro for an undisclosed fee" reports Bullsnews.

The chairman of Stalybridge Celtic has stated on the club Forum that "I'm sad to have to inform you that Paul Mitchell has left the club. Let me first of all spell out that this has absolutely nothing, as in zero, to do with the recently reported incident. It is an unfortunate coincidence but given that leaks were appearing about Mitch leaving, I wanted to have the fans find out through the club officially and not through third parties. Sadly, it look like for next season the recession is taking its toll as we have lost our main sponsors (Cuticura) and may very well lose our other main financial sponsor (Brother) too.

This leaves a massive gap in the finances. Moreover, we've been hit by a period of nearly 3 months last season where we didn't have a home game. Those Saturday fixtures were re-arranged for (Champions League) Tuesday nights and our attendances (and knock-on sales) were obviously badly damaged. Add to that the fact that we just missed out on the play-offs and gates are generally lower as people are being made redundant and we have had no option but to be sensible in the way we proceed.

[Manager] Steve [Burr] will be given a pot of money for the forthcoming season to allocate out between players and staff. This season, therefore, there will be NO assistant manager. We need the money for the squad. As for Mitch himself, I'm truly sorry to see him go. He's been a breath of fresh air... In terms of the playing staff, we're still hoping to give Steve the absolute maximum we can to push for honours next season. The players have agreed to sit and wait for a further week or so before Steve can put offers to them, but we're hopeful that the great majority of the squad will very much want to be part of the push next season".
BSP NEWS
"Barrow will train three days a week from next season as they look to be more competitive. The club will use state-of-the-art facilities at the Salford Sports Village in Manchester, where Bluebirds' joint-boss Darren Sheridan is a coach. Fellow joint-boss Dave Bayliss told BBC Radio Cumbria, 'It's been something we've had in the pipeline for a long time now. It's going to be a near enough full-time structure'. The site includes several grass football pitches and two third-generation synthetic pitches. 'It's going to be a good base for us', Bayliss added. 'It's basically through Darren's connections. It's going to cost us nothing. There will be a link-in between Barrow Football Club and Salford itself which could benefit everyone. It could help us maybe generate some youngsters from the Salford area which would enable some of the best youngsters to train with us" he said. 'We want to get some type of YTS set-up going next season or the season after to hopefully produce our own youngsters...

The Bluebirds operated on a part-time basis last season, training just once a week. 'We don't want to be losing the best talent to Preston or to Morecambe', he said. 'No disrespect to Morecambe but we are as big a club if not bigger and if they can do it they there's no reason why we can't develop our own players too'. Bayliss is now hopeful the club will benefit from training three times a week. 'We will be able to put our own stamp on the team and will be able to work on our team shape better', he said. 'It can only be done at Blue Square Premier and now we've stayed up we are in a position to do that. The new arrangement will not suit everyone and already we've lost Matt Henney and Lee Woodyatt because they have good jobs. Financially, we won't be held to ransom by anyone, we can't pay players massive wages to do this. The players have to get themselves in line with the vision we've got and want to be part of it'".

"Oxford United have signed Kidderminster centre-back Mark Creighton on a three-year deal" according to the BBC. "The 27-year-old defender was one of the longest-serving players at Aggborough, and was their captain. Creighton told BBC Oxford: 'I need a change in my career and there's no better place than Oxford if you have ambition to get out of this league'. He was not one of the players released by Harriers and it is understood a small transfer fee is involved. Creighton links up with former Harriers team-mate James Constable at Oxford.

'We're close mates and have stayed in touch since we played together', said Creighton. 'James has been pestering me to come and sign and it does help when you have got good friends at the club... I leave on good terms at Kidderminster. I owe the club a massive thank you. I have had my best three years as a footballer there'".

Sport 4 Salisbury reports that "Salisbury City have confirmed that top goalscorer Charlie Griffin has completed a move to Blue Square Premier rivals and FA Trophy victors Stevenage Borough... The 29-year-old striker signed for Borough on Saturday at Wembley where his new club beat York City 2-0 in the Trophy final. Whites' boss Nick Holmes confirmed Griffin's departure, saying: 'Charlie had a terrific season for us and to be fair he put himself in the shop window with what he was doing for us. I knew a couple of clubs were interested in him but we certainly couldn't match the kind of money that's being offered about. We know the amount of money Stevenage pay and we couldn't match that'. Griffin scored 21 league goals during his season with City."

The City boss said there were no new developments to report regarding the proposed sale of the club. However, he warned... 'If things don't get sorted then you'd think Charlie will be just the first of a few to leave. It's very important that things get sorted here sooner rather than later. Otherwise we'll be building a completely brand new team instead of adding to the one we've got'. The club was put up for sale for £1 last month after chairman Neville Beal and the other members of the board announced they were standing down at the end of the 2008/09 season".

There are a few ex-Non-League players whom Peterborough United "have made available for transfer following the club's promotion to the Coca-Cola Championship... The 12 available are: Mark Tyler, Daniel Blanchett, Craig Braham-Barrett, Kieran Charnock, Shane Blackett, Chris Westwood, Alfie Potter, Sergio Torres, Liam Hatch, Scott Rendell, Rene Howe, Kwesi Appiah".

"Andy Hessenthaler, manager of new Blue Square South club Dover Athletic, has a safe pair of hands after signing Lee Hook from Blue Square Premier side Eastbourne Borough" reports NL Daily. "Kent-lad Hook, 30, has been a regular between the posts at Priory Lane for the past four years and was rated one of the best keepers in the Blue Square Premier. However, he has opted to drop down a division to join Dover for 'football and logistical reasons' - and signed a two-year deal".

According to the Daily Post "Midfield player Nathan Fairhurst has elected to join Wrexham after turning down a new contract offer from Preston North End. The teenager's decision has been hailed as a major coup by Dragons boss Dean Saunders, who yesterday revealed that Jamie McCluskey will also be staying with the Blue Square Premiership club next season".

Following relegation, Woking announce that "The following players have been released: Danny Knowles, Colin Miles, Abdou El-Kholti, Manny Williams, Liam Marum, Matt Pattison, Patrice Konan, Goma Lambu, Paolo Vernazza, Joel Ledgister, Joe Magunda, Michael Kamara, Alex Rhodes and Micah Hyde. The loan players, Oliver Bozanic and Joe Anderson, have returned to their clubs, Reading and Fulham respectively. Finally, Graham [Baker, manager] advised that he will be holding talks with Paul Lorraine, Tom Hutchinson, Danny Bunce, Bradley Quamina, Charlie Moone, Delano Sam-Yorke, Ross Worner, Gez Sole, Wilf Domoraud and Daniel Sintim".

Mansfield Town confirm that "Forward Anthony Howell has left Field Mill by mutual consent. The 23 year old joined us from Ilkeston Town in January this year along with fellow midfielder Curtis Shaw. He since linked up with Conference North outfit Alfreton Town on loan in March, making 15 appearances".

Eastbourne Borough have finished runners-up in the Football Conference - Blue Square Premier division - Sportsmanship Awards and will receive a cheque for £1428.57. Kidderminster Harriers were the winners and Torquay United third. The Conference Sportsmanship Awards, sponsored by Sports 360, were launched at the start of the season with a £15,000 fund to be shared between the three divisions, Premier, BS South and BS North. Each Blue Square Premier club began the campaign with 60 points. Each time a player was handed a yellow card, one point was deducted. Three points were taken off for a red card. Clubs who finished the season with points remaining would share the £5,000 division prize pot, proportionate to the number of points they had left. In the Premier, Kidderminster Harriers (four points, £2857.14), Eastbourne Borough (two points, £1428.57) and Torquay United (one point, £714.29) were the only clubs in the top flight to stay above zero".

South London Today say that "Jason Goodliffe, Tom Davis and Anthony Finn are among nine players released by AFC Wimbledon in the wake of their promotion to the Blue Square Premier. Michael Haswell has also been told his contract will not be renewed, along with Chris Sullivan, Belal Aiteouakrim, Michael Peacock, Luke Pigden and Dean Mason. The move once again shows manager Terry Brown's ruthless streak. The Dons boss axed a host of players, including play-off final hero Mark De Bolla, within days of winning promotion from the Ryman Premier Division last season.

Skipper Goodliffe has been a firm favourite with fans since his arrival from York in 2007, but after discussions with Brown the pair agreed he would leave the club. There remains the chance that the former England C international will return to Kingsmeadow in the future in a coaching capacity... Goodliffe was a youngster at Hayes and Brown was his boss... Discussions are ongoing with several players whose futures are unresolved. They are understood to include Dwane Lee and Jake Leberl".

"AFC Wimbledon target Matt Pattison has revealed he has held preliminary talks about a possible summer switch to Kingsmeadow. The exciting 25-year-old winger has been released by Woking... Pattison was one of Dons boss Terry Brown's main summer transfer targets, as he bids to recruit young players ahead of the club's first season in the top flight of non-league football... 'Wimbledon have made contact with me', Pattison told the South London Press. 'They are a good club and one I would definitely be interested in joining... Of course it is my ambition to play in the Football League but I wouldn't have any problem with staying at this level. The big crowds Wimbledon get are a huge draw factor and what player wouldn't want to play in front of them?'".

The Northants Evening Telegraph says that "Rushden & Diamonds will miss out on a bumper bonus – even if Simeon Jackson fires Gillingham to Wembley glory. The Canadian striker's record-breaking £150,000 switch from Nene Park to Kent in January 2008 included performance-related clauses plus a 20% sell-on for any profit when he moves again. Despite strong speculation linking Jackson with a big-money transfer to Ipswich Town, he stayed at the Priestfield Stadium... However Diamonds won't be entitled to claim more money if Gillingham are promoted because one of the clauses in the contract centered around them going up from League One into the Championship" nopt from League Two to One.

According to the Comet Stevenage Borough "boss Graham Westley has agreed to stay at The Lamex Stadium for another season".
COMING DOWN?
If Darlington go under, it could affect the relegation of Chester City to the BSP. Bullsnews report that "Darlington are pinning their hopes on teenage striker Curtis Main to keep their club afloat. The youth team striker, who became their youngest ever goalscorer for the first team towards the end of the season, has had a trial at Fulham and is wanted by up to four Premier League sides - a move that could keep the club alive".
---
12 May 2009
GOAL SPONSORSHIP
Jon Stack writes:

So the season's over and now it's time to total up the tally from Alty's goal and clean sheet sponsors. In all Alty scored 67 goals, kept 18 clean sheets and Stuart Coburn made one penalty save. In addition, for those who sponsored individual goal scorers, Chris Senior scored 10 times, and Anthony Danylyk just the once.

In total then, Alty's goal and clean sheet sponsors have raised £1002.50 during the season: a big thank you to them all!

Please could sponsors send a cheque in payment to me at 86 Main Road, Wigginton, Tamworth, Staffordshire B79 9DZ or hand in or send direct to the football club. Cheques should be payable to "Altrincham Football Club"

I'll be in touch shortly with all sponsors regarding their exclusive choice of action photographs from the past season: just let me know which you'd like to have, and the framed photograph will be on its way to you. If you have any questions, or need further information then please contact me by e-mail. If you wish to sponsor goals retrospectively, I am sure your contribution would be gratefully received!
GOOD LUCK, JENNY
Jenny Dixon, sports editor of the Metro News is leaving the newspaper. She has been a good friend of Altrincham FC, publishing match reports of every game this season in the free newspaper. We wish her good luck in her future career.
CORPORATE SUCCESS
Grahame Rowley writes;

The inaugural Corporate 7-a-Side Tournament took place on Saturday at Moss Lane. There were eight teams - Halliwells solicitors, Carole Nash Insurance, Sport Trafford, J.Mills Ltd, ITIS Holdings, Lambert Walker, Robinsons Preservation and The Co-operative Society took part, each bringing a squad of 10 players to compete on two pitches, playing across the Moss Lane turf.

The weather was kind, the players' attitude superb and the football of mixed quality. After each team had completed three half hour games, played out in two separate leagues, Carole Nash, Halliwells, Sport Trafford and J Mills progressed to the semi-final stage.

Sport Trafford beat Halliwells and J Mills beat Carole Nash in the semis and then Sport Trafford went on to beat J Mills convincingly in the final to pick up the trophy.

Many thanks to all the teams who took part in the event and and to Chris, Foz, Dan and Grahame who organised the event on the day. Thanks also to AJ, Tom and Sam who refereed the games expertly. Special thanks must also go to Dunham Scaffolding and their drivers who used their time and vehicles to transport the goals down to Moss Lane from Manchester United's Carrington complex.
LOCAL NEWS
"Following a complaint made by Koolsport Northern Counties East League club Staveley Miners Welfare to the FA against Blue Square North outfit Stalybridge Celtic making an illegal approach to one of their players, the FA charge against Stalybridge was accepted by them and they have been fined £300 and warned as to their future conduct" reports NL Daily. "Staveley were very concerned that Stalybridge Celtic`s assistant-manager Paul Mitchell took it upon himself to make direct contact with the player in an attempt to lure him to a meeting at the end of March 2009 in an attempt to sign the player, despite the club confirming that they would not waive the seven-day official notice period required".

The UniBond League report that "Chorley Football Club are pleased to announce the appointment of Steve Waywell as the Manager".
OLD BOYS
According to NL Daily "Despite the recent play-off final heartbreak, UniBond League Premier Division club Nantwich Town is already making preparations for the 2009/10 season. Head coach Steve Davis is busy preparing for the new campaign as Nantwich gear up for another promotion challenge...Meanwhile, goalkeeper Lee Jones and central defender Darren Tinson have pledged their futures to the Dabbers".
BSP NEWS
"Manager David Holdsworth has made his first signings of the close season by snapping up central defender Luke Jones and forward Jake Speight, who will join us on 1st June 2009" reports Mansfield Town. "Jones, 22, made 26 starts for Kidderminster Harriers last season, along with ten appearances from the subs' bench. Prior to his time at Aggborough the 6"1 in defender spent two years at Shrewsbury Town. Manager David Holdsworth told mansfieldtown.net: 'You only have to look at Luke to know what position he plays. He is a centre-half who can also play at right-back, which gives me some flexibility'...

Forward Speight, 23, started his career at Sheffield United and has gone on to play for Scarborough, Bury, Northwich Victoria, Farsley Celtic and most recently Droylsden. Said the manager: 'Jake has been training with us for the past six weeks. He is very quick and has an eye for goal. He is hungry and we need hunger in our squad... Striker Rob Duffy has signed a new two year contract with us...

"Holdsworth has told senior professionals Adie Moses and Mark Stallard that he will not stand in their way should they decide to look for a new club. The duo's contracts expire at the end of next month along with goalkeeper Jason White. Said David Holdsworth: 'Jason White realises that his future lies elsewhere. With regards to Mark and Adie, I have spoken to them both and if there is an opportunity for them elsewhere then I will not stand in their way'. The manager hopes to open fresh talks with Nathan Arnold over a new deal... Defenders Gary Silk and Alan O'Hare are now out of contract, as are midfielders Curtis Woodhouse and Matt Somner along with striker Aaron O'Connor... Goalkeeper Luke Herriott is expected to go [on loan] to Gainsborough Trinity, forward Conor Higginson to Glapwell and defender Tom Naylor to Sheffield FC. It is hoped that striker Grant Ryan will be found a local club to join next season. Left back Ben Turner, who has been offered a professional deal, is expected to join Corby Town on loan".

Kidderminster Harriers "have offered new contracts to four of their squad... Both boss Mark Yates and Assistant Neil Howarth agreed new one-year deals to remain in charge at Aggborough... The Manager has revealed to the official website that Martin Riley, Matthew Barnes-Homer, Brian Smikle and Sam Foley have all been presented with fresh terms for the new campaign. Justin Richards, Keith Lowe, Adam Bartlett, Michael Carr, Martin Brittain, Chris McPhee, Luke Jones and Craig Armstrong are all expected to leave the club once their current deals expire. Speaking to harriers.co.uk, Yates admitted in an ideal world he would've liked to have handed new deals to some of the above, but insists that finances will play a big part in his 2009-10 squad. 'There are a few others we would've liked to have been able to keep hold of but we are realistic about what we can afford and we know we have a squad to build'... Yates already has Mark Creighton, Russell Penn, Lee Baker and Darryl Knights on contract for next term whilst Andy Ferrell's one year deal is extended for next season after the triggering of an appearance clause last term. The remaining members of the squad; Dean Coleman, Stefan Moore, Dean Bennett and David McDermott remain in negotiations with the Manager".

The Kidderminster Shuttle newspaper confirms that "Goalkeeper Adam Bartlett, who won two player-of-the-year awards as Kidderminster Harriers went within a whisker of the Blue Square Premier play-offs in the season just finished, is not being offered a new contract. Twenty-goal striker Justin Richards" is another one released.

Steveneage Borough say that "Charlie Griffin will be a Boro player next season after Stevenage moved quickly to secure the services of the 29 year old 6' striker from Salisbury. Griffin is a 20+ a season goalscorer... He was out of contract at Salisbury and has been signed on a free transfer. Phil Wallace said 'Graham has liked this lad for a while and thinks that some of the specialist work that made such a difference to Steve Morison could help improve Charlie Griffin too... This signing opens up the way for Steve Morison to make a move into the Football League, but we're still hoping to do 1 or 2 more next week with proven goal scoring forwards still our priority. There won't be too many changes as Graham has made it clear that consistency is important'".

Meanwhile, South london Today confirms that "Millwall will put in an official bid for Stevenage striker Steve Morison in the next 48 hours. The former Northampton striker, valued at £85,000, played his last game for Borough in their FA Trophy final... An official approach is now set to be made, with Kenny Jackett up against the likes of Ipswich and Charlton for the 25-year-old's signature".

According to NL Daily "Blue Square South club Welling United have confirmed that assistant-manager Jimmy Dack has taken a position with Woking, who were relegated from Blue Square Premier at the end of the season.Dack will take up the number two position alongside newly-appointed Graham Baker at Kingfield".

"Rushden & Diamonds' England `C` winger Andy Burgess could be off to Cyprus" reports NL Daily. "The left-sided midfielder was on the Mediterranean island last week where he took part in a training session and held talks with Cypriot League First Division club Nea Salamis. Burgess's contract with Diamonds ran out at the end of the Blue Square Premier campaign".

From Get Hampshire reports from Aldershot Town that "Rumours persist that Andy Sandell will be leaving for Conference side Oxford United but Waddock insisted that that was not the case. 'He is not going', said manager Gary Waddock".

The Chronicla states that "GAteshead manager Ian Bogie today paid tribute to the 3,000 Geordie fans who roared his side to victory in their Blue Square North play-off final against AFC Telford United at the International Stadium. A Wayne Phillips goal eight minutes from time clinched a second consecutive promotion...

Bogie said: 'Back-to-back promotions is a magnificent achievement and the support we've had for the two play-off games against Southport and Telford has been phenomenal. A few years ago Gateshead were attracting gates below 200 as they struggled in the UniBond League, so to have gates of 1,408 and 4,201 last week was fantastic. The kick-off had to be delayed on both occasions due to the amount of people waiting to get into the ground and the atmosphere was electric'. Even before the big play-off showdowns, Gateshead's crowds were up 54% this season and Bogie wants the fans to return in numbers next term. 'The Blue Square North is a great league and sides like Luton Town, Oxford United, Mansfield Town and Wrexham will be coming to Gateshead next season. A lot of these clubs will bring big followings and it would be great if we could continue to significantly increase our crowds as support from the terraces will be vital'". Gateshead's average gate, including the bumper end of season games, was 680 last season.

York City "manager Martin Foyle was back at his desk this morning to begin making squad changes for next season and has made offers of new contracts to Ben Purkiss, Onome Sodje and Josh Mimms. In addition to this 2nd year scholar Michael Emmerson has been offered a full-time professional contract and Richard Brodie and Andy McWilliams retained under contract options. Contrary to media reports, Mark Greaves has not left the club and is in talks with the Manager. Shaun Pejic is also in talks about extending his City future. First team players Mark Robinson, Daniel McBreen, Steven Hogg, Simon Rusk, Liam Shepherd, Josh Radcliffe and Christian Smith have all been released along with Youth Team players Callam Brown, Jonathan McDonald and Joe Knowlson. Adam Boyes, Michael Ingham, Craig Farrell, David McGurk, Daniel Parslow, Simon Russell, Adam Smith and Ben Wilkinson [who finished the season on loan at Altrincham] all remain contracted to the club for next season".
---
11 May 2009
COMING SOON...
Coming soon will be the annual statistical review of the season. As a taster, here is Alty's league record since 1998...

Below is Alty's league record since 1998-99. For Alty's historical league record (excluding play-offs), click here
| | | | | | | | | | |
| --- | --- | --- | --- | --- | --- | --- | --- | --- | --- |
| SEASON | LEAGUE | P | W | D | L | F | A | PTS | POS |
| 1998-99 | UNIP | 42 | 23 | 11 | 8 | 67 | 33 | 80 | 1 |
| 1999-00 | CONF | 42 | 9 | 19 | 14 | 51 | 60 | 46 | 21 |
| 2000-01 | UNIP | 44 | 20 | 10 | 14 | 80 | 58 | 70 | 7 |
| 2001-02 | UNIP | 44 | 19 | 9 | 16 | 66 | 58 | 66 | 9 |
| 2002-03 | UNIP | 44 | 17 | 9 | 18 | 58 | 63 | 60 | 14 |
| 2003-04 | UNIP | 44 | 16 | 15 | 13 | 66 | 51 | 63 | 12 |
| 2004-05 | NN | 42 | 19 | 12 | 11 | 66 | 46 | 69 | 5 |
| inc playoffs | NN | 45 | 22 | 12 | 11 | 72 | 50 | [78] | 5 |
| 2005-06 | CNAT | 42 | 10 | 11 | 21 | 40 | 71 | 41 | 18* |
| 2006-07 | CNAT | 46 | 13 | 12 | 21 | 53 | 67 | 51 | 21 |
| 2007-08 | CNAT | 46 | 9 | 14 | 23 | 56 | 82 | 41 | 21 |
| 2008-09 | CNAT | 46 | 15 | 11 | 20 | 49 | 66 | 56 | 15 |
* 2005-06 Alty's deduction of 18 points reduced their official total to 23 points and sent them to 22nd and bottom place.
OLD BOYS
Glossop NE 0 Whitley Bay 2

The NW Counties League says that "There was no Wembley dream for Glossop as two goals in a nine minute spell before half time powered Whitley Bay to victory in the 2009 FA Vase final. In an entertaining game that was an excellent advert for non league football, a fine solo goal by man of the Match Lee Kerr put Whitley Bay ahead in the 36th minute. The killer blow for Glossop arrived in first half stoppage time, when a quick break set up Paul Chow for a second goal to put Whitley Bay in the driving seat.

Despite a late rally from Glossop that saw chances for Dave Hodges and [ex-Alty Youth striker] Tom Bailey, the Northern League side's defence held firm to clinch victory in front of 12,212 spectators basking in warm sunshine. There was good and bad news for two of Glossop's semi final heroes before the game. Kelvin Lugsden [ex-Alty Youth], who scored the last gasp equaliser in the semi final second leg against Chalfont St Peter, returned to the centre of the Hillmens' defence after a three week absence. But there was heartbreak for 17 year old goalkeeper Ash Gotham, who made a vital save in the sudden death penalty shoot out.He had been nursing a thigh strain over the past week and despite intensive treatment, he failed a fitness test a few hours before kick off. He admitted to manager Steve Young that he only felt 90-95% fit and felt that for the good of the team, he had to step down. Matt Cooper, recently signed as goalkeeping cover, took over in goal... In stoppage time, Glossop almost got the consolation goal they deserved but Dave Hodges and Tom Bailey both wasted chances in good positions before the final whistle blew... At the after match press conference Glossop manager Steve Young praised the efforts of his side. 'I felt that over the 90 minutes we played the better football, and I thought we acquitted ourselves very well... I might be sitting here as a loser but I'm not unhappy. I am as proud as punch about what the team has achieved'".
SUMMER GAMES
To bridge the gap between now and the new 2009-10 season, the European games of Welsh clubs take place in late June/July. Welsh Premier announces that "The draw for the 1st, 2nd, and 3rd qualifying rounds of the Uefa Champions League and the 1st and 2nd qualifying rounds of the Europa League will take place on 22 June 2009:.

EFA CHAMPIONS LEAGUE for Rhyl, draw 22 June 2009:
First qualifying round 1st Leg, 30 June/1 July 2009
First qualifying round 2nd Leg, 7/8 July 2009

EUROPA LEAGUE - Llanelli and TNS come in at 1QR stage, Bangor City at 2QR stage. Draw on 22 June 2009:
First qualifying round 1st Leg, 2 July 2009
First qualifying round 2nd Leg, 9 July 2009
Second qualifying round 1st Leg, 16 July 2009
Second qualifying round 2nd Leg, 23 July 2009"
---
10 May 2009
ALTY YOUTH 5 ALTY JUNIORS 0
In this afternoon's friendly match at Moss Lane, Altrincham FC Youth, including many trialists, beat Altrincham FC Juniors under-18s, 5-0. More on this match is on the Youth Page.
THREE LEAVING
Being a football manager is often not an enjoyable job and never more so than when players have to be allowed to leave. Altrincham FC boss Graham Heathcote has announced today that he has had to allow three players to depart; he would have liked to keep all three but with a slightly reduced budget for next season, the manager needed to create some space on the wage bill to bring in a few players to freshen up the squad for another tough chellenge in the BSP next season.

The three who are leaving Moss Lane are midfielder Warren Peyton, striker Joe O'Neill and defender Chris Lane (pictured left to right).

29 year-old Warren made 149(+27) appearances for the Robins after joining in November 2005, following a spell out of the game. Warren, a bricklayer, also made a mark for himself at the club by building the new turnstile block at the Golf Road end. He netted eight times for Alty and was one of the fittest players at the club.

Joe (26) made 79+49 appearances for the Robins, scoring 19 times. He joined in June 2006 from York City and was voted player of the season in 2006-07 for his wholehearted displays. A summer operation kept him out of the side at the start of 08-09 and he never managed to re-establish his place in the starting line-up. He made only four league starts last season but scored three times in 4+22 BSP appearances.

Chris, who is 30 later this month, is a legend in Conference football, being the player who has the most Conference appearances of any player in that division last season. He joined Alty in June 2007 from Southport and played 77+12 games for the Moss Lane club, scoring three times. Last season he played 30+4 BSP games and as with Warren and Joe, his commitment was never in doubt.

Graham Heathcote said of the three "I don't really want to release them but I have to do so to allow me to freshen up the squad". He added that all three would "do a tremendous job" for clubs in the BS Premier or North. Of the rest of the squad, Graham confirmed that eight of last year's players have already agreed to stay next season whilst three others are still mulling over offers made to them. He still has two of the squad to see but is hopeful that they will wish to stay. Graham confirmed that wages have not been dropped from last season. Graham expects three or four new faces to join the squad for 09-10.

Everyone at Moss Lane wishes Warren, Joe and Chris good luck in their search for another club and they all leave with excellent references from Altrincham FC.
AT MOSS LANE...
Today, (Sunday), at 3pm, Altrincham FC Youth take on Altrincham FC Juniors under-18s at Moss Lane. Entry is free and everyone is welcome for this interesting fixture.

On Monday 11th May, at 7.30, Neil Faulkner's Robinsons Preservation team will play a friendly match against an "Alty All-Stars" eleven at Moss Lane. Neil announces "Major news ahead on the game is the big summer signing for Robinsons of a current Altrincham Striker who makes his debut on Monday."

Also don't forget the 7-a-side competition on Saturday 9th May at Moss Lane. Please come and support the eight teams that are taking part. All these events are helping to raise money for the club to give Graham Heathcote the best opportunity for next season".
HARBINGERS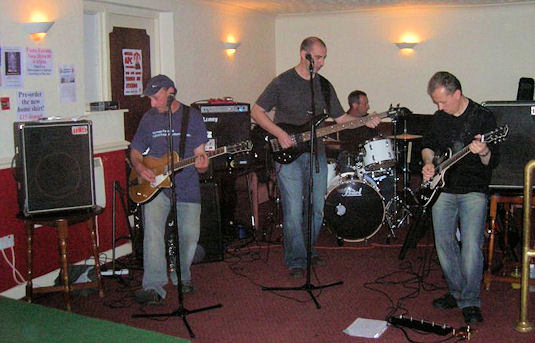 TASC chairman, Brian Flynn, has kindly supplied the adjacent picture of the succesful Harbingers' gig at Moss Lane last week, with Alty turnstile operator, Nigel Hennerly, featuring on guitar (right).
ANSWERS
The answer to yesterday's photo quiz is: left to right, Adam Farley, Rod Thornley, Steve Finney and Paul Edwards.
BORO LIFT TROPHY
FA Trophy Final:
Stevenage Borough 1 York City 0

The Comet tells us that "Boro boss Graham Westley hailed his side's character after watching his side bounce back from play-off disappointment to win the FA Trophy... 'It's a fabulous feeling to win. You don't want to come to Wembley and lose', said Westley. 'In terms of our season then our priority was promotion. We got off to a start that meant we were always going to face an uphill struggle. All of us were gutted to miss out against Cambridge but our players have gained an enormous amount of experience and I think we showed a lot of character today. We could have easily come here and lost after that... You wake up on Tuesday and feel like you life's not worth living. It's enough of a job lifting yourself let alone the players. To be fair we have all lifted each other. We had a responsibility to ourselves and the football club and today was a real credit to everybody'... Westley paid tribute to Morison, who led the line superbly all afternoon...

Said Westley. 'I have sat down and talked with him a lot with the fact that he will probably be moving in the summer'... When asked how he is looking to replace the 25-year-old, Westley responded: 'Hopefully I have already replaced him'".
BSP NEWS
Torquay United report that their "top scorer Tim Sills returned to training with the rest of the Gull's squad after a successful operation on his fractured cheek. One side of Tim's face is still swollen but he was in good spirits and looking forward to returning to full training next week: 'I have had a plate put in my cheek bone just to get the shape of my cheek back to what it should be and the surgeon said that it had already started to heal. As soon as the swelling goes down, which will take three or four days, I should be ready for full training. I have got another appointment on Monday to see if I will need another mask so we will take it from there. There is a good buzz around the squad ahead of the [play-off] final and I would rather be in full training with them but we have a full week's training ahead of us so there was no need to rush back today'. One player who will sadly be missing from United's matchday squad at Wembley will be Tim's fellow forward Blair Sturrock. Blair has injured the ligaments in his right knee and has no chance of being fit for the play-off final on May 17th".

The Chronicle reports that "Gateshead will begin planning for life in the Conference Premier next week after returning to the top division of non-league football for the first time in over a decade. The Tynesiders got lucky in front of a noisy but nervy International Stadium as a Wayne Phillips free-kick put them back in the division they last left 11 years ago. The 23-year-old winger's strike seven minutes from time took a deflection which wrong-footed goalkeeper Ryan Young and sealed the victory [over] AFC Telford United... Gateshead were worthy play-off winners after finishing the season in second, and as the Conference North's top goalscorers".

But before the match it was announced that Gateshead will be without two key players next season as "keeper Paul Musselwhite will bring down the curtain on a 23-year career as Gateshead go for glory in their Blue Square North play-off final against AFC Telford United at the International Stadium tonight. Gateshead will be Musselwhite's last club, having made over 700 appearances in the professional game for Hull City, Port Vale and Scunthorpe United. The 40-year-old has proved to be an inspirational signing since he joined Gateshead in January 2008 and is delighted there is so much riding on his final game. Star striker Lee Novak will also be making his last appearance in a Gateshead shirt before he links up with Huddersfield Town on a three-year contract. Novak's 28 goals in just 35 games have been a major part in Gateshead finishing runners-up in the Conference North and, like Musselwhite, he wants to go out on a high".

"Mansfield Town boss David Holdsworth says his squad are firmly behind his drive to improve fitness. Players do not usually have to return to Field Mill after the end of a campaign until the start of pre-season in early July. But Holdsworth insists his contracted players take part in a rigorous regime between now and the end of May, believing it is vital if the Stags are to compete with the top teams in the Blue Square Premier.

'They had ten days off (after the last game) but have now started their stress days, so called because they are stressful', said Holdsworth. 'The standards of fitness have risen at this level. It is three hours of intensive work where they will be monitored and we will take their body fats. I am delighted with the way the players have bought into it. I'm not sure all clubs do it, but I believe in setting standards high. It will be happening on Mondays, Wednesdays and Fridays and they will be given the weekends off. It will become a mini-Premier League club here with the standards we are trying to reach'" he told This is Nottingham.

According to This is Tamworth "There was double delight for Gareth Sheldon at Tamworth's FC end of season awards. The 29-year-old striker picked up both the Supporter's Player of the Season and the Leading Scorer award, having hit 24 goals during Tamworth's Blue Square North championship winning campaign. Chris Smith was voted Players' Player of the Season while Bradley Pritchard scooped the Tamworth Herald Player of the Season accolade."

At Wrexham, the Evening Leader reports that "If you want it, come and get it - is Dean Saunders's message to Matt Jansen as he hopes to persuade the former Premiership striker to extend his stay at The Racecourse... Former England under-21 international Jansen has been restricted in his appearances since a motorbike crash in 2002 and had not played since 2006 prior to joining Wrexham.. But a knee injury cut short his return after just three matches in which he scored one goal. Saunders hopes to sign Jansen on a structured contract to aid the Reds' promotion challenge next term but he said that the 32-year-old needs to have the desire to want to continue playing.

'I have had discussions with Matt and I am hoping I get the right answer', said Saunders/ 'Matt is having a knee operation but it is only minor. I have left it with him to think about. But you have got to have desire. If he hasn't got desire, you can't give it to him.. Only he knows if he has got that'...

Saunders has more flexibility in his budget since allowing leading scorer Jefferson Louis to leave after his contract was terminated by mutual consent... 'I have a budget to work to and I have to do the best I can with it,' said Saunders. 'Up front is my priority. You are only as good as your frontmen. I want four strikers who can all score goals and also work hard. We are looking at players for all positions, and I need a bit of pace, but I think our only problem at the end of the season was at that end of the pitch'..

Saunders has begun his revamp of the squad by releasing seven players – goalkeepers Gavin Ward and Anthony Williams, full-backs Simon Spender and Chris Marriott, ex-Feyenoord man Christian Gyan, winger Sam Aiston and striker Patrick Suffo. Defenders Mike Williams and Mansour Assoumani, and winger Jamie McCluskey, have been offered new deals along with Jansen. But a decison of the futures of a further five out-of-contract players – defenders John Curtis, Aurelien Collin and Ashley Westwood, midfielder Levi Mackin and winger Shaun Whalley – has not yet been announced by Saunders – who has already spoken to some of the quintet...

Saunders said he is in no rush to fill up his squad... 'Lots of players will be available for me and I am not jumping in too soon'... Meanwhile, work is due to commence on improving the poor state of The Racecourse pitch, with Saunders saying that the ideal solution would be to relay the entire pitch – but admitting that that would be too expensive. 'We have got contractors coming in on May 18', added Saunders".

The Press reported yesterday that "York City's board were caught by surprise last night after hearing of assistant manager Andy Porter's application for the Port Vale managerial vacancy. Porter has been overlooked by the League Two side twice in the past when he was on the Valiants' backroom staff... But, without the knowledge of City's directors, Martin Foyle's right-hand man Porter has declared his interest in the job again ahead of this afternoon's FA Trophy final against Stevenage at Wembley. Speaking to the Stoke Sentinel newspaper, Porter said: 'I was at Vale for 18 years and being manager would be more than just a job to me. I'd love to come back and be part of it again'.. City's communications and community director Sophie Hicks revealed that Porter had not sought their permission before approaching Vale'".
BLUE STAR IN TROUBLE
Altrincham knocked Newcastle Blue Star out of the FA Cup this season but the Tyneside club subsequently won promotion to the UniBond Premier. But the Blue Star website reports that "Following the FSIF (Football Stadia Improvement Fund)'s persistence in claiming the repayment of grant monies totalling £65,000, which accumulates to 10 years back, lack of local support, and the announcement made regarding Bob Morton on Thursday 30th April 2009, that he was stepping down and retiring from local football, Newcastle Blue Star FC would like to make public the knock on effect this has on the club.

In April 2006, Newcastle Blue Star were approached by the Football Association to join a newly formed 'North Division' of the Henkel sponsored UniBond League. To consider such a move Newcastle Blue Star would have to re-locate their own playing arrangement to Kingston Park Stadium, there was also the promise of support towards the costs of the travel when it was determined that Newcastle Blue Star F.C. would be the only 'local' club making this move, this was totally supported by both The Football Association & The UniBond League

From that day until yesterday, Newcastle Blue Star have put forward the reasons as to why they should not be required to make any return on payment to the FSIF for grants that were attained to improve the then Wheatsheaf Ground. Indeed, when applying for grants 1 of the questions you have to fulfil is:-
Who will benefit from the application ? Answer: the 150 kids, Newcastle Blue Star Sunday team and the Newcastle Blue Star over 40s, all of which still utilise the ground to this day.

In order for the football club to continue the Football Association must sanction a 'transfer of membership' and is refusing to endorse this while there is this claim. Yesterday's announcement effectively puts questions on the future of Newcastle Blue Star with a substantial amount of money that is being alleged to be repaid. An emergency board meeting will take place next week with the board of directors of Newcastle Blue Star Ltd, although Secretary Jim Anderson has stated that the future of Newcastle Blue Star FC is in grave doubt.

The Directors of the FSIF have known all along what this money meant to a club of our stature and we continued to supply reasons as to why this money should and could not be reclaimed, I am very disappointed at the moment and have advised all the players that if they receive offers from other clubs they should treat them seriously. In the present economic climate I just don't know how we can repay such an amount of money to the FSIF and run a successful football club without the local support and financial backing from local business men. Over the next few days we are going to decide our future, which may confirm the demise of NEWCASTLE BLUE STAR FOOTBALL CLUB.

Jim Anderson, Secretary, Newcastle Blue Star FC"
MATCH FIXING
News on the alleged match-fixing scam comes involving FGR loanee Andy Mangan from the FA which announces that the FA "has received responses from five players who have been charged with breaches of The FA's rules on betting in football. David Mannix, Andrew Mangan, Robert Williams, Jay Harris and Peter Cavanagh have denied the charges issued against them and requested personal hearings. The majority of the charges related to bets placed on an end-of-season match between Accrington Stanley and Bury played on 3 May 2008. Betting companies in the North-West had reported unusual betting patterns in the lead-up to the match with higher than usual amounts being staked in particular areas of the country. Four of those charged – Jay Harris, David Mannix, Robert Williams and Peter Cavanagh – were registered with Accrington Stanley at the time of the game while Andrew Mangan was registered with Bury. Both Harris and Cavanagh played in the game. The charges will be now heard by an independent Regulatory Commission which will be scheduled in due course".
---
9 May 2009
FRIENDLY DATE
Colwyn Bay announce that their friendly at home to Altrincham will be on Saturday July 18th at 3pm.
GATESHEAD PROMOTED
Gateshead became the final team to gain promotion to the BSP after defeating AFC Telford United in tonight's play-off.

BS North Play-Off Final
Friday, 8 May: Gateshead 1 AFC Telford 0
CLOSE SEASON PUZZLES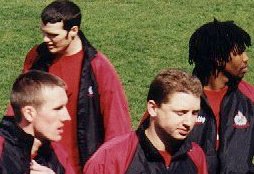 Over the close season a number of photos from the last decade will appear on the website for fans to exercise their memories. Who are the four Alty faces on this image, taken at Burscough in 2001? Answer tomorrow...
HARBINGERS SUCCESS
TASC chairman Brian Flynn announces:

Harbingers' gig raises over £204:

The Harbingers gig held in the Noel White Suite on Saturday April 25th raised £204 in ticket sales and Barmaid of the Year 2009, Jenny Heslop, also reports healthy bar takings for the Club! The Band performed an excellent set and as well as there being three Alty fans in Harbingers, Lee Wolstenholme, another ardent Altrincham supporter, did a great job supporting as part of a duo Lee and Sam. There is a clip of Lee and Sam performing a Johnny Cash song on the night on YouTube.
LOCAL NEWS
There is a bizarre story about our neighbours Flixton, which is bad news for Neil Brown's Abbey Hey, who now finish second bottom of the Vodkat Premier. NL Daily reports that "Earlier in the season, Vodkat North West Counties League Premier Division club Flixton had four points deducted for fielding an ineligible player - three points for the offence and one for the point they collected from the game in question. This decision was made in accordance with a rule passed by clubs at the League AGM four years ago. However, it has been brought to the league's attention that the referee for the game in question has now admitted that he failed to report an alteration to the team sheet, and has confirmed that the player in question did not participate in the game.

The FA has also informed the NWCL that FA rules state that additional points should not be deducted from clubs when an offence of this nature takes place. The FA's rules state that only points gained from a game in which an ineligible player took part may be deducted. The FA has therefore instructed the NWCL to reinstate the four points deducted from Flixton, as no offence took place. As a result, Flixton now move out of one of the relegation places at the bottom of the Premier Division.

However, on a separate issue, the FA Technical Panel have informed the League Management Committee that Flixton have not obtained Ground Grading `F` standard to enable them to compete at Step 5 in the National League System! The league has therefore been instructed by the FA that Flixton should be relegated to Division One for season 2009/10".
BSP NEWS
When Altrincham travel to Hayes & Yeading United in 2009-10 they will be playing a new club but at a familiar ground. In 1999-2000 Altrincham drew 1-1 against Hayes at Church Road in a match most memorable for Kevin Ellison demolishing two corner flags. That game was watched by 657 spectators. Since then Hayes have merged with Yeading and their average gate this season was 355. The club plans to sell Church Road for development and then move to Yeading's former ground at The Warren, where Hayes & Yeading reserves now play. Curiously, next season, Alty will also face again Hayes's manager from that encounter in 2000, as Terry Brown is now manager of the other BS South promoted side, AFC Wimbledon.

HYU got promoted the hard way. Having lost their first two games of the season, they finished fourth after an unbeaten 15 game run to the finishing line. Having lost the home leg of their semi-final play off 2-4 to Eastleigh, they won the away tie 4-0. Then in the final they won away at Hampton & Richmond, 3-2, after trailing and despite their goalkeeper putting the ball down for a kick and having it stolen by an opponent who scored into an empty net.

However, their opponents' keepr had an even worse time. This is Local London reports that "Hampton & Richmond Borough goalkeeper Matt Lovett saw red after his two errors cost his side promotion to Blue Square Premier with a 3-2 defeat to Hayes & Yeading...Visiting former Brentford striker Scott Fitzgerald gave his side a seventh minute lead as they dominated the first-half proceedings in front of more than 3,500 fans at the Beveree. Hampton's Saun McAuley leveled matters five minutes after the break before Hodges gave boss Alan Devonshire's men an unlikely 69th minute lead - the first of three goals in four minutes. But Hayes midfielder Steve Gregory levelled matters two minutes later when Lovett misjudged his speculative cross-cum-shot and couldn't stop it drifting in at the fast post. And Lovett's misery was compounded within 60 seconds when Gregory took advantage of sloppy defending to shoot home from just inside the box, with an effort the keeper seemed to let slip through his grasp. The Beavers' stopper ended his personal nightmare when he received a straight red card for up-ending Fitzgerald close to the half-way line in stoppage time after Hampton had committed everyone forward in search of an equaliser. It is the second time in consecutive seasons that Hampton have lost in the play-off final with Thursday's heartbreak following last year's 2-0 defeat to Eastbourne Borough".

Oxford United "are pleased to announce that Chris Wilder signed a new three-year contract... 'Talks had been ongoing for a while but we hadn't had time to finalise things during the season. As soon as we got time to draw breath I sat down with the chairman, who has been great to work with. We talked about our plans for the club and we both want the same thing, which is to get this club promoted. I am delighted to have signed the new contract. It gives me and my family a bit of stability and gives the club protection as well... We have the nucleus of a very good side and will add some exciting names to that'" said Wilder. Chairman Kelvin Thomas added, "These are exciting times for the club. Season ticket sales are going really well after our great finish and there is a really positive feeling about the club".

Four of their most experienced players, with more than 700 appearances between them are leaving Eastbourne Borough who "have released five players including 312 appearances goal-keeper Lee Hook. The stopper who signed for the club in June 2003 was offered a new contract by manager Garry Wilson but did not accept and was then told he was released. Also departing Priory Lane are: striker Allan Tait (101 appearances, 28 goals); utility player Jay Lovett (149 appearances, 7 goals); midfielder/forward Pat Harding (139 appearances and 25 goals including Borough"s first ever Blue Square Premier goal at Stevenage last August) and midfielder Jacob Mingle, who signed from Horsham in January but made only four appearances. On loan striker Jack Jeffery - 14 appearances and three goals - has returned to West Ham United".

Another manager signing on for a further stint is Kidderminster Harriers' manager Mark Yates and Neil Howarth who "have agreed deals to remain with the club. The management duo's contracts were up following the end of the season but after considering offers made to them by Chairman Barry Norgrove last week, they have both penned contracts to keep them in charge for a further season... Boss Yates will release details of his 'retained' last through the official website on Monday morning".

This is Tamworth says that "Ocean Finance's decision to end their deal at Tamworth has opened the way for a new main sponsor... The Tamworth-based company have decided not to renew their shirt sponsorship after five years as a result of the credit crunch. Tamworth general manager Russell Moore said: 'We are in the Conference Premier now – a national league – and will be on television – both live and in highlights – regularly. The profile of the club has just been lifted by our promotion so it's a great chance for people and companies to support us'".
---
8 May 2009
VOLUNTEERS NEEDED!
http://www.messengernewspapers.co.uk/sport/alty/altynews/4351085.Help_feather_Robins__nest/ "Altrincham chiefs have made an urgent plea for volunteers to step forward and play a part in maximising the amount of money available to manager Graham Heathcote for new signings. As key decisions were being arrived at over next season's playing budget, vice-chairman Grahame Rowley explained how supporters can make their own contribution to Heathcote's spending power by offering their services for Operation Clean-up during the summer months.

'We have had an outstanding season, but it is important people don't think the club just goes to sleep now until the friendly games start in July', he said. 'I can fully understand people wanting a little break from football and wives relishing the thought of actually seeing their husbands on a Saturday afternoon for a couple of weeks. But there is so much work to be done at the ground. Maintenance jobs, re-securing advertising boards, painting, weeding and generally sprucing up the place. All that needs doing, one way or another, and if supporters come in and volunteer their services, we won't have to pay to get the work done. Any money that saves will be made available for players, so it really is the case that people can help shape our playing strength next season. There is only so much money available, and we want as much of it as possible to go to the manager. We have always been a very proud club. Proud of the way we present ourselves at a well-kept ground that people enjoy visiting. A lot of that is down to the efforts of volunteers, and we trust that will continue.

Neil Faulkner, from Robinsons Preservations, has just replaced some internal gates free of charge, and that is hugely appreciated. Equally, though, anyone turning up and offering to do the smallest of jobs will be welcomed with open arms'. Alty are also on the look-out for more patrons for next season, Rowley adding: 'We are up to 78 but would like to break the 100-mark, at least. Anyone interested can contact the club on 928 1045.'"
FINAL AT MOSS LANE
The Noel White Suite at Moss Lane will be open for the Champions' League Final between Barcelona and Manchester United on Wednesday 27th May. Doors open at 7.00pm for kick off at 7.45pm.
PLAY-OFFS
The clubs to join AFC Wimbledon and Tamworth in being promoted to the BS Premier will be decided before the weekend. Hayes & Yeading secured their place in the BSP with an away win on Thursday night...

BS South Play-Off Final
Thursday, 8 May: Hampton & Richmond 2 Hayes & Yeading 3
OLD BOYS
The News & Mail says that at Aldershot Town "[Gary] Waddock now embarks on trying to craft a squad with improved quality, despite having no money available. To do that, he may well have to sell some players but he insisted that there had been little interest in his players to date. 'I've been hearing rumours linking some of my players to Oxford United, yes, but I have spoken to those players and they say that they are fully committed to Aldershot Town', said Waddock. Lewis Chalmers, John Grant and, in particular, Andy Sandell, have all been linked to the ambitious Conference side".

The BBC says that "Macclesfield Town have released 13 players as boss Keith Alexander begins a complete overhaul at Moss Rose. Rikki Bains, Joaquin Medinilla-Cabotti, Ahmed Deen, Francis Green, Jordan Hadfield, Neil Harvey, Chris First and James Jennings are all out. Christian Millar, Danny Thomas, Jamie Tolley, Matt Towns, Richard Walker are also being released". Earlier This is Staffs reported on the Cheshire Premier Cup- Crewe Alex 1 Macclesfield Town 1. (Crewe won 3-1 after extra time). James Jennings and Jordan Hadfield, both loanees at Moss Lane in recent times, played for Macc. in this game.
NW NEWS
There is bad news from Hyde United where "The Club has received notice of commencement of winding-up proceedings issued by HM Revenue and Customs in respect of unpaid taxes, to be heard in the High Court on 20 May. In order to settle all its liabilities, including HMRC, the club needs to secure funding of around £200,000.

The arrears have arisen largely as a result of the club's obligations to players contracted to the end of last season, which were untenable following withdrawal of financial support from its former holding company for reasons outside the control of the football club. All those contracts have now come to an end, and the club has set a realistic and achievable budget for the coming season.

The directors have worked tirelessly over the past couple of weeks to try to pull together funding to satisfy the liability, and have already secured pledges for around one third of the balance due. The Chairman has had supportive discussions with HMRC, who recognise that the club is making progress in raising funds, and have indicated that if progress continues to be made they would not object to a postponement of the hearing to allow the club more time to reach settlement.

The club is also in dialogue with the Football Conference and will seek to reach agreement with HMRC within any deadline set by the League which would enable the club to remain in whichever league for which it qualifies as a result of its league position last season, without entering an insolvency event.

The club would be grateful to hear from anyone interested in helping the club to secure its future. Any pledges made will not be taken up until agreement with HMRC is reached".

NL Daily reports that "The Football Association has been notified by Kevin Henry, owner of Darwen Sports and Social Club, that he intends to withdraw the company from football related activities at the end of the current season 2008/09. As this company controls Darwen Football Club, this effectively means that Darwen Football Club will cease to exist at the end of this season. As a result, the Football Association has informed the Vodkat North West Counties League Management Committee that they should make preparations for season 2009/10 on the assumption that Darwen Football Club will not be members of the league".
BSP NEWS
Chester City say that "As expected following their relegation from League Two several of City's players have left. Laurence Wilson, Damien Mozika, James Vaughan have all had their contracts terminated. Mozika was suspended by the club in late April due to disciplinary reasons while Vaughan is expected to join Australian side Wollongong Community FC. Three more senior players, top scorer Ryan Lowe, club captain Paul Linwood and Kevin Ellison have all agreed to terminate theirs and will be looking for new clubs in the summer. Several more players are expected to leave shortly as they are out of contract".

However, the Burton Mail reports that "Burton Albion have been refused permission to speak to Oxford United's Chris Wilder as they continue their search for a new manager. Albion chairman Ben Robinson wanted to sound out Wilder in the hope they could add his name to a short list of candidates to succeed Roy McFarland. Robinson said 'With a short list in mind, Chris Wilder was someone else we were interested in having a dialogue with a view, but unfortunately Oxford have refused permission for us to make an approach'... Victor Chandler have Chesterfield boss Lee Richardson as the dark horse in the race to land the Pirelli Stadium job... Other names strongly linked with the Albion post include former Liverpool and Aston Villa star Steve Staunton, Rotherham United boss Mark Robins, Crewe Alexandra assistant manager Neil Baker and the experienced John Ward".

The BBC adds that "Wilder has pledged his future to the club - and is close to signing a new three-year contract... Wilder said: 'My ambition has always been, and remains, returning Oxford to the Football League'... 'I am convinced that this club is making progress and we can realise those dreams together'".

Tamworth have announced their prices for 09-10: Adult Seat £14, Concession Seat £9, Adult Terrace £12, Concession Terrace £7.

Fellow promoted team AFC Wimbledon sell a five-year season ticket but "Matchday and season ticket prices have been increased following the club's promotion... . We believe that only one club in the league has cheaper adult terrace prices. Terrace prices for under 16s have been frozen and remain unchanged since we started seven years ago. Terrace and seat matchday prices for concessions have been frozen". They have three-tier pricing, e.g.:

Adults (standing), £12 - League, FA Cup and FA Trophy; £8 - Setanta Shield and pre-season friendlies; £6 - Surrey Senior Cup and London Senior Cup

The Local Guardian reports that "AFC Wimbledon's historic promotion has galvanised political support that could see the Dons play in Merton borough once again. Merton's opposition Labour leader has pledged that bringing the club back would be at the top of his agenda if elected next year, while the current Conservative leader has promised to lobby Mayor Boris Johnson in support of any proposed move. The club, set up by fans seven years ago, is now just one step away from the football league and has made no secret of its desire to play in Merton once again. AFC Wimbledon's commercial director, Ivor Heller said: 'It seems quite amazing that in seven years we've gone from an idea to a fully-fledged club in the national Conference, so anything is possible. We haven'. The club currently owns the Kingsmeadow ground in Kingston but according to Mr Heller this would not be an obstacle preventing a return to Merton...

A possible return to Plough Lane was reported in 2007 when the Wimbledon Greyhound Stadium went up for sale, but with the land than valued at £40m, financing the project was beyond the club's reach... Wimbledon FC's original efforts to redevelop their former ground were scuppered prompting a temporary move to Selhurst Park in Croydon".

South London Today tells us that "Terry Brown knows his budget for next season - and the AFC Wimbledon boss says it will put the club in the middle of the Blue Square Premier spending league. The Dons chief will decide which of his squad to retain next week - and is likely to tell a number of first-team players that they can leave Kingsmeadow. The former Aldershot manager has already held talks with a number of transfer targets, but doesn't expect any signings to be confirmed in the next seven days. Brown says he is satisfied with his budget...

'Ours is a mid-range Blue Square Premier budget', Brown said. 'But it's not a black and white situation this year and it could still change. We are very aware that Setanta are having difficulties. There is a risk they may not continue to cover."

According to the Stroud News & Journal "A swathe of clubs are understood to be chasing midfielder Lee Fowler following his departure from Forest Green this week. Fowler confirmed his departure to the SNJ this week and is now being courted by play-off finalists Cambridge United, Mansfield Town and Mark Cooper's Kettering Town. Ex-Morecambe duo Ryan Robinson and Adriano Rigoglioso and Les Afful look certain to leave the New Lawn. Meanwhile, Rovers have offered new contracts to just six of last season's squad - all aged 22 or under. Only Mark Preece, Paul Stonehouse, Ben Ashford, Jonathan Smith, Conal Platt and top scorer Andy Mangan have been offered deals to contemplate. Should any choose to move, their age means Rovers would be entitled to 'player development' compensation from the recruiting club. Jim Harvey's squad are set to return to training on June 29, with the new Blue Square Premier season getting under way on Saturday, August 8".

And the Northwich Guardian claims that "Northwich Victoria face a fight to hang on to their star players as they prepare for life at a lower level next season. Caretaker manager Andy Preece told the Guardian this week that his team had proved on the pitch they belong in non-league's top tier, an observation borne out by the interest shown in his prize assets since the final whistle at Oxford on the last day of the season. 'We've had calls about three or four', he said. 'I know we've got the basis of a team that can come straight back up again, but I also realise there is a possibility of losing our best players. And after the way we finished the season [Vics won six successive matches] it's come as no surprise that clubs have been on the phone'.

Preece has met every member of Vics' first team squad over the past seven days, discussions that have left him feeling positive about the summer ahead. The former Worcester City boss has taken out an option to renew terms for three key men – top scorer Jonny Allan, Mat Bailey and Byrom – to add to those already under contract for next season. They include skipper and Blue Square Premier Player of the Month for April Simon Grand, Ryan Brown, Clarke, Lee Elam and Jamie Stevens, although the latter is likely to sign for another club rather than return to Northwich after finishing the season on loan at Ebbsfleet United... Danny Meadowcroft and Jamie Mullan have been offered new deals, while Luke Horrocks is certain to stay after an impressive end to the campaign. Talks are ongoing with the rest of the team; Supporters' Player of the Year Matty Crowell, Aaron Burns, Scott Tynan and Lee Steele. Meanwhile Mid-Cheshire College students Ross Farran and Wayne Riley will be invited to join Preece's men for pre-season training.

'Andy can keep who he wants' said Vics' owner Jim Rushe... Departures are likely to include former club captain Michael Welch, who spent the final weeks of the season on loan at close rivals Altrincham, and striker Darryn Stamp. The former Chester City front man is expected to switch to Gateshead after this week's Blue Square North play-off final".

"Preece has refused to rule out a surprise return to Northwich Victoria for fan favourite Lee Steele. The caretaker manager met the veteran front man this week to discuss whether the 35-year-old, out of contract this summer, could have a role to play in Vics' push for promotion... Steele completed the campaign on loan at Blue Square Premier outfit Barrow, but quickly fell out of favour with joint managers Dave Bayliss and Darren Sheridan at Holker Street".

Play-off losers Histon are "pleased to announce that goalkeeper Danny Naisbitt and centre half Matthew Langston have signed new contracts to stay with the Stutes for the 2009-2010 season".

The Gravesend Messenger confirms that "Ebbsfleet boss Liam Daish fears the club will have to revert back to part-time football. The Fleet have put together a draft budget of £5,000 per week on a 43-week contract – a figure that would see them unable to keep full-time football at Stonebridge Road. Daish, who has seen the proposals along with the 10,000 myfootballclub members, warned: 'They mentioned that it's 43 weeks – that tells you it's part-time. I'm waiting for someone to tell me. It's a real test as that figure is all-in as well. When you take off National Insurance you are talking about £4,000 – and that's not sustainable at this level'. Daish, who is yet to agree a new deal for next season, is hoping that his future will become clearer following a board meeting on Wednesday. He said: 'I'm hoping that will be a worst-case scenario and someone will come along and say we've worked on things and got more money in. If we start off with that then the club is on a slippery slope. There are a number of issues but all I can do is ask the question. I'm waiting for that (the wage bill) and other things to become clearer'".

"Out of contract Luton Town winger Dean Morgan wants to make his loan switch to Leyton Orient permanent this summer" states Luton Today. "The 25-year-old attacker has spent most of the season on loan at Brisbane Road". And "Energetic Hatters striker Drew Talbot looks like he could be on his way out of the club this summer. Reports in the north say that Chesterfield boss Lee Richardson is keen on sorting out a deal out to bring the forward to Saltergate permanently... It appears unlikely the Hatters will be able to recoup anywhere near the quarter of a million pounds the club lavished on him when they were in the Championship". However, the Chesterfield boss has now left the club throwing a move into doubt.
---
7 May 2009
GOING DOWN?
With several League Two clubs in financial difficulty, the Northern Echo reports that "The future of Darlington Football Club has been described as 'dire' just days after it completed its 125th season. Administrators have been forced to lay off staff and say they were unable to accept the only offer on the table to secure the club... Dave Clark, from the administrators Brackenbury Clark and Co, has admitted he has no plan to secure a place in the league for next season... Mr Clark said: 'The news is pretty dire. I will issue a full statement first thing in the morning. But reluctantly we have only got one offer that is not acceptable. We have also had to let some staff go'.... [The redundancies] include assistant manager Martin Gray and goalkeeping coach Andy Collett, who are expected to join former manager Dave Penney at Oldham Athletic next week...

The administrators must also prove there is an exit plan in order to justify to The Football League the club can start the 2009-10 season. Mr Clark added: 'If we have no purchaser, we have no exit plan. The future of the club is absolutely in doubt. I'm extremely worried about the future of the club'".
CHESHIRE NEWS
An Official Statement from Stockport County says that "The administrators at Leonard Curtis are continuing ongoing discussions with a number of credible interested parties, and remain confident of progressing matters in the short term. It is regrettable however, that due to funding constraints during the administration period, it has been necessary to make a number of redundancies. Following the conclusion of the playing season, the number of coaching staff has been reduced and regrettably cuts include the manager, Jim Gannon. It is hoped that these cost reductions will enable us to preserve the club in the short term and secure a buyer in the near future."

Bullsnews says that "County's Supporters' Trust have cancelled a Special General Meeting in the wake of the announcement, with a representative saying the Trust 'is unable to control or even explain events'... Meanwhile David Farms Ltd, the company that forced the club into Administration, have released a statement. The statement claims that their £300,000 loan was repayable in January, that it had received no interest payments or fees due on the loan from the club, and that it had originally demanded repayment when former Chief Executive Mark Maguire left".
BSP NEWS
The Liverpool Daily Post says that "Chester City...are already preparing for life in the Blue Square Premier League next season... For the first year out of the Football League, the club will receive a parachute payment of around £250,000 which is 50% of the League's annual payment to clubs... City owner Stephen Vaughan [said] 'There are various options open to us, and financial administration is one of them', said Vaughan... 'Whatever decision I arrive at, it will be made in the best interests of Chester City. It is currently known that I am a debenture holder, which further safeguards the interests of the club. In the meantime, we intend to have a clear-out of the players who we don't see as being a part of our future. Also the manager (Mark Wright) needs to clarify who will be his assistant manager... We want to hit the ground running at the start of next season'. The City owner confirmed that defender James Vaughan and midfield player Damian Mozika had already had their contracts terminated, whilst three senior players were on the brink of moving on to pastures new. 'Ryan Lowe, [ex-Altrincham winger] Kevin Ellison and Paul Linwood, who are all still under contract, have all spoken to me about their futures', added Vaughan. 'And if it is their wish, we would agree to terminate their current deals'".

The Gravesend Reporter says that "Ebbsfleet United went back to the drawing board last night in a fresh bid to thrash out next season's playing budget and ensure head coach Liam Daish stays at the club. Last Friday, a document was released by the online society that owns the Fleet, MyFootballClub (MyFC), stating that the wage bill would be just £5,000 per week - a 50 per cent reduction on the 2008-09 campaign. Daish, whose contract runs out this summer, told the Reporter that the revelation had come as a surprise and he hoped it would improve before he put pen-to-paper on a new deal.

'It has been a bit of a shock and it is going to be really tough now that we have to go that low', he said. 'It is a pretty big drop and it is not ideal. I am still waiting for clarification on everything, but that is the worst-case scenario. Hopefully, there will be an improvement after the board meeting, but I'm still hoping that I will stay'...

The Ebbsfleet board - Moules, director Brian Kilcullen, Fleet Trust chairwoman Jessica McQueen and MyFC creator Will Brooks - held an emergency meeting on Wednesday evening to try and increase the funds available to him... Three senior players, Darius Charles, Michael Gash and Lance Cronin, are already tied to contracts - as well as youth players Steven Springett and Michael West - yet Daish insisted no players would be sold on to free up extra cash. 'It would be a real backward step if we had to do that', he said, with Moules adding: 'We have signed contracts with these players and that is a fairly big commitment to them'".

"The PFA have denied that loans they made to other struggling League Two clubs gave them an unfair advantage over the Hatters" reports Luton Today. "Both Chester City and Bournemouth received loans from the PFA this season, but they claim their actions are not unusual. PFA spokesman Gordon Taylor said: 'Over the last three decades, the PFA must have helped, by way of loans or asking the players to take wage deferrals, at least two thirds of the 92 clubs in the Premier League and the Football League. The PFA does not wish to make loans to any clubs but will do its best to protect players' wages when clubs are having liquidity problems and we do normally make loans to clubs not in administration. The size of the loans vary according to the seriousness of the situation... All these loans are underwritten by payments due to the particular club in the future from the Football League and therefore the risk to the PFA is if the club went into liquidation, which fortunately has only happened on very few occasions. These loans have not given any clubs an unfair advantage as it is monies due to the club in the future, and from that point of view is much more secure than an overdraft... The size of our loans are virtually always less than six figures and as such have no significant effect on whether a club goes into administration or not".

And finally, some non-financial news...

Wrexham announce that "Following discussions between manager Dean Saunders and striker Jefferson Louis, it has been mutually agreed to cancel the second year of the player's contract with immediate effect. Since joining the club last summer, the former Oxford United and Mansfield Town forward went onto to become the club's top scorer with 15 league goals this season... With Jefferson currently based a long way from his family home near London, it was decided that the best course of action for all concerned was to cancel the remaining season of his deal".

They may have been relegated but Northwich Victoria manager Andy Preece has won the Blue Square Premier "Manager of the Month" award for April whilst Vics' defender Simon Grand has won the Blue Square Premier "Player of the Month" award.
---
6 May 2009
YANKEE
The Altrincham FC Saturday Yankee jackpot has now reached £7,200 after this week's winning code of 1330 was unissued. For just a £1 stake per week you can have a chance of winning and helping the Club - contact the club (928-1045) for details or see the Yankee Page. There were three Winning Trebles, each winning £66.66, with codes 1030, 1338 and 1930.
NEIL COULDN'T LOSE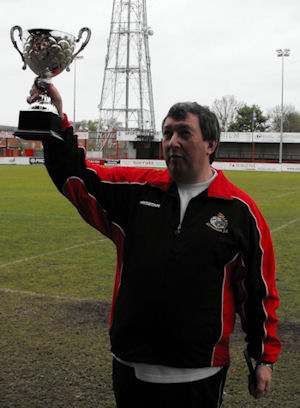 In Monday's Altrincham FC Staff v Supporters' game, Neil Faulkner could not lose, whatever the result. Injury prevented him from taking his usual place in the supporters' side and, instead, Neil found himself appointed manager of the Staff side. But Mark Eckersall's supporters' team nevertheless took to the field wearing the shirts of Neil's company, Robinsons Preservation. Neil is seen, right, lifting the trophy!
BSP NEWS
On 8 April, the BBC reported that "Salisbury City have been put up for sale for £1". Less than a month later, the BBC reports that "Salisbury boss Nick Holmes says he is desperate for City to be a full-time club next season and believes it is important in the Blue Square Premier. Most sides at that level run with full-time squads and, after several departures last year, the Whites only have one part-time player now. Holmes hopes the club's new owners will agree with his idea. 'We're desperate to keep it professional. Without a doubt it helps', Holmes told BBC Wiltshire. The club is currently up for sale and Holmes is waiting on the takeover before he can make any plans for the 2009-2010 campaign. He only has four players on contract beyond the summer in Matt Tubbs, Robbie Sinclair, captain Mike Fowler and Robbie Matthews who ended the season on loan at Crawley. Holmes said: 'The quicker something happens for us the better it will be. The majority who finished the season I would like to keep... We need to probably get two or three players with good experience who have realised play-off dreams of their own in the league or in a higher league. I think the majority of them would like to think they'll be here next season but on the understanding that the ship has steadied itself and there aren't going to be pay cuts. Obviously centre-halves are a well known deficit that we have at the moment'".

The NewsShopper reports that "A football club's fans fear it may not be able to field a team next season after struggling to raise running costs. Ebbsfleet United was taken over by supporters' website MyFootballClub in February last year, with around 20,000 members making a one off payment of £35 each for a share in the club for a year. In February this year chairman John Moules said around 12,000 renewal subscriptions are needed to meet the running costs for the coming season, but so far only 9,650 people have subscribed.

The board will meet on May 6, and Mr Moules said: 'We will have to adjust the budget and look at other ways to raise money'. Only five squad members of the club based at Stonebridge Road, Northfleet, have been signed to a contract for next season, and the rest became free agents on Saturday (May 2)... Chairman Mr Moules said the club would not be sold and 'a way would be found to raise the running costs for the coming season'. One option being considered is reducing the number of subscribers to 5,000 but raising the annual fee to £100. Last week MyFootballClub members voted to transfer £20,000 from the website to Ebbsfleet to plug a hole in the club's finances caused by an accounting error. The club had accidentally doubled its estimate of the amount it would receive from gate receipts in April".

The Chester Evening Leader reports that "Stephen Vaughan [has] admitted administration at Chester City still remained an option. The Blues' club owner is currently working with City boss Mark Wright in preparing a squad of players for the club's campaign in the Blue Square Premier Division next season... He said: 'Administration is one prospect, consolidate with the debt is another, and someone coming in and paying me £1,000 per week and me letting them take over is another for the £4 million worth of debentures I have in the club. I've got unsecured debts and I've got secured debts in the club by way of debentures, so if we were to go down the administration route the consent of Stephen Vaughan would be the only way we could go into administration. I don't need to justify to anybody in any world or any industry that I'm a Chester City fan through and through... I will do what is best for this club. We will look at the possibility of administration and we will speak to the Conference to make sure there are no problems...

I am going to do the best I can to get a team together, get investors together, and we'll hopefully bounce back at the first attempt from the Conference... This club has always been up for sale, since December 2008 when I put the club up for sale and resigned... The problem I've got is that if I let Chester City go tomorrow we'll go into liquidation...

We started this season with a £98,000 monthly wage bill. Mark came in and he groomed that down to £68,000 per month. It's still one of the better paid wage bills in the division, but we've seen ourselves going through the trap door. It hasn't helped over the last few months having players at the club who weren't good enough. They have been due a lot of money from the previous regime appointing them. But as an owner/chairman I granted those deals to go through, so I've taken a good look at myself and I feel as though I've made a lot of errors of judgement by allowing far too many managers to come and go and allowing them to bring in what they wanted...

Simon Davies lost his job because of the poor results on the park. It's a performance-related industry and... we thought Mark Wright would come in and turn things round... Mark Wright likes big, strong players, and unfortunately he inherited a side that wasn't full of players like that... We don't lose games, we give them away and we've got to get some big, strong experienced lads into the club who do know Conference football and can get us back into League Two'".

"Mark Yates and Neil Howarth have been offered terms to remain on board as Kidderminster Harriers' management team next season. With the dust settled on what must be considered, ultimately, a successful season despite marginally missing out on the play-offs, boss Yates met with Chairman Barry Norgrove before the Bank Holiday weekend. Speaking today, Norgrove revealed... 'We've offered them a contract and we're just waiting now for them to come back to us... We've put all of our cards on the table and once they come back to us they can start sorting out players'. Norgrove admits that it's likely, initially at least, that next season's playing budget will be reduced given the current economy and its knock-on effects.

The club will shortly be announcing news of next term's Season Tickets and admission prices, however, and it's hoped that sales from these can help boost the coffers". Mr Norgrove added "Hopefully we can try and raise that budget later on once we get nearer to the start of the season but at the moment it is slightly lower". Meanwhile, "Boss Yates admitted after the season's finale that he expects there to be interest in many of his out of contract players - these are thoughts echoed by Norgrove... 'We all know we have some good players here and it's going to generate a lot of interest around different clubs - there are a lot of big clubs in our league and there is probably going to be a lot of money spent by different clubs next season'".

Mansfield Town say that "The expected end of season clear out at Field Mill has begun, as eight players have been told they are free to leave the club by manager David Holdsworth, including left-back Paul Mayo and winger Michael Blackwood. Young professionals Ryan Goward, Lewis Trimmer, Warren Burrell, Jamie McGhee and Chris Wood will all leave once their contracts expire at the end of June. Meanwhile, defender Paul Mayo, 27, has been shown the exit door along with right-back Gianluca Havern, 20. Mayo made 12 appearances for us this season after signing following his release from Notts County... Also departing is left winger Michael Blackwood (29)... Blackwood spent the latter part of last season on loan at Conference North champions Tamworth. The eight players follow Neil MacKenzie on the Field Mill out-going list. Said Manager David Holdsworth: 'It is extremely difficult to maintain such a huge squad. No one can keep that amount of players and keep them all happy. There will be a lot of aspects which I will change in the summer. The professional level at this football club will go up another notch and we will become a mini-Premier League club'. he added. Meanwhile, the loan period of striker Daryl Clare from parent club Rushden & Diamonds has now expired".

The BBC adds that "Mansfield Town have suspended youth-team manager David Jervis for one week. Jervis, a former Stags' defender, has worked as a coach at Field Mill for nearly three years. The club have refused to comment further but have confirmed that he has been suspended on full pay pending a possible disciplinary hearing. Meanwhile Town have hired Gareth Holmes, who was a player at Ilkeston under Stags manager David Holdsworth, as a first-team coach".

According to the Evening Leader "Anthony Williams today blamed Wrexham's fall from grace in the last three seasons on the club's policy of having too many players on their books. Wrexham have used 125 players in the last three seasons, with a huge number of additions made to the squad in each campaign to boost the Reds' fortunes. And goalkeeper Williams, one of the players released last week by manager Dean Saunders as part of his revamp of the squad, has questioned the decision to make unnecessary signings. 'The club has been on a downward spiral for some time, in turmoil with a ridiculous amount of players in the last two years', said Williams... 'At the back end of last season (2007-08) under Brian Little it was farcical at one stage. It cost the club a small fortune and with no success. Championship clubs don't carry as much as we have... You can't sustain a pattern of play and there is no continuity. It was almost effectively like having 11 trialists playing with each other sometimes and it does not work... Things were not working out and there had to be a change', he added. 'Sometimes the changes work, sometimes they don't, and it got worse. I understand you have to make changes but obviously they turned out to be the wrong changes'... Williams has spent the last two seasons predominantly as back-up to Gavin Ward – also released by Saunders... Williams is unsure where he will be playing next season but does not expect many free agents like himself to get fixed up too soon in the summer...

'If I was a manager, nothing much would happen until the end of June', added Williams. 'There could be better players available then and managers aren't prepared to pay people during the summer'".
NW NEWS
"Macclesfield striker Simon Yeo has decided to quit the professional game to take up a bodyguarding role in Iraq. The former soldier played 250 times for five sides" reports Bullsnews.

Welsh Premier confirms that Bangor City have won the third place in the Europa League for the Principality after defeating Aberystwyth Town 2-0 in the Welsh Cup final on Monday.
---
5 May 2009
STAFF 3 SUPPORTERS 0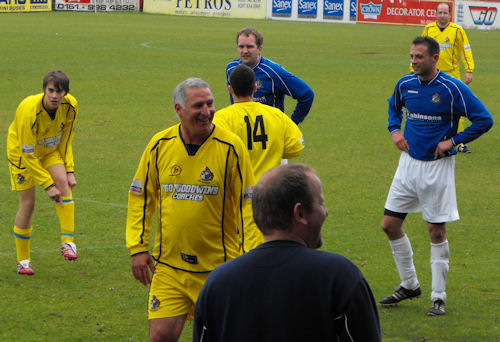 Right: Graham Barrow and Mark Eckersall share a joke during the Bank Holiday clash between Altrincham FC Staff and Supporters.
In Monday's annual clash between the Altrincham FC Staff and Supporters, the Staff ran out 3-0 winners. The game was preceded by a minute's silence for 19 year-old Altrincham supporter James Black who died in April. After each side had won a corner, the Staff's captain, Altrincham FC assistant manager Graham Barrow, fired his side ahead in the tenth minute. The goal arrived from what Alty left-back Steve Foster assured me was a "measured through ball" from him to Graham. Soon after this, an excellent left-foot snap-shot from the edge of the box by Alty FC official photographer Gavin Rathbone was just tipped over the bar by Steven Downes in the Supporters' goal.
With Alty keeper Stuart Coburn orchestrating play in midfield, the Staff side were enjoying the better of the game and Sean Riley in the Staff goal had much less to do than Steven Downes at the other end. The first of numerous substitutions came after 25 minutes when Gareth Thomas and Charles Heathcote replaced Grahame and Chris Rowley. With the Staff side on top, Supporters' boss Mark Eckersall shuffled his pack but as half time approached the score remained one-nil, though Stratos had a goal disallowed for offside (42 mins). However, the Staff side underlined their first-half superiority with a goal deep into added time. This came when Charles Heathcote was brought down just inside the penalty area and the manager's son drove home the resultant penalty, though Downes almost stopped it, to his right (45+3 mins).
The Staff side started the second half well and, following good work from Barrow on the left, Dan Martell sliced his shot wide. But then the Supporters came back into the game with a good shot forcing a fine save from Sean Riley (56 mins). However, the Staff made it 3-0 on the hour mark when Charles Heathcote finished well with the outside of his right foot following a feed from Andrew Jones, the Maine Road FC and former Altrincham Youth goalkeeper.
The substitutions continued at regular intervals before Daniel Martell tried to emulate Michael Welch with an excellent lob from 45 yards but Supporters' keeper Downes got to the ball (69 mins). Then the Supporters forced a desperate clearance after three shots in succession were blocked in the Staff's box. Then another good save from Riley gave the Supporters a corner. But the Supporters were unable to break through. Indeed, Charles Heathcote had a good chance for his hat trick after 75 minutes but fired wide before Riley had to make a fine save, at the cost of another corner, as Mark Eckersall's men raised their game (77 mins).
Chris Rowley, one of three goalkeepers playing in an outfield position today, missed an excellent chance nine minutes from time before the Supporters went close again at the other end. And into injury time Chris Rowley was set free by Dawson but again fired over the bar to leave the score at 3-0. Graham Heathcote presented the trophy and medals to the two teams before they retired to the bar for the "Happy Hour".
SUPPORTERS (Robinson Preservation blue kit): 1. Steven Downs; 2. Mike Barton, 4. Rick Fitton, 5. Noel Shields, 3. Tom Jacobs; 7. Danny Jackson, 8. Oliver Needham, 6. Wayne Thorley, 16. Nick Wright; 9. Frazer Thorley, 19. Tim..... Subs: 15. Alan Simper, Paul Sinclair, Scott Jarvis, James Harwood, Wayne Buckley. Manager: Neil Faulkner.
STAFF (Go Goodwins yellow kit): 1. Sean Riley; 2. Alan Ainsley, 4. James Dawson, 5. Grahame Rowley, 3. Steve Foster; 7. Brian Flynn, 8. Stuart Coburn, 14. Gavin Rathbone, 11. Richard Bentley; 9. Chris Rowley, 10. Graham Barrow. Subs: 6. Charles Heathcote, 17. Adam Martell, 16. Dan Martell, 3. Martin Howe, 14. Strathos, 12. Gareth Thomas, 17. Andrew Jones. Manager: Mark Eckersall.
For team photos, see lower down this page...
OLD BOYS
An Alty trialist from Leek Town, defender Adam Yates, opted instead to join Morecambe in 2006-07. But "Morecambe Football Club have announced that they will be releasing five players. Boss Sammy McIlroy has announced that Adam Yates, Matty Blinkhorn, Michael Howard, Diarmuid O'Carroll and Matty Bell have been released".

The UniBond League has news of two players with Alty connections. "After quite a hectic season by their usual standards, Cammell Laird FC have today confirmed that Manager Derek Ward [signed once as a cover player at Moss Lane] and Assistant Ian Cooke will be joined by Tony Sullivan next season in an Assistant Coaches role in the dugout. Sullivan, a decent player in his days at clubs such as Stalybridge Celtic, Lancaster City, [Altrincham] and Southport has been appointed after recently being involved in coaching sessions whilst obtaining his coaching badges. Manager Derek Ward spoke... 'I played alongside Tony at Stalybridge and got a call off him a few months back to ask if he could come in voluntarily to do some work for his badges and gain some experience, he came in and we benefitted from having him around'".
BSP NEWS
NL Daily says that "Eastbourne Borough have made an approach to bring striker Yemi Odubade back to Priory Lane. Odubade is currently looking for a new club after being released by league rivals Oxford United at the end of the season. The 24-year-old scored twenty-one goals in forty-seven appearances for Boro before moving to the Kassam Stadium for £25,000 in January 2006. He was a regular in the Oxford team this year but was among eight players offloaded by boss Chris Wilder after the U's missed out on the play-offs.

Assistant-manager Nick Greenwood said: 'There is definitely interest there. We have spoken to Yemi and would love to sign him but there are a lot of clubs vying for him so he holds all the cards. He has a lot of connections still in the Eastbourne area and obviously knows the club well but we have got to be realistic about our chances as he is a full-time professional on big wages'. Boro are keen to bring in at least one new striker in the summer with Allan Tait almost certain to be leaving and Greenwood admits the club are also keeping tabs on Dan Smith and Jack Jeffery. Smith was a big hit during a loan spell from Plymouth Argyle and is out of contract at Home Park in the summer while Jeffery has already been told he will not be offered a new deal by West Ham" reports the Argus.

Bullsnews tells us that "Peterboro have confirmed that stikers Rene Howe, Scott Rendell, and Liam Hatch are all up for sale after spending most of the past season out on loan... Rendell has 16 goals so far this season, most of them for Cambridge".

Forest Green Rovers "announce that at this time, they have only made offers to the following players, who being under 24 yrs of age as at the 30th June this year, they are required to make such offers to, if the club are desirous of retaining their services. These are: Paul Stonehouse, Andy Mangan, Conal Platt, Jonathan Smith, Ben Ashford and Mark Preece. Manager Jim Harvey has already met with all the players in his current squad and will be holding further discussions with them over the next few weeks, as to who he wishes to retain or will be able to offer terms to for next season, taking into account the financial position all clubs face at this time and in light of the fact that the club will retain their full time professional status as they enter their 12th season in the top flight of non league football. The squad will report back for training on 29th June in preparation for next season which will competitively commence in the Blue Square Premier on Saturday 8th August".

Meanwhile, This is Glos adds that "Striker Andy Mangan is one of only six players to be offered a new contract by Forest Green Rovers... In offering him a new deal, Rovers would become entitled to compensation for developing the former Blackpool and Bury front-man during the 2008/9 campaign... Experienced campaigners Alex Lawless and Lee Fowler have yet to be offered terms as manager Jim Harvey waits to learn his budget for the 2009/10 season".
---
4 May 2009
STAFF 3 SUPPORTERS 0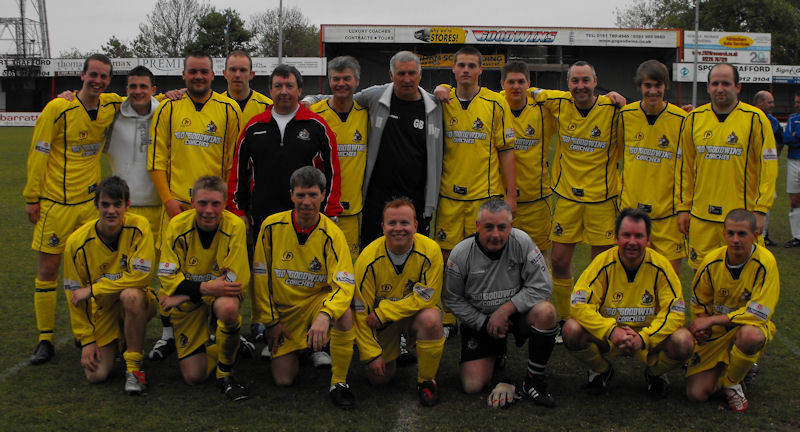 In the annual contest at Moss Lane between Altrincham FC Staff and Supporters, the Staff side won 3-0, thanks to goals from Graham Barrow and Charles Heathcote (2). More on this later...
Above, the Staff team and, below, the Supporters.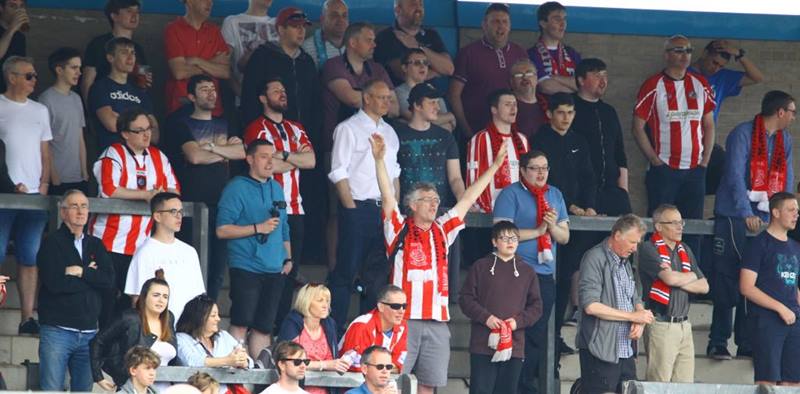 MONDAY PLAY-OFFS
BSP Promotion Play-Offs 2nd legs
4/5/09 - Cambridge U. 3 Stevenage B. 0 a.e.t. (Cambridge win 4-3 on aggregate)
4/5/09 - Histon 1 Torquay U. 0 (Torquay win 2-1 on aggregate)

BSP Promotion Play-Off Final
17/5/09 - Cambridge U. v Torquay U. (at Wembley)
BSP NEWS
The Sunday Times reports that "The sports broadcaster Setanta is fighting for its life this weekend as a new management team holds urgent talks to raise cash and slash the amount it pays for sports rights. Sir Robin Miller, the Emap publishing veteran, has been parachuted in as Setanta's chairman to lead it through an emergency refinancing. The company, which has 1.2m customers and broadcasts Premier League and England international football, faces an uncertain future unless it can raise up to £100m this month from shareholders including private-equity firms Doughty, Hanson and Balderton Capital. Accountants from Deloitte have also been called in to work alongside long-time advisers at Close Brothers and could be appointed as administrators if negotiations fail.

Setanta is understood to have agreements in principle from sports bodies including the PGA golf tour that could let it cut up to £20m from the estimated £120m a year it will spends on rights from 2010. The company was dealt a severe blow when it won the rights to screen only 23 Premier League fixtures per season from 2010. The rest will air on BSkyB, which is 39.1% owned by News Corporation, ultimate parent company of The Sunday Times.

The Irish company is racing to find funding for a payment of £35m to the Premier League due on May 15... Only the Football Association, which splits FA Cup games and England's home internationals between Setanta and ITV, is understood to be digging in its heels... Founded in 1990... Setanta began life beaming Irish football to expats in London".
---
3 May 2009
SUNDAY PLAY-OFFS
Blue Square Regional Play-Offs, 2nd Legs Sun. 3 May
BSN: Gateshead 1 Southport 1 (Gateshead win 2-1 on aggregate)
BSN: Alfreton 4 AFC Telford 3 (Telford win 5-4 on aggregate)

The BSN play-off final is on Friday, 8 May: Gateshead v AFC Telford
SHAUN CALLED-UP
Though it has not been announced by the FA, Altrincham's Shaun Densmore is in the contingency squad for England C's upcoming international against Belgium , later this month.
END OF SEASON BALL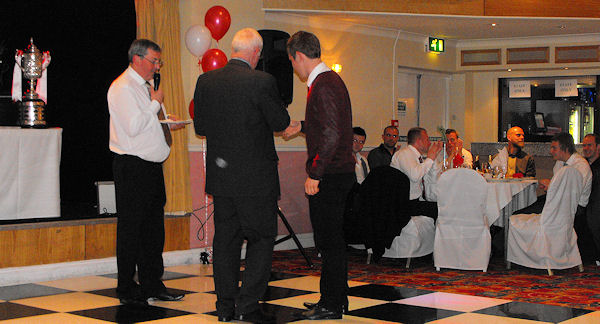 Altrincham FC's annual End of Season Ball and Dinner was held on Saturday evening. As ever, this event proved to be both a profitable and enjoyable occasion. As well as an excellent meal and the usual entertaining compere's banter from Graham Heathcote, a substantial four-figure sum was raised through the auction of various football-related items, including a signed Nobby Stiles shirt and signed shirts from Manchester United, Liverpool and Chelsea.
During the evening, the Cheshire Senior Cup was displayed, whilst a number of the end of season awards were repeated including the Young Player of the Season award. As shown in the photo, Shaun Densmore received this from Dave Johnson, whose idea the award had been. Dave had had an attractive shield and individual memento made to mark the award. Also on the photograph are Alty boss Graham Heathcote and the CSC trophy, left, and, on the right, a number of the Altrincham players, most of whom were in attendance. Matt Doughty was particularly lucky, winning the £50 "heads and tails" prize, kindly donated by Ruth Gallagher of Gallagher Roofing, and also a case of six bottles of wine from the raffle.
BSP NEWS
The NL Paper says that "The Conference are bracing themselves for crisis talks with the FA after a dozen clubs were implicated in betting irregularities. Football betting specialists Blue Square are 'convinced' some players from both Grays and Forest Green manufactured the result of last Sunday's match, and ten other teams from non-League's top three divisions will find out within days if they are also under investigation".

Blue Square's Alan Alger asserts "We were inundated with requests to back Forest Green leading at half-time against Grays Athletic and then for Grays to come back and win by full-time. People were opening new accounts just to back this outcome at 25-1 and they were trying to get [on] as much money as we would allow... Punters were betting as if they knew they would see their money again... At first we cut our prices... People still wanted the bet... This prompted our traders to delete the match from the website... The following day the match went exactly the way the punters predicted and the story was complete... If found to have been subject to fixing, it would have taken involvement from both sides to manufacture such a result, something which will be unprecedented". Grays' chairman Mick Woodward said, "All 22 players would have had to be in on it. That's impossible".
SUMMER ACTION
With some sixteen weeks to go before the BSP season for 2009-10 starts on 8th August, thoughts turn to matches elsewhere over the summer. A number of Alty fans invariably get to the Welsh preliminary round matches in European competition. Welsh Premier reports that "In 2009, following the demise of the InterToto, three clubs will qualify for the new Europa League (formerly UEFA Cup).

UEFA CHAMPIONS LEAGUE
Preliminary round 29 June - 5 July (1st Leg) 6 - 12 July (2nd Leg)
First qualifying round 13 - 19 July and 20 - 26 July
Second qualifying round 27 July - 2 Aug and 3 - 9 Aug
Third qualifying round 10 - 16 Aug and 24 - 30 August

EUROPA LEAGUE
First qualifying round 15 - 21 June and 22 - 28 June
Second qualifying round 29 June - 5 July and 6 - 12 July
Third qualifying round 20 - 26 July and 27 July - 2 Aug
Fourth qualifying round 10 - 16 Aug and 24 - 30 Aug

Rhyl FC will be in the Champions' League draw; Llanelli and TNS are in the Europa League competition whose draw has likewise not yet been made.
---
2 May 2009
CHESTER RELEGATION CONFIRMED
The mathematical miracle which would have saved Chester City from relegation from League Two failed to happen and the Cheshire side now join Altrincham in the BS Premier next season. Fellow Cheshire side Crewe Alexandra were also relegated, from League One to Two.
PLAY-OFFS
BS South Play-Off Semis
Hampton & Richmond 0 Chelmsford City 0 Hampton win 3-1 on aggregate.
Eastleigh 0 Hayes & Yeading 4, aet Hayes win 6-4 on aggregate.

BS South Play-Off Final
Hampton & Richmond v Hayes & Yeading

UniBond Premier Play-Off Final
Ilkeston T. 2 Nantwich Uni 1 aet Ilkeston promoted to BS North

UniBond One Play-Off Finals
UN1N: Newcastle BS 4 Curzon Ashton 1
UN1S: Belper T. 0 Stocksbridge PS 1

Newcastle Blue Star and Stocksbridge Park Steels promoted to UniBond Premier.
NW NEWS
NL Daily says that "The backlash following the announcement of Stockport County going into administration has begun, with Woodley Sports also feeling the affects. Woodley chairman Tony Whiteside said: 'It is not only Stockport County FC who have suffered, but Woodley Sports FC are also dragged into a similar situation, as Stockport have still not paid the monies due to Woodley Sports as a result of the sell-on clause contained in the transfer of Liam Dickinson to the Edgeley Park outfit in December 2005. When Liam was sold to Derby County in the summer of 2008, we were due 20% of that transfer fee. We have helped Stockport by deferring this substantial amount as they experienced financial difficulties, but having gone into administration, that means Woodley Sports have lost a substantial amount of much-needed income which had been budgeted upon for the next two years. An emergency directors meeting has been called to see if the club can continue without this income. Woodley Sports FC are a UniBond League club fielding three teams that survives on an annual turnover of £75,000 - not a lot in today's football terms - but seeing as we host Stockport County's Academy at our ground three nights a week, which provide over 300 kids a week, football training, then it is vital we find alternate funding if we are to survive this crisis. We have successfully sold two players to Football League clubs over the years and the club provides a shop window for young players in this area'".
OLD BOYS
"Highly-rated Dover Athletic defender Laurence Ball, [formerly Altrincham Reserves' centre-back] has left the Ryman League Premier Division champions to pursue a Politics Masters at Oxford University. The central defender was a crucial part of the Whites` defence, which secured back-to-back promotions to clinch a place in Blue Square South. Ball made thirty-nine appearances this season, scoring four goals. Manager Andy Hessenthaler admitted he wanted to keep Ball on for next season, but understands the defender's decision. He said: 'When you get offered a place at Oxford University it is very hard to turn down. Laurence was one of the players I was hoping to offer a deal for next season, but he has got to think about his own future. He is a very bright [lad] and has done very well for us'" he told YOur Dover.

Former SAM Sports correspondent Connor Murphy, and a regular face at Moss Lane, had a worrying day this week as "Fire crews battled a blaze at the old Budenberg building on Woodfield Road, Altrincham... Twenty firefighters and four jets attended and took 45 minutes to get the blaze under control... Connor Murphy, a resident in the Budenberg House Projekte, said: 'I could see flames licking the building and taste the smoke in my mouth. We were worried that the fire would spread to our homes and we were evacuated as a precaution'".
BSP NEWS
1st legs
30/04/09 - Stevenage B. 3 Cambridge U. 1
01/05/09 - Torquay U. 2 Histon 0

Barrow "announce the release of 7 players in preparation for next season. The players released are Paul Brown, Matt Henney, Lee Hunt, Nat Kerr, Brendan McGill, Paul Tait and Lee Woodyatt".

And the NW Evening Mail adds that Joint-manager Dave Bayliss said, 'Tim Deasy has rejected the terms we have offered and it looks like he might leave the club too. We are setting up a new regime for next season and it's not going to suit some players, but we'll have more information on that at a further date. At the moment Tim's rejected what we plan to do'. The players the club want to retain are Steve McNulty – who has a year left on his current deal – Paul Jones, Carlos Logan, Andy Bond, Mark Boyd, Jason Walker, Nick Rogan and Mike Pearson. 'We've spoke[n] to all those lads and they all want to stay', said Bayliss. He added: 'We're really going for it at Barrow and we believe that in two or three years time that we won't be far off being a really good, top non-league side'".

"On the decision to release fan-favourites Matt Henney – the man whose goal won Barrow promotion to the Blue Square Premier – and Lee Woodyatt – who was out injured for almost all of last season with a double leg break – Bayliss said: 'It was a little bit different with Lee and Matt. They have really good jobs and the training that we have planned for next year might interfere with that. It was so hard speaking to the pair of them, I was nearly in tears. We've come a long way with them and we class them not only as our players but as our mates as well. We wouldn't be in this league without the two of them, I guarantee you that... but it's all about moving the club forward. We're starting a new chapter now, football moves on. We believe that with the lads we've got, and with the addition of new players, that we will have a decent season next year... It was a bit of a dilemma with Brendan McGill, but we've decided to go down a bit of a different route. Brownie scored seven goals which is fantastic, but he wasn't happy not playing, which is fair enough. He's ambitious, he wants to play football. He sees himself as a centre midfielder and is not happy playing on the wings. Lee Hunt has the heart of a lion, but, at the end of the day, he didn't score enough goals'".

A wide range of clubs is featured in the Blue Square Premier Monthly Awards for April; the shortlists are:
Player of the Month; Chris Hargreaves - Torquay, James Constable - Oxford, Simon Grand - Northwich
Manager of the Month: Chris Wilder - Oxford, Andy Preece - Northwich, Paul Buckle - Torquay

"Burton Albion are searching for a new manager after caretaker boss Roy McFarland told the club he did not want to continue in his post" reports the BBC... A statement on the Burton website read: 'Roy did not want the full-time commitment of running a League Two club on a permanent basis'... Burton chairman Ben Robinson told BBC Radio Derby: 'Roy's said he's going to continue to help us and work with us until such time as a new manager is appointed. Under the new management structure, there may or may not be a role - that obviously depends on the new manager... Roy came in and helped get us over that line and achieve promotion'. Altrincham's Shaun Densmore is not in squad for the next England C international though there is a contingency squad yet to be named. Indeed, there are no players from the north in the squad. The FA announces that the game is England C v Belgium which is the International Challenge Trophy Final, on Tuesday 19 May 2009, at the Kassam Stadium, Oxford United. The squad comprises:
Lance CRONIN Ebbsfleet United FC
Adam BARTLETT Kidderminster Harriers FC
Daniel GLEESON Cambridge United FC
Exodus GEOHAGHAN Kettering Town FC
Darius CHARLES Ebbsfleet United FC
Ronnie HENRY Stevenage Borough FC
Scott LAIRD Stevenage Borough FC
Russell PENN Kidderminster Harriers FC
Michael BOSTWICK Stevenage Borough FC
Lee TOMLIN Rushden & Diamonds FC
Josh SIMPSON Histon FC
James CONSTABLE Oxford United FC
Mitchell COLE Stevenage Borough FC
Paul CLAYTON Alfreton Town FC
Liam HEARN Alfreton Town FC
Nicky WROE Torquay United FC

"A full-scale clearout of Chester City's doomed squad could be on the cards – as owner Stephen Vaughan vows to undertake a complete review of how the club is run" reports the Chester Chronicle. "Vaughan says: 'We'll get to grips with the full situation and try and bounce back at the first attempt'. Vaughan remains very much in charge at the Deva Stadium although he revealed there could be a 'compromise' in the deal for property developer Gary Metcalf to take over the cash-strapped club... 'What we've got to do is take a good look at the eight seasons that Stephen Vaughan has personally funded this football club and take stock of the entire situation', said Vaughan. 'I have met the manager this week and we've got to decide what players are coming in and what players are going out. With players out of contract and players wanting to stay in the Football League, there could be an exodus'. Top-scorer Ryan Lowe has indicated his future lies away from Chester while midfielder Damien Mozika is unlikely to pull on a blue shirt again after he was suspended for alleged serious breaches of club discipline. Vaughan has also confirmed his son, full-back James, will take up an option to play in Australia, in the short-term at least. The transfer embargo imposed on the club ultimately cost City their place in League Two, but Vaughan says Wright will, at last, be able to make moves in the market. 'We've gone full circle and dropped down again', said Vaughan, who, along with Wright, steered the Blues to the Conference title five years ago. 'It's a big drop and it cost me a lot of money to get out of there. But there is a chance for us to become a bigger fish in a smaller pond. We've got the possibility of the play-off final and the FA Trophy final and of winning the Setanta Shield, like we have done before. There's also the chance of some big, televised games. We've got to get on with it, get a budget in place and try and be as competitive as possible'".

The Cambridge News reports that "Gary Brabin insists Cambridge United can still make it to Wembley despite suffering a 3-1 defeat at Stevenage in the first leg of the Blue Square Premier play-off semi-finals... Brabin said: 'It's not over, but we've made it hard for ourselves'... Brabin said he felt the red card against Darren Murphy on the stroke of half time following an aerial collision with Jon Challinor marked the turning point ironically in Borough's favour. He said: 'In the first half we had a game plan and it worked great... and we looked comfortable... The sending off caused a little bit of a fracas going into half time and that seemed to unsettle us more than them'".
---
1 May 2009
GRAHAM SALUTES THE PLAYERS
In the Sale & Altrincham Messenger, "Graham Heathcote hailed his 'Stars on Sunday' after injury-hit Altrincham defied all the expectations by wrecking Cambridge United's dreams of automatic promotion back to the Football League. Despite losing key defenders Greg Young and James Smith in the build-up, Alty held out heroically to force a 0-0 draw... It secured their best finishing position, 15th, for more than a decade and left Heathcote enthusing, 'What an absolutely superb finish to the campaign in terms of discipline and achieving what we set out to do. I kept drumming into the players all week that our pride and reputation were at stake. A lot of people seemed to think there was no pressure on us but the absolute opposite was true. There was enormous pressure on us to perform. With 7,000 inside the ground and three cameras there, we could have rolled over and people would have pointed the finger and derided us. It is difficult to go there at the best of times so to rise to the challenge like that was an absolute credit to the players and the supporters who travelled. It was like stepping into the galdiators' arena but there was no way we were going to allow them to strike the first blow. You do wonder how we can draw at Burton and Cambridge and lose at Lewes, but fair play to the players, they fought from the first whistle to the last. Perhaps, in fairness, we should remember how much they have put in. They are part-time players, after all, and have been running on empty for the past six weeks. It has been a great effort'". As for the season as a whole, Graham spoke of player of the season Greg Young (right). "No one has been more consistent than Youngy, while Graham Barrow's advice and experience have been invaluable. As for Michael Welch's unbelievable effort [in scoring from 70+ yards] , if it doesn't win Conference goal of the season I would like to see the one that does".

A Cambridge United fan has produced a report on the game with Altrincham on the club's website. It descibes Chris Denham (right) as an "aggressive little fellow [who] certainly had a bee in his bonnet about something, lunging and snarling around like a cross between Paul Dickov and a Rottweiler with PMT"!
NW NEWS
Stockport County "announces with regret and the deepest frustration that the Club has today been put into Administration by David Farms Limited, Aylesbury who hold a debenture over the club. While still trying to grapple with the impact of this move on the future of County, Chief Executive, Seán Connolly, summed up his frustration and that of Chairman, Martin Reid and Financial Director, Paul Cheetham: 'We have been working round the clock for the last few weeks putting together a package that would have guaranteed a secure future for County. We had the support of Cheshire Sports, by far our biggest creditor, who fully supported our approach. We had introduced a number of investors to help bring the club forward. The Trust would have continued to play a strong role. We were in the process of drafting heads of agreement and we were absolutely convinced that the deal could have been completed within the next 36 hours and we had informed David Farms of this early morning. As part of that deal the debenture holder would have had the loan of £300k paid back. In fact we offered to pay a large sum to them this morning as an earnest of our intent. Now, I don't know what any of these parties will feel or do. One thing, none of us is going to give up on County as yet even though officially we no longer have a role in the Company which is now being run by the administrator'.

Connolly went on to say that part of the deal was that the Club would relinquish any option it had on Edgeley Park and that it had already begun negotiations with Sale Sharks and the local Council to develop a new stadium that would be state of the art and guarantee a wonderful facility for both clubs and for Stockport. He also said that the matter of points' deduction was not now at all clear where before we calculated on losing 10 points this season. Chairman, Martin Reid said: 'I can now only hope that Stockport County can rise from the ashes'...

David Hoyle, Chairman of the Supporters' Trust said: 'Negotiations are ongoing with creditors and it has taken sometime to reach a figure that we feel would secure the future of this football club. With a target in mind I urge fans to give what they can to help us secure the future of Stockport County Football Club. If we do not raise the money, then there is a serious cloud over our future... We are looking for donations of any amount'"

Hyde United may not yet be saved from relegation from BS North, as EDP24 reports that "King's Lynn majority shareholder Michael Chinn yesterday threatened the FA with legal action over the club's ground grading crisis... Lynn yesterday lodged their appeal which is expected to be heard next month at Soho Square but Chinn confirmed his solicitors have also written to the FA chief executive... 'If we don't get justice then we will challenge the Conference and the FA in court because this is grass roots football and I don't feel we are getting any help'," he said. 'I haven't spent £180,000 over the last two years trying to build the club up to, in effect, be bullied by the authorities and send us down a league because we fail their ground criteria. I am not prepared to see that money go down the drain'... Chinn is confident Lynn have a strong case after the Conference's decision to expel the club for failing to undertake a £250,000 upgrade to their council-owned Walks Stadium. Conference South promotion chasers Hampton & Richmond were allowed to take their place in the play-offs this week despite failing to secure council planning permission and funding to build permanent terraced seating that meets the league's stringent grading rules.

'We feel double standards are at work here', said Chinn. 'If you look at the Hampton case then their council has given a guarantee any work would be undertaken, yet why is the same not good enough for King's Lynn and the borough council here? The money is in place and the work will be completed... At no point did they say we would be demoted if the work did not commence by that date. If they had we would've gone out and stuck a shovel in the ground but the reality is that wasn't possible'".

The Lancashire Telegraph confirms that "Accrington Stanley manager John Coleman has been told his playing budget will be reduced by 25% for next season... Stanley's annual wage bill of £900,000 is already thought to be comfortably the lowest in the Football League. Chairman Eric Whalley, who will depart when the imminent takeover of the club goes through, said: 'They've got the budget now and it's 25 per cent down. They won't like it, but it was inevitable. If anyone thinks the club has got a magic wand, it's just not there'" .
ALTY'S SPONSORS
The full A to Z list is here. Please spport these companies and ensure that you tell them you have got top know about them through Altrincham FC.
BSP NEWS
According to the BBC "Kevin Sandwith has signed a new one-year deal with Oxford United. The defender will stay with the club after a successful two-month stint. The 30-year-old quit troubled Weymouth in February".

But "Simon Spender is set to leave Wrexham as Racecourse boss Dean Saunders has not offered the full-back a new deal. Saunders has also spoken to left winger Sam Aiston and striker Patrick Suffo about staying at the non-league club but new deals have not been discussed. 'The manager has left his options open and will keep in contact with them in the summer', a Wrexham statement said. Wrexham have already released keepers Gavin Ward and Anthony Williams and defender Chris Marriott... Spender spent the last four months on loan at rivals Barrow".

Meanwhile, the NW Evening Mail states that "Barrow AFC have made their move to try and sign a player that joint-manager Dave Bayliss describes as one of the best right-backs in non-league football. Simon Spender... made a huge impression during his loan spell with the Bluebirds, playing 13 times as the club went on a fabulous end-of-season run which secured their Blue Square Premier status. Bayliss said this morning: 'We're definitely interested, it's just whether we can sort the finances out to get him'".

According to the Northants Evening Telegraph "Brett Solkhon, Craig Westcarr and Chris Beardsley have all been released by Kettering Town. Solkhon – who was the club's longest serving player – departs the A-Line Arena after a mixed campaign where he scored in both FA Cup clashes with Notts County but struggled to hold down a regular first-team spot, which eventually led to him asking for a transfer in January. Beardsley also found first-team opportunities hard to come by but the release of Westcarr is perhaps the biggest surprise after he hit 11 goals... Poppies' boss Mark Cooper's preparations for the new campaign didn't stop there, however, as he revealed the club have taken up an option on star midfielder André Boucaud to keep him at Kettering while goalkeeper Lee Harper and player/coach Nicky Eaden have been offered terms for the new campaign. John Dempster, Guy Branston, Jean-Paul Marna, Darren Wrack, Exodus Geohaghon and Gareth Seddon all remain under contract".

"Nicky McNamara signed a one-year deal with Rushden & Diamonds – then predicted more success next season. The 19-year-old midfielder became the first player to agree new terms at Nene Park following five appearances since being released by his hometown club Hull City".

From the Gravesend Reporter we learn that "Ebbsfleet United head coach Liam Daish has admitted talks regarding his future at Stonebridge Road have yet to be resolved. Daish and the vast majority of his players are out of contract this summer... 'There is still a lot to be done', he told the Reporter. 'We are now waiting on more information from above about what sort of budget we are dealing with before player renewals can be sorted out'... Last Wednesday, the Fleet called an urgent meeting to discuss raising emergency funds for the playing budget ahead of the 2009/10 campaign. However, despite a series of initiatives, early indications are that the wage bill could be as low as £4,000 per week - 60 per cent down on this year's allowance. Daish admitted that, if this figure proved accurate, the Fleet would be in for a difficult Blue Square Premier season. 'Until someone tells me what the budget is, I can't be sure', he said. 'But we know how tough it is in the Conference and, if it is £4,000, we are not going to get much out of it'".

We learn of another manager unable to proceed from This is Nottingham which says that "David Holdsworth today warned he is unlikely to sign new players until the end of May – when he knows where Mansfield Town will stand financially. With the club waiting to see how many supporters take up their £195 season ticket offer, the Stags' manager has been left in limbo... Said Holdsworth, 'We have no home games in May or June and no income. It is frustrating that I am going to have to wait a while, but at the same time I am respectful of what the chairman and board have done here. We want to compete with the bigger teams in this division and we can't wait for three months – we saw that last season... We are relying on the fans to do their part. If we don't get the backing we need, then we can't expect to finish in the top ten'.

Holdsworth has drawn up a list of 20 players who are possibles for next season for when the time is right. He said: 'It is imperative that you know your next step – and I do. I have a huge amount of players I can go through but at the moment, clubs want money for players and we have to be patient'... Holdsworth confirmed Mansfield are unlikely to release their retained list this week. 'We have 18 or 19 players out of contract and I'm keen to let then know where they stand', he said. 'But if we have to delay due to finance and it means being honest and saying we can't do anything just now and we lose someone, then we have to accept it. We can't have it both ways'".

The Northwich Guardian says that "Northwich Victoria Football Club hope to own their home patch by the end of next month. Owner Jim Rushe issued a statement this afternoon confirming he has swapped contracts with Deloitte Touche on a deal to buy the Marston's Arena. He could be landlord within weeks...

He said, 'I know it's been a long road to get here, but I'm just happy to have come this far'... Rushe confirmed he had paid a £75,000 deposit, leaving him with a month to pay the remainder of the agreed £1.35m fee. After that he will have the keys to the nine-acre Wincham site for keeps. The mortgage will be paid by a holding company, Northwich Victoria Developments Limited, set up by him in March this year. He has promised that a proportion of the revenue generated by commercial activity at the ground will be invested in the football club... 'I'll be sticking around', he said. 'Why would I go through all this just to disappear once the deal is done?'".

This is South Devon reports that "Torwuay United's leading scorer Tim Sills is ready to play in the Gulls' Blue Square Premier Play-Offs — with a fractured cheekbone! The Gulls' 19-goal centre-forward will play in tomorrow night's First Leg against Histon at Plainmoor wearing a plastic mask to protect a 'tripod' fracture of his left cheekbone, which he suffered in Sunday's 2-1 league win over Burton Albion. The plan is for Sills, 29, also to play in Monday's Second Leg at the Glass World Stadium in the mask. He will then undergo an operation to repair the break on Tuesday, have four or five days' rest and then resume training if United have reached the Final at Wembley on May 17".
---
FOR EARLIER NEWS, CLICK HERE
---