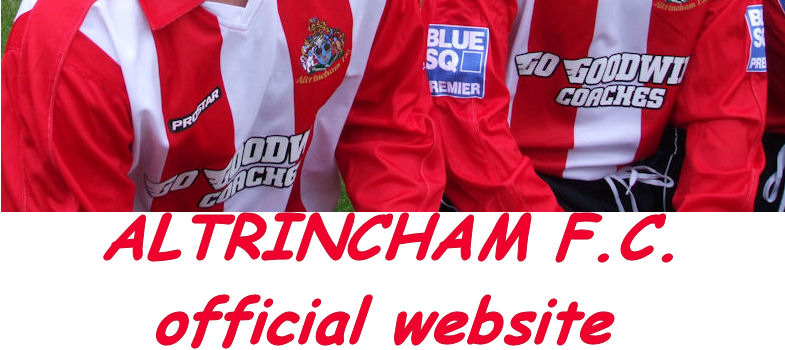 The Altrincham FC Supporters' Club - TASC
By kind permission of Brian Flynn, the minutes of the Altrincham F.C. Supporters' Club Committee are reproduced below. In due course, the Committee will launch its own website.
Minutes of The Altrincham Supporters' Club (TASC) Committee Meeting, Thursday, 16th July 2009
Attendees
Dawn Abbott, Steve Foster, Anthony Wright, Peter Foster, Grahame Rowley < P> Apologies from Brian Flynn, Mike Ainsworth, Gareth Thomas, Ian Jones, Graham Jackett, Simon Ellis, Steven Raftery. < P> Minutes of 18th June 2009 Meeting
TASC Advertising Board
Has gone to printers and will be ready for the start of the season.
Billboards
Tesco and Aldi have not yet replied to Grahame Rowley. Helen from Sainsburys has confirmed that once their refurbishment has been completed then we can advertise matches on their community board. Helen also confirmed that if we wanted to do any bag packing at any time, just let her know and she will arrange a date.
Anthony Wright proposed that the minutes were accepted and this was seconded by Steven Foster.
Fundraising Update
Golf Day (Friday July 24th)
Full details of this event have been published on the club website & in the Sale & Altrincham Messenger. 12 people have signed up to date.
Abay.

No update.
Altrincham Festival
£320 raised on the day. A number of pre-season friendly tickets were handed out.
A big thank you to Geoff Goodwin for the Coach, Darren the driver, Colin Mitchell, Graham Jackett, Andrew Nash, Michael Ford, Grahame Rowley, Karen Rowley, Sarah Rowley, Dan Jones, Anthony Wright, Steve Foster, Mike Ainsworth, Andrew 'Rocky' Nash and to Graham Houghton and the boys and girls from Altrincham Juniors.
Thanks also to the Football Club for providing the necessary equipment (net, balls, tickets, tombola container & goodie bags).
Gigs in the Noel White Suite.

Harbingers have suggested that they could perform on Saturday December 12th. We possibly could include a chicken & Chips basket meal as part of this event.
Calendar
Peter Foster confirmed that he had been in contact with Gavin Rathbone. Ideas which came up were A4 double/single sided to A3 double/single sided. Cost ranged from £2.97 to £4.88 per calendar. The calendar will cover 17 months (August 2009-December 2010) & will include pictures from past and present, including a tribute to Jackie Swindells. Sponsorship along the bottom of the page by local companies. Layout to be completed by the end of July. Selling price agreed of £9.99 per calendar. Graham Heathcote has some ideas for pictures.
Cult Zeros
Anthony Wright brought in two T-shirt samples from Cult Zeros. Orders can be placed in the club shop. Retail at £13.99 or direct from their website using the URL for Altrincham F.C. We then would receive 20% commission. Production time for the T-shirts is 10-14 days
Membership
Membership to date 98 members. Anthony Wright to provide an updated list of names for the match day hospitality draw for two people on July 25th.
Treasurer's Report
No report this month.
Any Other Business (AOB)
Co-op Bank Accounts Signatories.

Still in the process of updating.
TASC Website
The website will be ready to go live before the start of the season.
TASC Social Event
Grahame Rowley has spoken with a restaurant in Hale Barns called the Hale Barns Tandoori . They are happy to have a set meal at around £12 per head or £20 per head with drinks. The restaurant can hold 48 people.
Recycling Mobile Phones.

Steve Foster confirmed that the recycling mobile phones initiative will continue next season. £800 raised to date.
Goal Sponsorship
Jon Stack, who has been running this initiative for the last few seasons has requested that TASC take this over for this season. Steve Foster volunteered to take responsibility for this.
Next Meeting
Saturday 22nd August 11am Noel White Suite.
---
---
---