BARRY PIKESLEY - SUBTERRANEAN HOMESICK BLUEBIRDS
---
The following article is reproduced from "The Robins' Review" of 3 October 2015.
SUBTERRANEAN HOMESICK BLUEBIRDS
"You don't need a Bowerman to know which way the wind blows" (with sincere apologies to Bob Dylan).
This afternoon we find ourselves tangled up in Bluebirds at the J Davidson Stadium for the first time since Tuesday, 20th August 2013 when goals from James Lawrie and Kyle Perry enabled the Robins to record a 2-1 Skrill North victory over Barrow. That encounter also included a Shaun Densmore own goal and a red card for the visitors' towering former Alty central defender Robbie Williams.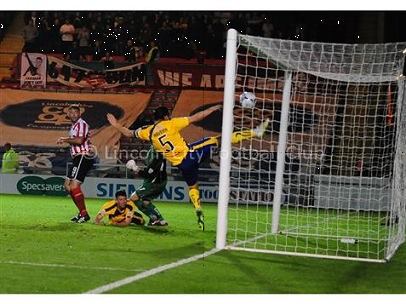 For Alty supporters of a certain vintage, the Barrow line-up today will probably include an evocative surname in the form of Niall Cowperthwaite, who is the son of the Bluebirds' record appearance holder and goalscorer Colin. I recollect watching that burly striker play against the Robins on many occasions from the late 1970s until the early 1990s.
Some of us seasoned Alty partisans will also recall that charming hoodoo which used to haunt Barrow whenever they visited Moss Lane. Indeed, between April 1973 and October 2001 inclusive, the Bluebirds amassed a total of 25 league and cup appearances on this ground without registering even a single triumph.
That harrowing embarrassment of poverty here against Braintree Town a fortnight ago will hopefully prove to be this season's nadir. It's certainly no exaggeration to state that the impressive Essex outfit should have won by double their eventual margin of victory.
We can only hope that such a mortifying setback provokes a similar positive response to the one that followed last season's September 4-0 capitulation (versus Welling United), which saw us garner the sum of 10 points from our ensuing five league fixtures.
I monitored the events of our recent precious 1-1 draw at Lincoln City via the Radio Robins broadcast and the Imps clearly signalled their intent to launch an aerial bombardment on the Robins' defence by blasting out the theme from The Dambusters over the Sincil Bank PA system both just prior to kick-off and then during the half-time interval.
A psyched-up Jake Moult certainly incensed the natives and he seemed to have inherited Peter Cavanagh's propensity for inducing the referee to issue a yellow card or even be bizarrely possessed by the spirit of the almost legendary Joe Flaherty, that volatile Scouser who contrived to get himself booked within minutes of coming on as a substitute for the Robins in the 1978 FA Trophy Final at Wembley Stadium.
In his post-match synopsis, Brian Flynn rightly extolled Gianluca Havern for his balletic clearance off the line from a Matt Rhead header in the 65th minute. Having scrutinised the subsequent photographic evidence of this lithe feat, it looks to be the most stupendous display of high-kicking seen since Van Morrison's show-stopping performance of Caravan with The Band at The Last Waltz concert in 1976.
The Robins' debut at Boreham Wood last Saturday elicited some welcome statistics in the shape of our first away win in 10 attempts and the attainment of our first clean sheet in 17 matches.
In contrast to this afternoon's opponents, who had two penalties saved during their home game against Kidderminster Harriers, we finally managed to convert a spot-kick courtesy of Michael Rankine. Messrs Reeves, Densmore, Gillespie and Clee have all suffered failure from the penalty spot in recent seasons, so let's hope that we have at last unearthed a worthy heir to the unerring James Walshaw.
What else did we learn from Boreham Wood? Well, charging him the sum of £50 plus VAT for the right to speak is an effective method of silencing Radio Robins' Brian Flynn. When word of this intriguing development eventually filters through to her, I strongly suspect that the long-suffering Mrs Flynn will immediately introduce an identical practice at the family residence in Timperley".
BARRY PIKESLEY
---