BARRY PIKESLEY - SMELLS LIKE BLYTH SPIRIT
---
The following article is reproduced from "The Robins' Review" of 15 November, 2014.
SMELLS LIKE BLYTH SPIRIT
Back in the early 1970s when I first started supporting Alty, I recollect the momentous thrill when my father invested in our first stereo system, a Tellux model consisting of a turntable and that then state-of-the art component: an eight-track cartridge player.
For those of you who are too young to remember this long-since obsolete example of magnetic tape sounding technology, the stereo eight-track cartridge briefly rivalled the audio cassette and enabled you to listen to an LP/album on a continuous loop which was divided into four programs. Alas, this engendered some of the format's principal shortcomings/annoyances; songs were often severed into two distinct parts (with the split infuriatingly occurring during an instrumental break or even a repeated chorus); song orders were reshuffled and some songs could be separated by long passages of silence.
Anyhow, June 1974 saw my father venture into Yeoman & Russell's old shop in Timperley Village and purchase Elton John's new opus Caribou on an eight-track cartridge (and, thereby, provide a relevant link to this afternoon's opponents which I could dredge up four decades later to use in a programme article).
The third track on that album was entitled Grimsby and it comprised a nostalgic (if, admittedly, not altogether accurate) paean to that particular Lincolnshire town. On 22nd May 1950, Elton John's lyricist Bernie Taupin had been born in Sleaford, a place located circa 40 miles south of Grimsby in that very same county.
Now, I confess that I have yet to visit Grimsby itself. Therefore, I remain unable either to corroborate or, indeed, refute the veracity of the following lines from that song:
"Oh, oh Grimsby, a thousand delights/ Couldn't match the sweet sights/ Of my Grimsby/ Oh England you're fair/ But there's none to compare with my Grimsby."
Moreover, the author goes on to trumpet the calibre of the town's cuisine:
"No Cordon Bleu can match the beauty/ Of your pies and peas."
Whatever the merits (or otherwise) of those pronouncements, today witnesses the Mariners make only their second appearance at the J Davidson Stadium, their debut at this venue having comprised a Blue Square Bet Premier fixture enacted back on Saturday, 25th September 2010.
That 2-2 stalemate represented the Robins' Caretaker Manager Ken McKenna's third match in charge in the aftermath of Graham Heathcote's resignation and is best remembered by those Alty devotees present amongst the attendance of 1,364 for Shaun Densmore's dramatic headed equaliser at the Golf Road End in the first minute of additional time.
For the record, the Alty line-up on that afternoon was as follows: (1) James Coates (5) Robbie Williams (2) James Smith (22) Michael Welch (4) Marc Joseph (16) Anthony Danylyk (7) Robbie Lawton (15) Ryan Brown (6) Shaun Densmore (10) Chris Denham (23) James McCarthy. Subs: (1) Stuart Coburn (20) Sam Hewson (12) Kevin Holsgrove (8) Damian Reeves (18) Matty Crowell. In an uncanny parallel with this afternoon's encounter, a certain Nicky Clee was unavailable due to injury.
Since the Robins secured a goalless draw at Blundell Park early last month, Paul Hurst's men have recorded five consecutive league victories, which have duly propelled them into second spot in the Vanarama Conference league table (N.B. these notes are being penned late on the evening of Tuesday, 11th November 2014). They also currently boast the best defensive record in the division, having conceded merely 14 goals in their 20 league fixtures to date.
The Mariners' 10 away league fixtures so far this season have yielded five victories (over Gateshead; Kidderminster Harriers; Wrexham; Torquay United and Braintree Town respectively); three draws (Bristol Rovers; FC Halifax Town and Dartford) and just a couple of defeats (Aldershot Town and Lincoln City). Meanwhile, last Saturday saw them exit the FA Cup after suffering a 3-1 home reverse at the hands of Oxford United.
The Robins have remained unbeaten in their trio of previous matches versus Grimsby Town and, thus, I can only hope that this has all been part of the burgeoning process of Alty's evolution into the Mariners' bogey team. You never know, whilst finding himself at a loose end out there on his Californian ranch, Bernie Taupin could always opt to revise his aforementioned song by composing an additional verse which portrays that specific Alty-related phenomenon or else Stubblemelt might even start to include a cover version of the track in their set.
On to some reflections on two contrasting Alty performances of late.
Aside from an auspicious opening fifteen minutes, the 1-0 home setback against the unspectacular but industrious Alfreton Town constituted a dispiriting ordeal. Notwithstanding having all eleven of our players stationed inside our own penalty box, we still contrived to concede a goal from a corner and I confess that I never believed for a single second that Steven Gillespie was destined to salvage a point by tucking away that eleventh-hour penalty kick.
He now joins the likes of Damian Reeves; Shaun Densmore; Matt Doughty and Ryan Brooke on the roster of culprits who have missed spot kicks for the Robins in recent seasons. James Walshaw's prowess at taking penalties had ensured that we had preserved an unblemished 100% conversion rate during the 2013/14 campaign.
Indeed, the most entertaining aspect of that entire sorry day transpired in the somewhat subdued environment of the Noel White Suite after the match, when Brian Flynn regaled us with an engrossing anecdote relating to a recent diplomatic incident which featured him wearing his Rupert Bear pyjamas whilst he scampered around the streets of Newcastle amidst a frantic bid to placate some peeved refuse collectors. What a pity that the paparazzi missed capturing those images for posterity.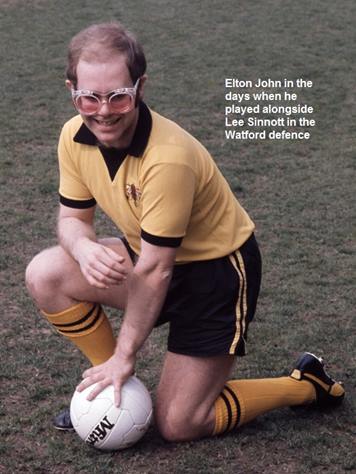 Three days later and the Robins induce rapture by expiating that washout against Alfreton Town by means of an accomplished and professional display at Sincil Bank, which culminated in an extremely welcome 2-1 triumph over Lincoln City courtesy of goals from Simon Richman and Damian Reeves.
I followed the action via the invaluable Radio Robins and that 66th-minute goal for the hosts certainly ensured that the closing section of proceedings became an anxious and difficult listen for all those of an Alty persuasion. Indeed, there were a couple of narrow escapes around the Robins' goal which were almost as hairy as George Heslop's celebrated sideburns back in 1974.
I did subsequently quiz Brian Flynn pertaining to his atypically understated commentary on Simon Richman's opening goal during the transmission, whereupon he divulged that he had actually forgotten to take his glasses to the game and, consequently, in pure Mr Magooesque fashion, he was struggling to recognise players from his location at the back of the large main stand on a rather murky evening! "Amateurs! Amateurs!", as The Stone Roses' Ian Brown might have bellowed in the background.
Nowadays, an oft-repeated cliché trotted out by supposed pundits and talking heads on football broadcasts in the preface to a match is the observation that 'the first goal will be crucial'.
Well, there's undeniably an argument that, to adapt the words of Cat Stevens/Yusuf Islam, the first goal is the deepest in terms of its influence on the eventual outcome of the majority of Alty's fixtures this season to date.
Prior to last Wednesday evening's rescheduled appointment with AFC Telford United, the Robins had played a total of 21 league and cup fixtures, only one of which had concluded in a 0-0 draw (as our guests this afternoon will no doubt recall with some anguish).
Of those 20 games that have produced goals, Alty have scored the opening goal on eight occasions and then duly proceeded to win seven of those matches. The solitary exception was that 3-3 impasse versus Eastleigh at the J Davidson Stadium.
Meanwhile, there have been 12 instances of the opposition managing to score the first goal and 11 of those ominous situations have resulted in defeat for the Robins. The lone example of Alty bouncing back after conceding the opening goal unfolded in that 1-1 deadlock at Alfreton Town via Kyle Perry's 89th-minute headed equaliser.
Alas, I cannot defer mentioning a certain calamitous FA Cup First Round tie at Blyth Spartans last Sunday any longer.
In what irrefutably turned out to be an opportune stroke of sheer good fortune, I was unable to venture up to Northumberland, having been afflicted by a head cold that was almost as heavy as a Lou Reed & Metallica riff or even a John King challenge circa 1979.
Therefore, I resorted to a combination of Radio Robins and the BBC's FA Cup Final Score programme in order to keep abreast of events at Croft Park. Despite Brian Flynn glancing at the BBC reporter Damian Johnson's planning notes on the game and then advising him accordingly that we are 'Altrincham' rather than 'Altrincham Town', the Hull-born sports correspondent still contrived to refer to us incorrectly during his first bulletin. What a prize oaf.
No sooner had the BBC coverage started than I was informed that we were a goal down. Suddenly, I am watching in stupefied horror as footage emerges of Alty conceding a penalty through some unfathomably naive defending. Things deteriorated alarmingly from thereon and any prospect of an £18k windfall coming our way evaporated in truly mortifying circumstances. Probably the most apposite synopsis of the entire débâcle emanated from John Edwards on Radio Robins: "Almost indescribably disappointing. A complete embarrassment."
As evinced by many of the subsequent comments posted on the Alty Fans' Forum by those who witnessed this spineless capitulation, the manner of this defeat has really hurt.
Nearly two decades have elapsed since we last killed a 'giant' (in the guise of the then English Football League Division Three outfit Wigan Athletic) in the FA Cup. Instead, we have increasingly become the 'giant' who is killed in this competition.
The Robins' proud FA Cup heritage continues to be tarnished and we have now endured a total of 10 defeats against teams from a lower league in the last 26 seasons.
In the aftermath of last season's FA Cup atrocity at Trafford FC, I penned an article for the ensuing issue of the Robins Review in which I stated that, in my eyes, Lee Sinnott and Neil Tolson's sole path to redemption comprised securing promotion.
Well, to our continued delight, here we are now in the Vanarama Conference. Job done.
So, what would I regard as conceivably representing some degree of atonement by the Robins' management team and their players for that abject humiliation at Blyth Spartans?
It's straightforward. At the very least, relegation from this league simply must be avoided. Any other upshot just isn't remotely acceptable to me in this spartan post-Blyth world.
In the footsteps of Morrissey, I shall plunder the oeuvre of his beloved Oscar Wilde and shamelessly distort the famous words of Lady Bracknell in The Importance Of Being Earnest: "To lose one FA Cup tie against a team from two leagues below us may be regarded as a misfortune; to lose three FA Cup ties in the last four seasons against teams who are from two leagues below us looks like carelessness."
Let's have faith that the nadir of our 2014/15 campaign is now behind us and hope that the Mariners will be all at sea this afternoon.
To evoke the spirit of another song on that Caribou album from Lee Sinnott's former Chairman at Watford FC, don't let the sun go down on our season.
BARRY PIKESLEY
---