ALTY LEGENDS SECTION 52
by Terry Rowley
These pages chronicle the playing legends of Altrincham Football Club. The texts have been kindly supplied by Terry Rowley, formerly joint editor of the Robins' Review matchday programme. Many of the profiles have previously appeared in the Robins' Review.
---
154. Peter Poole COWPER
155. David "Dave" Edward LYON
156. Reginald George 'Reg' NEAL(E)
---
154. Peter Poole COWPER
By Terry Rowley
Born: Tyldesley, 1st September 1902:
Died: Clifton, Preston, 26th September 1962
Peter was a talented, quick winger, comfortable at both outside right and outside left. Apart from football, Peter was also a noted sprinter and arrived at Moss Lane, after a long and varied career.
Peter was born in Tyldesley. Starting his football career with Burns Celtic, he moved to Parkside Rangers and then Atherton Collieries. He had trials for Bolton Wanderers in 1921 though, obviously, not impressing sufficiently to gain a professional contract.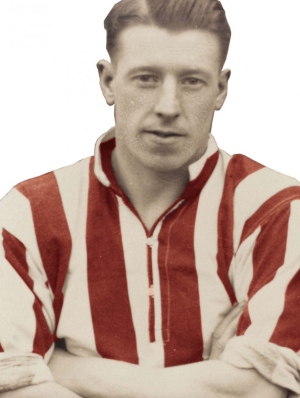 So, he tried Wigan Borough the following year. Sadly, he did not play a first team game for Wigan and his next stop was Rossendale United. In June 1924 he signed for League Division one side, West Ham United. It was at Upton Park where he made his Football League debut on 11th October 1924 in a 1-1 draw with Bury.
Unfortunately, he made just one further League appearance without scoring before he was on his travels again. Moving back North, he signed for Grimsby Town in 1927. He made four League appearances for the Mariners without scoring, he then briefly joined Lancaster Town in 1928.
His next port of call was Third Division (North), New Brighton in August 1928. Here he hit the jackpot making 71 League appearances and scoring 19 goals along the way. In June 1930 he moved South to Second Division, Southampton but, despite almost two years at the Dell, he made just five League appearances without scoring. However, he was prolific for the reserves, scoring twenty-seven goals in forty-five games across two seasons.
He requested a move in December 1931 and was eventually transferred to Southport sixteen months later, in March 1932. He made his debut on 26th March 1932 but made only one further appearance, two days later, in a 3-0 defeat at Doncaster Rovers.
In July 1932 Peter joined Carlisle United for whom he scored once in 12 League appearance, his goal coming in a 1-1 draw against Lincoln City. He then moved into non-League football with Wigan Athletic in the Cheshire County League for the 1933/34 season, scoring thirteen goals in thirty-seven league games.
He then joined Altrincham, in September 1934, and continued the same form shown at Wigan. Peter made his debut against Winsford United, at Moss Lane on the 1st September 1934, scoring on debut. He then scored in his next match a 3-2 win over Hyde United. The goals came easily, he scored in the 2-1 win over Chester Reserves and added two more in the FA Cup against Timperley.
He continued to score regularly throughout the rest of a season in which Altrincham were to score one hundred and eighteen goals in a league campaign that saw them runners-up to Wigan in the Cheshire County League. They scored one hundred and sixty-six goals, if cups are included.
Littlewood topped the charts, with at least fifty-four goals, Peter was third, having scored eighteen goals, not bad for a winger. Sadly, though, age was catching up and Peter took his leave at the end of the season and wound down his playing career with Prescot Cables.
After retiring he scouted for Blackpool in 1950's and worked as caretaker at Clifton Hall. He passed away at Clifton, near Preston, on 16th September 1962.
*Note: His son-in-law, Jackie Wright, played for Blackpool at full-back.
Peter Cowper's Career
Burns Celtic
Parkside Rangers
Atherton Collieries 1920-1923,
Bolton Wanderers (trial 1921)
Wigan Borough (trial 1922)
Rossendale United (1923) 1923/24
West Ham United (12/06/24) 1924/25 2 games - 0 goals
Grimsby Town (9/06/27) 1927/28 4 games
Lancaster Town (04/28) 1927/28,
New Brighton (25/08/28) 1928/29-29/30 71 games - 19 goals + 1 in FA Cup
Southampton (13/06/1930) 1930/31-31/32 5 games, (27 goals in 45 games for Reserves.)
Southport (15/03/32) 1931/32 2 games - 1 goal
Carlisle United (10/07/32) 1932/33 12 games - 1 goal in league
Wigan Athletic CCL (07/1933) 1933/34, 37 games- 13 goals in league
Altrincham (10/09/34) 1934/35 28 games - 14 goals in league, 4 games - 2 goals in FA Cup, 4 games - 2 goals in CLC, 1 game - 0 goals in CSC
Prescot Cables
---
155. David "Dave" Edward LYON
By Terry Rowley
Born: Oldham, 21st November 1948
Died: Oldham, 19th December 2019
Born in Oldham, Dave was a good sportsman, playing both cricket and football. He started his football career as an apprentice with Bolton Wanderers in November 1964 before moving briefly to Manchester City in July 1967 and then Bury in August but he never played League football for any of them.
He then dropped into the non-League scene with Cheshire League club Mossley in November 1967. There, he attracted the attention of League clubs by scoring nine goals in thirty-one games during the 1967/68 season. He continued in a similar vein scoring twice in ten games at the stat of 1968/69 season, playing well enough to persuade Macclesfield Town that he was just what they needed for the recently formed Northern Premier League.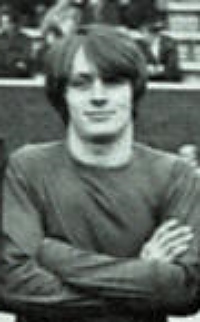 Image courtesy of Silkmen Archibe.
He was a tenacious and hardworking player who scored goals at vital times and helped Macclesfield to back-to-back title wins in 1968/69 and 1969/70. In addition, Dave scored one of the two goals in the inaugural 1970 FA Trophy victory over Telford United, at Wembley.
He went on to become top scorer in the 1972/3 season and also picked up a couple of Cheshire Senior Cup winners' medals in 1969 and 1973. He was also a member of the team which won the North West Floodlit League in 1969-70. Dave was awarded a benefit year during the 1972-73 season, after which he was transferred to Wigan Athletic for £400 during the summer of 1973.
However, he never settled and was allowed to join Altrincham in late January 1974. Dave had an instant impact, scoring the only goal in a 1-0, away win over Gainsborough Trinity on 2nd February 1974. He followed this with a goal in his next match, his Moss Lane debut. However, he was never a permanent fixture in the side, as he was not qualified to play in the League Cup and, at the end of the season, was allowed to move to Goole Town after playing sixteen games, (two as substitute) and scoring a very creditable five goals from midfield. Once again, a case of what could have been.
In 1975 Dave returned to Macclesfield, on loan from Goole, for a second spell. At the end of the season, he decided to try his luck in America and joined the San Jose Earthquakes in California. Returning to England he re-signed for Mossley for the 1975/76 season, a season in which they lifted the NPL League Cup.
In the summer Dave returned to California and joined the short lived, Sacramento Sprits who had just been formed in 1976. Unfortunately, they finished bottom and subsequently ran out of money in mid-1978 and reformed as Sacramento Gold.
Returning once more to England, Dave joined League Division Four strugglers, Southport, finally making his Football League debut at the age of 27, on 25 September 1976 in a 1–0 defeat at home to Newport County.
He kept his place in the starting eleven for eight matches and gave his team a first league win of the season with the only goal of the match at home to Barnsley on 22 October. After two appearances from the bench, Dave did not appear again until March, when he made three starts and his final appearance from the bench.
His contract was cancelled on the 1st April and, immediately, he signed for Ashton United, playing four games and scoring once before yet again heading back to California and joining the unfortunate Santa Barbra Condors, for whom Ron Yeats was player/coach.
The team folded after just twelve games The owners stopped paying wages and, after two months, the players went on strike. On July 1st, 1977, the club folded. He returned to England, once again, and signed for Runcorn for the 1977/78 season. The following season he returned to Ashton United in August, 1978 before having his third and final spell at Macclesfield in February 1979.
Outside football Dave worked as a labourer, an abattoir assistant, glazier and finally he ran a dry-cleaning business. Dave was also a good Cricketer, good enough to play for the Lancashire County Seconds in 1967 and he also turned out for Uppermill in the Saddleworth League.
He lived in Chadderton and, after his playing career was over, he coached at local youth level in the Tameside League.
Sadly, Dave passed away on 19th 2019 at the age of 71.
Dave Lyon's Career
Bolton Wanderers (apps 4, Nov 1964)
Manchester City (07/1967)
Bury (30/08/1967),
Mossley (11/67), 67/68 31-9 68/69 10-2
Macclesfield Town (68)

1968/69 19 games -2 goals in league, 6 games - 1 goals in CSC 3-0 NWFL
1969-70 37+1 games -8 goals in league, 3 games - 3 goals in FAC, 7 games - 2 goals in FAT, 8 games - 1 goal in LC, 1 game, - 0 goals in CSC, 10 games - 3 goals in NWFL
1970-71 28+1 games -7 goals in league, 0+1 games -1 goal in FAC, 5 games - 1 goal in FAT, 4 games - 0 goals in LC, 4 games - 1 goal in CSC, 5+1 games - 1 goal in NWFL
1971-72 29+2 games -1 goal in league, 1 game - 1 goal in FAC, 5 games - 1 goal in FAT, 1 game - 0 goals in LC, 2 games - 0 goals in CSC, 10 games - 0 goals in NWFL
1972-73 37+2 games -12 goals in league, 4 games - 2 goals in FAC, 1 game - 0 gaols in FAT, 5 games - 2 goals in LC, 6+1 games - 5 goals in CSC, 7 games -2 goals in NWFL

Wigan Athletic (summer1973) (£400) 1973-74
Altrincham (01/1974) 1973-74 14+2 games - 5 goals in NPL,
Goole Town 1974
Macclesfield Town 1974/75, 10 games - 1 goal in league, 1 game - 0 goals in NWFL
San Jose Earthquakes 1975
Mossley 1975/76 38 games - 4 (76 games - 15 Total),
Sacramento Spirits (American Soccer League) 1976
Southport (14/09/1976) 1976/77 (09/76-03/77) 11+2 games -1 goal; contract cancelled 1st April 1977,
Ashton United (04/1977) 1977-78 4 games - 1 goal
Santa Barbara Condors (American Soccer League) 1977
Runcorn 1977
Ashton United (08/1978) 1978-79 13 games - 1 goal
Macclesfield Town (04/1979) 1978-79 3 games -0 goals in league, 1 game - 0 goals in SSC
---
156. Reginald George 'Reg' NEAL(E)
By Terry Rowley
Born: Winchester 2nd Q 1913
Born in Winchester, Reginald George Neal was raised in Blackpool. He played usually as an inside left and started playing football in the Blackpool area, initially for Fence (Blackpool), then, South Shore Wesleyans. He attracted the attention of Blackpool, who signed him in the summer of 1933. He was released in early March 1934 and this allowed him to join Altrincham.
Reg made his Altrincham debut at Moss Lane in a 2-1 win over Hyde United, playing at centre-forward, on 10th March 1934. His scoring debut came the following week in a 2-0 win over Northwich Victoria.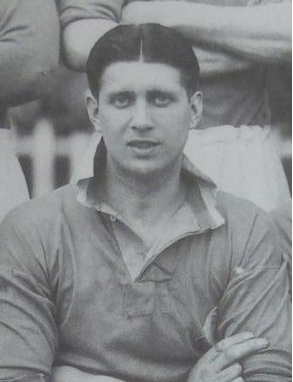 Never a prolific goal scorer, and more naturally suited to the inside-forwards position, Reg still managed a further goal in a 3-0 win over Macclesfield. He also finished the season with a Cheshire Senior Cup winner's medal, as part of the side that beat Congleton, 1-0.
He started the 1934/35 season in his more accustomed inside-forward role and he shone. Along with Dai Davis and flanking Altrincham's most prolific scorer, in Stewart Littlewood, Altrincham prospered. But with prosperity came interest from Football League clubs, who found the Cheshire League a good hunting ground for talent.
Reg and Altrincham continued to progress, Reg, regularly contributing goals.
When the offer came, it was Liverpool FC that persuaded the club and Reg to do a deal, offering Altrincham a then club record fee of £300 (equal to about £23,000 in 2022) if Reg signed and an additional £200 if he signed on for the following, second season.
His final game for Altrincham came against Mossley, just shy of his first anniversary of joining the club, on 2nd March 1935. Reg signed off with one of the goals in a 3-1 win. He had played sufficient league games, (twenty-seven), to earn an Edward Case Trophy medal, a trophy awarded to the highest placed, non-professional reserve side. Altrincham won it as runners-up in the Cheshire League.
However, from here it was all downhill for Reg who remained at Anfield for a second season, so making sure that Altrincham made a good deal of money.
However, it did npt work out for Reg and, although turning out regularly for the Reserves, he never came close to making the first team.
He was allowed to join Bristol City in 1936 and then had a loan spell at Yeovil and Petters United before being placed on the transfer list and signing for Southport in August 1937, where once again he failed to make the first team. His contract was cancelled in December 1937 and Reg was allowed to move to League Division Three (South) Gillingham, who were relegated to the Southern League at the end of the season.
Reg, however, had finally made his league debut and finished the season having played 14 games and scoring twice.
Despite being relegated, Reg remained at Gillingham for the 1938/39 Southern League season, scoring twice in thirty-seven league games, in addition to one game in the FA Cup and three in the Southern League Cup. He was not offered terms for the 1939/40 season and released. There is no record of him playing after the War.
Reg Neale's Career
Fence (Blackpool)
South Shore Wesleyans
Blackpool 1933/34,
Altrincham (03/1934)

1933/34, 12 games - 2 goals in league, 2 gaes - 0 goals in CSC
1934/35 27 games - 12 goals in league, 3 games - 1 goal in FA Cup, 3 games - 1 goal in League Cup, 2 games - 1 goal in CSC

Liverpool (03/1935) 1934/35-1935/36 No games
Bristol City 1936/37
Yeovil & Petters United 1936/37
Southport (08/1937) 1936/37
Gillingham

1937/38 14 games - 2 goals in Div. 3 South, relegated to Southern League
1938/39 37 games - 2 goals in league, 1 game in FA Cup, 3 games in Southern League Cup
---
Go to ALTRINCHAM FC LEGENDS INDEX
---