ALTY LEGENDS SECTION 50
by Terry Rowley
These pages chronicle the playing legends of Altrincham Football Club. The texts have been kindly supplied by Terry Rowley, formerly joint editor of the Robins' Review matchday programme. Many of the profiles have previously appeared in the Robins' Review.
---
148. William "Billy" MARSHALL
149. John Peter DOHERTY
150. Frederick (Freddie) William MORRIS
---
148. William "Billy" MARSHALL
By Terry Rowley
Born: 1932
Died: 11th November, 2015
Born in 1932 Billy started his senior career as a teenage amateur goalkeeper at Shrewsbury Town. This was followed by National Service in the army for which Billy gained representative honours by playing for the British Army in Egypt.
On de-mob he signed for Matt Busby's Manchester United, as an amateur, where it was noted he stood 5' 9" tall and weighed 12 ½ stone.
From there he joined Winsford United in February 1952, aged just twenty.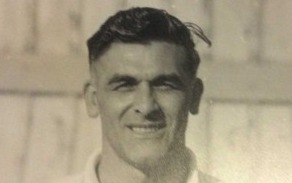 Right: Image courtesy of Winsford United
He remained with Winsford United until he joined Altrincham, making his debut on 16th September 1953, in a 1-0 win at Moss Lane over Mossley and he remained an ever-present for the rest of the 1953/54 season, playing 36 league games in addition to two games in the FA Cup, one in the League Cup and three in the Cheshire Senior Cup for a total of 42 games, of which 10 were clean sheets.
In season 1954/55 Billy played 30 league games in addition to two games each in the FA Cup, League cup and Cheshire Senior Cup for a total of 36 games, with four clean sheets.
More interesting is the fact that two of Billy's league appearances came as an outfield player! He played at inside-right and scored in the first of these on 11th April 1955, a 3-2 win at Bangor City and then played in the following 1-0 win at Witton Albion before reverting to his more natural position as goalkeeper.
For 1955/56 Billy was a near ever-present, playing 40 league games, with a further two games in the FA Cup, one in the League Cup and four in the Cheshire Senior Cup for a total of 47 games with eight clean sheets.
Billy also received his only honour as an Altrincham player picking up a finalist's medal for the 1-0 Cheshire Senior Cup final defeat by Witton Albion.
He then joined Rhyl but returned to Moss Lane during the 1959/60 season to help out in an injury crisis, playing one league game and also playing in a 7-1 FA Cup defeat of Droylsden.
In total Billy played 129 games for Altrincham, (127 as goalkeeper), kept 22 clean sheets and scored one goal.
He went on to play for Wigan Rovers and Buxton.
His funeral was held at St. Michaels church Perranporth, Cornwall on 27th November 2015.
Billy Marshall's Altrincham Career
Appearances:
1954/54: 36 League, 2 FA Cup, 1 CLC 6 CSC, 10 clean sheets
1954/55: 30 League, 2 FA Cup, 2 CLC, 2 CSC, 4 clean sheets, 1 goal
1955/56: 40 League, 2 FA Cup, 1 CLC, 4 CSC, 8 clean sheets
1959/60: 1 League, 1 FA Cup
---
149. John Peter DOHERTY
By Terry Rowley
Born: Stretford, 12th March 1935
Died: Heald Green 13th November 2007
John Doherty was born in Stretford. He was a gifted inside forward who rose through the schoolboy ranks initially playing with Manchester Schoolboys and latterly with Lancashire Schoolboys. Although he had been a lifelong Manchester City fan, he signed for Manchester United, straight from school, on amateur forms in May 1950.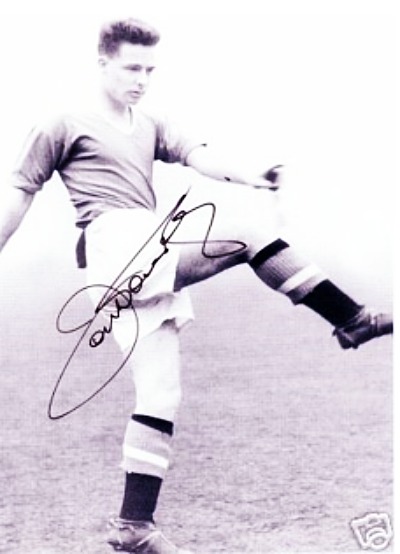 He started work as an office boy whilst he trained as an apprentice footballer, signing professional forms on his 17th birthday in March 1952. He then made rapid progress through the junior sides and made his senior début a mere nine months after signing professional in December 1952 against Middlesbrough. He was still only 17 years old. Despite competition from a highly skilled and talented squad he retained his place in the first team, scoring twice against Chelsea in his third game, at Stamford Bridge.
John was still young enough to play for the youth team and he helped United to the semi-finals of the inaugural FA Youth Cup. All looked set for a long glorious career but then tragedy struck with his first major knee injury coming in the second leg of the FA Youth Cup semi-final against Bradford.
He was due to begin his National Service with the RAF the following day but this had to be deferred. Rehabilitation was slow and Liam Whelan replaced John in the FA Youth cup final against Wolves. John eventually entered the RAF but was soon discharged as unfit for duty. Still undergoing rehabilitation, he returned, surprising the club's medical staff, to the first team in the Autumn of 1955 and helped United to the League Championship, with John playing enough games, sixteen, to earn a championship medal.
Just as it seemed that John's career was back on track, further knee complications occurred.
There then followed a long battle in an attempt to regain full fitness. Obviously frustrated, he also argued with United's management over team selections. These two issues combined saw him transferred to newly promoted Leicester City for £6,500 in October 1957, having scored 7 goals in 26 games for United.
At Leicester, he linked up with former United team mate, Johnny Morris, and made a bright start at Filbert Street, making his debut on 5th October 1957 in a 2-2 draw with Everton. His debut goals came a month later, with two in a 3-7 defeat at Burnley but, within two months, he was sidelined again with injury, his final game falling on Christmas Day, a 5-1 defeat to Blackpool.
In February 1958 he was in hospital awaiting surgery on his knee when he learnt of the Munich tragedy.
If the loss of so many former team mates and friends was a devastating blow, this was further compounded with the news that he would never play top flight professional football again. On top of all this he contracted Scarlet Fever. He had played just 12 games for Leicester and scored five goals.
John accepted all this bad news with stoicism and, in July 1958 ,accepted the player manger's role at Rugby Town, a club newly formed in 1956. It nearly didn't happen though. Manchester United assistant manager Jimmy Murphy was offered the manager's job at Arsenal and he had already asked Doherty to be his assistant. In the event, Murphy turned down the offer and remained at United, whilst John carried on at Rugby Town until September when he resigned due to his wife's ill health and he returned to Manchester, where he started work as a car salesman.
He tried one last attempt to play football and made his Altrincham debut in the Cheshire League Cup a 4-1 away defeat at Hyde on the 27th September and played one further game on the 4th October, a 2-1 Moss Lane defeat by Wrexham Reserves. His knee packed in and John retired from playing aged just 23 years old.
He became reserve team trainer at Hyde United in 1963 and later took over from Ken Barnes at Bangor City in September 1970, staying in the post until the end of the 1971/72 season. He later replaced Gordon Clayton as Chief scout at Burnley in the early eighties.
Outside of football John worked in finance and later moved into insurance and sports promotion. He was a founder member and long-serving chairman of the Association of Former Manchester United Players, which raised large sums for charity, and he was the driving force behind the club's belated testimonial match for victims of the Munich tragedy, staged in 1998. He co-authored a book, along with Ivan Ponting called 'The Insider's Guide to Manchester United' in 2005, in which John presented profiles of every post-war player to have played for United.
John sadly died of lung cancer, at home in Heald Green,on 13th November 2007 at the age of 72.
When asked about what could have been, except for injury, John's response was "It's better to be a has-been than a never-was".
---
150. Frederick (Freddie) William MORRIS
By Terry Rowley
Born: Pant, Oswestry 15th June 1929
Died: Chester 20th November 1998
Freddie Morris was born in Pant near Oswestry, on the Welsh Borders. He played for his local club Oswestry Town as an amateur between 1946 and 1950 before signing professional terms for Walsall in May 1950 for a fee of £500. He spent seven seasons with the Saddlers, scoring 49 goals in 227 appearances and was an ever present for three seasons consecutive seasons.
He then moved to Mansfield Town in March 1957 for a fee of £1500 and was an ever present during the 1957/58 season.
He signed for Liverpool, shortly before his 29th birthday, in May 1958 for a fee of £7,000. He was not selected for opening two games of Liverpool's 1958/59, Second Division campaign but made his Liverpool debut on 3rd September 1958 and played for the remainder of the season. He scored his debut goal, three weeks after his debut, on September 24th and finished the season scoring 12 goals from the right wing.
He started the following season but was then dropped. He returned to the side and scored twice in a 4-3 home win against Leyton Orient on 21 November 1959. But, only days later, Bill Shankly swept into Anfield and Morris was one of the early casualties.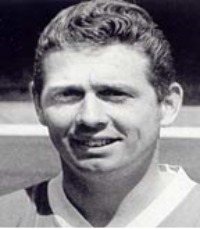 Shankly's first match in charge of Liverpool turned out to be Morris's last for the club. Fred was then dropped not so much for the comprehensive 4-0 home defeat by Cardiff City but rather the fact that he had, by now, passed his thirtieth birthday. He had played a total of 48 games for Liverpool, scoring 14 goals.
He was transferred to Crewe during the following close-season for 1960/61, scoring only once in eight games, and had then had a short spell at Gillingham, signing in January 1961 and making his debut against Oldham Athletic in a 3-2 home defeat on the 14th January, having only signed the night before> He scored once, a vital goal in a 1-0 win against Aldershot on the 21st January, the only goal he would score in 11 games before signing for Chester in July 1961.
At Chester he scored three goals in 29 games as Chester finished bottom of the league and Freddie was released from his sixth and final Football League club, at the end of that season.
The fans, however, loved his 100% effort and even wrote to the paper in Chester complaining about his release. Whilst at Chester, he is also, w reputed to have jumped into the crowd to confront a fan who was barracking him. It was all to no avail, though, as Charlie Mitten, Altrincham's new manager persuaded him to join Altrincham for the 1962/63 season.
Fred made his debut in the season's opening fixture, a 2-1 win away at Chester. The second match of the season saw Fred score on his home debut in a 4-2 win over Winsford United, with Fred taking the honours as 'man of the match'.
Conversely, Fred showed the other side of his game when he was sent off in the Inter-League game against Ashton United, Altrincham losing the game, 1-0. He next scored in the FA Cup Second Qualifying round, a 4-2 win over Ashton United. He scored twice in the next match, a 3-2 win away at Congleton, following this in the next game with another goal, away at Ellesmere Port in a 2-2 draw. But he also picked up an injury and missed the next five games.
His return came with a 1-0 defeat at Wrexham Reserves but the following match with Macclesfield, in front of 4,100 spectators, saw Fred score in a 4-1 trouncing. His next goal came in a 6-1 away win at Sankey, which was followed with Fred bagging both goals in the next match, against Wigan Athletic, a 2-0 home win.
Three games later he followed up with another brace in a 5-0 demolition of Frickley. He also scored one in a 5-0, Moss Lane win over Wrexham Reserves.
He kept his place after Freddie Pye's appointment and finished off his scoring with a run of four goals in four games, (Rhyl away, 2-1, Witton away, 1-2, Macclesfield away, 3-1 and Tranmere Rovers Reserves at home, 1-3). Fred finished as Altrincham's third highest scorer behind strikers, Lennie Dickinson (22), and Rex Grey (18) with a total of 16 goals, not a bad return for a right winger! He left at the end of the season having played 40 games and returned to Oswestry.
Fred finished his playing career where it had all started, at Oswestry Town, first as a player from 1963 to 1965. And then for the 1969/70 season Fred was appointed manager. Under Fred's leadership, Oswestry won the Cheshire League Cup, beating Marine in a thrilling two-leg Final in 1971/72 and, much to the delight of the fans, they made it a 'double' when Oswestry beat Rhyl at Buxton in the first Cheshire League Shield Final. (This was a match between the Cup winners and the League champions).
Fred worked tirelessly for the club and was instrumental, along with the Committee, Supporters' club, Chairman Tudor Griffiths and other local business men and supporters, in getting floodlights installed at Victoria Road. Oswestry finished in fifth place in the 1971/72 season, their best finish since 1960/61.
This would remain Oswestry's best finish during their Cheshire League days. Fred resigned in the 1973/74 season after a series of poor results. He returned to the manager's role in October 1980 with the club in financial turmoil. With finances tight, Oswestry could only finish in 18th place in 1980/81 and then 16th in the 1981/82 season. The following 1982/83 season the playing budget was slashed further and players were released and being unable to carry on in the circumstance, Fred resigned in January 1983.
He remained interested in football and continued to scout for a number of clubs. Outside of football Fred ran a successful building contractors in Chester and later still ran a garage in Oswestry, before retiring. Fred passed away in Chester on the 20th November 1998
Fred Morris's Playing Career:
Oswestry Town (amateur),
Walsall Town (£500 16/5/50) 1950/51-56/57, 210 games - 43 goals in League
Mansfield Town (£1500 03/57) 1956/57-57/58 60 games - 19 goals
Liverpool (£7,000 01/05/58) 1958/59-59/60 47 games -14 goals in League
Crewe Alexandra (£4,000 06/60) 1960/61 8-1 goal in League
Gillingham (£1,500 01/61) 1960/61 11-1 goal in League
Chester (07/61) 1961/62, 29 games - 3 goals in League. Announced retirement from League football at the end of the season.
Altrincham (07/62) 1962-63, 35 games - 15 goals in League, 2 games - 1 goal in FA Cup, 1 game - 0 goals in League Cup 2 games - 0 goals in CSC.
Oswestry Town 1963-64 to 1964-65
---
Go to ALTRINCHAM FC LEGENDS INDEX
---