ALTY LEGENDS SECTION 49
by Terry Rowley
These pages chronicle the playing legends of Altrincham Football Club. The texts have been kindly supplied by Terry Rowley, formerly joint editor of the Robins' Review matchday programme. Many of the profiles have previously appeared in the Robins' Review.
---
145. Harold KELLY
146. Robert 'Bobby' James IRVINE
147. Robert "Bobby" JEFFREY
---
145. Harold KELLY
By Terry Rowley
Born: Salford 1st quarter of 1899
Harold Kelly was a great goal scorer, who could have been one of Altrincham's greatest but, unfortunately, rivals Macclesfield saw the best of him. Nevertheless, he still scored plenty of goals for Altrincham.
Harold's career started with Trafford Park Lads in Manchester, after which he signed for Altrincham for the start of the 1920/21 season, making his debut on the 28th August 1920, playing at inside left before joining Manchester United reserves in December.
Although records are incomplete, he scored at least three goals in nine games. He then re-joined Altrincham in March 1922, making his second debut at inside-right on the 18th. Although, once again records are incomplete, he managed at least five goals before the end of the season in a minimum of ten games.
For 1922/23 Harold opened the season playing at inside-right, forming a highly effective central attacking trio with George Royle and Jack Helme. He scored his first hat-trick of the season against Northwich Victoria in the Cheshire League Cup and was part of the Altrincham side that went unbeaten for twenty-six Consecutive games between November 11th 1922 and 11th April 1923 before they finally lost, 2-1 at the Drill Field to old rivals, Northwich Victoria.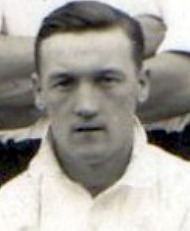 Altrincham also made it through to the final of the Cheshire Senior Cup, losing to Crewe Alexandra reserves, 4-1 in front of an estimated crowd of 12,000.
Harold topped the goal-scoring list with thirty-eight goals. His total included four goals against Mossley and an additional four hat-tricks; he scored them against Northwich Victoria (twice), Congleton Town and Tranmere Rovers. Jack Helme scored twenty-eight and George Royle, twenty-three that season.
Big things were obviously expected for the following 1923/24 season but, unfortunately, Royle was allowed to leave in late September after scoring a further nine goals. Altrincham still had Kelly and Helme and they both scored freely, with Harold notching four against Port Vale reserves in November but, financially, the club were yet again struggling.
After losing 5-3 on 9th February to Tranmere Rovers' Reserves in the Third Round of the Cheshire Senior Cup, both Helme and Kelly were allowed to leave in an extremely myopic, cost-cutting exercise. Both had scored eighteen goals up till that point. Still Altrincham's loss was to be a gain for two other sides; Ashton National, (Helme) and Macclesfield, (Kelly). Harold had scored at least sixty-four goals in just eighty-seven competitive games
Harold did not move directly to the Moss Rose. He moved initially to Stalybridge Celtic and then had a short spell at Stockport County, playing once for the reserves. Signing for Macclesfield in time for the commencement of the 1924/25 season, he continued his Altrincham form, scoring freely and often.
He finished the 1924/25 season with thirty-four goals in thirty-eight league games and scored a total of thirty-seven in forty-one games across all competitions. In 1925/26 it was more of the same, leading the scoring charts with thirty-one goals in forty-five games.
1926/27 was the only season when he did not top the goal scoring charts for Macclesfield. Finishing second to R. Frost's thirty-one goals, he scored twenty-nine in thirty-eight games. Harold topped the charts once again in 1927/28, scoring seventeen goals in thirty-seven games. 1928/29 saw another thirty goals in forty-seven games and, for his final season in 1929/30, Harold scored thirty-seven goals in just forty games.
In total, during his six seasons, Harold became the Macclesfield's second highest goal scorer in all competitions with 181 goals, second only Steve Burr by a single goal. He was top-scorer in five of his six seasons, scored on his debut and notched a total of 13 hat-tricks, the most important coming in the final of the Cheshire League Challenge Cup in May 1925 against Manchester North End.
At the end of 90 minutes the score being 2-2, Harold having scored one of Macclesfield's goals. In extra time he scored a further two goals to give Macclesfield a 4-2 victory and their first silverware since 1911.
Usually Harold played at centre-forward but, from time to time, he was played at both inside-right and inside-left. He also represented the Cheshire League side against a Welsh National League team.
In recognition of his contribution to the Macclesfield club, a collection was taken for Harold at the match held on 1 January 1930 which raised £50. At the end he was carried shoulder high by the spectators and they would not let him leave the pitch until he had made a speech, after which he received three cheers. He completed his illustrious career at the Moss Rose gaining a Cheshire Senior Cup winners' medal in May 1930.
Altrincham must surely have regretted his departure.
Harold Kelly's Record
Trafford Park Lads
Altrincham: 1920/21 10-3 L 1-0 FAC 1-0CLC
Manchester United Reserves
Altrincham:

1921/22, 10-5 L (incomplete)
1922/23, 35-30L 2-3 LC 4-5 CSC 1-0 Friendly
1923/24 16-11L 4-3 FAC 1-1LC 3-3 CSC

Stalybridge Celtic: 02/1924
Stockport County: 1924/25 reserves 1-0
Macclesfield Town

1924/25 38-34L 1-0 CSC 2-3 Cheshire Challenge Cup
1925/26 37-24L 3-5 Cheshire Challenge 5-2 CSC
1926/27 33-25L, 1-1 Cheshire Challenge Cup 4-3 CSC
1927/28 34-15 L 3-2 CSC
1928/29 36-23L 7-4 FAC 3-2 Cheshire Challenge 1-1 CSC
1929/30 33-28L 2-3 FAC 3-1 Cheshire Challenge 4-5 CSC.
---
146. Robert 'Bobby' James IRVINE
By Terry Rowley
Born: Carrickfergus 17th January 1942
Bobby Irvine, was a case of what could have been, had things turned out differently. Press reports noted that he had played well for Altrincham, up until a fateful FA Cup tie with Wigan Athletic.
Bobby originally signed for Linfield in 1957 from Carrick Tech and was later joined at Windsor Park by younger brother and future international colleague, Willie. Established in the Linfield first team at sixteen, he also served his time as an apprentice engineer. He was goalkeeper in Linfield's earliest European adventures, in September 1959, when he finished on the end of a 7-3 aggregate defeat to Gothenburg in the European Champions Cup. Bobby dropped out of favour during the 1960/61 season
But the following season he was near ever-present in the 1961/62 "clean-sweep" campaign winning Irish League, Irish Cup, City Cup, Gold Cup, Ulster Cup, Co. Antrim Shield and North-South Cup winners' medals.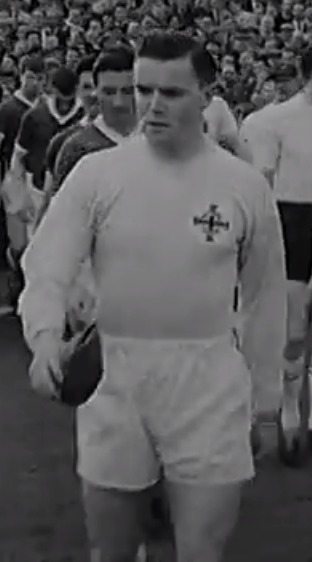 1962 also brought Bobby his first senior representative honours. He kept goal twice for the Irish League in the closing months of the season in a 6-2 win over the Italian Semi-Pro League and in a 3-1 victory against the League of Ireland.
In May 1962 he made the first of seven consecutive appearances for Northern Ireland, replacing the perennially injured Harry Gregg. Through the 1962/63 campaign, Bobby added further Irish Cup and County honours; Antrim Shield winner's medals and three further Irish League caps to his collection.
In February he played in the same side as younger brother Willie for the first time since their schooldays, the Northern Ireland Under-23s suffering a 5-1 defeat by their Welsh counterparts. A little over a month later the pair lined-up together again in a full international, Wales again running out comfortable winners.
In June 1963 Bobby was transferred to Stoke City for £6,000. He made his debut in the opening game of the season, a 2-1 First Division defeat of Spurs, but lost his place after seven games to another new arrival at the Potteries, Lawrie Leslie. He remained out of the side for most of the season, only returning to the first eleven in April, taking his total League appearances for the season to eleven, and picking up a League Cup runners-up medal with an appearance in a 3-2 defeat by Leicester in the Second Leg of the Final.
1964/65 brought Irvine a single League appearance and his eighth and final international cap, unhappily, in a 5-0 hammering by Wales in Belfast.
Back in the Stoke team midway through the 1965/66 season, Irvine was given the honour of captaining the team in a League Cup tie against Burnley, with the Burnley team led out by brother Willie as the two clubs agreed to take part in something of a publicity stunt. Bobby came out on-top in the first match, a 0-0 draw, but Willie had the last laugh, scoring in a 2-1 replay victory.
Irvine's career at the Victoria Ground was brought to a premature end by a rush of blood in the FA Cup Third Round. Facing Walsall at home, Irvine was guilty of giving away a penalty which helped the Third Division side to a 2-0 win.
Furious with Irvine's antics, Potters' manager, Tony Waddington never picked him again and, come the summer, he was released. His Football League career ending aged 24.
Freddie Pye, always on the look-out for proven professionals, persuaded him to join Altrincham. His time at Moss Lane was short. It started well enough though, with Bobby making his debut on the season's opening day's fixture a 3- 0 win over Winsford United on August 20th 1966. He followed this with another clean sheet against Rhyl.
All went well until in late September, Altrincham faced their first league defeat, when Oswestry surprised them, 4-2. He sat the next two games out, replaced by George Smith, only to return for the 3-1 win over Witton Albion. Then came the game that ended his Moss Lane career. On the 15th October, Altrincham faced Wigan Athletic in the FA Cup 4th Qualifying round, at Moss Lane.
Bobby had a nightmare. Manager Freddie Pye blamed him for three of the four goals in Altrincham's 4-2 defeat. That was it, his contract was cancelled. Something about the FA Cup didn't agree with Bobby!
Altrincham's loss became another team's success, although Hearts in Scotland and Crusaders in Ireland were both interested in signing Bobby, he signed for Wellington Town in December, going on to gain further success with the newly-named Telford United in the 1970s, where he played in consecutive FA Trophy Finals at Wembley Stadium.
In 1970, Macclesfield triumphed, 2-0 over Telford but the following a year saw Bobby concede twice but still come out a winner as Telford defeated Hillingdon 3-2.
Now retired, Bobby still lives in Shropshire.
*Note Brother Willie, was a centre forward with Burnley and won 88 caps for Northern Ireland.
Bobby Irvine's Career
Carrick Tech.
Linfield: (1957) 243 apps - 0 goals in the League, 5 apps - 0 goals in Europe
Stoke City: (£6000 06/63)

1963-64 11 apps - 0 goals in League, 1 - 0 goals in League Cup
1964-65 1 app - 0 goals in League, 1 - 0 goals in League Cup
1965/66 13 apps - 0 goals in League, 1 app - 0 goals in FA Cup, 3 apps - 0 goals in League Cup

Altrincham: (05/66) 1966-67, 10 apps - 0 goals in League, 1 app - goals in FA Cup, 1 app - 0 goals in League Cup
Wellington Town/Telford United: (12/1966) till 1974
Representative Honours
Northern Ireland: 8 Full Caps (1962-1965), 1 Under-23 Cap (1963), 2 Schoolboy Caps (1957-1958); Irish League: 5 Caps (1962-1963).

Club Honours:

Linfield: Irish League Champion; Irish Cup Winner 1959/60, 1961/92, 1962/63, Runner-Up 1960/61; City Cup Winner; Gold Cup Winner; Ulster Cup Winner; Co. Antrim Shield Winner; North-South Cup Winner 1961/62

Stoke City: Football League Cup Runner-Up 1963/64; ( Telford United) FA Trophy Winner 1970/71, Runner-Up 1969/70.
Northern Ireland Cap Details
09-05-1962 Netherlands A L 0-4 FR
10-10-1962 Poland..... A W 2-0 ENC
20-10-1962 England.... H L 1-3 BC
07-11-1962 Scotland... A L 1-5 BC
28-11-1962 Poland..... H W 2-0 ENC
03-04-1963 Wales...... H L 1-4 BC
30-05-1963 Spain...... A D 1-1 ENC
31-03-1965 Wales...... H L 0-5 BC
Summary:. Won 2, Drew 1, Lost 5.
Northern Ireland Under-23 Cap Details
27-02-1963 Wales...... A L 1-5
---
---
147. Robert "Bobby" JEFFREY
By Terry Rowley
Born: Ayr, 7th November 1942
Died Cambridge 20th May 2017
Born in Ayr, Bobby played for local junior side Coltness United, (now known as Newmains United). He was signed by Glasgow Celtic, along with future Celtic star, Tommy Gemmell, on 25th October 1961. Playing at outside left, he made his debut over a year later, on the 11th November 1962, just after his 20th birthday, in a 1-0 home defeat by Queen of the South.
This was followed by his debut for the Scottish under-23 side in a 2-0 friendly win over Wales in December, played at Aberdeen. The Glasgow Herald reported that "9 minutes from time, Jeffrey cut in for Cooke's pass and hammered a tremendous shot out of the gallant goalkeeper's reach." It then went on say that "The best Scottish forward undoubtedly was Jeffrey, who had a magnificent second half."
He played just one further game for Celtic that season in the Glasgow Cup. Bobby was regarded as a tidy and effective player but not quick. After a run of games, the following season Bobby was transferred to Airdrie on 4th October 1963, for a fee of £400, having played a total of eight League games for Celtic. His only Celtic goal game against Queen of the South in a 4-0 league win in August 1963 and, as if to complete the cycle, his final game was also against Queen of the South in a 3-2 league cup win.
Bobby's time at Airdrie did not start well, being part of the side that lost, 9-0 against Celtic on the 26 October 1963. It could have been ten but Celtic's goalkeeper, Frank Haffey, missed a penalty. In total Bobby played nine league games and scored one goal.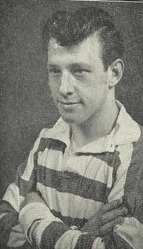 Left: Image courtesy of Celtic wiki
He then moved South and joined Rhyl for the start of the 1964/65 season before joining Altrincham in January 1965, making his Moss Lane debut on 16th January 1965 in a 3-3 draw with Runcorn. As was his wont, manager Freddie Pye played him out of position, Starting at inside Left, then tried at centre-forward, then inside-right. Bobby played seven games and scored once, his solitary goal coming in his final appearance in a 2-0 win away at Sankeys on the 13th March.
The following 1965/66 season he moved back to Wales joining first Pwllheli and then Colwyn Bay. He then moved back to Scotland and joined Scottish Second Division club Stranraer, where he played seventeen League games and scored five goals.
Bobby then moved to Cambridge and had trials for Cambridge City, coming on as a substitute in home friendlies against Doncaster Rovers and Gillingham, and scoring in the away friendly at Newmarket Town. Although not offered a contract, Bobby stayed in Cambridge for the rest of his life. He played local football for a side called, N. C. I (New Chesterton Institute), into the early 1970s and was a publican at the Rock and Old Spring pubs, later becoming caretaker at The Manor Secondary school and then Downing College.
His funeral was held at Cambridge Crematorium on Wednesday 7th June 2017 in the West Chapel.
Note* His son, Andrew, was also a footballer, being an apprentice at Leicester City before playing for Cambridge City, Cambridge United, (1993 -1997, 116 games 2 goals) and Histon.
Bobby Jeffrey's Career
[Glasgow] Celtic: 1961-1963 5 games - 1 goal in League, 3-0 LC
Airdrie: 1963-64 9 games - 1 goal in League
Rhyl: 1964-65
Altrincham: 1964-65
Pwllheli: 1965-66
Colwyn Bay: 1965-66
Stranraer: 1966/67 17 games - 5 goals in League
---
Go to ALTRINCHAM FC LEGENDS INDEX
---