ALTY LEGENDS SECTION 48
by Terry Rowley
These pages chronicle the playing legends of Altrincham Football Club. The texts have been kindly supplied by Terry Rowley, formerly joint editor of the Robins' Review matchday programme. Many of the profiles have previously appeared in the Robins' Review.
---
142. Norman Albert John SYKES
143. Peter HIGHAM
144. Leonard "Len" Roy WHITE
---
142. Norman Albert John SYKES
By Terry Rowley
Born: Bristol, 18th October 1936
Died: Hillingdon, London 9th December 2009
Norman Sykes was born and raised in Bristol. He played for and captained various junior sides in Bristol, including Bristol Schools, before Joining Second Division, Bristol Rovers at the age of 15 where he continued his progress.
Norman was capped at Schoolboy level against Scotland on the 5th April 1952, an England side captained by Duncan Edwards. Norman signed professional terms with Second Division Bristol Rovers on his 17th Birthday in October 1953. He received further international honours the same year, gaining an England Youth cap.
At Rovers, he worked through the junior sides and made his first-team debut during the 1956/57 season.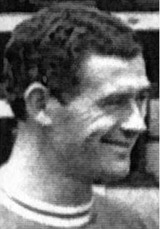 In 1957/58 Rovers went on a successful FA Cup run. In the Third Round they comfortably beat Mansfield Town, 5-0 and in the 4th Round drew Firsst Division Burnley at home. Burnley. who had been finalists only four years previously were to finish in sixth place. After a draw at home Norman scored in the replay at Turf Moor as Burnley were beaten 3-2. That was as good as it would get, Rovers going out of the competition at the quarter-final stage to Fulham.
Outside football Norman was a partner in a used-car business in Bristol until early 1961. Rated in some quarters as one of the best right-halves in the Second Division, Norman was invited for trials with Chelsea in 1961 but no further action was taken. That was probably the peak of career.
In 1961/62 Bristol Rovers were relegated to the Thirrd Division and, in 1963, Norman was wrongly diagnosed has having the onset of arthritis. It was later diagnosed as a disc in his spine pressing on a nerve, but he gradually slipped out of the first team picture. He had played 214 league games and had scored five goals and, at times, had captained the side.
In May 1964, Malcolm Allison, who was player/coach, persuaded Norman to travel to Canada and play for Toronto City as part of his rehabilitation from the misdiagnosed arthritis. Toronto played in the short-lived Eastern Canada Professional League which had been formed in 1961 but was disbanded in 1966. he season in Canada ran from May to September, so fitted in well with the English close season. He played alongside players of the calibre of ex-England and Spurs player Johnny Brooks, Manchester City's Tony Book, ex-Villa keeper Nigel Simms and Sunderland's Ted Purden.
Returning to England, Allison was appointed manager at Second Division Plymouth Argyle and he made Norman one of his first signings, for a fee of £2,000.
Norman's time at Plymouth was dogged by injury and his first-team career lasted just two weeks! Norman made his debut on 16th September, in a 2-1 defeat by Newcastle United, and played his final game on the 26th September, a 6-1 hammering by Bolton Wanders> He played a total of three league games and one further game in the League Cup. A persistent knee injury, and the still wrongly diagnosed arthritis, putt paid to any further appearances. He was then recommended by Malcolm Allison, who had now moved to Manchester City, to Fourth Division, Stockport County.
He joined in September 1965. Switching to centre-half, Norman made his debut on 10th September in a 2-0 win over Crewe Alexandra and went on to play 37 league games, scoring three goals and played three games in the FA Cup.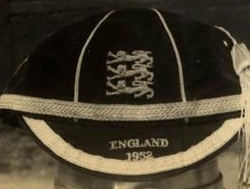 Right: Norman's cap presented for the 1952 Schoolboy International against Scotland
The following season, as Stockport won the Fourth Division title with Norman played his part, scoring four goals in 15 league games and one further goal in three FA Cup appearances.
However, Norman was not at Edgeley Park to share in the success, having been transferred to struggling Third Division Doncaster Rovers in February 1967. Norman played 15 games but could not keep Doncaster out of the relegation places, as they finished in 23rd place.
Norman, now 31, was signed by Altrincham manager, Freddie Pye in October 1967. His debut was marked by an unusual 5-5 draw at Moss Lane against Witton Albion on 14th October 1967. He was selected at centre-half, with Neil Dewar moving to left-back. He played at centre-half for the next 5 games, including Altrincham's 1-0 FA Cup 4th Round Qualifying round win over Great Harwood.
He was then tried at centre forward in a 2-2 draw with Stockport County and then in Pye's inimitable style moved to the right-wing for the following game. After this, he reverted to centre half, only to be played at left-half and then right-half. Injury meant that he missed a few games and was shifted between the half-back roles as Dewar was restored to centre half.
In his penultimate game he was played at left-back. His final game came as a substitute in a 6-2 away defeat at Hyde United on 6th April. His one goal for Altrincham game in a 4-3 win over Bangor City on 3rd February 1968.
Norman made a total of 23 (+2 as sub) league and cup appearances for Altrincham broken down into 14(+2) games in the League, 3 in the FA Cup, 1 each in the Cheshire League Cup and Cheshire Senior Cup and 4 in the North West Floodlit League.
Norman then had a brief spell with Wigan Athletic before retiring from playing.
Well known in Manchester, he became good friends with George Best. In 1975 in what could only be described as either an act of genius or madness, Norman opened a nightclub on the corner of Great Cheetham Street and Bury New Road in Broughton, it was named 'Sobers' and was the first non-alcoholic night club in Manchester.
The opening night, guest of honour was Jimmy Saville! It lasted less than a year. Sweet Sensation played there and the venue hosted soul music. Norman, though, may well have been ahead of his time as in 2014 a similar concept, called 'Dry Umbrella' was opened in Manchester, claiming to be the first non-alcohol bar in Manchester!
Norman continued to live and work in Manchester till retirement, sadly passing on 9th December 2009.
---
143. Peter HIGHAM
By Terry Rowley
Born: Wigan, 8th November 1930
Wigan-born Peter was a natural sportsman and could have played Rugby League, as his brother did, but he knew from an early age that he wanted to be a footballer.
He started with his local team, Wigan Athletic as a teenager, whilst still attending Wigan Grammar School. On finishing school Peter performed his National Service in the Royal Marines. Stationed in Portsmouth, he signed for Portsmouth, as an amateur, in November 1949 and, after a few reserve games, a single game for the first team, against Birmingham City. National Service completed, Peter moved back to Lancashire and signed for Bolton Wanderers.
Peter was a natural striker, sharp, quick-thinking, nimble and good in the air but he had to play in the great Nat Lofthouse's shadow, so was never given the chance he deserved at Bolton.
Despite his obvious potential, shown by scoring totals of 49 and 44 goals, for the Bolton reserve and 'A' teams, he was released after two seasons by manager Bill Riding. He Joined fellow First Division side, Preston North End in May 1952 but had to wait until October 1954, after scoring goals for fun in the reserves, before getting his only run in the first team> He scored a hat-trick in only his second appearance for Preston, in a 6-0 win against Sheffield Wednesday at Deepdale.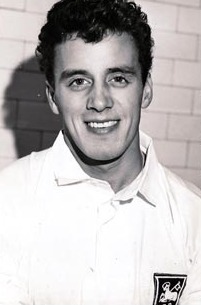 Although Peter played fourteen games that season, scoring ten goals, the management thought that they could do without his services. So, when Nottingham Forest made a bid for him prior to the start of the 1955/56 season, the club sold him for £8,000 in August. That was not bad business considering that he had signed for free. Whilst at Preston, Peter had played in the first ever floodlit game at Deepdale, against his former club, Bolton Wanderers in the Lancashire Senior Cup, on 21st October 1953.
Peter also holds the Central League goalscoring record for Preston North End having scored 60 goals in 81 appearances. He spent his summers working as a life guard in Southport. Peter spent a profitable two and a half seasons with Forest, gaining promotion to the First Division with them in 1957. Overall, he scored twenty goals in sixty-one league games before moving to Second Division Doncaster Rovers in March 1958. Peter scored on debut, in a 6-1 home defeat by Fulham on the 15th March 1958 and, in total, he scored six goals in twenty-two league games
Peter then made the decision to play part-time, starting in non-League football back at Wigan Athletic, where he signed in July 1959. Not surprisingly, he was their leading goal scorer in 1959/60. After a falling out with the club, for which he was suspended for a fortnight and after scoring twenty goals in twenty-nine league games, he moved to Rhyl in August 1960.
He had also started teacher training at Chorley College, studying sociology, English and physical education. On qualification Peter went on to teach PE in Bootle and in Maghull, in the Sefton area of Liverpool, then worked at the Park Lane Hospital Prison for the criminally insane teaching PE and, as a sideline, he even worked as a male model for mail order catalogues!
After a brief stay at Rhyl he put in a transfer request and joined Morecambe in November 1960, for a fee of £125 and over the rest of 1960/61 he scored 15 goals in 20 league games in addition to scoring two cup goals in four appearances.
He then re-joined his home town club, Wigan Athletic for the 1961/62 season and the goals flowed, scoring 26 goals in just 31 league games in addition to a further 7 goals in cup games. He even played at Deepdale again, against Morecambe in the 1962 Lancashire Junior Cup Final.
For the 1962/63 and 1963/64 seasons Peter was with Stalybridge Celtic, where he played up front with former Altrincham striker, Robbie Evison. His manager in 1962/63... Freddie Pye! There is little information freely available about this era, though from random press reports Peter continued to score goals regularly.
At Altrincham, Pye was appointed manager early in 1964, Peter was brought in to replace the mercurial Harvey McCreadie up front, as Pye had lost patience with his 'wayward son'. Peter made his debut in a 1-0 win at Chester on the 20th February with his scoring debut coming against Sankeys in a 4-2 win at Moss lane on the 20th March. He ended the season with two goals against Bangor City and, on the final day, scored again in a 2-0 win over Witton Albion.
Strangely, but as was Freddie Pye's way, Peter was allowed to leave and he then joined Cheshire League rivals, Buxton, where he scored 33 goals in 44 games during 1965/66. Still, one assumes that the thinking was that Altrincham had Jack Swindells? Ironically, Peter was earning more by playing part-time and working, than he could by playing as a full time professional! Peter was to score goals wherever he played.
After Buxton, he moved on to Mossley, where he scored a further 17 goals in 21 games. Peter then became player/coach with Chorley in the Lancashire Combination. Peter had gained his full FA Coaching badges and coached in Zambia in addition to spending, ten summers in Virginia, USA coaching football.
After working at the Park Lane Hospital Prison for the criminally insane as a lecturer of physical education, Peter went on to teach handicapped people in a Southport day centre on a part-time basis and he finally retired to live in Southport.
Peter Higham's Career
Wigan Athletic
Portsmouth (amateur) 1949/50 1 games - 0 goals in League
Bolton Wanderers (11/50)
Preston North End (05/52) 1953/54 15 games - 10 goals
Nottingham Forest (08/55 £8,000) 1955-1957 61 games - 20 goals
Doncaster Rovers 1957/58 22 games - 6 goals
Wigan Athletic1959/60 29 games - 20 goals in League
Rhyl (1960)
Morecambe (11/60 £125) 1960/61 20 games - 15 goals in Leaguue, 4 games - 2 goals in cups
Wigan Athletic 1961/62 31 games - 26 goals in league, 7 cup goals,
Stalybridge Celtic 1962/63-63/64
Altrincham 1964/65 12 games - 4 goals in League
Buxton 1965/66 44 games - 33 goals.
Mossley

1966/67 15 games - 12 goals
1967/68 6 games - 5 goals
144. Leonard 'Len' Roy WHITE
By Terry Rowley
Born Skellow, near Doncaster, 23rd March 1930
Died: Huddersfield, 17th June 1994
Leonard Roy White was born in Skellow near Doncaster on the 23rd March 1930. He was the youngest of four brothers, who all played professional football. The other three were Jack, who played for Bristol City; Fred for Bradford Park Avenue; and Albert who played for Aldershot.
After finishing school, Len worked as a plate layer at the local colliery and as a winger who played for Upton Colliery before joining Rotherham United as an 18 year-old in May 1948.
He spent a couple of seasons in the reserves before making his first team debut in August 1950 against Wrexham, scoring in a 5-0 win. Rotherham won the Division 3 North title and Len played his part with 11 games in which he scored five goals. He was quick, tricky, had excellent ball control and was surprisingly good in the air.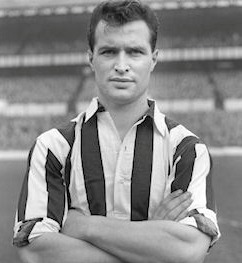 The following 1951/52 season, in Division 2, was less successful as Len adjusted to the higher level. He made 13 appearances and scored just the 1 goal. The following 1952/53 season he settled and started drawing attention with his quick feet and goal scoring ability. He played 21 games scoring 9 goals when, surprisingly for some, he was transferred to Newcastle United in February 1953.
His transfer came just a few weeks after Rotherham had shocked Newcastle by winning 3-1 at St James Park in the FA Cup. Newcastle had won the FA Cup for the previous two seasons and were a team made up of top players, including Jackie Milburn. Newcastle had originally tried to sign Rotherham's Jack Grainger, (a former Frickley player), but even a "name your price" offer to Rotherham did not tempt them and instead Newcastle signed Len White for £12,500, and Len hadn't even played in the game against Newcastle!
Len was thrown straight into the first team, making his First Division debut on 23rd February against a struggling Liverpool side that included Billy Liddell and Bob Paisley. But Liverpool won 2-1. The following Saturday, Len played against Wolves but then only played one further first team game that season, a 1-5 defeat at Portsmouth.
The 1953/54 season was one of consolidation in the First Division. Len, playing mainly as a winger due to his pace, scored 3 goals in 13 games for Newcastle.
In the following 1954/55 season Len still predominately played on the wing but was tried out at centre forward, a move which proved successful, as he scored 16 goals in 37 games, including four against Aston Villa. Newcastle also reached the FA Cup Final, playing Manchester City, Len was selected, with Newcastle winning 3-1 with goals from Milburn, Hannah and Mitchell and Len had his FA Cup winner's medal.
For the following two seasons Len was in and out of the side but was still a regular scorer, scoring 7 goals in 21 games during 1955/56 and 13 goals in 33 games during 1956/57. His big break came at the end of the 1956/57 season when Newcastle legend, Jackie Milburn, moved to Linfield after scoring 200 goals for Newcastle.
With Milburn's departure, Len stepped out of his shadow and took over the centre-forward role permanently in from November and was a revelation. In 1957/58, Len scored 25 goals in 32 games, including hat tricks against Leicester City in the league and Plymouth Argyle in the FA Cup. He also hit five goals, as did former York striker Arthur Bottom, in a 12-1 win over Brazilian side Bela Vista in a friendly and this in a season that Newcastle were battling relegation.
In season 1958/59, Charlie Mitten was appointed manager and Len scored another 25 goals, in just 31 games, despite missing the last 9 games of the season due to injury. The highlight included a hat-trick against Preston North End. Len also gained his first representative honours when he was selected for the Football League to play the Irish League at Anfield, Len scoring a hat trick in eight minutes in a 5-2 win.
People were talking about international honours but he was surprisingly never selected.
In 1959/60 Len continued where he left off, scoring 29 goals in 42 games, including hat-tricks in an 8-2 win over Everton and a 7-3 win over Manchester United. Again Len was selected to represent the Football League side, this time playing in a 1-0 win over the Scottish League at Highbury.
The 1960/61 season started well enough as Len scored another hat trick against Preston in a 3-2 win and then scored in a 7-2 win over Fulham, after which Newcastle lost to Colchester in the League Cup.
Later, Len scored twice in a 5-5 draw with West Ham and got two more in a 3-4 home defeat to eventual champions Tottenham. Despite Len's goals, Newcastle were struggling and their place in the First Division seemed to hang on Len staying fit. Sadly, however, Len's season ended on March 22nd at White Hart Lane, when he suffered a broken ankle after a nasty tackle from Dave Mackay.
Inevitably with Len missing, Newcastle failed to score the goals needed and were relegated to Division 2 at the end of the season. Despite a relegation season and missing the end of the campaign, Len had scored 29 goals in 38 games.
On recovering Len struggled early in the 1961/62 season but he still managed a hat-trick against Bristol Rovers. Still struggling and now in his early thirties, Newcastle looked to replace him. Len's last game for Newcastle came in February against Leeds United, with him having played 19 games during the season and scored 6 goals. His final goal came in a 2-2 draw with Sunderland. His final total at Newcastle was a phenomenal 154 goals in just 273 games, placing him third in Newcastle's all-time top scorers list, behind Milburn and Shearer.
Newcastle had negotiated a player exchange with Second Division Huddersfield Town with Jim Kerray moving to Newcastle and Len returning to Yorkshire. Len made his debut against Walsall and was now moved to play as an inside-forward. He scored eight goals in 16 games for Huddersfield, who finished 7th in the table, including a goal in a 2-1 win over Leeds, which turned out to be Don Revie's last game as a player.
In the 1962/63, season Len scored 13 goals in 41 games as Huddersfield improved on the previous season and finished sixth in Division Two. The highlight for Len was his return to Newcastle with Huddersfield on Good Friday 1963. On his first touch of the ball there was a spontaneous roar from all round the stadium, a fitting tribute to a Newcastle legend. Len then ran Newcastle ragged for 90 minutes and Huddersfield won the game 2-1. In the 1963/64 season Len scored another 13 goals in 42 games as Huddersfield finished 12th.
In 1964/65, Len had played 11 games, scoring 5 goals when, in January, he was transferred to Stockport County for £4,000, just in time to play in the FA Cup against Liverpool. Len scored in a 1-1 draw at Anfield but Liverpool won the replay.
In all, Len played 22 games scoring 10 goals for County during the season. The 1965/66 season was to be Len's last in the Football League but, despite encroaching age, his enthusiasm for football was as high as ever. The highlight for Len was a hat trick against Bradford City in a 7-1 hammering. His final game in the Football League was a 1-3 defeat at Bradford Park Avenue. He ended the season with 15 goals in 36 games.
Now 36, many at Moss Lane were surprised at the signing of Len but any doubts were soon allayed as he made his Altrincham debut at centre forward on the 20th August 1966, the opening day of the 1966/67 season. He scored twice on debut in a 3-0 win over Winsford United, Ronnie Taylor got the other goal.
Len then scored in his second game, a 2-0 win away at Mossley; Swindells scored the other goal. He then bagged two against Mossley in the 4-1 win in the return match at Moss Lane and then scored in each of Altrincham's next two matches against, Wrexham and Chester reserves, 4-0 and 4-3 respectively.
Unfortunately, injury meant a spell out of the side after his seventh match, a 1-1 home draw with Hyde on 7th September; still, it was 7 goals in 7 games. He made his come-back in the win against Witton on the 8th October and then scored in Altrincham's 4-2 FA Cup Moss Lane defeat to Wigan Athletic on the 15th of that month. His final goal csme in the 1-0 away win at Ellesmere Port on 12th November. The following match was his final game coming in the 2-0 win over Stalybridge Celtic 19th November.
Len then had a brief spell playing in the League of Ireland with Sligo Rovers, before he returned to Yorkshire and started playing locally in the Huddersfield area where he signed for Ossett Town in 1970, aged 40! He was a regular for the side during the 1971-72 season in the Yorkshire League Division.
Len was now playing in midfield, spraying the passes around and making everything look very easy. He then returned to the Huddersfield League, playing for David Brown Tractors, Huddersfield YMCA and Elland United and was still playing competitive football at the age of 50. He now continued to play Sunday league football with his two sons until he was 58! In addition, he also coached part time at Bradford City for a time.
A sad part about Len's story is that he was obviously a superb striker but never got close to winning an England cap; another sad fact was that Newcastle never awarded Len a testimonial, something that was partially rectified in October 1989 when Len White was to make one last appearance on a football pitch in his adopted homeland. As a dedicated group of Newcastle United fans arranged a much-deserved testimonial match for Len at Whitley Bay's Hillheads Ground.
Over 27 years after he had left Newcastle around 2,000 fans turned up to pay their respects. Len had scored 218 League goals in just 442 games in addition to 14 goals in 40 appearances in cup games
Len sadly passed away in Huddersfield on 17th June 1994, aged just 64.
---
Go to ALTRINCHAM FC LEGENDS INDEX
---