ALTY LEGENDS SECTION 47
by Terry Rowley
These pages chronicle the playing legends of Altrincham Football Club. The texts have been kindly supplied by Terry Rowley, formerly joint editor of the Robins' Review matchday programme. Many of the profiles have previously appeared in the Robins' Review.
---
139. Douglas TRENTHAM
140. Gordon "Biffer" SMITH
141. Richard "Dick" IDDON
---
139. Douglas TRENTHAM
By Terry Rowley
Born: Chirbury, Shropshire, 2nd November 1917
Died: 2003
Winger, Doug Trentham was one of many players whose career was disrupted by the Second World War. Born in Chirbury, Shropshire, he came from a family of footballers, his elder brother Herbert, a left-back, had played for WBA, another played for Saltney and a fourth played for Chester College.
As a teenage goals-coring winger, playing for Cheshire side, Mickle Trafford, (of the Chester and District League), Doug obviously drew attention for his goal-scoring exploits. He scored five in one match in September 1936 and netted in seven consecutive matches by early October.
First Division clubs Bolton Wanderers and Everton showed interest, with Everton finally inviting him for trials in November and eventually signing him on amateur terms in December 1936.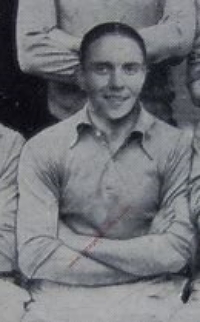 After turning professional, Doug made his league debut in 1-0 defeat at Blackpool on 4th September 1937. His scoring debut came in 2-1 defeat at home against Huddersfield Town on the 25th September 1937, he then scored against Liverpool at Anfield on October 2nd 1937 in a 2-1 win. He next scored against Chelsea in November before scoring in three consecutive games in December. A knee injury curtailed his season, which resulted in surgery in December. Everton finished 14th in League, Doug having scored a highly creditable six goals in fifteen league games.
Unfortunately, a knee injury and, subsequently, the War brought a premature end to what should have been an excellent career.
Everton won the Firsst Division Championship in 1938/39 but Doug's participation was minimal. After being on the injured list for several weeks he finally made a solitary first team appearance on the 22nd October 1938, scoring in a 4-0 win over Leeds United. Then, after recovering from an operation on his cartilages, he returned for the reserves in January 1939 in an 'A' team match with Formby, only to injury his ankle. Then, in March 1939 it was reported that Doug needed yet another cartilage operation on his damaged knee; this was to be the second operation on the same knee.
During the War he made one appearance for Everton in 1940/41 and also guested for Wrexham the same season and later, Stockport County in the early part of the 1945/46 season.
On resumption of peacetime football, Doug was released by Everton. He then joined Hyde United for the 1946/47 season and scored six goals in forty-eight games across all competitions.
Injury once again curtailed Doug's appearances in 1947/48, when he scored five goals in twenty appearances.
Fully fit he arrived at Moss Lane for the 1948/49 season. He made his debut on the season's opening day, playing on the right wing, ironically against his former side, Hyde United, with Altrincham losing 5-1 at Ewan Fields.
Four days later, Doug was switched to his more familiar position on the left and marked his home debut with a goal in a 3-3 draw with Chester Reserves. Throughout the season Doug supplied the crosses that allowed Walter Jones to scored thirty-nine goals throughout the season.
Doug, contributed regularly and finished his only season at Altrincham with a creditable, eleven goals in forty-seven games. The highlight of the season was progressing to the final of the Cheshire County League Cup final, played on Witton's ground against Rhyl. There was to be no fairy-tale ending as Rhyl thumped Altrincham 4-0 and Doug had to be content with a runners-up medal.
He then moved to fellow strugglers in the Cheshire League, Ellesmere Port Town, where he continued to excel and score goals over the next three seasons, eventually having a spell as player/manager in 1950.
Doug Trentham's Career
Mickle Trafford FC
Everton (12/36) total 17 games - 7 goals (trial November 1936 signing professional in December)

1937/38 15 games - 6 goals in League, 1 game - 0 goals in FA Cup
1938/39 1 games - 1 goal in League
1940/41 1 game - 0 goal in the Wartime Football League Cup
Wrexham WW2 (Guest 08/1940) 1940/41 3 games - 1 goal
Stockport County WW2 (Guest 09/1945) 1945/46 4 games - -0 goals

Hyde United (1946)

1946/47 48 games - -6 (38 games - 5L 10 games - 1 Cup)
1947/48 20 games - 5 (17 games - 5 L 3 games - 0 Cup)

Altrincham (08/1948) 1948-49,39 games - 9 goals in League, 1 ame - 0 goal in FA Cup, 6 games - 2goals in League Cup, 1 game - 0 goal in CSC.
Ellesmere Port (08/49) 1949/50-1951/52
---
140. Gordon "Biffer" SMITH
By Terry Rowley
Born: Bowdon 1923
Died: 21st December 2009
Above: Altrincham FC pictured at Moss Lane in 1951/52 with the players identified by the late Keith Davey, who also pointed out that "The building in the background is the old changing rooms which later became the supporters' building and social club at Moss Lane. It was demolished in the 1960s by Ken Robinson (groundsman), John Broughton (assistant groundsman) and Keith Davey to make way for the new turnstiles adjacent to the Red Robin Club". The players in the above photograph are:
Back row: Brian Parkinson, Alf Rawding, - Wasilski (a Polish player), Bob Barrie, Brian Phillips, Gordon "Biffer" Smith, Charles Le-Massure (trainer, from Guernsey). Front row: Konrad Kapler (Polish player), Bobby Dale, Alf Morris, Cyril Barclay, Walter Jones.
Gordon Smith, nicknamed 'Biffer', played as an amateur left-winger and had spent two seasons with Witton Albion, winning the Cheshire Senior Cup in 1947/48, before joining Altrincham for the 1949-50 season. He went on to play five seasons for the club until the end of the 1953-54 season.
He made his debut on the season's opening day at Moss Lane, as Altrincham trounced Hyde United, 7-1. Gordon scored his first goal on the 7th September, in the 3-1 win over Crewe Alexandra reserves.
This was to be his most prolific season, not only providing the ammunition for Walter Jones but also contributing eleven goals.
The following season he started on the left wing before being moved to inside-left and eventually settling in at left-half. It was at left-half that Gordon picked up his Cheshire League Cup winner's medal, as Altrincham beat Macclesfield 1-0, at the Drill Field in front of 7,00 spectators on 2nd May 1951.
However, these were troubled times for Altrincham and Gordon was not to pick up anymore silverware, except a Cheshire Senior Cup runners-up medal at the end if the 1952/53 season when Altrincham lost 2-1 at Edgeley Park to Stalybridge Celtic in front of 7,250 spectators.
He chopped and changed positions during his remaining time at Moss Lane, playing at left-back, right-half and centre-back. His final game, playing at centre-back came against his old club, Witton Albion, in a 1-1 draw at Moss Lane on the 7th April 1954.
He had amassed 160 appearances, and scored 25 goals for Altrincham over the course of five seasons.
In the summer of 1954, he joined Mossley, then under the management of Jack Boothway. There, he made a total of 37 appearances and scored one goal in 1954/55 season. Age and injuries were now catching up with him and after a further two appearances for Mossley in the 1955/56 season, Gordon retired at the end of the 1955/56 season.
He then became trainer and later manager and finally the chairman of Linotype FC in Broadheath. Later still, he took on the role of Altrincham reserve team manager for the 1967/68 season.
Note* Linotype relocated and changed its name to Cheadle Heath Nomads in 2018.
Gordon Smith's Career
Witton Albion (47/48-48/49) 1947/48 46-19, 1948/49 33-7
Altrincham

1949-50, 36 games - 11L, 1 game - 0 goals in FA Cup, 1 game - 0 goals in League Cup.
1950-51, 26 games - 5 goals in League, 1 game - 1 goal in FA Cup, 4 games - 0 goals in League Cup.
1951-52, 32 games - 4L, 1 games - 0 goals in FA Cup, 1 games - 0 goals in League Cup, 2 games - 0 goals in Cheshire Senior Cup
1952-53 21 games - 4L, 1 games - 0 goals in League Cup, 4 games - 0 goals in Cheshire Senior Cup
1953-54 22 games - 0L, 2 games - 0 goals in FA Cup, 2 games - 0 goals in League Cup, 3 games - 0 goals in Cheshire Senior Cup.

Mossley (54/55-55/56 39-1),

1954/55 37 games - 1 goal
1955/56 2 games - 0 goals

Linotype Trainer (56/57) then Manager till the end of 1959/60 season, then Chairman
Altrincham Reserve team manager 1967/68
---
141. Richard 'Dick' IDDON
By Terry Rowley
Born: Tarleton, nr Preston 22 June 1901
Died: 26th December 1975
Richard Iddon was born in Tarleton, south West of Preston and started with his home-town club as a winger before gravitating to Leyland> Here he came to the attention of Preston North End, who signed him initially as an amateur in August 1921, with him turning professional two months later.
Failing to make the first team, he returned to Tarleton and switched to centre-forward. He then joined Chorley in May 1923, staying two seasons and picking up a Lancashire Junior Cup winners medal in 1923/24.
He attracted the attentions of Manchester United, who signed him in May 1925. Unable to break into the first eleven, Dick played only twice in his two seasons at Old Trafford, playing one game in each season, (29/08/25 v West Ham United and 05/02/1927 v Burnley).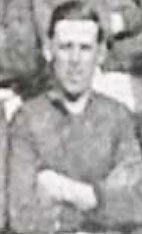 Released he re-joined Chorley in May 1927 and had scored seven goals when Morecambe signed him in December 1927. Dick went on to score twenty-five times in twenty-four league games. This brought the offer of League football with New Brighton who signed him in May 1928.
His stay was less than successful, with him scoring just twice in eleven League appearances. He then re-joined Morecambe in August 1929, where he scored twenty-six goals in twenty-six league and cup games prior to signing for Lancaster Town in December. He was instrumental in Lancaster winning the Lancashire Combination in 1929/30 by scoring 37 goals. (Lancaster only changed their name to City in 1937, after the Town was awarding city status as part of King George VI's coronation celebrations).
He then briefly re-joined Morecambe before again returning to Lancaster for the following two seasons. He then moved on to Horwich R.M.I. for the start of the 1932/33 season.
Altrincham were looking for a replacement for their regular number 9, John Jepson, who had been injured in the FA Cup tie with Stalybridge Celtic in mid-November and had struggled to score goals.
Dick, having already scored 22 goals for Horwich, was the man selected and he joined Altrincham in January 1933.
He made an inauspicious debut at Moss Lane in a 1-0 defeat to Port Vale Reserves, on 28th January 1933. This was followed by a hat-trick the following week in a 7-0 win at Moss Lane against Tranmere Rovers Reserves. Dick added to this with two goals in the following game, a 5-3 win over Runcorn and then a goal at Stalybridge in the following fixture.
He then scored the only goal in a 1-0 win against Wigan Athletic and then two more in the 6-1 win over Hyde United. Not a bad return, nine goals in his first six games!
He scored a hat trick in the Cheshire County League Cup against Winsford United and then scored in the Final, against Manchester North End, which was played at Blackley, in front of 5,000 spectators and ended in a 3-3 draw.
Dick finished the season with a highly creditable nineteen goals. Injury meant a late start to the 1933/34 season, which meant he missed being a part of the side that won the re-played Cheshire League Cup final, 4-1. Nevertheless, when fit, he showed he still had the touch by scoring a further 18 goals, including the highlight of his Altrincham career, the only goal, in extra time, in the Cheshire Senior Cup Final against Congleton Town played at Edgerly Park Stockport, in front of 5,671 spectators.
Richard Iddon's Career
Tarleton FC
Leyland FC
Preston North End (amateur 08/1921, pro 10/1921) 1922/23
Tarleton FC
Chorley (05/1923) 1923/24-24/25, Lancashire Junior Cup winner 1923/24
Manchester United (05/1925) 1925/26-1926/27
Chorley (05/1927) 1927/28, 7 goals
Morecambe (12/1927) 1927/28 24 game - 25 goals in the League
New Brighton (05/1928) 1928/29, 11 games - 2 goals in the League
Morecambe (08/1929) 1929/30 19 games - 17 goals in the League, 7 games - 9 goals in Cup,
Lancaster Town (12/1929) 1929/30 (Combination champions) 29 games 37 goals
Morecambe (03/30) 1929/30
Lancaster Town (05/1930) 1930/31-1931/32
Horwich RMI 1932/33, 22 goals
Altrincham (01/1933)

1932/33 15 games - 13 goals in the League 4 games - 6 CLC (19 games- 19 goals)
1933/34 29 games - 15 goals in the League, 3 games - 0 goals in FA Cup, 1 game - 0 goals in CLC, 4 games - 3 goals in CSC (37games - 18 goals)

---

Go to ALTRINCHAM FC LEGENDS INDEX

---